Design & Operation of Office, Multifamily, Hospitality, Medical and Government Facilities Q3 2022 • $5 Working in the Open Healthy Spaces Encourage Productivity & Engagement n IFMA StaffingAddressesChallenges n Smart Watering Tips n Political Violence and Preparing Your Property n California CRE Future Looks SPECIALBetterFEATURES...
Dobbs Anti-Abortion Decision Could Boost State's Economy
Contents
Cover image credit: Adobe Stock.
Ken Cleaveland, Public Affairs Advocate
Four of America's top 10 "best" cities are in California, in spite of all the challenges the state has faced, according to a study by Resonance Consultancy. LA, San Francisco, San Diego and San Jose metro areas shine brightly for all the reasons that have traditionally attracted set tlers and visitors. Other big metros that made the U.S. list include New York, Washington, Chicago, Miami, Houston and Las Vegas. Resonance, which studies 400 cities across the world, says, "The ranking evaluates each qualifying city across the six pillars of place equity: Place, Product, Programming, People, Prosperity, and Promotion." For more data, visit www.bestcities.org/get-the-scorecard/. Eason
California Cities Still Shine Brightly
PO Box 225234
New California Projects Debut 22 California CRE: Future Looks Better
14 Getting Smarter About Watering
Michael F. Malinowski, AIA, President, Applied Architecture Inc.
For instance, according to a recent CoStar report on rent inflation, the average San Francisco apartment cost was actually down 1.8% since 2019, probably because of the exodus of value-hunting employees allowed to work remotely. During the pandemic, the average San Francisco rent had dropped to $2,860, but a move to Sacramento County, for instance, at $1,569, is a considerable monthly savings.
Bob Eaton, Roberts Hospitality
Los Angeles County rent inflation since 2019 was only 6.7%, compared with more bargain locales like Riverside County, whose popularity resulted in a 21.9% rent inflation. San Diego and Sacramento counties both showed rent hikes of almost 17%, and Ventura was almost 19%. These areas are seeing growth and probable demands for new construction.
16
— Henry
Henry Eason, Editor henry@easoncom.com
Housing Californians is probably easiest to do by constructing multifamily complexes—rentals and condos. Where that is likeliest to occur may well follow the patterns of rent inflation, as people increasingly move from much pricier, high ly concentrated areas like San Francisco and Los Angeles to more afford able regions. And inflation is already affecting these suburban counties.
Comments on articles? Suggestions? Contact henry@easoncom.com
San Francisco, CA 94122-5234
Renters Are Voting With Their Feet
Steven Ring, Fulcrum Real Estate Development
Ellen Eason, 415.596.9466ellen@easoncom.com www.cabuildingsnews.com
Katherine A. Mattes, Real Estate Consultant
Carlos Santamaria, CEES-Advisors
California Buildings Team
Contributing Editors
Rich Lerner, Construction Consultant
Copyright © 2022 by Eason Communications LLC, publisher of California Buildings News. The publisher assumes no liability for opinions expressed in editorial contributions to the magazine or third-party quotations within articles. The publication is not responsible for claims in advertisements. Printed in the U.S.A.
Jessica Handy, CodeGreen Solutions
Communications LLC
20 Decarbonizing Construction Makes Huge Green Impact
IFMA Chair Addresses Staffing
Given the numerous governmental challenges to building multifamily homes in cities like San Francisco, areas likely to welcome new housing will certainly see growth. After experiencing a huge flight from cities in the 1950s, America's second "suburban exodus" is well under way, with investors noticing the trend. Whether the big cities will respond with fewer regulatory hurdles and public-private building initiatives to fill their emptying downtowns with residential housing is an open question.
Some states—like California, New York and Massachusetts—will add to their economic development appeal by announcing that women employees' reproductive rights will be protected for companies that operate here. In contrast, states like Texas will have to tell prospective employers that their women employees will likely be forced to have children they don't want—or become criminals if they seek abortions or even fly to other states for a procedure. This new Supreme Court decision could have a transformative impact on where companies do business and further drain the economies of states that strictly regulate women's reproductive rights.
Governor Gavin Newsom's administration is already offering incentives to companies that want to relocate from states where women's and LGBTQ people's rights are abridged from current or likely Supreme Court and state legislative actions. His policies could reverse the recent outward population move from California to cheaper states.
Advertising Information
26
Ellen Eason, Publisher & Associate Editor ©ellen@easoncom.comCopyright2022Eason
10
TO EDITOR
Preparing for Political Violence
6 Working in the Open: Safer and More Desirable
The patterning of the Precision Series Tile hues from cream upward to mottled grays, with splashes of sea/sky blue creates a mosaic, described by the architect as inspired by rippling water and natural elements. Explore PAC-CLAD's palette and expand your creative process.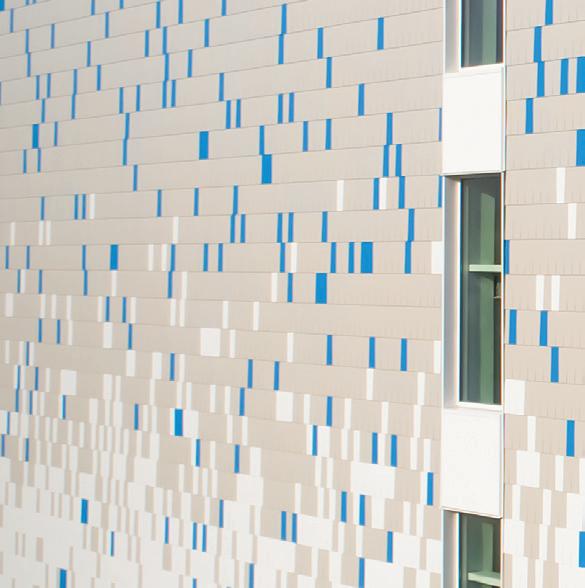 Photo: hortonphotoinc.com
PAC-CLAD.COM | INFO@PAC-CLAD.COMIL: 800 PAC CLAD MD: 800 344 1400 TX: 800 441 8661 GA: 800 272 4482 AZ: 833 750 1935 WA: 253 501 2450 Children's Museum + Theatre of Maine, Portland, ME Installing contractor: Industrial Roofing and Siding Architect: Bruner/Cott Architects Distributor: North Bridge Building Products GC: Zachau Construction
Playful Patterning
Precision Series TS Tile Metal Roof and Wall System Cityscape, Berkshire Blue, Stone White, Granite View the case study and video
MicroNOC Inc. turns California buildings into Clean Virtual Power Stations to receive electricity usage & trade earnings during California peak hours, 4pm–9pm.
To learn more about Clean Virtual Power Stations, visit www.Micronocinc.com.
Balancing Your Rate, Balancing the Grid!
Electricity Savings & Earnings for California Buildings
While this is great news for industrial CRE andbuilders,investors,owners,tenants,there is
Why are buildings' electricity usage hours important? The main reason is due to the 24/7 balancing of elec tricity supply and demand as it's being transported for use to buildings to ensure safety and reliability of the electric grid so buildings can stay energized when power switches are turned on. Since California has an abundance of solar energy during sun hours, they are often either generated when demand of electricity from buildings is low such as residential roof tops or they are far away from the source of demand. Thus, this causes an oversupply and electricity pricing downward curve during day hours. In the case of California, it has been referred to as the "Duck Curve."
The industrial building boom of California is being driven by Southern California's geographic benefit from being the nation's largest U.S. gateway for international trade at Los Angeles and Long Beach ports. With the increased demand of e-commerce, cold storage, and last-mile distribution, it is no wonder that Los Angeles, Inland Empire, and Orange County accounted for over 15% of the entire country's industrial real estate transac tions by dollar volume according to Commercial Observer.
California Buildings
one caveat: electrici ty consumption challenges. The total non-residential buildings' electricity usage for Los Angeles County is 43GWh, Inland Empire is 19GWh, Orange County and Santa Clara County each at 12GWh according to California Energy Commission 2020 energy reports. Stabilizing the growth of these consumption numbers is necessary for California buildings to keep the lights on for all. Specifically, California's peak hours of 4pm-9pm, are such a serious matter that California grid operator, CAISO, and all California utility companies are asking everyone to reduce energy consumption during those hours. It is also important to note that 4pm-9pm con sumption accounts for approximately 30% of total elec tricity spending for businesses due to increased rates caused by uncontrollable demand as the sun sets.
Have you ever wondered why as solar energy is now affordable our electricity rates continue to increase? When solar energy is abundant, but demand is less than its supply, often that energy is dissipated or wasted. And as soon as the sun sets, the solar energy reduces to almost zero electricity production while buildings' elec tricity usage continues to increase as more electric devices begin its power consumption beyond the day hours such as elec tric lights, stoves, heaters, TV, computers, and Electric Vehicle charging. To cure the sudden demand spike during 4pm-9pm when solar energy is out, CAISO and utilities turn to expensive power reserves or CO2 emissive thermal generators such as gas and coal as they are readily available and can be dis patchable whenever needed. As a result, every time they are 'ON' they are about three times more expensive than normal power and emit CO2. Is there a better, cleaner, and less expensive alternative solution for buildings?
Yes, there is. When buildings are capable of shift ing electricity time of use, buildings can replace CO2 emissive generators for California's electric grid with MicroNOC's Clean Virtual Power Stations (CVP). Buildings with CVP can receive electricity savings and trade earnings. To learn how CVP works and if your building qualifies for a CVP upgrade or to register for a Lunch and Learn, visit our website.
Sponsored Report 4
The Reliable Controls MACH-ProView LCD with EQUIPMENTview is a freely programmable BACnet Building Controller (B-BC) and BACnet Operator Display (B-OD) that resides on Ethernet, PoE, Wi-Fi, or EIA-485 networks. EQUIPMENTview is an easy-to-use interface that allows you to monitor and interact with HVAC, lighting, and security equipment; hospitality and safety services; energy management and more. Supported by an ever-growing library of graphical assets, the MACH-ProView LCD empowers you to stay in touch with your built environment. For more information visit reliablecontrols.com/MPV-L





6 California Buildings • Q3 2022
As people return to offices and hotels and better enjoy multifamily and communal settings, designers and commercial realtors are creating more open surroundings where employees, guests and residents can gather safely and receive the biophilic benefits of the outdoors.
(Continued
Working in the Open: Safer and More Desirable
Designers and Realtors Create More Open Outdoor & Indoor Spaces
Above: Rendering of rooftop at 415 Natoma in San ImageFrancisco.courtesy of Brookfield Properties.
The concept of being "open" has so many positive meanings in our culture, so it is appropriate that openness is now being used in workplace and living architectural contexts to mean greater health and community. And no place in the country has a better climate for year-round outside openness than California, with mostly mild tempera tures and plenty of sunshine.
Right: University of San Diego North Torrey Pines Living and Learning Neighborhood includes ample outdoor spaces. Image courtesy of HKS/Tom Photography.Harris on next page)
"When it comes to office design, landlords like Brookfield Properties are laser focused on creating spaces that empower our tenants and spur collaboration, creativity, and innova tion. The needs of the modern workforce have evolved significantly since the days of the office cubicle and a one-sizefits-all approach. At 415 Natoma, Brookfield is working hand-in-hand with each tenant to curate a wide variety of dynamic spaces, such as breakout rooms, open concept floors, outdoor workstations, and more, with a focus on elevated interior design and the seamless incorporation of technology, to ultimately create environments that inspire employees and drive pro ductivity," says David Sternberg, executive vice president for Brookfield Properties
5M is a recently completed mixed-use development in down town San Francisco. The project incorporates innovative ways to redevelop large-scale urban sites by bringing together diverse uses and programming influenced by the SoMa neigh borhood and community. In a partnership with the Hearst Corporation, Brookfield Properties has transformed empty parking lots and underutilized warehouses into a vibrant pedestrian experience with new public open spaces, housing, offices, retail and restored historic buildings.
California Buildings • Q3 2022
Images courtesy of Brookfield Properties.
415 Natoma in San Francisco
(Continued on page 8)
From top: Expansive lobby opens to the outdoors. Dynamic spaces feature open-concept floors. Development features park settings.
One dramatic example of this is the facility at 415 Natoma within the 5M mixedused development in downtown San Francisco. It is the 25-story, 650,000 square-foot Class A office component of the 5M Project. The building includes ground-floor retail, an expansive open-air lobby with direct access to Mary Court, and numerous outdoor terrace opportunities for office tenants.
7
Working in the Open (Continued from page 7)
(Continued on the next page)
Openness is being embraced all over the state, in all sorts of commercial settings, like the campus of the University of San Diego, where the Delawie architectural firm designed the Knauss Center for Business Education It includes a natural ventilation system so that when exteriorporatesalsoTheventilation.fordowsandshutsystemmechanicalareconditionstheright,thecandownthewinopennaturaldesignincorancourt
UC San Diego North Torrey Pines
Operable exterior wall at BioLegend. Photo courtesy of Delawie.
atrium. The main campus is LEED Certified. There is a 4,380 SF green roof with landscape designed by Schmidt Design Groups that incorporates drought-resistant, native species. It provides the BioLegend team the opportunity to relax or meet outside. This is part of 250,000 SF of outdoor amenities integrated into BioLegend's campus. It features operable exterior walls in a variety of projects.
Openness Is a California Phenomenon
With arguably the world's best weather, the San Diego area showcases openness. HKS Inc.'s San Diego Office Director Jeff Larsen says, "The workplaces at UC San Diego's North Torrey Pines Living and Learning Neighborhood NTPLLN prioritize equitable access to evidence-based design strategies employed to improve men tal, physical, and social health. Designed to support indi vidual respite and collaborative gathering in a garden-like setting, interior workspaces and conference rooms connect seamlessly to exterior terraces with folding glass doors to engage scenic coastal views and direct access to the region's breezy, restorative climate. These blended interior/exterior spaces are also accessible to students and the greater cam pus community for the added benefit of social engagement and belonging due to the increased opportunity for chance interactions and meaningful conversations among the diverse groups of campus community."
8 California Buildings • Q3 2022
In 2019 Delawie also designed BioLegend including its main campus building with a now iconic 70-foot tall
Left: University of San Diego North Torrey Pines Living and Learning Neighborhood offers meeting rooms that incorporate the outdoors. Image: Courtesy of HKS/Tom Harris Photography.
yard designed for informational study and classes to spill outside. There are outdoor tables and work areas on the balconies of the building that face the courtyard and on the west side of the building.
West project in San Diego. Photo credit: Gensler. lounge areas, as well as recreational activities and sports courts like pickle ball, bocce ball, basketball, volleyball, etc. They are also incorporating outdoor fitness, yoga and other health and wellness activities.
Above: 1420 Kettner project in San Diego. Photo credit: Haley Hill Photography.
"We will continue to see this trend with no expectation that demand for outdoor space will change in the future," says Cushman & Wakefield's Derek Hulse.
"In the past, an outdoor area may have consisted simply of a small seating area in a breezeway or open patio, but today's modern outdoor experience is being rethought and significantly enhanced. When possible and outdoor space is ample, landlords are looking to provide outdoor areas for company work functions such as conferencing and events—some with cutting-edge video screens. "They also envision an opportunity to elevate amenity packages by adding or improving features such as outdoor dining options,
Right: Sunroad Centrum project in San Diego. Photo credit: Sudenim
9 California Buildings • Q3 2022
"In existing projects and certainly for new developments, landlords are also creating balcony space adjacent to tenants' indoor space designated for their exclusive use or utilizing roll-up doors to connect indoor/outdoor space. We will continue to see this trend with no expectation that demand for outdoor space will change in the future," he concludes. n
San Diego Market
"San Diego is a coastal market that has always embraced and created attractive outdoor spaces for commercial properties due to its idyllic year-round moderate temperatures and abundance of sunny days," says Derek Hulse, managing director, Cushman & Wakefield. "The pan demic has further fueled the desire of tenants/companies wanting fresh air and outdoor amenities in an attempt to provide their employees with a safer and healthier work environment.
(www.sudenim.com).550
With Laurie Gilmer, Chair International Facility Management Association
item and activity – manufactured or produced, with standardized rating, is likely to become a part of the FM domain. IFMA's FMJ Magazine recently published an interesting arti cle on this: Viewercation/?i=752294&p=20&view=issuehttp://fmj.ifma.org/publi
To support FMs in advancing in
Q: What are the major challenges of a facility manager today?
Q: Is staffing facilities becoming a major problem, and how is IFMA helping to meet it?
IFMA Meets Challenges With Facility Management Staffing
A: IFMA is committed to helping grow interest in careers in the FM profession and feeding the pipeline of emerging professionals. With $99.8K as the average base salary for an FM, there is no better time to join the industry. One way we are working to grow the pipeline is through the cre ation of an all-new awareness video campaign, anticipated to rollout in early 2023. The series will spotlight a variety of facilities and highlight opportunities available uniquely through a career in FM.
Another is adapting to a hybrid working model while controlling costs. There is a worldwide desire to determine the ideal work model, but as the workplace continues to change and evolve, and new terms emerge for hybrid work – defining what those mean is proving difficult. Due to the fluid nature of hybrid work and the changing expectations of use and purpose, space planning is also heavily affected.Andlastly, while sustainability continues to be a perpetual topic for FMs, ESG reporting is a whole a new challenge for the profession. Organizations are increasingly adopt ing carbon reporting and reduction requirements. As that occurs, the span of reporting is reaching beyond facility energy use to other activities beyond the facility manager's control. Requiring carbon footprint for every
To support existing FMs in advancing in their careers, IFMA provides members with access to Knowledge Library which hosts a wealth of resources vetted by indus try leaders. They also can turn to one another for peer-to-peer discussions through Engage, IFMA's online forum, and through local chapters, industry councils and communities of practice.
A: There are several current challeng es facing the FM community: One is staffing for trades. It has become increasingly more difficult to fill and keep tradespeople, such as HVAC, maintenance techs, stationary engi neers, etc., in those positions. And due to a competitive hiring marketplace, many FMs are losing their tradespeo ple to other companies offering better employment packages.
10 California Buildings • Q3 2022 (Continued on page 25)
their careers, IFMA provides unpar alleled training and is the provider of the industry's globally-recognized professional credentials—FMP, SFP and CFM. For those unsure of what training would be best for them, IFMA has developed a new SelfAssessment Tool to help individuals recognize their possible FM knowl edge deficiencies while identifying the training to best fill those gaps. Following recommended training, the dashboard score will automatically adjust to reflect the user's new level of expertise.Recognizing certain beneficial expertise is available from adjacent industries whose work often touches an FM's, IFMA has developed stra tegic partnerships with other highly respected associations, to provide an entry point to training for members on both sides of the partnerships. While our partner courses and allianc es continue to expand, they currently include ISSA, ASIS, ASHRAE, CEI, OSCRE, BIFMA, NEBB, NEEC and AVIXA.IFMA's Foundation is also instru mental in building interest in FM as a career through its Global Workforce Initiative (GWI). Working in part nership with community colleges and economic development authorities, the Foundation continuously creates pathways for opportunity.
Visit ABM.com to learn more. Engineering+ | EV Charging | Parking | Surface & Air Disinfection | And More ABM is the only maintenance partner you need to care for your entire building from top to bottom. BUILDINGCOMPLETECARE ©2022 ABM Industries Inc. All rights reserved. 11 California Buildings • Q3 2022
Let'speriod.beclear, as copper networks aged, support for this "old technology" waned. With improved options already available, official acknowledgment from the FCC really just gave carriers permission to continue status quo— driving their customers to alternative solutions via increased connectivity issues and higher prices.
Line Expense
Total $980.00 $96.58
Expense
Monthly Charge
The real issue is that analog phone lines are expensive to maintain, and carriers are more than happy to pass those costs along to you. Check your phone bill lately? Knowing just how much your elevator phone is costing you is now more important than ever. I'll explain.
III Monthly Savings $883.42
III Annual Savings $10,601.04
Kings
ProviderTelecom
Monitoring $0.00 $96.58
FCC Order Contributes to Rising Telephony Costs and Deteriorating Service
12
Kings
The bad news? That's a true story. When the property manager reached out to his elevator company, they con firmed the problem was with the phone line and beyond their scope. Then, the calls stopped. Problem solved, right?
Rising costs and a deteriorating network, particularly in California, have accelerated the desire to eliminate dependency on analog phone lines. But why? What's changed? Let's start with a quick history lesson. In August of 2019, the FCC issued Order 10-72a1. This order (which many in the industry have incorrectly called a mandate) gave carriers a three-year window to remove support from traditional landlines. We're now at the end of that optional grace
California Buildings Sponsored Report
emergency phone), you're told someone could be there on Friday. Meanwhile, the telecom company is also charging you $1 per minute ($1440 a day) for each of those auto mated calls.
Email: sales@kingsiii.com w Call: 855.760.4900
As a part of their troubleshooting efforts, the elevator company discovered the phone line had been completely disconnected. The phone company had termi nated the phone line, but did it without talking to anyone on site. Instead of being relieved the automated calls had stopped, the building manager was now even more concerned because the elevator communica tion system was out of codeThecompliance.goodnews? The elevator company recom mended that property reach out to us here at Kings III. Our cellular solution completely eliminates the need to rely on traditional landlines. We were able to eliminate the phone line in question, another line, and $900 in monthly expenses; all while keeping the building's elevator commu nication system code compliant. (See chart above.)
Think this is an anomaly? Think again. We have customers in San Diego and Los Angeles who are now seeing phone bills as high as $1,200 per line!
Phone $980.00 $0.00
To learn more, check out the full story complete with the phone bills mentioned above at https://go.kingsiii.com/ san-diego.
Imagine it's Monday morning. You are sitting at your desk in San Diego opening your phone bill (for a single line) which totals $468.93. No, that's not a typo, almost $500 per month for just one phone line connected to a single emergency elevator phone. Now think about what you'd do if that really expensive elevator phone line started experiencing connection issues, making continuous mechanized calls. And when you call the phone company to request immediate service (because this is an elevator
We encourage you to take a closer look at your tele phone bills — and don't hesitate to reach out to Kings III for help in doing so.
Adapting to Seasonal Change
An important thing to remember is that you also do not want to combine plants that hold a drastic difference in water needs. One of the key resources for selecting plants is the WUCOLS database, which lists plants for the region based on plant water needs. This database can help determine what plants' water needs complement the ones you already have or proposing for the site.
(Continued on page 24)
Photo credit: David McCullough, McCullough Landscape Architecture.
Getting Smarter About Watering California Landscapes
the end of the dry season is near, the animals have run out of food, and your newly planted, juicy plants look tasty!"
One myth that has made its way around California is that we should plant our plants in the fall after the summer heat has worn off. This fear stems from the idea that plants planted in the winter or summer would be too weak to make it through the entire season, and planting in the fall was best for the plants to become established by spring. The reality is that California's climate is mild enough to plant at almost any time throughout the year. Las Pilitas Nursery writes, "Early fall can be a problem in areas where the pressure from deer and rabbits and other critters is at its highest point then when
Rethinking Turf
W
hen someone hears that California is entering a drought, the news gets less shocking each time. The hard truth is that California's climate is changing so rapidly that seasons without much rainfall have become ordinary. California's current drought continues into another year, making water more of a focal point for sustainability. Global warming and changing climate urge more permanent chang es to utilize water more efficiently. This probes a critical ques tion—can you have landscapes that look lush and colorful and still use less water?
Creating a Microclimate
It is difficult to have an open lawn area in California and maintain its health throughout a drought. What makes it more difficult is that some cities have even placed ordinances that ban artificial turf but still expect you to maintain the grass area
14 California Buildings • Q3 2022
Microclimates in landscapes can be naturally occurring or intentionally designed depending on the site. For example, topography can redirect water flow efficiently and influence runoff and temperature. With more than one microclimate, plant material should be thoughtfully selected and grouped for the type of soil, sun, and shade requirements.
By Mahalakshmi Balachandran and Adam Crowell
Photo: Adobe Stock.
The ultimate solution for kitchens, bathrooms, decks and more. nacproducts.comProtect800-633-4622 Your Floors Strataflex® waterproofing membrane features a unique 2" double stick lap joint that creates a watertight seal to protect your floor against water intrusion while also providing crack isolation protection for up to 3/8" of lateral movement. 15 California Buildings • Q3 2022
To help prepare and adapt to California's chang ing climate, Governor Newsom recently announced "California's Water Supply Strategy – Adapting to a Hotter, Drier Future," which
How California Businesses Can Help Save Water
By Margaret Mohr, California Department of Water Resources on page 24)
Sound ControlCrack IsolationWaterproofing
California is in the midst of a third year of extreme drought driven by our changing climate. With water supply conditions critical in many parts of the state, we are preparing for the possibility of a fourth dry Butyear.it's not just about what's happening right now. Climate change is shifting California's permanently.landscapeScientists and water experts warn that we are moving to a hotter, drier future, forcing all Californians to rethink the way we use water.
(Continued
Climate change is a col lective problem that impacts everyone—from California's families and farms to the government, businesses and industries that shape our state and local economies. The solution requires us all to do our part by taking actions now that can help alleviate the consequences of extreme drought.
u Secure the perimeter by implementing any access control procedures, such as closing selected entrances, manually checking IDs and posting additional signage.
Review Insurance Policy: Some policies contain potentially relevant exclusions — including those relating to strikes, riots, and civil commotion. Policyholders and their advisors should review their policies to assess the extent to which this type of exclusion might apply.
Practice the Plan: No matter how good your plans are, they won't work if they're not practiced. Hold tabletop exercises and physical rehearsals if possible, including building evacu ations, with all employees, tenants and vendors; these can be held virtually for those who have not returned to work in the building.
u Consider parking alternatives; for instance, employees could park off-site, shuttle to the building and have security personnel escort them inside.
Adobe Stock.
Be Ready to Communicate: Develop a communications plan and confirm your list of employees, tenants and vendors so you can communicate to the right individuals. Test your system for communicating, which must be operable at any time of day. And discuss how any press inquiries will be handled.
Review Your Property: Perform an inventory of possible problems, including property and building access points, glass windows and any potential projectiles. Review all fencing and lighting. Also confirm the exact locations of the property line and any easements, as trespassing may end up being an important consideration.
Photo:
Association News16 California Buildings • Q3 2022
Develop a Plan: Work with property management and security personnel to develop policies and procedures to prepare and respond to an incident. Determine when and how to implement additional protections and security, and when and how to initiate lock down procedures. Specify a clear chain of command, including who within building management or ownership will make key decisions if necessary.
If the U.S. Capitol Can Get Attacked, Any Building Can
u Alter the building's routine as appropriate, including shifting opening and closing times, encouraging telecommuting and coordinating with tenants on possible curfews.
u Activate precautionary steps by increasing security measures and personnel; visible security can also act as a deterrent.
The Building Owners and Managers Association International recently distributed to its mem bers a "Civil Unrest Preparedness Guide." BOMA says in its intro duction to the guide, "Given current economic uncertainty and political tensions, preparedness should remain a top concern. This guide has some commonsense precautions and a checklist that building managers can take to protect the building and its tenant base." The full guide is available at www.boma.org. It is chillingly realistic in its advice. (See preparedness tips below.)
Prepare for a Possible Lockdown: Have emergency kits and supplies available should a situation occur where it's not safe for employees to leave the property. Identify a safe refuge area away from windows that has a landline phone and cell phone coverage.
u Consider covering all ground-floor glass windows and doors.
u Circulate security's phone number so tenants and employees can call for any assistance.
Work with Public Safety Authorities: Coordinate in advance with your local police department and other law enforcement groups. Increased interaction will lead to better communica tion, better planning and, ideally, better results. Involve law enforcement officials in your planning and drills. Offer your assistance; for instance, space can be offered to law enforcement to assist with their operations in the event of an incident. As is always a best practice, get to know public safety leaders now — an emergency is not the time to be making introductions.
u Ensure that all recording devices, closed-circuit televisions and cameras are operational.
On Jan. 5, 2021 almost no one imagined a scenario in which a sitting president would encourage a violent armed mob to actually attack the Capitol building in hopes of overturning his election defeat, so what are the chances that your facility could experience civil violence? Probably none, but the possibility is realis tic enough for the world's leading commercial real estate organization to issue a detailed guide to its mem bers on how to prepare for violence.
u Remove, repair or replace any loose items on or around the building that could be used as projectiles.
u Secure construction sites, trash dumpsters and outdoor property (e.g., tables, chairs, planters).
Preparing Your Facility for Political Violence
www.KriegerProducts.com
"Despite architecture services employ ment recently surpassing pre-pandemic levels, the ABI score this month reflects the slowest growth since January, and marks the fourth straight month with a lower score than the previous month, indicating a slow
Photo: Adobe Stock.
Krieger sound control doors enhance building acoustics by exceeding the ANSI Standard S12.60-2002. Plus, now they provide an added layer of safety during an active shooter event with a built-in bullet resistance rating of UL 752.
Acoustical Rating Bullet Resistance STC 45 – 48 UL Level 1 & 2 STC 49 – 55 UL Level 3 Bullet ratings up to Level 9.
Acoustical Doors with a Built-In Bullet Rating
The AIA Architecture Billings Index (ABI) score for July was 51.0. While this score is down from June's score of 53.2, it still indi cates stable business conditions for architec ture firms (any score above 50 indicates an increase in billings from the prior month). Also in July, both the new project inquiries and design contracts indexes moderated from June but remained strong with scores of 56.1 and 52.9 respectively.
ing trajectory in billings activity," said AIA Chief Economist, Kermit Baker, Hon. AIA, PhD. "With a variety of economic storm clouds continuing to gather, we are likely looking at a period of slower growth goingKeyforward."ABIhighlights for July include:
For the eighteenth consecutive month architecture firms reported increasing demand for design services in July, according to a new report today from The American Institute of Architects (AIA).
Regional averages: South (53.6); Midwest (52.2); West (51.7); Northeast (48.4)
Architects Still In Demand As Economy Improves
Sector index breakdown: multi-family residential (52.8); commercial/industrial (52.2); mixed practice (52.1); institutional (49.6)The regional and sector categories are calculated as a three-month moving aver age, whereas the national index, design contracts and inquiries are monthly num bers. Visit AIA's website (www.aia.org) for more ABI information.
Acoustical doors come with Krieger's new Cam Lift Hinge that has an ASTM F476 Grade 40 rating—the highest available. You can add a security pin, which delays the door opening in the event of an attempted forced entry. Added Safety & Security
17 California Buildings • Q3 2022
Californians Win CMAA's Industry Excellence Awards
The Construction Management Association of America (CMAA) has given 2022 Industry Excellence Awards to six Californians. The program recognizes excellence in con struction management practice and honors companies and individuals each year based on merit.
Michael Courtney, Cypress Construction Management, received the 2022 CMAA Distinguished Service Provider Award. This honor recognizes a service provider member whose consistent actions have mentselectingadvocating,profession,ofcontributionsmeaningful/extraordinarymadetotheadvancementtheconstructionmanagementsuchasmentoring,promoting,andconstructionmanageprofessionals.SmitaYamgar,
CMAA provides professional development, certifica tion, advocacy, and business opportunities to its members and the entire construction management industry. For more information, visit www.cmaanet.org.
Capital Project Management, Inc., and Ashish Rajmane, have both received the 2022 CMAA Distinguished Young Professional Award. This award recognizes and celebrates a fulltime professional for outstanding professional accomplishments and a commitment to the construction management industry early in their career.
CMAA will honor its award winners during the orga nization's in-person conference, CMAA2022, October 9-11, 2022, in San Diego, Calif. Visit www.cmaanet.org/ cmaa2022 for more information.
Carla Collins, United Engineering Resources, Inc., has received the 2022 CMAA Award for Diversity, Equity, and Inclusion. This award recognizes a CMAA member with a demon strated commitment to equity, inclusion, social justice, commu nity, and social responsibility, and a record of acting on that commitment.DarrinLambrigger, Port of Long Beach, has been hon ored with the 2022 CMAA Distinguished Owner Award. This award recognizes an owner mem ber who understands the value of a professional construction manager on the job
California Buildings • Q3 2022
Ida A. Clair, California State Architect, has received the 2022 CMAA Leader in Environmental Stewardship Award. This honor recognizes individuals, teams, or orga nizations, for outstanding leadership in innovation or best practices in guiding and aiding owners as they seek to define and meet their objectives for environmental stew ardship throughout a project's life cycle.
"Each of our award winners work hard to make a dif ference, and we commend each of them for their achieve ments and contributions to the construction industry," states CMAA President and CEO Andrea S. Rutledge.
Carla Collins, United Engineering Resources, Inc. won the CMAA Award for Diversity, Equity and Inclusion.
Dr. Farzad Shahbodaghlou, California State University East Bay, has been awarded the 2022 CMAA Mark Hasso Educator of the Year honor. This recognition emphasizes excellence in teaching and recognizes a full-time educator for outstanding professional accomplishments and a commitment to construction management education.
Your CountIPM/Green/LEEDcommercialspecialistsonCraneforPestManagementExpertise Serving commercial property managers throughout the Greater Bay Area...since 1930 415-922-1666 • 510-536-1222 408-295-3333 • www.cranepestcontrol.com800-592-7777 NPMAGreenPro Certified
Association News18
and whose consistent actions have made meaningful and extraordinary contributions to the advancement of the construction management profession.
Meet other yourprofessionalsindustryandbuildprofessionalnetwork.
IFMA's World Workplace® is the largest, most highly acclaimed FM conference in the world. Established in 1995, World Workplace is the original forum for groundbreaking discussions onfacility management and the wider built environment.
Get best practices, valuable takeaways and exclusive insights from industry leaders from around the world.
LEARNING
5,000 attendees 70+ sessions 100+ speakers 2 keynotes 300 exhibitors 50+ product & categoriesservice 4 facility tours 2 facility field trips MUSIC CITY CE NT ER | NASHVILLE, TENNESSEE, US A REGISTER TODAY
Learn everything today's clued-in facility professional needs to know.
CAREER
It's where all workplace professionals come to discover innovative FM technologies, build valuable relationships and sharpen essential skills.
2030.Predicting how much of that will be Class A office space, versus affordable residential (please), new schools, accessible, green open space (pretty please), crucial infrastructure improvements, fast food restaurants, immersive Tiktok installations or something new altogether should be left to the fancy degrees of the Big 5 consultancies.Asanengineer
Decarbonizing Construction Makes Huge Green Impact
I can tell you that the decarbonization of our supply chain and attacking embodied car bon allows every building, no matter the program, to make an outsized impact on communities and our cli mate commitments. By advocating for more regional supply chains and investing in lower carbon steel, con crete, glass, aluminium and insula tion, we unlock improved air quality, reduced cancer rates, cleaner ports, better jobs, and stronger commu nities. We need California to drive this innovation, just as we did with the Buy Clean Act. But we most go beyond our municipal buildings, no matter how green. To get to the 50% or more carbon reduction we need by 2030, we need everyone in.
of the IRA and Build Back Better Act (BBB). That represents an investment of $186 billion. Just Los Angeles, Houston, NYC and Chicago alone will see $500 billion in construction by
(Continued on page 30)
This is a fight that will take everyone from our corporate clients,
The Inflation Reduction Act (IRA) caught all but the most savvy politi cal insiders by surprise. For climate advocates, it's mostly good news, unless you are stringent environmen tal justice fan nervous about some of the concessions to the fossil fuel industry. Regardless of how optimis tic it makes you feel, it predominant ly focused on the power and trans portation sector. But America can walk and chew bubble gum at the same time. If renewed public invest ment will push for innovation in our cleaning our grid and our commutes, we need the creativity, design ethos and tenacity of the construction sec tor to rise up and address the remain ing 20% carbon reduction we lost in the shuffle between the final language
Consultants, builders, designers and engineers have not yet come to terms with the public health and environmental consequences of the supply chains we rely on, and we continue to overlook the dual threat of public health and climate change on environmental justice communi ties. The buildings that form our city (and rural) fabrics on cannot be con sidered truly sustainable until public health and environmental outcomes are improved across a project's entire life cycle. We can and we must inno vate for bio-based materials to replace our reliance on petrochemical
20 California Buildings • Q3 2022
T
"As an engineer I can tell you that the decarbonization of our supply chain and attacking embodied carbon allows every building, no matter the program, to make an outsized impact on communities and our climate commitments."
By Kathleen Hetrick
products. We can and we must electrify our construction equip ment, utilize sustainable aviation fuel (SAF) and require renewable diesel to lower our A4 and A5 emis sions. We can and we must fight for industrial decarbonization processes that invest in environmental justice communities first and foremost. We can and we must procure materials from manufacturers committed mak ing occupational cancer and forced labour a relic of the past. We can and we must cease building solely for unchecked growth and focus on building for best-use: investing heav ily in zero-waste construction and adaptive reuse.
here are many pieces in the news about the perils and promises of remote working. Sometimes they seem interchange able. The same is true for predict ing the demise of the commercial building sector, or its new dawn. Regardless of the volatility of the market, one thing is true. The post-pandemic construction sector is absolutely essential in our collective hope to meet the greatest challenge of our time: climate change.
"We believe that physical environment has a huge impact on students, says Ramiro Losada-Amor, who worked with Architects Mosher Drew to build news classrooms and a music building for Mira Mesa High School in San Diego. The American Institute of Architects-award winning project "provides a multi-environment and dynamic learning setting to reinforce flexibility, dynamic learning, team collaboration, and 'learn by doing'," he says. "Teachers assume a role of 'advisor' or 'guide' to facilitate students' efforts to research information and create their own knowledge base. Beyond the buildings already built, right now we are working on the Phase II with the San Diego Unified District to create more outdoor learning "pods" and other outdoor area to create spontaneous socialization for the students and faculty. This is important and even more now navigating COVID dynamics." He says, "Traditional K-12 education buildings have created partitioned structures that promote a single lecturer instruc tion style, resulting in primarily isolated classrooms with isolated students and stationary teaching. However, current teaching pedagogy is the opposite. The new classrooms for Mira Mesa High School will extend the classroom walls by combining three distinct instructional spaces to create a
"Adaptivetoday.reuse
New San Diego Classrooms Better Guide Students
Photo credit: Costea Photography Inc.
Old Westside LA Macy's Converted to Mixed-Use Facility
HLW, on behalf of GPI Companies and in partnership with Del Amo Construction, just completed a $180 million total adaptive reuse project of the former Westside Pavilion Macy's department store in West Los Angeles. Located at the intersection of West Pico Boulevard and Overland Avenue, the mixed-use develop ment repurposes approximately 240,000 square feet of shuttered retail space into an open, creative office campus with a host of new commercial leasing opportunities. The project serves as an exemplary adaptation of old retail assets to meet the evolving needs of
diverse 'collaborative nucleus' for flexible teaching. The design offers standardized interior classrooms for traditional needs, and merges with shared patios and outdoor teaching clusters to promote physical and visual connections to create unique learning experiences. This model allows interior classrooms to be fluidly interactive with an adjacent classroom, patio, and outdoor teaching cluster; or each can be partitioned into sep arate break-out type spaces. The 'collaborative nucleus' struc ture is aligned with other similar structures, enclosing a central landscaped area where the teaching clusters are located. This flexible architectural model reinforces diversity in learning while promoting the physiological and psychological benefits of connectivity to nature."
New Projects
22 California Buildings • Q3 2022
of the former Westside Pavilion Macy's pre serves an urban fabric that a generation of Angelenos associate with the memories of time spent with family and friends at the mall," said Sejal Sonani, principal and managing director at HLW, which provided architecture, interior design, and landscape architecture services for the project. She continues, "West End is also an impressive case study on repurposing underperforming and abandoned malls throughout the country. HLW is elated to have provided this new space to the thriving urban community of West LA."
The transformative redevelopment of West End began in late 2016— in conjunction with the site's purchase by GPI Companies and became the catalyst for the repositioning of the balance of the former Westside Pavilion into a 584,000-square-foot Google office campus. Together with West End, the development creates a new transit-oriented job center near the Westwood/ Rancho Park Expo light rail station. HLW worked closely with GPI and Del Amo Construction to convert the former department store into a modern creative office campus.
Photo credit: ©Fotoworks/Benny Chan.
Photo courtesy of Duke Realty, ©AirViews.com
Smart Building features include: w BAS allows tenants to access and operate the temperature controls in the office and lighting throughout the building remotely.
Designed to exceed its residents' expectations with custom ized services created to elevate everyday life, Coterie is now open on Cathedral Hill in San Francisco, followed by Hudson Yards, NYC, and major metropolitan cities across the country. Through these properties, Coterie expects to create more than 350 jobs within the next year as part of the brand's debut. (For more information visit CoterieCoterieSeniorLiving.com.)isamodernluxury senior living brand that offers residents world-class amenities and care in prime cities across the country. A visionary collaboration between two industry leaders, Atria Senior Living and Related Companies, Coterie believes that aging is worth celebrating. As a forward-think ing brand, Coterie strives to reshape and recast an entire
Duke Realty Industry's First Smart Building in Southern California Company Invests in Energy Efficiency, Automation and Data Tracking Features
w Employee focused amenities such as food truck outlets and a garden were incorporated to provide healthy and safe work Dukeenvironments.Realty's Smart Building was designed by an in-house committee comprised of Duke Realty associates from various departments including construction, leasing and develop ment, property management and financial services.
w Dock sensing devices collect data on dock operations including loading and unloading times, truck positioning, dock locking safety and weight of loads going in and out of the facility.
Photo courtesy of Coterie.
w LED lighting monitoring sensors not only monitor building lighting use but can determine when daylight can supplement internal lighting, adjusting for brightness and helping to limit and optimize energy use.
industry with stunning architecture, thoughtful interior design, elevated culinary experiences, and tailored wellness programs that allow residents to thrive.
New Senior Living Facility Opens in SF
w Solar panels allow for the reuse of solar energy at optimal times to reduce peak energy demand charges and operational expenses.
w Warehouse insulation and air flow solutions such as indus trial fans and gravity vents minimize the need for external cooling and heating and improve the air quality.
w The smart metering system helps collect energy consump tion and power quality information from the lighting and mechanical systems.
23 California Buildings • Q3 2022
Duke Realty Corporation, a leading domestic only, pureplay logistics property REIT (Real Estate Investment Trust), announced the completion of the industry's first Smart Building. The Smart Building program allows tenants to incorporate intelligent and sustainable features in the development design process. The completed building, a 529,866-square-foot at 13131 Los Angeles Street in Irwindale, California, has a building automation system (BAS), smart metering system, solar panels and high-efficiency air condi tioning units.
This new Smart Building will reduce greenhouse gas emissions by 800,000 kg CO2e (carbon dioxide equivalent) per year when com pared to an air-conditioned warehouse powered by tradition al electrical energy sources. "Duke Realty has been an indus try leader in sustainable building practices and our pledge to achieving carbon neutrality," said Megan Basore, Duke Realty's vice president of Corporate Responsibility. "This first of its kind facility proves our commitment and allows us to work closely with our customers to limit our impact on the communities we serve."
Replace conventional and non-functional turf. Change non-functional turf to drought tolerant landscaping.
Watering California Landscapes (Continued from page 14)
if you have one. Minimizing turf, replacing them with native grasses or low water groundcovers, and finding different ways of providing a functional space embracing the beauty of large campuses strike a balance between how the space is utilized and the ongoing drought.
Balachandran is a senior associate and Crowell is a junior associate at McCullough Landscape Architecture, Inc. in San Diego.
Irrigation
Metropolitan Water District of Southern California has declared a water shortage emergency, cutting outdoor watering to one day a week. Balancing soil moisture content sensors, using gray water, and integrating with the efficient automatic irrigation system are ways to act sustainably and effectively reduce water use. Manually irrigated systems should be monitored and adjusted according to the needs to avoid overwatering. Surface runoffs can be avoided by decreasing the overspray into the hardscape. Using recycled graywater to irrigate landscapes will reduce the cost of potable water.
Install water efficient fixtures in restrooms, kitchens and showering areas. Replacing commercial and industrial toilets, urinals, faucets and showerheads with high water efficient models is a great way to save water.
Check with your local water agency for information on available rebates, incentives and other programs to support water efficient upgrades, and keep an eye out for upcoming programs and financial assistance to help with turf replace ment and other conservation efforts. The state has allocated funding to the Department of Water Resources to support local efforts that enable Californians to act now on water savings retrofits at your buildings and businesses. More infor mation about state drought response and assistance resources can be found at water.ca.gov.
With many urban infill-type projects quickly underway throughout California, there is an added layer of adaptability. Whatever the design of the building, the landscape must reflect it—or juxtapose it—depending on the design intent. The more we implement drought tolerant and California native plant species, the more significant the impact we can have in reducing water consumption. Working with what California has to offer us, we can not only fight the drought but create landscapes that will thrive. n
outlines priority actions for transforming water management, stretching existing water supplies and developing new sources to replenish water supplies lost to an era of rising temperatures. With California bracing for another dry year, state and local water agencies are working together with Tribes, non-governmental organizations and leaders in the commercial, industrial and institutional sectors to advance water smart projects and improve water use efficiency in all of our communities. Collaboration among all sectors is key to adapt in order to help save enough water supply that meets current and future needs.
24 California Buildings • Q3 2022
Save Our Water, the state's public education campaign under the California Department of Water Resources (DWR), is spreading the word about water conservation and provid ing tips and resources to cut back on water usage. Building managers and owners are encouraged to examine existing systems and incorporate water saving actions that will have a direct impact on the extreme drought conditions through out our state:
Landscape with water-wise plants. Incorporating water wise and native plants into landscaping designs can save a lot of water and are often low maintenance. Check with your local water agency to learn which plants are drought tolerant and native to your area.
Significant water savings depend on more than one source contributing. Together, we can change how we use and value water to help make a big impact toward conservation. Through collective action we can shape what water conser vation means for our state and our communities in order to have a reliable water supply for our future. n
Educate clients, customers and employees about the importance of conserving water. Using your communication networks to spread the word about water conservation is an easy and simple way to raise awareness around the extreme drought in California.
Moving Forward
California Businesses Save Water (Continued from page 15)
We are working to balance the needs of the worker with those of the organization to achieve the best over all outcome.
Photo:
Adobe Stock.
Space planning, sensors/people counters, leveraging technology to have better impact on facilities; hybrid work schedules, collaborative spaces vs. private offices, appropriate-sized real estate footprint—are all part of the conversation leading to decisions that need to be made—and FMs will actively participate in making a reality.
25 California Buildings • Q3 2022
tenants. But there is a bigger picture at work: rather than look at IAQ measures strictly as an expense, building owners and occupants should instead view them as an investment in long term health and safety where the investment pays off in improved health and Elevatorsproductivity.arecontinuing to evolve and will likely continue to incorpo rate anti-viral features such as coated touchpoints and improved ventilation systems. The elevator industry is also advancing digital sensors and coordi nating apps to make riding on an ele vator a seamless no touch experience. IFMA corporate sustaining partner OTIS found in a three-month study that the relative exposure risk in mod ern elevators is lower compared with many other common spaces
A: Owners will incur the expense and may look to offset the costs through more prudent FM measures, passing along additional costs allowable to
A: For some industries, the work place changed very little. But for the knowledge workers, workplace has been a focus area. After two years of remote work, they have shared that they want their office to be as com fortable and safe as their homes... which means workplaces are under going an important redesign. And while there are many ideas of what can or should be done, it is FMs who are playing a vital role in rethinking how to best use the workspace.
A: I believe success flows along lines of relationships. My goal as IFMA Chair is to continue to develop and deepen the FM community and connectivity. This is to not only bolster the profession but to enable individuals to forge connections and leverage relationships globally to ultimately help creatively solve problems, providing more long-term viable solutions in our connected community. n
Q: Do you think that building owners will incur the expense of higher performing indoor air quality (IAQ) to make buildings safer for occupants? Are elevators likely to need anti-viral features in the future?
(i.e. buses, office buildings, etc.). So, while elevators present a risk factor for exposure, the short time of the average ride combined with mitigation techniques such as proper airflow in elevators and exercising good hygiene practices, the risk of exposure is lower than many other daily activities. What are your major goals for IFMA going forward?
Q: Given the massive impact of the ongoing pandemic, do you perceive the need for altered workplace design? New types of products?
IFMA Q&A (Continued from page 10)
"Space planning, sensors/people counters, leveraging technology to have better impact on facilities; hybrid work schedules, collaborative spaces vs. private offices, appropri ate-sized real estate footprint—are all part of the conversation leading to decisions that need to be made—and FMs will actively participate in making a reality."
Gilmer is also vice president and chief operating officer of Santa Rosa, CA-based Facility Engineering Associates. P.C.
For anyone looking for the ideal FM position or candidate, we also offer the IFMA JobNet, which is the best place to find or post current opportunities in facility management.
future, particularly among younger workers. Multi-family housing close to employment centers and transportation corridors is also attractive for many whose alternative would be long commutes from the outlying suburbs even if such a commute were to be only a few times per week."
"The sole exception is the Sacramento market where there is a high dependence on the demand for space by state government. Even though the state general fund is in surplus, cost saving measures and tele-work by a signif icant number of state employees has resulted in more than 20 government office leases not being renewed. For the Bay Area, the panels are forecasting rental rates to remain soft, if not deteriorate, but occupancy rates to continue to improve. For the three Bay Area markets, the compos ite measure of sentiment has remained slightly optimistic though there are not yet plans in place to increase the rate of office development.
The report says, "Despite the pandemic-induced demand for homes in the suburbs and a continued work-from-home culture, our multi-family panels remain bullish about the coming three years. In every market, including the pandemic work-from-home hit San Francisco market, there are forecasts for both rental rates increasing faster than the rate of inflation and vacancy rates falling between today and"Although2025. the continued arrival of waves of the pan demic delayed some return to the office, the reopening of city amenities and the creative and social value derived from urban experiences are attractors that are expected to induce increased density in multi-family living in the near
Industry News
"The pandemic continues to affect each market sector in different ways. While some continue to thrive, such as industrial and multi-family, others, like office and retail, will need more time to determine their trajectories."
"The office market may not be back in Northern California just yet, but office development is projected to be increasing by the end of 2025. In Southern California, the panelists' views are less pessimistic, the report contin ued and adds, The sentiment index moved from positive to negative territory for each of the four markets surveyed."
"Optimism about the office market through 2024 has now turned to pessimism about the same market through 2025 in California,byisinIsinvestmentviewledeconomictaintythatsays.California,"neutralCaliforniaSouthernandamoreviewinNorthernthereport"Whatisclearistheincreasedunceraboutneartermprospectshastoamorecautiousofsummer2022inofficespace.thisatemporaryhiatusactivityforsome?Thattheopenquestionraisedthesurvey.InNorthern3/4ofthe
Photo: Adobe Stock.
A report of the survey says, "Industrial markets, which have perennially experienced very low vacancy rates, remain poised...for a good run of new building and superi or returns. Multifamily housing has rapidly bounced back from a 'falling-rent' hiatus and is also in for a run of new project development. Retail markets are show ing signs of a new growth cycle. The only negative news in the latest survey is that a turn in both retail and office markets may take longer than previous ly predicted. This would be a direct consequence of continued waves of the pandemic and a much more uncertain economic and geopolitical environment than six months ago."
California commercial real estate executives are "cautious" about the next 12 months but are "more opti mistic on all fronts about the coming three years," accord ing to the Summer 2022 Allen Matkins / UCLA Anderson Forecast California Commercial Real Estate Survey
Pessimism Continues for the Office Sector
Allen Matkins Partner John Tipton adds, "The pandemic continues to affect each market sector in different ways. While some continue to thrive, such as industrial and multi-family, others, like office and retail, will need more time to determine their trajectories."
26 California Buildings • Q3 2022
California Commercial Real Estate Slowing, But Future Looks Better
Multifamily Prospects Bullish
(Continued on the next page)
panelists are now forecasting that by 2025 demand will have grown at least as fast as supply.
experience when workers are in the office. In a recent JLL survey, employees around the world revealed they now prioritize "soft benefits" like work-life balance, feeling engaged and connected to others, and having a sense of purpose in their jobs.
"Though this turn of events has slowed the return to the office there are signs that it is temporary. Some large public companies are putting into place plans to return their workforce to the office. Increasingly companies are seeing the value of officecentric work for establishing culture, creating loyalty, inducing creativity and the mentoring of young employees. Likely, the tools learned during the strict work-from-home episode of 2020 will
individual workspaces are untenable now. The inher ent benefits of in-office work, integral to the employee experience, will need to be amplified to make up for less time spent each week in the office, as well as the new purpose it serves."
"As the hybrid workplace takes root, the purpose of the office will evolve. Workers won't be in the office every workday; thus, the need for the office to boost productivity, stimulate innovation, and facilitate collab oration intensifies. People will expect the office experience to center around health and well-being, especially in light of the pandemic, which resulted in standards and protocols that may be andThingssophisticateddemic,grantedelementsoflacks"Workingpermanent.fromhomeessentialelementsworkingintheoffice—wealltookforbeforethepanevenintheleastofoffices.likeshareddesksdenselypopulated
JLL Offers Hybrid Workplace Advice
27 California Buildings • Q3 2022
allow for more flexibility and less than full time in the office for many people. And the configuration of the office will surely be different post-pandemic. The implication of these factors is that there will ultimately be a need for new office development consisting of the remodeling of existing offices, the building of satellite offices to reduce employee commute times, and the creation of new mixeduse office complexes." n
In its "Better Hybrid Workplace" guide Jones Lang LaSalle says, "New expectations are transforming the purpose of the office."
"As the hybrid workplace becomes the norm, your role will move away from traditional CRE duties, as will the metrics you monitor and use. Distributed workforces and ebbs and flows in improvingengagingbenection,needwillsupportautomationdigitizationplace—willofpancy—hallmarksoccuthehybridworkrequireandtoolsthatthem."Remoteworkintensifytheforhumanconandyou'llpartofcreatingspacesandtheemployee
Reconfiguring office space
For a fuller explanation, visit: JLL Technologies | Real estate, facilities, and property tech. California Commercial Real Estate (Continued from page 26)
28 California Buildings • Q2 2022
PRODUCT FOCUS
Mobile Storage Solutions
MethodStandardcompliancewithCDPHv1.2
Krieger Specialty Products' Door & Window Products
Every project has its own unique challenges, and keeping tools and equipment organized is just one of the many important aspects of a well-man aged job site. National Construction Rentals offers mobile storage contain ers in many sizes, so additional room is never an issue. Whether it's 10, 20 or 40 feet in length, every unit offers the maximum in usable space. For additional information, call 800-352-5675 or visit www.rentnational.com today.
for private office, school classroom, and single-family residences. The ultimate solution for apart ments, condominiums, restaurants, bathrooms, kitchens and any commercial or residential installations requiring waterproof protection. Visit www.nacproducts.com to learn more.
Water-Tight Seal With No VOCs!
Since 1936, Krieger Specialty Products has been a leading manufacturer of specialized door and window products for acoustical, blast resistant, bullet resistant, radio frequency shielding, thermal shielding, tornado, and hurricane appli cations. Built to your precise specifications, Krieger doors and windows have been the choice for premier buildings in California and throughout the world. Learn more at https://www.kriegerproducts.com or call 562-695-0645.
is a peel-andstick, sheet membrane is designed for use on interior or exterior surfaces that require waterproof protec tion. Strataflex features a 2" double stick lap joint that creates a water-tight seal, allowing for immediate flooring installation as soon as it is applied. Strataflex is certi fied Clean Air GOLD and contains no VOCs in
PAC-CLAD | Petersen NEW PVDF Ore FinishesKings III's Emergency Monitoring Reduces Risk and Mitigates Liability Exposure
RC-FLEXair® Is Ideal for Terminal Control
Consult a andrepresentativePAC-CLADforwarrantyleadtimes.
For more information, and for Petersen's full product line, visit PAC-CLAD.com.
Elevator malfunc tions are inevita ble. tionspassengerspectrumcieshealthcoupledEntrapmentswithemergenandawideofreaccanquickly
The RC FLEXair from Reliable Controls features an optional precision-airflow sensor and a brushless DC damper actuator, making it ideal for many types of terminal control applications. The pressure sensor ports are highly resilient and made from die-cast aluminum; combined with the aluminum enclosure and steel baseplate, this controller is rugged and built to last.
Learn more now at reliablecontrols.com/RCFA
29 California Buildings • Q3 2022
PAC-CLAD's NEW Ore finishes provide the look of natural metal patinas with the durability and consistency of a PVDF finish. Unlike expensive and unpredictable natural metals, these 16 beautiful finishes will not tarnish, discolor or rust. Available on PAC-CLAD wall and roof panels, coil and sheet in aluminum and steel.
become an ongoing headache. Kings III helps you reduce risk and mitigate liability exposure via its class leading emergency monitoring for help phones in elevators, stairwells, parking structures and more. Its concierge level service helps you manage tenant experience, while also reducing your risk and liability with value-added benefits not common in the monitoring space. For more information, visit www.kingsiii.com.
The Essential Upgrade KastlePresence®
Decarbonizing Construction (Continued from page 20)
academic collaborators, municipal leaders, design teams, contractors, marketing directors, manufactur ers, truck drivers, construction workers, and every one and anyone in between. Whether it's your part of your Scope 1,2, or 3 carbon, your ILFI Zero Carbon Certification, your ESG goals, or your corporate mis sion statement, we all have the responsibility and we must all act now. With the passing of the Inflation Reduction Act (IRA), we can no longer blame political inertia and look the other way.
30 California Buildings • Q3 2022
Upgrading to Mobile Access?
Learn More at Kastle.com
As a sustainability engineer at Buro Happold, a Johns Hopkins University Bloomberg MPH Fellow, a USGBC-LA Board Member, and one of the found
ing co-instigators of Carbon Leadership Forum – Los Angeles, I aim to do everything in my power to lever age the California construction industry's access to capital, clout, innovation and talent to reengineer the way we build, not just for profit, but for people. We must capitalize on this to push for zero carbon buildings that tackle operational carbon, embodied carbon, environmental justice and public health. Now is the time for the construction industry and real estate sector, and maybe all of corporate America to stop setting goals and start achieving them. n Hetrick is a sustainability engineer at Buro Happold and a USGBC–LA Board Member.
To learn more about how you can reach our targeted buildings industry audience, contact our publisher, Ellen Eason, at ellen@easoncom.com or 415.596.9466. Check us out at www.cabuildingsnews.com You can advertise your products and services in California Buildings News. California is an innovative leader in commercial real estate, whose owners and operators are early adopters of the latest and most sustainable products. We can help you reach decision-makers who design and operate office buildings, apartment communities, hotels, hospitals and other commercial facilities…architects, contractors, facility and property managers, engineers and others. Our magazine goes beyond single-silo product coverage and reports on all types of issues, people, products and services needed in buildings. n Statewide coverage of the California buildings industry the fifth largest in the world n News about commercial buildings, multifamily complexes, hotels, hospitals, factories, institutional facilities n Regional news focus on Northern and Southern California n Ad opportunities allow you to choose either statewide or regional market pricing n More than 21,000 print and digital readers Ask About Lower Regional Rates for NorCal & EditionsSoCal We Help You Do Business in California.. the World's 5th Largest and Most Unique Economy Design & Operation of Office, Multifamily, Hospitality, Medical and Government Facilities Q4 2022 • $5 New Challenges Facing Building Management n Fire and Life Safety Solutions n More Secure Building Access n Technology for Space Management n Q&A with BOMA Vice Chair Moreno Special Features... Our next issue...
SANTA CLARA CONVENTION CENTER SANTA CLARA, CA
For exhibiting information: Lisa LNagle@facilitiesexpo.com(408)829-5111Nagle
California Buildings is proud to be a media sponsor of the Facilities Expo Northern California.
California Buildings
San Francisco, CA 94122 www.cabuildingsnews.com
NORTHERN CALIFORNIA SEPTEMBER 21-22
Register for fenc.facilitiesexpo.comFREE:
Printed on recycled paper.
PO Box 225234
Return Service Requested