PLAY PACKS
Sets of our best toys are carefully curated for each age group with a bonus development guide and play tips.
RIGHT TOYS, RIGHT TIME...
The Discovery Toys Advantage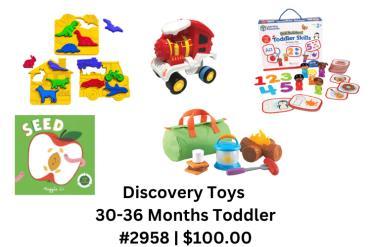 Play is fundamentally important for children to learn 21st-century skills, critical for their future success. Providing exposure to skill areas at the right time is important to learning success. That's where Discovery Toys and our team of Certified Play Advisors come in. Discovery Toys provides the most outstanding Play Essentials and our Play Advisors make sure you get the Right Toys at the Right Time!
Play Essentials for ALL AGES!
AUTISM SUPPORT
Nearly every toy has an Autism Symbol corresponding with specific learning the toy supports.
Develop independent play with some limited instructions
Promote sustained engagement
Build skills for cooperative play
Create opportunities for kids to talk about their play experience
With obvious completion criteria
Encourage pretend play
NOTES: Books, CDs, and toys with an asterisk are covered by a 30-day guarantee. Actual colors may vary from the photos in this catalog. WSL = While Supplies Last.
Revised: 7/20/23
For more information, contact your local DT Play Advisor or visit discoverytoys.net.
1 2
©2023 Discovery Toys | All rights reserved | 800-341-TOYS (8697)