T h e B a r t i z a n wedding experience
A Guide for Bartizan Wedding Clients
Welcome to Bartizan!
The Dover Hall Experiences Team extends our sincerest congratulations! We cannot wait to embark on your wedding planning journey together Bartizan weddings are personalized, memorable, and meaningful Throughout these pages, you'll find a plethora of information including the history of our company, real wedding inspiration, and information about our artisan in-house culinary and beverage programs We know you will feel inspired as your dream wedding becomes a reality!
C o n g r a t u l a t i o n s
B a r t i z a n W e d d i n g s
Photos: (cover) Jessica Elmendorf Photography (full page) Alex C Tenser Photography
About 03 05 A History of Dover Hall Experiences Weddings at Bartizan T A B L E O F C O N T E N T S Real Weddings 06 09 11 Lily + Sam Alison + Gary Andrea + Matthew Our Spaces 12 14 16 The Ceremony The Cocktail Hour The Reception Additional Information 19 20 Our Amenities Our Planning Process Culinary + Pricing 23 25 Thoughtful Cuisine The Investment B a r t i z a n W e d d i n g s
01 B a r t i z a n W e d d i n g s
02 B a r t i z a n W e d d i n g s
Photo: (bottom) Marshall Arts Photography
Dover Hall Experiences is a luxury hospitality company led by the visionary duoJeff Ottaviano & Chad Hornik In 2017, Dover Hall Experiences was launched when they assumed management of the picturesque Goochland property, Dover Hall
"We never imagined that what started as a friendship 12 years ago would become such a wild and exciting ride Our mutual passion for fine wine, delicious food, and travel, plus nearly 50 years of combined experience in the hospitality industry, prompted the decision to form Dover Hall Experiences in early 2017 Our mission was to build a portfolio of Virginia's Premier Destinations for Unrivaled Events, Boutique Lodging, and Thoughtful Cuisine In just five years, we have assembled a team of the region's best hospitality heroes and are offering a product second to none at all of our properties We hope you will join us on this ride and cherish each and every Dover Hall Experience. CHEERS!" - Jeff & Chad
Bartizan is DHE's first sister property, conveniently located in Short Pump's West Broad Village. We opened our doors in December 2019 as a full-service restaurant with hopes of one day being just an event venue. Since August 2022, Bartizan has been operating as an events-only venue and it is thanks to our incredible clients that we were able to make this dream a reality!
Our flagship property, Dover Hall, is a refined, English Tudor-inspired castle placed elegantly among the rolling hills of Manakin-Sabot, Virginia. The exceptionally grand 38,000-square-foot estate house sits peacefully on 55 private acres in Goochland County's equestrian country and is a short 15-minute drive from Bartizan. Bartizan, by definition, is an elevated corner turret of a castle. Our carefully chosen name and logo are subtle tie-backs to the property that has become Richmond's premier event venue. Coupled with many of the Bartizan design elements, this is evidence of the intent we put into every detail
A H i s t o r y o f D o v e r H a l l E x p e r i e n c e s
03 B a r t i z a n W e d d i n g s
Located in Glen Allen's West Broad Village, Bartizan is a full-service events venue offering scratch-made cuisine, craft cocktails, premium wines, and a fresh, exciting atmosphere for up to 250 guests. A sister property of Dover Hall, Bartizan offers the same qualified and experienced event managers to guide you through the planning process With private access, premium audio-visual capabilities, 5G WiFi, and ample complimentary parking in an adjacent deck, Bartizan is the ideal location for your turn-key wedding experience
05 B a r t i z a n W e d d i n g s
W e
s a t B a r t i z a n
Photos: David Abel Photography
d d i n g
06 B a r t i z a n W e d d i n g s
Photos: Amanda Arnold Photography
Alison + Gary
09 B a r t i z a n W e d d i n g s
Photos: Jessica Elmendorf Photography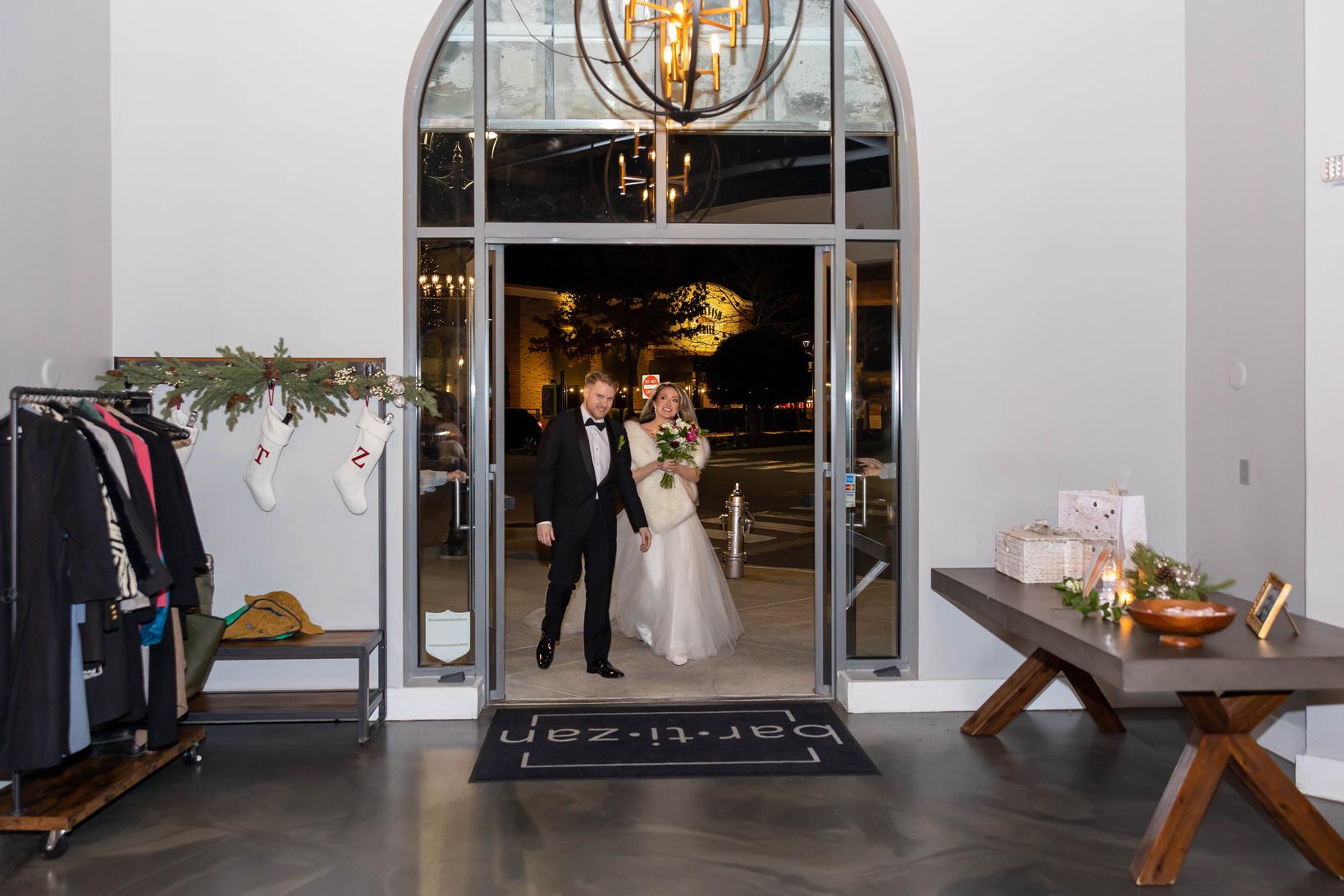 11 B a r t i z a n W e d d i n g s
Photos: Jessica Ellis Photography
Andrea + Matthew
R E A L W E D D I N G