CONCORD Discover FALL 2022 18PLUS!THINGS TO SEE & DO THIS FALL The Loyalist Guides of Lexington & Concord Reuben Brown: The Lieutenant's Legacy Ellen Garrison and Her Fight for Freedom Dr. Jane Goodall's Message of Hope
Nothing Compares. BARRETTSIR.COM home is where your favorite table for two norequiresreservation Acton 978.263.1166 Bedford 781.275.1990 Carlisle 978.371.3110 Concord 978.369.6453 Lexington 781.862.1700 Lincoln 781.259.4040 Westford 978.692.6141 Winchester 781.729.7900 SELLYOUBEFOREBUY&PREPPRE-LISTINGABOUTUSASKSOLD|7TODDPONDROAD,LINCOLN
Design Build  New Homes Kitchen Cabinets  Vanities Custom Built Renovations-ins Visit our showroom in West Concord! 51 Commonwealth Appletondesigngroup.comAve978.369.3322 Nathalie Appleton Interior Designer Kitchen & DesignerFurniture Tino ContractorFazioBuilderCarpenter Owners We now have our own line of cabinets locally made and affordable
Cynthia L. Co-FounderBaudendistel
Jennifer C. Co-FounderSchünemann Cider Donuts &HistoryRevolutionary
There was another man out and about on the morning of April 19, 1775. Reuben Brown was in Lexington as shots rang out on the green. Brown leaped on his horse and raced back to Concord to report what he'd witnessed. This 26-year-old maker of saddles played a pivotal role that day and lived the rest of his life in Concord. Learn more in "Reuben Brown: The Lieutenant's Legacy" on p. 24. Ellen Emerson, eldest daughter of Ralph Waldo and Lidian Emerson, led a remarkable life. Her father ensured that Ellen was educated by gifted teachers and that education continued long after her formal schooling ended. Surrounded by strong women and influenced by the thinkers of her day, including Henry David Thoreau, Ellen Emerson used her intelligence, formal education, and natural curiosity to craft a life worthy of remembering. Discover more in "The Education of Ellen Emerson" on p. 20.
FOUNDERS from the
Speaking of Henry David Thoreau, did you know that he earned a living as a land surveyor? The Concord Free Public Library holds two hundred of Thoreau's surveys and field notes. "Henry David Thoreau: Land Surveyor" on p. 38 looks at his fascinating work. And if you haven't ridden Concord's new trolley yet, you're in for a treat! Hop on the trolley this fall and spend a day visiting Concord's historic sites. "Come Ride the Trolley!" on p. 18 tells you all about this exciting new service from the Town of Concord. Every season brings change and this fall brings a new chapter for our friend and Advisory Board member, Carol Thistle, as she retires from the Concord Museum. Thank you, Carol, for your support, guidance, and friendship over theBeyears.itexploring the pumpkin patches or delving into Concord's fascinating history, we wish you days filled with sunshine and adventure and cool, crisp evenings during this beautiful time of year.
A
After a summer of record-high temperatures, we're ready to welcome the cooler days of fall. We're looking forward to apple cider donuts, pumpkin picking, and evenings by the firepit. There's a lot going on in Concord this autumn, so don't miss 18 Top Things to See & Do on p. 10. Concord was honored this summer to welcome Dr. Jane Goodall as The Thoreau Society awarded her the Thoreau Prize for Literary Excellence in Nature Writing. Dr. Goodall's work exemplifies the love of nature and respect for all living things that Henry David Thoreau espoused during his life and through his writings. We talked with Dr. Goodall about her work and her vision for the future. Delve into the fascinating life of this remarkable scientist in "Dr. Jane Goodall: A Message of Hope" on p. 12. We've explored the lives of many of the leaders of the American Revolution in Discover Concord. But in this issue we explore the world of the colonists who remained loyal to England and served the British troops as guides, particularly on that fateful day of April 19, 1775. The existence of these guides is largely absent from many of the historical accounts, but they played a critical role in the American Revolution. "The Loyalist Guides of Lexington and Concord" on p. 16 introduces several of these guides who helped shape the outcome of those early days of rebellion.
2 Discover CONCORD | Fall 2022
Coming Soon 978.371.1234 - 48 Thoreau Street, Concord MA 01742 www.TheAttiasGroup.com from 5B Seymour Street, Concord MA I nnovation of design.I n tr oducing Concord 's first one-bedroo m new construction home with guest space and deeded access to White Pond. Offered at $1,995,000
4 Discover CONCORD | Fall 2022 10 18 Things to See & Do This Fall BY CYNTHIA L. BAUDENDISTEL 12 Dr. Jane Goodall: A Message of Hope BY JENNIFER C. SCHÜNEMANN 16 The Loyalist Guides of Lexington and Concord BY ALEXANDER CAIN 18 Come Ride the Trolley! BY CINDY ATOJI KEENE 20 The Education of Ellen Emerson BY BARBARA ELLEN EWEN 22 Preserving & Updating Concord's Civil War Monument BY BETH VAN DUZER 24 Reuben Brown: The Lieutenant's Legacy BY VICTOR CURRAN 26 Concord Festival of Authors BY BARBARA GUGLUIZZA 28 From Concord to California: Ellen Garrison and Her Fight for Freedom BY CAMILLE JOHNSON Contents Continued on Page 6 Fall 2022 contents p. 12 p. 16 p. 10
Guest Rooms – Restaurant and Tavern – Outdoor Patio Dining — Groups & Events All in the Heart of Historic Concord Perfectly situated just a short walk from the Minute Man National Historic Park, the Old North Bridge, Louisa May Alcott's Orchard House, and the Concord Museum! Walk to Concord Center's charming sights and shops. Then come home to a cocktail on the patio and a delicious meal. Welcome to Concord's Colonial Inn! We look forward to your www.concordscolonialinn.comvisit.48MonumentSquare-Concord,MA01742 Hotel: 978.369.9200 Restaurants: 978.369.2373 Groups & Events: 978.341.8201
6 Discover CONCORD | Fall 2022 30 The Bee's Knees British Imports: Perfecting the Art of Teatime BY JENNIFER C. SCHÜNEMANN 34 Emancipation BY GEORGE QUINTAL, JR. 38 Henry David Thoreau: Land Surveyor BY ANKE VOSS 41 List of Shops and Restaurants 42 Walking Maps of Concord 45 Concord Art and Antiques: Curated & Timeless Treasures BY JENNIFER C. SCHÜNEMANN 46 Gaining Ground on Healthy Eating BY ANNE LEHMANN 48 John Jones: Concord's First Minister and Witch Hunter BY JAIMEE LEIGH JOROFF 52 Concord Art Celebrates its Centennial BY JEFF WIEAND 54 Historic Concord: Plan Your Visit BY CYNTHIA L. BAUDENDISTEL 56 Biking the Bruce Freeman Rail Trail BY DAVID ROSENBAUM 58 Artist Spotlight BY JENNIFER JOHNSTON 60 Path to History: Explore the Trails at Minute Man! BY NEIL LYNCH 62 Takin A Walk: Buzz Knight Channels the Walden Vibe in a Delightful New Podcast Series BY JENNIFER C. SCHÜNEMANN 64 Cider Donuts & Pumpkin Patches: Autumnal Rites of Passage in New England BY DAVID ROSENBAUM Contents Continued on Page 8 p. 46 contents p. 34 p. 38 p. 58
AWARDED 2021 TOP REAL ESTATE PRODUCER GREATERMARKETBOSTON AWARDED 2020 BEST OF ZILLOW TOP AGENT AWARDED 2022 TOP 10 EXPERTS TOINFOLLOW2022 OF KNOWLEDGELOCAL Our Passion is helping Buyers and Sellers Ach we help buyers & sellers achieve their dreams. 48 Thoreau Street, Concord, MA | 978.371.1234 | TheAttiasGroup.com Let's start yourjourney today Call Zur today 978.621.0734 38 Lang St, Concord MA List $1,295,000 | Sold $1,410,000
8 Discover CONCORD | Fall 2022 CONCORD Discover CO-FOUNDER Cynthia L. Baudendistel CO-FOUNDER Jennifer C. Schünemann ART DIRECTOR Beth Pruett DISTRIBUTION DIRECTOR Wilson S. Schünemann ADMINISTRATIVE DIRECTOR Olga Gersh ADVISORY discoverconcordma.comPUBLISHEDBOARDBY: Bobbidiscoverconcordma.comBenson CONCORD ART AND ANTIQUES Patricia Clarke SARA CAMPBELL Marie Foley REVOLUTIONARY CONCORD Michael Glick COLONIALCONCORD'SINN Maria Madison THE ROBBINS HOUSE Jennifer McGonigle JOY STREET LIFE + HOME Robert Munro THE ROBBINS HOUSE Alida Orzechowski MEMBER AT LARGE Carol Thistle CONCORD MUSEUM Jan Turnquist LOUISA MAY ALCOTT'S ORCHARD HOUSE Steve Verrill VERRILL FARM Jerry Wedge THEARTSUMBRELLACENTER COVER PHOTO: The Old ©istock.com/Jay_YuanManse AUTHORS/CONTRIBUTORS: Cynthia L. JenniferKevinJaimeeBarbaraAlexanderBaudendistelCainPierreChihaVictorCurranBethvanDuzerEllenEwenBarbaraGugluizzaCamilleJohnsonJenniferJohnstonLeighJoroffLaurenJoynerAnneLehmannNeilLynchCindyAtojiKeeneThomasPlodzikGeorgeQuintalJr.DavidRosenbaumC.SchünemannAnkeVossNathanielWelchJeffWieandDaveWitherbee© 2022 Voyager Publishing, LLC. All rights reserved. No part of this publication may be reproduced, distributed, or transmitted in any form by any means without the prior written permission of the publisher. ISSN 2688-5204 (Print) ISSN 2688-5212 (Online) For reprint and permission requests, please contact cynthia@voyager-publishing.com | 314.308.6611 FOR ADVERTISING INFORMATION: Jennifer C. Schünemann at jennifer@voyager-publishing.com | 978.435.2266 66 Barefoot Books Celebrates 30 Years BY LAUREN JOYNER 68 Concord Trivia BY BARROW BOOKSTORE 70 The Friends of Sleepy Hollow Cemetery Mark Their 20th Anniversary BY KEVIN THOMAS PLODZIK 72 Arts Around Town BY CYNTHIA L. BAUDENDISTEL 76 The Splendor of Fall BY DAVE WITHERBEE 79 Advertiser Indexp. 70 p. 72 p. 76 contents
ShowcaseGuitarBoutiquethe&GuitarsMinutemanofCourtesy MuseumConcordtheofCourtesy
Veleno ankh-backed
2
4Load up the kids, a blanket, and some snacks and head over to Outdoor Movie Night at the basketball courts at Hunt (90 Stow Street) on September 16 to see Willy Wonka & the Chocolate Factory. com/1373/outdoor-movie-nightconcordrec.
It's time for cider donuts and pumpkin picking! See our article on p. 64 for a list of more than two dozen places to sip delicious apple cider, grab a donut, and pick the perfect pumpkin.
1Minuteman Guitars presents the New England premier of the internationally acclaimed Boutique Guitar Showcase. Don't miss this unique collection of 50 world-class guitars handmade by luthier artisans from around the globe. The show is free and everyone who preregisters will receive a free guitar pin at the show, so sign up today! Don't miss this opportunity to view, play, or purchase one of these handcrafted instruments! September 4, from 10 – 6 pm, at The Umbrella Arts Center. theumbrellaarts.org/guitars
10 Discover CONCORD | Fall 2022 18
9
Concord Ag Day is always a highlight of autumn. This annual festival celebrates Concord's farming community with stands from more than a dozen farmers and local organizations, great food, and events for the kids. September 10. concordagday.com
6
3 Workshops with The Write Connection at Thoreau Farm. Sharpen your pencils and develop your skills this fall with several in-person workshops at Thoreau Farm. Each workshop provides an opportunity to learn, craft, and consider the role of storytelling in creating change—personal and global. September 10 – 22. Visit thoreaufarm.org/ the-write-connection for dates, times, and more information.
Join a special walk with the Thoreau Sauntering Society. Slow down. Be present. Look closely. Saunter with leading naturalists and learn directly from nature as you observe and reflect. Or saunter alongside historians in the footsteps of Henry David Thoreau and study the layers
Istvan Banyai Set in Stone, 2008 illustration for Set in Stone: Abraham Lincoln and the Politics of Memory by Thomas Mallon, The New Yorker, October 13, 2008.
5Don't miss West Concord Porchfest on September 24, from 1 – 5 pm. Stroll the streets and listen to more than two dozen live acts while enjoying treats from local food vendors. A lovely way to spend an afternoon. (Rain date September 25) visitconcord.org/event/porchfest
8
7Visit Concord Museum and explore their new exhibition, The Lincoln Memorial Illustrated. This year marks the centennial of the dedication of the Lincoln Memorial and this fascinating exhibition explores the planning and construction of the Lincoln Memorial through illustrations, sculpture, archival materials, and ephemera. It also traces its role as a symbolic site in illustrations, political cartoons, and popular culture. The exhibition features works by numerous artists from the past century, including Norman Rockwell, Daniel Chester French, Henry Bacon, Tony Bennett, Istvan Banyai, and others. September 30 – February 26. lincoln-memorial-illustratedconcordmuseum.org/events/the-
guitar
Things to See & Do in Concord this Fall
On September 28, Concord Museum will present Monument Man: The Life & Art of Daniel Chester French. Harold Holzer, one of the leading historians of Abraham Lincoln and the political culture of the Civil War era, explores the long life and dramatic artistic career of pre-eminent American sculptor Daniel Chester French, whose statue for the Lincoln Memorial is arguably the nation's most iconic statue. concordmuseum.org
The annual Trunk or Treat will be held October 30 from 2 – 3 pm. Bring your little ones to the Beede Center parking lot for a fun, and safe, trick or treat event. concordrec.com/1364/trunk-or-treat
14
CenterArtsUmbrellaTheofCourtesy MuseumConcordtheofCourtesy
This year marks the 30th anniversary of the Concord Festival of Authors, a town-wide celebration of the written and spoken word. This year's Festival will run October 13 – 30 and will feature over thirty online and in-person events. See the article on p. 26 to learn more about the Festival and visit concordfestivalofauthors.org for information on the events, registration details, and more.
The Umbrella Arts Center will welcome Aimee Nezhukumatathil, New York Times bestselling poet and author of World of Wonders: In Praise of Fireflies, Whale Sharks, & Other Astonishments on October 18 - 19. Join them for this not-to-be-missed reading, book-signing, and writing workshop. theumbrellaarts.org
10
MuseumConcordtheofCourtesy
Discover West Concord Day is here! Enjoy walking around West Concord and discovering new and old businesses in the area. Special sales and events will be taking place all day Oct. 15, 10 - 3pm. concord-day-2visitconcord.org/event/discover-west-
15 Lace up those sneakers and join the annual Sleepy Hollow 5K & Fun Run. The Fun Run will begin at 9:00 am and the 5K race at 9:30 am. All participants who preregister will receive a t-shirt. The events will be held at the Beede Center. October 29. Visit concordrec.com/309/sleepy-hollow-5k to register.
18
13
11
The Tricon Antique Show returns November 4 - 5 to celebrate its 50th anniversary. Go treasure hunting with more than 30 antique dealers on three floors. More information at mission-outreach/antiques-showtriconchurch.org/
12
Join the Concord Museum for the Indigenous Peoples' Day Family Program with the Wampanoag Nation Singers and Dancers. If you missed this event last year, or would love to see it again, this talented group of musicians and artists from the tribal communities of Mashpee on Cape Cod and Aquinnah on Martha's Vineyard will present a program of eastern social songs and dances. October 10. concordmuseum.org
16
Kerri Greenidge Wampanoag dancers
Join historian Kerri Greenidge to launch her newest book The Grimkes: The Legacy of Slavery in an American Family Reexamine the legendary abolitionists and the Black members of their family whose experiences had previously been obscured. November 9 at the Concord Museum. concordmuseum.org Aimee Nezhukumatathil
Discover CONCORD | discoverconcordma.com 11 of history evident in our world. Fall saunters include a mushroom foray, a saunter through Thoreau's bean field, and much more! Visit societythoreaufarm.org/the-thoreau-saunteringfor dates and more information.
17
It's October and time for something scary! Take a tour through historic Sleepy Hollow Cemetery with a Concord Museum guide. Learn about the lives and deaths of past Concordians through stories passed down through the generations. October 23. concordmuseum.org
Why have you dedicated your life's work to protecting non-human animals, nature, and our planet? I was born loving and being fascinated by all animals. Television had not even been invented when I was growing up.
What about Henry David Thoreau's work resonates with you? When I was told I had been chosen to receive the Thoreau Prize for Literary Excellence in Nature Writing, I was very honoured. I have always loved writing, and I was delighted that this gift is being acknowledged, particularly in a place where Thoreau lived and worked. He was not trained as a naturalist, but he was an active field-worker and a first-class observer and note-taker. His writing shows his love of nature and his joy of being alone in nature. I feel a bond with this special man and his work continues to be inspirational for me, and for many young people today. What is it that first drew you to nature?
Dr. Jane Goodall: A Message of Hope
At the 2022 Thoreau Gathering, Concord was honored with a visit from the legendary Dr. Jane Goodall. She was awarded the Thoreau Prize for Literary Excellence in Nature Writing in recognition of her lifetime dedication to the study, understanding, and protection of non-human animals, nature, and our planet. Discover Concord spoke with her about her work, her thoughts on climate change, and her surprising message of hope for the future.
Goodall in her early days at Gombe
Instead, I watched animals in the garden and everywhere I went, from squirrels and birds to spiders and worms. I also learned from books at the library. First, I fell in love with Doctor Doolittle and his ability to talk to animals. But at age ten, I found Tarzan of the Apes. That inspired my dream—I will grow up, live with wild animals in Africa, and write books about them.
12 Discover CONCORD | Fall 2022
Dr. Jane
Everyone, except my wonderfully supportive mother, laughed at my dream and told me to focus on something I could achieve – as a girl. But my mother said that if I worked hard and took advantage of all opportunities, and if I did not give up, I would find a way to make my dreams a reality. My mentor, Louis Leakey, gave me an amazing opportunity in 1961 when I was invited to do field study work with chimpanzees in Gombe, Tanzania. Until 1986, I was learning about chimp behavior and that of other animals in the ecosystem of the forest. When I learned that forests were disappearing across Africa and that chimp numbers were dropping, I decided I had to do something, though I wasn't sure what. I also learned about the other ways in which we were harming nature; the reckless burning of fossil fuels that release huge amounts of CO2 the polluting of the oceans, the agricultural chemicals harming biodiversity and killing the soil, the huge areas cleared to grow grain for factory farming of animals, the heating of the planet from the production of methane (a greenhouse gas) by the billions of factory farm animals crowded into unbelievably cruel conditions, and the enormous water waste. I became increasingly concerned, as I care passionately about the natural world and the future of our children.
A
What are some of the unexpected lessons you've learned through studying chimpanzees in Tanzania for more than 60 years? The first breakthrough was seeing a chimp (David Greybeard, the first to lose his fear of me) using and making tools to fish for termites. As the other chimps gradually InstituteGoodallJane© BY JENNIFER C. SCHÜNEMANN
Discover CONCORD | discoverconcordma.com 13 came to trust me, I began to understand their complex social structure. Chimps live in a community of 30 to 50 males, females, adolescents, juveniles, and infants. I learned about close family bonds—offspring continue to travel with their mother after weaning and often spend time with their mother and siblings for life. I was increasingly struck by how like us they are—kissing, embracing, patting in reassurance, swaggering, begging with a palm outstretched. They have very different personalities, and there is a big difference in intelligence between individuals. Males become alpha in different ways; through aggression, by forming alliances and only confronting a higher-ranking chimp when an ally is present, by sheer persistence, and by continuing to challenge even after being wounded in a fight. Two males competing for dominance (swaggering, hair bristling, waving branches, and trying to look as fierce as they can) sometimes remind me of human Chimpspoliticians.areterritorial, and males patrol their territory, sometimes accompanied by females in estrus. Chimps even attack from neighboring communities, typically leaving them to die from their wounds. On one occasion, I witnessed a kind of primitive war—with males of a larger community systematically attacking and killing those of the smaller community except for young females who did not yet have infants (they tried to lead those females back to their own community). It shocked me to learn that there are also instances of infanticide and even, very rarely, cannibalism. But chimps can also be loving and altruistic. For example, an adult male may adopt an infant whose mother has died. Until three years of age, chimps rely mainly on their mother's milk to survive. But if the child is older than three, there is hope. If there is an older sibling, the child may be cared for within the family. A long childhood is important as the infant has so much to learn—much like us humans. More study sites have now proven that chimpanzees have cultures. This idea shocked other scientists when I first suggested it might be true in the late 1960s because I saw how infants learned by observation, imitation, and practice. My detailed notes of chimp behavior, and the films of chimp behavior taken by filmmaker Hugo van Lawick (who became my husband), gradually convinced scientists to admit that we are not, after all, the only sentient, sapient beings on the planet. Today, animal intelligence is a subject of many studies, and there are also studies of animal personality and emotions. You speak often about the link between social justice (helping humans) and protecting nature. Why are these two things linked?
NOTE: The Jane Goodall Institute does not endorse handling, interacting or close proximity to chimpanzees or other wildlife
InstituteGoodallJane©
'strangers'
When I travelled in Africa to learn about problems faced by chimps—the bushmeat trade, habitat loss, losing a hand or foot that was caught in wire snares set by hunters, wildlife trafficking, mothers shot to steal infants to sell as pets or for circuses—I was also learning about the plight of local communities. Crippling poverty, lack of health and education facilities, and degradation of land from population growth of humans and livestock all resulted in the invasion of wild habitats. When I flew over Gombe in the late 1980s, which had been part of the equatorial forest
Young researcher Dr. Jane Goodall with baby chimpanzee Flint at Gombe Stream Research Center in Tanzania.
A Source of Hope Dr. Goodall promotes an important message wherever she goes in the world today—live simply, respect individuals, and be concerned about nature and humanity. Her words, actions, and writings serve as a constant source of inspiration and hope for the generation that must now take up the mantle and fight for our collective future. You can be a part of that change too. Learn more about the Jane Goodall Institute and the Roots & Shoots program at: janegoodall.org rootsandshoots.org belt in the 1960s, I was shocked to see the national park was only a small island of forest surrounded by bare hills! There were more people than the land could support. Farmland was overused and infertile. People who were too poor to buy food elsewhere were struggling to survive. Trees were being cut down to make money from charcoal or timber or to clear more land to grow food for families. That's when I realized that unless we helped these communities find ways of making a living without destroying their environment, we could not save the chimps, the forests, or anything else. People, animals, and the environment are all deeply connected. Even in a city, we depend on a healthy ecosystem. Every little creature has a role to play in the tapestry that surrounds us. Each extinction is like a pulled thread—if we allow it to go on, soon that tapestry will be in tatters. What message do you have for young people? Why do you see them as the hope that will save this planet? Even back in the late 1980s, I was meeting high school and university students who seemed to have given up hope. Some were angry or depressed. They told me that my generation had compromised their future and there was nothing they could do about it. Indeed, we have been stealing their future (and the resources of their planet) since the industrial revolution.Butthere is a window of time during which, if we get together and act, we can slow down climate change and the loss of biodiversity. With a group of just 12 high school students and their friends, we started Roots & Shoots, a Jane Goodall Institute environmental and humanitarian program. The concept is simple. Each group chooses three projects to make the world a better place—for humans, animals, and the environment. The projects they choose depend on their age and their environment. They discuss their projects, work out what they can do, roll up their sleeves, and act. It gets them away from the screens and thinking about the world around them. Today, we have hundreds of thousands of members from kindergarten through university in 65 countries, and it's growing. Once these young people see the results of their work and learn that others are also working to make this a better world, they have new hope. That hope inspires them to change the world. It inspires me, too.
PhotographersChihaPierre©
InstituteGoodallJane©
LEFT: Dr. Jane Goodall and her mother, Vanne, sort specimens in her tent in Gombe Stream Chimpanzee Reserve BELOW: Dr. Jane Goodall, delivering a message of hope at the 2022 Annual Thoreau Gathering in Concord, Massachusetts.
14 Discover CONCORD | Fall 2022
Give
Whether you're a prospective client or a current client, we'll do whatever it takes to ensure that you become a lifelong client!
Nancy Cole Team Vice nancycoleteam.comnancy.cole@compass.com305.796.5533President
Compass is a licensed real estate broker and abides by Equal Housing Opportunity laws. All material presented herein is intended for informational purposes only. Information is compiled from sources deemed reliable but is subject to errors, omissions, changes in price, condition, sale, or withdrawal without notice. No statement is made as to the accuracy of any description. All measurements and square footages are approximate. This is not intended to solicit property already listed. Nothing herein shall be construed as legal, accounting or other professional advice outside the realm of real estate brokerage.
"Nancy went above and beyond throughout our entire home search/buying process. She was always available, even during the tight turnaround times mandated by the current housing market. Nancy is incredibly kind and professional, I would absolutely recommend her to anyone starting their own home search!" — Emilie B us a call today. We'd love to hear from you!
16 Discover CONCORD | Fall 2022
In 1774 when Parliament passed the Boston Port Act in an attempt to break the Massachusetts colonists of their resistance to crown policy, it also authorized English General and acting Massachusetts Governor Thomas Gage to undertake any military measures necessary to help bring the colony under control. In late winter and early spring of 1775, Gage received a series of dispatches from London ordering him to not only arrest the leaders of Massachusetts' opposition party but to launch a major strike against the apparently growing provincial stockpiles of weapons and munitions located throughout eastern Massachusetts. As he contemplated these orders, Gage considered a variety of military options, including a long-range strike against the large store of weapons located in the shire town of Worcester, forty miles west of RealizingBoston. that this was much too risky a venture, the general decided instead to seize the military supplies reportedly stored at Concord, a march half the distance of that to Worcester.Gage'splan called for approximately seven hundred men, composed of the elite grenadiers and light infantry from several regiments and a company of marines, to march from Boston to Concord under cover of darkness on April 18, 1775. This "strike force," under the command of Lieutenant Colonel Francis Smith of the 10th Regiment of Foot, was ordered "[to proceed] with the utmost expedition and secrecy to Concord where you will seize and destroy all the artillery, ammunition, provisions, tents, small arms, and all military stores whatever."1
BY ALEXANDER CAIN Ellen Tucker Emerson
A review of primary sources, including Loyalist claims for compensation after the American Revolution, suggests that at least six Loyalists were recruited to assist Lieutenant Colonel Smith's expedition. These men helped His Majesty's forces navigate dark colonial roads and assisted troops in locating military stores in Concord. Among the guides were former Harvard classmates and friends Daniel Bliss of Concord and Daniel Leonard of Taunton. Both were well-established attorneys who were forced to flee to the safety of Boston in 1774. 2 Also present were Dr. Thomas Boulton of Salem, Edward Winslow Jr. of Plymouth, and William Warden of Boston. A shopkeeper, grocer, and a barber, Warden had been opposed to the political and violent activities of the Massachusetts "patriots" since the Stamp Act. General Gage had also made contingency plans in the event the expedition to Concord was in danger or jeopardy of failure. In the event of such an emergency, Lord Hugh Earl Percy and regimental units from his brigade were to march to the expedition's aid. At six o'clock on the morning of April 19, a rider from Lieutenant Colonel Smith arrived in Boston requesting assistance. After some delay, over one thousand soldiers marched out of Boston towards Lexington.
One group was neither included in Gage's instructions, nor mentioned in his subsequent accounts of the Battles of Lexington and Concord—the Loyalist guides who either volunteered or were recruited to assist the military expedition to Concord. Similarly, the role of Loyalists present in Lord Hugh Earl Percy's relief force as it marched from Boston to Lexington on the afternoon of April 19, 1775, has also been almost completely overlooked.
The andLexingtonGuidesLoyalistofConcord istock.com/sphraner© © istock.com/sphraner
I
Discover CONCORD | discoverconcordma.com 17
1ENDNOTES
General Gage to Lieutenant Colonel Smith, April 18, 1775; Thomas Gage Papers, William L. Clements Library, The University of Michigan.
For his efforts, Smith was vilified by many colonists and branded a traitor. The presence of Loyalists with the British column eventually garnered the attention of the Massachusetts Provincial Congress.
CainPaula©
3 Ibid, pp. 194-195. 4 Ibid, pp. 128-129. 5 Ibid, pp. 297-298. 6 Ibid, pp. 45-46. 7Ibid. 8Massachusetts Provincial Congress, June 16, 1775. Northern Illinois University Libraries, Digital Collections and Collaborative Projects, object/niu-amarch%3A78567.amarch.lib.niu.edu/islandora/http://
9Timothy Ruggles to Francis Green, November 17, 1775; Great Britain, Public Record Office, Audit Office, Class 13, Volume 45, folio 476. At least seven Loyalists were present in Percy's relief force. George Leonard of Plymouth served as a mounted scout. 3 Two other men, Abijah Willard of Lancaster and John Emerson of Worcester, also volunteered to serve as mounted guides. Emerson, a house joiner and carpenter by trade, was charged with the dangerous task of delivering "despatches from the British headquarters in Boston to Earl Percy, then covering the retreat of the troops from Concord."4 Willard, a veteran of the Siege of Louisbourg and French and Indian War, was positioned in advance of the column to identify any "ambush laid for theLoyaliststroops."5Thomas Beaman of Petersham, Thomas Aylwin, and Walter Barrell of Boston all assert they joined Percy's relief column either of their own volition or at the request of General Gage. During the retreat from Concord, the guides did not simply hide behind their redcoat companions for cover. At least one 1775 newspaper report suggests the Loyalists attached to Smith and Percy's forces were armed with muskets and helped fend off the attacking minutemen and militia. Not all Loyalist guides and volunteers made it back to the safety of Boston. John Bowen was a former officer of the 45th Regiment of Foot. In 1767 he retired from military service and settled in Princeton, Massachusetts. When he refused to recognize the authority of the Massachusetts Provincial Congress, he was arrested and confined to a jail cell. Upon release, he fled to Boston. On April 19, Bowen volunteered to help guide Percy's "force to Lexington."6 Later that day, the retired officer "was taken prisoner in returning from that skirmish."7Curiously, some individuals were mistakenly identified by Massachusetts locals as Loyalist guides. Harvard tutor Isaac Smith Jr. made the grave error of merely directing Percy's relief column towards the correct turn in a fork in a road in Cambridge.
The organization also served as the town's fireAsdepartment.thewarprogressed, the guides continued to provide military and logistical support to the Crown. Following the war, many of them resettled in Canada or returned to England.
On June 16, 1775, the delegates proposed to pardon all enemies who surrendered except General Gage, Admiral Graves, "and all the natives of America, not belonging to the navy or army, who went out with the regular troops on the nineteenth of April last, and were countenancing, aiding, and assisting them in the robberies and murders then committed."8 In short, the guides who helped the British expedition to Concord were forever branded enemies of Massachusetts. The official British reports of Lexington and Concord failed to mention the contributions of the Loyalist volunteers who served with the regulars that day. It is likely the omission was intentional as the officers wished to protect the identity and safety of their guides. Following Lexington and Concord, many of the Loyalist guides were recruited into Timothy Ruggles' Loyal American Association, a paramilitary organization that served alongside British troops during the Siege of Boston. The companies were charged with the responsibilities of protecting various Boston neighborhoods by "constant patroling … to prevent all disorders within the district by … Thieves, Robers, house breakers or Rioters."9
2 E. Alfred Jones, The Loyalists of Massachusetts: Their Memorials, Petitions and Claims. (London: Clearfield Company, 1930), pp. 26-27, pp. 35-36 and 191-194.
Alexander Cain frequently lectures on the military and social influences of April 19, 1775. He also owns the blog and podcast, Historical Nerdery (historicalnerdery. com). He is the Director of Education for a Boston area vocational college and resides in Massachusetts with his wife, Paula, and his two children, John and Abigail.
"The Trolley Song" by Hugh Martin and Ralph Blane
18 Discover CONCORD | Fall 2022 W
Cindy Atoji Keene is a former editor and copy editor at the Boston Herald. She is also a longtime contributor to the Boston Globe and has acted as creative director at Science and Theology
Have you ridden the trolley? Trolleys helped build towns like Concord, and a trolley can help boost them again. Everything old is new again, and the Concord Trolley is an idea whose time has come back around.
"Clang, clang, clang went the trolley, Ding, ding, ding went the bell …"
Flash forward to Concord 2022, when the Concord Trolley is again reshaping transportation. This trolley is no longer an old-fashioned streetcar but a free, handicapaccessible shuttle bus that focuses on solving the 'last mile' problem – making it easier for riders to get to their final destination from public transportation. Traveling on a loop, the trolley is a convenient way to travel from the MBTA Commuter Rail train station to historic sites, shopping, and restaurants without needing a car. This hop-on, hop-off trolley serves the Concord Visitor Center, the Old Manse, North Bridge Visitor Center, Concord Museum, Meriam's Corner, and Louisa May Alcott's Orchard House on a seven-mile route that is timed with the arrival and departure of the commuter rail service. Twice a day on weekdays and three times on weekends, the route extends to West Concord for more shopping and dining options.
The Concord Trolley is a pilot program aligned with the town's long-range plan and climate and transportation goals. It is estimated that a quarter of the people who go to the Visitor Center, or roughly 4,000 people, will ride the trolley in its first year. With an additional 100,000 - 200,000 visitors projected to come to Concord in 2025 for the 250th anniversary of the battle at the North Bridge, the trolley will be much needed in the coming years.
Marcia Rasmussen, Concord's Director of Planning and Land Management, said that possible future expansion of the shuttle includes longer hours to serve more commuters and a wider route to include the towns of Lincoln and Lexington as well as more areas in Concord. But if public transportation like the Concord Trolley is to be the lifeblood of our community and our tourism efforts, we need visitors and residents alike to ride the shuttle and show their support for this new program.
Come Ride the Trolley!
When the electric streetcar was first introduced in Concord in 1901, it transformed the town. It meant that the borough was no longer defined by walking distance. The trolley, which resembled a railroad car, revolutionized country travel. One resident was recorded in 1901 saying, "The trolley cars brought people to Concord and took people out of Concord. It was a very happy day when electric cars came."
BY CINDY ATOJI KEENE
June Mullberg of Lexington, who hopped the shuttle from the Visitor Center to the North Bridge, loved the eco-friendly aspect of the Concord Trolley. Standing in the heat, she said, "Anything we can do to reduce cars on the road and CO2 emissions is important. We should all start using the Concord Trolley."
"The Concord Trolley coalesces the neighborhood," said Beth Williams, Concord's Economic Vitality and Tourism Manager, who was one of the many vocal proponents of the trolley project.
Go to visitconcord.org/visit/trolley/ for the route and schedule.
Emerson
News
Ellen Tucker
CenterVisitorConcordtheofcourtesyPhotos
Discover CONCORD | discoverconcordma.com 19 Goodwin sdneirf& w w w . G I G : Thursdays in September 9/8, 9/15, 9/22 & 9/29 Nosh by Concord Market 70 Lowell Road C 49 Commonwealth Ave. Concord MA 01742 joystreetgifts.com A unique shop with gifts you love to give…and receive! 49 Commonwealth Ave. Concord MA 01742 joystreetgifts.com | @joystreetgifts
BY BARBARA ELLEN EWEN Ellen Tucker Emerson
An example is a long letter written during the Civil War, composed in 1862, that records her experience volunteering at the Portsmouth Grove Military Hospital. She wrote, "I was left alone with a hundred convalescent soldiers for two to three hours and asked every question that I had long been wishing to have answered. I made a friend there whose conversation was so delightful that I have written out a good deal of it…"
Ellen's inner circle in Concord included Little Women author Louisa May Alcott and naturalist/writer Henry David Thoreau. Louisa May Alcott's first published book, Flower Fables, was dedicated to Ellen.
In 1863 she wrote about meeting Colonel Robert Shaw, the leader of the 54th Massachusetts Black regiment, as he was about to go off to war. In addition to her letters, Ellen authored a biography of her mother, The Life of Lidian Jackson Emerson, which provided a view of her mother's wit, beliefs, and contributionsextensive to the development of one of the greatest American literary figures in history, Ralph Waldo Emerson. During Emerson's last years and after his death, Ellen aided James Elliot Cabot —her father's literary executor, friend, and biographer— in completing A Memoir of Ralph Waldo Emerson, published in 1887.
The Education of Ellen Emerson Ellen photographedEmerson,TuckerinLondon
authortheofcourtesyphotoBookLibrary.PublicFreeConcordofCourtesy
A Writer and Observer Observation, reading, and writing were valued and encouraged in the Emerson household.
20 Discover CONCORD | Fall 2022 E
A Student of Nature Henry David Thoreau and Ralph Waldo Emerson were naturalists who were inspired by the fields, farms, and woods of Concord, including Walden Pond where Emerson owned land and Thoreau built his cabin. After moving into his cabin, Thoreau began to write Walden Emerson shared his knowledge of nature with his children through frequent walks. Ellen wrote, "Whenever we walked with him, he told us the name of every flower, and showed us how many pine-needles in each sheath the two kinds of pines had, and how the lichens grew thickest on the north side of the tree..."
Ralph Waldo Emerson urged friends and family to keep journals. In a letter to her father in 1846 (Ellen was seven) she wrote, "You have requested me to write you a journal." Her letter writing served as her journal until 1907 (she died in 1909) as she chronicled her journeys, memorable events, and involvement in church and academic activities. Providing us today with an extensive look into Emerson family life, Ellen's letters also share her experiences away from home during stressful times.
Ellen Tucker Emerson was the second child and eldest daughter of Ralph Waldo Emerson and Lidian Jackson Emerson. Born on February 25, 1839, she was named after Emerson's first wife, Ellen Tucker, who was deceased.Emerson understood the importance of education for all and ensured that Ellen was well schooled by educators, including Elizabeth Cary Agassiz, wife of biologist Louis Agassiz and a dedicated teacher who became the first president of Radcliffe College; Franklin Sanborn, Concord educator and one of abolitionist John Brown's "secret six;" and Elizabeth Sedgwick, who founded the Sedgwick School for Young Ladies in Lenox to enable girls to expand their knowledge. By the time Ellen's formal schooling ended in 1858, she was able to speak and translate French and German, capabilities she was able to draw on for the rest of her life.
But Ellen's education encompassed much more than formal schooling. As her friend Louisa May Alcott said, "Life is my college…" Ellen's choices and accomplishments throughout her life were affected by exposure to some of Concord's literary elite—including her father—as well as naturalists, leading educators, and strong women who took on the challenges of the day.
In 1872 after a fire at the Emerson house forced the family to leave until repairs could be made, Ellen traveled with her father to Europe, Egypt, and down the Nile River. Starting in England in early November, they journeyed from England to Paris, to Florence, to Rome, to Naples, and finally to Alexandria on Christmas day. Once they completed the cruise down the Nile, they reversed their travels from Egypt back to England and returned to Concord in May of 1873. Ellen handled all the very complicated arrangements, dealt with unexpected challenges, and recorded what they saw, who they met, and highlights of the trip.
During the 1840's Thoreau lived with the Emersons for more than two years and, when not in residence, was a frequent visitor. He, too, shared his extensive knowledge of all things natural with Ellen, Edith, and Edward through outings into the countryside. Ellen embraced this given knowledge of the natural world throughout her life. She took multiple camping trips to "Monadnoc" with her brother Edward, trips to Vermont and Maine with her father, and cultivated gardens at the Emerson home. A Manager, Educator, and Planner Ellen was surrounded by strong women in Concord who were courageous and exhibited leadership. Women she knew and observed included the active members of the Ladies Anti-Slavery Society of Concord; Elizabeth Peabody, a publisher, transcendentalist, and teacher; Anne Whiting and Sarah Sanborn who stopped U.S. Marshalls from arresting John Brown associate Franklin Sanborn; and Sarah Alden Bradford Ripley, educator and classicalPreparingscholar.totake on an important leadership role of her own, Ellen wrote in 1856, "This is supposed to be my last year at school. The next year will probably be an apprentice-ship in house-keeping and that I hope to have begun my career as superintendent of the house." Her mother was often ill, so Ellen began to run the Emerson household at age 17. She paid the bills, ensured the family coffers did not run out of money, hired and managed staff, ordered necessities for the house, and provided support when needed for Emerson's obligations, trips, and events.Leveraging her own educational background, Ellen taught Sunday school at First Parish Church in Concord for 40 years and was appointed to Concord's School Committee—the first woman in Concord to serve—and held the position from 1870 to 1876. She additionally was an active participant in the Social Aid Society during the Civil War, a member of the Fine Arts Committee, and the instigator of social activities in Concord to bring her neighbors together. A World Traveler Travel to Europe was not uncommon for those wanting to expand their literary or artistic exposure. Ralph Waldo Emerson went abroad three times and his son Edward also traveled in Europe. Ellen finally had her first opportunity in 1868 when she traveled to Fayal in the Azores. She wrote about the plentiful fresh fruit, the dress and habits of the natives, and of her donkey rides. She wrote, "I felt exactly as if the donkey was an enchanted chair that chose to carry me hither and thither. I didn't touch the bridle, but held on tight and enjoyed myself." Her enjoyment was fortuitous because subsequent to her visit, Ellen was sent a donkey from the Azores named Gloriosa.
Barbara Ellen Ewen is curator of the Ralph Waldo Emerson House website and editor of the Emerson blog, Looking Back. A licensed Concord tour guide, she guides at Emerson House and Louisa May Alcott's Orchard House.
EwenEllen©Barbara
Courtesy of Concord Free Public Library
Ellen Emerson's traveling coat, called a Duster Ellen EmersonGloriosa,alongsideEmersonherdonkey,withEdithinthesaddle
Ellen Emerson certainly did not experience the notoriety and recognition of her father and her very famous friends—nor did she want to—but led a fascinating life, enriched by her intelligence and desire to always be learning.
Discover CONCORD | discoverconcordma.com 21
Duzervan©Beth
Beth van Duzer is a public historian and a professional heritage interpreter who is thankful to live and work in Concord, MA.
In 1932, the adjutant general of Massachusetts compiled information published in the Massachusetts Soldiers, Sailors, and Marines in the Civil War, Volume IV. This collection officially changed Private George Washington Dugan's classification from missing to supposed killed 17 years after Concord last replaced the tablet.
Concord's Civil MonumentWar
T
The Committee will request funds from the Community Preservation Committee, but it will not know until 2023 if the project will receive funding. This is where you can help us recognize Private Dugan by donating to the War Memorial Gift Account. We hope to be able to raise funds quickly and have a rededication of the Civil War Monument next year with a plaque unveiling that will include the names of all 49 Concord men who lost their lives during the Civil War. Please visit the website, gov/3149/Civil-War-Monument-Task-Forceconcordma. to join us in recognizing Private Dugan's sacrifice and restoring the monument.
The focal point of Concord's historic Monument Square is the Civil War Monument. A bronze plaque on the obelisk honors the names of 48 local men who lost their lives in the Civil War; however, 49 Concord men paid the ultimate price. Private George Washington Dugan's name is missing.
Private Dugan was the only Black man from Concord to fight in the Civil War. He joined the 54th Massachusetts Volunteer Infantry, the first all-Black regiment in the north, and took part in the assault on Fort Wagner. After the battle, Private Dugan, and 50 other Black soldiers, were listed as missing.
BY BETH VAN DUZER Ellen Tucker Emerson
&PreservingUpdatingConcord'sCivilWarMonument
22 Discover CONCORD | Fall 2022
The tablet on the memorial today is not the original. The plaque was changed in 1882 and again in 1915 to add names inadvertently left off. Unfortunately, Private Dugan's missing status made him ineligible to have his name on the plaque, as only the names of the confirmed dead are listed.
Recently, Concord's Civil War Monument Task Force Committee received approval from the Select Board to move forward in replacing the current tablet and preserving and conserving the 155-year-old monument. The town appropriated $7,305.77 in the budget for the project. The Committee used some of the funds to have a conservation firm examine the memorial to provide the committee with a rough estimate of potential work involved in preservation and conservation. The cost could be as much as $150,000. Now we need to find funding for the project.
Donations are tax-deductible (on federal taxes) and you can request a letter acknowledging your donation when you send in your gift. Thank you for helping us honor all those who gave their lives in the Civil War and in preserving this important piece of Concord history.
WHITNEY FARM, Harvard | $2,200,000 J. Stanley Edwards • 617-948-8057 • jsedwards@landvest.com We are proud to serve as trusted land and property advisors in a place we call home. Contact us about upcoming fall listings and opportunities. www.landvest.com24 Main Street | Concord, MA 01742 | 781-488-1355 Concord and Beyond 85 HANCOCK ST, Lexington | 1.92± Acres | $4,950,000 Abby Gurall White | 617-851-0195 • awhite@landvest.com Private luxury in the premium Lexington neighborhood! Set on 1.92 acres of professionally landscaped grounds with koi pond and abutting Chiesa Farm conservation. 6 Bedroom, six bath shingle-style, custom designed with integrity & impeccable finish by a prominent local architect. High ceilings, traditional & contemporary details. The Chef's kitchen with stone countertops, a large center island, and family dining opens to a vaulted family room with floor to ceiling stone fireplace. Grand dining room adjacent to entry for larger gatherings. On the 2nd floor, the primary BR with own sitting area and spa-like bath. Three additional BRs, and an impres sive executive office with a library. 3rd-floor triple suite with sports court. A separate ground-level bedroom suite, perfect for guests. Lower-level playroom with gym and movie theater. Perch by the fireplace on the circular stone screened porch or enjoy the patio, each overlooking the private yard—expansive family living for work and play at home. RED SKY FARM , Bolton | 5.2± Acres | $1,249,000 J. Stanley Edwards • 617-948-8057 • jsedwards@landvest.com 1702 LOWELL ROAD, Concord | $1,560,000 Abby Gurall White | 617-851-0195 • awhite@landvest.com 706 BEDFORD STREET, Concord | $2,000,000 Abby Gurall White | 617-851-0195 • awhite@landvest.com 245 RAYMOND ROAD, Sudbury | $1,170,000 Abby Gurall White | 617-851-0195 • awhite@landvest.com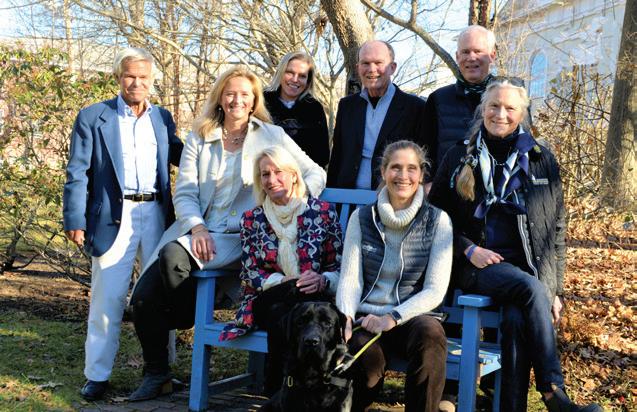 commons.wikimedia.org
When the weary Lieutenant Brown finally made it back to Concord, the minutemen had won the day, but the retreating British troops had set fire to Brown's harness shop on the Bay Road (now Lexington Road) before neighbors rushed to extinguish the flames.4 The British stole goods valued at nearly £275, of which £90 was looted from Brown's property, including "saddles, bridles, stirrups, cartridge boxes, and a chaise [small carriage] commandeered to carry wounded officers back to Boston." Later in the battle, Lieutenant Joseph Hayward would recover Brown's chaise, killing a British officer in the process.5Afterhis prominent role on April 19, 1775, Brown chose not to fight in the American Revolution. Whenever he got a draft notice,
24 Discover CONCORD | Fall 2022
On April 19, 1775, Reuben Brown was in Lexington when British troops opened fire. (The Battle of Lexington by William Barnes Wollen)
S
BY VICTOR CURRAN
By the time the redcoats marched to Concord in 1775, Brown was a lieutenant in the minutemen, described by his neighbors as a "remarkably active, energetic, and intelligent man . . . For feats of agility or strength he was unsurpassed."2 Both his intelligence and his physical fitness made him a good choice for the risky scouting mission to Lexington. Before the day was over, he would need all the powers he could muster. No sooner had Brown returned to Concord than Colonel Barrett ordered him back into action as an alarm rider. He reportedly rode more than a hundred miles to spread the news of war to the militias of Hopkinton and other towns, which his fellow minutemen took as evidence not only of his "great physical strength . . . but also [his] patriotic feelings."3
Shortly after sunrise, Reuben Brown crouched on a hill just outside the center of Lexington, Massachusetts. He was out of breath from his six-mile ride from Concord, and what he saw didn't make him breathe any easier. More than 700 British troops were on the road, and 70-odd provincial militia were all that stood between them andHeConcord.hearda single shot, then a thunderous volley as two companies of British infantry fired their muskets. He leaped onto his horse and raced back to Concord. In his haste to report what he witnessed to Major John Buttrick, he had left Lexington too soon to see the carnage on the green—eight provincial militia dead, and more wounded. Buttrick asked Brown if the King's soldiers had been firing live ammunition. (Reluctant to believe the soldiers would kill fellow Englishmen, perhaps he hoped they were only firing powder to frighten the militia.) "I do not know," said Brown, "but I think it probable."InApril 1775, Reuben Brown was a 26-year-old maker of saddles, a trade he learned from his father in his home town of Sudbury. When he arrived in Concord in 1770, he had been "warned out," urged to leave because of his precarious finances. But Massachusetts' preparations for war helped his shop prosper. He supplied the militia with holsters, belts, and, most critically, cartridge boxes. Cartridges, each containing one musket ball and a pre-measured charge of powder, were vital to the minutemen's performance in battle, allowing them to fire and reload three times a minute. In peacetime, the men of Concord had loaded their hunting guns from a powder horn and a pouch of musket balls—a painfully slow process. As war approached, they urgently needed cartridges. James Barrett, colonel of the minutemen, had a teenage granddaughter named Meliscent who feigned idle curiosity to persuade a British officer to show her how cartridges were made. She soon enlisted all the town's young women to help her make the ammunition to fill Reuben Brown's cartridge boxes.1
Reuben Brown: The Lieutenant's Legacy
NOTES
Discover CONCORD | discoverconcordma.com 25 Pi1170.1.Collection;MuseumConcord
After the war, Brown's saddlery continued to thrive. He was admired not only for his business acumen, but also for being "kind to his neighbors, public spirited, and generous to the poor."7 He became a charter member of the Social Circle, an elite group of twentyfive of Concord's leading male citizens, pledged to "strengthen the social affections and diffuse useful communications among the members." When his life came to an end in 1832, he was buried in the historic Hill Burying Ground, and left "a handsome estate to his Muchheirs."8ofthe story of Reuben Brown's life was recorded in a memorial essay by his Social Circle colleague William Whiting (1788-1862), who deserves a mention himself. A carriage maker by trade, he was also a proprietor of the Concord Academy and a member of the Concord Lyceum. He sheltered refugees from enslavement on the Underground Railroad, and welcomed abolitionist leaders Frank Sanborn, William Lloyd Garrison, Wendell Phillips, and John Brown into his Concord home. He had progressive ideas about education, too, insisting that his daughters receive the same education as his son.9 More than half a century after Reuben Brown's death, his Lexington Road house (now a private home) earned its own place in Concord history. In 1850, Cummings Davis settled in Concord and began to collect "colonial artifacts with local histories." By 1887, his collection had grown to some two thousand objects, and the newly formed Concord Antiquarian Society bought Reuben Brown's old house to exhibit them, with Cummings Davis as a live-in curator. Davis died in 1896, but his historic artifacts remained in the Reuben Brown house under the Antiquarian Society's care. They formed the core of the Concord Museum's collection when it moved into its new building in 1930.10
he hired a substitute to serve in his place. He spent the war as a military supplier, contracted to outfit several companies. Although he reported losing $1,000 when one of his bills wasn't paid, he seems to have found selling equipment to the army "profitable as well as patriotic . . . by the 1780s he was the most active creditor in town."6
The young saddler who nearly got run out of Concord as a deadbeat joined America's struggle for freedom and turned his life around. His legacy lives on in the story of his deeds in 1775, in his contributions to the town's growth, and in the house where he lived. Victor Curran writes and leads tours of historic Concord and is an interpreter at the Concord Museum and the Old Manse. He teaches courses and writes articles about the men and women who made Concord the home of American independence and imagination.1.RobertGross, The Minutemen and Their World, Hill and Wang, 1976 2. Memoirs of Members of the Social Circle in Concord, Second series 1795-1840 (Riverside Press, 1888) 3. Ibid. 4. Allen French, The Day of Concord and Lexington, Little, Brown, 1925 5. Gross, op cit. 6. Ibid. 7. Memoirs of Members of the Social Circle, op cit. 8. Ibid. 9. Ibid. 10. museum/concordmuseum.org/about/history-of-theCummings Davis, whose collection launched the Concord Antiquarian Society, posed with his dog, Don, in front of the Reuben Brown house in 1890. The Reuben Brown house in Concord was looted by the retreating redcoats in 1775. It is now a private residence and was once home to the Concord Antiquarian Society.
Pi1169a.Collection;MuseumConcord
BY BARBARA GUGLUIZZA Ellen Tucker Emerson
The quality and variety of CFA events astounds me each year. For the 30th anniversary, the hope was to expand local affiliations while exploring a range of narrative perspectives. This year's festival features local authors Gregory Maguire, author of Wicked; Alan Lightman, author of Probable Impossibilities: Musings on Beginnings and Endings; Rajani LaRocca, recipient of the 2022 John Newbery Honor for Red, White and Whole; Ray Anthony Shepard, author of Runaway: The Daring Escape of Ona Judge; and Concord historian Robert Gross, author of Transcendentalists and their World. Please join us! CFA 2022 Team: Be Well Be Here, CFPL Corporation, Concord Free Public Library, Concord Museum, Friends of the CFPL, Orchard House, The Robbins House, and The Umbrella Center for the Arts. Copies of the 2022 Festival calendar are available at the Concord Free Public Library. Visit concordfestivalofauthors.org to register. Barbara Gugluizza is the head of reference at the Concord Free Public Library and has been an enthusiastic member of the CFA team since 2018.
What distinguishes the Concord Festival of Authors from other literary festivals?
history"Concord'sandliterarylegacymakeituniquelysuitedtocelebratethewrittenandspokenword."
October 2022 marks the 30th anniversary of the Concord Festival of Authors (CFA), a town-wide celebration of the written and spoken word. The CFA is managed by the Friends of the Concord Free Public Library and led by Curator Lara Wilson, founder of Be Well Be Here, who collaborates with local organizations to promote top-notch literary events. This year's CFA will run October 13 – 30 and will feature over thirty online and in-person events. Barbara Gugluizza, CFPL Head of Reference, interviewed CFA Curator Lara Wilson about the 30th annual Concord Festival of Authors.
The CFA Team decided that two weeks in October work best and we begin planning in January. It's complicated to keep track of proposals from multiple organizations, inquiries from authors or publicists, and requests to accommodate changes. An enormous challenge was shifting from in-person events to an online model during the pandemic, but this generated a broader audience. The CFA succeeds as it evolves due to generous support from volunteers, the Friends of the CFPL, and our CFA sponsors.
26 Discover CONCORD | Fall 2022
O
Five years ago, I was introduced to Dawn Rennert, owner of the Concord Bookshop, and former library director, Kerry Cronin, to discuss the CFA just as the founder, Rob Mitchell, chose to retire after his 25year tenure. They recognized that my experience as a short story author, fiction scholar, writing instructor, and former Grub Street board member had fostered meaningful literary friendships. With Rob's guidance, Dawn, Kerry and I co-created the CFA Bridge Year in 2018 with a team of volunteers, featuring 40 amazing literary events throughout Concord every day in October. The following year, Rob handed management of the CFA over to the Friends of the CFPL and I was appointed curator. What are the challenges you face when organizing the festival?
Concord's history and literary legacy make it uniquely suited to celebrate the written and spoken word. The CFA features author events, writing workshops, and literary tours in remarkable historic spaces. Robust programming for all ages that includes new voices remains of primary importance. In this team effort, I'm grateful to The Robbins House for their leadership in finding presenters, such as last year's Keynote Speaker, Dr. Clint Smith. Concord's natural beauty also tells a story, as Thoreau noted, which continues to inspire generations of writers and readers. Of all the events at the festival this year, is there one that means the most to you?
What inspired you to take over as curator of the Concord Festival of Authors?
Discover CONCORD | discoverconcordma.com 27 Make a wine run from the comfort of your couch. Same day wine, beer, and liquor delivery means you can stay home and relax, with one less item on your to do list. We even offer no-contact curbside pickup for phone or online orders. 1216 Main Street in West Concord westconcordwine.com | 978.369.3872 4 Digital Way, Suite 3 in Maynard spiritsliquorstore.com | 978.298.5344 Two locations to serve you better!
Ellen Garrison Jackson [Clark], 13 June 1863
BY CAMILLE JOHNSONJackGarrison,
Ellen had already begun teaching professionally in Boston. In 1863, she applied for a position with the American Missionary Association (AMA) and the Freedmen's Bureau, which were working to educate the formerly enslaved population across the South. It was often illegal for enslaved persons to learn to read or write, which set them at a severe disadvantage in their ability to become fully engaged citizens. To Ellen, there was no better way to help those in her community than by providing them with an education; she had found a new calling. During the end of the Civil War and the start of Reconstruction, Ellen was assigned to the town of Port Deposit, Maryland, in 1865. She taught there for three years before briefly being transferred to Virginia, then returned to Port Deposit. While teaching and traveling, she experienced a range of communities and living situations. African Americans in Maryland lived vastly different lives to those in Virginia, and they all lived differently from how Ellen had grown up in Concord or lived in Boston. In one of her letters to the AMA while in James City County, Virginia, Ellen wrote that, "the style of
As an abolitionist, teacher of freedmen, and equal rights activist, she has only recently begun to be recognized alongside the many other influential figures of her time, such as Frederick Douglass and Harriet Tubman. Nonetheless, she played an important role in the fight for justice during the nineteenth century, committing her life's work to uplifting her community and ensuring certain essential freedoms for Black people. I think sharing Ellen's story grants us an opportunity to celebrate an important contribution to the ongoing fight for liberty.
Concord has a reputation for producing people of radical ideas, justice, and bravery. From the minutemen of the American Revolution to transcendentalist writers like Henry David Thoreau and Ralph Waldo Emerson, the town of Concord has an ability to grow a sense of social justice in all its citizens. The story of Ellen Garrison Jackson Clark, an African American woman born and raised here in Concord who went on to fight for freedom at a national level, is a less well-known example—an injustice that The Robbins House and the Concord Museum are seeking to rectify.
28 Discover CONCORD | Fall 2022
"I think that it is our duty as a people to spend our lives in trying to elevate our own race."
Ellen Garrison and Her Fight for Freedom
C
Pi1103.2Banks.BrooksOliveMrs.ofGiftCollection;MuseumConcordphotoGarrisonJohnson;©CamillephotoHouseRobbinsThe Robbins House
Ellen was born in 1823 to one of the few African American families living in Concord. While there is no evidence that her parents could read or write, they made sure that Ellen and her siblings could. They were the only Black students at the desegregated Center School, and it was lonely. However, her life in Concord was paramount to her development as an activist. Susan Garrison, Ellen's mother, was a founding member of the Concord Female Antislavery Society, which no doubt inspired a young Ellen. Her family's investment in her early education and their penchant for social activism started her on her path to becoming a teacher of freedmen. After completing school, she moved to Boston, joined the local abolitionist group, and attended meetings and worship in the now-famous African Meeting House in Beacon Hill. It is likely that she watched speeches by some of the most famous abolitionists of her time, encountered those escaping slavery through the Underground Railroad, and raised money for the abolitionist cause. Ellen was not only living in the heart of the abolitionist movement; she was also driving it forward as a member of its collective effort. She married her first husband, John W. Jackson, while in Boston, but he died just a few years later. Ellen was ready for a change.
carte-de-visite, about 1866
From Concord to California:
Ellen Garrison Jackson [Clark], 21 May 1866
CongressofLibraryfrompagethisonphotosAll
Passenger and freight station, Baltimore A freedman school on Edisto Island, South Carolina. Samuel A. Cooley, 1860s
Discover CONCORD | discoverconcordma.com 29
Ellen was still teaching in Maryland when the Civil Rights Act of 1866 was passed, and she found herself at the forefront of one of its first tests. The law was intended to grant African Americans the same legal protections and rights in court, but the country had yet to see if they would be granted those protections in practice. While at Baltimore's President Street Station, Ellen and a colleague were forcibly thrown out of the station because of their race. After counsel from the Freedmen's Bureau and African American residents of Baltimore, she decided to press charges and sue. The case was thrown out by the court, but Ellen showed great resolve in seeking justice for the treatment she and many others of her time endured. Ellen was one of the first to put the new civil rights law under necessary scrutiny.When the threat of racial violence began to rise after the Reconstruction era, Ellen left the South in 1879 to pursue different teaching opportunities in Kansas. She was among the "Exodusters," a group of African Americans who moved west for land and farming opportunities. After passing the Kansas teacher's exam, she taught African American children in Barton County. There she met her second husband, a homesteader named Harvey Clark, raising four children on his own. Ellen and her family farmed the land and became active in Kansas' African American community before moving to Pasadena, California, in 1890. Whether it was the draw of a warmer climate or the presence of several former abolitionists, they headed west by train and settled in the foothills of Pasadena.
Camille Johnson is the 2022 Thomas Dugan Intern for the Concord Museum and The Robbins House. She is currently pursuing a Master of Arts in Museum Studies in the Cooperstown Graduate Program at SUNY College at Oneonta.
A map of Port Deposit, An Illustrated Atlas of Cecil County, Maryland 1877
living is unlike any that I have ever seen." She explains that African Americans there have more land, yet far worse homes than she was used to. Other letters cite major differences in ideas regarding education, politics, and worship. "Our soldiers went forth with sword and bayonet to contend for right and justice. We could not do that. But we contend against outrage and oppression wherever we find it."
Ellen and her family participated in a growing community of activists. Ellen died of tuberculosis in 1892, just two years after moving to California. She was buried in Mountain View Cemetery along with many fellow activists that had come before her, and after. Born in Concord, Ellen bore witness to some of the most notable events of the nineteenth century. The abolition of slavery, Reconstruction, the Great Migration, and westward expansion are all taught about in textbooks. Ellen not only witnessed these significant moments in history but contributed to the social movements central to them. She is an important part of Concord's legacy, and her memory deserves to be honored. Her story teaches us an important lesson: that anyone can be witness to history and be a part of shaping it themselves. It also reminds us that Concord's African American history runs deeper than many visitors and residents know. Expanding the town's narrative to include these stories will only improve our understanding of Concord itself and its ability to foster the ideals of revolution and justice.
L Chiha Photographers
Lucinda Sears, Donna Biscotti, and Trish Zarola of The Bee's Knees British Imports have created a delightful space with just the right touches to create the perfect tea break on a cozy fall afternoon. From British chocolates and biscuits (cookies, as we call them here), to cozy throws, refined teas, and the stunning pots and cups in which to serve them—this charming shop has it all. They specialize in handmade British brands like Burleigh, Dunoon bone china, and Silverwood Bakeware (of Great British Bake Off fame). They are also one of the largest dealers of Emma Bridgewater pottery in the United States.
The idea for the business was born out of the many requests from friends and family to bring collectible teapots and other British treats back from Lucinda's trips home to London. In 2011, Lucinda and Donna created a small online business—a side project while their children were still in school. Every December, they would hold an increasingly popular Open House for friends and family in Lucinda's home. As word spread, the kitchen table business grew to take over space throughout the house, and friend and collaborator Trish was brought in to help transform an online presence into a fullfledged business. In 2020, they decided to bring the popup concept to a space in West Concord. The response was huge. People stuck at home that winter were craving the type of comfort that a good cup of tea (and all the accoutrements) provides. Area Brits were eager to stock up on holiday treats they were missing when they were not able to travel home for the holidays. And tea sets, biscuits, and chocolates were a popular gift to send to friends and family who were separated during the height of the pandemic.
The Bee's Knees British PerfectingImports:theArtofTeatime
The ladies of The Bee's Knees in front of the new shop
BY JENNIFER C. SCHÜNEMANN
All photos ©Pierre
Tin ceilings with charming detail, the white brick exterior, a fresh coat of paint, ample space to display the many handmade wares, and the shop is ready for the busy holiday season. You will find custom-ordered Dunoon mugs, a range of tea set patterns, loads of sweets and treats in the newly expanded "Tuck Shoppe" (the British take on a penny candy corner), beautiful tea cozies and towels, and everything needed to channel the British vibe this fall and winter.
30 Discover CONCORD | Fall 2022
A grand opening is planned the weekend after Labor Day. Festivities include traditional British foods like sausage rolls, scones, and, of course, proper tea. And with a planned royal visit from Prince William and Catherine, the Duchess of Cambridge, to Boston in December, a celebratory feeling in the shop is sure to infuse a little magic well into the holiday season! So come visit at 566 Massachusetts Ave in Acton to find out what makes this British import shop "The Bee's Knees"! Visit Facebook or TheThis(@thebeeskneesbritishimports)Instagramfordetails.articlemadepossiblethroughthesupportofBee'sKneesBritishImports.
The team quickly realized there was no going back. The West Concord pop-up led to a permanent shop in Acton. But the business kept growing! So, they have moved once again—into a beautiful space just across the street at 566 Massachusetts Ave. in "OnceActon.people learned that we had a physical shop, our online customers would travel hundreds of miles to come and see us in person," said Lucinda. "Brits, Anglophiles, and, of course, people who like nice homewares, could finally come and shop with us in person. The new space will make the experience even better and we can't wait to greet you."
801 Main Street, Concord, MA www.monumentgroupcompanies.com01742 To learn more, please contact us at 978-369-7705 for a complimentary discussion regarding your Retirement Lifestyle Planning. ARE YOU CONFIDENT THAT YOU CAN MAINTAIN YOUR LIFESTYLE IN RETIREMENT? Our Master Plan Program helps you enjoy greater peace of mind by creating a plan to maintain your lifestyle in retirement.
Discover | Fall 2022 CollectorsandMusiciansGuitarsHandmadeStunningfor Located in beautiful historic Concord, Massachusetts CUSTOM • COMMISSIONS • NEW & PRE-OWNED wilson@minutemanguitars.com | 617.460.9610 | www.minutemanguitars.com Commercial & Residential Upholstery Services, Antique Restoration & Furniture Repair Upholstery and restoration services – shop from an astonishing array of fabric choices Designer furniture (including McKinley leather furnishings) Bespoke custom furniture –Headboards, Ottomans, Sectionals Wall paper coverings from Thibaut, Schumacher, Zoffany, and more Indoor and Outdoor rugs by Dash & Albert 119 Commonwealth Ave. West LawlessUpholstery.comConcord@lawlessupholstery ResidentialCommercialServices,RestorationFurniture
The names friends recommend! Direct Team Line: 978.505.2652 Email: info@thesenklerteam.comBrigitteSenkler 508.935.7496 Peggy Dowcett 978.302.3988 Amy Pasley 617.571.7826 Senkler, Pasley & Dowcett #2 Team in North America with Coldwell Banker Realty #1 in CONCORD & CARLISLE since 1998 Real estate agents affiliated with Coldwell Banker Residential Brokerage are independent contractor sales associates and are not employees of Coldwell Banker Residential Brokerage. ©2021 Coldwell Banker Residential Brokerage. All Rights Reserved. Coldwell Banker Residential Brokerage fully supports the principles of the Fair Housing Act and the Equal Opportunity Act. Operated by a subsidiary of NRT LLC. Coldwell Banker, the Coldwell Banker logo, Coldwell Banker Global Luxury and the Coldwell Banker Global Luxury logo are service marks registered or pending registration owned by Coldwell Banker Real Estate LLC. Senkler, Pasley & Dowcett, 23 Monument St., Concord Let us help you FALL in love with Concord 50 Garfield Road • $2,395,000 For Sale 313 Shadyside Avenue Equestrian Property • $9,900,000 For Sale 130 Buttricks Hill Rd. • $7,200,000 For Sale 349 Main Street • $2,595,000 For Sale Once you experience the charm and culture of Concord, you'll understand why it's so easy to picture yourself living here. Living history, a rich literary legacy and world famous national historical parks are surrounded by picturesque shops and restaurants, thriving arts and culture, vibrant family farms and stunning nature. Add to that top notch schools and an easy commuter experience and you have all the elements of a perfect choice for you and your family. Whether you are looking for a newly renovated family home in the perfect neighborhood, a walk-to-town historic home, a spacious modern estate with views that take your breath away or a sprawling equestrian property on 23 acres— we can help you find just the right fit. 129 Old Bedford Road • $775,000 Under Agreement 106 Hayward Mill Road • $ 1,695,000 Under Agreement
BY GEORGE QUINTAL JR.
On the first day of the Revolutionary War, April 19, 1775, at least 26 patriots of African heritage engaged the British on the Battle Road. One was wounded on the first firing of the day at Lexington, and one was wounded and then taken prisoner on the last firing that day at Charlestown Neck. The status of these men was: 11 free, 10 slave, five unknown. At least another 34 patriots of African heritage responded to the Lexington Alarm but could not arrive in time to join the fight. Their status was: seven free, five slave, 22 unknown. It is truly astounding that, of these sixty men, twenty-four were in the elite minuteman companies! How could an enslaved man or woman ever find a path out of bondage? The Emancipation Proclamation, issued in 1862 by President Abraham Lincoln and formally signed and put into effect on January 1, 1863, is well-known throughout the country. Much less well-known are the thousands of emancipations that occurred in New England long prior to 1862, many happening one at a time. In the course of the research for my book, seven paths to emancipation were identified: MANUMISSION BY SLAVE OWNER Before government decrees freed large numbers of slaves en masse, slaves were being freed singly or in small groups by the slave owners themselves, a process called manumission. This included freedom granted in a slave-owner's will. Petitions had given people pause to reflect upon the practice of slavery:1 … We expect great things from men who have made such a noble stand against the designs of their fellow-men to enslave them. We cannot but hope … that you will have the same grand object, we mean civil and religious liberty [for us] ... The divine spirit of freedom, seems to fire every human breast on this continent … A personal examination of conscience spread throughout New England, especially after the events on the Battle Road. However, a rule of law from the era prevented even moreThemanumissions:2extremecaution taken by towns in general … to prevent the settlement of paupers obliged a person who desired to free his slaves to give bonds that the freed persons should not become public charges. This requirement, no doubt, deterred some from giving freedom to their slaves, who were fully conscious of the injustice. This rare document describes the manumission of a slave named Cuff, in Lincoln on May 28, 1776, who prevailed upon his owner to set him free:3 excerpt from Patriots of Color at Battle Road
Jr.Quintal,©George2000.12,NovembertakenPhoto
34 Discover CONCORD | Fall 2022 O
Bruce Harris at gravesite of minuteman of color Peter Salem in Framingham.
EMANCIPATION Abridged
americanancestors.orgArchivist)formerSalls,G.X.TimothyandArchivistSeniorLucey,Judytothanksspecial(ABoston.Society,GenealogicalHistoricEnglandNewCourtesy:
GOVERNMENT DECREES
The only known law to free enslaved men upon enlistment was passed by the Rhode Island Assembly in 1778:10
All who entered the Continental Army, regardless of color, received the same bounty; a common practice of slave owners then was to allow their slaves to enlist in the Continental Army for three years, receive their bounty and then grant them freedom.11
1776 Benjamin Danforth
Upon passing muster, a slave would be '… immediately discharged from the service of his master or mistress, and be absolutely FREE, as though he had never been encumbered with any kind of servitude slavery.'
Discover CONCORD | discoverconcordma.com 35
An extremely rare document describes the self-purchase of slave Salem Poor, later a patriot hero of the Battle of Bunker Hill, of his own freedom in Andover in 1769 for £27.5
Continental Army service thus became a great cleansing agent, eradicating slavery in the ranks.12
RUNNING OR WALKING AWAY
That November, Continental Army forces had captured some British soldiers as prisoners on the west shore of Lake Champlain. With the British captives was a slave named Dinah and her daughter Nancy. Captain Allen took direct action, summarily granting them both freedom.13Another example is that of Colonel William Shepard who, in 1782, being angered by a slave owner sending his elderly slave to the Continental Army, summarily freed that slave, discharged him from serving and gave him the bounty as his own.14
PURCHASE BY SLAVE HIMSELF
Another story involved two slaves, Asel and Eber Wood, who had walked away from their owner, Capt. Elisha Allis of Hatfield, to join the Continental Army in Cambridge during the Siege of Boston in 1775. Reading between the lines of his petition, it seems like Allis was genuinely and deeply saddened by their leaving him but conceded to their request to let them stay and join the Army, even to the point of arming and clothing them for that service. Both former slaves fought, as free men, at the Battle of Bunker Hill shortly after they joined the Army.9
Know all men by these presents that I, John Hoar of Lincoln in the County of Mid.lx In the colony of Massachusetts Bay in New England Gentleman – in consideration That my Negro man Servant named Cuff Hath been a good and faithfull Servant Unto me – and he now desiring to be made Free: I do therefore by these presents for my Self fully and absolutely free him and Dis-Charge him the sd Cuff to act for himself So long as he behaves and conducts himself Regularly and well – without the denial Or contridiction of me his s.d
AD HOC DECREES Captain Ebenezer Allen, an officer in the Green Mountain Boys, had a regional command in Pawlet, Vermont in late 1777.
As it was evidently the practice in that era that a child would inherit upon birth the status of the mother, husbands were even known to purchase the freedom of their fiancées/wives in order to guarantee freedom for their children. Barzillai Lew, later a patriot veteran of the Battle of Bunker Hill, did indeed do this, purchasing his wife circa 1767 for $400.4
Vermont had declared itself an independent republic, not attached to the new United States, in January 1777.15 That same summer, in July while in the midst of a British invasion, the Vermont Constitution enacted trail-blazing language that abolished slavery in that region.16 The first state attached to the United States to abolish slavery was Pennsylvania in 1780, but it was a gradual phasing out, not an outright abolishment.17TheMassachusetts Constitution of 1780 (also covering the District of Maine, then part of Massachusetts) contained the wording: "All men are born free and equal ..."18 Though prompting large numbers of slaveowners 'Manumission of slave Cuff, Lincoln, Mass.' (Mss A 6628). R. Stanton Avery Special Collections. Online at americanancestors.org.digitalcollections.
Slaves sometimeswouldtake the initiative and just run or walk away. One such slave who ran away was Jack Briant, who had served in the Continental Army at the Siege of Boston.6 His name appeared in a run-away slaveRanad:7away from the subscriber, on the 24th of February, a Negro fellow, named Jack, of a small stature, has lost his upper teeth; had on when he went away, a blue coat, with large white buttons. Whoever will take up said Negro, and convey him to the subscriber in Stoneham, shall have three dollars reward.
DE FACTO FOR CONTINENTAL ARMY SOLDIERS
LincolnWitnessmastermyhandMay28th
John Hoar Abijah Pierce
Elizabeth Freeman (Mumbet) Miniature portrait, watercolor on ivory by Susan Anne Livingston Ridley Sedgewick, 1811
36 Discover CONCORD | Fall 2022 to release their slaves, that wording was unfortunately not an outright prohibition of slavery. Lawsuits would necessarily follow to clarify the intent.
SocietyHistoricalMassachusettsofCourtesy 32 Main threestonesgallery.com978.371.1333Concord,StreetMA We invite new and seasoned collectors to come and explore works by our superb New England artists. Our friendly and knowledgeble staff can help you choose art that will evoke inspiration and add character to your personal space. T HREE S TONES G ALLERY Love Blooms by Patricia Ganek
Slaves in Massachusetts 'were admitted as witnesses even on capital trials of white persons and on other suits of slaves for freedom; they might even sue their masters for wounding or immoderately beating them.'19 After the Constitution of 1780, lawsuits claiming that the wording did indeed outlaw slavery started to appear before courts. One of these pivotal lawsuits was the case of Mumbet, the first female slave to successfully sue for her freedom in Massachusetts, in 1783, effectively ending the practice there altogether. 20 Her attorney's daughter, who had been raised by Mumbet, attributed the heart-stirring words below to her. 21 In the end, she lived her last forty-six years a free woman.
"Any time, any time while I was a slave, if one minute's freedom had been offered to me & I had been told I must die at the end of that minute, I would have taken it –just to stand one minute on God's earth a free woman - I would."
LAWSUITS
In 1850, the U.S. census for the first time enumerated no slaves in New England. More than two hundred years of slavery here were finally ended. Please contact the author for a list of footnotes. Email: George_Quintal@ yahoo.com. Text © George Quintal Jr. George Quintal Jr. is a Battle Road guide and the author of two books, Patriots of Color at Battle Road and Patriots of Color at Bunker Hill. To order, please contact the author.
Discover CONCORD | discoverconcordma.com 37 39 Main Street, Concord MA 01742 | 1734 Massachusetts Avenue, Lexington MA 02420 Artinianjewelry.com
Although Concord's Henry David Thoreau (1817-1862), naturalist and transcendentalist, is now a widely read American author, he did not support himself through his writing. In the 1840s, Thoreau became proficient as a land and property surveyor, an occupation that had no licensing requirements at the time and allowed him to spend much time "sauntering" outdoors. Recognized as a surveyor of considerable skill during his lifetime, even according to modern standards his level of accuracy is considered exceptional. He worked for private property owners and the Town of Concord, assisting in laying roads and walking the bounds in his capacity as a "civil engineer." While Thoreau did most of his surveying work in Concord and nearby towns, his surveying work also took him farther, including New Jersey and geographic explorations on Cape Cod and Nantucket. He surveyed the sixty-one acres of Walden Pond in the winter of 1846, including creating over a hundred sounding holes in ice that measured sixteen inches thick. Thoreau included a reduced version of his survey map in Walden, or Life in the Woods, published in 1854. In 1866, four years after Thoreau's death, his sister Sophia sold his surveying compass and tripod through Concord auctioneer Sam Staples. Sampson Douglass Mason purchased them and presented them to the Concord Free Public Library. Thoreau left his working papers as a surveyor, including field notes and draft surveys, in the care of Sophia, who bequeathed them to the Library in theSpecial1870s.Collections holds two hundred of Thoreau's land and property surveys (18461860) and field notes (1840-1861). Surveys primarily concern land and property in Concord, including three of Walden Pond. The collection also includes surveys of land in Acton, Bedford, Boxborough, Carlisle, Framingham, Haverhill, Lincoln, Littleton, and Stow; one well-known survey of the Concord River "from East Sudbury to Billerica Mills;" and one of Eagleswood in Perth Amboy, New Jersey. Surveys include properties belonging to A. Bronson Alcott, Edward Carver Damon, Ralph Waldo Emerson, Francis R. Gourgas, Nathaniel Hawthorne, Edward S. Hoar, Samuel Hoar, Edmund Hosmer, John Hosmer, David Loring, the Concord Mill Dam Company, Abel Moore, John Brooks Moore, William Munroe, Daniel Shattuck, Samuel Staples, Cyrus Stow, the Town of Concord, and others. Most of the surveys are pencil or ink drafts. Thoreau's survey-related notes include measurements and calculations, expenses, fees charged, and other notes generated by him in the preparation of hisThesurveys.Concord Free Public Library holds the largest and most important collection of Thoreau's manuscripts and other material in New England as well as extensive collections documenting Concord as Thoreau knew it. In addition to Thoreau's surveys and surveying notes, Special Collections includes the manuscript of Thoreau's lecture, "Walking," as well as important examples of images of Thoreau, such as the 1854 crayon portrait by Samuel Worcester Rowse. In addition, the Henry David Thoreau Collection includes more than forty books, many presented by Thoreau's sister Sophia, once belonging to Thoreau or his family members. The Library's Concord Authors Collection also contains first and later editions of Thoreau's writings, collected editions, and items to which Thoreau contributed pieces, and biographical, bibliographical, and critical works about him.
Henry David Thoreau by Benjamin Maxham, 1856 (A.W. Hosmer copy of daguerreotype) Survey No. 2a - Plan of A. Estate;BronsonAlcott'sCon-cord,Sept.22,1857
Anke Voss is Curator of the William Munroe Special Collections at Concord Free Public Library.
CorporationLibraryPublicFreeConcordofcourtesyphotosAll
Henry David Thoreau: Land Surveyor
A BY ANKE VOSS From Special Collections
38 Discover CONCORD | Fall 2022
Stories
September 30, 2022 through February 26, 2023 www.concordmuseum.org © Istvan Banyai Celebrating the centennial of the Lincoln Memorial
Produced by the Norman Rockwell Museum in collaboration with Chesterwood.
InkStoneArchitects.com18MainStreet,Concord617.899.6351 We love what we do. Design with us.
Chang An Restaurant 10 Concord Crossing Dunkin' 117 Thoreau St
Concord Center Albright Art Supply 32 Main St Artinian Jewelry 39 Main St Artisans Way 18 Walden St Barrow Bookstore 79 Main St Best of British 29 Main St Blue Dry Goods 16 Walden St Brine Sporting Goods 69 Main St Cheese Shop of Concord 29 Walden St Comina 9 Walden St Concord Bookshop 65 Main St Concord Lamp and Shade 21 Walden St Concord Market 77 Lowell Rd
Concord Center Concord's Colonial Inn 48 Monument Sq North Bridge Inn 21 Monument Sq West Concord Best Western 740 Elm St Residence Inn by Marriott 320 Baker Ave
Sally Ann's Bakery & Food Shop 73 Main St
NEW! West Village Tavern 13 Commonwealth Ave Woods Hill Table 24 Commonwealth Ave
SHOP
Discover CONCORD | discoverconcordma.com 41
The Concord Toy Box 32 Main St Copper Penny Flowers 9 Independence Court
JACK + TOBA 10 Walden St Lucy Lacoste Gallery 25 Main St Nesting 44 Main St North Bridge Antiques 28 Walden St Patina Green 59 Main St Priscilla Candy Shop 19 Walden St Revolutionary Concord 32 Main St Rewind Estate Watches 38 Main St Sara Campbell Ltd 41 Main St Tess & Carlos 81 Main St Thistle Hill 13 Walden St Thoreauly Antiques 25 Walden St Three Stones Gallery 32 Main St Vanderhoof Hardware 28 Main St Walden Liquors 18 Walden St Walden Street Antiques 23 Walden St Nine Acre Corner Colonial Gardens 442 Fitchburg Tpke Verrill Farm 11 Wheeler Rd Thoreau Depot ATA Cycles 93 Thoreau St Concord Optical 80 Thoreau St Concord Provisions 75 Thoreau St Frame-ables 111 Thoreau St Juju 82 Thoreau St Period Furniture Hardware 113 Thoreau St West Concord A New Leaf 74 Commonwealth Ave Barefoot Books 23 Bradford St. Belle on Heels 23 Commonwealth Ave Concord Art and Antiques 129 Commonwealth Ave Concord Firefly 33 Commonwealth Ave Concord Flower Shop 135 Commonwealth Ave Concord Outfitters 113 Commonwealth Ave Debra's Natural Gourmet 98 Commonwealth Ave Forever Tile 45 Commonwealth Ave
Farfalle Italian Market Café 26 Concord Crossing Karma Concord Asian Fusion 105 Thoreau St New London Style Pizza 71 Thoreau St
Concord Center Caffè Nero 55 Main St Comella's 33 Main St
Concord's Colonial Inn 48 Monument Square Fiorella's Cucina 24 Walden St Haute Coffee 12 Walden St Helen's Restaurant 17 Main St Main Streets Market & Café 42 Main St
Thoreau Depot 80 Thoreau 80 Thoreau St Bedford Farms Ice Cream 68 Thoreau St
Walden Italian Kitchen 92 Commonwealth Ave
WHERE TO STAY
CONCORD & Surrounding Areas
The Dotted i 1 Walden St Fairbank & Perry Goldsmiths 32 Main St FatFace 4 Walden St Footstock 46 Main St Fritz & Gigi 79 Main St French Lessons 8 Walden St George Vassel Jewelry 40 Main St Gräem Nuts and Chocolate 49 Main St Grasshopper Shop 36 Main St Irresistibles 16 Walden St J McLaughlin 14 Walden St
Concord Teacakes 59 Commonwealth Ave Dino's Kouzina & Pizzeria 1135 Main St
WHERE TO EAT
Dunkin' 1191 Main St Nashoba Brook Bakery 152 Commonwealth Ave Reasons to Be Cheerful 110 Commonwealth Ave Saltbox Kitchen 84 Commonwealth Ave
Sorrento's Brick Oven Pizzeria 58 Thoreau St Starbucks 159 Sudbury Rd West Concord Adelita 1200 Main St Club Car Café 20 Commonwealth Ave
WHERE TO
Goswick Eye - The Spectacle Maven 68 Commonwealth Ave J'aim Home · Lifestyle 84a Commonwealth Ave Joy Street Life + Home 49 Commonwealth Ave NEW! Lawless Upholstery 119 Commonwealth Ave NEW! Loveday 115 Commonwealth Ave Rare Elements 33 Bradford St Reflections 101 Commonwealth Ave West Concord Pharmacy 1212 Main St West Concord Wine & Spirits 1215 Main St
42 Discover CONCORD | Fall 2022 CENTERCONCORD M B H 19 456 1 tSdrofdeBCourtLn LexingtonRd 13 HConcord Visitor Center CLowellRd ToWaldenPond WaldenSt. StowSttStnemunoMKeyesRd8 9 tSiMan 3 BusinessesFeatured 15 2 10 11 A 14 SupplyArtAlbright BoxToyConcordThe ConcordRevolutionary JewelryArtinian WayArtisan's3 RealtyInt'lSotheby'sBarrett4 BookstoreBarrow ShopCheeseThe RealtyBankerColdwell EstateRealCompass PlayersConcord8 InnColonialConcord's Völkers&Engel9 CucinaFiorella's ArchitectsInkstone11 Landvest Nesting InnBridgeNorth GreenPatina CampbellSara CenterArtsUmbrellaThe GalleryStonesThree 1 2 3 4 5 6 7 9 10 11 12 13 14 15 16 178 18 16 18 12 7 19 17 20 20 StopTrolley ToWaldenPond WaldenSt. StowSt
Discover CONCORD | discoverconcordma.com 43 WEST THOREAUCONCORDDEPOT Points of Interest Concord Train Station 90 Thoreau St West Concord Train Station Commonwealth Ave & Main St Featured Businesses A B 9 17 2 AB 16 4 3 121042135678911 10 10 18 1 7 A8New AppletonAdelitaLeafDesign Group The Attias Group Barefoot Books Concord Art and Antiques Concord Flower Shop Concord Teacakes Debra's Natural Gourmet Dunkin' (two locations) Forever Tile J'aim Home • Lifestyle Joy Street Life + Home Lawless Upholstery WestLovedayConcord Wine & Spirits Woods Hill Table Verrill Farm 13 11 1413 5 Trolley Stop 18171615 15 14 12 6 Trolley Stop
44 Discover CONCORD | Fall 2022 62 62 MonumentSt StLang 62 GreatMeadowsRd dRllltraBettHi MartinRd dGreatMeadowsR Peter SpringRd MPrescottRdonsenRd AshStBirch Dr NancyRd ecnednepdInedR dRttoclA dRtiLexngon tnemunoMtS woBtS LowellRd KeyesRd WaldenSt tSdrabbuHStowSt tStterevE tSleruaL CambridgeTurnpikeLexingtonRd WalnutStAuthorsRd WaysideRd Ridge Rd tCdtCsivaDBedfor nLegdirtraPCONCORDHISTORIC G F I K M H JB L OD E See—CenterConcord pageearlieronmapdetailed A LibraryPublicFreeConcord St Main129 MuseumConcord TurnpikeCambridge 53 CenterVisitorConcord St Main 58 HouseOrchardAlcott'sMayLouisa RdLexington 399 ParkHistoricalNationalManMinute (Lincoln)RdGreatN. 250 BridgeNorthThe CenterVisitorBridgeNorth Liberty 174St GroundBuryingHillOld SqMonument 2-12 ManseOldThe StMonument 269 HouseEmersonWaldoRalph TurnpikeCambridge 28 HouseRobbinsThe StMonument 320 CemeteryHollowSleepy RidgeAuthors& Bedford 120St GroundBuryingSouth Rd&St MainKeyes ReservationStatePondWalden Walden 915St WaysideThe Rd Lexington 455InterestofPoints B D E F G H I J K L M N O N H C Concord Visitor Center H CA A StopTrolley
This article made possible through the support of Concord Art and Antiques.
"We chose West Concord because it is such an artsy and collaborative neighborhood," said Bobbi. "More and more people are discovering this gem of an area, filled with unique shops, great restaurants, art, and even music festivals like Porchfest. The cornerstone of Debra's Natural Gourmet is a huge draw for all kinds of shoppers, and the new trolley service is bringing more visitors this way. We felt it was the perfect place to open a shop that combines fine art, design esthetic, antique jewelry, ceramics, andBobbimore."and Joy look forward to welcoming you, Wednesday through Sunday from 11am - 5pm at 129 Commonwealth Ave. in West Concord. Visit their Instagram site, @concordartandantiques, for information about Sunday Open Houses (with light refreshments and lots of fun!), mystery envelopes for shoppers, and additional promotions to celebrate the opening of this beautiful new shop.
A native of Concord for more than 20 years, Bobbi is a generalist in the field of antiques.
The first thing that struck me as I walked into the newly opened Concord Art and Antiques was the light, bright, and airy feel of this delightful shop. The friendly smiles of co-owners Bobbi Benson and Joy Moore instantly transformed the sometimesintimidating process of shopping for antiques into a relaxing afternoon with friends (who happen to be incredibly knowledgeable about their carefully curated collection of beautiful pieces). What a wonderful experience!
Concord Art and Antiques: Curated & Timeless Treasures
Bobbi and Joy are dear friends whose decades of experience in the worlds of art and antiques complement each other perfectly. They first met while working at another antique shop in the area. Their friendship grew through projects such as the Tricon Antique Show (taking place this year on November 4-5). Finding that they had a shared sense of esthetic, a knack for finding unique pieces for their clients, and an unbeatable entrepreneurial spirit, they took the jump and opened their own store this August. Together, the two have created a delightful space with truly unique treasures. Joy combines her love of fine art, her degree in Art History (she even studied in France), and her experience in dealing in collectible art to curate a rare and fascinating collection.
Drawing on more than 35 years of experience, Bobbi has curated a stunning collection of Staffordshire transferware, estate jewelry, nineteenth and twentieth century ceramics, gilt-framed mirrors, sterling silver, fine period furniture, and oriental rugs.
Discover CONCORD | discoverconcordma.com 45
T
"Ethel V. Ashton's artwork can be found in many museums' permanent collections, in important private collections, and now in our shop in Concord," said Joy. "I am honored to own the estate of Ethel V. Ashton, and to be able to share these highly collectible (and strikingly beautiful) artworks with visitors to Concord Art and Antiques."
BY JENNIFER C. SCHÜNEMANN
PhotographyChiha©PierreothersAllAntiques.andArtConcordofcourtesyphotoStorefront
LEHMANNEllen Tucker Emerson
Farm Manager Anna Kelchlin oversees the entire farm, ensuring crops are rotated to balance nutrient uptake. She notes that tomatoes and peppers are heavy feeders.
46 Discover CONCORD | Fall 2022
BELOW: School lunches prepared with Gaining Ground produce
Gaining Ground on Healthy Eating
The affinity part of Kelchlin's draw to the farm is quite personal. Twelve years ago, she had a heart transplant. She shares, "For me, working at Gaining Ground is giving back life by taking care of the earth and also nourishing other people." Her current team of eight farmers happen to all be women and each has their area of focus, such as maintaining the green house and wash station, growing flowers and herbs, maintaining irrigation, overseeing markets, etc. She finds it invigorating to see everyone work together toward a common goal.
Ground.GainingofcourtesyphotosotherAllLLC.PhotographyRinaldo©TonyphotoKelchlinAnna
No-till farming is key to Gaining Ground. In 2016 the farm converted to this system which means they disturb the soil as little as possible. No-till means that the soil is not churned up when crops are planted. Rather, existing trenches are used to plant the seed.
LEFT: Farm manager Anna Kelchlin preparing a bed of terminated cover crops to be planted with broccoli and cabbage
Johnson shares, "The key is to minimize soil damage by keeping the innate soil biology and microorganisms undisturbed in the soil which feed the crops. What that translates to is healthy soils providing healthier food." In addition, no-till agriculture makes soil able to absorb water more readily. Even with heavy rains, there tends to be little standing water because the soil absorbs water easier than tractor-tilled fields.
A
A well-known tale professes good farmers grow great vegetables, but great farmers grow superb soil. Gaining Ground has superb soil. Since its inception 27 years ago, Gaining Ground has consistently met its mission of 'providing equitable access to healthy food and sustainably grown produce.' The key to their success is a supportive board, an outstanding office team, knowledgeable farm staff, and a dedicated volunteer crew. Together, using three acres of farmland, they grow approximately 100,000 pounds of produce annually, serving 1,200 households weekly.Effective management and a seamless process from soil care, planting cycles, harvest, and, finally, delivery of the produce to their partners is only part of their success. The other piece is their individual affinity toward the ExecutiveorganizationDirectorJennifer Johnson brings a level of savviness from the business perspective and a genuine element of kindness on the 'affinity' side. She has matured the organization while keeping its roots firmly planted in its mission. "Healthy soil produces healthier plants. This, in turn, lessens the pest and weed pressure. If there are fewer weeds taking the nutrients, then the crops tend to be healthier."
Lettuce, however, does not take up as many nutrients, partly because this crop is not in the ground as long as some other vegetables. She balances soil health by rotating crops and using organic fertilizers such as kelp meal, feather meal, and biochar. She orchestrates different amounts of additives based on soil need. Keeping to the no-till method, these fertilizers are added without soil disruption. The reason Kelchlin is keen on testing the soil and amending the nutrients is because if soil is healthy, plants can better fight off pests.
BY ANNE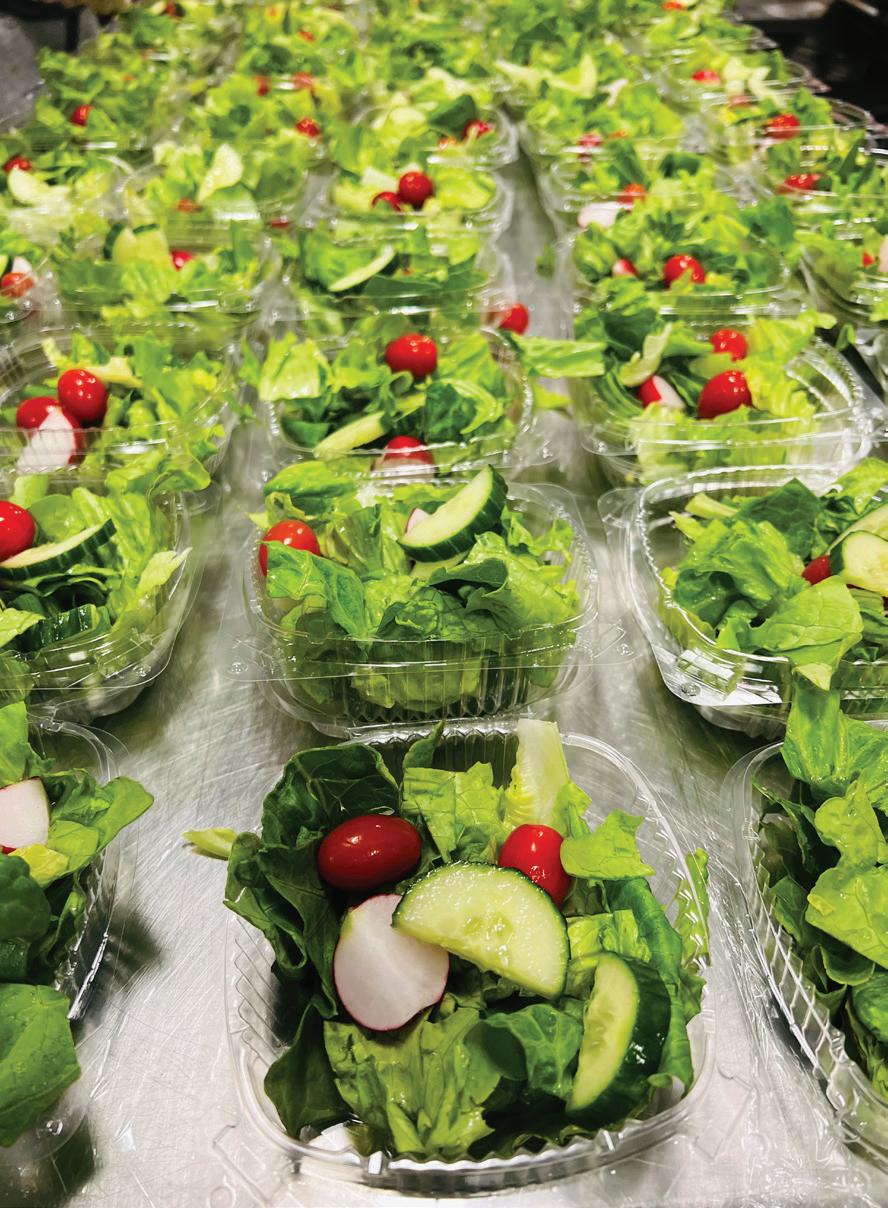 Currently, there are 18 organizations in Eastern Massachusetts that are recipients of Gaining Ground's bounty, including food pantries, schools, homeless shelters, and meal programs. The produce they receive is stunningly fresh, organic, and simply beautiful. Guy Koppe, head chef at the Boston Charter School in Roxbury, is continually amazed by the quality of the food.
Aerial photo of Gaining Ground
Hoop houses and the barn
Produce from Gaining Ground has quite a bit of diversity. Sometimes he receives Japanese turnips, hakurei, bok choy, sweet snap peas, or colorful carrots. This wide range of produce offers an opportunity to introduce students to new vegetables. Often he thinks, "What am I going to do with this?" Soon after, the stove is sizzling with baby bok choi sauteing in olive oil, salt, and pepper with a bit of garlic, a dash of soy sauce, and a generous amount of chicken stock. He also finds the colors of the produce to be so vibrant that the students are eager to try it, even if they are not used to it. Koppe states that they will devour a watermelon radish because of how fresh it looks and tastes. He believes that healthy nourishment every day in school begins a trend, potentially a lifelong trend, of healthy eating. Healthy eating for everyone is central to what Gaining Ground represents. At the heart of things, helping others is front and center. Kindness is evident as Johnson shares, "Everyone deserves equitable access to nutritional foods to live a healthy life. Hunger is a nutrition problem not a calorie problem. Produce is amongst the most expensive items at the grocery. We can help solveVisitthis."gainingground.org to volunteer, make a donation, or find more ————————————————————————information.
"A chef at any high-end Boston restaurant would be thrilled to get this type of produce."
In order to harvest 100,000 pounds of produce you need many hands. The farm has over 2,000 volunteers who work with the farmers. One of the dedicated volunteers who has been there from the beginning is Christine Lundblad, who is at the farm at least once a week. Every day she is there the work is a bit different; from planting to harvesting to weeding and organizing. She also enjoys working alongside the lead farmers as she learns new techniques that she uses in her own gardens at home. "I learn something new every time I go. Sometimes I learn more about soil preparation or how to cultivate a specific vegetable or even the correct way to use a type of hoe." She also noted that she appreciates seeing the care with which the harvest is processed. Volunteers are instructed not to toss tomatoes into a bin but instead place them in the bin, so as not to bruise them.
Anne Lehmann has merged two disciplines, business consulting and journalism. Working for GE, Andersen Consulting, and Fidelity Investments, she uses this business background and now adds freelance writing for metro west publications, including the Boston Globe, into the mix.
Discover CONCORD | discoverconcordma.com 47
The draw to the farm for Lundblad is a sense of purpose. She retired from the workplace in 2019 to help take care of her mom. While retired, Lundblad wanted to remain active and do meaningful work within her community. One of her very good friends is Polly Vanasse, the current board president. Vanasse and others began the Gaining Ground farm some 27 years ago and Lundblad joined in at that time, delivering food to those in need. As the organization grew, both Vanasse and Lundblad's connection and conviction to the organization grew as well. Vanasse states, "I am a career educator, my teaching passion was service learning. Of all the projects I have ever done, Gaining Ground is the most significant and substantial." She works with middle school students, making them a part of the solution for those with food insecurity. She continues, "The students seem to be at their best when they are doing something for someone else. Teaching the students that one person can make a difference and then actually having the students each make a difference by helping at the farm is impactful."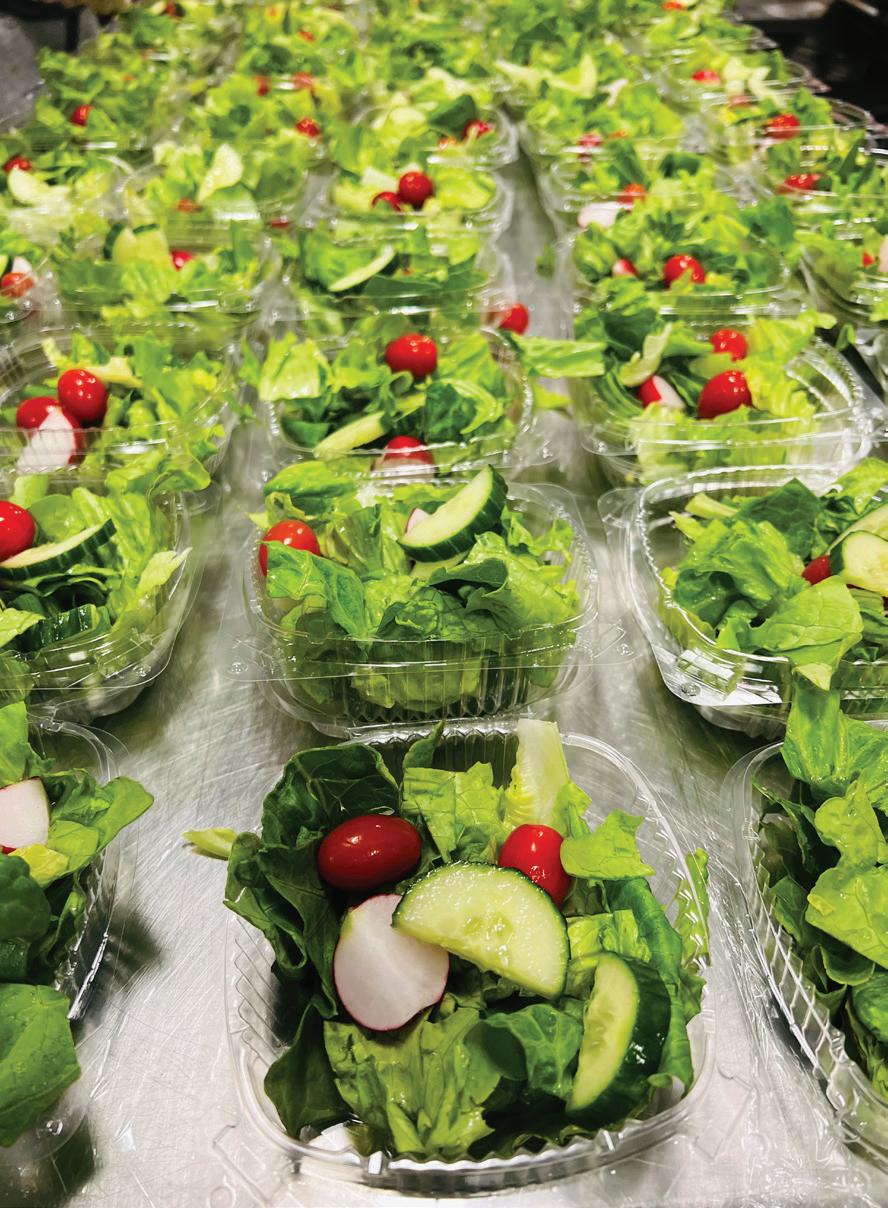 48 Discover CONCORD | Fall 2022 O
"Thou art dust, and to dust shalt thou return."
—from The Geneva Bible, 1587 version followed by the New England Puritans
©istock.com/888Photography Steeple of First Parish
Oral and written history records are like dust; grains disappear over time—burned, blown away, forgotten. In some cases, just enough original particles remain that, when swept together, give a foothold for stories like this one. Stand in Concord Center, on Lexington Road, with your back to the Old Hill Burying Ground and your gaze fixed on the golddomed First Parish building across the street. Here you are standing in the area of Concord's first meeting house. Below your feet are grains of dust walked over centuries before by Concord residents such as Puritan John Jones, the first minister of Concord. And what happened when he left this spot became something New England history tried to bury. Born in England sometime between 1582-85, John Jones was likely the son of Welsh parents William and Elisabeth Jones from Abergavenny, Wales. Jones attended Queens College, Cambridge, and became a Puritan minister in the Church of England. In 1619, he ascended a pulpit in Abbots Ripton, Cambridgeshire.Atthistime,King Charles I was midway through his reign as King of England, Scotland, and Ireland. Heavily influenced by his Catholic wife and supported by the notorious enforcer Archbishop Laud, Charles was whoJoneswerechangesfilledwild,alsoIntoCatholic-leaningintroducingreformstheChurchofEngland.hisCourt,KingCharlesregularlyhostedalcoholandnudity-parties.TheseandactionsabhorrenttoRev.andotherPuritanslivedstrictlybytheGeneva bible and didn't do Throughout"fun."England, some Puritan ministers, including Jones, refused to conform to the new religious practices and continued their old ways. Their actions drew the wrath of King Charles and Archbishop Laud. Dissenting ministers were stripped of their pulpits and assets and, in some cases, hunted down by agents of the High Court of Ecclesiastical Causes, imprisoned, tortured, had their ears cut off, or worse. Jones was removed from his pulpit, forbidden from preaching in England, and stripped of his personal wealth. For him, remaining in England was dangerous, and he joined an exodus of Puritan ministers fleeing England for the religious freedom promised in the New World. In June of 1635, Reverend Jones' wife and children boarded the ship, The Defence, bound for Massachusetts. Reverend Jones' name does not appear on The Defence passenger manifest but, as referenced in the diary of another passenger, he was aboard and ministered to the passengers throughout the journey. Later documented by Governor Winthrop in The History of New England, Jones was likely traveling under a pseudonym, for the ships leaving England for America were notoriously delayed in departing. At any moment, agents of the ecclesiastical courts could board the ship, inspect the manifest, and remove anyone for whom they were hunting. For over a month, The Defence remained stuck in port, setting sail at last at the end of July. On October 8, 1635, The Defence arrived in Boston, Massachusetts. There, Jones met the Reverend Peter Bulkeley, a fellow Puritan minister who had also been ousted from his pulpit and had arrived in America a few months before.
John Concord'sJones:FirstMinisterandWitchHunter BY JAIMEE LEIGH JOROFF
Discover CONCORD | discoverconcordma.com 49 Come visit us! There's Something for the Whole Family, Down the Stairs at 32 Main St. In Concord Center | Mon-Sat 10am-6pm | Sun Noon-5 | RevolutionaryConcord.com Concord Visitor Center: Tours, and much more! Open daily. 58 Main St, Concord, MA • visitconcord.org • 978-318-3061 • visitors@concordma.gov Cemetery and walking tours o ered Sept. to Nov. on selected dates.
He was buried in Fairfield, Connecticut, in a grave overlooking the Atlantic waters in Long Island Sound. To quote his Geneva Bible, his body returning to "the dust of the earth," his soul joining the "infinite multitude" cast upon the mercy of God.
On the scaffold, perhaps hoping to be spared, Knapp whispered that Mary Staples was indeed a witch. But this didn't save Knapp and her sentence was promptly completed.
Here, in Fairfield, Reverend Jones, the once hunted man who had fled England, transformed into a hunter of witches.
Thus marked, Knapp was found guilty and, following Connecticut law based on the Bible, was sentenced to death by hanging. Rev. Jones further pressed Goody Knapp to identify another townswoman, Mary Staples, as a witch. Knapp refused.
Similar scenes would occur for another ten years before the Connecticut witch trials ended in 1663. During the hysteria, Jones' own stepdaughter, from his second wife, was also accused but spared the rope.
As Knapp was led from the prison to the gallows, Reverend Jones walked beside her repeatedly demanding she confess her sin of witchcraft and name Mary Staples as a witch.
Here, in Fairfield, Reverend Jones, the once hunted man who had fled England, transformed into a hunter of witches. By 1647, "witch hysteria" was sweeping through Connecticut. Occurring 29 years before the Salem witch trials, witch hunts, trials, and executions were rampant in Connecticut from 1647-1663. Curiously missing from the official Connecticut records, accounts of these events were later revealed buried in letters and private journal entries, including ones by Governor Winthrop. One well-documented witch hunt in which Rev. Jones participated happened in 1653 when Goody Knapp, a simple-minded woman, was accused of being a witch. Rev. Jones repeatedly urged Knapp to confess! Knapp asked why would she lie and say something that wasn't true? A committee stripped and examined Knapp for "devil's marks." In this era, any bodily mark such as mole, boil, or scar, was sufficient to identify a witch. The committee identified a "devil's teat" on Knapp; a place where a witch would allow the devil to suckle.
About a year after the Connecticut witch trials ended, Rev. Jones died in 1664 or 1665.
50 Discover CONCORD | Fall 2022 Along with explorer Simon Willard, the Reverend Bulkeley had obtained a land grant to establish the first inland town in Massachusetts. Jones joined the two men in this effort, and the town of Concord was founded in 1635. In 1636, while dwellings and the meeting house were being built in Concord, Jones and Bulkeley gathered the first Church of Concord in Newtowne (today's Cambridge). In 1637, they were formally ordained to the Church of Concord with Bulkeley as the teacher and Jones as the pastor. By 1638, the Church of Concord was in operation and still exists today as The First Parish. Early Concord records were destroyed in a fire, but it is commonly believed that approximately ten other families accompanied Jones, Bulkeley, and Willard to Concord. Jones' house was possibly located where today's Middlesex Bank is on Main Street and later moved to a nearby spot on Lowell Road. For eight years, Jones and Bulkeley coled the Church of Concord, sharing their strict religious views and, eventually, their families when one of Jones' daughters married one of Bulkeley's sons. In 1644, Rev. Jones, accompanied by 17 other families from Concord, moved to Connecticut where they founded the town of Fairfield. Jones became the first pastor of the First Church of Christ, continuing to preach from the Puritans' Geneva Bible, the same book whose words warned, "his ministers transform[ed] themselves as though they were the ministers of righteousness."
As written in the Geneva Bible, "[after a person] is put to death, and thou hangst him on a tree, his body shall not remain upon the tree… for God's law is satisfied and abhors cruelty." In front of Rev. Jones, Knapp's body was cut down and fell to the ground. Bursting from the onlooking crowd, accused woman Mary Staples ran forward and tore off Knapp's clothing, demanding all look upon Knapp's body, see that she was innocent and bore no marks different than those of anyone present.
A Concord native, Jaimee Joroff is manager of the Barrow Bookstore in Concord Center, which specializes in Concord history, transcendentalism, and literary figures. She has been an interpreter at most of Concord's historic sites and is a licensed town guide.
P I E R R E . C O M / S E N I O R S 9 7 8 3 6 9 9 9 4 9 | P C H I H A P H O T O @ G M A I L C O M S E N I O R S C L A S S O F I T ' S T I M E T O S C H E D U L E Y O U R S E N I O R P O R T R A I T M E N T I O N T H I S P U B L I C A T I O N A N D R E C E I V E $ 5 0 I N C R E D I T T O W A R D S P R I N T S A N D D I G I T A L I M A G E S 2 0 2 3
Concord Art Celebrates its Centennial
This year marks the 100th anniversary of the incorporation of the Concord Art Association, a cornerstone of Concord's vibrant art community. The incorporation papers were filed with the Commonwealth on July 3, 1922, and were signed by eleven people, including Daniel Chester French, Russell Robb, and Alicia, George, and Grace Keyes. They were also signed by Elizabeth Wentworth Roberts, the founder of Concord Art. Elsie, as she was known, was born in Philadelphia in 1871, the only child of George Theodore and Sarah Cazenove Roberts. Her grandfather, Algernon Sydney Roberts, was a successful businessman and left a fortune to her father. As a result, Elsie was brought up in the privileged atmosphere of Philadelphia's Main Line. Her parents may have envisioned a life for Elsie as a Main Line society matron, but she had other ideas. While still a teenager, she decided to be a painter and began taking lessons in Philadelphia with Henry Rankin Poore and in New York with Elizabeth F. Bonsall. In 1889, she enrolled in the "feminine division" at the Académie Julian in Paris and occupied a lovely studio on the Avenue de Villiers. Her painting, Blessed Are They That Mourn, was accepted in the Paris Salon of 1892. The painting was awarded a prize, but Elsie was furious to discover that her father had bribed one of the judges, and the two were estranged for some time as a result. Her paintings were also accepted in the Salon in 1894 and 1897. After six years in Paris, Elsie studied in Florence for two years before returning to Philadelphia in 1898. Elsie continued to study painting at the Pennsylvania Academy and spent a good deal of time at her family's New York City apartment. When her mother died in 1900, she inherited her mother's family house in Hopkinton, New Hampshire. There she met Grace Keyes, of the Keyes family of Concord, and the two became partners in what was then called a "Boston marriage." Elsie's painting of the Hopkinton House is still a treasured possession of the Keyes family.
52 Discover CONCORD | Fall 2022
T
Elsie moved to Concord to be with Grace and, in 1908, purchased a house on Estabrook Road, where they resided. Grace and Elsie traveled a good deal; there were visits to Sicily, the Azores, Egypt, Spain, Portugal, and Wales, among other places. Summers were spent in Annisquam at Gloucester, where they kept a houseboat and Elsie painted her well-known beach pictures, some of her best work. Wherever she traveled, Elsie painted. It was important to Elsie for her work to be appreciated. Though she didn't need the money, she was pleased to sell paintings for the recognition, especially when purchased by collectors like Isabella Stewart Gardner, who acquired at least two of her paintings. Many of her paintings were sold through her Boston art dealer, Doll & Richards on Newbury Street. She also submitted paintings for exhibition at galleries and museums, and her work was shown at galleries throughout the United States.
The atmosphere and feeling of Elsie's landscapes draw the viewer into another world. But Elsie also painted portraits and other works, many of which (like those in "The Emerson Country" catalog) are Concord scenes. Probably her best-known work on display in Concord is the large-scale Memories of Antietam, a painting of Civil War veterans which hangs in the hearing room of the Concord Town House. When Elsie decided she needed to add three more veterans from Concord Junction (now West Concord) to the picture, she sought advice from her friend John Singer Sargent, who visited her Concord studio to see the painting. She followed Sargent's advice and added them to the rear of the picture instead of changing what she had already painted.
At the outbreak of World War I, Elsie (like Louisa May Alcott in a previous war) wanted to head right to the battle zone. Finding her health would not permit this, she organized BY JEFF WIEAND
Concord Art is honored to preserve the memory and artworks of Elizabeth Wentworth Roberts and the institution she founded.
Jeff Wieand is President of the Concord Art Association. AssociationArtConcordtheofcourtesyphotosAll Wentworth Roberts
Women Sewing for Belgian Refugees, 1915 Figures on the Sand, Annisquam, 1915
Elizabeth
Discover CONCORD | discoverconcordma.com 53 art exhibitions and sold paintings to aid victims of the war. She also created oil paintings of women in Concord and elsewhere sewing for soldiers overseas. Proceeds from the sale of the paintings were used to purchase and operate an ambulance for transporting the wounded in France, which was driven by Grace's cousin, 2nd Lt. Joseph B. Keyes. Two of Elsie's "sewing paintings" are currently on display at Concord Art. Around the same time, Elsie created a club (a precursor to the Concord Art Association) that held annual week-long art exhibitions in Concord venues. The club had as many as 83 members at one point and, on occasion, over 1,000 visitors. Shortly after incorporating the Association, Elsie purchased the house on Lexington Road across from the First Parish Unitarian Church that has been occupied by Concord Art ever since. The house was originally built by silversmith John Ball around 1752 and needed extensive work to convert it into the gallery Elsie envisioned. Architect Lois Lilley Howe was engaged for the renovation and designed the large sky-lit gallery on the second floor. The opening of the renovated building in May of 1923 featured an exhibition of works that Elsie obtained from many illustrious artists, including John Singer Sargent, Claude Monet, Frank Benson, Mary Cassatt, Childe Hassam, Daniel Chester French, and, of course, her own work. Elsie died in 1927 at her home in Concord.
As originally stated 100 years ago, Concord Art's purpose is "the encouragement, promotion, advancement of art and art exhibitions; to establish and maintain in the Town of Concord an art museum; to acquire and dispose of works of art." Concord Art, now called the Concord Center for the Visual Arts, continues to serve this purpose, holding curated exhibitions of works by artists from across the United States, shows of artworks by members, an annual show sponsored by the Roddy family and, for the past 51 years, an annual exhibition (with prizes) for art created by students at Concord-Carlisle High School. Moreover, Concord Art has become an essential institution for the training of new artists, offering introductory, intermediate, and advanced classes in drawing, painting, printmaking, and mixed-media art.
THE NORTH BRIDGE AND VISITOR CENTER
burial-groundvisitconcord.org/listings/old-hill2-12 Monument Square Open daily: 7am–5pm THE OLD MANSE thetrustees.org/place/the-old-manse 269 Monument Street (978) Through369.3909October 31: Wednesday through Monday: 11am–4pm Starting November 1: Weekends only, 11am-4pm
THE RALPH WALDO EMERSON HOUSE ralphwaldoemersonhouse.org 28 Cambridge Turnpike (978) 369-2236 Phone for open hours
Sleepy-Hollow-Cemeteryconcordma.gov/1956/ 120 Bedford Street (978) 318-3233 Open daily: 7am–7pm SOUTH BURYING GROUND
Concord has many historic sites of interest. Below is contact information for each along with their hours of operation. Please check the website before visiting, as sites may be closed on holidays or for private events.
THE ROBBINS HOUSE robbinshouse.org 320 Monument Street (978) September254-17451through October 31: Friday through Sunday: 11am–4pm November 1 through May 26: Closed SLEEPY HOLLOW CEMETERY, INCLUDING AUTHORS RIDGE
The Visitor Center is open daily from 10am-5pm (closed November 1 through May 6)
north-bridge-visitor-center.htmnps.gov/mima/planyourvisit/ 174 Liberty Street (978) Grounds369-6993areopen year-round from sunrise to sunset
54 Discover CONCORD | Fall 2022 CONCORD FREE PUBLIC LIBRARY concordlibrary.org Main Branch: 129 Main Street (978) TuesdayMonday:318-330010am–8pmthroughThursday: 9am–8pm Friday and Saturday: 9am–5pm Sunday: Check website Special Collections: 129 Main Street (978) TuesdayMonday:318-334210am–6pmthroughFriday: 9am–5pm Saturday and Sunday: Closed CONCORD MUSEUM concordmuseum.org 53 Cambridge Turnpike (978) TuesdayMonday:369-9763Closedthrough Sunday: 10am–4pm CONCORD VISITOR CENTER visitconcord.org 58 Main Street (978) Through318-3061November 24: Open daily: 10am-4pm After November 24: Call for hours
Burying-Groundconcordma.gov/1958/SouthMain Street and Keyes Road
MINUTE MAN NATIONAL HISTORICAL PARK visitor-center.htmnps.gov/mima/planyourvisit/minute-man250 N. Great Road (Lincoln) (781) Grounds674-1920areopen year-round from sunrise to sunset
Historic Concord: Plan Your Visit
WALDEN POND STATE RESERVATION state-reservationwww.mass.gov/locations/walden-pond915 Walden Street (978) 369-3254 Open daily: 5am–7:30pm THE WAYSIDE visitconcord.org/listings/the-wayside 455 Lexington Road (978) Monday318-7863through Sunday: 9:30am–5:30pm Tuesday and Wednesday: Closed ©istock.com/sphraner
OLD HILL BURYING GROUND
The Visitor Center is open daily from 9am5pm (closed November 1 through May 6)
LOUISA MAY ALCOTT'S ORCHARD HOUSE louisamayalcott.org 399 Lexington Road (978) Through369-4118October 31: Monday through Saturday: 10am-5pm Sunday: Effective11am–5pmNovember 1: Weekdays: 11am-3:30pm; Saturdays: 10am-5pm; Sundays: 1-5pm
40 Stow Street, Concord | 978.371.0820 | TheUmbrellaArts.org ADraculafeminist revenge fantasy, really 9/30-10/23 By Kate Hamill, based on the novel by Bram Stoker. You're in for a fun, fearless ride when the Count meets his match – and the #MeToo movement – in this fast-paced, theatrical tour de force! FALL AT THE UMBRELLA ARTS CENTER ON STAGE THIS FALL Theatre subscriptions on sale now for these spectacular shows, plus a full season of iconic characters and stories told in our new theater! FROM OUR PARTNERS PUBLIC ART LITERARY ARTS Barefoot Books: 30 Years, 30 Artists Sep 9-25 Interactive family-friendly gallery exhibit and a live theatrical production of The Boy Who Grew Flowers Go Out Doors Aug 15-Nov 15 Outdoors public art exhibition of artist-decorated doors enlivens locations in Concord Center, West Concord, and Minute Man National Historical Park Aimee Nezhukumatathil Oct 18 & 19 NYT best-selling author of World of Wonders talk and reading with Concord Festival of Authors (Oct 18) and Umbrella Writing Workshops (Oct 19) Fall Classes, Gallery Exhibits, Concerts, Public Art, The Concord Film Project, and more… Go to TheUmbrellaArts.org DISCOVER YOUR ARTS Beffa©Caroline Ben Folds - Live at the Umbrella! 10/14 One of the major music influencers of our generation Rent 11/11-12/4 Jonathan Larson's Tony- and Pulitzer Prize-winning phenomenon about a group of artists and friends in NYC's East Village has inspired generations of audiences to choose love over fear and to live without regret. La Vie Boheme! DISCOVER YOUR ARTS CommonsWikimedia
WEST CONCORD
Wind your way down the switchbacks from Powder Mill Road, and suddenly you are in a beautiful, wooded area that feels miles from civilization. As you head north on the path, you will go through beautiful wetlands followed by fields as you cross Williams Road. As you approach West Concord center and cross the Assabet River, things get a little more urban. There's a great setup with bike tools (an Eagle Scout project) by the corner of Main and Commonwealth, just before you get to the train station if you need any adjustments. Once you cross Main and go past the station and through the lot, you will encounter beautiful woods again (except by the prison) all the way to Route 2, where you can look down at all the traffic heading to and from the rotary. ACTON The Acton section of the trail begins on the other side of Route 2 and goes behind the commercial district on The Great Road (Route 2A). As you head toward Lowell, the scenery on the left includes lily-pad-covered Ice House Pond and peaceful, green woods. You can stop and shop at the stores along the way and have lunch or a donut. Access to the road is easy and within a few hundred feet of the trail at most. Some places have even set up trail-side entrances to cater to cyclists.Once you cross Route 2A, the trail is back in more residential areas and parallels Route 27 all the way to Chelmsford Center. One of the great opportunities along the way is Nara Park in Acton, which has a swimming beach, play areas for kids, bathrooms, and an amphitheater for outdoor concerts. Be careful riding past it, as there can be a higher number of pedestrians than in other areas. From here, you will zip along, crossing 27 again, and flirt with Carlisle for a second before you get to….
CHELMSFORD Chelmsford is the oldest section of the trail and feels it. The pavement has some corrugation (not intentionally, just from freeze/thaw cycles) and is a bit narrower than in Acton or Concord. You will also
The Bruce Freeman Rail Trail runs from West Concord to Lowell in a beautiful, car-free setting. The Bruce (or BFRT, if you prefer) runs from Crosspoint Towers in Lowell to the corner of Powder Mill Road and Stone Root Road in West Concord and ties West Concord, Acton, Chelmsford, and Lowell together on a flat, car-free path for more than 15 miles. Let's look at it by town.
"I'd love to ride my bike more, but the cars scare me" is something I have heard from many people. Luckily, we are blessed to have a great place to ride, walk, run, crosscountry ski, or rollerblade without cars, right in our own backyard!
BY DAVID ROSENBAUM
WelchNathaniel© theBikingBruceFreemanRailTrail
56 Discover CONCORD | Fall 2022
THE FUTURE
The Bruce Freeman Rail Trail runs from West Concord to Lowell in a beautiful, car-free setting.
TrailRailFreemanBrucetheofFriendsofCourtesy
• Other rail trails to explore brucefreemanrailtrail.org/rail-trail-resources/rail-trail-links/
Discover CONCORD | discoverconcordma.com 57 encounter more road crossings, though these are mostly low-traffic. Lots of woods surround you, but the highlight is Heart Pond, where there is a swimming beach, and you will see folks fishing quite often. Heart Pond to Chelmsford Center is a pretty ride and includes a beautiful wildflower meadow. When you arrive in Chelmsford, you can reward yourself with a snack or lunch at one of the many restaurants in the area close by the trail. It can be fairly busy through this section, which is a bit disjointed—crossing Route 110 twice as it heads toward Lowell.
LOWELL This last section is not my favorite, and I really only ride it to say I have ridden the entire trail. It is a relatively short ride from Chelmsford Center to Crosspoint Towers in Lowell and not as scenic as the rest of the trip. But you can park there to do the ride, get picked up there, or just do it to say you did the whole ride.
• Mass Central Rail Trail masscentralrailtrail.org/
For more information, visit:
The path is only half completed, as it will eventually follow the entire rail line that once ran from Lowell to Framingham. The paved section in Concord will join up with the Acton to Lowell sections when the bridge over Route 2 opens sometime this fall. Then you will be able to enjoy more than 17 miles of car-free path. The path will also meet up with other trails in the future and extend into Lowell Center to the historic mill district. Phase 2D will extend from Concord to Sudbury, and then Phase 3 will go from Sudbury to Framingham, completing the vision— though the timetable for that is still open. So why not grab your bike, walking shoes, or roller blades and enjoy the Bruce Freeman Rail Trail this fall? It's a beautiful way to spend a day.
• Friends of the Bruce Freeman Rail Trail (maps, parking, history, etc.) brucefreemanrailtrail.org/
David Rosenbaum is a Concord resident who loves outdoor sports. His day job is Solutions Engineer for Kaltura, Inc.
PerringJudy©
BY JENNIFER M. JOHNSTON
Artist Spotlight GalleryStonesThreeofcourtesyphotosAll
LYCA BLUME Lyca grew up in Tokyo, Japan, and completed her undergraduate degree at Reed College in Portland, Oregon. She earned her Bachelor of Fine Arts at the School of the Museum of Fine Arts in Boston. Lyca originally began her art career in illustration and painting, but her thesis was an installation piece featuring photography and printing techniques. She discovered her love and aptitude for working in mixed media because, as she says, "mixed media can adapt to a variety of projects depending on what that project asks for."
Today, Lyca holds the position of gallery manager at Three Stones Gallery in Concord. Currently, her creative expression focuses on one-of-a-kind jewelry pieces made from unique beads, pendants, and watch movement pieces collected on her travels. She sees her jewelry as three-dimensional collages whose assemblages are often inspired by both ancient and contemporary cultures.
In this continuing series, we are delighted to introduce you to two more of Concord's gifted artists. We hope that you'll explore Concord's many galleries, exhibitions, live performances, studios, classes, and more this fall.
Patti fell in love with painting as a child at a sleep-away camp in Maine, finding her way to the designated art shack and instructor who became an outstanding guide. Her teacher asked the girls to paint anything they saw and were drawn to and, in doing so, he built their confidence in their vision and ability to render what they saw. This experience sparked a lifelong love of painting that persists today.
Patti's paintings of semi-abstract florals and seascapes seem as if they were created spontaneously from the ether of her imagination. Patti's relaxed, beautiful flowers, vases, ocean water, and rock are based on years of study and practice.
Upon graduation, Lyca had a massive student loan, like many young people in America today, and found employment in the food industry. A chance meeting with an established artist led her to take a post as the artist's studio assistant, which Lyca found engaging and inspiring. She then re-directed her art career into the medium of collage, realizing after working with her mentor that painting or collage could be sculptural or three-dimensional.
At American University, she majored in education and minored in art, but her career in art cut a wider path for Patti. She studied watercolor, drawing, and working with a variety of papers in mixed media. Patti later immersed herself in the techniques of acrylic and oil while continuing to develop her distinct voice as an artist.
Jennifer M. Johnston is a fine art photographer and mixed media artist who has lived in Concord for twenty years. She has an MA in Expressive Therapy from Leslie Univer sity and is the owner of Three Stones Gallery in Concord, MA and Rockport, MA.
Patti paints every day and says this is what pulled her through the most challenging times of COVID. She loves to paint loosely and freely, but she also gives a large nod to her excellent training in composition, drawing, and color theory. As Patti says, she "loves to paint with a sense of joie de vivre with an underpinning of good solid structure." pattiganek.com
PATTI GANEK
threestonesgallery.com/lyca-blume
58 Discover CONCORD | Fall 2022 I
Discover CONCORD | discoverconcordma.com 59 From easy call-ahead and pickup options, to full on catering … let us make your next party or event delicious with our cheese and charcuterie platters, artisanal foods, and the perfectly paired wine and beers! 29 Walden Street | Concord Center, MA | 978-369-5778 | www.concordcheeseshop.com (itCheese!Saygetsasmileeverytime) PATINA GREEN 59 Main Street, Concord Center @patinagreenshop | 978-369-1708 | www.shoppatinagreen.com HomeJewelryDecor ApothecaryPuzzlesAccessoriesPaper Children'sGarden 11 Wheeler Rd. | 978-369-4494 | Verrillfarm.com PICK YOUR OWN SUNFLOWERS (thru mid-Sept.) PICK YOUR OWN PUMPKINS (thru Oct.) HARVEST FESTIVAL Oct. 15 from 11am to 3pm A portion of sales will be donated to Emerson Hospital's Pediatric Unit to support their ongoing programs Fresh Thanksgiving Turkeys and all the fixins! And of course, gifts for the holidays
60 Discover CONCORD | Fall 2022 E
Path to History: the Trails at Minute Man! BY NEIL LYNCH
Every year, more than a million people descend on Minute Man National Historical Park to bear witness to the events that started the American Revolution. For the vast majority, North Bridge is the focal point, the place where visitors can literally walk over history while admiring the setting along this notable stretch of the Concord River.
Fiske Hill and the Vernal Pool Trail Beyond Battle Road, other walks beckon. At Fiske Hill, on the eastern end of the park, a one-mile trail winds its way through
Explore
ParkHistoricalNationalManMinuteofCourtesy
A growing number of travelers and national park aficionados are exploring more of the 1,034 acres that comprise Minute Man. That includes nine miles of walking trails! While history remains its cornerstone, Minute Man is also a national park, a welcome oasis offering an outdoor escape to the metropolitan Boston area. Hikers and walkers – cyclists, too! – come throughout the year for a variety of reasons: to retrace the hurried steps of retreating British soldiers along the Battle Road; to step back in history along paths that have been restored to resemble their 1775 appearance; to enjoy a morning power walk, a lunchtime jog, or an afternoon bike ride; to bird watch in spring, picnic in summer, leaf-peep in fall, and cross-country ski or snowshoe in winter. Battle Road The best-known trail at Minute Man is the five miles of celebrated "Battle Road of the Revolution" that are preserved and restored within the park. Visitors can step back in time, from Meriam's Corner to Fiske Hill, on which some of the heaviest fighting of April 19, 1775, occurred. Such notable landmarks as Hartwell Tavern, Captain William Smith House, and the Paul Revere Capture Site help recall the "story behind the scenery," the reasons why this special place deserves national historical park status and re-enforced through the exhibits and programs at Minute Man Visitor Center, just off the trail.
Discover CONCORD | discoverconcordma.com 61 secluded forest and meadow to the site of the Fiske Farm and a deadly encounter between a colonial farmer and a retreating British regular. Near Hartwell Tavern, the Vernal Pool Trail showcases essential habitats for distinctive plants and animals. Behind the Smith House, a little-known trail extends a quarter mile to the rear of Hartwell Tavern, following original stone walls and boulders just beyond colonial fields and orchards, and providing a different take on a familiar setting.
" 'Tis the good reader that makes the good book." ~Ralph Waldo Emerson Barrow Bookstore 79 Main Street, Concord, MA (behind Fritz and Gigi) | www.barrowbookstore.com | 978-369-6084 RARE AND GENTLY READ BOOKS Specializing in Concord Authors and History; Transcendentalism; Revolutionary War, American, and Military History; Children's Literature; and a wide selection for the eclectic reader. Literary-themed gifts, postcards, and beeswax candles.
North Bridge and Vicinity Most park visitors walk the quarter-mile path at North Bridge, from the visitor center down to the bridge, pausing by the Minute Man statue and the grave of the British soldiers killed by colonial fire on April 19, 1775. They meander over to the Old Manse, a historic home and eyewitness to the fateful events at North Bridge, or to The Robbins House, built in the 18th century for the children of a formerly-enslaved Revolutionary War veteran. The National Park Service's slogan, "Find Your Park!," has special meaning for the many local visitors to Minute Man. During the pandemic, when travel was limited, people from across Greater Boston, discovering the open spaces of the park, exclaimed time and again "What a treasure! I never knew this was here!" The newfound popularity continues, even as the world edges back to some semblance of normal, with more visitors coming to discover and walk the trails. So – what are you waiting for? Walk a trail at Minute Man National Historical Park soon and discover your path to history! Visit the Minute Man National Historical Park website at nps.gov/mima/index.htm to learn more about trail locations, parking, and directions. Reprinted with permission explore-the-trails-at-minute-man/friendsofminuteman.org/path-to-history-from Hampstead,frequentManseventhvolunteerNeil————————————————————————LynchisaFriendsofMinuteManandrecentlycompletedhisseasonasarangeratMinuteNationalHistoricalPark.NeilisaBattleRoadhikerwhowritesfromNewHampshire.TheFriendsofMinuteManNationalParkisanon-profit501(c)3organizationfoundedin1989.Forover30years,theyhavesupportedMinuteManNationalHistoricalParkthrougheducation,preservation,advocacy,andfundraising.TosupportyourparkandbecomeamemberoftheFriends,pleasevisittheirwebsiteat friendsofminuteman.org/membership.
A special Greenwhich Village Series of walks includes a great conversation with legendary rock photographer Bob Gruen. Launching this fall, Boston Gems is a special series with local influencers that will reconnect you with great walks around Beantown. The range of talent and storytelling in this podcast is truly amazing.Butit's the tone of the podcast that makes it so enticing. The lull of nature in the background (or the excitement of a city block) pulls you out of your car or office and into a new mental space. The easy conversation makes you feel like you are right there, alongside celebrities who seem transformed into neighborhood friends. And the topics are deeply interesting.Grammy award winning guitarist, singer-songwriter, band member in Hot Tuna and Jefferson
Feel like Takin' a Walk?
Musical birdsong is heard in the background of Colfax Meadows outside of Los Angeles as Ed Begley Jr. discusses his acting career (Best in Show, Mighty Wind, For Your Consideration) and environmental activism—including his work with the Walden Woods Project.
62 Discover CONCORD | Fall 2022
"I've always loved walking in cities like Boston, NY, or Chicago. There's just something about going for a long walk with the hum and hustle of the city backdrop that quiets the mind and helps me think," said Buzz. "Living here in Concord, it's a delight to discover the world of Henry David Thoreau and Walden Pond. The pandemic encouraged me to discover so many beautiful places to walk and think." Then it occurred to him—why not combine that love of 'Takin' a Walk' with the opportunity to share great stories about interesting people? After all, Buzz had already created several successful podcasts over the years. He knew what to do, and he knew some great people to talk with. These unique story segments would invite listeners to vicariously spend some time outside with people they admire. The result is delightful. With each episode, we follow along with the likes of principal trombonist for the Boston Philharmonic, Adam Hanna (recorded at the North Bridge); or comedy writer and co-host of Gilbert Gottfried's Amazing Colossal Podcast, Frank Santopadre; or Concord's own Doris Kearns Goodwin, the internationally beloved presidential historian.
It's an interesting thing—interviewing a professional interviewer. On a warm summer morning, I had the pleasure of sitting down with Concord's own Buzz Knight. A friendly and unassuming guy, he sits relaxed and smiling on the patio overlooking the fields of Hutchins Farm, ready to chat with me about his latest project. Armed with background research and a list of questions, I was prepared to gather the information for an article. Instead, I found myself entranced in a captivating story. Buzz has a lifetime of interesting experience ranging from on-air to programming radio stations to overseeing programming for an entire company. Through his work, he has created a fascinating network of artists, writers, comedians, musicians, music label executives, and producers whom he calls friends. When the pandemic hit, Buzz took to taking long walks outdoors to ward off the isolation. Like many of us in Concord, he was channeling the "Walden/Thoreau" vibe and rediscovering the joy of being outside.
I
Buzz has created something very special. In a busy and stressed-out world, a moment of peace, calm, and contemplation is just a podcast away. We're happy he's our neighbor and glad to share his beautiful creation with all of you.
BY JENNIFER C. SCHÜNEMANN Knight©Buzz
Join Buzz every week for a new stroll through a city street or country road with a fascinating celebrity, comedian, writer, historian, musician, or just plain interesting person. It's easy to subscribe (free!) to the Takin' a Walk podcast. You can find out more at takinawalk.com or just scan this QR code to jump to the site where you can sign up. Rock photographer Bob Gruen (left) Takin' a Walk with Buzz Knight
Airplane, and Rock & Roll Hall of Fame inductee Jorma Kaukonen takes us for a stroll around Fur Peace Ranch in Ohio. The crunching of leaves underfoot (and the sharp 'bing!' of a bell from a passing bicycle) transports you to beautiful Litchfield County in Connecticut for a conversation with Allen Kovac, founder of Indie label Better Noise, as he recounts his days managing Blondie, The Cranberries, the Bee Gees, and Motley Crue.
Takin' a Walk: Buzz Knight Channels the Walden Vibe in a Delightful New Podcast Series
Discover CONCORD | discoverconcordma.com 63 You're invited! Join us for two very special events celebrating our 30th birthday! 30 Years, 30 Artists A FREE, interactivefamily-friendly,artexhibition September 9th-25th Live Family Theater Three LIVE performances of The Boy Who Grew Flowers by The Treehouse Shakers Learn more and get your tickets! | Concord, MA Handcrafted Designer Creations from Concord Design Consultations by info@concordpillows.comconcordpillows.com978-201-9537AppointmentConcordPillows 15% off with mention of this ad! 84a commonwealth ave, concord, ma 01742 @jaimshoppe • 978-610-3334 135 Commonwealth Ave. in West Concord | www.concordflowershop.com | 978-369-2404 Stop by for some colorful fall flowers or shop online at ConcordFlowerShop.com Fall/winter Hours Mon-Fri 9-5 and Sat 9-3 Delivery or Curbside Pickup Available.
Autumn is a special time in New England. For my family, September means an excursion to a local orchard for apple picking, apple cider, and apple donuts. Then in October, it is off to the farm for pumpkin picking. For anyone who is new to New England, or somehow has never had a cider donut, let me tell you these are a delicious fall treat! The best donuts are fresh from the fryer, covered in cinnamon sugar. They have a delicate crust and a warm, bready interior that is redolent of apple cider and cinnamon. When you bite into one of these treats, it is heavenly. Yum! You could buy cider donuts at the supermarket, but for my money, the best place is the local apple orchard or farm stand. Great options abound in nearby towns like Stow or Bolton where apple orchards are a legacy of Johnny Appleseed.
One word to the wise, apples ripen at different times for different varieties. Check the website before you go picking to make sure they have the varieties you like before you go to pick apples. Have a wonderful fall! David Rosenbaum is a Concord resident. When he's not enjoying cider donuts and seeking the perfect pumpkin, his day job is Solutions Engineer for Kaltura, Inc.
Cider Donut recipe: doughnuts/recipe/235088/apple-cider-https://www.allrecipes.com/
As October rolls into Concord and the days and nights become even cooler, Halloween is just around the corner. Pumpkins, whether carved into beautiful jack-o-lanterns or displayed in your yard, are a true symbol of fall. These wonderful gourds fulfil the purpose of food, decoration, and even punch bowls for many of us. Pick-your-own pumpkin farms are close by and welcome the whole family, so bring the kids, aunts, uncles, cousins, and grandparents. You can stay local and visit Concord's own Verrill Farm, which has a variety of pumpkins: large and small, white or yellow, oblong or round, and anything in between! Or you can visit a slew of other farms in neighboring towns. We have a list of options for you here. Wherever you go, make sure you stop by the farm stand after you finish your pumpkin picking to get some fresh baked goods, cider, or other farm produce.
©istock.com/photo_chaz.
A
Of the self-pick orchards in the Concord area, Shelburne Farm and Honeypot Hill Orchard are two of my favorites for cider donuts, especially with some freshly pressed, hot cider. Of course, if you want to make your own donuts, you can find good recipes on the internet.
Pumpkin&Patches: NewAutumnalRitesofPassageinEngland
64 Discover CONCORD | Fall 2022
Resources: Mass Department of Agriculture Pick your Own finder: (Pick%20Your%20Own)map.aspx?Type=PYO%20https://massnrc.org/farmlocator/
DIY Pumpkin punchbowl: pumpkin-punch-bowl/https://www.liquor.com/articles/
BY DAVID ROSENBAUM
DonutsCider
The Walden Woods Project Farm 1047 Concord Turnpike, (978)at-walden-woodswalden.org/property/the-farm-Concord369-2724
Hutchins Farm 754 Monument Street, Concord (978)hutchinsfarm.com369-5041
Carlson Orchards 115 Oak Hill Road, (978)carlsonorchards.comHarvard456-3916
Where to
Wilson Farm 10 Pleasant Street, Lexington (781)wilsonfarm.com862-3900
Nashoba Valley Winery Orchard & J's Restaurant 100 Wattaquadoc Hill Road, (978)nashobawinery.comBolton779-5521
Schartner Farm 211 West Berlin Road, Bolton (978)schartnerfarm.com779-5588
the perfect pumpkin near Concord:
Nicewicz Family Farm 116 Sawyer Road, (978)nicewiczfamilyfarm.comBolton779-6423
Clark Farm 185 Concord Street, (978)clarkfarmcarlisle.comCarlisle254-5427
Westward Orchards Farm Store Massachusetts Ave. (Rt. 111), (978)westwardorchards.comHarvard456-8363
Farmer Dave's at Hill Orchard 4 Hunt Rd, (978)westfordhillorchardfacebook.com/Westford392-4600
Honey Pot Hill Orchard 144 Sudbury Road, Stow (978)honeypothill.com562-5666
Dowse Orchards 98 North Main Street, Sherborn (508)dowseorchards.com653-2639
Derby Ridge Farm 438 Great Road, (978)derbyridgefarm.comStow897-7507 Doe Orchards 327 Ayer Road, (978)doeorchards.comHarvard772-4139
Sunshine Farm 41 Kendall Avenue, (508)sunshinefarmma.comSherborn655-5022
Verrill Farm 11 Wheeler Road, Concord (978)verrillfarm.com369-4494
Carver Hill Orchards 101 Brookside Avenue, Stow (978)carverhillorchard.com897-6117
Colonial Gardens Florist & Greenhouses 442 Fitchburg Turnpike, (978)colonialgardensflorist.comConcord369-2554
Scimone's Farm 505 Old Bedford Road, Concord (978) 337-8504
Doe Orchards 327 Ayer Road, (978)doeorchards.comHarvard772-4139
Shelburne Farm 106 West Acton Road, Stow (978)shelburnefarm.com897-9287
Westward Orchards Farm Store Massachusetts Ave. (Rt. 111), (978)westwardorchards.comHarvard456-8363
Carlson Orchards 115 Oak Hill Road, (978)carlsonorchards.comHarvard456-3916
Drew Farm 31 Tadmuck Road, Westford (978)drewfarm.com807-0719
Nashoba Valley Winery Orchard & J's Restaurant 100 Wattaquadoc Hill Road, (978)nashobawinery.comBolton779-5521
Carver Hill Orchards 101 Brookside Avenue, Stow (978)carverhillorchard.com897-6117
Derby Ridge Farm 438 Great Road, (978)derbyridgefarm.comStow897-7507
Discover CONCORD | discoverconcordma.com 65
Old Frog Pond Farm 38 Eldridge Road, (978)oldfrogpondfarm.comHarvard456-9616
Verrill Farm 11 Wheeler Road, Concord (978)verrillfarm.com369-4494
Millbrook Farm 215 Cambridge Turnpike, (978)millbrookfields.comConcord287-0299
Brigham Farm Stand & Greenhouses 82 Fitchburg Turnpike, (978)brighamfarmconcordma.comConcord287-4334
Where to find ©istock.com/juanmonino
Rotondo Farm 737 Bedford Street, Concord Schartner Farm 211 West Berlin Road, Bolton (978)schartnerfarm.com779-5588
Shelburne Farm 106 West Acton Road, Stow (978)shelburnefarm.com897-9287
Barrett's Mill Farm 449 Barrett's Mill Road, Concord (978)barrettsmillsfarm.com254-5609
Nicewicz Family Farm 116 Sawyer Road, (978)nicewiczfamilyfarm.comBolton779-6423
Marshall Farm 171 Harrington Ave, Concord (978)marshallfarm.com369-4069
look for delicious cider donuts near Concord:
Old Frog Pond Farm 38 Eldridge Road, (978)oldfrogpondfarm.comHarvard456-9616
Honey Pot Hill Orchard 144 Sudbury Road, Stow (978)honeypothill.com562-5666
Belkin Family Lookout Farm 89 Pleasant Street, Natick (508)lookoutfarm.com651-1539
In England in 1992, two young moms, Nancy Traversy and Tessa Strickland, couldn't find the kinds of books they wanted for their kids: visually captivating stories that celebrated global awareness and sparked curiosity. So, they started a fledgling children's publishing company from their homes. Now, 30 years later and based in Concord, MA, Barefoot Books is an award-winning, international business named by Forbes as one of the 25 Best Small Companies in America. The company has published nearly 1,000 titles and put more than 30 million books into children's hands across the globe while staying true to its founding mission to open children's hearts, minds, and worlds. In 1998, Canadian-born co-founder Nancy saw the potential to grow Barefoot in North America and opened their first U.S. office in Brooklyn, NY. With four children under the age of nine, the transatlantic commutes became challenging so, in 2001, Nancy and her husband decided to move to the Boston area. An avid fan of Little Women, Nancy fell in love with the beautiful, historic town of Concord, where she and her family have now lived for over two decades.
In the early 2010s, when publishers feared that e-books and apps might replace books altogether, Barefoot created its World Atlas app, based on their bestselling book. The app was selected by Apple as one of their top ten apps of all time with more than four million downloads. Barefoot's YouTube channel, which features animations from their 30 singalong books, has over 440 million views.
Barefoot Books Celebrates 30 Years BY LAUREN JOYNER
Lauren Joyner is a member of the Barefoot Books team based in Bradford Mill, Concord. Scan the QR code to learn more about Barefoot's 30th anniversary events.
Nancy Traversy
In 2021, Barefoot moved from Cambridge, MA, to its colorful new home in the vibrant Bradford Mill community in West Concord from where the global publishing business is run. Barefoot regularly opens its doors to local families and educators for events reminiscent of those held in their studios. To kick off its 30th anniversary celebrations, Barefoot is thrilled to partner with The Umbrella Arts Center to feature Barefoot Books: 30 Years, 30 Artists, a free, family-friendly, interactive art exhibition showcasing 30 artists from around the world and a three-dimensional timeline of Barefoot's history. Events include three performances of The Boy Who Grew Flowers, a heartwarming story about empathy and kindness by Manhattan-based dance and theater company, The Treehouse Shakers.
Barefoot Books, The Bradford Mill, Concord
All proceeds support The Umbrella Arts Center. Events will run September 9-25. Visit anniversary-eventsbarefootbooks.com/about-us/30thto learn more and buy tickets.
BooksBarefootofcourtesyphotosAll
Barefoot's emphasis on multicultural, diverse books put it on the fringes of mainstream publishing, so Nancy had to think out of the box to reach Barefoot's core audience of discerning parents and educators. Rather than relying on traditional book channels, she adopted an innovative business model with a focus on independent booksellers, specialty retailers, key educational and literacy partners, and local community outreach.
For years, Barefoot brought books to life in colorful studios in Cambridge, MA, on Thoreau Street in Concord, MA, in Oxford, England, and in the flagship FAO Schwarz store in New York City. These community centers became gathering places for families to enjoy storytelling and craft events, pottery, birthday parties, global festivals and more.
66 Discover CONCORD | Fall 2022
I
Barefoot's work supports literacy initiatives across the globe. They have partnered with nonprofits like Books for Africa to send 300,000 books to HIV/AIDS orphans in Mozambique and Books4School to support literacy in impoverished areas in the U.S., shipping one million books in 20 languages.
Discover CONCORD | discoverconcordma.com 67 C A R L I S L E , M A | H E L L O @ N A T I V E D E S I G N C O C O M • baked goods, soups, meals • sushi — organic rice, sustainable fish • grass-fed meat, pastured eggs • healthy lunchbox • organic snacks from India • vitamins + herbal wellness • non-toxic hair + makeup • ...and THE REFILLERY IS OPEN! 1 store 2 DOORS 98 commonwealth ave, West Concord | 978.371.7573
After greeting Willard's wife, you see the wife of farmer Jones from Sudbury approaching. She is accompanied by her 12-year-old housemaid, Anna. You should greet them by saying: a) Good morrow, Mistress Jones and Goody Anna b) Good morrow, Goody Jones and Anna c) Remain quiet. The town of Sudbury has just been founded and you don't know yet if you like people from Sudbury.
1 In the mid-morning sunshine, you are walking down the road when you meet the wife of Simon Willard, one of Concord's founders and most prominent men. The most correct way to greet her is: a) Good morrow, Mistress Willard b) Good morrow, Goody Willard c) Good noon, Madame Willard d) Top of the morning, neighbor
3 In 1638, the General Court of Massachusetts fined the Town of Concord five shillings for failing to have: a) A church b) A schoolhouse c) A working gristmill d) A pair of stocks
Old Mother Rigby Gregory Maguire
Elphaba Ralph Waldo Emerson
Hilda Nathaniel Hawthorne
4 Which of these Concord residents was superintendent of Concord schools from a)1859—1864?AmosBronson Alcott b) Ralph Waldo Emerson c) Nathaniel Hawthorne d) Henry David Thoreau
Described by Walt Whitman as "a fighter, up in arms, a devotee, a revolutionary crusader, hot in the collar, quick on the trigger, noble, [and] optimistic," this nineteenth-century Concord resident started a primary school in Concord whose pupils included Louisa May Alcott and her sisters. Today, a current Concord school is named after this person. This person was: a) John Brown b) Thomas Carlisle c) Franklin B. Sanborn d) Elizabeth Peabody e) Amos Bronson Alcott
Q Questions 1-2: The year is 1639. You are one of the first settlers in Concord and have lived here now for four years. How do you react in the below scenarios?
Trivia
Barrow Bookstore Presents: CONCORD ©istock.com/BDphoto
2
6In 1884, Louisa May Alcott sold Orchard House, the home in which she had written Little Women. The house was later vacant for many years. In 1904, Orchard House came up for sale. The Boston chapter of the Women's Educational and Industrial Union attempted to buy the house to make it a: a) Museum b) Country retreat and residential studio for female artists
c) Home for sightless women who needed means of self-support d) Culinary school specializing in apple dishes
68 Discover CONCORD | Fall 2022
9True or False: Concord writers Louisa May Alcott, Nathaniel Hawthorne, and Ralph Waldo Emerson were each directly descended from different Salem witch trial judges.
7You've somehow time-traveled and ended up in Victorian era Concord working as a maid in a grand house. You know that slipping through time is no excuse to let down your dental hygiene, but you have no money to buy tooth powder or dental paste (which have both been created by this period). As an alternative, which one of the following might you use? a) Hemlock bark b) Fresh kettle hole water from Walden Pond c) Dried horse dung d) Soot e) Sawdust
8Match the witches with their Concord creators: Witch Creator Norna Louisa May Alcott
10True or False: The 1989 American Civil War movie Glory was about the real-life Massachusetts 54th Infantry Regiment, one of the Union Army's first African American regiments. The movie starred well-known actors such Matthew Broderick as Col. Robert Gould Shaw, and Denzel Washington, Morgan Freeman, and Cary Elwes as fictional members of the regiment. True or False: Although his name went unrecognized for years, George Washington Dugan, a real-life Concord resident, was the town's only member of the 54th Regiment.
5
3. D. A pair of stocks. Although many colonists left England behind for a reason, they still brought some of England's ideas with them. In addition to building a town church, most towns also built a pair of stocks. Placed on town greens, wood or metal stocks were used to punish and humiliate people. For as long as their punishment dictated, the offending person would be seated with their legs, and sometimes arms, sandwiched between two interlocking boards, unable to move and at the mercy of taunts or rotten vegetables tossed at them by members of their community. This is not bonding.communitytodayrecommendedfor 4. A. afterSchoolMayfatherBronsonAmosAlcott,ofLouisaAlcott.Alcottisnamedhim.
1. A. Good morrow, Mistress Willard. The title "mistress" was used for women of high status and wealth. Good morrow meant "good rest of the morning."
9. False, yet partially true. Louisa May Alcott was the third-great-granddaughter of Salem witch trial judge Samuel Sewall and Nathaniel Hawthorne was the secondgreat-grandson of witch trial judge John Hathorne. Ralph Waldo Emerson was the fourth-great-grandson of convicted Salem witch Mary Perkins Bradbury. Although sentenced to hang, Mary somehow escaped her death sentence, resulting in future scholars learning how to spell transcendentalism. 10. True. To learn more about George Washington Dugan and the current effort to help honor him, please see Beth van Duzer's article "Preserving and Updating Concord's Civil War Monument" in this issue of Discover Concord. Sources: Shattuck, L. (1835) History of Concord, Russel, Odiorne, and Company, Boston, MA Massachusetts Birth Index 1700 – 1800, accessed via ancestry.com Lady of New York (1843) Etiquette for Ladies: A Manuel of the Most Approved Rules of Conduct in Polished Society, for Married and Unmarried Ladies, J.L. Gihon, New York, NY Earle, A.M. (1896) Curious Punishments of Bygone Days, Herbert S. Stone & Company, New York, N.Y. Hawthorne, N. (1846) Mosses from an Old Manse, Wiley and Putnam, New York, NY Alcott, L.M. (1893) Comic Tragedies, Roberts Brothers, Boston, MA Hale, Jen. "Louisa May Alcott and the Perkins Kindergarten." Perkins Archives Blog, Perkins School for the Blind, Watertown MA, March 23, 2022. Wineapple, B. (2003): Hawthorne: A Life, Random House, New York, NY "A Brief History of the Town of Sudbury," retrieved July 2022 at http://www. sudbury01776.org
domainCommons.wikimedia.org/public
7. D. Soot. While you're cleaning fireplaces in the house, take a moment to apply the soot to a damp rag and scrub your teeth. For more helpful advice on how to adjust to your new Victorian life, we recommend you read Ruth Goodman's 2014 book, How to Be a Victorian: A Dawn-to-Dusk Guide to Victorian Life. 8. Norna: Louisa May Alcott (from "Norna: Or the Witch's Curse")
BragaCarvalhoCommons.wikimedia.org/Arthur Elphaba
Amos Bronson Alcott
2. B. Good morrow, Goody Jones and Anna. Short for "good wife," Goody was used for women of lower social status. Servants were addressed by their first names.
Old Mother Rigby: Nathaniel Hawthorne (from "Feathertop: A Moralized Legend")
Hilda: Louisa May Alcott (from "Bianca: An Operatic Tragedy") Elphaba: Gregory Maguire (from Wicked) Although he wrote a lot, we're not aware of Emerson creating fictional witches.
A
6. C. A home for sightless women who needed means of self-support. Although Orchard House was, instead, purchased by the Louisa May Alcott Memorial Association (and opened to the public as a museum in 1912), Louisa had a connection to helping the blind. Louisa May Alcott's maternal great-uncle Samuel May was a trustee and founding member of the Perkins School for the Blind in Watertown, Massachusetts. Following the success of her 1868 novel Little Women, Louisa wrote a short story, Blind Lark, to help raise funds for the Perkins School to start a kindergarten.
Discover CONCORD | discoverconcordma.com 69
5. C. waseducationalSanborn'sSanborn.Franklinco-schoollocated on Sudbury Road. The Sanborn Middle School is named after him. Sanborn was also a member of abolitionist John Brown's "Secret Six." To read more about this, check out Discover Concord's free online archives and Richard Smith's article "Invested in Treason: Concord and John Brown's Secret Six" found here: dcsummer21book/s/12842308.issuu.com/discoverconcordma/docs/
CommercepastJusticeCemetery,DirectorspresidentKevin————————————————————————ThomasPlodzik,Ed.D.,istheofthe14-memberBoardofofTheFriendsofSleepyHollowInc.HealsoservesasaConcordofthePeace,andistheimmediatepresidentoftheTown'sChamberofBoard.
The Friends is a 510(c)(3) charity. Continuing public support is valued as more projects await the attention of The Friends.
Cemetery Mark Their 20th Anniversary BY KEVIN THOMAS PLODZIK
70 Discover CONCORD | Fall 2022
I
SturgesWhitePriscillaofCourtesy
The Friends of Sleepy Hollow
In 2002, a volunteer group of citizens formed The Friends of Sleepy Hollow Cemetery with the mission focused on the continuing enhancement and beautification of and furthering education about that Concord treasure. Guided by a Board of Directors, with full appreciation to those supporters who contribute through an Annual Appeal and otherwise, and in liaison communication and collaboration with the Town's Cemetery Committee, the organization has successfully continued for two decades, and goes on. Projects like the installation of stone benches, donation of signage at the entrance and the Melvin Memorial, labeling of indigenous trees, and establishment and maintenance of the Handley Commemorative Garden and other planted sites are but a few of the hallmark endeavors that have been realized. In addition, three publications by The Friends share valued information about the Cemetery: a detailed map; Obituaries of Concord Luminaries, significant in that the narratives are original as written at the time of the person's passing; and Exploring Concord's Historic Burial Ground. Copies of the publications may be purchased at locations around town. Visit friendsofsleepyhollow.org/publications.html for details. Also included there is a published article by several Board members detailing little-known facts of personages whose resting place is the Cemetery. In celebration of the 20th anniversary, the Concord premiere showing of the acclaimed, recently released film Daniel Chester French: American Sculptor was featured in June with a public invitation. Included in the film were segments of French's work found in Concord. The film's producer, Eduardo MontesBradley, introduced the viewing in person. Also present was Donna Hassler, Executive Director of Chesterwood, the Stockbridge, Massachusetts, summer home and studio of theAllsculptor.Townresidents and holders of post office boxes received in the mail a copy of the Commemorative Booklet detailing the history and accomplishments of The Friends in their two decades of service to the Town. Another significant anniversary celebratory event will take place on Saturday, September 17, 2022, at the 15th Annual Breakfast Event at Concord's Colonial Inn. The guest presenter will be Beth van Duzer, a Concord research historian and guide, whose topic will be "Concord's Cemeteries and the Stories They Tell." At that event, an announcement will be made of the two special permanent giftings to the Town from The Friends. Advance registration for the buffet breakfast and presentation is required and can be done at friendsofsleepyhollow.org. Also, persons who are interested in supporting the work in Sleepy Hollow Cemetery can do so here: friendsofsleepyhollow.org/donate.html.
For
Discover CONCORD | discoverconcordma.com 71
Experience sustainable farm to table cuisine right here in West Concord. Choose from fine dining at Woods Hill Table or relaxed, casual Mexican cuisine at Adelita! more information, or to make a reservation, visit: www.woodshilltable.com www.adelitaconcord.com 978.254.1435 978.254.0710 hope to see you soon! dining and curbside takeout available.
Outdoor
We
For
Experience sustainable farm to table cuisine right here in West Concord. Choose from fine dining at Woods Hill Table or relaxed, casual Mexican cuisine at Adelita! more information, or to make a reservation, visit: www.woodshilltable.com www.adelitaconcord.com 978.254.1435 978.254.0710 hope to see you soon!
We
CONSERVATORY OF MUSIC 1317 Main Street | concordconservatory.org
Red Swirl, cut paper by Robert30x30Pillsbury,inches
PICTURES WITHIN
Owen Young Melisssa Dunphy
Join music director finalist Alyssa Wang as she conducts a moving program featuring Gioachino Rossini's overture to L'italiana in Algeri, Clarinet Concerto No. 2 by Carl Maria von Weber, "Rise" by Robert Honstein, and Edward Elgar's Enigma Variations. December 2 – 3. Pre-concert conductor talk: December 3.
UKELE TASTER Get a taste of what it's like to learn and play the ukulele at this special event. Ukuleles will be available to use for the evening, but if you already have one, please bring it along. September 14.
72 Discover CONCORD | Fall 2022
GROWN WILD: A SPECIAL COMMISSION CONCERT Join the Concord Women's Chorus for a very exciting event, the premiere of Grown Wild, a special commission from composer Melissa Dunphy and poet Melissa Apperson. Written especially for CWC's distinctive sound, the
CONCORD FILM PROJECT
TownAroundArts
ChorusWomen'sConcordofCourtesy GalleryStonesThreeofCourtesy
THEFILMUMBRELLA
DISCOVERY DAY OPEN HOUSE Welcome fall with music! Bring the whole family to Discover Day and learn about different instruments, enjoy the demo classes, and explore the Music Achievement Program—a free, private lesson enrichment program included with your tuition. You can even enter a raffle for a chance to win a free CCM Group Class for the 2022 fall semester! September 10.
CONCORD WOMEN'S CHORUS 81 Elm Street | concordwomenschorus.org
CONCORDMUSIC
Welcome back the Concord Film Project's monthly film and dinner series at The Umbrella beginning this fall! Each month will feature a new title from the best of drama, comedy, international, and documentary film. Check the website for film titles and more information.
FREE TRIAL GROUP CLASSES
BY CYNTHIA L. BAUDENDISTEL
Sign-up for a free group class and discover your inner musician. The Conservatory offers a range of classes for kids including early childhood classes, keyboard, rhythmic solfège, beginner vocals, and the Girls' Chorus. Adults can choose from banjo, guitar, and ukulele classes. September 12 – 17.
OrchestraConcordTheofCourtesy
THE CONCORD ORCHESTRA 51 Walden | concordorchestra.com AN AMERICAN JOURNEY Don't miss this inspiring performance of Mabel Wheeler Daniels' "Deep Forest," William Grant Still's Symphony No. 1, and Antonin Dvoˆrák's Cello Concerto, conducted by Lawrence Isaacson. The program will feature Boston Symphony Orchestra cellist Owen Young as soloist. October 15 - 16. Pre-concert conductor talk: September 15.
ARTS CENTER 40 Stow Street | theumbrellaarts.org
VISUAL ARTS THREE STONES GALLERY 32 Main Street | threestonesgallery.com
THE UMBRELLA ARTS CENTER
FLUID GEOMETRICS
RENT Book, music, and lyrics by Jonathan Larson
IN THE BALANCE ART RAMBLE 2022 Hapgood-Wright Town Forest once again welcomes the Art Ramble. Sited around Fairyland Pond in historic Town Forest, this is a fall family tradition for many Concordians. Sep 1 - Nov 13.
Featuring abstract watercolors by Jillian Demeri and intricate cut-paper geometrics by Robert Pillsbury. September 7 – October 12. Opening Reception: September 17.
40 Stow Street | theumbrellaarts.org
DRACULA (A FEMINIST REVENGE FANTASY, REALLY) Based on the novel by Bram Stoker
Kate Hamill's ingenious, fast-paced retelling of Bram Stoker's tale puts a complicated, womancentered spin on the classic. September 30 –October 23.
Featuring abstract landscapes by Cécile Ganne and vessel paintings by Judy Bramhall. October 14 – November 20. Opening Reception: October 22. FROLIC Featuring works by Bill Chisholm, holiday treasures from local artists, and new selections on their Small Wall. November 25 – December 31. Opening Reception: December 3.
The Tony- and Pulitzer Prize-winning phenomenon invites us into the lives of a group of artists and friends in NYC's East Village as they struggle through the AIDS epidemic and financial hardship to follow their dreams without selling out. November 11 – December 4.
Discover CONCORD | discoverconcordma.com 73 work is scored for women's voices, violin, and piano. This gorgeous and lush piece sits at the heart of a program that features women composers from the nineteenth-century to today. Included on the program are works by Pauline Viardot, Cecile Chaminade, Rebecca Luengen, Cynthia Folio, Erna Woll, Emma Lou Diemer, and more. October 23 at Trinity Episcopal Church.
BOUTIQUE GUITAR SHOWCASE Minuteman Guitars presents the New England premier of the internationallyacclaimed Boutique Guitar Showcase. Don't miss this unique collection of worldclass guitars handmade by luthier artisans from around the globe. Access to the show is free and everyone who preregisters will receive a free guitar pin at the show, so sign up today to view, play, or purchase one of these handcrafted instruments! September 4. Register at theumbrellaarts.org/guitars
THE BOY WHO GREW FLOWERS Adapted from the book by Jen Wojtowicz
BAREFOOT BOOKS: 30 YEARS, 30 ARTISTS Join The Umbrella as they celebrate Barefoot Books' 30th anniversary with an interactive exhibition that commemorates artwork from the global multicultural children's publisher. September 9 - 25.
This moving play tells the story of Rink, a young boy who lives atop Lonesome Mountain with his family and sprouts beautiful flowers every full moon. Incorporating shadow puppetry, original music, and themes of diversity, The Boy Who Grew Flowers celebrates empathy and individualism. Best for ages five through ten. September 22 – 24.
PlayersConcordTheofCourtesy Rare BirdfishTeuffelguitarShowcaseGuitarBoutiquetheandGuitarsMinutemanofCourtesy
THE 39 STEPS By Patrick Barlow Step aside Alfred Hitchcock as the Concord Players bring us a new take on this classic adventure film—with a cast of only four actors. One actor plays the hero, one actress plays the girl, and two other actors play every other character in the show: heroes, villains, men, women, children, and even the occasional inanimate object. From spy thriller to a chaotic farce, this promises to be an entertaining romp! November 4 – 19.
THEATRECONCORDPLAYERS51WaldenStreet|concordplayers.org
THE UMBRELLA ARTS CENTER 40 Stow Street | theumbrellaarts.org GO OUT DOORS 2022 This beloved and evolving regional public art exhibition features artfully "upcycled" and decorated doors in various locations around Concord and Minute Man National Historical Park. Aug 1 - Nov 15.
ARE WE HOME YET? By Sally Lee Sally Lee is this year's Umbrella Artist-inResidence. Lee works in many mediums including ceramics, painting, sculpture, textiles, and more. Be sure to see this exhibition of her inspiring work. October 6 - November 12. LOST AND FOUND This juried exhibition examines our relationships with familiar, unfamiliar, and defamiliarized objects. Sometimes we find things we never knew we lost. November 17 - 25.
VISTAS AND VESSELS
74 Discover CONCORD | Fall 2022 45 Commonwealth Ave. | Concord, MA | 978-371-1256 • HOURS: Tuesday-Friday 7:30am-2:30pm | Saturday 9am-12pm Specializing in delicious everyday & custom designed cakes & cupcakes for every occasion. Fantastic scones, coffee cakes, muffins & a wide variety of wonderful, freshly baked goods, including hand-painted shortbread cookies. www.concordteacakes.com 59 Commonwealth Ave. West Concord • 978.369.7644 1 mile from Route 2 and Concord Rotary Monday-Saturday 7am - 5pm • Sunday 8am - 2pm Specializing in delicious everyday & custom designed cakes & cupcakes for every occasion. Fantastic scones, coffee cakes, muffins & a wide variety of wonderful, freshly baked goods, including hand-painted shortbread cookies. 59 Commonwealth Ave. West Concord • 978-369-7644 1 mile from Route 2 and Concord Rotary Mon-Fri 6 am - 5 pm • Sat 7 am - 5 pm • Sun 8 am - 1 pm www.concordteacakes.com Specializing in delicious everyday & custom designed cakes & cupcakes for every occasion. Fantastic scones, coffee cakes, muffins & a wide variety of wonderful, freshly baked goods, including hand-painted shortbread cookies. 59 Commonwealth Ave. West Concord • 978-369-7644 1 mile from Route 2 and Concord Rotary Mon-Fri 6 am - 5 pm • Sat 7 am - 5 pm • Sun 8 am - 1 pm www.concordteacakes.com Merlin's Silver Star HILARY TAYLOR 978.590.6464 | MerlinsSilverStar.com Now's the time to place your Sterling Silver Christmas Ornament orders. Many creative images available.
Discover CONCORD | discoverconcordma.com 75 74 Commonwealth Ave. Concord MA 01742 | 978.341.8471 Delightfully Unexpected Treasures Thoughtfully curated women's apparel by British,independentEuropean,andAmericandesignersContemporary fine jewelry and lifestyle goods 115 Commonwealth Ave. West Lovedaylifestyle.comConcord@lovedaylifestyle Casual Curiosities for the Heart & Home 44 Main St. Concord, nestingconcord.comMA978-369-4133
76 Discover CONCORD | Fall 2022 E TEXT AND PHOTOGRAPHY BY DAVE WITHERBEE
Each year, the brilliant fall colors of New England, and our town of Concord, draw people from around the world. Concordians have an advantage in knowing just where to find the most spectacular vistas, such as an open hilltop with the most colorful trees below or most any place along our waterways. Some trees, like the maples, provide wonderful red and orange foliage. But there are also the yellows of birches and willows added to the mix of these, and it is the blends of these many colors that create the splendor. The brilliant red of the tupelo tree found on the eastern shore of the Sudbury River along the Wright Woods, really stands out. In the picture to the right, the deep red is that of the tupelo.
FallThe Splendor of
It is not just the foliage that makes fall special. The plant, insect, animal life, and even the fungi are changing to interesting stages. The chicken of the woods mushroom is stunning with its patterned orange form.
Discover CONCORD | discoverconcordma.com 77
Dave Witherbee has been traveling the trails and rivers of Concord for 50 years and has been enchanted with the small and large aspects of its nature. Dave's love of photography has enhanced the attraction.
In the end, though, it is the splendor of fall foliage that really catches our eyes.
This evening primrose is sharing nectar with the bee and, in return, getting pollinated. Both are happy. Of course, many things in nature go on as they have during the nice summer months, such as the great blue heron fishing for its lunch.
Many of the flowers save the best blooming time for fall, and the asters are one of those. The purple-stemmed asters have an appropriate name.
78 Discover CONCORD | Fall 2022 C207CamdenWriters.Com542-9392amdenWriters@gmail Com Camden, me marblehead, ma There is a significant story to be written for all of us. Let us help. m eet the C amden W riters Memoirs • Personal Histories • Family Business & Organization Histories C amden WritersCW founded 1997 We work both nationally and Referencesinternationallyavailable VIRTUAL ASSISTANT PROFESSIONALS Working from home? Growing your business? Need help? Our Virtual Assistants are on your side! Call or email today to see how we can help you do more. 617.605.5392 | www.mysideva.com | info@mysideva.com Celebrate Fall at any of our Concord locations! @concorddunkin' on
Discover CONCORD | discoverconcordma.com 79 ANTIQUES 45 Concord Art and Antiques ARCHITECTURE, CUSTOM BUILDING & INTERIOR DESIGN 1 Appleton Design Group 74 Forever 67 Native3240 InkstoneTileArchitects LawlessUpholsteryInteriorDesign Studio C3 Platt Builders ARTS, ART SUPPLIES, AND GUITARS 49 Albright Art Supply 32 Minuteman Guitars 36 Three Stones Gallery BOOKS & LITERATURE 63 Barefoot Books 61 Barrow Bookstore CATERING, RESTAURANTS, AND SPECIALTY FOOD & WINE SHOPS 59 Concord71 Adelita Cheese Shop 74 Concord Teacakes 5 Concord's Colonial Inn 67 Debra's Natural Gourmet 67 Fiorella's78 Dunkin' Cucina 59 Verrill Farm 27 West Concord Wine & Spirits 71 Woods Hill Table CLOTHING 74 Sara75 LovedayCampbell EXPERIENTIAL 78 Be Well Be Here 27 Concord Festival of Authors 39 Concord Museum 71 Concord Players 75 Discover West Concord Day 19 Goodwin & Friends 55 The Umbrella Arts Center FLORISTS & GREENHOUSES 63 Concord Flower Shop HOME FURNISHINGS, DÉCOR, AND UNIQUE GIFTS 75 A New 30 The37 ArtisansLeafWayBee'sKnees British Imports 63 Concord Pillows 63 J'aim Home Lifestyle 19 Joy Street Life + Home 49 Revolutionary59 Patina75 NestingGreen Concord LODGING 5 Concord's Colonial Inn 37 North Bridge Inn JEWELERS 37 Artinian Jewelry 74 Merlin's Silver Star PROFESSIONAL SERVICES 78 Camden Writers 31 The Monument Group Companies 78 My Side Virtual Assistant 51 PierreProfessionalsChihaPhotographers REAL ESTATE 3, 7 The Attias Group C2, 80 Barrett Sotheby's Int'l Realty 33 Coldwell Banker Realty 15, 23 Landvest9 EngelC4 Compass&Völkers TOYS 49 The Concord Toy Box VISITOR RESOURCES 49 Concord Visitor Center SchünemannC.©Jennifer IndexAdvertiser Fall 2022
HometownExperts•MillionDollarServiceatEveryPricePoint••• Kim Patenaude, Realtor® 978.831.3423 kpatenaude@barrettsir.com @kimskribs Rory Fivek, Realtor® 617.312.1315 rfivek@barrettsir.com @rorytherealtor Lizzy Sibley, Realtor® 617.256.3035 lsibley@barrettsir.com @lizzysibley kimandroryhomes.com
Catherine Truman Architects | Photography by Nat Rea Fall into new routines Having your home fit your needs is elementary. We've been building meaningful spaces for thirty years. Let's work CUSTOMtogether.HOMES | ADDITIONS | RENOVATIONS | KITCHENS + BATHS PLATTBUILDERS.COM | 978.448.9963
The
Sharon Mendosa Senior Vice sharon.mendosa@compass.com978.580.0386President Chris Mendosa Realtor®978.394.5501chris.mendosa@compass.com
compass.com A
GOING THE EXTRA MILE
Partnering with Compass has enhanced the level of responsive and personalized service we offer. Through strategic alliances and affiliations we are able to implement the highest level of marketing in the business. Our attention to detail, astute negotiating skills and pulse on the local markets provides exciting results for clients. Serving you with decades of cherished relationships and generations of referrals... we are your partners moving forward. real estate experience that's more than a transaction. Sharon Mendosa Group is a team of real estate agents affiliated with Compass, a licensed real estate broker and abides by Equal Housing Opportunity laws.