ART • LUXURY • INVESTMENT • PROPERTY • COLLECTABLES • TRAVEL
Contents FEATURES
16 FAB TO BE BACK
The National Portrait Gallery reopens after extensive restoration, and headline events include an exhibition of photos by Sir Paul McCartney and a tribute to portraitist Yevonde
22 TAKING THE MARKET BY STORM
How has the growth of online affected the auctions market, and where should collectors turn for advice? We ask Max Moore, Head of Contemporary Art Sales, Sotheby's Asia
26 MAKING SENSE OF AI WEIWEI
As details of a design-focused exhibition by controversial Chinese artist Ai Weiwei are revealed, we look forward to the Design Museum's inside-and-out show
31 A TASTE OF PARADISE
The Maldives conform to most descriptions of paradise, but the islands are also famous for the luxury of resorts like Velaa Private Island
35 PROTECTING YOUR PASSION
When thinking about handing down your collections for posterity, the advice of experts can help avoid expensive mistakes
36
SHAPING LIGHT IN GLASS
Franco-American artist Jeremy Maxwell Wintrebert has chosen glass as his medium, and is now the only master glass artist with a Paris studio
40 THE FUTURE OF ART
How has the definition of art collecting changed in this digital era, and how should the collector approach the wider market? We ask Artscapy for insight
42 MATURING PROFITS
Whisky is no longer a niche interest, but a serious investment prospect. But are you missing out on cask whisky in this asset class?
47 BACK IN STYLE
The London Art Fair returns in full style after two years of reduced activity - what were the top trends and the leading artists in the season opener?
52 JEWEL IN THE CROWN
Regarded as the premium venue for horse racing, Royal Ascot is underpinned by a rich and regal history, and is a premium venue for hospitality
56 DESIGNING WITH LOVE
How can jewellery express your individual emotions? By creating bespoke pieces, experts like BAUNAT can express every dream
IMAGES © PAUL MCCARTNEY/NATIONAL PORTRAIT GALLERY,
AI WEIWEI/DESIGN
JEREMY MAXWELL WINTREBERT,
MUSEUM//RICK PUSHINSKY
16 36 26 www.artsandcollections.com 4 ARTS & COLLECTIONS
58 THE PERFECT ESCAPE
From Mauritius to the Bahamas and Barbados to the Virgin Islands, luxury resorts offer the ultimate in comfort and indulgence. We visit some of the most opulent
65 A-RATED LUXURY
Can a hotel offer luxury, and still score high for sustainability? The GF Victoria in Tenerife manages it, so what is the secret of its success?
68 THE GOLFING LIFE
Golf isn't just about the sport - it's a lifestyle steeped in tradition, luxury and appreciation of the natural world. We visit Trump International Golf Links in Scotland to find out more
70 THE SWISS WAY
Set in the heart of Switzerland, Hotel Villa Honegg sums up the charm, tradition and sense of luxury in this spectacular mountainous country
74 FORM AND FUNCTION
Can modernist architecture be compatible with luxury living? Concrete and metal combine in surprising forms in STEININGER's designs for living
77 SAILING IN STYLE
The maritime life can be one of luxury and comfort, but can it also be sustainable? The answer is a classic one
81 FLYING FREE
The freedom offered by private aviation is often worth the cost. We look at some of the advantages of taking to the skies on your own terms
84 THE ANSWER IS 'YES'
From sourcing Victoria Beckham's makeup artist to an immersive beach treasure hunt in St Barthelemy, nothing is beyond the resources of a luxury concierge service
87 FIVE STAR GREECE
An expert guide to vacationing in Greece – where and when to go. Ileana von Hirsch explains what you need to know
88 THE CLIMATE OF INSURANCE
Climate change and eco-protestors are two factors working to make the idea of art insurance more essential than ever for collectors
90 GEMS OF ITALY
Passion, creativity and originality are hallmarks of Italian jewellery house Sabbadini, with a history that goes back to the grand tradition of the great merchants
94 A ROSÉ BY ANY OTHER NAME
Rosé wine is embodied in so many different expressions that it is growing increasingly popular, as the leading winery San Marzano can attest
96 WAVES OF LUXURY
On a luxury maritime hire, it's little details that make all the difference. What can you expect from an exclusive seagoing service?
IMAGES © LONDON AART FAIR/MARK COCKSEDGE, CLASSIC CHARTERS, SABBADINI
47 77 90 ARTS & COLLECTIONS 5 www artsandcollections.com
Contents REGULARS
50
8 IT FIGURES
This issue's most amazing items and events summed up in handy facts and figures
9
EDITORIAL
Is the art market ignoring burgeoning cultures such as that of the developing state of Qatar?
10 HAPPENINGS
All the must-see events, exhibitions and shows from Ai Weiwei at the Design Museum to a collection of artwork that's sheer hell
12 AUCTION HIGHLIGHTS
Our comprehensive roundup of some of the more amazing items to come to auction, from a Chinese suit of armour to a red Aston Martin owned by a madman
50 SOTHEBY'S PRIVATE SALES
Amazing items for sale through Sotheby's Private Sales, from paintings by Keith Haring to inflatables by Jeff Koons and pottery by Grayson Perry
92 BOOK REVIEWS
The most fascinating volumes to read and show off, from a survey of classic London Underground architecture, to a sumptuous summary of the work of Raphael
97 WHERE TO SPEND IT
Our round-up of luxury items worthy of your investment, from a gorgeous leather biker jacket to an exotic rabbit watch and an environmentally friendly electric boat
IMAGES © CHRISTIE'S,
SOTHEBY'S, ADER, PAGANI
12
10 97 www.artsandcollections.com 6 ARTS & COLLECTIONS
Publisher & CEO
Kevin J. Harrington
Editor Chris Jenkins
Staff Writer
Manny Berhanu
Features Writers
Richard Benson
Andrew Mayfair
John Renwick
Patricia Savage
Design
Joanna Harrington
Production
Ray Walsh
Digital Manager
Chi Uzomah
EDITORIAL OFFICE
Arts & Collections
143 Caledonian Road London N1 0SL
United Kingdom
Telephone: 020 7870 9090
editorial@damsonmedia.com www.damsonmedia.com
CHICAGO OFFICE
Arts & Collections
29 East Madison Suite 809 Chicago, IL 60602 USA
THE OPINIONS EXPRESSED IN THIS MAGAZINE SHOULD NOT BE CONSIDERED OFFICIAL OPINIONS OF THE PUBLISHER OR EDITOR. THE PUBLISHER RESERVES THE RIGHT TO ACCEPT OR REJECT ALL EDITORIAL OR ADVERTISING MATTER. THE PUBLISHER ASSUMES NO RESPONSIBILITY FOR UNSOLICITED MANUSCRIPTS, PHOTOGRAPHS OR ARTWORK.
IMAGES ARE SENT AT THE OWNERS' RISK AND THE PUBLISHER TAKES NO RESPONSIBILITY FOR LOSS.
© 2023 DAMSON MEDIA ALL RIGHTS RESERVED. REPRODUCTION IN WHOLE OR IN PART OF ANY TEXT, PHOTOGRAPH OR ILLUSTRATION WITHOUT PRIOR WRITTEN PERMISSION FROM THE PUBLISHER IS STRICTLY PROHIBITED. PRINTED IN THE UK.
Arts & Collections partners with over 120 of the world's finest luxury and boutique hotels to provide the highest quality coverage of global art and cultural events, auctions of interest and developments in the global art market. This blend of interesting and informative editorial is most appealing to guests at these premier hotels, who have a great interest in fine art and collectables.
Arts & Collections' dedicated website, www.artsandcollections.com, features all the exclusive previews, reviews and expert commentary pieces that appear in the pages of Arts & Collections as well as news of auctions by Sotheby's and other top auction houses, plus exhibitions and popular cultural events, keeping visitors fully informed, as well as providing a comprehensive resource area for collectors and connoisseurs.
Arts & Collections magazine is published quarterly. For further details regarding contributions and distribution email editorial@damsonmedia.com.
It Figures...
1940
The decade when Bruno Sabbadini set up the jewellery business which still bears his name
35m
The amount spent to refurbish the National Portrait Gallery before its reopening in June
Page 16 88
The number of bottles of exotic whisky The Aodh made available for sale
20
Page 36
The number of 'fields' of found objects being displayed by artist Ai Weiwei
Page 26
13
Cover
www.artsandcollections.com 8 ARTS & COLLECTIONS
arts & artsandcollections.com COLLECTIONS ART LUXURY • INVESTMENT • PROPERTY COLLECTABLES TRAVEL
IMAGES © SABBADINI, CRAFT IRISH WHISKY CO., NATIONAL PORTRAIT GALLERY/CURTIS HUGHES, JEREMY MAXWELL WINTREBERT/MARION SAUPIN, WHISKY PARTNERS, AI WEIWEI/DESIGN MUSEUM LONDON
DAMSON MEDIA
image: Vivien Leigh by Yevonde (1936, printed 2022-3), purchased with the Portrait Fund, 2021 © National Portrait Gallery, London. See page 16.
Page 15 5
The number of assistants artist Jeremy Maxell Wintrebert has at his Paris workshop
The century in which whisky was first distilled Page 42
Page 90
Editorial
QATAR'S CULTURAL VISION
The FIFA World Cup in Qatar brought attention to this small but rapidly advancing nation - but is its culture being overlooked?
It's perhaps a failing of the traditional art market that it disregards many cultural elements it cannot fit into its experience base - it's always easier to tell a story about a valuable work by Picasso or Warhol, than say a classic of Asian art.
This is certainly changing as the art world opens itself up to new influences through the online market. Many cultures, though, still remain unexplored.
In recent years the government of Qatar has invested heavily in local culture and in creating a hub for the national art market and for visitors.
In the state's vision for the country's future, its culture and heritage are protected and preserved for future generations through numerous projects and programmes including support for the arts, which has grown from Qatar's keenness to foster new talent, attract international artists, and, ultimately, to support and diversify the country's economy through the growth of the cultural tourism sector.
CULTURE
New buildings in Qatar from streets, promenades, houses, apartment blocks, to civic buildings and even skyscrapers are all designed to blend modern construction methods with elements of traditional architecture, Arab, Islamic and Middle Eastern features and symbolism. Indeed the FIFA 2022 World Cup stadiums were designed
to look like components of traditional boats, a Bedouin tent, Arab crafts and the desert dunes.
In the National Museum of Qatar, constructed to resemble the Desert Rose, a crystalline structure found in the heart of the desert, you can find examples of the country's rich history, culture and art, and in the mosques and cultural centres you can learn about Qatar, Arab culture, Islamic art, and more.
And with close to two decades of being the epitome of luxury and elegance in Qatar, the Doha Jewellery & Watches Exhibition (seen above) is all set to host 30,000 visitors from over 175 countries this year, with a unique exhibition of exclusive jewellery and exquisite craftsmanship. Featuring luxury watches, necklaces, rings, earrings, diamonds, gold and silverware, the exhibition will attract luxuryseekers from jewellery aficionados, top designers, and billionaire aesthetes to a Who's Who of acting stars from Bollywood. DJWE presents over 500 brands from all around the world such as DeBeers, Chanel, Rolex, Patek Philippe, Hublot, Louis Vuitton, Cartier, Bulgari and more. The show is from 20th – 25th February at DECC - Doha Exhibition and Convention Center.
As a place where tradition and modernity collide, Qatar is a prime example of a culture crying out for exploration.  https://visitqatar.com
IMAGES © DJWE QATAR
ARTS & COLLECTIONS 9 www artsandcollections.com
Happenings
Arts & Collections has selected a mix of the most unmissable artistic, cultural and entertainment events coming up in 2023
LOVE, ACTUALLY
Contemporary UK artists Eve De Haan and Sara Pope explore desire, seduction and connection in the powerfully uplifting joint exhibition Addicted to Love. Featuring De Haan's affirming text-based works in neon alongside Pope's signature Pop Artstyle lips, the joint exhibition presents notions of love in its many guises - desire and seduction, emotion and connection - as inspiration and comfort in troubled times. Running from 8th February – 11th March at London's Quantus Gallery, Addicted to Love coincides with Valentine's Day (14th February), London Fashion Week (17th – 21st February) and International Women's Day (8th March). The free show also supports Choose Love, the global humanitarian aid movement.  www.quantusgallery.com
OBJECTS OF DESIRE
On 21st and 23rd March 2023, the French auction house of ADER will hold a sale of the collection of the gallery Talabardon & Gautier, renowned for discoveries such the first painting by Rembrandt found to bear the signature of the artist, and Caspar David Friedrich's Hibou sur un Arbre. Almost 350 Old Master paintings, drawings and objets d'art will be sold at Hôtel Drouot during the week of the Salon du Dessin. The collection is estimated at approximately €5m.  www.ader-paris.fr
IMAGES © ADER PARIS, EVE DE HAAN/QUANTUS GALLERY
Left: Gustave Moreau, Le Poète Persan, pencil, watercolour and gouache on paper, 36,5 x 16,4 cm, signed by artist, estimate: €150,000- 200,000
COLLECTIONS
EVENTS www.artsandcollections.com 10 ARTS & COLLECTIONS
Above: Eve De Haan
//
HELL IS OTHER PEOPLE
Asia Society Museum is presenting Comparative Hell: Arts of Asian Underworlds, the first comprehensive exhibition in the United States to explore portrayals of hell across the Asian religious traditions of Buddhism, Hinduism, Jainism, and Islam. Comparative Hell: Arts of Asian Underworlds examines how systems of belief and the underworlds within them are manifested in the rich artistic productions of Asia. This international loan exhibition comprises 54 exemplary artworks, spanning the eighth to twenty-first century, in a variety of mediums and formats. The exhibition will be on view at Asia Society Museum in New York February 7th–May 7th, 2023, and will tour to the Asian Art Museum, San Francisco, where it will be on view June 16th–September 18th, 2023.  https://asiasociety.org
FIELDS OF DREAMS
The first design-focused exhibition by artist Ai Weiwei will open at London's Design Museum in April. The centrepiece will be hundreds of thousands of objects collected by Ai Weiwei and displayed in expansive 'fields'. These objects, from Stone Age tools to Lego bricks, have been collected by Ai Weiwei since the 1990s, and are the result of his continuing fascination with artefacts and traditional craftsmanship. The show will include new works exploring different forms of 'making' through the ages, with large-scale installations taking visitors from Kensington High Street to the gallery through a Qing dynasty house in the museum's atrium. Ai Weiwei: Making Sense will be the artist's biggest UK show in eight years. The show runs from 7th April to 30th July 2023. Find out more on page 23 in this issue.  https://designmuseum.org
CLOSE ENCOUNTERS
Art Basel Hong Kong 2023 takes place from March 23rd to 25th at the Hong Kong Convention and Exhibition Centre (HKCEC), with Vernissage on March 22nd. The largest Art Basel show in Hong Kong since 2019, this edition brings together 177 leading galleries from 32 countries and territories. It marks the return of Encounters, the fair's sector dedicated to largescale works; as well as Kabinett, featuring thematic and focused presentations, making this the first Hong Kong show to feature all special sectors since 2019. Alongside a robust roster of returning galleries, 22 firsttime exhibitors will join from across the world this year, presenting modern and contemporary works of the highest quality by emerging and established artists.  www.artbasel.com/hong-kong
Left: Art Basel Hong Kong
IMAGES © ASIA SOCIETY, ART BASEL, AI WEIWEI STUDIO/DESIGN MUSEUM
Above: The Fathers of the People of Error Are Punished in Hell, miniature from a copy of Hamla-i Haydari ('Ali's Exploits), India, c. 1800. Manuscript page; ink, opaque watercolor, and gold on paper. The David Collection, Copenhagen
EVENTS // COLLECTIONS ARTS & COLLECTIONS 11 www artsandcollections.com
Above: Ai Weiwei, Coloured House
HIGHLIGHTS Auction
We bring you the most unusual, historical, eye-catching and attractive items from the world's leading auction houses
BY RICHARD BENSON
ARMOUR AMOUR
This suit of Daimyo Oyoroi armour from the Edo period of Japan comprises of a sixteen-plate black-lacquered iron bowl helmet, the frontal, lateral and rear plates with copper-gilt ornamental strips on a gold lacquer ground, a black lacquered iron face mask with hinged detachable nose-plate, and, most remarkably, a yak hair moustache. Decorated overall in gold on black lacquer with copper-gilt fittings, and seated on the traditional nagamochi storage chest, it came up in Sotheby's one-day online auction in January with an estimate of $300,000, realising only $151,200. 
IMAGES © SOTHEBY'S
COLLECTIONS // AUCTIONS www.artsandcollections.com 12 ARTS & COLLECTIONS
BACK OF THE NET
This limited edition Audemars Piguet Royal Oak Leo Messi Edition timepiece, reference 26325TS.OO.D005CR.01. sold for £31,200 at Fellows' Luxury Watch Sale on January 19th. Lionel Messi can be considered one of the greatest footballers ever. Audermars Piguet began a relationship with Messi in when the footballer was presented with a Royal Oak by his manager following his first Liga title. After this, he became an avid collector of Royal Oaks and in 2010 became brand ambassador for the watchmaker. This relationship was further celebrated in 2012, when Audermars Piguet released The Royal Oak Leo Messi Limited Edition. The collection was limited to just 1,000 pieces across three different variants – stainless steel, gold, and platinum. The stainless steel version was limited to 500 pieces.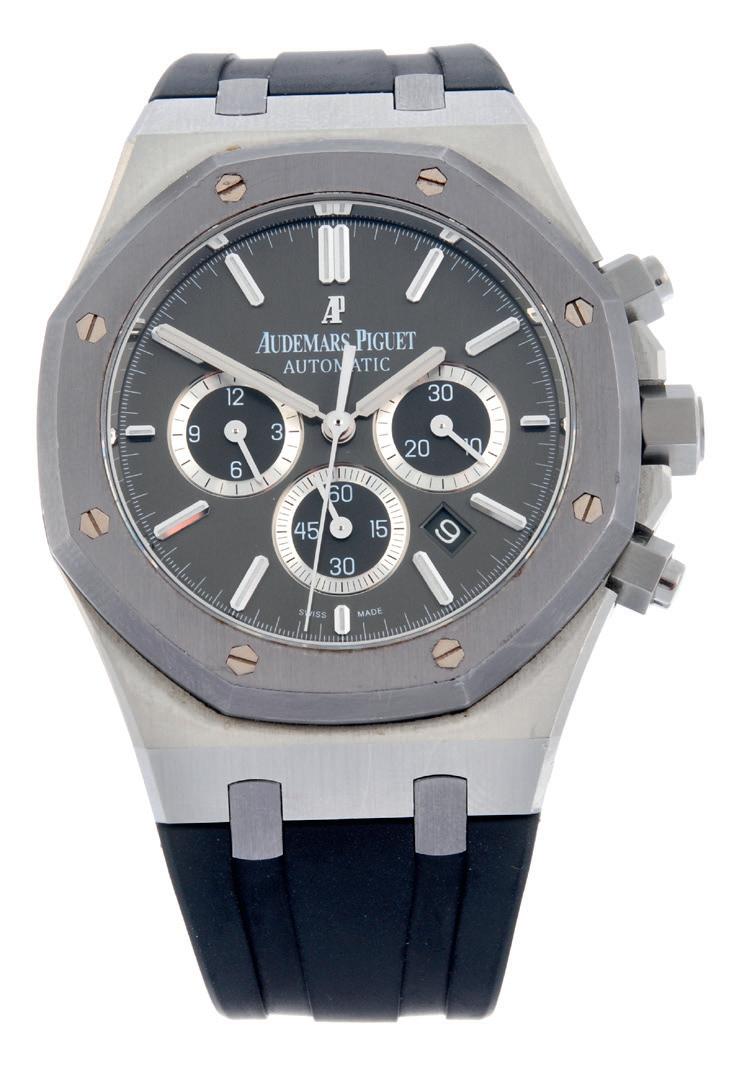 The octagonal bezel made from tantalum is secured by eight hexagonal screws. The case measures 41mm, with a thickness of 11mm.
Lot 2 in Fellows' Luxury Watch Sale was entered to auction with an estimate of £18,000 to £22,000 and went on to sell for £31,200 (including fees). Bidding took place online and in the room with four bidders battling it out to place the winning bid. Ultimately, the online bidder was successful and secured the watch for a £24,000 hammer price (£31,200 including fees). The lot was sold with its original box and papers. 
SINGULAR CERAMICS
As the son of Clive and Vanessa Bell, and the nephew of Virginia Woolf, Quentin Bell (19101996) proved to be one of the very last links with the Bloomsbury Group. In a sale of his striking and singular ceramics, created for the celebrated Fulham Pottery, Ewbank's Interiors & Modern Design auction offered a dozen of Bell's earthenware chargers, each with naïve and whimsical portraits of women animals or geometric patterns, all produced in an energetic, free-flowing and lively style imbued with vibrant colour contrasts, influenced by Bell's early associations with the Bloomsbury Group's Omega Workshop.
All are signed and inscribed to the reverse for Bell and the pottery. Some also carry stamps for the pottery and the artist. The collection sold for £10,750, well over estimates, with a fish design reaching £1,375 on an estimate of £2-300. "We knew that they would do well, but the comprehensive strength of this collection shows that the appreciation for Bell's talent is as alive as ever," said partner Andrew Ewbank. 
HOME RUN
This Mickey Mantle Hall of Fame Baseball sold for $1,700 at GWS Auctions in California. This baseball is hand-signed by 20-time All Star baseball legend Mickey Mantle. Mantle spent the entirety of his impressive career with the New York Yankees, and was inducted into the Baseball Hall of Fame in 1974. This lot includes the original certificate of authenticity issued by Classic Collectibles, Inc. All the items presented in this sale were part of a private family collection of sports memorabilia and rare professional athletics artifacts curated over a collective 80-year period, and the winning bidder received an original letter of recollection from the seller for this lot.
IMAGES © FELLOWS, EWBANK'S, GWS AUCTIONS

AUCTIONS // COLLECTIONS ARTS & COLLECTIONS 13 www artsandcollections.com
HERGÉ'S ADVENTURES
Artcurial presented for auction for the first time an exceptional piece of artwork: Hergé's original drawing for the 1942 cover of the comic album Tintin in America. Still used as the cover of the album, the original was drawn for the third volume in the Tintin series which sees the young Belgian reporter travelling to the United States, spending time in Chicago and in the Midwest. Artcurial holds several world auction records for works by Hergé the pen-name of Georges Remi). In 2012, the auction house sold the original drawing for the cover illustration of the 1932 edition of Tintin in America for a record €1,338,509, and reached a world record price for a comic book artwork in 2014 with the original flyleaf used for almost 20 years from 1937 to 1958 featuring Tintin's main characters in a single drawing which sold for €2.6m. The 1942 cover was the highlight of the World of Hergé, Tintin's Creator auction on 10th February in Paris, and carried an estimate of €2.2 to €3.2 million. 
COLLECTOR'S CASKET
This Charles II needlework casket from the second half of the 17th Century is in the shape of a miniature collector's cabinet, the four sides depicting Rebecca at the well, Eleazer fetching Rebecca, Abraham's sacrifice of Isaac, Hagar and Ishmael being banished, and Sarah with Isaac and Ishmael. The whole is whole worked in satin, outline, French knot and other stitches. Measuring 13 1/2 in high, the casket sold for $21,420 at Sotheby's auction of The Kindig Collection: Important American Furniture, Paintings, Silver & Decorative Arts in New York. 
WHAT, ME WORRY?
This fine 1963 Aston Martin DB4 Series V Sports Saloon sold at Bonham's Scottsdale auction in January for $313,000 inc. premium. Chassis 1008 is an example of the final (fifth) series manufactured between September 1962 and June 1963. It was built on a 3.5" longer wheelbase, like the DB5 that would replace it and allowing for increased leg room and a larger boot. Other improvements included 15" wheels, an electric radiator fan, and the DB4GTtype instrument panel. The original owner was illustrator Paul A Coker, Jr. of Lawrence, Kansas, one of Mad magazine's "Usual Gang of Idiots". In spite of liberal spending on cosmetic updates and comfort features, fewer than 30 miles had been driven in the over 17 years the car had been in its previous ownership. 
IMAGES © ARTCURIAL, SOTHEBY's, BONHAM'S
Tintin in America
COLLECTIONS // AUCTIONS www.artsandcollections.com 14 ARTS & COLLECTIONS
Indian ink, graphite and corrective gouache, 46 x 32,8 cm © HERGÉ/ TINTINIMAGINATIO 2023
VENUS ASCENDING
The Cesarini Venus, attributed to Antonio Susini (15581624), from a model by Giambologna (1529-1608), dated circa 1585-1600, realised $1,045,800 at Christie's live auction Modern Medici: Masterpieces From A New York Collection in January. Small bronzes like this were in high demand among noble patrons in the late 16th and early 17th centuries and were often given as diplomatic gifts. To meet this demand, Giambologna trained a series of assistants who assimilated his style and were able to execute bronzes from the master's models. Antonio Susini is known to have trained in Giambologna's workshop between circa 1580 and 1600 and specialized in preparing moulds of Giambologna's models for casting and finishing these statuettes when cast. The present bronze is known in only three other examples of the same scale: one in the Kunsthistorisches Museum, Vienna (24.8 cm, inv. no. 5874, engraved 'IOANNES / BOLOGNA . BELGA' to base of pedestal); one previously belonging to the Hearn family trust, New York (24.9 cm); and another in the Statens Museum for Kunst, Copenhagen (inv. no. 5523). 
OUR SERIES HIGHLIGHTS A SINGLE ITEM OF ARTISTRY OR CRAFTSMANSHIP THAT IS BOTH RARE AND EXQUISITE
Treasures
The Craft Irish Whiskey Co. has unveiled a whiskey of exceptional rarity and opulence with futuristic design, The Aodh (it's pronounced 'A', and it's Old Irish for 'fire').
Aodh is a legendary god of the underworld and eldest son of Lír, and has a place in Irish mythology as a captivating, hedonistic seducer.
Working in partnership with renowned jewellery designer, MJ Jones, The Aodh is presented in a spellbinding spiral with gold detailing, inset gemstones and frost cuts on the neck and base, with the custom-made bottle featuring semi-precious pure obsidian from the foothills of the Armenian mountains, concealing a hidden compartment, which can be opened without disturbing the seal of the whiskey. Accompanying the 88 bottles of ultra-rare whiskey are 88 unique rings, each placed inside a compartment, which transforms The Aodh into a unique heirloom and piece of art. The unique 18 carat gold ring is crowned with the iconic logo of The Craft Irish Whiskey Co., securing the hermetically-sealed capsule.
With a dual band crafted in silver and finished in the signature MJ Jones black armour, each ring is bespoke and has a unique number from one to 88 engraved, corresponding to the numbered bottles of The Aodh. The base of the bottle is designed in such a way that it cannot be put down, therefore it must either be held in its display stand or passed between users, fostering an intimate exchange between drinkers.
Costing £80,000, The Aodh is an ultra-rare single malt whiskey drawn from two small, custom-built Sherry Oloroso barrels, one of 50l and another of just 40l, which has produced a single malt of rich, deep and dark flavour.  www.craftirishwhiskey.com
IMAGES © CHRISTIE'S, CRAFT IRISH WHISKY
AUCTIONS // COLLECTIONS ARTS & COLLECTIONS 15 www artsandcollections.com
ARTS // EXHIBITIONS www.artsandcollections.com 16 ARTS & COLLECTIONS
Mask (Rosemary Chance) by Yevonde (1938, printed 2022-3), purchased with the Portrait Fund, 2021 © National Portrait Gallery, London.
FAB to be Back
London's National Portrait Gallery is re-opening after extensive refurbishment, with planned exhibitions including intimate Beatles images
The National Portrait Gallery, one of London's cultural touchstones, has been closed to the public since 2020 as it underwent extensive works, including the refurbishment of nine galleries on the first floor, the addition of a Learning Centre, the redevelopment of the East Wing and the addition of a new entrance with its own piazza.
After pandemic-related delays, the NPG, situated since 1896 in St Martin's Place off Trafalgar Square, has completed its £35m refit and has announced its re-opening programme. Exhibitions start in June 2023, with events now announced through the forthcoming year.
The NPG said: "Today is the day that we have all been waiting for… we are excited to announce that our doors will reopen to the public on 22 June 2023. Having been closed since 2020, the Gallery has been undergoing its most extensive redevelopment since 1896, supported by
major grants from the Blavatnik Family Foundation, The National Lottery Heritage Fund, the Garfield Weston Foundation and the Ross Foundation, as well as Reopening Partner, Herbert Smith Freehills.
"Visitors to the new National Portrait Gallery will experience a complete redisplay of the Collection, a transformational refurbishment of the building, as well as an enhanced welcome and greater access through our new entrance."
TRAILBLAZER
The Gallery's reopening and its programme is supported by Bank of America, Bloomberg Philanthropies, CHANEL Culture Fund, Herbert Smith Freehills and Taylor Wessing.
The first exhibition to open as part of the Gallery's 2023 programme will explore the life and career of the twentieth century photographer, Yevonde, who pioneered the use of colour photography in the
1930s. Yevonde: Life and Colour (22nd June - 15th October 2023) will survey the portraits and still-life works that the artist produced throughout her sixty-year career, positioning Yevonde as a trailblazer in the history of British portrait photography.
Supported by the CHANEL Culture Fund, the exhibition builds on Reframing Narratives: Women in Portraiture, a major three-year project that aims to enhance the representation of women in the Gallery's Collection. Reflecting the growing independence of women at that time, this exhibition will focus on the freedom photography afforded Yevonde, who became an innovator, experimenting with solarisation and the Vivex colour process. Yevonde: Life and Colour will include new prints and present discoveries, made possible through the research, cataloguing and digitisation of Yevonde's archive, acquired by the Gallery in 2021.
In the week that follows the Gallery's
EXHIBITIONS // ARTS ARTS & COLLECTIONS 17 www artsandcollections.com
Above: Self-portraits in a Mirror, Paris, 1964 © 1964 Paul McCartney.
reopening, the National Portrait Gallery presents a major exhibition, Paul McCartney Photographs 1963-64: Eyes of the Storm (28th June - 1st October 2023). This unprecedented display will share, for the first time, an extraordinary archive of rediscovered and never-before-seen photographs taken by Paul McCartney.
Supported by Bloomberg Philanthropies, this exhibition will focus on the portraits captured by McCartney using his own camera between December 1963 and February 1964, the period in which John Lennon, Paul McCartney, George Harrison and Ringo Starr were propelled from being the most popular band in Britain to an international cultural phenomenon.
PERSONAL
Drawn from McCartney's own archive, this exhibition provides a uniquely personal and never-before-seen perspective on what it was like to be a Beatle at the start of 'Beatlemania' – from gigs in Liverpool and
London to performing on The Ed Sullivan Show in New York to a TV audience of 73 million people. At a time when so many camera lenses were on the band, these photographs will share fresh insight into their experiences, their fans and the early 1960s, all through eyes of Paul McCartney.
The Gallery's autumn programme will see the return of the five-star exhibition, David Hockney: Drawing from Life (2nd November 2023 - 21st January 2024), which was staged for just 20 days before the Gallery's closure due to Covid in March 2020. Recognised as one of the great draughtsmen of all time and a champion of the practice, drawing has been a constant for Hockney. The exhibition explores the artist's work over the last six decades through his intimate portraits of five sitters: his mother, Celia Birtwell, Gregory Evans, Maurice Payne and the artist himself. His familiarity with the sitters enables him to work with a range of mediums and styles, from pencil, pen and ink and crayon, to photographic collage and the iPad. The 2023 exhibition will also debut a selection of new portraits.
IDENTITY
The Gallery's annual Photographic Portrait Prize will be renamed the Taylor Wessing Photo Portrait Prize (9th November 2023 – 25th February 2024) to mark the exhibition's return to the Gallery after two years at Cromwell Place. As one of the leading photography awards in the world, the Taylor Wessing Photo Portrait Prize showcases the work of some of the most exciting and cutting-edge contemporary photographers. The competition is open to everyone aged 18 and over, and photographers are encouraged to interpret 'portrait' in its widest sense, with 'photography focused on portraying people with an emphasis on their identity as individuals.' The winner of the competition will receive £15,000, second prize £3,000 and third prize £2,000.
In February 2024, the Gallery will stage a major survey of African diasporic artists working in the UK and America, whose work in painting and drawing foregrounds the black figure. Curated by Ekow Eshun, former Director of the Institute of Contemporary Arts, The Time is Always Now: Artists Reframe the Black Figure (22nd February – 19th May 2024)
Above: John and George, Paris. 1964 © 1964 Paul McCartney
Right: Kampala Suburb by Michael Armitage (2014). © Michael Armitage. Photo © White Cube (Prudence Cuming Associates Ltd)
EXHIBITIONS // ARTS ARTS & COLLECTIONS 19 www artsandcollections.com
Below right: Celia, Carennac, August 1971 by David Hockney, Colored pencil on paper © David Hockney, Photo Credit: Richard Schmidt, Collection The David Hockney Foundation
will showcase the work of contemporary artists including Hurvin Anderson, Michael Armitage, Jordan Casteel, Njideka Akunyili Crosby, Noah Davis, Lubaina Himid, Claudette Johnson, and Barbara Walker.
The final exhibition within the National Portrait Gallery's year-long programme will be Francesca Woodman and Julia Margaret Cameron: Portraits to Dream In (21st March - 30th June 2024). This new exhibition will juxtapose the lives and work of two of the most important and influential practitioners in the history of photography. Showcasing more than 150 rare vintage prints, the exhibition will span the entire career of both artists – who worked 100 years apart – and include examples of both their best known and less familiar work.
SYMBOLISM
In ways that tantalisingly intersect and diverge, portraiture was fundamentally important to the artistic project of both women. This exhibition will explore the idea that Woodman and Cameron share an engagement with portraiture as a 'dream space.' The title makes reference to the idea that these photographic portraits are not intended to mimic reality, but conjure notions of imagination, beauty, symbolism, transformation and storytelling. Considering both artists in a different light, Francesca Woodman and Julia Margaret Cameron: Portraits to Dream In will propose new ways of appreciating and thinking about the artists, portraiture and the relationships between 19th and 20th century photographic practices.
The Gallery's Director, Dr Nicholas Cullinan, says: "We can't wait to open again as we welcome visitors into the new National Portrait Gallery on 22nd June. Our programme of exhibitions for our first year presents some of the world's bestknown artists in a fresh light, contains extraordinary and never-before-seen images, uncovers the work of remarkable innovators, charts important cultural terrain and showcases the greatest contemporary portraiture. I am delighted to be working with such a range of incredible artists and supportive organisations to deliver our most ambitious and innovative programme to date, as we make sure the new National Portrait Gallery is more alive and exciting than ever."  npg.org.uk
Above: Peter & Sue from the series Modern Love by Curtis Hughes (April 2022) © Curtis Hughes
ARTS // EXHIBITIONS www.artsandcollections.com 20 ARTS & COLLECTIONS
Right: Vogue House by Frederic Aranda (October 2021) © Frederic Aranda
and everything that really matters Destinology is a leading provider of luxury holidays. With a unique blend of first-hand destination expertise, services, and superb relationships with our carefully selected travel partners, we create the ultimate tailor-made holiday. With Destinology, you receive a true concierge experience, ensuring every detail – the ones that really matter to you –are taken care of personally, passionately and to the highest standard. Call the team now on 01204 208 938 or visit www.destinology.co.uk We are rated 4.9 out of 5
Taking the Market by Storm
How has the growth of online business affected the auctions market and where should the collector turn to for advice? Arts & Collections speaks to Max Moore, Head of Contemporary Art Sales, Sotheby's Asia
Max Moore is the the Head of Contemporary Art Sales, Sotheby's Asia and the Co-head of Digital Art Sales, Sotheby's Worldwide, with a specific focus on mid-career and emerging artists. He has developed and established numerous auction records for artists, and most recently stewarded the Pak x Sotheby's The Fungible collection sale. So, who better to ask about the state of the contemporary art market and the future of online auctions?
How has the auction market been affected by lockdown? What were the temporary and permanent changes caused?
Since 2020, the pandemic has drastically accelerated the growth of our online
auctions, touchpoints and experiences which in turn has allowed Sotheby's to attract and establish relationships with younger, more digitally savvy collectors. At the height of pandemic when global travel restrictions locked us in, online sales soared to new heights to match the evolving needs and increasing demand of collectors.
As we enter a post-pandemic world, the digital upgrades we implanted during Covid-19 to adapt will remain a crucial focus for our continued growth. The integration of both our live and online auction format will be here to stay – today, the majority of our bids are placed online (in 2022, this represents over 90% of our bids).
Alongside enhancing on our digital offerings, we saw an emergence of young
collectors over the past 5 years. In 2021, we saw a 38% increase of Asian bidders under 40 years old taking part in our worldwide sales. The number of collectors under 40 has tripled in 2022. This generation of collectors are comfortable making purchases online through digital interactions with our lots. Carson Guo is a perfect example of this generation - a young collector based in Asia who purchased a complete set of 248 Supreme skateboard decks at our New York sale, his first touchpoint was through Sotheby's website. We are also seeing an influx of younger, tech-savvy collectors crossover into purchases of physical works.
Overall, the pandemic and lockdown have allowed us an opportunity to be even more creative with our digital, social and
IMAGES © SOTHEBY'S
COLLECTIONS // AUCTIONS www.artsandcollections.com 22 ARTS & COLLECTIONS
virtual outreach – from the introduction of our livestream auction format (which, for the first time, "televised" our flagship sales), to increasing the number of our online auctions and activities like virtual tours, webinars and virtual viewings, all of which helped to create an impactful, immersive experience for our global collectors.
Is the contemporary art market now back to pre-lockdown levels?
Absolutely. For Sotheby's Hong Kong sales, we were pleased to have achieved over 90% sell-through rate across the two Contemporary Evening Auctions last year. The outstanding results and new records affirm the company's leadership and growth in the category. Globally, the most recent sale at The NOW in New York also saw strong contribution from Asian collectors with 56% of the total sales value.
What are the most exciting areas of contemporary art, thematically or territorially?
When we come to organise the cadence of our offerings, we're always aiming to source works which we know will create real
interest and excitement for our collectors. In 2022, we saw an increasing demand for works by women artists - the number of works by women artists sold at Sotheby's for over $1million increased by over 70% since 2019.
The most valuable work by a female artist at Sotheby's (and also the most valuable sculpture ever offered in Asia) was Louise Bourgeois' Spider IV which was sold at Sotheby's Hong Kong Contemporary Evening Auction in Spring sale 2022 for $16.5m.
Women artists took the market by storm at Sotheby's Hong Kong Autumn sale 2022: accounting for almost 40% of the evening auction, works by women artists were 100% sold. The auction opened with a sequence of six works by women artists, five of which sold for prices in excess of their high estimates, several by many multiples including Lucy Bull, Louise Bonnet, María Berrío and Emily Mae Smith. Outright auction records were set for Louise Bonnet, Emily Mae Smith. I believe the art world can expect a continued demand for contemporary female artists in the coming year.
Which are the most successful territories for auctions in the contemporary art scene?
As a whole, Asia continues to be a strong force in the auction scene. In 2022, our global sales saw 68% of new bidders from Asia, and they are spending more per person on average than collectors from elsewhere in the world.
We are also seeing strong collecting communities developing in Southeast Asia. Last year, Sotheby's held its first auction in Singapore in 15 years with the Modern and Contemporary Art sale which achieved the highest total for any sale held by Sotheby's in the city-state (SG$24.5 million / US$18 million).
South Korea has one of the fastest growing art markets in the world, with its local art market achieving $660 million in 2021, more than double its value in 2019. The art industry is booming, particularly with international galleries entering the city alongside the debut of Frieze in Seoul last year. Together with Thailand, we have been watching both these territories closely for some time, with two new recruits on the ground there, we hope to
Right: Louise Bourgeois' Spider IV
AUCTIONS // COLLECTIONS ARTS & COLLECTIONS 23 www artsandcollections.com
Below: Max Moore, Head of Contemporary Art Sales, Sotheby's Asia
focus on nurturing our local footprint in the near future.
How significant is the idea of NFTs to the contemporary art market?
Reflecting Sotheby's vision to further the dialogue between different forms of art, one notable example from last year is Robert Alice's Block 34 (51.895167° N, 1.4805° E) from Portraits of a Mind, the largest work of art in Bitcoin's history, which leads the NFT offerings at Sotheby's Hong Kong in the spring Contemporary Evening Auction. The work sold for HK$5.04 million and is a testament to Sotheby's leadership in NFTs in Asia which has thus far seen a 100% sell-through rate in live and marquee sales.
NFT sales attract new audience and engagement, with the meteoric rise of NFTs and the launch of Sotheby's Metaverse, a first-of-its-kind dedicated NFT marketplace, seeing a dramatic expansion into a new audience, with 78% of NFT bidders being new to Sotheby's and more than half of them under 40, indicating wide adoption of this new aesthetic with an influx of younger, techsavvy collectors.
The NFT market can create a bridge between this innovative new form of digital art to the institutional art world, through Sotheby's Metaverse. For instance, the selling exhibition of New York-based Japanese artist Tomokazu Matsuyama
offers 13 newly-created paintings at Sotheby's Hong Kong, alongside the artist's debut NFT Collection on Sotheby's Metaverse. With Sotheby's Metaverse, Sotheby's has been striving to educate, curate, provide enthusiasts and artists a place to share, curate and learn in a trusted environment.
What are Sotheby's most significant contemporary art events in the coming year?
Every April and October, all eyes are on the Contemporary Evening Auction at Sotheby's Hong Kong Spring and Autumn Sale.
And globally, Sotheby's marquee sales in March and October for London, and in May and November for New York mark some of the most significant Contemporary Art events for the year.
This year, Sotheby's will celebrate its 50-year anniversary in Asia, a milestone that will be marked with a series of exceptional exhibitions, events and auctions staged across the region. 
IMAGES © SOTHEBY'S
Above: Robert Alice, Block 34 (51.895167° N, 1.4805° E) from Portraits of a Mind
COLLECTIONS // AUCTIONS www.artsandcollections.com 24 ARTS & COLLECTIONS
Below: Sotheby's first auction in Singapore in 15 years of Modern and Contemporary Art
IMAGES © COURTESY AI WEIWEI
ARTS // EXHIBITIONS www.artsandcollections.com 26 ARTS & COLLECTIONS
Above: Ai Weiwei, Untitled (LEGO Incident) © Image courtesy Ai Weiwei Studio
Making Sense of AI WEIWEI
The first design-centred exhibition by prominent Chinese artist Ai Weiwei is coming to London's Design Museum. We grab a preview
Chinese contemporary artist, documentarian, and activist Ai Weiwei grew up in the far northwest of China, where he lived under harsh conditions due to his father's exile. As an activist, he has been openly critical of the Chinese Government's stance on democracy and human rights, and as an artist, he often makes use of Chinese art forms to display Chinese political and social issues. After being allowed to leave China in 2015, he has lived in Berlin, Germany, in Cambridge, UK, with his family, and in Portugal.
Now the first design-focussed exhibition by Ai Weiwei will open at London's Design Museum in April 2023. The centrepiece
will be hundreds of thousands of objects collected by Ai Weiwei and displayed in expansive 'fields', and the show will include brand new works exploring different forms of 'making' through the ages. Largescale installations will take the visitor from Kensington High Street to the gallery through a Qing dynasty house in the museum's atrium.
Ai Weiwei: Making Sense will be the artist's first exhibition to focus on design and architecture, and will be his biggest UK show in eight years. The exhibition will feature works never shown before in the UK, as well as major new pieces displayed for the very first time. Large-scale works will also be
installed outside the exhibition gallery, in the museum's free-to-enter spaces as well as outside the building.
Known around the world for his powerful art and activism, Ai Weiwei works across many disciplines: his practice encompasses art, architecture, design, film, collecting and curating. In this exhibition, Ai uses design and the history of making as a lens through which to consider what we value.
SYMBOLS
At the heart of the exhibition will be a series of major site-specific installations. Hundreds of thousands of objects will be laid out on the floor of the gallery in a series of five
EXHIBITIONS // ARTS ARTS & COLLECTIONS 27 www artsandcollections.com
Above: Ai Weiwei at the Design Museum, September 2022 © Rick Pushinsky for the Design Museum
expansive 'fields'. These objects from Stone Age tools to Lego bricks have been collected by Ai Weiwei since the 1990s, and are the symbols of his continuing fascination with artefacts and traditional craftsmanship. These collection-based works have never been brought together before.
One of the fields consists of thousands of fragments of Ai's porcelain sculptures that were destroyed when his 'Left Right' studio in Beijing was demolished by the Chinese state in 2018.
Alongside the fields will be dozens of objects and artworks from throughout Ai Weiwei's career that explore the tensions between past and present, hand and machine, precious and worthless,
Above: Ai Weiwei, Untitled (Porcelain Balls), 2022.
Below: Ai Weiwei, Han Dynasty Urn with CocaCola Logo, 2014.
Below right: Ai Weiwei
© Images courtesy Ai Weiwei Studio
construction and destruction.
His Han dynasty urn emblazoned with a Coca-Cola logo epitomises these clashes. Highlights also include a number of examples of Ai's 'ordinary' objects, where he has transformed something useful into something useless but valuable. He does this by crafting items in precious materials. These include a worker's hard hat cast in glass which becomes at once strong and fragile and a sculpture of an iPhone that has been cut out of a jade axe-head.
There are also works that reference the Covid-019 pandemic which exposed our dependence on humble things. On display will be three toilet paper sculptures: two lifesize rolls (one in marble and one in glass) as
well as a two-metre-long sculpture in marble which is being displayed for the first time These works are all shown in the context of China's rapidly changing urban landscape, which Ai has documented through photographic and film works, and are shown in the exhibition.
PRESENCE
A number of large-scale works will also be installed outside the exhibition gallery so that all visitors to the Design Museum will be able to experience Ai Weiwei's work. The most striking will be Coloured House, the timber frame of a house that once belonged to a prosperous family in Zhejiang province, in eastern China, during the early Qing dynasty (1644 - 1911 CE). It will be installed in the Design Museum's atrium where visitors will be able to walk inside it. Ai Weiwei has painted the house with industrial colours, combining ancient and modern, and has installed it on crystal bases, giving presence and status to this unlikely survivor. This will be the first time Coloured House has been seen in the UK.
Ai Weiwei says: "This is an exhibition focussed on a very specific concept: design. I had to think about how we use the space in the Design Museum as a whole, and the exhibition offers a rich experience of what design is, and how design relates to our past and to our current situation."
Ai Weiwei: Making Sense runs at the Design Museum from 7th April to 30th July 2023. 
www.designmuseum.org
IMAGES © IMAGES COURTESY AI WEIWEI STUDIO
ARTS // EXHIBITIONS www.artsandcollections.com 28 ARTS & COLLECTIONS
LUXURY RESIDENTIAL & COMMERCIAL GYM DESIGN INFO@LIFTDDESIGN.COM +44(0) 7939962167 @LIFTD_DESIGN
A Taste of PARADISE
The Maldives conform to most descriptions of paradise, but the islands are also famous for the luxury of resorts like Velaa Private Island
There's a reason that the Maldives has become synonymous with honeymooners. Even before you touch down, the seaplane view over the archipelago's coral atolls is simply breathtaking. Pristine beaches and crystalline waters make every cove and lookout spot worthy of a postcard. Falling into the paradisiac formula, palm trees line the shorefront and sway in the gentle breeze.
The Republic of Maldives is an archipelago consisting of twenty-six coral atolls, in the northern Indian Ocean. The
chain of islands extends 510 miles (820 kilometers), but occupies an area of just 116 square miles (300 square kilometers), roughly 1.5 times the size of Washington D.C. Its closest neighbours are India and Sri Lanka, and the capital, Malé, is on the southern edge of North Malé Atoll.
Among the twenty-six coral atolls are 1,190 very small islands, of which 198 are inhabited. Most of the islands are close to an atoll enclosure reef, and some are still in the process of forming. The longest is Gan in the Adu atoll.
Because the islands are coral-based, they are flat and low-lying. As a result, the water table is high. This means that the islands are at threat from global warming, with many parts threatened by sea level rise. By some predictions, most of the nation will become uninhabitable during the 21st century, despite the fact that the country is striving to adapt to climate change, and Maldivian authorities have been prominent in international political advocacy to implement climate change mitigation.
IMAGES © VELAA PRIVATE ISLAND
TRAVEL // COLLECTIONS ARTS & COLLECTIONS 31 www artsandcollections.com
For now, the larger islands are protected from the elements by reefs, and rarely experience major storms. In the older islands, a larger layer of topsoil has formed, and these islands are covered with a gorgeous panoply of coconut trees, breadfruit, and dense shrubs. Though agricultural potential is limited by the high alkalinity of the soil and its poor water retention, vegetables, fruits, and yams are grown on the islands.
SETTLERS
Early settlers probably came before 500BC from Sri Lanka and southern India, and in the 12th century, sailors from East Africa and Arab countries arrived. Originally, Maldivians were Buddhists, but in the 12th century Islam was proclaimed the national religion. Dhivehi, which is spoken in all parts of the country, is not spoken in any other part of the world. It is considered an IndoEuropean language related to Singhala, the language spoken in Sri Lanka. The alphabets and writing system are similar to Arabic. English is the second language, and is widely used in commerce and in many government schools.
The Maldives has always been an independent political entity except when it was under Portuguese control from 1558 to 1573.
The main cultural attractions are in Malé at the National Museum, which displays items from Arab, Sri Lankan, and Dravidian cultures; Sultan Park; the Islamic Centre; and the gold-painted Grand Friday mosque. The oldest mosque, Hukuru Miski, is known for its intricate stone carvings. The widespread belief in jinns, or evil spirits, has resulted in a blending of Islam with traditional island beliefs into a magicoreligious system known as fandita.
Above all else, the Maldives offers some of the best diving in the world. The wellkept underwater gardens are a mecca for marine life. Divers can catch a glimpse of the turtles and gigantic manta rays - or, better yet, whale sharks - that float through the neighbourhood.
Maldives' National Museum is located in the capital, Malé. While the building may not be the most elegant, the intrinsic items inside are fascinating. Despite having some of their most precious items stolen in 2012, a number of exhibits remain for visitors
to immerse themselves in. Examples of weaponry, religious paraphernalia and quirky relics help trace the surprising history of the Maldives.
Local crafts include the production of wooden lacquer ware and dhonis, handcrafted fishing boats of coconut palm timber.
LUXURY
While it is a poor nation, what the Maldives has in abundance is luxury accommodation; quality hotels provide packages and lodging to suit every circumstance. Visitors are also never in want of an elegant meal; high-class restaurants across the Maldives serve grilled seafood, sushi lunches and panAsian delights.
Nestled within the constellation of islands that form the Noonu Atoll in Maldives, Velaa Private Island takes exclusivity to the next level with facilities and service that go beyond traditional resorts. Designed by award-winning Czech architect Petr Kolar as "an elegant fusion of Maldivian culture
Below: The residences on Velaa Private Island
IMAGES © VELAA PRIVATE ISLAND
COLLECTIONS // TRAVEL www.artsandcollections.com 32 ARTS & COLLECTIONS
with contemporary luxury, intimate with Maldivian nuances".
Velaa Private Island is the realisation of a dream to create a 'beyond luxury' exclusive boutique hideaway in the Maldives.
Velaa means "Turtle" in the local language - named after generations of sea turtles that flock there to nest and hatch. From a broader "bird's eye view" which greets arrivals by seaplane, the island's exclusive over-water villas are also constructed to resemble the head of a turtle, with the island forming the body.
The resort comprises 47 private villas, houses and exclusive residences. While 18 of the 47 are built over water, the Romantic Pool Residence can only be reached by boat, allowing even more privacy and exclusivity.
Velaa Private Island Maldives has recently revealed a new restaurant concept, FAIY, focused on well-balanced and nutritious meals made exclusively from natural ingredients.
Meaning 'leaf' in local Dhivehi, FAIY sits as an oasis in the tropical garden of the Private Island, serving light and colourful dishes overlooking the greens of Velaa Golf Academy by Olazabal.
HOLISTIC
The highest quality ingredients take this wellbeing-inspired restaurant concept to the next level, formulated by a holistic and healthy approach to living by offering clean, unprocessed and whole foods that are as close to their natural state as possible.
Open six days a week, FAIY will be serving breakfast, lunch and dinner in an intimate setting, with limited seating. The a-la-carte menu consists of three different styles, depending on the guests' health focus. It includes the 'Detox' option, a cleansing diet program following a 3- to7-day plan to reboot your system; the 'Fresh' style serving raw cuisine and plant-based meals; and a 'Spa' menu filled with light and low-calorie options following low carbohydrates, vegan, gluten-free or Mediterranean diets.
The beverage menu includes wellness mocktails, smoothies, fresh juices and infusions, packed with antioxidants and vitamins to boost immunity and energy.
A wine list is also available, with the sommelier carefully selecting vegan, organic, biodynamic and sustainably certified wines.
The FAIY restaurant menu will complement the philosophies of the new Velaa Wellbeing Village, which also features a yoga pavilion and Pilates studio. Bringing holistic health to the forefront, Eveylaa Wellbeing will also be opening in May 2023 to offer a comprehensive range of services including ayurvedic medicine, osteopathy,
and ancient holistic treatments.
Wayne Milgate, General Manager at Velaa Private Island, says: "Following the pandemic, travellers are looking for two things: beautiful destinations and experiences which prioritise their health. Between work burnouts and the general chaos of life, there's no better time to book a luxury wellness retreat and take the time to relax and look after your health. Rather than being seen as indulgence, wellness is non-negotiable." 
Right: The Avi Bar on Velaa Private Island
TRAVEL // COLLECTIONS ARTS & COLLECTIONS 33 www artsandcollections.com
Bottom right: FAIY restaurant on Velaa Private Island
We understand the impact your wealth has today, and for generations to come. That's why we work with you to make sure your investments can create the future you want. We listen to you and build our service around your purpose.
We are still largely owned by the Schroder family, who founded the company over 200 years ago. We put stability, independence of thought and our exceptional investment reach at the service of entrepreneurs, professionals, families and charities across the globe.
call 01481 703 700.
Your capital is at risk when investing. This document is issued by Cazenove Capital, which is a trading name of Schroders (C.I.) Ltd ("SCIL"). Registered Office at Regency Court, Glategny Esplanade, St. Peter Port, Guernsey GY1 3UF, Channel Islands. Registered number 24546 Guernsey. SCIL is licensed under The Banking Supervision (Bailiwick of Guernsey) Law 2020 and The Protection of Investors (Bailiwick of Guernsey) Law 2020, as amended. SCIL is also regulated by the Jersey Financial Services Commission in the conduct of investment business. Registered address at Office address 40 Esplanade, St. Helier, Jersey JE2 3QB, (No.31076) . G22003
Your wealth is your future
Contact euan.dangerfield@cazenovecapital.com or
Your
cazenovecapital.com/ci
wealth. Your way.
Protecting Your Passion
When thinking about handing down your collections for posterity, the advice of experts can help you avoid expensive mistakes
Clare Maurice, a tax and estate planning lawyer for private clients, says "My daughters do not necessarily share my passion for the art I have collected. Like jewellery –fashion changes. You can imagine that one generation of the Royal Family likes Canaletto in the Royal Collection. And the next might not," she adds.
This can ring true whether you collect great works of art, watches or antiques. After spending a lifetime collecting valuable items, how can you ensure they are treasured in the future? And how can financial planning help you to preserve your collection's value?
Some give items to charity in a bid to share their passion, others sell their collection, and some set up a trust.
While tax should never be the sole consideration, its impact can be substantial as it can be an important influence on the
value of your collection. "You may want to consider giving objects that are below the capital gains tax threshold to the next generation and focus your financial planning on more noteworthy items," says Orlando Rock, Chairman of Christie's UK. "Is there anything that you want to keep for your children? Is one item so much more valuable that you need to sell it to pay taxes? How do you maximise the value of the most expensive item?" he asks.
CULTURAL
When making these decisions it is always recommended that you consult your family first. "Never underestimate the family dynamic," says Clare, Senior Partner of Maurice Turnor Gardner LLP. From giving art in lieu of inheritance tax (IHT) to establishing a Charitable Incorporated Organisation (CIO), there are many options for collectors looking to pass on passion projects.
The prospect of paying inheritance tax may be a key factor in decision making. When Sir Ilay Mark Campbell, the seventh Baronet of Succouth, passed away in 2017, his family took advantage of the UK's Acceptance in Lieu Scheme by instructing Christie's to negotiate a van Dyck painting titled Marchesa Lomellini to be given to the public, instead of paying IHT.
A panel of experts value the objects offered and then assign them to public institutions. The Campbells' van Dyck was accepted in lieu of £2,450,000 in tax and is now on display in Glasgow's Kelvingrove Art Gallery and Museum.
Other options such as the Cultural Gift Scheme and Conditional Exemption Scheme for public viewing can be less expensive options than simply selling, or even gifting to charity. Of course, consulting financial experts and understanding its value are vital in planning the future of your collection. 
IMAGES © DREAMSTIME
INVESTMENT // COLLECTIONS ARTS & COLLECTIONS 35 www artsandcollections.com
SHAPING LIGHT in Glass
After exploring the media of wood, metal, and ceramics, working in the USA and Europe, Jeremy Maxwell Wintrebert settled on the medium of glass. Passionate and self-taught, he has been developing his technique for over 20 years.
To date, Jeremy Maxwell Wintrebert is the only artist to have his glass studio in Paris, located under the vaults of the Viaduc des Arts, in the 12th arrondissement. He now lives and works there, making all his creations, sculptures, installations, and light art pieces in a studio with 20 employees and apprentices.
Wintrebert's creations are blown without a mould, a mixture of passion, creativity, know-how, and teamwork, in which transmission plays a decisive role. His artistic career is marked by a fundamental search for a reason to live, a vital force, an unalterable core of existence from which each person can build and create.
He combines in his practice all the values of the creative act: imagination, obsession, research, projection of the work, and total mastery of a fully acquired technique.
With the same passion and deep commitment, Wintrebert also creates
luminous art pieces, responding to requests from architects and decorators around the world.
PASSION
He has collaborated with galleries such as Mouvement Moderne Galerie (Paris), Etienne Gallery (Holland) FUMI, and the Spaceless Gallery (Paris). Today, through his Parisian studio, he produces, develops, and markets his creations. His sculptures and installations are presented in international institutions
IMAGES
© Jeremy Maxwell Winterbert/Marion Saupin
Franco-American artist Jeremy Maxwell Wintrebert has chosen glass as his medium, and is now the only master glass artist with a studio in Paris
ARTS // GLASSWARE www.artsandcollections.com 36 ARTS & COLLECTIONS
Above: Jeremy Maxwell Wintrebert, Matter Sunrise Terminal G12
such as the Victoria & Albert Museum (2014), the Palais de Tokyo (2018), and the MusVerre (2022).
He explains the exhibitions Prologue: The Beginning, Chapter 1: Adele and Chapter 2: Terminal, and indeed his whole artistic career as "Being marked by fundamental search for a reason to live, a vital force, an unalterable core of existence from which each of us can build and create. This research feeds my work as I feed on it, in a deep and constant exchange. It animates a path that is initially based on an introspective dimension - that of my childhood in Africa - to evolve little by little towards a form of externalisation. I came to question the origin of these two sources of inspiration: the creation of the universe and of life."
It was in 2018 that this process of questioning began with the exhibition The Beginning, then in 2020 followed Chapter 1: Adele, which Wintrebert calls "a real tribute to light and life." Chapter 2: Terminal, he describes as "an invitation to become aware of the cosmos, the blossoming of consciousness and the incarnation that is given to see. A true homage to matter, the exhibition is an exploration of perception and substance through different techniques of working with glass. The elements unite in this work: fusion, matter, breath, liquid, and we touch on the quintessence. It is the emergence of the fifth element, ether, which is the very substance of the cosmos."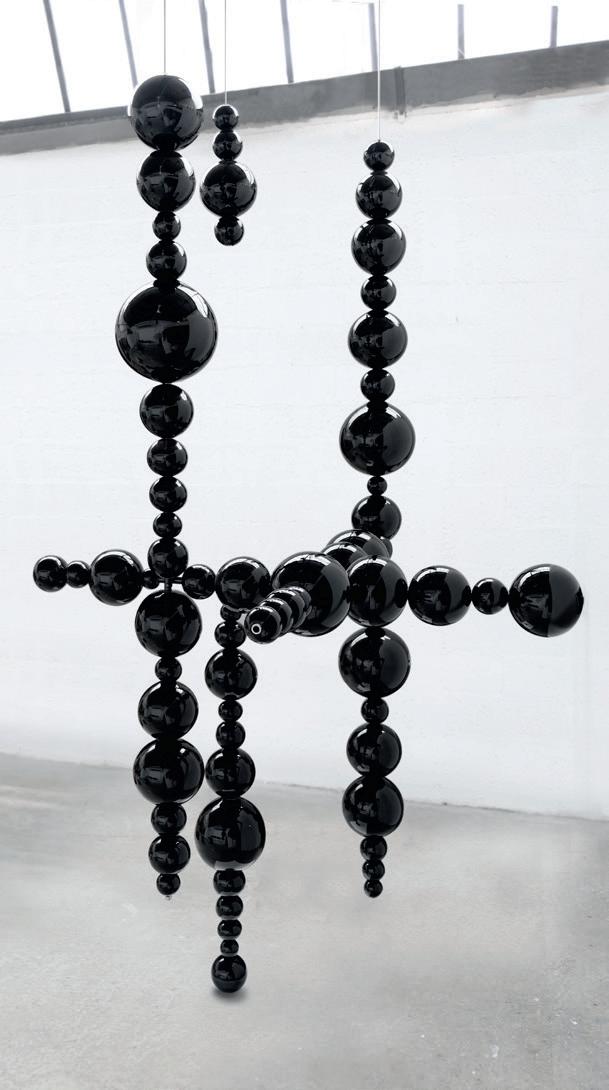 DISCOVERY
From introspection, Wintrebert's work progresses to opening up, a process he describes as starting with his personal history. "I develop forms that manifest my relationship to the world, intimate memories. I therefore concentrated on meditation, introspection in fact, with the work Tao for example. I went from interiority to exteriority. Then the glass. I see in glass the epicentre of the energy of matter. I am inhabited by this bewitching light produced by an organic and transparent substance, which every day never ceases to fascinate me, to remind me of my own limits too. It is a relationship, a mutual contribution, I shape it as much as it shapes me."
The MusVerre, a key venue for international glass creation in Sars-Poteries, France, dedicated its space to Winterbert's work in a major monographic exhibition from 17th September to 8th January 2023.
"Originally, the MusVerre had suggested that I take part in a group exhibition" says Wintrebert, "and when I went there I was struck by the architecture of the building, which immediately reminded me of an airport terminal, resonating with Chapter 2, which I was thinking about. This is obviously very close to my heart because it is an extension of my research and this place seemed to me to be an obvious choice, the ideal setting for this project."
Accompanying the exhibition was
Adele, a film by Christo Roussev, made in 2020, which brings to life or relives the experience of coming into the world and our first discovery of light. Winterbert says: "I think that it is just as important to see the result as the process of creation, especially as glassblowing is a real physical effort, you have to be at one with the material, heat it, tame it and the film speaks of my relationship with this molten material which never ceases to fascinate me." 
https://jmw-studio.com
Above: Jeremy Maxwell Wintrebert (right) in his Paris studio - image: © Marion Saupin
Left: Jeremy Maxwell Wintrebert, Principles #1, 2018
Below: Jeremy Maxwell Wintrebert, Gravity Ripples Adèle, 2020
GLASSWARE // ARTS ARTS & COLLECTIONS 37 www artsandcollections.com
One platform, all things about your art Collection management, art valuations, insurance & art trading. Open your account for free today at www.artscapy.com.
art account
Open your account for free
THE FUTURE of Art
How has the definition of art collecting changed in this digital era, and how should the collector approach the wider market?
BY RICHARD BENSON
In an era of NFTs, online auctions and virtual galleries, how has art collecting really changed? One argument is that the medium of art available to buy has simply evolved, bringing with it a new pool of collectors between the ages of 18 to 44. This demographic has grown up in the digital first world where owning assets digitally is as appealing to the physical world.
Studies show that about half (47%) of young collectors (those who started buying art less than three years ago) made their first purchase online.
Arguably, collecting art is simply moving away from being an obscure hobby that only a select few engage with, to an activity that is reaching a greater audience, becoming increasingly prevalent and attractive for
younger demographics. There are many advantages to this opening up of the market, for collectors and artists alike; buying art supports society's cultural production, benefits mental wellbeing and provides intellectual stimulus. Moreover, the internet did not just create wider access to art and demand for information transparency, but also enabled buying art internationally.
IMAGES © ARTSCAPY, MARK CONNOLLY/FREEMAN GALLERY
ARTS // COLLECTIONS www.artsandcollections.com 40 ARTS & COLLECTIONS
Left: Mark Connolly, Tiger Assaulting Bull II, 2022, oil on canvas, from the virtual exhibition An Act of God, presented by James Freeman Gallery on Artscapy
ONLINE
Alessandro and Emilia De Stasio, cofounders of online art collecting platform Artscapy, say: "The next generation of collectors are buying art online. These collectors buy art without ever stepping a foot into a physical gallery or auction house. The same behavioural trend applies to experienced collectors, where online buying is now exceeding physical for the fi rst time."
But there are questions about the viability of online art collecting, surrounding issues such as provenence and transparency. Artscapy says: "This points to a vital importance of providing safe, accessible and transparent online buying experiences. Artscapy is championing this idea through a commitment to supporting collectors by conducting due diligence on every artwork available for sale, pricing transparency and providing a digital ecosystem to meet every need along the collecting journey."
Ironically, it's probably the coronavirus pandemic, which hampered the operations of the traditional art market such as auctions and exhibitions, that expedited the digitalisation of art collecting. Buying art online was already on a steady upward trend before the pandemic, it then accelerated as the industry grappled with a 'new normal'. Now that art fairs have returned and show strong sales results,
buyers are still increasingly exploring digital avenues of the fairs through collaborations with online platforms.
Another signifi cant trend has of course been the advent of NFTs, nonfungible tokens, which represent an intangible artwork. It's encouraging to see contemporary artists exploring the opportunities this technology enables to produce meaningful new works, and in doing so we may see a shift to NFTs that can present a new direction of travel in art history.
INTERNATIONAL
The international nature of the internet has meant that collecting has opened up to a wider audience than ever before. Artscapy comments: "Our proposition, providing the world's fi rst Art Account, has resonated strongly with our collectors. Our growth has vastly exceeded expectations. It's been astonishing to see how international our collector base is. For example, 70 percent of our emails are opened in the USA, which is incredible. The core services integrated into the Art Account, such as advanced data analytics and insurance, really redefi nes what an art platform can be. As we reach thousands more passionate art collectors it's exciting to know the impact we may have around the world."
Just as important as provenance in the world of online art collecting is compliance
with international fi nancial regulations in the areas of KYC (Know Your Customer) and AML (Anti-Money Laundering). By building these functions into the platform, Artscapy enhances the collecting experience and brings together every service required for managing a growing art collection.
Of course a collection is nothing without its artists, so who are the names to be looking at in the future? It's often valuable to have a theme to work around - for instance Artscapy's collection revolves and evolves around three pillars: identity formation, sociopolitical topics and environmental issues. "We recently bought a work by the conceptual sculpture artist Michael E. Smith", the De Stasios say: "The work, Untitled, is a punchy composition of a pufferfi sh onto which Smith has attached three additional fi sh tails pointing outward. On top there is a retro video game joystick violently inserted. Smith's work is powerful and delivers a strong narrative around the impact that humans have on nature and how industrial remains coexist with the remnants of the natural world. He uses discarded materials and used items in his sculptures which serve to underscore a haunting visual expression."
Whatever the future of art collecting - and increasingly it looks like the digital sphere will be an important part of it - recognising talent and artistic value will always be the basis of an enduring collection. 
Above: Michael E Smith, Untitled
COLLECTIONS // ARTS ARTS & COLLECTIONS 41 www artsandcollections.com
Left: Artscapy's online platform
Maturing PROFITS
Whisky is no longer a niche interest, but a serious investment prospect. But are you missing out on cask whisky in this asset class?
Distilled and enjoyed around the world since the 13th century, modern day Scotch Whisky is synonymous with luxury and fine taste, crafted with the intimate knowledge and skills passed down through generations. Today's distilleries create wonderfully unique expressions that gather global interest, and just like fine art,
Scotch Whisky is now viewed an asset class within its own right, offering collectors and investors unique ownership opportunities and even tax-free gains.
To many, the idea of collecting whisky may seem like a pastime reserved for only the most passionate of connoisseurs. However, just like watches and classic cars,
whisky is rapidly becoming a staple part of the modern investment portfolio, acquired by those that may not even drink the spirit itself. The reason for this is simple - Scotch Whisky is hot property, making the headlines with record breaking sales. It's not uncommon to hear of bottles and casks transferring hands for six-figure sums.
IMAGES © WHISKY PARTNERS
COLLECTIONS // WHISKY www.artsandcollections.com 42 ARTS & COLLECTIONS
PRESTIGE
Distilleries are well aware of this surge in popularity, and have long been creating limited-edition bottles, often in collaboration with other prestige brands, to capitalise on the collectors' market. However, for those looking for one of the most promising investment experiences, the answer often lies outside of the bottle and actually within the cask itself.
Casks of whisky are very rarely sold directly to the public, making them highly sought-after by collectors and investors alike. Filled by the distilleries with a potent, clear liquid called New Make Spirit, the cask imparts both the colour and flavour upon the spirit for a period of no less than three years and a day, at which point it legally becomes Scotch Whisky.
With some experts claiming that over 80 percent of the final whisky's flavour comes from the oak it's matured in, these casks play a huge role in the development of the final dram.
This maturation period spent within the cask allows owners the unique and exciting opportunity to control the whisky's future. Unlike bottled whisky, which is no longer developing and therefore solely reliant upon supply and demand to increase in value, casks offer numerous investment 'exit strategies', continuing to grow in value as the spirit matures further.
Cask owners can either decide to sell
the cask on, bottle the spirit or even move the whisky into another cask type entirely, whichever they are advised will make the best of their investment.
The size and wood-type of a cask play a pivotal role in not only the final whisky's flavour, but also its monetary value. Although casks used to previously mature bourbon are the standard choice for most distilleries, more specialist casks including those used in red wine, sherry and rum production are often used in order to create a bespoke and specialist final dram.
The longer time spent in a cask, the more flavour and colour is imparted, and with some Scotch matured for over twenty years, age is one of the main factors when determining a whisky's final value.
EVAPORATION
With this in mind, you might be forgiven for thinking that whisky should remain in wood for as long as possible. However, this sadly isn't possible due to the natural evaporation of alcohol from the cask as it matures.
As the spirit must remain above 40% ABV to legally be sold as Scotch Whisky, it's imperative to bottle the spirit before this point.
Affectionately known as the "Angels' Share", this evaporation ensures Whisky Casks are classified as wasting assets by HMRC, exempt from Capital Gains Tax.
Of course, for most, collecting whisky
casks isn't just about the money. For many, it's a true passion – a way to truly indulge and shape the unique characteristics and flavours of Scotch Whisky.
However, just like other high-end collectables, cask ownership can be a difficult market place to enter for the first time, so that's where it's useful to have the advice of experts.
Using modern technology can revolutionise the cask ownership experience, for instance by using an app to bridge the gap between distillery and collector, making a team of experts available to help define individual investment goals and manage cask ownership. Leveraging industry contacts and connections in this way can make browsing, holding and trading whisky casks easier than ever before.
Whisky casks can offer the modern collector the perfect combination of rarity, investment potential, and personal enjoyment. Whether you're a seasoned collector or just starting out on your whisky journey, a personal cask is the ultimate expression of this timeless craft. 
A brand new Whisky Partners app, available on iOS and Android devices, brings the very latest technologies to the traditional whisky market. Kick-start your cask ownership journey today by visiting cask. whiskypartners.com/arts and downloading your free guide.
WHISKY // COLLECTIONS ARTS & COLLECTIONS 43 www artsandcollections.com
Liquid Gold The Spirit Of Investment
Whisky Casks are a store of wealth. They're increasingly sought as reliable hedges against times of economic uncertainty.
Diversify your portfolio and beat in ation. Scan here to download your free cask investment guide today. Search "Whisky Partners" in your app store to get started today: App Store and the App Store logo are trademarks of Apple Inc. Google Play and the Google Play logo are trademarks of Google LLC. invest.whiskypartners.com Why Whisky Casks?  Capital Gains Exempt  8-12% Average Returns  Dedicated Portfolio Manager A leading alternative investment, Whisky Casks offer a low entry point and various exit options. Recently making the headlines, casks are now setting new sales records whilst returning tax free gains for their owners.
We can help you strengthen and diversify a traditional portfolio allowing you to invest in art and support upcoming artists.
Our specialist team of advisers can offer advice on how to achieve this in a tax efficient way
To find out more, get in touch Info@blacktowerfm.com
Looking to diversify your portfolio?
BACK IN STYLE
London Art Fair made a triumphant return to the capital in January. We look at some of the highlights
London Art Fair enjoyed a successful return to the capital from 18th-22nd January, with strong attendance of buyers and collectors ready to invest in Modern and Contemporary art from over 100 leading exhibiting galleries from around the world, representing Belgium, Canada, France, Iceland, Ireland, The Netherlands, Poland, Sweden and the UK. The Fair saw a strong bounce-back, with this edition being the first with no Covid-19 related restrictions since the January 2020 edition.
Sarah Monk, Director of London Art Fair, said: "We were thrilled that this year's Fair could take place in its traditional January slot, launching the international art calendar
once again with an exceptional and fresh collection of Modern and Contemporary Art. We are incredibly grateful to our galleries, sponsors and partners for their continuing support and invaluable contribution which has allowed us to deliver this 2023 edition and such a wonderful experience for all."
EXHIBITORS
Alongside many returning galleries including Osborne Samuel, GBS Fine Art, Piano Nobile, and Purdy Hicks Gallery, London Art Fair welcomed a host of new exhibitors from overseas and the UK. New international galleries included Iceland's fine arts dealership Gallery Fold and Art Gallery
O68 from the Netherlands. New UK-based galleries for 2023 included Willoughby Gerrish, Koop Projects and Cactus Moon Studio.
This year's talks program also featured the unveiling of an exclusive limited-edition print by cartographer and artist Adam Dant during the TAG Fine Arts' talk in conversation with Dant and Will Palin, CEO of Barts Heritage. Adam has collaborated with Barts Heritage to produce a commemorative piece documenting 900 years of St Bartholomew's Hospital as part of this year's anniversary celebrations. The talk detailed the commission, the hospital's major renovation plans for 2023, and the launch of Dant's print
IMAGES © LONDON ART FAIR/MARK COCKSEDGE
Shame Gallery, London Art Fair.
EXHIBITIONS // ARTS ARTS & COLLECTIONS 47 www artsandcollections.com
Photography by Mark Cocksedge
which was sold via TAG Fine Arts at the Fair in support of Barts Heritage.
Figurative artwork proved popular at this year's event. Long & Ryle sold multiple pieces of work by Spanish artists Ramiro Fernandez Saus, whilst Tin Man Art reported lots of positive interest and sales of the figurative works they presented by Catherine Anholt and Marie Elizabeth Merlin.
Sculptures also sold well, including a Henry Moore sculpture which sold for circa £40,000 at Thomas Spencer Fine Art and Lynn Chadwick's Conjunction XII which sold for over £100,000 at Goodman Fine Art. Zuleika Gallery sold a Robert Adams for circa £10,000, and pieces by the emigre artists Peter Lazlo Peri and Dora Gordine sold via Architectural Heritage.
Galleries specialising in modern art, a key component of the Fair, reported healthy sales. Osborne Samuel Gallery sold a Keith Vaughan painting for around £100,000. Hidden Gallery reported one of their most successful Fairs to date selling a piece by Andy Warhol, a number of David Hockney limited edition works on the final day, and arguably one of Banksy's most iconic and sought-after limited edition signed prints also sold to a notable collector.
Christopher Kingzett sold Walter Sickert's The Painter and His Model for around £75,000 and Hockney's Portrait of Henry Geldzahler for in the region of £30,000.
Contemporary painting and printmaking proved popular, drawing in sales of a Bridget Riley piece at Tanya Baxter Contemporary and resulting in London-based Elizabeth Xi Bauer experiencing a sell-out booth.
On the opening day, Jealous Gallery released their latest David Shrigley print at London Art Fair yet again, an annual cornerstone in their calendar. This year's print was Shrigley's Extract The Juice From Everything, 2023, which experienced great sales.
CURATED
London Art Fair continued to reflect contemporary practice and collecting trends through its program curated in collaboration with leading experts. For its ninth museum partnership, London Art Fair worked with London's Ben Uri Gallery and Museum to showcase a collection of paintings and sculptures focused on the immigrant experience. The collection spoke to Ben Uri's origin, including rich contributions to
British art made by prominent Jewish artists such as Frank Auerbach's Mornington Crescent, Summer Morning II and David Bomberg's Racehorses.
This year's Fair marked the launch of the Encounters section, curated by Pryle Berhman. The section showcased emerging artists from galleries such as VirginiaVisualArts, Janet Rady Fine Art and Koop Projects and brought together works from across the globe presenting pieces from Montreal-based Art Mur, Black Dwarf from Poland and Brussels-based Shame Gallery who experienced lots of positive interest, selling sculptural work by Nathan French.
For the fifth edition of Platform, art historian and author Ruth Millington presented a collection of galleries whose artists reframed the muse as an empowered and active agent in the story of art. Reframing the Muse invited viewers to consider the instrumental role played by diverse, real-life individuals, past and present, beyond the frame in which they are immortalised. Cynthia Corbett Gallery, who featured within Platform, were pleased to report that their pieces by burgeoning artists Felix Chesher, Ashley January, and Ramon Omolaja Adeyemi sold before the close of opening night - the sale of Felix Chesher's Wordle was especially of note given that the painting was created especially for Reframing the Muse and was finalised just three days before London Art Fair 2023 opened its doors. 
www.londonartfair.co.uk
Top: Cubitt Artists Co-Op & Gallery
Left: Austin Desmond Fine Art
IMAGES © LONDON ART FAIR/MARK COCKSEDGE
ARTS // EXHIBITIONS www.artsandcollections.com 48 ARTS & COLLECTIONS
Aquitaine Group Limited, P O Box 357, Mill Court, La Charroterie, St Peter Port, Guernsey GY1 3XH Registered No: 49134 | Licenced by Guernsey Financial Services Commission Fiduciary specialists, providing boutique services with elegant solutions to complex problems Tel: +44 (0) 1481 729944 | www.aquitainetrust.com
FASHIONS and Foibles
Sotheby's Private Sales works discreetly and seamlessly with buyers and sellers of world-class works of art through the year, independent of the auction calendar
Whether you are a seller looking to realise the value of a special item or a buyer hoping to add a special piece to your collection, the private sales team from Sotheby's is always ready to assist. The world-famous
auction house can put its full resources in the categories of fine art, jewellery, watches, books, wine and automobiles at your disposal through its Private Sales department. Away from the bustle of the
auction room, Private Sales are discreet and select, with prices agreed between seller and buyer. See the items currently available at www.sothebys.com/en/buy/private-sales Prices are available on request. 
SOL LEWITT
Corner Piece No. 2
Painted wood
Executed in 1976-77, this 43-inch piece is signed on the underside. Last sold at Sotheby's in 2007, it typifies his interest in geometry and spatial relations to construct sculptures based on a grid form. Employing mathematical concepts, LeWitt (1928-2007) joined open, identical cubes together to form proportionately larger units where the outline of the cubes suggests the completed volumes. The purity of the whole is reinforced by the monochrome white surface and the repetition of the simple, cubic forms.
KEITH HARING
Untitled
Acrylic on vinyl tarpaulin with metal grommets
A chance revelation led to the works now considered to be Haring's masterpieces. Unpretentious in their fabrication, the tarpaulin works, made using silk-screening ink on industrial plastic, harnessed the grit and creative potential of the street and flouted the limitations and historical connotations of painting on canvas. The tarpaulin paintings provided art that was accessible to the masses in both its visual language and its conceptualization, a mission which Haring actively sought in his creative process throughout the course of his life. Signed and dated SEPT. 21-83 on the reverse.
IMAGES © SOTHEBY'S
COLLECTIONS // SOTHEBY'S www.artsandcollections.com 50 ARTS & COLLECTIONS
KAREL APPEL
Personnage
Gouache on plaster
Executed in 1950, this 27-inch sculpture is typical of Karel Appel's expressionistic work which helped set the aesthetic template for the mid-20th-century CoBrA group, which included Christian Dotremont, Asger Jorn, and Joseph Noiret. Inspired by folk and children's art, the work of Jean Dubuffet, and the earlier modernist experiments of Joan Miró and Paul Klee, Appel's suggestive compositions often resemble wildly abstracted figures.
JEFF KOONS
Inflatable Flower (Tall Purple)
Plexiglass, vinyl, mirrors
This typically playful 18-inch piece by Jeff Koons was executed in 1979 at a time when his interest in the readymade manifested itself in his East Village apartment, where he installed found objects he collected downtown, including various inflatable toys and dollar store treasures. The result was a boisterous and absurd satire, a surreal and subversive interrogation of high versus low art. Colourful arrangements including inflatable flowers with anthropomorphic qualities were displayed on pre-cut mirrored glass tiles throughout the room, creating a dialogue between Pop Art and Minimalism, an installation at once a homage to Andy Warhol's silkscreened flowers of the '60s while also recalling arte povera and Minimalism.
GRAYSON PERRY, R.A.
Defenders of Childhood
Glazed earthenware
Stamped with the artist's monogram, this 46cm vase was made in 2001. It previously sold for £39,650 in 2011. Born in 1960, Perry is known for his ceramic vases, tapestries, and cross-dressing, as well as his observations of the contemporary arts scene, and for dissecting British "prejudices, fashions and foibles". His vases have classical forms and are decorated in bright colours, depicting subjects at odds with their attractive appearance. There is a strong autobiographical element in his work, in which images of Perry as "Claire", his female alter-ego, and "Alan Measles", his childhood teddy bear, often appear.
JORDY KERWICK Hydra "Amelie"
Painted bronze
Executed in 2021, the artwork is a part of a series of 45 snakes, each one unique. The self-taught Australian artist, now based in France, began painting in 2016, and quickly found international success: he has shown at galleries in Melbourne, London, New York, Tokyo, and Paris. Kerwick's disparate practice embraces a range of materials including enamel, acrylic, oil, house paint, airbrush, graphite, and charcoal. The artist's inspirations include art historical still-lifes, his family, literature, music, and the city of Los Angeles.
SOTHEBY'S // COLLECTIONS ARTS & COLLECTIONS 51 www artsandcollections.com
JEWEL IN THE CROWN
Regarded as the premium venue for horse racing, Royal Ascot is underpinned by a rich and regal history
Featuring five days of unparalleled horse racing, high fashion, fine dining and pageantry, the Royal Meeting at Ascot is renowned across the globe, creating an unforgettable experience in a unique setting. Underpinned by a rich and deep-rooted royal heritage, it has not just survived the rigours of time, but it has thrived.
It was while riding out from Windsor Castle in 1711 that Queen Anne first saw that the land, then known as East Cote, had potential for horseracing - an area of open heath that looked, in her words, "ideal for horses to gallop at full stretch". The inaugural event, Her Majesty's Plate, was held at Ascot upon her request that August.
In 1813, Parliament passed an Act of Enclosure, which ensured that Ascot Heath would be kept and used as a racecourse for the public in the future. Racing at Ascot was now secure.
Queen Anne's gift to racing, founding the Royal Racecourse, is marked by the tradition of the first race to open the Royal Meeting being the Queen Anne Stakes.
IMAGES © ROYAL ASCOT
COLLECTIONS // SPORT www.artsandcollections.com 52 ARTS & COLLECTIONS
Above: 2022 Gold Cup winner, Kyprios
SPORT
The meeting as it is known today only really started to take shape with the introduction of the Gold Cup in 1807. Royal Ascot was the only race meeting held at Ascot until 1939.
Over the years the patronage of twelve monarchs has helped make Ascot one of the world's best-loved racecourses and it remains a pillar of British sporting and social culture.
Today, Royal Ascot is Britain's most valuable race meeting, attracting many of the world's finest racehorses. It is an experience shaped by the iconic moments that punctuate each day. Whether it's the arrival of the Royal Procession at 2pm sharp, seven world-class races throughout the afternoon or the communal singing around Ascot's bandstand in the early evening, each day is an unforgettable whirlwind of excitement and colour.
MONARCHS
His Majesty The King is the thirteenth monarch that Ascot has operated under, having succeeded Queen Elizabeth II in September 2022. As an owner and breeder of racehorses, Her Late Majesty took a keen interest in the races and had great success with her own horses over the years, including most famously winning the Gold Cup with Estimate in 2013. The jockeys riding the Sovereign's horses can be identified by the Royal racing colours:
purple body with gold braid, scarlet sleeves, and black velvet cap with gold fringe – the same as those of King Edward VII and George IV as Prince Regent.
The Gold Cup remains the feature race of the third day of Royal Ascot, when high fashion and exquisite millinery take centre stage alongside Flat racing's most elite stayers. In 2009, Yeats, ridden by Johnny Murtagh and trained by Aidan O'Brien, won his fourth consecutive Gold Cup – a magnificent achievement, and one that Stradivarius just failed to emulate in 2021 and 2022 having won the race three times between 2018 and 2020.
FASHION
An experience meant to be shared, Royal Ascot is the perfect occasion for socialising. The Meeting offers a variety of experiences for customers to choose from depending on what they are looking for from a day out and has plenty to offer in terms of dining; a three course a la carte luncheon, gourmet picnic, Champagne afternoon tea or Fine Dining in one of Ascot's restaurants, which in turn offer differing cuisines, atmospheres and views of the racecourse.
Of course, Royal Ascot is also synonymous with sartorial elegance, as guests are welcomed to contribute to the sense of occasion by dressing in accordance with Royal Ascot's Style Guide.
Above: Fashion and race viewing in the Royal Enclosure, Ascot
Ascot's dress code is traditional, woven into the very fabric of the racecourse's history. Each year the racecourse is awash with colourful classic and contemporary fashions as well as the most magnificent and spectacular millinery creations.
RACEDAYS
Alongside Royal Ascot, the racecourse's famous five-day meeting, Ascot hosts an additional 21 racedays throughout the year, each with its own unique character offering the perfect day out and the opportunity to celebrate any occasion. With magnificent grounds, excellent facilities and a wealth of indoor space, the racecourse is a superb location for events.
For those seeking more from their raceday experience, Ascot offers yearround Membership options including a private Members Club. The Royal Ascot Racing Club offers access to some of the world's finest racing, where its Members can enjoy unsurpassed facilities, dedicated service and exceptional dining experiences for all 26 racedays at the racecourse. Members can also have an interest in up to six horses, which run in the Club's white and dark blue colours, with purchase cost, training and all racing expenses included in the annual subscription. For more information on the Royal Ascot Racing Club, or to explore the stable of Memberships at Ascot, visit ascot.com.

Below: The Parade Ring in the Queen Anne Enclosure, Ascot // COLLECTIONS ARTS & COLLECTIONS 53 www artsandcollections.com
THERE'S YOU YOU , THEN THERE'S
20-24 JUNE ASCOT.COM
DESIGNING With Love
How can jewellery express your individual emotions? By creating bespoke pieces, experts can express every dream
With diamonds, the symbol of eternal love and commitment par excellence, the ordinary gives way to the extraordinary. While buying a collectable piece may do the job, with a bespoke diamond jewel that you have designed for your loved one, there are no limits to dreaming big - you ensure that they feel all the creativity, love, and effort that you have put into the design, creating a tender memory that will be shared and cherished forever.
Once you have decided to surprise someone special with a unique, tailormade jewel, you must ask yourself a few questions before you proceed - such as which gemstone, how many and what sizes; which material; how much to budget for; and crucially, the actual design.
GEMS
There are two main approaches; you can design your jewellery from scratch, based on something you have seen somewhere or imagined, or you can choose an existing design and decide to customise it. In this process, you should consider which material to choose, perhaps 18 carat gold or 950 platinum, and of course, which type of gemstones (diamonds, sapphires, rubies…), in which size and number, you would like to add to your jewel. Of course, it is also important that you set yourself a maximum budget.
At this point you will appreciate some guidance on how to create your dream jewel from the experts.
The diamond jewellery brand BAUNAT has a team of professionals who specialise in making custom jewellery and can help
you get a tailor-made jewel at the best price, which is as close as possible to your wishes. This is possible thanks to a highly personal approach and a unique business model that involves purchasing at source, production on demand, efficient stock management and online sales, which makes it possible to offer exquisite jewellery at excellent prices.
ARTISANS
To design a customised diamond jewel, BAUNAT uses 3D printing, a highly innovative printing process that creates three-dimensional objects based on digital drawings. You can decide how you want your custom piece to look, and then technology does the rest. This way you get an accurate picture and can still make adjustments before the jewel is made. Once the design is finalised, experienced artisans bring your creation to life, using traditional methods and the finest materials.
The end-result is a magnificent and unique diamond jewel, handcrafted in Antwerp or Paris according to your personal wishes and meeting the highest quality standards.
Donatella Versace said: "Wear a fabulous smile, great jewellery, and know that you are totally and utterly in control" - with a tailormade jewel you can achieve just that state of grace. 
Top: Combining art and technology
Left: Skilled artisans at work
Below: Gems of the finest quality
IMAGES © BAUNAT
COLLECTIONS // JEWELLERY www.artsandcollections.com 56 ARTS & COLLECTIONS
FINE DIAMOND JEWELLERY - INFO@BAUNAT.COM - WWW.BAUNAT.COM - +32 3 201 24 90 AMSTERDAM - ANTWERP - DUSSELDORF - GENEVA - HONG KONG - KNOKKE - LONDON - MUMBAI - MUNICH - PARIS - SHANGHAI - ZURICH
THE PERFECT ESCAPE
From Mauritius to the Bahamas and Barbados
Whether you are in search of sunshine beaches, magnificent scenery or the best in arts and culture, world travel is opening up again, and the most luxurious and indulgent destinations on the planet are once again welcoming visitors.
Celebrating its 60th anniversary this year, The Ocean Club, a Four Seasons resort in the Bahamas, is one of the most iconic destinations for luxury travel. While the Bahamas have always had an irresistible lure to the traveller in search of luxury and indulgence, this year the Ocean Club is marking its important milestone with the unveiling of its newly renovated Crescent Wing and property-wide enhancements.
Three days of anniversary celebrations will feature a Diamonds Are Forever reception with dinner and entertainment to commemorate the resort's James Bond legacy, and other celebratory events and activities where you can live like Bond with a Vesper Martini in hand, take a step back in time as the Ocean Club recreates the "Bal du Paradis Gala" from the Grand Opening event in 1962, and stroll the ever-enchanting Versailles Gardens before indulging in the grandest Anniversary Brunch to date.
If you can't catch the anniversary event in February, perhaps you'll be tempted by the exclusive rates for extended stays starting at 21 nights, or take advantage of monthly rates when signing an Extended Stay Agreement of 30 nights or more, up to one year. Extended Stay rates are available on all room categories, from the lead in GardenView Room to Suites and Beachfront Villa Residences, with extended stay inclusions tailored according to each guest's requests and requirements - everything from a prearrival concierge consultation to discuss
Virgin Islands, luxury resorts
IMAGES © THE OCEAN CLUB, CASABLANCA
to the
offer the ultimate in comfort and indulgence. We visit some of the most opulent
Above: The Ocean Club, a Four Seasons resort
COLLECTIONS // TRAVEL www.artsandcollections.com 58 ARTS & COLLECTIONS
Below: Casablanca, Barbados
pillows, bedding, family photo frames and other items to personalize your stay and to make your "Ocean Club Home" your own, to pre-arrival coordination of personalized menu options, complimentary valet parking, exclusive to extended stays, un-packing upon arrival and packing upon departure, complimentary daily premium Wi-Fi, and even a children's concierge service to assist with weekly lessons and activities.
BARBADOS
Of course another destination which conjures up images of paradise is Barbados, the most easterly of the Caribbean Islands.
Barbados is the perfect location for a holiday vacation at any time of year, with its abundant sun, sea and sand, brilliant Bajan cuisine, handsome towns to explore and hotels which can cater for anything from romantic couples to families. Plus, it's the perfect base for Caribbean island hopping.
The island country in the Lesser Antilles of the West Indies is the perfect place to holiday in luxury, with its many five-star hotels and private villas. One of the most
celebrated is Casablanca, a stunning villa located within the exclusive Sandy Lane Estate on the West Coast of Barbados.
Casablanca is private and idyllic two-acre luxury estate where you can luxuriate in the finest accommodations, spoil yourself with a butler or concierge service, savour delicious chef-prepared meals perfectly suited to your culinary tastes and dietary needs, bask in the sun around the pool or at your private beach club and, at the end of the day, relax, margarita in hand, watching a gorgeous sunset, stretched out in the comfortable, breezy gazebo.
The Villa is located on the Old Nine Golf Course, allowing easy access if you and your family want to play golf, or if you enjoy other sports, there are tennis courts, a pool for water polo, and a media room for e-sports.
Casablanca is part of the Sandy Lane Estate Beach Club, just eight minutes from the Villa on foot, so you can access your private cabanas and other amenities at the beach club.
Darek, the gourmet chef at Casablanca, can accommodate dietary restrictions
and preferences, so your meals will be absolutely perfect whether you crave a Christmas turkey or a local Bajan holiday feast.
Once you're at Casablanca, you'll be within 10 minutes of all the major Bajan attractions. Holetown is only 3km away, great restaurants are within walking distance, and Casablanca is directly in the middle of Sandy Lane Estates. This means you can be at the beach in minutes, relaxing in a cabana and soaking up the sun.
At the Villa, there are lots of living spaces perfect for big family meals, so you can enjoy your dinner on the verandah in the outdoor dining room that overlooks the pool, in the gazebo, or indoors in the luxurious dining room.
MAURITIUS
With a year-round, tropical climate and legendary hotels that make best use of pristine coastlines, a trip to the magnificent Indian Ocean location of Mauritius is sure to be enriching and extraordinary. In Mauritius,
IMAGES © DESTINOLOGY
TRAVEL // COLLECTIONS ARTS & COLLECTIONS 59 www artsandcollections.com
Above: The JW Marriott, Mauritius
Redefining Luxury For Over 60 Years
A haven for the world's most discerning travellers, find yourself nestled between the tranquil turquoise waters and the lush emerald jungle of Paradise Island. Experience the legacy and glamour of the Resort's expansive Versailles Gardens and 12th Century Cloisters, dine on lavish fare at DUNE by Jean-Georges or live like Bond at Martini Bar & Lounge.
This private oasis offers rooms, suites, bungalows and villa residences with modern beach chic or elegant island interiors. From romantic rendezvous to family escapes, the serenity of The Ocean Club beckons you home.
one ocean drive
paradise island, bahamas
To continue dreaming, please visit fourseasons.com/oceanclub reservations.oceanclub@fourseasons.com +1-561-931-0620
you can fill your days with catamaran cruises or scuba diving discoveries, unwind with ancient wellness practises in calming spas or sample world-influenced cuisines.
Exclusive packages from Destinology (www.destinology.co.uk) can take you to the most beautiful and eclectic corners of the globe, from luxurious family holidays in Dubai to bespoke journeys exploring Africa or six-star cruises on the world's most magnificent seas.
In Mauritius, Destinology recommends the JW Marriott hotel, set against the legendary UNESCO World Heritage Site of Le Morne Brabant Mountain, and the Westin Turtle Bay, sitting adjacent to a reef-rich protected marine park offering mesmerising glass-bottom boat trips and invigorating windsurfing. Then there's Le Meridien Ile Maurice, where echoes of island aesthetics and cultures can be found throughout, from local artworks that grace the walls of the lobby to the tropical greenery adorning the grounds and regional flavours showcased in restaurants overlooking the ocean.
ON THE EDGE
If you are looking for the ultimate in luxury and indulgence, though, Edge Retreats (https://edgeretreats.com) is a global luxury vacation rental platform pairing a discerning clientele with ultra-luxury homes in exclusive vacation destinations worldwide. From the Côte d'Azur to Lake Como, Turks and Caicos to the Swiss Alps, Edge Retreats provides elite travellers with access to private retreats in more than 50 countries.
The company's portfolio of unparalleled estates includes lavish designer homes, private islands, estates and castles, ski chalets and beachfront properties. Bespoke services include bookable private chefs, nannies, super-yachts, and other highly coveted experiences for affluent individuals. Edge Retreats creates unforgettable memories for its clients at the World's most preeminent properties and are proud to be developing technology for the future of luxury travel.
Under the leadership of CEO Aurelie
Lepercq, Edge Retreats designs every step of each stay within luxuriously appointed private properties to create unparalleled travel experiences. Dedicated to the ultra high net worth clientele, with property price ranges from $15,000-$300,000 per week, the personal touches of luxury travel are elevated to uniquely tailored vacations to create unforgettable memories with family and friends.
Some of the most sought-after locations from Edge Retreats include Villa La Vigie, Monaco, the summer home of the famous designer Karl Lagerfeld for over ten years; Domaine de Valbonne, Côte d'Azur, former summer home for the Kennedy family where John F Kennedy spent his summer as a child; Henry's Townhouse in London, the former home of Jane Austen's favourite brother Henry; and Necker Island in the British Virgin Islands, Sir Richard Branson's private retreat - surely the ultimate in luxury holiday destinations. 
Below: Necker Island
IMAGES © Dreamstime
COLLECTIONS // TRAVEL www.artsandcollections.com 62 ARTS & COLLECTIONS
Exceptional luxury villas worldwide www.edgeretreats.com • London +44 203 355 6077 • New York +1 (646) 9188230 Exceptional villas, Exclusive travel destinations Contact one of our dedicated personal travel consultants Handpicked portfolio curated by our travel tastemakers Access to off-market exclusive private villas @edgeretreats @Edgeretreats @edgeretreats EXCEPTIONAL VILLAS OF THE WORLD Exceptional luxury villas worldwide www.edgeretreats.com • London +44 203 355 6077 • New York +1 (646) 9188230 Exceptional villas, Exclusive travel destinations Contact one of our dedicated personal travel consultants Handpicked portfolio curated by our travel tastemakers Access to off-market exclusive private villas @Edgeretreats @edgeretreats EXCEPTIONAL VILLAS OF THE WORLD
Stay, you can have it all
Come and enjoy an explosion of sensations at GF Victoria. Wellness, fun and gastronomy in an exclusive and sustainable environment. We look forward to seeing you in Costa Adeje, Tenerife!
www gfvictoria.com Sustainable
Tenerife, Spain
A-Rated Luxury
Can a hotel offer luxury, and still score high for sustainability?
The GF Victoria in Tenerife pulls it off
Located in the south of Tenerife, GF Victoria was conceived with a firm commitment to the environment, implementing innovative solutions within its accommodation proposal.
It was built with a certain orientation to maintain a stable average temperature over the year, in order to reduce the use of energy resources. Thanks to this concept, and the use of efficient materials, it managed to become the first hotel built in the islands with an 'A' energy certification; the highest efficiency rating given to a construction.
GF Victoria is a concept of luxury and distinction designed to suit the client. This establishment evokes a concept of harmony, in which architectural elegance, sustainability, gastronomy, well-being and fun come together through proposals designed to delight the senses of both adults and children.
The hotel has different gastronomic spaces where local products offer a unique
experience. Donaire Restaurant stands out as a quality proposal for Canarian gastronomy and for its proximity, authenticity and innovation. To enjoy different environments and outdoor spaces, the best option is the Chaboco Buffet Restaurant, which offers quality gastronomy through show cooking and also features a children's area where the youngsters can play and learn about recycling whilst the adults enjoy a more intimate meal.
WELLNESS
As a novelty, the establishment highlights the great commitment to Las Olas Showroom, a space that can be decorated and adapted to a multitude of concepts, where various events and shows are held within its facilities. It is a highlight of Tenerife nightlife offering sophisticated experiences such as the Scandal Dinner Show and the Olé Flamenco Show.
The health and wellness area offers,
from the start, a top-level service, where Bio-spa Victoria takes centre stage. It is a new holistic concept in line with the hotel establishment's commitment to sustainability and offers personalized treatments with natural products. This boutique spa also offers an indoor and outdoor spa circuit for adults and a spa that has been designed exclusively for families.
Regarding proposals for leisure and fun, GF Victoria offers different experiences to enjoy with the family. The water park has become a favourite place for the little ones, its colourful slides, waterfalls and bridges that connect pools of different depths allowing great explorations. The surf pool is the star attraction for those sporty guests. Free time is enjoyed in a special way at this establishment that also offers sports courts, simulators, a climbing wall, mini clubs, a gym and a fitness room.
Sustainabllity and luxury have never worked better together. 
IMAGES © GF VICTORIA
TRAVEL // COLLECTIONS ARTS & COLLECTIONS 65 www artsandcollections.com
THE GOLFING LIFE
Golf isn't just about the sport - it's a lifestyle which is steeped in tradition, appreciation of the natural world and a touch of luxury
Golf may have a bad reputation in some quarters - we've all heard the quote attributed to novelist Harry Leon Wilson, who apparently said in 1904 "Golf has too much walking to be a good game, and just enough game to spoil a good walk." But what Wilson (and the dozens of other people to have the quote attributed to them) seem to have missed is that golf is more of a lifestyle than a sport.
For every hot-shot professional golfer chasing the millions in prizes in the international tournaments, there are thousands of more casual players who enjoy the traditions, the outdoors, the camaraderie and the comfort of the 19th hole as much as they benefit from the sport itself.
So, golf can present the dual pleasures of a physical challenge, together with an appreciation of the best in nature and hospitality. Indeed, in Scotland, the home of golf, venues such as Trump International Golf Links at MacLeod House and Lounge can offer the best of both, with an acclaimed championship golf course guaranteeing the greatest golfing experience of your life, and MacLeod House & Lodge providing the ultimate in luxury and comfort.
GLENS
With its rolling hills and heather-clad glens, nowhere compares with Scotland, and from its legendary golf courses and worldfamous Scotch whisky to historic castles and heather-clan glens, the North East of Scotland offers an abundance of marvellous things to do and see in a spectacular part of the world.
The Trump family residence at the luxurious 14th century baronial mansion and lodge has been beautifully restored and
IMAGES © TRUMP INTERNATIONAL
Above: MacLeod House, 'the ultimate in luxury'
COLLECTIONS // TRAVEL www.artsandcollections.com 68 ARTS & COLLECTIONS
Below: Enjoying the rolling hills of Scotland
upgraded to provide the ultimate in luxury and comfort.
Each of the sixteen exquisite superior and grand deluxe guest rooms feature the unmistakable personal touches of Trump, with individually designed with beautifullycrafted furniture, deep luxurious mattresses, lavish silk bedspreads and opulent, en-suite Italian marble bathrooms, guaranteeing a wonderful night of rest and relaxation.
OUTDOORS AND IN
But what of the golf course itself? Hailed by many as one of the world's greatest courses, Trump International Golf Links, Scotland, officially opened in July 2012 with glowing international reviews and accolades from around the world. Designed by renowned links golf architect, Dr Martin Hawtree, the Par 72, 18-hole championship course is a masterpiece stretching more than 7400 yards along the North-east coast of Aberdeenshire. Woven through The Great Dunes of Scotland and boasting panoramic views of the North Sea, the golf course offers the ultimate challenge in golf as well as breath-taking scenery.
With six or more tees on every hole, the championship course caters for all levels of golfer and guarantees an unforgettable experience.
The extensive practice facilities include a 22-acre driving range, short game area and 3,500 square metre putting green providing exceptional playing surfaces for all shotmaking requirements. A practice facilities day pass is included with every green fee. For those who love the outdoors, woodland walks, beach runs and clay pigeon shooting form part of the Trump Estate experience. Guests can take advantage of a team of highly skilled instructors who are on-hand to help you make target.
But for that extra bit of indulgence, the Heritage Retreat at MacLeod Lodge offers a fabulous menu of bespoke body and facial treatments for ladies and gents, alongside a premium nail bar, and that's not to mention the opulent dining.
Adorned with beautiful period features, the dining room in MacLeod House offers an extensive list of fine wines, malt whisky and indulgent menus featuring Scottish game, local fish and seasonal produce. A team of skilled chefs craft amazing menus designed with imagination and flair, making it the perfect venue for a special occasion or an indulgent treat.
A variety of dining options suits all sizes and types of events - for something extremely intimate and special, there's a whisky snug for a maximum of four diners,
while at the other end of the scale, the main restaurant can seat up to 34 guests and is perfect for a party, event or small wedding. The entire MacLeod House Dining Room, Lounge and Bar can also be used for larger events with a capacity of up to 70 guests. You can work with the chefs to allow them to design a menu to suit your requirements – from a casual dinner to a fine-dining extravaganza or a corporate function.
HISTORY
MacLeod House is not short on historical features, with an amazing fireplace, chandeliers, high ceilings and stunning artworks in the most luxurious and traditional of settings, while the Clubhouse at Trump International Golf Links, Scotland provides the perfect place to relax, wine, dine and shop.
Located within the clubhouse, the Dunes Restaurant and Bar is a comfortable, relaxed restaurant with beautiful rich walnut, tweed seating, warming fireplaces and floorto-ceiling windows offering stunning views of the Great Dunes of Scotland - a view that sums up the appeal of the golfing lifestyle and explains its continuing appeal to the lover of tradition, luxury and nature. 
TRAVEL // COLLECTIONS ARTS & COLLECTIONS 69 www artsandcollections.com
Above: Trump International Golf Links
THE SWISS WAY
Set in the heart of Switzerland, Hotel Villa Honegg sums up the charm, tradition and sense of luxury in this spectacular mountainous country
Whether it's for the mesmerizing scenery, with its 7,000 lakes and the world-famous mountain the Matterhorn; the luxuries from watches to chocolates; or the fast-growing and modern economy, Switzerland is consistently rated as one of the world's most desirable countries to live in, or to visit.
Whether you love to hike, in which case the classic 12-day Chamonix-Zermatt Haute Route is for you, or if you love the views of the Alps, the Jura valleys, and the Rhine Gorge - Switzerland's own 'Grand Canyon' - there's always something to see and enjoy, and the country has a wellearned reputation for being peaceful and law-abiding.
Standing in the heart of the country in Ennetbürgen, about an hour from Zurich and just 12 minutes from Buochs private airport, is Hotel Villa Honegg, a boutique establishment where the bywords are "cordiality, enthusiasm and appreciation" - descriptive of the hotel's daily work in
interacting with its guests, employees, partners and the environment.
Built by self-taught architect Emile Durrer-Traxler, the hotel sits 914m above sea level, on a spot regarded as the most beautiful in the area. It opened in 1906 with 72 beds. The guests were collected at the mountain-top station of the Bürgenstock cable car by horse and carriage, later in the hotel limousine. Guests travelling by car from Ennetbürgen took the narrow road up to Honegg, coming from all over the world and staying sometimes for the whole summer. Emil also built the connecting route from Hotel Honegg to the new trail, the Felsenweg.
TRADITION
The hotel had its own sports facilitiesthough what was a tennis court is now a helicopter landing pad! - and was supplied with agricultural products such as milk and cheese by the surrounding farms of Honegg. Much of that tradition remains in
the modern day, with the hotel's attractions including an alpine herb garden and three beehives near the house, providing the kitchen with a 'sense of place', offering treasures to give guests the opportunity to discover and taste the surrounding nature. Buying meat and vegetables from farmers within walking distance, wherever possible directly from the surrounding area or region, is firmly part of the chef's concept.
The hotel offers a platform for the culture of the region, for example, with the art exhibitions and concerts in the house and with the selected Swiss cultural film program in the in-house cinema.
As a major employer in the area, with a staff of around 75, Hotel Villa Honegg regards hospitality and cordiality as a mutual promise, regarding it as natural to build on good and fair working conditions as well as professional and individual development opportunities, while bringing its guests all the unique delights and luxuries of Switzerland. 
IMAGES © HOTEL VILLA HONEGG
COLLECTIONS // TRAVEL www.artsandcollections.com 70 ARTS & COLLECTIONS
SWISS DEDICATION AND NATURALNESS
In the heart of Switzerland a special and very unique bijou is waiting for you. At the five-star superior hotel, guests not only enjoy the spectacular location, but they are immersed in another world.
Hotel Villa Honegg
www.villa-honegg.ch
info@villa-honegg.ch
brand
Form and FUNCTION
Can modernist architecture be compatible with luxury living? Concrete and metal combine in surprising forms in STEININGER's designs for living
In the Bahamas, STEININGER is working on one of its biggest as well as most exciting projects: STEININGER ISLAND, an area consisting of 26 exclusive villas. Designed in the typical STEININGER look, the Villas represent a concept of pure, timeless elegance. Five house types with different sizes and layout concepts share two major aspects: a straight and distinctive architecture, matched with luxurious, purist and functional interior design. Different premium and luxury packages are designed to satisfy every desire the future owners may have.
STEININGER ISLAND is only the latest iteration of a design concept the company has long applied to buildings, interiors and kitchens.
From its offices in St. Martin (Upper Austria), Linz, Vienna, Hamburg and London, mastermind Martin Steininger creates bespoke designs and architectural settings which are in demand internationally, inspiring with striking, clear lines, timelessness and sophisticated details.
On the shores of Austria's Lake Attersee, for instance, a magnificent lakeside villa displays elegant white lines rising above the sparkling blue of the water. Selected by a client who himself had a great affinity for design and quality, the design was the third attempt to find the right architecture for this exacting task. The client and designer were immediately on the same wavelengthpurism in terms of approach, minimalism in terms of materiality.
The building makes a captivating impression with its clear and elegant simplicity, which is brought to life with a series of tasteful protrusions and recesses. White tiles alternate with extended rows of windows and spacious openings to create an impressive horizontality. The concept for the interior was drawn up by Martin
IMAGES © STEININGER
COLLECTIONS // ARCHITECTURE www.artsandcollections.com 74 ARTS & COLLECTIONS
Steininger in close consultation with the architect based on this architectural outline. The client's express wishes were for the interior to be as stripped back as possible in terms of colour and material. To avoid disrupting the open flow of space through the entire house, Steininger put his holistic design philosophy to work, starting with the kitchen and spreading throughout the house. A monochrome colour scheme allows individual pieces such as pictures, vases or solitary trees to stand out particularly well.
ELEMENTS
The aim was to make all areas of the house appear as one – from the entryway through the living spaces and bedrooms to the bathrooms and terraces. To achieve this, Steininger tried to conceal as many features as possible and made use of the building's shape. As if by magic, folding elements open up and connect two spaces such as the bathroom and bedroom into one thematic unit. Cupboard doors can be recessed, making storage spaces disappear from view. The only deliberate contrasts to the predominantly white surfaces in the house are the warm, dark flooring and the wall panelling and built-in furniture in rich, cognac-coloured oak.
"It's not about how many materials you use. What really matters is outstanding quality" says Martin Steininger.
Some of the same principles apply to a beach villa at Zadar, on the Croatian coast. This private holiday home has every detail perfectly coordinated; STEININGER was responsible for architecture, interior design and garden design as well as for interior and equipment down to the smallest detail - this includes arts, accessories, tableware, and textiles, right up to soap and room fragrances.
A special highlight is the kitchen. A kitchen made-to-measure was designed for the beach villa and impresses by the Fenix nanotech material used. The special material convinces by its perfect characteristics, as it is hygienic, easy to clean and very resistant.
From a purely visual point of view, the building already suggests the connection with its surroundings by using the famous natural stone from Brač, assembled in large slabs of up to 325 kg to form the geometric façade.
The STEININGER design styling is also
unmistakable in the interior: reduced design and clear lines in anthracite and white decelerate and let us forget the stresses of everyday working life.
ROUGH INDUSTRIAL
The same principles can even be applied to commercial buildings; for instance for an industrial showroom in picturesque Zöfing, around 50k from Vienna, the planners created an overall concept of architecture and interior under the motto "rough industrial", where the cubature and interior give a counter-design to the landscape and the surrounding flora.
An existing building was renovated and expanded with a striking, straightforward new design using dark exposed concrete
elements and a spacious glass with offset black steel frames characterising the frontage. A curtain wall made of ceramic and natural stone is a pleasantly striking element on the minimalist structure, and the choice of materials in combination with the panoramic glazing creates an exciting change of structure, textures, lights and shadows.
Indeed, STEININGER designs are a statement of sustainabiity, style and comfort, showing that modernism and luxury are perfectly compatible. 
www.steiningerdesigners.com
Opposite: STEININGER's commercial design in Zöfing Top of page: STEININGER Island
ARCHITECTURE // COLLECTIONS ARTS & COLLECTIONS 75 www artsandcollections.com
Above: Beach villa in Croatia
HAVE TIMELESS GREAT ADVENTURES
With over 20 years experience Classic Charters are here to help you discover the worlds finest luxury, crewed, classic yachts to plan your bespoke adventures and exploration charters around the world.
We work with the worlds most extraordinary classic, modern, exploration, motor, and sailing yachts for charters, sales, and yacht management all over the world so whatever you need, get in touch and we will be glad to help you create memories that last a lifetime.
SAILING IN STYLE
The maritime life can be one of luxury and comfort, but can it also
BY CHRIS JENKINS
Chartering a yacht may seem like the ultimate indulgence, but while a life on the ocean waves may still be the peak of luxury, there's no need for it to be bad for the environment. Luxury classic yachts such as those offered by MYBA yacht broker Classic Charters offer the best of both worlds, promising luxurious and comfortable surroundings as well as a responsible approach to enjoying the sea.
Dominic Meredith Hardy, Director of Classic Charters, explains that owing to their timeless designs, and being built to last, many classic charter yachts can be close to 100 years old, and being built of much more sustainable materials such as wood and steel rather than modern plastic composites, they have a smaller carbon footprint than their more modern equivalent vessels. If you wish to go greener still, being powered by the wind instead of fuel consumption, a classic sailing yacht is a much more environmentally friendly option than a motor yacht.
PROVISIONS
As well as choosing your cocktails and bespoke menus, charter yachts can also help you minimise your environmental footprint, for example by offering you alternatives to plastic bottled water by using filtered water on board.
As your broker, when planning your classic yacht charter, Dominic explains they work to meticulously plan your bespoke itinerary and preferences, and it is becoming increasingly popular to offer additional experiences for clients. One example is scientific and educational experiences, such as recording depth data for researchers, droning for oceanic plastic samples, or even having scientists engaged in shark tagging. Having a submarine join the yacht to explore previously undiscovered depths beneath the waves is also a really fun option. Dominic explains; "This is a really exciting time for clients because you can
now have experts join you and show you things you just normally wouldn't get to see on a normal yacht charter. It's great for the adventurous at heart and families who want to go for a more unique, once in a lifetime experience, and connect and learn more
about the environment you're in. Like your own personal Blue Planet experience."
Of course, none of this means that a charter yacht should miss out on modern comforts and fun toys such as sea bobs, and e-foils. Accommodation on a classic
IMAGES © CLASSIC CHARTERS
be sustainable? The answer is a classic one...
TRAVEL // COLLECTIONS ARTS & COLLECTIONS 77 www artsandcollections.com
Below: Classic Charters' yacht Eros tacks in Antigua
yacht charter will be the finest, and catering often exceeding the standard of any restaurant in London or Paris, with chefs skilled in areas from modern European, fusion sushi, to vegan and keto.
BROKERS
For Amélie Panagakos of M Blue Yachts, the use of a yacht broker in chartering is essential. "Most importantly, the client will benefit from the safeguards that have been established by the industry and can also be assured that they are represented by an experienced professional who will provide their service to the highest ethical and technical standards", she says. "He or she will make use of the broker's technical knowledge, as well as knowledge of charter destinations and advice on the best places to go."
It's the international perspective which comes from participating in the major yacht shows worldwide and interviewing the crew members, Amélie says, that gives her a first-hand account of what each one has to offer, so she can then match this up to a specific client's need. "Brokers are objective; they want happy customers, and they want repeat business" she says. "I have organised and arranged everything from helicopter transfers to Chateau Pétrus wines, personal trainers and restaurant
bookings at a last-minute request. The "concierge service" is also a part of my job. The key to my success is taking a personal approach to the client's yachting needs; I promise to give great attention to detail, transparency and altruism. These important attributes have contributed to my significant number of returning clientele."
MYBA
And Amélie's advice in choosing a yacht broker is to go with an MYBA member. A worldwide professional trade association dedicated to large crewed yacht commerce, the MYBA is an internationally renowned professional organisation, founded in 1984, whose members are involved at all levels within the superyacht Industry. MYBA members are widely represented in all fields of brokerage, charter, technical management and construction of large yachts, guiding its members on the highest ethical and technical standards, and ensuring corporate and individual members meet the requirements of the Rules of Conduct.
"The superyacht industry has developed and evolved immeasurably over the past two decades and MYBA, the Worldwide Yachting Association, has adopted an increasingly influential and significant role in this industry" says Amélie. "It works closely with Government Organisations, Coastguards, the International Maritime Organisation, Licensed Marine Underwriters, Insurance Companies and Lawyers. You should always check you are working with an MYBA Company to ensure you have adequate protection." 
IMAGES © M BLUE YACHTS
Above: Cruising with an M Blue Yachts charter
COLLECTIONS // TRAVEL www.artsandcollections.com 78 ARTS & COLLECTIONS
Below: luxury on board an M Blue Yachts charter vessel

GREECE & WEST MEDITERRANEAN Member of: M-BLUEYACHTS.COM AMÉLIE PANAGAKOS: +306970101877
The sky's the limit with Chapman Freeborn
Discover why we've been at the forefront of the private jet charter industry for almost half a century.
chapmanfreeborn.aero
Your time is precious. Private air travel provides you with unparalleled flexibility, something scheduled flights could never offer. From departure time through to the on-board catering, every element can be tailored to suit your needs. Flying private is the most convenient and comfortable pointto-point travel experience.
With offices worldwide, we're always right where you need us.
FLYING FREE
The freedom offered by private aviation is often worth the cost. We look at some of the advantages of taking to the skies on your own terms
BY CHRIS JENKINS
The very idea of private jet hire conjures images of luxury, lavishness and indulgence. Only the most highlevel businessmen, rockstars and politicians would, you would think, be in a position to contemplate private aviation of this kind.
Owning and operating a personal private jet remains in the domain of the superwealthy, but private jet hire can be both practical and economically viable, with global aircraft charter specialists such as Chapman Freeborn providing a wide range of services in the areas of business, leisure, sports, music, medevac and more.
Business aviation remains perhaps the most common use for private jet hire. While travelling in business class on a commercial flight may provide the comfort and restful environment that any busy person needs, there are several issues that it does not address. For example, chartering a private jet for business travel means removing the worry that delays or cancellations could disrupt plans. The entire experience is bespoke, from the airports to the aircraft type through to the take-off time. Additionally, private jet charter provides a level of privacy and discretion impossible on
a commercial flight. The cabin can become an office for business as usual in the sky.
SPORTS
Another increasingly popular application of private jet charter is for sports travel, not just for star athletes, but also for fans, press and sponsors alike. In this context, private aviation doesn't just offer luxury, it also means that the journey will utilise the most convenient airports and operate to a schedule that ensures everyone will arrive in plenty of time for the big game.
A bespoke journey means that athletes
IMAGES © Dreamstime
AVIATION // COLLECTIONS ARTS & COLLECTIONS 81 www artsandcollections.com
can enjoy in-flight catering that meets their specific nutritional needs, and sports teams can relax in a cabin decorated with their team's colours and logos. Whether it's a singular World Cup Final, a European tour or anything in between, private jet charter provides a way for everyone attending to get the most out of the competition.
MEDEVAC
Another application is Medevac, or 'medical evacuation', which can turn a private jet into the fastest, and also the safest mode of transportation. In a medical emergency, private jet charter can get the patient where they need to be as quickly as possible, travelling on an aircraft fully equipped with medical supplies, including advanced life support systems. When commercial flights are unfeasible, medevac passengers and their families can rest assured that they will be expertly cared for during their journeys, whether that be to a hospital, other medical facility or simply back home.
Chapman Freeborn can provide swift and safe medevac services when they're needed most, with access to specialist operators and aircraft and the option to arrange whatever medical staff and equipment are needed on the flight, to care for the needs of anything from walking cases to full ICU arrangements.
Other leaders in the business aviation industry specialise in a wide range of activities from charter brokerage, aircraft
management, and aircraft sales and acquisitions, to custom design and completion.
One of the advantages of private aviation is the diversity of the fleet available. At the lightest end of the range are models like the Pilatus PC12, a pressurized, single-engined, turboprop aircraft, manufactured by Pilatus Aircraft of Stans, Switzerland, since 1991, designed as a high-performance utility aircraft that incorporates a large aft cargo door in addition to the main passenger door. Designed to deliver performance and
safety equal to twin-engined aircraft, it has a range of 2,804 km and a cruising speed of 500 km/h.
COMFORT
In the middle of the range would be something like the Dassault Falcon 2000LX jet, which offers spacious comfort for up to 10 passengers on an eight-hour flight; another popular choice is the Cessna XLS Gen2 jet. With a cabin redesigned for superior comfort and greater productivity, new ergonomically designed leather seats, and enhanced lighting that sets the tone for business or relaxation, the 52-footer can carry up to 12 passengers in comfort. Updated cabin technology, such as firstin-class wireless smartphone charging ensures you arrive rested and prepared for whatever challenges the day brings.
If money is no object, you could even indulge in an aircraft design and completion project of your own. Some companies are able to design, build and deliver your aircraft interior to your precise and exact specifications, supervising the whole process from aircraft selection, completion centre evaluation, and designer coordination to full completion supervision and management.
Wherever you need to go and for whatever reason you're travelling, your journey will look exactly how you want it to look when you choose to charter a private aircraft. 
IMAGES © Dreamstime
COLLECTIONS // AVIATION www.artsandcollections.com 82 ARTS & COLLECTIONS
ANY PLANE. ANY TIME. ANY PLACE.
CHARTER & BROKERAGE AIRCRAFT MANAGEMENT AIRCRAFT SALES & ACQUISITIONS DESIGN & COMPLETION MANAGEMENT sales@globaljet.ch T +41 22 939 30 85 GLOBALJET.AERO
The Answer is 'YES'
From sourcing Victoria Beckham's makeup artist to an immersive beach treasure hunt in St Barthelemy, nothing is beyond the resources of a luxury concierge service
If you are cash-rich but time-poor, a luxury concierge service can organise your lifestyle for you, in a way that guarantees you'll always get the best service, but with the minimum effort on your part. 48 London is a leading lifestyle management and concierge company, priding itself on offering a personalised approach, tailored to the individual, family or corporation, offering a discreet and professional service where 'no' is never the answer and everything is possible.
T h e essence of the concierge service is its bespoke nature, committed to connecting members with the specialists that are the very best fit for them. The promise of a luxury concierge service is to use its specialist knowledge and wealth of connections to give members exclusive access to the hottest restaurants, unique travel experiences, world renowned health and wellness experts, show stopping
entertainment venues, access to highly anticipated, sold out events and securing coveted items everyone is wanting to get their hands on, to name a few. Founded in 2015 by Sophie Shelton and Hope Dowlen, who met while working in Harrods Personal Shopping Department working closely with UHNW clients from around the world, 48 London is described as serving "a growing need for a lifestyle management service dedicated to the personal touch, focused just as heavily on their members' wellbeing on the inside as much as the outside".
LIFESTYLE
The two joined forces with the aim of creating an environment where members really did feel as though they could ask for anything, and some of the requests have been remarkable, from organising celebrity sport stars' surprise appearances at parties, curating the itinerary of a lifetime for
a three-month honeymoon covering three continents, to working alongside an events partner in Switzerland to help produce a surprise, romantic lunch at the top of a mountain.
Of course, this level of service comes at a cost, but 48 London offers three tiers of membership, and options for nonmembers, so there is a level of service available for everyone.
So, whether you want a private helicopter at the click of your fingers to whisk you away to the Hollywood hills for a night of stargazing, or a chocolate workshop with the locals in a Peruvian village, to meeting your all-time hero in person or via hologram, bespoke pregnancy plans or a private croissantmaking lesson with one of Paris' top pastry chefs or organising your dream wedding, 48 London can help you - or they know someone who can. 
IMAGES © Dreamstime
COLLECTIONS // LIFESTYLE www.artsandcollections.com 84 ARTS & COLLECTIONS
FROM THE EVERYDAY TO THE EXTRAVAGANT
48 London is a leading lifestyle management and concierge company; we pride ourselves on o ering a personalised approach tailored to the individual or family.
We are dedicated to taking care of Your Life, Your Style and Your Wellbeing. rough our specialist knowledge and connections both at home in the UK and across the globe, we ensure our members have access to the nest there is to o er.
Your Life, we get to know what makes you tick, supporting you through both life's smaller and larger moments. Seamlessly bringing together celebratory life events, curating the travel itinerary of a lifetime, private chefs, chef's tables and o ering you access to the world's hottest restaurants to assisting with an interior design or renovation project or helping you prepare for signi cant moments such as welcoming a new baby, placing your children in the right school, relocations and sourcing private household sta , 48 London leaves you in safe, discreet and highly professional hands.
Your Style, from sourcing unique gi s, highly coveted accessories, ne jewellery and time pieces, ensuring you are top of the list for every season's must-have pieces, one-on-one meetings with couture designers, accompanying clients to fashion shows globally to expertly curated wardrobes, luxury private shopping experiences in your home or hotel, access to an assortment of world-class stylists and having your suitcases perfectly packed ahead of your holidays. 48 London unlocks the door to the very best professionals within the fashion and styling world.
Your Wellbeing, we o er a holistic end-to-end service with a strong focus on wellness, with the ever-increasing pace of life, your wellbeing is our priority. We connect you with exceptional professionals within the wellness eld, from holistic healers, meditating monks, sound therapists, mental health specialists and acupuncturists to personal trainers, nutritionists, expert surgeons and doctors, dermatologists, aesthetic practitioners and revolutionary diagnostic experts. We are rm believers in the philosophy that happiness develops from within and a content mind makes for a beautiful life.
www.48london.com
48 London's founders Sophie Shelton and Hope Dowlen
The top independent Greek villa agents - the luxury of choosing from the best enquiries@fivestargreece.com www.fivestargreece.com
Five Star Greece
An expert guide to vacationing in Greece – where and when to go. Ileana von Hirsch explains what you need to know
Collecting is an addiction; as the daughter of a Greek shipowner who compulsively collected rare books about Greek history and was more often to be seen at Sotheby's than in the office, I recognise this madness, and share it.
For over twenty years, I have headed Five Star Greece in collecting the best of Greek villas, yachts and experiences to share with our clients. The thrill of finding something rare, of discovering something new, of searching and pruning, is an addiction that underpins all good collections.
The Greek islands and mainland offer a bewildering choice of temptations; each island has its own personality and can differ wildly from its neighbour. The only problem is the huge variety of choice.
The allure of the glamorous Cycladic islands like Mykonos, Paros and Santorini will suit those wanting buzz and adrenalin -
day or night they offer multiple outlets for the energetic, with fabulous dining, beach clubs, shopping and entertainment. They also have their natural beauty and their unique strong points - reasons they become famous in the first place.
Seekers of quiet authenticity and rustic charm should instead try one of the quieter nearby islands like Serifos or Amorgos where tourism has been kept to a respectful level that the locals can live with. These islands are ideal for those wanting to relax and unwind and avoid any kind of excitement!
CALM SEAS
If even the prevailing summer wind, (the famous Meltemi, known in Greek as the "island doctor" as it keeps temperatures down and mosquitoes at bay,) is too exciting, then head for the calm seas and lush green mountains of the Sporades,
Pelion or the Ionian, where lazing on a gently drifting paddle-board, over-eating in a sleepy seaside taverna or looking for stripey pebbles on a little beach could be the height of ambition.
History buffs, sight-seers and the sociably-minded find their place in the sun in the Argo-Saronic, where the islands of Spetses and Hydra with their 18th century picturesqueness and elegant evening promenades await those staying in a historic mansion with a horse and carriage waiting outside, or in a modern design masterpiece with private beach a stone's throw away on the mainland opposite.
Late in the season head for Crete and the Dodecanese where the summer sun lingers on into November. For the indecisive or just plain greedy for experience, a private yacht to island-hop in style allows guests to indulge in a mezze of delights. 
IMAGES © FIVE STAR GREECE
TRAVEL // COLLECTIONS ARTS & COLLECTIONS 87 www artsandcollections.com
The Climate of INSURANCE
Climate
change and eco-protestors are working to make art insurance more essential than ever
Art insurance has always been a contentious area - like all insurance, it's a bit of a gamble. If you spend money on a policy and never claim, you could regard that money as being wasted.
But if you own a valuable art collection, the possibility of costly claims, from fire and flood to theft and damage, becomes a very sound argument for an expertly advised insurance policy.
It might not be the case if the world were more stable, but with economic upheavals and war in Europe, nothing seems certain any more. The most pressing insurance problems, though, could come from two ends of the climate emergency - extreme weather events, and eco-protests.
Take Florida for instance. After Hurricane Ian made landfall in September 2022, causing $50bn of damage and leading to the deaths of at least 114 Floridians, (see
image above), art insurance experts told the local art institutions that they should expect an increase in premiums due to the growing cost of climate change-related insurance claims.
Experts say that even if the art institutions escape direct damage, the interconnected nature of the insurance industry means that policy premiums are expected to rise as the breadth of coverage changes.
THREAT
Coastal areas like Palm Beach and Miami are at greatest risk, and these have traditionally been havens for collectors and institutions drawn by what has until now been an equitable climate. While catastrophic events like storms and floods are the most traumatic, creeping dangers like damp and mould can also cause damage to valuable artwork not stored in secure environments.
Elsewhere in the world, forest fires can cause equal threat, and unlike storms, these are likely to start with insufficient warning to move valuable art collections. Expert art insurance consultants can advise on plans to cover such contingencies.
Ironically perhaps, climate change is also responsible for attacks on art from another direction. Activists' attacks on some of the world's most precious paintings have added to insurers' worries about the threat to art from climate change itself, with protestors drawing attention to the climate cause by throwing tomato soup at Vincent van Gogh's Sunflowers in the National Gallery in London and a black liquid at Gustav Klimt's Death and Life in the Leopold Museum in Vienna, to protest against the use of fossil fuels.
If the climate for art insurance is changing, it's surely in the direction of choosing preparedness against risk. 
IMAGES © Dreamstime
COLLECTIONS // INSURANCE www.artsandcollections.com 88 ARTS & COLLECTIONS
"I would recommend Castleacre Insurance unreservedly. You have a wonderful and imaginative approach to difficult issues and are brilliant at finding original solutions. The utter opposite of 'The Computer says No'."
Mr F. Consultant Solicitor
London +44 (0)203 966 3614
Rest of the UK +44 (0)1787 211 155
Guy Everington guyeverington@castleacreinsurance.com
Hugo Johnsen hugojohnsen@castleacreinsurance.com
Ireland & Europe +353 (0)86 022 7799
Mark Hewlett markhewlett@castleacreinsurance.com
insurance advice HOUSES FINE ART RESTORATION PROJECTS
Independent
Stretched Forward courtesy of www.beatricehoffman.co.uk
PRIVATE CLIENT INSURANCE BROKERS
GEMS OF ITALY
Passion, creativity and originality are hallmarks of Italian jewellery house Sabbadini, with a history that goes back to the grand tradition of the great merchants
For almost a century, Sabbadini has been more than a jewellery house; it is a creator of beauty, or rather, it would say, a particular type of beauty that is the essence of what it means to be Italian. This style is unique and inimitable, capable of creating emotions and of uniting different people who share common perceptions. Italian and international women wear these designs while sharing the same special experience, that allow an object of design to enhance their beauty and their femininity while retaining their individuality.
The story begins in the 1940s with Bruno Sabbadini, whose innate ability to select the best and purest stones in the world allowed him to create an international business, under the influence of Paris, at that time the centre of style. Sabbadini provided jewellery with coloured stones like sapphires, emeralds and rubies, anticipating the spirit of the times, and the desire for 'convertible' jewels - at that time necklaces were a modular component, worn also in parts that became brooches, bracelets and earrings.
It was the mid-60s, under the guidance of young Alberto Sabbadini, when his desire to make diamonds again the status
symbol of timeless elegance, sophistication and traditions led him on a journey which questioned the classical categories of jewellery design. Outstanding signature pieces such as brooches, bracelets and necklaces in classic and innovative settings witnessed the birth of a style and a brand, with the choice of high-quality cabochon gems reversing the traditions of the twentieth century.
LAVISH
Through the '70s and '80s, when Alberto and Stefania Sabaddini's collections became lavish and colourful, and into the '90s, when Alberto's son Pierandrea made the brand synonymous with Italian craftsmanship and luxury, the house's creations pushed towards new territories. The tradition continues in the 21st century with Micol Sabbadini, daughter of Stefania and Alberto Sabbadini, joining the Maison as Creative Director and Brand Ambassador.
The Bee Brooch, designed by Alberto Sabbadini for his wife Stefania in the 1980s, has become the icon of the Maison, a beloved creation today available as earrings,
necklaces, rings and bracelets. Symbol of industriousness, vivacity and good fortune, it is a jewel with infinite interpretations, graced by diamonds or precious stones, noble metals like gold, and refined features like Sabbadini's 'invisible setting', not to mention coral and lacquer in a range of various patterns. It all starts with a bee, then a collection of different bees, that can be mixed and matched opening up endless possibilities of colour combinations, all in the tradition that makes Sabbadini one of the gems of Italian jewellery design.  www.sabbadini.com
Below right: White gold bee earrings, diamond prong set and diamond pavé
Below left: Sabbadini's traditional craftsmanship
Below: Sabbadini's distinctive Bee design in a necklace made with invisibly set pink sapphires and diamonds
IMAGES © SABBADINI
COLLECTIONS // JEWELLERY www.artsandcollections.com 90 ARTS & COLLECTIONS
BOOK REVIEWS
From the gemological to the mineralogical and the architectural to the whimsical, we present a selection of must-read tomes for your coffee table or bookshelf
BOGHOSSIAN: EXPERTISE, CRAFTSMANSHIP, INNOVATION
Vivienne Becker I Assouline, €195 I eu.assouline.com
Boasting over 150 years of creativity and gemological expertise, the Boghossian story begins in 1868 on the Silk Route, a crossroads where merchants and artisans converged. Over the generations, the Boghossian family traveled from East to West, handing down an innate eye for exceptional gemstones and a flair for craftsmanship along with a wealth of artistic and cultural inspirations. Featuring eloquent text by respected jewellery historian Vivienne Becker, this richly illustrated volume expresses the Boghossian family's legacy of adventure and expertise, of cross-cultural influences and innovations, unfolding like a silk thread connecting East and West. The 252-page book features 200 illustrations and comes in a silk-bound slipcase.
ARGENTUM
James Leslie-Melville I The Book Guild Ltd, £8.99 I www.bookguild.co.uk
In 3,000 BCE a slave digs a silver nugget out of an Anatolian mine, launching it on a journey through the ages. Over fifteen chapters it falls into the hands of Alexander the Great, Judas Iscariot, Attila the Hun, William the Conqueror, Adolf Hitler and many more. Argentum, a debut novel, is a light-hearted fictional canter through the last 5,000 years, combining the adventures of the silver piece with some key characters and moments in world history, and revealing the extraordinary adaptability of element 47.
RAPHAEL: THE COMPLETE WORKS
Frank Zöllner, Georg Satzinger et al. I
Taschen, £150 I www.taschen.com
Alongside Michelangelo and Leonardo, Raphael is acclaimed as one of the most important artists of the Italian Renaissance. For centuries no other artist achieved a similar level of popularity. Taschen's XXL edition, 720 pages with foldouts, measuring 29 x 39.5 cm, presents all his surviving paintings, frescos, architectural projects and tapestries, and is the most comprehensive work on Raphael published to date. A team of Raphael experts introduces the reader also to the fascinating interplay of art and power in the High Renaissance.
COLLECTIONS // BOOKS www.artsandcollections.com 92 ARTS & COLLECTIONS
WILLIAM HARRY ROGERS
Gregory Jones I Unicorn, £50 I www.unicornpublishing.org
William Harry Rogers was one of the fi nest artist-designers of the Victorian period in Britain, to be considered in the same company as Pugin, William Burges, Owen Jones and Christopher Dresser. His designs won several prize medals at the Great Exhibition of 1851, the event which provides a ubiquitous reference point for cultural histories of the nineteenth century. He subsequently specialised in designing the appearances of books and his work in this fi eld in the 1850s and 1860s was unrivalled. In the year of the 150th anniversary of his death, this is the defi nitive account of his work and his life in Soho and the village of Wimbledon, including many new discoveries and hundreds of colour illustrations.
LALANNE - A WORLD OF POETRY
Jean-Gabriel Mitterrand I Assouline, €1,200 I www.assouline.com
In celebration of François-Xavier and Claude's ever-enchanting and whimsical sculptures, this 240-page tome, part of Assouline's Ultimate collection, explores some of their most iconic pieces from their rich body of work. Author Jean-Gabriel Mitterrand, the couple's longtime gallerist and friend, pens a magnificent text that traces the Lalannes's meteoric rise, from their early days in Paris's Impasse Ronsin and their first show that caught the attention of gallerist Alexandre Iolas, to their lasting legacy as one of design's most inventive and poetic masters. Handcrafted silk hardcover volume in a luxury linen clamshell case with a metal plaque.
LONDON TUBE STATIONS 1924–1961
Damon Murray, Philip Butler et al. I Fuel Pubiishing, £24.95 I www.fuel-design.com
Charles Holden's designs for the London Underground from the mid-1920s to the outbreak of World War II represent a high point of transport architecture and modernist design in Britain. His collaboration with Frank Pick, the chief executive of London Transport, brought about a marriage of form and function, civic service and commerce, which is still celebrated today. This book catalogues and showcases the surviving stations from this innovative period and later examples infl uenced by it. Photographs taken specially for this publication by Philip Butler, annotated with a station-by-station overview by Joshua Abbott, will guide you through the network's modernist gems.
SEE WHAT YOU'RE MISSING
Will Gompertz I Viking, £20 I www.penguin.co.uk
Subtitled 31 Ways Artists Notice the World & How You Can Too, ex-Tate and BBC and now Barbican arts big fi sh Will Gompertz's book is about how artists pay attention to what is going on around them, and how we can learn to. We read, for example, how Rembrandt can help us see ourselves, how David Hockney helps us to see nature, and how Frida Kahlo can help us see through pain, and in doing so "we come to know the intoxicating feeling of being truly alive." Big claims from the author of What Are You Looking At? and Think Like An Artist, which were both translated into more than 20 languages.
BOOKS // COLLECTIONS ARTS & COLLECTIONS 93 www artsandcollections.com
A ROSÉ By Any Other Name
Aconstantly growing world trend, the consumption of rosé wine has increased by around 30% over the last 20 years, and Italian wineries are ready to face this challenge, as one of the oldest Italian wines' expression is rosé.
Traditional to many regions from north to south, rosé wine certainly has history, with grapes selected over the centuries and winemaking techniques now perfected. It's a type of wine that has been described as "Millennials' champagne".
Puglia is one of the Italian regions where producing rosé wine is a century-old tradition that has been passed on through generations. Puglia has the right terroir and a certain availability of grapes suitable to produce this type of wine.
Cantine San Marzano has been producing rosé wines since its foundation in the 1960s. As Puglia's viticulture evolved, it led the transition from more structured and almost-
red rosatos of the beginning, to more pale, ethereal and tannin-free versions, however always sticking to Apulian tradition when it came to cultivation and grapes.
PRIMITIVO
Set in Salento, the southernmost subregion of Puglia, San Marzano has focused especially on rosés made of Primitivo, the most known Puglian grape variety and the main grape in the Appellation Primitivo di Manduria DOP, the stronghold of the Primitivo grape in Puglia.
Tramari Rosé di Primitivo, produced since 2015 from 100 percent Primitivo grapes, is the perfect balance between refined and casual, an expression of the Mediterranean maquis, the scrubby brush typical of the Mediterranean seacoast.
Playing with rosé styles, in the summer of 2022, on the occasion of the 60th birthday of the winery, San Marzano launched two
rosés with bigger depth with savoury, robust complexity.
Amai is a rosé from Susumaniello grapes, an indigenous variety now in great demand, taking centre-stage alongside the other great reds from Puglia, a further example of the region's rich ampelography.
One of the varieties that go best with Negroamaro and Malvasia Nera, processing to achieve purity has given it a new voice, allowing it to express its full acidity, which translates into a distinct freshness.
The other rosé is Sessantanni Rosé, a wine that symbolises Cantine San Marzano's 60th anniversary, sixty years (in Italian "Sessantanni") after that special day in June 1962 when 19 vinegrowers decided to pursue their cooperative project and founded the winery - an important milestone that shares the name with the company's iconic red, Sessantanni Primitivo di Manduria DOP, and is celebrated by this eponymous rosé. 
IMAGES © SAN MARZANO
Rosé wine is embodied in so many different expressions that it is growing increasingly popular, as the leading winery San Marzano can attest
COLLECTIONS // WINE www.artsandcollections.com 94 ARTS & COLLECTIONS
Soft and velvety feeling
WAVES OF LUXURY
On a luxury maritime hire, it's the little details that make all the difference. What can you expect from an exclusive seagoing service?
While there's something attractive about the rough, dangerous seagoing life, even more attractive is the prospect of enjoying the sea, sun and scenery in complete luxury, comfort and safety. That's why companies like Sailuxe (www.sailuxe.it) put together seagoing packages with all the pleasure and none of the pain of the seagoing life.
The boats, for instance, are the latest in design technology. Sailuxe specialises in twin-hull catamarans, from the 12.8m Lagoon 42, which carries four plus a crew of two or three, to the 16.5m Lagoon 55 'Strafico' which carries up to 10 guests.
The crew would typically include a captain, an experienced sailor, with the best qualifications and certificates, acting as your guide for the holiday and guaranteeing a state-of-the-art navigation; and a chef, an onboard cook with years of experience
and with a cooking course created in exclusive collaboration with Gambero Rosso Academy, to take care of your shopping list, selecting only the best ingredients for your favourite dishes based on your menu preferences and the number of meals you would like to have on board, as well as keeping the common areas such as the kitchen and dinette in order.
Optionally you could add a hostess to take care of the daily cleaning of the boat, as well as providing additional support to the Chef for the cooking service, or replacing the chef on smaller boats.
FUN AND GAMES
Also included in Sailuxe's package is mixologist Patrick Pistolesi's exclusive NIO cocktail Wild Sailor, inspired by the scents of Southern Italy, Calabria and Sicily, with Gin Tanqueray, basil bitter, Monin ginger
syrup, Vermouth Dry Carpano, and the unmistakable Italicus and its bergamot note.
Needless to say the cocktails come in glass-free packaging and are suitable for vegan and vegetarian diets, and other parts of the Sailuxe package are equally well chosen to be environmentally friendly, including the sustainable Sun Soul skin products, with filters tested not to harm the marine environment, and recyled packaging.
For more active guests, the package includes toys from stand-up paddleboards to ultra-modern SeaBob underwater scooters, and dinghies with outboard engines.
The range of destinations offered by with Sailuxe is large, from the earthly paradise of the Aeolian Islands off the coast of Sicily, to the Amalfi coast featuring the pearls of Sorrento and Capri. Sailing in style has never been so easy to enjoy. 
IMAGES © SAILUXE.IT
COLLECTIONS // TRAVEL www.artsandcollections.com 96 ARTS & COLLECTIONS
Where to SPEND IT
an electric boat to a rabbit watch and a clever soundbar to a hypercar, we present some of the most desirable luxury collectables and technological marvels for you to buy and enjoy
From
FLYING BOAT
The Candela C-8 is a game-changer for electric boating, thanks to its cutting-edge hydrofoil technology, which allows the boat to fly on water, using only a fraction of the energy conventional boats need. Its active hydrofoil system ensures a smooth ride, while its on-board computer automatically adjusts for side winds and waves, providing a more comfortable boating experience. The Candela C-8 has been named the European Powerboat of the Year 2023 at the European Powerboat Awards at the Boote Düsseldorf show.
https://candela.com
BANG FOR YOUR BUCK
Beosound Theater from Bang & Olufsen Is a soundbar - a speaker to go below your TV - but designed to deliver all the power of a multi-speaker home cinema system. It features 12 speaker drivers, including two custom-made long-stroke 6.5" woofers, and 800 watts of amplification power. 3D sound directivity is due to a combination of direct-, side- and up-firing speakers, and the Beosound Theatre interface bracket provides the possibility to dock almost any screen to the soundbar. It's available in a premium wood or fabric finish with prices from €6,490. www.bang-olufsen.com
LUNAR TICK
Arnold & Son marks the year of the Lunar New Year and the Year of the Water Rabbit with a new artistic version of the brand's Perpetual Moon timepiece. The brand continues its annual celebration of the traditional Chinese calendar with this limited edition of eight high-precision moon-phase wristwatches. The Perpetual Moon "Year of the Rabbit" timepiece features a sculpted golden rabbit set against a backdrop of black aventurine, posing next to a pagoda, and surrounded by waterfalls. Price is CHF 57,000 including taxes.
http://arnoldandson.com
IMAGES © CANDELA, BANG & OLUFSEN, ARNOLD & SON
3 1 2 WHERE TO SPEND IT // COLLECTIONS ARTS & COLLECTIONS 97 www artsandcollections.com
FOR DARK LADIES
Rory Hutton's First Folio 400 collection, celebrating the 400th anniversary of Shakespeare's First Folio, is available at the British Museum, The National Theatre, The Royal Opera House and Westminster Abbey. The long scarves (45 x 180cm) and square scarves (90 x 90cm) are both priced at £95; the pocket square (33x33cm) is priced at £38; and the hand fan is priced at £65. The scarves and pocket square are made of 100% silk with rolled edges, and are printed and finished in Italy. The fan, which features a screen print design, is handmade in Spain, and has a sustainable redwood frame. www.roryhutton.co.uk
WORLD OF LEATHER
At £10,410, this Philipp Plein leather biker jacket offers style as well as protection. This luxury take on the classic Schott 'Perfecto' is made of nappa with 100% mink fur inserts, with zipper fastening, inner lining, and buckled straps on both cuffs and bottom hem. The shell is 100% lamb leather and the belted reverse features the Queen Plein logo.
www.plein.com
NOWHERE, NOW HERE
Previewed in 2022, Pagani's Utopia is expected this year. The third hypercar from the brand, after the Zonda and Huayra, the Utopia features "No heavy batteries, no hybrid power, just a wonderful V12. No dual-clutch system, just a pure sevenspeed manual or automated transmission" says the designer. With a 6.0-litre turbo V12 engine built specially for Pagani and a carbo-titanium monocoque body, featuring front and rear tubular alloy steel subframes, and aluminium double wishbone suspension with electronically managed active dampers, the Utopia will cost £2.2m, and only 99 will be built.
www.pagani.com
HERO PRODUCT
Created in official collaboration with Warner Bros. Discovery Global Consumer Products and DC, the Kross Studio x Wonder Woman tourbillon watch is as remarkable as the superheroine who inspired its design. Kross Studio developed an ultra-complex new casing process that for the first time united the watch's dial and a new version of the KS'7000 movement, with Wonder Woman's iconic emblem as an integral part of the dial, above the tourbillon cage. The hour hand, representing Wonder Woman's sword, is attached to the peripheral display mechanism in 360° orbit around the tourbillon, and the lassoo of truth finds its place around the shield. Price is on application.
www.kross-studio.com
IMAGES © PHILLIP PLEIN,
RORY HUTTON, PAGANI, KROSS STUDIO
4 6
5 COLLECTIONS // WHERE TO SPEND IT www.artsandcollections.com 98 ARTS & COLLECTIONS
7
LIFE IN BRONZE HAMISH MACKIE SCULPTURE www.hamishmackie.com • hamish@hamishmackie.com • + 44 (0) 7971 028 098