THE DIFFERENCE IS IN THE DETAILS
VERSATILITY MEETS DESIGN
Modular, versatile, resilient – these are the core principles of Sēnik Reflekt. This adaptable outdoor architectural luminaire system has been designed specifically for the most demanding projects. The unique and distinctive features reduce the necessity for rigidly defined specifications.
Engineered to be a simplistic, additive, plug-and-play system incorporating à la carte nested components manages everything from scalable lumen output and interchangeable optics, to the highest impact rating and marine grade-coating intended to withstand the most abrasive environments. The Sēnik Reflekt system builds from a base luminaire head with the ability to add accessories in the field – tailoring the luminaire to the desired result, real-time, on the project.
Scan the QR Code to watch our Sēnik Reflekt video or visit PrizmLighting.com to find out more
possibilitie s
The evovling aesthetics of commercial space requires a luminaire family that can easily integrate into architectural ceilings.
With multiple recessed options, suspension, and surface mounting profiles, Invia provides the flexibility needed to keep consistent light through all spaces.
Perfect uniformity
Design the first impression with light through our easy-to-use, flexible lighting solutions.
With perfect uniformity, you will be able to achieve seamless wallwashing- even around corners.
Excellent visual comfort
Curate a memorable experience using low glare, visually comfortable luminaires.
Create contrasts and visual proportion as you become the artist - With architecture as the canvas and light as the paint brush.
Invia 48V
Visit us at LEDucation at Booth 2301/2303 in America's Hall!
VOTE FOR YOUR FAVORITE VOTE FOR YOUR FAVORITE VOTE FOR YOUR FAVORITE COVER COVER COVER
We will draw a name at the end of each show day and donate $500 to woomen men in lighting + design (WILD) in lighting + design (WILD) oor r Business of Lighting (BOL) Business of Lighting (BOL) on your behalf. on your behalf. A great press opportunity for you and your firm! A great press opportunity for you and your firm! We announce the winning cover Wed., March 8. We announce the winning cover Wed., March 8.
We will draw a name at the end of each show day and donate $500 to w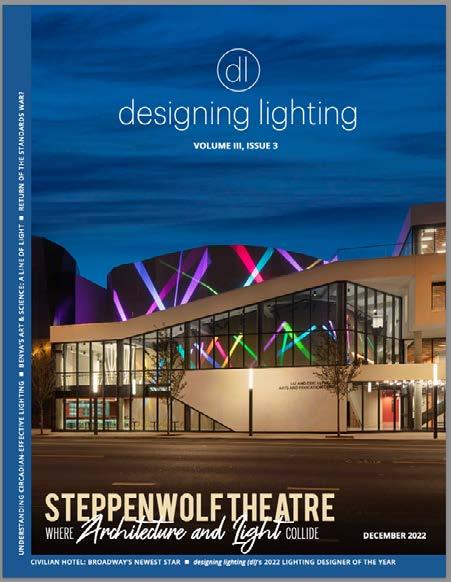 4 designing lighting
J O I N U S A T T A B L E P F 6 U F 6 J O T A L
#1 #2
#3 #4 #5
#6
#7
#8
#9 #10
#11 #12
#13
#14 #15
Seamless architectural integration
ProTools 20 Linear Leads the Market
n 0.7" lens with spot free even illumination
n Available as standard to any length
n A range of unique mounting profiles allows seamless integration into walls, ceilings and furniture
n High efficiency, sustainable LED engines in high CRI and a range of color temperatures to suit any space
This is Whitegoods 20 Linear
tools for lighting
5 designing lighting
Wash Light Recessed
Surface
Suspended
Recessed Regressed
Surface Wall Mount
Perimeter Flush
Perimeter Regressed
Mini Edgeless Cove
inter-lux.com/whitegoods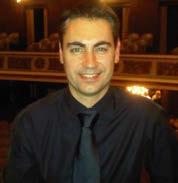 6 designing lighting CONTENTS table of The Business of Lighting Design™️ The Declare Label: A Symbol of Transparency and Sustainability in the Lighting Environment By Randy Reid Manufacturers discuss the new program from the International Living Future Institute. 20 Benya's Art & Science What Could Possibly Go Wrong? By James R. Benya, PE, FIES, FIALD Malfunction at a Massachusetts high school provides a lesson in lighting control. 16 Focus on the Workplace By Vilma Barr How do you get workers back in the office? 24 Light + Health Light for the Circadian System: Beans or Chili? By Mark Rea, PhD What's needed for effective circadian lighting? 28 Cover Story Jean-Georges Vongerichten and Hervé Decottes - A Friendship of Two Greats By Randy Reid The Tin Building by Jean-Goerges: a delicious addition to the New York City Seaport. 36 A Night at the Broadway Lounge, Starring Sam Zarn By Randy Reid with Katie Smith Travel to NYC's Times Square for a breathtaking experience at the Marriot Marquis. 32 Hospitality It's Showtime! The Museum of Broadway Lights Up NYC in More Ways Than One By Stef Schwalb 300 years of Broadway history come to life in the city's newest attraction. 44 LEDucation Show Floor and Exhibitors 40 David
Jonathan
Katie
Warfel CONTRIBUTORS
Stefanie Schwalb
Schwenke, LC
Smith
Shirley Coyle, LC
Deborah Burnett, ASID CMG AASM
James Benya, PE, FIES, FIALD
Vilma Barr
Jacob Wright Scott Zimmerman
Juan Davila Craig DiLouie, LC, CLCP
Mark Rea, PhD
Lighting your way to limitless possibilities
It's not about what we do. It's about what you need, what you're imagining, what you're designing next.
You are the engine of our creativity.
At Amerlux, we put as much thought into our solutions as you do into your concepts. Every one of our award-winning architectural solutions— point source, linear, exterior, custom variant—is meticulously handcrafted to capture your visions and bring them to light.
Just as you intended.
Be seen in the best light.
Visit Amerlux.com
With market-leading lumen performance, modern good looks, intoxicating quality and a sleek edge-to-edge lens design, this project-conscious, madeto-measure architectural pendant and recessed linear is too hard to resist.
Carisma—
Rook— Interior and exterior architectural family gives architects and designers a complete set of options to extend their interior allure outdoors with ease in varying mounting options.
Solace— Spec-grade shallow downlight flawlessly pairs stunning aesthetics and relaxed lighting into any space with minimal plenum.
Lunetta— Break from convention. Allow luminaire and pole to illuminate as one with spectacular LED integration throughout any site or campus.
Scott Zimmerman and Deborah Burnett, ASID CMG AASM
8 designing lighting Advertisers' Index 77 Events 75 Just In 54 Get Control 2023 Nonresidential Construction Forecast: "Moderate" By Craig DiLouie, LC, CLCP An in-depth look at what the future holds for the nonresidential construction sector. 56 European Lighting Immersive Lighting: A New Experience By Juan Davila Embedded lighting opens tremendous creative opportunities. 60 Residential Lighting The Dimmer is Dead, but the Future is Under Control By David Warfel The traditional dimmer is obsolete – it's time for something better. 64 News From The IALD 72 Award Competitions 74 People on the Move 76 Rep's Perspective Extending the Life of Your Design – The Role of the Agent in the Circular Economy of Lighting By Jonathan Schwenke, LC Starting the conversation, earlier in the process, of what to expect once a project is turned over. 68 Supply Chain Continuing Down the Road to Recovery By Jacob Wright Lower demand and easing restrictions provide much needed relief to the supply chain. 70 Up Close with Chrysanthi Stockwell By Shirley Coyle, LC 78 designing lighting FEB/MAR 2023 THE DECLARE LABEL: SYMBOL OF TRANSPARENCY AND SUSTAINABILITY  IT'S SHOWTIME AT THE MUSEUM OF BROADWAY! UP CLOSE WITH CHRYSANTHI STOCKWELL BENYA'S ART & SCIENCE: WHAT COULD POSSIBLY GO WRONG?  THE DIMMER IS DEAD BUT THE FUTURE IS UNDER CONTROL LEDucation VOLUME III, ISSUE 4 designing lighting JEAN-GEORGES VONGERICHTEN AND HERVÉ DESCOTTES—A Between Two GreatsFriendship ON THE COVER The Tin Building by Jean-Georges
Photo Credit: Nicole Franzen
One of T-mobile's work spaces where its
signature
magenta is
used
as an accent.
Technology Eliminated it for Energy Savings: Isn't it Time to Welcome Back NIR?
How do we remedy the crucial components of the electromagnetic spectrum ignored by current light sources? 48
Photo: Heywood Chan, courtesy of Gensler
By
Ford Experience Center
Creating a Cohesive Design Destination and Experience
We believe that great design should stand the test of time, be sustainably crafted, and be proudly American made.
Ford Experience Center : Bridging the future and past with lighting design
Designed by Zaremba & Company, Ghafari Associates, Illuminart
landscapeforms.com
TESLA AWARDS and THE ART & SCIENCE OF LIGHTING AWARDS Call for Entries
Tesla Awards
What Is It?
This program recognizes excellence in lighting projects that, through the creative use of lighting systems and controls, illustrate the value of lighting including but not limited to: improved visual performance, promotion of health and wellness, environmental impact including reduced light pollution/preservation of nighttime lighting quality, enhanced safety and security, and increased overall occupant satisfaction.
Who Can Submit?
Anyone may enter a project for the Tesla Awards, and there are no fees for entry Projects should have been completed with the 2020, 2021 and 2022 calendar years SUBMIT BY APRIL 4, 2023
The Art & Science of Lighting Awards
What Is It?
This program was designed to recognize excellence in lighting products. These awards give recognition to outstanding products that have a dynamic design in the Art of Lighting and are innovative in the Science of Lighting.
Who Can Nominate?
Only lightning designers, lighting specifiers, architects and consulting engineers can submit products for nominations. SUBMIT BY MARCH 24, 2023
Winners will be recognized during LightFair 2023 at Javits Center in New York City.
JUDGING CRITERIA
JUDGING CRITERIA
ORIGINALITY
APPLICATION EFFECTIVENESS
POTENTIAL SIGNIFICANCE
EASE OF USE OF INSTALLATION
ENERGY EFFICIENCY
COST- EFFECTIVENESS
SUSTAINABILITY OR RESILIENCY
10 designing lighting
nlb.org
I N N O V A T I O N A P P L I C A T I O N E F F E C T I V E N E S S E N E R G Y E F F E C T I V E N E S S U N I V E R S A L I T Y S U S T A I N A B I L I T Y
PERI PERIMETER
PERI, the smallest integral driver perimeter fixture, delivers 1000+ lm/ft at 90+ CRI and multiple optic options. Ideal for shallow plenum spaces, it's compatible with multiple ceiling types, and its modular assembly allows for easy installation.
Q-TRAN.COM
Editorial Director: Randy Reid
Publisher:
Cliff Smith
Director of Audience Development: Angie Hullfish
Contributing Writers:
James Benya PE, FIES, FIALD Benya's Art & Science Contributor Principal at Design Services, Inc. and The Benya Burnett Consultancy
Juan Davila
European Lighting Contributor
CEO & Founder ICARUS Global Consulting
Shirley Coyle
Up Close Contributor Principal at RELEVANT LIGHT Consulting Inc.
Craig Dilouie Get Control Contributor Principal at ZING Communications
Stefanie Schwalb Hospitality Lighting Contributor Interim Managing Editor at Boston Magazine
David Warfel
Residential Lighting Contributor
Founding Designer Light Can Help You
Staff Writers:
Parker Allen Katie Smith
Published by EdisonReport
1726C General George Patton Dr. Brentwood, TN 37027 Phone: 615-371-0961
designinglighting.com
designing lighting is focused on the Business of Lighting Design™ and provides business information to the lighting design community. In addition to the website, designing lighting publishes bi-monthly online magazines featuring original content, interviews within the community and highlights successful award winning lighting designs. While designing lighting is based in the U.S., it has contributors from Europe and is developing a global presence.
(ISSN 2693-9223)
Statements and opinions expressed in articles and editorials in dl are the expressions of contributors and do not necessarily represent the policies or opinions of the EdisonReport. Advertisements appearing in the publication are the sole responsibility of the advertiser.
Welcome to designing lighting's (dl) LEDucation issue. The show promises to deliver an incredible amount of great learning content!
Seminar co-hosts Wendy Kaplan, Craig Fox, and Shaun Fillion have curated an exceptional lineup of speakers from around the world. One of the most significant agendas in our industry is participating in the circular economy, and LEDucation delivers excellent speakers on this topic.
Signify, one of the first large industry players to make significant strides in the circular economy, will offer the first talk on Monday (virtual day). Thomas Marinelli from Signify discusses "How Lighting for Circularity Delivers Economic, Environmental, and Social Value." Thomas provides a comprehensive overview of how circular products, systems, and services maximize the (re)usability, serviceability, and upgradability of lighting. He'll also explore how specifiers and end-users can achieve their goals with circular lighting.
On Wednesday, Leela Shanker from Borealis Lighting Studio and GreenLight Alliance, Russell Greenberg from Rux Studio, and Kate Hickcox from Pacific Northwest National Laboratory participate in a panel discussion, "Life Cycle Assessment (LCA) of Luminaires." They offer updates for specifiers on how to value/interpret criteria published in Industry and Product Specific Environmental Product Declarations.
Also on Wednesday, Alexandra Gadawski and Jaime McGavin from HMFH Architects, and Christoph Reinhart from Solemma and Massachusetts Institute of Technology, host the panel discussion "Holistic Sustainable Design for Lighting." This covers a design workflow that holistically incorporates sustainable design using a public school case study.
Please refer to the content in this issue about DECLARE. We hope it will be a useful precursor to these discussions.
Two other LEDucation topics caught my eye:
Paul Pickard, Korrus, Inc. delivers the presentation, "Beyond Melatonin – Dynamic Lighting Systems for Light and Health." Paul examines the limitations of current circadian metrics and other ways in which spectra impact human physiology.
Erin McDannald of Lighting Environments and Environments by LE speaks about "The Future of Lighting in the Metaverse."
Education at LEDucation is always good, but this year is exceptional!
12 designing lighting EDITORIAL DIRECTOR'S NOTEPAD
CLASSIC REWIND
NARROW SPOTLIGHT 120/277V 4º Fixed Beam Angle COB SUPERSpot Series LP230: 13 Watts, 70,000 CBCP LP260: 4 Watts, 26,000 CBCP
LSI's most iconic design equipped with state-of-the-art LED technology are the latest additions to the SUPERSpot family of fixtures. The LP230 and LP260 are integrated with powerful 4 degree COB spotlights to produce clean, unsurpassed optical performance up to 70,000 CBCP. Changing the beam from 4 degrees to wider distributions is as simple as adding a spread gel, making these Spotlights the most flexible tools in your arsenal.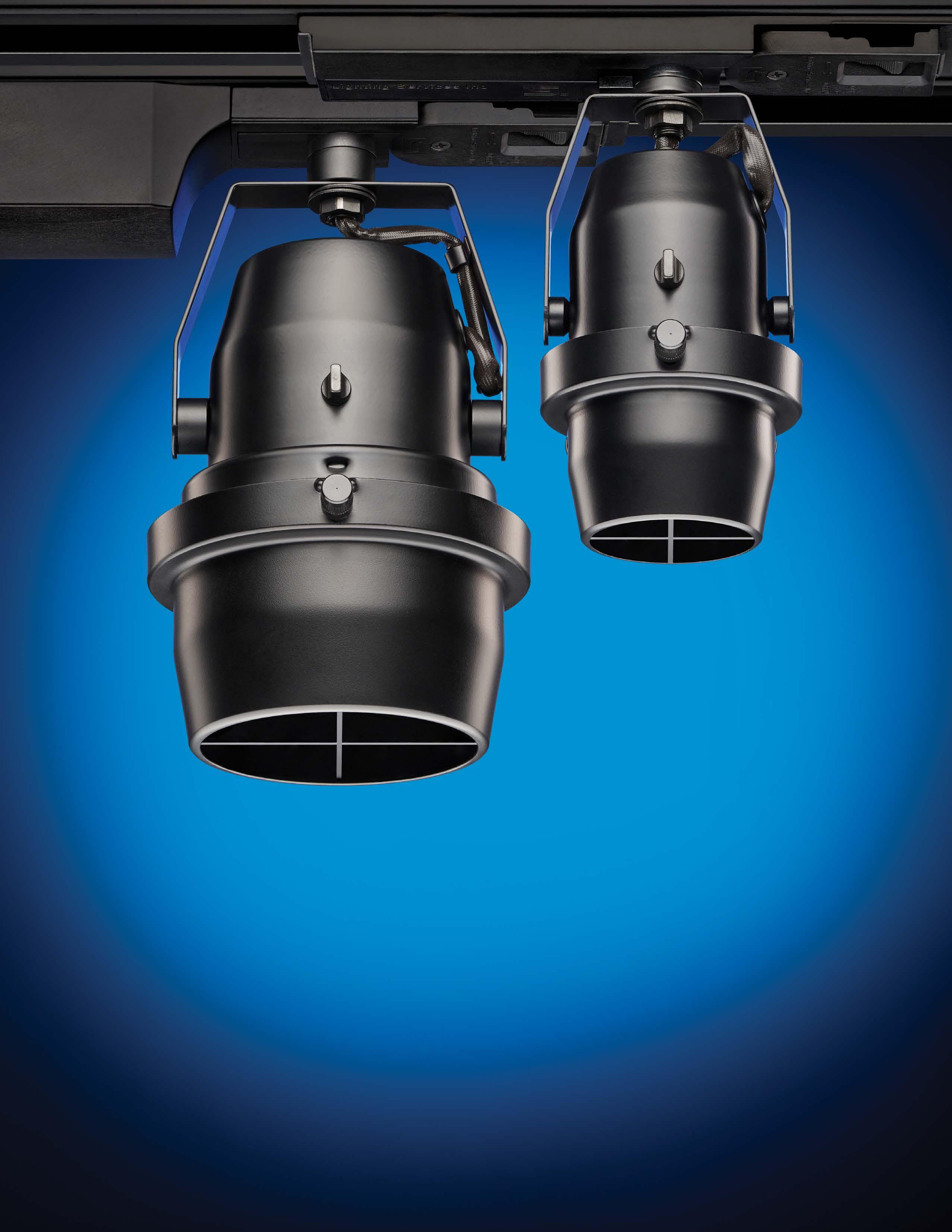 Lighting Services Inc The premier specialty lighting manufacturer
Lighting Services Inc 800 999- 9574 www.LightingServicesInc.com
14 designing lighting P Contact Cliff Smith, Publisher csmith@designinglighting.com 917.705.3439 A showcase of blue ribbon projects and products via designing lighting's sponsored/ native content offering.
FOLIO
PORT
JAMES R. BENYA, PE, FIES, FIALD By
What Could Possibly Go Wrong?
16 designing lighting
BENYA'S ART & SCIENCE
Imagine this: you have designed the lighting for a state-of-theart high school. The project's goals included LEED Platinum and Zero Net Energy (ZNE), so your lighting design is perfectly integrated into an exceptionally well-daylit architectural design. To absolutely maximize energy efficiency, the lighting is controlled by a fully integrated energy management system where all light sources are perfectly controlled to provide just the right amount of light only when the space is occupied, in perfect coordination with the HVAC and latest automatic shading systems. Upon its completion, the school exceeds expectations, and the community revels in the accomplishments. What could possibly go wrong?
The Minnechaug Regional High School in Wilbraham, Massachusetts, was built in 2012 as a state-of-the-art and exceptionally energy efficient contemporary facility. This was a very exciting time in the lighting industry because, in addition to the onset of LED lighting, significant achievements like ZNE and LEED had become realistic. It was, to many of us (me included), not just a challenge, but a chance to show off one's green lighting design skills. I can easily imagine the expectations and functions of the lighting control system, with motion sensing, daylighting, lighting maintenance and manual tuning in every space.
But, the school gained national notoriety this past month when its lights could no longer be controlled. Meanwhile. all 7,000 light sources in the school have operated continuously over 17 months. Given the building's age and the equipment I would have used, I estimate that the lighting load is around 150kW and, if operating 16 hours per day more than typical, the excess daily energy cost would likely be about $500, with an annual excess energy cost that I estimate to be over $150,000. Aside from the cost, imagine the embarrassment when, during a Saturday Night Live "Weekend Update," Colin Jost reported, "The students are fine, but the classroom hamster has gone insane." According to the school newspaper, the problem is that the highly integrated energy management system and its proprietary software were apparently corrupted. The delay in making repairs appears to be the fault of the system supplier who no longer has "access" to the software, and apparently, new hardware is needed but isn't available due to hardware supply chain issues ("… the manufacturers aren't making the chips needed for the software…"). Meanwhile, the school district will be paying until the problem is resolved. The installed cost of the repairs is promised sometime in February. And, according to the newspaper, it will cost over $2.1 million. Gulp.
So, what really happened? What could possibly have gone wrong? And worse, could it happen to one of the many projects I designed during that period…or for that matter, last week?
Prior to the energy crisis of the 1970s, very little lighting control was used in most commercial and industrial buildings. "Lights on" was a popular aesthetic, especially for high rise buildings. Circuit breakers were commonly the only controls in many buildings. For many commercial and industrial
buildings, lights were turned on and off using the circuit breakers. This, of course, ended abruptly with the energy crisis. The general approach then turned to centralized lighting control relay panels to ensure timely operation by means of a time clock. Individually switched rooms became common, but large areas were controlled by relays that switched groups of luminaires at a time. Some early energy management systems tried to mate HVAC and lighting controls, but the disciplines spoke different languages (and still do).
After the energy crisis came a period of fast innovation, largely due to solid state electronics. For the following 50 years, light sources evolved to become solid-state and with them, sophisticated dimming and control abilities. The benefits have been great: concurrent increases in efficacy, sensors and communications reduced lighting energy use 90% or more since 19801, and, in the process, improved lighting quality and capability. Some advances were even made in "talking" to the HVAC controls and other building systems.
And therein lies the challenge we face today.
In the history of electrification, the first 100 years of invention and application were significantly tethered by an understood need for standardization. Westinghouse and Tesla's AC power, beating out Edison and DC, was the cornerstone of an industry that realized, among many things, that standards were profoundly important in ensuring consistent growth in the use and popularity of electricity. What followed for more than a century has been a pattern of innovation, early adoption and market testing, growing demand, competition and standardization. Standardization, in particular, is extremely relevant. Think UL standards, National Electrical Code (NEC) standards, NEMA standards, and in many cases, the standards of building industry actors such as electrical parts and ceiling system manufacturers. Serviceability was tantamount. You can go to your local hardware store and buy a receptacle or switch that will work in your 75-year-old home. It won't burn your house down, and its forward-backward compatibility and simplicity make it easy and safe, as long as you turn off the breaker first!
17 designing lighting
BENYA'S ART & SCIENCE
AI generated
1 LD&A, Our Work is Done Here, May 2018
A Whole House Digital Lighting Control System
Early in their development, I was very keen on the idea of a computer-controlled lighting system using scenes and keypad, and I leaped at the opportunity to implement one of the first completely digital whole-house lighting control systems. After a careful evaluation, the system was specified, installed, and commissioned. Much to my relief, it worked well, and the client was happy –until 8 years later. The dimming modules were failing. I called the manufacturer, and their response was, "We don't have spares or service that system anymore." After some research, I found someone working out of his home, fixing these modules. Note to self: don't specify that manufacturer anymore.
A State-of-the-Art Relay System with a Mind of Its Own
It was inevitable that computer processors and software would replace ordinary switching systems, adding basic time and logic-based functions to a commercial system. I specified such a system to control stage and loft work lights for a theater renovation at a casino. It was a simple system, but features on this particular product were appealing. But once installed, I received a panicked phone call from the facility manager – the new lighting control system was doing weird things, like not responding to commands or turning lights on and off on its own. I contacted the manufacturer who ultimately admitted that under some circumstances, their system would become unstable. No kidding. They sent me a different panel. My client and I had to eat the cost of switching the panels out.
However, along came MS-DOS. Apple. Windows. Networking. TCP/IP. Ethernet. Internet. Palm OS. 3G, 4G/LTE, 5G. Bluetooth. Android. DALI. And many other technology options, each having a workable level of connectivity and reliability but with a unique learning curve and nearly constant evolution. With these rapidly evolving options, standardization became temporary and increasingly complex. Constant updates and upgrades became an essential part of system management. It was forced upon the construction and building management industries that, at best, were not ready for the rate of change and not skilled in the use or management of these comparatively complex systems. Lighting controls companies took the bait and migrated quickly into adding data collection and management systems, urged on by energy codes and green initiatives like LEED. Energy savings improved and awards were given. A new high-tech industry in building commissioning and management arose, even while energy costs, especially for lighting, were plummeting thanks to LEDs.
Then, like all parts of all buildings, the systems began to age. Their maintenance and upkeep died off. Replacement parts became hard to get, or worse, the systems were discontinued and replaced by a new generation product, for which most building owners were unwilling to pay. Systems became antiques in less than 10 years, and as a result, building renovations were not properly integrated. Like it is for almost all electrical and mechanical building systems, maintenance was only performed when something broke. Or, as in the case at Minnechaug Regional High School, the control system became obsolete and maintaining it was no longer a priority…until it crashed.
We could have planned this better. Around 2010, I proposed that in Title 24, all new buildings and major remodeling would require a multiconductor cable be pulled in every lighting branch circuit. This would have forced a common system wiring approach and enabled costeffective updates and remodeling, future-proofing buildings at very low cost because the most expensive part of adding or modifying a control system is pulling new wires through existing conduits and junction boxes. Wireless add-ons could be interfaced when desired. The idea fell on the deaf ears of industry and regulators, who were swooning over digital and wireless communications at the time.
There is some hope, though. I recently recorded a complimentary video for the Northwest Energy Efficiency Alliance's Better Bricks program about luminaire level lighting controls (LLLC). By integrating a motion sensor and daylight sensor into area lighting luminaires, installation is inexpensive, commissioning simple, and maintenance inexpensive if needed at all. While I tend to prefer a fully featured lighting control system (despite its complications and faults), I had to admit that with LED luminaires using so little power today, a low-cost low-maintenance approach is a wise choice in many applications.
Finally, today we face a lighting industry that changes at all levels at record speed. New generations of leadership and, in many cases, new owners, often lack perspective and experience. As a suggestion to our readers and the current generation of manufacturers, at the top of my list is to remind you that, while the efficiency of lighting has improved in so many ways, the cost of maintenance and management is soaring. As I have written in this column before, there remain very few lighting controls companies who have the management and history to service older systems. Considering that an obsolete lighting control system today is only 10 years old, I whole-heartedly endorse emphasizing manageability and maintainability over features until we as an industry find better solutions to protecting the life cycle of the products we specify. I look forward to the day when all specification-grade lighting control systems warrant the serviceability and maintainability of their products for at least 20 years by ensuring the availability of parts, qualified service personnel in every major market, and continuous maintenance of software and key hardware to ensure communications and interoperability. ■
18 designing lighting
BENYA'S ART & SCIENCE
The Perfect Downlight for Any Space
MX Downlight, Adjustable, Wall Wash & Pinhole
MX luminaires create a warm and inviting space using soft, uniform lighting in this contemporary mission-style hospitality application. A dynamic solution for consistent lighting and limitless design possibilities.
Trimmed, Trimless, and Wood Ceiling Half inch and 2 inch Regressed Non-Conductive and Flat Mount Color options in White, Black, Satin Nickel, Antique Bronze, and Wheat
www.intenselighting.com
19 designing lighting
The Declare Label: A Symbol of Transparency and Sustainability in the Lighting Environment
20 designing lighting THE BUSINESS OF LIGHTING DESIGN™
RANDY REID By
The Wave-RGB from the Q-CAP product family from Q-Tran is one of its many products to receive a Declare label.
The lighting environment has a profound impact on the health of the planet and its inhabitants, making it increasingly important to adopt sustainable practices in construction and design. One of the ways this is being achieved is through the Declare label, a product declaration system that provides transparency about the materials used in a product and their impact on human health and the environment. The Declare label, created by the International Living Future Institute (ILFI), is a tool that is helping to drive the adoption of sustainable materials in the built environment. It provides information on where a product comes from, what it is made of, and where it goes at the end of its life.
Declare has gained traction in our industry in recent years as the Declare label provides building owners and designers with a simple and easy way to identify products that have met rigorous sustainability criteria. Many leading lighting companies have been awarded the Declare label for their environmentally responsible products. Some of the companies that have received the label include Acuity Brands, ConTech, Coronet, DMF Lighting, Finelite, Lightglass, Lightly, Lucalight, LuxxBoxx, Prudential Lighting, Q-TRAN, Selux, Spectrum Lighting, Tubelite, USAI, XAL, and Xico Lighting.
In September of 2021, ConTech Lighting, a division of Leviton, announced that the company had become the first in the industry to receive the Declare label for its track lighting products. Michael Lehman, General Manager, explained the process, stating that there was no existing category for track lighting at the time. He went on to say that the process of obtaining the label was rigorous and lasted for six months. Every aspect of the product, from paint, metal, wire, drivers, to the potting compound within the driver, was thoroughly evaluated and cross-referenced against lists of known chemicals and carcinogens. Despite the time and effort involved, Michael emphasized that transparency is critical and Declare offers tremendous benefits for lighting specifiers and the people that occupy our spaces.
Declare has approved ConTech's entire track system, as well as the mini-Stealth Track family.
In requesting a Declare label for a product, a manufacturer must disclose all of that product's intentionally added constituent chemicals to the designated 100 parts per million (ppm) reporting threshold. Additionally, the manufacturer must report the extent to which that product is compliant with the Toxnot rating system, which includes three categories: Red List Free, LBC Red List Approved and Declared.
21 designing lighting THE BUSINESS OF LIGHTING DESIGN™
The Declare label for ConTech's track lighting.
International Living Future Institute: Understanding Declare & Living Products
"We are proud to say that many of our products have achieved the Declare digital label. We support product transparency and sustainability and integrate environmentally-friendly policies into our organization and products at every opportunity."
Bonnie Littman, President of USAI Lighting
Red List Free
The Red List Free rating is assigned to products that do not contain any of the chemicals listed on the Red List. This means that these products are safer for use and are less likely to pose a threat to human health or the environment. The Red List Free rating is a good choice for professionals who are concerned about health and safety, as well as for those who are looking to reduce their impact on the environment.
LBC Red List Approved (formerly LBC Compliant)
The LBC Compliant is a rating system used by the Living Building Challenge (LBC), a program that encourages sustainable building practices. For a manufacturer to claim its product is LBC Red List Approved, it must disclose 99% of ingredients and residuals present at or above 100ppm or 0.01 percent. While the LBC aims to eliminate the use of all chemicals on the Red List, exceptions exist because the building industry faces material limitations.
Declared (Red List)
The Declared or Red List rating is assigned to products that contain chemicals that have been identified as having high toxicity. Declared products disclose 100% of ingredients present in the final product but contain one or more Red List chemicals that are not covered by an approved exception. Products that receive a Red List rating are of high concern and are typically avoided by professionals who are concerned about health and safety.
It's not just about chemicals and components. The Declare label must show end-of-life options including how much of the luminaire can be recycled and the percentage that goes to the landfill.
According to Kate Sterling, VP of Marketing at Q-Tran, the
company has achieved Declare certification for over 95% of its linear luminaires. Q-Tran's President, Gean Tremaine, stated, "We know sustainability is a part of our responsibility as a manufacturer in the architectural lighting space. LED products are inherently efficacious, but extensive material transparency shows our dedication to doing more." Meanwhile, Sterling mentioned that the company now has its eye set on Environmental Product Declarations (EPDs), which include calculating the total carbon footprint throughout the product's entire lifecycle. "We are part of the Greenlight Alliance, which is developing the first industry specific EPDs for LED lighting. Getting Declare labels for so many of our products was a challenge; EPDs are a much bigger task. But we're committed to pushing sustainability further, for the company and for the industry."
Several manufacturers claim that lighting designers are asking about Declare, and it is quickly gaining traction. At Light Middle East in Dubai many designers spoke of the importance of Declare and its role in moving toward a circular economy.
Donna Sumner, Director of Architectural Product Solutions at Acuity Brands, stated that architectural and lighting professionals are taking advantage of Declare's significant influence in promoting human health, society, and the planet. By choosing products from responsible manufacturers that are transparent about their materials and optimizing fixture performance, professionals can further reduce their environmental impact and create sustainable designs for everyone's benefit. Sumner highlights Acuity Brands' commitment to material transparency and their participation in the Declare program with several of its brands and products. This helps designers obtain the information they need to make informed choices that align with their sustainability goals.
Declare is a feature that does not affect light output, efficiency, or cost. It is a tool that manufacturers can use to differentiate their products while encouraging the industry to become more transparent—and that's a good thing! ■
22 designing lighting THE BUSINESS OF LIGHTING DESIGN™
the LittleOnes® from USAI are Declare Label Red-List approved. The Living Building Challenge compliant DCC cylinders from DMF Lighting
Small-aperture lighting with the flexibility, performance, and optics to fit your vision. dmflighting.com The new X Series Design-forward. Playful. Audacious.
SPACES AND LIGHTING to Create Great Places to Work
24 designing lighting
VILMA BARR By
Photo Credit: Heywood Chan, courtesy of Gensler A varied placement of multiple bare bulbs on slender black cords enlivens
a casual break area.
A conference room with a patterned magenta carpet and wood ceiling is dramatized by a deep cove containing an array of slim wire suspended black and white fixtures.
The post-pandemic era is witness to the most momentous change in office design since open office came on the scene more than a half-century ago. Working from home, which was an option particularly appealing to working mothers and craftspeople, became a national drag on the economy.
With the onset of the pandemic in Spring 2020, entire floors of office buildings around the country went dark. Building owners had to reassess why people want to come to an office to work, and try to create incentives to bring the people back get and turn the lights on. "The ultimate goal from a business perspective will be to provide the right environment to foster the business strategy," said Marco Huber, vice president of workplace strategy for real estate firm, Jones Lang Lasalle. "We can also observe how space influences strategy—directly and indirectly. This is something many business leaders became aware of during the pandemic," Huber pointed out.
"Prioritize people, the essential component," Huber believes. By listening to individual and organizational needs, designers are ultimately responsible for translating this spatially, he indicates.
A RESPONSIVE WORKFORCE
Gensler, the largest American international architecture and interior design firm, undertook its 2022 Workplace Survey, the current version of a research effort first undertaken in 2008.
Data was collected from an anonymous, panel-based online survey of more than 2,000 U.S. office workers in 10 industries conducted between June 14, 2022 and August 7, 2022.
In a recent podcast, Janet Pogue, Global Director of Workplace Research and a principal at Gensler, discussed survey results about reasons employees are returning to the office, how the workplace can more effectively support them, and the mix of experiences to help accelerate their return.
"Our data reveals that workers in high-performing workplaces report that they want to come into the office more regularly to maximize their productivity. They say it's a great place to get work done," Pogue reported. "Workplaces that are both effective and offer a great experience present a range of well-lit work settings from quiet zones and focus rooms to innovation hubs and maker spaces. Spaces for creative collaboration and individual work have the most impact of space effectiveness and experience," Pogue explained.
"A significant recalibration of the role of the workplace in attracting people back to the office is underway. We're noticing an increase in demand for hospitality-like amenities in and around these buildings to make the office feel like a destination rather than an obligation," Pogue stated. "Workers still value the office as a place to focus on their work, but they are looking for a more diverse spectrum of spaces and experiences to create a place where they want to be."
25 designing lighting
A two-level open area features a 1,000-square-foot wood staircase that connects the amenity floors and doubles as amphitheater seating. A group of white double shade fixtures in a square configuration identifies the space.
White shade ceiling fixtures are decorative and functional in this multi-use space. The lighting program made maximum use of daylight and flexible control.
Case Study:
T-MOBILE HEADQUARTERS
BELLEVUE, WASHINGTON
Brand Expression Through Light
Architecture and interiors: Gensler
Lighting: Dark Light Design, Seattle; Ron Kurtz, Principal
T-Mobile's renovated Pacific Northwest campus headquarters encompasses over one million square feet of workspace designed to promote innovation and collaboration among its tech and support workers in an environment where its brand and culture are unifying elements. At the heart of the Bellevue campus, two vibrant amenity floors encourage gathering and relaxing with a range of options including six diverse dining kiosks, a vintage Airstream serving frozen yogurt, a Starbucks, a pub, and a happy hour bar.
T-Mobile's signature magenta hue appears throughout, in finishes, elements such as doors, break room enclosures, carpeting, upholstery, and lighting for ceilings and as shades for ceiling-hung fixtures. The company, the nation's thirdlargest wireless carrier with $79.571 billion in revenue in 2022, employs 6,200 workers at the Bellevue site, currently undergoing an extensive multi-million renovation. The renovation does not include any demolition of buildings or construction of new ones.
Dark Light Design worked closely with Gensler's architecture and interiors teams to carefully place magenta accents, "magenta moments," where they would serve multiple functions. The designers employed a variety of means, including the interaction with translucent materials, a direct light source, and indirect illuminance. Amenity zones were shown to be high on the list for a workplace community in Gensler's study. Included in places workers wish to gather and meet are those for a quick conversation, lunch, coffee break, and after-work drink.
According to Dark Light Design, light supports each of these spaces through various illumination levels and contrast, layered material highlights, and the use of scaling elements from low-level accents to large-scale graphic washes. Lighting is also employed to create wayfinding connections through
multiple buildings and sky bridges. Elevator lobbies are bathed in magenta light offering a visual change of pace from the white background desk worker group enclosures.
Several meeting and huddle rooms are furnished with impromptu teaming benches, brainstorming walls spaced along the walking paths, and lighting rods drawing conversations into the communal space and away from desking shelters. In a two-level open space, a new 1,000-square-foot grand staircase connects the amenity floors and doubles as amphitheater seating. Overhead is a group of white double-shade fixtures in a square configuration.
Analysis of the overall illumination energy use revealed 0.47 W/sf, including the magenta branding elements. The lighting program made maximum use of daylight integration and flexible user control.
Overall, the unity of the design approach by Gensler and Dark Light Design makes for a workplace that is contemporary, casual and stylish, expressing a sense of place personalized by individual workers at all skill levels. "By listening to the needs of their employees and incorporating their unique, customer-centric culture into the design, the resulting ecosystem provides workers areas for collaboration or a quiet place to carry out their tasks," observes Janet Pogue. "We know we've succeeded in providing the environment where each employee can feel confident and can contribute their talents to the success of the group and of the company," she says.
"When we hear that there is a consensus that 'It's a great place to get work done!' it represents the foundation for effective productivity. As designers of spaces and lighting for offices, we've contributed to the bottom line of the client and the positive mindset of the workforce." Pogue concludes. ■
26 designing lighting
Light for the Circadian System: Beans or Chili?
Everyone must eat, and beans will largely serve the purpose of filling one up. But, to enjoy eating beans, there is nothing quite like a bowl of chili. By including tomatoes, meat, cheese and, of course, proper seasoning, beans can be a fantastic meal. Beans alone, not so much
28 designing lighting LIGHT AND HEALTH
MARK REA By
Everyone in the lighting community, from specifiers to scientists, should be promoting circadian entrainment with light for occupants in schools, offices, nursing homes, and factories – anywhere people are active during the day and asleep at night. High photopic light levels (E >500 lx), high levels of equivalent melanopic lux (EML >240), high levels of melanopic equivalent daylight illuminance (mEDI > 250), or high levels of circadian stimulus (CS > 0.3) will, with an extended duration of exposure, all meet that professional obligation. But, it's surprising that many lighting specifiers and researchers who are interested in providing circadian-effective light seem to neglect the underlying mechanisms of circadian phototransduction by the retina, essentially preferring beans to chili. Granted, it's a whole lot easier to boil beans than it is to prepare chili, but a little culinary effort can make a big difference.
It's also a whole lot easier to believe a single photoreceptor, the intrinsically photosensitive retinal ganglion cell (ipRGC), drives the suprachiasmatic nuclei (SCN), but what a big difference a little review of the scientific literature can provide. The evidence is clear. Alone, the workings of the ipRGCs, which contain the photopigment melanopsin, cannot explain many of the important aspects of the retinal conversion from photons to neural signals reaching the biological clock in the SCN. This single photoreceptor, while essential for circadian phototransduction, cannot explain the spectral sensitivity of the system, its operating characteristics from threshold to saturation, or the curious phenomenon of subadditivity. Every neuron type in the retina — photoreceptor, horizontal, bipolar, amacrine, and ganglion — affects the retinal conversion from photons to neural signals. The CS computational model is a recipe for circadian phototransduction that accounts for all of these essential ingredients, including the ipRGC beans.
Some have argued that for practical purposes, we only need to worry about the ipRGCs with no further consideration of the retina's neuroanatomical or neurophysiological features. Sure, for practical purposes beans will sate one's hunger, and high
photopic illuminance levels will provide circadianeffective light to building occupants during the day. But if all we care about is beans, we don't even need another metric like EML or mEDI to meet our professional obligation since photopic illuminance will do just as well. If, however, we care about a more toothsome bowl of chili, we need to embrace the complexity of the retina so that we can both meet our professional obligation and provide the foundation for more sophisticated and lasting lighting designs and product innovations.
One of my favorite quotes, attributed to Kodak founder George Eastman, is: "By understanding the process, you can control the alternatives." The flip side of that quote, as it relates to circadian effective lighting, is: "By not understanding circadian phototransduction, you have limited control of the alternatives."
A recent study found that street lighting as practiced in the United States does not suppress melatonin at night. By understanding how the human retina sets a high threshold for activation (unlike nocturnal rodents), we were able to predict this finding a decade before that experiment. As another example, a recent study showed that S-cones contribute to human nocturnal melatonin suppression. Two decades ago, we concluded that the spectral sensitivity of nocturnal melatonin suppression could only be explained if S-cones were involved. And this understanding also implied, as we later showed through our demonstration of subadditivity in three different experiments, that the S-cone participates in circadian phototransduction via the spectral opponent blue versus yellow color mechanism in the retina. If one assumes that ipRGCs are the only photoreceptor needed for circadian phototransduction, none of those insights, neither scientific nor practical, can be predicted.
Clearly, we do not understand all that can be learned about circadian phototransduction by the retina. But, isn't it obviously better for lighting professionals and researchers to begin understanding how circadian phototransduction by the retina takes place? Surely, it's worth the extra effort to make and serve chili. Otherwise, the result is only worth a hill of beans. ■
29 designing lighting LIGHT AND HEALTH
"By not understanding circadian phototransduction, you have limited control of the alternatives."
•4 Sizes and Power Ranges
• Fixed or Adjustable (Up to 20°)
• Wall Washer Optics
• Manual Zoom Without Opening Fixture
• Very Narrow (7° and 8)
• Elliptical, Sharp, Diffuse
• IP69K / IP68 72h Protection Level
• High Intensity Power LEDs
• 2200K, 2700K, 3000K, 4000K
• CRI >90 or 80
• Excellent Resistance to Corrosion
• Impact, Scratch Resistance (IK08, IK10)
• Easy Installation
31 designing lighting Contact Designplan Lighting, Inc for more information 79 Trenton Avenue • Frenchtown, NJ 08825 • ph. 908-996-7710 • f. 908-996-7042 • www.designplan.com QUILATERO Square recessed, driveover fixtures with all around potential
®
Quilatero 1 Quilatero 2 Quilatero 3 Quilatero 4
A NIGHT AT THE SAM ZARN BROADWAY LOUNGE, STARRING
RANDY REID WITH KATIE SMITH By
of
PHOTOS COURTESY OF TIVOLI LIGHTING
Detail
the light trees.
[Scene opens to the Broadway Lounge of the Marriot Marquis in New York City. Sam Zarn of Reveal Design Group is standing center stage, addressing the audience]
Sam: [Clears throat] Welcome, ladies and gentlemen, to the Broadway Lounge of the Marriot Marquis. Today, I want to share with you the updated lighting design.
[Lights come up to reveal the Broadway Lounge in all its glory. The audience gasps in awe at the beautiful design]
Sam: [Continues] This lounge was originally built with large chandeliers and a catwalk that compressed and enclosed the space. But, as a part of our larger project to update the hotel, the design team decided to reveal the hidden columns and integrate Tivoli's Trace lighting to convert the columns into trees of light.
[Lights on the columns come up, and the audience sees how they create a beautiful and elegant feel in the room]
Sam: [Continues] We, along with the design team at Stonehill Taylor, created two 15-foot "trees" with branches reaching out from 21 feet to more than 46 feet using an exquisite inlay of linear light. The challenge to bringing this vision to life was finding a vibrant, flexible, direct-view, low-voltage luminaire with consistent color
33 designing lighting
The east dining area with floor-to-ceiling windows framed by light trees.
Pizza oven and Expo kitchen.
temperature that was appropriate for a recessed application and could be easily cleaned and maintained.
Sam: [Continues] The global impact of COVID on lead times and availability squarely affected the project's original schedule. But with the proactive and creative help of our lighting manufacturers Tivoli Trace Lighting, Ecosense and Coronet, we were able to make our vision a reality.
[Lights around the exterior of the lounge come up, and the audience sees how they create a stunning view for passersby]
Sam: [Continues] Our goal was to create an upscale and luxurious feeling in the lounge. We used Tivoli Tape light, Amerlux track lighting, and Ecosense for the cove lighting.
[The Coronet LS1 square Lights in the bar area come up, and the audience sees how the linear lights offer a shadow effect and create an unusual and unique aspect in the room]
Sam: [Continues] Our team worked with a control integrator to maintain the elegant vibe of the room, and using ETC controls we set the lights to 2,700K with the exception of the downlights at the bar which are slightly warmer.
[Lights in the bar area come up, and the audience sees the beautiful reflection in the room full of windows]
Sam: [Continues]
Removing the catwalk and altering the old track lights decluttered the space between the eighth and ninth-floor mezzanine, visually elongating space in between.
[Lights in the bar area come down, and the
audience sees how the flow of the room is integrated well with the lights]
The project was completed in stages with the front section completed in March of 2022 and the Broadway Lounge in August, 2022.
[Lights come up on Sam]
Sam: [Concluding] I and my team at Reveal Design Group are proud to have been a part of the design team to reimagine and realize the new Broadway Lounge with a dramatic design fitting for the Great White Way. Thank you for joining me today.
[Curtain closes]
Fixture Schedule:
• Tivoli: Trace Vertical
• Amerlux: Track Lighting
• Ecosense: Cove Lighting
• Coronet: LS1 Square fixture with a custom lens
• HB Architectural Lighting
Control Schedule:
• ETC Controls
34 designing lighting
Revel and Rye Bar at the Broadway Lounge.
Area of the lounge overlooking Times Square.
Light tree.
TRUCURVE
By PureEdge Lighting
Illuminate Your Space in Any Shape, Any Color
Let the drywall be your canvas and enjoy total design freedom with TruCurve: our curved recessed lighting system. Our patent pending TruCurve bends left to right allowing for curved, organic shapes to be designed on any flat ceiling or wall plane and recesses into 5/8" drywall with no joist modification required. TruCurve is featured in our Pure Smart lighting collection and shown here in TruColorTM RGBTW (1500K-6500K) giving designers over 16+ million colors and 64,000 white tones to choose from. Pure Smart lighting offers easy to use, intuitive controls with use of the WiZ Pro software suite including the WiZ Pro setup app, the WiZ Pro dashboard, and WiZ app, giving designers access to a full palette of color tuning options.
35 designing lighting
Shown : TRUCURVE and FLEX NEON (curved channel under bar top)
FOR MORE INFORMATION, CONTACT YOUR LOCAL PUREEDGE LIGHTING REPRESENTATIVE OR VISIT PUREEDGELIGHTING.COM connected by Room Controller
JEAN-GEORGES VONGERICHTEN AND HERVÉ DESCOTTES— A FRIENDSHIP BETWEEN TWO GREATS
RANDY REID By
PHOTO CREDIT: NICOLE FRANZEN
exterior of the Tin Building at night.
The Tin Building
The
The Tin Building by Jean-Georges, A Delicious Addition to the New York City Seaport
Jean-Georges Vongerichten, a legendary chef, restaurateur, and culinary visionary, was born in Strasbourg, France in 1957. Raised in a family of bakers, he developed a passion for cooking at a young age and honed his skills at the finest culinary schools in France. Known for his philanthropy and dedication to sustainability, Jean-Georges has brought his latest venture, the Tin Building in Manhattan, to life.
Once the bustling hub of commerce and culture at the Fulton Fish Market, the Tin Building had served as a vital part of New York's East River for nearly 200 years. After its closure in 2005, it underwent extensive restoration and has now been reborn
as a culinary center, housing numerous markets, bars, and restaurants, anchored by a fish market.
When it came to lighting, Jean-Georges collaborated with his friend of thirty years, Hervé Descottes, founder of the lighting design firm L'Observatoire International.
Hervé has received awards from the IALD, IES, IESNYC, AIA, the American Society of Landscape Architects, and the Municipal Art Society of New York City. In 2008, Descottes was named Chevalier of the Order of Arts and Letters by the French Minister of Culture for his work in lighting design.
Descottes and his team have designed the lighting for 90% of Jean-Georges' restaurants worldwide. For the Tin Building, Carlos Garcia served as the project leader.
On a recent foggy evening, I approached the building and was greeted by exterior lighting featuring barn light luminaires, which added to the building's historic character. The next day, Descottes shared that the new signage on the exterior of the building was created by RW and was based on the signs from the original building. The signage coupled with the canopy and barn lights help push the building backwards in time.
For our discussion, Descottes was very gracious in taking my call as he and his family were on vacation with Jean-Georges and his family.
37 designing lighting COVER STORY
House of the Red Pearl
One of the food purveyors at The Tin Building.
The Frenchman Dough
T. Brasserie
The Tin Building's interior is a celebration of global cuisine, inspired by recipes from France, Bangkok, Hong Kong, Singapore, the US, and Europe. The goal of the lighting design was to capture the essence of the Fish Market while creating a space that's both a market and a dining destination. Hervé spoke to the complexity of the project, saying, "It was important to have a common theme throughout the 64,000 square foot building while giving each of the ten restaurants their own unique look—the goal was to create a cohesive and inviting atmosphere for guests from the moment they entered the building."
Pockets of design create self-contained experiences, and custom luminaires throughout help define the unique destinations within the larger space. Carlos added, "Each restaurant needs to have its own little mood, yet they are
interconnected—they need to talk to each other." Theatrical lighting projectors from ETC are used in the seafood market to create pools of illumination, and the lights are color-changing and can be adjusted to a warm white color temperature when needed. The lighting changes frequently, creating different moods and atmospheres throughout the day.
The Crestron control system is used throughout the building and organized around four scenes - morning, noon, early evening, and late-night - and is seamlessly integrated with the building's audio-visual and sound systems. Color-changing lighting is synched to the media screen, splashing vivid hues onto surrounding surfaces and activating the overall atmosphere.
The Spoiled Parrot candy store is defined by a custom chandelier by HBA Lighting of exploding globes that are reflected on the copper ceiling. These globes create a playful and whimsical mood. Linear lights by Aion Lighting are carved into the millwork and discretely regressed into the shelving. They are unseen, making the products appear as if they are art. These luminaires have a very important feature in that they are custom designed to provide higher heat dissipation, insuring that the candies don't melt.
Backlit glass marquees define a more intimate scale and beckon patrons. These marquee structures also host accent lighting for merchandise and decorative lighting fixtures, illuminated signage, and neon for sizzle.
The color temperature used in the candy store is 2700K which is slightly brighter and cooler compared to the rest of the building set at 2400K. The House of the Red Pearl stands out at 2200K and 1800K.
The wine bar features a variety of lighting fixtures that are designed to create different layers of light at different heights. The lighting system includes a suspended track with headlights aimed at the counter surface, a flexible track system by Litelab, a brass pendant light that highlights where food is ordered, and mini spotlights behind the marquee that provide accent illumination in front of the counter.
The lighting design process took 7 years, and Carlos explained that the commissioning took around six months, starting in May 2022 . Carlos finished commissioning in November when the Tin Building opened. The process included adjusting and precise aiming of thousands of fixtures, including miles of linear LED strips, and setting multiple scenes.
The Tin Building by Jean-Georges stands as a testament to diversity by mixing markets and restaurants while preserving the identity of the Seaport. With ten Jean-Georges restaurants each with its own unique flavor, the Tin Building shines as a beacon of culinary excellence and innovation with warm and inviting lighting. The only thing left to do is visit, taste, and be transformed. ■
38 designing lighting
COVER STORY
The Spoiled Parrot candy store.
Interior Designer: Roman and Williams
Architect of Record: Cass Cadler Smith
MEP Engineer: WST
Client: Jean-Georges Management
Client: The Howard Hughes Corporation
Drink and Dine at the Tin Building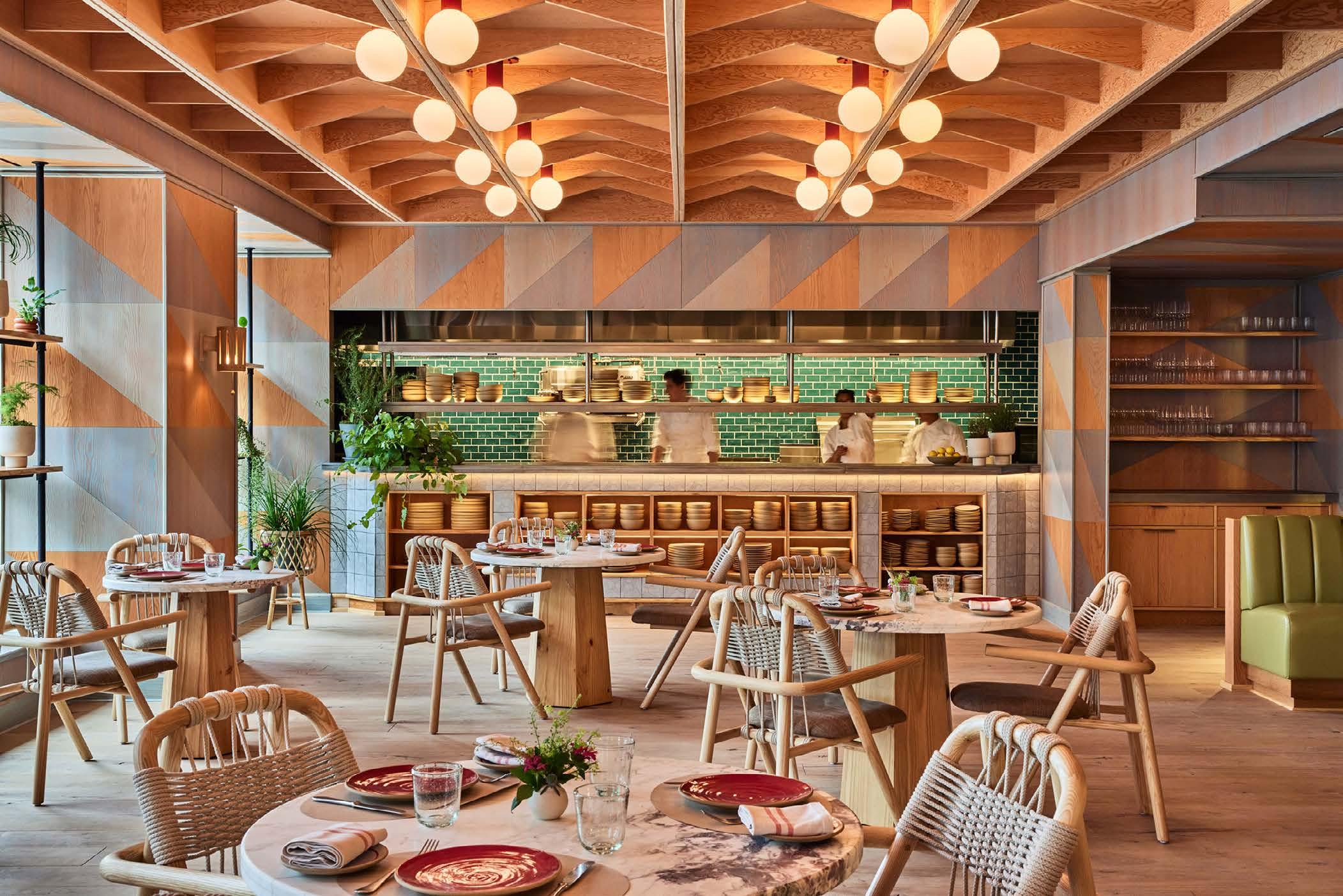 by Jean-Georges
• Frenchman's Dough (Italian with a Twist)
• Shikku (Sushi & Sake)
• Sandwich & Salad
• House of the Red Pearl (Chinese-Inspired)
• Double Yolk (Breakfast & Lunch)
• Fulton Fish Co. (Seafood)
• Seeds & Weeds (Vegan & Vegetarian)
• Taquito (Mexican)
• T. Café (Coffee & Pastries)
• T. Brasserie (French)
FIXTURE SCHEDULE
Lighting
• Aion lighting - Linear LED, strip light, retail and bars millwork integrated light
• Lucent - Recessed downlights
• Litelab - Track mounted spotlights
• Lumenture - Canopy mounted spotlights
• ETC - Framing projectors
• Eklipse - Millwork miniature lights
• Nanometer - Backlit surface panels
• LEDNER - LED bulbs
Controls
• Crestron
39 designing lighting COVER STORY
Seeds and Weeds
40 designing lighting
Americas Hall Grand Ballroom
Exhibitors
Americas Hall
Grand Ballroom
NLB PF 1
Edison Report/Designing Lighting PF 6 Inside Lighting PF 3 LEDs Magazine PF 4 NYSID PF 5
Parsons PF 7 Smart Outdoor Lighting Alliance (SOLA) PF 8 University of Colorado Boulder PF 2 3Form LightArt GB 708/710
3G LIGHTING GB 312
AAMSCO Lighting Inc. GB 619
Acuity Brands GB 813
Acuity Brands Life Safety GB 825
Aculux
LIGHTING GB 1022
Functional Devices, Inc. GB 724
GENLED Acolyte GB 520
Glint Lighting GB 123
Global Lighting Perspectives (GLP) GB 617
GMLighting GB 101 Gotham GB 819/821
Healthcare Lighting GB 1126
Heper USA GB 1025
Hunza and LuxR Lighting GB 621
Hydrel GB 922/924
i2Systems GB 409/411
iGuzzini GB 112/114
Impact Architectural Lighting LLC GB 1013
Intelligent Lighting Controls GB 722
IOTA GB 822
IR-TEC America, Inc. GB 623
JESCO LIGHTING GROUP, LLC GB 704/706
Juno GB 823
Justice Design Group GB 203
Kenall Manufacturing GB 421/423
KEYSTONE TECHNOLOGIES GB 309/311
Kim Lighting GB 214
KKDC GB 407
KLIK USA GB 1015
KLUS GB 613/615
Kurt Versen GB 216
Kurtzon Lighting GB 818
Kuzco Lighting GB 523/525
Landscape Forms GB 511
LED Linear USA GB 120/122
Ledrabrands GB 117
Legrand/Wattstopper GB 516
Lehigh Electric Products Co GB 201
LF ILLUMINATION GB 320
Lifeshield GB 224/ 222/220/218
Light Engine Technologies, Inc. GB 524
Lighting Services Inc. GB 405
lightly GB 816
Lightolier / Ledalite / Gardco GB 416/414/412
Liteline GB 519/521
Lithonia Spec GB 920
LLI Architectural Lighting GB 219
Louis Poulsen GB 401/403
Lumascape GB 718
Lumecon GB 307
LumenArt GB 606
Lumenpulse GB 812/814
Luminaire LED GB 1128/1130
Luminis GB 921/923
Lumos Architectural Lighting GB 522
Lutron Electronics Co GB 300
LUX dynamics GB 317
LUXRITE/AKLOW (ALLSTAR LIGHTING) GB 618 Mark GB 912/914
41 designing lighting
GB 815/817 Advantage Lighting Solutions GB 622 Aleddra LED Lighting GB 1120 Alight GB 917/919 Alphabet / Bruck GB 113/115 ALUZ Lighting GB 1003 Amerlux GB 400/402 Amico Lights GB 119 ARTIKA for living GB 1024 Atlantic Lighting GB 505 Authentic Design Collection: DCWéditions & MARTINELLI LUCE GB 820 Barron Lighting Group GB 1017 Bartco Lighting GB 1106 Beachside Lighting GB 616
B-K Lighting GB 717 BL Lighting GB 310 Blackjack Lighting LLC GB 217
Lighting
BubblyNet
509 BuzziSpace GB 418 cBright Lighting Inc. GB 620 Clarte Lighting GB 306 Color Kinetics GB 321 Columbia Lighting GB 212 ConTech Lighting GB 121 Cooledge Lighting GB 221 Cooper Lighting GB 601/603/ 605/607/ 609/611 CORE Architectural Lighting GB 303 Cosine Lighting LLC GB 513/515 Crestron Electronics GB 420/422 CSL Lighting GB 211/209/207 Day-O-Lite GB 501/503 Delray Lighting GB 314 Delta Light GB 324/322 Edison Price Lighting GB 502/504 eldoLED GB 824 Elite Lighting GB 304 Encelium GB 518 Encore Lighting Manufacturers GB 323 Energetic Lighting GB 1118 ERP-POWER GB 1116 Eureka GB 913/915 Extant Architectural Lighting GB 713 FC / SSL GB 1100A/1100/1102 Finelite, Inc. GB 425 Fluxwerx GB 408/410 Focal Point GB 512/514 FSC
Boca Flasher GB 508/510 Bover GB 415 Brownlee
GB 417/419
GB
Lighting
MODA Light
Lighting Instruments GB
ModuLED / Liton GB 1122 MOJO Illumination GB 720 Myers Emergency Power Systems GB 608/610 Nanometer Lighting GB 325 New Star Lighting GB 1021 NLight GB 925 NLS Lighting GB 424 Nulite Lighting GB 1012 NX Lighting Control GB 223/225 OCL GB 404/406 Omnify Lighting GB 624 Omnilight, Inc. GB 1014 OPUS GB 1019 Peerless GB 916/918 Penta Light USA GB 517 Performance IN Lighting GB 1110 Phoenix Lighting GB 604 Pinnacle Architectural Lighting GB 319 PMC Lighting GB 308 PreciseLED Inc. GB 125 PureEdge Lighting GB 719 Rayon Lighting/Integer Lights GB 1114/1112 Saliot Lighting GB 506 SELF Electronics USA Corporation GB 625 Selux GB 700/702 SENSORWORX GB 1108 Sistemalux GB 116/118 Sol by Sunna Design GB 1020 Specialty Lighting Industries GB 600 SPJ LIGHTING GB 205 Starfire Lighting GB 413 STEINEL AMERICA GB 1018 Sunshine Lighting GB 1016 Targetti USA GB 721/723/725 TCP Lighting GB 1124 Tech Lighting / Element GB 712/714/716 Tegan Lighting GB 100 THE LIGHTING QUOTIENT GB 500 Times Square lighting GB 612 Tokistar Lighting GB 614 Tryka GB 302 Verbatim/Nippo GB 602 Verozza Lighting GB 305 Visual Lighting Technologies GB 318/316 Vyv GB 507 Wagner Architectural GB 715 WE-EF LIGHTING USA GB 124 XAL Inc. GB 213/215 Xicato GB 1023 XICO Lighting GB 1000/1001 BEGHELLI USA AH 2000 & costa lighting AH 3011 A.L.P. AH 2120 ABLE Power Products AH 3101 ACROSENTEC AH 3103 ADURA LED SOLUTIONS AH 3105 Advance By Signify AH 3002 Alanod AH 2901 Aldabra USA AH 2015 Alloy LED / Optique AH 2912 Almag Aluminum AH 3004 ALW AH 2401/2403 Arancia AH 2217/2219 Arkalumen Inc. AH 3104 ARON Lighting AH 2700 Avi-on Labs, Inc. AH 2216 Bender + Wirth Inc. AH 3107 Beta-Calco Inc. AH 2601/2603 BIOS Lighting AH 2909 Birchwood Lighting, Inc. / Intense Lighting AH 2115/2117 Casambi Technologies AH 2305 Chameleon Lighting, Inc. AH 2801 Contraste Lighting AH 3005 Coronet AH 2203/2205 Cree Lighting AH 2402/2404 DALI Alliance AH 2920 Deako Lighting AH 2405 Designplan Lighting, inc. AH 2208/2210 Douglas Controls AH 2505 Ecosense AH 2701/2703 Electric Mirror AH 2201 EnOcean Inc AH 2914 eos Light AH 3013 ERCO Lighting, Inc. AH 2301/2303 Estiluz, Inc. AH 3111 ETC AH 2003/2005 Evenlite AH 2220 EverLast Lighting AH 3113 F.L.I. FORMULA LUCI ITALIA USA INC AH 2021 Feelux Lighting AH 2109/2111 FOLIO USA INC AH 2007/2009 Fusion Sourcing Group, Inc. AH 3112 G Lighting AH 2018 GLLS AH 2908 Goldeneye Inc. AH 3008 Gordon Bullard & Company AH 2017 GVA Lighting, Inc. AH 2004 H.E. Williams, Inc. AH 2214 Hatch Lighting AH 3009 Hemera Inc. AH 2704 Hevi Lite, Inc. AH 2504 Holectron AH 3010 IM Design Concepts AH 2903 Insight Lighting AH 2602/2604 INTER-LUX AH 2221/2223 Intertek AH 3115 Intra Lighting AH 2012 Inventronics AH 3020 JLC-Tech AH 2302/2304 Khatod NA AH 2922 Kirlin Lighting AH 2001 Konica Minolta Sensing Americas AH 2123 Lamar / Clear-Vu Lighting AH 2024/2026 LED Inspirations AH 2803 LEDiL, Inc. AH 3116 LEDVANCE AH 3108 Legion Lighting AH 2112 LensVector AH 3100/3102 Leviton AH 2119 Ligman Lighting AH 2222 Linmore LED AH 2218 Litelab AH 2200 Little Ones by USAI AH 2105 Living Lights AH 3119 LSI Computer Systems Inc AH 3012 LSI Industries AH 2800/2802 LTF Technology AH 3118 Lumato/American Linear Lighting AH 3117 Lumetta AH 2910 Lumileds AH 3000 Luminii Corp / Senso AH 2209/2211 Luminus Devices, Inc AH 2911 LUUM.iO AH 3121 LUX Illuminaire AH 2008/2010 Manning Lighting Inc. AH 2702 MAXLITE, Inc. AH 2019 McWong International AH 2902 Metalumen AH 2022 MetroSpec / FlexRad AH 2118 MiclionLED AH 3003 Modern Forms AH 2500/2502 Nichia America Corporation AH 3123 Nicolaudie America Inc. AH 3014 NICOR AH 2805 No. 8 Lighting AH 2011/2013 Nora Lighting AH 2804 North Star Lighting, LLC AH 2023 Nova Flex LED AH 2202/2204 Num Lighting Ltd. AH 2212 On Light / Ansorg / Pracht AH 3021 Oxygen AH 2002 Pharos Architectural Controls AH 3016 Plaskolite AH 3019 PoE Texas AH 2904 Prima Lighting/Arkansas Lighting AH 2900 Puraluce AH 2014/2016 Quattrobi Inc. AH 2100 RAB Lighting AH 2116/2114 RBW AH 2300 RCL/Precision AH 2213 Samsung Electronics AH 3017 Schnick-Schnack-Systems GmbH AH 2917 Scout Lighting AH 2108/2110 SEBCO Industries, Inc AH 2919 SGM Lighting AH 2102 SLG Lighting AH 3109 Soraa AH 2705 Spot on Lighting AH 2915 Structura, Inc. AH 2400 Tempo AH 3015 The Smart Lighting Company AH 2020 Toggled AH 3018 Traxon e:cue AH 2905 Tresco Lighting AH 2913 Tripar Inc AH 2121 U.S. Architectural/Sun Valley Lighting AH 2605 Universal Fiber Optic Lighting USA, LLC. AH 2215 USAI Lighting AH 2101/2103 Visa Lighting AH 2006 Viscor Inc AH 2113 Viso Systems AH 2916 Vista Professional Outdoor Lighting AH 2600 WAC Lighting AH 2501/2503 wtec Inc. AH 2918 Yingjiao Electrical AH 3001
Mercury
Products GB 1104
GB 313/315 Modular
301
COMPANY BOOTH COMPANY BOOTH COMPANY
BOOTH COMPANY BOOTH
Rhinelander
42 designing lighting
AAiLA PF 12 IFDA PF 15 Lights on the Spectrum PF 10 NACLIQ PF 13 Nuckolls Fund PF 11 WILD PF 14 Academy Light R 6004 Access Lighting R 6036 Acclaim Lighting R 6131/6133 AFX INC. R 6034 Apure R 6000 Arcluce R 6019 Artemide North America R 6037 ATEA R 6240 Axis Lighting R 6231/6233 Axo Light USA Inc. R 6107 BACKLIGHT srl R 6018 Balanced Care by Axis Lighting R 6235 Barbican Lighting R 6116 Barn Light Electric R 6108 Besa Lighting R 6222 Beulux R 6120 B-Light R 6006 Bock Lighting R 6118 Bodine R 6216 Bold Lighting R 6025 Boyd Lighting R 6237 Cerno R 6104 Convey / NY Ceiling R 6204 Dado Lighting R 6101 dmf Lighting R 6041 Edison Lighting Group Ltd. R 6218 Eklipse Architectural Lighting R 6200/6202 Elco Lighting R 6124 eLuminaire R 6013 ELUXNET USA Corporation R 6125 ewo USA, LLC R 6221 FILIX Lighting USA R 6026/6024 Flexalighting North America R 6114 Forum Lighting Inc. R 6209/6211 Griven R 6239 HessAmerica R 6241 Hi-Lite Manufacturing R 6032 Hinkley R 6038 HK Lighting Group R 6039 ILLUMUS - ILP R 6227/6225 JOKERLIGHT R 6030 Lamp R 6243 LED NER R 6002 Lightheaded R 6210 Lightnet USA Inc. R 6021 Lindsley Lighting R 6207 LOUPI R 6012 Lucent Lighting R 6203 Lucetta R 6232/6234 Lucifer Lighting Company R 6130/6132 Lumca Inc R 6126 Lumen Warm R 6007 Lumentruss R 6010 Lumenture Inc. R 6100/6102 Lumenwerx R 6029/6031 Lumination R 6214 LUMINO R 6103 Luxxbox R 6236 Magnitude Lighting R 6223 Marset R 6023 METEOR LIGHTING R 6138/6140 Modular International, Inc. R 6003/6005 MP Lighting R 6033/6035 NERI North America R 6139/6141 ONE A R 6014 Orbit Illuminations Inc R 6119 Pablo Designs R 6028 Picasso Lighting Industries R 6242 Prizm Lighting R 6220 Prolume R 6017 Promotech R 6016 Q-Tran R 6117/6115 Radiant Architectural Lighting R 6205 RAGNI Lighting International, LLC R 6127 Revelite R 6106 Rosco R 6105 Satco/Nuvo Lighting R 6109/6111 Saylite R 6226 SNOWBALL LIGHTING INC R 6015 Solais Lighting Group R 6121/6123 SOLAVANTI LIGHTING & ETi Handrail Systems R 6206/6208 Spectrum Lighting R 6230 SPI Lighting R 6135/6137 Sternberg Lighting R 6122 TIVOLI R 6110 TPR Enterprises, Ltd. R 6001 Two Parts R 6238 Vantage Lighting R 6224 Vistosi R 6142 Vode Lighting R 6143 Zaniboni Lighting R 6009 Zumtobel Lighting Inc R 6134/6136 COMPANY BOOTH COMPANY BOOTH COMPANY BOOTH COMPANY BOOTH Exhibitors
AETHER ATOMIC
The innovative recessed lighting option that creates a clean, minimalist look with a mighty output. Available in 1" and 1/2" aperture options, its unparalleled service tool allows the removal of trim and light engines without disturbing the ceiling.
For more information visit: waclighting.com/aether-atomic
43 designing lighting
IT'S SHOWTIME!
Lights Up NYC in More Ways Than One! THE MUSEUM OF BROADWAY
44 designing lighting
STEF SCHWALB By
Affectionately known as "The Great White Way," the bright lights of Broadway bring millions of people from all over the world to experience and celebrate live theater. From exhilarating feline favorites like Cats and The Lion King, to moving dramatic masterpieces such as Death of a Salesman and Long Day's Journey into Night, musicals and plays have enticed audiences since the inception of New York City's theater district back in the 18th century. Huddled around Times Square, the stages of Broadway's theaters have featured some of the greatest actors of all time from a host of generations. Of course, with such a rich history of performances it's a no brainer that there should be a museum dedicated solely to the education, inspiration, and art of the Broadway experience, but surprisingly, up until now there hasn't been.
However, after years of planning and preparation, the Museum of Broadway—which highlights more than 500 individual productions from the 1700s to present day—has opened to thunderous applause. Thanks to co-founders Julie Boardman and Diane Nicoletti, and a team of collaborators and industry experts, the first-ever permanent museum features both traditional and immersive experiences showcasing productions including Rent, The Whiz, Phantom of the Opera, A Chorus Line, and West Side Story, among others, plus a special exhibit called "The Making of Broadway," which brings attendees behind the scenes—soup to nuts—of what it takes to bring musicals and plays to together for weekly performances.
We all know a huge part of Broadway magic is based on lighting, and one of the key professionals involved in the project is celebrated lighting designer Seth Bernstein. Renowned for his design work on Saturday Night Live and with high-profile clients like Nike, Rihanna, and Louis Vuitton, Bernstein was thrilled to take on this Herculean task of bringing the vibrancy of Broadway to life. We recently caught up with him for some insights on the part he played in the project and what it felt like "coming home" to his roots. "I'm really lucky to have come from Ithaca, New York, which has this incredible regional theater called the Hangar Theatre that's attracted international talent," Bernstein says. "I grew up there, started working at the theater when I was 13, and kept going through college, so [working on the Museum of Broadway] did feel like going home."
Of course, this homecoming came with more challenges than most. "New York is such a unique city because space is such a premium. Coming at the design for the Museum of Broadway, I knew we would have to take ideas that are made for 30-40 foot prosceniums and then adapt them to eight-foot ceilings," Bernstein explains. "That's one of the ways that my background really helped, because working on SNL for four seasons, we were always cramming things into corners of 30 Rock or shooting in odd spaces. Just knowing how to use every inch of available space is a skill I've developed working in New York for a decade."
That experience is what helped form Bernstein's approach to the project, which includes the use of track lights. While they aren't a theatrical tool, they were implemented in such a way that they could become theatrical. "Track lights were a choice of necessity, and then the theatrical twist we did was to actually research the original gel colors from the shows and to put those theatrical gels in them," Bernstein reveals.
"I've had two really great assistants, Grace and Colleen, who did a lot of that research, and then Julie was able to put us in touch with some designers for primary source materials." In fact, Bernstein and his team were able to talk to the original light designer from A Chorus Line to get his plots and magic sheets. In some cases, the original gels had been discontinued,
45 designing lighting
HOSPITALITY
Photo Credit: Monique Carboni
so Bernstein and his team have had to look at the closest available substitutions. "It was a rather large undertaking, and it continues to be an undertaking, because the gels burn out," Bernstein adds, "so the museum staff needs to change the gels just like a Broadway show would do."
Additionally, certain areas of the museum also feature some unique fixtures, for example in the gift shop and the Ziegfeld Follies space. So in a way each exhibit is curated like its own individual project while simultaneously linking back to the museum's overarching story. "One of the first discussions I had with Julie, Diane, and the exhibit designer Giulietta Tripoli was how many practicals we could cram into the museum because there was a limited amount of expression we could do with the track lighting," Bernstein notes. "We're missing a lot of things that you can do on Broadway: We can't have any atmosphere; we can't have haze or smoke; and we had to eliminate a lot of the moving lights that are commonplace because they require too much maintenance and specialized service which affected our budget." In terms of the fixtures, Bernstein knew how limited the team would be with the ceiling height and crossed off a lot of the tools that make a Broadway
show engaging. "So I encouraged all of the exhibit designers to find ways to incorporate practicals like something as simple as the desk lamp in The Producers room, which brings the whole space to life, or the chandelier in the Follies area." The project architect (Paul Bennett Architects, PC) was also key in sourcing the custom chandeliers for the gift shop, which Bernstein incorporated into the lighting plan. All in all, Bernstein says, it was a collaborative process—just like Broadway itself.
As one journeys through the museum's spaces, you'll find that the area for the big finale—"The Making of Broadway"—has higher ceilings. Designed by the Rockwell Group, the exhibit was created to be a showstopper for visitors. "We really went all out with theatrical lights, shutter cuts, and creative angles," Bernstein notes. "That was the one where we went to the fullsize fixtures. We saved it all for that moment, because if I had done that throughout the museum, the space would get really claustrophobic really quickly." In fact, Bernstein adds, if you go into a Broadway theater and you stand on the stage, the lighting and fixtures make it feel claustrophobic. "But I didn't want that sense for people attending the exhibit," he adds. "It was important to me that there wasn't a lighting fixture blocking your view of anything when you walk in the door or through a door to a room, which, with eight-foot ceilings, is a huge challenge."
Additionally, Bernstein does a lot of work with time code for television and concert projects where he has to track ahead of time and put time-code markers in a computer timeline. Then all the cues run in an automated sequence to the music. "We're adding that to different exhibits within the museum as they evolve, which is a technology that's not new to Broadway but has become more common with the jukebox musicals where things are to track and there's a lot of automated scenery," Bernstein explains. "We'll continue to add technology that's new-ish to Broadway into the museum as time goes on, so it's definitely something that people would want to go back to." He equates the experience to theater enthusiasts going back to see their favorite shows when new leads take over performances. "That's part of the Broadway experience, too—if you're a fan of a show, you go back and see it more than once."
While new technologies may pique Bernstein's interest, that's not his primary focus. "We're constantly on the lookout, but my approach is not so much looking at what's new and flashy, but what can operate with efficiency, flexibility, and reliability." Add to that tracking supply chain issues, which Bernstein reveals is a huge part of his job, as well as lighting controls and selecting a control system. "For the museum, I had to triangulate between what meets New York electrical energy code and can support show control [time code, color changing, time of day], and then also what's available," he explains. "We went through six iterations of the control system, so it's important to keep in mind to ask every necessary question both of yourself and of everybody else—that's part of the collaboration."
As for what inspires Bernstein, he's a huge art fanatic and because he travels all over the world for his projects, he gets to pop in to see a range of exhibits anytime he's in a city. "Luckily, there's moments on these projects where there's other work to be done so I'm able to go to museums, which I love to study architecturally," he says, "and the art itself really inspires me."
As for the Museum of Broadway, creativity is what he loves most about the project. "I think it's important that Broadway has a museum like this," Bernstein concludes. "There are so many artifacts that even if it doesn't inspire people to make theater, it will inspire them to create, which is something I think was missing from New York." ■
46 designing lighting
HOSPITALITY
TRADE SHOW: MAY 23-25 |
CONFERENCE: MAY 21-25
JAVITS CENTER, NEW YORK
Bright lights. Bold ideas. Big opportunities.
Experience the electric energy of LightFair 2023 in the heart of Manhattan. Meet leaders from across the entire lighting industry, generate new ideas, and explore innovation in a whole new light on the show floor and in the industry's most comprehensive conference.
IES and IALD members enjoy complimentary show floor access with registration.
FIND YOUR SOURCE OF INSPIRATION | REGISTER AT WWW.LIGHTFAIR.COM
By
SCOTT ZIMMERMAN AND DEBORAH BURNETT
Technology Eliminated It for ENERGY
Isn't It Time to Welcome Back NIR?
SAVINGS:
PHOTO CREDIT: OATAWA
In addition to the three requirements necessary to sustain life, food, water and air, human beings are designed to be dependent upon continuous exposure to a Complete Biological Spectrum (CBS)* of natural daylight and evening darkness abundant with NIR. Throughout our evolution, humans have been exposed to biologically relevant protocols of combined UV, Vis and NIR spectral distributions governed by the location of the solar orb above and below the horizon line. The ever-changing spectral distributions are a cohesive
energy source conveyed as a continuum of bioactive stimuli upon which various skin, eye, and neuronal receptors are activated throughout the body and brain producing two types of melatonin. By their very nature, select CBS bandwidths are a source of eustress (good stress) which elicit various epigenetic stress responses necessary for our survival and assimilation to the Earthly location we presently occupy. Interestingly the responses are strategically aligned with the location of the solar orb above and below the horizon line to activate in
49 designing lighting
PHOTO CREDIT: CONCEPTUALMOTION
a coordinated series of 24/7 neuroendocrine, biochemical, and physiological responses each designed to maintain and reinforce brain homeostasis and its anticipatory response for adapting to environmental changes. These include the circadian primary zeitgebers of dynamic CBS, daylight-todark ambient temperature fluctuations, and individual habits of preferential feeding times which either support or disrupt digestive tract function and normal processing.
THE SUN: Primary Provider Of Energy And Driver Of Biology
The most basic survival trait of any organism is two-fold; conserve energy and adapt quickly to environmental changes which will impact survival within that environment. The primary source of energy on Earth is the sun and all terrestrial living beings are dependent upon that energy. Successful adaptation requires anticipation thus the human brain, body, and biology are evolutionarily designed to function in a state of homeostatic anticipation as to awareness of the position of the solar orb and to successfully respond in advance of the transition between light and dark. Current scientific understanding is still scratching the surface for an accurate assessment of the exact model as to how the sun and our biology work together. But, NIR is making investigators take a look at this bandwidth as it is proposed that the NIR portion of natural sunlight stimulates an excess of antioxidants in each of our healthy cells and that the cumulative effect of this antioxidant reservoir is to enhance the body's ability to rapidly and locally deal with changing conditions throughout the day.
MELATONIN: Biologically Connecting Sleep at Night and Activity During the Day
For humans, achieving quality sleep at night is a two-step biological process beginning with exposure to UVA and NIR early in the morning so that that the act of sleep can happen at night. This is identified as the homeostatic sleep process (HSP) and is supported by two types of melatonin both of which are dependent upon the sun and its position above and below the horizon line. As a component of total solar energy, near-infrared (NIR ) is instrumental for supplying the cellular and metabolic energies needed for optimized continuation of the HSP and the circadian rhythm throughout our lifespan. Melatonin in both
of its forms plays a critical role by working synergistically with both. The most recognized form of melatonin is an endocrine hormone expressed from the pineal gland directly into the circulatory system for the purpose of downstream epigenetic and sleep-related neuroendocrine responses.
Primarily known for its role in sleep initiation and maintenance, pineal melatonin is also a vital player in its role as a tumor suppressant via regulatory protein P53, which also plays a role in stem cell development and the regulation of the cell cycle, apoptosis, and genomic stability. It is estimated that the pineal gland accounts for less than 5% of the total melatonin produced in mammals. (4).
• Circadian rhythm is 24.2 hours on average and must be synched to Earth's L/D photoperiod of 24 hours
• Circadian rhythm amplitude is robust in morning ensuring arousal and mid day alertness and then decreases throughout the day through premidnight hours
• Sleep need or pressure is low upon awakening and increase throughout the day then plummets sharply prior to midnight for most adults
• Adenosine, a vital nucleoside occurs in all cells and is derived from adenosine triphosphate (ATP) which is the primarv energy source of the cells. It increases throughout the day upon activity and exposure to bright daylight rich with high energy blue wavelengths. It drops off at night @ 10PM and will begin anew with the onset of the cortisol awakening response (CAR) which for adults begins between 4-6 AM
50 designing lighting
*Complete Biological Spectrum (CBS): A high cohesive biologic stimulant comprised of electromagnetic bandwidths composed of UVA, UVB, VIS and NIR wavelengths currently known to elicit a human biologic response
CREDIT: Deborah Burnett
The second form of endogenous melatonin, extrapineal melatonin, is produced in the mitochondria found in virtually all our cells. This distributed reservoir provides local and rapid response to everyday activities including ATP production exposed to NIR. It is currently estimated that there are 1017 mitochondria within our cells. Because of its distributed transient nature, extrapineal melatonin is measured in our body fluids during stressors (exercise, NIR whole body treatments, sex, eating, etc.), unlike pineal melatonin which is measured under sedentary conditions. As shown on the left, during intense exercise plasma melatonin concentrations rapidly increase in the blood stream and then plateaus for the remainder of the exercise. Once the exercise stops, melatonin levels slowly return to the circadian baseline. Sweat and plasma melatonin measurements during a wide range of exercises support that extrapineal melatonin increases during the day in sunlight (2). Adenosine, a nucleoside derived from adenosine triphosphate (ATP), is recognized as the primary building block of RNA and contributes to that of DNA. It is also known to carry energy within its cell and is touted as the primary energy currency throughout the body and is produced continuously throughout daylight hours starting with the Cortical Awakening Response ( CAR). It increases throughout the daylight hours and into the early night during physical activity and exposure to NIR and possibly moonlight. Unlike visible electromagnetic radiation, NIR penetrates the skin, underlying tissues, and organs; thus it can directly impact the physiology of these cells. Most lighting pros falsely assume that the CCT of moonlight is a cool 4125nm even though the SPD demonstrates a robust majority presence of long wavelengths including NIR.
Emerging research is now also demonstrating that darkness expressed pineal gland melatonin has uniquely evolved to protect and enable the brain to operate at 80% capacity during periods of low cellular activity (sleep). It is also speculated that the remaining reservoir of extrapineal melatonin necessary for production of alertness-promoter adenosine will be available to serve until adenosine suppression naturally occurs usually around 10:00 PM in most latitudes. This ensures that the reaming extrapineal melatonin will provide the extra energy needed by the circulating pineal melatonin to remain vigilant while the brain is in a reduce energy state. This is a critical concept to grasp as the two purposes extrapineal melatonin serves at this time juncture are critical for providing the brain
a safe opportunity to reduce its energy needs and rest in order to prepare for higher energy demands the following day. The stimulus for triggering these actions is the location of the solar orb either above or below the horizon line. Our speculation is that the position and phase of the moon will also play a role in supplying the NIR stimulus for extrapineal energy production to assist the pineal gland as a secondary source of energy for the necessary tumor suppressant functions needed at night during the brains low energy capacity while we sleep. Heres' how it works: the early morning hours, prior to the solar rise up from 18 °below the horizon, are a particularly stressful time for the immune system. It is here where the most opportunistic tumors expand in size and metastasize. Unfortunately, this is exactly when the energy stores of pineal melatonin are beginning to deplete in advance of the Cortisol Awakening Response a few hours later. Extrapineal melatonin is available to supplement the depleting pineal melatonin, p53 and the adaptive immune system, to interfere and/or prevent with tumor growth and expansion beyond its primary site while the sun is below 18° The period between 2 a.m. and 4 a.m., when circulating pineal melatonin and the organs it influences are in a low energy state, is when extrapineal melatonin provides the additional energy for the pineal melatonin tumor suppressant p53 to remain vigilant. While pineal melatonin may be the "Hormone of Darkness", subcellular melatonin may be considered the "Hormone of Daylight" (1).
CORTICAL AWAKENING RESPONSE-Waking Up Biology Before You Wake Up
Here's how it works. If you start at midnight, the pineal gland is secreting into the CSF melatonin to allow the brain to operate at 80% of daytime levels and provide supplemental melatonin to all our cells during a period of low cellular activity. Melatonin was uniquely selected for the job because of its antioxidant prowess. The brain anticipates the coming day and in the early morning hours starts to elevate cortisol levels as light impinges on the skin and through the eyelids cortisol continues to rise. As our cells wakeup and ATP kicks in extrapineal melatonin starts to rise. NIR further stimulates extrapineal melatonin along with other stressors (eating, exercise, etc.) Outdoors NIR is always in excess to VIS. Melatonin suppresses cortisol providing a necessary counterbalance to extra adrenal cortisol generated in the skin triggered by melanopsin in the skin and retina. Around noon melatonin to cortisol levels hit a minimum generating maximum alertness. As the afternoon progresses NIR increases
51 designing lighting
CREDIT: James Benya and Deborah Burnett
faster than VIS and a nap seems like a good idea under the shade tree. Throughout the day both cortisol and extrapineal melatonin increase in unison to naturally occurring stressors. Under natural stressors the body is designed to generate an excess of melatonin. Like pushing on a sponge soaked with water, stressors can cause the release of excess melatonin into our body fluids and blood stream. Time lag generates an excess of melatonin immediately following a stressor; this is why we feel tired after strenuous activity.
This transient fluctuation rides on top of the circadian baselines which are measured under sedentary, no food, no exercise conditions. Essentially, we have been measuring only a small portion of the body's hormone response to real life. For 600,000 years we gathered around a campfire (NIR) that further increased extrapineal melatonin and the brain induces the pineal gland to secrete melatonin and the cycle starts all over again. The development of real-time wearable biosensors is for the first time revealing how our hormones are responding to both circadian and non-circadian events and it is the summation of both that determines our health (3).
Adenosine also plays a role in the CAR. While Melatonin is the primary hormone for our internal body clock, Adenosine serves as a quantitative sleep indicator. While adenosine builds up as we consume energy, the act of sleeping serves to break down adenosine, resetting our bodies in preparation for the next day. Reducing adenosine while sleeping is a critical factor for maintaining the continual system of energy production and the alignment with the circadian rhythm. Sleep deprivation fails to give our body enough time to break up adenosine which may, in turn, lead to an adenosine build-up over time. It is this failure of adenosine breakdown that leads us to feel groggy when we wake up.
TIME to RETURN NIR? … or Begin Active Investigation
For almost twenty years the LED lighting industry's awareness of bioactive spectra for both circadian support and sleep has evolved to embrace a Full Spectrum Lighting (FSL) light source devoid of NIR. This has evolved primarily focusing on VIS wavelengths for circadian alignment. Continuning to promote the singular model of VIS only wavelengths intending to artificially support both the circadian process and elicit efficacious sleep at night fails to understand the synergistic nature of each process and how both are dependent upon NIR. With increasing scientific interest in melatonin and NIR maybe IT IS time for the lighting industry to work together to investigate the potential for light sources combining both VIS and NIR. ■
1. Tan, Dun-Xian, Melatonin: both a messenger of darkness and participant in the cellular actions of non-visible solar radiation of near infrared light. Biology 2023, 12(1), 89; https://doi.org/10.3390/biology12010089
2. Zimmerman, S.; Reiter, R.J. Transient responses of melatonin to stress. Melatonin Res. 2022, 5, 295–303.
3. Torrente-Rodríguez R.M. Investigation of cortisol dynamics in human sweat using a graphene-based wireless mHealth system. Matter. 2020 Apr 1;2(4):921-937. doi: 10.1016/j.matt.2020.01.021. Epub 2020 Feb 26
4. Zhao D., Yu Y., Shen Y., Liu Q., Zhao Z., Sharma R., Reiter R.J. Melatonin synthesis and function: Evolutionary history in animals and plants. Front. Endocrinol. 2019; 10:249. doi: 10.3389/fendo.2019.00249
52 designing lighting
CREDIT: Scott Zimmerman
CREDIT: Wei Gao
CREDIT: Terry Craille
Your Lighting Specialists
Lean on your local experts
Our local lighting design and controls specialists are here to make your job easy. We'll support you with:
• Professional on-site audits
• Design layouts
• Specifying products
• Identifying rebates
• Controls commissioning Sonepar brands across the US have extensive lighting inventory – and a single point of contact for your projects nationwide.
Look to your local Sonepar distributor for your lighting needs.
www.soneparusa.com
53 designing lighting
JUST IN...
Wall Wash Optic System
CSL Acrobat™ is a state-of-the-art wall wash lighting fixture that provides exceptional illumination with uniform light distribution, accurate color rendering, and reduced glare. Its modern design features a patented wall wash optic that snaps into the standard trim and can rotate in either direction for precise light placement. The decorative cover fits securely to maintain a polished ceiling appearance, available with a round or square standard trim.
being too noticeable. Sanibel comes in indoor, outdoor, and high abuse/behavioral health models, all of which come in either 14" or 26". It's available in various finish colors, which allow it to blend seamlessly into the wall for a clean, unobtrusive look.
SilentAire Plasma Air Disinfection Round 24″ Air Purifier
SilentAire lights feature an internal circulation system that circulates plasma to neutralize harmful pollutants, pathogens, and odors. With coverage up to 1,378 sqft at 32ft height, it kills 99.9% of airborne viruses and bacteria, including SARS-CoV-2. Easy to install as a regular fan and controlled by wall switch.
is an innovative two-circuit solution featuring magnetic track head connectors. It is a 24VDC two-circuit plaster-in recessed track system that enables independent switching and dimming for two groups of fixtures. Its patented design is only 5/8" thick and blends seamlessly with drywall surfaces, eliminating the need for joist modification and providing greater flexibility to make turns along the ceiling. A paintable slot cover in aluminum or steel is included for a clean, architectural look with only the track head visible after installation.
Ooooh Linear Pendant
BETACALCO's unique louver system, Ooooh Linear Pendant enhances traditional linear lighting. The louver system is designed in a tunnel shape and comes in 5 finishes, with options for glare control, higher reflectance, or design enhancement. The luminaire body is available in 12 finishes, including metallic and wood options, allowing customers to create a personalized and luxurious design. With this product, Ooooh offers a simple way to transform functional lighting into a stylish feature.
DENALI INTEGRAL POLE
B-K Lighting unveils the Denali Integral Poles capable of mounting up to 4 fixtures in various orientations (horizontal, vertical or spiral). Available in pole heights ranging from 8ft to 20ft, the Denali Integral Floodlight utilizes 13W or 21W per fixture and can deliver nearly 6,500 total lumens with 4 fixtures. Choose from either a 4" round or square pole design, in aluminum or steel.
54 designing lighting
ELLE Pendant
Axis Lighting introduces Pendant, a sleek architectural lighting fixture that harmoniously blends style and performance. The curved polycarbonate lens offers a smooth and easy-to-clean surface while creating a gentle and uniform light spread. The hairline joints make the ELLE Pendant virtually invisible, enhancing the design of the surrounding architecture.
NM1-PRDC
Nora Lighting unveils the NM1 -PRDC M1+ 1" downlight, a compact and easy-to-install option. With a pre-wired junction box and no housing required, the M1+ is ideal for both commercial and residential use. The upgraded version of our original M1 downlight, it can be customized with a square trim accessory in matte black, bronze, or matte powder white, enhancing the design of the surrounding architecture.
Aether Atomic Pinhole Square Trimless
The Pinhole Square Trimless Atomic series. With its tiny 1" or 2" aperture, it delivers robust and bright light output that illuminates any space with ease. The low glare design of this product provides optimal visual comfort, making it perfect for environments where people spend extended periods of time. The beam angle can be easily changed on site with the reflectors provided, giving you complete control over the lighting in your space. The low profile housing is designed to be installed in shallow plenums as small as 2", making it an ideal solution for tight spaces.
Solo 23510
offers a modern and stylish range of pendant lights and wall sconces with a minimalist touch. The design of Solo embodies a perfect blend of boldness and subtlety, making it ideal for use in commercial spaces, hotels, and homes. The collection comes in two sizes, 10" and 14", and various colors to choose from.
offers a multi-family lighting solution with the option to include lighting next to each unit number, displayed in clear and readable numbers. It comes in various finishes and sizes with options for different font styles and braille. Its modular design allows for customization and the creation of the ideal solution for your project. Choose from 5", 10", 15", or 20" panels, or opt for the sconce
, a sleek 7-inch wide variation of Tess, is a versatile direct/indirect grazing light fixture for both indoor and outdoor use, perfect for enhancing doorways, columns, building facades, windows, and elevator lobbies. Tessie is crafted from durable heavy gauge aluminum and can be mounted either vertically or horizontally.
LeeSti Stage Pendant System offers versatile design options with its aluminum extrusion and acoustic panel configuration options. It is available with various upholstery colors and can be programmed with different outputs at the factory. The aluminum end caps have a powder coated finish, while the acoustic panels are available in 2', 3', 4' or 6' lengths. The lighting modules have adjustable illumination along their axis and the acoustic panels can be aimed as desired.
55 designing lighting
2023 Nonresidential Construction Forecast: "Moderate"
CRAIG DILOUIE, LC, CLCP By
In 2021, the U.S. rebounded from 2020's short but devastating pandemic recession with the strongest economic growth in nearly forty years. In 2022, the economy remained resilient despite high inflation and rising interest rates, ending the year with signs that inflation may be easing. Due to these and other factors, global think tank The Conference Board forecasts that the economy will endure a resulting brief and mild recession in 2023 and then rebound in 2024.
A major contributor to the economy is construction, which overall exhibited very strong growth in 2022. Despite a strong finish to the year, however, nonresidential construction spending is expected to moderate in 2023 and slow significantly in 2024, according to the American Institute of Architects (AIA) Construction Consensus Forecast Panel, made up of leading economic forecasters. The Panel forecasted that nonresidential construction spending will moderate to grow a healthy 5.8% in 2023 but then slow to less than 1% in 2024.
"One of the key construction storylines for 2022 was the return of enthusiasm and optimism in prospects for nonresidential growth," said Richard Branch, chief economist for Dodge Construction Network. "While some of that will likely erode in 2023 as economic growth wanes, increased demand for some building types like data centers, labs, and healthcare buildings will provide a solid floor for the construction sector."
2022 Construction Spending
According to the U.S. Commerce Department, U.S. put-inplace construction spending grew to a seasonally adjusted annual rate of $1.8 trillion in November 2022, the latest month for which data was available at the time this article was written. Year over year, total spending increased 8.5%.
By sector, residential construction spending grew 5.3% to a seasonally adjusted annual rate of $877 billion as of November 2022. Nonresidential construction spending, meanwhile, grew a
strong 11.8% to a seasonally adjusted annual rate of $930 billion as of November 2022.
Private nonresidential construction grew 8.1% on a seasonally adjusted basis, and public nonresidential construction grew 10.4%. Overall, the top market segments were manufacturing (+42.9%), lodging (+30%), commercial (+20.3%), and highway and street (14.8%).
Dodge Construction Network
The year ended on a positive note, indicating positive momentum moving into 2023. According to Dodge Construction Network, total construction starts jumped 27% in December to a seasonally adjusted annual rate of $1.185 trillion. Nonresidential building starts increased 51%, nonbuilding starts increased 30%, and residential starts rose less than 1%.
"December starts revealed where the current strength in the construction lies: manufacturing and infrastructure," said Richard Branch. "It is those segments that will provide insulation for the sector as the economy softens in 2023. Recession or not, higher interest rates will weigh on the economy and restrain construction starts in 2023. However, it's encouraging to know that the new year is starting with a great deal of positive momentum."
In December 2022, the Dodge Momentum Index (DMI) improved 6.6% to 222.2 from the revised November reading of 208.3. The DMI is a monthly measure of the initial report for nonresidential building projects in planning, shown to lead construction spending for nonresidential buildings by a full year.
On a year-over-year basis, it was 40% higher than in December 2021; the commercial component was up 51%, and institutional planning was 20% higher. In December, the commercial component of the DMI rose 8.4%, and the institutional component ticked up 2.7%.
56 designing lighting GET CONTROL!
"One of the key construction storylines for 2022 was the return of enthusiasm and optimism in prospects for nonresidential growth."
− Richard Branch
DODGE MOMENTUM INDEX (2000=100,
Seasonally Adjusted)
Architecture Billings Index
Demand for design services from U.S. architecture firms continued to contract in December, according to the American Institute of Architects (AIA).
The pace of decline during December slowed from November, posting an Architecture Billings Index (ABI) score of 47.5 from 46.6 (any score below 50 indicates a decline in firm billings). The ABI was in contractionary territory for the last quarter of the year after nine months of expansionary scores.
Inquiries into new projects posted a positive score of 52.3; however, new design contracts remained in negative territory with a score of 49.4.
Regional averages: Midwest (49.4); South (48.6); Northeast (46.5); West (45.5). Sector index breakdown: mixed practice (54.8); institutional (47.3); commercial/industrial (45.2); multifamily residential (44.3). The regional and sector categories are calculated as a three-month moving average, whereas the national index, design contracts and inquiries are monthly numbers.
"Despite strong revenue growth last year, architecture firms have modest expectations regarding business conditions this coming year," said AIA Chief Economist Kermit Baker, PhD, Hon. AIA. "With ABI scores for the entire fourth quarter of 2022 in negative territory, a slowdown in construction activity is expected later this year, though the depth of the downturn remains unclear."
AIA ARCHITECTURAL BILLINGS INDEX, 2022
57 designing lighting GET CONTROL!
NEMA ELECTROINDUSTRY BUSINESS CONFIDENCE INDEX, CURRENT NORTH AMERICAN BUSINESS CINDITIONS, 2022
Despite the largely positive net readings, respondents are less confident about growth prospects than they were a year ago. For all but three project types, the net reading is less positive than in the 2022 survey. The steepest downturn in expectations occurred with multifamily and warehouse construction, both of which recorded declines of 31 percentage points from the net readings in the 2022 survey. The outlook for lodging construction slipped from modestly positive a year ago to negative.
Electrical Industry Confidence
The year 2022 posed a challenging business landscape for electrical manufacturers grappling with high demand coupled with supply chain problems, inflation, the effects of the war in Ukraine, a volatile stock market, a tight labor market, rising interest rates, and recession fears.
As a result, electrical industry business confidence was negative for much of the year, as expressed by the National Electrical Manufacturers Association's (NEMA) Electroindustry Business Conditions Index (EBCI) for current conditions in North America. The EBCI was in neutral or worsening territory for 10 out of the 12 months, with December ending on a score of 50, indicating conditions had not changed from the previous month.
General Contractors
Construction contractors are less optimistic about many private-sector segments than they were a year ago, but their expectations for the public sector market have remained relatively bullish, according to the Associated General Contractors of America's The 2023 Construction Hiring & Business Outlook.
The net reading—the percentage of respondents who expect the available dollar value of projects to expand compared to the percentage who expect it to shrink—is positive for 14 of the 17 categories of construction included in the survey.
The highest expectations among predominantly private-sector categories, with net readings of 28% each, are for power projects and other healthcare, such as clinics, testing facilities, and medical labs. There is also a generally positive outlook for hospital projects and public buildings, with net readings of 23% each. On balance, contractors were optimistic, as well, about the education sector. The net reading for both K-12 schools and higher education construction is 16%.
The net reading for manufacturing construction is 14%, compared to 27% in the 2022 survey. The net is 12% for data centers, down from 31% a year ago, and 10% for warehouses, down from 41%. There is a net positive reading of 1% for multifamily residential construction. Expectations are bearish for lodging, with a net negative reading of -4%; private office, -21%; and retail construction, -22%.
"Contractors are optimistic about the construction outlook for 2023, yet they are expecting very different market conditions for the coming year than what they experienced last year," said Stephen E. Sandherr, the association's chief executive officer. "Even as market demand evolves, contractors will continue to be confronted by many of the challenges they faced in 2022, including the impacts of supply chain problems and labor shortages."
AIA Consensus Forecast for 2022
While spending on nonresidential construction picked up momentum toward the end of 2022, construction spending will moderate in 2023 and slow significantly in 2024, according to the AIA Consensus Contraction Forecast.
Despite macroeconomic headwinds such as inflation, rising interest rates, and weak consumer sentiment scores, the Forecast panel projected nonresidential construction spending to grow 5.8% in 2023 but slow to under 1% in 2024.
Similar to 2022, growth in construction spending in 2023 will be uneven, with a projected 2.6% increase in the commercial sector, 15.1% for industrial facilities, and 4.1% for institutional buildings. In 2024, spending on commercial buildings is forecast to decline 1.4%, while industrial projects gain a modest 0.4%, and a 3.8% increase for institutional facilities.
"The U.S. economy will continue to face serious challenges as we move through 2023, dampening the construction outlook," said AIA Chief Economist Kermit Baker, Hon. AIA, PhD. "However, healthy architect and contractor project backlogs should ease the negative impact of an economic slowdown." ■
58 designing lighting
GET CONTROL!
COLLIERSVILLE HIGH SCHOOL Colliersville, TN Celeste LED House Light M.S. RAU ANTIQUES New Orleans, LA Mosaic Pattern Projector SECOND PRESBYTERIAN CHURCH Richmond, VA CR100 Track Luminaire In 1934, Times Square Lighting opened its doors in New York City. BOOTH # GB612 JOIN US AT We have been lighting venues ever since. • Track and Display Lighting • Recessed Lighting • House Lights and Pendants • Theatrical Lighting and Accessories Visit www.tslight.com/projects to learn more about how we can help you. TSLIGHT.COM (845) 947-3034
IMMERSIVE LIGHTING: A NEW EXPERIENCE
JUAN DAVILA By
Immersive lighting cannot be measured with a light meter...it is definitely an experience.
The notion begins with the idea of architecture as a light source. Impossibly thin lighting solutions enabled by the creative application of LED technology has truly led to the concept of walls, floors, and ceilings not only hosting electric light sources but being electric light sources. The idea of spaces, whether interior or exterior, glowing with tunable, reactive, controllable light is very appealing. I see an evolving fusion of traditional theatrical lighting techniques with media delivery systems. I see this overlap and integration of technologies and artistic expression as the next wave in experience design.
Immersive experiences are essentially collaborative. The lighting designer should be part of the design process, and vice versa. To give an environment the right feel, you need to consider all lighting elements from the outset. This is also handy for practical reasons. It gives you the ability to hide cables, install fixtures discreetly within the space and save time and cost on the installation. Lighting needs to complement the space and not feel intrusive. It should make people feel more immersed, not distract them.
People want tangible interactions and live engagements because experiences are memorable. They respond to lighting that changes with their body movements, light that creates and sculpts the environment, and light that is tunable to mimic the time of day. Audiences have long expected romantic restaurants to be dimly lit and offices to be bright and vibrant, but their expectations have matured.
The lines between architecture, events, and theater blur when lighting designers create memorable spaces to provide beauty, function, art, and entertainment. Public spaces require a new level of sophistication with cutting-edge hospitality design and a more upscale approach to detail. Lighting is becoming a true art form
instead of it being strictly functional. Technology helps lighting designers bring art to life with new products and controls that allow our imaginations to run free, sometimes at what appears to be the touch of a fingertip. In the 2020s, people want human connection, and lighting is a clear pathway to these experiences. A beautifully designed restaurant, an art gallery,
60 designing lighting
Immersive Van Gogh Exhibit, Nashville
Photo by Randy Reid
an interactive light art exhibition, a corporate event, or a night club can provide a perfect meeting spot for life to just happen. Light is life.
Moving forward, the pace of innovation is permitting a reimagining of form factors, applications, performance, and experience that should be included in the architectural vision of projects. LED technology now allows us to integrate lighting directly into a wall or ceiling surface, with little energy consumption, heat, or maintenance to worry about. This fusion of light and material, of embedding lighting elements directly into architectural surfaces, opens fresh new approaches to creating eye-catching spatial experiences. The inclusion of luminous surfaces begs for comprehensive design to create a unified experience for the occupants of a space. This drives architects, interior and lighting designers to embrace a raft of new digital tools, such as using live-rendered photo-realistic game engines, VR experiences, video editing, motion graphics, etc. throughout their design development process.
Designers need to visualize, simulate and craft not only simple luminous surfaces, but dynamic surfaces that interconnect the digital world with the occupants of the space. Architects and interior designers have long tried to break free from the constraints of traditional light fixtures, to use light as a form of fundamental building material to add visual richness to architectural surfaces. Fusing the best properties of luminosity, optical effects, material richness and graphic design, embedded lighting opens tremendous creative opportunities. Luminous surfaces change the way people perceive, occupy and enjoy architectural spaces, particularly in hospitality, retail, and public applications.
Custom integration of embedded lighting has been difficult to specify and costly to install on construction projects, limiting broader adoption. While designers explore the creative possibilities of embedded patterns and surfaces of light, manufacturers need to develop flexible and customized product systems that accommodate an enormous range of creative styles, along with digital technologies, to advance the design, visualization and fabrication processes.
Architectural lighting designers must become motion artists. No longer can architectural lighting be considered the magnificent play of volumes brought together in light when the volumes themselves now emit light…and so much more. When every point of light in a building is effectively a digital pixel, designers need to create continuous fluid visual experiences. The concept of editing "timelines" at different scales becomes a critical skill, ranging from short term personal experiences, to daily cyclic patterns, to seasonal cyclic patterns.
61 designing lighting
People want tangible interactions and live engagements because experiences are memorable.
Immersive Van Gogh Exhibit, Nashville
Photo by Randy Reid
Immersive Van Gogh Exhibit, Nashville
Photo by Randy Reid
The job of lighting designers is to create, enhance or manipulate an experience. All design is based on interactions, whether direct or indirect, that create a generally positive experience, enhancing the user's time with a product or within a space. But how do we achieve this positive experience? Sound, light and immersion are key to crafting experiences that captivate and consume us. The truth is, regardless of why, those elements together can evoke some sort of sincere elation that is like an artfully crafted rollercoaster. That mild adrenaline of being assaulted by floods and ribbons of coloured light, while the music swells to a crescendo around you, is something like no other. Like some sort of poor man's thrill seeker, you just have to keep going back for more.
What can designers take away and apply to, for example, a residential scheme or restaurant lighting? A designer's job is to create, enhance or manipulate experiences. If these installations are such strong, positive examples of good experience then it would be prudent to keep these moments in mind whilst we design; design with love, emotion, passion and drama! Design with colour and pattern. Create the unexpected. Take risks. Use products in new, weird and wonderful ways to tell a powerful and conscious story. Incorporate a curated soundscape and be aware of all the senses in play in the space. Do whatever it takes to immerse the user into the world you've created for them.
Context is everything, and it may not always be feasible or appropriate to propose such schemes, but, where there is opportunity, we must take it and run. Create something spectacular, fabricate joy and make the world around us a delight to experience because, as they say, life is short.
By the year 2030, what we call architectural lighting will increasingly consist of embedded luminous surfaces, rich with digital content, smartly driven by data streams and responsive to our physical actions and biological needs in a space. Designers (architects, interior designers, lighting designers, etc.) will increasingly need to become experience designers, using scripting, storyboarding and digital-twin simulations to craft live, responsive new experiential concepts for guests, shoppers, patients, employees, and so forth.
Despite growing system complexity, project coordination and on-site installation costs will be reduced via digital-twin, cloudconnected commissioning and sophisticated integration of BIM processes. And, these projects will use DC-power systems to reduce the consumption and cost of all these digital systems while making our buildings net-zero energy consumers. The physical hardware of lighting systems will be designed to maximize new revenue streams opened by circular economy strategies, while simultaneously reducing our environmental impact. The Roaring '20s indeed look to be a brilliant decade for innovation in architectural lighting systems. ■
62 designing lighting
The Immersive Nutcracker
Photo by Randy Reid
The Dimmer is Dead, but the Future is Under Control
DAVID K WARFEL By
The Evolution of Controls
Simple switches gave way to wallbox dimmers for homes before the advent of centralized control systems offered greater flexibility and greater complexity. Smart phones are powerful but bring their own downsides, so we need a new dimmer that can support our lifestyles from sunrise to sunset, doing more than just changing intensity.
I learned quite a bit on my first job in architectural lighting twenty plus years ago, like how to run lighting calculations and why a ceiling uniformity ratio was important. I was taught by more experienced designers to build mockups to test solutions and to triple-check your specs before sending them out for construction. I learned how to minimize glare from a double triple-tube CFL downlight and how to specify
linear indirect T5 fluorescent in continuous rows.


And I learned that the dimmer was the lighting designer's best friend.
The halogen MR16 was our lamp of choice for residential and hospitality designs, praised for its high quality of light, six-
64 designing lighting
connection failed ! OFF 2020 2010 1980 1960 2030
Once a residential designer's go-to solution, the traditional dimmer may now be a roadblock to progress.
RESIDENTIAL
thousand-hour lamp life and easy dimmability. We encouraged clients to put every single one of them on a dimmer so we could set the light just right and touted the energy savings and lamp-life-extending benefits of dimming.
Then progress happened, and the MR16 was relegated to the trash heap of history as a short-lived, energy-hogging, heatproducing dinosaur. In came the compact fluorescent, slow to warm up and magnanimous in its wide distribution of light. We ran towards metal halide PAR20s for commercial settings but struggled to find a good replacement for the MR16. LEDs pushed us into the future once again, this time offering better optical control and the smaller form factors we love.
Sadly, we still struggle to dim our lights with the same smoothness, reliability, and gentle color shifting that was so easy with MR16s. We use a lot of warm-dim fixtures, especially those that mimic the dimming curve of halogen, but there is often a bit of anxiety while we wait to see how the fixture will perform with the controls, despite manufacturers on both sides testing hundreds and thousands of combinations.
All throughout this time we, as an industry, did our best to put a positive spin on our technological advances. I can remember convincing an investment banking firm to use compact fluorescent downlights throughout eight floors of new office space. I recall encouraging clients to use "dimmable" LEDs long before they could visibly dim below 40% or replicate an incandescent curve.
Over in the parallel world of theater and entertainment, I noticed a seismic shift years before it was felt in architecture. The dimmer was dying. LEDs were more quickly adopted in
theater and entertainment for their ease of color-changing, a high-demand feature that was previously extremely difficult. So, somewhere around fifteen years ago, I designed a lighting system for a theater with zero dimmers. In an era where I was regularly designing shows with three hundred or more dimmers, this was a big change.
The most forward-thinking theatrical dimming manufacturers did something previously unthinkable: they started moving beyond dimmers. The bread-and-butter of their industry was drying up overnight, and we can see parallels today in architecture.
At home, though, the dimmer is still around. It may be time for it to retire and play golf. Really good lighting at home – light that will help our clients live better lives – simply cannot work on a traditional dimmer. I sometimes wonder if warm-dim, still our most common spec in residential projects, will end up analogous to the compact fluorescent and my Prius hybrid: technologies that help us take
65 designing lighting
Dimming modern sources is simply not as easy as it used to be.
STATIC
TUNABLE
WIDE RANGE 2010 2020 2030
WHITE WARM DIM
WHITE
Is warm-dim a hybrid technology that will be replaced quickly, like compact fluorescent lamps or hybrid cars?
a step forward and then quickly give way to something better. And warm-dim bulbs are disappearing from the marketplace quickly, making it harder and harder to get nice warm light at home. I suspect socket saturation is mainly to blame for the disappearance of so many warm-dim options, but I think we made some marketing decisions that also doomed the bulbs. Before warm-dim was available, we marketed dimmable LEDs and swept the fact that most look ugly and gray when dimmed under the proverbial rug. And, we cast warm-dim lamps as a throwback to incandescent days instead of selling it as sunsetdimming. Some people like the old incandescent bulbs, but everyone likes a good sunset. And with the death of warm-dim bulbs comes a need for something better, something that goes beyond warm-dimming, like wide-range tunable white. Something that inherently needs a different – and bettermethod of operation.
The problem is figuring out what that something better will be.
The moment we step beyond warm-dimming fixtures, we find ourselves in a land of tunable or dynamic light capable of far more than the beloved MR16. Now we can have that nice, clean white of halogen when we want it, the soft warm of
incandescent later in the evening, and the crisp cool white of sunlight midday. We can have it all, if we can control it.
We are currently giving homeowners a tough choice: pull out your phone every time you want to change your lights, buy an expensive control system that does it for you, fiddle with awkward controls on a wall, squash your privacy concerns and talk to a smart speaker, or give up on the advancements of modern light. I have color-tuning lighting in some rooms of my house, but I cannot convince my family to use it. It's just too much effort. But a shift to tunable technologies will happen –the science of our wellbeing will demand it.
I would like to see a new dimmer, something as easy to operate as the stalwart rotary dimmer, as intuitive as a light switch, and as intelligent as a smart phone. I have a few ideas for how it might work, but there are likely those reading this with far more skill than I in the engineering and product development realm. I would love to see what you invent. I suspect it will be wireless, perhaps Matter-enabled for cross-platform compatibility, easy to install and retrofit, and, of course, come in trendy finishes. It will not be a dimmer – not really – but it will replace the incandescent dimmer with something more.
66 designing lighting
Dimmers alone cannot deliver the wide range of intensities, directions, and hues of natural light that we need every day.
Why wireless? As a society, we gladly trade convenience for quality every day. Think cell phones, which drop calls more than a land line but fit in our pocket. Think Wi-Fi, slower than ethernet but easier to get on the couch. Think wireless charging, less efficient, perhaps, but oh so effortless. I believe wired lighting controls are better, even in homes, but I have a hard time imagining that they have much of a future. Add in the evolution of mesh networks, where control memory and function are decentralized, and you have several compelling reasons to move beyond wired controls.
The next dimmer should not be a proprietary solution, where you are stuck beholden to one manufacturer for the decades you own your home. I suspect it will not be DALI or DMX, though both have their place in luxury homes and commercial projects. Perhaps it will be hot-swappable by the consumer, not requiring an electrical contractor every time an upgrade or replacement is desired.
The next dimmer may integrate with voice assistants, but will also provide a convenient, reliable point of control on the wall. Until voice is universal and ubiquitous, until you can walk into a rental or a hotel room or your neighbor's house and turn on the lights with your voice reliably, everywhere, every time, there will be good reason to have a dimmer on the wall.
Finally, the next dimmer needs to be affordable if we are to help our friends and neighbors get better light at home. The next dimmer cannot be $300, but should cost $30 instead. We have all the technology and knowledge to make this happen, we just need to work together.
Can we work together? Or will competition keep us from developing open-source solutions that benefit humanity and the planet with interoperability and redundancy? If Apple and Google can come to the table and develop a standard for smart homes, after pushing their own standard for years, we can do it, too.
Just like we need a new downlight, we need a new dimmer to get lighting at home under control. Our wellbeing depends on it. ■
Project Focus: Education
Trends: Standards Lighting 101: Energy Codes
67 designing lighting RESIDENTIAL
APRIL/MAY
COMING IN
THE LIGHTFAIR ISSUE
Extending the Life of Your Design –The Role of the Agent in the Circular Economy of Lighting
By Form Lighting and Controls
JONATHAN SCHWENKE, LC
My start in lighting was on the specification side, working for an MEP firm in Seattle, WA. The first LED luminaire I can recall being installed was for the City of Seattle in 2009, replacing 6" downlights in several restrooms managed by the city. The first few questions I remember hearing revolved around how they would maintain these new high-tech luminaires. The answer was simple…"That's so far off in the future, you won't even need to worry about it." Well, here we are in the future. I am now playing an important role supporting the efforts of building maintenance professionals on what to do next. Agencies across the country are routinely hunting down warranty information, diagnosing issues, coming up with LED-to-LED replacement solutions, suggesting sustainable methods of recycling, and list goes on.
replacement parts, or their control system no longer works despite having been installed just a few years ago. We handle these scenarios similarly, except for the fact that one requires an immediate affordable solution and the other (holistic approach) gives us time to do some real investigating, typically with a larger budget at our disposal. Both, however, should not involve scrapping the initial design for the sake of selling more luminaires. Agencies want to satisfy customers, but the task is daunting at times given the variety of LED luminaires installed today. I'm hoping this article will help by starting the conversation, earlier in the process, of what to expect once a project is turned over.
Manufacturer Warranties
Operating & maintenance manuals (O&Ms) are critical and can typically be found on site, but, in some cases, they're missing important information. Most lighting manufacturers rely on the electrical distributor's purchase order number to determine warranty status. With some lighting manufacturers giving a 10-year warranty, the O&M manual or network folder could be long gone. A better solution is to specify that the distributor's PO number is added to the label on the fixture itself. Most manufacturers can include a printed label during manufacture at little to no added cost. One might ask why the project name or building address would not suffice to identify a product's origin? The reasons are plenty: the product was purchased on a stock order, was part of a national account purchase, NDAs required building name to be generic, the address given was a staging area, etcetera.
I'm thrilled that the idea of a circular economy is gaining traction in lighting. Lighting agencies are in the trenches, aiding in the decision to re-lamp, retrofit or replace fixtures in existing buildings. Holistically, agencies will help specifiers evaluate vintages, light quality, potential energy savings, control methodology and future maintenance requirements. Agencies will also get the dreaded call from building maintenance professionals stating that they can't find
Without good information, warranties can take weeks to figure out. What usually happens is that your customer pays for a new fixture to replace one that's still under warranty, plus attic stock if they didn't order any in the first place. It's worth noting that electrical distributors might not make project records accessible for as long as the fixture is warranted, so relying on distribution to find order information may lead you to a dead end.
Agencies are responsible for vetting their manufacturers. Working with a lighting agency should give you peace of mind that the manufacturers they partner with are credible and stand by their product and warranty terms. The size of
68 designing lighting REP'S PERSPECTIVE
Engineered custom kit being fit tested in an 8' four lamp T5HO direct/indirect wall mounted luminaire (shown with opaque lens removed).
Credit: Jonathan Schwenke
a manufacturer is not necessarily a good measuring stick for their product reliability or customer service. I tend to lean on their engineering team's knowledge of their product, the simplicity of their warranty program and the manufacturer's ESG factors (Environmental, Social and Governance).
Light Quality and Controls
Simple lamp equivalent or "like for like" solutions economically make sense but are recommended only after a lengthy discussion on code requirements and control options. Light level requirements or the demands of the space may have changed since the initial installation. Agencies will aid in the research of local ordinances, IES Recommended Practices, Department of Health requirements and others to make sure the performance of the lighting system is up to date.
Local codes will also dictate required control methods, but, in most cases, adding dimming capabilities to a newly retrofitted space will aid in appeasing the demands of those who occupy these spaces and reduce the number of complaints after installation. It's never as simple as "like for like."
When dismantling an existing control system, we tend to push customers towards systems that can be expanded over time and offer control protocols that are prevalent in all types of building products and not specific to just lighting. These protocols can be wired or wireless systems. For instance, if issues arise in the common areas of the building and we've confirmed the existing control system is antiquated or no longer supported, we'll disconnect those specific lighting circuits from the existing system and pull them into a new platform – typically a distributed system. This allows the building owner to use up the remaining useful life in the existing system and spread the cost of the upgrade over multiple annual budget cycles.
Key aspects of a new lighting control system include:
◆ Zero annual maintenance fees
◆ Self-hosted or stand-alone networks
◆ Manufacturer agnostic
◆ Easily expandable
◆ Secure and automatic
◆ Schedule-based control options
Having both occupancy/local and scheduled control gives the customer flexibility versus being stuck with a system that only does one or the other. If utility incentives are available for luminaire level lighting controls (LLLC) or networked lighting controls (NLC), we'll push for upgrading the entire system to take advantage of these incentives.
Cost of Custom Kits
Converting the body of a fixture for which your customer paid around $120 per linear foot with a custom LED kit with dimming integration, creating what will be the equivalent of a new LED fixture, is not as involved as one might think. Continuing with the linear fixture example (pictured), an LED kit is roughly 30% the cost of a new fixture, and LED lamps with a dimming driver are roughly 20% the cost of a new fixture. Custom-engineered kits also increase our lumen output ceiling and light distribution options compared to an LED lamp and driver solution. This is relevant for existing fixtures using T5HO fluorescent or non-linear products using HID (high intensity discharge) lamps. A customdesigned kit also ensures that the fixture can be maintained for years to come with appropriate luminaire disconnects and, in some cases, tool-less fasteners. When taking this path with a customer, it's good to check your local code requirements and confirm if a custom kit needs to have specific listings (ETL, UL, etc.). A custom kit manufacturer can provide the appropriate listing if requested.
During the past decade, LED lighting has allowed the lighting design community to create amazing and environmentally conscious spaces. Lighting agencies are here to ensure that these designs present themselves as they were intended on day one. In the event you want to change things up, we're also here to guide you through that process with a sustainable approach. And, who knows what tools we'll have at our disposal when that time comes, but we'll be ready. ■
69 designing lighting REP'S PERSPECTIVE
Unknown LED kits removed early due to poor performance.
Credit: Jonathan Schwenke
Light fixtures with T5HO lamps removed from a building but saved due to the creation of a custom kit with appropriate lumen output, saving money while reducing waste. Luminaires were re-positioned to align with revised desk spacing.
Credit: Jonathan Schwenke
THE ROAD TO RECOVERY CONTINUES
Are the days of total unpredictability over?
Not quite, but we may be on our way. Current economic and geopolitical situations have lowered demand and consumer spending, among other things, and these conditions give the supply chain a chance to recover from incredibly high volume and turbulent years.
In the Asia Pacific region, container demand has fallen to prepandemic levels. China has eased its COVID-19 restrictions, ending the possibility of further shutdowns at Chinese ports. The end of these restrictions leads to some optimistic outlooks, primarily a surge in trade, as manufacturers' confidence in China's reliability increases. The China-North America import volume has decreased 15.9% YOY. Export volume from Asia to the rest of the world has decreased by 11.8% YOY.
Port congestion in North America has fallen to pre-pandemic levels for many, particularly those on the West Coast. Wait times are negligible, and demand has softened so that some terminals, like Los Angeles, Long Beach, and Seattle have been closing on certain days and cutting shifts due to
JACOB WRIGHT By
lack of activity. This time last year, such a thing would have been impossible. East Coast ports continue to see some congestion, but the situation is improving in 2023. Severe winter weather, a contributor to the unpredictability factor, has impacted ports primarily in Canada but they are expected to recover.
Europe is still experiencing some difficulty with congestion for both imports and exports. The easing of COVID-19 restrictions in China has led to increased volume to Europe overall. Rail strikes still loom over the United Kingdom. While the strikes came to an end in early January, negotiations are still on-going and strikes could resume on short notice. Sans the UK strikes, inland transportation is operating smoothly across Europe as a whole. If the easing of COVID-19 causes a surge in demand, air transportation may play a bigger role in the global supply chain as an alternative to ocean, although air freight remains a costly option.
The key to optimism is to look at the long term. The supply chain currently offers little to celebrate when viewed from an economic standpoint, but the road to recovery is being paved in the first half of 2023 and will hopefully manifest in the second half. ■
70 designing lighting
SUPPLY CHAIN
PHOTO CREDIT: ENANUCHIT
LIGHT Be in the Know in 90 Se TODAY IN DOWNLOAD NOW Today in Lighting (TiL) is the daily broadcast of EdisonReport and designing lighting (dl) Hosted by Randy Reid, TiL is presented in audio and video formats weekday mornings at 8 AM Eastern. TiL is also available for corporate sponsorship Please contact Cliff Smith for information: csmith@designinglighting com or 917 705 3439 new product launches project updates mergers and acquisitions staffing announcements industry stock news Today in Lighting is a production of EdisonReport.tv. TODAY IN LIGHTING Stay on top of your industry and your game! Tune in for the latest industry news including
in less than two minutes!
via Spotify or
you listen to podcasts, the EdisonReport YouTube channel or LinkedIn
All
Available
anywhere
NEWS FROM THE IALD
The International Association of Lighting Designers (IALD) is a global network of lighting design professionals, dedicated to advancing the art and science of quality lighting design. The association has several events and initiatives throughout the year, providing opportunities for members to connect, learn, and grow.
The IALD celebrated the launch of its newest region, the Middle East, at Light Middle East in Dubai on January 19th. The event was attended by over 100 people and featured speeches from IALD CEO Christopher Knowlton and Maria Dautant, Senior Associate at HLB Lighting Design. The IALD Middle East chapter currently has six members. Approximately 30 designers attended the event and they are already processing new member applications from the region.
One of the most eagerly awaited events is IALD Enlighten Europe, returning to the EU stage from June 30 to July 1, 2023. This lighting design conference will be held at Cafe Moskau in Berlin and is expected to bring together hundreds of industry peers for this event of the year.
Another exciting initiative is the IALD's global lighting project, Chasing the Dark. In its 10th year, this event sees the lighting community come together on March 23rd to connect over social media and celebrate the power of light. This year's theme is "Shadow Play"; all are welcome to participate.
In addition to IALD Enlighten Europe, the association has several other global events taking place throughout the year, including LightFair 2023 in New York, IALD Enlighten Americas 2023 in Banff, Canada and a project tour in Seattle, WA.
The IALD is dedicated to highlighting the achievements of its members. If you have a professional event and
would like to be in the Member Spotlight mailing series, you can email your news to the IALD Marketing + Communications department. You may be featured in an upcoming Reflections issue or social media post.
IALD has cautioned its members regarding fraudulent phone calls claiming to be from a representative of the IALD "conducting a survey". These calls are not approved by the association and should be disregarded.
Finally, the IALD's committees, teams, and leadership positions are all filled by volunteer members. If you're interested in shaping the future of the association, consider volunteering with the IALD. You can help advance the art and science of quality lighting design and spend time with like-minded individuals.
Get involved and bring the light! ■
72 designing lighting
72
Image Credit: Randy Reid
Christopher Knowlton and Maria Dautant announce new Middle East region in Dubai.
join WILD in celebrating International Women's Day!
monday - march 6th
all are welcome for a party to celebrate International Women's Day (IWD) and the women of the lighting industry! Join us March 6th for yummy food, cocktails and mocktails, and live music! We look forward to socializing with all our friends and allies from all corners of the industry!
wednesday - march 8th
join WILD + LEDucation with a wild explosion of color on International Woman's Day by
1. donning your best pink attire
2. turn your color-changing lights pink
3. stop by the WILD table across registration on the 2nd floor to grab a little something special for your outfit
wednesday - march 8th
Join us on social media by posting a picture of yourself striking the pose - and make sure to tag us
@womeninlightinganddesign (IG)
@Women in Lighting + Design (WILD) (linkedIn)
#IWD2023 #EmbraceEquity #WomeninLightingDesign
designing lighting
!
@ W O M E N I N L I G H T I N G A N D D E S I G N ( I G ) @ W O M E N I N L I G H T I N G + D E S I G N ( W I L D ) ( L I N K E D I N ) +
IESNYC Lumen Awards
Women in Lighting Awards
Light Middle East Awards
74 designing lighting
LIGHTING AWARDS COMPETITION
FINAL SUBMITTAL DATE 17 February 2023 ANNOUNCEMENT DATE 6 June 2023
Transformation
FINAL SUBMITTAL DATE 1 August 2023 ANNOUNCEMENT DATE EST October 2023
IALD International Lighting Design Awards FINAL SUBMITTAL DATE 15 February 2023 ANNOUNCEMENT DATE EST June 2023 NLB Art & Science Awards FINAL SUBMITTAL DATE 24 March 2023 ANNOUNCEMENT DATE 25 May 2023 NLB Tesla Awards ™ FINAL SUBMITTAL DATE 4 April 2023 ANNOUNCEMENT DATE 25 May 2023
IES Illumination Awards
NLB
Awards
The
FINAL SUBMITTAL DATE EST February 2023 ANNOUNCEMENT DATE EST February 2023
FINAL SUBMITTAL DATE 22 October 2022 ANNOUNCEMENT DATE EST June 2023
Lighting Leadership Award FINAL SUBMITTAL DATE 31 January 2023 ANNOUNCEMENT DATE June 2023 40 Under 40 FINAL SUBMITTAL DATE 23 December 2022 ANNOUNCEMENT DATE January 2023
FINAL SUBMITTAL DATE 10 November 2023 ANNOUNCEMENT DATE April 2023
LIT Design Awards
Women in
iF Design Award 2023
FINAL SUBMITTAL DATE EST April 2023 ANNOUNCEMENT DATE EST June 2023
FINAL SUBMITTAL DATE 28 November 2022 ANNOUNCEMENT DATE 19 January 2023
designing lighting 75 designing lighting 2-4 NOV 2023 BANFF, CANADA 21-25 MAY 2023 NEW YORK CITY LONDON LONDON is a proud sponsor and participant of these events. 23 MAR 2023 WORLDWIDE 18 - 23 APR 2023 MILAN * 2-5 AUG 2023 CHICAGOLAND 19-20 SEP 2023 DALLAS 2022 ANGELES 29 SEP - 1 OCT 2022 PALM SPRINGS 2022 DALLAS 2-4 NOV 2023 BANFF, CANADA 2-6 OCT 2022 FRANKFURT 21-25 MAY 2023 NEW YORK CITY 22-23 NOV 2022 LONDON 22 SEP 2022 LONDON 2023 CITY *dl is a proud sponsor and participant of these events. 3-8 MAR 2024 FRANKFURT 19-20 MAR 2024 NEW YORK CITY *
Luma Lighting Design
Haley Laurence started a new position as Senior Lighting Designer.
PEOPLE ON THE MOVE
Fisher Marantz Stone
Katheryn Czub has been promoted to Senior Associate.
Joosten Studio
Renée Joosten has launched her own architectural lighting design studio.
Office for Visual Interaction • OVI
Monica Llamas joined the board for International Association of Lighting Designers (IALD) New York Chapter.
LUMA Lighting Design
Sara Nonaka has been promoted to Senior Associate.
Pratt Institute
Joy Younan started a new position position as Part-Time Assistant Professor at Pratt Institute.
Lam Partners
Chris Stroik joined Lam Partners as Principal. He will lead the firm's Washington, DC studio.
As a young girl living in the Czech Republic shortly after the fall of the Soviet Union, Chrysanthi Stockwell was not fully aware of the political situation, but she does remember weekend trips to Germany to get peanut butter. While attending an international school in Europe, she took up classical Indian dance (Bharatanatyam) after seeing a dancer perform; Chrysanthi went on to perform for many years as a dancer, often 2 hours a day. Only a sixth-grader when the family moved to Nebraska – her father was transferred there for his work in agriculture –she attended an all-girls school, where the science and math program led to her interest in architecture. It was always going to be something that combined science and creativity for Chrysanthi Stockwell.
Looking at options for college, she liked the idea of building systems, and right there in Nebraska was a great program in architectural engineering. Within the Architectural Engineering program, her love of lighting design was sparked by Kevin Houser, one of her professors. She loved the amazing, hands-on lighting lab facility where she could dig into the intricacies of science and light.
Chrysanthi's second round of internship during her University of Nebraska AE program led to an offer to join HGA Architects and Engineers in Minneapolis to do lighting design. The lighting design group was then made up of 3 people. Now, 15 years later, Chrysanthi is Associate VP and Senior Lighting Designer, part of a team of 14 with a strong creative and technical identity. The lighting design group is a standalone discipline within the firm – responsible for its own P&L, providing services for HGA as well as completing their own lighting-only projects.
The impact of mentors cannot be overstated in Chrysanthi's lighting journey. "I've had a lot of amazing mentors…that kept me in lighting." At the beginning of her time at HGA, Chrysanthi sat beside Pat Hunt, a key figure in her growth. "I never wore headphones…I learned so much just listening to Pat talk to contractors!" Another important mentor has been the respected lighting educator Dee Ginther, who is now passing on the baton and, much to Chrysanthi's delight, her teaching materials and lighting samples, as Chrysanthi takes over teaching Dee's course for the IES Fundamentals of Lighting later this year.
Reflecting on challenges throughout her career, Chrysanthi cites balancing time, figuring out the chain of roles in the lighting industry, learning about what you can and can't control, advocating for the lighting design, and making sure your voice is heard. Her advice to those coming into the industry? "Be
curious, listen, go see lighting…get involved in education, take advantage of sponsorship available to attend programs (like the IES Emerging Professionals program) – it gives you a larger perspective of our industry. It gives you interconnections."
Chrysanthi has dedicated years of volunteer service to her local IES Section (she is a Past President of the IES Minneapolis-Saint Paul Section) and also at the Society level, supporting the IES Emerging Professionals program.
Asked what issues she sees facing the lighting community, Chrysanthi raises the challenge of the risk-averse, conservative nature of engineering making the dynamic nature of LED lighting difficult to incorporate, explaining that "with the long cycle time for building designs, the lighting can be outdated by the time it's worked into our designs." She sees a need for more data-driven information on the results (post-occupancy) of lighting installations – there is not much available, and rarely any budget to do this kind of research. She sees PNNL doing amazing work and some manufacturers working at it, but, in general, senses a disconnect between research/academia and practice.
Chrysanthi states that her success has come from others –mentors, colleagues – and she wants to do the same for others now. She views every opportunity as a learning opportunity – giving the example of explaining the importance of lighting to the client. "I'm good at boiling down complex concepts to simple concepts." A talent that no doubt makes Chrysanthi herself a mentor – to her colleagues, her lighting community and for her two young daughters. ■
UP CLOSE WITH
Chrysanthi
SHIRLEY COYLE, LC By
78 designing lighting
Stockwell
SPONSORS
SPONSORS
79 designing lighting Join us at ArchLIGHTsummit.com DOZENS OF CEU OPPORTUNITIES | BOLDLY DIFFERENT AND EXPERIENTIAL DISCOVER THE LATEST LIGHTING TECHNOLOGIES | NETWORK ACROSS DESIGN AND BUILD DISCIPLINES EXHIBITS FROM TOP COMMERCIAL LIGHTING BRANDS
SEPTEMBER 19-20, 2023 Join us at ArchLIGHTsummit.com A TWO-DAY EVENT COMMITTED TO THE BEST COMMERCIAL AND ARCHITECTURAL LIGHTING DOZENS OF CEU OPPORTUNITIES | BOLDLY DIFFERENT AND EXPERIENTIAL DISCOVER THE LATEST LIGHTING TECHNOLOGIES | NETWORK ACROSS DESIGN AND BUILD DISCIPLINES EXHIBITS FROM TOP COMMERCIAL LIGHTING BRANDS
DA LL AS MARKET CENTER 'S
EdisonReport.tv serves as a hub for all digital content in the lighting industry. A premier source for critical information surrounding lighting, EdisonReport.tv is dedicated to delivering industry news by way of video and serving its audience by spotlighting product launches and up-to-date educational videos, as well as information about upcoming webinars.
The Lighting Practice: Understanding the Lighting Procurement Process
Light Middle East 2023: In Talks with VLDC and Charles Stone
Landscape Forms: SHUFFLE | Outdoor Smart
Verozza Lighting: Moduline
DMF Lighting: iX Series | Integrator Small Aperture Lighting
Foster + Partners: In the studio with... Valeria • Senior Lighting Designer