2 March | April 2023 www.DeluxMag.com LIVING YOUR BEST LIFE IN YOUR OWN HOME ChooseFamilyofFriendsasyourpaidcaregiver. CALLUSTODAY314-802-0259 BETTER CARE. BETTER SERVICE. BETTER PAY www.DELUXHOMEHEALTHCARE.com
something TODAY
FUTURE
A T T O R N E Y J E R M A I N E W O O T E N C A L L U S F O R Y O U R C O M P L I M E N T A R Y , C O N F I D E N T I A L C O N S U L T A T I O N 3 1 4 . 7 3 6 . 5 7 7 0 L S G S T L . C O M " T h e c h o i c e o f a l a w y e r i s a n i m p o r t a n t d e c i s i o n a n d s h o u l d n o t b e b a s e d s o l e l y u p o n a d v e r t i s e m e n t s "
"Do
that your
self will thank you for."
@theconnect @theconnect FOLLOW US ON SOCIAL MEDIA SHOWER OF LOVE 2023 E m p o w e r i n g F a m i l i e s F i n a n c i a l l y , M e n t a l l y , a n d P h y s i c a l l y JUNE 17TH JUNE 17TH If you would like to be a vendor, sponsor or speaker email IRIS: INFO@THECONNECTRC.COM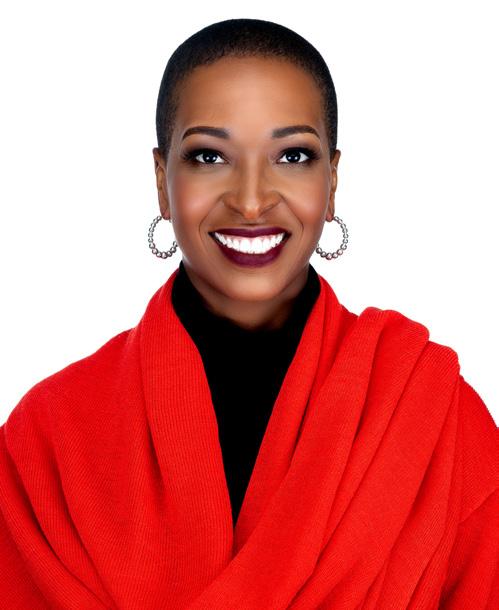 DELUX MAGAZINE NO. 47 Keith N Griffin II PUBLISHER/FOUNDER @CognacPapi digital & Print managing editor DeWarren Smith DSmith@DeluxMagcom POWER 100 BOARD CHAIR Jami Dolby Executive artist JLR photo design Joe L. Richardson Writers Shadress Denise Billie Becoat Tiffany Byndom Jasmine Osby Elvin Chambers GRAPHIC DESIGNERS Studio 76 G5ive Media Group JLR Photo Design PHOTOGRAPHERS Ag Photography LB Photography ADVERTISING RATES Ads@deluxmag.com 56 52 31 10 18 08 40 DELUX MAGAZINE No. 47 March/April 2021 · Year 12· PUBLISHER Keith Griffin II GRAPHIC DESIGN G5IVE MEDIA GROUP 1409 Washington Ave St. Louis Mo 63103 DISTRIBUTOR Papers Unlimited MO IPAD APP Available in itunes store WEBSITE www.deluxmag.com ADVERTISING Email Ads@deluxmag.com SUBMISSIONS Email submissions@deluxmag.com PRESS RELEASES Email PR@deluxmag.com
WE ARE BACK ST. LOUIS!!! Thank you for all the support and positivity you all have shown over the past 12 years. We've obviously have had our ups and downs as any business has but we have contiued to strive to bring you what we consider the "positive" of St Louis.
We hope you enjoy our 5th annual 314 Day Edition Cover. Obviously we cant put the whole St Louis on the cover but we do our best to be as inclusive as possible because ALL of us is what makes St Louis Amazing.
314 Day is about the people and places rooted in culture and creativity that makes our city so special. Throughout the pages of our special edition, we will celebrate the contributions and collaborations that have given us monumental moments as a collective community.
If you didnt make it this year it doesnt mean we dont see you or that you also arent GREAT. Just keep moving that needle. We SEE you! One Love.
Thank you the DELUX team and the whole St Louis -- without you this could never be possible.
The Heartland St. Louis Black Chamber of Commerce (HSBCC) works tirelessly to serve businesses in our community. As a voice for and capacity builder of Black owned businesses in the St. Louis region, HSBCC has played an essential role in identifying, soliciting and providing the supports these businesses will need to survive and recover post COVID-19 and offer stabilization assistance to area. Black owned businesses that need triage as well as growth and acceleration supports to those poised to take advantage of disruptive economic opportunities.
Benefits of Chamber Membership:
• Make business contacts
• Receive chamber newsletters
• Acquire customer referrals
• Bring credibility to your business
• Increase your visibility in the community
• Networking opportunities
• Gain a voice in government.
• Provides a Barter and Build environment
• Member access on a national level
• Self identify in minority spaces