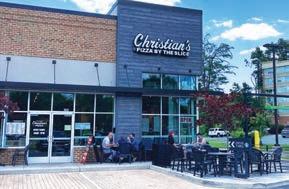 DECEMBER 7 –13, 2022 CHARLOTTESVILLE'S NEWS AND ARTS WEEKLY C-VILLE.COM FREE DECEMBER 13, CHARLOTTESVILLE FLUVANNA, GREENE, LOUISA, NELSON, ORANGE, AUGUSTA 30 'Tis the Season to LIST Your HOME INSIDE A family is displaced as public housing is demolished PAGE 13 Local bakers source grains from Deep Roots Milling PAGE 23 HOW WE PLAY A TOUR OF CHARLOTTESVILLE'S DAZZLING ARRAY OF ARCADE GAMES AND PINBALL MACHINES Free Parking On 5th St. The New Open til 2 a.m. Thursday, Friday & Saturday 601 Fifth St., Landing Ext. Next to the Holiday Inn & Starbucks.
2 December 7 –13, 2022 c-ville.com facebook.com/cville.weekly Need a Reason? Bikini Season! • laser hair removal • RF microneedling • medical grade facials • chemical peels • brown spot reduction • facial vein reduction • laser tattoo removal • dermaplaning • free consultations SOME SEE A PALM TREE. WE SEE A WIND ENERGY REVOLUTION.
LOTH Professor of Engineering Chair of Mechanical and Aerospace Engineering
ERIC
3 December 7 –13, 2022 c-ville.com facebook.com/cville.weekly AmericanShakespeareCenter.com • 540.851.1733 or 1.877.MUCH.ADO TICKETS ON SALE NOW! BLACKFRIARS PLAYHOUSE, STAUNTON, VA THE BELOVED HOLIDAY TRADITION RETURNS BY CHARLES DICKENS ADAPTED BY JAMES MCCLURE NOW THROUGH DECEMBER 30 Bring family and friends and be there as the Ghosts of Christmas Past, Present and Future take Scrooge on the ride of his miserable, money-grubbing life...guaranteed to turn your bah-humbugs into ho-ho-hos! Saturday, December 10, 8 PM University Baptist Church 1223 West Main Street Ring in the Holiday Season at UVA's historic Old Cabell Hall with traditional carols and audience participation! UVA Arts Box Office artsboxoffice.virginia.edu (434) 924-3376 Harmony, Love, & Brotherhood since 1871 82nd Annual Christmas Concert $20 ticket $5 student www.virginiagleeclub.org
Sentara Martha Jefferson Hospital is dedicated to improving the health of our community and it shows through the compassionate care provided by the people that work within our walls. Ryan Thompson, RN, BSN, is one of those people. From the moment you meet Ryan, you know that you are in the hands of a dedicated caregiver focused on helping you feel better. "When you serve in the community in which you live, these people stop being strangers but people you will see again." Hear more from Ryan in his own words at Sentara.com/MarthaJeffersonPeople.
4 December 7 –13, 2022 c-ville.com facebook.com/cville.weekly
gifts,
cards
WAHOO! your *gnome* for all things holiday - THE CAV GNOME Meet Ryan.
your holiday headquarters .
wrapping, décor &
321 east main street . downtown mall . 434.979.6366 . hey@thinkrockpaperscissors.com @rps_cville . www.thinkrockpaperscissors.com
SENTARA MARTHA JEFFERSON HOSPITAL
5 c-ville.com facebook.com/cville.weekly eastwoodfarmandwinery.com OPEN 7 DAYS A WEEK ONLY 5 MILES FROM THE DOWNTOWN MALL GREAT WINES - FOOD - LIVE MUSIC Now Booking Large Party Reservations & Private Events CELEBRATE WITH US THIS SEASON | ASK ABOUT OUR CATERING MENU
NEWS 11 13 Soon-to-be displaced South First Street resident str uggles to find housing. 15 French soccer star talks about racial bias and activism.
CULTURE 21 23 All You Can Eat: Bakers rely on Deep Roots Milling for flour power. 25 The Works: The Fralin Museum scores with Power Play
Charlottesville's News & Arts Weekly CIRCULATION: 20,000 WEEKLY
P.O. Box 119 308 E. Main St. Charlottesville, Virginia 22902
www.c-ville.com Facebook: facebook.com/cville.weekly Twitter: @cville_weekly, @cville_culture Instagram: @cvilleweekly
EDITORIAL
EDITOR-IN-CHIEF
Richard DiCicco richard@c-ville.com
NEWS REPORTER
Brielle Entzminger reporter@c-ville.com
CULTURE EDITOR Tami Keaveny tami@c-ville.com
COPY EDITOR Susan Sorensen
EDITORIAL ASSISTANT Maeve Hayden
INTERN Lauren Dalban
CONTRIBUTORS
Rob Brezsny, Amelia Delphos, Matt Dhillon, Carol Diggs, Shea Gibbs, Mary Jane Gore, Will Ham, Erika Howsare, Justin Humphreys, Kristin O'Donoghue, Lisa Provence, Sarah Sargent, Jen Sorensen, Julia Stumbaugh, Courteney Stuart, Paul Ting, Sean Tubbs, David Levinson Wilk
DESIGN AND PRODUCTION
ART DIRECTOR
Max March max@c-ville.com
GRAPHIC DESIGNER Tracy Federico designer@c-ville.com
ADVERTISING advertising@c-ville.com
ADVERTISING DIRECTOR Gabby Kirk (434) 373-2136 gabby@c-ville.com
ACCOUNT EXECUTIVE

Annick Canevet annick@c-ville.com, Lisa C. Hurdle classyexec@c-ville.com, Brittany Keller brittany@c-ville.com
DIRECTOR OF EVENTS & MARKETING Stephanie Vogtman
REAL ESTATE WEEKLY Theresa McClanahan theresa@c-ville.com Beth Wood (434) 373-0999 beth@c-ville.com
PRODUCTION COORDINATOR Faith Gibson ads@c-ville.com
BUSINESS
PUBLISHER
Anna Harrison anna@c-ville.com CHIEF FINANCIAL OFFICER Debbie Miller debbie@c-ville.com
(434) 373-0429
CIRCULATION MANAGER Billy Dempsey circulation@c-ville.com
C-VILLE is published Wednesdays. 20,000 free copies are distributed all over Charlottesville, Albemarle, and the surrounding counties. One copy per person. Additional copies may be purchased for $1.99 per copy.
Unsolicited news articles, essays, and photography are carefully considered. Local emphasis is preferred. Although care will be taken, we assume no responsibility for submissions. First-class mail subscriptions are available for $140 annually.
©2022 C-VILLE Weekly. No part of this publication may be reproduced without the written permission of the publisher.
36
CLASSIFIED 37 REAL ESTATE WEEKLY Page 39 6 December 7 –13, 2022 c-ville.com facebook.com/cville.weekly
27 Screens: The Fabelmans looks back at Spielberg's for mative years 29 Galleries: What's on view this month. 34 Sudoku 35 Crossword
Free Will Astrology
MEMBER Virginia Press Association
A/R SPECIALIST Nanci Winter
HOLDINGS, LLC INSIDE THIS ISSUE V.34, No. 48 FEATURE 17 Playing around Our in-house pinball wizard tilts with glee at all the city's arcade games. EZE AMOS Taste is everything. FALL /WINTER 2022 HUNT! Want to find truffles in Virginia? Start here COOK! Cake many ways from a former C'ville foodie GATHER! Umma's just wants to welcome all y'all Melissa Close-Hart on her new Southern restaurant HOW CAN ONE SWEET TREAT BE SO PERFECT? LET US COUNT THE WAFERS WAYS... WE WANT COOKIE! on the stands now! at Eat up!
C-VILLE
7 December 7 –13, 2022 c-ville.com facebook.com/cville.weekly 12-15| 15TH ANNUAL XMAS JAM TO BENEFIT THE FRONT PORCH 12-30| THE SKIP CASTRO BAND PRESENTED BY GENERATIONS 102.3 12-31| 49 WINCHESTER WITH THE BLNDRS 01-13| DONNA THE BUFFALO 01-19| SPAFFORD WITH UNDERGROUND SPRINGHOUSE 01-28| RAILROAD EARTH 02-04| FLIPTURN WITH HOTEL FICTION 02-10| THE STEWS WITH EASY HONEY 02-24| JORMA KAUKONEN SEATED GA SHOW 03-16| AN EVENING WITH YO LA TENGO 04-05| MARC BROUSSARD JEFFERSONTHEATER.COM RENT THE JEFFERSON FOR YOUR EVENT! RENTALS@JEFFERSONTHEATER.COM • 434-245-4917 JUST ANNOUNCED! JANUARY 27 ON SALE FRIDAY ILLITERATE LIGHT FEBRUARY 18 ON SALE FRIDAY THE LEGWARMERS THE ULTIMATE 80S TRIBUTE PRESENTED BY GENERATIONS 102.3 THESOUTHERNCVILLE.COM TUESDAY, DECEMBER 13 THE FRONT BOTTOMS WITH SLOTHRUST AND SYDNEY SPRAGUE WEDNESDAY, DECEMBER 14 JULIAN LAGE WITH MARGARET GLASPY SATURDAY, DECEMBER 10 DAN TYMINSKI FT. GAVEN LARGENT RESERVED SEATING RENT THE SOUTHERN! rentalinfo@thesoutherncville.com (434) 977-5590 or EAT AT THE SOUTHERN CAF É café opens 2 hours prior to performances 12-23 | SARAH WHITE'S COUNTRY CHRISTMAS SHOW 01-06 | 7TH GRADE GIRL FIGHT/BREAKERS WITH L.A. DIES 01-12 | OLIVER WOOD TRIO WITH CHRIS KASPER 01-15 | CHUCK RAGAN (HOT WATER MUSIC) 01-22 | NIGHT MOVES WITH SHADY COVE 01-27 | FULL MOON FEVER: TOM PETTY TRIBUTE WITH KENNEKA COOK 01-31 | THEE SACRED SOULS 02-08 | DURRY 02-11 | SUSTO WITH DOGWOOD TALES 0218 | MIDNIGHT NORTH JUST ANNOUNCED! MARCH 12 ON SALE FRIDAY DARLINGSIDE SATURDAY, DECEMBER 17 LORD NELSON HOLIDAY PARTY WITH ROB CHEATHAM & CO AND CHRIS LEGGETT & THE COPPER LINE FRIDAY, DECEMBER 9 JOE PUG WITH WILL OVERMAN FRIDAY, DECEMBER 16 TINSEL AND TASSELS HOLIDAY BURLESQUE PRESENTED BY IMMODEST OPULENCE ON THE DOWNTOWN MALL ON SALE FRIDAY 12-16 at 10 a.m. TINGPAVILION.com ON SALE FRIDAY 12-9 at 10 a.m. TINGPAVILION.com
Hello, Charlottesville! Thank you for reading C-VILLE Weekly. December is here, and when I was a kid that meant only one thing: It was time to count down to Christmas. As a child obsessed with the flashy but expensive hobby of video games, I knew the only time I could get a brand-new game was on my birthday or December 25th, so I would carefully curate a wish list of all the games in the pages of Nintendo Power and Game Informer that I coveted each year (with the most desired ones starred and bolded).