MHEC CATALOGUE www.craftyqueerstudio.com/pages/mhec craftyqueerstudio@gmail.com
PINBACK BUTTONS
PRICE: $2 / unit
SPECS: 1.25" pinback
Pronoun buttons are all available in any of the 4 colors shown
DISCOUNTS: 15% off for MHEC members
Additional 10% off on 500+ units
They/Them pronoun Button
She/Her pronoun Button He/Him pronoun Button
She/They pronoun Button
They/She pronoun Button
Xe/Xem pronoun Button
Ze/Hir pronoun Button It/Its pronoun Button
He/They pronoun Button
They/He pronoun Button
He/She/They pronoun Button
1
He/She pronoun Button Ey/Em pronoun Button
PINBACK BUTTONS
Bisexual flag Button
Lesbian flag Button
Non-Binary flag Button
Genderqueer flag Button
Pansexual flag Button
Asexual flag Button
Demisexual flag Button
Men Who Love Men flag Button
Graysexual flag Button
Aromantic flag Button
Agender flag Button
Transgender flag Button
Inclusive Rainbow flag Button
Rainbow flag Button
2
Queer flag Button
PINBACK BUTTONS
Demiboy flag Button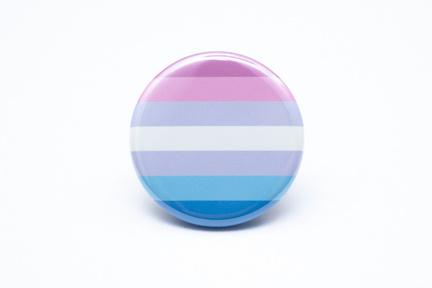 Bear flag Button
Intersex flag Button
Polyamory flag Button
Ally Button
Yay I'm Gay - Bat Button
Yay I'm Gay - Hedgehog Button
Yay I'm Gay - Whale Button
Yay I'm Gay - Bunny Button
I Love My Chosen Family Button
Bigender flag Button
Demigirl flag Button
Genderfluid flag Button
Omnisexual flag Button
3
Polysexual flag Button
PINBACK BUTTONS
I Love My Sibling - Rainbow Button I Love My Sibling - Trans Button I Love My Spouse - Rainbow Button
I Love My Spouse - Trans Button I Love My Moms Button
I Love My Dads Button
I Love My Kid - Trans Button
I Love My Kid - Rainbow Button
I Love My Kids - Trans Button
I Love My Kids - Rainbow Button
I Love My Parent - Trans Button
I Love My Parent - Rainbow Button
I Love My Parents - Trans Button
I Love My Parents - Rainbow Button
Awkward (pink) Button
4
PINBACK BUTTONS
Awkward (green) Button
Galaxy Cat Button
5
Galaxy Unicorn Button
STICKERS
PRICE: $4 / unit
SPECS: Vinyl, UV-resistant, waterproof. Sizes range from 2" - 3" depending on design
DISCOUNTS: 15% off for MHEC members Additional 10% off on 300+ units
They/Them pronoun Sticker (holographic)
She/They pronoun Sticker (holographic)
Not A Girl Sticker
She/Her pronoun Sticker (holographic)
He/They pronoun Sticker (holographic)
Not A Boy Sticker
He/Him pronoun Sticker (holographic)
He/She/They pronoun Sticker (holographic)
Queer Magic Sti k
Ally Sticker
Coffee & Gay Stuff Sticker
Protect Trans Kids Sticker
Tea & Gay Stuff Sticker
Self Made Sticker
6
Gay Agenda Sticker
STICKERS
Pronouns
Sticker (holographic)
Bi-Furious Sticker
Pan-Tastic Sticker
Galaxy
Sticker (holographic)
Sticker
God
God
Gay
Sticker
Acetronaut Sticker
Matter
R I P Gender Roles
Is Non-Binary Sticker
Plant Daddy Sticker
Cat
Read Queer Books Sticker
Queer & Pleasant Danger Sticker
Fanfiction Sticker
7
Loves Fags
KEYCHAINS
PRICE: $12 / unit
SPECS: Acrylic, with both a lobster clasp hook & standard keychain ring. Sizes range from 1.5" - 2" depending on design
DISCOUNTS: 15% off for MHEC members
Gay Agenda Keychain Homo Keychain Self Made Keychain
They/Them pronoun Keychain Protect Trans Kids Keychain
She/Her pronoun Keychain Ally Keychain
He/Him pronoun Keychain Bi-Furious Keychain
She/They pronoun Keychain
Plant Kween Keychain
He/They pronoun Keychain
8
God Loves Fags Keychain
TERMS & CONDITIONS
ORDERING:
Please email us at craftyqueerstudio@gmail com
PROCESS & PACKAGING:
All products are designed in-house. Pinback buttons are printed and assembled in-house Stickers and keychains are physically created by a partner production company. None of these products are individually packaged; they will be shipped together, separated by product line.
PAYMENT:
We accept checks, all major credit cards, Paypal, and Venmo Please make checks payable to Crafty Queer Studio.
SHIPPING:
Price listed does not include shipping costs. The buyer is responsible for all shipping costs, which are dependent on the weight / size of the order and the destination as determined by shipping carrier. Crafty Queer Studio is not responsible for carrier delays or damage. All orders are shipped from MA.
TURNAROUND TIME:
Our production times will vary depending on the order. Our pinback buttons are within 5-10 business days. For our keychains and stickers, if the order is large, it can take up to 3 - 4 weeks since we work with production companies to have our designs physically produced. This timeframe may increase for custom or logo designs on stickers or keychains. We will ship them out to you immediately once we receive them. If you need the product in a shorter time frame, we will do our best to accommodate you.
Please contact us to place all orders so that we can get you an accurate quote. Please see below for custom design inquiries.
RETURNS:
Returns are only accepted for damaged goods within 7 days of receiving your package All damaged merchandise must be returned unused, unopened, and in original packaging. In the event you received incorrect items, please notify us immediately, so we can remedy the situation.
COPYRIGHT:
All designs are copyright Crafty Queer Studio and cannot be reproduced in any way without written consent by us.
CUSTOM DESIGNS:
We can put your ready-made design or logo on any of our MHECavailable products at no additional charge If you would like custom design work, please contact us for pricing and details, as the fee will vary based on number and complexity of designs Custom designs are non-exclusive unless they include artwork/logos already under the customer's brand or copyright
9