SEASON GUIDE
2023-24
Right here, right now!
Scene: backstage. The stage manager calls over the intercom, "Places!"
The actors and the crew know this is the final signal that the show is about to begin. The energy is high and everything is ready to go. This moment is matched on the other side of the curtain, as the dimming of the house lights brings a hush over the audience. Inhale. Exhale. Go!
This moment of unity is possible because all of the preparation has been accomplished. Everyone knows their role. Everything is in place. The anticipation is high. Convocations thrives on this special moment—and we know you do, too! Equally important is the fact that our community also thrives because Convocations is here. When Purdue now calls, "Places!" it means that academics, culture, athletics, and service together take leading roles in an incredible placemaking production. And your presence—right here, right now—makes this all possible!
Todd E. Wetzel Assistant Vice Provost, Student Life Executive Director, Purdue Convocations and Hall of Music Productions
OUR MISSION
Purdue Convocations catalyzes the curriculum, energizes the community and distinguishes Purdue through powerful performances, illuminating discourse and extraordinary learning encounters.
OUR HISTORY
Purdue University has a rich history of bringing concerts, lectures and performances to campus. In 1902, the "Lecture and Concert Course" was first offered, creating the earliest iteration of what is now Purdue Convocations. Over the years, the names and formats have changed, but one thing has remained constant: the desire to expand the Purdue experience beyond the classroom.
SEASON We're holding the for the Friends of Convos! BEST SEATS
It's simple, join the Friends and we'll take care of you! Friends of Convos enjoy the best seat selection, exclusive artist events, special parking opportunities, and more!
The Friends are a dynamic group of arts supporters whose gifts allow Convocations to keep ticket prices low, to create educational experiences for students on campus across the region, and to make big projects a reality. Revenue from ticket sales only covers 60% of the true costs of our programs, so gifts from generous individuals, corporations, and foundations help us close that gap.
To learn more about the benefits of becoming a Friend or to join now, visit: convocations.org/support
FRONT COVER: Lakecia Benjamin, pg. 19 (Photo by Elizabeth Leitzell) THIS PAGE: Las C afeteras present Hasta La Muerte, pg. 13
CONVOCATIONS.ORG / (800) 914-SHOW / 3
BACK COVER: Dance Theatre of Harlem, pg. 18 (Photo by Theik Smith)
SEPTEMBER 16 West Lafayette Global Fest pg. 4 28 Grandmaster Flash: The Birth of a Culture pg. 5 OCTOBER 12 Briscoe pg. 6 22 Spider-Man: Into the Spider-Verse pg. 8 26 Mean Girls pg. 10 28 Humans 2.0 by Circa pg. 12
3 Las Cafeteras present Hasta La Muerte pg. 13 9 Kronos Quartet pg. 14 10 Johnny Cash: The Official Concert Experience pg. 15 18 Emmet Cohen Trio pg. 16 19 Call of the Wild pg. 17 JANUARY 16 Dance Theatre of Harlem pg. 18 19 Purdue Jazz Fest: Lakecia Benjamin and Phoenix pg. 19
2-3 A Midsummer Night's Dream pg. 20 8 Counterpoint pg. 21 10 Hairspray pg. 22 17 TEDxPurdueU: Recurrence pg. 24 23 Melissa White and Pallavi Mahidhara pg. 25 25 The Magic School Bus: Lost in the Solar System pg. 26 APRIL 3 Come From Away pg. 28 11 Shrek The Musical pg. 30
121st
NOVEMBER
FEBRUARY
28th Annual West Lafayette
FREE EVENT!
Included in Purdue's Weeks of Welcome
Main Stage / 7pm
Arabic flamenco jazz
GLOBAL FEST FARAH SIRAJ
TELMARY
Main Stage / 9pm
Presented by the City of West Lafayette, Purdue Convocations, and the International Center of West Lafayette
The West Lafayette Global Fest is a long-standing tradition featuring entertainment, food, and art from almost every continent on the planet. This year's event will be no different; with live music, cultural displays, and activities for families and kids of all ages!
Live music at Global Fest is always a highlight, offering the chance to experience music from locales you've only read about, performed by musicians proud to share their melodic heritage. This year's festival will feature the Arabic flamenco jazz of acclaimed Jordanian singer Farah Siraj, who has performed at some of the world's most prestigious platforms, including the United Nations, Nobel Prize Hall, and Lincoln Center. And fans of infectious Cuban rhythms must witness the poet, rapper, and songwriter Telmary, as she showcases the talents that have made her an international sensation.
Purdue Chinese Performing Arts Troupe
Black Voices of Inspiration
Dance 2XS Purdue
Delicious Delicacies Unique Artisans
Okinawa Yuyukai
McGovern Irish Dancers
More to be announced! Craft Beer
Saturday, September 16 Downtown West Lafayette Festivities start at 3pm
GRANDMASTER 4 / CONVOCATIONS.ORG / (800) 914-SHOW
Photo by Ann Blake
Support from IU Health Arnett Indiana Arts Commission The Arts Federation National Endowment for the Arts Southwire Purdue Federal Credit Union Henriott Group West Lafayette Parks & Recreation West Lafayette Public Library Purdue University Honors College effectv Friends of Convocations Endowment / Visit Lafayette-West Lafayette Bowen Engineering / OW Krohn & Associates / Withered Burns, LLP Huston Electric / Purdue Black Cultural Center / Purdue Latino Cultural Center Purdue Asian American and Asian Resource and Cultural Center
Cuban hip-hop
GRANDMASTER FLASH
Thursday, September 28 7pm / Loeb
Playhouse
FREE TICKETS!
Who knows what hip-hop would sound like without Grandmaster Flash?
A musical pioneer in every sense of the word, Flash transformed the turntable into an expressive and complex instrument, and introduced the world to record scratching, beat juggling, and breaks. His mastery of these techniques elevated DJ'ing to an art form, while his legendary parties in the South Bronx became the cradle of hip-hop culture.
This audiovisual lecture/demonstration is an educational, entertaining, and interactive experience that takes you on a journey with one of the founding fathers of hip-hop. As the architect of the quick mix theory, Grandmaster Flash will show you how as a teenager, he used his knowledge of electronic repair to experiment with different styles and techniques and bridge the gap between musical genres—incorporating elements of funk, soul, and disco into his mixes. Now, as we celebrate 50 years of hip-hop, a whole new generation will experience a once in a lifetime hip-hop history lesson from one of the creators and legends in the genre.
RSVP for this free event at convocations.org/events
Presented with
The Birth of a Culture: Celebrating 50 Years of Hip-Hop
Honors College
Black Cultural Center
from
Support
ENDOWMENT
Thursday, October 12 7:30pm / Loeb Playhouse
After winning over 6,000 new fans as an opener for Noah Kahan last spring at Elliott Hall of Music, pop duo Briscoe returns to Purdue–this time as deserving headliners. Led by Truett Heintzelman and Philip Lupton, the band pushes feel-good vibes throughout its eclectic sound, which borrows heavily from the laid-back and lush sounds of 1960s and '70s rock, folk, and funk. Emanating from the live music mecca of Austin, Texas, Briscoe earned its national recognition opening for and sharing stages with the likes of Death Cab for Cutie, My Morning Jacket, and Tame Impala—all while earning degrees from The University of Texas. Watch out for Briscoe's debut LP produced by Brad Cook (Bon Iver, The War on Drugs, Nathaniel Rateliff & The Night Sweats).
Tickets from $15-20 / PICK 5+ shows and save – see pg. 35 for details.
Support from
"
Briscoe explores the duality of youthful experience and the confusingly beautiful journey of life."
–– Afterglow
DAVIS FAMILY ENDOWMENT
6 / CONVOCATIONS.ORG / (800) 914-SHOW
Photo by Sam Tippetts
KEVIN & JANENE DAVIS
Encore Performance!
Art+Tech+Wellness StairWELL
Days filled with deadlines and challenging goals are the new normal–or perhaps the pressure just feels more intense now. In a groundbreaking new project, a talented collection of Purdue experts have banded together to design a relief valve.
Using a novel combination of art, technology, and clinical psychology, the StairWELL project will produce an interactive sculptural installation to create a sense of beauty, respite, and play via an inventive user interface. Viewers become participants in an expressive journey that creates community while also delivering powerful supportive connections where they may be needed.
In short, StairWELL builds wellness through interactive art and technology. StairWELL, in development since Spring 2022, has an installation targeted for October 2023. This project was founded by faculty in the Purdue Polytechnic Institute and the creative teams at Purdue Convocations and Hall of Music Productions, with expertise from Counseling & Psychological Services, Department of Theatre, the Steps to Leaps program, and substantive technical execution from students in the Purdue Polytechnic Institute and the special guest musicians/composers/technologists, Chromic Duo. Watch for installation details at: convocations.org/stairwell
Support from
Polytechnic Institute Libraries
THE
WHAT IF WE COULD MOBILIZE TECH TO CREATE BEAUTY TO INSPIRE WELLNESS?
FLORA ROBERTS FUND
BUILT
INNOVATIVE
Image provided by Esteban Garcia
AT PURDUE
PERFORMANCE FUND
8 / CONVOCATIONS.ORG / (800) 914-SHOW
Sunday, October 22 6pm / Elliott Hall of Music
Featuring a soundtrack that blends symphonic orchestral music with hip-hop, Spider-Man: Into the Spider-Verse Live in Concert pairs a screening of the Academy Award®-winning animated film with a live orchestra, killer band, and sizzling turntablist on stage.
Academy Award®-nominated and Emmy®-winning composer Daniel Pemberton created a sprawling score of original music that is complemented with song contributions by Post Malone, Lil Wayne, Jaden Smith, and Nicki Minaj. The hip-hop based score results in a sonic universe that is woven throughout the fabric of the film, supporting its themes of resilience and universal heroism. Broadway Sinfonietta, a NYC based orchestra comprised of BIPOC women will perform the music live with DJ Dwells on turntables. Join us in the Spider-Verse and embrace your alter ego. Whether you choose to cosplay or dive into the metaverse of your imagination, join us for an unforgettable experience! This movie is rated PG.
Tickets from $25-50
Support from
PICK 5+ SHOWS AND SAVE! SEE PAGE 35 FOR DETAILS.
PICK5
10 / CONVOCATIONS.ORG / (800) 914-SHOW
Thursday, October 26 7:30pm / Elliott Hall of Music
Direct from Broadway, Mean Girls is the hilarious hit musical from an award-winning creative team, including book writer Tina Fey (30 Rock), composer Jeff Richmond (Unbreakable Kimmy Schmidt), lyricist Nell Benjamin (Legally Blonde), and original director and choreographer Casey Nicholaw (The Book of Mormon).
Cady Heron may have grown up on an African savanna, but nothing prepared her for the vicious ways of her strange new home: suburban Illinois. Soon, this naïve newbie falls prey to a trio of lionized frenemies led by the charming but ruthless Regina George. But when Cady devises a plan to end Regina's reign, she learns the hard way that you can't cross a Queen Bee without getting stung.
New York Magazine cheers, "Mean Girls delivers with immense energy, a wicked sense of humor and joyful inside-jokery." USA Today says, "We'll let you in on a little secret, because we're such good friends: GET YOUR TICKETS NOW!"
Tickets from $35-80
Support from
PICK 5+ SHOWS AND SAVE! SEE PAGE 35 FOR DETAILS.
PICK5
by
Saturday, October 28 8pm / Loeb Playhouse
Daring feats, inventive soundscapes, and dramatic lighting—these are the hallmarks of Circa, the iconoclastic Australian contemporary circus company making a powerful return to Purdue after their triumphant engagement in 2018. For nearly 20 years, Circa has been stunning audiences with jaw-dropping acrobatics. In their new show, Humans 2.0, performers climb and catch each other during a series of stunts that must be seen to be believed. This performance is a tightly woven choreography of bodies created by circus visionary Yaron Lifschitz, pulsing with music by composer Ori Lichtik, and revealed in Paul Jackson's evocative lighting. Physical limits are pushed to the extreme. Gravity is defied. Don't miss the show that Australian media have called "spellbinding physical drama" and "a seriously sensational spectacle."
Tickets from $22-36 / PICK 5+ shows and save – see pg. 35 for details. Support from
KEVIN & JANENE DAVIS
" Pushes the boundaries of what circus and acrobatics can be."
ENDOWMENT
–– Time Out Australia
Photo by Pedro Grieg
HASTA
Las Cafeteras present
presenta
A Day of the Dead Show
Un Espectáculo teatral para Día de los Muertos
Friday, November 3 8pm / Loeb Playhouse
The pageantry, emotion, and captivating music of Mexico's celebration of Día De Los Muertos (Day Of The Dead) will fill the Loeb Playhouse stage when Las Cafeteras bring Hasta La Muerte show to Purdue. The East Los Angeles band is versatile in sound and in performance, as they fuse Afro-Mexican, son jarocho, Americana, and soul with hip-hop and spoken word into the unique sound that had NPR raving, "creative, socially conscious, it's perfect." For Hasta La Muerte, Las Cafeteras present their most theatrical show yet, with choreography, elaborate costumes, and the familiar stylized skull face paint. The two-act performance examines the stages of grief and loss through the celebration of life and death.
Tickets from $24-32
PICK 5+ shows and save – see pg. 35 for details.
Support from
CONVOCATIONS.ORG / (800) 914-SHOW / 13
ENDOWMENT
QUARTET KRONOS
After an astounding 50 years, multi-GRAMMY™ Award winner Kronos Quartet remains as innovative as ever. With a commitment to new music unparalleled by any other group, Kronos has performed more than 900 pieces, played Carnegie Hall, and collaborated with the likes of Philip Glass, Patti Smith, and Steve Reich. Now the group, led by violinist and founder David Harrington, will enter a new chapter of creative life—sans touring the globe.
This return to Purdue University is among the final stops in the Kronos' Five Decades Project tour—a tour in which they revisit places that have been important anchors throughout their career. The genrehopping program will feature new commissions, signature works from its vast repertoire, and pieces from their lauded Fifty for the Future project. Don't miss the last powerful opportunity to experience the singular creative curiosity of the Kronos Quartet here at Purdue.
Tickets from $24-32
PICK 5+ shows and save – see pg. 35 for details.
Five Decades Project
Thursday, November 9 7:30pm / Loeb Playhouse
Support from
GORDON
"
The Kronos Quartet has broken the boundaries of what string quartets do."
14 / CONVOCATIONS.ORG / (800) 914-SHOW
–– The New York Times
JEANNE COMPTON ENDOWMENT FOR ARTISTIC EXCELLENCE
Photo by Lenny Gonzalez
& HARRIET COPPOC
EXPERIENCE THE MAN IN BLACK LIKE NEVER BEFORE WITH STATE OF THE ART PROJECTION, A LIVE BAND, AND ON SCREEN NARRATION BY JOHN CARTER CASH
Friday, November 10 8pm / Loeb Playhouse
The music never stops in JOHNNY CASH – The Official Concert Experience. Produced in collaboration with the Estate of Johnny Cash and the producers of The Simon & Garfunkel Story, this multimedia celebration is like nothing you've seen before. Using state-of-the-art technology, Johnny Cash's rich, iconic baritone has been lifted from archival concert footage and recordings, enabling the "Man in Black'' to perform his biggest hits – "I Walk the Line," "Ring of Fire" – with a live band again! In addition to never-before-seen footage and on-screen narration by Cash's only son, John Carter Cash, male and female vocalists will split singing duties to perform even more Cash hits, as well as tunes by artists of the time including The Statler Brothers, Carl Perkins, and June Carter Cash.
Tickets from $30-54 / PICK 5+ shows and save – see pg. 35 for details.
Support from
EMMET COHEN TRIO
Pianist Emmet Cohen might as well buy a second home in West Lafayette. Purdue audiences have been loving Cohen since his trio backed up jazz vocalist Veronica Swift in 2019. Through continuing connections over the pandemic with his Live from Emmet's Place Monday night performances and an amazing spring 2022 return to Purdue, this year's encore live performance comes on the heels of even more accolades and acclaim as his chops on the piano continue to inspire reviews from outlets like The New York Times who have called him "an obvious heir apparent to the neo-traditional jazz mantle."
Tickets from $24-32
PICK 5+ shows and save – see pg. 35 for details.
Saturday, November 18
8pm / Loeb Playhouse
& FRIENDS
–– All About Jazz
Support from
JANET & DAVID ELMORE
BOB & PATTI TRUITT
SHERRI & VINCE GUIDO
LOU & DEBRA
SHERMAN
PIANO
GIVING
" Electricity, pacing, innovation, dynamic virtuosity and interplay, flights of fancy and passion."
CIRCLE
16 / CONVOCATIONS.ORG / (800) 914-SHOW
Photo by Gabriela Gabrielaa
Jack London's classic tale live on stage!
Sunday, November 19 3pm / Loeb Playhouse
You read the book. You've seen the film. Now, experience the Jack London classic Call of the Wild in a whole new, immersive way. You'll practically feel the Northland winds at your back when actor Noel Gaulin leads you and your family through a dramatic retelling of one dog's journey from sunny California to the harsh climates of northern Canada and Alaska. Three large screens of imagery and effects breathe life into the story, as you follow Buck, a humble St. Bernard/Scottish Collie mix stolen and sold into servitude as a sled dog during the great Klondike Gold Rush of the 1800s.
Tickets from $15-20 PICK 5+ shows and save – see pg. 35 for details.
Support from
ENDOWMENT
MARY SEYFRIED'S ALL ABOARD FOR THE ARTS ENDOWMENT
presents
DR. MARTIN LUTHER KING JR. COMMEMORATIVE EVENT featuring OF
Tuesday, January 16 7pm / Elliott Hall of Music
DANCE THEATRE HARLEM
FREE TICKETS!
Each year, Purdue celebrates the legacy of Dr. Martin Luther King Jr. through a commemorative event that honors his life's work in civil rights and social justice. In 2024, Dance Theatre of Harlem will elevate this annual event with their stunning, passionate choreography and performance. Founded in 1969, Dance Theatre of Harlem is an institution of unparalleled global acclaim, and the 18-member, multi-ethnic company performs a forward-thinking repertoire that uses the language of ballet to celebrate the belief that the art form belongs to everyone. Dance Theatre of Harlem is not just a dance company– they are a singular presence in the ballet world, an elegant example of what is possible when an inclusive approach to art is allowed to evolve and thrive.
RSVP for this free event at convocations.org/events
Powered by
Support from
18 / CONVOCATIONS.ORG / (800) 914-SHOW
Photo by Christopher Duggan
LAKECIA
saxophone
Friday, January 19
8pm / Loeb Playhouse
On Lakecia Benjamin's latest recording, Phoenix, the jazz saxophonist captures the fiery performance that has been realized at international festivals as well as on-stage with such acts as The Roots, Alicia Keys, and Stevie Wonder. Pulling from jazz, soul, and funk, Benjamin's music soars live and on record. She was part of the Monterey on Tour show with revered jazz vocalists Dee Dee Bridgewater and Kurt Elling, which included a concert at Lincoln Center. The charismatic Benjamin routinely engages her audiences on the mic and she is usually the most stylish in the venue. A recent concert in Germany saw her dressed in gold from head to toe, matching her trusted sax. However, that fit still could not outshine her massively impressive live performance, which the The Wall Street Journal called "assertive and vital."
Tickets from $24-32
PICK 5+ shows and save – see pg. 35 for details. Support from
BENJAMIN
PHOENIXAND
" Jazz that is sprinkled with the rich flavors of funk and soul."
–– The New Yorker
Drs. MARSHALL & BERDINE MARTIN
Dr. SANDRA SYDNOR
Photo by Elizabeth Leitzell
KEVIN & JANENE DAVIS
William Shakespeare's
NIGHT'S DREAM MIDSUMMER A
Friday, February 2 - Saturday, February 3
8pm / Fowler Hall
Since 1975, Actors From The London Stage have shared their singular vision to recreate the masterworks of William Shakespeare in the most bare-bones, straightforward way. Five actors take the stage with minimal props and costumes, and direct themselves in a performance of a complete Shakespeare play, with each actor portraying multiple roles. The goal: to interpret Shakespeare's text as a blueprint for a performance — and as a gateway to its wide-ranging, transformative poetry. Here, the Actors present A Midsummer Night's Dream, the cherished mythological comedy set in ancient Greece. As part of a week-long residency at Purdue, the company will also engage directly in the classroom with students across the university.
Tickets from $24-32 / PICK 5+ shows and save – see pg. 35 for details.
CURRICULAR INTEGRATION RESIDENCY
Support from
CORNERSTONE INTEGRATED LIBERAL ARTS
20 / CONVOCATIONS.ORG / (800) 914-SHOW
LEONORA & HAROLD WOODMAN ENDOWMENT FOR THEATRE
KEVIN & JANENE DAVIS
Conrad Tao, piano Caleb Teicher, tap
COUNTER POINT
The unique duo of classical pianist Conrad Tao and dancer/choreographer Caleb Teicher bring their new sonic and visual take on masterworks of Bach, Mozart, Brahms, and Gershwin to Loeb Playhouse this February. Blending Teicher's idiosyncratic harmonic mastery with Teicher's contemporary and percussive tap dancing, Counterpoint threads together stylistically varied, landmark pieces into one cohesive thought. Audiences can expect these to include Aria from Bach's Goldberg Variations, Arnold Schoenberg's Five Piano Pieces, and Gershwin's Rhapsody in Blue, which celebrates its 100th anniversary in 2024. Tao and Teicher's earlier work, More Forever, is a Bessie Award-winning, New York Times critic's pick, where it was praised for "constantly extending the sonic aspects of dance."
Tickets from $24-32 / PICK 5+ shows and save – see pg. 35 for details.
Thursday, February 8 7:30pm / Loeb Playhouse BOB & PATTI
Support from
LOU
& DEBRA SHERMAN
" One's a tap prodigy. The other's a piano virtuoso. Together, they create magic onstage."
–– The San Diego Union Tribune
TRUITT PIANO GIVING CIRCLE
ROBERT B. & PATRICIA PEYTON TRUITT PIANO PERFORMANCE ENDOWMENT
Photos by Richard Termine
YOU CAN'T STOP THE BEAT!
Photo by Norma Jean Roy
BROADWAY'S TONY AWARD®-WINNING BEST MUSICAL IS BACK
Saturday, February 10 8pm / Elliott Hall of Music
Can a girl with big dreams (and even bigger hair) change the world? Yes, she sure can– with lots of Hairspray, the uproarious musical from the brilliant mind of John Waters. Broadway's Tony Award®-winning musical comedy phenomenon is back on tour. Join 16-year-old Tracy Turnblad in 1960s Baltimore as she sets out to dance her way onto TV's most popular show, The Corny Collins Show.
Featuring the beloved score of hit songs including "Welcome to the '60s," "Good Morning Baltimore," and "You Can't Stop the Beat," Hairspray is "fresh, winning, and deliriously tuneful," according to The New York Times. Don't miss this "exhilaratingly funny and warm-hearted musical comedy" (The New Yorker).
Tickets from $35-80
Support from
CONVOCATIONS.ORG / (800) 914-SHOW / 23
" If life were everything it should be, it would be more like HAIRSPRAY. It's irresistible!"
PICK5 PICK 5+ SHOWS AND SAVE! SEE PAGE 35 FOR DETAILS.
–– The New York Times
Saturday, February 17
12pm / Loeb Playhouse
We all experience some form of recurrence in our daily lives. This year at TEDxPurdueU, we seek to explore how recurrence influences our lives at a deeper level. How does it manifest itself in our social or scientific landscape? How does it impact our political or historical spheres? Join us during the main TEDxPurdueU event as we explore the variety of ways recurrence is embedded into our shared experience of life. Boundary-pushing experts from Purdue University and beyond present their work in the classic TEDx format of bite-sized talks that are 18-minutes or less.
Tickets from $12-20 / PICK 5+ shows and save – see pg. 35 for details.
Support from
24 / CONVOCATIONS.ORG / (800) 914-SHOW
PALLAVI MAHIDHARA MELISSA WHITE
Friday, February 23 8pm / Loeb Playhouse
Violinist Melissa White made history in 2022 as concertmaster of Recollective Orchestra, the first all-Black orchestra to perform at the famous Hollywood Bowl. The occasion, aired live on CNN, was a Juneteenth program presented by the Los Angeles Philharmonic to mark the Bowl's centenary. But White, a founding member of the Harlem Quartet, has been breaking boundaries for her whole career and enchanting audiences around the globe. Now, on the heels of her Carnegie Hall debut in June 2023, White makes her first visit to Purdue in a collaboration with the Pallavi Mahidhara, a sensational pianist in her own right, who is also the host of The Conscious Artist, a podcast exploring musicians' mental health.
Tickets from $15-20 / PICK 5+ shows and save – see pg. 35 for details.
Support from
Photos by Dario Accosta and Peter Pavlov
ENDOWMENT
LUENZ CLASSICAL MUSIC ENDOWMENT
MIKE & PAM
violin piano
Sunday, February 25 3pm / Loeb Playhouse
A cartoon, book series, streaming series, and even a video game–The Magic School Bus can now add a live-action stage show to its ever-growing list of intellectual property. In The Magic School Bus: Lost in the Solar System, Ms. Frizzle ignores the GPS and gets everyone lost on the way to the planetarium. This is no mere detour, as she and the kids find themselves lost in outer space. If the students want to get back home, they'll need to learn to cooperate−but not before they take in the celestial sights and learn mind-blowing facts about our solar system. Exploring themes such as science, school, teamwork, and forgiveness, families will love this epic intergalactic trip.
Tickets from $15-20 / PICK 5+ shows and save – see pg. 35 for details.
Support from
JOANNE TROUTNER
26 / CONVOCATIONS.ORG / (800) 914-SHOW
Photo by Jeremy Daniel
During our 2022-23 season, our education and outreach programs served 4,600 students in grades PreK-12 with 15 on-campus and in-school events.
Our programs provide students with a unique and enriching experience that can have a lasting impact on their lives. These performances offer a wide range of academic, cultural, and social development benefits. But these experiences wouldn't be possible without you. By supporting Convos, patrons are helping to bring world-class live theatre and music to the surrounding Greater Lafayette area Purdue community, and providing students with the opportunity to experience these performances first-hand. Your support directly subsidizes ticket and transportation costs for schools that can't afford to purchase matinee tickets or in-school events.
Supporting educational initiatives at Convos is a great way to invest in the future of our community. By providing students with access to these performances, you are helping to inspire the next generation of creative thinkers, leaders, and innovators. These students will go on to shape the future of our community, and supporting their growth and development is crucial to their success.
Make a gift now to support our education and outreach programs by visiting convocations.org/education
CLASSROOM STAGE FROM THE TO THE
28 / CONVOCATIONS.ORG / (800) 914-SHOW
Wednesday, April 3 8pm / Elliott Hall of Music
On 9/11, the world stopped. On 9/12, their stories moved us all. This stirring and inspiring musical takes you into the heart of the remarkable true story of the small town in Newfoundland that opened their homes to 7,000 stranded travelers on 9/11. During that fateful week, cultures clashed and nerves ran high — but uneasiness turned into trust, music soared into the night and gratitude grew into enduring friendships. Celebrate the best of humankind and the best in all of us at Come From Away.
Don't miss this breathtaking musical written by Tony Award® nominees Irene Sankoff and David Hein, and directed by Tony Award®-winning Best Director Christopher Ashley.
Tickets from $35-80
Support from
" There are shows you should see right now, for the benefit of your own spirit, and this is one of them."
PICK5 PICK 5+ SHOWS AND SAVE! SEE PAGE 35 FOR DETAILS.
Chicago Tribune
30 / CONVOCATIONS.ORG / (800) 914-SHOW
" Goofy, genuine charm." The New York Times
Thursday, April 11 7pm / Elliott Hall of Music
FAMILY-FRIENDLY STARTING TIME!
"Once upon a time, there was a little ogre named Shrek...." And thus begins the tale of an unlikely hero who finds himself on a life-changing journey alongside a wisecracking Donkey and a feisty princess who resists her rescue. Yes, your favorite ogre is back in the hilarious stage spectacle based on the Oscar®winning, smash hit, DreamWorks animated film. This Tony Award®-winning fairy tale musical adventure features songs from Jeanine Tesori (Kimberly Akimbo; Caroline, or Change), a sidesplitting book by Pulitzer Prize winner David Lindsay-Abaire (Kimberly Akimbo), and brings all the beloved characters you know from the film to life. USA Today raves, ""Altogether irresistible!" You'll be a "believer" too as there's more to the story than meets the ears.
Tickets from $35-80 Support from
PICK 5+ SHOWS AND SAVE! SEE PAGE 35 FOR DETAILS.
PICK5
STUDENT ORGANIZATIONS
Established in 1975, the Student Concert Committee (SCC) is equivalent to an internship in the music and entertainment business. Members help select, market, and produce SCC-sponsored concerts & events. They gain real-life concert industry business experience and learn life skills that can serve them in any profession while powering live music and event culture on campus!
purdue.edu/scc
Founded in 1985, Convocations Volunteer Network (CVN) helps to support and promote Convos events. This group ushers and helps in many other ways with performances and other Friends of Convos, education, and outreach events. In exchange, members can stay and see shows for free, and make a lot of new friends.
TEDxPurdueU is a student-run organization standing behind TEDx talks and events held at Purdue University. With the mission to stimulate the curious mind, challenge perspectives, and spark discussion, they expose our local community and global audience to "ideas worth spreading."
powered by Convos
purdue.edu/cvn tedx.purdue.edu
Get involved with the arts at Purdue! Visit SCC, CVN and TEDxPurdueU at boilerlink.purdue.edu
STUDENT LEADERS
SAY ABOUT THEIR EXPERIENCES
My favorite part about being in CVN has been building relationships with our ushers and the staff, and watching shows for free! My first show I saw with CVN was Rent and I really enjoyed it. But my favorite show was probably The Book of Mormon. That was our first time working with such a big number of student ushers - over 50 CVNs! I was really proud of our work."
Ya-Fei Lin, 2023 CVN President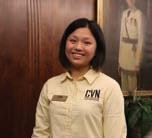 My favorite thing about being a part of Student Concert Committee is seeing the impact on the student body and serving in a role where you're able to benefit the community. My favorite moment during my time at SCC was when Tai Verdes performed a sold out performance at Loeb Playhouse. There's nothing better than hearing a room full of people sing all the words to every song."
Jo Jennings, 2022-23 SCC President
My favorite part about being in TEDxPurdueU is getting to see the variety of people who are interested in our organization. We have people from all different kinds of majors, from across the nation, from around the world. It's really interesting to get to work with a variety of people, and see all their different passions and interests and what they can contribute to our overall event."
Bridget Arnold, 2022-23 TEDxPurdueU Exec. Director
CONVOCATIONS.ORG / (800) 914-SHOW / 33
CHECK OUT WHAT OUR
" " "
INFO TO KNOW
HEALTH & SAFETY
Purdue University will continue its comprehensive plan to keep our campus and community safe, especially regarding matters of public health. Purdue University and Purdue Convocations reserve the right to implement or adjust public assembly policies for campus residents, employees, and visitors at any time in the future. As this environment is ever-evolving, please check protect.purdue.edu, convocations.org and our social media channels for the most up-to-date information before you join us for our events.
CHILDREN
We ask that you please use discretion in deciding what is appropriate for a child to ensure a quality experience for all patrons. All patrons, including infants on laps, must have a ticket due to fire marshal requirements. If you have questions about show content or age appropriateness, visit convocations.org for additional information. Staff members can also provide information; however, you are responsible for deciding whether content is appropriate for you and your family.
CONCESSIONS
Concessions are available at most performances in partnership with Richelle in a Handbasket.
STUDENT TICKET DISCOUNTS
Discounted student tickets are available for Purdue University and Ivy Tech Lafayette students. Each person using a student ticket must be a student and be able to present a current student ID.
TICKET FEES
Regular-season shows in this book and on Account Manager at convocations.org/tickets include a service fee; all listed prices are the final prices. Tickets purchased through Ticketmaster may be subject to additional fees. We do not recommend buying through third parties and are not responsible for fulfillment issues associated with these tickets.
REFUNDS & EXCHANGES
We are unable to issue refunds or exchange tickets. If you are unable to attend a show, consider giving or selling your ticket to someone else. You can also return your ticket to the box office at any time prior to the show and it will be offered to a student free of charge.
PARKING
Due to the possibility of construction and road changes on campus, some parking lots on campus may be more difficult to access than others. Please visit convocations.org/parking for the most up-to-date parking information.
SEATING MAPS
Visit convocations.org/seating-charts to view seating maps.
ACCESSIBILITY
• Wheelchair seating is available at all indoor venues with companion seating nearby.
• Audio induction hearing loop systems are available in Elliott Hall, Fowler Hall, and Loeb Playhouse. Please switch your hearing aid setting to T-coil.
• Closed captioning and/or sign language interpretation may be available with advance notice and conditional upon the availability of qualified service providers. Please request this service at least 60 days prior to the performance.
• Service animals are welcome. Special seating is required. When ordering, request an aisle seat and please inform the box office that a service animal will be with you.
• Visit convocations.org/accessibility for current information. CONTACT
TODD WETZEL
Assistant Vice Provost, Student Life Executive Director, Purdue Convocations and Elliott Hall of Music/Hall of Music Productions
MIKE ARMINTROUT
Senior Associate Director
Advisor, SCC and TEDxPurdueU
JONATHAN MAJ
Associate Executive and Operations Assistant
MARKETING
JAMES BRITTON
Director of Marketing Advisor, CVN
CONNER Mc GUIRE
Marketing Coordinator
MOLLIE SIU-CHONG
Art Director / Graphic Designer
IZZY SAUTTER
Social Media Intern
SUKRITI DANGI
Marketing Analyst Intern
EVAN OLINGER
Graphic Design Intern
KAT TSVIRKUNOVA
Senior Brand Ambassador
DEVELOPMENT
RACHEL LATTIMORE
Director of Development
JULIE SMITH
Manager of Engagement
PRODUCTION
ERIN DIENER MATTULL
Artist Relations and Education Manager
BUSINESS
DEBBIE SICILIANO
Assistant Director of Financial Affairs, VPSL
KASSIDIE HOUCHIN
Business Manager
ROBIN BECKER
Business Assistant
STUDENT GROUPS
JARED CAIN Convocations Volunteer Network President
BELLA ROSSI
Student Concert Committee President
GIANCARLO GAGLI
TEDxPurdueU Executive Director
CONTRIBUTORS
TIM BROUK NATTY MORRISON Writer Editor
INFORMATION Purdue Convocations Campus Box Office 712 Third Street Stewart Center - Loeb Playhouse West Lafayette, IN 47907-2005 M-F 10am-6pm (10am-4pm during Purdue breaks) Phone: (765) 494-9712 (765) 494-3933 | (800) 914-SHOW (7469) convocations@purdue.edu TDD Relay: (765)
496-1343
ALL TICKETS ON SALE THURSDAY, JULY 6
Friends of Convocations can STILL enjoy the benefits of the best seat selection, the accumulation of Priority Points, special parking opportunities, exclusive artist events, and more.
To learn more about becoming a Friend of Convocations and get the best seats in the house, see page 37 or visit convocations.org/support.
BUYING TICKETS
ONLINE
Order without additional fees online at convocations.org/tickets
PHONE
(765) 494-3933 or (800) 914-SHOW (7469)
ORDER FORM
Visit convocations.org/tickets to download and print a paper order form.
PICK5
Did you know that if you buy five shows* or more, you save an average of 15% off single-ticket prices? Experience the flexibility of designing your own ticket subscription package!
GROUP DISCOUNTS
For example...
IN PERSON at campus box offices
Stewart Center
Open 10am to 6pm M-F
(10am to 4pm during Purdue breaks)
Box office is also open one hour before each show.
Elliott Hall of Music
Box office opens 90 mins before each show. Elliott box office is only open on show days.
Spider-Man: Into the Spider-Verse
Mean Girls Hairspray
Come From Away
Shrek The Musical
Regular PICK 5 You Save $50 $43 $7
$80 $68 $12
$80 $68 $12
$80 $68 $12
$80 $68 $12
(Examples based on Zone A prices)
SAVE $55!
Groups of all kinds and sizes are welcome at Convos performances–and if you have 15 or more in your group, you'll receive a discount on your tickets as well as bonus tickets for tour organizers, chaperones, or bus drivers. Qualifying performances vary. Call (765) 494-3933 for details or visit convocations.org/group-sales.
CONVOCATIONS.ORG / (800) 914-SHOW / 35
*Grandmaster Flash and Dance Theatre of Harlem do not count towards PICK5. Briscoe, Call of the Wild, TEDxPurdueU, The Magic School Bus, and Melissa White/Pallavi Mahidhara do count towards PICK5, but are not eligible for discount.
BEST SEATS
We're holding the for the Friends of Convos!
It's simple, join the Friends and we'll take care of you! Friends of Convos enjoy the best seat selection, exclusive artist events, special parking opportunities, and more!
The Friends are a dynamic group of arts supporters whose gifts allow Convocations to keep ticket prices low, to create educational experiences for students on campus and across the region, and to make big projects a reality. Revenue from ticket sales only covers 60% of the true costs of our programs, so gifts from generous individuals, corporations, and foundations help us close that gap.
To learn more about the benefits of becoming a Friend or to join now, visit: convocations.org/support
FRIENDS BENEFITS
Benefits begin at $100 annually and increase by contribution level. All Friends enjoy the best seat selection and the accumulation of Friends Priority Points.* Additional benefits are added at each level.
SPONSOR $100+ Your name recognized on convocations.org
BENEFACTOR $250+ Recognition in all printed program books
FOUNDER $500+ Access to Pre-Show Club at Elliott Hall of Music shows
DIRECTOR'S COUNCIL $1,000+ Invitation to exclusive Meet-the-Artist event
AMBASSADOR $2,500+ Access to Friends parking at Elliott Hall of Music shows
COLLABORATOR $5,000+ Invitation to backstage artist Meet-and-Greet
VISIONARY $10,000+ Access to a custom Friends event
ARTISTS CIRCLE $15,000+ Dinner with Executive Director Todd Wetzel
PRESENTERS CIRCLE $20,000+ ConciergePlus seating
PRODUCERS CIRCLE $30,000+ Invitation to exclusive Convos event
INNOVATORS CIRCLE $50,000+ Sponsor a Performance Series or Initiative
LEADERSHIP CIRCLE $75,000+ Eligible to become a season-level sponsor
*To learn more about Priority Points, visit convocations.org/priority-points.
CONVOCATIONS.ORG / (800) 914-SHOW / 37
PERFORMANCE PARTNERS
We applaud and appreciate the generosity of these partners whose support ensures that incredible arts experiences are possible in our community.
GOLD PARTNERS ($10,000+)
PLATINUM PARTNERS ($25,000+)
SILVER PARTNERS ($5,000+)
CORPORATE SUPPORTERS:
JOIN US!
A corporate partnership with Purdue Convocations will help your business gain great visibility and offers a wide array of access to tickets, priority seating, and more! Packages are available all year long at every giving level and are customizable to your business needs.
GREAT VISIBILITY
AUDIENCE CONNECTION
DONOR RECOGNITION
TICKET DISCOUNTS
Benefits of Partnership include:
• Extensive name and logo placement
• Pre-sales and priority seating
• Discounted tickets for employees
• Event invitations
• Access to special receptions and parking
• Customized marketing opportunities
• Enhanced relationship with the arts community
• And so much more!
Learn more at convocations.org/partnership or call (765) 494-9712.
CONVOCATIONS.ORG / (800) 914-SHOW / 39
DON'T MISS THE BIGGEST SHOWS OF THE SEASON!
3rd Street
VISIT CONVOCATIONS.ORG FOR SEASON UPDATES
712
West Lafayette, IN 47907-2005 CONVOCATIONS.ORG