ONE AND FUN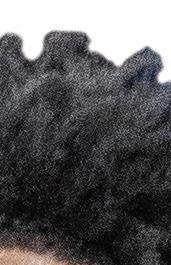 KENDRIC DAVIS IS MAKING HIS LONE SEASON AS A MEMPHIS TIGER UNFORGETTABLE.
OUR 1776TH ISSUE 03.09.23 FREE LARRY KUZNIEWSKI ARMORED FIGHT CLUB P16 • MO'BAY BEIGNET COMPANY P24 • CREED III P28
NEXT LEVEL BENEFITS ARE HERE
2 March 9-15, 2023
See One Star Rewards desk for full rules and details.
SHARA CLARK
Editor
SAMUEL X. CICCI
Managing Editor
JACKSON BAKER, BRUCE VANWYNGARDEN
Senior Editors
TOBY SELLS
Associate Editor
KAILYNN JOHNSON
News Reporter
CHRIS MCCOY
Film and TV Editor
ALEX GREENE
Music Editor
MICHAEL DONAHUE, JON W. SPARKS
Staff Writers
ABIGAIL MORICI
Arts and Culture Editor
GENE GARD, EMILY GUENTHER, ASHLEY INSONG, COCO JUNE, FRANK MURTAUGH
Contributing Columnists
SHARON BROWN, AIMEE STIEGEMEYER
Grizzlies Reporters
ANDREA FENISE
Fashion Editor
KENNETH NEILL
Founding Publisher
CARRIE BEASLEY
Senior Art Director
CHRISTOPHER MYERS
Advertising Art Director
NEIL WILLIAMS
Graphic Designer
JERRY D. SWIFT
Advertising Director Emeritus
KELLI DEWITT, CHIP GOOGE
Senior Account Executives
MICHELLE MUSOLF
Account Executive
CHET HASTINGS
Warehouse and Delivery Manager
JANICE GRISSOM ELLISON, KAREN MILAM, DON MYNATT, TAMMY NASH, RANDY ROTZ, LEWIS TAYLOR, WILLIAM WIDEMAN
Distribution
THE MEMPHIS FLYER is published weekly by
Contemporary Media, Inc.,
P.O. Box 1738, Memphis, TN 38101
Phone: (901) 521-9000
Fax: (901) 521-0129 memphisflyer.com
CONTEMPORARY MEDIA, INC.
ANNA TRAVERSE FOGLE
Chief Executive O cer
LYNN SPARAGOWSKI
Controller/Circulation Manager
JEFFREY GOLDBERG
Chief Revenue Officer
MARGIE NEAL
Chief Operating Officer
KRISTIN PAWLOWSKI
Digital Services Director
MARIAH MCCABE
Circulation and Accounting Assistant National Newspaper Association Association
OUR 1776TH ISSUE 03.09.23
Editor's note: Flyer writers will occasionally share this space.
ey came with the rst wave of warmish weather that washed over Memphis this year. It started with the briefest rustling of the blinds near my apartment window, occasionally supplemented by the so uttering of wings in the dead of night. But then, slowly, spots of red and orange hues began to appear everywhere, taking over my living space and making themselves at home.
e ladybugs had returned. And they didn't even o er to pay rent!
Although, according to Google, these aren't your run-of-the-mill ladybugs. is other species that has set up shop with me over here on Mud Island is likely a family of Asian lady beetles, a more invasive variety that simply can't stop helping itself to prime suntanning spots on my windows and buzzing around some of my lamps. I don't really mind bugs, but these ones kind of unnerve me, with their little tails (ladybugs shouldn't have tails!) and their occasional propensity for extra wing utters as I lie in the dark trying to sleep. at's not okay, bugs.
Maybe the rest of you Mid-Southerners are used to this. But not me; where I grew up, in Santa Fe, we got used to centipedes, millipedes, prowling tarantulas, and even the occasional bat hanging from the veranda. So my battle for the last week has revolved around a single-minded goal: to get rid of these scarlet squatters and restore peace to my abode. Okay, sure, they're pretty harmless, and I could wait for my pest control work order to kick in, but by golly, I can occasionally be obstinate and have to draw the line somewhere when it comes to interlopers.
At rst, it was simple enough to coax the bugs onto a sheet of paper or a book cover and deposit them back outside to enjoy the nice weather we've been having. But mine was a persistent foe. As I clacked away on my keyboard, helping to edit some of the great columns you'll read by the talented writers here in the Flyer, my ears would pick up an occasional rustle or another utter. A quick peek at the window revealed one … no, two, wait, four more ladybugs hanging around? And is that another one hanging out by my bookshelf? How vexing.
e ladybugs occupied my obsession for a week, an unwanted distraction next to real responsibilities that actually matter, like turning this column in on time and getting the issue o to the printer. But this is a problem that I chose to focus on. And as my internal clock ticked past 30 years of age last year and the feeling of old age began to settle, the idea that I needed to more carefully select my battles has never seemed more appealing.
e outrage machine both online and o never even sputters these days, throwing up weird controversies that demand an emotional outpouring of fury and rage. Gas stoves? M&M's mascots? More stu about England's royal family?
To be blunt, on certain days it feels like I can't care anymore. Maybe a decade ago I would don my armor as a soldier of the Twitter wars, but engaging with a too-online rando who might clearly be a troll now is just, well, a waste of time.
Some days, my brain hurts trying to wrap itself around nonstop vitriol surrounding mundane problems. Not when there are real issues that demand our attention. Not when our governor is trying to police gender or paint scarlet letters on drag performers. Not when innocent people are beat to death in the street.
NEWS & OPINION
THE FLY-BY - 4
VIEWPOINT - 8
FINANCE - 9
POLITICS - 10
COVER STORY
"ONE AND FUN"
BY FRANK MURTAUGH - 12
WE RECOMMEND - 16
MUSIC - 17
AFTER DARK - 18
CALENDAR - 19
NY TIMES CROSSWORD - 20
FOOD - 24
METAPHYSICAL CONNECTION - 25
NEWS OF THE WEIRD - 26
ASTROLOGY - 27
FILM - 28
CLASSIFIEDS - 30
LAST WORD - 31
Direct your outrage towards real issues that merit it, and have some le over brainspace for the little things important to you. Maybe one of my friends thinks a speci c local beer is the best in town (it's not). No problem, he enjoys it, it's not hurting me, I'll save my incredulity for something else. And maybe I've wasted time dealing with a bug problem that requires a professional hand. at's okay; working more actively to tune out all the excess noise means that the smaller issues that pop up week a er week won't become the proverbial straws that break the camel's back, and I remain motivated for the real challenges that still lie ahead.
But the battles continue. If you'll excuse me, I've got another bug to squash.
Samuel X. Cicci scicci@memphis yer.com
3 memphisflyer.com CONTENTS 3 / 22 M o s s A r t 3 / 3 1 K i d ' s N i g h t O u t 3 / 3 1 P a i n t N i g h t a r r o w c r e a t i v e . o r g / c r e a t i v e - c l a s s e s a r r o w c r e a t i v e . o r g 653 Philadelphia Street *across from Central BBQ c r e a t i v e C R E A T E . S H O P . L E A R N @ m e m p h i s a r r o w c r e a t i v e L A D I E S N I G H T A T A R R O W A R T | J E W E L R Y | H O M E T H U R S D A YS A T U R D A Y A R R O W C R E A T I V E O R G / R E T A I L M A R C H 1 0 5 : 0 0 - 7 : 3 0 A R T I S T M A R K E T M A R C H 1 0 - 1 1 S H O P L O C A L C L A S S E S
PHOTO: PIXABAY Stay out of my apartment, ladybug.
of
Newsmedia
Alternative