SPECIAL EVENT
SPONSORSHIP OPPORTUNITIES
You'll love the way we play!
HERE'S THE SCOOP:
In 1962, voters created the Conejo Recreation & Park District when folks moving into the Conejo Valley decided they wanted to create local parks and recreation programs for their growing families.
Today, the District serves nearly 140,000 Conejo Valley residents by maintaining more than 50 parks and recreation facilities, offering thousands of classes each year, hosting dozens of community events, and, in cooperation with the City of Thousand Oaks, caring for 15,000+ acres of open space and 140 miles of trails via the Conejo Open Space Conservation Agency (COSCA).
PARTNERING WITH BUSINESSES, SERVICE CLUBS, & ORGANIZATIONS
By becoming a sponsor, you help provide needed services and quality of life experiences to the community while your business or organization stretches its marketing dollar and good will.
We invite you to join us in building stronger individuals and families through a partnership with Conejo Recreation & Park District.
Community support is essential to sustain and further develop quality events in the Conejo Valley.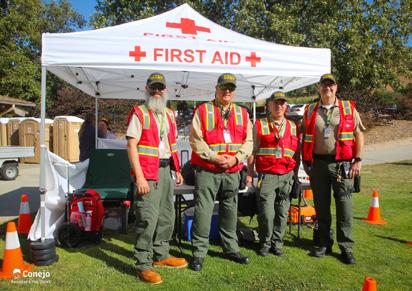 The Benefits are Endless!
• Achieve name recognition by becoming part of events.
• Develop networking opportunities through contact with potential future customers.
• Advertise within a niche market.
• Make a positive contribution to the community.
• Enhance your public image and generate awareness.
• Associate your brand with our well received events.
• Align yourself with CRPD, an agency that promotes healthy and active lifestyles through great recreational programs and events.
CRPD'S AUDIENCE OVERVIEW
17,000 Monthly Website Visitors 43,000+ Email Subscribers 56,500 Activity to local