GRAND GRAND
2023
GRAND GRAND
Welcome to the Manorwood Grand! Designed from the outside, in. The porch, window and door placement balances the home perfectly. This stately exterior can be personalized and has several pre-designed alternatives.
Enter the front door and you are greeted by a massive Great Room; Luxury Vinyl Plank flooring, aesthetically pleasing columns and interior flow will certainly impress. The Great Room opens to the kitchen, perfect for friend and family gatherings. Kitchen features, work space and storage abound; formal dining is available for more intimate times. Luxury continues into the ensuite master with sliding barn doors, his / her sinks, a private commode (in most models), and walk-in ceramic tile shower.
This unique combination of home design and luxury appointments provide a Grand value!
Table of Contents
Recessed Entry
Porch
Porch
2 Manorwood Homes
Extended
Recessed
Pg. 3-6 Pg. 7-10 Pg. 11-14
LED Flush Mount Light Pendant Lighting Over Island Sliding Barn Doors at Master Bathroom 4' x 6' Ceramic Tile Shower Ceiling Fan Full View Exterior Door Emerald Appliance Package Including: 24 CF SxS Stainless Steel Refrigerator, 27" Pyro Single Stainless Steel Electric Oven, 30" Smooth Top Stainless Steel Electric Cook Top or 30" Stainless Steel Gas Cook Top, 4-Cycle Stainless Steel Tall Tub Dishwasher Ceramic Backsplash in Kitchen Euro Glass Black Range Hood Stainless Steel Farmers Sink Black Faucets Black Cabinet Hardware Black Vanity Lights Cortec Pro Luxury Vinyl Plank Flooring Washer & Dryer Cabinetry Saddle Roof & Porch - ON SELECT MODELS Basement Stairwell
Saddle
3 www.manorwoodhomes.com 2M3701-R 2862 1.0 Style: Ranch Square Feet: 1670 Bedrooms: 3 Bathrooms: 2 GRAND
2M3704-R 2866 2.0
Ranch
4 Manorwood Homes
Style:
Square Feet: 1779 Bedrooms: 3 Bathrooms: 2 GRAND
2M3707-R 2872 3.0
Style: Ranch Square Feet: 1943 Bedrooms: 3 Bathrooms: 2 Home Office
5 www.manorwoodhomes.com
GRAND
GRAND
2M3710-R 2854 4.0
Ranch
Feet:
6 Manorwood Homes
Style:
Square
1451 Bedrooms: 3 Bathrooms: 2
7 www.manorwoodhomes.com 2M3702-R 2862 1.1 Style: Ranch Square Feet: 1607 Bedrooms: 3 Bathrooms: 2 GRAND
2M3705-R 2866 2.1
Ranch
8 Manorwood Homes
Style:
Square Feet: 1712 Bedrooms: 3 Bathrooms: 2 GRAND
2M3708-R 2872 3.1
Style: Ranch Square Feet: 1876 Bedrooms: 3 Bathrooms: 2 Home Office
9 www.manorwoodhomes.com
GRAND
GRAND
2M3711-R 2854 4.1
Style: Ranch
Feet: 1410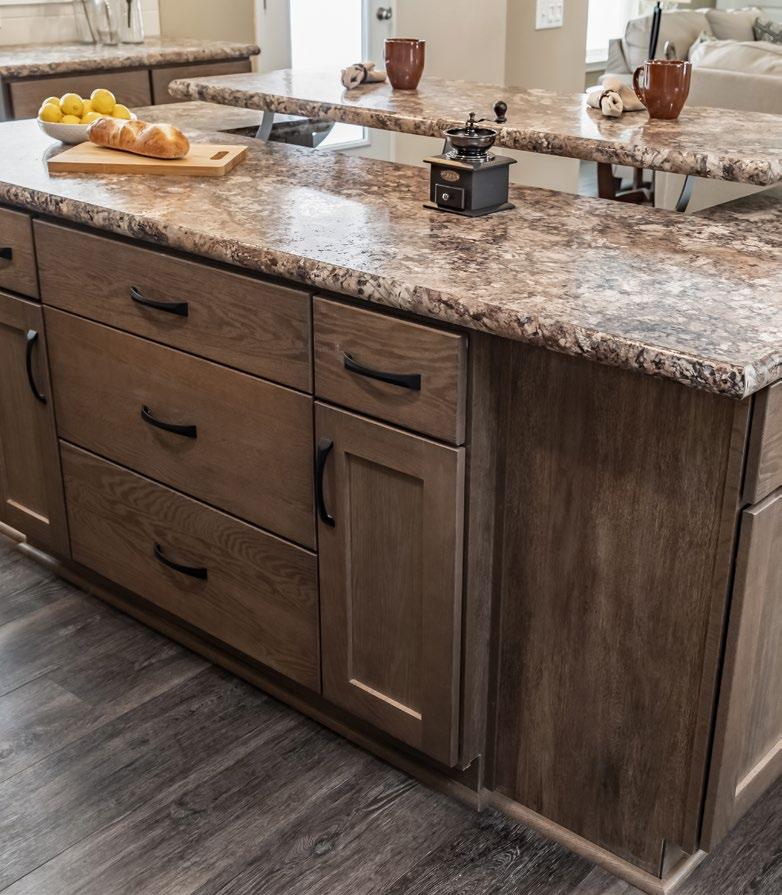 10 Manorwood Homes
Square
Bedrooms: 3 Bathrooms: 2
11 www.manorwoodhomes.com 2M3703-X 3262 1.2 Style: Ranch Square Feet: 1784 Bedrooms: 3 Bathrooms: 2 GRAND
2M3706-X
12 Manorwood Homes
3266 2.2 Style: Ranch Square Feet: 1901 Bedrooms: 3 Bathrooms: 2 GRAND
2M3709-x
Style: Ranch Square Feet: 2087 Bedrooms: 3 Bathrooms: 2 Home Office
13 www.manorwoodhomes.com
3272 3.2
GRAND
2M3712-X 3254 4.2
14 Manorwood Homes
Style: Ranch Square Feet: 1569 Bedrooms: 3 Bathrooms: 2 GRAND
GRAND GRAND
www.manorwoodhomes.com
15
GRAND
2023
GRAND All descriptive representations of the products on this brochure are believed to be correct at the time of publication. However, due to continued product improvement and changes in suppliers design and production, accuracy cannot be guaranteed. Therefore, equipment colors, material specifications, prices and model availability are subject to change without notice. All information and images contained in this brochure are property of Commodore Homes and for the use by active dealers of the company only. © CH 10/22 Connect with Us! State Route 38 Emlenton, PA 16373 724-867-0189 www.manorwoodhomes.com