WHAT'S UP 2023
Dental Guidance
COLTENE NEWS MAGAZINE
AFFINIS CONFIDENCE during impression taking
The self-contouring consistencies of AFFINIS wash materials avoid voids and distortions and lead to outstanding impression results.
2
Jörg Weis Director Marketing
EDITORIAL
Dental Guidance
The word "guidance" has its roots in the Old French verb "guier" and refers to leadership or direction. It often involves giving instructions and advice in various contexts such as personal, professional, and educational settings.
In dentistry, guidance is particularly useful for completing recurring procedures correctly and efficiently, including complex step-by-step treatment procedures, patient oral health education, and answering questions as they arise.
At COLTENE , we place a strong emphasis on two important topics in dentistry: infection control and dental preservation. Our finely tuned product portfolio covers all aspects of these workflows, from reprocessing instruments and surfaces to endodontics and restoration. We invite you to visit us and explore our helpful treatment procedures and new products, presented on large, innovative multitouch monitors.
Enjoy your visit!
Your
3
Universal Composites
BRILLIANT Results
The BRILLIANT Filling Materials – EverGlow, EverGlow Flow and Bulk Fill Flow – were developed with special focus on an intuitive shading system and user-friendliness. As such, they excel at convenient handling and shades that blend in exceptionally well.
Based on the same filler technology, the three materials work perfectly well together and combine in a smooth workflow.
BRILLIANT EverGlow
p Long lasting brilliance
p Aesthetic single-shade restorations
p Versatile shade system with three translucency levels
p Exceptional polishability and convenient handling properties
BRILLIANT EverGlow Flow
p Highly stable, yet very flowable
p Highly aesthetic results
BRILLIANT Bulk Fill Flow
p One adaptive Multi Shade material
p 4 mm reliable curing depth polymerized in 20 sec (≥ 1000 mW/cm2)
p No top layer needed due to high abrasion resistant properties
BRILLIANT Bulk Fill Flow BRILLIANT EverGlow Flow
RESTORATION 4
Universal Composites
BRILLIANT Bulk Fill Flow
BRILLIANT Bulk Fill Flow is the ideal filling material for fast and easy restorations. Based on the BRILLIANT filler technology it is the perfect partner for BRILLIANT EverGlow and EverGlow Flow.
No top layer needed
Thanks to high abrasion resistant properties, quality restorations are achieved in one efficient step since there is no need for a covering layer.
4 mm reliable curing depth
Increments up to 4 mm thickness are reliably cured in 20 sec (≥ 1000 mW/cm2). This feature combined with the surface wettability and flowability of the material offers time saving working steps.
One adaptive Multi Shade material
The chameleon effect of BRILLIANT Bulk Fill Flow allows the Multi Shade material to adapt to a wide range of tooth shades.
Find out more about the clinical procedure here.
2 3 4 0 1 mm D2
B2 B3 B4
D3 D4
C1 C2 C3 C4 A1 A2 A3 A3.5 A4
Occlusal filling
RESTORATION 5
NOVELTY
LED Polymerisation Lamp
Coltolux Comfort
The Coltolux Comfort is a simple to use, single-mode cordless LED curing light. Compatible with all campherquinone photoinitiators, it is lightweight and ergonomically designed with a 11 mm diameter lens, a flat-tip, 90-degree angle providing easier access to the posterior. The curing light has a convenient user replaceable battery and is made from a durable material for easy disinfection.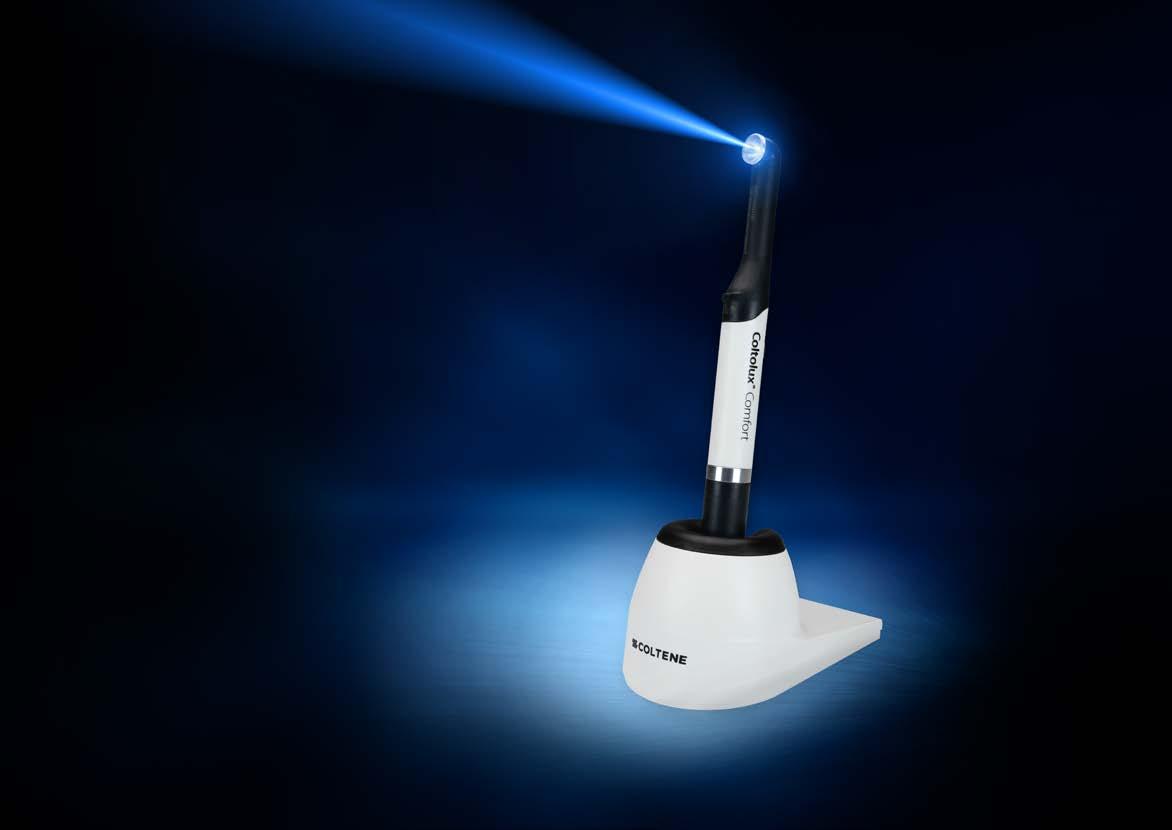 p Retains the one-button, one-mode ease of use
p 1.200 mW/cm2, 2 mm in 20 seconds
p Output diameter: 11 mm
p Flat tip (90 degree) for easier access to the posterior
p Inductive charging
p User replaceable battery
Technical Specifications
Irradiance 1.200 mW/cm2 (+/-10 %)
Wavelength range 380 nm to 515 nm
Peak wavelenght 449 nm
Light output diameter 11 mm
Curing 2 mm in 20 seconds
RESTORATION
NOVELTY 6
Reinforced CAD/CAM Composite Bloc and Disc for Permanent Restoration
BRILLIANT Crios
High performance – made brilliant
BRILLIANT Crios is a high-performance composite which combines all the advantages of an innovative submicron hybrid composite material with those of a CAD/CAM fabrication process. With two sizes and three translucency levels with 15 shades, BRILLIANT Crios offers a broad range for daily use in dental practice.
p Short duration of treatment
p Minimally invasive due to caring preparation
p Outstanding physical and biomechanical properties
p Tooth-like modulus of elasticity for a shock-absorbing effect and pleasant bite experience
p Exceptional grinding precision
p Excellent monobloc bond of BRILLIANT Crios to the natural tooth
p Can be modified and repaired intraorally
New super translucency level for the excellent reproduction of natural enamel. Available in two variants:
- Bleach Translucent
- Translucent
RESTORATION
Inlay Onlay Crown Veneer
7
Isolation and Fixation
HySolate
Latex Dental Dam
Powder free, low protein
The HySolate Latex Dental Dam is made of pure, natural rubber latex and is powder free; a simple and clever way to reduce the risk of developing latex hypersensitivity.
A clever move
The advantages of using a dental dam
p Increases visibility on the treatment site through isolation
p Acts as an infection control barrier
p Creates a dry operating field
The advantages of using HySolate
p Reduces the risk of developing latex hypersensitivity
p Lighter colours naturally illuminate the operating field
p Darker colours help with visual contrast
TREATMENT AUXILIARIES
NOVELTY
8
New Look | New Formulation | Same Quality
HYGENIC is now HySolate
Conversion Chart
BLACK EDITION
p Pre-printed to reduce working steps
p Black colour for ultimate contrast
p Less hypersensitivity – low protein and powder free latex dam
TREATMENT AUXILIARIES
SIZE COLOR THICKNESS CONTENT Thin Medium Heavy X-Heavy Sheets Old REF New REF Old REF New REF Old REF New REF Old REF New REF 152 × 152 mm (6" × 6") Green H02146 60034418 H02147 60034419 H02148 60034420 H02149 60034421 36 - H04247 60034423 - - 360 Black pre-printed - 60031351 - 60031352 - 60031353 - 60031354 36 - - 60031355 - - 360 Blue - H03530 60034442 H07315 60034443 - 36 Light H00533 60034427 H00534 60034428 H00535 60034429 H00536 60034430 36 - H04243 60034431 - - 360 Fiesta Assorted H04639 60034433 H04642 60034436 H04644 60034438 - 36 - H07317 60034440 - - 360 127 × 127 mm (5" × 5") Green H02141 60034414 H02142 60034415 H02143 60034416 H02144 60034417 52 - H04241 60034422 - - 364 Blue - H03529 60034441 - - 52 Light H00523 60034424 H00524 60034425 H00525 60034426 - 52 - H04237 60034432 - - 364 Fiesta Assorted H04640 60034434 H04641 60034435 H04643 60034437 - 52 - H07316 60034439 - - 364
NOVELTY
9
Your Endo Guide
Practical. Innovative. Leading the way.
As a premium manufacturer, COLTENE provides simple, safe, and efficient solutions for every step of the endo process, carefully guiding the dentist through every endodontic situation with dedicated trainings and experienced endo consultants.
Treatment Steps
Our portfolio, which has been refined over decades, includes innovative consumables and sophisticated equipment that reliably cover all five treatment steps.
Infection Control Cleaning & Shaping Irrigation & Drying Obturation Restoration
COLTENE – Your Endo Guide to a safe and efficient treatment. Together we'll find a way. For better, easier, and more reliable dentistry.
ENDODONTICS
10
HyFlex EDM
NOVELTY
The HyFlex EDM file system offers a tailor-made solution for fast and reliable preparation of simple as well as complex root canal anatomies. Evidence shows that by applying checklists and following standard procedures, reproducibility and safety are increased. Based on this awareness COLTENE will launch new files designed to be used as a sequence with one, straight forward protocol. The new HyFlex EDM OGSF sequence will include a new Orifice Opener and Glidepath file for opening the glide path, as well as a Shaping file for shaping the cervical canal. The apical area is prepared with the final Finishing file. In this way the entire canal can reliably be rinsed and cleaned up. COLTENE thus presents an easy-to-understand file-sequence for a comfortable and safe preparation.
Based on the proven EDM Technology, the HyFlex EDM OGSF sequence offers:
p Efficient treatment with high cutting performance
p High fracture resistance and flexibility
p Centered preparation of the canal
O G S F
Opener Glider Shaper Finisher
CanalPro Jeni
Digital assistance system for canal preparation
Autonomous "navigation" in the endo canal owing to revolutionary software
p Jeni mode continuously adapts to the individual root canal anatomy
p Control of the file movement at millisecond intervals
p Irrigation with aplomb
p Apex locator – measuring length without interruption
ENDODONTICS
New OGSF Sequence on horizon 11
Cordless Endo Motor
CanalPro X-Move
For continuous or reciprocating rotation
The Engine
p Endo motor for continuous – and reciprocating rotations
p Adjustable reciprocation angles for higher preparation efficiency
p Lower noise levels of smooth rotation provides higher treatment comfort
p Very small fully isolated contra angle
p High performance brushless motor
p Apex location build in
User menu
p Pre-programmed settings for HyFlex EDM, CM, and Remover
p Pre-programmed settings for MicroMega One RECI , One Curve (mini), 2Shape (mini), Remover, One G, One Flare
p Included option to manually set parameters (RPM, torque, angles) for other files systems
ENDODONTICS
NOVELTY 12
Reciprocating File Continuous Rotating File
MicroMega One RECI
Exploring opposite directions
COLTENE has expanded its proven range of NiTi file systems with the MicroMega One RECI reciprocal single file. This allows the dentist to select the preferred mechanically driven file system, regardless of the type of movement.
p Outstanding cutting performance due to patented file geometry
p Anatomically accurate canal preparation through controlled memory
p High flexibility
p Minimally invasive
MicroMega One Curve
Efficient root canal preparation
p Controlled memory
p Easy access to the canal, as it can be pre-bent
p Single use reduces the risk of cross-contamination
Max. torque: 4 N·cm
Speed: 300-400 rpm
Angle of reciprocity: 170/60
ENDODONTICS
13
Two-in-one Cold Filling System Root Canal Irrigation
CanalPro SyringeFill
System for safe and fast root canal irrigation
Modular endodontic irrigation system for the safe and efficient filling of syringes with irrigating solutions.
p Increased safety by colour coding to minimise risks of syringe mix-up
p Time-saving one-handed
p Prevents loss of material
p Free-standing station or holder for wall mounting Solutions available NaOCI 3 % or 6 %
EDTA 17 %
CHX 2 %
GuttaFlow bioseal
Not just for filling, also for healing
Supports regeneration in the root canal by increasing the pH value.
p Cold filling system – Guttapercha and sealer in a single application
p Very good biocompatibility
p Optimized curing time and tight seal of the root canal
p Excellent flow properties and radiopacity
p Nearly insoluble
1st safety stage
Owing to the slight expansion of GuttaFlow, the canal is sealed tightly.
2nd safety stage
The increase in pH value over several weeks and the
ENDODONTICS
14
Fiber Posts
ParaPost Fiber Posts
Posts for direct indications
Taper Lux
p Cylindro-conical post for narrow canals where protection of sound tooth structure is absolutely key
p 4 % tapered design provides a good apical fit with greater taper file technique
p Translucent, light-transmitting for fast on-command cementation
p Three head design for easy post length adjustment
p Rounded undercut head shape for optimal core retention
p Four sizes
Fiber Lux
p Cylindrical post design ideal for universal post application
p Translucent, light-transmitting for fast on-command cementation
p Rounded, undercut double head design for optimal core retention
p Easy post length adjustment is on head and apical end possible
p Six sizes
Fiber White
p Cylindrical post design ideal for universal post application
p Opaque fiber resin for masking discolored roots
p Rounded, undercut double head design for optimal core retention
p Easy post length adjustment is on head and apical end possible
p Five sizes
RESTORATION
Ø.070" 1.75 mm Ø.060" 1.50 mm Ø.055" 1.40 mm Ø.050" 1.25 mm Ø.045" 1.14 mm Ø.040" 1.00 mm Ø.036" 0.90 mm 15
Vacuum Autoclave
SciCan
STAT IM 6000B
The Art of Sterilisation
Small footprint – Great performance Sterilises wrapped loads in only 27 minutes.
Works on your command Programmable features to schedule test cycles and preheat the chamber.
Smart Features for improved automation
Maintenance reminders, video tutorials and troubleshooting tips.
G4+ Technology Connectivity & Data Logging
WiFi-enabled G4+ Technology allows for traceable load release, barcode printing and instrument tracking enhanced documentation features, data storage and much more.
INFECTION CONTROL
16
Cleaner and Disinfectant
SciCan OPT IM 1
Cleaning and disinfection in only a single step
The perfect balance - no compromises between effectiveness and protection
OPTIM 1 is one of the fastest and most effective cleaning and disinfecting agents with a short exposure time and a broad spectrum of activity. With OPTIM 1 you can be sure to comply with all guidelines and specifications and protect your patients, employees and the environment.
p Short exposure times (1–2 minutes)
p Excellent wettability - no repeated wiping necessary
p Active ingredient: 0.5 % hydrogen peroxide, does not contain alcohol
p Free of hazardous substances
Dental Advisor Clinical Evaluation: www.dentaladvisor.com/evaluations/ optim-1-2018-product-award
INFECTION CONTROL
17
A-Silicone Impression Material
AFFINIS
The crowning in level of detail
Still one of the fastest A-silicones AFFINIS fast, with a maximum total setting time of 2 min 10 sec guarantees optimum efficiency and saves time.
Precise moulding of every detail even under the most difficult conditions
The highly active surfactant system is characterized by excellent surface affinity in a moist environment.
Confidence during impression taking Self-contouring consistency prevents air bubbles and distortions. Easy monitoring for success AFFINIS PRECIOUS wash materials with impressive gold and silver pigmentation for excellent readability and detail reproduction.
AFFINIS heavy body & light body AFFINIS BLACK EDITION & AFFINIS PRECIOUS light body
PROSTHETICS
18
DIATECH Multilayer Diamond Instruments
DIATECH Diamond Instruments provide an extended cutting life due to their multilayer diamond coating. They have a uniform coverage of diamond on different levels. New diamond grits with sharp edges will, therefore, be exposed for use during procedures as the outer layer wears.
DIATECH ShapeGuard
Strong in polishing. Gentle to surfaces.
DIATECH ShapeGuard adjusts to any surface. The flexible lamellae ensure that pressure is always applied evenly, thus preserving the morphology of the tooth. Owing to the optimised polishing systems for composites, ceramics and zirconia, excellent gloss can be achieved on all materials.
KENDA Nobilis
1-step diamond polishing system for composite and ceramic restorations
Optimal and cost-efficient finishing and polishing can be achieved with only a single polisher. The ideal flexibility of the multi-diamond polisher allows for tooth-friendly, clean work and thus a perfect and even surface finish.
ROTARY INSTRUMENTS 19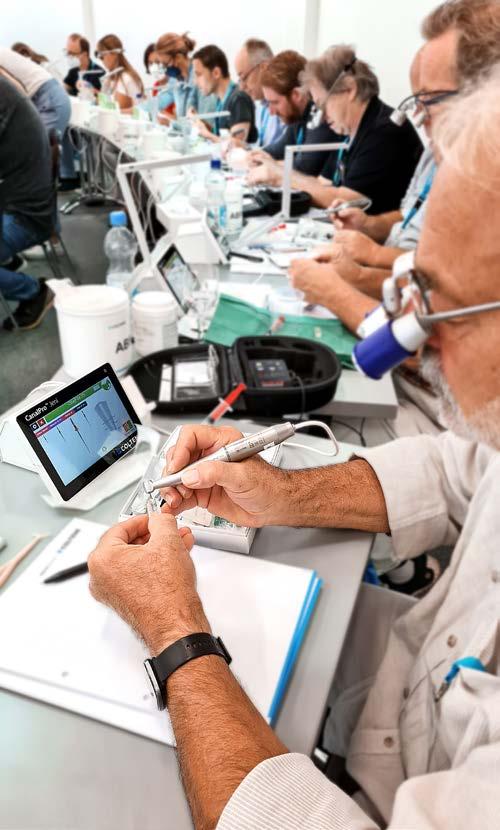 DENTAL MANA GEMENT AC ADEMY 007958 02.23 Printing errors, mistakes and changes reserved. Figures may differ from the original. © COLTENE – www.coltene.com Coltène/Whaledent AG Feldwiesenstrasse 20 CH-9450 Altstätten +41 71 757 5300 info.ch@coltene.com Imprint / Publisher service@coltene.com 00 800 11 0000 12 (UIFN) Mon.-Fri. 8:00 to 17:00 MESZ Service Center Coltène/Whaledent Ltd. The President Suite Kendal House, Victoria Way Burgess Hill, West Sussex RH15 9NF/UK +44 1444 235486 info.uk@coltene.com Sales Contact COLTENE offers regular training with added value. In the practice-oriented workshops you can find out more about the latest options in endodontics, restorative dentistry and hygiene. Exclusive Education
information on our training courses
visit events.coltene.com
For
please