City Council, staff recognize Kristin Riesgo as the new community service director
MALIBU'S AWARD WINNING NEWSPAPER SINCE 1946
Southern California Edison presents a wild re
To start o the Malibu City Council meeting on Monday night, May 22, the council and members of the public congratulated Acting Community Services Director Kristin Riesgo when she was announced as the permanent director after serving as the interim for nearly seven months.
"We're absolutely thrilled that she's formally on board," Malibu Arts Commission Chair Lotte Cherin said during commission comments.
"I was actually going to save that until the very end of my report, but I'm very happy to announce Kristin Riesgo as our new community service director," City Manager Steve McClary said to start o his report.
McClary provided an update on the Malibu Blu s Snack Shack, saying the County of Public Health expected the facility and issued the temporary use permit to sell food onsite by this week.
McClary said all parks except the Malibu community pool would be open for Memorial Day weekend.
"We do ask patrons to abide by park rules and remind people that
Despite the cool, drizzly weather, the community showed immense dedication to the topic of safety on Paci c Coast Highway as over 100 individuals gathered for the complimentary outdoor screening of "21 Miles of Malibu" at Blu s Park last Friday night (May 19).
Filmmaker and Malibu resident
Michel Shane decided to make this lm following the death of his 13 year-old daughter Emily Shane back in 2010. She was struck and killed on purpose by a mentally ill driver (now incarcerated) as she walked next to Paci c Coast Highway near the intersection with Heathercli Road. Shane wanted to do something constructive in her memory, and this lm alerting the public to the dangers of PCH in the hopes of bringing about positive change is the result.In a 45-minute program before the start of the lm, Chris Wizner, former president of the Malibu/ Pacific Palisades Chamber of
Commerce, served as the emcee, Scott Tallal was the moderator, and Mayor Bruce Silverstein presented a number of statistics, such as the number of collisions, injuries, tra c citations, and cars on Paci c Coast Highway. For example, he reported that over the past 10 years, there have been 4,000 collisions, including 1,600 with injuries; and 100,000 tra c citations given out.Sgt. James Arens, tra c sergeant for the LA County Malibu/Lost Hills Sheri Station, and Sgt. Chris Soderlund, the new Malibu liaison from Lost Hills, were on hand to talk about public safety on PCH. When
asked what it's been like to be rst responder to all the carnage on the highway, they both said it takes some getting used to."I can still see that one kid gurgling in his own blood," Soderlund said. "We don't get numb, but we're there for a job and to see the victim get the justice they deserve.""A lot of [drivers] out there just don't care," Arens said. " e way they drive, they don't have respect for others on the road and don't follow the rules of the road. They're just worried about getting somewhere fast." ere was some discussion about the car clubs that drive
Beyoncé and Jay-Z buy $200 million Paradise Cove property
On May 24, a groundbreaking real estate deal in Malibu made headlines as Architectural Digest and TMZ unveiled the news. is historic transaction, which shattered all previous records, involved none other than the renowned superstars Beyoncé
and Jay-Z. With an astounding price tag of $200 million, their acquisition marks the most expensive real estate deal ever recorded in the state of California. Notably, this remarkable purchase surpasses the previous record set by Marc Andreessen's $177 million Malibu property acquisition in 2021, elevating the stakes in the realm of luxury real estate in this exclusive coastal enclave.
According to TMZ, Beyoncé, and Jay-Z made an extraordinary
Malibu's electric utility Southern California Edison addressed safety concerns while outlining its Wild re Mitigation Plan at an online community meeting May 18. SCE executives also asked the public to be prepared for the next emergency after presenting their steps in hardening the grid.
After SCE and other California electric utilities have faced lawsuits claiming equipment ignited catastrophic wild res in the state, regulators have allowed for Public Safety Power Shuto s (PSPS). An SCE spokesperson, Mike Bushey, started the meeting saying, "We know these outages are painful." e utility also claimed the power shuto s are only used as "a last resort in the event of adverse weather conditions."
To help reduce the impact and emergency caused by power
INSIDE this week
MHS Swim has a season to remember | B1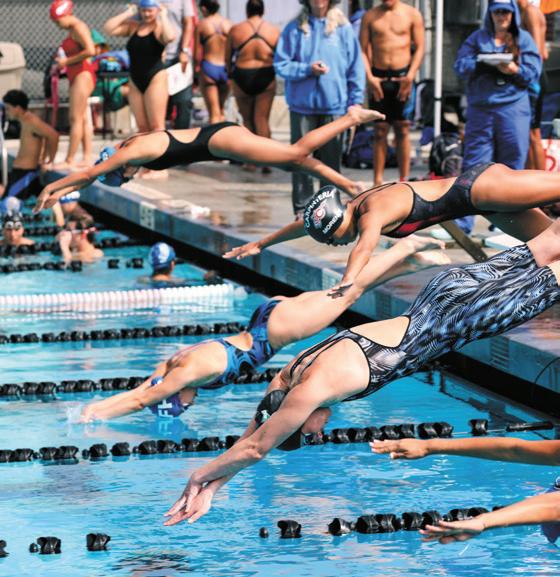 Opinion A2 News Briefs A3 City of Malibu prepares for busy summer season to keep PCH, canyons, and beaches safe
Calendar . . . . . . . . . . . A4
Events
Local News . . . . . . . . . A5
Westward Beach, between the Zuma Lagoon and Birdview Avenue, received recognition from the Blue Flag International Jury this month, and was awarded the Blue Flag USA award, the rst Blue Flags in the continental United States. Delray Beach Municipal Beach in Florida was also awarded for recognition.
e 36-year-old International
Blue Flag program awards beaches, marinas, and tourism boat operators annually based on a signi cant but attainable set of operations criteria
covering environmental education and information, water quality, environmental management, and safety and services. The International Jury awarded over 5,000 sites for the rst time in 2022. "Our sites have worked hard for several months to implement and maintain more than 30 diverse criteria to achieve award status," Program Coordinator for the American Shore and Beach Preservation Association (ASBPA) Annie Mercer said. " eir sta and
communities can raise their ags with pride for going above and beyond US standards to receive international recognition for sustainable management practices."
As a national operator for the international Blue Flag program, ASBPA administers the program in the continental United States, Alaska, and Hawaii, as well as supports sites in reaching criteria compliance.
Staff from the Los Angeles County Department of Beaches
VOL. LXXVIII • NO. IV THURSDAY, MAY 25, 2023 malibutimes.com • $.50 • WEEKLY
Features: ON STANDS NOW! Healing & Harmony NOVA Soundbath's Journey to Elevated Consciousness Hollywood Stuntwoman Diane Peterson's decades of riveting adventures on and off the screen SAFE & CLEAN FUN & YUM WHOLEMARKET PARKING THE PLAYGROUND SENSORY GARDEN DREAMS
Local
• Optimist Club of Malibu Awards $1,000 Scholarships
News A7
Real
• Malibu Planning Commission approves summer tow-yard
Estate B8
estate Malibu
People B2 is
Malibu, and
me out! Legal Notices B3 Business
B5 Classi eds B5 Sports B8
• Exclusive updates on Malibu's celebrity scene and luxury real
Life B1
is my
it freaks
& Directory
safety community meeting CONTINUED ON PAGE A8 CONTINUED ON PAGE A7 CONTINUED ON PAGE A6 Couple's Malibu property deal shatters previous state record Council motions to bring back the Sea View Hotel project to the June 12 meeting after taking no action on April 24 Utility says it's working to mitigate wildfire risks By JIMY TALLAL Special to The Malibu Times By SAMANTHA BRAVO Of The Malibu Times By JUDY ABEL Special to The Malibu Times By SAMANTHA BRAVO Of The Malibu Times Westward Beach Receives Blue
Award By JIMY TALLAL Special to The Malibu Times Chris Wizner, recent president of the Malibu/Pacific Palisades Chamber of Commerce, and emcee of the "21 Miles in Malibu" screening, addresses the crowd during a pre-viewing presentation. Photos by Samantha Bravo/TMT Westward Beach in Malibu was awarded the Blue Flag Award by the American Shore and Beach Preservation Association (ASBPA). Photos by Samantha Bravo/TMT Bird's-eye view is shown of the 30,000-square-foot Paradise Cove home that was just purchased by Beyonce and Jay-Z. Contributed photo Community comes together for free screening of '21 Miles of Malibu' at Malibu Bluffs Park Outdoor screening and Q&A highlight and discuss the dangers of Paci c Coast Highway CONTINUED ON PAGE A8 CONTINUED ON PAGE A6 The flag will be raised during a public ceremony on May 25 and will fly through Sept. 30
Flag USA
In Case
You Missed it
e top stories from last week you can read at MalibuTimes.com
FROM THE LEFT AND THE RIGHT