Children's MontessoriHouse Celebrates 42 Years INSIDE Harvest Templeton KeepingCommunityHillsFarmGreen with Robyn Gable FARMER'S MARKETS North County Prsrt Std US Postage PAID Permit 19 13Stars Paso Robles CA ECRWSS PostalLocalCustomer ATASCADEROMAGAZINE.COM SEPTEMBER 2022
Dan Hile, OD ABO Doug Major, OD FAAO ABO Brent Wells, OD Karen Kudija, OD Steve Jio, OD 3 Locations 1112 Vine Street Paso Robles ‧ 805-238-1001 2231 Bayview Heights Dr. Los Osos ‧ 8105Morro805-528-5333Rd.Suite A Atascadero ‧ 805-466-6939 Schedule your appointments online ANYTIME! at www.oca2020.com Good vision allows us to enjoy the beauty of the world We are proud to offer the latest in Retinal Imaging, The Optomap! This enhances our ability to detect and monitor retinal conditions associated with Hypertension, Diabetes, High Cholesterol, and Thyroid Disorders. We all want to protect our eyesight and overall health for ourselves and our family - that is why regular eye exams are important! THANK YOU FOR VOTING US Best Lube & Oil Service Best Tire Sales & Service Best Overall Auto Care 2 | August 2022 Atascadero News Magazine
contents 17,000 PRINTED | 15,000 DIRECT MAILED LOCALLY! Atascadero 93422 • Santa Margarita 93453 • Creston 93432 3,000 DROPPED AT HIGH TRAFFIC LOCATIONS Hotels • Wineries • B&Bs • Waiting Rooms • Restaurants • High-traffic Visitor Hotspots for advertising inquiries and rates email office @ 13starsmedia.com, or contact one of our advertising representatives. Issue No. 51september 2022 Something Worth Reading 06 Publisher's Letter Round Town 08 Colony Buzz 09 The Natural Alternative 12 Santa Margarita Atascadero People 14 Bella Otter 16 Miss California Mid-State Fair Feature 22 Atascadero Equality Mural Project Business 24 Atascadero Chamber: Cross Talk Tent City 26 Rotary Clubs 27 SLO County Office of Education 28 JB Dewar Tractor Resoration Taste of Atascadero 30 Taste of Americana Calendar & Events 31 September Events 32 Service Listings Last Word 34 Remembering September 11 34 Directory of our Advertisers Children's House Montessori Celebrates 42 Years by Christianna Marks and Hayley Mattson Children's House Montessori School has been a staple in education for the last 42 years, envisioned by Korey Dudley in 1980 at the young age of just 23. North County Farmers Markets with Robyn Gable by Camille DeVaul They say know your farmer, know your food — and there's no better place to fulfill that than to go to the farmers market.. Templeton Community Farm Keeping Green by Melissa Guerra Groundskeeper for the farm, church, and school is having to make proactive choices about how to conserve water. Features Departments On the Cover North County Farmer's Market, Market Manager Robyn Gable in Atascadero Photo by Hayley Mattson 1820 17 4 | September 2022 Atascadero News Magazine
CONNECT WITH THE ROCKOFF TEAM Visit us at www.rlender.net Call (805) 286-4679 Richard Rockoff: NMLS# 243871 / DRE# 00801198 Cell (310) 993-8821 / rickr@planatek.net RaeChelle Rockoff: NMLS# 243867 / DRE# 01310466 Cell (310) 617-9164 / shelley@planatek.net Planatek Financial, Inc.: NMLS# 328896 / DRE# 01329960 Ph (818) 707-8899 WANT TO CATCH THE REVERSE MORTGAGE WAVE? WANT TO CATCH THE REVERSE MORTGAGE WAVE? LENDER ChickenChickenMONDAYCacciatoreTUESDAYCodVeracruzWEDNESDAYFriedSteak 19 Includes a side salad and glass of house wine LOCALLY CERTIFIEDSOURCEDORGANICINGREDIENTS • FRESH PRESSED JUICE • WHEATGRASS SHOTS • "NICE" CREAM CONES • SMOOTHIE BOWLS • SMOOTHIES OPEN M-F, 7:30AM-4PM 5940 ENTRADA AVENUE, ATASCADERO • (805)423-2338 • JUICEBOSSDELIVERS.COM atascaderomagazine.com September 2022 | 5
The North County Farmer's Markets, Market Manager Robyn Gable, takes us behind the scenes with our local farmers and the market. Robyn explains that when you shop at the market, you are supporting the farmers, their families, and employees who make up our communities (page 22).
OFFICE 5860 El Camino Real Ste G Atascadero, Ca 93422 Atascadero,P.O.MAILBox6068Ca93423 ATASCADEROMAGAZINE.COM office@13starsmedia.com • (805) 466-2585 SUBSCRIPTIONS Annual subscriptions are available for $29.99 Subscribe online at atascaderomagazine.com EDITORIAL POLICY Commentary reflects the views of the writers and does not necessarily reflect those of Atascadero News Magazine. Atascadero News Magazine is delivered free to 17,000 addresses in North San Luis Obispo County. Our costs are paid entirely by advertising revenue. Our Local Business section spotlights select advertisers. All other stories are determined solely by our editors. PROUD TO BE LOCAL! Atascadero News Magazine is owned and published by local people — Nicholas & Hayley Mattson Atascadero News Magazine is a trademark of 13 Stars Media ©2022. No part of this publication may be reproduced in any form by any means without written consent. Like and Follow us: FB/IG: @atascaderomagazine | TW: @atascaderomag designed & printed in california CONTRIBUTORS Patricia Alexander Barbie Butz Josh Cross Melissa Guerra The Natural Alternative Simone Smith COLONY DAYS OCTOBER 2022 PUBLICATION DELIVERY DATE September 30, 2022 ADVERTISING DEADLINE September 10, 2022 For more advertising information, contact our advertising representatives above, or see our media kit at atascaderomagazine.com COMPANY ADMINISTRATOR Cami Martin | office@13starsmedia.com BUSINESS & PRODUCT DEVELOPMENT Nicholas Mattson AD CONSULTANTS Dana BrookeMcGrawBrinarJamieSelf COMMUNITY WRITER Christianna Marks COPY EDITOR Mike Chaldu PUBLISHER, EDITOR-IN-CHIEF Hayley Mattson AD DESIGN Jen Rodman CONTENT EDITOR Camille DeVaul LAYOUT DESIGN NeilLaurenEvanSchumakerRoddaMillerOUR NEXT ISSUE: This month's edition of Atascadero News Magazine is brought to you by all the local advertisers that fill our pages. Thanks to them, we are able to bring you your local Hometown Magazine. Publisher's Letter if thou wouldest win immortality of name, either do things worth the writing, or write things worth the reading. — Thomas Fuller, 1727 Autumn & Harvest W ith the end of summer comes cooler days, back to school, and har vest. Most of us, when we think of harvest, picture the rolling vineyards filled with plump grapes ready for the harvest festivals and grape stomping, which typically take place in October. Here in North County, we also follow the harvest season with our local farms; whether it is produce or getting ready for pumpkin season, we have it all right at our fingertips. We live in such a special place in the world that we have farmers who are our neighbors and friends. We have local farmer's markets almost every day of the week throughout the county. As a result, we have the ability to have fresh eggs, milk, veggies, and meat, all locally grown.
In Templeton, we have a community farm with the goal of providing fresh produce to the community as well as those in need. The farm is focused on allowing people to come and "pick" their own produce so they can understand where the food comes from and learn about gardening, pruning, and harvest ing their own dinner (page 17).
you a happy harvest season; we hope you enjoy this issue of the Atascadero News Magazine.
As we head into the autumn season, we remember what is the most im portant during the coldest time of the year…family, friends, and community. If that remains at the forefront of what we do, there is nothing we can't do together.Wewish
When we look at the rising cost of all goods throughout our nation and the water drought we are facing in California, it is important to know what is available for you and your family locally. Supporting one another is how we get back in touch with what is truly important and leave behind all the chatter that is made to scare and divide us.
Hayley&Nic
Georgetheto"Deliciousautumn!Myverysoulisweddedit,andifIwereabirdIwouldflyaboutEarthseekingthesuccessiveautumns"Eliot 6 | September 2022 Atascadero News Magazine
5" SMOOTHFACE 5" OGEE 5"ROUNDHALF 6"ROUNDHALF6" OGEE FASCIA STRAIGHTFACE SEAMLESS GUTTERS • Aluminum & Copper Gutters in over 70 Colors • Discounts to Contractors • Service & Maintenance • 5-Year Work Warranty • Rain Chains • Senior Citizen Discounts 3226 EL CAMINO REAL, ATASCADERO www.FiveStarRainGutters.com  Lic. #876930 Bonded & Insured Workmans Comp, General Liability, Bonds ESTIMATESFREE Thank You!Thank You! For Voting us Best of North County atascaderomagazine.com September 2022 | 7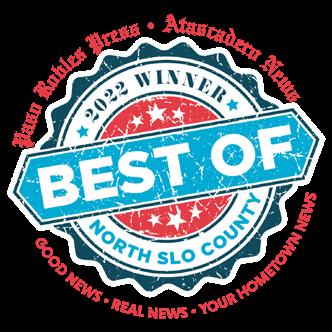 The Printery Hosts First North County has Talent Show
Emmy Award-nominated Doriana Sanchez returned to the Printery to act as one of the two judges for the night's competition. Sanchez is known for her disco choreography on "So You Think You Can Dance" and has collaborated with a plethora of our favorite musicians. The night's second judge was Jeannie Malik of the Malik Real Estate Group, who also has a back ground in the arts.
On Friday, Aug. 5, a large crowd of residents gathered in the courtyard on the side of the Printery building to watch 11 talented acts perform in the Printery's inaugural North County has Talent Show. The show kicked off at 6:30 p.m., sold 150 tickets, had food and drinks available for purchase, and displayed all the North County has to offer artistically.
For more information on the Atascadero Printery Foundation, visit atascaderoprintery.org/
 TheCOLONYBUZZ THANK YOU FOR AN AMAZING FIRST5808YEAR!TRAFFIC WAY ATASCADERO LOCATED IN THE EL PASEO SPECSBYKYLA.COMPLAZA805.460.7575 805.464.2538 5908 entrada avenue blokeoutfitters.com 8 | September 2022 Atascadero News Magazine
"What a lot of great talent we have in Atascadero, and it was so nice to be able to showcase that," said the Printery Foundation's President Karen McNamara. "We hope that this is our first of many [talent shows]. We want to make this an annual event."
"This building did have really cool stuff happening, and I feel like it's such a great opportunity that this beautiful structure is here, and how we can all save it and support the arts," said Sanchez, who used to attend classes at the Printery before it was red-tagged. "As we know, arts save lives, they save your mind, they save your spirit, and it's really the most pure thing that we can do as human beings, to have beautiful music, poetry, dance, theatre in ourThecommunity."talentshow, emceed by Rick Evans, featured performances from all ages, highlight ing seasoned vets to youngsters just starting out. There were local singer-songwriters with original tunes, multiple musical theatre songs, patriotic music, and even a dance routine.
A generous donor put forth $700 worth of prize money to be split among the top three acts. After the judges tallied their votes, Class Act Dance from Paso Robles took home the main prize of $400 for their hip hop dance routine to "Perm" by Bruno Mars. Shay Angles landed the $200 second-place prize for her cover of "Every Girl Like Me," originally performed by Sugarland. Finally, world-renowned crooner Eddie Davin took the $100 third-place prize for his rendition of The Righteous Brother's "Unchained Melody." This summer's talent show raised approxi mately $2,500 to go towards getting the Print ery building open to the public. Currently, the building is red-tagged, and the Printery can only host events outside, where they use an old skate ramp as a stage. The Printery has raised almost $200,000 towards removing the red-tag, but the total retrofit cost will be closer to about $2"We'remillion.trying to get the community excited because this building is for you," McNamara stated to the audience during her speech during the talent show.
THE NATURAL NUTRITIONALTERNATIVECENTER THE INFORMATION CONTAINED HEREIN IS FOR EDUCATIONAL PURPOSES ONLY AND DOES NOT CONSTITUTE DIAGNOSIS, PRESCRIPTION OR TREATMENT AND IS NOT INTENDED TO BE USED AS A SUBSTITUTE FOR MEDICAL COUNSELING WITH A HEALTH PROFESSIONAL. 8 31 2021 20% OFF Any One Item Some exclusions apply. Expires 9/30/22 Limit 1 coupon per customer per transaction 20% off Dr. Mercola Liposomal Vitamin C 20% off Carlson Vitamin D
A
re you or your kids always catching something funky once the school year rolls back around? This could be due to a weakened immune system, which can be influenced by a myriad of factors, including diet, stress, and sleep. As a healthy body is essential in fighting any infection, a nutrient-rich diet is extremely important. Start by reducing alcohol, caffeine, sugar, and refined carbohydrates. Next, increase the intake of antioxidant-rich foods and beverages such as fruit, vegetables, and green tea. Add more zinc-rich foods to your plate, including pumpkin seeds, lentils, turkey, chicken, and fish. Cook with more garlic, onions, and probiotic-rich foods such as sauerkraut, which are also great immune-support ingMaintainingfoods. a low-stress level is key when it comes to building a strong immune system. Stress suppresses the immune response, resulting in more frequent bouts of colds and flus. Increase time spent in meditation, practice fun forms of movement, and reduce time exposed to news and other sources which create panic and stress. A consistent sleep routine is pivotal in maintaining a strong immune system. Better sleep starts with stress support, plenty of movement each day, and avoiding screens before bedtime. A sleep-supporting diet can also help! Try eating magnesium and L-tryp tophan-rich foods such as turkey, nuts, and fatty fish at dinnertime and enjoy a cup of relaxing chamomile tea afterward.Interms of supplements, the combination of vitamins C and D is a powerhouse for supporting cells and tissues that may be compromised from an infection. Vitamin C is a potent antioxidant and has proven to be an effective intervention in colds and flus.
Back to School Immune Support
atascaderomagazine.com September 2022 | 9
Vitamin D supplementation is recom mended by medical professionals as those with low levels of vitamin D are shown to be more susceptible to viral infection.Thismonth, enjoy 20% off Dr. Mercola Liposomal Vitamin C & Carlson Vitamin D at The Natural Alternative!Ifyouneed to power up your immune system — change your diet, exercise daily, practice relaxation, and supplement when necessary! We're here to keep you healthy! — The Team at The Natural Alter native 
H umans and wildlife: There are millions of stories of conflicts over resources, water, food, land, and for protection of life, homes, and young. As the human popu lation has increased, we have pushed farther and farther into wildlands, fracturing habitats, adding roads and buildings, molding the landscape into what suits us, chopping down forests, cutting off hillsides, filling in wetlands, turning open fields into cropland or parking lots. We have reduced native biodiversity in trade for a patchworked landscape that includes lawns and "ornamental" plantings that don't exactly suit the needs of wildlife, leaving them to cross cities and neighborhoods in search of food, suitable habitat or mates. Sure, there are those pesky creatures eating our crops, damaging our buildings and even killing our pets or livestock, but on the whole, it's the wild creatures who suffer when conflicts occur due to our human activities. Fortunately, there are those who care to make a difference, and here we have Pacific Wildlife Care. What began in 1983 as a small organization for the home rehabilitation of injured and orphaned wildlife, the Central Coast Rehabilitation Guild was pushed to grow in October 1987 when 40 oiled pelicans needed help from a spill at Avila Beach. Formally established in 1987 as a 501(c) (3) nonprofit organization, "The Guild" continued its work, adopting its first educational ambassador in 1989, a great horned owl named Hoot, and officially changing the organization's name to Pacific Wildlife Care in 1990. Today, with over 800 members, donors, volunteers and staff, Pacific Wildlife Care is still dedicated to working to support the wildlife of SLO County through rescues, rehabilitation, and educational outreach. With tireless dedication, PWC has been able to rescue and treat nearly 3,000 wild animal patients every year from over 200 different species, from American crows to yellow-billed cuckoos and broad-footed moles to Western pond turtles. All animals are treated with equal care having the goal of being returned healthy to the wild.
Speaking with long-time Santa Margarita resident and Pacific Wildlife Care volunteer Larry Kahn we arranged for a tour and interview with Kathy Duncan, the organization's educa tion director, at the group's current Morro Bay rehabilitation facility. Larry had volunteered for PWC off and on over the years helping with wildlife rescue transport, but with his recent move to Morro Bay he has become a "volun teer janitor of sorts, helping to empty, clean and redecorate cages for the next animals coming in as well as organizing the supply room and putting together bags of necessities for each animal. With so many animals, there's lots of cleaning always happening".Meetingup with Kathy, we started a brief tour of the rehabilitation facility where she pointed out the latest addition of a covered quarantine enclosure built to isolate lethargic, potentially sick birds (showing no outward signs of injuries) from infecting those that are orphaned or injured. We walked past laundry lines of washed and drying towels, stacks of pet carriers and sheltered enclosures of all sizes. Peeking into a window I could see an operation was in process, heads huddled, hands busy over black feathers on the surgeryContinuingtable. on past more sheltered enclosures, a Western gray squirrel who had come in at a few days old with eyes closed in April was jumping around on branches ready to be released. Before making our way inside the building we passed by the largest enclosure which holds the pelagic pools and serves as a flight cage for larger birds such as golden eagles, brown pelicans, turkey vultures or gulls. Entering the cramped modu lar facility, I could see how every available space was fully utilized, with warming rooms, kitchen, surgery, meeting/break room/office and supply rooms with staff busily taking care of daily operations. Since COVID, the previous waiting room is now filled with baby bird intake cages and drop-offs are met outside in the parking lot.
Wildlife patients can also come in due to natu ral causes, such as oiling of birds from upwelling of natural seeped oil or as seen with the influx of emaciated brown pelicans this past May which was found to be caused by a prolonged wind event, exhausting the large birds and making it difficult to have the necessary energy for their deep dives to feed.
For the Love ofWild Ones Simone Smith 12 | September 2022 Atascadero News Magazine Round Town • Santa Margarita
Other reasons are a result of first- or second-hand lead or rodenticide poisoning and Kathy wanted people to know the acronym "RATS- Raptors Are The Solution. We don't want to kill off the predators that would solve the problem".
Kathy explained that the top reasons for wildlife coming in are due to being injured or orphaned by a vehicle strike, or due to cats or dogs, particularly during baby season in spring.
Pacific Wildlife Care takes in all types of injured or orphaned animals except for baby bears and mountain lions or adult deer (larger animals are referred to the Department of Fish and Wildlife and marine mammals go to the Marine Mammal Center next door before being sent north to Monterey).
Actually, when we met, Kathy had just returned from giving a presen tation to an organization along with two PWC education ambassadors, William Snakesphere (a gopher snake) and Penny Opossum. Pacific Wildlife Care has a total of 12 educa tion ambassadors, who all live with their handlers. In addition to William and Penny, they include an Ameri can kestrel, a bat, a pigeon, a raven, a barn owl, two great horned owls, two red-tailed hawks and a peregrine falcon.Theblack
PWC makes regular appearances for Morro Bay's Winter Birdfest and, for years now, children at Santa Margar ita Elementary School have been learning about our wildlife friends during regular PWC presentations through the Learning Among the Oaks program in fall and spring.
As education director, Kathy organizes and participates in wild life educational outreach programs at schools, organizations, and events.
The operation was a success, and the crow would immediately be returned to the wild, being able to fly and eventually molt with its own replacement feathers over time. PWC's rehabilitation facility is located on the old Morro Bay power plant property now owned by and leased from Vistra Energy through at least 2023. Overflowing with cages, carriers, pens, animals, and humans, the organization is looking forward to moving at some point in the future to a new, modern facility that is planned to be built on a 10-acre parcel that PWC purchased off Buckley Road in San Luis Obispo. The organiza tion receives zero regular funding and relies solely on donations and occa sional grants. COVID hit the orga nization hard, but PWC is planning for its first fundraising event after two years to happen the first weekend in November at the Octagon Barn in SLO.For questions or for help with an injured or orphaned animal, call (805) 543-9453 (WILD). To donate, become a volunteer, apply to become an intern, or learn more visit the website at pacificwildlifecare.org
feathers on the operating table? Turns out the patient was an American crow which, according to Kathy, are "very spazzy birds" who "hop and flap a lot when trapped and can break lots of critical flight feathers". Lauren, a third-year Cal Poly student intern, explained the refeathering surgery performed by PWC's talented veterinarian, Dr. Shannon Riggs. "The broken feathers are cut off and a toothpick is inserted and glued into the shaft with a matching donor feather attached to the other end," Lauren said. "Some of the secondary feather shafts were too small for a toothpick so cactus spines were used instead. The fledgling crow received 12 tail feathers and 6-8 feathers per wing along with secondaries."
 COMMITTED TO EXCELLENCESince1964Family Owned and Operated North County: 805.466.1248 ‧ South County: 805.543.5539 $25 $175 purchaseminimum OFF www.deep-steam.com ‧ Email: info@deepsteam.com  CARPET  TILE & GROUT UPHOLSTERY CLEANING From The Deep Steam Team! Happy LABOR DAY! From The Steam Team! LABOR DAY! WE GUARANTEE YOUR SATISFACTION  Carpet and Upholstery Cleaning  Tile and Grout Cleaning/Sealing  Area Rug and Auto Cleaning YOURSATISFACTION YOUR SATISFACTION CCCR has been serving the Central Coast and surrounding areas for over 35 years providing knowledgeable and professional support. We know that your space is a place of comfort and safety for you and your family, and we are here to get your home or office restored after loss. From Emergency Services to full-service remodels, CCCR has got you covered. • Water Damage Restoration • Fire/Smoke Damage Restoration • Mold Remediation / Asbestos • Temporary Board-up • Pack-out & Content Cleaning • Provide complete construction and remodel services YOUR PREMIER RESTORATION / REMEDIATION CONTRACTOR FOR: 805-466-5419 ‧ cccrinc.com  RESTORATION  REMEDIATION REMODEL ONE CALL DOES IT ALL! Lic # 758933 CENTRALCOASTRESTORATION CASUALTYINC.LABORHAPPYDAY atascaderomagazine.com September 2022 | 13
Atascadero's Bella Otter Takes Her Bow International T
his summer, Bella Otter — Atascadero's very own compound bow archer — has been competing all over the world, representing not only the North County but Team USA. In the span of two months, Bella competed in Stages 3 and 4 of the Archery World Cup and also brought home two golds from the Pan American Championships.First,inearly June, Bella headed to Nova Scotia, Canada, to represent Team USA at the Pan American Championships.Evenwithwinds blowing at 35-plus mph, Bella ended up earning the No. 1 seed by over 30 points. This put Bella in line to compete in the U21 Mixed Team event. Bella shot alongside Tyler Heritage for Team USA. They competed in the Gold Medal match against El Salvador. Bella and Tyler were triumphant and landed Bella her first gold at the Pan Americans."Wehad a ton of fun. Won gold, [my] first international gold, and it was rad," she said. Bella also competed on elimi nation day for the Individual U21 Compound Female competition, where she went up against multi ple archers from North and South America."They're like sudden-death elim ination matches," added Bella. "I ended up making my way through the elimination matches all the way to the gold medal match."
In the Individual U21 Compound Female gold medal match, Otter went against Paola Corado from El Salvador."Ourmatch was super exciting. The coach that I had behind me in the coach's box just kept saying, 'man, you guys are good for TV,'" Bella laughed. At the end of the match, Bella had the lead by a single point, until Paola tied Bella with her final shot. This led to a single-arrow shoot-off. One arrow each, and the closest to the center would win gold. Bella shot first, and landed a nine-point shot. "In the end, her [Paola's] final arrow landed in the eight ring, which is what did it. That's what brought victory my way," said Bella excitedly of winning her second gold of the Championships.Thatsamemonth, Bella headed to her first tournament overseas, where she represented Team USA at the Stage 3 of the World Cup in Paris, France."Itwas crazy just how many people were there [in Paris], and how many countries were there representing," addedDuringBella.her qualifier round, Bella shot well, and on Elimination Day, she shot against Italy's Marcella Tonioli, who has previously won one World Cup Final and five World CupAtstages.theend of their round, Bella and Tonioli were tied with three arrows each left to shoot. Bella ended up losing by two points, and her time competing at Stage 3 of the World Cup was over, but she brought back important knowledge with her. Bella went international again at the end of July, competing in Stage 4 of the World Cup in Medellin, Colombia — where Bella's first goal was to beat her qualification ranking from"Overall,France.I went from originally qualifying like 47th in France to 28th in Colombia," she stated. Bella's 28th ranking meant she participated in the USA Women's Team team rounds alongside Makenna Proctor and Linda Ochoa-Anderson. It was Linda's final time competing in a World Cup.The three ladies on Team USA won their first match against Ecua dor, but when they went up against Mexico in their second round, Team USA ended up losing by a couple of Bellapoints.then moved on to the indi vidual matches, where she had her first ever World Cup Elimination Round win. "My first match was against a girl from Brazil. I did end up winning By Christianna Marks
People • Atascadero's Bella Otter 14 | September 2022 Atascadero News Magazine
that one," Bella said. Winning her first match put Bella up against Colombian archer Sara Lopez for her second round. Sara is known as one of the best female archers, and she's the only archer to win the entire Archery World Cup six times. Bella added that Sara has been a huge inspiration to her since she was "When13.I found out, when I real ized that my next elimination match was literally going head-to-head with her, with the Sara Lopez, it was this crazy full circle moment of like 'look where I am' kind of thing," she said. "At 13, I was just shooting in our local archery shop with some little bow and had no idea that any of this could even could happen." Bella went into her match with Sara excited to demonstrate how far she's come since she was that young 13-year-old girl. While Bella put in good scores, she ended up losing the match to her childhood favor ite, bringing her Stage 4 World Cup journey to a close. "I'm definitely excited. I'm super excited that this feels like it's only the beginning," stated Bella.
 Expert Custom Picture Framing 40 years Experience andFramingGiftsMASTERPIECE Exceptional Gifts  Fine Teas  Jewelry  Candles  Greeting Cards  Calendars & Books  Seasonal & Vintage Treasures 10am-6pm, Tuesday-Saturday 7425 El Camino Real Suite K, Atascadero (805) 460-6630 T ther will Move Atascadero For war ATASCADEROCHAMBER.ORG805.466.2044 THE ATASCADERO CHAMBER MADE A POSITIVE IMP IN MY BUSINESS PAUL SAY, Malibu Brew Member Since 2019 DON T WAIT LIMITED TIM OFFER! OVER $1500 IN VALUABLE $BENEFITS.24/MONTH atascaderomagazine.com September 2022 | 15
Paso Robles' own Jenna Shapero rounded out the 2022 Court as Second Runner-Up. The 17-year-old just graduated from Templeton High School and, like the rest of this year's court, will be attending Cuesta College. At the pageant, Jenna displayed her welding prowess with a presentation for the judges and audience that included showing off some metal flowers she created with her own hands.
Brooke recently graduated from Temple ton High School and will be attending Cuesta College. She has also been involved with the Rio Rancheros 4-H and Templeton FFA for years.She went on to say that she's seen many of her friends, who've competed in years prior, go on to do incredible things after their time in the pageant, and that she's excited for the year to come.
Artistry in Motion also provided entertain ment during the pageant, and 2021's Queen Yvette Fiorentino gave an emotional final walk before handing her duties over to Smith as Miss California Mid-State Fair 2022.
 By Christianna Marks WGirls! ho Runs The Fair? People • Miss California Mid-State Fair 16 | September 2022 Atascadero News Magazine
This year, the crowd-favorite event had its contestants competing on the California Mid-State Fair's opening night, a format the pageant returned to in 2021. After interpreting Old Dominion's "No Such Thing as a Broken Heart" in Amer ican Sign Language [ASL] for her talent, wowing the crowd with her iridescent dress, and answering her final question, 17-year-old Brooke Smith of Templeton not only took home the title of Miss Congeniality and the pageant's talent scholarship, but she also walked away with the title of Queen of the CMSF."It's so special to me because I've been showing pigs here [at the CMSF] since I was 9, so this whole experience has become kind of the background of one of my biggest hobbies, and it just means so much to me," said Brooke of becoming Miss California Mid-State Fair.
First Runner-Up went to Templeton's Sarah Barr. The 19-year-old is currently attending Cuesta College. She also teaches dance at Artistry in Motion and, during the pageant, performed a contemporary dance routine to Elton John's "Benny and the Jets" as her talent. "After all of it [the competition] was over; I felt like I accomplished something with a crown or no crown. I just feel so accomplished about what I did tonight," added Sarah, who also won the pageant's interview scholarship. "I'm just really happy to be on the court this year and be with these amazing girls and get to share this experience with them."
n July 20, a new Queen and her Prin cesses were crowned during the Miss California Mid-State Fair [CMSF] Pageant. Five young ladies from Templeton and Paso Robles vied for their spot on the 2022 court by racking up points at meetings and during the interview, talent, evening wear, and final question segments of the pageant's run.
O
"It's unbelievable. I can't ... I mean, I can't believe this happened. I think I'm still in a little bit of shock," Jenna stated. "I'm very excited for things to come." The Miss California Mid-State Fair Queen and her court were present for the entirety of the fair and will also attend many events throughout the year leading up to the 2023 fair.
"They're the ambassadors of the fair for the whole year," said Patti Lucas, who's directed the pageant since 2001.
"We have lots of regulars, but it seems like we also see a new face each week of someone who just decided to stop by."
While the farm stand out front used to have surplus goods that the community could pick up on Sundays, the farm is now focused more on making it more of a "u-pick" experience. Allowing people to come visit and pick their own produce and learn about gardening, pruning, and harvest ing their own dinner.
"We want this to be a space where people can heal," he says, talking of those struggling with mental health or recovery who have found solace in working in the farm.
By Melissa Guerra
"Lawns consume a lot of water," Matt explains. While some crops take more water than others, like corn, most take three quarters less water than it takes to keep a lawn looking lush.
Templeton Hills Community Farm is located at 930 Templeton Hills Road in Templeton and is open to the public on Sundays from 9 a.m. to 2 p.m. 
Volunteers can help out on Sunday's when the farm is open to the public, or by appointment throughout the week by contacting Matt Giese at (805) 458-7808. Matt works with volunteers based on their ability and as more skills are learned he guides the volunteers to more advanced level projects that they can tackle.
The farm is watered through a mix of hand watering and scheduled drip systems which are set to water during cooler temperatures to make the most of the available water and ensure that the water is staying with the plants and not evaporating in the heat. Additionally, the plants actually benefit from having the soil dry out during the day, which reduces risk of root rot to the plants. With an eye on the future, and awareness that the water issues aren't likely to be resolved soon, Matt also implemented a recycled water system, filtering the water that is used to wash hands and the produce on property and put that water back in to cultivating the fruit trees which should start producing fruit next year. Shade cloths also help the farm thrive during the heat. All the sensitive plants, such as baby greens, chives, lettuces, are grown under fifty percent shade cloth to keep the harshest of the sun rays from crisping the plants, while heartier plants like tomatoes, corn, and eggplant are able to be planted in direct sun. The goal of the farm is to provide for the community and those in need, which is done by more than just having fresh produce available.
With drought affecting all of California, everyone is feeling the effects of the lack of water, even Templeton Hills Community Farm. City ordinances have been cracking down on watering days, making the farm grateful to be on their own well water, but that doesn't mean they aren't also taking measures to conserve.
Matt Giese, the part-time groundskeeper for the farm, church, and school is having to make proactive choices about how to conserve and even reuse water to be as efficient as possible. The prop erty has three wells which allows them to maintain the farm as well as the lawn for the school, but over the past year Matt has allowed some of the lawns to survive instead of thrive, choosing to use that water for growing produce.
"People love the experience of coming and heading out to pick their own food and then coming back together to find ways to use it," says Sabrina Giese, Matt's wife. The farm is looking to move more toward classes and events that can allow hands on experiences as well as hosting more gatherings.Fromcommunity pancake breakfasts to potluck and vegan cooking demonstrations, Templeton Hills Community Farm is creating outlets to bring the community together while learning new skills. For now the plan is to keep the farm at its current size and focus on cultivating the already planted space with new crops each cycle. With more volunteers however there is a chance that they will add in more field crops in the future.
Templeton Hills Community Farm Keeping Green Groundskeeper battles the drought by making conscious decisions about water usage
atascaderomagazine.com September 2022 | 17
Monday Baywood/Los Osos 2 to 4:30 p.m. SANTA MARIA STREET, BETWEEN 2ND & 3RD STREET Tuesday Paso Robles 9:30 a.m to 12 p.m. 11TH STREET & SPRING STREET San Luis Obispo 2:30 to 5:30 p.m. (5 p.m. winter) 224 TANK FARM RD Wednesday Arroyo Grande 8:30 to 11 a.m. 1464 EAST GRAND AVE., SMART & FINAL PARKING LOT Atascadero 3 to 6 p.m. EAST MALL AVENUE, ATASCADERO SUNKEN GARDENS Bay 2 to 4:30 p.m. 2650 MAIN ST., SPENCER'S PARKING LOT Slo 6 to 9 HIGUERA,p.m.BETWEEN OSOS AND CHORRO ST.
Farmers'
FARMERS
Friday Avila Beach Open March 5 through September 27 / 4 to 8 p.m. AVILA PROMENADE — FRONT STREET Cambria 2:30 to 5:30 p.m. 1000 MAIN ST. Cayucos open June 7 through August 30 / 10 a.m. to 12:30 p.m. OCEAN AVE. & D ST. MARKET Saturday Arroyo Grande 12 to 2:30 p.m. 214 E. BRANCH ST. BETWEEN SHORT ST. & MASON Morro Bay 2:30 to 5:30 p.m. MAIN ST. & MORRO BAY BLVD. Paso Robles 9 a.m. to 1 p.m. 11TH ST. & SPRING ST. San Luis Obispo 8 to 10:45 a.m. 325 MADONNA RD. WORLD MARKET PARKING LOT Templeton 9 a.m. to 12:30 p.m. 6TH ST. CITY PARK North County Markets northcountyfarmersmarkets.com Avila
Downtown
Thursday Morro
SLO County Farmers' Markets slocountyfarmers.org Morro Bay Farmers' Market morrobayfarmersmarket.com
SCHEDULE
Beach Farmers' Market visitavilabeach.com Farm Supply SLO Market farmsupplyfarmersmarket.com 18 | September 2022 Atascadero News Magazine
Farmers markets give customers the opportunity to meet their farmers and learn their farming practices. At the markets, there is no middleman and people can go straight to the source. Robyn suggests asking the farmers about their farming practices, what difficulties are they facing in agriculture, and start to develop a relationship with them.Many
of the farmers selling at the markets are family-run farms. Robyn explains when shopping at the markets, you end up support ing not just one person but families and sometimes their employees.
After Robyn and her husband purchased an apple orchard on the Central Coast, they fell in love with the farmers' market life. Between the community and family built between farmers and their customers to have an abundance of fresh fruit at your fingertips, the farmers market became Robyn's happy place.
Rising costs of goods, gas, and constantly trying to find help are some of the biggest adversities the farmers are facing. But with rising costs everywhere else, the farmers are constantly fighting the need to raise their prices — it's something they don't want to do.
"Its a privilege for me to be able to do this to serve in this way I feel like," says Robyn. "Just helping farmers and other vendors being able to get their produce out there and their cooked goods or processed goods out there for people to enjoy."
"Bring your smile, be happy, be blessed, be thankful and just enjoy the bounty that is at your fingertips," Robyn says.
 WITH MARKET MANAGER Robyn Gable BY CAMILLE DEVAUL atascaderomagazine.com September 2022 | 19
"The heart of the farmer to bring good things, but also being able to make money [without going] crazy with their prices. I know that is an ongoing conversation," Robyn explains.
tips for farmers markets: Bring a list, but also take a lap around first to see what vendors are offering that day; bring small change, but also remember you can purchase tokens from the market manager in case a vendor doesn't take a card; and bring plenty of bags.
Everything is fresh and usually grown no more than an hour's drive from the market it is sold from. The markets make it easy for people to eat the colors of the rainbow, seasonally, and there are plenty of opportunities to try something new.
hey say know your farmer, know your food — and there's no better place to fulfill that than to go to the farmers market.
Eight years ago, Robyn took on the position of market manager for the North County Farmers Market Association. "I also am a farmer, so that's part of my passion. I understand it from a farmer's perspective, all of the challenges," says Robyn. "Just the fruit of your labor and being able to share that with the community who really appreciates it and enjoys the freshness and the goodness is really almost a privilege and an honor."
The climate and diversity of San Luis Obispo County allows farm ers to grow a wide variety of crops that you can't find in most grocery stores. And Robyn says she has noticed more chefs shopping at the farmer's market for local restaurants. Not only can you find fresh produce at the markets, but you can also find homemade bread, coffee, honey, flowers, baked goods, cheese, andShoppingmore.
at a farmers' market turns the mundane chore of grocery shopping into a family outing. Cruising around the market can be an added activity to a day of wine tasting or quality time with friends andSomefamily.ofRobyn's
In San Luis Obispo County alone, there's almost 20 farmers markets throughout the week. There is at least one market Monday through Saturday filled to the brim with fresh and local produce."Iencourage people if they haven't been to a farmers market in a while or even if they have; come out and get in tune with life, be in the moment, enjoy the fresh air," says North County Farmers Market Association Manager Robyn Gable.
T
A typical farmer's day on the morning of market includes waking up early enough to pick and wash their fruit, manage other chores, make it to market, then at the end of the selling day head back to the farm to continue their chores and sometimes even head to another market.
MARKETS
The Montessori philosophy reso nated with Korey that all children carry the person they will become within themselves. In order to develop physical, intellectual, and spiritual potential to the fullest, the child must have freedom—a free dom which they achieve through order and self-discipline. That's all it took; Korey jumped in and started taking Montes sori-based classes, learning all she could about the teaching method while finishing up her last year at Cal Poly. This was in 1980, and Korey's new plan was to graduate that year and travel. She commented that she wanted to live on a kibbutz in Israel, but just like her traditional teaching goals, her travel plans were pushed to the side when opportu nityDuringknocked.an open
"We went to the Planning Commission. They approved it. I think it was unanimous," Korey added. "On the 11th hour of the last day, a neighbor down the street complained about it. So we had to go through the appeal process with the City Council. We got all the children and went to the City Council meeting. The parents and children wrote letters and gave speeches. We were approved unanimously.Butthatwasn't the only hiccup Children's House Montessori School had to face. The Small Busi ness Administration (SBA) denied their loan last minute. Again, with another appeal process, the loan
uation,beforeofMarchnighthouse/parentin1980,gradKorey was chatting with a professor about having a Montessori school one day, and he told her about a building in Atascadero, zoned for educa tion. Korey and her friend Donna (Henley) Mitchell, whom she started the school with, called the building owner shortly after.
20 | September 2022 Atascadero News Magazine ANDBY Children's House Montessori
C hildren's House Montessori School has been a staple in education in Atascadero for the last 42 years. A young Korey Dudley envisioned the school to life in 1980 at the young age of just 23.
Originally, Korey attended UC Santa Cruz, pursuing an art degree, but quickly changed course to Childhood Development at Cali fornia Polytechnic State University (Cal Poly) in San Luis Obispo. Her plan was to teach kindergarten after graduation."So,that was my plan, to gradu ate and then do another year from the credential program and teach public school," stated Korey with a laugh. "Somewhere in there, a friend of mine told me about this incredible woman, the co-founder, and director of a Montessori Training Center in London, who was giving guest lectures in the evenings at Cal Poly. She had lived and worked with Maria Montessori. I went to one class. That was it. I fell in love."
"I thought, 'she's not going to rent to two young girls.' But the owner was thrilled and said, 'Yes!, let's talk about it," Korey shared. Much to Korey's surprise, she and Donna were cleared for the prop erty to start the school and a place to live. Upon graduation, Korey went to Santa Barbara to finish exam.passedMontessorihertrainingandherChildren's
House Montessori School officially started in September of 1980 with 13 students. The school's age range originally included students from three to five. Elementary school was not added until 1988. The young teachers, with the help of Korey's then boyfriend, Steve, and Donna's father, built everything needed for the school. Including a wooden play structure. Donna stayed on with the school for three years before leaving, and that's when Korey started hiring otherMeanwhile,teachers. the Montessori school's original location was only zoned for 24 children but the need for more children, including elementary grades was growing. Korey and her now husband (who were married in 1985) knew things needed to change. The original building was also in need of a lot of work and the owners were ready to sellTheit.property, as we now know, was empty when Korey and her husband, Steve, purchased it. The husband and wife team had to go through the City of Atascadero to have it zoned for schooling.
42CelebratingYears
"This year, we had Open House in March, and I realized it was the first time some parents had ever watched their children with the [classroom] materials. I was just so emotional over it," she Koreyrecalled.wenton to say that the rela tionships and friendships that she's been able to foster over the years with the community and her students has been a joy in her life, and she is still in touch with many of her past students, even now, that they're older.
In the fall of 2020, Children's House was able to acquire a school waiver with the county so they could re-open with small groups and pods of "Thestudents.teachers hunkered down and did a wonderful job of teaching the children in their classrooms, but it was difficult for me to do what I loved most about the school, which was involving the parents, and bring ing the classrooms together."
"Adding the upper elementary was such a great thing because it kept families here for 10 years and truly strengthened the Children's House community.Thesense of community has been the best part of Children's House from day one," Korey says of the school. In 2020 as the school was getting ready to celebrate 40 years in Atascadero, the covid-19 pandemic hit the nation. With so many hands-on learning tools to promote Montessori, covid created its own kind of learning curve that challenged the core of what Korey and her team had"Itbuilt.was hard. It was so hard," added Korey.Korey and her team came up with creative ways to nurture the children's natural curiosities through video and maintain the family environment the kids were accustomed to.
atascaderomagazine.com was finally approved. In 1992, the Atascadero News covered the school's new location's official groundbreaking, and in May of 1993, the teachers and students moved into the 5,600-square-foot building. Adding the library a few years later, the Upper Elementary classroom, and then the barn addition as a dedication to her late husband after"It'sthat.been a journey. And it's been my life's dream come true." Korey shared with a smile. The school expanded from preschool through third grade to include toddlers in 1993 in the new building Then, in 1998, a large expansion was made to add students through sixth grade.

"[I'm] grateful for everybody who brought me here; I mean, it definitely takes a village. The teachers have been so dedicated; some have been here for over 20 years. They are what makes Children's House so special." added Korey. The friendships of so many parents over the years has been so rewarding, and, of course, I am a very lucky person who gets to be loved by hundreds of delightful children. Chil dren's House is a special place, and the past 42 years have been a true gift."
Korey shared as she gazed up, thinking back to those days of uncertainty. However, she was able to create ways to keep the community element alive at her school, and in 2021 they were able to put on their Thanksgiving play, have a full-blown graduation, and welcome parents back into the classrooms on a limited basis.
September 2022 | 21
By Christianna
Carranza went on to say that the murals explore equality in all different ways, from bio-diversity to Japanese wood blocks with a cultural perspective.
SLO County Arts Council has given the Equality Mural Proj ect the ability to receive funds through their 501(c)3 nonprofit. Their job is to house the project's funds while keeping track of them."I'd say the biggest supporter, if not individual donations, has been the Tourism Business Improvement District," added Carranza. "They've donated. I think this is their second cycle of donations. Visit Atascadero has been a very big supporter of this. Mostly I think because they see it as a huge win-win."
ATASCADERO'S EQUALITY MURAL
"We wanted a lot more locals to be at the forefront of the project, so a majority of the artists that we chose happen to be local," Carranza said. "A couple of them are from Atascadero. But we do have sprinkled in of the 10 artists that we chose, a few that are not local. A few of them are Cal Poly and college grads of the area, and they may have gone away, but their heart is still here, and they love the fact that there's this going on in Atascadero."
"None of the funds that we, I will say, none of it goes to any overhead of admin," stated Carranza. "So all of the folks on the committee are working for free because they want this to happen. The artists need to be paid."
T he Equality Mural Project started in early 2020 in downtown Atascadero, following the 2017 Woman's Equality Murals featured in Ancient Owl Beer Garden and the back of Colony Market and Deli. In the last two years, the project has completed six out of the proposed 10 murals throughout the streets of downtown, with all of the artists already chosen before the first brush stroke was"Whenpainted.we first started the project, what we did was we created a request for proposals," said Equality Mural Project committee member and volunteer Victoria Carranza. "We had the constraints as far as what we were looking for and what we weren't looking for."
In its Call for Artists that went out in 2020, The Equality Mural Project stated: "When it comes to thinking about how inequalities persist, categories like gender, race, environment, and class are best under stood as overlapping and mutually constitutive rather than isolated and distinct. In all equality-themed concepts, we want artists to be critically thinking about the inequalities within the inequalities. It's aboutArtists,relationships."community activists, members of the nonprofit SLO County Arts Council (which is the project's fiscal sponsor), photojournalist Richard Facillo, Cal Poly Liberal Arts Profes sor Jenny Ashley, Developer Z Villages, and more are all part of the Mural Development Committee. The committee collectively came up with the proposal for the murals and spread the word about the project as it continues.
"The theme really is equality for all. We want there to be the theme of equity and whatever that looks like for people," she added.Allmonies raised for the Equality Mural Project go directly to the artists, and each one is paid $5,000 for their work.
The project also funds artists with private donations that are PROJECT: Does It Work? Marks
How
22 | September 2022 Atascadero News Magazine
 WE OFFER A FULL LINE OF MODERN DESIGNED DOORS FOR YOUR HOME OR BUSINESS (805) 239-0202 2756 Concrete Ct., Paso Robles, CA 93446 Visit our website to view our projects bradsdoors.com Come Visit Our Large Showroom Serving the Paso Robles and Atascadero area for over 30 years! LICENSE#S: 405801856 405802301 405802302 405802303 405802304 (805) 296-3239 2025 Union Road, Paso Robles, CA CONTACT US TODAY TO LEARN MORE OR SCHEDULE A TOUR! The new standard inSenior LivingAHeavenlyHomePaso.com atascaderomagazine.com September 2022 | 23
The Equality Mural Project must procure an Administrative Use Permit [AUP] from the city for all the buildings it puts murals on unless the building is privately owned. The permit allows public review of land use proposals that do not warrant a Planning Commission hearing but have a noticeable impact on the surrounding neighborhood.
The team's next project will be the tunnel under Highway 101 that goes from Atascadero High School to the Sunken Gardens area. They're hoping to start in October, and the mural will be taken over by a painter from Los Angeles due to the original artist, AHS teacher Clarke Andros, moving out of the area.
There are also ramifications in place to ensure that what is painted on a building is a quality product. The Equality Mural Project also signs that they will help repair any damages done to the painting during that time.
Note: As part of an in-depth series, The Atascadero News Magazine will dive into the key elements that permit a community project like this to come to fruition, i.e., what parties are involved, who at the city level grants permission or approval, funding and what story do all the murals combined tell about the community.
"You have to have the business owner, the property owner, and the artist all on board," Carranza said. "And we finish that off with, before they [the artist] begin, and after the Admin Use Permit is approved, we have them sign a contract in order to then say this mural has to stay put for at least five years."
given through the SLO County Arts Council with a memo that reads that the funds should go to the Equal ity Mural Project. The property and building owners of the buildings being painted have also helped with funding and providing other services free of charge. Peter Worley of Signature Painting donates his time and product to put sealant on the murals, and Sherwin-Williams Atascadero Paint Store provides primer and paint for the artists.
"We even had an art gallery that was a pop-up at the Z Villages office," Carranza said. "People took tours and gave some suggested donations for taking a tour of the mural art concepts that we had displayed by the Artery."
Atascadero Community Band atascaderoband.org/ Media Electrical EnergySystems OfficesJosh CEO/President Chamber of
EVENTSSEPT September
'The best time to buy a home was yesterday … the secondbest time is today.' I think this perfectly states where we are Althoughtoday. we do not expect double-digit real estate appreciation this year, there will be a positive return of 5-7 percent. The housing shortage is real, rental prices are not going to drop, and the stock market is bearish. There is more equity in the average U.S. home than ever. All of these things lead to the conclusion that there is not a "housing bubble," and investing your money into real estate is one of the best things you can do today. Whether you are a first-time home buyer or a veteran investor, Gold Standard Mortgage is here to help with any of your financing needs. If you can dream it, we can finance it!"
of Adele Schneidereit amslawoffices.com/ Patterson and Tedford Pediatrics pattersonandtedford.com/ Cielo Ristorante & Rooftop Bar cieloatascadero.com/ Bee Right There Heating and Air callthebee.com/ Peaceful Plants facebook.com/peacefulplantscal SLOCO Marketing and Web Design slocovideo.com/ Templeton Greek Pizza & Greek Food templetonpizza.com/ Summit Investment Group contactsummitinvestmentgroup.net/ Central Coast Polishing &Restoration centralcoastconcretepolishing.com/ Atrium Mercantile instagram.com/atrium_mercantile Archie's Aloha Pest Management alohapest.com/ SLODOCO Donuts slodoco.com/ Belnano Coffee belnanocoffee.com/ FlyWithWine flywithwine.com/ EHD Studio Inc. Colony Cinemas Atascadero com/atascadero.themovieexperience. NEW MEMBERSCHAMBER Insight Into Today's Real Estate by
scuddersolar.com/about Law
September 9 | 5 to 8 p.m. C elebrate the fall season with the Art & Wine Tour! Sip and shop your way downtown Atascadero. Enjoy phenomenal wine, beer, coffee, and other treats from 15+ businesses. Earlybird tickets are $20 and are available through September 4. From September 5 -8, General Admission tickets are $25; on the day of the event, they are $30. Every ticket comes with a complimentary wine glass. Purchase your tickets at atascaderochamber.org/events/events-calendar.
Fall Art & Wine Tour
PROGRAMS and Membership Mixer At Santa Lucia Sportsmen's Association 16 | 5:30 to 7:30 p.m. J oin us for the September Membership Mixer at Santa Lucia Sportsmen's Association. Get to know local business professionals and explore new businesses in OUR community at "Member Alley" while enjoying complimentary bites and drinks. Membership Mixers are free to members. Registration is encouraged to assist with food and beverage planning purposes. If you are not able to register ahead of time, we still welcome your attendance.
September
frameperfectmedia.com/ Scudder Solar
Round Town • Atascadero Chamber of Commerce
*ITIN = Individual Taxpayer Identification Numbers are available for nonresident and resident aliens, their spouses, and dependents who cannot get a Social Security Number.
Commerce 24 | September 2022 Atascadero News Magazine
Ryan states, "It's no surprise we are in a shifting real estate market. This is not a bad thing. There is a correction that is happening that needs to take place. Although a higher inventory of homes is trending in the market, we are still below pre-covid market statistics. This opens the door for more opportunities and a lot more options for home buyers! We are excited to see more first-time homebuyers able to re-enter the marketplace and purchase without fierce competition. Besides traditional VA, FHA, and Conventional loans that mortgage brokers typically offer, Gold Standard Mortgage offers an assortment of loan programs. This can help home buyers with varying needs, including several new programs for small business owners and ITIN* borrowers looking to purchase homes with greater ease than previously possible.
Le Vigne Winery levignewinery.com/ FramePerfect
Cross
R eal estate has been a hot topic of conversation lately. So, I want to connect you with one of our expert members this month to discuss their views on the market. After reaching out to my friends at Gold Standard Mortgage, I felt it best that you hear an update directly from their CEO, Ryan Dias.
FREE PLACEMENT SERVICE 26+ plus years of experience in Treating Structural & Pain Disorders Peace of Mind is a Place for healing and resting the mind, body & spirit Medical Massage Therapy (818) 625-7490 Peace o f Mind 8838 Morro Road, Suite A/B, Atascadero, CA 93422 742 Morro Bay Blvd, Morro Bay, CA 93442 Every Body Kneads Peace of Locationswww.peaceofmind-massage-morrobayMind atascaderomagazine.com September 2022 | 25
ASSISTED LIVING  MEMORY
Patricia Alexander leads a weekly Writing Support Group on Zoom with limited atten dance by reservation. She can be reached at: PatriciaEmilyAlexander@gmail.com.
Under-writers can be so terse that their char acters can seem like automatons with no real emotions or senses. I had a writer who wrote that there was a fire in a butter factory and left it at that. We had him go back and describe what it smelled like and how long that scent would have lasted and how it affected the whole town. You've done the hard part and filled the blank page or screen. The rewrites (yes, there might be more than one) are the writer's opportunity to shape and finesse all their good intentions, so their manuscript has maximum impact. Rewriting is fun! So be patient and enjoy the process. You'll increase the odds for publication and create something of which you'll be proud.
time, I've learned that most people want quick results based on, well, very little reality. They often imagine getting their first draft accepted by a major publisher and shooting to the Best Sellers'Umm,List.I'm so sorry — it just doesn't work likeOnthat.the other hand, I've always found a handful of writers who amaze me with their dedication to improving the quality of their work before submission. Here are some tips allow your reader to visualize a more While saying that your character "feels cold" is fine for a first draft, the rewrite is your chance to catch that. Isn't it more interesting to say your character shivered or turned up their coat collar, could see their Show the Symptoms of Emotions. Along the same lines, look for when you're tell ing us a character's emotions and imagine what it would look like instead. The character feels sad, you say? Might they have wet, dull eyes? Feel a lack of energy? Have a voice that sounds falsely bright? These are much more interesting choices! (I highly recommend The Emotion Thesaurus: A Writer's Guide to Character Expression by Ackerman & Puglisi.)
 Power of the Rewrite
By Patricia Alexander, Writing Support Group the CARE Gibson, CSA, MBA www.SLGSeniorCare.comsue@slgseniorcare.com656-6869
Change Monotone Rhythms. It's very common for the pace of the writing to have too much sameness. Change it up; interrupt it. If you tend to write longer sentences, find places to put some shorter, snappier lines. If you're leading up to a cliffhanger, a reveal, or a startling conclusion, look to see if the rhythm of what's before it is setting these up in the most effective way. Pace and rhythm are a writer's toy; enjoy playing with them. Look at the Logic Flow of the Whole Manuscript. I once had a writer of a children's book in the group who did not realize that the takeaway of her main character's actions was a negative message, certainly not her goal. Might your first chapter make more sense as your second chapter? The rewrite is your chance to reorder your chapters, maybe subtract or add one. Does a scene leave us with unanswered questions that you just didn't see? Look for follow-through and flow. Cut Unnecessary Words; Add Neces sary Ones. People tend to overwrite or underwrite. Over-writers need to look for "junk words," like very, good, bad, really, truly – and cut them. They also often repeat themselves unnec essarily and use the same word multiple times.
 RESIDENTIAL CARE HOMES SLG S enior C are Sue
(415)
Templeton The Rotary Club of Templeton is one of the newer clubs in the North County, now cele brating 21 years of being a chapter. Most notably, the Rotary Club of Templeton is known for putting on one of the county's most notable Fourth of July parades. Each Inde pendence Day, thousands gather along Main Street in Templeton to watch patriotic parade entries stroll down and then purchase fireworks from the booths scattered around town. The parade is the club's largest fundraiser of the year, raising funds for scholarships handed out at the end of the school year. Five 2022 graduating Templeton High School students received scholarships this year. Ashlyn Janzen — $1,000 Madeline Bobbitt $750 Ashlyn Estes — $750 Floberg — $500 Mackay Langley — $500 (Vocational/ Trade) When the club isn't preparing for the Fourth of July, they take their time and skills around town to either fix up things like the Templeton Park Gazebo or wherever they can lend a hand.
The Rotary Club of Templeton meets every first and third Tuesday of the month at McPhee's Grill on Main Street in Templeton at 7 a.m. For more information, visit temple tonrotary.club Atascadero
Atascadero's Rotary Club is no stranger to the community. Starting in 1950, the club has become a staple in the city, and pulls in long-standing members, such as Frank Platz, who joined in August 1951 and is still attending meetings today.
26 | September 2022 Atascadero News Magazine Tent City •
• Molly
F or more than 110 years, Rotary Clubs around the world have dedicated their time and efforts to taking action to create lasting changes across the globe, in local communities, and in themselves.
•
The Atascadero Rotary Club meets on Wednesdays at 12 p.m. at the Springhill Suites by Marriott at 900 El Camino Real. For more information, visit rotarydistrict5240.org/ clubinfo/atascadero.
Our local Rotary Clubs in North County have made countless efforts to support our youth and community, from the Fourth of July Parade in Templeton to the Annual Crab Feed in Atascadero — they are always up to something.Soitisonly fair to take some time to high light our three local club chapters and under stand their role in our communities.
Every year Atascadero Rotary holds multiple fundraisers, like the Annual Crab Feed. This year it took place in March and raised $9,500. The club also hold the Cork and Cap fundraiser that benefits the CTE program at Atascadero High School, along with many other events.
and Christianna
Rotary Clubs of Atascadero & Templeton Rotary
2022 Scholarship Winners: •
By Camille DeVaul Marks
—
•
•
On top of that, the Rotary Club also created The Club Foundation in 1991 and has, since its start has, given an estimated $150,000 in scholarships to local high schools.

The current 56 members meet every Wednes day at Spring Hill Suites in Atascadero from noon until 1:30 p.m. "We encourage people to visit us at any of our meetings to learn more about who we are and what we do, have some fun, and meet other community members," said President Bob Tanaka. "Our meetings consist of indi vidual business owners, community members, and many interesting people presenting their stories, providing updates in the community, as well as raising funds for charity events, and providing scholarships to high school students."
"We have Rotary Foundation, which is, the foundation has well over a million dollars, probably closer to 2 million dollars that does scholarships and then there's a community fund also," said former President Joel Clay. "And then there's the club itself that does different things throughout the community."
Club
My professional and personal growth from when I started with SLO Partners to now has made a world of difference to the quality of my life. As such, I'm looking into renting a small industrial building, where my boyfriend and I will be setting up 3D printers, a CNC mill, a car lift, and more to pursue our personal goals."
During this year's Mid-State Fair, local labor unions invited me to join a roundtable discussion involving our Board of Supervisors, local elected officials, state officials, and congressional representa tives. The luncheon discussion focused on the need for the entire community to engage in solutions that provide employment pathways for young people to remain in our county. The shortages of service-ori ented employees in the trades, education, and public safety are of particular concern. At the roundtable talk, I shared our recruitment and retention part nerships with the Board of Supervisors, local trade unions, the Workforce Development Board, the Childcare Planning Council, local employers, and Cuesta College. These partnerships are funded by grants from the American Rescue Plan Act (ARPA), our Career and Technical Education (CTE) Foundation, private donations, SLO Part ners, and my office. The goals of the partnerships are to provide pre-apprenticeships, apprenticeships, scholarships, and training that supports, upskills, and grows a local workforce.
When we provide work experience opportunities to ensure that residents have the skills and knowl edge necessary for success in the workplace, we promote a sound, growing economy. I am commit ted to joining with local labor, Cuesta College, local businesses, and education partners in facilitating pathways and opportunities to serve local talent. Collaborative training presents a prime opportunity to expand the knowledge base of potential employ ees without significant business or taxpayer expense.
A simple search of EDJOIN, the statewide online employment site for education, reflects 294,000 openings across the state of California and 357 in San Luis Obispo County. Our county is fortunate to have most of our positions staffed with highly qualified, dedicated, and service-minded employees. However, San Luis Obispo County struggles with more vacancies than applicants because of retire ments, the low numbers of individuals entering the field, and high housing costs on the central coast. The shortage increases in specialty areas such as special education, medical services, fiscal services, trades, and administration. Additionally, the training pipeline for service professions such as education, public service, medicine, and the trades decreased over the last three decades while a large sector of the workforce (Baby Boomers) retired.
Carrie, a local participant, recently provided our team with an inspiring email update. "I hope this email finds you well, and it has been a while since I gave an update. I'm still working locally, and I plan on staying here for the foreseeable future!
Why we're the #1 choice for Floors & Window Coverings Call for a Free Design Consultation or Free Estimate Carpet • Area Rugs Tile • Decorative Tiles Host Dry Carpet Cleaner Blinds • Shades • Draperies Plantation Shutters Hardwood • Cork Waterproof Floors • Vinyl • Marmoieum We carry all types of Flooring and Window Coverings FREE 1 Hour Design Consultation Coupon must be presented at time of order Why we're the #1 choice AffordableStyle! Call for Paso Robles www.frontierfloors.net Carpet • Area Rugs Tile • Decorative Tiles Host Dry Carpet Cleaner Blinds Why we're the #1 choice for Floors & Window Coverings AffordableStyle! Call for a Free Design Consultation or Free Estimate 830 21st Street Paso Robles • 805-238-7878 www.frontierfloors.net Serving San Luis Obispo County Since 1977 lic. #857168 Blinds • Shades • Draperies Plantation Shutters Hardwood • Cork Waterproof Floors • Vinyl • Marmoieum 830 21st Street ‧ Paso Robles 805-238-7878 www.frontierfloors.net atascaderomagazine.com September 2022 | 27 COUNTY SUPERINTENDENT OF SCHOOLS James Brescia, Ed.D. RecruitmentandRetention "Before anything else, preparation is the key to success." ~Alexander Graham Bell~ T his month's article discusses the work force shortage and local recruitment and retention. Previously I reported on how the educator shortage in California is worsen ing, with many school districts, charters, private schools, and parochial schools struggling to find enough high-quality employees to fill vacancies.
Testimonials from local participants speak to the power of providing our residents with opportunities to train, remain, and gain in the local economy.
Current partnerships provide pre-apprenticeship and apprenticeship grants that invest in professional development for our San Luis Obispo County residents. Education and business are joining forces to offer our local employees access to developing experiences and workforce preparation that leads to relevant employment in today's COVID market place and beyond. Training includes technical skill sets and soft skills; providing a competitive edge for the employee and the employer. Nationwide apprenticeships represent over 150,000 employers in more than 1,000 occupations. Apprenticeships assist in developing the next generation of skilled labor to maintain our nation's success in the 21st-century economy. These programs recruit and develop a highly-skilled work force that helps grow local businesses, improve productivity, maintain business profitability, create flexible training platforms, minimize business liabil ity, and increase local employment opportunities. In partnership with the board of supervisors, Cuesta College, SLO Partners, and the Workforce Devel opment Board, the San Luis Obispo County Office of Education is making a significant investment to leverage state funding. Together we are providing scholarships, funding direct training programs, and sponsoring apprenticeships for residents. This summer marked the launch of direct support for local childcare agencies, early educator training scholarships, additional boot camps, youth workforce development, and multiple ongoing service sector training opportunities. Each of these endeavors creates a pathway to a median-income career allowing residents to remain and thrive in San Luis Obispo County. The San Luis Obispo County Office of Education website, the SLO Partners website, the Childcare Planning Council website, and the Workforce Development Board website contains information about access to educator scholarships, apprenticeships, workforce programs, SLO Partners, and other supports. It is an honor to serve as your county superintendent of schools. 
In addition to restoration winners, one student was awarded the "Spirit of Agri culture" sponsored by Isaac Lindsey and hisIsaacfamily.and his brother Louis are past contestants who have each completed three tractors and are familiar with these students'Garciachallenges.wasgiven the 2022 "Spirit of Agriculture" award.
• Ulises Garcia and his 1940 Ford 9N — Paso Robles High School sophomore
While the program and industry is mainly men, Annika says she is excited to see more and more young women like herself participate in the restoration projects."Thegirls killed it," says Annika. "I'm proud of them."
JB DEWAR TRACTORS Tent City • JB Dewar 28 | September 2022 Atascadero News Magazine
"I am so proud of all of the kids," adds Annika. "They did an incredible job this year like always."
The four other participants were:
Brett Lipscomb, a senior at Heartland Char ter School, came in third place with his 1948 Farmall Cub. Each year, JB Dewar and Chevron Delo reward young students who have restored an antique tractor by providing them with a plat form to share their workmanship, along with the distribution of scholarships. JB Dewar mentors and advises students, teaching them business skills, teamwork, project management, budgeting, planning, and market ing lessons in their restoration process. This year, seven restored tractors entered the program and competed. Students can work as a team or individually on a tractor.
The program is open to all high school students from San Luis Obispo and Santa Barbara counties. All levels of mechanical knowledge are welcome to participate in the program.
Two Young Women Win CompetitionRestoration
By Camille DeVaul
"That kid was incredibly helpful and probably one of the most respectful students I've met," said Erntsrom.
• AJ Brown with his 1924 Holt T35 — Templeton High School freshman • Lucas Pulse with his 1940 Farmall H — Atascadero High School Freshman Since 2002, JB Dewar, Chevron Delo, the Alex Madonna family, and other local businesses have awarded over $100,000 in scholarships. Students typically begin restoring their trac tors in the fall and must have them complete the following July, along with their record books and presentations. From start to finish, students log in about 400 hours of work on their tractors. Winners of the program receive award money sponsored by JB Dewar Inc. First place receives $4,000, second gets $3,000, and third place is awarded $2,000.Previous tractor restoration competitor Annika Ernstrom has taken over as coordinator of the program this year. In 2021, Annika was crowned the National Grand Champion of the Delo Tractor Restoration Competition with her restoration of a 1948 Allis Chalmers. Used to being on the hands-on side of things, Annika says it has been a different transition for her, but she has learned a great appreciation for what goes into the program. She says, "I had some good people around me to support me and it went pretty well."
JB Dewar also accepts tractor dona tions. If you have a worn-out tractor sitting under a tree somewhere, donating it to the program could be the perfect way to breathe new life into the metal beast.
Cierra Cowden. Grand Champion E ach year students on the Central Coast compete in bringing antique tractors back to life in the JB Dewar Tractor Restoration Competition at the California Mid-State Fair. This year, two young women were announced as the first and second place winners of the restoration program during the Farmer and Cattleman's Day dinner on Thursday, July 21. This year marks the 22nd year of the program.
• Jake Camacho with his 1948 John Deere D — Nipomo High School freshman

Cierra Cowden, a junior at Nipomo High School, took home Grand Champion honors with her 1951 Ford 8N, and Analisa Jorgensen, an Atascadero High School freshman, came in second place with her 1967 Cub Lo Boy.
Analisa Jorgensen. 2nd Place Brett Lipscomb. 3rd Place atascaderomagazine.com September 2022 | 29 GENERAL ADMISSION ALL TICKETS INCLUDE RE-ENTRY SATURDAY SUNDAY$1510am to 4pm 9am to 3pm Early Bird $25 8am to 10am SATURDAY, SEPT, 24THFRIDAY, SEPT 23 RD Feathered Frenzy $40 4 pm to 7pm www threespeckledhens com @THREESPECKLEDHENS to scanadmissionpurchaseticketstheqrcode: PASO ROBLES Event Center , Family Nurse Practitioner specializing in women's health In the office of Steven J. Herron, M.D., OB/GYN 1111 Las Tablas Road, Suite N Templeton, CA 93465 805 434-1825 Nina has thirteen years of nursing experience, including ten years in intensive care. She holds a Master's degree in nursing science and is now focusing on women's health. If you need an annual wellwoman exam or have other gynecological needs, Nina will provide compassionate care. Nina Lu, ARPN NP-C NOW ACCEPTING NEW PATIENTS
1 tablespoon finely chopped onion
• With Barbie Butz Barbie Butz
4 green onions, sliced 2 hard-cooked eggs, sliced 2 tablespoons sunflower kernels
Ingredients:
2 tablespoons finely chopped onion
Directions: In a large skillet, saute leeks and onion in oil until tender, about 10 minutes. Add rice and salt; cook until lightly browned, stirring frequently. Quickly stir in egg until blended; cook and stir until egg is completely cooked. Sprinkle with bacon and pepper. Serves 6 Note: If you feel that this menu has too much bacon, with the salad and the rice, just crumble fewer strips. But then, who doesn't like more bacon! Make dessert simple. Maybe lemon sherbet with a shortbread cookie to top of your menu. Cheers! 
1 small onion, sliced and separated into rings
1⁄4 cup cider vinegar
Ingredients:
1 package (10 ounces) fresh spinach, torn 1 cup canned bean sprouts, drained well 4 bacon strips, cooked and crumbled
1 teaspoon onion salt
2 medium leeks (white portion only), chopped 1 medium onion, chopped
... Salmon! 30 | September 2022 Atascadero News Magazine
Iwas skimming through an old issue of Taste of Home magazine in the waiting room of my doctor's office. (Isn't that what we all do while waiting?) I seem to always come away with a recipe or two, which makes that waiting time worthwhile. The women behind the desk are always willing to make a copy for me. This time, these recipes go together nicely to make a complete meal, except for the dessert. You're on your own for that. Start your menu with this version of spinach salad that adds bean sprouts and sunflower kernels with the bacon and hard-boiled egg slices. It makes a nice complement to the salmon entrèe.
1 teaspoon prepared horseradish 3⁄4 teaspoon dill weed 1⁄4 teaspoon garlic salt Pepper to taste
Taste of
Line a 15-inch x 1-inch baking pan with heavy-duty foil; grease lightly. Place salmon skin side down on foil. Sprinkle with lemon pepper and onion salt. Top with onion and lemon slices. Dot with butter. Fold foil around salmon; seal tightly. Bake at 350 degrees for 20 minutes. Open foil. Broil 4-6 inches from the heat for 8-12 minutes or until the fish flakes easily with a fork. Combine sauce ingredi ents until smooth. Serve with salmon. Serves 6
Ingredients:
1 cup olive oil
1 to 11⁄2 teaspoons lemon-pepper seasoning
Spinach and Bean Sprout Salad
1 salmon fillet (about 2 pounds)
2 tblespoons olive oil 41⁄2 cups cooked rice
Salmon with Creamy Dill Sauce
Directions: In small saucepan, whisk together the first six ingredients. Cook and stir over low heat until the mixture reaches 160 degrees. Remove from heat; cool. In serving bowl, toss spinach, bean sprouts, bacon and green onions. Drizzle with 1⁄2 cup salad dressing; toss to coat. Garnish with egg slices and sunflower kernels. Serve immediately. Refrigerate remaining dressing for later use. Serves 6-8
1 teaspoon lemon juice
Fried Rice with Leeks and Bacon
1⁄4 cup sugar
1⁄2 teaspoon salt 1 egg, lightly beaten 5 bacon strips, cooked and crumbled Pepper to taste
1 egg 2 tablespoons Worcestershire sauce
6 lemon slices
Americana
1/3 cup sour cream
1⁄4 cup butter or margarine Dill Sauce
Directions:
1/3 cup mayonnaise
Ingredients:
A Taste of
Fri. 11am-5pm, Sat. 8am-5:30pm Join the Sixth Annual Atascadero SHOWDOWN Charity Cornhole Tournament. Sign up for either Friday or Saturday or both days! For more info and to purchase tickets visit visitatascadero.com ROCK MUSIC & ART FESTIVAL CASTORO CELLARS, 1315 N. BETHEL RD.,
DANCING WITH OUR STARS PAVILION ON THE LAKE, ATASCADERO
REDWINGS PARTYSANCTUARYHORSEBLOCK 6875 UNION RD. 11am-3pm Celebrate the 31st anniversary and tour the property. Enjoy food, beer and wine along with live music. There will be a live auction, photo booth, and lots of fun games for the family. For more info and to purchase tickets www.redwingshorsesanctuary.orgvisit DAY Day state now has official 'California Surfing Day' for people drop and
The
surf'. How will you celebrate? PASO ROBLES LIBRARY BLACK VELVETEEN CAT LIBRARY CONFERENCE ROOM Register on Sept. 22 and pick up materials Sept. 29 for a fun intermediate sewing project of a Black Cat to share on Oct 7. For more info and to register contact by phone: 805.237.3870 or email: kchristiansen@prcity.com THREE SPECKLED HENS ANTIQUE AND OLD STUFF SHOW PASO ROBLES EVENT CENTER FRI Feathered Frenzy: 4pm-7pm, SAT Early Birds: 8am-10am SAT General Admin: 10am -4pm, SUN: 9am - 3pm A biannual event that specializes in selling one-of-a-kind antique and vintage items. For more info and to purchase tickets visit threespeckledhens.com sat SEP 18 sat SEP 20 sat SEP 22 sat SEP 23-25 SEP SUBMIT UPCOMING EVENTS TO: office@13starsmedia.com *All events are subject to change. Please call ahead or check online for more details. atascaderomagazine.com September 2022 | 31
12pm This all ages 2-day event is back with live music. For the band line up and to purchase tickets whalerockmusicfestival.comvisit sat SEP 17-18sat SEP 14-17
Wednesdays SaturdaysTuesdays Saturdays Atascadero 6505 EL CAMINO REAL, ATASCADERO, CA 93422 3pm - 6pm Templeton CROCKER ST & 6TH ST, TEMPLETON, CA 93465 9am - 12:30pm Paso Robles 11TH & SPRING, PASO ROBLES, CA 9:30am93446-12pm Paso CountyRobles:Farm&CraftMarket 11TH & SPRING, PASO ROBLES 9am - 1pm sat SEP 9fri SEP 4 MOVIE IN THE GARDENS SUNKEN GARDENS 8-10pm Movies are FREE to the public and will begin at approximately 8:15pm. Movie Line Up Includes: September 3: Eternals AN EVENING IN SANTA MARGARITA DOWNTOWN SANTA MARGARITA 5pm - 8pm The Friends of the Santa Margarita Library invite you to stroll the main street, visit shops and businesses, and enjoy wine, snacks and music. PAJAMA MOVIE NIGHT PARK CINEMAS 7pm Paso Robles Main St. presents Hello, Dolly! Tickets are $10 and include popcorn & soda. To purchase tickets call 805-238-4103 Month of September SUMMER CONCERT SERIES ATASCADERO LAKE PARK 6:30-8:30pm Band Line Up Includes: September 3: Stellar September 10: Truth About Seafood fri SEP 17wed SEP 16-17 TASTE OF DOWNTOWN DOWNTOWN, PASO ROBLES 11am-4pm Samples from over 25 Downtown Restaurants and Wine-Tasting Rooms. Tickets are only $25.00. For more info, call the Paso Robles Main Street office at 805-238-4103
WHALE
5pm-10pm The Friends of the Library present the 11th Annual showcase of Atascadero's community members showing off their dance moves all while supporting the library. For more info and to purchase tickets visit visitatascadero.com
to 'stop,
FRI: THE RAVINE WATERPARK, SAT: ATASCADERO SUNKEN GARDENS
6TH CORNHOLESHOWDOWNANNUALTOURNAMENT
CALIFORNIA SURFING
an
DoorsTEMPLETONopen
CALIFORNIA COAST All
Cancer Support Community Providing support, education and hope 1051 Las Tablas Road, Templeton • (805) 238-4411 • Cancer Support Helpline • (888) 793-9355, 6 a.m.- 6 p.m. PST. • Visit: cscslo.org for more info Special Programs Email programs@cscslo.org for Zoom links and more info: • Every Wednesday • Tai Chi Chih | Virtual via Zoom• 10:00 a.m. - 11:00 a.m. • Mindfulness Hour | Virtual via Zoom • 11:30 a.m. - 12:30 p.m. • 1st & 3rd Wednesday of each month • Grief Support Group | Virtual via Zoom • 1:30 p.m. - 2:30 p.m. • 2nd & 4th Wednesday of each month • Adv. Cancer Support Group | Virtual • 10:00 a.m - 11:00 a.m. • 2nd & 4th Wednesday of each month • Caregiver Support Group | Virtual • 10:00 a.m. - 11:00 a.m. • 2nd & 4th Thursday of each month Cancer Patient Support Group | Virtual • 11:00 a.m - 12:00 p.m. • 1st & 3rd Wednesday of each month Grief Support Group (Templeton) | Virtual via Zoom • 1:00 p.m. - 2:30 p.m. Explore Cancer Support Community's Virtual Home: • cancersupportcommunity.org/virtual-programs Atascadero Library 6555 Capistrano • (805) 461-6161 Register online at slolibrary.org Hours: • Tuesday 10-6 • Wednesday 10-6 • Thursday 9-5 • Friday 10-5 • Saturday 9-5 September Programs: Storytime at at Atascadero Library Every Wednesday at 10:30 a.m.- Join Ms. Sally in the library and read books, sing songs, and have fun! For ages 0-5. Outreach Team at Atascadero Library Every Wednesday in September at 1011:30am - Get connected with Primary care, recovery, clothing, food, Medicare, shelter, mental health, showers, health insurance, and more. Adults with Disabilities Sensory Friendly Movie at Atascadero Library Thursday 9/15- fun Sensory Friendly Movie for Adults with Disabilities at the Library. Lego Club at the Atascadero Library Saturday 9/24 - Create and build with Legos at the Library! For kids age 5-12 Creston Library 6290 Adams St. • (805) 237-3010 San Miguel Library 254 13th St. • (805) 467-3224 Santa Margarita Library 9630 Murphy Ave. • (805) 438-5622 Shandon Library 195 N 2nd St. • (805) 237-3009 A t The Library Atascadero Chamber of Commerce atascaderochamber.org • (805) 466-2044 6907 El Camino Real, Suite A, Atascadero, CA 93422 Templeton Chamber of Commerce templetonchamber.com • (805) 434-1789 321 S. Main Street #C, Templeton, CA 93465 B usiness & Networking H ealth & Wellness Atascadero Unified School Board • first and third Tuesday, Closed Session 6pm, Open/Regular Session 7 p.m Planning Commission • first and third Tuesday, 6 p.m. at City Hall Council Chambers, 6500 Palma Avenue City Council • second and fourth Tuesday, 6 p.m. at City Hall Council Cham bers, 6500 Palma Avenue Visit atascadero.org for virtual & up to date meeting info. General information: City Hall M-F, 8:30 a.m. to 5p.m. (805) 461-5000 G overnment Optimist Club • Atascadero #14927 • 2rd Thursday of each month, 6:00 p.m., Outlaws Bar & Grill, 9850 E. Front Rd. Rotary International • Atascadero • Meeting • every Wednesday, 12 p.m. at Springhill Suites by Marriott, 900 El Camino Real Kiwanis International • Atascadero • 7848 Pismo Ave. • 805-610-7229 • Meeting • In person or Zoom every Thursday, 7:00 a.m. Veterans of Foreign Wars • Atascadero #2814 • 9555 Morro Rd., • 805-466-3305 • Meeting • first Thursday, 6:30 p.m. Elks Lodge • Atascadero Lodge 2733 • 1516 El Camino Real • 805-466-3557 • Lodge Meeting — second and fourth Thursdays Lions Club Atascadero Club 2385 • 5035 Palma Ave. Atascadero • Meeting — Every 2nd, 4th Wednesday at 7 p.m. Santa Margarita Club 2418 • 9610 Murphy St. • Meeting — 2nd, 4th Monday, 7:30 p.m. Shandon Valley Club • (630) 571-5466 • Meeting — Call ahead for meeting times Templeton Club 2427 • 601 Main St. • Meeting — 1st and 3rd Thursday, 7 p.m. Loyal Order of Moose • Atascadero 2067 • 8507 El Camino Real • 805-466-5121 • Visit mooseintl.org for more information Atascadero Republican Women Federated Club • Republican Headquarters - 7357 El Camino Real, Meetings • 4th Tuesday 11:00 am • visit atascaderorepublicanwomenfederated.com S ervice Organizations Events • Service Listing 32 | September 2022 Atascadero News Magazine
HOME  AUTO  BigJohnInsurance.comLIFE8420-AElCaminoRealAtascadero,CA93422466-7744 E85 Diesel Propane Car Wa Hw y 41 & 101 Exit 219 Atascadero, CA 93422 ® Wood Finishing ‧ Cabinetry ‧ Specialty Projects Annual Block FUNDRAISERParty Co-Hosted by CASS Winery with a catered BBQ lunch. Live music by Monte Mills & the Lucky Horseshoe Band Wine pouring by CASS, Calcareous, Demeter and Defiance Wineries, beer from Firestone Walker. Paradise Shaved Ice, 805Photo Booth, Live painting project by LA Street Artist. Self-guided tours of the barn, riding demonstrations, silent auction and live auction to benefit the horses, with exciting items to bid on like a hot air balloon ride for two, trips, jewelry, art and much more. SUNDAY, SEPTEMBER 18TH 2022 11 AM – 3 PM 6875 UNION ROAD ‧ PASO ROBLES (805) 237-6060 • pasoroblesmagazine.com GET MORE EYES ON YOUR AD AdYourHere! Scan here to get started! Promote your business to 30,000 addresses in the Paso Robles and surrounding area. Starting at $220/month! Mention this ad and get 10% OFF your 1/8 page ad for 12 months atascaderomagazine.com September 2022 | 33
Twenty-two minutes later, five Pentagon stories fell due to fire that broke out after Flight 77 crashed into it 1 hour and 13 minutes prior. At that point, all you could see on the television was lingering grayish soot that covered everyone and papers flying in the air. Most people stayed glued to the screens, trying to get ahold of loved ones that were either on flights or lived in the area to see if they were okay. Phone lines were busy, and you could not getSeptemberthrough. 11 ended with the 7 World Trade Center building adjacent to the towers collapsing as a result of the aftermath of the towers falling. Almost 3,000 people died that day; our family, friends, colleagues, and our everyday heroes were amongTwenty-onethem. years later, most still remember it as if it was yesterday; however, as with many other events in our history as the years move on, the younger generations do not feel the profound impact of that tragic day and what transpired after. May we remember all the lives we lost that day and all who were lost fighting for our freedoms in the events that followed from 2001 to 2021. In addition, the 13 military souls that were killed last year during the US military evacuation of Afghanistan that ended the longest war in Amer icanMayHistory.wenever forget.
By Hayley Mattson
Remembering Those We Lost
September 11, 2001, changed that, and it is just as important today as it was then for all of us to remember the lives lost on that day and the many yearsThatfollowing.fatefulmorning as we watched the terror and horror of the aftermath of the first plane crashing into the North Tower of the World Trade Center, a second plane appeared and turned sharply into the South Tower. Most of the world, at that point, was glued to our televisions, trying to comprehend what was happening. At that moment, it would seem that the world hadTwenty-onestopped. years ago, we did not have social media or cellphones that shared videos or even took quality photos. We relied solely on news sources to tell us what was happening around theReportsworld. came in that a third plane hit the Pentagon just outside Washington, D.C. The news station switched between news anchors trying to explain what we were watching and experiencing. No more than 22 minutes later, the South Tower collapsed, 56 minutes after the impact of Flight 175. A fourth plane was then reported to have crashed in a field in Shanksville, Pennsylvania. At this point, the news reporters' words, "we are under attack; this was no accident; we are under a terrorist attack," would be a forever changing moment in our history. We all watched in horror as people trapped in the North Tower began to jump from the iconic towers that were a staple of the New York City skyline.Asanation, we all held our breath and watched, frozen, helpless with tears running down our faces. The frantic news coverage continued, people running for safety through the streets, not know ing what they were running from, while police, firefighters, and first responders continued to run toward the site, instructing people to get as far away as Twenty-ninepossible.minutes later, the North Tower of the World Trade Center fell, 1 hour and 42 minutes after the initial impact of Flight 11. The Marriott Hotel at the base of the towers was also destroyed.Cries,screams, and an unforgettable sadness filled the air and our hearts as we continued to watch in disbelief.
September 11, 2001
T wenty-one years ago, many of us started the day like all others, coffee, shower, with the morning news playing in the background. Most of us did not truly understand what war or a terrorist attack was other than it did not happen on our American soil.

76 Gas Station 33 A Heavenly Home 23 American West Tire & Auto 2 Atascadero Chamber 15 bloke 8 Brad's Overhead Doors 23 By The Sea Productions 27 Central Coast Casualty Restoration 13 Dancing With Our Stars 36 Deep Steam Carpet and Upholstery Cleaners 13 Dr. Steve Herron OBGYN 29 Educated Gardener 9 Five Star Rain Gutters 7 Frontier Floors 27 Greg Malik Real Estate Group 10, 11 Hearing Aid Specialists Of The Central Coast 7 John Donovan Insurance & Financial Services, Inc 33 JUICEBOSS 5 Masterpiece Framing & Gifts 15 Nick's Painting 33 North County Pilates 9 O'Conner Pest Control 33 Odyssey World Cafe 5 Optometric Care Associates 2 Peace of Mind Massage Therapy 25 Redwings Horse Sanctuary 33 rlender Inc. 5 Robert Hall Winery 3 SLG Senior Care 25 Solarponics 7 Specs by Kyla 8 The Natural Alternative 9 Three Speckled Hens 29 DIRECTORY TO OUR ADVERTISERS Atascadero News Magazine is brought to you by 34 | September 2022 Atascadero News Magazine Last Word • Remembering Those We Lost
Ask your sales rep about our Featured Business Spotlight BOTTLING UP your WinefavoriteIndustry Stories, Events and Spotlights, this Fall Ask your Sales Rep how to get your featuredbusinessinthenextissue! ▷ Veteran's Day ▷ Thanksgiving ▷ Holiday Shopping Preview ▷ Deadline: November 10th ▷ Colony Days ▷ Halloween Activities ▷ Harvest ▷ Deadline: September 10th October's Featured Topics October's Featured Topics Local and Regional Distribution! ‧ Central Coast ‧ Carmel Valley ‧ Santa Ynez ‧ Santa Barbara ‧ Malibu Advertising Deadline: September 5th!
TICKETS FROM POSTPONED 2020 SHOW TRANSFER TO NEW DATES! Theme: Prime Time Atascadero. Season 11 Show Directed by Molly Comin & Christina Troxel Event produced by Jeannie Malik & Friends of the Atascadero Library Grand2019ChampionsTomButlerKaraFrenzelPROCEEDS BENEFIT ♦ Atascadero Library ♦ Atascadero Performing Arts Center Committee ♦ Central Coast Dance Foundation / Artistry in Motion ♦ Friends of the Charles Paddock Zoo ♦ North County Economic Foundation / Leadership North County ♦ Sheriff's Advisory Board / Atascadero Police K9 Foundation ♦ Templeton Community Library Association PhotoatTicketsSeptPavilionSTARSWITHDANCINGOURontheLake14,15,16,17,2022onsaleJuly1stEventbrite.comprovidedby:CherylStrahlPhotography For information on community star dancers representing these non-profits visit friendsoftheatascaderolibrary.org