Cleveland Public Library
ANNUAL REPORT 2021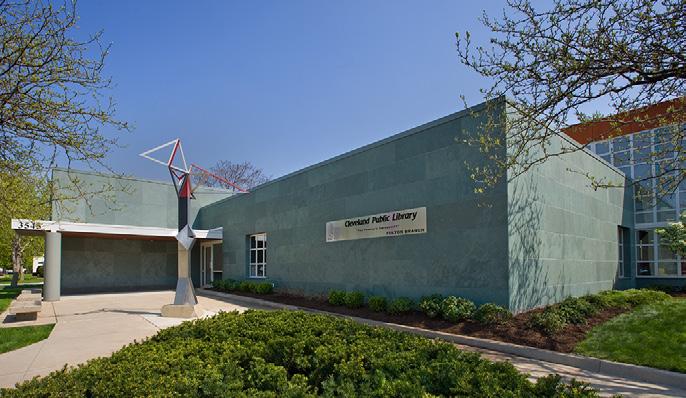 2021 REPORT TO THE COMMUNITY
A VISION FOR OUR CITY & ITS LIBRARY
A city in which opportunity is within reach. A Library that empowers its people.
OUR MISSION
We are The People's University, the center of learning for a diverse and inclusive community.
A MESSAGE FROM THE DIRECTOR
CONNECTING COMMUNITY
"Unprecedented times" was the catch phrase of 2021. We saw our patrons and our community grow tired while the COVID-19 pandemic dragged on. Cleveland Public Library made it a priority to deliver the much-needed services that our community needed to stay connected without compromising the safety of our patrons and staff. We returned to in-person services only when it was deemed safe by guidance of the CDC. Through it all, we found innovative ways to extend our reach into Greater Cleveland and beyond with hybrid programs and invaluable partnerships, which allowed us to double down on efforts to bridge the digital divide and bring the internet and other digital resources to those who need them most.
Despite the challenges, we continued to bring our Facilities Master Plan to life with groundbreakings and construction beginning on several of our branches. Now more than ever, we know that our reimagined, state-of-the-art branches are needed to provide safe spaces and fill urgent needs within our communities for many years to come. I am incredibly proud of our staff and the work they have done to serve our community this year. It is your dedication that makes the work we do at Cleveland Public Library so beloved by our city.
Felton Thomas, Jr. Executive Director and CEO Cleveland Public Library
A MESSAGE FROM THE BOARD
LIGHT IN THE DARKNESS
Most of us hoped that in 2021, the worst was behind us. As it turned out, we were in it for the long haul with challenges relating to the pandemic, unemployment, economy, and politics. While many began to feel hopeless, Cleveland Public Library never faltered in providing services to inspire the public while continuing to make safety a top priority.
If you ask people what a library is, their answer almost always starts with books. The reality is that our Library is so much more than just the books that line the shelves. Children who sign-up for their first library card develop a love of books that can lead to greater academic success in adulthood. We put art and culture within reach of Clevelanders of all ages with exhibits, murals, musical performances, and hands-on art programs. Thousands of people were welcomed into the library in-person and virtually for awe-inspiring conversations about diversity, equity, and inclusion from visiting authors. Cleveland Public Library's services illuminate the good within our city and truly make a difference in people's lives. We cannot wait to bring more of that good into 2022 with new branches and more of the services and programs that Clevelanders love so much.
Maritza Rodriguez, Board President Cleveland Public Library Board of Trustees
2021 REPORT TO THE COMMUNITY 3
4 KEEPING A COMMUNITY CONNECTED
Keeping A Community CONNECTED
As The People's University, we strive to connect Clevelanders to vital services. We're a safe place for the community to seek assistance and resources to enhance all facets of life. Now, help is one call away. Our partnership with the United Way of Greater Cleveland brought dedicated 211 HelpLink phones to all Library locations. The phones offer Clevelanders a direct link to vital resources such as food, shelter, and employment assistance. All calls are private, anonymous conversations with a United Way 211 navigation specialist.
Another partnership helped families build confidence and meet their basic needs. The East 131st Street Branch collaborated with Mt. Pleasant MyCom to develop the Mt. Pleasant Resource Closet. The closet provides families with free gloves, hats, socks, household cleaning products, and other toiletries.
KEEPING A COMMUNITY CONNECTED 5
Cleveland Public Library ensured no child and family went hungry in 2021. Through our work with the Greater Cleveland Area Food Bank, Kids' Café at the neighborhood branches provided nutritious meals for children and food boxes for families.
It's now easier for patrons to access materials outside the city of Cleveland. Cleveland Public Library opened its first Grab & Go book locker in Newburgh Heights Village Hall. The standalone, fully automated branch, allows users to pick up books and other materials during Village Hall business hours. Plans are in the works for more book lockers throughout the city of Cleveland.
6 KEEPING A COMMUNITY CONNECTED
Closing the DIGITAL DIVIDE
The pandemic highlighted the disparity of internet service throughout the city. Cleveland Public Library found innovative ways to keep people connected in 2021. We boosted the Wi-Fi signal outside our buildings and provided hotspots so that people could access the internet. The Collinwood Branch, in partnership with Empowering Youth, Exploring Justice (EYEJ) Youth Council, and PCs for People, distributed T-Mobile hotspots to K-12 students. Each hotspot recipient received a year of free internet service. The Library also hosted more than 100 seniors for an afternoon of educational fun and culture at Karamu House. The seniors learned about our services and received a new computer to stay connected with loved ones.
Cleveland Public Library's commitment to closing the digital divide sparked new initiatives with the National Football League (NFL). Thanks to a donation from the NFL Foundation and Cisco, Cleveland Public Library's effort to create equal access to technology received a major boost. The NFL and Cisco each donated $75,000, totaling $150,000 to the Cleveland Public Library Foundation and The Legal Aid Society of Cleveland. The money was used to create virtual legal meeting rooms at neighborhood branches.
CLOSING THE DIGITAL DIVIDE 7
Keeping A Community SAFE
In 2021, COVID-19 was still a major concern.
Cleveland Public Library kept our community safe and informed. We wanted to ensure everyone had access to the COVID-19 vaccination. We worked with Northeast Ohio Neighborhood Health Services, Inc. (NEON) and the Federal Emergency Management Agency (FEMA) to host COVID-19 vaccination clinics at select neighborhood branches. Clevelanders who got the shot won bus passes, gift cards, and other prizes. We also provided patrons with codes for priority vaccination appointments at the mass vaccination clinic at the Wolstein Center. People received free bus passes to help them get to their appointments.
When no one could find a COVID-19 test kit, Cleveland Public Library had them. The Ohio Department of Health asked us to be a distribution point. Our Library staff has handed out over 20,000 Abbott BinaxNOW Rapid, At-home, COVID-19 test kits through the Main Library drive-up window. As always, the Library had endless resources on COVID-19 for patrons to check out or view online.
8 KEEPING A COMMUNITY SAFE
Keeping A
Community
Diverse & Inclusive Programming
INSPIRED
Cleveland Public Library inspired our city through innovative programming and thought-provoking conversations. With the help of Employee Resource Groups (ERGs), the Library developed all programming through the lens of diversity, equity, and inclusion. The ERGs are a safe, inclusive space for employees to share ideas.
KEEPING A COMMUNITY INSPIRED 9
10 KEEPING A COMMUNITY INSPIRED
As part of our mission to promote a diverse and inclusive community, Cleveland Public Library partnered with WOIO 19News, to produce a televised version of our 36th Annual Dr. Martin Luther King, Jr. Commemorative Program. The theme for the MLK 2021 program, "And Justice for All," was inspired by the work of Dr. King, and the writings of author Leslie Snyder, celebrated abolitionist Frederick Douglass, and President Theodore Roosevelt.
The program inspired our community with words by Cleveland Public Library Drum Major for Change Award honoree and Cleveland Foundation Senior Vice President India Pierce Lee, a frank conversation with Reverend Dr. Marvin McMickle, interim pastor at Antioch Baptist Church, and young leaders 14-year-old Madison Reid and 17-year-old Noah Foster. We also recognized local heroes among us: the teachers, community advocates, entrepreneurs, students, and volunteers who selflessly contribute to their neighborhoods. The program collaboration is an extension of our work with WOIO on "The Next 400" project which is aimed to help us heal from centuries of injustices.
KEEPING A COMMUNITY INSPIRED 11
India Pierce Lee
Reverend Dr. Marvin McMickle WOIO 19News "The Next 400" project
Cleveland Public Library teamed up with the Pro Football Hall of Fame in Canton to introduce students to new opportunities outside the city of Cleveland. 200 Cleveland Metropolitan School District (CMSD) students participated in the Black College Football Hall of Fame Classic at the Tom Benson Hall of Fame Stadium. Together, the Library and the Pro Football Hall of Fame created programs to enhance what students learned in the classroom. Programs included using yard markers to teach math, life lessons from former NFL greats, and Get Fit exercises.
"Thank you, Mr. Felton, for giving us an opportunity to go to the Football Hall of Fame. I had a lot of fun."
– Akeya
"Thank you, Mr. Felton Thomas. I'm so grateful because I have a place where I can get books and read. I'm very grateful for your Library."
– Jaylan
"Thank you so much for the wonderful trip to the Pro Football Hall of Fame. My classmates and I had a great time learning about how the skills used in football can be applied to our lives in college and when we get grown."
– the students at John Marshall IT
"Football teaches you how to be courageous, how to love, and how to work together."
– Lilian
12 KEEPING A COMMUNITY INSPIRED
Nurture a Love of READING
Cleveland Public Library's programs nurtured a love of reading and fostered discovery through play. The Cleveland Public Library Foundation accepted a $15,000 grant from the AT&T Foundation to support STEM at Home, a virtual science class offering free online robotics and coding courses for kids and teens in grades 3-12. Storytime and Dial-a-story helped children and families explore books, storytelling, and their imagination. Young Scholars' Academy used play and music to prepare young learners for kindergarten. Our summer reading program, Summer Lit League, designed to decrease the number of students affected by the summer slide, featured engaging literacy activities and weekly programming.
NURTURE A LOVE OF READING 13
14 NURTURE A LOVE OF READING
NURTURE A LOVE OF READING 15
Writers & Readers
Not only do our literacy programs nurture a love of reading, but they also create opportunities for conversations that matter. Cleveland Public Library's Writers and Readers series brought together authors, journalists, educators, and activists to discuss issues impacting our community. The 2021 series featured Jelani Cobb, who writes for The New Yorker and serves as a journalism professor at Columbia University, Heather McGee, political commentator and author of The Sum of Us: What Racism Costs Everyone and How We Can Prosper Together, Eddie
Glaude, Jr., TIME Magazine columnist and author of Democracy in Black: How Race Still Enslaves the American Soul, young adult novelist Caroline
Randall Williams, whose first book, The Diary of B.B. Bright, Possible Princess, won the Harlem Book Fair's Phillis Wheatley Prize and was a finalist for the NAACP Image Award, and Columbia University associate professor and author John McWhorter, who has written more than a dozen book including The Power of Babel: A Natural History of Language and Losing the Race: Self Sabotage in Black America.
Heather McGee
Jelani Cobb
16 WRITERS & READERS
Caroline Randall Williams
Eddie Glaude
WRITERS AND READERS 17
John McWhorter
Author Talks
Other virtual author talks at Cleveland Public Library in 2021 included Nigerian American fantasy and science fiction author of the Binti novella trilogy Nnedi Okorafor during Maker Faire, Cleveland native and author Echo Brown, who wrote critically acclaimed Black Girl Unlimited: The Remarkable Story of a Teenage Wizard, appeared at the Cleveland Humanities Festival, Beasts of Prey author Ayana Gray inspired young readers at the Cleveland Metro Zoo, and New York Times bestselling author Tiffany D. Jackson dazzled children under the bright lights of the Eastman Reading Garden to read her book, Santa in the City.
18 AUTHOR TALKS
MAKER FAIRE 19
Public Art
Baggage Claim, In Search of New Beginnings
Cleveland Public Library inspired through the discovery of arts and culture. The Library used art to embrace discovery, creativity, and change in our community. In collaboration with LAND studio, the See Also public art series showcased Cleveland artist Darius Steward's first sculpture project, titled Baggage Claim, in Search of New Beginnings. The art exhibition featured six life-sized sculptures of children modeled after Steward's son and daughter depicting the burdens that children carry. The installation in the Eastman Reading Garden was complemented by a related mural at the Harvard-Lee Branch. The mural featured Steward's son, daughter, and nephew looking ahead with the guiding light of a flashlight. The sculptures were permanently moved to the Youth Services Department in Main Library.
Cleveland 20/20
Due to the pandemic, the Library extended the exhibition, Cleveland 20/20: A Photographic Exploration of Cleveland in Brett Hall. As a city-wide, community-based photography program held in partnership with the Cleveland Print Room, Cleveland 20/20 captured the spirit of our city's people and places. All photographs from the project will be added to the Library's Photographs Collection.
20 PUBLIC ART
CPL Accolades
Despite navigating the challenges of the pandemic, Cleveland Public Library found a way to shine. Once again, the Library received the coveted Five-Star rating from Library Journal in 2021 based on data collected by the Institute of Museum and Library Services (IMLS). Additionally, the Library was honored for its financial reporting. For the ninth year, the Finance Department received the Certificate of Achievement for Excellence in Financial Reporting from the Government  Finance Officers Association. REFORMA named Woodland Branch Manager Maria Estrella as the 2021 Dr. Arnulfo D. Trejo Librarian of the Year.
CPL ACCOLADES 21
Doing Business with CPL
In 2021, Cleveland Public Library changed the way it conducts business. We established a Supplier Diversity Council to ensure our suppliers are diverse and representative of the community we serve. Any procurement/supplier contract of $10,000 or less, for example, will go to a minority-owned company. Larger contracts will undergo a bidding process that includes at least one bid from a minority-owned business. This can be seen in efforts to reimagine our neighborhood branches
and upgrade high-density storage units at Main Library. The Library received an honorable mention for being a Top Innovator from the Urban Library Council (ULC) for prioritizing supplier diversity.
The ULC recognized 20 public libraries as Top Innovators for transformative programs that address structural racism, bridge digital divide, and improve library service.
22 OUR FUTURE IS BUILDING
Pardon Our Dust, Reimagine We Must!
Let the construction begin! In 2021, the future of Cleveland Public Library began to take shape. We broke ground on six buildings: Hough, Jefferson, Lorain, West Park, Woodland, and the Central Distribution Facility. Library staff, city and community leaders, and patrons attended the neighborhood celebrations. The ceremonies mark a milestone in a 10-year plan to build or renovate branch libraries to enhance the visitor experience.
The building projects are led by a diverse group of architects such as Moody Nolan, the nation's largest African American architecture firm, and Vocon, a women-owned firm. Women-owned firms, Regency Construction Services and The AKA Team, were hired to serve as construction managers at risk for the following projects: Brooklyn, Eastman, Lorain, Rockport, and Sterling.
OUR FUTURE IS BUILDING 23
1869
Public School Library officially opens and will later be called Cleveland Public Library 1890
CPL is the first library of its size to open shelves to the community
1892
CPL's first branch opens near the West Side Market 1898
The first library space dedicated to children opens at the Main Library 1903
CPL is one of the first libraries to lend Braille books to the blind 1911
CPL begins home libraries for people who cannot visit a branch or the Main Library 1925
Construction of the current Main Library building is complete
1930s
During the Great Depression, CPL serves record numbers
1942
CPL establishes the Film Bureau to lend 16mm film to patrons
1957
Friends of CPL is founded and will later become the Cleveland Public Library Foundation 1975
CPL begins transferring 5 million catalog cards to computer records 1982 CLEVNET launches 1997
The Louis Stokes Wing (LSW) is dedicated 2003
CPL is the first public library to offer ebooks 2012
Tech Central opens with computers, tablets and 3D printers
2021
CPL begins construction on six buildings: Hough, Jefferson, Lorain, West Park, Woodland, and the Central Distribution Facility
2021 GENERAL OPERATING FUND EXPENDITURES AND ENCUMBRANCES REVENUES SALARIES AND BENEFITS $38,583,645 LIBRARY MATERIALS
UTILITIES AND PURCHASED SERVICES
OTHER EXPENDITURES
TOTAL EXPENDITURES AND ENCUMBRANCES
Carried Forward for the Next Year's FIRST QUARTER OPERATIONS $28,516,894 TOTAL $111,490,365 PUBLIC LIBRARY FUND (STATE GENERAL REVENUES) $26,230,690 PROPERTY TAXES (CITY OF CLEVELAND) $37,304,357 INTERGOVERNMENTAL AID $2,603,755 OTHER REVENUE $1,532,261 TOTAL REVENUE $67,671,063 FUND BALANCE JANUARY 1 $43,819,302 AVAILABLE FOR GENERAL OPERATIONS $111,490,365 2021 GENERAL OPERATING FUND 25
$10,429,843
$11,460,589
$22,499,395
$82,973,471
2021 STATISTICS PROGRAMS ATTENDANCE Programs at CPL as well as in schools, daycare centers, community centers, etc. 9,212 124,271 TOTAL TITLES 2,616,667 CIRCULATION 3,358,554 VISITORS 949,832 REFERENCE QUESTIONS 305,292 ITEMS ADDED 130,081 18,000 10,266,881 MICROFORMS BOOKS BOUND PERIODICALS MAPS SOUND RECORDINGS VIDEOS GOVERNMENT DOCUMENTS PHOTOGRAPHS, PICTURES 3,230,903 268,585 267,773 58,596 4,708,289 1,417,394 94,720 202,621 MAIN COLLECTION 2,927,791 BRANCH COLLECTION 303,112 GRAND TOTALS 5,000,000 TOTALS 3,000,000 1,000,000 10,000 500,000 100,000 25,000 4,000,000 SHEET MUSIC
GRANTS AND GIFTS
TO CLEVELAND PUBLIC LIBRARY
Ohio Library for the Blind & Physically Disabled LSTA Federal Aid of $234,000 and State Aid of $1,274,194 for providing services for the blind and physically disabled.
Childcare Resource Center of Cuyahoga County Inc. d.b.a. Starting Point $91,615 for MyCom out of school time transitions programs, including Young Scholars Academy to help prepare parents and children to start school in the fall and for STEM at Home robotics kits.
A grant of $87,450 from The Cleveland Foundation for the first year of the Digital Navigators initiative to educate underserved residents about affordable broadband options and offer tools and training necessary to reduce the digital divide.
A grant of $75,000 from the National Football League, Cisco and the Legal Aid Society of Cleveland through the Cleveland Public Library Foundation for the Inspire Change Huddle Legacy Grant project as part of the NFL's ongoing social justice work and commitment to addressing the digital divide.
A grant of $74,121 from The Cleveland Foundation for their Digital Excellence Initiative to build a strong, equitable, and resilient digital community in Greater Cleveland to ensure all residents can successfully take part in the digital world and economy, and to elevate Greater Cleveland's infrastructure, talent and research prominence in digital technology.
From the Estate of James. R. Brunckhart $71,552 for the purchase of books on tape for the vision impaired.
A grant of $70,254 from Library Services and Technology Act (LSTA) to update the current hardware within the statewide Ohio Digital Network Digi-Hubs as they respond to the COVID-19 pandemic.
A grant of $51,350 from Best Buy, in partnership with the international Clubhouse Network to support and sustain the Best Buy Teen Tech Center at the Rockport Branch.
A grant of $50,000 from The Cleveland Foundation for the Public Service Fellowship position with the Office of Community and Government Relations.
A grant of $50,000 from Best Buy, in partnership with the international Clubhouse Network to take part in the 2021-2022 Clubhouse-to-Career Pathway to Success program at the Rockport Branch to support the global need for a trained and ready workforce.
GRANTS AND GIFTS 27
A grant of $40,000 from PNC through the Cleveland Public Library Foundation for an economic empowerment series that will provide low- and moderate-income families sound financial education and insight into savings programs, like homeownership and wealth building that can help these families have sound financial standing.
A grant of $20,000 from the Public Library Association and Microsoft for digital skills and workforce development.
A grant of $15,000 from AT&T through the Cleveland Public Library Foundation for the STEM at Home / STEM Robotics program, inspiring students to build, code, and deepen STEM learning.
A grant of $13,750 from FRONT International to fund a Fellow that is responsible for the design of community-based FRONT educational programming in Library branches and surrounding areas.
A grant of $10,000 from Best Buy, in partnership with the international Clubhouse Network for the Refresh and Retool hardware and software upgrades, to enrich the overall technology infrastructure of the Teen Tech Center.
A grant of $8,100 from the Thomas H. White Foundation to fund a Storywalk at Carnegie West Branch that will nurture a love of reading while supporting early literacy and family engagement.
A grant of $5,000 from PPG Industries for continued support of STEM programming at Rockport Branch.
A grant of $4,680 from Library Services and Technology Act (LSTA) for the Empowering Our Communities, Empowering Community Members Series programming at the MLK Jr. Branch.
Frederick W. and Henryett Slocum Judd Fund
$252,245 for the Library's Homebound Service
Lockwood Thompson Memorial Fund
$197,815 for the purchase of fine arts materials, lectures, staff recognition and travel expenses.
Estate of Anna M. Schweinfurth $72,882 for the purchase of architectural materials.
Winifred Beech Young Testamentary Trust
$51,568 for the services to blind persons of the Connecticut Western Reserve
OTHER FUNDS RECEIVED
GRANTS AND
GIFTS
DONORS DONOR/COMPANY NAME AMOUNT MIRIAM ACKER $300 LAURA, SCOTT & ANNABELLE BLOSSER $100 COLLEGE CLUB OF CLEVELAND $150 JACQUELYN DUSZA $300 JOE GLASMIRE $200 PHILLIS HAMILTON $100 JAMES & DEBORAH HORNER $100 D.L. $100 MARK MURPHY $310 ACBO - STARRK COUNTY - NICOLE POSTON $200 RICK & JULIE POTHAST $150 ANN BAIR SPEER $200 DONOR/COMPANY NAME AMOUNT THE HARLEY C. LEE AND ELIZABETH KEEDICK LEE FUND OF THE CLEVELAND FOUNDATION $967 $500 TO $999 $100 TO $499 $1,000 TO $5,000 DONOR/COMPANY NAME AMOUNT NANCY SCHOOLER $1,000 DONORS 29
DONOR/COMPANY NAME AMOUNT
MIKE & DARLENE ADELSPERGER
$20
ANONYMOUS $20
ANONYMOUS $50
ELAINE & JOEL AXELROD $35
BETA CHAPER TRI SIGMA SORORITY - DEBORAH BERG $25
ANNA GLASMIRE $50
LARRY & KATHY GLASMIRE $50
AL GLICKSON $25
MARY HERPY $50
CHERYLL JOSEPH $5
MICHAEL & MARY KIDIDIS $50
FRED LIVINSTONE $50
RICHARD & SALLY ANNE ROBBINS $25
DEBORAH SILLETT $50
NANCY KORST SMITH $50
MORGAN STANLEY $50
WAYNE & PHYLLIS TRIGG $50
BETH WEINER $18
DEBRA & AVI WEISS $25
DUNLAP BROTHERS INC./T.J. WILLIES $50
SALLY ZIFF $25
DONORS
UP TO $99
LIST OF PRINCIPAL OFFICIALS
as of December 31, 2021
BOARD OF LIBRARY TRUSTEES
Maritza Rodriguez
President
John M. Hairston, Jr. Vice President
Thomas D. Corrigan Secretary
Alice G. Butts Member
Anthony T. Parker Member
Alan Seifullah Member
Teleangé Thomas Member
EXECUTIVE LEADERSHIP TEAM
Felton Thomas, Jr. Executive Director/Chief Executive Officer
Carrie Krenicky
John Lang
John Malcolm
Harriette Parks
Tana Peckham
Lynn Sargi
John Skrtic
Chief Financial Officer/Fiscal Officer
Chief Operations Officer
Chief Innovation and Technology Officer
Chief of Public Services
Chief Marketing & Communications Officer
Chief Talent Officer
Chief of Public Services
Shenise Johnson-Thomas Chief External Relations & Development Officer
Sadie Winlock
Chief Equity, Education & Engagement Officer
PUBLIC
CLEVELAND PUBLIC LIBRARY 31
CLEVELAND
LIBRARY
BRANCH LOCATIONS
MAIN LIBRARY
325 Superior Avenue (216) 623-2800
ADDISON 6901 Superior Avenue (216) 623-6906
BROOKLYN 3706 Pearl Road (216) 623-6920
CARNEGIE WEST 1900 Fulton Road (216) 623-6927
COLLINWOOD 856 East 152nd Street (216) 623-6934
HARVARD-LEE
16918 Harvard Avenue (216) 623-6990
HOUGH 6530 Lexington Avenue (216) 623-6997
JEFFERSON 850 Jefferson Avenue (216) 623-7004
LANGSTON HUGHES 10200 Superior Avenue (216) 623-6975
LORAIN 8216 Lorain Avenue (216) 623-7011
SOUTH BROOKLYN
4303 Pearl Road (216) 623-7067
STERLING 2200 East 30th Street (216) 623-7074
UNION 3463 East 93rd Street (216) 623-7088
WALZ 7910 Detroit Avenue (216) 623-7095
WEST PARK 3805 West 157th Street (216) 623-7102
EAST 131ST STREET 3830 East 131st Street (216) 623-6941
EASTMAN 11602 Lorain Avenue (216) 623-6955
FLEET 7224 Broadway Avenue (216) 623-6962
FULTON 3545 Fulton Road (216) 623-6969
GARDEN VALLEY 7201 Kinsman Road Suite #101 (216) 623-6976
GLENVILLE 11900 St. Clair Avenue (216) 623-6983
MARTIN LUTHER KING, JR. 1962 Stokes Boulevard (216) 623-7018
MEMORIAL-NOTTINGHAM
17109 Lake Shore Boulevard (216) 623-7039
MT. PLEASANT 14000 Kinsman Road (216) 623-7032
RICE 11535 Shaker Boulevard (216) 623-7046
ROCKPORT 4421 West 140th Street (216) 623-7053
SOUTH 3096 Scranton Road (216) 623-7060
WOODLAND 5806 Woodland Avenue (216) 623-7109
MOBILE SERVICES 5806 Woodland Avenue (216) 623-7114
OHIO LIBRARY FOR THE BLIND & PRINT DISABLED
17121 Lakeshore Boulevard (216) 623-2911
PUBLIC ADMINISTRATION
LIBRARY
City Hall, Room 100 601 Lakeside Avenue (216) 623-2919
cpl.org
325 Superior Avenue • Cleveland, OH 44114 • (216) 623-2800 • cpl.org