FREE MAY 2023 Presorted Standard U.S. Postage Paid at Shepherdstown, WV Permit #3 ClarkeVA.com
Remembering Paul Neil Wilson
November 6, 1954 – April 4, 2023
Paul Neil Wilson, 68, of Boyce Virginia, passed away Tuesday, April 4th at the Blue Ridge Hospice Inpatient Care Center in Winchester, Virginia, after a brief and valiant fight against cancer.
Paul was born November 6, 1954, in Indianapolis, Indiana. He is survived by his wife of 37 years, Karyn Treble Wilson, his mother Barbara Wilson of Ashburn, Va., brothers Daniel Wilson (Elizabeth)) of Sewickley, Penna., and Ben Wilson of Denver, Colo., and many nieces and nephews who cherished their Uncle Paul. His father Lee Wilson predeceased him.
Paul grew up in Corning, New York. He was a proud graduate of Virginia Tech University, where he earned his BS in Finance and Economics. Paul began his career in finance with Corning Inc., in Raleigh, North Carolina, where he advanced to management, overseeing the manufacture of resistors and capacitors.
He ultimately made a successful career change into the sale of electronic hardware while continuing at Corning. Paul completed his career in the Washington, D.C., area working with companies focused on defense and the space program.
Family and friendship were at the core of Paul's life, and he found his true partner in Karyn. After dating for six years, they married in 1985 and made their home in Fairfax. Longing for space in the countryside, they purchased a farm in Purcellville in 1999 and operated a thriving equestrian business. Paul was an avid fox hunter and a Master of Fox Hounds (MFH) for both the Fairfax Hunt in 2003 and the Loudoun Fairfax Hunt following a merger in 2011. After Paul retired as MFH in 2019, he and Karyn moved west to Boyce where they joined the Blue Ridge Hunt in 2020. They purchased their dream farm in prime hunt country in 2022.
Paul possessed a deep affinity for music. He was an accomplished guitarist. In his teenage years, he played guitar for the rock band Dakota in Corning from 1970 to 1974. The band quickly gained popularity with an extensive touring schedule that included playing as a back-up band for Blue Oyster Cult. Paul found refuge in music and
played his guitar daily. He was often seen happily driving through the Virginia countryside in his 2017 Grand Sport Corvette, with his favorite music playing Paul never met a stranger, and his warm, affable demeanor made all who were fortunate enough to be around him feel as they were the most important person in the world. He delighted in his friendships, never took himself too seriously, and was always a light in dark places for so many. His loss is enormous for those who knew him, but what joy there is in having had the privilege.
A memorial service will be held on Friday May 5at 11am at Christ Church, 809 Bishop Meade Road, Millwood, Va., followed by a hunt country tailgate reception at their farm in Boyce. In lieu of flowers, the family has requested donations to Blue Ridge Hospice at brhhospice.org.
Lisa Trumbower-Sheppard Owner loveatfirstbitecatering.com
Clarke 2 MAY 2023 If you're lookingfor an out of the box worship experience, we offer Come join us at the Lions or the VFW Shelters Beginning May 7 Churchofnewbeginnings.net Church
Walls Every Sunday @ 10am in Chet Hobert Park. Look for the sign and bring your own camp chair. Come to our Vacation Bible School June 18th-June 22nd 6:00 to 7:30 p.m. Duncan Memorial United Methodist Church 210 East Main Street Pre-K through Fifth grade Call 540-955-1264 to pre-register
Without
Creative Menus Adorned with Flair • 30+ Years of Experience 540.955.4462
Catering & Events Love at First Bite
Clarke CCHS Plants Trees at Historic Cemetery Clarke
STAFF
David Lillard, Editor/Publisher
Jennifer Welliver, Associate Publisher factoryBstudio, Art Direction
MAY CONTRIBUTORS
Doug Pifer
Cathy Kuehner
Rebecca Maynard
Brenda Waugh
COVER IMAGE
Sheriff Anthony W. "Tony" Roper. Photo by Clarke County
ADVERTISING SALES
Jennifer Welliver, 540-398-1450
Advertising Information:
540-398-1450
AD DEADLINE MAY 17
Clarke prints signed letters-to-the-editor of uniquely local interest. Letters containing personal attacks or polarizing language will not be published. Letters may be edited. Send letters to the editor of 300 or fewer words to: editor@clarkeva.com. Include your town and state of residence.
Join
the Clarke monthly team!
To mark Earth Day, Clarke County High School students and their horticulture teacher Allyson Snapp planted 32 trees at Milton Valley Cemetery on April 20. The project was funded with a new Virginia Department of Forestry "Forest Sustainability Grant." Clarke County received grant money to make improvements at the historic cemetery at the east end of Josephine Street near Jack Enders Boulevard. New warehouses are under construction along the boulevard, and the trees will provide a visual buffer between the cemetery and the warehouses. Moore & Dorsey Nursery in Berryville donated 25 fast-growing Green Giant Arborvitae, six American Holly trees, and a Celestial Dogwood tree. Photo by Clarke County
Are you a people person? A team player? Do you enjoy the collaborative spirit of working together as well as on your own? And a flexible schedule? You could be just right for the Clarke monthly sales team.
We are looking for in outgoing, friendly person who likes meeting people of all kinds, and wants to help area business get seen in Clarke. As a part-time with Clarke monthly, you will work closely with our ad sales team to provide excellent service to existing and future advertisers. We are friendly folks, and need one more person on our team. Design experience helpful, but by no means required.
Want to learn more? Send a note to Clarke monthly to tell us why you'd like to join the team and what relevant experience you have. Previous sales experience is helpful, but not required. Email Jennifer@clarkeva.com.
3 MAY 2023
CLARKE MONTHLY PO BOX 2160 SHEPHERDSTOWN WV
(540) 398-1450 www.CLARKEVA.com Doggone Dependable Since 1898 Berryville, Manassas, Charles Town Locations Over 20,000 customers have chosen to trust Gri th Energy Services, Inc. with their heating oil deliveries over the past ve years! • Heating Oil • Kerosene • Diesel • Gasoline Full-Service Heating & AC Repair and Installation on • Oil-systems • Gas-systems • Heat Pumps 24-7-365 Emergency Service • Great Prices, Better People… Griffithoil.com • 800-473-5242
25443
Clarke County Sheriff Tony Roper to
By Cathy Kuehner
Clarke County Sheriff
Anthony W. "Tony" Roper formally announced his forthcoming retirement during a brief event in front of Circuit Court on April 21. He first ran for sheriff — and was elected — in 2003, beginning his first term in January 2004. Clarke County voters elected him to his fifth four-year term in November 2019. His current term ends December 31.
Roper, 63, began his law enforcement career as a 911 dispatcher after graduating from Clarke County High School in 1978. He was a correctional officer when the county jail was located in the circa-1892 building that still serves as the Sheriff's Office.
He attended Bluefield College in Virginia, and graduated from the Virginia Forensic Science Academy, the executive-level law enforcement training from the FBI National Acad-
emy at Quantico. Later he graduated from the National Sheriff's Institute in Longmont, Colo.
Roper worked as a sheriff's deputy in Loudoun County for a couple years before returning to the Clarke County Sheriff's Office, where he became an investigator focused on narcotics cases. He is a founding member of the Northwest Virginia Regional Drug Task Force and the regional FBI Drugs and Violent Crime Task Force. He was working with the FBI on 9/11.
Why a career in law enforcement? Roper laughed.
"As a teenager I watched a lot of television cop shows like 'Starsky & Hutch' and 'Baretta.''
Every Virginia county and city elects their sheriffs, who are responsible for upholding and enforcing all the laws of the state and local governments.
Roper, a Democrat, has
been elected five times to serve as Clarke County's Sheriff. He considers getting the sheriff's office accredited by the Virginia Law Enforcement Professional Standards Commission in November 2011 a major accomplishment. Accreditation by the commission, affiliated with the Virginia Department of Criminal Justice Services, requires meeting a lengthy list of standards for best practices, from traffic enforcement, to criminal investigations, to the budget process.
In 2016, Roper joined the state's Criminal Justice Services Board, a 32-member group drawn from state and local governments, the private security industry, the General Assembly and public that serves as the Virginia Department of Criminal Justice Services policy board.
Roper also serves the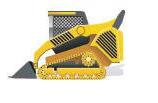 Clarke 4 MAY 2023
Retire
winchesterlittletheatre.org • 540-662-3331 June 17-18 & 20-24 Another crazy adaptation to delight kids and adults alike! CLARKEVA.COM Brenda Waugh, Lawyer & Mediator Mediation • Collaborative Law • Litigation waugh@brendawaugh.com 304-728-3660 (Charles Town) • 540-501-5501 (Leesburg) —Schedule your free initial consultation online at brendawaugh.com
Home Improvements New Building & Remodeling No Job Too Small A.B. Poe, Jr. "Pig Eye" 540-955-3705 Bobcat and Small Backhoe Work Land Clearing • Interior / exterior painting Tree & Brush Removal • 60' Man-Lift Service Est. 1976 16 Crow Street, Berryville 955-4730 Happy Hour Every Day 3-7pm We also offer a wide selection of quality beer and wines for carry out at our Berryville location! Kids Meals $3.50 plus drink. SPECIAL COUPONS Buy one meal get one of equal value half o . Offers good through May 31, 2023. Family Restaurant
Poe's
Sheriff Tony Roper with many of his deputies. Photo by Clarke County
Virginia Alcohol Safety Action Program, an outgrowth of the National Highway Traffic Safety Administration; the Virginia Center for Policing Innovation, which addresses critical and emerging public safety issues; and the Northwestern Regional Jail Authority that governs the Northwestern Regional Adult Detention Center. Previously, and for many years, Roper served on the Virginia Sheriffs' Institute Board and was its president for a term.
He expects to serve on some boards after he retires. "I have purpose, and I'm focused on the future," he said.
Until he retires, Roper remains dedicated to serving Clarke residents and business owners as well as those who are visiting or simply driving through the county.
Roper sometimes jokes that he simply does not allow crime in Clarke County. The reality, he said, is that crime is here, and the challenges have not changed over the years: drugs, drunk driving, domestic violence, and property crimes. Roper said violent crimes are rare in Clarke, but traffic-relat-
worst-case scenarios.
Roper describes himself as forward thinking and hopeful by nature, but says he also worries about having the staff and resources to cover all of Clarke County. "I'm always asking myself, 'Am I paying enough attention to all parts of the county?'"
Roper oversees a staff of 40 employees — full-time and part-time deputies, 911 dispatchers, and an administrative assistant. There are 20 full-time "sworn" deputies, including Roper.
we let them know that no matter the situation, everything is going to be OK."
During this time in particular, when law enforcement agencies across the country are under scrutiny, "I remind our deputies to go out into our community and find out how much they are appreciated," Roper said.
He continued, "And, I can't tell you how many people I've arrested over the years who have later thanked me for helping them to straighten out their lives."
ed incidents and accidents are constant.
"Human beings are going to be human beings," he said, adding that he gives great thought to all possible
"I know that when law enforcement is on scene, the people we speak with are under enormous stress," Roper said. "So, we do our work with professionalism as well as compassion, and
Clarke County's first sheriff, George H. Norris, was appointed in 1836 after Clarke County (previously eastern Frederick County) was formed by the General Assembly, and a new govern-
ment was established with courts and law enforcement. Many sheriffs were elected to multiple terms, including the three who served over the past 50 years: Albert Nicodemus (first elected in 1972), Dale Gardner (first elected in 1988), and Clarke County's 25th sheriff, Tony Roper. Roper and his wife Karen live in the Wildcat Hollow area of the county; they have three grown children and eight grandchildren. One son and a grandson are deputies with the Frederick County, Va., Sheriff's Office.
As for 2024 and retirement, "I have no idea what's next. My plan right now is to take a couple months and do nothing."
5 MAY 2023 Clarke RAMSEY HARDWARE 703 N ROYAL AVE FRONT ROYAL 540-635-2547 BERRYVILLE HARDWARE 600 EAST MAIN STREET BERRYVILLE 540-955-1900 Sale Ends 5/31/23
Sheriff Tony Roper greets City of Winchester Sheriff William Sales on April 21 in front of Clarke County Circuit Court where Roper formally announced his retirement at the end of his fifth term. Photo by Clarke County
REC members get much more from their not-for-profit electric cooperative than just electricity. They receive innovative service options from a utility that genuinely cares about the people they serve.
Find current information in our magazine, local news outlets, and on REC's app, website and social media.
Allegheny Serviceberry Named Tree of the Year
Representatives from the State Arboretum of Virginia at Blandy Experimental Farm have named the Allegheny serviceberry (Amelanchier laevis) as the 2023 Tree of the Year. The Arboretum's 2023 Tree of the Year was selected after deliberation by Curator T'ai Roulston and Blandy arborists. Since 2019, the State Arboretum of Virginia has designated one extraordinary species of tree as its Tree of the Year.
In honor of Arbor Day, "the nation's tree planting holiday," Blandy arborists and representatives from the Department of Forestry will plant an Allegheny Serviceberry tree at the Arboretum on Friday, April 28. The tree will be added to a tree and shrub collection that dates to the 1930s.
"A vital part of our mission is to practice and promote tree education, science, and conservation," said Roulston. "Through research and public programming, we want to share with everyone of all ages
how important trees are to the environment."
Four-season Interest
The Allegheny serviceberry, found native in Virginia, was chosen for its fourseason interest, according to Roulston. A small understory tree, it's ideal for landscapes and grows to only 1525 feet tall.
The Allegheny serviceberry is one of the first trees at the arboretum to flower each spring when the delicate masses of white, fragrant flowers appear in mid April. Small, dark purple berry-like fruit arrives in the summer. Also commonly known as juneberries, the edible berries attract pollinators and are a food source for native bees and more than 40 species of birds.
The fall foliage of the Allegheny serviceberry, when the leaves turn an orange-red
color, is outstanding as well. The tree's attractive gray bark lends structure to the winter garden.
Juneberries Serves as Food Source for Wildlife, Humans
Native Americans would dry juneberries, similar in size and taste to blueberries, and mix them with meat to create a high-energy snack called pemmican. Recipes for juneberry pies and jams are easy to find. If you want to eat the berries, though, you'd better be fast. Birds, squirrels, and other wildlife also enjoy the fruit.
How the Allegheny Serviceberry Gets Its Name
For settlers in the colder climates of North America, the blooming of the serviceberry was a sign that the ground was
Clarke 6 MAY 2023 Community News
10:00 am Holy Communion Come Join Us! The Rev. Patrick C. Rodgers Cell 540-480-3580 www.shenmtnchapel.org Maria Eldredge | REALTOR® 540.454.3829 maria@middleburgrealestate.com Anne McIntosh | REALTOR® 703.509.4499 annewmcintosh@gmail.com LEARN MORE AT mcintoshandeldredge.realtor
your
Tips to Save Accessible Information Commitment to Community Improved Reliability Convenient Billing & Payment Options Online Services Value
for
money
Cedar Waxwing gobbling a smooth serviceberry.
thawing. Graves could now be dug for loved ones who had died during the cold winter months and burial "services" could commence.
In some areas, the serviceberry is called shadbush or shadblow. The tree got this name because it blooms around the same time that shad return to their spawning grounds in freshwater rivers and streams. Common names also include smooth shadbush, juneberry and shadberry.
On Arbor Day each year, the State Arboretum of Virginia honors one extraordinary species of tree as its
Tree of the Year. The goals of the program are to:
• Remind us of the value and environmental significance of trees in Virginia and beyond
• Educate the public about the variety of trees in Virginia
• Nurture a love of trees in all ages
• Promote important tree education, science, and conservation at the State Arboretum and elsewhere in Virginia
• Join with others in
awe of the majesty of Virginia's tree
In selecting the Tree of the Year, these key traits are considered:
• Does the tree have a compelling story or uniqueness? Does it have special characteristics –for example, color or leaf structure – that make the tree an interesting choice?
• Is the tree readily available for purchase in Virginia at most nurseries?
• Is the tree familiar to most gardeners?
• Is the tree easy to grow and nurture for nonprofessionals and will make a good addition to a residential landscape?
This is Blandy's fifth pick for Tree of the Year. Past Trees of the Year include:
• 2022: American Sycamore (Platanus occidentalis)
• 2021: Pawpaw (Asimina triloba)
• 2020: Sassafras (Sassafras albidum)
• 2019: Eastern Redbud (Cercis canadensis)
The State Arboretum of Virginia is home to more than 6,000 woody trees and shrubs, including a unique 300-tree ginkgo grove and a 36-tree Cedar of Lebanon allée. The Arboretum staff and many volunteers help to thoughtfully grow the collection each year by planting new and replacement trees.
The Arboretum is part of Blandy Experimental Farm, a research field station for the University of Virginia's Department of Environmental Sciences. Blandy Experimental Farm is on Route 50 in Clarke County, about 10 miles east of Winchester and 20 miles west of Middleburg. Directions and a calendar of events are online at blandy.virginia.edu.
Summer Riding Camps Starting June 19
7 MAY 2023 Clarke
Around Clarke County
May
2 Clarke County Democratic Committee Meeting
Clarke County Courthouse. 104 N. Church St. Berryville. All are welcome. Meets on first Tuesday of each month. 7pm. 301-821-2829.
3
Johnson-Williams Middle School Art Show
Johnson-Williams Middle School. 200 Swan Ave. Berryville. View student artwork from all grade levels in the front lobby. Light snacks and art awards. 5pm. Artwork will be displayed through May 13. 540-955-6160.
6 Farmers' Market Opening Day
317 W. Main St. Berryville. More than 30 local vendors. Held each Saturday, May through October. 8am–12pm.
www.clarkecountyfarmers market.com.
6
FISH Mobile Community Table
Church of the Good Shepherd. 27 Good Shepherd Rd. Bluemont. Dairy products, personal care items and snack packs, and food to take home "from our community table to your family table." Find out what benefits may be available to you from the Department of Social Services. Held monthly. Free. 9–11am. 540-955-1823. www.fishofclarkecounty.org.
6 Carmen Barros Exhibit Opening Reception
Barns of Rose Hill. 95 Chalmers Ct. Berryville. On display in Lower Gallery from May 2–30, we exhibit the expressive, figurative work, including drawings, paintings, and sculpture art, of Chilean artist Carmen Barros Howell. Exhibit will also feature artwork by sev-
eral of Howell's students. Free; RSVP for accurate headcount for refreshment planning. www.barnsofrosehill.org.
7 Trivia Night
Barns of Rose Hill. 95 Chalmers Ct. Berryville. The Clarke County Library and Clarke County Historical Association team up to offer team trivia, with a variety of categories and prizes donated from local businesses. Register ahead. 7pm. www.barnsofrosehill.org. www.clarkehistory.org.
11Woman's Club of Clarke County Luncheon
Golden Corral Buffet & Grill. 120 Costello Dr. Winchester. Join us for our spring luncheon at 12pm. jean.m.carrigan@gmail.com.
12Seth Walker Concert
Barns of Rose Hill. 95 Chalmers Ct. Berryville. Over the last decade, Seth Walker has become recognized as one of the most revered Ameri-
cana artists in the United States, a three-dimensional talent who combines a gift for melody and lyric alongside a rich, Gospel-drenched, Southern-inflected voice with a true-blue knack for getting around on the guitar. $20 in advance, $25 at door. 7–9pm. www.barnsofrosehill.org.
14Loudoun Youth Guitars Concert
Barns of Rose Hill. 95 Chalmers Ct. Berryville. Made up of talented and highly motivat-
Clarke 8 MAY 2023 CLARKEVA.COM Geothermal Scott Heating and Cooling Geothermal Scott Heating and Cooling Quality Work — Reasonable Rates Ask us about our Annual Maintenance Contracts Spring: Tune, clean and check components of A/C system. Fall: Tune, clean and check components of heating system. plus a 10% discount on parts and a Reduced labor rate Sign Up Now! * Licensed and Insured • Berryville, VA * We design, repair and install all types of residential heating and cooling systems—including, but not limited to: • Boilers and Furnaces — Gas and Oil • Standard Heat Pumps • Heat Recovery Ventilators • Solar Hot water • Geothermal Heat Pumps • In-Floor Radiant • Service and Maintenance Contracts (540) 379-3179 Scott Smith / Master HVAC (703) 898-9427 geothermalscott43@gmail.com GeothermalScott.com
ed guitar students from several middle and high schools in Loudoun County, Loudoun Youth Guitars is one of the finest youth ensembles in the metropolitan area. They perform music by composers from various musical eras, including Baroque, Classical, Romantic and contemporary. $5 in advance and at door. 4–5pm. www.barnsofrosehill.org.
19Best of the Fest 2023
Barns of Rose Hill. 95 Chalmers Ct. Berryville. Barns of Rose Hill is proud to partner with the American Conservation Film Fest to screen six short films, all official selections of the 2023 American Conservation Film Fest. Virtual question and answer session to follow. $10 in advance, $13 at door. 7–8:30pm. www.barnsofrosehill.org.
19Matthew Bell Memorial Blood Drive
Clarke County Recreation Center gymnasium. 225 Al Smith Circle. Berryville. By appointment only. 12–7pm. www.redcrossblood.org.
19New Moon Drum Circle
Sanctuary Wellness Center. 208 N. Buckmarsh St. Berryville. Join us for a year of intentional drumming for harnessing the new moon energy. Free; $10 donation welcome. 6:30–8pm. lovenotesmusictherapy.com.
20Millers Training Day
Burwell-Morgan Mill. 15 Tannery Lane. Millwood. Join us as we teach historic milling 101. Closedtoed shoes and clothes you don't mind getting flour on are required. Ticket price includes lunch and is refundable if you volunteer for three mill grinding days over the summer. Members $20, nonmembers $40. 10am–3pm. www.clarkehistory.org.
20Art Class With Carmen Barros Howell
Barns of Rose Hill. 95 Chalmers Ct. Berryville. Designed for beginners and intermediate levels artists, class will include realistic and abstract drawing and painting instruction. More advanced students will explore
topics like composition and light and shadows. Class is suitable for adults and children; children 8 and younger should be accompanied by adult for duration. $75. 12–3pm. www.barnsofrosehill.org.
20Dirk and Amelia Powell Concert
Barns of Rose Hill. 95 Chalmers Ct. Berryville. Fatherdaughter, acoustic roots duo from Southwest Louisiana play music of their Appalachian and Cajun heritage, write and craft original songs, and bring audiences the kind of soulful connection that comes from performing with family. $25 in advance, $30 at door. 7–9pm. www.barnsofrosehill.org.
21History of Garden Club of Virginia
Burwell-Morgan Mill. 15 Tannery Lane. Millwood. This year marks the 50th anniversary of CCHA's partnership with the Garden Club of Virginia. Join us as members of the Garden Club come to talk about their organization's history, the history of work with the Burwell-Morgan Mill, and what projects lie
9 MAY 2023 Clarke
AND RECYCLING
BULK AND JUNK REMOVAL Servicing Frederick, Clarke, Warren, Shenandoah. Residential trash and recycling. We offer e-billing and online payments. Discounts for Municipal/Town pickups, HOA's and subdivisions. Licensed and insured. Call us at 540-837-5593 www.rwbdisposal.com • info@rwbdisposal.com Starting at
TRASH
COLLECTION
ADVERTISE in Clarke — CALL 540-398-1450
ahead for them. 2–4pm. Members $15, nonmembers $25. www.clarkehistory.org.
26OKCello Concert
Barns of Rose Hill. 95 Chalmers Ct. Berryville. Okorie "OkCello" Johnson is an American cellist-songwriter whose artistry integrates cello performance, live-sound-looping, improvisation, and storytelling, all culminating in original compositions that blend classical music with seemingly juxtaposing genres including jazz, EDM, reggae and funk. $20 in advance, $25 at door. 7–9pm. www.barnsofrosehill.org.
27Scotch and Cigars Night
Berryville VFW Post 9760. 425 S. Buckmarsh St. Three tastings and raffle draw to benefit the Connect-Vets organization's Lights-on/Heat-on/ACon program, which helps fund veterans struggling to pay their utility bills. $25 admission. 2–9pm. Tickets on sale now and can be bought online at www. connect-vets.org, or by emailing stacie@connect-vets.org.
27FISH Mobile Community Table
Shiloh Baptist Church. 1983 Millwood Rd. Dairy products, personal care items and snack packs, and food to take home "from our community table to your family table." Find out what benefits may be available to you from the Department of Social Services. Held monthly. Free. 9–11am. 540-955-1823. www.fishofclarkecounty.org.
27Memorial Day Flag Placing
Green Hill Cemetery. 428 N. Buckmarsh St. Berryville. Members of VFW Post 9760 and American Legion Post 41, along with members of Boy Scout Troop 34 will place American flags at veterans' gravesites. 9am. 540-303-0774.
28Memorial Day Service
Rose Hill Park. E. Main St. Berryville. Theme of the program is "Fallen But Not Forgotten: A Tribute in our Anniversary Year." VFW Post 9760 celebrates its 75th anniversary and Lieutenant Colonel Jonathan Westbrook, U.S. Army, will deliver the Memorial Day message. Held at Barns of Rose Hill
in case of inclement weather. All welcome for refreshments at VFW Post at 425 S. Buckmarsh St. following ceremony. 2pm. 540-303-0774.
June 3
Denim and Diamonds Benefit Gala
Barns of Rose Hill. 95 Chalmers Ct. Berryville. Gala guests will enjoy fabulous entertainment, catered hors d'oeuvres from Bonnie Blue Southern Market & Bakery, an open bar and a live and silent auction featuring a few select items generously donated by our supporters. We are delighted to welcome Jean Wilson and H. Baker as our Honorary Chairpersons. $75. 6pm. www.barnsofrosehill.org.
3
White Post Studio Opening Reception
713 Berrys Ferry Rd. Converted by international artist and designer Nanu Al-Hamad, historic railroad warehouse will host a variety of exhibitions, including local artists. 5-7pm. whitepostsudio@gmail.com
Ongoing Spring Art Show
Long Branch Historic House and Farm. 830 Long Branch Lane. Boyce. Ring in spring with the spring art show, now through May 28. www.visitlongbranch.org.
Art at the Mill
Burwell Morgan Mill. 15 Tannery Lane. Millwood. Runs through Sunday, May 7. More than 200 artists display for sale works of art in a historic 18th century, operating mill. Saturdays 10am–5pm, Sunday–Friday 12–5pm. Adults $5, seniors $3, children 12 and younger free. 540-837-1799. www.clarkehistory.org.
Bingo
Boyce Fire Hall Social Hall. 1 S. Greenway Ave. 7pm every Thursday, 1:30pm every Sunday. Kitchen is always open for meals and snacks. Outside food and drinks are allowed; no alcohol. Ages 16 and older. www.boycefire.org.
Women's Circles
Sanctuary Wellness Center. 208 N. Buckmarsh St. Berryville. A sacred space to honor
and celebrate who we truly are as women. Learn how to change your thoughts to change your life, find greater inner joy and peace. $25. 3pm May 6, 7pm May 17, 7pm May 24. elizabethbava@rocketmail.com.
Mindful Meditations and Musings
Sanctuary Wellness Center. 208 N Buckmarsh St. Berryville. Twice weekly meditation classes for beginners with a focus on mindfulness. Typical class will consist of 30-45 minute lightly guided meditation followed by a brief discussion. Wear comfortable clothing and bring whatever you need to sit comfortably. Yoga mats and chairs available to borrow. $25 for individual class, $100 for five classes. 10:30–11:30am Fridays and 6–7pm Mondays. Email to register. tmgeorge126@gmail.com.
Ximena's Yoga Flow
Sanctuary Wellness Center. 208 N Buckmarsh St. Berryville. Invigorating sequences of asanas, united by rhythmic breathing. $25 for drop-ins, $80 for four classes a month, $100 for eight classes a month. Tuesdays and Thursdays, 9:30–10:30am. Email to register. stroubakisx@gmail.com.
Yoga With Amy
Sanctuary Wellness Center. 208 N. Buckmarsh St. Berryville. Move your body through a progressive yoga class that balances out active flow yoga with gentle Yin Stretching. Class will move you through physical yang yoga, helping you develop muscular strength, stamina, and flexibility before slowing you down into the long held stretches of yin to finish. 9am. $20 drop-in, $78 for 5 Classes. Email to register. amyhopegentry.com/yoga
Clarke 10 MAY 2023 Aylor's Mill 401 East Main Street Berryville, VA 540-327-5669
Southgate Farm's Forte On To Derby
By Cathy Kuehner
The odds-on favorite to win the 149th Kentucky Derby is a dark bay colt raised on a Clarke County farm. Forte won four of five races as a 2-year old and both his starts as a 3-year old; most recently the $1 million Florida Derby in April. In 2014, Amy Moore, who owns South Gate Farm in Millwood,
purchased a filly named Queen Caroline that won four stakes races and earned more than $400,000 before joining the South Gate broodmare band. Moore shipped Queen Caroline to Kentucky to be bred. Forte was born in February 2020, and Amy brought the foal and Queen Caroline back to Millwood,
where the colt spent the remainder of his weanling year before going back to Kentucky for the 2020 fall sale at Keeneland.
The Kentucky Derby is the first leg of racing's Triple Crown, and should Forte win the Preakness and Belmont stakes, too, he will be carrying on Clarke County's long association with champion Thoroughbreds. In 1919, Sir Barton became the first-ever Triple Crown winner, and after his racing career he stood at stud at Audley Farm in Berryville.
The "Triple Crown" title was formally proclaimed in 1950 by the Thoroughbred Racing Association, and was retroactively awarded to horses that previously won all three races. In almost 150 years, only 13 horses have won the Triple Crown: Sir Barton (1919), Gallant Fox (1930), Omaha (1935), War Admiral (1937), Whirlaway (1941), Count Fleet (1943), Assault (1946), Citation (1948), Secretariat (1973), Seattle Slew (1977), Affirmed (1978), American Pharoah (2015), and Justify (2018).
11 MAY 2023 Clarke The Fox & Pheasant Antiques •Decor• Interiors • Fabrics Hours: Wednesday - Saturday 10-5 Sunday 12-5 114 East Main Street • Boyce, Virginia 540-837-5589 Horton's Nursery plan your garden now 2731 Front Royal Pike, Winchester 540-869-2115 Bulk Mulch with Delivery Top Soil • Compost • Garden Seeds Vegetables Plants • Fruit trees and berries Native shrubs and Perennials Exotic houseplants • Pottery Indoor Flea Market (Saturday/Sunday) 8am-6pm Monday-Saturday 9am-4pm Sunday @Horton's Nursery & Garden Center
Forte, shown here with his dam Queen Caroline, spent his weanling year at Amy Moore's South Gate Farm in Millwood. Moore, who owns Queen Caroline, sold Forte in the fall of 2020.Photo provided by South Gate Farm.
A statue of Sir Barton sits in a prominent spot at Audley Farm in Berryville, where the first-ever Triple Crown winner stood at stud from 1921 to 1927. Sir Barton won the Triple Crown in 1919.
CLARKEVA.COM
Photo by Clarke County.
Violin Virtuoso to Perform with Main Street Chamber Orchestra
Acclaimed violin virtuoso Akemi Takayama will be the featured soloist with the Main Street Chamber Orchestra on Saturday, May 13 at 4pm at Grace Episcopal Church in Berryville. The concert includes works by Beethoven, Mozart, and CPE Bach.
Dr. Takayama will perform Mozart's delightful Violin Concerto #5, "The Turkish", so called due to the Turkish musical elements woven into its fourth movement. Mozart likely wrote this concerto for his own performance as it is full of virtuoso passages.
Dr. Takayama, a founding member of the Main Street Chamber Orchestra (MSCO), is one of the most soughtafter freelance musicians in the Mid Atlantic. In addition to her position as Associate Professor of Violin at
Shenandoah Conservatory, where she holds the Victor Brown Endowed Chair in Violin, she is concertmaster of the Roanoke Symphony Orchestra and the Williamsburg Symphony Orchestra.
The second half of the May 13concert is devoted to Beethoven's jubilant Symphony No. 2. The composer Hector Berlioz said, "Everywhere in this piece, Beethoven smiles." This is amazing when considering it was written when the composer was considering suicide over his deteriorating hearing. While there are a few dark clouds, Beethoven is here at his most optimistic, even including a few musical jokes.
The concert will open with Carl Philipp Emanual Bach's Symphony No. 1. A son of J. S. Bach, CPE is known as the "Berlin" Bach for his years spent in that city. CPE was an early adopter of the new "sturm und drang" style that stressed wide extremes of emotion.
The work will showcase the superb skills of the MSCO string musicians as they take on the storms.
Tickets are on sale on our website, mainstreetchamberorchestra.org. Students under 18 are free.
The MSCO is pleased to introduce to the community its recently established board of directors. Jon Goldberg serves as president and music director; the Very Reverend Justin Ivatts, treasurer; Helena Goldberg, secretary; and Diana Kincannon, Dr. Donovan Stokes, and Lawrence Goldstein.
Clarke 12 MAY 2023 CLARKEVA.COM the Spring Art Show featuring PEGGY DUVALL & ZOE HAWKINS Monday through Friday 10am-4pm Weekends 12-4pm Free 830 Long Branch Lane Boyce 540-837-1856 www.visitlongbranch.org Through May 28
208 N Buckmarsh St, Berryville, VA info@sanctuaryberryville.com • sanctuaryberryville.com Classes and workshops are now in person or virtual! Diverse, Highly Qualified Holistic Health Professionals Consider Joining Our Team or Renting our Space! NOWOPENFORINDIVIDUALCONSULTATIONSUSING OSHA SAFTYGUIDELINES
Saluting A Habitat Tree
By Doug Pifer
It's good for a tree's overall health to remove dead branches. And falling limbs can be a true hazard. But there is great value in keeping a dead tree standing in a safe spot in your yard or property.
My wife and I were thrilled to discover a big Kentucky Coffee tree growing next to our driveway when we moved here. As it began to leaf out, we sadly learned it was near the end of its life. Several large limbs had already fallen, and one of them had damaged the roof of the garden shed. We were concerned that, during a storm, more falling limbs would damage our newly built fence or our car.
We wanted our tree to remain standing as wildlife habitat so we had arborists from Viking Tree Service carefully sculpt it so the limbs couldn't fall and cause damage. Now the old Kentucky coffee tree stands majestically like a dead tree in the woods.
This old tree was a wildlife habitat long before we moved here. For trees, death can be very gradual. A dying tree, which foresters call a hard snag, attracts woodboring insects, lichens, moss, and fungi. Weather and wind work to soften the outer bark and it starts to slough away, leaving open spaces where bats roost during the day. Woodpeckers chisel into the tree to get the ants, beetles, and other insects hidden in chambers and networks of tunnels in the dead wood.
After several years, fibers in the dead wood gradually soften and continue to break down, and the dead tree becomes a "soft snag" in forestry-speak. Woodpeckers that used to hunt the hard snag for insects now chop away deep cavities for nesting. After the woodpeckers raise a brood, they abandon the nest hole, preferring to dig out a new one next season. The empty woodpecker cavities shelter rodents, snakes and lizards.
These "secondary" tree cavities are prime real estate for nesting birds in the spring. Chickadees,
titmice, flycatchers, barred and screech owls, bluebirds and wood ducks all nest in abandoned woodpecker holes. Certain cavity nesters, like owls, add no further nest material. Others, like wrens and chickadees, fill the chamber with sticks, grass, or moss. Some cavity nesters add plastic or paper wrappers, shed snake skins, or feathers.
Bluebirds and purple martins are native birds that once nested in old woodpecker holes. But since the 19th century European starlings aggressively took over nesting sites to the extent that the native birds' populations began to suffer. Nowadays bluebirds and purple martins are on the rebound, largely because they have come to prefer nesting in manmade bird boxes instead of using "traditional" sites.
Dead trees also make wonderful loafing sites. Birds like to hang out where they can see approaching enemies. They rest, preen, and socialize without leaves and branches getting in the way. They can quickly dry after a rain and warm themselves in the sunshine. Here at our place a great blue heron often perches atop a big
dead hackberry tree next to the stream at the corner of our property. Vultures sometimes roost there, lingering on into the morning until the sun warms and dries their feathers.
Our colony of purple martins used to loaf in our old Kentucky coffee tree top during the day. Their newly fledged young assembled there and were fed insects by their parents.
For several years the very first male martin to arrive perched on this same treetop. Now the upper branches have disappeared. Our martins hang out elsewhere.
Even a healthy tree left to its own devices continues to drop dead limbs and branches throughout its life. Such fallen limbs teem with wood lice, ground beetles, centipedes, and slugs. Salamanders burrow underneath. The rotting wood becomes entangled by white, thread-like mycelia from mushrooms and other fungi as the remains gradually molder into the forest floor.
Witnessing our old tree's decline offers me a new perspective on life, death and change.
13 MAY 2023 Clarke Green's Septic Service & Portable Toilet Rental Save the Bay. Call Green's Today. 540-955-2960 Emergency Service Grease Traps • Pump and Haul Terra Lifts • Septic Inspections System Repairs Family Owned and Operated Since 1980 LicensedinVA.Eachofficeindependentlyownedandoperated. Office:540.955.0911JamesKing,PricipleBroker LOCALMATTERS EXPERIENCEMATTERS WILLY@VAMOVE.COM 540-336-0003 WILLYSTEINMETZ AMY@VAMOVE.COM 540-336-8889 AMYLONGERBEAM 6883LORDFAIRFAXHWY,BERRYVILLE450K -3BED,21/2BATH, -TOTALRENOVATION!! -DETACHEDGARAGE -PLENTYOFPARKING
Understanding Guardianship and Conservatorship
And How to Avoid Them!
By Brenda Waugh
When a friend or family member is unable to make decisions for themselves, loved ones often want to find a way to help out — to be legally able to make decisions for them. The disability can be caused by an accident or a debilitating disease acquired during adulthood. The disability may also be a condition a child is born with or acquires during childhood. There are several options on how an adult may gain the authority to make medical or legal decisions for another adult.
Court Involvement: Appointment by the Court as Guardian or Conservator
When a person has not executed any documents to give another power to make legal and medical decisions to another, the only way to gain control over these decisions is to petition the court to be appointed as the guardian or conservator. A guardian is a person who is charged with managing the personal and medical needs of another. A conservator is a person charged with managing financial needs.
To become appointed, a person must petition the court, which will assign an attorney to serve as the Guardian Ad Litem for the person with the disability to assist in the legal proceeding. Next, a hearing will be held where the judge will decide whether or not the person is incapacitated and, if so, will execute an order appointing the petitioner as the guardian or conservator. At that point, the guardian or conservator must formally qualify by taking an oath at the office of the clerk of the court. In addition, they may need to post a surety bond. After the appointment, the appointee will have limited authority to take action on the other person's behalf. They may need to get specific authority to act, such as changing the incapacitated person's residence. The appointee will be required to file periodic reports. The court may revoke guardianship and conservatorship at any time if the person being protected or another person challenges it. Involving all stakeholders and family members before taking matters to court is best. The family should work with a
mediator if they cannot agree on whether or not guardianship should be pursued and who should be selected as the guardian/conservator to avoid protracted legal proceedings and court involvement.
Document Preparation: Durable and Medical Power of Attorney
Court involvement in guardianship and conservatorship can be avoided entirely when the issue involves an incapacitated adult by proper preparation. Any adult may appoint any other adult to be their durable medical and legal power of attorney.
The durable legal power of attorney performs a function similar to the conservatorship — it allows a person to make legal decisions for another. However, unlike conservatorship, a power of attorney allows the
person executing the document to decide how broad or narrow those responsibilities will be. It also can be revoked at any time and can name alternative persons to perform the duties. The medical power of attorney, living will, and advanced medical directive can appoint another person to make medical decisions. It also can guide what preferences an adult has regarding certain medical decisions. This document operates similarly to guardianship, but only as to medical issues. The power may be withdrawn at any time.
A key factor to consider with the medical and legal power of attorney is carefully selecting the person to whom these duties are assigned. It is equally important for the decision to be discussed with the appointee, friends, and family members to increase the potential for everyone to accept a decision. With that cooperation, those who are satisfied would be less likely to seek court involvement.
When families or friends have difficulty discussing these issues, it is often advisable to work with a mediator to help make and communicate the decisions and avoid involving courts in these private matters. these private matters.
Brenda Waugh is a lawyer/mediator with Waugh Law & Mediation, serving clients in the Blue Ridge region of Virginia and Eastern Panhandle of West Virginia
Clarke 14 MAY 2023 MAIN STREET CLASSICS COLLECTIBLES & VINTAGE 5441 Main Street, Stephens City 540-508-0331 Thursday – Monday 10 - 5
Clarke County Memorial Day Service
Lieutenant Colonel Jonathan Westbrook To Deliver Message
Clarke County's community Memorial Day Service will be held on Sunday, May 28, at 2pm in Rose Hill Park in Berryville. The theme of the program will be "Fallen But Not Forgotten: A Tribute in Our Anniversary Year".
In addition to the Town of Berryville observing its 225th anniversary, VFW Post 9760 is celebrating its 75th anniversary in 2023. Lieutenant Colonel Jonathan Westbrook, U.S. Army, will deliver the Memorial Day message. Commissioned as an infantry officer in 2003, Jonathan deployed to Iraq between 2004 and 2007 with the 82nd Airborne Division three times and with the 25th Infantry Division (Light) in 2008. He served in strategic positions
from 2012 to 2023, including a fifth deployment to Iraq in 2019 to 2020. Jonathan is a recipient of the Airborne Badge, the Expert Infantryman Badge, the Combat Infantryman Badge, the Combat Action Badge, and the Ranger Tab. A member of VFW Post 9760, Lieutenant Colonel Westbrook and his family reside in Clarke County.
American Legion Post 41 Commander Tom Vorisek and VFW Post 9760 Commander Mike Blumenthal will lead the service. The Clarke County High School Band, led by Mark Curry, will provide prelude and postlude selections and the National Anthem. The Clarke County High School Chamber Choir, led by Kristi Snarsky, will perform two songs at the
service. Colors will be posted and retired by The James Wood Chapter of the Sons of the American Revolution. The Clarke County Honor Guard, led by Chris Birch, will provide a military salute.
In addition to the Memorial Day Service, members of VFW Post 9760 and American Legion Post 41, and members of Boy Scout Troop 34 will place American flags at veterans' gravesites at Green Hill Cemetery in Berryville on Saturday, May 27th at 9am. Volunteers will also place flags at Milton Valley Cemetery in Berryville during the Memorial Day weekend.
In case of inclement weather, the Memorial Day Service will be held in Berryville's
Barns of Rose Hill, a cultural and civic center adjacent to Rose Hill Park. The sponsoring organizations, Clarke County Memorial VFW Post 9760 and American Legion Post 41, invite all attendees to join them at the VFW Post at 425 South
Buckmarsh Street in Berryville for free refreshments and fellowship following the ceremony.
For additional information, contact Tom Vorisek, Memorial Day Committee member, at (540)303-0774
15 MAY 2023 Clarke
28.31 acres $475,000
Great location off of Route 50 in Paris, VA. Combination of open and wooded land. Several wonderful building sites. 2 DURs.
1.86 acres $390,000
Last buildable lot in charming Paris, VA. Lovely, protected views over 2000 acres. Next to historic Ovoka Farm. Private location at end of a Village road. Close to Sky Meadows. 3 BR drainfield approved.
2.06 acres $250,000
Delaplane – Hard to find small, buildable parcel surrounded by larger farms. Located in the beautiful Crooked Run Valley near Paris and Sky Meadows State Park. Land is 'clean' wooded and rolling. Build your country retreat.
mt. carmel republican street winchester road howellsville road THOMAS & TALBOT ESTATE PROPERTIES Opening The Door To Horse Country For Generations Office: 540-687-6500 | thomasandtalbot.com | 2 South Madison Street | PO Box 500 | Middleburg, VA 20118 still looking for your dream house? why not build one on these lovely parcels! Emily Ristau | 540-454-9083 Realtor, Licensed in the Commonwealth of Virginia 05_CM-Emily_half_Pg.indd 1 4/24/23 3:09 PM
2.14 acres $335,000 Located in Boyce, VA. rare offering on the shore of the Shenandoah River. No HOA. Escape the city. Come relax and enjoy the view, fish from the shore, launch your boat. Parklike setting, wonderful location. Buildable parcel with electric on site.
Lieutenant Colonel Jonathan Westbrook and family.
CN0100A CN0100A $64,957 2022 Tundra Platinum Truck CrewMax MT2270 $47,377 2019 Tundra Limited Truck CrewMax MT2275 $42,577 2020 Tacoma TRD Sport Truck Double Cab MT2290 $71,977 2022 Tundra Hybrid Capstone Truck Crewmax MT2253 $44,797 2021 Highlander XSE SUV MT2292 $42,977 2023 Highlander XLE SUV MT2313 $38,877 2019 Highlander XLE SUV MT2259 $85,827 2020 Land Cruiser Base SUV KB0238 2021 RAV4 XLE SUV MT2272 $54,797 2022 4Runner TRD Off-Road Premium SUV MT2298 $38,677 2022 GR86 Premium Coupe MT2271 $56,977 2022 Tundra SR5 Truck CrewMax MT2280 $53,447 2020 GR Supra 3.0 Coupe MT2293 $38,217 2022 Avalon Hybrid XSE Sedan KB0247 $35,877