Art | Fiction | Poetry| Plays| Screenplays | Films | Interviews Issue 4| Summer Find works from 29 different creatives from around the world ranging from art, fiction, poetry, nonfiction, film, and plays
© 2022 by Chaotic Merge Magazine. All Rights Reserved. All rights to all original artwork, photography, and written works belongs to the respective owners as stated in the attributions. Without limiting the rights under copyright reserved above, no part of this publication may be reproduced, stored in or introduced into a retrieval system or transmitted in any means (electronic, mechanical, photocopying, recording, or otherwise) without the prior written permission of both the copyright owner and publisher.
TABLE OF CONTENTS FICTION POETRY 11 25 49 57 62 71 SLUMP by Gabriel Sage LITTLE SCARED by Corey Davis HELPFUL DISTRACTIONS by Soramimi Hanarejima THE FORGETTING RITUAL: A HOW-TO GUIDE by Andrew Lesh OPEN MOUTH by Morgan Victoria MORGUE MUSIC by Carl Boon NONFICTION 39 79 FIREWEEDS by Grace Schwenk ON THE FREEDOM OF BUTTERFLIES by Kayla Jessop 2 3 6 7 8 9 SEAHORSES by J.B. Calf PREMATURE ODE by Emily Murman PRETENTIOUS POEM by Emily Murman QUANTUM INCLINATION by James Ph. Kotsybar UNDONE by Renee Keele THE RED NIGHTGOWN by Leila Kulpas 10 23 35 KITTY HAWK by William Doreski CORDELIA, WHEREVER SHE MAY BE by Liz Fisher ON SAVING THAT OLD CALENDAR FROM THAT ONE YEAR by Aaron Sandberg
55 56 60 73 77 78 CROSSING THE BORDER by Paul Bluestein AMERICANA by John Leonard THE INTERN by Lauren Rudolph I'M TIRED OF FAKE RATATOUILLE FANS THINKING THE RAT'S NAME IS RATATOUILLE by Bunny Boisvert RIB by Aaron Sandberg NESSUN DORMA by Charlie Brice 80 81 NEITHER OF THIS WORLD NOR OF THAT ONE by Rob Omura FINAL GIRL by Cara Peterhansel ART 1 4 IF WE TURN INTO A TREE 1 by Taylor Yingshi IF WE TURN INTO A TREE 2 by Taylor Yingshi 5 21 34 37 47 61 KISS IN BEDROOM by Taylor Yingshi IN MY BEDROOM by Taylor Yingshi WHATS IN MY BAG by Taylor Yingshi ON THIS ISLAND by Carlin McCarthy UNTITLED by Ian Hill WHO I USED TO BE by Zoe Stanek 69 70 AFTERHOURS by Fatima Tall MOUNTHOOD by Fatima Tall 75 76 CREATION OF MAN 1 by Brittany Gress CREATION OF MAN 2 by Brittany Gress 82 PLATOS CAVE by Brittany Gress
Dear Readers, Thank you for picking a of It The I read and see the I am reminded how are. are capable of that aren't like anything else. I she of the Rings at the age of and spent her whole life trying to find something that could evoke the same feeling she felt while read ing the series. She sadly told me she was still searching. But isn't it amazing how writing and art can do that to us? The characters, voices, and style of the pieces in this issue stood out and captured not just me but our editors, our wonderful editors that embrace these pieces like their own. Please take the time to read and experi ence these works fully. I hope they stick to you just like they stuck with us. Maybe, it will be a piece that will evoke a feeling you never knew was there.
Stay chaotic, Jasmine Ferrufino Editor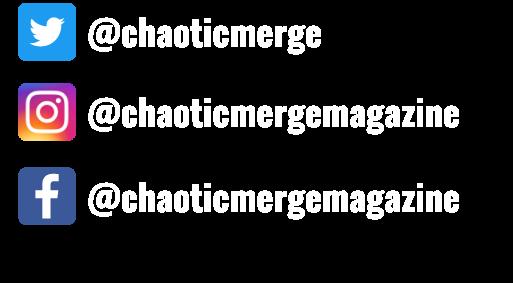 COVER ART OUR EDITORS LETTER FROM THE EDITOR CHICKEN HOUSE by Zoe Stanek EDITOR IN CHIEF Jasmine Ferrufino POETRY EDITORS Britt Trachtenberg Julia Watson Kaitlyn Crow Thomas Orr FICTION EDITORS Mason Martinez Lassiter Jamison NONFICTION EDITORS Frederica Danzinger Maggie Conlee Shayla Drzycimski FOLLOW US ON OUR SOCIALS
up
copy
Issue 4.
is a pleasure to present all these talented people's work to you.
more
works in this issue;
brilliant our minds
They
creating such vivid images and emotions
recently talked to a librarian about how
fell in love with the Lord
sixteen
in Chief