CONTACT LENSES
Accessories and Cases for
Day by day
Lucy and her contact lenses
Lucy wears contact lenses and is pedantic about them because she wants to use her lenses for a long time without suffering any side effects.
The importance of cleaning
When she wears her lenses for a long time during the day, she prefers to soak the lenses. She uses the ultrasonic or the mechanical lens cleaner which vibrate and together with the cleaning solution efficiently reduce the presence of bacteria. (page 13)
Lucy's Optician monitors her eyes.
She keeps her contact lenses in a suitable case, which is not only aesthetically pleasing, but also always perfectly clean. She replaces the container every 3 months to assure the correct maintenance of the contact lenses.
Accessories
She uses accessories that make the daily routine of changing and cleaning the lenses easier. The lens catch mat, placed over the sink, is important to prevent the loss of the lenses down the drain. (page 8)
2 ALL RIGHTS RESERVED ©
In the water
At the seaside, in the swimming pool and also in the shower it is best to take the contact lenses out. We recommend the use of a diving mask or a swimming goggle with power lenses.
Open Air
During open air activities she protects her eyes with sunglasses. At the seaside she uses artificial tears to prevent dehydration.
When she practices sport wearing semi-rigid contact lenses she uses adequate protection in order not to lose them.
In case one decides to keep the lenses, the contact with the water should be kept to a minimum:
In the sea she uses a mask to prevent losing the lenses and to prevent the irritation caused by the alteration of the tear's salt concentration caused by salty water.
In the swimming pool the presence of bacteria and chlorine in the water causes infection, irritation or eye dryness which can make the removal of the lenses difficult. For this reason Lucy always wears water-proof swimming goggles. When she gets out of the water, she instills two drops of artificial tears and waits 15 minutes before removing them.
In closed environments
Air conditioning reduces the hydration of the eye surface.
When she works in the office, travels by plane or on a long car journey, she always carries all the necessary accessories and uses artificial tears to ensure the cornea remains hydrated.
3 ALL RIGHTS RESERVED ©
FRIEND Collection
SMART DESIGN
Innovative case with integrated, not removable lids with hermetic closure which prevents spilling.
Ref. 08717
24 pcs in assorted colours.
+ PRACTICAL
Lids open and close quickly.
+ SECURE
The lids cannot fall down, get lost or be inverted.
+ HYGIENIC
The lids do not touch the surface. Ideal for use in public places.
4 ALL RIGHTS RESERVED ©
NICE DESIGN
Nice and funny case with hermetic screw type closure. HIPPO Ref. 08737 8 pcs.
PIG Ref. 08732
pcs.
FROG Ref. 08728 8 pcs.
8
5 ALL RIGHTS RESERVED ©
Lens
TO PREVENT THE LOSS OF CONTACT LENSES DOWN THE DRAIN
Catch Mat LENSCATCH MATS FOR THE SINK Ref. 08795 - 3 pcs. 139x107 mm 6 ALL RIGHTS RESERVED ©
For soft and G.P. hard lenses
Ref. 08731
8 pcs. assorted
Suitable also for lenses used in orthokeratology. For lenses with a diameter between 8.8 and 11 mm
Ref. 08747
6 pcs. assorted
Ref. 08730
6 pcs. assorted
Cases
7 ALL RIGHTS RESERVED ©
Ref. 08720
pcs.
Ref. 08721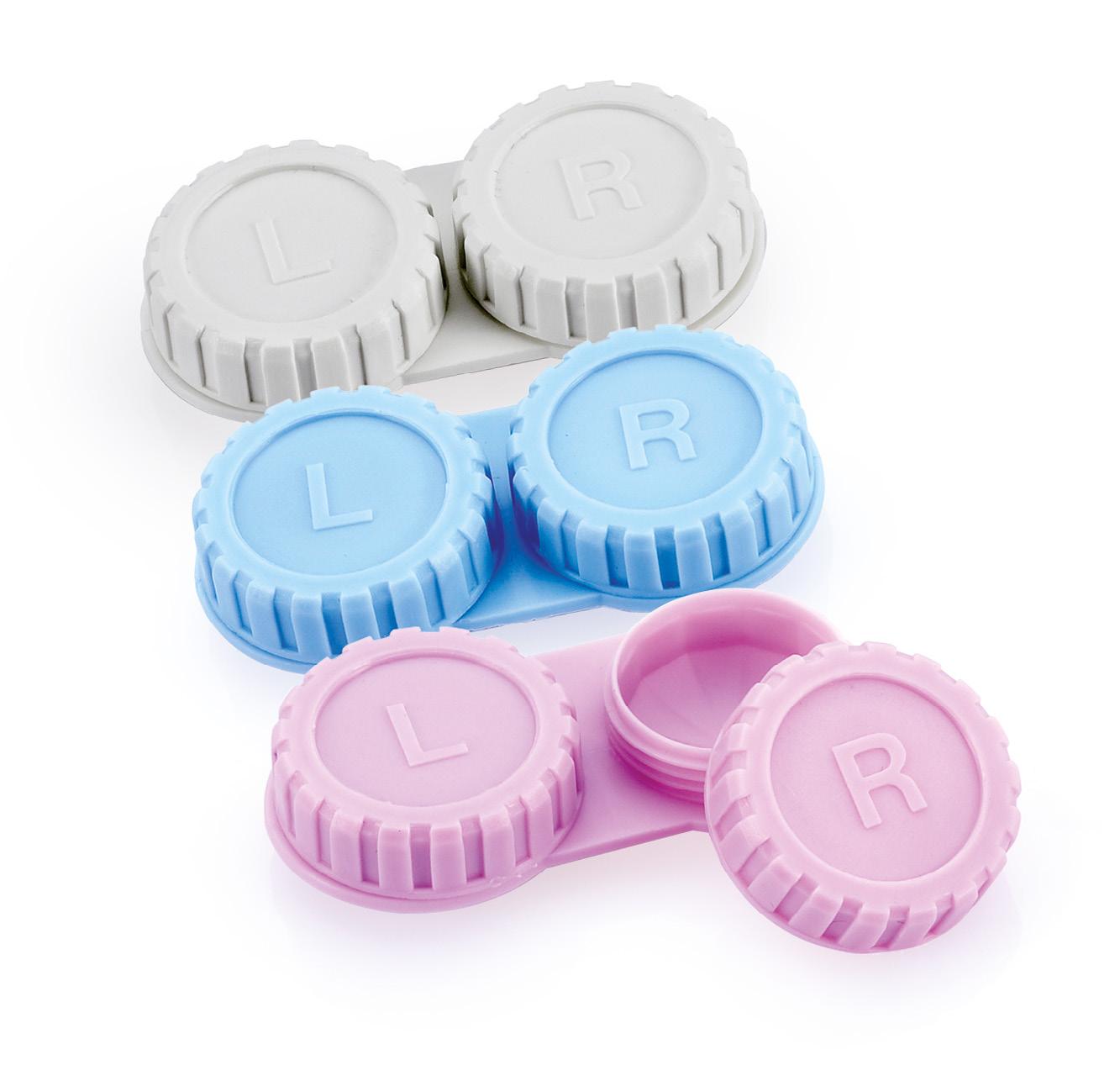 pcs.
We suggest
Cases For soft and G.P. hard lenses
replacing the container every 3 months to assure the correct maintenance of the contact lenses.
12
assorted
12
assorted 8 ALL RIGHTS RESERVED ©
Ref. 08727
pcs.
FOR BOILING
Ref. 08724
pcs.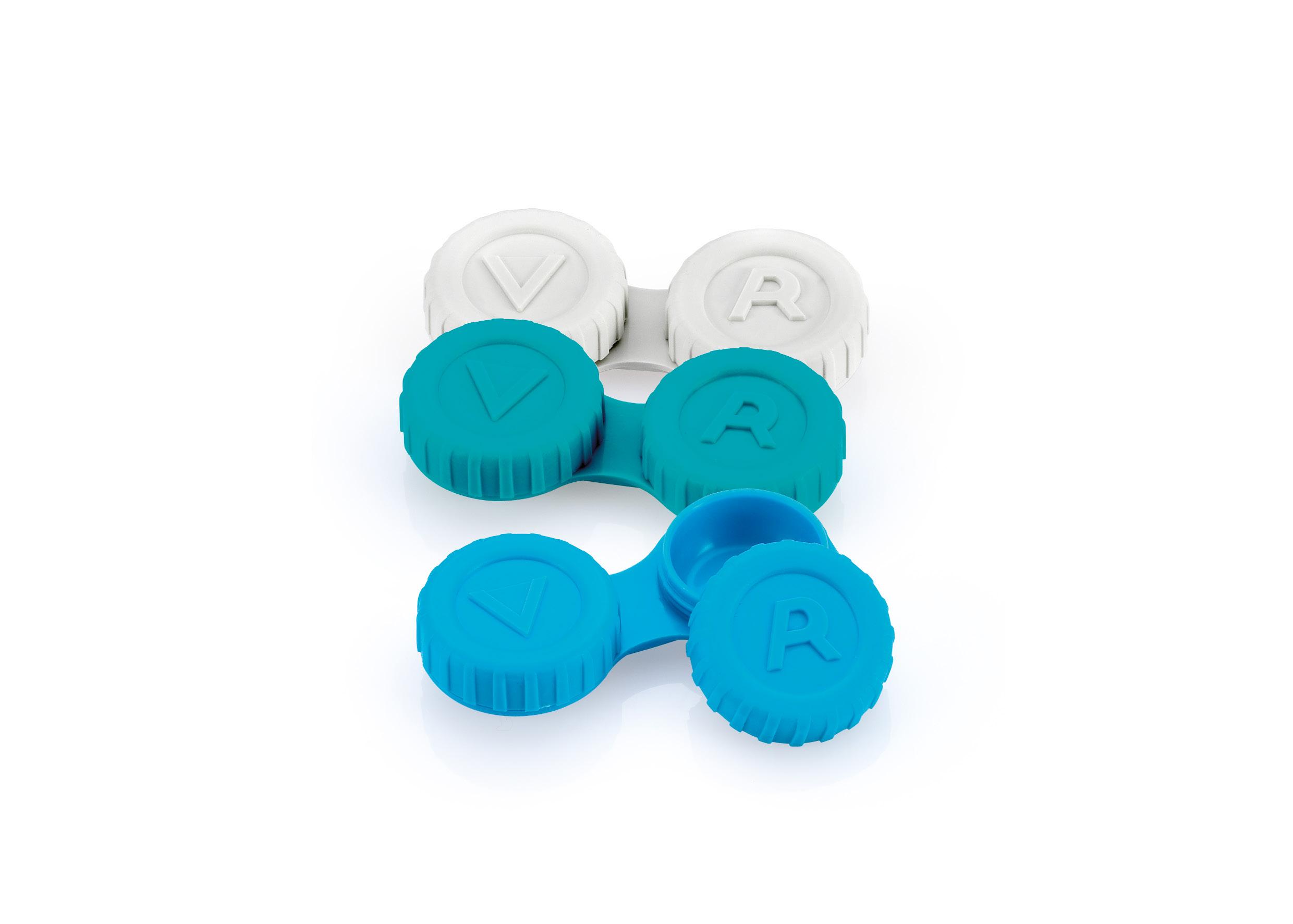 12
assorted
12
assorted 9 ALL RIGHTS RESERVED ©
Travel purse
Travel leatherette purse for contact lenses To keep everything at hand, from contact lens case to liquid and accessories. Mirror included.
Ref. 20438 Silver - 3 pcs. Size: 170x120x40 mm mm 120 mm 170 10 ALL RIGHTS RESERVED ©
Suckers Holders
With case
• Ref. 08764 • Ref. 08765
pcs./ref.
Tweezers
WITH HOLLOW CENTER
• Ref. 08766 • Ref. 08767
pcs./ref.
Ref. 08772
With case 12 pcs. assorted
Ref. 08770 With case 6 pcs.
12
12
11 ALL RIGHTS RESERVED ©
Metal Crimper
SILICONE STOPPERS Ref. 08615 24 pcs. METAL CRIMPER Ref. 08602 1 pc.
12 ALL RIGHTS RESERVED ©
Test Strips
SCHIRMER TEST
Ref. 08781
Graduated strips for dry eye test. Measurement of tear volume and production. 100 pcs. (strips in single sterile pack)
EASY MARK
Ref. 08793
Sterile solution based on Riboflavin for the diagnosis of the ocular surface and staining of the tear film. Certified for applanation tonometry and the application of hard and soft contact lenses.
10 single-dose vials - 0,5 ml each.
FLUORESCEIN SODIUM
Ref. 08783
Evaluation of integrity of the ocular surface, G.P. hard contact lens fitting and applanation tonometry. Each strip is impregnated with 1.0 mg of fluorescein sodium.
100 pcs. (strips in single sterile pack)
13 ALL RIGHTS RESERVED ©