vol 13 | issue 11 | may 2023 www.FloridaAgNews.com RECIPE SPOTLIGHT FRESH FROM A U-PICK? WE'VE GOT YOUR JAM! The Voice of Agriculture for Our Region ULTIMATE AGVOCATE KATELAND RANEY A RISING LEADER PASSIONATE ABOUT AG HEART & HORSEPOWER POLK SHERIFF'S MOUNTED DIVISION KEY FOR COUNTY WARNER UNIVERSITY HANDS-ON EXPERIENCE GIVES STUDENTS AN EDGE edition YOUNG & BUZZWORTHY TEEN BEEKEEPER WITH DECADE OF EXPERIENCE LEADS ASSOCIATION TROSERP TDS U S eagtsoP DIAP mitreP oN 533 ,dnaelkaL lF PRSRT STD US POSTAGE PAID TAMPA, FL PERMIT #2118 Women In Ag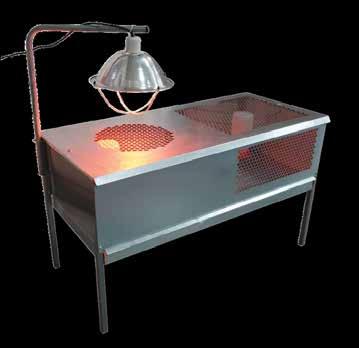 ® BIRDS&BEES BEEKEEPING & POULTRY SUPPLIES EVERYTHING YOU NEED FOR UNMATCHED SELECTION OF SPECIALTY EQUIPMENT & SUPPLIES W in t e r H a ve n, F L 301 Bert Schulz Blvd MON-FRI 8AM-5PM | SAT 9AM-2PM THOUSANDS of products MANNLAKELTD.COM EXCLUSIVE online sales SIX RETAIL locations CUSTOMER SERVICE for all your needs ® 800-880-7694 C OME VISIT OU R L O CAL ST O RE ! BeekeepingSupplies PoultrySupplies&Equipment
Polk Tractor Company 3450 Havendale Blvd. • Winter Haven, FL 33881 863-967-0651 • polktractorco.com
On the Cover
Few youngsters know what they want to do when they grow up, but Miranda Clementel of Orlando has known since she was 8 years old. Now 18, she already has a decade of experience in beekeeping and serves as president of the Orange Blossom Beekeepers Association. Page 12.
photo provided by CADY STUDIOS
8
ULTIMATE AGVOCATE
A lifetime in the cattle industry has given Kateland Raney a dedication to and passion for not just cattle but agriculture in general. Her involvement in nearly every aspect of the Central Florida agriculture scene is getting her noticed as a rising leader in the industry.
10 HEART & HORSEPOWER
The Polk County Sheriff's Office has a unique team of deputies that is helping keep residents and visitors safe at community events and in rural parts of the county. Detective Marie Catello explains the importance of the Mounted Enforcement Division of the Polk County Sheriff's Office, and how she and her equine partner, Topeka, serve the community.
14 DIGGING IN
Warner University has been steadily growing the scope and instruction of its new Agricultural Studies program. The school recently added a small herd of cattle and a 1-acre citrus grove to the campus, making it possible for ag students to gain valuable practical experience working with elements of some of Florida's biggest agricultural assets. 18
TAKING IT TO THE HILL
The www.FloridaAgNews.com RECIPE SPOTLIGHT FRESH FROM A U-PICK? WE'VE GOT YOUR JAM!
PUBLISHER
Nelson Kirkland
MANAGING EDITOR
Jessica McDonald
PUBLISHED The Voice of Agriculture for Our Region ULTIMATE AGVOCATE KATELAND RANEY A RISING LEADER PASSIONATE ABOUT AG HEART & HORSEPOWER POLK SHERIFF'S MOUNTED DIVISION KEY FOR COUNTY WARNER UNIVERSITY HANDS-ON EXPERIENCE GIVES STUDENTS AN EDGE
ADVERTISING ACCOUNT EXECUTIVE
InWomen Ag
Cinda Shelby
Fifth-generation Florida citrus grower Christian Spinosa was one of more than 80 Florida Farm Bureau members who traveled to Washington, D.C., in April to advocate on behalf of Florida agriculture.
DIGITAL DIRECTOR
Tyler DiGiovine
CONTRIBUTING WRITERS
Paul Catala, Teresa Schiffer, Carol Corley, Kenzie Carlson, Michele Trice, Jessica Anderson, Allison Williams
CONTRIBUTING COLUMNISTS
Baxter Troutman, Mike Roberts, Dr. Katie Hennessy, Scott Thompson, Phillip Rucks
CONTRIBUTING PHOTOGRAPHERS
CADY Studios, Images by Blair
CONTRIBUTING ARTIST
Dawn Lewandowski
DELIVERY
trademark of Central Florida Media Group. Reproduction or use in whole or in part of the contents of this magazine without written permission is prohibited. Florida AgNews makes every effort to ensure the accuracy of content published. In the event of an error found herein, however, neither the publishers nor advertisers will be held responsible, nor do the publishers accept any liability for the accuracy of statements made by advertisers in advertising and promotional materials. edition YOUNG & BUZZWORTHY TEEN BEEKEEPER WITH DECADE OF EXPERIENCE LEADS ASSOCIATION TROSERP TDS U S ag AP D P mit N 533 L elk d F PRSRT STD US POSTAGE #2118FLPAIDTAMPA,PERMIT
FloridaAgNews.com
| may 2023
CONTENTS
Departments 22 Calendar 26 Recipe Spotlight 28 In The Heartland 31 Classifieds 38 From the Editor's Desk 5 Publisher's Letter 7 President's Letter 9 Signs of the Season 16 IFAS in Your Corner 21 FFA Corner
Voice of Agriculture for Our Region
BY 56 Fourth Street Northwest, Suite 100 Winter Haven, Florida PHONE (863) 248-7537 Copyright © 2023 Central Florida Media Group. ALL RIGHTS RESERVED. This issue of Florida AgNews is a
DLS Distribution www.FloridaAgNews.com vol13|issue11|may2023