Cultures flourish at SUNY Plattsburgh
BY ALEKSANDRA SIDOROVA News Editor
The Global Education Office collaborated with student clubs and college departments to bring to campus a series of events to mark International Education Week, nation ally recognized Nov. 14 to 20. These events included mini language lessons and diverse cuisines offered at Clinton Dining Hall.
Students were encour aged to mark places of their birth or cultural heri tage by placing a push-pin on a map hung up at the H.U.B. in Angell College Center Monday. The day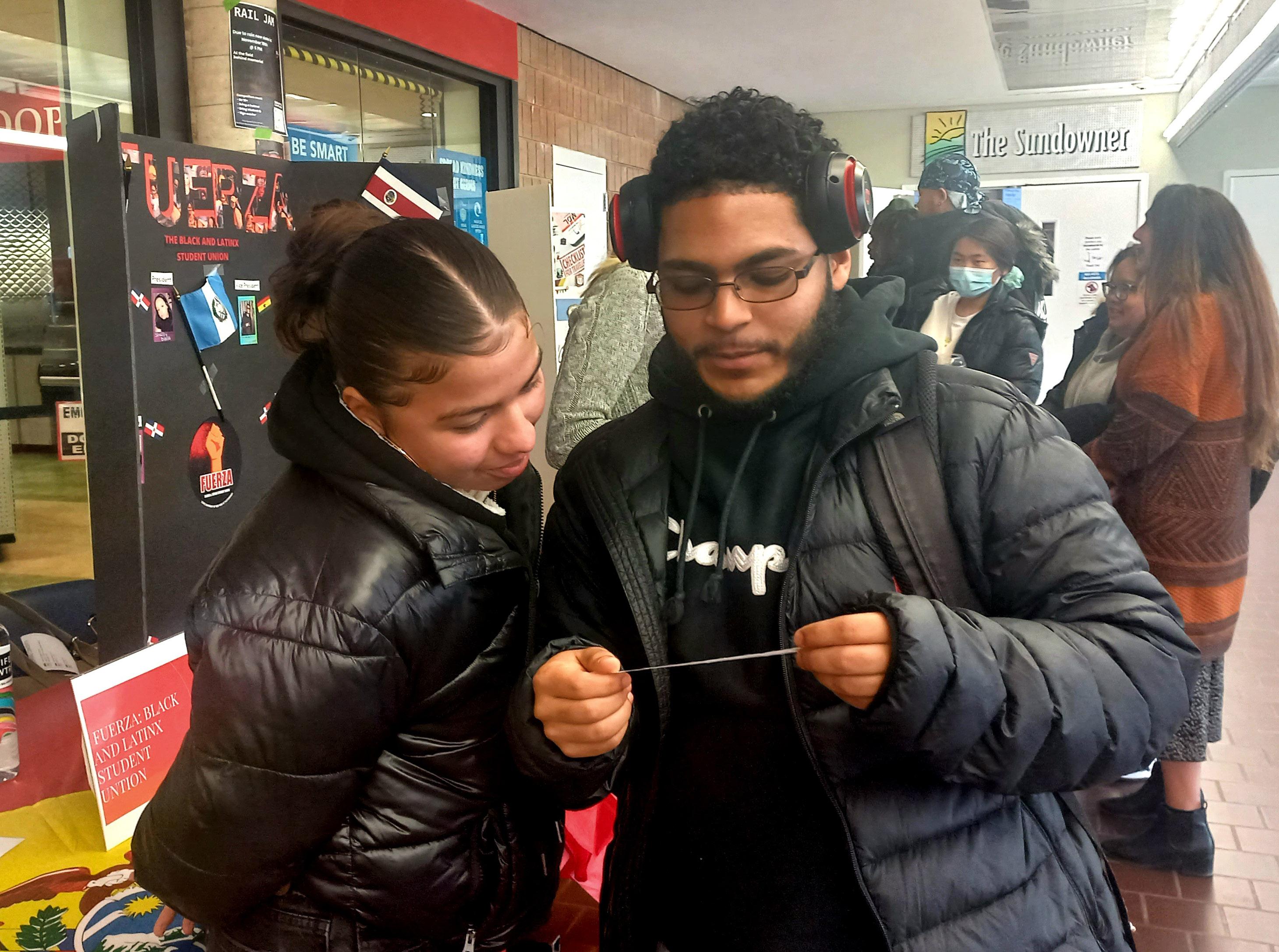 also featured an informa tive session on study op portunities in Canada.
Students of culturallybased clubs — Fuerza: Black and Latinx Student Union, the Muslim Stu dent Association, the Japa nese Cultural Association and the Desi Club — tabled and offered brief lessons in various languages Tues day. Many of the lessons included greetings and in troductions, while Fuerza offered positive affirma tions in Spanish. Visitors also had the opportunity to see their names written in another language. Lan guages featured included French, Hindi, Japanese,
Malayalam, Mandingo, Sindhi, Spanish, Tamil and Urdu, among others, exceeding GEO's goal of five. Ten of the featured languages were brought to the event by the Desi Club, one of SUNY Plattsburgh's newest clubs. This was the first event they participat ed in on campus.
Wednesday marked Wear Your Culture Wednes day, a day where students wore clothing that rep resents their heritage or a place they have been to. If a student followed GEO's Instagram page (@ geo_plattsburgh) and up loaded a photo of them selves in front of the world
map in the H.U.B. with the hashtags #MyPlattsLife and #PlattsAbroad they would be entered into a raffle to win a gift card to the Campus Bookstore. A Study Abroad session was also held at Redcay Hall, focusing on programs for studying sociology.
There was a Cultural Open Mic Night on Thurs day. The event marked one of the first uses of Burghy's Lounge, also called Burghy's Den, since the completion of renova tions over a month ago. To day, Clinton Dining Hall is offering international food from 11 a.m. to 8 p.m.. The switch from lunch to din
ner will happen at 4 p.m. Student Association Sena tor for Global Education Nilay Vaidya from Mum bai, India, said he was the most excited for the food to be offered at Clinton.
The goal of the event is to bring awareness to the international students at SUNY Plattsburgh. Inter national students are a population that has his torically made up over 5% of students at higher education institutions, ac cording to International Student Assistant Heather Garcia and Oscar Cedeno, graduate assistant for In ternational Student Ser vices at GEO.
"The purpose of Interna tional Education Week is really to celebrate students who come from all parts of the world to seek educa tion in the United States and abroad," Garcia said.
Vaidya shared his expe rience with international education.
"I know the value that education brings," Vaidya said. "When you go to a different country, you ex plore. You have a different perspective on life, I think, when you return back, and that is the thing that makes me passionate about Inter national Education Week."