SUNY Plattsburgh's independent student newspaper since 1997
MSA gives community during Ramadan
MSA makes Ramadan away from home less lonely
BY JESSE TAYLOR Staff Writer
Students gathered to cook food, pray and celebrate the holy month of Ramadan in the Kent Hall kitchen Sunday. Organized by the Muslim Student Association, this allows Muslim students to have a com-
munity to celebrate one of the most important worldwide religious holidays.
Ramadan is marked by a period of forgiveness, repentance and experiencing how people without basic necessities live. Fasting from sunup to sundown, millions of Muslims around the world partici-
pate in the religious month in an effort to become closer to Allah. Ramadan started March 22 and will continue until April 20 of this year.
Typically, members of the Muslim community gather with family and friends to break their fast at dinnertime, or Iftar.
Having a large community of people to break fast with is one of the highlights of Ramadan. However, before the MSA was established, it was difficult for Muslim students at Plattsburgh to find a community to celebrate Ramadan.
Saran Kaba, vice president of the MSA,
recognizes that. "When I am home my mom, my dad, my sisters, we chat, we eat, we pray together, but we don't have that here," Kaba said.
While having Iftar with friends is not the same as with family, it is better than nothing. Breaking fast and praying alone
during Ramadan is difficult as a follower of Islam. Hawa Sillah, secretary of the MSA, said, "It just gives you a sense of feeling lonely." That is the complete opposite of what Ramadan is supposed to be.
Ethics Institute talks uphold democracy
BY ALEKSANDRA SIDOROVA News & Managing Editor
The Institute of Ethics in Public Life hosted a virtual discussion on transitional justice in Ukraine March 22. More than weekly events about niche topics, they help participants navigate and uphold democracy.
any form of government or political control that the nation is distancing itself from. Transitional justice can appear in the form of purges, trials, truth commissions and amnesty.
Murphy has studied transitional justice for more than 25 years: "Luckily for me, unluckily for the world, the issue doesn't go away."
Criminal Court's recent arrest warrant for Russian President Vladimir Putin.
ROLDNARDY NORELUS/Cardinal Points
Greek life signs on inclusive language
BY ALEKSANDRA SIDOROVA
& Managing Editor
Every one of Greek life organizations at SUNY Plattsburgh signed on an internal contract condemning the use of hateful language earlier this semester.
The contract targets the use of language that is "improper" and does not align with Fraternity and Sorority Life's values of inclusivity, community service and self-improvement.
"We don't accept bias, prejudice, hateful language in our community anymore. We're not going to tolerate it," Emma Peer, president of the Inter-Sorority Association, said. "If it continues, then there will be serious repercussions for whatever organization. We're really trying to get past a lot of issues within our community, and a lot of it has to do with [diversity, equity and inclusion]."
Daniel Lake, director of the Institute of Ethics in Public Life and professor of political science, invited SUNY Oneonta History Professor Matt Murphy to host a talk on transitional justice in Ukraine. It has been more than a year since Russia's launch of an active invasion Feb. 24, 2022.
Murphy first introduced the concept of transitional justice — policies intended to address injustices linked to a previous regime and smooth the transition to a new regime. The term "regime" does not refer specifically to an authoritarian government, but
Some of Ukraine's current domestic acts of transitional justice include introducing legislation outlawing collaboration with an aggressor state and intensifying post-Soviet efforts to "deRussify" the nation. Street names have been changed, statues dismantled and literature removed from libraries, as reported by the international news channel France 24. More people are choosing to speak Ukrainian over Russian as well.
A major point of discussion was the International
The ICC accused Putin of war crimes and "personal responsibility for the abductions of children in Ukraine," according to an Associated Press article March 17. Sharing the latter accusation is Maria LvovaBelova, commissioner for Children's Rights in Putin's office. Such a gesture, as well as the establishment of the International Centre for the Prosecution of Crimes of Aggression against Ukraine by the European Union March 7, can be viewed as acts of transitional justice.
However, neither the ICC nor the EU have the power to enforce their jurisdiction: Putin may be arrested only if a country he is visiting takes it upon itself to send him to ICC's headquarters in The Hague, the Netherlands, or if his political successor does so.
VOLUME 108 | ISSUE 6
FRIDAY, MARCH 31, 2023 OPINION Creed III: movie review page 4 SPORTS WLAX Senior Day page 6 ARTS & CULTURE Dance groups off to compete page 9 THIS WEEK IN PHOTOS Ramadan page 12
JAYNE SMITH/Cardinal Points
Abigail Jarrett, Moustapha Diarra, Sidiya Faye, Jana Bar, Eleham Musah and Chelsie Knight pose in the Kent Hall lounge after decorating it for Ramadan March 22.
News
CONTRACT > 3
ETHICS > 2 RAMADAN > 3
March 23
A student stopped by the University Police station to report harassment from another student.
March 25
While responding to a complaint in Whiteface Hall, a UP officer found cannabis in a student's room, as well as some equipment for its use.
March 26
A 911 call originated from Mason Hall, but the caller hung up.
Weekly Memes
SA funds three club trips
BY HAYDEN SADLER Staff Writer
The Student Association Senate unanimously approved travel funding requests for several different clubs in its meeting March 22. Additionally, senators had some announcements regarding upcoming general elections and on-campus storage for international students.
The first item on the agenda was the approval of $2,000 to the JEDI Dance Club's trip to Albany to attend a dance competition. The club's calculated total was around $1,100, which led to questions about the initial request.
Senator Carter Mosher motioned to approve an amendment to the agenda and change the terms of the request to up to $1,000. The changed proposal was unanimously approved. The funds cover a two-night stay at the Albany Ramada Plaza and the purchase of costumes — rainbow-striped mesh bodysuits — for the 11 attendees.
Black Onyx's request was unanimously approved.
APOSA, Apostolic Students and Associates, requested an $800 travel grant for four students to attend an Easter convention. The club's initial estimate of $800 proved to be higher than needed. The club quickly changed its request to $570, requiring $120 for traveling and $450 for lodging. The request was unanimously approved.
Club International and the club Nepalese at Plattsburgh requested $1,000 for their upcoming event April 8 featuring a pool, sprinklers and powdered dye. The event will be a celebration of Holi, the Hindu festival of color, spring and love. The request was unanimously approved.
The Plattsburgh chapter of the Collegiate Entrepreneurs Organization requested $400 to fund a contest event, where students submit entrepreneurship themed proposals in a Shark Tank-style pitch competition with a prize of $100. Fifty to 60 people are currently expected to attend. C.E.O.'s request was also approved unanimously.
big event, with $100 going toward decorations and the remaining $2,000 going toward Chartwells catering. Sixty to 70 people are expected to attend the event. The senate provided unanimous approval.
The Muslim Student Association had two requests, both of which were approved unanimously.
The SA also talked about paying the $2,885 needed for tax that College Auxiliary Services did not withhold when paying international students their stipends. The base total was $2,200, but $650 interest was added into the final owed amount. The senate unanimously approved the allocation of money.
BRYN FAWN/Cardinal Points
Black Onyx also requested $2,000 to travel to Howard University in Washington, D.C. from April 6 to April 9. The club has plans to attend seminars and visit museums during their trip. The group will travel by van and stay in four hotel rooms priced at $400 each. In addition to finding a place to stay, the cost of transportation was estimated to be around $1,000.
The Plattsburgh Association of Black Journalists requested an additional allocation of $2,000 for its second annual Black Excellence Gala celebrating women. PABJ plans on hosting a student DJ and a poet. However, the cost of tech setup proved to be more expensive than anticipated. Tickets to the event today, March 31, cost $8 per person. The request was unanimously approved.
The Desi Club had a $2,100 additional allocation request for a South Asian Prom Night event. It is the Desi Club's first
The first request was $1,265 for Chartwells to provide food for a Ramadan dinner tonight, March 31, in Kent Hall. All are welcome to come. The second request was for $60 so the club can acquire ajwa dates — a type of dates that grows in and around the holy cities of Mecca and Medina in Saudi Arabia.
The club LEGO, Learning and Experiencing God, was also present with a request for $1,497 for their Easter event in the Warren Ballrooms of Angell College Center. The event will be held April 9 and will be a celebration with praise dancing, gospel and a guest speaker. Tickets will be $7. The request was also unanimously approved.
Ex-officio positions were also approved for some of the senators. Arshita Pandey was approved as senator for campus safety, Dipekshya Karki was approved as senator for College Auxiliary Services and Sumeet Vishwarkarma was approved as senator for the Legislative Review Board. Carter Mosher was also approved for the position of senator for the Art Acquisition Board. Finally, senators had some announcements to make. Mosher announced his upcoming run for SA president in the next election, to happen in April. Pandey announced another run for senator. Lastly, Senator Nilay Vaidya assured that international students will receive an email regarding changes to on-campus storage during summer break.
Active shooter sham
The Plattsburgh Police Department received a report of an active shooter at Plattsburgh High School Thursday morning, which turned out to be false.
"There is no shooter. There are no injuries," an emergency alert read.
College President Alexander Enyedi commented on the incident in a campus-wide email later that day.
"Simply seeing emergency responders en route and on the scene at the school evokes deep emotions," the email read. "In today's environment at schools across the nations, this is understandable. As a campus, it is a reminder to care for each other at all times."
Call me not
The campus experienced a phone system outage from 2:48 to 2:56 p.m. Monday, Director and Chief Information Officer of Information Technology Services TJ Myers reported in a campus-wide email. During the outage, the campus phones could not make or receive calls, and there was no dial tone.
CP Corrections
NEWS:
1) In the previous issue's article "UP offers students safe late night walks," the service is listed to be offered from 11 p.m. to 2 a.m. It actually runs from 10 p.m. to 2 a.m.
If you see an error in Cardinal Points, email cp@cardinalpointsonline.com
Burghy's Blurbs GOT A NEWS TIP?
Contact the news editor at cp@cardinalpointsonline.com.
ETHICS
Continued from page 1
The ICC would not have been able to make its ruling had Ukraine not invited its jurisdiction, either.
Yet, it "doesn't mean nothing," Murphy said. While he has low expectations of Putin being punished, he sees value in the ICC's indictment because it serves as a record and requires the accused to respond — Moscow denied the accusation, as AP reported. It also allows other nations to respond and take action while limiting what Putin can do.
Additionally, it is symbolic and potentially stigmatizing to the accused country. "Being stigmatized, being the rogue nation, the country nobody wants
to deal with or nobody wants to cooperate with, it doesn't cause change directly, but it's not something that countries like, either," Murphy said. "It's quite frustrating and irritating for countries to get labeled as 'rogue states' or as 'bad apples.'"
Murphy noted the "transitional justice" label implies the measures are temporary, when, in his view, "it doesn't ever end." This idea came as a surprise to Lake, who specializes in why international conflicts happen.
Lake has held discussions on campus about the invasion of Ukraine shortly after it began.
At the beginning, he was "skeptical" of Ukraine winning the war, but has been surprised at "how much weaker the Russian military is than anybody
thought it was." Lake also thinks the world has learned more about Russia and Ukraine's internal politics within the past year, himself predicting Ukraine will emerge from the war with "certainly a much stronger civil society" and a stronger democracy.
While there is little that individuals and international organizations like the ICC can do in response to international conflicts, learning about war can bring the world closer to peace. For example, the concepts of "war crimes" and guidelines for war did not exist until the late 19th century.
"Change is slow," Lake said, relating the idea to war and social values alike.
Lake thinks recognizing and discussing world issues shows some change in values.
"Back then people would suffer and nobody cared," Lake said.
By engaging in such conversations, one learns to "disagree without being disagreeable" — a quote that is "almost a proverb" to Lake.
There is no "common rule" to ensure the success of conversations on world issues, especially on polarizing and divisive topics, but Lake believes they are important to be had because "civil discourse is a value in democracy."
That's what the Institute of Ethics and Public Life has been striving toward since its founding in 1999, and its work continues in the weekly events it hosts now.
NEWS 2 ▪ Friday, March 31, 2023 ▪ News Editor Aleksandra Sidorova
Student
Association Coverage
Email HAYDEN SADLER cp@cardinalpointsonline.com
Email ALEKSANDRA SIDOROVA cp@cardinalpointsonline.com
Screenshot
Learn more about how JEDI prepared for the competition on page
Learn more about how students celebrate Ramadan on pages 1 and 12.
SUNY Oneonta History Professor Matt Murphy led a discussion about transitional justice in Ukraine over Zoom.
9.
RAMADAN
Continued from page 1
Mohammed Hassan Mohammed, fall '22 alumnus and former member of the MSA, said, "My cousins used to come over to my house — my uncle, my aunt, my grandma, and everybody — and we used to break our fast together."
For MSA, the goal during Ramadan is to give a sense of community rather than loneliness.
In addition to celebrating Ramadan, MSA meets every Wednesday in the Angell College Center to discuss issues, play jeopardy, do arts and crafts and to generally have a meeting place to discuss their faith with a supportive community. Everyone is welcome. Students do not have to be a member of the MSA or a Muslim to attend these meetings.
Those attending MSA meetings and events could be someone who supports the club, wants to know more about the religion of Islam or is simply curious about
CONTRACT
Continued from page 1
the club.
At the beginning of the year, the MSA met to come up with a list of issues they wanted to address, and at each subsequent meeting they have come up with ways to educate people on their faith. The MSA has given presentations on Islamophobia, earthquakes in Syria, and, to start off March — Women's History Month — the important women figures in Islam.
Another one of the key aspects of the club is that MSA also works to clear any "misconceptions" that people may have about Muslims in general.
"One big misconception that we try to avoid is that Muslims support violence," Sillah said.
To combat these issues, the MSA works to educate members of the campus community in a "positive way."
Check out more Kent Hall Ramadan decorations on page 12.
The contract was written over winter break by Peer and three sorority leaders: Delta Sigma Tau President Molly Bowen; Lambda Theta Alpha Latin Sorority, Inc. President Esther Estrada; and Bryn Walsh, president of Alpha Epsilon Phi. All volunteered to work on the contract and contributed equally, Walsh said.
The contract was also reviewed and approved by Director of Fraternity and Sorority Life Allison Swick-Duttine and Vice President for Diversity, Equity and Inclusion Allison Heard.
Walsh volunteered to be part of the contract's creation because she is passionate about the cause and "hated" abusive language being used in Greek life circles and the campus as a whole.
"We all just really want to make a difference and be a part of the difference," Walsh said. "I didn't want to be a bystander and keep watching everything happen."
The contract does not give examples of the language it condemns. This was an intentional move to prevent students from challenging or pushing the limits of the contract, Walsh said.
Walsh likes that there is now a formal document representing Fraternity and Sorority Life's stance on abusive language and holding herself as well as her peers accountable. She also hopes the contract serves as a reminder of a conscious promise to abide by a moral code. Since signing the contract earlier this semester, Fraternity and Sorority Life has not had to deal with any instances of unaccepted language, which Walsh sees as the contract working as intended. She is "optimistic" that this will continue to be the case.
It is unlikely that members violating the contract will be disaffiliated from their organizations, as Greek life membership is usually lifelong, Peer said.
The ISA and Inter-Fraternity Council don't have authority over their member organizations, either, so it will be up to the specific organizations to take action
on any contract violations.
"Addressing historical problems within Greek life," such as when race, class, sexuality, gender identity or religion become barriers for inclusion, will be the focus of the remainder of the terms of Peer and IFC President Deren Purisic. The measures will also serve to combat the stereotype of Greek life as a "popularity contest" and constant partying, Peer said.
"We want people to look at us and see organizations that exemplify tolerance, understanding, compassion, that feel welcoming to people regardless of how they identify in any way," Peer said.
Greek life organizations also host public events and chapter meetings discussing issues of social justice and DEI. In April, Sexual Assault Awareness Month, Fraternity and Sorority Life and DEI will collaborate on a campaign with programming to help students understand, recognize and prevent sexual assault and connect them with appropriate resources.
Heard looks forward to DEI and FSL's joint event called Teal the Quad April 4, where they will tie teal ribbons around trees in Amitie Plaza outside of the Angell College Center.
Teal is the official color of Sexual Assault Awareness Month since 2000, and a teal ribbon symbolizes awareness and prevention of sexual assault.
Similarly to Fraternity and Sorority Life's contract, Heard plans to launch a campus-wide "Erase the Hate" campaign, where she hopes more than one-third of the student body will sign a contract promising to "stop using racial slurs." Heard noted the idea sounds "old-fash-
ioned" in the current year, but said she hears reports of the "c-word," "bword," "n-word" and antisemitic slurs heard on campus, whether yelled "in the wee hours of the morning" or posted to YikYak, an anonymous online forum connecting users by location.
"Maybe we should do a 'Stop the YikYak' campaign," Heard said.
Heard wants students to sign the contract only if they commit to the promise they make.
"It starts at home, it starts with the person, it starts in a person's heart," Heard said.
Walsh said she hopes Fraternity and Sorority Life's steps toward inclusivity
and respect within their own community will spread to the greater campus and city communities through a "ripple effect." While hateful language is legally allowed on campus, whether it is used reflects the community's values, Heard said.
"Clearly, our Greek life organizations made a decision that they hope to have a positive reputation on campus," Heard, who reviewed and approved Fraternity and Sorority Life's contract, said. "In those [Greek] letters, there is an implied respect for people who don't have those letters. Harmful speech is against our values."
Email ALEKSANDRA SIDOROVA cp@cardinalpointsonline.com
NEWS 3 ▪ Friday, March 31, 2023 ▪ News Editor Aleksandra Sidorova
Email JESSE TAYLOR cp@cardinalpointsonline.com
JAYNE SMITH/Cardinal Points
Moustapha Diarra places fake candles in a lantern as he helps decorate Kent Hall's kitchen.
JAYNE SMITH/Cardinal Points
"Women Speak Power" was hosted by the club Womxn in Leadership in collaboration with Lambda Theta Alpha Latin Sorority, Inc. Like other Greek life organizations, Lambda Theta Alpha organizes and participates in events discussing issues of social justice and diversity, equity and inclusion — in this case, women's empowerment.
JAYNE SMITH/Cardinal Points
Angelina Rodriguez, a sister of Lambda Theta Alpha Latin Sorority, Inc., hosts "Women Speak Power."
LGBT community mourns loss
BY BRYN FAWN Opinions Editor & PR Chair
Editor's note: this article discusses suicide and quotes a suicide note. Readers' discretion is advised.
Transgender visibility day is occurring today, March 31.
It is a day to be aware of the struggles of our transgender siblings. Events are being held all day long on campus to celebrate, yet we have lost a bright young soul.
Eden Knight was a 23-yearold Saudi transgender woman. She had lived and studied in the United States for some time until her visa expired and she was manipulated into returning home to Saudi Arabia by her parents. Knight was well-known online for queer and left-leaning individuals, especially on Twitter. Knight has more than 24,000 followers .
Knight often posted jokes and art she enjoyed or retweeted things she resonated with. She made her final tweet March 12.
It is captioned "Final message" and links to her suicide note.
"If you're reading this, I've already killed myself," Knight wrote. "I wasn't strong enough, I don't think there was a universe where I was ever strong enough to survive this."
The lengthy note then goes on to explain why Knight decided to end her life. Her family had hired a pair to supposedly "fix" her and her parents' rocky relationship and w=hired a Saudi lawyer in Washington, D.C. in an attempt to bring her back to Saudi Arabia.
Conditions for transgender individuals in Saudi Arabia are poor. They face social stigma and discrimination. "Cross-
dressing" is illegal. Those found violating these laws can receive punishments such as whipping, imprisonment, fines
'Creed III' excites audience with thrilling conclusion
BY KIYANNA NOEL Arts & Culture Editor
Sold-out arenas, regret and living a life that potentially belonged to someone else. "Creed III" follows the story of Adonis Creed, played by Michael B. Jordan after he has retired from his boxing career, settled down and is living the comfy life. Jordan also directed "Creed III" as opposed to "Creed I" directed by Ryan Coogler and "Creed II" which was directed by Stephen Caple Jr.
That is until a person from his past shows up and everything inevitably goes downhill.
Damian Anderson, played by Jonathan Majors, is an ex-convict who was destined for the big leagues until he pulled
out a gun to save a young Adonis Creed from being jumped by three men. This resulted in an 18year sentence, immediately ending his adolescent boxing career. Or so we thought.
After Anderson serves his time, he shows up outside of Creed's boxing gym to reconnect and ultimately prove he is the best boxer of all time.
While Creed wasn't caught up in the case with the gun charge, he proceeded to pursue boxing and became the Heavyweight Champion. Meanwhile, Anderson feels as though he is watching someone else live his dream behind bars.
As his guilty conscience is eating away at him, Creed allows Anderson to train at his gym, not
knowing that Anderson has other plans. Anderson did whatever he felt needed to be done to have the opportunity to face fighter Felix Chavez, played by Jose Benavidez. Anderson sabotaged the fight by instructing his prison friends to start a fight and break Chavez's opponent Viktor Drago's hand. Creed then allows Anderson to get in the ring with Chavez, only to discover his grimy and dirty tricks after Chavez is beaten to the point of hospitalization. The movie follows the resentment of Anderson toward Creed and ultimately ensuing a professional boxing match between old friends separated by life and its consequences.
and death. The lawyer is only referred to as Bauder. Bauder, with help of the "fixers," lured Knight into a
false sense of security. Knight explains she was "pampered," given an apartment and therapy. However, Knight soon realized it was a ploy to force her to conform to what was expected of her: presenting as male.
Knight recounts how she was trapped by Bauder. She was dependent on him for food and shelter, and he could easily track her down if she were to run. She no longer was legally residing in the U.S., and the threat of deportation loomed over her head.
Knight was slowly whittled down until she snapped. She cut her hair, changed her wardrobe and discontinued her hormone replacement therapy. She returned home to Saudi Arabia.
"I had another breakdown,"
Knight wrote. "My mom kept telling me to repent or I was going to hell, and I did, I repented. I believed I was going to hell so much that I read the entire Quran front to back in a couple of days, crying the entire fucking time about what a disgusting thing I am, and I didn't sleep. I repented, and I was broken."
Knight tried to continue her HRT, but was discovered. She would get her shots but be discovered by her parents. Her parents would berate and abuse her for this. With her third time attempt to take HRT in secret foiled, she had given up. She felt that she could not live if she could not be her true self.
Knight lamented on her life.
Jealousy ends life of Texan mother
BY BRYN FAWN Opinions Editor & PR Chair
A mother's love knows no bounds. Mothers are to cook delicious meals, kiss boo-boos and always offer a warm embrace. However, not every person is meant to be a mother.
Taylor Parker wanted to be a mother. Parker sought motherhood so desperately she shed blood for a taste. Her best friend, Reagan Simmons-Hancock, was seven months pregnant with a baby girl, Braxlynn Hancock.
Parker, 27 at the time, struck in October, 2020. She attacked SimmonsHancock, 21 at the time, and then used the same blade to slice her friend's womb open. Parker then removed the unborn child.
Simmons-Hancock was found mutilated and deceased with her three-yearold daughter alive and alone, in her home in Texas.
Parker was caught speeding down the highway and was pulled over. Parker lied to the police, stating she had given birth on the side of the road and the baby was not breathing. Parker and the child were rushed to a hospital,
where the child was pronounced dead on arrival.
The way in which Parker attacked SimmonsHancock was brutal.
"She slashed her hundreds of times," said Kelley Crisp, First Bowie County Assistant District Attorney, during closing statements. "She beat her with a hammer. You are going to say she's not violent? She ripped her uterus out by the back. Look at what she did."
Parker had lied to her boyfriend for 10 months about being pregnant and
forged documents such as ultrasounds to trick him. Parker even threw a gender-reveal party and announced the "good news" on social media.
Emily Simmons, Simmons-Hancock's younger sister, said in her victim impact statement: "If I visit my sister, I have to go to a graveyard and see a headstone. I will never get a text or phone call from her again."
ROLDNARDY NORELUS/Cardinal Points
MOVIE > 5
ROLDNARDY NORELUS/Cardinal Points
FRIDAY, MARCH, 31 2023 EDEN > 5 BABY > 5
From Idabel Police Department Taylor Parker's mugshot, 2020.
Trump faces legal repercussions
Donald Trump is one of the most intriguing presidents of our lifetime. Trump is the third president to ever be impeached. Trump has, on several occasions, been threatened with legal action. That may finally now come to fruition, three years after his presidency.
Despite the Mueller report, concluding Trump colluded with Russia during the 2016 elections, and the Jan. 6 insurrection, Trump is facing charges for his mistress Stormy Daniels. Manhattan's District Attorney Alvin Bragg is the one to bring these charges against Trump.
If Trump is to truly be challenged, this will be a first for the nation. No president has ever been charged with a crime.
Many Americans, especially those opposed to Trump, lost hope in ever seeing Trump brought to justice and held accountable for his misdeeds against the American people. This can respark that hope.
Allegedly, the charge is related to the hush money Trump paid Daniels to keep their affair a secret. However, there is also suspicion it is related to falsifying business records.
Trump is facing at least four years in prison, if convicted, and more if Briggs throws the book at him.
It's uncertain how Trump would be arrested, whether
Continued from page 4
Simmons-Hancock's mother also called Parker an "evil piece of flesh demon" at the trial.
Parker was eligible for capital punishment if the jury could agree. In November of 2022, Parker was sentenced to death, and currently resides on death row. It took the jury only 90 minutes to return with a verdict.
"It was amazing. She would sit there and have all this information thrown at her, accusations and things said about her that were awful, but she
Continued from page 4
Knight expressed that she understood she wasn't perfect but also did not understand why her life was this way.
"I wasn't always a good or even decent person, at times I was a fucking asshole, and a disgusting human being," Knight wrote. "But there were times I feel like I was good.
I don't understand why I was given this life with these circumstances, every day hurts, every second stings. I have tried killing myself in the past, but every single time I was still holding on by a thread somewhere
MOVIE
Continued from page 4
he would be handcuffed or whether it would even be public. Trump has stated he wishes for it to be a public debacle and ordeal as he believes it will better his chances of winning the 2024 presidential election, as reported by The New York Times. That is if he beats Ron DeSantis.
Trump may also hide in Florida, which would only complicate this ordeal further, as he would be required to appear in New York for court.
Trump has not taken the news of his possible indictment well with his reaction on social media.
"THEY'RE KILLING OUR NATION AS WE SIT BACK
always had a scowl on her face. She didn't look remorseful," juror Mike Riley told ABC News.
Parker was fueled by selfish greed and desire. Not only did she steal a daughter away, but she stole a second and a mother. Simmons-Hancock was a young, bright mother who will never get to see her lone surviving daughter grow up into a fine young woman.
Parker will continue to rot on death row until her execution at a later date. She is one of seven women on death row in Texas.
deep inside me, I think that's why I survived them. This time, I am done. I am tired"
Knight never deserved or earned this blatant abuse. She deserved to be happy and to be able to live her life as her true self.
Knight felt defeated and that she would never be respected in her identity.
"Someone just walked past my car and glanced at me, I wonder if they know I'm gonna kill myself," Knight wrote. "I wonder what they would think about me if they knew who I actually was."
Knight's parents announced her death on Twitter March 14. However, they misgendered Knight and referred to her by her deadname. They used
& WATCH. WE MUST SAVE AMERICA! PROTEST, PROTEST, PROTEST!!!" Trump posted to Truth Social, a social media site he owns.
Even if charged and convicted, Trump could run for presidency behind bars. His arrest could raise tensions again in the country akin to the 2016 election or worse. More families may be torn apart for political differences. Some families have gone radio silent with each other, simply because they may or may not like Trump. Americans became hostile to one another and will belittle and ridicule one another, in-person and online, for whom they voted for in 2016
and 2020.
Trump may finally receive justice for one of the hundreds of crimes he has committed in and out of office, even if it is not the most serious crime. His collusion, inciting the riot, trying to "find" votes to win the 2020 presidential election or having classified documents when he was not cleared to have are some crimes that come to mind. It will set a precedent and allow for Trump to face even more charges. The corruption in our nation may finally face the consequences, as it is not just Trump who has taken advantage of our political system and the power he wields.
What's your most embarrassing first kiss story?
"My current partner and me kissed for the first time at a truth or dare party, and I planned ahead of time with my friend that I'd ask her for a dare and she'd tell me to kiss him — and I did — and the only reason I did was because he was too chicken to do it first."
"I was at Girl Scout camp and it was a dare. I accidentally smashed my teeth on hers. Oops."
"My boyfriend completely missed the first time and tried to play it off as a sneeze."
her legal name instead of Eden. Comments flooded the post stating the sentiment "her name was Eden." The Twitter account has since become private.
Her partner, known online as Parker, also confirmed her death on Twitter.
Her partner tweeted: "Rest in peace, Eden. I will carry you on my shoulders for the rest of my life. Your life will carry meaning. You touched the lives of so many people. I am forever grateful to have gotten to know you."
Knight was loved by many. She was a strong and sweet young woman who had plenty of life left to live.
"That girl was a light," Bailee Daws, a close friend of Knight, told The Independent.
derson saw younger Creed. This scene allowed the characters to acknowledge they aren't children anymore.
"I would give anything to bring her back. Honestly, I really would. Because I loved her –we all did."
Knight's final tweet has nearly 6,000 retweets, nearly 8,000 quote tweets and more than 43,000 likes. The comment section is filled to the brim with supporters. They hoped for her safety until they knew she was truly gone and mourn her loss.
How many more lives must be lost due to hatred and bigotry? How much longer until something is done? The LGBT community has been fighting for justice and rights for decades, and yet the general populous is shocked when a tragedy such as this occurs. The queer community
deserves better. Knight deserved better.
"I wanted to be a leader for people like me, but that wasn't written to happen," Knight wrote in her final goodbye. "I hope that the world gets better for us. I hope our people get old. I hope we get to see our kids grow up to fight for us. I hope for trans rights worldwide."
The United States is facing harsh laws put in place to crush transgender citizens.
It is only a matter of time before the United States will soon mirror Saudi Arabia and Knight will not be the last person to be "fixed."
Although "Creed III" didn't include Sylvester Stallone, it still has been the talk of the town. From its cinematography to the inclusion of American Sign Language, it's safe to say "Creed III" has the potential to be one of the biggest movies of the year.
By expanding the diversity of actors, Jordan truly showed his directorial skills in this film. During the boxing scene when Creed and Anderson were in separate corners of the ring, Creed saw younger Anderson and An-
The movie had celebrities like Phylicia Rashad, who played Creed's foster mother, and Wood Harris, who played Tony "Little Duke" Burton. Toward the end of the film, Creed begins to understand the ulterior motives and challenges Anderson to a major fight.
This fight symbolizes how Creed was no longer running away from trouble like when he was a child, but it also symbolizes how Anderson believes Creed is to blame for his dreams being taken away
from him.
Creed got so caught up in his life that he never thought about what happened to Anderson when he went through the prison system.
During a break before the last boxing match, Burton turns to Creed and tells him: "Let go of what was and welcome what is."
This single quote gave Creed enough motivation to realize where he went wrong in the situation, but to recognize how times have changed and notice how he isn't responsible for Anderson's mistakes that got him arrested in the first place.
The plot of "Creed III" is
precise, consistent and easy to follow even if you haven't seen the previous movies in the series. Not only has it addressed fame, money and manipulation, it also stresses the importance of accountability, trust and communication among people who grow apart. If you are looking for an action-packed movie with family values and multiple hidden themes and agendas, "Creed III" may be just what you are looking for.
OPINIONS 5 ▪ Friday, March 31, 2023 ▪ Opinions Editor Bryn Fawn ACP Hall of Fame Inducted in Fall 2010 All American Spring 2018, four Marks of Distinction Spring 2016, five Marks of Distinction Spring 2014, four Marks of Distinction Spring 2012, four Marks of Distinction Spring 2011, four Marks of Distinction Fall 2010, five Marks of Distinction Fall 2009, four Marks of Distinction Spring 2009, four Marks of Distinction Fall 2008, four Marks of Distinction Spring 2005, four Marks of Distinction Spring 2004, four Marks of Distinction Fall 2003, four Marks of Distinction Fall 2002, four Marks of Distinction Fall 2001, four Marks of Distinction Award Winning Cardinal Points has received the following awards from the Associated Collegiate Press (ACP): Pacemaker Recognition Fall 2010, Honorable Mention 2006-2007, Newspaper Finalist Editorial Taken from 100 participants Editorial Board 118 Ward Hall SUNY Plattsburgh Plattsburgh, NY Editorial Board: cp@cardinalpointsonline.com Contact CP: Editor in Chief Sydney Hakes News Editor Aleksandra Sidorova Sports Editor Collin Bolebruch Graphics Editor Roldnardy Norelus Multimedia Editor Jacob Crawford Public Relations Chair Bryn Fawn Managing Editor Aleksandra Sidorova Opinions Editor Bryn Fawn Arts & Culture Editor Kiyanna Noel Photo Editor Jayne Smith Web Editor Alexa Dumas Faculty Adviser Shawn Murphy Digital 12%
BABY
Physical 88% Email KIYANNA NOEL cp@cardinalpointsonline.com
Email BRYN FAWN cp@cardinalpointsonline.com Email BRYN FAWN cp@cardinalpointsonline.com
EDEN
MARCEL GIBBS/Cardinal Points
Cards celebrates seniors
Women's rugby competes at CRC
BY NICHOLAS COUSINS Contributor
The SUNY Plattsburgh women's rugby team competed in the Upstate NY Division I Collegiate Rugby Championship Qualifier this weekend. Leaving the developmental league, this was a new challenge for the team as they competed against Division I teams as a Division III-sized school. The women, however, did not shy away from the competition and left the tournament with their heads held high and experience in their back pockets.
WLAX breaks records on Senior Day
BY COLLIN BOLEBRUCH
Sports Editor
The Plattsburgh Cardinals lacrosse teams started conference play last weekend, after starting the season playing various opponents from different conferences. Conference game results are the primary factor in determining playoff teams.
WOMEN
Founded in 2019, the Cardinals women's lacrosse team has neither the longevity of Plattsburgh's baseball or men's basketball programs, nor the trophies of its hockey teams. Women's lacrosse is paving its way and making its own history in 2023.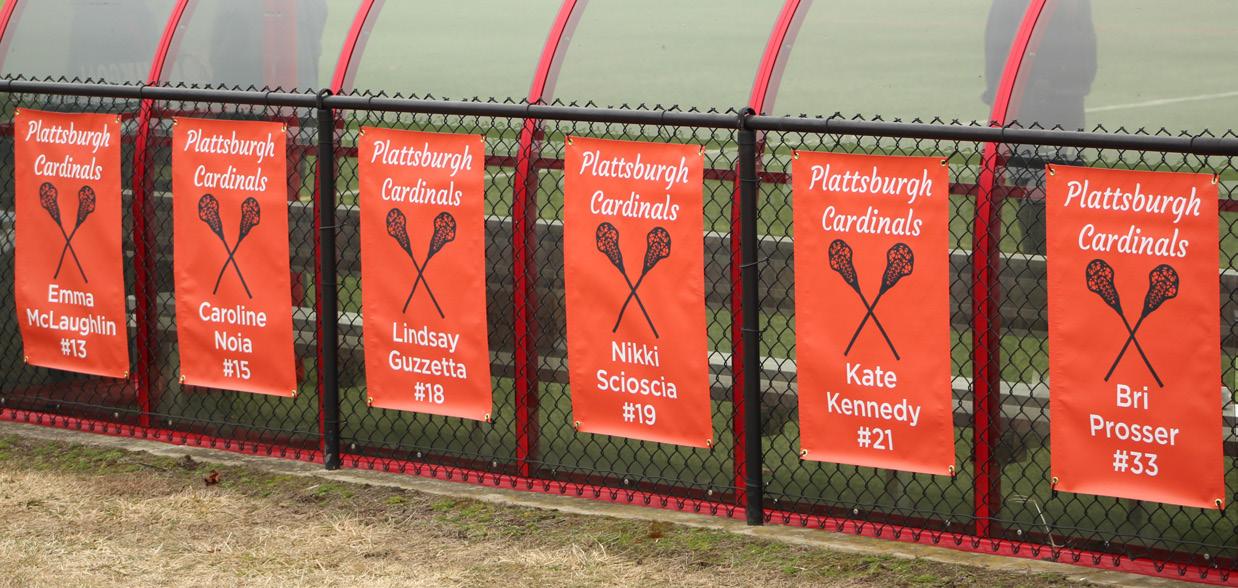 Lindsay Guzzetta wrote herself into the team's record books against Union College two weeks ago, setting career marks in both goals, with 59, and draw controls, with 89.
Guzzetta's first year with the team was in 2020, when the season was canceled after four games due to COVID-19. Since the COVID-related turbulence of her first few seasons, the senior earned the title of captain.
In her final year, she anticipates forgoing her extra year of eligibility.
Head Coach Kelly Wall has essentially been with the team since its inception, missing only 2021 and ascending to her current role in 2022. Wall and former Head Coach Julie Decker were at the helm of the program's first two seasons, establishing the team on campus.
Wall's tenure has proved her integral to the team's history, but she cemented her legacy in Plattsburgh's first conference game this season.
The Cardinals (4-3, SUNYAC 1-1) celebrated its Senior Day and hosted the Buffalo State Bengals (3-4, SUNYAC 0-2) March 25, winning 13-9. The win ascended Wall as the lone honoree of the team's alltime win record by a head coach with nine.
"It means a lot. It helps with recruiting, it helps with the morale of the team. I can't take all the credit. The girls have done it," Wall said. "They worked hard today and that's how we got here."
Against the Bengals, senior Kate Kennedy led the team with a career-high four goals on eight shots.
action, setting the singleseason win record for a goalie with four.
The Cardinals used the conference play-opening home game as an opportunity to honor its seniors — just the program's second group of four-year players. The 2023 class includes Guzzetta, Kennedy, McLaughlin, Caroline Noia, Bri Prosser and Nikki Scioscia. Noia said leaving after the year will be "sad," as this year's seniors have been "building" the team up from the ground. Guzzetta said she "teared up" in the locker room.
"Being a young program, I've been with the other seniors for the past four years and, obviously, I've been looking forward to this day for our whole college career,"
"In the short amount of time, I've definitely had so much support," Prosser said. "It was really emotional."
The seniors took the field with loved ones before the game, receiving flowers and a poster with their name and number to be displayed during the match. The team's fourth-ever Senior Day is an essential part of creating tradition. Wall is excited to be a key member of women's lacrosse's foundational seasons.
Guzzetta received a surprise virtual message at the ceremony from her two brothers, supporting her in her last year. One is stationed overseas as a field artillery captain and the other is a military helicopter mechanic based in Alaska. Guzzetta was "surprised" and "appreciated" the supportive messages.
In their first matchup, Plattsburgh went up against St. Bonaventure, losing 5-43. Plattsburgh's Lauren Gonyo scored the teams try of the match. Plattsburgh then faced Ithaca, losing 5-34. Sophomore Elumedon Iweriebor scored the Cardinals' try in the match. To end the day, Plattsburgh faced the University of Rochester, where it lost a nail biter 10-15. Sophomore Natasha Sheffer scored both of the Cards' tries in the match.
Despite some disheartening losses, the team understands that it will take time to adjust to the new division and there are many areas in which to grow as the season progresses. With the Upstate NY Small College CRC Qualifier approaching this weekend and the TnT Alumni Tournament at the end of April, players
on the team are looking to improve and work on personal goals they have for themselves through the emotions of competition.
Sheffer, a rookie, said she was "extra scared, but it was great to see how the game came together on that level for other teams."
Sheffer paid attention to the chemistry the Division I teams they faced had, and it opened her eyes to the intense competition that takes place.
Shaffer also said the team felt like the "underdogs," and with some players returning this weekend from injury, she is excited for what the team is going to bring going into the qualifier and the team will be ready for TnT.
Shaffer admitted that while she was intimidated before the season started, the older players on the team made her feel welcome. She said "it's nice to know when you are playing that someone will have your back."
Shaffer's goals for the season are to be working on her defense and reading opposing players better in order to make an impact. Shaffer also wants to keep improving in confidence and said her two goals against Rochester gave her a great boost. She said that as a whole, the team needs to work on their spacing on both sides of the field.
Baseball swept in conference opener
BY MIKAI BRUCE Staff Writer
The Cardinals faced off in three games against SUNY Oneonta March 26 and March 27 and lost all three. It played a single game on Sunday, losing 2-3, and then played a doubleheader on Monday, losing the first game 2-3 and the second game 1-5. It was not an ideal road trip for the Cardinals, who are on a 4-10 slump to start the season.
The margin of victory in two out of three of these games was a single run, due in large part to the pitching staff. Game one was a case of the Cardinals getting behind early and not doing enough to get back into the game.
She was followed by Cynthia Barnosky with three and Guzzetta, senior Emma McLaughlin and Caitlin Nash with two. Guzzetta said this win builds "a ton" of confidence for the rest of the SUNYAC games.
McLaughlin tallied two assists and led the team in ground balls with six.
Johanna Malone continues to be the team's only goalie, saving five shots for a 0.357 save percentage. Malone hopped in on the
McLaughlin said. "It was really nice just celebrating together, how long we've been a part of this program."
Kennedy said the festivities helped to fuel her performance.
"It means a lot to me. I have a lot of lack of confidence when it comes to driving and going to the goal, so it really helped my confidence today," Kennedy said.
Despite joining the team this year, Prosser already feels like she's been taken in by her teammates.
The already special win was sweetened by the Cardinals and Bengals' history. The Cards' victory marks the first time it's won the matchup. Last season, Buffalo State bested Plattsburgh in its own Senior Day, so this year, the Cards were determined to get even.
"Definitely, revenge is served. We've just always battled with them. They're a pretty aggressive team," McLaughlin said. "Winning that day definitely set the record straight that we're the better team."
Oneonta scored three runs in the second inning, the only inning that it scored in, thanks to a good pitching performance from Sean Malamud, but the Cardinals batters could not capitalize on this opportunity. In eight innings pitched, Malamud allowed seven hits and three runs and struck out two Red Dragon batters.
"After this series we can see that we need to get our bats going. As a pitching staff we're killing it and keeping ourselves in the game at all times. I know our bats have talent and will wake up soon and hopefully we can have some luck on our side when we do barrel up the ball," pitcher Sean Malamud wrote in a text. "We'll have to dig ourselves out of this slump and get it going for the rest of the season."
The team is aware of the talent it has, but it can't piece together important wins until the batters get out of its funk. BASE
FRIDAY, MARCH 31, 2023 RESULTS: UPCOMING: Saturday, March 25: WLAX 13-9 win vs. Buffalo State* MLAX 9-18 loss @ New Paltz* Sunday, March 26: BASE 2-3 loss @ Oneonta* Monday, March 27: BASE 2-3, 1-5 losses @ Oneonta (DH)* Wednesday, March 29: SB 4-3, 7-4 wins @ Skidmore College (DH) WLAX 10-11 loss @ New Paltz* Friday, March 31: BASE @ Brockport (DH) at 11 a.m., 2 p.m.* Saturday, April 1: BASE @ Brockport at 11 a.m.* Outdoor T&F @ St. Lawrence at noon (season opener) MLAX @ Oswego at 1 p.m.* WLAX vs. Geneseo at 1 p.m.* (Morgan's Message Game) Monday, April 3: SB @ Castleton (DH) at 3 p.m., 5 p.m. Tuesday, April 4: SB @ Clarkson at 3 p.m. WLAX @ Utica at 4 p.m. (rescheduled from March 4) * = conference opponent
JAYNE SMITH/Cardinal Points
Signs on the sideline fence commemorate WLAX's 2023 senior class.
JAYNE SMITH/Cardinal Points
Cynthia Barnosky (20) and senior Lindsay Guzzetta (18) embrace senior Kate Kennedy after she scored a goal.
"Definitely, revenge is served," Emma McLaughlin said.
"Winning that day definitely set the record straight that we're the better team."
LAX > 7
7
>
RGBY > 7
13
9
BASEBALL
Continued from page 6
The Cards struck first, putting itself in a position to succeed. In three out of its four wins this season, Plattsburgh was never behind in score. Guzzetta, assisted by McLaughlin, put the ball in the net just past the game's two minute mark.
The Bengals evened the field a minute and a half later, and the Cardinals took it personally.
Plattsburgh shut out Buffalo St. for the rest of the first quarter and seniors Kennedy and McLaughlin took the lead back, making the score 4-1 before the first buzzer.
"I think our defense was really well-communicated.
SOFTBALL
I always feel like defense is one of the biggest parts on our team," Scioscia said. "[The offense was] really put together and they were
RGBY
MEN'S LAX
totally in-sync."
A Kennedy goal six minutes into the second quarter increased the lead to five and the Cardinals didn't let up, as Plattsburgh held a lead of two or more points for the rest of the game. Barnosky buried the gamewinning 10th goal in the third quarter. The Cards held a six-goal lead with 11:29 left in the fourth, its largest of the day.
Early in the season, the assertive win may be one of the most important of the year. Sending
Continued from page 6
Iweriebor said it was interesting to see how the Division I teams played, saying "this was a good experience for what is coming up," and believes "the team has a good chance of doing well" in the upcoming qualifier.
This is Iweriebor's second year on the team, and she still wants to improve her tackling and, just like her teammate Shaffer, continue to maintain confidence. About herself, Iweriebor said she is a good player and is valuable to the team, believing that she belongs here and there is always more to learn.
WOMEN'S LAX
"This tournament was a great learning opportunity for our team. Many new players got to experience the game that is rugby. We were able to notice our strengths and our weaknesses," Plattsburgh's Alexandria Lia said.
Lia also said the goals she has for herself as a player are to improve defensively and overall for the team to improve their communication on the pitch.
The women know what their goals are and are committed to improving their habits and gaining more experience as the intense competition continues to come their way.
a message to the SUNYAC that the team is competitive and setting the tone for the rest of the season is crucial to achieving the team's ultimate goal of making the playoffs.
"It's huge. We didn't play amazing last year against them, so to come out and control the game from the beginning is a huge step in the right direction for us," Wall said.
Plattsburgh then went on the road March 29 to play the New Paltz Hawks (5-3, SUNYAC 1-1), losing 1011. The Cardinals led with nine and a half minutes left in the game, but two late Hawks scores turned the tides. Plattsburgh returns home April 1 to play the Geneseo Knights (4-2, SUNYAC 2-0) in its Morgan's
Message dedication game.
"I think for the rest of the conference games, we're a pretty underestimated team due to the newness of our program,"
McLaughlin said. "I think we have a lot to show to other teams and they're not going to expect it coming from us."
MEN
The men's team (2-6, SUNYAC 0-1) did not see the same result as the women in its first conference game. The Cardinals traveled to New Paltz to play the Hawks (5-2, SUNYAC 1-0), losing 9-18. The loss marks the team's sixth straight, but it's not for a lack of effort.
Plattsburgh led New Paltz in ground balls, with
32 to the Hawks' 31, and shots, with 50 to the Hawks' 37. The numbers suggest an impressive but unlucky game for the Cardinals.
Attacker John Eiseman led the team with three goals and an assist for a total of four points. Behind him, eight different Cardinals recorded a single point. Midfielder Jimbo Farrelly notched eight ground balls and defender Kyle Ruland had two caused turnovers.
Dan Clements, the team's primary goalie, started the game and had 14 goals allowed and six saves before being pulled before the fourth quarter. In fifteen minutes of action, Jack Mulcahy had four goals allowed and two saves. Plattsburgh held its own through the first half, keeping the game tight. The Cardinals pulled within one point twice in the first and never trailed by more than four points. Strong third and fourth quarters by the Hawks sealed the game.
The Cards stay on the road for its April 1 game against the Oswego Lakers (7-2, SUNYAC 2-0).
Historically, Plattsburgh has Oswego's number, not losing to the Lakers during the 2010s. The road conference matchup will be another chance for the first SUNYAC win of the Darry Thornton era.
Continued from page 6
The second game was a bit more heartbreaking. Tied after six innings and in position to win, the Cardinals gave up a single run in the seventh inning, which gave Oneonta the lead. The Cardinals were never able to regain it.
"We didn't capitalize during the series when we had the opportunity. They made the big plays and we couldn't quite do the same," pitcher Tyler Kohn
wrote in a text.
Simply put, the Cardinals have to take advantage of the position the pitching staff is putting them in game after game.
The third and final game was the worst loss of the three. After Oneonta scored four runs in the first two innings to the Cardinals zero, pitcher Andrew Veit held Oneonta runless until the eighth inning. The Cardinals scored its first and only run in the sixth inning and couldn't get in a rhythm in order to close the distance on the Red Dragons' lead.
"Two strike approach has to
RECREATIONAL & INTRAMURAL
be better moving forward as well as hitting with runners in scoring position," Head Coach Sam Quinn-Loeb said.
The overarching theme of the series against Oneonta was that the batters have to be better. The pitching staff is putting them in position to take over these games and it just has not happened. They have the talent to do so, but it's all about executing and securing wins.
SPORTS 7 ▪ Friday, March 31, 2023 ▪ Sports Editor Collin Bolebruch
Saturday, April 1: Women's rugby competes at the Small College CRC Qualifier in Ithaca 3:30-9:50 p.m. Corec pickup badminton at Memorial Hall noon-2 p.m. Corec pickup cricket at Memorial Hall 2-4 p.m. Open women's volleyball at Memorial Hall 4-5 p.m. Sunday, April 2: Men's rugby competes at the SUNY Potsdam 7's Tourney 9:30 a.m.-4:45 p.m. Monday, April 3 & Wednesday, April 5: Open men's basketball at Memorial Hall 3-5 p.m. Tuesday, April 4 & Thursday, April 6: Open women's basketball at Memorial Hall 5-6 p.m. Corec pickup indoor soccer at Memorial Hall 6-8 p.m.
STANDINGS TEAM SUNYAC OVERALL Oneonta 3-0 15-3 Brockport 3-0 11-6 Cortland 3-0 12-7 New Paltz 0-3 6-9 Fredonia 0-0 4-8 Oswego 0-3 5-11 Plattsburgh 0-3 4-10 STATISTICS RUNS BATTED IN # Alex Kornblau, INF 10 Nick Cergol, 3B 9 Kyle Cremin, 3B 6 OPS (ON-BASE + SLG) # Alex Kornblau, INF .946 Kyle Cremin, 3B .872 Nick Cergol, 3B .762 EARNED RUNS AVG. # Chris Santic, LHP 2.96 Andrew Veit, SS/RHP 3.52 Sean Malamud, RHP 4.10
STANDINGS TEAM NEWHL OVERALL Cortland 0-0 8-2 Plattsburgh 0-0 6-2 New Paltz 0-0 9-6 Buffalo St. 0-0 7-5 Geneseo 0-0 6-6 Oswego 0-0 3-9-1 Brockport 0-0 3-9 Oneonta 0-0 3-10-1 Potsdam 0-0 2-8 Fredonia 0-0 1-11 STATISTICS RUNS BATTED IN # Julia Golino, P/INF 9 Kristina Maggiacomo, P/OF 8 Langdon, Waite 6 OPS (ON-BASE SLG) # Kristina Maggiacomo, P/OF 1.362 Kristen Langdon, OF 1.036 Kylie Persampire, INF 1.000 EARNED RUNS AVG. # Morgan Ormerod, P 2.10 Kristina Maggiacomo, P/OF 2.53 Julia Golino, P/INF 3.73
STANDINGS TEAM SUNYAC OVERALL Oswego 1-0 3-1 New Paltz 1-0 5-2 Oneonta 1-0 5-2 Geneseo 1-0 6-3 Cortland 0-1 5-3 Potsdam 0-1 5-3 Brockport 0-1 2-6 Plattsburgh 0-1 2-6 STATISTICS POINTS # John Eiseman, A 20 Mike Walsh, A 18 Robby Martin, A 13 GROUND BALLS # Julian Pigliavento, D 36 Jimbo Farrelly, M 25 Eiseman, Ruland 16 SAVE PERCENTAGE # Dan Clements, G .508 Jack Mulcahy, G .444 Richard Vaselli, G .400
STANDINGS TEAM SUNYAC OVERALL Oswego 2-0 7-2 Cortland 2-0 6-3 Geneseo 2-0 4-2 Oneonta 1-0 2-7 New Paltz 1-1 5-3 Plattsburgh 1-1 4-3 Fredonia 0-2 5-5 Buffalo St. 0-2 3-4 Potsdam 0-2 2-5 Brockport 0-1 1-4 STATISTICS
# Lindsay Guzzetta, M 21 Emma McLaughlin, M 21 Cynthia Barnosky, A 13 GROUND BALLS # Emma McLaughlin, M 33 Lindsay Guzzetta, M 21 Lillian Gilroy, D 14 SAVE PERCENTAGE # Johanna Malone, G .392
POINTS
LAX
JAYNE SMITH/Cardinal Points
Emma McLaughlin (left) evades a Buffalo State defender, attempting to move the ball.
JAYNE SMITH/Cardinal Points Coach Kelly Wall analyzes the game.
Email COLLIN BOLEBRUCH cp@cardinalpointsonline.com
BASE
MIKAI
cp@cardinalpointsonline.com
Email
BRUCE
Email NICOLAS COUSINS cp@cardinalpointsonline.com
Cardinal Points Archive
Baseball's conference season did not begin the way the team wanted to, losing its first three games.
Morgan's Message reaches Plattsburgh
BY COLLIN BOLEBRUCH Sports Editor
The stigma surrounding mental health has lifted its veil over the last few years. Media has more openly discussed mental health awareness, public figures are more likely to share their stories and more Americans than ever before are experiencing mental health conditions.
Though there are now more mental health resources than ever, there is still a crisis among student athletes.
In 2019, former Duke lacrosse player Morgan Rodgers committed suicide. According to the Morgan's Message website, Rodgers developed high levels of anxiety in 2014 while being recruited by Division I women's lacrosse programs during her senior year of high school. Rodgers joined 30% of women's college athletes and 25% of men in having anxiety, as reported by the American College of Sports Medicine (ACSM).
In January 2017, weeks before her Blue Devil season began, Rodgers suffered a significant leg injury. She missed the entire season, received surgery and rehabilitated her leg for a calendar year. The injury was a blow to her confidence.
Being away from the team and other life factors were devastating to her anxiety and developing depression. Rodgers did not reveal her worsening condition to loved ones. According to the ACSM, just 10% of college athletes with mental health conditions see professionals.
After her death, Rodgers' family founded a non-profit called Morgan's Message, dedicated to bringing awareness to athletes' mental health with the hope to elevate it to the same importance of physical health. Morgan's Message has since become a platform for athletes to tell their stories.
Rodgers is not alone in her experience. During the 2022 spring season, five NCAA athletes committed suicide, including Stanford goalkeeper Katie Meyer.
Rachel LaMar, Plattsburgh lacrosse player and former soccer player, was especially "struck" by Meyer's death. Her teammates shared that feeling. Around that time, LaMar discovered Morgan's Message on social media, watching videos of athletes telling their mental health stories.
LaMar found the content encouraging, believing that vocalizing stigmatic experiences would make it easier for more athletes to come out about their struggles.
"We have nothing like that at Plattsburgh," LaMar said. "We have no opportunities to do that with each other at Plattsburgh. We just thought that that needed to change or something bad was going to happen."
Caitlin Nash, LaMar's lacrosse teammate, remembered hearing about Meyer's death on the
team bus. LaMar spread the idea of founding a Morgan's Message chapter at Plattsburgh to her teammates and everyone was "really supportive." That's when she took action.
To begin the process of founding a Morgan's Message chapter at Plattsburgh, LaMar had to go through both Morgan's Message and SUNY Plattsburgh.
volved in athletics, because you have more standards, more people looking at you, more things to prove and you have more people to answer to," Healis said.
"When you're on a team, you have to physically perform and I think people forget the mental side of that."
LaMar had never been a member of a club on campus before and now she was starting one. She described the process as "long," including getting in contact with the Student Association, getting signatures from SA members, writing articles for the club, assigning officers and speaking in front of the SA board. After a favorable vote from the board, the Plattsburgh chapter of Morgan's Message was founded in the fall 2022 semester.
joined with the anticipation that her involvement in the Student Athlete Advisory Committee would help spread word of the club. Her responsibilities include fundraising and helping to plan events.
White believes athletes put mental health on the backburner once they accomplish playing the sport at the college level. She thinks the club can surface difficult conversations by creating a safe space for Cardinals to share personal experiences.
As president, LaMar runs the club's monthly meetings. Morgan's Message sends her resources, slideshows and other content to present to the club members, touching on topics like self-harm and eating disorders. LaMar also organizes events, like Morgan's Message dedication games, with the ultimate goal of reaching student athletes.
"I think that it's going to make for the athlete community to feel more safe with each other and talking to each other. It's going to bring everyone together a lot more," LaMar said. "It would be a good place for everyone to come together and realize that we are all going through the same thing whether or not we know it. It's good to have those people around us to feel less alone."
vironment within the program.
"We all try to support each other. You can tell sometimes if someone's having a bad day, and you don't even really need to ask what's going on, but just say, 'Hey, we're here for you,'" Krauseneck said. "Something like that, just a little boost to maybe help someone if they're down. Stuff like that goes a long way."
Krauseneck's teammate Mae Olshansky is a member of Morgan's Message and attends the meetings. She heard about the club "through the grapevine" of women's sports and thought having open conversations about mental health would be interesting.
Olshansky is from Chicago, but started attending prep school in New England during her high school years. She said the feeling of having to grow up quickly and being away from home helped her realize the significance of mental health.
Olshansky emphasized the importance of having a trusting and comfortable environment to facilitate personal conversations, where no one feels pressured. She's glad to be able to use her platform as a women's hockey player to represent Morgan's Message's cause to the Plattsburgh community outside of the school.
LaMar was approved to become an official Morgan's Message ambassador through an application process. She received training and resources and is now an extension of the organization.
Now certified by Morgan's Message, LaMar had to establish club status with the school. One of the first steps was to find a staff member who would become the club's adviser.
LaMar originally approached Associate Director of Athletics and Senior Woman Administrator Cheryl Cole with the idea. Cole, former head coach of the women's basketball team for 24 years, has a long history with the mental side of sports.
"[If] you aren't taking care of your mental health, you're not going to be able to perform physically, athletically or academically," Cole said. "If you roll your ankle or jam your finger, you go immediately to the trainer and there's no stigma to it, it's just what you do. You rehab and you get your butt back as quick as you can back in with your team. But if you're struggling mentally, it has been in the past, and still to some degree, taboo to talk about or taboo to realize, 'I need some extra help.'"
Cole was fully supportive of LaMar's goals and directed her to Kelsea Healis, the head coach of the women's volleyball team, who "jumped" on the opportunity. Healis emphasizes mental health during checks with her athletes.
"I think there's a higher level of expectation when you are in-
SAAC hosts Easter egg hunt
BY COLLIN BOLEBRUCH Sports Editor
The Student Athlete Advisory Committee is hosting its annual Easter egg hunt at the Field House Sunday, April 2 at 10 a.m. The event is aimed toward children in the community, ranging from toddlers to teenagers.
The field will be divided into age groups with obstacles hiding eggs for participants to discover in each section. All Plattsburgh Cardinals teams will be volunteering with the SAAC to interact with the participants
Naturally, LaMar took the helm as the potential new club's president, recruiting Nash as Morgan's Message's secretary, former soccer teammate Amanda Cohen as vice president and volleyball player Lily White as treasurer.
Nash takes notes at the meetings, keeping track of ideas, events to be organized or conversations that were had. She wants to make sure the Plattsburgh chapter can help give students both the platform and comfort to have a voice. Nash said SUNY Plattsburgh should provide a specialized sports psychologist.
"I've seen a lot of people, I've seen some of my friends, some of my competitors just struggle with their mental health. Having seen that, just, it hurts. It hurts," Nash said. "You don't want to see someone struggling."
Cohen and LaMar work closely, sharing responsibilities. Cohen said that despite athletes' tough image, mental health still affects them. She hopes the club can dispel the uncomfortable nature of conversations about the topic, creating a safe environment.
White, LaMar's roommate,
and help everything run smoothly.
Morgan's Message hosted its first event, coordinating with the women's hockey team to promote its cause during a Feb. 3 game against the Cortland Red Dragons. Morgan's Message was in the lobby of the Field House to discuss the club with attendees. Before the game, it was announced the game was dedicated to the cause and a moment of
White's teammate Kyleigh Ganz is also a member. Ganz joined as a friend of White, knowing she wanted to bring attention to an "underappreciated" factor in athletics. Like many other athletes, Ganz pointed to COVID-19 as a wake-up call in regards to mental health.
"My teammates around me struggle, and knowing that there was pretty much nothing I could do at that moment in time just made me realize how important it is in general," Ganz said. "Now I notice it way more, like if I see teammates struggling, I can pick up on those signs a little bit earlier."
Morgan's Message hosts its next dedication game in collaboration with the women's lacrosse team, as the Cardinals host the Geneseo Knights Saturday, April 1. The ceremony will be similar to women's hockey's, but it will feature LaMar and Nash on the field.
silence was held.
The Cardinals wore ribbons to the rink and a Morgan's Message sticker on its helmets that remained there for the rest of the season. Sara Krauseneck, senior and team captain, values the importance of mental health and helps to maintain a positive en-
Golden eggs will be among the regular eggs, and participants that find them will be awarded a special prize after the hunt. Prizes, like Plattsburgh Athletics apparel, have been donated by Cardinals teams.
Last Halloween, SAAC ran "Trunk or Treat" at the Field House, where local children walked car-to-car in the parking lot to collect candy during the day.
Plattsburgh athletes attended that too, with a car for each team. Players arrived in costume — the tennis team wore matching M&M's shirts and the men's soccer team had its favorite soccer player's jerseys.
The hunt will be an opportunity for SAAC and the athletic department to connect with the community.
"I would really like to have representation from all the teams because I think the stuff that we're going to be doing and talking about is going to be very important to take back to all of our teammates and our coaches in order for it to actually make an impact," LaMar said. "The ultimate goal is just to have a more tight-knit kind of community and just make sure everyone feels comfortable with themselves and with each other and making sure that mental health isn't something that
scared to talk about."
SPORTS 8 ▪ Friday, March 31, 2023 Sports Editor Collin Bolebruch IN THE CARDS
we're
Photo provided by Rachel LaMar
(Back row) President Rachel LaMar, Secretary Caitlin Nash, member Lauren Haley, (front row) Vice President Amanda Cohen and Treasurer Lily White run a booth at women's hockey's dedication game.
Photo provided by Rachel LaMar
WHKY sports Morgan's Message logo stickers.
Email COLLIN BOLEBRUCH cp@cardinalpointsonline.com
Email COLLIN BOLEBRUCH cp@cardinalpointsonline.com CARDINAL CLIPS
Dance groups to compete at SUNY Albany
BY KIYANNA NOEL
Tensions are high but the energy is even higher. Dance teams Spicy Island Tings and JEDI Productions combined dancers to compete at University of Albany's Jamaican Student Association's 13th Annual Dancehall competition March 31 at 7 p.m.
The competition will include dance performances from Under Construction, Stilettos and Maddshott — all student dance groups at UAlbany.
The competition also features a special performance from Jamaican singer Konshens, who created the hit songs "I'm Coming" and "Bruk Off Yuh Back." The event will be hosted by DJ Tek Ravers.
JEDI President and Choreographer Yisselli Sandoval expressed how the teams have worked endlessly every day just to prepare for this competition.
"For the last two weeks we've been practicing for this competition," Sandoval said.
"Every day, even Friday or Saturday, [the dancers] have been putting in the work."
Although the dancers are full-time students, that doesn't mean school is on hold because of a competition.
Assistant choreographer of Spicy Island
Tings Tai'jah Neil critiqued practice with a computer in her hand while paying attention to each and every dancer, never forgetting it's midterms week.
Spicy Island Tings Choreographer
Thomeisha Belle made sure throughout these past two weeks to keep everyone on
their toes and to keep an eye out for mistakes in new choreography so the team can "practice, perfect and perform" more efficiently before competition day.
Even when miscommunications happen, this team knows when and how to address the problem, center themselves, motivate each other and continue to push each other to do the routine with high energy and passion.
Motivating and combining two diverse teams may be a challenge for some, but the JEDI Choreographer Justice Hall makes it look easy every practice. Hall constantly reminds members to take deep breaths and that they're "good and got this."
DANCE > 10
Love letters on display at Krinovitz
BY JESSICA LANDMAN Contributor
SUNY Plattsburgh alumnus Mason Barber will return for the piano recital "A Fool for Love" featuring Karen Becker on piano and Sylvia Stoner-Hawkins as soprano.
This recital will take place in SUNY Plattsburgh's Krinovitz Hall located in Hawkins Hall April 1 at 7:30 p.m.
The recital will be following a master class March 30 from 3 to 5 p.m. in Krinovitz Hall hosted by Stoner-Hawkins available to music students.
Stoner-Hawkins is the Senior Artistin-Residence in Voice at Skidmore College in Saratoga Springs, New York. In the master class, she will be working with students on their repertoire and interpretation of it as well as their vocal technique. Both the master class and the concert are free to attend.
A master class is an open lesson where students get the opportunity to work with an expert in their field. The singers for this master class are predetermined, but everyone is welcome to go to see the inner workings of preparing a recital or concert.
The theme of "A Fool for Love" is letters — more specifically, love letters, ranging from pieces of music by particular composers to love stories about composers paired with pieces of their music.
Performing on April Fools Day, Becker wants to bring in the idea of romantic misfortunes by having every love letter performed be some failed or unrequited love story from a composer, thus creating the idea for "A Fool for Love."
"Since classical music is what we call art music, it's helpful to make it more accessible by giving a recognizable theme or something that [students] can really relate to," Stoner-Hawkins said.
Becker and Stoner-Hawkins will be reading several of these love letters and performing romantic-era pieces from composers such as Robert and Clara Schumann, Johannes Brahms and Ludwig van Beethoven.
Brahms and the two Schumanns were composers in the romantic era, which began around 1830 and ended in the early 1900s. Brahms fell in love with Clara Schumann, who was already married to Robert with a house and children. Throughout this recital,
Becker will read the many letters between Clara and Brahms.
The recital will follow that love story through the written letters from Brahms, accompanied by pieces written by Brahms and performed as solos by both Becker and Stoner-Hawkins.
From there, Barber will read Beethoven's letter addressed to an "Immortal Beloved."
Since the letter has no name within it, several theories have formed about who it was written about. The letter became famous because of the speculation and mystery behind whom it was meant for.
"Beethoven was famous for unrequited love," Becker said. "He was a rather toady man and always falling in love with women who did not return his affections."
Becker will accompany this reading with part of Beethoven's sonata, which was composed around the same time that the letter was written.
Beethoven's letter will be followed by a scene from Pyotr Tchaikovsky's opera "Eugene Onegin." The opera is about a woman who wrote a love letter for a man who rejected her.
The story follows his regret of letting her go. The heartbreaking narrative is paired with dramatic music composed by Tchaikovsky to create a fascinating love story.
After intermission, Becker and Stoner-Hawkins will play songs composed by Lee Hoiby. Much of Hoiby's work is based upon the idea of love and writing letters to express love.
The recital will end with a musical theater piece called "Tell Me on a Sunday." This piece, from the play of the same title, with music by Andrew Lloyd Webber and lyrics by Don Black, is a piece about a man leaving a woman who is still in love with him.
If tragic love stories or the mystery behind one of the most famous love letters intrigues, consider spending some of your last hours of April Fools Day in Krinovitz Hall.
FRIDAY, MARCH 31, 2023
Arts & Culture Editor
KIYANNA NOEL/Cardinal Points
Spicy Island Tings and JEDI dancers work on their triangle formation to create a cohesive set of steps.
Email JESSICA LANDMAN cp@cardinalpointsonline.com
BRYN FAWN/Cardinal Points
KIYANNA NOEL/Cardinal Points Choreographers Thomeisha Belle and Justice Hall instruct dancers on a specific section of the choreography.
Recognizing crime before and after COVID
BY JEREMY BINNING
Dr. Mustafa Demir held a presentation on Zoom March 21 about crime before, during and after COVID-19 restrictions.
Demir is an associate professor in the criminal justice department who spent 20 years as a police administrator with the Turkish National Police. He has experience working with the United Nations and the Organization for Security and Co-operation in Europe. Demir earned his PhD in criminal justice at Rutgers University. He also received his MA degrees in criminal justice from both Rutgers University and John Jay College.
The presentation centered around the research he conducted in Burlington, Vermont. It began with facts about the effects of COVID, including statistics about the number of COVID deaths from the coun-
Continued from page 9
try compared to the state. The presentation continued by introducing various theories as to why crime increased with COVID restrictions. Demir explained the demographic of Burlington; the population is approximately 42,500, with 85% of the population being white.
Furthermore, a year before COVID 100 officers were sworn in but that number decreased to 68 in 2020.
Later on in the presentation, Demir showed slides that contained a chart of different types of crimes before and after the restrictions were implemented. He narrowed it down to three types: violent, property and quality-of-life crimes. The first chart shown was on violent crimes and he pointed out the sudden increase as the restrictions began.
However, they would quickly decrease again and have been trending both ways as time continued. Property crimes significantly increased since restrictions
JEDI Dancer Chanalle Wilson recognized the effort of all choreographers to not only make the music mix, but put together a cohesive dance.
"This competition means showcasing the hard work we've been doing. We put blood, sweat and tears into these dances," Wilson said. "All the dancers are working hard, harder than they've ever worked before."
This competition represents more than showcasing the talent at SUNY Plattsburgh, but it's a chance for all dancers to show off their skills and represent themselves.
"Although practice may run late some nights, it's just to make us better prepared for competition day," Spicy Island Tings dancer Angelina Briggs said. "I'd rather stay late than go to Albany looking unprepared and unrehearsed."
With a new audience and a different style of dance, the dance teams have spent time in and out of the basement of Harrington Hall studying and perfecting their moves for the big day.
"The question isn't 'Are we ready for Albany?' The question is 'Is Albany ready for us?'" Hall said.
Email KIYANNA NOEL cp@cardinalpointsonline.com
After their stretch, dancers
started. Lastly, the quality-of-life crimes were significantly down because of the quarantine mandate.
After extensive research, Demir created a summary. He found that before the restrictions, all of the crimes had a decreasing track. Violent and quality-of-life crimes continued to trend down, mainly due to restrictions to being outside and around people, whereas property crimes increased. In post-COVID restrictions, only violent and property crimes continued to increase.
Skylar Ebalarosa, a student of Demir, attended the Zoom presentation as a part of the credit for her class. Describing the event, Ebalarosa felt that she took a lot away from the presentation.
"I was shocked to see how drastic the restrictions affected the crime wave during that time," Ebalarosa said.
Perhaps the biggest takeaway Ebalarosa got from the slideshow was the
explanation of the general strain theory and how it could explain some of the increases in crime.
"This theory made the most sense to me personally because it explains how some people react to negative emotions and can lead them to do things that aren't acceptable," Ebalarosa said.
The presentation was intended to inform students about the trends in crime before and after COVID restrictions. Demir explained and supported his findings with relevant facts based on the research he conducted in the Burlington area. This presentation was put together by Tuesday Talks with the help of Dr. Jamie Bapp, the associate dean of arts and science.
ARTS & CULTURE 10 ▪ Friday, March 31, 2023 ▪ Arts & Culture Editor Kiyanna Noel
DANCE
KIYANNA NOEL/Cardinal Points
adjustments,
of JEDI
create a fun and
After minor
dancers
and Spicy Island Tings
energetic dance sequence.
KIYANNA NOEL/Cardinal Points
get ready to practice their first routine.
Staff Writer
Email JEREMY BINNING cp@cardinalpointsonline.com
Roldnardy Norelus/Cardinal Points
CALENDAR April 2 - 7
ALL WEEK: Conscientious Collectors exhibition - Myers Fine Arts Building
Origins: The Evolution of an Artist and His Craft exhibition - Rockwell Kent Gallery, Feinberg
SUNDAY 4/2
Group Exercise:
- 30MinSpin with Kristina
- Traditional Yoga with Saanvi
- 15MinMeditation with Saanvi
Algonquin Hall
6 - 7:45 p.m.
All group exercise classes will be held in Algonquin Hall. Please bring water; clean and sanitize any equipment prior to and after use. Cleaner and sanitizer will be provided. Registration required for all group exercise classes. To register, visit: www.IMLeagues.com/plattsburgh.
MONDAY 4/3
Group Exercise events:
- Bootcamp with Connie
- HIIT/Core with Lauren
- 30MinSpin with Jasmine
- Hardbody with Grace
- Zumba with Kaylynn
Algonquin Hall
noon - 8:45 p.m.
All group exercise classes will be held in Algonquin Hall. Please bring water; clean and sanitize any equipment prior to and after use. Cleaner and sanitizer will be provided. Registration required for all group exercise classes. To register, visit: www.IMLeagues.com/plattsburgh.
Sapphire Ball Sponsored by Theta Phi Alpha
Warren Ballrooms
6 - 10 p.m.
A philanthropy event held with a chance to be Sapphire man. For more information, visit https://www.plattsburgh.edu/platt-
TUESDAY 4/4
Group Exercise events:
- 30MinSpin with Nina
- Yoga with Sylvie
- Cross Cycle with Connie
Algonquin Hall
noon - 7:45 p.m.
All group exercise classes will be held in Algonquin Hall. Please bring water; clean and sanitize any equipment prior to and after use. Cleaner and sanitizer will be provided. Registration required for all group exercise classes. To register, visit: www.IMLeagues.com/plattsburgh.
WEDNESDAY 4/5
Group Exercise events:
- Kickboxing with Jillian
- Yoga with Nicole
- 30MinSpin with Dimitra
- Hardbody with Connie
- Zumba with Kaylynn
Algonquin Hall
noon - 8:45 p.m.
All group exercise classes will be held in Algonquin Hall. Please bring water; clean and sanitize any equipment prior to and after use. Cleaner and sanitizer will be provided. Registration required for all group exercise classes. To register, visit: www.IMLeagues.com/plattsburgh.
Protection Avenue sponsored by Alpha Epsilon Phi
Warren Ballrooms
From 7 - 8:15 p.m.
Giovanna Contini creates self defense keychains. For more information, visit https://www.plattsburgh.edu/plattslife/ events/index.html
THURSDAY 4/6
Group Exercise events:
- Yoga with Shawna
Algonquin Hall
noon - 7:45 p.m.
All group exercise classes will be held in Algonquin Hall. Please bring water; clean and sanitize any equipment prior to and after use. Cleaner and sanitizer will be provided. Registration required for all group exercise classes. To register, visit: www.IMLeagues.com/plattsburgh.
FRIDAY 4/7
Neuro Pride Space
Relaford Room ground level Macomb 12:30 - 2 p.m.
Take a break from the neuro-typical world in a space made by neurodivergent students for neurodivergent students.
Plattsburgh State Gospel Choir Rehearsals
300 Myers Fine Arts Building
5 - 6 p.m.
Plattsburgh State Gospel Choir rehearsals for spring semester. Open to students, faculty, staff and the public. Opporunities to perform with the band and Praise Dance and Step Team as well. For more information email gospelchoir@plattsburgh.edu.
More information can be found on the SUNY Plattburgh Calendar of Events. To have an event featured, email cp@cardinalpointsonline.com
BY KIYANNA NOEL Arts
CAPRICORN
December 22 - January 19
The Sage of Cups card represents regenerating your mental health and encouraging those around you. Continue to be understanding and emotionally sound.
TAURUS
April 20 - May 20
The Art card represents allowing your creativity room to grow. Let your art be seen throughout all aspects of your life.
VIRGO
August 23 - September 22
The Man of Cups card represents being a thrill-seeker and living on the edge. While this may be fun, remember to be calculated in your activities by thinking before you act impulsively.
AQUARIUS
January 20 - February 18
The Two of Crystals card represents being centered and being observant. Continue to be self-aware and create a balance for yourself.
GEMINI
May 21 - June 20
The Ace of Crystals card represents an eye-opening experience. Continue to see things as they are, not as what could be.
LIBRA
September 23 - October 22
The Five of Worlds card represents experiencing a setback. Don't allow this one experience to keep you from going after your goals.
PISCES
February 19 - March 20
The Five of Cups card represents disappointment after experiencing unmet unrealistic expectations. Learn from this and accept the situation as it is to move forward healthily.
CANCER
June 21 - July 22
The Chariot card in reverse represents getting carried away. Try to remain grounded to avoid burnout.
SCORPIO
October 23 - November 21
The Two of Worlds card represents being reflective. Take some time to revisit your thoughts and understand your feelings.
ARIES
March 21 - April 19
The Ten of Worlds card represents rewarding yourself. Acknowledge that you work hard and deserve a break without guilt or remorse.
LEO
July 23 - August 22
The Three of Worlds card represents being nurturing and sympathetic. Continue to care for the well being of others, but don't forget to take care of yourself.
SAGITTARIUS
November 22 - December 21
The Fortune card represents being optimistic. Continue seeking new opportunities and turning negatives
ARTS & CULTURE 11 ▪ Friday, March 31, 2023 ▪ Arts & Culture Editor Kiyanna Noel
into positives.
& Culture Editor
This Week in Photos: Decorating for Ramadan
Photos
RIGHT: Jana Bar talks with Moustapha Diarra and Eleham Mousah in the middle of decorating the wall.
The handmade cutout letters spell "Ramadan Mubarak" — an Arabic saying meaning "blessed Ramadan."
by Jayne Smith
Students decorated Kent Hall's first floor lounge and kitchen area with hanging lights and foil ornaments March 22, right as Ramadan started.
BELOW: Eleham Mousah, Saran Kaba and Abigail Jarrett unpack supplies. Besides decorations, they brought cookware to cook Iftar, Ramadan dinner. On the tiny blackboard, written in chalk, is "Ramadan Kareem," or "generous Ramadan."
PHOTO SPREAD ▪ Friday, March 31, 2023 ▪ Photography Editor Jayne Smith 12