MAY 2023 It's National Pet Month!
At Your Service | MAY 2023 | #LivingTheCannonLife 2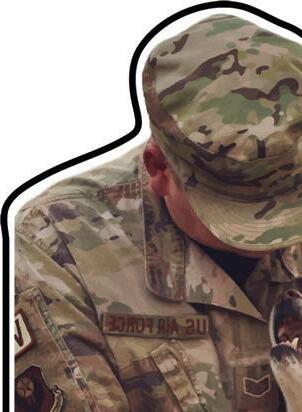 At Your Service is published by Cannon Air Force Base 27th Special Operations Force Support Squadron Marketing Department (27 SOFSS/FSK). This monthly publication is designed to inform the public of special events occurring at Cannon Air Force Base. The opinions expressed herein are not necessarily those of Cannon Air Force Base, USAF or DoD. All program dates, times and prices printed in this publication are subject to cancellation or change without prior notice. No Federal endorsement of sponsors or advertisers intended. CONTENTS AT YOUR SERVICE | May 2023 PAGE Wing Leadership 27 SOW COMMANDER Col Terence Taylor 27 SOMSG COMMANDER Col Barry Roche 27 SOFSS COMMANDER Maj Derek Boyd Marketing Team 27 SOFSS MARKETING DIRECTOR Ms. Joelle Reed COMMERCIAL SPONSORSHIP COORDINATOR Ms. Courtney Thatcher-Matos PUBLICITY SPECIALIST Ms. AnnaMarie Walter MARKETING ASSISTANT Ms. Julie Soriano At Your Service 110 Alison Ave, Suite 2028 Cannon Air Force Base, NM 88103 Office: (575) 784-6623 www.cannonforce.com 27CannonForce #livingthecannonlife MOTHER'S DAY BRUNCH Enjoy an elegant afternoon out with the Landing Zone. LOG YOUR READING! The Summer Reading Program kicks off May 22. KIDS BOWL FREE! At Cannon Lanes through August. WIN THE JACKPOT The Landing Zone's Progressive BINGO series continues. BRAINSTORMERS Monthly Trivia coming to the Tailgate Sports Lounge. MAY IS NATIONAL PET MONTH!
At Your Service | MAY 2023 | #LivingTheCannonLife 4 FAMILY
Visit CannonForce.com | MAY 2023 5 FAMILY
At Your Service | MAY 2023 | #LivingTheCannonLife 6 FAMILY
Visit CannonForce.com | MAY 2023 7 FAMILY
At Your Service | MAY 2023 | #LivingTheCannonLife 8 RECREATION
Visit CannonForce.com | MAY 2023 9 RECREATION
At Your Service | MAY 2023 | #LivingTheCannonLife 10 RECREATION
Visit CannonForce.com | MAY 2023 11 RECREATION
At Your Service | MAY 2023 | #LivingTheCannonLife 12 RECREATION
Visit CannonForce.com | MAY 2023 13 RECREATION
At Your Service | MAY 2023 | #LivingTheCannonLife 14 MORE FUN AT CANNON
Visit CannonForce.com | MAY 2023 15 MORE FUN AT CANNON
At Your Service | MAY 2023 | #LivingTheCannonLife 16 MORE FUN AT CANNON
Visit CannonForce.com | MAY 2023 17
At Your Service | MAY 2023 | #LivingTheCannonLife 18 FOOD
Visit CannonForce.com | MAY 2023 19 MORE FUN AT CANNON