2023 Product Catalog LESS-LETHAL PROTECTION
TABLE OF CONTENTS
2
5 …...THE BYRNA STORY 6 …...BYRNA'S MISSION STATEMENT 8 …...THE TECHNOLOGY BEHIND THE BYRNA 10 …...BYRNA TODAY 12 …...BYRNA PISTOLS 18 …...BYRNA RIFLES 24 …...BYRNA AMMUNITION 30 …...BYRNA 12-GAUGE 36 …... BYRNA BODY ARMOR (THE BALLISTIPAC AND SHIELD) 42 …... ACCESSORIES 50 …... CONTACT INFORMATION 3
4
BYRNA—CREATED BY AN AVID GROUP OF GUN OWNERS
Byrna was created by an avid group of gun owners. Like many responsible gun owners, however, we didn't know how quick we would be to pull the trigger when confronted with a potential threat. If we hesitated – would it be a fatal hesitation? And if we didn't hesitate – would we be making a fatal mistake? We wanted a non-lethal option that we could add to our arsenal that was safe, effective, and reliable.
The problem was that there was nothing available on the market that could stop an assailant at distance and was easy to carry on a concealed basis. Most compact less-lethal weapons, including everything from stun guns and batons to pepper sprays and Tasers, are severely range limited. By the time the weapon is effective, the situation has escalated out of control. The .68-caliber projectile launchers that were available at the time were simply re-purposed paintball guns. As such they were large and bulky and had serious limitations because they were never designed for self-defense.
So, we decided to create a small handheld device that had the form factor of a gun, could fire multiple rounds, was accurate to 60 feet and could effectively and reliably disarm and disable an assailant. The result was the Byrna HD, which we launched in the summer of 2019. Since that time, Byrna has sold over 275,000 Byrna handheld launchers to ordinary citizens, private security professionals and law enforcement officers. The Company has since expanded into all things "personal self-defense" including less lethal rifles, body armor, bullet-proof backpacks, aerosol sprays, personal security alarms and, most recently, less-lethal 12-gauge rounds.
In these uncertain times, ordinary citizens are often forced to be their own First Responders. With Byrna's personal self-defense weapons, you can always be "Prepared to Defend" yourself and your family. And most importantly, there are no fatal mistakes.
5
5
BYRNA'S MISSION
To provide civilians, law enforcement officers and security professionals with a safe, reliable and effective non-lethal alternative to traditional firearms that will allow Byrna's customers to protect and defend themselves, their families and their community without the need to resort to deadly force.
6
6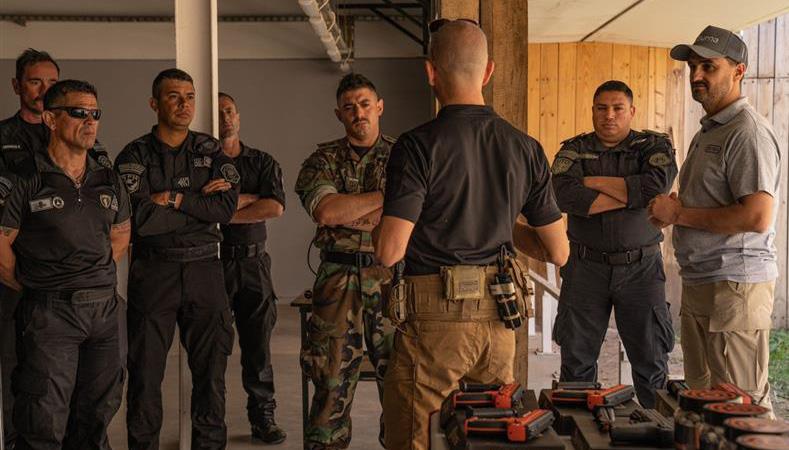 7
THE VISION AND CHALLENGE
COMPACT AND CONCEALABLE
The biggest challenge in creating the Byrna was to pack enough stopping power into such a small piece of real estate. If the launcher could not easily fit in a glove box, purse, or jacket pocket, it might not be available when it was needed most.
THE BYRNA NEEDED TO BE ABLE TO STOP AN ASSAILANT
The Byrna needed to have ample stopping power. Our goal was to give ordinary citizens the ability to disarm, disable and deter a would-be assailant without causing permanent injury or death, in order to give them and their family time to get out of harm's way.
ALWAYS AT THE READY – THE BYRNA NEEDS TO BE READY TO DEPLOY AT A MOMENT'S NOTICE
With most .68-caliber launchers, the CO2 cylinder is punctured when it is loaded into the launcher. Over the next 24-hours, the CO2 will leak out, rendering the weapon inoperable. In response, Byrna developed its patented first-shot, pull-pierce technology. This allows the CO2 cylinder to remain in the launcher, unpunctured, until needed. Then, when the trigger is pulled, the CO2 is punctured and the projectile is fired simultaneously, meaning that the Byrna is always at the ready whether it has been sitting for a week, a month, a year, or several years.
DISTANCE EQUALS SAFETY
With batons and stun guns, you are in hand-to-hand combat before they are effective. Even with pepper spray or a Taser, you are range-limited to 10 to 15 feet. By then, the situation has escalated out of control. The Byrna SD and EP have a 60' effective range and the Byrna LE has an 80' effective range.
MULTIPLE SHOTS
Byrna's handheld pistols carry up to 7 rounds in a magazine and can fire multiple magazines from a single CO2 cylinder. Tasers, by comparison, are limited to just one or two shots. The ability to fire multiple shots without reloading, allows the user to put multiple rounds on target and/or confront multiple threats simultaneously.
BUILD A QUALITY PRODUCT
The Byrna is NOT a toy. It is a very sophisticated piece of technology. Whereas a traditional handgun has approximately 35 parts, the Byrna has more than 110 parts – and unlike a handgun, it must hold air at 800 psi. The Byrna is constructed to exacting specifications from the same glass infused polymers, military grade aluminum and stainless steel as the most well-known and well-respected firearm brands.
8
8
PATENTED PULL-PIERCE TECHNOLOGY: ALLOWS FOR LONG-TERM STORAGE FIRST ROUND FIRED WITH TRIGGER PUNCTURE OF CO2 | ALWAYS AT THE READY REVOLUTIONARY TECHNOLOGY ENGINEERED TO PERFORM BALL INDICATOR BALL RETAINER AND AUTO CHAMBERING SAFETY MECHANISM TO PREVENT HAMMER STRIKE SEAR TO PREVENT FIRING AT TOO SLOW A SPEED VELOCITY ADJUSTMENT HONEYCOMB TEXTURED RUBBER OVERMOLD GRIP FOR BETTER GRIP AND CONTROL THE SIZE OF A "COMPACT" HANDGUN 9
BYRNA TECHNOLOGIES, INC.—THE LEADER IN LESS-LETHAL • ESTABLISHED IN 2004 • FACTORIES IN FORT WAYNE, INDIANA / PRETORIA, SOUTH AFRICA / BUENOS AIRES, ARGENTINA • OVER 275,000 UNITS SOLD IN JUST THREE YEARS TO LAW ENFORCEMENT, PRIVATE SECURITY, SMALL BUSINESS OWNERS, HOMEOWNERS, RV OWNERS, BOATERS • CARRIED BY MORE THAN 250 DOMESTIC LAW ENFORCEMENT AGENCIES BYRNA NATION IS OVER 250,000 MEMBERS STRONG 10
• OVER 165 EMPLOYEES
PUBLICLY
THE
AVAILABLE IN MORE THAN 500 BRICK & MORTAR OUTLETS • ADOPTED BY OVER 20 LARGE INTERNATIONAL LAW ENFORCEMENT AGENCIES • HUNDREDS OF REAL-WORLD CASES OF THE BYRNA BEING USED TO STOP CARJACKINGS, THWART MUGGINGS AND PREVENT HOME INVASIONS • DOZENS OF CRIMINALS APPREHENDED BY POLICE WITHOUT A SINGLE LIFE LOST – OR TAKEN 11
•
TRADED ON
NASDAQ: STOCK SYMBOL - BYRN •