GROWING COMPANIES ENHANCING COMMUNITIES
Inspiring and celebrating Granite talent. Granite Partners is a private investment and holding company founded in 2002 in St. Cloud, Minnesota, with a mission to grow companies and create value for all stakeholders. As trusted partners, innovative leaders, and responsible stewards, we are committed to 100-year sustainability, and we aspire to world-class wellbeing for all people in and around the Granite community.
Granite.com
Cover Story
28 ON THE FOUNDATION OF FAMILY
A passion for the industry coupled with a fierce love of family and community make Rich and Jodi Erkens of Audio Video Extremes stand out.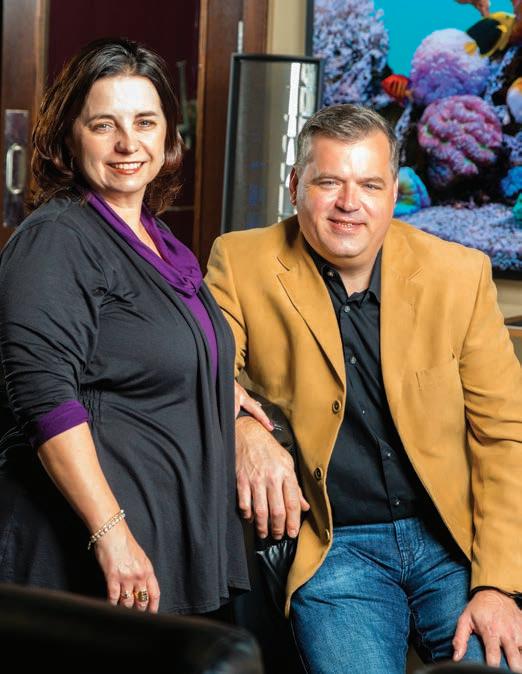 Main Phone: 320-251-2940 / Automated Reservation Line: 320-656-3826
Program Hotline: 320-656-3825 / information@StCloudAreaChamber.com
StCloudAreaChamber.com
President: Julie Lunning, 320-656-3804
Director of Finance and Operations: Bonnie Rodness, 320-656-3806
Director of Programs & Events: Laura Wagner, 320-656-3831
Director of Marketing & Communications: Emily Bertram, 320-656-3809
Director of Downtown Planning & Development: Tyler Bevier, 320-656-3830
Director of Member Engagement: Antoinette Valenzuela, 320-656-3834
Administrative Assistant/Network Administrator: Vicki Lenneman, 320-656-3822
Administrative Assistant: Shelly Imdieke, 320-656-3800
BUSINESSCENTRAL MAGAZINE.COM
• Facilitate, Don't Dominate
• Underrated Interview Questions
• The Future of Accounts Payable
• The Language of Persuasion
CONVENTION & VISITORS BUREAU STAFF
Main Phone: 320-251-4170
Executive Director: Rachel Thompson, 320-202-6728
Director of Sales: Nikki Fisher, 320-202-6712
Sales Manager: Craig Besco, 320-202-6711
Sports & Special Events Manager: Mike Johnson, 320-202-6710
Marketing Manager: Lynn Hubbard, 320-202-6729
Information Specialist: Olivia Way, 320-251-4170
MAY/JUNE 2023: 4 Editor's Note / 16 Network Central CONTENTS GROW | NETWORK | PROFIT EXPLORING CENTRAL MINNESOTA'S BUSINESSES. 36 COOLEST TOOL IN THE BOX Artificial intelligence is a useful tool in any marketing toolbox, but does it replace the human element? 39 TECHNOLOGY & INNOVATION DIRECTORY
SMALL TOWNS,
6 UPFRONT Valuable information designed to guide and educate 18 BUSINESS TOOLS Useful tips and intelligence on how to continue to grow your business 46 BUSINESS SPOTLIGHT Rachael Sogge, Eyecon Graphics NETWORK
42
BIG IMPACT The smaller communities around central Minnesota are home to big business – for a variety of reasons.
GROW PROFIT
ONLY ONLINE
46
Learning on the Go
In April of 2020 my husband and I made a purchase that we had dreamed of for years - a new Glacier Ice House, RV Edition, in bright green. Not only would it be fun on the lakes during the winter, but it also came equipped with all the hookups and gear necessary to use it as a camper. We were ready for a summer of fun. What we got was so much more.
Our first trip in the camper was to Sunset Bay Resort on Dead Lake in Richville, Minn. We spent three nights living totally out of the fish housebathroom accommodations and all, since their public bath houses were closed due to the pandemic. With a dog, a 2-year-old, a 6-month-old, my husband and me … it was a full house. Lesson one: Be thankful for our home and all the space and luxuries it provides.
Later that summer we planned another long weekend at a campground called Kamp Dels located in Waterville, Minn. We booked two spots and went with my brother-in-law, his wife, and their two boys. This place is a kids' paradise with a huge outdoor waterpark, mini golf course, petting zoo, and even a dance party with a DJ one night. The kids had an absolute blast and ended every day so exhausted they could barely keep their eyes open, let alone finish their s'mores. Lesson two: As parents of young children, there is no greater joy than watching your kids make memories.
On our first trip of 2021, we went to Father Hennepin State Park on Mille Lacs Lake. We met up with four other couples and their kids for a weekend of complete chaos and fun. With 10 adults, four teenagers, five toddlers and two babies, there was a great deal of
chasing, cleaning and feeding involved — along with a lot of rambunctious joy. Lesson three: It takes a village to raise a family — especially since 3-year-olds can run away surprisingly fast.
For our last trip of 2022, we went with our neighbors to William O'Brien State Park. When some severe weather in the area sent us home a day early, we made the best of it. Sunday morning, our neighbors came to our house and we enjoyed bacon and cast-iron waffles over our fire pit for breakfast. Lesson four: Sometimes plans change, but improvising might just lead to even better memories. Bonfire breakfasts with the neighbors have become a regular tradition at our house.
Camping has taught us a lot, but the best lesson of all is to appreciate all the family time you can get. Rich and Jodi Erkens know a thing or two about helping families make the most of their time together. In their story on page 28, the Erkens express their gratitude at being able to enhance families' lives through entertainment. As owners of Audio Video Extremes and parents to four boys, they make family time a priority in their lives as well.
As for the 2023 camping season, we have trips to Monticello, Sibley State Park, Two Rivers Campground, and Lake Itasca on the books.
Bring on the future lessons!
Until next time,
Emily Bertram, Editor
4 BusinessCentral Magazine.com // MAY/JUNE 2023
EDITOR'S NOTE
… as parents of young children, there is no greater joy than watching your kids make memories.
Far left: Rich and Jodi Erkens and Editor Emily Bertram enjoying some screen time.
Emily relaxing by the bonfire during a trip to Sibley State Park.
Publisher Julie Lunning // Editor Emily Bertram
Founding Editor Gail Ivers
CONTRIBUTING WRITERS
Emily Bertram, St. Cloud Area Chamber of Commerce
Jeff Clancy, Quinlivan & Hughes, P.A.
Michelle Henderson, BadCat Digital Marketing
Dr. Fred E. Hill, St. Cloud State University
Mike Killeen, freelance writer Chase Larson, St. Cloud Financial Credit Union
Lynn MacDonald, Thomas Mayhew and Hannah Mayhew, St. Cloud State University
Jeanine Nistler, freelance writer
Steve Penick, formerly with Stearns History Museum
Tricia Schleper, Schleper Coaching
ADVERTISING
Associate Publisher/Sales
Melinda Vonderahe, Marketing Consultant
Ad Traffic & Circulation
Yola Hartmann, Hazel Tree Media
ART
Design & Production
Yola Hartmann, Hazel Tree Media
Cover Story Photography
Joel Butkowski, BDI Photography
WEBSITE
Vicki Lenneman, St. Cloud Area Chamber of Commerce
1411 West St. Germain Street, Suite 101, P.O. Box 487, St. Cloud, MN 56302-0487 Phone (320) 251-2940 Fax (320) 251-0081 BusinessCentral Magazine.com
For advertising information contact Melinda Vonderahe, (320) 656-3808
Editorial suggestions can be made in writing to: Editor, Business Central, P.O. Box 487, St. Cloud, MN 56302-0487 or emailed to ebertram@ stcloudaareachamber.com Submission of materials does not guarantee publication
ST CLOUD AREA CHAMBER OF COMMERCE
2022-23 BOARD MEMBERS
Marilyn Birkland, SCTimes/LocaliQ
Ron Brandenburg, Quinlivan & Hughes
Doug Cook, Headwaters Strategic Succession Consulting LLC.
Tanja Goering, Board Vice Chair
Joe Hellie, CentraCare
Ray Herrington, Pioneer Place on Fifth Patrick Hollermann, InteleCONNECT
Hudda Ibrahim, Filsan Talent Partners
Kevin Johnson, K. Johnson Construction, Board Chair
Matt Laubach, West Bank
Bernie Perryman, Batteries Plus Bulbs, Past Board Chair
Laurie Putnam, St. Cloud School District 742
Paul Radeke, BerganKDV
Brenda Sickler, Theisen Dental
Donella Westphal, Jules' Bistro
Dr. Jason Woods, St. Cloud State University
Colleen Zoffka, Park Industries
MAY/JUNE 2023 // BusinessCentralMagazine.com 5
© Copyright 2023 Business Central, LLC. Business Central is published six times a year by the St. Cloud Area Chamber of Commerce, 1411 West St. Germain Street, Suite 101, P.O. Box 487, St. Cloud, MN 56302-0487. Phone (320) 251-2940 / Fax (320) 251-0081. Subscription rate: $18 for 1 year. ORTHOPEDICS TO THE EXTREME. YOUR EXTREME. We've teamed up to bring you expert orthopedic services in St. Cloud. We'll help you reach your extreme. To schedule an appointment, call 320-253-2663. CentraCare.com/ortho
INSIDE THIS ISSUE: Digging History / People to Know / Do it Now! / The Trouble with Business
Places We Go
Meaningful connections require an understanding of emotions and experiences.
By Dr. Fred Hill
Dr. Brene Brown has once again delivered a masterful piece of literature. It is crafted in words, pictures, illustrations, and purpose.
From the back of the dust jacket, "In Atlas of the Heart, Brown takes us on a journey through eightyseven of the emotions and experiences that define what it means to be human. As she maps the necessary skills and actionable framework for meaningful connection, she gives us the language and tools to access a universe of new choices and second chances."
This book has thirteen chapters.
1. Places We Go When Things Are Uncertain or Too Much
2. Places We Go When We Compare
3. Places We Go When Things Don't Go as Planned
4. Places We Go When It's Beyond Us
5. Places We Go When Things Aren't What They Seem
6. Places We Go When We're Hurting
7. Places We Go with Others
8. Places We Go When We Fall Short
9. Places We Go When We Search for Connection
10. Places We Go When the Heart is Open
11. Places We Go When Life is Good
12. Places We Go When We Feel Wronged
13. Places We Go to Self-Assess.
Each chapter includes examples of the "Places We Go." For example, in Chapter #6: Places We Go When We're Hurting, we take a look at anguish, hopelessness, despair, sadness, and grief. These are just five of 87 different feelings or emotions
or experiences that Dr. Brown explores in this book. She says that the ability to name an emotion or experience is essential to being able to process it in a productive and healing manner.
From the front dust jacket, "In her latest book, five-time #1 New York Times best-selling author Brene Brown writes, 'If we want to find the way back to ourselves and one another, we need language and the grounded confidence to both tell our stories and be stewards of the stories that we hear. This is the framework for meaningful connection.' "
Brown believes that we are the mapmakers and the travelers. We need to know we're not alone – especially when we're hurting.
Muleya named EPIC Coordinator
Michelo Muleya has been hired as the EPIC coordinator at Greater St. Cloud Development Corporation in partnership with the EPIC Board of Directors. EPIC (Exploring Potential Interests and Careers) is a community collaborative comprised of events, resources and programs that bridge education and industry for Central Minnesota learners and employers. Muleya previously worked as an economic development specialist at the Benton Economic Partnership.
Kramer "Top Financial Advisor"
James Kramer III, an independent LPL Financial advisor at Kramer Financial in St. Cloud, was recently recognized for his inclusion in the LPL Patriots Club. This award is presented to less than 7 percent of the LPL Financial's more than 21,000 independent financial advisors nationwide.
Sentry Bank supports Humane Society
In 2022, Sentry employees raised $1,348 by wearing jeans on Fridays. The annual "Jeans for a Cause" fund was donated to Tri-County Humane Society.
6 BusinessCentral Magazine.com // MAY/JUNE 2023
NEWS REEL
Dr. Fred E. Hill is an emeritus professor at St. Cloud State University.
GROW | NETWORK | PROFIT NEWS & PEOPLE THAT MAKE UP THE CHAMBER NETWORK BOOK
the Heart; Mapping
Connection
Language
Human Experience
Ph.D., L.M.S.W.; 2021, Random House, New York, ISBN: 9780399592553
UP FRONT
REVIEW Atlas of
Meaningful
and the
of
by Brene Brown,
Business Central asked: What is a piece of technology that you use often for business, either software or hardware?
Mary Kaye Peterson, ConnectAbility of MN
"I use Adobe PDF Reader all the time for creating presentations and bringing documents together."
" We have a great phone system that allows us to mask cell phone numbers, track response time, and a lot more.
" I use the Canva design program all the time. It makes nonmarketing people marketing people!
Theresa Henning, St. Cloud VA Health Care System
" I couldn't do my job without a laptop. I need to have a laptop to help veterans with their job search when I'm out in the community.
" We use a software called Salesforce that stores and organizes data about our contacts. I love that all the info is at your fingertips. It's a great system for housing a lot of information.
MAY/JUNE 2023 // BusinessCentralMagazine.com 7 POINT OF VIEW
Mike Brower, American Family InsuranceMichael Brower
Chad Hiltner, Tech Check
Melody Vachal, Arise Cares
Nor-Son is an awarded contractor for Sourcewell and AUTHORIZED NUCOR BUILDER. Nor-SonConstruction.com NOR-SON CONSTRUCTION DELIVERING EXCELLENCE IN EVERYTHING WE DO.
UP FRONT
Schlenner Wenner adds partner; staff earns master's degree

Dan Wainright, CPA is now a partner at Schlenner Wenner & Co. He has worked in public accounting since 2013 and works out of its Monticello office.
Jacilyn Nemec, CPA, MBT, recently completed her Master's of Business Taxation. She specializes in real estate, construction and the rental property industry and works out of the St. Cloud office.
College of St. Benedict/ St. John's University
names new COO
Dr. Kara Kolomitz is the inaugural joint chief operating officer (COO) for the College of Saint Benedict and Saint John's University. Dr. Kolomitz has worked in Catholic higher education for more than 25 years, including COO from 2016-22 at Regis College, a liberal arts institution in suburban Boston.
Rinke Noonan adds staff
Rinke Noonan added two attorneys to its staff. Aisha Ibrahim will practice in the areas of business, real estate, and estate planning. She was most recently a law clerk at Nyemaster Goode, P.C. in Des Moines, Iowa.
Mitchel Anderson will practice in the areas of banking and lending, business, and real estate law. He previously worked as an attorney at Jellum Law, P.A. in Stillwater, Minn. and as an assistant general counsel for Stearns Bank, N.A. in St. Cloud.
A Tough Act to Follow
Flo Goodrich spent a lifetime bringing youth and adults together on stage.
By Steve Penick
Flo Goodrich had a way about her. She had an ability to inspire people to be their best through a warm, inviting personality. "She was about the sweetest person you could imagine,"
Al Hams said in a St. Cloud Times article. A long-time St. Cloud music store owner, Hams worked with Goodrich on many theater productions beginning in the 1960s at St. Cloud State College. For the next 40 years, Goodrich helped build community theater, bringing youth and adults together on stage.
Goodrich transplanted her influence to St. Cloud from her Brooklyn, New York, upbringing. Born in 1923, Goodrich demonstrated interested in the arts while in grade school with her inaugural performance as a door mouse in Alice in Wonderland. "From elementary school on, I was interested in the theater
and theatrical things," Goodrich said years later. She continued to develop this passion throughout her education, earning a Master's Degree in Theater from St. John's University in Queens. In 1954, she met her future husband Herbert Goodrich in western New York, marrying two years later. Opportunities brought them to the University of Illinois where Herb pursued a doctorate in Mass Media and Race Relations. An open faculty position at St. Cloud State in the early 1960s drew the couple to Central Minnesota. The decision greatly impacted the community. Herb taught for nearly 30 years in the Sociology Department, educating the region about anti-Semitism. His work matched the couple's spiritual beliefs as they connected with other local Jewish residents through the
St. Cloud Chapter of Hadassah.
Goodrich threw herself professionally into St. Cloud State's theater department, participating in productions, developing friendships, and sharing her theatrical knowledge. By 1970, there was enough interest for a local community theater to be successful. She, along with other passionate people such as Sister Judine Suter and Jim Shaffer, formed St. Cloud's Troupe Theatre. Their enthusiasm inspired supporters to join the ranks and Troupe became a popular summer arts activity.
Goodrich's ability to bring people together was one of many skills. She became involved in directing productions, did voice-over radio ads and television commercials, and served on nonprofit boards. She also cultivated business sponsors as St. Cloud Troupe Theatre grew in popularity. Through acting, her star often shined the brightest. Flo never lost her Brooklyn
NEWS REEL NETWORK DIGGING HISTORY
Cast members of "St. Cloud Sleep" featuring Flo Goodrich (center), St Cloud, 1984 Courtesy of Stearns History Museum
8 BusinessCentral Magazine.com // MAY/JUNE 2023
accent, adding a distinguishing stage presence to the many roles she played. Herb Goodrich remembered, "She was totally immersed in every show." She also formed an acting studio in the late 1970s where interested individuals could learn the basics of acting. Goodrich believed performing could be a learned, regardless of an individual's experience.
Roles in front of the camera added to her impressive portfolio, including the 1980s film The St. Cloud Sleep. "The idea is not only to involve the community in filmmaking, but to demonstrate that worthwhile filmfare can be produced," WJON's Andy Hilger observed. Goodrich's touch, along with the many other participants,
created a unique production to showcase St. Cloud's talent on film.
By the 2000s, Goodrich had established a rich, theatrical legacy. "She was really the lady of the theater in St. Cloud, as an actor, director, spokesperson for the arts and teacher," recalled Phil Welter, a music instructor at the College of St. Benedict.
"I think it's a way to bring people together as well," Flo said.
Herb died in 2006 and Flo in 2011. What they left behind was an active community theater, making Flo Goodrich a tough act to follow.
Charitable Giving
Catholic Charities Mardi Gras raises over $350,000
Over 550 people attended the 41st annual Mardi Gras in January 2023 to support Catholic Charities of the Diocese of St. Cloud. The event raised over $350,000 for Catholic Charities Emergency Services, with programs that include a food shelf, clothing distribution, financial assistance and Catholic Charities Domus Transitional Housing, a facility for single women and their children.
Brenny Transportation donates $10,000
Brenny Transportation Inc. in St. Joseph donated $10,000 to Saint Christopher Truckers Relief Fund for the Highway to Hope Concert.
The physicians in St. Cloud Surgical Center's Ear, Nose, and Throat (ENT) program are trained and experienced in the latest advances in ENT surgical treatments. They are respected throughout Central Minnesota for their warm bedside manner, team approach, and surgical expertise.
Patients seek help from an ENT physician when experiencing difficulties with:
• Hearing and Balance
• Swallowing and Speech
• Breathing and Sleep Issues
•
•
and Sinuses
• Skin Disorders
To properly evaluate your concerns, request an appointment with one of our ENT surgeons today. Call us at 320.251.8385
MAY/JUNE 2023 // BusinessCentralMagazine.com 9
Steve Penick was the head archivist at Stearns History Museum in St. Cloud.
IN THE NEWS
1526 Northway Drive, St. Cloud, MN 56303 | PH 800.349.7272 | stcsurgicalcenter.com
Care, Better Costs, Better Recovery… Better YOU.
Better
SAME-DAY ENT SURGERY
Allergies
Head and Neck Pain
Gate City Bank opens new location, promotes staff
Gate City Bank is set to open its 44th location this summer. It will be located inside the Coborn's grocery store at 19425 Evans St. NW, Elk River.
Adolfo Chavez Romero has been promoted to assistant vice president, customer service and sales supervisor at Gate City Bank in Waite Park. He previously served as customer service representative.
Brady Jameson has been promoted to assistant vice president, mortgage lender, also at the Waite Park location. He previously served as senior mortgage lender.
Metro Bus CEO receives safety award
Metro Bus CEO Ryan Daniel was named one of the National Safety Council's Safety+Health Magazine's 2023 CEOs Who Get It. This award recognizes leaders who ensure safety remains their organization's top value by building a strong safety culture and encouraging workers to speak up about safety issues, near misses, and possible improvements.
Six-hour event a fundraising success
The 13th annual Pack the Porches food and fund drive, benefiting Catholic Charities Emergency Services Food Shelf, received 6,246 pounds of food and $21,321 in donated funds from 7 am to 1 pm on March 17th. Coborn's matched all food and fund donations up to $10,000. Food and funds from the event support Catholic Charities Food Shelf, serving the communities of Stearns, Benton, and Sherburne counties.
St. Cloud Area Leadership Graduates
Congratulations to the 2023 St. Cloud Area Chamber Leadership program graduates! If you are looking for volunteers to serve on boards and committees, these individuals are a good place to start.
2022-2023 Leadership Class
Dan Berglund, Marco
Megan Bistodeau, Gate City Bank
Jen Bomstad, Inventure Real Estate
Julie Braun, SOS-Smart Organizing Solutions and SOS Treasure Chest
Heidi Chandler, Coborn's Inc.
Jake Cleveland, Inventure Real Estate
Dylan Edwards, City of Brainerd
Kayla Epsen, Bremer Bank
Rachel Gaetz, Boys & Girls Clubs of Central Minnesota
Aaron Green, American Heritage National Bank
Amy Hamerlinck, St. Cloud VA Health Care System
Adam Heathcote, BerganKDV
Dawn Jehoich, Playhouse Child Care
Tina Johanning, Anna Marie's Alliance
Mike Johnson, St.Cloud AreaConvention & Visitors Bureau
Russ Kerfeld, Park Industries
Abbey Laudenbach, Homeowners Financial Group
Hanna Lord, GeoComm, Inc.
Jim Maus, Coborn's Marketplace
Angie Mundis, Jules' Bistro
Mike Nichols, WACOSA
Stacy Pederson, Catholic Charities
Lyndsey Stram, City of St. Cloud
Bri Torborg, Falcon National Bank
Tom Valenta, Park Industries
Joe Zidon, Principal Financial
Brandon Zylka, Catholic Charities
LEADERSHIP
Jason Primus, BerganKDV Chair, St. Cloud Area Chamber Leadership Program (320) 251-7010 jason.primus@ bergankdv.com
Sarah Putnam, Coborn's Inc. Vice Chair, St. Cloud Area Chamber Leadership Program (320) 252-4222 Sarah.Putnam@ cobornsinc.com

NETWORK UP FRONT NEWS REEL PEOPLE TO KNOW
10 BusinessCentral Magazine.com // MAY/JUNE 2023
PROGRAM DETAILS
St. Cloud Area Leadership Program
St. Cloud Area Leadership is designed to help current and emerging leaders understand the dynamics of the community and the role leadership shares in building healthy communities. This program brings together men and women of diverse backgrounds who share a common commitment to the future of the St. Cloud area.
St. Cloud Area Leadership:
Grooms leaders who will contribute to your company
Provides professional networking opportunities and enhanced community connections
Helps employees develop greater personal vision and confidence
Reinforces skills and imparts new knowledge to employees
Provides greater understanding and a broader perspective of key issues in Central Minnesota
Encourages networking among emerging and established leaders
Applications for the Leadership program are available online at StCloudAreaChamber.com, select "Programs" then "St. Cloud Area Leadership Program." Applications must be submitted to the Chamber by May 31.
For more information about participating in the 2023-24 program, call Laura Wagner at 320-656-3831 or lwagner@StCloudAreaChamber.com.
Making Moves
Way joins Visit Greater St. Cloud
Olivia Way joined Visit Greater St. Cloud in the role of information specialist. She handles content asset management, visitor guide distribution, visitor inquiries, website listings. Previously, Way worked in social media and at the St. Cloud Public Library. She is originally from Wisconsin and a graduate of St. Cloud State University. Visit Greater St. Cloud is the convention and tourism arm of St. Cloud Area Chamber of Commerce.
MAY/JUNE 2023 // BusinessCentralMagazine.com 11
IN THE NEWS
Kremer Joins Apex
Adam Kremer recently joined Apex's newest office in St. Cloud as a municipal engineering technician. He will support the team through CADD, in-the-field project inspection, and surveying.
Coulter to chair Quiet Oaks Hospice Board
Alex Coulter recently took over as chair of the Quiet Oaks Hospice Board of Directors. He has been a volunteer with the organization for four years. He replaces volunteer Tammy Moore, who will remain on the board as a member-at-large.
SMART Goals
Setting achievable goals starts with understanding your strengths and core values.
By Tricia Schleper
goals going to become part of who you are and habits you have without thinking?
Once you're ready to start putting your goals on paper, keep in mind these words of advice:
1 Start with small steps that are specific, achievable, and time-bound so you can measure how you are doing each day or week.
Thompson receives state award
Rachel Thompson, executive director of Visit Greater St. Cloud, received the 2023 Emerging Leader award at the annual Explore Minnesota Tourism conference in February. The award is given to an individual who exhibits a passion for Minnesota's tourism and hospitality industry, is mindful of their role in making the state a welcoming place for all travelers, and through their work ensures the future growth and vitality of Minnesota tourism.
Got News?
Send news releases, announcements, or anything you think is newsworthy to Emily, ebertram@ stcloudareachamber.com, and we will try to include it in Business Central.
Creating a plan, attaining and sustaining goals, measuring success – these are all things we desire and strive to do in our personal lives and at our workplaces. But what exactly does it look like? How do we decide what goals to set? How do we create a path to get there? What does it look like to pivot, rather than quit? At the end of the day, how do we measure success?
You probably have heard of SMART goals – goals that are specific, measurable, achievable, relevant and timebound. Setting SMART goals is a great strategy once you know where you are going and what you want, but there are some steps you should take first.
Start by deciding who or what you want to be known for. When we try to set goals before first understanding this, it gets tricky. This can be applied to both your business and personal life.
Ask yourself questions such as:
How do I view myself? What is true of me?
How do I want to view myself? What do I want to be true of me?
What do people say about me? What do I want people to say about me?
What are my strengths?
What are my core values?
To reach our goals, we first have to believe we are capable of getting the results we want. That's why it's important to know your strengths and core values. Most decisions you make are based on your core values and beliefs. If you want to move toward your goals, you must know and understand what you believe about yourself, and be aware of your personal challenges.
What is going to be different this time than when you've set goals in the past? How do you create sizable steps that make your goals not just attainable, but sustainable for years to come? How are your
2 Address the obstacles, challenges, and beliefs that are slowing you down, holding you back, and keeping you from moving forward.
3.Find accountability and support so when you come across challenges and obstacles you don't quit, but can figure out how to pivot, adjust, and keep going.
In the end, the most important thing to remember when setting goals is to start with you.
Business and life strategist Tony Robbins says "We only invest energy into taking action when we believe it will produce results. When we don't believe we can get results – when we don't have a deep belief in ourselves –we give up before we start. We don't put in our full effort. We sabotage our own success." It starts with what you believe about yourself.
NETWORK UP FRONT
NEWS REEL
DO IT NOW!
12 BusinessCentral Magazine.com // MAY/JUNE 2023
Tricia Schleper is a certified coach and founder of Schleper Coaching in St. Cloud, where she provides individual and group coaching for small business leaders.
Matt O'Shea, Stearns Electric Inc.
Current job title: Chief Executive Officer
Previous position:
Vice President of Engineering and Operations with Stearns Electric
When did you start at Stearns Electric?
October 2015
When did you start in your current position?
December 2022
What did you do in your previous position and what will you miss most?
I directed the cooperative's operations division, which included the engineering, operations and information technology departments. With my engineering background, I will miss the detailed involvement and technical conversations surrounding planning, design and construction of the electric distribution system. What are you looking forward to the most in your new position?
I have always felt that Stearns Electric is a premier energy provider in Central Minnesota.
As CEO, I am honored to lead the cooperative through exciting, challenging and certainly changing times in the energy industry. It is essential that we continue to prioritize safety and affordability, delivering reliable electric service while also maintaining the financial strength of the cooperative. As the energy industry changes, we will continue to build on the solid foundation the cooperative has had since 1937, and will continue to develop and implement solutions and programs to meet long-term energy needs for our Central Minnesota families, businesses, and communities.
Age: 44
Where did you grow up?
Benson, Minnesota
What are your hobbies?
Spending time with family, especially my wife, Rhianna, and our three children. We are an active family. I especially enjoy hiking, biking, boating, and playing, coaching or attending sporting events.
Fun fact about yourself: Over the last several years my family and I have picked up mountain biking. I enjoy exploring new bike parks and trails and doing my very best to keep up with my kids.
We've installed a quarter of all renewables in America, making us the country's leader in building renewable energy — a distinction made possible by the integrity, grit and expertise of our employees and clients.
Cleaner air, healthier lives and a brighter, greener future starts with us.
MAY/JUNE 2023 // BusinessCentralMagazine.com 13
NEW AT THE TOP
Wind | Solar | Energy Storage BlattnerCompany.com
ENERGY
CLEAN
CLEAN ENERGY CLEAN ENERGY
THE TROUBLE WITH BUSINESS
Setting Up for Success
Choosing the right legal entity is an important first step in starting a new business.
By Jeffrey Clancy
statute, the required officers are individuals who can fulfill the duties of chief executive officer and chief financial officer, which are typically defined in the corporation's bylaws. Officers are not required to be shareholders.
Generally, the shareholders of the corporation enjoy limited liability protection from the corporation's debt obligations to creditors. Owners should consult a tax professional when deciding how they wish to be taxed. A corporation can be taxed in one of two ways:
1 C-corporation is taxed at two levels, the corporation itself is taxed as well as the individual shareholders.
Starting a business is an exciting, yet overwhelming, undertaking.
Choosing the best entity – or organization that is formed to conduct business – comes with many complexities. Some items to consider are the tax implications, non-tax considerations, governance issues, business succession planning, and understanding the entity options available. A relationship with a seasoned attorney and tax professional is a good idea when entering the small business world.
Determining the appropriate geographical jurisdiction is an important component when deciding where to form an entity. Consider where the registered office is located, where will most business operations and transactions occur, state tax considerations, and residency. For this article, we will focus on forming the entity in Minnesota. There are many options in Minnesota such as:
General partnership
–––––––––––––
Limited partnership
–––––––––––––
Limited liability partnership
–––––––––––––
Sole proprietorship
–––––––––––––Corporation
–––––––––––––
Limited liability company
–––––––––––––
All have advantages and disadvantages. This article focuses on the two most common entities chosen by prospective business owners: corporations and limited liability companies.
Corporation
A corporation is incorporated under Minnesota Statutes §302A. A corporation's management and operations are handled by a board of directors that is elected by the shareholders. The board of directors appoints the officers of the corporation who manage the day-to-day operations. By
2 S-corporation has "pass through" taxation directly to the shareholders.
To create a corporation, Articles of Incorporation must be filed with the Minnesota Secretary of State. Other organizational documents are also required, such as:
The names of the shareholders
An initial shareholder resolution that identifies each shareholder's capital contribution, elects a board, as well as other housekeeping matters
A board of directors' resolution that appoints the officers of the corporation
Limited Liability Company
A limited liability company is a new entity choice that was created as a hybrid of
14 BusinessCentral Magazine.com // MAY/JUNE 2023
NETWORK UP FRONT
Contributor
Jeffrey Clancy is an attorney at Quinlivan & Hughes, P.A. in St. Cloud, with a focus on business and real estate law.
Minnesota has many entity options for the future business owner. Tax and legal considerations must be analyzed and addressed when deciding which entity is best for your business.
both corporation and partnership law. Minnesota Statues 322C governs limited liability companies. Unlike corporations, a limited liability company has several governance options that its members may choose from:
–––––––––––––
Member-managed, where the members make the management and operational decisions for the company. As such, the members appoint the officers of the limited liability company, which typically include a president and treasurer.
–––––––––––––Manager-managed, where the managers, who may be individuals or entities, manage the company.
–––––––––––––Board-managed, which is similar to a corporation's governance structure.
–––––––––––––
Members of a limited liability company are shielded from the debt obligations of the company, similar to shareholders in a corporation. This flexibility in governance, liability protection, and the fact that limited liability companies generally are treated as partnerships for tax purposes (unless they elect to be taxed differently) make a limited liability company a very appealing option for
business owners. As always, it is important to consult with your tax professional when making this decision.
Like a corporation, Articles of Organization must be filed with the Minnesota Secretary of State to organize a limited liability company pursuant to Minnesota Statutes §322C. Other required items include:
An organizational action adopting the Articles of Organization and naming the members
Additional resolutions to adopt members' capital contributions and to elect the officers of the company, depending on governance structure
An operating agreement to address events ranging from the general structure under which the company operates to what happens when a member leaves the company, whether voluntarily or involuntarily Minnesota has many entity options for the future business owner. Tax and legal considerations must be analyzed and addressed when deciding which entity is best for your business.
Surrounding yourself with a team of professionals is a crucial step in helping to start your new business venture.
MAY/JUNE 2023 // BusinessCentralMagazine.com 15
Ask for Skip the long ER line for urgent orthopedic injuries. For same-day orthopedic injury care, walk in to OrthoDirect or call ahead to 320-257-STAT to be seen by the bone and joint experts at St. Cloud Orthopedics. Find expanded hours at StCloudOrthopedics.com/OrthoDirect - Broken or fractured bones- Athletic & sports-related injuries- Sprains, strains &other soft tissue injuries sctimes.com www.monticellotimes.com
16 BusinessCentral Magazine.com // MAY/JUNE 2023 MORE ON EVENTS: For information on these or other business events, call 320-251-2940 or visit StCloudAreaChamber.com and click on "Calendar." NETWORK CENTRAL GROW | NETWORK | PROFIT EVENTS AROUND THE ST. CLOUD AREA
Matthew Staehling, City of St. Cloud (L); Dave Borgert; Brian Gibson, St. Cloud Area Planning Organization; Joe Perske, Stearns County Commissioner
Jackie Scholl Johnson, Big Brothers, Big Sisters of Central Minnesota; Steve Gottwalt, Steve Gottwalt Consulting; St. Cloud Mayor Dave Kleis; Eunice Adjei, Jugaad Leadership Program; Ryan Daniel, Metro Bus
Network! St. Cloud Area Evening at the Capital
Debra Leigh, St. Cloud Technical and Community College (SCTCC); Julie and Kevin Johnson, K. Johnson Construction; Representative Bernie Perryman; Lori Kloos, president, SCTCC; King Banaian, St. Cloud State University
St. Cloud Area Chamber's annual Evening at the Capital in St. Paul brought business leaders and legislators together to discuss business-related issues and concerns.
House Minority Leader Lisa Demuth and Dan Ochsner, Leighton Enterprises
Grow!
Programs sponsored by the St. Cloud Area Chamber of Commerce offer professional and personal growth opportunities.
LUNCHTIME LEARNING
SUPERVISOR DEVELOPMENT
NEXT-CHAMBER'S EMERGING LEADERS
ST. CLOUD AREA LEADERSHIP
Anna Marie's Alliance; Ashley Miller,
Youth; and Brady DeGagne,
Sarah Dean (L), Central Minnesota Council –Boy Scouts of America; Briana Torborg, Falcon National Bank; Linda Dvorak, Premier Real Estate Services; Christina Piecek, Bella Vita Salt Caves; Allison Baatz, Falcon National Bank; Jenna Peterson, Playhouse Child Care.
MAY/JUNE 2023 // BusinessCentralMagazine.com 17
Mason Schirmer, Money Matters, shares tips and tricks for using QuickBooks accounting software.
Mike Roth, Reventus Partners, talks about using a team approach for supervising employees.
The annual Leadership Retreat at Camp Lebanon kicked off the 2022-23 St. Cloud Area Leadership Program.
Jill Magelssen, Express Employment Professionals, presents Hiring for Retention.
Emmitt Edwards (L), Big Brothers, Big Sisters; Cynthia (CeCe) Terlouw, Terebinth Refuge; Charles Hempeck,
Pathways for
Boys & Girls Clubs of Central Minnesota speak during Health & Human Services day.
John Martens, CEO of Iron Street Distillery, talks about the entrepreneurial process of starting a business.
Kelly Doss (L), Resiliency Coaching; Laura Holtzheimer, Central Minnesota Mental Health Center; and DeAnn Burns, Terebinth Refuge discuss mental health in the workplace.
Julie Braun, SOS – Smart Organizing Solutions; and Brandon Voit, Falcon National Bank.
BUSINESS TOOLS
Maximize Your Returns
Now is the time to think about lowering your tax liability through tax incentives.
By Matthew Carlson
Tax season has wrapped up, and for many business owners, it's a weight off the shoulders as it is often a stressful time of year. Tax filing can feel like a headache. It requires pulling together and organizing a mix of documents and financial information for a streamlined filing process. Because tax filing can be so
Contributor
complex and convoluted at times, business owners may not realize that they are missing potential tax deductions and incentives to lower their tax liability and generate cash flow for upcoming projects.
Matthew Carlson is a tax incentives manager at BerganKDV, where he partners with clients to identify and submit for tax incentives to maximize returns.
Now is a good time to start preparing and reviewing your business plans for tax incentive opportunities. Every state and most municipalities have varying tax incentives for businesses that meet certain criteria. For instance, owners may be able to deduct expenses if they conducted recent research and development, generated tax credits/incentives for new capital expenditures, or hired and trained additional qualified employees. Determining which incentives you qualify for can be challenging because they vary, but here are common qualifiers in your capital expenditure and growth plans to look out for. To ensure you are taking advantage of the available incentives, here are a few guiding questions as you review your business plans:
1 Do you have capital expenditures planned over the next two to three years? Are you planning for any new equipment purchases? Are you considering building renovations or expansions? Will you have any new leases?
2 What are your hiring plans for forecasts for the next two to three years?
3 Do you have locations in other states? What are your capital expenditure and hiring plans for those locations?
4 Do you have any training planned for new or existing employees?
5 Does your company do research and development (R&D)? If so, what are your plans related to R&D over the next two to three years?
6. Has your project started yet? Where are you in the process? Are you considering working in any other states?
If any of the above questions apply to you, there are most likely tax incentives available that could help you achieve your business goals and generate cash flow for your project. Business owners have a lot of responsibilities and tasks to keep track of, so it's understandable that finding the time to dive into business plans and identify and apply for incentives may not seem possible.
If this sounds familiar, you may want to consider partnering with a tax advisor who can evaluate your business structure and determine which incentives you may qualify for. By collaborating with a tax advisor, you can take the guesswork out of applying for tax benefits and hoping one works out, and instead be assured that you're using all the tax benefits available to your business.
18 BusinessCentral Magazine.com // MAY/JUNE 2023
INSIDE THIS ISSUE: Management Toolkit / Entrepreneurism / Tech Strategies / Economy
Central by Falcon Bank
GROW | NETWORK | PROFIT RESOURCES THAT HELP YOUR BUSINESS GROW MANAGEMENT TOOLKIT
Now Trending: The Future.
first five days after launching, ChatGPT is the fastest growing app of all time.
processing, while users worldwide are eagerly exploring its capabilities.
Created by artificial intelligence research company OpenAI, ChatGPT is a natural language processing tool driven by AI technology. It can answer questions, help compose emails and essays, and even write code. With more than a million users in the
I asked ChatGPT to write a news snippet about itself, and here's what it provided. (This was its second attempt. I had to ask it to be more concise): OpenAI's ChatGPT language model is gaining attention for its ability to generate high-quality responses to various prompts. Trained on a vast dataset of internet text, ChatGPT excels at answering questions and engaging in natural-sounding conversations. Its creators hope it will inspire breakthroughs in natural language
My follow-up question was related to world domination. To that, it replied: No, I am not out for world domination. I am an artificial intelligence language model created by OpenAI to assist users in generating human-like text based on the prompts given to me. My purpose is to be a helpful tool for people and make their lives easier, not to pursue any kind of world domination.
I remain openly curious, if not a little scared. – EB
MAY/JUNE 2023 // BusinessCentralMagazine.com 19 TECH NEWS
To try ChatGPT for yourself, visit BusinessCentralMagazine.com. Source: OpenAI.com and ZDNet.com
CONFIDENCE. IT'S NOT A SERVICE. IT'S A FEELING. bergankdv.com | #START HERE Investment advisory services and fee-based planning offered through BerganKDV Wealth Management, LLC, an SEC Registered Investment Advisor. Tax and Accounting Services offered by BerganKDV, Ltd. It's that feeling you get when your CFP® collaborates with tax professionals for a tax-efficient wealth management strategy.
JEAN MASSMANN, CPA BerganKDV, Ltd. STEVEN LEEN, CPA, CGMA BerganKDV, Ltd.
BECCA
OELRICH, CFP® BerganKDV Wealth Management, LLC
ADAM
HEATHCOTE, CFP® BerganKDV Wealth Management, LLC
Podcasting as Marketing
Podcasts can be an effective marketing strategy for almost any business.
By Michelle Henderson
the microphones on the Apple ear buds that came with their iPhones (not suggested, but possible). Recording software is readily available online for low monthly costs and hosting platforms distribute podcasts at no base cost. Overhead and time commitments are lower than video or branded whitepapers and a podcast can easily scale from monthly to bi-weekly as it gains popularity.
Easy Listening
Once a podcast has earned a subscriber, they're likely to keep listening.
Friendly Format
Informal conversation is an easier way to consume information than a long-form article, book, or webinar. More engaging than a lecture, more friendly than an online class, and more interesting than a single voice, the conversational style of podcasts draws audiences and drives ongoing engagement.
Beyond true crime stories and political pontification, podcasts can be an effective and integral part of a content marketing strategy for businesses in just about every industry or sector. For those in professional services, a podcast provides a platform for thought leadership. For creators and makers, a podcast solidifies partnerships, sheds light on processes, and drives brand ambassadorship. For manufacturers, a podcast does all the above. There are few limits to the depth and breadth
Contributor
of information that finds an interested and engaged audience through podcasting.
Content marketing encompasses a huge variety of strategies. Generating content and distributing it online can include search engine optimization, social media marketing, long-form web content, public relations efforts, and so much more. A podcast can act as a cornerstone of a content marketing strategy.
Low Barrier to Entry
You don't need a studio, or even any super expensive equipment. Many successful podcasters use
Users love podcasts because consuming audio can be a more passive experience than watching a video or reading a blog post. Listeners can get their favorite podcasts anywhere at any time –work, home, gym, car, bus, bike, you name it. Podcasts make multitasking possible in a variety of places and ways. Users can engage in an organization's message in transit or while doing housework – something not possible with reading or watching.
Regular Engagement
Podcasts are released on a schedule and listeners regularly subscribe. Frequency of brand mentions keeps an organization top of mind. Few other digital distribution channels drive subscriptions that go directly to prospective customers' phones. Podcasting bypasses social media and search algorithm headaches.
Ongoing Content Creation
Content marketing strategies require a significant amount of content generated and redistributed in a variety of formats. Podcasters may take quotes from their conversations to create social media posts, transcribe an episode as a blog, and compile episodes into an ebook. Any core content generated in a podcast provides opportunity for related content on multiple platforms, all feeding back into a lead generation or sales funnel for the root organization. As a friendly, easy way to generate a bulk of content for an online marketing strategy, podcasts are the perfect core of a content marketing strategy.
As with any other piece of content, a podcast must be interesting to be engaging. Before starting, an organization should think about:
How they can add to their industry's collective knowledge
20 BusinessCentral Magazine.com // MAY/JUNE 2023 TECH STRATEGIES
GROW BUSINESS TOOLS
Michelle Henderson is the owner and founder of BadCat Digital, a digital marketing firm in St. Cloud. Catch Michelle and co-host JoyGenea Schumer on their weekly podcast, If These Heels Could Talk. Available on Apple, Spotify, and all top podcast platforms. Continued on next page
How they can impact their audience's buying decisions
Content marketing strategies are successful when they provide information the audience wants to hear instead of information a business wants people to know. If you don't have a go-to podcast that you tune in to regularly, a quick search on Google will reveal many of the top-rated podcasts in a variety of industries and subject matters. Listen to a few and think about what they have in common.
Now, what can you add to the conversation?
High Tech Rubbish
The Ocean Cleanup is an environmental organization that seeks to clean up "garbage patches" in oceans and remove plastic pollution from rivers. In oceans, it uses a long, u-shaped barrier, similar to a net, that is pulled through patches of rubbish by boats. Artificial intelligence (AI) powered cameras scan the ocean's surface for plastic and calibrate the computer models to target areas with the highest plastic density.
On rivers, The Ocean Cleanup team uses its "Interceptor," which again uses AI to determine depth, width, flow speed, and debris type, and then uses a conveyor belt to remove the garbage from the water. Picturing a cleaner world just got easier. Source: BBC.com
MAY/JUNE 2023 // BusinessCentralMagazine.com 21 TECH NEWS
L OOKING FORWARD TO SERVING OUR COMM UNITY IN THE COMING YE AR CONTACT US FOR ALL YOUR COMMERCIAL WIRING NEEDS STILL GREAT REBATES ON LED LIGHTING UPGRADES CONTACT OUR PROFESSIONAL SERVICE TEAM COMMERCIAL INDUSTRIAL TRANSPORTATION PH-320.252.1658 24-Hour Emergency Service www.DESIGNELECT.com
More than a Trend
By Chase Larson
The roots of blockchain and crypto can be traced to the cryptographers of the early 1980s.
networks, such as Bitcoin and Ethereum. While these crypto networks are linked to public blockchains, there are enterprise – private – blockchains as well.
Cryptocurrency
protect transactions, making them virtually impossible to alter or manipulate.
Aside from the Internet, which emerged at the end of the 20th century, blockchain is the most disruptive technology of the 21st century – and it's gaining adoption at a rate of two times that of the Internet. It radically unravels the transparency, trust, and accountability issues within business or third-party transactions, and it opens unlimited opportunities for innovation across industries and borders. There are approximately 52 million active crypto wallets at the time of writing this column,
and many analysts predict this number will climb to over 1 billion by 2025.
Blockchain Blockchain is a decentralized digital ledger that records transactions in a transparent and secure way. Each block in the chain contains a record of several transactions and a unique code, called a "hash," that links it to the previous block in the chain. This makes it virtually impossible to alter or manipulate the information stored in, or on, the blockchain. This technology is what underpins cryptocurrency
Cryptocurrency (aka digital assets) is a type of digital or virtual currency that uses encryption techniques to secure and verify transactions and to control the creation of new units. It is decentralized. In blockchain, decentralization refers to the transfer of control and decisionmaking from a central authority (individual, organization, or group thereof) to a distributed network. The roots of blockchain and crypto can be traced to the cryptographers of the early 1980s. However, the modern day blockchain industry began with the release of Bitcoin in 2009, by the pseudonymous creator Satoshi Nakamoto, and Ethereum in 2015.
Key Features & Benefits
1 Decentralization: Blockchains typically operate independently of central authorities, which reduces fraud potential.
2 Security: Blockchain technology uses encryption to
3 Transparency: Blockchain provides end-to-end visibility of the network transactions, with a single source of truth, that is replicated across the network and stored by all node operators or network validators.
4 Trust: Blockchain injects trust into business transactions because the entity facilitating trust in a transaction is replaced with distributed ledger technology.
5 Smart Contracts: A smart contract is a self-executing electronic contract that you would use in legal matters or business transactions. Smart contracts fuel significant process innovation for businesses with automation, speed, and compliance assurances without significant costs or risk.
6 Peer-To-Peer (P2P)
Payments: Bitcoin's launch in 2009 brought to attention the blockchain's capability for sending value across the internet in minutes for less than one
Continued on next page
22 BusinessCentral Magazine.com // MAY/JUNE 2023
Digital assets have moved past the stage of emerging technology to become a noteworthy part of any business's future.
GROW BUSINESS TOOLS
ENTREPRENEURISM
Contributor
Chase Larson is the chief lending officer and crypto focused executive at St. Cloud Financial Credit Union and a MN Crypto Council Board Member
U.S. dollar, without third-parties or intermediaries for processing and settlement.
Central Bank Digital Currency (CBDC)
Given the benefits of cryptocurrency and blockchain, it has led the U.S. government and Federal Reserve Bank (FRB) (among many other countries) to explore launching a CBDC. It is similar to cryptocurrency, except the CBDC's value is fixed by the central bank and equivalent to the country's currency. It would allow the FRB to interact directly with individual consumer wallets, increase cross-board transaction efficiency, reduce costs, and increase transparency. While a digital dollar could bring massive benefits, it would reaffirm the importance of local trusted financial institutions to ensure that consumers can continue to store wealth locally and retain their privacy.
The next evolution that's upon us with this underlying technology is likely Web3, internet of value, and tokenization of assets stored on the Blockchain. This is a possible move away from centralized web platforms and data centers, towards decentralized networks. The consumer will be able to monetize their own data versus ad platforms or social media companies monetizing the user's data.
Business owners would be wise to learn more about this technology and its impact on every industry. It is not just for those who work in tech or finance anymore, it's becoming the way of the future.
MAY/JUNE 2023 // BusinessCentralMagazine.com 23
Focus on your business. We have the rest covered.
FDIC Equal Housing Lender Strength you can count on. StearnsBank.com/BusinessCentral
Member
The Fight about Free Trade
Who pays the price for increased tariffs and the decline in trade freedom?
By Thomas Mayhew, Hannah Mayhew, and Lynn MacDonald
import tariffs from 10 to 50 percent on a variety of goods, covering $250 billion in goods from China, with plans for future tariffs that would affect approximately $300 billion in more goods. Following the tariffs imposed by the U.S., retaliatory tariffs have been imposed by China, Canada, the European Union, and Mexico.
Recently, there have been bipartisan calls to "Buy American." Current economic conditions consisting of higher inflation, worker shortages, and supply chain disruptions have seemingly led policymakers and others to question the benefits of free trade agreements. According to the 2022 Index of Economic Freedom, trade freedom has declined. Trade freedom measures the degree to which businesses and individuals can buy and sell internationally without government restrictions. Out of 177 countries that were included, 98 countries experienced a decline in trade freedom, including the United States.
U.S. Free Trade Agreements (FTAs) tend to share several characteristics, including reducing or eliminating tariffs on imported and exported goods and offering stronger intellectual property protection. U.S. FTAs are adopted to help remove barriers that would otherwise hinder transactions between U.S. businesses and firms in FTA-participating countries. These agreements have a substantial impact on the U.S. economy. According to the Bureau of Economic Analysis, in 2022, imports to the United States totaled $3.9 trillion and exports totaled $3 trillion. Since 2018, the U.S. has initiated several significant changes to its trade policies. It has imposed
Considering these changes in trade policy, a team of economists led by Harvard Business School associate professor Alberto Cavallo analyzed U.S. prices for imports to investigate who ends up paying the tariffs. Their findings indicate "the price incidence of U.S. import tariffs falls largely on the United States." As a result of the tariffs placed on Chinese imports, the U.S. is paying more for these imported goods. The same research found that many U.S. retailers "are absorbing a significant share of the increase in the cost of affected imports" by reducing their profit margins on those goods. These changes in policy are also harmful to Chinese exporters, as the higher price will lead to a reduction in the number of units produced by Chinese firms, which then limits the amount made available to consumers.
While consumers may feel the impact that tariffs have on the final goods that they purchase in the store, perhaps
even more important to the global economy is the impact of tariffs on intermediate goods used to produce those final goods. Intermediate goods are goods that are used in the production of other goods. Economists Robert Johnson and Guillermo Noguera estimate that intermediate inputs now comprise as much as twothirds of world trade, with many of these transactions taking place within global supply chains.
Considering the importance of global supply chains in the trade of intermediate goods, researchers Gene Grossman and Elhanan Helpman analyzed how those supply chains have been impacted in the wake of increased tariffs. They find that, in the case of large tariffs, producers of final goods may be forced to search for different suppliers of inputs if the resulting tariff makes the cost of doing business too high. They conclude that costs and inefficiencies associated with searching for new suppliers become a component of the price increase from the resulting tariff.
While changes in trade policy are both complex and dynamic, in the short-term, the reduction in free trade is contributing to higher prices as well as supply chain disruptions. The long-term impact of the tariffs presently in place is murky, as it will depend on how trade policy evolves and the extent to which countries enter into or maintain free trade agreements. Business and consumer reactions to price changes and international trade will also play a key role.
24 BusinessCentral Magazine.com // MAY/JUNE 2023 Economy Central presented by
ECONOMY CENTRAL
Contributors
GROW BUSINESS TOOLS
Thomas Mayhew is an economics student at St. Cloud State University. Hannah Mayhew is a 2022 SCSU economics graduate; Lynn MacDonald is associate professor of economics at SCSU.
Residential Building Permits
ECONOMIC INDICATORS & TRENDS
TOTAL: $5,312,084
Compiled by Shelly Imdieke, St. Cloud Area Chamber of Commerce
Commercial Building Permits
TOTAL: $9,445,917
Unemployment Rates
TOTAL: $215,772,443
Non-Farm Jobs
MAY/JUNE 2023 // BusinessCentralMagazine.com 25 $0M$20M$40M$60M$80M$100M December November October September August July June May April March February January 2023 2022 2021 Residential Building Permits 6 COMMUNITIES - ST. CLOUD, SAUK RAPIDS, SARTELL, WAITE PARK, ST. AUGUSTA, ST. JOSEPH $0 $500k 2023 2022 2021 Food and Beverage ST. CLOUD 0 5001000150020002500 2023 2022 2021 Home Sales Closed ST. CLOUD $0M$50M$100M$150M$200M$250M December November October September August July June May Apr Mar Feb Jan 2023 2022 2021 Commercial Building Permits 6 COMMUNITIES - ST. CLOUD, SAUK RAPIDS, SARTELL, WAITE PARK, ST. AUGUSTA, ST. JOSEPH TOTAL: $84,561,804 TOTAL: $88,202,416 TOTAL: $215,772,443 TOTAL: $9,445,917 TOTAL: $153,245,951 TOTAL: $5,312,084 $0M$20M$40M$60M$80M$100M November October September August July June May April March February January 2023 2022 2021
6 COMMUNITIES - ST. CLOUD, SAUK RAPIDS, SARTELL, WAITE PARK, ST. AUGUSTA, ST. JOSEPH $0 $500k 2023 2022 2021 Food and Beverage ST. CLOUD 0 5001000150020002500 2023 2022 2021 Home Sales Closed ST. CLOUD $0M$50M$100M$150M$200M$250M December November October September August July June May Apr Mar Feb Jan 2023 2022 2021
6 COMMUNITIES - ST. CLOUD, SAUK RAPIDS, SARTELL, WAITE PARK, ST. AUGUSTA, ST. JOSEPH
$84,561,804
TOTAL:
TOTAL: $88,202,416
TOTAL: $153,245,951
St. Cloud, MN MetroSA Minnesota United States -2.0% -1.5% -1.0% -0.5% 0.0% 0.5% 1.0% 1.5% 2.0% JDNOSAJJMAMFJ
2022-23 -% CHANGE St. Cloud Minneapolis/St. Paul Minnesota United States
2022-2023 1% 2% 3% 4% 5% JDNOSAJJMAMFJ
Source: positivelyminnesota.com
Building departments for the following cities: St. Cloud, Sauk Rapids, Sartell, Waite Park, St. Augusta, and St. Joseph. BUILDING PERMITS BY COMMUNITY Commercial 2021 2022 2023 #/$ #/$ #/$ St. Cloud 282 275 33 $105,238,005 $139,287,507 $6,954,531 Sartell 158 174 38 $18,230,359 $31,707,799 $2,116,414 Sauk Rapids 56 65 Not reported $12,310,906 $11,765,992 Waite Park 122 170 14 $11,691,421 $21,617,182 $374,972 St. Augusta 12 10 Not reported $2,774,220 $300,363 St. Joseph 44 96 Not reported $3,001,040 $11,093,600 BUILDING PERMITS BY COMMUNITY Residential 2021 2022 2023 #/$ #/$ #/$ St. Cloud 777 612 141 $31,498,210 $24,252,325 $1,313,580 Sartell 477 1,350 31 $28,930,350 $15,624,339 $1,003,065 Sauk Rapids 252 994 75 $9,116,510 $21,072,914 $2,976,638 Waite Park 54 49 3 $2,766,805 $1,155,337 $18,801 St. Augusta 113 110 Not reported $11,360,899 $12,380,467 St. Joseph 162 181 Not reported $4,529,642 $10,076,422 $0M$10M$20M$30M$40M$50M$60M$70M$80M December November October September August July June May April March February January WAITE PARK, $0 $500000$1000000$1500000$2000000 December November October September August July June May April March February January 2021 2020 2019 Food and Beverage Tax Collection ST. CLOUD 0 500 1000 1500 2000 December November October September August July June May April March February January 2021 2020 2019 Home Sales Closed in St. Cloud Area 6 COMMUNITIESST. CLOUD, SAUK RAPIDS, SARTELL, WAITE PARK, ST. AUGUSTA, ST. JOSEPH $200M December November October September August July June May Apr Mar Feb Jan WAITE PARK, $78,621,465 $63,885,721 $137,532,948 $12,581,424* $178,724,272 TOTAL: 1868 TOTAL: 182* TOTAL: 1823 TOTAL: $1,287,691 Data not released at time of print TOTAL: $1,604,677 $3,716,523* Jan Feb Mar Apr May June July Aug Sept Oct Nov Dec COLOR KEY: Economy Central presented by
Source: positivelyminnesota.com Sources:
Totals represent data reported as of 4/1/2023
$153,245,951
Housing/Real Estate sources: St. Cloud Area Association of Realtors, http://stcloudrealtors.com/pages/statistics.
120 TOTAL: 2010 TOTAL: $1,587,656
1569
Source: Tax Collections – City of St. Cloud
TOTAL: NOT REPORTED TOTAL: $1,420,811
Class of 2023
As another school year draws to a close, the repeated refrain of 'what are you going to do when you graduate' is echoing in hallways and at graduation parties around the United States. Whether it's college or not, four year or two year, in state or out of state – it all varies. Here's a snapshot of what Minnesota high school graduates are doing:
83% the high school graduation rate for the class of 2021 in Minnesota
70% the percentage of Minnesota high school graduates who will enroll in some kind of postsecondary institution in the fall following graduation
28% the percentage of college-bound Minnesota high school graduates who attend college outside of Minnesota
50%+
the percentage of high school graduates choosing to attend college in Minnesota, who are going to a four-year school
Source: Minnesota Office of Higher Education
26 BusinessCentral Magazine.com // MAY/JUNE 2023 GROW BUSINESS
$0M$20M$40M$60M$80M$100M January $0 $500k $1M $1.5M $2M 2023 2022 2021 Food and Beverage Tax Collection ST. CLOUD 0 5001000150020002500 $0M$50M$100M$150M$200M$250M December November October September August July June May Apr Mar Feb Jan
Permits CLOUD, SAUK RAPIDS, SARTELL, WAITE PARK, TOTAL:
TOTAL:
TOTAL:
TOTAL:
TOTAL:
TOTAL:
$0 $500k $1M $1.5M $2M December November October September August July June May April March February January 2023 2022 2021 Food and Beverage Tax Collection ST. CLOUD 0 5001000150020002500 December November October September August July June May April March February January 2023 2022 2021 Home Sales Closed in St. Cloud ST. CLOUD TOTAL:
TOOLS
Building
$215,772,443
$9,445,917
$1,587,656
NOT REPORTED
$1,420,811
TOTAL:
Tax Dollars ST. CLOUD $0 $500k $1M $1.5M $2M 2023 2022 2021
TOTAL:
Lodging
TOTAL: $1,543,320
$125,969 TOTAL: $1,142,027 Source: Tax Collections – City of St. Cloud
Foreclosure Auctions STEARNS AND BENTON COUNTIES 01020304050607080 2023 2022 2021 TOTAL: 69 TOTAL:
TOTAL: 31 SHERIFFS' FORECLOSURE AUCTIONS Residential 2021 2022 2023 Stearns Co. 17 55 6 Benton Co. 14 12 2 Benton County Sheriff's Civil Process; Stearns County Sheriff's Office ECONOMIC INDICATORS & TRENDS $0M$10M$20M$30M$40M$50M$60M$70M$80M December November October September August July June May April March February January WAITE PARK, $0 $500000$1000000$1500000$2000000 December November October September August July June May April March February January 2021 2020 2019 Food and Beverage Tax Collection ST. CLOUD 0 500 1000 1500 2000 December November October September August July June May April March February January 2021 2020 2019 Home Sales Closed in St. Cloud Area 6 COMMUNITIESST. CLOUD, SAUK RAPIDS, SARTELL, WAITE PARK, ST. AUGUSTA, ST. JOSEPH $200M December November October September August July June May Apr Mar Feb Jan WAITE PARK, $78,621,465 $63,885,721 $137,532,948 $12,581,424* $178,724,272 TOTAL: 1868 TOTAL: 182* TOTAL: 1823 TOTAL: $1,287,691 Data not released at time of print TOTAL: $1,604,677 $3,716,523* Jan Feb Mar Apr May June July Aug Sept Oct Nov Dec OUTLOOK!
Sheri s'
8
ON THE FOUNDATION OF FAMILY
NOUN
1. an entertainer who continuously tosses into the air and catches a number of objects so as to keep at least one in the air while handling the others:
"a circus juggler"
a person who adroitly balances several activities:
"you will need to be a deft juggler of competing priorities and tight deadlines"
Rich and Jodi Erkens' photos should be next to the definition of "juggler" in the dictionary. This husband-wife team owns and operates a thriving, growing business with 20 employees while raising four children.
"Not only are we partners in business, we're partners in life," Rich said.
Others sometimes marvel at how they keep all the balls in the air. For instance, they laugh when recounting the questions they each got from moms at a preschool group a few years back. Jodi was pregnant with the couple's fourth son, meeting weekly with other mothers while the children did their thing. One week, she recalled, "Someone found out we worked together, and they could not believe it. It was a whole conversation on how we do it."
The next week, Jodi had gone into labor so Rich took her place in the preschool parents' group. He said he was bombarded with women asking, "How the hell do you work with your wife?" They wanted to know "how we don't kill each other."
How do they work together?
of the time, couples don't have those circles intertwining. There are times where you have to find those moments where you just kind of go to your separate corners, breathe, and come back at it and say, 'I see why you said that. This is why I feel this.' You just work through it."
Jodi and Rich each have their own office at AVX in Waite Park. Jodi has a home office; Rich didn't want one. "But I'm like 'you need to have a workspace.' " Jodi said. "So it's our game room. Our boys know that he'll be like, 'I have to help a customer. I'm going to the game room.' " The boys make themselves scarce while Rich talks on the phone and paces. "They know to stay away," Jodi said. "It's not that Dad's mad. He needs the space. Our children have known nothing else."
Rich and Jodi's roles are clearly defined. "I can't be Rich's assistant," Jodi said. "Don't ask me how to wire, how to sell." Instead, she handles the books, works with their social marketing team, and takes the lead in managing the kids and the home – often from her home office.
BY JEANINE NISTLER
PHOTOS BY JOEL BUTKOWSKI, BUTKOWSKI DIGITAL IMAGING
"We've learned a lot of different things about each other," Rich said. "We've learned to communicate so we can survive. Our circles of both our personal life and our business life and our kid life are all intertwined. Most
"She always says – and she's right – that if you've failed with the kids, you've failed everything," Rich said. If the school calls to say one of their boys is sick, Jodi peels out to pick up the kid – unless she's in the middle of an important meeting, in which case Rich heads to school.
MAY/JUNE 2023 // BusinessCentralMagazine.com 29
jug·gler [ˈjəɡ(ə)lər]
A PASSION FOR THE INDUSTRY COUPLED WITH A FIERCE LOVE OF FAMILY AND COMMUNITY MAKE RICH AND JODI ERKENS OF AUDIO VIDEO EXTREMES STAND OUT.
PERSONAL PROFILES
JODI ERKENS, 47
Hometown: St. Joseph
Education: Apollo High School, two-year Associate of Applied Science degree from St. Cloud Technical College
Work history: Bingo Emporium, DeZURIK, Victor Communications, Unique Screen Media
Family:
Husband, Rich; four sons, Riley, Jack, Reid, and Jacob
Hobbies: RV travel, attending concerts and children's sporting events, playing with our four dogs
RICH ERKENS JR., 48
Hometown: Cold Spring
Education: Rocori High School
Work history: Radio Shack, Circuit City, Audio King, and Ultimate Electronics
Family: Wife, Jodi; four sons, Riley, Jack, Reid, and Jacob
Hobbies:
Snowmobiling, racquetball, concerts, and RV travel
30 BusinessCentral Magazine.com // MAY/JUNE 2023
The Erkens' children have been involved with the business as well. "I count my blessings," Jodi said. "We were very fortunate that we were able to raise children and have a business and show them what that part looks like."
The youngsters helped remodel the Waite Park facility and have done demo at the new site in Baxter. "They aren't handed anything," Jodi said. "They have to work for it."
Their children started by emptying garbage, scrubbing toilets and cleaning floors. "They don't just get a computer and do the cushy programming," Rich said. "No, you've got to learn everything before you can run."
The upside for the Erkens' offspring: Great electronics in their home, and travel in the family's motor coach that contains a miniature office setup. Jodi remembers times the family would pull into a rest stop so the boys could play while Rich spoke by phone with customers. She recalls a trip to Montana and Wyoming during which Jodi would work for a couple hours while Rich and the boys went hiking. They parked their RV at a friend's ranch, where the boys jumped into an icy pond fed by a mountain spring. "What we've done for our livelihood," Rich said, "has given our kids some pretty amazing adventures."
The employees get some perks as well, including competitive pay, 401k with employer match, medical insurance and events for the team and their families such as an annual ROX game and prime rib at the Erkens' home near Rice.
And they get training when they start and each year thereafter. "We don't just say, 'Go out there and figure this out.' " Instead, Rich said, they say to employees, "Go out and do it, but how can I help you." The AVX standard is, if a technician can't figure out a residential or commercial problem in the field in 20 minutes, they should call a team member who has more experience. That team member often is Rich.
Rich estimated that Jodi spends 70 percent of her time on family matters and 30 percent on AVX. "Me on the other hand, I have to be 70 percent business and 30 on the kids' side."
When Jodi notes that the school lunch money account is running low, she tells Rich, and he refills it by punching a few keys on his
phone. Jodi apprises Rich of the when and where of the kids' activities so he can figure out his schedule to make sure he participates.
Rich knows the technical side of AVX inside out and upside down. He rattles off terms like "4k acoustically transparent" and "4k resolution but with compression" as easily as the rest of us can say our own names. (See related story.)
No matter the division of work and family duties, both Jodi and Rich go full tilt on AVX customer service. Just ask Tom St. Hilaire of Midwest Financial Planners, whose home is outfitted with electronics purchased from and supported by AVX. "It's not just customer service," he said. "It's relationship." He said he can email Rich on a Saturday evening and Rich will immediately call. "They really want our family to enjoy everything AVX put in."
AVX has completed several projects at the St. Hilaire home in St. Cloud over the past 10 to 12 years, including a significant upgrade about 18 months ago. "A lot of times they know what we want when we don't," St. Hilaire said, adding that the Erkens' ideas often "save money or get more bang for your buck."
Pete Poepping, operating partner for Letnes Restaurant Group, says AVX has installed and maintained electronics in his home and has done about a dozen projects for the group's facilities, including digital, TV-based platforms at Olde Brick House, 7 West, Pioneer Place, Boulder Tap House, and Grizzly's, and at properties in Mankato, Rochester and Mason City, Iowa.
AVX's service "is one of the best we've ever received from any company," Poepping said. The whole AVX staff provides outstanding service and Rich "answers his phone whenever I call."
"You can buy these toys anywhere, you really can," Rich said. "You can go to Walmart, off the Internet, Best Buy, these big box places and so on, but you can't buy the people that have passion about it. We're taking care of it. There's service after you buy. If you have questions, we're a phone call away, and we answer." That's what Rich means by service.
Jodi's approach is a little different. "How can we enhance their homes?," she said. "How can we enhance their lives? We create family time."
TIMELINE
2005
Rich and Jodi Erkens launch Audio Video Extremes (AVX) with two partners, one who leaves the business three months after starting
2009
The Erkens move AVX from their home office to a small showroom and separate warehouse in the Total Recreation location
–––––
AVX opens its car audio division
2012
The Erkens buy out their second partner and become sole owners of AVX
2014
AVX moves to its current location at 1131 Second St. S. Waite Park, combining showroom and warehouse in one facility
2016
AVX adds automated shading solutions to product line
2018
AVX opens a second location in Fargo, North Dakota, after having done work there for about five years
2019
AVX adds alarm sales, installation and monitoring options
MAY/JUNE 2023 // BusinessCentralMagazine.com 31
ST. CLOUD AREA SMALL BUSINESS OF THE YEAR
AHEAD OF THE CURVE
Because of annual revenues that have grown over 1,000%, an employee base that has gone from 1 to 20, and persistent dedication to the St. Cloud community over the last 18 years, Rich and Jodi Erkens have been awarded the 2023 St. Cloud Area Small Business of the Year award.
Rich and Jodi Erkens have dedicated their careers to home entertainment. Rich started working at RadioShack when he was just 16, and spent a good portion of his career at Audio King, which was eventually purchased by Ultimate Electronics. "If people wanted to program multiple things together, like TVs in this room and speakers in that room, Rich was always that guy," Jodi said.
In 2005, Rich could sense that change was on the horizon at Ultimate Electronics. He approached Jodi with the idea of starting his own operation along with two other business partners. Jodi told him he had six months to figure it out. The business worked out of a home office initially, eventually opening its first location in 2009. During that time, one of the business partners left, and Jodi did part-time bookkeeping for the company.
"After about five years of relatively stagnant growth since starting the business, I said to my remaining business partner 'Here's the deal, I have a plan to move us to the next level, do you want to be part of it?'" Rich said.
In 2012, the Erkens bought out that partner and implemented a much more aggressive business plan. Things started moving quickly. Audio Video Extremes moved into its new location in 2014, doubled its annual revenue in the first year,
and by 2022 had tripled that annual revenue. It employs 20 people and will be opening a second location in Baxter, in 2023 with three employees. "We knew it was going to be good; we didn't know it would be this good." The response and excitement has been more than they could anticipate.
Over the last 18 years, the Erkens have seen trends and challenges come and go. AVX operated a car audio department for several years but retired that service in 2021 –without losing any employees, and with minimal impact on the bottom line. They face a constant struggle with hiring, so they pride themselves in offering competitive pay and benefits and treating the staff of 20 like family. They had the foresight to see the potential supply chain impact of the pandemic, so some bulk purchasing early in 2020 left them in good standing, inventory-wise, during the last few years. They love giving back to the community, and have been involved with the Holly Ball, raising money for CentraCare Hospice, Coborn Cancer Center, the Central Minnesota Child Advocacy Center, and more.
The exponential growth they've seen, the exemplary service they provide, and their commitment to the St. Cloud community has earned the Erkens and Audio Video Extremes the 2023 St. Cloud Area Small Business of the Year award.
Jodi says it's important to ensure that technology isn't obnoxious. Televisions, for instance, can be mirrors or pieces of art when not streaming programs. In their own home, she explained, the TV over the family room fireplace features a photograph from a family vacation in Florida, evoking fond memories.
Jodi and Rich are passionate not only about family, technology, and customer service, but also community service. They long have been involved with the Holly Ball, raising money for CentraCare Hospice, Coborn Cancer Center, and the Central Minnesota Child Advocacy Center. They have donated an array of electronic equipment to area schools and cut some great deals to save money for others, such as the Foley public schools attended by their children.
I CAN DO THAT!
The more complicated the set up, the happier it makes AVX owners Rich and Jodi Erkens.
Want concert-quality sound without giant speakers? How about a big-screen TV that will fit snugly against the wall in your family room?
Need an electronically decked-out conference room at your place of business?
Dream of controlling your television picture and sound, room temp, position of window blinds and your home security system by button or voice?
AVX can fix you up.
This Waite Park-based company sells, installs, and provides tech support for its residential and commercial customers. Owners Rich and Jodi Erkens work to serve customers within a two-hour-drive radius, but have been known to travel much farther on occasion. In fact, they operated a Fargo location for a time, but have closed that site and are now opening one in the Brainerd/Baxter area.
"That just wasn't the right fit for us," Jodi said of Fargo. "It was a little bit far away, that three to four hours away. We felt we were being spread just a little bit too thin. Two to three hours is the sweet spot."
Neither Rich nor Jodi had youthful dreams of running a business. Jodi's career was on a much different track, working in
32 BusinessCentral Magazine.com // MAY/JUNE 2023
administration, customer service and repair, and marketing for area companies. "As funny as it is, I graduated from the technical college with a degree in computers. Rich uses my degree almost every single day and I do the accounting and marketing. That's not what I went to school for."
BEST ADVICE
JODI'S RECEIVED: "Everyone puts their pants on the same way: one leg at a time."
— Bill Parsons
BEST ADVICE RICH HAS RECEIVED: "Work smarter, not harder. Put the right people in the right places when you can."
—
Dan Coborn
Rich jumped into the electronics field right out of high school with a job at Radio Shack. He later worked locally for other national companies. In the early 2000s, after about eight years of working for Audio King, he saw some writing on the wall.
Rich and Jodi were at a company dinner for the top 10 sales people. When asked about the company's future, the vice president, who was also the owner's son, "looked at everybody, and he looks at Jodi and me, he's like, 'You guys are all the best of the best in here. But the reality is for what I pay just one of you, I can probably put 10 or 15 people on the floor and pay them $10, $12, $15 an hour and inevitably they'll be able to sell more because they can get to more people.' "
Rich said he asked the VP, "Aren't you concerned about the quality of the sale and the relationship of where that client is?" He said the VP responded, "They won't care. They want to get in and get out." That answer led Rich to say to Jodi: "We need an exit strategy. We need to be looking out for our future."
Later, when Audio King closed its installation division in St. Cloud and Rich suggested they offer that service through a former Audio King employee, he was suspended. He got two years of free health care coverage for himself and his young family, and the couple had enough money in savings to pay their bills for six months.
"I said 'Go start a business and make it happen,' " Jodi recalled. "You've always been the guy that puts the big systems together. People could sell a TV or they could sell a speaker, but to sell a TV and a speaker and then do that in multiple rooms and tie it together, that was Rich."
AVX started with Rich and Jodi growing the business slowly and strategically. They wanted the business to be unique, Rich said. "We want our customers to be on the cutting edge of technology. But we as a company will be on the bleeding edge. We will experience all the blows of the technology before we ever roll it out to a customer."
AVX is known in the industry, Rich said. When the couple walks into the convention of the global trade association for smart home technology, "there's a certain amount of respect that we have earned." In fact, Rich does beta testing for some manufacturers. "Our house is the test bed," Rich said. "If it can survive the kids and Jodi, it will work well. I get to see all the stuff that's coming six months, a year, two, three years from now."
And just what is Rich seeing?
"In the near future, we probably won't have TVs. Everything's going to be holograms or electro simulations," he said, noting Elon Musk's vision of connecting computer and human brain. "What if we could do away with all that and just simply give electrical stimulation to your frontal cortex to create the image?"
Something Rich does not envision happening anytime soon: Working on anything other than what he and Jodi are doing now. "Once you're in this industry, consumer electronics, it's in your blood. You can't escape it. It's just something that is part of you."
Rich said he loves it when a customer asks for a complicated setup, such as: "When I hit this button can you make the speakers in my bathroom turn on Fox news and the TV go to KARE 11 news and put on the closed captioning while I'm taking my shower and can you set the shower temperature to 103 and change the LEDs when it gets there to red?"
And he loves to respond, "Yeah, I can do that."
Jeanine Nistler is a St. Cloud-based freelance writer whose career has included daily newspaper reporting and editing, as well as communications work in health care, higher education, and state government settings.
TIMELINE
––––––––
October 2021
AVX closes its car audio division due to supply chain issues as well as new cars being equipped with comprehensive audio features
February 2023
AVX chooses not to renew their lease in Fargo, closing that location
May 2023
AVX is selected as the 2023 St. Cloud Area Small Business of the Year 2023
AVX is opening a showroom in Baxter, Minnesota
BUSINESS PROFILE
AVX INC. DBA AUDIO VIDEO EXTREMES Chamber member since 2014
1131 Second St. S. Waite Park, MN 56387 320-217-5877
Baxter/Brainerd (opening Spring/Summer 2023) 15528 Edgewood Drive Baxter, MN 218-454-0338
audiovideoextremes.com
Email: Jodi@ audiovideoextremes.com
Business Description:
Residential and commercial audio/video sales and installation
Number of employees: 20
Annual sales: $4.3 million
MAY/JUNE 2023 // BusinessCentralMagazine.com 33
FAMILY VALUES
At Jacobs Financial, you don't have to share a last name to be family.
In fact, the firm's mission is to treat each client – whether an individual, business owner, or professional – like family members. The same can be said for the tight-knit group that makes up the Jacobs Financial team.
Founder Jim Jacobs and sons, Andy and Dave, take pride in their professional integrity and ideals of service. Together, they foster a culture of inclusiveness and service.
"Our guiding principle is simple, really. We work together to do the right thing –for our clients, our employees, and our community," says Andy Jacobs, Senior Partner & Wealth Management Advisor.
For the Jacobs Financial team, the "right thing" consists of a three-pronged approach. They leverage their expertise, strategies and quality products, and exceptional service to change their clients' lives.
EXPERTISE
Jacobs Financial's knowledgeable professionals and support staff work together to maximize the resources required to provide clients with strategies to help them meet their financial needs.
STRATEGIES AND QUALITY PRODUCTS
The team uses a one-on-one process to analyze each client's unique situation and offer products of lasting value to provide them with long-term strategies to help meet their needs.
EXCEPTIONAL SERVICE
Service that Excels is Jacobs Financial's trademark. They provide consistent, responsive service that's underscored by the dedication of their staff and our commitment to provide strategies that reflect the expressed interests of their clients.
Long-time employee Jody Reese has enjoyed being a part of the Jacobs Financial family and is grateful for the honest, friendly work environment and relationships that have developed over the years.
"With their encouragement, I have been able to develop my skillset while truly helping people," said Jody.
In addition to being dedicated to their clients, the entire Jacobs Financial team works to foster strong relationships within the community. Through volunteerism and
philanthropy, they strive to make the St. Cloud Area a better place. Kiwanis, Kids Fighting Hunger, Junior Achievement, St. Cloud Area Family YMCA, St Cloud Public Safety Foundation, Central Minnesota Habitat for Humanity, Anna Marie's Alliance and March of Dimes of Central Minnesota are some of the nonprofits they have supported.
As they celebrate their 50th Anniversary, the Jacobs Financial team looks back to its early inspriation from Jim's father-in-law, David Willmore, and all of the challenges incurred along the way. For the Jacobs', it always comes back to family.
"When Jim was diagnosed with cancer in 1999, Andy and I decided to join the firm and continue the family legacy," said Senior Partner and Wealth Management Advisor David Jacobs. "And we know we would not have been successful if it weren't for the support of our families, clients, and employees. For that, we are very grateful." •
50TH
ANNIVERSARY CELEBRATION
Jacobs Financial invites the Central Minnesota business community to their 50th Anniversary Chamber After Hours on Thursday, September 14, 2023 at their office at 1407 33rd Street South, St. Cloud.
Jacobs Financial is a family-owned financial services firm that builds strong relationships with its clients while helping them build a legacy of sound financial practice.
34 BusinessCentral Magazine.com // MAY/JUNE 2023 SPONSORED PROFILE
SMART BUSINESS:
JACOBS FINANCIAL
Jacobs Financial 1407 33rd St S, St Cloud, MN 56301 (320) 217-6006 • jacobs-financial.com
For 50 years, Jacobs Financial has treated their clients and employees as their own.
"Our guiding principle is simple, really. We work together to do the right thing – for our clients, our employees, and our community."
" " Registered
and
advisory
Financial Services, Inc. Member FINRA/ SIPC.
Jacobs
is
North Star Resource Group and is independently owned
5600517/ DOFU 4-2023
– ANDY JACOBS
representatives and investment advisor representatives of Securian Financial Services, Inc. Securities
investment
services offered through Securian
North Star Resource Group is independently owned and operated.
Financial
affiliated with
and operated.
Left to Right: Brad Eckoff, Tyler Walz, Cheryl Holthalter, Beth Thielman, Andy Jacobs, Sean Donahue (back), Jim Jacobs, Aaron Zimmer (back), David Jacobs, Megan Salazar, Mathew Siers (back), Jody Reese, Nolan Lind.
Photography by Yuppy Photo
INNOVATION AND PARTNERSHIPS DELIVER FOR ST. CLOUD BUSINESSES
The City's Economic Development support for local businesses results in growth and expansions
St. Cloud spent several years working to position itself as a business-focused, collaborative city with a location attractive to skilled talent and innovative, growth-minded businesses. In 2019, the City's Economic Development Authority identified targeted industries based on an in-depth analysis of its key strengths and amenities:
• Automation
• Business Software & Automation
• Food Manufacturing
• Precision Manufacturing
As a result, the City's Economic Development team is supporting and actively working with businesses in these sectors to access funding for their future expansion and growth.
Advanced Interconnect Technologies (AIT) is one success story which leveraged the City's power of relationships and knowledge of financial resources. Cathy Mehelich, the City's Economic Development Director, tapped the Minnesota Department of Employment and Economic Development's (DEED) Job Creation Fund and DEED's MN Investment Fund to help AIT garner up to $300,000 to apply towards the $3.8 million facility expansion and innovative equipment project.
AIT's expansion centers on its growth in the $70 billion global interconnectivity industry. Due to this growing sector of the market, AIT needs to add twenty new high-paying positions including, engineers, programmers, tool and die makers, and many
more. AIT intends to triple its employee base in a matter of a few years.
Working with businesses as a partner isn't a new initiative at the City's Economic Development team. Similar programs have been leveraged for expansions by Central McGowan, Dubow Textiles, Geringhoff and Park Industries.
In focus groups conducted in 2019, local business leaders told the City they wanted a way to network and connect with one another. Thus, InnovatorsCONNECT
FUNDING HELP
The Job Creation Fund and DEED's MN Investment Fund helped Jason Smith, president of AIT, secure additional funding for their expansion.
was born. The purpose of InnovatorsCONNECT is to build linkages and synergy between these key industries. To foster an environment of innovation and spark new collaborations. With events held throughout the year, varying topics are offered. These sessions have highlighted local companies such as Microbiologics, GeoComm, New Flyer and the City of St. Cloud's Nutrient, Energy & Water Recovery Facility (Wastewater Treatment Plant).
In addition, St. Cloud Economic Development leveraged its resources and relationship with the St. Cloud Technical and Community College, resulting in a$2.5 million grant from the U.S. Department of Commerce Economic Development Administration to build its Advance Manufacturing Training lab, where businesses needing to expand will be able to attract and retain individuals that have been trained in these key industries. •
Interested? To explore development & redevelopment opportunities in St. Cloud, please contact Cathy Mehelich ci.stcloud.mn.us/economicdevelopment
MAY/JUNE 2023 // BusinessCentralMagazine.com 35 SPONSORED PROFILE
SMART BUSINESS: CITY OF ST. CLOUD ECONOMIC DEVELOPMENT
"St. Cloud has a real "sweet spot" with respect to the manufacturing sector for small to mid-sized companies. These target industry sectors represent the greatest opportunity for economic growth and resilience for the future of St. Cloud."
" "
— CATHY MEHELICH, EXECUTIVE DIRECTOR OF THE CITY OF ST. CLOUD EDA.
1201 7th St. S. • St. Cloud, MN 56301 • Ph: 320-255-7200
COOLEST TOOL IN THE BOX
Artificial intelligence is a useful tool in any marketing toolbox, but does it replace the human element?
By Mike Killeen
From typewriters to computers to the Internet, Carrie Karki has seen a lot of changes in marketing. The president and founder of WhiteBox Marketing in St. Cloud is seeing another technology revolution that is changing the way her company — and other marketing agencies — are doing business. "This industry is constantly changing," Karki said. "You're always going to have to stay up on the latest software. Its technology, and it's everywhere. But you have to be smart with it and not lose your core."
The rapidly expanding area of artificial intelligence is becoming a powerful partner to marketers, bringing key words, chatbots and search engine optimization (SEO) into play more clearly. "It's great to have
continued technologies and efficiencies, but we want to ensure that technology doesn't overcome personalization and custom content," Karki said. "While those tools are great for research, ideas and some efficiencies, quality and personalized content will remain our focus and our value."
HOW ARE AGENCIES USING AI?
"The primary use case has been content generation, as seen by the success of platforms like Jasper.ai," said Erin Perry, chief strategy officer at DAYTA Marketing in St. Cloud. AI stands for artificial intelligence. "Content can mean anything from generating blogs and social posts and website copy to generating advertising
REAL BEGINNINGS
copy or SEO-optimized meta descriptions, usually — hopefully — with human oversight and review to fact-check and ensure it's consistent with brand tone."
AI is also proving to be a useful tool for web developers. "AI can be a faster way to figure out how to develop certain functionalities — what maybe took a few hours of research previously can be generated in a few minutes," Perry said. As with other forms of AI, it still requires human oversight to implement and understand the functionality.
"Everybody is playing with it and trying to figure out how to use it and determine just how exactly it is going to affect the Web moving forward," according to Scott Sandbakken, developer and SEO strategist at WhiteBox
The origins of artificial intelligence (AI) date to the early 1930s and British logician and computer pioneer Alan Turing (left). He described a computing machine with the ability to remember infinite amounts of information, and a scanner that could recall the information through a program of instructions also stored on the machine. This was known as the Turing machine, and is essentially the basis for all modern computers. Today, AI plays a role in improving efficiencies, generating content, increasing productivity, and reducing human error, among many other things. Regardless of the industry you operate in, chances are you interact with AI on a daily basis. It is the future of computing, and businesses are learning how to integrate it into daily operations. (See "Intelligent Numbers" on page 39.)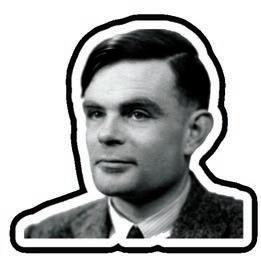 36 BusinessCentral Magazine.com // MARCH/APRIL 2023
FEATURE
Marketing. "That's up in the air right now, but it's definitely a cool tool," he said.
Another way AI is being used is in SEO, which is the process of improving your website to increase its visibility in search engines when people search for products you sell, services you provide or information on topics in which you have deep expertise and/ or experience, according to Search Engine Land website.
"Just having good content on your site isn't necessarily going to be enough to get you looked at," Sandbakken said. "You have to have social cues from incoming links, traffic has to go to your site, and you have to be seen as an authority in your industry." Sandbakken notes that while there are tools that make keyword research and writing for SEO easier, it's still important to have that human touch. He also references tools like ChatGPT that read existing content on the internet and rehash it into a different document. "Marketers have to make sure to bring in new content, new ideas, so that we really add something to the conversation."
"Another interesting emerging use case is interactive chat," DAYTA's Perry said. "While marketers have been able to approximate AI chat for many years now, we're starting to see this get a lot more robust as tools like ChatGPT can scan your website and help serve up answers to your audience." Perry expects to see a lot of growth in this area.
THE HUMAN TOUCH
At DAYTA, Perry and her team are testing the use of AI to generate baseline ideas for content, but always with a heavy helping of human touch. "Our real value to our clients is that we help them be strategic in their marketing versus mass-producing marketing assets that have no business impact," Perry said. "AI is good at the latter, but isn't 'strategic.' We would like to get to the point where we can help our customers harness AI in their own organizations to make
marketing and sales more efficient."
"I would say AI goes in the resources category for content creators," said Rachael Witt, creative director and lead copywriter at WhiteBox Marketing. "There's no replacement for a writer's unique voice, which allows us to connect with our audiences in meaningful ways." Witt believes AI tools can prove useful for getting started with a project, but a personalized touch is still necessary.
Sandbakken said he saw a similar trend when Wix — a platform that allows people to create a website for free — was introduced. "You could build your own website, and a lot of people built their own websites. But it's just not the same as an agency doing it. An agency can custom design a user experience and add those details that really give you a polished product," he said. "It's the same thing with AI and content. You can create some content with it, but if you want a quality polished product, you need to have a writer."
"AI can generate a lot of ideation very quickly," Perry said. "Humans hit writer's block, we get stuck in ruts, and AI gives you a very fast way to come up with alternatives."
THE FUTURE OF AI
AI's contribution in the immediate future will be content generation — but not necessarily good content, according to Perry. "It's easier and faster than ever to generate content that's relevant, factual and grammatically correct," she said, "but not unique, or especially interesting. The result will likely be a massive increase in content creation, followed by a correction to unique content that's higher effort, less automatable, but provides actual value — entertainment or educational or both — to the customer." Agencies should jump past using AI to churn out content, Perry said, and get to a point where AI is integrated into ideation, but not driving content creation.
Fresh Air and Fresh Finances
Time for a fresh perspective on your business finances.
Warmer weather means it's time to tidy up your business finances to reduce stress and boost productivity. But, it can be challenging knowing what to keep and what to discard.
Set up an intro meeting with a Commercial Banking Officer to design a personalized plan to revitalize your business finances.
Insured by NCUA
MAY/JUNE 2023 // BusinessCentralMagazine.com 37
"AI can be a faster way to figure out how to develop certain functionalities — what maybe took a few hours of research previously can be generated in a few minutes."
— ERIN PERRY, CHIEF STRATEGY OFFICER AT DAYTA MARKETING
AI is still in its infancy, she added. While major companies like Google are working with it, most smaller local companies will need to wait a few years before it becomes truly useful. "I don't think we're seeing the full advantages that we will in another few years when it comes to more advanced agency work like data analysis, research, or automated recommendations," Perry said. "At this point in AI's life cycle, the main benefit to an agency is going to be speed."
ENERGY SOLUTIONS
LEARN MORE WWW.STEARNSELECTRIC.ORG
SUPPORTING INNOVATION
AI isn't a threat to your team; it's a chance to help them grow.
By Mike Killeen
Park Industries began manufacturing stone fabrication machines in 1953. By any measure, the company is quite successful, with high customer satisfaction and approximately 300 employees.
On Jan. 1, 2020, the company launched its Advanced Manufacturing Technology group, aimed at implementing artificial intelligence (AI) to steer the company toward a new technological direction. Park Industries Vice President of Manufacturing, Duane Bryngelson, set the group in motion for two reasons. "I could see that we needed to speed up the pace that we could build these types of projects, and for implementing AI projects," he said. Goal achieved. Using programming created in-house, AI has helped Park Industries eliminate downtime, complete more projects, and increase staff while facing the challenge of a shrinking pool of employees with the necessary skill sets.
38 BusinessCentral Magazine.com // MAY/JUNE 2023 FEATURE
It's not just a house.
It's a space that is uniquely yours; a sanctuary full of the things and people you love.
wgohman.com
GENERAL
At W. Gohman, we have been creating environments where people live, work, and play for more than 70 years. From renovation and historic rehabs to large and technically complex projects, our mission is the same: to create beautiful, functional places where people gather. Because this isn't just a house. It's your home.
CONTRACTOR | CONSTRUCTION MANAGEMENT | DESIGN/BUILD | BUILDING + REMODELING
NORTH PINES GRAND VIEW LODGE
STEARNS ELECTRIC ASSOCIATION
Stearns Electric is proud to help members navigate emerging technology including electric vehicle charging, renewables and innovative energy solutions.
By using programming to create logical paths for decision-making, AI can be developed and integrated into the manufacturing process. "What we're doing is building intelligence into the machines," Bryngelson said. "We're teaching the AI programs what kind of materials the machines are cutting, what types of tools they're using to perform the cutting, and the wear characteristics and tool pressures applied to the material. After we build the material and tooling intelligence into the machine, we then add inspection logic into the machine," Bryngelson continued. "At that point, an operator can start the machine, walk away and go operate another machine and know that the first machine is monitoring its own quality."
A VALUABLE TEAMMATE
Park Industries has made the decision not to displace any workers due to the
INTELLIGENT NUMBERS
AI adoption in business is growing: 25% of businesses have integrated AI into their operations.
There is opportunity with AI from a marketing perspective: 79% of sales and marketing leaders say AI has helped their companies increase revenue.
implementation of AI. "We are using AI to improve the working environment for our team, so for things that may be boring or don't enhance the quality of a job, we'll build intelligence into the machine to perform those types of tasks," Bryngelson said.
"We've done a lot of AI here, and I can tell you we've added positions – higher-level positions, more technical," Bryngelson added. For example, some employees who may have started as machinists have received education through Park and now are high-level technicians. "We had a lot of people say, 'Can I sign up and can I learn enough skills to take this on?' We had others who said, 'I love what I'm doing, can I keep doing that?' So it worked beautifully both ways," Bryngelson said.
QUALITY FIRST
As with any technology, there are challenges to implementing AI. "An old piece of advice when computers first came into existence
was 'garbage in, garbage out,' '' Bryngelson said. "This highlights the importance of having a logical path in place." Bryngelson also explained the importance of having a maintenance plan in place for AI tools. "It's only as good as how it's built, and it has to be maintained."
Park Industries has a five-year plan to further integrate AI into its manufacturing process, with the aim of implementing fully automatic machine programming and operation, as well as increasing connectivity for operators. This will include remote monitoring and machine apps to support fully unattended operation.
"Personally, I think it's critical that you're looking at AI as a tool in your toolbox," Bryngelson said.
Mike Killeen is a freelance writer who has written for a number of publications in his over 40-year career.
AI will help improve productivity: 64% of companies that have implemented AI have seen their productivity increase.
Source: Zippia.com
TECHNOLOGY & INNOVATION DIRECTORY
INNOVATING SUCCESS
Minnesota has proved itself as a leader in a variety of high-tech industries such as computer and electronic manufacturing and renewable energy solutions, to name a few. Minnesota ranks 2nd in Navigational, Measuring, Electromedical, and Control Instruments Manufacturing (EMSI, 2021) and 6th in Technology and Innovation (CNBC, 2022). Minnesota ranks 11th Most Innovative State in the country (Bloomberg, 2020), and it is easy to see why; read more to see a few of the companies in Central Minnesota that promote the industry.
Source: mn.gov/deed/joinusmn/key-industries/technology-innovation/
MAY/JUNE 2023 // BusinessCentralMagazine.com 39
Keep reading to learn more about industry leaders in our area.
TECHNOLOGY & INNOVATION DIRECTORY ©Arvig 2023 YOUR LOCAL PROVIDER + Connects + Supports + Protects Fiber Internet, Phone (HPBX), Security and more. 320.204.1020 arvigbusiness.com/stcloud 
SOLUTIONS
GET RESULTS Marla Warner, Marketing Expert mwarner@localiq.com | 320-249-3515 BRINGING YOU PEACE OF MIND BY SOLVING YOUR TECHNOLOGY NEEDS At AGC, we specialize in aiding your team with IT solutions you can trust. Our technical experts focus on speaking your language, not ours. Get a head start on improving your IT environment with a FREE ASSESSMENT when you contact us before July 31st. AGC Agency Inc. Call us today at 320.310.4321 or email us at info@agcagency.com X Optimizing Microsoft Spend? X Addressing Wireless Problems? X Planning Security and Backups? X Organizing Existing IT Relationships? 40 BusinessCentral Magazine.com // MAY/JUNE 2023
MARKETING
THAT
TECHNOLOGY & INNOVATION DIRECTORY Chat, call, host online meetings, and collaborate in real time from virtually anywhere. netcenter.net | 800.723.5353 Talk to the collaboration experts at NCI to see how Microsoft Teams can work for your business. Start a conversation today at netcenter.net/contact. Want everything in one place , so you can be in more than one place? MAY/JUNE 2023 // BusinessCentralMagazine.com 41 We Fix It! ONLINE APPOINTMENTS AVAILABLE BATTERIESPLUS.COM ST CLOUD 2710 2nd St South 320.240.2332 SAUK RAPIDS 27 N Benton Drive 320.230.2332 YOUR DESTINATION FOR Batteries, Light Bulbs & Fixtures, Phone & Device Repair, & Key Services LIGHT IT LED Bulbs Flashlights Fluorescent Bulbs Smart Lighting POWER IT Camera Batteries Cordless Tool Batteries Laptop Batteries Wheelchair & Mobility Batteries FIX IT Car Battery Install Key Fob Programming Phone Services Watch Battery Install
SmallTowns,BIGIMPACT ThesmallercommunitiesaroundcentralMinnesotaarehometobigbusiness–foravarietyofreasons.
By Emily Bertram
Central Minnesota is home to towns of all sizes and dynamics. Each community presents its own unique opportunities, amenities and culture. From the rolling hills of Avon to the busy crossroads of Clearwater, and the sprawling farm fields of Foley to the lake country of Cold Spring, there are diverse, interesting towns all across the region.
Whether a business chooses to operate in a large city or a small town, there are pros and cons
of both. Bigger cities provide a larger customer base, greater visibility, a diverse talent pool, access to infrastructure, growth potential, and more, according to business consultant Larry Alton in an article on AllBusiness. com. Those are all important things to consider when choosing where to locate your business. When it comes to operating in a smaller town, Alton also outlines a number of unique benefits that these communities offer.
AFFORDABILITY
Conducting business in a smaller town is generally more affordable
SPECIAL FOCUS
SMALL TOWN APPEAL 1 Cold Spring: Great family entertainment, like many small communities 2 St. Joseph: Downtown is a popular place to gather 3 Avon: Scenic views from the Lake Wobegon Trail 4 Sartell: The Community Center is a vital community asset 4 1 1 3 1 2
than in a larger city. According to data gathered by SCORE. org in 2021, 56% of rural small businesses were profitable, while 53% of urban small businesses were profitable.
Alton explains that smaller towns can have lower costs of living, lower rent and real estate costs, lower taxes, lower regulatory costs, and reduced transportation costs. Plus, like their larger counterparts, smaller communities often have special incentives for starting or operating
a business through the city's economic development efforts.
The City of St. Joseph is always looking for available incentives through partners like Minnesota Department of Economic Development, the Greater St. Cloud Development Corporation, and others, according to Nate Keller, community development director. The city currently has several opportunities in place.
"For grants, we offer a matching business facade grant for up
to $2,000 per property and a demolition grant for up to $3,500 per property," Keller said. "We also offer a revolving loan fund, which can be used for gap financing. Traditional incentives like TIF and tax abatement are also available."
Similar work is being done to entice new business to Sartell. City Administrator Anna Gruber highlighted the different departments that offer business assistance in the city. "Sartell has both an Economic Development
Authority and Convention and Visitors Bureau that have funds and mechanisms to incentivize business within the community," Gruber said. "Whether this is in the form of permit fee waivers, tax increment financing, land subsidies, revolving loan funds, or grants – the city is inventive and committed to assisting businesses achieve their goals within Sartell."
ACCESS
Many companies agree that having quick and easy access to major
MAY/JUNE 2023 // BusinessCentralMagazine.com 43 ONE SIZE DOESN'T FIT ALL . That's why this is the perfect fit for you! Do you struggle with your health? Do you find yourself stressed out, juggling a myriad of responsibilities, and having a hard time figuring out when you will sleep – let alone when you will work out and eat well? The Perfect Fit Health and Wellness is a place you can go to focus on you. Julia will look at your entire life (stresses, health conditions, injuries, life goals) to help you set priorities, filter through the clutter and succeed. Life and time is too valuable. 320.828.7788 32 1st Avenue NW / St. Joseph, MN 56374 LET GO OF YOUR FRUSTRATIONS AND CALL JULIA TODAY. FRIENDLY COMMUNITY SUPPORTIVE POSITIVE CHRISTIAN ATMOSPHERE EXERCISE & NUTRITION ACCOUNTABILITY theperfectfitmn.com
"Geographically, Cold Spring is located in an excellent position, and we have plenty of commercial space available for businesses to move in."
—MICHAEL MONSON, COMMUNITY & BUSINESS DEVELOPMENT SPECIALIST AT COMMUNITY AND ECONOMIC DEVELOPMENT ASSOCIATES (CEDA)
Thank you for voting for us for Best Real Estate Company! Your Neighborhood Expert sctimes.com PremierHomeSearch.com Your Neighborhood Expert BEST REAL ESTATE COMPANY! Thank you for voting us
Small Town
CHALLENGES
While there are many clear benefits to operating in a smaller town, it does come with its fair share of challenges.
40% of rural small business owners use personal savings because they have trouble accessing capital
74% of rural owners can't find candidates with the right education, skills or training
69% of rural business owners cite a lack of talent pool in their area
56% of rural small businesses do not have good access to digital technology
20/80 rule
20% of rural small businesses generate at least 80% of their revenue by selling online
Source: SCORE.org, 2021 survey
thoroughfares like Interstate 94 and Highways 10, 15, and 23 was a deciding factor in where to locate. That was the case for Granite-Tops in Cold Spring, according to Joel Dehmer, vice president of sales. "We chose the Cold Spring area mainly for proximity to our suppliers," Dehmer said. "There was also more land availability in our Cold Spring area compared to the metro. In the mid1990s, most fabricators started their business in the Cold Spring area since almost all materials came from a couple suppliers. This meant that production was close for trucking and still only an hour away from the Twin Cities for most luxury home builders that used granite for their homes."
Michael Monson is a community and business development specialist with Community and Economic Development Associates (CEDA), an organization that works with the City of Cold Spring. He agrees that one of the city's biggest selling points is its location. "Cold Spring is approximately 6 miles from a major interstate (I-94), and about 15 miles from St. Cloud, with easy access to both," Monson said. "Geographically, Cold Spring is located in an excellent position, and we have plenty of commercial space available for businesses to move in."
"The small-town atmosphere is great while still having convenient access to St. Cloud and the Twin Cities, as well as other cities in close proximity," Tayler Burg, human resource generalist at
Midsota by Novae, said of its location in Avon.
Franklin Outdoor Advertising is in Clearwater and services the St. Cloud area as well as the Metro. Location can also play a factor in cost savings, according to Franklin's Market Manager Brent Mellesmoen. "Driving is a big expense for us and our location in Clearwater off I-94 has shortened our drive times," he said.
SUPPORT
Operating in a smaller town can allow for closer relationships between businesses and the city. This open line of communication helps to address concerns, build trust, and ultimately help business owners succeed.
Finding a community with a friendly and supportive administration was important to Julia Krengel when it came to deciding where to relocate her business. "I met with the St. Joseph administration to share my business goals and reno plans," she said. "They were easy to talk with, they explained the additional resources that were available in St. Joseph, and they even came out to my potential location to help me brainstorm on all my possibilities. I'm so grateful to them for making the process as easy as possible!" Today, The Perfect Fit, a personal training studio, is in a renovated house in St. Joseph.
Mateo Mackbee and Erin Lucas are the owners of Krewe and Flour and Flower in St. Joseph. They love being located in a city that truly
lives its motto – small town warmth, big city cool. "We have been supported by this community from the start, it has made us want to show up for them in return," Lucas said. "We are grateful to be in an area that supports our vision!"
COMPETITION
Businesses located in larger cities reap several benefits, but one challenge that can be addressed with a small-town location is the fact that there is simply less competition. A lack of competition can make it easier for a company to set itself apart as the leader of the industry in its community, according to business consultant Alton. This in turn reduces marketing costs and increases effective word-of-mouth referrals.
On the other hand, competition can have a way of bringing businesses together, which is the case for St. Joseph. "Our businesses have the mentality of 'we're all in this together' versus seeing each other as direct competitors," Keller said. "We also have a ton of passionate people who work very hard because they truly care about the well-being of the community." Lucas of Flour and Flower agrees that "all of the independent business owners in town" is one of her favorite parts of operating in St. Joseph.
COMMUNITY
While there are many great reasons to locate a business in a smaller town, community support is stated as most important for nearly every
44 BusinessCentral Magazine.com // MAY/JUNE 2023
SPECIAL FOCUS
1
company. The same SCORE.org data mentioned earlier highlights 80% of rural small business owners believe the quality of life and cost of living are much better in rural areas.
Rotochopper, a manufacturer of grinding equipment, started on a farm in St. Martin. The company now sells equipment worldwide, but it does not have plans to leave the small community despite all of its business growth, according to Angie Brick, director of community relations. In fact, they even plan for an expansion of the St. Martin facility. "Being
neighbors come together in time of need and work together as a community."
Not only is community support important from a business operations level, but it also provides value to employees of these companies. "Our employees are established in the community and appreciate the local employment opportunity," Granite-Tops' Joel Dehmer said. "We have been in business since 1995 with many dedicated employees who live and spend their incomes in the Cold Spring area."
understand the attraction to Sartell. It was clear that one of the biggest enticements is our top 20 school district and family-friendly, safe setting," she said. "This provides a stable workforce for employers."
"Cold Spring has a strong workforce, a great school district, and community members who take a lot of pride in their hometown and local businesses," CEDA's Monson said. "The city is not too big or too small, and has tons of amenities, so it is a great place to live and raise a family."
working together to make the region a great place to own and operate a business. "Doing business in central Minnesota has lead us into being part of other central Minnesota companies," Midsota's Burg said.
"I'm grateful that St. Joseph is in close proximity to many wonderful communities," Julia Krengel said. "My company serves not only St. Joseph, but all of central Minnesota."
MAY/JUNE 2023 // BusinessCentralMagazine.com 45
Emily Bertram is the editor of Business Central Magazine and Director of Marketing & Communications of the St. Cloud Area Chamber of Commerce.
EYECON GRAPHICS
Leveling the Playing Field
Eyecon Graphics owner Rachael Sogge is working to dispel the myth of overpriced advertising agencies.
By Emily Bertram
Business Central: How did you get into the marketing industry?
Rachael Sogge: I grew up in St. Cloud, where my mom worked in fashion for Herberger's and my dad owned his own architectural firm and blueprint printing company. I came from a creative family. During my college years I worked in the Twin Cities while attending St. Cloud State University remotely, so I was able to learn computer graphic design skills before it was the standard. I graduated with a degree in graphic design, spent some time working in publishing and for local ad agency Thelen Advertising, and eventually started Eyecon with my fellow designer Brian Barrick in 2005.
BC: What made you want to start your own agency?
Sogge: Through my time spent in the industry, I got
AT A GLANCE
tired of not being able to help businesses succeed just because they didn't have a big enough budget. It's somebody's identity – this is their business. The vision for Eyecon started with a desire to help clients of any size with any budget. I wanted to level the playing field, whether you were a small, medium or large business. Everybody should be able to market their business and feel confident in the solutions.
BC: What has been the best part of being a business owner?
Sogge: In the marketing world, it's something new and creative every day, so we as a staff are constantly learning. When we put goals on paper, they don't revolve around Eyecon – they revolve around personal and professional growth for my employees. When they grow professionally, they bring more to the table for
PERSONAL PROFILE
Rachael Sogge
Hometown: St. Cloud
Education: St. Cloud State University
Work History: Sogge worked at Skyway Publications, Complete Planning Services and Thelen Advertising before starting Eyecon Graphics in 2005.
Family: Husband Kelly and children Cheyenne, Ethan, Tristan, Zachary and Alexis Hobbies: Spending time outdoors on her "funny farm," including hunting, fishing, gardening, canning and camping
my business and clients. Professional development is built into our workdays, and I love helping my staff reach their personal and professional goals.
BC: What is the best piece of business advice you've ever received?
Sogge: I don't know that I've ever gotten that
really memorable business advice. Unfortunately, I was told more often, 'Are you sure you're ready for that?' I was 29 when I started Eyecon Graphics, so people really questioned if I could do it. Being questioned and told that I can't drove me to say, "Oh really? Watch me."
TIMELINE
2001
Rachael Sogge graduates from St. Cloud State University
1996-2001
Sogge works as a graphic designer for Skyway Publications in Minneapolis
2001
Sogge works with her father, who owns blueprint printing company Complete Planning Services
2001-2005
Sogge works as a graphic designer for Thelen Advertising where she helped with Business Central Magazine for a few years
2005
Sogge starts Eyecon Graphics with partner Brian Barrick
2008
Brian leaves Eyecon Graphics; Sogge becomes the sole owner
2010
Eyecon moves to 921 1st Street N, St. Cloud
2022
Eyecon Graphics moves to its current location at 32 32nd Ave. S, St. Cloud
Eyecon Graphics // Joined the Chamber in 2007 // 32 32nd Ave. S Suite #100, St. Cloud, MN 56301 // eyecongraphics.com // 320-257-3695 // Opened: 2005 // Business Description: Full-service advertising agency helping clients develop easy step-by-step plans that include traditional and digital media solutions for brand consistency. // Owner: Rachael Sogge // Number of Employees: 3 full-time, 2 part-time
46 BusinessCentral Magazine.com // MAY/JUNE 2023 PROFIT BUSINESS SPOTLIGHT
Rachael Sogge, Owner, Eyecon Graphics
FUN FACT
Sogge has her motorcycling license.
Call for a FREE CONSULTATION or visit LogBank.com Clearwater (320) 558-2021 Avon (320) 356-7334 Long Prairie (320) 732-6131 Browerville (320) 594-2215 St. Cloud West (320) 654-9555 St. Cloud East (320) 257-5000 with local underwriting process and quick closing service! Call for a FREE CONSULTATION or visit LogBank.com Clearwater (320) 558-2021 Avon (320) 356-7334 Long Prairie (320) 732-6131 Browerville (320) 594-2215 St. Cloud West (320) 654-9555 St. Cloud East (320) 257-5000 Available for purchasing and constructing investment homes with local underwriting process and quick closing service! Call for a FREE CONSULTATION or visit LogBank.com Clearwater (320) 558-2021 Avon (320) 356-7334 Long Prairie (320) 732-6131 Browerville (320) 594-2215 St. Cloud West (320) 654-9555 St. Cloud East (320) 257-5000 Offering 8-1 ARM Business Loans 1881 Available for purchasing and constructing investment homes Jason Baszler VP Business Banking Since 2019 Adam Vee VP Private Banking Since 2012 Matt Coran Market President Since 2004 Brian Mathiasen VP Business Banking Since 2006 Andy Voller Chief Credit Officer Since 2008 Jay Johnston CEO/Legal Counsel Since 2002 Kinsey Binnie Business Cash Manager Since 2015 Molly Marlow VP Business Relationship Manager, Since 2007 Tiffany Akervik Credit Officer Since 2002 Kelly Skudlarek Business Administration Since 2010 Local St. Cloud Lenders Supporting Local Business with local underwriting process and quick closing service!