3 2 CONTACT BPO Administrative Offices (716) 885-0331 Box Office (716) 885-5000 Box Office Fax Line (716) 885-5064 Kleinhans Music Hall (716) 883-3560 Buffalo Philharmonic Orchestra 786 Delaware Ave. Buffalo, NY 14209 bpo.org Kleinhans Music Hall 3 Symphony Circle, Buffalo, NY 14201 kleinhansbuffalo.org TABLE OF CONTENTS | MAY 5 THROUGH JUNE 11 BPO Board of Trustees/ BPO Foundation Board of Directors 6 BPO Musician Roster 11 Brahms' Fourth 13 M&T Bank Classics Series May 5 and 6 Yo-Yo Ma 21 BPO Special Event May 7 Classical Jazz 27 M&T Bank Classics Series May 12 and 13 Patriotic Pops 33 BPO Pops Series May 26 and 27 Beethoven & Strauss 35 M&T Bank Classics Series June 3 and 4 Verdi's Requiem 41 M&T Bank Classics Series June 10 and 11 Sponsor a Musician 46 Annual Fund 47 Musical Heritage Society 52 Patron Information 54
MESSAGE FROM THE BOARD CHAIR
Although our 2022-2023 season is drawing to a close, some might say we've saved the best for last. The BPO performs the world premiere of Cuban American composer José Lezcano's Concierto Hispanoamericano, written expressly for our own principal and associate principal bass players, Daniel Pendley and Brett Shurtliffe. We welcome outstanding jazz violinist Regina Carter for David Schiff's homage to Aretha Franklin, Ella Fitzgerald, Billie Holiday, and Sarah Vaughan in a program that includes Duke Ellington. Audience favorite Norman Krieger tackles Beethoven's Fourth Piano Concerto, and John Morris Russell puts his signature spin on our Memorial Day Weekend festivities.
The BPO places the finishing touches on the season in another collaboration with the Buffalo Philharmonic Chorus and SUNY Fredonia Chorus, performing Verdi's masterful Requiem. Not to be overlooked, humanitarian, educator, and multiple Grammy Awardwinning cellist Yo-Yo Ma graces the Kleinhans stage in his rescheduled May appearance with the orchestra.
We're hard at work behind the scenes scheduling our popular summer concert appearances, and looking forward to our traditional visits to the Ellicottville Summer Music Festival, Bisons Independence Eve celebration, and the Outer Harbor with The Strictly Hip, along with neighborhood parks including Bassett, Bidwell, Newstead, Lewiston, Niawanda, North Park, and a few surprises. Stay tuned for the official announcement coming soon!
If you haven't yet checked out the BPO offerings for 2023-2024, please visit bpo.org to view the outstanding programs and performers coming next season. Carolyn and I would love to have you join the family of BPO subscribers, and benefit from the experience only a live concert can provide. Until next season…

John R. Yurtchuk Chair, Board of Trustees Buffalo Philharmonic Orchestra Society, Inc.
5
BUFFALO PHILHARMONIC ORCHESTRA BOARD OF TRUSTEES AS OF JANUARY 1,
2023

OFFICERS
John R. Yurtchuk, Chair
Scott Stenclik, Vice Chair — Chair-Elect
Peter Eliopoulos, Secretary
BOARD OF TRUSTEES
Cindy Abbott Letro
Douglas Bean
Jonathan Borden †
Anne Conable
Stephen B. Edge, MD*
JoAnn Falletta*
Daniel Hart*
Jim Hettich
Mark Hodges †
William Keefer
Ronald Luczak
Alex Montante
Allan C. Ripley*
Casimiro D. Rodriguez, Sr.
Rev. Melody I. Rutherford
Diana Sachs †
Robin G. Schulze, Ph.D
Joseph Sedita
Sonny Sonnenstein
Karen Sperrazza
Christine Standish
David Stark
Angelo Fatta, Chair Emeritus
LIFE MEMBERS
Anthony Cassetta
Randall Odza
Edwin Polokoff
BUFFALO
Rev. Jonathan Staples
Stephen T. Swift
Henry Ward †
John Zak*
JOANN FALLETTA MUSIC DIRECTOR
Multiple Grammy Award-winning conductor JoAnn Falletta serves as Music Director of the Buffalo Philharmonic, Music Director Laureate of the Virginia Symphony, Principal Guest Conductor of the Brevard Music Center, and Artistic Adviser of the Hawaii Symphony. Recently named as one of the 50 great conductors of all time by Gramophone Magazine and among the top 10 conductors today by David Hurwitz of ClassicsToday.com, she is hailed for her work as a conductor, recording artist, audience builder, and champion of American composers.
As Music Director of the Buffalo Philharmonic, Falletta became the first woman to lead a major American ensemble and has been credited with bringing the Philharmonic to an unprecedented level of national and international prominence. The Buffalo Philharmonic has become one of the leading recording orchestras for Naxos, with two Grammy Award-winning recordings.
In Summer 2022, Falletta made her Boston Symphony Orchestra debut at the Tanglewood Music Festival. International highlights for 2022-23 include concerts in Spain, Sweden, Germany, and Croatia. Her recent and upcoming North American guest conducting includes the National Symphony, and the orchestras of Baltimore, Detroit, Nashville, Indianapolis, Houston, Toronto, and Milwaukee. Internationally, she has conducted many of the most prominent orchestras in Europe, Asia, and South America. In the past year, she has led the National Symphony in two PBS televised specials for New Year's Eve and the 50th Anniversary of the Kennedy Center.
*ex-officio † musician representatives
John N. Walsh III
Robert G. Weber
PHILHARMONIC ORCHESTRA FOUNDATION
BOARD OF DIRECTORS
John J. Zak, Chair
Holly Hejmowski, Treasurer
Alexs Spellman, Secretary
Karen Arrison
Michael Munschauer
John Yurtchuk
With a discography of over 120 titles, JoAnn is a leading recording artist for Naxos. She has won two individual Grammy Awards, including the 2021 Grammy Award for Best Choral Performance as Conductor of the Buffalo Philharmonic in the world premiere Naxos recording, Richard Danielpour's The Passion of Yeshua, and the 2019 Grammy Award as Conductor of the London Symphony for Spiritualistby Kenneth Fuchs. Her Naxos recording of John Corigliano's Mr.TambourineMan:Seven PoemsofBobDylan with the BPO received two Grammys in 2008 and her 2020 Naxos recording with the BPO of orchestral music of Florent Schmitt received the prestigious Diapason d'Or Award. Falletta is a member of the esteemed American Academy of Arts and Sciences, has served by Presidential appointment as a Member of the National Council on the Arts during the Bush and Obama administrations, and is the recipient of many of the most prestigious conducting awards. She has introduced over 500 works by American composers, including well over 150 world premieres. ASCAP has honored her as "a leading force for music of our time." In 2019, JoAnn was named Performance Today's first Classical Woman of The Year.
After earning her bachelor's degree at Mannes, Falletta received master's and doctoral degrees from The Juilliard School.
For more information, visit www.joannfalletta.com.
7 6
JOHN MORRIS RUSSELL PRINCIPAL POPS CONDUCTOR
A master of American musical style, John Morris Russell has devoted himself to redefining the American orchestral experience. He is in his seventh season as Principal Pops Conductor of the Buffalo Philharmonic Orchestra. Mr. Russell made his debut with the Buffalo Philharmonic Orchestra in the fall of 2014, and later that season was named the third conductor to hold the position following in the footsteps of Doc Severinsen and Marvin Hamlisch. Mr. Russell's concerts at the BPO reflect the diversity of American musical styles: from Classics to Jazz, Hollywood to Broadway, Country&Western to Rhythm&Blues. This season, Mr. Russell conducts Doo Wop, Broadway, and Holiday concerts.
Maestro Russell is also Conductor of the renowned Cincinnati Pops, one of the world's most iconic and beloved pops orchestras. In his eleventh season, Mr. Russell leads sold-out performances at Cincinnati Music Hall, the Taft Theater, and Riverbend Music Center; additionally, he conducts the orchestra in concerts throughout the Greater Cincinnati region as well as domestic and international tours. Creator of the orchestra's Classical Roots series, he also conducts the Pops family concert series and the annual USO Tribute Cincinnati Gala. The Cincinnati Pops recorded legacy continues under Mr. Russell's leadership. He led the Cincinnati Pops on their first-ever Florida tour, and in 2017 he led the orchestra's sixth tour to Asia including performances in Shanghai and Taipei.
For the last ten seasons, Mr. Russell has served as Music Director of the Hilton Head Symphony Orchestra in South Carolina, and conductor of the prestigious Hilton Head International Piano Competition. Under his leadership, the HHSO has enjoyed unprecedented artistic growth. Mr. Russell leads the orchestra in masterwork subscription concerts annually.
Between 2001-2012 Maestro Russell served as Music Director of the Windsor Symphony Orchestra in Windsor, Ontario, Canada, where he fostered a decade of unprecedented artistic growth. He led the WSO in seventeen national broadcasts on CBC Radio 2, and the orchestra's first nationally televised production for the CBC series Opening Night, which received the orchestra's first Gemini Award Nomination. Maestro Russell was named Conductor Laureate of the Windsor Symphony Orchestra in 2012.
As a guest conductor, John Morris Russell has worked with many of North America's most distinguished ensembles. He has served as Associate Conductor of the Cincinnati Symphony, Associate Conductor of the Savannah Symphony Orchestra, Director of the Orchestral Program at Vanderbilt University, and Music Director with the College Light Opera Company in Falmouth, Massachusetts. He received a Master of Music degree in conducting from the University of Southern California, Los Angeles, and a Bachelor of Arts degree in music from Williams College in Massachusetts. He has also studied at the Guildhall School of Music and Drama in London, the Cleveland Institute of Music, the Aspen Music Festival in Colorado, and the Pierre Monteux School for Conductors in Hancock, Maine.
FERNANDA LASTRA CONDUCTOR DIVERSITY FELLOW

Fernanda Lastra was born in Mar del Plata, Argentina. As a passionate and creative conductor, she is interested in a wide variety of repertoire, including symphonic, contemporary, and operatic works.
Fernanda was appointed Conductor Diversity Fellow at the Buffalo Philharmonic in 2022 under the mentorship of JoAnn Falletta. In this role, Fernanda serves as the assistant conductor, cover conductor, and the main conductor for the BPO Kids series and Music for Youth concerts. Fernanda also serves as a member of the BPO's artistic team, music education committee, and Diversity Council, among other responsibilities.
As a guest conductor, Fernanda has led professional and youth orchestras in the United States, Argentina, and Brazil. Some of her previous engagements include conducting the National Orchestra of Argentine Music "Juan de Dios Filiberto" at the CCK National Auditorium in Buenos Aires, and the production of Missy Mazzoli's opera, Song from the Uproar, in collaboration with Demaskus Theatre and Kassia Ensemble in Pittsburgh.
Fernanda served as Director of Orchestras at Augustana College in Rock Island, IL, leading their symphony and chamber orchestras from 2021 to 2022. She also served as Assistant Conductor for the University of Iowa Symphony Orchestra from 2018 to 2022; Principal Conductor for the Central Pennsylvania Youth Orchestra for 2016-2017; Professor of Orchestral Activities at El Sistema, Argentina from 2008-2012; and on the music faculty at La Plata National University from 2005 to 2016.
As a music entrepreneur and artistic director, Fernanda led an instrumental training ensemble she founded in Argentina in 2013 for four years. This project fostered community appreciation for classical music, with a broad repertoire and active participation in city festivals and cultural events. Fernanda is a passionate advocate for Latin American composers – especially those from Argentina. In 2020 Fernanda created Compositores.AR, a cycle of interviews of Argentinian composers in collaboration with the magazine MusicaClasicaBA in Buenos Aires.
Fernanda earned two bachelor's degrees from La Plata University in orchestral and choral conducting, a master's degree in orchestral conducting from Penn State University, and a doctoral degree from the University of Iowa. She is trained in piano and viola.
9 8
HISTORY OF THE BUFFALO PHILHARMONIC ORCHESTRA
As Buffalo's cultural ambassador, the Grammy Award-winning Buffalo Philharmonic Orchestra under Music Director JoAnn Falletta presents more than 120 Classics, Pops, Rock, Family and Youth concerts each year.
After the rise and fall of several forerunners, the BPO was founded in 1935, performing most often at the Elmwood Music Hall, which was located at Elmwood Ave. and Virginia St., and demolished in 1938 as its permanent home, Kleinhans Music Hall, was constructed. During the Great Depression, the orchestra was initially supported by funds from the Works Progress Administration and the Emergency Relief Bureau. Over the decades, the orchestra has matured in stature under outstanding conductors including William Steinberg, Josef Krips, Lukas Foss, Michael Tilson Thomas, Maximiano Valdes, Semyon Bychkov and Julius Rudel. The orchestra has welcomed many distinguished guest performers, such as Isaac Stern, Aaron Copland, Van Cliburn, Igor Stravinsky, Renée Fleming and Yo-Yo Ma. During the tenure of JoAnn Falletta, who has served as music director since 1998, the BPO has rekindled its history of radio broadcasts and recordings, including the release of 53 new CDs.
The BPO's Naxos recording of composer John Corigliano's "Mr. Tambourine Man: Seven Poems of Bob Dylan," won two Grammys. Our recordings are heard on classical radio worldwide.
HISTORY OF KLEINHANS MUSIC HALL
Since 1940, the orchestra's home has been Kleinhans Music Hall, which enjoys an international reputation as one of the finest concert halls in the world due to its superb acoustics.
Kleinhans Music Hall was built thanks to the generosity and vision of Edward and Mary Seaton Kleinhans and the stewardship of their charitable dreams by the Community Foundation for Greater Buffalo, and the support of the federal government. The Community Foundation was bequeathed the estates of Mr. and Mrs. Kleinhans, who made their fortune from the clothing store that bore their name, and who died within three months of each other in 1934. The Public Works Administration, an agency of the New Deal, provided crucial funding that made it possible to complete the hall.
The Kleinhans, who were music lovers, specified their money was to be used "to erect a suitable music hall…for the use, enjoyment and benefit of the people of the City of Buffalo."
The BPO performed at Kleinhans Music Hall's official opening on Oct. 12, 1940, under the baton of Franco Autori.
Kleinhans Music Hall was designed by the Finnish father-and-son team of Eliel and Eero Saarinen, along with architects F.J. and W.A. Kidd. Kleinhans is known for its combination of graceful structural beauty and extraordinary acoustics. Eliel Saarinen's aim was to create "an architectural atmosphere…so as to tune the performers and the public alike into a proper mood of performance and receptiveness, respectively." In 1989, the hall was designated a National Historic Landmark, the highest designation of significance a site or structure can receive.
Kleinhans is owned by the City of Buffalo but operated by a separate 501(c)(3) non-profit corporation. Its Board of Directors is Jeremy Oczek, chair; Karen Arrison, vice chair; Stephanie Simeon, secretary and treasurer; Cindy Abbott Letro; Peter Eliopoulos; Tania Werbizky; and city officials including Byron Brown, Mayor of the City of Buffalo, and David Rivera, Niagara District Council member.
JOANN FALLETTA, MUSIC DIRECTOR
Angelo and Carol Fatta Endowed Chair
JOHN MORRIS RUSSELL, PRINCIPAL POPS CONDUCTOR
FERNANDA LASTRA, CONDUCTOR DIVERSITY FELLOW
FIRST VIOLIN
Nikki Chooi concertmaster
Amy Glidden assoc. concertmaster
LouisP.CiminelliFamily Foundation Endowed Chair
Ansgarius Aylward asst. concertmaster
Xiaofan Liu 2nd asst. concertmaster**
Douglas Cone
Deborah Greitzer
Diana Sachs
Alan Ross
Andrea Blanchard-Cone
Loren Silvertrust
Hee Sagong
SECOND VIOLIN
Antoine Lefebvre principal
Jacqueline Galluzzo assoc. principal
Richard Kay
Robert Prokes
Frances Morgante
Shieh-Jian Tsai
Iain Crampton**
Cindy Lin**
Nadejda Nigrin**
Mari Jones**
Jonathan Hwang**
VIOLA
Caroline Gilbert principal
Anna Shemetyeva assoc. principal
Matthew Phillips
Kate Holzemer
Natalie Piskorsky
Janz Castelo
Joshua Lohner
CELLO
Roman Mekinulov principal
Jane D. Baird Endowed Chair
Feng Hew assoc. principal
Nancy Anderson
Robert Hausmann 2
David Schmude
Amelie Fradette
Philo Lee
BASS
Daniel Pendley principal
Garman Family Foundation Endowed Chair
Brett Shurtliffe assoc. principal
Michael Nigrin
Edmond Gnekow
Jonathan Borden
Nicholas Jones
Gary Matz
FLUTE
Christine Bailey Davis principal
Linda Greene
Natalie Debikey Scanio
PICCOLO
Natalie Debikey Scanio
OBOE
Henry Ward principal
Joshua Lauretig
Anna Mattix
ENGLISH HORN
Anna Mattix
CLARINET
William Amsel principal
Patti DiLutis
Salvatore Andolina
E-FLAT CLARINET
Patti DiLutis
BASS CLARINET AND SAXOPHONE
Salvatore Andolina
BASSOON
Glenn Einschlag principal
Doron Laznow
CONTRABASSOON (vacant)
FRENCH HORN
Jacek Muzyk principal
Kay Koessler Endowed Chair
Daniel Kerdelewicz assoc. principal
Sheryl Hadeka (L)
Joseph Alberico*
Jay Matthews
Daniel Sweeley
TRUMPET
Alex Jokipii principal
Geoffrey Hardcastle
Philip Christner
TROMBONE
Jonathan Lombardo1 principal
Timothy Smith
BASS TROMBONE
Filipe Pereira
TUBA
Seth Rawleigh principal
TIMPANI
Matthew Bassett principal
Dinesh Joseph assistant principal
PERCUSSION
Mark Hodges principal
Dinesh Joseph
HARP
Madeline Olson principal
MUSIC LIBRARY
Travis Hendra principal librarian
Erin Vander Wyst assistant librarian
STAGE MANAGERS
Charles Gill
Interim Master property person IATSE Local 10
1 Chair dedicated to the memory of Scott Parkinson
2 Chair dedicated to the memory of Maer Bunis
* One Year Appointment
** Temporary Appointment
(L) Leave of Absence

11 10
Friday, May 5, 2023 at 10:30 AM

Saturday, May 6, 2023 at 7:30 PM
Classics Series
BRAHMS' FOURTH
JoAnn Falletta, conductor
Daniel Pendley, double bass
Brett Shurtliffe, double bass
Madeline Olson, harp
GINASTERA
Four Dances from Estancia
I. The Land Workers
II. Wheat Dance
III. The Cattlemen
IV. Final Dance (Malambo)
JOSÉ MANUEL LEZCANO BRAHMS
ConciertoHispanoamericano for two double basses, harp, and strings
I. En el Vedado
II. Bolero Contrabajeando
III. Homenaje a Tarragona
Daniel Pendley, double bass
Brett Shurtliffe, double bass
Madeline Olson, harp
INTERMISSION
Symphony No. 4 in E minor, Op. 98
I. Allegro non troppo
II. Andante moderato
III. Allegro giocoso
IV. Allegro energico e passionato
Learn about this program from the conductor and guest artists at Musically Speaking, one hour prior to the start of Saturday's concert. Patrons are asked to turn off all electronic devices. The use of cameras and recording devices is strictly prohibited.
13 12
This performance is sponsored by the Constance Shepard Walsh Memorial Endowment Fund.
The Coffee Concert Series is presented by
PROGRAM OVERVIEW
This weekend, our powerhouse double bassists Dan Pendley and Brett Shurtliffe are center stage in a concerto commissioned for them by the BPO , with our exceptional harpist, Madeline Olson. Composer José Manuel Lezcano brings his Cuban roots and his love of jazz, flamenco, and pop music into this extraordinary new work, premiered for the first time at these concerts. Ginastera's celebration of the Argentinian gaucho opens the program with drama and flair, and the concert closes with one of the great treasures of Romantic music: Brahms' radiant Symphony No. 4.
PROGRAM NOTES
Alberto Ginastera (Argentinian; 1916-1983)
Four Dances from Estancia
I. The Land Workers
II. Wheat Dance
III. The Cattlemen
IV. Final Dance (Malambo)
Composed 1941; Duration: 12 minutes
First and last BPO performance: April 1617, 2011 (Matthew Kraemer, conductor)
Freshly graduated from the Williams Conservatory in Buenos Aires (1938), Argentine composer Alberto Ginastera was composing music he described as "Objective Nationalism," channeling the sounds and cultural traditions in his music. Aaron Copland had been doing something similar in the U.S., and the two met when Copland was touring South America in 1941. A few years later, Ginastera would spend two years at Tanglewood studying with Copland, honing his technique, and further developing a knack for culturally informed composition.
An immediate result of their first meeting was a commission from Lincoln Kirstein, who was responsible for Copland's ballet, BillytheKid. Although Kirstein's company folded before they could perform it, Ginastera's Estancia celebrated the rural gaucho, as described in José Hernández's 1872 South American cowboy epic, Martín Fierro.
Ginastera distilled his complete ballet into a concert suite that premiered in 1943 at Teatro Colón in Buenos Aires. Nine years later the full work was performed by the Colón Ballet Theatre. The suite contains four dances, opening with the rousing "Los trabajadores agrícolas" (The Land Workers). "Danza del trigo" (Wheat Dance) is a nocturnal interlude with soft, intimate lyricism. "Los peones de hacienda" (The Cattlemen) is a bruising, syncopated dance propelled by athletic brass lines and assertive timpani accents. The work ends with the masculine "Malambo," a competitive all-male gaucho dance that rollicks with uncontained foot-stomping energy.
José Manuel Lezcano (Cuban-American; b. 1960)
Concierto Hispanoamericano for two double basses, harp, and strings
I. En el Vedado
II. Bolero Contrabajeando
III. Homenaje a Tarragona
Composed 2023; Duration: 19 minutes

This is a world premiere performance. Written on commission and dedicated to Maestra JoAnn Falletta, the Buffalo Philharmonic Orchestra, and its two principal bassists, Daniel Pendley and Brett Shurtliffe, this double concerto is an eclectic work. In its jazzy harmonies, syncopated rhythms, and varied textures, it reflects
the influence of Cuban popular music, flamenco, and 1970s American pop, and derives inspiration from Bach and Vivaldi in its structural design and details. The first movement, En el Vedado, references a Havana neighborhood famous for 1950s skyscrapers and nightlife, culminating in a Cuban-style Guaracha with optional improvisation for the soloists. The second movement, Bolero Contrabajeando, is designed around soaring melodies for the soloists and orchestra, with a Spanishtinged cadenza. The third movement, Homenaje a Tarragona, reflects the composer's 2015 sabbatical in that Catalan city. This movement was inspired by the city's soundscape, which includes flamenco jams in narrow medieval streets and archaic melodies heard in Semana Santa celebrations. The role of the obbligato harp is essential and virtuosic, and its writing often references Spanish-tinged guitar idioms.
Notesprovidedbythecomposer.
Johannes Brahms (German; 1833-1897)
Symphony No. 4 in E minor, Op. 98
I. Allegro non troppo
II. Andante moderato
III. Allegro giocoso
IV. Allegro energico e passionato
Composed 1884; Duration: 40 minutes
First BPO performance: November 8, 1936 (Franco Autori, conductor)
Last BPO performance: December 4-5, 2010 (JoAnn Falletta, conductor)
Some three decades after Beethoven's death, Brahms was building a reputation as something of a disciple to the late symphonist. However, his tendency toward self-doubt and over-editing made his first symphony a nearly two-decade labor, completed in 1876. It was immediately popular with many, but the voices of
musical progressivism (i.e. Liszt and Wagner) mocked it as "Beethoven's Tenth." An invective meant to injure, it would help establish him as a key figure that linked Beethoven to later Romantic-era symphonists like Gustav Mahler.
He made quick work of his second symphony, finishing it the following year. His rising fame was only carried further when he began an important professional relationship with the most famous conductor of the time, Hans von Bülow, who led the Meiningen Court Orchestra in the 1882 premiere of his second piano concerto. The partnership resulted in Brahms' final two symphonies, which premiered in 1883 (No. 3) and 1885 (No. 4). Von Bülow's assistant at the time was a young progressive composer himself, but in studying the new symphonies, Richard Strauss was converted by Brahms' capacity to produce emotive content with classically informed technical aptitude. Such was the nature of Brahms' legacy: he showed the next generation how tradition can inform progress.
The work begins with the primary theme, a fragmented series of sighing figures accompanied by an unsettled and constantly moving counterpoint. A second theme flows from the cellos first, then violins, and is complemented by staccato figures from the orchestra. The melody continues in the winds, followed by a growing fanfare that marks a transition to the development, where the materials shift and evolve organically, leading back to the recapitulation. The coda dramatically reestablishes the forceful E minor.
The Andante begins with an unaccompanied horn call, but the entrance of delicate pizzicato marks a shift to the nocturnal and reflective. Forceful transition material leads to a theme first presented by the cellos, notable for its subdued sentimentality. The opening horn call returns in an excit-
15 14
ing climax, curiously situated in the archaic Phrygian mode more at home in early church music, mystically alluding to a time and place long passed.

The Allegro giocoso provides a momentary break in the work's seriousness, creating a vibrant oasis of joy. Structured in a cerebral sonata form, the movement is not technically a scherzo, but a triumphant march elevating the mood of the symphony. A jubilant second theme adds to the movement's levity, and these themes are explored in a creative development section.
The finale is Brahms' last symphonic contribution, a masterful demonstration of form and technique. The work's serious tone returns, opening with no-nonsense
chords borrowed from Bach's cantata, Nach dir, Herr, verlanget mich (For Thee, O Lord, I long). They are treated as a passacaglia, in which a harmonic progression is repeated throughout the work in variations. In all, there are some 30 variations present, grouped into sections. In the first section, the chordal structure is most literal, with ambling melodic manipulations that disguise the original materials. A flute solo marks a lengthening of the harmonic pattern in a distinctly airy middle section. From here, the variations grow in intensity, but the pattern breaks in the coda, which puts an end to any levity that the symphony may have had.
DANIEL PENDLEY, DOUBLE BASS
Daniel Pendley is the Principal Bassist of the BPO, and Instructor of Bass at the University at Buffalo and Buffalo State. A native of Lexington, Kentucky, Daniel attended the University of Cincinnati College-Conservatory of Music, where he earned his Bachelor of Music in Double Bass Performance cum laude. He returned to CCM and earned a Master of Music degree in bass performance and served as a teaching assistant to Professor Albert Laszlo. He pursued further studies at the Aspen Music Festival and School as a fellowship student with Mr. Laszlo, as well as Eugene Levinson, Bruce Bransby, Chris Hanulik, and Paul Ellison.
Daniel has previously appeared as a soloist with the BPO at Artpark and Canisius College. He moved to New York from Kentucky, where he served as the Assistant Principal Bassist with the Louisville Orchestra for one year. Daniel was a member of the Lexington Philharmonic for several years, in addition to occasionally playing with the Cincinnati Symphony, Cincinnati Chamber Orchestra, and the Dayton Philharmonic. He performs regularly with the Buffalo Chamber Players and is a founding member of the renowned Buffalo Philharmonic Bass Sextet. Daniel primarily performs on two mid19th century French double basses, and bows by Vincenzo Deluccia (ex-Laszlo) and Samuel Kolstein. He lives on Buffalo's West Side with his family.
BRETT SHURTLIFFE, DOUBLE BASS
Brett Shurtliffe is the Associate Principal Bassist of the BPO. In 2003 he was the only American prizewinner at the International Society of Bassists (ISB) Solo Competition, and two years later took First Prize at the ISB Orchestral Competition, becoming just one of three bassists from around the globe to win prizes in both competitions. Since joining the BPO in 2007, Brett has appeared numerous times as a soloist with the orchestra, and with many other orchestras around the country. Brett received his B.M. and the prestigious Performer's Certificate from the Eastman School of Music, where he studied with James VanDemark, and his M.M. from Duquesne University, where he studied with Jeffrey Turner.
Brett's playing has been described as "immaculate" (Bass World), and "Not even Johann Sebastian shredded as hard as this guy" were the accolades he received from an imaginative recital at a downtown Buffalo night club. His recital engagements have taken him across the U.S. and Canada, and before joining the BPO, he performed with the Wheeling, Erie, Detroit and Pittsburgh Symphonies. Brett has served as Adjunct Professor of Double Bass at the Eastman School of Music, Grove City College, and SUNY Fredonia. Along with his current private studio, he serves as Adjunct Professor of Double Bass at Houghton College, and is on the faculty at the International Round Top Festival Institute in Texas.
17 16
Chaz Stuart, 2023
To Order, Call 716-972-2230 or visit Bu aloSpree.com CELEBRATE WNY'S People & Places Food & Drink Arts & Entertainment Homes & History and so much more! SHEA'S CELEBRATES 95 YEARS AND LOOKS FORWARD GREEN SCENE: WNY'S ENVIRONMENTAL HEALTH LEBANESE STREET FOOD The Magazine The Magazine PLANT SUCCESSFUL GARDEN UB ARTS KITCHEN WARRIORS BUFFALO HOME COOKS REVEAL THEIR SECRETS The Magazine BEST REPORTER (BROADCAST) KATE WELSHOFER 200-PLUS WINNERS IN FOOD, SHOPPING, PEOPLE, ENTERTAINMENT, AND MORE The Magazine BASEMENT AND ATTIC REHABS IN HOME DELIVERS PINTS, PIZZA, & MORE Great Getaways REFRESHING DAY WEEKEND TRIPS and never miss an issue SUB SCRIBE $10 ONE YEAR for only with code PBB
MADELINE OLSON, HARP
Praised for her "wonderful musical sensibility," Madeline Olson is the Principal Harpist for the BPO. In 2019, she was awarded a career grant from Salon de Virtuosi, and in 2017, she was the first American to be awarded first prize at the Nippon International Harp Competition in Soka, Japan. Madeline is also a laureate of many other competitions, including the 2016 Aspen Music Festival Harp Competition. Madeline regularly works with composers to promote the expansion of the harp repertoire, and has premiered a number of solo and ensemble works featuring the harp. A five-year participant in The Juilliard School's Focus! Festival, in 2018 she performed the Western Hemisphere premiere of CinqStadesdeL'Existence for solo harp by China's Yao Chen, and as part of Juilliard's 2019 commencement ceremony, Madeline performed Kaija Saariaho's Fall for Harp and Electronics, to commemorate the composer's awarding of an honorary doctorate. Madeline has been heard as a soloist with the Modesto Symphony, Merced Symphony, Young People's Symphony Orchestra, and Modesto Symphony Youth Orchestra. She has received both her B.M. and M.M. degrees from The Juilliard School under Nancy Allen, and her other teachers include Linda Wood Rollo and Laura Porter.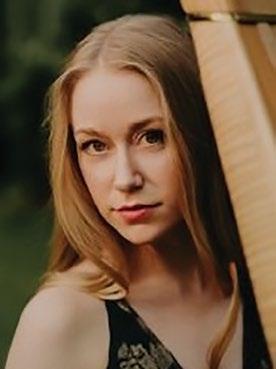 JOSÉ MANUEL LEZCANO, COMPOSER
Dr. José Manuel Lezcano was born in Havana, Cuba in 1960, and his family emigrated to America in 1962, settling in Miami, Florida. He is an award-winning composer and concert guitarist with performances on four continents, and has frequently served as Composer-in-Residence and a collaborative guitarist at the Barcelona Festival of Song, with five song cycles that he composed for the festival forthcoming from Mundoarts. His published catalog includes works for flute and guitar (Alry Publications), and orchestral and chamber works with Cayambis including Concierto Hispanoamericano. In his works, José pays homage to classical tradition while incorporating rhythms, harmonies, and textures from Cuba, flamenco, jazz, and American popular music.
As a guitar soloist, José has appeared with Orquesta Solistas de la Habana (Cuba); the National Symphonies of Ecuador, Colombia, and Peru; the Orchestra of Tolima (Colombia); Orquesta Sinfonica de Loja (Ecuador); Orquesta de Camera de Quito; the Portsmouth and Granite State Symphonies (NH); and the South Carolina Philharmonic, performing his own concerti and standard works by Rodrigo, Castelnuovo-Tedesco, and Vivaldi. For his first guitar concerto, recorded with North-South Consonance and conductor Max Lifchitz, he received two nominations as semi-finalist for Grammys in categories "Best Contemporary Composition" and "Best Soloist with Orchestra."
José's awards include first prize in the MTNA National Guitar Competition, NHSCA Individual Artist Fellowship, NHMTA Composer of the Year, KSC Distinguished Research Award, and a Fulbright Award to Ecuador, where he pursued research on the guitar as a ritual instrument in indigenous festivals and lectured at the Pontificia Universidad Católica del Ecuador. He serves as an elected member of the NH State Council on the Arts, Artist Lecturer in Guitar for the University of Southern Maine, Lecturer in Guitar for the University of Arkansas, and Professor Emeritus at Keene State College, from which he retired in 2021. He earned degrees from the Peabody Conservatory of Music (B.M.); University of South Carolina (M.M.); and Florida State University (Ph.D. in Music Theory).
18
Sunday, May 7, 2023 at 3:00 PM

BPO Special Event
YO-YO MA
JoAnn Falletta, conductor
Yo-Yo Ma, cello
ROSSINI
Overture to Guillaume Tell [William Tell]
DonJuan, Op. 20
INTERMISSION
Concerto in B minor for Cello and Orchestra, Op. 104
I. Allegro
II. Adagio ma non troppo
III. Finale: Allegro moderato
Yo-Yo Ma, cello
Learn about this program at Musically Speaking, one hour prior to the start of the concert.
Patrons are asked to turn off all electronic devices. The use of cameras and recording devices is strictly prohibited.
21 20
R. STRAUSS DVOŘÁK
PROGRAM OVERVIEW
The most beloved cellist in the world, Yo-Yo Ma has made more friends for classical music than perhaps any other artist. His return to Buffalo is cause for celebration, and he brings us the beautiful Dvořák Cello Concerto, a piece written in New York during the composer's time in our country. We open our concert with Rossini's thrilling William Tell Overture, featuring our own cello section. Richard Strauss' sweeping Don Juan completes a program filled with romantic color and great drama.
PROGRAM NOTES
Gioachino Rossini
(Italian; 1792-1868)
WilliamTellOverture
Composed 1829; Duration: 12 minutes

First BPO performance: March 13 & 15, 1955 (Josef Krips, conductor)
Last BPO performance: May 9-10, 2015 (Leon Botstein, conductor)
Gioachino Rossini's concentrated workload codified Italian opera, and left him with a comfortable 40-year retirement when he stepped away from the genre at 37 years old, having written 39 operas. His final contribution to the genre was GuillaumeTell, which boasted an overture that would live on in popular culture, popping up everywhere from Saturday morning cartoons to The Lone Ranger, becoming an idiomatic signifier of horseback riding and Western frontierism.
The opera is based on playwright Friedrich Schiller's 1804 portrayal of the Swiss folk hero William Tell, and the historical 14th-century rebellion against Habsburg rule in the tyrannical Albrecht Gessler. In this retelling, Tell tries to protect his friends against the authoritarian rule of Gessler's Austrian forces. Tell's son is captured, and he is forced to display his marksmanship by shooting an arrow over his son's head. He succeeds and escapes, ultimately vanquishing Gessler. The revolutionary under-
tones of the work stymied its performance schedule in Italy, but would ultimately serve as a universally victorious tale.
The four-part overture begins with "Dawn." Low strings present a quiet moodiness that resolves to a pleasant E major. This turns into the second section, "Storm," that teeters with quiet tension, growing into a blustery jaunt. As the storm subsides, the sun comes out with Ranz des Vaches ("call the cows"), a bucolic pastoral scene with recognizable melodies. For the overture's finale, the victorious arrival of the Swiss soldiers is opened by brazen trumpets and timpani, and finishes with the illustrious gallop.
Richard Strauss (German; 1864-1949)
DonJuan, Op. 20
Composed 1888; Duration: 18 minutes
First BPO performance: December 12, 1936 (Lajos Shuk, conductor)
Last BPO performance: March 4-5, 2011 (JoAnn Falletta, conductor)
Richard Strauss began making music almost immediately as a child under the influence of his father, a professional horn player. The conservative musical views of his father would influence him in his early output, but the opportunity to hear his father premiere Wagner's Parsifal at the 1882 Bayreuth Festival seduced the younger Strauss into the wave of Wagner fever that was sweeping the opera world,
despite his father's despisement of this modern music.
Strauss' celebrated career as a conductor began as an assistant to Hans von Bülow at the Meiningen Court Orchestra, where he was quickly tested, leading the premiere of Brahms' Fourth Symphony (1885). Wagner's meta-musical approach was the polar opposite of Brahms' Beethovenian commitment to the classical forms and thematic development; yet, both masters offered Strauss a way forward, this combined influence evident in his six-decade career of masterful tone poems, operas, concertos, and contributions to many other genres. This celebrated career was initiated with the 1888 tone poem Don Juan, which had instant and lasting international success.
The Spanish Renaissance libertine Don Juan has served as the subject for a number of works (such as Mozart's Don Giovanni), but had made its way into German literature and theater in the nineteenth century specifically through an 1844 work by poet Nikolaus Lenau. While promiscuity is a trait traditionally attributed to Don Juan, Lenau preferred to treat him as a wanderer, desperately in search of love with the perfect woman. This justification adds sincerity to the romantic moments of Strauss' work, but a certain amount of narcissism is present in Don Juan, who despairs at his inability to find the ideal partner. Strauss' forwardthinking work masterfully captured the changing cultural spirit of the late nineteenth century, with a balance of ill-fated confidence in individualism coupled with cynical pessimism.
The burgeoning opening surges with rising figures, setting a spirited scene for our confident anti-hero, followed by romantic music demonstrating his seductive powers. Sweetly delicate woodwind melodies portray a romantic tryst, but an abrupt rise of strings bring a massive unison of
horns sounding Don Juan's theme with bravado. Through Strauss' development of the work's thematic materials, the mood shifts from carefree to concerned, even melancholic. Don Juan resigns to the failure of his quest and agrees to a duel with a jealous lover, with the acceptance of his own demise. Strauss' portrayal evokes a sense of triumph in his suicidal mission as Don Juan meets his end, but the work's final bars are also steeped in grim regret.
Antonín Dvořák (Czech; 1841-1904)
Concerto in B minor for Cello and Orchestra, Op. 104
I. Allegro
II. Adagio ma non troppo
III. Finale: Allegro moderato Composed 1894; Duration: 40 minutes
First BPO performance: March 14, 1939 (Maurice Maréchal, cello; Franco Autori, conductor)
Last BPO performance: February 21-22, 2015 (Amit Peled, cello; JoAnn Falletta, conductor)
Early in his career, Dvořák was an impoverished provincial Czech composer who couldn't turn down a friend's wish to compose his Cello Concerto in A major (1865). Although he complained that the instrument was ill-suited for a solo role for its nasal high range and grumbling lower register – Dvořák's sentiments – he produced some 55 minutes of music that remained unorchestrated and buried in his portfolio for nearly a century. Other projects took precedence, but he would revisit the genre three decades later.
Employed as an organist, his work as a composer of a national Czech identity grew to international attention upon winning the Austrian state prize in 1874 and 1877. The following decades would lead
23 22
him to a directorship at New York's National Conservatory of Music, where beginning in 1892, he was paid handsomely to bring his reputation and advise American composers on the development of a national musical identity.
Among the "American" works from this period was the enormously popular Symphony No. 9, "From the New World," which was premiered in 1893 by the New York Philharmonic. The principal cellist for the orchestra Victor Herbert's own cello concerto inspired Dvořák to give in to the prodding of his friend, prominent Czech cellist Hanuš Wihan.
Wihan premiered the piano reduction version of Dvořák's new concerto but was unavailable for the full premiere, to the composer's disappointment. He would ultimately champion the work for a number of prominent performances, but the honor of the premiere belonged to English cellist Leo Stern, with the composer conducting the London Philharmonic Society at the Queen's Hall in 1896.
The concerto is cyclic in nature, with the dark-toned clarinet melody of the opening appearing later in the work. The building orchestration settles into a calming bucolic scene with a folksy melody first heard in the horn. Our soloist arrives with a generous interpretation of the opening
theme, and virtuosic interpolations in the plaintive high register are balanced by the lyrically singing second theme. Peaceful moments are interrupted by tense technical displays until the action comes to fantastic B major resolution.

The extensive Adagio opens with a woodwind chorale, but the cello soon enters with a sweet melody. In harsh juxtaposition, a surprisingly intense tutti interrupts, introducing melodies propelled by flowing rhythms. A brief cadenza is joined by a flute for an intimate duet. The movement is shaped by a variety of mood swings, ultimately settling to a quiet exit.
The rondo opens with quiet marching, dramatically building for the cello's powerful melody. Throughout the movement, moments of calm adeptly feature woodwind contributions as the soloist provides impressive streams of notes. In a hushed moment the melody that opened the work returns, before moving on to a singing melody. The vigorous movement has many sweet moments, paying homage to Dvořák's dying sister-in-law, and he sneaks into the finale a quote of her favorite Czech song. Nearing the end, peaceful solitude morphs into a triumphant outburst in the final bars.
Chaz Stuart, 2023
YO-YO MA, CELLO
Yo-Yo Ma's multi-faceted career is testament to his enduring belief in culture's power to generate trust and understanding. Whether performing new or familiar works from the cello repertoire, collaborating with communities and institutions to explore culture's role in society, or engaging in unexpected musical forms, Yo-Yo strives to foster connections that stimulate the imagination and reinforce our humanity.
In 2018, Yo-Yo set out to perform Johann Sebastian Bach's six suites for solo cello in one sitting in 36 locations around the world that encompass our cultural heritage, our current creativity, and the challenges of peace and understanding that will shape our future. Last year, he began a new journey to explore the many ways in which culture connects us to the natural world. Over the next several years, Yo-Yo will visit places that epitomize nature's potential to move the human soul, creating collaborative works of art and convening conversations that seek to strengthen our relationship to our planet and to each other.
Both endeavors continue Yo-Yo's lifelong commitment to stretching the boundaries of genre and tradition, to explore how music not only expresses and creates meaning, but also helps us to imagine and build a stronger society and a better future.
It was this belief that inspired Yo-Yo to establish Silkroad, a collective of artists from around the world who create music that engages their many traditions. Through his work with Silkroad, as well as throughout his career, Yo-Yo Ma has sought to expand the classical cello repertoire, premiering works by composers including Osvaldo Golijov, Leon Kirchner, Zhao Lin, Christopher Rouse, EsaPekka Salonen, Giovanni Sollima, Bright Sheng, Tan Dun, and John Williams.
In addition to his work as a performing artist, Yo-Yo has partnered with communities and institutions from Chicago to Guangzhou to develop programs that advocate for a more human-centered world. Among his many roles, Yo-Yo is a UN Messenger of Peace, the first artist ever appointed to the World Economic Forum's board of trustees, and a member of the board of Nia Tero, the US-based nonprofit working in solidarity with Indigenous peoples and movements worldwide.
Yo-Yo's discography of more than 100 albums (including 19 Grammy Award winners) reflects his wide-ranging interests. In addition to his many iconic renditions of the Western classical canon, he has made recordings that defy categorization, among them "Appalachia Waltz" and "Appalachian Journey" with Mark O'Connor and Edgar Meyer, and two Grammy-winning tributes to the music of Brazil. Yo-Yo's recent recordings include: "Sing Me Home" with the Silkroad Ensemble, which won the 2016 Grammy for Best World Music Album; "Six Evolutions — Bach: Cello Suites"; and "Songs of Comfort and Hope," created and recorded with pianist Kathryn Stott in response to the COVID-19 pandemic. Yo-Yo's latest album is "Beethoven for Three: Symphonies Nos. 2 and 5," with pianist Emanuel Ax and violinist Leonidas Kavakos.
Yo-Yo was born in 1955 to Chinese parents living in Paris. He began to study the cello with his father at age four and three years later moved with his family to New York City, where he continued his cello studies at The Juilliard School before pursuing a liberal arts education at Harvard. He has received numerous awards, including the Avery Fisher Prize (1978), the National Medal of the Arts (2001), the Presidential Medal of Freedom (2010), Kennedy Center Honors (2011), and the Polar Music Prize (2012). He has performed for nine American presidents, most recently on the occasion of President Biden's inauguration.
Yo-Yo and his wife have two children. He plays three instruments: a 2003 instrument made by Moes & Moes, a 1733 Montagnana cello from Venice, and the 1712 Davidoff Stradivarius.
25 24
Friday, May 12, 2023 at 10:30 AM

Saturday, May 13, 2023 at 7:30 PM
Classics Series
CLASSICAL JAZZ
ELLINGTON / arr. Peress
Black,BrownandBeige Suite
I. Black – Work Song
II. Brown – Come Sunday
III. Beige – Light
DAVID SCHIFF
Four Sisters: Concerto for Jazz Violin and Orchestra
I. Soul: Aretha Franklin
II. Scat: Ella Fitzgerald
III. Satin: Billie Holiday
IV. Sassy: Sarah Vaughan
Regina Carter, violin
INTERMISSION
TCHAIKOVSKY
Symphony No. 2 in C minor, Op. 17, "Little Russian"
I. Andante sostenuto – Allegro vivo
II. Andantino marziale, quasi moderato
III. Scherzo
IV. Finale: Moderato assai
After Saturday's concert, join members of the orchestra on the lower level for Musician's Nightcap, hosted by BPO double bassist Jonathan Borden.
The Coffee Concert Series is presented by
Patrons are asked to turn off all electronic devices. The use of cameras and recording devices is strictly prohibited.
27
Michael Francis, conductor Regina Carter, violin
PROGRAM OVERVIEW
Jazz and classical music – a perfect marriage! Duke Ellington loved classical music, and composed beautifully for symphony orchestra. We are pairing his Black,BrownandBeige with a fantastic concerto for jazz violin. Superstar Regina Carter returns to play David Schiff's tribute to four "sisters of soul": Aretha Franklin, Ella Fitzgerald, Billie Holiday, and Sarah Vaughan. Enormous fun, with a grand finale of a great Tchaikovsky symphony filled with Ukrainian folk songs. Michael Francis makes his very welcome conducting debut here in this thrilling program.
PROGRAM NOTES
Duke Ellington (American; 1899-1974)
Black,BrownandBeigeSuite
I. Black – Work Song
II. Brown – Come Sunday
III. Beige – Light
Composed 1943; Duration: 18 minutes
First and last BPO performance: May 1213, 2012 (JoAnn Falletta, conductor)
Duke Ellington defined an era of jazz as the most prolific pianist and composer in the genre, mastering the three-minute format of 78 rpm records. His jazz orchestra set the standard from its 1923 creation until the end of his life half a century later. In the 1930s, he began a three-decade partnership with Billy Strayhorn, and the two expanded the big band idiom, creatively increasing the scope of its music to extend beyond three-minute works.
Black,BrownandBeigewas one such work. With its premiere at Carnegie Hall in 1943, Ellington sought to elevate jazz as a style on par with Western classical music, while maintaining its own unique identity, tying it to African American culture through musical storytelling.
The three-part suite opens with Black, which describes the early experiences of slaves in America through a work song and phrases from Ellington's "Come Sunday". The middle movement, Brown, offers tribute to the African American soldiers who
fought and gave their lives in the Civil War and World Wars I and II. Originally set in three sections, the music offers American folk themes including "The Girl I Left Behind Me," "Yankee Doodle," and "Swanee River," with a trace of New York blues near the close. Beige is an evocation of the renaissance in African American music, conjuring the night life of Harlem.
Ellington himself noted: "The music portrays the contemporary Negro and his plight in the United States between two world wars and during the second. The 1920s meant Harlem gin mills, the Charleston, the party life, the lonely plight of the single drinkers, and the sad tinkle of a people lonely under the night-life tedium." He added that the music represents "...an awareness of the war and the importance of the Negro's participation in his country's destiny, ending with patriotic phrases revealing that Black, Brown and Beige are truly Red, White and Blue."
After the first performance of Black,Brown andBeige(fifty minutes in duration), Ellington derived the current suite, which was then orchestrated by Maurice Peress.
ChazStuart,2023&EdwardYadzinski,2012
David Schiff (American; b. 1945)
Four Sisters: Concerto for Jazz Violin and Orchestra
I. Soul: Aretha Franklin
II. Scat: Ella Fitzgerald
III. Satin: Billie Holiday
IV. Sassy: Sarah Vaughan
Composed 1997; Duration: 25 minutes
First performance of this work by the BPO.
Bronx-born composer and writer David Schiff has parallel careers, having racked up a number of degrees in two areas – Columbia and Cambridge for English, and the Manhattan School of Music and Juilliard for music. He boasts a catalog of articles and books, such as The Music of Elliott Carter, diving into the music of his teacher and legendary composer. He has also written about Duke Ellington and George Gershwin, and his own compositions are a cultural collision of the idioms that interest him most – namely jazz, rock, and klezmer. For a portfolio that includes chamber and orchestral works as well as music theater pieces and music composed for the synagogue, he ranks his 1997 Four Sisters concerto for jazz violin as among his best. Through four movements, the work honors four singers whose voices left an indelible mark on America's musical history: Aretha Franklin, Ella Fitzgerald, Billie Holiday, and Sarah Vaughan.
Regarding the work, Schiff has written the following:
"Four Sisters: Concerto for Jazz Violin and Orchestra, is a tribute to four great American singers – Aretha Franklin, Ella Fitzgerald, Billie Holiday and Sarah Vaughan – in four movements: 'Soul,' 'Scat,' 'Satin,' and 'Sassy'. The third movement moves from the big, brightly-lit stage of 'Scat' to a more intimate venue, after midnight, and invites the soloist to explore two sides – tragic and resilient – of the great Billie Holiday. Free improvisation underscores the theme of freedom which rings out in every note that these four great artists sang, and which inspired me to compose this concerto. I originally wrote Four Sisters in 1997, and it had its
first performance in Cambridge, England. In 2004, I was delighted to hear that the Detroit Symphony Orchestra had decided to program the work for Regina Carter's first performances with that orchestra, and I composed a new solo at the very beginning of the work just for her."
Pyotr Ilyich Tchaikovsky (Russian; 1840-1893)
Symphony No. 2 in C minor, Op. 17, "Little Russian"
I. Andante sostenuto – Allegro vivo II. Andantino marziale, quasi moderato III. Scherzo
IV. Finale: Moderato assai
Composed 1872; Duration: 33 minutes

First BPO performance: January 21, 1947 (Igor Stravinsky, conductor)
Last BPO performance: February 7-8, 2015 (JoAnn Falletta, conductor)
In the nineteenth century, Russia was only just fostering musical institutions like those that had been developing for centuries in Europe. Tsars of the past prized the importation of European talent, but Tsar Alexander II understood the value of developing a Russian culture that competed with Europe's. Founded in 1859, the Russian Musical Society began to realize this mission, presenting concerts, training musicians, and soon developing into the Saint Petersburg Conservatory. Tchaikovsky enrolled in the inaugural class of 1862. Classes were led by such figures as Anton Rubenstein and Nikolai Zaremba, who, in order to achieve Europeanness, dogmatically anchored their teachings and opinions in strict interpretations of Western musical tradition.
Concurrently, a second branch of Russian musical thought was taking shape. Dubbed "The Five," a group of Russian
29 28
Nationalists rejected the introduction of the Western conservatory, and instead valued amateurism and the use of nonWestern musical materials with an emphasis on folk melodies.
The Russian Nationalists and conservatory traditionalists were diametrically opposed both musically and ideologically. Proud Russian students like Tchaikovsky, who wanted to hone their craft and further their careers in academia, were caught in the middle. Rather than taking sides, they would draw from the lessons of their conservative teachers and the vanguard of Russian art to synthesize a national voice grounded in technical competence.
Tchaikovsky's first symphony was plagued with self-doubt. Only just graduated from the St. Petersburg Conservatory, he obsessively sought approval from his critical teachers, all in an effort to legitimize himself as a composer as he began a professorship at the new Moscow Conservatory. Six years later, his second symphony bore the marks of a composer gaining confidence with his musical voice. Composed while on summer holiday at a friend's Ukrainian estate, Tchaikovsky wanted to demonstrate the legitimacy of folk music materials in a symphonic setting, using the work of Russia's first major composer, Mikhail Glinka, as a model.
Although Tchaikovsky was officially not a part of "The Five," their approval was important to him. While they avoided the symphonic form for its Westernness, Tchaikovsky's own academic appreciation of Western European art forms led him to infuse his symphony with folk melodies. Much like the presence of Russian melodies in Glinka's Kamarinskaya, Tchaikovsky's new symphony marked a way forward for Russian music that excited members of
"The Five" and audiences alike.

The nickname "Little Russian" draws from the old nickname for Ukraine, where much of the folk materials in the work draws from, leading some to suggest it be renamed the "Ukraine." One such melody occurs in the opening bars, where a horn alone plays the tune, "Down by Mother Volga." The extensive opening features atmospheric reiterations of the melody, but a second melody is confident and striding. The closing bars are a moody return to the opening folk melody.
The lightweight Andantino features a bridal march Tchaikovsky originally wrote for his yet-to-be-published opera Undine. A second melody Tchaikovsky had previously arranged for piano, "Keep on Spinning, My Spinner," appears as a stoic contrast.
The forceful C minor scherzo scampers with original music, and the trio establishes a juxtaposition of a duple meter with folksy hues. Although comparatively brief, the scherzo's energy prepares the grandiose finale.
More than any movement of the work, Tchaikovsky's finale embraces the model set forth by Glinka and "The Five." The opening rings as a prototype to Modest Mussorgsky's "The Great Gate of Kiev," which would come two years later. Immediately after the fanfare, the folk song "The Crane" is quietly spun at a lively pace, and is subject to numerous colorful variations. A second theme floats peacefully, offering a brief contrast. Both themes are combined in the movement's development, which reaches an awesome zenith in the movement's final presto.
MICHAEL FRANCIS, GUEST CONDUCTOR
Appointed Music Director of the Florida Orchestra in the fall of 2014, Michael Francis is now in his eighth season with a contract extension through the 2024-25 season. His role in building transformative community engagement initiatives has helped to grow the organization significantly. Also Music Director of the Mainly Mozart Festival in San Diego since 2014, Francis and Mainly Mozart have recently completed an ambitious multi-year exploration of Mozart's life. Francis is in his fourth season as Chief Conductor of Deutsche Staatsphilharmonie Rheinland-Pfalz. Previously, he was Chief Conductor and Artistic Advisor of the Norrköping Symphony Orchestra from 2012-16.
This season, Francis returns to the Cincinnati Symphony, Toronto Symphony, Philharmonia Orchestra, and Minnesota Orchestra. Previous highlights include North American performances with the Cleveland Orchestra, the symphony orchestras of St. Louis, San Diego, Houston, Atlanta, Pittsburgh, Montreal, and the National Youth Orchestra of Canada. In Europe, he has conducted the Symphony Orchestra of the Bavarian Radio, the Berlin Radio Symphony Orchestra, Dresden Philharmonic, MDR Leipzig, the Orquesta Sinfónica de RTVE Madrid, and the Mariinsky Orchestra, among others. In his home country, he has worked with the London Symphony, Royal Philharmonic, Philharmonia, BBC Philharmonic, BBC National Orchestra of Wales, and the National Youth Orchestra of Scotland. In Asia, Maestro Francis has worked with the NHK Symphony, and the philharmonic orchestras of Hong Kong, Japan, Malaysia and Seoul.
Francis has collaborated with such notable soloists as Lang Lang, Arcadi Volodos, Itzhak Perlman, Christian Tetzlaff, Vadim Gluzman, Anne-Sophie Mutter, Javier Perianes, Jamie Barton, Truls Mørk, Håkan Hardenberger, Maximilian Hornung, Miloš, Benjamin Grosvenor, Emanuel Ax, Ian Bostridge, James Ehnes, Sting, Rufus Wainwright, and many others.
Alongside his extensive educational work with young musicians, Francis is passionate about sharing the hidden truths in music with audiences worldwide through his acclaimed podium talks. His "Inside the Music" series and pre-concert talks in Florida have greatly helped develop new audiences. An exciting new series of "Keynote" presentations (explaining the music alongside performances) with Staatsphilharmonie Rheinland-Pfalz was recently released on Naxos.
Francis' discography includes the Rachmaninoff piano concertos with Valentina Lisitsa and the London Symphony, and Rihm's Lichtes Spiel with Anne-Sophie Mutter and the New York Philharmonic. A complete cycle of Mahler's arrangements of Beethoven's symphonies and overtures with Staatsphilharmonie will be released soon.
A former double bass player in the London Symphony, Michael Francis came to prominence as a conductor in January of 2007, stepping in for Valery Gergiev and John Adams with the LSO.
Chaz Stuart, 2023
31 30
REGINA CARTER, VIOLIN
Trying to fit Regina Carter into a neatly defined musical category is pointless. She enjoys performing many styles of music – jazz, R&B, Latin, classical, blues, country, pop, African, and on and on. In each she explores the power of music through the voice of the violin.
A recipient of the MacArthur "Genius" Award and a Doris Duke Artist Award, Regina has been widely hailed for her mastery of her instrument and her drive to expand its possibilities. In 2018 she was named Artistic Director of the Geri Allen Jazz Camp at the New Jersey Performing Arts Center, a unique summer immersion program for aspiring women jazz professionals. That December, she was nominated for a Grammy for Best Improvised Solo for "Some of That Sunshine," the title track on vocalist Karrin Allyson's album. In 2020, Regina was nominated for Best Improvised Solo for "Pachamama" from Thana Alexa's album. She is on the faculty of the Manhattan School of Music and New Jersey City University, and is Artist-inResidence at the Oakland University School of Music, Theatre, and Dance. Past positions have included Resident Artist for San Francisco Performances and Resident Artistic Director for SFJAZZ. Born in Detroit, Regina began studying violin at the age of four using the Suzuki method. She attended Cass Technical High School in Detroit, and her training continued at the New England Conservatory of Music and at Oakland University in Michigan for jazz. She taught violin in public schools in Detroit and on a U.S. military base in Germany. She first gained attention with Straight Ahead, an all-female jazz quintet that recently celebrated its 25-year reunion at the Detroit Jazz Festival. She also recorded and toured for six years with The String Trio of New York.
In 1995 Regina released her self-titled solo debut on Atlantic Records. Three more albums followed in rapid succession: Something for Grace (1997), Rhythms of the Heart (1999), and Motor City Moments (2000), all on Verve. Traveling to Genoa, Italy and making history by being the first nonclassical violinist to play Niccolò Paganini's Il Cannone ("The Cannon"), the legendary violin built by Giuseppe Guarneri in 1743 inspired her next effort, Paganini:AfteraDream(Verve, 2003). I'll Be Seeing You: A Sentimental Journey (Verve, 2006) became a powerful and heartfelt tribute to her late mother. The connection to family, history, and tradition continued in Reverse Thread (E1 Music, 2010) and SouthernComfort(Sony Masterworks, 2014), drawing ties between her own African heritage and her family's history. In 2017 she released Ella: Accentuate the Positive (OKeh, 2017), which celebrates the music and spirit of her inspiration, musical legend Ella Fitzgerald. Her latest recording, Swing States: Harmony In The Battleground (Tiger Turn Productions E1 Music 2020), is a project that extols the importance of taking part in the democratic process. Regina can also be heard on such albums as Arturo O'Farrill's FandangoattheWall, Stefon Harris' Sonic Creed, John Beasley's MONK'estra, Volume 2, and James Carter's Caribbean Rhapsody, along with Eddie Palmieri's Listen Here!, which won a 2005 Grammy award for best Latin Jazz album, and the Grammy-nominated Freefall with Kenny Barron.
She has performed at countless jazz festivals including Monterey, Newport, Detroit, Atlanta, Bern, Montreux, New Orleans, Montreal, Mid-Atlantic, Rochester, and North Sea (Rotterdam, the Netherlands). She has performed with orchestras including the Atlanta and Detroit Symphonies, the Orquestra Sinfônica do Estado de São Paulo, the Knoxville Jazz Orchestra, and the Chicago Sinfonietta. Particularly thrilling was her participation in the 2017 International Jazz Day All-Star Global Concert in Havana, Cuba.
A winner of multiple readers' and critics' poll awards from DownBeat, JazzTimes, and other publications, Regina tours with her own group and has appeared as a guest soloist with Kenny Barron, the late bassist Ray Brown, Akua Dixon, Steve Turre, Stefon Harris, George Wein, Mary J. Blige, Cassandra Wilson, Joe Jackson, Billy Joel, Dolly Parton, and Omara Portuondo.
Regina has three times been a Pulitzer Prize jurist. She is currently featured in J. Jill's "Inspired Women" ad campaign. Regina lives in Maywood, NJ with her husband, drummer Alvester Garnett.
Friday, May 26, 2023 at 10:30 AM
Saturday, May 27, 2023 at 7:30 PM
BPO Pops Series PATRIOTIC POPS
John Morris Russell, conductor
Tatiana "LadyMay" Mayfield, vocals
Jay Dref, vocals
STEPHENSON
LAVALLEE / arr. Fenwick
SMITH / arr. Skrowaczewski
SOUSA
COHAN / arr. Cacavas
COHAN / arr. Rob Mounsey
BLAKE / arr. Mounsey
COOK / arr. Mounsey
HOLST / arr. Geoff Knorr
LEE GREENWOOD / arr. Rebecca Pellett
PETER BOYER
HOWE & STEFFE / arr. Wilhousky
JOHN WILLIAMS
NEIL DIAMOND / arr. Pellett
MEERPOL & ROBINSON / arr. Alexander
Buffalo Philharmonic Chorus
Adam Luebke, BPC Music Director
FanfareforDemocracy
O Canada
TheStar-SpangledBanner
WashingtonPostMarch
StarSpangledSpectacular
Over There
I'm Just Wild About Harry from ShuffleAlong
Tatiana Mayfield, vocals
SwingAlong
Tatiana Mayfield, vocals
IVowtoTheeMyCountry
Jay Dref, vocals
God Bless the USA
Jay Dref, vocals
RollingRiver
BattleHymnoftheRepublic
INTERMISSION
CalloftheChampions
America
Jay Dref, vocals
The House I Live In Tatiana Mayfield & Jay Dref, vocals
Anthem from Chess
ULVAEUS / arr. John Purifoy
BENNY ANDERSSON, TIM RICE, & BJÖRN
EUROPE / arr. Tim Berens
arr. Lowden
JOHN WILLIAMS
WARD / arr. Tim Berens
Jay Dref, vocals
HeyThere!(HiThere!)

Armed Forces Salute
Hymn to the Fallen from SavingPrivateRyan
America the Beautiful
Tatiana Mayfield & Jay Dref, vocals
Patrons are asked to turn off all electronic devices. The use of cameras and recording devices is strictly prohibited.
33 32
The Coffee Concert Series is presented by
TATIANA "LADYMAY" MAYFIELD, VOCALS
Tatiana "LadyMay" Mayfield is a jazz/soul vocalist, musician, composer, and educator from Fort Worth, Texas. LadyMay has performed in various venues and festivals throughout the U.S. and abroad, which have earned her rave reviews from listeners and musicians in addition to numerous awards. In 2023, LadyMay was named as an awardee for the "Next Jazz Legacy" program created by NEA Jazz Master Terri Lyne Carrington, in partnership with the Berklee Institute of Jazz and Gender Justice and New Music USA, with funding from the Mellon Foundation. Through this program, she will be mentored by pianist-vocalist-composer Patrice Rushen and jazz/soul harpist-composer Brandee Younger.
Other highlights of her career include performing with the legendary Cincinnati Pops Orchestra, having a number one song on the UK Soul Chart, performing and teaching in Zhuhai, China, and being the first woman and African American person to receive a M.M. in Jazz Composition from the University of Texas in Arlington. LadyMay has recorded three albums: From All Directions (2009), A Portrait of LadyMay (2012), and The Next Chapter (2018). She has also provided vocals in various styles for several artists' albums, television shows, and films.
As an educator, Mayfield will join the faculty in the Lamont School of Music at the University of Denver in Denver, CO as the Assistant Professor of Contemporary Popular Music in the fall of 2023. She has also taught at the University of Texas at Arlington, University of North Texas, and Dallas College-Cedar Valley Campus.
JAY DREF, VOCALS
American tenor Jay Dref inspires audiences with his rich, passionate vocals. Born and raised in Buffalo, Jay graduated from the prestigious Juilliard School before launching his professional career as a classical crossover artist.
Most recently, Jay has been touring with legendary soprano Sarah Brightman. He was the featured tenor on her U.S. 2021 Christmas Symphony Tour, and continued to tour internationally with Ms. Brightman in 2022 with concerts in Southeast Asia, Mexico, Las Vegas, Greece, and Turkey. He is looking forward to continuing this remarkable collaboration throughout the rest of 2023.
Jay collaborated with the songwriting team of Lauren Christy and Stephan Moccio on his first single, "Taxi in the Rain". Having worked with artists such as Celine Dion, Avril Lavigne, and Shakira, among others, they publicly praised Jay as the "best of the best" and a "really special singer". In 2020 he released an original duet with Italian soprano Angelica Volpi – "L'amore è un Attimo" – which remains a popular choice on his digital music platforms.
Jay has performed for celebrities at private events, and was a special guest of Bing Crosby's son at a concert celebrating his famous father. He has also appeared at Live in the Vineyard, a national event for radio programmers held by invitation only in Napa Valley, California.
Musically fluent in five languages – English, French, Italian, German, and Russian – Jay's transcendent voice resonates with listeners all over the world.
Saturday, June 3, 2023 at 7:30 PM
Sunday, June 4, 2023 at 2:30 PM

Classics Series
BEETHOVEN & STRAUSS
Festival Music
BEETHOVEN
Concerto No. 4 in G major for Piano and Orchestra, Op. 58
I. Allegro moderato
II. Andante con moto
III. Rondo: Vivace
Norman Krieger, piano
INTERMISSION
Suite from Lebourgeoisgentilhomme, Op. 60
I. Overture to Act I
II. Minuet
III. The Fencing Master
IV. The Entrance and Dance of the Tailors
V. The Minuet of Lully
VI. Courante
VII. Entrance of Cléonte (after Lully)
VIII. Prelude to Act II
IX. The Dinner
Learn about this program from the conductor and guest artist at Musically Speaking, one hour prior to the start of Saturday's and Sunday's concerts. Patrons are asked to turn off all electronic devices. The use of cameras and recording devices is strictly prohibited.
35 34
JoAnn Falletta, conductor Norman Krieger, piano
ADOLPHUS HAILSTORK
R. STRAUSS
PROGRAM OVERVIEW
This is absolutely one of my favorite concerts! The Strauss is a tour de force for our orchestra (especially Nikki!) in its extravagant solo writing, while telling the humorous story of a nouveau riche "gentleman" who desperately wants to be accepted by the aristocracy. Norman Krieger returns with his beloved Beethoven, and his fourth concerto promises to be one of the musical highlights of our season. Our friend Adolphus Hailstork is back as well, after the great success of his piano concerto, for our performance and recording of his wonderful Festival Music. A weekend of great music!
PROGRAM NOTES
Adolphus Hailstork (American; b. 1941)
FestivalMusic
Composed 1993; Duration: 10 minutes
First performance of this work by the BPO.
Adolphus Hailstork's Festival Music was the result of his relationship with the Baltimore Symphony Orchestra that goes back to 1966, when his master's thesis piece was chosen for performance on a program of works by young composers. In 1989, then music director David Zinman conducted the BSO in Hailstork's Celebration!, the choral work Songs of Isaiah, and Epitaph. Shortly thereafter, the BSO commissioned Intrada, a very brief work in honor of its 75th anniversary in 1990.
In 1993, Hailstork commented on his newest BSO commission, Festival Music:
"When the Baltimore Symphony Orchestra premiered Intrada in 1991, I had some free time between concerts. I spent some of that time visiting the Walters Museum of Art, where there just happened to be, that weekend, a wonderful exhibit of African weavings and village scenes on display. That exhibit sparked the idea of writing a musical composition that would have a touch of African flavoring in the themes, rhythms, and sounds. With that imagery as the foundation of my inspiration, other associations (a Fulbright trip to Guyana in 1987, the worldwide joy on the morning Nelson Mandela
walked out of prison, and the exuberance of pre-Lenten festivals) reinforced my longheld urge to create a 'world music' piece.
"This music for a folk festival uses repeated drum patterns, short pentatonic melodic fragments (with an occasional touch of the blues scale), and some unique instruments such as the African slit drum and the African string drum (Lion's roar). The opening marimba solo is the main binding ingredient in this freely constructed scherzo. After a short introduction, Festival Music bursts into an energetic dance, which has many different meters and cross-rhythms (two or more different patterns against each other). The strong rhythmic drive and the buoyant 'folk' melodies generate a steady state of excitement, and the work (like many festivals) has a slightly ragged ending – which seemed appropriate for the date of the BSO world premiere on April 1, 1993."
Reproduced with permission from the edited notes of BSO annotator David Wright andthecomposer.
Ludwig van Beethoven (German; 1770-1827)
Concerto No. 4 in G major for Piano and Orchestra, Op. 58
I. Allegro moderato
II. Andante con moto
III. Rondo: Vivace
Composed 1806; Duration: 34 minutes

First BPO performance: May 3, 1936 (Stanley Fletcher, piano; Creighton Churchill, conductor)
Last BPO performance: February 20-21, 2016 (André Watts, piano; JoAnn Falletta, conductor)
The first decade of the nineteenth century for Beethoven was one of independence. He had developed beyond his student days with Haydn, and he was becoming appreciated not just for his abilities as a pianist, but also for his unfettered imagination as a composer. His finances were stabilized by appreciative patrons for whom he created many of his best-known works. His heroic third symphony made waves in 1804, and he was simultaneously working on his fateful fifth and the sunny fourth. The regal Emperor Concerto would come in 1808.
The fourth symphony and piano concerto's premieres were given at his benefactor Prince Lobkowitz's country estate in 1806. When the concerto's public premiere came the next year, it would be Beethoven's final performance at the keyboard with an orchestra. Although the affliction of his encroaching deafness was a personal tragedy, his music would continue to be marked with the distinct individuality of creative inspiration.
The unmistakably Beethovenian opening to his concerto is celebrated for its novel invention, featuring the intimate piano presenting sweetly delicate chords in a soft G major. The orchestra's echo is in a distant B major that winds its way back for the opening theme. When the soloist finally returns, the restatement of the themes burst with gentle virtuosity. Cycling through powerful episodes, the enormous opening movement culminates in an extensive showcase of a cadenza. The orchestra joins for the movement's conclusion.
The Andante is remarkable for its brevity
and impact. Fiery strings violently sound a staccato march in unison. The piano's response is a barely audible, supple melody with simple harmonies. The two forces fight for dominance, but it is as if the voice of the piano is that of the artist: quiet but unwavering against a terrible force. The strings fade and the piano moves toward a quasi-cadenza, electrified by a buzzing trill and chromatics. The orchestra makes a final, quiet return to remind us of its presence. The heavy fog of the opening movements clears as the sunny Rondo launches with energetic delight. The soloist is playful with the orchestra as it presents a lively and rhythmic theme. Around every turn is a new mood or texture that begs for more, inevitably returning to the opening music. The finale demonstrates Beethoven's ability to harness his invention and imagination for charming joy – not to mention his ecstatic proficiency at the piano.
Richard Strauss (German; 1864-1949)
Suite from Lebourgeoisgentilhomme, Op. 60
Composed 1917; Duration: 36 minutes
First BPO performance: February 5 & 7, 1956 (Josef Krips, conductor)
Last BPO performance: Oct. 31 – Nov. 2, 2014 (Irish Classical Theatre; JoAnn Falletta, conductor)
By the first decade of the twentieth century, Strauss had reached celebrity status not just for his groundbreaking compositions, but even more so as a conductor in constant demand in Berlin and abroad. The enormous success of his 1905 opera Salome launched a period of opera composition that produced such warhorses as Elektra (1909), Der Rosenkavalier (1911), and several others. Everything after Salome was conceived in collaboration with librettist and poet Hugo von Hofmannsthal, who
37 36
pitched Strauss on the idea of creating a work based on Molière's 1670 comic ballet, Le bourgeois gentilhomme (The Bourgeois Gentleman).
The plan was for a 1912 production of the work with a simplified plot and newly-composed incidental music, with Strauss' new opera Ariadne auf Naxos on the back half of the program. The concept was too long, too expensive, and under-realized. Five years later, the play alone was produced with Strauss' finally completed score. The original production of Lebourgeoisgentilhomme included music by French baroque master Jean-Baptiste Lully. Strauss' score is filled with musical and stylistic references to Lully, foreshadowing a trend in twentiethcentury music.
Strauss' music was the vanguard of contemporary music, pushing the boundaries of harmony, form, and orchestration. However, the years following the Great War saw a shift away from the unrestrained expressivity of Romanticism, instead favoring the order and balance of models from the past. Neoclassicism was championed by such composers as Igor Stravinsky and Paul Hindemith, with Sergei Prokofiev and Strauss offering early contributions to this new idea. Le bourgeoisgentilhomme was Strauss' first foray into the idiom, with later works embracing this backward-looking approach.
Molière's plot follows a middle-class Parisian, Mr. Jourdain, whose father was successful in business. Despite his wealth, he foolishly strives to achieve aristocratic status to the annoyance of proper gentlemen. A cash-poor nobleman, snobbish about Mr. Jourdain's attempt to rise in status, flatters him in an effort to have him pay his debts. The play's social commen-
tary simultaneously mocks the middle class' vain attempt to climb the social ladder, while pointing out the ironies of poverty in the pretentious aristocracy. As such, the title is an oxymoron.

Strauss' suite begins with the Overture, which sets the comic mood with a lighthearted feel of tonally twisting motifs, concluding with scene-setting sunny, pastoral music. The Minuet is more sleepy than danceable. The third movement sees our protagonist meeting with the fencing master, opening with overconfident brassy gravitas, followed by clumsy bouts and parries. The Entrance and Dance of the Tailors describes the scene where Mr. Jourdain is being dressed by his entourage – an activity more appropriate for a proper nobleman. Led by a solo violin, the music feigns at regal confidence, eventually falling into another minuet.
The next three movements are derivative of Lully's original music, with Baroque-era dances, the Minuet and Courante, followed by Entrance of Cléonte. Cléonte is the middle-class love interest of Mr. Jourdain's daughter, but he dreams of her marrying into nobility. Strauss' arrangement is nothing short of modern for its lush and colorful orchestration, while honoring Lully's melodies.
The final two movements paint the final dramas of the play. While a nobleman is cozying up to Monsieur Jourdain just to rip him off, Madame Jourdain helps Cléonte present himself as the son of the Turkish Sultan. Jourdain is ecstatic that his daughter will marry a foreign nobleman, and a ridiculous ceremony sees that everyone is happy.
Chaz Stuart, 2023
NORMAN KRIEGER, PIANO
A native of Los Angeles, Norman Krieger is one of the most acclaimed pianists of his generation, and is highly regarded as an artist of depth, sensitivity, and virtuosic flair. As the Los Angeles Times stated, "Krieger owns a world of technique...He always knows exactly where he is going and what he is doing. He never for an instant miscalculates. He communicates urgently but with strict control. He is alert to every manner of nuance and at every dynamic level his tone flatters the ear."
Myung-Whun Chung, Donald Runnicles, Leonard Slatkin, Michael Tilson Thomas, Jaap van Zweden, and Zubin Mehta are just a few of the conductors with whom Krieger has collaborated. Krieger regularly appears with the major orchestras of North America, among them the New York Philharmonic, Los Angeles Philharmonic, Chicago Symphony, Minnesota Orchestra, and National Symphony. He has performed throughout Europe, Asia, and South America, including tours of Germany, France, Poland, Holland, Scandinavia, Korea, China, New Zealand, and Israel. He performed at the PyeongChang Music Festival in Korea, and in September 2014, he recorded Brahms' Sonata Op. 1 and Piano Concerto No. 2 with the London Symphony Orchestra under the baton of Philip Ryan Mann, released on Decca.
In recital, Krieger has appeared throughout the U.S., Europe, Mexico, and Asia, while chamber music collaborations have included appearances with soprano Sheri Greenawald, violinists Paul Huang, Sarah Chang, Pamela Frank and Mihaela Martin, violist Nobuko Imai, cellists MyungWha Chung, Jian Wang, Edward Aaron and Frans Helmersen, and the Tokyo String Quartet. His debut at Carnegie Hall and the Mostly Mozart Festival earned him an immediate invitation to Lincoln Center's Great Performers series. Krieger made headlines by being named the Gold Medal Winner of the first Palm Beach Invitational Piano Competition.
He began his studies in Los Angeles under the tutelage of Esther Lipton. At age 15, he became a full-scholarship student of Adele Marcus at The Juilliard School where he earned both his bachelor's and master's degrees. Subsequently, he studied with Alfred Brendel and Maria Curcio in London and earned an Artist Diploma from the New England Conservatory, where he worked with Russell Sherman.
A champion of contemporary music, he features the music of John Adams, Leonard Bernstein, John Corigliano, Daniel Brewbaker, Donald Crockett, Judith St. Croix, Lukas Foss, Henri Lazarof, and Lowell Liebermann among his active repertoire.
Krieger is the founding Artistic Director of the Prince Albert Music Festival in Hawaii. Since 2008, he has served on the summer faculty at the Brevard Music Festival in North Carolina. From 1997 to 2016 he was a professor at the Thornton School of Music at the University of Southern California. In August 2016, he was appointed Professor of Piano at the Jacobs School of Music at Indiana University.
39 38
Saturday, June 10, 2023 at 7:30 PM
Sunday, June 11, 2023 at 2:30 PM

Classics Series
VERDI'S REQUIEM
JoAnn Falletta, conductor Buffalo Philharmonic Chorus
Adam Luebke, BPC Music Director SUNY Fredonia Concert Choir
Jennifer Check, soprano
Tamara Gura, mezzo-soprano
Charles Reid, tenor
Darren Stokes, bass-baritone
VERDI
Requiem
I. Requiem and Kyrie
II. Sequence (Dies Irae)
III. Offertorio (Domine Jesu)
IV. Sanctus
V. Agnus Dei
VI. Lux aeterna
VII. Libera me
This performance is made possible by the Michal and Jim Wadsworth Concert Endowment.
Learn about this program from the conductor and guest artists at Musically Speaking, one hour prior to the start of Saturday's and Sunday's concerts. Patrons are asked to turn off all electronic devices. The use of cameras and recording devices is strictly prohibited.
41
PROGRAM OVERVIEW
One of the towering masterpieces of our musical world, the Verdi Requiem is the only piece we perform tonight, its ninety minutes of music exerting an emotional and physical power that sets it apart from other repertoire. Giuseppe Verdi wrote this work in memory of his hero, the great writer Alessandro Manzoni, and some refer to the work as his "greatest opera." Operatic it certainly is, but the text is drawn directly from the Catholic Mass for the Dead, evoking terror, anguish, and desperate pleas for redemption and forgiveness at the end of the world. Verdi has left us a passionate, moving, and intensely personal statement. With shattering force and heartbreaking lyricism, he gives us a legacy of the tragedy, the beauty, and the invincibility of the human spirit.
PROGRAM NOTES
Giuseppe Verdi (Italian; 1813-1901)
Requiem
Composed 1874; Duration: 83 minutes

First BPO performance: December 17, 1946 (Buffalo Schola Cantorum & Buffalo Oratorio Chorus; William Steinberg, conductor)
Last BPO performance: June 4-5, 2011 (Buffalo Philharmonic Chorus; JoAnn Falletta, conductor)
Doug Shultz's 2012 award-winning documentary "Defiant Requiem" tells the littleknown story of Romanian Jewish musician Rafael Schächter's efforts to organize 16 performances of Verdi's Requiem at Theresienstadt concentration camp (Terezín) during the Holocaust. A generation of Jewish artists, musicians, and composers lived and died in Terezín during the Second World War, but in the midst of oppression, Schächter and others performed music with zealous intensity "for the cause of human justice" (Josef Bor's The Terezín Requiem). It is stunning that a quasi-atheist and proud Italian nationalist of the nineteenth century like Verdi would create a work – a Requiem Mass in the Roman Catholic tradition, no less – which would be performed in open defiance by the Jewish masses at Terezín. History is filled with such empowering appropriations, but Verdi's Requiem was
conceived with the ideals of freedom from oppression.
With modest beginnings in a small town in Northern Italy, Giuseppe Verdi (18131901) worked his way into an enviable career as Italy's star composer for half a century. Including Nabucco, La traviata, Aida, and Falstaff (the list goes on), he wrote 26 operas, most achieving unprecedented popularity. He found success with Italians of all walks of life, who always fought to be the first to learn the composer's newest aria. This success was rooted in his ability to capture drama and character with unforgettable melodies including just the right amount of repetition. His stories were action-packed and usually pre-conceived, drawing from sources like Victor Hugo and Shakespeare. It is easy, then, to wonder why perhaps his most beloved work is not an opera at all, but a Requiem, a Roman Catholic funeral mass. The dramatic ancient Latin text was familiar to trenchantly Catholic Italy, and was the ideal setting to honor the composer's literary hero, Alessandro Manzoni.
Manzoni was something of a national hero for his three-volume love epic The Betrothed (I promessi sposi), which is considered by many to be the most important work of Italian literature since Dante's Inferno. Set in northern Italy in 1628, Manzoni depicts two peasants, Renzo and Lucia, who wish to be wed, but the priest is
harassed by an intimidating Spanish noble who wishes to have Lucia. This simple love story is set amidst the Thirty Years' War and Spain's brutal occupation of the region, and is famous for its depiction of the bubonic plague of 1630. The work was also a not-so-subtle criticism of religious hypocrisy by Manzoni, a devout Catholic, and has been the subject of debate among those across the religious spectrum. Published in 1827 during Austrian control of northern Italy, the novel's wide popularity helped codify the culturally and linguistically fractured Italian provinces, which were politically unified in the country's modern form between 1861 and 1866.
Manzoni's classic had a profound impact on Verdi, who devoured the novel and was inspired by its nationalist efforts. The themes directly transferred to his early opera Nabucco (1842), which dramatized the Old Testament history of the Jews, as they were exiled from their homeland by King Nebuchadnezzar II of Babylon. Just as Manzoni had stirred nationalist zeal amidst occupation before, the opera's famous "Chorus of the Hebrew Slaves" (Va, pensiero) remains among Italy's favorite anthems of national pride.
Several decades later, after the successful union of Italy, Verdi, known to have caused his own conflicts with the church for certain librettos, had reason to create a Requiem Mass in the Catholic tradition. The origin of the work can be traced to the death of another operatic heavyweight, Gioachino Rossini, who died in 1868. Verdi initiated a project to combine movements written by different composers, offering the final Liberame. The project failed to materialize, however, and Verdi's movement remained unused for five years until the death of Manzoni in 1873, at which point the composer created a full mass on his own using the original Libera me for its conclusion.
Sometimes called the "Manzoni Requiem,"
the work can cheekily be thought of as "an opera set to sacred text." Verdi maintains and even enhances his dramatic flair at the expense of reverent worship. The Requiem was clearly never intended for liturgical use, with a premiere featuring four operatic soloists under Verdi's baton. The text is in keeping with liturgical tradition, but Verdi's gratuitously dramatic representation of such a guarded text drew scorn from the religious community. But this did not diminish the Mass' popularity. While the work was premiered on the first anniversary of Manzoni's death in the church of San Marco in Milan, subsequent performances took place in various opera houses, including La Scala, and received seven performances in Paris.
The Manzoni Requiem was not antiCatholic, but the move from the church to the concert hall was an explicit appeal to a humanist spirit and secular views of national unity. Using a religious language that appealed to his countrymen and a musical language which was deeply rooted in opera, the work has ignited passion for generations of audiences. From its opening text, Requiem aeternam dona eis Domine, etluxperpetualuceateis (Grant them rest eternal, Lord, and may perpetual light shine on them), to the final stanzas, Libera me, Domine, de morte aeterna, in die illa tremenda, quando coeli movendi sunt et terra (Deliver me, Lord, from eternal death, on that dreadful day when the heavens and earth shall be moved), the text is truly dramatic, pleading for deliverance and mercy on Judgement Day. Whether a pious homage to a national hero, a dramatic appeal to a proud nation, or an act of defiance in a concentration camp, the dramatic Requiem of Giuseppe Verdi is among the greatest works of a composer who has uplifted the human spirit through musical storytelling.
Chaz Stuart, 2023
43 42
ADAM LUEBKE, MUSIC DIRECTOR, BUFFALO PHILHARMONIC CHORUS
Adam Luebke is Music Director of the Buffalo Philharmonic Chorus and Assistant Professor of Voice and Conducting at SUNY Fredonia. He is the winner of the 2020 GRAMMY® for Best Choral Performance and critics have described his choruses as "splendid" (Gramophone), "excellent" (Musical America), and "articulate, unified and vividly expressive" (Chautauqua Daily). He has appeared at Lincoln Center, the Chautauqua Institution, and the Metropolitan Museum of Art, and in 2023 he will make his Carnegie Hall and European debuts. He has worked with JoAnn Falletta, Richard Danielpour, Chen Yi, Hila Plitmann, Angela Brown, and Liz Calloway. Luebke received his musical training at the American Boychoir School, St. Olaf College, Westminster Choir College, and Florida State University.
45 44
SPONSOR A MUSICIAN
Nikki Chooi, concertmaster
Sponsored by Clement and Karen Arrison
Ansgarius Aylward, assistant concertmaster
Sponsored Anonymously
Douglas Cone, first violin
Sponsored by Bradford Lewis
Alan Ross, first violin
Sponsored by Anthony J.* and Carmela M. Colucci
Loren Silvertrust, first violin
Sponsored by Mrs. George F. Phillips, Jr.
Andrea Blanchard-Cone, first violin
Sponsored by Drs. Clement and Margot Ip
Diana Sachs, first violin
Sponsored by Dr. Richard Saab & Maureen Wilson Saab
Antoine Lefebvre, principal second violin
Sponsored by Ronald Frank* and Anne Schneider
Jacqueline Galluzzo, associate principal second violin
Sponsored by Sandra and Dennis McCarthy
Xiaofan Liu, 2nd assistant concertmaster
Sponsored by Michael D'Ambrosio
Robert Prokes, second violin
Sponsored by Ansie Baird
Caroline Gilbert, principal viola
Sponsored by Bruce and Gail Johnstone
Anna Shemetyeva, associate principal viola
Sponsored by Christine Standish & Chris Wilk
Natalie Piskorsky, viola
Sponsored by Dr. Patricia and Burt* Notarius
Matthew Phillips, viola
Sponsored by Mr. and Mrs. George G. Herbert
Kate Holzemer, viola
Sponsored by Ms. Cindy Abbott
Letro and Mr. Francis M. Letro
Janz Castelo, viola
Sponsored by Anthony J. and Barbara Cassetta
Feng Hew, associate principal cello
Sponsored by Kenneth Schmieder, in loving memory of Nancy L. Julian
Nancy Anderson, cello
Sponsored by Stephen Still and Terrie Tucker
Robert Hausmann, cello
Sponsored by Sally and Donald Dussing
David Schmude, cello
Sponsored by Jim and Michal Wadsworth
Amelie Fradette, cello
Sponsored by Ms. Cindy Abbott Letro and Mr. Francis M. Letro
Brett Shurtliffe, associate principal bass
Sponsored by Mr. Bruce C. Baird and Mrs. Susan O'Connor-Baird
Jonathan Borden, bass
Sponsored by Edward N. Giannino, Jr.
Christine Bailey Davis, flute
Sponsored by Sue Fay and Carl
Henry Ward, principal oboe
Sponsored by Bob and Judy Wetter
Joshua Lauretig, oboe
Sponsored by Sonny & Diane Sonnenstein
Anna Mattix, oboe/English horn
Sponsored by Bonnie and Nick Hopkins
William Amsel, principal clarinet
Sponsored by Dr. Gilbert Schulenberg
Patti DiLutis, clarinet
Sponsored by Dennis P. Quinn
Salvatore Andolina, clarinet/saxophone
Sponsored by Jennifer Dowdell, in memory of Charles and Nancy Dowdell
Glenn Einschlag, principal bassoon
Sponsored by Barbara B. Bunker
Daniel Kerdelewicz, associate principal, French horn
Sponsored by Gretchen Wylegala and Stephen McCabe
Jay Matthews, French horn
Sponsored by Philip H. Hubbell, in loving memory of Jayne T. Hubbell
Sheryl Hadeka, French horn
Sponsored by Linda Johnson & Sanford Eisen
Alex Jokipii, principal trumpet
Sponsored by Jennifer Dowdell, in memory of Charles and Nancy Dowdell
Philip Christner, trumpet
Sponsored by Frank and Wilma Cipolla
Jonathan Lombardo, principal trombone
Sponsored by Nicole and Stephen Swift
Timothy Smith, trombone
Sponsored by Arthur W. and Elaine I. Cryer
Filipe Pereira, bass trombone
Sponsored by Constance A. Greco
Matthew Bassett, principal timpani
Sponsored by Bonnie and Nick Hopkins
Mark Hodges, principal percussion
Sponsored by Vanda and Paul Albera
Dinesh Joseph, percussion
Sponsored by Lynne Marie Finn, on behalf of Broadleaf Results
Madeline Olson, principal harp
Sponsored by Dr. and Mrs. Curtis F. Holmes
* deceased