Fall | 2022the
Photo by Dave Tavani
Contents 04 1014 07 08 Table of LETTER FROM PASTOR NEW MEMBERS YOUTH MINISTRY CAMP DANCE FOR PARKINSON'S+ HUNGER+ ADULT EDUCATION MUSIC AND FINE ARTS+ ADVENT GIFT MARKET 150TH VISION COMMITTEE WEEKDAY SCHOOL UPDATE DANCE FOR SUNDAYMUSICCOMMUNITYPARKINSON'SHUNGERFORUMANDFINEARTSEVENINGWORSHIPNATIVEPLANTINITIATIVE1715131109070503 1816141210080604
We invite you to get to know our community better by becoming a part of our Discover BMPC classes on Mondays, October 10 and 17 at 7:00 p.m. These classes will give you the opportunity to learn about our denomination, our Reformed tradition, and our sense of Christian Ministry. For more information or to register, contact FrankPottorff@bmpc.org.
WANT TO KNOW MORE ABOUT BMPC?
Why focus on words? Because we are people of the Word who believe that God is uniquely revealed to us in the words of Scripture. Because we trust that Jesus is God's Word made flesh, as we understand the proclamation of John's gospel. Because words matter. Because the theology of the Reformed tradition defines and identifies the essential tenets of our Christian calling.
I would add to Nouwen's observation about the challenge of respecting words that we also live in a season in which people lack respect for other human beings. Our current daily drama of human incivility is characterized by words being used to attack and vilify and divide people into opposing camps. However, life with God is meant to be characterized by compassion, justice, peace, and reconciliation. One of the tools we have for discerning faithfulness is a strong theological vocabulary – words that can help us celebrate our Christian identity and encourage our discipleship as God calls us to heal and reconcile the world in the name of Christ. Join us for worship as we consider these defining words of faith.
Grace and Peace,
In one of his essays called "Our Wordy World," Henri Nouwen, a priest, theologian and thoughtful Christian writer, reflected on our increasing exposure to a voluminous torrent of words and the challenge it poses for persons of faith. "Wherever we go we are surrounded by words," he wrote, "words softly whispered, loudly proclaimed, or angrily screamed; words in books, on walls, or in the sky; words in many sounds or many colors; words which flicker off and on, move slowly, dance, and jump." Nouwen remembered a drive through Los Angeles, overwhelmed by the advertising signs and billboards all around him, writing: "Suddenly I had the strange sensation of driving through a huge dictionary. Wherever I looked there were words trying to take my eyes from the road. They said: Use me, take me, buy me, drink me, smell me, kiss me. In such a world who can maintain respect for words?"
THE WORDSDEFINING OF FAITH.
03
n September I'm planning a fall sermon series on The Defining Words of Faith. Some of the themes will be old theological terms we no longer use in common parlance such as Sovereignty, Justification and Sanctification. These words may seem like they are left over from another era, but these theological concepts undergird just about everything that makes us Presbyterian among the larger family of Protestant Christianity – from our interpretation of Scripture and the lyrics of the hymns we sing to our understanding of how God calls us into the world to practice our faith. Other words to be considered will be more familiar, like Love and Grace, because even these more common words carry biblical import, defining us as the people of God, and yet their common usage can overshadow their profound theological significance.
• Are there ways we might enhance worship and Christian education?
We encourage all members to participate in one of the focus groups which will be offered from late September through mid-November. These groups will be held on Sundays at 2:00 p.m., Wednesdays at 6:30 p.m., and on a weekday morning to accommodate everyone's schedules. The BMPC eNews and the Sunday bulletins in September will include information about exact dates and the registration process.
• How can we engage our faith with important contemporary issues?
More than 150 people participated, including teenagers and octogenarians, longtime and new members, and individuals involved in many different ministries. The conversations were lively, substantive and illuminating. Many common themes about our values as a church and new opportunities for ministry emerged in these forums. At each public forum members identified their top priorities for the future, including mission and outreach, worship and Christian education, evangelism and engagement, youth and children, music and fine arts, and diversity and inclusion. Many ideas were articulated about how we can live into God's calling for us.
• How can we be more actively involved with meeting the needs of our local community?
• What actions do we need to take to remain a strong, vibrant church?
FALL FOCUS GROUPS
• What initiatives should we pursue to live into our vision for our next chapter of ministry together?
• What are our hopes for the church's mission work in the country and the world?
• What are the best ways to attract and engage new members, including families with young children?
• How can we be a more inclusive, welcoming church community?
In the second phase of our congregational engagement process, the 150th Vision Committee will host a series of focus groups this fall. Members will have opportunities for in-depth discussions with a more intimate group of eight to 10 participants during 90-minute sessions. Participants will be asked to address specific questions including:
Based on discussions in the focus groups, a congregational survey will be created to discern future directions. The results of the forums, focus groups and the survey will be made available to all members in a report and through a set of public presentations in the fall of 2023. Our hope is that at the end of this process, coinciding with our 150th anniversary celebration in September 2023, new initiatives will emerge that call us to action.
• How do we re-engage members of all ages, post-pandemic?
Messenger | Fall 202204
A VISION FOR THE FUTURE OF BMPC: PART II,
The 150th Vision Committee members are Elliot Dee, John Frazier, Carolyn Gerrish, Joan Laleike, Sarah Reiner, Steven Udicious and Ashley Whamond.
Who are we as a church? What is God calling us to do? What is our vision for the future? During this past spring the 150th Vision Committee organized three public forums so that church members could engage in discussions about these questions.
DISCOVER BMPC CLASSES Mondays, October 10 and 17 at 7:00 p.m . For more information or to register, contact FrankPottorff@bmpc.org.
Jen and Matt Lowell Ardmore
Elizabeth and Brian Cleary Havertown
learn
Katie and Jarrod Quigley Villanova
our
WE THAT BMPC IS GROWING! welcome newest members with open arms and love. us from them during their time with us.
Let
Barbara and Ted Morse St. David's
Susan and Dan Henderson King of Prussia
We
05
REJOICE
WELCOME, NEW MEMBERS
Lacey & Jared Long Havertown
For over 60 years the Weekday School has welcomed children into a lifelong love of learning and community. The school has been blessed with consistent and dedicated directors who have helped the program continually evolve, incorporating best practices in early childhood education while maintaining our focus as wholistic, play-based program.
Beginning in 2001 the school has been shaped by the gifts and leadership of Kim Black who retired in June. While her work at the school began in the classroom, Kim spent more than a decade as the school's director, and her impact is seen throughout the school.
Retirement will be busy! Kim is looking forward to traveling with her family and more importantly, stepping up to care for her new grandchild.
Two of our Weekday School teachers created a new sign for our outdoor nature center and garden that says, "In our garden, we are architects, explorers, ecologists and nature detectives." Children, like our vegetables and plants, are nurtured at the Weekday School with care and patience and given opportunities to learn, explore and discover new ideas and skills. Our children learn best when they are engaged in their learning and can interact with peers and staff as they make new discoveries.
We are excited to welcome Robin Macon as our new Weekday School Director. Robin began her work in May. She comes to the Weekday School with decades of experience in early childhood education as both a teacher and a director. After relocating from Pittsburgh to be closer to her children, Robin wasn't sure if she would return to teaching. When she learned about the Weekday School's program and approach, however, she applied for the director's position. Robin's rapport with children and experience makes her a natural fit for the school. Welcome Robin!
Weekday School Update
"You can grow ideas in the garden of your mind."
Welcome Robin Macon!
Kim has been a "first point of contact" for countless families and has acted as a guide and encourager as they navigated the complexities of those first years. One of our preschool students said it best: "She's not just a teacher – she is also my friend."
~ Fred Rogers
~ Robin Macon
recently led the school through the complexities of the COVID pandemic.
During her 21 years she developed new classes and learning opportunities, played a critical role in the Education Building renovation program, and most
Messenger | Fall 202206
"I have an image in my mind of the Gaga pit where we play this epic camp game; here, age doesn't matter. What does matter is the fact that everyone is there. . . standing around, participating, cheering each other on. That's what makes camp special." - Kathryn
07
This summer we took a small but mighty group to Camp Johnsonburg and Retreat Center for a fantastic week of fellowship, spiritual growth and fun! Our theme this year was "You're Invited!" We delved into various feast stories in Scripture and learned together about how we are all invited to God's Table. We're psyched about this upcoming school year, planning to dive back into regular programming. On Sundays all teenagers are invited to gather for a short youth worship service at 10:00 a.m. At 10:15 youth will head to their respective groups – High School Small Group, Confirmation, and Middle School Sunday School. We also will have our youth helping with Children and Family Ministry and other church programs.
Summer Camp is a formative experience in the lives of our students, and our seniors shared their memories of why camp has been important to them.
"One night it was raining really hard and we had to get from one building to the next. Instead of running through the rain, we all worked together lifting up a pop-up tent and carrying it to the next site. Everyone stayed relatively dry." - Katie
Youth Ministry Happenings
If you or someone you know wants to learn more about our youth program, contact Jack Liskey, jliskey@bmpc.org. Please sign up for the Youth eNews and follow us on social media to keep up with the latest happenings in Youth Ministry.
Camp Johnsonburg 2022
"During my first year I wasn't sure what to expect or if I even wanted to go. However, by the end of the week I had made some of the closest friends, almost peed in my pants from laughing so hard, and learned so much more about my faith. I never wanted to leave." - Finley
A Dancing Community for Support and Balance
BMPC member Eric Johnson, with support of his wife Lindsay, has added Dance for PD to his regimen of exercise (including Rock Steady Boxing!), community support and healthy lifestyle
members on choreography to accompany this work which is being written by local composer Heath Allen. Performances of the musical piece are scheduled for December 2022.
is a movement disorder characterized by tremors, stiff or rigid muscles, and slow movement. It affects an estimated one million people in the United States. PwP's generally experience cognitive and balance dissonance; this can improve as dance rhythms creatively address concerns related to balance, cognition, motor skill, sequencing, depression, and physical confidence.
Led by Sharon Friedler and Jon Sherman, retired Swarthmore College dance faculty with over three decades of experience, PwP's of all abilities and their caregivers participate in seated and standing movements choreographed to speciallyselected music.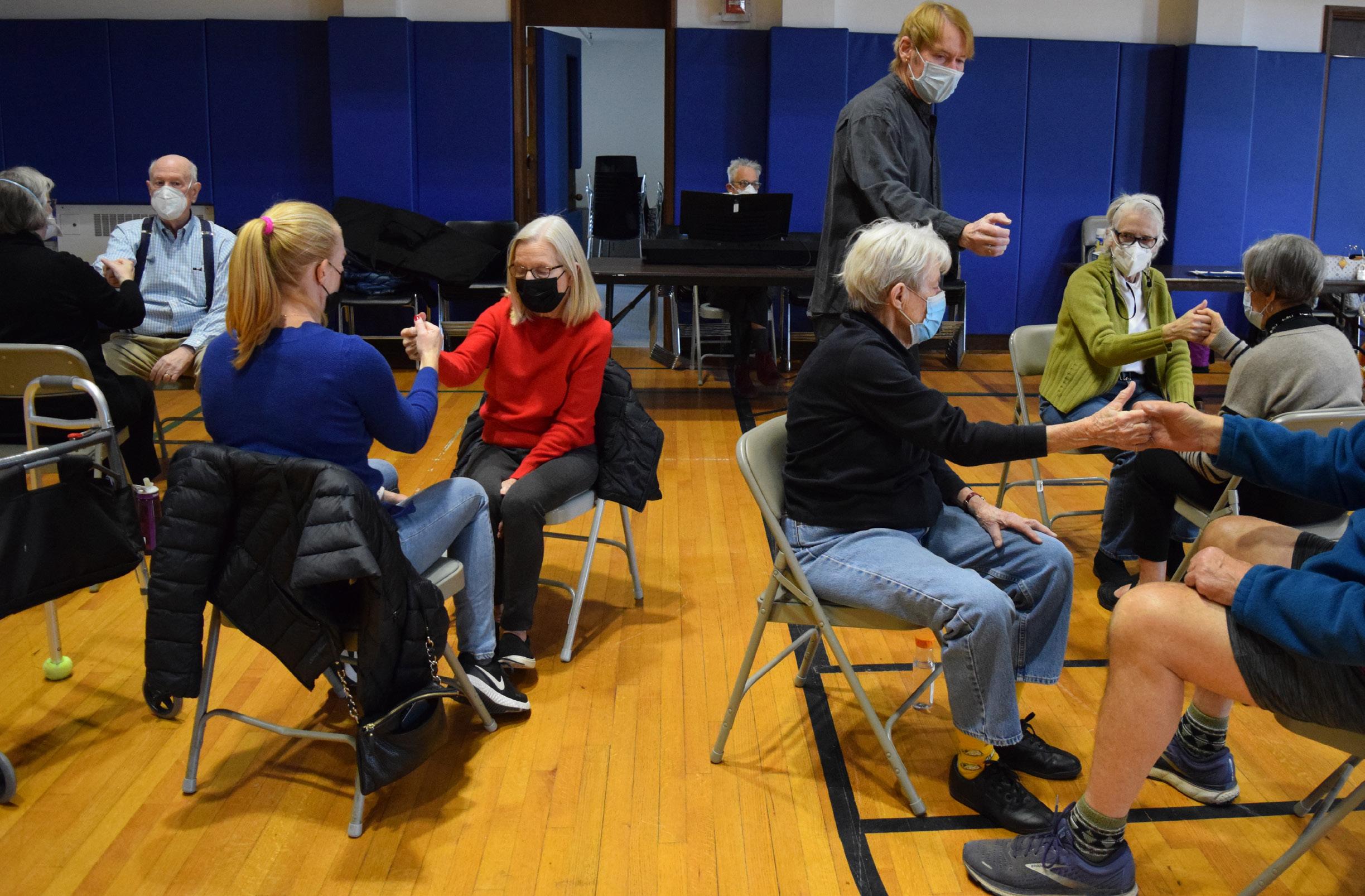 If you pass by the BMPC gymnasium on most Tuesday afternoons from September through June, you will be inspired by Persons with Parkinson's (PwP's) enjoying stretching and movement exercises through dance.
to thrive while living with PD. Feeling that "he is in better physical shape than in 30 years" is a tribute to their joint commitment to living life (w)holy. Speaking about the dance class, Lindsay says, "the compassion of our Caring Ministries is well expressed in the patience, compassion, and humor expressed by Sharon and Jon and the sense of community that has been engendered among the participants." And from Eric, "I have no concept of rhythm. Parkinson's made my dancing better!"
BMPC's class is part of the Parkinson'saroundincommunitiesinCity2001programDanceaward-winningforPD®foundedininNewYorkandavailablemorethan30025countriestheworld.Disease(PD)
Dance for PD is held on Tuesdays from 1:00-2:15 p.m. in the gymnasium. All classes include both sitting and standing sequences and all movements are accompanied with a broad range of musical genres. PwP's pay $5 per class, and care partners attend for free. For more information, contact instructor Sharon Friedler at 215-563-5701 or sfriedl1@swarthmore.edu .
Stretching exercises address muscle stiffness caused by Parkinson's Disease.
The Parkinson'sBMPC dance group is working with the Philadelphiabased workingSharonoffocusingtheeco-cantataChorusParkinsingerstocreateanbasedonstoryofJonahandonissuesclimatechange.andJonarewithclass
DANCE FOR PARKINSON'S
Messenger | Fall 202208
NEED HELP?
.
A support group for persons with PD and their care partners is held every fourth Tuesday from 2:30-3:30 p.m. in the Cannon Room. For more information, contact facilitator Dolores Manion at 610-513-7934 or DoloresManion@yahoo.comemail
09
Dance for Parkinson's Disease instructors Sharon Friedler and Jon Sherman lead a class.
FREE PARKINSON'S DISEASE SUPPORT GROUP
BMPC members Eric and Lindsay Johnson enjoy Dance for PD classes.
If you need support for managing chronic health conditions, Caring Ministries is here to help. Contact Parish Nurse Carol Cherry at CarolCherry@bmpc.org or Parish Social Worker Renee Malnak at ReneeMalnak@bmpc.org.
"We don't mind getting up early and doing the prep and cleaning up afterward," said Ken, a BMPC member since 1974. "We feel like we're helping people because we know where the casseroles are going." Encouraging their daughters to help with the Blitzes was important to Ken and Peg. "We're working together, and the girls feel like they're contributing," Peg said. She noted that the Blitzes have given their family "something in common to work on that is not a parent thing or a child thing. They participate, especially now, on a more equal footing."
"I think it instills in them a sense of doing community service and doing the right thing," Ken added. "Hopefully that gets passed down from generation to generation to do something – not just a one-time commitment – but a regular commitment."
Each month it takes more than 25 volunteers to prep, assemble and freeze approximately 130 casseroles. Volunteers of all ages are welcome to join in this vital and longstanding ministry of our congregation. Families with children are especially encouraged to participate. - 10:30 a.m.
September 24 | October 15 | November 12 | December 10 | January 21 If you wish to sign up for a blitz or receive more information about being a part of our Hunger Ministry, contact AliciaFranklin@bmpc.org .
Messenger | Fall 202210
"Having the Casserole Blitzes as an option at Bryn Mawr Presbyterian Church, a place I'm familiar with, made it an easy transition for us to volunteer here," Ken said.
Ken, a certified public accountant for White and Williams LLP law firm, serves as treasurer for the Homeless Advocacy Project and the Spring Garden Soup Society, an organization his grandparents and father were involved with for many years.
Feeding the Hungry, One Casserole at a Time
By Elena Perri
Feeding the hungry has been a family affair for Peg and Ken Gibb and their daughters Erika, 26, and Alexia, 24. For the past 10 years they have helped cook food, clean counters and tables, and assist with the prep work for BMPC's monthly Casserole Blitzes.
Volunteer to Help Make Casseroles
Upcoming Blitz Dates: Saturday 8:30
Peg and Ken Gibb (in background) have been Casserole Blitz volunteers since 2012.
"Thecasseroles.easiestthing anyone can give is time," Ken said. "So many people are just asking for money these days, but I prefer to show the effort and put my work behind it to make it pay off. You do feel like you've accomplished something because at the end you see the freezer full of food, and you know it's going downtown and supporting people."
the Gibbs have experienced is the rapport with other volunteers. "There's a good camaraderie among the volunteers," Ken said. "They're just really nice people. We have a good time making fun of one another when we make mistakes."
"We take the completed casseroles down to the freezers at the end so that we don't overwork the freezers with 100 very hot casseroles," he said.
The couple, who will be married 30 years in October, emphasized that more volunteers are needed to help with the prep work and making the
11
"Ken and Alexia are usually cooking noodles and rice because most of the casseroles have noodles and rice, and sometimes ground beef has to be cooked," Peg said. "They're the chefs, and then Erika and I usually set up the tables, get the pans and the other ingredients out, and bring food up from the freezer. It is a big
The couple shared that there is much work that happens before each casserole blitz.
"Once you do it a few times, then it becomes an easy habit," Peg added. "You just put it on in your calendar and there it is – time to go make some Onecasseroles."ofthebenefits
Ken Gibb cooks the casserole ingredients before the other volunteers arrive to assemble the casseroles.
Alexia Gibb helps put out supplies during a casserolemonthlyblitz.
"We feel like we've really accomplished something to help some people, and we've had a good time doing it," Peg said. "It's fulfilling work, and it's convenient because you're just coming to the church, and it's a really great experience."
Kenundertaking."addedthat they arrive early to cook the meat, noodles and rice to allow time for it cool down before the other volunteers arrive to assemble the casseroles.
Although Peg, a retired software engineer, is not a BMPC member, she has been a casserole blitz volunteer for almost a decade and also serves alongside church members who are involved with the Philanthropic Education Organization which offers educational scholarships to women.
He is the author of hundreds of scientific papers and 16 books, including his most recent book, "You Bet Your Life: From Blood Transfusions to Mass Vaccination, the Long and Risky History of Medical Innovations." Here he offers an entertaining history of medical innovations, his premise being that it is crucial for a patient to weigh the risks of his or her particular medical issue vs. the potential risk of treatment.
Messenger | Fall 202212
Dr. Paul Offit to Speak at Community Forum
Dr. Paul A. Offit, a pediatrician specializing in infectious diseases and an expert on vaccines, immunology, and virology, will speak on "COVID: Where We Are and What We Can Do" on Monday, October 3 at 7:00 p.m. in the Sanctuary and via livestream. While conflicting information about COVID abounds, here is an opportunity to learn accurate information from an expert and to ask him questions.
By Anna May Charrington
Community Hymn Sing and Dessert Saturday, September 17 7:00 p.m., Congregational Hall
Dr. Offit is director of the Vaccine Education Center and professor of pediatrics in the Division of Infectious Diseases at Children's Hospital of Philadelphia and the Maurice R. Hilleman professor of vaccinology at the Perelman School of Medicine at the University of Pennsylvania.
The Bryn Mawr Presbyterian Church Community Forum Distinguished Speaker Series began in 1997. The forums are made possible by the Anna and Herbert H. Middleton, Sr. Fund of the Bryn Mawr Presbyterian Church Foundation and are offered as a service to the community at large.
Dr. Offit is best known in the areas of rotavirus-specific immune responses and vaccine safety. He also is the co-inventor of the rotavirus vaccine, RotaTeq, recommended for universal use in infants. He has received numerous awards, including the J. Edmund Bradley Prize for Excellence in Pediatrics from the University of Maryland Medical School, the Young Investigator Award in Vaccine Development from the Infectious Disease Society of America, and a Research Career Development Award from the National Institutes of Health. He was honored by Bill and Melinda Gates during the launch of their foundation's Living Proof Project for global health.
The Beatitudes are among the most influential teachings in human history. For two millennia they have appeared in poetry and politics and in the thoughts of mystics and activists, as Christians and others have reflected on their meaning and shaped their lives according to the Beatitudes' wisdom.
No matter what your level of experience is in studying the Bible, this class will be a helpful primer on how we incorporate the history of biblical interpretation into our understanding of what the Bible means for us and for our community today.
available for purchase this fall, but the relevant excerpts from Eklund's book will be provided to class participants in print.
Thursdays, November 3, 10 &
17 13
Bookstoday.willbe
The congregation is invited to enjoy our shared hymn tradition with guests of nearby churches. The guest pianist is Brenda Tilden. There is something about music that helps us come together as a community; singing together makes us healthier and more connected. This event is sponsored by the Anti-Racism Task Force.
But what does it mean to be hungry, or meek, or pure in heart? Is poverty a material condition or a spiritual one? And what does being blessed entail?
For more information about the class or to sign up, contact AliciaFranklin@bmpc.org.
From Matthew and Luke in the first century to Martin Luther King Jr. and Billy Graham in the 20th, Eklund
7:00 p.m., Cannon Room
considers how men and women have understood and applied the Beatitudes to their own lives through the ages. Reading in the company of past interpreters of the text helps us see how rich and multifaceted the Beatitudes truly are, illuminating what they might mean for us
The Rev. Rebecca Kirkpatrick will teach this three-week evening Bible Study, drawing upon Rebekah Eklund's book, The Beatitudes Through the Ages, which is a stunning exploration of how the Beatitudes have affected readers across differing eras and contexts.
SUNDAY, DECEMBER 11, 3:00 P.M.
Watch a video of him improvising at the conclusion of a Mass at Notre Dame Cathedral: https://bit.ly/DuboisNotreDame
SUNDAY, MARCH 12, 2:00 P.M.
SUNDAY, OCTOBER
29, DECEMBER 6, 13 AND 20
Messiah Sing-in
UPCOMING
Vincent Dubois' BMPC program will include works by J.S. Bach, César Franck and Maurice Duruflé. His concert will conclude with an improvisation on submitted themes. 30, 2:00 P.M.
Laura Ward and Jeffrey Brillhart, duo pianists, celebrating the launch of their new CD
Advent Tuesdays @ Noon: Harpsichord Recital Series in the Sanctuary
We are excited to finally present a full season of in-person concerts for the first time since the 2019-2020 season.
All
Vincent Dubois, organist of Notre Dame Cathedral. Works by Bach, Franck, Saint-Saëns, Duruflé and an improvisation of submitted themes
28, MARCH 7, 14, 21 AND 28
Olivier Latry, organist of Notre Dame Cathedral
By Jeffrey Brillhart
To celebrate this return to normality, the Music and Fine Arts Council has planned a wonderful array of programming that includes concerts on both the church and chapel organs, the William Dowd Harpsichord, and two special Sundays that showcase the talents of the singers of the Sanctuary Choir.
SUNDAY,
JANUARY 29, 2:00 P.M.
Messenger | Fall 202214
Lenten Organ Recital Series Tuesdays at Noon in the Chapel
SUNDAY, APRIL 30, 10:00 A.M.
Carol Barnet's "Bluegrass Mass," with worldrenownedMonroe Brother's Bluegrass Band
FEBRUARY
A Season of Music and Renewal at BMPC
To launch the season, Notre Dame Cathedral organist Vincent Dubois performs on Sunday, October 30 at 2:00 p.m. Dubois is one of the most celebrated of the young generation of French organists. He joined Olivier Latry and Philippe Lefebvre in 2016 to become one of the three "titular" (or chief) organists of Notre Dame Cathedral. His playing has been described as "absolutely stunning… Dubois is a musician who plays with consummate passion and breathtaking virtuosity… Clearly he is an organist who has long since moved beyond the ranks of the dutiful, well-coached keyboardist to the ranks of those for whom the organ in its widest dimension is an instrument for the conveying of musical ideas in a kaleidoscope of colors. The applause was loud and long...."
NOVEMBER
SUNDAY, NOVEMBER 6, 10:00 A.M. Saints Sunday, Gabriel Fauré "Requiem"
Few choral works evoke as much reverence and heartfelt emotion as Gabriel Faure's "Requiem." Traditionally the Roman Catholic Mass for the dead, the requiem genre has become popular in all Christian traditions for its texts of prayer, supplication, and enduring hope. Fauré, working in Paris at the Church of the Madeleine, was a highly acclaimed organist and a composer of piano music, chansons, and small-scale instrumental pieces. He completed his "Requiem" in 1893, shortly after the death of both of his parents as a work of love and reverence for them.
The mission of the Visual Arts at BMPC is to delight, learn from, respond to and grow from experiences in a wide range of artistic expression.
Of the work he wrote, "I see death... as a joyful deliverance, an aspiration toward a happiness beyond the grave, rather than as a painful experience." This message comes across in the music, and its beauty and transcendence have helped to make it a mainstay of choral literature.
Middle East Choir Tour Photos to be featured in Gallery Exhibit
All Saints Sunday
For many congregation members, All Saints Sunday has become a highlight of the liturgical year. This day of remembrance is celebrated in a service that is full of reflection, music and liturgy. On November 6 we will revisit that most iconic of requiem settings, the sublime "Requiem" by Gabriel Fauré.
Photos by Bill Kemmerer15
Following on the heels of three successful art shows, we are pleased to announce the first exhibit of the 20222023 season in the new BMPC Gallery. Photographer and church member Bill Kemmerer traveled with the Sanctuary Choir on its tour to the Middle East, and the exhibit will showcase images that he took during the trip. Formerly in the choir, Bill has traveled and documented virtually every tour the choir has taken. This tour was a particularly rich source of inspiration for a photographer, with visits to ruins of cities built by Herod, countless sites where Jesus lived and ministered, not to mention the Dead Sea, Sea of Galilee, the old city of Jerusalem, Masada, and Petra. Bill has a brilliant eye for capturing the beauty of nature as well as these spectacles of history. The show opens in mid-September and runs through the end of October. Save the date for Bill's presentation about the Middle East Tour on Sunday, October 2 at 11:15 a.m.
continue our pattern on Sunday mornings, we know that weekends can be as full as weekdays. Our hope is that this service will be an opportunity to reset at the beginning of each month, regrouping and refocusing and ultimately welcoming God's grace to surround us as we begin the week and month together.
If you would like to serve as an usher, greeter or lay leader, please contact Rachel Pedersen at RachelPedersen@bmpc.org.
RALLY DAY
Beginning with the Blessing of the Animals Service on Sunday, October 2 and continuing on the first Sunday of each month, (Nov. 6, Dec. 4, Jan. 1, Feb. 5, March 5 and April 2) the church will gather for evening worship at 5:00 Followingp.m.
our typical patterns of worship, we will hear Scripture readings and then we will celebrate the sacraments. These services will be intentionally intergenerational — our Children's Choir, Youth Chorale, and Staff Singers will help lead music, and different members of our church family will serve as liturgists and lay leaders.
For the early Christians, Sunday morning worship was a holy pause before the week officially began. The Sabbath was firmly established on Saturday, and Sunday was just another workday. But for those early Christians, gathering before work and business began became a hallmark of their life
Photos by Dave Tavani
September 11, 11:00 a.m., Front Lawn Join us as we kick off a new season in ministry! Our celebration will include food trucks and entertainment. All are welcome; bring a friend!
Whiletogether.we
Sunday Evening Worship
Messenger | Fall 202216
Help Others Through BMPC Advent Gift Market
We are very excited about the recipient choices made by our BMPC councils, committees, and Pastor Rebecca Kirkpatrick for this year's AGM. Beginning on Sunday, November 13, you may make online tax-deductible
You are invited to visit the AGM in person on November 20 and on any of the following Sundays in Advent. For added convenience, credit card orders also may be placed online at www.BrynMawrAGM.com .
Farm in Winter by Mary French
This pantry has had a presence in the local community since 2009, and it dairyfruitsnonperishables,providingpersonsapproximatelyserves90eachweek,notonlybutandvegetables,products,andfrozen
donations to any of the selected groups on the list. If you want to donate in honor of a friend or family member, you will receive an insert card informing that person that a gift has been given in his/her honor, along with a description of the chosen charitable project. You may include an insert card in your own greeting card, or purchase a greeting card especially created for the AGM.
By Marian Chitester
Whether you are a faithful supporter of the AGM or a first-time donor, please help our mission partners this year in improving the lives of those in need locally, regionally and internationally.
Once a year the BMPC Advent Gift Market (AGM) supports numerous local, national and international charitable organizations with donations that directly assist persons in need.
This year's holiday cards include images from two BMPC artists: Mary French's Farm in Winter, commissioned especially for this year's AGM and pictured below, and Maria R. Schneider's Child of God, which is a 20,Onspace.children2021Educationthecommissionedandversiontwo-dimensionalofamirrorglasssculptureforopeningofourBuildingintowelcomeourintothatsacredSunday,Novemberfollowingthe
fish and meat. One individual recently remarked to a volunteer: "My family would not have made it through this winter without the Ardmore Food Pantry. We are so grateful to them for getting us through a difficult time."
Last year, 14 BMPC councils and mission committees participated, and their chosen charities were the recipients of funds raised by the AGM. Thanks to the generosity of our many church members and friends, the BMPC Hunger Committee was able to distribute AGM funds to 18 Philadelphia area food pantries that it regularly supports throughout the year. One of those beneficiaries was the Ardmore Food Pantry.
10:00 a.m. worship service, join us for the Opening Market Festival in the Atrium and Ministries Center. Representatives from the various committees, councils and charitable organizations will be available to answer questions about the chosen projects.
17
In 2007, Tallamy, entomologist and University of Delaware professor, burst onto the native plant community scene with his book, Bringing Nature Home, which provides a scientific reason for replacing exotic ornamentals that can dominate our gardens, with homegrown perennials, ground covers, shrubs and trees. Indigenous flora, Tallamy says, supports far more of the insects, birds and other creatures that co-evolved with them than a Japanese azalea or a non-native, invasive barberry.
Messenger | Fall 202218
In his book, Tallamy highlights the unbreakable link between native plant species and native wildlife. Most native insects cannot eat non-native plants because they don't have the adaptations to digest them. When native plants disappear, the insects disappear, depleting birds and other animals of their food source.
By Courtenay Willcox
Native plant expert Doug Tallamy will join us on Sunday, October 23 at 11:15 a.m. to present an adult education class, Homegrown National Park. In addition, he will give a presentation on the Nature of Oaks at 2:00 p.m. His afternoon talk is open to the community and will focus on the importance of native plants. All are welcome to attend one or both Homegrownpresentations.NationalPark is an initiative that empowers anyone with the space to plant native species and create a holy greenway of natives across our local communities and eventually across the country.
Find Out How Native Plants
Plant Native/Native Plant: Restoring Creation is an initiative of BMPC's Environmental Justice Committee, supporting and drawing attention to the planting of native species on our church campus, among our members, and in our communities. The importance of native species is being echoed not only in garden clubs, but also to homeowners who can increase the number of native plants in their gardens as well as churches, corporate campuses, and businesses. Native species are the nexus that supports biodiversity.
For more information about the Native Plant initiative, visit our Plant Native - Native Plant: Restoring Creation page on the BMPC website and join us on Sunday, October 23 to learn more about how we can save our ecosystem, one native plant at a time.
19
Our parks, preserves, and remaining wildlands – no matter how grand in scale – are too small and separated from one another to sustain the native trees, plants, insects and animals on which our ecosystems depend. We can fix this problem by practicing conservation outside of wildlands, where we live, work, shop, and farm. Thus, the concept for Homegrown National Park: is to create diverse ecosystems in our yards, communities, and surrounding lands by reducing lawns, planting native, and removing invasives. The goal of HNP is to create a national movement to restore 20 million acres with natives; that acreage represents half of what is now lawns. We are at a critical point where we are losing so many native plant and animal species that our natural life support is in jeopardy. However, if many people make small changes, we can restore healthy ecological networks and weather the changes ahead.
Let's make our engagement with our world a gift -something that gives life, provides care for our neighbors, and supports God's gift of creation. Join us to hear Doug Tallamy and learn how!
Nature of Oaks Sunday, Oct. 23, 11:15 a.m. Sunday, Oct. 23, 2:00 p.m. registrations requested
Attendees at the afternoon session will receive a free copy of Doug Tallamy's book, The Nature of Oaks. Doug will be available to sign his book after his presentation. A complimentary native plant will be provided for all attendees. Please visit https://bit.ly/BMPCTallamyTalks or scan the QR code to fill out the online registration form.
Environmentalist and author Wendell Barry says, "To live, we must daily break the body and shed the blood of creation. The point is, when we do this knowingly, lovingly, skillfully, reverently, it is a sacrament; when we do it ignorantly, greedily, clumsily, destructively, it is a desecration… in such desecration, we condemn ourselves to spiritual and moral loneliness, and others to want."
The
Frightening headlines about the decline of the natural world that serves as our life support have spurred homeowners across the country to take action by planting natives that will help reverse this trend. No plant will achieve this faster than one of our 91 species of oaks. Oaks support more species of animals, sequester more carbon, protect our watersheds, and nourish soil better than any other plant genus in North America. Tallamy will discuss these roles by highlighting the many fascinating things that happen with the oaks in his yard each month of the year. Tallamy hopes that sharing his knowledge about oaks will generate interest in them, and with any luck, compassion for these magnificent trees.
Homegrown National Park
Sustain Our Ecosystem
Send Address Changes To The BrynMessengerMawrPresbyterian Church 625 Montgomery Avenue Bryn Mawr, PA 19010 STAY CONNECTED! FOLLOW US ON OUR WEBSITE & SOCIAL MEDIA PAGES! www.bmpc.org www.facebook.com/BrynMawrPres www.twitter.com/BrynMawrPreswww.instagram.com/BrynMawrPres Wednesday Night Dinners Resume on September 14 Join us for fellowship and fresh-ingredient meals catered by Chef Ruth on Wednesdays from 5:30 – 7:00 p.m. in Congregational Hall (food served until 6:45 p.m.). Reservations not required. Menus with dinner prices will be available at www.bmpc.org. Save the Dates Hymn MinistrySingFair Community Forum Fifty-year Member Celebration Organ Recital September 17 SeptemberOctoberOctoberOctober2531630
The BrynMessengerMawrPresbyterian Church 625 Montgomery Avenue Bryn Mawr, PA 19010 610-525-2821 The Messenger (USPS #341840) Volume #124, Issue #3, is published quarterly by the Bryn Mawr Presbyterian Church. Periodical postage paid at Southeastern, Pennsylvania and additional offices.
Postmaster: