TOUGH
LOSS
Ruminations on the waning days of the ACC from the city where it was born.
BY BRIAN CLAREY | PG. 9
EVERYTHING EVERYWHERE ALL AT ONCE PALLET SHELTERS COME DOWN NATTABELLE'S SWEET TREATS PG.
3
6
12
PG.
PG.
MARCH 16 - 22, 2023 TRIAD-CITY-BEAT.COM
CITY LIFE
THURSDAY MARCH 16
Paw Crawl & Whisker Mixer @ Incendiary Brewing Company (W-S) 5 p.m.
Forsyth Humane Society invites you to celebrate St. Patrick's Day a little early at the third stop on their year-long paw crawl. Enjoy fellowship, fun and fur as you help benefit the pets of Forsyth County and those that care for them. View the paw crawl lineup at forsythhumane.org/pawcrawl
by MICHAELA RATLIFF
MARCH 16 - 19
St. Patrick's Day Celebration @ Centennial Station Arts Center (HP) 7 p.m. High Point Arts Council says everyone's Irish on St. Patrick's Day. Enjoy this celebration with traditional Irish folk songs from The New Potatoes and an Irish step dancing performance by the High Point Ballet. Bar specials and Duckawoo chocolate treats will be available for purchase. Purchase tickets at highpointarts.org or call 336.889.2787.
Our Birthday & St. Patrick's Day @ Foothills Brewing (W-S) 11 a.m.
Foothills invites you to their birthday party shindig including food, shot specials and a St. Patrick's Day cake. Follow Foothills on Facebook for more information.
St. Patrick's Day @ Bull City Ciderworks (GSO) 4 p.m.
SUNDAY MARCH 19
Craft & Draft @ SouthEnd Brewing Co. (GSO) 6 p.m.
Join SouthEnd and Reconsidered Goods for an evening of crafts, games and beer for just $5. Visit the event page on Facebook for more information.
GRIT Artists Reception @ Artworks Gallery (W-S) 6 p.m.
This joint exhibition by Julian Silverman and Elliot Strunk highlights the overlooked moments and objects found in urban landscapes. In addition, the gallery will be transformed into a space made for finding beauty in unintended places. Find more information at artworks-gallery.org
FRIDAY MARCH 17
St. Paddy's Day @ World of Beer (GSO) 11 a.m.
Celebrate St. Patrick's Day at World of Beer! You're in for St. Paddy's-themed drinks and chances to win prizes all day long. Port Republic joins the fun to provide live music at 7. Check the Facebook event page for updates.
St. Patrick's Day at Bull City Ciderworks comes with a food truck (TBA), axe throwing courtesy of The Flying Hatchet and live music by the Jason Bunch Band. Follow Bull City Ciderworks on Facebook for updates.
SATURDAY MARCH 18
March Cruise-In @ Winston Cup Museum (W-S) 10:30 a.m.
Pull up in your hot rod car, truck or motorcycle and experience 33 years of Winston Cup Series history in just one afternoon. Open to all years, makes and models. Find more information on the Facebook event page
Otis & Wawa's St. Patrick's Festival + Bar Crawl @ First National Bank Stadium (GSO) 12 p.m.
If you're not too hungover from the holiday, Otis and Wawa are back with their 8th annual St. Patrick's fest and bar crawl. Meet at the stadium for a festival kickoff with live music and local vendors, then pub crawl to more than 10 bars for dinner and drinks. Visit the event page on Facebook for more information.
Brunch & Mimosa Bar @ The Blooming Board (HP) 11 a.m.
The Blooming Board invites you to Sunday brunch with small bites, brunch boards, pastries and a mimosa bar. Call 336.991.5283 to make reservations for 11 a.m. or 1 p.m. Don't worry if you can't make this one. The next one's in May.
Reynolda on the House @ Reynolda House Museum of American Art (W-S) 1:30 p.m.
Enjoy this free opportunity to enjoy Stephen Towns: Declaration & Resistance and other exhibitions on view in the museum and a special musical performance by singer, historian and educator Mary D. Williams. Registration is encouraged and can be done at reynolda.org
UP FRONT | MARCH 1622, 2023
the full events calendar by signing up for the Weekender, straight to your inbox every Thursday.
2
Get
pico.link/triadcitybeat
BUSINESS
PUBLISHER/EXECUTIVE EDITOR
Brian Clarey brian@triad-city-beat.com
PUBLISHER EMERITUS
Allen Broach allen@triad-city-beat.com
OF COUNSEL
Jonathan Jones
EDITORIAL
MANAGING EDITOR
Sayaka Matsuoka sayaka@triad-city-beat.com
CITYBEAT REPORTER
Gale Melcher gale@triad-city-beat.com
Everything, Everywhere, All At Once
healing was realizing the reason for my trauma and dissonance with my being.
SALES
KEY ACCOUNTS
Chris Rudd chris@triad-city-beat.com
AD MANAGER
Noah Kirby noah@triad-city-beat.com
CONTRIBUTORS
Carolyn de Berry, John Cole, Owens Daniels, James Douglas, Michelle Everette, Luis
H. Garay, Destiniee Jaram, Kaitlynn Havens, Jordan
Howse, Matt Jones, Autumn
Karen, Michaela Ratliff, Jen
Sorensen, Todd Turner
WEBMASTER Sam LeBlanc
ART ART DIRECTOR Aiden Siobhan aiden@triad-city-beat.com
COVER:
UNC's RJ Davis (No. 4) plays in the quarterfinals of the ACC Men's Basketball Tournament in Greensboro on March 9.
PHOTO BY TODD TURNER
Design by Aiden Siobhan
being Asian as a child. I resented the way my hair fell, the slant of my eyes, the tone of my skin, the syllables of my name, the scent of my food.
by Sayaka Matsuoka
So on Sunday, to watch a predominantly Asian cast and a film about the Asian-American immigrant experience win the biggest awards in filmmaking was nothing short of overwhelming. It's the most I've cried watching an awards ceremony.
The first time I watched Everything Everywhere All At Once, I left the theater speechless. It was the kind of film that made me feel like I had seen something brand new — something so innovative, so interesting, so different, it made me feel like movies and the film industry could still push the boundaries of the art.
And yet, in so many other ways, the film was familiar.
For those who haven't seen it, the film follows the story of Evelyn Quan Wang, a middle-aged Chinese American immigrant woman who, throughout the course of the film, reminisces on the choices she's made in her life and the ones she didn't. She mourns the loss of lives she could have lived while fighting hard to fix the life she has with her husband and daughter.
It's a story that many immigrant kids and parents can relate to, one of struggle, sacrifice and the reality that results from years of never being the main character in your own story.
And that's how I felt for years, too. In the last decade or so, I've come to fully embrace and love my identity as a Japanese-American woman. Part of that
The country that I grew up in, this country, the media I consumed, the friends I made, never really reflected my personal experience as an Asian-American woman. And I'm sure there are other young Asian kids out there who are going through that same struggle now.
But on Sunday, as Ke Huy Quan accepted his award for Best Supporting Actor, he reiterated the message he's been spreading since the film gained wider recognition.
"Dreams are something you have to believe in," Quan said. "I almost gave up on mine. To all of you out there, please keep your dreams alive. Thank you, thank you so much for welcoming me back. I love you."
It's been constantly reported that Quan gave up on acting after a vibrant career as a child actor, starring in films like Indiana Jones and the Temple of Doom and The Goonies. In interviews, he's talked about the lack of roles for Asian men like him in the last 30 years. And it almost ended his career.
But Quan's win isn't just about people following their dreams in terms of career paths. It's an acknowledgement that we belong here. That we are beautiful. That we are powerful. Our stories are invaluable. And that, I think, is the manifestation of one of my oldest dreams: to be truly seen.
There's a long way to go, and awards shows shouldn't be what moves the needle, but in this moment, I'm going to take this as a win and hope that it's spreading self love to all of the people who look like me and Quan and Yeoh, everywhere, all at once.
1451 S. Elm-Eugene St. Box 24, Greensboro, NC 27406 Office: 336.681.0704 First copy is free, all additional copies are $1. ©2022 Beat Media Inc.
IN A FLASH @ triad-city-beat.com
TCB
The country I grew up in, the media I consumed, the friends I made, never really reflected my personal experience as an Asian-American woman.
Ioften hated
EDITOR'S NOTEBOOK UP FRONT | MARCH 1622 , 2023 If you read then you know... about the pallet homes project in greensboro where to find latin soul food in winston-salem why high point's downtown is the way it is TRIAD CITY BEAT — If you know, you know To get in front of the best readers in the Triad, contact Chris. chris@triad-city-beat.com 3 To suggest story ideas or send tips to TCB, email sayaka@triad-city-beat.com
Willie Davis Drive and Cleveland Avenue residents allowed to stay during inspections, but future remains unclear
by Gale Melcher
the residents
On Feb. 20, eight families living in the affordable housing complexes in Winston-Salem were told they had to vacate their homes by May 31 after asking their property manager to repair the stairs on one of the buildings. City officials told residents they had to leave their homes so the city, which owns the property, could conduct assessments of the buildings.
So far, residents have been allowed to stay in their homes during the inspections, which started last week. But the issue of whether the residents will be able to stay during the changes to their homes remains to be seen.
Adjunct Professor of Law at Wake Forest University Yolanda Taylor, who is representing seven of the households at the complexes, told TCB that "the last of the inspections are happening this week."
On Twitter, Housing Justice Now, a housing-advocacy group that has been helping the tenants, posted that the residents could stay during the repairs. But attorneys and city officials have told TCB otherwise.
Assistant City Manager Patrice Toney told TCB in an interview on Tuesday that long-term decisions about renovations will be up to the city council.
"The inspector will tell us the basic minimum health and safety issues, and then they'll tell us ideal repairs," Toney said. "So it'll be a list of everything and then the city council will determine how much investment they want to make, how much rehab dollars we have to rehab the facility, how much we can actually do."
Toney said that the city council will be presented with some options and that "they will have to decide collectively."
"Hopefully by next week… we'll have some better answers," she added.
In an March 1 email, Deputy City Attorney Jerry Kontos told Taylor that the city will have a better idea of the breadth and timeline of the rehab after
the inspections; that's when the city will be able to provide "the residents a more concrete and reliable array of options that might be available to them."
Regarding the next steps in the case, Taylor said that once the inspections are done, they are planning on examining the city's report.
"I've requested that the residents receive a copy of that report, and I want a copy of that report as well." Taylor said. Then, she will make arguments as to why tenants can stay in their homes while the renovations are completed.
TCB reached out to Kontos who declined to comment due to attorney-client privilege.
The background
In October 2022, residents of 1200 Willie Davis Drive in Winston-Salem asked their property manager to repair the building's well-worn stairs, which had a split running through the landing and a wobbly railing.
It wasn't until the morning of Feb. 22 that the stairs were eventually repaired, according to resident Carol Boykins, who was awoken by the commotion.
In the space of those four months leading up to Feb. 22, residents received notices that they had to leave their homes.
Residents were informed by the city that a "comprehensive assessment of the building" needed to be conducted and that by May 31, they must vacate the premises, which "[contain] conditions that are unsafe," according to a Feb. 20 letter from Kontos to the tenants.
Boykins and her downstairs neighbor Cynthia Herson told TCB that there is nothing wrong with their apartments aside from the stairs.
"Every once in a while you know, somebody's toilet might get stopped up," Herson said. "Other than that we haven't had no problems."
According to the letter from Kontos, the city-owned building has not undergone significant repairs or updates in about 30 years.
On the faulty stairwell, a metal plate was placed over half of the landing, covering the crack.
What will happen to the residents?
City staff has told residents that they will have the "first option to return" to their apartments once the refurbishments are complete, but whether the current rent rate of the apartments will stay the same has not yet been confirmed.
Toney told TCB on Tuesday that while the repairs are "not likely to raise the rent at this point," she can't say for certain "because our city council is the one who makes these decisions."
The city has offered the tenants of 1200 Willie Davis Drive 24 months
Residents of 1200 Willie Davis Drive and 1635 N. Cleveland Ave in Winston-Salem have been told by the city that they need to move out so they can do an assessment to renovate the buildings.
PHOTO BY GALE MELCHER
For
of 1200 Willie Davis Drive and 1635 N. Cleveland Ave., the fight to stay in their homes continues.
4 NEWS | MARCH 1622, 2023
A CityBeat story
NEWS Send tips to gale@triad-city-beat.com
This piece is part of our CityBeat that covers Greensboro and Winston-Salem city council business, made possible by a grant from the NC Local News Lab Fund, available to republish for free by any news outlet who cares to use it. To learn how, visit triad-city-beat.com/republish.
of rent differential in the amount of $385 per month, and tenants are not required to pay rent from March 1 until the relocation date of May 31. But still, Boykins wonders: After the two years are up, how will she and the other residents afford to either stay in their new places or move back into the newly refurbished apartments?
"Where are we going to get the extra money from?" Boykins asked. "We're gonna be homeless if we go someplace else and can't afford the rent."
Boykins — who had already started packing before TCB visited the apartments in February — mentioned that the residents of 1200 Willie Davis Drive are all senior citizens.
"We just asked for the stairs to be fixed so we don't fall and get hurt," she said.
Boykins' home was mostly bare and her possessions packed into stacks of boxes.
The fight for the residents has been strongly backed by members of the community. Many members of HJN and the general public spoke out against the city's decision in the public comment period during a Feb. 20 city council meeting.
Herson also spoke up for her community, positing to the council that since the residents are already in affordable housing, why take them out?
"Why should we have to move out just for you to do a complete assessment?" she asked.
The recent social media post by HJN reads that residents are focusing on fighting for a rent freeze and a voice in how their property is managed.
"I'll fight for my right," Herson told TCB in February, adding firmly, "And I'll tell 'em, I win all my fights."
5 NEWS | MARCH 1622 , 2023 Wildlife problem? Let us take care of it. Rats | Raccoons | Snakes | Bats | and more Call 336-370-7388 to get started.
A CityBeat story
As GSO Pallet shelter program for the unhoused comes to an end, some residents reflect on their experience
by Gale Melcher
On March 10, residents of Greensboro's Pallet shelter community for the unhoused started getting what they called "eviction notices." Some of them only had three days to pack up their things and leave.
And that's because according to city officials, the Pallet village will be completely dismantled by the end of the month, starting with the first wave on March 14.
"We basically got the eviction notice today," said one resident who TCB talked with on March 10.
His friend, who stood next to him in the dugout at the park where the Pallet shelters are installed, said that his section was set to come down on March 16. Both men spoke to TCB on the condition of anonymity for fear of retaliation.
When asked where they would go afterwards, both men said they don't have any permanent housing lined up.
"I'll probably go under the bridge where I was before I came," he said. His friend agreed and said that he too, would probably go back to living near the bridge on Spring Garden Street where it enters downtown. As he describes his former setup, he mentioned how it's tucked away from the street and keeps him safe.
"I should move in with you," his friend said.
"You should man," he said.
The temporary shelters, which cost approximately $500,000, were purchased by the city in October 2022 to shield people experiencing homelessness from the elements during the winter. Thirty shelters were installed in December and have operated for a little more than two months.
The initiative, dubbed the Doorway Project, is operated by the Interactive Resource Center, a center downtown for the unsheltered that is open Monday through Friday.
Since its inception, the Pallet community was meant to be temporary.
During a special meeting of the city council held on Oct. 10, Michelle Kennedy, former executive director of the IRC and current head of neighborhood development for the city, said that the shelters would be something that would carry them through "roughly the next 8-9 months as [the city] finalizes permanent supportive housing."
In an email from Kennedy explained how the "the structures are approved for a maximum period of usage of 180 days. This is a state level regulation, not a city regulation." However, the shelters were only up for a few months and some residents are being forced back onto the street.
"They only gave us three days' notice," said the resident.
According to Kristina Singleton, executive director of the IRC, all of the units are to be taken down by March 30 because the baseball field where the shelters are set up will be used in the spring for city programs.
In an email on Monday evening to TCB, Singleton pushed back against the residents' description of the program ending as "evictions."
"When you discuss 'eviction notices' I believe you are referencing the reminder letter that each person receives, along with multiple group and oneon-one meetings to discuss transition plans," Singleton said. "We work very hard to communicate with everyone involved in this partnership."
During the Oct. 10 meeting, Assistant City Manager Nasha McCray posited that these programs would act as a stepping stone for participants to get off the streets and make it into permanent affordable housing.
6 NEWS | MARCH 1622, 2023
NEWS Send tips to gale@triad-city-beat.com
This piece is part of our CityBeat that covers Greensboro and Winston-Salem city council business, made possible by a grant from the NC Local News Lab Fund, available to republish for free by any news outlet who cares to use it. To learn how, visit triad-city-beat.com/republish.
Editor's note: TCB takes anonymity for sources seriously and only grants the right to those we believe could be harmed through being named. In this story, TCB grants anonymity to three residents who have lived at the Pallet community who feared that being named could result in retaliation when securing future resources and housing.
The Pallet homes, which were installed in December 2022, started to be dismantled on March 14.
PHOTO BY SAYAKA MATSUOKA
"The goal of this is to help to transition those individuals into more permanent housing options during these months," McCray said. "As individuals transition out, other individuals will be able to fill empty bed space."
The first resident moved in on Dec. 23 and upon TCB's first visit to the community in mid-January, 32 residents were living in the community. Recently, the number has risen to 55, according to Singleton.
During a March 7 city council meeting, Kennedy informed the council on some data points regarding the Doorway Project.
"Fifty-eight individuals can be housed there, and they've averaged roughly 53 per night," Kennedy said. "And most of that has to do with folks transitioning either in or out."
In an email, Singleton clarified the process for residents' to secure housing.
"The Doorway program, from the start, was a temporary bridge program to protect residents from the elements during the winter months," Singleton said. "IRC communicated that to each resident, their case managers, and each participant knows and signed an agreement upon move in."
Where will people go next?
In an interview with TCB, Singleton said that while the Doorway Project's main purpose was to provide shelter for participants through the winter season, it is not lost on them that it is an "opportunity to create better outcomes" for the people they serve. Singleton added that the IRC will continue to focus on getting as many people housed as they can between now and the end of March.
In an email, Singleton said that "to date, 57 percent of the people that have exited the program have not gone back to experiencing homelessness and we will not have a final number until the program is completed."
One of the residents whom TCB spoke with on Friday said that they had a case manager through the IRC, but that they were never able to connect with her because she didn't come when he was around.
"People never get to see their case managers," one of the residents said.
Singleton said that "one of three qualified case managers has been onsite for the duration of this program from 9 a.m.-9 p.m. M-F with additional case managers available on the weekends."
In an email to TCB on March 13, Kennedy clarified how residents work with case managers.
"Each individual placed at Doorway was referred by his or her case manager," Kennedy said. "Case management of individuals at Doorway comes from a number of organizations within our community Continuum of Care. The role of the case manager is to be working through each individual's unique case and assisting them with housing and other supportive services. Referral of an individual to Doorway is not and should not be a replacement for their ongoing case management. Each organization making a referral to Doorway was aware that this was an interim housing plan and that their responsibility for case management continued during the time an individual was placed at Doorway. In order to fully assess the plan for housing, you would need to speak to the case managers of the individuals residing at Doorway. Case managers for Doorway are from the following agencies: IRC, Greensboro Urban Ministry, Partners Ending Homelessness, Tiny House Community Development, the ARC, Greensboro Housing Coalition, Triad Health Project. The IRC should be able to provide you a breakdown of how many individuals have case managers with each of these organizations. Simply put, housing placement is a component of case management, not a white flag winter emergency shelter plan."
In a previous text message, Singleton did note that a total of 18 people have exited the program "for a variety of reasons, including but not limited to obtaining permanent housing, moving out of the area, family reunification, and inability to follow the agreed guidelines."
According to interviews from February with residents, some of those living in the shelters were removed from the community because they were not following the program's rules.
"The rules are: You're not allowed to come here and drink… they don't want any arguing," one resident told TCB
"The Doorway program participant agreement does require that no alcohol or illegal substance can be used or consumed on property and that creating an unsafe environment for other Doorway participants will result in an exit from the program," Singleton explained.
In a text to Singleton, TCB requested that she specify how many of the 18 residents had been removed from the program due to an "inability to follow the agreed guidelines." TCB did not receive an answer.
Pushback and criticisms
Since the Pallet homes were installed in December, they have been met with a mix of support and criticism. While some residents said that they were happy to have a roof over their heads, community members who advocate on behalf of the homeless community said that the program was an ill-advised temporary fix.
In a previous article by TCB, Del Stone with the Working-Class and Houseless Organizing Alliance in Greensboro called the shelters "a very, very small Band-Aid on a massive problem." "We need housing to be actually invested in," Stone said.
As reported by TCB, many of the amenities promised in the initial proposal for the Pallet community did not come to fruition until much later, or at all. When TCB reported on the community in mid-January, the bathrooms and showers purchased by the city were not yet operational. They are now up and running, but food is not available onsite.
According to one of the residents TCB spoke with on Friday, a community member brought home-cooked food to the shelters but one of the IRC staff onsite threw the food away. When asked why they did that, the staff member said it was because of "city rules."
"How is that against city rules when they feed people downtown and in the parks?" asked one of the men.
Additionally, the residents said that they are given four bus passes to use every day to get food from other parts of town, but that only translates to two meals a day because each pass is good for one trip.
Singleton told TCB that residents get six passes per day.
"We're basically missing one meal per day," said one of the residents. "I get more respect in prison."
His friend concurred.
"I've been to jail before," he said. "It's not as bad as that, but it's close."
Unlike the Pallet shelters, the pilot program for the Safe Parking Initiative, also managed by the IRC, is slated to run for a full year. The initiative allows for people to park their cars in a secure lot to sleep. Once baseball season starts in the next few weeks, the city will have to find a new place for the Safe Parking Initiative. Singleton did not specify a timeline or a new location, noting that "the city will work with us on a different location."
Asked on March 10 about how they feel about the Pallet shelters as a whole, the residents gave mixed reviews.
One resident said that they were still thankful to be out of the cold and rain but that other homeless initiatives like the Regency Inn are a lot better.
"I came in here knowing that it was going to be a weird situation," he said. "It's something that no one has experienced before so I came in open minded. But a lot of the issue here is psychological. You wake up everyday and look out and see depression. It's a constant reminder that you're homeless."
In an email to TCB on March 13, Kennedy said that the city has been reached out to by other municipalities looking to replicate the program including Raleigh, Wilmington and even a location in Rhode Island.
7 NEWS | MARCH 1622 , 2023
The long-term effects of short-term rentals
onsider it a sign of the times that one the country's largest accommodations companies — Airbnb — does not actually own any hotel rooms.
Airbnb, VRBO and others like them offer what are known as "short-term rentals" or STRs — privately owned apartments or homes for folks looking to come to town for a few days.
Greensboro City Council is considering a new ordinance that will regulate short-term rental properties in the city, of which there are approximately 500, according to CozyCozy. com, which lists short-term rentals from several companies.
More personal than a hotel, and with amenities like privacy, kitchens and multiple sleeping quarters, people love them. A short-term rental is a great option for families with young children, wonderful for big groups who don't want to be spread over several floors in a hotel, or people with pets. And they are in neighborhoods, as opposed to business districts, giving a trip a homespun feel.
People also hate them. Sometimes the visitors throw loud parties or otherwise disrespect the neighborhoods. Worse, they eat up a city's available rental stock, which in turn raises rents for city residents. In Asheville, New Orleans, Miami and other US cities, short-term rentals are having an outsized effect on housing, pushing residents out.
Greensboro's proposed regulations seem fair, and to address most of the concerns people have: If adopted, STRs will only exist in residential units, and must have a zoning permit, which can be rescinded for violations.
STRs would be able to host no more than two adults per bedroom, and no parties larger than double the occupancy rate. Property owners or operators would have to live in Guilford County or an adjacent county.
Very few municipalities have been successful in banning STRs — property owners have rights, and the courts have consistently ruled against making them illegal, but in North Carolina, they do allow for regulation.
Cities around the country are grappling with this dilemma, trying to balance the rights of property owners with the precarious nature of housing, which is becoming less affordable for working people every day. Asheville has banned wholehome rentals within city limits since 2018, but issues homestay permits to property owners who want to rent apartments or rooms in homes they live in. Wilmington placed a cap on the total number of STRs within the city in 2019, mandating that they be at least 400 feet apart. But these are tourist towns, with tourist-town problems.
Greensboro is not a tourist town in that way — most visitors are families coming to the city for youth sporting events, some as overflow from Furniture Market and a small percentage for entertainment, like shows at the Tanger Center or the Greensboro Coliseum, according to Henri Fourrier, president of Greensboro Convention and Visitor's Bureau. He added that tourism in Greensboro brought in $1.3 billion in 2022.
Council votes on the new regulations next week. Passing them would give the city its first mechanism of control over STRs, which is the only way to keep them in check.
John Cole
Courtesy of NC Policy Watch
EDITORIAL
C OPINION | MARCH 16 -22 , 2023 8 OPINION Jen Sorensen jensorensen.com
Greensboro city council will vote on new regulations for short-term rentals next week.
Tough Loss: Ruminations on the waning days of the ACC from the city where it was born
by Brian Clarey
T Dhere was a moment on March 9, after eventual tournament winner the University of Virginia knocked UNC-Chapel Hill out of the ACC Men's Basketball Tournament, that the Tar Heels entertained a moment of sober self-reflection.
They had been pre-season favorites to win the whole thing on the strength of last year's performance, finishing at No. 2 in the regular season, advancing to the semifinal round of the ACC Tournament and capping it off with a Second Place finish in the NCAA Tournament — the Big Dance, as sportswriters like to call it. That Final Four run included delivering a seismic loss to archrival Duke in the very last game the Blue Devil's storied coach, Mike Krzyzewski, would ever helm.
For the 2022-23 season, the UNC starting lineup was unchanged.
Last week, in a somber locker-room scene that saw players slumped in their chairs and holding towels over their faces as they absorbed this final L of the season, senior forward Armando Bacot summed it up.
"Really, the story of this year was just talking about last year, I feel like," he said. "That's kind of all we heard from y'all and stuff we look back on. I think it was just an overdue, long hangover."
He was talking about the Tar Heels. But in Greensboro — where the ACC was born, flourished and thrived — it was hard not to think he was talking about us.
The first seven teams in the ACC peeled off of the Southern Conference because of its ban on postseason play, initiated a couple years earlier. It's hard to imagine why a major college sports conference would demand that its teams sit out bowl games, which even in the 1950s were a Very Big Deal. The short answer is that they did it out of spite, feeling that the SoCon's smaller schools were shut out of bowl bids, and the revenue those games generated, by larger and more moneyed programs. The final straw came in 1950, when Washington & Lee won the SoCon football title but did not receive any bowl bids, while conference mate Clemson was invited to play in that year's Orange Bowl.
The ACC began with just seven teams, bound by geography and discontent: Clemson, Duke, Maryland, NC State, South Carolina, UNC and Wake Forest. Virginia would join one year later, giving the ACC a solid core of quality programs, all within a few hours' drive of each other with Greensboro as the hub.
And while football may have been the impetus for the conference, basketball was what gave it gravitas.
The first 13 ACC Basketball Tournaments were held at Reynolds Coliseum in Raleigh, built expressly for NC State basketball in 1949. The tournament moved to the Greensboro Coliseum in 1967, the first time Duke faced UNC in the finals — Carolina won that one, 82-73. The tournament would be held there 28 more times, more than any other venue in the country.
espite never having a team in the conference, Greensboro has always been ACC country. It was born here, in 1953, at what would become the Sedgefield Country Club, and like a lot of the ACC's current woes, it started because of football.
During those years, the city and its arena became synonymous with the ACC Tournament, playing host to some of its most memorable moments: Duke's Krzyzewski won his first ACC Tournament here in 1986; Carolina's iconic coach Dean Smith won both his first and last ACC titles here, in 1967 and 1997. Duke and Carolina would face off in the final game three more times under the coliseum's roof: 1979, 1988 and 1998. Maryland won their
Duke's Mark Mitchell out-positions a Virginia defender in the ACC Championship game in Greensboro.
CULTURE | MARCH 16 -22 , 2023 9
PHOTO BY TODD TURNER
CULTURE
only ACC title here, in 1984. And it was the site of what is largely held as the best ACC title game ever in 1974, when NC State beat Maryland in triple-overtime, 103-100. Veterans of that game gathered at the coliseum over the weekend to celebrate that moment, those days, this place.
But many of the programs in the ACC — now 15 teams strong and spread as far north as Boston, as far south as Miami and as far west as South Bend, Ind., home of Notre Dame — have no loyalty to the city, few fond memories of the Greensboro Coliseum, little to hold them to a legacy of which they have no part.
We can quantify what the ACC Men's Basketball Tournament has brought to Greensboro over the years in terms of dollars and cents: hotel rooms, restaurant dinners, tanks of gas, lap dances and souvenirs. This year's tournament is expected to bring in $13.6 million, according to the Convention and Visitor's Bureau.
Less tangible is the effect it's had on the city over the years. Longtime Greensboro residents can remember watching the games on TV in their classrooms and the thrill of seeing their hometown on the national stage, or waiting outside the coliseum after the early-round games scavenging tickets from fans whose teams got knocked out.
Those who remember issued a long cry of lament when the ACC decided, in September 2022, to move its headquarters to Charlotte, a brighter, shinier and — most important — more lucrative market. It could have been worse: The ACC might have landed in Orlando, Fla. had the state legislature not encoded a $15 million payout to the conference in 2022, provided at least two of the men's tournaments would be held in Greensboro over the next 15 years.
Those theoretical Greensboro dates have yet to be locked down, as have the tentative dates for the ACC Women's Basketball Tournament, which has been held at the Greensboro Coliseum for 23 of the past 24 years — missing only 2017, when reaction to NC's "Bathroom Bill" caused them to switch to the HTC Center in Conway, SC.
There's hope among coliseum officials that the men's tournament could return as soon as 2027, the 60th anniversary of the first ACC Tournament in Greensboro. ACC beat writers are confident that Greensboro will always be in the rotation, and perhaps land more than the two mandated by the payout.
The 2020 tournament was supposed to be the year Greensboro showed all of these newer teams just what it meant to be in Tournament Town in March. That was the year COVID-19 descended, abruptly ending all of the conference tournaments and canceling the NCAA Tournament altogether.
At the Greensboro Coliseum, on the morning of the third day of the 2020 tournament, they gathered all of the media on the floor, declared regular-season winner Florida State the champion and sent everybody home.
The 2021 tournament was held without fans in the stands. In 2022 it went to the Barclays Center in Brooklyn for the third time since 2017.
It almost felt like old times in the Greensboro Coliseum on March 9. Four North Carolina teams were still in the hunt — Duke, NC State, UNC and Wake Forest — as well as ACC legacy teams Clemson and Virginia.
The two other teams that remained — Miami and Pitt — are relative newcomers to the ACC. Miami came in a 2004-05 expansion that also included Virginia Tech and Boston College, all swiped from the Big East Conference. Pitt joined in 2013 along with Syracuse, also defectors from the Big East. Notre Dame came on that year as well, though it kept its football operations independent. And Maryland left to join the Big 10.
With these acquisitions, the ACC hoped it would bolster its reputation for football, which had never been its strong suit. It worked, to a degree, with Clemson, Miami and Florida State lending legitimacy to its football portfolio.
It also spread the conference thin, geographically speaking — Miami and Boston are almost 1,500 miles apart, which is fine for high-dollar sports like football and men's basketball, less so for programs like field hockey, wrestling
CULTURE | MARCH 16 -22 , 2023 10
Wake Forest's Tyree Appleby (1) attempts a baseline drive against Miami 's Norchad Omier (15) and Bensley Joseph (4) as Matthew Marsh moves into position in Thursday's quarterfinal game.
PHOTO BY TODD TURNER
and track that don't bring in as much revenue.
And it expanded the original 8-team slate to 15, which come tournament time adds an extra day. The first matches of the tournament, held on Tuesday, are essentially play-in games where the weakest in the field try to advance. NC State, Wake Forest and UNC didn't start their tournament runs until Wednesday; Clemson, Duke and Virginia didn't begin until the quarterfinals on Thursday. That was the day for old-school ACC fans, but the day ended poorly for NC teams — Wake dropped a tough one to Miami; Virginia dominated UNC; NC State could barely touch Clemson. That left Duke as the last team from the Old North State still standing. They rode all the way to the finals after a tight game in the semifinals against Miami that saw 12 lead changes, 10 of them in the last 10 minutes. The coliseum cleared out after that first game, local fans declining to watch Virginia beat up on Clemson.
That left two OG ACC teams in the finals: Duke and Virginia. The stands teemed with Dukies, Virginia fans looking like spatterings of orange paint on a deep blue canvas. But the game was a dud — scores remained in the single digits for most of the first half, with long stretches of scorelessness punctuated by small explosions of action. Virginia shot just 33 percent from the floor in the 10-point loss.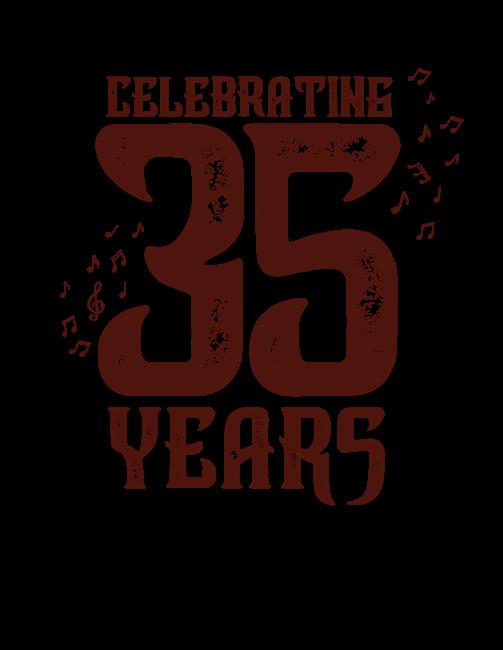 The fans stayed this time — to watch Duke hoist yet another ACC trophy, to see their first-year coach Jon Scheyer make history, to see the confetti spiral down to the coliseum floor and, perhaps, to say a long goodbye to this room, which will not see another ACC Tournament for another five years or so.
Despite the celebratory feel, the ACC left Greensboro with a whimper, not a bang.
EPILOGUE: The day after the ACC Tournament ended, five ACC teams were selected for the NCAA Men's Basketball Tournament: Duke (5-seed, East region), Miami (5-seed, Midwest region), NC State (11-seed, South region), Pitt (11-seed, Midwest region), Virginia (4-seed, South region). Pitt will face off against Iowa State in Greensboro on Friday. UNC was offered a bid to play in the NIT Tournament, but they declined, opting to end their season after their loss in the ACC Tournament.
April 27-30, 2023
MERLEFEST.ORG 800-343-7857 LITTLE FEAT•MARCUS KING•TANYA TUCKER TOMMY EMMANUEL, CGP•THE BLACK OPRY REVUE DOC WATSON'S 100TH BIRTHDAY JAM PLUS MANY MORE PERFORMERS! Visit To purchase tickets! merlefest.org/megaraffle CULTURE | MARCH 1622 , 2023 11
Music. Moments. Memories.
Duke's Dereck Lively II takes a rebound away from Pitt in Thurday's quarterfinals.
PHOTO BY TODD TURNER
In Winston-Salem, NataBelles Desserts' 'world-famous' brownies have customers lining up to the door
by Kaitlynn Havens
kiosk sits in the back of Marketplace Mall next to a collection of regional tobacciana and the vintage coin collections of Lost In Time Antiques. On the other side, the As Seen On TV section of Hamrick's greets bargain shoppers. A crowd of people has gathered. The air is filled with something sticky and sweet, hints of cinnamon and the rich, earthy aroma of baked sweet potatoes, while Tina Turner's "What's Love Got To Do With It" plays over the mall speakers.
As the crowd waits, Shanata McMillian Shepard swiftly drizzles a final layer of icing to the baked goods that she'll serve to customers who wait in the line that wraps all the way to the entrance of the mall. She is the one they've all come to see.
Shanata McMillian Shepard started NataBelles Desserts in 2018 after the death of her grandmother, Catherine McMillian.
"We made the best poundcakes. She'd say 'Oh Nata, we should open up a restaurant with these desserts,'" Shepard says. "I used that in her honor."
At the beginning, Shepard baked from a basement kitchen, using recipes from her grandmother's wooden recipe box. She now fits three stand mixers and two commercial ovens in a large center kiosk at Marketplace Mall, using many of those same inherited recipes.
One of those, a recipe for her grandmother's sweet-potato pound cake, led to a serendipitous accident.
"I was making one of her sweet-potato pound cakes, and the cake fell," Shepard says. "But when I cut it, it was still so good. The texture was like a fudge brownie. I thought, This could really be something."
Shepard began research on finding a recipe for sweet-potato brownies that didn't contain chocolate, but came up short. After six months of reworking her grandmother's pound cake, she had a new rendition of her own.
The final product, a brownie-like square, filled with a mix of weekly roasted and smashed sweet potatoes, is both rich and fudgy, the outside nearing crispness dampened only by the bath of cream-cheese icing and pecans that covers the treat.
"I put in for the trademark for the sweet-potato brownies," Shepard explains. "I had to sign all this proof that it wasn't out there. I had to go through the patent process in [Washington] DC We're excited; this will be the home of the original."
The trademark, she anticipates, will be complete by May.
Along with her "world-famous brownies," NataBelles serves up a variety of other sweets. One in particular, a sweet-potato cinnamon roll, is quickly becoming a crowd favorite.
"We named it Sin-O-Man bun because it wasn't a typical cinnamon roll," Shepherd laughs. "It's a sweet-potato cinnamon roll. I remember someone telling me, 'Shanata, it's a sin to be this good.'"
Each of the Sin-o-Man buns are hand rolled, cut and baked by her husband, Robert Shepard.
NataBelles Desserts in its entirety is a family operation. The empty kiosk location was discovered after Shepard picked up her youngest son, RJ, from the childcare center inside the mall. On the days RJ isn't part of their childcare program, and the business is closed, he helps break down boxes
CULTURE A
I thought, This could really be something.
Shanata McMillian Shepard CULTURE | MARCH 16 -22 , 2023 12
" "
Shanata McMillian Shepard accidentally invented her popular sweet potato brownies after trying to recreate her grandmother's sweet-potato pound caKe.
PHOTO BY KAITLYNN HAVENS
and occasionally takes the trash out. Her oldest, Chancelor, helps out on the creative side with new recipes, as well as makes pound cakes, icing, and brownies on Saturdays when, Shepard says with a generous smile, "we need all hands on deck."
"The culture we live in is so pick-up and go, and we want to be part of that," she says. "But we still want that artisan feel. Everything is made completely from scratch, and based in love."
And because they're operating out of such a small space, the baked goods are first come, first serve, creating viral demand for these local treats.
"We have lines because you can only put so much in one oven," Shepard says. "Everything is freshly baked. We may not be sold out for the day, but we are sold out till restock. But people wait. We are selling out before they even come out of the oven."
NataBelles Desserts is closed on the day of the interview. Nonetheless, a couple walks up to the kiosk.
"Is this where we can get the sweet-potato brownies?," the woman asks. Shepard tells her the days and hours NataBelles will be open for the rest of the week.
"We'll see you then," the woman says without hesitation.
NataBelles Desserts is located at Marketplace Mall, 2101 Peters Creek Parkway Winston-Salem and is on Tuesdays and Thursdays from 12-6, on Saturdays from 12-6, or pick up her weekly drop off at Piedmont Aviation Snack Bar.
13
For tickets scan code or visit www.triadstage.org M a r c h 1 4 - a p r i l 2 Laugh Your Wig Off! " T h e R e i g n o f T e r r o r i s i n F u l l S w i n g i n t h i s O u t r a g e o u s C o m e d y ! "
The sweet-potato brownies are fudgy and gooey and have garnered a local following in WinstonSalem.
COURTESY PHOTO
SHOT IN THE TRIAD
BY CAROLYN DE BERRY
New Garden Road, Greensboro
March afternoon.
SHOT IN THE TRIAD | MARCH 1622 , 2023 14
If you like reading Subscribe to our Newsletters! Receive weekly updates on breaking News stories with Monday Mix, stay in the loop with our curated events calendar The Weekender, and view our headlining stories with TCB This Week
CROSSWORD SUDOKU
by Matt Jones
LAST WEEK'S ANSWERS: Across
1. Parody
6. Plunder
9. Word in some hotel names
13. Comic-Con topic
14. "King of the ___"
15. "Get going!"
16. Unforgiving
17. Antioxidant berry
18. "Pitch Perfect" actress ___ Mae Lee
19. Prevent using "solar" as a word?
22. United hub on the West Coast
24. Stand-up device in some bars, for short
25. "Everybody ___" (REM hit)
26. Place of higher learning to study bequeathments?
30. Decorative woodwork
31. Bohr who won a Nobel
32. 9-9, e.g.
35. Mossy fuel
36. Like a lot of gum
37. Chap
38. Commit a blunder
39. Cut gemstone feature
40. Word after Hello or Carpet in brand
names
41. U.K. intelligence service's satellite branch in Florida?
43. Actress Julianne of "Dear Evan Hansen"
45. P-shaped Greek letter
46. East Indian lentil stew
47. Poetic structure that can only be written in pen?
51. "Der ___" (German for "The Old One", TV detective show since 1977)
52. "Field of Dreams" state
53. Rodeo rope
56. Snow day transport
57. Scottish family group
58. Like some expectations
59. Responsibilities, metaphorically
60. "Grand" ice cream inventor Joseph
61. "If ___ Street Could Talk" Down
1. Texting format initials
2. NBA coach Riley
3. Sneaky but strategic "The Price Is Right" bid
4. Shrek, notably
5. Bookstore section
6. Uncle in "Napoleon Dynamite"
7. Angela Merkel's successor Scholz
8. With a carefree attitude
9. Remain stuck
10. "I Only ___ the Ones I Love" (Jeffrey Ross book)
11. Without
12. Hardcore follower
14. Solo instrument in many Blues Traveler songs
20. Abbr. used for brevity
21. What Os may symbolize
22. Dating app motion
23. More luxurious
27. Back muscle, casually
28. Like notebook paper
29. Leno's longtime late-night rival
32. "Euphoria," "Pretty Little Liars," or "Degrassi," e.g.
33. App full of pix
34. Kind of alcohol used as biofuel
36. Tried to get along
37. "Despicable Me" main character
39. Kindle tablet
40. Reflexology specialty
41. Speedy two-wheelers
42. Guevara on countless posters
43. "The Fifth Element" actress Jovovich
44. Eight-member band
47. Shindig
48. "Truth be ___ ..."
49. Type of "out of office" message
50. "___ Kleine Nachtmusik"
54. ___ Aviv University
55. Took the bait?
'An Existential Puzzle' — if you don't think, therefore...
© 2023 Matt Jones
© 2022 Jonesin' Crosswords (editor@jonesincrosswords.com)
15
STATE OF SMALL BUSINESS BREAKFAST
Monday, April 3rd, 7:30am at The Grandover Resort
Tickets available at triadlocalfirst.org
Hear from local experts about the Triad's current and future prospects, network with small business owners, and have a locally sourced meal.
Guest Speaker: Algenon Cash from Wharton Gladden in Winston-Salem.
Brought to you by Triad Local First with sponsorships from NC Idea, Triad Business Bank and the Koury Corporation
Sponsored by:
triadlocalfirst.org
Triad Local First
our annual
Join
for
Businesses in the Triad
Here for Small