20 22 IMPACT REPORT
A snapshot of accomplishments achieved by our staff and leadership teams in 2022.
OurPurpose.
Since our beginning, Bread of Life Inc. has worked to create a space that welcomes and values everyone's unique and authentic experiences. We support diversity and stand against discrimination across all lines of difference, including race, sex, sexual orientation, gender identity and expression, age, physical ability, nationality, socio-economic status, and religious beliefs. We respect and embrace differences and encourage conversations that help us all build stronger relationships and community. We are committed to listening, learning, and taking action to bring about change within ourselves, our organization, and our community. We aim to lead by example by prioritizing diversity in our employment, board membership, programs and services, policies and procedures, volunteers and donors, and community support and advocacy. We are grateful to our community for your trust and support. Thank you for who you are and how you allow us to be a part of your lives. You inspire us to continue to serve in love, hope, dignity, and belonging.
WHO WE ARE
We are Bread of Life, Inc.
Together with our donors, partners, and volunteers, we provide resources and support to vulnerable communities all around Houston. From food and household supply distributions to accessible educational opportunities, healthcare coordination and disaster relief, it is our mission to ensure everyone we meet feels a sense of love, hope, dignity, and belonging.
THE BREAD OF LIFE, INC.
THANK YOU
"On behalf of the entire Bread of Life, Inc staff, we'd like to thank each of you for an outstanding year. Together, we were able to impact countless individuals and families in our Houston community and beyond. Without each of our donors and partners, Bread of Life, Inc. would not have been able to accomplish and exceed our 2021 objectives. In our 30 years of business, we have never been more excited about what we are doing than we are right now. With so much in the works, we anticipate growth beyond measure this year and the many more years to come. There is more work to be done. Let's heal our city together!"
- Board Chair, Melvin Gray and Executive Director, Rudy Rasmus
WE WON'T STOP.
Until every man, woman, and child has consistent food resources, shelter is accessible to those that have no other place to go and medicine is in arm's reach of those that need it the most.
- RUDY RASMUS
Donate Today! www.breadoflifeinc.org
THE BREAD OF LIFE INC THE BREAD OF LIFE, INC.
LET'S CONQUER FOOD INSECURITY TOGETHER
THE BREAD OF LIFE, INC.
TOTAL
$3.5
DONATED TO HOUSTON FAMILIES IN NEED
Bread of Life, Inc donated this money to address the critical needs of families affected by natural and personal disasters including food insecurity, hurricanes, and medical emergencies.
MILLION
DONATED TO HOUSTON FAMILIES IN NEED
Bread of Life, Inc has served the vulnerable population of the Greater Houston area for over 30 years by building a culture of dignity, empowerment, and hope for the future. That future includes the opportunity for everyone to live their best lives. No one should be disadvantaged due to skin color, education, or socioeconomic status. We are committed to tackling the disparities that affect vulnerable populations head-on in our pursuit for health and equity special thank you to Beyoncé's BeyGood Foundation, T Lawson, and Quest Diagnostics.
44,376
INDIVIDUALS PROVIDED WITH FOOD & SUPPLY BOXES
Bread of Life, Inc provides fresh food and relief boxes every 1st and 3rd Saturday of the month. We host a contactless drive-thru and walk-up food & supplies distribution for the community. This year we were able to impact 44,376 individuals.
TOTAL
BI- MONTHLY DISTRIBUTIONS
Bread of Life, Inc is committed to serving families in need and our unsheltered friends throughout the Houston community. The Greater Houston community is strong, and we are proud to be a key contributor in its resilient culture.
TOTAL
$30.1 Million
IN PRODUCTS & SUPPLIES
DONATED TO FAMILIES
With the help of our amazing donors, Bread of Life, Inc has been able to pour food, supply and monetary donations back into the Houston community.
PRODUCT & SUPPLY DONATION
Bread of Life, Inc is supported by many different sponsors and donors. With your help, we are making a difference in so many people's lives.
A special thank you to Matthew 25 Ministries for their support and Houston Food Bank for their generous donation over the past year. Matthew 25 Ministries donated over $29.5 million and Houston Food Bank donated nearly $600,000 to our mission.
1,827
At Bread of Life, Inc, our community health workers are our frontline response to impact sustainable and transformative health outcomes.
We are committed to tackling the social determinant of health disparities that affect vulnerable populations to improve health and quality of life.
INDIVIDUALS ENGAGED BY COMMUNITY HEALTH WORKERS
TOTAL
COMMUNITY HEALTH WORKERS
Through our Community Care Program, our community health workers serve as the hub of resources for individuals and families in need. By focusing on building relationships of trust in vulnerable communities, our CHWs are positively impacting the future of the health care system.
CHWs engaged with 1,872 individuals to provide additional support services to help overcome social determinant of health barriers including housing, food, economic security, and employment.
251 individuals were connected to a medical home to imp health care.
TOTAL
$66,000
IN FRESH FOOD
DISTRIBUTED TO HOME BOUND SENIORS
Bread of Life, Inc provided a monthly box of food to 1,320 seniors to help improve the health, nutrition and well-being of their lives.
TOTAL
1,000
HOLIDAY GIFTS GIVEN TO LOCAL CHILDREN
Bread of Life, Inc donated holiday gifts to children in historically underserved neighborhoods. With this toy drive, we were able to share the joy of holiday magic.
HOLIDAY TOY DRIVE FOR LOCAL CHILDREN
Bread of Life, Inc's team witnessed the magic of Christmas when students at Wesley Elementary and Highland Heights Elementary in Acres Homes opened gifts chosen and wrapped for each one of them. A special thanks to our wonderful partners who provided resources throughout the year making this kind of magic possible.
Additionally, we would like to thank our partner Cadence Insurance for collecting gifts and hosting a private Christmas party for our Community Care families.
TOTAL
15,314
VOLUNTEER HOURS
Bread of Life, Inc was fortunate to have had nearly 4,000 volunteers donate their time and energy to help us make our work a reality.
MONTHLY DISTRIBUTIONS
Our volunteers donated thousands of hours of packing food and supply boxes, directing traffic, registering families for our distributions, loading cars, and much more. We are so thankful to have each of these individuals who sacrifice their time to help make our vision possible. All of this would not be possible without them.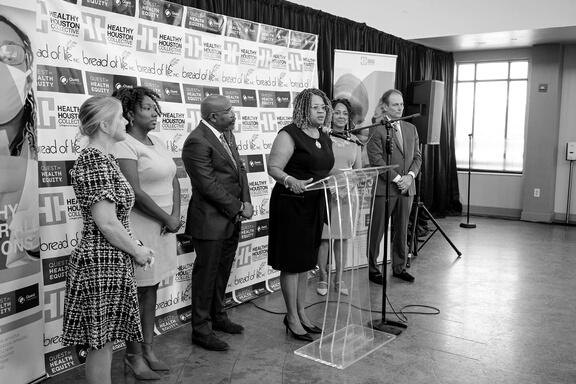 In 2022, Bread of Life was awarded a $3.8 million-dollar grant from the Quest Diagnostics Foundation. Quest Diagnostics and the Quest Diagnostics Foundation are supporting BOL as part of Quest for Health Equity (Q4HE), a multi-year initiative focused on providing a combination of care coordination, donated testing services, training programs, and funding to support initiatives to close the gap in healthcare disparities in underserved communities across the U S
The grant funds the Bread of Life Healthy Houston Collective, which is a multi-year initiative focused on addressing healthcare disparities in underserved communities in Houston and Harris County through 4 program areas:
1 Community Care Program
2 Bread of Life Academy and Eco-Life Staffing
3 Collaboration with Houston-area Federally Qualified Health Centers
4 Community Based Organization Regranting
The Community Care Program utilizes certified Community Health Workers who live within underserved communities to help bridge the gap between their neighbors and the health care system that so often leaves the community behind. While they are not doctors or health care professionals, they serve as powerful advocates who can work with and empower individuals by addressing social determinant barriers and support with long-term health gains through health education and connections to services
Through the Community Care Program, BOL is collaborating with Patient Care Intervention Center (PCIC), a nonprofit organization that leverages technology, and health data sharing. This data driven approach will be used to develop specific strategies to improve patients' outcomes.
In conjunction with the University of Houston/College of Medicine Community Health Worker Initiative, the Bread of Life Academy provides training for community health workers. This affords graduates stable employment opportunities as well as supports the local healthcare system needs. These graduates will receive additional support from the community partner Community Care Cooperative to offer ownership and economic mobility opportunities.
Quest has also paved the way for BOL Academy to provide training for state certified phlebotomists for potential employment opportunities to help supplement 75 Quest locations with staffing for either short-term or long- term assignments
47 BOL
GRADUATES
Since August 2022, BOL Academy has trained and certified 21 Phlebotomists, 15 Community Health Workers, and 11 Cisco Certified Networking Associates
ACADEMY
TOTAL
BOL ACADEMY
The Bread of Life Academy, is designed to give an educational opportunity to underserved Houstonians looking to gain skills that will make them more employable in the workforce.
The mission of Bread of Life Academy is to provide quality educational and advancement pathways that provide justice and equity in employment for youth and young adults emerging from foster care, transition-age youth, and historically underserved Houstonians.
Our vision is for Bread of Life Academy to be the anchor for young adults emerging from foster care or other juvenile systems. We envision a community that uplifts instead of stigmatizes. We envision a network of collective organizations coming together for a unified cause giving strength and action to our mission.
TOTAL
443,949
PEOPLE SERVED THROUGH 102.5FM
KMAZ
"Changing Lives, One Listener at A Time"
AMAZING 102.5FM
"COME FOR THE MUSIC STAY FOR THE IMPACT"
Amazing 102.5FM is the only station where music meets purpose. The station bridges the gap between great music and community impact.
The Amazing 102.5FM is the heartbeat of H-Town serving the Midtown and Downtown areas inside of the 610 loop. We're a community supported radio station focused on positively engaging the mind, body, and soul of our people through a variety of music, community events, and programming by talented personalities on our terrestrial dial. We amplify subject matters on everything from public affairs, local news, to politics, sports, pop culture, and more!
OUR WAREHOUSE
THEBREADOFLIFE,INC WAREHOUSE2022 THE BREAD OF LIFE, INC.
MAKING AN IMPACT, ONE CAR AT A TIME.
2022 IMPACT SUMMARY
$3.5 Million Donated to Houston Families 44,376 Families provided food & supply boxes 47 BOL Academy Graduates
Gifts Given to Local Children
In Fresh Food Distributed to Home Bound Seniors
1,000 Holiday
$66,000
Engaged by CHW's
1,827 Individuals
15,314 Volunteer Hours
FOLLOW @BREADOFLIFEHTX TO BE PART OF OUR IMPACT FOR 2023
In Products Donated to Houston Families 443,949 Served Through Amazing 102.5FM
$30.1 Million
BREAD OF LIFE INC. LEADERSHIP
THE BREAD OF LIFE, INC.
DR. RUDY RASMUS
EXECTIVE DIRECTOR
In September of 1992, Pastors Rudy and Juanita Rasmus founded the Bread of Life, Inc. with a simple mission to serve hot nutritious meals to homeless men and women in the downtown Houston area. By December of 1992, Bread of Life, Inc. was serving more than 500 hot meals per day in the sanctuary of St. John's Downtown Church. It wasn't long before Bread of Life, Inc. became a fixture in the downtown area providing much needed services, resources and support to families in need and the homeless population. Bread of Life, Inc. works in close partnership with Beyonce's BeyGOOD. Together, Beyonce, Tina Knowles-Lawson, and Bread of Life, Inc. have coordinated domestic and global anti-hunger initiatives, and provided support to natural disaster victims. Nearly 30 years later, Bread of Life, Inc. is still focused on supporting underserved communities and restoring hope in Houston through its four program areas: Homeless Outreach, Health Outcomes, Hunger Relief, and community radio station KMAZ The Amazing 102.5 FM. Through your generous donations and support, Bread of Life, Inc. continues to help create an improved quality of life for the people of Houston.
www.breadoflifeinc.com
YVETTE TARRANT
CHIEF EXECTIVE OFFICER
St. John's and the Bread of Life, Inc. is where Yvette started her 30 year journey of serving and advocating for Houston's homeless community. Yvette has served in many capacities and is currently the Chief Executive Officer of the Bread of Life, Inc.
Yvette's initial assignment at the Bread of Life was the development of St. John's Academy, a day care and pre-school for children infected or affected by HIV or AIDS. Later, Yvette moved on to becoming the Executive Director of the Bread of Life, and also served as the interim Executive Director of their sister organization Temenos Community Development Corp. Temenos CDC is currently building their 4th housing development for formerly homeless men and women. Bread of Life has expanded its programs to meet the needs of families impacted by natural and personal disasters.
Yvette received her Bachelor's of Science Degree from Texas Southern University and majored in accounting. Yvette's experience in finance, business management and non-profit development lends to the success of both the Bread of Life and St. John's Downtown.
Yvette's passion for mentoring young adults is how she shares her wisdom and life experiences. Yvette has been married to her soul-mate for 42 years, has (2) beautiful daughters, and (3) grandsons who keep her on the move.
DR. MORGAN RASMUS
DIRECTOR OF INNOVATIONS
Morgan Rasmus received her Bachelor's Degree from Clark Atlanta University and her first master's at Teachers College, Columbia University. In 2011, she returned to her hometown of Houston, Texas as a member of the 2011 Teach For America Corps and remained in the classroom until 2015. She continued her work in schools and served as a Student Support Manager for Communities In Schools of Houston, Inc from 2018 until August 2020. Most recently, she served as a Leadership for Educational Equity Public Policy Fellow in the Indianapolis Mayor's Office of Education Innovation. She currently serves as the Director of Innovation at the Bread of Life, Inc, where she runs the Bread of Life Academy, which aims to provide quality educational and advancement pathways that provide justice and equity in employment for youth and young adults emerging from foster care, transition-age youth, and historically underserved Houstonians. She is a fierce advocate for people and is committed to the pursuit of educational equity for ALL despite the racial or economic makeup of their community. She wants to ensure that every person has adequate and quality access to an education of their choosing that allows them to acquire the skills to succeed at whatever they desire for their life's path.
CHRIS BARNES
CHIEF OPERATING OFFICER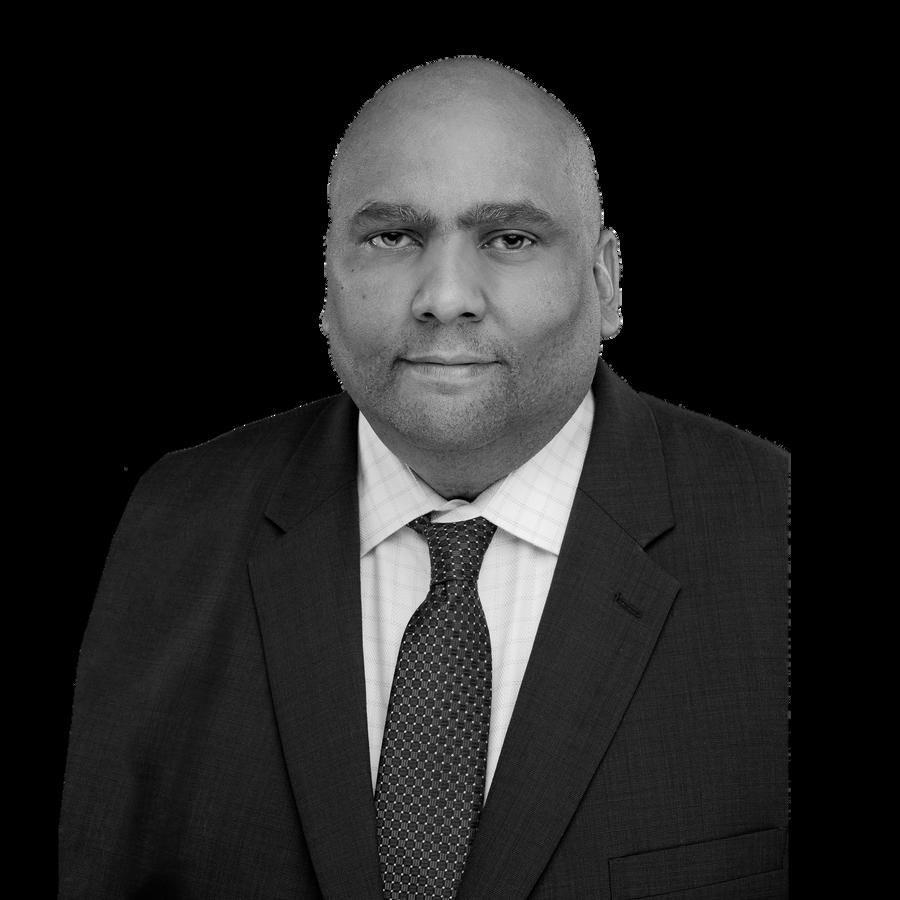 Currently, as Chief Operating Officer for St. John's Downtown Methodist Church and its non-profit Bread of Life, Inc., (BOL), Chris is guiding the growth of mission-focused community to evolve the organizational structure and develop seve l lti illi dollar construction projects emerging and developing b is to connect BOL and St. J contractors, and partner ag common values and goals built and functioning. Each specific needs of an inner-c particularly training and housing for teens who age protection and college stud struggling to find affordabl
www.breadoflifeinc.com
DR. MONIQUE WILLIAMS
DIRECTOR OF PARTNERSHIPS AND DEVELOPMENT
Dr. Monique Williams pursued her education at Howard University, Duke University and Creighton University earning degrees in Business Administration, Theology and Community Resilience, respectively. Dr. Monique's academic experience opened doors for her work as an organizational trainer and administrator in a number of helping industries including: religious institutions, universities, senior care, and foster care.
After many years of living in multiple states, Dr. Monique returned to Houston, Texas eventually landing at Bread Of Life Inc. where she serves as the Director of Partnerships and Development. It is no accident that Dr. Monique has found a home with an organization that keeps the most vulnerable at the heart of its work because it is this very mission that epitomizes her life's calling.
www.breadoflifeinc.com
AMANDA SAPP
RADIO STATION GENERAL MANAGER
Amanda Mae Sapp is a well-known radio personality and General Manager of Amazing 102.5 FM, operated by Bread of Life Inc. With a strong passion for people and entertainment, Amanda has made a name for herself in the radio industry.
Originally from Louisiana, Amanda launched her career in Houston in 2015 with ASAPP Productions and Covenant Connections PR and Events. She has worked with many high-profile clients, including Kendrick Lamar, Marvin Sapp, and Freeway Rick Ross, amongst others.
Amanda hosts her daily radio show, The Amanda Sapp Morning Show, on 102.5 FM, the free KMAZ app, and online at www.amazing1025fm.org. She has interviewed numerous influential thought leaders and celebrities, such as Vivica Fox, Lil Flip, and Diamond Platinumz.
Amanda is a strong advocate for underserved communities and has worked with corporate sponsors such as United Healthcare and Comcast Houston to support Bread of Life Inc.'s mission. She is also bridging the digital divide for seniors through the "Tech Savvy Seniors HOU" program, which trains volunteers to help seniors understand their devices and avoid scam risks.
Additionally, Amanda has developed a program called #QTNA, which provides valuable employable skills to young adults aged 18-24. This program teaches communication, organization, leadership, writing, collaboration, technology, thinking skills, reliability, production, directing, interviewing, and operating a radio board.
Amanda Mae Sapp's dedication to her community and passion for her craft has solidified her as a prominent figure in the southern region of the United States, and her brand continues to grow in popularity.
www.breadoflifeinc.com
DR. SARAH SIMMONS
DIRECTOR OF HEALTH OUTCOMES
Dr. Sarah Simmons is the Director of Health Outcomes at Bread of Life, Inc. The Health Outcomes team works to intentionally meet people in need where they are and help them to create and work towards their own health goals.
Dr. Simmons is a family medicine physician with 20+ years of experience in outpatient, urgent care and hospital / ICU care. She also holds a Masters in Public Health and has spent the last 8 years focused on community health and addressing health inequities, both locally and internationally. She is a graduate of Texas A&M University, Texas Tech School of Medicine, and the University of Liverpool School of Public Health.
Dr. Sarah has a passion for serving vulnerable populations and is committed to creating pathways for everyone to achieve the highest level of health possible.
She has been married to her college sweetheart for 22 years and together they are raising 4 teenage boys.
www.breadoflifeinc.com
BREAD OF LIFE, INC. STAFF
FATHER MELVIN GRAY
BOARD CHAIRMAN
TREY JONES
ASSISTANT TO CEO
GABRIELLE MARTINEZ
ACADEMY ASSISTANT DIRECTOR
CLARA SMITH
CHW PROGRAM MANAGER
MOLLY ZWAHR
CHW PROGRAM MANAGER
DR. ALEXANDRIA LAWS
NAVIGATION PROGRAM MANAGER
CLAUDIA DIXON
SENIOR ACCOUNTING MANAGER
ALEXIS SMITH
ACCOUNT ASSISTANT
THELMA TRIPLETT
VOLUNTEER COORDINATOR
VERNELL JACKSON
DIRECTOR OF GUEST SERVICES
FRANK WILSON
SENIOR WAREHOUSE OPERATIONS MANAGER
JOHN MARSDEN
WAREHOUSE MANAGER
ALICIA AUZENNE
WAREHOUSE ASSOCIATE
ELEANORA LEE
FACILITIES MANAGER
CEE CULLINS
PROGRAM DIRECTOR
TRENA FOSTER
PRODUCTION ASSISTANT
2023 GOALS
BREAD OF LIFE, INC. IS EAGER TO...
COMPLETE THE CONSTRUCTION OF THE KNOWLES-ROWLAND HOUSE TO PROVIDE HOUSING AND LEARNING SPACES FOR INDIVIDUALS FROM VULNERABLE COMMUNITIES.
EXCEED ENROLLMENT EXPECTATIONS AND EXPAND COURSE OFFERINGS AT THE BREAD OF LIFE ACADEMY.
EXPAND THE WORK OF TACKLING SOCIAL DETERMINANT OF HEALTH BARRIERS.
GROW AMAZING 102.5 AS A MEDIA LEADER IN DIGITAL EQUITY AND YOUTH EMPOWERMENT.
REVIVE OUTREACH INITIATIVES FOR UNHOUSED INDIVIDUALS AND FAMILIES BY PROVIDING HOT MEALS AND RELIEF ITEMS.
FORTIFY PARTNERSHIPS WITH COALITION FOR THE HOMELESS, CITY OF HOUSTON AND HARMONY HOUSE AND EXPAND OUR IMPACT INTO HOUSTON'S 5TH WARD THROUGH COLLABORATIVE WORK AT THE NAVIGATION CENTER.
SECURE PLANS FOR AN ON-CAMPUS CO-WORKING ENVIRONMENT FOR NGO'S INVOLVED IN YOUTH AND YOUNG ADULT EMPOWERMENT.
IN 2023…
PLEASE CONSIDER GIVING TO BREAD OF LIFE, INC.
FOR 30 YEARS, BREAD OF LIFE, INC HAS WORKED TIRELESSLY TO ERADICATE FOOD INSECURITY, WHILE IMPROVING HEALTH OUTCOMES, IN VULNERABLE COMMUNITIES IN HOUSTON ALL WHILE DOING SO WITH LOVE. AND WE ARE JUST BEGINNING!
BREAD OF LIFE, INC. IS COMMITTED TO:
RESTORING OUR COMMUNITY THROUGH BI-MONTHLY FOOD AND SUPPLY DISTRIBUTION
INSPIRING OUR COMMUNITY THROUGH INSIGHTFUL AND RELEVANT PROGRAMMING ON AMAZING 102.5
SUSTAINING OUR COMMUNITY THROUGH CARE COORDINATION WITH THE HELP OF OUR COMMUNITY OUTCOMES TEAM &
EDUCATING OUR COMMUNITY THROUGH THE BREAD OF LIFE ACADEMY.
YOU ARE ALSO WELCOME TO DONATE NUMBER OF OTHER WAYS:
CHECK BY MAIL: BREAD OF LIFE, INC 2019 CRAWFORD STREET HOUSTON, TX 77002
CASHAPP US: $HELPBOL
TO LEARN MORE ABOUT WHAT WE DO CLICK HERE: COMMUNITY COMMITMENT
TO VOLUNTEER YOUR TIME CLICK HERE: VOLUNTEER
TOGETHER, WE R.I.S.E.!
THANK YOU For any questions, contact us at info@breadoflifeinc.org