TRENDING 2023 LOOKBOOK
2023
Looking for more ways to connect to your stakeholders? Celebrating what's on trend keeps a brand relevant and attractive to customers who continuously adapt to a changing world. This year's trending collection showcases four distinct categories that demonstrate how retail-inspired and timely concepts can truly elevate branded merchandise.
Whether your interest lies in expressive color or understanding a generation tapped into social influence and "all-clusive" ideas, we've curated a collection of products that perfectly pair with each concept. We'll show you how to embrace wellness-based rituals, create immersive experiences, and adopt more sustainable practices, products, and lifestyles. Here's to 2023!
Inspired by the products in this lookbook?
Your trusted Brand Consultant is your best resource for all stock, pricing, and creative needs. Let us work with you to showcase your brand in a way that's on time, on budget, and on trend.
table of contents View this collection on our Portal, where you can request quotes and collaborate with your Brand Consultant. color collections 4 multi- 56 regeneration generation 82 gen z 32
COLOR COLLECTIONS
Each year, color trends shift in ways that prove to influence people on emotional, psychological, and even physical levels; these trending colorways demonstrate how hues gain popularity by resonating with a universally relevant mood, affecting consumer choice and promoting new expression through branding and product. Expect these color collections to saturate the 2023 market.
4
Color of the Year
2023
Viva Magenta
18-1750
VIVA MAGENTA
Our hybrid world needs a color that represents an electrifying, inclusive, and joyfully rebellious spirit without boundary. Pantone Color Institute is the worldwide leader in color forecasting, and each year they name an annual hue that is reflective of world trends in design, art, fashion, film, and other media influences. The Pantone Color Institute has selected an attention-grabbing and fearless carmine red that celebrates life, Color of the Year: PANTONE 18-1750 Viva Magenta.
According to Pantone, Viva Magenta "vibrates with vim and vigor. It is a shade rooted in nature descending from the red family and expressive of a new signal of strength." Inspired by the red of the cochineal, it evokes the primordial strength of nature, as carmine dye is one of the most precious, strongest, and brightest of the natural dye family. A saturated natural color with a digital feel, this dynamic color represents our multi-dimensional worlds—where a call back to nature meets more technological advancement and connection than ever before.
6 COLOR COLLECTIONS | Viva Magenta
The Color of the Year 2023 merges the richness, warmth, and strength of natural matters with the rich, open horizons of the digital world. The result is a shade of red that expands our horizons of authenticity.
— Pantone Color Institute
contains Tile® finding technology
SKULLCANDY® DIME 2
EARBUDS
made from Yulex, the world's first natural, plant-based replacement for neoprene!
8 COLOR COLLECTIONS | Viva Magenta
1 2 3 1. LEATHERETTE JOURNAL 2. STEMLESS WINE TUMBLER 3. CAN INSULATOR 4. 3-IN-1 CHARGER 5. CUSTOM JIGSAW PUZZLE 6. SLIP-ON VANS
4 5 6
folds flat and opens to a stand, shelf, and pad
custom PMS matched nail color!
grid fleece enhances moisture management by wicking and drying
10 COLOR COLLECTIONS | Viva Magenta
5.
6.
7. OGIO
1. FLEECE BLANKET 2. CUSTOM SOCKS 3. PATAGONIA® R1 JACKET 4. PMS MATCH NAIL POLISH
RIPSTOP TOTE BAG
VERSATILE HIKING JACKET
1 2 3 4 5
OGIO® ENDURANCE LADIES TEE 6 7
Peachy + Rosy
PANTONE®
16-1544
Persimmon
PANTONE®
15-1530
Peach Pink
Peachy keen and rosy optimism that captures our appetite for creativity and positivity. Expect playful and versatile peachy pinks to have major commercial appeal in 2023 for all genders and generations. This palette is characterized by a naturally warm and gently nurturing vibe. These vitamin-enhanced tones feel energizing and essential—creating a feeling of healing. With "dopamine dressing" as a growing trend in fashion, these happy hues have the power of positivity whether they're bright or subtle. Radiating with a sunny quality, peachy pinks stand out in beauty, fashion, and interiors with their sense of restorative wellness and optimism.
According to Better Homes and Gardens, "soft, earthy shades of pink and clay take the lead as the most popular paint colors," and Sherwin-Williams seconds that with their 2023 Paint Color of the Year, "Raspberry Blush."
See why this collection is just peachy for your next branded campaign.
12 COLOR COLLECTIONS | Peachy + Rosy
POLARIZED SUNGLASSES
super soft material
14 COLOR COLLECTIONS | Peachy + Rosy
1. SEIKO® LADIES WATCH
2. GARMENT-DYED SWEATSHIRT
3. UNISEX FLEECE HOODIE
4. OGIO® LADIES HOODIE
5. RETAIL-FIT TEE
1 2 3
6. NATURAL WEIGHTED BLANKET
made with soft and breathable cool cotton
4 5 6
16 COLOR COLLECTIONS | Peachy + Rosy 1
changes color when you hold it!
2 3 4 5 1. METALLIC AIRPODS CASE 2. RECYCLED CINCH PACK 3. MEMO PAD 4. ZIPPER POCKET JOURNAL 5. MOOD PENCIL
made from recycled materials zippered pocket!
18 COLOR COLLECTIONS | Peachy + Rosy
1 2 3
1. HAND-POURED CANDY 2. ECO-FRIENDLY TUMBLER 3. MINIMALIST WATER BOTTLE 4. COCKTAIL CUBES
add to the spirit of your choice and enjoy!
4
Electric Energy
Electric and cool blues inspired by outer space and digital space. The supersaturation in this dynamic and influential color is representative of the next-generation. With a touch of escapism and a feeling of extended reality, these bright deep blues feel like they have the power to transcend space and time. Inspired by the evolution of the Metaverse, electric vehicles, and supercharged technology, hues like Pantone's Electric Blue Lemonade and Coloro's Galactic Cobalt show how versatile this color can be in functional accessories and activewear, as well as consumer tech and virtual experience.
Feel the electricity in these powerful blues.
20 COLOR COLLECTIONS | Electric Energy
PANTONE®
18-4245
Electric Blue Lemonade
made from recycled materials including plastic bottles
1. PULLOVER HOODED SWEATSHIRT
3 2 1
2. THE NORTH FACE® 1/4-ZIP FLEECE 3. SUSTAINABLE BEANIE
COLOR COLLECTIONS | Electric Energy 22 2 1 1.
100% COTTON SHIRT 2. ADIDAS® BLENDED T-SHIRT
3.
QUILTED NYLON TOTE 4. LEATHER DOPP BAG 5. PHONE WALLET
custom PMS matched leather!
3 5 4
24 COLOR COLLECTIONS | Electric Energy
1 2 3
ultra-compact design!
1. CAPRI BLUE® CANDLE 2. PAPER MATE® GEL PEN 3. ANKER® POWERBANK 4. SILICONE WATER
collapsible for easy travel and storage
compact case can also be used as a phone stand when open
4 5 6 7 8 WATER BOTTLE 5.
6.
8.
ELASTIC CLOSURE JOURNAL
COLOR-CHANGING TUMBLER 7. WIRELESS EARBUDS & SPEAKER
JONATHAN ADLER PUZZLE
A Look at Leek
A natural neutral with subtle flavor. Vegetal and herbal green colors are taking root in 2023, from leek green to sage and olive. These grounded greens have a soft but earthy substance, acting as wellness-based hues. They create a perfectly balanced base, working harmoniously with a pop of color. They're also a standout favorite when used monochromatically and in chic minimalism. Hues like Coloro's therapeutic Sage Leaf and PANTONE 15-0628 TPX Leek Green make the list for Spring/Summer 2023, inspired by runways at London and New York Fashion Week and star-studded red carpet events. The use of green in home decor, fashion, and product is comforting, simple, and easily digestible with a naturally fresh coolness.
Dive into a soft, earthy basic—it's good for you.
26 COLOR COLLECTIONS | A Look at Leek
PANTONE® 15-0628
Leek Green
side mesh pockets!
LADIES LEGGINGS
sustainable dye system that mineralsuses
28 COLOR COLLECTIONS | A Look at Leek 2 1
water-resistant material
1.
2.
TEE 3.
TEE 3 4 5
WRINKLE RESISTANT SHIRT
MINERAL DYE
MID-PROFILE HAT 4. WATER RESISTANT BACKPACK 5. PROPRIETARY PERFORMANCE
made from 100% eco-responsible cotton
30 COLOR COLLECTIONS | A Look at Leek 1. CLASSIC NOTEPAD 2. SKULLCANDY® CHARGING PAD
TOTE BAG 4. 3-IN-1 PET BOTTLE 1 2 3
3. CHAMBRAY
detachable water bowl at the bottom of the bottle for your furry friend!
over 200 spectacular images, including astonishing satellite photographs and stills
Shop Color Collections Here!
5. LIFE FROM ABOVE 6. PUFFY DUFFEL 4 5 6
Generation Z—the first generation never to know the world without the internet(!)—is a collaborative group of minds that value diversity, care about inherited issues like climate change, and believe in finding their own unique identities. This generation of people born between 1997 and 2012, often called "post-millennial," are super savvy, social, and self-driven as a group; they highly value flexibility, truth, and change for the betterment of our planet and people.
Understanding Gen Z means understanding their pragmatism and their ideals, as well as their power as consumers. Gen Z is growing up and becoming a significant consumer segment, outnumbering Millennials and soon making up 40% of global consumers with a buying power of $4 billion. As a group, they are hyper-informed and seeking authenticity in order to establish trust. They're socially conscious and support more representation as champions of the "all-clusive" movement—whether it's race, gender neutrality, body shape or size, and physical or mental ability.
Gen Z is also a generation of social influencers and "digital natives" who turn to user accounts on TikTok and YouTube to get unfiltered reviews and watch unboxings instead of taking a brand's word at face value. They are skeptical of marketing and quickly recognize tokenism. This leads to their super-engagement with conscious content and sustainable or giveback brands on social media; in fact, social media is where this generation is hanging out. 97% of Gen Z use social media as their main source of shopping inspiration with 40% using social as their primary search engine, according to an internal study by Google.
Let's take a deeper dive into product categories that appeal to Gen Z sensibilities and needs in a time where representation, connection, and wellness are top-of-mind.
32
gen
GEN-Z | All-clusive Apparel (Inclusive, Genderless 34 All-clusive Apparel Genderless Inclusive 1 2
made with recycled polyester & available in inclusive sizing!
3 4
1. UNISEX SWEATSHIRT 2. UNISEX FLEECE-LINED JACKET 3. UNISEX PACKABLE JACKET 4. UNISEX FULL-ZIP HOODIE
loose fit with a fuller cut for complete comfort
1 2 3
1.
RECYCLED ORGANIC TEE 2. SPYDER® UNISEX BEANIE
GEN-Z | All-clusive Apparel (Inclusive, Genderless) 36
3. UNISEX BLUE LIGHT GLASSES 4. UNISEX JOGGERS
4 5 5. MEMBERS ONLY® JACKET
made with 10 recycled bottles
made with sustainably sourced USA grown cotton
For a Cause ECO / GIVEBACK
made from recycled materials with lower environmental impact, learn more here
GEN-Z | For A Cause (Eco, Giveback) 38
2 3 1
2.
3. RECYCLED
1. COTTON SWEATSHIRT
WOMEN'S QUILTED JACKET
100% GOTS organic combed ringspun cotton
this fabric takes 6 1/2 16oz. plastic bottles out of oceans & landfills and turns into your new favorite shirt!
award-winning B Corp company, learn more here
4 5 6 RECYCLED FIBER CAP 4. ORGANIC LONG SLEEVE 5. RECYCLED TEE 6. KOTN® UNISEX HOODIE
supports sustainablemorecotton farming through BCI, learn more here
retail brand with healthcare and military ties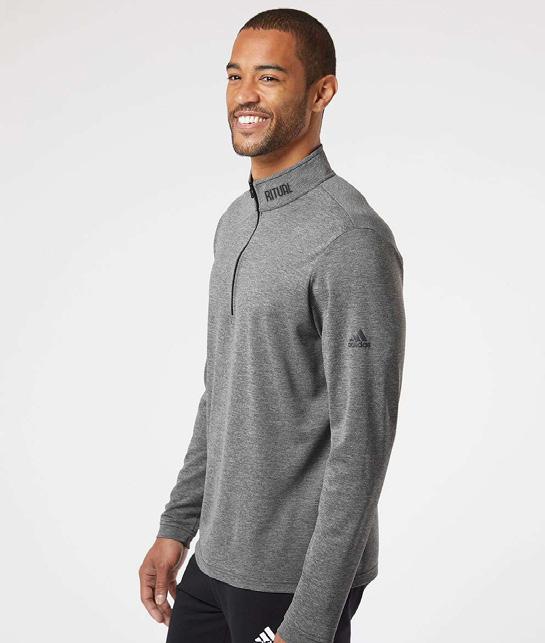 1. SHERPA DENIM JACKET
GEN-Z | For A Cause (Eco, Giveback) 40
100%materialrecycled 1 2 3
2. HIGH-WAIST LEGGINGS
Tangelo donates a portion of proceeds to the Kids in Need Foundation, learn more here
certified B Corp company, learn more here proceeds go to 1% For The Planet, learn more here
a tree is planted for everyplacedorder partnered with small authentic farmssourced ethically
4 5 6 7 8
7.
4. COMPUTER
6.
8. 2-IN-1
3. ADIDAS® 1/4 ZIP 5. BELLROY MARKET TOTE
COFFEE & HANDMADE GRANOLA
BACKPACK
WIRELESS MOUSE
AUDIO
1
Influence
SOCIAL CONSCIOUS CONTENT
GEN-Z | Influence (Social, Conscious Content) 42
Features TrueColor Technologyvideo remains bright and colorful in virtually all light conditions while ClearFrame Technology provides smooth and detailed footage.
1. WIRELESS CHARGING PAD 2. LEAD LIKE AN ALLY 3. USB MICROPHONE 4. HD WEBCAM 5. ERGONOMIC MOUSE PAD 6. PRIVACY LENS COVER 2 3 4 5 6
According to Forbes, 98% of Gen Z own a smartphone and average more than 4 hours a day on apps — and that figure doesn't include gaming time.
instantly increases the clarity of your laptop or tablet camera
GEN-Z | Influence (Social, Conscious Content) 44
1. VIDEO CHAT KIT 1 2
"This cookbook is full of some of TikTok's biggest trends, displaying innovative cooking and fun dishes to make at home."
Gordon & Tilly Ramsay, from the forward
2. JBL® WIRELESS HEADPHONES 3. PORTABLE VIDEO LIGHT 4. ADJUSTABLE TRIPOD STAND 5. CHARGING CABLE 6. AS COOKED ON TIK TOK 3 4 5 6
charges up to 3 compatible devices simultaneously
—
Mindfulness INTENTIONAL SPACES
GEN-Z | Mindfulness - Intentional Spaces 46 at-home
at-home
acupuncture treatment
1 2 3 4
thought-provoking questions challengingandbut achievable dares
1. MASSAGE MAT 2. FACE MIST SPRAYER 3. SELF-CARE PROMPTS 4. SHERPA BLANKET
Listen to favorite affirmations, podcasts, and atmospheric playlists to get centered!
real walnut wood!
GEN-Z | Mindfulness - Intentional Spaces 48
1 2 3
4 5 6 1. WALNUT WOOD CASE 2.
BODY
3. NATURAL SOY
4. MENTAL HEALTH TRACKER 5. TEXTURED TEACUP 6. PLANT KIT
perfect for houseplant enthusiasts and novice gardeners alike
AROMATIC
WASH
WAX CANDLE
Mindfulness
GEN-Z | Mindfulness - Nature / Nurture 50
1. 3-IN-1 PARKA 1 2
NATURE / NURTURE
insulated cooler pocket
PARKA 2.
3 4 5
NIKE® FULL-ZIP HOODIE 3. WOMEN'S DOWN JACKET 4. CHAMPION® FANNY PACK 5. LARGE CAPACITY PACK
activity book that connects you with nature
90%recycledpost-consumer
18/8
stainless steel
GEN-Z | Mindfulness - Nature / Nurture 52
1. BELLROY®
2.
SUNGLASSES 3. OUTSIDE IN 4. KLEAN KANTEEN® ECO 20oz. 5. MAGNETIC SPEAKER 6. PORTABLE BLUETOOTH SPEAKER 1 2 3 4
SLING
SAINT LAURENT®
attach to magnetic surfaces with innovative magnetic technology
5 6
Mindfulness
Spirituality / ASTROLOGY
With values that are underscored by personalization, individuality, and diversity, it's no surprise that Gen Z has put a lot more belief in self-directed spirituality than any other generation. Online searches for zodiac signs and birth charts hit a five-year peak in 2020, according to Google Trends. And the astrology app game is strong, catering to a growing interest in self-development. The result: options to navigate daily decision-making, all pieces of a "psychic services" market that has been valued at around $2.2 billion in the U.S.
Personalized astrology has also been a huge trend in response to a challenging world. "It's being used as a tool to make sense of the world and a version of therapy," says trend forecaster and futures researcher Lucie Greene. So even if it's used humorously in memes and TikToks, astrology and tarot are acting as forms of Gen Z self-care—a "sign" of the times, if you will.
And according to McKinsey, 58% of Gen Z is willing to pay more for products that are targeted towards their personalities. Even big brands like Starbucks have made drink recommendations based on the Zodiac. So whether you're dealing with a Pisces or an Aries, try using astrology in your marketing to create a more personalized approach to your targets!
GEN-Z | Mindfulness Micro Trend - Spirituality/Astrology 54
1. CHAKRA STONES 2. SWIG® TRAVEL TUMBLER 3. SALT LAMP 1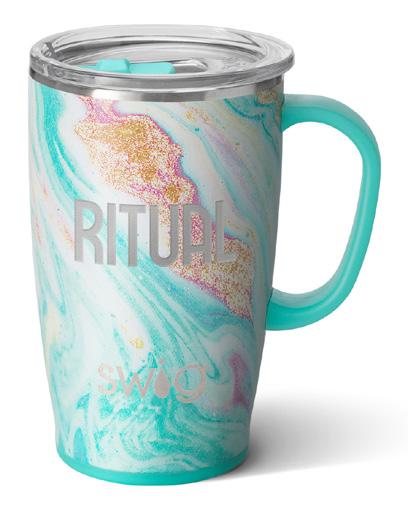 Shop Gen Z Here!
sunrise simulation alarm
LAMP & CHARGER 4. THE LITTLE BOOK OF CRYSTALS 5. 2023 BOX CALENDAR 6. ZODIAC PUZZLE 7. MINI TAROT DECK 2 3 4 5 6 7
showcases the 12 zodiac signs
ulti-
As we enter a new year, we're seeing just how hybrid and multi-dimensional the world has become. With buzzy words like "phygital" describing how we're experiencing life and work, it's clear how often we're occupying the space between physical and digital. In general, everything seems like a multi-hyphenate these days. Multi-channel. Multi-platform. Multi-sensory. More is more. And sometimes our maximalist world can produce many senses, emotions, and experiences with its constant innovation and progression.
So how do we navigate this sense of multi- and its effect on our lives?
56
MULTI-PLATFORM
Embracing the phygital is definitely a topic for 2023. Livestream shopping events, endless aisles that cut out in-store stock and inventory, direct-to-consumer, and self-serve kiosks are already making a mark on user experience in physical retail spaces. Brands are looking deeper at consumer behaviors instead of demographics, figuring out ways to make shopping easier (like shopping in store but shipping home) or more personalized (more options, more choices). And that's assuming you're shopping primarily in a physical space and not digitalfirst. Gamification and digital malls may be the future of ecommerce. One thing is clear: staying connected through mobile is key for 2023 shopping experiences.
MULTI- | Platform 58
1
use video to connect to your audience and use the full-color capabilities to add QR codes that land them right where you want them
Direct connect: Use NFC technology and QR codes to take your audience to websites, unique landing pages, social media profiles, and more. Whether you're at an event, launching a new product, or just looking to generate more brand awareness, these tools are perfect for that direct connection.
1. METALLIC 20oz. BOTTLE WITH NFC 2. VIDEO CARD 3. NFC TECHNOLOGY BOX 2 3
you can add NFC tags to your brand's next journal project!
just tap to share your info!
keep your safe with
MULTI- | Platform 60
1
your wallet with RFID tech
NFC able tee- tap the special tag with your phone, learn more here!
1. TECH-ENABLED JOURNAL 2. DIGITAL BUSINESS CARD 3. RFID WALLET CARD 4. NFC TEE 5. SANITIZER & CHARGER 2 3 4 5
Hot new tech: Magnetic chargers let the user have full-access to their phone while it's being juiced up MULTI- | Platform 62 1 2 3 MagCharger TM compatible!
CHARGING
4.
STAND COMING SOON!
1. BAMBOO
PAD 2. OHSNAP!® PHONE MAGNET 3. MAGNETIC CHARGER
WIRELESS CHARGING
4
Metaverse Starter Pack
From a digital-first perspective, the metaverse is growing its own retail presence. The concept is a connected 3-D virtual environment to interact with others while playing games, working together, and attending social experiences like concerts, parties, and hangouts. But, running in parallel with the physical world, you can also shop in unique virtual environments like Pangaia's Antarctica shop or Gucci Town, or use AR to interact with different products before making a purchase that ships direct-to-consumer (or direct-toavatar). For now, you can experience bits and pieces of this concept through multiple VR or AR-enabled platforms with the right gear.
Check out the essentials here!
MULTI- | Platform (Metaverse Starter Kit) 64
1 2
1. META
3 5 4 6
VR HEADSET 2. ANTI-FATIGUE MAT 3. VIRTUAL SOCIETY 4. VR PORTABLE CHARGER 5. JBL® GAMING HEADSET 6. GAMING CHAIR
MULTI-SENSORY
In an uncertain market, what better way to bring more joy and escapism than clever product design and experiential spaces? A brand can build more memorable connections to their clients, employees, and other consumers when they engage the five senses to tell a full story. We know that certain fragrances evoke specific feelings, each color engages the psyche differently, and some tactile surfaces just have that feel appeal. In sound and audio, major brands like Mastercard have gone so far to define their sonic DNA. Whether at events, instore, at pop-up shops, or in direct-mail campaigns, brands can use aroma, tastings, light, and sound to define a mood and deepen an experience. So give an audience the full story of your brand or product as a unique way to leave an impression!
Don't know where to start? Take a look at these super sensory products here.
Did you know…
US social commerce sales are set to grow 34.4% in 2023 to reach $53.1 billion?
If your brand can beat that "trust gap" and use social media in an authentic way, you can reach a large market of tapped-in consumers, especially Gen Z'ers.
MULTI- | Sensory Experience 66
Work with your Brand Consultant to create the perfect multi-sensory project! billion? way,
soothing sounds to promote calm & sleep! comes with two speakers for surround sound
SENSORY EXPERIENCE hear
5-Senses
heat sensitive ink
MULTI- | Sensory Experience - 5 Senses 68
sight taste
1. SLEEP SOUND MACHINE 2. TWIN SPEAKERS 3. SCENTED PUTTY 4. CEMENT CANDLE 5. PORTABLE DIFFUSER 6. FULL-COLOR 1 2 6 7 8
bubbles!
FULL-COLOR TOTE 7. HEAT SENSITIVE PUZZLE 8. SMASH CAKE 9. EDIBLE BUBBLES 10. POPPER BALL 11. CLEANSING PADS 3 5 4 9 10 11
smell touch edible
MULTI-EMOTION Mental Health Moments
Let's face it: an ever-changing world with a 24hour news cycle after a couple years of heightened stress has made an impact on us. A concept taking shape in 2023 is termed emotional plurality and, essentially, it means we've all been experiencing many emotions all at once (cue Kacey Musgraves' "Happy and Sad"). Realizing that our society has been in emotional overload means we're starting to accept that we've been desensitized. We're in need of new solutions for managing our mental and emotional health.
As we start to recognize our emotional health, we also start to define who and what we value. More people are prioritizing wellbeing over work, community over competition, and planet over profit. And in this larger movement towards a culture of care, even the smallest acts of self-cafe can help us deal with stress, anxiety, insomnia, and disconnection. From journaling and meditation to a focus on better rest and the surprising power of a daily ritual, certain trends around "ritual" are coming to the forefront.
From that daily cup of coffee to a midday pep-talk walk or a beautiful bathscape, see how rituals can lead to a larger feeling of self-care and wellness.
MULTI- | Emotion - Mental Health Moments 70
FELLOW® CERAMIC MUG
GLASS MUG
LOOSE-LEAF TEA
PORTABLE TEA INFUSER
WHITE MARBLE COASTERS
relaxing selfcarecardsstrategy
MULTI- | Emotion - Mental Health Moments 72
1. ORIGAMI FOR MINDFULNESS 2. AROMATHERAPY PATCH 3. RISE AND SHINE 4. 52-WEEK INTENTION JOURNAL 5. TEA-INFUSED 1 2 3
guided journal provides thought-provoking prompts
5. TEA-INFUSED EYE GELS 6. WASHED TERRY SWEATSHIRT 4 5 6
first indoor fireplace on the market running on alcoholisopropyl
MULTI- | Emotion - Mental Health Moments 74
1
filled with natural flaxseed for exceptional heating
feels like walking on a snuggly, sheepskin cloud!
1. FLIKRFIRE® PERSONAL
2. HEAT THERAPY EYE
3.
KIT 4.
FIREPLACE
MASK
RELAXATION
UGG® SLIPPERS
2 3 4
Walking has seen a 25% increase year over year with people walking an average of three times each week.
polar.com
keep this spray sanitizer on-hand for all outdoor adventures!
Ritual: WALK
discreetly listen to music
MULTI- | Emotion - Rituals - Walk 76
1 2 3
supports the Parks for All program
1. WIND-RESISTANT JACKET 3. BOSE® AUDIO SUNGLASSES 5. WIRELESS CHARGING EARBUDS 7. HAIR TIES
4 5 6 7 8
2. PORTABLE SANITIZING SPRAY 4. HYDRATION SET 6. HYDRO FLASK ® WIDE MOUTH 8. CHAMPION® MUSCLE TEE
BATHSCAPING:
The art of making your tub look Insta-perfect.
MULTI- | Emotion - Rituals - Bath 78
1
relax with mineral-rich bath salts
adds a beautiful touch to
bathroomany
Did you know…
The bathroom represents a key opportunity for healing in the home, accordinng to WGSN's social media data. For instance, the hashtag #BathRitual has more than 23m views on TikTok, and on Pinterest, WGSN reports searches for "deep soaking bathtub" increasing 145% year-over-year.
1. CUSHIONED BATHMAT 3.
5. BAMBOO
2. USA MADE CANDLES 4.
6. WHERE THE CRAWDADS SING 2 3 4 5 6
GLASS DOME CLOCHE
TRAY
MINERAL BATH SALTS
Want to start a #BathRitual?
Just add candles & bath oil, a bath tray with a glass of your favorite beverage, a healing crystal, an indulgent novel, a glossy houseplant, and a fluffy bath mat. Voila!
MULTI- | Emotion - Rituals - Bath 80
1 2 3 1. POTTED SUCCULENT 2. BOTANICAL MASK SET 3. EXFOLIATING BODY SPONGE 4.
BATH BOMB 5. ALL-NATURAL BAR SOAPS
made from the fibers of the Konjac root
MOOD
Shop Multi- Here!
4 5
lavender and vanilla scented!
egeneration eneration
Alright, we admit sustainability isn't just a trend; it's a lifestyle.
We're living in a time that could be characterized as a great awakening, and it's been years coming. Old ways of blind consumerism and profit-over-planet are being rejected, and more eco-friendly and purposeful practices are being adopted. Just a few priorities in sustainable living are: regenerative farming, equitable social partnerships, and circular business models where products or materials are restored indefinitely. In a nutshell, we want to restore communities, resources, and habitats for a renewed planet of stable biodiversity.
So how can brands exercise more sustainable practices in business? Here are a few ideas.
82
e a r th friendl y e a rth friend l y e a r ht ldneirf y e a htr dneirf l y
Custom & personalized
Research shows personalized gifts are more likely to be remembered and cherished. Customized appreciation is a great way to build relationships with recipients by showing them that you value their interests and what makes them unique. To help you get started, check out these fully customizable products.
REGENERATIVE GEN | Made-to-Order / Custom 84
1
color up all 9 panels with 23 color options to create something one-of-a-kind!
custom hats in many styles and fabrics!
magnetic and modular!
1. SHOE TATTOOS 2. FULLY CUSTOM VEST 3. CORDUROY HAT 4. CADENCE® CUSTOM TRAVEL
CONTAINERS
2 3 4
front-to-back, full-color fun!
REGENERATIVE GEN | Made-to-Order / Custom 86
1 2 3
3. CUSTOM ORGANIZER
1. CUSTOM OUTERWEAR 2. SUBLIMATED HOODIE
a well-loved retail brand that gives you options!
whether it's a brand pattern or a specific color, this duffel makes your custom goals come true
fun!
4 5 8 7 4. CUSTOM BOARD GAME 5. CUSTOM NOTEBOOK 6. CUSTOM METAL TAG 7. CUSTOM RECYCLED DUFFEL BAG 8. CUSTOM LAPTOP BAG 6
Purposefully packaged
We may be purchasing more eco-friendly products, but we shouldn't forget about their packaging. Concern for plastic waste is at an all-time high. Did you know that over a third of plastic waste may originate in developed countries but over 50% of it is exported to developing countries that are unable to manage the waste? Companies are starting to shift towards home compostable or reusable materials that are non-toxic and sourced more sustainably, like these packaging options.
REGENERATIVE GEN | Purposeful Packaging 88
1 2
space-saving design
made from 100% post-industrial waste
made from 90% waste and can be recycled as plastic #4
1. LINEN POUCH 2. REUSABLE BAG 3. UNIQUE PACKING ALTERNATIVE 4. RECYCLED FOAM PLASTIC 5. RECYCLED FOAM 3 4 5
REGENERATIVE GEN | Purposeful Packaging 90 1.
4.
WOOD BOX 1 2 3 4
ECO-FRIENDLY MAILER 2. BAMBOO CASE 3. SUSTAINABLE TISSUE BAG
LARGE
inks made from real algae
5. ALGAE INK PRODUCT 5
Upcycled & recycled
Recycling is the process of turning waste into a reusable material or product. Upcycling is the process of turning waste into a higher quality product that does not need a recycling center to be broken down. Both concepts are designed to make use of old materials and help keep excess waste out of landfills. Reusing and repurposing should be front of mind for everyone, so check out these products to help inspire your choices.
case is made of recycled ABS plastic material
REGENERATIVE GEN | Recycled Tech 92
1. WHEAT STRAW POWER BANK 2. CHARGING PAD 3. ECO-FRIENDLY BATTERY 4. BAMBOO CLOCK 5. RECYCLED CHARGING 1 2 3
wireless charging pad CHARGING PAD 5 4
REGENERATIVE GEN | Recycled Tech 94 1.
2.
1
RECYCLED MOUSE PAD
WHEAT STRAW PHONE STAND 3. RECYCLED WOVEN TECH POUCH 4. ECO BLUETOOTH TRACKER
made from a blend of post consumer recycled ABS and biodegradable materials
2 3 4
Upcycled
REGENERATIVE GEN | Upcycled 96
made from cotton scraps from the cutting room floor
1. REUSED LONG-SLEEVE SHIRT 2. FELT WINE CARRIER 3. PLANT-DYED SOCKS 4. UPCYCLED COTTON TEE 1 2 3
yarn is an upcycled blend of post-industrial wool cutting scraps and recycled PET
COMING SOON!
made from used coffee grounds and plastic bottles!
5. RECOVERED WOOL BEANIE 6. RE-PURPOSED BACKPACK 7. COFFEE SHIRT 4 5
6 7 7
Unique eco materials
Stone paper, cactus leather, and tree cellulose… oh my! These upcycled yet durable byproducts of agriculture can replace plastics, leather, and other non-compostable or recyclable materials. Check out these eco-friendly alternatives.
washable tearresistant paper fanny pack!
REGENERATIVE GEN | Unique Eco Materials 98
2. PLANT-BASED 1.
1
WASHABLE PAPER SLING
PLANT-BASED POUCH 3. CACTUS LEATHER JOURNAL 4. RECYCLED STONE PAPER 5. CORK COOLER BAG 6. RECYCLED FELT TOTE 7. HEMP CAP 8. WHEAT STRAW MUG 2 3 5 6 7 8
4
made from cactus!
made from recycled stone!
REGENERATIVE GEN | Unique Eco Materials 100 1. SUSTAINABLE
2.
3.
4.
STATION 5. ECO PEN 6. FARMHOUSE 1
DESK MAT
ALLOY PENCIL
PLANT-BASED PHONE GRIP
BAMBOO CHARGING
sub your Popsockettraditional ® for this eco-friendly one! FARMHOUSE
2 3 4 5 6 7 Shop ReGen Here!
FRESH MATCHA SERUM 7. BAMBOO SPEAKER
CLICK HERE
to view this collection on our Portal, where you can request quotes and collaborate with your brand consultant.
ABOUT
WE OFFER SOLUTIONS FOR:
Awards & Recognition
Corporate Gifts
Custom Campaigns
Online Stores
Print
Product Promotions
Recruiting
Sales & Promotion
Tradeshows & Events
Uniforms & Apparel
andreap@rocketsciencebranding.com
US Andrea Pereira |
Created by Boundless, 2023.