ISSUE 302 | VOLUME XXVI JULY/AUGUST CELEBRATING 26 YEARS OF EDUCATING THE PRIVATE CLUB INDUSTRY 10 | PUBLISHER'S PERSPECTIVE WHAT DOES MEMBER FEEDBACK MEAN FOR PRIVATE CLUBS? 28 | EXECUTIVE COMMITTEE KEY METRICS FOR EFFECTIVE MANAGEMENT OF GENERATION Z 105 | MEMBERSHIP MARKETING MEMBERSHIP REFERRAL HAS ATROPHIED AT MOST PRIVATE CLUBS 80-83 | DISTINGUISHED CLUBS SHOWCASE 92-95 | EXCELLENCE IN CLUB GOVERNANCE 98 | IN MEMORIAM: DONNA OTIS 110-111 | EDUCATORS OF THE YEAR: THREE & JACKIE CARPENTER 118-121 | INNOVATIVE IDEAS EXCLUSIVITY THROUGH CODE OF CONDUCT L-R: DUNCAN RENO, DEL RIO COUNTRY CLUB AND BRENT GARDNER, CLUB PRESIDENT BOARDROOM MAGAZINE DESIGN FEATURE - PAGES 42-69 CastorAssociatesDesignC2 AssociatesDesignLimited ArchitecturePHX Harris(HINT)Interiors McMahonGroupLarsonInteriorNicholsDesign Peacock + Lewis Rogers InteriorArchitectsMcCagg&DesignersJBD ArchitectureDesignJGAandAMGroupDesign Bozeman Club & InteriorsCorporate AngelaDesignGrande ELM | Ervin Lovett Miller Chambers ClayInteriorsPryor Marsh Associates&
Courtney Corroon Research Consultant Erin Redgate Marketing Assoc.
Karen Alexander Senior Consultant Carolyn Kepcher Senior Consultant
Patrick Finlen Exec. Vice President Barbara McAuliffe Senior Consultant
Executive Search Club FoodGolfFinancialManagementManagementOperationsandBeverage Consulting PerformanceOperationalStrategicGovernanceLeadershipReviewsManagement Executive Search and Consulting Serving the private club and boutique resort industries.
Dan Denehy President
The value of peripheral vision.1denehyctp.com,350+ PROJECTS OVER 20 YEARS 500+ PRIVATE CLUBS INCLUDING MEMBER-OWNED, SINGLE-OWNER AND PRIVATE EQUITY CONNECTICUT | WYOMING | FLORIDA | CALIFORNIA 203 319 8228
Robert James Exec. Vice President Alison Savona Senior Consultant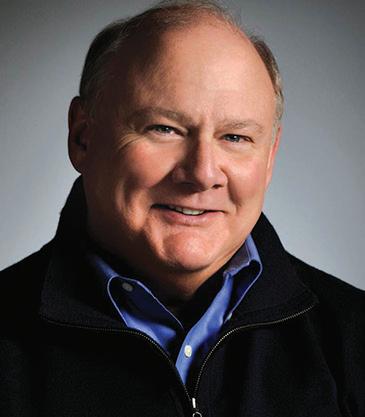 WWW.JONASCLUB.COM BUILDING THE FUTURE OF CLUB 1-888-789-9073 | sales@jonasclub.com Most Innovative Club Management Software Club Support Vendor Resort & Hotel Management Software
We continue with our stories about the top private club pres idents for 2021 with stories featuring David Frank, president, Ballenisles Country Club Palm Beach, FL; Tee Green, president, Sunset Hills Country Club, Carrollton, GA; Yoshiko Inoue, pres ident, The Yale Club of New York, New York, NY, and LeeAnn Lewis, president, Southward Ho Country Club, Bay Shore, NY.
EDITOR'S NOTE
n n n
In a piece written for BoardRoom in 2021 (Policing Members Versus Serving Members), Reno expounded on the fact that asking staff to police policy contradicts the demand for excep tional service.
BoardRoom magazine passes along our condolences to the families and friends of two well-known personalities in the pri vate club industry who died recently.
Hilda W. Allen, owner of Hilda W. Allen Real Estate, Inc., Adel, GA, had a true passion for whatever she did in her per sonal and business life. Hilda was a name synonymous with leadership! Her firm will continue under the leadership of Hil da's son, Marty Howell.
We've got a bundle of stories that really impact the private club industry and where it is today, beginning with our cover story from Duncan Reno, long-time general manager with Del Rio Country Club in Modesto, CA.
"It never fails … when staff is asked to enforce policy and con front a member about a policy violation, the response is always about how staff approached the member, what staff said, how staff could have handled it better, etc. The response never fo cuses on the member who violated a rule," Reno stated.
It's also turned out to be somewhat of a swan song for Nick Sidorakis, Southern Hills' general manager and COO, who, as Schwartz says, has enjoyed a stellar career as one of the club industry's foremost general managers. He'll retire at the end of 2023. It's, as he says, "A perfect last dance."
In this issue, Michael Feil, secretary-treasurer of the Florida Chapter of CMAA, pays tribute to Donna Marie Otis, long-time club general manager, who died earlier this year. "Donna's life was always one of service...selflessly and dutifully taking care of others," said Feil. She has also been recognized for her con tributions to golf and the development of women in the private club industry.
And finally, BoardRoom magazine is promoting advancement in the club industry via its #MoversAndShakers section on the website. This section pays tribute to new placements and advancements for club ex ecutives, staff and board presidents. Scan the code to view the latest #MoversAnd Shakers or submit your story here, and we'll share it with your peers. It's spon sored by Kopplin Kuebler & Wallace. BR
DAVE WHITE
IT MIGHT BE THE LAZY DAWG DAYS OF SUMMER, BUT THIS SUMMER ISSUE OF BOARDROOM WILL KEEP YOUR MIND ACTIVE AND IN VOLVED.
The code of conduct clearly defines the obligations and re sponsibilities of members, the code of conduct committee, and of course, staff. Bottom line: The code of conduct has produced promising results and success. Reno's article is a must-read in this issue.
4 BOARDROOM | JULY / AUGUST 2022
n n n
What Does Member Feedback Mean for Private Clubs? That's the topic of John Fornaro's Publisher's Perspective that focuses on asking how clubs can get 'good' enough information to ensure they provide members with a superior member experience.
Do clubs collect enough good information to enable this objective? Unfortunately, in many cases, there's limited in formation, while at the same time, the accuracy of the data is questionable. But the fact is, clubs need their members to give open and honest feedback if they're to influence their clubs' member experience.
That's the story – A Major Undertaking – Food Services for the PGCA Championship – Bill Schwartz, CEO of Systems Con cepts, Inc., tells us in this issue.
Code of Conduct Defines Boundaries
Recently the Southern Hill Country Club in Tulsa, OK, hosted the 2022 PGA Championship. During that event, the clubs served more than 30,000 meals. So, how does a club prepare its food service for a major tournament?
Now, Reno views a code of conduct approach as the solution for producing positive results. In his latest piece, "Exclusivity Through Code of Conduct," Reno suggests exclusivity also comes through a code of conduct. It's an enlightening piece defining where a club wants to fall on the Exclusivity-Diversity spectrum and he breaks down the elements that impact the needle on the spectrum.
It's a huge undertaking and a fascinating story. Planning started on January 20, 2021, culminating with the Championship, played over four days in May. Usually, this kind of event requires two and a half to three years of planning, but because there had been a venue change, the planning was squeezed into 16 months.
n n n
Dave White is the editor of BoardRoom magazine. If you have comments on this article or suggestions for other topics, please send Dave an email to: dave@boardroommag.com.
n n n
n n n
Joshua Nuzzi
John AdrianBrianSteveAngelaMitchEdDaveHenryTrevorCochranCoughlanDeLozierDohertyDoyleFentonGrandeGravesD.IdleKarapici
Contact Information www.DistinguishedClubs.com(949)376-8889
Contact Information
Business Development
The BoardRoom magazine (USPS 022516, ISSN 15537684) is a bi-monthly trade publication. Issue 302
Featured Columnists
Editor Dave White
Ronni Dana
Heather Arias de Cordoba
Rick DickBonnieBenJohnCoyneG.FornaroHopkinsonJ.KnutsonKopplin
Kelli
Co-Founder/CEO John G. Fornaro President Keith Jarrett Chief Analyst Frank Gore
Chief Information Officer Jeff Briggs
Joshua Nuzzi
Accounting/Subscriptions
Kurt GreggPhilipAdrianNancyKueblerM.LevenburgMazzaroloG.NewmanPatterson
Dave White
John G. Fornaro
Publisher/CEO
(949)www.apcd.comwww.BoardRoomMagazine.com376-8889
Bill ThomasEvanSchwartzVanEerdB.Wallace III
Contributing Writers
1100 S. Coast Hwy. #311 Laguna Beach, California 92691
Heather Arias de
Executive Director Bill Thomas
Heather Arias de Cordoba
Chief Creative Officer
Innovative Ideas Editor
APCD Executive Director
Ronald F. Cichy
Executive Assistant/ Director of Support
Editorial & Marketing Director
Q uality isn ' t E xp E nsiv E t h E most trust E d nam E in E x E cutiv E s E arch and consulting ! s can for a full dir E ctory of s E rvic E s Serving The Industry Since 1996 It's Priceless! CLEVELAND / DENVER / JUPITER / NAPLES NEW YORK / SCOTTSDALE / WASHINGTON D.C. WWW.CLUBLEADERSHIPALLIANCE.COMWWW.KKANDW.COM 480-443-9102 EXECUTIVE SEARCH FIRM OF THE YEAR 14TH YEAR IN A ROW
Periodical postage paid at Laguna Beach, Calif. and additional mailing offices. POSTMASTER: Send address changes to THE BOARDROOM magazine, P.O. Box 9455, Laguna Beach, Calif. 92652.
Pennell Duncan Reno Craig J. DougBryanCharlieMichelleBradTommySmithSpauldingD.SteeleTanzerTurnerWebbWright
Dee Kaplan
JarrettStephanieTimothyPeterKrisSusanBillNancyRonaldCordobaBanaszakBerkleyBootheBozemanButterfieldCafaroN.CastorCastroChirico
Reach The BoardRoom magazine at (949) 376-8889 ext. 1 or accounting: ronni@boardroommag.com editorial: johnf@apcd.com or heather@studiodelmar.net or visit the website at www.BoardRoomMagazine.com.
Chryssoula Filippakopoulos
Hal WhitneyClayPhillipsPryorReid
Strategic Partners and Allied Associations
Copy Editor
Bill Thomas
BoardRoom magazine is published by APCD Inc.
ErikPeterKristinDaveChristopherLizChrisJacqueMelissaSteveLarsonLovettLowMadisonMcCaggMcDowellMeyersMoyerNicholsJ.NanulaB.Peterson
Valuable, accurate information is vital for private clubs' boards of directors to make reasoned and viable decisions, but can clubs get enough 'good' information to ensure clubs provide their members with a superior member experience? If so, how is this ac complished?
| 84 FOOD FOR THOUGHT | 96 CLUB FACTS & FIGURES | 14 CASE STUDY | 16
BOARDROOM BASICS & BEYOND | 18
COVID-19 seems to have upended every aspect of every club's operation. Things have not been normal, nor will they be normal when this crisis is in the rear-view mirror. What there will be, however, is a next normal, allowing us to reimagine what it means to be a hero, how we recognize our club's heroes, how we reward our club's he roes, and how we honor our club's heroes.
WHAT DOES MEMBER FEEDBACK MEAN FOR PRIVATE CLUBS?
CONFLICTS OF INTEREST BRIDGING THE GAP BETWEEN THEORY AND PHILIPPRACTICEG.NEWMAN
PLIGHTS AND INSIGHTS 12
During COVID-19, our search firm was overwhelmed with calls from board mem bers of clubs across the country and the conversations went one of two ways: 1) How do we put golden handcuffs on our general manager? 2) When we come out of this pandemic, we are going to need to make a change in our general manager.
CONTENTS | JULY / AUGUST 2022
Southern Hills Country Club in Tulsa, OK hosted the 2022 PGA Championship, which took place May 19-22. The food service as pect ran seven days, from Monday through Sunday. The club served over 30,000 meals for the championship. So, how does a club prepare for a major tournament?
JOHN G. FORNARO
You're young, ambitious and inexperienced when it comes to projects, new initiatives or changes in staff, programming, construction, interior design or "selling the stuff." You've taken the classes, read the books and attended the lectures. You've mastered the theories, done the benchmarking and talked to your network. Prepare to get burned from the cruelest of teachers—experience. Ain't nothing like experience to generate knowledge.
GLOBAL PERSPECTIVES
GM/COO LOYALTY AND RETENTION
PUBLISHER'S
CONSIDERING CASHLESS?
DICK KOPPLIN, THOMAS B. WALLACE III AND KURT KUEBLER
RICK COYNE
PERSPECTIVE | 10
A MAJOR UNDERTAKING FOOD SERVICES FOR THE PGA CHAMPIONSHIP BILL SCHWARTZ
MEMBERSHIP MUSINGS | 102
One of the more interesting things I've learned in my 50-plus years in this indus try is how cyclical the industry is. Golf and clubs are in at least the fourth life cycle since the Gatsbyesque early 1900s. I believe the effects of COVID-19 created the latest life cycle, delivering a much-needed boost to the game. But what can we learn from these cycles?
During COVID businesses across the country faced a new, unfamiliar challenge. The "Great Resignation," emerged as a global economic trend in 2021. Unsurprisingly, human resources has become a major focus. The big question fac ing those charged with governance: What can we do to retain employees?
GREGG PATTERSON
BURN AND LEARN
Is your club considering cashless? Be sure to keep in mind that going cashless isn't free. Credit card processing fees typically run from 2.5 percent to 4 percent (or higher) of each transaction's total amount, which can rack up to a significant expense. If it costs you more, is it worth it?
HOW TO USE PERFORMANCE EVALUATION EFFECTIVELY TO KEEP YOUR BEST TALENT BEN HOPKINSON, EVAN VAN EERD AND ADRIAN MAZZAROLO
TRIBAL MAGIC | 112
|
The 2022 Report to the Nations from the As sociation of Certified Fraud Examiners says corruption is the most common occupational fraud scheme in the food service and hospitality industry and conflicts of interest is one of the leading examples of this type of fraud. And pri vate clubs are not immune from this occurrence
LEARNING FROM HISTORY
NANCY M. LEVENBURG
WAITING FOR A HERO BONNIE J. KNUTSON
pgaexecusearch.com
DRIVE YOUR SEARCH, HARNESS THE POWER OF THE PGA BRAND
Start your search with the only team you'll need! Let us connect you with the most talented and qualified industry professionals.
EXECUTIVE COMMITTEE 100 Legislative and Regulatory Update
Trends Are Moving Fast By Jacque Madison
PHX ARCHITECTURE & CLUBDESIGN ASSOCIATES 54 & 55 ELM | ERVIN LOVETT MILLER 56 & 57 HARRIS INTERIORS (HINT) 58 & 59 LARSON NICHOLS 60 & 61 MARSH & ASSOCIATES (MAI) 62 & 63 MCMAHON GROUP 64 & 65 CHAMBERS 66 JBD JGA DESIGN AND ARCHITECTURE 67 PEACOCK + LEWIS.................. 68 ROGERS MCCAGG .................. 69
By Ronald Banaszak
LEGAL COMMITTEE 40 Don't Get Caught in the Errant Golf Ball Trap By Michelle Tanzer
MEMBERSHIP COMMITTEE ........ 104 Get Back to Basics By Kris Butterfield
EXECUTIVE COMMITTEE ............ 30 Independent MisclassificationContractors,AndaNew Concern for Club Leaders By Brad D. Steele
MEMBERSHIP COMMITTEE 105 Membership Referral Has Atrophied at Most Private Clubs
TECHNOLOGY SHOWCASE ......... 70-71 Cobalt Software
EXECUTIVE COMMITTEE 34 Discipline and Simplicity Equal Sophisticated Strategy By Whitney Reid Pennell
By Steve Graves
By Bill Boothe
GOVERNANCE ..................... 86 CEO Governance Model Builds Momentum in the Club Industry - Part I of II
EXECUTIVE COMMITTEE 24 Unceasing, Unremitting, Relentless, Unending Practice
By Hal Phillips
INNOVATIVE IDEAS 118-121 Champions Run Cherokee Town and Country Club Inverness Golf Club Kirtland Country Club
By Heather Arias de Cordoba Michael R. Feil Through Code of Conduct Duncan Reno
Exclusivity
NANCY'S CORNER 78 New Trends in Golf
By Peter J. Nanula
EXECUTIVE COMMITTEE ............ 36 Influence Is Everything By Tommy Spaulding
EXECUTIVE COMMITTEE . . . . . . . . . . . . . . . . . . . . . . . . 74 Top Private Club Presidents of the Year – 2021 By Heather Arias de Cordoba
By Ronald F. Cichy
EXECUTIVE COMMITTEE 26
SECTIONS
FINANCIAL SHOWCASE 73 MidFirst Bank
CLUBSDISTINGUISHEDSHOWCASE 80-83 Del Rio Country Club Newport Beach Country Club New York Athletic Club
By Melissa Low
By Jarrett Chirico
By Henry DeLozier
BoardRoom Educators of the Year 2021 Three and Jackie Carpenter By Rick Coyne FEATURE 110
TECHNOLOGY PERSPECTIVE ..........72 Software or Service Which Is More Important?
By
EXECUTIVE COMMITTEE ............ 28 Key Metrics For Effective Management Of Generation Z By Liz McDowell and Trevor Coughlan
BOZEMAN CLUB INTERIORS 46 & 47 C2 LIMITED 48 & 49 CASTOR DESIGN ASSOCIATES .... 50 & 51 CLAY PRYOR INTERIORS......... 52 & 53
By Nancy Berkley
GREEN COMMITTEE 88 Floating in a Root Zone By Dave Doherty
RACQUET COMMITTEE ............ 108 Build Racquet Sports With Programming Based on Your Club's Culture
NPS Isn't All About the Numbers –It's Personal By Trevor Coughlan
EXECUTIVE COMMITTEE 32 Your Board Members Are They Change Agents or Caretakers?
By Dave Moyer
HOUSE COMMITTEE .............. 109 Parking Lot Thefts - Redesigning Your Lots to Prevent Crime By Mitch Fenton
EXECUTIVE COMMITTEE . . . . . . . . . . . . . . . . . . . . . . . . 38
FEATURE ................. 98 COVER STORY ............. 20 Remembering Donna Otis By
DESIGNERS & ARCHITECTS
RACQUET COMMITTEE 106 A Simple Approach to Understanding Racquets
EXCELLENCE IN CLUB GOVERNANCE 92-95 Chartering Club Committees Three Characteristics of Effective Club Governance
AM DESIGN GROUP 42 & 43 ANGELA GRANDE 44 & 45
COMMITTEESDEPARTMENTS
GREEN COMMITTEE 89 Course Renovation Market Demands New Levels of Planning, Commitment By Doug Wright
BUILDING COMMITTEE ............. 90 Dining Renovations and F&B Projects Drafting a Qualified Design Team By Ed Doyle and Christopher Meyers
Mike Phelps, co-founder of Pipeline Agency, a specialized brand marketing agency, suggests that "self-reported feed back is extremely valuable, but it isn't always the best way to measure effectiveness.
"That'sexperience?theclassic
But what about the rest of the members? Without a systematized approach, it's unlikely that clubs know more than 25 percent of members' feelings and per spectives," Coyne added.
"The methodology they use also depends on the sub ject matter. If the communication is about potential social events or other programs and activities, then anecdotal feedback and committee discussion can be appropriate and useful."Ifagroup or committee wants to try something like bingo night or a tennis clinic because they sense demand, acting on these pockets of feedback is appropriate. The challenge lies more in strategy, primary purpose, allocation of re sources and capital projects," he stressed.
John G. Fornaro is the publisher/CEO of BoardRoom magazine, co-founder/CEO of Distinguished Clubs and the CEO of the Association of Private Club Directors (APCD). If you have comments on this article or suggestions for other topics, please contact John Fornaro at (949) 376-8889 or via email: johnf@apcd.com
G. FORNARO 10 BOARDROOM | JULY / AUGUST 2022
PUBLISHER'S PERSPECTIVE
"Absent any behavioral data, clubs often rely on self-re port member feedback as the true measure of satisfaction/
SEE PUBLISHER'S PERSPECTIVE | 129
"Clubs are composed of members with differing interests, ages, gender, family makeup and usage patterns. Without some form of systematized feedback, because members use the club in different ways every day, at best, we get lim ited information, and then generally only for those that are pretty
"Club leaders get a lot of feedback from their members. The notion of using it to create a superior member expe rience is not so much a matter of 'doing enough' as it is
Are clubs doing enough to gain the information they need to ensure they can provide members with a superior mem ber
question! But, unfortunately, in my opinion, the answer is a definitive no," expressed Rick Coyne, principal with ClubInsights, an industry consulting firm based in Dallas, TX.
"Gratifying?satisfied.Yes!
For Frank Vain, president of the St. Louis-based McMahon Group, it's not just the amount of information club leaders can mine but also the accuracy of the information.
If so, how is this accomplished? These are all crucial ques tions facing private clubs today that have experienced boom and bust times during the past few years, and especially with the impact of COVID-19, which in many cases has left some clubs booming with long waiting lists.
Valuable, accurate information is vital for private clubs' boards of directors to make reasoned and viable decisions, but can clubs get enough 'good' information to ensure clubs provide their members with a superior member experience?
JOHN
"At this level, your research efforts need to be more struc tured and analytical. The feedback process at most clubs remains more qualitative than quantitative, which is by its nature less accurate and reliable. So, the golfers demand an extraordinary number of resources because 'the course is our most important asset', or the club fails to add a fitness facility because conventional wisdom is opposed to it. This is where the lack of data holds them back," Vain added.
"That's because surveys and other self-report measures ask members to reflect on their behaviors and perceptions of performance across a variety of unstructured situations –and the data we collect is inherently subjective.
What Does Member Feedback Mean for Private Clubs?
gaining accurate information or separating casual talk from data-driven decision making," Vain said.
You will not succeed without listening to your members. Member polling is the guiding light for the general manager, and I believe in getting daily and weekly feedback, before something becomes an issue. Daily or weekly polling on a graph will show if your departments' service or product satisfaction is going up, going down or staying flat. At the end of the day, feedback from the members makes them feel good. The key is sharing the information and that shows the club's surveys meant something.
CREATING FOUNDATIONS FOR SUSTAINABLE SUCCESS addisonlaw.com gsiexecutivesearch.com ethosclubandleisure.com 5429 LBJ Freeway, Suite 400, Dallas, Texas 75240 • (972) 341-8133 Three recognized industry leaders operating together under one roof. AddisonLaw EquityNew/RedevelopmentMembershipTurnovers/SalesPlansDealStructures Executive Search Human Capital Management Post-Hire Consulting HR Compliance Business and Brand Strategy Operational Repositioning/NewConsultingCapitalDevelopment/Sales THE CLUB COMPANIES
• Improve speed of student and guest transactions
Improve accountability and internal control … yes, I don't doubt that transactions are more traceable, so fraud is poten tiallyAndreduced.security over transactions? Well, doesn't this depend on how "secure" the payment systems are? According to one source, "the more information you have floating around online, the more likely it is to wind up in malicious hands … hackers are the bank robbers and muggers of the electronic world. In a cashless society, you're more exposed to hackers."
12 BOARDROOM | JULY / AUGUST 2022
I ain't got a credit card, a mobile phone or a computer. Call me sentimental. I think that's a whole world of trou ble I ain't got no business setting foot in. And you know what? It feels good. – John Cooper Clarke
That's plausible … cash is dirty, hard to clean, and can carry germs and viruses (although it was found to be highly unlikely to spread COVID-19). So it must be that the dollar bills filling the glass bowl for tips on the bar are somehow less dirty? Or don't carry germs? I don't get it … cash is not safe for sales transactions, but it's safe for tips?
Is your club considering cashless? Be sure to keep in mind that going cashless isn't free. Credit card processing fees typically run from 2.5 percent to 4 percent (or higher) of each transaction's total amount, which can rack up to a significant expense. If it costs you more, is it worth it? BR
That's a little frightening. So, is it worth it? Several colleges and universities think so … in addition to GVSU, North Carolina State University, Vanderbilt University, the University of Tennessee at Knoxville, and even my alma mater, Miami University (Ohio).
Opening night for the faculty/staff golf league at Grand Valley State University was May 2. As you know from my bio, I retired from GVSU in December 2019, after serving 24 years as a professor of opera tions
Nancy Levenburg, PhD, is a recently retired professor of management in the Seidman College of Business at Grand Valley State University in Grand Rapids, MI. She is the president of Edgewater Consulting and a member of Spring Lake Country Club in Spring Lake, MI. For more information, contact her at levenbun@gvsu.edu or (616) 821-5678.
So when we arrived on opening night, we were greeted with signs posted on all exterior doors that stated: "Effective Fall 2021, Grand Valley State Univer sity converted to a CASHLESS campus. In compliance with this directive, The Meadows Golf Club can no lon ger accommodate cash transactions. Acceptable forms of payment include: Credit Card, Check, Apple Pay, Google Pay, Samsung Pay, and Tap-and-Go."
• Improve safety of students and employees
Each Monday night during golf season, we gather at The Meadows, GVSU's 18-hole links-style course that, incidentally, is ranked Number 6 in the top 25 college golf courses in the United States. Our mission is to support our "three Rs of golf" … recreation, re laxation, and a round of fun.
And I could easily add a fourth R to that list: re freshments. After playing, we gather for refresh ments. These days, we gather inside or outdoors on the balcony of The Meadows clubhouse. It's a lovely facility where GVSU students cook and wait tables.
• Improve accountability and internal control
I also realize that demonstrating environmental sensitivity is politically correct, and this is important these days on college cam puses. So, I mulled over these factors.
Improve speed of student and guest transactions? Well, yes … that's entirely possible. I've seen many waitstaff struggle when making change; for example, if the bill is $9.47 and you give $10.02 (i.e., mentally calculating that 55 cents in change is needed can be challenging).Improvesafety?
Interesting. So, according to GVSU's business and finance office, the conversion to cashless was prompted by five factors:
Decembermanagement.2019also proved to be rather fortuitous in that it was just before the COVID crisis, so I never had to deal with reformatting my courses for online delivery.Backto the golf league. It was started over 40 years ago by a colleague (Ester Burns) and, as its name suggests, is largely GVSU faculty and staff members, many of whom (like me) are retired.
Reduce contact? I question this one. How is there less contact if the waitstaff must take and swipe the credit card, then return it to its owner, along with a paper and pen for signature (which both parties also must touch)?
PLIGHTS AND INSIGHTS
• Reduce contact
NANCY M. LEVENBURG
Considering Cashless?
• Improved security over transactions.
BOCA WEST COUNTRY CLUB
THE CLUB AT ADMIRALS COVE Luxury Louvered Roofs
Owww.syzygyglobal.com 888.408.9522 E info@syzygyglobal.com
PHIL NEWMAN
Most literature on how to avoid conflicts of interest dic tates that board members need to be independent on all voting matters in the club boardroom. Governance best practice also tells us that board members should be inde pendent in appearance, not just in fact.
To apply the reasonable person test, board members facing a conflict of interest would simply ask, "What would a reasonably prudent person do under the circumstances?"
Bridging the Gap Between Theory and Practice
Philip G. Newman, CPA, CIA, CGFM is a partner with RSM US LLP. He can be reached via email: philip.newman@rsmus.com
14 BOARDROOM | JULY / AUGUST 2022
The 2022 Report to the Nations from the Association of Cer tified Fraud Examiners says corruption is the most common occupational fraud scheme in the food service and hospitality industry and conflicts of interest is one of the leading examples of this type of fraud.
Defining reasonably prudent can be a challenge. Therefore, it might be better to apply this test by asking if trusted busi ness professionals, such as attorneys or accountants, would agree with the board member's position on whether a con flict exists in a given situation.
The public disclosure test would have board members imagine announcing their conflict of interest decision-mak ing to the media or general public. How would key stake holders in the community react to a board member's or indeed the board's decision?
RESOLVING CONFLICTS OF INTEREST
CLUB FACTS & FIGURES
The peer standards test would have private club board members consider what is deemed acceptable industry be havior in any situation. Essentially, could board members announce their decision on a potential conflict of interest at a major industry conference and expect it to be met with ap proval? If not, it seems unlikely that they could be construed as having done the right thing if they ignored the indications that a conflict might exist.
Indeed, one or more of those constituent groups may have been responsible for the board member having been elected in the first place. Will the board member who uses the club exclusively for golf vote yes in the boardroom for a much-needed capital expenditure in another area of the club, even though the board member will never use that amenity? When the votes are cast, that board member has a responsibility to vote in the best interest of the club overall.
Private clubs are not immune from this occurrence and with the pandemic causing major shifts in how many clubs conducted business, now is as good a time as ever for clubs to remind their board members that they set the standard for how management and employees avoid and deal with conflicts of interest.
For guidance, board members can consider four widely accepted ethics tests: the peer standards test, the public disclosure test, the reasonable person test and the best in terests test.
Last, but far from least, the best interests test goes to the core of a director's typical responsibility to act honestly, in good faith and in the best interests of the club. It deals with the director's implicit and explicit duties of loyalty and care to the club. This can be particularly troublesome to board members in private clubs who may be associated with cer tain "factions" in the club – think golfers versus tennis ver sus social members.
Regardless of a club's conflict of interest policy or de cision-making framework, the board must have a clear, consistent route for resolving conflicts. The board or a governance committee should understand how it will in vestigate issues and document resolutions. A legal review of the club's process is imperative to ensure compliance with statute as well as compatibility with the club's govern ing documents and rules.
While most clubs will ask board members to provide an annual conflict of interest statement, some clubs remind their board and committee members before every meet ing of their responsibility to do the right thing. Ultimately, clubs must do what is in the best interests of the member ship as a whole. BR
Conflicts of Interest
Keeping this test in mind can be particularly useful to illu minate instances where conflicts could be perceived to exist, even if they technically do not meet the black and white defi nitions from the IRS or state non-profit statutes.
this takes the form of a strategic plan often includ ing campus master planning. Overzealous reaction to favorable market conditions often results in more harm than good. Junior memberships, legacy memberships and senior memberships are there for market-based reasons.
Stage Two: Undisciplined pursuit of more
However, when demand peaks as it has over the past couple of years, nearly every board begins fee comparisons with compet itor clubs. Boards often declare that their clubs are much better than other clubs and the other clubs charge more. This leads to a discussion about raising fees, which might be a good approach in an unlimited market. But your market is finite. Could such moves be considered hubris, undisciplined, or denial of risk?
I believe that the recent lockdowns and tragedy of COVID-19 created the latest life cycle, producing significant growth for many clubs and delivering a much-needed boost to the game of golf. But what can we learn from these cycles?
In college economics we learned that life cycles follow a con sistent pattern of high growth, then lower growth which leads to maturity and eventually ends in decline. But why? What could businesses do differently to extend the positive growth and maintain the momentum?
Stage Five: Capitulation to irrelevance or death
Rick Coyne is president of ClubInsights and co-founder of PCMA. He can be reached via email: rcoyne@clubinsights.com
Limiting the number of members: Of course, we would all enjoy no tee times, unlimited access to our favorite table and doting employees anticipating our every need. Some clubs may indeed have a depth of market that makes this possible. For most, however, to maintain the financial momentum of this cur rent life cycle, prudent and realistic goals and objectives must be in
Assuming you believe we are again in a high growth cycle, what are some of the things that should be on your radar? In my experience, here are a few things that generally happen when high growth occurs.
RICK COYNE
While benchmarking can be a great operational and plan ning tool, it is an undisciplined approach to initiation fees. If we could pick up your club and move it to the most densely populated high-income community, raising the fees may be appropriate.Withafixed
As Collins points out in his book, "Whether you prevail or fail, endure or die, depends more on what you do to yourself than on what the world does to you." Interesting words for the world we live in today. BR
One of the more interesting things I've learned in my 50-plus years in this industry is how cyclical the industry is. As too few realize, golf and clubs are in at least the fourth life cycle since the Gatsbyesque early 1900s.
Success as a Strategy - Learning From History
CASE STUDY
Stage Four: Grasping for salvation
Every business must understand and adhere to practices that create raving fans, are financially responsible and are predi cated on a variety of market conditions. Clubs are no different. Our goals as an industry must address avoiding the typical peaks and valleys and instead focus on maintaining a positive and sustainable ongoing momentum.
Every time I read this, I wonder if Collins was ever on a coun try club board. These are stages that clubs everywhere have faced at one time or another. Board turnovers, external factors in the economy and a myriad of other factors can combine to drive clubs to well-intentioned but often disastrous decisions. Worse, unless there is an abiding strategy holding the club to gether, every club is vulnerable.
Forplace.most,
location, the best thing to do is fully understand the depth of your market. Know your competitors and their mar ket and set your fees to a level in line with the market's ability to afford and at a level that provides enough capital infusion to cover depreciation and some level of improvements.
Stage Three: Denial of risk and peril
Learn from history. Remember how initiation fees have risen and fallen as each life cycle progresses.
While the desire to spend when reserves are high often pervades, think in terms of needs rather than desire. Think in terms of the diversity of your members and the next genera tion of members you wish to attract. More than ever before, members have different needs and interests. Listen to and observe those needs to avoid defeat on the next member vote on capital projects.
Capital spending: One of the great lessons I have learned over the years is that capital spending should not be an every 20-year project. While sometimes this occurs out of necessity, good fiscal planning would suggest regular capital enhance ments, additions or improvements keeping pace with the changing desires and needs of your members.
Raising initiation fees: First and foremost, a free-standing club's market is finite and predictable. In nearly every urban club, the primary drawing radius is about a 15- minute drive. It's where about 85 percent of your members reside. There are finite numbers of households within that market range that can afford membership and have interests matching your offering. Likewise, you likely share at least part of that 15-minute drive with competitor clubs.
16 BOARDROOM | JULY / AUGUST 2022
Anyone who has read "How the Mighty Fall," by Jim Collins, knows that he laid out five stages of decline. They are:
Stage One: Hubris born of success
Best Practices and Strong Culture Lead to GM/COO Loyalty and Retention
Ensuring competitive base salaries, appropriate bonus opportunities, robust benefits packages and necessary edu cational allowances is a great place to start retaining general managers and their key players. Be sure to evaluate and re-evaluate compensation often to ensure it is competitive and appropriate. Club Benchmarking, KK&W and other firms are great sources of accurate and timely data.
1) How do we put golden handcuffs on our general man ager? They have kept our club afloat through the pandemic and has been a tremendous leader. We want to do everything possible to retain this person.
Fortunately, we had more conversations with board members wanting to keep their general managers than replace them. However, the lingering pandemic has caused a plethora of chal lenges, including labor shortages, supply chain issues and infla tion, making a general manager's job all the more difficult.
18 BOARDROOM | JULY / AUGUST 2022 DICK THOMASKOPPLINB.WALLACE III
A practice that has become more common in recent years is setting up a deferred compensation plan. Funding a specific non-cash compensation plan is intended to encourage general managers to stay at the club longer.
Club attorney Robyn Nordin Stowell said, "There are some in surance products well suited to executive compensation and some have appealing tax features. However, some benefits are immedi ately taxable to the manager and it is important to factor that into the manager's pay so that the benefit has the intended value."
These non-cash compensation plans, when set up properly, can be a good incentive for a general manager to stay at the club long term and can often be fully vested several years out, providing the necessary incentive to stay at the club.
• Healthy education allowances for the general manager and the management teams. Not just saying it, but showing you are a teaching/learning/mentoring organi zation is essential.
BOARDROOM BASICS
In addition to compensation, club governance plays a vital role in the retention equation. Ensuring the club has a stra tegic plan, a capital reserve study and a master campus plan provides a clear and consistent path forward and helps to minimize some of the "agenda du jour" pitfalls that plague many dysfunctional clubs.
It's no secret that wages have increased across many indus tries, especially in the hospitality industry. While salary and ben efits are certainly important factors in retention, pay usually only keeps employees, even general managers, satisfied temporarily.
Communication is another critical element. Does your club have a clear communication structure between the general man ager and the staff, between the general manager and club presi dent and between the general manager, board and committees?
2) When we come out of this pandemic, we are going to need to make a change in our general manager. They put their head in the sand and has done little to adapt to the situation.
An effective and strategic board, a limited number of com mittees with clear goals defined by the board and a respected board policy manual also can positively impact a general man ager's success and level of satisfaction with the role.
During the onset and throughout the first year of COVID-19, our search firm was overwhelmed with calls from board members of clubs across the country and the conversations went one of two ways:
Over the past two years, our firm has identified key oppor tunities for clubs to keep their general managers happy and retained. We've also been monitoring the trends in the hospi tality and private club industries.
Ensuring everyone understands how they communicate with the general manager is crucial as it can be a source of constant stress, frustration and ongoing challenges when clarity is lacking. And, aligning goals from the board to cas cade down to committees and the leadership is a critical part of this communications plan and a successful outcome.
KURT KUEBLER
This has made the competition for talented and experi enced general managers much greater. It's a tough time to find qualified candidates for any hospitality position so there has never been a better time to do everything possible to retain your general manager if you feel he/she is successfully leading the club.
There are several ways to provide deferred compensation, which can be very beneficial to the manager in terms of gross compensation and timing of taxation.
In addition to the above, other crucial factors that impact general manager retention and success are:
• Control of the organizational chart. General managers should have authority over staff operations free from board control. Influence or input is helpful from the board, but allowing volunteer leaders to be actively
AND BEYOND SEE BOARDROOM BASICS | 128
The Award-Winning Agency For Private Clubs Website Company Of the Year Winner 9x Interactive Media Award Winner 46x info@membersfirst.com | 508-653-3399 See for yourself at www.membersfirst.com
We believe Brent's passion for adherence to club rules came when he was 10 years old. He felt discipline from the general manager when caught hitting golf balls in the locker room. His father was called and that was all it took for him to grow up respecting rules.
ago, the club's need to improve the respect for rules was highly desired. But unfortunately, staff lost all ability to enforce the rules as our focus has always been to service the membership.
20 BOARDROOM | JULY / AUGUST 2022
Del Rio Country Club in Modesto, CA, is addressing these questions. At the club, defining where we want to fall on the Exclusivity – Diversity spectrum has taken a priority posi tion. To do so we are following these steps:
We followed the steps above to help identify where we currently stood and where we could improve. We addressed the admissions process, the levels of initiation fees and dues and even expanded the level of membership types with young executive memberships. All were effective and met their respective results, but still, we lacked rules compliance.
➤
At Del Rio, the level of enforcement and consequences of rules violations has been an effective tool in improving the quality and condition of the member experience and moving theFourneedle.years
We have written before about "Policing Members versus Serving Members," (BoardRoom magazine, January/February, 2021). At the time, the board demanded a better effort to get members to comply with club policies and rules. Our current club president, Brent Gardner, played a pivotal role in keeping this concern a priority during his first term on the board.
5. If there is, identify what element(s) will have the best impact?
"Exclusivity is a state of being limited or hard to access."
4. Engage member feedback to determine the satisfac tory level of the club's current position. Is there a desire to "move the needle?"
e. Number of membership types offered
f. Level of initiation fees – How hard is it to join financially?
How do we define our level of exclusivity? How exclusive should we be? At what level does exclusivity help or hinder the club? Do we need to move the needle one way or the other? What element will best impact movement? Is it what the membership wants?
1. First, identify the elements that impact the needle on the spectrum. The elements below can make your club ei ther exclusive or diverse depending on how you set policies and procedures for each:
3. Evaluate where the club currently falls on the spectrum based on the current procedures for each element at the club. This will determine the exclusive nature of your club.
g. Dues levels
h. Level of enforcement & consequences of rules violations-consistent and strict or not?
n. F&B reservations and pro shop tee time require ments – or open play?
BY DUNCAN RENO
l. Club access/gate – Easy to arrive at the club unnoticed?
j. Dress code – Strict versus informal
c. Defined targeted audience – (Prospective Mem bers) Is it narrow or not?
Having a clear direction on the level of exclusivity for the club will allow us to develop effective growth strategies.
i. Outside tournaments – Are they allowed?
a. Reciprocal privileges – Do you allow them or not?
k. Admissions process – Fog a mirror or extensive process?
m. Size of the club budget
o. Perceived culture -How the community sees the club
Exclusivity Through Code of Conduct
d. Number of members
b. Guest policies – Frequencies and available times
2. Understand how each element impacts the needle's movement on the spectrum.
L-R: BRENT GARDNER DEL RIO COUNTRY CLUB PRESIDENT, AND DUNCAN RENO, CLUB GM/COO
JULY / AUGUST 2022 | BOARDROOM 21
We developed a code of conduct policy that clearly defined the members' obligations and responsibilities and that of the committee and the staff. It demanded that the staff observe and report ALL club rules violations, record them on our personally developed violations app used by all supervisors, and most importantly, avoid con frontation. The committee reviews the reports on the app and makes recommendations to the board regarding disciplinary action.
• Changed attitude toward staff – More re spect and appreciation
• Fewer violations of key club rules
• Heightened awareness of other club rules
• Improved communication
from Cover Story | 21
The committee meets monthly, more, if neces sary. In addition, the committee writes a written monthly report to the board with recommenda tions; informs the board on specific and pertinent messages to be sent out via email and text to the members and submits a monthly "Code of Con duct Canon" article each month published in the Del Rio newsletter.
The Code of Conduct Committee has now be come an active committee at the club. This commit tee established a communication process to help raise the awareness of club rules, highlight actions taken, highlight frequently abused rules, promotion of specific attention of a rule, and communicate the impact and effectiveness the code of conduct effort is having on changing the club's culture.
Duncan Reno CCM, CCE, has been the general manager/chief operating officer at Del Rio Country Club for more than 30 years. He can be reached at (209) 341-2401 or via email: dreno@delriocountryclub.com
What's funny is that I was the general manager then and am still the GM some 30 years later, serving Brent and the club's board.
It wasn't until the development of our Code of Conduct Committee and policy that we started making great progress. The Code of Conduct Committee became the enforcement body...mem bers policing members.
This year, in a meeting with our incoming club president Brent Gard ner, during his presentation of his vision for the club, we discovered the connection between a well-disciplined and respectful membership of club rules and making the club feel more exclusive.
The effectiveness of the code of conduct has produced much success, including:
Like most clubs across the country, a club's resources can be limited, including the number of potential members. So, we are forced to be more lenient on who is eligible to join the club. In doing so, we widen the margin of diversity, but maintaining consistent rules is more difficult with high diversity.
• Enhanced member experience
• A more welcoming club
22 BOARDROOM | JULY / AUGUST 2022
If our membership base has more similarities than not, managing rules compliance becomes much easier, thus creating the direct link to becoming more exclusive with a diverse group with an emphasis and concentration on rules compliance.
• More respect for club facilities, policies, and each other
• Ability to remove members for bad behavior
Establishing the code of conduct has helped shift the balance. Raising the level of respect and awareness amongst our members, the staff and each other clearly has enhanced the member experience. It allowed us an exclusive feeling of the club while maintaining our desired level of diversity (openness to the community). BR
• Look the other person in the eyes when engaging in conversation
• Identify and develop emerging leaders, both paid and volunteer
The answers to these questions reveal what is at the heart of your club and what is in the hearts of the talent andPracticemembers.not to make perfect. Practice to make permanent and continuously improve.
• Simplify complex problems so they are understandable
24 BOARDROOM | JULY / AUGUST 2022 SEE COVER STORY | 106 EXECUTIVE COMMITTEE
Relentless actions are persistent. Such practice is unyield ing to slacking off. It is uncompromising in that once the standard is established, it is carried through in all actions and behaviors.
Rather, practice not to make perfect. Practice to make per manent. Practice to continuously improve.
• Be the connection between the members and the talent
Some examples of desirable practices:
Personal practices: As you reflect on your personal prac tices, those that you find yourself exercising each day, both in the club and in your personal life, how do they square with these descriptors? Are they consistently and persistently applied?Whenothers
• Set the pace so others can choose to join you
• Be curious and encourage others to also be curious
Unceasing means to never stop; to never end. Unceasing actions by the leader are those that are constant and sus tained. Practice that is unceasing is persistent. It lasts and lasts and is unwavering. It is tireless.
• Be empathetic towards others; treat them with com passion
Leaders operate in a glass bowl. Others observe the ac tions of the leaders and always judge whether these square with the leaders' words. Leaders are constantly under exam ination by others in the club. People in the club, members and the talent are constantly evaluating the club leaders.
What is being practiced in your club by you and the other leaders? What messages are you communicating in actions, words, and deeds? What are you doing to develop others, to help them practice becoming permanent?
Unceasing, Unremitting, Relentless, Unending Practice
• Recognize the contributions of others
• Balance professional and work time with personal and family time
They are searching for clues to what is acceptable, encour aged, and expected. They look to see what is rewarded in the club. They try to emulate what they see. They look for exam ples and they look to the leaders as role models and mentors who show the way.
• Be the values, vision, and mission of the club
• Be a model for expected behaviors and actions
Now,challenge.toenhance your practice, and your effectiveness as a leader, reread this article at the start of each day and make a conscious commitment to put the examples into practice. Each day, evaluate the previous day. If you do this for a month, you will see dramatic improvements. BR Dr. Ronald F. Cichy, O.M. is professor emeritus, Michigan State University.
• View life as being in it for the long haul; take care of your health and happiness.
Endless practice stems from a love for what you do. It is without limit and without end. It is everlasting without re spite. Such practice is eternal.
They say that actions speak louder than words. Others see your actions and judge whether they are consistent with your words. If not, you have a disconnect leading to a credi bility
see the words describing permanent prac tice, do they think about you and your leadership style? How do your words come across to others? Are your words about practicing making permanent consistent with your actions?
Practice to make perfect. How many times have we heard that old saw? It is almost as if practice to make perfect is a proverb.
• Appreciate the contributions of others to the club
RONALD F. CICHY
Unremitting is an adjective used to describe relentless behavior. It is steady, unbroken, and nonstop. Unremitting practice is perpetual.
• Balance the focus on people, the planet, and profits (or surplus in a nonprofit)
• Understand your personal values, vision, and mission and how they align with your club
Financial & Operational Benchmarking
Club Benchmarking delivers fact-based, actionable insight through a suite of business intelligence software and services built specifically for private clubs. We believe that when club leaders elevate fact over opinion, the result is healthier clubs, more empowered general managers and boards properly equipped to focus on strategic issues.
Founding Member of the Club Leadership Alliance Club Benchmarking, McMahon Group and Kopplin Kuebler & Wallace have established a collaborative working group known as the Club Leadership Alliance™ Our vision for the club industry is a transformation of the leadership model through widespread understanding and adoption of best practices that lead to sustained club success. Learn More at www.clubleadershipalliance.com
Capital Strategies Modeling Member Motivation, Attachment & Loyalty Benchmarking
Strategic Monthly Dashboard
Capital Reserve Studies
www.clubbenchmarking.com/solutions
Employee Engagement Benchmarking Compensation & Benefits Benchmarking
Strategic Governance Education
Data-Driven Leadership Begins Here...
26 BOARDROOM | JULY / AUGUST 2022 EXECUTIVE COMMITTEE TREVOR COUGHLAN
This is where psychology steps in and makes the ques tion one that is much more personal and worth contempla tion. We all know the pain of making a recommendation to someone only to have it fall flat, and this is the genius of the question — we all have something personally at stake when
Often a matter of debate, there have long been questions about the effectiveness of this method to assess a custom er's loyalty and anticipate future actions. I recently read an article published in Inc. which asserted that NPS is a wildly overused metric relied upon by business leaders who don't get anywhere close to what they need from the statistic.
Whenanswering.weconsider
Sure, it's a nice snapshot of where a business stands on the loyalty/satisfaction scale, but it fails to deliver any meaningful or insightful context. This is where I deviate from the author of the Inc. article and instead of throwing the baby out with the bathwater, I believe that context and value can be added. Throughout the article, there was no mention of adding context to the numeric responses, and maybe this is because it's not strictly traditional in an NPS survey. However, for years we have conducted NPS surveys at Jonas Club Soft ware, and in every instance, we ask the one question, im mediately followed by a secondary question: "Please take a minute to tell us why you provided your rating."
This simple follow-up is, without a doubt, the key to un derstanding what is driving our NPS. It allows us to dive into the most important factors influencing our clients and empowers our teams to focus on the most pressing issues within our client community.
The comparison to a warning that lacks details or sugges tions is at the core of many of the arguments against NPS in the article, and this is where the author and I agree, albeit for different reasons. I, too, believe that the net promoter score on its own doesn't provide a clear vision.
To begin calculating the score, respondents are asked to provide a rank of zero to 10 based on one very interesting question. This has been referred to as the "one question" — more on that later.
Interestingly, it is almost always the respondents that feel strongest — either positively or negatively — who provide the most context behind their rating. This, in turn, helps us make informed decisions, and when combined with the NPS score which is driven by the one question, becomes a pow erful business metric.
The one question seems simple enough, but take note of the fact that the question doesn't ask respondents whether or not they were satisfied with a product/service/business. It asks if they would recommend it to someone they per sonally know.
additional context, we realize that simple metrics such as the NPS score are actually mean ingful and can help guide our actions. Communication is essential to business operations, enabling us to create conversations with our clients/members, get feedback, and interpret data. Relying too much solely on the numbers is a common approach in which we undermine our own ability to analyze data.
Trevor Coughlan is vice president of marketing. He can be reached at (800) 352-6647 Ext. 2278 or via email: Trevor.Coughlan@jonasclub.com
CONTEXT IS THE PROBLEM
IT ISN'T ALL ABOUT NUMBERS – IT'S PERSONAL
This format also allows us to avoid leading respondents' thought processes. By not asking about a specific product, service, or area of the business, respondents focus on their most compelling factors of influence.
For us, and the hundreds of our clients who have imple mented regular NPS surveys of their members, the simplicity of "How likely would you be to recommend?" and "Why?" has streamlined the survey process and provided us with better-focused, more actionable results. After all, it's what happens after the survey that really matters. BR
"How likely would you be to recommend X product/ser vice/business to a friend/colleague/family member?"
At one point in the Inc. article, the author compares get ting an NPS score to receiving a phone call from a doctor where the patient is told there are health concerns, and nothing more. No details, no action plan, just a concerned voice informing the patient that there may be a problem.
NPS Isn't All About the Numbers – It's Personal
Net promoter score has been a very popular way over the last 15 years to ascertain a customer's overall loyalty and likelihood to promote a business.
MICHAEL SMITHLEN SIMARD
SCAN TO BROWSE OUR ACTIVE CAREER OPPORTUNITIES
LISA CARROLL J. G. TED GILLARY
Serving The Industry Since 1996
ANNETTE WHITTLEYARMEN SUNY
JODIE CUNNINGHAM
JACK SULLIVAN
RICHARD KOPPLIN KURT KUEBLER THOMAS WALLACE
MICHELLE RIKLAN
PAUL LEVY SAM LINDSLEY
"Tom, on behalf of the Chester Valley Board of Governors, we appreciate the time well spent meeting together. We received terrific feedback from everyone in attendance. Your input and guidance over the years has been hugely impactful to the growth of our club. The powerful combination of KK&W, Club Benchmarking, and Christa's leadership has dramatically improved the club's long-term outlook. Thank you for everything you've done and continue to do for the industry and for Chester Valley, in particular."
Steve Aylward, President Chester Valley Golf Club, Malvern, PA
Specializing in GM/COO, CEO, AGM, Clubhouse Manager, Food & Beverage, Financial, Golf, Culinary, Agronomy, Racquets, Human Resources, Fitness & Wellness, Membership/Marketing Searches.
WWW.KKANDW.COM | CLUBLEADERSHIPALLIANCE.COM CLEVELAND / DENVER / JUPITER / NAPLES / NEW YORK / SCOTTSDALE / WASHINGTON D.C. EXECUTIVE SEARCH FIRM OF THE YEAR 14TH YEAR IN A ROW
Generation Z, representing those born between 1996 and 2010, is quickly graduating from "children of members" to junior and young executive membership categories in many private clubs.
Aged 12-26, this next generation follows Millennials into private club membership and is set to become an important part of a club's generational mix. Many of today's key per formance indicators focus on a broader vision that reflects a club's priorities, values and purpose.
Careful attention should be paid to how clubs and boards collect, track, and use this data. Appropriate, inclusive lan guage must be considered when requesting this information from members, and emphasis placed on using the data to create an inclusive environment. External expertise may well be required to determine how best to obtain and safeguard this sensitive data.
28 BOARDROOM | JULY / AUGUST 2022 EXECUTIVE COMMITTEE LIZ MCDOWELL TREVOR COUGHLAN
Clubs that are proactive in addressing the needs and wants of this next generation will be poised to benefit from protection against rising attrition from a more vulnerable generational mix. But how exactly should clubs cater to the priorities of Gen Z members and what information will help them to do so?
Clubs need to understand who Gen Zers are and where their priorities lie. The new generation expects organizations to take a stance on societal issues, and its members are keen observers of how organizations are behaving in and out of the boardroom. Gen Z will expect governance from a board that is as diverse as its membership – understanding how diversity, equity, and inclusion is not just supported but encouraged and represented throughout the club will be of value to this next generation.
The members of Gen Z take diversity for granted and have been taught by their Gen X parents to disdain outright exclu sivity. Tracking diversity markers, whether by race, gender, age, marital status or otherwise, is helpful to understand the profile of your membership and how it is changing.
Born into a world of technology, Gen Z is the first truly dig ital generation. This cohort expects private clubs to embrace technology as a complement to their overall customer service
SEE EXECUTIVE COMMITTEE | 114
The following metrics will help boards make better busi ness decisions related to Generation Z.
2. Diversity profile
Clubs who seek to attract and retain Gen Z members will need to understand their specific needs and know what data to track to determine whether those needs are being met. Learning about Gen Z and what differentiates it from past generations will help identify successful strategies to engage a group that is soon set to reach full purchasing power.
Key Metrics For Effective Management Of Generation Z
1. Generational mix
3. Digital engagement
The club's generational mix outlines the percentage of members belonging to each of the generational groups. Traditionally, these groups include the Silent Generation (1928-1945), Baby Boomers (1946-1964), Generation X (1965-1980), Millennials (1981-1995), and now, Generation Z (1996–2010).Aclub'sgenerational mix can say a lot about its culture and how it evolves. The mix can also reveal age clustering whereby there is insufficient distribution among the gener ations, making the club more vulnerable to large waves of attrition. Tracking the mix over time can identify historical trends and predict the future mix, allowing for clubs to im plement the appropriate infrastructure to meet the needs of futureBoardsmembers.should regularly monitor and evaluate their club's generational mix. For example, the MetricsFirst life cycle dashboard identifies generational trends of various seg ments within club membership.
Brad D. Steele, JD, started Private Club Consultants to provide in-depth legal and operational answers for America's top private clubs. For more information about PCC, email Brad at steele@privateclubconsultants.net, call/text him at (703) 395-5463 or connect with him at www.linkedin.com/in/BradSteelePCC.
30 BOARDROOM | JULY / AUGUST 2022 EXECUTIVE COMMITTEE BRAD D. STEELE
C. Be customarily engaged in an independently established trade, occupation or business.
The basis for the claim was that they were misclassified as independent contractors (ICs) rather than employees ac cording to the "ABC test."
On April 7, caddies from a New Jersey private club filed a class-action lawsuit alleging the club failed to pay them min imum wage and overtime as required by law.
The ABC test states that a worker is presumed to be an employee – and thus due minimum wage and overtime –unless all three of the following requirements are met. The worker must:
Misclassification claims can arise when clubs treat ICs (e.g., caddies, fitness and yoga instructors, massage thera pists) like employees while not providing them the benefits of being an employee. To defeat these claims, clubs must prove they comply with the ABC test.
When confronted with that test, clubs usually fail under "A" (though "B" is sometimes a problem, too). This failure most often occurs because clubs set their ICs' fees, re quire them to attend meetings or training sessions, make them wear club-logoed attire, have them ask for time off or request they do extra work around the club. When that happens, plaintiffs' attorneys have nothing but dollar signs in their eyes.
A. Be free from control and direction of the employer in the performance of his work
B. Perform work outside of the usual course of the em ployer's business
Independent Contractors, Misclassification And a New Concern for Club Leaders
not have (nor should it take) the opportunity to control or direct those workers. Thus, it eliminates the greatest poten tial for misclassification claims.
A third option is to simply hire these workers as employ ees. Though this may seem the costliest alternative, the club gains the legal right to train, control, direct, and disci pline these workers without fear of misclassification. Since these workers – think caddies or Pilates instructors – often spend more time with members than any other club em ployee, why would the club not want them treated like em ployees – especially with the added benefit of the removal of misclassification liability.
If your club does not treat ICs this way, then misclassi fication claims should not be a concern. If your club does, then changes may need to be made. Thankfully, there are options available that will allow you to satisfy the ABC test and allow your members to continue receiving these ICs' services.Thefirst option is to have your members hire these work ers on their own. Technology has made this simple with app-based services for caddies and others. Keeping the transaction between the member and IC means the club will
While this list of options is not exhaustive, it should help start the discussion and those discussions need to happen now. Why? At this time, 27 states, including New Jersey, follow the ABC test for worker misclassification claims, and soon the US Department of Labor will establish the ABC test as the federal standard for classifying workers. When it does, clubs that misclassify their workers could encounter state as well as federal wage violations – an occurrence no club leader should want.
In the end, not all clubs will encounter misclassification problems, but those that do will suffer reputational damage and spend untold amounts fighting the allegations. Those that cannot meet the ABC test will also be liable for stat utory penalties that can be excessive. With that in mind, it seems now more than ever club leaders should begin reevaluating their independent contractor relationships to ensure their club is not the next defendant in a worker mis classification lawsuit. BR
The second option is to hire third-party companies to provide these workers. Most clubs do this for their valet service and can do so for other services. It is a bit more costly, but hiring another business to provide staffers means there is little chance the club will control or direct those workers, and it provides excellent protection from misclassification claims.
Gecko ospitality®
H
Connecting people and changing lives, one career at a time.®
Contact
Fort
Let Go, and Let Gecko us today. We'll connect you to your next awesome employee. McGregor Boulevard #1 Myers, FL 33919 239.690.7006GeckoHospitality.com
13379
Suite
SousExecutiveDirectorClubChiefGeneralControllerManager/COOEngineerManagerofFood&BeverageChefChef
Finding and hiring the right club professional can be costly. It's a process that can become an emotional battlefield strewn with unseen issues that can blow up if the wrong person is hired. Let go, and let Gecko help you avoid the pitfalls that come with hiring someone that should've been skipped over. We've been there. We understand your industry. We know the skills and experience your applicants need to possess.
While some recruitment firms will provide you with a lot of resumes for exorbitant fees, Gecko will provide you with vetted candidates at an industry standard placement fee with no exclusive. To accomplish this, we have a nationwide network of professional recruiters who enjoy what they do and are dedicated to connecting quality people and companies. Gecko. We'll reduce the emotion and increase the confidence, knowing you have a trusted, experienced partner helping you through a complex procedure.
So, welcome to club leadership and governance. How will you lead? Having been in the boardroom of dozens of mem ber-owned clubs in recent years, I can attest that leaders who are willing to push the envelope, are leading their clubs to new heights. BR
Your Board Members Are They Change Agents or Caretakers?
Clubs were founded as a respite from this and most are still organized as cooperatives. Boards do not get fired; they just rotate. Staff is not accountable when the board has no club management expertise and only meets for a few hours per month. Thanks in large part to the industry consulting firm, Club Benchmarking, data is starting to become more prevalent, but club software and reporting notoriously lags other hospitality sectors.
Another factor is lack of accountability. Most companies react quickly to a changing competitive environment – if they don't, the stock price falls and management (and the board) gets fired.
Why does the club industry adapt more slowly than other industries?
Peter J. Nanula is chairman of Concert Golf Partners (www.concertgolfpartners.com), an owner, operator and all-cash buyer of private golf and country clubs. He can be reached at (949) 715-0602 or via email: pnanula@concertcapital.com.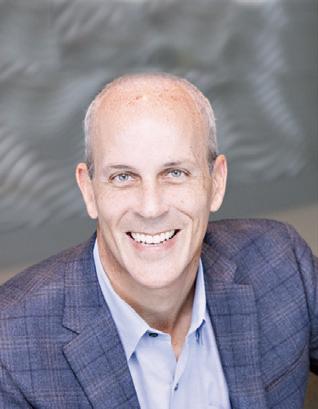 Kurt Kuebler, partner at Kopplin, Kuebler, & Wallace, sug gests that the nominating committee is the committee with the most power and influence at the club. Therefore, you see men still dominating club boards even though women represent nearly one quarter of all golfers, according to the National Golf Foundation.
members feel grateful to be nominated to the club's board and simply want to fit in – not rock the boat.
An aging membership and board that fails to imagine and fund a forward-looking club vision will lose members and lose relevance in its local club market.
Each year, the members of 3,300 member-owned private clubs elect roughly 10,000 new board members. The question is: Will they lead their clubs into the future, or merely preside over the status quo for another year?
For one, the nomination process often seems to lock in the mindset of the last decade. Older club members with stature gain board roles and then nominate their friends of the same age.
Many questioned his design choices and criticized the use of club dollars. Strain was placed on many of his friendships at the club, but he gained the respect and admiration of the entire membership after the benefits were apparent.
PETER NANULA
Boards governing member-owned clubs elect a few new nominees each year, in hopes of refreshing the club's vision and attracting a new generation of club members. However, most boards resist change and reluctantly kick the can to the nextWhyboard.isthis?
What board member wants to push through a tough vote on a new fitness center and threaten some friendships in the process?Mostclub
We recently spent time with a top-ranked club in Northern California where the long-time president used his political capital to push through a $5 million new member grill with only a few votes to spare. He took personal heat over cham pioning the project.
Today, the club is thriving and attracting younger families, partly because of the refreshed member spaces. He feels vindicated by his leadership, but he admits that egos were bruised and friendships were tested in the process.
The promise of club bylaws lies in constantly bringing in new blood to make the changes necessary to keep the club relevant for the long term. If new board members simply perpetuate the status quo, the club will soon fall behind nearby clubs with modernizing leaders.
EXECUTIVE COMMITTEE
Lastly, human nature plays its role. How many of us take a controversial position when welcomed into a new group?
Women also make most family purchasing decisions. This also explains why capital dollars often flow disproportion ately to golf course projects over clubhouse upgrades or new amenities. Inertia is structurally built in.
What is the point of volunteering for board service, if not to move the club into the future? The National Club Associ ation's, Club Governance Standards, indicates that only 38 percent of clubs include strategic planning items on each board meeting agenda.
32 BOARDROOM | JULY / AUGUST 2022
ClubTec Has Led Clubs With Unsurpassed Service And Customer Satisfaction For Over 40 Years ClubTec and WebTec have leading-edge technology tools clubs need. www.clubtec.com • www.clubtec.com/webtec • 800.800.5507
Not all strategic plans get executed successfully. Strategy fails in two categories: internal roadblocks or external influences. Here are a few tips to help keep your plan on track to success.
Possible topics may include remote working, interest rates, inflation, deferred maintenance, adding new amenities, or aging member demographics.
A well-executed strategic plan is evident when everyone (employees, management, and volunteer leadership) in the club uses the strategic objectives to guide their work and is prepared for the trade-offs needed along the way.
Review the plan annually and adjust the strategy in re sponse to current events, but constantly changing the strat
An overly complex plan or one that continually changes will fail. There is sophistication in simplicity. The strategic plan must stand the test of time – through changing board and committee members and management comings and go ings. The plan should be clear for every level of education, background, and experience.
egy so that it is never finalized or adopted by the board is the path to ruin. Successful people serving on a club's strategic committee find it hard to avoid continually tweaking the plan, but constant tweaking must be avoided if the plan is to suc ceed. If the roadmap keeps changing, how will club leaders and employees know which way to go – and, more impor tantly, when to say no?
Discipline and Simplicity Equal Sophisticated Strategy
A good strategy allows club leaders to work within its frame work and use it to establish priorities, allocate resources and determine what actions they should take to bring the strategy to life.
Understand the environment. Match the strategy to the realities of the environment, or it will inevitably fail. Learn about member needs, capabilities of competitors, industry developments, labor market challenges, employee needs, and emerging social and technological trends.
In short, the strategy requires discipline. Developing overly complex strategies with unrealistic or incomplete goals are all signs of a strategy process in chaos. Stay methodical and pur poseful, create a work plan calendar of deadlines and events, and stick to it. Keep the plan as simple as possible and match resources to objectives. Lastly, evaluate the organizational structure and communication plan as a final "gut check" that the plan is ready for implementation. BR
Immediately resolve any friction. Shrewd managers are skilled at resolving friction when there are miscommunications, ego-driven behaviors, stress from differences in opinion, and confusion about existing club policies or what the committee agreed to. A strong manager, advisor, or another club leader must be empowered to resolve these frictions as they arise.
34 BOARDROOM | JULY / AUGUST 2022
Be careful not to create unrealistic or overly ambitious goals. The largest goals and any planned amenity or changed service should be tied to the club's long-term financial plan, with the appropriate resources, people, and tools allocated for its success.
Board members serving on the strategic committee can confuse the process because they naturally conflate their board roles and committee responsibilities and feel they need to defend board decisions or repudiate new ideas rather than let them flesh out in committee conversations.
Key leadership must buy into the plan to improve the odds of success. It is important to include club management and other leaders in the process. Their input on the envi ronment, ideas for strategic steps, and how to best finalize and implement the strategy can be achieved through focus groups, surveys, individual meetings, or group workshops.
Whitney Reid Pennell, president of RCS Hospitality Group, is a celebrated management consultant, educator, and speaker. RCS specializes in strategic planning, operations consulting, food and bever age management, executive recruitment, and training programs. RCS has been recognized 12 times with BoardRoom Excellence in Achievement Awards. RCS continues to offer innovative solutions through RCSUniversity.com, an online virtual training portal for employees and managers. For more information, phone (623) 322-0773 or visit the RCS website at www.consultingRCS.com.
WHITNEY REID PENNELL
Once the external influences are known, the club's internal approach must not defeat the plan.
External influences to consider:
Internal politics are inherent within a club environment because the investment that members make shapes their ex pectations and gives them a feeling of entitlement. The most suc cessful plans are born out of a carefully curated committee with a diversity of thought, backgrounds, education, and experiences.
Identify possible changes in the environment. Discover unforeseen changes using envisioning exercises. Ask ques tions that study possibilities such as "if this happens, then that is likely to change" and visualize those changes and what adaptations may be needed.
EXECUTIVE COMMITTEE
Consider competitive actions and behavior. Clubs do a nice job keeping up with their local club competition. However, there are other rivalries to consider: competition for members' time, the struggle for attracting talented employees, and finding skilled managers. Spend time understanding future member and employee needs, how communication and technology will evolve, and what services, events, and activities will add value to your members' lives or engage employees.
DISCOVER T R OON P R IVÉ
private clubs of distinction
The Clubs at St. James Southport, North Carolina
your club. your culture. our resources.
Entrada at Snow Canyon Country Club St. George, Utah
The Club at Cordillera Edwards, Colorado
West Bay Club Estero, Florida
The Golf Club at Lansdowne Lansdowne, Virginia
Every private club has its own unique identity and we want to help your club maintain yours. Of course, that requires a different approach than the status quo of self-management, which is why Troon Privé® continues to grow. As Troon's dedicated private club division, we are a proven professional services organization that provides best-in-class systems, processes and resources to the private clubs we serve. To learn more about who we are and why our clients partner with us, contact our Business Development Team at 480.477.0505, or visit TheTroonApproach.com.
He then pointed to a great new building, a palace of red dish stone, with turrets and watchtowers thrusting up to the"That,"sky. he said, "is the hotel I'd like you to manage."
That old man's name was William Waldorf Astor and the magnificent structure was the original Waldorf-Astoria Hotel. The clerk who became the first manager was George C. Boldt. This young clerk never foresaw how his simple act of sacrificial service would lead him to become the general manager of the world's most glamorous hotel.
But what I have learned about the club industry over the years is that those clubs with sacrificial heart-led leaders as their general manager, COO, or CEO are tremendously suc cessful. And those clubs with self-serving leaders at the top are not successful. It's that simple.
36 BOARDROOM | JULY / AUGUST 2022
a nice couple like you out in the rain at 1 a.m. Would you perhaps be willing to sleep in my room? It's not exactly a suite, but it will be good enough to make you folks comfortable for the night."
I know nothing about how to run the operations of a club. Before keynoting CMAA's world conference in 2010, I rarely stepped foot into a country club. The closest I ever came to visiting a country club as a kid, was watching the movie Cad dyshack back in 1980.
Becoming a heart-led leader is hard. Harder than board governance, operations, F&B, or managing finances. It's hard because leading people is not easy. But when your fol lowers know your heart is full of love, humility, authenticity and vulnerability, you will begin to see amazing results within your clubs.
Good leaders leave their fingerprints all over their clubs, but great leaders leave their heartprints all over their clubs. There is a difference. A big difference. Many club leaders want to be loved. But the great ones want to love others.
"We'd like a room, please," the husband requested. The hotel clerk, a friendly man with a winning smile, looked at the couple and explained that there were three conven tions in town. "All of our rooms are taken," the clerk said apologetically."ButIcan'tsend
Those that serve themselves. And those that serve others. Those that think about themselves. And those
I'm honored and blessed to be coming out with my third book, The Gift of Influence, this September 20th. For the past five years, I've studied, researched and learned ev erything I can about the power of influence. Here's what I learned. Influence is leadership. Influence is love. And in fluence is a gift. Your employees will never remember how you led them. Your members will never remember how you served them. But they will all remember the influence you have had on their lives.
When I visit my home state of New York, I always walk by the great Waldorf-Astoria Hotel and remember the remark able story of the Philadelphia hotel clerk giving up his room for an elderly couple late into the night.
That one act of sacrificial service changed George C. Boldt's life and career forever. Just think what sacrificial ser vice, love and positive influence can do in your clubs. And here is the answer: It begins and ends with you. BR
Tommy Spaulding is a two-time New York Times and Wall Street Journal bestselling author of The Heart-Led Leader and It's Not Just Who You Know. Spaulding is a world-renowned speaker, trainer, and executive leadership coach specializing in the power that authentic relationships and servant leader ship have in driving bottom-line business results. He can be reached at tommy@tommyspaulding.com.
that think about others. Those that serve. And those that sacrificially serve. There is a difference. A big difference. When we go the extra mile in sacrificially serving the lives of others, that is when we see true results and the power of positive influence.
EXECUTIVE COMMITTEE
So, the couple agreed to spend the night in the clerk's room.Ashe paid his bill the next morning, the elderly man said to the clerk, "You're an exceptional man. Finding people who are both friendly and helpful is rare these days. You are the kind of manager who should be the boss of the best hotel in the United States. Maybe someday I'll build one for you."
Two years passed. The clerk was still managing the hotel in Philadelphia when he received a letter from the old man. It recalled that stormy night and enclosed was a round-trip train ticket to New York City, asking the young man to visit him. The old man met him in New York and led him to the famous corner of Fifth Avenue and 34th Street.
TOMMY SPAULDING
One stormy night many years ago, an elderly man and his wife entered the lobby of a small hotel in Philadelphia. Trying to get out of the rain, the couple approached the front desk hoping to get a room for the night.
When the couple declined, the clerk insisted.
Influence Is Everything
I've been blessed to have been coaching, teaching and mentoring club leaders for the last 12 years. And if I had to sum up over a decade of training hundreds of club leaders, I'd say there are two types of club leaders:
I can't think of a better analogy for the past 24 months. Trends in the golf industry and the private club industry in particular have been fast-moving, and they have changed our facilities and our industry forever. What trends should you be aware of as a leader at your facility?
5. Find creative ways to offer flexibility in the schedule. Many clubs are going to a five-day work week, with only a few exceptions for key events in the life of the club. Your staff probably has great ideas about how to be flexible while still performing to the high level of expectation members have. Allow them to take ownership of scheduling, and you will have accomplished much toward creating a positive cul ture and recruiting and retaining staff.
JACQUE MADISON
Should we attribute the definition? What is her source? The definition of "trend," from the Oxford Dictionary, is "a general direction in which something is developing or changing."
1. The labor force has changed. People have reevalu ated why, where, and how they work. This is especially true for entry-level talent, but it is affecting clubs at every level of employment. People want a workplace where they are shown respect and leaders are open, honest, accountable, and communicate clearly. Does the board communicate clearly to department heads? Do department heads commu nicate clearly to the staff? Is the staff on the same page and knowledgeable about what is going on?
2. One clear way to demonstrate respect and value for staff is to compensate them fairly. Every week, I work with golf professionals who have never received a perfor mance review or compensation adjustment in their current position. That could be a professional in his or her position for two years or less, but I talk with some who have gone five years or more without a performance review or com pensation adjustment. This is a significant issue in 2022, with inflation, cost of living, and the consumer price index rising substantially over this time last year — talk about a startling trend. If your staff has not had an upward wage adjustment, they are not able to enjoy the same standard of living they did a year ago. If it was not a hot topic for discussion as you prepared the budget for 2022, it needs to be top of mind as you head into the boardroom this fall to prepare for 2023.
4. Retention is key as it costs more to replace an em ployee who leaves for greener grass. I have watched as several good golf professionals left facilities for higher paying jobs. In the process of identifying new people for these roles, the facilities wound up paying the new staff members what they were unwilling to give to the people who left. People are not lining up in droves to work in the hospitality industry, and it will be hard to replace a capa ble professional who finds more value with a competitor. Make sure you are competitive with your marketplace in your compensation and benefits package, and say "thank you" often.
and are compensated fairly, they will attract other likeminded individuals to your staff. A word of encouragement goes a long way — reach out to the young person on your high school golf team and invite him or her to apply for a summer position, encourage the good college player who practices at your facility to make a career in golf, find some one delivering great service with a smile and invite him or her to come to your facility.
Trends will come and go but creating a culture where peo ple can thrive, support their families, enjoy both personal and professional growth, are appreciated by colleagues and members, and love what they do will always be a recipe for a successful club or golf facility.
Our team at PGA Career Services is here to help you stay atop the current marketplace and provide you with informa tion that will help you attract and retain great staff. BR
38 BOARDROOM | JULY / AUGUST 2022
EXECUTIVE COMMITTEE
Jacque Madison is a PGA career consultant serving the Midwest and Gateway sections. She can be reached at (612) 852-4910 or jmadison@pgahq.com.
3. Recruiting for your facility and the industry at large is the responsibility of every manager, staff member, and leader at your club. Of course, recruiting is much easier when the facility has a great culture of respect and genuine interest in the staff thriving (see Number 1 and 2). When your employees love to come to work, enjoy what they do,
Trends Are Moving Fast
Michelle Tanzer, Esq. is chair of the global club and banded residences group at the law firm of Nelson Mullins, serves on the National Club Association board of directors, arbitrates club-related disputes for the American Arbitration Association's (AAA) National Golf Industry Panel and authored "The Club Litigation Book: Keeping Clubs out of Court." Special thanks is given to Ariana Roman, an associate in the global club and branded residences group. Tanzer can be reached at (561) 866-5700 or via email: Michelle.Tanzer@NelsonMullins.com.
Thus, when faced with complaints about errant golf balls, it is important to consider the applicable case law and all of the relevant facts to avoid falling into an errant golf ball trap. BR
An estimated 300 million golf balls are lost every year in the United States alone.
Cases involving errant golf balls landing on adjacent prop erties are most frequently brought under three legal theo ries: private nuisance, trespass or negligence.
Notwithstanding the easement, the court determined that a trespass had occurred. The court awarded the owners millions of dollars for damages, including emotional suf fering, and also granted a permanent injunction against the club, essentially eliminating use of the hole in question. The club was left with only a few less than desirable options and many unhappy members.
The property owner must prove that the trespasser had, but knowingly violated, a legal duty to respect another per son's right to property, which resulted in direct injury or loss to the property owner.
One club in Massachusetts was recently sued by adjacent property owners who alleged that a continuous barrage of
Other cases involve theories of negligence in which the plaintiffs argue that the golf course was negligently de signed, constructed or operated. In these cases, if the golf course designer, construction company, owner or operator is found to have breached their duty to the adjacent prop erty owner, a court could award damages, force closure of the golf course, require a redesign or reconstruction of the offending hole or other similar remedies.
Although many properties next to golf courses have found that receiving a certain number of golf balls is an expected and reasonable consequence of living adjacent to a golf course, their property owners still bring actions against clubs for such intrusions.
Althoughinstance.claimsof
Don't Get Caught in the Errant Golf Ball Trap
wayward golf balls landing on their property constituted trespass. The property owners had to overcome the club's defense which was, in part, that the adjacent property was subject to a perpetual easement for providing reasonable foot access to golfers to retrieve errant golf balls on unim proved areas of such property.
LEGAL COMMITTEE
MICHELLE TANZER
Oftentimes properties adjacent to golf courses are on the receiving end of errant golf balls that cause personal injury, property damage or even significantly diminish the adjacent property owner's ability to use and enjoy their land.
In the private nuisance and trespass cases, the issues to be determined are whether property owners are being sub jected to more than a "reasonable" exposure to golf balls and what steps, if any, would be appropriate to remedy this problem. The decisions in these cases frequently turn on a factual determination and what constitutes reasonable in the particular
In addition to the typical defenses for negligence claims, these cases may be defended on the basis that receiving golf balls on adjacent property is a natural consequence of being next to a golf course. In one such case in New York, the court rejected the plaintiff's allegations of negligent design and nuisance, holding that a person who chooses to reside near a golf course, a very desirable location, "must accept the occasional, concomitant annoyances."
private nuisance and trespass can be similar in certain circumstances, they are separate and dis tinct theories of liability. For example, a private nuisance is a nuisance that violates a private right not common to the public or causes damage to one or a limited number of indi viduals.Further, a private nuisance involves the use of one's prop erty in a manner that causes significant harm to another's use or enjoyment of their private land. In contrast, a tres pass exists when someone or something knowingly enters another person's property without permission. A property owner may bring a civil lawsuit against a trespasser to re cover damages or receive an injunction for an injury suf fered as a direct result of a trespass.
40 BOARDROOM | JULY / AUGUST 2022
Although courts in other jurisdictions have established precedents similar to those in New York, an adjacent prop erty owner could still recover damages if they can show there was a duty to prevent the golf balls from landing on their property and that duty was breached.
ReconnectwithyourMembers. The award-winning New Member Onboarding Platform. Now available for your Existing Members too. Because Members don't read newsletters. www.pipelineagency.com
Amazing is the overwhelming response from Shadow Wood members referring to the recently improved club amenities. For the past few years, the objective of Brian Bartolec, GM/COO at Shadow Wood Country Club, had been to rebrand the club in a seamless, incremental approach while minimizing member disruption.
The old golf shop was converted into a multifunction room for overflow daytime card players and private events at night. The interior design, showcasing beautiful waterfall wall panels, transformed the old golf shop into one of the most elegant flex spaces in the club.
Amazing Club Transformation Continues
The existing ladies' card and locker rooms received a complete facelift consistent with the club's new interior design and decor. The hospitality area was enlarged and remodeled to accommodate better both the golfers and card players using the space.
The most recent phase of the clubhouse transformation, which included the east end of the clubhouse, started in March 2021 and was completed in January 2022. The east-end renovations included remodeling the ladies' locker and card rooms, expanding and renovating the men's lounge, converting the old golf shop into a multi-purpose room, building a new golf shop, new cart staging, and redesigning the bag drop and golf arrival area. The goal was to increase member usage by connecting the spaces intuitively, capitalizing on best exterior views, providing flexibility in utilization, and increasing operational efficiency.
As an architect and interior design firm, there is no better feeling than when members' reactions validate the vision and hard work to implement the design. But most importantly, it is validated daily and confirmed by the increased revenue and utilization.
by Adrian Karapici
The Project: Shadow Wood Country Club, Estero FL
AM Design Group | BOARDROOM DESIGN FEATURE
Shadow Wood saw a post-renovation increase of 506 percent a-la-carte covers and a 181 percent increase in food and beverages revenues. The golf shop has seen a 30 percent increase in daily traffic. It forecasts more than doubling annual merchandise sales due to a 50 percent increase in overall inventory levels and a 20 percent increase in categories of retail offerings. Upon completion of the west end renovations, Shadow Wood Country Club membership reached capacity for the first time in club history. New membership sales more than doubled and already hit record highs in 2022. Upon completion of the new golf shop, the club maxed out the waiting list for golf members and had to create a secondary waiting list. BR
AM Design's task was to transform the club by capturing its personality and lifestyle while recognizing the history and incorporating those design features into a multi-phase improvement process.In2020, the entire west end of the clubhouse and main lobby were completely remodeled, along with the addition of a new covered outdoor dining venue, which brought new energy to the clubhouse.
AM Design Group is a full-service Architectural and Interior Design Firm specializing in private club amenities design, master planning, construction and procurement projects based in Naples, FL. Please visit www.amdesigngroup.com for additional information, or contact Adrian Karapici, principal architect, (239) 631-8884, adrian@ amdesign-group.com.
The most notable part of the project was relocating the original 1,200-square-foot golf shop to a new 3,500-square-foot structure connected with covered walkways to the remodeled locker rooms. The new building overlooks the expansive golf practice facilities and cart staging area. The design elements introduce abundant daylight into the space through large perimeter and clerestory windows. This space also offers unique retail opportunities unparalleled at most private clubs, featuring over 60 brands in a boutique-style environment. In addition, the new arrival with covered bag-drop greatly impacts the overall member and guest experience.
The men's lounge was expanded with a new holding kitchen, hot and cold buffet, and large gathering bar maximizing exterior views.
42 BOARDROOM | JULY / AUGUST 2022
44 BOARDROOM | JULY / AUGUST 2022
Sunset Lounge, furnished with sectional sofas and complete cantilever umbrella coverage. Opposite the lounge is the outdoor dining area with 36 seats.
Our assignment began in a close collaboration with the architect starting with the master plan phase and following through with working closely with the club's committee on interior design, exterior finishes, and finally procurement and installation.
Resort-Style Exterior Expansion
SERVICES PROVIDED
having worked on a full refurbishment at Montclair Golf Club nine years ago, we were pleased to be invited back again and awarded the exterior expansion project. This recently completed scope successfully achieved its goals in both enhancing the existing membership's lifestyle and attracting new members. Success fully, 120 new memberships were sold in 2021.
All areas receive food service from the snack bar kitchen which provides upscale casual food fare.
The men's and women's locker buildings total 2,000 square feet and include multiple sinks at custom vani ties, makeup areas, water closets, shower, steam, and separate locker areas with changing rooms.
The 15-foot peaked ceiling was a perfect place to hang a custom tiered iron pendant overhead a seating area next to the full height natural stone fireplace. It has a full kitchenette with counters for buffet display, which allows it to offer a venue for private parties and casual friendly gatherings. Included in the design are custom built-ins for storage, and a hanging area with cubbies and restrooms.
Finishes include porcelain terrazzo floors, black iron fixtures and natural wood vanities.
POOL AREA
SNACK BAR
OUTDOOR BAR, SUNSET LOUNGE AND DINING
Montclair Golf Club, Montclair, NJ
Angela Grande Design is an award-winning full-service interior design firm specializing in clubhouse and high-end residential interiors. Angela Grande, principal, can be reached at: (917) 8732425 or via email at agrande @ agrandedesign.com.
by Angela Grande
As requested by the committee, there is a viewing area with comfortable swivel club chairs looking out to theThiscourts.complex offers its members a new social and active experience and has been recognized as one of the best amenities transformations in the industry this past year. BR
These areas set overlooking the pool include a 20 seat bar, TV viewing and its own surrounding lounge seating and hi top tables. Along one side of the bar sits the
WARMING HUT
After
The indoor dining space has an open kitchen and is distinctly furnished with custom lighting, tables and French bistro chairs. The outdoor covered dining has a "grab-and-go" pass through convenient to the pool. This venue has become one of the most popular casual eating venues in town.
LOCKER BUILDINGS
It was important to the club to have their logo blue included in the color scheme so it served as a basis for the fresh blue and white furnishings, which worked well with the exterior white and grey finishes on the buildings. The adult lap pool has six lanes and accommodates 200 chaise lounges. Alongside sits the children's pool with a splash zone.
Angela Grande Design | BOARDROOM DESIGN FEATURE
Architect:
agrande@agrandedesign.com(917)873-2425www.agrandedesign.com Angela Grande Design
Interior Design ▪ Architectural Collaboration ▪ Custom Designed FF&E ▪ Procurement
Montclair Country Club Hart Howerton
hen this lakefront golf and country club decided to remodel, the primary focus was on the entertaining and dining spaces. The club, situated on one of the state's most treasured lakes, is nestled in a natural valley at the base of the beautiful Blue Ridge Mountains.
46 BOARDROOM | JULY / AUGUST 2022
The members' dining room features multiple types of seating and lighting, all centered around the fireplace, the bar, and the views.
Generations of families have gathered here, and the club has grown to be an integral part of their lake life experience. In addition to casual dining by the lake, the club wanted to create areas for fine dining, a bar, and event space.
Bozeman Club & Corporate Interiors | BOARDROOM DESIGN FEATURE by Susan Bozeman
W
Entertainment and Dining a Design Focus at Waterfall Club
Outside, the porch affords casual dining that can accommodate large groups with 180-degree lake views.
With the recent renovation, the club gained a much-needed event space to accommodate weddings, reunions, or meetings.
Whether stopping by for a quick bite after a round of golf, lingering over a long sunset, or creating memories with extended family and friends, Waterfall Club can now accommodate the needs of every member. BR
Bozeman Club & Corporate Interiors is a full service interior design firm located in Atlanta, Georgia. For further information please contact Susan Dario at (404) 237-7745 dario@sbbdesigns.com
FOUR ESSENTIAL TOUCH POINTS THAT WILL KEEP MEMBERS COMING BACK TO THE CLUB…
s a clubhouse designer, I always enjoy sharing our substantive new approaches to clubhouse enhancements that improve the overall member experience, create an enhanced revenue opportunity and streamline operational efficiencies.Over80percent of the club inquiries that we receive involve creating a new casual dining venue with a social bar and lounge component. Rather than discussing the ubiquitous decor, color, and furniture trends for these happening venues, I will cut to the chase and give you our tried-and-true touch points to jump start your planning process.
2. Create spaces that are focused on comfort, enticing members to "linger longer"
4. Create spaces that offer varied dining and social experiences all within one venue
1. Drop by the club and have a drink
48 BOARDROOM | JULY / AUGUST 2022
3. Create gathering spaces that have a fun energy and a fresh aesthetic
|
A
by Craig J. Smith
"Raising the Bar" The Best in Club Trends
FIVE KEY OFFERINGS THAT MAKE CASUAL DINING VENUES AND SOCIAL BARS POPULAR…
3. Drop by to watch a sporting event.
2. Eat at the bar
1. Create spaces that appeal to the broad dynamic of your membership demographic
5. Enhanced decor and all-day menu offerings
4. Pre/Post-dinner drinks and socialization
C2 Limited Design Associates is an award-winning hospitality design firm with a nationwide private club clientele. Contact the author via email csmith@c2limited. com or (203) 259-2555 ext. 102. Limited Design Associates BOARDROOM DESIGN FEATURE
C2
The single most important takeaway that I can give you, no matter what club improvement you may be considering, is to identify your core identity as a club and how you want to be distinguishable from other clubs and local restaurants. Doing so will ensure each and every clubhouse enhancement will keep you ahead of the competition and relevant to the needs and expectations of today's ever changing membership demographic. BR
www.c2limited.com lifestyle master planning • clubhouse design + detailing • furnishings (203) 259-2555 westchester country club harrison, ny beach point club mamaroneck, ny fenway golf club scarsdale, ny sea island st. simon, ga siwanoy country club bronxville, ny country club of new canaan new canaan, ct turks & caicos sporting club ambergris cay, bwi orchard lake country club orchard lake, mi riverside yacht club riverside, CT judge us by the company we keep! Boardroom Magazine Excellence in Achievement Award Winner 2013 2014 2015 2016 2017 2018 2019 2020
Castor Design Associates, Inc. | BOARDROOM DESIGN FEATURE by Timothy N. Castor
50 BOARDROOM | JULY / AUGUST 2022
Programing the club's wine storage needs is important, as it can vary from two bottles to 50-plus per member wine locker. These individual member lockers have become the new status marker for storing and displaying their priced collections.Thedays of purchasing upright refrigerated wine storage units with an existing club boardroom table and ballroom chairs are outdated. Recently, a club purchased numerous refrigerated wine units from the local wholesale outlet that were deemed unusable in the dedicated room. This was because extreme heat disbursement and compressor noise. Another club made the mistake of specifying industri al-looking "mini-mart" grab-and-go refrigerator wine units, which does not make for an ideal club member experience.
hile club members' expectations grow by the minute, the clubhouse wine room is the new focus of many renovations. With a younger membership demographic growing, members are vying for a specialty room for wine display, tastings, and small private gatherings. The elegant wine room has become the ideal space for these events.
Currently, we are using roof-top split system ducted air systems. This insulates the compressors that are located away from the room, allowing for air push design. Typi cally, 20,000 BTUs can cool up to 1,600 bottles of wine. We prefer precise engineered top-to-bottom air distribu tion for evenly cooled and maintained bottle temperature. When including glass display doors in our design, we specify iron-free glass for a razor-sharp and glare-free look. Wine display lighting is critical in placement and usage to highlight the wine bottles, including wine bot tles with antique labels. New LED lighting is ideal, as it does not create additional heat.
personalized touch that cannot be duplicated and promotes a sense of club pride.
These exquisite rooms are an opportunity for clubs to generate additional revenue via the rental cost of each member locker. When lockers are made available for rental oppor tunities, members jump at the chance to grab their own wine display. This has become a win-win situation for clubs and members alike.
Wine Room Revival
The more sophisticated wine units have an alarm system built-in in case of a mechanical system or power failure. As a safeguard, the general manager and food and beverage manager would be alerted via phone app, protecting the members' investments.
While designing the custom wine room, the designer has the opportunity to provide the club with featured custom chandeliers and wall sconces. In addition, the tasting table and chairs create a backdrop for the room theme, display ing various finishes. The typical wine room today holds at least 14-16 people with appropriate circulation.
Castor Design Associates has found that these special spaces have become much more than private tasting and event rooms. The staff and management are reserving these special spaces for board meetings, birthday parties, long-range planning meetings, and many other functions. In fact, these Wine Rooms have become the most sought-after space in the club! BR
W
In Castor Design Associates' most recent design, we have included the club's logo within the space. This creates a
52 BOARDROOM | JULY / AUGUST 2022
A Rediscovered Gem in Colorado
Clay Pryor Interiors | BOARDROOM DESIGN FEATURE
The club provides spaces where members create the character and add to the curiosity within the club through their personal ex periences. The interior design tells stories and sets the tone for the club's spirit, which should speak... "celebrate life and enjoy the finer things it has to offer!"
The Project: Colorado Golf Club, Parker, CO Interior Design: Clay Pryor Interiors
An exceptional golf experience brings this community together and makes for a perfect Colorado living destination.
ENHANCE THE GOLF EXPERIENCE THROUGH INTERIORS THAT ARE AUTHENTIC, UNEXPECTED, COLLECTED AND REDISCOVERED.
Clay Pryor is creative director/principal at Clay Pryor Interiors. For more information, please call (720) 252-0990, email claypryor@ymail.com or visit www.krisclaystudios.com
by Clay Pryor
OUR PHILOSOPHY
The club displays a specific palette of textures, materials and hues with a few hits of color, just like the surrounding Colorado landscape itself.This interior palette has a global appeal. We feel the trends for today's resort club market embark on creating upscale environments through combinations of styles with sophisticated beauty and an urban attitude. A timeless, classic approach to the club's refurbish ment package feels effortless.
"The art of storytelling drives our team to capture a strong pointof-view for each project," Pryor says. "Whether we are focused on historic renovations, modernizing existing properties or developing a fresh program for new construction, we are inspired to tell a story through livable environments that function for today's lifestyles. Col orado Golf Club is one such endeavor to create spaces the members can enjoy for years to come. It is a unique place and Clay Pryor Inte riors is privileged to be a part of the club's transformation." BR
The club's interior now provides an extension to the community and its Patronslifestyle.havean opportunity to experience the club's genuine appreciation of heritage and history here; CGC prides itself as a cul ture-driven club that is serious about telling its story.
THE INTERIOR VISION
THE COLOR PALETTE
Designs by Clay Pryor Interiors are individually and beautifully de signed to reflect the styles and influences of their surroundings. Clay Pryor, principal and creative director of the full-service hospitality and residential design firm, explains that each project is like a story! Everything has a purpose and perspective.
720.252.0990 | krisclaystudios.com
The club is in downtown Tulsa and prides itself on providing an elite membership with a unique dining experience as well as an all-around social experience. The project was done in phases, the first phase con sisted of renovating the 30th and 31st floors - providing a refreshed look to the club's dining lounge as well as event and banquet spaces.
Challenges & Solutions
In addition, the client requested us to design smoking rooms spe cifically for cigars. However, they posed a challenge because of the difficulty of balancing airflow. It was essential to eliminate any sensitive smoke that could potentially spread into other unwanted areas of the floor. In order to achieve this, we hired a mechanical contractor to en sure that the smoke was concealed. It was important on our end that we set clear and proper expectations of the end result for our client.
54 BOARDROOM | JULY / AUGUST 2022
THE SUMMIT CLUB — BOURBONTULSA,ROOMOK
PHX Architecture & ClubDesign Associates | BOARDROOM DESIGN FEATURE by Erik B. Peterson & John Cochran
Another challenge that we faced was, of course, the budget. Because of construction cost increases, we could not fully execute the client's full scope. However, after finding more economical alternatives, we com promised and ensured that the client was satisfied in the end.
The second phase of the project was the Penthouse (32nd) floor. The Penthouse provides members the ideal atmosphere and aesthetic to grab a drink with friends, relax and entertain guests, or sit at the high bar and gaze out at gorgeous Tulsa views. BR
The Summit Club of Tulsa was founded in 1967 and has a storied history that we wanted our design to honor. The mission of the renovation project was to update the club, bringing it into the 21st century by focusing on both the design and functionality of all three floors. In addition, reaching the younger generation of professionals and new members while elevating the club's look was one of the top items on our list of goals.
The restaurant at the club is known for Flambe-style cooking. Some of the complications that the team faced was getting approvals through the health and the fire and health departments to allow for this kind of cooking on the premises. Finding the solution for this particular situa tion was more difficult than anticipated. But because the flexibility of the Flambe carts and their ability to be wheeled around the restaurant, the team came up with an idea to create a parking space for the carts, allowing proper ventilation, which was a great solution to the obstacle.
TOP FIVE MAJOR ITEMS THAT THE TEAM LEARNED DURING THE RENOVATION
ocated on the top three floors of the Bank of America Center in Tulsa, OK, we had the absolute privilege of renovating the Summit Club, which takes up the entire 30th, 31st and 32nd floors. As the club is more of a social club instead of golf-focused, we had to strategize with a slightly different goal in mind.
Lastly, it was extremely essential for the client to understand that change was coming. They had to look into the future with positivity and foresee what is best for the overall club growth.
THE SUMMIT CLUB — PENTHOUSETULSA,BAROK
L
Typically working with golf clubs, we found that there are many similarities. Golf clubs and city clubs seem to have the same idea, modern design, relaxing atmosphere, great food, amazing drinks, and most importantly, wonderful members.
John R. Cochran founded ClubDesign Associates in 1992 and has been involved in 300+ renovations of country clubs during his career. Personally, John is a board member at Colonial Country Club in Fort Worth, TX. He has served as house committee chairman for the last four years. He is also part owner of Five Oaks Golf & Country Club in Lebanon, TN. ClubDesign Associates is located in Fort Worth, TX. For more information please call (817) 810-0333 or visit clubdesignassociates.com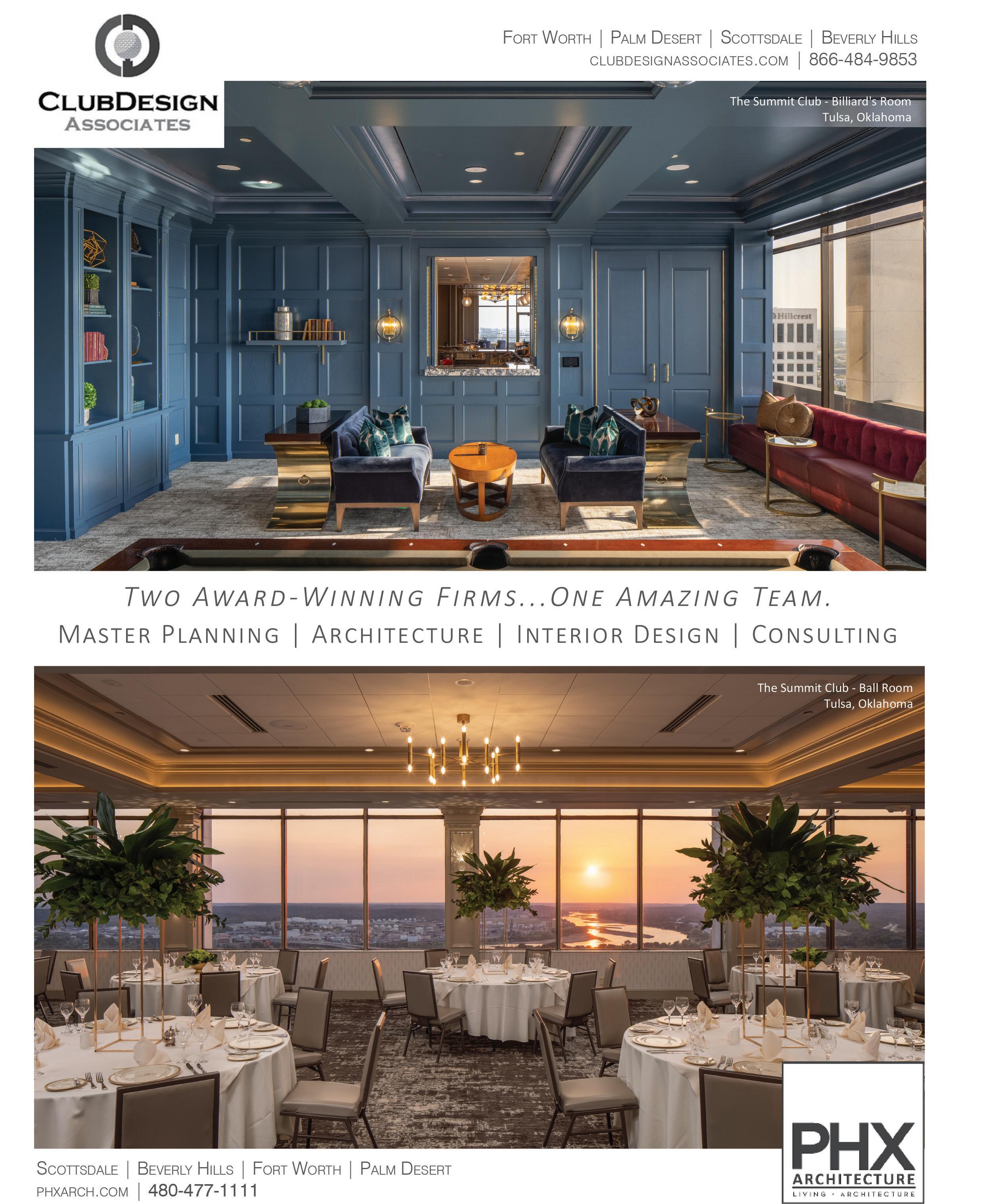 ELM | Ervin Lovett Miller is a professional consulting firm of planners, designers, architects, landscape architects, and staff committed to creating sustainable, inspiring places.
The partnership took an unexpected and even more welcomed turn in 2018, when the club received interest from the Navy and city of Jacksonville on entering into a Restrictive Use Easement agreement. The Department of Defense's REPI (Readiness and Environmental Protection Initiative) program works with counties to mitigate land use concerns, water quality impacts, and encroachment threats near installations. The REPI program engages with counties through multiple existing partnerships, including the Sentinel Landscapes Partnership. This Partnership is a coalition of federal agencies, state and local governments, and non-governmental organizations that work with private landowners to advance sustainable land man agement practices around critical military installations.
The Timuquana Country Club in Jacksonville, FL shares a border with the Naval Air Station in Jacksonville. Its proximity to the base creates a number of unique expe riences for its members including watching the Blue Angels fly over the clubhouse during the bi-annual airshow or watching the membership on the 1st tee stand at attention during the 8 a.m. playing of the National anthem that can be heard from the base. For more than 50 years, the Navy and Timuquana have been good neighbors, and in the '90s forged a favorable water partnership that allowed the navy to dispel its ef fluent water surplus to Timuquana who could use it for irrigation, as both the club and Navy were experienced increase environment regulations.
56 BOARDROOM | JULY / AUGUST 2022
the success of the pool renovation, our firm acted swiftly in working with the club's professional staff, long range planning committee, board of governors and even the club's golf course architect to develop surveys and work with constituencies in developing a revised facility master plan rooted in an ever-changing demographic. Initial uses of the funds funded the pool project and new casual dining facility, interior refurbishments of private function space, its heritage gallery, and common areas. In the third year of the partnership, the RUE income funded a $6.1mm golf course restoration of its 1923 Donald Ross design and a $1.4mm expansion of its practice facility. An attentive and thoughtful board has mapped out the remaining five to seven years of capital projects to include full refurbished locker room and men's grill, golf performance teaching center, nature trail and rec reation/pickleball complex. In all, with a combination of a strong capital dues program, higher initiation fees because of the improvements, and the Navy partner ship, the club anticipates nearly $35mm in invest ments during the facility enhancement program and in the end will have done so with no debt and no member assessments.Thissudden windfall is certainly a unique advantage for Timuquana and not every club will find itself in the same situation. But all club leadership should consider whether they are equipped to navigate a similarly shortened timeline for capital improvements. Revis iting your master plan and membership satisfaction on a consistent basis will ensure your club is always positioned to adapt to the unexpected. BR
ELM | Ervin Lovett Miller | BOARDROOM DESIGN FEATURE by Steve Lovett
ELM's experience and expertise have contributed to many successful, noteworthy projects for a diverse array of clients, including private golf and beach clubs; urban planning and mixed-use developments; residential planned communities; hotels and resorts; commercial and multi-family; health care and assisted living; tribal master planning; parks, recreational, open space; and specialized office and retail developments.
This development permitted the club to continue to improve its land for private club uses with minimal restrictions with the understanding that the club would not develop the land for residential or commercial uses in perpetuity. In turn, the club, over a five-year agreement, would receive a sum of money per encumbered acre. The club had developed a master plan in 2017, which it intended to phase over a likely 15-year period. As one would have it, the IRS has specific instructions for these types of partnerships, that require the club to invest this money into capital improvements over a four-year window as it receives each installment. Otherwise, they would be subject to capital gains tax.
With a combination of a strong capital dues program, higher initiation fees because of the improvements, and the Navy partnership, the club anticipates nearly $35mm in investments during the facility enhancement program and in the end will have done so with no debt and no member assessments.
Military Partnership Accelerates Master Facility Plan
As one might expect, the 15-year facility improvement plan was now a reality with financial repercussions if not completed in quick succession. Building off
elmplan.com | 904.296.8066 Timuquana Country Club
s designers primarily focusing on country club design, we always face several challenges. Wycliffe Country Club was no different. Our design intent was to create usable spaces to fit the membership lifestyle while taking a dated design and making it more fresh, new, and modern.
60 BOARDROOM | JULY / AUGUST 2022
A
Key features included a two-story water wall. This water wall served two purposes. One is to create a focal point as members walk through the door. And, secondly, to separate the lobby from the new bar and lounge. Other key features included new custom decorative lighting throughout all areas.
Larson Nichols is a full-service interior design firm specializing in hospitality with a focus on country club design. Please visit our website, www.larsonnichols.com, or contact us at (404) 883-2474, hello@larsonnichols.com.
Spiral, three-dimensional pendants were custom designed and placed in a staggered formation over the bar. A custom-stained archi tectural ceiling and glass wine display at the new restaurant were also unique to this project.
Larson Nichols | BOARDROOM DESIGN FEATURE by Kelli Larson and Kristin Nichols
High-end finishes became the foundation for these key features that were complimented with intricately detailed custom furniture, luxurious fabrics, and commissioned artwork. Our goal for each project is to cre ate a timeless design that members will enjoy for years BR
This renovation project included a brand-new spa and fitness center, a new destination-style restaurant, and an expansion of the lobby to include a new bar and lounge.
TIMELESS DESIGN MEMBERS WILL ENJOY FOR YEARS
Larson Nichols begins each project with a meeting on site with the clients. This helps us, as designers, to get into the client's minds, see the space in person, and begin the design process.
One design challenge for us was timing. The overall schedule spanned three years, two phases, and major renovations, all while the club was open and fully operational. Orders for furniture, fabrics and decorative lighting had to be presented, approved, and purchased well in advance of construction. This tested us if an item was discontinued. It was a domino effect on the design of the space. Not wanting to lose the integrity of the design, selections had to be made with the whole area in mind.
Renovation Project at Wycliffe Country Club
The design centers around the member's grill, which serves as the main gathering space and the heart and soul of the clubhouse for an exceedingly social membership. The new ballroom space in cludes its own terrace, event entrance, restrooms, and service bar, and can be partitioned to support events and assemblages of varying sizes and types, even simultaneously. A large commercial kitchen can support member dining concurrent with pre-function and events.
Outdoor spaces were vital in capitalizing on the local climate. Large outdoor dining terraces face the golf course at both levels, offering mixed seating, fire pits, and stadium-like connection to the start ing and closing holes. Stone veneer at the lower level suggests a sturdy old-world foundation for the clubhouse and plazas, with Doric columns, artic ulated cornice, and multiple chimneys amidst the slate roof contributing to the neoclassical flavor.
F
The new pro shop is detached at the main level, evoking a carriage or guest house flanking the main residence. In addition to increasing retail space, it improves access to the golf course, cart storage and staging, and arrival court so that golf staff can deliver more efficient service.
The architectural motif was to be neo-classical, conferring the atmosphere of a grand manor house set amongst the rolling hills, complementary to the surrounding community. The clubhouse placement atop a natural plateau embraces the golf course while preserving native woodlands, slopes, and wildlife habitat. The location also maximizes views and al lows for continued operations from the old building during construction.
dining terraces overlooking the golf course and San Francisco Bay.
The new facilities have inspired a new operational ideology, invigorated the membership, and contrib uted to an influx of eager new applicants. BR
The new buildings deliver substantial improvements in both services and amenities, replacing constrained and outdated locker rooms, dining, and golf shop with spaces befit ting the club's distinction while introducing golfer's lounges, event spaces and al fresco
Looking to celebrate an active and social membership by reinvigorating an existing clubhouse? Contact Marsh & Associates to explore your options. Bryan Webb is principaldirector of design at MAI, for more information, please visit www.mai-architects.com.
62 BOARDROOM | JULY / AUGUST 2022
Marsh & Associates | BOARDROOM DESIGN FEATURE by Bryan Webb
Timely Upgrades for Menlo Country Club
ollowing an unfavorable assessment of its century-old clubhouse's structural and functional capacities, this California club sought to replace and upgrade the facilities and expand the offerings for an active membership.
Among the project's primary goals was to enhance dining and social amenities for members and to accommodate sponsored events without impeding the membership's enjoyment of the new facilities while retaining the environment and culture developed over many decades.
Pool facility upgrades include a new bathhouse, expanded locker and shower facilities for swim com petitions, pool and pool deck rehabilitation, and a new spa pool and shade structures. The fitness center provides a first-rate amenity the club had been lack ing. This structure offers added dining and social op portunities in a relaxed setting with its own kitchen, open-air bar, and reservable flex spaces.
64 BOARDROOM | JULY / AUGUST 2022
space. The lounge leads to a cross-talk bar with central bottle display and nearby community table.
Likeexperiences.somanyclubs, The Country Club of North Carolina was looking to refresh its dining spaces to encourage camaraderie among members. Chambers' designs largely reallocated space within the existing footprint of the building and added a second outdoor dining terrace.
Outside, a permanent shade structure with retractable canvas covers the existing dining patio. A new, second dining terrace flanks the bar area, dou bling the capacity for available outdoor dining. An outdoor lounge area with soft seating, umbrellas, and fire tables seamlessly joins the two terraces.
STRATEGIC PLANNING MASTERINTERIORARCHITECTUREPLANNINGDESIGNPROCUREMENT SIGN UP FREE! for club industry trends & insightsLifestyle Design TO ENHANCE THE MEMBER EXPERIENCE MD 410.727.4535 / TX 972.253.3583 / MN 612.295.0725 / DC 202.851.3201 / FL 239.673.1790 The Country Club of North Carolina
Throughout the spaces, a variety of seating styles responds to the casual atmosphere and spontaneity of how members wish to use them. Each seat ing style blends seamlessly together to create a cohesive design while also defining individual spaces—creating areas for cocktail-style conversation, adult dining, and family dining without the use of physical barriers.
The casual dining experience begins with an entry sequence that draws guests in from the front door to a new reception area. Straight ahead, a corridor lined with wine lockers leads to the new dining room, which features curved banquettes and a variety of table seating. Overhead, ex pansive skylights illuminate the space with natural light, complementing the exterior wall of floor-to-ceiling windows.
Renew and Reinvent – Transformative Dining Design
Since opening in early 2021, total food and beverage sales have in creased 40 percent from 2019. Members are thrilled and are thoroughly enjoying the refreshed dining experience at the club! BR
Follow @chambers1899 Bringing
hroughout the industry, private clubs offer members exceptional amenities to enrich their active lifestyles. And at the center of those interests lies the true hub of social activity—the bar and dining
by Charlie Turner members together with spaces that foster community and camaraderie.
66 BOARDROOM | JULY / AUGUST 2022
Alternatively, members can enter a sophisticated cocktail lounge that features banquette seating and a double-sided fireplace. Adjacent, a glass-enclosed private dining area lends to the modernization of the
T

Chambers is an award-winning planning, architecture and interior design firm that specializes in de veloping innovative solutions that enhance the member experience for private country, golf, yacht and city clubs across the country and abroad. For more information please visit www.chambersusa.com. FEATURE
CHAMBERS | BOARDROOM DESIGN
else. It is casual. It has various seating types and configurations with a high-top communal table with USB ports and plugs. It needs exceptional WiFi connectivity and at least one large screen TV. Use your imagination as to what other features might be offered. Most of these features also lend themselves to use by kids - especially the tweens while parents are enjoying their club.
The world, as well as our membership demographics, has changed. Among today's members, using a digital device is not taboo and should no longer be treated as such by private clubs. I do not, however, want to be enjoying a cocktail on the patio with someone working on a tablet next to me. Therefore, the answer is finding space for everyone, and their devices, to coexist at the club BR
Peter Cafaro is senior vice president, JBD JGA Design and Architecture, a ClubWorks Company, in Pawtucket, RI. He can be reached via email: pcafaro@JBDandJGA.com
Many members I speak with are enjoying newfound flexibility while also experiencing a higher expectation of availability. How do we accommodate our members when they want to put in some work time when they are out for time at the club? Members are uncomfortable setting up in a closed dining room or a corner of the locker room to get some work done.
JBD JGA DESIGN AND ARCHITECTURE, A CLUBWORKS COMPANY BOARDROOM DESIGN FEATURE by Peter Cafaro
MASTER PLANNING ARCHITECTURE INTERIOR DESIGN PROCUREMENT PETER CAFARO PCAFARO@JBD-JGA.COM 401.721.0977 DESIGN AND ARCHITECTURE FOR PRIVATE CLUBS & HOSPITALITY
Navesink Country Club, Red Bank NJ
So, what does the private club E-lounge look and feel like? It is easily accessible – not tucked away in a space that is useless for anything
JULY / AUGUST 2022 | BOARDROOM 67
W
e all have a new calendar designation now, "working from home!" Just two years ago, we were working in our pajamas every day. Despite some weight gain issues, many of us em braced the new normal and its inherent flexibility and found hours from nonexistent commutes.
Enter the E-Lounge
Enter today's version of the business center. What is the term that accurately describes a space that we actually want to occupy for some mid-day work time? Some call it Starbucks space. One of my recent master plan clients termed it the E-lounge.
n an on-going effort to modernize and update all club amenities within this private coastal community, the Ocean Reef Club leader ship decided to update and expand its existing golf clubhouse with a goal to provide an amenity improvement with most impact for their members.Thepurpose of this project was to design a clubhouse that, in all re gards, would complement the golf course and provide newly discovered DESIGN
vistas to the existing golf course which the current clubhouse did not offer. The new design was developed in conjunction with the golf course architect allowing members to continue to use the golf course while the existing clubhouse was being expanded. In this scenario, members continued to use the existing golf course facilities, while operations and services uninterrupted, preventing member loss and allowing for contin uedTherevenue.adaptive
The results speak for themselves. Higher initiation fees, multiyear waitlist for entry, younger member interest and utilization, large demand for private functions in the new dining room and much increased F&B sales have re sulted from the improvements. BR
by Brian D. Idle
Ocean Reef Club, Dolphin Clubhouse
I
Brian is chief executive officer (CEO) at Peacock + Lewis Architects and Planners, located in North Palm Beach, FL. He can be reached at (561) 626-9704 or brian@peacockandlewis.com
PEACOCK + LEWIS ARCHITECTS AND PLANNERS | BOARDROOM
FEATURE
re-use or renovated clubhouse is designed in a contemporary Florida vernacular with refined classical forms, free of excessive details; a timeless piece of sculpture set among the manicured holes on the course and offering exceptional views of the surrounding golf course.
68 BOARDROOM | JULY / AUGUST 2022
•
the members.
The Essence of Contextual Architecture
Architects. culture of Refreshingly stunning.
Historic addition respects club culture and legacy
Striving to achieve the perfect balance of creativity, materials, finishes, and technical sys tems tailored to the unique culture and identity of the client is what Rogers McCagg has built its reputation on for more than 25 years. BR
Rogers McCagg, a full-service firm founded by architects, provides master planning, contextual architecture, and interior design that facilitate continuity from project concept through execution while maintaining the highest quality standards by way of skilled management of both schedule and budget. At Beacon Hill Club, Rogers McCagg satisfied the client's need for a highly flexible and functional bar-lounge that creates an intimate, upscale member experience while complementing the adjacent dining rooms and terrace.
JULY / AUGUST 2022 | BOARDROOM 69
It takes a bold vision, commitment, collaboration and refined expertise to deliver a new venue that makes an elegant statement, emanates comfort, and exceeds member expectations.
BOARDROOM DESIGN FEATURE | ROGERS MCCAGG ARCHITECTS, PLANNERS, INTERIOR DESIGNERS by Chris McCagg
Planners. Interior Designers. Private Clubs, Recreation, Hospitality, Community + Education : a bold interior palette for a new bar and lounge in a historic clubhouse reflects the vibrant
•
•
Contextual architecture blends seamlessly
"The client wanted something with a kind of swanky, speakeasy feel that emulated that of the upscale New York City restaurants and clubs that its members frequent," says Chris McCagg, president of Rogers McCagg. "Our interior design team, headed by Kim Nathanson, exceeded the client's expectations with a fresh interpretation of sophistication while respecting the original aesthetics of the historic structure. The flexible space creates a "mood" for every occasion. We've done our job well if first-time guests and members alike can't see the line between ex isting and new, as expressed on the exterior by painstakingly matching the unique stonework, mortar joinery and window styles of the original clubhouse."
CONTEXT44NorthMainStreet:SouthNorwalk,Connecticut:2033545210:rm-arch.com
Houses a new bar-lounge adjacent to dining venue
Chris McCagg AIA, Rogers McCagg Architects & Interior Designers, can be reached at (203) 354-5210 / cmccagg@rm-arch.com
[VALUE OF COST SAVINGS + VALUE OF REVENUE INCREASE] – INVESTMENT AMOUNT
This focus on value shows the board that the club's leadership has thoroughly analyzed this important decision and considered not only the experience of members and staff, but also the financial health of the club.
It is not sufficient to ask, "How much am I spending now? How much will I spend with the new vendor?" then calculate the difference and stop there. This com parison is important, but it doesn't tell the whole story.
The investment required for the new software totals $370,000 over the 10-year period, as compared to the $200,000 you would have spent with your existing vendor. You're spending $170,000 more. Sounds expensive! But you're not done yet.
Indirect cost savings aren't immediately apparent. For example, time savings due to automating tasks, removing the need to handkey data into different systems, or time spent manually preparing reports that are automated with the new system.
Net Value is the increase or decrease in financial value received by the club over a given timeframe, in exchange for the investment amount.
70 BOARDROOM | JULY / AUGUST 2022 TECHNOLOGY SHOWCASE
The Right – And Wrong – Way to Calculate Software Cost Savings
The club gains value from cost savings and revenue increases and loses value from expenditures. Cost savings can be direct or indirect. Examples of direct cost savings are reduced costs for support or training, staff cuts enabled by automation, lower credit card process ing fees, or a reduction in hardware costs from a hosted solution.
Let's say you expect that the new mobile application, combined with more powerful email marketing tools, will allow you to increase ticket sales for club-sponsored events and increase rounds of golf played, resulting in an increase in revenue of $20,000 annually.
BR
NET VALUE
EXAMPLE NET VALUE CALCULATION
Maybe you'd like to offer a more modern member experience and improve member communications. Or you may see a need to streamline manual operations or improve reporting. New technology could help your club accomplish these goals. However, the benefits come with a significant investment. Is it possible to improve your technology, while also coming out ahead financially? Yes. But you must calculate correctly.
If the new vendor's bid is more than the club is currently spending, it doesn't necessarily mean you'll spend more overall. The metric you want to calculate is Net Value. (This is like a net present value calculation, but simpler because we're not considering the time value of money.)
NET VALUE FORMULA
Your value increase totals $33,500 per year, or $335,000 over ten years, for a net increase in value to the club of $165,000 over the period. In addition to the intangible benefits of a more modern and secure system built on new technology, you are also gaining financial value.
STEPHANIE CASTRO
A value increase also appears when the software allows the club to boost revenue. For example, adding a member app could boost utili zation of amenities and events, or enable a whole new service, such as ordering food to go.
Stephanie Castro is EVP and COO at Cobalt Software, a club management technology provider. She can be reached at stephanie@mycobaltsoftware.com
There are many compelling reasons to modernize your club's management software.
The cost of the club's 10-year-old software is $20,000 a year. The new program costs $30,000 a year, plus $100,000 in first-year soft ware licenses and professional services fees.
Further, you estimate that your accounting and membership teams will save 15 hours per month on reduced phone calls from members asking about their statements and payments, and automating their most frequently used reports, representing a value of $6,000 per year. Finally, the new vendor offers an incentive that provides com plementary services for training, configuration, and custom reports, representing a value of $7,500 per year.
Officer POWERFUL SOFTWARE. FULL RESPONSIVEFULLYFEATURED.INTEGRATED.US-BASEDSUPPORTWITH HOSPITALITY EXPERIENCE • Accounting (AR, AP, GL) • Membership • Golf Tee Times and Lottery • Dining Reservations • Racquets Management • Fitness and Spa Booking • Mobile App • Food and Beverage POS • Table Management • Retail POS & Inventory • And more
Cobalt has been an outstanding partner to Boca West since 2016. The quality of both their software and their support is exceptional. Cobalt's people are responsive and listen to our needs. Our members LOVE our mobile app, and staff learn the operations software quickly. Cobalt Software truly has what it takes to become a leading technology partner to the private club industry. President,LindermanChiefOperating
Matthew
www.mycobaltsoftware.com | info@mycobaltsoftware.com | (561) 453 - 0200
4. When discussing customer service, speak with the key users of the software. In accounting, speak with the CFO or controller. In F&B, speak with the person who manages the POS system. In banquets and catering, speak with the person who creates BEOs and does the billing. In golf, speak with the merchandiser. In any department, speak with the folks who use the system and train others – not the GM/CEO, not board members, not de partment heads who rarely touch the software.
Software or Service Which Is More Important?
BILL BOOTHE
72 BOARDROOM | JULY / AUGUST 2022 TECHNOLOGY PERSPECTIVE
In fact, the software offered by any one of the three major players will satisfy the needs of a majority of clubs. Only a small fraction of clubs have specialized needs that warrant choosing one vendor over the other, and tough compe tition between vendors makes the pricing of their solutions quite similar. So, similar software functionality, similar pricing – is that the end of the story? Do we just randomly choose systems? Draw straws? Flip a coin?
Bottom line: You may think this is a lot of effort for not much return. Think again. There can be significant differences between vendors when it comes to customer support. It's fun to have a new car with lots of features and great styling. But it's not much fun to constantly have that car in the shop with maintenance and service issues. The right features with good customer support – that's the winning combination for your club. BR
1. Ask for 20 club references. That way the vendor is less likely to "cherry-pick" references.
2. Bypass the vendor altogether and solicit references from clubs that you can contact yourself. Send an email request to your CMAA or HFTP chapter mem bers, or your list of club contacts, asking them which system they are using.
For more than 30 years, I've focused my consulting work on helping private clubs and communities eval uate and select the "best fit" software to handle all aspects of their operations.
Of course not. Because there is one other critical factor to consider when choosing a software ven dor: customer support. And that factor could be a significant differentiator between the key provid ers. Yet most clubs focus their evaluation efforts almost entirely on software features. It's as if they are shopping for a new car by focusing entirely on features and styling while ignoring the car's main tenance and service record.
Bill Boothe is president and owner of The Boothe Group, LLC, an independent consulting firm that helps clubs understand computer technology, make good decisions and receive the highest value from their technology investment. During his more than 30 years in the club industry, Bill has helped more than 400 private clubs and communities plan, evaluate, select and implement computer technology in all facets of their operations. Bill can be reached at bboothe@boothegroup.com.
Obtaining a fair sample of vendor references can be chal lenging. Vendors are happy to provide two or three refer ences from clubs that are pleased with their service. But how can you know if those references are a representative sample of their overall customer base? Here are some sug gestions on how to gather meaningful data on customer satisfaction.
During those years, the number of software vendors serving our industry has dwindled from more than 20 to just three major players. The re maining vendors have broadened their offerings to incorporate virtually all of the functionality most clubs could want.
3. Contact clubs that are similar in size and operations to your own. No need to contact a huge city athletic club if yours is a medium-sized golf and country club. And vice versa.
We get to know your ambitions, so we can achieve success together.
Become a MidFirst Private Bank member to receive the highest levels of personalized attention, confidentiality, pre ferred rates and concierge-style banking service delivered by experienced professionals who are dedicated to your success. We look forward to serving you. BR
Whether you're interested in refinancing your club's ex isting debt or envision expansion and golf course redesigns in your future, your private banker will ensure you enjoy the full benefits of MidFirst Private Bank's exceptional lending, deposit and treasury management products.
At the core of this approach is your dedicated private banker a skilled financial professional who regards your every banking need as their own personal responsibility. They will guide you through an extensive array of banking products and assist you with financing, investment opportu nities, treasury services and more.
A private bank, like a private club, puts the good of its members at the center of everything they do.
Achieve What You Believe
A distinguished club deserves a distinguished private bank. Discover how MidFirst Private Bank can assist with all of your financing needs. Whether you are renovating the clubhouse or re-designing the golf course, MidFirst Private Bank is here to provide concierge-style banking service every step of the way.
JULY / AUGUST 2022 | BOARDROOM 73 FINANCIAL SHOWCASE
Tanner Detro Senior Vice President 602.801.5325 tanner.detro@midfirst.commidfirstprivatebank.com
Your Target Is Our Goal
At MidFirst Private Bank, we focus on building long-term relationships. We are committed to working closely with you to understand your aspirations and create a strategy designed to ensure the ongoing success and profitability of your club.
Key elements of a "good" board include commitment, competence, diversity, collective decision making, openness, transparency, effective communication with the management and the membership, fiscal responsibility, development and establishment of the clubs' mission, vision and policy direction, especially through establishment of a strategic plan. A successful board president draws upon the expertise of other board members, the club's institutional memory and stewardship of the club's resources. As well the board president provides new board members and future board presidents with information they need to perform effectively as board members.
Now in its 14th year, BoardRoom magazine annually recognizes the world's top private club presidents, captains and chairs as Private Club Presidents of the Year, for their outstanding work, their understanding of the industry, and role and responsibilities of the club's board of directors. In this continuing series, BoardRoom introduces four more of its top 21 presidents for 2021. The Distinguished Club President was featured in the January/February issue.
Private club board presidents play a huge role in professional operations of their clubs as a volunteer working diligently with their board of directors and general managers, striving for well informed, but not emotional decisions. This recognition by BoardRoom magazine has attracted board president nominations from clubs and other nominators around the world.
Congratulations to these outstanding private club board presidents. See pages 76 & 77.
By Heather Arias de Cordoba
These outstanding presidents exemplify the focus on the leadership responsibilities, the accountability and the management of the board providing a healthy respect for the club's macro management. They are cognizant of the importance of working, effectively and efficiently, with their volunteer boards and the dedication required from everyone with whom they work.
Private Club Presidents of the Year Major Sponsors
74 BOARDROOM | JULY / AUGUST 2022
BoardRoom magazine Recognizes the Private Club Presidents of the Year
605-310-0578
ONLINETRAININGSERVICESERVICECUSTOMSTANDARDSDEVELOPMENT
SERVICEIN-PERSONTRAINING
Jeffrey P. McFadden
Your members expect genuine Five-Star service.
"
Forbes Travel Guide is the authority on hospitality excellence. We work with the best luxury hotel brands globally. Let us help you elevate your service to improve member satisfaction and retention.
Forbes Travel Guide worked with our leadership team to create custom standards and tailored training which have been implemented throughout the club. We value our partnership with Forbes Travel Guide.
Chief Executive Officer/General Manager The Union League of Philadelphia "
For more information please contact Ted Thie Channel Partner, Private ted@t3clubsolutions.comClubs
WYCHE "TEE" GREEN III, PRESIDENT | SUNSET HILLS COUNTRY CLUB | CARROLLTON, CA
Members join private clubs for a sense of community and belonging and the workshops have proven a successful means for member inclusion and participation in major decisions.
"President David Frank has no special agenda other than the success of the club, which means maximizing the member experience in a fiscally responsible manner. He firmly believes in the management team running the club and the board providing support and direction on strategy and governance," Walls elaborated.
"Tee sees the importance of thinking long-term and has challenged the membership, board and management to visualize all the club can be, not just maintaining what it currently offers. This strategic plan will be the roadmap that propels our club to its full potential and is a tool we would not have had without Tee's leadership," he added.
76 BOARDROOM | JULY / AUGUST 2022
DAVID FRANK, PRESIDENT
WYCHE "TEE" GREEN III, PRESIDENT JEFF CAMPIONE, GM/COO
DAVID FRANK, PRESIDENT | BALLENISLES COUNTRY CLUB | PALM BEACH GARDENS, FL
"His passion for BallenIsles is evident by calling BallenIsles home since 1999. His goal as president is to present BallenIsles as the premier place to live and enjoy in Palm Beach County. His style of leadership is very important in a club of our scale. His calm and reasoned approach minimizes the more traditional emotional decision making of the country club environment and allows us to plan and strategize based solely on what is best for the club and its members. His approach is widely regarded across our diverse membership, which includes some 2,500 members," Walls added.
With a vision for strategy and a comprehensive understanding of the value of Sunset Hills Country Club to the members, neighborhood and community, President Wyche "Tee" Green III embarked on his tenure with a commitment to ensure the club remains a pre-mier establishment for generations to come.
Frank attended college at MIT where he studied engineering and computer science. Following graduation, he went to Harvard Law School and received a JD. He practiced patent law for two years and then completed his education at Boston University with an MBA in Finance. Frank worked in the financial services industry, including mergers and acquisitions, and mortgage banking, where he became president of a multi-billion dollar NYSEDavidcompany.Frankand
"Being president of a large, residential country club is a serious endeavor," explained David Frank, presi dent, BallenIsles Country Club, a BoardRoom Distin guished Club in Palm Beach Gardens, FL.
"The goal of the workshops has been to communi cate the strategic plan and the key projects needed to modernize and expand the club facilities," stated Walls. "This includes funding of $1.3 million for the racquet sports complex expansion, $6.5 million for the
In addition to the strategic and visionary plans, under Green's guidance the grounds are in the best shape they've been in decades. Tournaments are fully subscribed, private events are exceeding expectations, new and improved membership events are the best on record, and the club created the Founders Weekend, which is now a signature event and the highlight of the year.
RYAN WALLS, GM/COO
During his tenure, Frank has supported the implemen tation of the club's 10-year strategic plan, road mapped and identified capital needs and funding sources through 2030, and worked with the club's GM/COO Ryan Walls, conducting over 20 membership strategic planning work shops to support consistent, transparent and effective communications with the membership.
his wife Carolyn reside at BallenIsles seven months of the year. They spend their summers in NJ near his two daughters, two nieces, and their families. BR
"Tee assigned me to create a capital strategic plan for the next five years," explained GM Campione, "which the club did not previously have. Once I completed the plan with the cost of the future needs, we started discussing how to fund them.
Green is a proud alumnus of Auburn University, a former board member of KidsPeace Foundation, Auburn University's Raymond J. Harbert College of Business and Auburn Uni versity's Athletic Foundation. BR
Creating the Founders Society and hiring a general manager are just two feathers in his cap Green has accomplished in his time as president. He recognized the
need to create the Founders Society to ensure the club's longevity and singlehandedly raised short-term capital while planning a long-term solution. He also initiated a nation wide search with the executive search firm, Kuebler Kopplin & Wallace, for a GM/COO. This resulted in the placement of Jeff Campione, CCM, CCE.
Green is the CEO of 121G, LLC, an investment, business advisory and technology de velopment firm he founded in 2013. He is also the CEO and chairman of the board of Streamline Health Inc., a publicly traded company on Nasdaq.
refresh of the Signature East Course with Nicklaus Design, $1.5 million for a complete renovation of the golf practice facility, and the addition of a new $1.5 million learning center with state-of-the-art electronics. Also being considered is an expansion and over $12-20 million of upgrades to our fitness center, pools, Pilates studio, racquets facilities and outdoor spaces related to the sports complex."
Frank's experience as a member of the board since 2018 and various club committees (chairman of the grievance committee 2015-2018 and member of the nominating committee 2014-2015) gives him insight into how the board's short-term decision-making has context to long-term planning and a direct impact on the quality and integrity of the club in the overall scope of the residential community and its home values.
"The commitment in time and energy exceeds what's been expected, but it's rewarding leading the club's response to its many and evolving challenges."
"Having a committee of the treasurer, membership chair, GM and special activities chair working together was key. They presented a restructuring program that rejuve nated every membership category, and the outcome was an overwhelming success," Curtin
Like many clubs facing the public health crisis, The Yale Club weathered two of the most challenging years in its 125-year history during 2020 and 2021. Through thought ful and frequent communications, Inoue and club leaders conducted member surveys and financial analysis to develop a reopening that prioritized health and safety and conserved capital.
The Yale Club has a council comprised of engaged members in place of a board of directors, which works collaboratively with the GM Read to establish policies and rules for facilities. Read handles the day-to-day operations. Through this teamwork with the executive management and the club's membership and marketing team, Inoue was able to accelerate the process and launch a member-facing app in October 2021.
Lewissaid.operates the boardroom with focus, clear expectations and constant re minders that the decisions needed in that room are for the betterment of all mem bers, not just the vocal minorities. She supports the development of a strategic plan and operates through that vision.
She made the difficult decisions that ensured The Yale Club weathered the crisis. Her astute financial background and cool-under-fire temperament made her the right leader at the right time.
"Just 12 days after I started working at SHCC, COVID-19 shut NY down. We had to work very closely together, along with the board, to navigate the un precedented pandemic shutdown and reopening," explained the club's GM/COO Brian Curtin.
President Lewis was involved in researching and guiding course architect Joel Wei lman and an A.W. Tillinghast historian, Phil Young, to create a master plan for future projects and restorations. This project realized completion in June of 2022 and the results and member feedback are overwhelmingly positive.
"During this time, president Lewis and I worked together to reevaluate everything the club does op
"Generating consensus and buy-in enabled us to earn the confidence of members and employees. As disruptive as the pandemic has been, it also presented an opportu nity to reassess historical norms and make impactful changes to position the club for a brighter future."
Inoue graduated from Yale with a BA in Economics and earned an MBA from Wharton. She joined the club in 2000, starting her governance involvement in various committees, including chairing the finance and house committees. Inoue began her term as president in June 2020. With a background in investment management, she oversees asset alloca tion at American Family Insurance. She lives in NYC with her husband and son. BR
YOSHIKO INOUE, PRESIDENT LEEANN LEWIS, PRESIDENT
Lewis lives in West Gilgo Beach, NY, with her husband, Murney. She enjoys hiking, mountain climbing, reading and tournament golf. BR
President LeeAnn Lewis' list of accomplishments is remarkable and trendsetting.
YOSHIKO INOUE, PRESIDENT | THE YALE CLUB OF NEW YORK CITY | NEW YORK, NY
On the club's to-do list for many years, the app's successful implementation has streamlined and simplified the member experience by enabling members to manage bill ing and reservations and connect with club staff in real-time.
erationally and logistically. We adopted a common phrase, 'just because we used to do it that way doesn't mean that's how we will do it moving forward.'
"Thisprogram.project was an overwhelming success in just one year," Curtin elaborated, "ev idenced by the wait list for golf memberships and our racquets program moving from 40 active participants to over 160.
AMBER READ, GM BRIAN CURTIN, GM/COO
LEEANN LEWIS, PRESIDENT | SOUTHWARD HO COUNTRY CLUB | BAY SHORE, NY
Yoshiko Inoue took on the mantle of president at The Yale Club, a BoardRoom Distinguished Club in New York, during the height of the pandemic and guided the club with clarity, fortitude, and grace.
She's been an eight-time club champion, 18-time Long Island champion, 19-time USGA Qualifier, first sitting-president club champion, as well as serving 16 years on the board and Southward Ho Country Club's first female president.
"This attitude led to a re-birth of the club's food and beverage department where member satisfaction rose to exceeding expectations from average," he added.
"I was fortunate to partner with the club's GM Amber Read and club leaders, as our shared values, alignment of vision, and mutual respect propelled us forward even in the darkest days," explained past president Inoue.
Never one to act in the interest of herself, Lewis spearheaded a massive member ship reclassification project that worked directly with the membership committee, treasurer and GM to attract and retain younger, junior members to seed for the club's future. The team also restructured current classes to increase participation in the rac quets
JULY / AUGUST 2022 | BOARDROOM 77
LPGA COMMISSIONER, MOLLIE MARCOUX SAMAAN
into her position. Following are two of my questions and the commissioner's responses. They offer insights into her vi sion for the future of the LPGA. Hitting the ball long and straight is still important, but new elements are getting more attention.
NANCY BERKLEY
The National Golf Foundation report is timely and important. The under lying message: "Don't forget beginners," especially the growing number of women beginner golfers.
I like the commissioner's response. Pro fessional golf tournaments are serious. The announcers in the booth are serious. The competition may determine who plays in the Solheim Cup or gets the end-ofseason awards or can afford their travel and apartment costs. Where is the fun?
Is it harder for your members to find a tee time or schedule a lesson? All goodThequestions.increasein golfers and rounds is due in part to COVID-19, which in creased the opportunity for golfers to work from home on a flexible schedule and often closer to a golf course to take a break during the day.
Q: Would you agree that the sport of golf should be more fun?
Nancy Berkley is an expert on women's golf and junior girls golf in the US. Nancy is a member of the World Golf Foundation Women's Committee and the National Golf Foundation. She shares news about women's golf — along with her opinions — on www.nancyberkleygolf.com. Nancy has served on the governing boards of two golf clubs and is on both the green and marketing committees at Frenchman's Creek Beach & Country Club. She is a contributing writer for LPGA publications.
A: I think there's learning that happens through sports, but it also should be fun. And fun means different things to dif ferent people as it relates to sports. You know, fun for the recreational golfer is dif ferent than fun for the professional golfer. Fun for the professional golfer is reach ing and attaining their dreams and their goals and sort of being able to use their talents and skills to impact others and inspire others. But fun can also just be a 3-year-old or a 5-year-old being enriched by feeling the joy of hitting a golf ball. But I do think that sports should be fun. You know, they should build community and they should build talent and build skills. And so all those things are really import ant. That's why I love sports so much. But I think people also in life want to have fun these days.
NANCY'S CORNER
At many clubs, including BoardRoom Distinguished Clubs, if your members stop by the practice tees, especially late in the day, they are likely to find a part ner for a quick nine holes or a short-game contest on the practice green. They may also find more beginner golfers than a few years ago and pre-COVID.
New Trends in Golf More Beginning Golfers, More Women Golfers and More Fun
Will your club make the game more welcoming to beginner golfers? Will golf offer more fun along with its history of competition? Will new golfers challenge your club's staff and lesson schedule as well as add stress to the maintenance of your golf course? Your answer should be "yes."
Are more members playing more golf at your club? Is golf more popular among all age groups?
A glance at the chart on the opposite page from an April National Golf Foundation report (posted on April 12 to NGF members) confirms the in crease in beginning golfers. Note that the chart shows an increase in female beginning golfers but a slight decrease in men taking up the game.
78 BOARDROOM | JULY / AUGUST 2022
For an answer and more insights, I was fortunate to interview the new LPGA commissioner, Mollie Marcoux Samaan, in March – just a few months
I have never heard a tournament com mentator say, "Hitting over that lake is really going to be fun." Maybe golf courses and television professionals need
The commissioner is focused on preserving and growing the LPGA brand. She recently appointed a new team member, Mat
thew Chmura, as the LPGA chief marketing, com munications and brand officer. Chmura spent 15 years with the NHL's Boston Bruins. He won five New England Emmy Awards for his role as executive producer of the team's marketing campaigns. Expect some new "messaging" from the LPGA.
USPTAtoyourENCOURAGEUSPTAProsgettheMobileAppDOWNLOADAPPCMYCYMYCMYMCK USPTA App Half Page Ad.pdf 1 6/30/22 9:52 AM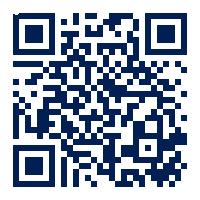 Stay tuned. I predict new elements in the LPGA television coverage that will reinforce the commis sioner's interest in adding a "fun" component to the game along with more instruction. BR
79
Q: Why is there not more of an educational component in the coverage of a tournament? The reporter usually says something like this: "Oh, she sliced off to the right." And then the cameras and golfers move on. There is no description of a slice nor education about how to avoid one.
to rethink what type of "fun" 3 million new beginner women golfers want to see on televised LPGA tournaments.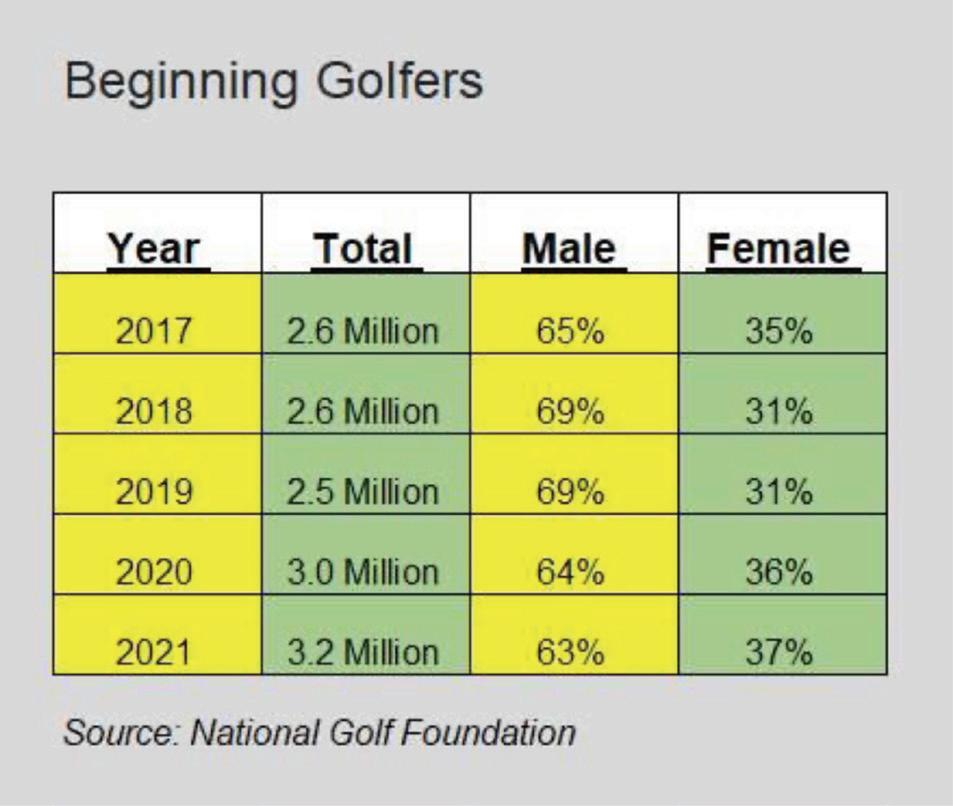 A: I agree with you. We actually just started doing this. And this is one of the things that is really interesting about the LPGA. At one of our recent Drive On events in Fort Myers, we were stream ing holes on our website on Peacock, which is NBC's streaming service. And we invited one of our LPGA professionals to be on the broadcast. And she did exactly what you just referenced. She was analyzing our players' swings. She was talking through the various moves to the ball. And we are going to continue to do that. There is an opportunity to educate people and to use technology.
Your club has the "fun challenge." There are many ways that your club professionals can participate in a woman's fun golf day. Try this: Have one of your golf professionals hit the tee shot for every foursome on a particular hole. The tee shot over water or on a par 3 is a good choice. Then it is really fun for your members to make the birdie putt.
80 BOARDROOM | JULY / AUGUST 2022
Ronald Banaszak, CCM, CCE, currently General Manager of thehouse, Newport Beach, CA, and BoardRoom Distinguished Club Executive Vice President of International Business Development, is writing these articles for BoardRoom magazine. Ron has more than 25 years of experience as a GM in private clubs, and 35 years' experience in the hospitality industry. Ron may be contacted at (415) 420-5183 or ronbanaszak@gmail.com.
Distinguished Clubs Showcase
While we can all learn from our peer clubs and leaders in our industry, this series of articles in The BoardRoom Magazine focuses on great ideas from our BoardRoom Distinguished Clubs (yacht, athletic, city and golf/country clubs) and their leadership teams.
These Distinguished Clubs not only excel at the level of their member service/experience, but they are also experts with their governance, the intangible qualities of a club, the quality of their products and the care and replacement of their facilities
The BoardRoom Distinguished Clubs program is the only merit-based award for private clubs. This esteemed designation is determined by an impartial formulaic assessment and an onsite tour and interviews, rather than a mere peer-based vote of industry insiders. In this issue, we're featuring Del Rio Country Club in Modesto, CA, Newport Beach Country Club in Newport Beach, CA, and New York Athletic Club New York, NY.
Over the years, the club has developed into the premier country club in the Central Valley of California with 27 holes of golf, eight tennis courts, two bocce ball courts and pickleball courts, a complete fitness facility with instructors, a year-round first-class golf practice facility with instructors, and what many would say is the best restau rant in the city.
RONALD BANASZAK
Ronald Banaszak, CCM, CCE, BoardRoom Distinguished Club Executive Vice President of International Business Development. Ron may be contacted at (415) 420-5183 or ronbanaszak@gmail.com.
DISTINGUISHED CLUBS SHOWCASE
JULY / AUGUST 2022 | BOARDROOM 81
Del Rio Country Club Competency Bred by Continuity
SEE DEL RIO COUNTRY CLUB | 122
At breakfast, filled with enthusiasm and excitement, Billy stated, "I was up all night excited about the property, the vision came to me…" at which time he presented them with 18 cocktail napkins with a hole design on each of them. Then he showed a detailed de sign of each of the original 18 holes that the members play today.
Norm Porges, 2006 club president (pictured below), said, "The Del Rio membership is so proud of their club. They relish the comments
"Our people…both members and staff," remain the number one key to this success, said general manager Duncan Reno. "It's the synergy between the two that has become our number one asset, our marketing plan, our top recruitment tool and the reason for our insanely fun activities."
The club's vision statement encompasses this dedication: Del Rio Country Club is to provide our members a place to achieve balance experiences.familyintheirlives–aplacetofeelspecialandenjoycamaraderiewithandfriends.WeareaclubofqualityvalueandmemorableThememberexperiencefortheclubinModesto,CA,istheholygrail.It'sthe"whatandwhy"peoplejointheclub.Thebeststorytheclubtellsaboutitshistoryishowthefantasticandfamousgolfcoursewasdesigned.BillyP.BellSr.,oneoftheearliestandbestgolfcoursearchitects,whoworkedwiththegreatslikeAllisterMcKenzieandGeorgeThomas,wasafriendofoneofthefoundingmembers,MorleyTheaker.MorleyaskedBillytostopbytheproposedlandsiteonhiswaytoClaremontCountryClub,aclubfeaturingBilly'scurrentclubdesign.Hecame,touredtheproposedsite,andtheplanwasforeveryonetogatherfordinnerthatnight.However,Billycalledandsaidhewastiredandwouldseetheminthemorningforbreakfast.
The Del Rio Country Club, a BoardRoom Distinguished Club, en compasses a high level of member experience.
ROBIN SHELTON, GM
DIRECTORJOHNSUPERINTENDENTMCCOOK,OFGOLF
The club opened in 1954 when two gentlemen playing golf in Santa Ana wished for a cooler place to play golf – one with ocean breezes and views. The club, located in Newport Beach, CA, opened as the Irvine Coast Country Club and was renamed Newport Beach Country Club in 1985 to better reflect its location and the growing community.
The California Coastal Craftsman clubhouse design astounds, especially the main kitchen with the space, the equipment and the layout. It's set up to host first-class events all the time, every day.
Newport Beach Country Club Reflects Its Location and The Community
SCOT DEY,
82 BOARDROOM | JULY / AUGUST 2022 SEE NEWPORT BEACH COUNTRY CLUB | 122
People make a Club Distinguished, both members and staff. The NBCC has an incredible roster of local celebrities who care deeply about their club, each other and their city. In addition, the professional staff members are some of the most hospitality-driven, genuine people and the combina tion makes the club very special.
DISTINGUISHED CLUBS SHOWCASE
One of general manager Robin Shelton's favorite quotes about his club and the area reads: "Newport Beach and the vibe that comes from our city is a quiet, relaxed place where you're more likely to see the harbor patrol than the highway patrol. You may hear more birds than automobiles any where in Newport Beach you go. So whether it's Fashion Island, Balboa Bay, or the Pier, you'll feel the vibe."
SARAH SANCHEZ, FOOD AND BEVERAGE DIRECTOR
It started in 1975 when Bing Crosby, a World Golf Hall of Fame mem ber, sought a place to hold a satellite event for golf professionals who missed the cut at the famous Pebble Beach Pro-Am Tournament. So, it became a Southern California Pro-am event.
The amount of effort and coordination required to put on a PGA Tour Cham pions event is Herculean. Team members manifest the best can do attitude. They want to put on the best possible show for the players, spectators, and community. And they do.
Mike Novak, assistant superintendent, has been with the club for 30 years and his institutional knowledge, dedication and humble leadership
The Hoag Classic raises money for the Hoag Hospital and is the annual apex of service and quality for the management team. This incredible event remains the longest continual host site on the PGA Tour Champions.
The Hoag Classic remains extremely important to the NBCC as it raises $1 million for Hoag Hospital and results in tremendous exposure for the hospital and the community.
The Newport Beach Country Club (NBCC) is a BoardRoom Distinguished Club with a wonderful location and a deep philanthropic history.
EXECUTIVESUPERINTENDENTCHEFGRAEMEBLAIR
The agronomy team might just be the best in the business. Superinten dent Scot Dey is knowledgeable, passionate, and the 'point' person for all things on the golf course. He works closely with the Champions TOUR agronomy staff to ensure that playing conditions meet the standards of the TOUR and the club. He has a tremendous amount of ownership and pride in what he does.
MIKE NOVAK, ASSISTANT
SEE NEW YORK ATHLETIC CLUB | 123
Ronald Banaszak, CCM, CCE, BoardRoom Distinguished Club Executive Vice President of International Business Development. Ron may be contacted at (415) 420-5183
RONALD BANASZAK
The New York Athletic Club is famed worldwide for its commitment to excellence. Its support for its Olympic-level athletes best expresses this commitment. It is something that dates back to the NYAC's founding in 1868, but it imbues every ele ment of club life in the 21st Century.
Each year, the NYAC Athlete's Fund organizes a fundraising golf tournament. Among those benefiting is six-time world wrestling champion and Olympic silver medalist Adeline Gray.
The Olympic class athletes have competed in every Summer Games since 1896, winning 291 Olympic medals in wrestling, judo, water polo, track and field, rowing, triathlon, and many more. Men and women athletes have claimed these awards while wearing the NYAC's renowned winged foot emblem.
New York Athletic Club
An Olympic Tradition and Commitment to Excellence
Fundraising becomes important to support these Olympic and other amateur athletes
or ronbanaszak@gmail.com.JULY/AUGUST 2022 | BOARDROOM 83
The Athlete's Fund is a member-supported charitable organization that provides funding for the club's Olympic athletes and organizations providing athletic opportuni ties for boys and girls in the inner city.
"The ambitious tradition of the NYAC and the Athlete's Fund is a great parallel to my ambitions of reaching Olympic gold. They have supported me so I can focus on the task at hand, unlocking my true potential as an athlete," explained Gray.
This clubhouse is the home to both the Hall of Fame and the Tap Room (on the second floor). The
Not only is the NYAC famous for the success of its amateur athletes, but the club's facilities and location have also brought it much renown. The City House, with its 187 overnight guest rooms, extensive athletics facilities (aquatic center and gym nasium) and banquet facilities overlooking Central Park, is unique in New York City.
received on a day-to-day basis. The same attitude should be considered with employee relationships.
More recently, the trend has shifted from employees re signing from their roles to increased demand and expecta tions for the right roles.
Although results from a full employee survey will mostly be leveraged at the management level, this infor mation is important for all at the club to understand how satisfied employees are through the establishment of both an overall and department- specific employee net promoter score, as well as how retention programs are performing.
This form of evaluation ensures employees are aware they will be provided the opportunity for advancement as well as SMART (specific, measurable, attainable, relevant and time-based) goals. The board can then monitor the club's performance evaluation structure and process through the GM, with a requirement for periodic reports at specified in tervals.
START AT THE TOP
While the board is directly charged with evaluating the general manager (often its only direct employee report), it can also support establishing the structure and measure ment method for evaluating other key management posi tions and the structure for a comprehensive 360-degree review program for all employees.
84 BOARDROOM | JULY / AUGUST 2022
Amidst a global pandemic last year, businesses across the coun try began to face a new, unfamiliar challenge. The "Great Resig nation," where employees voluntarily left their jobs en masse, emerged as a global economic trend in 2021.
Unsurprisingly, human resources has become a major focus. In the GGA Partners 2021/2022 Club Leaders Sur vey (currently unpublished), 67 percent of club leaders say employee retention is a key financial risk to their clubs, and 77 percent of clubs see employee recruitment and retention as key issues facing the industry moving forward.Thebig
The immediate solution is to raise compensation, which the Club Leaders Survey says is the most successful tactic in retaining employees. Clubs seem to be reacting accordingly, indicating planned raises to payroll by an average of 7.8 per cent across all departments.
Returning to the original question: How can organiza tions prioritize relational attributes to increase employee satisfaction?
question facing those charged with governance: What can we do to retain employees?
Organizations in COVID-sensitive sectors, such as lei sure and hospitality, were hit especially hard. According to research from Business Insider, employees within these industries left their jobs at a rate double the national av erage (6.4 percent versus the national rate of 3 percent in September 2021).
GLOBAL PERSPECTIVES HOPKINSONBEN VANEVANEERD MAZZAROLOADRIAN
UNDERSTANDING THE PROBLEM
Surveys are a powerful tool to assess member feedback and provide a quantitative component to member feedback
Boards should aim to establish a policy requiring a quan titative element of performance evaluation to key man agement figures within the club. This type of formalized, quantitative performance evaluation structure should be "pushed down" from the top level as an example to use throughout the club.
Although increased wages are an important consider ation, there's more to the story. McKinsey notes the strong connection between employee satisfaction and relational attributes (feeling valued, relationships with management, potential advancement) compared to more transactional attributes (compensation, prestige, role/company). Today, employees are thinking about what they want out of their job more than ever.
Employee satisfaction and retention are key concerns throughout all areas of the business; however, it is important to ensure those charged with governance do not bridge the gap between governance and management.
DETERMINING QUANTITATIVE GOALS
How to Use Performance Evaluation Effectively To Keep Your Best Talent
In developing this performance evaluation technique, identifying the quantitative goals on which to evaluate em ployees is an important determination. If the metric does not meet the SMART criteria, employees may feel as if they are tasked with an impossible goal and satisfaction (as well as ambition) may decrease.
Ben Hopkinson is director, Evan Van Eerd is manager, and Adrian Mazzarolo is senior associate at GGA Part ners, an international advisor to golf courses, private clubs, resorts and residential communities.
Evaluation criteria should relate to key performance indicators es tablished for the entire club that align with organizational goals. For example, if your club is attempting to grow its membership, raising the net promoter score of the membership measured through an annual
Employee retention is a key area of concern for clubs across the country and the world, and those charged with governance can take steps to help improve employee satisfaction throughout their business.
JULY / AUGUST 2022 | BOARDROOM 85 DURABLE. ELEGANT. STACKING. C u s t o m C h a i r s w i t h a 2 0 - y e a r W a r r a n t y EustisChair.com 978-827-3103
survey may be a performance evaluator estab lished for the GM/COO of the club. For clubs at capacity, perhaps overall satisfaction score and/or "value for dues" is a more aligned KPI forTakeperformance.thebelow general example of a quan titative approach to evaluation (every club should determine the categories and weight ings based on its specific KPIs and goals). This score may be used to determine discre tionary compensation, such as performance bonuses and raises, or to evaluate candidates for internal promotions.
These techniques will help boards under stand, set, and maintain performance standards that flow through the entire club, creating a transparent workplace with clear paths for goal attainment and advancement. BR
CEO Governance Model Builds Momentum in the Club Industry - Part I of II
"I think every private club today is trying to stay relevant in their particular market," Petrick says. "For a long time, that meant an emphasis on 'family-friendly programming'.
effectively attracting and deploying staff. And here again, I walked into a club that was way ahead of the curve when it came to its ability to respond, and that has only helped us stay relevant in this market.
86 BOARDROOM | JULY / AUGUST 2022
Coldstream Country Club, where Petrick still presided as general manager, didn't operate on the CEO model. Neither had Baltimore Country Club, his prior posting. Petrick had spent seven years at corporate giant ClubCorp, whose port folio certainly didn't include a single club of that stripe. Not back then, and not now.
Three years ago, when Dylan Petrick was poised to move across town to Kenwood Country Club in Cincinnati, OH, he remained largely unfamiliar with the "chief executive officer model" of club governance.
"The major difference in the CEO model, compared to the GM model, is one of ethos and attitude. I'm a strategic partner with the board here at Kenwood. I still report to that board and its president, but the CEO is helping to drive the club's vision and agenda, with the board as a partner — as opposed to being purely an operator.
Pre-pandemic, Petrick presided over the only club in Cincinnati with a waiting list. Come the spring of 2022, Ken wood's list had quadrupled in size.
"At the same time," he said, "there are something like 1,200 chief operating officers. Of course, there was a time — not too long ago — when no private clubs in America had turned operations over to a COO. I'm gonna go ahead and predict that the next movement in our business will be from a COO model to the CEO model."
GOVERNANCE
HAL PHILLIPS
Hal Phillips joined business journal Golf Course News as editor-in-chief in 1992. During his tenure he would oversee the launch of both Golf Course News Asia-Pacific and GCN International. In 1997, Phillips left to form his own firm, Mandarin Media (www.mandarinmedia.net), though he never stopped writing: His published pieces have since appeared in GOLF Magazine, Sports Illustrated, Travel+Leisure Golf, The Portland Press-Herald, Links and Golfweek. His new book, Generation Zero, is now available via Amazon.com and BarnesandNoble.com. He can be contacted via email: hphillips@mandarinmedia.net
Petrick arrived at 36-hole Kenwood Country Club in 2019, in time to pull the trigger on a $5 million renovation of the Kendale Course, the club's historic, championship 18, which reopened in June 2021. That was Phase I.
successfully landed a new LPGA Tour event, the Kroger Queen City Classic, to be contested on the Kendale starting in Petrick'sSeptember.timing has proved fairly impeccable. Starting in the spring of 2020, COVID-19 stimulated a nationwide golf participation boom, owing to the game's particular brand of outdoor activity and exercise. Kenwood unveiled a newly refurbished golf course well in time to capitalize.
"In retrospect, I was very lucky that I essentially walked into a club operating on the CEO model. I'd been a GM at previous clubs. When it was first explained to me, I thought, 'Bigger title? Sure!' But in reality, once I had started processing the differences, I said to myself, 'Oh. Right. This makes a world of sense.'" Dylan Petrick, CEO Kenwood Country Club
"That hasn't gone away, but now it's more a matter of responding to this renewed interest in golf, in diversity, in
"As a COO, you're really more of an assistant general man ager. That person is running club operations. The question is, if that person is handling operations, who handles strategic thought and execution on the club's behalf? The reality is, any US club today needs both long-term strategic leadership and skilled operations. The CEO model is designed to foster both."
Phase 2, a renovation of greens to USGA standards, will take place in September 2023. In the meantime, Kenwood
"In retrospect, I was very lucky that I essentially walked into a club operating on the CEO model," Petrick told me in February. "I'd been a GM at previous clubs. When it was first explained to me, I thought, 'Bigger title? Sure!' But in reality, once I had started processing the differences, I said to my self, 'Oh. Right. This makes a world of sense.' "
When I first spoke with Petrick, he had just returned from the 2022 CMAA conference in San Diego, where he learned there are only 59 club CEOs administering private clubs in the United States today.
Come 2019, some observers estimated that nearly half the 4,000 mem ber-owned private clubs in the US held debt that exceeded 50 percent of annual revenues. Owner/operators such as ClubCorp and Concert Golf Part ners thrived in this market, buying out equity clubs for pennies on the dollar, retiring that debt, and building their portfolios by operating all these clubs on a corporate model.
Her leadership also emphasized prudent financial planning. Kenwood broke ground on the Kendale renovation in the fall of 2019. During an inter view last year, the Cincinnati Business Courier asked Kuprionis whether the pandemic and a dicey private club market leading up to 2019 had given the club any pause — before taking on a $5 million renovation project.
"I have been beyond lucky when it comes to governance here at Kenwood," Petrick says. "I went from a governance expert in Denise Kuprionis, who hired me, to current President Brock Denton, who sits on the op erating board of a Fortune 500 company."
And yet, the philosophy of the club did change, because its governance model changed. The members also adjusted their expectations regarding how Kenwood should be
"Current and past board and finance committee members have been good fiduciaries and smart about protecting our financial asset," Kuprionis told the Cincinnati Business Courier in June 2021. "We did not need to levy special assessments on our membership to finance the Kendale renovation project.
JULY / AUGUST 2022 | BOARDROOM 87
So far as its proponents are concerned, the CEO model could not have come soon enough, for the last 15 years have proved something of a night mare for member-owned private clubs. These so-called "equity" properties — with their board-administered, GM-centric governance models — had been the US industry standard over the last half of the 20th century.
"But there's a huge opportunity cost as sociated with me bussing tables, with being hands on in that way. You have to ask your self what is not happening and what is not being executed strategically on behalf of the club and membership when I'm running your
Come the millennium, however, when club development boomed, compe tition for members radically increased. Only the strong, savvy and relevant equity clubs survived.
"My role is to get the right team in place to run the operations so I can do branding strategy, develop member experience plans and capital strategies in partnership with the board. That's the big difference."
In 2008, when the real estate market collapsed and a lengthy recession/ slow recovery ensued, the equity model proved largely ill-equipped to adjust and compete. Debt piled up.
Kuprionisassessments."stepped down from the board in September 2021. Petrick has taken Ken wood's particular foundation and built upon it: The club now sets aside $1.8 million an nually for capital improvements. It can rely upon $8 million in future initiation-fee cash flow. This progress has been achieved in partnership with a new board led by Brock Denton, Senior Vice President, Secretary and General Counsel for Cintas Corporation.
"Kenwood has a monthly capital dues structure and sets aside over $1.2 million annually for capital improvements. New member initiation fees are also utilized exclusively for capital maintenance and improvements to the club. Currently, Kenwood has approximately $7 million in future initiation-fee cash flows just from current members paying down their initiation fee obligation.
"In addition, Kenwood has a $15 million line of credit to provide short-term financ ing. This financial discipline and structure allows Kenwood to make significant infra structure improvements without any mem ber
"Wefood.frankly do not want our board worry ing over operational details either, such as food pricing or whether we have tee times available or not. We're trying to use the board for strategic thinking, not operations. We hire professionals to run the golf course here, the F&B operation.
According to the National Golf Foundation, between 2008 and 2020, the US golf course stock shrunk by about 150 facilities each year. Many of those shuttered facilities were private clubs. However, for every equity club that closed its doors or went the corporate route, another five simply went public orThissemi-private.fatenever befell Kenwood Country Club. Far from it, and Petrick credits the enlightened leadership of Denise Kuprionis for much of the club's successes.
Kuprionis served as club president and board chair from 2019-2021 She's the individual who instituted the CEO model here. No surprise really: Her day job is president of The Governance Solutions Group, a Cincinnati-based consultancy that specializes in outfitting clubs and other non-profits with cutting-edge, durable leadership infrastructure.
"Weadministered.talkedearlier about allowing for strategic thought, but a lot of traditional member ideas about a club got in the way of that," Petrick explains. "For example, I've been in this business 15 years. When mem bers see me running food, they tend to get excited. Because it looks like I'm rolling up my sleeves — and trust me: I enjoy that.
BR
On the chosen date, the construction company begins the process of very carefully floating our selected 90/10 ratio greens mix into the greens' cavities. After floating the mix into the greens' cavities the construction company or the grounds crew will water the mix to help it settle and to add some firmness before seeding or sodding. This is in many cases all that is done when firming up our greens mix, and in many cases, this limited procedure is not enough.
Many courses that have selected to go with a lighter mix such as a 90/10 will need to water extensively and roll the greens with a 2-ton roller until the de sired firmness is achieved.
We've crossed our t's and dotted our i's and are ready to go forward with our project with great anticipation, but maybe a little apprehension.
This watering and rolling process is normally done after the greens' cavi ties have been filled and shaped. If the superintendent or grow-in specialist is not familiar with bringing in greens of the lighter mix, this last step of firming before seeding or sodding can be very intimidating.Duringthe planning and execution process, we have formed a mental picture that we must be very, very, very careful not to modify the greens mix. Extreme caution does need to be taken so that the drainage system is not compro mised. This mental picture carries over to a feeling of not bruising or hurting the mix with anything mechanical, and to the less experienced person, it can be a rather scary thing to instigate and execute.
And when removing the top 3 to 4 inches when regrassing, the same watering and compaction procedure should be executed before seeding or sodding. BR
88 BOARDROOM | JULY / AUGUST 2022
We've had the sands that are available to us analyzed frontwards and back ward, upside down and inside out. We have lab certification of what the phys ical properties will be for all of our possible different root zone mixes, using each of the different sands with both organic materials and inorganic amend ments in ratios of 100/00, 95/05, 90/10, 85/15, 80/20, and sometimes 75/25.
This process is continued three more times for the mix at the 6- to 9- inch depth, the 3- to 6- inch depth and the surface to 3-inch depth. Once seeding or sodding is completed, these greens are ready for play and with very little settling over the next few years and with the proper agricultural practices, there is very little change over the life of the greens.
GREEN COMMITTEE
Dave Doherty is CEO and founder of the International Sports Turf Research Center, Inc. (ISTRC) and holds three patents regarding the testing of sand- and soil-based greens. He can be reached at (913) 706-6635 or via email: daveistrc@hotmail.com
Since we selected a 90/10 mix, we need to work a little harder to settle or firm up our new greens. Additional watering and extensive rolling are required.
We have chosen a mix of 90/10 based on many factors: physical properties that meet USGA-recommended specifications, monetary issues, quality of irri gation water, type of grass selected, and surface air movement.
OK … we've had hundreds of meetings. We've done our homework. We've selected an architect and a construction company and chosen the type of grass for surfacing or resurfacing our greens.
DAVE DOHERTY
A course I have worked with for many years and has a reputation of having some of the finest greens in the world compacts newly built greens in four segments, each of 3-inch increments. After the drain system and gravel is in place, 3 inches of greens mix is added/ floated into the greens' cavity, wa tered and compacted using a vibration method – 9- to 12-inch depth.
Floating in a Root Zone
DOUG WRIGHT
For example, clubs traditionally don't do a great job tak ing into consideration the time and legwork required by a pre-construction phase. Pre-construction means selecting an architect and contractor, determining with exactitude the scope of work, and securing materials with long lead times, like sod, seed and irrigation piping.
Are you having trouble finding a golf course contractor to han dle your renovation? Are you having trouble getting them to even pick up the phone?
What's more, there's only one solution, and it applies to both phenomena: Going forward, clubs are obliged to plan more comprehensively and commit to these sched ules earlier, even if it means waiting two years to break ground.Whatdoes planning thoroughly and well in advance en tail? I'm here to make clear exactly what that dynamic should entail. I'm also here to tell you that, in some respects, clubs can turn this situation to their advantage.
Let's continue with the hypothetical here: Your club wants to break ground on a renovation in the fall of 2024 because that's the earliest you can get a contractor lined up. Be can did with that contractor about your plans, and then execute a contract or letter of intent to ensure the contractor is com mitted to your project.
Indeed, clubs are likely experiencing the same dynamics in other operational realms. If possible, include a contingency in your project budget to address these inevitable shifts.
By the same token, clubs should be prepared to review and discuss supporting documentation to anticipate and truly understand cost changes. Handshakes are nice, but these days, any contract you sign with any vendor should include a mechanism for adjusted pricing.
Theminute.current business climate should help clubs better plan and commit. Many boards know years in advance that their greens are due for a rebuild. There is, of course, a demon strable life span for USGA-specified putting surfaces.
Course Renovation Market Demands New Levels of Planning, Commitment
JULY / AUGUST 2022 | BOARDROOM 89
GREENBR COMMITTEE
Clubs typically have an architect relationship already in place. Everywhere else, however, they typically wait till the last
of indecision. In that mode, your club may never secure the contractor it needs to lead the project.
Don't take it personally. This is easily the busiest the course-construction industry has been in 15 years. Contrac tors are securing and bidding work right now for 2024 and beyond. Architects, too.
Again, this commitment can be hugely beneficial to the process: It will put your renovation committee and super intendent on notice that a firm deadline is coming; if you're not working with an architect yet, it will give you time to landNowone.that you're all psyched up to make the best of a less-than-ideal scheduling situation, please allow me to splash the cold water of reality on your face: The current inflationary atmosphere — resulting from a combination of pandemic logistics, job shortages, the Russia-Ukraine war, and the rising cost of fuel — will not allow clubs to accu rately forecast the cost of that fall 2024 renovation project. Not in Contractors2022.
simply cannot guarantee their prices because their vendors and suppliers cannot guarantee their prices six months into the future, much less two years. This situation is something clubs must understand from the get-go.
In other words, don't pass any of this off to next year's committee — or your club may end up in a circular pattern
Doug Wright is vice president of strategic planning at Heritage Links (www.Heritage-Links.com), the course/irrigation construction experts based in Houston, TX.
No one likes spending more money than needed, but don't shoot the messenger: Your contractor cannot know the cost of something in 2023 or 2024, because his/her vendors cannot know. All you can do is be honest and upfront about these contingencies. Frank discussion from both sides is the only way to keep the relationship friendly, and not adversarial.
This demand, this jam-packed scheduling environment, along with the increased costs of goods and services, are the two biggest issues facing the golf course renovation market in North America. Nothing else comes close.
Because greens reconstruction will necessarily occasion closing the golf course, go ahead and line up a contractor two years in advance. In the interim, clubs can huddle with their architect, the course superintendent and that onboard contractor to truly research and establish the scope of work. Then lock up all the materials you can.
Are there other consultants to bring in during the early phases? When interior design is brought in from day one, the char acter of the facility is prioritized. For private clubs, this aspect of a dining renovation proj ect is highly perceptible and quickly critiqued as a measure of project success.
The finest food service consultants don't sell equipment either; they specify for the desired experience, rather than for the equipment sale. Ultimately, the food service consultant is the expert voice for your future food and beverage operations, designing your member dining experience from the inside out.
At one time, architects were called "the master designer." It's for a reason: The creation of the visual design is most obviously important, but in the end, the ar chitect has to be able to express, even sell, how the project will be attained.
Experienced food service designers also bring a wealth of expertise from outside of the club industry to cross-pollinate best practices and borrow gold standards from a variety of models across the hospitality industry.Involving the food service consultant in the early stages yields the best results, with support on assessing existing equipment and providing operational direction to be infused into the designs.
90 BOARDROOM | JULY / AUGUST 2022
BUILDING COMMITTEE
And the role of an architect is just as unique. An awareness of how the dis tinct and diverse components of a private club integrate is a critical aspect of the architect's responsibility for a club renovation project.
Not only is the food service consultant tasked with equipment planning and specification for kitchen, bar and service areas, but the food service con sultant also analyzes operations and understands how to find improvements.
Legal representation is also important in the early stages of any design project to, for ex ample, analyze the particular zoning require ments of the community. In many cases, these
A country club is a unique building type: It's a blend of a custom home and a community center, a restaurant and a hotel, retail spaces, recreation and well ness facilities, and corporate offices. It's one place with a variety of different functions, all co-existing and operating under one proverbial roof.
The architect also plays the role of orchestrator, coordinating the singular outputs of a complete design ensemble. Drafting a qualified team is paramount to the success of a dining renovation project, and the best design firms have a roster of players and a selection process to support clubs in this endeavor.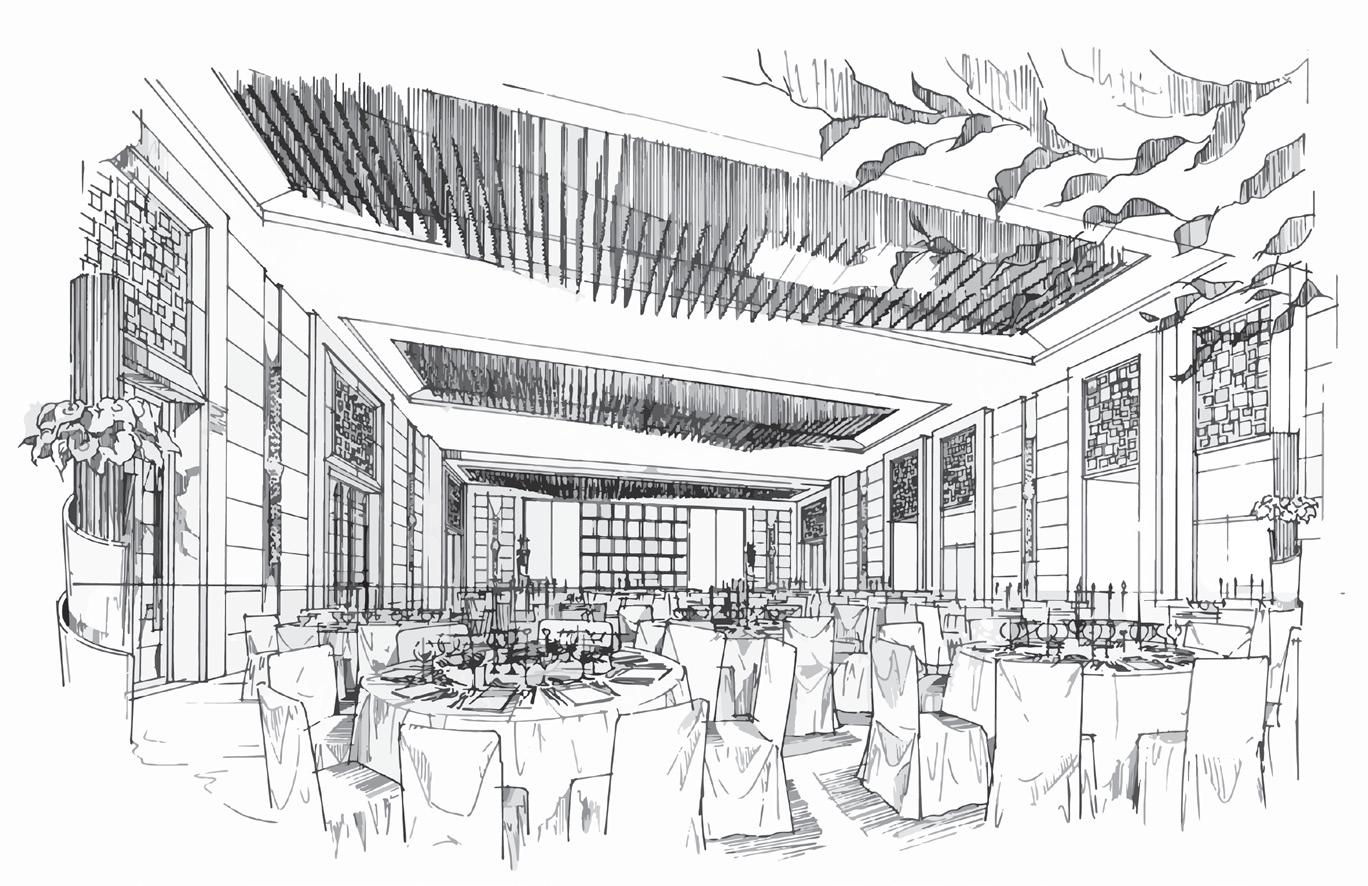 ED DOYLE CHRISTOPHER MEYERS
And this information, this grand idea, has to be communicated to different audiences—those who operate the facility (management and staff), those who are fiduciarily responsible (board members), those who approve the project (the building department), and those who use the space (members).
Interior designers, whether they are part of the architectural design firm or not, are exceptional at developing the right style, function, and durability of materials and products. Their early integration into the project produces a more aligned outcome that achieves the ultimate vision.
Like an architect, portfolio matters, espe cially with the importance of food and bev erage within a club experience. Food service designers work on kitchen after kitchen, and the best have even operated kitchens.
Who should be on my F&B design team? Besides building assessment disciplines—structural, mechanical, electrical, plumbing, and architectural— the other important role to fill early on for a dining renovation or food and beverage new build project is a food service consultant.
Dining Renovations and F&B Projects Drafting a Qualified Design Team
The general manager, head golf professional, and chef know the challenges of operating the facility all too well, and often more so than board members. They also possess helpful points of reference from their careers in the club industry.Likewith
Some projects also require specialty con sultants for challenging context conditions, like acoustics. Acoustic design consultants can help with experience obstructions due to noise, for Coordinationexample.withthe course designer (if a golf course renovation is part of the large-scale project) and landscape archi tects offers integration of building focus and the outdoor areas.
Christopher Meyers, AIA, NCARB, LEED AP, is the principal architect and owner of Mey ers+Associates, a full-service architecture and interior design firm with a wide breadth of practice, including private clubs, hotels, restaurants and athletic facilities. He is an ardent champion of serving others, readily giving his time and knowledge to civic and professional organizations and mentoring the next generation of architects and designers. He can be reached at cmeyers@meyersarchitects.com (614) 221-9433.
V isit us o n l i n e to s e e our c ol l e c ti o n. (707) WWW.HIGHENDUNIFORMS.COM746-7011SA LE S @HIGHENDUNIFORMS.COM TEN Y EARS R UNNIN G 2012 - 2021 BoardRoomEXCELLENCEMagazineinAWARDACHIEVEMENTWINNER Showcase the personality of your club with a crisp, uniform refresh. Call for consultation. PRESENTATION IS EVERYTHING
JULY / AUGUST 2022 | BOARDROOM 91
regulations differ geographically, so secur ing local expertise is helpful when it comes to processing through regulatory agencies.
An environmental design consultant will also be added to the team to achieve higher standards of environmental protection and sustainability objectives.
an institutional awareness of daily club operations that likely no other constit uency possesses.
Should the club operations team be in volved? Club management and staff have
anything that requires a group of people, their ideas, timelines, ob jectives and a budget, collaboration and communication are key. And so, the personalities of your design firm and consultants—and their leaders—become paramount.Inanydining renovation or food and beverage design project, the best results come from a well-drafted and fully harmonized team. BR
Ed Doyle is president of RealFood, Hospitality, Strategy and Design, a Troon Company. A graduate of the Culinary Institute of America, Ed has worked in some of the finest kitchens and food service operations across the industry, including a long list of award-winning ho tels and restaurants. The original founder of the RealFood consultancy, Ed has been helping clients since 1996 to define, design and deliver unique and memorable hospitality experi ences. He can be reached at eddoyle@rfhsd.com (617) 876-2100.
When a building is older or deemed historic, environmental consultants are tasked to verify that the building is safe and environmentally sound. They evaluate the presence of asbestos, lead paint or other environmental hazards, for example.
92 BOARDROOM | JULY / AUGUST 2022
This issue features Chartering Club Committees ... Becoming effective governors of a private club tests many directors' commitment to genuine servant leadership and their ability to put the needs of others ahead of their own. Seldom is this challenge more profound than at the committee level. Read more on page 94.
Henry also addresses Three Characteristics of Effective Club Governance… Most club boards intend to fulfill their jobs with the utmost professionalism. But many fall short of their greatest potential impact by allowing themselves to become distracted with day-to-day problems, overlooking or undervaluing members' wants and needs, or simply underperforming. By prioritizing three characteristics of effective governance –openness, mindfulness, and purposefulness – boards will fulfill their roles and responsibilities and win the praise of their clubs and members. Read more on page 95.
Excellence in governance is key to success for private clubs. BoardRoom magazine is featuring a series of articles written by Henry DeLozier, a partner with GGA Partners, an international consulting firm and trusted advisor to private clubs, golf clubs and residential communities around the world.
Excellence in Club Governance
JULY / AUGUST 2022 | BOARDROOM 93 Steve Berlin 954 614 1505 xhibtz1@xhibtz com www.xhibtz.com XHIBTZ business cards.qxp_Layout 1 8/25/17 Steve Berlin 954.614.1505 STEVE@XHIBTZ.COM | WWW.XHIBTZ.COM2012 - 2021 POOL FURNITURE • BEACH FURNITURE • UMBRELLAS • CABANAS • PATIO FURNITURE • CUSTOM CUSHIONS WE HAVE A FULL RANGE OF PRODUCTS TO SATISFY ALL YOUR NEEDS HIGHLAND GOLF & COUNTRY CLUB - INDIANAPOLIS, INDIANA BEFORE
One key to enabling improved committee effectiveness is a thoughtful and objec tives-driven charter. Following are five keys to writing a reliable committee charter.
EXAMPLES OF COMMITTEE OBJECTIVES ALIGNED WITH STRATEGIC GOALS ARE SHOWN BELOW
2. Establish committee objectives aligned with the club's strategic plan. The strategic plan is the primary guidance for the board and its committees. The goals and objectives outlined in the plan should serve as the foundation for com mittee work.
Becoming effective governors of a private club tests many directors' commitment to genuine servant leadership and their ability to put the needs of others ahead of their own. Seldom is this challenge more profound than at the committee level.
Committee charters are important to sound and trustworthy governance. They demand careful and purposeful thought and planning. Keeping these five steps in mind when writing your club's charter will clarify committee members' roles and help them serve the board and club effectively. BR
EXCELLENCE
Current thinking for private club boards suggests that committees such as audit, finance, nominating, strategic planning, and disciplinary or traditions are in service to the board. Operating committees, such as sports or racquets, golf, food and bever age, or house, are in service to the club's general manager, CEO or COO.
members have not received adequate guidance from the board.
Do not be overly prescriptive while bringing clarity to a committee's authority and limitations. Most committee members want to do an excellent job for the club and bene fit from clearly stated guidance.
Chartering Club Committees
5. State the committee's authority. Most club commit tees advise the board and are not authorized to bind the club to financial obligations, such as using unauthorized purchase orders or entering service engagements.
The board president and general manager should meet with committee chairs annually to confirm committee charters and objectives. This ensures that the board's committees are aligned with the board's strategic goals and guides committees re garding actions they should avoid.
Normal committee reporting is executed in writing and submitted to the board within a consent agenda that en ables the board to govern efficiently. (Note that a consent agenda is intended to increase efficiency and not diminish board discussion.) Committee reports orally submitted at board meetings are often a waste of time.
4. Confirm the term of the committee members' ser vice on the committee. Establish the term of service for the committee independent of names and personalities. It should be a one- to three-year term and not be left open-ended.
IN CLUB GOVERNANCE 94 BOARDROOM | JULY / AUGUST 2022
1. Clearly state the committee's purpose. Is the committee in service to the board of directors, or does it serve operational requirements while working through a member or members of the management team?
3. Confirm the committee's reporting requirements. Sometimes club commit tees lose their way. Often the distractions are tied to the club's internal politics. In addition, new committee members may choose to disregard or not familiarize them selves with the club's existing strategic plan, intentionally or inadvertently setting a new direction that is disconnected from the strategic plan. In some cases, committee
• Market understanding – Many metropolitan markets – such as Boise, ID; Austin, TX; and Nashville, TN – have changed and continue to change significantly. Therefore, maintaining a current market understanding for such things as mem
bers' expectations, economic elasticity, and embedded member networks is essential to continued success in membership recruitment and retention. Some club lead ers mistakenly believe that the pandemic-driven surge in member enrollments will continue. The clubs that continue to prosper will understand their markets better than their competitors.
• Organized approach – Organizing a club board's governing methods and processes requires that boards develop and institute the methods used in the club's standard practices concerning the methods, cadence, and content to be communicated.Beforetheboard institutes new communications and openness protocols, it is important to set members' expectations regarding which topics will and will not be addressed. For example, boards do well to be transparent about which topics are "off-limits," such as employee compensation and member discipline. Transpar ency does not justify the violation of boardroom confidentiality.
• Board policies manual – Developing and documenting the principles and methods to be consistently used in gov erning the club are keys to sound governance. A five-part board policies manual is a trustworthy platform in which the club's board can articulate its commitment to purpose.
HENRY DELOZIER
• Broad understanding – Topics that should be consistently communicated to members include governing principles, core values, and strategic goals and objectives. Famed New York retailer Sy Simms advised, "An educated consumer is my best customer." His advice applies to today's club members who are more engaged when they are adequately informed. Club members are best-informed when they receive reinforcing messages via multiple media options.
Openness – In today's skeptical times, club members are concerned that their servant leaders do not serve, lead, or govern well. As such, members have an unprec edented concern-turned-expectation that their club's leaders will communicate with deliberate openness. Members expect – and now demand – transparency concerning the following matters:
• Regular self-evaluation – Members today feel empow ered to expect the board to hold itself accountable to their expectations and report its performance results regularly and consistently.
• Strategic plans and planning – Top-performing clubs are businesslike in their methods, which makes maintaining a strategic plan and using strategy to guide big-picture thinking and tools standard practices.
Mindfulness – Keeping members informed and engaged ensures the club's rele vance with its members. Members benefit from knowing how their club is governed, financed, and operated. As such, club members want and need to know that the club relies on the following practices:
• Trustworthy governance – When boards achieve a reli able and consistent level of transparency, sound financial performance, and adherence to broadly understood strate gic plans, governance is respected and trusted.
Purposefulness – Keeping true to the club's purpose –mission, vision, and core values – ensures that members maintain confidence and trust in the club and its leadership. Keep the following in mind to sustain the club's purpose:
• Organization of management – Given current and likely enduring labor shortages, clubs will evolve their operational capabilities to access talent. This has become one of the most pressing strategic needs for private clubs. Clubs will perform well where the board is honest in its assessment of management's strengths and weaknesses and mindful of the need for succession planning.
Three Characteristics of Effective Club Governance
Most club boards intend to fulfill their jobs with the utmost professionalism. But many fall short of their greatest potential impact by allowing themselves to become distracted with day-to-day problems, overlooking or undervaluing members' wants and needs, or simply under-performing. By prioritizing three characteristics of effec tive governance – openness, mindfulness, and purposefulness – boards will fulfill their roles and responsibilities and win the praise of their clubs and members.
• Alignment of authority and accountability – Boards and their committees derive their authority from the club's governing documents. That boards recognize they are accountable to members is essential to their fulfillment of the alignment and accountability equation . . . each balances the other.
Henry DeLozier is a partner at GGA Partners. He can be reached via at henry.delozier@ggapartners.com
JULY / AUGUST 2022 | BOARDROOM 95
It's never been more challenging to be an effective and respected board of directors. Success in the eyes of club management and membership requires an ongoing com mitment to professionalism and ever-escalating standards of servant leadership. BR
The club served two meals per day and after noon snacks in multiple outlets. The corporate hospitality venues comprised 42 chalets (tents), 28 suites, 60 tables of 10 at the Champions Club and the 1916 Club, with over 3,000 people; concessions were handled by an outside food service contractor, who took care of the more than 200,000 regular tournament ticket holders.
Two other key players dealing with the F&B side of the tournament were executive chef Alex Pierce and purchasing manager Sherri Scott. Pierce and Scott started planning in October, nearly seven months before the tournament. Pierce created the menus and planned for kitchen equipment, storage, staffing, training and execution of the meals and snacks.
"Our biggest day was Sunday, when we served over 7,000 meals to members, PGA hospitality, players and their families and corporate hos pitality in the clubhouse and had four kitchens operating at a time."
Sidorakis estimated the food costs to be less than that of typical ca tered and banquet events, providing a healthy margin.
Bill Schwartz is the founder and CEO of System Concepts, Inc. (SCI). Based in Scottsdale, AZ, SCI specializes in F&B procurement and inventory management and is the developer of the FOOD-TRAK Food and Beverage Management System. Bill can be reached at (480) 951-8011 or bills@foodtrak.com.
"The member support we received in hosting the 2022 PGA Champion ship on such short notice was exceptional. We sold over 3,000 member tickets which provided access to the Snug Harbor, pool deck, member hospitality tent, seventh hole viewing suite and beer garden venues. All member tickets sold included breakfast, lunch and afternoon snack. The result was F&B revenue exceeding $2 million in just seven days."
Southern Hills was responsible for feeding ticketed members in its member tent and viewing suite adjacent to the seventh green and Snug Harbor. It was also responsible for two corporate hospitality areas, PGA hospitality, the players, players' families in the clubhouse, and its staff of over 500 people.
According to Nick Sidorakis, GM/COO (pictured below left), "We received the call from the PGA that Southern Hills Country Club was awarded the 2022 PGA Championship 16 months before the event due to a venue change. We would normally have two and a half to three years to plan and organize the championship. So, we started the plan ning process that day – January 20, 2021.
So, how does a club prepare for a major tour nament?
According to Pierce, planning was the most important aspect.
"We had breakfast and lunch buffets to plan for multiple venues, as well as an a la carte menu for the players and a special menu for the champions dinner," Pierce said. "We also had to focus on the cross-utili zation of raw materials.
96 BOARDROOM | JULY / AUGUST 2022
Interestingly,began."Pierce
only had a few weeks to plan for the champions dinner, since traditionally the previous year's champion specifies the theme and the courses. In this case, that would have been Phil Mickelson, who ended up not taking part in the tournament. Mickelson had arranged for his own chef to prepare the meal.
Southern Hills Country Club in Tulsa, OK hosted the 2022 PGA Championship, which took place May 1922. The food service aspect ran seven days, from Monday through Sunday. The club served over 30,000 meals for the championship.
A Major Undertaking Food Services for the PGA Championship
"This was not our first major tournament, so we had experience from past events and focused on what worked and what did not. Our effort from the start was aimed at getting every aspect of the plan as bullet proof as we could. We worked at it nonstop, right up until the tourna ment week
BILL SCHWARTZ
FOOD FOR THOUGHT
"We hired an additional 150 staff members at various positions for the week as well as another 60 golf course maintenance volunteers from all over the country," Sidorakis said. "This was in addition to our 350 regular staff members. We built a satellite kitchen to support the member tent, viewing suite and beer garden that served over 1,200 people at a time.
Pierce found out three weeks before the dinner that Mickelson's chef would not take part and it would in fact be up to him to develop the menu. He decided on an Oklahoma-based theme elevated to a Michelin-star level, and furious planning was again required."Oncewe got to Monday of the tournament week, the anticipation and excitement level felt by my team was palpable," said Pierce. "We would wake up at 2:45 a.m. and spend the next 19 hours executing. By Thursday everyone was drained. I told them if they could push through to Friday at 2 p.m., it would all be downhill from there. It was exhausting work, but they did an amazing job. All the planning and preparation paid off."
"I have been blessed to host seven championships at Southern Hills, including three major champi onships – two PGAs and one US Open. It has been such a rewarding experience over the last 27 years here at Southern Hills," said Sidorakis. "It was a per fect last dance."
"Then we broke down the menus into raw com ponents and started compiling order quantities. We used one mainline vendor along with some local produce vendors. Deliveries were restricted to arrive between 3 a.m. and 6 a.m. each day. No receiving was allowed after that. We made quantity adjustments as we went along."
Scott made extensive use of her F&B management system to aid in the process.
"We used variance reporting to determine where we may have missed transfers and made the adjust ments. As a result, we were quickly able to provide Mr. Sidorakis with accurate costs and sales for each venue."After a stellar career as one of the club industry's foremost general managers, Sidorakis will be retiring at the end of 2023.
BR JULY / AUGUST 2022 | BOARDROOM 97
"We had about two months to figure out what we needed, and we used member, staff, player, player families and corporate hospitality customer count estimates as well as the requirements for PGA hospi tality based on their numbers from recent years," said Scott. "We also had to plan for a charity concert, as well as broadcasters and future sites receptions.
None of this works without food or beverage, and that responsibility fell to Scott, who worked with Pierce once the menus were completed to determine what to order.
"We were able to easily handle the ordering and re ceiving as well as take full inventories before and after the event with the system," Scott said. "We used req uisitions and transfers through the system to identify products and costs associated with each venue.
My story with Donna began over 25 years ago in San Francisco when I hired Donna to work with me at the St Francis Yacht Club as the director of food and beverage.
Remembering Donna Otis
it wouldn't be breaking news to those who knew Donna to learn that she had already planned her memorial service, down to every detail.
Donna would credit her mom, Chiyoko, with instilling in her the duty and value of service, interwoven with the Japanese principles of grace and honor.
98 BOARDROOM | JULY / AUGUST 2022
From a military family and specifically from her father, Donald, she developed a high degree of discipline and dedication.
By Michael R. Feil
Earlier this year, our club management community lost a key contributor – Donna Marie Otis, CCM, CCE, or Donnasan, as many of us fondly knew her.
Donna always prioritized others over herself, focusing instead on her friends, coworkers, members, and especially her daughter Giovanna. She was simply wired with the hospitality gene.
It is, of course, an honor for me to write this tribute to her life. But, while also illustrating the tremendous imprint Donna left on me and this world, it is a daunting and humbling assignment. How does one pay tribute to such an extraordinary woman loved by so many?Yousee,
Donna was truly incredible. Genuine and dedicated, Donna's life was always one of service –selflessly and dutifully taking care of others – no matter what, where, when, or sometimes, even for whom.And
As it became clear to Donna that she would soon lose her long battle with cancer early this year, she asked me to speak at her memorial service and tell her story. So now I share some of her many contributions and gifts with you here.
Following Lake Merced, Donna would accomplish many great things, including becoming the first female chief executive at The Bridges at Rancho Santa Fe. I'm certain the fingerprints of her contributions remain on many of the club's operations and in the spirit of its employees and members.
Donna, with all our love, we thank you for the joy and laughter you brought us and how you enriched our lives. We will continue to try and live up to the standards and principles you set for all of us while remembering your great humor and the special twinkle in your eye. BR
Michael Feil, CCM, CCE, has served as a general manager in the club industry for the past 25 years in such storied cubs as the Jupiter Island Club, Westchester Country Club and Lake Merced Golf Club. He is presently secretary/treasurer for the Florida Chapter of CMAA.
Knowing that Donna is in Heaven today, it's crossed my mind more than once that she's likely taken charge of planning all the parties!Iwould
Magazine also selected her as one of the people shaping the future of private clubs.'
And lastly, in 2019, the Club Management Association of America named Donna as one of 10 recipients to receive the inaugural CMAA Fellow award, distinguishing those who epitomize leadership.
To me, Donna was simply everything ... dedicated and inspired coworker, dutiful mentee, the life of the party and most definitely a very dear and trusted friend.
Immediately, it became evident that she possessed an exceptional ability to connect with others across all walks of life. And through her approach and care, built trust with people.
Donna has also been recognized by many outside the clubs she managed, especially for her contributions to the world of golf and the development of women in our business. Her accolades, charitable efforts and service on multiple boards are too many to mention, but here are a few highlights.
To all of Donna's friends everywhere, Donna did give me a message she wanted me to communicate here. She is immensely grateful to all of us, for our friendship, love and for touching her life and that of her amazing daughter, Giovanna.
In 2016, she was selected as the California Senatorial Woman of the year, District 11 by Senator Mark Leno.
When I moved to the Lake Merced Golf Club, I knew Donna would be a terrific assistant general manager with whom I could partner to address the challenges ahead.
And as you might imagine, Donna was always the fun one on our team.
Donna was passionate about charitable work, too and served for 10 years on the board of the Good Tidings Foundation, which promotes the growth of underserved children through the arts, athletics and education. The Club Foundation recently announced a $10,000 contribution to Good Tidings in Donna's honor and the Good Tiding Foundation has named a scholarship in her honor.
JULY / AUGUST 2022 | BOARDROOM 99
As I reflect upon my time with Donna, her career and many accomplishments, I believe Donna remained a beacon of class, especially in the face of adversity, always living up to the principles of selflessness, integrity and leadership. She was an industry standard bearer who refused to be dragged down into mediocrity. Instead, she helped others elevate themselves and expected them to work hard like she did and maintain similar principles.
Donna was featured on the cover of the Golf Business Industry Magazine sharing with us the concept of 'Inclusionomics' and diversity.GolfInc.
I believe it was her exceptional ability to develop genuine connections that would become Donna's signature gift to us all. I think that Donna knew the bonds forged during all those interactions would endure over time.
It was clear to me that Donna had the 'right stuff' to go much further in her career. It was at Lake Merced when Donna asked me to help with her development and be a mentor – an experience that proved extraordinary over the years and more rewarding than I canHerexpress.growth was exponential and to the members' great benefit, the Lake Merced Golf Club saw fit to promote Donna to general manager upon my departure.
simply say how very blessed we are to have had this amazing woman in our lives…an incredible mother, tireless leader and friend to us all.
Donna was always there to accept those challenges with me... head on. She demonstrated considerable vision, especially with planning events, to the delight of the membership.
I'm also struck by the large groups of friends Donna amassed –too vast to be accommodated at her memorial service generously held at the Bridges at Rancho Santa Fe.
Here's the latest information on new and recurring issues.
DHS AND DOL TO RELEASE 35,000 ADDITIONAL H-2B VISAS
NATIONAL GOLF DAY HITS MILESTONE
National Golf Day brings industry professionals to Capitol Hill annually to share the industry's contributions and advo cate for the legislative and regulatory issues impacting the industry. National Golf Day serves as the pinnacle advocacy event of the year for the American Golf Industry Coalition, formerly known as We Are Golf.
DHS and DOL had previously announced that the FY2022 H-2B visa supply was exhausted on Feb. 25. According to a previous announcement, about 136,000 visas were re quested for the second half of FY2022.
Legislative and Regulatory Update
The EPA and Army will review all submitted comments and continue the rulemaking process. The final rule and im plementation are expected later this year.
The Coalition celebrated its 14th annual event on May 11. For the second consecutive year, the event was presented virtually, enabling the event to hit a new milestone. With more than 200 participants conducting more than 250 vir tual meetings with members of Congress, every state in the US was represented for the first time in the event's history.
Volunteer advocates from CMAA's Advocacy Committee, chapter legislative chairmen, and other interested members joined professionals from across the golf industry to educate Congress and their staff on critical issues, including work force and labor, environment, and health and wellness.
On March 31, the Department of Homeland Security (DHS) and the Department of Labor (DOL) announced the forthcoming release of an additional 35,000 H-2B visas for use for the second half of FY2022, April 1 through Sept. 30.
On Feb. 7, the golf and club community submitted official comments to the Environmental Protection Agency (EPA) and the US Department of the Army (Army) regarding the revisions to the definition of the Waters of the US (WOTUS). These comments were collaboratively submitted by the Golf Course Superintendents Association of America, the American Society of Golf Course Architects, the Golf Course Builders Association of America, the National Club Association, the National Golf Course Owners Association, the PGA of America, and the Club Management Association ofInAmerica.thewritten comments, the golf industry voiced opposi tion to the proposed rule, citing its impact on property own ers by returning "permitting decisions to an unpredictable case-by-case determination of jurisdiction by the Agencies, thereby subjecting golf course professionals to considerable confusion about what features on their lands may be juris dictional."OnDec. 7, the EPA and the Army published a proposed rule to codify the return to the pre-2015 WOTUS rule. In June 2021, the EPA first announced its intentions to revisit the WOTUS definition by undertaking a new rulemaking pro cess. In practice, the EPA has been using the pre-2015 rules for enforcement and implementation since August 2021, fol lowing the decision by a federal District Court in Arizona to vacate the 2020 Navigable Waters Protection Rule (NWPR).
In the announcement, Secretary of Labor Alejandro May orkas cited "current demand in the labor market" and a plan to "apply greater scrutiny to those employers who have a record of violating obligations to their workers and the H-2B program."The35,000 supplemental visas will be available for em ployers for workers with start dates on or after April 1. A total of 23,500 are reserved for use for returning workers who received an H-2B visa or were otherwise granted H-2B status during one of the last three fiscal years (2019, 2020, or 2021). The remaining 11,500 visas are earmarked for workers from Haiti and the Northern Triangle countries (Honduras, Guatemala, and El Salvador).
The NWPR clarified what waters fall under federal versus state jurisdiction and instituted clear rules for clubs and other property owners. It had been in effect and enforceable in most states since June of 2020.
MELISSA LOW
100 BOARDROOM | JULY / AUGUST 2022
Melissa Low, CAE, is the senior director, communications and advocacy, for the Club Management Association of America. For the latest infor mation on these and other issues affecting the club industry, please visit CMAA's Legislative Report blog at www.cmaa.org/legislative.aspx
Spring saw the cherry blossoms in bloom in Washington, DC, and lots of activity for federal rules and regulations affecting the club industry.
EXECUTIVE COMMITTEE
INDUSTRY ALLIES OPPOSE REVISION TO THE WATERS OF THE US DEFI NITION
On March 16, the US Senate passed S.623, the Sun shine Protection Act of 2021. This bill would make day light saving time (DST) the new, permanent standard time, beginning Nov. 5, 2023.
JULY / AUGUST 2022 | BOARDROOM 101
This would end the semiannual clock adjustments— springing forward one hour each March and falling back one hour each November. Those states with areas that cur rently do not use DST, like Arizona and Hawaii, may opt to continue to use standard time.
The bill is awaiting consideration by the House of Repre sentatives and needs its passage and the president's signa ture to become law. BR
SENATE PASSES PERMANENT DAYLIGHT SAVING TIME
Proponents of the legislation argue that extended daylight in the evening would mean more time for outside activities such as golf, tennis and swimming, resulting in increased economic activity. The DST was last adjusted in 2005 to start in March versus April. According to a Golf Digest article, golf was estimated to experience a $400 million in crease in revenue from expanding DST by one month.
And club does not just evoke the image of old private so cial organizations set up by men from Britain's upper classes in the 18th and succeeding centuries.
I was finally able to break out of my stay-at-home bubble during our spring break. So I pulled my trusty suitcase out of a closet, dusted it off, and packed it with nothing but fun clothes.
So are the employees in our clubs heroes? After all, they do protect and safeguard our members, their colleagues, and, perhaps most important of all, the value of the club's brand name, its reputation, and its future.
Just when I thought I had an answer, something popped into my head from Pixar's "The Incredibles" movie. You may recall the scene where Dash got in trouble in school.
By calling everyone a hero, are we diluting the specialness of what they do, who they are, and how they help, save, or serve?Arefirst
Like many of you, we had a resort stay that was a differ ent adventure – not bad, not good, just different. Since we had booked evening flights, it was nearly midnight when we arrived. Walking into the lobby tired, sleepy, and hun gry (remember those bento boxes), we saw a line of other equally weary guests waiting to be checked in by a single receptionist.Thatlongcheck-in line was a vivid reminder of the staffing issue that has plagued the hospitality industry for years –and has been exacerbated over these past COVID years. You can imagine how happy we were that our granddaughter, who had landed earlier that day, had registered us into our cottage before we arrived for a long-awaited respite from texts, emails, and cold weather.
And what about the receptionist, the locker room atten dants, the servers, and the chefs who come in and work double shifts so that the club can function. Are they also heroes? It seems as if just about everyone is being called a hero
As we were waiting for our driver to take us back to the airport, I talked with one of the resort managers.
Maybe the dilution of the word hero evolved from the
Dash responds, "Which is another way of saying that no one is … When everyone is super, no one will be."
My flights were without incident. There were no cancella tions, departure delays were less than 20 minutes, we made all our connections, airline personnel were on board, and there were no unruly incidents in the terminal, airline club, or in flight. (I will say, however, that those in-flight bento boxes still leave a lot to be desired.)
If you have read some of my other articles, you know that I often draw upon Latin (yes, I truly did study Latin for several years) and my Merriam-Webster Dictionary to get a fresh
perspective on words because they often change meaning over time.
So,today.isthe title of hero diluted? Meaningless? Outdated?
According to Eric Partridge, who was a New Zealand-Brit ish lexicographer of the English language, particularly of its slang, the word hero is rooted in Greek and similar to Latin and means "to protect" or "safeguard." It is thought to have evolved from the name Hera, the Greek goddess known for her protection of women.
responders heroes? Are the truckers who drive through the night delivering much-needed supplies to our grocery stores, pharmacies, or clubs heroes? Is the 10-yearold boy who voluntarily shovels the sidewalk of an elderly widow living down the street a hero?
MEMBERSHIP MUSINGS BONNIE J. KNUTSON
Then armed with my frequent flyer number, I jumped in the car and headed to the airport for what seemed like a new adventure. And in some ways, it was.
He humanized, for me, the issues that he, like so many other businesses, faced – staffing, supply shortages, cancellations, rising costs for virtually everything … ad infinitum.Aswesaid goodbye, we "bumped elbows." He then smiled and said, "We will get through this because my employees are heroes. They are all heroes."
To which she replies, "Everyone is special."
Needless to say, our time there went too fast.
On the way home, he says to his mother, "Our powers make us special."
Bonnie J. Knutson, PhD, is a people watcher. A professor in The School of Hospitality Business, Broad College of Business, Michigan State University, Dr. Knutson is a member of the Country Club of Lansing and the Michigan Athletic Club. She can be reached via email: drbonnie@msu.edu
Hot does not mean just a temperature anymore; GOAT is not just a funny-looking animal; Zoom has surely morphed from meaning "move or travel very quickly" to something with which we all have a love-hate relationship.
So what about hero?
102 BOARDROOM | JULY / AUGUST 2022
Waiting for a Hero
But are they heroes? Are they really? Or are they just doing the job for which they were hired and are being paid?
I'm holding out for a hero 'til the morning light He's gotta be sure, and it's gotta be soon. And he's gotta be larger than life Larger than life
Or to borrow the lyrics from "Holding Out for a Hero," a song recorded by Welsh singer Bonnie Tyler for the soundtrack to the 1984 film "Footloose":
What there will be, however, is a next normal, allowing us to reimagine what it means to be a hero. To reimagine how we recognize our club's heroes, how we reward our club's heroes, and how we honor our club's heroes.
"every kid gets a trophy" era, when many of us received a blue ribbon or a little plastic trophy for just participating. Some of us might still have a few of those blue ribbons or little plastic trophies stuffed into old shoeboxes tucked away on shelves somewhere.
Tell that to the National Spelling Bee contestants vying for the $50,000 prize. Should that award be equally divided among all the participants just for participating?
Tell that to the 72 young women invited to play in the Au gusta National Women's Amateur. Tell that to the 16 teams that make it to the Little League World Series.
JULY / AUGUST 2022 | BOARDROOM 103
An article in Forbes called this good employership, point ing out that in a world where skilled people are scarce and increasingly in demand a successful (club) needs to embrace good employership as a key business strategy. The bottom line is that every business – every club – needs its heroes.
I need a hero
seems to have upended every aspect of every club's operation. Things have not been normal for the past couple of years, nor will they be normal when this pandemic crisis is finally in the rear-view mirror. There will not be a new normal either.
As Dash pointed out, "They keep celebrating mediocrity, but if someone is genuinely exceptional, they shut him down because they don't want everyone else to feel bad!" Was the manager right, then, when he said all the resort's employees areCOVID-19heroes?
But is just participating or just "showing up for work" wor thy of a trophy, of being called a hero?
I'm holding out for a hero 'til the end of the night He's gotta be strong, and he's gotta be fast And he's gotta be fresh from the fight I need a hero
Your bottom line will thank you. BR
Think about how often you hear the saying "attention is in the details." How often do you apply that logic? Over a decade ago, I made a New Year's resolution to say and type out "thank you" instead of "thanks."
When was the last time you asked prospective mem bers for their thoughts? Try it after your next tour, and I guarantee the spouses will look at each other and spill the beans about their considerations and hesitations about joining the club. You will satisfy their doubts on the spot and save yourself an hour's worth of emails.
Don't forget that saying hello is as important as saying goodbye. I suspect many would argue that a fond farewell carries more influence. Particularly in this world of mem bership windfall, when we might find ourselves acting a bit too comfortable when we say goodbye after a sales tour.
Meet every situation with elegance, poise, good manners
MEMBERSHIP COMMITTEE
We collect an extraordinary amount of institutional knowledge during our professional tenure, and one con stant remains during downturns and pandemics: The atten tion is in the details.
Before meeting with prospective members, take a min ute to learn their narratives. This will help prospects see themselves using the club. Review areas of the club they expect to use. Don't focus on the pool if they are never going to use it.
The membership professional has always been per ceived as the club super-connector through prospec tive member tours, introductions, and retention. As we capitalize on the comfort of membership demand, an often-overlooked characteristic that carries a lot of po tential is responsiveness .
Kris Butterfield is director of membership, communications & public relations at Bethesda Country Club and president of PCMA. She can be reached at (301) 767-8252 or kris.butterfield@bethesdacountryclub.org
KRIS BUTTERFIELD
remember what etiquette is? It is time we get back to basics and meet every situation with elegance, poise, and good manners. In today's language, we call that "execu tiveThepresence."aftermath of COVID-19 has left us feeling and acting very comfortable in and out of the office. We are dressing down, sharing more opinions, and idling at status-quo speed. Our communication skills have fallen short of profi ciency where we once specialized in precise, positive, and powerful language. It is time we regain our professional credibility, personal interactions, and overall charisma.
Just because leisurewear is deemed appropriate attire doesn't mean we should loosen our professional reins. Just because your club is on a waitlist doesn't mean you should lose all sense of manner and etiquette.
And one last thing: "Thank you" for taking the time to be with me today. BR
104 BOARDROOM | JULY / AUGUST 2022
Get Back to Basics
With prospective members knocking on our doors, this is the perfect time to continue practicing our good social graces and tact and respond in a timely fashion. I wish I had a dollar for every time a prospective member told me that so-and-so at the club down the street took three weeks to respond to a voicemail. First impressions become lasting impressions.
I doubt many of us remember the popular radio quiz pro gram "Twenty Questions." Asking questions is the only way to get the best answers. Now is the perfect time to make fewer statements and ask more questions.
Think about that for a second. You just bent over back ward and went above and beyond to assist someone and in return, they said a quick "thanks" instead of taking the time to say, "Thank you, Kris." It has a different ring to it, doesn't it? If we are truly appreciative, then why wouldn't we say the entire phrase?
Doesdetail.anyone
At some point, we decided that "life is too short" and we didn't have time to give everything our all, so we started tak ing shortcuts. Over time, we have come to not only appear lazy, but we have also lost our sense of etiquette and atten tion to
Try not to be generic when bidding adieu to prospective members regardless of where your club stands with wait or capacity concerns. Leave a lasting impression. Leave prospective members feeling confident and wanting to see you again.
However, that didn't stop individuals from boldly presenting themselves for membership. This produced a culture where friendship was not the guiding force for how and why prospec tive members were introduced to their new club relationship.
Getting members to participate in the growth of their club is similar to the concept of being dedicated to a healthy lifestyle that involves daily exercise and good eating habits. The con cept is easy to discuss but difficult to maintain and sustain.
Hyperinflation, a world war, a shaky stock market and a hyper-partisan midterm election could not have been pre dicted to follow so closely behind a worldwide pandemic.
Who could have predicted that a "perfect storm" of cir cumstances would follow a, hopefully, once-in-a-lifetime pandemic? Particularly when we have let our guard down a bit concerning the fundamental process of being engaged in membership referral.
No one looks forward to exercising, but when you get into a rhythm and it becomes a part of your frame of mind, as it pertains to your overall good health, you tend to stay dedi cated to your efforts. When you take a sustained break from exercising, it is difficult to get back "in the groove."
MEMBERSHIP COMMITTEE
I can suggest that the fish will not be jumping into the boat in 2022 and 2023 as they did in 2020 and 2021. If someone didn't join your club in 2020 or 2021, during the absolute height of consumers looking for a safe place with outdoor recreational activities, why do you feel they will now?
Steve Graves is president of Creative Golf Marketing. The company specializes in membership development strategies to enhance membership growth, membership retention, and financial success for its private club clients. Contact CGM via email at www.CreativeGolfMarketing.com or 800-526-8794.
The private club industry also seemed convinced that COVID-19 was the only catastrophe that it would have to deal with and that smooth seas were going to exist once COVID-19 came to an end.
SEE MEMBERSHIP COMMITTEE | 114
STEVE GRAVES
Inviting your friends to be a part of your private club fam ily is the cornerstone of the membership referral process and the foundation of creating longevity for new member prospects.Membership referral galvanizes new members into the cultural aura of what defines the club. It helps them to feel like owners rather than customers.
Unfortunately, it is easy to acquire the mindset that it "is someone else's job," and you don't stay dedicated to inviting people to consider your club. Your "membership referral muscles" tend to atrophy without use and you become a membership referral couch potato.
ings and then on to board of directors meetings, they would admit that the criteria of "being sponsored by a current member" were at best "relaxed."
Some clubs were prepared to be luckier than others when the pandemic hit in March of 2020. Those clubs had in
Consumers became bold about their inquiries into joining private clubs that were considered one of the few places to have recreation, dining and social experiences in a "per ceived safe space." To say the phones were ringing off the hook is true.
We all know that COVID-19 certainly chose winners and losers in 2020 and 2021.
JULY / AUGUST 2022 | BOARDROOM 105
I can argue that many members of private clubs were pur posely not inviting their friends to join during the pandemic due to the frustration of having their club being perceived as too busy and, specifically, because they were unable to get on the golf course. Helping their club attract more members was the last thing on the mind of most private club members.
Unfortunately, too many membership sales during the pandemic were more transactional than personal.
Additionally, it must be stated that many clubs enjoyed the "low-hanging fruit" phenomenon in 2020 and 2021. I cannot suggest that potential private club members are a finite commodity.
We all know that "membership by invitation only" should be the guiding force behind private clubs. With more than 80 percent of private clubs being not-for-profit tax-exempt organizations, the concept should be adhered to at all times. Friendship and camaraderie are the foundation of success for private clubs.
Membership referral is similar to exercising. You don't particularly look forward to it, but you know it must be done for the overall good health of the club.
Membership Referral Has Atrophied at Most Private Clubs
If your private club had a golf course, outside recreational offerings and outside dining spaces, you had to beat people off with a stick to not have them want to join your private club.
With that last statement resonating in your thought pro cess, do you feel that membership referral was an integral part of the COVID-19 membership explosion?
We predict that through the fall, membership referrals will have atrophied to a point of almost being non-existent. Webster's dictionary defines atrophy as "a gradual decline in effectiveness or vigor due to underuse or neglect."
If private club leaders are honest about the applications that were flooding into their membership committee meet
Jarrett Chirico, USPTA, PTR, PPTA, PPR, PPTR was until recently director of racquets at Baltimore Country Club, Baltimore, MD. He is now director of racquets at Royal Oaks Country Club, Dallas, TX.
I want you to imagine that you are an airline pilot. You have been flying for years and you are great at your job.
You have spent years perfecting your craft and are ex tremely confident in your ability to not only fly but to help others become better pilots. You are a leader in your field.
Now imagine one day your phone rings. The CEO of the airline calls and says he/she wants to provide passengers with more options. By providing more options, the airline will create more value for passengers and they won't have to look anywhere else. This makes sense, in theory, and you ask what type of options he/she means.
The idea that all flying is the same is a bit far-fetched … or is it? If you can fly a plane, should you not be able to fly a helicopter? If you can fly both, does that not make you more valuable? Should your income not increase? Let's compare that to the hospitality industry for a second and, more specifically, to racquets.
106 BOARDROOM | JULY / AUGUST 2022
Because of the popularity of these other sports, clubs have seen a resurgence of members; even tennis has started to grow again. Clubs now want to offer members more value through options. Instead of one racquet sport, they can now offer two or three, even four. However, there is a Allcatch.racquets are the same, so you are now expected to teach, program and staff for all these sports. You will not get more money to bring on new staff and don't think about a raise because your department is already maxed out. Let's not forget that we need to be the best and make sure members have an exceptional experience. Imagine as if all that were true … because it is.
You have been a tennis professional/director for years and you are excellent at your job. The industry has changed a lot, but you have always been consistent and served your members the best you could. During the last 15 years, the popularity of tennis has dwindled, but something has started to happen in its absence. New racquet sports have been gaining popularity.
This does not come without challenges. Director of ten nis positions are almost all gone and have been replaced by director of racquets positions. That does not mean our leaders are ready because we change their titles.
RACQUET COMMITTEE
The CEO says the airline will now not only transport passengers by plane but also by helicopter and potentially hot air balloons as well. Travel will be about necessity and pleasure, and the airline will focus on the overall experi ence of the ride rather than just getting passengers from point A to point B.
The pilots, including yourself, will pilot the new offerings and will need to be ready as soon as possible. And because you are an exceptional airline pilot and there is a shortage of pilots, you will teach the flight attendants to fly. That will solve the shortage. You will not get a salary increase, but since you are paid by the number of flights, the new offer ings will bring more revenue to you and the airline.
If our directors are not ready, their staff will never be ready and a whole generation of professionals could be lost. Now more than ever is the time to invest in people. The investment we make today in our leaders is an invest ment in our clubs and, ultimately, the industry.
RIPPLE EFFECT
JARRETT CHIRICO
Racquets has more touch points than any other part of a club and attracts the whole family because of the many offerings/amenities. It is what brings new members and retains existing members. It provides value that is rooted in long-lasting relationships.
Investing in one person is like dropping a stone in a lake. It will without a doubt make a splash. Investing in leaders and giving them the tools to educate and mentor their staff is like skipping that stone across the water. It will have a ripple effect long after you are gone.
A Simple Approach to Understanding Racquets
OTHER SPORTS
The truth is racquets is the single greatest gift to country clubs. It happened by chance. One racquet sport (tennis) failing opened the door to many racquet sports succeeding. The idea of a total racquets program (one sport working to grow all sports) was born.
The same is true when a staff member, executive or leader moves on. We cele brate the time they had with us, and the impact they made on our clubs, our lives, and our culture. The relationship is not gone. It changes, and we look to work to gether in different ways.
It takes a family to succeed, and family never leaves us. The dynamic just changes. The same is true in hospitality, the racquet industry, and all business. The world is going to change. The racquets industry is now bigger, it's better, it's harder and yet in many ways, it is easier.
We must put more into it because we will get so much more out of it. I urge my fellow leaders to think about your pro grams and your clubs and see what more you can give to support your staff. To sup port your leaders.
BR
I have always been excited when my staff has moved on. My members have always been sad to see them leave but proud of their new success.
As leaders and managers, we expect our staff to move on, yet we are shocked when our executives/peers leave us. Directors should be constantly learning, constantly pushing for more, constantly excited. The greatest lessons are not taught in a class room but observed through action.
JULY / AUGUST 2022 | BOARDROOM 107
There is something special in having people come to you asking for more, want ing more. It is rare to find ambition and harder to mentor but within people lies the future for your success. Invest in rac quets, invest in your people, the best is yet to come.
Managers should not be shocked if di rectors leave but proud to have helped them on their journey. Presidents and boards should feel the same about general managers. We must put our leaders in a position to learn and give them the tools they need to lead.
It is sad when our children grow up, when they leave the house and go to col lege, when they get married. This brings changes in people's lives, but it doesn't change the fact that we are still family.
Finally, know your membership's demographics and pro gram accordingly. An older membership will probably just want social match play whereas a younger membership will want more variety and availability.
Build Racquet Sports With Programming Based on Your Club's Culture
These could be three-hour events or one-day events. And make sure to get involved in interclub leagues and set up a lesson and clinic schedule that taps into the competitive spirit of the members.
for the next five years. What that program looks like will depend on your club.
Get to know your club's culture in a post-pandemic world and you will set yourself up for success over the next five years. BR
So what does this mean for the racquet sports program at your club? Expecting things to be 100 percent like they were during the pandemic would be short-sighted as would ex pecting things to be the way they were in 2019. The answer lies in the middle and blends both worlds into one.
DAVE MOYER
Do your members prefer lessons and drills over match play? Be creative with your clinic program and offer at least one clinic a day, depending on the size of your membership. Large clubs may have several options a day. A good clinic program will keep things fun, have smaller pro-to-member ratios and provide a wide variety of offerings so that every one feels like they have a spot.
Over the past two years, we have seen a boom in tennis and pickleball as members stayed home and looked for ways to stay active outdoors and use their clubs year-round. But what happens when the pandemic continues to slow and everyone resumes pre-pandemic life?
At The Country Club at DC Ranch, our culture is based mostly on one line from our mission statement – fun, fam ily and friendliness. So when we start to look at program ming in tennis and pickleball in a post-pandemic world, we need to make sure that our culture is still the same and build clinics, lessons, events, leagues and socials around that
108 BOARDROOM | JULY / AUGUST 2022 RACQUET COMMITTEE
Take what you have learned, incorporate it into your club culture and build a program that will be sustainable
Noculture.clubwants to take the stance that this is the way we have always done things. But it is OK to look back and un derstand what made you successful before 2020. And it is OK to be mindful of what has succeeded since 2020 that maybe you didn't expect while at the same time understand ing what didn't work and moving on from it.
Dave Moyer is a USPTA master professional and the director of racquet sports at The Country Club at DC Ranch in Scottsdale, AZ. He can be reached at dmoyer@ccdcranch.com
A good clinic program will keep things fun, have smaller pro-to-member ratios and provide a wide variety of offerings so that everyone feels like they have a spot. Know your membership's demographics and program accordingly. An older membership will probably just want social match play whereas a younger membership will want more variety and availability.
Yes, there will be people who won't go back to the way life was in 2019. But for others, the chance to go back to the way things were has been two years in the making.
You have to start with recognizing what your club culture is and whether it has changed or stayed the same over the past two years.
Is your club more social? If so, you want to set up events that incorporate more round-robin play, with food and bev erage and themes. Keep things light and fun and less about competition. You can add in drills such as cardio tennis, which has all levels coming together into one class in an up beat and fun environment.
On the flip side, is your club more competitive? If so, set up in-house leagues that challenge players and give them oppor tunities to be recognized and win prizes and/or prestige. Have tournament play and shootouts that are simple to run but allow members to compete over a short amount of time.
Parking Lot Thefts Redesigning Your Lots to Prevent Crime
As crime explodes across the country, general man agers are often having to solve the problem of parking lot thefts, especially when it becomes a constant headache.
Clubs that have had demographics change from semirural to semicity have felt the biggest bite, and those close to a thruway/interstate within a 30-minute drive to a port city even more.The combination of value versus relaxed criminal sentencing has created a dynamic of consequences that can be very lucrative for youthful offenders.
• Use parking lot attendants during busy times. Strive to use pro prietary valets and not contract services – sometimes they can be working with the bad guys.
Using cameras in parking lots to document drivers' faces and identi ties is a much better plan of attack that will help law enforcement catch offenders. License plate recognition (LPR) is also a great tool to assist with access control of parking lots. BR
New Jersey and other states have "relaxed" prosecution. On Jan. 1, 2017, the Bail Reform and Speedy Trial Act was passed, drastically changing how bail works. This act eliminates cash bail to avoid holding innocent people in jail simply be cause they can't meet bail.
As a consultant, I'm often called in to address some of these issues that have become a night mare for boards. Although each club is different, I have found common denominators to help in the conversation of "what can we do."
Let's face it, private clubs are establishments that reflect wealth, and by their design of old were made to look attractive and rich, with secu rity and safety not even an afterthought. Fences and gates are not designed for security but to delineate property lines.
Mitch can be reached via email: Mfenton@baltusrol.org
• Strive for natural surveillance. Reduce multiple entrances and areas where vehicles can pull into your lot and not be forced to drive past people-occupied areas.
• Be cognizant of pedestrian safety. Too many bushes and tree barriers can block natural surveillance of your lot.
Mitchell R. Fenton, CPP is with Baltusrol Golf Club, Springfield, NJ.
Closed-circuit television has become a large Band-Aid for most clubs trying to show that they are trying to address the issue, and although I am a strong proponent of using CCTV, it is merely a great tool for forensic use.
• Use a crime prevention through environ mental design practitioner. This has been
HOUSE COMMITTEE
If car thieves under 18 are caught, they are au tomatically released because they cannot afford bail. To add complications, law enforcement offi cers are restricted on chasing stolen vehicles by stricter guidelines on police.
mainstreamed for some time and has had proven success in urban area design in reducing crime.
JULY / AUGUST 2022 | BOARDROOM 109
MITCH FENTON
• Use curbing and natural barriers to direct the flow of traffic to occupied areas.
• Know the difference between landscape lighting and safety/se curity lighting. Work towards a happy medium.
These thefts, often perpetrated by amateur and professional thieves, can often turn into larger problems, such as car jackings, armed robberies, etc., once the perpetrators' confidence is boosted by lack of countermeasures.
Hannah Eanes, their former intern and former assistant clubhouse manager, said: "Three and Jackie are some of the most energy-giving people I know. I was lucky to meet Jackie as a young
She was one of the youngest managers to earn the CCM designation and served as the director of extraordinary for the Extraordinary Leader Program for five years. Jackie has been the editor of The Private Club Advisor for nearly 10 years.
Their protégés and those they have impacted are the best example of their success and demonstrate the importance of helping others.
BoardRoom Educators of the Year 2021 Three and Jackie Carpenter
Today, Three is the GM/COO of Crow Valley Golf Club in Davenport, IA, where he has been for over six years.
A passion for excellence and people quickly shaped the destinies of Three and Jackie, and the club industry was a perfect place for them.
From mentoring interns to helping students, from building the confidence of employees and friends to providing education to the industry and beyond, Three and Jackie Carpenter have pro vided a lifetime of thought leadership examples of how to treat other human beings.
Fueled by their desire to help others excel, they set out to inspire, mentor and develop the people around them. They poured precious time and energy into the program because it was not just about creating good managers. It was about creating good people who knew what they were capable of in life.
110 BOARDROOM | JULY / AUGUST 2022
Three and Jackie started their hospitality careers at an early age and progressed rapidly from there.
Jackie attended Iowa State University, in Ames, IA, where she majored in hotel, restaurant and institution management. She earned her master's degree in hospitality from the University of North Texas in Denton, TX.
I've been blessed to meet, engage with, and become family friends with two people who are genuine in their love and respect for people. You know genuine when you see it in every one of their interactions that you witness.
Three began working in his hometown country club golf shop at the age of 14 and was managing the club by the time he was 23.
At 13, Jackie was waitressing at weddings to support her 4-H club. She joined the club industry as an intern during college.
With Three's visionary talents and Jackie's operational prowess, they became a powerful team working together at several clubs, including Dal las Country Club, where their intern/management in training program elevated to a new level.
By Rick Coyne
He has more than 30 years' experience and tackled numerous con struction projects after managing eight private clubs across the country, including Wakonda Club in Des Moines, IA; Dallas Country Club in Dallas, TX; and Hillwood Country Club in Nashville, TN.
While it took Three and Jackie five years to complete the book, (having full-time jobs and two children during that time) they were motivated to share a proven pro cess they knew would help their industry. Their belief that it could make a difference kept them going day after day and year after year.
The couple spoke to students at the recent CMAA World Conference and delivered a compelling and enthusiastic presentation, leaving the audience energized and inspired.
It's an exercise in pure human connection and it's invaluable in our lives and the lives of others. BoardRoom magazine Educators of the Year : A much-deserved award for two of the great thought leaders in our wonderful world of private clubs. Thanks for sharing.
Jackie, too, spoke at local colleges and found herself teaching multiple undergrad uate courses in hospitality at the University of North Texas while she was earning her master's degree.
Over the years, Three and Jackie have spoken at countless venues nationally and internationally, for CMAA, PCMA, PGA and the Extraordinary Leader Program.
I've followed their careers and even invited them to work with me on the consult ing side. During our time together, I always thought I would be doing the mentoring, but in retrospect, it was me who was being mentored by Three and Jackie. I learned more from them than I could have ever hoped.
As extraordinary speakers, both would readily admit that it isn't about them. It is about giving their knowledge, experience and passion back to the industry they love in the most energetic way possible.
clubhouse manager at a career fair my sophomore year of college. I couldn't even see her behind the crowd of students waiting to talk with her. Jackie simply always had a knack for inspiring, hiring, and leading.
After years of working together, Three and Jackie went from friendship to mar riage and the dreams of two became one. Their goals of writing a book and having a family often seemed lofty, but as Jaycee Kay recently turned six and Callen's second birthday approaches, the duo has been proud to share "People First: The 5 Steps to Pure Human Connection and a Thriving Organization" with the world.
Whether it be on a podcast, in a webinar or at an in-person meeting, they always provide current, relevant and helpful information to drive greater success for the industry and the people who work in it.
Working with Three and Jackie every day was a treasured moment in time that restored my energy and renewed my enthusiasm for what I was capable of doing for myself, for others and for the private club industry.
Ultimately, their belief systems brought Three and Jackie to where they are today. The belief that it isn't about them but the people around them and those relation ships that truly matter. The belief that we can be people working together at life, not just people working together at work
BR JULY / AUGUST 2022 | BOARDROOM 111
I have been blessed to know the Carpenters for many years, from my mastermind relationship with Three for nearly 16 years to getting to know Jackie and her bold and vivacious operational style as a young manager.
So did the love and support of people like bestselling author Tommy Spaulding, who introduced Three and Jackie to his agent, who pushed the Carpenters to keep the pro cess moving forward. And it worked. "People First" was indeed a labor of love.
"Three offered me my first job as an assistant clubhouse manager and continues to invest in my success to this day. He has a unique sixth-sense ability to recognize what people need. He uses this talent to help team members build confidence and bring out theirEarlybest."inThree's career, he became known for his inspiring speeches. He regularly visited colleges, student conferences and student chapter meetings to educate, sup port and encourage up-and-comers in the industry.
This burn is lots bigger than the burn you'd anticipated. Big burn, big Third-degreelearn. heat/third-degree burn—You never saw it coming, your psyche was unprepared and your expectations were misaligned 'cause you didn't have a clue that this type of fire was about to be touched.
You and the board got smacked and burned—bad. You got fired. The board got recalled. The headhunters stopped call ing. Burned bad. Learned lots.
First-degree heat/first-degree burn—First-degree risks are inexpensive, they're easily reversed and altogether manage able. You know the risks and they're perfectly acceptable. When you "lay an egg," you'll get a low-level burn. Modest burn, modest growth. Paint the bathrooms a different color
Success is a lousy teacher. It disguises the weaknesses, hides the cracks, and makes you complaisant, self-satisfied, smug, unreflective and lazy.
TOUCH THE FIRE
You're young, ambitious and inexperienced when it comes to projects, new initiatives or changes in staff, programming, construction, interior design or "selling the stuff." You've taken the classes, read the books and attended the lectures. You've mastered the theories, done the benchmarking and talked to your network. You know what needs doing and the nay-sayers be damned. Full speed ahead.
Prepare to get burned from the cruelest of teachers—expe rience. Ain't nothing like experience to generate knowledge. You need to experience things firsthand, live on the coalface, dig in the trenches, do stuff and get spanked. You need to touch the fire. Feel the heat. Experience how bad "bad" can be and discover why bad is bad and why bad is good. You need to burn and
THE HEAT
You've decorated the living room, designed by the most fa mous designer in clubdom and written up in all the magazines. The clubhouse needed it, the committees said "yes," the board said "yes," and the members said "yes." (After all, everyone you spoke to told you it'd be wonderful!) The architects told you it'd be a winner and your network gave it a huge "thumbs up."
The successful know that stumbles and bumbles are your friends. Shake their hands. Give them love. Failure creates clarity about what works and what doesn't. It's a data point showing you what to do in the future and what not to do. Em brace the burn and give thanks.
A wise poet once wrote, "The road of excess leads to the palace of wisdom." He was giving the green light to experience the unknown and the unexplored.
The project is a biggie. You know there are big risks, there's lots of money, reputation, time and goodwill on the line, you know that slightly less than half of the membership said "no" to the project and slightly more than half said "yes," but you and the board decided to pursue the project anyway because it's the right thing to do for the future.
If you want to learn, pursue the burn. Touch the fire. Take chances. Explore the unknown. Push the envelope. Try lots. Get uncomfortable. Get spanked. Stumble. Screw up. No guts, no glory. No pain, no gain. No failure, no growth. No burn, no learn.
You anticipate a serious burn from the vocal minority. Your burn expectations are aligned with the heat you imagine and your brain is prepared. You're a leader and do what needs doing but get burned big time. Your worst fears are realized.
MAGIC
Those who've climbed the mountain and experienced success know deep down and in the pit of their stomach that the foun dation of success is a catalog of failures. Scars. Breaks. Bruises.
Touch the fire, live the adventure, feel the heat.
Experiencelearn.isthe
GREGG PATTERSON
112 BOARDROOM | JULY / AUGUST 2022
TRIBAL
best teacher and experience hurts. Mis steps. Misalignments. Mishaps. Glorious.
There are three types of heat and three levels of burn.
and it flops. A little bit risky but the downside is known and manageable.Second-degree heat/second-degree burn—You're aware of the risks and know that the hurt factor could be higher. To your ego. To the budget. To the club culture. However, you're confident the board and your fan club have "got your back" and that their love will see you through the ups and downs.
You were overly confident, oblivious to the nay-sayers you never heard, oblivious to staff rumblings you never heard, lulled into unconsciousness because the project was on time and under budget.
Then, the unthinkable, the unspeakable, the unimaginable comes true—the grand opening, the curtain is drawn, the eager come looking and the members gasp, furious with the money you spent and the "what" that got done. Designed wrong, sold wrong, done wrong.
Gregg Patterson is founder and president of Tribal Magic. He can be reached via email: GJPAir@aol.com
You shut the course for six months to renovate the bunkers and upgrade the greens, assessed to get the money, gener ated a bit of debt, told the members what needed doing and why and thought you'd gotten their buy-in.
Burn and Learn
The burn is coming—guaranteed. Anticipate the fire and prepare for the burns—known and unknown. Assemble your first-aid kit—your burn box—with ideas, people, stuff and ex pectations. Before you jump into the madness of the great un known, know who'll befriend you during the journey and who'll undermine and compromise and diminish your every effort.
LEARN FROM THE BURN
JULY / AUGUST 2022 | BOARDROOM 113
Doing demands debriefing. Reverse engineer the end result and diagram how you got "here" from "there." Go deep by yourself. Walk in circles. Bicycle home. Consider what hap pened and why. Write down your ponderings in your pocket notepad for future digestion.
Do stuff you know nothing about. Embrace the adventure. Experiment lots. Push the envelope. Accept the risk. Touch the fire. Feel the heat. Ponder the pain. Burn and learn. And enjoy the journey. BR
Go deep with the team. Talk it out. Laugh at the failures. Cel ebrate the flops and laugh about the lessons you've learned. Write down the insights you've gained. Read what others have written about the burns they've experienced.
Fill your burn box with the right psyche—Generate right expectations and accept that you'll be experimenting lots, screwing up lots, trying lots and getting lots of "wrong direc tion" results. Fortify yourself emotionally for the downside.
Every burn delivers the big learn if you examine the damage and stockpile the insights. Translating the burn into the learn is the key to professional growth.
Fill your burn box with sweat options—Figure out the exer cises you'll need to sweat out the failures and purge the de mons. Driving range. Tennis court. Bike route. Yoga class.
Fill your burn box with your network—Get in touch with your network of managers and consultants and ask about their projects, their knowns and their unknowns, and how they handled the burns they experienced. Identify who you'll talk to when strange things happen. Embrace your friends. Do nice with your enemies.
PURSUE THE BURN
You ask, "How could this be?" You never saw the fire, never anticipated the heat—and you got burned in the third degree.
Fill your burn box with the knowns—Identify the unknown unknowns, the known unknowns and the known knowns.
ASSEMBLE THE BURN BOX
Inventory the experiences, insights and ideas for future use. Use the burn to become more than what you are. Get better. And be comforted knowing you know lots more now than you did then.
Fill your burn box with anticipation—Envision all the "need to do's," ponder what could go right and what could go wrong, and reflect with your network and with the project professionals you'll be using. Create a list of frequently asked questions and ponder the answers. Ponder which level of burn you may expe rience. Figure out your "escape route" if an escape is needed.
Acknowledge that burn precedes learn
Combined with program participation (for example, personal training les sons, class bookings and event registrations) and a valuable picture comes into focus of overall use, which can easily be broken down by demographic.
As this rising generation begins to come of age in parallel with the "new normal" of life post-COVID-19, clubs can evolve to meet the needs of Gen Z. Leveraging data effectively will assist to understand what actions to take.
experience rather than a replacement for it. Clubs must focus on creating experiences for Gen Zers, who understand and communicate using technologies, like social media.
Gen Zers expect flexibility in their work and personal lives and the ability to work in hybrid-type jobs and environments. Successful clubs will ensure that amenities are available on-demand to meet these needs.
It is important to again be honest in the recognition that private clubs were in significant demand due to the pan demic and not due to the lifestyle benefits that would nor mally be important to affluent consumers.
Consider Creative Golf Marketing as your personal trainer to get you back in the rhythm of fundamentally sound marketing tactics that begin with the complexities and comprehensive nature of membership referral. You will be positioning your club to be luckier than others. BR from Membership Committee - Graves | 105
Metrics that identify compaction periods and, conversely, periods with ex cess capacity, will help clubs to take advantage of the flexibility Gen Zers bring.
Social media metrics, such as likes, shares and follows, are also helpful to track and can be analyzed to determine the content the membership finds most engaging. Remember to move beyond simply counting engagement
Liz McDowell, CPA, CA, CCM is a director at GGA Partners. Trevor Coughlan is vice president of marketing at Jonas Club Software.
114 BOARDROOM | JULY / AUGUST 2022
The net promoter score is a valuable metric to track engagement and should be a stan dard metric employed to measure loyalty, which is important to younger generations.
Opportunities may arise to use club services and facilities in traditional off-peak windows, providing further incentive for clubs to encourage this next generation to engage with club membership earlier than previous gen erations have traditionally done.
Clubs that take advantage of the changing landscape of a post-COVID world to meet the needs of Gen Z are poised to benefit from the diversity this generation brings. BR
– it is just as important to understand which social platforms members engage with so you can tailor content to those specific platforms. TikTok content creation is much different than content developed for LinkedIn. Tracking engagement to understand where to focus resources across social platforms contributes to effective management.
This group's natural use of technology will in fluence how clubs not only operate but engage. In addition to employing technology within the club environment for efficient ordering, regis tration, voting, etc., clubs should consider how they can leverage technology, particularly social media, to drive engagement with existing mem bers and recruit prospective members.
Private clubs contain a wealth of important data, with access to demographic, utilization and engagement metrics that can be very challenging to obtain in a more traditional business environment. The strategies that clubs can imple ment by analyzing this data more effectively have tremendous potential.
where all your members went as the fall of 2022 and the spring of 2023 arrive, or will your club have begun to work on your "membership referral muscles" and have marketing strategies in place?
Tracking club activity using member card swipes, digital card scans on mobile apps, or even facial recognition technology can help clubs better understand overall utilization.
from McDowell / Coughlan | 28
Gen Z is defined by its prioritization of diversity, equity, and inclusion, comfort with (and reliance on) technology, and expectation for on-demand services to meet flexible schedules.
There is no better time to plan for the bad times than during the good times. Will your club find itself wondering
4. Amenity utilization and compaction
vested in their facilities and were prepared to welcome the many, many new members who were interested in member ship because of the pandemic.
Boards should pay careful attention to the long-term planning for cap ital expenditures and human resources to make sure that the right mix of amenities is available to encourage long-term engagement between Gen Z members and their clubs.
Kopplin Kuebler & Wallace Partners pictured left-right: Dick Kopplin, Tom Wallace and Kurt Kuebler
Executive Search Firm Leaders for the Private Club Industry
The only merit-based award program that recognizes private clubs and their management for outstanding delivery of exceptional Member Experience. www.distinguishedclubs.com
Does it make a difference if you are a manager at a Distinguished Club?
Of course, it does! Both general managers and department heads of clubs who have earned Distinguished Club status are widely recognized by Kopplin Kuebler & Wallace and boards as leaders at providing a great Member Experience. It makes you a very strong candidate for leading clubs searching for top club management.
"The Big Chair is a staple of Champions Run!" chimed Lorenzen. "If you're a club member, chances are you have taken a fam ily photo in the big chair and will cherish that memory forever! Aloha!" BR IDEAS
118 BOARDROOM | JULY / AUGUST 2022
INNOVATIVE
Memberscontinued.andguests enjoy having a place to memorialize their time spent at Cham pions Run in the summer. It's the photo op of Champions Run, but the kids also love to hang out because it fits multiple kids.
The Big Chair Brings All the Kids To the Pool at Champions Run
"We wanted to create a big chair that you see in the beach towns in Florida, Key West and," revealed Ben Lorenzen, the club's creative director and director of aquatics and fitness. "We wanted a wow factor when people came to the pool. We also wanted a place to snap pictures so members and guests could show their followers they were at Champions Run.
"The club was tagged over 1,500 times by members and their guests in the big chair the first summer it was here."
Located at the entrance of the aquatics facility, the Big Chair is the first thing you see. Constructed and painted by Cham pions Run staff members, the Big Chair is made of wood, stands about eight feet tall, and is painted with the Kraken and aloha background."Thisisaproject any club can take on. It's super easy to do and pays dividends. It's easy organic marketing because people want to take their photo in the big chair and share it on their social media platforms," Lorenzen
Champions Run in Omaha, NE, is not your average country club. The staff plans outrageous and fun things and wants members and guests to have an enjoyable, memorable member experience, which led to the Big Chair.
The well-received program continues to grow in success. BR
talk about the challenging issues of being a new mom, to build community within the club, and a place for members to make friends. The Stroller Fit Class accomplished that by bringing new Cher okee moms together, forming friendships and support."There were moms who continued to per sonal train once the Stroller Fit Class was over," continued May, so offering a variety of fami ly-friendly classes is essential. "And we also have a mom and tot aqua class where moms can work out in the pool with their babies. Schedules can get busy, but moms need to take care of them selves so they can take care of their families. We all need support."
Fitness, Family and Fun At Cherokee Town and Country Club
"The trend to combine fitness and the outdoors has become very popular," explained Suzanne Blokzyl, fitness and wellness program coordinator. "We decided to offer a stroller program to bring moms and babies to the club. The idea is to form new friendships, provide support, baby socialization and get the moms moving and healthy."
"We've seen many new younger members joining the club," stated Kicha May, assistant director of fitness and wellness. "The Stroller Fit Class is an opportunity for them to get out of the house, get involved, have the babies socialize and get a workout while bonding with their babies and other moms."
To endeavor a success, support for the members was vital. The team at CTCC designed the class with socialization in mind. A place for new moms to exercise alongside their babies, to have an outlet to
Heather Arias de Cordoba is the Innovative Ideas editor, associate editor and creative director for BoardRoom magazine. She is an award-winning and highly versatile marketing leader, writer and designer with a 25-year career in the private club industry. To submit an idea or story for this section, please email
heather@studiodelmar.netJULY/AUGUST2022 | BOARDROOM 119
HEATHER ARIAS DE CORDOBA
Being a new mom comes with challenges, but the fitness and wellness team at Cherokee Town and Country Club, in Atlanta, GA, is stepping into a fun and supporting role for members with babies by combining fitness and the outdoors with Stroller Fit Class.
Like many clubs during COVID-19, there was a lack of revenue and an inability to host inside functions. "That's when we got inventive and created the IGC Social Suite," proclaimed William Skelnik, CCM, GM/COO at Inverness Golf Club in Inverness, IL.
INNOVATIVE
120 BOARDROOM | JULY / AUGUST 2022
Outdoor Social Suites at Inverness Golf Club Created Exciting New Member Experience
"The Social Suites and photos from the event created a positive buzz, a new revenue stream and an additional amenity for our members. It's just another unique experience you can't have anywhere else – very intangible – and definitely a positive part of the club experience here at Inverness," Skelnik concluded. BR
"It started with a three-hour outdoor event for 10-people with a custom, open bar and menu and our chef cooking your dinner over a campfire. We set up two fire pits in a nice area of the club with an outdoor bar, dining area and adjacent seating area with string lights.
The IGC Social Suite is an unforgettable member experience in a beautiful outdoor setting. Each event includes a three-course custom meal cooked over a fire, premium three-hour open bar, mood lighting and fire pit, per sonal butler service and a sunset photo.
"From June through October, it sold out and generated approximately $30,000 in sales. The Social Suites gave people a safe way to relax during the pandemic while maintaining a revenue stream for the club. They were a huge hit! So big that the board invested in a $25,000 landscape upgrade for 2021. On April 1, 2021, we sent out all 30 dates for the event, and they sold out in 15 minutes. We even had a waiting list!" Skelnik expressed. IDEAS
"Creativity can be so powerful! Here at Inverness Golf Club, we love to create new and exciting experiences for the membership. COVID-19 pre vented us from doing much, but it gave us an opportunity to try new things that we might not have pre-COVID.
"Each country had five couples at a time and for 30 minutes members enjoyed themed drinks, food, music and décor. Then we guided them to their next country. The members had a blast, which created a buzz that evening as they pretended they were on vacation with their friends for a few hours. It was an escape," she added.
Kirtland Country Club Members Get a Passport to Fun!
To submit an idea or story for this section, please email
"The event is an opportunity for members to enjoy each other's company and meet new people," stressed LaRocca. "It also highlights different areas of the club that some may have never seen. The 2020 event was a huge success, and in 2021 was held twice. Once in the spring and once in the summer - selling out both times within a few days."
Keeping the event fresh and fun is easy by incorporating new countries and themes, asking participants to wear their best vaca tion outfits, and attaching a game to each station, such as the honeymoon game, giant Jenga, dice and beer pong.
"Do not be afraid to push the limit and take a chance on something completely out of the norm!" LaRocca concluded.
The staff created the event using many outdoor spaces that aren't traditionally used for events, and because of limited capacity, there was a surplus of golf carts.
BR
drafted the concept in three hours because no one was traveling that summer. We capped the event at 60 people, around 30 couples."Uponarrival, guests gathered in one area and were given a passport for the evening. Then, couples were placed into groups, given an itinerary and air horn before takeoff, and sent to different locations (countries) across the club grounds to start their Around the World
With travel on hold indefinitely in 2020, Kirtland Country Club in Willoughby, OH crafted a unique Around the World adventure for members to enjoy...with out ever leaving the club.
heather@studiodelmar.netJULY/AUGUST 2022 | BOARDROOM 121
"Theadventure.groupswere randomized, which added some spice as members were excited to see who they were spending the evening with," added LaRocca.
"Our first Around the World in July 2020 brought excitement back when we had a bleak outlook for summer celebrations," explained Al exandria LaRocca, Kirtland's catering and events manager. "The team
Heather Arias de Cordoba is the Innovative Ideas editor, associate editor and creative director for BoardRoom magazine. She is an award-winning and highly versatile marketing leader, writer and designer with a 25-year career in the private club industry.
HEATHER ARIAS DE CORDOBA
| 81
Lisa Tessaro, director of sales and marketing (a 20-year veteran with the club), has a firm grip on the importance of being a Distin guished Club.
When asked for some advice for other club managers, Shelton replied, "Know your vision and pursue it relentlessly. Refer to it frequently, find ways to bring it up, and remind staff about its im portance." Clubs - Del Rio Country Club
can't be matched. Fernando Sencion, second assistant superinten dent, is worth his weight in gold and Mark Ragole, head mechanic, is a miracle worker.
Club structure - Alignment with management and committees, board, executive team, and ultimately the staff and membership guarantees consistency in an environment that is not consistent. Each role is defined and follows a succession plan that's practiced – one must be on a committee to be on the board and must have served a board term already to become eligible for president.
"The club leadership's succession planning lets us know who will be president for the next four years. This is beneficial because it gives me the opportunity to observe and interact with my incoming presi dents ahead of time," Reno explained.
The team of John McCook, director of golf and Robbie Maurer, head golf professional, seem to live at the club! They're dedicated to a professional and first-class experience.
The club focuses on culture and staff members that fit that culture. For example, the club leadership believes skills can be taught, but attitude, work ethic, drive, desire to be the best, motivation, and spirit cannot. So the goal is to find people who possess these char acteristics that align with the vision and culture...to find individuals that genuinely want to be the best versions of themselves and who care more about the happiness of others than themselves.
from visitors about how beautiful the clubhouse is, the golf course's playability and challenge, and the food and beverage team…quality, friendly and attentive.
122 BOARDROOM | JULY / AUGUST 2022
Clarityofobjectives – GM Reno's number one responsibility is to make clear the club's objectives. The board sets the vision. The GM interprets it, sets the priorities with the executive team and executes on a daily, weekly, monthly, annually and long-term basis.
Duncan Reno has been the general manager/COO of Del Rio Country Club for 30 years and has a unique situation when it comes to his board presidents.
"A Distinguished Club is one recognized for providing an excep tional member experience. That definition matches our very own mission statement. We're fortunate to have a board and executive team that understands what the "modern day" country club looks like and has kept us diligently on target to attain it. Earning the honor of the Distinguished Club award confirms that we are on the right track and to keep moving forward!" she said. BR
With positive recognition as a cornerstone of morale for NBCC, these leaders distribute praise and recognition for how hard every one of their team members worked. GM Shelton sums up the club with some thoughts about the owners.
The food and beverage team did an incredible job at this year's Hoag Classic. Graeme Blair, executive chef and Sarah Sanchez, food and beverage director, worked well together and created a great expe rience feeding 500-plus diners daily in many different food outlets.
from Distinguished Clubs - Newport Beach Country Club | 82 DUNCAN RENO, GM/COO LISA TESSARO, DIRECTOR OF SALES AND MARKETING
Continuity with one general manager for 30 years does not come without a solid plan and execution of the plan. While the plan is simple, it's not easy to implement, but the clubs that follow Del Rio's lead will prosper for decades. Club structure, clarity of objectives and a developed team of executive managers are the key to Del Rio's suc cess, and the leader for this arena is Duncan Reno.
The executive team receives the objectives from the GM and being the experts, they determine the 'How to.' The roles are clear, the responsibility is clear and given autonomy, the results are generally good. The average tenure of the executive team's members is 22 years. The board understands the importance that the employees are managed by the GM, not the board. Board members give the GM the freedom and resources to hire for each position. It's a good system, especially when the board only evaluates the GM.
For example, a new training manager position was created this year. The club promoted long-term team member Melanie Stacklie to this po sition. She is outstanding in her new role, is open to new ideas, concepts and doing things that make sense for the team member experience.
The golf team excels when it comes to hosting the Hoag Classic. While prepping for the tournament, they are taking care of members right up to the start of the tournament, which means the golf course is open to member play on the Saturday before the tournament!
"The big picture is that DRCC is our social activity beyond any other. Sociable members, great staff, great food, and wonderful spe cial events keep us active and involved in the 'Jewel of the Valley."
BR from Distinguished
"We are very fortunate one family owns our club, and all the family wants is for their club to be a great place to belong, a great place to work, and be a great addition to the community. They are extremely kind and generous, which allows us to pursue our vision of being,'" added Shelton.
"I can see how they manage, how they think and most impor tantly, what their priorities are. Knowing and nurturing this over a couple of years establishes our productivity and synergy level when they become president. We are already in sync and accomplish much more toward the best member experience."
The Tap Room is the club's social hub, the perfect place to enjoy an appetizing meal and a beverage after a workout, swim, spa or sauna. However, the view from the 24th-floor solarium (with spectacular views of Central Park), the main dining room and the beautifully etched Tiffany glass window on the ninth floor offer other delightful areas to repose. For a secret hideaway, the library is a sea of tranquil ity, housing 10,000 books.
NYAC's leadership is proud of its recognition as a BoardRoom Distinguished Club. "We believe we are a world-class club with great facilities and wonderful people. The annual recognition from Distin guished Clubs helps reinforce what we believe to be true and has been a great resource of ideas and networking," he added. BR
NYAC's success depends on the quality of its leadership. "The rela tionships that I have with the president and board are rooted in mutual respect and a clear understanding of the roles and responsibilities of each of us. I feel truly blessed to work alongside some of the best busi ness minds and professionals in New York City," added GM Simon.
The club's second home in Westchester County on Travers Island is similarly feted for its stunning views of the Long Island Sound, along with amenities for yachting, tennis, outdoor swimming, dining and all manner of other athletic activities. Above all, members brag about the sense of belonging that permeates and the warm welcome that imbues all areas. The NYAC works very hard to ensure that the club is a home away from home.
The founding fathers of the NYAC – John Babcock, Henry Buermeyer and William Curtis – were visionary gentlemen who recognized the value of athletic endeavor for the betterment of society. They set about forming an organization based on the celebrated London Athletic Club, which would address those needs. The appeal of their vision was made evident by the rapid growth in membership and by how the NYAC quickly became a cultural center within New York City.
from Distinguished Clubs - New York Athletic Club | 83
"We encourage them all to embrace the club and its values, being respectful of its history and traditions while guiding it through the essential evolution to make it a club of the 21st Century," intoned the club's general manager Roger Simon.
Another Distinguished principle of the NYAC is the recognition of awards and ribbons of its members. Their largest annual event is, fittingly, the All Sports Dinner, at which the club honors its Olympic and world champions. Other events of note are the Quarter Century Club Banquet, honoring those individuals with 25 years or more of NYAC membership, and the Hall of Fame Dinner, at which members are inducted into the NYAC's Hall of Fame.
former, replete with historic trophies, documents the NYAC's history of athletic accomplishment.
A Distinguished characteristic of the NYAC is that even with its more than a century of history and culture, it's fair to say that all the members and board members determine the NYAC's story today.
"We take great measures to ensure that all members are aware of the NYAC's founding principles, how and why it came into existence, and why we remain true to those principles to this day."
JULY / AUGUST 2022 | BOARDROOM 123
128 BOARDROOM | JULY / AUGUST 2022
• Ability to be creative and less bogged down in the minutia.
4) In this challenging labor market, the board has provided me with the financial ability to attract and retain top talent, which has been crucial to our success.
8) The club has good leadership succession planning in place. Knowing who I will be working with on the board in the coming years is very helpful.
6) The club allows me to speak around the country occa sionally, share Farmington's story in national publications, and be actively involved in the Club Management Association of America. The board understands this is important and therefore encourages me to achieve it.
For added perspective on the issue of executive leadership retention, we reached out to two well-regarded industry pro fessionals who could be highly recruited candidates for other top-tier private club positions.
Joe Krenn has been the CEO/GM of Farmington Country Club in Charlottesville, VA for nearly 10 years. Although the club is a complex 24/7 operation with regular operational, de mographic, staffing, membership, and governance challenges, the following factors influence his dedication to Farmington:
1) The way the membership treats the employees is unpar alleled. At most private clubs, the membership wants you to know who they are, but at Farmington, the members want to know who you are as an employee.
Matt Lambert, GM/COO of The Country Club at Mirasol in Palm Beach Gardens, FL, shared that there are many reasons for his loy alty to the club for over 18 years and spotlights the following:
3) The club president and CEO are true strategic partners on all aspects of the club. This is also true for board and exec utive management team liaisons. The staff is actively involved in every strategic discussion.
1) The key to my loyalty and continued success lies within the framework of our business model and core values.
• Fewer board and committee meetings, or at least more purposeful ones.
• Ability to get away from the club to reflect and work on the club with encouragement from the board.
2) The trust that was placed in me by our developer when I was hired has been sustained by the membership since the time of our turnover in 2010. My experience is respected and my decisions are supported by our nine-member board of directors. Our board exists to set policies and governance and to be a trusted partner alongside the club's operation. Although my team and I need their support, they neither mi cromanage us nor get involved in our day-to-day operations.
• Work-life balance or at least work-life harmony.
from Boardroom Basics and Beyond | 18
According to Three and Jackie Carpenter, it's called "people first." In their recently released book, "People First: The 5 Steps to Pure Human Connection and a Thriving Organiza tion," they explain how treating employees as valuable assets, not tools used to build profits, directly impacts the organiza tion's culture and bottom line. They write, "When employees are invested in and valued, they produce value in return." BR
Richard Kopplin, Kurt D. Kuebler, CCM & Thomas B. Wallace III, CCM, CCE, ECM are principals with Kopplin Kuebler and Wallace. kopplinandkuebler.com
• Ability to build, develop and retain a great team.
7) The club is structured so I am not the only "go-to" per son. My CFO and club manager are both seen as my strategic partners in leading the club. If I'm unable to attend a board or committee meeting, one or both step in and take the lead. This highlights the board's confidence and trust in our ability to lead the organization.
2) The board is committed to following the model: "The board focuses on the future and the management focuses on operations." During my tenure at the club, we have worked together to reduce the number of committees from more than 30 to about eight.
6) Our board values the fact that a general manager's role can be time-consuming, and they encourage me whenever possible to spend more time with my young family during these critical formative years.
All the elements discussed in this article can be summed up into one key organizational element: culture. In our pro fessional opinion, culture is the number one thing that is ulti mately going to keep someone or help them leave.
5) I am afforded the opportunity to continue my professional development. I am active within the Club Management Association of America and other industry organizations and value my rela tionships with others in similar positions at other clubs. The ability to maintain these connections only makes all clubs stronger.
controlling operational matters sends mixed signals and often results in frustration and wasted time and money.
As our Tom Wallace explained, "A club's culture is made up of the board and membership's feelings and attitudes about the role and value of the employees. If they recognize employ ees are assets and are willing to invest in them, that enhances the club culture and drives mutual loyalty. If employees are viewed as objects and a means to an end, this too impacts the club's culture but in a negative way."
3) I also remain dedicated to Mirasol because I am given the tools and budget needed to maintain an award-winning club and community. A club cannot rise to the top without providing the best facilities and member experience possible, and our board is committed to supporting the financial deci sions made by my management team and me.
• Employees viewed as assets, not objects by the board and membership.
5) Innovation is highly encouraged, and the board allows the management team to try new ideas, be creative and make mistakes. As a high-performing organization, we are continu ally striving to make ourselves better every day. Being able to lead an organization that doesn't want to maintain the status quo is important to me.
4) The board understands the importance of work-life bal ance and encourages the club leadership team to make sure they have it.
"Both long-term strategic planning and day-to-day management must be guided according to what's most important to a club's members, so a club's board of directors (or owners) and management must have deep and accurate insight about member sentiment," commented Jeff Briggs, chief information officer, BoardRoom's Distinguished Clubs
• Using Humm or other post-experience tool to test satisfaction
• Coffees with management
"I believe we, in the club industry, have made tremendous leaps forward in how we compile and benchmark behavioral data. But I think more science is needed when it comes to accurately benchmark ing the overall member experience. It's got to be a mix of subjective self-reported member data and objective behavioral data," Phelps suggested.
"Leadership needs to know what's going well and what's not going well from the perspective of the overall membership, and for what's not going well, what are the most important things to focus money and efforts on improving.
• Committee meetings
➤
"Periodic surveys remain the primary tool," Vain opined. "These can be an nual in smaller clubs while quarterly surveys of a portion of the membership are appropriate in larger clubs.
JULY / AUGUST 2022 | BOARDROOM 129
So, what methods are private clubs using to get their member feedback?
"Most clubs will do some sort of comprehensive member survey when considering a large capital expenditure. These extensive surveys focus mainly on questions about usage and perception of the club's facilities to guide the strategic planning of the expenditure," Briggs sug gested."Much preparation and planning goes into the execution of such surveys and clubs typically hire an outside consulting company to help them craft, conduct, and report on the survey, and then to
• Focus groups to dig in on programs
"Many clubs rely on member surveys. However, unless surveys are done at least every three years, they are simply stale and much 'after the fact,'" ex plained Club Insights' Coyne.
member experience. But if a member only visits the club once or twice a year, should their survey feedback be given the same 'weight' as feedback from a member who uses the club daily?
• Comment cards.
"Pulse surveys are another method and many software systems provide a specific 'quick' overview of members' experiences after events or related to specific areas of the club. These can be valuable but only address specific mem bers and specific areas or activities.
"Looking at the potential downside of not knowing what all members are thinking, these may be the most volatile of times as it relates to the economy. Knowing that the club provides what members want and need could not be more important. What are they thinking? How are they reacting to each experi ence at the club? Now is the time that knowing what all members are thinking is critical," Coyne expounded.
FEEDBACK METHODS
"Accordingly, I'm constantly surprised at how many clubs I speak with do little or no formal surveying of their members, and further, how only a small fraction of clubs do any ongoing polling of their members," Briggs added.
from Publisher's Perspective | 10 provide detailed analysis of the results. Consequently, conducting such surveys tends to be relatively costly ($10,000 to $20,000)," he said.
Vain said it runs the gamut from there:
He said, "several systems exist that monitor real-time member experiences online with a brief questionnaire after participation in specific activities
NEW TRENDS
"Another advantage of these types of systems is the ability to identify people by name as members enter specific areas of the club and can be customizable to drive known pref erences, so, by using handheld devices, departments may address the specific needs of a member as they enter the space," Coyne explained.
"Some clubs also have their own 'app' that members can install on their smartphones and through which the club can randomly ask them about experiences triggered by where they are in the club," Briggs added.
"Surveys with response rates north of 50 percent of the membership can have a margin of error in the one to three percent range, which is as good as it gets. Smaller samples will have much larger variances.
"For example, a member on the 18th hole of the club's golf course might be 'pinged' and asked if they plan to visit the bar afterwards or how the greens were that day.
"About half the GMs I speak with will also conduct lengthy member surveys every other year or so; some do this an nually. This type of survey tends to focus more on member sentiment regarding service and membership issues versus venue and facility preferences," Briggs added.
"As with any polling, it's a matter of sample size," com mented McMahon's Vain.
There's consensus on that point.
"It's important to compare the profile of the respondents with the actual makeup of the membership to identify sam ple bias. For example, if 33 percent of your members are over age 65, but they comprise 50 percent of your respon dents, the feedback is skewed," he added.
So, how do clubs know their member feedback is valid?
or visits to particular areas. These systems work the most efficiently provided they can engage with all participating parties."Thebiggest advantage is that they generally offer mon itoring of the experiences of all members in all the club's areas and work off a wi-fi based system that identifies when members are in the club, the areas that they visit and can be customized to send reminders as frequent or infrequent as the club may mandate.
"Finally, a new trend gaining traction is automated 'polling' systems that send out brief surveys or 'polls' to a few differ ent members each day for several months. The advantage of polling systems is that the club's leadership gets feedback daily. At the same time, the response data gathered via poll ing better represents the time period as a whole, as opposed to a survey that goes out to all members on a specific day and therefore, only represents member sentiment on that day and then quickly becomes outdated and irrelevant," he explained.
"The validity of feedback is directly proportional to the number of members providing it. Therefore, it's never wise to act on information collected from random one-off con versions in the hallways. While the more vocal members who regularly make their opinions known may very well reflect the sentiments of most members, you can't know for sure unless you hear from a large swath of members," Briggs articulated."Everyclub has a small contingent that will complain about everything. Through systemization, these individu als can be identified. The problem caused by the continual complainers is management and boards often push back on tracking systems thinking complaints will inundate them. Nothing could be further from the truth," Coyne suggested.
"Most clubs will occasionally send out a brief survey of limited scope using do-it-yourself services such as Survey Monkey. While these are usually created and conducted inhouse at low cost, they may take a good deal of committee and management time to create and execute.
"The key to honest feedback is to make it brief and easy. Then, if a real issue emerges, create a case that requires the specific department head to follow up and resolve. This kind of process, visible to departments and general managers, creates credibility and trust. It likewise allows management to track any potential trends which may relate to specific in dividuals so that training can ensue," Coyne explained.
So, does regular feedback help counter 'outspoken mem bers of complainers' who often drown out others' valid points?"Absolutely, and in a very BoardRoom magazine kind of way, as it helps "Replace emotion with fact." It also helps GMs facing similar questions and accusations by board members. In addition, polling helps GMs spot issues early on so that steps can be taken before the issue gets out of hand," Briggs said.
"With advances in technology, a growing number of clubs are beginning to use their club's member management soft ware to ask members about specific experiences directly following (and triggered by) a purchase they've made in a particular location at the club. So, for example, a text or email is sent to a member asking them how their dining ex perience was soon after the system 'sees' that they just paid their dinner check.
"By tracking comments over the past several years, my ex perience has been over 93 percent positive, with the seven percent largely made up of constructive comments on how something could have been better. Only a handful have real complaints."Thetragedy of this reality is that being fearful of the handful prohibits a valuable learning curve for management, staff and volunteer decision-makers.
"We tend to oil the squeaky wheel member more so than those simply suggesting ways to improve. Tracking the squeaky wheel members allows a trended history,
130 BOARDROOM | JULY / AUGUST 2022
from Publisher's Perspective | 129 ➤
Reduce micromanagement...Focus on continuity. COMMITTEE SUBSCRIPTION PACKAGE $395/YEAR REPLACE EMOTION WITH FACT! Develop good board dynamics by starting early at the committee level Reduce micromanagement | Ensure great thinking | Produce sound action Receive digital copy to share with up to 150 board and committee members. Subscribe Today! Subscribe Today (949) 715-0669
"There are examples of club managers using data to push back against the squeaky wheels. For example, Brett Morris tells a great story from when he was at Boca Polo Club (Boca Raton, FL), and he started collecting feedback through the Humm system.
and used judiciously, prevents overreactions by manage ment or staff. Board members' handicaps have been known to decrease once these systems have been installed.
"COVID has proven to be an incredible stimulus for clubs. Members are 'into' their club and want it to be a safe, active place where they can socialize and recre ate with known parties. However, it's essential that club leaders understand their members and continue the pro gressive policies that made them so successful during the pandemic. The world is opening and if clubs do not act in ways that extend their gains from the pandemic, they'll soon find themselves looking for members and users," Vain cautioned."Wehave a unique opportunity because of COVID's in fluence on golf and club memberships. More than ever, we
"Yes, it does," Vain said.
"We need to stop fearing member feedback. It's the foun dational element of continual improvement, the training of staff and the development of true loyalty with your mem bers," Coyne stressed.
"Clubs are generally good at listening to members, but I think in a lot of ways we might be able to learn more about what members are feeling by soliciting regular feedback fromOftenemployees.clubshave relied on yearly feedback. However, is this frequent or should clubs seek daily feedback from their members?
132 BOARDROOM | JULY / AUGUST 2022
Vain believes that, for the most part, "yes, clubs are listening to their members. In addition, the younger gen eration of club managers and board members seem much more willing to collect and use member feedback than their predecessors."Tonotlisten, to not react and to not let members know you have heard them and are doing something about it is pure and simple a missed opportunity," cautioned Coyne.
"This is a short electronic survey delivered with the check at the conclusion of each meal. The club was known for hav ing a very outspoken membership with divergent opinions. He published the information regularly and used it in con versations with members. So, when a member came to him with complaints that the food or service was 'always' poor, he was able to show that most members were highly satis fied, and the individual had either a minority view or their recent experience was an outlier," he added.
Vain also feels that "innovation was one of the clubs' great aspects of the COVID period.
"Often bureaucratic in their approach, club leaders acted quickly out of fear that the pandemic would lead to their demise. So they quickly put together outdoor dining areas and events, started take-out food programs, moved fitness classes outside, adopted and communicated safety pro tocols, etc. Members responded very positively to these changes and want more of them today.
LISTENING TO MEMBERS
"Depends on the GM," expressed Distinguished Club's Briggs."Also, listening to members is not the same as acting ac cordingly or effectively. Generally speaking, GMs are very interested in and concerned about what the members are thinking. Still, budgets, staffing and other constraints –some dictated by the BOD or owner(s) – may make it impos sible for leadership to do what the members want. There's always a balance that must be struck."
"Whenemphasized.itcomesto listening to members – we're always surprised by how much we can learn about a club's brand and member culture not from the members, but from the frontline staff in charge of interacting directly with the members," explained Pipeline's Phelps.
"It also depends on how clubs are listening. If your pri mary source of feedback is a nightly walk through the din ing room asking members how you are doing, you're simply getting instant gratification and nothing of substance. Likely, you are also not reaching more than 10 percent of your
"Data is always your friend, especially in the emotionally fraught environment of a private club. The largest discon nect tends to be in food and beverage and social activities. The board often thinks these are secondary reasons why members join or use a club when they are often the most important. The lack of this basic knowledge about member demand and priorities leads to poor performance at many clubs," Vain opined.
"Certainly, nearly all clubs are seeing new members ea gerly engaged in all the club's activities. But will it stay that way now? The only way we can know for certain is to moni tor the member experience and to know what members are thinking, and the only way for that to happen is to set up a system that provides 24/7 two-way communication and support."There's also been the question of whether clubs listen to what their members say.
"Tomembers.beeffective at 'listening', you must have the oppor tunity to hear all members by age, gender, family makeup, activity interests and participation. Only a well-developed and monitored system will provide the necessary tools," Coyne
should be curious about what our members are thinking. Is the thinking different for a tenured member than those join ing because of COVID? "Coyne queried.
from Publisher's Perspective | 130
JULY / AUGUST 2022 | BOARDROOM 133
"Again, the method and timing of the feedback depend on the subject matter, the size of the club and other factors, like seasonality. A 300-member seasonal golf club would not get much value from surveying a portion of mem bers monthly or quarterly. At the same time, that could be a perfectly valid approach in a 2,000-member club with broad-based programs or year-round activity."Inmost clubs, an annual membership survey is appropriate because they have ongoing feedback from committees, focus groups, coffees with the manager and management by walking around. Their scope of operations is also not that complex or variable," Vain offered.
"Generally speaking, clubs have tended to do infrequent member sur veys every three or more years. Con sidering that six to eight percent annual attrition was the pre-COVID norm, wait ing four years between surveys would have seen up to 32 percent in new pe riod
"The best managers are always looking to get the most information possible and from every source possible. Further more, they want that information to be timely and actionable.
STRIKE A BALANCE
"Asking for daily feedback seems a bit overwhelming, but I feel there's a lot of merit in establishing more perpetual measures where members can offer feedback in real-time and with relevant context. For example, your club app should have a member feedback/com ment feature that enables members to upload photos/videos and provide writ ten feedback," Phelps suggested.
From a member-feedback perspec tive, this means that managers should be collecting member
HildaWAllen.com opportunity888-324-5020ishere... FL Lic#: BK3036361, CQ1019764, NC Lic#: 193434, C14312; GA Lic#46193, 16764; SC Lic #1334 VA Lic#0225100045, 0226010231 golf is nature's outdoor social distancing sport hanover Golf Club Ashland, VA tot hill Farm Golf Club Asheboro, NC 1 hr from Pinehurst & Charlotte 1st Original Mike Strantz Design Meadowlands near Greensboro, NC Deep Creek Golf Club Punta Gorda, FL Near the Gulf Coast Convenient to Interstate I-75 • Breath-taking Views! the Frog near Atlanta, GA FAZIO Designed Course Cobblestone park near Columbia, SC (Blythewood) Fabulous 27-Holes Golf Course• Brokerage • Accelerated Marketing Discreet and Confidential • Consulting Services • Acquisition Advisors • Property Evaluations Value, Potential Value Call or Visit Pending Sale SOLDSOLDSOLD Pending Sale Newly Listed , Award Winning Property ➤
"Somemembers.ofthe existing systematized programs provide annual surveys in addition to pulse surveys, in addition to monitoring member's usage of specific areas of the club. This well-rounded approach to feedback provides several layers of cross-referencing of needs, wants and experiences," Coyne outlined.
"Knowing how well you are doing will depend on how open and honestly you allow communication and feedback. Stop fearing feedback! Embrace it as a gateway to continued prosperity. It's there for every club. Don't watch another lifecycle pass you by," Coyne concluded.
sentiment data all through the year (or season) so that it is timely, and they should be getting data from as many members as possible so that it is accurate (and thus, ac tionable)," expressed Briggs.
PUBLISHER'S FINAL THOUGHTS
I believe in getting daily and weekly feedback. I want to know the results as quickly as possible before something becomes an issue.
"Members have an affinity relationship with their club, so while they're unlikely to answer a survey on their most re cent rental car experience or hotel stay, they are anxious to give feedback to their club," Vain suggested.
"Managers also must be careful not overburden the members with excessive surveying or surveys that are too granular and thus too long. Either will quickly cause 'survey fatigue' and result in complaints and in fewer and fewer members responding over time, which, in turn, directly de grades the accuracy of the data collected.
Member polling is the guiding light for the general man ager, and
"Club leaders should leverage this opportunity to nurture a feeling of responsiveness among the membership and get data that can help them create a better experience. But un fortunately, while most board and managers seem increas ingly inclined to wade into this, there remain too many who are afraid or unwilling to collect feedback and act as the servant leaders that they should," he added.
• How do you know the way your members are reacting?
• How do you know your department heads are providing great service?
"Another alternative to comprehensive (and burden some) surveys gaining traction are brief 'polls' sent via text message or smartphone 'app' notifications triggered by purchases made by a member or simply by the particular lo cation within where the club member happens to be. These daily 'ping' polls can be a way of getting timely feedback regularly."When leveraging this type of technology, however, leadership needs to ensure such systems don't burn members out by constantly pinging them with these poll questions throughout the day when they are trying to enjoy the club.
Daily or weekly polling on a graph will show if your de partments' service or product satisfaction is going up, going down or staying flat. Some clubs use this graph to show department heads if they are doing a great job, or how and why they need to improve. These clubs also use graphs as determining factor for the department heads' compensation andAtbonuses.theend of the day, feedback from the members makes them feel good. The key is sharing the information and that shows the club's surveys meant something.
"Accordingly, it's important to strike a balance between getting the information the manager needs while not burn ing out members with too many questions. In other words, it would be a huge mistake to send a long, comprehensive survey out to members regularly," he commented.
"The second stage includes not spending valuable re sources trying to "fix what's not broken" (nor burdening members by asking more about it) and instead focus strictly on what needs improving; specifically, those aspects that are most important to the members," Briggs added.
"Tointrusions.strikeabalance among these many varied issues, concerns, and approaches, BoardRoom's Distinguished Clubs developed ClubIQ®, the first-ever Member Expe rience Polling System™ specifically designed for mem ber-based private clubs. This system allows Distinguished Clubs to self-monitor their club's member experience in between our every other year onsite surveyor visits," Briggs explained.
"We've just experienced one of the most significant boosts in golf and membership in decades," Coyne em phasized."Asweall learned in economics class, every product and business has a lifecycle that, unchecked, generally ends in decline. For the industry to capitalize on its newfound good fortune, build your future on continued growth. That growth will depend on the brand you create from within.
"One way to strike a balance here is to take a two-stage approach, where member surveys that go out regularly throughout the year (or season) are strategically designed to be extremely brief to first gain a "10,000-foot view" of mem ber sentiment generally.
At least, that's the way I see it. BR
from Publisher's Perspective | 133 134 BOARDROOM | JULY / AUGUST 2022
• How do you know the members like what you're doing?
"These systems can also make members feel like they are being tracked by 'Big Brother'; a big concern and turn off for many people, especially those who subscribe to the idea that their club is a haven where they come to avoid such
You will not succeed without listening to your members.
John G. Fornaro, publisher
400+ CLUB CLIENTS - 30 YEARS OF EXPERIENCE.
Wood seating specialist with custom Pwww.sttimothychair.comcapabilities.828.322.7125F828.322.9156
•
• Technology Master Planning • Club Technology Report Cards • Cost Reduction / Audits • Hosted IT Solutions • Surveillance Cameras • Cyber Security Analysis COUNTRY PARTNERSTECHNOLOGYCLUB www.cctechplan.com | contact: noel@cctechplan.com Technology Planning for Private Clubs Steve Berlin 954.614.1505 xhibtz1@xhibtz com www xhibtz com XHIBTZ business cards.qxp_Layout 1 8/25/17 9:32 AM Page 1 STEVE BERLIN | (954) 614-1505 | WWW.XHIBTZ.COMSTEVE@XHIBTZ.COM 2012 - 2021 WE HAVE A FULL RANGE OF PRODUCTS TO SATISFY ALL YOUR NEEDS POOL FURNITURE • BEACH FURNITURE • UMBRELLAS CABANAS • PATIO FURNITURE • CUSTOM CUSHIONS
management software?
If your club accounting and POS software is 7, 10 or even 15 years old, you may be thinking of making a change. So were many of our club clients, who hired us to help them make that decision. Surprise! After a thorough needs assessment, 7 of 10 clubs decided to retain and improve their existing software. Money saved. Business interruption avoided. To learn more, contact us.
Thinking of replacing club Think again! (561)281 0459 • www.boothegroup.combboothe@boothegroup.com
your
(561)281 0459 www.boothegroup.combboothe@boothegroup.com
Sales@EustisChair.com 978-827-3103 Stacking Hardwood Chairs Made in the USA EUSTISCHAIR.COM
mtsseating.com 734-847-3875 Meet, greet and eat. The Celia Series from MTS.
Your 3x Boardroom Magazine Award-Winning Company for Consulting, Branding/Communications, and Marketing. We get clubs. You get results.
AM Design Group 42 & 43
Bozeman Club & Corporate Interiors 46 & 47
C2 Limited 48 & 49
Ambassador Uniform 113
Forbes Travel Guide 75
Strategic Club Solutions 6
MidFirst Bank 72 Newstation.com 39
Triumph Group 17
Jarrett Chirico, USPTA, PTR, PPTA, PPR, PPTR, director of racquets, Royal Oaks Country Club, Dallas, TX.
Creative Golf Marketing 29
Kris Butterfield, director of membership, communications & public relations, Bethesda Country Club and president of PCMA.
John McCook, director of golf, Newport Beach Country Club, CA
Robbie Maurer, head golf professional, Newport Beach Country Club, CA Kicha May, assistant director of fitness and wellness, Cherokee Town and Country Club, Atlanta, GA
Roger Simon, general manager, New York Athletic Club, NY
www.verdin.com | 800-543-0488
138 BOARDROOM | JULY / AUGUST 2022
Nancy Levenburg, member, Spring Lake Country Club, Spring Lake, MI
Denehy Club Thinking Partners 2
Emersa WaterBox 15
McMahon Group 64 & 65
Pipeline 41
SYZYGY + AZENCO 13
GSI Executive Search 11
LeeAnn Lewis, president, Southward Ho Country Club, Bay Shore, NY
Duncan Reno, GM/COO, Del Rio Country Club, Modesto CA
Northstar 140
ClubTec 33
Brock Denton, president, Kenwood Country Club. Cincinnati OH Scot Dey, superintendent, Newport Beach Country Club, CA Mitchell R. Fenton, CPP, Baltusrol Golf Club, Springfield, NJ
Troon 35
Dylan Petrick, CEO, Kenwood Country Club, Cincinnati, OH
ELM | Ervin Lovett Miller 56 & 57
Yoshiko Inoue, president, The Yale Club of New York City, NY
Eustis Chair 85
Hilda Allen Real Estate 133
Dr. Bonnie Knutson, the Country Club of Lansing and the Michigan Athletic Club
Kennis 93
St. Timothy 135
Alexandria LaRocca, catering and events manager, Kirtland Country Club, Willoughby, OH
Nick Sidorakis, GM/COO, Southern Hill Country Club, Tulsa, OK
BoardRoom's Distinguished Clubs 115, 116, 117, 125, 126 & 127
BOARDROOM MAGAZINE ADVERTISING INDEX
Country Club Technology Partners 135
PGA 8
Tommy Spaulding 36 & 37
XHIBTZ 93 & 135
BoardRoom's Distinguished Golf Destinations 124 BoardRoom Subscriptions 131
USPTA 78 WebTec 33
RSM 129
CREATIVE + STRATEGIC INTERIOR DESIGN HIDEAWAY BEACH CLUB239.596.8551 | wegmandesigngroup.com
PHX Architecture & ClubDesign Associates 54 & 55
Ben Lorenzen, Creative Director & Director of Aquatics & Fitness, Champions Run, Omaha, NE
Mark Ragole, head mechanic, Newport Beach Country Club, CA
GCSAA 139
Lisa Tessaro, director of sales and marketing, Del Rio Country Club, Modesto CA CLOCKS BY VERDIN
Proform Matting 101 Rogers McCagg 69
David Frank, president, Ballenisles Country Club Palm Beach, FL Tee Green, president, Sunset Hills Country Club, Carrollton, GA
Clay Pryor Interiors 52 & 53 Club Benchmarking 25
Norm Porges, club president 2006, Del Rio Country Club, Modesto CA
Addison Law 11
Booth Group 135
Ethos Club & Leisure 11
Marsh & Associates (MAI) 62 & 63
BOARDROOM MAGAZINE COUNTRY CLUB INDEX
Harris Interiors (HINT) 58 & 59
Nancy Berkley, green committee and marketing committee, Frenchman's Creek Beach & Country Club, Palm Beach Gardens, FL
Robin Shelton, GM, Newport Beach Country Club, CA
High end Uniforms 91
Peacock + Lewis Architects and Planners 68
Chambers 66
MembersFirst 19
Castor Design Associates 50 & 51
Cobalt Software 70-71
Angela Grande 44 & 45
Golf property Analysts 133
Larson Nichols 60 & 61
Mike Novak, assistant superintendent, Newport Beach Country Club, CA
William Skelnik, GM, Inverness Golf Club, Inverness, IL
JBD JGA Design and Architecture 67
Jonas 3
Golf Business Network 23
Kopplin Kuebler & Wallace 5 & 27
Suzanne Blokzyl, fitness and wellness program coordinator, Chero kee Town and Country Club, Atlanta, GA
Gecko Hospitality 31
Denise Kuprionis, board chair, 2019-2021, Kenwood Country Club, Cincinnati, OH
Available on Apple Podcasts, Spotify, Stitcher, at GCSAA.org or wherever you get your podcasts.
Whether you listen on the golf course, during your daily commute or while catching a workout, make the GCSAA Podcast — presented in partnership with Bayer Environmental Science — a permanent addition to your playlist.
Presented in partnership with Bayer Environmental Science.
Tune in.
You can subscribe to the GCSAA Podcast on Apple Podcasts, Spotify, Stitcher or wherever you get your podcasts. You can also find episodes of the GCSAA Podcast on the GCSAA website at www.gcsaa.org/podcast.
Check out the Golf Course Superintendents Association of America Podcast with Golf Course Management editor-in-chief Scott Hollister as he talks with some of the leading figures in the golf course management industry and tackles topics important to you.
www.globalnorthstar.com