THE HOTTEST BRANDS TO FOLLOW ANIMATION, EVOLUTION AND NEWS MARKETING AND RETAIL TRENDS #04|2022 LICENSING | BRANDING | MEDIA&DIGITAL | PUBLISHING TRADE MAGAZINE
our
BM - 10123 +39 011 1921
Editorial16
www.bm-eu.cominfo@brands-media.com1996-www.licensingmagazine.com
A always, enjoy the reading!
Torino, Italy Ph.
Beyond this historic time, the other events of the past few months are affecting production costs and the supply of raw materials worldwide. Added to this is an increasingly strong and critical movement against the use of plastic, which is no longer stopping at green washing operations, but wants concrete action to be held by manufacturers. How will all this affect the development of licensed consumer goods? It will be crucial to follow developments over the coming months to see how our industry will respond to the demands of consumers and how the economic issues will impact the production processes of consumer goods.
PUBLISHING,
VERSIONDIGITAL
on:
Srl - Via Po, 14
SOCIAL SUBSCRIPTION REQUEST TO info@brands-media.com HOW TO SUBSCRIBE TO OURMAGAZINE,LICENSINGFOLLOWNEWSLETTERSANDOURYEARLYEDITORIALCALENDAR @lm_licensingmag@Licensing@LMLicensingMag@LM_LicensingMagMagazinePUBLISHER BM Srl EDITOR-IN-CHIEF Cristina Angelucci EDITOR Rossella Arena GRAPHIC DESIGN Francesca Wolfler SPECIAL THANKS TO Alessandra Maccaferri, Andrea De Amicis, Matteo Melani, Lisa Hryniewicz, The Insights Family
SpA, a Cimpress Company Via 1° Maggio, 8
Last but not least, our magazine reached a new record issue with 180 pages of content, exclusive interviews, insights and analysis ranging from animation to licensing and retail.
Quarto d'Altino VE, Italy The editorial staff has taken every care to obtain from copyright holders the authorization to publish the pictures in this issue. In any cases where this has not been possible, the editorial staff would like to make it known that they are available to eligible parties to settle any amounts that are owed. Trade publication registered at ROC number 25906
DEAR READER
PRINTING
Welcome to this new issue of Licensing Magazine. The upcoming trade events fall in an 'extraordinary' period for several reasons. First, the world mourns a historical figure, an icon, a queen whose work and notoriety are attested worldwide, not only for the record length of her reign, but also for what she represented. Even in our small world of branding and entertainment, Queen Elizabeth II has had her considerable impact. It's enough to think of pop contaminations, from her representation in the Simpsons cartoon to her appearance with the Agent 007 for the London Olympics, not to forget the more recent video with the mythical Paddington. The quotes from movies in which the Queen was portrayed, not to forget the latest cult TV series on Netflix, The Crown, are countless. What her historical and political legacy will be is still uncertain, but for sure she will be an eternal and timeless icon and we will miss her.
Follow daily news
brands-magazine.comlicensingmagazine.com
Pixartprinting - 30020
Cristina Angelucci
ADVERTISING AND ADMINISTRATION
MAURIZIO DISTEFANO
STUDIO 100
SMILEY
Mattel, not just toys
New contents looking to the future
WILDBRAIN CPLG
RAINBOW
A stunning autumn for the Smurfs
WARNER BROS EMEA
ZAG ENTERTAINMENT
Making magic at ZAG
Twenty years of incredible global success
NELLY JELLY
LICENSING
Aspire, the new ambitious lifestyle division
Creating the world's best entertainment experiences
XILAM
NewsNews News News 5038 809076928288645856
Always looking for new opportunities
PEA&PROMOPLAST
Pokémon: focus on fashion
Mondo TV announces the return of Grisù and continued growth of MeteoHeroes
Contents18
FORFUN MEDIA
VICTORIA LICENSING &
SANRIO
ETS LICENSING
MONDO TV
Cover story InterviewInterviewInterviewInterview Interview 20 66522844 96 70 34 98 36 100 34 20 92
Next plans for the group's successful and sustainable brands
Looking Towards 2023 huge opportunities
MARKETING
Smiley, an ambassador for change
IMPS/LAFIG
GRANI & PARTNERS
The success of the Made in Italy Model by Forfun Media
HASBRO
What 's new from the leading French Animation Studio
Turning quality content into global IPs
Old and new classics in the ETS lineup
The leading agency in constant evolution
Promoting amazing IPs in Iberia
BBC
THE POKÉMON INTERNATIONALCOMPANY
MILLIMAGES
Innovation at the service of the industry
Authenticity and expertise
Bestselling book character aims to conquer the animation world
EL OCHO
Experience the world of licensing at the Spielwarenmesse in Nuremberg
ANIMATION
BLE
The extraordinary growth of Nic's world
The great music of Eddie Harris for your next creative project
The rise of female gamers and female representation in video games
TOYS
SUSTAINABILITY
Solutions to enhance brands and products through sustainability
BRANDED CONTENT
Wellness marketing, all the techniques for communicating good practices
VIDEOGAMES AND WOMEN
WHAT'S NEXT
Marketing, the new do-ityourself promotional campaigns
EntertainmentInterview Entertainment Events Events 136 152 118 144 120 160
WELLNESS
MUSEUM TAIPEI
NATIONAL PALACE
The opportunities to promote videos
The Children's Media Conference 2022, an amazing in-person return
Trends TrendsMarketingSavetheDatePublishingRetail 128 168170172173174176177178160156162164166 102
CMC
The value of fashion and accessories in co-branding
Books to help children's wellness
Contents 19
Elastikorps Fighter - the new stretchables have invaded the market!
What 's new from Germany
NICOLETTA COSTA
The next events to follow!
GREAT BRITAIN Retail, Britain's opportunities
News108102110116
SPIELWARENMESSE 2023
CARTOON FORUM
COSMETICS AND ART Cosmetics and perfumes inspired by Art APPS
What's next in Animation
GERMANY
DO IT YOURSELF
KIDS' WELLBEING
From Chinese artifacts to inspiring merchandise
INNOVATION Retail Innovation
The incredible 2022 line-up The BLE 2022 Preview
The importance of Apps
CO-BRANDING
CICABOOM
SEVENTH HOUSE
Toys for everyone
Maurizio Distefano and Michela Marchese Patti
In just a few years in business we have grown very quickly, becoming the leading licensing agency in Italy and the second in Europe. This has been a tremendous recognition of our work.
For our agency, Bing continues to be the number one property for the 1- 4-yearold audience, both in terms of ratings and consumer products sales numbers. The series is broadcast daily on Rai Yoyo with record ratings and is available at any time on Rai Play. Rai decided to invest even further in the series by also broadcasting four episodes in English in the morning slot. Our agency has signed more than 50 licensing agreements for Bing with the leading Italian companies in the industry. Another winning bet has been Bluey. It
We are really proud to say that our portfolio contains the strongest preschool properties of the moment. Among these,
Cover Story20 MAURIZIO DISTEFANO LICENSING
Among the many properties in your portfolio, which are trending now?
debuted on Rai Yoyo in December 2021, following its huge success on Disney + across the globe. The third series was launched on Disney + in Italy this August. Our Italian toy distributor is Giochi Preziosi who has been very pleased with the market response since the very first launch. The toy line will be expanded again in Fall/Winter 2022, and the licensing program will continue to grow with many new licensees.
THE LEADiNG AGENcy iN cONSTANT EVOLUTiON
Bing is the brand that is producing the greatest results; Bluey, CoComelon, Masha and the Bear, are also generating strong interest from the market. As for the young adult or adult target, LIFE, Corto Maltese, bands and musical artists like Pink Floyd, AC/DC, Iron Maiden, and David Bowie are the most popular.
Maurizio Distefano Licensing is the lead licensing agency in Italy, which has recently achieved important figures and significant development in local and international markets. Founders Maurizio Distefano and Michela Marchese Patti granted LM an exclusive interview, to discuss in more detail recent projects and their most interesting news.
We support licensees at every phase of the creation, development, and launch of a licensing plan through to delivering a tailored-made project for each client. Another great strength of ours is that we manage every stage within our agency in order to better serve our licensees and also to have control of the whole business. We offer a comprehensive package with a team of ten people entirely dedicated to each licensing project. All company functions are therefore covered directly by our staff, who receive specialized training in each of the operational areas (sales, marketing, retail, product development, social media, administration, etc…)
Beyond these properties, we have not yet seen much news on the horizon. The pandemic and consequent lockdown significantly reduced the opportunities to develop new series, which has really
Maurizio Distefano Licensing is a highlevel international licensing agency. How do you currently support licensors and licensees, and how do you differentiate yourself from your competitors?
Would you give us an overview of your strongest preschool IPs?
Thank you very much for this question, which allows us to explain our approach to licensing. One of the specific competitive advantages of our agency is our innovative strategy, which allows us to analyse the specific business needs of each licensee and carry out marketing activities that support individual projects as well as a brand's visibility.
Bluey off-road vehicle - Giochi Preziosi
Cover Story 21
The strength of Moonbug lies specifically in their great ability to create content, and in the universality of the themes in each episode. Our partnership is growing stronger, gradually including more business areas in which to collaborate and develop their IPs on several fronts, including digital. They are committed to fully developing the Italian market, which is a very lucrative market for licensing.
For this target, we are focusing on our strongest brands. For Corto Maltese we have developed a very prestigious clothing line. There are several other projects for artists and bands, and for LIFE, for which we are launching an apparel and accessories collection. It is certainly a target that we pay a lot of attention to, and that holds a lot of interest for our licensees. However, we make careful decisions about what the most suitable properties could be.
Bluey playset characters - Giochi Preziosi
What projects are you carrying out for the young adult target?
We are extremely happy with this new collaboration. On the one hand, we refer to ourselves as The evolution of Licensing, and we constantly try to grow. Moonbug Entertainment has entrusted us with the management of all its properties, including CoComelon, Blippi, My Magic Pet Morphle, and Little Angel among others... These phenomena were born on YouTube and immediately had incredible success on other media. We have observed changes in kids media consumption, with an ever stronger growth in the digital market. CoComelon in particular is incredibly popular. It is a phenomenon that started
The young adult target usually allows for strong development in the Lifestyle category. For the LIFE brand, you have obtained a clothing partnership with Benetton, and another with Clementoni. Both projects were awarded at the latest Bologna Licensing Trade Fair. Would you tell us about these two collections?
The LIFE band gave us the opportunity to work with an international company like Benetton Benetton fell in love with the brand and created a unique project through an excellent collaboration with our product development team. LIFE has proved to be the perfect brand for a client with such an innovative style. The strength of the project, which was reflected in the sales, is linked to the affordability of the magazine's images, and the impact of the recognizable style, through a selection of the most beautiful LIFE photographs. This collection for men, women, and children has resulted in an iconic and high-end range. As mentioned, we also won with Clementoni, who chose LIFE
Concerning digital properties, how is your big partnership with Moonbug progressing?
on YouTube: anyone can see it on the web every day, as well as tablets and smartphones that now entertain younger children. It recently landed on Cartoonito, and we know that this new platform will bring even more awareness to this beautiful series.
Moonbug has already undertaken a series of marketing initiatives, both B2B and B2C, which will further boost the licensing program in the second half of this year.
affected licensing. In our opinion, our properties are currently the ones that are performing the best in the Italian market.
Bing karaoke - Giochi Preziosi
delight of the millions of fans who follow all her adventures and activities. We can't reveal too much, but let's just say that her personality was perfectly reflected in the story, and the film will open up many novelties. There is a lot of excitement over this release, and we are already working on several other related projects: a sequel will be made in 2023, and there will also be a television series. We will keep you updated on these developments and the dates of upcoming releases.
Another innovative project is Charlotte M., an iconic creator and influencer who continues to deliver great results with many new features, including a new film
As for consumer products, the list of companies that will license the creator is long, and this season there are several licensees on board already, with many
CoComelon Leisure Bag - Coriex
CoComelon Musical schoolbus - Giochi Preziosi
starring her in the leading role. Can you tell us more about this latest work, and reveal the brand's news on the consumer products front?
Charlotte M. crisps Salati Preziosi
Charlotte M. sneakers - Easy shoes
Cover Story22
Charlotte M. is an ever-growing success. She is very young but multitalented and professional, a perfect personality for various licensing projects. She was also cast as a voice actress in an animated film that will be released in theatres between November and December of this year. The feature film, in which she plays the leading role of an actress and a singer, was shot at the beginning of the summer. The release is scheduled for Q1 2023, to the
to create a line of puzzles for adults and families. It was very interesting to explore how the puzzles turned out to be more than just a playful element, and actually acquired value as real design objects to be displayed in your home. In addition to the fun of assembling a puzzle, there is also the beauty of exhibiting these highly recognizable iconic photos, which have become true works of art. LIFE is a very flexible brand that allows you to develop products with a transversal target because it is suitable for children, adults, and both sexes. For this precise reason, licensees choose it happily, because they can maximize its value in all areas of their project.
Cover Story 23
Pink Floyd t-shirt- Sabor
Pink Floyd t-shirt - Sabor
What are you planning for the future? We will continue to cultivate our strengths,
Bing Girl's hat - iDO
a combination of a careful selection of properties, which is a specialty our agency offers our clients, and active support throughout the licensing process. Our objectives are long-term, we do not live
Charlotte M. backpack - Giochi Preziosi
Other interesting properties are those related to world-famous music groups. In which categories are you developing them?
Products inspired by musical bands find their greatest response in softlines and accessories. We have already completed several projects and are still developing
new products on the market. For example, Mondadori for publishing, Giochi Preziosi for toys and back-to-school (including a line of backpacks and paper products available on all shelves), Easy Shoes for footwear, Salati Preziosi with potato chips, Dolci Preziosi with Easter Eggs, Mitama for slime and fluo pens, and Grani for the kiosk sector.
Charlotte M. school diary - Giochi Preziosi
many others. The Italian market is very receptive to these types of licenses, perhaps because until recently, before our agency was appointed for these bands, it had not been possible to obtain a license through a local representative. The licensees who work with us now have the advantage of choosing the graphics, deciding which band to sign and above all having the complete service that our agency can guarantee. Many Italian licensees have grown to understand and appreciate what we offer, which includes any musical styles they may be interested in: between bands and artists, we have more than 130 musical IPs on our roster. Our most rewarding contracts are in the apparel category. The strongest bands are classics like Pink Floyd, AC/DC, David Bowie, etc. which give the collections a vintage and timeless feeling. When going through times of crisis like now, people tend to revert to brands from the past, which remind them of better times. By purchasing a licensing product linked to
Musical doll JJ - CoComelon - Giochi Preziosi
nostalgic brands, happy memories can be relived. The collections also have the advantage of being multi-target. Both us boomers - who have known the artists since our youth – and younger generations who have heard about them and listened to their music, like them. This helps the licensee maximize product development and sales.
Bing wooden ring game - Sevi Bing wooden xylophone - Sevi
BLUEY
Masha and the Bear animated series, produced by Animaccord, with kindness and comedy in its heart, follows the adventures of a mischievous and clumsy
BING
MASHA AND THE BEAR
In Italy, Masha and the Bear is widely represented on major TV and VOD giants
for the day but we have broad-spectrum projects, to continue offering our licensees the most innovative options for the Italian market in the sectors in which we operate: preschool, the world of brands, music, creators, celebrities... Companies and markets have changed a lot since Covid, which is also why our agency wants to continue to maintain the high level of service we provide, to facilitate, simplify and improve the product of our licensees, to satisfy their needs, and those of the licensors we represent. It will always be important for us to keep a careful eye on current and future trends, presenting ourselves on the market as per our slogan, an agency in constant evolution
little girl Masha and her caring friend, The Bear. Their friendship is a metaphor of how a child explores the world around, and her adult friend supports and cares about her in that journey. The cartoon became a hit for families around the globe, due to its smart ability to entertain and educate both children and adults on such timeless life values as real friendship, care, support, and freedom of creativity. As of today, Animaccord produced 5 Seasons of Masha and the Bear as well as spin-offs Masha's Tales, Masha's Spooky Stories and Masha's Songs, and is currently working on thematic 22-min specials featuring the beloved characters in new unexpected contexts.
Cover Story24
Bluey is the award-winning series created and written by Joe Brumm and produced by Ludo Studio for the Australian Broadcasting Corporation and BBC Studios that talks about Bluey, a 6-yearold Blue Heeler dog, who turns everyday family life into extraordinary adventures. Bluey arrived in Italy on Disney+ and Rai Yoyo followed its success with high audience peaks throughout 2022. Bluey is the most requested content on demand on Rai Play.
Adapted specially for television, from the original books by Ted Dewan, Acamar Film's Bing celebrates the joyful, messy reality of pre-school life. In Italy, Bing has found tremendous success among preschoolers and it is broadcast on Rai Yoyo, Rai Play, DeA Junior and Amazon Prime Video. Bing's episodes are available also on "Bing: Watch, Play, Learn" app. The partnership with Leolandia, the Italian amusement park for little ones, is set to last years in the future with a lot of news to come.
PROPERTIES
It is a dino-kids comedy produced by Cyber Group Studios, for children aged 4-6 years old. Friendship, imagination and curiosity are the values that bind Rocky, Bill, Tiny and Mazu, four young dinosaurs about to discover the world. But above all, we could meet him, the enormous Gigantosaurus. Gigantosaurus was born from the imagination of Jonny Duddle in his eponymous book, where he wanted to show children how to play with their own fears. The series is available for streaming on Netflix, Disney+ and Rai Play and has encouraged multiple licensing agreements with prestigious companies such as Clementoni for puzzles, Dino Bikes for bicycles, Templar for books, Play Press for activity and coloring books in kiosks, Witor's for Easter Eggs 2022, and "Gigantosaurus The Game", designed by Outright Games, is available for Playstation® 4, Nintendo Switch™, Xbox One, and Steam.
ALVINNN!!! AND THE CHIPMUNKS
including Rai media channels, DeA Junior, TIM Vision, Netflix, Amazon Prime Video and YouTube. According to international research agency Parrot Analytics, the series heads the list of the most indemand kids' shows in the country (Parrot Analytics, August 2022).
LITTLE ANGEL
COCOMELON
and is available on Netflix and Vodafone TV in Italy.
Blippi is a Modern Educator. He takes kids on the ultimate playdate to learn about vehicles, animals, professions, the natural world and so much more. Blippi encourages learning through doing, playing and exploring – inspiring a child's natural curiosity about the world around them. Blippi makes learning fun with silly dance moves, fun songs, and awesome adventures. There is so much to learn about, it will make you want to shout 'BLIPPI'! Blippi has its own Italian channel
Cover Story 25
ALVINNN!!! and the Chipmunks, created and produced by Bagdasarian Productions in association with Technicolor Animation Productions, is an animated tv series following the adventures of a group of all singing and all dancing chipmunks as they chase pop music fame with a catalogue of original songs. Confirmed as one of the most successful animated series in Italy, ALVINNN!!! and the Chipmunks is aired every day on K2
CoComelon is a fun pre-school show about childhood, celebrating the big moments for little kids. It follows JJ, his family and friends on fun everyday adventures exploring and learning through relatable situations and catchy songs. CoComelon is a warm and inviting world which all young kids will recognise. CoComelon is born on YouTube and widely followed in Italy on the platform, where also the Italian channel is available. CoComelon is also available on the free-to-air channel Cartoonito and on Cartoonito App, as well as on Netflix, Infinity and Vodafone TV.
Little Angel is an animated show for preschoolers. An irreverent comedy about the wacky and fun reality of growing upsometimes it is messy, but it is always fun! The show is centred around Baby John and his family, who take on everyday adventures as seen through the eyes of little John. The show has been captivating families around the world with his irreverent humour, catchy and upbeat songs, and nursery rhymes.
GIGANTOSAURUS
BLIPPI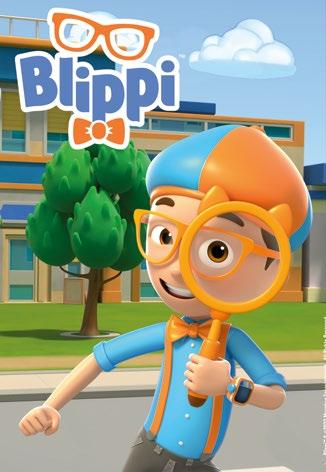 Cover Story26
KIDS VET ACADEMY
them the unique style of the sailor. Corto Maltese is a traveller, an ironic sailor who combines a Mediterranean appearance with the Anglo-Saxon culture.
Corto Maltese is the brand of the famous comic book character created by Hugo Pratt in 1967. Applied to Consumer Product, the brand can well characterize above all apparel and accessories, giving
LIFE
LIFE is an American magazine that since 1936, has told the "life" of the whole world, establishing their place in the history of photojournalism. LIFE's photographers have immortalized some of the most significant events of the 20th century: celebrities, historical figures and nature. Stylish and iconic, the photographs available in the Picture Collection represent a great opportunity for any licensing category.
CORTO MALTESE
Kids Vet Academy is the new educational reality show about animals airing on Rai Gulp and available on Rai Play. In each Kids Vet Academy episode, six young
CHARLOTTE M.
dedicated to Charlotte M. and major Italian companies came on board. Two very important projects have been developed this summer: Charlotte M. is the voice of the leading character in the animated movie "The Nutcracker - The Magic Flute" to be released in theatres in November and the filming of her first movie "Charlotte M. - Flamingo Party", which is scheduled for release in early 2023 and will also contain unreleased songs by Charlotte M.
The web star Charlotte M. is among the youngest popular YouTube influencers. At only 14 years old she has more than 1 Million followers on Instagram and Tik Tok. Three her songs are now available on Spotify. Fabbri Editori has published a book series of three titles
and Nick Junior. The series is a rebooted version of the 1961 original created by singer and musician Ross Bagdasarian. More than 60 years later, with revamped CGI and new original songs, the TV series continues to captivate kids across the globe. In the Italian market, Alvin has a number of licensing programs under his belt that continue to resonate with audiences, including Play Press with kiosk products, Citterio with snacks and ODS with scooter, skateboard and all musical instruments in full Chipmunks style.
apprentice veterinarians between the ages of 9 and 11, alongside Doc Renato Assin, a well-known veterinary doctor, will participate in a series of entertaining theoretical and practical lessons about the animal world. A new second series is already in development, with 12 new episodes. Mondadori chose Kids Vet Academy to develop a series of books dedicated to the episodes, to bring children closer to the secrets of the animal world.
Charlie Chaplin gave rise to one of the most emblematic characters in the cinematic production of his years: Charlot led the tramp figure to universal fame and was able to speak to his audience with elegant irreverence. His smart and sophisticated comedy is still a hit with audiences, in a collection of more than eighty films of which he was director, actor, writer, and later music composer. The iconographic elements linked to Charlie Chaplin are truly unique: his crumpled clothes, instantly recognizable bowler hat, his cane, his funny walk, and his unmistakable moustache have created an exclusive and characteristic image that can be used for licensing projects in Italy.
MUSIC
Thanks to the partnership with Epic Rights, Perryscope Productions and GMS, global master agents for hundreds of music artists and bands, Maurizio Distefano Licensing can offer a wide portfolio in the music category with all the major music artists of the international scene, from rock to pop passing through country, metal and hip hop.
Cover Story 27
LA GAZZETTA DELLO SPORT
EINSTEIN
which he was one of the founders. It goes without saying that in Einstein's iconography in the world represents a symbol, rooted in human thought. In the collective imagination, the scientist figure refers to him: the genius represented with his dishevelled hair that defies gravity and moustache.
The quality and completeness of its journalistic information make it the most authoritative sports newspaper, a bible for millions of enthusiasts.
INTERNATIONAL SPACE ARCHIVES
International Space Archives (ISA) is a digital archive containing the best of the incredible imagery created by our planet's exploration of the universe. For the first time ever, the International Space Archives brings together the best of these still images and videos into one comprehensive collection available for licensing worldwide through LMI Ltd and in Italy through Maurizio Distefano Licensing. Clementoni chose ISA to create a collection of puzzles for adults using images of the universe and of its discoveries, and a collection of scientific games to introduce young children to the world of space. While, Hermet Novia, developed a fantastic line of bed linen.
founded on April 3rd, 1896, printed on green paper, but on January 2, 1988 its pages are tinged with the famous pink tone, its distinctive feature. Over time, the newspaper has increasingly won over the Italian public, with a 360-degree information coverage of national and international sport.
Albert Einstein brought to light modern physics: his discoveries gave an unparalleled contribution to civilization today, through the development of revolutionary theories of electronics, astronomy and quantum mechanics, of
The greatest newspaper in Italy in terms of circulation, the first among sports newspapers. La Gazzetta dello Sport was
CHARLIE CHAPLIN
If you're looking at preschool, I would say that it's the depth of the content that you see on screen and the quality of the storytelling that shines through. I think that sets BBC Studios apart from many others, and affects the way that children engage with our content. Our shows are more creator-led, whereas some other shows may perhaps be led by the requirements of toy companies which is perhaps what leads to that greater depth in storytelling. It's also always our intention to build programmes for the long-term, we're not short-termist in any way whatsoever. And again, I think that approach separates us out from many others.
According to you, what are the common values and strengths of your properties? The quality of our programming applies to everything we do, obviously it takes its form in different ways, but that thread runs through all of our properties.
In terms of how I organise myself, it's about prioritising the rollout of the global licensing programmes and managing relationships with various stakeholders across multiple properties including broadcasters, licensees and retailers, et cetera. We then put in place an infrastructure that works to support them with representatives around the
Andrew Carley
Bluey, Ludo Studio
At the moment the flagship IPs are Bluey and Hey Duggee. We also have a pipeline of new content in production and preproduction which is looking exciting, we should have more news to share on that soon!
Hey Duggee, Studio AKA
My new role is about looking at where the key opportunities and the key challenges lie for BBC Studios. When it comes to opportunities, the largest for us at present in the global market is Bluey; and when it comes to challenges it's the retail and economic climate and how we adjust to meet changing needs. Of course there are other properties which sit within our roster including Hey Duggee, Doctor Who, Top Gear, BBC Earth and Only Fools and Horses which each present their own opportunities.
Interview28 BBC
Our non-preschool properties tend to be evergreen properties, the likes of Doctor Who and Top Gear, have been around for years (Doctor Who is 60 next year!) and they're synonymous with the BBC. And the strength of BBC Earth clearly comes from the world-renowned quality of the Natural History Unit and their groundbreaking and innovative work.
ALWAyS LOOKiNG FOR NEW OppORTUNiTiES
Tell us about the new BBC Studios Kids & Family Division. What are the flagship IPs?
world. We have a network of offices and agents that form a structure to allow our partners to really capitalise on and build on opportunities and success; be that Bluey, Hey Duggee or Doctor Who. We also have a pipeline of new properties coming through, and so we're making sure that we've got a structure in place that can harness the opportunities that they will bring as well.
LM interviewed Andrew Carley, Director of Global Licensing at BBC, to know more about trending IPs and future possibilities.
Would you like to take stock with us of this about first year and a half with your new role as director of global licensing at BBC, and explain how your work is organized?
the top three titles on Disney+ globally. That's feeding into the success of our global licensing programme, which is still relatively young, so far this year according to NPD data, Bluey is the #1 ranked license in Preschool Toys in the US; and the #1 new UK property in the total toy market in value sales (For YTD June 2022).
Bluey, Ludo Studio
What strategies will you adopt to continue developing the Bluey IP? New content, new storylines and new themes; we'll also be exploring new channels of distribution and creative ways that the consumer can engage with the content. Those don't have to be product - I guess others are going down a similar route with experiential and live, and what the metaverse could mean for consumers in the preschool market. When it comes to innovation in product development, that doesn't necessarily mean it's got to be tech – it could be thinking of how we can bring newness into product.
Seven Worlds One Planet – Live in Concert
Hey Duggee, Studio AKA
Interview30
What the Kids & Family Division does is bring everything together under one roof – distribution, licensing and production as well. It allows us to take a 360 approach where we can feed into development from a CP&L side and to recognise the needs of the modern world; onscreen, offscreen and retail. Being together in one division means that we're coordinated in a manner to makes that much easier and makes BBC Studios a one-stop shop for people.
We're also seeking promotional partners – similar to what we achieved with Airbnb where they built the Heeler's home in Brisbane, that was a massive success in Australia. We'd like to replicate those kinds of partnerships that raise the status of the brand for stakeholders and also cement Bluey for the long-term in the minds of the consumer.
Around the world Bluey is very strong at the moment and we've just launched series three on Disney+, which will build on the success we've already had on that platform – last year Bluey was one of a very clear strategy around that which caters to individual regional and country needs. We've now had more than 1bn lifetime views across YouTube channels and we operate six regional channels.
We've got a great AVOD presence, we recognise the strength of it, and we have
What are the most important partnerships for Hey Duggee at the moment, and which product categories would you like to develop for this property in the future?
In the future we'd like to focus on building out Hey Duggee internationally. In the UK we have a pretty solid programme, so it's more about capitalising on what
CBeebies Land at Alton Towers Resort
The focus for BBC Earth very much revolves around live and experiential events, a recent example of which
For Bluey, we have a great programme globally and in coming years growth in China and Asia will be a key focus for us. For Doctor Who, the 60th anniversary next year and the new series will open up a whole host of opportunities for us, particularly in UK and the US - I think we have an opportunity to build out Asia too. It feels like there's a whole untapped opportunity in Asia for Doctor Who that we've never really exploited.
As I said before, the plan with Hey Duggee is to build on our success in UK into France and Spain and potentially other European There'sterritories.also that pipeline of new content that's being explored. It's about building on the infrastructure that we're now putting in place, with a network of offices, experts and partners around the world, so that for new properties, preschool or otherwise, we've got a structure and a reputation on which we can build.
What's the latest news for the BBC Earth brand?
The Green Planet AR Experience Powered by EE 5G
includes Seven Worlds, One Planet – Live in Concert. We also worked with partners on a fantastic immersive experience which took over a vacant retail space in Piccadilly Circus in the centre of London to host The Green Planet AR Experience Powered by EE 5G. Visitors saw the series come to life and were guided around an augmented reality exhibition by Sir David Attenborough.
we've got. But internationally, particularly in Spain it's about building out the launch programme. The focus is on ensuring that the core programme is driving the Ourbusiness.most
Interview32
important partnerships are already known to most people i.e. toy and clothing including Golden Bear (our master toy and arts and crafts partner), HTI Toys (ancillary toy and play), Ravensburger, Character Options (Weebles) , Trends International, RMS International, MV Sports and we've got a lovely partner in 8th Wonder for wooden toys. We have a great apparel programme too; including Aykroyds, TDP, Roy Lowe & Sons, and Blues Clothing. H&A have just launched our first health and beauty lines. This year we launched a new attraction for Hey Duggee at CBeebies Land at Alton Towers Resort and we also have a strong music
Which properties will you focus on in the coming years, and in which international markets would you like to develop them?
publishing programme through Demon Music. With Penguin Random House, Hey Duggee was a top four preschool book property in 2021 – so that all adds up to a very strong presence at retail in the UK. Our plan now is to strengthen what we've already got rather than continually trying to enlarge the programme. And to build on that success, looking internationally to expand the programme and to use the success in the UK as a springboard for driving our international programme – to replicate that programme, which is a logical, natural next step. Spain, France and China in particular are key territories we're targeting for expansion.
Interview34
LOOKiNG TOWARDS 2023 HUGE OppORTUNiTiES
Julian Moon
How was this year with WBCP? Do you want to share with us some significant details of your experience?
So many of our properties are instantly recognisable and have truly global appeal – Wizarding World, DC, our classic animation properties including Looney Tunes, Scooby-Doo and Tom and Jerry –they do well in almost every market. It's fair to say that in the UK, as elsewhere, there's currently lots of excitement around the Game of Thrones prequel House of the Dragon, which launched on at the end of August.
Warner Bros. Discovery]. It's going to transform the landscape for us. Discovery has a large reach, being available globally in 220 countries and territories and 50 languages, and we have an incredible catalogue of properties, including more than 7,000 films and over 40,000 hours of television, that the opportunities are going to be huge.
On the consumer products front, what goals are you satisfied with?
It was wonderful to see the worldwide
What are your current flagship properties for the EMEA region?
In terms of EMEA-centric immersive experiences, our business continues to expand with the Batman Gotham City Adventures Escape Room coming to Paris, Harry Potter: A Forbidden Forest Experience in the UK and the Game of Thrones Studio Tour in Belfast being great examples. Warner Bros. World Abu Dhabi is also doing brilliantly.
WARNER BROS EMEA
It's been a good year – we're expecting growth – following on from a recordbreaking 2021. We enjoyed some blockbuster releases, notably The Batman The franchise has had a very strong year, and we're expecting that growth to continue with the launch of our animated preschool series Batwheels on TV and we are ready for product to hit the market in 2024, which will introduce the Caped Crusader to a brand-new demographic. We've also ventured further into the preschool market – previously untapped for us – with Bugs Bunny Builders, our new Looney Tunes show for younger viewers now launched on air. There's plenty still to come in Q4 and we're particularly excited about the release of Black Adam. By far the most important event this year has been our merger with Discovery [to form
LM interviewed Julian Moon, Senior Vice President, Warner Bros. Consumer Products (WBCP) EMEA, to know more about the latest achievements.
Warner Bros. World in Adu Dhabi
Warner Bros. World in Adu Dhabi
The Batman x Puma
What will be your following steps for the next months and 2023?
Harry Potter Experiential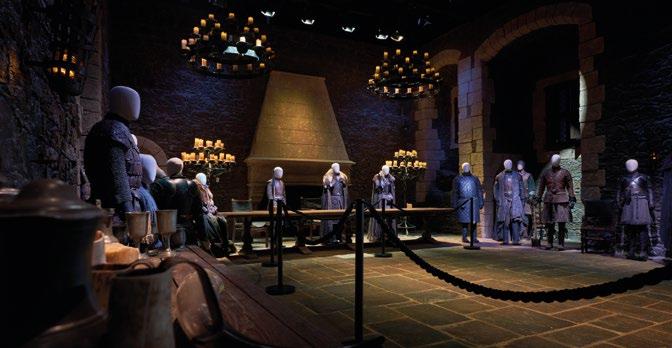 roll-out of Batman products earlier this year – it was our most robust Batman film product collection in over a decade, and ranged from fashion and footwear to toys, costume, beauty products and more. However, on a personal level, I was incredibly proud to be asked to open the doors to the Game of Thrones Studio Tour at Linen Mill Studios in Northern Ireland in February. It's the first worldclass attraction that Warner Bros. Themed Entertainment has launched in the region and is testament to the incredible
The Batman x EleVen by Venus Williams
Interview 35
Warner Bros. World in Adu Dhabi
storytelling of George R. R. Martin and to HBO, for bringing those stories to life. It's a fantastic experience that allows fans to truly immerse themselves in all corners of the Seven Kingdoms and beyond.
We're currently gearing up for our centenary year in 2023. It will be a global celebration of Warner Bros.' much-loved stories and characters, and will involve the launch of exclusive merchandise, new collaborations and partnerships, and unmissable fan experiences. We also have a fantastic slate of new movies debuting in 2023, including The Flash and Aquaman and the Lost Kingdom. There are global factors, such as inflationary pressures and rising costs, that are in play, but overall, we are hugely optimistic about the next 12 months.
Game of Thrones Studio Tour
Asrecognisable.wellas
being hugely popular with children Pokémon has massive cult and retro appeal, which allows us to really develop and diversify our fashion spread to cater for every age and gender – and also across different markets where tastes, trends and requirements can vary significantly.
Converse for Pokémon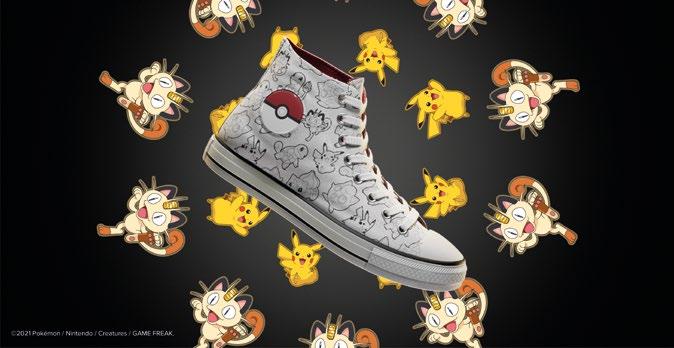 Pokémon is seeing a big expansion in fashion. What's behind that?
opportunity to do that. With the brand's huge, wide-ranging appeal, we can offer an amazing array of quality apparel and accessories across all budgets and styles so there really is something for everyone.
For this big issue of Licensing Magazine, our editorial team had the pleasure to interview Mathieu Galante, Licensing Director EMEA at The Pokémon Company International to learn more about the importance of Fashion for this global leading entertainment group.
Zara for Pokémon
Having celebrated its 25th anniversary last year, Pokémon offers a huge and rich heritage that provides endless inspiration for designers. Its widespread popularity and constantly evolving world of iconic, much-loved characters lends itself well to trend-led collections, while its strong design is colourful, bold and instantly
What makes Pokémon a great fit for fashion?
We strive to create exceptional and covetable collaborations with must-have appeal. We don't want to saturate the market so prefer to work with a limited number of quality partners – ones who understand our brand and will produce something true to its ethos. We are
Our broad global appeal and reputation for innovation attracts a wide range of high-calibre partners, from high street to designer, mixing affordable products at mass alongside aspirational lines with cutting-edge collaborators and luxury partnerships. Over the years we've produced ground-breaking fashion collaborations spanning apparel, footwear and accessories for both adults and kids. These creative partnerships and collaborations add to the buzz around each collection, ensuring we keep elevating our brand while keeping it relevant to new demographics such as millennials, Gen Z etc.
What do you look for in your collaborations?
pOKÉMON: FOcUS ON FASHION
As a leading global entertainment brand, Pokémon has a fan base like no other - straddling cultural and geographical boundaries, as well as generations. To reflect this the franchise covers multiple pillars, from video games to mobile apps, the Pokémon Trading Card Game (TCG), animation/movies, Play! Pokémon competitive events and licensed products. A brand that can reinvent itself while still embracing its heritage, Pokémon is always looking to connect with its audience in new and diverse ways, as well as attracting new fans, and fashion provides a perfect
Mathieu Galante
Interview36 THE POKÉMON COMPANY INTERNATIONAL
What's next for Pokémon in the fashion arena?
Pokémon has become a true fashion icon over recent years and we want to build on this success with yet more innovative and exciting collaborations and experiences in the future. But we know that these days having a great collection is not enough – consumers increasingly expect to be entertained and inspired when they interact with their favourite style brands. So all our collaborations need to tell a story that will speak to our fans and keep them engaged and enthused.
We are also keen to promote sustainable and ethical values in our partnerships as consumers become more socially responsible in their choices. The Charli Cohen x Pokémon collection was created in sustainable technical fabrics such as recycled ocean plastics and organic cotton, while our recent collaboration with Axel Arigato featured organic cotton, leather from Gold Standard tanneries, recycled PET bottles and recycled plastic. Our latest Uniqlo 'Pokémon as art' collaboration was designed by Japanese artist duo magma utilising a disparate collection of waste objects.
an innovative virtual store, the cyberpunk digital world of Electric/City, which gave exclusive access to the collection and was complemented in the IRL world of Selfridges London with a two-week showcase in a dynamic space with fun activities.
constantly looking for brands who have a standout presence in their fields, who offer quality, creativity, fun, wearability, sustainability and innovation, and who can connect with our fans of all ages.
Pokémon has always been about innovation and evolution, and that philosophy will direct our activity in the future as we continue to set trends, expand into new areas as they open up and find bold new ways to harness technology and connect with existing and new fans.
Pokémon Iceberg Kids Collection
GCDS, Axel Arigato, Bobby Abley, Charli Cohen, Iceberg, Levi's, Adidas, Converse, Criminal Damage, Geox, Clarks, Irregular Choice, H&M, Zara, Bershka, Pull&Bear, Uniqlo, Zavvi and ASOS.
We're always looking to excite them through destination events in store or by pushing the boundaries with ecommerce. For example, we enjoyed sensational success with our first foray into the metaverse last October for the Charli Cohen x Pokémon collection. We created
Interview 37
Clarks for Pokémon
Balmain for Pokémon
We work with respected partners across high-street and high-end fashion and our many successful collaborations include: Balmain, Longchamp, Jeremy Scott,
News38 VICTORIA LICENSING & MARKETING
The current strategy of expanding entertainment offerings puts the spotlight on content. The most prominent example is the film Barbie with Warner Bros. The film will be released in cinemas in summer 2023, principal photography has recently been completed, but is already generating incredible excitement and expectations on social media and in the press. After several animated adaptations inspired by the iconic Mattel doll, for the first time Barbie lands on the big screen with a decidedly ambitious live action project.
The string of positive results for Mattel Inc. continues. The first half of 2022 was also a period of exceptional growth for the company. The quarter just ended was the eighth consecutive quarter that saw top-line growth, a result that reflects the strength of the brand portfolio and the successful execution of the strategies implemented: growing the Mattel IPbased franchise business and expanding the entertainment offering with a focus on innovation and content.
Barbie Back to School Collection by Giochi Preziosi
Thanks to continuous investments and a strong focus on content, film and TV productions, Mattel continues the period of positive results and strengthens its franchise strategy. And the Barbie movie is already trending!
MATTEL, NOT jUST TOyS
The film, a comedy genre, stars Margot Robbie as the iconic Mattel doll, Ryan Gosling as the eternal boyfriend Ken and Will Ferrell as the CEO of a toy company. The film is directed by intellectual director Greta Gerwig, who also wrote the screenplay. From Mattel and Warner's headquarters, anticipations about plot and details have been absolutely forbidden, but the photos, which have arrived from the production set over the last few weeks, give us insights into the 'historical period' in which it takes place. Indeed, the official photos released so far show us Margot Robbie and Ryan
befriends her classmates Frankie Stein and Draculaura and for the first time in her life, feels she has finally found a place where she can truly be herself, despite keeping her human half a secret. When a devious plan to destroy Monster High threatens to reveal her true identity, Clawdeen must learn to accept even her 'monstrous' werewolf half and, together with her new friends, find a way to save the day.
News 39
Monster High™ Reproduction Doll : Lagoona Blue, Draculaura, Clawdeen Wolf, Franke Stein
But not only Barbie will star in cinemas. In fact, Mattel, Nickelodeon and Paramount recently released the trailer preceding the debut of the Monster High live action musical scheduled for 6 October. The musical will be followed by a 26-episode animated series featuring the most glamorous 'monster girls' ever. Mattel first introduced Monster High in 2010 and it quickly became one of the
Last April, Mattel, Inc. and Warner Bros. Pictures announced that Bad Robot's J.J. Abrams will produce a live-action film inspired by the Hot Wheels brand, starring the iconic and timeless toy cars.
Gosling perfectly embodying the doll models inspired by the 1980s and 1990s. To the delight of nostalgics we see them engaged in a colorful rodeo, on rollerblades through the streets of Venice and there is even a glimpse of a Barbie winking from a vintage convertible that is absolutely pink. The clothes perfectly reflect the fashion of the moment as do the hairstyles and details. The hype about the film is now sky-high, so much so that an ad hoc term has been coined: Barbiecore! A fashion trend, a glamorous phenomenon that, judging by the many articles in all the newspapers, has gone viral. So, the Barbiecore trend is everywhere, not just in the wardrobe, but also in make-up, interior design, music, the Barbiecore trend is going viral on social networks and in real life all to create an aesthetic reminiscent of the 80s that has exploded with the arrival of the highly anticipated film!
High: The Movie, directed by Todd Holland, chronicles the exploits of Clawdeen Wolf, born half-human and half-werewolf, after arriving at her new school Monster High. Clawdeen
Adidas Sean Wotherspoon Collection for Hot Wheels
most successful and beloved children's properties of all time. The franchise seeks to promote a more inclusive world where everyone is proud to be themselves and accept themselves exactly as they are, a concept that is more relevant and current than ever. Monster High are back with a series of fantastic characters reimagined but still inspired by the original monsters, for a new generation that embraces diversity and accepts what makes them Monsterunique.
News40
updated Superturf Adventure shoe with removable patches and a special version of the classic Adidas slider, the Adilette. Also, as part of the collection, he designed a Hot Wheels Colour Shifter Deora II toy car decorated with Wotherspoon's signature floral motif! Clothing, accessories and sliders are available from 18 August exclusively on the Confirmed App and from Sean's Round 2 store. From 25 August the footwear is available on the adidas.com online shop and from selected retailers, the Deora II model car will be available on Mattelcreations.com .
The legendary Matchbox brand, invented in 1953 by car expert and enthusiast Jack Odell, will also see a film adaptation. Skydance and Mattel announced last July their intention to develop a live-action film. For almost 70 years, Matchbox has had enormous cultural relevance and inspired generations of children to unleash their imaginations by combining what they see in their everyday lives with what they dream up in their imaginary world. Mattel and Skydance's intention are to create a story for the big screen that evokes the same imaginative spirit of this franchise and brings joy to fans of all ages. Another property with multiple on-air shorts, a bucket hat and a reversible tote bag. The footwear collection includes an
Adidas Sean Wotherspoon x Hot Wheels SUPER TURF ADVENTURE
Hot Wheels, with its more than 54year history, is a brand more relevant than ever, the world's leading vehicle franchise representing and uniting all segments of automotive culture. Hot Wheels over the years has influenced car and pop culture with legendary design and epic performance but also through unprecedented collaborations with global leaders in automotive, streetwear, fashion, luxury, entertainment, gaming, action sports and motorsports. Hot Wheels is the world's best-selling toy* with over 8 billion vehicles sold. Recently, Hot Wheels also joined forces with Adidas Originals and Los Angeles-based designer Sean Wotherspoon to launch an epic collection. Wotherspoon combined his passion for automotive memorabilia and incorporated Hot Wheels into the mix to create a collection of racing-inspired apparel and footwear, brought to life by a series of bold graphics. The clothing collection includes a racing jacket, a longsleeved mesh T-shirt, a cotton T-shirt, trail
Adidas Sean Wotherspoon x Hot Wheels ADILETTE
In this high-adrenaline live action, the beloved franchise will come to life and audiences will see some of the world's most iconic model cars, monster trucks and motorbikes.
Also, in celebration of the 40th Anniversary, a collaboration was recently announced between Cryptoys, the revolutionary NFT platform that combines toys, gaming and entertainment to create a multi-game universe, and Mattel. Masters of the Universe, through a global partnership, will be the first brand to enter an interactive world of digital toys through the Cryptoys universe. The many Masters of the Universe fans got a first glimpse of the partnership between Cryptoys and Mattel at San Diego Comic-Con (July 2022).
Skeletor for the conquest of Grayskull Castle and its supreme power. Children have the chance to immerse themselves in the adventures of their favourite characters and parents can get excited by letting their children discover the world of Masters of The Universe they grew up with. The purpose of this franchise, in fact, is to encourage children to discover the power within them, to understand that each of us has something that makes us special and unique and that by learning to 'master' our power they can become better adults.
Also for Thomas the Tank Engine & Friends, after the restyling that sees the new face in 2D animation, new content is on the way (season 26 will start on 9/12) with characters that will thrill young and old alike and contribute to the growth and
News42
After more than four decades, this extraordinary property, an icon of contemporary pop culture, has been brought back into the limelight. Since its first launch in 1982, Masters of the Universe has been a cultural phenomenon that has spanned many generations, igniting the fire of 'power' among fans worldwide. Masters of the Universe was an incredible success in the 1980s: the launch of first the toy line and then the TV series led to the franchise being worth over two billion globally and literally 'dominating' the market.
On the occasion of its 40th anniversary, Mattel is again focusing on Masters of the Universe with a founding mission: 'passing the sword' to the younger generation. Thanks to the animated series Kids HeMan and the Masters of the Universe, (launched on Netflix in September 2021) the third season of which was released in August 2022, even the youngest children can get to know the world of Eternia and immerse themselves in the struggle between the hero He-Man and the evil
content will be MOTU, we have the offer for the new generations of no less than three seasons of He-Man and the Masters of Universe, the third season of which is available on Netflix from 18 August, and the Kidult proposal with the two seasons of Masters of The Universe Revelation also available on Netflix.
Weentertainment.canstate
Also, thanks to the focus and huge investment in content we can say that consumer products accompanied and supported by digital experiences represent an increasingly significant opportunity for Mattel. We recently announced the appointment of two senior executives from Scopely and The Walt Disney Company respectively to lead the next chapter of growth in these two important areas.
Silverman has instead been appointed Global Head of Consumer Products and Chief Franchise Officer,
that never before have Mattel's brands and products, together with its content offerings, been perfectly in line with the demands/needs of consumers and retailers. Consumer Products are therefore of particular importance in Mattel's present and future acceleration process through the search for strategic partnerships for all brands. For Barbie in particular, 2023 will also be an extraordinary year for Consumer Products. The snowball effect generated by the movie combined with the everincreasing investment in toys will make this year unforgettable, not only for Mattel, but also for all partners involved!
On the partnership front, the global announcement of Mattel's multi-year agreement with Elon Musk's SpaceX is very recent. The agreement involves the creation and marketing of products that inspire children and collectors to harness the 'space explorer in them'. At the same time, a number of space-inspired
*Source: The NPD Group/Retail Tracking Service, U.S. Dollar Sales, JanuaryDecember 2021
News 43
This is not the first time we have seen an Elon Musk company collaborate with Mattel. In 2020, in fact, Mattel created two RC cars inspired by the Tesla Cybertruck also under the Matchbox brand.
evolution of the brand in 2023.
Mike DeLaet has been appointed Global Head of Digital Gaming, in his role DeLaet will be responsible for accelerating Mattel's digital gaming product offering across all major gaming platforms, including licensing, self-publishing and Joshweb3.
collectibles will be available on Mattel Creations, Mattel's collaborative, directto-consumer platform.
The pre-school content offer is completed by series number 13 of Sam the Fireman, on air from 9 May 2022 on Cartoonito, (DTT channel 46) and consisting of 26 episodes of 10' each. The first half of the episodes aired in May, while the other half will return in November. The Pontypandy Rescue Squad is back on air with new heroes, new adventures and educational lessons on sustainability thanks to the introduction of the character of Jodie Phillips, a marine biologist. In this new series, environmental and climate issues are an important topic of discussion, giving Sam the Fireman the opportunity to encourage pre-school children to think about protecting marine life, caring for the environment, cleaning up beaches, and making them aware of the world around them.
effective 1 September 2022. Silverman will join Mattel after more than a decade at The Walt Disney Company, where he held executive positions at Disney's Consumer Products division. In his role at Mattel, Silverman will oversee the global consumer products business, franchise management, retail development, as well as publishing, live experiences and
MAKiNG MAGic AT ZAG
music videos with choreography for kids to replicate at home; split screen videos sharing script and storyboards with the corresponding animation; short videos from the TV series reflecting seasonal events; and more. We also have a presence on Facebook, Twitter, Instagram, and Tumblr – whose 14 official accounts boast 13.1 million followers in total.
is usually a TV advertising component for our toy launches, especially around the holiday gift giving seasons. And our licensees in general are very effective at making sure their new products get promoted through PR outreach to digital and traditional media. Plus, we've been doing some great influencer campaigns that include unboxing, contests, dress-up and more.
For this special issue, LM did an exclusive interview with Jeremy Zag, CEO and Founder of the leading animation studio ZAG Entertainment, behind the global success of Miraculous – Tales of Ladybug and Cat Noir.
Interview44 ZAG ENTERTAINMENT
We are currently in the planning stage for
Let's talk about this in relation to Miraculous. A key component of our marketing from the outset has been the creation of an entire digital ecosystem we have built around the brand. The Miraculous universe is accessible all the time, on every social network, offering different custom-made experiences for all our fans - and it's proven to be very effective.
Miraculous Apparel from Bentex
On YouTube, Miraculous attracts over 25.9 million subscribers across its ten official YouTube channels, currently available in nine languages. With over 31.9 billion views of authorized and user-generated content, fans have collectively viewed more than 2.2 billion hours of content. And toward the end of 2020 we launched Miraculous on TikTok which has exceeded over 280 million views since launch (3.7 million subscribers). On TikTok we unveil never-before seen footage including
What are the strategies currently adopted to increase the awareness of your brands? We have a huge presence across social media. What marketing/ PR initiatives do you invest in in key territories.
Jeremy Zag
We'll be present at BLE under our new newly launched group, ZAG Play, which includes the licensing and merchandising, promotions, gaming, and toy divisions of ZAG, and focuses on developing engaging products beyond the screen that inspire the new generation to discover their true character. This new division is led by Julian Zag, EVP, Global Operations and Head of ZAG Play. At BLE, we're presenting Miraculous – Tales of Ladybug and Cat Noir, for which season five commences this fall to be followed by the debut of our US$ 100+ million animated feature Miraculous Ladybug and Cat Noir: The Movie; and we will be speaking with potential partners about our newest property, Ghostforce.
How will you be present at BLE and what news will you bring?
Miraculous Rise of the Sphinx Console Game Published by GameMill Entertainment
Beyond our digital outreach, we work with our licensing partners to ensure that we have marketing and PR plans in place to maximize our outreach and visibility. There
ZAG Heroez Ghostforce
our marketing campaigns for Ghostforce consumer products. Ghostforce, our newest series for kids and families, follows three junior high school students who form a secret team to defend their city from the ghosts haunting it. The series airs in Europe on the Disney Channel and Disney+ (except in France where it airs on TF1), in the US on Disney XD, and in Latin America on Discovery Kids. Featuring breath taking animation that draws in the audience and keeps them coming back for more, Ghostforce has achieved spectacular ratings in many countries, often garnering #1 slots.
Miraculous continues to collect exciting new partnerships. Tell us more... Yes, our licensing and promotional teams have had a very busy 2022. In fact, we now have over 400 licensing partners around the globe. And we have several new global partners who we will be announcing later in the year.
Our partnership with Playmates is ongoing and we have a fantastic line-up of new toys for the fall. Together ZAG Play and Playmates adapt the stunning CGI animation from the Miraculous TV series and feature into the line's entire look. Among the new fall line-up is the special edition Miraculous "Movie Collector Marinette" doll that represents a pivotal tell-all moment in the film, where Marinette designs her very own gown for the Grand Ball in Paris! Also available are the Miraculous Kwami Surprise collectibles
Interview 45
Licensing agreements are already signed for publishing, apparel, and costumes, among others!
Miraculous Ladybug and Cat Noir - The Movie Deluxe Gift Set from ZAG Play and Playmates
Toys from ZAG Play and Playmates will feature action figures of the main heroes and a collection of boo capsules that will play on the collectivity of the ghosts.
in advertising campaigns. Brands can incorporate well known characters into their advertising strategies that will bring instant recognizability and positive associations. Born Licensing will be representing Miraculous for this purpose on a global basis.
In August and September, McDonalds ran a happy meal promotion for Miraculous in Europe across 40 countries and 6,000 restaurants which featured sustainable premiums in the form of Miraculous activity packs.
ZAG Heroez Miraculous - Tales of Ladybug and Cat Noir, Season 5
And Ladybug and Cat Noir just became the first licensed characters to appear on Walmart's Great Value Low-Fat Yogurt Smoothies through an agreement we made with Schreiber Foods. Being healthy is crucial to childrens' growth and we are delighted that Schreiber Foods and Walmart are harnessing the superpowers of our heroes to bring tasty and healthy treats to families. You can expect to see
Miraculous Ladybug and Cat Noir: The Movie - Marinette at the Grand Ball from ZAG Play and Playmates
We also just signed an agreement with Born Licensing who works with owners of intellectual property and advertising agencies to utilize character licensing
Miraculous Card Game from Pais & Filhos.
Miraculous Real Fruit Funnables from Ferrara
We'll also be bringing the Miraculous Live Tour to Europe this year. This musical extravaganza from Deaplaneta Entertainment and Proactiv will launch in France in October, visiting 29 cities. The musical theatre show features over 30 characters from the TV series and is full of magic, spectacular stories, and scenic fights. The tour commenced in Latin America this year receiving excellent audience reviews.
Interview46
- 19 in total - each sculpted with their miraculous jewel!
more activity from ZAG in the healthy eating space.
Other recent and exciting global and pan regional deals for Miraculous include an exclusive global deal with Emoji Company to create multiple product lines that will feature unique emoji® x Miraculous™ brand icons; a global deal with PMI for a line of collectibles, impulse, stationery, and school supplies; and a pan European deal with TCC Global as the exclusive loyalty partner. These new partners join existing global and pan-regional partners
including Playmates, Ferrero, PEZ, Swatch's Flik Flak, Epopia, Spread Group, Crayola, InSpirit Designs, and Rubies.
Would you let us know how your collaboration with Cross Creek Pictures is growing?
TV series to have a presence on the Roblox platform, which won Best Alternative Game for Kids at Kidscreen Summit; and a third lifetime achievement award from Roblox for over 80 million hours played.
Ladybug and Cat Noir: The Movie
Our most recent office opening is in Shenzhen and will support the work of our ZAG Play Toy Division, which is headed by Helena Perheentupa who serves as SVP. Helena will develop imaginative products that complement the toys from Playmates, our master toy partner, and other toy licensees. Together, we'll offer a wider range of inventive and original toys for fans to engage with our brands. Other offices opened in the past 18 months include Miami, Florida; and Mexico City, Mexico, to serve the Latin American marketplace; in Germany to serve Eastern Europe; in Tel Aviv, Israel, with the launch of the gaming division; and in Dubai to serve the Middle East and Africa. Plus, we already have offices in Paris, Los Angeles, and Montreal.
Since those announcements, we have further solidified our relationship with Cross Creek and together we will produce a package of ten features. One of the titles will be a Ghostforce live-action movie developed alongside Michael Gracey, the director of The Greatest Showman. I have been developing these new film projects for a number of years and am so excited that we have the ideal partner in Cross Creek to bring them to fruition.
In which territories have you recently opened new offices and with what objectives.
and actress, Katy Perry, in the title role. Set against the backdrop of New York City, Melody will take audiences on an adventure of song, laughter and heroic quest together with her "Seven Dwarves"like musical notes that help guide her moral compass! Melody is an uplifting and inspiring story of self-discovery.
Interview48
What is your latest news on the Gaming / Apps front?
We're excited for the launch of the first Miraculous Console Game, Miraculous: Rise of the Sphinx, published by GameMill Entertainment for XBOX, Playstation and Nintendo Switch; and a new mobile game from ZAG. Our first mobile game continues to perform well and to date we've had over 200 million downloads. And most recently we won some awards for our Miraculous Roblox game, the first
Miraculous Union Suit PJ's from Komar
We're so excited about our agreement with Cross Creek Pictures – they are a co-production partner on our upcoming Miraculous feature, and also Melody, an animated musical feature that I created and will direct starring singer, songwriter,
Yes, here at ZAG we are ramping up production and we have the partners and facilities to make this happen, including the opening of our state-of-the-art studios in Paris this month.
Melody, starring Katy Perry
In its 50-year trajectory as an icon of popular culture and the subversive underground, the brand continues to be a recognised beacon of positivity.
love for the brand with their audience. In doing so, the brand once again delivered a culturally relevant message of optimism via a fully immersive brand experience both on and offline, increasing global brand love and awareness.
SMILEY
And Smiley's feel-good messages and smile-worthy moments were evident throughout The Bicester Collection's sunny open-air settings, through an exciting programme of art, music, food, and retail theatre.
Projecting the icon of defiant optimism across the globe, Smiley kick-started 2022 with a fly-poster campaign and projections across cities from Sydney to LA to deliver a Global Street Art Manifesto of Positivity These activations were magnified by PR, marketing, OOH, and guerrilla advertising – and inspired the world to 'Take The Time To ThisSmile'.ambitious anniversary campaign saw
From the very beginning, Smiley's mission has been to spread good news with its founding mantra, Take the Time to Smile Fast forward half a century, and the brand has done just that. The 2022 anniversary saw Smiley amplified across the globe, filling the world with smiles through unique artists-edition collaborations alongside some of the world's most relevant brands in fashion, design, beauty and food.
DO GOOD is its initiative focused on supporting 10 charities that promote and progress the self-empowerment of women and children, both locally and globally. The campaign, running through to October, launched in all The Bicester Collection's Villages in Europe and China. Guests visiting The Bicester Collection were invited to 'Take the Time to Smile and DO GOOD' with all sales directly supporting the charities.
But it won't stop there. Charity is a huge part of transforming our world for the better, as Smiley knows well. This summer, it embarked on a shared mission with The Bicester Collection to support women and children with a charity collaboration. 'Take the Time to Smile' and DO GOOD saw limited-edition products raise funds for charities supported by The Bicester Collection's DO GOOD programme.
the brand brought to life in 98 pop up stores across 18 countries, over 60 limited edition collaborations launched in over 10,000 stores, over 3,000 media features and a social media footprint of 45million and over 200 influencers with a combined reach of 200 million plus sharing their
©Bicester Village China
News50
SMiLEy, AN AMBASSADOR FOR cHANGE
Whilst this campaign amplified positivity
© Galeries Lafayette Paris
Buildingsupport.
Put simply, 'Future Positive ®' is an extension to Smiley's mission of creating a happier, kinder, more conscious world. It's a first-of-its-kind initiative, working with global brands to tackle worldwide social and climate injustice through transparent and sustainably produced products.
on this vision with Future Positive®, Smiley's 360° campaign will bring together the most futurethinking brands to curate a range of sustainable lifestyle products, infused with brand experiences and charitable giving opportunities. It'll be an ambitious but necessary endeavor to execute this forward-thinking campaign that aims to inspire environmental solutions and drive ecological transition.
the most future-thinking brands and manufacturers to develop sustainable lifestyle products. We want to be a positive force for change in the licensing industry. Within 5 years we have committed that 100% of our licensees will have a sustainable offering in their Smiley ranges."
to build a social legacy. Smiley Movement aims to inspire positive change in society by addressing urgent societal and environmental problems, through a crossmedia platform of news, videos, events and awards that connect the non-profit sector to the broader public. More than ever, the people in our world are ready to be empowered, take purposeful action, and build hope for a brighter future – and that's exactly what the movement aims to
© David Guetta Louvre Abu Dhabi
In 2023, CEO Nicolas Loufrani is making The Smiley Company a global leader for responsible brands, driving Future Positive® businesses forward through an immersive 360° campaign. It aims to elevate sales and recognition by supporting changemakers in the brand extension community.
News 51
to the masses, it also elevated Smiley's purpose and helped to remind global citizens of how a simple smile can change perspectives and lives.
© Dsquared2 One Life One Planet
For the past three years, this brand mission has been realized through Smiley Movement, a not-for-profit aligned with UN SDG Goals, that kick-starts meaningful engagement with consumers
Speaking about the campaign, Nicolas Loufrani, CEO comments; "The Future Positive ® campaign will bring together
By offering a platform to showcase those that align with the Future Positive® mindset, The Smiley Company will become an ambassador for responsible brands, positioning itself as a committed stakeholder in society.
So what's next for Smiley? Following the success of the multifaceted 50th anniversary, 2023 onwards will see a double down on the positive energy generated, with a future-thinking campaign that emphasises the planet and its inhabitants.
Ambitious, authentic, and forwardthinking, Smiley continues harnessing the power of the smile leading the world toward a future we all want to be part of.
complex, are often new to licensing and can require a more high-level and
The Lifestyle division at WildBrain CPLG was first created two years ago when we recognised the need to have a dedicated team focused on maximising the longterm revenue of our growing Corporate & Lifestyle portfolio. Since then, the division has become an integral pillar for the agency as we continue to evolve and expand our business.
strategic approach. Quite often, we're targeting licensees that are different to those we would typically work with across our entertainment line-up.
Victoria Whellans
LM interviewed Victoria Whellans, Commercial Director for ASPIRE, to find out more.
Master Lock – the number one padlock brand in North America
We currently have 18 brands in the ASPIRE portfolio, which has expanded and diversified rapidly over the last two years with the addition of Malibu, Harvard University, the University of Southern California, renowned international artist Romero Britto, Master Lock and SentrySafe as well as Sauber Motorsports and its Alfa Romeo F1 Team Orlen, and most recently, fashion brand Lyle & Scott.
Interview52 WILDBRAIN CPLG
WildBrain CPLG, a world-leading entertainment, sport and brand licensing agency, has rebranded its Lifestyle division under the new name ASPIRE, with an expanded mandate to accelerate growth of the agency's Corporate & Lifestyle brands portfolio.
The rebrand of the division earlier this year to ASPIRE, further reflects our commitment to supporting our Corporate & Lifestyle partners and makes a clear distinction between brands that fall under ASPIRE, and those that sit within the entertainment or sport sectors.
In comparison to brands in the entertainment space, those within Corporate & Lifestyle can be more
How was the new ASPIRE division born, and how is it organised?
My role is Commercial Director, ASPIRE, based out of our HQ in London. I'm responsible for leading the division and
ASpiRE, THE NEW AMBITIOUS LiFESTyLE DiViSiON
delighted to have recently secured rights to fashion brand Lyle & Scott. This Scottish heritage brand has forged a path of innovation and style spanning almost 150 years—first making its mark with high quality knitted garments, to becoming a mainstay in British men's fashion in the 1960s, and later seeing their products grace the catwalk, golf course,
What do you think is currently the importance of the Corporate & Lifestyle categories for the industry?
We'reproducts.also
football stadium terraces and concert halls as the brand, and golden Eagle brand mark, became synonymous with British sub-cultures and youth movements. We're focused on extending this brand into broader categories, such as personal care, homewares, gifting and experiences.
working closely with our licensors to understand their licensing goals and objectives, shape a long-term, impactful strategy and ensure we're effectively executing against this strategy. We currently have new business executives working across North America and Europe with additional team members joining the team imminently based in our Shanghai office, plus partnerships managers who lead our licensor relationships. Together, we're focused on driving the business across our portfolio of brands and working closely with our local teams on the ground across our 20 international offices to activate opportunities on a local level. I'm also working closely with Jasen Wright, our VP of North America, as a key priority is to grow our portfolio of Corporate & Lifestyle brands and programmes within the North American market.
We have a diverse portfolio of brands, including FMCG, such as Absolut Vodka, Malibu Rum, Mentos; collegiate brands: Yale University, Harvard University, University of Southern California; hardware brands: Master Lock & SentrySafe and cleaning technology giant Karcher; fashion brand: Osprey London and for motorsports: the Alfa Romeo F1 Team Orlen and premium engine oil brand Motul.
Among all lifestyle brands, university ones are gaining great importance. Can you give us an overview of your collegiate IPs?
storage, garage and home storage, tools, automotive storage and indoor security. For Malibu Rum, we're focused on securing partners in the fashion category, frozen and chocolate space, and for Alfa Romeo F1 Team, we're looking at diecast, collectibles, e-mobility and lifestyle
As our portfolio is so varied, we're focused on bespoke category areas for each of our brands. For example, we're extending the Master Lock brand into firearm
Interview 53
We're fortunate to represent two of the
Malibu, the world's number one flavoured spirit brand
We're certainly seeing a growing number of brands within the Corporate & Lifestyle space exploring the world of licensing, with brand owners increasingly seeing the value in extending their brand through consumer products in order to increase their revenue in a relative low risk way, reach new consumers, expand into new channels or retail aisles and increase their brand engagement. Corporate & Lifestyle licensing is a growing sector and is the number two category behind entertainment/character licensing. Brands in this space are often evergreen household names and give both retailers and licensees the security of a sustainable licensing programme. For consumers, given the trust and familiarity they have with these types of brands, they will be more receptive to buying broader and deeper into it as there's already an established relationship in place.
Reliance Trends Yale collection
What will the division focus on?
Interview54
Heritage fashion brand Lyle & Scott
Premium engine oil brand, Motul
in India. Through the success in fashion, we're now extending the brands into wider category areas, such as accessories, footwear, homewares and gifting.
From Master Lock – the number one padlock brand in North America and a subsidiary of Fortune Brands Home & Security, a Fortune 500 company; Alfa Romeo F1 Team Orlen, owned and operated by Sauber Motorsports, which
What are ASPIRE's flagship IPs?
Renowned artist Romero Britto
Which territories will you intend to cover?
What are your goals for 2023?
has 30 years of history in Formula One; Absolut, the world's leading premium vodka and the sixth-largest spirits brand globally and Malibu, the world's number one flavoured spirit brand, to British-born Revolution Beauty, one of the fastestgrowing beauty brands in the world sold in over 60 countries, the prestigious Yale University as mentioned, and most recently the fashion brand, Lyle & Scott.
ASPIRE has a global remit and with an international team in place, we can secure rights for all territories depending on each brand's licensing objectives and target regions.
appeal in EMEA via popular culture. We've secured and launched ranges at major global fashion retailers, such as Zara, H&M, Primark as well as leading local retailers, including Reliance Trends
We're hugely committed to the ongoing success and growth of the ASPIRE division. We have ambitious plans to expand our team globally as we continue to build our Corporate & Lifestyle portfolio and bring exciting and innovative partners on board.
We've represented Yale University since 2017 and with the addition of Harvard University a few years later, have seen our collegiate programmes go from strength to strength. We've positioned these in the EMEA market as a fashion lifestyle offering, playing into the collegiate and American fashion trends and their
Each and every brand in our growing portfolio across fashion, luxury, FMCG, hardware, automotive, art and heritage institutions, has its own unique proposition and consumer products potential.
top Ivy League colleges: Yale University and Harvard University across EMEA, India, Australia and New Zealand as well as Yale in China. We also represent the University of Southern California, a leading private research university, which complements our Yale and Harvard programmes and enables us to mix the collegiate trend with a Sou-Cal aesthetic.
WHAT'S NEW FROM THE LEADiNG FRENcH ANiMATiON STUDiO
Academy Award®nominated French animation studio Xilam Animation will be bringing a distinctive, expanding and colourful slate of new and refreshed brands to Brand Licensing Europe 2022, as well as showcasing them to new and existing partners over the coming months.
Oggy Oggy's colourful universe has also grown into the digital sphere with a website featuring fun activities for fans and a dedicated YouTube channel with exclusive short episodes, music and dance videos inspired by digital trends. The YouTube channel will also be the home of exclusive video content featuring toys from Simba's new range, encouraging children to discover their favourite characters that will soon be available in toy aisles. The brand can also be discovered on Instagram, where Xilam Animation has created a dedicated account, as well as via an Eshop launching Autumn 2022.
and France Télévisions (France) from early Autumn Following2022.Xilam's new master toy partnership with the Simba Dickie Group, the first Oggy Oggy toy range will launch in stores across France, Germany and Italy for Christmas 2022, with an extension into the main European markets in 2023. The
Headlining Xilam's BLE slate is Oggy Oggy – a preschool spin-off from its iconic and internationally loved Oggy and the Cockroaches franchise. The first season debuted globally on Netflix in August 2021 and launches on key European freeto-air broadcasters including Channel 5 (UK), Super RTL (Germany), Frisbee (Italy)
News56
XILAM
Also featuring is Lupin's Tales, a comedy series for upper pre-schoolers, which airs internationally in over 15 countries and has sustained impressive success in China. The series is co-produced with Youku and was ranked as the fifth best performing international series of 2021 in China across all VOD platforms in terms of views and performance. Alongside the launch of 26 new shorts this Christmas, a second season is currently in production in which viewers will follow the precocious wolfcub into the brand-new territory of the cosmos. Xilam is looking for international partners to expand its merchandise offering across toys and games, publishing, apparel and more.
Alongside this is Where's Chicky? - a short-form non-dialogue comedy series produced by Xilam's Cube Creative. The series is targeted at a cross-generational audience and sees an adorable little chick turn up in a new environment or discover a new object in every episode. Where's Chicky? has established an impressive YouTube presence, accumulating 3.4M subscribers and 5B views to date with
playful collection spans plush, figurines, playsets, accessories and vehicles inspired by the world of Oggy Oggy for children aged 3–6 years. Xilam is currently looking for further partners to expand the brand's licensing programme across games, gifting and apparel.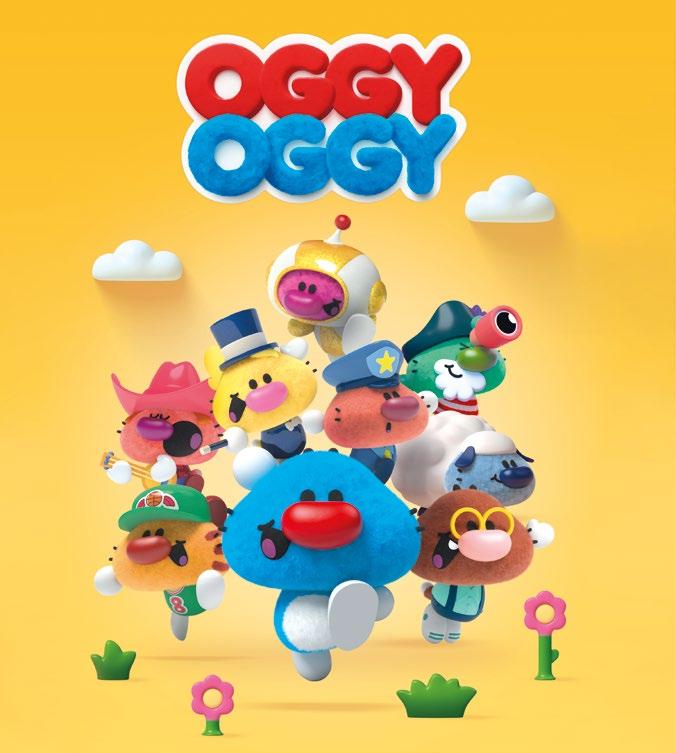 For Zig & Sharko, Xilam has established a robust digital presence, which includes
views coupled with an engaging challenge dubbed #RATZ. Xilam is building retro lifestyle inspired merchandise programmes for both brands targeted at
Rounding out Xilam's BLE offering is the classic and much loved Oggy and the Cockroaches franchise, following the worldwide debut of its freshly designed reboot series Oggy and the Cockroaches: Next Generation on Netflix in July this year. The brand has also achieved a committed digital following, with 21M subscribers and 11B views on YouTube, and over half of these originating from dedicated audiences in India.
Also starring in Xilam's BLE line-up is internationally renowned animation , which saw its
News 57
In China, Where's Chicky? was 2021's number one most viewed slapstick across all VOD platforms, and number two for best international kids' series on Tencent Video, accumulating 3.5M views across all platforms for its second season. Now, Where's Chicky? also has a rapidly expanding linear and SVOD platform lineup, which includes FRANCE TV (France), Sky Kids (UK), YLE (Finland), TV Astro (Malaysia/Brunei), GMA Philippines and Radio Canada to name a few.
particular success in the Americans and Asia, the first seeing combined lifetime views of 1.8B and the latter achieving 138M lifetime views in Indonesia alone.
Xilam will also bring new properties Space Goofs and Ratz to BLE, which are available on Netflix and both have enthusiastic fan communities. The series have also found popularity on TikTok, earning over 6B
over 27M subscribers and 13.5B views on YouTube, 1.3M fans on Facebook and 1M followers on TikTok. Its recently launched spinoff The Adventures of Bernie has also made its own digital mark, already gaining 450k subscribers and 50M views on YouTube. Xilam is looking for partners in plush, toys and games, educational apps and accessories to expand the brand's merchandise offering.
lovable characters sailing the seven seas in its latest season. Launching September 2023, the brand-new fourth season will surprise its dedicated and engaged audience, as they watch Zig, Sharko and Bernie make their way back to their island, accompanied by Marina who fans will see growing her very own legs thanks to magical sandals.
Xilam Animation will be exhibiting at BLE 2022 and can be found at Booth A130 Please withlicensing@xilam.comcontact:anyenquiries.
In addition, Xilam has also built a robust presence for the brand on social media and Where's Chicky? has now generated over 1.6M followers on TikTok with 6.8M likes on the platform. Xilam is looking to expand its merchandise offering with a focus on plush, toys and games, educational apps and accessories partners.
BFF by Cry Babies will be presented for licensing in Italy in mid- September to enhance the offer and portfolio of properties in the girls' area.
Leolandia and recreational activities in many municipalities in the Adriatic area. As a new venture, Cry Babies has also launched a new detailed Style Guide specifically for the Fashion sector to attract partners in the world of apparel and accessories. The goal is to create a pool of companies that can translate the successes already achieved in the Toys & Games, Publishing and FMCG categories, luxury licensees, and many other successful products, into the world of apparel and accessories, and place them in the market.
IMC Toys continues to support Cry Babies through massive investments that includes all digital and offline marketing, influencers, TV advertising and support through its proprietary YouTube channel Kitoons which supports the products of
News58 ETS LICENSING
OLD AND NEW cLASSIcS IN THE ETS LINEUp
licensee Furthermore,companies.thelaunch of the TV series on Netflix has been a success with Cry Babies topping charts of the most viewed series on Netflix in key markets. To further support the brand, experiential activities are happening at Water Parks,
ETS Licensing has always closely followed fluctuations in the market, diversifying its portfolio according to new trends and experimenting with innovative partnerships.
In both the preschool and kids sectors, ETS has traditionally achieved - and still achieves – successful results and stability over time with the brands it manages and with which it creates long-lasting collaborations with its partners. ETS is supporting the growth of Cry Babies Magic Tears, an IMC Toys brand that has established itself as a worldwide success in the small dolls and large dolls categories. This year it launches BFF by Cry Babies, entering the broader and more competitive fashion dolls segment. The initial results bode well with BFF by Cry Babies which in Spain was the bestselling toy in June and July.
In addition to the release of activity books in publishing outlets by Pon Pon Edizioni, many new releases are scheduled: a Panini
Forcountries.anevergreen
In preschool area, ETS continues its commitment to Mini Pet Pals (Mini Cuccioli) by Gruppo Alcuni, one of Italian
Autumn 2022 also marks the launch of Oggy Oggy on Discovery's Frisbee channel - and soon on top Free TV channels in main European Markets,Xilam preschool property which already aired successfully on Netflix! Simba Group, Oggy Oggy's master toy is launching a toy range in Italy, Germany and France this fall.
The new episodes complete the existing 370+ episodes and give an opportunity for young fans to discover the entire world of Oggy!
leading group in animation production whose new TV series Mini Pet Pals Start School became one of the top three most viewed series on Italian TV, with audiences nearing its strongest competitors. The second series of Mini Pet Pals Start School is scheduled to air in the fall of 2022. Great expectations are focused on the new TV series Mini Pet Pals and Mini Dinos in production for next year. Other initiatives for Mini Pet Pals are in the works, including a possible film event and theatrical release.
All these products engage the audience by offering new product collections created by classic licensees.
News 59
character such as Pippi Longstocking, the plan is to launch a new international live action film produced by David Heyman (Paddington, Harry Potter, Fantastic Beasts etc.), Studio Canal and Astrid Lindgren Film. This partnership includes subsequent film, TV & animation rights together with merchandising rights.
Pippi was the protagonist of Pitti Bimbo 2022 (Children's Fashion Fair held in Florence) with an exhibition dedicated to the books, history and costumes from the world of Pippi, and in July 2022 the musical Pippi at the Circus, written and produced by Bjorn Ulvaeus of ABBA, premiered in Stockholm.
Oggy Oggy will also be a starring attraction for children at the Cinecittà World Park in Rome starting this October. The Oggy and the Cockroaches: Next generation saga has new episodes and characters! The slapstick comedy is broadcasted on K2 and has already won the audience with its hilarious episodes.
sticker album, carousels by Dedem in shopping centers, Halloween and Carnival costumes by Ciao, and party products by SIAD
The TV series Mini Pet Pals currently consists of four seasons of 52 episodes plus a fifth in production. Mini Pets Pals (Mini Cuccioli) has been distributed in more than 100 countries including the United States, Latin America, China, the Middle East, and various European
The property is recognizable for its innovative, almost three-dimensional and tactile design that appeals to a young target audience.
News60
In new market segments, ETS has begun to explore new marketing themes, focusing on properties based on new media and digital. The one that is having the greatest success is Pera Toons, Alessandro
NEW CHALLENGES
Since the Carletto project was first presented, a Style Guide is now available that covers many sectors in addition to the FMCG. The character is ready to bring his wave of friendliness to the world of games and toys, as well as to the world of clothing and accessories, sharing his mottos and memes on clothing, shoes, etc.
In fashion retail, Pippi has collections by Zara and H&M, socks by Happy Socks, fabrics and apparel creations by Illustrabimbi, and in the toys category Pippi is represented by Micki Toys, Multiprint, Clementoni and Ciao Salani Editore's Pippi Longstocking books
ETS is approaching the property of Findus Carletto - whose 25th anniversary will be celebrated in 2023 - in the same way. Carletto is the mascot of Findus Sofficini but ETS is managing its development into an IP, as an icon of fun, joy and friendship. The character is a chameleon who disguises rather than camouflages himself, which makes him extremely flexible and able to travel through space and time to incredible adventures.
Other important partners that have joined Tunué, the publisher and rights holder of Pera Toons' books, include Biembi, Pon Pon, Giochi Preziosi. These are just a few that have already launched or are about to launch specific collections in the gift, bookstores and newsstand categories for non-book products (e.g. magnets, calendars), a back to school line, games and puzzles.
Perugini's comedic world on Instagram, Facebook and TikTok that gets major laughs with wisecracks and wordplay. Pera Toons' very high number of followers and fans are the basis of the growing success that has been spreading into the mainstream for some time. As of now Pera Toons books sales reached 300,000 book copies sold, of which 100.000 with last title Ridi che è Meglio, further establishing it as a publishing phenomenon and driver in the impressive growth of comics in the Italian market.
continue to sell a significant number of copies. The first Pippi book was released in Italy in 1958.
News 61
The brand's video content is popular all over the world. It's achieved over 97 billion views on all its self-managed channels, with viewers tuning in on digital platforms like YouTube, as well as on broadcast television. In Italy, Talking Tom & Friends content has 480+ million views on YouTube and its excellent performance on K2 (Discovery) has contributed to the growth of the television channel's audience. The brand also has top audiences on television channels in the UK, China, and the US.
In Asia and Eastern Europe, the brand's characters are available on millions of products. And ETS and Outfit7's network of agents are committed to ensuring the brand's success on the European markets as well.
The staggering gaming and video popularity of Talking Tom & Friends has created incredible brand recognition and high demand from its fans worldwide. Partners who have licensed Talking Tom & Friends
Today, Chefclub is a 100-person cookery content studio, generating 2.5 billion views per month on social media and air on leading FAST and AVOD platforms like Pluto TV, and Samsung TV Plus Chefclub's online leadership opened the door to a host of ancillary opportunities, chief among them are publishing, consumer products and live events.
A relevant and universal topic such as cooking and a unique positioning between food and entertainment appealing to families.
Children are a key focus for Chefclub, which has developed a wide range of kid's friendly products and sold over 250K Chefclub Kids cookery sets in France so far.
Next year, the launch of True and the Rainbow Kingdom, a TV series produced by Guru, will be under way. The toys are made by Master Toy Licensee United Smiles and Intertoy and distributed in Italy by Grandi Giochi. The series is broadcast on Free TV by Discovery on Frisbee and consists of three seasons, for a total of approximately 80 episodes. It also airs on Netflix.
Numbers for the Christmas 2022 launch in the UK by Bandai look very good, with an ambitious plan ready for 2023.
And the brand is going from strength to strength. Its latest gaming release, My Talking Angela 2, had a stellar first year, becoming the #1 game by downloads worldwide in summer 2021, and recently surpassing 300 million downloads. To celebrate the first anniversary, Outfit7 released an original song for the game's superstar character, Talking Angela, called Shine Together. Released in early July 2022, the song has had an incredible debut, with 10 million global views in just a week.
What is the recipe of Chefclub's success?
Chefclub Kids creative videos are also very popular among families and specially women aged 25-45, who find them inspiring and are the key purchasing decision makers.
Talking Tom & Friends also offers unmissable opportunities for partners to harness the digital power of the brand Partners can join Outfit7 on the cuttingedge of the digital to physical trend and showcase products or messages through games or digital interactions using seamless and optimized crosspromotional options.
In France, its country of origin, its digital success had inspired a publishing phenomenon with over 700,000 cookbooks sold. Chefclub starts its Italian journey with a partnership with Group SEB (master licensee for cookware,
are experiencing remarkable growth in many different markets simultaneously.
Another inventive property is Talking Tom & Friends from Outfit7. The multinational gaming company launched the brand with the release of the Talking Tom Cat mobile game. Since then, Outfit7 has created 20+ mobile games (with more than 19 billion downloads worldwide!) and secured its place in the Top 10 Publishers list on iOS and Android worldwide by the number of game downloads for eight consecutive years (2014-2021).
kitchen utensils and small appliances branded Chefclub by Tefal) and a first cookbook published by Vallardi to be released in September. Italy is one of Chefclub's top markets in Europe with over 100 million views monthly, on top of the fact that cooking is a strong ingredient of the Italian culture.
Last but not least, Chefclub Friends wacky, loveable and identifiable characters will be featured in various formats for a kid's audience. A new animated series is currently under development and will be announced at MIPCOM, as well as other hybrid concepts mixing our animated characters with live recipes.
There are already several products ready for distributors to launch.
now in all bookstores in Italy. Other licensees are waiting for the international TV distribution to launch new products on the market. The show, now streamable on Rai Play, will be launched on Tim Vision this fall. The producers are now creating content to launch a YouTube channel based on the brand.
At the same time, FA.BA. has snapped up the licensing rights for launches in Italy, France, Spain, Portugal, and throughout South America and Brazil.
News62
Due to the pandemic, some projects were only partially launched, put on hold or postponed to a future date. Below is a non-exhaustive list of the main ones: The first is Lottie Dottie Chicken (Galinha Pintadinha), a well-known character in the South American market. Created for advertising in Brazil by Bromelia, it then become a main character in music clips on the web and three TV series, and finally a beloved character and IP for merchandising and licensing throughout South America, especially Brazil.
NEW PROPERTIES FOR CHILDREN AND TEENS
Lottie Dottie Chicken has extensive media support, generated first by a strong digital base on YouTube, and replicated through the broadcast of TV content by Discovery on Frisbee, as well as on Amazon Prime and Netflix. Each episode is made with a narrative part and a musical part with songs that captures children's attention.
Rai Ragazzi, and broadcast on Rai YoYo in Italy with brilliant audience results. Leading Italian publisher De Agostini launched a series of storybooks, plus activity books and coloring, which are
ETS is committed to launch Dennis & Gnasher, stars of Beano, a magazine from the DC Thomson Group that turns 85 in 2023 and boasts two TV series and a huge digital foundation built over the last five years.
Another License in ETS' portfolio is Nefertine on the Nile. A Graphilm, Wahoo! And Cyber Group Studios production, realized in collaboration with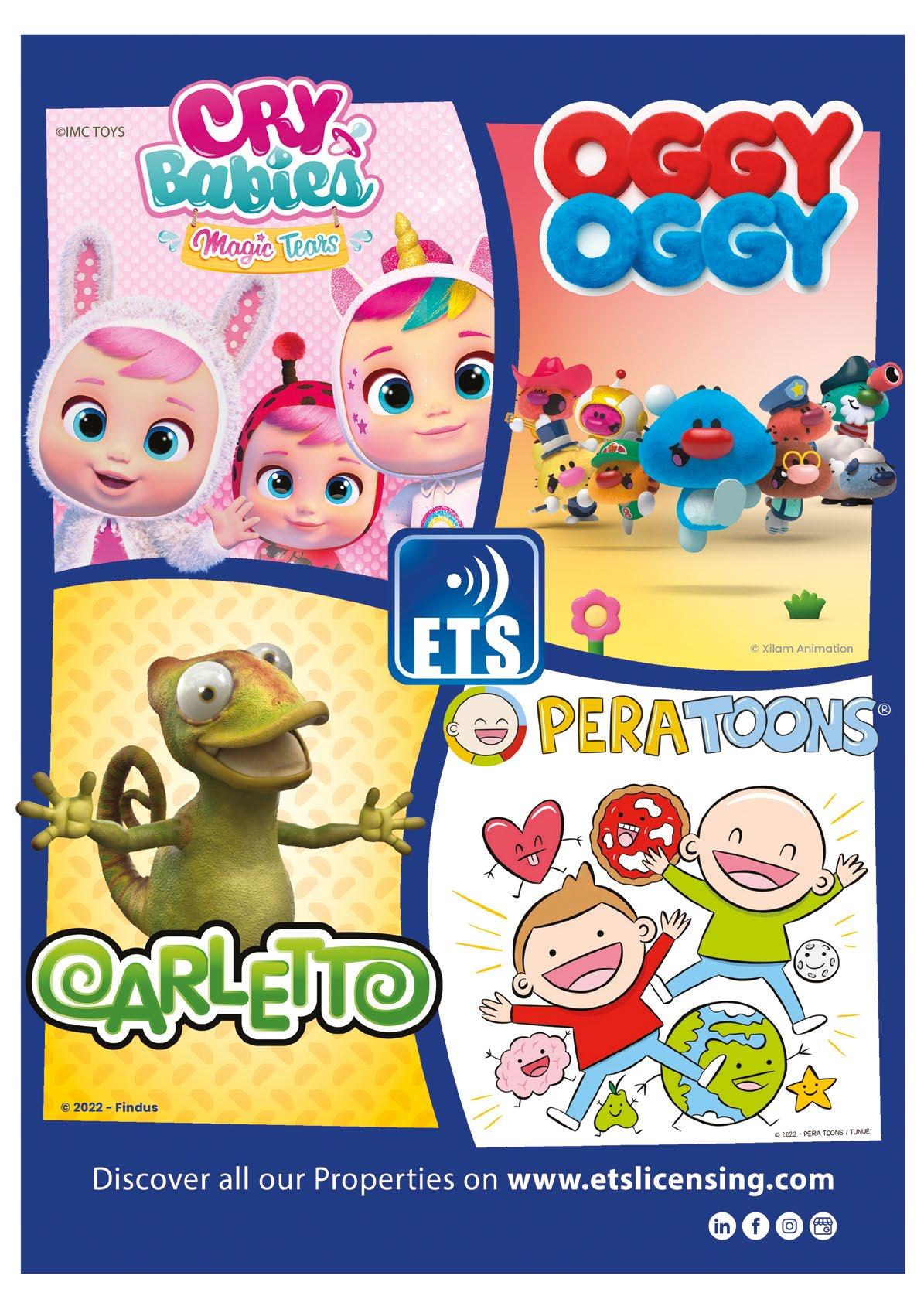 This year has been launched globally the season 3: the licensing programme continues to aim at quality, with best in class partners, supported by major retailers. Successful licensing campaigns were also launched in Canada, Mexico, Denmark, Italy and France. El Ocho planned to deliver multiple brand themes on a truly global 360° scale, with 16 licensing programmes and 250 licensees expected globally by the end of 2022. In November 2022, it will be launched the live show.
Bluey has a broad appeal with 4-6 year olds showing the highest level of engagement and a sweet spot at 4. It is one of the few pre-school properties seeing a 50/50 boy-girl split.
In Iberia, there is as a Master Toy Famosa by Giochi Preziosi for the Christmas 2022 novelties and the 2023 items. As publishing partner Penguin Random House for 2023, Hasbro with board games, HTI for roleplay and outdoor furniture, Ravensburger for educational games, Vtech for electronic games etc.
El Ocho Licencias y Promociones is a licensing agency with over 20 years of experience. It is positioned as one of the best independent licensing agencies in Iberia, running some of the most successful licensing programs in the market.
It brings families together, as the 1st coviewing show (only 11% of viewing is happening alone).
The agency represents local and international brands in various categories. It recently acquired two new brands, Bluey and Dino Ranch, and continues to invest in two very popular manga/anime IPs, Dragon Ball and My Hero Academia.
In a short amount of time, Bluey has achieved top-tier toy property status in key markets: in 2021 in toy sector it has been the 1st new property in Uk, 3rd
52 episodes are available on Disney Junior and Disney +, visible daily and reaching the first position in 7pm time slot. It has
News64 EL OCHO
Dino Ranch
It is broadcasted in over 60 countries and gained a big success in Australia, Us, Uk.
Property in Australia, 5th property in the U.S.
pROMOTiNG AMAZiNG IpS iN IBERiA
Dino Ranch is a unique mash-up neverbefore-seen, with cowboys and dinosaurs. The key series pillars are the evergreen dinos, real kids as best friends of dinos, outdoorsy fun, nurture, teamwork & personal growth, action adventure and humor, family bond and diversity. With a core target of 4-5 years, the gender split is 60% boy and 40% girl.
Bluey follows the adventures of a lovable and inexhaustible six-year-old Blue Heeler puppy who lives with her Dad, Mum and four-year-old little sister, Bingo. It showcases the joyful simplicity that can be found in families, by bringing to life how children learn and grow through play.
Bluey
The premiere of the new movie Dragon Ball Super: Super Hero was in April 2022 in Japan, while in Spain on September 2nd.
In Iberia, it has over 60 licensees. In Spain, it results as the favorite manga, the second in terms of awareness (behind Pokemon). Only in Spain it has over 27 licensees in several categories, from kids to adults. It is particularly developed in fashion, in fact it has obtained over 10 DTR deals within 2 years. The brands of Inditex Group (Bershka, Pull & Bear, Lefties, Zara kids) have prepared new collections for 2022, while for 2023 there will also be on board brands such as Hydroponic. Other new agreements include Back to school with Erik and Karactermania, and the new plushes with Play by Play Among the new brands for 2023, Angel
This famous brand has sold 50 million mangas worldwide, of which 10 million only in Europe (5 million in France). MHA represents a 360° ecosystem on the market with manga, merchandising, TV series, VOD, movies, toys and videogames.
Among newly signed partners are Plastoy, Innelec, Planeta DeAgostini. In Spain and Portugal, new 2022 products include soft toys with Barrado, personal care with Jugavi, and homeware with Stor
The animated series has arrived at 5 seasons and 115 episodes, with the creation of new content every, year about the new generation of superheroes. The premiere of season 6 will be on Crunchyroll on October 1st.
It will be possible to meet El Ocho team at BLE booth A151 For more marketingassist@el-ocho.com.information
increase of products. The Bandai CEO Raúl Guerrero declared: This IP continues to surprise consumers with new launches and events that keep the spirit of the brand alive, forging and growing the trend of Anime in Spain to compete with big classic brands such as Disney or Minions, covering an intergenerational target and even launching new content!
Dragon Ball
The second season was launched in the US in July 2022, and will follow in the other countries in 2023. A large consumer products programme has been activated, thanks to partners such as Jazwares (Figures, Vehicles, Playsets, Plush, with an international launch from summer 2022 in the UK, Germany, Italy and Nordics), Ravensburger, Rubie's, Simba Dickie Group, Character World
Europa, Arditex, Brava Fabrics, and Toimsa Bicicletas
Since El Ocho manages this property, the growth of the licensing program has been spectacular and the brand is fast increasing a strong retail presence. The Global Master Toy is Bandai. The European licensing program includes the development of the categories apparel and accessories, BTS, the gift area, electronic and gaming products, and publishing.
broadcasted in 170 countries, on the top global platforms. The presence in social medias is huge, with 250MM impressions and 1.6MM engagements.
At the licensing level, video games are the most appreciated and expected category and the retail positioning is largely cultivated. The master toy is Bandai, that in Emea sees a continuous sales
My Hero Academia
Dragon Ball is a 30-year-old brand and one of the major manga success stories in Europe with high awareness and strong transmission rates. It sold more than 250 million manga worldwide.
News 65
The live show was launched in the US from Spring 2022 (from 2024 in UK), and from Fall 2022 there will be also the global launch on the first mobile app Tap Tap Tales.
and within our "Maya the Bee" insect protection and sustainability campaign themes like "No Bees No Flowers".
For MIA AND ME it's a thriving moment, with the upcoming fourth season, the recently released theatrical film, and many other projects. On the web, the
What does the BLE mean for Studio 100 and what news will you exhibit at the fair this year?
Participating at BLE means for us to finally see many international friends and partners again. We are about to fill our agendas with meeting licensees, licensors, and of course international retailers. This year, fashion will be our key theme for BLE. We are prepared to meet with fashion partners and retailers as we already issued new fashion trend books across our portfolios with a strong focus on the brands "Maya the Bee" and "Mia and me". With the latest trend books, we are covering for example "Mia and me" fashion trends such as frosted sparkle to still address the cuteness of girls, but also
Interview66 STUDIO 100
cool denim patches with a rougher look and our overall "Mia and me" communication focus Girl Power.
At BLE we are of course also beating the drum loudly for our brand-new trend theme "Vegesaurs". The UK will become a key market. On Wednesday, September 21st we will have a big morning event at the Excel together with our local UK agent Dom Wheeler from Brands with Influence – at 9.00 am we are presenting the set up and the strategy for "Vegesaurs" where we will also share more details on our prolific UK partners where we will also share more details on new partners. Everyone who is interested is invited to join at the North Gallery Room 13.
With fashion as a key theme for the upcoming BLE we feel this is the right approach to set up a new era for our key IP´s, making this step into fashion. This category is still the best reference for a brand on its way to becoming a real classic. Not only with the Studio 100 IP´s we have a strong focus on the fashion segment, but also with our third-party IP's.
With the beginning of the new season, LM interviewed Joachim Knödler, Head of Licensing, Studio 100 Media GmbH, to have some insights about the next plans of the German based global leading content factory. Key words are sustainability (for real) and girl power.
For "Maya the Bee" we are covering trends such as Back to the 80´s, "humor"
NEXT pLANS FOR THE GROUp'S SUccESSFUL AND BRANDSSUSTAINABLE
Joachim Knödler
Jutta C. Breyer, Managing Director at License Factory, with her company advanced the new challenges in the existing supply chain and can give us a deeper and more clear insight of the meaning of "social responsibility" and "sustainability" in the textile sector - two words which have become so "fashionable" in our marketing world. Below her philosophy and sustainable business approach.
• Environment
brand is also becoming a symbol of girl power. Would you share with us more details?
theatrical movie ("Mia and me –The Hero of Centopia") is currently out in cinemas since May 2022 – the release in the German-speaking territories this May was creating a great momentum for more content and our strong partnerships. Our licensee base here is significant: we have strong partners such as Simba Dickie Group, Schmidt Spiele, Ravensburger, Blue Ocean Entertainment, Edel Kids, tonies, Kiddinx, Apalis, and many more.
Interview 67
• 1.6 billion views worldwide on YouTube (2.8 mill. subscribers)
The pandemic, ongoing climate change, and more recently the impact of the Ukraine war on our geopolitical situation and global trade have led to a greater emotional awareness of the survival of life, future generations, and our planet itself.
In consequence, more transparency is needed to measure the environmental footprint of any production process. A big problem is the jungle of certificates and the interests of big industries, which basically mislead people and create confusion and lack of understanding among consumers. On the other hand, we may miss the opportunity to promote truly sustainable products that respect the environment.
Mia clearly stands for…
using the brand strengths to attract the consumer product business.
"Mia and me" is the successful girl power brand with a clear vision. "Mia and me" is a worldwide successful girl brand, a TV series with 3 seasons, and season 4 with 26 new adventures ready for delivery. The TV launch in Germany will be in 2023 with OurKiKA.first
ENVIRONMENTAL IMPACT
• Labour / Employment situation
• Societies
individual industries or governments. We just want to offer a positive and constructive way out of the continuous process of contaminating soils and water resources avoiding hazard dyes and Inchemicals.termsof what "social responsibility" and "sustainability" mean, it is quite clear that we all need to be aware of what we consume and how we consume. Responsibility begins with each individual and their daily sustainable behavior and
The brand communication strategy with its roll-out in 2022 runs under "Girl Power" and has already received more than 700,000 impressions to date by
Weactions.understand that people want to make environmentally friendly choices in their daily lives and need to have access to reliable, verifiable, and comparable information about the products they buy and Firmlyconsume.believing in our own responsibility, we have invested in switching from synthetic to natural dyeing processes and will present our first cotton collection in Spring/Summer 2023 in collaboration with responsible and open-minded licensors like Studio100.
Jutta C. Breyer
4 girls magazine titles in Germany in publishing with our great partner Blue Ocean
• Top of girl's mind: elves & unicorns
• More than 1.8 mill books sold in GSA
• For 6 years continuously among best
• More than 1.5 mill sold audio plays with our partner Edel Kids – they have in average 250,000 streams per day and Edel develops a completely
The fashion industry is responsible for 10% of annual global carbon emissions. Approx. 20% of wastewater worldwide comes from synthetic fabric dyeing and treatment only. In a short presentation, we can explain the negative impact of synthetic dyeing on our:
We have no intention in blaming any
• Not to forget our theme park attraction at Holiday Indoor Park in Germany (+650,000 visitors/year)
How is the licensing program processing for VEGESAURS and what are the most important agreements you have signed for this brand?
"Mia and me" teaches kids to feel empowered and not to be afraid to go their own way. Her stories show the value of true friendship and how any challenge can be faced when one can rely on the help of friends.
Also, various TV broadcasters already signed up such as ABC Australia, France Television. And we have just signed an agreement with the BBC where "Vegesaurs" will make their debut on CBeebies and BBC iPlayer later this year. The overall feedback from broadcasters worldwide is very positive and we are satisfied with the advanced conversations that our distribution team is having on a worldwide scale.
In addition to the linear set up we ensure the "Vegesaurs" brand has significant exposure on digital platforms, thus we worked out a dedicated social media strategy that will be executed with our partner The Wyld Bunch from the UK.
• And finally, the already mentioned new fashion trend books to extend target groups in 2022 and beyond within the important apparel fashion segment
very proud that we have just completed a contract with Macmillan as our international publishing partner, and we are currently in advanced negotiations with partners for master toy. Sony will be our partner with audio
Our very first partner here is BrandLoyalty, who signed a worldwide deal for loyalty program with a strong focus on retail first concepts. These have been developed in collaboration with Globetrade, a true specialist for premium based marketing Weprograms.arealso
we see a great appeal coming from a wide range of various characters and the total freshness of this show's concept. We have received great feedback so far from partners with long-lasting experience in licensing as we presented this brand to them: They feel they have never seen anything so far! For them, "Vegesaurs" is something very innovative.
story. To extend our content strategy, they will work on a completely new line up for independent audio story content being brand new "Vegesaurs" stories complementing the TV series. With this strategy we will fill the gap between the TV show's seasons.
Our new brand "Vegesaurs", for which we have global distribution and licensing rights, perfect for dual-track content distribution (broadcast/platforms & online) with a handsome educational approach paired with a cute fun story. The licensing aims at preschoolers, and
Interview68 new audio story line
Now we even go a step further by supporting our fantastic licensee License Factory with the implementation of sustainable goals in the production process for apparel.
The show will be available end of 2024/ early 2025 and we look forward to first discussions with partners from the toy and publishing area.
Based on the cult franchise "John Sinclair: Ghost Hunter" and the best-selling childrens' novels by Sabine Städing, the producers are developing a spooky comedy series.
But something which will be truly new is the project "Johnny Sinclair: Ghost Hunter".
responsible use of the resources available today and for the future.
"Johnny Sinclair: Ghost Hunter" tells the story of three underdogs that become ghost hunters to protect their hometown from a century-old threat. The story offers many possibilities for a successful interpretation into consumer products, and we are thrilled to see the concept coming to life.
I already mentioned our amazing fashion initiatives with "Mia and me" and "Maya the Bee" – this also includes a very appealing outdoor lifestyle program for our classic brand "Heidi".
What are your plans for 2023?
…and season 2 is already in productionready for Q2 in 2023.
For Studio 100, sustainability is a fundamental issue. What will be the novelties and initiatives related to your special ambassador MAYA THE BEE, and your other brands?
Interview 69
Already in 2021, we took the next step on our mission for environmental protection and sustainability with our MAYA THE BEE - ECO TREND BOOK. Aiming to inspire licensees to take the first steps towards more sustainable production and
On this show Studio 100 joins forces with Hamburg-based youngfilms and international production company B Water Studios for producing this new CGI adventure series.
With "Maya the Bee" we have a true ambassador for nature & bee protection. She plays the perfect main role in our environmental education initiative "Project Poppy Meadow", encouraging children and families to protect insects and act sustainably – in cooperation with NABU (Nature and Biodiversity Conservation Union) in Germany and OTOP (Society for the Protection of Birds) in Poland. Furthermore, we recently joined forces with a new media partner in Germany: the publishing powerhouse Burda with their #beebetter initiative.
Cristiana Buzzelli
The first source of inspiration for us comes from development in the company. But following changes in the market, especially in recent years, we have also been very open to ideas coming from third parties. They can be other producers, but more often they are Italian, American, European, or English writers, artists, showrunners, etc. We receive a lot of proposals every week and we read them all, because you never know where a good idea might come from. We also monitor the literary and fiction world constantly. We have optioned and continue to option new titles for children and adults, for example through our collaboration with Colorado Film Production, but we have also moved
the working title Mermaid Magic, based on the world of mermaids.
Rainbow has conquered the world with its IPs, even conveying themes that are very important and exciting. From where does the company draw inspiration for its content?
TURNiNG qUALiTy cONTENT iNTO GLOBAL IpS
There are many sources of inspiration, and the discovery of content is a fundamental asset of the company. Perhaps it goes without saying, but obviously the
2004 - Back to Alfea, event at Giffoni Film Festival
LM interviewed Cristiana Buzzelli, Senior Vice President of Content and Licensing at Rainbow, to find out more about all the company's news and latest initiatives.
Lucia Heffernan Exhibition, Rome
founder Iginio Straffi - who is not just an entrepreneur but also a natural born artist - is behind any IP created and produced by Rainbow. We have achieved global successes like Winx Club, but also 44 Cats, Pinocchio and Friends, and Maggie & Bianca in live action. We announced our latest project at the Annecy Animation Festival: a Netflix original global production with
Interview70 RAINBOW
into the world of comics, video games, sports and lifestyle. We have expanded our portfolio with established artists such as Lucia Heffernan and Jack Ottanio, which is why we can say that the company now welcomes content from 360-degree sources.
Lucia Heffernan, Saint Barth
we are launching Fate: The Winx Saga, which is the second season of Netflix' original which achieved great success in 2021. So, for this year at least, a whole series of initiatives are aimed more at a young adult audience. We are curating many events dedicated to this target: we are starting with a Cosplay International Contest and with a project called Winx Fashion Couture, in collaboration with the Ferrari Fashion School in Milan, and we just completed several initiatives with influencers, for example during Giffoni 2022. We are running a big licensing program focused
Winx Club online shop collection
Speaking of Rainbow's original ideas and global successes, we cannot fail to mention Winx Club. In 2022 the lovely fairies celebrate their eighteenth anniversary. How are you commemorating this big milestone?
Yes, I am very proud of this series. Season one reached an audience of about sixty million households watching around the world, a result which for last year was second only to Bridgerton and Lupin, so we are expecting to repeat big figures with season 2. Fate is a worldwide Netflix original production, i.e. it didn't originate with the local Italian team, but was born in Los Angeles and is now run by the UK office. The launch of season two is scheduled for 16 September. The announcement of the release date was at the beginning of August and on that occasion the Instagram profile @fatenetflix got more than 750,000 views in less than 24 hours. Also in August, the trailer had more than
Regarding the second season of Fate: The Winx Saga, of which you are also executive producer, can you tell us a few more details?
Yes, the Winx are 18 years old, now they come to our office by car! We have planned a lot of activities to celebrate this magical birthday. Eighteen years for a license is a super important and very exclusive milestone, because very few IPs achieve such longevity. This rightfully makes them part of a small league of properties that can be considered evergreen and that therefore, regardless of production, merchandising and marketing innovations, have an established, global level of
Fate The Winx Saga, NYX Professional Makeup
Thisrecognition.September
on young adult consumer products. I would also emphasize the launch of the e-commerce shop, which is specifically aimed at young adult audience for which we offer completely iconic products. We invite everyone to see it at WinxClubShop. com. It is an out of-the-box initiative, but very interesting from a product development point of view.
Interview 71
But we never forget as they certainly have always been the heart of our business. We will focus on them specifically in 2023, when a big reboot of the animated Winx club series is planned. We will have new animated content and therefore initiatives targeted more towards a girl audience. At the present moment we appeal to different demographics, from kids to young adults. This target is a nostalgic audience that still feels affection for the brand, and appreciates values of female empowerment, diversity, and inclusion which Winx Club has represented since the beginning, and are very important in contemporary society.
Jack Ottanio
her eagerly because in season one she was deliberately not involved to have a surprise element in season two. We have made investments in the budget for lots of special effects, and we will have the same showrunner from the first season, Brian Yang. There are many elements for which we expect not only to meet the goals of season one, but probably even exceed them in terms of results on the platform. To this we have linked a consumer product programme, with high-end partners that have global reach: Funko, Bandai, a dedicated L'Oréal cosmetics line. We have important retailers such as the American
There is also news that fills us with joy in the UK exceeding our most optimistic expectations: Pinocchio is one of the top
Pinocchio and Friends, Giochi Preziosi
Pinocchio and Friends, Giochi Preziosi
almost 20 M views in less then 24 hours on social media, monstrous numbers for a series that is clearly a new season that is starting out with great expectations. We will have seven episodes, so one more than in season one, with the introduction of the character Flora, who is one of the most beloved among all the Winx in the animated series. Fans have been awaiting
Hot Topic, Don't call me Jennifer in France, Riachuelo in Brasil, in addition to a whole series of licensees and over twelve publishers who will publish the novel (Mondadori, Hachette, Penguin Random House...). It is therefore a project that is effectively moving from the audiovisual world to the consumer product front.
Pinocchio and Friends, Blu Carpet @Giffoni Film Festival
Interview72
As for preschool properties, after the highly acclaimed 44 Cats, other highly successful IPs are being developed, such as Pinocchio and Friends. What developments are there in terms of content and consumer products for this property?
We started broadcasting ten months ago on Rai Yoyo with very good ratings, during this period Pinocchio was always among the channel's top three shows in terms of share and audience. This allowed us to produce season two, which will start on 14 September. This continuity
of television exposure and richness of content paves the way for the consumer product world, which we always guarantee for our properties. This is why we are very happy to have Giochi Preziosi/Famosa on board, which will have the toy line on shelves in October. In Italy we already have dozens of licensees: Tridimensional with the magazine, Fabbri with books, Dolphin with Epiphany Stocking, Ciao with Carnival Costumes and many other relevant partners.
Pinocchio and Friends, Ravensburger
Interview 73
The strong performance has allowed us to start the licensing programme. We have developed the toy line with Play by Play, part of the Giochi Preziosi/ Famosa group that makes plush toys. In Italy we already have a series of partners on board: Salani with books, Tridimensional with a magazine, Ravensburger, Soluna
with events... We also have an interesting initiative which is a bit out of the ordinary with Coldiretti: it is happily taking Summer & Todd all over Italy to all its markets. We are ready to launch the Plush range in Spain, because Summer & Todd is also produced with Clan RTVE which is a Spanish kids channel. We are developing partnerships in other regions, Latin America will be the next one starting this fall, and then Eastern Europe, hopefully followed by many others. The idea of farm life has a specific appeal for kids, but also parents. Ultimately it is a very parental concept so we can count on that aspect to develop the brand and we are eager to develop the licensing program.
It is now broadcasting on Rai Yo Yo, with great ratings since it is scheduled in the late afternoon. With 52 episodes it also has a very long duration in time, so it provides very suitable TV coverage for the needs of licensees.
programmes in terms of audience on the BBC pre-school channel, CBeebies. As Italian producers, it is an outstanding achievement and recognition, that really fills us with pride: the UK has the most competitive market for pre-school because they are the masters in this age Thegroup.presence of Pinocchio on this public broadcaster has allowed us to sign Flair as a toy partner, a strong distributor for the UK territories that also belongs to the GP Famosa Group; Fashion UK for apparel and accessories; Smiffys for costumes; and many others in the works.
Latin America will be the next front to open in September, following the broadcast of the series on Discovery Kids, and thanks to this deal several partners are already on board. The solid awareness of Pinocchio as a character is helping us to deliver and convey this nice message, bringing Pinocchio back to a kids' audience. Our plans are as ambitious as ever, to secure global awareness in marketing and merchandising for Pinocchio and Friends
Summer & Todd is a preschool series, aimed at 3-5 years old. It is focused on farm life, seen through the eyes of kids. The series is very entertaining and has an educational way of approaching the world of farm life, with endless ideas.
And what about Summer & Todd?
You have recently completed the acquisition of Colorado Film Production, an Italian company, with the purpose to produce big projects on the international stage.
Pinocchio and Friends, Dino Bikes
Yes, this is precisely the purpose of this
Pinocchio and Friends, exclusive preview @Giffoni Film Festival
ProcacciRoberta&OsbournePhilip©
Summer & Todd, Blu Carpet @Giffoni Film Festival
integration between the different teams. From the very beginning the idea was to help Colorado, a leading producer with a 20-year history in Italy, to have an important role on the international stage, to develop series (not just feature films), and also to dive a little bit more into the family and young adult world. Colorado is not only delivering great box office returns in cinemas, but is now
Interview74 operation. The acquisition of Colorado has been completed and now it is a 100 percent Rainbow Group company, but the collaboration was in place right at the beginning of the deal, a few years ago. Therefore we already have excellent
curating narrative projects, coming from books for young adult audiences. Among them is Il Fabbricante di Lacrime by Erin Doom, a young and mysterious Italian author, which is a sales success with over 300,000 copies sold by Salani. The book has had a huge boom on Wattpad, the self-publishing platform which the young adult public now considers to be a source of great inspiration and which often leads to big Thehits.
goal is therefore to create successful projects from all types of media, intended for different demographics. The vision we had for the integration with Colorado, judging by all these titles mentioned, is already having great international recognition.
also producing feature films for global platforms. A Classic Horror Story for Netflix is one example of the most recent success. These international goals so far have already been met and now that the acquisition is completed there will probably be further expansion. Regarding feature films, suffice it to mention all the Fabio De Luigi films that are box office hits, and the trilogy of Me Against You (two popular Italian influencers) films that were made by Colorado and distributed theatrically by WarnerMedia. As a result the series Me Against You will soon be released as an Amazon Original, produced by WeColorado.arealso
Summer & Todd Happy Farmers, Walcor Summer & Todd Happy Farmers, Ravensburger
News76
LICENSING BONANZA
Frankly,devices.
It all started with an idea that came to the mind of writer and artist Lina Žutautė and her son.
You might not know her in person, but her name is Nelly Jelly. She was born on colored pages of a book, and now she is readying myself to relocate to the animated TV screen, and, yes, her audience in her home country is immense. She is literally everywhere.
What's more, Nelly Jelly and her friends have successfully entered the world of licensed products. Over thirty partners have successfully produced a wide range of products under this brand: food
What about creating an inquisitive girl that is always eager to ask questions, discover things and find joy in these everyday revelations? Funny, witty, and endearing?
New products are being added all the time, and the first half of 2022 saw 1 million branded products bought already which is a lot for a market with only 142 000 children of the target age.
NELLY JELLY UNIVERSE
NELLY JELLY
At meet-and-greet events in the biggest shopping malls that struggle to accommodate massive crowds of kids and their parents. On YouTube tunes that become instant hits. And, of course, she is at the center of the stunning fact that almost every single kid in Lithuania visited the world of Nelly Jelly at least once at some point in his/her life. Meet the character larger than life. Yes, this is no exaggeration, the character of the illustrated book, created twelve years ago, is the most recognizable in the country by both Lithuanian children and their parents.
Nelly Jelly and her friends inhabit it. These characters are, first and foremost, Nelly Jelly's own family, Mum, Dad, Grandma, and dog Choo Choo, with whom she is joined by her less earthly friends. Usually
a devoted Nelly Jelly fan could spend an entire day surrounded by licensed products, they lead him/her from waking hours through lunch and playtime.
And so, it began and soon grew into the biggest Lithuanian publishing success story ever.
Today, Lina is the mother not only of Kakė Makė (as Nelly Jelly is known in Lithuania), but also of eleven books, which have been published in Lithuania with a circulation of almost half a million copies (a fantastic number for a country of less than three million). The Nelly Jelly series books soon were accompanied by other books for parents and kids, culinary recipes, gardening advice, encyclopedias, 26 new titles in 2021 only.
and supplements, hygiene products, aromatherapy, advent calendars, furniture, toys, household appliances, and smart
BESTSELLiNG BOOK cHARAcTER AiMS TO cONqUER THE ANiMATiON WORLD
Let's imagine the simplest day for our little spectator. You've barely had time to get up, and you've already got all sorts of problems to deal with - brushing your teeth, trying not to look at the room that's been turned upside-down (and you'll still have to tidy it up), organizing the kind of birthday party you only dream about, and finally, how to take care of the kitten you found in the street and brought home.
Both the storytelling and the content are in line with what we like to call the latest post-pandemic trends, which
Although Nelly Jelly is a five-yearold girl herself, her universe is for the whole family. Nothing will help parents understand their children better than reading books with them, solving puzzles, and most importantly, transporting themselves back to their own childhood for a minute, forgetting all the answers and creating only questions.
are particularly relevant for the alpha generation. In its own way, it is almost the first generation that has literally grown
up with the digital world, and hence the digital content that Nelly Jelly strives to reach out to and retain its attention with.
News 77
made up of children, in Nelly Jelly's world, the Mess Mess Gnome, the cute monsters Onster and Ponster are all very real and are constantly getting involved in hilarious situations, which they resolve together with Nelly Jelly herself.
"Humor, emotional intelligence, safe expression of feelings, social and even global issues - all these 'adult' themes enrich the content for children and make it universal, something that is fun to watch not only for the youngest viewers but also for their parents. In general, the major animation studios are no longer even creating content just for children. All their content has many layers and is
News78 designed to inspire audiences of all ages.
I think that this shift only benefits content for children," says Simona Krasauskienė, CEO at Nelly Jelly World
LET'S GET TOGETHER WITH NELLY JELLY
"Creating a new format, i.e. animation, when we already have the books we love, is a difficult and responsible job. We want to convey all the magic of the books as well as surprise the fans with new ideas. However, we primarily strive to maintain the essence: to continue telling meaningful stories that develop curiosity, emotional intelligence, and life skills for the whole family. Quality is without a doubt one of the most important cornerstones on this creative path, but at the same time we do not prevent creators from achieving selffulfillment and putting their vision into action," says Simona Krasauskienė.
Interested? Would you like to be a part of this national success story becoming global? Check us at social media networks. And the entire team will be delighted to present their next plans and projects at Brand Licensing Europe 2022 in London. See you there at stand A231 and welcome to the Nelly Jelly World!
For more information: Greta www.nellyjellyworld.comgreta@nellyjellyworld.comStankutė
ONWARDS TO THE SCREEN
And now it's time to bring the beloved characters from books to the screen. In 2023 new animated TV series of Nelly Jelly World will be launched. The team is currently in intensive search of and negotiations with potential broadcasters and streamers.
has been selected, with more than 20 years of experience in this field. According to its founder Meinardas Valkevičius, creating an animated adaptation of Nelly Jelly, which will be seen not only by Lithuanians but also by foreign audiences is a true joy and a big "Thechallenge.world of Nelly Jelly is unique and magical because it is told from a child's point of view. We also seek to convey this in animation, in which we portray what is magical, unexpected, or maybe even nonexistent in the real world, as something indistinguishable and ordinary," says Mr. AsValkevičius.Mr.Valkevičius tells us, the world of Nelly Jelly is not only visually recognizable but is also popular because of audio recordings, as there are numerous dedicated songs, which children have learned by heart. Special attention will also be paid to the music in the animated series. "The soundtrack for the Nelly Jelly series is currently being developed by a composer from Mexico who has extensive experience with similar projects," says the head of the studio.
For animation, MeinArt Animation Studio
mutual exchange with their fans implies much more: it means they must grow with them, understanding and appreciating social changes and evolving accordingly, offering consumers new and unexpected ways to interact with the brand, feeling it not only as part of their lives but as a partner for the future to come.
Sanrio's ability to create an emotional
News80
According to this strategic approach, many exciting news are going to hit the market between the end of 2022 and the beginning of 2023, reaching its climax with Hello Kitty's 50th anniversary in
the upcoming Hello Kitty animated series, Hello Kitty: Super Style!, distributed by Kids First and produced by Watch Media, Monello Productions and Maga Animation, launching in late 2022 on Amazon Kids+. This original 52 x 11-minute 3D show is based on the iconic Hello Kitty who stars as the friendliest face in the tight-knit community of Cherry Town, where she will stop at nothing to help friends in need. In each episode, she uses the power of her magical bow to activate an amazing transformation, changing her outfit to be a brave explorer, a top-notch chef, a sensational pop star and more to help her pals overcome silly setbacks. Targeting preschoolers, the series aims to attract both children and their parents, reaching them directly and for the first time, on one of the platforms they are most used to. Changing the scenario, the world's laziest egg is finally getting its own Netflix show that will be available worldwide in December 2022! Sanrio's most unique character, Gudetama, will be protagonist of a new CG animated series, titled "An Eggcellent Adventure'. It, in fact, gets swept up by the positive and passionate chicken, Shakipiyo, and ventures out of the fridge and into the outside world! Freed from his fate, Gudetama realizes that it really doesn't not want to be eaten and learns that each egg has its own way of life: 'An egg can be anything it aspires to be.'
With the series, Netflix celebrates the enduring popularity of the character which has become one of Japan's most celebrated cultural icons (mainly) among millennials for its comical design and relatability. The animation shows Gudetama in a different prospective,
SANRIO
Aiming to connect people and foster social communication, the company seeks to inspire, guide, and motivate people, with the goal of their products contributing to the definition of the consumer's way of living. With traditional consumer products and more aspirational items, Sanrio has all the categories covered, involving all the possible targets: from gen Alpha, to gen Z, finding its sweet spot with millennials who are fond of the brands since their childhood and are willing to pass this love to their kids.
NEW FUTURELOOKINGcONTENTSTOTHE
Sanrio is home of some of the most important character-based lifestyle brands, from the pop icon Hello Kitty to the newer Gudetama and Aggretsuko and the British classics Mr. Men Little Miss.
2024. All the possible consumer touchpoints are being improved, focusing on new CONTENTS as well as new DIGITAL TheADVENTURES.firstnewsis
making it evolve together with its fans.
Therelevant.best case in point is the amazing growth of the British icon Mr. Men Little Miss.
The show is translated in 23 languages and aired in 190 countries. It describes the life of the workaholic "Aggressive Retsuko", a young Red Panda who works in a big trading company in Tokyo. Frustrated with her thankless office job and irritating colleagues, she copes with her daily struggles by belting out death metal karaoke with drinks after work. She has a split personality – responsible, cute, hopeful, friendly, sweet, but also aggressive, rebellious, fierce, frustrated, rage…and that's what her fans love about her!
to experience their fandom like never before.
Sanrio's new strategy isn't focused only on taking up new challenges and entering new business areas, but also on adapting to social changes to keep their brands
But Gudetama isn't the first Netflix star in Sanrio's portfolio: Aggretsuko is a consolidated hit, with four seasons already available on the platform and some news coming in 2023
TV content isn't the only frontier Sanrio is crossing because Hello Kitty and Friends have just embarked on a new adventure, this time through an NFT experience powered by RECUR. Rooted in traveling and experiencing new cultures, Hello Kitty and Friends World brings Hello Kitty's friendship and kindness to the NFT space. The journey started on August 25th with10,000 NFTs that sold out in a matter of hours! Fans can collect Hello Kitty and Friends characters and earn new digital collectibles by completing challenges where they travel virtually to eight iconic cities around the world—two of which will be exclusively available for RECUR Pass ThisHolders."journey" represents a big step for Sanrio and embodies the spirit of the company evolution towards their fans' new needs, crafting a new space for them
News 81
The Mr. Men Little Miss have been helping people express themselves for decades, but wanted to take it a step further, creating a range of books that would enable children and families to explore their feelings using their favourite characters. They have recently launched the new 4 titles of "Mr. Men Little Miss Discover You" book series developed in partnership with the long-term publishers Farshore with the support of the Consultant Clinical Psychologist Elizabeth Kilbey, focused on exploring children's emotions, wellbeing and mental health whilst remaining as entertaining as ever. Accompanied by engaging questions to
A family favourite for 50 years, these colourful characters changed global publishing forever and found their way into the hearts and bedtime stories of generations of children around the world, showcasing their remarkable evolution and their role in pioneering a new world of inclusivity and openness. But their continued success is the result of pushing their partners and publishers to tackle themes and topics to ensure the brand constantly evolves and is relevant to new readers.
encourage conversations on different topics and helpful tips, the series is the essential tool for parents and children to explore what it means to be happy, sad and everything in between. Six more stories are coming in 2023, with many more planned for the series in 2024 and beyond.
FORFUN MEDIA
THE SUccESS OF THE MADE IN ITALy MODEL By FORFUN MEDIA
At the center of this development, first and foremost, is good storytelling, and the quality level within Italian productions has made more of a difference than ever in the last year. ForFun Media, the Italian animation network led by Giorgio Scorza and Pietro Pinetti comprising Movimenti Production - that recently joined the Banijay family - DogHead Animation, Studio Bozzetto and MoBo, has paid close attention to this aspect. But it also acknowledgesabove all - the importance of valuing the extraordinary talent trained in Italy.
Upcoming Plans for Movimenti Production
'Studio of the Year Pulcinella Award' for the high artistic quality that has made them stand out in Italy and beyond. "Right from the start we chose to deal with original IPs, because we knew we had the creative and technological resources to give our productions an international scope while maintaining an Italian heart," explains Giorgio Scorza, who is CEO and artistic director of Movimenti Production, together with Davide Rosio. "Even in coproductions with foreign entities, as in the case of Le Loup and other projects now in development, the entire production is taking place here, in our studios. This decision is absolutely in line with one of our main objectives, which is to take Italian animation to a higher and increasingly global level.'
Tear Along the Dotted Line
The evolution of the entertainment market and the most recent events, such as the acquisition of Movimenti Production by Banijay Kids & Family, are a testament to how high-quality animation production has acquired an increasingly central role in offers for global audiences, and how Italian talent plays a fundamental role in this trend.
eagerly awaited events dedicated to the animation business in Italy, Movimenti Production received the well-deserved
It is no coincidence that at Cartoons on the Bay held last June, one of the most
News82
In the same vein as the series 'Tear Along the Dotted Line,' produced for the streaming giant Netflix and distinguished for being the first Italian young adult animated series and the first one signed by Zerocalcare (alias of the famous cartoonist Michele Rech). Released at the Le Loup
Spooky Wolf
Topo Gigio
The Italian way to 2D Animation: DogHead Animation
end of 2021 under the technical direction of Giorgio Scorza and Davide Rosio, the series was a huge success in Italy and achieved considerable visibility in foreign markets. It has aired in all 190 countries where Netflix broadcasts its streaming service - sending two very strong messages: "Firstly, it reminded everyone that our country is rich in talent capable of making high quality products within this genre," comments Giorgio Scorza, "and at the same time it showed that, contrary to what many people thought, there is a huge part of the audience who want to watch them." After the awards achieved by 'Tear Along the Dotted Line,' including the Nastro d'Argento Grandi Serie as The Most Innovative Series of the Year, and the Diversity Media Award as The Best Italian TV Series, the Movimenti Production team has already gone into production with Zerocalcare's new project, also for Netflix. Other upcoming news we can mention includes: a second season of Topo Gigio, the renowned series recognized by MOIGE (aka Movimento Italiano Genitori – an Italian Parents Association) and Cartoons on the Bay, co-produced with Topo Gigio Srl and soon returning to Rai Yoyo; the production of the highly anticipated Copperbeak, a feature film co-produced
News84
It was also a year of growth for the leading Made in Italy 2D animation studio, founded by Movimenti Production, DogHead Animation. Under the guidance of Executive Producer Giovanna Bo, the studio has strengthened its position in recent months by developing innovative projects both nationally (working on Movimenti Production's IPs, among others) and internationally, keeping its creative team entirely in Italy and establishing itself as a pioneer in this aspect as well: while the studio's premises in Florence will soon be expanded within
Tear Along the Dotted Line
Copperbeak
with Ideacinema inspired by a true story; and currently in production Spooky Wolf, an innovative mixed technique comedyinvestigation series that combines 2D animation and 3D backgrounds with a realistic look and feel. And finally, the well-established partnership with rapper and record producer thasup continues, wherein Movimenti Production creates images and produces video clips and special projects for the rapper.
What's next for Studio Bozzetto
Tip the Mouse
the iconic Manifattura Tabacchi, so as to be able to accommodate more and more talent, DogHead Animation is making an important contribution to the training of new professionals. "Giorgio, Davide and I have always shared the objective of bringing animation back to Italy, and by establishing our headquarters in Florence we have made a very strategic choice to accomplish this goal," explains Giovanna Bo. "In fact, for centuries Tuscany has been a real creative force where art is encouraged in all its forms. For this reason, and with the support of the Toscana Film Commission, we have launched a series of training workshops, consolidating partnerships with schools in the area (such as Nemo Academy and The Sign - Comics & Arts Academy) and nationally (such as CSC Animazione, the Animation school of the Centro Sperimentale di Cinematografia in Turin). Our aim is to provide even more tools to young people embarking on a career in animation and at the same time identify the best talent for our projects.' Investing energy in professional training and creativity quickly proved to be a winning concept and led the studio to identify another area where they could extend and replicate this formula: DogHead Animation Apulia in fact started in Bari. "Southern Italy," continues Giovanna Bo, "is an area rich in inspiration and is also the land of origin of some of the professionals we work with. As in Tuscany, in Apulia we not only focus on talent but also on collaboration with the region to foster the involvement of artists and professionals in the Italian animation industry.'
Mika - Le Coeur Holiday
Another award-winning series in 2022 is The Game Catchers co-produced with Sphere Animation and aired on Rai Yoyo and RaiPlay, which has already been confirmed for a second season. The Game Catchers is part of the wide and varied catalogue of 2D and 3D productions for both kids' entertainment and advertising content from Studio Bozzetto, now led by CEO Pietro Pinetti: "For over 60 years, Studio Bozzetto has had strong recognition all over the world. Bruno Bozzetto's work has often been a source of inspiration for big names in international animation and our aim is to maintain this pioneering spirit and continue to bring Italian excellence to a global level. The Game Catchers is a perfect example of our work: an Italian Canadian co-production made entirely in
The Game Catchers
News 85
While Zerocalcare paved the way to produce young adult serial animation in Italy, the main viewers of animated films and series continue to be children. In this area ForFun Media's commitment has been recognised and appreciated not only by a younger audience but also by MOIGE, which every year awards the best TV content for children and families.
Alice & Lewis
Italy and distributed in Latin America, Spain, Canada, and Italy. We trust that we may repeat the success of Tip the Mouse, which was distributed in 140 countries, including China". All the elements are there, given the success that The Game Catchers has had since its inception: in its first month on air, it was the most-watched pre-school series on Rai Yoyo (source: Barometro) and in December 2021 it was awarded the Pulcinella Award at Cartoons on the Bay for Best Pre-school Series, followed by another award by MOIGE. All this is in addition to the incredible results of Tip the Mouse, inspired by the main character in Giunti Publishing House's famous book series. Tip not only entertains young kids with three seasons of animated adventures available on RaiPlay, but also makes them dance along with children's TV star Carolina Benvenga - with 700 million baby dance views on YouTube, with
Another production that caught MOIGE's attention was When I was Your Age, by MoBo - the studio that unites the two souls of Movimenti Production and Studio Bozzetto and allows ForFun Media to present itself to the national and international market with an increasingly high level of production. In 2021, the group was boosted by the addition of Ilaria Mazzonis who, on the strength of her long experience in entertainment at RCS Mediagroup and RaiCom, took the reins of MoBo as Executive Producer: "As a studio we are developing the ability to work on multiple levels," she explains. "3D animation is certainly the main language for us, which is apparent in series like Alice & Lewis (co-produced with BlueSpirit
News86
Ilaria Mazzonis joins ForFun Media to lead MoBo
Productions), which debuted on Rai Yoyo and is available on RaiPlay, and in our contribution to Studio Bozzetto's Tip the Mouse. We are currently working on other series, such as Mini-Heroes of the Forest, based on the French book series published by Auzou and distributed in Italy by Gribaudo, and Momon, inspired by the book series published by Dami Editore, both aimed at pre-school audiences. But there is also our signature in 2D productions such as When I was Your Age (which after airing on Rai Gulp is now available on RaiPlay), just as there is a bit of MoBo in Topo Gigio. We are also working closely with Movimenti Production and DogHead Animation on the new series Spooky Wolf. It is because we are such a complete studio and are able to handle multiple styles that our international partners involve us in the development of the most beautiful and interesting stories".
video and music produced in collaboration with Sony, as well as the Carolina and Tip the Mouse: storytellers' series available on RaiPlay. When I was Your Age
Mini-Heroes of the Forest
My Little Pony continues to elevate itself as a pop culture icon, as the brand can be seen on shelves at all major retail and ecommerce stores through product partnerships that introduce the brand to all-new audiences, along with major promotional partners. The brand's 40th anniversary kicks off in 2023 complemented by a slate of content
Hasbro unveiled its brand-new line of toys inspired by the all-new animated kids'
anticipated entertainment content dropping later this year and for years to come, we're excited to present even more opportunities so be sure to visit our BLE booth for what's to come across all fandoms!"
series Transformers: EarthSpark launching exclusively on Paramount+ in the U.S. in November and on Paramount+ and select Nickelodeon channels internationally.
Following the Earthspark toy line launch in January 2023, fans can expect to see Transformers: Rise of the Beasts on the big screen in June 2023, with a feature-length Transformers animated film slated for 2024. This year, Hasbro announced the first-ever Transformers and My Little Pony hotel opening in Shanghai. The company also collaborated with LEGO for the first time for a Transformers Optimus Prime Figure. The brand's premium Robosen product is shipping this fall as well.
In addition to innovative toys and entertainment, consumers can interact with Hasbro's brands through locationbased entertainment, publishing, fashion, promotional programs with premier partners and much more. And BLE 2022 is no exception, with an impressive lineup of announcements and displays at Booth A211 showcasing the powerhouse portfolio on the heels of an exciting year filled with major licensing programs and LBE openings – in addition to several exciting new ventures across the diverse set of brands with highly anticipated theatrical, TV and streaming content "releases.
As a leading global play and entertainment company providing the best experiences for fans and families across the globe, Hasbro continuously looks for new ways to innovate and expand its extensive portfolio of brands across all licensing categories.
cREATING THE WORLD'S BEST ENTERTAINMENT EXpERIENcES
We're thrilled to showcase Hasbro's recent licensing successes across all our valued partners from toys and experiences to fashion and entertainment," said Marianne James, Vice President EMEA & Asia Licensed Consumer Products, Hasbro. "With highly
News88 HASBRO
Additionally, at the begging of 2022, publishing partner Panini launched the new magazine of Peppa Pig. It is a monthly issue and it has always engaging covermounts that children love. Panini supported the launch with a digital campaign that generated more than 500k impressions!
Clementoni have always believed that play is an intrinsic part of growing up and a vital contribution to the healthy formation of the adults of tomorrow. Clementoni has decided to act by promoting and launching products on the market which are 100% sustainable. The PLAY FOR FUTURE Peppa Pig's products are a tangible sign of Clementoni's commitment in this sense because the company wants to help shape the new generations and serve as the ambassador of an important message: respect for nature.
major LBE openings with the NERF Action Xperience centers and first-ever NERF theme park land.
Today's society has become acutely sensitive to all that relates to protecting the environment and safeguarding the earth's resources and numerous companies and institutions are in the process of revising their policies and regulations. Hasbro and
News 89
continuing to drop on YouTube and Netflix throughout the year, delivering 550 minutes of original animation. This spring Habro celebrated the successful launch of the 2D shorts series My Little Pony: Tell Your Tale, along with the recent new release of the My Little Pony: Make Your Mark series centered around the theme of adventure with stunning CG animation that matches the look of last year's hit movie, My Little Pony: A New Generation
A heart-shaped leaf will be visible on all products from the Peppa Pig's range made from completely recycled materials. The very same leaf will be used to drive home a series of positive messages addressed to parents and to be shared with their children. They will be launching fun challenges for kids inside the packs, on social media and the internet to get them to see ordinary routine as an opportunity for actions that are respectful of the world we live in.
NERF has proven itself as a social, active lifestyle brand, having made headlines recently introducing its first-ever mascot, Murph. In addition to innovative blasters, NERF has expanded into the sports arena through prominent franchise partnerships with industry leaders like Franklin Sports. Earlier this year they launched a Quiksilver clothing line, and the brand debuted
Following this summer's reveal of the first-ever Dungeons & Dragons movieinspired toy line from the famed fantasy franchise, the brand will highlight what fans can expect to see as Hasbro approach the March 2023 Dungeons & Dragons: Honour Among Thieves theatrical release.
The world's favorite board game Monopoly has some thrilling brand collaborations in store following the award-winning Monopoly Lifesized Experience in London, another winning McDonald's promotional program and allnew brand collaborations with Bridgerton, Hello Kitty and Super Mario Bros.
In 2022, Hasbro also unveiled Hasbro City, a new family entertainment space coming to Mexico City that will feature My Little Pony, Transformers, NERF, Monopoly and more.
Everyone's favorite cheeky pig also has a big anniversary coming up in 2024 with Peppa Pig celebrating 20 years following this year's successes! Fresh new Peppa Pig content will be dropping through 2027, tailing its latest honor from the distinguished Common Sense Selection program recognizing outstanding family media for Peppa's Club. In the U.K., Peppa Pig celebrated the Platinum Jubilee through several activations and partnerships, including a Jubilee-themed clothing range in Tesco, special treats from B Bakery, publishing titles from Penguin, features in the Peppa Pig Magazine and much more. In the U.S., fans can visit the Peppa Pig Theme Park which just opened this year. And if you can't make it to the theme park, BLE attendees can expect a fully realized Peppa's Clubhouse come to life for an immersive experience!
News90 MONDO TV
Grisù, the little fire-breathing dragon who wants to be a firefighter, is returning to our screens in 2023, thanks to Mondo TV. Meanwhile the super-powered stars of MeteoHeroes are continuing to inspire new shows and reach new territories.
Grisù, the show about the little dragon who wants to be a firefighter rather than a fire-breathing dragon, was one of the first kids' series to be broadcast on Rai Due in the new children's slot on TV2 Ragazzi, in Created1976.
But Grisù also has enormous merchandising potential; Mondo TV holds
ZDF Enterprises will also be responsible for the worldwide distribution of the audiovisual rights (excluding Italy, France, Spain and China, which will be handled by Mondo TV). Also confirmed are broadcasting agreements with ZDF in Germany and Rai YoYo in Italy.
the exclusive rights for the development of the licensing programme on a global level and is already working on the development of a network of agents. Meanwhile, in Italy the licensing programme has already seen the publishing category covered by some leading players in the market; they will bring to retail books, activity books, colouring books and sticker albums. Of course if Grisù matches the success of a more recent Mondo kids' show there will be even more to celebrate.
by Nino and Toni Pagot, it became an enduring favourite, delighting audiences as far afield as Africa, Latin America and the Middle East as well as Europe. And Grisù is still fondly remembered today, many years after his first TV appearance – he's even become a fire brigade mascot in a number of countries.
MONDO TV ANNOUNcES THE RETURN OF GRiSù AND MGROWTHcONTiNUEDOFETEOHEROES
Co-produced by Mondo TV and the leading Italian weather forecasting centre Meteo Operations Italia (MOPI), MeteoHeroes is a show that undoubtedly benefits from interest in climate and environmental issues among young people. It's also exciting, funny, beautifully designed and inclusive: its six superpowered heroes –they can control weather phenomena –hail from six continents and are made up of three boys and three girls.
The little dragon is now returning to delight a whole new generation in a brand-new 3D CGI TV show for 4-7-year-olds coproduced by Mondo TV, ZDF Enterprises and Toon2Tango and launching in the autumn of 2023.
Now in its third successful year, in Italy MeteoHeroes is among the most successful series on Cartoonito and popular in many other territories. In fact the show's reach now extends to nearly 180 countries and 22 languages. A second season of MeteoHeroes and four 26-minute TV movies are on their way to most territories in the coming year. There's also a MeteoHeroes – Saving Planet Earth videogame now available worldwide on PlayStation® and PC (STEAM platform) and launching soon in retail stores. As awareness grows 2023 will see significant expansion of the MeteoHeroes licensing programme and initiatives –especially educational initiatives – building on the global growth of this, the only cartoon in the world dedicated entirely to climate and environmental issues.
This is a series with strong messaging encompassing values that still resonate in the 2020s: determination, kindness, helping others and a concern about the Theenvironment.character will, of course, live in today's world and be seen on multiple platforms and social media, but the parents who loved him in the 1970s and 1980s will find him the same sensitive, courageous, enthusiastic, friendly and determined little fellow he always was.
The Smurfs Fashion Show at BLE
Benetton Nightwear Capsule Collection
A STUNNiNG AUTUMN FOR THE SMURFS
Events are scheduled to take place in more than 800 cities and over 20 countries worldwide. Tickets will go on sale to the public from October 2022.
New licensing collaborations
QSR Mc Donald's UK
In a number of city-wide events, players will immerse themselves in a unique
For the Smurfs brand, the fashion category has become increasingly important in recent years. In particular The Smurfs have been booming in adults and young adults' fashion, especially since 2020 and the unexpected collaboration with the famous trend setter New York label, Supreme. On the occasion of BLE, get ready for a smurfy blue show on the Licensing fair's catwalk that will highlight recent collabs with such brands as GAP, St Barth, Benetton, Vila, and more!
As for Food & Promotion, starting from September 7, the Smurfs turn the Happy Meal boxes in the UK and Ireland for 6 weeks into magical mushroom houses in which your little one can find an adorable Smurf plush or a Happy Readers Book. The Smurfs enable your child to develop his/her capacities to the fullest under the slogan 'You can create it, make it, Smurf it'. Each Happy Meal box contains a different 'Smurf Hack' leaflet, which invites your child to get creative and crafty. With the Happy Meal App your little one can explore their creative side with exclusive activities and games. Other QSR promotions will follow in EMEA and the US starting from end of September.
experience which combines augmented reality with the physical world to turn their hometown into the setting of a brand-new Smurfs adventure. Exploring city streets, solving wacky challenges, and meeting their favourite Smurfs characters along the way, players will attempt to save the day from the evil wizard Gargamel.
The Smurfs, the well-known brand born from the little blue characters created by Peyo in 1958, never ceases to provide excitement worldwide. As BLE and all other Fall global trade fairs in attendance approach, IMPS announced the latest initiatives and news.
The Smurfs love to continuously enter into collaborations in various fields.
For the Experiential sector, IMPS and CluedUpp Games have announced a brand-new licensing agreement that will transform hundreds of cities into a giant Smurf-tastic experience in 2023.
advertising and marketing campaigns worldwide: companies and communication agencies will now have the opportunity to license the Smurfs characters for their advertising and marketing campaigns. Born Licensing is the unique licensing agency which specializes in licensing characters, clips, and entertainment IP solely for Concerningadvertising.theDigital, the new Smurf racing video game by Microids, Smurfs Kart, is developed by Eden Games, wellknown for its iconic racing games (Gear. Club Unlimited, Test Drive Unlimited, V-Rally…), and will launch on Nintendo Switch in November 2022. It will include 12 tracks from the Smurfs' universe and 12 iconic playable Smurfs. Each Smurf has its own kart and a very handy special item to help breeze past opponents.
Smurfs Kart by Microid (Key Art)
News92 IMPS/LAFIG
Born Licensing is the new agent representing The Smurfs license for
The official webshop
The #EUBeachCleanup campaign, coorganised by the EU, the UN and our blue friends, the Smurfs, every year in September, around World Coastal Cleanup Day, is key to raise awareness about marine litter.
The novelties include a new feature film. Chris Miller, the Oscar-nominated helmer of 2011's Puss in Boots, is set to direct Paramount Animation and Nickelodeon
News 93
Welcome to the Smurf Catwalk at BLE on Tuesday 20th @ 10am
The Smurfs appeared for the first time in an adventure of Johan and Peewit, The Smurfs and the Magic Flute, published in the Belgian comics magazine Spirou on October 23, 1958. 2023 will be a year to celebrate the 65th Anniversary of the TheSmurfs.anniversary logo and a dedicated Style Guide The Smurfs 65th Anniversary. From Paper to Metaverse has recently been released to licensees. The style guide is an ode to the evolution of the Smurfs, celebrating Peyo's blue pop icons' heritage. 65 years of blue joy, proud of its origins on paper, and with faith in the future. Get ready for the "Smurf-verse" in 2023!
Animation's untitled Smurfs musical, which is slated for a February 2025 theatrical release.
The 65th Anniversary
Brainy, Clumsy, and the rest of the Smurfs are back for even more adventure, more mischief, and fun! Season two introduces also two new characters: Wild Smurf, a mischievous character with a strong connection to animal life, whose temper and strange ways will shake up the Smurfs' daily routine; and Leaf, the fairy destined to replace Mother Nature who doesn't have full command of her powers just yet. Throughout the all-new season of The Smurfs, the Smurfs will travel through time, swap bodies with each other, and get into magic duels. Constantly pursued by the determined Gargamel and Azrael, and also by ogres Bigmouth and Egghead, the Smurfs and their friends will continue to enchant in new episodes filled with exciting and hilarious adventures.
Since September 9, premieres of Season 2 of The Smurfs are airing prime time on Nickelodeon every Friday Night in the US and will follow internationally this Fall. The brand-new season has also started its global journey on local free-to-air channels, and soon on many others. In this new season, Papa Smurf, Smurfette,
The first official Smurfs webstore (www.smurfstore.com) is set to go live on September 21st! From smurf-tastic licensed goods to limitless print-ondemand opportunities, the Smurfs store will marry both the old and the new, providing for Smurfs fans of all ages and generations a place to shop. The web shop is managed by TWG (The Wildflower Group), working closely with the Smurfs team to activate unique, dedicated campaigns that support key brand moments.
Audiovisual
#EUBeachCleanup
In 2022, the fifth edition of the #EUBeachCleanup campaign is focusing on youth, residing under the European Year of Youth umbrella and within the overarching theme of "united against marine litter": the future generation, international organizations, national leaders, NGOs, and everyone who wants to get involved, working hand in hand to rid our oceans of this plague. Once again, The Smurfs are proud to participate and are encouraging its partners and fans to engage to the path of sustainability, to join the campaign, and participate with a smile!
Pea&Promoplast, a multifaceted Italian company with 40 years of experience, will attend BLE (stand #D128) with lots of new ideas for companies and consumers. LM interviewed President Gianluca Aprile di Cimia to learn more about the company's growth and prospects.
best international production partners, in a coherent way that allowed us to perform credibly and on time, always respecting our customers' demands.
Since 2018, we initiated an extensive restructuring of our processes, strengthening our technological assets and recruiting new human capital, with a much lower average age. These choices were aimed at supporting the
INNOVATiON AT THE SERVicE OF THE iNDUSTRy
Interview96 PEA&PROMOPLAST
Further difficulties arose from the pandemic, which resulted in a lack of access to production markets, mostly Chinese, and increased logistics costs. We managed investments and production agreements with a positive attitude, so we were able to reach out and organise the
Tell us how the company has grown in recent years.
In this day and age, more and more skills are required and briefs are proposed that push the limit of what is feasible in terms of time, price and resource management, aspects that have created definite failures in the industry.
We offer a complete and specialised service, starting from the creative to the production, so that our customers are relieved of all management and organisational thinking. We operate in four main business units, covering several interconnected categories, such as Promotion, Loyalty, Toy, Licensing and more, producing innovative products.
Ruggero Aprile e Gianluca Aprile di Cimia
Pea&Promoplast has historically been a market reference for many companies in different business areas. What services do you offer your customers today?
Sustainability, along with innovation, has become a hallmark of the P&P model in recent years. We are constantly looking for new materials and production processes that reduce the impact of our products on the environment. A mission shared with most of our major customers, including Unilever and L'Oréal, for whom we have already created and produced promotional items entirely from environmentally sustainable materials.
What are the latest developments in the TATA project?
The focus is on strengthening management to prepare the group to become a digital media company by 2026. There will be new data entry activities accompanying our productions, bringing customers an increasingly profiled service experience, supporting all brands involved.
We have always been supporters of various initiatives to help children and others, supporting different regions every year. We are taking an interest in what is happening in Ukraine, supporting fundraising events. Madagascar is undoubtedly one of the countries we love and where we have built various aid programs for local schools and villages.
New RFID and Nfc technologies have made it possible to renew the focus on
Interview 97
new phigital area, maintaining continuity with our historical past by building a bridge between the physical and the digital. In less than two years, our bestselling project, TATA, has become the technological reference for content in the world of publishing and toys.
At our BLE stand we will have the TATA Sound Experience, which will allow you to experience the richness and innovation of the project live.
One of Pea&Promoplast's first goals is to bring a smile to young children, including through charity initiatives. What new things are you planning?
the world of 3D characters with the realisation of a new device platform called 'TATA', an intuitive product that has given voice to more than 30 million characters already created under the Disney brand in collaboration with Dea Planeta, the leader in collectible publishing.
What about sustainability?
The original idea was to integrate the digital revolution into a sector like loyalty, which felt like it needed renewing. We wanted to breathe new life into the physical products, helping the licencees to express their full potential, achieving greater performance and retention on mature products through the use of audio PEA&PROMOPLASTadd-ons.equipped itself with a new digital structure that since the beginning of 2022 has been responsible not only for design but also for content creation, providing a complete package of proposals and offering strategically complex solutions in a very short time. The latest experience with a leading toy group saw the creation of a branded toy that was introduced to the market in just five months after its conception, which became a best seller in Italy in the Christmas 2021 sales campaign!
The goal over the last three years was to create a set of devices that make content, digital formats and products available in an immediate way. For 2023, new 4.0 proposals will be brought to market that will provide a 'voice' to the world of soft toys, and there will be some innovations in the Toy sector, in collaboration with a large American chain. The proposals will have connections to Google and Amazon, generating a real revolution!
How are you working to increase the digital sector?
Tell us about your plans for 2023.
We are currently working on an ambitious project for a new water purification device, commissioned by a major multinational company. The innovation, on which we are working in collaboration with the Faculty of Chemistry of the Turin Polytechnic, will see the light of day in the first quarter of 2023.
2023 will be a very challenging year, we are investing in digital and supporting new acquisitions! We are coming from a threeyear period of double-digit growth, with turnover doubling in the last two years, close to 40 million.
Grani & Partners is one of Italy's leading companies for Kids products, in the areas of Loyalty & Fidelity, Publishing, Promotional and Partwork.
For international products, I mention Stikeez, which turned the rules of loyalty programmes upside down, replacing 2D gadgets used up until then with a fun and playable 3D premium, while respecting customer budgets. We sold almost 1 billion pieces in 30 countries. Another major operation was the 7-Eleven launch in Taiwan regarding MotorValley's automotive sales.
Grani & Partners will be 20 years old on 23 September, and we are organising a big party to celebrate this important anniversary! We are proud of everything we have achieved so far, we have created so many successes in the market thanks to more than 40 years of business experience. In fact, we took our first steps as a family business in the manufacturing and licensing field as Giocoplast, a company founded in 1980, which was later sold to Giochi Preziosi in 2000 (only the Christmas branch). Grani & Partners S.p.a. was founded in 2002, when Grani brothers and Giochi Preziosi combined their respective skills by taking over the Giocoplast Promotion business and creating a company operating in the promotional sector.
Modena, an Italian company established in 1848, a leader in the production of handmade sausages. In 1980, the Grani family decided to develop strong relations with China, also investing in different products that came from this country, moving into Toys with Giocoplast. Today we continue to cultivate prosperous partnerships with Asia.
Promotica recently acquired 80% of Grani & Partners. What does the future hold for you?
In the latter sector, Grani supplies its customers mainly (but not only) with products related to the automotive world: the company's headquarters are in fact located in the province of Modena, in the beating heart of Motor Valley. On the occasion of the company's 20th anniversary, LM interviewed CEO Enrico Grani to retrace the company's singular successes and to talk about the latest news.
TWENTy yEARS OF iNcREDiBLE GLOBAL SUccESS
In the national loyalty sphere certainly the Star Wars Rollinz operation with Esselunga, a daring project combining a product with one of the most famous licences in entertainment. Another significant project was the Flash Heroes luminous characters with Eurospin. In the newsstand sector, we are proud of Gormiti and Cuccioli Cerca Amici. In partworks, we continue our launches with DeAgostini for collectible products with Ferrari and Lamborghini.
Massimo Gonzi, Enrico Grani and Marco Rossi
Star Wars Rollinz collection
Interview98 GRANI & PARTNERS
Grani & Partners celebrates its 20th anniversary in 2022, a fantastic
milestone, punctuated with many accomplishments...
Again, we have historical relations, which we have continued to cultivate. My family started trading with Asia in 1960, importing casings for cold cuts. In fact, my grandfather is one of the founders of Casa
What do you consider your greatest Italian and international successes to date?
You have always had relations with foreign countries, particularly Asia. Can you tell us more?
We are very happy to combine our vibrant energies with Promotica's enthusiasm and expertise and, by integrating our respective
Ferrari model 1:8 scale
Automotive is one of the most prosperous sectors for us. In the Far East we have developed promotional programmes for more than 5500 stores with iconic brands
We also continue to collaborate with the largest national and international food companies.
How has your work changed in recent years, and what are the current challenges?
Grani brings to the market a specific uniqueness that is the fusion of two fundamental skills in a single organisation. On the one hand, the proven capacity for product development, both from a creative and an exquisite manufacturing point of view, with thirty years of experience in China and new productions in Europe, also made in Italy; on the other hand, a profound knowledge of and integration into the complicated world of licensing.
Paw Patrol Roller & Go collection
Dragon Ball, Hello Kitty, Peppa Pig, Winx etc.
product that we will soon present to the market and which will also involve Asia.
Our work has become more organised, we can improvise less. We have to follow certain parameters, taking into account many more reference tools. Change does not frighten us, since we have been in this market we have seen that work is constantly changing. We have always faced and passed many tests, and we are also ready for current and future ones. Our main characteristic is that we are able to adapt flexibly, often anticipating market challenges and providing valuable support to companies.
specialisations, we are confident that we can build an excellent future. Together we will continue to develop loyalty offers in the Kids promotion, Automotive and Industry sectors. Promotica, focused on the adult world, has found an ideal complement with our experience in the Kids sector. We are planning distribution agreements in new markets, large acquisitions and an increasing integration of artificial intelligence in the evaluation processes.
such as Ducati, Bugatti, Lamborghini, Ferrari... Today, we continue to work on ambitious projects, and in particular, as mentioned, we have a very powerful new
Flash Heroes collection
Stikeez collection
What are your latest automotive innovations?
What about food?
The princess castles collection
Interview 99
For us, this is one of the key areas, we have shares in Preziosi Food, the food group created from the merger of the Dolci Preziosi (now owned by Cerealitalia) and Salati Preziosi brands, whose products are combined with gadgets dedicated to children's favourite characters, such as
LM interviewed Marina Narishkin, General Manager at Millimages, one of the most experienced producers of kids TV shows, to find out more about the company's licensing strategies.
What are the licensing plans for Pirata & Capitano?
We have never treated all IPs in the same way. Some programs work really quickly when the show is on air, ideal for short-
Interview100 MILLIMAGES
Which new productions do Millimages have planned for 2022 and the next few years?
Every IP takes a long time to develop. Do you apply the same strategy to build your new IPs as you have for Molang, or Pirata and Capitano, or are you working on something different based on the property?
AUTHENTiciTy AND EXpERTiSE
A lot of people from the industry have been contacting us and we are considering their proposals. In the publishing games area, there are some great partners across Europe. We've started discussions with some of them and will continue talks at Brand Licensing Europe.
We work in Italy with Rai Com, we have an agent in the UK that manages Northern Europe, and we handle the rights across Southern Europe. We will focus on just a few categories: toys, publishing and nightwear. It's important to target your licensing program around the potential of the show.
Molang Season Five
We're focusing on Seasons 5 and 6 of Molang, and Season 2 of Pirata and Capitano in co-production with the Italian company Aliante. This show has an adventurous girl lead (the pirate is a little girl) and is extremely funny, with a beautiful artistic side.
In 2021 you became General Manager at Millimages. Since then, how have you used your extensive experience in the industry to develop the company?
We have seven business divisions. The development and production teams create new IPs regularly and sell them to TV channels across the world. Our sales team is active in 196 of the 198 free territories available worldwide. Our marketing and social network divisions are extremely important. We manage about 47 YouTube channels. Molang, our most important IP, accumulated 21 billion hits on GIPHY. As a producer, I feel we have an obligation to communicate good messages to society. That is why we like to work on IPs like Molang which is focused on kindness and important values like non-gender-specific and non-judgemental issues. We also have an e-commerce division and of course, licensing and merchandising.
Marina Narishkin
With founder Roch Lener's guidance and our team, we're rethinking the entire company, keeping expertise and quality at the forefront.
Molang started as a doodle in Korea, and it became a television show thanks to our licensing program. We have kept the Korean office as a partner and Hye Ji Yoon, who first drew the character, is part of our team.
How is Millimages developing NFTs and its presence in the Metaverse?
After the success of computer-friendly artists and 3D/CGI, there has been a return to 2D and exceptional storytelling. Audiences consuming online content react very quickly so you have to be authentic. Covid has pushed everyone to question their own life, so there is a new search for values. I think it's positive for licensing as well, because if you're doing quality content, you're doing quality product itself. And finally, we need to watch our carbon footprint.
are many, but the most important thing is to keep them very close, like a family.
Interview 101
Freshhoods Capsule Collection
term proposition. Some shows can't support a licensing program at all. We sell TV shows worldwide from our huge catalog that covers several targets, from kids to adult.
because for us, it means additional income and a source of promotion. In 2022 we'll be releasing a number of NFT's. We will do that with different IPs to test things out, which is part of our DNA as a media creator.
How do you coordinate with your licensing agents worldwide?
Pirata & Capitano mockup
We try to maintain a high level of communication, creating alliances among our various agents. We provide up-todate style guides, so that agents always have on-trend material to develop their proposals. On the digital front, we also provide significant numbers and interaction with Instagrammers and TheYouTubers.technical aspects of managing agents
I was an agent for many years, and I know that there's so much local knowledge and different needs, and the timelines in different countries are not the same. In licensing you need creativity and flexibility, otherwise you can kill a property.
We have another IP in development, Lascars. It's a iconic French program, created 15 years ago. It talked about diversity and it's very funny, with comic adult humor. We're going to be releasing a live movie, a second animated movie a third season of animated series. In this case, there will be a licensing programme dedicated to apparel, publishing and music.
The metaverse is an area where we have to keep agile and aware, but we can't neglect the retail side of things, people still like to go shopping.
The metaverse is going to be like a replica of what we do in the real world, without all the inconvenience. We're going to have avatars with our style and look, and they will become more and more realistic, thanks to real-time camera recordings. We have hired people to manage NFT's
We have agents across the world that love our properties and fully understand our DNA and vision.
I think that animation and content are going to continue to be important, because new platforms are always being created. But this process is undergoing an adjustment so it will be necessary to continuously adapt and follow market changes.
What general vision do you have for the future of the Animation Business?
To know more, LM talked with three responsible for the NPM: Wendy Wu-Yun Mao, an expert in intellectual property management in the Licensing Department, Huei-Hsien Lin, an expert in art history, former curator of education and exhibition programs, currently working in museum's Licensing Department and Ryo Hsiao from So-net Entertainment Taiwan, the NPM brand agent.
Ryo Hsiao
Huei-Hsien Lin
National Palace Museum started to develop the museum brand agent in 2020. What are the considerations behind this decision and what have you Wendy:achieved?At the 2020 Hong Kong Licensing
The National Palace Museum is one of the most important places of Chinese culture. Could you briefly tell us what kind of works it hosts?
FROM cHiNESE ARTiFAcTS TO INSpiRiNG MERcHANDiSE
Huei-Hsien: NPM has one of the most renowned Chinese art collections
The National Palace Museum in Taiwan (NPM) is one of the most reputable art museums in the world, owning the most exquisite and precious Chinese artifacts which amount to 700,000 pieces. Through working with agencies such as So-net Entertainment and ARTiSTORY, National Palace Museum is currently increasing its licensed product offering while reaching out to a global audience.
Interview102 NATIONAL PALACE MUSEUM TAIPEI
which amounts to circa 700,000 pieces, including paintings, calligraphy, jades, bronze vessels, Buddhist art, ceramics and other decorative arts, rare books and imperial documents. The collection is largely inherited from China's imperial collection built up through the centuries and therefore I think it is fair to say that NPM collects some of the finest and most exquisite Chinese works of art. The reputation of our collection has enabled us to collaborate with many partners in licensing ventures in the past decades. Our collection is not the only strength we have. Because NPM has participated in licensing for a long time, the museum has an open and transparent licensing policy. Combining the two, we believe we are a great candidate for partnership.
Wendy Wu-Yun Mao
Since 2020, So-net Entertainment has been taking care of expanding the Museum's brand licensing. How does Sonet, an entertainment company, be the art licensing agent of the NPM? What goals have been achieved in these two
So-net Entertainment Taiwan is one of Sony group companies, and Sony group had dedicated to the entertainment industry for a long time, which can be seen from various IPs represented and in Las Vegas Licensing Expo. NPM planned to develop a young and energetic brand image and we think entertainment will be a good starting point. We've utilized our experiences in developing entertainment content to expand the NPM brand to the world.
Currently we have 2 agents in different regions worldwide. NPM's brand connotation has been largely developed and even altered, to some degree, through
The first thing we co-created with the NPM is the "tool and business model" after becoming an NPM's agent. Together with the NPM, we almost spent one year designing the NPM brand's style-guide,
their efforts. For example, ARTiSTORY, our EU-US agent, designed a series of colorful and vibrant style guide out of the black-and-white style paintings; while So-net, our Japan-Korea agent, preferred a cuter style to meet the market's needs. Our approach is to create daily products that can accompany people in their daily routines. We would like to use the daily product to walk in everyone's home. Not just as a souvenir or a gift, but as a practical and useful product that will be used every day. Through these collaborations, NPM can connect to anyone and any brand in the world.
that "developing agents" might be one of the powerful methods to alleviate this Fromproblem.many global museums' experiences, agents can help museums in various aspects. For example, selling the products and publications, contributing to business collaborations, and even rebranding the museum brand, depending on how you negotiate with the agent. If you have an agent dedicated to your brand and its story, not only more business will be brought in but also brand awareness and reputation will be increased. Under such circumstances, open licensing is not a negative factor in royalty increase; rather, it's a promotional tool for the museum to introduce its collection to a broader market.
Eight horses
Ryo:years?
In the coming future, some digital collectibles and games might be our next potential products, and we welcome all types of new ideas to reinterpret the NPM collection.
Interview104 Expo I met a digital collections and open access specialist from Europeana, who gave a presentation about museums and open access around the world. However, some obstacles have been met when the museum's income greatly decreased because of open licensing. We used to discuss how to deal with this issue but seemingly no practical conclusion has been reached at that time. Since the NPM's royalty has also been decreased from the open licensing policy plus the impact of COVID-19, we gradually found
Wendy: From the NPM's perspective, we're glad to see a new model has been developed in the pandemic era. Brand agents are the opportunity for us to rebrand the image of NPM. Through
Meanwhile, more global collaborations are happening with the NPM via this new model of the brand agent.
Interview 105
Thanks to NPM's abundant resources about Chinese art history as well as Hueihsien's and Wendy's efforts to introduce and transform the artifacts for us, the style-guides are now the very fundamental basis to secure collaborations of all kinds.
NPM has the richest and most precious collection of emperor artwork. However, the NPM is a government sector, so there is not so much flexibility as private companies. As an agent, we bring NPM business connections and provide
Beautiful spring
which is a very important tool for license business. As for the business model, we join the NPM's new model of "brand agent" and make further elaboration through the cases we brought to the NPM.
European enameled pocket watch inlaid with pearls
them the market insights, and the NPM feedback us resources and knowledge about Chinese art history, which created a win-win situation for both of us.
the agents' capabilities in design and marketing, the younger, more relevant and fashionable images of the NPM can be delivered to a wider world. Other than public advertising, we actually receive more and more royalties from such collaborations, which alleviates our pressure on annual income. Those are the objectives of our cooperation with So-net, and now they are being gradually realized. We're happy with these achievements and welcome more opportunities to cooperate with other agents or brands.
As for the goals we have achieved, the most renowned one would be the nominee for the International Licensing Excellence Award this year. It proved that our efforts with the NPM to develop the new model of the brand agent are not only workable but successful. Since we have the milestone case of NPM X Snoopy, it will be a lot easier for us to negotiate more collaborations with other global IPs because now we have a persuasive example and stories to tell.
Wendy: The pre-selling of NPM X Snoopy 2023 table calendar has just begun. The
Gold painted enamel saucer with Western figures
What will be the next goods dedicated to Peanuts? Will other characters be involved besides Snoopy?
in being the NPM's brand agent outside of Taiwan are invited to contact us.
would really like to see that children gain their interest in the museum from interesting stories. Recently we created a storybook entitled Snoopy traveling in the NPM in search of his friend. This is the only publication licensed from Peanuts in Taiwan in recent years. Huge efforts were put into making this book happen, hoping that it will showcase our interest and flexibility in children's publications. We look forward to cooperating with publishers and authors of all kinds to make this goal happen.
2022 version was nominated by Licensing International for the Licensing Excellence Award this year, so we are really looking forward to the 2023 calendar. Some other derivative products, the useful daily ones, developed also from the NPM X Snoopy style-guide, will be released simultaneously. Plus, a very creative "gift book", combining the concept of a gift and a book with AR effect, will be published at the end of this year.
and Wendy: Firstly, we are seeking more agents in the world to develop business opportunities with us globally. All agencies with experience in museum brand representation interested
Huei-Hsien: We would like to see more children's books in the future, no matter story books, fantasy novels, color books, or comic books. It is important that NPM engages with young audiences and we
Gold cup with painted enamel decor
Jadeite cabbage
What new licensed products would you like to make for children?
Copper angled vase with gilt flanges and decoration in painted enamels
Interview106
Secondly, we would like to increase our product categories by breaking down the existing classification. For example, we are currently trying to produce a digital AR book combining the idea of a gift. It can be given as an imaginative gift that can be read at the same time as an interesting story book with AR effects. There are also some other kinds of products with fun and educational effect, such as board games, that are in the developing stage. Any creative ideas regarding recreating ancient Chinese artifacts in the NPM collection are Lastly,welcome.we are looking forward to collaborating with other museums in the world, particularly the ones from the western culture. We believe museums' value can be optimized through crosscultural joint ventures in a win-win situation.
As for some other characters, we have met several brands at the Las Vegas Licensing Expo, but due to confidentiality agreements, it's not convenient to share further information right now. What we're sure of is that Snoopy is not the only character for our new licensing page. Rather, it's merely a starter to turn a new page in our art licensing business.
What are your expectations in the global licensing market for the coming months and Huei-Hsien2023?
Elastikorps Fighter a collection for all sizes
The Elastikorps Fighter are in fact contained in two collections: one with the 7 cm characters, the Nano Size, and one with the 16 cm characters, the Giga Size, which revolutionise the classic 14 cm size that the company had accustomed us to. Each of the collections contains highly detailed and colourful characters, plus the super sought-after rare and ultrarare glow in the dark, gold and silver. To complete the collections Cicaboom has decided to confirm the brand's distinctive Elastikorps trademark: 7 Maxy Size 23 cm characters. Of which 2 exclusively for web
channels.
The Elastikorps Fighter series released in Italy is number 1, but the company already has the release of number 2 in the pipeline, which, given its great success in Italy, will be released simultaneously in different markets and through different sales channels, confirming a consolidated multicountry and multi-platform approach.
Cicaboom is establishing itself in the European market for its innovative ideas in the field of toys and collectables for the newsstand channel.
ELASTIKORpS FIGHTERTHE NEW STRETcHABLES HAVE INVADED THE MARKET!
"I am very satisfied with the final performance of this innovative pose development system because by using it in the production line, we were able to fully exploit what the Fighter project was all about: creating stratchables with which children could even more let their imaginations run free." Elisabetta Insile, the company's Creative Director, continues.
Elastikorps is a successful product for an evolving company
"In addition to Dynamic Pose, the Fighter series represents a real novelty for the Elastikorps brand in terms of merchandise offerings," resumes Fantino. "We had long wanted to create a collection that was smaller, more pocket-friendly than the classic Elastikorps but at the same time the new prototypes were too disruptive for the canonical dimensions. We therefore decided to make them both."
News108 CICABOOM
During the summer of 2022, the Genoese company's new stretchable series completely flooded the Italian market with two collections with highly innovative features for their segment: Elastikorps Fighter Giga Size and Nano Size
"The main innovation we wanted to introduce in the Fighter series was a revolution in terms of product development," says Fulvio Fantino CEO of the company. The Elastikorps Fighter were in fact designed to overcome the 'rigidity' of posing typical of the stratchable character and improve through 'Dynamic Pose Development' the playability of each character.
THE EXTRAORDiNARy GROWTH OF Nic'S WORLD
Nicoletta Costa is Italy's number one children's author and illustrator, and a highly regarded international figure. In recent years she has expanded her brand by collaborating with an increasing number of companies in the kids sector.
Renewed success
Illustrabimbi x Nicoletta Costa
News110 NICOLETTA COSTA
Nic's world has grown extraordinarily over the last two years. During Covid she was one of the very first illustrators to make her designs available online for children and families to download, print and colour. This heartfelt gesture allowed many children, parents and businesses to get to know and learn more about her work, discovering the author's authenticity and simplicity, values much sought after during the pandemic. Since 2020, her relationship with licensees has grown, starting with a strong debut in the world of toys. She has been chosen as the spokesperson for one of Italy's leading educational toy companies, Ludattica, which created a line inspired by her characters. Every year they release an average of 20 new Julio Bunny and Olga the Cloud products to play and learn with. In 2021 Nicoletta achieved furthermost prolific and respected author in the joyful niche of children's publishing. She has written and illustrated more than 500 titles printed in Italy and all over the world, working with many Italian publishers such as Edizioni EL, Einaudi Ragazzi, Emme Edizioni, Franco Cosimo Panini, Mondadori, Giunti, and Gallucci But Nicoletta has not just stopped at books. She has been actively working with new consumer products companies, and in the past has illustrated Christmas cards for Unicef and designed several Benetton baby clothes lines. Since 2014, 15 customized baby product lines have been developed with Olga the Cloud for the Crescendo line under the COOP retail brand, available in 1500 stores
Since 1980, Nicoletta Costa has enchanted readers all over the world with a series of characters that have become a part of the collective imagination of many generations of children. Olga the Cloud (Nuvola Olga), Julio Bunny (Giulio Coniglio), The Tree John (Albero Giovanni), The Witch Teodora (Strega Teodora), and - more recently - The Blue Bear (Orso Blu) are just some of the characters born from the illustrator's imagination that have made her the
Nicoletta Costa
across Italy. The partnership is ongoing with regular new product launches.
Julio Bunny book by Franco Cosimo Panini
The Nicoletta Costa Store
Olga the Cloud Game-Book by Ludattica
Nappiness washable nappies collection by Nicoletta Costa
exclusive designs for each company. The ideal partner companies for Nicoletta Costa are those known for their strong craftsmanship, i.e. Made in Italy, which use original designs, as well as certified and sustainable materials for their products. Her future plans are to work with international companies following the same guidelines.
Her enormous success achieved in the market is due not only to the author's highly recognizable design and her wellknown characters, but also to the care with which her products are made. The images used do not come from style guides or pre-formatted photos, rather the artist works jointly with the company's creative team, creating new products with
prominence thanks to the great success of Nina & Olga on Rai TV. The series, inspired by her cult character Olga the Cloud, was produced by Enanimation, with Nicoletta as Artistic Director. In the same year, the author started collaborating with several other companies in the kids sector and was included in the Forbes list of the 100 most successful Italian women. Nicoletta also signed the first dedicated line of high-end handmade clothing created by apparel company Illustrabimbi, I tessuti di Nic (Nic's Fabrics).
In June 2021 the Nicoletta Costa Store launched online with the aim of creating a virtual world that materializes at major events for children and families, where the consumer can experience the world of
Julio Bunny Toy by Ludattica
Photo Album by Arcadia
News112
Olga the Cloud book by EL Edizioni
Olga The Cloud Audiobook by FABA
Find out more E-mail info@nicolettacostastore.com E-mail nicolettacosta.licensing@gmail.com E-Commerce https://www.nicolettacostastore.com/ Nicoletta Costa Facebook Page https://www.facebook.com/nicoletta. costa.autore
Nicoletta not only offers potential partners a high-quality brand, but also a well-structured sales model with a digital network created by the online store, a dedicated press office, high recognizability of the artist's work, and sophisticated
cross-promotion activity, thanks in part to the author's presence at key national events in the Kids sector. Following Pitti Bimbo, the Bologna Licensing Trade Fair/ Bologna Children's Book Fair and the Turin Book Fair, fall 2022 will be very busy with dedicated areas at popular consumer events such as Bimbinfiera, Lucca Comics and Games, and G! come giocare
The Child Metre by Arcadia
Nicoletta through the products on offer: clothing, games, accessories, stationery, etc. Many items are already on sale in several Italian shops.
Illustrabimbi x Nicoletta Costa
New Partnerships in 2022 2022 has seen some wonderful new partnerships. The storytelling audio device FABA added Nic's best-loved characters, Olga the Cloud and Julio Bunny, to its collection of audio stories. Arcadia Srl created the Il mondo di Nic (The World of Nic) line with incredible products, from birth bows to baby shoes, photo albums, boxes, doudou, tummy warmers, vegan soaps and much more, all featuring Olga the Cloud characters. The collection is made of more than 15 products, available in more than 1000 stores nationwide starting from June 2022.
News 113
On the e-commerce site, in addition to the sections dedicated to books and games from various publishing partners and the clothing line, you can find Nic's stationery with Arbos recycled paper notebooks, pencil cases, etc. There is also a series of handcrafted customizable products, for both children and adults, with prints of the illustrator's iconic characters. And since teachers have always followed and loved Nic, the Maestra brand was created. This line has proven to be extremely popular in schools, with customizable products such as teacher's smocks, mugs, T-shirts, shopping bags and more.
Nappiness launched a line of washable nappies with 7 different patterns; Dida produced a line of educational wooden toys; and Fabe just presented a set of
pillows and sheets for babies to the retail market. Polo Ovest is back with double and single sheets with the legendary Cats by Nicoletta Costa, and three new agreements will also be announced within the year that will delight young fans and their families.
Nina & Olga TV Series
In addition to the continuing relationship with Kimbe for live events and with Musgummi for costume characters, a plush line by Plush Company will hit the shelves in early autumn. These new toys will be one of the main focuses at the events where Nina & Olga will be present, such as Lucca Comics and Games and G! Come Giocare. Finally,
News114
Nina & Olga (52x7') is a preschool animation series inspired by Costa's Olga the Cloud internationally best-selling books, co-produced by Enanimation Srl and Mondo TV Producciones Canarias, in collaboration with Rai Ragazzi, with the invaluable collaboration of the author. Nina & Olga follows the adventures of a 6-year-old girl, Nina, as she starts school, together with her classmate and best friend, Teo, and their very special friend Olga - a young and friendly cloud. Together they have fun and learn how to deal with their emotions from everyday events.
Tointernationally.coincidewith
In addition to Mondadori, this property can count on the invaluable partnership with Ludattica for a line of educational games, including puzzles and role-playing games, such as Il Gioco della Gentilezza (Game of Kindness), one of the company's bestsellers at Christmas 2021. In January 2022, the very first clothing collection created in collaboration with Illustrabimbi inspired by the drawings of Nicoletta Costa debuted at Pitti Bimbo.
TV front, new content will soon be launched on Rai Yoyo, such as the Volamusiche, animated music clips presented with a music workshop hosted by Laura Carusino. The music was created by Mammeinsol, a Turinbased association that provides music therapy for children.
Produced in 2D animation to reflect the illustrator's simple and poetic style, the series has been airing in Italy since 2021 on Rai YoYo and Raiplay; as of September 2022 it will also be broadcast on DeaJunior. The first series achieved excellent ratings and for the future it will be developed
at these occasions, there will be the debut of a live event where Nina, her friend Olga the Cloud, and Laura Carusino - well-known presenter of Rai Yoyo - will be
Onstarring!the
the debut of the television series, Mondadori - Children's Book Division launched over 10 books inspired by this property, three of which were written by Nicoletta Costa herself: Nina & Olga. Amiche Speciali (Nina & Olga. Special
Friends), Nina & Olga. Alla scoperta di lettere e numeri (Nina & Olga. Discovering Letters and Numbers), Nina & Olga in viaggio intorno al mondo (Nina & Olga traveling around the world). The book Nina & Olga. Amiche Speciali (Nina & Olga. Special Friends) specifically tells the story of what happens in the television series, namely the magical moment when Olga the Cloud first meets Nina. The launch of Nicoletta Costa's fourth book inspired by the world of Nina & Olga is planned for 2023.
The Kindness Game by Ludattica
The second series of Nina & Olga (52x7') planned for mid-2023 is currently in production with Enanimation in collaboration with the Australian partner Kreiworks Nicoletta Costa will again oversee art direction.
Eddie Harris was born October 20 1934 in Chicago, Illinois. In the course of recording more than 70 albums, and authoring 7 music books, he has displayed himself as a jazz artist who has played blues, rock, jazz fusion, straight-ahead, soul, funk grooves, dance, ballads, easy listening, world and children's music. He was a man immersed in music: a composer, bandleader, performer, writer, innovator, inventor, and social critic. In many ways, his career epitomizes the idea of exploration and self-study. He described his sound as "soft"; one that some scholars might identify as part of the Stan Getz School. While this may be true, Eddie also identified with the school of saxophonist Lester Young. The pioneering work in musical electronics and the effective conjunction of different elements of blues, R&B, jazz, and funk has had a widespread influence on what is generally considered today's music.
West Africa, The North Sea Jazz Festival in the Netherlands, and the Playboy and Monterey Festivals in California. The musician has also entered the world of advertising, for example thanks to a company called Frapp, which had one of the most sophisticated audio pickups for their wind instruments.
Eddie Harris was an American talented jazz saxophonist, who left a legacy of beautiful music.
Eddie's hits include Freedom Jazz Dance, Dance, Listen here, Cold Duck Time, Compared to what. Eddie's music has been covered and sampled by countless artists including, but not limited to the following: Jamiroquai, Macy Gray, DJ Jazzy Jeff and the Fresh Prince, Heavy D, etc. He has also had many works featured in highly popular films and television shows from Martin Scorsese's Casino to A&E's Bates Motel and HBO's Vinyl. More recently, his songs have been used for these successful productions: Malcolm X and Muhammad Ali on Netflix (I'm Gonna leave you by yourself), Miles Davis Documentary (Freedom Jazz Dance), Sneaky Pete series (Listen here) on Amazon, the season 9 of The Walking Dead (It's alright now).
News116 SEVENTH HOUSE
Eddie performed throughout the world at many domestic and international venues, concert halls, NBA games, and festivals. Some of his most notable festival performances are The Montreux Jazz Festival in Switzerland, Soul to Soul in
Eddie was by far and foremost a great musician and a fantastic human being. He was a master of his talents and a wonderful family man. His passing in November of 1996 was a tragedy to his family, friends, and fans. His contributions to the music world will always be appreciated, recognized, and remembered. The incredible music of Eddie, a grammy nominated artist, today continues to be available for every kind of creative and social project.
THE GREAT MUSic OF EDDiE HARRiS FOR yOUR NEXT cREATiVE pROjEcT
Events118 SPIELWARENMESSE 2023
EXpERiENcE THE WORLD OF LicENSiNG AT THE SpiELWARENMESSE iN NUREMBERG
Knowledge sharing at the LicenseTalks
Under the slogan 'Feel the Spirit', the global toy sector is coming together again for its leading trade fair. Between 1 and 5 February 2023, the trade and industry will gather at the Nuremberg Exhibition Centre for the Spielwarenmesse.
Licenses play a part too!
topic is of great significance at the Spielwarenmesse," explains Christian Ulrich, Spokesperson of the Executive Board at Spielwarenmesse eG. "We have been working very closely with the licensing sector for some years because we know that there is much potential for it in toys."
A targeted range of events will encourage an in-depth exchange of views between
The toy market has shown itself to be very resilient in recent years and has been expanding despite all the turbulence. Trade with licensed products, in particular,
Christian Ulrich
has once again grown in importance. The Spielwarenmesse is therefore the right platform for all international players in the field of licensing. "The
From leading brand producers to innovative startups, an inspiring range will be presented to the visitors, spread across a total of 13 product categories. Licensing is once again in evidence almost everywhere. The LicenseTalks and LicensePreview round off the range of products and services. Broadly, the experience of next year's fair will be shaped in particular by the ability to meet up in person. The focus will thus be on discovering the new ideas and trends with all the senses, and on direct discussions between exhibitors and visitors.
licensors and licensees, agencies, and the trade at the Spielwarenmesse. A core focal point is the Toy Business Forum in hall 3A, which is holding a high-calibre programme of presentations on topical industry themes. Here, too, the LicenseTalks will be taking place every morning from Wednesday to Saturday throughout the fair. International industry experts devote their time to the latest trends in licensing, highlight valuable examples of best practice, and provide tips for new entrants.
The Toy Business Forum will also hold daily presentations on the ToyTrends. The ToyTrends will be determined in advance by the 13-strong International TrendCommittee of the Spielwarenmesse. Examples of relevant products can be found just a few steps away. This wideranging display area with several topic islands brings the Spielwarenmesse ToyTrends to life. In this hall you also find the nominees
Strengthening contacts
Spielwarenmesse with optimism: "The response from the licensing and toy sectors is most gratifying. Participants can hardly wait to meet up again in person after such a long time and enjoy once more that true trade fair feeling."
With all these opportunities, Christian Ulrich views the forthcoming
Events 119
Experience the ToyTrends!
and winners of the 2023 ToyAward –the highly respected prize for innovation of the Spielwarenmesse, awarded in six different product categories.
The LicensePreview represents a further highlight at the Spielwarenmesse. Licensors can invite selected business contacts and present to them their latest licenses in an exclusive atmosphere. Many well-known and respected businesses will be part of this event.
To make networking during the fair more efficient and sustainable for all participants, the Spielwarenmesse Digital business platform provides several practical functions to facilitate discussion. Contacts can now, for example, be specifically filtered and identified according to their interests. Moreover, from 2023 Spielwarenmesse Digital will be available as an industry network all year round.
House of the Dragon launching on HBO Max, which gives fans a look at House Targaryen 200 years before the events of Game of Thrones.
By Rossella Arena
For this edition, the BLE had a focus on the French market, giving space to the many exhibitors from France. Among these there is Le Petit Prince Licensing (stand C150). Born in 1943 in New York, The Little Prince is a worldwide publishing phenomenon. With more than 5 million copies sold every year worldwide, The Little Prince is also the most translated book in the world, with over 500 official translations!
THE BLE 2022 pREViEW
Warner Bros. Discovery - WBD (stand C171) has a show stopping slate of world class entertainment content anchored in a year-long, global centennial anniversary celebration for the Studio that will run throughout 2023. The powerhouse BLE line-up Warner Bros. Discovery will showcase exciting content from across the DC franchise including film, television and animation offerings; new and exciting developments from within the Wizarding World and Animation franchises, including fan favourites, Looney Tunes, ScoobyDoo, Tom and Jerry, Cartoon Network's The Powerpuff Girls, Adult Swim's Rick and Morty and more; new offerings from our leading real life brands across Discovery, Eurosport and Animal Planet as well as new introductions to HGTV and Food Network that capture audiences passions for sports, sustainability and lifestyle; and HBO's highly-anticipated,
The industry is ready to return to Brand Licensing Europe at ExCeL London, from the 20th to 22nd September 2022. On that occasion, some participating companies shared with us their latest and future projects.

Events120
BLE
WBD will also be embracing the WB 100th in 2023 through exclusive merchandise, collabs and mashups, fan experiences and even a peek inside the vault. It will be a complete celebration of the amazing stories, characters and worlds Warner Bros. Discovery is known for.
Mighty MasterChef
Alice Bernardi
more opportunities for us to reach to our consumers than ever Alongsidebefore.
The PlayStation brand is evolving in new
This beloved character will be celebrating his 80th birthday in 2023, with a new TV series The Little Prince and friends to be broadcast worldwide, an anniversary book to be co-published worldwide, new products and events all over the world! The Little Prince has been here for almost 80 years and will still be there in 80 years: the brand is constantly looking to renew itself with new products that correspond to its high-end image.
agents worldwide.
One of the jewels in our crown is the iconic cookery format MasterChef Produced in over 60 territories and with a global audience in the billions, the opportunity for us to work with the brand through licensing is huge. Already boasting more than 90 licensees worldwide, we have a robust licensing programme spanning products, games, publishing and experiential.
Alice Bernardi, Director of International Brand Licensing, Banijay Brands
Products (PlayStation stall, C211) is announcing a robust collection of licensed goods from a strong slate of classic IPs such as Ghostbusters, and new IPs with growing fanbases like The Boys and Cobra Kai. BLE attendees and fans can expect to learn more about the expansion of Sony Pictures brands through exciting collaborations and licensing programs that dip into an array of categories, spanning from home and interactive gaming, to fashion, beauty, publishing, and so many more.
As part of Banijay, the world's largest independent content creation and distribution group for television and multimedia platforms, Banijay Brands (C130) is in an incredibly fortunate position to work with some of the best-known brands in the world. Home to the most talented TV
Events 121
producers on the planet, our shows entertain huge global audiences.
The book is now a high-end brand that global companies such as IWC, Montblanc, Sofitel and Moleskine love to work with. The Little Prince is a trendy, fashionable and young brand and licensees like The Beast (China), have understood this very well, following the trends while keeping their visual identity and product quality.
This September, Sony Pictures Consumer
On the other hand, in countries like India for example, where there is great potential, there is still everything to do for the brand.
The Little Prince is successfully presented in all forms: exhibitions, musicals and plays, a film in the cinema (23 million spectators and César for Best Animated Film in 2016), a museum in Japan, a village in South Korea, an amusement park in Alsace, France, an official store in Paris, but also very beautiful collectibles for fans around the world available in the online store
As consumers of all ages seek creative ways to express their fandom and support the brands and characters they love, Sony Pictures Consumer Products will continue to offer a unique array of fashionable apparel and accessories inspired by their favorite brands, including authentic martial arts equipment from Century Martial Arts and exciting Halloween costumes and accessories from Disguise, inspired by the forthcoming launch of Cobra Kai Season 5
The(https://www.lepetitprincecollection.com).LittlePrincealreadyrepresentsmore than 350 licensees and 15 licensing
our successful Amazon MasterChef store, which has been localised in the US and multiple European markets, we have recently partnered with the number one Indian e-commerce company Flipkart
We know that licensing is an exciting and fast-paced industry, that is constantly innovating to meet the ever-changing demands of our consumers. One of the biggest shifts we have seen in recent times is the huge upswing in e-commerce shopping, with the industry forecast to grow 50% by 2025. That's not to say that traditional retail is still not a significant piece of the puzzle – in 2020, despite Covid restrictions, our range with Arovo sold over two million pieces in-store, through Action stores alone. But there are
At Banijay Brands we are actively tracking and exploring consumer behaviour and trends, to ensure we deliver the optimal shopping experience for our brands. From AR shopping, which sees huge conversion rates for retailers, to voice shopping, which is estimated to turn into a $40 billion industry by year end, and opportunities emerging within The Metaverse space, which eliminates borders for our consumers.
Since 2015, the brand become successful in the Chinese market, which now accounts for 30% of international sales.
Chefclub
A branded phygital Playfood game will be available during the event where visitors can get instant-win prizes from the shopping mall, Chefclub and the various partners involved.
Pantosaurus mini plushes
Events122
different food-related experiences. For example at Maurice's Diner families can enjoy and participate in making fun and unusual trompe l'oeil recipes; playful food workshops; entertaining family culinary battles; castings for Chefclub Kids Creators; and exciting demonstrations by a trompe l'oeil food influencer.
called Playfood - aimed at offering gourmet, accessible, fun, and shareable culinary experiences to kids and families. The Playfood live events will tour France as of this October and into 2023. Each event will last four days, from Wednesday to Sunday, and will feature three dedicated areas, each branded by a Chefclub Kids character and each offering
Edutainment Licensing (stand A188) is delighted to announce new licensees for the NSPCC's Pantosaurus licensing programme.
and exciting ways to provide gamers with the most extraordinary experiences possible. In 2022, the company will place a strong focus on releasing new entertainment content based on popular PlayStation Studios games including the recently released film, Uncharted, and an upcoming TV series, The Last of Us To extend the fandom from digital to reimagined physical play, Spin Master has been named the global master toy license for the PlayStation brand and SIE-owned PlayStation titles including God of War, Horizon Zero Dawn, The Last of Us, and will develop products in the action figure, collectible, playset, plush, roleplay, vehicles, RC, and games & puzzles categories.
Sony Pictures Consumer Products
of clothing, including kids' daywear, nightwear and swimwear. Cause-related marketing pioneers Louis Kennedy have partnered for Pantosaurus plush with sound chip featuring the PANTS theme song for the promotional category.
In the digital category the Pantosaurus and the Power of Pants ebook can now be found on Pickatale, a leading mobile audiobook and storybook app for children aged 0–12.
Specialist apparel licensee, Poetic Brands have partnered for a wide variety
Chefclub (A190), the world's leading food-themed entertainment brand, and 10 French malls from the Klépierre Group, will host a series of live events
The evergreen status of the brand provides a gateway to explore everything within toy – from classic realistic figures, playsets, and collectibles, to pushing the boundaries on STEM learning, and role play. Key artefacts from the collection – whether dinosaurs, prehistoric beasts, mammals or creepy crawlies – are consistent favorites with children and have been translated into a number of trend-driven style guides. With sustainability as a key component, the Natural History Museum is looking to partner with companies who can engage with children through toys, gifts and apparel and start them on their journey as "advocates for the planet".
Bulldog Licensing (stand A202) has an impressive portfolio for BLE. The loveable bears of Care-a-Lot are celebrating their 40th Anniversary in 2022, and the brand remains as popular
A visit to the Natural History Museum in London brings a spark of magic, whether that comes from the impressive architecture, the colossal blue whale Hope that you see as you walk through the doors, or the world's most diverse collection of dinosaurs and fossils - including the beloved Dippy the Diplodocus. Over 5 million people visit the Museum every year, interacting with and immersing themselves in the brand; it's a place of wonder and curiosity for children and adults alike. A roster of successful licensing partnerships is already in place in the UK, including children's apparel collections with Marks & Spencer and Back To School from Blueprint Collections TSBA Group (A261), which was recently appointed as the Museum's international licensing agency, is working closely with the Museum to build the programme on a global level, including within the children's space.
Natural History Museum is expanding children's categories and territories
Events 123
Odo
The NSPCC's Talk PANTS campaign, featuring friendly dinosaur Pantosaurus, helps parents to have simple conversations with their children to keep them safe from abuse.
as ever, with a 98% awareness among adults and children. Care Bears™ has been the subject of numerous exciting consumer product collaborations over recent months, from a luxury knitwear collection with British fashion label, Chinti & Parker, to a collaboration with Snag Tights, which saw consumers crashing the manufacturer's website due to the volume of email sign-ups about the collection. New and making a huge entrance to the consumer products scene is Moose Toys' toy sensation, Magic Mixies. The magical cauldron exploded onto toy shelves last Christmas, selling so quickly that it became the highest grossing SKU in Moose Toys' history. Since launch, Moose Toys has expanded the brand with the introduction
The new Read Aloud video featuring Actor and NSPCC Ambassador for Childline Natalie Dormer, has been licensed by digital content agency Little Dot Studios for their own YouTube channel Wizz
We're thrilled to be working with such wonderful partners for Pantosaurus said Denise Deane of Edutainment Licensing. The NSPCC have been protecting children for over 100 years and licensing provides a simple route to partner with one of the best known and loved charities in the UK. Pantosaurus provides a wonderful opportunity for licensees, retailers and their customers to help keep many more children safe - with every pound raised helping fund the fight for every childhood
Events124
JBL has seen a significant rise in artists' collaborations. Location independent artist and influencer, CatCoq, recently launched her "Golden Hour" sustainable fashion and home décor collaboration with Contrado Slovenian award-winning artist and influencer Alja Horvat most recently celebrated the launch of her collaboration with Jeruzalem Ormož, which featured her bright floral print on their Art Edition bottle of sparkling wine.
Odo is a 2D/3D animated series which airs on Channel 5's Milkshake! Wow! Stuff, recently became the first licensee for the beautiful preschool brand. The master toy deal will see Wow! Stuff launch a comprehensive range of toys based on the little owl with big ideas. Wow! Stuff is joined by master publisher Macmillan Children's Books who will publish the first picture books in the UK in March 2023.
A newcomer is Gus – The Itsy Bitsy Knight. Gus is a seven-year-old boy who dreams of becoming the greatest knight
Gus – The Itsy Bitsy Knight
Jewel Branding & Licensing (JBL) has organically grown their roster into a diverse and multi-cultural portfolio of creators and influencers who tell compelling stories through their art. The newest additions to the portfolio include Breathe
JBL prides itself in working with a network of talented subagents around the world to license key brands and artists. The most recent partnership was with Locomotive Licensing to represent the New York Botanical Garden, Planet Cat, Alja Horvat, and Michael Storrings in Europe. For more www.jewelbranding.com.information:
of Magic Mixies Mixlings, with a playset to follow this year, along with a range of games. Bulldog has so far announced a partnership with Aykroyds TDP, who will create a range of children's nightwear, underwear and swimwear based on the magical property.
Elmo and Cookie Monster - Sesame Street
Just Play is launching a new master toy range in 2023 and sales continue to be very strong across softlines for all ages.
Live Explore by Oris Eddu and Annie Quigley, a range dedicated to mindfulness and nature. For Lolita®, with millions of products sold across 40 countries, JBL recently added licensee Certified International to launch ceramic tabletop later this year with additional partnerships in the works. The brand Rachael Hale just released a new collection of images and delightful ontrend, design elements sure to invigorate your love for animals. Legacy will be releasing a 2023 Wall calendar this Fall.
Half a century since Cookie Monster, Elmo, Abby Cadabby and friends first hit our TV screens, Sesame Street is still a favourite among adults and children alike. Sesame Street-branded content still airs daily on Tiny Pop with Elmo's World, Super Grover 2.0 and Smart Cookies, and continues to attract new fans with its messages of love, respect, and kindness.
Magic Mixies
Jewel Branding is announcing new releases for Brand Licensing Europe
Events 125 2023, the world's longest running comic, Beano, is set for a nationwide 360 campaign. The licensing partners for the anniversary include Rubies, Akyroyds, Spike Leisurewear, Cotton Division and Farshore, Gamebake, Eden Project, Outdoor Gaming, Visit Scotland and Scotrail 2023 is the 30th anniversary of household family brand, Horrible Histories. Three new books will launch during the anniversary year, and publisher Scholastic and Rocket have a year-long marketing campaign planned to reach children, parents and families.
2024 will mark the 70th anniversary of the king of the monsters – Godzilla. A yearlong celebration will begin on November 3rd 2023. The impressive roster of licensees for the monster property include Bioworld for menswear, Trademark Products for T-shirts, GB Eye for artwork,
The Elf on the Shelf Artist Pad by Alligator
The consumer products portfolio covers a wide range of categories, and product development is underway with H&A for toiletries, Aykroyd & Sons for nightwear, Dennicci for babywear, and Dreamtex for bedding, Thornycroft for confectionery, all for launch later in 2022, as the brand gears up for a bigger Christmas than ever before.
Rocket Licensing (stand A205) heads to BLE with blockbuster portfolio. It was recently appointed UK licensing agent for the iconic rabbit, Miffy, preparing the UK licensing programme for 2023. On the experiential side, a Miffy takeover of Japanese food hall Ichiba at Westfield London, runs from 11th July to 30th CelebratingSeptember. its 85th anniversary in
in the whole kingdom. There's just one little problem: Gus is a pint-sized knight! The medieval world of knights meets a thoroughly modern twist in this series, which features an electric pony and a
laser sword. Gus The Itsy Bitsy Knight airs daily on Tiny Pop and is produced by Technicolor Animation Productions and co-produced by PGS Entertainment, with toys from Mattel launching this Autumn. Bulldog will develop a licensing programme based on apparel, accessories, stationery and gift, and publishing.
Fuzzballs - Ramen Noodles t-shirt
Fuzzballs keychain
Godzilla - Travel Mug
The Lumistella Company invites you to discover the enchanted world beyond The Elf on the Shelf brand. Partnerships and platforms include Netflix, Roblox, Hyde Park's Winter Wonderland and Kellogg's, with additional partnerships in the UK and Ireland to be announced later this year.
Events126
and Funko for toys and collectibles, while IDW, Simon & Schuster, Tops Digital and Welbeck bring a range of published products, based on the wealth of artwork available from the 70 year reign. Also slated for 2024 is the new Monsterverse/ Godzilla vs. Kong franchise movie.
everyone re-engaging with Craft and Hobbies. A bright colour palette give this range the feel good factor. For more information, siobhanharrison@me.comcontact
The New Keep Calm Range began life as a series of sketches in a response to lockdown and the pandemic, a visual narrative of
licensing agency which builds licensing programmes for several major brands, will be at BLE 2022 with a range of brands that underline the diversity and originality of its portfolio.
Siobhandeals
Pop culture Kawaii brand Fuzzballs began as a web comic staring a cat, tiger, bunny and a whole cast of friends as they go on the hunt for adventure and has grown enormously in popularity across social media and in particular social media stickers. The licensees include Kap Toys for plush, Pyramid for various gift
The Masked Singer is part singing show, part guessing game full of the most extraordinary costumes – from a queen bee and a panda to a sausage – and even a grandfather clock! After three hit UK series, the show has now been recommissioned for a fourth and fifth series. A massive TV and social media hit, its success has now inspired a licensing programme for which catchphrases like "Who's that behind the mask?" and "Don't
Harrison is an illustrator and founder of the brand Siobhan at april rose. Siobhan designs products for retail and artwork for licensing. Finalist for License This! Brand Licensing London in the Character and Animation category 2020, she has recently signed a License deal with Gift Company Joe Davies for Keep Calm Range, after exhibiting at BLE 2021.
For beloved Eric Carle's The Very Hungry Caterpillar new style guide and assets are available this year focusing on butterflies and forest friends. Strong retail partnerships across the high street including with Asda, Tesco, Morrisons, Sainsbury's, and will see continued new designs and product development launching throughout this year, 2023 and beyond.
The Elf on the Shelf Bubble Bath
The Very Hungry Caterpillar backpack
lines, Indigo for apparel, VNR Trading for chocolate and drinks and Brain Box Candy for social stationery.
Siobhan Harrison, from BLE to Licensing
Caroline Mickler Limited (stand A162), an award-winning, independent
categories, and deep dives into digital and content innovation.
Following Licensing Expo's celebrated return to in-person, which welcomed a record number of retailers, the Global Licensing Group created the Brand & Licensing Innovation Summit (B&LIS) North America to deliver thought leadership on trends as well as forecasts, retailer insights, spotlights on growth
More than 200 executivesmanufacturing,licensing,andretailwillgatheratB&LIS for a content-rich agenda structured to incite peer-to-peer dialogue and inspire action to propel the $300+ billion global licensing industry forward.
B&LIS North America trails the successful European launch held last year and is confirmed to make its debut November 8-9 at Convene in New York City. The in-person conference is designed to connect senior-level brand licensing leaders and decision-makers for a twoday conference focusing on the
B&LIS North America
Speak To Me" have inspired t-shirts, accessories and much more.
future of consumer products, the changing retail landscape, and the importance of transformation.
Content for the 2022 edition is highly curated to reflect the industry's leading challenges and explore new growth opportunities. The focus of the conference sessions, workshops, breakout sessions, and networking opportunities will touch on major issues impacting business today and into 2023. The themes of the agenda include Market Trends, Retail ideas and strategies, Digital Advances, and Sustainability
E.L. James's adult romance trilogy Fifty Shades of Grey, Fifty Shades Darker and Fifty Shades Freed is this year celebrating ten years since it became a global literary phenomenon. The brand has been particularly boosted thanks to the recent successful launch of a new dedicated e-commerce site offering homeware, gifts and apparel that celebrate the story of Christian and Ana.
Horrid Henry is the number one children's character on Nickelodeon, star of the most viewed Netflix children's show in the UK and enjoying a growing international reach. Horrid Henry licensing to date includes toys, games, apps, apparel and dress-up, with some major new announcements involving Top Trumps and Bookeez planned in time for BLE. Molang, ageless, tender and genderneutral character and digital sensation, has a massive appeal to teenagers and young adults. It is a unique, instantly recognisable property that Caroline Mickler Limited is thrilled to be representing and from which the company expects a strong performance in multiple categories.
For further info visit: com/brandlicensinginnovationsummit.https://www.
Events 127
The Blaupunkt brand was registered in November 1924 and has been well known and popular in the consumer electronics sector worldwide ever since. Since 2009, the business of the Blaupunkt brand has shifted completely to brand licensing. Based in Luxembourg, GIP Development Sarl, as the owner of the brand, is responsible for international business development and the licensing of the Blaupunkt brand. With more than 45 active licensees and around 60
Die Maus Die Maus stamp
active license agreements, Blaupunkt is now one of the most successful licensed brands in the consumer electronics sector worldwide - and now also beyond the CE categories, e.g. in the categories of apparel, e-sports, etc. Fun and games for young and old are offered by the new Blaupunkt Bibi & Tina CD Player BTB 20. With CD playback, radio, 20 programmable CD titles and a stylish play microphone to sing along, the colorful
WDR mediagroup
The WDR mediagroup has recently acquired the licensing and merchandising
WDR mediagroup GmbH is the commercial subsidiary of West German Broadcasting (WDR), now included in the Release Company GmbH. It markets and exploits WDR programs and content from other partners on all distribution channels. The core business is the marketing of advertising time for the WDR radio 1LIVE and WDR 2 as well as the marketing of the TV sponsorship environment in Das Erste, but the company's other business areas include program sales, licensing & merchandising, accessible media services and extensive IT and broadcast services.
WHAT'S NEW FROM GERMANy
Die kleine Hummel Bommel and many other well-known, high-quality brands are part of the portfolio of the WDR mediagroup. As a licensing agency, the Trademark Department, under the direction of Julia Wurzer, represents well-known brands of national and international rights holders, which are translated into strong cooperations in a wide variety of fields - and have been doing so for more than 25 years. What are
The German market continues to be a benchmark for efficiency and precision, and shows an increasing interest for licensed products and services. Here are the latest updates from some valid companies, leaders on the German market and around the world.
Die Maus, Shaun das Schaf, Bobo Siebenschläfer, Meine Freundin Conni,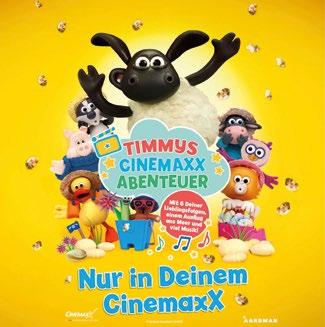 the latest updates for its properties? Concerning Die Maus IP, from this September, they will be delivering five new digital episodes with the character, on the subject of climate protection. In addition, the Maus stamp has been voted the most beautiful stamp of 2021. In the Personal Care field, Hydrophil 2-in-1 shampoo with Die Maus has been nominated for the German Sustainability Award in the Design category.
By Andrea De Amicis
rights for the brand-new adventure comedy show Monster Loving Maniacs in the German-speaking world from Toon2Tango. In the new TV series, kids are no longer afraid of monsters, they actually love them! The first season of the series consists of 52 episodes and is provisionally scheduled to be broadcast on Super RTL in spring 2023.
Trends128 GERMANY
stands for responsible use of resources, 100% climate neutral environmentally friendly production and long lasting timelessly beautiful products that give pleasure every day. They want to inspire with contemporary design and amazing collections made from bio circular and recycled materials.
Kiddinx are known for brands Benjamin Blümchen, Bibi Blocksberg and Bibi & Tina. The corresponding products can be found in almost every German children's room. They also take care of the digital implementation and merchandising for the classic games from sister company Schmidt Spiele. They also develop apps
for Mia and me brand and run an online shop for their own products as well as the fan shop for cartoonist Ralph Ruthe Their extensive range of radio plays not only includes Disney blockbusters, but also numerous radio play classics. On the major streaming services, they curate the various audio themes under the KIDDINX KIDS profile.
Paw Patrol Collection by Koziol
A suitable themed hotel and a retail area complete the theme park experience.
Kiddinx - Shop Player app
Peppa Pig Collection by Koziol
Koziol offers sustainable products with a beautiful design and a clear conscience. With Daniel Koziol, the next generation is now taking over the management of the family business - with a clear strategy for the future. They produce everything 100% in the green valley of Germany, the Odenwald, and their goal is to help the customers act more sustainably. Koziol
sound wonder in Germany's children's rooms now sets the tone! Blaupunkt has developed this multifunctional player together with the partner Globaltronics GmbH & Co. KG
Among the latest releases is the new sustainable Paw Patrol and Peppa Pig Kids Collection, in partnership with Super RTL Licensing. The new lunch boxes and drinking bottles make a day at school an adventure! Whether on patrol with the furry friends from PAW Patrol or jumping happily through puddles with your best friend Peppa: our new kids' products are the ideal companion for a fun time at school and in kindergarten. All products are made of bio-circular plastic, 100% Made in Germany, 100% recyclable and of course free of BPA and melamine.
Trends130
Paw Patrol Collection by Koziol
Karls and KIDDINX Media GmbH have recently announced the world's first Bibi & Tina theme park! The adventurous world from the successful German series is to open its doors in 2024. On 60,000 square meters, small and young-at-heart fans can experience numerous activities around horseback riding, games and fun.
For the world's leading marketers their
WAS IST WAS Planeten by Tessloff
Kellogg's Spider-Man App by Creata
Creata is a global promotion agency that connects people and brands. International customers such as CocaCola, McDonald's, Kellogg's, ARAL/BP, Woolworth, MARS, REVELL and many other partners rely on their expertise: from brand partnerships within the framework of Monopoly for McDonald's, to design development of promotions or products for Danone or Schleich.
On the consumer products side, there were several collaborations with Playmobil, but also the creation of branded phone cases, posters, household...
The Circus Theatre Roncalli stands for unique and poetic entertainment with artists, clowns and nostalgic floats. The shows are staged with modern stage, lighting and holographic technology
Circus Roncalli Playmobil
Tessloff was the first publisher in Germany to publish non-fiction books for children and is now a leader in this field. Tessloff accompanies children with commitment and passion in discovering their environment, introduces them to technical knowledge in a playful way and
insights and ideas become innovative products and services that generate affinity for brands and forge emotional bonds in families and friends.
They've created pioneering toys-tolife technology, using digital play to add value to real-world products. Creata's digital strategy practice identifies the intersections of technology and consumer behavior. As a creative group, they deliver new and delightful executions in games, websites, and apps. Creata probably made the last toy you found in your kids' meal or cereal box.
and have been delighting millions of spectators for over 45 years. In addition, the entertainment company with its 200 employees organises numerous events for companies, makes guest appearances on cruise ships, stages special shows such as the Höhner Rockin' Roncalli Show and has been staging the historic Christmas market in Hamburg for 20 years. In addition to the circus, Roncalli's Apollo Varieté Theatre in Düsseldorf and the Roncalli Grand Café in Hamburg also belong to the Colognebased group of companies headed by director Bernhard Paul.
Build-A-Bear Kabu game by Creata
Trends132
at eye level and also conveys complex connections with ease and fun. Whether as a book, radio play, audio pen or voice application - a broad portfolio of products and brands fascinates children of all ages. With its internationally successful brand WAS IST WAS (What is what), the German market leader has been conveying great knowledge for the little ones for over 60 years in a well-founded and with an extra portion of fun. With a brand awareness of 91% among 8-11 year olds, it's no
The series Der kleine Medicus (The Little Medicus) was penned by the well-known author and physician Prof. Dr. Dietrich Grönemeyer. Each volume contains a new adventure and offers exciting entertainment, peppered with sound factual knowledge about the inside of the human body.
clever and funny. As a team and with combined forces, they master every challenge. The exciting space theme, the adventurous events and encounters, let children learn about fascinating scientific phenomena around the sun, moon and stars quite incidentally. The idea for the book series came from singer and songwriter Peter Schilling
The new Maja Plush is its first product made from fully sustainable or recycled materials. With the integrated seed paper, everyone at home can make a small contribution to insect protection and biodiversity.
Eva Stemmer, organizer of the BRANDmate and managing partner BRANDORAplus, is pleased with the results achieved and is already projected towards the second edition, that will take place on 21 and 22 June, 2023.
Trends134
Der kleine Major Tom (Little Major Tom), the young astronaut Stella and the robot cat Plutinchen are curious, energetic,
Der kleine Major Tom book by Tessloff Maya Plush by Heunec
wonder that WAS IST WAS products can be found in almost every nursery.
Fascinating knowledge at the highest level: scientifically sound, at the cutting edge of research, high quality and always with an extra-large portion of fun.
Der kleine Medicus book by Tessloff
Brandmate 2022
Heunec, the family company from Neustadt near Coburg, Bavaria, has been producing high-quality plush toys since the 1950s. 2.5 to 3 million plush toys are produced annually. In addition to a large selection of in-house creations, Heunec, as an official license partner, also offers numerous iconic children's characters, as Maya the Bee, made of high-quality plush. It collaborates with major entertainment companies such as Studio 100 Media for the realisation of the plush characters. Quality and safety are just as important to the company as sustainability. The majority of all plush products are GOTS or GRS certified.
A new event dedicated to the B2B world was born this year in Germany: BRANDmate! The first B2B networking event for brand cooperation, partnerships and licensing, was held on June 29 and 30. The event saw itself as a business partner exchange with long-term added value – and as the only networking event in Germany that crosses branch boundaries.
Brand owners, rights holders, licensing agencies, associations, foundations and personalities were able to make their brands visible as exhibitors or visitors, to network and form new Thepartnerships.Location Fredenhagen was very charming, a disused steel construction industrial plant on 2,900 sqm, in Offenbach near Frankfurt. Almost 450 participants from more than 190 companies took part in this premiere. In addition to stands with major players on the German market, there were 30 lectures on two stages including workshops, for discovering exciting insights and providing topics (retailtainment, brand building, target groups, data-driven marketing, sustainability) for discussion.
Entertainment136 ANIMATION
The latest novelties and previews from powerful animation companies worldwide
Another original production is the horror comedy The Doomies. Bobby and Romy mistakenly open a door to another world, turning their sleepy coastal town into a
By Rossella Arena
During the Annecy International Animation Film Festival 2022, Disney Television Animation, Disney Junior and Disney EMEA announced their new projects and gave a first glimpse of their upcoming animated series to be broadcast on Disney+ and the group's channels from next year.
A highlight of the press conference was the announcement of the start of production of an animated series based on the famous DCOM, Zombies: The Re-Animated series. At Seabrook High School, no two days are alike, whether you're a cheerleader, a zombie, a werewolf or even a vampire, until one day Seabrook becomes a favourite destination for monsters of all kinds who want to remake
haven for the most terrifying creatures. The Doomies is a comedy that combines thrills and surprises with a seemingly ordinary duo who find themselves in the middle of extraordinary circumstances. This meeting in Annecy is also an opportunity to confirm the renewal of new seasons (season 3) for the Disney Junior series which have been a huge success since their launch: Marvel's Spidey and his Amazing Friends and Mickey Mouse Funhouse. New Disney Television Animation series are also featured: Hamster & Gretel, Kiff, Hailey's On It and Primos Other announcements included the reveal of the voice cast and first visuals for Kizazi Moto: Generation Fire, a new African sci-fi anthology for Disney+; Disney also used the press conference to premiere the first clip from Kiya and the Kimoja Heroes, inspired by
WHAT'S NEXT IN ANIMATION
their lives! Zombies: The Re-Animated series takes us back into the daily lives of Zed, Addison, Eliza, Willa and the entire high school crew. Sometimes there's nothing scarier than a day at school! A new EMEA original production is an adventure series called Dragon Striker, full of action, humour and high-level sports sequences. Key, a 12-year-old farm boy, dreams of being accepted into the school where the future top players train. One day, he discovers that he has an ultra-powerful gift that could make him the legendary Dragon Striker.
Dragon Striker
The Doomies
Even Netflix took over the Théâtre Bonlieu stage as it presented its Netflix Animation Showcase at the 61st Annecy International Animation Film Festival. Featuring award-winning filmmakers and the Netflix team, the showcase celebrated Netflix's variety of animated stories across its preschool, kids, anime, adult, and family tent poles films and series. The director of
the traditions and cultures of Southern Africa. Produced by Entertainment One, Frogbox and Triggerfish Animation, it is aimed at 3-6 year olds; and a new season of Pyjamasques, one of the most popular series for 3-6 year olds, was also confirmed. Yoyo, Bibou and Gluglu will join forces with new friends to fight crime and take on even greater challenges.
My Father's Dragon, Nora Twomey took to the stage and spoke about working on the creative journey behind her film with the five-time Academy Award®nominated animation studio Cartoon Saloon, "the best thing about my job as a director is that I get to guide writers, storyboarders, character animators, FX artists and painters as they build worlds that feel real on an emotional level". Nimona is an animated film based on the award-winning graphic novel by ND Stevenson which stars Chloë Grace Moretz, Riz Ahmed and Eugene Lee Yang.
Entertainment 137
Mediawan Kids & Family, which now hosts the distribution of all the kids & family content of the Mediawan group, and manages itself a strong catalog of 2500 half-hour programs produced internally and third-party Theacquisitions.development of Mediawan Kids & Family draws on the know-how of labels such as Method Animation (Miraculous), and ON Classics (Little Nicholas - Happy as can be). The division is also branching out into different genres with new studios of which the first being Elliott, a label specializing in liveaction series and mini-movies for tweens, and Somewhere Animation, dedicated to 2D animation for kids. At Method Animation, the strategic development of adult animation is also underway to meet the demands of a rapidly growing market. Consumer Products completes the global management of the group's IPs, from production to marketing.
Also, we're very excited about our upcoming line up and being a leader in animation has allowed us to be more ambitious with our series; starting with Petronix Defenders, an original upperpreschool series launching this year and in collaboration with master toy partner Alpha. There's also much to look forward to in 2023 and onward with IPs as The Little Prince and friends, Mister crocodile, Karters, and the awaited Astroboy reboot among others.
MEDIAWAN KIDS & FAMILY
Erick Rouillé, SVP coproductions, atDevelopmentBusiness&LicensingMediawanKids&Family
What are the objectives of the new Mediawan kids & family division?
, answered a couple of questions about the new division.
What is your current strategy for consumer products and which IPs will you focus on?
We've launched during Annecy's Festival our new identity
Our consumer products strategy consists in giving our series major exposure on the best free TV broadcasters. We also rely on the strong involvement of our local agents who develop our brands' Licensing program all over the world.  Talking particularly about toy driven properties: it is very important for our IPs to involve master toy partners since the very beginning of IP's creative process with the production team.
Erick Rouillé
Set in a techno-medieval world unlike anything animation has tackled before, it is a story about the labels we assign to people and the shapeshifter who refuses to be defined by anyone. With more than half of Netflix's estimated global 222 million members having watched anime in the last year, the showcase gave a nod to upcoming anime projects including a sneak peek at Hiroyasu Ishida's Drifting Home. Talking about the origins of his film, Hiroyasu Ishida said, "For the longest time, I feel like I was drawn to the appearance of housing complexes. From the very beginning, I was wondering if there was a way of making a story out of the pair of characters, Kosuke and Natsume, and a housing complex setting. I kept brainstorming on paper, I somehow came up with a scenario that involved drifting. There was a drawing where I simply placed a single housing complex in the middle of the ocean. It was after this drawing that we were able to decide on the general direction of this project". Netflix's Animation showcase wrapped with a much anticipated exclusive never
Drifting Home
before seen look at Guillermo del Toro's Pinocchio, the upcoming stop-motion reimagining of the classic Italian tale.
My Father's Dragon Nimona
Pinocchio
Entertainment138
Nickelodeon and Paramount have many projects for the next years. From director Raman Hui (Shrek the Third) comes The Tiger's Apprentice, a fantasy action film inspired by Chinese mythology. A young boy discovers he has magical powers, and is joined by the human forms of the different signs of the Chinese Zodiac who
teach him to control his abilities. From The Mitchells vs. the Machines director Jeff Rowe and producers Seth Rogen and Adam Goldberg comes the new reimagining of Teenage Mutant Ninja Turtles. There are not many details about the film yet, but it seems that it will be about the 'teenage' life of the turtles. The director Rowe explained how the look of the new film was inspired by sketches he made on the margins of his school notebooks.
Teenage Mutant Ninja Turtles
The films are being overseen by Avatar creators Bryan Konietzko and Michael Dante DiMartino, serving as co-chief creative officers, and the first film will be directed by Lauren Montgomery, who did storyboards on "The Last Airbender."
Entertainment140
There are several new Italian cartoons coproduced by Rai.
Copperbeak was born from a true story, to delicately deal with the issue of disability. On a farm in Tuscany, a goose defended a chicken coop from attack by
Copperbeak
About the new lineup of Rai Kids productions, Luca Milano, General Director of Rai Kids declared: "The function of Rai as a public service is to guarantee children, teenagers and families an ever new selection of cartoon and series content, to promote social cohesion, friendship, solidarity, ranging from sport to food education. The growing commitment to promoting Italian production, for which we have the pleasure of collaborating with Italian studios and creatives on almost all
Nickelodeon recently confirmed that we're getting three new films in the Avatar: The Last Airbender universe.
AllChannel.Jungle Beat content is produced in a partnership between Jungle Beat Animation Limited and South Africa's Sunrise Animation Studios
of the national soil, is accompanied by the selection of the best international offers. The new management logo from Rai Ragazzi has become Rai Kids, precisely as a sign of internationalization that the Rai top management decided to give".
WildBrain will distribute the brand's exciting film franchise, comprised of Jungle Beat: The Movie (90') and Jungle Beat 2: The Past (90'), as well as the entire 130-episode library of Jungle Beat series, consisting of three seasons of Jungle Beat (13 x 5' each), five seasons of Jungle Beat: Munki and Trunk (13 x 5' each) and two seasons of Jungle Beat: The Explorers (13 x 2' each).
WildBrain drummed up Jungle Beat partnership with Sunrise Animation Studios
Avatar: The Last Airbender
a fox and lost its beak in the fight, risking death. Thanks to the inventiveness of a veterinarian, the goose survived: a copper prosthesis was implanted in place of the beak. Leo's world, suitable for all preschool audiences, aims to stimulate the habit of certain behaviors in children with autism that are not always as obvious as for others, such as washing and dressing in the morning, or playing sports. The Sound Collector series is made in stop
WildBrain, a global leader in kids' and family entertainment, has partnered with Jungle Beat Animation Limited to manage worldwide distribution rights for all content in the popular animated kids' property, Jungle Beat. The exclusive partnership will see WildBrain leverage its 360-degree offering to grow the global footprint of the Jungle Beat brand through worldwide distribution, including YouTube channel management and ad sales on its premium kids' and family AVOD network, as well as linear broadcast in Canada on its Family
In the sea there are crocrodiles
Netflix in late April 2022. First ordered in 2020, the animated series comes from Netflix Animation, Atomic Monster Productions, Dark Horse Entertainment, Gaumont Animation, and 88 Pictures
The 10-episode first season focused on a rabbit teenager by the name of Yuichi who had to team up with his faithful companions to defend the city of Neo Edo. The second season of the series has been released in September 2022.
Based on the Stan Sakai comic book series called Usagi Yojimbo, Samurai Rabbit: The Usagi Chronicles made its big debut on
Entertainment142
Earlier this year, the second season of Stillwater series, starring a wise panda, was released on Apple TV+. The series won the Best Design award in the Creative talent section of the Kidscreen Awards 2022 last July.
motion mixed with live-action, in which a partially deaf kid is fascinated by sounds and spends his days collecting them in a vast collection of tapes. Based on the novel of the same name, In the sea there are crocodiles tells the true story of Enaiatollah Akbari, a 10-year-old boy forced to flee Afghanistan due to the persecution of the Taliban.
Ellipse Animation has unveiled its new teen-adult project developed with La Chouette Compagnie and ADN. Adapted from the best-selling manga of the same name by Reno Lemaire, Dreamland (10x22', 2D, 3 seasons) takes the viewer into the world of Terrence, a teenager who has been terrified of fire ever since his mother died in a fire when he was only
Do, Re & Mi
Samurai Rabbit: The Usagi Chronicles
Dreamland
Among the latest kids' productions by Gaumont, Bionic Max (52x11') is a Buddy Comedy Kids 6-11, in 2D Animation. Max, a malfunctioning bionic guinea pig and his goldfish buddy, JC, escape from their laboratory into the bustling streets of Woodchuck Woods, adapting to the urban jungle. DO, RE & MI (52x11') is an Amazon Original Series. Three birdies best friends live in Beebopsburgh, a town as musical as its inhabitants. From the piano keys sidewalk to the beat-notes bushes, music is its own character in this show and it's everywhere! In this preschool series three birds go on kid-relatable adventures, with each adventure ramping up into an original song.
The series is set in the gold rush era, around 1850, and explores the relationship between humans and nature.
Cyber Group Studios, a leading producer and distributor of animated programs for kids and families, has teamed up with Nippon Animation to produce a featurelength animated fantasy adventure film based on the Japanese classic TV series, Tico and Friends. The new feature-length film, Nanami and the Quest for Atlantis (90', 3Dx2D, 7-14), marks the beginning of what is expected to be a long-term collaboration between the new coproduction partners, which will include several of Nippon Animation's classic series as well as new properties and initiatives.
Média-Participations has decided to group all its French production labels together (Dargaud Media, Dupuis Edition & Audiovisuel and Ellipsanime Productions) under one umbrella brand: Ellipse Animation. With Adaptations of IPs from the Média-Participations catalogue, of course, and also adaptations of books from other publishers and original creations, Ellipse Animation is banking on diversity for its new projects.
Leo's World
Mipjunior (15-16 October 2022) and Mipcom (17-20 October 2022) are approaching. Here are the very first previews of Studio 100 Media and Dandeloo
The Marsupilamis (52x13'), in development for M6-Gulli, is the reinterpretation of the world of cult comic book characters in 3D for 5-7-year-olds. The twins Jade and Mica have taken in 3 adorable young Marsupilamis... who can't hold still! It won't be easy for our duo to keep the secret and protect these legendary creatures. The development of this series with strong international potential
is accompanied by a genuine brand strategy within Média-Participations: video games, comic books, children's books, numerous licensing possibilities. Living with Dad (52x11', 6-11, 2D) is an adaptation of Nob's comic book, whose presentation was very well received at the Cartoon Forum in Toulouse last September. Currently in production at Ellipse Animation and Belvision, the series will be broadcast before the end of 2022.
Eden, each episode is a standalone mini-adventure driven by the young Tricarrotops Ginger and her friends, the baby Pea-Rexes. The stories lean into relatable themes for upper preschoolers like play and friendship. Studio 100 Media will also be offering
The mighty Vegesaurs (20 x 5') by Studio 100 Media will be making their debut at Mipjunior and Mipcom 2022. Produced by independent Australian Cheeky Little in association with the Australian Broadcasting Company (ABC), France TV and Studio 100, the comedyadventure, CGI animated series is based on a concept created by Gary Eck and Nick O'Sullivan and targeted at upper preschoolers aged 4 to 7. Vegesaurs are the juiciest and crunchiest creatures ever to rule the planet in a colourful prehistoric era. In Vegesaur Valley, a little garden of
Mipjunior, the very first previews from Studio 100 Media and Dandeloo
7 years old.
Marsupilamis
Entertainment 143
Season Four of Mia and me (26 x 23') and Season Two of the comedy-adventure CGI series 100% Wolf – The Book of Hath (26 x Among22').others,
Dandeloo will present two brand new projects to be delivered in autumn 2022. Our Piggy (52x2'), inspired by the book by Jaromir Plachy, shows a lovable character and charismatic simple stories that allow the youngest children to discover and learn about things that surround them.
Billy the Cowboy Hamster (52x11'), based on the eponym series of six books by Dutch author and illustrator Catharina Valckx. is a preschool series.
Growing up in the Wild West and raised on the exciting stories told by his father, Billy with his cowboy outfit has a burning desire to hit the trail! And since every new day presents him with an opportunity to go on an adventure worthy of the greatest cowboys, he is determined not to miss out...
2-4 years
Welcome to Permacity
created by the producers, on the digital platform, starting on 22 September (end of the day). It will display short pitching videos of Cartoon Forum's projects as well as a feedback form for the buyers to fill in.
Max, produced by Submarine (Netherlands) is a pre-school series (2D, 52x7') based on the NYT bestselling books by Ed Vere. Max is the smallest of kittens with the largest of appetites for adventure. He is as naïve as he is curious,
By Rossella Arena
The 2022 line-up for Cartoon Forum counts 80 new TVseries, mini-series, and TVspecials projects involving independent studios from 19 countries. Shortilsted from 137 submissions, the 80 selected projects have a total budget of 371.7 M€ with an average cost per project of 4,6M€. The cost per minute of animation production has slightly increased compared to 2021 (12,919 € per minute vs 11,887 € in 2021 – it's coming back to the level reached before the pandemic: 12,250 €).
Toulouse is ready to host the 2022 edition of the Cartoon Forum, from 19 to 22 September, and the many new animated series projects from France and several European countries (Spain, Germany, Ireland, Italy…).
Zaza, his new baby sister. During 78x3'30" episodes in 2D, Trotro is going to have to share everything he learns, his emotions and even his toys!
and every day something new grabs his attention that he must investigate. Max's over-confidence may get him into many risky situations, but bit-by-bit he figures out how the world works. And along the way he makes friends who are happy to help. Phil Molloy (creative executive of Bob the Builder) is working as scriptwriter on this series.
BeddyByes (52x11', 3D) by Jam Media (Ireland) takes young children on a playful, yet soothing journey towards bedtime. MeMo and BaBa encounter all kinds of fantastical beings that encourage good nutrition, mindfulness and creativity,
Events144
As the pandemic still impacts international travels, buyers who cannot join on-site will have an online-only access to the Catchup sessions, pre-recorded projects pitches
Broken down by target age, here are some selected projects that have already attracted attention for their appealing characters, the innovative graphic and the reflections on important issues.
After a move, Camille is living there her childhood, between school, family and the discovery of a city with habits she does not know yet.
Max
CARTOON FORUM
After the huge success of the 2021 edition in attendance, Cartoon Forum, the European co-production forum for European TV series, will return from 19 to 22 September in Toulouse. Here are some of the animated series that will take part in the event and that are already raising great interest.
THE iNcREDiBLE 2022 LiNE-Up
Welcome to Permacity (52x7', 2D) by Millimages (France) is set in an idyllic place, colorful and entirely based on the respect of the environment and others.
In Trotro & Zaza (Ellipsanime, France), the favorite little donkey and everyday hero for so many little children, has a new challenge: sharing his childhood with
all the while winding down towards sleep. Little Whale (52x7', 2D) by Paper Panther Productions (Ireland) is all about the seafaring adventures of Little Whale and his best friend Narwhalia. Each day they explore different parts of the ocean as
5-7 years
There are 8 Spanish projects presented at the Cartoon Forum this year: Bertie's Brainwaves (Efecto Atlantis), based on the 'Dirty Bertie' books that have sold over 1.7 million copies worldwide, exalts the big power of imagination; Best friends forever… stranded! (Peekaboo Animation) on strong bonds between bizarre animals; Firsts (TV ON Producciones and Tippo Creative Lab - Chile), depicting the life stories of women from around the world who became pioneers in fields that until then, were reserved only to men; Mervyn's Album (Kick the Door Productions and BigB –Germany), dedicated to the love of stamps. Its author and producer is Marie Beardmore, writer of many successful TV series such as Angry Birds Toon; My brother is a T-Rez (Mr Klaus Animation Studio and Lusco Fusco Animation – Portugal) on the relationship between sister and brother; Polka Dot Zebra
they travel with Little Whale's family all around the globe. Each discovery brings a new friend and something learned about their magnificent ocean home.
series, the sector has never been so vibrant as today.
Delù from the jungle
Among the upper preschool projects 5-6 there are Delù from the jungle (26x13', 3D) by Animoka Studios (Italy) and Nalu Animation (France), on the little daughter of a well-known jungle hero raised by monkeys, which moves to the city of Cityland with her beloved animal friends; A Day with the Dogs (78x5', 2D) by Dandelooo (France), based on Les Toutous, a book series by Dorothée de Monfreid, where the Saint-Bernard Popov becomes a nanny to his young cousins;
The Spanish economy has steadily surpassed that of its European counterparts over the last five years, in pre-pandemic circumstances. The animation sector has also lived a steady growth in turnover and highly qualified job positions, being one of the most resilient markets towards the covid crisis. Spanish animation is on boost: with more than 20 feature films in development or production stages and a similar slate of workin-progress animated broadcast
(Sygnatia and Bro Cinema –Portugal) which tackles the sensitive issue of diversity; The Little Orchestra (Mago Audiovisual Production and Apus Animación y Contenido -Peru & Chucho TV -Uruguay) for celebrating music, with a touch of mystery; Zoey Oceans (Studio Kimchi), which deals with the theme of loss.
Events 145
Animation from Spain
A Day with the Dogs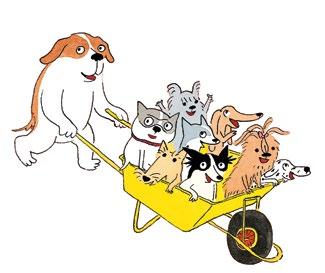 is a
TeamTO production inspired by the series of books Panique dans la Mythologie by Fabien Clavel, published by Rageot. It is an original action-adventure series (26 x 26', 3D) with a good dose of comedy, aimed at the 6–10-year-old target. One night while playing videogames at the Louvre where his dad works, 11-year-old Kiran falls through a portal into the world of mythology, where Gods, Goddesses and fantastical creatures are all doing their thing, and Kiran is mistaken for a butt-kicking warrior! His mission – which he must accept if he wants to return home - is to save the legendary Greek King, Odysseus, with the help of the junior goddess Leuki NEXT LEVEL: ODYSSEY is an original re-imagining of a classic story about family, friendship, facing fears, and finding your inner power.
6-9 years
Reza Memari (writer of the beloved Richard the Stork) has written the script for The Last Whale Singer Series (26x11', 3D) produced by Telescope Animation (Germany) and Big Bad Boo (Canada)
Only one of the Whale Singers, gentle guardians of the oceans, remains today: Vincent, a bold teenage humpback whale, who has just learned his very own song. In this epic adventure-comedy series Vincent and his ragtag gang of friends embark on their first tour around the world to heal and protect the oceans and their inhabitants. Myth Club by Cartobaleno (Italy) is a series 52x11' in 2D about the Myth Club – boot camp, clubhouse and sleep-away dorm, where five fantastical pre-teens are in training to become full-grown members of the
Events146
Phil & Sophia (52x5', 3D), a project by Xilam Animation (France) in which the two protagonist are siblings with some pretty strong opinions.
The Tinies (52x11', 3D) is produced by MIAM! Animation (France). The Tinies are ace tinkerers… They can quickly turn a milk cap, an egg box or an empty shampoo bottle into a cool helmet, a skate park or a fast pickup truck! The protagonist Ollie, a lively and fearless little doll, has been
NEXTODYSSEYseriesAction-adventureNEXTLEVEL:LEVEL:ODYSSEY
TeamTO announced the participation of mythology consultant Liv Albert and director Didier Ah Koon, on the project, which will be presented at Cartoon Forum and Mipcom 2022.
Up to 7 years of age, Cocobanana (52x7', 2D & 3D), produced by Den Siste Skilling (Norway) and Knudsen Pictures (Germany). Cocobanana is half coconut, half banana and 100 percent genius inventor. The animated TV series is based on a successful series of picture and audio books.
Jack the Red (26x11', 2D Computer & Drawing) by beQ entertainment (Italy) is inspired by a series of stories dedicated to the human body as a place to be discovered through fun.
living up in the attic with her toy friends as her former owner, Marlee, has outgrown them. This could be the perfect time to relax and enjoy a well-deserved toy retirement… But that's NOT for Ollie!
Greek mythology. Dino Fino (26×11′, 3D) by German Partners, talks about the encounter of the sensible Bronto boy Dino Fino and the cheeky little T-Rex Rickbert "Ricky" Rexkowski. Dino and Ricky directly clash about their slightly different tastes in food: veggie vs. meat lover! But as they stumble into many crazy and dangerous adventures, they have to rely on each other. On a transmedia level, it lends itself very well to becoming Game, Mobile Content / App. Go flash (26x22', 3D), by Cube Creative Productions and
Dino Fino
Dada!
The Last Whale Singer
comprising ten 30-minute episodes for Season 1. This epic saga, adapted from the comic book by Belgian authors Exaheva and Félix Laurent, carries on the tradition of the great futuristic series while exploring the topics of preserving the human species, gender issues, and physical disability, amongst others. The Mekka Nikki pitch at the 2022 edition of Cartoon Forum will take place on Wednesday, 21 September, at 11:45 AM in the Purple Room
Xilam Animation (France), narrates the vicissitudes of a family to form an auto racing team.
along the way is priceless. Ice Breakers (78x7', 3D), by Fabrique D'Images (Luxembourg) and Gapbusters (Belgium) is set adrift in the vast immensity of the weird, mysterious and always changing polar waters. A Penguin and an Arctic Fox are stuck together on an iceberg along with an eclectic group of animals, trying to survive each other.
Events148
Ice Breakers
Happy not Lucky (52x11', 2D Drawing & Cut-Out) by Letko (Poland), is set in the calm and peaceful Happy Fields farm, where two self-claimed kid detectives — black sheep Lu and black cat Teo are on the hunt for the new case, despite bad luck and troubles hunting them in return. Their creative investigations might not give them the results they look for, yet the fun they have
, an innovative studio based in Paris that specialises in real-time animation, will exhibit four of its dynamic projects at the prestigious Cartoon Forum 2022. Mekka Nikki, the Sci-Fi series targeting kids and teenagers aged 12 plus, will be presented to European broadcasters and animation professionals during a pitch session with its co-producer, MekkaSquarefish.Nikki is an initiatic 3D/2D animated science fiction serial
Drawsome studio
The production company will also use one-on-one networking meeting opportunities to present the pilot episode of its edutainment series, Captain Toneup, currently in development with Disney Television France. The program targets six to 10 yearsolds and promotes the benefits of eating well and moving well. Dada! Animation will also introduce two other projects: the animated documentary French Patisserie, which offers a gastronomic journey in partnership with Gaël Clavière, the head pastry chef at the official residence of the French Prime Minister; and the animated poetic preschool cartoon The Nebulons, in co-development with Diabolo films.
Dada!ForumShowcaseAnimation'satCartoon2022Animation
Aimed at a Family audience, The Tern (10x26', 2D&3D) is the new adventure & sci-fi project of Cybergroup Studios (France). For five generations, the Tern has followed flight paths around the Earth. A fleet of massive dirigibles travels
Family
Detectives (26x26', 3D) by Method Animation (France) is starring three 14-years old best friends that are witches. Leo's workshop (26x13', 2D) by
Will Moogley Ghost Agency (26x22', 3D), by Studio Pandora and Showlab – Italy, tells the amusing stories of an agency whose clients are... ghosts! Witch
Events150 (France) is based on a best-selling manga written by France's Top-5 YouTuber Kevin Tran. It is a charming tale depicting the daily life of two reckless but endearing brothers, 10-year-old Ki and 6 year-old Hi. As the very first Japanese-style Anime comedy series especially created to aim a 6 – 10 kid audience, the episodes of Ki &Hi paint with humor all the nuances of a relationship between siblings: torment, fights, jealousy… but most of all, love, and togetherness!
tirelessly above the devastated planet, veiled with toxic clouds and mists. Within the Tern, the remnants of humanity live in compliance with strict laws, under the command of their inflexible captain, the Compass. It has been a long time since the last dreamers abandoned hope of returning to land. And yet, someone appears to be sending signals from the ground…
Spaghetti Sisters (Sixteen South -Ireland) is an original 2D animated series (52x11') for 7+ , which tells of sisters Fiona and Flavia Fusilli — who are doing everything to try and make their family restaurant a roaring success. Armed with a tomatopurée powered golf-cart and bringing any pasta, any place, the girls never know what kind of adventure awaits them! The creator Katie Lyons had the inspiration for the show hit while she watched so many food delivery workers coming and going while she was in lockdown.
Will Moogley Ghost Agency
Foliascope (France), Curiosity Studio (Ireland) and Aerial Contrivance Workshop (US), based on The Inventor movie, will introduce us to the adventures of Leonardo da Vinci, his apprentices and friends, Salaì, Zoroastro, Atalanta, Mama Caterina and the little Duchess Bianca who, with their inventions and a lot of imagination, will change the world.
From Tweens to Young Adults
Three of the four finalists in this category will present their new projects at Cartoon Forum 2022.
Events 151
Public broadcasters Germany's KiKA and Slovakia's RTVS, private TV channel France's TF1 Unité Jeunesse, and global multi-platform company
Spaghetti Sisters
Cartoon Tributes 2022's Nominees
Lastly,borders.the
Young Adults/Adults projects include My Superhero Husband (10x22', 2D) by Funny Tales – (Greece) and The Alphabet Initiative Agency (Germany). It's tough, to be married to the most famous hero in the city, but Cynthis adores his husband. The episodes explore their relationship, everyday life, and the villains they fight. Dreamland (10x22', 2D) (Dupuis Edition & Audiovisuel and Chouette Compagnie – France), whose concept comes directly from the manga world, tells of a boy who, after a traumatic experience, became a Traveler: a very special kind of Dreamer, able to explore Dreamland, the dimension born from mankind's dreams… and nightmares.
Meanwhile, selected candidates for the Investor/Distributor of the Year award are Denmark's DR Sales, Italy's KidsMe, France's Nathan Univers Jeunesse, and Spain's GoldBee, whose selection underlines their major role in the circulation of European series, both within and beyond the region's
The tweens projects include Star Stable: Mistfall (26x22', 2D), a coming-of-age story about Skye Rowan – a spirited 16-year-old girl and her mystical fire horse, Blaze. Produced by Ferly (Finland) and Atmosphere media (Germany) it is based on the Star Stable mobile and online horse-riding game, which has over 25 million registrations in 180 countries. Star Stable: Mistfall is a fantasy adventure series that explores themes of empowerment, identity and belonging, showcasing that adolescence really is the most thrilling time of our lives.
Lisa & Kolos (10x13', 2D), is a tween project by Melting Productions/Andarta Pictures – France and Squarefish –Belgium. Kolos, a stereotypical hero who is sent by an evil overlord, Zardos,
GLITCH are the four nominees on the shortlist for Broadcaster of the Year
Producer of the Year category has two French nominations: Normaal and Watch Next Media. The shortlist also includes two companies with a strong track record in coproduction: Poland's Letko and Spain's Peekaboo Animation
For the sixteenth time, Cartoon Tributes pay homage to outstanding players of European animation. Broken down into three categoriesProducerInvestor/Distributor,Broadcaster,andoftheYear -, these awards will be voted by around 1,000 participants from 40 countries attending to Cartoon Forum. Winners will be announced on September 22.
to the planet of Tchoukikiss — a world of rainbows and butterflies and NO conflict. But it won't be that simple…
Entertainment152 CMC
The Children's Media Conference (CMC) is an event famous in the UK for its intense program of conferences, keynotes, and workshops dedicated to children's productions, including animation and publishing. 750 delegates attended the headquarters of the Crucible Theatre in Sheffield from 5 to 7 July, while another 250 followed the event online. Licensing Magazine has been a media partner of the event for several years now and could not missed this new live appointment. There was much expectation for the opening keynote with Ben McOwen Wilson, Managing Director Youtube UK & Ireland. Ben spoke of the company's renewed commitment to sustainability, and to guaranteeing children's online safety.
THE cHiLDREN'S MEDiA cONFERENcE 2022, AN AMAZiNG iN-pERSON RETURN
By Rossella Arena
Ben McOwen Wilson
Ben then addressed the current challenges for the sector. With old funding structures disappearing, the ongoing effects of the pandemic and Brexit, and the cost-ofliving crisis, media makers face a tough few years. But the current situation should encourage creative entrepreneurship now that the streaming/social media ecosystem is more stable and fewer barriers are stopping young people from creating good content.
Ben stated that YouTube wants to set the new standard for kids' online safety. The platform is aware of its power and responsibility, which increased during the pandemic. In the Q&A Wilson outlined the fundamental points for the future, in 4 Rs: removing harmful content, reducing the reach of poorly made content, raising good content, and rewarding good content makers through partnership payments. He believes that the new UK legislations (the Online Safety Bill and the Media Bill), are
Aneeshwar Kunchala
The Bill's keynote was introduced by the little star of Britain's Got Talent Aneeshwar Kunchala, who explained how animals and nature are a source of
For the first time since 2019, the Children's Media Conference was back live in Sheffield, from 5 to 7 July! An unmissable appointment for those who work in the Kids sector in the UK, but also for every professional who wants to find food for thought and news on everything related to children's productions
According to him, there is no real difference now between linear and streaming, because young people are interested in the content. Ben believes that YouTube appeals to kids because it's where they can both fit in and express their individuality; where they feel safe and valued; and it's a platform that shares their commitment to the environment (it's moving towards carbon-free operations).
opportunities for the sector to innovate for the better.
This session began with the double speech of Ollie Ball and Jacob Pasquill, TikTokers renowned for the ability to make everyone laugh. They talked about the strength of social media, which allowed them to share themselves with the world and has changed their lives.
encouraged to play with words, and he continues to see poetry as a unit that can be found in all written art forms (novels, short stories, plays...). He spoke about the importance of having role models when approaching poetry and literature; he was also inspired by a poet who visited his school when he was in the sixth form, sawing in him a positive role model to emulate.
In the Q&A, Joseph explained a threepronged plan for his two-year tenure as Laureate: to get the nation and generations writing poetry together via writing prompts, to promote new amazing poets, giving to children great role models, to create more visibility for libraries' work.
In the Put you Money where your mouth is pitching contest, new animated series projects were presented. The theme of sustainability and the relationship with nature returned with Deer Little Forest,
Ollie Ball and Jacob Pasquill, TikTokers
Deer Little Forest
The Children's Laureate goal was achieved with a lot of hard work and sacrifice. During all the years he spent trying to get published and playing to school audiences, he learned that creativity can be too stifled by the scholastic rules about language and has made it his mission to free children from the imposition of writing in a certain way, the same for everyone. He has helped children write in all sorts of creative ways (e.g., writing with icing on biscuits so they can "eat" their words). What's important, he said, is valuing in all ways kids' work and promoting accessibility.
inspiration, and how it is now essential to put the environment at the center of children's programs, especially producing more documentaries. He also emphasised that by now all media productions should be Anothereco-friendly.highlyanticipated event was the keynote dedicated to creativity, with the new Waterstones Children's Laureate, Joseph Coelho
Joseph treated the audience to interactive writing exercises, showing how accessible poetry can be. As a child, he was
Entertainment 153
Joseph Coelho
Entertainment154
In the Animation Assemble! panel, producers and industry experts (Gutsy Animations, Blue Zoo, Sky …) have expressed the necessity to build their team in an inclusive way. The cartoon Adam Loves Adventure was cited as a case study, born from the desire of little Adam King, who is in a wheelchair, to travel in space. To make it happen, the Kavaleer studio collaborated with disabled people, opening up to new perspectives. The Secret Story Draw team also talked about their initiatives in favor of underrepresented people in the sector.
Macmillan's Children's Books
Other meetings dealt with current issues, such as the presence of multi-platform books in the Metaverse, or topics relating to the author's profession, such as the importance of mentoring In Bringing Books to the Metaverse session, a group of experts from both traditional children's publishing and digital storytelling took stock of the situation
the animated show that won the jury's prize. The project, presented by Lisa Hryniewicz of Koko Rose Media, is a preschool show (78x7') where four friends learn more about the world of Nature. The protagonists are Barley-Crumb the Badger, Lockhart the clumsy red female deer, Rowan the reflexive fox, and Bodhi Bear, which has a special connection with the universe. The creator of the property is Jo Rose, multi-talented illustrator. She is based in the UK's New Forest, from where she gets her daily inspiration. The IP has lots of potential for extensions into publishing and cross-promotion with
In Commissioner Conversations (Preschool, 6-12, Teens), executives from major broadcasters and production houses explained what they are looking for in
Emma Taylor and Alex Walker pitched the project. Featuring an all-star cast of voices, the show sees daily locations with all elements of kids' normal life, but also fantastical elements such as dragons and the magical kaiki trees, which help children visualise better their feelings. To help
Embers the Dragon
environmental and art groups, and Natural History Museums. The judges chose this project for the uniqueness of the IP and because it deals effectively with environmental issues, while also highlighting the emotional growth of the protagonists.
Embers the Dragon aims to help the little ones to deal with their emotions and was the most voted by the public.
Adam Loves Adventure
upcoming TV shows in the UK market. A few examples: BBC needs projects that work in the digital world, Nickelodeon welcomes bold ideas with a great focus on characters, Sky wants to find particular and warm family stories, and CITV accepts proposals projected internationally. Concerning the teens, the goal is to create collaborations with talented creators.
children recognise their emotions, the creators used clinically backed techniques. They focused on the modelling of facial expressions, the attention to multiple emotional states and personality types. The stories are all very much based in real childhood experiences.
Embers the Dragon - Lockdown activity
Entertainment 155
Alyx Price, from Macmillan's Children's Books, provided an interesting overview of the children's book market and the scale of the literacy crisis. Children's books are driving a boom in publishing, with a 23% share of the total market. This phenomenon was due to an increased demand for books during the pandemic by young children. In the Young Adult sector, sales increased thanks to TikTok, which, with the hashtag #booktok, created a veritable online literary community. Despite these excellent sales figures,
Overton found new voices and build her contacts, which makes it easy to put her next project together because she's already done the preventive work. CMC therefore confirms itself as an excellent opportunity to discover all the latest updates in the Kids sector and, last but not least, is also famous for its friendly atmosphere, thanks to its social gatherings: First Timers reception, dedicated to newcomers, The CMC Drinks Reception, and the CMC party, to continue networking, and relaxing.
according to the National Literacy Trust, more than 400k children do not own a book. Japhet Asher, director of Polarity Reversal, reminded the audience that this means a worrying situation on the scale of the literacy crisis: 10% of UK households do not own a book.
Sophie Deen
National Literacy Trust campaign
First Timers reception
about the coexistence of printed books and digital proposals in the metaverse, which can help or hinder the children's literacy crisis.
Bright Little Labs
Sophie Deen, founder and CEO of Bright Little Labs, narrated the birth of Children's Spy Agency – an immersive, multi-platform story she has created and developed. The primary character is Agent Asha, and anyone under the age of 16 can join and become an 'agent'. The project was created with digital as an essential part of the storytelling from the outset. The commercial partners were Walker to produce books and Kidzania for a live experience that involved over 100k users. In Mentor Me, Mentor You session several authors spoke about their experience with mentoring, describing it as very positive and formative. It is an opportunity to grow professionally, sharpen one's sensitivity and establish constructive relationships. For example the Head Writer Becky
The next live edition of CMC awaits all interested in 2023!
What might be the solutions? Publishers channel their literacy work through partners such as the NLT and Booktrust, who have greater community links. As the world of the metaverse gets bigger and bigger, digital multi-platforms focused on
storytelling can be a bridge to reading for those with limited literacy.
Publishing156 KIDS' WELLBEING
Bari Koral is a popular children's and family recording artist, and globally recognized kids' yoga educator. Rocket Ship Yoga, her first book, published by Dragonfruit, is filled with her "Rocket Ship" lyrics and approachable kids' yoga poses. Based on her hit Bari Koral yoga YouTube channel, the book has beautiful illustrations which guide your child through the poses, along with catchy lyrics that'll have them engaged with their bodies and minds. This supports to boost their balance, coordination and mindfulness in ways only yoga can. Bari declared: "Between 46% and 51% of young children will have some kind of anxiety disorder when they grow up. That's an epidemic. And as we all know children are experiencing challenges at younger and younger ages, Mindfulness and Yoga can be very effective to help children calm, self regulate and focus".
BOOKS TO HELp cHILDREN'S WELLNESS
practice mindfulness to calm their minds and manage their body and emotions.
Alicia Ortego
Through breathing exercises, Rocket Ship Yoga allow your children to learn how to
A schoolteacher and a kids' book author, Alicia Ortego has a wealth of experience spanning over 20 years of working with children. Alicia is a mother of two and a firm believer in the power of educating
By Rossella Arena
For relaxation, what could be better than a good book? In the case of these texts, this is even truer. These are books that provide children with interesting tools for finding serenity and taking care of themselves during the difficulties of everyday life.
For these reasons many schools have adopted Koral's yoga and mindfulness practices, to better manage the stress of younger ones.
children at home to cultivate their character and create awareness in them from an early age. She has achieved numerous goals. She is #1 Amazon Bestseller in Children's Books on Tolerance (UK) and #1 Amazon Bestseller in Children's Books on Manners (UK), and her books are included on the top lists of best books for kids about emotions. The Children's Advocacy Center of Suffolk County (CAC), which unites public, private and community partners to promote safety, healing and justice for child victims and their families, chose to use her books during their virtual Aliciareadings.has published a series of books in which positive emotions become
toys. But what happens when little Betsy forgets to use the magic of her stone? She will realize that the power of gratitude is hidden in her heart. Gratitude is my superpower will teach the little ones to appreciate everything. They will focus on the blessings they receive every day and they will begin to consider what others do for them.
Benita L. Gibson always educated through homeschooling her children, entertaining them with fun activities, especially during the pandemic. One of those was putting temporary tattoos on her kids. Benita declared: "One day my five year old son, Harrison, said I want a Tattoon! I laughed and corrected him, explaining it's called tattoos, but no matter how many times I corrected him, he kept calling them Tattoon. Amused, I shared the story with my best friend who thought the word Tattoon was clever and suggested I do something with the word. I agreed and I knew that whatever I was going to create with the word Tattoon would be something positive benefitting children. With that intent, Tattoon Kids was born". What began as a fun family activity has now transformed into an entrepreneurial venture that helps support parents, educators and caregivers of children to nurture healthy self-esteem in kids. Tattoon Kids collects twelve diverse characters that teach kids that their words have power through positive affirmations. Tattoon Kids temporary tattoos, stickers, coloring/activity books and other products, will help kids feel good about who they are.
superpowers, the most famous being Kindness is my superpower, included in the kindness lessons in schools around the world. The latest release is Patience is my superpower, about learning how to wait. Together with the main character, a boy named Dan, the kids will find out just how many cool things can happen while you wait. While little Dan struggles to understand that waiting is an integral part of everyday life, his grandparents help him keep himself busy, discover, and gain unique experiences. Also recently published was Gratitude is my superpower. Little Betsy will learn that happiness is made up of simple things in life, both small and big. With the help of the magic stone, she will begin to feel gratitude for her parents, friends, and
After the birth of his son, the author Mark Brown wanted to spread mindfulness, gratitude, compassion, acceptance and other peaceful and happy values. Through this he created the Zen Pig book series, published by Puppy Dogs & Ice Cream
Publishing 157
Tattoon Kids
Twelve books with this lovable protagonist have been published since 2020, on various topics related to emotions and well-being, like the relationship with parents, Valentine's day, the peaceful protests, the gratitude. Zen Pig doesn't justMark Brown and his son
Zoonicorns are a magical mix of zebra and unicorn that inhabit the dreamland Zooniverse Inspiration for the Zoonicorn brand came from the fact that young children sleep nearly half the time. In this dreamtime they are vulnerable, and parents can't help or protect their kids. In the Zooniverse young animals fall asleep, then Zoonicorns take them on wildly imaginative adventures in the brilliantly colored dreamscape. In the Zooniverse Animals learn lessons and about how to access their own talents and Eachstrengths.Zoonicorn has very specific emotional and social characteristics, such as adaptability, strength, organisational skills, intelligence, positivity, showing children how answers to their everyday problems can come through their dreams in a fun, safe and entertaining way. Zoonicorn emulates real-life situations for kids ages 2-6. In the Zooniverse,
anything can happen and lessons are learned, just like in their real life dreams. Research has shown that until the age of five, most children consider dreams a part of their awake reality. As children begin to cognitively differentiate between their own dreams and reality, the show demonstrates that 'truths' and 'strengths' often come from their Thedreams.Zooniverse, now co-owned by Toonz Media Group, began as a fun and unique idea for a book, a set of adorable plush toys and a clothing line …has grown into a safe and timeless dreamland! From this year CG-animated series (52 x 7') airs on Peacock (US), Kidoodle (US), Astro (Malaysia), Truecorp (Thailand), La Teletuya (Venezuela) and Viu
Zoonicorn plush - Valeo
(Hong Kong). The IP  has 11 short singing videos running on its YouTube channel that have racked up 2.7 million views. The brand has recently inked licensing deals with SRM Entertainment and E Graphic Design for home-based products. Global Licensing Rights are now available for Television, Film, Publishing, Activity Books, Apps, Augmented/Virtual Reality, Toys and Games, Bedding, Apparel and Accessories, Food and Novelties, Back-to-School, Paper Goods.
speak about these life-changing values, he shows the children as well through simple daily actions. The paperback version of Zen Pig: The Wonder We Are was recently published. Zen Pig teaches kids about the beauty and joy that nature can bring. When you take the time to look closer, you'll be marveled and amazed by what it will show. You'll start to see that every plant and being are all intertwined. The space that nature gives you to reflect
In the Zooniverse
is a gift for the mind and your inner peace. Nature helps you find your calm and take control of big feelings. In addition to the official stories, many colouring books with pictures of Zen Pig have also been created, and merchandising is being developed.
Publishing158
By Matteo Melani
RETAiL, BRiTAiN'S OppORTUNiTiES
corner, so much so that in Croydon there is a promotion for combined meals among children's food and all other dishes on the menu.
Retail160 GREAT BRITAIN
THE RELAUNCH OF HISTORIC BRANDS WITH TIKTOK
Despite Brexit, London continues to attract international brands eager to offer products and services. Like Coca-Cola, which chose the British capital in the summer to open its first flagship in Europe. As location, the drinks brand opted for Covent Garden, famous for its fashion shops, theatres and the Royal Opera. Also in Covent Garden, the temporary store of Kylie Cosmetics, cosmetics products made by Kylie Jenner, was set up last August, with interactive games and free giveaways. In addition to the gradual return to normalcy, what has driven retail sales growth has been the arrival of foreign tourists attracted not only by the allure of the UK, but also by sporting events such as the Women's European Football Championships with the finals hosted at London's Wembley Stadium. In fact, another area of London that
has seen increased footfall is Oxford Street, which recorded a 24% increase in attendance in July compared to June. Thanks to domestic consumption and the contribution of tourists, Britain is one country ahead in retail.
The British are passionate about sport and to meet the public's need for entertainment of all ages, the Selfridges shopping centre in London has set up a space that houses a Formula 1 racing simulator and a replica of the Alfa Romeo F1 Team ORLEN C42 car, driven this season by Valtteri Bottas and Zhou Guanyu. This is a unique space, because in addition to providing an unforgettable experience for customers, it is the first time that a replica of an active F1 car has ended up in a shopping centre.
If physical trade holds opportunities for retailers of current goods, with socialnetworks forgotten brands and products can be relaunched. A case in point is Superdry, which by contracting several
BETWEEN LEARNING AND FUN: BRITAINEXPERIENCESSHOPPINGINGREAT
Apart from the numbers, what has set the UK retail sector apart is the quality of customer experiences. Starting with the children's segment, with Ikea's shop in Croydon recently opening its own children's corner where they can have workshops and play with play dough, colour in albums with drawings and watch magic games. Ikea's focus on the little ones did not stop at the children's
With 37 per cent growth over last year and a 13 per cent increase in workers in the trade, Great Britain represents a country of rich opportunities for retailers.
Retail 161
"For a customer to break their deeply ingrained buying habits is difficult. So, we focused on a creative campaign that communicated the app's ease of use and identified our brand as a symbol of reliability," said Radha Davies, Sainsbury's Communications Director
On the job front, John Lewis Partnership, a company that operates in the department stores and retail logistics activities, has started a recruitment campaign for 10,000 staff to be employed over the coming Christmas period.
Like most European Union countries, Great Britain is also coming to terms with rising electricity prices and rising inflation. Well, while many sectors are looking to the future with uncertainty, several British retail chains are taking an optimistic approach. Such as Sainsbury's, which has launched a mobile app that allows customers to shop, scan and check-out independently, while the technology tracks
BRITISH TRADE IN THE COMING MONTHS: BETWEEN HOPE AND REALISM
purchases to unlock bespoke product offers based on historical favourites. The launch was preceded by a promotional campaign including a TV commercial in which word letters are replaced by fruit and vegetables, with the aim of raising awareness on the value of food.
the food sector, marketing strategies can be implemented to enhance one's name and acquire new customers.
social network), several customers have rediscovered old works of the publisher, so much so that they have had to reprint them.
influencers has seen sales grow sixfold over last year. In the meantime, the brand has updated its clothing styles and made offers for online trade that have enabled it to respond more quickly to the trends of the summer season. Another brand that has made inroads into the hearts of youngsters with Tik Tok is Bloomsbury (BMY), publisher of best-sellers including the Harry Potter saga. Recently, the managing director of BMY said that thanks to book reviews on #BookTok (a section of books reviewing via the popular
The initiative of Tesco is different, as it has opened a space where baked goods and reformulated, i.e. healthier, products can be bought on a trial basis. Two initiatives that demonstrate that even in
It is an educational method to promote supplements that can reach the audience of Seniors and Millenilas.
In recent years, the trend of wellnessmarketing is spreading, i.e. all those sales techniques based on healthy lifestyle. This is a method of approaching people's needs to solve their discomforts and can be implemented in all channels: physical shops, online and offline communication. Compared to body-positive techniques or kindness marketing, wellnessmarketing emphasises good practices for psychophysical well-being: psychological therapies, sport, or healthy eating. One brand that has stood out for its focus on wellness is the NBA, which recently launched the NBA Mind Health initiative, making online handouts available to everyone to improve their psychological health. The campaign includes testimonials from NBA players describing
Retail162 WELLNESS
In addition to the quality and prestige of products, psychophysical well-being is also becoming a message in promotional campaigns by manufacturers and retailers.
WELLNESS MARKETING IN PHYSICAL SHOPS
Instagram or Tik Tok with influencers or consumers tagged.
But also in shops, welleness-marketing strategies can be implemented. In fact, a shopping centre is not just a place where to buy and sell, but also a place where one can experience leisure and entertainment. To meet the needs of customers, in recent years several retail chains have equipped their premises with gyms and wellness centres. The luxury market also offers wellness-marketing opportunities, so much so that inside the Galeries Lafayette in Paris there is the Wellness Gallery with 3.000 square metres dedicated to the regeneration of body and mind. In this special place, people can book massages, beauty treatments (manicure, depilation, and facials) and workouts with gym equipment. The Gallery is in the basement and features a 1970s décor.
In other words, with wellness-marketing brands can get new customers and improve their brand identity.
Galeries Lafayette
By Matteo Melani
WELLNESS MARKETiNG, ALL THE TEcHNiqUES FOR GOODcOMMUNicATiNGpRAcTicES
NBA Mind Health initiative
the benefits of psychological therapy and content aimed at coaches and teachers, who deal every day with children and young people (Junior NBA). Also on the online communication front, Olly, a women's supplement brand, has focused on promoting the benefits of a healthy lifestyle and almost daily posts videos on
RETAIL INNOVATION
While traditional screens allow the viewer's attention to be captured, 3D screens provide a unique viewing experience for the consumer. Thanks to the three-dimensional effect, video walls offer the same emotions as in a movie theatre, but without the need for glasses. Compared to ordinary video walls, threedimensional screens are suitable for short videos such as commercials or advertising slogans. One of the brands to be among
Entertainment, promotion, loyalty. In a shop, innovations not only simplify sales steps, but also improve the user experience.
Starting with video walls which, if placed directly at the entrance of a shop, give a strong visual impact. In fact, in addition to the brand logo, videos of discounts and new products can also be uploaded. There are those who have decided to focus on larger screens and show customers long-format content. Like Toys Center, which has equipped its shops with screen windows that project the Toys Center Comedy Show, mediumlength sketches suitable for children and youngsters. Similar is the initiative of Adidas, which shows a cartoon starring Arsenal footballer Mohamed Salah on the screens of its stores in shopping centres. Obviously, even within a physical shop, retail can exploit technology to enhance the environment, as Armani, who focused on integrative devices for the launch of its Armani Exchange flagship shops in Amsterdam and Berlin.
Mohamed Salah Cartoon
Retail164 INNOVATION
Here are some ideas to improve the entire shopping experience.
THE EXCITEMENT OF 3D VIDEO WALLS
The Ax shop in Berlin has a similar format, also with the illuminated letters AX but, unlike the one in Amsterdam, the letters are only on the double-height window at the entrance. The shop is located in a late 19th century building on the Kurfürstendamm Boulevard, known for its boutiques, restaurants and nightclubs. Inside, one can see where the Armani Exchange sign goes. Two cases that prove that even in more refined contexts, technology can come to the rescue
Can innovation and quality go hand in hand? The answer is yes. For the opening of the new Armani Exchange shops in Amsterdam and Berlin, King Giorgio opted for technologies that enhanced the environment and the products on display. The shop in Amsterdam is located in a two-storey building opposite the Royal Palace and 300 metres from the station and the technologies fit perfectly within the historical architecture of the shop. Starting with the illuminated letters A and X that can be seen on the shop
windows and arched windows. Being large, the letters can be read even from afar, communicating the brand to tourists and residents. Inside there is a video wall on which the AX lettering runs, which blends in with the marble floor and the wooden displays. The lighting system, using the latest LED technology, is designed to reduce waste.
proof, decreasing the likelihood of returns. In addition to AI, also e-commerce is an advantageous tool, so much so that the JD Sports shops have a device that can show customers the goods on site and those that can be ordered to be picked up in the shop. In this way, customers avoid queuing near the shelves and save time.
Whatever the target and the products on sale, innovation is a true ally to get success in retail.
the firsts to bet on 3D screens was Adidas, which fitted out its point of sale with a maxi-screen on the façade at the opening of its first single-brand shop in Rome.
Sephora's digital screen
More impressive was the initiative of Wrangler, which broadcast a video of the Jeep 4xe in motion on the 3D screen in the Coex shopping centre in Seoul. The threedimensional effect gave the impression that the Jeep was coming out of the screen. So, an innovation that allows you to tell people outside your audience about your brand, such as passers-by.
ARMANI INNOVATIONBETWEENEXCHANGEMYTHAND
PRODUCT TECHNOLOGIESSELECTION
Retail 165
In addition to entertainment, technologies can also be useful for customers in displaying the products they intend to sell. For several years now, Sephora has made a digital screen available to those entering their shops in order to allow customers to try on digital make-up. By positioning oneself in front of the screen, the technology simulates the make-up products on a customer's face in real time and the interface memorises the precise position of a user's facial features. In this way, customers can instantly try on numerous shades of eye shadow or lipstick simply by touching different shades. The technology is useful for both customers and staff. Indeed, with artificial intelligence, the selection process becomes faster, because customers do not have to rely on sales assistants for
of personalities active in environmental protection, and finally the increasing adoption of renewable energy systems. This trend has also made itself felt in the retail trade, so much so that according to a survey by Ibm, 71% of respondents said they would be willing to pay more for a product that indicates traceability and 90% of young respondents believe that companies have a responsibility to address environmental and social issues. Sustainability is therefore an increasingly strong characteristic of today's consumers, and with the right strategy it is possible to gain credibility even outside your target audience.
Retail166 SUSTAINABILITY
CIRCULAR EXPERIENCESECONOMY
SUSTAINABILITY IN A CHANGING WORLD
Whereas until a few decades ago consumers only paid attention to product quality, today they also look at the relative environmental impact. This trend is the result of several factors: firstly, the awareness of global warming, then the rise
Wurth Recycling Point
From the display of environmentally friendly products to the recovery of waste, it is possible to win new customers by focusing on the protection of the Earth and the circular economy
From children to adults, respect for the environment is a theme that appeals to consumers of all ages. In order to enhance their brand and win new market shares, several retail chains have adopted sustainability-related shoppingexperience strategies. Like Starbucks, which has always used disposable cups and environmentally friendly packaging materials instead of plastic. In addition to the offer, attention to the environment can also be communicated through the telling of virtuous practices or through events dealing with nature, self-production and saving. In its Italian shops, Timberland has placed posters telling about the sustainable production of clothing and accessories, and its Milan shop, Orefici 11, regularly organises workshops on gardening and home farming.
In addition to renewables and reforestation, the circular economy is a cornerstone of sustainability. By reusing, repairing, reconditioning and recycling materials, it is possible to extend the life cycle of products, and helping to minimise waste. Timberland has also shown itself to be a sensitive brand in the dissemination of the circular economy, so much so that with its Timberloop programme it has given its customers the
By Matteo Melani
SOLUTiONS TO ENHANcE BRANDS AND pRODUcTS THROUGH SUSTAiNABiLiTy
FROM EXPOSURE TO PARTNERSHIPS: SOME TIPS FOR A SUSTAINABLE BUSINESS
From small brands to multinationals, focusing on the way environment can enhance a brand. Starting with the décor, for example by installing plants or arranging pots on shelves or on top of displays. Plants are not only reminiscent of nature, but they are also real weapons against carbon dioxide pollution. You can choose between natural (and therefore cared for) or artificial plants (made from environmentally friendly materials). In addition to pots, plants can also be featured in other ways, such as on a photograph or illustration. If we want to extend our brand awareness to a wider audience, we can enter partnerships with associations for the protection of public green spaces or with companies for the recovery of used material, such as smartphones or computers. From manufacturers to retailers, sustainability is still a plus to emerge in the market.
opportunity to hand in their old garments (also by Timberland) to be recycled and in return receive a 10% discount on their next purchase. Clothes and accessories can be delivered to selected shops or sent by post. A similar case is the Back to work initiative of Wurth Modyf, which has equipped its shops with a recycling point where customers can throw away their old work shoes and, after transformation into second raw material, contribute to the laying of flooring for gardens and/ or athletics tracks. As an incentive for customers to take part to this action, Würth Modyf offered a €15 discount on the purchase of a new pair of shoes during the month of August. But the environment can be a pretext for the development of other experiences. One example is Dresden, a brand of glasses made from plastic waste and fishing nets recovered from Australian beaches. Besides advertising its virtues,
Dresden allows buyers to create their own pairs of sunglasses in exchange for the lenses and frame parts of old glasses. In this way, customers can purchase unique, stylish and environmentally friendly glasses.
Dresden Glasses
All these techniques communicate environmental friendliness and involve personally the user.
Retail 167
DO IT YOURSELF
offer good products, but marketing strategies are needed to attract the public's attention. If the Internet reserves opportunities for tutorials or promotions, in-person events allow products to be presented in an interesting and entertaining context. An example of this approach is Obi Night's 'Do-it-yourself evening for women', an event organised by Obi Alto Adige, which after a break of two years has now resumed. It is dedicated to women who want to improve their DIY skills and includes practical demonstrations such as how to make holes in walls or how to close them correctly on different surfaces, how to fit snow chains correctly, how to renew silicone joints and tips on decoration and handicrafts. The
ALL THE OPPORTUNITIES OF IN-PERSON EVENTS
MARKETiNG, THE NEW DO-iT-yOURSELF cpROMOTiONALAMpAiGNS
By Matteo Melani
The data explain that this trend will continue in the coming years, with almost £78 billion being spent on e-commerce platforms between now and 2026, accounting for 68.3 per cent of total retail Thegrowth.growth factors are to be found in the closures due to the pandemic and the rise of smart-working. In fact, as people spent more time at home, they started doing small jobs such as painting walls, fixing old furniture and planting flowers in the garden. As a result, brands have
Kimberley Walsh for Wickes
Marketing168
If until a few years ago DIY (Do It Yourself) was considered a niche sector, in recent years sales of home care tools have also expanded to the general public. Starting in Europe, for countries inside and outside the EU. According to a Edge study by Ascential, retail sales of home care products in Great Britain grew by 2.6 per cent compared to last year.
As in all product sectors, in the do-ityourself business it is not enough to
also adapted, reselling their marketing and communication strategies. Like Wickes, which recently hired actress Kimberley Walsh for an online column in which she suggests ideas for decorating one's home. From sales to online experiences, home care represents a sector with vast possibilities
full Wickespotential.wonthe title of Stonewall Diversity Champion for launching the Wickes LGBT+ Allies programme, with the aim of defending LGBT+ people when they are victims of inappropriate behaviour. Also on the side of helping the youngest, several retail chains have been active with ad hoc initiatives for children and young people. Since 2011 in Great Britain there has been the association Volunteer It Yourself, which promotes vocational training courses for marginalised young people through volunteering. Among the companies that have joined the project are Travis Perkins, a distributor of electrical equipment, and ToolStation, a retailer of construction tools. Both companies have over time supplied their products for the renovation of public buildings and green areas and the work done by the participants contributes to the final qualification of the training courses. For Travis Perkins and Tool Station, joining Volounteer It Yourself was an opportunity to show their focus on charity and to strengthen their connection with Britain's suburbs. All these cases prove that DIY and gardening offer possibilities in all fields of marketing.
But the increase in sales of DIY and gardening tools prompted the various trading companies to espouse social battles in order to reach new consumer segments. In addition to videos featuring actress Kimberley Walsh, the Wickes group has also stood out over the years for its focus on LGBTQ+ rights. Last 6th August, at the Gay Pride, a Wickes float joined the Brighton Pride parade with two huge signs: one saying "No LGB without a
events will take place in all of the South Tyrolean shops (Varna, Bolzano, Brunico and Merano) and will include 7 situations where participants can learn new uses for the various materials and tools in an educational but enjoyable context, so much so that the slogan Obi has chosen is 'Learn. Laugh. Do-it-yourself'. We can say it is an inclusive and up-to-date demonstration of experiential marketing.
Marketing 169
TOWARDS AN EVER MORE SOCIALLY AWARE DO-ITYOURSELF
T, we stand with our trans brothers now and forever", and another stating "Ban conversion therapy for all!". Wickes has been creating floats for Pride celebrations since 2014, and for several years has been running the Let's do it with Pride association, which focuses on valuing diversity within the group's shops and offices, with the aim of creating a positive environment for workers to reach their
Even smaller brands are inspired by art and culture when launching new perfumes. One example is Profumo di Firenze, a brand by the Galardi family inspired to the tradition of the Florentine perfumery art. The perfume line is made of Dante Collection (which evokes the Supreme Poet with fragrances such as XXV Marzo, Obscurus, Nievus) and Firenze Collection
green branches with a blue sky behind them and includes candles, scented reeds and room diffusers. Almond trees bloom in early spring and symbolise the beginning of new life, so Floreal Street has created a fresh fragrance with passion fruit, apple blossom and matcha. This is not the first time that Floreal Street has offered a perfume inspired by the works of Van Gogh, so much so that last year it launched Sunflower Pop, a perfume with a bottle featuring the painter's iconic sunflowers. For Van Gogh, sunflowers represented gratitude and the packaging recalls the famous work, with the flowers portrayed against a yellow background.
Sunflower Pop by Floreal Street
The fragrance (available for both men and women) emits a scent with top notes such as bergamot and orange blossom, typical flavours of Sicily.
By Matteo Melani
Marketing170 COSMETICS AND ART
Floreal Street, which, in collaboration with the Van Gogh Museum in Amsterdam, has created the Almond Blossom Fragrance, inspired by Van Gogh's famous 1890 painting. The packaging features white flowers on
cOSMETicS AND pERFUMES iNSpiRED By ART
Compared to a posed photo or a brand graphic, works of art are able to provide a striking effect from the very first impact. In addition to paintings and sculptures, references to familiar places and handicraft traditions also represent added value in a cosmetics product.
To propose a successful product, it is not enough to know the preferences of one's public, but one must find formulas that can inspire and excite the customer. Art represents a trump card capable of conveying emotions even in buying and selling, so much so that several cosmetics brands have taken inspiration from paintings or sculptures to create new Likeproducts.
Both Almond Blossom and Sunflowers are iconic Van Gogh works known worldwide and their fragrances can appeal to all consumer categories: from millennials to seniors and from art lovers to perfume collectors.
In addition to art, the landscape heritage and handicraft specialities are also valuable levers in cosmetics. One example is Dolce & Gabbana, which after praising sartorial know-how in its dress collections, since 2003 has launched Sicily, a perfume named after the region of Sicily (Italy).
retail outlet, creative solutions of a high standard can be realised with online communication. Browsing Alyssa Ashley's website, in addition to reading about the characteristics of the perfumes, one can learn all the secrets of her passion for art. For example, on the page of the RoseMusk edition inspired by Botticelli's Venus, one can find analogies between the product's values and Botticelli's thoughts on beauty. In his presentations, one can also read reviews by art historians.
In addition to providing an evocative effect, fragrances inspired by art also contribute to the enhancement of a physical and online shop. For the display of its fragrances, Profumo di Firenze chose elements that recall Florentine culture around the world such as images of Dante and panoramic photos of Brunelleschi's Cupola. If space must be taken into account in a
video shows all the Sicilian beauties: from historical buildings to flowers and citrus fruits. In other terms, from short contents to more demanding ones, perfumes can be communicated on websites with any strategy. Even on social-networks it is possible to publicise fragrances effectively. In addition to video links, ad-hoc content such as photos can be created. Profumi di Firenze on its Instagram profile shows pictures of the fragrances next to plants, on terraces (in Capri) or with panorama views as a background (Piazzale Michelangelo and the Florentine old town). After all, the pictures immediately give the meaning of the object and need no further preamble. From multinationals to small brands, by spreading beauty brands can conquer new markets and widen their audience.
(which celebrates the beauty of the Florentine capital with fragrances such as Buontalenti and Cuoio).
Marketing 171
More concise is the communication strategy of D&G Sicily, with a few lines describing the characteristics, while the
In short, works of art, both for their intrinsic value of beauty and world renown, are undoubtedly valuable sources of inspiration in cosmetics.
SECRETS FOR THE PHYSICAL SHOP AND E-COMMERCE
By Matteo Melani
According to a report by Data.Ai, in the second quarter of 2022, users spent between 4 and 5 hours on apps, with countries such as Indonesia, Singapore and Brazil reaching almost 6 hours. All data that confirm the success of apps.
THE IMpORTANcE OF AppS
exclusively on the NTWRK app, the leading live streaming shopping platform in North America. This is an initiative that allows Instacart to promote itself to a different audience than its usual one, namely Generation Z and Millennials. It is precisely delivery that represents an area of mobile commerce destined for unprecedented growth. According to a study by Future Market Insights, the food delivery app market in the US will reach a valuation of approximately USD 8,856 million by 2032, with sales growing by 22.6 per cent over the next ten years. The situation is different in Europe, where commerce and entertainment are leading sectors in the app market. In the UK, the first free app downloaded from the Play Store is that of Dessert DIY, followed by Bucket Crusher and Dream Wedding. All are online game services. Also across the Channel, supermarket chain Asda's app is among the best in retail. Among the EU countries, apps for games and streaming content (such as sports and movies) are the most popular. From big-tech to small production houses, the apps market represents a branch of the online industry, still with strong potential.
TV commercials and social network) and continuing with collaborations. They are precisely joint initiatives that represent golden opportunities to acquire new users and enhance the brand even outside their own business. One example is Instacart, a US-based food delivery and pickup company, which recently launched a limited-edition clothing collection
Among the most popular apps are those related to social media and instant messaging such as Instagram, Facebook, Tik Tok and Whatsapp Massenger.
In short, a constantly evolving market (not only in terms of numbers, but also in terms of innovation) has pushed app owners to invest heavily to improve services and beat the competition, starting with advertising (YouTube ads,
Marketing172 APPS
Bulgari Aluminium Ducati Special Edition
One example is the Bulgari Aluminium Ducati Special Edition, a sports watch produced in a limited series of one thousand units that celebrates the union between the jewelry house and the Italian motorbike manufacturer. The watch features shapes and colours reminiscent of the two brands. Starting with the chronograph, with a Ducati red dial and three sporty-style counters inspired by
the Ducati rev counter graphics (black background, white indexes, red sphere).
It is an initiative that, taking advantage of the reopening of schools, broadens its offer to other customer categories. More circumscribed both in terms of timing and products is the initiative of Maurice Lacroix, who created a series of watches with its own brand name on the occasion of the Fiba 3-on-3 world basketball tournament (held in the summer), but which picked up on the colours of the event: blue and yellow like the balls, black strap and white dial and white strap and black dial like the vests worn by the Withplayers.fashion and accessories one can promote a brand on any occasion without renouncing one's distinctive features.
With co-branding initiatives, it is possible to enhance the identities of the contracting brands and enlarge their user base. In this sense, clothing and accessories are undoubtedly valuable means because they add value to the brand and allow new markets to be attacked.
THE VALUE OF FASHiON AND AccESSORiES iN cO-BRANDiNG
By Matteo Melani
CO-BRANDING
The hour markers also refer to the aesthetics of the motorbike manufacturer from Borgo Panigale. The titanium back is personalised with the Ducati brand name and serial number, testifying to the uniqueness of this limited-edition piece. The watch is delivered in a special anodised aluminum case with rubber
Marketing 173
Also among the lower-end brands, apparel and accessories remain valuable promotional vehicles to be exploited at every opportunity.
CO-BRANDING FOR EVENTS
interior and soft touch finish, bearing the signatures of the two brands Ducati and Bulgari. In short, an initiative that celebrates two Made in Italy signatures in a single product.
A co-branded garment is also useful to highlight special occasions or initiatives, as to leave customers with a tangible reminder of an event. Inspired by the punk style of the 1990s, Forever 21 (a licensing and resale brand) in early September launched a Back to School limitededition Collection, comprising men's and women's clothing (flannels, short tops, plaid miniskirts), shoes, beauty products, sleepwear and pet care and household items.
Scarlett
By Matteo Melani
VIDEOGAMES AND WOMEN
Like all influencers, gamers also lend their image to advertise a product, in this case new editions of games or tournaments. There are those who do live streaming (which in addition to promoting the product allows followers to interact with the gamers); those who participate in television or radio programmes; those who comment on national or world competitions.
One example is Scarlett, a Canadian-born gamer and the first woman to win a Star Craft II tournament. The gamer became famous in 2014, when she won first place in seven world tournaments thanks to her
performance. Scarlett is transgender and therefore a model of inclusion. Obviously, video game companies have also intercepted this change, producing works in which the female presence is at the centre. For the NHL 2023 edition, EA Sports decided to put Sarah Nurse - Canadian ice hockey player and star of the Canadian national team - on the cover. This is the first time a woman has been featured on the page of the NHL series. Samsung to advertise Exynos 2200, a mobile processor for games, has also opted for a female protagonist. The 60-second spot shows a girl walking past a series of street vendors trying to sell fruit and 8-bit computer-style pixelated weapons. As she walks, the girl is lured by a grizzled white rabbit (inspired by the one in Alice in Wonderland) who leads her into an underground black market populated
THE RiSE OF FEMALE GAMERS AND FEMALE REpRESENTATiON iN ViDEO GAMES
In addition to clothes and beauty products, the figure of the game-influencer, i.e. female game enthusiasts with a strong social-network recognition, is also gaining ground in the world of video games.
Trends174
Odissey Ark @Gamescom
To date, the top country in terms of number of female gamers is the United States, followed by China and Australia. But what are the video game genres more appreciated by women players? First of all, they are adventure games (such as Fortinite and League of Legends), then team sports and more rarely fighting games.
Trends 175
Obviously, the process of inclusion in the video game industry did not start overnight, but registered stages over time. Already between 2000 and 2010, little girls and young women started to ask their parents for video games mostly intended for boys, such as football or snow sports. Also, on the front device in those years, there were increases in sales of consoles
The rise of the female gamer reflects the state of the video game market. According to 2022 Hootsuite's Digital Report, more than 80 per cent of women aged between 16 and 44 surveyed said they play a video game at least once a week. This is an important figure that proves how the video game market is no longer the preserve of men. Moreover, in recent years the Women in Games Association, an association to protect female gamers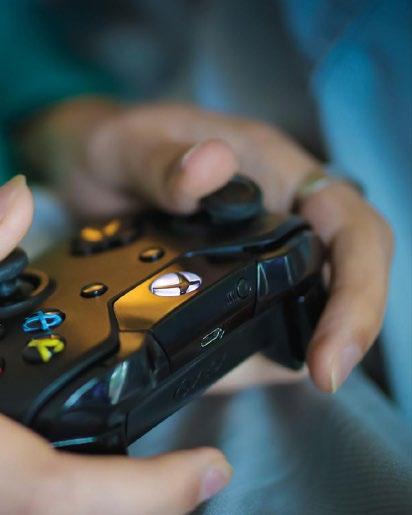 AN INCREASINGLY MODERN MARKET
THE INCLUSIVENESS OF INITIATIVESBRANDED-GAMING
On the wave of success, several brands have moved to make video games that are also suitable for female audiences. One example is Luis Vuitton, which in 2019 partnered with League of Legends
for the video game's world tournament (in which gamers also participated) with both in-game content - signed by the French house - and a briefcase containing the Summoner's Cup. In December 2021 Mac Cosmetics promoted a content that gave the winner the chance to be part of the Mac Glow Team and play with famous gamers such as: Antonella Arpa (nicknamed Himorta), one of Italy's most famous cosplayers with a million followers on Instagram and a passion for manga comics and superhero costumes; Gaia Clerici, content creator of ironic videos and the Fnatic hontas and Kodomo pro players, streamers followed on their respective social channels. The contest was launched on Tik Tok and Instagram Reels. Therefore, female representation is not only an evolution of the sector, but also a feature for the success of games and promotional campaigns.
and game-influencers, was founded. Often female gamers have been victims of sexist insults both during live streaming and with comments under photos on Instagram or Facebook.
such as the Wii to female targets in childhood and adolescence. We have to wait until 2013 for the breakthrough, as in that year Tomb Raider is released and the protagonist Lara Croft features more realistic proportions and less skimpy clothes.
by darker characters and vendors trading guns and weapons, all in full HD quality. The commercial was aired on UK channels and received successful views on YouTube. If until a few years ago women in video games were only known for their sensuality, today they have become stars on their own merits.
a person or a brand. Just to make an example, at the end of August, Hbo broadcast The Beauty of Blackness, which is a docu-film about the birth and success of Fashion Fair Cosmetics, the first cosmetics company owned by black people. Compared to a classic film, you don't see actors reciting a script, but you do see interviews with key people and anecdotes. Thus, medium- and long-form videos are useful for brand and product communication.
Pierfrancesco Favino, Alberto Galassi (Ferretti's CEO), David Beckham
In an age like ours - where content is increasingly "liquid" - short films and documentaries also remain very valid storytelling tools. Unlike educational videos, they last longer, can also be viewed on digital platforms and are more suited to the celebration of a flagship product or the history of a brand. To celebrate the 180th anniversary of the Riva motorboat brand, Ferretti hired director Federico Brugia who made a short film inspired by the cult TV series "The Persuaders!" starring Italian actor Pierfrancesco Favino, former footballer David Beckham and Ferrari driver Charles Leclerc. In addition to the motorboats, the video features a flamboyant Ferrari and a vintage Maserati, both symbols of luxury. It is an example of effective storytelling in which luxury is told with quality and relevance. A different approach is the documentary, which chronicles the life and work of
To advertise a product it is not enough to emphasise its qualities and prestige, but it is necessary to find formulas that capture the user's attention.
months now, the In's Market website has featured a section entitled A Smile in the Kitchen, with videos presented by Alessia Mancini showing recipes.
Trends176 BRANDED CONTENT
If short-form videos such as those on Tik Tok or the reel pages on Instagram launch a message and arouse interest, long-form video content (online and offline) provide the viewer with more precise information. In recent months Sephora has set up a web-TV with experts and influencers describing products and their applications. In addition to make-up and shampoos, the videos mention the brand's shops and any promotions to spend in the shops or on e-commerce. Much of the content lasts between 25 and 30 minutes, so as to provide as many tips for using the products as possible. In short, all videos comparable to tutorials result more substantial in terms of time and content. But educational videos can also be made in other areas, such as cooking. For several
THE OppORTUNiTiES TO pROMOTE VIDEOS
By Matteo Melani
dictated by gender norms, allowing all kids to express themselves freely. With 52% of tweens liking brands that support diversity and equality, it is not surprising that Mattel's latest investment in the toy market has proved lucrative with tweens globally with many children and parents grateful for the wider representation in both toys and dolls, raising the bar for inclusion in the kids' ecosystem. Following the global upward trajectory towards gender-neutral toys, different nations across the world are reacting to ensure that they play their part in supporting gender equality. Several European nations, including France and the UK, have in recent years made efforts to end gender stereotypes. Notably, an agreement between the Spanish government and the Spanish Association of Toy Manufacturers and Autocontrol, toys will not be presented with the indication that they are for one gender, including colour associations (such as pink for girls and blue for boys), coming into effect on 1st December 2022, just in time for Christmas. Following these developments, brands are able to utilise the gender-neutral toy trend to appeal to both parents and kids and convert awareness into tangible sales. For toy companies, being aware of the preferences of both kids and parents when choosing toys can allow them to refine their marketing strategies to cater to a wider target market. For advertisers, knowing where to reach kids looking for new toys is key in gaining their attention. Looking forward, it is evident that as more brands are expanding their reach in the gender-neutral toy market, this will lead to an increased availability of toys which bridge the equality and diversity gap, bringing brands and their consumers closer together.
TOyS FOR EVERyONE
Trends 177 TOYS
to girls who want to play with sets that may not have been traditionally 'for them'. Whilst LEGO has entered the genderneutral toy space in the past year, some popular brands have been tackling gender equality for a while. In 2019, Mattel (creator of both Barbie and Hot Wheels) announced the release of their first series of gender-neutral dolls which differ from Mattel-owned Barbie and GI Joe dolls in subtle but significant ways. With no broad shoulders, full hips or long lashes, these dolls are a blank slate; a toy which is not
Though living in an increasingly digital world – toys still have an important role to play in the daily lives of kids. On a typical day, kids aged 3-9 spend an average of 1 hour 13 minutes playing with toys, leading to a total of almost 9 hours per week.
In 2021, LEGO announced its efforts to remove gender stereotypes from its toys to make their brand more inclusive and address gender bias and the harmful stereotypes attached to traditionally designed toys. Following this announcement, LEGO's popularity with young girls has increased by +23% and LEGO no longer labels any of their products as 'for girls' or 'for boys'. They are also including more female role models within their marketing in a bid to appeal
By The Insights Family
In the past year, construction toys such as LEGO have risen in popularity with tween girls (+39%) and tween boys (+38%), indicating a growing market for toys which cater to both girls and boys. In regard to purchasing habits, our data shows that toy stores are the second most frequented store type amongst kids aged 3-9 (25%), and kids who shop at toy stores spend more time playing with toys per day than the average kid (+8.7%). With these kids ranking LEGO in 3 of the top 4 positions when asked what their favourite toy is, it is evident that LEGO is dominating the toy market as a recognisable brand which is suitable for all genders.
- Is the Media Partner of over 30 leading B2B licensing, entertainment, fashion, toy and animation trade events in Europe, USA and ASIA.
- Has over 60,000 monthly readers on its digital and print magazines, weekly newsletters, social media pages and allnews website.
Follow us and you will receive our weekly newsletters, LM e-news, to keep updated on the latest industry news.
Licensing Magazine is one of the only trade publications that:
- Presents "outside the box" analytics on the hottest trends and themes, - Is a fully integrated media platform, with a magazine - print and digital format -, all-news website, social media pages, and weekly newsletter accessible to its readers around the world 24/7.
THE NEXT EVENTS TO FOLLOW!
- Offers transmedia coverage on the licensing, digital, entertainment, animation, fashion and publishing industries,
Save the Date178 WHAT'S NEXT EVENT CARTOON FORUM BRAND LICENSING EUROPE ACE FAIR MIPJR CHINAMIPCOMLICENSING EXPO FRANKFURTER BUCHMESSE CARTOON SPRINGBOARD B&LIS NORTH AMERICA X TRACKS ASIACARTOONENTERTAINMENTBUSINESSTELEVISIONFORUM PLACE GwuangjuLondonToulouse ShanghaiCannesCannes LosNewMadridFrankfurtYorkAngeles Gran SingaporeCanaria DATE 19 - 22 September 20 - 22 September 22 - 25 September 15 - 16 October 17 - 20 October 19 - 21 October 16 - 23 October 25 - 27 October 8 - 9 November 14 November 15 - 17 November 7 - 9 December CATEGORY Animation Licensing Animation PublishingLicensingEntertainmentEntertainment Animation LicensingLicensing Animation Entertainment
www.cartoon-media.eu/forum www.buchmesse.de/www.chinalicensingexpo.comwww.mipcom.comwww.mipcom.comwww.acefair.or.krwww.brandlicensing.eu
WEBSITE
www.brandlicensinginnovationsummit.comwww.cartoon-media.eu/springboard/ www.entertainmentxtracks.com/ www.cartoon-media.eu/business/ www.asiatvforum.com/
SUBScRIBE NOW TO REcEIVE THE NEXT ISSUES OF LIcENSING MAGAZINE
- Reaches over 110 countries,