riding season 2023 2 www.bhpioneer.com
Black Hills Harley gets new ownership
retains staff, makes only positive changes
Black Hills Iron
RAPID CITY — When Sonic Automotive Group acquired Black
NASCAR and other big names in the industry took over the Rapid City store and all of its ancillary outlet stores in Sturgis, Deadwood, Hill City, and Wall. Since
is running like business as usual, with several major upgrades to improve and enhance the customer and Rally experience. Just as importantly, Reiman said Sonic Automotive Group
for hosting a variety of rides, customer appreciation experiences, and a major Rally event. This summer, he said the dealership has a ride scheduled for every Saturday of the spring and sum
es where we couldn't put tents because
Hills Harley has a new owner, but it retained its staff.
riding season 2023 3 www.bhpioneer.com
B y W endy P itlick
Black
Photo by Mark Watson
HARLEY OWNERS Pg 6
Nightster growing in popularity
By Wendy Pitlick Black Hills
Iron RAPID CITY — Customers recognize an amazing machine, and that's why sales for Harley-Davidson's 2023 Nightster have been at full throttle. Originally introduced in 2007, the
in quite some time. The Sportster just celebrated its 50th year last November, but before that landmark the company launched its new Nightster in August 2022.
"I think they made an amazing machine," Maloney said. "The old sportster
It still carries the Sportster name, but it is all new from the ground up. The lightweight cruiser hasn't been updat-
Courtesy photos
nimble on the road. Key features for the bike include exposed dual rear shocks, a 19-inch front wheel and 16-inch rear wheel to maximize maneuverability and performance on the road. The Nightster powertrain also features significantly reduced weight and a stiff chassis. While Maloney said the Nightster isn't typically for those who like to go on a long cruise, it's ideal for anyone who is looking for something to run around town with. He's excited to see the aftermarket parts developed, as he said it's "ripe for customization."
riding season 2023 4 www.bhpioneer.com
Celebrating life Jasper Ride celebrates recovery, spreads hope
By Wendy Pitlick Black Hills Iron
LEAD — Live to Ride. Ride to Live.
The old biker adage takes on a new meaning these days for Jess "Jasper" Carsten, and when he sets out to ride on his sobriety date every year, he means to celebrate the life he's been given. Every June 4, Carsten embarks on the Jasper Ride. For the last four years bikers from all over the country have joined him on the unstructured ride to try and save other lives by sharing stories about how he was, what happened, and where the new road of sobriety has taken him. So far the ride has drawn bikers from all over the country.
"It's something I do to celebrate life," Carsten said. "It (has) become more important to me than Christmas, my birthday, all of that kind of stuff."
In his fifth year of sobriety, Carsten said this ride is extra special. Earlier this year he bought a new Street Glide as a sobriety gift, and he's looking forward to the Jasper Ride more than ever.
At an early age, Carsten fell into choosing drugs and alcohol as a way to escape severe childhood trauma. He began selling drugs as a way to fit into crowds in school, and his life quickly spiraled out of control when he lost everything he had and damaged every loving relationship in his life. As a methamphetamine user, he struggled with health issues and found himself in and out of the hospital. Finally, a failed attempt to take his own life resulted in change.
"My mind was messed up," he said. "The only thing I wanted to do was be numb. I wanted to feel normal for once. So I just turned to drugs and I thought that was the answer. It destroyed me. Five years ago I pointed a gun in my mouth and pulled the trigger. It did not go off because I had put the gun together poorly, thankfully. When I got mad at myself and I was crying, I looked myself in the eyes for the first time. It was the first time I'd actually looked at myself in years. I was 116 pounds and I looked like I was dying. It blows my mind."
It was right after that experience that Carsten sought real help and found it in a Sturgis pastor whom he said looked straight at him, a stranger, at a recovery group meeting.
"When he spoke it was like he was speaking right to me," he said. "It was like he knew. I struck up a friendship with him and just kept talking to him. Here I am now."
Today, with the Jasper Ride, Carsten seeks to be a person of hope for others as he rides to celebrate his sobriety. Every year he finds someone to help, and that fuels his drive to keep going. Last year
he found himself at the hospital, talking to mental health patients about life. Then, while fueling up in Rapid City, he got to tell his story once more.
"Last year was a crazy year," he said. "I pulled in to get fuel for my bike and I saw a guy who was on meth. He was all messed up. He was cold and he was shaking. He was just sitting there and nobody was doing anything about it. So, I walked inside, bought him a sandwich and bought him a coke. I came out, gave him my coat and just asked if I could have a couple minutes of his time to tell him my story."
After that conversation, Carsten said the boy went to Keystone Treatment Center in Canton, S.D. Carsten found out when the boy sought him out on social media, and a phone call connected the two once again.
"He told me I saved his life," he said. "He couldn't get into treatment and he did nothing for five or six years. He was on his way out. When I talked to him he said I inspired him to reach out to his family. He hadn't talked to them in years. They had written him off. He asked for their help to get into treatment, they helped him and to this day he's sober."
Carsten said that's what it's all about.
"My goal is if I can spread the idea that there is hope out there for people who do change, maybe I can save one life," he said. "To me, one life is amazing. That's something."
Carsten said he also wants to spread the message of personal responsibility and accountability for choices, in a world that seems to be increasingly more accepting of drugs.
"To me, across the nation in our world drugs are being promoted every which way you turn," he said. "You've got Oregon decriminalizing heroin, meth and everything else. Colorado, California, and a bunch of other states have now legalized marijuana. In our society, the younger generation thinks drugs are OK. I grew up in a society that you had to hide it. I also grew up in a society that it wasn't OK. Now, everybody just pats you on the shoulder, in my opinion, and says 'it'll be OK. You'll get past it. It's a disease.' That's the next scapegoat. For me, I had to heal and it was time to quit hurting. The only way I knew to quit hurting was to help other people. I decided when I got sober that I wasn't just going to get sober. I was going to change the way I thought and change the way I treated people and the way I acted in relationships. My whole general computer in my brain had to be rewired."
Over the years, Carsten said participation in
riding season 2023 5 www.bhpioneer.com
Courtesy photo 307-746-2255 | 22918 Hwy 85, Newcastle, WY 82701 | www.newcastlelodgewy.com Paid for in part by Weston County Travel Commission NEWCASTLE, WYOMING take a ride through wide open spaces Fresh, never frozen burgers and homemade fries made right in front of you! Fuel up for your ride! BLACK HILLS IRON© is produced by the Black Hills Pioneer, 315 Seaton Circle, Spearfish, SD, 57783, (800) 676-2761 www.bhpioneer.com • bhiron@bhpioneer.com Letitia Lister, publisher Mark Watson, managing editor Sona O'Connell, advertising manager Katie Hartnell, layout Cover photo courtesy SD Tourism The publisher will not be responsible or liable for misprints, misinformation or typographic errors herein contained. Publisher also reserves the right to refuse any advertising deemed not to be in the best interest of the publication. © 2023 BLACK HILLS IRON, all rights reserved. Celebrating Life Pg 8
Harley-Davidson from 1908 becomes priciest bike at auction
MILWAUKEE (AP) — A rare HarleyDavidson motorcycle built in 1908 has become the most expensive motorcycle ever sold at auction, according to data compiled by a website that tracks vintage motorcycle sales.
The Strap Tank Harley-Davidson was recorded on vintagent.com as being sold for $935,000 after auction fees in January at the Mecum Auction in Las Vegas, The Milwaukee Journal Sentinel reported in early February.
The bike was named Strap Tank because its oil and fuel tanks are attached to the frame with nickel straps. The bike is believed to be one of only 12 such models in the world.
A 1907 Strap Tank sold for $715,000 after fees but didn't go for as much as the record-setting 1908 Strap Tank because it was never restored.
The record-breaking bike had many of its original parts, making it even more rare, said Greg Arnold, Motorcycle Division Manager at Mecum Auctions.
"We marketed the bike well and
from Pg 5
HARLEY OWNERS
nificantly increase sponsorships and relationships with that brand.
"They are already bringing new people to see us," he said. "If we had placed a call, we probably would not have gotten anybody to answer. But when you have a group as large as Sonic Automotive and that has the affiliations with NASCAR, when they call people pick the phone up. That's a very positive aspect of what we're doing here."
Technology advances to improve the customer experience at the dealership are also on the horizon, Reiman said. With 130 new car and 60 used car dealerships across the country, Sonic Automotive has its finger on the pulse of the latest car dealership technology, and it is working to interface that with the Black Hills Harley-Davidson dealership. That means sales people will have relevant information at their fingertips, rather than having to ask customers to wait while checking a computer. VIN numbers can be scanned on a bike before it is brought in to be serviced, rather than inputting that information in manually. All of that modern technology is still in the works, but Reiman said it is exciting to see it emerging.
Overall, Reiman said he has been very pleased to watch how the acquisition has been going and he looks forward to a bright future, with downhome guys who understand our Black Hills way of life.
"They're a Fortune 500 company," Reiman said. "Their revenues are larg -
Harley is by far the most famous American motorcycle brand so we had a feeling it would do well in auction, but obviously you are surprised anytime you sell the most expensive bike ever," he said.
According to the auction's website, "This 1908 Harley-Davidson Strap Tank was discovered as a complete motorcycle in a Wisconsin barn by David Uihlein in 1941. That was only about 70 miles from Milwaukee, and Uihlein kept it in his home state for the next 66 years. The Strap Tank was expertly restored with the help of Paul Freehill of Fort Wayne, Indiana. This is one of only 450 motorcycles produced by Harley-Davidson in 1908, and survivors from this early time in Harley-Davidson history are extremely rare. Couple that with the fact that very few of those are as correct and original as this one, which includes the original tank, wheels, engine belt pulley, seat cover and muffler sleeve with its sale, and it becomes apparent that this Strap Tank is a truly exceptional machine."
Overhead powerlines that once limited where tents could set up in the Black Hills Harley-Davidson lot for "The Rally at Exit 55" have been removed to allow more flexibility of vendor space. That's just one of the positive changes Sonic Automotive Group made when the company acquired Black Hills Harley-Davidson in February. Courtesy photo
er than Harley-Davidson's. When we went to see them in Charlotte, N.C. for the first time, I imagined we'd go into this big headquarters and we would walk into a room and there would be a bunch of buttoned down, Harvard
suits. We walked in and they're in T-shirts and jeans, with barbecue on the desk. It was 'help yourself to a sandwich and let's talk.' They're regular down-home people. Since then, I've been around them enough
to know none of it was a put-on. It's just the way they are. They're genuine people and everything they said has happened the way they said it would happen."
riding season 2023 6 www.bhpioneer.com
Courtesy photo
11th annual Jacket Ride set for Aug. 8
By Mark Watson Black Hills Iron
SPEARFISH — Black Hills State
University invites motorcyclists and supporters to join the 11th annual BHSU Dennis Kirk Jacket Ride for veterans scholarships during the annual Sturgis Motorcycle Rally.
The 2023 Jacket Ride will be held Tuesday, Aug. 8 with registration beginning at 8:30 a.m. at the Joy Center on the BHSU Campus. Participants will enjoy a lunch followed by kickstands up at 10 a.m. before departing on premier route in the Black Hills.
"It is a great way to give back to our student veterans," said Kanda Guthmiller, scholarship coordinator at BHSU. "We are a very military friendly school … and this is one of many ways we support our veterans here on campus."
During the ride, bikers will drive through Spearfish Canyon to Lead, and Nemo before heading down Vanocker Canyon before ending at Scott Peterson Motors in Sturgis. Lunch will be served at the dealership.
Jacket Ride registration is $50 for a single rider and $75 for a rider and passenger. Registration includes lunch, a t-shirt, and door prize entry. All proceeds support scholarships for veteran students at BHSU.
Lunch will be catered.
Guthmiller said thanks to sponsors Dennis Kirk, Scott Peterson Motors,
and the Black Hills Pioneer, the cost of the ride, meal, and shirts are fully funded meaning that all funds from the rider entries go to fund veterans' scholarships.
"It's so much fun," Guthmiller said. "Group rides are so much fun. You're with your friends, the camaraderie. We get lots of repeat riders.
In 2022, eight scholarships totaling $6,000 were awarded to BHSU student veterans thanks to the support of the Jacket Ride participants.
Seven of the recipients received $750 scholarships while one received a $1,500 scholarship.
Receiving scholarships were: Christopher Swan, a strategic leadership major from Box Elder; Elise Patton, a psychology major from Pine Ridge; Brayden Nelson, a business administration major from Rapid City; Bradley Halvorson, a math major from Rapid City; Alexander Forbes, a strategic leadership major from Renner, S.D.; Rachel Aberson, a business administrator major from Hartford, S.D.; and Drew Hanson, a business administration major from Spearfish.
Since its inception, the Jacket Ride has raised and awarded $34,750 in scholarships to BHSU student veterans.
For more information the Jacket Ride or to register, visit www.BHSU. edu/JacketRide or contact Guthmiller at (605) 642-6335 or Kanda.Guthmiller@ BHSU.edu.
riding season 2023 7 www.bhpioneer.com
605-717-1888 • 1010 Meade St. LIVE ENTERTAINMENT! FOR UPDATES FOLLOW US ON FACEBOOK. The Oldest Saloon in the Black Hills OPEN DAILY - OPEN PATIO SEATING Full Lunch & Dinner Menu Steaks - Buffalo Burger - Alfredo • Lots of Parking • All Rooms Ground Floor with Outside Entrances • Bike Parking by Your Door • Guest Laundry & Internet 605-722-7574 600 Whitewood Service Road, Whitewood, SD www.ironhorseinnsturgis.com Specializing in Fresh Baked Pizza 605-717-2418
Black Hills Iron Photo by Mark Watson
605-347-5983 1075 Lazelle Street, Sturgis
Largest Selection of In the Northern Hills & , Collectible Rally Tin Available in August Sturgis Liquor Est. 1938
The
BH Motorcycle Show infused with performance, torque as it returns in Deadwood
Event to be held over Memorial Day weekend, raise money for veterans
By Wendy Pitlick Black Hills Iron
A motorcycle show featuring some of the industry's top royalty, that will raise money to benefit veterans in need will be what Memorial Day weekend in Deadwood is all about, when the Black Hills Motorcycle Show returns fully customized and shinier than ever.
The show, which was held for 32 years in Rapid City before the pandemic threatened to shut it down, has had a complete overhaul in performance and torque as it aims to be only second to Donnie Smith's famous bike show in Minneapolis. Scheduled for 12-8 p.m. Saturday May 27 at the Deadwood Mountain Grand, it is packed with vendors of all types, kids' activities, live entertainment, craft brews, and of course motorcycles of every kind of classification. The event promises to be the greatest motorcycle presence in the region outside of the Sturgis Rally.
"We're pulling out all the stops," said Jason Mook, organizer of the Black Hills Motorcycle Show and owner of Deadwood Custom Cycles. "My goal is to create an event that is only second to the Donnie Smith show in the Midwest. I want to raise as much money as possible for the charity. I want to get people excited about motorcycles, custom motorcycles and customizing motorcycles, and I want to showcase some really important motorcycle related businesses. There are some neat and exclusive things going on with the show."
One of the newest aspects of the event is that it has been transformed into a non-profit. All profits from the show will go directly to Sacred Mountain Retreat Center, a Deadwood-based organization that hosts retreats that are specifically geared toward helping veterans and first responders with PTSD, addiction, or a multitude of other issues that can arise from serving. The Sacred Mountain Retreat Center pays all expenses for veterans from all over
from Pg 5
CELEBRATING LIFE
the Jasper Ride has varied from just a few close friends, to nearly 20 riders. Advertising is generally done by word of mouth, and through his friends at Black Hills Harley Davidson. He starts by asking other riders where they want to go, and a discussion of stopping points along the way. Ultimately, the ride combines the gorgeous scenery of the Black Hills with the inspiration of sobriety and the beauty of life.
For more information, or to join the ride, email him at carstencustoms81@icloud.com.
the country to come for week-long retreats in a 10,000 square foot lodge that is situated on a 65-acre ranch, where they do equine therapy, blacksmithing, leather working, engage in group discussions, and participate in many other activities designed to give them hope and tools to work through their most difficult times. Sacred Mountain Retreat Center founder Jared Geving said so far 100 percent of participants have had marked improvement after attending one of the retreats that is always offered free of charge. The organization even pays for travel expenses from anywhere in the country, just to get the veterans the help they need.
"Memorial Day seemed like a perfect fit to have it related to veterans and first responders," Mook said. "I've seen the work of that charity first hand. I've had friends who have attended the program and I've seen what their work does."
Mook, himself a Marine Corps Veteran and Former Virginia Beach Police S.W.A.T. Officer, said he also wants the show to be something locals can enjoy, since many locals are either working or not able to attend many of the events during the Sturgis Motorcycle Rally. He's primarily marketing this event to the Midwest region, with the idea that anyone within a day's ride can easily enjoy the action-packed weekend, without the big crowds.
"Because of where we live and every August we have the entire country transcend down on our little part of the world, and then you have all of these national builders putting on these shows, I wanted this to be something for us," he said. "I know there are a lot of locals who rent their house out, and we have such an incredible population of motorcycle riders in the Black Hills. Our focus is for this to be a show that is not during the Rally."
All bikers are invited to participate
and showcase their bikes, whether they have a fully customized ride or a stock bike with a few accessories. Mook said the idea is to celebrate motorcycles and their riders. There will be 17 different classes for bike entries, with first and second place winners in each class. Additionally, the Best In Show winner will receive $1,000 in cash. Other specialty prizes will include the Deadwood Mayor's pick, "Charlie's Choice", and a People's Choice award. Paul Yaffe will also crown a new "Baddest Bagger"Deadwood.
"We're really trying to make this about the competitors," Mook said. "Sometimes people think 'I've got a bike and it's nice to me, but it's not a show bike.' But what we're trying to do is to get people here to show off what they've done. I don't care if you just got a paint job done on your bike or you just got new handlebars. Shine that sucker up and get it here and show off what you've got."
In addition to the bikes, attendees will have the opportunity to peruse a wide variety of vendors from nationally renowned custom companies such as Legend Suspensions, Klock Werks and Paul Yaffe's Bagger Nation, to brand new brews from Sturgis Brewing and Sturgis Coffee Company, including a "Builders Brew" of coffee. Ginny Wolf will be on hand making customized jewelry, Gypsy Rose Tattoo will be giving tattoos, and more. "Flash," from Bikers Against Bullies, one of the largest anti-bullying organizations in the country, will host a Kids Corner packed with fun youth activities, including a bounce house, face painting, and a photo booth where kids can don a vest and sunglasses and pose atop motorcycles.
"We're really shooting for it being very family friendly," Mook said.
But then at 3 p.m. Mook said the event will shift gears with more adult entertainment. The Dirty Sexy Riot Girls will perform, and then Victory
Underground will provide several hours of live music. Major raffles will also offer bikers the chance to win a $1,000 suspension from Legend Suspensions, as well as $2,500 worth of Bagger Nation products installed by Deadwood Custom Cycles.
While the Black Hills Motorcycle Show will be the highlight of the weekend on Saturday, there will be plenty of other motorcycle events for bikers to enjoy throughout the weekend in Deadwood. At 7 p.m. Friday the event will host a Meet and Greet event at the Saloon No. 10 between competitors, vendors, and sponsors. The event will provide the chance for attendees to visit with such motorcycle royalty as Donnie Smith, Paul Yaffe, Brian Klock, and more. Then, on Sunday from 1-7 p.m., Deadwood Custom Cycles will host its annual Spring Fling open houses, with live music, an open bar and free food.
"Basically the whole weekend is about motorcycles in Deadwood," he said.
For more information visit blackhillsmotorcycleshow.com.
riding season 2023 8 www.bhpioneer.com
Jason Mook, with his wife Charlie, is organizing the Black Hills Motorcycle Show in Deadwood. The event is planned as a fundraiser for the Sacred Mountain Retreat Center, and is expected to be second only to the Donnie Smith motorcycle show in Minneapolis. Black Hills Iron photo by Wendy Pitlick
Courtesy photo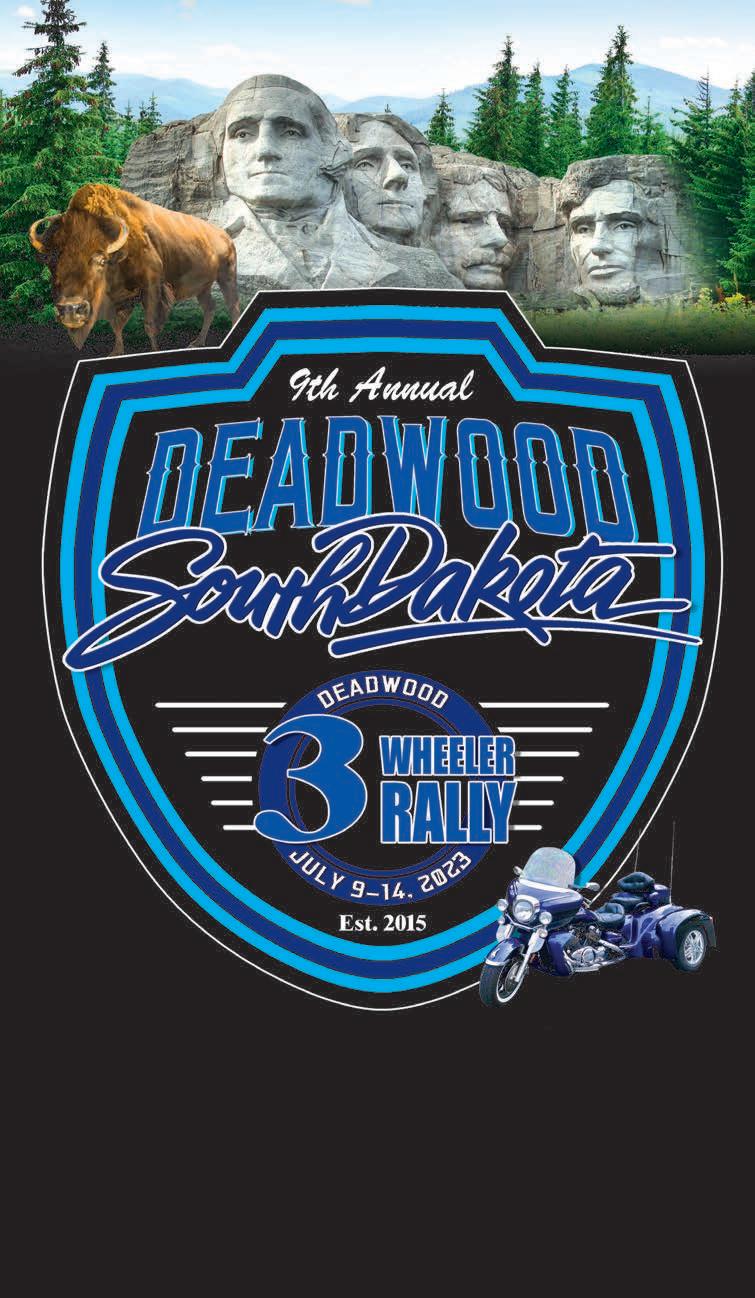 riding season 2023 9 www.bhpioneer.com 1006 Main St., Sturgis, SD 605-720-Hair (4247) Female motorcycle riders are Your clothing should be, too. Adventurous Sexy Strong Stylin' in Sturgis www.D3WR.com For more information, or to register: 800 .274.1876, ext. 1103 email:michelep@firstgold.com ALL TRIKES WELCOME JULY 9-14, 2023 POKER RUN ENTERTAINMENT SOCIALS SHOW N SHINE PARADE DESTINATION RIDES CONTESTS VENDORS PRIZES & FUN
riding season 2023 10 www.bhpioneer.com
riding season 2023 11 www.bhpioneer.com
riding season 2023 12 www.bhpioneer.com
Good things come on 3s
9th annual Deadwood 3 Wheeler Rally rolls into town July 9-14
B y J aci c onrad P earson Black Hills Iron DEADWOOD — Get signed up now for the ninth annual Deadwood 3 Wheeler Rally (D3WR), rolling in July 9-14 and catering to those who like to roll on three wheels.
"Overall, the trike rally promotes responsible driving and riding, camaraderie amongst each other, and taking the beautiful scenery of the Black Hills in," said Event Organizer Michele Pierce, who is in her first year at the helm of the rally.
"I am really excited about this opportunity and hope
to grow the rally to Mr. Gustafson's expectations," she said.
Mike Gustafson, owner of First Gold Hotel & Gaming, is the event's founder.
Featuring plenty of trike games, a plethora of themed rides, and a post-parade show 'n shine, the rally still has spots still available for those wanting to cinch up their saddle bags and ride.
Starting in 2015, the rally is now in its ninth year and continues to expand, with many attendees returning year after year.
Featuring anywhere from 800 to 900 riders and 500-600 trikes, the event brings back a loyal following each year,
"The participants that come to this are very supportive and friendly, and willing to do anything to help out, and the sponsors
have been absolutely amazing," Pierce said. "The trike rally is an event to bring together all the like-minded people who enjoy the outdoors and are comfortable riding a trike in the area. The biggest thing that I'm hearing from folks is they enjoy the scenery and all the camaraderie they experience while they're here."
Event organizers try to change things up a bit each year for returning trikers.
"One of the biggest new things is, we are going to have four different three wheel distributors that will be doing demos and test drives and BRP/ Can-Am
will be raffling off a Can-Am Spyder trike at this rally," Pierce said. "We are expecting well over 500 participants. We are at about the 450 mark right now, as far as participants go."
Highlights of the rally include: a 3:30 p.m. Ride Through Spearfish Canyon July 10; an all-day Needles
Wildlife Loop run July 11; a 10 a.m. Show 'n Shine on Deadwood's Main Street July 12; a 3 Wheeler Light Parade at 8:15 p.m. July 13; and many other daily events.
D3WR Central features a plethora of vendors with the latest and greatest trike gear. Awards a-plenty will be given at the D3WR Show 'N Shine 11:30 a.m.-1:30 p.m. July 12, with those eligible being paid
registrants of the D3WR only. Trike show participants fill out the form; choosing the "class" they want to be placed in for judging.
A panel of judges will choose who receives first, second and third place awards in the stock, custom, and artisan classes. Additional first place awards will be given for overall Best Paint, Best Wrap, Best Detail, Most Filth and Special Show. Best of Show will be chosen by the Mayor of Deadwood and People's Choice by the spectators and registrants. Awards/Cash prizes will be given out, as well.
Overall, Pierce said the difference between the rally and the Sturgis Motorcycle Rally is in the feel of the event. The Deadwood event targets older riders that are young at heart, is much smaller, and has a different feel about it than the Sturgis Rally.
"The Sturgis Motorcycle Rally has a different momentum," Pierce said. "I think the trike rally is more about relaxing and enjoying the scenery and the fellowship that the trike enthusiasts get when they all come together. The distributors of trikes are going to be playing a big part in this rally, and they are all very excited about it."
To register or for more information, visit www.d3wr.com, send an email to michelep@ firstgold.com, or call (605) 578-9777, ext. 1103.
riding season 2023 13 www.bhpioneer.com
Black Hills Iron Photo by Jaci Conrad Pearson
2023 Schedule of Events
Rides, Runs, & Races
May
Sturgis Dragway Events
sturgisdrags.com
MAY 20, 21
Bracket Racing
Black Hills HarleyDavidson Events
blackhillshd.com
MAY 27
Green Knights Military Motorcycle Club POKER RUN
June
Sturgis Dragway Events
sturgisdrags.com
JUNE 2
Street Legals & Shootout
JUNE 3, 4
Bracket Racing
JUNE 16
Street Legals
JUNE 17, 18
Bracket Racing
JUNE 23
Camaro Invitational
JUNE 24
Bracket Racing Double Points
Black Hills HarleyDavidson Events
blackhillshd.com
JUNE 10
Black Hawk Fire Dept. Poker Run
JUNE 23, 24
Deadwood Poker Run
JUNE 24
DAV Poker Run
July
Sturgis Dragway Events
Sturgisdrags.com
JULY 7 Street Legals
JULY 8
Bracket Racing – NHRA King of the Track & JR. Dragster Challenge
JULY 9
Bracket Racing –NHRA King of the Track
JULY 15
Street Legals
JULY 16 Corvette
JULY 21
Street Legals
JULY 22, 23
Bracket Racing
Black Hills HarleyDavidson Events
blackhillshd.com
JULY 29-30
Pre-Rally Rollout
9th Annual Deadwood
3 Wheeler Rally
www.d3wr.com
JULY 9 – 14
August
Sturgis Dragway Events
sturgisdrags.com
AUG. 4 Street Legal
AUG. 5
$10K Small Tire Shootout
AUG. 6
NITRO move-in and Test & Tune – Open to ALL bikes (6 classes)
AUG. 7
AHDRA Nitro Drags
AUG. 8
AHDRA Nitro Drags
AUG. 9
Baker Drivetrain –All in to go All out
AUG. 25
KOOL DEADWOOD NIGHTS Street Legals – Shootout
AUG. 26, 27
Bracket Racing
Black Hills HarleyDavidson Events
blackhillshd.com
AUG. 2 – 12
The Rally at Exit 55 83rd Sturgis Rally 2023
JACKPINE Gypsies Events
jackpinegypsies.com
AUG. 5
Prepped Practice Motocross 9:00am
AUG. 6
AMA South Dakota State Motocross
Championship 9:00am
AUG. 7
Pro Hill Climb 10:00am and AMA Flat
Track 7:00pm
AUG. 8
AMA Super Moto & AMA Flat Track
7:00pm
AUG. 9
Verta-X (Head to Head Night Time Hill Climb Races) 7:00pm
AUG. 10
AMA Rally Founders Gypsies Tours
Sign up at 9:00am, Ride at 10:00am
AUG. 11
Pro-Am Hill Climb 10:00am
AUG. 11
Pro-Am Flat Track & TT Races 7:00pm
Sturgis Events
sturgissuperstore.com
AUG. 2
Chief's Ride
AUG. 5
Mayor's Ride
AUG. 5
Mayor's Pub Crawl
AUG. 7
Legendary 5K Running Race
AUG. 7
Mayor's Poker Tournament
AUG. 6, 7, 10, 11, AND 12 Ride with a Local
AUG. 9
Pearl's Girls Ride
Buffalo Chip Events
buffalochip.com
AUG. 4
Buffalo Chip
Official Sturgis Rally Kickoff
2023 Sturgis Rally Concerts
AUG. 4
ZZ Top
AUG. 5
Koe Wetzel
AUG. 6
Lynyrd Skynyrd
AUG. 7
Limp Bizkit
AUG. 7
Lita Ford
AUG. 8
Styx
AUG. 8
REO Speedwagon
AUG. 9
Whiskey Myers
AUG. 9
George Thorogood & The Destroyers
AUG. 10
Def Leppard
2023 Legendary Rides
AUG. 7 Legends Ride
AUG. 8
Biker Belles
AUG. 9
Rusty Wallace Ride
AUG. 10
Western Frontier Motorcycle Ride
2023 Buffalo Chip Races
AUG. 4 – 12
Gambler 500 Races
AUG. 4 – 12
Gambler 500 Mini Bike TT
AUG. 7
Gambler 500 Mini Bike Endurocross
Full Throttle Saloon
fullthrottlesaloon.com
AUG. 5 – 7
Vicki Ballard Memorial Ride
riding season 2023 14 www.bhpioneer.com
Courtesy photo
Top rides in the Black Hills
Pioneer staff rePorts
SPEARFISH — With Sturgis situated in the heart of the Black Hills, the annual Sturgis Motorcycle Rally is the venue for some of the best riding in the country. From long stretches of highway on the scenic plains to curves and tunnels through the beautiful Black Hills, there is something for every kind of biker here. The following is a list of our favorite rides.
Nemo Road
Off Highway 385, Rapid City to Brownsville
A nice, lazy ride through some of the less-populated parts of the Black Hills, Nemo Road offers amazing views, twisty turns, and straight highway stretches that promise bikers entertainment and relaxation. Just one trip down this road and you will understand why Sturgis Rally veterans call this "The best kept secret in the Black Hills." The Nemo Bar & Grill also offers bikers great food and cold drinks for a scenic break from the road that is filled with first-class hospitality!
Badlands Loop State Scenic Byway
S.D. Highway 240, Badlands National Park
An approximate 30-mile ride, this highway cuts through the natural rock formations of Badlands National Park. A favorite of bikers who flock to the Sturgis Motorcycle Rally, this route also features natural grasslands that are filled with hundreds of different species of plants and wild animals. Scenic overlooks also offer great photo opportunities.
Custer State Park
13329 U.S. Highway 16A, Custer
Custer State Park isn't just home to one of the largest free roaming buffalo herds; it's so beautiful that the State Game Lodge served as the summer White House for President Calvin Coolidge in 1927. This 71,000-acre va-
cation paradise is home to abundant wildlife and buffalo herds, making it common to encounter a "Buffalo Jam" while driving in the park. Look for elusive elk, deer, big horn sheep, mountain goats, and bands of begging burros. Four distinct lodges offer accommodations to suit every family, from rustic and historic to elegant and upscale. All offer unique on-site activities, including Jeep rides to the buffalo herds, guided fly-fishing, and chuckwagon suppers. There are also endless camping opportunities in the park.
Crazy Horse Memorial
Center, the Sculptor's Studio, and a 40,000-square-foot orientation center and theater. Nightly performances of a multimedia laser-light show spotlight American Indian culture using dramatic animations and a stirring musical score. In June, the Crazy Horse Volksmarch opens to hikers a 10K route that winds around the base of the mountain and up onto Crazy Horse's outstretched arm. Korczak's wife and family have continued the project and the Crazy Horse Memorial Foundation. An entrance fee is required to enter the memorial, which is open year-round, and good for one day of admission. Proceeds fund further development of the memorial.
12141
Avenue of the Chiefs, Crazy Horse (near Custer)
Crazy Horse Memorial is the world's largest sculpture-in-progress, and frequent drilling and mountain blasts make each visit unique. When completed, Crazy Horse Memorial will stand 563 feet tall. The project was started in 1948 by sculptor Korczak Ziolkowski and Lakota Chief Henry Standing Bear to honor the heritage, tradition, and culture of North American Indians. Its namesake, Crazy Horse, was a war leader of the Oglala Lakota tribe and a prominent leader in the Sioux resistance to white encroachment in the Black Hills. His bravery and skill are admired, and he is revered by the Sioux as their greatest leader. The complex surrounding the mountain carving includes the Indian Museum of North America, the Native American Cultural
Peter Norbeck National Scenic Byway
U.S. Highway 16A/S.D. Highway 87, Custer State Park
This ride is so cool that it deserves mentioning apart from Custer State Park! The 70-mile drive offers amazing views of the best the Black Hills has to offer. This scenic drive incorporates the Needles Highway (S.D. Highway 87) and Iron Mountain Road (U.S. Highway 16A). The Needles Highway features hairpin curves, drive-through tunnels, and massive granite formations that draw climbers from all over the world.
TOP RIDES Pg 16
riding season 2023 15 www.bhpioneer.com
Wildlife Loop Ride: Really Wild
If you're looking for a short ride in between other Rally-related activities, and you're in the area of Custer State Park, Wildlife Loop Road is perfect. The road itself is very well maintained black top with almost no surprise potholes or other impediments to smooth riding. Don't even think of going on this little sojourn without some kind of camera, even if it's just the camera in your cell phone. Wildlife Loop Road has a strictly enforced speed limit of 35 mph, but if you are like most annual visitors here, you will be stopping frequently to either let the buffalo and other wild critters cross the road in front of you, or to just have a good long look. You won't find many motorcycle rides that will give close-up views of wildlife as seen here. In many cases, these critters will hold up traffic as they stand blocking the pavement and stare in amazement at you and your vehicle. The rolling hills and wide
Belle Fourche to Sturgis via Bear Butte
Riding from Belle Fourche to Sturgis via Bear Butte can only be described as the open prairie or high plains ride. Imagine yourself back in the 1880s riding a spirited four-legged horse. When departing from Belle Fourche traveling eastbound on S.D. Highway 212, I recommend this route be traveled during the later part of the afternoon. You will then have the sun over your right shoulder. Make sure you have your gas tank filled completely, for you will have no opportunity to gas up between Belle Fourche and Sturgis city limits, unless you divert north to Newell at the junction of Highway 212 and Highway 79. The speed limit on 212 is 65 mph unless otherwise posted. Riding 212 can only be reckoned to riding your horse at full gallop across the plains, but staying at 60-65 mph is the best speed to enjoy this fluffy cloud-studded, blue-sky route. Make a point of checking the weather forecast for prevailing winds. Prevailing winds in August are typically west to east, which will give a very pleasant tailwind from
from Pg 15
TOP RIDES
Iron Mountain Road features pigtail bridges that were constructed in a corkscrew fashion, as well as drive through tunnels that perfectly frame Mount Rushmore.
Lead-Deadwood
Courtesy photo
open grassland scenery is studded with many varieties of pine and other trees of all sizes making for very pleasant riding. Wildlife species to be seen here in Custer State Park include antelope, bighorn sheep, buffalo young and old, white tail deer, elk, coyote, prairie dogs, and all manner of flying fowl including bald eagles and other raptor species. Custer State Park is home to one of the world's largest buffalo herds. These buffalo live almost as they did before the West was tamed. Every year a roundup is held with buffalo harvested from the ever-growing herd. Wild "begging" burros live and play at the southernmost end of Wildlife Loop. While the ride along Wildlife Loop Road is only 18 seemingly short miles and could take as little a 30 minutes to transit, you may find it taking just a little bit longer due to frequent stops to enjoy both the animals and the almost "as it was in the 1850s" view. I almost always do this ride both directions during the same day. No burnouts on this ride: it would only frighten the critters.
— Buck Lovell
Belle Fourche to Highway 79 southbound. When leaving Belle Fourche, the first major landmark will be Belle Fourche Reservoir on the left (north side of the highway). There are several small towns with cafés serving home-cooked style food and cold drinks, which are well worth stopping. The smooth pavement and long radius curves of Highway 212 are punctuated by hills and rises, so for safety's sake don't attempt to pass on those blind curves. Take your time and enjoy the view to the south of the Black Hills. They look black from out on the prairie; that's how the hills got their name. At the junction of 212 and 79, you'll turn right heading toward Bear Butte. If you've had a tail wind, it's now a crosswind, so stay alert. Also watch for deer on the road. It's almost a straight shot to the outskirts of the city of Sturgis. You will be able to enjoy an ever changing view of Bear Butte as it grows larger the closer you get. Just before passing Bear Butte, you see the Broken Spoke Campground on the left. Continuing another 5-6 miles, you'll make a right turn onto Highway 34 (westbound) on the way into downtown Sturgis. Total distance is about 55 miles, give or take a burnout.
— Buck Lovell
official geological center of the United States. The site was originally in Smith Center, Kan., before it was moved to its new home in Butte County. Visitors can have their photo taken at the monument of a 21-by-40 foot compass rose made of South Dakota granite located at the Center of the Nation Visitor Center in Belle Fourche.
Separated by just three miles of highway but forever joined in their rich history of mining and gaming, the Black Hills' own Twin Cities offer something for everyone! Visit the Black Hills Mining Museum, Homestake Visitor's Center, or the Adams Museum to see the rich mining and old-west history of this section of the Northern Hills; relax for lunch or dinner at one of the many fine establishments in both towns; browse through the unique selection of gifts and supplies in Lead; or try your luck at a gaming table or slot machine in Deadwood. But most importantly, residents of Lead-Deadwood are ever-cognizant of the Rally and welcome the bikers with open arms. In Lead, bikers can enjoy vendors, entertainment, and bike shows throughout the week, and in Deadwood, bikers enjoy special parking privileges and other perks!
Belle Fourche
The name "Belle Fourche" is French for "Beautiful Fork" because of its site on the "Forks" of Hay Creek, Redwater River, and Belle Fourche River. Additionally, the quaint little town is known for its status as the geographical "Center of the Nation." After the addition of Hawaii and Alaska to the United States in 1959, a point 10 miles north of Belle Fourche was named the
Wind Cave National Park
26611 US Highway 385, Hot Springs
Caves are one of the Black Hills' most mysterious and intriguing wonders. To do your exploring underground, visit Wind Cave National Park. Stretching more than 100 miles, Wind Cave is one of the longest caves in the world, and the first cave to be designated a national park. With a maze-like, underground chamber system, Wind Cave features the world's largest concentration of box work, a rare formation of thin calcite fins that resemble honeycombs. Above ground, Wind Cave National Park includes a wildlife sanctuary of 28,295 acres for antelope, bison, elk, prairie dogs, and other creatures to roam. Here, the ponderosa pine forest meets the rolling prairie, one of the last remaining mixed grassland areas in existence. The cave's visitor center is open daily except holidays. An admission fee is required to tour the cave. A list of tour options can be viewed at www.nps.gov/wica.
Native American Scenic Byway
This 305.8-mile route takes bikers through the rich history and wildlife at
riding season 2023 16 www.bhpioneer.com TOP RIDES Pg 18
riding season 2023 17 www.bhpioneer.com
TOP RIDES
tractions of our American Indian population. It cuts through the heart of South Dakota's grass prairie through the heart of the great Sioux Nation. The route takes travelers through Yankton, Crow Creek, Lower Brule, Cheyenne River, and Standing Rock Sioux Tribes. Along the way, bikers will have a chance to see some wildlife, including prairie dogs, pronghorn, deer, bison, and elk.
Jewel Cave National Monument
miles and counting, it is also one of the most structurally complex. Located a little more than an hour southwest of Rapid City, Jewel Cave is a regional gem tucked in the Black Hills. Exploration is ongoing in this pristine underground labyrinth. Visit chambers decorated with calcite, nailhead, and dogtooth spar crystals and other wonders like draperies, flowstone, and stalactites. The monument's surface trails and facilities are open free of charge. A fee is required for cave tours, which are ranger-guided and are moderately strenuous, lasting about 1 hour and 20 minutes.
Spearfish Canyon on Two Wheels
U.S.
Highway 16, 13 miles west of Custer
Located in the scenic Hell Canyon Ranger District, the ride to Jewel Cave is a gem in itself with scenic overlooks, hairpin turns, and some wildlife sightings. But once bikers get to the cave, they are absolutely encouraged to stop and stay awhile! Jewel Cave National Monument is not only the second-longest cave in the world, at more than 140
Sundance, Wyo., to Devils Tower
Sundance, Wyo., sits astride Interstate 90 approximately 53 miles west of the city of Sturgis. With a population of 1,139 souls, Sundance is visitor friendly, especially during Sturgis Rally days, and hosts a permanent full service Harley-Davidson dealer with everything from T-shirts to leathers and rain gear. I recommend you start this ride during the mid-morning hours and return during the evening. If you do this, you'll have the sun at your back both directions. Leaving Sundance northwest on Highway 14, it is a continuous uphill climb into heavily timbered wild territory with panoramic views all around. The speed limit is 65 mph unless otherwise posted; you probably won't get into sixth gear on the way up to Devils Tower. Pay attention while on Highway 14: wild deer abound. If you see one, there are probably several more nearby, their favorite pastime being unexpectedly dashing across the road after hearing the noise from your loud pipes. When you get to the
The cave is open daily from 8 a.m. to 4:30 p.m. except on holidays. Cave tours have been known to sell out in advance; therefore, waiting times could be several hours. Visitors are encouraged to call ahead for tour availability and to reserve tickets. Visit www.nps.gov/jeca for more information.
Mammoth Site
1800 U.S. Highway 18
Bypass, Hot Springs
More than 26,000 years ago, large Columbian and woolly mammoths were trapped and died in a spring-fed pond
junction of Highway 14 and Highway 24, you'll turn northbound to finish the ride to Devils Tower National Monument. At several locations midway from the junction to Devils Tower along Highway 24, spectacular views of small canyon escarpments with rocky overhangs beg for attention from you and your camera. As you continue riding uphill, the top of Devils Tower will begin to be visible as it rises above the horizon. At 5,112 feet above sea level, Devils Tower is the predominant landscape feature of the area. The rocky tower itself is a full 867 feet from its base to the summit. The Belle Fourche River slowly meanders away eastward 1,267 below the tower. When heading back to Sundance, preferably in the mid-evening hours, the long slow descent makes it easy to enjoy the grand views of the terrain and typically white clouded blue skies. So majestic is the roadside scenery here, you may find yourself wanting to make this ride more than once, with the images of the first riding sticking in your subconscious. Total mileage here (round trip) is approximately 56 miles, give or take a burnout.
— Buck Lovell
If you're a regular attendee of the annual Sturgis Motorcycle Rally, chances are you've ridden Spearfish Canyon at least once, and probably more frequently. Spearfish Canyon is older than the Grand Canyon if you can believe that! It's smooth, well maintained, and its curvaceous pavement is a joy to ride for any bike/ motorcyclist. The 35 mph speed limit allows the canyon walls to talk back to you in the form of your motorcycle's reflected exhaust note. If you've never ridden the canyon, it's about time you did. It's an unforgettable motoring treat for any rider or driver. Keep your eyes and ears peeled for excessive speed vehicles; some riders can't resist a little extra speed. Keep your eyes on the road though; you can stop almost anywhere in the canyon to take a longer look at one of the many dif-
near what is now the southwest edge of Hot Springs. Discovered in 1974 while excavating for a housing development, the Mammoth Site is the world's largest Columbian mammoth exhibit and research center for Pleistocene studies. It is truly a unique and natural location for the state.
Bear Butte
Highway 79, Sturgis
It's simply not possible to come to the Sturgis Motorcycle Rally and not see one of the Black Hills' natural wonders — Bear Butte. But seeing it and experiencing it are two different things, and all bikers should take in the scenic beauty and spiritual feeling of this site, named "Mato Paha" (Bear Mountain) by the Lakota Sioux for its resemblance to a sleeping bear. This geological formation is one of several intrusions of igneous rock in the Black Hills that formed millions of years ago. The mountain is sacred to many American Indian tribes, who go there to hold religious ceremonies to this day. Also, Bear Butte was once used by multiple tribes as a meeting point to discuss the advancement of the white man onto their lands. Bikers at the Sturgis Rally can take advantage of the hiking trails to the top of the mountain, or just cruise on by the natural wonder located six miles northeast of Sturgis off Highway 79.
ferent spots of interest. Starting at the mouth of the canyon at the extreme east end of Spearfish, the road takes vehicles past the golf course and into the verdant and summer leafy steepwalled canyon. Halfway up the canyon is Spearfish Canyon Lodge, a great place for lunch if you don't want to wait to arrive at Cheyenne Crossing, world famous for its burgers and hospitality. A quarter-mile hike down the trail-footpath below the lodge will get you to Spearfish Falls; don't forget your camera. If you skip the lodge stop, and continue almost another 10 miles, you'll get to the aforementioned Cheyenne Crossing at the junction of Highway 85. Make a left and head for Lead, S.D. It's an uphill climb away from Cheyenne Crossing, and the speed limit is 55 mph. Throttle up, but stay within the speed limit. Continue through Lead, then Deadwood, and before you know it, you're in Sturgis. See you on the Road.
— Buck Lovell
Mount Rushmore
13000 SD Hwy 244, Keystone
Who can take a trip to Sturgis without stopping to see our nation's Shrine of Democracy? Every year that visit gets better as there are continual improvements at the famed monument! This internationally recognized "Shrine of Democracy" is located only 17 miles from Rapid City. Surrounded by Black Hills National Forest, the memorial protrudes from the granite with the faces of George Washington, commander of the Revolutionary Army and our nation's first president; Thomas Jefferson, author of the Declaration of Independence; Abraham Lincoln, who abolished slavery in the U.S.; and Theodore Roosevelt, who reformed corruption and is responsible for our national's national parks system and for conserving wildlife. The site also features mountain goats, the Avenue of Flags, an interactive museum, and a new visitors' center. Visitors can also follow the Presidential Trail to the base of the mountain. An evening lighting ceremony is also a sight to see during the summer months, and it begins at 9 p.m. Additionally, if you've already traveled the common route to the mountain through Keystone, try entering through the back way on Highway 244, which offers some unique scenic sights and a relaxing ride through the Hills.
Read more from Buck at BLABB (Buck Lovell's American Biker Blog) online at www.sturgis.com.
riding season 2023 18 www.bhpioneer.com
from Pg 16
Courtesy photo
riding season 2023 19 www.bhpioneer.com
riding season 2023 20 www.bhpioneer.com