BLcontents
22 / SPOOKY SETTING
Set an eerie yet elevated scene with these decorations from local stores.
Combine an antique painting with velvet pumpkins for a look that is frightfully festive.
38 / MAKING THE MARK
This year, BayouLife Magazine asked the community of talented makers to submit their hand-crafted goods for our Making the Mark competition. See this year's winners.
50 / 10 YEAR ANNIVERSARY
This month marks BayouLife Magazine's 10th year in business. Laura Clark talks candidly to owner, Cassie Livingston.
62 / GOBLET OF FIRE
Add a spark this spooky season with this simmering spirit. Perfect for fall, this cocktail combines spiced rum and rosemary for a seasonal cocktail to blaze into Halloween.
66 / PORCH PERFECT
Taylor Bennett created a fall container perfect for celebrating autumn's beauty. Gorgeous gourds combine with fall florals to create a welcoming arrangement easy to replicate.
116 / UNSEEN
Beautiful clothing juxtapose an aban doned building in this month's Día de los Muertos fashion shoot. From sculptural dresses to bold textiles, these looks are the seasonally-inspired.
APRIL 2018
94 / BAYOU ICONS
Because of the impact they have had on so many by helping to make their indoor and outdoor spaces more beautiful, and because of their unselfish volunteer acts on behalf of worthy causes, Joey and Virginia Haddad are our October Bayou Icons.
110 / BAYOU HEALTH
Your body's ability to efficiently detoxify is vital for maintaining a healthy internal environment. Without it, you can wind up accumulating heavy metals, and developing hormone imbalances and unexplained weight gain.
126 / RETRO REVIVAL
For Ron Barron and his wife Gwen, a cohesive adaptation has been the underlying modus operandi for their mid-century modern home, one that has been shaped to induce a place where friends and family will feel welcomed.
140 / BAYOU ARTIST
Dianne Douglas comes to her studio every day to work and experiment with her medium of choice: watercolor. She gets a few raised eyebrows from people who learn she is a watercolorist, as most call it the hardest medium to master.
4 OCTOBER 2022 | WWW.BAYOULIFEMAG.COM
94 50 116 OCTOBER 2022 62
This month marks our 10-year anniversary issue, and what a fun ride the last decade has been. I've had the great fortune of having a strong support system: my husband, parents, sister, staff, readers and advertisers. It takes a team to build this magazine every month and I've always managed to surround myself with extremely talented people. My copy editor, Cindy Foust, often reminds me of her tenure at BayouLife, and she's not alone. There are numerous writers, photographers, graphic designers, art directors and sales executive that have given countless years to bringing beautiful content to the magazine month-after-month.
In this issue my friend, Laura W. Clark, asked me to let her interview me to mark the occasion. For those that know me, this wasn't an easy task and I'm still panicking over putting it in the magazine. I've worked in this industry for 23 years now. I remember a time when I would lie about my age (making myself older) to command more respect. Now, I find myself interviewing prospective employees who could be my children. Respect, earned.
My journey with BayouLife has introduced me to the most interesting, artistic, thoughtful and giving people in Northeast Louisiana. I founded this magazine on a wing and a prayer, asking for clients to prepay for ads in the beginning and starting off with a skeleton staff. I love the quote, "At times, our own light goes out and is rekindled by a spark from another person. Each of us has cause to think with deep gratitude of those who have lighted the flame within us." There are so many in this community that helped keep this candle burning
– sometimes at both ends. To all of my staff, both current and past, thank you for loving BayouLife like it was yours. To our advertisers, thank you for trusting us to get your advertising message out. To our readers, thank you for supporting small businesses in Northeast Louisiana. To my family, thank you for loving me through all of my successes and all of my failures.
I would have never put myself on the cover if it weren't for the not-so-gentle nudges I got from my closest friends and staff. Look I know I'm not Oprah or Joanna Gaines. I thought this month we would feature my remodel in our 10-year anniversary. But, like so many unpredictable things, it isn't quite there. When Kelly asked where I wanted to take my pics this month, I told her I wanted to take them in my kitchen. I thought the plastic drapes and gorgeous white oak cabinets juxtaposed against the exposed wiring and insulation was a lot like me. I'm a work in progress, but I try to find the beauty in the simple things.
There's so much great content in this month's issue. I truly hope you enjoy reading the October issue of BayouLife Magazine Cassie
BayouLife
1201 Royal Avenue Monroe, LA 71201 Phone 318.855.3185
WWW.BAYOULIFEMAG.COM
PUBLISHER & OWNER Cassie Livingston cassie@bayoulifemag.com
COPY EDITOR Cindy Foust
GRAPHIC DESIGNER Meagan Russell meagan@bayoulifemag.com
ADVERTISING SALES EXECUTIVE Katelyn McAllister katelyn@bayoulifemag.com
Courtney Thomas courtney@bayoulifemag.com
Jenny Pankey jenny@bayoulifemag.com
ART DIRECTOR Taylor Bennett
LEAD PHOTOGRAPHER Kelly Moore Clark
CONTRIBUTING WRITERS
Darian Atkins Maré Brennan
Laura W. Clark
Dan Chason
Kenny Covington Shannon Dahlum
Dr. David Finley
Cindy Gist Foust
Starla Gatson Faith Gremillion Kerry Heafner April Honaker
Val Irion, MD Erin Love Meredith McKinnie Guy Miller
J Preson Parry, MD Georgiann Potts Vanelis Rivera Delia Simpson Joyce Sims Beatrice A. Tatem Judy Wagoner Robert Wright
ON THE COVER
Owner and Publisher, Cassie Livingston makeup by Brittany Dye photo by KELLY MOORE CLARK
BayouLife Magazine is published and distributed by Redbird Publishing, LLC. Postal subscriptions ($30) can be ordered online at www.bayoulifemag.com. BayouLife Magazine is not responsible for unsolicited photographs, manuscripts, or other materials. Opinion columns do not represent the views of the publisher. Reproduction of contents without express written permission is prohibited.
6 SEPTEMBER 2022 | WWW.BAYOULIFEMAG.COM
Let the Spirits Tell a Story
Surround Yourself with Good Company and Better Whiskey
SPOOKY SEASON HAS FINALLY ARRIVED! NOW THAT the weather is getting cooler it's time to get the fire pits ready, hang some decorations, and enjoy fun times with our loved ones. Here at Washington Wine & Spirits we have some great ideas to help you enjoy the month of October.
We'll start off with a wine that really fits the Halloween theme. Chronic Cellars Sofa King Bueno features a skeletal figure on the label ready for a party. This red blend from Paso Robles in California is a Rhone style blend of syrah, petite sirah, grenache, tannat, and mourvedre. On the nose, this wine offers up juicy red and blue fruits with a hint of pepper. On the palate, we discover blackberries and juicy blueberries with a touch of baking spice. The mouthfeel is creamy with just enough dusty tannin to balance out the vivacious fruit. The entire line from Chronic Cellars is perfect for entertaining this time of the year as each features a different skeletal figure enjoying life. They offer a rosé, cabernet sauvignon, petite sirah, sparkling, and another red blend. Time to shake some bones for Halloween.
If you are looking for a sweet treat this month then you should try out Ballotin's Chocolate Peanut Butter Whiskey Cream. This delicious whiskey cream tastes like peanut butter cups and milk in a glass. Our suggestion is to substitute the milk in a milkshake with this, either in whole or part, and add a few peanut butter cups in for good measure. This is an adult drink that you can enjoy as you relax and put up the Halloween decorations. They also offer a cherry chocolate cream and mocha cream. Be sure to check out the awesome flavors of their whiskies, such as caramel turtle and mint chocolate.
If you are a coffee fanatic like us, this next product out of New Orleans should perk up your ears. River Basin Distillery and French Truck Coffee partnered to produce a fantastic coffee cordial. A blend of the renowned French Truck Cold Brew Coffee, oat milk, pure cocoa, and River Basin's own rye whiskey. We enjoy this over ice or as an addition to our coffee, and we like to enjoy this one by the fire. This coffee cordial will remind you of your favorite cold brew while giving you an extra bit of pep in your step.
Now we'd like to highlight a newer line of whiskies that have finally entered our market. The Four Gate Whiskey Company has been creating some amazing whiskies over the last several years, all of which have blown us away. In this month's article we are going to focus on the Saint Charente release. This limited release is a 7-year old Kentucky bourbon finished in Cognac casks. The batch 18 release is
bottled at 119.2 proof or 59.6%. Four Gate partners with famed Kelvin Cooperage to source the best possible barrels of their whiskies and they even do collaborations with them. This batch has a rich nose that has been buoyed by the Cognac barrel finish as notes of apple pie, cinnamon, and clove invite you in. The palate starts with sweet vanilla and apples. Those flavors are followed by graham cracker crust and a touch of citrus zest. The finish has a touch of rye spice, but is long and tender with notes of orchard fruits. Every product we have tried from Four Gate has been exceptional and we look forward to each new release.
The final topic of discussion is our newest private single barrel selection. Our Blue Note Uncut Juke Joint Bourbon has an interesting story to tell. In June of 2019, the rickhouse that stored much of Blue Note's inventory collapsed in a terrible summer storm, spilling thousands of barrels and millions of dollars into the muck and mud. Most of the barrels were destroyed by the incredible force of nearly 10 million pounds crumbling six stories to the ground. We thought all was lost, but a special few somehow survived the disaster. Surviving the collapse, however, turned out to be only the beginning of the barrels' journey.
For the next four months, the barrels were left exposed to the elements before the wreckage could be properly assessed and cleaned up. In these ensuing months, the sweltering summer heat bore down upon the barrels day after day, darkening the outside and forcing the bourbon inside incredibly deep into the oak. Several thunderstorms passed through as well, pummeling the barrels for days, causing their bands to later rust and break. As summer faded into fall, the nights grew colder, forcing the whiskey back out of the now worn oak. After the wreckage was cleaned up and every barrel was assessed, the company found that indeed some had survived.
Our selection of Juke Joint Uncut is bottled at 117.9 proof or 58.95% and opens with a nose of candied caramel popcorn, peanut brittle, and salt water taffy. On the palate we get buttered toast, Smacks cereal, and salted caramel popcorn. The finish is sweet with notes of salty buttered toast, a touch of oak tannin, and a wisp of cinnamon and brown sugar.
We hope to see you this spooky season and hope that everyone gets to enjoy some good hauntings this year. Be sure to stop by the store to bring home the Doe's Eat Place steaks for your grill during this great weather, and as always, thank you for letting us be Your Sprits Guides here at Washington Wine & Spirits.
Alumni Spotlight
ULM Alumnus: Chan Battaglia
AFTER GRADUATING FROM WEST MONROE HIGH School, Chan Battaglia set his sights on ULM and its Construction Management program. Chan loved the outdoors and worked odd renovation jobs throughout school with his uncle and future father-in-law. He wanted to become a builder, to create the structures that would house his community and revive this region. While at ULM, Chan joined the ULM Construction Guild which coordinates industry events to acclimate ULM construction students to the market and promotes internship opportunities and interaction with recruiters. In the classroom, Chan remembers his Introduction to Construction class, the course that laid the basics of the profession. This experience solidified Chan's choice of major; he knew he was where he belonged.
The college experience taught Chan the importance of follow through, of finishing what he starts. In a construction project, the same principle applies. In a concrete course, Chan and his cohort constructed a small-scale building over the course of the semester. Splitting the class into subcontractors and tradesmen, the team worked together, recognizing the collective success required in a larger, long term project. Chan carried that knowledge into his first job after graduating from ULM. He and his wife Tabitha moved to Texas, and Chan oversaw projects in Dallas, Galveston, and Lubbock. While the couple enjoyed living in bigger cities, getting a taste of life away from home, two sons arrived. Chan and Tabitha realized the necessity of being close to family when trying to raise one.
When the family returned to Northeast Louisiana, Chan took a job with Lincoln Builders in Ruston. He worked on a women's softball and soccer complex and then led his biggest project to date - the ULM HUB. The construction of the new student building on the corner of Northeast Drive and University Avenue brought new challenges. The contemporary two-story, 23,000 square-foot facility features five independent food vendors and a small market. Along with managing his construction team, Chan coordinated with established franchises, independent architects, and navigated a busy location full of ULM students migrating to and from classes. Being back on campus brought feelings of nostalgia. Chan received the education to do this work a few hundred feet from the construction project. He was able
to give back to the school and community that helped him grow and mature. He first fell in love with the profession on campus, and life came full circle.
Chan enjoys the unpredictability of a day on the construction site. Each day brings new challenges, but all projects end with a visible symbol of economic progress and growth. Being the point person on a large project requires intense focus and malleability. Managing 15 different tradesmen and subcontractors is no easy feat, but the personal fulfillment of a finished project is fulfilling. At the HUB Ribbon Cutting in August, Chan witnessed ULM alumni, students, faculty, staff, and administration, all with smiles on their faces, excited for the new space on campus.
As a working member of the larger community, Chan sees ULM's economic and cultural imprint. He knows how important it is to have a public institution in this area, as many kids can't afford to go off to school or have commitments close to home. As more jobs require a four-year degree, the role of the public institution will only increase, and the possibilities of mutual growth between ULM and the broader community are endless.
Chan, wife Tabitha, and their three kids: Kai, Tucker, and Piper, enjoy spending time outdoors, hunting and fishing with family. Tabitha is also a ULM alumni from the School of Nursing. For his family, ULM opened doors to financial success and career stability. Chan advises current and prospective construction majors to stay the course, lean into that challenge and relish in the rewards. There is no greater feeling than driving past a building in which you played an integral part in its development. ULM provided Chan Battaglia the opportunity and educates thousands more each year.
The ULM Alumni Association reaches, connects and celebrates alumni and friends to build lifelong relationships, and commit to the university's missions of academic freedom, scholarship, diversity, excellence, integrity and service. We represent alumni who honor the traditions of our university and who share a sense of achievement and pride. We create a network of professionals, establish scholarships and advocate for our University through community engagement. Members of the Alumni Association support countless initiatives, and annual memberships are just $35. To learn more or to become a member, please visit our new alumni network at ulm.edu/alumni.
10 OCTOBER 2022 | WWW.BAYOULIFEMAG.COM
Lifestyle Concept Shop
Joyce from Material Things Shares Her Favorites
CIRE TRUDON - CLAUDE TRUDON becomes the owner of a store on rue Saint Honore in Paris in 1643 where he sells candles and spices. Thus begins the history of the oldest candle company still in operation. Not only do we carry their home fragrances but we also recently invested in their Eaux de Perfums. Their home scents and perfumes contain an olfactory complexity that hints at a character rather than a genre. They cast light on Trudon's ethos: to promote creative freedom and invoke unique horizons. We carry six of the top scents of the Cire Trudon home fragrance line and five of the personal fragrances, as well as their entrancing wax busts…so, I know we have the perfect one just for your style.
Capucine de Wulf- We are so excited about bringing this fabulous jewelry line to our customers! This beautiful collection is made of 18k gold over brass mixed with semi precious stones, teak and coral. CDW was debuted in 2017 by Capucine and her husband David Gooding who already owned the well known tabletop company Juliska. CDW jewelry combines all of Capucine's great passions-womanhood, home and heart, through the medium of personal adornment.
Louis Sherry- One of the most celebrated symbols of New York's gilded age- opened as a candy shop and restaurant in 1881 by Louis Sherry on 6th Avenue in New York City. These decadent chocolate truffles come beautifully presented in designer tins that are meant to be kept forever. The iconic orchid colored tin with violets has been sighted in many famous movies. We offer two piece, twelve piece and 24 piece tins in various colors and designs-surely we will have the perfect design for your loved one.
August Morgan- Ten years ago Kate Hersch started August Morgan as a labor of love by
rescuing vintage needlepoint and crewel work and making them into OOAK pillows that were sold in fine boutiques and department stores. While this was a fun and satisfying venture, she felt like she should branch out into other areasshe started her cocktail napkin collection with four designs and now has over sixty. And, has even gone back to her roots of needlepoint by offering hand painted needlepoint canvases featuring all of her fun designs. At August Morgan, they couple irreverence with elegance. They love a good laugh and they love traditionall of these qualities are right up our alley!
Nora Fleming- One gift…every occasion! That's been the motto of pottery store owner Nora Fleming since 2004 when she had an a-ha moment at her shop outside Chicago, Illinois. By realizing the power of simplicity, Nora was inspired to create a neutral platter and colorful "minis" that interchange through all of life's seasons and occasions. Her product lineup now include a vast selection of serving and home decor pieces as well as a "mini" for any occasion that you can think of. Stop by for a practical yet timeless gift for the special person on your list.
Museum Bees- This fabulous company owned by Trace Meyer in Louisville, KY has the motto that luxury can be accessible. Each OOAK piece is carefully created from antique frames and bridges the beauty of 19th century American craftsmanship into the modern. In each framed creation, you will find a variety of ornaments and antique objects that adorn the centers. The choices are endless, so I'm sure that you will find that special piece that can stand alone or do as so many others have-start a fabulous collections of these little gems.
Agraria- A fabulous company that was started in the 1970's by interior designers Stanford Stevenson and Maurice Gibson. They envisioned fragrant products as essential
design elements for their clients' San Francisco homes. They felt certain that "No great home is ever completely decorated until it has its most important accessory-home fragrance." The first scent they created was Bitter Orange followed up by Balsam. We carry both of these scents as well as Golden Cassis. The two scents of burning sticks that they offer are Bitter Orange and Lavender Rosemary…these are always in stock for you to pick up. Agraria means "beautiful flowers growing in the field." Any of these three fragrances are sure to please everyone.
Husqvarna Viking- Keeping the world sewing for 150 years, this company began in 1872 in a small town in Sweden, "Huskvarna," which means "house mill" in Swedish, represents the mill that still stands in the town where the first iteration of the Husqvarna Viking brand got its start. This exceptional machine is offered in a vast array of models in The Haberdashery part of our shop. Not only do we have machines for you to create something beautiful on but also all of the premier fabrics, notions, patterns and inspiration that you could possibly need to fulfill this! If you or anyone in your life has been wanting to continue their passion for sewing or are just getting started, then we have what you need! Another special aspect of The Haberdashery is that we not only sell the machine, we also have in house servicing by our own trained technician.
So, as you can see we are your local "Lifestyle Concept Shop." We can help you with any of these fabulous products and so much more, please consider us for all of your gifting and home decor needs whether they be big or small.
12 OCTOBER 2022 | WWW.BAYOULIFEMAG.COM
XOXO - Joyce
WWW.BAYOULIFEMAG.COM | OCTOBER 2022 13
Chairish Them
These trendy room accents are on the list of fall's best accessories. From comfy slipcovered chairs to emerald green ones, these finds are definitely ones to chairish.
Styled by TAYLOR BENNETT
Photo by KELLY MOORE CLARK
BAYOU HOME
14 OCTOBER 2022 | WWW.BAYOULIFEMAG.COM
FROM LEFT TO RIGHT: Ouachita Antique Woods, Revival Design & Consign, Ivan Smith Furniture, Haven, Walsworth & Company, Palette House & Plume, Lauren Roebuck Designs, Material Things, Parterre and Fabulous Fabric
WWW.BAYOULIFEMAG.COM | OCTOBER 2022 15
Your Home, Your Sanctuary
Experiencing Wellness at Home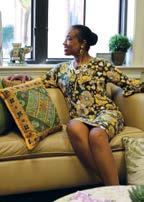 BY BEATRICE TATEM, PH.D., LPC-S, NCC, ACS
IDEALLY, OUR HOMES ARE SAID TO BE OUR SANCTUARY, a refuge, a haven, a safe place, a peaceful healing space in which we can retreat. The past several years has brought new meaning to being at home. In reaction to the pandemic, our homes became the setting where everything occurred. Home was where we worked, attended school, exercised, scheduled movie night, held romantic dinners, shopped for personal items, and experienced religious services. In essence home became the space in which we did it all. For some being at home all the time proved detrimental to their mental well-being, triggering feelings of overwhelm, stress, anxiety, and depression.
In my opinion home is more than a dwelling, but is an emotional environment that houses our feelings, thoughts, and ideas we associate with the physical space we call home. It reflects life, energy, the senses, the individual, the family, the place we connect. When encouraged to consider the meaning and purpose of home, my clients have shared responses shaped by their lives, influences, and experiences; responses reflecting their different feelings, thoughts, and ideas. Being at home for many represents a secure, safe space where one can be nurtured and prepared for life and when lost can always go back to be found. Our dwellings hold or represent our childhood memories, our teenage decisions, and our young adult ventures. Home is often where memories are created, where dreams are developed into one's reality; where we yearn to leave to experience the world only to return to the comfort of the familiar. Our homes are where we hang childhood artwork only a parent could appreciate, where we are loved, disciplined and where values for life are instituted. Home is where character is shaped, where lessons are taught, it is the base in which the individual is discovered and where the stage is set for success. Given the societal shift that has occurred some challenge the concept of home as a sanctuary.
Your home, your sanctuary … there is no place like home. This is an old saying that holds true today despite the societal shift in the meaning and purpose of being at home. It is a saying that suggests joy, calm, ease, rest, comfort, separation from the challenges at school, work, and the world at large. We all deserve to have a space that we can retreat too. There are steps one can take when making a home a sanctuary. When you think of sanctuary think mind and mood. Take
measures to create an environment that uplifts and energizes your mind and mood. Set the mood with music, aromatherapy, and candle lights. Natural scents are known to evoke shifts in mood. Quiet the overly active mind, reduce external stimuli in your environment by lowering the lights and turning down the music. Recognize your home is your space and you are free to close the door symbolically shutting out the things that disrupt your peace. Today, noise is everywhere entering every empty space, which can leave us mentally and emotionally fatigued. Replace the negative feelings you once had when unable to go out freely with doing activities outside the home again. Now more than ever, is the need for home to be a place of nourishment where we can be rejuvenated and revived, where we calm the mind, soothe the soul, and heal our bodies. For many the world is feeling increasingly unsafe, home is where we should feel accepted, supported, and protected learn ways to keep your home free from toxicity and dysfunction. We all deserve to have a space that we can walk right in and retreat too and feel at home. Identify a sacred space in your home where you can unwind alone and take in mindfulness. Engage in mindless physical activity, not everything has to be done for a reason for example, watching a natural motion such as the flow of water. Relax your body. I sit on the floor with closed eyes, lighted candles, surrounded by pillows that represent the places I have been and the emotions I feel. When decorating your home as a sanctuary bring the outside inside using plants and natural elements. Incorporate cool colors to calm you down, earth tones to warmly relax and soothe you and pops of vibrant color to reduce depression while providing energy. Reclaim your home space as a sanctuary from the world. Make intentional changes towards creating a feel-good space at home by carefully selecting what you do at home…leave work at work. After all, at the end of a long day of work or school, there's nothing better than walking through the front door of your home and being able to experience wellness at home while escaping the stressors of the outside world.
For more information on counseling and outreach services contact Dr. Beatrice Tatem at Wellness Initiatives, LLC, 2485 Tower Drive, Suite 10 Monroe, La 71201, 318-410-1555 or at btatem.bt@gmail.com.
16 OCTOBER 2022 | WWW.BAYOULIFEMAG.COM
WWW.BAYOULIFEMAG.COM | OCTOBER 2022 17
Clockwise: Large geometric home décor from LAUREN ROEBUCK DESIGNS, tall thin lamp from PALETTE HOUSE & PLUME , sculptural vase from WALSWORTH & COMPANY, bee décor from FABULOUS FABRIC , dome lamp from MATERIAL THINGS, bowl with peaches from REVIVAL DESIGN & CONSIGN , planter with moss from PARTERRE , antlers from OUACHITA ANTIQUE WOODS, sculpture from HAVEN.
Brass Talk
Move over oil-rubbed bronze, there's a new fixture in town, From lamps to decorative items – brass is the new golden child.
styling by TAYLOR BENNETT
photography by KELLY MOORE CLARK
BAYOU HOME
18 OCTOBER 2022 | WWW.BAYOULIFEMAG.COM
Clockwise: Large wood sculpture from IVAN SMITH FURNITURE , bird print from WALSWORTH & COMPANY, terrarium and wood balls from LAUREN ROEBUCK DESIGNS, natural stone bookends from OUACHITA ANTIQUE WOODS, driftwood from PALETTE HOUSE & PLUME , bird fabric from FABULOUS FABRIC , coral from MATERIAL THINGS, round agate slab display from HAVEN, wood mushrooms from REVIVAL DESIGN & CONSIGN, cactus/ planter from PARTERRE.
Nature Inspired
Bring the outdoors in with these earthly elements found at local retailers. Natural woods and stones add warm tones to interior décor.
styling by TAYLOR BENNETT
photography by KELLY MOORE CLARK
20 OCTOBER 2022 | WWW.BAYOULIFEMAG.COM
BAYOU HOME
From left to right: Large concrete textured vase from PALETTE HOUSE & PLUME , velvet pumpkin and credenza from WALSWORTH & COMPANY, butterfly cloche from IVAN SMITH FURNITURE , organic gold vase from LAUREN ROEBUCK DESIGN, oval painting from REVIVAL DESIGN & CONSIGN, candle bust from MATERIAL THINGS, Louis Vuitton and Tom Ford books from HAVEN.
Spooky Setting
Set an eerie yet elevated scene with these decorations from local stores. Combine an antique painting with velvet pumpkins for a look that is frightfully festive.
styling by TAYLOR BENNETT
photography by KELLY MOORE CLARK
22 OCTOBER 2022 | WWW.BAYOULIFEMAG.COM
BAYOU HOME
Throw Down
Time to cozy up to fall with these luxurious throws from local retailers. From faux furs to chunky knits, this blanket roundup displays the best of the season.
From top to botton: cream throw from PALETTE HOUSE & PLUME , dark fur throw from WALSWORTH & COMPANY, textured feather throw from IVAN SMITH FURNITURE , grey and white leopard-print throw REVIVAL DESIGN & CONSIGN, ivory knit throw from OUACHITA ANTIQUE WOODS, burnt sienna velvet throw from MATERIAL THINGS, ruffle edge throw from FABULOUS FABRIC , chunky throw from HAVEN, charcoal throw from LAUREN ROEBUCK DESIGN.
styling by TAYLOR BENNETT
photography by KELLY MOORE CLARK
24 OCTOBER 2022 | WWW.BAYOULIFEMAG.COM
BAYOU HOME
WWW.BAYOULIFEMAG.COM | OCTOBER 2022 25
styling by TAYLOR BENNETT
photography by KELLY MOORE CLARK
26 OCTOBER 2022 | WWW.BAYOULIFEMAG.COM Top-Notch Textiles
Wallcovering, wallpapers and decorative rugs can elevate your space. These luxurious offerings are available at local retailers. BAYOU HOME 1) PARTERRE, 2) HAVEN 3) PALETTE HOUSE & PLUME 4) FABULOUS FABRIC 5) OUACHITA ANTIQUE WOODS 6) WALSWORTH & COMPANY 7) MATERIAL THINGS 8) CUSTOM DESIGN CENTER 1 2 4 3 5 6 7 8
WWW.BAYOULIFEMAG.COM | OCTOBER 2022 27
Primary Care For Every Age and Season
CHILDREN ARE BACK IN SCHOOL, WHICH MEANS
football season, cooler temperatures and pumpkin spice everything are on their way. However, the change of weather seasons also marks the beginning of cold and flu season. One cough or sneeze can spread those illnesses throughout a classroom and your home. Therefore, you need a plan to protect yourself and your family.
Hand-washing is one of the most important things you can do to ward-off germs. Wash your hands often, especially before preparing food and eating. You should wash your hands for at least 20 seconds. Just sing the "Happy Birthday" song twice to gauge how long you have been washing them. Also, stock up on hand sanitizer and antibacterial wipes for emergencies. If you do not feel well, stay home. This way, you avoid passing an illness to others.
As part of your planning for cold and flu season, you may want to make an appointment with your primary care physician. They will know if you are up-to-date on all of your vaccines, including flu and COVID-19. Routine tests can help diagnose any health issues before they become severe. Your doctor could prescribe everything from medication to a lifestyle change to help keep you healthy.
Ochsner LSU Health primary care physicians take your healthy seriously. Their top priority is to keep you well and out of the hospital. They believe in a comprehensive approach to health. That includes caring for your mind and body. Exams include blood work to screen for any possible issues; checking your blood pressure, weight and other vital numbers; looking for any muscular problems, such as osteoporosis; and making sure your reflexes are still "kicking." If you suffer from back, foot or other pain, some of our primary care physicians also specialize in sports medicine. We will work with you to alleviate your daily pain.
Our doctors will review your lifestyle choices and help provide options to live a healthier life, including a mental health check. If our team is concerned, we will recommend resources where you can find some added help to work through the stress and problems in your life.
At Ochsner LSU Health, we have a team of physicians who treat a variety of illnesses and diseases. If you require a specialist, our primary care physicians can make a referral to an
Ochsner LSU Health doctor who specializes in the additional care you need. Your primary care physician will work with your specialty care team every step of the way to ensure that your care is in line with the plan you and your physicians have agreed upon.
We also believe that seeing a doctor should be easy. That is why our primary care physicians and other specialists are located near you, in neighborhood clinics. Each clinic treats patients from newborns to senior citizens. Also, patients can easily and quickly receive test results, schedule appointments, communicate with providers, manage prescriptions, pay bills and e-PreCheck for appointments with the MyOchsner app, a personalized and secure online patient portal. To sign up please visit my.ochsner.org/lsu. Finally, many of our clinics have on-site lab and imaging services for your convenience. Check out the location closest to you:
PRIMARY CARE & URGENT CARE LOCATIONS:
Ochsner LSU Health – Monroe Medical Center, Family Medicine Clinic 4864 Jackson Street, Monroe, LA 71202
Monday – Friday, 8 a.m. – 5 p.m.
Ochsner LSU Health – Monroe Community Health Center 1625 Louisville Ave, Monroe, LA 71201
Monday – Friday, 8 a.m. – 5 p.m.
Ochsner LSU Health – Urgent Care, West Monroe 207 Thomas Rd, West Monroe, LA 71291
Monday – Friday, 7 a.m. – 6:30 p.m.
Saturday – Sunday, 9 a.m. – 4:30 p.m.
To schedule an appointment at any of our locations, call 318-330-7168.
28 OCTOBER 2022 | WWW.BAYOULIFEMAG.COM
Angela Pugh
Proud Louisiana Delta Community College Alumna
BY DARIAN ATKINS
ANGELA PUGH WEARS MANY TITLES AND ONE OF them is a proud LDCC alumna. Angela attended Louisiana Technical College (now Louisiana Delta Community CollegeWest Monroe Campus) in 2009 to obtain the skills needed for her barber/ stylist license. Upon completing the program, she worked part-time in a salon. Angela decided she'd also pursue her barber instructor's license. After earning both licenses, she was offered a full-time teaching job at Cloyd's Barber school in Monroe. Angela then both taught and worked in a salon during that time.
While teaching, she realized there was a lack of teaching regarding ethnic hair. "I took students to Atlanta, Dallas, Tyler and other places to learn how to properly care for textured hair and I also met with many educators to learn things to help my students prepare for a career in the hair industry," shares Angela.
Later, Angela gave birth to her first daughter and took a break from teaching for a year. "I returned to teach at Celebrity Barber and Beauty School as there were no openings at Delta. The school was smaller, and I was able to really be hands on and teach in a different way," explains Angela.
She became pregnant with her second daughter while there and decided to focus on building her clientele full time in the salon. Says, Angela, "I worked for a corporate salon and was able to build my clientele quickly."
After having her girls who are biracial and have textured hair, Angela expressed she felt heartbroken at the thought that they would ever walk into a salon and be turned away because of their skin color or hair texture. Says a concerned Angela, "I have watched it happen too many times in schools and salons/barber shops. Thankfully I had already had the training and had been educating others on how to do different types of hair."
Angela's dream has always been to own her own salon and it be one who services all people with all types of hair. Two and a half years ago that dream became a reality. Today, another title Angela has is entrepreneur. She owns Harmony Salon and Spa in West Monroe, Louisiana. "I am married and have four daughters. My husband and I own our salon and a private gym as well.
Anyone regardless of race, gender, hair texture, skin tone etc. can come in and get a service done in a high-end salon environment and treated with kindness and respect," says Angela.
Angela's instructor in Barber Styling School was Tracie Carroll Blackstock. Says Tracie, Angela was a model student here at LDCC. Her goal to have a multi-cultured business has been a sure success." Angela doesn't take her success for granted. She says God has really blessed her and their family business. "In the two years we have been open, we have been voted 2nd and 4th in our area for best salon and spa. There have been many hard times, and many days I doubted my career choice. One thing I can say is if God gives you a passion or a dream for something, keep moving forward no matter how hard it gets! I am an example of the success of that journey," explains Angela.
The Barber Styling program is one of the most successful programs LDCC offers. You can work for yourself or an established salon. Says Tracie, "At LDCC Barber College, we teach our students to have an open mind and how to adapt. Life is not a straight line and is full of curves, upticks, and deep dives. The ability to thrive comes with accepting that truth and learning how to navigate the course. You need that grit and ingenuity to make it in this business. Creativity and adaptability are everything."
Barber Styling is only offered on LDCC-West Monroe Campus located on Camp Road. "Every day in our business, we are setting trends while fostering that special connection between a person's inner and outer self. Our success is built on the testimony of the people who sit in our chairs on a day-to-day basis," says Tracie.
For information regarding this program, call 318-397-6100. Barber Styling students can earn a 53-credit hour technical diploma. This pathway is for those who want to take charge of their career and money-earning potential. Call today!
32 OCTOBER 2022 | WWW.BAYOULIFEMAG.COM
Heavy is the Crown
Kelli Copes Crowned 69th Miss Grambling State University
BY ROBERT WRIGHT
OTHER THAN A COLLEGE DEGREE, THERE IS NO higher honor to be bestowed upon a woman matriculating at a historically black college and university than to be voted, named, and crowned as the campus queen. At Grambling State University, the campus queen is not just a student crowned at the coronation, but she serves as ambassador for the university. Along with the crown comes a scholarship, free room and board during her year of reign, and free travel with the university to dozens of events throughout the school year.
Last month, Kelli Jo Anna-Katrice Copes, a native of Grambling, Louisiana, was crowned the 69th Miss Grambling State University. The theme of the September coronation was "Heavy is the Crown: Great is the Legacy." The Mistress of Ceremonies was Dr. Gloria George and the Master of Ceremonies was Mr. Paul Caliste. President Rick Gallot said that he is confident that Copes will meet the challenge.
"We congratulate Miss Grambling on attaining this tremendous honor and are confident that she will represent our beloved institution with dignity and grace during her reign," said Gallot.
Copes is the daughter of Dr. and Mrs. Joe L. Copes. She is a senior majoring in biology/pre-medicine and aspires to become a gynecologist and give back to her community. She has been involved in many extracurricular activities and maintains a 3.96 cumulative GPA. She was the Student Government Association Vice President for the 2021-2022 academic school year as well as serving as Miss Sophomore, the Favrot Student Union Board's Calendar Miss November, and Miss Academic Excellence for the 2020-2021 school year.
Kelli is a member of the Delta Iota Chapter of Delta Sigma Theta Sorority, Inc, Earl Lester Cole Honors College, the Favrot Student Union Board, GRAMbassadors, the International Student Organization, NAACP, Biological and Pre-Doctoral Society, National Society of Leadership and Success and the President's Student Leadership Initiative, where she has served as the secretary.
Her involvement also includes membership on various campus committees and student representative for the Campus Master Plan Committee. Kelli has conducted campus voter registration drives, blood pressure screenings, and is an advocate for mental health and self-empowerment. Off campus, she is active in her community, works
for the Lincoln Parish Clerk of Courts office, and serves as the choir president of the Mount Zion Baptist Church Mass Choir.
At the coronation, four other ladies from Grambling State University were presented as class queens. These four ladies will travel along with Miss Grambling throughout the year to various academic and sporting events. Anslei Marie Kelly, a native of Farmerville, was presented as Miss Freshman. She was escorted by Mr. Jordan Browley. Angel DaNae Moore, a native of Houston, Texas, was presented as Miss Sophomore. She was escorted by Mr. Morgan Patton. Ariel Karai Tiaujay Box, a native of Denver, Colorado, was presented as Miss Junior. She was escorted by Mr. Tyriq Miles. Taylor Nicole Shorter-Johnson, a native of Pine Bluff, Arkansas, was presented as Miss Senior. She was escorted by Mr. Kourtlin Williams. The escort to Miss Grambling State University is Mr. Ja'Quel Brooks.
A campus queen at a historically black college and university is lauded as the ambassador for the university. She is also revered as a role model for beauty and ambition on campus and in her community. She is very active in the classroom and out of the classroom. Voted on by the student body, Miss Grambling, along with her other honors, also enjoys her own office space in the Favrot Student Union Building on campus.
Copes joins a sisterhood of 68 other women who have worn the crown and served as ambassadors for Grambling State University during their years of reign. The past ten Miss Grambling State University crown bearers were: Faith Daniels (2021), Ashley Dabney (2020), Rickenzie Johnikin (2019), Jamariea Davis-Miller (2018), Jimmitriv Roberson (2017), Astra Watts (2016), Joiya Smith (2015), Ginia Smith (2014), Ambra Brice (2013), and Geralka Jackson (2012).
During her acceptance speech at the coronation, Copes thanked her friends, fellow students, and family for believing in her and supporting her. She spoke special words of commendation to her mother.
"I'd like to share her with the world, but….she's mine," Copes said.
Grambling State University's motto is "Where Everybody is Somebody." Throughout the 2022-2023 year of reign, Kelli Copes has been given the job of ambassador for the university. She certainly understands her role and is ready to fulfill the charge that "Heavy is the Crown, Great is the Legacy."
34 OCTOBER 2022 | WWW.BAYOULIFEMAG.COM
Cancer Survivor Shares Her Story
Patient is grateful to Dr. Smith at the Surgery Clinic of NELA
LONG, CURLY, AND BROWN WITH GOLDEN HIGHLIGHTS that was Dottie Gibson Allday's hair. Dottie, an OR nurse, wore a surgical cap for her 12-hour shifts, and when she removed her hat, allowing her hair to fall down her back, no one recognized her.
After a breast cancer diagnosis—invasive mammary carcinoma— this year, Dottie learned she would undergo chemotherapy in May. So, she cut her waist-length hair to shoulder length. Then, after her second chemo treatment, she experienced what she describes as a "really painful" moment.
"I was washing my hair, and it started falling out by the handfuls. I dried off, walked into my living room, and started brushing my hair. So much hair was falling out that it got stuck in my hairbrush. And that's when my tears started to fall, too," Dottie said, her voice thick with emotion. "I asked my boyfriend to help; he stood behind me, brushing my hair so I wouldn't see how much he was pulling from the brush."
Dottie believes in the power of humor. After her boyfriend finished brushing her hair, she looked in the mirror and, through her tears, smiled and said: "Well, it's a good thing my name is Dottie. It matches the spots on my head."
She waited until her boyfriend left for work, reached for the clippers she purchased upon learning of her diagnosis, shaved her head, and told herself it "didn't look half bad."
In many ways, Dottie has always been prepared. Her mother's younger sister, who ate healthily, exercised, and didn't smoke, died of breast cancer in her 40s. Dottie began having regular mammograms at 35 years old.
After this year's mammogram, she was called in for a follow-up ultrasound and then a biopsy on her right breast. Soon after, she learned of her breast cancer diagnosis while at work.
"My world came crashing down," Dottie remembered. "And then I thought of my mother. I knew this was something I couldn't tell her over the phone. I left work, and when I arrived home and saw her face, I slipped into little girl mode. It took all I had to keep it together. When I told her, she replied, 'I wish I could take this from you.' And then she hugged me, and we both cried."
Dottie loves her job as an OR nurse. She has a passion for taking care of people. "I remember telling mother: Considering how many women I have taken care of with breast cancer, it's my turn. Meaning: it's not always somebody else. We get in this mindset that this disease happens to other people. I was the other people this time."
That night, she began thinking about who she wanted to perform her
breast cancer removal surgery. One name immediately entered her mind: Dr. Patrick Smith, a surgeon at the Surgery Clinic of Northeast Louisiana.
She has worked with Dr. Patrick Smith at Ochsner LSU Health in Monroe, where he teaches medical residents. While at work, she quickly noticed how he treated his residents. Dottie said, "Dr. Smith truly wanted to teach them, and he was incredibly patient and kind with his residents; that says a lot about him. And I loved how he was with his patients."
She contacted Dr. Smith, who instantly agreed to see Dottie in his office that day. He reassured her and presented her with options.
Dottie underwent surgery in March for cancer in her right breast. During her follow-up appointment with Dr. Smith, she could tell by the look on his face that something wasn't quite right. And yet, he remained calm.
"Dr. Smith gently let me know the margins weren't clear. I burst into tears, and we started discussing options."
The cancer in her right breast was much larger than anticipated, and there were signs of cancer in the left breast. Dottie was devastated. She and Dr. Smith decided on a double mastectomy, a surgery in which both breasts were removed on March 18. She finished her last chemo treatment in July.
Today, Dottie, who has also lost her eyebrows, wears a wig and a bra with foam inserts as she awaits her reconstruction surgery. "I'm learning to draw my eyebrows, and I'm learning that if I want to, I can make them expressive or angry," she said, laughing.
Dottie's faith has grown throughout this past year. "As healthcare professionals, we must be in charge—we have to be in control. When this started, I realized I was not in control. It's probably the first time in my life that I said: 'God, please take control over this.' I knew I couldn't handle it on my own. Then, everything worked out the way it was supposed to."
She understands women often put their health last and instead manage the health of their families. "It's difficult to think about, but you must realize that when you put yourself on the back burner, no one will be there to take care of your family when you're gone. A mammogram is short, and you're worth it."
She recommends Dr. Smith at the Surgery Clinic. "It's difficult to articulate what he did for me. His surgical skills are excellent, and he is incredibly caring, continuously asking for 'Dottie updates.' He saw me through this journey."
In addition to Dr. Smith, the Surgery Clinic of Northeast Louisiana is home to surgeons Dr. Walter Sartor, Dr. Bart Liles, and Dr. Mohamed Bakeer. The Surgery Clinic also houses Delta Vein Care.
DR. PATRICK SMITH
DOTTIE GIBSON ALLDAY
DOTTIE GIBSON ALLDAY
36 OCTOBER 2022 | WWW.BAYOULIFEMAG.COM
Making the Mark
This year, BayouLife Magazine asked the community of talented makers to submit their hand-crafted goods for our Making the Mark competition. In the following pages, you will meet this year's winners in each category: Craft, Apothecary, Home, Fashion, Food and Drink. Thank you for all the wonderful submissions.
Meet the Maker: Avery Kea
Avery Kea discovered a passion for beading and embroidery while attending Savannah College of Art and Design (SCAD). Though majoring in fashion, Avery minored in fibers and after graduation, took jobs with fashion merchandising stores. There, she learned the basic skills of 3D beading and fell in love with the process. After moving to New Orleans, Avery rediscovered all the old beads from college and needed a hobby. She began making necklaces to wear, focusing on natural stones called cabochons and accenting them with beads. Avery accumulated so many pieces, she decided to sell them and set up an Etsy page.
Avery grew up in an artistic family. Her father worked as a landscape architect and encouraged Avery and her sister Peirce to pursue the arts. Peirce studied graphic design and Avery followed her sister to SCAD. Now Avery works at Ouachita Antique Woods in Monroe, where she designed the store's interior and features her products in house. Lady Deer Beading statement pieces feature all natural stones, embroidered beads, leather backs, and are assembled on chains.
Making jewelry serves as a stress relief for Avery. From start to finish, a necklace takes about 4-5 hours to construct. She works on impulse, absent sketching, letting the necklace choose which direction to pursue. The Lady Deer Beading name originated from a deer skull decorated with berries that Avery bought in Atlanta. The piece inspired a tattoo on the artist's arm and eventually the brand. All of Lady Deer Beading is available on Instagram, the Etsy shop, and in person at OAW on Highway 165 South in Monroe.
Instagram: @ladydeerbeading Etsy: etsy.com/shop/ladydeerbeading Email: averykea@yahoo.com
Profiles by Meredith McKinnie Photography by Kelly Moore Clark
JEWELRY CATEGORY
WWW.BAYOULIFEMAG.COM | OCTOBER 2022 39
Meet the Maker: James Simpson
Flying Tiger Brewery originated from a conversation between James Simpson and partner David Johnson about bringing a distillery to Monroe. A homebrewer for years, James proposed the idea of a brewery and shortly thereafter brought in Robert Brewer to handle marketing. For the last six years, Flying Tiger has become a local hotspot and statewide brand, with flagship and seasonal beers brewed and packaged right in the heart of Downtown Monroe. Named after the Flying Tigers in WWII and in recognition of Chennault Aviation Museum in Monroe, the brewery pays homage to Monroe's historical roots and heroism in general. The Doux Drop beer featured here symbolizes a partnership between the brewery and the Louisiana Wildlife & Fisheries Foundation, with 5% of gross sales benefiting the Blue Winged Teal Habitat that was compromised during hurricane activity. The partnership beer will change annually with the foundation's chosen project.
Doux Drop Wheat Ale fits the Louisiana climate, approachable flavor that does not stray from the complexity of craft beer. After nearly a year of trial taste tests, James settled on the simple ingredients - heavy doses of wheat, orange, and honey malt. The 5% beer is not too heavy and features a residual sweetness and complex finish with the orange peel. Jason Nelson designs all the Flying Tiger beer cans, and the blue winged teal adorns this can with the dynamic green background. Doux Drop will be carried in LSU Tiger stadium this year along with another year round offering, JUCEE Louisiana Pale Ale.
The local brews can be found in all corners of the state including: Shreveport, Alexandria, Baton Rouge, New Orleans, and Lafayette. Flying Tiger is now focusing on enriching the brewery experience for locals. The team is implementing a brick oven pizza in the tap room. They want the community to have something to be proud of when visiting the brewery, and the permanent food option will help enhance the craft culture right here in Northeast Louisiana.
#DrinkHeroicBeer
Location: 506 N 2nd St, Monroe LA
Email: info@flyingtigerbeer.com
Website: flyingtigerbeer.com
Facebook: Flying Tiger Brewery
Instagram: @flyingtigerbrewery
DRINK CATEGORY
MAKING THE MARK
40 OCTOBER 2022 | WWW.BAYOULIFEMAG.COM
WWW.BAYOULIFEMAG.COM | OCTOBER 2022 41
Meet the Maker: Kyle Snellenburger
HOME CATEGORY
Kyle Snellenburger's passion for woodworking developed early. Growing up, he tinkered in his father's wood shop, crafting bike ramps. Later, Kyle majored in Construction Management and spent a few years building houses before taking a job with Paul Michael Company in Arkansas. The experience grew his knowledge of woodwork, and in 2015 Kyle returned home and opened Ouachita Antique Woods (OAW), focusing primarily on custom orders. Kyle designs all OAW's pieces. Creativity strikes at random, sometimes in the middle of another project and Kyle must switch gears before the idea fades. Often, he will construct a rough sketch, sometimes on the back of scratch wood and then immediately start building.
The featured chair evolved similarly, as Kyle and wife Ainsley wanted chairs for their back porch. The idea of using rope came suddenly, and unlike other projects, the chair came out as imagined on the first try. As a woodworker, Kyle explains, most of the work involves constructing tables. A craftsman longs for a signature piece that signals his work without knowing the builder's name. Kyle feels this chair symbolizes the essence of his work. The rope being weather resistant allows for exterior use, though it compliments indoor aesthetics as well.
The OAW storefront opened last year on Highway 165 South in Monroe. While Kyle spends most of his days in the wood shop building custom pieces, potential customers can come peruse the showroom that features Kyle's style. Many see a piece but need the dimensions altered for their personal space. Those conversations between customers and builders are imperative to customer satisfaction. Kyle is intent on growing OAW, as his reach extends well outside of Ouachita Parish. Happy to have discovered his niche and frequently covered in sawdust, Kyle loves combining his artistic vision with potential owners of his work.
Location: 336 Fontana Rd, Monroe, LA
Website: oawoods.com
Email: info@oawoods.com
Phone: (318) 348-0579
Facebook: Ouachita Antique Woods
Instagram: @ouachita_antique_woods
MAKING THE MARK
WWW.BAYOULIFEMAG.COM | OCTOBER 2022 43
Meet the Maker: Curt Allen
CATEGORY
Curt Allen grew up preparing and enjoying homemade food. His father Curtis and his grandfather JC perfected Big Curt's BBQ in the late 1950s. From a young age, Curt was heavily involved in the process, making the sauce for family and friends. About 15 years ago, Curt and his wife Sally got together with his sister and brother-in-law to create a salsa, primarily for themselves. The product became so popular with friends that Curt started selling the salsa locally. He makes all of the sauce at home in two pots, using all the jars his dishwasher will hold.
As early as 9 or 10, Curt remembers cutting onions, peppers, and sausage for gumbo. In the 80s, Curt and his dad fried turkeys, long before it was popular. He is really into canning, everything from jam to pea sauce - a sweet and spicy tomato relish. He makes gumbo, jambalaya, and often smokes meat in the summer, especially for a friend's annual 4th of July party. The kitchen is Curt's sacred space, and Sally and children Jack and Mary Hope let Curt work his culinary magic.
The Big Curt's BBQ sauce story is legendary. Curtis and JC coveted this sauce made by a man in Downsville, and JC offered to buy the recipe. He longed to open a smokehouse and serve the quintessential sauce. The Downsville gentleman agreed to sell JC the sauce, but not the recipe. After years of mixing and exchanging ingredients, JC and Curtis finally got
the sauce they wanted - even the man's family in Downsville says it's as close to the original as they can imagine. Curt inherited this love for culinary excellence and puts his homemade flair into each and every jar of sauce and salsa. Big Curt's Salsa and Big Curt's BBQ are available locally at Chauvin Bayou Market and at Randall's Fine Meats.
Email: curt.allen@huntforpro.com
Chauvin Bayou Market: 2538 River Landing, Monroe LA
Randall's Fine Meats: 4205 Old Sterlington Road, Monroe LA
44 OCTOBER 2022 | WWW.BAYOULIFEMAG.COM
FOOD
MAKING THE MARK
Meet the Maker: Lori Smart
Lori Smart never considered herself crafty or creative. While Lori dabbled in photography, it was her sister Terra that loved to craft and create door hangers to sell at craft shows. Lori can't remember when exactly she fell in love with oyster shells. She doesn't even eat oysters, but her husband Chuck does. The uniqueness of each shell fascinates her, and Lori finds herself studying each shell's natural, intricate design. For Mother's Day, Lori's son Evan gifted a set of welcome beads made from oyster shells that she cherished. She first tried her hand at making welcome beads with her own shells and future pieces incorporated wooden accents. She spotted a mirror decorated with shells and decided to replicate it. The mirror hangs in her home now, along with a glass vase filled with shells, and an oyster canvas painting. With oyster shells, each piece feels custom as no shell is the same.
Now, with Evan moving away after college and daughter Emma in high school, Lori plans to invest in her hobby turned small business and continue to experiment with new designs. Lori currently creates ornaments, salt and pepper cellars, bottle stoppers, and trinket dishes with the oyster shells. Lori will often paint the outer edge, sometimes opting for a découpage design inside the shell - as pictured in this article. She loves working with her hands and seeing the joy the designs bring customers. Lori has worked at Neville High School in the Special Education Department for the last four years. She has a genuine love for helping others, particularly those most in need of attention and care.
The elegant designs appeal to collectors and make excellent wedding or shower gifts. L Designs are on display at Woodstock and Legacy of Judy C. Martin, or Lori can be contacted via email.
Email: ldesigns318@gmail.com Legacy of Judy C. Martin Silver & Gifts: 1123 Forsythe Ave, Monroe LA Woodstock: 1806 N 3rd St, Monroe LA
CRAFT CATEGORY MAKING THE MARK
Meet the Maker: Sade Johnson
CATEGORY
In 2019, Sade Johnson started experimenting with soaps. Having sensitive skin, Sade could only use plain white soap, and if she deviated from the generic, she ended up at the doctor's office. She learned that the squeaky clean effect of name brands relies on harsh chemicals that strips otherwise healthy skin of its natural oils. Sade sought an alternative that featured pleasing scents and didn't damage her skin, and researched the soapmaking process. She began with simple melt and pour solutions, before eventually settling on her own base, concocted with a mixture of shea butter, coconut oil, castor oil, almond oil, and olive oil. The cold process soap, featured here, is mixed between 75-90 degrees, and is one of several methods of soap creation. Sade expanded her product line and now offers bath bombs, lotions, crochet towels, and bubble bars.
Jubilant Soapsetions products can clean from your head to your toes. The products are delicate enough for softer skin areas and strong enough to leave your skin feeling fresh and revived. The Goat Milk Collection features 3 scents, the most popular being Exfoliating Coffee and Honey & Oatmeal. The Handcrafted Collection, a vegan line of products, features favorites such as Bourbon, Seasick, and Pineapple Papaya. In total, there are 16 different soaps to choose from. The bubble bars are a popular new product - rectangular bars made with bubbling agents that can be broken off for multiple uses. Popular scents include: Dream, Sweet Pea, Wild Flowers, and Pineapple Papaya. Sade also invites new moms looking for use from expired breastmilk to consider
her product line. She will turn Mom's milk into soaps and lotions suitable for the little ones. Sade offers wholesale orders and custom orders for those allergic to specific ingredients.
Jubilant Soapsetions is available in 4 locations: Good Daze, Art Alley Marketplace, XTND Clothing Boutique, and Serenity's Cake Bar. Sade can often be found at the farmer's market on 7th Square in West
Monroe and at Flying Tiger Brewery. If you're looking for a generic or name brand alternative with a luxurious feel to make your skin smile, check out Jubilant Soapsetions.
Website: www.jubilantsoapsetions.com
Facebook: Jubilant Soapsetions
Instagram: @jubilantsoapsetions
TikTok: @jubilantsoapsetions
48 OCTOBER 2022 | WWW.BAYOULIFEMAG.COM
APOTHECARY
MAKING THE MARK
AN
WITH
CASSIE LIVINGSTON
BayouLife Magazine's publisher/owner exits her comfort zone and talks about herself. Laura W. Clark asks Cassie to talk about everything – joyous, tragic and hopeful – that landed her here this month, celebrating her magazines 10th anniversary.
PHOTOGRAPHS BY KELLY MOORE CLARK ARTICLE BY LAURA W. CLARK
The best way to describe Cassie Livingston is to share how she has impacted my life. And I know I'm only one of many. I moved to Monroe in 2005 to work as ULM's Director of Media Relations. I was a young, naïve Midwesterner, and she was the cool girl working at Delta Style Magazine. We often spoke because she was passionate about covering ULM arts and culture. She was creative, kind, and honest; she's still all those things. She loves fashion but also appreciates comfort. You'll see her wearing a New Orleans flat bill cap paired with a Mr. P's t-shirt or a Sue Sartor kaftan and beautiful heels. She paints. And she's a graphic designer. But we'll get into that later.
We worked together professionally for years but didn't become close friends until 2018, when our children attended Pre-K with Miss Linda Maddox Crawford at Lexington Elementary. I was leaving work one night when she, while laughing the entire time she spoke, left this voicemail: "Uh, Laura. I'm sure you'll get a call from Miss Maddox because Vivian tackled Weston and kissed him." I found this hilarious, and I immediately called her. For whatever reason, I haven't enjoyed talking on the phone since high school, but our first phone conversation lasted three hours; I think our record is four.
A few months after the birth of my second child, I told her I had to have a minor surgery the next day. She asked: "Well, who's taking you?" Upon learning I planned to have my husband drop me off at the hospital so he could stay home with our new baby, she said: "No, that's not happening. I will pick you up at 5:30 a.m. and stay with you until your surgery ends." Normally, I would have said,
"No, that's ok," but her tone told me that wasn't an option.
It takes a lot for me to feel genuinely overwhelmed, personally or professionally. When I feel that way, I usually don't talk about it, and I definitely don't answer phone calls. One morning, I was staring at my to-do list, thinking: "What will I do?" And it was minutia – just a long list of things I had to accomplish, but it seemed like too much, especially with a new baby. Then, Cassie's name appeared on my phone, and before my brain could catch up with my hand, I answered the call. Hearing her voice allowed me to be vulnerable, and through my tears, I started talking. I still smile when I think of her rapid-fire, business-like response: "Ok, your first problem, this is what we're going to do. And I can handle your second issue with an email. What's the third thing?" When we hung up, my cloud lifted.
A year later, when I received my first clean cancer scan in 15 years, I texted her, and she responded, "Hold on." Cassie was traveling, and she had pulled over so she could (loudly) tell me how happy she was; she was crying. I was kind of stunned because even I didn't have that reaction. But that's Cassie, strong when you need her to be and unabashedly emotional when she is rooting for you.
When we served together on the ULM Women's Symposium Board of Directors, she donated advertising space, offered speaker ideas, and agreed to speak at the event. Speaking to a large audience about her experiences as a female entrepreneur meant overcoming her public speaking fear. She stayed long after her session ended so she could answer the questions of every ULM student and area professional.
WWW.BAYOULIFEMAG.COM | OCTOBER 2022 51
INTERVIEW
When I drove out of Monroe for the last time in March 2020, I stopped by BayouLife 's office. Cassie was already outside, waiting. My usually introverted 6-year-old Weston exited our SUV first, walked over to Cassie, hugged her waist, and said, "I love you, Miss Cassie." She cried, hugged him close, and whispered something to him. I'm still not sure what; it's their secret.
More than two years later, Cassie casually told me that October 2022 would mark BayouLife Magazine 's 10th anniversary. I encouraged her to have her photo taken. "You're so beautiful," I told her. She quickly replied, "I'm a goober, Laura." I told her we also had to tell her story. She was hesitant— and still is—to talk about herself. I told her that her journey would empower the aspiring Cassies to realize life's possibilities. She paused. And then, she agreed to the below interview. To be candid, I knew she couldn't say no to the thought of helping young women.
On the evening of our scheduled Zoom Interview, I knew Cassie was juggling a lot as she always is. She was leaving her 10-yearold Stella's evening softball game after a full day working at her BayouLife office. That day Cassie had also made several renovation decisions on a property she and her husband Trent purchased in North Monroe. She was also ensuring her 8-year-old Vivian was fed and doing her homework. And finally, she was checking on Max Porter Provisions, a men's store in Antique Alley, that she and her husband purchased last year.
We connect, well, kind of, around 8 p.m. Cassie's brown hair is in a bun, and she's wearing clear glasses. And she's laughing. I can't hear her laughing, but I can see it. She's on mute and can't make her computer behave. How relatable is that in 2022?
Boom. Zoom is working.
Laura: Ok, I'm going to get my word document ready because I'm a big nerd. Cassie: I love you.
Laura: I love you, too. I am so excited about this. Ok, please spell your first and last name. Cassie: Uh, huh.
Laura: Alright, I will be serious. Have you always loved magazines? Cassie: Oh, definitely. For me, there was always something about the feel and read of a magazine. When I was a teenager, I had "Bop," "Seventeen Magazine," and several others. Kirk Cameron! (Laughs). My dad loved magazines, too; he collected National Geographic Magazines.
Laura: How did magazines become your career?
Cassie: When I was 21, I began my internship at DeltaStyle Magazine, owned and operated by Maré Brennan. Later, I worked at the Austin American Statesman and the Austin Business Journal; I sold ads and worked in graphic design. When I had the opportunity to return to Monroe to work for Maré, I jumped at it. She was a true mentor and taught me everything about publishing a magazine. She also served on many non-profit boards and was very much embedded in our community, which helped DeltaStyle. She was incredible at what she did.
Laura: I remember when Maré sold DeltaStyle to Gannett. You then worked as the magazine's publisher, and later, with six-month-old Stella on your hip, you decided to start your own magazine. What was going through your mind?
Cassie: That I was leaving a 401K, insurance, and bathrooms stocked with toilet paper. (Laughs) Really, I figured if I was doing that much for somebody else, I could do it for
FAMILY MATTERS
I inherited my art appreciation from my parents. When I was a child, they made sacrifices for me to take private art lessons. My mother, who wrote grants and secured technology for schools in Richland Parish, could also draw. I still remember her teaching me how to draw Snoopy. And my dad, who was an avid photographer, often developed photos in our bathroom. He worked for an architecture firm and would often fly me around the country when he'd inspect job sites. I wouldn't be able to do any of this without my husband. Trent has been with me for half my life and is my constant supporter. I'm lucky to have a very close-knit family, and my younger sister is involved in the magazine, too. She really steps in and helps wherever she is needed.
myself, and I could help others. I could pay our contributors, implement glossy pages, and feature more of our community. Honestly, after giving birth to Stella, I felt like I could do anything; I think I was fueled by hormones. It was also a difficult time because Trent's parents had recently passed away. We had just enough money to consider launching one magazine issue. Trent looked at me and said, "Cassie, I believe in you; I know you can do this." So, I started Redbird Publishing. The Redbird is the favorite bird of my mother-inlaw and my aunt. But I needed more funds to actually print the magazine. I asked area businesses to pre-pay for their ads, even though I had no actual product to show them. And they did.
Laura: Your entrepreneurial spirit says a lot about you, and that kind of support says a lot about our community. I know you graduated from ULM with a graphic design degree. And you layout the magazine. What exactly does that mean for those who aren't familiar?
Cassie: Laying out—or designing—a magazine is taking beautiful photography and excellent writing and organizing it in a way that's easy to read, appealing, simple, yet beautiful. You can have the best photography and writing, but nobody will look at it if the layout gives you a headache.
Laura: That makes sense. It's all in the presentation, like so much in life.
Cassie: Exactly. I inherited my art appreciation from my parents. When I was a child, they made sacrifices for me to take private art lessons. My mother, who wrote grants and secured technology for schools in Richland Parish, could also draw. I still remember her teaching me how to draw Snoopy. And my dad, who was an avid photographer, often developed photos in our bathroom. He also worked for an architecture firm.
at right: photo by Scarlett Olivia Photography
52 OCTOBER 2022 | WWW.BAYOULIFEMAG.COM
Laura: Speaking of architecture, that's a love of yours, too. I can see it in the magazine's home features; you and your team work so hard to highlight these unique homes. And you're taking on a considerable home project, personally.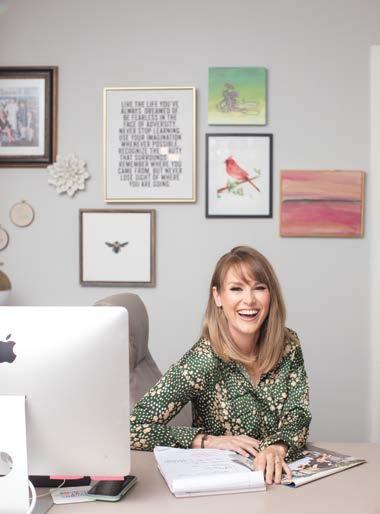 Cassie: That's one word for it. "Nutty" might be another word. But yes, after building our dream Acadian-style home in Start several years ago, we decided we needed to live in Monroe. So, we're living in a rental while renovating a mid-century modern home. It's a lot of work, but I love it.
Laura: Let's talk about your other work. What are some of the challenges you've faced?
Cassie: I mean, there have been so many. (Laughs) We occasionally couldn't deliver magazines because a hurricane came through. I rented our first office on Honor Street, the same office I worked at DeltaStyle in my 20s. Anyway, that office was small, like 200 square feet. We would walk on top of trash bags because it was so small. When the magazines were delivered, they arrived on pallets, but the magazines weren't individually wrapped like they are now. We would put the pallets inside tents so they wouldn't get ruined. We would individually wrap each magazine, place them in trash bags, and then put them in our cars so we could deliver them. Thankfully, we moved to our office on Royal Avenue after that.
Laura: It's not a secret, at least to you, that I struggle with perfectionism. I rarely write stories for you because I research them and pour over them 100 times before sending them to you. And then I think of you; you do this every month, with 200 pages. How?
Cassie: Oh, I definitely agonize over the magazine, and I'm never 100 percent okay with it, which has nothing to do with what my team did. It's the expectations I set for myself. I second guess myself on design or story ideas. I feel a certain amount of closure once the issue is printed, but the anxiety still lingers. I hope the people we feature like their stories and the businesses are pleased with their ads.
Laura: The other side of perfectionism is a strong work ethic. Who taught you about work ethic?
Cassie: My parents taught me about dedication, about committing to something.
I started competitive swimming when I was five. They also pushed me to explore a lot of different things. I danced, played tennis, was a cheerleader, and took piano and art lessons.
Laura: I'm still stuck on something. Did you start swimming competitively at five?
Cassie: I did. I swam about 12,000 yards a day, which is about four hours. Then, when I was older, I woke myself up at 5 a.m. to drive from Rayville to Monroe so I could swim before school. And I swam after school. I spent a lot of time talking to myself during those laps. I remember motivating myself: "You've got this! Just one more flip turn!"
Laura: Do you self-motivate at the magazine? Cassie: I do it a lot, especially during a late night when I'm tired and want to go home. I tell myself: "You only have eight pages left. You can do eight pages."
Laura: How we talk to ourselves matters. Cassie: It does. I don't get much regular feedback about the magazine because I'm not the point of contact. I'm more behind the scenes. However, the feedback I do receive is incredibly meaningful. I have every handwritten note ever sent to me.
Laura: And the food deliveries from Butter, A Louisiana Bakery.
Cassie: Yes! It's delicious and gluten-free. In addition to the hand-written notes and the food, I remember a phone call I got from a local woman we featured. I would never have guessed this, but she was struggling emotionally. She said that the article pulled her from a dark place. I was so grateful that we could help her, even though we had no idea we were doing so.
WWW.BAYOULIFEMAG.COM | OCTOBER 2022 53
continued on next page
Laura: That's really heartwarming. I bet that happens more often than you realize. Going back to challenges, I know COVID-19 was a difficult time for your business, as it was for many others.
Cassie: COVID still affects my business. Financially, we're still not where we were in 2019. I know I'm not alone in that. When the pandemic began, everything shut down: our schools, restaurants, and other businesses. Medical facilities were on diversion. And it was press week. We had enough content and ads to finish the April issue, but many people pulled advertising because they had nothing to advertise. The following month was our May issue. Due to COVID, there weren't any events happening, and we didn't do our regular feature stories out of respect for everyone's safety.
Laura: And your May issue was strictly online, correct? How did you do that issue without advertisers?
Cassie: Yes, that was our first and only issue that was not physically printed; everything was online. And the advertisers … now I'm getting emotional. Business owners called and said they would advertise, even though they didn't have a message because everything was closed. They advertised simply to help us, and half of them were really, really struggling because of the shutdown. (Crying)
Laura: They believed in you, just as they did with your first issue.
Cassie: It's that sense of community, you know? We cut our rates in half, paid our staff more than their average commissions, and I didn't pay myself. I had to keep our people afloat. We actually had less income than when we had before our very first issue. I told our contributing writers—which was really difficult for me to do—that we didn't have money to pay for their columns. I told them I didn't expect them to submit anything. They all sent me their columns, anyway. I was so grateful. Everybody came together for it. And I don't think that's just a BayouLife story. That happened all around northeast Louisiana. Everybody was open to doing whatever they could to help each other, even though it was a terrifying time. More and more people were getting sick, and the future was uncertain.
Laura: Uncertainty is scary, but it never seems to stop you. When I think about you moving to Austin when you were young and starting your own magazine a few years later, I think about courage.
Cassie: I learned about the brevity of life at a young age. I lost my high school boyfriend to suicide, which stirred something in me. I was devastated. I also knew I had to keep moving.
Laura: I get that. I asked you once why you left Austin, and you told me you missed the feeling of a community.
Cassie: I wanted to be closer to my parents and little sister. Monroe doesn't have all of the bells and whistles of Austin, but it has so much more of what's truly important: connections. This community is very generous.
Laura: When I think about your magazine, the community is the catalyst for everything you do.
Cassie: That's true. For example, when ad sales reps visit Herringstones and other retailers, they make connections and buy things from their stores. We also get a lot of story ideas when we're out in the community.
Laura: Speaking of connections, I had the unique opportunity to edit it for you a while ago. I was in your production room and was so entertained by the camaraderie among you and your staff. It reminded me of working in ULM's communications office. When working so collaboratively and often long hours, everyone becomes family. Cassie: It's true. They each have their defined roles, but they also do whatever they can to help each other. I've been fortunate; many of my staff members have worked for me for several years.
Laura: What do you attribute that to? Cassie: I know people say, "Don't get too close to your staff." But when you have a small staff, it's almost impossible. I think they know I genuinely care for them and would do everything I can to help them succeed. I also think it's essential to be present. I would never ask my staff to do something I'm not doing. If they're working at 2 a.m., so am I.
Laura: Your travel issue is one of my favorite features. I bet your staff feels the same.
Cassie: We call it our family vacation; it's a great time to bond and show my staff how much I appreciate them. We've been to some fantastic places. Everybody we feature is from Northeast Louisiana, so if that means traveling to New Orleans or a beach somewhere to feature that person, we do it. Our travel issue has evolved over the last several years as we've visited more and more places.
Laura: Speaking of evolving, I've been really impressed by the variety of your content during the last several years. Cassie: We have hunting, fishing, and high fashion. (Laughs)
Laura: Exactly! I just heard Vivian. What does she want? Cassie: She wants me to watch TV with her when we finish talking.
Laura: I won't keep Vivi waiting. What impact do you think your job has had on your daughters?
Cassie: Now, that's a sad question for me right now, Laura.
Laura: Tell me why it's sad.
Cassie: Stella and I went to dinner last night. I asked her, "If you were to describe me to someone, what are the characteristics you would use?" Stella said: "hard-working and successful." I asked her, "Do you think I'm kind?" She told me she did. I want my girls to think I'm hard working, but I feel like they hear and experience me working so much. So I ask myself, what am I not giving them because I'm giving so much to the magazine?"
"I WANT MY KIDS TO GROW UP AND THINK THEIR MOM WAS GOOD. THAT'S THE MEASURE OF SUCCESS I WANT TO HAVE, AND THE REST IS LAGNIAPPE."
54 OCTOBER 2022 | WWW.BAYOULIFEMAG.COM
Laura: My mother started working in a primarily male-dominated field when I was eight. And I remember being so proud of her. She worked evenings and weekends – whatever it took. She was stressed sometimes, but she was also incredibly fulfilled. She set an important example for me. She was with me for all the important stuff, just like you are. When I call you, I ask, 'What are you doing?' The answer is almost always: "cuddling with Vivian or Stella." Cassie: That's true. I guess there's always going to be some kind of guilt. But I am proud of myself, too. Ten years means something. Hey, wait a minute. You didn't say anything about my new hair color.
Laura: (Laughs) I like it. I think I'm accustomed to you changing your hair color.
Cassie: (Pauses) Laura, I want my kids to grow up and think their mom was good. That's the measure of success I want to have, and the rest is lagniappe. I've been lucky that I've been able to really enjoy my job: produce a magazine that is a portrait of our culture and our people.
From Cassie: Thank you to everyone who has supported BayouLife Magazine through the years. I've compiled some of my favorite behind-the-scene candid photos of my staff both present and past.
THE STAFF OF BAYOULIFE MAGAZINE: JENNY PANKEY, KATELYN MCALLISTER,SARAH MCELROY, KELLY MOORE CLARK, TAYLOR BENNETT AND COURTNEY THOMAS
WWW.BAYOULIFEMAG.COM | OCTOBER 2022 55
Custom Design Center
Guides You Through the Design Process
CUSTOM DESIGN CENTER PROVIDES NORTHEAST
Louisiana homes and businesses with quality products that include hardwood, luxury vinyl, ceramic and porcelain tile, carpet along with granite, quartzite, quartz and marble countertops.
Custom Design Center is conveniently located in the heart of Monroe and are locally owned and managed by operating partners AJ and Mary Francis Siggers. It is one of the largest flooring, countertop and lighting showrooms in the area. They now serve as a one stop shop for all your new construction, remodeling, and commercial building needs.
Custom Design Center prides themselves on their personable, one on one customer service. "We truly value our customers. We walk them through their entire project from start to finish, making sure they receive the absolute best look for their home or business," says Mary Francis.
"Our team provides a high level of expertise. More importantly, it makes the customer's experience one-of-a-kind and tailored specifically to their needs. We are able to assist our clients with personalized selections that work in their space with the style they are trying to achieve, customizing their personal experience. Building or remodeling can be overwhelming. Having a knowledgeable team at your fingertips is a valuable asset that we are proud to offer our customers. We are honored to play a part in making someone's dream home or project come to life," says Mary Francis.
They help in a variety of ways from selecting all your finishes for floors, showers, and countertops, as well as lighting, cabinet hardware and assisting with paint selections to pull your whole project together. They feature and install the brand names you know and trust, offering free in house measuring and estimates. If you are starting your project, they invite you to come in and let their experts guide you through the process. No project is too large or small. They can help bring your ideas and dreams to life all while working with your style and budget needs. They thrive on seeing the potential in projects, creating a vision and seeing it through to completion.
As the team at Custom Design Center looks ahead to the New Year, they are already getting excited about new trends on the horizon. "One thing we are seeing is a rebirth of traditional design elements. Warm
colors, natural stone, like marble and quartzite, inlaid wood, beautiful waterjet tile accents, and handmade clay tiles with a worn historic feel. We also believe the past several years have shaped how people now view home. I think we've come to appreciate the comfort of home and the need to surround ourselves with things and finishes we love. We are seeing many customers redesigning their spaces to reflect that," says Mary Francis.
Before you decide on the material, texture, color and style of your new flooring, you'll want to know all the possible options and features available. There are also several considerations to make that are unique to you and your budget, such as the location within your home or business where you'll be installing the flooring, which installation methods will work in your space, the overall cost, and the proper care and maintenance techniques for your floor.
At Custom Design Center, they know how important it is to have a home you feel good in, one you feel proud of and look forward to going home to every day. They are there to help you create the home you want, at a budget that makes sense for you. The unique selection of flooring from carpet, hardwood flooring, luxury vinyl, waterproof flooring, tile and even area rugs, matched with personalized services like home design and installation, truly set them apart.
Hardwood Pro Tip: The lighting in your room also plays a role in how the wood will appear. Ask our experts for samples that you can take home before making your final selection. Installing a floor with the boards running across the width or on the diagonal of a narrow room will create a more spacious feel.
Carpet Pro Tip: Have you ever walked on a carpet and marveled at how soft it feels? That probably has as much to do with the quality of the pad, then the actual carpet. Good padding protects your carpet, makes it last longer and feel better. It acts as a shock absorber and protects carpet from the wear of everyday use.
The single most important part of your project is to make it your own. By determining which material works best for your lifestyle and working with the team, your home or business will be inviting and stylish for years to come. Call Custom Design Center today at 318-3236094 to schedule your appointment and get your project started.
56 OCTOBER 2022 | WWW.BAYOULIFEMAG.COM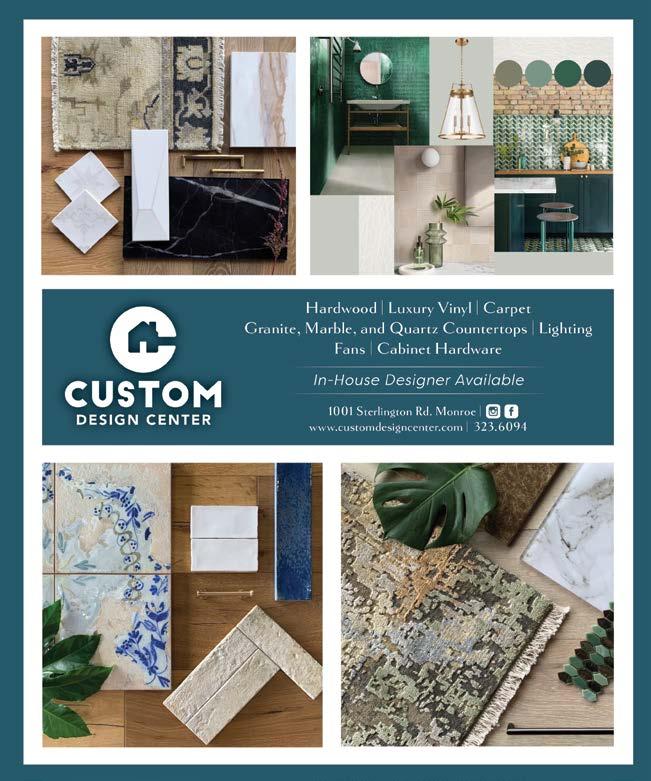 Jan Daniels
An Angel Among Us. A Champion For Youth.
JAN DANIELS EXEMPLIFIES THE SPIRIT OF COMMUNITY.
An advocate for children, Daniels identifies a need and seeks to meet the challenge. When a friend lost a child to suicide 17 years ago, Jan sought to prevent the unspeakable pain for future families in her community. Jan began SOS: Signs of Suicide at the Children's Coalition for Northeast Louisiana. The program educates local middle school faculty and students about youth depression, suicide, and selfinjury, in the hopes of equipping students and educators with the knowledge to recognize mental health concerns. Alongside its mission, SOS challenges the stigmas surrounding mental health, raises student awareness of the problem, mobilizes those students as stewards of their peers' well being, and encourages school curricula to adopt advanced mental health programs. Creating a trifecta of mental health support (administrators, teachers, and students) ensures children who need assistance are identified and connected to resources. Jan Daniels will be honored for her life's work with SOS and other childfocused programs this October with the Blue Cross and Blue Shield of Louisiana Foundation's Angel Award which honors everyday people doing extraordinary good to meet the physical, emotional, spiritual, or creative needs of Louisiana's kids. Jan will be recognized this October at a gala in Baton Rouge and will be awarded $25,000 to support Signs of Suicide.
Jan credits her giving spirit to a phenomenal upbringing by parents who prioritized community service. Jan sought active citizenship, making the most of community and enriching the lives of those around her. As a sustainer of the Monroe Junior League, and a former member of the Garden Club, to continually supporting ULM athletics, Jan stays involved and engaged. When Hurricane Katrina ravaged the Gulf Coast, Jan worked with teens in temporary housing, assessing the impacts of trauma and locating resources. In times of catastrophe, we look for the doers - they always surface. Jan volunteers with fundraising for local schools and Kappa Delta, a philanthropic initiative that developed during her time with the sorority during her student tenure at ULM. Despite all her community engagements, Jan's heart remains focused on the children. She adores working with middle school kids, when their brains are still developing and their hearts are open wide.
Because the SOS program focuses on prevention, its quantifiable success is not measurable. A life saved is a life still being lived. Jan refers to depression as the "silent sadness," as often children suffer alone in isolation and fear the negative stigmas concerning mental health. Though SOS began at one school, it's now active in all middle schools across Ouachita Parish, Union Parish, and in Monroe City schools. Educating our region about adolescent health education is imperative and a resource we are lucky to have in Northeast Louisiana. Jan is trained and licensed by Columbia University in school-based prevention, and SOS was named Program of the Year by the esteemed institution. Jan recounts that suicide was a taboo subject when she started the program, but now mental health awareness has saturated American discourse. With a rapidly-changing technological environment, children have more access at their fingertips, all while their brains are still forming and they're navigating intense social changes. Jan cares about saving children and ensuring they live full lives. She says, "There is nothing worse than knowing a child is sad."
Jan's outreach extends beyond middle school children. She has formed collaborations with ULM, which includes educating athletes, Greek organizations, and nursing and occupational therapy students about prioritizing their own mental health and the well being of their peers. Depression is a treatable illness, for which there are resources. Communicating that to as many audiences as possible creates a network of local knowledge and prevention. Jan spearheads these efforts to better the lives of young people and influence the next generation of parents and educators. What sets Jan apart in this community is her ability to form meaningful, long lasting relationships that transcend the confines of any program. Jan's hidden efforts, like answering calls from concerned parents and intuitive teachers, showcase the depth of compassion she has for others and their loved ones. In an effort to further educate the community, Jan hosts a program on KEDM called Time to Talk. She influences health class curriculums, hosts a Youth Summit for future leaders, and even oversees the Children's Coalition Dragon Boat Festival. In addition to her love for this community and its people, her husband Derek and son Will remain the loves of her life. Jan Daniels epitomizes the heartbeat of this community and the values of service and human connection.
58 OCTOBER 2022 | WWW.BAYOULIFEMAG.COM
WWW.BAYOULIFEMAG.COM | OCTOBER 2022 59
IN THE GARDEN
Booooo!! October can be a veddy sceddy time in our landscapes because it is a month of transition. The number of daylight hours continues to decrease and our deciduous trees and shrubs are responding accordingly. If your trees and deciduous shrubs don't look so hot right now, they're probably just gearing up metabolically for dormancy. Unless you're seeing a premature foliage drop, sawdust around the base of the tree or shrub indicating a beetle infestation, or bark sloughing off when it shouldn't be, your trees and shrubs are likely just fine.
LAWNS This month is the perfect time to overseed lawns with ryegrass if a green lawn is desired after warm-season turf grasses have gone dormant. Sow about 10 pounds of seed per 1,000 square foot area. Water regularly until seeds germinate, then begin applying fertilizer two or three weeks after germination. Apply 8 to 12 pounds of a starter-type fertilizer per 1,000 square feet of lawn area. Then, during the winter months, 3 pounds of ammonium nitrate (32-0-0) per 1,000 square feet can be applied twice for color and growth. Mow as you would during the regular growing season. For lawns that will not be overseeded, an application of a pre-emergence herbicide now will help control fall and winter weed growth. Common winter weeds include henbit, chickweed, annual bluegrass, bedstraw, Carolina geranium, and burweed. In preparation for winter, raise the mowing height by 1/4 to 1/2 inch to encourage deeper root growth and increase cold tolerance. Many feel the need to winterize lawns with fertilizers containing high amounts of phosphorous (P) and potassium (K) relative to nitrogen (N). Winters in our region typically aren't severe enough to warrant winterization. If rain is scarce, nutrients may not become available until late winter or early spring when growth is vulnerable to frost damage.
Brown patch may be visible in fall just as it was in spring. It begins with tan lesions across the lawn that eventually increase in diameter ranging from a few inches to a few feet wide. Blades develop reddish brown margins and wilt. The pattern usually develops in a circular pattern. Control with a recommended fungicide like myclobutanil per manufacturer's directions on the label.
>
This cabbage was nearly 4 feet across! A testament to homemade compost!
< The 'Sorbet' series of Violas are Louisiana Super Plants that add cool season color to fall beds. Show your LSU spirit with 'Yellow Duet,' pictured here!
60 OCTOBER 2022 | WWW.BAYOULIFEMAG.COM
COMPOSTING
Speaking of lawns, save those grass clippings for a compost pile. Start a compost pile now and reap the benefits next season. Composting involves layering organic debris, composed largely of cellulose, into a pile so that bacteria, fungi, and beneficial insects break the material down into a nutrient-rich soil amendment. With regular turning and watering, the metabolic activity of microbes should heat the internal area of the pile to as high as 120 degrees Fahrenheit. Indeed, steam will often billow from the pile if it's opened during the composting process. Finished compost will be black, contain no recognizable plant parts, and will crumble easily in your hand. Earthworms may find the pile and add nitrogen-rich castings as they help break down the organic material. In addition to grass clippings from the lawn, plant-based kitchen scraps and coffee grounds and filters
make excellent additions to compost piles. Also include dead plant material from the previous season's flower beds. For best results, screen finished compost and toss large pieces of debris back onto the pile for further decomposition. Combine finished compost with potting media for a boost of nutrients to plants and seedlings.
BULBS AND BEDDING PLANTS
Plant bulbs this month and into November and December for a blast of color in spring. Bulbs that do well in our region include windflower (Anemone coronarium), crocus, crocosmia, dog-tooth violet (Erythronium sp.), snow bells (Leucojum aestivum), snowdrops (Galanthus nivalis), grape hyacinth (Muscari sp.), daffodils (Narcissus sp.), and Ranunculus sp. Begin refrigerating bulbs of tulips (Tulipa sp.) and hyacinth (Hyacinthus sp.) late this month for planting in December and January. Refrigeration ensures an adequate number of chill hours for optimum bloom. If you haven't already done so, October is a good time for dividing and replanting Louisiana iris. Dig up rhizomes being careful not to damage the young offshoots. Taking care to not let rhizomes dry out, separate the new offsets from the old rhizomes. Old rhizomes can be discarded. Return the new offsets to the bed which should get six to eight hours of full sunlight, and should not be near trees or plants with extensive root systems. Louisiana Irises will grow in a variety of soils, wet or dry, and those with a pH of 6.5 or thereabouts are ideal. Don't forget about Louisiana Super Plant selections that can go into the fall landscape! 'Redbor' Kale and the 'Sorbet' series of Violas (pansies) are just perfect for this time of year and will add both color and texture to your fall beds. 'Redbor' Kale is also a great edible, so kill
two birds with one stone!
VEGETABLE GARDENS Cool-season herbs can be planted this month. If starting an herb garden consider planting the following for reliable fall results:
• Parsley (Petroselinum crispum)
• Cilantro (Coriandrum sativum)
• Chives (Allium schoenoprasum)
• Dill (Anethum graveolens)
• Thyme (Thymus sp.)
• Mint (Mentha sp.)
• Chamomile (Chamaemelum nobile)
• Fennel (Foeniculum vulgare)
Cole crops dominate fall vegetable gardens in our area. This month, plant beets, carrots, and lettuce, and radishes from seeds, and broccoli, Brussels sprouts, cabbage, cauliflower, Swiss chard, and onions from transplants. Day-neutral or short-day onion varieties can be seeded into a row, allowed to grow and overwinter, and then transplanted in late February for bulbing. If you're not growing a fall garden, consider planting a cover crop to improve the soil for next season. Good cover crops include rye, hairy vetch (Vicia hirsuta) and clovers (Trifolium sp.) and should be turned into the soil just before blooming. This is a very cost-effective way to add organic matter to the soil.
Tune in to Louisiana Living every Tuesday at 4:30 for In the Garden with Kerry Heafner of the LSU AgCenter.
Cole crops dominate the fall vegetable garden in our area. Cauliflower is a great choice.
'Redbor' Kale is a Louisiana Super Plant selection and adds texture with foliage to any bed in your landscape.
Goblet of Fire
Add a spark this spooky season with this simmering spirit. Perfect for fall, this cocktail combines spiced rum and rosemary for a seasonal cocktail to blaze into Halloween. inspired by Half Baked Harvest
WHAT YOU NEED: 6-8 blackberries
2 ounces bourbon
2 dashes bitters
1 teaspoon honey
1 teaspoon fresh rosemary Splash of 151 proof spiced rum
Combine blackberries, bourbon, bitters, honey and rosemary in a cocktail shaker. Muddle the berries. Add ice and shake to combine.
Strain into a goblet and top with 151 proof rum. Using a lighter, ignite the drink. Sprinkle with cinnamon to create sparks. Enjoy.
BAYOU DRINK
styling by TAYLOR BENNETT
photography by KELLY MOORE CLARK
62 OCTOBER 2022 | WWW.BAYOULIFEMAG.COM
WWW.BAYOULIFEMAG.COM | OCTOBER 2022 63
bayou PAGES
"Woman Hollering Creek and Other Stories" by Sandra Cisneros
"About the truth, if you give it to a person, then he has power over you. And if someone gives it to you, then they have made themselves your slave. It is a strong magic. You can never take it back. "
Chicana poet Sandra Cisneros writes lyrically about the dreams, lives, and limitations of Mexican American women in this collection of short stories, ultimately vignettes, ranging from a few paragraphs to almost 30 pages. In each encapsulated plot, little girls and grown women dream of the life they've been promised, one in which a girl can unleash the power of the world if she can only find the right man to love her. "He said he would love me like a revolution, like a religion." The fairy tale aspect of the culture's perspective for women is both recognizable and heartbreaking, for in this culture where poverty overtakes promise, the men suffer societal limitations and break the hearts and bodies of the women who dare to love them.
In one short story, My Lucy Friend Who Smells Like Corn, the white narrator is fascinated by her Mexican American friend Lucy, who has numerous female siblings and a father who returns home at night. The narrator idolizes Lucy's dark skin, baking hours in the sun in hopes of burning to resemble her friend. The innocent subversion of a white girl emulating a dark girl is Cisneros' way of compounding the idea of difference. Rather than focusing solely on gender or race, the two girls are connected via
socioeconomic background, free to relish 79cent flip flops from KMart and secondhand clothes. Cisneros lets readers glimpse the reality of children who have yet to register the societal differences that will ultimately classify them further.
The collection is divided into three parts focusing on girlhood, female adolescence, and womanhood. Each stage compounds the problems for the women in this novel. In a patriarchal culture that isolates women from the world, a girl's only hope is that the next master will be kinder than the former. Any woman who deviates from the norm, either through working outside the home or refusing to marry, is alienated from society, deemed a pariah, one who bucks tradition and raises a middle finger at the accepted way of life. Cisneros shows through her elegant prose how one's dreams can only stretch so far without the cost being too great to bear.
Sandra Cisneros most popular novel is The House on Mango Street published in 1983. A poet by nature, Cisneros' beautiful arrangements of words, often weaving Spanish and English, creates a hybrid language all her own, reminiscent of her female characters living on American soil, but raised in a Mexican tradition. Within that contrast, Cisneros discovers the truth, the complex, multi-layered reality for immigrants in this country, the border women battling an inherent past, a risky present, and an unknown future.
"The way you grow old is kind of like an onion or like the rings inside a tree trunk or like my little wooden dolls that fit inside each other, each year inside the next."
REVIEW BY MEREDITH MCKINNIE
64 OCTOBER 2022 | WWW.BAYOULIFEMAG.COM
WWW.BAYOULIFEMAG.COM | OCTOBER 2022 65
Porch Perfect
Taylor Bennett created a fall container perfect for celebrating autumn's beauty. Gorgeous gourds combine with fall florals to create a welcoming arrangement easy to replicate
To create this beautiful seasonal display, Taylor combined purple fountain grass with mums, creeping Jenny, coneflower and ornamental pumpkins. He completed the arrangement by filling in with moss in a concrete container
styling by TAYLOR BENNETT
photography by KELLY MOORE CLARK
BAYOU HOME
WWW.BAYOULIFEMAG.COM | OCTOBER 2022 67
THIRTEEN DAYS IN OCTOBER
by Guy Miller, Vice Chair Emeritus, Chennault Aviation and Military Museum
Historical Impressions
Two and a half weeks after my 7th birthday everyone around me was worried and very afraid. No, it wasn't me who caused that. But even at such a young age I understood the fear.
On October 14, 1962 a USAF U-2 spy plane overflew Cuba and took pictures of new installations on the ground. When these pictures analyzed by the CIA they showed Soviet missile launchers, missile transport trucks and launch site construction that would allow Soviet missiles to strike targets across most of the United States, Over the next days President John F. Kennedy met with his advisers on this new and serious threat. Kennedy rejected the idea of attacking and destroying the missile sites and decided the best course of action was a "naval quarantine" to buy time to negotiate a Soviet withdrawal.
Kennedy met with Soviet Foreign Minister Gromyko on October 18th and told him that America would not tolerate Soviet missiles in Cuba. Gromyko claimed there were none. Knowing Gromyko was not being truthful, Kennedy initiated his quarantine plans.
October 22nd was the day the unthinkable became a possibility for most Americans. In an 18-minute televised speech, Kennedy informed the American public of "unmistakable evidence" of the missile threat. He promised the United States would take action to prevent ships carrying weapons to Cuba. He demanded the Soviets withdraw their missiles.
At the same time, the U.S. ambassador to the Soviet Union delivered a letter from Kennedy to Soviet Premier Khrushchev. The letter stated in part "the one thing that has most concerned me has been the possibility that your government would not correctly understand the will and determination of the United States in any given situation, since I have not assumed that you or any other sane man would, in
this nuclear age, deliberately plunge the world into war which it is crystal clear no country could win and which could only result in catastrophic consequences to the whole world, including the aggressor."
What I remember of the following days seems somewhat like the time after September 11, 2001. A uneasy quiet fell upon the nation as people were afraid; worried there would be attacks on American cities and civilian populations. Perhaps because of this fear I have the impression of the American people coming together as a whole with a determination to survive any Soviet attack. The difference of course is there had been attacks on 9/11 whereas no attack had yet been made in October 1962. But the 1962 situation was far more serious in its possible impact and consequences.
At the time we lived in St. Louis; the city which was home to the aircraft manufacturing facility supplying the majority of fighter and attack aircraft to the Navy and a significant percentage to the USAF. This same company was building our first manned space capsules. We were definitely a target.
Despite the threat of nuclear war people carried on with the lives but with some differences. We had air raid / emergency sirens in those days and people were trained on where to go and what to do. At school, we practiced getting under our desks. Wooden desk tops would not stop radiation or blast waves but at some distance from a blast they might save a child from falling debris. We hoped. My parents, like other adults, went to the grocery store and stocked up on canned goods. Mom also bought jugs of water and filled empty bottles with tap water. We had a stack of non-perishable food, water and other survival needs against the most secure sidewall in our basement.
Between October 23rd and 27th a series of letters flew back and forth between Khrushchev and Kennedy. Khrushchev
initially rebuffed the demand for the removal of missiles "intended solely for defensive purposes." Kennedy reminded Khrushchev his secret missile deployment to Cuba was the cause of any crisis between the two superpowers.
Khrushchev indignantly accused Kennedy of threatening the Soviet Union. Despite this bluster all Soviet freighters bearing military supplies headed for Cuba stopped and all but one turned back by the 25th. The oil tanker Bucharest continued to approach the quarantine zone and Cuba. Two American warships were ready to intercept the Bucharest but Kennedy decided to let it through the quarantine because it wasn't carrying any actual weapons.
In the first watershed moment of the crisis, Khrushchev decided to appeal to the President to jointly de-escalate the conflict and not "doom the world to the catastrophe of thermonuclear war." The Premier risked the appearance of weakness while Kennedy's acceptance of the offer as genuine risked the appearance of naivete. A second watershed moment occurred when an American U-2 pilot was shot down and killed on the 27th and Khrushchev and Kennedy both realized the situation was spiraling dangerously out of control.
Khrushchev's overture was to demand the United States withdraw its missiles from Turkey as part of a removal deal. Kennedy ignored the demand but promised not to attack Cuba after the Russian withdrawal. In a private meeting between ambassadors, Russia was told the U.S. already planned to remove its missiles from Turkey but could not say so publicly.
On October 28th in a speech aired on Radio Moscow Khrushchev announced the dismantling and removal of Soviet missiles in Cuba. The Cold War was still on but the immediate threat of nuclear war has passed. The world sighed in relief.
68 OCTOBER 2022 | WWW.BAYOULIFEMAG.COM
MAGIC TIME
ARTICLE BY DAN CHASON
the smart hunter. Stands may have to be altered so that natural food sources such as acorns, persimmons and browse are closer to where the stand is set. Wind will be even more crucial as when you have a pile of yellow acorns close, the deer will sometimes be less wary and come into the area to feed.
There are a lot of hunters who feel that this move is over the top. Our economy relies on hunters who buy all of the tools, feed and other essentials for hunting. This will certainly be a ding for local farmers who thrive in the winter months from the thousands of bags of corn sold locally. There is an impact. However, we have to look at the future. The biologists who are tasked with addressing this issue did not make these decisions easily. This threat is real and if not addressed, could affect the deer herds significantly. I believe their objective is clear and they are doing what they think is best, even though not a popular decision.
There is something about October that is very special to many of us who enjoy chasing critters such as the popular whitetail deer. There are fields and lanes to clip, stands to clean, move and put up. There are feeders to fix...but wait... not everywhere. This year will certainly be different as feeding corn to deer is not legal in all areas. This includes our northeast parishes bordering Arkansas and Mississippi as the dreaded chronic wasting disease was discovered last year. In conjunction with the Mississippi, Arkansas and Louisiana Departments of Wildlife and Fisheries/Game and Fish determined that restricting areas where hunters can supplement natural forage with corn would be the most effective way to halt this disease from entering our state. From what is published, this disease can be transmitted via the saliva glands which naturally can be present in a food trough or corn pile. The other manner to abate this issues is preventing the transport of any bone of the animal across state lines (boned out skull and horns are acceptable). This disease is rampant in many states and this is the most effective manner to stop it before it can infect a healthy herd.
It is a very demanding process and the assistance of hunters is crucial in fighting the issue. There will be some who will fight City Hall and continue to feed illegally. This practice not only is dangerous for all of us, it has the potential to take our deer herds here to suffer significant damage. What I ask is that hunters consider the potential damage and work with officials to combat this problem. If you have never seen a deer with CWD you should research it. There is a zero survival rate and the manner of death is horrible.
So let's look at the positive side. Bow hunters will certainly have a bigger challenge as feeding with corn brings deer into range quite well. The answer there is other approved/alternative feeding practices. (Check LDWF website for regulations). Gun hunters can still rely on food plots as shots are generally longer. However, my opinion is that the harvest numbers will go down this year. Over the years many of us have relied on corn to bring our prey into range. Hunting natural food sources will be different, although effective for
We had a very dry spring this year. This will have a positive effect on the deer herds. There was a decent acorn crop and from just surveying my hunting area, we had a very good year in fawn production. Because we had a dry spring, deer have altered some travel patterns to have daily access to water. Look for browse in October where deer rely for their daily buffet. Browse and heavy cover is where you will find the majority of animals. My favorite food source in October and early November is persimmons. If you find persimmons, you will find active deer. Make sure and set up according to the dominant wind which in early fall is southeast and southwest. Hunt high. One huge mistake that hunters make is to not consider odors, wind direction and good cover in a stand. If you are not 20 plus foot up a tree, you need to consider cover scents and assure you are scent free. I accomplish this by wearing shorts and a t-shirt into my area and then putting on my hunting clothes to enter my stand. Preventing sweating is huge. I carry a wet cloth and wipe down and spray myself with a scent neutralizer. I won't go into the stand in October without a Thermacell. This device is a lifesaver. If you haven't been in the woods yet, let me tell you the mosquitoes had a bumper crop this year. They are worse than I've ever experienced. Preventing potential West Nile disease from a mosquito bite is now a priority. That and ticks are the two things I worry about the most. I have a friend who has suffered from Lymes disease for years. I make sure and wear snake boots and cover them well with Deet to try and keep the ticks away.
The last thing I will recommend is to always wear a climbing belt when climbing or coming down from an elevated stand. There are way too many horror stories of hunters who are permanently disabled or killed after falling from a tree stand. You may think you are half squirrel and can do it without it but a climbing belt is like a life preserver in a boat. They don't work unless you wear them....all the time.
I hope you all have a productive and enjoyable hunting season. Be safe, be courteous and most of all, leave some for our grandchildren. Happy hunting!
70 OCTOBER 2022 | WWW.BAYOULIFEMAG.COM
BAYOU OUTDOORS
MOVE
Y O UR STUFF
Change Your Life
by ERIN SHARPLIN LOVE erinlove@panachebyerin.com
Have you ever gotten the urge to refresh a space in your home? Recall how you felt once that job was complete. Did you feel more relaxed and happier? That is the power of moving your stuff! You see, when items sit in the same spot for an extended time, the air and space around them tends to stagnate, which means that the energy in your home becomes stagnant, too. Stagnant energy can leave you feeling tired, stressed and weighted down. So, if you have noticed that feeling of unrest in your home, try moving your stuff. It will change your life! Below are a few ways that I use this theory in my life and in the lives of my clients:
Change décor with the seasons. This is the easiest and most common way to keep the positive energy flowing. With each season comes a reason to refresh the décor and design of your interior and exterior spaces. For instance, now is the perfect time to put up any summer fabrics and décor and put out the fall items. An important part of this process is to clean the spaces as you go. Get rid of any dust and cobwebs that may have formed on the surfaces and in the corners.
Bring the outdoors in. Plants (real plants) make a space feel lighter, cleaner, and more alive, so having them inside in the form of flowers, branches, and plants will keep the good energy flowing. If you have a good selection of plants inside of your home already, move them to a different area (with the same amount of light) and give them a good misting. Gently wipe the leaves down
and remove old dead leaves and growth. Don't forget to add one or two new ones that are season specific.
Rearrange your furniture. Now, I am not saying that you should completely rearrange your furniture every season or even every year. I just suggest moving one or two items from one room to another to create a different flow and energy. For instance, do you have a chair that you can move from the bedroom into the living room? What about a side table that can serve a different purpose? You can even move an item inside the very room it is in. Any movement will disrupt the stagnate air and create energy.
Deep clean each space. This isn't a task to tackle in a day, as it takes time and patience. I suggest choosing one room or area a week to concentrate on. Then you should clean it from top to bottom. Wipe down walls, baseboards, light fixtures, furniture, cabinetry, everything. Wash the curtains, clean the
blinds, wipe down the windows (inside and out). You get my drift. The point is to get rid of the dust, dirt, and grime that leads to stagnation. While you are cleaning, make sure to fix anything that is broken or needs repair. If it is something that isn't easily fixable, set it in an area where it can be attended to later. Get it out of the room you just cleaned, though, you may not reap the full benefits of the freshly energized space. This is a good time to oil any squeaky doors and replace any burned out bulbs, etc.
Sweep your porches. Don't forget the exterior of your home. Give your entrances a good sweeping, cleaning, and décor update, too! The entrances to your home set the tone for what is to come, so keeping them pristine is one of the most important steps in this process. Don't forget to add beautiful plants and other items that will make your life happier and easier. A way to make your life "easier" is to place tray or rack in this area to corral boots, purses, and coats. Having a landing spot for your most used items will make leaving home and coming home so much easier.
To take this concept one step further, I challenge you to set intentions for the spaces you are refreshing. Want to improve your relationship with your spouse? Set that intention and keep that goal in mind while you are moving, cleaning or replacing items in the bedroom. Want to make more money? Set the intention while cleaning and refreshing your home office. You never know what may come to mind or evolve from one simple intention! Move your stuff, change your life.
Use light to your advantage. Light, whether from opening the curtains in the morning or lighting a candle over dinner, adds movement and energy to the space it is in. Light can energize you or calm you. Use it to your advantage and make sure to update the lighting sources in each of your rooms. Change bulbs to higher or lower wattage or add dimmers to get the best of both worlds. Clean your light fixtures often and add reflective items to bounce the light around.
WWW.BAYOULIFEMAG.COM | OCTOBER 2022 73
I REMEMBER
some of the most significant dates in the history of the world, dates that mark events which impacted the way earthlings thought and behaved. If we all were to select our "top ten major events," I suspect that there would be a great deal of similarity in our choices. One of my top choices is celebrated during this month and remembers how, on October 31, 1517, a German monk named Martin Luther sparked the Protestant Reformation when he nailed his "95 Theses" on the door of Castle Church in Wittenberg prompting a debate relative to the doctrine and practice of the church, an action that changed the course of Western Civilization. If this does not register on your list of the most significant events of world history, I heartily encourage you to spend some time reading about the Reformation. I'll make a few additional comments about Luther and the Reformation later in this article, but you would be benefited by doing some research on your own.
Some other choices that come to mind as I contemplate major happenings in man's story would include July 4th and Independence Day, which marks the birth of the nation that would become the premiere economic and military force in the world. The colonists' victory over the formidable British Empire is certainly noteworthy and was unexpected.
An additional area that some might consider worthy of consideration would be the advancements that have been made in how we share and communicate ideas and information. What I have in mind are inventions of things like the printing press, the telephone, radio and television, the computer and the internet. Just think of how the impact of such developments has radically changed the way we live.
A few other things that I believe are worthy of consideration as having made major differences in the life and history of our world would include the following: Columbus and his discovery of America, the fall of the Berlin Wall, the Civil War and the end of slavery, the 1215 signing of the Magna Carta by the British monarch, the dynamic advances that have been made in the field of medicine, the Atomic Bomb and the end of World War II and the subsequent development of nuclear power, and events like Pearl Harbor and "9-11." There are more things that came to my mind but which I have left off my list, and I am confident that many of you have suggestions that would have enhanced our thinking. My hope is that we can learn from our history so that we can repeat those things that are beneficial and avoid those mistakes that were detrimental to that which is good.
Given the fact that I have spent the vast majority of my life teaching the Bible, it will not surprise anyone that at the top of my list of worldchanging incidents would be the incarnation of Jesus, the Christ – the birth, death, and resurrection of the One who gives eternal life to those who trust Him. I am convinced that the good that has come from this One – the hospitals, schools, churches, mercy ministries, etc. – is unmatched by anything else that has happened in our long history as a human race. I doubt that anyone could, or would question the difference that this man from Nazareth has made in the lives of countless millions of those who have been His followers.
Jesus gave His life to provide life to all who would put their faith in Him, and Martin Luther risked his life to bring reformation to the Church that was established by Christ's disciples. Each Sunday, people all around the world celebrate what Jesus has accomplished. On October 31st, I plan to celebrate the contribution Martin Luther made in helping to reform the church. I invite you to join in that remembrance.
article by PAUL LIPE opinion expressed is that of the writer
WWW.BAYOULIFEMAG.COM | OCTOBER 2022 75
Fishing with Kenny
KNOW THE OWL STUDY THE MOUSE
—NATIVE AMERICAN ADAGE
My disdain for modern technology in fishing is well documented. I don't believe it is good for the sport, just as I also believe the price of modern-day equipment is turning bass fishing into a rich man's game. However, there are other aspects concerning the usage of technology that is being overlooked, and over the course of the last few years, through my own observations, I believe to be just as important. My question: "Is modern technology having a negative effect on the growth of our sport, especially when it comes to our younger anglers?" My answer is "yes."
The younger generation of anglers I compete against are experts when it comes reading their electronics. Knowing what buttons to push, when to push them, as well as being able to dissect what their graphs are telling them. Their knowledge of this sort of equipment is nothing short of astonishing. But it is their addiction to this technology that I believe is the real problem and in the long run will hurt them in their development as true anglers.
I have heard all the arguments, just as I have read all the articles arguing the merits of the advanced technology from Garmin LiveScope to Humminbird 360 and everything in between. "If you aren't embracing the newest and best technology, you are going to get left behind." I wish I had a dollar for every time a LiveScope owner said that to me. This dependence on technology is staggering and I don't believe bodes well for the future of our sport.
There is a small window where I do believe the better LiveScopers and tech savvy anglers have an advantage over the competition. On lakes such as Caney or Claiborne, during the coldest parts of winter and at times during the heat of the summer, you aren't getting beat by a better angler, a lure or a discovered technique, you are getting beat by someone's ability to read a graph. This is not a jealous observation, it's just a simple truth. By now you are probably asking yourself, "just what is Kenny's point?"
I grew up fishing during a time when the best anglers were the ones who had a knack for catching fish no matter where they went. They knew about weather conditions, seasonal adjustments, what to look for on certain bodies of water. All the tricks of the trade that made them successful were a result of two things: having been taught by someone else or by spending a lot of time on the water, learning on their own. Often it was the latter, not the former.
I have tournament records I have kept from as far back as thirtyfive years ago. Dates, events, time of year, lures, winning weights, time of day, types of cover and even more data most would ever believe. While I am not as meticulous about my record keeping as I
once was, I keep them. The more information I have at my disposal before I leave for the lake, the more effective I can be once I get on the water.
I know what to do when the wind changes direction or when it starts to rain in the fall. I know what to do when it snows in early December just like I know what to do when you have a week of warm weather in January. I know the times of year when bass are more subject to feed on bream than they are crawfish or shad. I know what lakes to fish boat docks as compared to what lakes you need to turn you trolling motor on high in order to go past the boat docks to fish more productive water.
What about falling or rising water? Is the water muddy, stained or gin clear? Rocks, trees, or aquatic vegetation; does your favorite lake have any of these types of cover and what seasons do bass relate best to them? The list goes on and on and no matter how good technology may be, the best LiveScope or other fishing technology in the world can't tell you how to catch fish any of the above scenarios. While many of the older sets of anglers probably know what I am talking about, the younger generation, as well as a few of the older converts, just haven't run into that problem yet. I'm sure time will tell.
If you want to become a better bass angler, study the shad. What kinds of shad are prevalent on your favorite lake? What time of year do the bass feed on the smaller threadfin or when do they prefer the bigger gizzard shad? If you want to become a better bass angler, study the bream. Where they hang out, their seasonal movements. Are they light colored, or do they have a dark hue to them? Study the crawfish. What do the crawfish look like in different bodies of water and where can they be found? What color are their pinchers? There is only one way to find out this information and the answer isn't technology.
All the great anglers I have known, fished against or with, have a good idea about what to do, when to do it, and why they do it, while they are on the water. This instinct is developed through a lot of trial and error, as well as years on the water. In some anglers, fishing by instinct is second nature and their consistent results prove this time and time again. In others, it is a continual game of second guessing, as well as a lot of ifs and but's. As it is true with everything else in life, there are no shortcuts to continued success, not even with the best technology, especially in bass fishing.
Legendary angler Rick Clunn once said, "If you are ever going to get into bass fishing seriously, you've got to forget one thing. That is luck, which has very little or anything to do with it. Fishing is an art and a science. It can be learned. The level you achieve in it is up to you." This still holds true today.
Well, it looks as if we have run out of time and space again for another month. With the upcoming hunting season upon us, be extra careful in the woods and on the water. See you next month!
Fishing on Instinct article by KENNY COVINGTON
76 OCTOBER 2022 | WWW.BAYOULIFEMAG.COM
TO
WWW.BAYOULIFEMAG.COM | OCTOBER 2022 77
Meredith's Musings
FRIEND SHIFTS article by MEREDITH MCKINNIE
My dad Larry had a lot of sayings while we were growing up. He would get low, down level with our faces to emphasize the importance of the words to follow. I've listened to more of them than I can remember, but the ones that resonate are those whose truth has materialized in my life. One such Larry-ism was about friendship. He would hold up his right hand with his stubby little digits and say "When you get old, you'll be able to count your true friends on one hand." I would chuckle. I didn't have a cell phone with hundreds of contacts then, but I had loads of friends. Clearly Dad just wasn't very popular, I thought.
Approaching forty, I'm beginning to understand what he meant. I do have loads of contacts, people whose path I cross frequently, those that would probably answer my call if I needed help. But true friends, the kind that let us expose the ugly parts of ourselves, are hard to come by. A colleague who has lived in this area mentioned this to me the other day. She found making friends in adulthood difficult. She missed how easy it was as a child. My closest friendships evolved in childhood, and though many of those relationships fell away as our lives changed, two stayed close. We didn't experience college or parenthood at the same time, but we knew each other well enough and counted each other as emotional bases. We knew each other before we became who we are.
As life inevitably ebbs and flows, relationships adapt or fade away. Keeping people close takes effort. Sometimes when life kicks me to the ground, I'm thankful because it reminds me to reach for those emotional cornerstones, to call those friends who listen for the sake of listening. I find venting therapeutic, and I only trust a few people with the truth. Friending without filters takes time and patience. I take solace in knowing I have rocks and that I can be a rock for them when the time comes. I hope they feel that way about me. There is no greater comfort than hitting the End Call button feeling better than when you dialed. Husband has learned to pick up on my
emotional cues. If I take a call back to the bedroom, I need to unload some emotional baggage, and I need to talk to my friends, those on this ride from the beginning.
When friendships span multiple decades, the highs and lows start to blur. You just start associating certain people with being around for all of it, as if they always existed. Conversations don't begin with disclaimers. Chats are not interrupted with apologies or explanations, as if the conversation never stopped. I value that more than I can convey in words. As I have relied on these friendships heavily in the last few years, I've started to reconsider the type of friend that I am. Do they feel like they can lean on me? Am I providing enough support? Do I listen as much as I talk?
During quarantine, most of my interactions occurred via telephone, and to some extent have continued because having small children means little free time away from the house. I'm trying to listen more for the sake of listening, not always listening to have the perfect answer. They need to vent too. And sometimes my role is to just give them space to exhale. It goes against my nature as I want to play mediator and resolve issues as quickly as they arise. I'm constantly playing devil's advocate, lessening the severity of a situation, bringing a problem back down to earth. To not interrupt, I sometimes bite my lower lip, giving my friends who speak slower time to say it all. Silence is not the enemy; often it's a welcome deep breath.
The last year has forced me to reevaluate everything, as we all saw how fragile life is, how much we took for granted, and particularly the relationships so vital to our emotional well-being. If I've learned anything, it is to dig in even deeper, invest in those relationships that make life worth living. In a fast-paced world where time evaporates so quickly, I am focused on those relationships I cherish, leaving adequate room for them to thrive and grow. It's as important for me to be the rock for my close friends and give them the room to stretch out for a minute and just breathe.
78 OCTOBER 2022 | WWW.BAYOULIFEMAG.COM
Twin City Lip Sync Battle
Join Twin City Ballet Company on October 27th at the Monroe Civic Center Arena
IF YOU'VE BEEN TO THE TWIN CITY Lip Sync Battle, you know it's the most fun event of the year – a night filled with laughs, surprises, singing along and toe-tapping to some of the best music of the decades. We promise you don't want to miss this night full of our cities' best stars and starlets.
Dejaneiro ("DJ") Davis is Assistant Principal at Riser Middle School and author of "Run the Play" by day, but you don't want to miss him Letting It Burn in his debut as Usher
Sean Kilpatrick, owner of Kilpatrick Landscape, can be found at the Arena on October 27th decked out as Prince and dancing underneath that purple rain.
All you Cowboy Casanovas better watch out. Cassie Bruscato, owner of Crossfit Chivalry, will be hitting the stage as the one and only Carrie Underwood
Jake Lilly, owner of Lilly's Lawn Care and Landscape, will have you singing "Baby, Baby, Baby" when he shows up as Justin Bieber. Not a Bieber fan?! What do you mean?
Lindsey Lowe, Project Leader at ECHO Development, and Erin Taylor, Chief Cultural Officer for Peach Tree Dental and Event Planner for Restaurant Cotton, will be bringing the style to Lip Sync in their performance as Cher. These contestants will have you going down in flames, just like Jesse James . . .
Bobby Reynolds, owner of LCW Exterior Solutions, will have everyone callin Baton Rouge . . . If Tomorrow Never Comes after the Lip Sync Battle, we promise you don't want to miss Bobby as Garth Brooks
Lindsey Braddock, Suzie Wilson, Lauren Voorhees, Sally Allen, and Melanie McGough, teachers at Sallie Humble Elementary and Neville High School, are about to take you down to the Paradise City as the legendary Guns N'Roses crew.
Patience Talley, Director of Community Centers and Programs for the City of Monroe, will let you stand under her umbrella if it rains on the Lip Sync Battle. Don't miss Patience's debut and moves as Rihanna
Taylor Hines, Registered Nurse in the ER for Glenwood Regional Medical Center, is about to bring the Uptown Funk to the Civic Center Arena as the one and only Bruno Mars
Tommy Hayes, partner at Hayes, Harkey, Smith, & Cascio, LLP, and Mike Sawyer, agent for Farm Bureau Insurance, will be delivering you a briefcase full of blues on October 27th as the talented and hilarious Blues Brothers
Jo Ellen Gilliland, Taylor Jopling, owners and trainers at Tribe 31 Training, and Deanna Mabon, who works in Supply Chain at Graphic Packaging and is part of the Tribe 31 crew, may be the most beautiful Bee Gees you'll ever see. This performance is sure to keep you Stayin' Alive!
Our esteemed judges for this event will include Julia Letlow, Congresswoman representing Louisiana's 5th Congressional District in the U.S. House of Representatives, Mayor Staci Albritton Mitchell, mayor of the City of West Monroe, and one other judge to be named in the coming month. With this group of performers, they will face a tough feat of picking our top three. But have no fear – our crowd will also have a say in picking a Crowd Favorite with dollar votes, and the performer/performing group with the most votes taking home the trophy.
Last but not least, you'll be entertained through the night by our comical emcees, Cindy Foust, University Development Officer at ULM, Alpha-KidZ author, and contributing author for BayouLife, and Russell Moore, owner of Rumo's Barbershop, and a member of the inaugural Lip Sync crew from 2019.
The event will take place on October 27 at the Monroe Civic Center Arena. Doors open at 6:15, and the show will begin at 7:00 p.m. General admission tickets may be purchased at twincityballet.org. Sponsor table information is also available on the twincityballet.org website. Tables are selling fast, so reserve yours ASAP. Some perks of the sponsor tables include hors d'oeuvres, drink tickets and access to a VIP bar provided by Marsala Beverage. And we won't sell general admission tickets short – any ticket to this event is a good one.
The Twin City Ballet thanks our sponsors, patrons, board, and volunteers for your support of the company. Do not miss this night of fun and entertainment. We promise you won't find a better show or have more fun and laughs anywhere in the Twin Cities!
All proceeds of the Twin City Lip Sync Battle benefit the Twin City Ballet Company Twin City Ballet Company is a nonprofit organization established in 1979 to enrich the cultural environment of Northeast Louisiana and the surrounding areas. Under the artistic direction of Linda Lavender Ford, the dual aims of the company are to create an exciting dance experience in the community and an opportunity for training and stage experience to talented young dancers.
SAVE THE DATE!
Join Twin City Ballet for our 2022 Christmas production of "Santa's Spy!" School performances of Santa's Spy will be held Wednesday, November 30 – Friday, December 2. To reserve a spot for your class, call Twin City Ballet Company at 318.388.3011. For more information, visit twincityballet.org.
80 OCTOBER 2022 | WWW.BAYOULIFEMAG.COM
82 OCTOBER 2022 | WWW.BAYOULIFEMAG.COM
DISTRICT DENTAL
Dr. Mary Kathryn Crigler and her team see their work at District Dental not only as providing a service, but as creating an experience.
photographs by KELLY MOORE CLARK
AT LEFT: Like a "spa with an edge," patients have said of the District Dental office, "Nothing has been left out or overlooked, down to the tiniest of details – the music, the smell, the art, the feeling you get when you walk in," said Crigler.
ABOVE: Crigler and her team meet every morning before patients arrive to discuss each patient and ensure everything is ready for them. They also meet monthly to discuss successes and areas where patient care can be improved.
"From the minute our patients enter the door until the moment they leave, we want them to feel known, seen and heard," Crigler said, "and also to have a chance to relax and unwind in a calming environment." This attention to detail and patient care begins even before patients enter the office. "We value our patients' time and never double book. You'll have our full attention while you're in our care," says Crigler.
Like a "spa with an edge," patients have said of the District Dental office. "Nothing has been left out or overlooked, down to the tiniest of details – the music, the smell, the art, the feeling you get when you walk in" said Crigler. Wendi Garnett, a registered dental hygienist for 24 years, shares District Dental's building with Crigler. She said, "It's for patient care. We do everything for our patients."
Just as nothing about the District Dental office experience is typical, neither is Crigler's approach to dental care. The team is committed to treating the whole person and their overall health and well-being rather than a single tooth. Their range of services and commitment to continuing education exemplifies this best.
Crigler, a graduate of LSU School of Dentistry in New Orleans, says that the most formative parts of her education have occurred since she graduated from dental school. "My real education began when I got into continuing education," she said, "and that's when I started to truly love and have a passion for dentistry." She has far surpassed the state requirement of thirty hours of continuing education every two years by completing nearly 500 hours in the last five. She is a graduate of the Kois Center, the prestigious continuing education and research center based in Seattle, Washington, and led by Dr. John Kois, a world-renowned dentist and educator. "It's essential to me that I keep learning. This is what makes me a confident dentist— knowing that I
am up to date in providing the best of what's available to my patients."
Crigler's advanced education and the office's investments in technology have enabled them to provide a range of services that address so many of patients' needs and desires, as well as their anxieties.
Crigler and her team meet every morning before patients arrive to discuss each patient and ensure everything is ready for them. They also meet monthly to discuss successes and areas where patient care can be improved. "Our patients come first," Crigler said. "Always."
The first step is a comprehensive exam. Crigler always guides patients with several treatment options, explaining the pros and cons of each and empowering patients to ultimately choose for themselves. "She'll say to the patient, 'You're the driver,'" says Garnett, "and people appreciate that."
Believing that dentists are well versed to help patients with big disease issues, Crigler always explains patients' existing conditions thoroughly, highlighting the ways the health of their mouths is contributing to the rest of their health, with a special interest in systemic inflammation and how it affects every system. Crigler says, "We educate. Education is key at our office; each of our patients will leave our office with a full understanding of what to expect going forward."
For many of their treatments and procedures, the team uses the state-of-the-art Fotona LightWalker Laser. It even allows them to treat cavities without anesthetic. "For people who really fear needles or hate to be numb, this has been an amazing addition to our practice," said Crigler. "The laser has been a revolutionary bonus to the services we already offer, and we're learning that the possibilities and potential with this laser are endless."
WWW.BAYOULIFEMAG.COM | OCTOBER 2022 85
Another advanced service offered is 3D cone beam imaging as opposed to the traditional 2D x-ray. "It allows us to get the most complete story of our patient's oral health," said Crigler, "while also giving us the ability to evaluate their sinuses and airway." Airway evaluation has been especially beneficial to patients who suspect they may have sleep apnea or other breathing issues. The Fotona LightWalker Laser Nightlase treatment can then be used to reduce the effects of sleep apnea and decrease snoring if a problem is detected.
Digital impressions, along with 3D printing, are also part of the cutting edge technology offered at District Dental. "Our patient's love this addition, as it cuts down on chair time and eliminates the use of messy impression materials, creating a more comfortable and less anxious experience for everyone," Crigler said. The digital impression information is then transferred to a computer and used to create restorations, all while the patient waits and enjoys watching all of the day-to-day action going on in Alley Park.
District Dental uses Airflow technology and Guided Biofilm Therapy, which Crigler said "is the most advanced and comfortable way to clean teeth, including porcelain veneers, today." Using only air, warm water and a specially formulated powder to expose plaque, they are able to guide patients on areas for improvement and perform periodontal therapy in an efficient, gentle and pain-free way. "Patients with sensitive teeth really benefit from it and actually enjoy the experience of having their teeth cleaned for the first time in a long time, maybe ever," Crigler said.
Beyond more traditional dentistry services, Crigler and her team focus heavily on cosmetic dentistry. "Cosmetic dentistry is just fun for me," Crigler said. "I get it. I'm a woman and want to feel beautiful just like the next person, so I can relate when patients tell me their desires for their smile and face, and I know that I can execute it and bring it to life well. It's the perfect combination of science and art for me."
District Dental provides facial esthetics and rejuvenation, including Botox and platelet rich fibrin (PRF) with microneedling, which accelerates cell renewal and stimulates collagen production. PRF provides better longer lasting results than its cousin platelet rich plasma (PRP) and the results speak for themselves. Sonya Frosnoe, a nurse practitioner for 21 years, is also now providing Botox and dermal filler treatments in the District Spa suite, a part of District Dental.
Another of Crigler's specialties was unexpected but she says is one of the great gifts of her career. When Dr. Gary Stanley first referred a baby with a tongue tie to her over four years ago, Crigler had very little understanding of the developmental delays they can cause. Since then, she has trained at the Tongue Tie Center in Alabama and has used the Fotona LightWalker Laser to perform over 2000 frenectomies (tongue tie surgeries). "It's been incredibly special for an office full of moms to be able to provide this service for other moms and their babies," she said.
District Dental creates a positive and fun experience for all children, many of whom often experience dental anxiety. Due to a bad childhood experience at the dentist, Crigler works hard to ensure kids at her office feel comfortable and well cared for. "One bad appointment can set the tone for the rest of their lives," she said. As a
mom of three daughters, Crigler treats every child with the same care she gives her own, and her team uses a variety of proven methods, depending on the child and their personality.
Both Crigler and Garnett stress the value of their team. The practice's growth, its success— "it's all because of our team," Crigler says. Garnett agreed, adding, "Our team is just fantastic. We have really good people who truly care." Part of building a solid team, Crigler says, is understanding and emphasizing people's strengths. Another part is balance. "We have fun. We laugh. And we invest in each other, value each other, build each other up and always keep each other focused."
When Crigler and Garnett met in 2016, they couldn't have imagined the journey they'd embark on together. Their relationship is the bedrock of the business they've built. Crigler said, "She's brilliantly smart, loyal, a problem solver and is deeply devoted to our vision and our mission, our patients and our team at District Dental."
The success of their partnership was even visible in the building out of the space that houses District Dental. The building itself was home to the Nehi Bottling Company from 1948 to 1966, and the Nehi mural was retained in Crigler's office when they planned the interior. Crigler said, "I was focused more on the aesthetics–the look, the feel, and the full experience as a whole for our patients–and Wendi was
Wendi Garnett and Dr. Mary Kathryn Crigler
86 OCTOBER 2022 | WWW.BAYOULIFEMAG.COM
BELOW: An advanced service offered at District Dental is 3D cone beam imaging as opposed to the traditional 2D x-ray. "It allows us to get the most complete story of our patient's oral health," said Crigler, "while also giving us the ability to evaluate their sinuses and airway."
Airway evaluation has been especially beneficial to patients who suspect they may have sleep apnea or other breathing issues.
AT LEFT: For many of their treatments and procedures, the team uses the stateof-the-art Fotona LightWalker Laser. It even allows them to treat cavities without anesthetic.
WWW.BAYOULIFEMAG.COM | OCTOBER 2022 87
more focused on the layout and the actual design of everything–how it would all fit together to function and flow as seamlessly as possible for a busy practice." They give much credit also to the team's interior designer Carmen Hill for bringing to life a space that is sophisticated and slightly edgy, but also serene. "It was a tall ask for a dental office, but she made it happen."
Another example of the thoughtfulness that has gone into the building of District Dental is the naming of their six operatories: Pay It Forward, Nehi, Ouachita, Monarch and Moi Temps. The first, Pay It Forward, was named in honor of Dr. Lance Donald, Dr. Daniel Cassis and the team at Endodontic Specialists who took Crigler and her team in and offered them a temporary home for a year while their building was under construction. "They asked nothing in return," Crigler says. "Only that we 'pay it forward,'" which they do every day— usually in donated dental services, but in other ways too. The name of each operatory has its own significance, and the team is willing to share more during a dental visit for those who are interested.
Crigler makes a special effort to thank those who have contributed to the practice's early success. "Without Dr. Donald and Dr. Cassis, District Dental would not exist," said Crigler, before naming others who have helped along the way–Toni Bacon, their Century Next Banker; Courtney Wetzel, their graphic design and branding guru; Scott Rogers, their Henry Schein Dental representative; Darryl Garnett, Wendi's husband and their go-to, fix-it guy; their families, friends and countless others. "There is no such thing as 'self-made,'" Crigler said, "and all of these people–they know who they are–helped make us into who we are today."
"We worked so hard to make this a reality— to build an office space that sets the right tone for our patients, to educate ourselves so that we take the absolute best care of them, to find a team committed to our goals and values— and now here we are," says Crigler. District Dental promises a dentistry experience unlike any other, and its team commits themselves, day in and out, to deliver on that promise.
AT LEFT: Daughters Caroline, Camille, and Julia Crigler pose with Natalie Garnett.
New Arc Al Feature Connect to Your Lifestyle
Audibel The Hearing Center
THE NEW ARC AL CHANGES THE GAME WITH THE most advanced Audibel Sound, enhanced connection, with a complete line of styles. With Arc Al, an effortless hearing experience is what you can expect. If you are wanting the ultimate streaming experience and effortless hearing, Arc Al will deliver. This complete line of hearing aids connects seamlessly to your lifestyle. Arc Al has recently announced the newest feature in the already featurepacked Arc Al hearing aids- 2-Way Audio. With 2-Way Audio, the microphone in your Arc AI hearing aids pick up and can stream your voice directly back to your iPhone and iPad*. You've always been able to hear what those on the other end are saying wirelessly in your hearing aids, but now you don't need to be speaking into your device for them to hear you — the hearing aids pick up your voice for you. With 2-Way Audio, you can easily have conversations without having to hold your phone near your mouth. Instead, it can be in your pocket, on a nearby counter/table, or next to you in the car. You do still need to answer your phone — but after that, the hearing aids do all the work. 2-Way Audio is available in every wireless Arc AI style, too, making hearing and connecting more effortless than ever before.
At Audibel, we understand the impact of hearing loss, which is why we take every step to make better hearing effortless. With up to 55
million personalized adjustments every hour, our always-on, always automatic approach delivers realistic and genuine sound quality in every listening environment without the need to do anything extra. Experience exceptional sound quality in a full line of handcrafted hearing aids with key components:
• Noise Reduction- With a 40% reduction in noise energy, compared to previous technology, your sound quality is better than ever.
• Edge Mode- Hearing better in challenging listening environments is easy with our friendly, on-demand Artificial Intelligence feature that works with or without the Thrive app.
• TeleHear- Remote Programming offers even more flexibility and fine tuning wherever you are. By consulting with your hearing professional virtually, remote adjustments can made to your hearing aids.
Think you may have hearing loss? You can test your hearing for free using our online hearing test at audibelmonroe.com. Or, find out for sure by scheduling a thorough evaluation at our Monroe location by calling 318-325-2363 or our Ruston location at 318-251-1272.
90 OCTOBER 2022 | WWW.BAYOULIFEMAG.COM
Healthy Habits for Healthy Breasts
St. Francis Kitty DeGree Breast Health Center
IT'S NEVER TOO EARLY TO THINK about your breast health and take steps to improve your overall health, which decreases your risk of many cancers. Incorporate these recommendations into your routine and you'll be on your way to not only reducing your risk of breast cancer but also living a more all-around healthy lifestyle.
Eat Better
Eat more fruits and vegetables and less saturated fat. Women with more fruits and veggies in their daily meals reduce their breast cancer risk by as much as 19%. Less bacon and red meat is associated with better outcomes even for women who have breast cancer.
Move More
Active hobbies that keep you moving can be great for your health, including your breast health. Physical activity can help you maintain a healthy weight, which helps prevent breast cancer. It's recommended that adults engage in
at least 150 minutes of moderate or 75 minutes of vigorous activity per week. If you aren't active, don't be intimidated. Aim for walking at least 30 minutes a day, and work your way up. Plus, strength training—with light weights or using your body weight—at least twice a week can help you build muscle and burn extra calories.
Decrease Alcohol Intake
The American Institute for Cancer Research found that limiting alcohol to one drink a day reduced the risk of breast cancer by as much as one third. The more glasses of alcohol you drink per day, including beer, wine or liquor, the greater your risk of developing breast cancer.
Watch Your Weight
Being overweight or obese increases the risk of breast cancer. This is especially true if obesity occurs later in life, particularly after menopause. Women with a normal body mass index—about 18 to 25—are less likely to have breast health issues, including breast cancer.
Don't Smoke
Smoking is associated with breast cancer as well as other cancers and is extremely unhealthy. Research suggests a link between smoking and breast cancer risk, particularly in premenopausal women. In addition, not smoking is one of the best things you can do for your overall health.
Breastfeed
Breastfeeding may play a role in breast cancer prevention. The longer you breastfeed, the greater the protective effect.
Limit Hormone Therapy
Combination hormone therapy for more than three to five years increases the risk of breast cancer. If you're taking hormone therapy for menopausal symptoms, ask your doctor about other options. You may be able to manage your symptoms with non-hormonal therapies, such as physical activity. If you decide that the benefits of short-term hormone therapy outweigh the risks, use the lowest dose that works for you.
Early Detection is Key to Fighting Breast Cancer
Make a commitment to yourself and schedule your mammogram today. Those 15 minutes may save your life. Take time to squeeze it in. Schedule at the St. Francis Kitty DeGree Breast Health Center by calling (318) 812-PINK. A provider's order is required.
WWW.BAYOULIFEMAG.COM | OCTOBER 2022 91
Elevating Home
Décor at Ivy & Stone
Drake Robertson Takes Over as New Owner
FOR DRAKE ROBERTSON, OWNING A retail store offering home design and styling services is personal. "My mom had a business in West Monroe for 14 years on Trenton Street, The Anderson Collection, and I spent years working alongside her. I helped manage the store, but at the same time, I found my passion for interior decorating and styling, and here I am with my own chance to do the same," says Drake. Even though her mother's store had a very different aesthetic from Ivy & Stone, Drake learned the value of catering to customers and their style one person at a time. Laughs, Drake, "Listen, my mom's store had an indigenous vibe with a flair of southwest and she literally had game wardens come in the store and tell her she couldn't sell certain pieces. She would look at them and say, 'Well, why not? I'm the one who brought it back from my safari?'" Through her years working with her mother, Drake always knew she would eventually get back to retail.
And then Ivy & Stone literally fell in her
lap. "I was in Ivy & Stone looking for bedding and my designer and friend, Brandi Thomas, had a question for the owner. One conversation led to the next and the owner suggested she was thinking of selling the business. I had truly been weighing some options for owning my own store for the last year, so we took the conversation to the next level. In mid-summer I bought the business and I couldn't be more excited," says Drake.
Having cut her teeth in the business certainly has helped with the transition, but Drake is also leaning on the Ivy & Stone team in Bossier City. "What people may not realize is Ivy & Stone in Ruston is a branch of the Ivy & Stone in Bossier. They've been wonderful in helping me get the store ready for business. They have been a really great sounding board and very gracious to bring me and my team through the learning process."
Starting with a clean slate, Drake was enthusiastic about developing the store's concept and content. "The one thing that I do
know is that merchandising is the key to selling. If a customer can see it, they will buy it. I love having a sort of artist's palette to work from… putting different looks and schemes together so they customer can visualize the look in their own space. I think once they visualize it in their home, they will be motivated to buy it. We carry furniture, rugs, bedding, bath lines, art, candles and home décor. Special orders are available, too, if we don't have it in the store."
"We are also working with brides on their registries and after the first of the year, I plan to expand that section of the store to make it very bridal friendly. I would encourage brides to come by and add Ivy & Stone to their registry," says Drake.
"I would invite our community to come by and see us, give us your feedback and just enjoy the home shopping process," says Drake. You may even get the chance to meet another budding designer, Drake's daughter, who, like her mother, loves keeping it all in the family.
92 OCTOBER 2022 | WWW.BAYOULIFEMAG.COM
Everything You Need to Know About Botox and Fillers
But Are Afraid To Ask
AT LOUISIANA CENTER FOR WOMEN'S HEALTH, we believe every woman is beautiful, but we know that women aren't always happy with their appearance. Aging isn't going away, but there is help to fight it.
In 2002, the Food and Drug Administration (FDA) approved Botox for cosmetic use to treat lines between the eyebrows. Botox is a muscle relaxer that only works on wrinkles that are caused by muscle movements. It does not work on fine lines or wrinkles caused by sagging or loss of plumpness in the face. Typically, we like to target areas around the forehead and eyes.
Following Botox, other facial fillers such as Juvederm received the approval of the FDA, and offered more choices. While Botox and Juvederm may seem similar, there are some major differences that need to be considered. Louisiana Center for Women's Health not only offers Botox and Juvederm, but also Dysport, another botulinum toxin, and Restylane, another hyaluronic filler.
Juvederm is a filler and not a relaxer. Juvederm adds fullness to the face around the mouth, cheeks and nose area. Juvederm uses hyaluronic acid to plump the face.
Which one is best? There is no right or wrong answer to this question. Both options offer their own unique benefits. This answer
should be determined by you and what you desire. At Louisiana Center for Women's Health, we'll guide you through the process to help you choose what is best for you to reach your desired results. Keep in mind that since Botox and Juvederm treat specific areas of concern, they can be used at the same time. Some patients choose to receive both Botox and Juvederm on the same visit.
Men, listen up. Botox and fillers aren't just for women. According to the American Society for Aesthetic Plastic Surgery, Botox was the top nonsurgical procedure for men. Nearly 500,000 men rely on Botox to help with their appearance, and that number continues to climb. At Louisiana Center for Women's Health, we will gladly accommodate your schedule to make you more comfortable.
A wise person once said don't trust getting Botox or filler from a specialist who doesn't use the product. Our specially trained team uses these products to help them look their best every day. We know what these products can do to help boost your self-confidence and slow the aging process.
If you are considering any of these procedures but are still unsure as to which one you should choose, please give us a call at 318-3873113. We'll find the perfect fit for the new you.
WWW.BAYOULIFEMAG.COM | OCTOBER 2022 93
VIRGINIA AND JOEY HADDAD
Because of the impact they have had on so many by helping to make their indoor and outdoor spaces more beautiful, and because of their unselfish volunteer acts on behalf of worthy causes, Joey and Virginia Haddad are our October Bayou Icons.
ARTICLE BY GEORGIANN POTTS PHOTOGRAPHS BY KELLY MOORE CLARK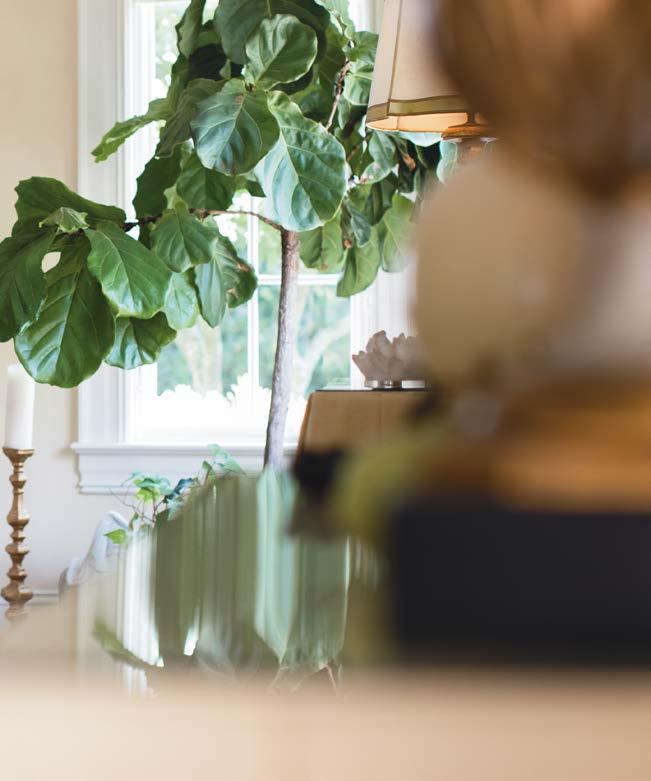 BAYOU ICONS:
Joey and Virginia Haddad
Joseph Allen Haddad's childhood was a very special time. His parents were focused on making things better for their children as his grandparents had been a generation earlier, and spent their lifetimes fulfilling that goal. Joey's paternal grandfather immigrated from Syria to the U.S.A. to provide a better life for his family. When he had made enough money, he sent for his wife and settled his family in Dermott, Arkansas.
Joey's father, Cotham, was born in Dermott. Cotham's mother died in childbirth when his brother Icer was born. His father remarried and had 3 more children. Joey's mother, Dorothy Jane Davis, was born in Choudrant, Louisiana, the youngest of 6 children. Her father was a farmer and her mother was a homemaker. Joey's mother was valedictorian at Choudrant High School and graduated from Louisiana Tech University with honors. Joey's dad completed 11th grade and went to work.
Joey's parents met in Sterlington where his father had a mercantile store (Delta Department Store -- later renamed Haddad's) and his mother was a secretary at the Columbia Carbon plant. They married and began their family of four – 2 boys and 2 girls. Billy was the firstborn, followed by Sadie, Joey, and Deborah Lea. The Haddads lived with Joey's paternal uncle, William "Bill" Haddad, in his home on the corner of N. 6th and Hudson Lane. Joey's mother asked Joey's Uncle Bill to help name her children as they came. He named the first one after himself. He named Sadie after Joey's paternal grandmother. When Joey came along, he was named after Cotham and Bill's brother. And when Deborah Lea was born, she was named after her father. ("Lea" was Cotham's Lebanese name.)
When their fourth child was born, Joey's mother decided it was time for them to have their own place. Joey's dad bought a house at 112 Country Club Road, but suggested that they should paint and clean up the property before moving. A year passed. "One morning, Mom told Dad that when he came home from work that day, she would not be there. She and the children would be at the house on the bayou," Joey remembers. "Dad never said a word and went to work. That night he appeared at the new house's door and never mentioned it again." This house was the family home until it was demolished and the land subdivided. The family built their mom a new home on one lot after her husband's death. She lived there until her death at 96.
When Joey's dad moved to Monroe, he joined his 2 brothers in opening a store on DeSiard (Star Hardware is there now). The brothers had that store for 25 years until they built a new store on N. 5th and Pine which they occupied for the next 25 years. In the late 1960's, Joey's dad began investing in real estate.
VIRGINIA HENDRICK'S ROOTS
Lois Virginia Hendrick was born in Shreveport. Her father, Robert Smith Hendrick (Bob), was the youngest of 4 siblings. He attended Tulane University for both pre-med and medical school, just as his brother John had done. Although WWII disrupted his education, nevertheless he finished with honors. He did additional training at Duke University School of Medicine and The Mayo Clinic
before moving back to Shreveport to establish a practice in ear, nose, and throat at The Highland Clinic. Virginia's father passed away when he was 62, a victim of colon cancer.
Virginia's mother, Norma Ann McCook, was the only child of Walter Templeton McCook and Ada Virginia Stephens McCook. Norma Ann lived briefly in Monroe where her best friend was Camille Wood. She attended Hollins College until her junior year when she transferred to Louisiana State University. After her LSU graduation, she moved home to Shreveport and worked for Delta Airlines in the ticket office.
Virginia's parents met on a blind date, a lucky happenstance that would be repeated by Joey and Virginia years later. They married in 1954 and moved to Rochester, Minnesota, while Bob completed his residency at Mayo. Once that was done, they returned to Shreveport where Bob began his practice and the couple began their family.
The Hendricks had 3 children -- Robert Jr., Virginia, and Walter. Robert Jr., an anesthesiologist, recently retired. He practiced in Monroe because he wanted to blaze his own trail instead of staying in Shreveport and Highland Hospital. Virginia was the middle child and only girl --- quite the combination! Her younger brother, Walter, was killed in an accident at 23. "He was a ton of fun and packed a heap of living into his short 23 years," Virginia remembers. "My father had already been diagnosed with colon cancer at that time so we knew what lay ahead. Witnessing one's parents grieving the death of a child is so very difficult. That experience changed my life forever. I matured in a hurry and began focusing on what was really important in life."
CHILDHOOD MEMORIES
Joey remembers his home being the center for holiday gatherings. Thanksgiving and Christmas were always big
96 OCTOBER 2022 | WWW.BAYOULIFEMAG.COM
celebrations. Summers meant vacations with his mother and siblings because his dad had to work. These vacations were never too far from Monroe. "One year, Mom and my aunt took us to Hot Springs. My brother jumped on a swimmer in a pool and got glass in his leg from the broken lens of the goggles the unlucky fellow was wearing when hit," Joey recalls. "Mom rushed my brother to the hospital where he got 60 stitches. We learned later when he was in high school that a large piece of glass had been missed by the doctors and was still there! Needless to say, that was the last trip without Dad."
Virginia remembers her childhood as being centered around church and family. She had many friends and loved Southfield School where she went from kindergarten through 8th grade, and can't imagine a happier childhood. Because her maternal grandparents and paternal grandmother lived nearby, there was never any traveling during the holidays. With aunts, uncles, and cousins all living in Shreveport, there was no need. She especially enjoyed Sundays when the family attended First Baptist and then went to either Grandmother Hendrick's or Grandmother McCook's house for lunch. Occasionally they would all gather at "The Camp" on Cross Lake.
HIGH SCHOOL AND LSU
Joey attended Lexington Elementary, Lee Jr. High, and Neville. He loved his time at each, and says he had some of the best teachers anywhere. He graduated LSU with a BA from University College. His career path was already set – joining the family business.
Joey has special university memories. One was his parents coming to football games with the Cannons. Dr. Cannon had 50-yard-line season tickets, a treat! Another memory was spending 8 weeks abroad with Louisiana Tech's Rome Study program. That was his first trip to Europe, and it was there where he first became
seriously interested in architecture and landscaping. Joey's lifelong friend and college roommate, George Pope, was working with Joey's other college roommate, Duncan Maginnis, in Lucerne, Switzerland. Joey and several from his group took a train to Lucerne to spend a weekend. Europe captivated Joey. Some years later, he toured Austria, Norway, Switzerland, and France with his uncle, Dr. Cannon and his daughters. The following year, the group enjoyed a trip together to Cairo. At every stop, Joey learned more about buildings and gardens. "I believe Joey would have been a fabulous landscape architect had he not gone into the family business," Virginia says.
Virginia attended First Baptist Church High School in Shreveport, a school that her father had helped start. She asked to go the St. Vincent's Catholic Girls' School with some friends, but her father refused. Though disappointed then, today she admits that she had a wonderful education. It was only later that she learned how hard her dad had worked to make the school (still thriving) a reality.
Like Joey, Virginia attended LSU. Her mother hoped that she would attend Hollins College as she had done, but after only one LSU football game weekend when Virginia was a senior in high school, that dream evaporated. Virginia's date was a DKE. She has always wondered if she and Joey were at that same party at the DKE house! Virginia earned a BFA from the School of Environmental Design. Her emphasis was graphic/advertising design. She wanted to major in Interior Design, but her father said that she would never make enough money in that field to support herself. "Looking back, that was just about the ONLY thing he was ever wrong about!" she says laughing.
FINDING A CAREER PATH
After graduation, Joey returned home and began working in the family-owned men's clothing store with his father and brother. "It was a rewarding time, and Dad gave me a broad range of duties, learning all aspects of the retail business," Joey says. "I dealt primarily with accounting and buying, but also worked in sales and marketing."
That was not the beginning of Joey's work life, however. He had washed cars at Van-Trow Olds Cadillac (now Van-Trow Toyota) when he was 16. Joey thought that he would be spending his time driving new cars around. On his first day, he was assigned washing all of the cars on the lot. "When I finished, I told Mr. Van that I was through and asked what he'd like me to do next. He told me to wash them all again," Joey says. "That taught me a lot about work!" Later Joey worked for Central Bank (now JP Morgan/Chase) in the VISA department as well as in the main office vault downtown. This was back when banks managed their own credit cards. The experience would prove invaluable.
Joey began investing in real estate with his brother and other family members like his father had. Joey's father's realtor told Joey about a small, 1 bedroom house that was available. Joey bought it for $9,000 and remodeled it. "I still own it and have rented it since I moved out in 1979," Joey says. "I began managing other properties that Dad and his partners bought. His group purchased the property that brought the former North Monroe Hospital to town!" His father taught Joey about real estate, advice that is still paying off. "My dad always invested in real estate instead of the stock market for practical reasons," Joey remembers. "He didn't have the cash to invest, and he wanted to invest in something that he could see, touch, and manage. He was as successful in real estate as he was in retail, but his heart was always about the store, his customers, and his commitment to the community."
Joey and Billy jointly developed the Avenue Shopping Center which proved to be a very successful business venture. It wasn't until Joey's father died that the two closed the family store that had served north Louisiana for 70+ years. Calling that decision one of the biggest
WWW.BAYOULIFEMAG.COM | OCTOBER 2022 97
challenges he has faced in his career, Joey admits that it was the right one. A national men's clothier wanted to rent the space – at a premium. "That experience taught me that timing is everything --- internet shopping was just beginning and we were not technology-motivated --- and that opportunity arises when one least expects it," Joey says.
Virginia's career path took a more circuitous route. In the summers during high school and college she worked at the Highland Hospital (where her father, uncle and cousins were all physicians). One summer she worked as the receptionist on the Surgical floor. Thinking she might follow her family's medical path, she asked if she might observe a caesarian section. "All aspirations vanished with that experience," she says laughing. "Fainting at the sight of blood is something I'm well known for!" Virginia's grandfather (John A. Hendrick, Sr.) co-founded Highland Hospital. "That hospital is very dear to me, and I am so proud of how my father and uncle continued to grow the hospital and clinic long after their father's death," Virginia says.
When she graduated LSU, Virginia moved home with the idea that she would stay briefly and then move to New Orleans. After 3 months, her father announced that she would have a job by April 1st, "or else." He also begged her not to go to New Orleans because it was so dangerous. By April 1st, Virginia found a job with Louisiana Bank and Trust as a teller. She worked there for 7 years, establishing a successful career and becoming branch manager. Still, she was 30 and ready for a new life.
Instead of NOLA, Virginia moved to Atlanta in 1988 and began training to be a paralegal. She found corporate law fascinating, and went to work for Sutherland, Asbill & Brennan on their Mergers/ Acquisition/Transactional team. She loved the work and the attorneys she worked with. Ironically, she worked on the Coca-Cola Enterprises acquisition of the Monroe Coca-Cola Bottling Company. Virginia had no clue that Monroe would become her home someday.
In Atlanta, Virginia began trying her hand at interior design – her earliest career dream -- by designing for friends. During her lunch hour, she would pull samples at the Atlanta Decorative Arts Center. Her first job was for Betsy Middleton, a childhood friend who was engaged and moving into her future husband's home. The home, a beautiful Georgian, had been decorated throughout by the British firm, Colefax and Fowler. Virginia's assignment: blend Betsy's things with his. "Somehow it all came together in time for the wedding without my taking a day off from my 'corporate' job!" she says.
Her banking and law experience gave Virginia the foundation she needed to make a monumental decision – to leave the security of the corporate world and start her own design firm. "I never looked back and I WAS able to support myself, contrary to what my father had predicted!" Virginia says. There was an old garage at her Atlanta home that she tore down and then rebuilt as an office. That early project was featured in Southern Living. "My earliest experience with interior design happened when I was given my mother's dollhouse when I was 7 or 8," Virginia remembers. "I spent hours arranging and rearranging the rooms, and making little curtains out of Kleenex and fabric bits. I still have that doll house with all of the furniture!"
A BLIND DATE CHANGES EVERYTHING
Joey and Virginia were "set up" on a blind date by Larke Woods Wheeler, a mutual friend and native Monroyan who thought that they should meet. When Larke began trying to get them together, Virginia was in the middle of a major design project and told Larke that she didn't have time for romance! It turned out that Joey was also in a very busy period, but Larke persevered. The two doubled with the Wheelers and had a great time. Because they were both so busy, there wasn't a second date until that fall – another double date.
That Christmas, Joey invited Virginia to go to a dinner party in Mer Rouge on her way home to Shreveport for the holidays. There they were surprised to discover how many mutual friends they had. One of Virginia's best childhood friends who knew Joey was upset that she hadn't set them up years before!
The two dated for a year and a half before Joey proposed – in Virginia's late father's study. Joey told Virginia that this was the spot he would have asked her father for her hand if her father were still alive. The couple announced their engagement at Virginia's mother's birthday dinner that night at The Shreveport Club where all of extended Hendrick family had gathered.
The couple married in the chapel at First Baptist in Shreveport. Their wedding weekend was a reunion of old friends from childhood, LSU, and Atlanta. When the two were at LSU, they never met -- Joey was a graduating senior when Virginia was a freshman. Both had good friends from their college days, and those made the wedding weekend all the more special.
Two things happened to make the occasion especially memorable. First, when Joey arrived at the hotel for the wedding weekend, there was no room for him. "Virginia pulled some strings and that situation was resolved," Joey remembers. For the rest of the weekend, Joey's nickname was "the groom with no room." "The next day after the wedding day brunch, I went to the University Club to see our reception decorations," Joey remembers. "The room was empty only 3 hours before the wedding. Somehow a team of florists transformed the space!"
The second special memory occurred when Virginia was saying her vows and tried to put Joey's wedding ring on the wrong hand. "The pastor had to gently say, 'the other hand, please' – and LOTS of laughter broke out!" Virginia remembers.
MAKING A LIFE TOGETHER
When Virginia became a wife, she also became stepmother to Joey's children – Jordan and Stuart. Suddenly having teenaged stepchildren was a wonderful, loving experience. Jordan was at LSU so they rarely got to spend long periods of time together – something Virginia regrets. Ironically, when the pandemic hit, Jordan moved home from New Orleans and lived with Virginia and Joey for nearly a year. "I think the biggest blessing that came from COVID was my really getting to know her. I will always be thankful for that time," Virginia says.
Joey's son Stuart was a freshman at Neville when his dad remarried. He lived with them every other week during high school and Virginia got to know him well. "I looked so forward to the end
Above: Virginia and Joey Haddad celebrate their nuptials. Photo by Kathryn Gaiennie Below: Joey and Virginia Haddad, Jordan and John McWhorter and Zoe and Stuart Haddad and daughter, Jor dan's wedding. Photo by Jeannie Frey Rhodes
98 OCTOBER 2022 | WWW.BAYOULIFEMAG.COM
of the day when he would come home from school and tell me all about his day," Virginia remembers. "I was really sad when he left for college. I called my mother all teary-eyed and asked her how on earth she had ever let us leave the nest!"
One significant challenge that newlywed Virginia faced was figuring out menus – and quantities – for family meals. Finally, Stuart asked his dad to please ask Virginia to make more food. "Before I was married, grilling 6 chicken breasts would have covered me for an entire week," Virginia says. "I was horrified when they ate ALL of them in one sitting!"
Today Jordan and Stuart are both married. Jordan and her husband, John, live in Monroe. She has her real estate license and has worked in retail and wholesale sales for several years. Jordan also helps at Parterre. "She is our Instagram and showroom styling guru," Virginia says. Stuart and his wife, Zoe, live in Baton Rouge where he works as a computer engineer for a website design firm.
Joey ventured into design when he became a silent partner with Mary Irwin in the Secret Garden. In this garden shop, Joey learned both to create custom designs with plants and to select appropriate hardscape elements including statuary, containers, and fountains.
They sold the business and later Joey bought Parterre with his cousin, Bunny Cannon Hewitt. "Bunny has been like a sister and best friend to me for my entire life," Joey says. "We had the store together for several years before she retired. The garden shop evolved from my love of landscape design and plants."
Today, Virginia is happily retired and Joey is beginning to slow down – but only a little. Both consider their marriage to be the biggest blessing in their life although Virginia admits that it might be even better --- if Joey could cook!
Their first home together was on Riverside Drive and – no surprise here -- featured an English maze. This was the home where Joey's children had grown up. With help from Rhymes Oliver Landscaping, Joey transformed the acre into 3 separate areas over 22 years. There were formal parterre gardens that were separated by the maze from the children's play area.
With both children grown, the couple moved to their home on Island Drive. "Less maintenance" was a major factor in that decision. Not surprisingly, their Island Drive home has a lovely parterre garden in front, and a lower sitting area on the bayou side. The home contains a number of cherished items – pictures of the children, and pieces inherited from Virginia's mother and grandmother (one of which is her mother's childhood portrait) as well as things inherited from Joey's mother. Virginia would love to have an entrance hall, and a bit more yard – 0ther than that everything is perfect!
Both Joey and Virginia have plants that are favorites, but they also have some that they detest. Among Joey's favorites are Japanese boxwood (coned, in a topiary, or globe), espaliered pyracantha, and anything white (wisteria, Lady Banksia rose, gardenia, hydrangea, and Natchez crepe myrtle are a few). Virginia loves hydrangeas both indoors in cut flower arrangements or outdoors in the landscape. The ones that they don't like include, for Joey, Indian Hawthorne shrubs and azaleas that have been pruned to form a hedge. He also detests crepe myrtles improperly trimmed ("That's 'Crepe Murder!'" he says). Virginia's least favorite plant is aspidistra. "I hate the brown torn edges that appear when the plant gets too much sun – and around here that happens often." Virginia also dislikes azaleas groomed into box shapes.
LOOKING TOWARD THE FUTURE
Travel is a shared love. A 3-week trip they took to Africa remains a fond memory for both. They went to Tanzania, toured the Ngorongoro Conservation Area, went on safaris, lived in tents or stayed in lodges, witnessed the Wildebeest Crossing in the Masai River (occurs only once a year during migration), and took a hot air balloon ride over the Masai River. "I went thinking that giraffes were my favorite animals," Virginia remembers. "Instead, my heart was captivated by the elephants!"
Another travel memory is from time spent in Paris. George Shackleford, a friend from Fort Worth, arranged for them to tour the Museum de Orsay where a Monet exhibit was on display. "We arrived at the museum only to see a sign on the door announcing that it was closed!" Joey remembers. "Disappointed but determined, we knocked on the door and a docent appeared. After checking 'the list' we were admitted. No one else was in this huge, beautiful museum with all these priceless works of art. We stayed for hours. Unbelievable!"
Both sets of parents instilled in Joey and Virginia the importance of volunteering – finding ways to give back to the community and help others. Both hope to find even more time to do just that. Joey has followed his dad's example, and has worked with his brothers to bring successful businesses to Monroe through their real estate ventures. Joey has also given his time to a variety of projects – some that support the Arts; some that bring educational and cultural enrichment; and others that help those with disabilities.
The Haddads' beloved dogs, Louise and Lila. They recently lost Louise a few months ago.
WWW.BAYOULIFEMAG.COM | OCTOBER 2022 99
Joey volunteers at Holy Angels Residential Facility in Shreveport where his nephew Paul resides. He assists with the management and operation of their greenhouse and gift shop that generates revenue from items that are made by the residents. Some of these items can be ordered from Parterre Home. Virginia also supports Holy Angels as well as Marbridge in Austin, Texas, a facility designed for those with developmental disabilities. "My nephew, Walter, is leading a full life there with lots of friends and a wonderful job at a hospital in Austin," Virginia says. Nephew Stephen works at Monroe ARCO.
Both appreciate volunteer opportunities in Monroe. "Get a group of friends and go volunteer at the Food Bank or ARCO, join the Junior League, or volunteer through your church," Virginia says. "There are opportunities all around us." They are especially excited about the relocation of the Northeast Louisiana Children's Museum to Forsythe Park. They see lots of potential for the park, and know that this museum will be an important anchor for it. Both are dog lovers and would love to see a dog park incorporated within Forsythe Park.
When asked how the pandemic had impacted them, both were quick to say that COVID created opportunities to learn to adapt. They were in Cabo celebrating their anniversary when the virus first appeared. Since then, they have had to cancel a trip to St. Petersburg and a cruise to the Holy Land because of travel restrictions. As far as business goes, the pandemic gave Joey an opportunity to strengthen the customer service portion of their enterprise. Both admit enjoying the slower pace, but also admit that it was a very stressful time for everyone. "We were lucky and stayed healthy," Joey says, "but some of our friends were not." Virginia's biggest challenge was cooking every meal during lockdown. She kept a list of everything that she cooked for dinner, most of it she says was not worth repeating!
Having developed two very successful careers, today both Joey and Virginia are happily involved in doing the things that they love. Even when retired, they will never stop noticing an especially creative landscape or a particularly beautiful interior, but they will do so more for pleasure than for business. Both are talented, creative designers who have made the world a more beautiful place
100 OCTOBER 2022 | WWW.BAYOULIFEMAG.COM
Walsworth & Company
Leaves Start Falling, Walsworth is Calling
YOUR HOME SHOULD TELL THE STORY OF WHO YOU are and should be a collection of what you love. The right decor can really set the scene, even when you are indoors. With the fall season upon us, that means stocking your home with warm tones, cozy textures, and crisp autumn scents.
Local interior design and furniture shop, Walsworth and Company has been a downtown staple since opening its doors in 2014. Featuring a premier decorator showroom, Walsworth and company offers selections from furniture, bedding, and lighting, with fully customizable and unique pieces allowing you to commission pieces that reflect your unique style and specifications.
Their walls are adorned with curated works of art, intricately designed mirrors, and unique wall hangings all complemented by plush sofas, coffee tables, dining and bedroom furniture.
In addition to their vast selection of furniture finds, Walsworth & Company has a robust collection of accent pieces fit for any space; from area rugs, throw pillows to vases and coffee table accessories. With such a broad selection, it's no surprise that Walsworth & Company is the decorator destination for the Twin Cities and surrounding areas.
Along with providing our community with one of the most distinct home decor assortments, the team at Walsworth and Company have created Down the Aisle, the premiere wedding registry of Northeast Louisiana. Down the Aisle is a transformed space, boasting more than 1,400 square feet devoted to "must-haves" for the modern bride. The reimagined space incorporates original architectural elements such as exposed beams and original hardwood elements to create an accent wall. Down the Aisle exudes a romantic vibe and classic elegance, continuing in true Walsworth and Co. fashion.
Least we forget their fantastic collection of specialty gift items; housing home fragrance brands such as Nest, Capri Blue, Nouvelle, as well as Orleans, perfect for creating the fall ambiance we all crave. If you are seeking something with a little sparkle, Walsworth & Company is home to jewelry collections from both Ronaldo and Mariana.
And when you want to retreat for a fall night in, indulge with our luxurious bath collections from Lollia or Spongelle. Cap the night off in a buttery soft pajama set from Barefoot Dreams or PJ Harlow sure to induce some much deserved sweet dreams.
With fall and the holiday season upon us, Walsworth & Company is sure to have all of the items you need to complete your shopping or wish lists. After shopping, simply leave the wrapping to the professionals; where you can always expect a beautifully wrapped gift anyone would be thrilled to receive.
Whether its time for a new accent piece, holiday home makeover, or if it simply time to pamper yourself, the staff at Walsworth and Company are fully prepared to assist you.
Walsworth and Company, your home decor and gift headquarters, is located at 311 Trenton Street in downtown West Monroe. Open Monday - Friday 10 AM- 5:30 PM.
Follow us on Facebook for design inspiration and product updates!
WWW.BAYOULIFEMAG.COM | OCTOBER 2022 101
BAYOU KIDZ
It Takes A Village
Holding On To Life's Precious Moments
article by Cindy G. Foust
Greetings fellow "fall" readers as I hope this month's column finds everyone enjoying what is my favorite time of year. I do love the whole pumpkin spice and everything nice kind of season…candy corn and chili…Hocus Pocus and Freddy Kreuger. Just kidding, I don't like scary movies, at all, since that time in 10th grade when my parents got a brand new VCR and we rented Happy Birthday to Me. I've written about that before, right? When my parents bought one of the first on the market VCR's and we started renting movies every weekend from Curtis Mathis? Anybody out there touched by this same memory? Yes, well, who knew that the blockbuster Happy Birthday to Me would serve to scare me for the rest of my life? And they say television doesn't affect kids…I'm here to tell you it does, and years later, I still sleep with the doors booby trapped with my son's golf clubs. Even though I have an alarm system. Theoretically, though, if the burglar comes in and knocks the golf clubs over, it will wake the house and we can escape through the hatch door in the laundry room. I'm just kidding, readers, I'm just trying to make light of my scaredy cat self.
Speaking of being a scaredy cat…let me tell you all right now, the one thing that's about to scare me to death is the fact that my son is getting married and moving out in November. Let me get one thing
straight right off the cuff, I simply adore his future wife, like I couldn't have handpicked one for him any better. We feel so blessed and so honored that Gracie is going to be our daughter-in-law. But I wish they could live with us! Right? My friends all laugh when I talk about the separation anxiety that I am already feeling because we have been fortunate that our son has lived at home though college. Most of their kids have "flown the coop" so to speak since they graduated. Scott and I (and our daughter, too) have been blessed that Robert Scott has been able to stay home a little longer with us. During this time, we have watched him finish college, start his career, buy a house (that he's about to move into) and become Bobby Flay. What an honor. I think because he's been such a good "roommate" that that's the reason I am struggling with his leaving.
I remember when he was born, like it was yesterday, that I started praying for his future wife…someone who would love him and cherish him (I know, I know, I sound like a Hallmark card), and would make him so happy. I do believe he has found that person. But what's going to happen to me? What will happen to our family dynamic? Because it most certainly changes, and will look completely different in a few months. Now, I know Gracie's parents are probably thinking the same thing about their child, so maybe we should get together for group
102 OCTOBER 2022 | WWW.BAYOULIFEMAG.COM
therapy? But for me, the past 24 years are suddenly passing before my eyes. All the years we spent preparing him to move into his own life, and not the one we created for him, is now here. And trust me, it was in the blink of an eye.
For all you young parents out there, take my word, the best years are those spent at the ballpark, or the school for Field Day, or having lunch with your 1st grader, or being the house where the friends "congregated" on Friday nights after the big game. What I wouldn't give to be standing there in the kitchen making pancakes for about 10 of those boys. Those are some of the most treasured times of our lives and now, now we have to watch him take flight. And having him ready has involved an entire village. The grandparents, the aunts and uncles, the friend group's parents, the church family, teachers, friends, the village can sometimes be so vast and widespread, but so important in helping raise our kids. I say it all the time on the pages of this column, parenting is not for the faint of heart. To sound more like that Hallmark card, it's one of the most difficult yet the most gratifying jobs that we have. And trust me, I have mucked it up plenty. But the joy of watching my son and daughter mature and grow into the young adults its truly a gift. Are they perfect? Well, that depends on who you ask. If you ask their grandparents, they would say unapologetically "yes." Anybody else have "those" grandparents out there? I look at my parents all the time and tell them they are not the same people who raised me. But they don't care, they simply have these kids on a pedestal! But the truth is they aren't perfect, none of us are, but in those flaws we have had teaching moments with our kids, just as our parents had with
us. And now, as my son prepares to go and make his own home and prayerfully raise his own children, I will have the opportunity to turn into my parents, Scott's parents and be "that grandmother." Oh gosh, I'm not sure my heart can take all this excitement at one time. But I will do my best to be up for it.
And in the meantime, as I look to the next few months, I am going to try to really slow down and soak it all in. It's a new season for us, a different one, and one that will be full of some "happy tears." But at the same time, it's a season of joy and happiness for my son and his new bride and seeing their happiness will certainly make my transition easier. Excuse me for a minute, though, while I get stuck on memory lane and remember all those days of baseball and X-box and field trips to Six Flags and t-ball (championships because he insists his team won even though we didn't keep score) and Christmas mornings. He may be ready to go, but I'll just hold on a few more months and remind myself that he's prepared for the real world with many thanks to God and my village.
Cindy G. Foust is a wife, mom, author and blogger. You can find her blog at the alphabetmom.com for weekly columns about home life, parenting, small business stories and insight with a smidgen of literacy. Give her a like or follow on Facebook and Instagram.
WWW.BAYOULIFEMAG.COM | OCTOBER 2022 103
Beautiful Bathroom Designs
THROUGHOUT THE YEARS, THERE have been many trends that proved to stick around and more that did not last the test of time. Deciding what designs, materials, fixtures, and layouts can be confusing and exciting but will you still love them in a year or ten? Remodeling can require a large budget and you want to make sure you use it wisely to prevent damage, issues, and any trendy updates that you may regret.
Bathrooms have been around for ages, from a hole in the dirt, to fire-warmed bathwater, to more modern plumbing systems. There is a valuable need for a working bathroom in a home, but you can make it beautiful and adapt it to your needs. To have what is classified as a full bathroom, there needs to be a bathing area, such as a shower, tub, or a combination of both, along with a toilet and sink. Some may even have additional storage for toiletries and bath linens.
Minimalist, timeless designs usually keep
things super simple in the details, typically white with some small details. The most popular minimalist bathrooms typically have a white subway tile in the shower and backsplash, with wood or stone-looking tile flooring, and white vanity. The small details come in with the pulls and knobs, faucet styles, and the detail in the fixtures and countertops of the vanity.
To keep the theme of the bathroom timeless outside of the simplicity of a minimalist design, marble is always a good choice for a bathroom. From marble countertops and showers to flooring, there are multiple styles and colors of marble that would remain sleek and timeless through the years. Marble pairs well with a magnitude of wall colors and you can change the theme of marble by the type of faucet you choose. Modern faucets in black, gold, or a matte nickel finish can elevate the sleek look of a marbled bathroom.
While white feels like it can be hard to keep clean, it is most associated with cleanliness
and keeps a new feeling about it that other colors struggle to compare with. I don't mean the color of the walls, which white walls are complimentary. Soothing color palettes of cool blues and greens can be refreshing for bathrooms. Bold options like navy or black can stylize a small space but may impact the space and make it feel smaller than it is. Neutral colors are great options for wall color, especially if they blend well with the tile and fixtures you choose.
Flooring can make or break a bathroom space. Flooring can be very expensive and possibly dangerous when mixed with water. Real wood flooring is beautiful but can pose a risk of excess rot with the humidity and water from the shower and tub. Tile can be dangerous to walk on with wet feet if you do not have a bath rug or slippers. Textured floor tiles are a great option for safety and can be a beautiful design alternative for your bathroom. For cost savings, vinyl flooring can come with a texture to feel like real wood or stone and provide some extra security from water damage, and help prevent falling.
Whatever style of bathroom, accessibility needs, or budget you may have, Achievers of Louisiana is available to help make your bathroom a beautiful and timeless space. Give us a call at 318-325-0555 or visit https://www. achieversinc.com for more information. We do it all!
104 OCTOBER 2022 | WWW.BAYOULIFEMAG.COM
That Withstand the Test of Time
Your Hometown Urologist
Dr. Robert Marx Specializes in Vasectomies
LEAVES ARE FALLING AND NOW is a great time to be calling Dr. Marx to schedule your vasectomy. Sit back and watch your favorite football game while recouping from your appointment. Fall into action and enjoy family and friends this season of your life.
A vasectomy is a medical procedure in which two tubes (the vas deferens) that carry sperm from the testicles to the urinary tract are tied and sealed. This prevents sperm from passing into the seminal stream and fertilizing a woman's egg. Although it is permanent, it is surgically reversible in most cases. Reversibility is dependent upon time elapsed since the vasectomy. When it comes to forms of permanent male birth control, a vasectomy is the ideal permanent surgical procedure available to men. The procedure carries a very low risk of complications and is available to be performed as an outpatient procedure with localized anesthesia. Dr. Marx performs a nocut technique, which is the least invasive. The
patient is sedated and local anesthesia is used in order to achieve a painless procedure.
THE VASECTOMY PROCEDURE IS NEARLY 100% EFFECTIVE
Prior to a vasectomy, patients may be asked to prepare by:
• Washing the scrotum to prevent infection
• Not shaving the area
• Bringing a pair of tight-fitting underwear or athletic support to the surgery to support the scrotum and minimize swelling
• Arranging for transportation home to prevent extraneous movement
• Avoiding anti-inflammatory drugs prior to and following the procedure, which thins the blood and can cause excessive bleeding
AFTER THE VASECTOMY
After the vasectomy is completed, patients are advised to rest for two days in order to reduce swelling and allow the vas deferens to heal. Discomfort may last for up to a week
after the procedure, with patients often being prescribed anti-inflammatory or painkillers for pain. Patients are encouraged to avoid heavy lifting, straining or squatting for 1 week. If you do any of these activities for work, you may need to take off work or arrange for light duty. Dr. Marx can give you an excuse. Also, keep the area dry for a week as well.
If you are considering a vasectomy, call today to discuss your options with Dr. Marx.
Robert D. Marx, M.D. is this community's hometown urologist. He was born and raised right here in Monroe, Louisiana. He graduated from NLU, now ULM, and graduated from medical school and completed his residency at LSU Shreveport. Dr. Marx has traveled extensively working with the leaders of the field in order to keep up with the latest and most successful techniques in incontinence. He has been in practice for over thirty years and conveniently operates at Glenwood, Monroe Surgical and P&S.
WWW.BAYOULIFEMAG.COM | OCTOBER 2022 105
Open Enrollment
Currency Insurance Agency Can Help You
DURING THE ANNUAL MEDICARE open enrollment period, Medicare plan enrollees can reevaluate their coverage
– whether it's Original Medicare with supplemental drug coverage, or Medicare Advantage – and make changes if they want to do so. Currency Insurance Agency/Tyner Jeter can help you with everything you need to know about the annual election period (AEP), including opportunities to change coverage, eligibility details and enrollment deadlines. Are you interested in joining a health or drug plan, switching, or dropping a plan?
You can join, switch, or drop a Medicare Health Plan or a Medicare Advantage Plan (Part C) with or without drug coverage during these times:
• When you first become eligible for Medicare (65), you can join a plan.
• From October 15 – December 7 each year, you can join, switch, or drop a plan. Your
coverage will begin on January 1 (as long as the plan gets your request by December 7).
• From January 1 – March 31 each year, if you're enrolled in a Medicare Advantage Plan, you can switch to a different Medicare Advantage Plan or switch to Original Medicare (and join a separate Medicare drug plan) once during this time. You can only switch plans once during this period.
If you don't make a plan change, your existing coverage will renew for 2023. But that could come with cost and benefit changes. The plan you have might have changes to its drug formulary (covered drug list) or its provider network, meaning that a specific medication or doctor may no longer be covered under the plan. And the plan could also have premium and/or cost-sharing structure changes.
This is why it's so important to actively compare the available options each fall. You'll want to check to see how your doctors and
prescription will be covered in the coming year, both by the plan you already have and by the other plans that are available in our area.
With so many types of insurance to choose from, it's hard to know what you need and what you don't. Protect yourself and let independent insurance agent Darryl Tate walk you through that process. As an independent insurance agency we are committed to doing business face-to-face and being your advocate in times of need. Contact us today for a personal one on one appointment.
Currency Insurance Agency/Tyner Jeter is an innovative and highly responsive regional insurance agency dedicated to trusted client relationships. We want to learn everything we can about our clients in order to serve them in a trusted advisor capacity. Our obligation doesn't end when the policy is in place. We know that change is a constant so we continually monitor the personal, surety and commercial insurance needs of our clients.
To find out how our independent insurance agency can help you find the right insurance coverage while saving you money, contact Darryl Tate at 225.485.1909 or darryl@tynerjeterinsurance.com. Licensed in Property, Casualty, Health and Life (La. Tx. Ms. & Ark.)
106 OCTOBER 2022 | WWW.BAYOULIFEMAG.COM
Improving Outcomes
In ACL Reconstruction
Providing Treatment That Gives A High Likelihood of Success
APPROXIMATELY 200,000 ANTERIOR CRUCIATE LIGAMENT (ACL) injuries occur in the U.S. each year. Ages 15-25 years old in pivoting sports are at highest risk. While not everyone with an ACL tear needs an operation, most young, active, and healthy patients are best treated with surgery. While there is ongoing research involving ACL repair, the standard and most common surgical treatment is ACL reconstruction (making a new ACL using other tissue). Overall, studies evaluating patient outcomes following ACL reconstruction have shown good results, but complications, including ACL graft failure (re-rupture), still occur. In particular, graft failure in young athletes remains relatively high, with some studies reporting a failure rate of up to 30% in certain subsets. As our knowledge of knee biomechanics and ACL injuries grows, the treatment paradigm evolves alongside. Our understanding of factors that increase the risk of re-rupture is continually improving, and surgical techniques to address some of the risk factors are developing. Many of the techniques involve performing a procedure alongside the ACL reconstruction.One category of procedures is referred to as lateral extra-articular procedures (LEAPs). LEAPs describe a group of soft-tissue procedures that are performed on the outside part of the knee to increase rotational stability. These are commonly done as a single-stage procedure (at the same time as ACL reconstruction) and may be performed in primary or revision ACL reconstruction. The addition of a LEAP typically does not affect post-operative restrictions or rehabilitation, unlike some concomitant procedures.
Recent evidence has demonstrated lower rates of graft failure in patients undergoing a combined ACL reconstruction and LEAP compared to ACL reconstruction alone in certain high-risk patients. The presence of specific anatomic variants, physical exam findings, associated injuries, previous failed ACL reconstruction and participation in highrisk sports or activities are factors that recent studies have suggested may benefit from combined ACL reconstruction and LEAP. Due in part to the heterogeneity of patients and the multiple surgical techniques that are utilized, it is difficult to draw any strict conclusions regarding treatment. As research continues to refine the indications for adding a LEAP to an ACL reconstruction, a careful assessment and detailed discussion must occur in order to determine the best choice for the patient.
The goal with managing any patient, including those with ACL tears, is to provide treatment that gives a high likelihood of success with the lowest possible risk. Achieving the optimal balance between risk and benefit is often challenging in patients with ACL injuries. It should always be a shared process, with the surgeon providing the available objective data that allows the patient to make the final decision.
Dr. Patrick Ensminger joined North Louisiana Orthopaedic & Sports Medicine Clinic in September 2022. His orthopedic residency training was completed at University of Kansas Medical Center, after which he completed a sports medicine and shoulder fellowship program at University of Minnesota. Dr. Ensminger is accepting new patients at our Monroe, West Monroe, and Ruston offices.
WWW.BAYOULIFEMAG.COM | OCTOBER 2022 107
Beauty At Its Best
Groundbreaking Procedures at DermaMediQ
FALL IS IN FULL SWING AND IT'S TIME TO PUT YOUR best face forward! Fortunately, the team at DermaMediQ has a variety of treatments and procedures to do just that. Three of the many options they offer is: FaceTite, BodyTite and DiamondGlow. These state-of-the-art procedures are done by the trained medical professionals at DermaMediQ. We are thrilled to offer the community these ground-breaking, minimally invasive procedures in the comfort of our facility.
FaceTite
FaceTite is a minimally invasive procedure that can help define your jawline, reduce neck fullness, and restore facial contours. FaceTite is considered minimally invasive and can achieve all of this though very small, well-hidden incisions. FaceTite provides dramatic improvement in skin laxity on the face and neck, which was previously only attainable through a surgical procedure such as a facelift. By avoiding a facelift excisional procedure, patients will be scar free and will benefit from reduced post-procedural swelling and discomfort. This is a less traumatic process with a natural looking final result.
BodyTite
BodyTite is a minimally invasive body contouring procedure as well, delivering results previously only achieved through more excisional surgical procedures. Bodytite, powered by directional radiofrequency provides contraction of the dermis, subdermal connective tissue, and adipose tissue coagulation.
These procedures are considered minimally invasive and can be performed through very small incisions. The procedures can be safely performed awake, under local anesthesia. The device works by heating up both the skin and the underlying fat layer. Dr. Sowma selects the exact temperatures to cause fat destruction and skin tightening without burning the skin. The fat that is destroyed is then suctioned out with liposuction. Liposuction alone is used to remove unwanted fat, but by itself, it can actually create loose skin. By combining BodyTite and FaceTite with liposuction it can work to both decrease the amount of fat and tighten the skin. Common areas that are treated with this device include: Face, abdomen, flanks, back, inner and outer thighs, arms and chest.
DiamondGlow
This is more than just a facial. Unlike traditional wet facial treatments, which rely on chemical exfoliation to treat skin at surface level, DiamondGlow's patented recessed diamond tip wand delivers a next-level resurfacing treatment that deeply cleans and rejuvenates the skin. This facial exfoliates to uncover renewed skin, extracts to deeply cleanse the skin and remove debris from pores, and then infuses the skin with amazing Pro-infusion serums. DiamondGlow is sure to have you leave glowing and feeling confident.
If you are interested in becoming a more confident, better you, schedule an appointment today and see if these amazing treatments and procedures are right for you.
108 OCTOBER 2022 | WWW.BAYOULIFEMAG.COM
Bayou Dental Group
Meet Dr. Adam Coughran
DR. COUGHRAN IS ORIGINALLY FROM WINNSBORO, and later moved to Monroe, where he graduated from Ouachita Christian School. He then earned his Bachelor's degree in Biology from Louisiana Tech University and his Doctor of Dental Surgery (DDS) degree from Louisiana State University School of Dentistry.
The first dentist in his family, Dr. Coughran is proud to have chosen a career in dentistry. For most of his childhood, Dr. Coughran had plans to grow up and start a career in healthcare like his father, who is a family practice physician. In the process of shadowing and learning about different types of healthcare, Dr. Coughran decided to shadow several dentists to see what the profession had to offer. He knew then that dentistry was the field he wanted to pursue and never looked back.
An avid guitarist and musician, Dr. Coughran loved the idea of a career that would not only allow him to better the lives of patients, but also use personal creativity and the work of his hands to do so. As he says, "that's what dentistry is all about."
TREATMENT PHILOSOPHIES
"Treat the person before the tooth" is Dr. Coughran's main treatment philosophy, as he believes that overall happiness and quality of life are related to dental health. Like he always says, "patients will remember two things from their interaction with you: how comfortable they were and how you made them feel." That feeling is evident in their smiles. "Through dentistry, I get to be the person that improves a person's health and smile," says Dr. Coughran.
PERSONAL INTERESTS
Dr. Coughran is married to his wife, Sydney, who is a speechlanguage pathologist. Together, they have one fur baby: a cat named Lizzie. When not practicing dentistry, Dr. Coughran enjoys playing music with his dad and brother in their family band, exercising, spending time with family, and worshiping at his local church.
From our superior and kind staff to our three world-class doctors, we give our patients the very best in every aspect. We also employ the latest in dental technology and make sure our atmosphere is low-stress. Our comprehensive dental facility offers: cosmetic dentistry, dental implant surgery and restoration, family dentistry, pediatric dentistry, dental restorations, and non-removable dentures. Since 1985, we've been treating every patient like a member of our own family. Call to schedule a consultation or an appointment today.
WWW.BAYOULIFEMAG.COM | OCTOBER 2022 109
BAYOU HEALTH
Go with the (Lymphatic) Flow
BY SHANNON DAHLUM
THE LYMPHATIC SYSTEM is part of your immune system, and it includes a network of organs, lymph vessels and lymph nodes which make and move fluid throughout the body. It's responsible for making and circulating white blood cells to fight off infection, and it also helps to filter out waste material. It's essentially a super highway for waste to travel from the cells to your detox organs, like the liver and kidneys.
Lymph fluid travels through the lymph vessels to the lymph nodes, which filter the fluid and remove foreign material, like bacteria and cancer cells. When the nodes detect bacteria, they produce white blood cells to help fight off the invaders. This white blood cell production can cause the lymph nodes to swell and you may then be able to feel them in the neck, armpit, or groin. There are also main lymph nodes in the center of the chest and abdomen, but these are deep enough in the body that you won't be able to feel them.
The lymphatic system circulates lymph fluid similarly to how your circulatory system circulates blood, but with one major difference; while blood is pumped through the body via the heart, lymph fluid has no way of moving on its own. The movement of lymph fluid relies on gravity and the movement of your body. This is one reason regular movement is so vital for overall health. If your body is sedentary, your lymph fluid is stagnant and waste material can't effectively be shuttled out of the body. Some of the most effective movements for encouraging lymph flow include bouncing, like jump roping or bounding on a trampoline. Walking and even stretching and twisting are also effective. Deep breathing that fully expands and contracts the diaphragm massages the organs and encourages lymph movement deep within the body, as well.
Even with regular physical movement, lymph flow can become blocked within the vessels. If the fluid can't make it to the nodes and eventually to the detox organs, it backs up. It's like a traffic jam on your internal highway. Lymph vessels lie just below the skin's surface, so this can be seen and felt as fluid retention, or swelling. I frequently have clients asking me how they can lose the excess lower abdominal fat that's accumulated in their 40's and 50's, but often, this is actually not excess fat, but fluid under the skin. The intestines are a very common site of inflammation because of microbiome imbalances, leaky gut, food sensitivities, and hidden gut infections, which are all very prevalent today. This leads to immune activation and inflammation in this area and if the lymphatic system isn't able to continually clear the waste here, it will accumulate under the skin. Eventually, the bumpy appearance of cellulite can appear on the abdomen, hips, and thighs as well, due to the build up of fluid. This back up in the system interferes with immune system function and traps inflammation in the tissue.
YOUR BODY'S ABILITY TO EFFICIENTLY DETOXIFY IS VITAL FOR MAINTAINING A HEALTHY INTERNAL ENVIRONMENT. WITHOUT IT, YOU CAN WIND UP ACCUMULATING HEAVY METALS, AND DEVELOPING HORMONE IMBALANCES AND UNEXPLAINED WEIGHT GAIN.
110 OCTOBER 2022 | WWW.BAYOULIFEMAG.COM
If you're exercising daily but you're still noticing swelling or fluid retention in any area of your body, or the appearance of cellulite, there are some other practices that can help encourage better lymph movement. Manual lymphatic drainage massage done by a massage therapist trained specifically in lymph drainage can be really helpful. This is a very light touch massage in which the therapist manually pushes the lymph fluid toward the lymph nodes. Remember that the lymph vessels sit directly below the skin, above the muscles, so it requires a very light touch.
There are also several ways you can manually encourage lymph movement yourself. Dry brushing, gua sha, and cupping techniques are options you can try at home. With dry brushing, a stiff bristled brush is used to gently "sweep" the skin from the outer extremities toward the heart in short movements. It's usually recommended to do this right before you bathe or shower because it also exfoliates dead skin cells. Fiesta Nutrition Center carries both large dry brushes for your body and smaller ones designed for your face.
Gua sha is rooted in traditional Chinese medicine and it loosely translates to "scraping, rubbing or pushing." It involves the use of a smooth, flat stone, usually made from jade or rose quartz, to gently push fluid from puffy areas toward the lymph nodes. Again, very light pressure is used to target the lymph vessels, as opposed to firm pressure used to target muscles. Gua sha is often effectively used to decrease puffiness in the face and
jaw, which also provides a more youthful appearance.
Lastly, cupping is another technique you can do at home. The cups used for lymph movement are much softer and gentler than what you may have seen or experienced in a physical therapy office. Unlike cupping that targets the muscles and can leave bruises, cupping massage for lymph drainage uses soft silicone cups that gently suction to and can slide across oiled skin to pull fluid toward the lymph nodes. Cups are inexpensive and available in a variety of sizes to cover different areas of the body, from large cups to cover the hips and thighs, to tiny ones that can be used on the face. I purchased a silicone cupping therapy set that included 7 various sizes for about $15 on Amazon.
Before starting your own lymph drainage massage at home, find a lymphatic drainage map to refer to. These are easily found online, and they illustrate the direction of lymphatic flow in every area of your body. It's important to work in the direction of this flow, rather than against it. You can also find an abundance of online tutorials to guide you. Some of my favorite lymph educators to follow on social media are Wildling Beauty for gua sha techniques, and Lymph Love Club for manual self drainage massage. When in doubt, search for a certified manual lymph drainage massage therapist and leave it to the professionals! But don't forget to move your body daily to encourage that flow.
WWW.BAYOULIFEMAG.COM | OCTOBER 2022 111
Homecoming Week at ULM
Week Activities at
THE UNIVERSITY OF LOUISIANA
Monroe Homecoming Week Activities committee, Alumni Association, Athletics, dedicated student organizations and the community come together every year to put on one of the biggest celebrations on campus: Homecoming! ULM has celebrated homecoming since 1931, starting from a small informal reception to tailgating, campus decorations and family-friendly events typically hosted today.
From ULM Alumni Association's 31 Ambassadors annual Hawktoberfest to the traditional tailgate and football game, join the Warhawks and come home to ULM for a weekend of fun activities for the whole family. We can't wait to see you! Check out alumni. ulm.edu for more details.
Monday, October 3rd
Homecoming Parade | Time: 6:00 pm
Location: Brown Stadium Route: Begin & End at Brown Stadium
Tuesday, October 4th
Retirees Luncheon | Time: 11:30 am - 1:00 pm
Location: The Terrace, ULM Library 7th Floor Join us to honor all ULM Retirees! Hosted by the ULM Foundation.
Hawktoberfest - Hosted by the 31 Ambassadors
Time: 6:00 - 9:00 pm | Location: Laird Weems Center
Hawktoberfest is an opportunity for ULM students, faculty and staff, alumni, and community members to come together to enjoy an evening of food, beer, and live music along Bayou DeSiard. Join the Alumni Association and the 31 Ambassadors for a fun evening while enjoying different types of craft beer in a commemorative souvenir Hawktoberfest beer stein.
Wednesday, October 5th
University Mile | Time: 5:30 pm Location: Activity Center
Please join us for our 38th annual University Mile 2022 on October 5th at 5:30 pm!
Sponsored by ULM Intramurals!
Participation is $20 and includes a shirt while supplies last. For additional info, please contact Robert Reed at reed@ulm.edu.
Thursday, October 6th
Downtown Pep Rally & Marketplace Time: 5:30pm - 7:00pm | Location: Downtown Monroe
Put on your maroon and gold, and make your way downtown! The football team, Head Coach Terry Bowden and the ULM spirit groups are sure to get you excited.
Friday, October 7th
Greek Alumni Happy Hour & Greek Step Show
Happy Hour | Time: 6:00 - 8:00 pm
Location: Laird Weems Center
Step Show | Time: 9:00 pm
Location: Fant-Ewing Coliseum
Saturday, October 8th
Homecoming Day! Good Morning Gala Time: 10:00 am - 12:00 pm
Location: Bayou Pointe Event Center
Join us for the Good Morning Gala: A Homecoming Celebration. Celebrate the day with a DJ, photo booth, brunch, grits bar, and a bloody mary and mimosa bar! We will honor our recipients of the Golden Arrow Award and the Rising Young Alumni Awards, introduce the 2022 Homecoming Court, and recognize all other alumni returning back to the bayou.
Alumni Tailgating
Time: 3:00 - 6:00 pm | Location: Pecan Grove Tailgating is FREE for all Alumni Association members! Guests only $10. Jump house, kids zone, all you can eat and drink.
Homecoming Game Kickoff: 7:00 pm | ULM vs Coastal Carolina
112 OCTOBER 2022 | WWW.BAYOULIFEMAG.COM
This Year's Homecoming
ULM
Brown Bag Concert Series
COME ENJOY REFRESHING BREEZES while you soak up the sunshine and song in the park! Join us every Wednesday in October for the Northeast Louisiana Arts Council's noontime outdoor Brown Bag Concerts Series. Come on down to the lush green Palace Park at 220 DeSiard Street (beside the old Palace Dept. Store location), our venue for the Fall Brown Bag Series (public parking at 4th and DeSiard). In case of rain, we'll move indoors to the old Palace Dept. store, next door to the park.
Bring a picnic lunch or just grab a $5 sack lunch on site from Newk's Eatery including their famous tea. Mulhearn's will again provide free cookies to make the concerts extra sweet! Water and lemonade will also be available. Picnic blankets and lawn chairs are encouraged! Performances are FREE, thanks to our sponsors Mulhearn's, Newk's Eatery, The Palace, Paramount Healthcare Consultants, Jim Taylor Buick GMC, and the City of Monroe. Here's who's on stage:
October 5 – Lisa Spann with Josh Love
Kick off the Series with two of the best! Lisa Spann is known for her powerhouse voice and engaging stage presence. Today she's joined by Josh Love, an award-winning bluesman who covers R&B, rock and more. Together, the duo promises a showcase of their talents blended to make an effortlessly cool hour of magic. Come enjoy the fresh air, fall breezes, and cool tunes as we kick off the Series.
October 12 – Clara McBroom
Northeast Louisiana native Clara McBroom is a fresh face and voice to grace our Series today! This 20-year-old is already making a name for herself in the local music scene with her indie folk and country-centered shows. Come listen for yourself and see why she's already in demand on stage and at events far and wide as we keep the Series rolling in the park!
October 19 – Zach O'Neil
New to the Series, young talent Zach O'Neil
already has a decade of performing under his belt! A 22-year-old Simsboro native, this local singer songwriter brings us a taste of old and new country, blues, rock, and even a few of his own originals to keep it fresh and uniquely his own. Zach has opened for class act artists such as Doug Stone, and Daryl Singletary – stop by for a treat today as the Series starts into the home stretch!
October 26 – Brian Sivils
A true child of the Delta with roots from Texas to Mississippi, Brian Sivils is all about the Blues. He cut his teeth musically singing in family gospel groups then studied music in school and on the road as a lead singer and backstage production guru. A veteran of the Red River Revel, Delta Fest, New Orleans PoBoy Preservation Festival, Catfish Festival, the Juke Joint Festival in Clarksdale, Mississippi, and the Arkansas Blues and Heritage Festival in Helena, Arkansas, come enjoy this popular blues performer, and raconteur, a Road Trips' Entertainer of the Year (2009), as he rounds out the Series and launches us into the fun times and even faster pace of Fall.
For more information or to confirm the show will go on in case of rain, call the Arts Council office at 397.6717 or 397.6754. Visit the Arts Council online at www.nelaarts.com, find us on Facebook or Instagram @region8arts!
Presented by the Northeast Louisiana Art Council
WWW.BAYOULIFEMAG.COM | OCTOBER 2022 113
Holiday Shopping Events on Antique Alley
Mark Your Calendar For Upcoming Events in Downtown West Monroe
HOLIDAY SHOPPING IS UPON US and there's no better place to experience the best in Northeast Louisiana boutiques, specialty shops, antiques and eateries than Antique Alley in West Monroe. Our vast selection of shops allows you to find items from past and present, from Europe to America, children's clothing to wedding dresses, ladies and mens apparel, housewares to gourmet spices, and handmade crafts to custom jewelry. Stroll down Antique Alley and you'll be ready to spend the day shopping, dining, exploring or walking through history. And, if you're looking to make a great staycation out of it, we have a bed and breakfast right here on the Alley.
With the holidays at our doorstep, it's time to mark your calendars for all our upcoming events:
Sunday, November 6th
Annual Holiday Open House on The Alley
Enjoy refreshments from local retailers
while you shop for this season's best gift. Stores open 1:00-5:00
Thursday, November 17th Annual Champagne Stroll on The Alley
Enjoy and evening of shopping and sips of champagne while strolling the Christmas lights. Shop store specials and kick off the holiday season.
Saturday, November 26th
Shop Small Saturday
Support local businesses by shopping small. Shops will stay open late. See the calendar for more detailed information as the date approaches.
Saturday, December 3rd Christmas on the River Festival Day Sponsored by Downtown West Monroe Revitalization Group
Kick off the morning with the Christmas on the River 5k. Enjoy the holiday market, local
shopping on Antique Alley, food trucks and live music. Finish your evening with fireworks on the river.
November 25th - December 31st Christmas on the River
Bring the family to stroll the Christmas light displays, enjoy wagon rides and more. Shops open late Friday and Saturday evenings. Visit ChristmasOnTheRiver.org for more information.
The merchants at Antique Alley are ready to assist shoppers with all their holiday needs. Stay tuned to the Facebook pages for updated information about events and specials going on throughout the months of November and December. Antique Alley is Northeast Louisiana's premier outdoor shopping destination. Visit antiquealleyshops.org or facebook.com/antiquealley-westmonroe/ events for updated information on holiday events.
114 OCTOBER 2022 | WWW.BAYOULIFEMAG.COM
Are Your Lashes Real?
Achieve Longer Lashes With Latisse Available at The Woman's Clinic
THIS IS A COMMON QUESTION FOR patients using Latisse to get those spooky long lashes that make others jealous. Long lashes feel glamorous and open the eye to give us the rested youthful appearance we all desire.
There are so many options on the market for those wishing to have longer, darker lashes. How do we know what is best for us? When in doubt, we ask Claire, the aesthetics nurse at The Woman's Clinic.
Q: What is Latisse?
A: It is Bimatoprost ophthalmic solution that is only available through your medical provider. It is an FDA-approved treatment to grow eyelashes for people with inadequate or not enough lashes.
Q: I have been getting lash extensions for a while. I love the look, but my natural lashes are getting sparse. Would Latisse be a good alternative?
A: Yes. Over time, lash extensions can cause some to lose their lashes. It may be from pulling or irritation from the glue that is used. Some patients use Latisse alone, or in addition to lash lift and tint or lash extensions to keep their lashes from becoming sparse.
Q: My schedule is extremely busy, and I don't have a lot of spare time to devote to glamour.
Is this a product suitable for me?
A: Absolutely! As opposed to procedures that require maintenance every 2 weeks, Latisse is a product you brush on the top lid of your eye each evening at home. It is quick and easy to apply. The brushes come with the vial.
Q: Do I have to be a patient at The Woman's Clinic to get Latisse?
A: Because this is a prescription product, a consultation is required to determine if Latisse is right for you. We welcome new patients, and we do not charge for aesthetic consultations.
Q: How long does it take to see results?
A: Clinical studies show that 78% of participants experience a significant increase in overall length, fullness, and darkness at week 16 of use.
Q: What is the cost?
A: A 5ml vial costs $175 at The Woman's Clinic. This should last 4-6 months. Some patients use it every other day as maintenance once they've achieved the length and fullness desired.
Q: Sounds great! How do I get some?
A: Call Claire at (318) 388-4030 option 3 or message her through our website or patient portal.
*
For the month of October, patients who purchase Latisse will get 25% off any ZO Skin Health Eye product.
WWW.BAYOULIFEMAG.COM | OCTOBER 2022 115
MODEL SIMRAN EMAUS PHOTOGRAPHY BY KELLY MOORE CLARK STYLING AND FLORALS BY TAYLOR BENNETT HAIR AND MAKEUP BY MEKA BENNETT
UNSCENE
Beautiful clothing juxtapose an abandoned building in this month's Día de los Muertos fashion shoot. From sculptural dresses to bold textiles, these looks are the seasonally-inspired.
HEMLINE MONROE
Show up and stun in this gorgeous black scuba deep c-neck puff sleeve dress. Accessorize with these show-stopping emerald satin knot heels with ankle strap. Complete with black and gold statement wing earrings and a gold beaded wrap bracelet.
HERRINGSTONES
Channel your inner 70's queen with the Jamie Mini Dress.
Jacquard shapes this puff sleeve dress with a collared v neckline. A loose-fitting bodice sits atop a high waisted fitted mini skirt. A full functioning button placket goes down the front of this dress. Accessorize with bone-colored booties.
DUSTY & COMPANY
A black tiered baby doll dress is the perfect transitional piece. Accessorize with white and gold half circle earrings, a statement necklace and white, pointed-toe booties.
An Experience for Everyone
WaterView Casino & Hotel is the Perfect Place to Play, Eat and Stay
WATERVIEW CASINO & HOTEL
in Vicksburg is nearly ready for its close up! We have been working hard to update and upgrade our casino property to make it more comfortable, modern, and inviting. With the latest update on our WaterView logo lighted signs, we are preparing for the next phase of changes here at your favorite Vicksburg casino.
Our newly completed hotel renovation, brand new slot area, and recently upgraded lobby restrooms are only the latest in a series of improvements we have made at WaterView Casino & Hotel. We've also added three new EV chargers, brought back some of our table games, and put in brand new kiosks for sports betting and financial transactions…and that's just in 2022.
Coming up next: Slot Tournaments are back! Starting in September, we will host weekly "sit & go" slot tournaments to our guests. Just insert your MYEDGE card into
any of our 12 slot tournament games, follow the prompts on the slot game screen, and play your three-minute tournament round. Winners will be awarded free play based on their score's ranking at the end of the tournament time. It's gonna be so much fun!
Live entertainment is back at WaterView, too. While we always have live bands on Friday & Saturday nights, we are showcasing some talented artists in the Event Center this fall.
Recently profiled in the Washington Post, Christone "Kingfish" Ingram is a Grammywinning blues artist who has been compared to all the greats of the genre in his short lifetime. Originally from the Mississippi Delta, the ancestral home of America's Music, Kingfish performs live in WaterView's Event Center on Saturday, September 17th at WaterView Casino & Hotel.
In October, comedian Rita Brent will tickle your funny bone with her wit and
observational humor. Songs like "Rock Me Like a Pothole" have introduced her to a whole new audience, as have her performances on local stages and in writing for awards shows. Join us on Saturday, October 15th to see her in person instead of in her popular Jackson-area Patty Peck car dealership commercials.
The following weekend, we host our 2nd annual BBQ with a View. This is a KCBSsanctioned BBQ contest complete with a People's Choice award. Come savor the smokiness and cast your vote for the team with the best smoky flavors on Saturday, October 22nd.
Whether you're looking for a relaxing weekend getaway, thinking of trying your hand at some blackjack or slots, planning to enjoy some live music, or just grabbing a bite to eat, WaterView has got you covered. Come visit soon to see what's new!
122 OCTOBER 2022 | WWW.BAYOULIFEMAG.COM
Morehouse General Hospital
Outpatient Rehabilitation
Serving the Needs of the Community
MOREHOUSE GENERAL HOSPITAL HAS BEEN SERVING the needs of the community as a rural healthcare provider for 90 years. We take pride in providing high quality, cost effective healthcare services to our patients.
The Outpatient Rehabilitation department at MGH offers physical, occupational, and speech therapy services by licensed experienced therapists. They provide skilled services in both the inpatient and outpatient setting and accept all insurances. Their goal is to provide the highest level of care in a comforting and encouraging setting.
Speech therapy provides treatment and support for people experiencing speech disorders or communication problems. This approach is useful in treating several issues in both children and adults. Here are some indicators that may help identify if a child or an adult may require speech therapy:
By 12 months:
• Baby does not babble and are often silent in their play.
• Does not use gestures to express simple things.
• Does not seem to understand simple sentences/commands.
• Does not understand words for common objects
By 12-18 months:
• Does not follow simple commands or understand simple questions
• Does not enjoy simple stories, songs, and rhymes.
• Does not point to pictures in books when named.
• Does not learn new words on a regular basis.
• Does not start to use 1-2 word phrases or questions
Additional Age Groups:
• The child is not well understood by other children/adults.
• The child has stuttering speech patterns, does not produce age appropriate sounds.
• The child will only eat foods of certain textures or may have difficulty swallowing.
• The child has an intellectual disability or hearing impairment.
Adults
• Adult has had a stroke, or neurological condition (Parkinson's, M.S., Dementia).
• Adult has difficulty swallowing/feeding- Dysphagia.
• Adult has difficulty finding the correct word to say or following what is being said - Aphasia.
• Adult has slurred speech patterns- Dysarthria.
• Adult has difficulty forming words to produce speech- Apraxia.
• Adult has newly acquired reading/writing difficulties.
Our Outpatient Rehabilitation department is located on the first floor of Morehouse General Hospital. Call today for more information on our therapy services offered.
WWW.BAYOULIFEMAG.COM | OCTOBER 2022 123
A Night At the USO
The Chennault Gala
THE CHENNAULT AVIATION AND MILITARY MUSEUM
Presents "A Night at the USO" Gala featuring Code Blue and the Flatliners. We will be celebrating over 21 years of service to our veterans and our community. It will be one of the premier events of 2022. Buy your tickets now at www.chennaultmuseum.org.
Attendees will enjoy and dance to the sound of the fabulous "Code Blue and the Flat Liners" featuring Dr. Walter Sartor, Dr. Ron Ellis, Dr. Trey Zizzi, Dr. Lou Gavioli, Dr. Chuck Morgan, Scott Nettles, Lynn Bass, Keith Joyner and Tom Bryant. This year's Gala features a special USO show with Masters of Ceremonies Kay LaFrance and Jay McCallum. ULM Jazz Trio will perform along with the Chennault singers and dancers.
1940s dress is encouraged but whatever your preference come ready to have a fun night. Locally sourced food prepared by a local chef will be served, including seafood provided by our sponsor Louisiana Seafood.
Join us October 15, 2022 at the beautiful Bayou Pointe on ULM Campus – Officer's Club Reception starting at 6 p.m.; Dinner starting at 6:30 p.m.; with Gala and show starting at 7 p.m.
Your support of the Gala will help us to continue our mission and even more important serve our veteran community. The Museum is an historic site for the United States and Northeast Louisiana during WWII and features over 11,000 artifacts in its collections. This nonprofit organization honors all of the men and women who have served and those who are currently serving in our military.
History is preserved through the recording of veteran oral histories which are given to the family as well as sent to the Library of Congress for preservation. CAMM has a Disabled American Veterans Association (DAV) chapter, The Gen. Chennault Flying Tigers, Ch. 51. The DAV certified Service Officers advocate for veterans and their families to receive earned benefits. Our veterans and our community have benefited by receiving over two million dollars' worth of additional benefits annually. With the help of our local community, they have a brand-new van to provide transportation to the VA Hospital in Jackson, Miss. Additional veterans services include Post Traumatic Stress clinics for combat veterans.
Our Chennault Aviation & Military Park is due to open soon. It will house planes from WWII, Korea and Vietnam.
Education programs are important to our mission. A partnership with the WWII Museum allows the museum to be a judging precinct for National History Day. Two local students have won trips to Normandy, France with the WWII Museum. The museum also provides play stations, scavenger hunts and a state-of-the-art flight simulator.
Admission to the Chennault Aviation & Military Museum is free, but donations are appreciated. The museum is open Tuesday through Saturday 9:00 a.m. – 4:00 p.m. and is located at 701 Kansas Lane, Monroe, LA 71203.
You will not want to miss this event! Purchase them, in advance only, at www.chennaultmuseum.org, call (318)362-5540 or come by the museum to get your tickets today!
124 OCTOBER 2022 | WWW.BAYOULIFEMAG.COM
5 Benefits of Social Activites for Seniors
IT'S NO SECRET THAT SOCIAL activities are important for seniors. Staying socially active can help promote mental and emotional well-being, physical activity, and even prolong life. Here at Gardens of Somerset, we believe that social activities are a key part of our programmatic offerings and help to create a well-rounded, engaging, and fun environment for our residents.
Our activity director, Heather Hurley, puts together a robust social calendar each month that includes a variety of activities and events designed to appeal to a wide range of interests. From watercolor class and happy hour social to a fun-filled afternoon game of Jenga there's always something going on at the Gardens of Somerset. Guests are invited and encouraged to participate in social activities with their loved ones as it means the world to our residents to have the support of their family and friends.
So, what are the benefits of social activities for seniors? We've outlined five of the most important ones below.
1. Social activities can help reduce stress and
anxiety. For many seniors, social activities can provide a much-needed outlet to reduce stress and anxiety. When we're feeling stressed, our bodies release the hormone cortisol, which can lead to a host of physical and mental health problems. But, when we participate in activities that make us happy, such as visiting with friends or attending a recital, our bodies release feel-good hormones like dopamine and serotonin, which can help to counteract the effects of stress.
2. Social activities can improve cognitive function. Studies have shown that social activities can help to improve cognitive function in seniors. One study found that seniors who participated in social activities had a reduced risk of developing dementia, while another found that social activities can help to slow the progression of cognitive decline.
3. Social activities can boost mood and selfesteem. It's no secret that participating in activities that make us happy can boost our
mood and self-esteem. When we feel good about ourselves, we're more likely to take care of our physical and mental health, which can lead to a host of other benefits.
4. Social activities can increase physical activity. Many social activities, such as dancing or playing games, can increase physical activity. And, as we all know, physical activity is important for overall health. It can help to improve cardiovascular health, increase bone density, and reduce the risk of falls.
5. Social activities can prolong life. Social isolation is one of the leading risk factors for mortality. It's of crucial importance, then, that seniors have opportunities to socialize and interact with others on a regular basis. Having a robust social life can help to improve mental and physical health, both of which are important for longevity. When we feel connected to others and have a strong social support system, we're more likely to live longer, healthier lives.
Social activities are important for seniors for a variety of reasons. They can help to reduce stress and anxiety, improve cognitive function, boost mood and self-esteem, increase physical activity, and even prolong life. The Gardens of Somerset is the perfect place for seniors to enjoy social activities, with a robust calendar of events that is sure to appeal to a wide range of interests. We invite you to come and visit us soon!
WWW.BAYOULIFEMAG.COM | OCTOBER 2022 125
The Gardens of Somerset's Programmatic Offerings
For Ron Barron and his wife Gwen, a cohesive adaptation has been the underlying modusoperandi for their mid-century modern home, one that has been shaped to induce a place wherefriends and family will feel welcomed.
ARTICLE BY VANELIS RIVERA PHOTOGRAPHY BY KELLY MOORE CLARK
RETRO REVIVAL
Our homes often become a microcosm of our experiences. We often strive toward some personal aesthetic by highlighting objects we have kept and curated throughout our lives. Some of us try to organize our homes, while others layer the accumulated and collected. In this way, decoration becomes more of a cohesive adaptation than a systematic formula. For Ron Barron and his wife Gwen, the former has been the underlying modus operandi for their midcentury modern home, one that has been shaped to induce a place where friends and family will feel welcomed.
Ron and Gwen are living in a self-fulfilling prophecy that was set in motion in 1984. At the time, they were dating while students at Louisiana Tech University. When delivering an item to a friend on one of Ruston's charming, quiet neighborhoods, they noticed the house across the street. As a New Orleans native, Gwen had particular taste and was instantly drawn to the Mediterranean-style arches, brick exterior, and latticed windows.
"If I could live on this street, I might live in Ruston," she said to her future husband. Fifteen years later that house became available and they were faced with two options. One would keep them in town, and the other would tilt them away from the hustle and bustle.
Having moved back to Ruston from Germantown, Tennessee in 1999, they knew their plan was to build a house. "That had
always been sort of a dream of ours," says Ron. But when the house became available, they had to at least give it a look. What they found was a well-built, quality home in the form of solid wood frames and doors. Even the intricate fittings–nuts, screws, hinges, plumbing, electrical–was impressive. Constructed in 1967 by the Jones family who were builders, the single story home is not only built like a tank, but has "good bones," says Ron. It wasn't just the eclectic home with its generous square footage that pulled them to stay in the neighborhood they had so casually visited as college students. At that point in time, they had also become friends with the neighbors and were drawn to the lush green of the street and its quaint homes. In choosing to stay, they also chose community. And so began the slow process of turning a house into a home.
The long, low-pitch roof line and large windows mimic a ranch-style house, but its accents are heavily Mediterranean, namely the five semi-circle arches, reminiscent of Romanesque architecture, which lead to a hidden fountain area lined by claycolored bricks. "The front doors came out of a French Quarter home," says Ron, referring to the half-glass double-doors. Stained dark brown, they leap out in contrast to the surrounding brick while their intricately carved frames and beveled window panels cry out vintage charm. "We still have the original doorknobs," he states.
Even then, they had inventions to adapt the space to their lifestyle, which began with a few significant renovations. "The first thing we did was [we] ripped all the bathrooms down to the studs," says Ron, explaining that an extra bedroom was then converted to the primary bath. Open space was the goal, most
WWW.BAYOULIFEMAG.COM | OCTOBER 2022 129
apparent in the kitchen which used to be four different rooms. Now a single spacious area with three different entry points, it calls for a communal experience. Having worked with architect CP Drewett, also a cook, made the layout even more intentional.
The long kitchen island sets the flow of the space. Decorated minimally, its wooden base is designed with compartments, and the quartz top features a deep sink. Adjacent, a dark wooden table seats four in wood-frame lounge chairs, while overhead a stunning crystal raindrop chandelier further modernizes the space. The stainless steel stove is complemented by a rhomboid diamond, mosaic-style backsplash, and lined with walnut-colored top and base cabinets. Strategically placed in front of a tall window, an upholstered, wingedback loveseat has a scenic view of the backyard, a wonderland that also went through its share of improvements.
This spacious picturesque area is accessible through glass sliding doors in the living room. Immediately, the vibrant green from the neatly cut lawn and manicured shrubs is a soothing backdrop to the most relaxing space of the home. A slate pathway lined with wine bottle lanterns leads to the pool area where a Grecian-style pool, rectangular with diagonal corners, features a water fall and tanning ledge. The poolhouse, which was part of the couple's personal renovation is a few steps away, complete with a modern outdoor cooking area and fully furnished guest house. Truly, a space both for sharing and finding retreat.
"Our tastes sort of evolved," says Ron, referring to the progression from dark wood to eclectic furnishings. With the help of interior designers Connie Howard and Kiki Wardlaw, the rooms brightened and opening up visual space for layering old with new. One of the lounge spaces naturally corralling guests is the living room. Designed by Wardlaw, its pops of color are inspired by two paintings mounted
on opposite walls. Both in the abstract style, they scream with color and set a permeating poetic tone. Ron is particularly drawn to the Butch Anthony piece, a recreation of Picasso's "The Women Of Algiers" with Butch's signature outline of skeletal parts which he calls "intertwangleism."
Harmonizing with the art in the living room are two mid-century, tan leather sofas, emerald green accent chairs, and a walnut coffee table with interlocking pieces of wood inspired by old ship hatches. "This was kind of the first foray into more modern style," says Gwen, revealing that the rest of the home's decor is in a more traditional style which is most apparent in the dining area.
Spacious and filled with natural light, the dining room is marked by a long oval dinner table encased by eight, maroon upholstered chairs. Around the room, dark wood, vintage display cabinets and chests of drawers help accentuate deep beige walls. Punctuating one of the enormous windows, two colonial armchairs stand between one end table, each an exact replica of chairs from George Washington's former
Above: The long kitchen island sets the flow of the space. Decorated minimally, its wooden base is designed with compartments, and the quartz top features a deep sink. Adjacent, a dark wooden table seats four in wood-frame lounge chairs, while overhead a stunning crystal raindrop chandelier further modernizes the space.
estate, Mount Vernon. "I tend to go more traditional," admits Gwen, explaining that most of the dining room furniture has been with them since they got married. Which is to say, in many ways, this room is the traditional backbone of the house.
The adjoining room is a cozy, multi-textured parlor. From bright floral prints to the geometric, golden hues to pastels, it is a blend of classic features and contemporary ideas. Another small space with a big personality is Ron's study. This narrow, intimate hideaway used to lead to the primary bedroom, but is now closed-off and filled with books, personal trinkets, and a dimly glowing half bath.
From room to room, what presides is varied tastes coalescing and being layered with an attention to approachability. "It doesn't look like every other show house that you see," says Ron, adding, "We've always wanted to try to create an atmosphere where people are comfortable being here." Gwen agrees, explaining how their love for entertaining has contributed to the tone and mood of their surroundings, shaped slowly and deliberately. "I want people to come in and feel very welcome here."
At left: The vibrant green from the neatly cut lawn and manicured shrubs is a soothing backdrop to the most relaxing space of the home. A slate pathway lined with wine bottle lanterns leads to the pool area where a Grecian-style pool, rectangular with diagonal corners, features a water fall and tanning ledge. and the quartz top features a deep sink. modernizes the space.
132 OCTOBER 2022 | WWW.BAYOULIFEMAG.COM
DIY Homecoming
Florals at Carlstedt's
Mum's
FRIDAY NIGHT LIGHTS ARE HERE,AND
Homecoming festivities are right around the corner! For those who are feeling crafty, traditional Homecoming mum corsages are a fun way to show your school spirit – and your personality – in the stands. And Carlstedt's has all the ingredients for a fabulous floral Homecoming weekend.
Score!
What began in Texas as a simple Homecoming tradition of presenting a mum tied with ribbons to a date has certainly evolved over the years. Who doesn't remember those giant fluffy chrysanthemums with your favorite player's number or high school initials emblazoned in the center with sparkly numbers or letters? High school colors are represented in yards and yards of ribbons that encircle and peek from behind the edges of the mum's petals then stream in long flowy (and showy) layers. Each touchdown feels more
exciting with all those colorful ribbons flying!
Carlstedt's is your source for creating your own one-of-a-kind mum corsage with extralarge, mop-headed chrysanthemums and an array of home-team colored ribbons, bells, and supplies.
Extra Points!
The Homecoming dance is a night to remember when you create your own wrist corsages or nosegays for her and boutonnieres for him. Carlstedt's has every color flower and ribbon imaginable to coordinate or complement those carefully chosen outfits. With dazzling flowers and the right tools and supplies from Monroe's favorite floral source, you can create wearable floral art like wrist corsages or handheld bouquets that will look stunning in photos and last throughout the celebration. Carlstedt's makes creating these little works of art easy with wrist corsage bracelet forms, floral wire, tape, florist glues and pretty ribbon.
Boutonnieres for young gentlemen are easily fashioned from a small flower, greenery, floral tape and wire, and a thin ribbon. These little pops of color are tucked into a buttonhole or pocket or pinned to the lapel of the young man's jacket.
For the Win!
While the floral and craft selection at Carlstedt's is unbeatable, the best part of Carlstedt's is their friendly staff, who go beyond to help you find just the right items to make Homecoming the celebration it was meant to be!
Carlstedt's was founded in 1926 by Mr. Oscar G. Carlstedt in Louisville, KY. Expansion of the company began in the 1930s. The Monroe branch of the business opened in 1973. As of 2019, Carlstedt's operates in 13 southeast locations, providing florists, party planners, freelancers and DIYers with premium floral products. Carlstedt's serves clients all over the world through Flowergeneral.com, which is our online Floral Mall where you can find anything in flowers from arrangements to box lots. Flowergeneral.com handles logistics, payment methods and in store pickups.
The Carlstedt's branch in Monroe is located at 1507 Siddon Street, just off Tower Drive. They are open from 7am til 3pm Monday-Friday and from 8am til 11:30am on Saturday. 318.388.0080
WWW.BAYOULIFEMAG.COM | OCTOBER 2022 133
the Word
Cozy and Intimate Mexican Bistro
THE FLAVORS OF MEXICAN CUISINE are as varied as tequila cocktails, and at Casa Real Mexican Bistro you can find both! Here, traditional Mexican flavors and authentic dishes are prepared in novel and creative ways, providing an inspired, sophisticated, and one-of-a-kind dining experience.
Walking into this eatery is like walking into a gallery. The minimalist interior is designed to match with the ink and pen style of the Day of the Dead wall murals created by owner Mario Mata, whose remarkable skill is worth a closer look. His inspiration came by way of their house tequila, Espolón, whose logo honors Mexican heritage in its use of calacas, figures of skeletons, and the image of the rooster which symbolizes national pride.
Bottles of this perfectly balanced tequila line the bar featuring specialty drinks made with a nod to classic preparations. The Organic Margarita incorporates lime and orange juice and one hundred percent organic agave nectar.
For those seeking even more edge, try the Organic Jalapeño Rita. Not only does it use the restaurant's housemade jalapeño syrup, it also has a splash of Viuda de Sanchez sangrita, a complementary flavor to tequila whose pepper and citrus flavor highlights the crispness of the distilled agave. Additionally, diners can find the semi-sweet zest of grapefruit three ways. In the Paloma, grapefruit soda is spiked with tequila, salt, and lime. For a more seasonal approach, try the Vampiro where grapefruit soda, Viuda de Sanchez sangrita, tequila, salt, and lime are blended into the perfect October mix. Using rum, the Grapefruit Mojito, is a fun take on the Caribbean cocktail, mixing fresh mint, lime, white rum, and a splash of grapefruit soda. Regardless of your choice, expect refreshing and bold blends.
Every meal at Casa Real begins with a complimentary serving of warm, fresh hand-rolled tortillas and two creamy butters. Meanwhile, the elegantly-styled menu is exemplified by the restaurant's logo, a calavera
skull with a crown of agave leaves. Menu items are varied and composed of a motley of ingredients. The crispy Empanadas feature two tantalizing dips, a creamy chipotle sauce and house made chimichurri sauce (which you might want to use on other dishes). On the specialties section, you'll notice familiar favorites with a distinct spin. For the tacos, made with homemade corn tortillas, diners can choose from five different meat preparations, including Asado de Puerco (fried pork tips slowly cooked in a flavorful red chili blend), Chicarron en Salsa (pork belly slow cooked in a mild tomatillo chili sauce), and Carnitas (slow cooked shredded pork).
Casa Real is Spanish for Royal House, and all aspects of this eatery strive to honor the standards of the name from the ambiance to the appetizing menu items. Join them on October 29th for their grand opening and Day of the Dead fest.
Monroe's Newest Eatery - Casa Real
134 OCTOBER 2022 | WWW.BAYOULIFEMAG.COM
A Couple's Approach to Hormone Replacement
Addressing Sexual Wellness Together
BY JUDY WAGONER
WHEN LONG-TERM COUPLES APPROACH AN END to their hormonal honeymoon, and the phases of menopause and andropause begin to have a negative impact on sexual function and intimacy, the combined disruption can have a significant effect on the health of the relationship. Some couples believe the decline in their quality of life is inevitable. Others feel hopeless, thinking their partner no longer desires the connection they once shared. Clouded by misinformation, they tend to shoulder the burden of aging alone.
It doesn't have to be this way. At Professional Laser Center, we can take a couple-oriented approach to these developments. Couplepause is a novel way of addressing menopause and andropause symptoms together, by familiarizing our patients about the normalcy of their journey, and show them how to revive their energy and MOJO for each other. Women are not strangers to hormonal fluctuations, but when their hormone levels begin plummeting in their early 50's or before, their lives can change overnight as they cope with night sweats, ballooning weight, aching joints, low libido, and fuzzy thinking. While not as disruptive as menopause, men's sex hormones are also declining at mid-life. It's called "Andropause."They may feel small dips in their energy level, stamina, mental function, libido, and sense of well being. The good news is you, nor your partner, have to suffer and resign yourself to the infirmities of advancing age. The solution is to replace your lost hormones with human identical hormones, which are available to both men and women. Bioidentical hormones have
the same molecular structure as those produced by the body. They are identical to your own hormones; estrogen, progesterone, testosterone, thyroid, growth hormone, and insulin. They're taken from natural sources, such as soybeans or yams, and are more easily absorbed by the body than other types of hormone replacement.
They come in the form of creams, pellets, pills, injections, and patches. Professional Laser Center has been prescribing bioidentical hormone replacement for over 10 years now and our clients love it. Pellets are our most requested form of hormone replacement for both women and men. The tiny pellets are placed just under the skin in the upper quadrant of the hip, where they slowly release a stable, steady dose of testosterone and/or estrogen over the course of three to six months. Our Nurse Practitioner, Elizabeth Hoskins, has advanced hormone training through the A4M, the world's largest Integrative Medicine organization, which focuses on the proper dosing of these hormones. "The dose makes the poison." If not properly dosed, your hormones will not be balanced. When our levels are unbalanced, the communication between our cells is interrupted and major, negative changes can occur in the body. Human identical hormones can change your life and your relationship. It is your most powerful weapon in the war on aging. What are you waiting for? For more information or to schedule an appointment, call 318-361-9066. For a list all of our services, please visit our website at www.professionallaser.com.
WWW.BAYOULIFEMAG.COM | OCTOBER 2022 135
October in Downtown Ruston
Make the Most by Shopping Locally
OUR SCHEDULE OF EVENTS IS
jam-packed for October. October 1st will be a fun-filled day for the whole family. Beginning with Pumpkins on Park at 5:30 pm in Railroad Park, Friends of Ruston Main Street invites you to bring the kids down for an evening of fun. Bring your already carved pumpkin (with a battery-operated light) and like the walk for the Pumpkin Carving contest, but that's not all! We'll also have food, activities for the kids, face painting from the ladies of JA, and some great photo opportunities. The best part of this event is when the sun goes down, we'll be showing Monster's INC. This full length Disney movie is one the whole family will enjoy outside under the stars! This event will be perfect for families—and monsters of all ages and best of all it is free for everyone to attend.
Looking for something different on October 1st? Don't worry—Creative Exchange, Railway Coffee, and local photographer
Cara Beth Buie have teamed up for a closing reception at Railway on Park Ave. This 7 p.m. event will give you a chance to see Cara Beth's beautiful show titled "The Nature of Ruston" one last time. You can also purchase your favorite piece to take home and enjoy.
And last but not least on October 1st—The Dixie Center for the Arts is excited to present Dauzat St. Marie, a local favorite, at 7 pm as a special fundraiser for Wiggin Out. Tickets are available at the www.dixiecenter.org.
October continues to be a month full of fun with Loyal Blue Weekends. Join us on Friday nights of LA Tech home games where we welcome the spirit groups to get in on the fun and in the spirit to cheer on the Bulldogs at The Joe! Also, don't forget to take advantage of the free shuttle from Downtown Ruston at Railroad Park to and from the game. Avoid the hassle of parking, shop, grab some good eats, and get to the game in style.
Don't forget to end the month with the
annual Downtown Ruston Wine Walk. This is a favorite event each year and this year will be no different. Get your besties together and enjoy a night on the town, Friday, October 28th from 6-8 p.m. Merchants will have in-store specials, live entertainment, snacks, and so much more! Tickets go on sale on October 7th at noon. This event has been a sell out every year, so you will want to be sure and get your tickets early.
Finally, we have some new faces and places Downtown. If it's been a while since you shopped with us, you'll want to take some time to come see the new boutiques and services Downtown. Christmas is just around the corner, and you won't want to miss shopping locally for the favorites on your list. We know this will be a busy fall, so we invite you to make the most of it in Downtown Ruston!
136 OCTOBER 2022 | WWW.BAYOULIFEMAG.COM
Curated Design Accessories and Gifts at Haven
Stop by Today to Experience Haven's Newly Expanded Space
HAVEN HAD A VERY SPECIAL SEPTEMBER DEBUTING retail shop. Owner Sandy McMillan celebrated 25 years in business and marked the occasion with new interior finishes to create a lovely shopping environment. They updated their current space with beautiful new floors, paint, and lighting. In addition, they have also doubled their square footage by expanding their footprint into the adjacent space. Their new space has a great offering of curated design accessories, lamps, and pillows. With this new space, Haven has more offerings in bedding and art along with a new area where you can look through wallpaper and cabinet hardware.
October will bring the arrival of more furniture, including a sofa and several chairs to the new retail space, as well as custom pillows and more small tables. Current customers have already enjoyed taking rug samples home on approval to see in their own space. Most of these rugs can ship within a few days. Some are practical with pets, and some are more kid friendly.
With this update, it has allowed Haven to expand every area of the shop. Shoppers who love Barefoot Dreams will see more throws, cardigans and pajamas. Even the men's area has new Barefoot Dreams shorts and shirts. The men's section also has new books, gifts for cigar lovers, and desk accessories to kick that office up a notch. A nice fun
and colorful line of silk ties, pocket squares and bow ties have been added that you won't want to miss.
Other expanded areas include the baby section with new book offerings, christening gifts and fun things for your toddler. As with every shopping space in the store, the religious area is hand-selected by Sandy, the owner of the shop. Careful attention is paid to books with great authors, devotionals that really hit home, jewelry to remind us what is important as well as small art pieces to adorn a bookcase or small space. A new selection of religious cards are on the floor and a perfect way to remind someone you are thinking of them.
All things fall abound at Haven! NEST Autumn Plum and Pumpkin Chai candles are flying out the door, as well as the most sought-after beautiful velvet pumpkins with real stems. Hurry in before they are gone! LSU and ULM cups are in and perfect for tailgating and cheering on your team. Speaking of cups, a large selection of Halloween cups have just arrived! If you plan on walking with your trick-o-treater this year, you may need a cup that says More Boos Please…
Stop by today and enjoy browsing around the new shop. Haven is open 10-5 Monday through Friday and 10-3 on Saturday. Start making your Christmas list as it is never too early! Remember, Haven always offers beautiful complimentary gift wrap.
WWW.BAYOULIFEMAG.COM | OCTOBER 2022 137
Seth Hall Named Interim Athletic Director
The University of Louisiana Monroe Names Hall Interim Athletic Director
SETH HALL, CHIEF STRATEGY officer at the University of Louisiana Monroe, has been named the institution's interim Athletic Director, effective September 1st, pending the approval of the University of Louisiana System Board of Supervisors.
"Over the past few years, AD Scott McDonald has positioned our athletic programs to be competitive on and off the field," said ULM President Ron Berry. "He has developed a strong leadership team, head coaching staff, and a culture that supports student-athlete success. Replacing him will not be an easy task, but the foundation he built should serve us and the next AD well. While we complete our search, we are very fortunate that Seth Hall, a former ULM athlete and outstanding leader, has agreed to take on the challenge of serving as Interim Athletic Director. Seth's experience and abilities, coupled with his dedication to ULM and to serving others, will provide stable leadership for our athletic programs and a smooth transition when our new athletic
director is selected. We look forward to great things for our Warhawks under Seth's interim leadership."
Hall is a graduate of West Monroe High School and was a member of the ULM cross country and track and field teams. He received his bachelor's degree in marketing in 2010 and his MBA in 2013, both from ULM. He formerly served as ULM's director of high school recruitment, coordinator of orientation and special programs, and operations manager for the College of Business and Social Sciences. During the spring 2015 semester, Hall served as an assistant track and field coach, where he coached all mid-distance and distance runners and oversaw the recruitment of studentathletes in those disciplines.
In his current role as chief strategy officer, Hall has assisted with the development of ULM's institutional strategic plan as well as the ULM athletic strategic plan.
"I am honored to serve in the role as interim athletic director at ULM," said Hall.
"I have enjoyed working closely with Scott McDonald and the athletics department the past 10 months as we have developed a strategic plan for athletics that will be published in the near future, and I look forward to helping execute those plans. As a former ULM student-athlete, I am most looking forward to pouring into our Warhawks and working to set each of them up for success in the classroom, on the field of play, and ultimately in life after athletics."
ULM will launch a national search for its next director of athletics with the hope of having a formal hire by January 2023.
In addition to Hall, Carmen Wright, Director of Student-Athlete Success, has been appointed as the Senior Woman Administrator (SWA) and Michael Gammon, Assistant Athletic Director for Sport Administration, has been appointed as the Associate Athletic Director for Internal Operations.
138 OCTOBER 2022 | WWW.BAYOULIFEMAG.COM
After School Immersion Program
St. Christopher Day School Builds Community
BY FAITH GREMILLION, HEADMASTER
BUCKLE UP! EXCITING THINGS ARE happening at St. Christopher Day School in Monroe!
Our After-School Immersion Program is NOW OPEN AND ENROLLING. Students who crave art, music, foreign language, science and more will have a BLAST in this K-3rd grade program. Parents, are you searching for a quality after school opportunity with enrichment activities? Look no further than our K-3rd Immersion Program at St. Christopher Day School at Tower Place 1500 N. 19th St. in Monroe. Spaces are limited to 12 – 15 students per session. Each week a new teacher will inspire exploration, creativity and maximize learning styles for all students. Find out which session (or sessions) pique your child's interests and sign up. IT'S JUST THAT EASY! Scan the QR to register.
Our stellar lineup of educators is amazing. October is chockfull of well-known community educators ready to share their talents with
our students. "Carnival of Animals" begins October 3rd with Mrs. Ginny Montgomery. We have opportunities for parents and children to participate together too, like Mom & Me Yoga with Mrs. Jamie Burgess and a cooking class coming soon. St. Christopher Day School is a Christian based school which is centered around what we cherish most - children. "Friends of the Spirit" led by Kirstie Ford will focus on loving our neighbor, being kind and serving others with a happy heart. Amanda May, former Miss Louisiana and LSU Golden Girl, will be leading Manners Matter / Growing Confident Kids during October 17th – 21st.
St. Christopher Day School is on a mission to create a hands-on, cooperative environment for children to learn and grow from a network of community experts here in our own backyard. Join us as we open an innovative afterschool opportunity for your child. Students will be challenged in all disciplines while building foundational skills in an innovative setting!
The St. Christopher Day School is proud to partner with the Monroe community. We are anticipating an exciting response our October 2022 through April 2023 after-school program. Children that sign up for our afterschool program will experience the excitement of discovering new things in a child-centered way, an immersive way. With monthly themes and a variety of activities such as art, music, language, movement, and science, your child will grow with confidence and develop an inquisitive spirit!
St. Christopher Day School's full academic school year begins fall of 2023. Enrollment is open now for Founding Families which locks in tuition rates for as long as you are enrolled at St. Christopher Day School. Visit our website (www.scdschool.org) to find out more information on St. Christopher School enrollment. Visit Facebook for our After-School Immersion opportunities and upcoming events. I would love to answer any questions you may have, so call or stop by today! Welcome to the St. Christopher Day School family, I can't wait to see you!
Teachers:
• Ginny Montgomery: Watercolor Art
• Paula Furlow: Talented Art
• Amanda Lockard: Maker's Space
• Kirstie Ford: "Friends of the Spirit"
• Jamie Burgess: Yoga
• Elynee Rojas: Spanish
• Amanda May: Manners/Confident Kids
WWW.BAYOULIFEMAG.COM | OCTOBER 2022 139
BayouArtist
DOUGLASDIANNED
Douglas comes to her studio every day to work and experiment with her medium of choice: watercolor. She gets a few raised eyebrows from people who learn she is a watercolorist, as most call it the hardest medium to master
article by Starla Gatson photography by Kelly Moore Clark.
ianne Douglas sits in her studio, a cozy little space nestled behind her partner's home in a Ruston neighborhood, surrounded by the tools of her trade — paper, paints, and an array of brushes — books, and prints of her finished pieces ready to be sold. A stack of her sketchbooks sits on a nearby table, many of which have pages filled with her pieces — some she deems successful, others not.
Douglas comes to this place nearly every day to work and experiment with her medium of choice: watercolor. She gets a few raised eyebrows from people who learn she is a watercolorist, as most call it the hardest medium to master.
"I say they're right," Douglas says, "but if you work with it and stick to it enough, you know it has a mind of its own, and you let it flow. You go with the flow."
Watercolor painting is a lot like life, she declares. The medium is unpredictable, requires a sense of immediacy, forces the painter to make deliberate and spur-of-the-moment decisions, stresses the importance of timing, and makes one decide between bouncing back or giving up after the inevitable setbacks that will occur.
They say a lot ofwatercolorists, once theypractice it, they just getaddicted," Douglas explains.
"It's a precarious medium, but I sure love it. That's why Ican't stop doing it."
"
"You're going to make mistakes," she says. "I throw away probably two out of three watercolors. You've got to be prepared for failure, but when you fail, you come back, and you try to make yourself better."
The Ruston-based artist admits some of those failures have been so frustrating that they made her consider walking away from watercolor painting altogether, but because her passion for it is so strong, she persists.
"They say a lot of watercolorists, once they practice it, they just get addicted," Douglas explains. "It's a precarious medium, but I sure love it. That's why I can't stop doing it."
Her first set of watercolor paints came from her father, gifted to her when she was 11. She was perplexed at first because her
The arts were celebrated in the Douglas household, and nearly every member of the Wewoka, Oklahoma native's family possessed some artistic ability; her family tree consisted of writers, musicians, painters, weavers, and more. So, it wasn't surprising that Douglas eventually ended up with a paintbrush in her hand. As a child, Douglas tried ballet, tap, and Flamenco dancing as well as playing piano, but none of these stuck with her like watercolor painting. She spent her teenage years painting — she even sold her first painting at 17 at a plein air festival in New Mexico — but while it was something she enjoyed doing, she had no plans to pursue a career as a full-time artist at the time.
Instead, she headed to Monmouth College to study Spanish, satisfying a longheld desire she had to learn about foreign languages. She remembers exactly when this interest sparked, "I might have been about eight. There were Native American elders sitting casually on benches outside of the grocery store we went to. I heard them talking, and I couldn't understand. It bothered me, even at eight."
That experience got the wheels turning in her mind, and Douglas began thinking about how much she would enjoy being able to understand the elders' language and learn about their culture. It was a magical moment, she says, because it sparked the interest in languages that would propel her into a teaching career.
During her senior year at Monmouth, Douglas was invited to complete her student teaching at Harper High School in Chicago through the Urban Semester Teaching Program. The opportunity was especially appealing for the then-20-year-old because her father studied art in Chicago when he was the same age.
father, a postal worker by profession and painter in his spare time, used oils, not watercolor pigments. Why he'd given her a tin of watercolor paints was a mystery until she learned that was his medium of choice while he served in World War II.
"When he was drafted, he got a cheap tin of watercolors, and he'd paint envelopes," Douglas explains. "He would write to my mother two or three times a week, and he'd paint on the envelopes."
This collection of painted envelopes now has a home in the Smithsonian Museum, courtesy of Douglas's partner's art history connections. They depict her father's experiences and perhaps even explain why her father thought watercolor was the medium she should try.
"We were expected to spend 14 weeks testing our wings in an inner-city school," she remembers. "It was emotionally charged, the whole thing, but I really bonded with the students. They probably taught me more than I taught them, and they made me a better teacher. [My time there] informs some of my paintings today."
Harper High School was stop number one on the journey foreign language would take Douglas on. Mexico City and Guadalajara were stops number two and three, respectively, as they were where she spent the two summers following college graduation completing graduate-level coursework.
Stop four was Argentina through Rotary International's teaching exchange program. The twenty-something spent three
142 OCTOBER 2022 | WWW.BAYOULIFEMAG.COM
BayouArtist
months teaching English in Argentina, then a year traveling throughout the Rotary district in the U.S. showing slides of the work they'd done. After the year was up, Douglas's next steps were uncertain — that is, until her former Spanish teacher offered her a job teaching high school-level English in Peru.
"I didn't think about it too long," she says of the offer to work in Callao, Peru, a port city not too far from Lima.
This, stop five on her teaching tour, introduced her to the work of Peruvian author Julio Ramón Ribeyro, and to her next project: translating Latin American literature.
"His stories are so wonderful, and they're about marginal characters, and that's what I've always been interested in," Douglas explains. "So, I thought with my skills in Spanish, I could do literary translation. So, I set about it. It was a long, arduous process, [but] these characters, they're just endearing. They're on the fringes of society. They're very vulnerable."
Thanks to her time in Peru, Douglas
"Maybe I wouldn't have accepted that chance to go teach in an inner-city school if I didn't know my dad had [gone to Chicago] and studied art. And then, if I hadn't accepted that chance to go to Peru, I wouldn't have had that project of literary translation," she muses.
translated a collection of Ribeyro's work titled Marginal Voices: Selected Stories, marking the first time the author's words were translated into English and receiving positive reviews from The New York Times.
After her work in Peru ended, the language enthusiast returned home to Oklahoma, enrolled at the University of Oklahoma, and began working toward her master's and doctoral degrees. While in the Sooner State, Douglas discovered that Louisiana Tech University was searching for a new hire. She needed a job and had never been to the south, so why not apply, she reasoned?
"I said, 'Well, Louisiana is a beautiful state!' so I applied and [visited the campus]," she says. "They huddled after my visit and offered me the job. I came back in August of 1979 and taught all levels of Spanish."
Douglas stayed at Louisiana Tech for 27 years, working her way up the ranks and earning tenure before retiring from teaching and shifting her full attention back to the watercolor painting she discovered in her childhood years.
Now, with nothing but time to devote to it, the artist spends her days growing in her craft, taking advantage of resources she finds online, and studying the work of the greats like John Singer Sargent, Winslow Homer, and Georgia O'Keeffe. She paints to reminisce, to reshape her experiences and memories, and tell stories. As she thinks back on her story, she realizes how deeply each chapter influenced the next.
"Maybe I wouldn't have accepted that chance to go teach in an inner-city school if I didn't know my dad had [gone to Chicago] and studied art. And then, if I hadn't accepted that chance to go to Peru, I wouldn't have had that project of literary translation," she muses.
Each of those connecting steps has led her to her current season as a working artist. Since committing to painting fulltime, Douglas's pieces have been exhibited at Ruston Artisans, NCLAC's Holiday Arts Tour, the Louisiana Peach Festival's Peach Art Exhibition (she was awarded Best in Show in 2014), and at the Masur Museum's Annual Juried Exhibition in 2012 and 2013.
WWW.BAYOULIFEMAG.COM | OCTOBER 2022 143
Prints of her work are also currently available for purchase at the Creative Exchange, Fine Line, and Ruston Artisans.
This time in her life, a point of being able to paint every day, has been a joy, Douglas declares, and she firmly believes she'll never stop doing it.
She paints from photographs taken on her travels, scenes she sees in real-time, and characters she read about while studying and traveling Latin American literature. While she paints an occasional landscape or street view, most of Douglas's work features people. After all, it's their stories she is most eager to tell.
"I know I want to paint something if it has interesting people in it, or gestures, or the way they carry their bodies or are sitting," she explains before pointing to an image of one of her former students, "Or, like that little fellow here, the look in their eyes."
She most enjoys when a painting works and calls it a success when it's thought-provoking to the viewer. Those are the kinds of pieces she hopes to continue creating while simultaneously perfecting her craft. What stories her future work will tell are still yet to be determined, but one thing is certain: there will be more work.
"I want to take more risks, get bolder with my brush marks and the work in general, go at it more boldly, and put more depth and emotion into it," she says. "Maybe even paint a little bigger; who knows? I really love it. I'm addicted."
144 OCTOBER 2022 | WWW.BAYOULIFEMAG.COM
WWW.BAYOULIFEMAG.COM | OCTOBER 2022 145
CASA of NELA Seeks Volunteers
Help Meet the Need For Children in Foster Care
RIGHT NOW IN NORTHEAST LOUISIANA, OVER 150 children in foster care are waiting for a Court Appointed Special Advocate (CASA). CASA of NELA, a division of the Center for Children and Families, will be holding training classes beginning on Oct. 6, 2022, in efforts to find more community members who will change a child's story.
CASA Volunteers are appointed by a judge to help ensure that each abused or neglected child finds a safe, permanent home as quickly as possible. The role of a CASA is to act as an extra pair of eyes and ears for the court system, collecting information through observation and interviews with key people in the child's life and then reporting back to the judge. Below is a success story of a CASA volunteer right here in Northeast Louisiana as told through the perspective of an advocate supervisor.
There was a case where there was concern for the living situation with a set of siblings. The CASA volunteer was able to get acquainted with the children and build a trusting relationship by conducting monthly home visits to see how the children were doing. By doing this, the CASA volunteer was informed on the needs of the children and was able to speak up for them in court.
The CASA volunteer made sure the judge understood what
the children were experiencing in the house and advocated for the children to remain together through any placement process in three separate court reports. Because of this, the children were moved into an adoptive placement in Monroe and have now been officially adopted. All development and social issues have been addressed, and the adoptive family continues to give updates to their CASA advocate.
Since our inception, CASA of Northeast Louisiana has advocated for approximately 1,900 children in need of care and has trained nearly 800 community volunteers. These CASA volunteers come from all walks of life and are a powerful voice for a child in need, making a lifelong difference, one child at a time.
Change a child's story today. You could be a part of the next success story.
Visit www.casaofnela.org to learn more information or call 318.398.0945 to talk with someone today about how you, too, can become a CASA.
146 OCTOBER 2022 | WWW.BAYOULIFEMAG.COM
Creating Inspiring
Interiors
Jan Hales Strickland Is Passionate About Design
JAN HALES STRICKLAND IS IN HER 12TH year as an interior decorator and she's just getting started. "This business is my passion…I eat, sleep and breathe it. I love working with clients to help create beautiful and functional interiors. In some cases I simply do a room refresh; sometimes I work with a client through a remodel; and then there are times I make every selection for a new build, including the color of the doorbell! There is truly no job too big or too small."
Jan's love affair with interior decorating began at a very young age when she was fortunate enough to travel abroad including when her parents would rent a home in the countryside of England ever summer. This travel helped foster the inspiration for her passion, as did visiting local museums and homes. By the time she was in high school, Jan knew she wanted to be a designer/decorator. She even began her career during this time working on beach condos and homes.
For college Jan received a Bachelor of
Science degree in Interior Design from the University of Alabama in Tuscaloosa. The program is CIDA Accredited. Jan was an active student member or the American Society of Interior Designers. She also served on the advisory counsel for CIDA accreditation for the Interior Design program at the University of Alabama.
After college, Jan worked at a kitchen design center in Birmingham, Alabama, a fabric decor store in Montgomery, Alabama, and a nationally recognized antique store in Montgomery, Alabama. But when her husband had the opportunity to practice law with Jan's father, she was ready to come home.
Since that time, Jan has enjoyed building her interior decorating and consulting clientele, while at the same time she's been able to give back to her community. In her 6th year as the lead designer for the St. Jude Dream Home, Jan is also passionate about this cause. "Having lost my best friend to cancer makes this cause very personal to me. This summer I was able
to attend the St. Jude summit and toured their campus, which made me even more passionate when I saw the far reaching impact our support gives St. Jude. Last year we were able to sell $800,000 worth of tickets, and being able to see the children and the families that these monies support gave me even more motivation to maintain the support we can in our community.
I was most honored to receive the Kichler Lighting Award for my work on this project."
When not focused on her clients or her St. Jude work, Jan enjoys spending time with her husband Josh, son Jey, daughter Evy, and dog Belle. "I'm in a busy season of my life, and getting to spend time with clients, getting to know them and their home brings me such joy.
I believe your home can have a great impact on your mental and physical well-being, and I like being a small part of helping my clients create a calm and inspiring environment.
WWW.BAYOULIFEMAG.COM | OCTOBER 2022 147
Creating Meaning and Forming Lasting Memories
We Build Families
BY J. PRESTON PARRY, MD, MPH
THE POWER OF A "HOME ISSUE" for a magazine actually isn't from just updating the details of where you live. It's about taking control of your world, creating meaning, and forming lasting memories. There are many scales through which this can be achieved. I fondly remember days as a struggling student where two new dog beds were a huge step forward in taking care of my family. I feel the reason remodeling strikes a deep chord with so many of us is that it is a physical expression of our nesting instincts—a way of investing what we can in providing a safe space for those we love. As a fertility specialist, I've gotten to see some spectacular nurseries over the years for babies we've helped bring into this world. However, if the average six-month-old can only see several feet, I know that the elaborate wall designs aren't entirely for them. That's okay. After all, what is more, worth celebrating?
In building our two full fertility clinics in
Madison, MS, and Shreveport, LA, I've tried to turn them into homes as well. While gynecology doesn't exactly lend itself to an open floor plan, from high ceilings to warm lighting to real flowers to comfort food for anyone coming through the door, we've never wanted the experience to be that of a typical medical office. Our art resonates with purpose, having egg and nest themes paralleling the roles of the ovaries and uterus, as well as water themes linked to hysteroscopy, as part of a more gentle approach to understanding the pelvis. We even have kintsukuroi pottery, which is a Japanese concept where broken bowls are repaired through gold seams, symbolizing that no matter how broken we may feel, we are more valuable through how we come back together. Also, some of the most beautiful aspects to me are things that couples never see or appreciate, such as how state-of-the-art HVAC creates air purity helping embryos thrive, which will someday become
children. However, what truly turns Positive Steps Fertility into a home is the real love and respect we have for each other and our patients as soon as they come through the door.
I'll admit I'm a bit of a nerd, so when writing about the meaning of life issues such as family, I'll probably come across as more awkward than when I talk more technically about reproductive testing and clinical success rates. At least anyone who has read this far knows I haven't used a ghostwriter, as they probably would have never written anything like this. However, my purpose in this world is to get up every day so that couples don't have an empty house instead of a home. Along with the whole PSF team, I hope that your world is filled with everyone that makes everything else worthwhile.
Follow us on Facebook and tune in the first Friday of every month for First Friday Fertility live at noon!
148 OCTOBER 2022 | WWW.BAYOULIFEMAG.COM
Creatively Embracing
Our Delta Roots
Revival Design & Consign Launches Brand with Hand Drawn Characters
GROWING UP IN LOUISIANA GAVE me the opportunity to be exposed to so many multicultural aspects of the state. From the rich bayou landscapes to the historic French and Spanish settlements, it is easy to be creatively inspired.
Ever since I was two years old and picked up a pencil and drew the Planters Peanut man from the side of the can, I have always explored creativity. I entered art competitions in elementary school.
As I moved on in life, I put my art on the backburner to explore other elements of design in interiors, floral, and fashion.
After surviving sexual trauma in my youth, I lost sight of my aspirations that once brought me joy. It would manifest itself into selfdestruction. It led me to run to escape the pain through addiction and relocation around the country to Dallas, New York, and New Orleans. I totally forgot my will to thrive in life or wanting to draw.
Even after returning home, I was not 100 percent who I was intended to be. It took me some time and experiencing some very uncomfortable phases in my life to make me whole again. It led me to finding peace letting go of the past. It took me to finding self-love for myself again.
In that process of healing, I was blessed with a creative spark again in my drawing. It was also a process of grief after losing the love of my life to cancer eleven years ago. I took this as a healing sign and began drawing again.
It was a spark like I could have never imagined. I could not draw them fast enough.
Over a period of six months more than 483 animated characters that celebrated the landscapes, agriculture, aquaculture, and people of Louisiana manifested themselves.
The binder of these characters sat on the backburner for 11 years as other aspects of my professional life took precedence in my dayto-day life. It would not be until the past nine
months and losing both of my parents, that I decided it was time to go forth with this vision and dream. My mom was a big supporter of this until Covid 19 took her life in January.
Over the summer, I made it my mission to bring this to life and Delta Roots was formed. After numerous meetings, my line is coming to life and launching. Delta Roots will feature my first drawing, "SANTA CLAWS." This holly jolly crawfish will be featured on tea towels, door hangers, Christmas ornaments, t shirts, sweatshirts, baby bibs, and paper goods.
He will be available for purchase at Revival Design, 300 Walnut Street in Historic Downtown Monroe or through our Etsy page, Revival Designs 318. He is the first of many other characters on the way that are working toward a children's book series and other media possibilities.
Life is so amazing and has come full circle in life drawing from my DELTA ROOTS.
WWW.BAYOULIFEMAG.COM | OCTOBER 2022 149
WHITE LIGHTNIN' COCKTAIL AND CULINARY COMPANY
WHEN ERIC WILLIAMSON BEGAN conceptualizing his restaurant, he knew it would have to incorporate the local history of Ruston as well as references to some of his personal lineage. He hit this intersection when thinking of the road he grew up on, one imbued with tall tales of moonshiners and bootleggers. White Lightning road, now Louisiana Highway 146, is named after this seedy history and particularly refers to the color and kick of what is more popularly referred to as moonshine. "One side of my family had some major bootleggers," beams Williamson, whose restaurant White Lightnin' Cocktail and Culinary Company integrate intricately crafted cocktails inspired by the prohibition era with a carefully curated menu of modernized Southern staples.
"I started working in restaurants when I was eighteen," says Williamson who has also traveled extensively, working in high-tier culinary cities like New Orleans, Denver, and Sacramento where he ended up attending bartending school. On his return to Ruston, he
first helped run a local restaurant for several years before partnering with a local Mexican restaurant. He ended up running their bar area, which meant creating many craft cocktails. But when his restaurant of employment didn't survive the pandemic, he started looking for a spot to unleash his love for prohibition-era cocktails, which ironically is an era punctuated with some of the most iconic blends, such as the Aviation, Royal Hawaiian, and Singapore Sling.
"I've really wanted to bring that kind of thing to Ruston," he says, revealing his desire to create a culinary experience that would be built around these classic, trending, and experimental mixed drinks.
"So [I] started mixing some more advanced cocktails at home [and] learning the history," says Williamson. He began with some famous New Orleans cocktails, also dating back to the roaring era of style and aesthetics. For the Ramos Gin Fizz, created during the late 1800s, he had to master the careful fusion of gin, cream, simple syrup, lemon and lime juice, orange flower water, egg whites,
article by VANELIS RIVERA and photography by KELLY MOORE CLARK
Owner Eric Williamson and Chef Sean Welsh have created a place where people can come anjoy modernized Southern staples in a cool atmosphere.
BAYOU EATS
and club soda which is required to get the desired frothy layer. Shying away from the modern approach to the Whiskey Sour, he went with the simple approach of Bourbon, lemon juice, sugar, and a dash of egg white–subtle and elegant. His detail-oriented research and trials opened the door for rounding up ingredients that would further embellish the already heavenly blends.
The White Lightnin' bar is not only making their own syrups like honey and ginger, but they are recreating obscure modern classics like the Penicillin. Created by Milk & Honey bartender Sam Ross, this warm and soothing drink is made with Scotch, honey syrup, and sweetened ginger juice. Another contemporary delight uses mezcal which is made from the agave plant. "We make a light-pink peppercorn pineapple syrup for it," says Williamson, revealing that any mezcal lover will be remiss not to give their Ready, Fire, Aim cocktail a whirl. Ultimately, he highly recommends that customers use the restaurant's drink menu as
a choose-your-own-adventure book.
"I've tried to kind of update and tweak those cocktails to local and modern palettes," says Williamson, informing that since modern taste leans on sugary drinks, he has had to "swing things up a bit," as far as flavor blending and ingredients selected. Further pushing the envelope has come in the form of educating his bartenders about the history of the cocktails the restaurant is making. In this way, customers will be able to make informed decisions about the plethora of drinks on the menu. Alongside familiar names, customers will also note modern concoctions, which will include weekly cocktails. In the near future, customers should expect house-made bitters, even more house-made syrups from varied ingredients like sweet potato, and a line of one of the oldest cocktails called shrubs. These interesting mixes feature vinegarbased syrup that create a balance of sweet and sour elements. "It's an interesting part of history for cocktails," says Williamson,
adding that when it comes to the food and drink menu, he is always open to doing more, which will also show up in the form of milk-washed spirits. "That's a new big thing these days," enthused Williamson. To create this compelling mix, milk is curdled and added to a cocktail. It sits overnight and then gets filtered. The result is a smooth, clear cocktail, rich and fluffy in texture.
Holding down the kitchen is Executive Chef Sean Welsh who has some pretty impressive roots in New Orleans, mainly by way of Dickie Brennan & Co, as well as the distinguished New Orleans landmark and creole eatery Commander's Palace. When Williamson approached him about conceptualizing the menu he came up with thirty to forty recipes focused on seasonings that could be made from scratch which would result in controlling the herbs and intricate flavors going into meals. While Chef Welsh is used to larger kitchens, the small-scale space he now has contributes to his ingenuity. "Like the little miso cups," he
Holding down the kitchen is Executive Chef Sean Welsh who has some pretty impressive roots in New Orleans, mainly by way of Dickie Brennan & Co, as well as the distinguished New Orleans landmark and creole eatery Commander's Palace.
152 OCTOBER 2022 | WWW.BAYOULIFEMAG.COM BAYOU EATS + WHITE LIGHTNIN'
White Lightnin' is the kind of place that will tug at your sense of curiosity. Its speakeasy vibe is enticing and mysterious, brought to life especially by the bar area's hanging pendant lights providing an amber glow and the vintage oak bar display.
says, referring to the crunchy sweet and sour bowls he is developing for a tuna appetizer.
The "Small Plates" section of the menu is an assortment of flavors. The savory Cochon Frits are freshly fried pork skins, house-made blackened barbeque, chili-lime, salt, and vinegar. For a lighter choice, try the Smoked Salmon Crostini. This salmon dip includes cucumber, Julienne smoked salmon, black pepper, and dill. More seafood takes the form of their Shrimp Cocktail: seven boiled shrimp, shredded iceberg, and house-made cocktail sauce.
WWW.BAYOULIFEMAG.COM | OCTOBER 2022 153
Menu favorites liked the Smoked Salmon Crostini features smoked salmon spread and cucumber and the Chef's Specialty is BBQ Shrimp & Grits which is smothered in a New Orleans style shrimp BBQ sauce on top of garlic cream cheese grits.
Meanwhile, the entrees kick it up a notch, primarily by way of their Grilled Pork Chop, which is seasoned with a Kona coffee rub and served with pear chutney and Brabant potatoes (aka "Louisiana fries"). Shrimp and grits is always a classic selection, but at White Lightnin' they are adding a tangy twist: New Orleans Abita Amber barbeque shrimp and garlic cream cheese grits served with Leidenheimer French bread. Another down south flavor sure to add a touch of the Gulf is their Creole Fish Meunière. For this dish, pan-seared redfish tops creole meunière garlic cream cheese grits and is served with haricot verts with garbanzo beans.
Diners will not only relish their experience by way of taste, but also sight. That is to say, White Lightnin' is the kind of place that will tug at your sense of curiosity. Its speakeasy vibe is enticing and mysterious, brought to life especially by the bar area's hanging pendant lights providing an amber glow and the vintage oak bar display. Further embellishing the escapist tone are two surrealist paintings by Rustonbased artist Emily Ezell, which are best described as pop-swamp dreamscapes. In each, a curvy, longhaired woman is surrounded by doe-eyed alligators and is reaching for or has in hand a bubbly cocktail.
Ultimately, expediting fine dining dishes in a limited space is no easy feat. Still, Chef Welsh
154 OCTOBER 2022 | WWW.BAYOULIFEMAG.COM
attributes the success of the kitchen to his team and his focus on establishing and building culture. "This is the best crew I've ever worked with, by far," he says, mentioning his right-hand man Zach Bertram. "He's been unbelievable to me. He has been unbelievable to this place." While most restaurants function on the division of front of house and back of the house, no such distinction is made at White Lightnin'. "We are house," stresses Chef Welsh, exemplifying that the mark of a successful restaurant extends beyond just food and service, but also to employee comradery. "People love to come in here and try new stuff," says Williamson, who is deeply grateful to his Ruston customer base.
Whether you think you are a cocktail connoisseur or not, broaden your horizons and fuel your gastronomic dreams at one of Ruston's most enticing foodie havens.
WWW.BAYOULIFEMAG.COM | OCTOBER 2022 155
Internal Medicine Residency Program
St. Francis Medical Center Receives Accreditation
ST. FRANCIS MEDICAL CENTER IS proud to announce its Internal Medicine Residency Program has earned accreditation from the Accreditation Council for Graduate Medical Education (ACGME). After receiving initial accreditation as a sponsoring institution in 2021, the St. Francis Academic Affairs team, along with many others, has spent time developing the program and preparing the physical space for future graduate medical students.
The pursuit of offering a Graduate Medical Education (GME) Program at St. Francis has been in partnership with the local medical school, the Edward Via College of Osteopathic Medicine (VCOM), whose mission is to prepare community-focused physicians to meet the needs of rural and medically underserved populations.
Dr. Thomas Gullatt, President of St. Francis Medical Center, said, "I am very proud that St. Francis is investing resources in graduate medical education as another way
to invest in our community. Our team, along with our partners at VCOM, have dedicated many months to ensure our program creates an excellent training experience in hopes that many of these physicians will stay in this region after graduation."
As a medical hub for the Northeast Louisiana and Delta regions, St. Francis has been dedicated to serving this community for over 100 years. Introducing graduate medical education only serves to strengthen the hospital's commitment by providing a pipeline of future physicians to combat primary care provider shortages.
The St. Francis Academic Affairs Department is led by Dr. Thomas Gullatt, Designated Institutional Officer, Dr. Navin Ramlal, Program Director, and Katy Temple, Manager of Academic Affairs. Medical students will begin applying to the Internal Medicine Residency program this fall and the inaugural class will begin in July of 2023. The program will last three years for each resident and 15
residents will graduate per class.
"I'm looking forward to welcoming our first class of internal medicine residents in July. They will be involved in an educational environment that promotes clinical competency, team building and resident wellness," said Dr. Navin Ramlal. Katy Temple added, "We hope that they grow to love our community as much as we do and choose to lay down roots and practice medicine here."
St. Francis aims to grow as an academic institution by adding graduate medical education to the increasing number of avenues for students rotating through the hospital in various educational and training capacities. The hospital is beginning with an Internal Medicine Residency program to utilize the strength of providers in its Hospitalist Program. In the future, additional residency programs will be added with the support of an expanding physician group and a lively hospital environment.
The physicians educated through the Internal Medicine Residency program at St. Francis will gain progressive autonomy towards becoming independent, clinically competent, and compassionate physicians that strive to be lifelong learners.
For more information on the program, follow the St. Francis Internal Medicine Residency Program on Instagram.
156 OCTOBER 2022 | WWW.BAYOULIFEMAG.COM
The Northeast Louisiana
Celtic Festival
Mark Your Calendar for the Celtic Festival on Saturday, October 1
THE KIROLI FOUNDATION IS EXCITED TO ANNOUNCE the annual Northeast Louisiana Celtic Festival (NELA Celtic Fest) will take place on Saturday, October 1st from 10 a.m. to 5 p.m. at Kiroli Park in West Monroe. Admission for this family-friendly event is $5 per person for those 3 years old and up.
The NELA Celtic Fest is the longest-running festival still in existence in the Ouachita Parish area. The festival seeks to preserve the rich Celtic heritage, traditions, and lore of Northeast Louisiana. Event organizers would like to remind the public that sponsorship opportunities and vendor slots are still available.
The Highland Games will be returning as part of this year's event. It has been more than five years since the games have taken place at the festival. This highly entertaining athletic tradition is over 1,000 years old and is rooted in the Gaelic spirit. Professional athletes will travel from all over the country to compete in six disciplines: The Caber Toss, Weights for Distance, Weights for Height, Heavy Hammer, Stone Put, and Sheaf Toss.
Registration is also open to amateurs to compete in the Highland Games. Individuals who excel in powerlifting, CrossFit, or other athletic
disciplines are all encouraged to participate. Backyard Rebellion, the Highland Games organization overseeing the games, will be providing free demonstrations and mini-coaching sessions on-site. There is no fee to register. Registration information can be found on the Northeast Louisiana Celtic Festival Facebook Page.
The festival will feature various performances including Murder the Stout, the Thistle Dancers and Pipers, Emerald Accent, Bonnie Ferguson with Dead Reckoning, and the newly formed local band, The Celtic Collective.
Activities and demonstrations such as dog herding, storytelling, and other family friendly activities will be on-site for festival-goers to enjoy. In addition, numerous artists, crafters and food vendors will be selling Celticthemed and handmade items. Flying Heart Brewing and Pub will be selling various beers on-tap at the festival for attendees 21 years old and up.
For more information about the festival or for a schedule of performances, please visit the Northeast Louisiana Celtic Festival Facebook page at www.facebook.com/NELACelticFest
WWW.BAYOULIFEMAG.COM | OCTOBER 2022 157
Haven's 25th Anniversary and Grand Re-Opening
Haven celebrated 25 years of business in Monroe and their grand re-opening of their space at 1127 Forsythe on Thursday, September 8th. Shoppers enjoyed refreshments and live music while getting a first look at the beautiful new shop and merchandise. Guests also registered for door prizes and enjoyed the evening shopping all of the new products in the newly renovated modern space. Stop by Haven and see the new additions.
On the BayouScene
1 Analise Kelly and Sandy McMillan
2 Martha West, Sandy McMillan and Wade West
3 Sandy McMillan and Susan Clausen
4 Jon Marie Byram and Jennalee Shows
5 John, Susan and Alex Clausen
6 Mary Coon and Caroline Morris
158 OCTOBER 2022 | WWW.BAYOULIFEMAG.COM
1 2 3 4 5 6
Monaco Premium Cocktails
Not All Cocktails Are Created Equal
BY DELIA SIMPSON, CRAFT BRAND MANAGER, CHOICE BRANDS, INC.
APERFECTLY CRAFTED COCKTAIL IS A THING OF beauty. It sets the tone for the evening. We've all had that special bartender that we keep going back to who makes our drink exactly how we want it. We wait that extra time just to make sure they're the ones that pour it exactly how we like it. We even tip them a little extra to let them know what a great job they're doing and make sure they remember us next time.
This is genesis of Monaco Cocktails, because not all drinks in a can or bottle are created equal either. Monaco has gone the extra mile with quality ingredients and cocktail portioning to put your favorite drink at your fingertips, no mixology skills required. The party is waiting. Privately owned, Chicago-based Atomic Brands, the parent company of Monaco, was founded in 2006 with a focus on creating products people want with exceptional and uncompromised quality. The company keeps its finger on the pulse of cocktail trends with continuous innovation. Now available locally in a variety of flavors, each can of Monaco contains two shots of premium spirits. The cocktails are also crafted without malt or gluten.
Watermelon Crush Cocktail | Tequila
A refreshingly fruity cocktail, Watermelon Crush perfectly fuses the flavors from fresh watermelon with tequila to create a refreshingly fruity cocktail perfect for anytime of the day, always bringing 2 shots in every can!
Sun Crush Cocktail | Tequila
It's like summer in a can. Kissed by the sun cocktail of fun, Sun Crush brings those summertime vibes of bright and bubbly orange soda. A vibrant balance of fruit flavor makes for a perfect poolside treat. Sunscreen not included!
*Tequila
Blue Crush Cocktail | Vodka, Rum, Gin, Tequila
We've all had the blue party bowl drink made from who knows what, it tasted amazing and wow, what a great time we had. Monaco Blue Crush puts that whole bowl of fun right in a can. A concoction made from our Monaco Vodka, gin, rum and tequila and rounded off
with a special crisp carbonated soda. We made it taste great, now you have to make the fun, invite your friends over and let us know how it goes.
Lime Crush Cocktail | Tequila
Pack your bags, book your flight, and head back to that unforgettable vacation in the sun. Lime Crush is a refreshingly crisp and clean cocktail experience reminiscent of a paloma or sparkling margarita. Perfectly balanced with subtle hints of fresh grapefruit. The destination is unknown but the fun is waiting to happen.
*Tequila
Citrus Rush Cocktail| Vodka
This one takes you back to those nights that you never wanted to end. Monaco Citrus Rush cocktail is a full flavor experience that will remind you of the memories you made until the music stopped and lights came on. This complex flavor of citrus and floral notes balances perfectly with our six times distilled Monaco Vodka that is destined to add fuel to your party. The memories are waiting to be made.
*Vodka
Purple Crush Cocktail| Cognac
Simple, sophisticated, and who doesn't love purple? Monaco Purple Crush is a cocktail mashup of that summer lemonade stand, grape soda and two shots of cognac. Made to satisfy your tastebuds and leave you dancing all night long. Be sure to remember your dancing shoes.
Coming Soon – Moscow Mule!
For more information on Monaco Premium Canned Cocktails and to find them near you, visit drinkmonaco.com.
Be sure to like Choice Brands on Facebook and follow us on Twitter and Instagram to keep up with new product releases. Feel free to message us for information on where to find your favorite brands. Find us at facebook. com/thechoicebrands, twitter.com/choicebrandsinc, and instagram.com/ choicebrands.
WWW.BAYOULIFEMAG.COM | OCTOBER 2022 159
The Center for Children and Families
Seeking Therapists in Northeast Louisiana Location
THE CENTER FOR CHILDREN and Families is seeking family therapists in our Northeast Louisiana location. The positions are available in several of our evidenced-based programs including Functional Family Therapy (FFT,) Functional Family Therapy - Child Welfare (FFT-CW,) and Multisystemic Therapy (MST.) Each of these programs provide evidenced-based counseling services for youth and their families. Our mission is to promote safe, healthy environments for children and families through advocacy, counseling, education, and prevention. The Center for Children and Families has developed and implemented innovative treatment programs that specifically target fractured family relationships.
Our agency is highly respected throughout the community for our excellent standard of service to both providers and clients. At the Center, we are guided by the principles of servant leadership, where the
driving force of our actions is not status or power, but serving others as we pursue a common mission. Therapeutic Services has a reputation for terrific outcomes, not just because of the people that choose to work with us, but also because of the support we receive from the community.
When a family feels like giving up, we seek to provide them with the tools and encouragement they need to keep going. When a positive outcome feels impossible, we are able to find a way. We meet families where they are, reminding them that they are not alone.
Likewise, when discouragement comes knocking at the door, we remind ourselves of the countless families who are now thriving because our staff and clinicians have invested in them. When you join The Center for Children and Families, you belong to something bigger. You are a part of a family.
At the Center, we believe that personal growth is just as valuable as the job that we
have been hired to do. Through our Huddle series, we explore how we relate to each other and those around us. By developing community through shared meals or taking time out to play, we find that being a part of this agency is more like being a part of a family. Our Core Values of Community, Respect, Integrity, Service, Teamwork, Empowerment, and Excellence are the guiding principles of our organization. We believe that these values are the very foundation for our philosophy, culture, and practices.
Candidates for these positions must hold a Master's degree in Counseling, Marriage & Family Therapy, or Psychology. Preference is given to candidates who are fully licensed as an LPC or LMFT or provisionally licensed as a PLPC or PLMFT in Louisiana. These are fulltime independent contractor positions.
We are looking for someone with more than just the perfect resume. We are looking for individuals with a passion to serve children and families in our communities. Someone who doesn't want to do this lifechanging work alone. Someone who is ready for the opportunity to develop not only as a clinician, but also as a person.
If you're a qualified applicant who wants to be the hope for families in Northeast Louisiana, learn how to submit your resume at https://www.standforhope.org/careeropportunities.html.
160 OCTOBER 2022 | WWW.BAYOULIFEMAG.COM
WE WORK HARD TO CELEBRATE OUR BEAUTIFUL COMMUNITY EACH MONTH, AND WE ARE INCREDIBLY HONORED THAT OUR COMMUNITY RECIPROCATED IN HONOR OF OUR 10TH ANNIVERSARY. THE TESTIMONIES ON THE FOLLOWING PAGES ARE THE REASON WHY WE DO WHAT WE DO.

I look forward to BayouLife's articles that showcase our local and regional assets in such creative and professional ways. Featuring our area with beautiful photography and wellwritten articles shows others (potential visitors) the treasures that can be discovered while visiting and/or living here.
-Linda S. Holyfield, Founder & Former CEO of Specialty Management Services of Ouachita
One of the main things I enjoy about BayouLife is its commitment to the community and showcasing local people, businesses, organizations, and events. BayouLife is always a good neighbor as well.
It is one of the few magazines where I love to flip through every page and photo. I cannot tell you how much I have learned about friends and fellow community members from the showcase articles. So often, people will not talk about themselves. However, Cassie and BayouLife love to celebrate all who contribute and give back to our society, be it with their work, time, or talent.
I am so grateful for our local magazine, and I make sure that I have extra copies to share with those visiting our area. It is truly one of the BEST avenues to get to know us a little better.
Thanks so much to Cassie and the BayouLife Crew for all that you do! You truly make our community better! Love y'all!
- Misti Cordell
Physician Recruiter for Affinity Health Group
Owner & operator of Embellish by Misti Design
Seeing BayouLife lying in our driveway is a fabulous start to each of my months!
I marvel at the ability of Cassie and her team to masterfully draw us readers in to the wonderful articles featuring people we comfortably recognize, and then blow us away with the amazingly distinctive stories and photo shoots that we never could have expected.
My enjoyment of BayouLife is heavily biased
toward the remarkable ULM Spotlight and Bayou Icon articles, especially since these proud ULM alums—Jim and I— were so humbled and honored in December 2021!
BayouLife magazine is a touchstone of our community for the recognition of its citizenry, for the showcasing of its beauty and cultural uniqueness, and for its invitation and encouragement to enjoy all that is offered here. Thank you, BayouLife team!
—Anne Lockhart, retired ULM Senior Development Officer
BayouLife provides a social connection to our community. The magazine showcases events, activities, unique businesses, and many other assets that work to improve our community.
—Joe Holyfield, owner of CC's Coffee House & Holyfield Construction
I enjoy the outdoor articles. But being the husband to the publisher and knowing the effort given to the photo shoots, the homes features, and the main photo shoots always amazes me. The quality never goes unnoticed. I was just in a local jeweler the other day in Bastrop, and they spoke about the magazine's quality. I believe all who know and read the magazine understand the quality of BayouLife Magazine and what that means to our region and local community.
— Trent Livingston, husband
I enjoy BayouLife magazine because it highlights our city's assets: the shopping, the restaurants, home inspiration, and events.
The community benefits from the magazine in so many ways; we learn where to shop, eat, and even go to the dentist.
It helps you get to know what our city offers, including opportunities for community service and charity events.
I personally love seeing the featured homes.
— Debbie Herrington, Co-owner of Herringstone's
What a happy moment it is each month when I pull in my driveway and notice that BayouLife has been delivered! I wait until I can leisurely absorb the culture, fashion, arts, and all the offerings that make me proud to be from the Bayou!
The team, led by Cassie, curates a publication that highlights the soul of being from north Louisiana. While most would think that our community is limited in the number of remarkable people that make our community unique, after 10 years, they continue to uncover the jewels!
I cherish my friendships that have evolved from this team and look forward to what the future holds. Thank you, Cassie, for reminding us why we should be proud to be a part of such an extraordinary community.
—Lisa Miller, ULM Vice President for Enrollment Management & University Relations
We benefit from this publication because the editorial staff cares a great deal about unique local content. The writing is top-notch. I learn something new about my community every time I read BayouLife.
I really enjoy the BayouIcon features! It's so interesting to read about their lives, their families, and all of the wonderful things they have done and are doing in our community. There are so many special people in our city and surrounding areas. I always learn very useful wisdom from their experiences. After reading about one of them, I'm always so proud to call North Louisiana home.
— Amy Robinson, former owner of the Paper Market
The Northeast Louisiana community is so special. What's special can't be pinpointed to one particular event, location, or group. Arts, culture, culinary adventures, and style are woven into the tapestry of the communities and the people who live there. BayouLife has been an incredible ambassador for the region, highlighting and
sharing the businesses, people, and culture that make the region so unique.
Thanks to Cassie and her team for 10 years of documenting events, supporting communities, explaining tradition, and creating an inclusive, progressive, and binge-worthy read about the things that make NELA so special.
— Katie Dawson, Assistant Vice President for Academic Innovation & Learning at the University of Louisiana System
How lucky are we to still be able to physically pick up and savor a beautiful glossy copy of BayouLife? Discovering the incredible things our community offers (through our talented artisans and entrepreneurs that are featured in countless photographs and articles) is truly a labor of love. Not only do these issues become an important reference for our community, but they are also able to reach an audience that can explore the many facets of our unique way of life
— Lori French
Bayou Life captures the layered beauty of both the people and the happenings of our extraordinary region. Our community of Northeast Louisiana is lucky to have it as our premier publication. We so appreciate this gem of a magazine and all it does for our community.
Congratulations to Cassie & the entire Bayou Life Team on 10 Years!
— Sue Sartor, founder and designer of Sue Sartor
I enjoy BayouLife's photography and images the most. The images seem to leap off each page as I turn them. It makes for an exciting experience as I never know what the next page will hold.
This publication is a vital part of our community and a visual reminder that we are stronger together. There are so many notable residents in northeast Louisiana accomplishing extraordinary things. I love how Cassie and her team help tell their stories.
— Dr. Julia Letlow, Louisiana Congresswoman
I always anticipate the good, positive happenings in north Louisiana and the photographs with perfect, pleasing colors. BayouLife is a happy read! It's a wonderful magazine that is attractive on the coffee table! This magazine keeps everyone informed of the good things to do and special happenings in our beloved community.
— Dianne Cage, community leader
I enjoy reading BayouLife for many reasons. The articles on our area businesses help you see ways to support local places and help you learn about new local offerings. The events highlighted each month and the "Calendar of Events" let you know ways you can be a part of our region's activities. BayouLife is a great way to stay current with ways to connect in our community.
Sandy McMillan, Owner of Haven
The community benefits from BayouLife Magazine are exceptional! As a nonprofit organization, we have felt the love for 10 years from BayouLife. Our mission, vision, events, activities, and family fun are shared with the entire northeast region of our state via this fantastic, familyoriented, community-minded
162 OCTOBER 2022 | WWW.BAYOULIFEMAG.COM
"
publication. Cassie and her staff are truly essential to the growth and success of our organization and many others like us. Congrats on 10 years!
Melissa Saye, Founder & Director, NELA's Children's Museum
We enjoy BayouLife because we can keep up with events as well as the people and businesses in the community. We feel BayouLife benefits our community because it publishes so much information on different topics that help people live healthier and happier lives.
— The Staff at Bayou Dental
I love BayouLife because it presents Northeast Louisiana in a way we don't often view ourselves: polished yet gritty, cool yet grounded, with a depth of history and heritage that we don't know about ourselves. It is a mirror upon which we can see the layers of culture in our region.
Our community benefits from this publication because it is a constant mouthpiece of the outpouring of positive and progressive movements in our parishes.
— Kelsea McCrary, Chief Economic & Cultural Development Officer for the City of Monroe
BayouLife brings to us the essence of our beautiful bayou region with words and pictures that inform and inspire. I especially enjoy reading the incredible stories of so many dedicated and talented people from our very own region.
— Dr. Christine Berry, ULM First Lady and Program Coordinator for Risk Management & Insurance
Below are just a few of the words that come to mind when we think of BayouLife Magazine: all-important, critical, imperative, indispensable, integral, must-have, necessary. As business owners, we couldn't do life without you! Congratulations on 10 years of constant commitment to our community.
—Wendy Newsom, Drew Farr, Mary Beth Dickerson, & Ana Lopez at Spa Nouvelle
"Happy 10 years, BayouLife! I remember being the very first artist featured in the magazine's first issue. What an honor! I love reading about all the artists featured each month and learning about what inspires them and what they are currently creating. Thank you for supporting local artists!" Our community benefits from this local publication because it helps all of us to realize all the fantastic people, events, and things being made right in our own backyard. Northeast Louisiana is loaded with all kinds of talent; there is no need to go out of town to get something better. The best is right here!
-Lissy Sanders Compton, Owner of Mr. P's Tees
I enjoy every page of BayouLife! Every article is interesting and amusing, with a little comedy sprinkled here and there. I even enjoy the ads because I always find something I wasn't aware of.
Cassie and her crew promote North Louisiana and the entrepreneurs and artisans who live here. BayouLife played a huge role in helping get my company, Kaybaby's, started and my name out. I shall never forget the day Cassie had Meredith call me as BayouLife wanted to do an article on Kaybaby's. I thought, 'Surely, they were trying to contact someone else.' I was assured that my tiny little business was just who they were seeking.
My point is that Cassie cares so much about everything Louisiana, and it surely shows every month when I pick up my BayouLife. Kaybaby's is growing rapidly now, and I will forever be grateful to my beautiful, talented friend!
— Kay Morgan, Owner of Kaybaby's
I love receiving my BayouLife magazine each month. The covers are always gorgeous, and I know I will learn about cool new businesses and people of our region making and doing incredible things! I love to read the Bayou Icon feature each month. Those
stories help preserve the rich history for which our region is so widely known. Working for a local non-profit, I love that we can rely on BayouLife to support our message and reach a broad audience.
— Laura Maddox, Events and Donor Engagement Manager at St. Francis Medical Center Foundation
I enjoy everything about BayouLife Magazine. Each month, BayouLife tells our story. Every feature, article, and advertisement in BayouLife is distinctly Monroe and Northeast Louisiana. Bayou Life has Monroe's DNA in their soul. They are unapologetic in celebrating who we are. Every page of BayouLife celebrates our community and our residents. They are uniquely positioned to capture the essence of the people and the lives of Northeast Louisiana. BayouLife defines us and chronicles our story in a way like no other.
— Roy Heatherly, President of the Monroe Chamber of Commerce
BayouLife is an incredible resource for our community! First, it's beautiful and fun to read! Great features and fabulous photography! But for those of us in non-profits, the magazine is absolutely invaluable. We know the readership is widespread, and
our message will be heard. Truly, it's the first place people go to see the upcoming community events! And we are all very grateful for the magazine's outstanding coverage of our volunteers and special events. I can't say THANK YOU enough for your splendid coverage. Congratulations on 10 years, and I look forward to many more!
— Janet Durden, President of United Way of Northeast Louisiana
BayouLife highlights and supports all things 'Bayou.' From community icons to artists, fashion, and food, each magazine issue showcases our community's phenomenal people and extraordinary culture. Each edition is a work of art. The content is thoughtfully planned, the articles are delightful, and the photography and design are stunning. Cassie's passion for our community shines month after month on every page. The Bayou Icon is always my favorite.
Cassie has done an excellent job of creating a publication that is as beautiful as it is useful.
— Ashley West, Senior VP at Progressive Bank
Every month, BayouLife Magazine brings awareness to all the wonderful things northeast Louisiana has to offer—food, fashion, culture, business and industry, education, and so much more. Both informative and entertaining, this publication is a celebration of our local individual and collective talents and expertise. ULM is proud to partner with BayouLife, as each month we feature an alumni story highlighting the amazing accomplishments of our Warhawk graduates. We congratulate Cassie Livingston and her staff on the 10-year anniversary of this successful publication.
— Dr. Ron Berry, President of ULM
"In each issue, I discover new local artists/entrepreneurs
that I had no idea were in our community. I'm very passionate about supporting local businesses, and BayouLife does an amazing job spotlighting local businesses. We have such a wealth of talent here; BayouLife brings this to the forefront for all of us to appreciate."
— Christy Childers, VP of Business Development & IT Implementation at Specialty Management Services of Ouachita
I, like so many others in this area, get very excited to see the beautifully wrapped magazine, BayouLife, in my driveway! The colorful pages are so inviting! I love reading all the local articles about businesses, organizations, and PEOPLE! I appreciate all the talents and efforts of the staff!Debbie Luffey, community leader
—Meagan Russell, Graphic Designer, former BayouLife Magazine employee
BayouLife Magazine has been an exemplary publication. All facets are interesting and entertaining! Hard to believe a small area like north Louisiana can have such a sophisticated publication. Deepest thanks to all!
— Kaye Hill, Owner of Rose Boutique in Rayville
When I think of BayouLife Magazine and Cassie, I think of how much an inspiration and cheerleader of and for the community this publication is. Cassie has become more than a former boss, she's become a friend and mentor, which wouldn't have been possible without BayouLife Magazine.
WWW.BAYOULIFEMAG.COM | OCTOBER 2022 163
"
164 OCTOBER 2022 | WWW.BAYOULIFEMAG.COM
bayou PAGES
"We Cast a Shadow" by Maurice Carlos Ruffin
The debut novel by Maurice Carlos Ruffin casts a blistering light on the shadowed future of race relations in America. While many authors are concerned with looking backward in search of warning signs of racial regression, Ruffin dares to cast his direction forward. Set in an American city in the not-too-distant future, the narrator, a black attorney working in a prominent almost all-white law firm, is obsessed with his son Nigel's skin tone. A birthmark on the teenager's face is darkening and spreading, and a popular doctor boasts melanin treatments to erase any indicator of black heritage. Against his white wife Penny's wishes, the father secretly begins treating his son to lighten his skin. What ensues is a physical and psychological battle of wills, one in which Nigel and his father confront the reality of being black in this version of America and whether it's worth the risk.
Ruffin relies on satire to contemplate the unthinkable, yet too-close-to-home conditions. Black people are relegated to certain areas of the city, harassed by the police, prohibited from voting if a parent is incarcerated, and can be sheared on the spot due to the town's recent passage of the Dreadlock Ordinance. The people are told the extreme laws are meant to protect the community from violence, that inhibiting the freedom of potential troublemakers is for the betterment
of all. The problem is that what identifies one as troublesome is beyond a human's control. As a result, prominent black people resort to mutilating their bodies to achieve esteemed whiteness, a procedure that is promised to lighten the skin of their future offspring.
The narrator is battling a past and present that continually intersect. He refuses to visit his incarcerated father serving a life sentence due to fighting a police father harassing his mother. His wife Penny detests racism in all its manifestations, but even her vehement activism is shadowed by a white history that blinds her from her husband's omnipresent fears. Their passionate marriage is marred by opposing backgrounds that keep the two from ever really understanding the other. In the middle is the intelligent son Nigel, torn between two worlds, his white heritage that benefits from the continued oppression of black people, and his black survival instinct to annihilate the oppressors.
Ruffin's keen attention to character development and intersecting plot lines make for a fast read, one that propels readers into the narrator's intense reality. What surfaces is the intense love of a parent, one hell bent on writing the wrongs of his past in hopes for his son's brighter future. Ruffin shows readers the intense clashing of one's ideals with one's options. Maurice Carlos Ruffin is originally from New Orleans, Louisiana and is a professor of Creative Writing at LSU.
"I sometimes questioned the plausibility of two people so deeply in love ending up as mortal enemies. Maybe love was just the larval stage of hate, the comely caterpillar in advance of the hideous butterfly."
REVIEW BY MEREDITH MCKINNIE
"Do not dwell on it. After all, the place you dwell is the place you live. Shame is no proper residence."
166 OCTOBER 2022 | WWW.BAYOULIFEMAG.COM
WWW.BAYOULIFEMAG.COM | OCTOBER 2022 167
Trick or Treatment
Upcoming Events at The Medical Spa
JOIN US AT THE MEDICAL SPA FOR OUR SECOND annual Boo-tox Bash. There will be no tricks at this event, just treats. Last year, we offered special pricing for one day only which wasn't enough for all of our customers! This year we have expanded this Botox spectacular to 3 days: October 27, 28 and 31. Botox injections will be by appointment only. Botox will be available for $11/unit during these three days, so you will want to schedule ASAP before appointment times are filled. We will also be offering complimentary skin screenings by appointment as well. Any skincare products purchased during these three days will be 20% off.
PRODUCT SPOTLIGHT
People tend to relax with their skincare once spring and summer ends. Some ignore steps such as sunscreen since the sun becomes less bright and hot. If you are looking to have a healthy glow throughout the year, you need to maintain your routine even during the fall and winter months. Fall is the perfect time to amp up the use of active ingredients to rejuvenate and replenish your skin after months of too much sun exposure and heat. Whether you are looking to treat pigmentation, texture, or uneven skin tone, we have several products and treatments that we recommend.
The Obagi NuDerm System is designed to correct hyperpigmentation (dark spots), melasma, and transform aging skin. The system contains prescription strength 4% hydroquinone. Hydroquinone acts by inhibiting melanin production. By controlling this production, the skin becomes more evenly toned over time. This multi-step system is easy to use and available as normal-dry or normal-oily, depending on your specific skin care needs. Pairing this kit with a retinol and tretinoin offers incredible results you will love. Obagi Revivify Multi-Acid Facial Peel is a two-step, pre-dosed chemical peel that helps even skin tone, smooth texture, and encourage exfoliation for smoother brighter appearance. The peel contains four acids, specifically formulated to optimally absorb into the surface of the skin. Over time, dead skin cells can build up due to sun damage, hormonal fluctuations, and blemishes. During this time the skin can benefit from a chemical peel. The Revivify kit contains
four treatments or individual treatments can be purchased and easily done at-home, requiring minimal downtime. If you're new to peels and uneasy about doing one at home, we can help you complete the first one in-office and guide you on the remainder of the treatments.
TREATMENT SPOTLIGHT
Have you been considering laser hair removal? Come experience the ease and convenience of laser hair removal and ditch that razor. How does laser hair removal work? Laser hair removal works by using laser light energy. The melanin in the hair follicle absorbs the light energy, converting it to heat. This heat destroys the hair follicle which prevents or stops future growth. The laser is more effective when the hair is in the early growing phase, so multiple sessions are required to achieve desired results.
Here at The Medical Spa, we offer laser hair removal with the Splendor X by Lumenis, a global leader in laser and energy-based technology. This laser offers customizable laser hair removal treatments for all skin tones. Splendor X offers BLEND technology by utilizing two wavelengths, Alexandrite 755 and ND-Yag 1064. The proportion of wavelengths used depends on skin type, hair color and texture, allowing for a safer and more effective treatment. By utilizing the dual wavelengths simultaneously, and a dual cooling system, the Splendor X offers quick, effective, and comfortable treatments for hair removal. We recommend scheduling a consultation to discuss expectations and desired results from hair removal treatment.
Be sure to come by The Medical Spa this month to take advantage of our specials, events, and to find out more about the medical grade skincare products offered here. We are in the James R. Wolff Building (also known as the P&S Building) in downtown Monroe. Our address is 312 Grammont Street Suite 406, across from St. Francis Medical Center. Also, be certain to follow The Medical Spa by St. Francis Medical Group on Facebook and Instagram to stay current on our weekly specials, sales, promotions, and giveaways.
168 OCTOBER 2022 | WWW.BAYOULIFEMAG.COM
WWW.BAYOULIFEMAG.COM | OCTOBER 2022 169
Fresca Mixed Cocktails
Marsala Beverage Welcomes This Line of Premium, Pre-Mixed Cocktails
WE'RE PROUD TO SHARE THAT FRESCA MIXED – A new line of premium, pre-mixed cocktails crafted with the deliciously bright and citrusy classic taste of FRESCA and real vodka or tequila – is now available in two varieties: Vodka Spritz and Tequila Paloma.
Vodka Spritz is a delicious cocktail that mixes the light and classic taste of FRESCA® with real vodka distilled four times.
Tequila Paloma is a modern and sophisticated take on the classic Paloma cocktail. Our mixologists have expertly blended real tequila blanco from Mexico with the classic taste of FRESCA® for a cocktail that is smooth and easy to enjoy.
Both flavors are 100 calories*, 5% ABV, gluten free, made with real spirits, and contain zero sugar. FRESCA™ Mixed is started to roll out in stores across the country in 4-pack 12oz cans for a suggested retail price of $9.99.
FRESCA™ Mixed is the outcome of an agreement between Constellation Brands, Inc. and The Coca-Cola Company, announced earlier this year, for Constellation to use the popular FRESCA brand to manufacture, market, and distribute FRESCA Mixed cocktails. Constellation Brands and The Coca-Cola Company have a shared passion for building some of the world's most loved brands and best-in-class beverage experiences. Through this relationship with The Coca-Cola Company, Constellation Brands will have the unique opportunity to expand their beverage portfolio through distinctive flavors and new and exciting ready-to-drink alcohol segments like premixed cocktails. Interestingly, Constellation says these canned cocktails will be "inspired by recipes created by Fresca fans from around the globe."
"The Coca-Cola Company's Fresca brand is not only trusted by consumers, but also directly delivers on consumer preferences for refreshment, flavor, and convenience — attributes that also play well within beverage alcohol and where we can leverage our expertise," explained Constellation president and CEO Bill Newlands.
"We are thrilled to launch Fresca Mixed, a new line of premium, pre-mixed cocktails that bring together the deliciously bright and citrusy classic taste of FRESCA and real vodka or tequila, alongside The Coca-Cola Company," said Duke Zandstra, Constellation Brands Vice President of Brand Marketing for FRESCA™ Mixed. "We can't wait
for both lifelong FRESCA fans as well as new friends to the brand to enjoy these delicious, light cocktails in both Vodka Spritz and Tequila Paloma all year long."
A household staple for decades, FRESCA has been featured in fans' cocktail recipes, homemade merch, and even in pop culture moments. Now, the launch of FRESCA™ Mixed from Constellation Brands makes it easier for consumers to enjoy the delicious taste of the citrus soda in a new alcoholic offering.
"We know that many FRESCA drinkers enjoy it as a mixer with alcohol spirits to create their favorite cocktails, in addition to enjoying it as a citrus sparkling drink," said Dan White, Chief of New Revenue Streams, The Coca-Cola Company North America. "With the Constellation Brands teams' consumer-first approach and distilled beverage expertise, coupled with the delicious and classic grapefruit FRESCA recipe created by The Coca-Cola Company, we believe people are going to be curious and excited to try the new FRESCA Mixed canned cocktails as it hits shelves."
Whether enjoyed straight out of the can or poured over ice in a traditional cocktail glass, FRESCA™ Mixed is here to up the cocktail game.
*Tequila Paloma: Per 12 fl. oz. average analysis: calories 100, carbohydrates 1.6g, protein 0g, fat 0g; Vodka Spritz: Per 12 fl. oz. average analysis: calories 100, carbohydrates 1.3g, protein 0g, fat 0g
Locally, Marsala Beverage employs about 100 full-time employees. Marsala Beverage, LP is the largest malt beverage, wine/spirits and non-alcoholic distributor in Northeast Louisiana. Their success is based on the fact that they never lose sight of delivering what is really important – quality products, timely service and a genuine concern for our customers' needs. Annually, they deliver over 2.4 million cases of beverages to over 700 retail accounts.
Please find us at www.marsalabeverage.com or follow us on social media: Facebook: Marsala Beverage Twitter: @marsalabeverage1 Instagram: @marsalabeverage
170 OCTOBER 2022 | WWW.BAYOULIFEMAG.COM
Pumpkin Patch
Time for a new Halloween tradition? Taylor Bennett created this spectacularly spooky Halloween fairy garden. Create a ghoulish garden or pretty pumpkin patch with a few frightful decorations.
Source a foam pumpkin from a craft store that can be cut. Glue moss around the opening and back and fill it with small figurines, or collect things from nature and make it feel like a real fairy garden. For extra sparkle, add a strand of twinkle lights.
styling by TAYLOR BENNETT
photography by KELLY MOORE CLARK
BAYOU HOME
Fall Into Fitness
Starting a Strength Training Program
BY VAL IRION, MD
IDO NOT KNOW ABOUT YOU, BUT I HAVE BEEN PLEASANTLY
surprised by the sneak peak of an actual autumn season here in Northwest Louisiana! With the cooler temperatures and the upcoming holiday season, it might be a great time to dust off those sneakers, set the alarm a bit earlier and FALL into an exercise program. To get the best results from an exercise program, it is important to include the fitness trinity: aerobic conditioning (walking), flexibility exercises (yoga) and strength training (push-ups, planks, free weights).
So, let us talk more about strength training. Often, people beginning or reintroducing an exercise program into their schedules forget about how important it is to include strength training. It is such a vital component to maintaining and expanding your health and fitness level. In strength training, resistance is added to movement to make muscles work harder and, over time, become stronger. The most common strength training methods include using weight machines, working with free weights and doing exercises that use your own body weight.
Strength training increases, muscle tone, strength, and endurance. There are many additional benefits from adding a strength training program to your weekly fitness regime:
• Improves balance and coordination.
• Reduces the risk of injury.
• Can make daily activities, like hauling groceries and working in the garden, less tedious and much easier.
• Assists in health weight management, by maintaining and improving muscle tone.
As we get older, we tend to lose muscle mass which often results in slowing our metabolism. If you can work to maintain and improve muscle mass, your body will naturally burn more calories at times of rest. Free weights and weight machines are both effective tools to improve muscle strength and endurance. Free weights are typically easier because they are less expensive and can adapt to different body types and individual ability. Weight machines are often considered safer than free weights because they position the body properly and it is easier to control the weight and resistance level. Other tools commonly used in strength training are resistance tubing, stability balls and exercises that use your own body weight for resistance. It is important to remember that all these options do typically target specific muscle groups. To stay motivated and to get the best overall strengthening, you should target one muscle group per work out. Try to work out twice a week focusing on each major
muscle group. For example, you may want to work your lower and upper body on alternate days and rotate week to week. It is important to allow your muscles to rest a full day in between working your muscle groups.
If you do prefer to focus on total strength training, it important that the next day should either include rest or aerobic activity. For best results from your strength training and to stay healthy and injury free, here are some helpful tips:
• Incorporate two to three alternate days to focus on strength training while alternating targeted muscle groups.
• Include exercises for all major muscle groups. Muscle imbalances often result in injury.
• Effective strength training usually involves three sets of twelve repetitions.
• Choose a weight that is heavy enough to result in muscle fatigue after 12-15 repetitions and increase weight as the exercises become easier.
• Try adding new exercises or equipment to your regimen to keep your strength and workouts fresh, engaging, and effective.
• Practice proper technique. If you do exercises incorrectly, they can put you at risk for injury.
• If you have a gym membership, make sure you ask your club's fitness professional about proper use and technique when using weight machines or free weights.
• If you prefer working out at home, consider a consult with a certified personal trainer to ensure that you are doing the exercises properly. They can also help you create a customized exercise program to meet your needs.
• If you are new to exercise, are overweight, a smoker or middle aged, you may want to consult with your physician prior to adding an exercise regime to your weekly activities.
The fall season is a fantastic time to begin a strength training program and increase your activity. If you are already active, you can add strength training to your regime or try something new, like yoga or Pilates. When you begin an exercise regime, it is important to listen to your body and consult with a physician if pain or discomfort interferes with your increased activity or your daily routine. No pain, no gain is not typically applicable to a healthy exercise program.
Val Irion, MD is a board certified, fellowship trained orthopedic surgeon specializing in sports medicine and joint replacement. To schedule an evaluation with Dr. Irion, please call: 866.759.9679 or visit: orthopedicspecialistla.com.
172 OCTOBER 2022 | WWW.BAYOULIFEMAG.COM
S'mores Granola
This twist on a campfire favorite is now the perfect topping for your yogurt parfait, or a good grab-n-go for hungry kids after soccer practice. This easy autumn recipe will packs a gooey punch.
DIRECTIONS: (adapted from thepeachyprodigy)
1. Preheat oven to 300 degrees and line baking sheet with parchment paper.
2. Mix together- 3 cups oats, 1/4 tsp salt, 1 tsp cinnamon.
3. Melt 1/4 cup coconut oil, then mix with 1/4 cup honey and 1 tsp vanilla. Pour into dry mixture and stir until coated.
4. Spread evenly on a baking sheet and bake for 20 mins, stir, and return to oven for another 10 mins.
5. While still warm, sprinkle on 3/4 cup crushed graham crackers (I used @ pamelasproducts #glutenfree), 3/4 cup chocolate chips (I used @enjoylifefoods #dairyfree)
6. Once cooled, mix in 3/4 cup mini marshmallows. (If eating right away, you can add the marshmallows and broil them for a true s'mores experience! If not eating right away, hold off on adding marshmallows so they don't get stale! Dehydrated mallows also work and keep better.)
BAYOU RECIPE
recipe and styleing by TAYLOR BENNETT
photography by KELLY MOORE CLARK
WWW.BAYOULIFEMAG.COM | OCTOBER 2022 173
Calendar of Events
October 1
Northeast Louisiana Celtic Festival
The Northeast Louisiana Celtic Festival is back! Don't forget to attend the Highland Games at the festival this year!
Hours: 10:00 AM to 5:00 PM
Cost: $5.00
Venue: Kiroli ParkKiroli Park, 820 Kiroli Rd, West Monroe Phone: (318) 396-4016
North Louisiana Makers and Producers Market
North Louisiana Makers and Producers Market is working to bring artisans, makers, crafters, livestock producers, and food producers together. All items, livestock, and produce are homemade, handcrafted, and hand raised.
Hours: 9:00 AM to 3:00 PM
Cost: Free Venue: Paramount Health Care Consultants, 1905 North 7th St, West Monroe Phone: (318) 372-4753
River Rat Paddle Challenge
Life is better on the river!
The 6th Annual River Rat Paddle Challenge is on the scenic Ouachita River. The race is 7.7 miles long and has divisions for paddleboards, canoes, and kayaks for men, women, and children.
Hours: 9:00 AM to 11:00 AM
Venue: Lazarre Park, 703 S RiverfrontWest Monroe Phone: (318) 243-1211
JLM 5K Spooky Sprint, Fall Fest, and Costume Dash
Get your running shoes and best costumes ready because The Junior League of Monroe is hosting the first annual 5K, Fall Festival, and Costume Dash!
Hours: 9:00 AM to 1:00 PM
Cost: $25 - $40
Venue: 2300 Sycamore St, Monroe Phone: (318) 322-3236
Kidz Con 2022
Kidz Con is West Monroe's first convention geared towards kids. This
event will have kid-centered vendors, activities, games, and more. Plan to bring your children for a day filled with fun and exploration.
Hours: 9:00 AM to 5:00 PM
Cost: $10, Children 5 & under free Venue: West Monroe Convention Center | 901 Ridge Ave, West Monroe
Annual Fall Vendor Market
Shop items ranging from handmade fall decor and pumpkins, to t-shirts and wood works. Stop in-store to get a permanent friendship bracelet from Linked by Love Permanent Jewelry. Special performance by the LA LunaChicks dance team.
Hours: 10:00 AM to 4:00 PM
Venue: Dusty & Company, 2201 Liberty Street, Monroe Phone: (318) 348-5649
Fall Ceramics
Get into the fall spirit and update your fall decor collection with handmade ceramics! Join Bless Your Art at The Art Alley Marketplace for their newest open studio class!
Hours: 2:00 PM to 4:00 PM
Venue: Art Alley Marketplace, 131 Art Alley, Monroe
Landry Vineyards Concert - Lisa Spann & Company
Landry Vineyards is proud to host a live performance by Lisa Spann & Company! If you enjoy classic rock and great dance music then you will enjoy this band! Do not forget to bring lawn chairs or a blanket so you can have a place to sit.
Hours: 3:00PM to 6:30 PM
Cost: $10.00, Young Adults (13-18) $5.00. Children Under 12 Free Venue: Landry Vineyards | 5699 New Natchitoches Rd, West Monroe Phone: (318) 557-9050
Hats Off for the Kids
Wear your favorite hat and enjoy live music, a silent auction, food, drinks, and FUN!
Hours: 6:00 PM to 10:00 PM
Cost: $50.00
Venue: Northeast Louisiana Children's Museum, 323 Walnut St, Monroe
Tractor Supply Farmer's Market
The Farmer's Market is back at Tractor Supply on October 1st and actively searching for vendors! It is a great event to bring the community together to sell and purchase homemade and homegrown goods.
Cost: Free Venue: Tractor Supply Co. | 201 Mane St, West Monroe Phone: (318) 329-1123
October 1-2, 7-8
Monroe Symphony League Book Sale
A huge sale of gently used books, records, and much more! Two buildings are full of hardbacks, magazines, paperbacks, fiction and non-fiction.
Hours: Friday, Saturday 9:00 AM to 5:00 PM; Sunday 1:00 PM to 5:00 PM
Cost: $2.00 first day, all other days are free.
Venue: Monroe Symphony League, 320 North 4th Street, Monroe Phone: (318) 537-5171
October 1, 7-8, 14-16, 21-23, 28-31
Evil Visions Haunted House 2022
Can you survive Evil Vision's Haunted House - Return to Hotel Sheller? Beware, the stories are ghoulish and the fear is real. Evil Visions opens on Sundays at 7 P.M. and closes at 11:00 P.M. Enter at your own risk! Friday & Saturday 7:00 PM to 12:00 AM; Sunday 7:00 PM to 11:00 PM
Cost: General- $20.00. Fastpass$30.00. VIP- $100.00
Venue: Evil Visions Haunted House, 501 Desiard St, Monroe
October 1-31
Skeletons on Tower Drive
Imagine this: Giant 12 feet tall skeletons lining the streets! This wild imagination will come to life by taking a drive through Skeleton Lane, on Tower Drive, during the month of October!
Cost: Free
Venue: CC's Coffee House, 2350 Tower Drive, Monroe
October 2, 9, 16, 23, 30
Sunday Karaoke Fun
Wrap up the weekend with Big Tuna Entertainment and Downtown Billiards for some Sunday Karaoke Fun!
Hours: 10:00 PM until Venue: Downtown Billiards LLC, 524 Desiard St, Monroe Phone: (318) 497-3250
October 3
ULM Homecoming Parade
The best is on the bayou! Register to participate in the ULM Homecoming Parade or enjoy catching candy from the sidelines!
Hours: 6:00 PM to 8:00 PM
Cost: Free Venue: Warhawk Field, 308 Warhawk WayMonroe Phone: 318-342-5420
Scramble for Commerce Golf Tournament 2022
Join members of the West Monroe West Ouachita Chamber of Commerce for a round of golf at the beautiful Calvert Crossing Golf Club! The tournament is a 4-person scramble format with a shotgun start.
Cost: Team/Sponsor Registration Fee Venue: Calvert Crossing Golf Club, 515 Hodge Watson Road, Calhoun Phone: (318) 325-1961
October 4
4th Annual ULM Hawktoberfest
Hawktoberfest is an opportunity for ULM students, faculty & staff, alumni, and community members to come together to enjoy an evening of food, beer, and live music along Bayou DeSiard. All guests must show a valid photo ID at the door.
Hours: 6:00 PM to 9:00
Cost: Students tickets $10.00; Community tickets $20.00; Designated Driver/Under21 tickets $5.00.
Venue: Laird Weems Center, 4400 Bon Aire Drive, Monroe Phone: 318-342-5420
For a full list of event happenings in Northeast Louisiana, see our website at www.bayoulifemag.com
174 OCTOBER 2022 | WWW.BAYOULIFEMAG.COM
October 5, 12, 19, 26
Brown Bag Concert Series - October Fall is here! That means cozy weather and golden Autumn leaves! It is the perfect time to attend the outdoor Brown Bag Concert Series by the Northeast Louisiana Arts Council in Palace Park. Take your own picnic lunch, or grab a $5.00 bag lunch on site from Newk's Eatery. There will also be free cookies provided. The concert begins at 12:00 P.M. every Wednesday in October.
Hours: Noon Cost: Free Venue: Palace Park, 220 Desiard St, Monroe
Phone: (318) 397-6717
October 6
Downtown Gallery Crawl
It's time to Crawl! Come and celebrate and experience the work of talented local artists while enjoying the warmth and charm of locally-owned shops, businesses and eateries in Historic Downtown Monroe and West Monroe.
Hours: 5:00PM to 9:00PM
Venue: Art Alley & Downtown West MonroeDowntown Monroe and West Monroe
October 6-8
American Crappie Trail National Championship
Witness the American Crappie Trail National Championship on the Ouachita River! The American Crappie Trail is a state of the art fishing tournament, by fishermen for fishermen.
Venue: Forsythe Boat Dock, 2100 Riverside DriveMonroe
October 7, 8, 14, 15
Molly Howard Is No More (Dinner Theatre)
A woman is murdered and her ghost now roams the halls of her estate. 'Who killed her' is the question of the night. Did the butler do it? The maid? A friend? Or, maybe, it was the husband!
Cost: $50 per ticket
Hours: 6:30 PM
Venue: Strauss Theatre Center, 1300 1/2 Lamy Lane, Monroe Phone: (318) 323-6681
October 7
Dueling Pianos with Queen Anne's Revenge
This is night three of a three day tour. Featuring the talents of Ben
Hubbard, Jon Shorter, Charlie Askew, and Justin Wayne Elkins the Queen Anne's Revenge is a landlocked ship of punk rock dueling pianos and it is cruising through town!
Hours: 7:00 PM to 8:00 PM
Cost: General $10.00 or VIP Table $75.00
Venue: Flying Heart Brewing & Pub, 204 Commerce St, West Monroe Phone: (501) 425-4413
October 8
Children's Funday
The Biedenharn Museum & Gardens invites you and your kiddos to Children's Funday of 2022!
This session's theme is Windchimes!
Hours: 10:00 AM to 12:00 PM
Cost: $5
Venue: Biedenharn Museum and Gardens, 2006 Riverside Dr, Monroe Phone: (318) 387-5281
Good Morning Gala: A Homecoming Celebration
There is no place like home!
The Good Morning Gala will be an introduction of the 2022 Homecoming Court and a recognition of the alumni who are returning home including: former Homecoming Court members, former Miss NLUs and Miss ULMs, Greek Alumni Centennial Honors, and Spirit Group Alumni Honors. Experience ULM Legacy, good music, and tasty food!
Hours: 10:00 AM
Cost: Active Alumni Association$30.00. Community Members- $35. Venue: Bayou Pointe Event Center, 100 Warhawk Way, Monroe Phone: 318-342-5420
Fall Market on the Alley
You're invited to join Fall Market on the Alley! The market will feature handmade artisan items, homegrown goodies, and a food truck. There will also be a fun children's pumpkin decorating station with take-home pumpkins.
Hours: 11:00 AM to 3:00 PM
Cost: Free
Venue: Alley ParkAlley Park, 250 Trenton St, West Monroe Phone: (318) 397-6735
2nd Annual Little Miss Krewe De Riviere
The 2nd Annual Little Miss Krewe De Riviere will be held on October 8, 2022 at the Monroe Civic Center.
Hours: 11:00 AM to 2:00 PM
Cost: Door entry $10, children 5 and under free Venue: Monroe Civic Center, 401 Lea Joyner Memorial ExpresswayMonroe
ULM Football vs Coastal Carolina Cheer on the ULM Football team as they tackle Coastal Carolina! Hours: 7:00
Venue: Malone Stadium, 514 Warhawk Way, Monroe
Raise the Woof 2022 SOS Pets of Ouachita is hosting their annual Raise the Woof fundraiser for 2022! Don't miss out on live music, delicious food, a silent auction, and of course, dancing!
Hours: 7:00 PM to 10:00 PM Venue: Vantage Rooftop Garden, 122 St John St, Monroe Phone: (318) 436-4767
Jeff Elliot Live at the VFW
Come listen to the amazing Jeff Elliot in a family-friendly environment! All kinds of music played plus he takes requests!
Hours: 7:00 PM to 11:00 PM
Venue: VFW Post 1809, 1499 Hwy 594, Monroe Phone: (318) 345-4185
October 13
Flying Tiger Pub Run
Join Fleet Feet at the Flying Tiger Brewery every 2nd Thursday of the month for a free 5k Fun Run / Walk!
Hours: 6:00 PM to 7:00 PM Venue: Flying Tiger Brewery, 506 N 2nd St, Monroe Phone: (318) 855-3146
October 14
MSO Lyrical Works
Monroe Symphony Orchestra presents Lyrical Works for clarinet, horn, and piano! Admire the melodies of Scot Humes on clarinet, James Boldin on horn, and Richard Seiler on piano.
Hours: 7:00 PM
Cost: Adult- $15.00. Student - $5.00. Venue: Emy - Lou Biedenharn Recital Hall, 200 University Ave, Monroe
October 15
Twin City Classic Chevy Club 34th Annual Show
Don't miss out on the Twin City Classic Chevy Club 34th Annual Show! All American made vehicles up
to 1987 with an open class from 1988 to present. Door prizes, silent auction and trophies for several different vehicle classes. All benefits support MedCamps of Louisiana.
Hours: 8:00 AM to 11:00 AM
Venue: Glenwood Regional Medical Mal, 102 Thomas Rd, West Monroe
Touch a Truck & Trick or Treat
Come Explore & Climb on a variety of firetrucks, police cars, construction trucks and big rigs! Wear your Halloween costume and Trick or Treat at each vehicle!
Hours: 10:00 AM to 3:00 PM
Venue: Ike Hamilton Expo, 501 Mane Street, West Monroe
Phone: (318) 361-0487
Super Saturday
The Children's Coalition opens the gates to the Origin Bank Family Garden every third Saturday of the month to host Super Saturday.
Hours: 10:00 AM to 12:00 PM
Venue: Origin Bank Family Garden, 127 Hall St, Monroe
Phone: (318) 323-8775
A Night at the USO- Chennault Gala
Enjoy a "Night at the USO" with the Chennault Aviation and Military Museum. Dance and listen to Code Blue and the Flatliners live along with ULM and Strauss Theatre performers.
Hours: 7:00 PM to 9:00 PM
Cost: $75.00 per ticket or $600.00 per table
Venue: Bayou Pointe Event Center, 100 Warhawk Way, Monroe Phone: (318) 362-5540
Boots N' Brats
Habitat for Humanity of North Louisiana presents Boots N' Brats, an Oktoberfest celebration! There will be bratwurst, beer and German wine, a yodeling contest, and auctions. Don't forget to wear your best Oktoberfest costume for the contest!
Hours: 7:00 PM to 10:00 PM
Cost: Couple- $75.00 and Single$40.00
Venue: Tower Place Monroe, 1500 N 19th St, Monroe
Phone: (318) 323-8003
WWW.BAYOULIFEMAG.COM | OCTOBER 2022 175
Acoustic on the Alley
Autism Society of North Louisiana is hosting the inaugural Acoustic on the Alley at Alley Park in Downtown West Monroe!
Venue: Alley Park, 250 Trenton St, West Monroe
Fall Celebration
Kids of all ages love to come to the Fall Celebration out at Black Bayou Lake NWR each October, when there's a bit of a nip in the air and the wildlife is beginning to transition to the next season.
Cost: No charge
Venue: 480 Richland Place Monroe
October 16
Emy-Lou Biedenharn Birthday Tea
Come enjoy the vibrant Biedenharn gardens and a delightful tea party featuring sandwiches, scones, desserts, and of course, tea!
Hours: 2:00 PM to 4:00 PM
Cost: $25.00
Venue: Biedenharn Museum and Gardens, 2006 Riverside DrMonroe
Spooky Science Night
Join Delta Community College for a FREE night of spooky science experiments and Halloween fun. They'll have something for all ages, and it's entertaining for the whole family!
Hours: 5:00 PM to 7:30 PM
Cost: Free
Venue: Louisiana Delta Community College, 7500 Millhaven Road, Monroe
Phone: (318) 3459218
October 20
Movie in the Park
Bring the family for a movie night. Presented by the City of Monroe.
Hours: 6:00 PM to 8:00 PM
Venue: 3313 Bernstein Park Drive, Monroe
October 22
Ghosts & Goblins Costume Run
Grab the whole family and head to Alley Park to enjoy a beautiful fall morning running tour through downtown West Monroe. Dress in your favorite Halloween themed running clothes, or even test out your full Halloween costume.
Hours: 8:00 AM to 9:30 AM
Cost: $30.00
Venue: Alley Park, 201 Natchitoches Street, West Monroe
2nd Annual Customer Appreciation Day
Fall is back and so is the Indian Village Harvest Farm Customer Appreciation Day! There will be various vendors to buy from, hayrides every 30 minutes, face painting, a magician, and so much more!
Hours: 10:00 AM to 9:00 PM
Venue: Indian Village Harvest Farm| 1976 Guyton Swamp Road, Calhoun
Jesse Dale Middleton Band
Join the Veterans of Foreign Wars Post 1809 Rodney J Hobbs for some great music by the Jesse Dale Middleton Band! Grab a hot dog, nachos, or popcorn from the concessions and have some fun!
Hours: 7:00 PM to 11:00 PM
Cost: $10
Venue: VFW Post 1809, 1499 Hwy 594, Monroe
Phone: (318) 345-4185
Community Health Event
Join the City of Monroe as they present this community event.
Hours: 9:00 AM to 12:00 PM
Venue: Saul Adler Community Center 3900 Westminster Avenue, Monroe
October 25
Scarecrows in the Garden Opening Night
Did you hear about the winner of the Annual Biedenharn Scarecrow Competition? He was outstanding in his field! The scarecrows are coming back to the gardens on opening night.
Hours: 3:00 PM to 8:00 PM
Cost: $5.00
Venue: Biedenharn Museum and Gardens, 2006 Riverside Dr, Monroe Phone: (318) 387-5281
October 25-29
Scarecrow Garden Viewing
The scarecrows return to the Biedenharn gardens for the 4th Annual NELA Scarecrow Competition! Tuesday night is opening night from 3:00 PM -8:00 PM with a $5.00 admission fee, so go view and vote for your favorite scarecrow.
Hours: 10:00 AM to 5:00 PM
Venue: Biedenharn Museum and Gardens, 2006 Riverside Dr, Monroe Phone: (318) 387-5281
October 27
Pub Run at Flying Heart Brewing
Join Fleet Feet Monroe every 4th Thursday of the month at Flying
Heart Brewing!
Hours: 6:00 PM to 7:00 PM
Cost: Free Venue: Flying Heart Brewing & Pub, 204 Commerce St, West Monroe Phone: (318) 855-3146
October 27, 28, 29, 30 Hamlet
The ghost of the King of Denmark tells his son Hamlet to avenge his murder by killing the new king, Hamlet's uncle. A duel ultimately determines the fates of these familial rivals.
Venue: Strauss Theatre Center | 1300 1/2 Lamy Lane, Monroe Phone: (318) 812-7922
October 28
Ouachita Live
Join Downtown West Monroe at Ouachita Live!With great local food trucks and great music, it's sure to be a great time!
Hours: 6:00 PM to 9:00 PM
Cost: Free Venue: Alley Park, 250 Trenton Street, West Monroe
October 28-29
Franklin Fright Night
Come one, come all. Winnsboro Main Street is hosting Franklin Fright Night, Hillbilly House of Horror. This 2 night event will include a haunted house and carnival games for all.
Hours: Friday 7:00-10:00 PM; Saturday 6:00 - 10:00 PM
Cost: $10; $1/ticket for outdoor carnival games (Saturday only)
Venue: The Loading Dock 214 Fair Ave, Winnsboro
October 29
Trunk-or-Treat at Blue Bikes
Celebrate Halloween at Blue Bikes bicycle shop! Safely trickor-treat with your children out of decorated cars. Wear your best costumes and enjoy a night full of fun and a belly full of candy!
Hours: 1:00 PM to 4:00 PM
Cost: Free
Venue: Blue Bikes, 94 Lincoln RdMonroe
Relay for Life NELA
Carve out a Cure together with the American Cancer Society Relay for Life of NELA! Take a walk around this carnival-like atmosphere with live music, lots of food, and various fundraisers set up. Join the fight back against cancer!
Hours: 2:00 PM to 10:00 PM
Venue: West Ouachita Wellness Park, 189 Calhoun Loop Road, Calhoun
Fall Family Fun Night
Fall Family Fun Night at Kiroli Park is here! There will be carnival games, food trucks, hayrides, kid's costume contests, obstacle courses, and even a rock climbing wall. You do not want to miss this fun family event!
Hours: 4:00 PM to 9:00 PM
Cost: Discounted tickets online only$3.00 per person. $10.00 per car. $20.00 for large vans.
Venue: Kiroli Park, 820 Kiroli Rd, West Monroe
Donk-a-Thon
The Annual Donk-a-Thon Car, Truck, and Bike Show is back at Twin City Raceway!
Cost: $30.00
Venue: Twin City Raceway, 3695 Prairie Rd, Monroe
Phone: (469) 662-1085
October 30
Halloween Goat Yoga at the Farm J oin Double BB Farms for some good ole goat yoga! Goat yoga is for people with skill or no skill. The goats will be in costume and so should you!
Hours: 1:00 PM to 2:30 PM
Cost: $25.00 per person
Venue: Double BB FarmsDouble BB Farms, 1816 Stubbs Vinson Rd, Monroe
October 31
Boo with the Krewe
It's raining candy! The Krewe of Janus invites you to Trick-orTreat through their parade floats on Halloween night. This is a familyfriendly and fun way to celebrate Halloween for all ages!
Hours: 6:00 PM to 8:00 PM
Cost: Free
Venue: Krewe of Janus Float Den, 901 Louisville Avenue, Monroe Phone: (318) 338-3172
176 OCTOBER 2022 | WWW.BAYOULIFEMAG.COM
WWW.BAYOULIFEMAG.COM | OCTOBER 2022 177