BLcontents
22 / EASTER PARADE
Designer Taylor Bennett combines pink hydrangeas with gorgeous tulips, and chocolate Queen Ann's lace.
26 / LET'S TACO BOUT IT
These slow-cooked chicken tacos may be the tastiest you've ever made. Make next Taco Tuesday the easiest one yet.
28 / ASK ERIN
Follow these simple productivity rules, and you will accomplish every single goal you set for yourself.
36 / SO SUNNY JUICERY
Rachel Mylock took a leap of faith and pursued the creative venture she had been fervently fostering. Three years in, and with a plethora of juice blends ready to go, she opened So Sunny Juicery.
48 / MEREDITH'S MUSINGS
Mothers shouldn't have to be superheroes - they're only human, figuring it out one mistake at a time.
54 / HEAVENLY HUMMUS
Take a cue from spring spreads and dive into the season's most satisfying treat. This authentic hummus light and creamy and packed full of flavor.
56 / ROSÉ ALL DAY
practice in Louisiana. From personal injury attorneys to those specializing in family law, this list is comprised of some of the best in the industry.
100 / AIM FOR THE STARS
APRIL 2018
Spring is right around the corner, which means it's the perfect time for an outdoor Louisiana party. This perfect punch combines a sweet rosé with a kick of citrus.
71 / BAYOU ARTIST
Aleatha Shannon says people are often surprised to find out what she does. But if they knew her story and the journey that led to her craft, they'd see it was only a matter of time before she started Willow Oak Fiber and Farm.
77 / ATTORNEY DIRECTORY
The BayouLife Attorney Directory is your source for obtaining current information for attorneys licensed to
For her lifelong dedication to helping others in pain (physical and mental) in our region, Diana Gentry Breen is our March BayouIcon.
108 / WOMEN'S SYMPOSIUM
The 6th Annual Women's Symposium on March 14th annually highlights women from across Northeast Louisiana for their individual achievements, professional and personal.
115 / URBAN ROCK
This month's shoot is a tribute to the 12th Annual Fashion Fusion. n Join us on March 11, 2023 at the Monroe Civic Center for this fashionable event benefitting the Cancer Foundation League. e
4 MARCH 2023 | WWW.BAYOULIFEMAG.COM
108 115 90 MARCH 2023 71
This issue is always a favorite of mine – one dedicated to women's empowerment. I feel like the older I get, the more I embrace who I am. For someone who has struggled with confidence and social anxiety in the past, it's been aweinspiring to meet so many women that found their voice at such an early age. On March 14th, the 6th Annual Women's Symposium will be held at Bayou Pointe Student Event Center on ULM's campus. In this month's issue, we highlight five of the 2023 panelists and why they were chosen as leaders in their respective fields. See this women and their incredible stories on page 108.
Highlighting strong women is a theme in this month's issue. Taking our BayouIcon spot is Diana Gentry Breen Diana graduated from nursing school, and later continued her medical studies and became a Certified Registered Nurse Anesthetist (CRNA). She helped establish one of the first Nurse Anesthesia businesses in Louisiana (Anesthesia Services Inc.) which was CRNA owned and operated. In 2017, Diana partnered in opening the LaArk Recovery/Addiction Center in Union Parish. Today this wife, mother, businesswoman, and medical professional successfully juggles her time among drug rehabilitation work, anesthesia administration, and family life. Read her story on page 100.
One day I ran across a woman on social media who was spinning her own yarn, I was instantly hooked and started following her page. It turned out that Aleatha Shannon was an artist based out of Northeast Louisiana who owns Willow Oak Fiber and Farm. Shannon raises angora rabbits, shears their fibers, and uses them to make her own yarn. Then, she sells her handspun yarn and the items she knits or weaves with it at local farmers markets, art crawls, and on
BayouLife
1201 Royal Avenue Monroe, LA 71201 Phone 318.855.3185
WWW.BAYOULIFEMAG.COM
her website. Read more about Shannon and her creative process on page 71.
One of our favorite events of the year is back again! On March 11th DBK Dance and Performing Arts, along with The Cancer Foundation League presents Fashion Fusion: Where Dance Meets Design 2023. To capture this year's theme, Urban Rock, we took over The Big Room and Upstairs Gallery with models Georgia Faith Hill and Camden Shivers. Fashion Fusion 2023 will mark 12 years of celebrating a community coming together for cancer patients right here in our area. All proceeds benefit the Cancer Foundation League of Northeast Louisiana which provides medical assistance and supplies to local patients and families suffering from this dreadful disease. See this shoot on page 115.
This month we've published our fourth annual Attorney Directory, your source for obtaining current information for attorneys licensed to practice in Louisiana. From personal injury attorneys to those specializing in family law, this list is comprised of some of the best in the industry.
We hope you enjoy reading this issue of BayouLife. As always, please remember to support locally-owned businesses!
PUBLISHER & OWNER Cassie Livingston cassie@bayoulifemag.com
COPY EDITOR Cindy Foust
GRAPHIC DESIGNER Nathan Coker nathan@bayoulifemag.com
ADVERTISING SALES EXECUTIVES
Katelyn Tolbert katelyn@bayoulifemag.com
Courtney Thomas courtney@bayoulifemag.com
ART DIRECTOR Taylor Bennett
LEAD PHOTOGRAPHER Kelly Moore Clark
CONTRIBUTING WRITERS
Darian Atkins
Dan Chason
Laura W. Clark
Kenny Covington
Shannon Dahlum
Cindy Gist Foust
Starla Gatson
Vincent C Herlevic, MD Paul Lipe
Erin Love
Meredith McKinnie
Georgiann Potts
Delia Simpson
Beatrice A. Tatem
Vanelis Rivera
Judy Wagoner
Danelle Ware
ON THE COVER
Fashion Fusion: Where Dance Meets Design March 11, 2023 | Monroe Civic Center
outfit: Hemline Monroe
model: Georgia Faith Hill
photography by Kelly Moore Clark
BayouLife Magazine is published and distributed by Redbird Publishing, LLC. Postal subscriptions ($30) can be ordered online at www.bayoulifemag.com. BayouLife Magazine is not responsible for unsolicited photographs, manuscripts, or other materials. Opinion columns do not represent the views of the publisher. Reproduction of contents without express written permission is prohibited.
6 MARCH 2023 | WWW.BAYOULIFEMAG.COM
115
Cassie
Northern Exposure Shop Hop
Travel the Ark-La-Miss to Visit Participating Shops and Purchase Unique Fabric Kits
WE ARE SUPER EXCITED TO BE included as a featured quilt shop in the first ever Shop Hop for the northern part of Louisiana as well as a shop in Arkansas and one in Mississippi. We are even more honored to be hosting the opening reception for this wonderful event on May 28th, 2023 from 4-6 p.m. Be sure to join us for the party! In this article, I will be touching on all of the aspects of this Northern Exposure Shop Hop and the fabulous shops that will be participating, as well as our local quilt guild. The purpose of a Shop Hop is to expose yourself to all that is offered by the variety of quilt shops within a geographically shared region. This area for us will be from El Dorado, Arkansas to Shreveport, Louisiana to Vicksburg, Mississippi and down to Pineville, Louisiana with lots of locations in between. Once you visit all of these lovely places, you will realize how wonderfully different we all are-each of us has our own "personality!" The North Louisiana Quilters' Guild is sponsoring this fun event along with the support of all of these phenomenal shops listed below.
• Aunt Nell's Quilt Shop-Pineville, LA
• Broadway Fabrics-Bastrop, LA
• Common Thread Sewing Room-Monroe, LA
• Fat Tuesday Fabrics and Gifts-Monroe, LA
• Hannah's Quilts-Choudrant, LA
• Material Things and HaberdasheryMonroe, LA
• MNM Creations and Quilt ShopEl Dorado, AR
• Quilteroo's-Ruston, LA
• Quilt-N-Stitch-West Monroe, LA
• Sew Chic-Shreveport, LA
• Stitched In Faith Quilt Shop-Mangham, LA
• Stitch-N-Frame-Vicksburg, MS
• The Fabric Shop of Ruston-Ruston, LA
The way this works is you purchase your "Passport" for $10 from any of these lovely shops between now and May 12, 2023. There is a limited amount of passports available, so be sure to purchase yours as soon as possible. The Shop Hop itself starts on May 29th and ends on June 24th, so you have four weeks to visit all thirteen of these shops, I assure you that each and everyone of these destinations will be rolling out the red carpet for you! In fact, I have heard that if you are coming as a group, many of the stores can have coffee, tea and cookies prepared for you as long as you give them adequate notice. Each of the shops will also be ready to offer you tips on where to go for lunch if you're not familiar with the area as well as other local places to shop and visit.
The reason behind visiting and shopping at each of these stores after you have gotten your passport, is to purchase a specially designed quilt block at each location that has been carefully curated by local designer Elizabeth Hernandez. Elizabeth is half of the creativity behind the mother/daughter owned quilt shop, Sew Chic Fabrics in Shreveport, LA. With over twenty years in the stitching and design industry, I feel certain that this mystery quilt pattern will be outstanding.
When you visit each shop and purchase your unique fabric kit, be sure to have your passport stamped at each location. Once this is done at each shop, then you leave your stamped passport at the last location you visited to be put into a drawing for numerous prizes. This drawing will be held at Quilt-N-Stitch in West Monroe, LA on July 15, 2023 at 10:30 a.m. (you do not need to be present to win). The prizes will include a Brother PS300T sewing machine donated by Quilteroo's in Ruston, LA, a custom
ironing board topper made by local artisan and avid quilter Heather Gill, and gift baskets made up of items donated by all of the thirteen participating shops.
A little history about what the North Louisiana Quilters' Guild is: this organization was formed in the 1980's and it's purpose is to promote good fellowship among persons interested in the art of quilting; to preserve its tradition, culture and history; to further promote the knowledge and understanding of all aspects of quilting; and to enjoy and appreciate the work of others. The guild is comprised of four chapters that meet monthly: Morning Stars on the first Tuesday at 9:30 a.m., Sunshine on the first Thursday at 1:30 p.m., Moonlight on the first Thursday at 5:30 p.m. and Grateful Threads on the first Monday at 5:30 p.m. Guild members are involved with many community service projects and have several guild activities each year. So, this Northern Exposure Shop Hop is as much about promoting our local quilt shops and fabric boutiques as it is about promoting the fact that we have a wonderful guild that has supported it's community since the 1980's.
So, whether you are interested in sewing or not, this is a fabulous and worthy event that will not only be advantageous for our local guild and the shops involved but all of the surrounding businesses, as this will generate tourism from all over our state as well as the states near and far.
XOXO - Joyce
8 MARCH 2023 | WWW.BAYOULIFEMAG.COM
Your Next Spring Favorites
Spring into Doe's Eat Place and Washington Wine and Spirits
WARMER WEATHER IS UPON US AS SPRING approaches and flowers start to bloom. As we think about both St. Patrick's day and the brighter days ahead we want to focus on some products that fit the bill. When we think about March here at the store we think about fresh flavors such as citrus, strawberries, and soft flowers like honeysuckle. Let's get into it.
For St. Patrick's day our first choice this year is Drumshanbo Gunpowder Irish Gin. This fantastic gin gets the gunpowder portion of its name from its secret ingredient, green tea leaves. These tea leaves are rolled into small balls that resemble gunpowder. This gin is bright and citrus forward on the nose presenting lemon zest and a touch of green tea. The palate is highlighted by grapefruit and sweet jasmine tea, while the finish has a touch of honey and subtle cardamom. This makes for an incredible gin and tonic or just enjoy it on the rocks. We have a limited edition ceramic bottles that are absolutely gorgeous.
Next up we have a liqueur from Lazzaroni, who is one of our favorite liqueur makers. Lazzaroni produces a variety of traditional Italian liqueurs such as amaretto, sambuca, and more. This time we are focusing on their incredible limoncello. This is made from fresh lemon peels and no colors are added. The nose explodes with lemon meringue and a touch of anise. The mouthfeel is borderline creamy and the explosion of sweet, zesty lemon is a delight. There is a wonderful kiss of mint on the backend that really makes this refreshing. We highly recommend trying this with Drumshanbo gin and a little soda water for a bright and easy cocktail.
If you are looking for something with some sweetness that has a livelier profile than moscato, then you should try Selbach Oster's Kabinett Riesling. This wine starts off with inviting aromas of lemon, lime, and grapefruit. The mouthfeel is full and juicy with a velvety texture. You'll be greeted by flavors of apple, pear, and sweet lime. The bright acid leaves for a very harmonious and balanced finish. This a great wine for a variety of meals, but we really love this wine with spicy food.
As we get into spring a lot of you will be looking for some great chardonnay as it warms up outside. The Landmark Vineyards Overlook Chardonnay from 2018 is drinking superbly and is perfect for spring. This is a well balanced chardonnay that brings you in with aromas of lemon, pineapple, peach, and soft flowers. The palate
is packed with all the flavors that you smelled with the perfect touch of toasted oak to balance everything out. This creates a long and refreshing finish with interesting texture. This is an amazing chardonnay to enjoy by itself or with a meal.
We love a rosé this time of the year and one of our favorites is the Camino Rosé from Txakolina in Spain. This rosé explodes out of the glass with strawberries, raspberries, lime, and a touch of effervescence. The palate is an even greater explosion that lets you know you're on your way to flavortown. An array of bright red fruit flavors hit the tongue highlighted by more strawberries, raspberries, cherries, and salty lime. The finish is long and mouth watering. You'll love drinking this on the back porch.
For the whiskey lovers out there we wanted to talk to you about the newest batch of Ammunition Rye Whiskey Pinot Noir Barrel Finish. This rye was distilled at MGP in Indiana and then finished off in Ammuntion's own pinot noir barrels. On the nose you get classic MGP rye up front with cinnamon, butterscotch, and dill. It is right after those notes hit you that the subtle notes from the wine barrel begin to show with hints of cherry cola and a touch of chocolate. Flavors of brown sugar, cardamom, cinnamon, cherries, and honeyed vanilla highlight a soft rye that finishes quite gently. This newest batch is a real treat that shows the promise of what is to come from this young company.
The last item we want to tell you about is the Recuerdo Abocado Con Gusano Mezcal from UFC fighter Jorge Masvidal. This is an easy going mezcal that has the agave worm in the bottle which gives a smoother, creamier texture. The nose opens with light pepper, lemon, and toasted agave. The palate has a gentle smoke flavor profile with white pepper, charred vegetables, and sweet citrus. A long, gentle finish makes this a great introduction to traditional mezcal. If the agave worm isn't something that thrills you, they also make a fantastic joven or young mezcal that doesn't include the worm.
We think that one of these products could be your next spring favorite, and would be a great addition alongside one of the Doe's Eat Place steaks sizzling on the grill. We hope to see you soon, and always, thank you for letting us be your spirits guides here at Washington Wine & Spirits.
12 MARCH 2023 | WWW.BAYOULIFEMAG.COM
Alumni Spotlight
ULM Alum: Christina Davis
RAISED IN MAGNOLIA, ARKANSAS, CHRISTINA
Bobo Davis hails from a family of ULM alumni. Christina always knew ULM was in her future. Having taken some accounting classes in high school, Christina declared accounting as her major. She planned on becoming a CPA, but quickly realized her passion was missing. Having been at ULM for two years at that point and taken many classes, Christina chose to pursue a degree in finance. Encouraged by her parents Eddie & Deborah Bobo to get a degree regardless of the subject, Christina dove into her finance studies and immersed herself in the college environment. Investing in the campus culture solidifies the college experience. Christina played the clarinet and received a scholarship to join ULM's The Sound of Today Marching Band. She was part of the Wind Ensemble and Tau Beta Sigma (TBS), a National Honorary Band Sorority. The Sorority provided support for college band programs and handled logistics prior to performances. The late Dr. Derle Long served as Band Director.
Dr. Long was one of several mentors along Christina's college journey. Dr. Paul Dunn was the Director of the Small Business Development Center (SBDC) on campus. He recruited Christina as a student worker, and she appreciated his straightforward manner. He helped Christina develop her thick skin. Dr. Dunn would say, "It doesn't matter who made the mistake. We have to fix it." Likewise, Alberta Green who worked in Career Services, encouraged Christina in school as well. Having also been in The Sound of Today, Alberta exemplified confidence and knowledge about campus life. Christina strived to exude the same. Dr. Michael Parker, head of the Finance Department, motivated Christina, as did Ms. Roshto, the head of Accounting. Ms. Roshto was Christina's favorite advisor, even after Christina changed her major to finance. Rather than simply reviewing class options, Roshto discussed Christina's future and had her best interest at heart.
Christina lived on campus in Slater Hall. Her favorite aspect of college was getting to meet people from all over the world. She appreciated all the cultures, backgrounds, and religions in one university community. Christina met her future husband Arthur Davis in Slater Hall. When Christina would trudge through the lobby carrying her clarinet, Arthur would tease her saying, "That one time…at band camp." Now, Arthur is Christina's biggest supporter.
He backs all of her career goals and does not rely on ancient societal standards of what a wife should be.
After graduation, Dr. Dunn invited Christina to stay on at SBDC as a junior consultant until she found a better position. In 2010, Christina took a job with the YMCA, first as an administrative assistant and then as the Teen & Family Program Director. After taking a position at Chase in the Home Lending corporate building the next year, Christina got a call from Virendra Chhikara "VC" at SBDC, the current Center Director. Christina was hired back as a full time consultant in 2014 and is now a Senior Business Consultant. In this position, Christina helps future and existing business owners. Future business owners display a passion for entrepreneurship, and Christina walks them through the process and helps them decide if they're ready to take the leap. Christina helps existing business owners prepare to gain capital and expand their businesses. She also provides business education workshops.
Working on the ULM campus for the last 8 years, Christina loves being back at her alma mater. She runs into her former professors, classmates and appreciates ULM's familiarity. In a way, she feels like she is giving back to the university that gave so much to her. Since Dr. Berry became ULM President, Christina has become even more excited about ULM's future and being a significant part of it. Community is at the forefront of ULM's core values, and Christina works directly with this community and its budding entrepreneurs. ULM is focused on the young people in Monroe City and Ouachita Parish. ULM proves to local students that they can secure a strong education and have a future right here at home.
14 MARCH 2023 | WWW.BAYOULIFEMAG.COM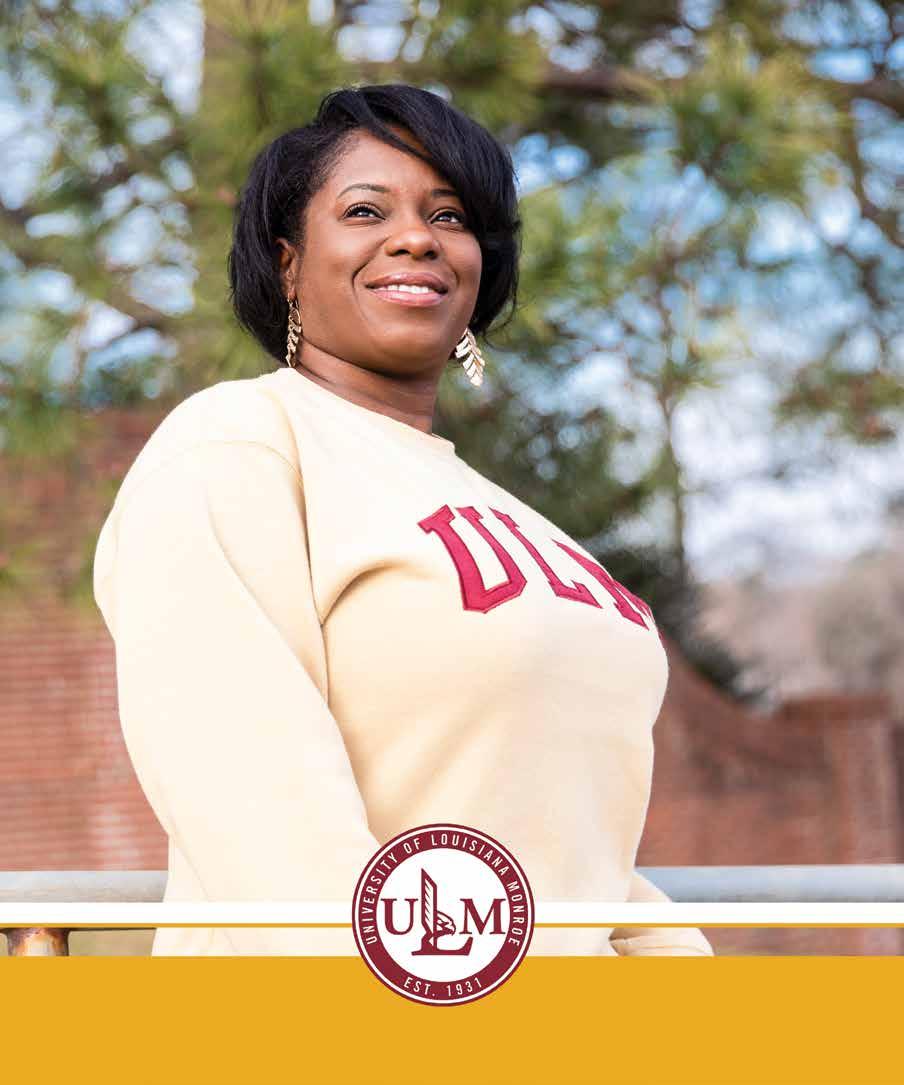 Leading Lady
The Role of a Lifetime
BY BEATRICE TATEM, PH.D., LPC-S, NCC, ACS
THE EFFORTS AND CONTRIBUTIONS OF WOMEN RESIDES deeply in my psyche. Historically, women have made indelible contributions and have played a vital role in the making of America. I choose each March, Women's History Month, to celebrate women and to honor the women who in my experiences have made a positive difference to society. This year I decided to focus on the concept of leading ladies in one's life. The leading lady is often associated with an actress on a stage casted as the principal role in a play, movie or reality television show. The phrase leading lady is associated with Audrey Hepburn because of her famous quote "always be the leading lady of your own life." In this article, I write about the "leading lady" not as a female character on a stage or in a television show depicting a scene unknown to us, but women who come into our everyday lives. We all know leading ladies outside of the movies who enter our emotional spaces and physical places, and who in real life have, and continue to impact our lives. In this vein, we do not have to look to reality television to witness the leading lady. Our lives, how we plan them and execute them, is our personal stage and it is there where we must be the leading lady...the role of a lifetime.
I believe women, by nature, have the potential to be leading ladies, and yet life happens and sometimes shows them otherwise. Women's achievements are often overlooked, and instead attention is given to their physical appearance. Leading ladies are more than well-suited in their appearance, but stand-out in their actions and the choices they make. The leading lady recognizes she is an agent of change in her own life and can make a positive difference in the lives of others. They take on issues and projects where they knowingly can bring about change. They are both fierce in their actions and fearless in their attempts to help others reach their greatness. Leading ladies are found in a multitude of professions, with a vast range of intellect, personalities, competence, confidence, knowledge, talent, gifts and ability. Our society has been strengthened by leading ladies who have been educators, reformers, protesters, whistle blowers, politicians, lawyers, doctors, scientists, and inventors. Women have fought for equal rights, social justice, bodily autonomy, health and education reform, fair and equal work compensation, and the right to vote. They have also stood against social ills such as gun violence, while giving birth to a nation. Women have often been the stability in a not-sostable society. Leading ladies are of all racial, ethnic, religious, and cultural backgrounds and they refuse to allow barriers of racism, chauvinism, sexism, size-ism, and homophobic thinking block them from the doors open to them. They position themselves so when doors are open, they can walk through with a sense of belonging, and, in turn, create the doors and hold them open for others to walk through. When they experience
the doors closed due to barriers the leading lady instead welcomes the unwelcome because they realize there is strength in numbers, and weakness when there is divisiveness and disrespect. Leading ladies get the facts and not just the information. Borrowing and paraphrasing what former first lady Michelle Obama has said - "when others go low, we go high," when others go low, leading ladies go high, refusing to stoop to the negative rhetoric put forth by media outlets, the opposition, naysayers, and doubters. Instead leading ladies direct and channel their energy towards achieving what is beneficial for the greater good. Leading ladies are empowered women on the move. They refuse to be slowed down by bigotry, misogynistic thinking, attitudes, and behaviors. It takes courage to tell people who you really are and takes self-awareness to own your place in the world. Leading ladies know their view of self in the world. They know, as I say, "everyone deserves a voice" …they own their voice and readily take command of it. Leading ladies not only dance to the beat of their own drum, but create the drum to which they dance. They are game changers who have the vision to make a way when others around them fail to see a way.
Each day in my practice, I interact with potential leading ladies, those striving to be leading ladies and women who have already embraced the concept of being a leading lady. In our everyday life, many are exposed to leading ladies. I am grateful to the leading ladies in my life who have shown women, such as myself, by modeling the benefits of taking the time to lead your own life while helping others to lead theirs. I think often about the leading ladies in my life, when, and how they appeared. I was born to a leading lady, my mother. There are women who have been marginalized because of their gender, race, religion, career choice or the political stance they take. There are women who chose to speak up, step up, stand up, open up and then show up for themselves and others. Due to the roles many women have, women often report that their lives revolve around taking care of the needs of others, resulting in their being the leading lady in the lives of others at the expense of being a "leading lady" in their own lives. The leading lady learns to listen to their minds and bodies to have a healthy balance of nurturing their own lives as well as others. Your life is your own and you deserve to make choices that fit with what you want. As a woman, recognize you have the potential and the right to be a leading lady. I encourage each woman to be the main character in their own lives in their own way. Our lives are the stage in which we can each perform as a leading lady. It is the role of a lifetime.
For more information on counseling and outreach services contact Dr. Beatrice Tatem at Wellness Initiatives, LLC, 2485 Tower Drive, Suite 10 Monroe, La 71201, 318-410-1555 or at btatem.bt@gmail.com.
16 MARCH 2023 | WWW.BAYOULIFEMAG.COM
WWW.BAYOULIFEMAG.COM | MARCH 2023 17
"All That She Carried: The Journey of Ashley's Sack, A Black Family Keepsake" by Tiya
Miles
In 1850, enslaved Rose learns her nineyear-old daughter Ashley will be sold after the death of the plantation's master. Rose hurriedly packs a cotton sack with pecans, a braid of her own hair, a dress, and composed a brief note, "with my love, always" before placing the sack in Ashley's hands. 50 years later, Ashley's daughter Ruth engraved the tote's origin story on the sack, and it was discovered decades later at a flea market outside of Nashville. Historian Tiya Miles traces the limited family lineage, combing plantation records for clues, and filling in narrative gaps with black historical anecdotes and the reality for African Americans during and post-slavery. Miles traces material culture, the historically feminine medium of expression, for clues about what happened, when and how.
"For women, cloth also tended to represent the work of their hands, the female branches of family trees, and notions of the feminine ideal. Passing on a textile, then, symbolized women's ability, creativity, and continuance."
Tiya Miles' meditation on black maternal love reminds us of the limits of historical research, as records originate from powerful voices when African Americans lacked power, agency, and command of their story's telling. Miles' book is extensively documented, with the pages of notes nearly outnumbering the narrative. Miles uses the contents of the sack to trace the lived experience of black
women in America. To document a history of oppression, one must look outside of books, and Miles looks directly toward the hands of women, as each artifact conveys a mother's ability to turn pain into promise. While the sad and horrifying reality is detailed in each chapter, the resounding theme of the book is love, unconditional maternal love, eternally present even in a mother's physical absence. Miles, like Alice Walker, explains how black women expressed emotion, often through their work: "Seeing has been oppressive work, but it has also been healing work. Sewing, like telling, is meditative. A suture is a stitch." In the traditionally termed "low arts" of survival, cooking for food and sewing for warmth, black women found a place for self expression. And many of those material creations outlasted their creators - the soul food recipes passed down for generations and grandmother's quilt at the bottom of a trunk. In the objects we find stories, we find the beauty in the everyday, and the emotion of a complex history.
`Tiya Miles is a professor of history at Harvard University, and her research explores the overlapping themes of African Americans, Native Americans, and women's histories. An exceptionally beautiful and masterful storyteller, Miles combines factual evidence and narrative to breathe life into the untold stories of America's past.
"And if those things are textiles, stories about women's lives seem to adhere with special tenacity, even as fabrics, because of their vulnerability to deterioration and frequent lack of attribution to a maker, have been among the last kinds of materials that historians look to in order to understand what has occurred, how, and why."
18 MARCH 2023 | WWW.BAYOULIFEMAG.COM
bayou PAGES
REVIEW BY MEREDITH MCKINNIE
"Things become bearers of memory and information, especially when enhanced by stories that expand their capacity to carry meaning."
WWW.BAYOULIFEMAG.COM | MARCH 2023 19
"Men We Reaped"
by Jesmyn Ward
Ward's heartbreaking and achingly poignant memoir explores her upbringing in DeLisle, Mississippi, a town that would eventually be wrecked by Hurricane Katrina. Raised primarily by her mother, with a father who was in and out of the house, Ward endures financial instability, her parent's divorce, and the blessing/curse of being the only black girl in an allwhite private school. But while the world she knew as a child was encompassed by hardship, Ward remembers the love between her siblings, the families in town, and the communal nature of growing up in her hometown. It can be hard to realize how hard life is when one is too busy living it. Being the only one of her siblings to pursue higher education, Ward escapes home for Michigan State University and eventually Stanford, two opposing realities to the place she calls home. She explores how anxious one can be to leave one reality for another, but how home always comes calling, and often in times of personal tragedy.
In the span of five years, Ward lost five young men from her community, one being her beloved brother Joshua, who was hit by a drunk driver. In this deep exploration of grief, Ward questions why so many young black lives are lost and why society doesn't
seem to care. Interwoven into her own biography are chapters devoted to each of the men: Roger, Demond, CJ, Ronald, and Joshua. She tells about their upbringing in the community, how two of them were personally close to her sisters Charline and Nerissa, and how all their deaths impacted a community who collectively never stops grieving. Ward admits it took her a long time to be able to tell this story, to move from active grieving to emotional telling. In braiding her own stories alongside the men's stories, Ward shows the communal impact of loss, how the proximity to pain and grief cuts deep and all too often in poor black communities.
`Ward explores themes of economic hardship, familial struggle, heart wrenching loss, and the love at the core of it all. She depicts her mother, like so many black mothers, taking responsibility for the family, while her father explored his freedom apart from Ward and her siblings. She shows how her brother struggles with being a black man in the South, how men are given more freedom, but being black and male means being more likely to have that freedom taken away. For those interested in the origin of Ward's work, this story provides a framework for the characters that continually surface and evolve in her novels. Men We Reaped was listed as one of the Best Books of 2013 by The New York Times Book Review. Jesmyn Ward still lives and writes from her hometown of DeLisle, Mississippi.
"Grief scabs over like scars and pulls into new, painful configurations as it knits. It hurts in new ways. We are never free from grief."
REVIEW BY MEREDITH MCKINNIE
20 MARCH 2023 | WWW.BAYOULIFEMAG.COM
bayou PAGES
"I wonder why silence is the sound of our submerged rage, our accumulated grief."
WWW.BAYOULIFEMAG.COM | MARCH 2023 21
EASTER PARADE
Designer Taylor Bennett combines pink hydrangeas with gorgeous tulips, and chocolate Queen Ann's lace. Strategically placed ornamental cabbages add an unexpected element to the arrangement and collected branches and foliage bring the elements together in a simple concrete vase tied with an olive green ribbon.
Photograph by Kelly Moore Clark.
BAYOU FLORALS
Female Drivers Coming Through!
Hands-on Application of Driving Procedures and Maneuvers
HERE'S A SIGHT YOU DON'T REGULARLY SEE: female truck drivers. This industry has long been dominated by men and currently still is. However, the number of women getting behind the wheel is increasing. Ten years ago, women made up just 7.42% of drivers, and that number almost doubled in 2022, with women ringing in around 15.7% of the industry.
Perhaps, the idea of driving such a massive truck, hauling goods from here to there, and the perceived lifting required has kept this career option locked down under designated pathways for males. The winds of change are here, though. Women and men are choosing to enter career fields dominated by the opposite gender, shaking up historical ways of being and also doing.
While the term "diversity" can trigger many thoughts because of the political hijacking of the term, there's no denying that varying perspectives can enlighten, enhance, and encourage progress seldom found in the sameness of views. As companies, corporations, and institutions look to expand their reach, the richness of diversity is being examined. So it is with the trucking industry. Women are sought-after candidates in today's climate, and trucking recruiters actively pursue them to join the ranks as truckers.
Women have their reasons for choosing this industry, which vary. LDCC student Roquisha Hampton shares that she likes driving, and being a trucker is something she's always wanted to do. "I used to be in healthcare, but after my mom and grandmom passed away, I just didn't want to do that anymore. Driving relaxes me, and everybody needs truckers sooner or later." Hampton also adds that the opportunity to see the United States is an added benefit, as truckers can do local routes or longer routes.
Ciara Dawkins is a certified nurse assistant (CNA), a discipline she studied in high school. Now, after seven years, she is making a career change. Working as a CNA allowed Dawkins the opportunity to travel, but not like she's expecting from driving a truck. "With driving a truck, Dawkins says, you can see more of the United States." Dawkins, mom to a toddler daughter, is also looking at the financial freedom doors that will open up for her. Says Dawkins, "I want to give her a better future. Another thing is, when you pull up somewhere, people don't expect to see a woman behind the wheel, and that is a powerful feeling."
The program lasts five weeks and is taught at LDCC's West Monroe Campus off Camp Road. "The program is only five weeks, so you have to be motivated, and you've got to study. Don't think it's easy because it's not. There are a lot of things to remember, and safety is always first," explains Hampton. There are three women in this particular class, and they work together to help one another. Says Hampton of Breanna Tarbutton, "She's awesome! She keeps us motivated through the hard parts, and she's awesome behind the wheel."
Tarbutton is a "boy mom" to three boys. Her youngest son wanted to go through the program with her but could not; nevertheless, he did not want his mom to pull out. Says Tarbutton, "He told me to please do it so that he could go with me."
Hampton is also a mom of three, the younger two being girls. "They really wanted me to do this," says Hampton. "Plus, I had to do something so that I wouldn't let grief from my mom's passing overtake me. I had to keep going for my girls."
The ladies dream beyond working for someone; they desire their own trucks and trucking business. "I don't want to always work for someone else," says Hampton. "There are just more advantages to being an owner-operator," explains Dawkins. "For example, you get to choose your own routes," says Hampton.
Driving trucks can also be a stepping stone to other opportunities. Dawkins, for example, doesn't see herself driving indefinitely. She plans to drive for a few years and then teach in the program. "My daughter is so young; I don't want to be away so much when she's older," says Dawkins. Tarbutton, by nature, is a shy, reserved individual. Therefore, she says, "Trucking suits me." All the ladies had one more week before completing the program and had no concerns with securing employment. Their eyes are glimmering with hope for their future.
LDCC's CDL program prepares individuals to test for the Louisiana Commercial Vehicle Operator license. The program is a 240-hour, fiveweek course, Monday through Friday, for eight hours per day. Students will learn content from the curriculum to prepare for the CDL exam, along with hands-on application of driving procedures and maneuvers. Certifications include a Commercial Vehicle Operator Class A CDL.
For enrollment information, contact Carolyn McFarland at carolynmcfarland@ladelta.edu or 318-345-9384.
24 MARCH 2023 | WWW.BAYOULIFEMAG.COM
ARTICLE AND PHOTOS BY DARIAN ATKINS
LET'S TACO BOUT IT
These slow-cooked chicken tacos may be the tastiest you've ever made. Make next Taco Tuesday the easiest one yet.
What you'll need:
1½ pounds boneless, skinless chicken thighs
3 tablespoons honey
1 teaspoon onion powder
1 teaspoon garlic powder
½ teaspoon ground cumin
1 teaspoon kosher salt
2 chipotles from an of chipotles in adobo, finely chopped
2 tablespoons adobo sauce (from can)
1 (15-ounce) can black beans, rinsed and drained
Juice of 1 lime
Warmed tortillas, for serving
Pickled onion
Sliced or cubed avocado
Combine the chicken, honey, onion and garlic powders, cumin, salt and chipotle chiles and adobo sauce in a 5- to 8-quart slow cooker and cook for at least 3 hours and up to 5 hours on low. Using two forks, coarsely shred the chicken in the sauce. Stir in the black beans and lime juice. Cover and let the beans warm through. Taste and add more salt and lime if necessary. Serve in tortillas with pickled onions, cilantro and avocado. Styled by Taylor Bennett.
Photograph by Kelly Moore Clark.
WWW.BAYOULIFEMAG.COM | MARCH 2023 27
Productivity 101
by ERIN SHARPLIN LOVE |
With each passing minute, hour, day and month, it seems like it is getting harder and harder to focus on priorities and get things done. There are a million things that pull us in all directions – texts, emails, social media notifications, kids, work, pets, and the list goes on and on. As a mom, wife, and entrepreneur, I crave routine, consistency, and organization. But, I am human and things just kept getting in the way of completing daily and weekly tasks. With that in mind, I needed to take a step back and refresh myself on Productivity 101. Here is what I learned:
1. Making a formal "to do" list is a must! Don't rely on your brain to remember everything that needs to be done. Get every plan on paper as soon as you can. I have gotten back into the habit of reserving Sunday for planning time. I sit down with my "Project List" and make a weekly to-do list of what I need to accomplish during the following week. I include every aspect of my life – kids sports, school, home life, personal time, work projects and tasks, menu planning, cleaning, etc. I go down this list and write down anything and everything that needs to be done. Then I prioritize by importance.
2. Eat the frog! If you are unfamiliar with this term, it simply means that you should do the thing that is hardest or that you are dreading the most, first. The longer you put something off, the harder it gets to do it; so don't wait!! It should go directly at the top of your list.
3. Identify the times you do your best work. For instance, I am not a morning person
or a midnigh person either. In other words, I do not want to get up earlier than truly necessary (5:15 on school mornings and 6:30 on regular mornings), nor do I enjoy staying up all hours of the night. My most productive times are typically between the hours of 8:00am and 2:00pm. I make sure to divide my schedule accordingly and still have short bursts of evening productvity as well.
4. Schedule everything! If you want to make sure something gets done, schedule it. Want to have time to read during the day but never quite get it done? Decide on the best time and mark it on the calendar as if it were an appointment and then honor it. Just because it isn't an actual job or business meeting, that doesn't make it less important.
5. Batch similar tasks. Schedule a block of time for making phone calls or sending emails, for instance. It is much simpler and time-effective not to space them out. When running to the grocery store, take care of any other errands at the same time.
6. Where and how do you work the best? Do you need complete silence? Find a spot at home or at the office that is conducive to silence. You may even benefit from muting your phone and notifications while you are "Eating That Frog!" Or, do you enjoy a bit of background noise? Find a cozy spot in a coffeehouse or at the front of your office building. You could also turn on a bit of music if you are at home or in an office by yourself.
7. Set deadlines! If you get stuck in a rut during a task, move to the next one when time is up. You may need a fresh start later to regain inspiration.
8. Make sure you utilize your five-minute
lulls. There will always be a time when you are waiting for something or someone (car line, early or late for an appointment, etc.). Make sure you have a list of small tasks that you can accomplish during this time. For instance, I usually make my social media business posts, send quick texts, add to my shopping lists, read, or return phone calls during these lulls.
9. Reward yourself! Actually, getting things done will be the reward in itself, but if you accomplish a big task, you may want to reward yourself in a different way. For instance, buy that expensive bottle of wine, go to dinner with a friend, or simply take a day off. It is amazing what a little positive reinforcement can do!
11. Plan tomorrow today. In other words, make your to-do list for the following day at the end of each day. Even though you planned your week on Sunday, you still need to plan tomorrow today. Things come up, plans change, etc. so make sure you keep up daily. I like to keep my to-do list in a pursesized notebook, and to make it more fun, I use different colored ink pens!
12. And finally…delegate! Delegate anything you can. If there is something on your to-do list that someone else can do, let him do it! For instance, I typically delegate a lot of errands and paper filing duties.
I can promise you that if you follow these simple productivity rules, you will accomplish every single goal you set for yourself. It is a work-in-progress though. I have to keep myself on target and so will you.
28 MARCH 2023 | WWW.BAYOULIFEMAG.COM
erinlove@panachebyerin.com
WWW.BAYOULIFEMAG.COM | MARCH 2023 29
2023 St. Jude Dream Home
Win This House Located in Frenchman's Bend
JAN STRICKLAND IS A LOCAL DECORATOR WHO received a Bachelor of Science degree in Interior Design from the University of Alabama in Tuscaloosa - a program with is CIDA Accredited. During college Jan was an active student member of the American Society of Interior Designers and also served on the advisory counsel for CIDA accreditation for the Interior Design program at the University of Alabama. BayouLife caught up with Strickland during her 6th stent as lead designer for the St. Jude Dream Home to talk more about what led her seek this worthy cause.
BL: Tell us about your background in interior design.
JS: I've wanted to work with interiors for as long as I can remember. When I was a child my family would take trips to Europe. I was always fascinated by the designs of the interiors of homes and castles. When it was time for college I majored in Interior Design. I've had my own design business, Strickland Interiors for over 12 years now.
BL: Tell us about your family.
JS: I married my college sweetheart, Josh, over 10 years ago. We have 2 kids. Our oldest is Jey who is 7 years old. He has Autism, and while we face struggles everyday, he continues to make major strides and loves doing karate. Our daughter, Evy, is 5 years old and loves all things dance and singing! We have 2 dogs, a German Shorthaired Pointer named Bingo that's 3 months old, and Belle, our American Brittany that just turned one.
BL: How many years have you been the lead decorator for the St. Jude's Dream Home? What made you interested in being involved?
JS: I've been the lead designer/ decorator for the home going on 6 years now. When Brian Allen with Braco Construction asked me to do it I was pregnant with our daughter Evy at the time. Although I knew I was entering a busy season with a toddler and soon newborn I couldn't say no. My childhood best friend Tiffany Greer immediately came to my mind. She was a St. Jude patient and passed away. Her life was taken far too soon. I thought if this was any way to help prevent that from happening to another child… I was on board. I also lost two other childhood friends from cancer, Amber Tamburo and Claude Williams - so I feel, in a way, this passion stems from the
desire to memorialize them, while also fundraising for an incredible organization .
BL: Have there been any moments during your tenure as decorator that have really stood out?
JS: Each year I incorporate our local St. Jude patients in some way. Whether through a painting or a framed handprint, there's a moment when you're walking through the home that the root of this project is interjected throughout. Also, I bring photos of Tiffany, Amber, and Claude in, which adds an extra personal touch to the home. Throughout the years seeing the parents and patients in the home for the open houses really makes all the hard work worth it.
BL: What are your favorite features about the 2023 St. Jude's Dream Home?
JS: This home is definitely unique. The theme that keeps coming to mind is Old World. You will see lots of features that encompass that. For instance, the range hood in the kitchen will be a built in cove tucked away instead of the regular decorative hoods that you see. Unique tiles and top-of-the-line plumbing fixtures, appliances, and lighting will be unforgettable features as well.
BL: Where do you see yourself in five years?
JS: That's a fun question! If possible I would love to continue working on St. Jude Dream Homes. But, regardless, I want to always use my time and talents wisely. Whether I'm giving back to my community or just making a difference in the lives of others by refreshing or updating their homes, design will play into my future endeavors.
BL: What do you hope people think of when they see the current St. Jude's Dream Home?
JS: I hope that people enjoy taking a tour of the home (in person), and are able to see how the community comes together for this project. We could not do this without all the sponsors' help. Everyone rallies and gets this job done. When you see the list of sponsors, it's important to realize this is their donated time and money. Everyone comes together for the common cause - to Beat Childhood Cancer!
30 MARCH 2023 | WWW.BAYOULIFEMAG.COM
I REMEMBER
I REMEMBER, how, in 1983, the North Carolina State Wolfpack basketball team helped to give meaning to the expression "March Madness", a moniker used to describe the hectic, and sometimes unbelievable results of games in the NCAA Basketball Championship Tournament. Led by Coach Jim Valvano, this group of young men pulled upset after upset against teams with far better records and more renowned players. Neither supporters nor opponents of the Wolfpack thought that N.C. State would survive against such immeasurable odds.
The first hurdle facing this team was the challenge of even getting into the NCAA tournament. With the field numbering about half of what it is today, an at-large selection was out of the question, given State's 26-10 seasonal record and a record of 8-6 in the Atlantic Coast Conference. Their only hope was to win the ACC tournament which would guarantee them a spot in the national contest – in everyone's eyes, this hope was very slim. Standing in their way was Virginia, led by 7 foot Ralph Sampson, the NCAA player of the year, and UNC, whose Michael Jordan was probably the best to ever play the game. Few gave them a chance, but with a 71-70 win over Wake Forest, an over-time 91-84 triumph over UNC, and an 81-78 finals victory over Virginia, this Cinderella team had earned their way to the BIG DANCE! "March Madness" was just beginning, and if the Pack could win just five more games, the crown would belong to them. For most basketball experts, to think such was indeed madness!
In the first regional match-up, Pepperdine almost sent these young hopefuls home to Raleigh, but after two overtimes, State pulled out a 69-67 victory. The next contest, a nail-biter against powerful UNLV, resulted in a 71-70 triumph. Then came a breather with N.C. State prevailing in a relatively easy 75-56 beating of Utah. The semi-final matchup was another battle with Virginia in which the Wolfpack prevailed by a score of 63-62. That left just one more
hurdle before Valvano's team could literally "cut down the nets", something the team had rehearsed numerous times! This challenge was presented by the number-one-ranked University of Houston, led by their dominating center, Akeem Olajuwon, and his teammates who were nicknamed "Phi Slama Jama," because of their propensity for exercising the intimidating slam dunk. Ironically, the Pack won the game, 54-52, with a slam dunk as time expired in the game! The unbelievable ended in an unbelievable way – a perfect example of "March Madness"!
Several years later, when N.C. State was recruiting my son, Jonathan, we were invited to the campus and were present during a practice session. I was impressed with his zeal and "fire" as he conducted the practice; but I was even more impressed with something he said later as we visited in his office. He showed Jonathan the championship ring (which was impressive), and then he showed him his wedding ring. I wondered where he was going 'til he said, pointing to the championship ring, "This one was the hardest to get," and then pointing to his wedding ring, he said, "But this one is more important." Despite having to deal with "March Madness," he still had his thinking straight.
Several years after this, Coach Valvano was in the middle of another battle, this time not against Duke, or Carolina, or Virginia, but against cancer. He fought well, including helping to establish the "Jimmy V Foundation" which has raised millions of dollars in the fight to secure a victory over cancer, but cancer won a temporary victory. But before his death, Coach Valvano gave us this challenge, "Don't give up; don't ever give up!"
Let us give heed to his encouraging words as we contest with the widespread "madness" in our world; if we put forth our best efforts, and if we seek God's grace, maybe we will hit the winning goal!
article by PAUL LIPE opinion expressed is that of the writer
32 MARCH 2023 | WWW.BAYOULIFEMAG.COM
Let Your Beauty Bloom this Spring
The Medical Spa by St. Francis Medical Group
JOIN THE TEAM AT THE MEDICAL SPA FOR A WEEKLONG Spring Fling Event held March 13-17. This event will include special Botox pricing, product specials and giveaways. Botox will be $11/unit and by appointment only. These appointments will fill quickly, so be sure to call and schedule before it's too late. While you're here, take advantage of the product discounts. All cleansers, toners, SPF and Phyto products will be 20% off. We will end the week with an open house event, 9 a.m. – 4 p.m. Stop by for refreshments, complimentary consultations and 25% off all products and treatments! Let your beauty bloom this spring with the help of The Medical Spa team.
NEW! PHYTO A+ BRIGHTENING TREATMENT - This lightweight corrective moisturizer soothes and corrects skin to improve brightness, texture and clarity. Phyto A+ is oil and silicone free and suitable for even sensitive skin. The key ingredients — azelaic acid, arbutin and phyto botanical blend — help to even out skin tone, reduce redness and minimize appearance of pores by increasing cell turnover. Pair this treatment with a Vitamin C serum and Daily Brightening SPF by Skinceuticals and you've got an easy brightening routine!
PHYTO CORRECTIVE GEL - Lightweight, green-toned serum that has hydrating and calming properties, containing cucumber, olive, thyme and mulberry extracts. The serum helps to minimize the appearance of discoloration and promote even-toned complexion. This serum also contains a refreshing blend of eucalyptus and hyaluronic acid to moisturize without clogging pores, ideal for sensitive and acne-prone skin.
PHYTO CORRECTIVE MASQUE - This lovely green masque calms temporary skin reactivity caused by sun exposure, exercise, extreme temperatures and other aggressors. The masque contains a blend of cucumber, thyme, olive extracts and hyaluronic acid to reduce visible redness, discomfort and heat, while restoring skin softness, smoothness and radiance. You'll feel like you're getting a spa treatment at home with this calming and hydrating masque.
All the Phyto family products by Skinceuticals will be 25% off during the Spring Fling Event. Be sure to grab your green-toned skincare product. It will have you feeling festive this St. Patrick's Day, and we are sure you'll love them!
TREATMENT SPOTLIGHT - GENEO DETOX
External factors from the environment such as pollution, blue light from digital screens, allergens and UV rays can diminish our natural glow. The skin is our natural barrier to shield against irritants and external factors, but we need to strengthen that barrier. Prolonged exposure to external factors and environmental stressors can make your skin more susceptible to irritation, breakouts, acne and premature aging. The ingredients found in the new OxyGeneo Detox Facial are suitable for every age, skin type and season. Antioxidant ingredients such as copper gluconate, vanilla extract and Vitamin E protect and inhibit damage from free radicals and environmental factors. Green tea extract, citric acid and white-water lily extract help to repair UV damage, eliminate toxins and promote a brighter, clearer complexion. The Geneo Detox facial was specifically developed with these amazing ingredients to protect, repair and replenish your skin, leaving a strong shield against external factors and that beautiful glow we all love. When you purchase your Geneo Detox facial this month, you'll receive 25% off.
MEET THE TEAM
Chelsea Frey, RN, received her Bachelor of Science in Nursing degree at Louisiana State University of Alexandria, bridging from her Associate of Science in Nursing at Louisiana Delta Community College in Monroe. She has served with St. Francis since 2015 in various roles throughout her nursing career. Chelsea helped to establish The Medical Spa and continues to assist in a part-time role as an aesthetic nurse. Her favorite part of working at The Medical Spa is helping clients to focus on their confidence and beauty by enhancing their natural features. Chelsea is excited to offer knowledge in laser treatments, OxyGeneo facials, and NuEra tightening treatments. She loves seeing the boost in confidence, the smiles, and the relaxation that The Medical Spa offers for clients. In her spare time, Chelsea enjoys cycling with her family, tending to her plants, and reading.
Be sure to come by The Medical Spa this month to take advantage of our specials and events, and to find out more about the medical grade skincare products and treatments offered here! We are in the James R. Wolff Building (also known as the P&S Building) in downtown Monroe. Our address is 312 Grammont St., Suite 406, across from St. Francis Medical Center. Also, follow us on the St. Francis Medical Center Facebook page and Instagram so you can be up to date on all the new and exciting things happening here at The Medical Spa.
34 MARCH 2023 | WWW.BAYOULIFEMAG.COM
WWW.BAYOULIFEMAG.COM | MARCH 2023 35
BAYOU EATS
So JuicerySunny
Rachel Mylock took a leap of faith and pursued the creative venture she had been fervently fostering. Three years in, and with a plethora of juice blends ready to go, she opened So Sunny Juicery.
Fruits and vegetables have had a long history of being mashed and ground for their nutritious properties. But juicing as we have come to know began closer to the 1930s with the invention of the first juicing machine. Its rise and widespread availability quickly launched the development of juice bars and juicing trends that to this day still have a hold in health and wellness spaces. One of those spaces has peaked its sunny disposition in Downtown West Monroe thanks to Rachel Mylock who in three years has turned a passion into a communal experience.
Originally from Pensacola, Mylock has lived in Monroe for about eight years. "My roots are here," she says, referring to her three-year-old daughter. As far as juicing, it began as a hobby. "I've always been interested in natural medicine, in herbs and things like that," she says. As a friend of the earth, she has always appreciated nature, spending much of her time outdoors as a child. Growing up on the bright sandy coast of the Florida Panhandle provided her with an array of versatile, lush greenery that inspired and kept its hold. "I've always had a garden," she says, finding the process from seed to plant miraculous. Her interest in plants began turning from the practical to the healing, as she began incorporating her grows into her diet. "It affects how I feel, it helps my body function, and as a byproduct, it affects how you look and how you feel about yourself," she says. Her dive into juicing happened in tandem, but also grew from a need to be unconstrained from traditional medicine. "I've always been drawn to unconventional methods of treating things," she says, opting for herbal remedies for common ailments such as headaches and fatigue.
Mylock decided to share her love of juicing because she couldn't find anybody offering the service in the area. "And I feel like people are excited for new things to be offered," she reveals. At first, she began with occasional pop-ups at local events like Woofstock and even more intimate spaces like her most recent appearance at one of Monroe's most fun vintage spots, The Good Daze.
"Everybody that came was super jazzed, super excited about it. So that gave me the boost that I needed," she says. The opportunity would arise out of happenstance, and become a stepping stone that would further connect her to the Northeast Louisiana community by way of customers and professional collaborations.
WWW.BAYOULIFEMAG.COM | MARCH 2023 37
article by VANELIS RIVERA | photography by KELLY MOORE CLARK
SQUEEZE THE JUICE: A crowd favorite is the So Sunny Sunrise, a rich blend of orange, golden beet, lemon, and ginger, topped with beet juice. Coming a close second is the Sweet Green Crisp, a powerful blend of apple, celery, hydroponic lettuce (from H2Greaux Farms), lemon, and ginger. If you don't go for The Sprout (orange, celery, lettuce, pea sprouts, ginger, and lemon), you can always add some microgreens, sourced locally from Wall Greens Farm & Seed, to your drink of choice.
An ordinary lunch at For His Temple Foods led to a casual talk with owner Dana Milford in which Mylock revealed her search for a brick-and-mortar. Milford promptly offered her vacancy, a cozy, tucked, versatile space ideal for those who want to grab and go or are seeking a laid-back hang. With that vision in mind, Mylock took a leap of faith and pursued the creative venture she had been fervently fostering. Three years in, and with a plethora of juice blends ready to go, she opened So Sunny Juicery on January 13th and already has a few plans for what has become a steadfast, feel-good stop for a day's goodness inside one, eco-friendly cup.
The space is illuminated by outdoor string lights draped over the dining room's ceiling all the way to the bar area. There, customers are greeted by a large chalkboard wall with a colorful menu on display, created by artist Christy Dunn. A dark orange sun with eclectic rays is the central piece and is bordered by images of the fruits and vegetables featured in the six-juice menu. A crowd favorite is the So Sunny Sunrise, a rich blend of orange, golden beet, lemon, and ginger, topped with beet juice. "I put red beet on the top so it kind of has a bleeding aesthetic," Mylock informs. Coming a close second is the Sweet Green Crisp, a powerful blend of apple, celery, hydroponic lettuce (from H2Greaux Farms), lemon, and ginger. "You mostly taste apple and celery," she says, adding "It's a good green juice…so if you're not a super adventurous juice person, it's a good starter green," she says, admitting that she's partial to the green and citrus blends. This is why wanting more greens is no problem at So Sunny. If you don't go for The Sprout (orange, celery, lettuce, pea sprouts, ginger, and lemon),
38 MARCH 2023 | WWW.BAYOULIFEMAG.COM
EATS
BAYOU
IMMUNE BOOSTERS:
The ginger apple shot and turmeric and black pepper shot can help reduce inflammatory issues caused by irritation and swelling of the nasal passage. Additionally, turmeric has been thought to contribute to managing a variety of health concerns including indigestion and arthritis. In other words, these two are the perfect immunity duo!
So Sunny's wheatgrass shots are with a healthy dose of Wall Greens Farm & Seed wheatgrass, lemon, and a touch of apple, these sip-sized shots pack a punch.
you can always add some microgreens, sourced locally from Wall Greens Farm & Seed, to your drink of choice.
It's spring season and with the sun peaking out from overcast skies, so are So Sunny's wheatgrass shots. Made with a healthy dose of Wall Greens Farm & Seed wheatgrass, lemon, and a touch of apple, these sip-sized shots pack a punch. Not only is this sprout rich in a variety of vitamins and minerals like vitamins A, and C, as well as iron, magnesium, and calcium, but it also is comprised of antioxidants (compounds that help prevent cell damage). For many, spring also means allergies and the juice bar has you covered with two immune-boosting shots. The ginger apple shot and turmeric and black pepper shot can help reduce inflammatory issues caused by irritation and swelling of the nasal passage. Additionally, turmeric has been thought to contribute to managing a variety of health concerns including indigestion and arthritis. In other words, these two are the perfect immunity duo! Coming soon, healthy habits as a social experience—ginger shots for tables! Think, saké service meets juice shots.
"The goal is to do things as locally as possible, and as seasonal as possible," says Mylock. Currently, she is working on her spring seasonal menu, hoping to add ingredients like honeysuckle, clover, and dandelion. Many of her new, wildly imaginative blends include unique ingredients that you will want to lean into, like purple cabbage, a nutrient-rich leafy green linked to some powerful health benefits like promoting heart health, stronger bones, and improving gut function. Regardless of the blends on the blackboard, Mylock is happy to customize drinks based on wellness needs. "It is pretty open for whatever people want," she says, often enjoying the challenge and
the opportunity to get creative on the spot.
Though Mylock is serving some pretty tasty, bold, and complex flavors, her setup is really simple. "I get my produce every two weeks," she says. Her carefully prepared and stored ingredients go into one of two cold-press juicers. Unlike centrifugal juicers that rely on a blade, the cold-press method helps to retain more nutrients during juice extraction. "People are amazed," says Mylock, mentioning that even massive chunks of the densest vegetable are easily crushable by her machines. If you have juiced before, you know that the more juice, the more pulp, but Mylock has figured out how to minimize her waste. At the end of the day, the accumulated pulp goes to Milford who uses it in her compost and uses the rest to feed her chickens. Milford also makes use of Mylock's orange peels, which she dries and turns into a powder that she uses for cooking and baking.
"Whenever you offer a product, there's always a lot of anxiety," admits Mylock, who sometimes is unsure of whether her blends will fly or bomb, but thus far everybody has provided incredibly supportive and positive feedback. "I am already getting people that come in a few times a week, that are already regulars. So that's reassuring." An ambassador of sorts, Mylock is now part of a few niche groups connecting the Northeast Louisiana community to "the people growing things."
Ultimately, the focus is on building relationships and connectivity. In fact, in the near future, Mylock hopes to start sourcing fruits and vegetables from local gardeners in order to further promote the communal element of health and wellness. In the meantime, So Sunny Juicery is brightening our tastebuds one nutritious drink after another.
40 MARCH 2023 | WWW.BAYOULIFEMAG.COM
Fashion Fusion
Where Dance Meets Design
FASHION FUSION 2023 WILL MARK 12 YEARS OF celebrating a community coming together for cancer patients right here in our area. All proceeds benefit the Cancer Foundation League of Northeast Louisiana which provides medical assistance and supplies to local patients and families suffering from this dreadful disease.
On Saturday, March 11th, DBK Dance & Performing Arts will join area boutiques, and even some surprise local celebrity models in a high energy runway musical production. The Monroe Civic Center Arena will be transformed for this year's theme - URBAN ROCK - Dancers and Models will be turning up the volume with Street Chic Style! A VIP Pre-Party beginning at 6pm will provide guests a special time to mix and mingle as they enjoy a taste of some of the Twin Cities' favorite restaurants and caterers. The production begins at 7pm!
The show focuses on the strong Urban influence of the fashion industry. Music and dance segments fuse to showcase the culture of cities across the country. Each region has a unique style and influence that touches each of us.
The opening section begins with a high energy dance production portraying that women can "work it like a boss." With a New York State of Mind, the modeling segments show how women can have designer style all while being strong and taking charge. We move through the Big Apple with fun segments from the subway to Wall Street.
We're taking a walk through Memphis for some Downtown Blues featuring some great music from the new "Elvis" movie and the Queen of Soul, Aretha! Then we are traveling on to Chicago where the gentlemen will have fun with our take on a "Gangsta's Paradise." Next, the Ace is high and Vegas is all about the money! And, we wrap up loving LA with those California girls, flowers, and soakin' up all that sun!
This year's production is our largest ever featuring over 200 models and dancers, 22 boutiques, and over 15 of the Twin Cities' favorite restaurants. The entire community has come together to create a musical extravaganza that offers an amazing evening of fashion, food, music and dance! Choreography by Mackenzie Salter Grassi, Melissa Ring, Heather Guillot, and Kelly Justice is
also showcased as the Debbie Bourg Dancers take the stage, but each modeling segment as well. The talented Clinton Downing will transform the VIP Pre-Party and entrance with his creative designs. "The collaboration of a production team is so crucial in making this such a professional show! The creative work of Brittany and Lawrence Bourg, RG Lighting, Air Recording, and Showcase Productions bring my vision to life! The talent we have in our community is so strong and it is such an honor to produce an event of this magnitude for such a worthy cause," says Debbie Bourg, owner of DBK Dance & Performing Arts. "To watch so many people give their time to make this event such a success is a wonderful feeling. The greatest gift a person can give their neighbor is their time. What a life lesson for all humanity!"
All benefits from this event go to the Cancer Foundation League of Northeast Louisiana. Seldom seen, but strongly felt is the mission statement for this organization made solely of volunteers. Formed in January of 2002, the League has provided financial assistance to thousands of Cancer Patients in Northeast Louisiana. Well over 2 million dollars have been spent on medical, household, and transportation expenses for patients and families suffering from this dreadful disease! One of the highlights of the evening is our Survivor Walk. What a wonderful sight to see these warriors and celebrate their success!
Join us for an amazing evening of entertainment, great food, and celebration of our community as we support such a worthy cause!
42 MARCH 2023 | WWW.BAYOULIFEMAG.COM
Say it with Shiner
New Beers from Spoetzl Brewery
BY DELIA SIMPSON, CRAFT BRAND MANAGER, CHOICE BRANDS, INC.
IN 1909 THE RESIDENTS OF SHINER, TEXAS DIDN'T strike gold. They struck water. And shortly thereafter, they learned that they could turn that water into some pretty tasty beer. Today, every drop of Shiner is still brewed with the same pure artesian well water that has wet the town's whistle for more than a hundred years.
The modern day Spoetzl Brewery is a far cry from the old tin shed where Shiner first flowed back in 1909. Born in Bavaria, founder Kosmos Spoetzl's passion for beer carried him as far as Egypt before arriving in tiny Shiner, Texas. There, he purchased the town's brewery and became Shiner's first official brewmaster, a post that he held for nearly half a century.
After a long day's toil in the fields, hardworking farmers around Shiner would often find a cold bottle of Shiner beer waiting on a fence post, left there by Kosmos Spoetzl. The farmers enjoyed some cold refreshments, and Shiner earned more loyal fans. Today, the employees at the brewery still raise a glass to Kosmos Spoetzl, creator of the original Shiner Beer Break.
In the 1970s Shiner Beer's reputation began to spread beyond the town of Shiner, eventually rising to fame in the Cosmic Cowboy Capital of Austin, Texas. There, in venues like the Armadillo World Headquarters, an eclectic group of hippies and rednecks enjoyed Shiner for just three dimes a glass. The beer was a hit, and a sign of things to come as Shiner would soon be enjoyed by drinkers across the country. Today, Shiner, Texas is home to 2,069 residents and a pretty famous little brewery.
Shiner beer is better than ever. Bock is still the flagship beer, and has been since 1973. Shiner Bock is a rich American-style dark lager with roasted barley malt and German specialty hops. But there are now several beers available year-round. Shiner Light Blonde is the lightest beer from the brewery, clocking in at just 99 calories, but still full of Shiner quality flavor. Orale was a seasonal last year but due to its popularity, it is returning as a year-round brand. This crisp, dry-bodied lager is brewed with Mexican agave, bringing the perfect balance of mildly sweet flavor with a refreshing finish. Sea Salt and Lime is another former seasonal that made its way onto the year-round roster. Brewed with real lime peel, it's a slightly dry, clean and crisp lager with a hint of lime and salt.
Shiner's seasonal lineup is sure to shake things up. The year starts out with Trail Ale, a robust ale brewed with nuts, dried fruit, and chocolate for a salty-sweet flavor and rich, smooth finish. Next up (available now) is Strawberry Blonde. Brewed with Poteet, Texas strawberries, this one is a handcrafted farm-to-table favorite. A blend of pale and wheat malts round out for a crisp finish. Heading into summer is Prickly Pear. This unique brew offers the fruit of prickly pear blended wonderfully with Citra and US Golding hops for a tart, citrusy flavor and floral aroma. Oktoberfest never disappoints. Shiner's Oktoberfest is made with two-row barley, Munich and caramel malts, and German-grown hops. Finishing out the year will be Holiday Cheer. This holiday seasonal is a Dunkelweizen with hints of peaches and roasted pecans. Caramelized malts give a rich, malty body.
Shiner has also entered into IPA territory with their Tex Hex lineup. They have all the characteristics of your favorite IPA's, but with a distinct Texas twist. Available locally are Tex Hex Bruja Brew and Tex Hex Desert Mirage. Bruja Brew is a mythical IPA brewed with cactus water and Amarillo hops with stone fruit flavors. This brew has a bright finish with notes of minerality and cactus blossom. Desert Mirage, the newest Hazy IPA, is a medley of cactus water, malt, wheat, and oats, making for a full bodied brew. Strata hops give it a tropical, resinous profile. The artwork on the cans is as unique as the brews themselves. They feature the likeness of "La Bruja," a sorceress who moves with the treacherous heat of the Texas desert.
For more information on Shiner Beers and to find your favorites near you, visit shiner.com. Be sure to like Choice Brands on Facebook and follow us on Twitter and Instagram to keep up with new product releases. Feel free to message us for information on where to find your favorite brands. Find us at facebook.com/thechoicebrands, twitter.com/choicebrandsinc, and instagram.com/choicebrands.
44 MARCH 2023 | WWW.BAYOULIFEMAG.COM
WWW.BAYOULIFEMAG.COM | MARCH 2023 45
THIS IS YOUR CAPTAIN SPEAKING
by Guy Miller, Vice Chair Emeritus, Chennault Aviation and Military Museum
In the era of my birth the roles of women in the workforce were very limited and very defined. Most working women were either in "assistance" roles such as secretary, waitress or stewardess or "nurturing" roles such as nurse or teacher. Today no one gives it any thought when seeing a woman in a workplace role that was once dominated by men. What is less obvious to many who are younger than I am is some woman had to be the first to prove her ability to "do a man's job" and even then it was often a journey of filling a hierarchy of gradually increasing roles to get to the parity we see today.
In aviation, there had to be women who were recognized as excellent private pilots before women could be considered for commercial pilot jobs. And before there could be women fighter pilots and pilot astronauts there needed to be women pilots who excelled in civilian aviation roles.
Helen Richey was a the first woman to be hired as a pilot by a commercial airline in the United States. Richey was 20 when she learned how to fly a plane. She then demonstrated her flying skills by setting endurance and light plane altitude records. Recognizing her capabilities, Central Airlines hired Richey as a co-pilot in 1934. Richey's first passenger flight was on December 31. She flew a Ford Trimotor from Washington DC to Detroit. Richey's commercial aviation career was cut short when the then all-male pilots union eventually forced her out of her job.
Undeterred, Richey went on to become the first woman air mail pilots and one of the first female flight instructors. She continued to set further flying records and to perform at air shows. She even teamed with Amelia Earhart for a transcontinental air race in 1936. When the demands of World War II allowed women to serve
as ferry pilots, Richey first joined the British Air Transport Auxiliary. She later resigned, obtained her Army Air Force wings in 1943 and became a member of the Women Airforce Service Pilots (WASPs).
Richey died in her New York City apartment on January 7, 1947 from a medicine overdose. She had been under the care of a physician for depression and her death was ruled a suicide.
In 1969, Turi Widerøe became the first female commercial airline pilot for a major airline in the Western world. Widerøe had earned her private pilot's license in 1962 and her commercial license in 1965. In 1968, Widerøe enrolled in Scandinavian Airlines System's flight academy. Upon graduating, she certified as a co-pilot on the Convair 440 Metropolitan.
The first woman captain of a US airline was also the first woman pilot to be hired by a US airline since Helen Richey in 1934. Emily Howell Warner obtained her private pilot license in 1958 and quickly landed a job as a flying traffic reporter. Warner eventually joined the Clinton Aviation Company and worked as a flight instructor before flying as a first officer on Convair 580s and de Havilland Twin Otters. Later promoted to flight school manager and chief pilot, Warner became the first woman to be appointed as an FAA Pilot Examiner.
In 1968, there were no women pilots flying for any major commercial airline. Undaunted, Warner began applying for pilot positions at Frontier Airlines, Continental Airlines and United Airlines. With persistence she was finally hired by Frontier on January 29th, 1973.
On February 6, Warner's first flight assignment was as second officer on a Frontier 737. Within six months, she was promoted to first officer. In 1974, Warner became the first woman to join the Air Line Pilots Association. In 1976, Frontier promoted her again and she became the
first woman captain of a US airline.
Warner continued to fly with Frontier and its acquiring airlines People Express and Continental Airlines until 1986. Leaving Continental, she took a job as captain of a Boeing 727 for United Parcel Service. Warner became a Federal Aviation Administration examiner and Aircrew Program Manager in 1990.
Emily Howell Warner passed from complications of a fall and Alzheimer's in 2020. Her pilot's uniform is on display at the Smithsonian's National Air and Space Museum.
Although she was hired a few months after Emily Howell Warner, Bonnie Tiburzi was actually the first American woman to fly for a major US airline. By her early twenties, Tiburzi had been a flight instructor and a charter pilot. She was only 24 when she was hired by American Airlines in 1973. Tiburzi flew for 26 years before retiring.
The first African American woman captain in passenger aviation was Melissa Ward. Ward's mother was the first African American woman to obtain a University of Chicago medical school degree. According to Ward, "When you see a mom can accomplish something like that, you think you can do anything." With this determination, Ward joined the Air Force ROTC while in college then eventually served as a instructor pilot for the C-141 Starlifter heavy transport aircraft. Leaving the Air Force, Ward joined United Airlines in November 1992. Initially a second officer on DC-10s, she was promoted through the ranks to captain.
The next time you see a woman pilot walking through an airport or sitting in the cockpit of the aircraft you just boarded, give some thought to what she represents. She is there because of the hard work and determination of many women who came before her.
46 MARCH 2023 | WWW.BAYOULIFEMAG.COM
Historical
Impressions
Mothers are superheroes. I dislike that phrase - and feel free to insert any other title like teacher, nurse, etc. A superhero implies having strength beyond the norm, to supersede the possible to channel the impossible. Labeling someone a superhero, while it may feel like honoring someone, raises the bar of what's expected, yet skirts the reality of difficulty. Mothers shouldn't have to be superheroes - they're only human, fumbling through parenthood, figuring it out one mistake at a time. Social media has exacerbated the impulses to compare ourselves to others and project our best selves. When I scroll past the perfectlydressed children on a bunny's lap, one child mid-laughter and the other gazing adoringly at the stranger in the rabbit suit, I admire not only the superb photography skills, but that someone in charge of those children found the time to snap the shot. Motherhood is hard, humbling, never ending, and now we are expected to showcase perfection - when we all are hip to the ruse.
I have a list of words that make me cringe - balance currently tops the list. What is balance? When I think of balance, I picture someone on a tightrope, paralyzed with fear, trying desperately not to fall, and hardly moving - not necessarily a state to strive for. But we hear it all the time. How do you balance it all? I work multiple jobs, raise two
Meredith's Musings
BALANCING ACT
article by MEREDITH MCKINNIE
toddlers, and am studying for a terminal degree. I don't balance anything. I barely keep my head above water, and regularly choke on the waves that smash me in the face. I excel often, and I fail even more often. When my mothering life looks together, my professional life is being ignored. When I focus on writing, my kids are locked out of the bedroom. Mothering is not juggling as much as focusing on one ball at a time - and frequently the others hit the ground.
When we focus on maintaining an image, leaping over a socially constructed bar, appearing perfect with chaos blurred in the background, we are lying to ourselves and others. Frequently, people tell me how beautiful my girls are, how well-mannered they seem, what a good job I'm doing raising them. I have a stock response - "It's a lot." It emerges from my lips before I even think about it - the vague reference laced with nuance. My oldest just turned five, and yes, motherhood is wonderful, but most days it is sad, maddening, exhausting - fill in the adjective for depleted. In a world filled with mothers, I often feel alone, isolated, and frustrated no one told me how hard it would be. Perhaps they did, and I didn't pay attention. Perhaps I didn't want to know. Or perhaps I digested the pictures of perfection and sacrifice framed in happiness and assumed it would be easy. Perhaps aware of how many struggle to have children, it
felt selfish to feel anything less than grateful all the time. But the truth is, we have to share the hard. We have to show the chaos. Those sentiments can't remain in hushed conversations with other mothers drowning in the daily.
My husband mothers more than I do. And he fathers too. If my girls identified a primary parent, most days, they would look toward him. I am often working, or studying, or reading to remain sane and take care of myself. I know that I have to prioritize myself so I can better prioritize them. And honestly, I don't prioritize them enough, but I don't prioritize me enough either. I lead with emotion - frustrations manifest quickly and if acknowledged, just as swiftly dissipate. I boil over daily - patience is not my virtue. My oldest mirrors this reaction. Balance is never top of mind, and frankly, sounds like a cheap, tenuous destination. Life is hard enough without having enough footing underneath us. I post pictures and videos of my girls on social media often - it's the only window through which distant friends and family glimpse their little lives. So often people comment on my mothering - what a good mother I am, no doubt well-intentioned compliments. I cringe at the descriptors. I'm just their mother - not good or bad - just a mother. I love them, and some days I practice love better than others.
48 MARCH 2023 | WWW.BAYOULIFEMAG.COM
WWW.BAYOULIFEMAG.COM | MARCH 2023 49
5 Questions On Dental Implant Surgery
NELA Dental is Here to Answer
QUESTION #1 - WHAT IS THE PROVIDER'S FORMAL EDUCATION IN DENTAL IMPLANTOLOGY?
A few follow up questions might be, who were they trained by? What form of training did they receive? Or, how long did it take for them to go through the training? These questions all pertain to a dentist's professional schooling on implants, and these credentials are important. At NELA Dental, we provide our patients with expert-level care for dental implant procedures. If your dentist does not have an extensive amount of formal training, we recommend going as far as to ask for a guarantee on the implants.
Dr. Vance Costello is the only practicing dentist in North Louisiana with the ABOI/ID board certification, and one of only four ABOI/ID Diplomates in all of Louisiana. Certification by the ABOI/ID attests to the fact that a dentist has demonstrated knowledge, ability, and proficiency in implant dentistry through a rigorous examination process. The American Board of Oral Implantology/Implant Dentistry Diplomate (ABOI/ID) designation symbolizes the highest level of competence in implant dentistry. Costello worked tremendously hard for nearly a decade to achieve this prestigious designation.
In addition to this accreditation, Dr. Costello has completed the American Academy of Implant Dentistry's Comprehensive MaxiCourse and is a Fellow of the AAID. Also, he's an instructor with Advanced Implant Educators (AIE) and Implant Know-How.
Dr. Daniel Raymond is also highly-certified for dental implant procedures. Raymond has completed an implant fellowship with the International Dental Implant Association (IDIA). As a member of the IDIA, he continues to build his continuing education portfolio as he works alongside industry experts to learn about the latest practices and techniques to provide his patients top-level results.
QUESTION #2 - DOES THE DENTIST HAVE A 3D CT SCAN?
At NELA Dental, we provide our implant patients with in-office, 3D CT scans. There is a significant difference between traditional x-rays and 3D CT scans. An x-ray is only a two-dimensional image showing the layout of your bone structure. In the case of placing implants, x-rays would give us an idea of how close your tooth roots are, how thick your jawbone is, and other important territorial details that would allow us to place the implant safely. However, x-rays still leave marginal room for error. It is up to the dentist's interpretation and usage of the x-ray images
to place your implant safely. A 3D CT scan dramatically limits this risk. A 3D CT scan allows us to get a complete 3D map of your bone structure, so that we can plan every step of the surgery beforehand. It also allows us to create 3D printed surgical guides, so that the implant is placed into the jawbone at the most precise angle and depth possible.
QUESTION #3 - WILL THE DENTAL IMPLANT AND CROWN BE PLACED IN THE SAME OFFICE?
In many general dental offices, they will separate the dental implant process among two dentists. One dentist will be the surgeon who places the implant into a patient's bone. The other dentist will be responsible for placing the crown on the implant. There's nothing wrong with this approach as long as the doctors work closely together. We recommend working with an implant provider who will work closely with the dentist who places the crown. At NELA Dental, we perform these two tasks all under one roof. This will decrease the margin for error and increase the likelihood of your final crown looking perfect.
QUESTION #4 - HOW WILL THE DENTIST CONSIDER YOUR SPECIFIC MEDICAL CONDITIONS?
The success of your implant surgery will largely depend on how your surgeon considers your medical conditions. For example, people who have diabetes will have a much harder time healing from the implant process, so they will require extra steps to ensure a successful result.
At NELA Dental, we take a through medical history of all dental implant patients during their initial consultation. This allows us the opportunity to go over all risks involved.
QUESTION # 5 - HOW ACCESSIBLE WILL YOUR SURGEON BE AFTER THE PROCEDURE?
This is an absolute must. The implant provider may have done everything perfectly, but there is always a small chance that something unexpected may happen after your surgery. You should have your surgeon's word that they will prioritize you if something wrong occurs.
Also, keep this in mind if you're ever considering going out of the country to have dental implant surgery. If something happens after you get back in the United States, you'll likely have to fly all the way back to get the issue fixed.
Whether it's for dental implants or a checkup, contact NELA Dental and Start Smiling Today!
50 MARCH 2023 | WWW.BAYOULIFEMAG.COM
PRESERVED LEMONS
Prepare 2 widemouth quart-size jars and a fermenting weight. Cut 3 pounds of lemons and toss so that each piece is lightly but evenly coated. Divide the lemons between the two jars. Let sit, covered, for about 1 hour. After some of the juice is released, pack the lemons firmly (the jar should fill halfway or more with lemon juice). Juice the remaining lemons and add extra juice to the jars so the lemons are covered and within an inch of the top of each jar. Weigh down with fermenting weight. Seal the jar and keep them in a cool place for one week and then move to the refrigerator. When using for a recipe, rinse any extra salt off before slicing peel. Add them to braises and dressings.
Styled by Taylor Bennett & Photograph by Kelly Moore Clark.
BAYOU RECIPE
HEAVENLY HUMMUS
Take a cue from spring spreads and dive into the season's most satisfying treat. This authentic hummus light and creamy and packed full of flavor.
What you'll need:
1/4 cup lemon juice
1/2 cup tahini paste
2–3 garlic cloves
1/4 cup olive oil
1/4 cup water
1 teaspoon salt, more to taste
1/4 teaspoon pepper
1 teaspoon cumin
14-ounce can chickpeas, rinsed and drained
Place lemon juice, garlic cloves, tahini paste, water and olive oil in a food processor and whip until creamy. Add salt, pepper, cumin and chickpeas and blend. Add cold water to the mixture until the consistency is really smooth. Add salt and lemon as needed. Next, spoon hummus into a bowl and create a well for the olive oil (or any other sauces you may like). Add toppings like snap peas, radishes, carrots, cucumbers or any crudite you desire. Drizzle with olive oil and sprinkle with fresh herbs and spices. Styled by Taylor Bennett. Photograph by Kelly
Moore Clark.
WWW.BAYOULIFEMAG.COM | MARCH 2023 55
ROSÉ ALL DAY
Spring is right around the corner, which means it's the perfect time for an outdoor Louisiana party. This perfect punch combines a sweet rosé with a kick of citrus.
What you'll need:
8 cups rosé
3 lemons (juiced)
2 grapefruits (juiced)
2 cups lemonade
2 cups sparkling citrus water
Combine all ingredients in a punch bowl and garnish with edible flowers and lemon slices. Serve over ice.
Styled by Taylor Bennett
Photograph by Kelly Moore Clark
BAYOU KIDZ
Taking Time to Celebrate
Savoring Time with a Staycation
article by Cindy G. Foust
Hello to our wonderful Bayou Life community as I write this month's column from the comfort of my big comfy chair. In case you haven't noticed, spring is here whether we like it not, and we didn't even get a snow day. Bummer. Well, unless you work for Entergy, you probably would boycott my column if you knew I had performed snow dances before. Anyway, I hope this nearly end of the first quarter finds you and your family doing well; all is good on the home front here. Well, except my husband had to have his gallbladder out but other than that…we are just sitting on cruise control over here waiting on spring to sprung.
It's beginning to get a little green in the yard, and I do in fact love this time of year; it's almost like the season is signaling nature that it's okay to wake up. I say we "march" on into spring together friends, and talk about something we can do together to celebrate. I love a good celebration, I really do. Well, except that one time my friends gave me a hip hop party to celebrate my 50th birthday. I swear on our friendship I didn't drink a drop but I danced like I was JLo at the Super Bowl halftime show. Anybody that was there gonna dispute that? It's doubtful because at one point in the night, I was doing the worm meets the dirt dance (for mental clarity, imagine when you see an earthworm trying to get back in the dirt). I didn't say it was pretty readers, I just said someone bet me I wouldn't do it, and well, my 50year old self had something to prove. Really and truly, the only thing it proved was that I was so out of shape I couldn't sit in a chair for a week. And I had to scale the wall to sit on the toilet. Can I say that in a children's column? It's the dang truth, though. And then at another Super Bowl celebration, I decided to actually impersonate Beyonce (hence my nickname Cindyonce) and chipped my tooth on the dismount. Oh, in front of my friends. And oh, in front of my mom. My son nearly left home to live with another family in Idaho, but we managed to get him some counseling, and he's all good now. Yeah, it will suffice to say that I can be the life of the party, or at least think I am (huge difference in being and thinking…huge), and I love embracing the occasions when a good celebration is in order. Which brings me to this month's column and looking ahead to all the upcoming holidays and such that afford us opportunities to celebrate.
One such time is not really a holiday, but rather a "weeklong" opportunity and that's spring break. Now listen, I know there are people who take Disney trips, or head to the beach or maybe even the mountains for snow skiing, but the truth is, we have plenty of options for a staycation right here at home. When I was growing up, we didn't travel much because my dad worked overseas and when
he came home, he liked to stay at home! We did get the occasional Six Flags Over Texas trips; you know, the ones where we all piled in the Chevy Citation and headed to Arlington? Or the camping trips to Lake Ouachita in Arkansas really opens the memory floodgates…especially that one time my mom got 3 bicycles, 4 kids and camping gear in the hatchback of the Chevy Citation.
But where was I? Oh yeah, that you don't have to go on an actual "trip" to create a memorable spring break week. Listen, a lot of kids just want to rest! So let that be the premise of your week. And then what? I think it would actually be fun to let your kids decide what they want to do. Movies? Skating? Picnic in the park? What about orchestrating an actual camping trip in your own backyard? A tent purchase would be a lot less expensive than a plane ticket and what a memorable time you will have from the comfort of your own backyard. The kids can actually get in on getting the tent "pitched" and working on the menu for the campout nights. Depending on the weather, it might just be worth a fire in the pit and a S'mores bar! One time my kids wanted to watch movies on our garage door so I borrowed a projector from my best friend, pulled out my popcorn machine (doesn't everyone have one?) and hung a sheet over the garage door. We used our sleeping bags and watched a movie with friends, almost like being at the real movies…except for the mosquitoes and weird noises that made me worried Freddy Kruger was coming out of the pasture behind my house. Except my donkey would protect us so need to worry over that.
I really think, though, that a staycation for spring break has endless possibilities for memory making and family time together. I will say it again, let the kids decide their fate! Taking the time to do some of the things that "you never have time or make time to do" is a refreshing approach to the week. It can be as simple as letting them have friends over for hamburgers and a movie. Maybe even catch an area baseball or softball game!
No matter what your plans ultimately end up being, the most important thing is that you are doing it together. Family time is a valuable commodity these days…I'm speaking from experience now that my oldest son has left the coop, so savor these days readers and be intentional in spending time together. It's true that "these are they days they will always remember," so make them so special that will never forget.
Cindy G. Foust is a wife, mom, author and blogger. You can find her blog at the alphabetmom.com for weekly columns about home life, parenting, small business stories and insight with a smidgen of literacy. Give her a like or follow on Facebook and Instagram.
58 MARCH 2023 | WWW.BAYOULIFEMAG.COM
WWW.BAYOULIFEMAG.COM | MARCH 2023 59
Unstoppable
A Courageous Journey to a Woman's Path to Self-Empowerment
MEET JULIANNA FRAZIER, A MONROE NATIVE WHO found her self-empowerment journey in helping others. Julianna's career took off in California as a powerful executive in community connection and building wellness centers focusing on holistic health. In 2013 she was the clinical director of Ken Starr MD Wellness. Throughout her career, Julianna has owned and operated as an executive in the field of luxury treatment facilities that are changing the communities around them. "This is not just a job; this is my passion," Julianna exclaimed. "If we genuinely want to see a change in the world, we have to first be that, then offer solutions, support, and education to others so that they, too, can partake in the pursuit of happiness."
PAIN IS A PART OF GROWTH
Julianna's path to health and happiness was not granted easily. In 1992 Julianna was diagnosed with systemic lupus, fibromyalgia, with severe depression. "As a young mother riddled with so much pain, it seemed debilitating and impossible to rise above."
Julianna was introduced to cutting-edge therapies that significantly changed her life's trajectory. " We all are recovering in one way or another. Education, empathy, and connection are critical components of healing."
"Throughout my healing journey, I was introduced to a co-enzyme of N.A.D.+(Nicotinamide Adenine Dinucleotide). When given through IV, this powerful supplement does excellent restoration to the mitochondria and promotes cell rejuvenation. I was sold on this infusion once the inflammation in my body dissipated. In addition, it helped me significantly with the pain I had been burdened with for years. So, I began to research and dive into the science and data of this natural medicine."
Julianna has witnessed the transformation of healing and restoration in those who have come from all walks of life. As a result, Julianna incorporated the administration of NAD and vitamin infusions in the Wellness Center in California. "We began seeing fascinating results from our patients with Lyme disease, dementia, Parkinson's, and addictions, and it is even being used for youth rejuvenation!" Julianna says.
The specific protocols and training were given through Springfield Wellness Center in Springfield, La.. Dr. Mestayer is a brilliant physician with over 30 years of research in providing the proper protocols for individuals seeking NAD therapies. These specialized therapies range from simple B12 shots to brain restoration formulas.
WHAT BROUGHT YOU BACK TO MONROE?
"In January of last year, I received a call from my brother. I could not believe what he was telling me, "Julie, they found Becky dead." What?
Rebecca (Becky), my sister, had been found dead in her home? Shocked, I immediately caught the next flight out to be here with my family that was hurting. She opened a transitional living for women that had battled addiction. She was always a fighter for those less fortunate. Once we got the autopsy report back, it was clear what had happened. Becky thought she was taking Xanax, but it was laced with fentanyl. This one pill that looked exactly like the ones from the pharmacy was, in fact, a phony. Becky had 50 times the lethal amount in her system from this one pill.
"At this time, I knew we had to build something for this community that produced real results. People are struggling not only with addiction but with connection and education. But unfortunately, there is a stigma in our society, and you are ostracized if you have physical issues, mental health diagnoses, or even chemical imbalances. I think that we have not felt safe enough to be authentic due to the pressures we put on ourselves. If we do not present politically correct, if our only conversation is superficial, if most of our time is consumed with what we are going to wear and what posh vacation we are taking to impress the neighbors, then I think it's time to get real. If we continue to worry about what others think about us, then we will be continuously owned by them."
THE SOLUTION
Julianna has a clear picture of total wellness. With over 13 years in the industry and proven results, she brings fresh air to North Louisiana. The Sanctuary Wellness Center, off Finks Hideaway Road in North Monroe, opens its doors on March 4th. The Sanctuary will encompass vitamin infusions, and NAD+ brain restoration therapies. It will also beauty treatments, medical outpatient detox, ketamine, and psychotherapies. The beautiful property is inviting, and the professional staff is caring and compassionate. The Sanctuary even has a Bistro! They will serve vitamininfused smoothies, teas, coffees, and daily specials. Julianna stated, "We need a safe place to connect and heal. I wanted to create a haven that provides the community with spirit, mind, and body wellness. Education and support groups will be added to our calendar very soon. No matter what level of wellness one seeks, we have it here, and it feels good."
Join us on March 4th for an open house celebration at our office on 1300 Finks Hideaway Road, Monroe, LA. 71203. The event will be held from 6 to 8 in the evening. All that attend the Open House will be entered to win a VIP membership for free. In addition, all attendees will receive a complimentary gift. Please call for more information at 318-816-4919 or visit our website, thesanctuarymd.com.
60 MARCH 2023 | WWW.BAYOULIFEMAG.COM
BAYOU OUTDOORS
DIAL THEM IN
ARTICLE BY DAN CHASON
There is no time of the year that brings more anglers to the lake than during the spawn of largemouth bass and crappie. That time of the year is absolutely the month of March. Waters are warming and the muddy high waters of February have subsided and the fish are calming down and starting to heed nature's call. I have written many times about where to go and what to throw but this month let's dial it down a little closer to reality. First let's examine the times not to fish and the days you need to be on the water with rod in hand.
THE MOON
The moon phase has more to do with the spawn of game fish than any other factor. There is a crawfish hatch on a full moon which causes all game to react. Game fish react as the hormone in a crawfish is crucial to initiate spawning activity. Three days after a full moon is the prime day to be on the water. I'll bring in the other factor that will get you more bites as well.
THE BAROMETER
I never go fishing that I don't look at the barometric pressure. The barometer has an effect on fish as barometric pressure puts pressure on a fish's air bladder. On a rising barometer, the fish will hold tight to cover or suspend in the thermocline and not be as active. On a falling barometer, the fish become more receptive and active. This means that on falling barometer days (prior to a front) fish will position themselves in an ambush posture making them more aggressive and easier to catch.
WATER TEMPERATURE
Water temperature is so very critical. You need sustained temperature of 56 degrees to kick off spawning activity. The most understood thing about the spawn is that not all fish spawn in shallow water. Certain conditions change where they spawn such as fluctuating water levels and water clarity. I've caught spawning fish in 8 plus feet of water. The bass in Caney Lake for example are notorious for spawning deep as they get a lot of pressure and the water is clear/ semi-clear. Don't get caught up in pounding the banks when you are actually passing up spawning fish to look for them shallow.
WIND
Wind is a killer when it comes to spawning fish. Not being able to see the fish or see their movement hurts the results. Always approach spawning fish from the down-wind side. If you can anchor, do so. Trolling motors and boat shadows spook a spawning fish. Wind really affects the outcome if you aren't mindful of its affect.
RIGHT BAIT AT THE RIGHT TIME
Probably the most crucial part of the equation as most anglers don't have a clue when it comes to the right presentation. I approach this time of year with a simple selection of 4 lures: Red Rattletrap, Chatter bait (chartreuse and white), Creature bait (brush hog/jig), Suspending
stick bait.
You will rarely see me with anything else tied on in March. If the fish are scattered or on the flats, you can cover a lot of water with the trap and chatter bait. If they are suspended in the Thermocline, the suspending stick bait is the ticket. I like to find the edges of a creek and fish the points. Fish that have not engaged in the spawn (and no, they don't all spawn at one time) will suspend on these points and use the ditches as a road to the spawning beds.
SLOW DOWN
I have an old saying during the spawn: Fish slow, then slow down. Fish are just like us when living in cold environments, 56 degrees is cold. Think about how you react when you are out in the cold. You move slower and you react slower. So do the fish. If you are zipping a lure through the water with your trolling motor on high, you will not have much success. Work every inch of cover and then work it again. Fish are not going to be super reactive to any lure but if you are smart enough to slow down and fish cover thoroughly, you will have success.
FISH SMART
The water is going to be the warmest on the Northwest side of any body of water as it has the sun on it for the longest during the day. Rocks are a natural draw as they draw shad and baitfish as the water temperature is going to warm faster and will hold that heat and maintain that temperature. Up your odds and fish where it is warmest. A temperature change of 4 degrees is a big deal this time of year.
PAY ATTENTION
Bass in particular give out tell-tale signs when they are in the spawning mode. Water will be more stained in spawning areas. It may just be in a very small area but this sign gives away the fact that a big female is near and active.
Baitfish will always be more skittish and reactive when big bass are near. Look for movement and breaking of schools near spawning fish.
Disturbed grass is my favorite. Whether by feeding or just fanning, the disturbed grass gives away the location of spawning fish.
TACKLE
The most overlooked item in this list is tackle. Many anglers think that braided line or heavy line is paramount as you are chasing big fish. Bill Dance once said, "You can't get them in if you don't get them on." That is a very true statement. If an angler is fishing 25lb test line and not getting bit, what's the point. I rarely use over 12lb flourocarbon line this time of year. I like to go as light in line choice as I can so I have the chance to "get them on".
These are a few examples of how to not only choose the right time but the right day to pursue a lunker bass. Good luck and remember to catch and release.
62 MARCH 2023 | WWW.BAYOULIFEMAG.COM
L A I S S E Z L E S B O N S T E M P S R O U L E R
WE ASKED OUR COMMUNITY TO SHARE THEIR MARDI GRAS PHOTOS
64 MARCH 2023 | WWW.BAYOULIFEMAG.COM
WWW.BAYOULIFEMAG.COM | MARCH 2023 65
66 MARCH 2023 | WWW.BAYOULIFEMAG.COM BAYOU SCENE | MARDI GRAS
WWW.BAYOULIFEMAG.COM | MARCH 2023 67
Fishing With Kenny
KENNY COVINGTON
Ihave bass fished out of a kayak just once before and it was a memorable trip to north Arkansas fishing for smallmouth with one my lifelong friends, Bubba Jones. The one thing I took away from that trip, floating down the small rivers and streams, was the amount of work and skill it took to successfully fish in the kayak will test your body, both mentally and physically.
Whitney Cook and her husband Andrew, have two children, daughter Bristol and son Wyatt. Being a wife, holding down a full-time job and raising two kids, this petite resident of Farmerville, Louisiana knows a thing or two about multi-tasking and making the best use of her time. To add to her already overwhelming responsibilities, Whitney Cook is also a fisherperson.
Raised in a family that was male dominant, Whitney often found herself tagging along with her brothers and cousins on outdoor related activities. "Oh, she won't go because the weather is too bad or for this reason or that reason," she told me with a laugh. "They didn't realize how much I loved being outdoors and that love has stayed with me."
I first met Whitney after competing in a tournament on Lake Darbonne as I was walking across the parking lot towards my truck. I spotted a small group of people standing around a trailer loaded with a kayak, so I walked over to investigate the scene. As I walked closer I could tell this was not your normal kayak, but one used for fishing.
"That's a nice set up you have there. Hi, my name is Kenny" I said introducing myself to the boat's owner. "Did you have any luck?"
"Well, thank you, my name is Whitney," she replied.
"No, I just got out for a while. I was just doing a bit of looking around, enjoying the good weather while I can."
As we continued to talk about her kayak, I was struck by Whitney's passion for fishing and for the outdoors in general. Her outlook was refreshing, honest, and true to her spirit. Finding those qualities is rare these days and I when I spoke to her about this month's "Bayou Life Fishing with Kenny" article, her honest thoughts and opinions were from a wise soul, much older than she is.
When I asked Whitney why she preferred fishing from a kayak as compared to a boat, her answer was quite reflective and one I was not expecting. "I compare kayak fishing to boat fishing to the difference between hunting with a bow or a gun. Bow hunting brings you closer to the action, it's harder work (especially if using a compound) compared to rifle hunting. A kayak is like bow hunting to me. The advantages are I can get a kayak in places a boat can't, the advantage of a boat is going wherever you please!"
The tournament bug, competing in and winning her first kayak event. "What an awesome experience. I think it was 20 degrees that morning, the day before we had 25 mph north winds. It was about a month before MLF came here and we were getting hammered with wintry mixes and cold weather. It was brutal weather; but winning that tournament gave me the confidence of knowing I could hold my own against the competition."
"I just fished a Bassmaster kayak tournament on Caney, the beginning of December, finishing 9th out of 31 anglers. I just registered for Caddo/Bistineau HOBIE BOS tournament for March. There's some reputable leagues that combine east Texas and south Louisiana and are merging into north Louisiana. I plan to try and fish those as well. Hopefully I can enter as a co-angler for the East Texas Lady Anglers trail as well this year. I love it all, but I do it for fun, growth, and competition mainly. Besides, tournaments give me an unhealthy habit of blowing money!"
So, being a kayak angler, what role did professional kayak angler Kristine Fischer play in lighting this competitive fire? "She influenced me to get into the kayak fishing, and at the time it was a reasonable start, both financially and experience wise to gain confidence in electronics, focusing on just slow fishing, picking areas apart rather than running and gunning using a boat. I believe we have similar outlooks and values. How she handles herself is something I really admire and appreciate. I would rather be known as a woman who has been a positive influence and someone for girls to look up to because I fish, not a girl who holds up fish in a picture for a few likes. That is something Kristine strongly believes in, and I do as well.
How can fishing be more than just a competitive outlet? "Being on the water is the best way I know to find myself again, away from all the roles in everyday life. Ever since I was four, I can remember feeding and catching catfish with a cane pole out of a west Memphis farm pond. As you can see, I've always been a girl who loves the outdoors, but sometimes you can't spend as much time on your passions as you would like, when you're working, being a parent or just trying to get through life. It can be easy for you to lose your identity. Fishing is something I can always turn back to. I feel I can reconnect with God."
When Whitney asked me about a recent tournament I had fished on Caney, I told when the lake is fishing to my strengths, I do well but if it doesn't, I tend to struggle. She then said, "My strengths are probably my determination, and willingness to learn. My weakness is still not knowing enough." Whitney, I hope you understand that weakness can also be your strength.
In my life I have been fortunate to have met all my angling heroes, having left being an even bigger fan than I was before. I have questioned the direction this sport is going and even the mindset of the anglers. After meeting and getting a chance to know Whitney Cook, I have a renewed sense of optimism about the sport and the younger generation who fish. I thank her for her time.
It looks like we have run out of time and space for another month. Be careful out on the water, please be respectful and leave your favorite lake in better condition than the way you found it. Catch one for me and I will see you next month!
68 MARCH 2023 | WWW.BAYOULIFEMAG.COM
It's a Woman's World article by
WWW.BAYOULIFEMAG.COM | MARCH 2023 69
BAYOU ARTIST
Aleatha Shannon says people are often surprised to find out what she does. But if they knew her story and the journey that led to her craft, they'd see it was only a matter of time before she started Willow Oak Fiber and Farm.
ARTICLE BY STARLA GATSON AND PHOTOGRAPHY BY KELLY MOORE CLARK
Through her business, Shannon raises angora rabbits, shears their fibers, and uses them to spin her own yarn. Then, she sells her handspun yarn and the items she knits or weaves with it at local farmers markets, art crawls, and on her website.
"The people I talk to at markets at things usually are like, 'I didn't know anyone did this still; this is a lost art,'" Shannon reveals. "[But] it's not a lost art. It's just a very niche art."
Yarn spinning has only been a part of the Kansas-born artist, wife, and mother's life since 2020, but fiber art — fine art that uses textiles like fabric, yarn, or fibers — has been Shannon's go-to for years. "My mom and grandma both knew how to sew and would make clothes or quilts, so I learned how to do that pretty early on," she says "When I was a teen, I got really into sewing my own clothes. I learned how to knit as well."
However, knitting was an expensive hobby, and like most teenagers, Shannon didn't have much money to spare. She could have settled for cheaper acrylic yarn from places like Walmart or Hobby Lobby, she explains before admitting, "It just doesn't feel very nice."
She wanted high-quality material, the kind made from luxury fibers that her hometown yarn shop sold and with a higher price tag. But from the time she was a beginner knitter to adulthood, Shannon couldn't bring herself to buy higher-end yarn — not often, anyway. She shares that she occasionally used birthday or Christmas money to treat herself, but since that didn't happen often, Shannon wasn't knitting much.
Years later, when she and her husband finished college and had a bit more money to spend, Shannon began knitting more frequently. As she became reacquainted with her old pastime, she stumbled upon social media profiles of people who raised sheep and spun wool. Shannon was so interested in what she saw that she had to try it herself. So, she asked for a drop spindle and wool for Christmas.
"I was really hesitant to try it," she recalls, "because it seemed like yet another obsession that would cost a lot of money, and I wouldn't be able to do it as much as I wanted to."
It only took a couple of days for her to push past the initial resistance to trying this new craft. Before long, Shannon was sitting, drop spindle and wool in hand, and watching YouTube tutorials to learn how to master this skill.
Her first batch of handspun yarn wasn't the best, she says. But she worked to improve, and suddenly, she had access to the high-quality material she always wanted. Not long after she started spinning, Shannon bought two angora rabbits, learned to care for them, and used their fibers to make her materials.
"I knew I loved this way more than any of the other fiber crafts I had ever done," she says of her newfound pastime. "[I knew] that this was what I wanted to do. I had to buy some equipment that was expensive, and I wanted a way to pay myself back for that. Also, because I get so obsessive, I want to be doing it all the time."
Two questions lingered in Shannon's mind. How would she pay herself back for the equipment she already purchased and cover the costs for anything else she'd need to buy in the future? And what could she do with all of her creations? One solution resolved both issues: start a business. Thus, Willow Oak Farm and Fiber was born.
Selling fibers, yarns, and knitted goods was not only a practical next step. It was also the fulfillment of Shannon's lifelong dream of being a professional artist.
"I wanted to be a mom, and I wanted to be an artist; my entire life, that's what I wanted to do," she declares.
She's been creating things for as long as she can remember, she goes on. Drawing, painting, sewing, quilting — she did it all. Despite young Shannon's interest in making art and desire to do so professionally, she didn't pursue art in college. In fact, beyond the occasional 4-H learning opportunity and high school art class, she has no formal training. Everything else, though, has been self-taught.
"When I went to college, I knew I would always be doing art, and I didn't feel like I needed to go to college to learn that," she explains. "I knew I could learn
72 MARCH 2023 | WWW.BAYOULIFEMAG.COM
"Everything we have today is because of human creativity just building on itself." ~ Aleatha Shannon
a lot of really great things in an art program, but I decided to learn things I wasn't sure I'd have the discipline to learn on my own."
If not for her university's curriculum requirements, Shannon may not have had the discipline to learn things like art history and literature, but she certainly has the drive to sharpen her skills and develop new ones on her own. Her desire to learn about her craft is more than just drive, she explains; it's more like a compulsion.
"I have kind of an obsessive mind," she reveals. "If I see something and am like, 'That's really cool,' it just lights something up in me, and I have to find out how it works or how I can do it. It's something I have to do. It fills my mind."
Shannon's "obsessive mind" works in her favor for a couple of reasons. First, it makes her good at what she does, and second, it makes her more knowledgeable about spinning and fiber art in general. That knowledge comes in handy when she gets the opportunity to have what she calls "educational chats" in settings like schools and libraries.
She realizes not everyone wants to learn how to spin — it's a time-consuming process! — so she focuses a lot of her energy on teaching where popular fibers and textiles come from and the tools people used for fiber art in the past.
"All that work was such a big part of human history, and nowadays, people don't think about that," Shannon says. "They just go buy whatever clothes they want, keep them for a little while, and then they throw them away."
Shannon wants that to change, though. She believes that, when people know and think about where their goods come from, they'll realize just how creative humans are and have always been.
"Everything we have today is because of human creativity just building on itself," she declares. "Fiber art is the perfect example of that. It starts with humans [thousands of] years ago picking fluff off a bush that some wild sheep ran next to,
WWW.BAYOULIFEMAG.COM | MARCH 2023 73
FINDING INSPIRATION: Where her inspiration comes from depends on the type of fiber art she's doing, she explains. For example, if she's sewing a quilt, colors and shapes influence her the most. However, with spinning yarn, most of the inspiration stems from the materials. She muses, "I see [them] and think, 'I want to make something. I want to use it. I want to touch it. I want to wear it. I want to look at it all the time.' You're inspired by natural, raw materials, what humans have done with them in the past, and what you feel like doing with them."
74 MARCH 2023 | WWW.BAYOULIFEMAG.COM
twisting it together in their fingers, and thinking, 'Huh. This looks like kind of a useful thing. I wonder what I can make with it.'"
There are many pieces of evidence of human creativity, Shannon says, but of all of them, fiber art is her favorite. Where her inspiration comes from depends on the type of fiber art she's doing, she explains. For example, if she's sewing a quilt, colors and shapes influence her the most. However, with spinning yarn, most of the inspiration stems from the materials. She muses, "I see [them] and think, 'I want to make something. I want to use it. I want to touch it. I want to wear it. I want to look at it all the time.' You're inspired by natural, raw materials, what humans have done with them in the past, and what you feel like doing with them."
Shannon goes on to explain that her work has been beneficial to her mental health, as it soothes her, allows her to work with animals — "I've always loved animals," she gushes — and connects her to the earth and its natural cycles. Her work is done in seasons, she explains. The first season is the birth of the rabbit. Then, as it grows under her care, it develops a new coat for her to shear and use for spinning yarn. Before long, new rabbits are born, and the cycle starts all over again.
"It just goes in this seasonal way that I think is good for humans to be connected to," she says. "[It's good to be] connected to a seasonal cycle because, in the modern day, we try to avoid the seasons sometimes because the temperature is uncomfortable or the bugs come out. It's disconnecting from the earth."
Additionally, Shannon's work connects her to the area, and she believes it connects every customer to their local community as well. "I like to compare [fiber art from a fiber farmer in your area] to the farmers market," she says. "A fresh farmers market tomato tastes so much better than a store-bought tomato. For people who love textiles, fiber crafts, or clothing, [it's] kind of the same. It's of higher quality and connects you to your local environment. The scarf you're wearing could be grown by animals two miles away from you, and when you put it on, you feel the connection. That's good for people to feel."
WWW.BAYOULIFEMAG.COM | MARCH 2023 75
NELA Arts Council Announces BLEND 2023
Second Annual BLEND Sunday, April 30th
THE NORTHEAST LOUISIANA
Arts Council presents BLEND, from 5-8pm Sunday, April 30, 2023, at the RiverMarket in downtown Monroe.
The biggest party on the river features local men and ladies who cook in addition to selected restaurants all serving tastings of their best culinary creations; a silent art auction featuring some of the area's finest visual artists; along with exciting music.
Ticket proceeds and a portion of silent auction profits benefit the Northeast Louisiana Arts Council's programs and services.
After a highly successful "BLENDing" of the Arts Council's historic Blend of the Bayou and its more recent sister event the North Delta Food & Wine Festival in 2022, the Arts Council returns in 2023 with its second edition of BLEND. The event centers around a wide array of delicious food and beverages prepared and served by
prominent area professionals and business owners who generously volunteer their time and talents in support of the Arts Council. This BLENDing also incorporates select local restaurants.
Blend of the Bayou debuted in 1997 and is the granddaddy of arts fundraising events of its type in north Louisiana. Several of the original 16 volunteer cooks that first year are still part of the now over 25 individuals who cook and they aren't ready to lay their utensils down just yet. Over the years several younger cooks have joined the ranks and are carrying on the tradition.
Attendees have an opportunity to view and bid on original artwork by some of our leading area visual artists. The Bayou Gallery silent auction is hugely popular with attendees and affords them the chance to bid and win unique original artwork to take home that evening.
Music is an integral part of BLEND. We'll
announce our music line-up for BLEND 2023 very soon.
Marsala Beverages and Choice Brands will both be providing select beverages to quench your thirst as you enjoy the unique view of the Ouachita River. Additionally, select wines and specialty drinks along with soft drinks and water will also be available. Good food, good drinks, good music, good friends and great art...what more could you ask for? All for one ticket price coming together at BLEND.
The Northeast Louisiana Arts Council would love to have your business be a part of this great community event. For sponsorship information, please call 318-397-6717 or 318397-6754. The latest information and updates are available via the Arts Council's Facebook page and website at www.nelaarts.org/nela-artsevents/
76 MARCH 2023 | WWW.BAYOULIFEMAG.COM
The BayouLife Attorney Directory is your source for obtaining current information for attorneys licensed to practice in Louisiana. From personal injury attorneys to those specializing in family law, this list is comprised of some of the best in the industry.
Bayou DeSiard Title Company
417 North 3rd Street, Monroe 318.325.8800
Creed & Creed
1805 Tower Drive, Monroe 318.387.5800
Guerriero & Guerriero
2200 Forsythe Avenue, Monroe 318.600.0000
The Law Office of Molly M. Clement, LLC
103 South Briggs, Oak Grove 318.428.3219
Matherne & Davis, APLC
3006 Armand Street, P.O. Box 6135, Monroe 318.807.9030
North Delta Title Company
1100 North 19th Street, Monroe 318.387.1100
Paul Hurd Law Office
1896 Hudson Circle, Suite 5, Monroe 318.323.3838
Watson, McMillan & Street, LLP
Marathon Title
1881 Hudson Circle, Monroe 318-322-9700
WWW.BAYOULIFEMAG.COM | MARCH 2023 77
LOCAL INJURY ATTORNEYS
Creed & Creed
Since 1995, Christian and Catherine Creed have provided outstanding legal representation to their clients in northeast Louisiana. As members of the Multi-Million Dollar Advocates Forum, which recognizes prestigious trial lawyers in the United States, Creed & Creed focuses on personal injury litigation, including automobile accidents, 18-wheeler accidents, offshore accidents, wrongful death, and social security disability claims. Also, as members of the American Academy of Trial Attorneys, representing the top one percent of trial attorneys, the firm believes those who have suffered personal injuries due to negligence, through no fault of their own, should be fairly and adequately compensated. They believe in dedicated and personal service.
Christian and Catherine meet personally with their clients to better understand the needs of their clients and the details of their case. They know how insurance companies operate, and they fight to protect the rights of their clients. In fact, the firm was recently recognized as one of the nation's top personal injury law firms by the National Association of Distinguished Counsel and is the proud recipient of The American Institute of Personal Injury Attorneys' Client Satisfaction Award.
Christian Creed is an experienced trial attorney and persuasive negotiator. A graduate of LSU and Loyola University College of Law, Christian is also a licensed investigator, making him uniquely qualified
to fight on their clients' behalf. Moreover, Christian previously worked as a claims adjuster for several national insurance companies, so he knows how insurance adjusters operate and the strategies they employ. He has been representing clients throughout northeast Louisiana for over 25 years, and his experience ensures their clients the favorable outcome they deserve.
Catherine Creed is a lifelong resident of our community with over 25 years of legal experience. A graduate of LSU and Loyola University College of Law, she is a former real estate attorney, who now devotes her entire practice to personal injury law. Catherine is a member of the Louisiana Association of Justice and Louisiana Land and Title Association. She is also a sustaining member of the Monroe Junior League and is actively involved with the United Way of Northeast Louisiana.
Christian and Catherine take pride in their Louisiana roots and are actively involved in their community. The Creeds are ardent supporters of our area's schools, universities and non-profits. Creed & Creed was voted Best Law Firm in 2021 and is an eleven-time winner of The Best of the Delta, Best Attorney. Creed & Creed is a past recipient of the Good Neighbor Award presented by the Better Business Bureau and the Bart Award, which recognizes contributions by local businesses to the arts in northeast Louisiana by the Downtown Arts Alliance. Also, Christian was previously recognized as the James M. Shipp Jr. Memorial Young Business Leader of the Year by the Monroe Chamber of Commerce and received the first Community Spirit Award presented by NELA United Way. The Creeds take pride in being our area's local injury attorneys.
78 MARCH 2023 | WWW.BAYOULIFEMAG.COM
PERSONAL INJURY ATTORNEYS
1805 Tower Drive, Monroe creedlaw.com | 318-387-5800 LOCAL
OFFICIAL
FOR
Founded 97 years ago, the law firm of Guerriero and Guerriero is one of the oldest and most prestigious firms in North Louisiana. With over three decades of litigation experience, Jeff Guerriero continues the legacy started by his grandfather, Joseph S. Guerriero, and his father, Joe D. Guerriero. Jeff, his wife Elizabeth, and son-in-law Bryan Creekmore are proud to be a part of the legal profession and to carry on a family tradition of providing tough and aggressive legal representation to Louisiana plaintiffs. Jeff, a respected attorney known for his compassionate and tenacious representation, has obtained some of the largest settlements and verdicts in Northeast Louisiana, collecting millions of dollars for his clients. He gives each case his personal attention and cares about his clients like family.
Guerriero & Guerriero is proud to be the official injury attorney for the ULM Warhawks. The firm handles cases involving personal injury; 18-wheeler, motorcycle, and car accidents; wrongful death; nursing home neglect; medical malpractice; drug recalls/injuries; defective products; oil field/
rig accidents; and mass tort/class action litigation.
Over his accomplished legal career, Jeff has won numerous distinguished awards including Bayou Life's Best of the Bayou Top Attorney; Shreveport Bossier Magazine's Top Attorney; Super Lawyer distinction; Pro Bono Lawyer of the Year; and the Better Business Bureau's Good Neighbor award. Additionally, the American Institute of Personal Injury Attorneys recently voted Guerriero Law firm one of the 10 Best Law Firms for Exceptional Client Services.
Jeff and Elizabeth both attended ULM and received their Juris Doctorates from Tulane University School of Law. Jeff served on the House of Delegates, the Board of Governors, and the Legislative Committee for the Louisiana State Bar Association for several years. He also served as the chairman of the Ethics Committee for the Fourth Judicial District Bar Association for over 10 years.
Elizabeth, an accomplished attorney in her own right, taught Business Law at ULM for 25 years and served on the House of Delegates for the Louisiana Bar
Association. Specializing in contract law, she has negotiated multi-million dollar entertainment, television and sports contracts.
Bryan, a graduate of ULM and Southern School of Law, is an integral part of the firm and puts his legal research and analytical skills to work for the firm's clients. He has recently been selected as one of the Top 40 Under 40 community members by the Chamber of Commerce as well as being selected as a fellow to participate in the 2023 Delta Regional Authority leadership institute in order to help progress our region.
Guerriero & Guerriero is truly a local family business that for generations has, and continues to, serve and support the greater Ouachita area. The firm gives back to the community by supporting local charities and schools, sponsoring coat and toy drives, bike giveaways, Jungle Bells (free zoo admission with many holiday activities) and by participating in Christmas, Mardi Gras and Black History parades.
The Guerriero law firm is available 24/7 to call for FREE consultations.
Just dial 6 million - 318-600-0000
WWW.BAYOULIFEMAG.COM | MARCH 2023 79
Forsythe Avenue, Monroe theinjuryattorney.com | 318.600.0000
Guerriero & Guerriero 2200
INJURY
AGGRESSIVE, LOCAL LEGAL REPRESENTATION 97 YEARS STRONG
ATTORNEY
THE ULM WARHAWKS TOUGH,
Matherne & Davis, Attorneys at Law
3006 Armand Street, P.O. Box 6135, Monroe 318.807.9030
Wills, Powers of Attorney, Trusts, Successions
Matherne and Davis, Attorneys at Law, are based in Monroe and represent clients throughout Northeast Louisiana. Their firm provides a broad range of legal services to clients, specializing in estate planning. They bring extensive experience and professionalism in every case and customize their support with every client based upon specific needs, concerns and goals.
Almost all individuals, regardless of age, marital status or net worth need to have an ongoing relationship and open conversation with a competent estate planning attorney. By creating a plan for the management of your assets in the event of disability and/or a plan for the disposition of your assets at death, the time and expense of the probate process and any potential estate tax liability, can be greatly reduced and the burden on loved ones can be minimized. They assist clients with comprehensive wealth management and estate planning strategies to best meet their needs and to help families with the transition of assets during lifetime and at death in the most efficient manner possible. Their services include the drafting and administration of wills, powers of attorney,
trusts, and successions. In addition, they are experienced and available to counsel and advise clients in the areas of donations, marriage contracts, tutorships, interdictions, Medicaid planning, business formation, taxation, and business contracts.
The faces behind Matherne and Davis may be familiar to you as they were both born and raised in North Louisiana and are very involved in the community. Valerie Van Matherne has been practicing law in Monroe for over 25 years. After graduating from Ouachita Parish High School, and ULM with a Bachelor of Business in Accounting, she attended Mississippi College School of Law. While attending law school, she passed the CPA exam and maintains her CPA status as "inactive." She began her practice as a sole practitioner specializing in corporate law, successions, wills, trusts and tax planning. She also spent several years working in the banking industry as a trust officer. In 2005, Valerie received her Certified Financial Planner™ Certification and has been a Board-Certified Estate Planning and Administration Specialist with the Louisiana Board of Legal Specialization since 2007. In 2013, Valerie partnered with Lauren Davis to form Matherne & Davis, APLC.
Lauren Pickett Davis is a native of Delhi and high school graduate of Riverfield Academy. She graduated from ULM with a Bachelor of Arts in Government/History in 2001 and received her Juris Doctorate in Civil Law from Loyola University School of Law in New Orleans in 2007. After graduation, Lauren clerked for the Fourth Judicial District Court. Upon completion of her clerkship, Lauren practiced in Shreveport until 2012 when she and her family returned to Monroe. Lauren currently serves on the Board of Directors for Commercial Capital Bank. She is also an elected member of the School Council for Jesus the Good Shepherd School.
Valerie and Lauren's work history and knowledge are invaluable in assisting their clients in the estate planning field as they work closely with many of their client's tax advisors and financial planners to ensure that their clients benefit from a comprehensive approach. Contact Matherne and Davis today to plan for your future. Whether you are planning a new business, in need of a pre or post marriage contract or estate planning, Matherne and Davis can help you today, so you don't have to worry about tomorrow.
80 MARCH 2023 | WWW.BAYOULIFEMAG.COM
Law Office of Paul Loy Hurd
1896 Hudson Circle, Suite 5, Monroe 318.323.3838
Non-profit
Paul Loy Hurd has been an active member of the legal and business community in northeast Louisiana for over forty (40) years, and is the founder of the law firm "Paul Loy Hurd, APLC." Mr Hurd is a graduate of Tulane University, School of Arts and Science (1976), and Tulane School of Law (1978). The firm continues to provide creative, insightful legal advice and counsel to our clients covering a wide range of legal matters and business transactions. The firm provides legal counsel concerning complex land title abstracts; identification of alternative legal procedures available to clear clouds on title to real estate; negotiation of terms of buy/sell agreements from both the buyer and seller side and ultimately the preparation and closing of real estate and business transactions, refinancing and personal donations.
Additionally, the Hurd Firm handles a wide array of probate and succession matters, completing the process of transferring property to legatees and
heirs of a deceased family member. This forward looking management analysis often involves creation of inter vivos trusts, testamentary trusts, and the creation of new legal entities. Ultimately, the Hurd Firm implements its forward looking analysis to assure our clients are in the best legal position to hold and manage their property, and to be prepared to pass it on to the next generation.
Home Title Gauranty Company, a full service title insurance and real estate closing company that is owned and operated by Mr. Hurd for over twenty-five years. Home Title provides a broad range of closing service, and title insurance through First American Title Insurance Company of Louisiana. Home Title is especially committed to assisting its clients in their first acquisition of a family home, and the subsequent refinancing of this major family asset.
In 2023, Mr. Hurd became the President of Louisiana Excellence, Inc., a non-profit public policy, educational and advocacy group, whose members
are joining together to make three major, strategic changes to Louisiana State government and taxation. See, Louisiana Excellence's six strategic changes at www.LouisianaExcel.org. The Mission of Louisiana Excellence is Economic Revival of Louisiana by reversing our decade-long loss of population. With Mr. Hurd's background in constitutional law, government structure, government taxation, Louisiana Excellence, Inc. is gathering new members and in 2023 will demand strategic change in State taxation, education, public safety and enhancement of Louisiana's unique cultural assets. These changes will guarantee economic prosperity and growth and transform the State of Louisiana into the business and recreational capital of the Gulf South.
The Firm, Home Title and Louisiana Excellence are unified and dedicated to serving the People of Louisiana, focused on creating profitable business, and growing our unique Louisiana entertainment and recreational way of life.
WWW.BAYOULIFEMAG.COM | MARCH 2023 81
Real Estate, Successions, Business Formation Home Title Guaranty Company
Real Estate Transactions, Closings, Title Insurance Louisiana Excellence, Inc.
paul@paulhurdlawoffice.com 318.323.3838
paul@LouisianaExcel.org 318.323.3495
Educational, Public
Policy Advocacy
Now celebrating its' 25th year in business, Bayou DeSiard Title Company would like to thank all of the clients, lenders, realtors and other individuals who have supported the company since its' founding. Gene Hastings and the other attorneys and staff members of Bayou DeSiard Title recognize that any company that has been successful for over two decades owes its existence to the individuals and community that it serves.
Bayou DeSiard Title Company
417 North 3rd Street, Monroe 318-325-8800
Bayou DeSiard Title specializes in providing closing services in connection with all types of real estate transactions. It handles transactions involving residential and commercial properties including sales, mortgages, refinances, donations, servitudes and lease/ purchases. The company provides escrow services and writes title insurance for national title insurers. Bayou DeSiard Title is approved to handle matters on behalf of almost every banker,
The Law Office of Molly M. Clement, LLC, located in the heart of Oak Grove, Louisiana, is a solo law practice owned and operated by Molly McEacharn Clement. Molly Clement is a Louisiana licensed title insurance producer. Real estate is the firm's specialty, providing services including, but not limited to title insurance, abstracting and deeds. However, the firm provides a wide variety of other legal services to the parishes of East and West Carroll as well as the surrounding parishes. The small town firm offers estate planning, probate matters, business transactions, business entity formation and organization, property settlement, domestic,and many other areas of practice unique to a small town firm. The business, located in West Carroll Parish's courthouse square, was purchased from retired 5th District Attorney and solo practitioner Mack Lancaster in 2020 with the vision of continuing the tradition of delivering reliable legal services with a smile, handshake and a shared sense of community.
The Law Office Of Molly M. Clement, LLC
mortgage broker and realty office in Northeast Louisiana.
The company was formed in 1997 by local attorney Gene Hastings and he has since been joined by two other attorneys, Cooper Hastings and Larry Mullens. The attorneys are supported by a staff which prides itself on being experienced, professional and friendly. The individuals that make up our team are all determined to provide professional title services while maintaining a personal relationship with our clients. Everyone at Bayou DeSiard Title is a specialist when it comes to real estate transactions and this is why they can live up to the company slogan of "closing loans at the lowest possible cost to you."
Because of its history of professionalism and community involvement Bayou DeSiard Title has been recognized with various awards over the years since its formation including the Chamber of Commerce's Thomas H Scott Award of Excellence and the Rivertown Award of Excellence.
Owner and attorney, Molly Clement, was born and raised in Delhi, Louisiana and has been practicing law in Northeast Louisiana since 2010. After graduating from Riverfield Academy
in Rayville, Louisiana, she earned bachelor's degree in Political Science from Louisiana State University and Juris Doctorate from Southern University Law School. Upon graduation, Molly clerked for criminal and civil sections of the Fourth Judicial District Court and then proceeded to a Monroe area law firm where she practiced personal injury and civil litigation. Molly is in her 10th year as an Assistant District Attorney, currently serving the 5th Judicial District, prosecuting all criminal matters for the Parish of West Carroll. Prior to serving West Carroll, she served as an Assistant District Attorney for the parishes in the 6th Judicial District. Molly also presides as Magistrate for the Town of Lake Providence Mayor's Court and currently serves on the board of the Kelly-Dumas Airport. Molly also maintains an active license to practice law in the State of Mississippi. Molly is uniquely situated both professionally and geographically to serve the needs of many communities and parishes in Northeast Louisiana; not just her home parishes. The Law Office of Molly M. Clement is dedicated to meeting the legal needs of its community and the surrounding areas by always being available to clients whether in person, via email or telephone and strives to create and maintain personal connections that strengthen people, businesses, and local resources. Molly is dedicated to her passion; she is a servant leader with an unparalleled ability to fuel progress
82 MARCH 2023 | WWW.BAYOULIFEMAG.COM
South Briggs, Oak Grove 318-428-3219
103
Since opening in 1994, North Delta Title has successfully closed over 30,000 real estate transactions and is the largest title company in Northeast Louisiana. Although their offices are located in Ouachita Parish, North Delta Title provides residential and commercial real estate closing services throughout the state of Louisiana.
North Delta Title conducts all types of residential purchase and sale transactions as well as refinances from the opening of escrow to the final settlement of the sale. Their company facilitates every aspect of the transaction and works closely with the real estate professionals, the lender, buyer, and seller to ensure that every settlement runs smoothly, and is handled in an efficient and stressfree manner.
North Delta Title Company
1100 North 19th Street, Monroe NorthDeltaTitle.com | 318-387-1100
Partner, Amy Price Sawyer, was born in Northeast Louisiana and currently resides in Monroe with her two children, Claire and Will. She is a 1997 graduate of St. Frederick High School. Sawyer earned a bachelor of arts in Political Science from Louisiana State University in 2001. She graduated Cum Laude from Southern University Law Center in 2009, earning her Juris Doctorate. Sawyer was a
Watson, McMillin & Street, LLP
1881 Hudson Circle, Monroe wmhllp.com | 318-322-9700
ATTORNEYS AT LAW | TITLE COMPANY
In 2012, Watson, McMillin & Street LLP formed Marathon Title Company. As a full service agency, Marathon Title offers complete real estate title services from a basic title search and report to a fully insured closing. As an agent for various title insurance companies, they have the expertise and ability to provide the most comprehensive title insurance coverage available in the industry. Their focus is superior customer service. For you, this means fast turn-around, reasonable prices and the highest level of professionalism in all aspects of the closing process. From simple acquisitions and sale transactions to organizing all aspects of large scale developments and financing, our attorneys' skills in negotiating, structuring and documenting complex transactions are
put to work for you. Marathon's continued growth reflects the firm as being one of the premier loan closing and title companies in Northeast Louisiana.
While the law firm has extended its services to include title services, William Brooks Watson, David C. McMillin and Mike Street additionally practice personal injury, employment law, banking law, estate planning, business planning, real estate law and tax law. The diversity of practice allows them to serve clients across a wide spectrum of legal concerns, while their detail-oriented approach ensures deeply committed and personalized representation. The firm's mission is to bring your legal issue to resolution in a timely fashion and at a fair price.
member of the Southern University Law Review, and is the author of You Mean My Doctor Is Not an Expert?: The Admissibility of the Medical Review Panel Opinion in Summary Judgment Proceedings, 36 S. U. L. Rev. 337 (2009). She joined North Delta Title Company in February 2011 and was named partner in February 2014. She specializes in residential and commercial real estate transactions, business, estate planning and succession law.
Before associating with Price & Sawyer, LLC and North Delta Title Company, Sawyer clerked for the Honorable Laura Prosser Davis of Baton Rouge City Court and the Honorable Annette M. Lassalle of The Family Court of East Baton Rouge Parish. Mrs. Sawyer is a member of the American Bar Association, the Louisiana State Bar Association, the Fourth District Bar Association, Phi Alpha Delta Law Fraternity, the Northeast Louisiana Association of Realtors. She currently serves on the Board of Directors for the Louisiana Land Title Association and as a member of the Louisiana Law Institute Property Committee. She is the past Chairman of the Board of the Northeast Louisiana United Way and serves as the President of the Parents Association at St. Frederick High School. She is an active member of Jesus the Good Shepherd Catholic Church. She was recently awarded the 32nd Annual James M. Shipp, Jr. Memorial Young Business Leader of the Year.
WWW.BAYOULIFEMAG.COM | MARCH 2023 83
Wine Over Water
Changing Futures for 16 Years
IT'S GOLDEN HOUR OVER BAYOU DESIARD.
You're standing on the Northeast Drive Bridge, which has been closed to traffic for the evening, on the beautiful University of Louisiana Monroe campus. You're surrounded by your best friends, former classmates, and anyone who's anyone in northeast Louisiana. Snacking on food from local restaurants and sipping your official New Favorite Wine – a difficult decision after carefully sampling a few varieties poured by local vendors and distributors – you find yourself tapping your feet to the upbeat tunes from the live band.
This is fun. This is Wine Over Water.
The 16th annual Wine Over Water, hosted by the ULM Alumni Association, kicks off for party-goers on the bridge at 7 p.m. Thursday, April 13th. For patrons, the exclusive pre-party begins an hour earlier at 6 p.m. high above the waters at The Terrace on the seventh floor of the ULM Library, steps away from the bridge.
2022 was the return of Wine Over Water after a two-year hiatus. Alumni and friends celebrated 15 years of fundraising for the Spirit of the Warhawk Scholarship on the ULM Campus bridge. With 500+ attendees and over $33,000 raised, the Alumni team is counting on your participation to raise even more for the incoming freshmen of Northeast Louisiana.
Tickets for the bridge party are $60 and tickets to the patron party plus the bridge party begin at $125. One hundred percent of proceeds benefit the ULM Alumni Association and scholarships to deserving ULM students.
The ULM Alumni Association encourages all alumni and advocates to stay connected, get involved and change the future. With more than 25 events in Monroe and across the country to keep you connected, alumni are changing futures and paving the way for future Warhawks. Alumni Association Membership supports engagement and fundraising events like these and countless programs that support alumni and community. Interested in learning more? Visit ulm.edu/alumni and look for "Alumni Checklist" under Membership tab.
Tickets are available online at ulm.edu/wine, by calling 318342-5420, or at the Laird Weems Center located at 4400 Bon Aire Drive. Office hours are Monday – Thursday 7:30 a.m. – 5:00 p.m. and Friday, 7:30 – 11:30 a.m.
84 MARCH 2023 | WWW.BAYOULIFEMAG.COM
What to Know About the Signs of Colorectal Cancer
What's Your Backstory
EACH YEAR, THOUSANDS OF Americans are diagnosed with either colon cancer or rectal cancer — collectively known as "colorectal cancer." Because these cancers are most effectively treated in early stages, it's important to know the signs.
Understanding Colorectal Cancer
Colorectal cancer develops in either the colon or the rectum, part of the digestive system. Most cases begin as polyps, which are small, noncancerous growths. Over time, they may develop into cancer.
The good news is that development is typically slow. That means polyps can often be detected and removed before they become cancerous, making colorectal cancer one of the most preventable types of cancer.
Colorectal cancer screenings, known as a colonoscopy, are recommended for most adults beginning at 45. This is a change from
previous recommendations, which called for screenings to begin at 50, because cases among younger adults have increased in recent years.
If you have risk factors for colorectal cancer, such as a family history of the condition, your medical provider can help you decide on a screening regimen, which may include beginning screenings earlier or having them more frequently.
Know the Signs of Colorectal Cancer
While the risk for colorectal cancer becomes more common as we get older, it's important for people of all ages to keep an eye out for these symptoms:
• Bloody stools, either bright red in color or dark
• Fatigue
• Frequent cramping or gas-related pain
• Incomplete bowel movements
• Nausea, vomiting, diarrhea or constipation
• Persistent feelings of fullness or bloating
• Stool that's a different size, shape or color than your norm
• Unexplainable weight loss
"Patients with a family history or a high-risk factor such as inflammatory bowel disease should begin screening likely at 40," says Charles Morgan, MD, Internal Medicine physician with the St. Francis Primary Care Clinic – Royal Avenue in Monroe. "But those patients should consult with their primary care provider or gastroenterologist for specific recommendations."
Are you at an increased risk of developing colorectal cancer? Talk with your primary care provider about appropriate screenings. Learn more at stfran.com/colorectal-cancer.
WWW.BAYOULIFEMAG.COM | MARCH 2023 85
LDCC Hats and Horses Derby Party
Celebrate the Derby Way on May 6th
IT'S THAT TIME OF YEAR... "THE Greatest Two Minutes in Sports" and Louisiana Delta Community College Foundation has the ticket you need to enjoy all the festivities of the Kentucky Derby. Join us May 6, 2023 as we host our second annual LDCC Hats and Horses Derby Party. "Our first annual event was so successful and the support of our community and friends contributed to that success. This year we are looking to take it to the next level, including a Whiskey Pull that will feature an exclusive list of whiskey brands that will be for auction," says Frank Bennett, Executive Director of Institutional Development and Advancement and Alumni Relations. Continues Bennett, "Louisiana Delta Community College has created a fun, festive fundraiser for our community that in turn, has been instrumental in helping us create support for the students in the 11 parishes and 8 campuses that we serve. Our Hats and Horses fundraiser helps raise money for scholarships that will assist
LDCC students in their short-term and longterm programs."
And while it might be a fundraiser, it is also a chance to watch "The Greatest Two Minutes in Sports" streaming live from Churchill Downs right into the Community Auditorium on the campus of LDCC. Ticket holders will be able to enjoy mint juleps or their favorite beverages, and savor elegant and delicious hors d'oeuvres while trying to decide which horse to vote on with their donation. During the festivities there will also be a silent auction, games, prizes, along with this year's newly created Whiskey Pull. Echoing through the event will be the wonderful sounds of the ULM Jazz Ensemble, led by Dr. Eric Siereveld. And what event would be complete without Bash Booth, to help capture the festive pictures of guests, complete with a Kentucky Derby backdrop and props. However, the most fun event might just be the "Hat" competition for the ladies and the "Best Dressed" award for the
gents and couples, and maybe a few other surprises. Ladies, no Kentucky Derby event is complete without the proper attire, so it's time to pull out all the stops as you acquire or create from scratch your most elegant, yet outrageous and charming hat to be judged in the hat contest. Prizes will be awarded, so don't miss out on this unique contest!
"This year we want to bring even more experiences, sites, smells and looks that will give our guests the feeling they are at the Kentucky Derby. These experiences are made possible through the help of our sponsors, so if you are interested in becoming a sponsor, please reach out directly to me. Through the support of our sponsors, we are able to bring an authentic Kentucky Derby experience, and at the same time, raise money that will directly impact our students," says Bennett.
If you are interested in becoming a sponsor of this event, please contact Frank Bennett at 318345-9365.
86 MARCH 2023 | WWW.BAYOULIFEMAG.COM
Your Hometown Urologist
Dr. Robert Marx Specializes in Vasectomies
MARCH MADNESS IS THE PERFECT opportunity to schedule your vasectomy. With minimal downtime, you can be back at home the same day and simply resting for two days, while watching your favorite team play in this nationally televised tournament.
A vasectomy is a medical procedure in which two tubes (the vas deferens) that carry sperm from the testicles to the urinary tract are tied and sealed. This prevents sperm from passing into the seminal stream and fertilizing a woman's egg. Although it is permanent, it is surgically reversible in most cases. Reversibility is dependent upon time elapsed since the vasectomy. When it comes to forms of permanent male birth control, a vasectomy is the ideal permanent surgical procedure available to men. The procedure carries a very low risk of complications and is available to be performed as an outpatient procedure with localized anesthesia. Dr. Marx performs a nocut technique, which is the least invasive. The
patient is sedated and local anesthesia is used in order to achieve a painless procedure.
THE VASECTOMY PROCEDURE IS NEARLY 100% EFFECTIVE
Prior to a vasectomy, patients may be asked to prepare by:
• Washing the scrotum to prevent infection
• Not shaving the area
• Bringing a pair of tight-fitting underwear or athletic support to the surgery to support the scrotum and minimize swelling
• Arranging for transportation home to prevent extraneous movement
• Avoiding anti-inflammatory drugs prior to and following the procedure, which thins the blood and can cause excessive bleeding
AFTER THE VASECTOMY
After the vasectomy is completed, patients are advised to rest for two days in order to reduce swelling and allow the vas deferens to heal. Discomfort may last for up to a week
after the procedure, with patients often being prescribed anti-inflammatory or painkillers for pain. Patients are encouraged to avoid heavy lifting, straining or squatting for 1 week. If you do any of these activities for work, you may need to take off work or arrange for light duty. Dr. Marx can give you an excuse. Also, keep the area dry for a week as well.
If you are considering a vasectomy, call today to discuss your options with Dr. Marx.
Robert D. Marx, M.D. is this community's hometown urologist. He was born and raised right here in Monroe, Louisiana. He graduated from NLU, now ULM, and graduated from medical school and completed his residency at LSU Shreveport. Dr. Marx has traveled extensively working with the leaders of the field in order to keep up with the latest and most successful techniques in incontinence. He has been in practice for over thirty years and conveniently operates at Glenwood, Monroe Surgical and P&S.
WWW.BAYOULIFEMAG.COM | MARCH 2023 87
Surgery Clinic of NELA: Be Proactive
Do You Know Your Risks For Colorectal Cancer?
PREPARED BY THE SURGERY CLINIC OF NORTHEAST LOUISIANA, HOME OF DELTA VEIN CARE
LOUISIANA HAS THE FOURTH highest colorectal cancer mortality rate in the U.S., according to the Louisiana Department of Health.
We can work to change that. As we observe Colorectal Cancer Awareness Month, it's important to remember that if we are diligent about getting screened, the five-year survival rate is 90 percent.
Colorectal cancer is the nation's third most common cancer diagnosed in men and women, and it is still the second leading cause of cancer death in the U.S. Studies show that regular exams could prevent one-third of colorectal cancer deaths. Regular tests are vital because colorectal cancer doesn't often cause symptoms in the early disease stages.
People at average risk should get regular exams at age 45. Those with a higher risk for colorectal cancer might need to begin screening before age 45. They may also need to be examined more often or get specific tests.
People at higher risk include those with:
• A personal history of inflammatory bowel disease (such as ulcerative colitis or Crohn's disease)
• A family history of colorectal cancer or specific polyp types
• A personal history of colorectal cancer or specific polyp types
• A history of radiation to the abdomen (belly) or pelvis to treat a prior cancer
Lifestyle choices impact everyone's risk of getting colorectal cancer. These risks include:
• Obesity
• Lack of physical activity
• Diets that contain a significant amount of red meat and/or processed meats
• Low Vitamin D levels
• Smoking
• Moderate to heavy alcohol consumption
One of our patients, Stephen, was diagnosed with colon cancer in his 70s. He is a big proponent of regular screenings. "If you're proactive in all areas of your health, your disease can be caught early, like in my case. You need to
take it upon yourself to manage your health," Stephen said. "Caring for your health does not have to be scary or embarrassing."
We performed Stephen's colon cancer surgery robotically, significantly improving his outcome. Minimally invasive surgeries mean less recovery time and less pain. Five weeks after his surgery, Stephen began walking three to five times weekly.
He expressed his appreciation for our clinic.
"It was really important to me that I spent Christmas morning with my granddaughters … the staff made that possible, ensuring the surgery didn't conflict with my Christmas wish. I can't recommend them enough."
The Surgery Clinic of Northeast Louisiana, home of Delta Vein Care, houses surgeons Dr. Walter Sartor, Dr. Bart Liles, Dr. Patrick Smith, and Dr. Mohamed Bakeer. Contact the clinic at 398-2984 with questions about preventative health, general surgery, vein care procedures, and weight loss surgery. Learn more about our services at SurgeryClinicNELA.com
88 MARCH 2023 | WWW.BAYOULIFEMAG.COM
Let Your Skin Shine This Spring
Healthy Looking Skin Starts Here
WHEN YOU DON'T LOOK YOUR best, you're not going to feel your best. Over a period of decades, our clinic has acquired the equipment and expertise to offer a palette of state-of-the-art procedures to maximize your appearance. We strive to offer our cosmetic services and procedures at affordable prices, which represent real value in today's world. These various high-tech services can be obtained at our private clinic here in the Monroe area for a fraction of the charge for the same procedure in other cities. We are aware that our patients are interested in getting the best value, and we are structured to deliver this.
HYDRAFACIAL
Everyone can benefit from the Hydrafacial procedure. It is inexpensive, gives immediately noticeable results, only takes about 30 minutes, and has no social downtime. The procedure is
extremely pleasant and relaxing. We have the latest Hydrafacial equipment and a dedicated technician to perform it in a private setting. The procedure minimizes skin discoloration and brightens skin tone, instantly minimizing fine lines and wrinkles. Your skin is saturated with antioxidants and peptides to maximize skin glow. Uncover a new layer of skin with exfoliation and resurfacing.
VASER LIPOSUCTION
We are among the earliest adopters of Vaser Liposuction in the world. In fact, we have taught and demonstrated this unique procedure for doctors from as far away as Seoul, Korea.
Vaser liposuction uses a very small incision of less than 1/4 inch to emulsify and remove fat. The procedure is performed in the office under local anesthesia, saving the expense of a hospital or surgery center. The
results are immediate, unlike various noninvasive treatments which may or may not work.
HORMONE PELLETS
Hormone pellets have helped thousands of men and women achieve hormonal balance for restoration of their health. We offer hormone pellets and hormone testing in our clinic. The pellets look much like a grain of rice and are placed under the skin where hormones are released as they dissolve over a period of months. For most people, this is the easiest way to replace missing hormones. If you have fatigue, depression, anxiety, decreased sexual performance, muscle wasting, insomnia, or weight gain, it might be appropriate to have your hormones checked.
STATE-OF-THE-ART LASERS
Our clinic has state-of-the-art lasers for the treatment of numerous medical and cosmetic problems. Unfortunately, this involves too much information to include in this space but will be detailed in future articles.
BOTOX, FILLERS, COSMECEUTICALS
We also offer Botox, Juvederm fillers, and various cosmeceutical beauty correcting formulas, all priced competitively.
WWW.BAYOULIFEMAG.COM | MARCH 2023 89
FERNOMENAL
Ferns are among the oldest plants, dating back to hundreds of millions of years ago. This diverse group of plants can range from an inch to some reaching almost one hundred feet tall. We've picked a few of our favorites of this flourishing plant to highlight this month.
Photo by Kelly Moore Clark. Styled by Taylor Bennett.
BAYOU PLANT
BIRD'S NEST
ROSY MAIDENHAIR
STAGHORN FERN
AUTUMN FERN: (available at Parterre): This frilling ferns young fronds emerge as a copper-red color then matures to a deep green. It's a herbaceous perennial that likes full shade.
STAGHORN FERN: These ferns resemble deer or elk antlers, and although they grow slowly, they can end up being quite large once mature.
ROSY MAIDEN HAIR FERN: The foliage of this fern emerges a reddish pink before shading to green. This plant also has fronds that tends to grow in the form of a five-pointed star.
BIRD'S NEST FERN: This fern tends to grow on the surface of other plants, but as a houseplant it will slowly grow in a planter. The optimal place is in a bathroom with natural light.
WWW.BAYOULIFEMAG.COM | MARCH 2023 91
AUTUMN FERN
Maria's Queen Clean
Our Reputation is Spotless
SPRING IS HERE AND IT'S THE PERFECT TIME to take advantage of a deep clean by one of Northeast Louisiana's most reputable cleaning services, Maria's Queen Clean. With more than twenty years of experience, Maria Vallejo and the team of Maria's Queen Clean pride themselves on their reputation, one built on honesty, professionalism, and responsibility. For years, the team at Maria's Queen Clean has been serving the Monroe, West Monroe and Sterlington communities, providing personalized cleaning and lawn care services year-round and their work here is far from over. Maria's Clean Queen is happy to be of service when it comes to residential cleaning, whether its an annual deep clean or a weekly, bi-weekly or monthly scheduled visit, helping you be happy in your own home.
For more than two years, Maria's Queen Clean has also offered commercial services. The team of Maria's Queen Clean is highly trained and knows what tasks are expected of them. They are kind, respectable and trustworthy. Maria and her staff currently provide commercial cleaning services for several local apartments complexes and professional office spaces, and are always looking to bring in additional clients. There are several reasons that your business could benefit from hiring a cleaning service:
• Leave It to The Pros - Maria's Queen Clean are professionals and their team is trained in the proper way to clean, sanitize and dust.
• Time Is Money - When you allow Maria's Clean Queen to clean your office, you are saving money and time.
• Clean Office is a Happy Office - When your office space is clean, you will appreciate it much more. A clean and organized office leads to a more productive office and your staff can concentrate on what's really important!
Not only are in the business to clean, Maria's Queen Clean offers a range of lawncare services which promises the same level of quality and service they offer through their residential and commercial cleaning business. Some of these include: raking leaves, weed pulling, edge trimming, walkways, mowing, flower beds, pine straw service and leaf and debris blowing.
Maria would like to express her gratitude to her customers stating, "This growth would not have been possible without the trust of our customers allowing us to take care of their homes, so we are very grateful." Maria cites customer satisfaction as their primary goal, explaining, the staff of Maria's Queen Clean understand every home or office is different and requires a unique approach, which is why they pride themselves on creating a personalized and customizable clean for each of their clients.
With spring just around the corner there is no better time to have the staff of Maria's Queen Clean give your space a fresh start, whether it be indoors or out. With two decades of experience, they are the name to call when it comes to residential and commercial cleaning.
92 MARCH 2023 | WWW.BAYOULIFEMAG.COM
Now is The Time
Become the Best Version of Yourself
THE COLD WINTER DAYS ARE COMING TO AN END and it's time to give your skin the love and care that it deserves. Swing by DermaMediQ on Lamy lane in Monroe and let the professional staff help you find the perfect treatment that's right for your skin. Here are just a few of the amazing treatments DermaMediQ offers:
DIAMONDGLOW
DiamondGlow is more than a facial. Unlike traditional wet facial treatments, which rely on chemical exfoliation to treat skin at surface level, DiamondGlow's patented recessed diamond tip wand delivers a next-level resurfacing treatment that deeply cleans and rejuvenates the skin. It exfoliates, extracts and infuses the skin with the nourishing treatments that your skin needs.
FORMA
Forma is a non-invasive skin procedure that uses heat and radiofrequency to increase collagen production in your face, therefore lifting, tightening, and contouring your skin. There is no down time required. Forma can be used on both the face and the body, and it is safe for all skin tones and types.
LASER HAIR REMOVAL
Lasers are useful for removing unwanted hair from the face, leg, chin, back, arm, under arm, bikini line and other areas. Lasers can selectively target dark, coarse hairs while leaving the surrounding skin undamaged. Each pulse of the laser takes a fraction of a second and can treat many hairs at the same time. Small areas such as the upper lip can be treated in less than a minute, in large areas, such as the back or legs make take up to 20 minutes. Take shaving out of the equation with the use of laser hair removal.
EMSCULPT
This is the first device to build muscle and sculpt your body. Through the high intensity electromagnetic therapy procedure one can enlarge current muscles, as well as grow new muscle fibers. The Emsculpt procedure is currently FDA cleared to treat abdominals, buttocks, arms, calves and thighs and is a great nonsurgical alternative to the brazilian butt lift. It is based on highintensity focused electromagnetic energy and a single Emsculpt session causes thousands of powerful muscle contractions which are extremely important in improving the tone and strength of your muscles.
MORPHEUS8
Morpheus8 is a novel technology that lets you discover new depths. It is the first and only full-body fractional technology adjusted for subdermal tissue remodeling, dermal treatment and epidermal resurfacing. Morpheus8 is the deepest lift technology with penetration up to 4000 microns. Morpheus8 is perfect for tightening specific problem areas on the body but also great for treating acne on the face. Some of the key benefits include minimal scarring and downtime and a good option for younger patients not yet ready for a face-lift.
PDO THREADS
PDO Threads are a type of non-invasive and non-surgical cosmetic treatment that helps reverse the visible signs of aging on the face and neck. First, it mechanically results in instant skin lifting. Second, it contracts fat tissue to result in instant skin tightening. Third, it promotes collagen production to renew your skin at the cellular level. All of this works together to give you enhanced skin texture, fewer fine lines and wrinkles and more elastic skin.
WWW.BAYOULIFEMAG.COM | MARCH 2023 93
BAYOU HEALTH
Where Attention Goes, Energy Flows.
HUMANS ARE CYCLICAL AND WE'RE ALL VERY CLOSELY CONNECTED WITH THE RHYTHMS OF NATURE. HORMONES EBB AND FLOW, AND THROUGHOUT THE DAY, THESE FLUCTUATIONS ARE CONNECTED WITH THE MOVEMENT OF THE SUN. CORTISOL, A STRESS HORMONE THAT GETS US MOVING, IS HIGHEST IN THE MORNING AS WE RISE WITH THE SUN. OUR DIGESTIVE FUNCTION IS STRONGEST MIDDAY, WHEN THE SUN IS HIGHEST IN THE SKY. AS THE SUN SETS, CORTISOL GOES DOWN AND MELATONIN RISES TO HELP US GET READY FOR SLEEP. AS WOMEN, WE ALSO HAVE MONTHLY CYCLES THAT ARE CONNECTED WITH THE CYCLES OF THE MOON. LEARNING TO UNDERSTAND THIS CYCLE GIVES US A POWERFUL GLIMPSE INTO THE STATE OF OUR HEALTH, AND POSSIBLY, INTO THE WAYS IN WHICH WE'RE LIVING OUR LIVES.
BY SHANNON DAHLUM, FDN-P
DURING THE FIRST HALF OF THE MENSTRUAL CYCLE, estrogen rises, causing the uterine lining to thicken and grow. Estrogen is a building hormone and it prepares the body to carry a baby. Not only does it impact what's going on inside of our bodies, but it can inspire what's happening outwardly, as well. When estrogen is at its peak, so is our energy. It's a time for being creative and productive, and we're moved to take care of things outside of ourselves. We can tackle our to-do lists, show up for others, and be very giving our energy. Estrogen is considered a female hormone because it's much higher in women than in men, but from an energetic perspective, it's actually quite masculine. Masculine energy is productive, logical and analytical. This energy is directed outward, and it's focused on "doing."
During the second half of the menstrual cycle, progesterone rises and estrogen falls. The body is naturally lower in energy and is now focused on nurturing itself and the possibility of growing a child. Productivity and creativity are meant to slow down. This is a time for replenishment, rest, and directing our attention back to ourselves. While estrogen promotes growth, creativity, building, and focusing attention on the outside world, progesterone promotes inner reflection, taking time for ourselves, and stripping away what is no longer needed. Progesterone is a relaxing hormone, and it helps us feel at ease. It's associated with the feminine energy of feeling, intuition, and a state of "being."
Unfortunately, it seems like the woman's menstrual cycle today is seen as an inconvenience or even something that needs to be medically treated rather than a natural rhythm that can teach us about ourselves. When the rhythm of the cycle is off, it tells us there is something off with our health, and possibly the way we're living our lives. When the body is experiencing an excess amount of stress, one of the first things that is impacted is the menstrual cycle. By paying close attention to how the things we're doing in our daily lives impact our cycles, we're tuning into the language of our bodies and learning what's supportive of our health and what isn't. It's such a powerful tool and instead of learning the language of our bodies and getting to the root of what may be causing imbalances in our cycles, we often turn to synthetic hormonal medications to silence our symptoms. Estrogen dominance is a condition in which either total estrogen levels are high, progesterone levels are low relative to estrogen, or both. Essentially, the balance of estrogen and progesterone is off and instead of each one having their turn, estrogen stays in charge. This seems to be an increasingly common condition and is characterized by symptoms such as mood swings, tender breasts, water retention, anxiousness, irritability, uterine fibroids, fibrocystic breasts, heavy menstrual bleeding, painful menstrual cramps, weight gain (especially in the hips and thighs), and low libido. Hormonal birth control medication can provide relief but keep in mind that it doesn't help the body address the underlying cause of symptoms. Symptoms are the language your body uses to let you know that something is out of balance; something needs to be changed.
Physically, there are many things that can contribute to estrogen dominance. Exposure to xenoestrogens (chemicals that mimic estrogen in the body) can be a big contributing factor, but two major ones are gut health and liver function.
Imbalances in the gut microbiome can impair the body's ability to detoxify excess estrogen. Instead of being able to properly eliminate what's not longer needed, excess estrogen winds up being reabsorbed back into the body. Excess estrogen also causes bile to thicken, which means liver function becomes sluggish. This further impairs the body's ability to detoxify unneeded estrogen and it continues to build. A healthy gut and digestive/detoxification system are a necessary foundation for maintaining healthy hormonal balance.
Personally, I don't believe we place enough importance on the mind-body connection when it comes to all issues related to health. The autonomic nervous system is responsible for managing all the functions of the body that go on without our conscious awareness, like hormone production. However, while we don't have to think about these functions in order for them to happen, I do believe that our autonomic nervous system takes its cues from our conscious thoughts and how we choose to live our lives.
Where we direct our attention is where our nervous system will direct its energy. For instance, when you eat a meal while you're focused on reading emails, watching TV or getting work done, your nervous system directs energy away from the digestive system so it can go toward the mental work you're doing. Stomach acid, digestive enzymes and bile flow are all impaired in favor of directing energy to the mental tasks you're choosing to direct your attention to. Your nervous system is taking its cue from what you're choosing to focus on.
I don't have any scientific studies to back this up, but I believe issues of estrogen dominance can be created similarly; by how we choose to live our lives and where we're choosing to direct our
energy. More often than not, we have endless to-do lists and we're taking care of everyone but ourselves. We're constantly directing our energy outward, on getting things done and even on trying to please others. Remember that this type of creative, outward expressed energy is associated with estrogen. Progesterone encourages us to focus on ourselves, our inner nourishment, relaxation, and experiencing our own joy and pleasure.
Perhaps by choosing to continuously direct our energy outward without circling back and directing that energy toward ourselves, we're subconsciously promoting a high estrogen state. Could consciously focusing on growth and the constant act of "doing" be telling our nervous systems to increase estrogen to support that? Maybe if we chose to give ourselves the same attention, to allow ourselves to experience pleasure, joy, and rest without guilt, our bodies would take their cues from us and progesterone would rise.
Humans are all cyclical beings, but as women, we especially would benefit from paying more respect to our rhythmical natures and honoring our cycles. Perhaps, in addition to supporting our physical health, our hormonal health would improve if we balanced out all of our "doing" with time for just "being," and gave ourselves the same loving attention we constantly give to others.
Here's an idea; along with our endless "to-do" lists, let's create "to-be" lists. Paying equal attention to "doing" and "being" in our lives may encourage our bodies to maintain balance, as well.
If you'd like to learn more about how to read the language of your menstrual cycle as a marker of wellness and how to support a healthy cycle naturally, I recommend reading, "The Fifth Vital Sign," by Lara Briden, ND.
WWW.BAYOULIFEMAG.COM | MARCH 2023 95
ULM Athletic Foundation Night of Champions
Raising Money for ULM Student-athletes and the ULM Athletic Foundation
SAVE THE DATE! ULM ATHLETIC Foundation is ready to host NIGHT OF CHAMPIONS, an event that supports 17 different sports at the NCAA Division 1 Level, ULM student-athlete scholarships, and the ULM Athletic Foundation. Our signature event will be Friday, March 31, 2023, and doors will open at 6:30. Get ready to have a rocking good time!
The night will feature Louisiana seafood with fish, alligator, shrimp, gumbo, and many other food options to delight all those in attendance prepared by Aramark Food Services. Guests will enjoy a full bar with all their favorites while they explore over fifty silent auction items. Night of Champions will also have, back by popular demand, their $25.00 Mystery Boxes, and a few new things that will be sure to delight!
Before you let loose on the dance floor, Daniel Guinn and his team, who just happen to be the best auctioneers in the state, will
host the live auction featuring exclusive trips, hunting excursions, private dinners, and much more you will not want to miss out!
Capping off the night is NOLA's own "Bag of Donuts," which will have you dancing the night away to all your favorite songs. So gather your friends, purchase a table of eight for $1000, or get your tickets for only $60. Tickets are on sale now through the ULM Athletic Foundation located in Fant-Ewing Coliseum – Room 106 or call Nancy Davis, at (318)-342-5360 to purchase your tickets today! Feel free to use the QR code on the invitation below to buy tickets quickly.
Every dollar matters in the world of ULM Athletics. Scholarships mean everything to our student-athletes, so this truly means that your generosity and support of Night of Champions goes well beyond just one particular budget item. You are making a lasting difference in the lives of current and future ULM student-athletes.
This is always an exciting night to raise money for ULM student-athletes and the ULM Athletic Foundation! There isn't anything better than investing in our students to succeed on and off the field, so join the fun and support ULM's student-athletes. It will be a night like no other.
96 MARCH 2023 | WWW.BAYOULIFEMAG.COM
Suffer from Chronic Migraine?
Botox Injections May Offer Relief
WHETHER CAUSED BY tension, sinus congestion, caffeine cravings or any of countless other triggers, a headache can dampen a good day.
One of the most intense forms is the migraine, so intense that nausea and vomiting are not uncommon, and light or the slightest noise can trigger additional, excruciating waves of pain.
A small number of migraine sufferers— about 1 in 50 worldwide—lives with chronic migraine in which they experience more than 15 migraine headaches per month, half of which last four hours or longer. For them, even the best preventive medications or pain-relieving drugs often are not enough.
Thankfully, Botox injection treatment is available from two St. Francis Medical Group providers to treat chronic migraine. Dr. Jason Maljaars, Neurologist, and Mary Kathryn Edwards, APRN, FNP-C, administer FDAapproved Botox—the same medication
used for cosmetic treatment—to reduce the frequency and duration of migraines.
Botox injection was approved by the FDA in 2010 as a preventive treatment for chronic migraine. It is typically given to patients who do not respond to conventional preventive medications and may prevent headaches and migraines before they even start.
The Botox injections themselves, which patients have likened to a brief and tiny pinch on the skin, are administered into specific head and neck muscles. The procedure takes about 15 minutes and can be repeated every 12 weeks.
Clinical trials have found chronic migraine patients treated with Botox experienced eight or nine fewer headache days per month. Just as important, their headaches were less severe, allowing them to live more functionally and with a better quality of life.
Each of these St. Francis providers has successfully treated patients who suffer from chronic migraines using Botox injections. If you suffer 15 or more headache days per month, more than half of which are migraines that last four hours or more, contact either of these St. Francis Medical Group providers to find out if Botox injection therapy is right for you. For more information, visit stfran.com.
WWW.BAYOULIFEMAG.COM | MARCH 2023 97
Colon Cancer Prevention Beats Detection
Screenings Save Lives
BY VINCENT C. HERLEVIC, M.D.
UNLIKE MOST CANCERS, COLORECTAL CANCER IS OFTEN preventable with screening. It is highly treatable when detected early. Most cases of colorectal cancer occur in people ages 45 and older; however, the disease is increasingly affecting younger people. Today, 1 in 10 colorectal cancer patients are under the age of 50. Screening is the No.1 way to prevent colorectal cancer.
Adults should undergo colorectal cancer screening beginning at age 45 or earlier if they are at average risk of developing colorectal cancer. Colon cancer is the 2nd deadliest cancer among men and women combined.
The primary goal of colorectal cancer screening is to prevent deaths from colorectal cancer. Colonoscopy remains the gold standard for screening. Screening colonoscopy can help identify cancers at an early and potentially curable stage. Colonoscopy is the only screening test that can prevent cancer by identifying and treating precancerous abnormal growths, called polyps, that can be removed at the time of the colonoscopy before they become malignant.
Other types of screening methods include Stool DNA tests. These are at-home stool tests designed to detect cancer. Patients of average risk collect a stool sample and mail it to the lab for analysis. The lab looks for abnormal DNA and blood in the stool sample, which could indicate cancer. If it is positive, a follow-up colonoscopy is required to look at the colon for abnormal growths. Stool DNA tests are a good screening tool, but they are not indicated for all patients.
A stool DNA test should not be done if you have:
• A history of polyps, colorectal cancer, or other related cancer
• Diarrhea, blood in your urine or stool, change in bowel habits, or abdominal pain
• A positive result from another colorectal cancer screening test within the last six months
• Conditions that place you at high risk for colorectal cancer, such as certain hereditary syndromes, a family history of colon polyps or colorectal cancers, or inflammatory bowel disease such as Crohn's or Ulcerative colitis.
A FIT (Fecal Immunochemical Test) can also be done. Like the stool DNA test, average-risk patients collect a small stool sample and place it on the card for analysis. These tests look for microscopic blood. If positive, it too requires a follow-up colonoscopy.
Patients should know that at-home stool tests do not prevent colorectal cancer. They are intended to detect high-grade lesions and cancers. Colorectal cancer does not always show signs and symptoms. However, some of the more common symptoms are:
• Blood in or on the stool
• Persistent unusual bowel movements like constipation or diarrhea
• Stomach pain, aches, or cramps that do not go away
• Losing weight for no reason.
Despite strong evidence of effectiveness, colorectal cancer screening remains underused. Don't let the idea of taking a prep or missing one day of work keep you from getting screened. Dealing with a colonoscopy is easier than dealing with cancer! Take the time to talk with your doctor and see what options are best for you.
98 MARCH 2023 | WWW.BAYOULIFEMAG.COM
Erase Your Skin's Past
Restore Your Skin's Ability to Heal Itself
BY JUDY WAGONER
ICRONEEDLING is a minimally invasive cosmetic procedure that's used to treat a variety of skin concerns by stimulating collagen and elastin production. Also known as collagen induction therapy, this painless treatment creates micro-punctures in the skin using miniature, sterilized needles. The pinpricks from the procedure cause slight injury to the skin and the skin responds by making new collagen-rich tissue. Because of these channels, the absorption of topical products increases to 80% compared to 7-10% without Microneedling. This allows deeper penetration of products that would otherwise not be possible.
At Professional Laser Center, we combine microneedling with the powerful AnteAGE® MD Microneedling Solution, which
Mcontains anti-inflammatory growth factors and cytokines derived from human bone marrow stem cells. These specialized cells function as "command and control" of healing in all injured tissues. AnteAge MD Solution reduces inflammation and promotes less fibrotic, more fetal-like healing. Hyaluronic acid provides lubrication and is a powerful humectant that promotes rapid re-hydration and volume enhancement within the upper layers of the skin. AnteAGE MD products contain no cells or cell remnants. They are removed during ultrafiltration, the final step in the laboratory culture process. This product is a game-changer when performing microneedling.
Microneedling has gained popularity for its growing list of benefits, including new skin tissue that is firmer and more even in tone and texture. It reduces the appearance of scars, stretch marks, fine lines and wrinkles, enlarged pores, and hyperpigmentation, or dark spots. We also incorporate AnteAge MD Hair
Microneedling Solution in our clinic to promote hair growth in people with Alopecia. This powerful bio-signal prompts the hair to stay in the Anagen, or growth phase, instead of moving to the Telogen phase. We've seen wonderful results from this procedure and our clients love it.
The treatment is virtually painless. A topical numbing cream is applied for about 30 minutes before the procedure. There is little to no downtime after the treatment. AnteAge MD Cover Recover is a post procedure tinted cream that is applied after the treatment, to take away any discomfort.
You may notice some skin irritation and redness within the first few days following the procedure. This is a natural response to the small "injuries" made by the needles in your skin. You can go back to work or school right after the procedure if you'd like. Results can be seen the next morning, but the best results will come within two weeks to a month. The skin will continue to increase collagen production for three to six months after a microneedling treatment. Treatment plans vary from person to person due to the severity of the skin concern and its location.
Erase your skin's past with Dermapen Microneedling. You'll love your results.
To schedule an appointment, call 318-3619066. Please visit our website www.professionallaser. com for more information.
WWW.BAYOULIFEMAG.COM | MARCH 2023 99
AIM FOR THE STARS
From her childhood, Diana Gentry Breen dreamed of becoming a nurse and wearing a crisp, white uniform. Most Halloweens, Diana would costume as a nurse. As she grew up, that dream turned into reality. Diana graduated from nursing school, and later continued her medical studies and became a Certified Registered Nurse Anesthetist (CRNA). She helped establish one of the first Nurse Anesthesia businesses in Louisiana (Anesthesia Services Inc.) which was CRNA owned and operated. In 2017, Diana partnered in opening the LaArk Recovery/Addiction Center in Union Parish. Today this wife, mother, businesswoman, and medical professional successfully juggles her time among drug rehabilitation work, anesthesia administration, and family life. For her lifelong dedication to helping others in pain (physical and mental) in our region, Diana Gentry Breen is our March BayouIcon.
Surprisingly to some, Diana Gentry Breen does not come from a family filled with other medical professionals. What she does come from is a family filled with love, faith, encouragement, and a work ethic unmatched by many. Diana's father, the late Herschel Alvis Gentry, Jr., was born in Monroe and attended Ouachita Parish High School and ULM (then Northeast Louisiana University) where he earned a Bachelor's degree in business and was a member of the Kappa Alpha Order. He owned and operated New York Hardware and Furniture on DeSiard Street for over 60 years, taking over full operations when his father retired (at age 92!). Today Diana's brother, Stewart, runs the company – the third generation Gentry to do so.
Diana's mother, Barbara Elliott, was also born in Monroe and attended Neville High School and ULM. She played clarinet in both institution's bands. She earned a B.Ed. and taught school at Lexington Elementary for a number of years. It was while teaching there that she met Herschel, with a little help from one of her favorite students. Becky Huenefeld (Harrod) insisted that Barbara go out with Becky's Uncle Herschel. "It was a match made in Heaven," Diana says.
A "Fairy Tale" Childhood
Diana spent what she calls a "fairy tale" childhood, growing up on Pargoud Boulevard surrounded by family, good friends, and neighbors.
"We played nightly games of kickball and kick-the-can as well as taking bike rides around the neighborhood in the evenings," she recalls.
When Stewart and Diana were born, their mother became a stay-at-home mom. The family always sat down to a homecooked meal Monday through Thursday. Then it was the Gentry tradition to go to Piccadilly Cafeteria on Friday night, El Palino's or Taco Bandito on Saturday night, and Johnny's Pizza on Sunday nights. Friends were always welcomed to all meals at home or away.
Aunts, uncles, and grandparents lived within a 3-mile radius of Diana's Pargoud home, so there were many days that she would visit all of them. With such close proximity, it is no wonder that Diana remembers family gatherings during the holidays as being the very best of all. Thanksgiving and Easter were very special, but it is Christmas that holds the most memories for Diana.
Diana's mother would have their home decorated for Christmas the day after Thanksgiving, and the family would gather to decorate the tree then as well. On Christmas Eve, all of the relatives would gather after church for dinner and gift opening. Christmas Day would be another gathering for more delicious food and celebrating love of family and friends. "One special memory was Christmas caroling up and down my street as we were pulled by horses in an open carriage," Diana remembers with a smile.
Turning Attention to Education
Diana was very active in school as a youngster and always made time for extracurricular activities that were important to her. At River Oaks School, she was a cheerleader in both junior high and high school. In addition, she played tennis and basketball, was named to the Honor Society, and served as a photographer on the school's yearbook staff. Diana also was named Homecoming Queen and Miss River Oaks.
Chemistry and math were Diana's two favorite subjects, with Spanish being her least favorite. Mary Walker, an English teacher at River Oaks, is the one that Diana remembers as inspiring her the most. "Mary inspired her students to learn, and she helped give me the self-confidence to become successful," Diana says. Her most memorable experience as a young girl happened in junior high when her father gamely took 7 junior high girls to Six Flags Over Texas in Arlington all by himself. "He rode every ride with us over that 3-day weekend," Diana says. "We still get together and talk about that adventure!"
Following in her parents' footsteps, Diana entered ULM and declared nursing as her major. As an undergraduate there, Diana also found time for extracurricular activities. She played intramural tennis and joined Kappa Delta Sorority. She served her KD chapter as vice president and later, president. Chemistry was again a favorite subject, but biology and anatomy/physiology were added as favorites.
Diana also experienced study aboard with Tech Rome, enjoying visits to Greece, Switzerland, and Capri while taking classes. Later, just before starting anesthesia school, her aunt, Jean Huenefeld, took Diana to England.
Love and Loss
When Diana remembers her parents, she remembers them for the remarkable mentors that they were for her. Both parents were very dedicated and involved in Monroe's First United Methodist Church. Their faith influenced Diana's, and gave her strength when difficult times came. In matters of social interaction, they both taught their children not to "judge a book by its cover."
ARTICLE
GEORGIANN POTTS
PHOTOGRAPHY
MOORE CLARK
BY
AND
BY KELLY
As a result, both Stewart and Diana have developed a wide array of diverse friends. Finally, both parents encouraged self-sufficiency through their teachings and their own behavior.
From her father, Diana learned the importance of hard work – and that it pays off. He taught her the value of a dollar and how to live within one's means. "His best lessons were to always see the positive in every situation," Diana says, "and to treat people with kindness and respect at all times."
Her mother taught Diana that she could do anything in the world if she put her mind to it. "Mother taught me to aim for the stars," Diana says. "She knew that I had wanted to be a nurse from my early childhood days, and she continued to challenge me to become a nurse who takes on a larger responsibility – like anesthesia."
At age 50, Diana's mother was diagnosed with ovarian cancer. She had taught her daughter from a young age that life is not always fair, but that God has a great plan for each of those difficult teaching moments. One year later in 1988 -- after months of surgeries, therapies, chemotherapy at MD Anderson – Diana's mother passed away. Her death occurred one day before Diana graduated from nursing school. Even in death, important lessons were learned. "That experience was my earliest personal experience with medicine and healthcare," Diana says. "This tragic situation inevitably put me in a position to understand the teamwork of medicine. Those healthcare teams made a lasting impact on my life and on my decision to continue my study in medicine."
God has a Plan
Diana's father met another remarkable lady, Lillian Riser Gentry, whom he married. Diana remembers her father often saying, "No man deserves 2 amazing ladies in their lives like I have been blessed to experience." Diana adds, "I felt the same and was lucky to have two amazing mothers in my lifetime." Ironically, Lillian's daughter Melissa and Diana were good friends and had been roommates at ULM.
Remembering her mother's admonitions, Diana worked from 1988-1989 as an RN in the Pediatric Intensive Care Unit (under the direction of Dr. Terry King) at St. Francis Medical Center). From 19891992 she attended Nurse Anesthesia School at Big Charity Hospital in New Orleans, graduating as a Certified Registered Nurse Anesthetist. Diana's career would find her working as a CRNA at area hospitals for the next 31 years. Along the way, she helped establish Anesthesia Services Inc. where she served as president for the business for 5 years. In 2009 she joined E.A. Conway Hospital (known as Ochsner LSU Monroe Hospital). In 2015 she was appointed to the Board of Directors there and chaired building and grounds – a significant challenge. "Our
rundown safety net hospital has become one of the most beautiful, progressive hospitals in the state," Diana says. "To this day, it shines above many private institutions with a variety of artwork displayed throughout the hospital."
A little-known passion of Diana's is remodeling and decorating. That talent led to her assignment at University Health (which was later absorbed by Ochsner) and to a subsequent assignment as well. Based on her work at University Health, Diana was asked to revitalize a vacant nursing home and transform it into a drug rehabilitation facility in Marion. The LaArk Recovery/Addiction Center is now a productive facility serving those in need in north Louisiana and south Arkansas. "During this drug epidemic/mental health situation we are facing today, helping our country to combat this situation brings extreme satisfaction to my life and career."
Her One and Only Blind Date
When Diana was encouraged to accept a blind date with a fellow named Mike Breen, she decided to go. It was a life-changing experience. "I will say it was true love at first sight," she says. "We dated 3 months, got engaged, and married 5 months later. My mother always said that I would know immediately when it was the right one, and I did!"
The two have two entirely different careers, but both "take care of others" in their work. Mike is a Sales District Leader for Shelter Insurance and owns Shell Rapid Lube in Lakeshore. Each is the other's number one cheerleader. They are a team, Diana says, ". . . and always make time for each other." She adds, "It takes a very mature and committed mate to encourage a new business from ground zero as well as support my long work hours, call schedule, etc."
Both are athletic, so Mike and Diana enjoy playing golf and exercising together. They can also be found doing yardwork, gardening, cooking (indoors or at the grill), and when possible, traveling. Within the past year, Diana has discovered pickleball. Mike hasn't tried it yet, but his days are likely numbered until she gets him involved. They love to end their long days with an early evening pontoon boat cruise on Bayou DeSiard. Today, the two are enjoying parenting their son (Connor, 19) and daughter (Lauren, 18). Connor is an LSU freshman in pre-nursing. He plans to go to anesthesia school. He is maintaining a 3.9 GPA and, like his grandfather, has pledged KA. Lauren is a senior at Neville where she has made a 4.0 every year and was selected for the Top 20 her senior year. She also played on the State winning tennis team during the past 2 years. She plans to study dentistry at LSU.
Family time is precious for this busy group, and so it is often spent traveling together. Favorite fall spots begin at the Ozarks and then on to the Colorado and Wyoming mountains. Spring and summer find them at Cabo and in the Bahamas. This past summer, however,
102 MARCH 2023 | WWW.BAYOULIFEMAG.COM
BIRD LADY: On a recent European vacation, Diana got to do her own impersonation of the "Bird Lady" from Mary Poppins. With a little birdseed in hand and a group of willing pigeons, she loved every minute on her own makeshift Venetian "stage!" Below: Diana's family: Mike, Lauren, Diana and Connor
brought a great European adventure to the 4 Breen's. Traveling by plane, train, and boat, they made stops in Paris, Florence, Capri, Venice, and Rome. "Riding scooters out to the wine vineyards was a favorite among our kids!"
The family's favorite night spot was St. Mark's Square in Venice where they all enjoyed a night of music and entertainment. St. Mark's Square was Diana's favorite because it was there that she got to do her own impersonation of the "Bird Lady" from Mary Poppins. With a little birdseed in hand and a group of willing pigeons, she loved every minute on her own makeshift Venetian "stage!"
Giving Back
Diana and her brother are very close. "Stewart is 4 years older and has always played the big brother/father role in my life. There are not many days in my life that I can remember not talking to him," she says. Today, she admits, she gives Stewart much of the credit for her own business success. She runs about 99% of her business decisions by Stewart before she makes them final. "He holds so many roles in my life, but most of all he is a great friend to me."
In spite of the demands of their businesses, both Diana and Stewart have served their community through volunteer efforts and board
WWW.BAYOULIFEMAG.COM | MARCH 2023 103
"Giving my time brings much more reward than me spending time on myself. I support community volenteering and hope to see it come back in the post-Covid years."
~ Diana Gentry Breen
BAYOU ICON
appointments for years. Today both run their own businesses while serving on hospital boards. Stewart also is a member of the board of directors for Progressive Bank, and has previously served on the Bayou DeSiard Country Club board and is a past president of that group.
Diana spends most of her spare time focusing on the homeless and addicted part of this community and helping them get into treatment. "Giving my time brings much more reward than me spending time on myself," Diana admits. "I support community volunteering and hope to see it come back in the postCOVID years. Volunteering brings the community together. As I become an empty nester, I will be looking for more ways to give back to our community."
Diana has always had a passion for helping those in need and her life choices reflect that. From the earliest days of her medical career, she has been drawn to work with those who are vulnerable. She chose anesthesia because she loves being part of a team that helps others on their road to recovery. "From an emergency procedure to an epidural for labor pains, anesthesia is essential," Diana explains. "Regardless of the circumstances, I enable people to receive the care they need in a pain-free environment. Confidently caring for patients in their most vulnerable moments is extremely rewarding. The most rewarding thing a professional can do is to help a fellow man in time of need."
Helping manage the LaArk Recover/Addition Center has only added to her outreach. Through this work, she helps many vulnerable addicts free themselves from their addiction. Most rewarding to her is seeing ". . . financially disadvantaged patients get the incredible healthcare they deserve."
Not surprisingly, Diana doesn't see retirement anywhere on her radar. She loves what she is doing, and feels that it is a calling from God to use her head, hands, and heart to help others. As Mahatma Gandhi once said, "The best way to find yourself is to lose yourself in the service of others." Diana Gentry Breen has spent a lifetime doing just that.
104 MARCH 2023 | WWW.BAYOULIFEMAG.COM
The Clinic at Gardens of Somerset
Sterlington's Newest Primary Care Clinic is Now Open to the Public
THE CLINIC AT GARDENS OF Somerset is Sterlington's newest primary care clinic from Integrated Care Professionals. While located on the beautiful grounds of the Gardens of Somerset community, this clinic is open to the public. Our nurse practitioner, Elizabeth Hoskins, has over twentyfive years of combined nursing experience. Elizabeth is a life-long resident of Northeast Louisiana and currently resides in Monroe with her husband Jason and daughter, Lilly. Elizabeth is here to assist in everything from minor illnesses and injuries to routine check-ups, vaccinations and more. The Clinic at Gardens of Somerset offers a personalized approach to primary care for residents, employees, family members and the community in a comfortable environment. While our main focus is to provide primary care to the community, The Clinic at Gardens of Somerset also offers a specialized Reflection Program. This program provides memory and cognitive assessments coupled with physical
therapy to detect early signs of cognitive decline and protect against preventable functioning and memory loss. Participants will complete a detailed cognitive assessment with Elizabeth, using an evidence-based tool called the BCAT. Use of this tool provides a multidimensional understanding of resident needs and strengths. The information provided from the BCAT allows for an interdisciplinary approach to detecting and preventing memory loss. It also provides specific treatment recommendations for the facility staff as well as other healthcare providers. Patients and families can expect to see decreased risk of falls, fewer hospital admissions, an overall better quality of life, and improved functioning across multiple areas.
Another great program geared toward the residents at Gardens of Somerset is Remote Patient Monitoring. Patients are provided with a device that measures data such as blood pressure, weight, pulse oximetry, blood glucose and more. When readings fall outside
thresholds, Elizabeth is notified. Remote patient monitoring is designed to keep at-risk patients more educated on their condition, give family members peace of mind and prevent the need for long-term care or hospitalization.
The Clinic at Gardens of Somerset also offers specialized wound care for the safety and convenience of patients. Our healthcare professional can treat chronic wounds and help patients find relief and healing. These treatments are designed to improve patient quality of life and decrease risk of infection and hospitalization.
Similar to the mission of the Gardens of Somerset, our goal is to offer integrated care to our residents while also inviting the community onto our campus for primary care services. For more information on the services offered at The Clinic at Gardens of Somerset, or to schedule an appointment, call (318) 306-2389. Our clinic is located at 340 Lonewa Road in Monroe.
WWW.BAYOULIFEMAG.COM | MARCH 2023 105
The Children's Shoppe
Go Green for Spring!
THE CHILDREN'S SHOPPE WANTS YOU TO GO GREEN! Start with a pinch of green sprinkles on zesty sugar cookies for St. Patrick's Day, follow with the implementation of an easy recycling system – keep going by awakening nature with a stir to Mother Earth—plant something happy in your garden, and then come see us at The Children's Shoppe. Spring is hopping and popping at The Children's Shoppe, literally. It's time to suit up for the season!
The madcap month of March has arrived - the last of winter and the first of spring. Blustery winds and soft spring breezes alternate as we venture out for brisk walks. Can't March make up her mind which it shall be? Let us help her! Energize your spirit and set the mood for spring with a hint of green. Swing by The Children's Shoppe, we can get your little sprout geared up for any event. We have green shoes, green shirts, green bows, green bags, green sippy cups, green blankets, and even an edition of the book, "Green Eggs and Ham." Are you a mother-to-be? Not sure what you are having? Go green! Green is good!
Springtime is a busy time. Easter is upon us. There is much to do…frocks and bonnets await your sweet angels. Gather your baskets and hop our way. We have everything you need to prepare for Easter festivities. In the eighth century, the poetic name Easter, meaning "new beginning," was incorporated into Christianity's observance of Christ's resurrection, thereby blending nature's renewal with man's spiritual rebirth. The Easter season is not only a Christian story, but a promise of renewal for all. Our family's spirit awakens, along with the natural world, from its long winter sleep. Green is good!
Spring arrivals are plentiful but are being snapped up as quickly as a hot cross bun – so it would be wise not to dilly dally. Hop on in! The Children's Shoppe offers a vast array of must-have gifts for babies, birthdays, special occasions, or just for play. There is an enticing selection of decorative treasures, diaper bags, and custom hair bows. We place particular emphasis on toys and books that are developmental and fun…all great options for Easter baskets. Regardless of season or reason, The Children's Shoppe is the perfect place to find timeless and fashion-forward children's clothing, gifts, and accessories for girls newborn to size 16 and for boys newborn to size 12.
Search no more for the pot of gold at the end of the rainbow, you'll find it at The Children's Shoppe.
106 MARCH 2023 | WWW.BAYOULIFEMAG.COM
WWW.BAYOULIFEMAG.COM | MARCH 2023 107
the women's symposium
The ULM Women's Symposium annually highlights women from across Northeast Louisiana for their individual achievements, professional and personal. The panelists share their stories with ULM students and fellow community members to showcase the importance of success and failure in one's journey. Here we highlight five of the 2023 panelists and why they were chosen as leaders in their respective fields.For tickets visit ulm.edu/womens-symposium/
ARTICLES BY MEREDITH MCKINNIE AND PHOTOGRAPHY BY KELLY MOORE CLARK
NAHY EJIA-SATERFIEL
As a little girl growing up in Mexico, Anahy Mejia-Saterfiel idolized Audrey Hepburn. Though Breakfast at Tiffany's was barely a blip in Mexico, Anahy fell in love with Hepburn's style, the polished, clean lines and her quintessential elegant walk. Born with feet that pointed inward, Anahy wore orthopedic shoes, day and night, and struggled to walk without tripping. Anahy strived to imitate Hepburn's balance of strength and vulnerability, of being able to glide across the floor without fear of falling. Likewise, Anahy's mother Rossy always looked polished and professional with pleated slacks and gold hoops. She taught Anahy to dress confidently and comfortably, to make sure she could move freely, especially in front of a crowd. When the Mejia family took a road trip, Anahy drew dresses on napkins and notebooks, inspired by the Mexican scenery. Her little dress journal inspired the little girl from Mexico to later become an entrepreneur in America.
In 2017, Anahy entered graduate school pursuing a masters in English. When she started teaching classes, she needed to update her wardrobe. She searched for modest, business casual attire and discovered cute online shops via Instagram. Rather than spending all her paychecks on clothes, Anahy figured why not open her own shop online. She had an eye for fashion and a relaxed, elegant aesthetic - soon Vence & Co. became a reality. At that time, online shops could be solely for shopping; social media personalities and personal branding weren't as integral to marketing online fashion as they are now. On why she ventured into entrepreneurship, Anahy says, "I guess it's the immigrant in me."
Anahy opened the Vence & Co. storefront in August of 2022 on Antique Alley in West Monroe. Anahy says, "Our quality-over-quantity business model has made its mark in a world of fast fashion, shipping all over the world and forming amazing relationships along the way." As a double major in English and French, Anahy fell in love with the little town of St. Paul de Vence in Provence, France. Anahy says, "It's the kind of place that feels modern and welcoming," so she used it as inspiration for Vence and Co.'s aesthetic and name. Outside of owning a boutique, Anahy works full time as an English instructor at the University of Louisiana at Monroe.
the women's symposium • the women's symposium • the women's
KIMBERLY ESSEX
As the Special Projects Coordinator and Executive Assistant to the Chief Operating Officer for the City of Monroe, Kimberly Essex is the self-professed Swiss Army Knife, available and able to do a little bit of everything. Serving as a liaison for multiple city projects, Kimberly has learned the importance of boundaries, of communicating to others what she can and cannot do. This was not always the case. After graduating from Grambling State University with a Bachelor's of Science in Business Management, Kimberly tried the banking industry before working as an office manager for The Radio People. When a vacancy on the morning show came available, Dave & Kim & the Morning Scramble was born. Kimberly learned the radio business quicklythat though an audience may be out of sight, they are still listening. Kimberly's vibrant personality and comfort with making fun of herself made for a lively morning show.
In her new role with the City of Monroe, Kimberly leads with a "How can I help?" attitude. She begins her day with identifying three top priorities. Naturally one for organization, Kimberly relishes her role that necessitates keeping several balls in the air. She loves her community, and being actively involved in restoring this community fills her soul. When people approach Kimberly with a request, she quickly determines if the answer is a "yes, no, or maybe." This allows Kimberly time to think about her prior engagements and assess her want-to. She learned these methods as she's gotten "yolder," a Kim term for still being young yet mature. She insists clarifying one's limits is essential to communicating boundaries. You have to be clear and specific.
When she first graduated from college, Kimberly said yes to everything. People expected an affirmative answer which made it difficult to say no. And quickly, she experienced burnout. Kimberly's learned to trust herself, to listen to that inner voice that knows it is too soon to commit. As a former people pleaser, she doesn't like letting people down. As a Leo, Kim is loyal to a fault, but she's discovered that pleasing others does not translate to pleasing oneself. Socially, Kim has two specific groups of friends, both of which fulfill different parts of her life. Kimberly knows the importance of respecting her own time and that of others. Her "two tribes" have learned that Kimberly likes and appreciates variety in her life. She can't be at every event and realized she doesn't want to - home always tops the list. Kimberly has been with her wife Emily Essex for the last thirteen years and calls Emily her everything.
women's symposium • the women's symposium • the women's symposium
SARAH HOFFMAN
Sarah Hoffman knows firsthand the importance of health and wellbeing. As a child, Sarah Hoffman suffered from severe anxiety. She often felt uncomfortable and like she was missing something everyone else had. As a teenager, Sarah found escape from anxiety in alcohol. Always in fight or flight mode, she craved relief for her system. After school, she took a marketing and real estate job in New Orleans, relished in a new relationship, and lived "normally" for several years. She still experienced stomach issues due to anxiety, though medical testing produced no definitive answers. When the relationship ended, Sarah spiraled. She tried counseling, but continued drinking. Addiction had complete control over her life for years. Aware that she was falling apart, the light came on and Sarah had a God moment. She entered in-patient treatment at Palmetto Addiction Recovery Center in Rayville, Louisiana, and it saved her life.
After completing the program, Sarah gathered printed resumes and started visiting real estate companies. As fate would have it, she missed her exit and ended up at John Rea Realty. The team became her family, and she focused on staying sober one day at a time. Craving a career with an intentional purpose, Sarah started looking for work with a nonprofit. Now Sarah works with the Food Bank of Northeast Louisiana as the Director of Development. The position gives her the opportunity to help people meet their most basic need. Sarah says, "It is incredibly humbling and rewarding to be involved in hunger relief work, which not only impacts the individuals we serve, but also improves the wellness of our entire community." She wanted to use her challenges as assets. Though recovery is not always easy, Sarah is living an incredibly rewarding life. She continues to attend professional counseling and is part of a peer support network. Sarah shares her story to destigmatize addiction and mental health issues. When people are struggling or have family members who are struggling, they need sounding boards, an unbiased viewpoint from outside the circle.
Addiction doesn't discriminate. What held Sarah back from seeking treatment initially was shame. It's never too soon to ask for help. Now Sarah finds fulfillment in genuine connections with other people and nature. She has a supporting, loving family that made the road to recovery much lighter. If you have a child struggling with anxiety, Sarah recommends getting them into counseling to help them learn good coping skills. Mindfulness meditation is one of Sarah's favorite practices to keep anxiety at bay, and is now being taught in some schools. Talking with professionals allows those with anxiety to dig deeper and identify a cause. Doctors can provide safe medications for people in recovery, for temporary or extended use. When choosing a doctor, make sure the provider understands addiction. Now 11 years sober, Sarah says, "Although I still struggle with anxiety sometimes, I no longer let it keep me living life to the fullest. Whether it's rock climbing with my partner Sam, or taking a risk at work, I'm packing in as much fun, love, and different experiences I can into this one precious life!" If you're struggling with addiction or mental health issues, Sarah's advice is to "Never Give Up."
women's symposium • the women's symposium • the women's symposium symposium • the women's symposium • the women's symposium
GHOFRANE ZAIDI
Ghofrane Zaidi is a Tunisian exchange student majoring in psychology at the University of Louisiana at Monroe. Ghofrane was also a student at Tunis Business School where she majored in Business Analytics and minored in Marketing. Since coming to the states in August of 2022 as part of the Thomas Jefferson Scholarship Program, Ghofrane has immersed herself in American culture, actively engaging in ULM campus activities and traveling across this country. Her idea of America didn't quite match reality. Ghofrane expected Americans to be superficial - more Hollywood - and she expected the streets to be crowded with people. Monroe has welcomed her with open arms. The people are warm and curious about her culture and home country. She has been enveloped in southern hospitality.
Ghofrane appreciates the opportunity to study in the States. The university system is easy and efficient with shorter sessions. She likes that everything is digitized, making the transition smoother. She loves all the RSO events on campus and ULM's size. It's a community unto itself, and Ghofrane relishes all the campus activities. She spends a lot of her time at the International House where she can cook and play games with other international students. Interacting with other students from Nepal, Ukraine, Rwanda, Japan, Nigeria, and Russia, to name a few, allows Ghofrane to glimpse a bit of the world in the lives of her newfound friends. In the meantime, Ghofrane is making the most of her time stateside. She has big dreams, and exploring the world is the first step toward realizing those dreams.
Diving into the campus experience is essential to growth during college. Being so far from home, Ghofrane has made a little home here. She volunteers at the Wesley Foundation on campus and with the Autistic Society and the Red Cross. Ghofrane is working to hone her soft skills and leadership potential, which means staying involved and alert.
Formerly, Ghofrane served as president for TrinityTBS, a college club that provides training in the tech field and organizes gaming tournaments. She has participated in several competitions, like the Hult Prize, an international business competition that challenges young people to solve the world's most pressing issues through social entrepreneurship.
Studying at ULM is her current adventure, and her impression of America has shifted dramatically from what she glimpsed on TV back home in Tunisia.
symposium • the women's symposium • the women's symposium symposium • the women's symposium • the
symposium • the women's symposium • the women's symposium symposium • the women's symposium • the women's symposium
DR. VALERIE S. FIELDS
As the First Female Vice President in ULM's 92-year history, Dr. Valerie S. Fields-Simmons knows the impact of opening doors for women in leadership. Having instituted three major ULM initiatives - Tuesday Ties with Guys, Sipping TEA (Transformational Empowering Alliance), and VIP-White Glove Program - Dr. Fields is forward thinking, working diligently on behalf of ULM students. As a trailblazer, Dr. Fields is consciously aware of being a role model for future generations of women. In the workplace, she says it is important to stay composed and confident, to establish your own work boundaries and respect the boundaries of others. According to Dr. Fields, identifying and instituting boundaries begins with conversations that should precede conflict.
After serving for the last three years, Dr. Fields admits that her honeymoon period as the Vice President for Student Affairs has come to an end, and she is pushing both staff and students to do the hard work of self development. As a leader of multiple generations of women with diverse backgrounds, Dr. Fields is constantly pushing budding leaders to reimagine and reconsider the status quo, to push the limits of what they think is possible for the betterment of everyone. She takes a similar approach with students. Dr. Fields pushes students to intentionally define parameters, even on the basic level of defining words. For a student activity, Dr. Fields had dry erase boards placed at student gathering places on campus. Questions like "What does
transformative mean to you?" and "What does alliance mean to you?" invited student contributions. As buzz words circulate, the meaning can often escape the message. Dr. Fields pulls students and co-workers back to center, to re-examine and redefine the baseline.
Dr. Fields is inspired by unapologetic leaders, pioneers who respect tradition but aren't afraid to challenge norms. Dr. Shirley Chisholm, the first Black woman to be elected to the U.S. Congress and the first woman and African American to seek a party nomination for U.S. president, once said, "If they don't give you a seat at the table, bring in a folding chair." Dr. Fields takes a similar approach to leadership but with defined boundaries. Dr. Fields keeps her professional and personal relationships separate. Dr. Fields checks her feelings at the door, and reminds herself that people are usually wellintentioned. Working together demands a two-way street of respect and boundaries.
Originally from Winnsboro, LA, Dr. Valerie S. Fields-Simmons earned a B.A. in Early Childhood Education/Elementary Education from Southern University A&M in Baton Rouge; an Ed.S. and Masters in Administration and Supervision from University of Louisiana at Monroe; and a Doctorate in Curriculum and Instruction with a Cognate in Technology from LA Tech University in Ruston.
symposium • the women's symposium • the women's symposium • the
114 MARCH 2023 | WWW.BAYOULIFEMAG.COM
HEMLINE MONROE
This metallic gold moto jacket with an adjustable belt is perfectly paired with a matching mini skirt featuring a front fly zip and front pockets for an effortless touch of edge. Rock this look by adding an Elton John tee, hoop earrings and black suede boots.
URBAN ROCK
Fashion Fusion 2023 will mark 12 years of celebrating a community coming together for cancer patients right here in our area. All proceeds benefit the Cancer Foundation League of Northeast Louisiana which provides medical assistance and supplies to local patients and families suffering from this dreadful disease. Join us on March 11, 2023 at the Monroe Civic Center for this fashionable event.
Hair and Makeup: Meka Bennett
Models: Georgia Faith Hill and Camden Shivers
Photography by Kelly Moore Clark
Special thanks to Upstairs Gallery
LOLA
JANE BOUTIQUE
This vibrant double-breasted hot pink blazer with gold buttons is a great addition to your spring wardrobe. Pair it with white vegan leather shorts for a look that is going-out-glam.
HERRINGSTONES
This oversized blazer will make a statement this spring when paired with matching orange wide leg pants. Add a hot pink crop tank with adjustable straps, magenta heels, Kendra Scott earrings and a floral scarf and show the world who's boss.
DUSTY & COMPANY
Kick things up a notch in this rich green jewel-toned blouse with high low hem and pleated back. Wear it with high waist skinny fit black jeans and natural woven heels with large buckle. Accessorize with statement earrings and a long beaded necklace.
RON ALEXANDER CLOTHIERS
Dress to impress in this black blazer worn over a black striped button up shirt and classic straight denim jeans. Accessorize with a monochromatic scarf and Cole Haan leather boots.
PALETTE HOUSE AND PLUME
Update your moto jacket collection with this lux piece featuring tonal boucle fabric with contrasting knit sleeves. This is the perfect layering jacket for spring. It's paired with a slightly cropped casual trouser with cuff hem.
MAX PORTER PROVISIONS
This vintage western shirt features embroidered hibiscus, pearl snaps and pleated chest pockets in a lightweight fabric with a mesh-lined vented back yoke. Accessorize with a custom rabbit hat from Caddo Brothers Hat Co.
THE NUDE NOMAD
Flow to the music in this gorgeous blue and white botanical print dress with smocked bodice and ruffle sleeves. Accessorize with braided raffia heels, white and brown framed sunglasses, pearl drop earrings, gold bracelets, layered cross necklaces and a gold floral ring.
WWW.BAYOULIFEMAG.COM | MARCH 2023 123
The Most Refreshing Margarita
Cayman Jack - Neither Shaken Nor Stirred
THERE IS SOMETHING TO BE SAID ABOUT HAVING AN ice-cold drink on a hot day. Be it after a long day of playing in the sun, or an even longer day crossing things off the honey-do list, it's always a perfect end to find one's self sitting on the patio, looking out at nature under the hot sun and enjoying a crisp drink. Granted, after this day, breaking out a blender, cutting the ingredients, and making a fresh margarita may not be at the top of your list of to-do. Honestly, on a hot day, a lot of individuals crave that margarita flavor, with the freshness of the lime and sweetness of the agave. That is where Cayman Jack comes into play. With the bottled, malt margaritas you will get to enjoy something crisp and sweet.
Best enjoyed close to freezing, these bottled beverages have an incredible sweetness coming from the cane sugar, all mixed with delicious bitter limes and a deeper undertone from the agave nectar. Compared to other 'margaritas' in the bottle or can, Cayman Jack definitely surpassed each one with their ingredients and flavor. A little tip to up the margarita factor of this awesome little bottle would be to take a little margarita salt and sprinkle it into the open bottle.
Cayman Jack is a hand-crafted, ultra-premium malt beverage with smooth drinkability and just the right bite. Made with 100% blue agave nectar, natural lime juice, and real cane sugar, Cayman Jack makes it easy to discover something unexpectedly great. Drawing on the best of nature for inspiration, with a crisp and clean taste, it is arguably the most refreshing margarita in the world. Cayman Jack is available in 12oz bottles, 12oz cans and can also be enjoyed over ice.
Cayman Jack Margaritas fall under Mike's Hard Lemonade portfolio. When the iconic hard lemonade was first introduced in Canada in 1997, it was spiked with vodka. However, when the drink was introduced to US consumers in 1999, the vodka was replaced with a proprietary malt liquor. Even as a malt beverage, Mike's Hard still represented an exciting new world of possibilities to non-beer drinkers; Mike's prides itself on being both easy to drink and easy to love. Being in the flavor beverage business, Mike's has mastered the flavor game.
Mike's Hard Lemonade Simply follows a four step brewing process:
Ferment malt grains with our proprietary, bespoke yeast, filter through proprietary filtration technology, resulting in a very clean, neutral alcohol base. Squeeze and zest lemons to produce superior, natural lemon flavor. Add natural sugars and lemon flavor to the neutral alcohol base to produce the best liquids. Mike's transforms this product to many different flavors, such as Original Lemonade, Strawberry
Lemonade, Peach Lemonade, Cranberry Lemonade, Black Cherry Lemonade and many more.
Spring is here and so is this springs most sought-after Seltzer. Mike's Hard Lemonade Seltzer is the Full Flavor Hard Lemonade Seltzer with 100 Calories, 1g Sugar, 5.0% ABV, and is gluten free. The Variety Pack includes four refreshing flavors: lemon, strawberry, mango, and pineapple. Mike's Hard Lemonade Seltzer is the perfect balance of sweetness and tartness. With the kick of lemonade and the lighter, low alcohol profile of hard seltzer, Mike's Hard Lemonade Seltzer is a sessionable beverage made for gatherings. While we're deep in the second surge of an unprecedented global pandemic, it is anyone's guess what next summer will look like, but knowing that this effervescent lemonade is on the horizon gives us one guaranteed bright spot.
The company also makes a higher ABV option, called Mike's Harder, which contains eight percent ABV. Mike's Harder comes in a variety eight pack of 16 ounce cans, containing two each of cranberry, lemonade, purple grape, and strawberry. It also comes in a tallboy 23.5 ounce can.
Mark Anthony Brand's also owns MXD Cocktails Co., a 12 percent ABV RTD. These "Wildly Good" Pre-MXD cocktails come in four flavors: Margarita, Long Island Iced Tea, Mai Tai and Strawberry Daiquiri.
Last but not least, White Claw fits into the "work hard, play hard" mentality of many young professionals, there weren't any good options for a light and refreshing gluten-free drink that wasn't either too sweet or too alcoholic. The 5% ABV White Claw Hard Seltzer is available in minimally sweet flavors with zero aftertaste.
Locally, Marsala Beverage employs about 100 full-time employees. Marsala Beverage, LP is the largest malt beverage, wine/spirits and non-alcoholic distributor in Northeast Louisiana. Their success is based on the fact that they never lose sight of delivering what is really important – quality products, timely service and a genuine concern for our customers' needs. Annually, they deliver over 2.4 million cases of beverages to over 700 retail accounts.
Please find us at www.marsalabeverage.com or follow us on social media:
Facebook: Marsala Beverage
Twitter: @marsalabeverage1
Instagram: @marsalabeverage
124 MARCH 2023 | WWW.BAYOULIFEMAG.COM
WWW.BAYOULIFEMAG.COM | MARCH 2023 125
The Dos and Don'ts of Wearing Heels
with J. Marshall Haynie, MD
BY DANELLE WARE AND THE OSL FAMILY
IF YOU GREW UP IN LOUISIANA, YOU MORE THAN LIKELY are familiar with the phrase- Laissez les bons temps rouler- let the good times roll. We love parties, family get togethers, and just about any viable reason to pass a good time! Having gone to a few parties recently, I have noticed several party goers in fancy dresses dancing the night away to a great band in their bare feet…their perfect pair of heels for their outfit have been torture and they gave into the music and tossed the shoes aside! Let's face it- most high heels are uncomfortable and over time can cause significant damage to your feet and your ankles. Wearing heels causes your heel to be elevated leading your body to naturally shift forward which puts added pressure on the ball of your foot. The higher the heel means a greater tendency to shift more of your body weight forward, creating even more pressure on the ball of the foot and often causing you to hyperextend backwards to counterbalance the weight that has been shifted forward. This counter balance act not only affects your feet and ankles, but also can cause knee, hip and back pain. Common foot and ankle problems resulting from high heels:
HAMMER TOES, BUNIONS, CORNS AND INGROWN TOENAILS
Over time, wearing high heels with a narrow toe box can cause the foot to take the shape of the shoe, causing hammer toes, corns, bunions and ingrown toenails. High-heeled shoes place tremendous pressure on the fat pad under the ball of the foot, forefoot. The higher the heel the more pressure on the ball of the foot and a higher likelihood for injury.
ANKLE SPRAINS AND TENDINITIS
Repeatedly wearing high heels can cause all sorts of painful problems. Straining your ankles and other tendons surrounding the foot can lead to tendonitis. When your foot is elevated and the weight goes forward, a lot of tension gets taken off the Achilles tendon and it shortens over time. Women who are a bit older and have worn heels consistently, often complain that flat shoes are uncomfortable. This results from the tendons tightening from continuous wear of high heels their whole lives and it becomes uncomfortable when they're stretched to their original length. Extra weight and pressure on the front of the foot can even cause a stress fracture and heels are more likely to exacerbate clumsiness that can lead to imbalance and twisting or straining the ankle.
MORTON'S NEUROMA
High-heeled shoes have been linked to the development of Morton's neuroma due to the weight shifted forward to the ball of the foot from the elevation of the heel. Morton's neuroma is a painful condition that affects the ball of your foot, most commonly the area between your third and fourth toes. Morton's neuroma may feel as if you are standing on a pebble in your shoe. This can cause a sharp, burning pain in the ball of your foot. Your toes also may sting, burn or feel numb.
So, what do you do? Do you forgo the perfect shoes for your perfect outfit because they sport a high heel? Not necessarily… my wife and many of my patients would be the first to tell me that they were not willing to give up their favorite shoes because they have a heel. I offer a compromise, choose better shoes for day to day wear, so you can bring out the high heels for special occasions. I do have a few suggestions when choosing your footwear that can help preventing unnecessary pain and strain:
• Choose a shoe with a wide toe box and two-inch or lower heel. If higher heels are preferred, shoes with a platform under the toe box decrease the overall stress on the foot.
• Stretch your feet and calves in the evening. At the end of the day our muscles and tendons need a bit of relief- don't forget your toes and ankles- they bare the brunt of your weight all day!
• Get rid of worn out shoes or shoes that hurt your feet. Worn out shoes do not support your feet properly and if shoes hurt your feet today, they could have a negative impact in the long run.
If foot and ankle pain persist, it may be time to consult with an orthopedic foot and ankle surgeon. Don't let your high heels get in the way of your good times… moderation and saving the heels for a special night should keep you dancing and your feet and ankles strong and healthy.
J. Marshall Haynie, MD is and orthopedic surgeon specializing in disorders of the foot and ankle/lower extremity as well as general orthopedics. To schedule an evaluation with Dr. Haynie, please call his clinic, Orthopedic Specialists of Louisiana: 866.759.9679 or visit: orthopedicspecialistsla.com
126 MARCH 2023 | WWW.BAYOULIFEMAG.COM
Calendar of Events
For
a full list of event happenings in Northeast Louisiana, see our website at www.bayoulifemag.com
Through March 31
Acts of Faith: Forward Together
Acts of Faith: Forward Together Selections from the Sutton Collection, a new exhibition at the Biedenharn Museum and Gardens Bible Museum. The exhibit features 60 works from Will and Cheryl Sutton's African American Spiritual Art collection.
Time: Tuesday-Saturday 10AM - 5PM
Cost: Adults $7; Military/Senior $6; Students $4
Address: Biedenharn Museum and Gardens, 2006 Riverside Dr, Monroe Phone: (318) 387-5281
March 1, 8, 15, 22
Karaoke Wednesday at Enoch's It's Karaoke Wednesday at Enoch's Irish Pub & Grill! Join them and the 318 Swampers for a fun night of karaoke!
Time: 8PM - 11PM
Address: Enoch's Irish Pub, 507 Louisville Avenue, Monroe Phone: (318) 388-3662
March 2-4
Trey Altick Louisiana Prep Baseball Classic
As of 2010, the tournament has been renamed the "Trey Altick Louisiana Prep Classic" and includes dozens of teams playing in eight different venues throughout the area. All the proceeds from the gate and concessions are put back into each of the local school's baseball programs that host the tournament.
Address: Sterlington Sports Complex, 1290 LA-136, Sterlington
March 2-5
Arsenic and Old Lace
An uproarious farce on plays involving murder, Arsenic and Old Lace has become a favorite amongst regional theatres throughout America. and 10-11.
Time: Thursday-Saturday at 7:00 PM and Sunday at 2:00 PM
Cost: Adult $30; Student $15
Address: Strauss Theatre Center, 1300 1/2 Lamy Lane, Monroe Phone: (318) 323-6681
March 3
Joe Woods Wildwood Express
Experience this unique performance full of country music and fun for the whole family! The Annual Joe Woods' Wildwood Express proceeds are dedicated to The Dixie Center for the Arts building fund to help continue restoring this beautifully historic venue.
Time: 6PM
Cost: $20.00
Address: Dixie Center for the Arts, 212 N Vienna St, Ruston Phone: (318) 255-1450
March 4-11
Symphony League Book Sale
The Symphony League Book Sale consists of gently used books, magazines, and more. Two buildings are full of hardbacks, magazines, paperbacks, fiction and non-fiction. Many books and magazines priced 25-50 cents.
Time: 9 AM
Cost: $2.00 Adults First Day Only; Students are Free.
Address: Monroe Symphony League, 320 North 4th Street, Monroe Phone: (318) 537-5171
March 4, 11, 18, 25
Ruston Farmers Market Shop, eat, and support local producers and creators every Saturday morning!
Time: 9:00 AM to 1:00 PM
Cost: Free
Address: Ruston Farmers Marketplace, 220 E. Mississippi Ave. Ruston Phone: (318) 957-130
March 4
North Louisiana Makers and Producers Market
North Louisiana Makers and Producers Market is a community service that gives our area a fun, healthy way to come together and get to know their local makers and producers. The March market includes a Chili Cook Off!
Time: 9AM - 3PM
Cost: Free
Address: Paramount Health Care
Consultants Parking Lot, 1905 North 7th Street, West Monroe Phone: (318) 372-4753
The Bogman Movie Premier at Flying Heart
Open Heart Productions presents "The Bogman" premiering at Flying Heart Brewery! Watch the bigfoot movie filmed locally in Calhoun, Monroe, Swartz, and Broken Bow, OK. $10.00 raffle tickets, DVDs, and posters of the movie will be available for purchase. 17 and up.
Time: 6PM - 7:30 PM
Cost: $5.00
Address: Flying Heart Brewing, 204 Commerce Street, West Monroe Phone: (318) 366-7820
MSO Pops - Fascinating Rhythms
Reserve your table and get your tickets for an evening of American Jazz with the Monroe Symphony Orchestra, featuring vocalist CoCo York and clarinetist Scot Humes, with works by George Gershwin, David Baker, Duke Ellington, and more!
Time: 7PM - 8PM
Cost: Adult $50; Student $25; Address: Bayou Pointe Event Center, 100 Warhawk Way, West Monroe Phone: (318) 812-6761
Hands On Band at the VFW
The Hands On Band is live at the VFW! Sing along or dance along all night long.
Time: 7PM - 11PM
Cost: $10
Address: VFW Rodney J Hobbs Post 1809, 1499 Highway 594, Monroe Phone: (318) 345-4185
March 7, 14, 21, 28
Fleet Feet Cookie Run
Join Fleet Feet every Tuesday at 6:00 p.m. for their Cookie Run! Check their facebook page for updates on locations and times.
Time 6PM - 7PM
Cost: Free
Address: Fleet Feet Monroe, 1866 Forsythe Avenue, Monroe Phone: (318) 855-3146
March 9
60th Annual Juried Competition Reception
The Masur Museum of Art's Annual Juried Competition showcases contemporary artists throughout the United States of America working in any medium.. The public reception is on March 9 from
Time: 5:30 - 7:30 PM
Cost: Free
Address: Masur Museum of Art | 1400 South Grand, Monroe Phone: (318) 329-2237
Beer & Bards
Join Enoch's Irish Pub & Grill for Beer & Bards on the 2nd Thursday of every month. Writers and audience members alike are welcome to savor a tasty drink, present their works, and have a great time!
Time: 6:30 PM - 7:30 PM
Address: Enoch's Irish Pub, 507 Louisville Avenue, Monroe Phone: (318) 388-3662
March 9
Zach Williams A Hundred Highways Tour
Catch Zach Williams and his 10-piece band on his A Hundred Highways Tour live in concert at the Jack Howard Theater!
Time: 7PM - 10PM
Cost: Ticket Prices Vary
Address: Jack Howard Theater, 401 Lea Joyner Expressway, Monroe Phone: (318) 329-2225
March 10, 24
The Band Delta Live at the VFW
Listen to The Band Delta live at the VFW! This is a fun night of music and family-friendly good times. Nonsmoking, BYOB, and concessions are open.
Time: 7:00 PM to 10:00 PM
Cost: $10.00 Cover Charge
Address: VFW Rodney J Hobbs Post 1809 | 1499 Highway 594, Monroe Phone: (318) 345-4185
March 10-12
Big Creek Trade Days
Big Creek Trade Days are held monthly on the weekend before the
128 MARCH 2023 | WWW.BAYOULIFEMAG.COM
second Monday with over 100 indoor and outdoor vendors, food trucks, and fun for all ages!
Time: Friday & Saturday 9AM - 5PM; Sunday 10AM - 4PM
Cost: Free
Address: Big Creek Trade Days, 327 California Plant Rd, Dubach Phone: (318) 680-1304
March 11
Children's Funday
Children's Funday is back at the Biedenharn Museum and Gardens!
This is a craft activity for all children. Children must be accompanied by an adult.
Time: 10AM - 12PM
Cost: $5/Child; Adults free
Address: Biedenharn Museum and Gardens, 2006 Riverside Drive, Monroe Phone: (318) 387-5281
11th Annual St. Paddy's Bicycle Parade and Festival
Bring your family to Kiroli Park on March 11th for the annual St. Paddy's Bicycle Parade and Festival. There will be arts and crafts, games, free green lemonade, food to purchase, live music and more! Lineup begins at 12:00 PM for the Bicycle Parade.
Time: 10AM - 1PM
Cost: Free
Address: Kiroli Park, 820 Kiroli Road, West Monroe Phone: (318) 396-4016
VAMN! – Visual Artist Meetup
Join the Black Creatives Circle of North Louisiana every 2nd Saturday of the month at The Sugar Gallery for regular discussions about art studio practice and history/theory.
Time: 12PM - 2:30 PM
Cost: Free
Address: The Sugar Gallery, 135 Art Alley, Monroe
Murphy's Law Live at the VFW
Murphy's Law is live at the Monroe VFW! Enjoy this night out with ticket drawings, snacks, and mixers. Family-friendly, non-smoking, and BYOB.
Time: 7PM - 11PM
Cost: $10.00 Cover Charge
Address: VFW Rodney J Hobbs Post 1809, 1499 Highway 594, Monroe Phone: (318) 345-4185
March 14
Women's Symposium
The Women's Symposium
seeks to empower, motivate, and encourage girls and women from all backgrounds and all educational and professional levels to pursue their passions and seek leadership roles in their desired career paths. Free headshots will be offered to students and at discounted price of $99.00 for non-students.
Time: 12PM - 4:30 PM
Cost: Students Free; Faculty/Staff & Active Alumni $25; Community $40
Address: ULM Bayou Pointe Event Center, Warhawk Way, Monroe
Monroe Symphony Orchestra
Performance
The Monroe Symphony Woodwind Quintet will be joined by the Poulenc Sextet and Richard Seiler. Do not miss out on this great performance!
Time: 7PM - 8PM
Cost: Adult $15; Student $5.
Address: ULM Emy-Lou Biedenharn Recital Hall, 200 University Avenue, Monroe Phone: (318) 812-6761
March 17-19
25th Annual Spring Market
The Junior League of Monroe's Annual Spring Market will take place March 17th - 19th at the Monroe Civic Center. This year is extra special, because they are celebrating their 25th anniversary!
Time: Friday 11:00 AM to 5:00 PM.
Saturday 10:00 AM to 5:00 PM.
Sunday 12:00-5:00 PM.
Cost: Ticket Prices Vary
Address: Monroe Civic Center | 401 Lea Joyner Memorial Expressway, Monroe Phone: (318) 322-3236
March 17
Downtown Ruston Beer Crawl
The Downtown Ruston Beer Crawl is back! This walking beertasting event will take you from business to business in Downtown Ruston, where you'll find snacks, entertainment, special one-nightonly deals, and more. Must be 21+ to attend this event.
Time: 6:00 PM to 9:00 PM
Cost: $20.00
Address: Downtown Ruston Phone: (318) 251-8647
Murder At An Irish Wake
Mr. Limerick has died and you are there for his wake, with singing and dancing and lots of Irish merry-
making. But, things take a turn for the worse in the middle of the wake, and the next thing you know, you're solving a crime!
Time: 6:30 PM - 8PM
Cost: $50
Address: Strauss Theatre Center, 1300 1/2 Lamy Lane, Monroe Phone: (318) 323-6681
March 18
Browse on the Bayou
Browse on the Bayou with the Best on the Bayou! Discover what ULM's beautiful campus has instore with a campus tour, student organization fair, college Q&As, and lunch on the bayou. Stick around after and receive a complimentary ticket to one of the most anticipated baseball games of the season!
Time: 9AM - 2PM
Cost: Free
Address: ULM, 700 University Avenue, Monroe Phone: (318) 342-1000
2023 Let's Get Wild! Summer Camp Expo
Visit the area's best summer camp at the Louisiana Purchase Gardens and Zoo! This year they are adding educational and recreational vendors. Help your kids have an awesome summer and learn new ways to connect to fun in the community.
Time: 10AM - 1PM
Cost: Free
Address: Louisiana Purchase Gardens and Zoo, 1405 Bernstein Park Road, Monroe Phone: (318) 372-2582
Mike McKenzie Live at the VFW
Mike McKenzie is back live at the VFW! Don't miss out on this fun night. The $10.00 cover charge includes a ticket for a door prize. Non-smoking and BYOB.
Time: 7PM - 11PM
Cost: $10
Address: VFW Rodney J Hobbs Post 1809, 1499 Highway 594, Monroe Phone: (318) 345-4185
March 23-26
The Play That Goes Wrong
This 1920s whodunit has everything you never wanted in a show—an unconscious leading lady, a corpse that can't play dead, and actors who trip over everything (including their lines).
Time: 7:00 PM; 2:30 PM (03/26)
Cost: $10 - $20
Address: Dixie Center for the Arts, 212 N Vienna St, Ruston Phone: (318) 595-0872
March 25
Ruston Art Encounter: Edible Art
The Ruston Art Encounter is hosting interactive art experiences for the community on the last Saturday of every other month. The fifth installment of the Ruston Art Encounter is Edible Art.
Time: 12PM - 4PM
Cost: Free
Address: Downtown Ruston Phone: (318) 251-8647
Black Water Brake Live at the VFW Black Water Brake is back at the VFW! Watch them play live while snacking on concessions and dancing or singing along. Family-friendly, nonsmoking, and BYOB.
Time: 7PM - 11PM
Cost: $10
Address: VFW Rodney J Hobbs Post 1809, 1499 Highway 594, Monroe Phone: (318) 345-4185
March 28
Flying Heart Veterans Fundraiser
Door prizes, silent auction, kids coloring contest, and a live DJ will all be part of the fun at the Flying Heart Veterans Fundraiser! Live music with Grayson May will be from 6 - 8 PM to close the evening.
Time: 12 PM - 8PM
Address: Flying Heart Brewing & Pub, West Monroe Phone: (318) 367-0888
March 31
Ouachita Live Concert
Join Downtown West Monroe at Ouachita Live! With great local food trucks and great music, it's sure to be a great time! This free outdoor concert series spans through the months of March-October and takes place on the last Friday of the month.
Time: 7PM - 9PM
Cost: Free
Address: Alley Park, 250 Trenton Street, West Monroe
WWW.BAYOULIFEMAG.COM | MARCH 2023 129