BLcontents
8
/ SIMPLE GREENS
This delicious blend of chocolate and kale is full of antioxidants. Grab this go-to smoothie and start this new year in the green.
14
/ GRANOLA BARS
These nutritious bars are perfect for grab-n-go treats. Packed with fiber and antioxidants, these mouthwatering morsels are a healthy treat.
28
/ FIRE CIDER
Cheers to good health. This concoction will help punch up your immunity this winter.
48
/ BAYOU EATS
Jay Pappa's is a new restaurant specializing in great steaks, seafood and spirits.
62
/ THE ART OF BEAUTY
Meka Bennett talks with BayouLife about being motivated by her family to attend beauty school , and how
she went from working at a mall to working with celebrity clients.
72
/ THE BEST BEAUTY PRODUCTS
We've asked local experts to recommend their favorite beauty products to add to your beauty regimen in the New Year. Find a list of products that will help you round out a skin routine for a brighter, more youthful glow.
78
96
/ BAYOU ICON
Because of her successful careers and her love and continuing influence in this region, Judy Wagoner is our January Bayou Icon.
103 / TOP DOCS 2023
APRIL 2018
/ DETOX SOUP
Need a little detox after this year's holiday parties? This delicious chicken soup will get you started on the right path to wholesome eating.
82
/ FLIP YOUR DIET ON ITS HEAD
Why eating more and moving less may be a better strategy for long term weight management
90
/ ASK THE EXPERTS
Meredith McKinnie interviews
Northeast Louisiana health and beauty experts to answer readers' questions.
We are proud to announce our 5th Annual Top Doctors.
138
/ ON RESERVE
From the perfect jean to a basic black turtleneck, these looks are must-haves for the new year. Find these and more at area boutiques.
136
/ ASK ERIN
January is typically the time when you are supposed to set new goals and make lists of things that you want to start doing, but let's do things a little differently this year!
4 JANUARY 2023 | WWW.BAYOULIFEMAG.COM
138 48 21 JANUARY 2023 62
Health & Wellness is the theme of this month's issue. I think one of my biggest priorities this year is going to be mental health. I feel like I've been in a wheel that is constantly spinning. In 2022, we sold our home, moved into two different rental houses, and still aren't in our permanent home. It's been unsettling to have most of belongings in storage while we make it with the necessities. I think this year I could have followed Jen Hatmaker's book "7: An Experimental Mutiny Against Excess," and make try to take a bit of that mindset with me to my new home. I've been told that this is just a crazy season of life - trying to balance kids and work, and everything in between. But, as this year comes to a close and a new one starts, I try to remember the prayer our preacher has us recite every Sunday, "God grant me the serenity to accept the things I cannot change, courage to change the things I can, and the wisdom to know the difference."
You may have seen our BayouArtist in the magazine a few times, because she is our MUAH pro, Meka Bennett. Meka has been behind-the-scenes doing hair and makeup for our fashion shoots since 2013! She is one of the most incredible artists I know and she has a heart of gold. Read her article on page 58.
For over 30 years, television viewers in our region felt like they knew Judy Wagoner. After all, she was a voice for KNOE-TV8 Broadcast News whom they trusted to deliver the information that they needed, when they needed it. Never one to stop learning and accepting challenges, Judy became a small business owner in 2003 when she and a partner started Professional Laser Center, a Medi Spa that has expanded to include Integrative Medicine. Today,
helping clients learn how to integrate traditional medicine with natural therapies is Judy's passion. I met Judy around the time she started her business when I worked for a small media company and she has always had a commanding presence. I enjoyed reading her interview with Georgiann Potts on page 96. I hope you enjoy this "behind-the-scene" look at this month's BayouIcon.
This month is our 5th annual Top Doctors issue. We do know that this list is by no means an all-inclusive and encompassing list, and we do not recommend changing your medical provider because of this list. We are extremely lucky to have a large pool of medical professionals in Northeast Louisiana and are thankful for all the amazing people that devote their talents to make our community healthy and happy. See our Top Doctors on pages 103-132.
Whether you are searching for heartwarming, healthy recipes or looking for a yoga routine to jump start the new year, this issue is full of great ideas. We hope you enjoy reading through this month's issue of BayouLife Magazine. Thank you for your continued support of local businesses. We wish you a happy, healthy and prosperous new year.
Cassie
BayouLife
1201 Royal Avenue Monroe, LA 71201 Phone 318.855.3185
WWW.BAYOULIFEMAG.COM
PUBLISHER & OWNER Cassie Livingston cassie@bayoulifemag.com
COPY EDITOR Cindy Foust
GRAPHIC DESIGNER Nathan Coker nathan@bayoulifemag.com
ADVERTISING SALES EXECUTIVES
Sarah McElroy sarah@bayoulifemag.com
Katelyn Tolbert katelyn@bayoulifemag.com
Courtney Thomas courtney@bayoulifemag.com
ART DIRECTOR Taylor Bennett
LEAD PHOTOGRAPHER Kelly Moore Clark
CONTRIBUTING WRITERS
Darian Atkins
Dan Chason
Laura W. Clark
Kenny Covington Shannon Dahlum Cindy Gist Foust
C. Butch Dunn, MD Starla Gatson Heather Land Paul Lipe
Erin Love
Meredith McKinnie Georgiann Potts Emily Roberson
Cathi French-Roberts Delia Simpson
Beatrice A. Tatem Vanelis Rivera Danelle Ware
CONTRIBUTING PHOTOGRAPHERS
Kelly Moore Clark Andrew Bailey
ON THE COVER
photography by KELLY MOORE CLARK model EMERSON GLOBKE outfit by PALETTE HOUSE AND
PLUME
BayouLife Magazine is published and distributed by Redbird Publishing, LLC. Postal subscriptions ($30) can be ordered online at www.bayoulifemag.com. BayouLife Magazine is not responsible for unsolicited photographs, manuscripts, or other materials. Opinion columns do not represent the views of the publisher. Reproduction of contents without express written permission is prohibited.
6 JANUARY 2023 | WWW.BAYOULIFEMAG.COM
21
What you need:
1 cup of oat milk
1 cup frozen blueberries
Half a banana
2 kale leaves
1 tablespoon raw cacao powder
Coconut flakes
Chia seeds
This simple recipe combines five healthy ingredients. Add oat milk (or your choice), frozen blueberries, banana, kale leaves and cacao powder and blend to perfection. Top with coconut flakes and chia seeds.
SIMPLE GREENS
This delicious blend of chocolate and kale is full of antioxidants. Grab this go-to smoothie and start this new year in the green.
BENNETT
MOORE CLARK
Styled by TAYLOR
Photograph by KELLY
WWW.BAYOULIFEMAG.COM | JANUARY 2023 9
Cheers To The New Year
Celebate with New Bourbon and Great Steaks
WE HOPE THAT EVERYONE HAD A VERY MERRY Christmas and happy holidays! The new year is under way and we thought what better way to kick it off than to talk about two long awaited barrel picks. Throughout the year we've mentioned that our Maker's Mark Private Select and Jefferson's Pritchard Hill Bourbon were on the way, and now they have arrived. For this article we're going to tell you all about these two incredible selections.
The Maker's Mark distillery prides itself on being unique within the world of bourbon and in the process of creating a single barrel, Maker's Mark certainly upholds that standard. Let's take a closer look at what we mean by creating a single barrel. Maker's Mark hand rotates barrels within their rickhouses from top to bottom, so that every barrel of Maker's Mark tastes nearly identical, or you could say consistent. This commitment on their end requires a lot of time and effort, so when it came to a private barrel program the question was how to get something unique to customers while still being distinctly Maker's Mark bourbon. The solution they found was to let customers create their own stave profile that would create a Maker's Mark cask strength bourbon that was one of a kind. The distillery offers five different staves that each impart a different quality and customers choose a combination of 10 total.
Our selection here at Washington Wine & Spirits is composed of 3 seared French cuvee, 2 Maker's Mark 46, 4 roasted French Mendiant, and 1 toasted French spice staves. The seared French cuvee staves enhance the texture and mouthfeel with warm caramel notes, molasses, and a long finish. The Maker's Mark 46 staves are designed to impart rich hints of dark fruits with a long finish of baking spices. The roasted French Mendiant imparts hints of milk chocolate, dried fruit, nuts, coffee, and a long, rich finish. Finally, the toasted French spice staves bring out crisp sweets of ripe fruits and zesty baking spices.
This combination yielded a barrel bottled at 109.1 proof (54.55%) with a rich profile that will evolve over the first few pours. In the glass, it is a beautiful golden copper color. The nose opens with toasted marshmallow, vanilla salt water taffy, hot cocoa, flaky buttery pie crust, and dark amaretto cherries. On the palate we get a pop of bing
cherry and vanilla on the first sip. The second sip reveals chocolate chess pie with toasted meringue on top. A buttery texture introduces a long finish with textured vanilla, baked Fuji apples, brown sugar caramel, and cocoa powder all gently linger on and on. The addition of an ice cube will amplify the chocolate and vanilla even further. A great sipper that is perfect for the winter weather.
Our Jefferson's Reserve Pritchard Hill Bourbon is bottled at 90.2 proof (45.1%) and is an amazing treat. This private selection starts off as Jefferson's Reserve and is then finished in Chappellet Winery Pritchard Hill Cabernet Sauvignon barrels. In the glass it is hazy from residuals left in the wine barrel and this gives it a fiery garnet tinged copper color. On the nose it explodes out of the glass with white chocolate covered red fruits followed by hints of aged oak and pastry being baked. The nose of this bourbon is a true delight! In fact, one could nose this whiskey for hours and constantly find something new calling through the ether. We say ether because the nose maintains a small mystery that is always on the edge of recall. I'm doing it still as you're reading this now. The palate is flooded at first with flavors of cherry and cream cheese Danish pastry. The second sip reveals an undercurrent of cassis laden with berries, cream, and a hint of maple. The finish is as ridiculous as the nose with its length and power. You'll be left with hints of dark chocolate, dark cherries, sweet vanilla custard, and a touch of baking spice. This is truly a bourbon that you can search for answers in forever. One of our favorite barrels that we've picked.
We want to thank everyone for an awesome year in 2022 and we are excited about what the new year has in store. Don't forget that we also offer the Doe's Eat Place steaks for you to take home for your own grill. Thank you as always for letting us be your Spirits Guides here at Washington Wine & Spirits.
10 JANUARY 2023 | WWW.BAYOULIFEMAG.COM
Stitching For Your Health
Thoughtfully Curated Fabric and Sewing Notions
AS WE GO INTO THE NEW YEAR, we all have so much to be thankful for and our mental health is one of the most important things to keep in check. We can all get so busy and wrapped up in the day-to-day of our busy lives that we don't make the time to take care of ourselves. Slow stitching and stitching/sewing in general is one of the most therapeutic things that we can do. We have so much happening in The Haberdashery this next year that I feel sure there will be something for everyone's taste and level of abilities.
Starting in January will be our two different Blocks of the Month (BOM) which include Botanica and Heartland Heritage. Botanica is from Treehouse Textiles by Emma Di Stefano in Australia, it is a wonderful combination of hand applique, machine piecing and English Paper Piecing. There will be numerous techniques to learn in the quilt. The other choice is Heartland Heritage by Inspiring Stitches, this option is a machine pieced quilt and you will learn different techniques of machine piecing as the year goes along. There is a $25 registration fee and then $25 per month for Botanica and $15 per month for Heartland Heritage.
Crimson Tweed will also be starting in January, this is a fabulous wool applique pattern by Sue Spargo that has been rereleased on a limited basis. I believe we have six copies of this book so if you decide you would like to do this, then let me know. Any of you that are familiar with Sue's designs will recognize that this is a somewhat simpler pattern but nonetheless just as beautiful! Each
month you will receive the fabric to complete the block for that month, our fabrics will consist of wool and velvet for the appliques and Essex Linen as the base fabrics.
I cannot wait for The Pin Pillow Club to begin either! This club will be featuring a different pin pillow/pin cushion/pin poppet each month from various teachers that have their own areas of expertise. So, you know what that means-we will have so many different ideas and different techniques to learn from this one. There will be wool applique, machine pieced, hand embroidered, English Paper pieced and the list is endless for this club. This will be a simple, easy way to immerse yourself into the world of sewing.
Another feature for a monthly club will be our 12 Days of Christmas Ornament Club by Corinne Lapierre in England. This will consist of wool mixed felt, book, templates, stitch guides, threads and ribbons to complete an ornament for each month (2 in the first month). When you finish for the year, you will have 13 ornaments in total that represent the classic festive song and bring so much joy to your home. This club will be $10 per month if you just want to pick up your supplies or $20 per month if you need a little instruction.
And, lastly this is one that we are super excited about. Our own Featherweight Club will kick off in January with the first meeting being all about routine maintenance and care of your Featherweight machine that can be done by you yourself without having to take it into someone (as in Robert!). This will definitely be a Saturday Club/Class and will feature something new every month as a fun
project to do on your Featherweight. Any thoughts and ideas of projects for this club are welcomed so, let me know! If you do not own a Featherweight, we have several for sale in The Haberdashery so that you can have all the fun that we are having as well. The first twelve participants that sign up will receive a sweet little thank you gift. During our first class, you will be taking home the supplies needed to take care of your machine so that it will last you a lifetime.
Also, if you did not already know, we are a dealer for Husqvarna Viking sewing and embroidery machines as well as sergers. This wonderful company started manufacturing sewing machines in 1872 and celebrated their 150 year anniversary in 2022. It all started in Huskvarna, Sweden in a royal arms factory that realized the need to produce something other than rifles thus this high quality sewing machine was born. And, it keeps getting better and better as new and cutting edge technology is always on the horizon. Another little but so important aspect of what we offer is that we have our own "in house" service department which means we personally service your machine. My husband Robert has had hands on training by Husqvarna Viking and by Ron Adams at The Fabric Shop of Ruston. So, if you are looking to buy a new machine for the new year, then I feel sure we have just what you need and all of the support to back it up!
So, let's pick our way of therapy for this year and get started!
12 JANUARY 2023 | WWW.BAYOULIFEMAG.COM
XOXO - Joyce
Granola Bars
These nutritious bars are perfect for grab-n-go treats. Packed with fiber and antioxidants, these mouthwatering morsels are a healthy treat.
What you need:
1 cup dates
1/2 cup hot water
1/4 cup walnuts
1/4 cup almonds
1/4 cup pumpkin seeds
2 tbsp sunflower seeds
1 tbsp flax seeds
1 cup rolled oats
1/3 cup dried cranberries
3 tbsp honey
1/2 tsp cinnamon powder
1/4 tsp salt
Directions:
First, soak 1 cup of dates in 1/2 cup of hot water until they become soft. After around 30 minutes transfer dates to a blender and blend until a smooth paste is formed. While the dates are soaking, dry roast almonds and walnuts until the nuts get slightly browned. Add pumpkin seeds, sunflower seeds and flax seeds and cook for 2 minutes. Transfer seeds and nuts to a bowl and keep aside. Add dates paste to a saucepan and cook until the paste thickens. While the paste is cooking, roast 1 cup rolled oats over low heat. Transfer oats to dates paste. Then add honey and mix well and turn off the heat.
Next, combine roasted nuts, seeds, cinnamon powder and salt and mix well. Lastly, add in dried cranberries and stir until all the ingredients are mixed. Transfer the prepared mixture to a lined baking pan and firmly press. Cover and put in the freezer for two hours. Remove granola bars and cut into equal portions.
14 JANUARY 2023 | WWW.BAYOULIFEMAG.COM BAYOU RECIPE
Photograph by Kelly Moore Clark Styling by Taylor Bennett
WWW.BAYOULIFEMAG.COM | JANUARY 2023 15
Ihave been writing my "Fishing with Kenny" articles for Bayou Life for almost ten years now. The time has flown by and whenever I go back and read my previous month's article, or any article for that matter, I always see things I could have explained better or give more detail to. This month, I would like to share with you some information I have shared before, only this time I want to make it more user friendly.
When I started seriously fishing for bass, I was in my teenage years. Back then, the only information sources I had were fishing magazines or the "dock" talk heard while hanging out at the local tackle stores. Becoming a better angler has been a lifetime quest of mine and today I am no different than I was when I was a teenager, I am always researching and studying the sport, trying to get better.
One of the benefits of spending all my time on the water, fishing tournaments or just fishing for fun, is it has allowed me to establish a system of "rules" or ideas that I believe will help anyone become a better angler, no matter if you are fishing for bass, crappie or catfish. These simple "rules" will help you more than you could ever imagine.
My first "rule" is straight forward. "Go fishing." In order to become good at anything, be it golf, hunting, bowling or whatever the sport, you must spend time doing it. You will learn more being on the water with a rod and reel in your hands than you ever will listening to someone talk about fishing or watching a fishing video. In this sport, trial and error are your best teachers.
a spinnerbait, or maybe add color to a jig skirt. Whatever changes I think will make a lure a better fish catcher, I will do it. This is another time where trial and error will become a great teacher. One thing to remember about "tinkering", no detail can be too small.
Rule number five is "Success breeds confidence". There is no substitute for having a positive attitude. I can't preach this enough, especially to young anglers. The more confidence you gain in your abilities to find and catch fish, the better angler you will become. That is just a fact. Success breeds confidence is not just a motto, it is true in any sport you would care to master. I have seen very good anglers become defeated before they ever leave the boat ramp. The wind, weather, full moon, no moon, cold front, boat pressure, whatever the excuse you can think of, I have heard anglers complain about before the tournament even begins, leaving them defeated before the first cast.
My philosophy has always been "Someone will catch them, they always do, why can't that someone be me?" I have always been known as a confident angler. Mind you I said confident, I didn't say arrogant or cocky. In competitions, in reality, it is me against the fish, the other anglers have nothing to do with my success. However, most of the time, no matter how good of an angler you believe you are, the fish are going to win.
Fishing With Kenny
BECOMING A BETTER FISHERMAN article by KENNY COVINGTON
My next rule, which some people aren't uncomfortable with, is "Ask the right questions." If you ask the right questions instead of asking random questions, the information you will get in return is more valuable and easier to understand. Instead of asking someone what color spinnerbait they were using, ask them what kind of blades they were using. Instead of asking what part of the lake they fished, ask them why they think they caught the fish the way they did and what kind of cover the fish were using.
My third rule is my favorite, "Be comfortable with your equipment." I spend a lot of time in my boat experimenting with rod/reels/line and bait combinations. To some this might seem like overkill, to me it is one of the keys to my being a successful angler. Before I ever use a lure on any rod/reel combination I have, I will make a few casts in the yard or even at a local pond to see how it feels. Our fish are hard to make bite, so I want to put the odds in my favor of catching the fish when they do bite. The wrong rod/reel/line setup, even if you are using the correct lure, can cost you dearly.
My next rule should be called "rule 3-B" because it is like the previous one we discussed. "Tinkering with tackle is a must." Rarely, if ever, do I buy a lure, tie it on and fish it straight out of the package. I might change the hooks on a topwater, swap out blades on
My last rule, which may come as a surprise to those of you who know me, "Embrace technology." While I am still not an advocate of LiveScope and the other popular brands of fish finders, I have begun using some of the more basic technological concepts with encouraging success. I use my graphs and side imaging to locate potential areas, as well to measure depth and water temperatures and I have learned to incorporate this technology into my own way of doing things. Techniques and map study that took me years to learn, through the magic of modern technology, beginning fishermen can learn the basics of, in a matter of hours.
Google Earth and YouTube have opened a whole new world to all anglers. Don't depend on technology to the point where it becomes the reason you aren't successful on the water. Take the time to develop your style and ways of doing things. Explore new areas, fish new lakes, compete in tournaments, whatever it takes to become a better angler, is what you should do. Never stop learning and always remember, there are no short-cuts to success.
Well, it looks like we have run out of space and time again for another month. I sure hope we were able to share with you some things that will make your next trip to the lake more productive and make you a better fisherman. It's a new year so it's time to create a new you and positive attitude. Go fishing! And make sure you catch one for me!
See you next month!
16 JANUARY 2023 | WWW.BAYOULIFEMAG.COM
WWW.BAYOULIFEMAG.COM | JANUARY 2023 17
When The Doctor Gets Sick
Promoting Personal Health…Wellness 2023
BY BEATRICE TATEM, PH.D., LPC-S, NCC, ACS
HAPPY NEW YEAR! IT IS MY HOPE THE HOLIDAY WAS meaningful, and the new year has started off positively with all things merry and bright for everyone. Hopefully, your physical health and mental wellness is in place and if not plans are being made to intentionally address them. For many the new year has indeed been great, and the future feels promising, for others their reality is different. Through my work I am reminded each year that the holidays and the new year are met with mixed emotions, varied experiences, and consequently different reactions. Last month I wrote about savoring the magic qualities of the holiday and holding on to them throughout the coming year. I urged individuals to let joyous thoughts, interactions, and experiences outweigh negative actions, encounters, and occurrences. The new year is associated with great expectations, goal setting, resolutions, vision boards and wonderment. This is the time of year when many people resolve to eat healthier, exercise more, reconnect with others and sleep better to gain an improved lifestyle. The start of the year is a period when we reflect on the past as we ready ourselves to embrace the future. Celebrating on the eve of the new year allows us to briefly put aside the difficulties of the past and welcome the future with hope, enthusiasm, and optimism.
Like many, I find myself wondering what the new year will bring. I believe what happens the previous year helps to shape what happens in the new year. While some express feeling hopeful about 2023 memories of 2022 linger resulting in feelings of uncertainty. When I reflect on the past year, I think of lessons learned and the impact the lessons have had on my life as well as the lives of others. We learned in 2022 to expect the unexpected, to accept the fact tomorrow is not promised to anyone, and the power of resilience when encountering undying challenges. In 2022 society acknowledged the third year of the global pandemic and the outcomes that compromised societies overall wellness pointing to the need for more effective, responsive, and equitable health care. Increasingly, society began to look closer at providers, available resources, and the growing need for not only physical health services but mental health services.
On July 26, 2022, at approximately 8:30 am, I recall the doctor walking through the door in which I sat and her reciting the words "Dr. Tatem you tested positive, you have COVID." I went to a local urgent care facility (no pun intended) urgently that day as I felt run down and as though I had the flu. When hearing the news, I recall thinking "Of all times to get COVID." Intellectually I know there is no good time to get it but emotionally I felt I have not had it before, why now? I recall the day so well because I was planning to fly out of town the next day to be with my family; family members I had not seen in person since 2019
due to the pandemic. Immediately, I thought of the people I needed to contact. I called my mother, the airline to cancel my flight, my primary physician, my family and then recently seen clients. With each call to a client, I waited for their reaction with hesitancy. Were they sick and if so, had I spread COVID to them? How would they react to their doctor getting sick? I frequently went to the facility to monitor my health. Each time I was told I did not have COVID. I always felt relieved and even more determined to prevent getting it. I was disappointed upon receiving the diagnosis but not surprised as I was experiencing several of the symptoms. My experience with COVID was mild. I attribute this to the sound medical advice I received from doctors who know my medical history and my cousin who is a pulmonologist. I had gotten the vaccine at the encouragement of my doctors because of my own health issues and the fact I was encountering several people on a regular basis in close proximities. To the chagrin of my family and friends I worked in my office throughout the pandemic. While contracting COVID caught me off guard it served as a reminder of the importance of taking care of yourself, for yourself, as well as for others.
It has been almost a decade since I started my private practice, Wellness Initiatives, LLC. The name was born out of my desire to proactively take initiatives towards my wellness. I firmly believe health care professionals are role models for wellness; how we care for our own mental and physical health sends a message to the public. Individuals initiate therapy when they experience a lack of wellness, they continue in therapy in their quest to improve and maintain good mental health. Experiencing COVID while helping others with their experiences with COVID directly as well as vicariously added a dimension to my perspective when the doctor gets sick. It afforded me a greater understanding of others experiences despite the professional health care boundaries that had to be maintained. Being deemed an "essential worker" does not equate health care professionals to super women or men with superpowers who never get sick. When sick, I have the tendency to push through. With COVID I found there was no pushing through for me but a slowing down and really taking note of how I felt. It forced me to practice what I preach to many clients…selfcare. I encourage all in 2023 to protect their personal health by making their mental and physical wellbeing a priority. Savor the good to avoid the bad occupying your being. Embrace the spirit of the new year with a positive mindset of viewing challenges as opportunities; striving to do more than survive but to live well.
For more information on counseling and outreach services contact Dr. Beatrice Tatem at Wellness Initiatives, LLC, 2485 Tower Drive, Suite 10 Monroe, La 71201, 318-410-1555 or at btatem.bt@gmail.com.
18 JANUARY 2023 | WWW.BAYOULIFEMAG.COM
WWW.BAYOULIFEMAG.COM | JANUARY 2023 19
New Year, New Possibilities
The Medical Spa by St. Francis Medical Group - Upcoming Specials
WELCOME 2023! IT'S ALWAYS EXCITING TO KICK OFF A new year — a new chapter — that's full of possibilities. What a better way to start the new year than by investing in yourself? The staff at The Medical Spa by St. Francis Medical Group is ready to help you make this year your best yet with this great special: all treatments will be buy 3, get 1 free the entire month of January!
Renew you this year with our radiofrequency treatments. Radiofrequency is a non-surgical skin tightening treatment. These treatments work by applying controlled heat to the deeper layers of the skin to stimulate collagen and elastin production. Radiofrequency can be applied to areas of laxity on the face and neck as well as larger areas, such as the arms and legs, to reduce the appearance of cellulite.
NEW YEAR, NEW SMOOTHER YOU! Splendor X is laser hair removal for all skin types, and is powered by BLEND X technology, utilizing the ND: YAG and Alexandrite lasers. This technology offers unprecedented power, speed, versatility and coverage rate. Treatments are fast and comfortable with the cryo-cooling system and require no downtime.
NEW YEAR, NEW SKINCARE RESOLUTIONS? Get glowing with OxyGeneo. Geneo works from the inside out to refresh dull skin, reduce fine lines and improve overall skin texture and appearance. Geneo facials are customized based on your skincare needs. The three-step process includes exfoliation, infusion and oxygenation. The Oxypods are made with 100% natural ingredients to deliver natural sources of vitamins, minerals and antioxidants to improve your skin's overall health and appearance.
RING IN THE NEW YEAR WITH FLAWLESS SKIN. Radiofrequency micro-needling combats a variety of common skin care concerns, including discoloration, acne scarring, enlarged pores and texture issues along with fine lines and wrinkles. This fast, effective treatment is mildly invasive and requires little downtime!
Be sure to take advantage of the buy 3, get 1 free New Year's special during the month of January! Whether you are new to these treatments or looking to purchase more, now is the perfect time. Schedule your consultation this month and the staff can discuss treatment options to reach your desired results.
OBAGI BLUE PEEL RADIANCE
The Medical Spa is now offering the Obagi Blue Peel RADIANCE! Blue Peel RADIANCE improves the appearance of aging skin one layer
at a time. Are you concerned with dull skin tone, post-acne discoloration or signs of photoaging? This superficial chemical peel contains glycolic, salicylic and lactic acid. The combination of these three acids strips away dead skin cells from the epidermis to reveal brighter, tighter, more radiant skin. There is little to no downtime with Obagi Blue Peel RADIANCE. After the peel you may experience temporary redness and mild flaking and peeling that typically lasts one to three days. We find a series of three to six peels provides the best overall results. Start the new year off right with any number of our treatments today!
MEET THE TEAM
Missy McNabb, FNP-C, earned her master of science in nursing from Grambling State University in 2002. She is a Board Certified family nurse practitioner and a member of the Louisiana Association of Nurse Practitioners. Over the past two decades, Missy has practiced in almost every clinic setting that St. Francis offers. Her vast knowledge and skills are obtained from this variety of settings. Because of her experience, Missy was given the privilege of being the first nurse practitioner to independently operate her own primary care clinic within the St. Francis Medical Group. Missy was instrumental in the opening of the first employee clinic in Northeast Louisiana, the Franciscan Clinic. This clinic successfully operated for nine years, managing healthcare for St. Francis team members and dependents insured through St. Francis. Also, Missy was involved in opening the Pediatric After Hours Clinic, which provided much-needed services for those infants and children whose parents worked and were unable to get their sick children to a provider during normal office hours.
Missy makes it a personal standard to always represent her organization with professionalism and treat all patients with dignity that corresponds with St. Francis' mission and core values. She is excited about being a part of The Medical Spa team, which will allow her to pursue a lifelong passion in aesthetic medicine. She is excited about helping to make patients look and feel their best!
Be sure to come by The Medical Spa this month to take advantage of our buy 3, get 1 free treatments and to find out more about the medical-grade skincare products offered here! We are in the James R. Wolff Building (also known as the P&S Building) in downtown Monroe. Our address is 312 Grammont St., Suite 406, across from St. Francis Medical Center. Also, be certain to follow The Medical Spa by St. Francis Medical Group on Facebook and Instagram to stay up to date on our weekly specials, sales, promotions and giveaways.
20 JANUARY 2023 | WWW.BAYOULIFEMAG.COM
Eucalyptus Scrub
When I was growing up the cure for any illness was a hot bath. If I had a stomach ache my mom would say, "Take a hot bath," when I had my first kidney stone my mom told me, "You'll feel better after a hot bath." There's no surprise that she barely made it to the hospital to give birth because she was soothing her aches with a hot bath before finally deciding she may be in labor. But, there is truth to some folk remedies and a hot bath with epsom salts has been clinically shown to increase both magnesium and sulfate levels in the body.
While you can combine any essential oils with epsom salts, the combination of eucalyptus makes an inviting and refreshing combination – creating a spalike atmosphere.
To get the best benefits, combine 1 cup Epsom salts, 1/2 cup baking soda and 20 drops of essential oils and blend together. Add this mixture to a hot bath and soak for twenty minutes to get your best dose of tub-therapy.
WWW.BAYOULIFEMAG.COM | JANUARY 2023 21 HEALTH & BEAUTY
Article by Cassie Livingston Styling by Taylor Bennett Photo by Kelly Moore Clark
Alumni Spotlight
ULM Alumna: Florencetta Gibson
DR. FLORENCETTA GIBSON REALIZED HER PASSION for helping people as a teenager working as a candy striper. At the time in Alexandria, the hospital volunteers were involved with direct inpatient care. After graduating from Peabody High School, Florencetta chose ULM for its esteemed nursing program and received a Presidential Scholarship. While living in the dorms, she appreciated the communal living style, meeting new people and growing together. Some of those women are still Florencetta's friends today.
The ULM nursing curriculum is thorough and prepares graduates to provide safe, effective nursing care. Faculty instill a mindset of volunteerism and community advocacy. Florencetta learned to identify local health and social resources for patients and worked with nonprofit groups. These experiences promoted the importance of community involvement. While juggling classes, Florencetta worked on campus and as a resident advisor. Two professors had a profound impact on Florencetta. Ms. Bernadine Adams taught obstetrical nursing and exemplified a professional business-minded approach to healthcare, while Ms. Norma Gates Steffenson taught pediatric nursing and demonstrated the power of a gentle touch and strong constitution. Combining the two approaches makes one a powerful force in healthcare, showing professionalism, efficiency and compassion side by side. Communicating with and for patients is essential to providing the level of healthcare people deserve.
As an only child, Florencetta was accustomed to being the focus of her parents' attention, and they imparted the scripture: "To whom much is given, much is required." Florencetta understood that in college she needed to get to know her peers, to learn through the experiences of others. After graduating with a BSN from ULM, Florencetta worked at St. Francis Cabrini Hospital back home and then St. Francis and Glenwood in Monroe. Later, she took a position at the Ouachita Parish Health Unit. She soon realized she wanted more education in patient interaction and communication skills. She appreciated the openness of the ULM graduate faculty, as they would often have coffee with students and develop interpersonal relationships. They reinforced the benefits of interdisciplinary studies, as healthcare is about treating the whole patient and not one-dimensional. Dr. Charles Pryor, helped tailor Florencetta's graduate courses to suit a holistic approach to healthcare. Florencetta earned an M.Ed. in counseling.
Soon, Florencetta was recruited to teach at Louisiana Tech and obtained a MSN from Ole Miss, specializing in teaching with a clinical focus in psychiatric mental health nursing. She started teaching at ULM in 1985 in what became the Kitty Degree School of Nursing. Never one to shy away from challenging herself, Florencetta sought a PhD in Marriage and Family Therapy at ULM. Her PhD class consisted of seven women who called themselves the Magnificent 7. Florencetta brought an awareness of nursing and physical health care interventions to the class. Over the next 20 years, Florencetta taught primarily psychiatric nursing and was active on the ULM campus. Later, Florencetta was promoted to the Director of the School of Nursing and retired in 2011. Awarded Professor Emeritus status, Florencetta is still active in the school, though she now has a behavioral health practice as an Advanced Practice Registered Nurse and Marriage and Family Therapist. She works with three other colleagues in a practice called Positive Changes.
Florencetta remains active in the community, holding active roles with United Way, Living Well Foundation, The Wellspring, Kitty Degree School of Nursing Advisory Council, Ouachita teen Family Life, and the Witness Project of Northeast Louisiana. Florencetta is active in her local church. She is an active member of Delta Sigma Theta Sorority Incorporated, supporting local health initiatives. Her husband Toney is also a ULM graduate, as is her daughter Tonnessa. Her daughter Franchesca began college at ULM and later transferred to Nicholls State to pursue a degree in Culinary Arts. Both daughters work in healthcare settings. .
As a resident of Northeast Louisiana, Florencetta is highly aware of the shortage of healthcare providers in the area as the health needs of residents increase. She is proud of the huge healthcare footprint of the Kitty Degree School of Nursing. Kitty Degree Nursing graduates serve as health care providers and leaders nationally and internationally. The graduates of the College of Health Sciences meet the healthcare needs of their respective communities. ULM's nursing program is known for excellence. Dr. Gibson is honored to be a graduate and esteemed faculty member of such a viable program and university with an enduring impact on this community and the world beyond.
22 JANUARY 2023 | WWW.BAYOULIFEMAG.COM
New Year...New Home
A New Year in Interior Decorating With Jan Strickland
IN HER 12TH YEAR AS AN INTERIOR DECORATOR, JAN HALES
Strickland finds herself embracing 2023 with a new motto…"New Year…New Home." "I love my job, I truly do and my business is my passion…I eat, sleep and breathe it. I love working with clients to help create beautiful and functional interiors."
And in 12 years, she has certainly had a lot of opportunities to do just that. Says Jan, "I think sometimes when people hear the work 'interior decorator,' perhaps they feel they don't have the budget for one. But the truth is, I love to work with any budget for any sized project. Right now, I am working on three house remodels, but last month I simply did a gallery wall for a client."
Another example of Jan's "favorite" way to help is styling bookshelves. "I have clients who give me the opportunity to shop local and completely restyle their bookshelves and I have other clients who simply want me to use what they already have. Either way, I love the way simply restyling your bookshelves gives a fresh look to a room."
And might you be undecided about a paint color? Laughs Jan, "I have literally walked in a client's home before and there would be a hundred paint chips on the wall. Picking out a paint color can be very daunting, and very overwhelming, but I like to come in and narrow it down to 3 choices, all of which would work, and help my client decide which of the 3 they like the best. Trust me, I have been hired plenty of times for simply a paint consultation, and I love when I am able to help create another fresh look in someone's home just by repainting. I just love what I get to do every day."
Jan's love affair with interior decorating began at a very young age when she was fortunate enough to travel abroad including when her parents would rent a home in the countryside of England ever summer. This travel helped foster the inspiration for her passion, as did visiting local museums and homes. By the time she was in high school, Jan knew she wanted to be a designer/decorator. She even began her career during this time working on beach condos and homes.
For college Jan received a Bachelor of Science degree in Interior Design from the University of Alabama in Tuscaloosa. The program is CIDA Accredited. Jan was an active student member or the American Society of Interior Designers. She also served on the advisory counsel
for CIDA accreditation for the Interior Design program at the University of Alabama.
After college, Jan worked at a kitchen design center in Birmingham, Alabama, a fabric decor store in Montgomery, Alabama, and a nationally recognized antique store in Montgomery, Alabama. But when her husband had the opportunity to practice law with Jan's father, she was ready to come home.
Since that time, Jan has enjoyed building her interior decorating and consulting clientele, while at the same time she's been able to give back to her community. In her 6th year as the lead designer for the St. Jude Dream Home, Jan is also passionate about this cause. "Having lost my best friend to cancer makes this cause very personal to me. This summer I was able to attend the St. Jude summit and toured their campus, which made me even more passionate when I saw the far reaching impact our support gives St. Jude. Last year we were able to sell $800,000 worth of tickets, and being able to see the children and the families that these monies support gave me even more motivation to maintain the support we can in our community. I was most honored to receive the Kichler Lighting Award for my work on this project."
When not focused on her clients or her St. Jude work, Jan enjoys spending time with her husband Josh, son Jey, daughter Evy, and dog Belle. "I'm in a busy season of my life, and getting to spend time with clients, getting to know them and their home brings me such joy. I believe your home can have a great impact on your mental and physical well-being, and I like being a small part of helping my clients create a calm and inspiring environment."
If you are embracing 2023 the same way as Jan, "New Year… New Home," then bring her in for a consultation. Whether you need a new coat of paint, restyled bookshelves or you are looking to remodel or build something new, Jan is always ready to lend her years of experience and expertise to make sure you have the home of your dreams within the budget you can afford.
24 JANUARY 2023 | WWW.BAYOULIFEMAG.COM
Cooking Up Prosperity
It is said that eating fresh greens - usually collards - for New Year's helps to usher in a year of prosperity. The green representing "folding money." Collards or mustards, winter greens, will bring prosperity in the form of vitamins, minerals and antioxidants. The peppery bite of fresh local mustards pairs perfectly with a ham or beef bone like oxtail. Start the New Year with all good things green.
2 lbs fresh greens
1/2 qt bone broth (beef or chicken) 1-2 lb stock bone such as oxtail, or ham hock
** substitute with a few slices of bacon if needed Pink Himalayan salt
Tear the leaves from the tough stems. Fill the sink with water. Add greens and submerge. Add broth to a stock pot with the bone or bacon. Season to taste with salt. ** If broth is bland, add cracked pepper, onion and garlic powder. Bring to a boil and then reduce to medium low. Rinse the greens and add to pot. Cover with a lid and allow to simmer until wilted but still retail their color.
Serve in their own broth, a few bits of the meat from the bone, a sprinkle of salt and a dash of pickled pepper sauce.
Photograph and Recipe by Heather Land
26 JANUARY 2023 | WWW.BAYOULIFEMAG.COM EVOLUTION OF LAND
Fire Cider
This is not your run of the mill apple cider vinegar shot. Packed with all-thingsbut-the-kitchen-sink, one shot each day just may boost your immune and leave you feeling energized. Apple cider vinegar has found its way into many trendy supplemental forms like gummies in recent years though its usage for health has been traced back decades. It is said that a concoction similar to it dated back to grave robbers who wanted to avoid the plague.
Fire cider is packed with antimicrobial, antibacterial, antifungal, antiviral, antioxidant ingredients - good for not only boosting the immune system, but also boosting gut health and digestive issues.
The fire cider shown here is a homemade recipe shared by a dear friend. It is packed with all organically sourced goodness and "brewed" for one month.
ACV, horseradish, ginger root, turmeric, garlic, onion, cayenne, lemon, rosemary, cinnamon, thyme, black peppercorns and raw honey are all generally used to create this potent cider. In our house, we take a daily shot diluted with a splash of apple juice or water from a glass skull shot glass to lighten things up.
But it is not only good from a shot glass, use it as a marinade, mix it in to create salad dressings, BBQ and other sauces.
Gather and brew or source your own fire cider and start the New Year off right.
28 JANUARY 2023 | WWW.BAYOULIFEMAG.COM EVOLUTION OF LAND
Cheers to good health. This concoction will help punch up your immunity this winter. Article and photograph by Heather Land
Patient No Longer Focuses On Food
Man finds freedom at the Surgery Clinic of Northeast Louisiana
JOHN SALTER SUFFERED FROM SEVERAL ILLNESSES
throughout his childhood. Subsequently, he developed a habit of eating chips and other snacks while resting. John's food choices and sedentary lifestyle led to a lifelong weight battle; however, the 49-year -old ended that battle when he visited Dr. Walter Sartor.
John weighed 420 pounds five months before undergoing weight loss surgery at the Surgery Clinic of Northeast Louisiana. John decided to lose 60 pounds before his surgery. Since his surgery in May of 2021, he has lost an additional 156 pounds.
Dr. Sartor performed John's gastric sleeve surgery, which left John with a much smaller stomach incapable of holding much food. His new stomach also produces less of the appetite-regulating hormone ghrelin, which decreases his desire to eat.
With a reduced appetite and the inability to consume large portions, John's relationship with food has changed.
"Sugar doesn't appeal to me anymore. Instead of consuming an entire pizza, I might have one slice. Instead of fast-food apps, I have fitness apps. I remember a particular moment when I was given fast food, and it made me nauseous," John said. "The truth is, I don't think much about food anymore. It's not the focus of my life. In fact, I often forget to eat because I'm not hungry, so I have to remind myself to eat."
His daily routine? That has changed, too. John wakes up at 4 a.m. to drink his protein shake and run or walk at least five miles every morning. He has swapped his size 4XL jogging pants for a size large and a 56-inch waist pant for a 32-inch waist pant. He once struggled to pick up a book bag; now, he benches 275 pounds.
"Before the surgery, I would wake up every day with aches and pains due to carrying so much excess weight. My knees would hurt, and my back would hurt. I always rationalized it by saying I was 'just getting older,'" John said. "Now I wake up with more energy, start the day with running or a long walk, go to the gym, exercise, and work a full day. I still have enough energy at the end of the day that it's almost hard to get some sleep."
Most importantly, his overall health has drastically improved. Before weight loss surgery, John underwent multiple knee surgeries due to his excess weight. He also had high blood pressure, diabetes, and eight stent procedures. A cardiologist once told him he had "a year to live." John had to take insulin and heart medication. He no longer needed any of that medicine within 90 days of his weight loss surgery because his conditions had resolved.
The cost of that medication was high.
"People are hesitant to pay for the surgery, but I went from spending over $300 in monthly medications to one $15 multivitamin. Over time, the surgery pays for itself just in medication savings."
John's parents offered to pay for his weight loss surgery 15 years ago. John declined the offer because, like so many others, he thought the surgery was "cheating" or the "easy way out."
He wants to clarify that misconception for others. "The gastric sleeve surgery is not a magic bullet, but an incredible tool that allows you to make a long-lasting change. The surgery is magical if you make the necessary lifestyle modifications."
John is pleased with another outcome of the surgery: his newfound health has benefitted his relationship. "I know my wife never minded, but I always felt guilty that she would have to take off work to take me to various medical appointments. I didn't want to cause her any stress. I'm so glad that burden is gone."
At the height of John's medical problems, his GP recommended he see Dr. Walter Sartor about gastric sleeve surgery.
"Dr. Sartor does the most valuable thing a physician can do, he listens. You feel comfortable laying out what you're thinking. Dr. Sartor does his research, and he provides you with answers. He never lectures. There's no judgment, just sincere interest in helping you. That's invaluable."
In addition to Dr. Sartor, Marci Parker, a dietitian who provides nutritional counseling, helped John throughout his journey.
"I must have called Marci half a dozen times. She'd call me back on her cell phone with all my answers. And, she gave me her full attention. The only thing on her plate was answering whatever questions I had. Dr. Sartor and Marci were my pit crew that helped me through the races."
To learn more about the bariatric program at the Surgery Clinic of Northeast Louisiana, visit surgeryclinicnela.com/bariatric. Losing excess weight will reduce your risk of high blood pressure, cancer, heart disease, diabetes, infertility, depression, and more.
The Surgery Clinic of Northeast Louisiana, home of Delta Vein Care, houses surgeons Dr. Walter Sartor, Dr. Bart Liles, Dr. Patrick Smith, and Dr. Mohamed Bakeer, who also performs bariatric surgery. Contact the clinic with questions about weight loss surgery, vein care procedures, and general surgery.
30 JANUARY 2023 | WWW.BAYOULIFEMAG.COM
DR. SARTOR JOHN SALTER BEFORE
New Year, New Beginnings
Join Our Mission at Louisiana Delta Community College
BY DARIAN ATKINS
THE NEW YEAR CAN SIGNAL MANY THINGS.
For some, it's the relief of getting through the holiday season. It can also signal hope for something new, something different. Yet, for some, there's frustration, anxiety, or disappointment because of the absence of hope for something new…different.
After the celebrations come to a close on New Year's Eve, a common practice commences…re-evaluation. Many people across cultures, classes, and systems begin to evaluate their lives to determine what changes need to be made and what should stay the same and strategize to accomplish the difference.
Along these same lines, people consider the value of their time and attention, considering and reconsidering commitments and even careers. One career that literally changes society is that of teaching. Consequently, it's also a career with a grave shortage. Teachers can impact economic systems, drive innovation, break barriers, improve self-esteem, and provide quality gatekeepers of our society. Much like parenting, it can be a thankless profession. That happens because no one pays attention to their impact on students, families, and communities until we face challenges (national shortages) like we're facing today.
Wendy Comfort, an adult education instructor for Louisiana Delta Community College in Farmerville understands how critical it is to have quality instructors in the classroom and the difference it can make. As a student herself, Wendy recalls, "I came into an adult education center not knowing whether I had any potential, not believing in myself, being a single mother, and needing somebody to help me in some way, somehow." She found the help that changed the trajectory of her life. Comfort says, "Now, I can return that favor back to the community." She encourages students to give their best so that by working together, students' lives can be changed, and the students can help others do the same.
It takes unique individuals to be effective in the classroom. Some teachers are gifted in bringing learning material to life and relevance. For those reasons, Joe Lane, an instructor in the Business and Technology Department at LDCC, is consistently a student favorite on the Monroe campus, he connects with his students. The same can be said for many others like Robert Jordan, an automotive technology instructor, whose classes have more than doubled since he started and whose program is garnering national attention. Allison Gault, Jerome Wheeler, and Stacey Andrews were recognized, as many others previously have, for outstanding innovative efforts in the classroom. The common thread
that weaves through all of LDCC's excellent instructors is their love for teaching and their desire to see students succeed.
"We're constantly looking for talented individuals to join our team," shares Kendra Clement, HR director for LDCC. "Effective instructors are the backbone of our institution." Change is constant within the walls of a community college because the community college must meet the dynamic, changing needs of the community it serves. "LDCC's mission focuses on serving our students and industry partners. We do that by equipping our instructors with the latest technology, which aligns directly with our industry partner's needs," explains Wendi Tostenson, Vice Chancellor of Education and Student Success Services. The programs offered at LDCC are a diverse mix of what business and industry have requested that the college meets. "Our instructors are at the forefront of driving innovation in our classrooms and, ultimately, our communities. They're producing quality students with skills ready for the marketplace," says Tostenson.
Teaching in higher education or kindergarten through twelfth grade (K-12) is an exciting field in which to work. If you aspire to teach students in K-12, LDCC has strong partnerships with the University of Louisiana – Monroe (ULM) and Grambling State University (GSU). "We have a 2+2 agreement where students would complete the first two years of study at LDCC and the next two at GSU or ULM," explains Ashley Ellis, Teacher Education Program Director. "We're growing our program to impact the teacher shortage right here in the state's northeast corner. Stay tuned, as there is a lot more to come!"
If you're already an instructor or have the requirements to teach and your philosophy aligns with LDCC's mission of serving our students and businesses, we invite you to apply! Open positions can be found on LDCC's website at www.ladelta.edu/ faculty-and-staff/humanresources/employment-opportunities/.
At LDCC, we believe in empowering our instructors because our students must be empowered to effect change in our communities today and in the future.
Chancellor Randy Esters commented, "LDCC is more than buildings. We are a group of people who appreciate the impact we have every day, embrace the challenges we face, and empower those around us to reach their next level of success. For me, that is the reason we all do what we do."
We invite you to join our mission!
32 JANUARY 2023 | WWW.BAYOULIFEMAG.COM
Jay Pappa's is a new restaurant specializing in great steaks, seafood and spirits.
WHEN JONATHAN PERRY first saw an old photograph of his grandfather grilling outdoors, he immediately thought it would make a compelling statement piece for a restaurant. In the picture, Jay Pappa, as he was affectionately called, grins toward the camera—shirt off, drink in hand, straw hat tilted to the side, tending to the grill donning a forest green apron with black and white checkered trim. Little did Perry know that this same image would be his entryway into what has become Jay Pappa's, a new restaurant specializing in great steaks, seafood, and spirits.
Both of Perry's grandparents were incredibly influential in his life. On his mother's side, his grandfather started CenturyLink, so working at the company had always been a goal. After graduating from the University of Louisiana at Monroe with a degree in marketing and business management, he began working in the telecommunications company. After fifteen years of service, he realized that following in his grandfather's footsteps really meant that he should pave his own path. Around 2020, he opened up his own marketing company, a dizzying two weeks before COVID hit. "Obviously, that didn't last. So I started looking at other options of what I could possibly do."
Cooking and entertaining have been a family staple for years, so when he saw the picture of his grandfather grilling, he started looking for restaurants for sale. One of the properties that stood out was curled up between Levee Drive, River Landing, and Bayou Desiard. Not only was the location optimal for a favorable flow of clientele, but its potential was the most alluring. Though he purchased the building, which consisted of Chauvin Market and Levee Grill, his dream of creating a restaurant was still unrealized. When the owner of Levee Grill pursued another career, Perry was able to conceptualize a space that would make his grandparents proud.
From Tradition to Table
ARTICLE BY VANELIS RIVERA PHOTOGRAPHY BY KELLY MOORE CLARK
WWW.BAYOULIFEMAG.COM | JANUARY 2023 35 BAYOU EATS
One need only glance around Jay Pappa's to know that family is first. Lining the main walls of the elegant interior are large black and white family photos. Most of the photos are from his father's parents who are from Perryville, Louisiana. "I grew up there," he says, pointing to a replica of a painting salvaged by his grandmother. A white, two-story, colonial-style home is shaded by tall trees and lined with flourishing bushes. It was built in 1903, but in 1985 it caught on fire. "It burned to the ground in forty-five minutes, and my grandmother got up, and she grabbed her silverware and she was able to grab this," says Perry, referring to the painting and adding, "They had it over their fireplace." Perry takes a moment to look around, closing his gaze on a black and white photo mounted close to the bar saying, "And that is actually all of the grandkids on the steps of the house that Christmas before it burned." Clearly, Perry's use of his family history is indicative of an individual who values his rural past and understands how it has informed his present.
Initially, the interior design plans went through a few revisions, but it was clear from the get-go that simplicity was key. "We wanted something that was really clean," he says, referring to the assistance he received from Michael Jordan, founder of Lore Creative. The pair began with the color, opting to mimic the visual memories on the walls. In the main dining space, matte black and crisp white walls compliment the wood floor, and dark wooden tables and seating. The bar stands out with a warm gray tone and bright lighting. The more the space developed, the more Perry noticed the "New Orleans-style feel," which is why jazzy rhythms emanate from the restaurant's speakers come dinner service. "The whole room comes together at night," enthuses Perry.
Jay Pappa's menu is the product of a joint effort between Perry and Vada Perry, a chef that has worked in the area for years and last worked at Levee Grill. "She claims she comes with the building, so if you get the building you get Vada," he laughs. Her vast restaurant experience and training in New Orleans-style dishes helped narrow down the restaurant's menu. "We wanted really good steaks. We
One need only glance around Jay Pappa's to know that family is first.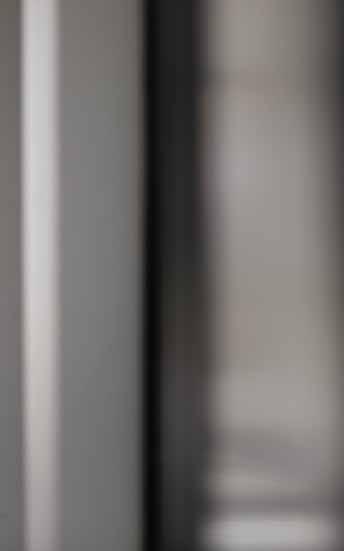 WWW.BAYOULIFEMAG.COM | JANUARY 2023 37
Pictured Below: A novel item on both the lunch and dinner menus are the specialty pizzas, which boast delectable ingredients. Pictured is the Chauvin Special (filet mignon, feta cheese crumbles, topped with arugula tossed with Chauvin lemon vinaigrette and parmesan cheese).
wanted really good seafood," informs Perry. Of all the items on the menu, the most sumptuous is arguably the 20-ounce ribeye. "That's the thing, Chauvin, the market side, is known for having the best steaks in town. I'm just gonna name it and claim it," enthuses Perry, who sources the restaurant's meat from next door. Top any of Jay Pappa's steaks with their selection of sauces and toppings like the lump crab and Béarnaise sauce, peppercorn with red wine sauce, or shrimp étouffée. Dinner favorites extend all over the menu. The Seared Duck Pasta is seared duck over bowtie pasta with wine sauce and capers. Another pasta dish comes from Chauvin Market, as indicated in the name. The Chauvin Lasagna Rolls are the famous Chauvin lasagna rolled and baked in a ceramic dish. "We sell tons of the Monterey Grilled Chicken," says Perry, referring to their grilled chicken breast topped with Monterey Jack cheese, seared vegetables, and veggie rice.
Even the lunch menu has a staunch following, particularly their Wednesday lunch special, Thin Fried Pork Chops. "There's always a line out the door," he says. Diners also can't go wrong giving the Steakhouse Burger a try, as it is made from 75% chuck and 25% steak trimmings. A novel item on both the lunch and dinner menus
is the specialty pizzas, which boast delectable ingredients. Take the Chauvin Special (filet mignon, feta cheese crumbles, topped with arugula tossed with Chauvin lemon vinaigrette and parmesan cheese) or the down-south favorite, Gumbeaux (smoked sausage, fire-roasted chicken, and trinity vegetables).
The symbiotic relationship between Jay Pappa's and Chauvin Market is not only beneficial to both spaces, but also to restaurant diners. If you don't find a wine selection on Jay Pappa's wine list, customers are encouraged to walk next door, select a bottle, and return with it to enhance their dining experience. Multiple shelves of Chardonnay, Sauvignon Blanc, Pinot Grigio, Pinot Noir, Cabernet Sauvignon, and more, await wine enthusiasts. Favoring Cabernets, Perry enjoys the 2019 Desire Cabernet Sauvignon from Second Line Wines based in Napa. Even then, he admits that choosing a favorite is impossible: "It's hard for me to really pick out one because I'm a huge wine guy. So if you see it in here I've had it."
Chauvin Market was built in 1992 and has provided the Northeast Louisiana region with an outstanding selection of wine and spirits, delectable hand-cut steaks, twice-baked potatoes, and homemade casseroles, soups, and their famous lasagna, all readymade in their grab-and-go freezers. Their use of "age-old" family recipes is not only indicative of the timelessness of comfort food but also their effort in employing some of the best cooks in the area. A quick browse through their organized shelves reveals some intriguing items like Laffitte's Gourmet Cajun Pickles, Big Curt's Salsa, and an array of Sugarlands Shine. "Amazing market and jewel in our town," raves one satisfied customer.
Ultimately, Perry's vision for Jay Pappa's was simple. He wanted to create a space with an atmosphere that would inspire guests to unwind with family and friends, just like his grandparents enjoyed so much. He credits his crew with helping realize his vision. He mentions Vada, Chris Lewis (his "phenomenal grill cook"), Lewis' mother Paulette Lewis who has taught Perry "so much" and treats him like her own son, and his manager, Hayley Hays. "I am blessed with a work family," he says, adding, "I'm just a guy with an idea." His strengths have been informed by the "talented, hardworking people" he has gravitated toward. "And I've been fortunate to have plenty of them around here," he says.
Simply elegant and boasting a stunning view, Jay Pappa's calls to those seeking dining that intersects good food, a plethora of spirits, and a space dedicated to family.
38 JANUARY 2023 | WWW.BAYOULIFEMAG.COM
WWW.BAYOULIFEMAG.COM | JANUARY 2023 39
Training Future Physicians
VCOM-Louisiana Responds to the Physician Shortage in Louisiana and the Delta Region
MUCH HAS CHANGED FOR THE LOUISIANA CAMPUS OF The Edward Via College of Osteopathic Medicine (VCOM) since it first opened its doors to students in July 2020. VCOM-Louisiana now hosts more than 450 current students in three classes, with the inaugural class set to graduate in the spring of 2024. Next July, when a fourth class of students matriculates, the campus will finally reach capacity with more than 600 active students.
The large number of medical students at the College is a sign that significant changes are coming in terms of healthcare access for the citizens of Louisiana and the Delta region. Currently, Louisiana has more than 2.5 million people living in Designated Health Professional Shortage Areas (HPSA), according to a report released by the U.S. Department of Health and Human Services in October 2022. Many of these people live in small towns in rural areas of the state where they have little to no access to quality healthcare.
Often, even basic primary care, such as family medicine, internal medicine and pediatrics, is in short supply in rural areas of the state, meaning people must drive further and wait longer to seek care. This leads to chronic health conditions, like diabetes and hypertension, becoming more prevalent. Patients are also often sicker when they do see a doctor, leading to less desirable outcomes.
As the only osteopathic medical school in Louisiana, VCOM is in a unique position to address these problems directly. VCOM-Louisiana students earn the Doctor of Osteopathic Medicine (DO) degree, as do students on the other three VCOM campuses, which are located in Virginia, South Carolina and Alabama. DOs are licensed in every state to practice the full scope of medicine: performing examinations, diagnosing a wide variety of health conditions, writing prescriptions, performing surgery and providing musculoskeletal manipulation. Osteopathic physicians provide care in every field of medicine from family practice to neurosurgery. However, the majority of DOs practice primary care, with approximately one-fourth providing care in small communities and rural areas.
It is with these medically underserved communities in mind that VCOM chose Monroe, Louisiana, for its fourth and newest campus. In line with the College's overarching mission to prepare globally-minded, community-focused physicians to meet the needs of rural and medically underserved populations, VCOM-Louisiana recruits students from these same areas where the need is greatest. As a result, these future physicians have a better understanding of the needs of these communities, and many of them will return to improve healthcare in their hometowns.
Louisiana native Austin Bordelon is a third-year medical student at VCOM, and he understands the challenges of access to healthcare in the region. "Growing up and working in Marksville, Louisiana, I saw
the struggle and frustration of the limited access to healthcare, as more physicians in my area stopped taking new patients or stopped taking Medicaid," he said. "Seeing VCOM's mission statement include community care and rural medicine demonstrates that these underserved communities are a priority and not an afterthought."
As part of the College's mission, medical education at VCOM provides experiences for future physicians to become national and international leaders through exemplary field experiences, academic preparation and a deep commitment to healthy communities. VCOM seeks to train medical students to be caring, practical, capable and well-rounded physicians, with the goal of creating national and international healthcare leaders for the future, all while providing students with rewarding, service-based learning opportunities.
In fact, dedication to community is part of the fabric of life at VCOM. From the time they begin their medical education, VCOM students are actively involved in local area health fairs, free clinics, community education and other service-based learning opportunities to engage with the community, all while receiving instruction from experienced faculty and staff.
Throughout their second year of medical school, VCOM students participate in weekly Interprofessional Early Clinical Experiences, or IECEs. During these experiences, students work alongside faculty mentors and allied healthcare professionals including nurses, pharmacists, EMS personnel, athletic trainers and others. This practical experience helps to prepare second-year medical students for the team approach to medical care, which they will see in action during their clinical experiences in their third and fourth years.
With such a focus on community health, it is no wonder that across its four campuses, 48% of VCOM students are from rural communities with populations under 30,000 and 66% of VCOM graduates practice in states with medically underserved counties and parishes where primary care is most needed.
Prior to VCOM's first campus opening in Blacksburg, Virginia, in 2003, the state of Virginia was ranked as one of the lowest states in the country for number of active primary care providers. By 2020, when VCOM-Virginia had graduated 2391 DOs, the state was ranked toward the top of the list. In 2020, when VCOM-Louisiana opened, the state had similarly challenging numbers of active primary care physicians, ranking as one of the lowest in the country. As it did in Virginia, VCOM is committed to reversing that trend in Louisiana so that all citizens of the state can experience quality health care provided by excellently trained physicians who understand their needs and their communities.
42 JANUARY 2023 | WWW.BAYOULIFEMAG.COM
WWW.BAYOULIFEMAG.COM | JANUARY 2023 43
HMV Expands to East Texas
Roy E. Prestwood, CPA, Managing Partner of Heard, McElroy & Vestal, LLC
AS MANAGING PARTNER OF HEARD, MCELROY & Vestal, LLC (HMV), a Louisiana CPA firm, I am excited to announce that Curtis Blakely & Co., PC, a Longview-based Texas CPA firm, joined HMV on January 1, 2023. And just like that, the HMV family grew and everything got bigger in Texas!
Heard, McElroy & Vestal, LLC is a regional professional services and business advisory firm with offices in Shreveport and Monroe, Louisiana and now, in Longview, Texas. Celebrating over 76 years of client service, our firm provides a wide range of services for both businesses and individuals, including tax planning and preparation, audit and assurance, business valuation, and retirement plan services. HMV's strategic associations include Aliign Mineral Management, LLC, Business Valuation Consultants, LLC and HMV Wealth Advisors, LLC. Aliign Mineral Management, LLC provides top level services to businesses and individuals with oil and gas holdings by effectively and efficiently monitor mineral interests. Business Valuation Consultants, LLC provides valuation analysis to clients by determining value through credible valuation analysis. Convincing valuation judgments require competence, credibility, and confidence, which our consultants continually strive to infuse into every business relationship. HMV Wealth Advisors, LLC is dedicated to helping businesses and individuals reach their full wealth potential. Our advisors' general approach to investing focuses on the things that can be controlled: expenses and taxes, rather than the things that can't be controlled: the market. With efforts in keeping investment fees and taxes as low as possible, our advisors aim to bring risk-adjusted, market returns to our clients in the most tax-efficient and low-cost manner possible.
The reason for this union is two-fold. For HMV, it provides clients in Longview and the surrounding east Texas region with increased access to local support. Our firm serves a variety of clients and communities positioned along the I-20 corridor and across the nation. HMV will operate from Curtis Blakely & Co., PC's Longview office location in addition to its two other locations. By joining HMV, Curtis Blakely & Co., PC's team of professionals will continue to serve local, regional, and national clients with the added support of the firm's commitment to servicing and growing the communities in which, they live and work. In addition, the firm will have access to a full range of national and international capabilities through HMV's membership with the RSM US Alliance – a premier affiliation of independent accounting and
consulting firms in the United States, with more than 75 members in over 38 states, the Cayman Islands, and Puerto Rico. We provide access to the resources, experience, and professional knowledge base of a national organization, while still providing the level of service and attention that only a local, independent accounting firm can offer.
HMV has grown over the decades by building relationships. Our relationship with Curtis Blakely & Co. is no different. In fact, it stems from a friendship developed decades ago in the kindergarten classroom. Emily Leahy, Partner at HMV, and Kristin Hildebrand, Partner at Curtis Blakely & Co., PC, have been friends and maintained their relationship since kindergarten and now, they are business partners. As HMV became familiar with the team of professionals in Longview, it became clear that Curtis Blakely & Co., PC was a high-quality firm focused on client service with exceptional people. Our firms are "a match made in heaven," or even better, "a match made in kindergarten!"
HMV has grown over the years by expanding our services and providing opportunities to our clients. From the traditional service lines of tax, accounting, and auditing, we have added retirement plan administration, business valuation, litigation support, mineral management and consulting, and wealth management. In addition, Curtis Blakely & Co., PC specializes in service offerings to niche industries such as telecommunications and utilities. We plan to continue expanding our service lines and are always open to providing opportunities in the future.
Our people and our clients are the very best. At HMV, client service and experience are driven by our mission statement and maintained by technical expertise alongside our core principles of commitment, integrity, teamwork and people.
HMV has been recognized as a "Locals Love Us" award winner and listed in Forbes as one of America's Top Recommended Tax and Accounting firms for several consecutive years. We believe that the combination of these two firms will put HMV into the top 200 firms in the United States as measured by Inside Public Accounting. We are so grateful for our clients, our people, and our communities who afford us the opportunity to serve and support our firm's goals.
What's next? As was yesterday and the years prior, we will continue to focus our efforts on building relationships and providing opportunities to our clients, our people, and our communities.
44 JANUARY 2023 | WWW.BAYOULIFEMAG.COM
WWW.BAYOULIFEMAG.COM | JANUARY 2023 45
PRP and Stem Cell
No Silver Bullet
BY DANELLE WARE AND THE OSL FAMILY
KNEE ARTHRITIS IS CAUSED BY THE WEARING OUT of cartilage in the knee. Cartilage is the cushion in the knee that allows us to move without pain in our daily lives. As the cartilage wears out, we start to hurt! All the catching, locking, and deep toothache pain are because of arthritis. We have a variety of nonsurgical options to treat knee arthritis. Unfortunately, if the arthritis is severe enough, these modalities are no longer effective, and the only option left is knee replacement surgery. Considering this, newer treatment options have been developed to avoid surgery. Two of these newer treatment options are platelet-rich plasma (PRP) and stem cell injections. I'd like to take a moment to explain these two novel treatment methods and maybe dispel some of the mystique surrounding these injections.
PRP is a product derived from a patient's blood who visits a clinic and has their blood drawn. This blood is collected and spun in a machine called a centrifuge, which separates the blood into three layers. The top layer is the plasma. The middle layer is called buffy coat, which contains white blood cells and platelets. Finally, the bottom layer is the red blood cells. The platelet-containing layer is isolated and preserved, while the rest is discarded. This is in essence concentrating a large amount of platelets into a small amount. This "platelet-rich plasma" is then injected into the patient's knee.
The theoretical benefits of PRP are derived from platelet growth factors. These growth factors are touted to help with pain and potentially regenerate cartilage in the knee. Different doctors recommend various formulas and treatment regimens. Some might recommend multiple visits for PRP injections depending on the diagnosis. Unfortunately, the studies on PRP injections do not support these claims. Study after study has failed to provide any significant benefits of PRP compared to other treatments currently on the market, such as a regular steroid injection. A recent study on PRP revealed that it lowered patients' knee pain by 2 points on a scale of 1–10 over a 6-month period. After 6 months, the pain returns. Furthermore, all these patients had MRIs before and after PRP injections, and no evidence of cartilage regeneration from the injections was found.
Stem cell injections are more invasive and more costly for patients compared to PRP. In stem cell injections, a physician extracts bone
marrow from a patient. The most common area where this is done is around the pelvis, which is the place in your hips you put your hands on when you are mad at your husband or wife. A patient is sedated, and bone marrow is extracted using a large needle. These cells in the bone marrow are separated using a centrifuge. After isolating the stem cells, they are injected into the patient's knee. Because cells are extracted from the bone marrow, this procedure can be a little bit more painful. This entire process takes a little longer and often requires a trip to the operating room, whereas a PRP injection can be performed in a clinic.
The studies on stem cells and PRP are hard to interpret at times. There are numerous "recipes" for these injections, making them difficult to compare across a wide range of studies. Furthermore, the severity of knee arthritis seems to matter. A 50-year-old patient with very mild knee arthritis might respond differently compared to a 90-year-old with end-stage arthritis that has been present for years. Studies on stem cell injections for knee arthritis have failed to show any long-term benefit compared to treatments already on the market. For this reason, the American Association of Hip and Knee Surgeons does not recommend the use of PRP and stem cell injections for advanced knee arthritis.
These injections typically are not covered by insurance and can cost anywhere from $1,000 to $5,000. When patients enquire about these options, I simply do not recommend it to them. The short duration of benefit for knee arthritis does not justify a patient's high out-of-pocket expenses.
Jeffrey Pearson is a fellowship trained orthopedic surgeon specializing in total joint replacement and general orthopedics. If you would like to schedule an evaluation with Dr. Pearson, please visit: orthopedicspecialistsla.com or call the Orthopedic Specialists of Louisiana scheduling team: (866)759-9679. Dr. Pearson has clinic locations in Shreveport and Bossier City.
46 JANUARY 2023 | WWW.BAYOULIFEMAG.COM
WWW.BAYOULIFEMAG.COM | JANUARY 2023 47
The Cans That Changed Everything
Fifteen Years of Blue Mountains
BY DELIA SIMPSON, CRAFT BRAND MANAGER, CHOICE BRANDS, INC.
IF THERE'S ONE FACT THAT CAN BRING BEER drinkers together, it may just be that cold beer is better than warm beer. While different styles of beers have different ideal serving temperatures, for Coors Light, only one temp will suffice: "as cold as the Rockies."
Twenty years ago, Lyle Small, owner of Chromatic Technologies, Inc. came to Coors' Golden, Colorado brewery with a vision for how to turn the mountains on the Coors Light can blue when the beer reaches its ideal temperature. For years, CTI mainly serviced the financial sector, while also working with sunlight-activated and glow-in-thedark ink technologies. But thermochromic ink technologies held the most potential, Small says. "I always had a dream that a beverage company would adopt this." As he was based in Colorado Springs, he had one company in mind. It was the one whose ads boasted beer as cold and refreshing as the Rocky Mountains.
In 2002, Small came knocking at Coors' door. Through his persistence, Small sold the beermaker on an idea that helped propel Coors Light to become the No. 2 best-selling beer in America, while transforming not only how it is packaged, but how also consumers perceive the beer through the simplest of messages: mountains are blue, beer is cold.
And in 2022, 15 years after the color-changing technology first appeared on Coors Light's cans, the message is as relevant as ever. "It's really important to Coors Light as a brand. We're the only beer brand that's cold lagered, cold filtered and cold packaged, so we really want to easily communicate that to consumers," says Chris Steele, senior marketing manager for Coors Light. "The blue mountains are a manifestation of our commitment to cold."
Small thought his thermochromic ink process could help Coors Light own cold. And it dovetailed with a corporate shift that sought to do just that. When he finally got in the door, in 2004, he pitched his idea for color-changing cans in earnest. At the same time, Coors was experimenting with color-changing ink on bottle labels.
On July 4, 2006, he had a "eureka" moment, discovering how he could double the color intensity of the blue mountains to make the product viable. "That was the big breakthrough," he says.
The result? Within a year of launching the color-changing bottle
in 2007, Coors Light surpassed Miller Lite as the country's No. 3 bestselling beer. And by 2011, two years after introducing the tech on cans in the U.S., Coors Light overtook Budweiser as the No. 2 seller in the country, according to Beer Marketers Insights. It was, Small says, "a home run that exceeded all of our expectations."
Within a few years, Coors Light introduced a short-lived twostage cold indicator on cans and bottles that showed it was a beer that was not just cold, but "super cold," as well as secondary packaging that also used color-changing ink. That evolved into packaging with a window so consumers could see if the mountains on the cans were blue.
Coors Light's blue mountains are a simple visual cue derived from a complex scientific process perfected by a persistent nerd. And it's become an innate part of the brand's DNA. "It's very hard to find a packaging innovation that hits true to the brand. There can be gimmicky stuff, but this one had staying power," Ray Toms, packaging engineer, says. "That was the beauty of it."
Today, Coors Light is all about providing moments of chill. It's the beer for relaxing and recharging. But the blue mountains are never far from the heart of the brand, nor is the color-changing tech for which Small advocated so hard. Last month, the brand introduced Chill Polish, nail polish that changes from gray to blue when holding a cold beverage. Simply paint your nails, hold your pint glass, and see the blue results. This fashionable (and fun!) Chill Polish shows you when your brew is cold enough to drink at any holiday gathering.
Be sure to like Choice Brands on Facebook and follow us on Twitter and Instagram to keep up with new product releases. Feel free to message us for information on where to find your favorite brands. Find us at facebook. com/thechoicebrands, twitter.com/choicebrandsinc, and instagram.com/ choicebrands.
48 JANUARY 2023 | WWW.BAYOULIFEMAG.COM
WWW.BAYOULIFEMAG.COM | JANUARY 2023 49
Serenity Care Providers
Who Are We, and What Do We Do?
SERENITY CARE PROVIDERS' MISSION IS TO PROVIDE distinct quality, individualized, compassionate care that will enhance the lives of those we serve. Our VISION is that we will demonstrate our servant heart by compassionately meeting the need of people in our communities. We envision an organization where employees are respected, encouraged, valued, and inspired as we work together to understand, connect, and care for people during their most vulnerable time. Our commitment is Serenity Care Providers will be recognized as an honest, compassionate, and effective provider of home care services in Louisiana. We truly feel we are called to serve the people in our communities and want to meet the needs of those who need us the most.
Serenity Care Providers was started in 2013 by Robin Cox. It was important to Robin that Serenity Care Providers was an independent home care agency. By remaining independent, the care provided by Serenity could be tailored individually and be more cost effective for clients. Serenity Care Providers is not a franchise, we are independently owned and operated out of West Monroe, Louisiana. Serenity Care Providers employs an average of 85 caregivers and serves clients in Louisiana's Region 8.
At Serenity Care Providers we make it possible for elderly, injured, or disabled individuals to experience independent living in the comfort of their own homes. Our non-medical in-home care providers offer a range of services designed to help our clients manage the challenges of day-to-day tasks and enjoy the quality of life they desire. Our carefully selected team members are committed to the safety, convenience, and wellbeing of our clients.
On January 31, 2022, Serenity Care Providers received the 2022 Best of Home Care –Top 100 Leader in Experience Award from Home Care Pulse, the leading firm in experience management for home care. The Top 100 Leader in Experience Award is the highest recognition awarded by Home Care Pulse and is only awarded to 100 home care businesses in North America.
This accomplishment demonstrates Serenity Care Providers' long-term dedication to excellent care and quality improvement. To qualify for this award, 10% of Serenity Care Providers' clients and
caregivers were interviewed each month by Home Care Pulse. Over a 12-month period, Serenity Care Providers received high client and caregiver satisfaction ratings in areas such as caregiver training, compassion of caregivers, communication, scheduling, client/ caregiver compatibility, and more. Using feedback from clients and employees, as well as quality benchmarks from Home Care Pulse, the Serenity Care Providers management team set goals to reach the highest level of Experience possible. With over 2000 home care providers vying for a spot in the top 100, Serenity Care Providers is extremely honored to have placed #73 in North America!
At Serenity Care Providers, we understand the anxieties families face when considering care assistance. It can be difficult to trust someone with your most valuable treasure - your loved one. We want you to have peace of mind and security knowing that you CAN trust us to bring professionalism and honesty to our services. Whether you plan to make a long-term or temporary care arrangement, Serenity Care Providers is a home care provider you can depend on to work towards a solution. If you have questions, please do not hesitate to contact us. We are here to help!
We're available in the office Monday - Thursday, 8:30am – 4:30pm, and on Friday until 1:00pm. We do have someone on-call 24 hours daily. Call us and schedule your FREE consultation (318.600.3453) Or you can find more information on our website – www.serenitycareproviders.com
50 JANUARY 2023 | WWW.BAYOULIFEMAG.COM
WWW.BAYOULIFEMAG.COM | JANUARY 2023 51
Louisiana Orchard Realty
An Exclusive Look at Your Perfect Paradise Home
LOUISIANA ORCHARD IS PROUDTO OFFER AN EXCLUSIVE estate home in Squire Creek Country Club subdivision with 7,086 heated square feet and 10,332 under roof. This distinctive home has numerous custom features demonstrating the thought and planning involved in the design and construction of the house and grounds. Every ceiling in all the rooms are 10 feet tall and have a unique architectural design. Walking into open 20-foot ceiling great room you feel the grandeur of this home featuring a curved staircase and surround sound system. Beautiful Red Oak hardwood flooring throughout the downstairs gives this home a refined look. There is a separate living room and dining room with a butler's pantry. A cozy sitting area with dining table is included in the well equipped spacious kitchen featuring a built in refrigerator, warming tray and large walk in pantry. Among the many, many features are five bedrooms each with a full bath and walk in closets. There are two half baths as well as a mother-in-law suite with area for a kitchen. The spacious primary bedroom suite includes a bath with an immersion shower, whirlpool bath, his and her dressing areas and large walk-in closets. Also, there is a private patio with a peaceful flowing fountain. The home office is also located in the suite area. Three gas burning fire places inside and one wood burning on the outside patio warm up the crisp night air. The game room is appointed with a pool table, sink and mini-fridge. The media room is surround sound equipped for your own private theater experience. A workout room is located on the first floor for convenient early morning workouts. There is a wet bar room with ice maker, refrigerator, wine cooler and non-refrigerated 320 bottle wine cellar perfect for serving your guests. There is a secret "man cave" located on the third level. The in-house music system pipes throughout most of the house. An intercom system throughout aids in keeping everyone in touch. The monitored exterior and interior alarm system includes fire and carbon monoxide monitoring for your safety and peace of mind. The home features a central vacuum system and six high efficiency filtration HVAC systems for any allergy sufferers. Storage space in abundant throughout this home. Under the home is a concrete floored storage area with humidifiers and a safe room. A spacious three car garage / workshop and covered port cochere complete the estate. The beautifully landscaped back yard sculpts
a private enclave from the natural terrain. Along with the outdoor fireplace it is a great environment for entertaining.
This stately home is a short golf cart ride away from the Squire Creek 18-hole Fazio Golf Course and Clubhouse. The Squire Creek Infinity Pool is of a unique design, and features a "vanishing edge," giving the appearance of an endless sea. It's perfectly beautiful, perfectly relaxing. Waterside Café, which has outdoor poolside eating areas, offers families a relaxing day at the pool without the hassle of leaving for refreshments or meals. The Squire Creek tennis facility has six lighted courts - 4 Hydro Courts and 2 Hard Courts (w 10 & under lines). The Hydro Court system is the most advanced clay court watering system available. Hydro courts are always in perfect playing condition. They are a lush green all the time, whether hot or cold, rain or shine. The Golf Houses have thirty-two luxury bedrooms available grouped into eight residences. Each residence has a master suite with a king bed and three bedrooms with queen beds. This setting gives this unique home everything you need for a "paradise."
Pam Jones, broker of Louisiana Orchard Realty opened this new brokerage in 2020. She has 10 years of experience in the real estate business in Lincoln, Claiborne, Jackson, Bienville, Union and Ouachita parishes. After working 32 years in the Lincoln Parish Assessor's office, the last 12 years as the Assessor, she has continued her love for the people of Lincoln Parish and real estate through her business. Louisiana Orchard Realty is dedicated to helping Lincoln Parish and the surrounding areas grow through their real estate needs. Whether you are purchasing your first home, upgrading, investing, buying land for building, developing or recreation, Pam and her agents can help make your experience stress-free with knowledge through the process. Pam is one of the top 10 realtors in Northeast Louisiana for 2022 in volume sales.
This unique exclusive estate is ready for you to make this your perfect paradise home! Call for a viewing today!
52 JANUARY 2023 | WWW.BAYOULIFEMAG.COM
The ULTRA Lifestyle
Live Healthy and Active with More Low-Carb Choices
MICHELOB ULTRA™ APPEALS TO A WIDE AUDIENCE of beer drinkers that are interested in a superior tasting light beer that also promotes a healthy, active, social lifestyle. In an era when many beer drinkers are looking for the newest, hoppiest or most local brew, it is surprising that a light beer that has been around for nearly 15 years has emerged as one of the fastest growing brands in the business.
The Michelob family has been around a long time, has brought us many great-iconic beers such as, Michelob Lager, Michelob Light and Michelob Amber Bock. In 2002, they introduced Michelob ULTRA and it has actually proven to be the fastest growing brand in the business as Michelob Ultra remains the largest share gainer in the US, now for eight consecutive quarters.
Appealing to active people of all ages, the Michelob ULTRA™ family promotes the "ULTRA™ lifestyle," Michelob ULTRA supports an active, social lifestyle and is proud to be a sponsor of athletic events across the country, ranging from running and cycling competitions to golf tournaments.
NATIONALLY SPONSORED PARTNERSHIPS:
• Ultra Fit Fest
• Rock N Roll Marathon Series
• Trirock Triathlon Series
• Official Beer sponsor of the PGA, LPGA, Champions Tour, Web. com Tour
In addition to national partnerships, along with Michelob Ultra, Marsala Beverage partners with local charities/non profits to sponsor many Running Events, Golf Tournaments and Tennis Tournaments. Partnering with these particular events, allows Michelob Ultra to be shared among adults while enjoying the Ultra Lifestyle.
It's positioning – call it inspirational for the aspirational -reflects a clear understanding that people today, especially the younger, more affluent people that represent the brand's target audience, are inspired to live an all-together healthier lifestyle. Not dieting or eating less fattening food, but pursuing healthier choices
in all aspects of life.
Since Michelob ULTRA™ was introduced in 2002, its high end American-style has appealed to the masses. People who are interested in a low carb lifestyle finally had an option to choose from when it came to beer. Its subtle fruit and citrus aromas compliment this light-bodied beer's smooth and refreshing taste. One year after its introduction, Michelob ULTRA™ became the fastest-growing new brand in the industry and was a phenomenal hit among adult fitness enthusiasts, adult consumers living an active lifestyle, and those looking for a great-tasting beer with lower carbohydrates and fewer calories.
The original Michelob ULTRA™ has 4.2% alcohol by volume, 95 calories and only 2.6 grams of carbs per serving, making it one of the lowest carb beer choices on the market. But Michelob ULTRA™ isn't the only choice when it comes to low carb brew. The ULTR family offers many choices for a wide variety of taste.
• Michelob ULTRA™ Amber is a beer that is full in flavor and rich in color with great amber taste and 3.7g of carbs, 114 calories and 5% alcohol by volume.
• Michelob ULTRA™ Lime Cactus boasts a refreshing lime taste, perfect for summer days. With 4% alcohol by volume, 95 calories, and only 5.5 grams of carbs per serving it makes a great choice for healthy beer drinkers.
• Made with organic grains from the country's finest fields, Michelob ULTRA™ Pure Gold is a light lager with a superior, golden taste. With only 2.5 carbs and 85 calories, Pure Gold is triple filtered and brewed free of artificial colors and flavors.
Please find us at www.marsalabeverage.com or follow us on social media: Facebook: Marsala Beverage Twitter: @marsalabeverage1 Instagram: @marsalabeverage
54 JANUARY 2023 | WWW.BAYOULIFEMAG.COM
WWW.BAYOULIFEMAG.COM | JANUARY 2023 55
Growing up with a beautiful mother is complicated. When I was a little girl, people often commented on her looks, and I felt proud when they did. Growing up in the Midwest, I was proud of my mother for many reasons. She was from the South, which made her different in the best of ways. She was a steel magnolia.
My friends, teachers, and extended family often praised her beauty. At age 9, I remember adding to my prayer list this request: "Please let me grow up to look like my mother." The focus on her beauty instilled in me the importance of looks.
I realized in my teenage years that her intelligence—she had and has a great business mind—didn't receive equal acknowledgment. She achieved great success in residential and commercial real estate. And yet, the comments from those around me were mainly about her looks.
Not shockingly, given her emotional intelligence, my mother began to unravel my unrealistic expectations of beauty when I was a young child. One summer day, I was playing with my dolls—Barbie and Ken were in a heated discussion—when my mom walked in and said: "You know that no one looks like Barbie in real life, right? If Barbie were real, she wouldn't be able to walk because of how she is made." My 8-yearold mind completely disregarded her comment. My mother could tell I didn't believe her; she looked at me with her big brown eyes and a somewhat sad smile.
In middle school, I went through a phase in which my pink glasses— accentuated by a plastic butterfly on the lens—consumed half my face. My hair was frizzy, my skin was starting to break out, and I had braces. One day after school, I walked up to my mother, who was rinsing her coffee cup at the kitchen sink. I stared at her long brown hair, perfect cheekbones, and magazine-worthy mouth. And then I got mad. Angrily, I said: "Mother, you don't understand what it's like to walk around LIKE THIS. You've always looked like THAT."
Mother turned off the faucet and put her coffee in the sink. She paused and said, "First of all, no, I haven't. I was 13 once, too. Second, beauty is so fleeting. It's not what matters—at all. Do you know what I would give to be able to write like you do?" She continued, "Or how you make friends so easily. Or how eager you are to direct a school play or read scripture in front of the entire congregation. You are my smart cookie. And yes, you will outgrow this phase and have your own beauty. But I'm not interested in that—I can't wait to see what you will do with your brain."
BUILD HER SELF-ESTEEM BEFORE THE WORLD TEARS IT DOWN
article by Laura W. Clark
It was a lot to absorb, but she diffused my anger. I started to understand that no matter what other people prioritize or what the media says is beautiful, none of that is relevant. I still struggle, but my journey would have been more difficult without my mother's influence.
For anyone who impacts a girl's life, share my mother's message and add a few more tactics:
– Explain photoshop. One of my favorite quotes is from supermodel Cindy Crawford: "I wish I could wake up and look like Cindy Crawford."
– Try not to talk about yourself as "bad" or "good," depending on what you eat. For example, "I was so bad today. I had TWO cookies."
– Avoid asking your daughter—or anyone else in her presence—if certain clothes make you look "fat." She will ask herself the same question when she gets dressed for school.
– Highlight her abilities, whether it's writing, drawing, singing, playing ball, or being kind to her brother. It's okay to tell her she is beautiful, but praise her skills more often.
– Focus on her efforts more than the outcome of her performance. I remember scoring poorly on an Algebra test, and my mother said: "You studied for hours. That showed so much determination." Less focus on my failure made me more resilient, which was beyond beneficial later in my life.
– Do not talk disparagingly about other women, especially regarding their looks.
– Remember, she is strong and doesn't need to be rescued. It's tempting to remove obstacles in her life, but doing so will send the message that she can't help herself.
– Sit with her and examine what you see on Instagram. Ask her what she thinks. Help her dissect common media messages.
Building a child's self-esteem isn't easy, especially when we carry our own insecurities. But, if we understand what she is facing in our filtered world, a few encouraging words will help her build lasting confidence. Let her make her own mistakes, within reason. When she asks you if a plastic butterfly will look cute on her glasses, tell her the truth.
Laura Woodard is the owner of Vivian's Voice, a communications company that mentors professional women on how to communicate in the workplace, such as avoiding apologetic talk.
Laura W. Clark, owner of Vivian's Voice, LLC, a communications consulting company, can be reached at findyours@viviansvoice.com
56 JANUARY 2023 | WWW.BAYOULIFEMAG.COM
WWW.BAYOULIFEMAG.COM | JANUARY 2023 57
The Art of Beauty
MEKA BENNETT TALKS WITH BAYOULIFE ABOUT BEING MOTIVATED BY HER FAMILY TO ATTEND BEAUTY SCHOOL, AND HOW SHE WENT FROM WORKING AT A MALL SALON TO WORKING WITH CELEBRITY CLIENTS.
ARTICLE BY STARLA GATSON PHOTOGRAPHY BY KELLY MOORE CLARK
BAYOU ARTIST
When Meka Bennett was young, she sat on the floor in the bathroom doorway, watching her mother get ready for a bartending shift at an exclusive restaurant in downtown Houston. The little girl eyed her mom carefully as she brushed eyeshadow over her lids, swooped mascara onto her lashes, and swiped red lipstick across her lips, counting the minutes until she was gone and her makeup collection and closet were hers to raid.
Moments like this regularly occurred throughout Bennett's childhood — "I've worn probably every outfit in my mama's closet while she was at work, and she had no idea!" she jokes — and sparked her love of all things beauty- and fashion-related. She says, "A lot of my inspiration came from my mom and aunts. The weekends were our beauty time. We went to the salon on Saturday to get ready for church on Sunday. We couldn't mess up our hair. We had to sit on the couch and not move when we got dressed so we wouldn't get dirty. I knew looking good was important; that was instilled in me growing up."
That lesson followed Bennett to adulthood. The Louisiana-born, Texasraised Shreveport resident admits she often spent up to three hours getting ready for her four-hour shift waitressing at Red Lobster, saying, "It was like putting on a show for customers."
The time and effort were worth it, though; Red Lobster guests loved her hair and makeup looks as much as she loved creating them. But as much as she loved impressing the tables in her section at the seafood restaurant chain's Atlanta location, Bennett knew she couldn't stay there forever. She began considering her next steps when her mother made a comment that changed her world.
"She said, 'Meka, you spend so much time in the mirror. Too bad you don't get paid for it,'" Bennett recalls. "And that's when the lightbulb went off."
It hadn't dawned on her until then that people would pay money for hair and makeup services. What would it look like to get paid to do the things she already spent so much time doing, the then-single mother of two wondered?
Motivated by her mother's words and the compliments she often received on her appearance, Bennett enrolled at Fayette Beauty Academy in Fayetteville, Georgia, to try turning her hobby into a profession. Once she started classes, it clicked: this is what she was meant to do.
Bennett was determined to start her career as quickly as possible, so she breezed through the program quickly, taking on every extra credit opportunity available to finish early.
"That was the most amazing feeling I ever had," she says of finishing cosmetology school, "because I felt like I had accomplished something huge."
Between working at a salon in the mall and creating makeup looks for herself, the newly-licensed beautician had created a name for herself locally. Things were going well, yet deep down, Bennett felt sure she was destined for more.
"I felt God tell me, 'If you want bigger and better, you have to move because you have to challenge yourself; you have to step out on faith,'" she says. "And then I was like, where am I going to move? I'm in Atlanta; it's popping, busy, and great."
Deciding where to go turned out to be easier than Bennett thought it would be. She sat her boys at the table, unfolded a map, and instructed them to close their eyes and point to a location while she did the same. When she opened her eyes, the choice was clear, she says, "We all pointed at the same place, and it was California."
Bennett didn't know anyone in the Golden State, nor had she ever been there to visit. Despite this and her concerned family members urging her to reconsider, she bought one-way tickets to California for her sons and her.
One by one, doors opened for Bennett in California. She found a job at a salon near her home. A client, moved by her story, decided to give Bennett her car. While on a routine trip to MAC Cosmetics to replenish her makeup supply, Bennett was recruited to work as a freelancer for the company. These instances proved the stirring in her soul she'd felt in Atlanta was spot-on; there was indeed more for her.
"I was so fulfilled," Bennett gushes. "I was in my element. I had hair clients coming to the MAC counter to get makeup and makeup clients coming to the salon to get hair. Next thing you know, I was busy. I truly enjoyed it."
MAC Cosmetics was impressed with the work the booked and busy artist was doing for the company. So much so that they sent her on her first celebrity gig, an assignment with the pop group Danity Kane. That job, Bennett says, was the launching pad for her career.
Now, at the time of this article's writing, Bennett has been in business for 22 years. During this time, she has done makeup and hair for celebrities, private clients, and on photo sets, including about nine years' worth of fashion shoots for BayouLife. She stays busy and is always on the move, traveling all over the world to work. Surprisingly, she says most of her opportunities come from word-of-mouth referrals.
"I don't even own business cards, and I don't have a website," she says.
However, what she does have is a passion for her work and a desire to serve everyone she encounters well.
"I have a mentality of treating people the way I want to be treated or the way I'd want my grandma or mom to be treated," she explains. "That's what gives me joy: being able to be of service to a stranger and [have] them leave my presence feeling like they had a great experience. Whether you're well-known and famous or a stayat-home mom, you're going to get the same treatment. That's really important to me."
Part of that treatment is making sure the client loves the look at the end of the process, Bennett says. The reveal — turning them to the mirror to see what she has done — is her favorite part of the process.
"I was in Arkansas for a wedding, and when I gave the bride the mirror, she looked at herself, teared up, and said, 'Oh, my God; I'm flawless!'" she says, recalling one of her more recent gigs. "Those are my favorite words. That's when I realize my job is done. I can go home and sleep peacefully with a smile on my face."
For Bennett, the joy of this moment doesn't come from knowing she changed someone's appearance.
A stellar smokey eye doesn't indicate that she has done her job well; it's playing a role in changing someone's perception of themselves and boosting their confidence. That's what Bennett loves doing, she says.
"I an honestly say I look forward to it every day," she admits.
"I look forward to meeting all these new people and leaving a lasting impression with my art."
She listens, she explains, to what the client is saying and pays attention to how they portray themselves. That's what helps her execute the customers' vision, build relationships, and hold an impressively lengthy streak of satisfied clients.
Learning how to positively impact anyone who sits in her chair is just one lesson Bennett has picked up during her career, and it's probably one she'll share in the next phase of her professional life as she focuses more on educating other artists. Though she already teaches classes, Bennett says she sees more instruction in her future and hopes to inspire others in her industry to love their craft as much as she does.
"I feel like there needs to be more artists driven by their passion and what's in their heart and the talent they have, not by money or being an opportunist," she says. "I believe that when you do what you're good at, the money and opportunity are going to come."
The last phrase isn't just something she believes; it's a truth she has experienced, and her story is proof. That's why she's eager to share it with others.
"I want to inspire people to do what they love so [they'll] never work a day in their life," she says. "Everything I'm saying is true, and I live it."
60 JANUARY 2023 | WWW.BAYOULIFEMAG.COM
"I FEEL LIKE THERE NEEDS TO BE MORE ARTISTS DRIVEN BY THEIR PASSION AND WHAT'S IN THEIR HEART AND THE TALENT THEY HAVE, NOT BY MONEY OR BEING AN OPPORTUNIST. I BELIEVE THAT WHEN YOU DO WHAT YOU'RE GOOD AT, THE MONEY AND OPPORTUNITY ARE GOING TO COME."
Step 1 - Moisturize the skin with your favorite hydrating product. It plumps the skin and remove any dryness. Let it sit for a few minutes to allow absorption. Once that's complete, then proceed with your favorite makeup primer and allow that to set for about a minute before you apply foundation. This will help your foundation last all day.
Step 2 - Apply either concealer or primer to the eyelid and blend it evenly either with a sponge or your fingers until even and smooth.
Step 3 - Use a fluffy blending brush and apply a medium/neutral brown eyeshadow to the crease of the eye using small circular motions. This not only apply the color, but blends it out at the same time. Follow that with the color of your choice on your eyelid and brow bone to complete the eye look.
Step 4 - Contour the face with your favorite bronzer or deeper concealer color. Apply the color along the hollows of your cheekbones, along the jaw line, and on the forehead at the hairline. Use a big fluffy brush or a blending sponge to blend out the product until there are no visible lines. Set with a translucent powder, then apply a blush of your choice.
Step 5 - Apply mascara to your lashes to prep them for a pair of false lashes. Take the lash and apply a small amount of adhesive to the rim and let it dry for a few seconds. This will allow the adhesive to become tacky and the lash will go on easier. Place the lash on top of the lash line and press down slightly either with your fingers or tweezers.
Makeup Tips with Meka
ON THE SET OF JANUARY'S FASHION SHOOT, WE SAT DOWN WITH MEKA TO GET SOME OF HER BEST MAKEUP TIPS FOR A FLAWLESS LOOK.
Step 6 - Choose a lip liner to line your lips and slightly blend out the line. Apply your favor lip color to your lips and blend around the edges so the lipstick and lip liner mesh. I like to add a lighter color to the center of the lips for the perfect ombré effect. Top with lip gloss if you prefer.
BAYOU ARTIST
An Uplifting Experience
A Non-surgical Approach to a New Look This New Year
IN TODAY'S AESTHETIC WORLD, THERE ARE many treatments for fine lines and wrinkles, such as Botox, Filler, and Laser treatments, but once our skin starts to sag and droop, finding treatments to lift the skin without surgery, can be challenging. If you're looking for a safe, non-surgical way to lift and tighten sagging skin, anywhere on the face or body, look no further than PDO Thread Lifts at Professional Laser Center.
PDO stands for polydioxanone, a synthetic, monofilament, flexible, raw material that is absorbed by the body. A PDO Thread Lift is an FDA cleared procedure that uses these dissolvable sutures to tighten and reposition sagging skin. The procedure is less invasive than surgery and is usually performed in less than an hour. Tens of thousands of treatments have been performed for decades and, so far, there have been minimal reports of sensitivity to the threads, allergic reactions, or severe side effects.
A good candidate for a PDO thread lift is someone looking to reduce fine lines and wrinkles, improve skin laxity, and enhance overall appearance. PDO threads are very versatile and can treat virtually all areas of the face or body. You can achieve desired results such as smoother and tighter necklines, higher cheekbone contour, softer eyebrows and smile lines, and defined jawlines. They also work great on the body to lift and volumize sagging knees, arms, buttocks, abdomen, and bat wings.
Our nurse practitioner, Elizabeth Hoskins, will identify areas on your face or body that have loose skin. She'll mark where the threads will be inserted and then numb the area with an injection of local anesthesia. Then, she'll use a hollow needle to insert the threads underneath the skin. As she pulls the needle out, the threads grab onto loose tissue to reposition and tighten the skin. Results are immediate and will continue to improve over the next few months, as the inflammatory response encourages new collagen production.
The procedure can cause minimal swelling and bruising, but usually resolves in a week or a few days. Some patients also experience slight discomfort immediately after the treatment, but this usually resolves quickly. Overall, PDO threads have a significantly lower risk of complications compared to surgery.
Even though PDO thread lifts are not permanent, the results last longer compared to other cosmetic treatments. Typically, results from PDO treatments last up to 18 months or longer before another procedure or touchup is needed. The cost of the procedure can run anywhere from $300 to $5000, depending on how many threads are used.
So, what are you waiting for? Why not make a New Year's Resolution to turn back the hands of time. For more information or to schedule a free consultation or appointment, call Professional Laser Center at 318-361-9066. Please visit our website, www.professionallaser. com to view our list of other services and procedures.
62 JANUARY 2023 | WWW.BAYOULIFEMAG.COM
Robert D. Marx, M.D. Named Center of Excellence
Dr. Robert Marx Committed to Patient Care
DOYOU EVER FEEL A STRONG URGE
to urinate even when your bladder isn't full? You like millions of Americans may be suffering from overactive bladder. Overactive Bladder (OAB) is defined as the overwhelming urge to urinate immediately and frequently followed by loss of urine prior to reaching a bathroom. Overactive bladder occurs in both men and women and according to the American Urological Association it affects more than 30 million Americans; the actual number may be even higher, as many individuals are too embarrassed to seek treatment. Even if you have never had an accident, urgency and urinary frequency can interfere with your work and social life.
Recently, Robert D. Marx, M.D. has had the honor of being named an InterStim™ Center of Excellence by Medtronic, the world's largest medical device manufacturer. The InterStim™ Center of Excellence (COE) program recognizes physicians
who demonstrate exemplary use of the InterStim™ system. Exemplary is defined as a commitment to patient care for those suffering from symptoms associated with Overactive Bladdder (OAB), Fecal Incontinence (FI) and Non-Obstructive Urinary Retention.
The InterStimTM system, also called sacral neuromodulation (SNM), and is clinically proven to relieve the symptoms of OAB. Unlike conventional treatments, SNM works by gently stimulating the nerves that control the pelvic floor muscles, lower urinary tract, anal sphincter, and bowel; which is thought to restore the bladder-brain communication pathway, resulting in significant improvements to their quality of life.
Unlike other treatments, SNM allows patients to experience therapy during a short evaluation before committing to it. It is a minimally invasive procedure, 3 to 7 day assessment and helps determine likely longterm efficacy.
Medtronic therapies are potentially lifechanging options for any patient with OAB who has not responded well to first- and second-line treatments. More than 70% of patients with OAB who sought treatment were able to discontinue medications within 6 months, and 84% of OAB patients were satisfied with SNM therapy. "We've seen great success with InterStim™ and are dedicated to providing the highest level of patient care in our practice. Being able to help those in our community suffering from incontinence make a recovery using the Medtronic system is rewarding, and being recognized with this distinction is truly humbling," said Dr. Robert Marx.
The time to gain your independence from your Overactive Bladder is now! Whatever level of severity your problem is, Robert D. Marx, M.D. and his dedicated staff are ready to assist you. Don't suffer from OAB in silence, schedule your appointment today!
WWW.BAYOULIFEMAG.COM | JANUARY 2023 63
Find Your Superpower
"
I COULD ONLY ACHIEVE SUCCESS in my life through self-discipline, and I applied it until my wish and my will became one." – Nikola Tesla
One of the most underrated superpowers is the power of discipline. We cannot pursue high level results in fitness without discipline. The discipline found in our consistent workout routine will spread into other aspects of our lives, creating a system that positively boosts our quality of life.
At The Wellness Center, with over 36,000 heated square feet, we give you fitness opportunities galore, literally a workout for everyone at every fitness level, skill, and preference. Showcasing 60+ fitness classes (including cardio hip hop with Lamont), a cardio theatre, an indoor pool, a fully equipped Women's Only floor with Women's Only classes, a Barefoot Yoga and Pilates Studio, and a weight floor that dominates with three squat cages, two deadlift stations, and extensive free weights and dumbbells ranging up to 150lbs. From the beginner to the competitor, we meet your fitness needs.
Here at The Wellness Center, we absolutely attest to the fact that many health problems can be prevented and reversed by improved physical activity and proper nutrition. Our certified nutrition and fitness coach can get you on track with both. Coach Tara takes clients at the beginning of each month with non-members welcome. With oneon-one sessions and periodic check ins, she creates a macro nutrition plan based on your goals: gain muscle, lose fat, and maintenance. Coach Tara is your accountability partner!
Do you need more discipline establishing a routine with realistic goals? Our certified personal trainers are trained in creating and implementing safe and effective exercise programs for their clients. They have working knowledge specifically suited for you to achieve success and maintain that success. Research shows the more support someone has with their health and fitness journey, the more likely they are to succeed.
Our Barefoot Room offers yoga and pilates classes for all fitness levels. Studies have shown that pilates and yoga improve
quality of life by having a positive effect on depression and pain, along with rehabilitative purposes.
And for you die-hard cross fitters, CrossFit Iron Pelican has L1 and L2 Coaches that lead every workout suitable for everyone. Varying workouts include strength, gymnastic, metabolic conditioning, and mobility. At CFIP, you get 2 gyms for the price of one. $105 per month and you get CrossFit plus The Wellness Center.
To make the fitness journey easier for our parents, we provide free childcare in our Kid's Korner for ages 6 months – 12 years. We have kids' programs throughout the year.
Whether you are a water enthusiast searching for a low impact aerobic workout or an athlete training for a triathlon, our indoor heated pool is the perfect choice for you! We offer several aqua fitness classes Monday through Saturday, with lane swimming available 7 days a week.
So come in, take a tour, and make discipline your superpower for 2023!
64 JANUARY 2023 | WWW.BAYOULIFEMAG.COM
The Wellness Center and CrossFit Iron Pelican
Out With the Old, In With the New Skin
Center for Women's Health Can Guide You to the Products That Best Suit Your Needs
AS YOU WELCOME IN THE NEW Year, it might be a good time to reevaluate your skincare routine and take some steps in the coming months to improve your skin's appearance.
A skincare routine is the first defense in keeping your skin looking young. At Louisiana Center for Women's Health, we carry the SkinCeuticals® and ZO® Skin Health products. From sunscreen to moisturizers, the products are all backed by science. Our expert team can guide you to the products that best suit your needs.
BOTOX® More than 7.5 million people in this country use Botox® injections for a younger, wrinkle-free look. As you begin planning your 2022 skincare plan of action, you may want to pencil in Botox® injections. As we age, our body produces less collagen, which makes your skin less elastic. Botox® injections work on the forehead, neck, crow's feet and around your jaw area. The injections typically last between three to four months.
DYSPORT® is a natural-looking, fastacting, long-lasting prescription injection proven to help smooth moderate to sever frown lines between the eyebrows – without changing the look or movement of the rest of your face. Results typically appear 2-3 days after treatment and may last up to 5 months.
HYDRAFACIAL® is a 30-minute treatment that provides instant and longlasting results. It cleanses, peels and hydrates your skin. The treatment exfoliates your face and removes debris from your pores. Your skin is nourished with moisturizers and creams that protect your skin and maximize your natural glow. In addition to the glow, patients notice more elasticity and firmness in their skin. Our team recommends that you get a HydraFacial® once a month to keep your skin looking fresh.
JUVÉDERM® is a filler that is injected into areas of wrinkles or folds on the face. That includes the area around the nose and mouth, better known as the "parentheses lines". It stimulates the production of collagen that
plumps the skin. Most patients will notice the effects of the treatment right away or after the swelling reduces. The results typically last between six months to two years.
RESTYLANE® is a line of fillers which smooths away facial wrinkles and folds, provides subtle lip enhancement, smooths the lines around the mouth, adds lift and volume to the cheeks, and helps reverse the signs of volume loss in the back of the hands.
HALO™ HYBRID FRACTIONAL LASER works to erase fine lines and reverse skin discoloration and damage. This cuttingedge technology stimulates new collagen. The laser treatment requires minimal recovery time. Our team makes a plan for each patient based on their cosmetic needs, but we recommend that the treatments be spread at least three weeks apart. With proper care, Halo laser treatments will last for years.
For more information on any of these procedures, please contact our office at (348) 3873113.
WWW.BAYOULIFEMAG.COM | JANUARY 2023 65
BAYOU KIDZ
Embracing the New Year
Reflections of Years Past
article by Cindy G. Foust
Welp, here we all are on the cusp of 2023, which really sounds like a sci-fi movie more than anything, right?
It seems like I was just sitting in front of my Christmas tree writing my column last year and suddenly, here we are again. Time sure flies when you're having fun, or so they say. In doing what most of us do this time of year, I've spent the last few weeks really reflecting on 2022 and what it looked like through my rearview lens. Anybody else out there catch themselves looking backwards, too? For me, it was a year filled with physical healing and really trying to move myself into a healthy mental place, as well. That's much easier to say than do, right? Especially if you compound it with going through the "M" word (men-O-pause) which makes me feel all kinds of ways on all kinds of days. Can I say men-O-pause in a children's column? Since I'm the copyeditor, I guess I can! This season of my life has certainly brought its own set of challenges, but ones I will gladly take as long as I'm healthy. But it's not for the weak of heart and I often think we need a support group to navigate our way through it. Any takers? But, aside from my family getting their own apartment to handle my sometimes mood swings, I'm making it. Yep…that's exactly what my thoughts have been over the last few weeks…I simply feel like I'm just "making it." And readers…I can do better than that.
I have spent the last 10 years (Happy Anniversary to me) sitting with each of you one page a month. That's 120 columns of me writing,
rhyming, preaching, praying, laughing and counseloring (not a word, but sounds good) my way through the years. Believe this or not, I have popped my computer open hundreds of times over the years with absolutely no idea what I was going to write about, when suddenly, like I'm Dorothy and I get help from the Wizard, I'm typing away…one sentence at a time. As I "reflect" over these years we've spent together, I think about several things I have learned. As someone who loves a good list, and loves it even more when I can highlight something off my list, I'm going to give you a few of those lessons.
For one, I have learned that the most significant, precious thing we have is our relationships. My pastor says it's the most important word in the English language and I think I agree. Our family, our friends…these are the most valuable asset we have, not matter what the bank says we have in our account. Some family friends are going through the inexplicable tragedy of losing their child, their grandson, their brother, their cousin, their friend, and readers, it's been devastating for me. It conjures up all the feelings, the thoughts, the agony I have, too, felt, and never ever want to experience again. The loss of life, at any age, is the most difficult thing we will go through this side of Heaven, and as I get older, those losses seem to be coming more frequently. That's why I say, the most important thing we can do is preserve those relationships…nurture them…care for them…love them.
Which brings me to number two and that is no conflict is too big
66 JANUARY 2023 | WWW.BAYOULIFEMAG.COM
to overcome. Nor is it too important to let it go unresolved. I'm speaking to my own self in that differences happen every day…in all walks of life. We have them with our family, our friends, our co-workers, our hair dresser (except mine, because Connie Sue is perfect), our mailman. It's silly, but we let things come between us every day that in the grand scheme of life really don't mean a hill of squat (I'm eloquent with the prose, for sure). The bottom line is…be the resolution. Fix the problem. Nurture the relationship. You will never regret it.
Third, our health cannot simply be taken for granted, and that's our mental health, as well. I have people in my life who have had struggles with this and it's just as real as the chemotherapy I had to take last year.
Sometimes we see it, sometimes we don't, and I'm making a concerted effort to be more present for everyone around me this year. I, too, have struggled with worry and fear and anxiety…I could write an entire column on the grip that has had on my life… the chokehold I have lived under. But last night, in the quiet of a church service, where
beautiful music was being played and sung, and my beautiful dancer was performing, I sat with a tear stained face and just let it go. If it sounds hard to believe, you should try being me. Maybe I wanted to give it up so desperately or maybe it was just God's favor on me, but I felt like a ton of bricks lifted off my chest.
Finally, what I have learned (I have to stop somewhere or else Cassie will fire me from my job of 10 years, lest anyone forget how long it's been), is that I am a very fortunate person. I have a wonderful husband, beautiful children, family and friends and I am loved. I have people I can pick up the phone and call when the going gets tough…and they help the tough stay going. It truly is a wonderful life, as flawed as some days feel; as hard as circumstances can sometimes be; I feel blessed to be surrounded by family and friends that I get to take it all in with.
And you readers, are another important part of my life. Having the privilege of writing to you and for you the past 10 years has been a joy and honor…even sometimes when I get
off in Alice's rabbit hole, I take comfort in knowing that someone out there is probably in the same rabbit hole and needs to hear from me. Thanks be to Cassie (and Maré) for calling me that day and asking me to write for this wonderful magazine…who would have ever dreamed of the success it would enjoy? Thank you to my readers, who send me the loveliest messages or stop me in the grocery store to tell me how much they enjoy reading my column. It gives me the energy to conjure up the next month's "segment" and I look forward to it every month. So, until February, when there is really no telling what I'll be writing about (or who…no one is really safe), I wish for you and your family the happiest, safest and most prosperous new year.
Cindy G. Foust is a wife, mom, author and blogger. You can find her blog at the alphabetmom.com for weekly columns about home life, parenting, small business stories and insight with a smidgen of literacy. Give her a like or follow on Facebook and Instagram.
WWW.BAYOULIFEMAG.COM | JANUARY 2023 67
The Washam Agency
A New Year Brings a New Face to Shelter Insurance
JONATHAN WASHAM KNOWS HE HAS SOME BIG SHOES to fill after the retirement of industry legend, Harvey Hales, but is looking forward to the challenge. "For 52 years, Harvey has devoted his entire life to Shelter Insurance and worked to protect the people in this community that means so much to him. As of December 31st, he will be officially retiring and leaving behind an incredible legacy…a legacy I hope to create for myself by using the foundation Harvey has so intentionally laid." says Jonathan.
To that end, Jonathan will be starting a new role as an agent for Shelter Insurance, by taking over Harvey's office at his current location, 2225 Justice Street, Monroe with the Washam Agency. When asked about this move, Jonathan says, "I have been a manager with Shelter for two and a half years, but I wanted to switch directions from District Sales Manager to agent because I love the one-on-one relationships with my customers. With Harvey's retirement, I have the opportunity to establish new relationships and cultivate and steward old ones, which I am really looking forward to. This will also give me the chance to be more hands-on with my customers."
And to keep the momentum going, Harvey's affiliate, Vivian Willis, is staying on board with Jonathan. "Vivian has worked for Harvey for nearly 8 years, and this is a bonus for my business for her to stay with me. She is literally the glue that holds the office together!
Her experience and expertise will continue to enhance the business that we are building, and we are honored she will be staying on board with us. We are truly creating a team that will be able to service our new and existing customers' needs."
Jonathan certainly knows the importance of a good team, as he was able to continue his baseball career at the collegiate level. He enjoys a good golf game but can also be found in a duck blind or deer stand! "I love this community and have chosen to stay here with my beautiful wife Taylor and raise our family. We have a precious son, Easton, and are looking forward to working and growing in the community that we love so much." As an OCS grad, and Taylor graduating from West Monroe, their roots are deep, and they are proud to be a part of this community.
So, if you are shopping for insurance, have questions about your current policy or need coverage on anything new, please give Jonathan or Vivian a call at 318-387-4068 or just stop by and get a quote. From everyone at The Washam Agency, we look forward to serving you in 2023 and wish for you and your family a prosperous and healthy new year.
68 JANUARY 2023 | WWW.BAYOULIFEMAG.COM
Take Time For Self-Care at Spa Nouvelle
Resolve to Rid Yourself of the Winter Blues
WE'VE ALL HEARD THE EXPRESSION, "NEW YEAR, New You," but the context can be perceived many ways. Whether you're making a resolution to lose weight, learn a new language, or trying to live with a more gracious attitude, the new year is a time to start living a more fulfilled life. The experts at Spa Nouvelle can help you feel and look like a "new you."
Is your skin suffering from winter weather? When the air is warm inside and cold outside it can disrupt the skin's barrier and cause dryness. If your skin is showing signs of the changing climate, it's time to call the experts at Spa Nouvelle. Drew Farr and Wendy Newsom can analyze your skin type, troubleshoot your current skin care regimen, and give you advice on types of products you should be using. They can customize a facial specifically for your concerns or offer one of their skin nourishing facials like the Hydrating B5 Facial which includes a highly concentrated mask that infuses dehydrated and stressed skin with optional amounts of hyaluronic acid and vitamin B5 to replenish depleted moisture levels.
The new year can also offer a change in how you take care of yourself. But for many, the stress of the new year becomes overwhelming. It's easy to overassess accomplishments or lack thereof, or maybe it's just a feeling of uneasiness after a jam-packed holiday calendar has finally resolved. If this seems familiar, take time to relax and rejuvenate at Spa Nouvelle. Taking time for self-
care should be a priority going into the new year. According to the National Center for Complementary and Integrative Health, clinical trials suggest that massage therapy may help relieve depression. A 60-minute massage can lower cortisol, a hormone that's produced in response to stress by an average of 30 percent. And when cortisol levels decline, serotonin – one of the body's anti-pain mechanisms – increases. By lowering cortisol and increasing serotonin, you're boosting your body's ability to fight off pain, anxiety and feelings of sadness. Massage therapist Mary Beth Dickerson and Ana Lopez Hale understand that their business provides a safe and nurturing place for individuals to relax, refocus and find clarity. They offer everything from relaxing massages to deep tissue, pre-natal and CBD herbal massages.
With an attentive approach to relaxation and skincare health, it's no surprise that the staff of Spa Nouvelle have won top prizes in the BayouBuzz Awards since its inception.
If you are one of the many who need to start the new year with a new sense of relief, rejuvenated skin and a relaxed, mind-body connection, call Spa Nouvelle. For a list of services, visit their website at spanouvelle.com. Spa Nouvelle is located at 1705 Lamy Lane in Monroe. Call them at 318.816.4949 and be sure to like them on Facebook and Instagram for special offers and appointment openings.
WWW.BAYOULIFEMAG.COM | JANUARY 2023 69
"Beautiful World, Where Are You"
by Sally Rooney
"When I try to picture for myself what a happy life might look like, the picture hasn't changed very much since I was a child - a house with flowers and trees around it, and a river nearby, and a room full of books, and someone there to love me, that's all."
This contemporary romance novel by Sally Rooney centers on two meandering couples and the primary friendship between the women. Alice, an independently wealthy novelist fresh off a mental breakdown, and Eileen, an editor for a literary magazine, converse via letters/emails, ruminating on the state of their love lives or lack thereof. In the opening scene, Alice meets up with Felix, a warehouse stocker she met on Tinder. Rooney's masterful prose says more in the silence conveyed between the two than the words exchanged. Social class dynamics complicate the pairing, as Felix's insecurities about the origin of Alice's interest fester throughout their interactions. Meanwhile, back in Dublin, Alice's childhood friend Eileen starts flirting with their childhood friend Simon, who has harbored a love for Eileen for years. If the relationship pairings sound convoluted, the first few chapters of the novel read the same. I kept having to remind myself which woman was who,
though intrigued enough to keep reading.
What Rooney does so well is to illustrate relationship spillover. One cannot fall in or out of love in a vacuum, as tension in one relationship impacts the others. The tension breeds more tension, as instead of plotting the friendship as a refuge, Rooney expands the overall tension by denying the characters and the readers any release. Rooney's rumination on the female experience of approaching thirty, unmarried with little to no desire for children, intermingles with social commentary about the state of the world. Rooney's novels, while compelling, evoke a mood of intellectual dreariness, as the characters convey a hopelessness most off putting considering their undeniable privilege.
Sally Rooney garnered critical acclaim for two prior novels, "Conversations with Friends" and "Normal People," both adapted for the screen and available on Hulu - I highly recommend both books and adaptations. "Beautiful World," while my least favorite of her novels, still manages to awe with its structure and poignant emotional awareness.
"Maybe we're just born to love and worry about the people we know, and to go on loving and worrying even when there are more important things we should be doing. And I love that about humanity, and in fact it's the very reason I root for us to survive - because we are so stupid about each other."
REVIEW BY MEREDITH MCKINNIE
70 JANUARY 2023 | WWW.BAYOULIFEMAG.COM
bayou PAGES
FLOWERS Beautiful Blooms
Taylor Bennett artfully arranged freshly clipped camellias to create this simple, yet elegant design. A brass container was filled with layering branches of pink blooms. When working with camellias, there's no set way to create an arrangment. Take advantage of nature and bring the beauty indoors.
ARRANGEMENT BY TAYLOR BENNETT PHOTOGRAPHY BY KELLY MOORE CLARK
THE BEST BEAUTY PRODUCTS
We've asked local experts to recommend their favorite beauty products to add to your beauty regimen in the New Year. Below is a list of products that will help you round out skin routine for a brighter, more youthful glow.
Styling by Taylor Bennett Photo by Kelly Moore Clark
1. ZO SKIN HEALTH GROWTH FACTOR SERUM
A lightweight gel for all skin types that helps minimizes the appearance of expression lines and wrinkles. Available at MICKEL PLASTIC SURGERY.
2. ANTEAGE® EYE
Powered by the Bone Marrow Stem Cell Cytokines, this silky, rapidly penetrating formula will help to improve the appearance of lines/wrinkles, puffiness, and under-eye darkness.Available at PROFESSIONAL LASER CENTER
3.
TNS® ADVANCED + SERUM
This next-generation, skin rejuvenating formula improves the appearance of coarse wrinkles, fine lines, skin tone, and texture. It's the only growth factor product proven to address sagging skin. Available at DERMAMEDIQ
4. SKINCEUTICALS C E FERULIC
A patented daytime vitamin C serum that delivers advanced environmental protection and improves the appearance of fine lines and wrinkles, loss of firmness, and brightens skin's complexion. Available at SPA NOUVELLE
5. HOPKINS DERMATOLOGY
RX: HYDRATE
Pure, ultra-hydrating serum with fractionated Hyaluronic Acid for
enhanced penetration, quenches dehydrated skin for a supple, smooth complexion and all day moisture retention. Available at HOPKINS DERMATOLOGY
6. ZO SKIN HEALTH ILLUMINATING AOX SERUM
A concentrated antioxidant serum that provides protection against pollution + premature signs of aging while visibly brightening the skin with a subtly luminous, soft-focus finish. Available at WOMAN'S CLINIC.
7. OBAGI HYDRATE® FACIAL MOISTURIZERS
Provide instant and long-lasting hydration and rejuvenation day or night, using innovative technologies and naturally derived ingredients. Available at THE MEDICAL SPA AT ST. FRANCIS.
8. SKINCEUTICALS TRIPLE LIPID RESTORE 2:4:2
This unique lipid correction cream contains the first 2:4:2 cholesteroldominant ratio to help restore skin's external barrier and support natural self-repair, while potently nourishing aging skin for improvement in the visible appearance of skin smoothness, laxity, pores, and overall radiance. Available at CENTER FOR WOMEN'S HEALTH.
72 JANUARY 2023 | WWW.BAYOULIFEMAG.COM HEALTH & BEAUTY
1 2 3 4 5 6 7 8
New Year New Me
Be All That You Can Be In 2023
DR. SOWMA AND HER FRIENDLY STAFF AT DermaMediQ located on Lamy lane in Monroe want to give a very special thank you to their current and future patients. "We are very thankful for each and every one of our patients, and look forward to meeting new patients in this coming year," says Dr. Sowma.
Dr. Sowma has been providing state of the art medically supervised beauty regiments at DermamMediQ in Monroe for more than 10 years. Doctor Sowma is board certified in aesthetic medicine and pediatrics. Morpheus8, BodyTite, Evoke, PRP Treatments, and Eyelash extensions are just a few of the many procedures DermaMediQ offers to help you feel more confident in your skin.
MORPHEUS8
Morpheus8 is a novel technology that lets you discover new depths. It is the first and only full-body fractional technology adjusted for subdermal tissue remodeling, dermal treatment and epidermal resurfacing. Morpheus8 is perfect for tightening specific problem areas on the body but also great for treating acne on the face. Some of the key benefits include minimal scarring and downtime and a good option for younger patients not yet ready for a facelift.
BODYTITE
Fortunately, body contouring treatments have undergone a complete revamp in recent years. Now, innovative technology is used to offer a superior and minimally invasive skin tightening and body contouring treatment. Leading the way in this revolution is BodyTite, a scarless and surgery-free approach to shaping your body.
EVOKE
Evoke is a revolutionary, hands-free facial remodeling platform. This proprietary non-invasive technology is an industry first, delivering hands-free thermal facial and submental remodeling. The remodeling of these areas produces results that are associated with a youthful appearance. The ultimate in medical-grade technology that ensures your practice capitalizes on client demand for facial remodeling treatments.
PRP (PLATELET-RICH PLASMA) TREATMENT
With a PRP (platelet-rich plasma) treatment personally designed for you, will take you one step closer to fighting hair loss that has already begun and stopping it in its tracks before it worsens. The procedure is minimally-invasive and produces some of the best results available on the market.Your PRP hair transplant procedure will involve blood drawn from your own body to stimulate the rejuvenation of hair follicles. The entire procedure is done in the office and you can rest assured knowing that Dr. Sowma and her team have your best interest in mind at every step of the way.
EYELASH EXTENSIONS
Every girl wishes to have full, long, fluttery lashes and this wonderful technique is probably one of the greatest beauty trends for glamorous, natural lashes- that is here to stay. Here's why: making your lashes even more beautiful, fuller, darker and thicker 24/7. One of the most significant benefits of this is the ability to look put together any time of day because they give the appearance that the wearer already has mascara on.
WWW.BAYOULIFEMAG.COM | JANUARY 2023 73
Eat to Lose
Customized Diets
"
ANDI HAS BEEN ABLE TO ACHIEVE WEIGHT LOSS while effectively balancing serious medical issues in many of our mutual patients, from cancer to diabetes, heart problems to digestive issues. Her ability to apply this knowledge and safely and consistently guide people to results is why she has set herself above other area dietitians."- Dr. Byron Henry
Carey Anderson, owner of Green Horizons Landscape Service and his wife Holly called Andi Holyfield after Carey's doctor recommended a healthy diet lifestyle change. Carey had an appointment with Dr. McMahan and was told his liver enzymes and triglyceride were elevated to dangerously high levels and that he was at risk to develop fatty liver disease. Holly was diagnosed five years ago with Sjogren's syndrome, an auto immune disorder. "Andi customized a special diet to help put the Sjogren's into remission and I feel amazing!"says Holly. Andi Holyfield, a local Registered Dietitian and owner of Eat to Lose- created healthy, attainable goals for both Holly and Carey that included liver cleansing, weight loss, and autoimmune diets. This made the process simple for both business owners and parents of three kids.
By week three of Eat to Lose both Holly and Carey lost two inches off their waist and noticed a surge in energy. Within the first six weeks Carey lost 27 pounds of unwanted fat, three sizes, and his liver enzymes dropped dramatically with his ALT starting at 146 and now at 59! His AST was 77 and is now at 34. "I was shocked that I could shred off 27 pounds, lose four levels of visceral fat, drop my triglycerides from 315 to 164, and even have normal liver enzyme labs in only 42 days of Andi's simple diet plan," said Carey. Baking cakes and cookies all day long while raising three kids, Holly started Eat to Lose to support her husband and lost two sizes in only six weeks. "My only regret is that I did not start meeting with Andi four years ago when diagnosed with my autoimmune disorder," says Holly. Eat to Lose teaches a lot of behavior modification to prevent mindless eating; this was a key factor in Holly's success while she worked on baking deserts to fill customer orders.
People with fatty liver disease often have insulin resistance; fatty liver disease left untreated can lead to cirrhosis. Nonalcoholic fatty liver (NAFLD) is the most common disease that affects about one-quarter of the population. The average Eat to Lose client loses four-six percent body fat in only 42 days and a five-percent body weight loss can lower the fat in the liver, decrease LDL cholesterol, and decrease the entire lipid panel. Eat to Lose is a six-week weight loss program for children and adults that is personalized to suit your individual lifestyle and authentic food cravings. This successful, customized program educates patients to make informed choices, understand how to read nutrition food labels, enjoy eating out, consider portions and manage food cravings. With over 21 years of experience, Andi has assisted countless adults and children to develop lasting, healthier eating habits. Whether the goal is to reduce the risk of heart disease, lose weight, sports nutrition or simply improve lab work to decrease medications, Eat to Lose works.
When ten or more people enroll in the diet plan, everyone will receive a $100.00 discount on program costs. Often, insurance providers offer discounts on premiums as health goals are met which saves employers and employees money. Fire up your metabolism with your own customized diet today!
Andi Holyfield LDN, R.D. 318-348-3120 | eattolose.net | andi@eattoloseinc.com
74 JANUARY 2023 | WWW.BAYOULIFEMAG.COM
North Delta Title Company
Choosing Your Title Company
CAN YOU CHOOSE YOUR TITLE COMPANY? YES.
Choosing a title company means you select an unbiased representative to work on your behalf who has nothing to gain from the deal. At North Delta Title Company, we conduct all types of residential purchase and sale transactions as well as refinances from the opening of escrow to the final settlement of the sale. Our company facilitates every aspect of the transaction and works closely with the real estate professionals, the lender, buyer, and seller to ensure that every settlement runs smoothly, and is handled in an efficient and stress-free manner.
Once you have found your perfect home, our office will run full title searches of land records to ensure that no liens or encumbrances will affect your ownership of the property. We prepare all settlement documentation and conduct and/or coordinate final settlement at the closing. North Delta issues title commitments, title policies, and title endorsements through First American Title Insurance Company, Stewart Title Guaranty, Fidelity National Title Insurance Company, Chicago Title, and WFG National Title Insurance.
We are experts in 1031 tax-free exchanges and offer escrow services for deposits, documents, and posting-closing matters.
Both Amy Price Sawyer and Kirby O. Price have lived in Northeast Louisiana for over 40 years. Recently awarded the 32nd Annual James M. Shipp, Jr. Memorial Young Business Leader of the Year, Amy graduated Cum Laude from Southern University Law Center in 2009, earning her Juris Doctorate. She specializes in residential and commercial real estate transactions, business and succession law.
Kirby Price earned his MBA from ULM before graduating from Louisiana Law School earning a Juris Doctorate. He has practiced law in Monroe since 1978, focusing on his real estate law practice. Price was recently recognized for 40 years of legal service by the Fourth District Bar Association and awarded an AV Preeminent Rating by Martindale Hubbell.
The staff of North Delta Title Company offers the best expertise in their field. This is what one customer said of their experience, "North Delta is efficient and effortless to work with. Their people are hands-down some of the nicest and most helpful at navigating what can be a painful and scary process. I've used them for 3 different housing transactions in the last ten years and cannot tell enough people how wonderful my experiences with them have been."
Since opening in 1994, North Delta Title has successfully closed over 30,000 real estate transactions and is the largest title company in Northeast Louisiana. Although our offices are located in Ouachita Parish, North Delta Title provides residential and commercial real estate closing services throughout the state of Louisiana. For more information call 318.387.1100 or visit our website at northdeltatitle.com
WWW.BAYOULIFEMAG.COM | JANUARY 2023 75
Growing up, Mom routinely took us to the pediatrician. I associated Dr. Bodron's intense stare and half donut of white hair with knowledge. Men who looked like him in white coats knew things; they helped sick people. Since I rarely got sick, I only went for checkups. Other than the obligatory prick of the finger, the painless visits promised at least one Dum Dum - preferably green apple. My knack for smiling on command typically warranted two. But after childhood, the visits just stopped. My family didn't pursue routine checkups. We only saw doctors when home remedies had been exhausted. I always chuckle at the father in My Big Fat Greek Wedding with the Windex. My father possesses a similar faith in Epsom salt. Overall, the suck-itup mentality reigned supreme in our household.
Needless to say, as an adult the trend continued. When people inquired about my primary care physician, I paused in confusion. Did adults see doctors regularly? It sounds silly, but what is normal becomes normalized, even when it's obvious to everyone else. I never missed a dentist visit and counted Dr. Nolan as the nicest old man of the White Coats, but
medical doctors meant scales and shame - no thank you. I didn't even seek out an OB-GYN until I was almost 30, well past the time for starting a birth control regimen and whatnot. Sexually active for almost a decade, I had just been winging it and absent any "problems," never thought much about it. After bumbling about for an OB-GYN that I liked, I sought a local gentleman highly recommended by women I trust who think like me. On my first visit, while in the stirrups, his phone kept buzzing. Never one to mince words, I raised up quickly and asked if he needed to get that. Befuddled, he quickly explained that his family group message was riddled with LSU chat. Considering football highly overrated, I sighed, settled back on the crunchy paper, and sucked back in my stomach - a futile gesture.
Six years later, that OB with the boyish face has delivered both of my girls, seen me perform a raunchy monologue on stage, and is probably the person who knows my medical history the best. I trust him because he doesn't lie to me. I appreciate direct honesty delivered with care. I also instinctively distrust people who take their time, and he always seems like he has somewhere else to be - my kind of human. We banter from time
Meredith's Musings
MY BODY,
MY HORMONES
article by MEREDITH MCKINNIE
to time, or at least I think we do, and it puts me at ease.
At 40, I've become more attuned to my body, which betrays me regularly since giving birth. I don't recognize the fat shifts, the altered cycles, the skin rashes that appear out of nowhere. After stumbling across some information about hormones, I was convinced that mine were out of whack, that I needed supplements. I couldn't concentrate, forgot simple words or why I walked into a room, woke up routinely in the middle of the night and couldn't fall right back to sleep. I confided to the boyish OB my issues and asked about getting my hormones checked. He wasn't convinced and felt that even if my hormones were off, that supplements weren't necessarily the answer. Young Meredith in the pediatrician's office would have smiled, left with a Dum Dum and taken his word for it. But 40-year-old Meredith said "Check em, Doc." The nurse drew the 877 vials of blood a few minutes later. I felt woozy and powerful. I had advocated for myself, albeit to a familiar audience, but for the first time in a medical setting.
When the nurse called a few days later, she insisted my hormones were fine and then gave me the levels because Doc
knew I would ask to do my own research (and he was right). Other than a dip in Vitamin D, which wasn't surprising since I spend every waking minute inside studying, my hormone levels appeared on the higher end of normal for a woman my age. My body was changing amidst a radically-paced life of school, toddlers, friendships, schedules for a family of 5, and all the other daily activities that parenting entails - not to mention living. Too busy to pay attention to myself, my body insisted I slow down. I can't say I've met its expectations, but I'm more aware of its demands. My rebellious spirit resents being told what to do, but I'll come around.
What I took from this experience was the importance of self-advocacy. Yes, it came late, but I had a late start. I listened to my body, and even more so my mind, and demanded the test. The doctor's office is a complicated place, made more awkward by nakedness, hard conversations, and high expectations. The White Coats do have medical knowledge, but we have our body knowledge. We walk around in this skin all day. Collectively, we can take care of ourselves, but only if we show up and speak out.
76 JANUARY 2023 | WWW.BAYOULIFEMAG.COM
Why Use a Travel Agency?
Make Planning Your Bucket List Trip Easy
EXPEDIA. HOTELS.COM. KAYAK.COM. TRAVEL
websites galore, offering you a really good deal. Or are they? How many have tried to plan a trip using one of these websites and then gotten frustrated trying to wade through all the pricing and promises? Or encountered travel snafus (who doesn't these days?) and couldn't get a real person on the phone to help you navigate the quagmire?
Using travel websites – especially for a once-in-a-lifetime trip or a special event – might look like the best way to organize a trip. But using a travel agency actually makes the process much easier. To begin, agencies such as Alisa Travel Designs in Monroe have such great connections with suppliers, locations, cruises and hotels to get you the best rates. More importantly, our agents are actual people with families and hobbies, with a local small business.
Other reasons to choose Alisa Travel Designs:
• We save you time by taking the guesswork out of researching and evaluating the multitude of available options.
• We take the stress out of planning. We're here to deal with all types of travel situations and are aware of details you might not consider when planning on your own.
• We can handle the unexpected. We haven't personally experienced every travel glitch, but we have a long list, which helps us navigate your challenging situations.
• We offer first-hand, immeasurable experience. Having traveled to more than two dozen countries, we know about off-the-beaten path places or inside destination information that will substantially improve your experience.
GROUP TRAVEL
Group travel alone? Huh? Here's the deal: You really want to travel, but your spouse, sibling or child doesn't want to go with you. What to do? Alisa Travel Designs has the answer! One of our specialty areas is carefully curated, small-group trips to your favorite destinations, which are the best way to quench your wanderlust thirst when you would rather not travel alone or you want the peace of mind that comes with joining us.
Our small-group adventures are especially designed to allow you to enjoy the ease of stress-free travel and the peace of mind knowing we're there for you wherever you go. Literally. One of us travels with the group the whole way, an exceptional benefit.
One of the best advantages? Traveling solo with a small group provides the opportunity to be with like-minded folks who share the desire to see new places and experience adventures.
We often have "singles" who want to join our adventures but don't have a travel partner. Don't let that stop you. We can either pair you with another single or offer single rates.
Take a look at our upcoming small-group trips and make the leap. What are you waiting for?
• The Amalfi Coast and Sicily, May 2023
• Venice, the Greek Islands and Athens, October 2023
• England & Scotland, Spring 2024
Liz Craft lizcraft@alisatraveldesigns.com
Alisa Spatafora alisa@alisatraveldesigns.com
WWW.BAYOULIFEMAG.COM | JANUARY 2023 77
Detox Soup
Need a little detox after this year's holiday parties. This delicious chicken soup will get you started on the right path to wholesome eating.
What
you need:
2 tablespoons olive oil, divided
1 lb. boneless skinless chicken breasts or thighs, cut into chunks Kosher salt and ground pepper
1 onion, diced
2 carrots, peeled and diced
2 celery ribs, diced
4 cloves garlic, minced
16 ounces cremini mushrooms
½ teaspoon dried thyme
½ teaspoon dried oregano
8 cups chicken stock
2 bay leaves
½ cup uncooked orzo pasta
1 sprig fresh rosemary
1 bunch kale, stems removed and leaves chopped
1 15-ounce can cannellini beans, drained and rinsed
Juice of 1 lemon
2 tbsp chopped fresh parsley leaves
Directions:
Heat 1 tbsp olive oil in a large stockpot over medium heat. Season chicken with salt and pepper. Add chicken and cook until golden, about 2-3 minutes; set aside. Add remaining 1 tbsp oil to the stockpot. Add onion, carrots and celery. Cook until tender, about 3-4 minutes. Add garlic and mushrooms, and cook until tender and browned. Stir in thyme and oregano until fragrant. Whisk in chicken stock and bay leaves; bring to a boil. Stir in orzo, rosemary and chicken; reduce heat and simmer until orzo is tender, about 10-12 minutes.Stir in kale and cannellini beans until the kale has wilted. Stir in lemon juice and parsley; season with salt and pepper, to taste.Serve immediately.
78 JANUARY 2023 | WWW.BAYOULIFEMAG.COM BAYOU RECIPE
Photograph by Kelly Moore Clark Styling by Taylor Bennett
Blush by Elle Boutique
Happy New Year
GRAB YOUR GIRLS AND HEAD
to north Monroe's trendiest boutique, located at 214 NorthPark Drive just half a mile from OCS. Here you'll find women's clothing, jewelry, gifts, & so much more. Some of our favorite pieces come from Flying Monkey Jeans, Warmies, & Taylor Shaye Designs. There are plenty of finds here, not only in clothing but so much more, we have gifts for all ages.
Owned by Ellie Dyess, Blush by Elle came to life in December 2018 as an online only boutique. You may also have seen us at numerous pop ups locally. Over the past several years this dream has become a reality which led to opening the doors to our storefront in September 2021. Since then, I have focused on adding so many fun finds to our collections and I can't wait to share them with you soon.
As Blush by Elle came to life one thing that was very important to me was to support
small, local, and women owned businesses. I am proud to say that over half of our vendors check these boxes and we are continually adding to this list.
When entering Blush by Elle you will be greeted with the sweet smell of one of our newest Swan Creek candles. Our quaint little storefront will be filled with our newest arrivals & personal shopping assistants. When you come to shop, I want you to feel welcome and at ease. I want to make your personal shopping a fun experience. Come by and see what we can add to your New Year's wardrobe. We are open Tuesday - Friday 126pm, & Saturdays 10 am - 2pm.
As January flies by we are bringing you our best date night collections for Valentine's Day. Whether you are hitting the town or spending a cozy night in, we have options for you or if you are buying for your sweetie. Don't forget the gifts! We have gift ideas for men, women, and kids. Our staff will help
you pick out the perfect item, wrap it, and you'll be on your way with your gift ready to go.
Not only is February the month of love, but for us Louisianians it's Mardi Gras season and one of our favorite holidays. Our first Mardi Gras collection will launch January 1st! With both of our local Monroe parades hitting the streets in early February we are bringing you sassy but cold weather friendly looks, beautiful jewelry, & fun accessories.
Follow Elle on social media for all the latest styles and sales, or search Blush by Elle on the app store and download the app for easy access and on-the-go shopping.
Facebook: Blushbyelleboutique
Instagram: Blushbyelle TikTok: Blushbyelle Webstite: www.blushbyelle.com
WWW.BAYOULIFEMAG.COM | JANUARY 2023 79
Allegiance Ag and Turf
Company Supports Area Farmers
JOSH VINES HAS BEEN IN THE EQUIPMENT INDUSTRY for most of his life, and he's just getting started. Allegiance Ag & Turf, formerly known as Larry Cotten Enterprises, is under new ownership and Josh couldn't be more excited about it. With decades of experience fulfilling the tractor and lawn equipment needs of businesses and individuals in Louisiana, Arkansas, and beyond, Larry Cotten Enterprises was able to provide its customers with the highest quality products and services, a tradition Josh intends to maintain.
"We understand our customers are looking for more up time, which often means more efficient operations," said Josh. "We're proud to partner with Fendt, Massey Ferguson, and the entire AGCO brand, because we know their commitment to superior dependability that keeps our farmers doing what they do best –farming."
Allegiance Ag & Turf's partnership with Fendt is especially exciting as they will be the only provider of the Fendt line of products in the entire state.
Congresswoman Julia Letlow spoke at the Ribbon Cutting on the importance of agriculture in the Fifth District, and the vital role a business such as Allegiance Ag and Turf plays in the community. "In the Fifth District, we talk about the need to keep our best and brightest here, and Josh and Ana are a glowing example of that," said Congresswoman Letlow. "They're investing in this community, and their work to create jobs and opportunity will have an incredible impact in Morehouse Parish."
The company offers a wide range of products and services designed to fill the needs of all sizes of property owners. Allegiance Ag and Turf will provide large agriculture equipment, mid and small farm equipment, hay tools, multiple implement options and Exmark mowers, as well as superior service and support of the northern Louisiana and southern Arkansas region.
Allegiance Ag is an authorized Exmark, Massey Ferguson, Woods, and Titan dealership serving the Bastrop, Louisiana area. They are proud to carry a large selection of new and pre-owned inventory. When you are ready to invest in a new implement, attachment, lawn mower, loader, tractor, and more, their friendly and knowledgeable sales, financing, service, and parts departments are prepared to make sure your experience is outstanding, from assisting while you're making your choice to ongoing maintenance and customization. At Allegiance Ag, they value the opportunity to create a long-term relationship with their customers, and do that by giving you the best customer service available.
Allegiance Ag & Turf has made a commitment to be a strong supporter of the community and believes in giving back to those who give so much. Josh and Ana Vines partnered with the Food Bank of Northeast Louisiana during the Ribbon Cutting and encouraged participants to bring canned goods and donations to benefit the community. The canned food drive will continue until the end of December.
80 JANUARY 2023 | WWW.BAYOULIFEMAG.COM
IBS Can Cramp Your Style
Everything You Need to Know About IBS
BY C. BUTCH DUNN, M.D.
ARE YOU EXPERIENCING ALTERED BOWEL HABITS,
chronic abdominal pain, or bloating? Ever have that the urge to get to the bathroom "immediately?" Do you experience changes in stool form regularly? If you answered yes, you might have irritable bowel syndrome (IBS). IBS affects millions of people and is reported to be the second leading cause of missed work and diminished productivity in the workplace. The prevalence is estimated as high as 15% or more of the general population and is slightly more likely to affect females. The impact of IBS on quality of life is significant and often quite burdensome.
IBS symptoms are variable from one individual to the next, and all symptoms may not be present in each afflicted person. The severity, frequency, and duration of periodic exacerbations vary widely.
Typical symptoms include an abdominal cramping sensation; however, the location and severity also vary. Pain may be associated with precipitating factors such as the act of eating, defecation, and emotional stress. Complaints of increased gas, bloating, belching, and flatulence are also frequently reported. Many patients suffer from frequent loose or diarrheal stools. Stools may have mucus from time to time, but bleeding is never associated with IBS. It should also be noted that nocturnal diarrhea, greasy stools, large-volume diarrhea, and weight loss are other symptoms not found in IBS. Some individuals describe a sensation of incomplete evacuation as well.
As noted above, a diarrhea-predominant pattern is referred to as IBS-D. This entity is frequently associated with urgency. If present, cramping may or may not be relieved by a bowel movement. Precipitating
factors can vary even in an individual patient making for unpredictable events.
In many patients, the battle is constipation, infrequent bowel movements, or stool described as hard pellets or cigar shaped. This constipation-predominant variant is referred to as IBS-C.
Lastly, alternating stool form from loose/diarrheal to constipation or variable form stool is referred to as IBS-M for a mixed pattern of symptoms. An unclassified pattern is for those with IBS but do not fit into one of these categories.
Your doctor or a gastrointestinal specialist may diagnose IBS by utilizing a carefully obtained detailed history of symptoms, a physical examination, basic laboratory testing, and possibly an abdominal X-ray. If diarrhea is present, specialized blood and stool tests may be obtained. It is not uncommon to perform an endoscopic procedure to rule out other organic diseases that may also present with similar symptoms. The history should include precipitating factors, prescribed and over-the-counter medications, and any herbal or homeopathic treatments the patient uses. A family history assessment should include inquiry regarding inflammatory bowel disease (Crohn's or Ulcerative colitis), colorectal cancer, and Celiac disease.
Once IBS is diagnosed, the physician can prescribe a treatment plan that best fits that individual patient. Frequently this specifically fashioned management plan will include adjustments to diet, the addition of prescription medicine, behavior modification, and often dietary supplements.
WWW.BAYOULIFEMAG.COM | JANUARY 2023 81
FLIP YOUR
BAYOU HEALTH |
BY SHANNON DAHLUM
YOUR DIET ON IT'S HEAD
Why Eating More and Moving Less May be a Better Strategy for Long Term Weight Management
and spend $33 billion on weight loss products. Despite all the effort and money spent, 73.6% of us are overweight or obese, and only 12% of American adults are metabolically healthy. We're told to eat less and move more, so we do, over and over. The diet industry continues to grow, and our waistlines, fatigue, and metabolic disease are growing right along with it. Perhaps it's not our bodies that are failing us, but the diet industry itself.
The weight loss model we've been taught to follow is the "calories in versus calories out" theory. We're told that we simply need to burn more calories than we consume and weight loss will happen. Mathematically, it makes sense. If we eat 500 calories, we then have 500 calories of fuel to burn. If we consume a 300 calorie cookie, we just need to make up for it by burning 300 calories on the treadmill, or skipping our next meal. As long as we continue to maintain a calorie deficit, weight loss will happen.
If it's so simple, why are we continuing to gain weight? If we
calorie-deprive ourselves into a smaller pair of skinny jeans, it's usually short lived and the weight is regained. We wind up on a never ending roller coaster ride of losing and gaining over and over. We become obsessed with food and exercise, plagued by fatigue and hormonal imbalance, with growing chronic lifestyle disease and a sense of failure and shame. Why isn't it working for us?
Let's talk for a second about what a calorie actually is. A calorie is a unit of heat energy needed to raise the temperature of 1 kilogram of water by 1 degree Celsius. The caloric value of food is determined in a lab by setting the food on fire. The heat released by that fire raises the temperature of 1 kilogram of water. The temperature change of that water tells us how much energy, or calories, were released from the food. While that gives us some information about the food, it certainly doesn't reflect what happens in our bodies when we eat that food. Our bodies don't simply set fire to calories and run on that heat. The energy our bodies make and utilize is called adenosine triphosphate, or ATP. We don't get this energy from food; we make it.
EVERY YEAR, 45 MILLION AMERICANS GO ON A DIET
The mitochondria are found inside the cells throughout our bodies, and this is where ATP production happens. Put simply, glucose and oxygen enter the cells and the mitochondria use them to create ATP. The ATP is used to fuel not only our physical and mental activity, but for every single function needed to keep us alive and healthy. Notice that calories aren't a part of the energy production process; glucose is, which comes from the carbohydrates we eat. This process of creating energy in the cells is called metabolism, and it's controlled by the thyroid. When the thyroid is controlling healthy energy production in the body, we are in what's called an anabolic, or building, state.
A constant flow of ATP is absolutely necessary for our survival, so when we aren't able to create enough of it to support our body's energy demands, this puts the body is a state of stress. Stress is anything that creates an energy imbalance. It can happen if there isn't enough glucose and oxygen available for making the needed ATP, or if the body is simply demanding more than the mitochondria can produce in that moment. The body adapts to this energy deficit by stopping the production of new energy so it can break down its own tissue for fuel. Put another way, when your metabolism can't produce enough energy to meet demands, it slows down and the body starts breaking itself down to free energy. This process of releasing energy from the body's own tissue is controlled by the adrenal glands. When the adrenals are in charge of energy production in the body, we are in what's called a catabolic, or breaking down, state. This is exactly what diets are designed to do; to create an energy deficit that forces the body into a stress state so it will break its own tissue down to utilize as fuel.
fuel source, driven by the adrenals, isn't able to keep up, either. We wind up with fatigue, excess weight gain and weight loss resistance, hormonal imbalance, insulin resistance, high cholesterol and triglycerides, and any of the other symptoms that can accompany metabolic dysfunction.
If you can imagine burning a fire in your home's fireplace to keep your house warm in the dead of winter, you'd need to provide a consistent source of wood to keep the fire going. If you ran out of firewood, you'd need to start tearing down walls to feed the fire so it wouldn't burn out. Ideally, you'd chop down more wood quickly so you could switch back to feeding new logs to the fire, and then you'd have an opportunity to rebuild the walls you tore down. If you never went back to burning new logs and rebuilding your house, though, you'd eventually burn down your entire house, and the fire would go out. This is essentially what happens to your body when you rely on your emergency fuel source the majority of the time.
the weight loss strategies
Healthy metabolic function requires that our bodies move easily between anabolism and catabolism to maintain a healthy flow of energy. When we're receiving adequate glucose from carbohydrates in the diet to produce the ATP our bodies need, our thyroid is in control, our bodies are creating energy and building cells, tissue, and hormones effectively. When energy creation can't keep up with the body's needs, the thyroid slows down energy production, and the adrenals step up to trigger the body to release stored glucose in the fat and muscle tissue. Now, instead of using glucose from the food we consume to create new energy, incoming glucose is put into storage in the fat cells. Building new cells, tissue and hormones is put on hold to conserve energy, and the body's fat and/or muscle tissue is broken down to free energy.
In the short term, this back-up emergency fuel source is a brilliant way to keep us alive during periods of energy shortage. When it becomes a long term necessity, however, the body's structure and functions break down and don't have an opportunity to rebuild. Thyroid function plummets, and eventually adrenal function "tires out" and can't keep up. The adrenals were designed to provide a solution for short term energy shortage, not long term energy production. This eventually leads to complete burn out, in which the thyroid and metabolism are under functioning, but the back-up emergency
Perhaps you're beginning to see how consistent calorie or carbohydrate deprivation and excess exercise can cause more problems than it fixes. In the short term, it can create weight loss by forcing the body to utilize its emergency back-up fuel. When utilized long term, though, it leads to metabolic dysfunction and excess weight gain. Rather than trying to achieve weight loss through the constant stress of energy deprivation, it may be wiser to optimize metabolic function by maintaining a healthy energy balance and calming the stress response.
All of the weight loss strategies we've been taught force us to burn down our own walls. Intermittent fasting, calorie deprivation, and carbohydrate deprivation deplete our bodies of the glucose needed for creating new energy. In this state, the thyroid can't put new logs on the fire, so the adrenals start knocking down walls and tossing them in the fireplace. When it comes to losing weight, this works for a short time! We're using up up our own tissue, which leads to weight loss. However, while we're burning through our tissue, more of the food we eat winds up being stored in the fat cells. Remember, also, that to keep the fire burning in the long run without destroying the house, we need to give the adrenals a break and allow the thyroid to put new wood on the fire again. The thyroid and adrenals are constantly talking to one another and their dance is what keeps our metabolisms healthy and balanced. If either one leads the dance for too long, energy becomes imbalanced and weight gain often results.
Calorie deficiency isn't the only thing that moves our adrenals into the driver's seat. All forms of stress, whether it's emotional or physical, will move our bodies into a catabolic state. This includes lack of sleep, arguments with your spouse, job stress, dehydration, feelings of guilt or anger, overwork, nutrient deficiency, inflammation, etc. The stress we are currently exposed to in our daily lives is enough to keep us chronically stuck in a state of tissue breakdown and excess fat storage. Add dieting and excess exercise on top of that, and we likely only exacerbate the problem.
84 JANUARY 2023 | WWW.BAYOULIFEMAG.COM
All of
we've been taught force us to burn down our own walls.
The key to giving the adrenals a break and allowing the thyroid tolead energy production is to diminish the stress burden on the body. Depending on what's contributing to the stress load, this can look different for all of us. Rather than forcing an energy deficit in our bodies, we need to provide them with a sense of safety. Removing anything that our brains can sense as a threat to our immediate survival is how we support energy production and increased metabolism.
For those of us who have a history of dieting, intense exercise, diet pills, or other methods of deprivation, it's especially important to nourish the body back into a state of energy balance before stacking on any other new diet or exercise program. After adapting to an energy deprived state for so long, the brain needs to receive a consistent signal that the threat of energy depletion is gone. When the body receives a consistent flow of energy producing nutrients, and the energy demand of the body isn't greater than what energy production can keep up with, the stress response will eventually settle down. The adrenals can move to the backseat while the thyroid directs energy production again. It goes against everything we think we know about weight loss, but instead of eating less and moving more, we may need to eat more and move less to get out of an energy deprived state and into a state of energy abundance.
To increase energy production in the body, eating consistently is important. So many of us don't have an appetite until lunch, and in the name of intermittent fasting, it seems like a good idea to just skip breakfast anyway. Not having an appetite in the morning is actually a big red flag that the adrenals are in charge. The body is in a state of stress and is relying on its emergency fuel system to run. Getting in a meal, or even a small snack, within 3060 minutes of waking up will help decrease the stress hormones and gently coax the metabolism into action. Eating consistently throughout the day, at regular intervals of every 3-4 hours will continue to move energy production in the right direction.
Just as adding too many logs to the fireplace can smother a fire, eating too much can be a stressor that slows metabolism, too. It may take some time to figure out the amounts of food that are right for you, but how you eat may be more important than how much you eat, initially. Sitting at a table to eat meals without distractions and paying attention to your food rather than the TV or computer screen enhances digestion and nutrient absorption. Enjoying your food is actually really important, too! Experiencing pleasure from your food turns off the stress response, which enhances digestion and energy production from that meal. It also increases satisfaction and diminishes the desire to over eat. When you focus on "how" you eat,
often the "how much" to eat part works itself out.
Carbohydrate intake is also vital for maintaining metabolic function and energy production. The mitochondria need glucose for creating energy, which comes from the fruits, vegetables, starches and grains we eat. In the absence of dietary carbohydrate, the body can release stored glucose or create glucose from protein. This is an emergency back-up plan, though! It's an adaptation to the stress of inadequate glucose availability. To keep the thyroid in control of energy production, we need a steady supply of carbohydrate. How much and from what sources is individual, however, and depends on one's insulin sensitivity and current state of metabolic function.
WWW.BAYOULIFEMAG.COM | JANUARY 2023 85
Sitting at a table to eat meals without distractions and paying attention to your food enhances digestion and nutrient absorption.
Not only is consistent eating important, but food quality certainly matters, too. Even if we're eatings food high in calories, if they're low in nutrients we need, this also triggers a stress response. Certain minerals and vitamins are necessary for enzymatic reactions and hormone production to happen, and if we're deficient in them, the brain senses this as a threat and stress hormones increase. Focus on consuming foods that are as close to their natural state as possible. Fresh, vine ripened plants are best, along with pasture raised animal products. Avoid polyunsaturated fatty acids, which are in vegetable, nut and seed oils. These are everywhere in processed foods, and they have been shown to increase inflammatory markers and directly diminish metabolism. They actually cause the cells in the body to become "leaky," which is equivalent to leaving your home's windows open on a cold day while trying to heat it with a fire. Opt for extra virgin olive oil, avocado oil, coconut oil, and butter or other animal fats from pasture raised animals, instead.
The amount of movement we get plays another large roll in energy balance. The human body is designed for consistent movement, and both being sedentary or overdoing intense exercise can create a state of stress. Unfortunately, many of us try to make up for 23 hours of being sedentary
with one hour of intense exercise, which actually creates a double whammy of stressors that slows energy production. Getting in consistent movement is the ideal way to diminish stress and enhance energy creation. Rather than getting in hard exercise all at once while remaining still the rest of the time, space your movement out by taking steps throughout the day. Take five to ten minute breaks from your desk each hour to walk and stretch. It doesn't need to be intense, it just needs to be consistent.
Even though they only account for about 2% of our body weight, our brains use 20% of our energy at rest. Most of our brain activity is subconscious, dictating involuntary actions throughout our bodies. When we don't give our brains a rest, though, that energy use is even higher. Many of us tend to stay consistently mentally stimulated; when we aren't working or being productive, we're scrolling on our phones or watching TV. Overloading our brains creates psychological stress which has the same effect as physical stress; moving our adrenals to the driver's seat and pushing us to use our emergency fuel source. Be sure to give yourself mental breaks
throughout the day and try to be present. Combining these mental breaks with short walks is a great way to get consistent movement and the mental relaxation needed to enhance energy production.
Once healthy metabolic function has been regained and we aren't living in a constant state of stress, we can implement short term energy deprivation to enhance weight loss. Rather than a long term low carb or low calorie diet, or a daily fasting regimen, implementing an energy deprivation strategy one or two days per week can be a helpful tool for enhancing fat loss. Short bursts of energy imbalance during periods when stress is otherwise low won't allow the body time to adapt with lower energy production.
However you choose to tackle your weight loss goals this year, just remember to encourage a healthy dance between the thyroid and the adrenals, without allowing the adrenals to stay in the lead for too long. If you've spent most your life on a dieting roller coaster, this may mean you need to flip what you've been doing on its head. Instead of eating less and moving more, you may achieve better results in both your weight and wellbeing if you eat more and move less.
86 JANUARY 2023 | WWW.BAYOULIFEMAG.COM
Overloading our brains creates psychological stress which has the same effect as physical stress.
Paradigm Gym Olympic Training Center
Build a Strong and Healthy Mentality
PARADIGM GYM IS AN OLYMPIC training center right outside of Ruston Louisiana. Our gym is located at 138 Shaman Road, off of highway 80 coming from Ruston towards Grambling. Our programs work on building strong and healthy mentality for children and adults.
Our facility is a 37000 square foot facility that includes all gymnastics events as well as foam pits and in ground trampolines. The facility also includes a dance studio where dance classes are taught as well as a swordsmanship studio.
We have a variety of programs for children at Paradigm. We offer an afterschool program that includes pick up from local schools, offers healthy snacks, help with homework, and a gymnastics class included every day that the children attend. We offer dance classes taught by a classically trained dancer. The classes include ballet, jazz, hip hop, and modern.
At Paradigm we also do birthday parties
in which the gym is the playground with coaches guiding the party. A Paradigm Gym Birthday Party gives your child and their friends a fun, safe place to jump, climb, roll and dance!
The biggest program offered at paradigm is gymnastics. We offer from the youngest at age 1, Parent and Me classes, to preschool at age 2-4. The beginner classes start at age 5 to 10 years old. This program is recreational classes which teaches the fundamentals and sets up children to go into a competitive program. Our competitive program begins at pre-team and is available to anyone who is mentally and physically able to do the required skills. The competitive team ends the moment you reach the Olympics or a collegiate level program.
Paradigm for adults ages 17 and up includes a fully stocked weight room with squat racks and as many dumbbells as you can carry. We also have a fully stocked cardio room with treadmills, elliptical, stationary
bikes, as well as the dreaded Stairmaster. We also offer classes ranging from yoga, spin, and Fit 360 to silver and fit. The helpful staff is also always available to help you with anything you want.
Our age range is from 1 to 99 so if you would like to get fit and learn some new skills we would love to see you and help you be mentally and physically fit.
We are here to encourage participation in all aspects of athletics, support athletes in their pursuit of competitive excellence, generate public awareness of the sport of gymnastics and dance, and have exceptional commitment to customer service throughout the program.
Our mission is to teach the fundamentals in gymnastics, dance, and martial arts for fitness in everyday life. The end goal of paradigm is becoming a well-rounded person; a mentally and physically fit individual for life. Fit For Life.
WWW.BAYOULIFEMAG.COM | JANUARY 2023 87
Stronger Together
New Hope Addiction Recovery
"THERE'S A MENTAL HEALTH CRISIS," SAYS DR. Cesar Gonzales, Board Certified Addictionologist. Noting the increase in anxiety and depression over the last few years, Dr. Gonzales believes that all signs point to our collective grief experience and lack of connectivity. "We defer and allow other devices to simulate connection," he says, noting his own technological dependencies. Sometimes, at the end of a long day, he'll get home to sink into "the screens," referring to his phone and television. Such is the case when we get lost in the business of life. "We use our screens as connection time," he says, referring to himself and his wife. This impulsivity is often approached at the symptomatic level, but Dr. Gonzales believes that there is another answer, which is why his team of experienced medical professionals shift from traditional approaches and focuses on helping their patients awaken a determination to seek connection and intimacy with people they care about. At New Hope Addiction Recovery, an outpatient addiction medicine facility owned and operated by Dr. Gonzales, patients are guided to seek betterment in a nonjudgmental environment that leads with a gentle hand.
With a mission to provide a safe, therapeutic environment with the latest evidence-based clinical care for their patients, as well as their families, this recovery center operates with an open mind and attention to a hybrid approach. "The health care community and addiction community are talking about breaking barriers and meeting people where they are at," says Dr. Gonzales who has strayed away from clinically rigid approaches. In fact, you do not have to be in recovery to receive treatment. Treatment aims to not only address the symptoms of substance use disorder, but also its underlying causes—conditions, behaviors, attitudes, values, family dynamics, purpose, and direction of each individual. Significant outreach is also provided to a variety of communities, especially those that traditionally have found it difficult to receive appropriate care.
A variety of treatment plans are offered and each is tailored to individual needs. As a community-based healthcare organization, they offer high-quality, direct clinical services such as medication management, mental health, and behavioral health counseling, addressing all addictive processes (video gaming, vaping, substance abuse), medication-assisted therapy, and diagnosing for depression, bipolar disorder, PTSD, and more.
The Team at New Hope Addiction Recovery understands the unfair stigmas surrounding addiction and mental illness, which is why they have also launched educational and preventative platforms. By doing so, they hope to spread awareness and deliver the message that addiction is a public health issue, which deserves compassion and understanding from the community.
"We're stronger together," says Dr. Gonzales, who believes that "the opposite of addiction is connection, not sobriety." At his recovery center, his team is passionate about finding the path that works best for each patient. They assist individuals, families, and communities suffering from addiction, hoping to achieve sustainable, long-term recovery. With their help, patients should expect to begin their journey of living a purpose-driven and highquality life.
88 JANUARY 2023 | WWW.BAYOULIFEMAG.COM
LumeccaIntense Pulsed Light
For More Youthful Skin
BY EMILY ROBERSON, RN, BSN
HAPPY NEW YEAR FROM MICKEL
Plastic Surgery! January is a time to reflect on the past and aspire for the future. We often have patients who set New Year's Resolutions in hopes of improving their appearance and physical health.
Mickel Plastic Surgery offers not only cosmetic surgical procedures but also medical grade skincare services that are simple and cost-effective methods of providing a more youthful appearance.
Natalie Todd, a licensed Medical Aesthetician, has been working with Dr. Mickel for over 25 years, and her experience shows. During the winter season, Natalie's services are often focused on improving hyperpigmentation, sunspots, and melasma. Hyperpigmented skin can be an effect of sun exposure or hormonal changes, and Natalie has helped many clients improve their skin, resulting in a more youthful appearance. Her treatment of choice for women or men
with hyperpigmentation is Lumecca intense pulsed light (IPL) treatments.
What is Lumecca?
Lumecca (IPL) is a powerful light treatment which targets skin imperfections such as age spots and visible veins, to help create a more even, clear skin surfacewhether it's on the face or elsewhere on the body. Unlike other IPL treatments, Lumecca boasts higher efficiency treatments and optimized light output, meaning Lumecca provides better results in fewer treatment sessions compared to other competing IPL machines. And, Lumecca's "sapphire cooling tip" provides a higher standard of comfort for patients during their treatment sessions.
Lumecca IPL treatments improve the appearance of your skin in 1-3 treatments, with 4 to 6 weeks between sessions. Natalie recommends pretreating the skin with ZO Skin Health Hydroquinone – from our medical
grade skin care line - for 6 to 12 weeks prior to IPL treatments to optimize results. Lumecca is safe for all skin types, but a consultation visit with Natalie is required prior to scheduling IPL treatments.
What to Expect:
You will want to be sure to avoid unprotected sun exposure or tanning one month prior to treatment. During your treatment at Mickel Plastic Surgery, there will be a bright flash of light from the Lumecca device that feels like a light rubber band snap. Redness and a slight warming of the skin are normal after treatment and usually subside within an hour. Over the next 24-48 hours you may see a darkening of pigmented areas of the skin; in the week afterwards, the pigmentation will crust and flake off, leading to a more beautiful, clear, even skin tone. As early as the first session you will notice a significant change in the appearance and clarity of your skin. Multiple sessions provide even better results. Improvement in sun damage and complexion can be seen a few days after the first session and the treated area will continue to look younger and more brilliant over time with the most visible results after 1-2 weeks.
As you welcome the New Year, let Mickel Plastic Surgery help meet your resolutions. Schedule a consultation with our experienced licensed medical aesthetician, Natalie Todd. And again, Happy New Year and Best wishes for 2023!
WWW.BAYOULIFEMAG.COM | JANUARY 2023 89
HEALTH & BEAUTY ASK THE EXPERTS
ANDI HOLYFIELD, LDN, RD
Now that I'm 40, it's much harder to lose weight. What can I do?
When clients complain about weight loss over 40, I think first about the thyroid, particularly in this area. I ask clients when they last had a thyroid panel and/ or lipid panel. You must request these tests through your primary care physician, and it is simple lab work that can tell us dieticians what you should be eating for your body type. At this age, body knowledge becomes super important, as everyone needs something different. Any eating regimen should be tailored to your specific needs, and with these results, dieticians can customize a diet just for you. Everyone needs something different.
Are there any must-do's for healthy living? Do I need to take a probiotic? Yes, a probiotic boosts your immune
system, decreases inflammation and allergies. I take mine in the morning, but some take them at night so it doesn't interact with other medication. Make sure to get your doctor's approval.
Do cold showers work?
Gradually easing into a cold shower is beneficial but not quite noticeable until 14 days of consistent, working up to 5 minutes. These can also decrease inflammation. The cold temperature lowers the core temperature of your body which triggers the burning of brown fat(deep fat that everyone wants gone).
What about red light therapy?
Red light therapy is known for stimulating the collagen production in your skin. Many women do it because they want to decrease the fine lines in the face. It can also increase blood circulation which helps heal wounds.
Should I be taking zinc?
Most people do not need an extra zinc supplement if they're taking a multivitamin. Most get enough with meat or fortified cereals. Zinc increases your immune system. Some people take too much zinc.
Do I need more Vitamin C?
Vitamin D is a fat soluble vitamin, so you can't excrete through your urine. So watch out for taking too much Vitamin C because you can develop toxicity, which can result in blurred vision. Another thought, we may see more low Vitamin D levels because we put SPF in everything. If you're not getting at least 20 minutes of sunlight, you might need a Vitamin D supplement.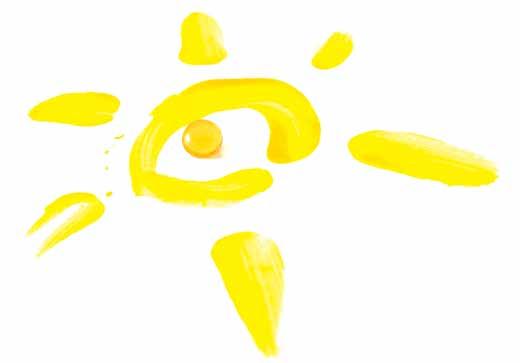 Should I sweat it out in a sauna?
Sauna is known to decrease blood pressure and reduce joint stiffness. If you have a respiratory issue, make sure you add water, people with respiratory issues do better in a steam room.
promote hair health?
Some people just have thinner hair that has a tendency to be damaged easier. I always ask people, are you experiencing an amount of thinness, brittleness, hair problems you haven't been dealing with your whole life? If it's newly-noticed damage or thinning, it can definitely be health related. Many people don't realize how our hair depends upon our overall health. Hormonal issues, medication, diet, stress, all those things that we don't think about, can impact hair health. Pregnancy is another important factor.
90 JANUARY 2023 | WWW.BAYOULIFEMAG.COM
Meredith McKinnie interviews Northeast Louisiana health and beauty experts to answer readers' questions.
LESLEY BOYD, Owner of Lemon Balm Salon
Why is my hair so thin and brittle? What can we do to
To promote hair health, first get the opinion of a hair care professional. Professional products, those recommended to you by a hair care professional and purchased through a hair care professional or online, help immensely. Trust hair care professionals. If they say, "I don't think you should color or style your hair," then listen. They know what they're talking about. If you are using other products, stay away from those with sulfates and phthalates because they are harsh on your hair and strip too much of your natural oils, leaving hair dry and brittle. One of the easiest changes is to avoid overwashing. If you wash immediately when you see oil, it's probably too soon. I would suggest washing every 3-5 days, perhaps once a week if you have thick hair. Just like everything else in our bodies, your scalp knows what to produce for your hair. We should be training our scalp to get less oily by going longer between washes to get that natural production of oily which is the best treatment for your hair. Plus, when we wash, we typically dry and style our hair, adding unnecessary heat and product damage making the problem worse. If you don't overwash, poor hair health is usually a result of hormonal changes or thyroid issues.
JANINE HOPKINS, M.D., F.A.A.D.
What are the best products and services to get rid of melasma?
Melasma is a chronic, often recurring skin condition that occurs most commonly in women as blotchy dark discoloration on the face, especially on the forehead, cheeks, and upper lip. Estrogen, ultraviolet sun exposure and inflammation trigger melanocytes in the skin to produce excess pigment. While there is no cure for melasma, skin care products with antioxidants, hydroquinone and TXA can help treat and suppress this hyperpigmentation. In my dermatology practice (Hopkins Dermatology), we provide an advanced laser procedure known as " Green Toning'' to break up and remove the unwanted pigment while protecting the normal pigment, so this is safe for all skin types. A
combination treatment and maintenance plan with daily use of sunscreen and antioxidants works best for long term improvement.
can I do about these dark age spots on my hands?
Dark spots on the hands are caused by long term sun exposure and genetics. Daily use of sunscreen and avoiding UV exposure, especially through the car window, can help prevent these unwanted dark spots.
For those who already have these visible signs of aging and UV damage, I offer treatment with a combination of skin lightening products such as Neova DNA repair complex and my own EX:Correct wipes along with IPL laser treatments or laser resurfacing to erase these unwanted dark spots for both men and women.
WENDY NEWSOM, AETHESTICIAN
What do you know about clean beauty products?
By clean beauty products, I assume we're talking about organic products. It's important to know that organic is a buzzword in marketing and often isn't accurate. The drawback on truly organic product lines is that the shelf life is so short, sometimes only 3 months. Here at Spa Nouvelle, I often suggest the Jane Iredale line to clients who prefer natural products, which can be found locally with Dr. Saidi Sowma at Derma MediQ.
You must do your research on clean beauty products, and it can be overwhelming. There are so many product lines out there. I would suggest you start by arranging a consultation with an aesthetician. When I do consults, I want to understand your skin type to suggest the best products for you. You may think you are one skin type, but it can change over time. Hormonal shifts can take our skin from dry to oily or vice versa. If you travel, just using a different water can result in a breakout, as can weather changes. Drinking water is imperative as it flushes the system. Maintaining a relationship with a dermatologist and/or aesthetician is the key to long term skin care results.
WWW.BAYOULIFEMAG.COM | JANUARY 2023 91
What
"Estrogen, ultraviolet sun exposure and inflammation trigger melanocytes in the skin to produce excess pigment."
"I would suggest you start by arranging a consultation with an aesthetician. "
~ WENDY NEWSOM
ASK THE EXPERTS
DELIA SIMPSON, Avid Home Cook
What are some healthy, local, on-thego options for breakfast and lunch?
For breakfast, I typically make stuff at home, sometimes the day before. Egg bites are a personal favorite. I start by putting sauteed veggies in a muffin pan and then pouring scrambled eggs over the veggies. I bake for about 15-20, and then I have little quiches that are great reheated or even cold - convenient to grab on-the-go. Egg bites are a great way to use leftover dinner stuff - meat, veggies, etc. Since it's already cooked, you can just throw it in some egg bites or a frittata. It feels like a "new" meal, and then you don't waste anything.
Sometimes, I will also eat half an avocado for the healthy fats. Avocados help keep me feeling full. Another recent obsession is jammy eggs (Google it!). They're not quite hard boiled eggs which I will mix with tomato or avocado and keep in the fridge.
For lunch I love packing a salad in a jar, especially when I travel. I take a mason jar, pour my dressing in the bottom, then layer in my veggies that won't get
soggy (avocado, cucumber, olive) and then top with leafy greens. I also prefer some type of crunch - either sunflower seeds or pumpkin seeds. I frequently grab those pouches with tuna or salmon and mix it in to the salad. The salmon in olive oil packet is a personal favorite.
If you'd rather grab some local healthy options, Fiesta Nutrition on 18th Street in Monroe has multiple options, as does Newks in Monroe and For His Temple in West Monroe. Staying conscious of what you eat and playing with textures is key to keeping healthy food interesting and satisfying.
CESAR COMACHO, Owner of INFIT Gym
Typically when I hear people say they want to start running, it's because they've never run consistently before. The key is to start slow and set small, realistic goals to avoid getting injured. That goal might be a 5K race or to lose a few pounds. Plan to run only a couple of days a week and the rest. Rest is just as important as running. And by rest, I mean active recovery, taking a walk or stretching or practicing yoga on off days. Focus on less intensive activity on rest days, moving without running. Also, start by learning the basics, like how to stretch beforehand or how to breathe correctly while running. You can find tutorial videos on YouTube.
Although they're typically willing to help beginners, running groups are usually populated by more experienced runners. So, if you're just starting out, maybe find a partner and try a jog/walk combo - run one minute and walk for two minutes for 20-30 minutes total. Check how you feel over the next couple of days. Perhaps your body can take on more, or perhaps you should pull back a little. Once you can run 2-3 miles without stopping, then try reaching out to a running group.
CRYSTAL SANCHES, FNP-C
What can I do about sagging jowls?
Here at The Louisiana Center for Women's Health, we use filler in different areas, like the cheeks, to help with a lift along the jawline. We offer some products from Skinceuticals and ZO to help with lifting the skin. We also offer fraction laser skin resurfacing which addresses sagging jowls. Some other services that we don't offer but can be found locally are radiofrequency microneedling and threads.
92 JANUARY 2023 | WWW.BAYOULIFEMAG.COM
I want to start running but don't know where to start. Do you have any advice on local running groups?
"We use filler in different areas, like the cheeks, to help with a lift along the jawline."
You Are Already Beautiful
MOST PEOPLE HAVE HEARD OF Botox by now, but there are so many misconceptions. When we have questions, we go to Claire, RN at The Woman's Clinic to get answers. Here are some questions we had:
Q: Will Botox make me look overdone?
A: No. Your facial muscles will be relaxed just enough to soften the lines that make you look tired. You will look just like yourself, only refreshed and more youthful.
Q: I see advertisements for Botox priced per unit. How do I know how many units I will need?
A: That is the most common question about Botox. I always assess each area by getting the patient to make a lot of expressions. I will then map it out and calculate the number of units before mixing and injecting. There can be a wide range depending on the area(s) injected and the amount needed per area. This is not something I can do over the phone or without seeing you in person.
Q: Is Botox safe?
A: With more than 16 years of experience, Botox was the first FDA-approved treatment to temporarily smooth moderate to severe forehead lines, crow's feet lines, and frown lines between the eyes. It has a proven track record of safety. I will discuss with you any medications or conditions you may have which may contraindicate or pose risks for you.
Q: Once injected, how long will it take to see results?
A: Patients usually start seeing results in just a few days, but it can take up to two weeks for it to take full effect. For that reason, we don't recommend touchups before two weeks.
Q: How long will the effects last, and does it hurt?
A: It lasts approximately 4 months. The needles are very small, but they are needles. Most patients feel a little pinch and sting.
Q: Do you treat male patients also?
A: Yes. Even though our title is The Woman's Clinic, we see males for BioTE pellet therapy, Botox, Body
Contouring, Facial Rejuvenating Procedures, and to establish protocols for ZO Skin Health.
Q: How long will the appointment last?
A: If the patient is coming for the first time, we may spend a little more time talking and answering questions. Generally, each patient is in and out within about 30 minutes.
Q: Once I start Botox injections, is it something I will have to keep doing?
A: If you want to maintain the look, you will need to get injections approximately three times per year. If you stop, you will go back to looking exactly as you did prior to injections.
Q: Is the Woman's Clinic a member of the Alle Program?
A: Yes. Membership is free, and you will get points that convert to dollars. You will also be able to scan our Alle Flash in the office for additional savings.
Q: Does The Woman's Clinic accept Care Credit?
A: We certainly do!
Q: Will you be having a sale on Botox?
A: Yes! Botox will be $11/unit through the end of January 2023.
Q: How do I schedule an appointment?
A: Call 318-388-4030 and select Option 3. This is my direct line and bypasses the operator. I do aesthetic procedures only, so I can usually get you in within the week.
WWW.BAYOULIFEMAG.COM | JANUARY 2023 93
Let's Refine It
The ULM Opportunity Fund
Seven Projects Were Funded
THE UNIVERSITY OF LOUISIANA
Monroe recently named the first official, committee-based round of recipients from The ULM Opportunity Fund. Seven projects were funded after a review process conducted by the Opportunity Fund Committee.
The 2022-2023 ULM Opportunity Fund recipients:
Dr. Allen Parrish, Assistant Professor of Music, will receive $5,500 to conduct a Community Brass Band Seminar to train area high school and college student musicians to create successful New Orleans-style brass bands.
Dr. Jeremy Bell, Assistant Professor of Education, will receive $8,500 for his SciMAT Lab project. SciMAT stands for science, math, and assistive technology. The project will be a state-of-the-art laboratory providing students in multiple programs with access to assistive technology materials.
Dr. Carlton Kilpatrick and Dr. Kenna Veronee, Assistant Professors of Music, will
receive $2,200 to offset travel costs for students to attend the Texas Music Educators Association annual conference, the largest conference of its kind in the United States.
Dr. Jennifer Hoh, Clinical Assistant Professor of Pharmacy, will receive approximately $16,000 for LEARN – Louisiana Educational Awareness for Rescue Needs. Dr. Hoh and her colleagues from the ULM College of Pharmacy will implement this program in high schools across the state. The program will engage students in preparedness training to help them recognize serious events and prevent them from becoming life-threatening.
Dr. William G. McCown, Professor of Psychology, will receive $2,985 to purchase hardware and software to create a Behavioral Research Lab for online and off-campus students. The lab will allow these students to design their own faculty-sponsored research projects.
Dr. Darrion Flunder-Jenkins, Assistant Professor of Precision Agriculture and
Unmanned Aircraft System Management, will receive $4,165 to continue the Sky Breakers Drone Workshop which is offered to our region's middle and high school students. The workshop covers the fundamentals of drone flight operations and the application of drones in various industries.
Dr. Leigh N. Hersey, Assistant Professor of Political Science, will receive $6,680 to continue the Women Take FLIGHT (Fostering Leadership to Increase Growth in Higher-ed Teams) program. The multidisciplinary project facilitates a university-wide, non-supervisory mentoring program for all faculty and staff, the Warhawk Women Read book club, and a variety of professional development workshops and socials; upcoming for spring are a research forum and a women in sports event.
The ULM Opportunity Fund, founded in 2020, assists students, faculty, and staff in generating positive change in the University and regional communities. ULM President Dr. Ronald Berry, joined by his wife, Dr. Christine Berry, started the fund with a personal commitment of $100,000. Due to the fundraising efforts of the ULM Foundation, the Opportunity Fund has grown to over $500,000.
The ULM Opportunity Fund will award funds for projects each year. The funded projects are selected by the Opportunity Fund committee after a review process.
94 JANUARY 2023 | WWW.BAYOULIFEMAG.COM
Bayou Buzzworthy
The Dixie Center for the Arts in Ruston, Louisiana is proud to announce that they were chosen as one of the 2022-2023 Jazz & Heritage Presenting Recipients as a part of the Community Partnership Grant from The New Orleans Jazz & Heritage Foundation. Over 500 applicants in the Community Partnership Grant program are receiving a total of $1.4 million in funding.
The University of Louisiana Monroe signed a memorandum of understanding with The Chennault Aviation and Military Museum on December 9th.  This collaboration provides ULM students with vital service-learning experiences in which they can increase their knowledge while advancing a local legacy.  Collaborative projects described in the MOU include consultation on building projects with the ULM Construction Management program, student picnics hosted at CAMM Aviation Park, student internships, the collection of oral histories, and assisting with museum curation. The agreement is established for five years, at which point it will be re-evaluated and potentially renewed for an additional five years.
Thursday, December 8th, Parterre hosted their Holiday Sip & Shop event from 5:00-7:00. This evening was filled with delicious hors d'oeuvres and great cocktails while the customers mingled and found some great holiday gifts!
WWW.BAYOULIFEMAG.COM | JANUARY 2023 95
Behind the Scenes
For over 30 years, television viewers in our region felt like they knew Judy Wagoner. After all, she was a voice for KNOE-TV8 Broadcast News whom they trusted to deliver the information that they needed, when they needed it. Working closely with her during those years were two other familiar names at KNOE – Ken Booth and John Denison. Together, the three made their newscasts the "don't miss" programming of the day. Never one to stop learning and accepting challenges, Judy became a small business owner in 2003 when she and a partner started Professional Laser Center, a Medi Spa that has expanded to include Integrative Medicine. Today, helping clients learn how to integrate traditional medicine with natural therapies is Judy's passion. Because of her successful careers and her love and continuing influence in this region, Judy Wagoner is our January Bayou Icon.
When Judy Ann (Howell) Wagoner was growing up in Winn Parish, she delighted in doing things that most children did. Little did Judy know when she and her sister were drawing houses in the sand or pretending to be movie stars that one day she would be a star – not in the movies, but in television!
The Early Years
Judy had the best of both worlds growing up – her home was in "the city" of Winnfield, but her paternal grandparents had a large farm with animals and crops to explore in nearby Packton (about 12 miles south of Winnfield). "The country is a great place for children to learn and use their imaginations," Judy says. "My childhood was the most wonderful time of my life!"
Judy's maternal grandparents lived right next door in Winnfield, so the two families spent lots of time together. While she adored both sets of grandparents, it was her paternal grandfather, George Finney, who did something that was to become a family legacy. Finney loved birds and in the early '70's built what the Guinness Book of Records later certified as the "world's largest bird house." It still stands in front of Finney's house, held up by four large telephone poles.
Judy's father, Robert Howell, was born August 10, 1932 in Atlanta, Louisiana, in Winn Parish. He went to school there and then joined the Navy where he served as a Medic. While he was overseas, his mother, Hazel Howell, delivered her 10th child. Her hospital nurse was Jean Finney. His mother gave Jean her son's address so she could write to him while he was deployed. She had been born in 1932 in Atkins, Arkansas, but had moved to Winn Parish when she was five so was familiar with the area. She went to school in Winnfield and became a nurse at Winnfield General Hospital. Perhaps it was their mutual experience in medicine that led to romance. Jean would become his wife in 1954. The couple would have four children – Jane, Judy, Brian, and Patrick.
Judy's father was her fifth-grade teacher ("One of the best teachers I ever had!") and later became principal of Atlanta High School until he retired in 1983. Her mother worked as a nurse and pharmacy assistant for 44 years before she also retired. Both of Judy's parents worked hard and instilled in their children a powerful work ethic. If Judy needed extra spending money, she earned it by doing a chore. "Money wasn't passed out freely," Judy recalls. "They also taught me that excuses didn't equal performance. I learned to do my duty and be conscientious in everything that I did."
The Howell family was a devout Christian family. Judy's parents taught her to love everyone, to "Choose the Right" in everything that she did, and to listen when that still, small voice inside of her told her something wasn't right. "I even had a ring with 'CTR' engraved on it," Judy says. "The most important rule in our family was to treat others as we wanted to be treated and to look for the good, not the bad, in people. Gossip was forbidden in our home."
WWW.BAYOULIFEMAG.COM | JANUARY 2023 97 BAYOU ICON
GEORGIANN POTTS KELLY MOORE CLARK
Judy worked in the newsroom for two years and then accepted a job as News Director at a radio station in Jackson, Mississippi. After working there for six months, Judy returned to KNOE as a reporter. Two short months later, she was chosen as Main Anchor for the evening newscasts, a position she held for 28 years. (At left: Judy pictured with John Denison. Top left: Randy Prewitt, John Denison, Judy Wagoner, Eric Thomas, and Lanny James).
The family enjoyed wonderful summer vacations. "We stopped at every historical marker along the way because Daddy wanted us to know all about history," Judy remembers. Several summers were spent entirely in family housing on university campuses around the country while her dad studied for his doctorate. When they weren't vacationing, Judy's dad managed Winnfield's recreation center. He involved his children in every athletic event the center offered. "We were competitive swimmers, and played basketball and softball," Judy explains. A natural athlete, she was a cheerleader at Winnfield Junior and Senior High Schools and was on the Winnfield High School basketball team.
Judy's parents also enrolled her in piano and organ lessons with Edith Price. Judy studied with Price for five years. Judy continues to play both instruments and has been a pianist and organist for her church for over three decades. "I'm very thankful for that assignment because it helped me keep those skills sharp," Judy says. "Playing and listening to music is very important and therapeutic to me."
Finding Her Way to a Career
Judy benefited from a number of mentors both in high school and in her career in television. Her high school speech teacher, Nell Grigg, was one. Grigg was quite tall and was "a no-nonsense teacher" so Judy was a little scared of her at first. That changed as time passed and Judy realized how much Grigg loved speech and loved her students. "She taught me how to act on stage, and selected me to attend state rallies to compete in various speech contests,"
Judy explains. "She was a perfectionist and tried to instill that in her students. The little things mattered. Her speech classes, which I took for three years, were so helpful to me before and during my broadcasting career."
Broadcasting was not Judy's first choice. She had always wanted to work in the medical field and had majored in biology at LSUA and ULM. In one of those happy accidents that often change one's career path, Judy worked at KNOE-TV8 while attending college. She worked her way through just about every department, and eventually was moved to the newsroom to help produce the evening newscasts. Russ Wise was the anchorman and the first night she was in that position, Wise handed her an AP wire script and told her to condense it into a 20-second story. The script was quite long, and Judy asked Wise how to do that. He told her to just write what's important. "At age 20, what's important to a 20-year-old is quite different from what's important to a 40-year-old," Judy remembers with a laugh. "It took me about two hours to write that first story."
Judy worked in the newsroom for two years and then accepted a job as News Director at a radio station in Jackson, Mississippi. After working there for six months, Judy returned to KNOE as a reporter. Two short months later, she was chosen as Main Anchor for the evening newscasts, a position she held for 28 years.
Booth and Denison – Two Keys to Success
Ken Booth recognized Judy's potential as an anchor and was responsible for her becoming the first female co-anchor in the Monroe market. On her first day in that role, Booth told her that her life would never be the same, pointing out that everything she did
98 JANUARY 2023 | WWW.BAYOULIFEMAG.COM
ANCHORWOMAN
WWW.BAYOULIFEMAG.COM | JANUARY 2023 99
SuccessFinding in Television
would be scrutinized by the public. He advised her to develop a tough exterior to handle the criticisms that would naturally come during her career.
Judy and Booth co-anchored the 5 and 10 o'clock newscasts. About a month after they began broadcasting together, Judy mispronounced a word in the script on the air. After the show, Booth asked her why she had pronounced it that way. "I told him I pronounced it how it was spelled because I really didn't know what the word meant. He pointed his finger at me and said, 'Don't you ever go on the air and NOT know what you're talking about again.' From that day forward, I learned comprehension and accuracy at warp speed!"
Booth knew that promoting his anchors and reporters was key to gaining and maintaining viewership because Southerners didn't like "strangers" in their homes. He heavily promoted his anchors so that they would become "part of the family" to their viewers. Booth named John Denison to co-anchor with Judy the same year he hired her. The two were the same age and they grew up together over the many years they worked together. They became dear friends and remain close today.
Judy married her high school sweetheart right after high school and they had two children, a son and a daughter. Though the marriage ended, the children –and today, their children – remain the center of Judy's world. One of Judy's favorite stories about her early career co-anchoring with Denison concerns the evening her daughter and a friend decided to make tacos. At six minutes before the newscast was scheduled to begin, Denison and Judy heard a police scanner announce a house fire at a certain address. Judy told Denison that the address was her house. She quickly found a phone and called her daughter. "My daughter explained that they had broiled the taco shells instead of baking them, causing a fire in the oven. Seeing it, they called the fire department," Judy says. The newscast went on as scheduled, although Judy was a little shaken.
There are many stressful things that can happen before and during a newscast. Certainly learning that there is a fire at your home is one. Another is when the teleprompter operator stops paying attention and forgets to roll the script. When that happens, the anchor is on her own! And then there are those unexpected noises . . . One evening while Denison and Judy were on air, their meteorologist approached the set, tripped, and fell hard -- making a very loud noise. Judy was reading the story at that time and, seeing and hearing the accident, began laughing uncontrollably – so much so she couldn't continue reading it. Denison calmly took over and saved her.
One evening during the 10 o'clock newscast, a large man in overalls walked into the studio and sat down across from Denison and Judy. Neither anchor knew him, so Denison told Judy to leave as quickly as she could and he would handle the stranger. When Judy started walking toward the door, the man followed her. Denison told him to stop, but the man refused saying that he needed to talk with Judy. John told the man once again to stop, and he did. It turned out that the man believed that Judy had read a story about him (which was not true). "The police were called and the very next day, the doors to the station had locks on them and cameras were installed in the long hallways," Judy remembers.
During their time working together, Denison and Judy received a very prestigious award for their newscasts. Thanks to the loyal viewers who watched them every night, the pair had earned the highest ratings of any CBS station in the nation. Clearly, Ken Booth knew exactly what he was doing when he hired the two of them.
A New Career Opportunity Presents Itself
In 2003, Judy was finally able to pursue her early dream of working in medicine in some capacity. She
BAYOU ICON
and a partner opened the first Medi Spa in Monroe. Even though Judy had very little business experience at the time, she was a quick learner. When her partner left the business in 2007, Judy was more than ready to run it herself even as she was continuing her broadcast career.
Judy left KNOE in December 2009 and moved to Chicago. Dr. Vic Zuckerman (aka Dr. Z) was a physician practicing in Chicago. He and Judy had been dating seriously for two years and realized that they needed to live in the same city for their relationship to progress to the next level. "I stayed in the Windy City for about four months before I decided it was the coldest place on earth and I need to return to Louisiana to warm up," Judy says. Because Judy had left a 28-year career for him, Zuckerman decided that it would only be fair if he gave up his career and moved to Louisiana. He closed two medical offices in Chicago and moved to Monroe several months later.
Zuckerman worked as a hospitalist in Longview, Texas, and as Medical Director for Judy's Medi Spa, Professional Laser Center, for eleven years. Although she is not a medical professional, because of her background in biology, Judy was able to understand the intricacies of Integrated Medicine. Dr. Z and Judy enjoyed a successful business and personal relationship for 14 years.
COVID Strikes . . . Twice
When things were going pretty well in her life, Judy's life was changed irrevocably in four short months. The pandemic was a worldwide nightmare. Judy's business closed for two months in March 2020. Although the shutdown was horrific, her business survived. Such was not the case for two people for whom she felt the most love. One year later, the two most important men in Judy's life lost their lives to complications from COVID. Dr. Zuckerman died April 30, 2021, and her dad died exactly four months later on August 20, 2021. "The pandemic taught me to cherish every single moment with the ones you love, and never, ever, take life for granted," she says. "It could be gone in a flash."
With Age comes Wisdom
Today Judy is tackling life's challenges again – but with a bit more wisdom than she had when she was younger. She is thankful for many things that she had learned throughout her life and is eager to learn even more. She recently asked her 90-year-old mother if she had learned anything new in the last decade. Her mother's response, "Oh, yes. Certainly!" Judy loved that answer.
Judy says that young people have no idea what they will learn over the next several decades. "Like me, they probably think that they know it all at such a young age, but they really know nothing about life experiences. Those you can't buy or earn at a university," Judy says. "I can't wait to see how much more I will learn in the next ten years."
Retirement is in her future, but Judy is in no hurry. She is enjoying her life, although she experiences loneliness on occasion. "I would like to find someone to happily share my life with again," Judy says. Most of all, she would like – for the first time in her life – to relax and enjoy a stress-free, final path in her life's journey. Quality of life, not quantity of life, is her goal now.
Hodding Carter (1907 - 1972) once wrote, 'Television news is like a lightning flash. It makes a loud noise, lights up everything around it, leaves everything else in darkness, and then is suddenly gone." That is only partially true. Television is all of that, but it is something more. It is the memory of those talented individuals whom we trusted to deliver the news to us, in our homes, night after night. Those people mattered more than the news that they told us. Judy Wagoner and her cohorts mattered – and still do.
WWW.BAYOULIFEMAG.COM | JANUARY 2023 101
Ellen Soffer Exhibition
Opening on Thursday, January 26th
NORTHWEST LOUISIANA artist Ellen Soffer is well known for her brilliant use of color-bright, powerful, emotive greens, yellows, reds, blues, oranges, pinks— color that compels you to pause, respond, to feel something. The titles of many of her pieces are also an homage to her passion for color: "Pink Shell, Blue Fish," "Green Alphabet," "Pink Slice," and "Blue Bird." There is a unique intensity of color and an awareness of form throughout her newest works. Experience more than 60 new works by Soffer in the exhibition, "Ellen Soffer: Pink Sky," opening Thursday, January 26, 2023, at 5 p.m. The exhibition is hosted by the Shreveport Regional Arts Council (SRAC) at artspace at 708 Texas St. in downtown Shreveport and curated by Professor of Art & Humanities at Bossier Parish Community College, Kelly McDade.
Soffer says that she creates intuitively, not always knowing how a piece will come together, but certain that color and its intensity will be driving forces. According to Soffer, when she is making new work, she is inspired by previous work, visually and formally, and the titles for the pieces come afterward as she carefully reflects on how a painting might relate to her current and past series of work. Soffer says, "My intention is to capture the impressions and sensations left behind from dreams, emotions, or memories without being limited to the specific details of the events, leaving room for viewer participation and interpretation."
Soffer creates on canvas and paper using mainly oils, but also gouache, acrylic, and watercolor. She has had solo exhibitions in Pennsylvania, Louisiana, Texas and Georgia and has been featured in numerous group exhibitions including Mary Tomás Gallery in Dallas and the Longview Museum of Fine Arts, among many other venues. She is a recipient of the Shreveport Regional Arts Council's Visual Arts Fellowship and has been awarded residencies from the Ragdale Foundation and Skowhegan. Soffer earned her MFA from the School of the Art Institute of Chicago and her BFA from the Philadelphia College of Art.
When asked what she hopes to convey to those seeing the "Pink Sky" artspace exhibition, Soffer says, "I look forward to sharing my work and the viewers of the exhibition having the chance to see a large body of my work together. I invite those who see the work to engage with and interpret my paintings in their own way." The public will also have the opportunity to engage further with Soffer about her work during an Artist's Talk, Thursday, March 9 at 5:30 p.m. at artspace. This event is free and open to the public.
Don't miss "Ellen Soffer: Pink Sky," a substantial exhibition of more than 60 new paintings created in the past four years (2019-2022) by artist Ellen Soffer, opening January 26, 2023, at 5 p.m. at artspace in downtown Shreveport. The exhibition includes works of gouache and watercolor on paper, as well as large scale oil paintings on canvas that feature vibrant color, organic shapes, and dynamic patterns. "Pink Sky" remains at artspace at 708 Texas St. through April 8, 2023.
102 JANUARY 2023 | WWW.BAYOULIFEMAG.COM
BayouLife Magazine's
TOP DOCS 2023
We are proud to announce our 5th Annual Top Doctors issue. We do know this list is by no means an all-inclusive and encompassing list, and we do not recommend changing your medical provider because of this list. We are extremely lucky to have a large pool of medical professionals in Northeast Louisiana, and are thankful for all the amazing people that devote their talents to make our community healthy and happy.
Ann Tubre, LOTR Believe and Achieve
A Louisiana licensed and Board Certified occupational therapist with thirty-six years experience, Ann Tubre has worked in a variety of settings including home and centered-based early intervention programs, school systems, home health, wheelchair assessments and modifications as well as rehabilitation and geriatric facilities. In private practice since 2006, Ann is co-owner of Believe and Achieve Therapy, which offers occupational as well as speech and language therapy specializing in early intervention, sensory integration dysfunction, fine-motor, academic, social and cognitive therapy at its three locations: Monroe, West Monroe, and Winnsboro.
Occupational therapy is a holistic approach to help individuals across the lifespan to become the best version of themselves. Children play and learn as their "occupations" while other patients may need to improve their life skills such as eating, sleeping, self-care, selfregulation and behaviors. OT's address underlying difficulties in motor skills, problem solving, attention, and processing. According to Ann, "OT allows me to be an active part of a family to give them hope and the skills that allow for more independence in all areas of life." Definitely, Ann demonstrates her strong faith and passion for clients to grow, learn, and become independent to their fullest potential through active and fun approaches during OT sessions. Ann's leadership style inspires and motivates Believe & Achieve's team to exude their company's mission. Shelby DiGiovanni, OTA says, "Mrs. Ann is a true leader and one of a kind! I count myself blessed to be a part of the B&A family. I've sought out her guidance countless times whether it be clinically, spiritually, or personal. She is always a phone call away and always happy to help no matter the time or need. I believe she is a selfless leader and truly wants the best for her employees and our clients. Mrs. Ann brings the spunk and never misses a chance to dress up and go all out. I want to be like her when I grow up!"
Graduating in 1986 with a Bachelor's in occupational therapy, Ann returned to school once married, but, ironically, she was told that she probably wouldn't make it through the occupational therapy program. Obviously, her resolve made her successful. Instilling that determination in her patients is important to Ann daily. "Mrs. Ann is one of the kindest people I have ever known, and an amazing therapist! We have moved and been through several therapists trying to find someone comparable, and no one has measured up to her! My kids always loved going to therapy, and we always felt that Believe & Achieve cared as much about our children's futures as we did!" - Parent/Caregiver
In 2006, Alex George and Donna Underwood of QuesTECH Learning gave Ann and Christi Howard M.A. CCC-SLP, an opportunity to begin their therapy adventure in the annex of their school which has now grown into three thriving clinics across Northeast Louisiana. That clinic, offering OT and speech, has afforded Ann the opportunity to aid individuals in achieving life goals in a school and a clinical setting. Also, Believe and Achieve allows Ann time to mentor future occupational therapists through ULM and LA TECH outreach programs. "How rewarding for me to develop the mindset and skills of young women and men who will support others who want to live their best lives!" Ann commented.
Believe & Achieve, helping babies, children, and adults overcome obstacles and achieve their goals in a safe, compassionate environment, follows the mission to love and serve with all of our heart, mind and strength. We are here to help our clients achieve their personal highest quality of life and believe with Christ all things are possible! We aim to improve ability and function, in order to ensure that goals are met to enhance functional communication and living abilities. We work with our clients to help them gain confidence, coordination, and communication skills. B&A's mission was drawn from two powerful verses: Philippians 4:13, "I can do all things through Christ which strengthen me," and Galatians 5:22-23, "But the fruits of the Spirit is love, joy, peace, forbearance, kindness, goodness, faithfulness, gentleness and self-control. Against such things there is no law." Ann's sweet and gentle spirit is integral to our Believe & Achieve culture and provides comfort and peace for our clients, their families, and our staff," Christi Howard, SLP and co-owner.
Certified in sensory processing, advanced training in the therapeutic listening program, Level 3-Core Training with the masgutova neuro reflex integration, and the safe sound listening program. Ann has memberships in AOTA and LOTA and is certified in yoga with emphasis on teaching children with learning challenges.
Ann and John, married for 42 years, have three sons: Ryan, a urologist in Tyler, TX; Dustin, a general surgeon in Hot Springs, AR; and Brock, a software developer in Greenville, SC. The Tubre's have two grandchildren, Adelyn and Benjamin in Tyler.
104 JANUARY 2023 | WWW.BAYOULIFEMAG.COM BayouLife Top Docs 2023
Drive
West
LA 71291
205 Circle
|
Monroe,
2401 Oliver Road | Monroe, LA 71201 2330 HWY LA 15 | Winnsboro, LA 71295 318.381.8520 BelieveAchieveTherapy.com
WWW.BAYOULIFEMAG.COM | JANUARY 2023 105 BayouLife Top Docs 2023 TOP
Occupational Therapist
Dr. Jorge Alvernia Brain and Spine Associates
1908 Royal Avenue Monroe, LA 71201 318.509.8808
Dr. Alvernia is a board-certified neurosurgeon. He is a graduate of Tulane Medical School. He completed a brain tumor fellowship in France and a microsurgery fellowship in Illinois. He and his wife, a Monroe native, have four children.
WHAT IS A NEUROSURGEON?: A medical doctor who treats diseases and conditions affecting the nervous system, which includes the brain, spine and peripheral nerves.
HOW DO I GET AN APPOINTMENT WITH DR. ALVERNIA?: The most common route is a referral from a MD, NP, physical therapist, chiropractor, etc. Although this is the most common route, often, a patient will call the office to make an appointment. This avenue is also acceptable. Dr. Alvernia will always be the ONLY practitioner that treats you in clinic and pre/post operatively.
WHAT OCCURS AT A CLINIC APPOINTMENT?: Dr. Alvernia reviews all diagnostic imaging himself (MRI, CT, X-rays, etc.), then performs a non-invasive neurological exam. He will discuss past medical history as well as symptoms contributing to the condition. He always shows the patient pictures from their diagnostic imaging so that they better understand their condition. Finally, he will make his recommendations for treatment which may include physical therapy, further testing/imaging, medication, neck/back brace, diagnostic or pain-relieving spinal injections, or surgery.
WHAT ARE THE MOST COMMON SYMPTOMS FOR CONSULTATION?: The spinal nerves originate in the spinal cord and travel down the arms and legs. Therefore, extremity numbness, tingling, weakness, pain, "pins and needles," etc. are common complaints. In fact, patients often believe they have a shoulder, elbow, knee or hip issue when it is ultimately their spine. Frequent falls(gait disturbances) and hand clumsiness are characteristic symptoms that are reported as well as neck, back, and/or hip pain while sitting, standing or walking. Although spinal complaints are far more frequent, visual disturbances and/or unbearable headaches often require further brain workup.
WHAT SURGERIES DOES DR. ALVERNIA PERFORM?: Anterior/posterior cervical(neck) and lumbar(back) laminectomies, discectomies and fusions. Brain tumor removal including pituitary tumors and brain biopsies. Carpal tunnel release as well as cubital nerve decompressions.
Blessings for 2023
106 JANUARY 2023 | WWW.BAYOULIFEMAG.COM BayouLife Top Docs 2023 TOP Neurosurgeon
Dr. Kyle Bruyninckx
Bruyninckx Medical Center
Dr. Kyle Bruyninckx is the kind of hometown doctor a person always hopes will come back to their small town to practice medicine. After completing a dual residency in internal medicine and pediatrics at LSU Health Sciences Center in Shreveport, Dr. B, as he is most often called, wanted to provide homegrown care in a top tier manner. Bruyninckx Medical Clinic was founded in Rayville in 2021, though Dr. B has been practicing medicine since 2012. His patients know him as a kind and compassionate doctor who seeks to treat the whole person and not just the symptom. He listens to his patients and takes a multi-faceted approach to healthcare, seeing the physical, the mental and the spiritual as part of the patient.
As he is board-certified in pediatrics and internal medicine, Dr B has the capacity to treat the whole family in a single setting with personalized and professional care and to partner with parents to prevent, detect and manage physical, behavioral and developmental issues that can impact ages newborn through adulthood. Dr. B has 4 young children of his own and says that it has certainly shaped how he interacts with his pediatric
patients and their parents. "Becoming a father and seeing the day to day in our family helps me to truly understand the scope of raising children in today's world," he says. Your health is your lifelong focus, and you should have the continuity of care with providers focused on your whole life health. This is exactly what BMC does best for you and your whole family.
Bruyninckx Medical Clinic seeks to provide an easy healthcare process for their patients. In an effort to reduce wait time and transportation issues, BMC provides many in house services to better serve the community, such as: X-ray | Lab | Footcare | Wound Care | RSV, Flu, Covid-19 Rapid & PCR Testing | Vaccines |Kid Med | Online Portal | Walk Ins Welcome
It has been said that great things in business are never done by one person; they are done by a team of people. Such is the case at BMC. Surrounded by Nnurse practitioner Mikala Ramirez, physician assistant Bailey Woodward, and a qualified team of caring nurses, medical assistants, lab techs, rad-tech and front office staff, Dr. B is ready to serve you.
While providing health care for our patients is our main goal, we feel at BMC that trying to show God's love and grace to anyone who comes into the clinic is of the utmost importance. We recognize that our best efforts can only provide temporary relief and comfort while God's healing provides an eternal cure. During these difficult times, we pray daily for God's intervention and help in everything that we do and ask for his guidance in all our care and treatment. We would be honored to serve you and are thankful to be a part of the "Bayou Life" here in the Louisiana Delta.
WWW.BAYOULIFEMAG.COM | JANUARY 2023 107 BayouLife Top Docs 2023 TOP
General Practice/Family Doctor
117 Ellington Drive Rayville, LA 71269 318.728.0281 bruyninckxmedical.com
Dr. Ricky Caples and Dr. Chris Robinson Caples & Robinson Orthodontics
Doctors Ricky Caples and Chris Robinson, of Caples and Robinson Orthodontics, go to work each day knowing they make a difference in their patient's lives. They are proud to be chosen as Top Orthodontist for the fifth year in a row. Their passion is to create a smile of a lifetime. Together they bring 48 years of collective quality orthodontic treatment and a staff with over 150 years collective experience in the best patient care. They are both graduates of Louisiana State University School of Dentistry earning Doctor of Dental Surgery degrees. They are proud to be the only orthodontic office in Northeast Louisiana on the Cleft Palate team and are Diplomates of the American Board of Orthodontics.
Dr. Ricky Caples has been practicing orthodontics since 1993. He is a member of the LSU School of Dentistry Alumni Board of Directors and the J.M. Chadha Educational Board as well as on the Development Committee for the LSU School of Dentistry. He is an active member
in several organizations including the American Association of Orthodontists, the Louisiana Association of Orthodontists, the Louisiana Dental Association, the American Dental Association, and the Northeast Louisiana Dental Association. In his spare time, Dr. Caples enjoys spending time with his family. He is the father of two children and the grandfather of two. He is also a collector car buff, enjoys turkey hunting and traveling with his wife, Lynna.
Dr. Chris Robinson has been in private practice since 2001. He is a member of numerous organizations including the American Association of Orthodontists, the Louisiana Association of Orthodontists, the Louisiana Dental Association, the American Dental Association, and the Northeast Louisiana Dental Association. Dr. Robinson enjoys staying active in community events, volunteers his time and services and is the past president and board member of the Monroe Youth Baseball Association. He also participates in the Give Kids a Smile Day program. Outside of the office, Dr. Robinson likes spending time with his wife and three kids. He also enjoys traveling and spending time outdoors.
To get started on your healthier, more beautiful smile, contact their office for a consultation at 318.325.9655. Their skilled experienced orthodontic team can help you ensure great oral health. They welcome new patients of all ages and strive to accommodate all.
Locations include:
Monroe: 2210 Forsythe Ave. Monroe, LA 71201
West Monroe: 206 McMillian Rd. West Monroe, LA 71291
Ruston: 300 W. Alabama Ave. Bastrop, LA 71270 Bastrop: 2004 E. Madison Ave., Bastrop, LA 71220 Mangham: 4279 Hwy 15 Mangham, LA 71259
108 JANUARY 2023 | WWW.BAYOULIFEMAG.COM BayouLife Top Docs 2023
TOP Orthodontist
Phone: 318.325.9655 caplesrobinsonortho.com
Dana Evans Connecting Dots Therapy
221 McMillan Rd, West Monroe, LA 71291 318-855-4574 www.connectingdotstherapy.com
When you speak to Dana Evans and the team at Connecting Dots Therapy, you'll instantly recognize the passion they have for positively impacting the journey of new moms and infants. Evans began her career as an Occupational Therapy Assistant in 2009, subsequently earning her Masters in OT and opening her own private practice in 2018. When she became a new mom herself, she realized that there was a crucial need for infant and mother-focused OT. "Throughout my pregnancy, I realized how much of an information overload there is for new moms who may spend countless late night hours searching 'Dr. Google' for the solutions to any number of issues. I've made it my mission to be our area's trusted source of information by providing the highest quality occupational therapy, feeding therapy, and preventative wellness for infants."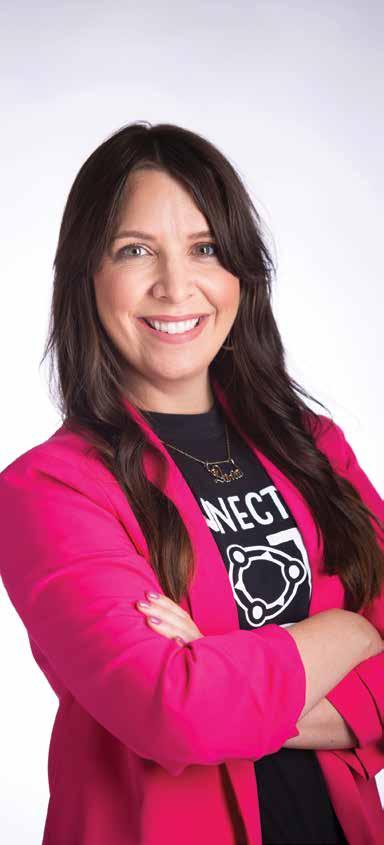 Through years of education, research, and personal experience with motherhood, Dana has honed her skills and refined her therapy approach that wholly supports both babies and moms. In addition to offering services helping infants with developmental delays, Evans also believes that therapy is most effective when the mom's needs are also met. "As a new mom and OT, I understand the importance of maternal mental health and its impact on infant development. I believe in addressing the whole baby (brain, body, heart), which includes co-regulation from mom. Postpartum depression is real, and it's important that we help break the stigma surrounding this complex matter." At Connecting Dots Therapy, Dana and her team focus on 1-on-1, personalized therapy in private treatment rooms to provide a safe and calm environment for babies, and a space where moms feel seen, heard, and understood. In Dana's words, "It's all connected." She believes that this motto not only relates to the therapy in her clinic, but also when collaborating with other specialists for better treatment outcomes.
Dana and her team believe that the best way to provide the highest quality of care is to offer sessions where your baby is working exclusively with a specialty trained and certified therapist the entire time. The importance of parent education and carry-over of therapy at home is also emphasized, knowing that's where the real magic happens.
With a focus on children from birth to 3, Dana offers a wide range of therapy services, including treatment of:
• Feeding difficulties related to tongue-ties and oral motor delays
• Torticollis
• Plagiocephaly
• Delayed Milestones (tummy time, sitting, crawling, reaching, grasping)
In response to her new perspective on parenting and its impact on childhood development, Dana will be offering small group classes at her clinic with a focus on purposeful play activities. Connecting Dots Therapy also offers free phone consultations to determine if an occupational therapy evaluation or wellness consult is needed.
TOP Occupational Therapist
WWW.BAYOULIFEMAG.COM | JANUARY 2023 109 BayouLife Top Docs 2023
DAVID D. FINLEY, DDS, FAACD, FAGD
Bayou Dental Group
2501
Dr. Finley was born into a family of educators. His mother was a second-grade teacher, and his father was a math professor. When Dr. Finley was in the fourth grade, the family moved to Monroe, where his father accepted a faculty position at Northeast Louisiana University (now the University of Louisiana at Monroe).
Dr. Finley's desire to become a dentist was influenced by his uncle, who was a dentist in Missouri and enjoyed his work a lot. His uncle noticed that from a young age, Dr. Finley was particularly skilled with his hands. After attending University of Louisiana at Monroe, where he played baseball as a freshman and received his bachelor of science degree, Dr. Finley decided to pursue a career in dentistry. He knew it would be fulfilling because dentistry would allow him to work with his hands, use his artistic abilities, and help people. He obtained his degree as a doctor of dental surgery from LSU New Orleans School of Dentistry.
"I have always seen the science and art of dentistry as a neverending learning experience, and because of this I have always strived to learn as much as I can about my craft."
For the second year in a row, Dr. Finley has been named the top dentist
in Northeast Lousiana. Dr. Finley loves people and the relationships that dentistry creates with patients. He has multiple generations of patients.
He says:
"I also love being able to give a patient a shot and have them tell me that they didn't feel it. Or doing a root canal and hearing a patient ask, 'Is that all there is to it?' I love it when a patient says that they hate dentists but not me, or that the only reason they come to the dentist is me. I love helping children not be fearful of the dental visit. I love the true complexity of dentistry and solving the puzzle. And of course, I love cosmetics and helping patients smile. Creating smiles lets me use my artistic eye, my hands, my knowledge, and my heart to help a patient."Dr. Finley and his wife, Valerie have five children—Megan, Ashton, Kaleb, and twins Kristin and Coalton—and one grandson, Parker. They also have five dogs.
In his leisure time, Dr. Finley enjoys fishing, target shooting, working in the yard, and completing Valerie's honey-do list. For 15 years, he coached boys' youth leagues.
110 JANUARY 2023 | WWW.BAYOULIFEMAG.COM BayouLife Top Docs 2023 TOP DENTIST
Tower Drive | Monroe 318.855.2411 smile-creator.com
Dr. William Gordon Family Eye Care
3000 Forsythe Ave, | Monroe, LA 71201 318.807.2020 familyeyecare.net
Dr. William Gordon has been serving the Monroe area for more than 38 years. Dr. Gordon grew up in Albany, Georgia and along the East Coast. His father was in the Marine Corps, which demanded some moving around. As a young boy, Dr. Gordon developed vision problems and this led to his own interest in eye health and vision care.
He is a graduate of the University of Georgia and attended Southern College of Optometry in Memphis. He graduated in 1982. Dr. Gordon began his optometric career in Shreveport and later moved to Monroe in 1984.
He has been a private pilot since 1986 and in his spare time, he enjoys reading and spending time with his wife, Charvie. Charvie is the practice administrator at Family Eye Care. They have been married since 1993. Dr. Gordon and Charvie enjoy traveling and going to concerts. They are also members of the McClendon Baptist Church in West Monroe.
Dr. Gordon is a member of the American Optometric Association and is licensed by the Louisiana State Board of Optometry. He is a member of the Optometry Association of Louisiana. For several years he served as the Northeast Louisiana society president of the Optometry Association. He was president of the Optometry Associate in 2013 and Optometrist of the Year in 2014. He currently serves as chair of the awards committee of the Optometry Association of Louisiana.
Dr. Gordon always wants to give his patients the best care possible, and that's why he invests in the latest and best technology. Our technology at Family Eye Care includes Corneal Mapping, Digital Retinal Imaging (OptoMap), Optical Coherence Tomography (OCT), Visual Field testing, Digital Refraction (Nidek TRS-5100), Lumenis Optilight dry eye intense pulse light therapy and laser treatment for glaucoma.
The Optical at Family Eye Care offers a large selection of eyeglasses, designer frames, and sunglasses. The office also prescribes Neurolens, which are the world's first and only prescription lenses that add a contoured prism to bring the eyes into better alignment, relieving the headaches, neck/shoulder pain and eye strain that many people experience when using digital devices, reading or doing detail work.
They offer a wide selection of contact lenses including disposable soft contacts, bifocal/multifocal, toric, and custom fit lenses. Whether you wear daily, weekly or monthly disposables, they have the lenses to fit your needs and they specialize in the hard to fit contact lens patient. Their doctors are certified in fitting scleral lenses and orthoK contact lenses.
While Dr. Gordon sees and treats all patients, his specialties are in the areas of the treatment and management of ocular disease, dry eye, glasses and contact lenses.
Dr. Gordon enjoys giving back to his community through various avenues. He loves taking care of his patients and is grateful for the opportunity to serve the people of Northeast Louisiana.
TOP Optometrist
WWW.BAYOULIFEMAG.COM | JANUARY 2023 111 BayouLife Top Docs 2023
Elara Caring Hospice
The Elara Caring Hospice team in Monroe lives by our Hospice Pledge: "We are one cohesive team. We live our values. We have a common purpose."
Our caregivers work together, champion hospice and advocate to ensure that every patient we have the honor of serving receives the highest level of care possible.
Our comprehensive hospice care team includes physicians, nurses, nurse practitioners, nurses' aides, medical social workers, chaplains, spiritual counselors, and volunteers. The benefit covers all aspects of care including services, supplies, equipment, medication, and support. Benefits cover the patient and also extend to the family and caregivers during active care and, even beyond end of life, in the form of bereavement support.
Hospice is not just a job, but a passion and a calling for our team members. We believe that the personal testimonials from our local staff give insight into our motivations, our heart, and the care we deliver.
"I enjoy being a part of the patient's journey and helping them through a difficult time in their life. It is a blessing and reward to be there
for patients and their families knowing I can help make a difference."T'era, RN
"I've worked here for 5.5 years, and hospice is my heart because the families open their lives to me at such a vulnerable time. Hospice is a gift for both me and them." - Labrittany, NP
"I have been a nurse for 18 years, 8 years have been with hospice which have, by far, been the most rewarding years of my entire career. To be able to provide comfort, encouragement, love, prayers, and support during the toughest times a family could ever face is not for the faint at heart; it is a calling. To be a part of the Elara Caring hospice team that truly loves and cares for each other makes my role and the responsibilities a joy to fulfill." - Michelle, Branch Administrator
We are so honored to receive this award and appreciate every patient, caregiver and family member that has allowed our staff the privilege of taking this journey alongside them. Serving our community is the mission of our staff.
There are so many moving parts within the hospice community that help make it possible for our care to be exceptional – corporate staff, pharmacies, DME and supply companies, clinics, hospitals, police officers, coroners, and funeral homes. Without each role striving for excellence and working together as a team, we would not be able to achieve the honor of top hospice for 2023.
Elara Caring Monroe Hospice serves Bienville, Caldwell, East Carroll, Franklin, Jackson, Lasalle, Lincoln, Morehouse, Ouachita, Richland, Union, and West Carroll parishes.
112 JANUARY 2023 | WWW.BAYOULIFEMAG.COM BayouLife Top Docs 2023 TOP Hospice
71201
300 Washington Street, Suite 401 Monroe, LA
318.322.0049 www.elara.com
Tyler Heath, DMD
Dr. Tyler Heath Family Dentistry
1107 N Louisa Street, Rayville LA 71269 (318) 728-9585 drtylerheath.com
Dr. Tyler Heath has practiced general dentistry in Rayville for 24 years. He and his family moved to Jackson, Mississippi in 1989 where he earned his degree in respiratory therapy. He then continued his education at Belhaven University and then the University of Mississippi School of Dentistry graduating at the top of his class in 1998 with his DMD. Upon graduation he and his family moved back to Rayville to open their private practice.
"The thing about practicing in a small town is that you have to be proficient in every aspect of dentistry. I have focused on trying to provide the best, complete care to my patients. We offer not only fillings and extractions but also implants, mini implants for denture stabilization, root canals, veneers, bonding, orthodontics, sleep apnea therapy and PR injectable procedures."
"Dentistry is so enjoyable. Everyday offers challenges and rewards. From alleviating pain and suffering to changing someone's smile with cosmetic procedures, dentistry can be life changing for a lot of patients. It truly is a unique profession."
Dr. Heath, striving to help his patients, is also the developer and owner of Smile Defend line of products which includes whitening gels, dry mouth sprays, and the trademarked Aligner GELZ. He started the company after searching for a better dry mouth solution for his patients with dry mouth syndrome. " I knew there was a need for a dry mouth solution and in that endeavor I also discovered that there was also a need for a breath freshening, cleaning agent for those young patients wearing clear orthodontic aligners and retainers (like invisalign). I developed Aligner GELZ for this group of patients and offer them for sale at smiledefend.com and on amazon.com.
"It's an honor to be voted a Top Doc in Bayou Life. I owe so much of my success to my office team. Each one works tirelessly to make sure every patient is well taken care of in a friendly and professional environment."
Dr. Heath and his wife Sharon have been married for 34 years and have 3 adult children Kirstyn Doughty, Sophie Parker, and Nicholas. Their son-in law James Doughty is pastor at First Baptist Church Monroe. They have two grandchildren, Piper and Chapal Doughty. Dr. Heath serves as a deacon at First Baptist Rayville where he and Sharon are active members.
TOP Dentist
WWW.BAYOULIFEMAG.COM | JANUARY 2023 113 BayouLife Top Docs 2023
Dr. Terry O. Thomas HealthPoint Center
1818 Avenue of America, Monroe, LA 71201 318.998.2700 www.healthpointcenter.com
Terry O. Thomas, Ph.D. is a licensed psychologist who provides services through HealthPoint Center LLC, a multidisciplinary practice in Monroe, LA. HealthPoint Center is comprised of licensed mental health specialists that provide comprehensive assessment, diagnosis, and treatment for children, adolescents, and adults.
Dr. Thomas obtained his Master of Science in Psychology and a Master of Arts in Gerontology from the University of Louisiana Monroe (ULM). He earned his doctoral degree in Counseling Psychology from Louisiana Tech University. Dr. Thomas completed his residency training through the University of Arkansas for Medical Sciences (UAMS) in the department of psychiatry. This clinical training included rotations through Arkansas Children's Hospital, UAMS Child Study Center, and Methodist Behavioral Hospital. Dr. Thomas has provided mental health services since 1994 and has been affiliated with a variety of public and private programs and agencies. He has conducted research and taught at ULM, Louisiana Tech, and UAMS.
His clinical interests focus on the assessment and treatment of emotional, behavioral, and neurodevelopmental disorders in children, adolescents and adults. He also works with couples and families in crisis. Dr. Thomas is a member of the American Psychological Association (APA) and the Louisiana Psychological Association (LPA). He serves on several boards and is active in his community on issues regarding mental health.
Dr. Thomas is married to Mary Ann Thomas, and they have four adult children. He enjoys cooking for friends and family, music, traveling, and spending time outdoors.
114 JANUARY 2023 | WWW.BAYOULIFEMAG.COM BayouLife Top Docs 2023 TOP Psychologist
TIMOTHY J. MICKEL, MD F.A.C.S. Mickel Plastic Surgery
in plastic and reconstructive surgery. Over the decades, he has focused on cosmetic surgery, breast cancer reconstruction, and repair of cleft lip and palate. Dr Mickel is a member of the American Society of Plastic Surgeons, the Southeastern Society of Plastic Surgeons, and the American Cleft Palate Association and is a Fellow of the American College of Surgeons.
Dr. Mickel is a board certified plastic surgeon. A third generation Monroyan, he was born at St. Francis Hospital, raised in the Garden District, and graduated from Neville High School. Dr Mickel attended Vanderbilt University, where he graduated cum laude with a B.A. in Psychology. He received his medical degree from LSU School of Medicine in New Orleans and was a member of the Alpha Omega Alpha medical honor society. Dr Mickel completed a full five-year general surgery residency program at Parkland Hospital in Dallas, and earned board certification in general surgery in 1988. He went on to complete his plastic surgery training at Parkland/UT Southwestern Medical Center in 1990 and is certified by the American Board of Plastic Surgery. As a plastic surgery resident, Dr. Mickel's research on frontal sinus fractures won national acclaim, including the prestigious Snyder Award, given to the plastic surgery resident who presents the best paper at the annual meeting of the Plastic Surgery Research Council.
Dr. Mickel returned to his hometown in 1990 to begin a practice
Dr. Mickel has given back to his community in numerous ways since he returned here almost 30 years ago. He is Medical Director of the Northeast Louisiana regional cleft lip and palate clinic and the plastic surgery clinic at the parish health unit. He has served on the Grace Episcopal School board, the St. Frederick school council, and was a founding board member of the Northeast Louisiana Children's Museum. He has served as chairman of the Monroe Historical Preservation Commission for over a decade and is active in his church. But the achievement he is most proud of is raising five wonderful children with Stephanie, his wife of over 30 years.
An avid outdoorsman, Dr Mickel has hunted dove, duck, squirrel and deer in the woods and fields of north Louisiana since he was a boy. He enjoys hiking and water skiing in the warmer months and snow skiing in the winter. To stay fit enough to pursue these hobbies, he is passionate about exercise - biking, swimming, and doing cardio and weight training on a regular basis.
In the ever changing field of plastic surgery, Dr. Mickel strives to stay current, investing in proven technology and offering the latest techniques to help you look your best.
WWW.BAYOULIFEMAG.COM | JANUARY 2023 115 BayouLife Top Docs 2023 TOP PLASTIC SURGEON
903 N. 2nd Street | Monroe, LA 318.388.2050 mickelplasticsurgery.com
Janine Hopkins, MD, FAAD Hopkins Dermatology
2509 Broadmoor Blvd. | Monroe 318.325.0600 hopkinsdermatology.com
Dr. Janine Hopkins, M.D., F.A.A.D. is a BoardCertified Dermatologist and experienced physician practicing in Monroe since 1996. She received training through a progressive program with an emphasis on surgical and cosmetic dermatology at LSU's School of Medicine in New Orleans.
Dr. Hopkins is a member of the American Academy of Dermatology and the former secretary and treasurer of the Louisiana Dermatological Society; she also served as the past state chair for the Dermatology Foundation, and is a member of the American Society of Dermatological Surgery, and the Ouachita Medical Society.
Dr. Hopkins' practice focuses on skin cancer prevention and detection, general dermatology, laser treatments, and cosmetic procedures with an emphasis on non-surgical facial aesthetics and body contouring. Dr. Hopkins lectures at medical meetings in the U.S. and internationally on both laser and facial aesthetics. She uses her expertise, education, and training to focus on what will work best specifically for each patient's skin and body type. Hopkins Dermatology is in the top 1% of Dermatology practices in the U.S. offering advanced non-surgical cure for skin cancer, known as ImageGuided Superficial Radiation Therapy.
While attending and lecturing at professional medical meetings, Dr. Hopkins is constantly learning new techniques and technologies. She has successfully patented her medical device, the CuraCator™, that allows her patients and the health care market to more efficiently apply serums and medications. The CuraCator™ was designed and developed to meet the unmet need for hands-free, needle-free, controlled application of products to skin or other tissue. The CuraCator™ is a unique and innovative device, providing a solution that alleviates safety concerns as well as worries of incorrect application. Along with offering the latest facial antiaging fillers and neurotoxins, Dr. Hopkins continues to use the finest state-of-the-art laser systems, including the highly advanced Fotona and X-Trac lasers. This revolutionary non-ablative laser brings a whole new dimension to anti-aging treatments. After receiving advanced training and certification with Fotona in San Francisco, Dr. Hopkins incorporated this technique for anti-aging on the face, neck, and eyelids, as well as for body contouring and tightening. Dr. Hopkins remains focused on delivering optimal care, addressing the needs of her patients at every stage of their lives with an emphasis on skin cancer prevention and treatment.
116 JANUARY 2023 | WWW.BAYOULIFEMAG.COM BayouLife Top Docs 2023 TOP DERMATOLOGIST
Anna Grace Livingston, AGNP-C
Hopkins Dermatology
2509 Broadmoor Blvd. | Monroe 318.325.0600 hopkinsdermatology.com
Anna Grace Livingston, AGNP-C, is a Nurse Practitioner with a specialty in dermatology under the supervision of Dr. Janine Hopkins at Hopkins Dermatology, serving patients aged 13 and older. Anna Grace completed her Bachelor of Science in Nursing degree at the University of Louisiana at Monroe. She began her career in Dermatology as a Registered Nurse at Hopkins Dermatology in 2016. Soon after, Anna Grace completed her degree as a Master of Science in Nursing with the concentration of Adult-Gerontology Nurse Practitioner in 2019, as the Valedictorian of her class. Throughout her career, Anna Grace has solely focused on her specialty in Dermatology and is proficient in treating a multitude of dermatologic conditions. Her practice includes performing total body skin exams, locating and treating skin cancers and pre-cancerous lesions, diagnosing and treating rashes, acne, rosacea, psoriasis, eczema, hair loss and nail issues. Anna Grace is trained and skilled in performing all types of laser treatments within the practice, which include, laser tattoo removal, hair restoration treatments, a multitude of skin rejuvenation treatments, laser hair removal, and lasers for treating acne, rosacea, and hyperpigmentation. She has also trained and is skilled in cosmetic injections, such as, lip fillers and neuromodulators, such as, Botox, Xeomin, Dysport, and Jeauveu. Anna Grace also remains as an active provider with Skin Cure Oncology while assisting in overseeing Image Guided Superficial Radiation Therapy (IG-SRT) treatments for basal cell and squamous cell skin cancers within Hopkins Dermatology.
Anna Grace is nationally board certified and accredited through the American Academy of Nurse Practitioners (AANP). Anna Grace is a member of the Dermatology Nurses Association along with the American Association of Nurse Practitioners and Louisiana Association of Nurse Practitioners.
Anna Grace has been happily married for 7 years to her husband, Jon Michael Livingston. They have a twoyear-old son, Jon Henry, and recently welcomed a baby girl, Lillian, to their family in July. The two under two keeps them busy and entertained! Any time Anna Grace is not working, she spends the majority of her time with her growing family. She also enjoys playing tennis and shopping with friends. Anna Grace is dedicated to her growing practice, here in Monroe, and looks forward to many years ahead providing cutting edge care for her patients.
TOP NURSE PRACTITIONER
WWW.BAYOULIFEMAG.COM | JANUARY 2023 117 BayouLife Top Docs 2023
Daniel Raymond, D.D.S. NELA Dental
2016 Tower Drive, Monroe | 318-387-5732 7699 HWY 2, Farmerville | 318-368-9518 NELAdental.com
Dr. Daniel Raymond began practicing after graduating from the LSU School of Dentistry in 2009. He is a member of the American Dental Association, Louisiana Dental Association, Northeast Louisiana Dental Association, and a Fellow of the American and International Dental Association.
Also, Raymond has completed an implant fellowship with the International Dental Implant Association (IDIA). As a member of the IDIA, he continues to build his continuing education portfolio as he works alongside industry experts to learn about the latest practices and techniques to provide his patients top-level results.
Dr. Raymond and the entire team at NELA Dental have established a reputation of excellence in dental care in northeast Louisiana. They provide superior care for patients seeking general dentistry options, dental implants, cosmetic dentistry, and more. One of Dr. Raymond's favorite things about working at NELA Dental is his staff. They are like family to him. They laugh, cry, have fun, and share in each other's successes and struggles. He truly values loyalty, hard work, honesty, and leadership and gives all the glory to God.
Dr. Raymond grew up in Monroe, Louisiana where he attended St. Frederick High School and received his bachelor's degree from the University of Louisiana at Monroe. While enrolled at ULM, he was a member of the Warhawk Baseball team playing catcher and first base.
He is married to Sarah Taylor Raymond and has three beautiful children, Caroline, William, and Lizzie Jane. Dr. Raymond is an avid duck hunter and enjoys training his two Labrador retrievers.
Contact NELA Dental for dental implants or your next checkup. Visiting the dentist is the key to overall good oral health. NELA Dental accepts most major dental insurance plans, third-party payments, and offers flexible financing options. Call one of our convenient locations in Farmerville and Monroe to schedule your appointment.
Contact NELA Dental and Start Smiling Today!
118 JANUARY 2023 | WWW.BAYOULIFEMAG.COM BayouLife Top Docs 2023 TOP dentist
Meagan Uzee, M.D. Radiology Associates
1888 Hudson Circle, Suite 2 Monroe, LA 71201 318.387.3453 myimagingpartners.com
Dr. Uzee received her medical degree from LSU Health Sciences Center in Shreveport, Louisiana. She completed her residency in diagnostic radiology at Texas A&M's Scott and White Memorial Hospital in Temple, Texas, followed by a fellowship in Neuroradiology at the Mayo Clinic in Rochester, MN.
Dr. Uzee is board certified by the American Board of Radiology. She is also a member of the American College of Radiology, the Radiological Society of North America and the American Society of Neuroradiology.
A Winnfield, Louisiana native, Dr. Uzee joined the Radiology Associates team in 2018, practicing at St. Francis Medical Center in Monroe, St. Francis affiliated Kitty Degree Breast Clinic, and Monroe Surgical Hospital. Her practice focuses on general diagnostic radiology with an emphasis on neuroradiology. With a total of 10 years of radiology training and experience in her field, Dr. Uzee brings exceptional skill and specialized knowledge to the Radiology Associates team and the patients in her care. Dr. Uzee provides a patient centered approach, which she says is "one of the best things about this job."
With the completion of advanced training, Radiology Associates physicians perform diagnostic and therapeutic procedures, interpret diagnostic images, and partner with referring physicians to diagnose medical problems.
Radiology Associates physicians are experts in their field, giving the best medical care and providing a full range of imaging services and subspecialties to include the areas of neuroradiology, musculoskeletal radiology, body imaging, breast imaging and interventional radiology. Eight physicians have completed fellowship programs for additional training and/or have obtained a Certificate of Added Qualification in their given subspecialty.
WWW.BAYOULIFEMAG.COM | JANUARY 2023 119 BayouLife Top Docs 2023
TOP Radiologist
Meg Castleberry, PA-C, MPAS
Ochsner LSU Health Monroe Medical Center
4864 Jackson Street | Monroe, LA 71202 318-330-7168 ochsnerlsuhs.org
Meg Castleberry's passion for the medical field began when she was 12-years old. Her cousin William was born with several medical disabilities requiring frequent doctors' appointments and therapy sessions. Attending those appointments helped Meg decide early on to become a physician assistant. Witnessing the support from a team of providers working in unison on behalf of her loved one impressed upon Meg the importance of healthcare workers. She saw William's strength progress firsthand and wanted to be a part of that experience for other people. She graduated from Baton Rouge Magnet High School, then Magna Cum Laude with a Bachelor of Science in Applied and Natural Sciences from LA Tech. She then attended LSU Health Shreveport and was awarded a Master of Physician Assistant Studies.
Her decade of experience includes urgent care, emergency medicine, observation unit, and hospital medicine. Meg worked in urgent care and emergency medicine throughout the DFW area. She loved the hustle and bustle and high volume of patients in the ER. Meg received several Press Ganey recognitions as well as Employee of the Month. In the observation unit, Meg was awarded Advanced Practice Provider (APP) of the quarter. After 8 years, an opportunity closer to home prompted Meg and her husband to move back to their home state.
Meg's career has come full circle as she is now practicing in the General Surgery Clinic at Ochsner LSU Monroe Medical Center, where she trained as a PA student. Now, she has the opportunity to help train other PA students and serve as an advocate for providing professional, quality patient care . Her commitment to educating patients and their families relies on evidence-based medicine. Currently, she enjoys working in a clinic setting where she is exposed to a variety of medical conditions. Meg said, "I am so impressed with the growth on our campus, particularly Ochsner's support of advanced practice providers and the care bestowed on our patients. Meg is a member of the American Academy of Physician Assistants and Louisiana Academy of Physician Assistants.
Meg's greatest personal achievement has been her miracle baby boy, Rhett, in March of 2021. Rhett was a micro preemie, 3.5 months early and weighing just 1 lb 2.7 oz. After a 4.5-month NICU stay, Rhett actualized a strength Meg didn't know she had. Reflecting on the experience, Meg says, "After going through something as traumatic as this, I can honestly say it has made me a stronger provider. Compassion and empathy mean something different now." Her goal is to help raise awareness for pre-eclampsia and provide support to fellow NICU families. She and her husband Todd, son Rhett, and golden retriever, Sasha live in Ruston. Aside from spending time with family and friends, she enjoys baking, yoga/pilates, outdoor activities, traveling, and crocheting.
120 JANUARY 2023 | WWW.BAYOULIFEMAG.COM BayouLife Top Docs 2023 TOP
Physician Assistant
Ralph Lee Abraham, III, MD Ochsner LSU Health Monroe Medical Center
4864 Jackson Street | Monroe, LA 71202 318-330-7168 ochsnerlsuhs.org
Dr. Ralph Lee Abraham, III loves small town life and serving the people that live in these rural communities. Raised in Alto, Louisiana, he received his high school degree from Mangham High School and attended Louisiana State University- Shreveport for his Medical Degree. He spent four years in New Orleans completing his residency and board certification in diagnostic radiology at Tulane University. "My goal was always to get back home. North Louisiana is the place where I wanted to build my practice and raise my family. This area has created incredible opportunities for me professionally all while caring for patients who truly appreciate what I do. It is rewarding to be in a field that crosses all specialties. Being a radiologist has allowed me to get to know and respect many of the excellent medical professionals across the region." But Dr. Abraham says, none of this is possible without the selfless radiology technologists and directors that work around the clock to provide quality imaging for our local communities.
Dr. Abraham has also served five years as a board member for the Louisiana State University Health Sciences Foundation. In this role he helps recruit health care workers and health related business opportunities to North Louisiana. He is also a member of the American Board of Radiololgy and American College of Radiology.
Dr. Abraham is grateful for the never-failing support of his wife, Emily Morris Abraham, and their four children, Ralph Lee, IV (9), Andie Rae (8), Jeffery Todd (6) and Grace Lorin (1). They make their home in Alto along the Beouf River amongst the crop fields. His children attend Ouachita Christian School in Monroe, LA. The family loves their church home of First Baptist Church, Rayville, LA. In his free time, Dr. Abraham enjoys hunting deer and duck with his dad and two sons. He remains a strong supporter of his community and believes the best is yet to come for our small corner of the world.
radiologist
WWW.BAYOULIFEMAG.COM | JANUARY 2023 121 BayouLife Top Docs 2023
TOP
Oral and maxillofacial surgeons are the only dental specialist recognized by the American Dental Association who receive four to six consecutive years of hospital based surgical and anesthesia training prior to being certified to practice. Board certification from the American Board of Oral and Maxillofacial Surgeons requires completing an additional two yearlong examination process after successful completion of an accredited residency program. Their training focuses primarily on the function and anatomy of the face, mouth, and jaws.
Doctors Fowlkes, Gregory and Scogin's extensive and rigorous training allows them to offer the most advanced surgical techniques and state of the art methods in every aspect of the care they provide. In addition to dental implant surgery they also specialize in wisdom tooth removal, advanced oral bone grafting, corrective jaw surgery, oral and maxillofacial pathology, TMJ disorders and obstructive sleep apnea.
Oral Surgery Associates of Northeast Louisiana would like to congratulate our own Dr. Matthew Fowlkes, Dr. Nick Gregory and Dr. Zach Scogin on being selected as Top Doctors in our community.
Dr. Matthew Fowlkes received his Doctorate of Dental Medicine from UMMC . He then moved to New Orleans for his advanced training in Oral and Maxillofacial Surgery at LSUHSC. Dr. Fowlkes completed an internship in general surgery and completed his training as chief resident at the Medical Center of Louisiana. Dr. Fowlkes received board certification in Oral and Maxillofacial Surgery. He actively serves on multiple committees at local hospitals as well as Clinical Associate Professor at the University of Louisiana Monroe. He enjoys spending time with his family, golf, hunting, fishing, and watching MSU and LSU sporting events.
Dr. Nick Gregory received his Doctorate from Louisiana State University Health Sciences Center, School of Dentistry. He also trained in Oral and Maxillofacial Surgery at the University of Tennessee Health Sciences with completion of a fellowship after residency in advanced dental implant surgery. Dr. Gregory received board certification in Oral and Maxillofacial Surgery. He enjoys spending time with his family outdoors, hiking, and biking. Also, Dr. Gregory enjoys playing the guitar, music ministry, and hunting and fishing.
Dr. Zach Scogin attended Louisiana State University for undergraduate studies earning a bachelor's degree in Biological Sciences in 2012. He continued his studies at Louisiana State University School of Dentistry where he was president of the Oral and Maxillofacial Surgery interest group and was awarded the dental student Oral Surgery Award from the American Association of Oral and Maxillofacial Surgeons. He was also inducted into the C. Edmund Kells and OKU Dental Honor Societies. He received his Doctor of Dental Surgery in 2016. After dental school, Dr. Scogin continued his training at Louisiana State University Health Sciences Center in New Orleans, and completed a 6 year oral and maxillofacial surgery residency in 2022. During his training he received a Doctor of Medicine degree in 2019. Dr. Scogin enjoys spending time with his family, fishing, hunting, and being outdoors.
122 JANUARY 2023 | WWW.BAYOULIFEMAG.COM BayouLife Top Docs 2023 TOP
Oral Surgeon
ASSOCIATES Matthew Fowlkes, DMD, MD, Nick Gregory, DDS , and Zach Scogin, DDS, MD 2003 Forsythe Avenue, Monroe | 318.388.2621 www.oralsurgeryassociates.com
ORAL SURGERY
J. Preston Parry, MD, MPH Positive Steps Fertility
1900 North 18th St., Suite 209 | Monroe, LA 9391 Ellerbe Rd. | Shreveport, LA 149 Fountains Blvd. | Madison, MS
Thank you again Northeast Louisiana for choosing Dr. Parry as the top fertility doctor. We love helping couples have the children of their dreams!
Why did you become a fertility doctor?
We are measured by how we leave this world better than we found it. For me, I can't think of a better way of improving this planet than by bringing children in to this world that are loved and wanted, but wouldn't exist without a little help. I start off every day opening Facebook where I've been tagged and get to see all these wonderful babies and happy families. I have the best job!
What keeps women from getting pregnant?
A recent journal article showed that the majority of women getting weight loss advice from general physicians wasn't evidence based or effective. Similarly, not just from clinicians, but especially from friends and family women are told they have to have their hips in the air or the husband needs to wear boxers instead of briefs or she needs to eat a pineapple core. (If a pineapple core worked, physicians would prescribe twelve ounces of Dole pineapple daily and Hawaiians would have overpopulated the world.) What truly keeps women from conceiving is typically problems such as low sperm counts, few or low quality eggs, blocked tubes, or uterine problems (such as fibroids and infections). Fortunately, semen analysis is easy and the core female factors can be quickly evaluated in a single office visit (though the Parryscope® technique, which we pioneered!)
Does everyone need IVF?
The best approach to medicine is the right thing for the right person. Most women don't need IVF, and many can conceive with low-cost, lowtech measures such as oral medication and insemination. However, if the tubes are obliterated or other measures haven't worked, IVF is incredibly powerful for helping most women successfully have children after a long journey. Regardless of what is right for a person, the simple answer is just to know where people stand. If a consult is $150, and typical testing for the woman is $1000 for relatively comprehensive insight, those two visits can often given answers that couples haven't been able to figure out for several years.
What defines your clinic?
Our motto is, "We build families through excellence, empathy, and efficiency." We're incredibly OCD about trying to maximize couples' chances of having a child, but at the same time want to be caring as well as mindful of being fast and affordable. I always say people want to know how much you care before they care how much you know, but you can do both.
What is the best advice you can give to those on the TTC (trying to conceive) journey?
The most important thing is don't go through it alone. Couples (and single women) routinely come in saying that no one understands what they're going through, when they are actually normal and we see what they experience every day. There are solutions, there is hope, and so many women end up with a child in their arms through our care. But all of this often requires a degree of humility—to recognize that you can only go so far through Dr. Google and that you may need a team of experts to help you make it to the other side. I hope that the coming year gives every couple the family of their dreams and if any way I or the Positive Steps Fertility team can help on your journey, we'd love to help!
TOP Fertility Doctor
WWW.BAYOULIFEMAG.COM | JANUARY 2023 123 BayouLife Top Docs 2023
Gordon G. Grant IV, DC
Shell Chiropractic
Dr. G.G. Grant grew up in Ruston and graduated from Louisiana Tech in 2001. In 2005, he graduated from Parker University in Dallas, Texas with a Doctorate of Chiropractic degree. Right after school, Dr. Grant began working at Shell Chiropractic in Monroe. Now in his 18th year of practice, he practices alongside Dr. Brent Bryant and Dr. "Brud" Boudreaux.
While Dr. Grant sees patients of all ages, from pediatrics to later in life patients, Dr. Grant also has a specialty focus on athletes. And he proves his love and affinity for this facet of his practice by volunteering his time as the team chiropractor for area high schools as well as for the University of Louisiana Monroe, for the last 14 years. Part of the love he has for this area of his practice is, like with his private practice, the satisfaction he gets from educating athletes on how to prevent injuries. Says Dr. Grant, "I like to describe a patient's chiropractic picture as having an imaginary line…on the top of the line is a non-injury status and below the line is the injury status. The education I give my patients
keeps them as far away from the injury line as possible. My ultimate goal is to educate these athletes so that when all the components of their athletic training work together: therapy, training, weight lifting and conditioning, then they can operate and play at their peak performance."
Dr. Grant further says, "I am just another tool in the bag. I like working with all the disciplines to give each athlete a chance for their optimal performance. I want the athlete/patient before they are injured so we can work together to avoid a debilitating setback. I tell my patients to think of it like this: you get your tires rotated so proper wheel alignment will give allow your car to run better. It also reduces the wear and tear on the tires. I operate much the same way in my practice with the tools I put in my patient's hands…to help them run infinitely."
Dr. Grant resides in Monroe with his wife, Heather, and their children, Lake, 19, a student at LSU, Hunt, 16, a junior at Neville, and Griffyn, 7, a 2nd grader at Lexington Elementary. In his spare time, he enjoys spending time with his family, duck hunting and playing golf.
Dr. Grant and Shell Chiropractic are conveniently located on HWY 165 North in Monroe and are currently accepting new patients. They accept all insurance including Medicare, Medicaid, and Veterans Affairs. The clinic also has a massage therapist on staff. Call today to schedule an appointment with BayouLife's "Top Chiropractor" for the fifth time, Dr. G.G. Grant.
124 JANUARY 2023 | WWW.BAYOULIFEMAG.COM BayouLife Top Docs 2023 TOP CHIROPRACTOR
3219 Sterlington Road | Monroe, LA 318.387.5388 shellchiromonroe.com
Scott Barron, MD St. Francis Medical Group
Practices at St. Francis Oncology and Hematology Clinic
411 Calypso Street, Suite 200-A Monroe, LA 318.966.1970 stfran.com
Dr. Scott Barron received his medical degree from Louisiana State University Health Sciences Center in Shreveport. He completed his internal medicine internship and residency at the LSU School of Medicine in New Orleans. Dr. Barron also completed his oncology Fellowship at the LSU School of Medicine. He has been on the St. Francis Medical Staff since 2001.
When asked why he chose a career in oncology, Dr. Barron provided this information. "As an undergraduate biology major at Tulane in the early 90s, I took a class dedicated to tumor biology. Science was just starting to make sense of the mechanisms in the cell that produce tumors and it was obvious that the advances would be significant and produce newer, better treatments for those with cancer. That technology is the reason we have immunotherapy and targeted therapies today. Every week science produces new treatments making my job more exciting and rewarding, just as I had envisioned."
Dr. Scott Barron is a Monroe native who went to Lexington Elementary School and graduated from River Oaks High School. His free time is spent mostly at home with his wife and family of three kids.
WWW.BAYOULIFEMAG.COM | JANUARY 2023 125 BayouLife Top Docs 2023
TOP Oncologist
David Tran, DPM, AACFAS St. Francis Medical Group
Practices at St. Francis Podiatry Clinic 312 Grammont Street, Suite 411 Monroe, LA 318.966.6480 stfran.com
Dr. Tran is originally a native of Pittsburgh, Pennsylvania and attended Mount Aloysius College for his undergraduate studies. He is a graduate from Kent State University College of Podiatric Medicine and went on to complete his residency at Mercy Health St. Vincent Medical Center in Toledo, Ohio. He currently serves as an Assistant Professor of Surgery at VCOM-Louisiana. One of Dr. Tran's passions lies in the subspecialty of diabetic limb salvage. He has both published and lectured on the national stage on several advanced techniques in limb preservation and amputation prevention.
Dr. Tran has comprehensive training in both conservative and surgical treatments of the foot and ankle. Dr. Tran is trained in the latest techniques in complex reconstruction, arthroscopy, and minimally invasive surgery. Dr. Tran is Board Certified by the American Board of Podiatric Medicine. Dr. Tran is an associate member of the American College of Foot and Ankle Surgeons, American Podiatric Medical Association, and the Louisiana Podiatric Medical Association.
When not taking care of patients, Dr. Tran spends time with his wife, Jess and their goldendoodle, Odie.
126 JANUARY 2023 | WWW.BAYOULIFEMAG.COM BayouLife Top Docs 2023
TOP Podiatrist
Mary Kathryn Edwards, APRN, FNP-C St. Francis Medical Group
Practices at St. Francis Primary Care Clinic 2600 Tower Drive, Suite 106 Monroe, LA 318.966.6400 stfran.com
Mary Kathryn Edwards, FNP-C, earned her Master of Science in Nursing at Franciscan Missionaries of Our Lady University in Baton Rouge, LA. She is a boardcertified Family Nurse Practitioner and a member of the American Association of Nurse Practitioners and the Louisiana Association of Nurse Practitioners. As a primary care provider, Mary Kathryn is knowledgeable in diagnosing and managing patients with acute and/ or chronic conditions. She provides individualized care helping each patient achieve their best overall health and well-being. She truly enjoys belonging to a profession that facilitates personal, enduring relationships with her patients.
When asked about her career choice as a family nurse practitioner, Mary Kathryn said "Anxiety is something I have struggled with for most of my life. I now realize the Lord so graciously called me into healthcare so I can help others battling anxiety. As a family nurse practitioner, I can use my struggles with anxiety to empathize and care for my patients. Additionally, it has become therapeutic for me in overcoming my own anxiety. I find it rewarding to be part of a profession that can help patients achieve their best overall physical and mental health and wellbeing, while simultaneously developing personal, longlasting relationships with my patients."
Mary Kathryn and her husband, Eric spend time together watching their three children Ellie (15), Adler (13), and Anna Sterling (7) participate in football, baseball, basketball, tennis and gymnastics. During the summer, they love spending weekends on the lake with their family. They are active members of North Monroe Baptist Church, where they are involved in the retreat ministry.
TOP Family Nurse Practitioner
WWW.BAYOULIFEMAG.COM | JANUARY 2023 127 BayouLife Top Docs 2023
TOP general surgeon
W. Bart Liles, MD, FACS
The Surgery Clinic of Northeast Louisiana
312 Grammont Street, Suite 303 Monroe, LA 318.398.2984 surgeryclinicnela.com
When asked to describe Dr. Bart Liles, patients often use the same adjective: "kind." They also talk about his sense of humor and ability to alleviate their fears.
Dr. Liles shares those talents with his mother, Melanie Liles, who worked in child protection services. Her work ethic and capacity for empathy profoundly impacted him, he said. "My mother would enter a situation where someone was having their worst day, and she'd let them know they were not alone. She used to say that suffering wasn't unique to anybody, even though some have it worse," Dr. Liles said. "They are human, and they entered this world just as we did and will leave just as we will. It's in the in-between that you have to alleviate the suffering somehow. She taught me the importance of that."
Today, Dr. Liles continues her legacy at the Surgery Clinic of Northeast Louisiana, home of Delta Vein Care, where he performs general surgery and vein procedures.
"Truthfully, there's nothing more rewarding than comforting families and patients during their times of need. When the chips are down, and they look to you for answers, it's an amazing amount of responsibility," he said.
Dr. Liles, a fourth-generation Monroe physician, is proud of the clinic's vein program. He performed a vein ablation on a patient, Emily, who said, "Dr. Liles is outgoing and friendly; he made me feel at ease. He was very conscientious about how I felt … He made me laugh, which made me feel relaxed and comfortable. He is kind, caring, and efficient."
Another patient, Buddy, was struck by the surgeon's demeanor. "Dr. Liles is a great person to keep you calm. He explains everything that's going on and makes you feel very comfortable. I instantly felt that I would be ok after meeting him," Buddy said.
Buddy, who underwent melanoma surgery, said, "When he removed the stitches—and I had an armful of them—he knew which ones would hurt, and he would warn me. Dr. Liles made me part of the conversation and spoke to me in terms I could understand. He was kind. We had a nice relationship, and life is about relationships."
Dr. Liles deserves BayouLife's Top Doc honor, said Dr. Walter Sartor. "Our clinic's environment is one of camaraderie, laughter, loyalty, and friendship. Dr. Liles plays a significant role in creating that atmosphere," said Dr. Sartor. "I have found it incredibly rewarding to mentor him and call him my friend."
The Surgery Clinic of Northeast Louisiana, home of Delta Vein Care, houses surgeons Dr. Walter Sartor, Dr. Bart Liles, Dr. Patrick Smith, and Dr. Mohamed Bakeer.
128 JANUARY 2023 | WWW.BAYOULIFEMAG.COM BayouLife Top Docs 2023
Thrive Pediatric Therapy Mallory Sanaie, M.A. CCC-SLP
Cassels, MOTR/L, also recently joined Thrive's growing team. She specializes in handwriting, social skills, and sensory issues. Both have been amazing assets to the Thrive team. Together these three have made waves in the therapy world since opening in late February 2022.
Nestled in the heart of West Monroe lies Northeast Louisiana's newest pediatric therapy clinic, Thrive Pediatric Therapy. Thrive was founded by Mallory Sanaie with hopes to make a great impact on the community that raised her. Mallory attended Louisiana Tech University where she went on to receive her masters degree in Speech Language Pathology. Mallory specializes in articulation, early language invention, and the Beckman Oral motor protocol for oral motor weakness and muscle strength. Avery Dabbs, DPT, has joined the Thrive team and is currently the only Board-Certified Clinical Specialist in Pediatric Physical Therapy in Northeast Louisiana. Kelsey
As early invention specialists, this team recognizes how beneficial targeting milestones early on can be. "The first three years of a child's life are crucial for neurodevelopment, and the quick progress we can make during that period is such a joy to help families experience." Mallory stated, "It's an unimaginable dream to be recognized as the Speech Pathologist for Top Docs our very first year. Serving our community and building bonds with our patients is the heart of why this company was created. To see our families appreciate us this highly and honor us with this gift is priceless." Avery stated "It's truly such an honor to receive this recognition of Top Physical Therapist. My professional goals this year were to serve more and serve well through obtaining my board certification in pediatric physical therapy, and this honor is the icing on the cake! Thank you to all our families and colleagues who trust us with their little ones!".
Thrive currently offers occupational therapy, physical therapy, and speech therapy services. Thrive also currently accepts a variety of private insurances as well as Medicaid. For any questions regarding appropriate developmental milestones please contact us at (318) 654-7439 or email thrivepediatricstherapy@gmail.com.
WWW.BAYOULIFEMAG.COM | JANUARY 2023 129 BayouLife Top Docs 2023
TOP speech Therapist & Top Physical Therapist
Avery Dabbs, PT, DPT, PCS Kelsey Cassels, MOTR/L 107 Contempo Avenue, Suite 1 West Monroe, LA 71291 318.654.7439 www.thrivepediatricstherapy.com
Amber Shemwell, MD
The Woman's Clinic
312 Grammont St. Ste 300 Monroe, LA 318-388-4030 www.thewomansclinic.net
Meet Amber Shemwell, M.D. Dr. Amber Shemwell has been practicing medicine since 2007. She is a graduate of Louisiana State University School of Medicine. Dr. Shemwell continued her residency training at Louisiana State University Health Sciences Center. She is board-certified by the American Board of Obstetrics and Gynecology, as well as a fellow of the American College of Obstetrics and Gynecology. Dr. Shemwell is a member of the Louisiana State Medical Society and currently serves as the President of the Ouachita Medical Society. She is active in leadership both in medicine and our community.
Dr. Shemwell likes to cook and garden when she isn't in the office or the hospital. She is enjoying the teen years with her two children, and she loves traveling with her husband, Clay. She also cherishes her tribe of friends. Although she is not a native of Monroe, she is proud to call it home.
The Woman's Clinic is proud to call her a TWC Physician. Dr. Shemwell has been providing exemplary care to patients at The Woman's Clinic since 2008. All of our physicians believe in quality experience for our patients, and Dr. Shemwell certainly lives that out in her daily practice. Those that interact with her feel her care, concern, and compassion for her patients. The Woman's Clinic wants to congratulate Dr. Shemwell on the honor of being named Top OBGYN for 2023.
130 JANUARY 2023 | WWW.BAYOULIFEMAG.COM BayouLife Top Docs 2023 TOP Obgyn
BayouLife
2023 TOP DOCS
WINNERS
Allergist
Michael Zambie
909 N. 3rd Street Monroe (318) 322-5555
Audiologist
Deborah D. Cowan, AUD Acadian Hearing & Balance Center 107 Contempo Avenue, #3, Monroe (318) 410-9095 acadianhearing.net
Cardiologist Mark Napoli Complete Cardiovascular Center of Monroe 1100 N. 18th Street Monroe (318) 361-9900 marknapolimd.com
Gregory Sampagnaro
Affinity Health Group 503 McMillan Road, West Monroe (318) 322-7726 myaffinityhealth.com
Chiropractor
Gordon G. Grant IV, DC Shell Chiropractic 3219 Sterlington Road, Monroe
(318) 387-5388 shellchiromonroe.com
Dentist
David Finley Bayou Dental 2501 Tower drive Monroe (318) 498-5011 Smile-creator.com
Daniel Raymond NELA Dental 2016 Tower Drive Monroe (318) 387-5732 Neladental.com
Tyler Heath Dr. Tyler Heath Family Dentistry 1107 N. Louisa Street Rayville (318) 728-9585 dr.tylerheath.com
Dermatologist
Janine Hopkins, MD Hopkins Dermatology 2509 Broadmoor Blvd., Monroe (318) 325-0600 hopkinsdermatology.com
Endocrinologist
Trudy Sanson 102 Thomas Rd, West Monroe (318) 387-0641
EnT
Wilson Barham Ear, Nose and Throat Associates of Northeast Louisiana 2802 Kilpatrick Blvd, Monroe (318) 855-6282
FERTILITY CLINIC J. Preston Parry, MD Positive Steps Fertility 149 Fountains Blvd. Madison MS. (833) POS-STEP (767-7837) positivestepsfertility.com
Gastroenterologist Clayton Collins Coon Gastroenterology Clinic Monroe. West Monroe. Ruston (318) 325-2634 gastromds.com
General PRACTICE
Kyle Bruyninckx Bruyninckx Medical Clinic 117 Ellington Dr. Rayville (318) 728-0281 bruyninckxmedical.com
General Surgeon Bart Liles The Surgery Clinic of NELA 312 Grammont Street, Ste 303
Monroe (318) 398-2985 surgeryclinicnela.com
Hospice Elara Hospice 300 Washington Street, Ste. 402C Monroe (318) 340-0221 elera.com
Internist Michael Sampagnaro Affinity Health Group 1 Bancroft Dr. Monroe (318) 361-0995 myaffinityhealth.com
Neurologist Cresha Davis Ochsner LSU Health Monroe 4864 Jackson St. Monroe (318) 626-2482
Neurosurgeon Jorge Alvernia Brain and Spine Associates 1908 Royal Ave, Monroe (318) 509-8808
Marshall Cain Cain Neurosurgery Clinic 2807 Mark Dr, Monroe (318) 600-4159
Nurse Practitioner Anna Grace Livingston, AGNP-C Hopkins Dermatology 2509 Broadmoor Blvd., Monroe (318) 325-0600 hopkinsdermatology.com
Mary Kathryn Edwards
St.Francis Medical Group Primary Care Clinic 2600 Tower Drive Ste.106 Monroe (318) 966-6400 stfran.com
Nutritionist Katie Dean Affinity Health Group 300 DeSiard Street Monroe (318) 807-7875 myaffinityhealth.com
OB/GYN Amber Shemwell
The Woman's Clinic 417 McMillan Road, West Monroe (318) 388-4030 thewomansclinic.net
Occupational Therapist Ann Tubre Believe and Achieve Monroe. West Monroe. Winnsboro (318) 381-8520 BelieveAchieveTherapy.com
Dana Evans Vickers Connecting Dots 501 McMillan Rd. West Monroe (318) 855-4574 Connectingdotstherapy.com
ONCOLOGIST
Scott Barron
St. Francis Medical Group 411 Calypso Street Suite 200 (318) 325-7007
Ophthalmologist
Jason Read, MD Read Eye Center 2600 Tower Drive, Ste 111, Monroe (318) 387-3881 readeyecenter.com
Optometrist
William Gordon, OD Family Eye Care 3000 Forsythe Avenue, Monroe (318) 325-9474 familyeyecare.net
Oral Surgeon
Matthew Fowlkes, DMD, MD Nick Gregory, DDS Zach Scoggins, DDS, MD Oral Surgery Associates 2003 Forsythe Avenue, Monroe (318) 388-2621 620 S Trenton Street, Ruston oralsurgeryassociates.com
Orthodontist
Ricky Caples, DDS Chris Robinson, DDS Caples & Robinson Orthodontics 2210 Forsythe Avenue, Monroe (318) 325-9655 caplesrobinsonortho.com
WWW.BAYOULIFEMAG.COM | JANUARY 2023 131 BayouLife Top Docs 2023
Continued
next page
on
Magazine's
Orthopaedic Surgeon
White "Sol" Graves, IV, MD
North Louisiana Orthopaedic Sports Medicine
1501 Louisville Avenue, Monroe (318) 323-8451 northlaortho.com
Pain Management
John Ledbetter
Louisiana Pain Care 210 Layton Avenue, Monroe (318) 323-6405 lapaincare.com
Pathologist
Richard J. Blanchard, MD Delta Pathology Group 503 McMillian Rd. West Monroe (318) 329-8830
Pediatrician
Gary Stanley, MD
Pediatric Associates
2600 Tower Drive, #406, Monroe (318) 323-8824
Pharmacy
Community Pharmacy
2123 Forsythe Avenue, Monroe (318) 398-2100 mycommunityrx.com
Aron's Pharmacy
1209 North 18th Street Monroe (318) 323-2242
Physical Therapist
Avery Dabbs
Thrive Pediatric Therapy 107 Contempo Ave Suite 1, West Monroe (318) 654-7439
PEDIATRIC CARDIOLOGIST
Terry King
300 Pavillion Rd West Monroe (318) 323-1100
PHYSICIANS ASSISTANT
Meg Castleberry
Ochsner LSU Heath Monroe Medical Center
4864 Jackson Street, Monroe, LA (318) 330-7168 ochsnerlsuhs.org
Plastic Surgeon
Timothy J. Mickel, M.D., F.A.C.S. Mickel Plastic Surgery 903 N. 2nd Street, Monroe, LA (318) 388-2050 mickelplasticsurgery.com
Podiatrist
David Tran, DPM St. Francis Medical Group 2600 Tower Drive, Ste 215, Monroe (318) 966-6480 stfran.com
Psychiatrist
Scott Zentner Family Solutions 1105 Hudson Lane Monroe (318) 322-6500 familysolutionscounciling.org
Psychologist
Terry Thomas, PHD HealthPoint Center
1818 Avenue of America, Monroe healthpointcenter.com (318) 998-2700
Pulmonologist
Ronald Hammett Steward Medical Group 102 Thomas Road Suite. 107 West Monroe (318) 329-8479
Radiologist
Ralph Lee Abraham, III, MD
Ochsner LSU Heath Monroe Medical Center 4864 Jackson Street, Monroe, LA (318) 330-7168 ochsnerlsuhs.org
Meaghan Uzee
Radiology Associates
888 Hudson Cir N Suite 2, Monroe (318) 387-3453 myimagingpartners.com
Rheumatologist
Jyothi R. Mallepalli, MD
Arthritis and Diabetes Clinic, Inc. 3402 Magnolia Cove, Monroe (318) 388-5830
Speech Therapist
Mallory Sanaie
Thrive Pediatric Therapy 107 Contempo Ave. Ste. 1 West Monroe (318) 654-7439
Urologist
Paul Murphy Affinity Health Group 2516 Broadmoor Blvd, Monroe (318) 387-9420 myaffinityhealth.com
132 JANUARY 2023 | WWW.BAYOULIFEMAG.COM
BAYOULIFE TOP DOCS 2023
Gardens of Somerset Christmas Party
On Thursday, December 8th, the Gardens of Somerset hosted their inaugural Christmas Party for residents and guests. The kitchen team "sleighed" the food while Travis Whitehead kept guests entertained with seasonal tunes. Mr. and Mrs. Claus mingled to the jingles with residents, families and friends.
On the BayouScene
1 Ryan Persac, Coco Persac, Johnnie Faye Colvin and Ann Howard
2 Jane Burson, Paul and Celia Lairde, Murven Shoemaker and John Burson
3 Murven and Gigi Shoemaker
4 Travis Whitehead
5 Lea Ann Jones and Rhonda Pelley
6 Jo Daugherty, Cedar Costello, Leslie Jones, Jessica Gentry, Jan Gentry, Lanell Middleton, Lindsey Costello, Lyla Jo Costello and Barbera Smith
7 Lindsey and Elizabeth Ann Miller, Nannette Flowers, Josiah and Mark Miller
8 Barry Delcambre, Nita Robertson and Rhonda Miller 9 Kevin and Heather Hurley
10 Norene Smith, Murven Shoemaker, Judy Worthen and Gigi Shoemaker 11 Ann Howard and Mary Sawyer
12 Kathy Williamson, Anna Robertson, Ashley Kirk and Conny Daniels
13 Ceasar Velasquez. Mila Wheeler, Frankie Wheeler, Tony Velasquez and Kimberly Velasquez
14 Levi Hayden, Ben Heidenreich, Sonja Etier and Mark Etier, Francis Heidenreich and Avery Hayden
15 Emily McGrew, Corey Williamson, Emmett Jones, Dawson Williamson and Grayson Williamson
16 Beth Service, Brenda Harrison and Katie Harrison
17 Shelley Simpson, Barry Delcambre, Nita Robertson, Rhonda Miller and Don Simpson
WWW.BAYOULIFEMAG.COM | JANUARY 2023 133
1 3 6 8 17 13 14 15 16 12 11 9 10 7 4 5 2
SADDEST TIME OF YEAR
ARTICLE BY DAN CHASON
Christmas is history, New Year's has passed and now we are down to the last hoorah for this year's hunting season. As of this writing, we are heading into the rut for whitetail deer and are awaiting the moon phase to get right and cold fronts to line up to activate the best time of year for deer and duck hunting. However, January is a whole new challenge. As January slips away, deer will be easier to target than in the early months as they are hungry, have lost a lot of weight and any does left to breed are few and far between. The bucks have been pressured and run themselves into the ground. They are solitary creatures now and look for the thickest cover they can find near a food source. This is the time to switch tactics. Here are a few recommendations on what to do to find that late season buck.
First, lose the box stand. This time of year it is time to be mobile. I opt for ground blinds where I can adjust for wind and still be between heavy cover and a food source. Food sources now differ as many of us relied on the old yellow acorns and rice bran which has now been restricted. Deer feed heavily on briars and browse when there is no other food available. Look for tell-tale signs such as heavy trails with browse missing on lower branches and vines. My favorite source of food this time of year are the old persimmon and pecan trees. I'm lucky to have a lot of this food on my place and concentrate on it heavily through January.
Second, hunt off times. Too many of us get in a stand, sit til 9 and go rest and then return to the stand area around 3. Bucks have seen this all year round. Park the wheeler and walk in with the wind in your face. Set up during the magic hours of 11-2. I have killed more deer up in the day than any other time in January.
Third, scent control is critical. The deer have been so pressured by now that any small indication of a human will make them disappear. Spray down with a scent killer and add a natural scent such as acorn or pine to your clothes and gear.
Fourth, look for new areas. I have found more deer in places I never imagined would hold deer. Water is probably my favorite area as deer will find a slough with an island only big enough to hold a squirrel and camp out. They will lay with their nose in the wind and rarely move until dark.
Fifth, watch the moon and barometer. A rising barometer is a good time to lay up at the camp. Deer are like fish. They like a falling barometer when selecting the best time to hunt. The moon phase is the most critical thing to watch. The fuller the moon, the further up in the day they will feed. Less moon, mornings and evenings are in play.
Lastly, use technology. I used Covert Cameras to give me the optimum feed times for deer. There is no use in scenting up a hunting area when it is not optimum time. I hunt an hour before and a hour past major feed times. It really helps with success ratios.
When it comes to duck hunting, we are all still shaking our heads as to the eternal question "where have the ducks gone?" Ducks will be here if you have food and water. The numbers are determined by freezes up north (Missouri north) and food. We don't flood up until the second split for that very reason. Whether I'm hunting in the woods or fields, ducks remain in an area for cover, food and resting areas. I recommend utilizing places on any area and designate them as resting areas. We never shoot resting areas until the last week of season. Take into account that ducks have been called, shot, chased and molested from Canada to Louisiana as a good reason to leave most calling to a minimum. Also this is the best time to lose "motion" decoys and just go back to the basics of a 6-decoys jerk string. The motion decoys are now more of a flaring tool than a meat tool. Natural is the key. Small chuckles, feeding calls and cackles will get the best results. I've set with many a hunter who is hail calling and wonders why there is no response. Think about it. How many calls have they heard since early November? It does not take long for ducks to figure out what is real and what isn't. In January, we also believe heavily in new locations and adding more camo to our blind. Natural camo is best with willow being my favorite. I add commercial applications of burlap to give me the aged look. I am also very careful in January to assure any know "head bobbers" are camo'd up good and are in an area of the blind where the bobber isn't the first thing ducks see. So the bobber goes on the down wind up wind side of my blind. Amateur callers or show callers duck calls are confiscated and unless you know we are there, even a seasoned hunter won't know we are hunting til we shoot. Natural sounds, natural look and a natural decoy spread are important steps.
I do add additional decoys in my spread and in January mix my bag with scaup, wood ducks and teal to intice more interest. So even though January can be a challenge, step up and change tactics and think like a critter. It will definitely increase your odds and success in this last month of our season. Happy Hunting.
134 JANUARY 2023 | WWW.BAYOULIFEMAG.COM
BAYOU OUTDOORS
The Wellspring's Open House and Ribbon Cutting
The Christmas classic, "There's No Place Like Home for the Holidays," carried a special meaning for The Wellspring. After experiencing extensive damage from a tornado more than two and a half years ago, The Wellspring returned to its historic home at 1515 Jackson Street in Monroe. All were invited to attend the ribbon cutting ceremony on December 15th, which was followed by their "Home for the Holidays" Open House.
On the BayouScene
1 Lisa Longenbaugh and Caroline Casio 2 Tonya Johnston and Sharlé Brown 3 Sophia Dixon Brown and Melanie Clark 4 Susan Crawford and Judy Bell
Carrol Wood and Marie Bluford 6 Reita Portman, Roy and Katie Sivils and Christy Gwin 7 Meg Keene and Rachel Niblett 8 Cody Bauman, Heather Guillot and Rick Guillot 9 Bachel Niblett and Sharon Dollins 10 Virginia Helmer and Etheldra Sharp 11 Bryan Caldwell and Ramona Caldwell 12 Darian Atkins and Christy Gwin 13 Jennifer Calhoun and Eddi Hernandez 14 Lea Frazier and Zach Page 15 Robyn and Jordan Johnson
WWW.BAYOULIFEMAG.COM | JANUARY 2023 135
5
6 9 14 15 13 12 10 11 7
5
8
1 3
4
2
THINGS TO STOP DOING
In 2023
by ERIN SHARPLIN LOVE erinlove@panachebyerin.com
January is typically the time when you are supposed to set new goals and make lists of things that you want to start doing, but let's do things a little differently this year! Instead of making a list of all of the things that you want to start doing, make a list of all the things that you want to stop doing. In order to make a change, you must make a conscious effort to substitute new behavior for old. Nothing changes, if nothing changes. Let's do this! Below is a list of the things that you might want to stop doing in 2023:
Stop rushing. Do you always feel rushed and stressed? It seems to be a constant for me these days, but it can be stopped. I am and will always be a proponent for being prepared. Preparation saves time and makes small tasks easier and less stressful. Life happens and therefore opportunities to get derailed happen, too-- even for an over-preparer. So, beginning now, stop rushing and get back on track to being prepared for whatever may happen. This means staying ahead of the game by creating and maintaining lists and tasks for every aspect of life – home,finances, kids, work, social, self and so on. Make lists based on your life and needs. Stop saying yes to everything. Unfortunately, there will be some things that you must say no to in order to maintain a healthy and fulfilling life. I am the world's worst at not wanting to say no, so I know how hard this one is going to be. One of the best quotes I have heard in relation to this tip is,
"When you say yes to one thing, you are saying no to something else." Ask yourself what you are saying no to each time the opportunity arises and you will find it easier to decline. The good news is that you can say yes to more when you successfully master the first step – stop rushing and get prepared.
Stop complaining. Next time you find yourself complaining about something, stop and ask yourself what you can do to solve the issue. For instance, are you complaining about your children not doing something? If possible, don't complete the task for them. Have them do it immediately when they get home from school. Are you complaining about a coworker? Address the issue immediately. Complaining never makes anything better.
Stop wasting time. There are so many things that require our attention almost every second of the day – email, social media, cooking, cleaning, family,
friends , work etc. Devise a plan to manage these things instead of letting them manage you and, therefore, waste your time. Time is a precious commodity and should be used wisely. Figure this out, and you will be able to accomplish anything! "There is never enough time to do all the nothing that you want." (Bill Watterson)
Stop being so hard on yourself. Perfection is a hard habit to maintain. I know this from experience. I love for everything to be as close to perfect as possible, and when I can't make it happen, I feel guilty for days afterward. When I make a mistake, I am even harder on myself. Although I think striving to be and do the best you can is a positive attribute, it shouldn't have negative consequences. Anytime you are critical of yourself, it gets harder and harder to be positive. Know that you are doing the best you can and that no one is perfect. Mistakes happen, and how you learn from them is the way to put a positive spin on a negative.
Stop waiting on the "right" time. The timing is never going to be right. Do it now! Period.
Stop comparing yourself to others. You are uniquely you, and no one else can be you or anything like you. Likewise, you will never be like other people, so stop comparing yourself to them. Instead, continue to strive to be the best you that you can be.
Stop worrying. Worrying about what might happen is making it more likely for that thing to become reality. Have you have heard of manifesting? Worrying is manifesting something that you don't want to happen! Stop worrying and start making things happen.
136 JANUARY 2023 | WWW.BAYOULIFEMAG.COM
Which, if any, of these things speak to you the most? What will be on your Stop doing list for 2023? Please share! erinlove@panachebyerin.com
IN 1814 WE TOOK A LITTLE TRIP
by Guy Miller. Vice Chair Emeritus, Chennault Aviation and Military Museum
Historical Impressions
It didn't have to happen but it did. And it was the loser's fault.
By August 1814 Great Britain and the United States had initiated negotiations to end what is now called the War of 1812. The British War Minister, however, did not want to miss any opportunities for gain during the negotiations. He especially wanted an opportunity to claim the American purchase of the Louisiana Territory was null and void and the land belonged to Britain. Accordingly he ordered General Sir Edward Pakenham to continue the war despite any rumors of peace.
In December the British captured five American gunboats in Lake Borgne then invaded the Louisiana coast east of New Orleans. The road to New Orleans was wide open but no reconnaissance was made to find that opportunity. Instead the British marched overland along Bayou Bienvenu and by the morning of December 23rd reached the east bank of the Mississippi about nine miles south of the city. Again the city could be taken by continuing up an undefended river road but the invaders decided to make camp and wait for the arrival of reinforcements. That same night the combatants fought on the plantation land below the city. This battle ended in a stalemate but the British were thrown off balance by the unexpected American attack. Making things worse, when the British came to the plantation home of Major Gabriel Villeré, he escaped through a window and went to warn General Andrew Jackson, commander of the American forces, of the approaching enemy and its current disposition. The failure of the British to exploit the open road opportunities gave Jackson time to harass the British while strengthening his defensive positions.
In truth, the British failure was moot because the next day, December 24th, American and British commissioners meeting in Ghent, Belgium signed a peace
treaty that ended the war. In 1814 there was no method faster than crossing the ocean on a ship that could get the news to Generals Pakenham and Jackson. Not knowing the war was over, the British continued to press their assault on New Orleans.
To defend the city against Pakenham's 8000 troops, Jackson had an army of 4732 men. He had brought or enlisted 968 Army regulars, 58 Marines, 106 Navy seamen, 1060 Louisiana militia and volunteers including 462 free blacks, 1352 Tennessee militia, 986 Kentucky militia, 150 Mississippi militia, and 52 Choctaw warriors. Deciding defeating the British outweighed "other concerns" he even accepted help from Jean Lafitte and the pirates who conducted smuggling and privateering operations out of nearby Barataria Bay. Lafitte had been contacted by the British who wanted the pirates as as allies and waterway guides. While pretending to consider the offer, Lafitte slipped away to meet with the American officials. Jackson was willing to give Lafitte and his men amnesty for past offenses in return for supplies and volunteering their artillery expertise in support of the American cause.
Jackson's chosen location for the defense of New Orleans was the Rodriguez Canal, a ten-foot-wide water wheel stream that was connected to the Mississippi River near Chalmette Plantation.
Jackson made a defensive trench by widening the canal then used the excavated dirt to build a seven-foot-tall earthen rampart. He buttressed this with logs and large mud-coated cotton bales to protect his batteries of cannons. "Line Jackson" as it was now called stretched nearly a mile from the east bank of the Mississippi until it ended at a almost impassable swamp to the north.
The American forces split into two defensive positions. Jackson took command of the eastern bank of the Mississippi with almost 4,000 troops and 24 cannons
stretched behind the rampart he had built along the canal. On the western bank of the river General David Morgan had almost 1,000 troops and 16 cannons to prevent the British from trying to cross the river and flanking the main American army. As the British probed the American defenses there were several small-scale skirmishes between the forces. One of these skirmishes on New Year's Day turned into a significant American victory when British casualties outnumbered those on the American side by more than two to one.
The deciding battle took place on January 8, 1815. It is this day that is commemorated as the Battle of New Orleans day of victory.
The doomed British attack got underway before sunrise. On the west bank, British light troops led by Colonel Robert Rennie swarmed over an isolated redoubt. As the American defenders scattered, Rennie had barely shouted in triumph when a shot from across the river killed him. With their colonel gone his troops frantically tried to retreat but were cut down in a hail of musket balls and grapeshot.
On the British left, the attackers were stopped in their tracks by an American fusillade. British General Gibbs was mortally wounded in this attack so Pakenham attempted to rally his troops but then was also hit by an American volley. With the British commander fallen the remnants of the British force withdrew beyond the range of the American guns. Of the 3,000 British troops making the assault 2,000 had become casualties in less than 30 minutes including three generals and seven colonels.
Unable to continue, the British withdrew and New Orleans was safe. The war was over before the battle had begin but this decisive American victory left no doubt as to the strength of American resolve.
WWW.BAYOULIFEMAG.COM | JANUARY 2023 137
On Reserve
From the perfect jean to a basic black turtleneck, these looks are must-haves for the new year. Find this and more at area boutiques.
MOORE CLARK
GLOBKE
MEKA BENNETT
Blush by Elle
This oversized V-neck mocha sweater is super soft and stylish. Pair it with ankle length skinny jeans with a cut hem. Accessorize with a gold layered starburst necklace and gorgeous rose gold glittered sneakers.
photography by KELLY
model EMERSON
hair and makeup by
Palette House and Plume
This jogger set is a staple for the new year. The casual zip-up hoodie is perfect for the everyday adventure, elevated with a stripe down the back. It's worn with the matching ultra-soft Lux Wash French Terry pant with side striping detail and sweater knit trims.
Hemline Monroe
This basic black turtleneck knit top is perfect for winter and spring. Pair it with this luxurious suede skirt with button front closures. Accessorize with a black leather bucket bag, gold bracelets and these ultra-pointed toe black suede booties.
WWW.BAYOULIFEMAG.COM | JANUARY 2023 141
I REMEMBER
how, as I began my years of study as a seminary student, the first quiz in my initial Greek class had a significant impact on all my future studies of that New Testament language. Our professor assigned us a scripture passage from the Greek New Testament which we were to translate into English. We were also required to "dissect" the passage, identifying the verbs and their tenses, explaining the context in which the passage was written, and giving our thoughts relative to the desired effect the author wanted the text to have on his readers. Fortunately for me, our teacher had selected a passage with which I happened to be very familiar, and I was able to meet his requirements in a manner superior to and unmatched by any of my efforts during my undergraduate years at the college which I had attended prior to enrolling in seminary. In short, by God's benevolent grace, I "nailed it!" When our tests had been graded and returned to us, I don't think that there was a single red mark of correction on my paper.
I was not a poor student, and I had taken a couple of Greek courses at the college level, but the impression made on our Greek professor was that I was a "top" student. The result of it all was that I received excellent grades in all of my future classes in that subject. Please understand that I did work hard in those classes, but I have no doubt but that my professor, as he evaluated my work, was influenced by his memory of my first efforts in his class. That good start paid good dividends.
I share this story to make this point: strong beginnings and early efforts will have an impact on our futures and the successes we realize "down the road." I believe we shall benefit by this theory as we begin the New Year of 2023. If we start strong and work diligently, the profits that come our way can be very satisfying.
A New Year seems to offer us new beginnings. While we close out the old year with its failures and successes, we start the new with a clean slate and the opportunity to begin the year afresh by leaving behind the past year's record and by sprinting out of the starting blocks in our pursuit of the best year ever.
What I am suggesting is that, if we want 2023 to be better than was 2022, we will be benefited by getting a strong start. Waiting a while before giving attention to the goals we hope to attain in the twelve months ahead, is not a good, winning strategy. Instead, such a tactic is almost a sure recipe for mediocrity. To delay is to default.
The strategy I wish to recommend is, I believe, one that will produce positive results. By starting strong and advancing steadily, there will be the realization of hopes that will be incentive and encouragement to continue, and even to increase our efforts. If we "play" the first quarter well, hopefully we shall have everything under control and quarter four will not be a problem.
It is my strong desire that we all are resolving to pursue a New Year blessed by a positive, maturing relationship with the Lord. May I suggest a few things that will enhance your efforts to realize that hope? The first day of the New Year is on Sunday, affording us the opportunity to begin the year by attending worship; I can think of no better way to start our "race." In addition to the practice of regular public worship, I commend to you private worship where you spend time reading God's Word and praying. Finally, strengthen your personal relationship with God by sharing your faith with like-minded friends where there will be mutual encouragement to run the race well.
May 2023 be blessed and the best New Year ever!
article by PAUL LIPE opinion expressed is that of the writer
WWW.BAYOULIFEMAG.COM | JANUARY 2023 143
Calendar of Events
For a full list of event happenings in Northeast Louisiana, see our website at www.bayoulifemag.com
Through January 7
A Cast of Blues Exhibit
The exhibition includes 15 color photographs of blues artists and the colorful juke joints in which they played. The images are selected from acclaimed photographer Ken Murphy's ground-breaking book, Mississippi: State of Blues.
Time: Tuesdays-Fridays 10AM - 4 PM; Saturdays 10AM - 2PM Cost: Adults- $5.00 (18 and older). Seniors- $3.00. 17 and under- Free. Address: Northeast Louisiana Delta African American Heritage Museum 1051 Chennault Park Dr, Monroe Phone: (318) 342-8889
January 1-31
Monroe Museum Month
Join Monroe's museums for Museum Month all month long in January 2022. Nine museums, all located in Monroe, have come together to celebrate what we love about and learn from visiting museums! Stop by the Visitor Center at Discover Monroe-West Monroe and pick up your museum passport. Time & Cost: Hours and ticket prices vary by location.
January 5
ULM Men's Basketball vs. Georgia State
Watch the ULM men's basketball team beat the buzzer and compete to win at the Fant-Ewing Coliseum!
Time: 6:30 PM
Cost: Ticket Prices Vary Address: Fant-Ewing Coliseum 4099 Northeast Drive, Monroe
January 6
Krewe of Janus Twelfth Night
Twelfth Night occurs 12 days after Christ was born and is considered the beginning of the Mardi Gras Season. Krewe of Janus will kick-off Mardi Gras with a Twelfth Night Party at their Krewe Den.
Cost: $55.00
Address: Krewe of Janus Float Den 901 Louisville Avenue, Monroe
Phone: (318) 614-8572
January 6-8
Big Creek Trade Days
Big Creek Trade Days are held monthly on the weekend before the second Monday with over 100 indoor and outdoor vendors, food trucks, and fun for all ages!
Hours: Friday & Saturday 9AM - 5PM; Sunday 10AM - 4PM Cost: Free Venue: Big Creek Trade Days 327 California Plant Rd, Dubach Phone: (318) 680-1304
January 7
Miss Krewe of the Twin Cities Pageant
Join the Krewe de Riviere for their Miss Krewe of the Twin Cities Pageant. The pageant will be split up into two competitions: The Miss Krewe of Twin Cities (18-26 years) and The Miss Krewe of Twin Cities Outstanding Teen (13-17 years).
Time: 11AM - 12PM Cost: $10.00/Person. Under 5 free Address: Jack Howard Theater 401 Lea Joyner Expressway, Monroe
ULM Men's Basketball vs. Southern Miss Watch the ULM men's basketball team beat the buzzer and compete to win at the Fant-Ewing Coliseum!
Time: 2PM
Cost: Ticket Prices Vary Address: Fant-Ewing Coliseum 4099 Northeast Drive, Monroe
January 12
ULM Men's Basketball vs. Ragin' Cajuns
Watch the ULM men's basketball team beat the buzzer and compete to win at the Fant-Ewing Coliseum!
Time: 6:30PM
Cost: Ticket Prices Vary Address: Fant-Ewing Coliseum 4099 Northeast Drive, Monroe
January 12-15, 19-21
Always...Patsy Cline
Always, Patsy Cline is based on the true story of Patsy Cline's
friendship with Houston housewife Louise Seger.
Time: Thursday-Saturday 7PM; Sunday 2PM
Cost: Adult- $30.00. Student- $15.00 Address: Strauss Theatre Center 1300 1/2 Lamy Lane, Monroe Phone: (318) 323-6681
January 13-14 2023 Ag Expo
Ag Expo 2023 is here to educate the public, both youth and adult, on the many ways agriculture touches daily lives!
Time: Friday 2PM - 8PM; Saturday 9AM - 4PM
Address: Ike Hamilton Expo 501 Mane Street, West Monroe Phone: (318) 355-2495
January 14
Precious Legacy Museum and Archives Israel Talk
The Precious Legacy Museum and Archives is located at Temple B'nai Israel in Monroe. This is a cultural museum of Judaism and Jewish contributions to the development of Monroe. Time: 10AM - 3PM Address: Temple B'nai Israel 2400 Orell Place, Monroe Phone: (318) 387-0730
ULM Men's Basketball vs. Texas State Watch the ULM men's basketball team beat the buzzer and compete to win at the Fant-Ewing Coliseum!
Time: 2PM Cost: Ticket Prices Vary Address: Fant-Ewing Coliseum 4099 Northeast Drive, Monroe
The Dixie Center for Performing Arts Presents: Louisiana's LeRoux
Louisiana legends make a musical gumbo that blends various instruments & music into a spicy, mouth-watering southern rock sound.
Hours: 7PM
Cost: $10.00-$35.00
Venue: Dixie Center for the Arts 212 North Vienna Street, Ruston
Phone: 318-255-1450
January 15
The Dixie Center for Performing Arts Presents: Tommy Emmanuel
Regarded as one of the greatest acoustic guitarists of all time, Tommy Emmanuel is known for his complex fingerstyle technique, energetic performances, and use of percussive effects on the instrument.
Hours: 7:00 PM
Cost: $50.00-$60.00 Regular; $108.00-$280.00 VIP Experience Venue: Dixie Center for the Arts 212 North Vienna Street, Ruston Phone: (318) 255-1450
January 19
ULM Women's Basketball vs. Texas State
Watch the ULM women's basketball team beat the buzzer and compete to win at the Fant-Ewing Coliseum!
Time: 6:30 PM
Cost: $5.00 General Admission Address: Fant-Ewing Coliseum 4099 Northeast Drive, Monroe
January 21
Platforms and Polyester 2023
Grab your best disco attire and get ready to get your groove on at Platforms and Polyester- brought to you by The Radio People! Get ready to disco dance the night away and have a blast from the past!
Time: 7PM- 10PM
Cost: General Admission $40.00 Address: Bayou Pointe Event Center 100 Warhawk Way, West Monroe Phone: (318) 388-2323
January 26
ULM Women's Basketball vs. Marshall
Watch the ULM women's basketball team beat the buzzer and compete to win at the Fant-Ewing Coliseum!
Time: 6:30 PM
Cost: $5.00 General Admission Address: Fant-Ewing Coliseum 4099 Northeast Drive, Monroe
144 JANUARY 2023 | WWW.BAYOULIFEMAG.COM
MSO Strings & Percussion
Join the Monroe Symphony Orchestra and Hammered Dulcimer National Champion, Amanda Roberts, with a strings and percussion performance. You do not want to miss this!
Time: 7PM
Cost: Adult $15.00. Student $5.00. Address: ULM Emy-Lou Biedenharn Recital Hall 200 University Avenue, Monroe Phone: (318) 812-6761
The Dixie Center for Performing Arts Presents: Twitty and Lynn LIVE at the Dixie
The grandchildren of music legends Conway Twitty & Loretta Lynn perform songs that propelled their grandparents to stardom.
Hours: 7:00 PM
Cost: $39.00-$45.00
Venue: Dixie Center for the Arts 212 North Vienna Street, Ruston Phone: (318) 255-1450
January 27
ULM Tennis vs. Missouri State Come out to support the ULM tennis team at Heard Stadium!
Time: 2PM Address: Heard Tennis Stadium Warhawk Way, Monroe
January 28
Ruston Art Encounter's Performance Encounter
The Ruston Art Encounter hosts interactive art experiences for the community to be a part of on the last Saturday of every other month. The fourth installment of the Ruston Art Encounter is the Performance Encounter. A chance to grab some hot chocolate downtown and watch the talents of visual, culinary, and performance artists.
Hours: 12PM - 4PM
Cost: Free
Venue: Downtown Ruston Phone: (318) 251-8647
NEDHSA's Psychodrama - "Sour Grapes"
Northeast Delta Human Services Authority (NEDHSA) and Crystal Wheeler Productions are partnering to produce "Sour Grapes," a threeact play exploring how we deal with tragic situations in our lives, and the way God shows us grace.
Time: 2PM and 6PM
Cost: Free
Address: Monroe Civic Center 401 Lea Joyner Memorial Expressway, Monroe
Twin Cities' Krewe of Janus Grand Ball
The 40th Annual Twin Cities' Krewe of Janus Grand Ball featuring The TopCats from New Orleans. Join them at Bayou Pointe to celebrate King & Queen Janus XL Lee and Suzette Sawyer for a night filled with fun, food, and dancing! Formal attire is required.
Time: 6:30 PM
Cost: $100.00
Address: Bayou Pointe Event Center 100 Warhawk Way, West Monroe Phone: (318) 614-8572
The Dixie Center for Performing Arts
Presents: Creedence Revived
Ready for a night of nostalgia with the world premier CCR tribute? Creedence Revived is the most highly sought-after CCR tribute band around. CCR is legendary! Hear songs like: "Have You Ever Seen The Rain," "Fortunate Son," "Proud Mary," "Born On The Bayou," and many more!
Hours: 7:00 PM
Cost: $10.00-$35.00
Venue: Dixie Center for the Arts 212 North Vienna Street, Ruston Phone: (318) 255-1450
January 7, 14, 21, 28
Ruston Farmers Market Shop, eat and support local producers and creators every Saturday morning!
Hours: 9:00 AM to 1:00 PM
Cost: Free
Venue: Ruston Farmers Marketplace | 220 E. Mississippi Ave. Ruston Phone: 318-957-130
Time: Tuesday – Saturday at 10:00 AM to 5:00 PM
Cost: $4.00
Address: Biedenharn Museum and Gardens | 2006 Riverside Dr, Monroe Phone: (318) 387-5281
WWW.BAYOULIFEMAG.COM | JANUARY 2023 145