Design Anthology UG12
Architecture BSc (ARB/RIBA Part 1)
Compiled from Bartlett Summer Show Books
Our Design DNA
At The Bartlett School of Architecture, we have been publishing annual exhibition catalogues for each of our design-based programmes for more than a decade. These catalogues, amounting to thousands of pages, illustrate the best of our students' extraordinary work. Our Design Anthology series brings together the annual catalogue pages for each of our renowned units, clusters, and labs, to give an overview of how their practice and research has evolved.
Throughout this time some teaching partnerships have remained constant, others have changed. Students have also progressed from one programme to another. Nevertheless, the way in which design is taught and explored at The Bartlett School of Architecture is in our DNA. Now with almost 50 units, clusters and labs in the school across our programmes, the Design Anthology series shows how we define, progress and reinvent our agendas and themes from year to year.
2022 Settlement
Hannah Corlett, Níall McLaughlin
2021 Citadel: The body of bodies
Johan Hybschmann, Matthew Springett
2020 Eyes Wide Shut
Johan Hybschmann, Matthew Springett
2019 Anger Management
Johan Hybschmann, Matthew Springett
2018 Escape-Disrupt
Johan Hybschmann, Matthew Springett
2017 The 'Embassy'
Johan Hybschmann, Matthew Springett
Settlement Hannah Corlett, Níall McLaughlin
2022
12.1
Settlement
Hannah Corlett, Níall McLaughlin
A settlement suggests a collection of buildings housing a community in a particular place. It might take its characteristics from the landscape, the environment, the work that people do or the materials available for building. We imagine it as a situation with its own origins which develops over time, creating a particular energy and attraction. It is probably linked to a hinterland of other places and settlements within a network of connection, rivalry and influence.
Another meaning for the word settlement is an agreement. It might be simple or complex, but the inference is that something once disputed or debated has been settled, in a way that is acceptable to all parties.
Both meanings of the word require each other. To live together we must share certain values and know how to cooperate, even in the face of disagreements.
To settle is to find a comfortable position. You look for your favourite place in a room, with the right aspect and sense of protection. You watch your cat prowling around until she has found the perfect place to curl up. This kind of settling belongs to our oldest animal intuitions and we suggest that it is at the heart of architectural experience. It is a sense of feeling at home. We become attached to places that nourish our physical and emotional needs. Good architects can create these places.
Finally, buildings themselves settle. They sink gradually into their sites; they wear and weather, requiring our attention and care. People develop habits around buildings: they acquire histories. Soon they become almost invisible, but they still have a profound impact on our sense of who we are and how we place ourselves in time.
This year UG12 were asked to design a settlement and the buildings within it, working together in cooperation and competition. After agreeing a set of understandings for the community and establishing a relationship with the landscape, it was necessary to respond to each other as individual buildings morphed, through design progression, inhabitation and wear. The year was one of continued negotiation. A journey with a process rather than an end.
Year 2
Dimitris Andritsogiannis, Jack Bowers, Yutong (Sabrina) Li, Jatin Naru, Nora Seferi, Oyku Sekulu, Ilya Tchevela, Haodi (Hardy) Wang
Year 3
Nana Boffah, Aaron Green, Eleanor Middleton, Leonids Osipovs, Clara Popescu, Flavia Scafella, Fergal Voorsanger-Brill, Joy You
Technical tutors and consultants: Matt Driscoll
Critics: Negin Amiri, Katerina Dionysopoulou, Matt Driscoll, Asif Kahn Architects, Billy Mavropoulos, Níall McLaughlin Architects, Farlie Reynolds, Adam Richards Studio, Greg Storrar, Threefold Architects, Steve Webb, Webb Yates Engineers
With thanks to Peter Scully and the team at B-made for the Exploring Design Through Lenses: Making, Measuring, Modelling and Manipulation workshops
169
UG12
12.1 All Students, Y2&3 'Settlement'. A 180 x 240cm communal site drawing of the Oare Marshes following a visit to Faversham, Kent. The drawing took place in advance of planning the settlement together via regular town hall meetings.
12.2–12.4 Jack Bowers, Y2 'The Faith Space'. A space for contemplation, divided into two parts: prayer room and courtyard. Greatly influenced by the idea of simplicity, the building is designed around Shinoharainspired dialectics, with balance between the rigid structural grid, carved space, scale and use of light.
12.5 Eleanor Middleton, Y3 'The Children's Home'. Nestled between two town squares sits a home for unaccompanied minors fleeing persecution in their homelands. It provides a safe place for children to flourish, learn and imagine. The translucent, ordered exterior envelops an intricate and welcoming brick courtyard within.
12.6–12.8 Fergal Voorsanger-Brill, Y3 'The Avian Housing'. The project caters for clients that migrate: birds and human beings living seasonally as their Mesolithic ancestors once did. A weaving between printmaking, physical production and digital fabrication forms the warp and weft of the architecture, a calcification of behaviour in a place over time.
12.9–12.10 Jatin Naru, Y2 'The Jam Factory'. The site's prominent position at the border of the main town square mixes and promotes the importance of civic and industrial authority, as the owner of the factory is both a major businessperson and a landowner in the settlement. The tower allows them to overlook the community and their orchards beyond. A simple grid underpins the building's structure and the order of the process within.
12.11–12.12 Joy You, Y3 'The Research Centre'. The centre is used by scientists, researchers and students of climate change, and makes scientific research visible and legible to the public, while educating them about the climate emergency. To emphasise this transparency, the building focuses on the relationship between interior and exterior. Levels of transparency and privacy are achieved through the layering of different materials, including acrylic, polycarbonate and ethylene tetrafluoroethylene (ETFE). Living material (microalgae) within the ETFE visually articulates the imminence of climate change through the impact of atmospheric pollution.
12.13–12.15 Haodi (Hardy) Wang , Y2 'The Local Pool'. The pool embraces the natural water features of the Oare Marshes and translates them into a visual, audible and interactive environment. Three pools exist for the locals: wave, tidal and thermal. The wave pool is located in the natural marsh pond, with a wind-driven organ that generates music and waves to enhance children's play. The tidal pool responds to the ebb and flow of the moon, encouraging adults to exercise. The thermal pool allows the older generation to explore and relax within the reeds like marsh birds.
12.16–12.18 Nana Boffah, Y3 'The Boat Yard'. The project secures Faversham to its roots by providing training in the traditional crafts of boat and building construction. The architecture acts as a frame in which to experiment with different techniques and typologies, aiding the regeneration of the creek via a community resource. The yard is divided into three separate buildings: the main shed, ancillary area and public space. The forms of these buildings embody different stages of a boat's life – framing, planking and its afterlife (anchored).
12.19–12.21 Yutong (Sabrina) Li, Y2 'The Salt Marsh & Funeral Home'. A traditional salt marsh is returned to the easternmost promontory of Faversham. A factory is set up to process the salt to fuel the local economy.
In tandem, a contemporary funeral home questions the grieving process by actively encouraging mourners to participate in the burial preparations of their deceased. The salt provides a natural medium for the embalming process as well as informing the construction. The buildings create spaces for harvesting the salt, the treatment and burial of the dead, and a sensual experience for the living to help them negotiate the five stages of grief.
12.22–12.23 Flavia Scafella, Y3 'The Post Office'. The post office functions as a social bond for a new settlement. The building also acts as a cosmic device, amplifying the cycles of the community and the natural rural environment of the Oare Marshes with their subtle celestial movements. The architecture is the shell of its users and the environment it sits in. It follows the symmetry between the existing patterns of the sun, moon and tides, and the choice and application of local forms and materials.
12.24 Oyku Sekulu, Y2 'The Market Bridge'. The bridge connects the centre of the village in the east to new residences in the west. At low tide the two halves of the bridge remain connected, but as the water rises, the central platform opens and the outer skins slide back to enable boats to pass. The market interior houses kiosks and stalls run by those local to the marshes. The building's material is born of the Oare Creek's landscape. A bamboo garden sits centrally, out of which the building's frame is built and will be maintained.
12.25 Aaron Green, Y3 'The Retirement Home'. A cohousing project intended to adapt to the changing lifestyles of 12 retirees who live there. Their 12 apartments are split over two levels and joined by a winter garden, greenhouse and existing pub, all arranged around a central courtyard. Circulation provides opportunities for chance encounters. Layered levels of intimacy are explored in the buffer spaces between the public walkway and courtyard, and the private residences.
12.26 Dimitris Andritsogiannis, Y2 'The Ceramics Studio'. The project consists of twin studios divided by a kiln, placed upon the water's edge. The site swims in an abundance of mud brought in by the tide, which the building transforms into clay. When ready, the clay is formed, baked and glazed in the hot kiln, which also heats up the studios during the winter.
12.27–12.28 Ilya Tchevela, Y2 'The Gallery & Vault'. The project pays respect to the materialisation and protection of sentiment. Objects depict an unknown story, perhaps of migrating and settling, when only the small and irreplaceable could be accommodated. The monumental effect of the floor-to-ceiling walls draws attention to the objects on display and contrasts with the smaller vault, which anchors itself within the depths of the gallery space. The rigid horizontal and vertical walls are countered by corridors of light which seep through the building, helping to demarcate the space.
12.29 Nora Seferi, Y2 'The School'. The project is designed to encourage the children of the settlement to make the most of the land, integrating ecology and nature as fundamental parts of their education. They play, grow, interact, discover, navigate and swim. The spaces are built from the landscape and the programme flexes through the day, week and year.
12.30 Clara Popescu, Y3 'The Reed Housing'. Reed houses sit atop a timber stilt frame, ensuring a limited footprint to conserve the volatile Oare Marshes. The gridded superstructure is informed by the site's topography. The modular one-bed, two-bed and family units are unified by reed roofs and a reed-bed filtration system that purifies the wastewater to regenerate the marshes.
170
171 12.2
172 12.5
12.3
12.4
173 12.8
12.7 12.6
174 12.12
12.9 12.10 12.11
175 12.15
12.13 12.14
176 12.19 12.18 12.16 12.17
177
12.23
12.20 12.21
12.22
178 12.26
12.25 12.24
179
12.27 12.28 12.30 12.29
Citadel: The body of bodies Johan Hybschmann, Matthew Springett
2021
12.1
Citadel: The body of bodies
Johan Hybschmann, Matthew Springett
As we slowly recalibrate to new patterns of existence, as a result of the Covid-19 pandemic, we must (re)consider the boundaries of where we live, work and play. With the human constructs of community and shared belonging being challenged, UG12 considered the building typology of the citadel. We reflected on places of autonomous refuge, protection and defense to explore future citadel typologies. Through detailed research and enquiry, we explored more traditional citadels and defined communities that have chosen to self-isolate. We asked, What might a modern interpretation of a citadel look like?
This year, we embraced the uncertainty and change that we are all facing. Our brief did not only reflect on the turmoil of the past year but also looked forward to a better place. Our working methodology encouraged new processes and established an original and elevated rhythm of research, design and production.
The students were free to select the sites for their projects through independent local research and immersed us within their chosen area of exploration. With the lack of a physical field trip, the unit virtually travelled across the globe to engage in personal and localised investigations.
Precedents of existing citadels were researched at a range of scales and ages, using constructs and propositions to explore our notion of what they could be now and in the future. The unit explored themes of personal and community boundaries; what it means to be inside or outside of a citadel and how this is mediated through thresholds and permeability. The role of protection and security was discovered as both a real and constructed reality for the proposed inhabitants and community, and a cause for reflection on what it means to be in a state of isolation.
The scale and complexity of the intended artifice was developed through a focus on what is and is not essential to distill in finding the quintessence of each citadel. Above all, we designed, understood and demonstrated the anatomy of the places created – the citadel as a body of bodies. As always, we did not know where this would take us but that was the excitement of this year's work.
Year 2
Vanessa Chew, Samuel Field, Kai McKim, Jacob Meyers, Ayaa Muhdar, Joanna Van Son, Elise Wehowski, Joy You
Year 3
Latisha Chan, Victoria Chan, Silvan-Mihai Cimpoesu, Maria Garrido Regalado, Will Hodges, Betty Liang Peng, Carmen-Theodora Noretu, Katherine Ralston, Reem Taha Hajj Ahmad
Technical tutor and consultant: Kevin Gray
Thank you to our critics: Laura Allen, Margaret Bursa, Barbara-Ann Campbell-Lange, Rhys Cannon, Michael Carlin, Brian Cohen, Peter Culley, Kevin Gray, Ashley Hinchcliffe, Danny Kahn, Fiona MacDonald, Brian O'Reilly, Jonathan Pile, Eva Ravnborg, Sara Shafiei, Bob Sheil, Mark Smout
147
UG12
12.1, 12.15 Will Hodges, Y3 '[RE] Stabilised Grounds'. The masterplan responds to the unfolding climate crisis to sustain the traditional coastal typology, integrating key moments of architectural resistance with biotic and abiotically resolved systems. A pioneering urban community is embedded within the natural ecology, and sets a precedence for an architecture constructed of complex interactions between anthropogenic processes and biophysical systems.
12.2, 12.24 Samuel Field, Y2 '1.5 Canary Wharf'. Situated on an urban slipway connecting the River Thames and Millwall Dock in the Isle of Dogs, East London, the project creates a new urban typology for social housing, using Canary Wharf as a study for material reuse. Housing and studio spaces are connected by communal streets and elevated walkways have a dual function of boat yard and prefabrication facility.
12.3, 12.22 Betty Liang Peng, Y3 'The Fifth Wave: Renaissance of the Docklands'. The project proposes a new public district and extra-care home in the Isle of Dogs, East London, marking the beginning of its fifth development wave. The development negotiates the boundaries between private and public territories, reclaiming the commons through the management of private and social interests. The project enhances the everyday quality of life of the local community and alleviates feelings of loneliness among the elderly population by encouraging and facilitating intergenerational interactions and cohabitation.
12.4, 12.20, 12.26 Latisha Chan, Y3 'The Embassy for the 'Betwixts''. A proposal for an embassy that supports people with dual Hong Kong and UK heritage who fear that they will lose their cultural attachments when they travel back to Hong Kong. The 'Betwixts' are the people stuck between Hong Kong and the UK. The embassy provides a space for them to meet people of similar backgrounds and receive cultural support, in order to restore a sense of belonging.
12.5 Joy You, Y2 'Community & Care: Highgate Senior Home'. Situated in the residential neighbourhood of Highgate, London, the proposal combines public community spaces and private co-living units to form an urban citadel. The project utilises a courtyard typology, with central gardens providing space for people to look, socialise and play.
12.6 Elise Wehowski, Y2 'Domplatz – Citadel of Communication'. A proposal for a mediation centre that promotes communication between opposing parties. Rather than fuelling confrontation, the building design supports the process of reconciliation. To achieve this, routes and spaces form the structure of the building as well as the process of mediation itself.
12.7 Joanna van Son, Y2 'Citadel of Ruins'. An archaeological research centre, gallery and residential programme on the uncovered ruins of Gobëkli Tepe, Sanliürfa, Turkey. By interrogating the archaeological transitions of the site, the project creates a lens of remembering and forgetting for a spatialised history.
12.8, 12.23 Carmen-Theodora Noretu, Y3 'Fragments of Change'. The project proposes a new type of social infrastructure for the new financial district in Bucharest, Romania, that responds to overlapping social communities. It applies a flexible and adaptable approach to construction through an engagement with human-operated mechanisms. The building is a living being that embraces visitors behind its (movable) walls, producing a change in the neighbourhood through its adaptable social spaces.
12.9, 12.12 Kai McKim, Y2 'Rasmussen's Carcass'. Floating within a fjord in Greenland, the project extends the period that ice can be used as transport infrastructure each year by embedding and anchoring
it to the shore. Providing apparatus to support subsistence hunting practices and sustainable food production, the project alleviates the community's dependence on expensive imports. Further, with increased ice melt during summer and winter periods, the building's skeletal frames emphasise the impact of climate change in places on the West's periphery.
12.10 Victoria Chan, Y3 'Bridging Life and Death'. A proposal for student housing units for a university in rural Hong Kong, joined to a crematorium and cemetery that adopts green and sea burial methods. The proposal encourages sustainable funerary rituals and develops a new housing typology that normalises living in proximity to the dead. It expands the possibilities of residential land use in Hong Kong and reduces the burden of the city's housing crisis.
12.11, 12.21 Jacob Meyers, Y2 'Fort Canning Arts Centre'. A proposal for an art centre located in Fort Canning Park, Singapore. The building embodies a 'trojan horse' response to the city-state's chronic shortage of space for creative production. Studio, workshop and performance space are carved out from an inhabited wall of public circulation infrastructure; viewing points and public amenities enhance access to the adjacent underused urban park.
12.13 Vanessa Chew, Y2 'Open Citadel'. A series of temporary structures celebrate and host cultural and agricultural activities. The project reflects on the effects of gentrification in Hong Kong and explores how architecture can preserve cultural sites, such as the rural village of Nim Shue Wan. The 'Open Citadel' does not protect the site using walls but instead adapts it to the topography and surrounding structures.
12.14, 12.19 Reem Taha Hajj Ahmad, Y3 'Down to Earth'. A landscape that weaves together foster-care housing with a secondary school. It encourages a communal lifestyle and promotes a flexible learning environment that helps to connect and settle foster children into their new community.
12.16 Ayaa Muhdar, Y2 'Mental Wellbeing Respite Centre'. A safety refuge situated within the vicinity of Ealing Hospital, West London. The project explores the qualities of therapeutic architecture and the ways a biophilic and salutogenic design approach can promote mental wellbeing. It generates a restorative environment for young people and provides overnight facilities for those in an immediate crisis. A public walkway over the building connects the refuge to the surrounding area and encourages reintegration.
12.17 Katherine Ralston, Y3 'I Respite Where You Dance'. A respite centre for homeless women and children in Islington, North London; the borough with the largest wealth divide. Its design maintains anonymity for the centre's users and makes daily and essential tasks safe and easy to perform. It is a citadel for the homeless where community can thrive, preventing dehumanisation by offering an opportunity to re-enter society.
12.18, 12.25 Silvan-Mihai Cimpoesu, Y3 'New Justice District of Lasi'. The project places the judiciary of Romania under public surveillance to undermine and counter corruption in the legal system. Through a design that rebalances power, the building places the Lasi community 'above' the judiciary system and creates an opportunity for its citizens to survey them.
148
149 12.2
150 12.4
12.3
151 12.8
12.5 12.6 12.7
152 12.10
12.9
153 12.13
12.12 12.11
154 12.15
12.14
155
12.19
12.16 12.17 12.18
156
12.21 12.22 12.23
12.20
157 12.26 12.24
12.25
Eyes Wide
Shut
Johan Hybschmann, Matthew Springett
2020
12.1
Eyes Wide Shut
Johan Hybschmann, Matthew Springett
We can all be accused of judging too quickly, of looking at the world around us through the skewed lens of naivety. This year, on the eve of Brexit, UG12 began a new trilogy of adventures exploring how we might view, and engage, with Europe and the world from afar.
Our current worldview is, in part at least, seeded in the information-saturated age in which we live. Stories and images are disseminated via social media and the internet in seconds. Without taking time to correctly frame an original narrative through wellinformed opinion, perspective and truth, the information is skewed by our collective lack of patience. This scenario now plays out, as much in in our everyday communications as it does in the quick-fired remarks of world leaders. Our social media presentation can be distorted with unanticipated results and misreadings, sometimes resulting in a hysterical culture of collective blame and shaming. A resultant narcissistic feedback loop of reassurance can be created, whereby we become convinced that our poorly assembled impressions are well-informed facts. If we are to resist this bias, we must now attempt the impossible by evaluating the validity of each and every presentation, statement and opinion we digest.
Via an increased bandwidth of received information our awareness of the world is now greater than ever. But is it naively formed on a more superficial, ill-informed basis and with less research-based enquiry?
In reality, our impressions are often heavily skewed and even false. It could be argued such distortions have always been, and may remain, part of Western cultures and societies. This often led to cultural misreadings and associated unconscious bias or prejudice about the world beyond their own. Those with the power and resource to educate themselves were more readily and accurately able to inform themselves about the wider world. The balance between received wisdom and direct experience is pertinent to all our learning and impacts all decision-making processes, including design.
This year, UG12 has explored these themes from an architectural perspective and questioned whether naivety is always bad. We considered whether the burden of deeper knowledge can, on occasions, hinder us as architects and examined how we make purposeful architecture in contexts of which we have no direct or lived experience. We speculated on whether architects are best informed to make these decisions and the role of architectural research informing them. The unit explored and tested these notions by working intuitively on each project before testing our assumptions in greater depth, and we commenced the year with our eyes wide shut.
Year 2
Selin Bengi, Xintong Chen, Lavinia Fairlie, Beatrice Frant, Matilda Grayson, Shyem Ramsay, Kirsty Selwood, Lion Tautz
Year 3
Inez Acquah-Aikins, Renee (Soraya) Ammann, Long Yin Au, Niamh Cahill, Herui (Henry) Chen, Daniel (Eytan) Grubner, Sabrina Li, Su (Yen) Liew, Olivia Shiu
Thanks to our consultant Rhys Cannon
Thank you to our critics
Margaret Bursa, BarbaraAnn Campbell-Lange, Rhys Cannon, Peter Culley, Fiona MacDonald, Duncan McLeod, Brian O'Reilly, Jonathan Pile, Naomi Rubbra, Nikolas Travasaros
157
UG12
12.1, 12.10 Long Yin Au, Y3 'Personalaks – A Home for Life'. Situated next to the Vlatava River in Holesovice, Personalak is a social housing scheme that proposes a new low rise, high density solution in Prague's housing landscape which adapts to residence's changing needs while providing room for personalisation and self expression. The project was created with the intention of creating a home for life which can be inhabited by people of all ages, whilst fostering a community through shared social spaces between homes.
12.2, 12.14–12.15 Niamh Cahill, Y3 'Sponge City'. This proposal introduces a co-housing scheme for Prague's ageing population, alongside a kindergarten, sited within a newly forested landscape in Holesovice, Prague. The new typology of housing supports independent, community-orientated living with the benefits of celebrating intergenerational relationships. Young and old benefit from living and learning in nature, while engaging with one another. Sponge City promotes the introduction of natural water-catchment systems within the urban environment to accommodate the changing climate, welcoming the influx of water and celebrating its presence within the site.
12.3, 12.26 Su (Yen) Liew, Y3 'Innovation Depot'. This project proposes a district of innovation that provides a creative space for young professionals with companies in their infancies to live and work together. In addition, the close proximity to the new business district will encourage a relationship of education and progress. The district will be government led and funded, and government 'scholarships' will encourage people from the rest of Czechia (outside of Prague) to come into the city and partake in the district for a short-term period before returning to their own cities, developing business there.
12.4, 12.25 Renee (Soraya) Ammann, Y3 'Archive Island'. An island in Vltava River tempts people away from the busy city streets to come and register births, deaths and marriages. The project aims to materialise bureaucracy in the form of paper and memorabilia, travelling throughout the building in correspondence to the owner's point in life. The stark contrasts between the celebratory, mourning and storage spaces hope to encourage visitors to share and celebrate their life experiences.
12.5, 12.22 Inez Acquah-Aikins, Y3 'Material Illuminance'. The project proposes an integrated scheme of community spaces and subsidised housing for creatives. The aim of the scheme is to create a sustainable community centre that engages the public with craft, skill and creativity while providing artists with affordable housing for longer term residencies.
12.6–12.7 Xintong Chen, Y2 'The Hill Kindergarten'. This design proposes an urban playground that facilitates both the adults and children in the residential area of Vinohrady, and to serve as a community hub for the Czech parents who are not on a parental leave. The building functions as a daycare centre in daytime and transforms into a folk-music hub at night, providing an intergenerational assembly space for the local community in Prague.
12.8 Lavinia Fairlie, Y2 'Aqua Rehabilitation Centre'. Currently in Prague, people with disabilities are segregated from the rest of the community. This segregation began in the communist era and has been not been corrected since. This proposal is designed to break these artificial barriers down and encourage integration. The scheme is an inclusive aqua rehabilitation centre, open to disabled people for therapeutic purposes and for the wider community to use as a leisure facility.
12.9, 12.21 Olivia Shiu, Y3 'Cemetery for the Wanderer'. A proposal for an underground urban cemetery and crematorium to target the growing issue of inadequate burial spaces in Prague. Inspired by the picturesque
landscape, the project is envisioned through the journey of a city dweller, wandering into an ethereal, camouflaged metal structure through cuts in the landscape.
12.11, 12.20 Herui (Henry) Chen, Y3 'Bridge Theatre'. A proposal for a cultural centre located in Zone 5 of Prague, featuring three different types of performance spaces while functioning as a bridge to connect Císařská Louka island. The proposal aims to provide live-performance venues that were lacking in Zone 5 as an attempt to attract tourism and bring growth to the nearby area, to provide a stage for artists seeking for exposure, while attempting to diminish the privilege of performed arts.
12.12 Sabrina Li, Y3 'The Pause Button'. An annex to the University Hospital in Prague 10, the Pause Button is a centre and pavilion dedicated to bringing moments of calm and peace to those who need to take a break from the challenges of life. The project is an extension of the Czech culture of nature and escapism to deliver a space not designed as a place to pay visits, rather, it sits in site for those who are seeking a pause in their lives when they visit the hospital, for work or for help.
12.13 Lion Tautz, Y2 'Updating the Modernist Future'. A prototypal exercise in redeveloping social(ist) housing estates, this project consists of a masterplan with the aim of revitalising Sidliste Dablice on the outskirts of Prague, and a proposal for a self-build community centre at the heart of the estate. The building proposal rejects the notion of the genius architect and instead aims to integrate the local residents into the design and building process, thus empowering them and fostering a sense of ownership and community.
12.16 Kirsty Selwood, Y2 'The Samizdat Archive'. This project proposes a climate-controlled archive to store Samizdat literature (writings created during the communist era that were banned) which includes a functional exhibition and lecture space. The proposal allows the archive to become a visual reminder of the importance of Samizdat and consequently the importance of free speech in the current polarised political climate.
12.17 Selin Bengi, Y2 'Prague 10 Birth Clinic'. This project is a comprehensive campus catering to the needs of pregnant women before, during, and after labour. Located in Czech Republic, a country notorious for distrespectful medical treatment during birth, the clinic promotes natural birth and aims to create a nurturing, empowering environment for women.
12.18–12.19 Daniel (Eytan) Grubner, Y3 'The Open Citadel'. This defensive, yet open architecture seeks to provide a space for the journalists to navigate their changing identity through establishing an international forum for discussions about government influence over the press. In addition, it contains accommodation for journalists targeted for their work and large plazas for public demonstrations, providing an urban haven for free speech.
12.23 Beatrice Frant, Y2 'Urban Women's Sanctuary'. The tourist-friendly capital of the Czech Republic is severely lacking in resources dealing with sex trafficking, a topic still considered taboo and widely overlooked. To raise awareness and provide immediate short-term shelter and counselling to victims and sex workers, this refuge ensures the safety of its inhabitants while aiming to directly aid their mental and physical health.
12.24 Matilda Grayson, Y2 'Shelter'. This project aims to provide a space for rehabilitation and reintegration of the homeless population of Prague into the Czech society. It acts as a hub for the homeless community to access safety and security in the form of shelter, while simultaneously engaging in the support necessary to rebuild a life with a secure income, job and home.
158
159 12.2
160 12.4
12.3
161 12.8
12.5 12.6 12.7
162 12.10
12.9
163 12.13
12.12
12.11
164 12.15
12.14
165 12.19 12.16 12.17 12.18
166 12.22 12.21 12.20
167 12.26
12.23 12.24 12.25
2019
Anger
Management
Johan Hybschmann, Matthew Springett
12.1
Anger Management
Johan Hybschmann, Matthew Springett
This year was the last chapter in UG12's trilogy of provocative explorations into American culture. In the first, we considered the notion of the 'embassy' and ideas of 'belonging' by looking at public buildings in New York and examining identity in the post-Obama era. In the second, we drew on the role of 'disrupters' in the development of the American city by exploring infrastructural buildings for alternative communities within Chicago. This year, two years into the Trump presidency, we explored the architecture of confrontation in response to injustice. We visited New Orleans, a city on the edge, in flux, and still rebuilding its communities after the destruction caused by Hurricane Katrina in 2005, whilst also navigating the societal turbulence of the Trump presidency.
Polarised societal anger appears to be a global phenomenon. Whilst such cultural enmity has always existed, recent technological revolutions have allowed it to be shared, presented and represented in more tangible, amplified ways, for anyone who chooses to listen. It truly feels like the world is an angrier place than when we started this American adventure. Politically, we are witnessing greater and faster sharing of unmediated opinion. Divisive political and cultural disputes and angry disagreements are characterising the Trump presidency. Similarly, we find our own country polarised and acrimoniously split.
There is, perhaps, no way of stopping the negative factors and influences of the pervasive media but, this year, we explored the possibility of mediating societal anger through architectural experimentation. We reflected on architecture as a response to anger and aimed to mediate, resolve and counter the negative trends of our times. We questioned whether a new architecture can locally recalibrate the status quo in a city or neighbourhood? We also asked whether an architecture can manage anger through the way we design, programme and make spaces? We considered these questions, tested the possibilities and found answers that would bring architectural delight.
The unit's final building projects are sited in New Orleans and respond to individual observations established by the students before and during the field trip. The result is a series of complex buildings for identified communities looking to change how they inhabit, work in and mediate the city of New Orleans.
Year 2
Dominic Benzecry, Samuel Dodgshon, Olivia Hoy, Marina Kathidjiotis, Maria Mendoza Guerrero, Ellen Nankivell, Jennifer Oguguo, Freya Parkinson, Amy Peacock, Evelyn Salt
Year 3
Yu (Pearl) Chow, Chit (Jessica) Liu, Lucy Millichamp, Harriet Orr, Malgorzata Rutkowska, Annabelle Tan Kai Lin, Maya Whitfield
Thank you to our technical tutor Rhys Cannon and computer tutor Pete Davies
Model photos by French+Tye
Thank you to our critics: Laura Allen, Kyle Buchanan, Barbara-Ann Campbell-Lange, Rhys Cannon, Pete Davies, Fiona MacDonald, Duncan McLeod, Ana Monrabal-Cook, Jonathan Pile, Peg Rawes, David Roberts, Bob Sheil, Mark Smout
173
UG12
12.1, 12.2, 12.21 Annabelle Tan Kai Lin, Y3 'Wetland Frontier'. Straddling a six-foot levee, this proposal facilitates the regeneration of the Lower Ninth Ward community and the adjacent wetlands – both currently ghosts of their former selves after prolonged neglect. Urban ecosystems, disaster-proof housing and sediment satellites make up the multi-scalar scheme, which speculates a new approach to nature in New Orleans.
12.3 Samuel Dodgshon, Y2 'Manchester–New Orleans Trade Consul'. This project aims to build on the historic trade between New Orleans and Manchester in a time when both are facing economic difficulties. The building is designed to showcase Manchester's cultural exports with internal views through the skeletal structure.
12.4 Freya Parkinson, Y2 'Hollywood South'. A proposal for a film studio and headquarters for Hollywood in New Orleans that aims to increase public engagement with the film industry in both the city and the state. The project also hopes to heal the wounds caused by tax benefits and cuts, and encourages Hollywood moguls to reinvest in the community.
12.5, 12.7 12.25 Yu (Pearl) Chow, Y3 'Building Resistance'. This project proposes a 15-year progressive business plan to kick start the local economy in the Lower Ninth Ward of New Orleans post-Katrina. Firstly, the scheme exists as a vocational construction training centre that equips the community with skills to rebuild the local area. There is a boarding house where the students can stay during the course, which evolves into a community hub and research centre for flood-proof vernacular construction.
12.6, 12.12 Olivia Hoy, Y2 'Bridging the Lower Ninth'. An investigation into ingrained conflicts within the social, political and environmental climate of the Lower Ninth Ward in New Orleans. The project seeks emancipations via the provision of a legal advocacy community centre branching over the levee at the site.
12.8 Amy Peacock, Y2 'A Community Centre for Mardi Gras Indians'. A proposal for a meeting place, workshop and teaching centre to support and cultivate the traditions of a community of costume-makers within one of the oldest African-American neighbourhoods in the US.
12.9 Ellen Nankivell, Y2 'A Workshop of New Orleans Historic Vernacular'. Taking inspiration from the historical construction techniques of old New Orleans, and looking to the future for a utilisation of these traditional methods, this project delivers an educational workshop and 'archive' of vernacular architecture for the community of Tremé.
12.10, 12.23 Maya Whitfield, Y3 'While Roe'. Women have the right to an abortion in most states in the US, yet violence at clinics by protesters represents one of the greatest deterrents. This project provides a new form of clinical architecture, with an entryway that aims to deter protesters. Simultaneously, it responds to the growing issue surrounding illegal sex trafficking within New Orleans by providing a space of sanctuary, with short respite care rooms and counselling facilities for those in need.
12.11, 12.22 Chit (Jessica) Liu, Y3 'The Ninth Ward Kindergarten'. A proposal for a kindergarten in the Lower Ninth Ward neighbourhood, based on the concept of 'building a school as a park', aims to create a new learning environment within a post-disaster environment.
12.13, 12.26 Lucy Millichamp, Y3 'Reclaiming Ritualism: The Sanctification of the French Quarter for Voodism in New Orleans'. As both a voodoo spiritual temple and a public performance space, this architecture aims to provide local worshipping communities with a sacred space in the historic heart of the city. If offers an authentic representation of a religion that has been commodified for the entertainment and leisure of tourists in New Orleans.
12.14 Harriet Orr, Y3 'Riverfront: Bridging the Boundary Between City and Water in New Orleans'. This project proposes the design of a single-pilot, dual purpose, community performance centre that will be able to transition into a temporary disaster-relief centre for up to 500 people. Focusing on the importance of the New Orleans riverside, the building will blur the boundary between the city and the water, becoming an extension of the land, diminishing fear and instead celebrating the natural phenomenon of the Mississippi River.
12.15, 12.20 Malgorzata Rutkowska, Y3 'Recalibration – New Orleans'. A proposal for an environmentally responsive art centre brought to the community by US Army Corps of Engineers in order to educate people about the Mississippi River and the effects of water on the manmade environment. Instead of focusing on problems and difficulties, the project explains the consequences of controlling the elements through positive actions. Merging activist art and canal engineering for positive human impact, it brings attention to the difficult topic of unpredictable environmental change.
12.16 Jennifer Oguguo, Y2 'Claiborne Place'. New Orleans – the birthplace of jazz – is slowly losing its sense of culture as people are pushed out of the city due to overwhelming rental prices. This is a proposal for an affordable temporary accommodation for young musicians, allowing them to stay near to the city, whilst giving the local community a new social environment that celebrates music, collaboration and the local vernacular.
12.17 Maria Mendoza Guerrero, Y2 'Nurturing Roots'. A study into the homeless people of New Orleans, this project proposes a building that acts as a bridge between the displaced and nature, and helps to reincorporate them back into society.
12.18 Dominic Benzecry, Y2 'A New Orleans'. This project is a response to the tension between the major oil companies and green energy startups based in New Orleans, and the response of said oil companies to global warming. The building provides co-working space for up-and-coming industries, under the pretence that it is being funded, and partially occupied, by Shell.
12.19 Evelyn Salt, Y2 'The Respite Centre'. This project provides a space for therapy and counselling of terminally ill patients in the French Quarter in New Orleans. The space allows patients to reflect and converse with other people in similar situations.
12.24 Marina Kathidjiotis, Y2 'A Year and a Day'. Directed at the few-remaining voodoo practitioners in New Orleans, this project encompasses a funeral home and crematorium based on the 'year and a day' commemoration that is followed by many voodoo families, during which the body of the deceased is stored in a mausoleum until it can be cremated. Situated in one of New Orleans' biggest cemeteries, the interior spaces and circulation of the building are defined by the timeline of rituals and events that take place there, creating two distinct journeys: one for those who attend the rituals and the other for the handling of the deceased.
174
175 12.2
176 12.5
12.3 12.4
177 12.8 12.9
12.6 12.7
178 12.12
12.10 12.11
179 12.15 12.14 12.13
180 12.18
12.16 12.17
181 12.21 12.20 12.19
182 12.24
12.22 12.23
183 12.26
12.25
Escape-Disrupt Johan Hybschmann, Matthew Springett
2018
Year 2
Theodosia Bosy Maury, Joe Douglas, Georgia Green, Eleanor Harding, Karishma Khajuria, Owen Mellett, Justine Shirley, Tom Ushakov, Jake Williams
Year 3
Oliver Ansell, Lauren Childs, Megan Makinson, Hanmo Shen, Jarron Tham, George Wallis, Gabriella Watkins
Thank you to our technical tutor Rhys Cannon and to our computer tutor Pete Davies
Thank you to our critics: Kyle Buchanan, Duncan McLeod, Jonathan Pile, Frosso Pimenides, Colin Smith, Nikolas Travasaros
Escape-Disrupt
Johan Hybschmann, Matthew Springett
The world is in flux and seems to be shifting at speed. Democratic and political decisions have split large population groups within Western nations. Last year, UG12 designed embassies and explored the themes of 'belonging' and 'cultural attachment' in response to shifting political climates in Europe and the United States. This year, we explored the notions of escape and disruption by 'disruptors'; a term now used to describe system changes in our society currently being enacted by non-governmental initiatives. Drastic change normally starts with an urge to escape or disrupt the status quo. Revolutionary ideas usually flourish in micro-environments of like-minded people. Throughout history, people have escaped their everyday lives by becoming part of self-chosen groups that exist in parallel to wider society. From the fictional film Fight Club, to the mysterious world of the Freemasons, to 1960s hippie culture, we can get glimpses into micro-societies that may remain protected (sometimes even hidden) within a known context. Even if it's just for a few hours a day, the micro-social environments of such groups have their own rules, traditions and rituals that all offer an alternative existence for their members. Similarly, people escape by immersing themselves digitally in the universe of a computer game or by flicking through others' lives on social media platforms.
This technological escapism has also changed the greater political landscape. Political and social breakthroughs are often synonymous with mystery and secrecy, and flourish in environments that turn their backs on the normal to escape the everyday. This year we wanted to explore architecture that accommodates spaces of escape, ambition, disruption and change. We looked into how the next generation of architecture will fit, add to, or counteract the public space of Chicago, which has historically been home to some of the key global disruptors and agitators.
Home city of the Obamas, Chicago sits uneasily with the current Presidential landscape. Historically a destination for those escaping discrimination, Chicago is a place where migrants and refugees could find a home and assert an identity, from its early settlement by Irish and German immigrants to African American and Mexican people escaping persecution. It also became a symbol for the alternative struggles of the Unions and the democratic left, as well as for organised crime.
All the unit's final building projects are sited in Chicago and respond to personal and individual observations that were established by the students before and during our field trip. The result is a series of complex buildings, for identified communities looking to change how they inhabit, work in and disrupt the city of Chicago.
146
The Bartlett School of Architecture 2018
UG12
12.1
Fig. 12.1 Megan Makinson Y3, 'Institute of Architectural Relics'. Both a preservation institute and construction school, the architecture follows Chicago's tradition of architectural salvaging. Visitors can walk around and witness, through specific curated views, the didactic 'creative re-use' of fragments from demolished buildings by the students.
Figs. 12.2 – 12.3 Lauren Childs Y3, '840 Wells Street'. The nature of Airbnb has changed. It is no longer solely homeowners renting out their extra space with professional landlords now renting out spaces as homes. The project is a commentary on this. The proposal is for a hotel built and owned by Airbnb that provides guests with different Chicago homes.
Fig. 12.4 Tom Ushakov Y2, 'Man behind the Musk' The Musk Expo, set to open in 2043, will celebrate the 150 th anniversary
of the Chicago Expo. It will also celebrate the amazing future that Elon Musk is pushing for and give an insight into the world of Musk.
148 Architecture
BSc UG12
The Bartlett School of Architecture 2018
12.3 12.4
12.2
Figs. 12.5 – 12.6 Jake Williams Y2, 'Union Park Community Shelter'. Interim housing prototype for Chicago's homeless population. Housing and communal facilities are raised above the ground plane, freeing the space below for public use. This creates a densification of domestic and civic life, and hosts the diversity of the community. Fig. 12.7 Megan Makinson Y3, 'Institute of Architectural Relics' Fig. 12.8 Jarron Tham Y3, 'DOMESTI(CITY)'. The project aims to act as a civic manual presented as an architectural graphic novel for a vertical retirement neighbourhood. Taking its cue from the graphic novel No Small Plans , the project draws inspiration from the retirement typologies of suburban Florida and the systemic layout of the cruise ship to become a vertical intergenerational neighbourhood.
149 Architecture BSc UG12
of Architecture 2018
The Bartlett School
12.5 12.7 12.6 12.8
The Bartlett School of Architecture 2018
Figs. 12.9 – 12.11 & 12.13 George Wallis Y3, 'Overlapping Territories'. A High School for Chicago's South Side which responds to a fragmented and migrating learning community by proposing social engagement through the negotiation of territory between participants and local stakeholders.
Fig. 12.12 Oliver Ansell Y3, 'The United Flight Centre'. Incorporating both a training centre for new pilots and a series of residences for retired pilots, the United Flight Centre is designed to acclimatise its users for new lives 'airside' and 'landside', with the architecture based upon universal wayfinding mechanisms employed within airports worldwide. Fig. 12.14 Justine Shirley Y2, 'Chicago Union of Health'. The project aimes to connect the Chicago health unions with the promotion of exercise. The building houses
both office and training facilities as well as a landscape of running and cycling tracks across its multiple façades.
150 Architecture
BSc UG12
12.10 12.11
12.9
151 Architecture BSc UG12
12.13
12.14
The Bartlett School of Architecture 2018
12.12
Figs. 12.15 – 12.16 Hanmo Shen Y3, 'Suburbia in the Loop'. The project envisions a future where the essence of Chicagoan Suburbia and the American Dream is stacked in the form of a high-rise residential tower. Fig. 12.17 Joe Douglas Y2, 'Pilsen Community and Cultural Centre'. A community and cultural centre for Pilsen, a neighbourhood district undergoing gentrification in South West Chicago. The building encircles an excavated debating/forum room, analogous to an ancient Greek Agora. The main centre includes a media room and an archive/exhibition space. Universal public space and built-in market stalls, all open to appropriation, traverse the length of the site. Fig. 12.18 Owen Mellett Y2, 'Amazon Headquarters, Chicago'. This project explores the disruption and subversion of a community through the creation of spaces for Amazon's
second headquarters. By developing spaces which respond to Amazon's ideals and methodologies, this project examines the modern company town, the ways in which it integrates itself into the community while maintaining a positive perception, and the ways in which advertising and living are integrated into company life. The project hopes to gain insight into the future impact of the increasingly large knowledge base of these multinational companies.
152 Architecture BSc UG12
The Bartlett School of Architecture 2018 12.17 12.15 12.18 12.16
Figs. 12.19 – 12.20 Gabriella Watkins Y3, 'West Loop Women's Refuge'. The refuge provides private, adaptable living units as well as open communal spaces, which can be tailored to suit the women's preferences for enclosure and intimacy depending on their level of recovery. This allows the women to take control of their own domestic environment once more.
Fig. 12.21 Georgia Green Y2, 'Chicago District 1 Community Police Canteen and Mediation Village'. In 2016, Chicago's gun crisis peaked and the city was dubbed 'Chiraq'. The design language is based on free movement through the site, the mediation rooms are raised up and a grassy parkland is the terrain of the ground level. The organisation of the mediation rooms is based on that of a village to encourage 'flaneuring' through the site and the canteen is a large and open space to
reflect the grand scale of buildings in Chicago. Dramatically flying over the site is the elevated CTA train line.
153 Architecture BSc UG12
Architecture 2018
The Bartlett School of
12.20 12.19 12.21
The Bartlett School of Architecture 2018
Figs. 12.22 – 12.23 Theodosia Bosy Maury Y2, 'MOVIE[ING] PALACE: Image immersion'. In the two-year delay between the demolition of the landmark Chicago Theatre and the erection of a new tower block, permission is given for a Theatre Historical Society, a group of Chicago experimental filmmakers, to build a temporary building that celebrates the contingent, time-based video as a medium and the role of filmmakers in today's society. Parts of the existing building are repurposed, and combined with an adjustable fabric envelope and an immersive viewing experience is facilitated, involving projection onto vapour. Fig. 12.24 Eleanor Harding Y2, 'The United State-less', Inspired by the current plight of the Rohingya people in Myanmar, and their recent influx into Chicago via the United Nations Refugee Programme, this project aims to provide
temporary accommodation for new arrivals, housed above a commercial market space. Integration is intended to be an autonomous process, with the individual able to determine the level to which they are 'seen'. The market is used as a tool for integration and catalyst for community, providing an 'in-between' buffer space to the city. Fig. 12.25 Jarron Tham Y3, 'DOMESTI(CITY)'. The project aims to act as a civic manual presented as an architectural graphic novel for a vertical retirement neighbourhood.
154 Architecture
BSc UG12
12.23 12.24 12.22
155 Architecture BSc UG12
12.25
The Bartlett School of Architecture 2018
The 'Embassy' Johan Hybschmann, Matthew Springett
2017
Year 2
Alys Hargreaves, Yo Hosoyamada, Lauren McNicoll, Agnes Parker, Jolanta Piotrowska, Justine Shirley, An-Ni Teng
Year 3
Peter Davies, Ashleigh-Paige Fielding, James Hepper, Subin Koo, Simina Marin, Hoi (Aikawa) Mok, Elena Real-Davies, Edward Sear, Sarmad Suhail
Thank you to our technical tutor, Stephen Foster and to Bill Hodgson, computing tutor
Thank you to our critics: Laura Allen, Margaret Bursa, Patrick Weber, Jonathan Pile, Sabine Storp, Colin Smith, Nikolas Travasaros, Frosso Pimenides
Thank you to our partners: Beam Center, NYC; UASDC, NYC
Thank you to our sponsor: Architecture Project Funds
The 'Embassy'
Johan Hybschmann, Matthew Springett
Our unit aims to focus on the extraordinary nature of the ordinary brief. We enjoy the richness that can come from a simple programme skillfully executed. We prioritise spatial inventiveness and imaginative making over complexity of programme. We believe that extraordinary architecture can be developed from simple briefs (exquisitely considered and refined) through an instrumental design process where drawings, models, installations and other techniques are used to test and enhance a site's coding.
Fabrication is key to the studio and production is seen as a vital bridge between an architectural intention and reality. Making something physical (drawing, cast, model, collection, instrument etc.) enables a dialogue to develop, both in the context of the studio, and in the context of making architecture. Students will be encouraged to design by spatial experience – and fabrication is a vital tool in transforming this experience into architecture.
We started the year by exploring how we belong to London. We analysed and explored places to which we felt connected: be it the familiarity of a known context or a social or cultural belonging, and described these spaces in a document representing our important London moments. From these studies we created a small building which reflected our preoccupations. In doing so we thought about neighbourhoods and communities that had strong identities and, with other earlier findings in mind, we developed a brief that bridged, protected or was a conduit to the local community.
Our field trip took us to New York City: the location for siting our major building project. New York has a remarkable history of immigration and constitutional settlement, not to mention being the now politically loaded hometown of President Trump. It remains one of the most diverse cities on the planet, with defined areas of ethnic and cultural specificity. Many other cities depend on the economic climate of this great metropolis and therefore, despite not being a capital, it always mediates and finds other nations/entities represented within its boundaries.
During our stay we researched and refined our area of interest for the building brief and worked closely, through a number of hands-on model making workshops, with BEAM in Brooklyn and UASDC in Manhattan. Drawing on the theme of 'Embassy', the building briefs all developed notions of representing, protecting, inviting or concealing a specific community in the city. We encouraged simple programmes which are explored inventively.
146
The Bartlett School of Architecture 2017
UG12
12.1
The Bartlett School of Architecture 2017
Fig. 12.1 Sarmad Suhail Y3, 'United New York Building'. A new, publicly accessible city hall that encodes the typologies of the five boroughs into spaces for greater inter-district collaboration. Figs. 12.2 – 12.3 Peter Davies Y3, 'NYC White House Presidential Offices'. A library, media pavilions and gardens located on the secluded Ellis Island. 12.2
148 BSc Architecture UG12
12.3
Figs. 12.4 – 12.6 Ashleigh-Paige Fielding Y3, 'Curate-able'. A proposal for a curateable artists housing community in the East Village, NYC, including social housing, studio spaces and public cultural/leisure amenities.
149 BSc Architecture UG12
The Bartlett School of Architecture 2017
12.5 12.4 12.6
Figs. 12.7 – 12.9 Edward Sear Y3, 'Centre for City Planning'. A public building in the heart of NYC providing offices, archives and a publicly accessible demonstration planning theatre. Fig. 12.10 Lauren McNicoll Y2, 'Embassy of Craft'. A model demonstrating a transition through the spaces of a nightworkers café in London that leads to a project which anchors making to Williamsburg, Brooklyn, creating an embassy of craft.
150 BSc Architecture UG12
The Bartlett School of Architecture 2017
12.9
12.10
12.7
12.8
Figs. 12.11 – 12.14 Hoi (Aikawa) Mok Y3, 'Wall Street Extension'. A new international conference hall and negotiation centre merged with a public-sector financial library and intertidal landscape.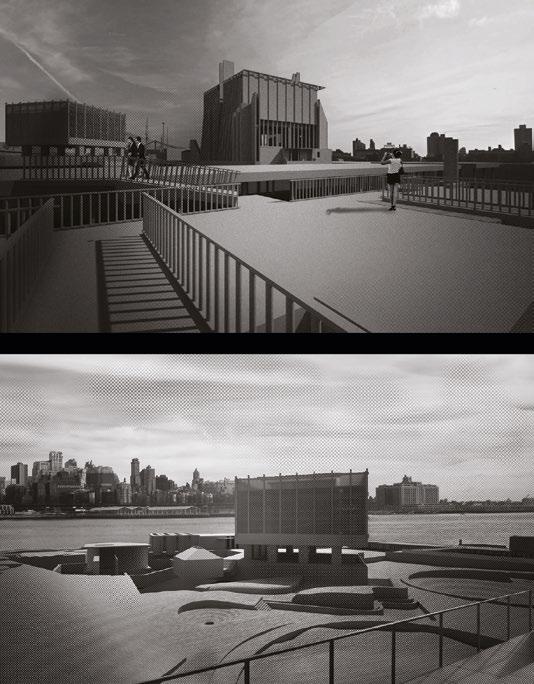 151 BSc Architecture UG12
The
Bartlett
School of Architecture 2017 12.12 12.11 12.13 12.14
The Bartlett School of Architecture 2017
Figs. 12.15 – 12.17 Elena Real-Davies Y3, 'Space of Birth'. A pioneering birthing centre in New York for the population of Queens; sculpting an aquatic landscape in which women and new families can feel safe and at home. Fig. 12.18 Yo Hosoyamada Y2, 'Sunset Park Community Centre and Library'. A proposal for a Mexican community and legal advice centre in the heart of Sunset Park, Brooklyn.
152 BSc Architecture UG12
12.18 12.17 12.15 12.16
Figs. 12.19 – 12.20 Simina Marin Y3, 'Torre'. A proposal for a Mexican consulate and community centre on 57th Street based on the notion of an inhabited wall. The building becomes a metaphor for a secret garden, highly inaccessible and desirable, with a liberating internal space of celebration.
Fig. 12.21 An-Ni Teng Y2, 'Spanish Consulate and Community Centre'. Image showing meeting spaces for overseas students at UCL, exploring the notions of ambiguity and identity that arise when embarking on a new life in a foreign city. These ideas were taken forward to a Spanish community centre in Central Manhattan. 12.19
12.20 12.21
153 BSc Architecture UG12 The
Architecture
Bartlett School of
2017 0.0
The Bartlett School of Architecture 2017
Figs. 12.22 – 12.23 James Hepper Y3, 'Mott Street General Store'. A re-imagining of the historic hybrid programme of a market street and Buddhist temples in Chinatown, NYC. Figs. 12.24 – 25 Jolanta Piotrowska Y2, 'NYC Syrian Refugee Centre'. A building that creates a safe community for Syrian refugees. It aims to support people suffering from PTSD during their transition to life in America. 12.26 Sarmad Suhail Y3, 'United New York Building'. Sketch explorations for a new, publicly accessible city hall that encodes the typologies of the city's five boroughs. 12.23
12.22 12.24 12.25
154 BSc Architecture UG12
12.26
ucl.ac.uk/architecture