GUIDING STATEMENTS
WELL-BEING
MISSION
Our mission is to ensure that students of different nationalities grow to their full potential as independent learners in a caring British international community.
LEARNING
VISION
GLOBAL CITIZENSHIP
We develop global citizens who shape their world through independence, empathy, creativity and critical thinking.
WE ARE : Conscientious role models Committed to integrity and equity Diverse and inclusive Ethical and informed Active stewards of the environment and our communities
WE ARE : Rigorous, inquisitive and creative Collaborative and confident communicators Critical, reflective thinkers Resourceful and resilient
WE ARE : Protected, safe and secure Motivated and engaged Responsible and honest Kind, compassionate and respectful Balanced and fulfilled VALUES 2 |
INTRODUCTIONS
GUIDING STATEMENTS 2
FOREWORD 4
THE PRIMARY SCHOOL 5 THE SECONDARY SCHOOL 7
WELL-BEING LEARNING
VISUAL AND PERFORMING ARTS 18 ARTS AWARDS 19 SPORTS . . . . . . . . . . . . . . . . . . . . . . . . 20
EXTRA-CURRICULAR ACTIVITIES (ECAS) 22 HOUSE SYSTEM . . . . . . . . . . . . . . . . . . . . 26
PRIMARY RESULTS 6 (I)GCSE RESULTS . . . . . . . . . . . . . . . . . . . . 8 IB RESULTS 10 NOTABLE STUDENTS . . . . . . . . . . . . . . . . . . 11
SCHOLASTIC COMPETITIONS 16
GRADUATE DESTINATIONS 12 FOUNDATION BOARD PRIZES . . . . . . . . . . . . . 15
INTERNATIONAL AWARD 24 STUDENT LEADERSHIP 27 COMMUNITY ACTION . . . . . . . . . . . . . . . . . 28
ALUMNI GRADUATES 30
GLOBAL CITIZENSHIP CONTACT 31
CONTENTS
Student Achievement 2021/22 | 3
Cover artwork by Phavinee (Polly) Sirikrai
FOREWORD
Matt Mills | Head of School
Bangkok Patana School has a strong focus on academic achievement as this collection of student achievement so rightfully showcases. Our top students regularly gain "top scholar" awards and scholarships to prestigious universities all over the world. At the same time programmes are in place to meet the needs of all students including those with recognised learning needs or for whom English is an additional language.
The school has an enviable reputation for the academic achievements of our students. Part of that success comes from the embedded belief that the school operates in partnership with the home. At Bangkok Patana, parents, teachers and students are partners in learning. Parents are encouraged to take an active role in guiding and supporting their children's learning. All members of the community are asked to embrace the values and positive attitudes we desire in our students.
The history of Bangkok Patana is defined by a focus on academic achievement and personal excellence. This focus continues today and underpins the future direction of the school. Bangkok Patana School's priority is quality teaching and learning. It is the aspiration for personal excellence that motivates the programmes offered by our school, enabling all students the opportunity to realize their potential. The commitment to academic excellence has enabled the school to realize outstanding academic performance, both nationally and internationally.
Carpe Diem (Seize the day)
4 |
THE PRIMARY SCHOOL
Sarah McCormack | Primary Principal
As the newly appointed Principal of Bangkok Patana Primary School, I could never have imagined starting my first year in post with our campus closed. However, as the pandemic continued to affect so many lives, it was again time to roll up our sleeves, plug in the devices, turn on our cameras and mics and do what we do best. Teach.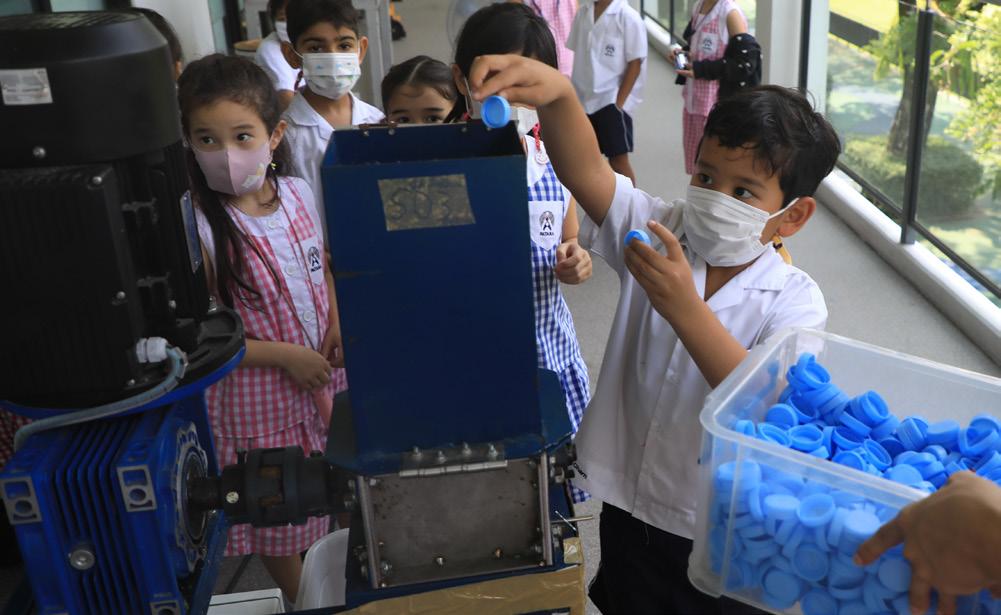 With a redesigned CSL (Continuing Student Learning) programme, our students embarked on a more rigorous, supportive and engaging online programme. We complemented our timetable with opportunities for students to be creative, collaborate with others, take part in assemblies, competitions and special events. Our goal was to be the 'best we can be' and as our students learnt from their homes, in Thailand and afar, we made sure that the Bangkok Patana spirit was not lost.
In many ways, the 2021/22 academic year was a tale of two halves. Our first half term remote, and then the joyous applause to be 'back together again.' At times, navigating the ongoing restrictions was a challenge, and yet each day our students and staff continued to embrace learning, remain positive and to do their best. My overwhelming memory of my first year at Bangkok Patana was of community rallying together to support the students in our care.
That resilience, adaptability and courage is evident in the pages of this book. From the outstanding ISA scores; the rich learning experiences showcased; the smiles on the faces of our students; and the delight of special events as our campus slowly found its breath. The pandemic may have tested us, but Bangkok Patana remained strong. I look forward to the future ahead.
Student Achievement 2021/22 | 5
PRIMARY SCHOOL RESULTS
Peter Taylder | Primary Senior Teacher, Leading Student Progress
The International Schools Assessment (ISA) is a standardised test in Mathematics and Reading that Year 4, 5, and 6 sit each February. We missed the 2020/21 test period because of COVID; however, we were very pleased to see that this year's results are higher in Years 4 and 5 than they were in 2019/20. The Year 6 Reading results are slightly lower than 2019/20. However, when this cohort first sat the tests in 2020 (Year 4), their Reading result then was similar to regional schools at the time. Since then, their Reading result has increased by 149 points, which is well above regional schools. This year's results show that we outperformed both regional and all schools in both subjects. These results are a testament to the resourcefulness and resilience of our community. Well done to our students and a big thank you to their teachers and parents for guiding them. We use ISA standardised tests in Primary School because they enable us to compare our students' performance with other international students around the world. We are particularly interested in comparing our school and other similar schools in the Asia-Pacific region, such as China and Singapore, which often score at the top of the OECD International Student rankings.
6 |
READING YEAR 4 READING YEAR 5 READING YEAR 6 MATHEMATICAL LITERACY YEAR 6 MATHEMATICAL LITERACY YEAR 4 MATHEMATICAL LITERACY YEAR 5 2021/22 ISA RESULTS COMPARED WITH 2019/20 Regional Schools Mathematical LiteracyR eading Year 5 ISA Results 2021/22 500 450 400 350 300 250 200 150 100 50 0 Bangkok Patana All Schools R Regional Schools Mathematical LiteracyR eading Year 4 ISA Results 2021/22 500 450 400 350 300 250 200 150 100 50 0 All Schools R Bangkok Patana Regional Schools Mathematical LiteracyR eading Year 6 ISA Results 2021/22 500 450 400 350 300 250 200 150 100 50 0 All Schools R Bangkok Patana
2019-20 2021-22
THE SECONDARY SCHOOL
Matt Seddon | Secondary Principal
This book is very special, because it proudly celebrates the wonderful achievements of our students during a most challenging year. It recognises the outstanding academic results they achieved despite everything that was thrown at them. It celebrates our rich extra-curricular programme that was able to really come back to life. It shows that our students embraced the world of opportunity that a Bangkok Patana education provides. I felt incredibly proud of our community whilst reading it, and I trust that you will feel this way too. Our students are nothing short of an inspiration.
Last year saw the return of formal examinations after two years of cancellations. I am a great believer that outstanding learning leads to outstanding outcomes, and this has certainly proved to be the case. It did not matter to our students whether they were required to work at home, or on campus; our students have indeed taken part in outstanding learning, and they should be very proud of their results.
Our Graduating Class of 2022 achieved a tremendous set of results in their IB Diploma, being awarded an average point score of 37 (out of a possible 45), which is the highest score we have ever achieved through written exams. Our overall pass rate was 99 percent, with an impressive 29 percent of the cohort achieving more than 40 points. A special mention must be made of five students; Ena Hashimoto, Svasti Jagannadhan, Natabhorn Kashemsri Na Ayudhaya, Yizhen Kong and Palida Leenabanchong, who all achieved a maximum 45-point score, an achievement that only 651 students in the world accomplished.
The (I)GCSE grades awarded to Year 11 were the best results that Bangkok Patana has ever achieved. Overall, the proportion of the highest grades of A*-A (9-7) was an impressive 75% percent with 17 students achieving nine or more top grades (A* or 9). All students who took these exams should be immensely proud of themselves and take great confidence from them as they step into Year 12. These results are a testament to their efforts, and I am looking forward to working with them on their journey into IB.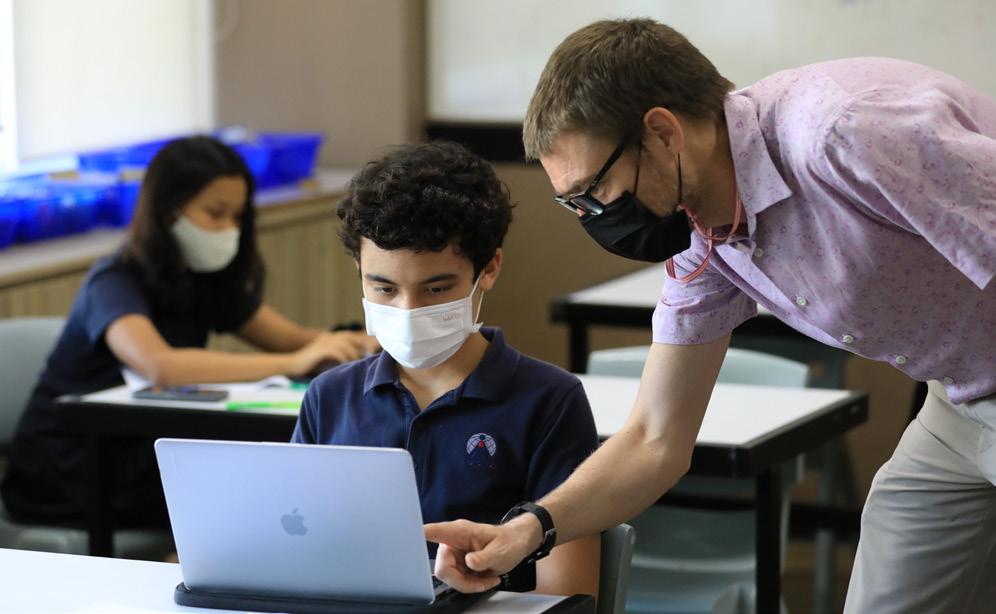 Whilst the IB and (I)GCSE results are an important measure of success; they can never represent all that is achieved by our students each year. This book celebrates the achievements of our students across a wide range of fields including the arts, sports, Duke of Edinburgh's International Award, MUN (Model United Nations), leadership and service to the community.
Finally, it is important that we recognise the power of student voice in our school. Whether through the two Student Representative Councils, the Junior and Senior Delegates, the Environmental Committee, Community Action Teams, Houses or the ICT Advisory group, our students contribute so passionately to the direction of their school. The strength of student voice was so important as we again navigated the ever-changing landscape together. We are so incredibly grateful to them for their contributions.
This book celebrates everything that the Bangkok Patana family stands for and having read it, I feel incredibly privileged to have the opportunity to work with such amazing students.
Student Achievement 2021/22 | 7
(I)GCSE
Aazar Munir | (I)GCSE Examinations Leader
This year our cohort of 137 students received a historic set of (I)GCSE exam results. We are so pleased for our students considering the challenges they have faced along their two-year journey. This group of young people have shown determination and courage, adapting to extenuating circumstances incredibly well. Several students in this cohort had to sit their exams in two or three different venues due to COVID restrictions, including in a hospital for COVID positive students. We are immensely proud of them for pushing themselves through right to the final exam.
It is a remarkable achievement for this cohort to have surpassed our previous results over the last five years across all measures for both the Cambridge and Edexcel exam boards. I would like to share the superb achievement for a non-selective school, as below:
EXAMINATION RESULTS
of students achieved grades A* - B (9-6) students received 9 or more A*(9-8) three-quarters of the grades were A*-A (9-7) 89% 75% 17 overall pass rate A*-C (9-4) 98% students received 9 or more A*-A (9-7) 54 9/8 7 6 5/4 3 2 1 A* A B C D E F/G EDEXCEL CAMBRIDGE 8 |
(I)GCSE OUTSTANDING STUDENT ACHIVEMENT IN 2021
Aazar Munir | (I)GCSE Examinations Leader
THESE 17 STUDENTS ACHIEVED AN A*/9 IN NINE OR MORE SUBJECTS:
Tammy Bahora
Christina Bickford
Lily-Anne Boucher
Kaitlyn Cheng
Jonas Christiaen
Sirikorn (Jin) Dansiri Ari Kim Suthita (Pun Pun) Kunplome
Amanda Ljungberg
Mahi Lodha
You Wei (Terry) Lu
Anoushka Mohanty
Ansh Narula
Korn Niruttinanon
Lucas Perren Yodsawin (Win) Tangkaravakoon Si Chao Xiong
CAMBRIDGE OUTSTANDING LEARNER AWARDS
Norman Alexander Hjellegjerde - (I)GCSE History, Top in Thailand
Natalie Saiwattana Hoglund - (I)GCSE Foreign Language Spanish, Top in Thailand
Yerin Kang - International AS Level Mathematics, Top in Thailand
Amanda Ljunberg - (I)GCSE First Language English (Oral Endorsement), Top in Thailand
You Wei Lu - (I)GCSE Foreign Language German, High Achievement
Fahsai Pibulsonggram - (I)GCSE Mathematics (Without Coursework), Top in World
PEARSON OUTSTANDING LEARNER AWARDS
Natalie James - GCSE Art and Design: Fine Art, Highest Mark in Thailand
Phisira Kashemsri Chatchupong - (I)GCSE Chemistry, Highest Mark in Thailand
STUDENTS WHO SHOWED THE MOST PROGRESS BETWEEN THEIR YELLIS PREDICTIONS AT THE START OF YEAR 10 AND THEIR FINAL (I)GCSE RESULTS:
Elizabeth Skevington
Lydia Chan
Anoushka Mohanty
Sophie Meller
Riri Ishii
You Wei Lu - GCSE Physical Education, Highest Mark in Thailand
Krishaan Phlaphongphanich - (I)GCSE Science (Double Award), Highest Mark in Thailand
Phavinee Sirikrai - GCSE Art and Design: Photography, Highest Mark in the World
Si Chao Xiong - IAL Biology, Highest Mark in the World
Si Chao Xiong - IAL Physics, Highest Mark in Thailand
Student Achievement 2021/22 | 9
INTERNATIONAL BACCALAUREATE DIPLOMA RESULTS
Andrew Roff | Senior Teacher, IB Coordinator
The International Baccalaureate Diploma Programme (IBDP) is a five-term programme of study that consists of students taking six subjects, three at Higher Level and three at Standard Level, each of which can score a maximum of seven points. Additional components of the IB programme are Theory of Knowledge and the Extended Essay which can provide up to three 'bonus' points to students, giving a theoretical maximum score of 45 points, with 24 points being the minimum pass requirement. Creativity, Activity and Service (CAS) must also be completed as it is also a core part of the IBDP which aims to encourage students to continue their learning outside the curriculum through their involvement in the local and wider community.
May 2022 represented an important step back to normality following two years of IB results being issued without examinations. We are delighted with the resilience displayed by our Grad '22 cohort throughout their COVID affected IB Programme, and even more delighted with the outstanding results that they obtained when restrictions were lifted and they were able to show what they could do in examinations. These results, because of the impact of the pandemic on grade boundaries, are best read in comparison with world averages rather than in historical context.
Overall Pass Rrate, against a World Average Pass Rate of 86%
HISTORICAL SUMMARY
Bangkok Patana Average Score, 5 points higher than the World Average of 32 points
99% 37 5.7
Mean Grade in individual subjects, out of a possible 7 points, against a World Average of 5 . 1
10 |
THE GRADUATING CLASS OF 2022 WAS A COHORT OF 127 STUDENTS, 124 OF WHOM TOOK THE FULL IB DIPLOMA
Bangkok Patana Average Point Score World Average Point Score
NOTABLE STUDENTS
As a non-selective school, we are incredibly proud of our statistics in the IB Diploma. Such a high average score points to some outstanding individual performances.
To achieve 40 points or more in the IB Diploma is a significant challenge to even the most able student as they must not only balance the demands of these subjects but also the demands placed upon them by the core elements (CAS, the Extended Essay and Theory of Knowledge) as well as the wide range of extra-curricular activities with which they are involved. Congratulations to these students who achieved 40 or more points, and make up 29% of our cohort of 124. Globally 14% of students received 40 or more points.
Ena Hashimoto 45
Svasti Jagannadhan 45
Natabhorn Kashemsri Na Ayudhaya 45
Yizhen Kong 45 Palida Leenabanchong 45 Amanda Yongvanich 44 Jiwon Yoo 44
Hsuan-Ling Chen 43
Patrick Ledoit 43 Nichapatr Lomtakul 43
Khushi Mathur 43 Anna Meller 43
Natanisha Nalinthrangkurn 43
Vidip Bobba 42
Amery Chen 42
Niti Depretis 42
Tom Evans 42
Akshita Malhotra 42
Aron Steinmetz 42
Carolyn Suradejvibul 42
Nisal Liyanage 41
Pacome Marion 41 Sara Okada 41 Tara-Bee Stephenson 41
Sirinda Sathirapat 41
Parima Sumner 41
Peter Switala 41
Chawit Asavasaetakul 40 Mark Chan 40 Kaitlyn Dibbayawan 40 Yuya Hamaguchi 40 Panot Lisahapanya 40 Annika Narula 40 Alex Schuepbach 40 Sean Spencer 40
To achieve 45 points (the maximum possible IB Diploma score) is a quite an outstanding achievement. Five of our students achieved a perfect 45 point score, a feat achieved by only 651 students in the worldwide cohort of 113,706 students! What is particularly pleasing about this is the fact that the average tenure of these five students at our school is nine years, truly showing the impact of a Bangkok Patana education.
Using a standardised model allows us to project a likely IB Diploma points score for students based on an adaptive skills test taken at the start of Year 12. Tracking each students' progress against this projection allows us to identify the students who have made the greatest progress over the course of the two-year Senior Studies programme. With this in mind, it is also very important to recognise and celebrate the achievement of the following students who demonstrated excellent application and hard work during the course of their IB Diploma to achieve, on average, more than one point above projection.
Andrew Roff | Senior Teacher, IB Coordinator
Sara Okada
Amanda Yongvanich
Natanisha Nalinthrangkurn
Alex Schuepbach
Ena Hashimoto
Panot Lisahapanya
Akshita Malhotra
Khushi Mathur
Annika Narula
William James Sidgwick
Sirinda Sathirapat
Ena Hashimoto
Svasti Jagannadhan
Natabhorn
Student Achievement 2021/22 | 11
Kashemsri Na Ayudhaya Yizhen Kong Palida Leenabanchong
GRADUATE DESTINATIONS
Kevin Keller | Head of Faculty, Careers and University Counselling
Bangkok Patana School graduates have enjoyed innumerable successes over the years when applying to and choosing their post-secondary destinations and the Class of 2022 was no exception. After intense research and thoughtful applications, 80% of our students received an offer from their first or second choice university. They will matriculate to universities in 16 countries, two will undertake required military service and seven students will undertake productive Gap Year experiences. Our students were successful using early applications in the United States to gain access to top universities and 18 of our Grad '22 students will matriculate to Russell Group universities in the United Kingdom. Above all, each of our students found their fit in the university process and we are confident that they will make Bangkok Patana School proud.
AUSTRALIA
Ahl William Monash University
International Business Commissaris Sonia University in Australia
Fan Wesley University of Melbourne Howe Nicholas Deakin University 3D Animation Kerr Oliver University in Australia Science
Kunplome Sontanat (Pong) Monash University International Business Leong Jia Yi (Mirabel) University in Australia Psychology
Noble Ayanee (Aya) University of Melbourne Commerce
Singhsacha Photsarawat (Aric) University in Australia Mechatronics
Sirarojanakul Lalida (Lyda) University of Western Australia Commerce
AUSTRIA
Braun Angela IMC University of Applied Sciences Krems Business Administration
BELGIUM
Kingwattanagul Ti KU Leuven Engineering Technology
CANADA
Andrasi Ilka Trent University Psychology
Depretis Niti (Angelina) University of British Columbia Psychology
Ishibashi Midori Toronto Metropolitan University Management
Kachroo Akshat University of Waterloo Computer Engineering
Kornsri Norapat (Earth) University of Toronto Commerce
Lomtakul Nichapatr (Petch) University of Waterloo Computer Science
Marchive Camille University of Ottawa Business
Nguyen Maia McMaster University Art
Roy Chowdhury Aarav University of Toronto Business and Managment
Spencer Sean University of Toronto Physical and Mathematical Science
Tam Thanadol (Zhen) University of British Columbia Commerce Parvaiz Adil Bishop's University Computer Science
GAP YEAR
Bocan Nicolas (Nicky)
Gap Year Gap Year
Gray Sophia Gap Year Gap Year
Jensen Riona Gap Year Gap Year
Kim Estelle Gap Year Gap Year
Tangtrongchitr Kamolchanok (Gene) Gap Year Gap Year
Walsh Patrick Gap Year Gap Year
Rawat Keshav Gap Year Gap Year
GERMANY
Sittl Vincent University of Munster Sports & Exercise Science
HONG KONG
Worarittichai Pongpanod (Gere) Hong Kong University Engineering
12 |
IRELAND
Malhotra Akshita University College Cork Medicine
ITALY
Pauze Tosca
Luiss Guido Carli University
Politics, Philosophy and Economics
Borjesson Enya Nuova Accademia di Bella Arti Milano Design
JAPAN
Hamaguchi Yuya University in Japan
NETHERLANDS
Chen Amery
Vrije Universiteit Amsterdam Economics Holm Patrik Eindhoven University of Technology Computer Science
Laldjising Kay Maastricht University International Business Switala Peter University of Amsterdam
Politics, Psychology, Law and Economics Uozumi Ryutaro Amsterdam University College
Politics, Psychology, Law and Economics
Coolen Nard Utrecht University Pharmaceutical Sciences
Marchive Pierre University in the Netherlands International Business Proksch Timur Hotelschool The Hague Hospitality Management
Schuepbach Alex NHL Stenden University of Applied Sciences Computer Science
SINGAPORE
Chia Dominic Singapore Military Service National Service
Ganesh Kawamura Mana Singapore University of Technology and Design Lo Dominic (Yong Yi) Singapore Military Service National Service Sathirapat Sirinda (Linda) Nanyang Technological University Biological Sciences
SWITZERLAND
Lonnback Tea
Ecole Hoteliere de Lausanne International Hospitality Management Nielsen Mark Les Roches International School of Hotel Management Global Hospitality Management
THAILAND
Hu Shuxin (Zingzing) Mahidol University International College Communication Design
Kashemsri Na Natabhorn (Plume Plume) Chulalongkorn University Medicine Ayudhaya
Leenabanchong Palida (Pammy)
HRH Princess Chulabhorn College of Medical Science Medicine
Liptavat Michael Chulalongkorn University Communications Pedersen Axel Chulalongkorn University Engineering von der Luehe Chanisda (Dena) Chulalongkorn University Information Communication
UNITED KINGDOM (UK)
Asavanarunat Edward Kingston University London Economics
Bidault Aksel Loughborough University Architectural Engineering
Blanco Tatiana London School of Economics and Political Science International Relations
Bobba Vidip University of Warwick Philosophy, Politics and Economics
Brettell Anthony University of Plymouth Architecture
Chitrattanamongkon Ratchakorn (Ping Ping) London School of Economics and Political Science Social Anthropology
Evans Tom Durham University Combined Honours in Social Sciences
Gallacher Ryan Manchester Metropolitan University International Business Management
Guo Zimo (Momo) University of Southampton Electrical and Electronic Engineering
Hashimoto Ena Imperial College
Chemistry/Materials Eng. Management
Jain Maitri University of Bath International Business
Lisahapanya Panot (Aim) University of Bath Economics
Liyanage Nisal (Nis) London School of Economics and Political Science Finance
MacKinnon Katareeya (Kat) University of Glasgow English Literature with Business Management
Mathur Khushi Imperial College Biomedical Engineering
Meller Anna Durham University Geography Okada Sara Kings College London Liberal Arts
Student Achievement 2021/22 | 13
Pegum Samuel-Dui
University of Bath
Sport Management and Coaching
Pruangviriya Anya University of Warwick Engineering Business Management
Sehmar Roisin St George's, University of London Physiotherapy
Seputro Bernardo (Sean) Cardiff University Business Information Technology
Shah Krishay University of Manchester Business and Economics
Sharma-Joehnk Neil University of Glasgow Psychology
Sidgwick William University of Bath International Management
Slater Jack University of Bath Finance and Accounting
Smith Amy Nottingham Trent University Architecture
Smith Sophie Kingston University London Fine Art and Art History
Steinmetz Aron University of Bath Management
Stephenson Tara-Bee Glasgow School of Art Fine Art- Painting/Printmaking
Sujarirat Chinakrit (Pop) University of Bath Psychology
Sumner Parima Queen Mary University of London Law
Tak Samiya (Sam) Arts University Bournemouth Interior Architecture and Design
Thu Kyaw (Jayden) Queen Mary University of London International Relations with Business Management
Topdagi Tevfik University of Essex Computer Systems Engineering
Verde Gemma University of Reading Fine Art with Integrated Foundation
Xiong Si Chao University of Oxford Mathematics and Computer Science
UNITED STATES OF AMERICA (USA)
Asavasaetakul Chawit University of California-Berkeley Economics
Badde Aditi University of Illinois, Urbana-Champaign Aerospace Engineering
Chaimongkol Chaidhat University of California-Los Angeles Computer Engineering
Chan Mark University of Illinois, Urbana-Champaign Aerospace Engineering
Chan Melody Babson College Entrepreneurship and Finance
Chen Hsuan-Ling (Charlene) Brown University Chemistry
Chen Rou An (Roanne) University of Illinois, Urbana-Champaign Systems Engineering and Design
Changbencharoen Nicolas Claremont McKenna College Science and Management
De La Cruz Janelle Lourdes Boston University Business Management
Dibbayawan Kaitlyn Boston University Psychology
Jagannadhan Svasti University of California-Los Angeles Economics/Business Kong Yizhen (Tina) University of Pennsylvania Economics/Business
Ledoit Patrick University of Pennsylvania Economics/Business
Lertsmitivanta Matthew (Matt) University of Oregon Finance and Data Science
Lu Kai-Chung (Apollo) Carnegie Mellon University Mechanical Engineering
Luniya Sanskriti Northeastern University Business Adminstration and Design
Mahathorn Kanitkanda (Didi) Boston University Fine Arts
Mahboob Mahzabin (Samiha) Colombia College Chicago Fine Arts
Marion Pacome New York University Industrial Engineering
Nalinthrangkurn Natanisha (Candy) Cornell University Communications
Narula Annika Boston University Public Relations
Pingkarawat Pon University of Illinois, Urbana-Champaign Material Science
Poolvoralaks Supanan (Candy) Boston University Business
Shah Neil University of Southern California Finance
Shah Stuti Virginia Tech Computer Science
Sintavanarong Tanakrit (Ike) Boston College Economics
Sudlabha Nabhadol (Prompt) University of Notre Dame Economics
Suksatit Tanat (Gino) University of Massachusetts Amherst Industrial Engineering
Suradejvibul Carolyn Rice University Natural Sciences
Tangitvet Saipetch (Todd) Pepperdine University Business Administration
Tantipipatpong Pawatpat (Justo) Boston College Finance
Traisorat Shaya (Tam) University of Washington Interdisciplinary Visual Art
Wongswan Pim Smith College Economics
Yongvanich Amanda Cornell University Computer Science
Yoo Jiwon Brown University Biomedical Engineering
14 |
FOUNDATION BOARD AWARDS
Bangkok Patana School's Foundation Board kindly sponsors a number of awards to recognise the talent and hard work of our students.
Foundation Board Higher Award for Outstanding Academic Achievement
The students who attained the highest points score from the International Baccalaureate Diploma programme, attaining the maximum score of 45 points are Ena Hashimoto, Svasti Jagannadhan, Plume Plume Kashemsri Na Ayudhaya, Tina Kong and Pammy Leenabanchong.
Foundation Board Award for Outstanding Academic Achievement
These students demonstrated an exceptional achievement with 9 or more (I) GCSE results being graded at the highest score of A* or 9. Congratulations to Si Chao Xiong, Amanda Ljungberg, You Wei (Terry) Lu, Korn Niruttinanon, Lucas Perren, Tammy Bahora, Christina Bickford, Lily-Anne Boucher, Jonas Christiaen, Anoushka Mohanty, Kaitlyn Cheng, Sirikorn (Jin) Dansiri, Ari Kim, Suthita (Pun Pun) Kunplome, Mahi Lodha, Ansh Narula and Yodsawin (Win) Tangkaravakoon.
Foundation Board Awards for Key Stage 3 Attainment
This Prize is awarded to Jiyoo Kim and Vachiravich Phantrantanamongkol who attained the highest average reported grades, across all subjects, at the end of Year 9.
PROGRESS AWARDS
In addition to academic achievement, Bangkok Patana School also recognises students who have worked hard and/or made exceptional progress across each Key Stage. This year we would like to recognise the following students for the exceptional progress they have made:
Foundation
Board
Key Stage 2 to 3
The most improved students from Key Stage 2 to 3 are Anika Jagota and Anita Bidault who showed the most progress between their MidYIS scores, taken at the start of Year 7 and average reported levels at the end of Year 9.
Foundation Board Key Stage 3 to 4
The most improved students are Elizabeth Skevington, Lydia Chan, Anoushka Mohanty, Sophie Meller and Riri Ishii who showed the most progress between their YELLIS predictions at the start of Year 10 and their final (I)GCSE results.
Foundation Board Key Stage 4 to Senior Studies
The students who showed the biggest increase in their IB Diploma results over what had been initially predicted by their ALIS test scores taken at the start of Year 12, are Sara Okada, Amanda Yongvanich, Natanisha Nalinthrangkurn and Alex Schuepbach.
Andrew Roff | Senior Teacher, IB Coordinator
Tammy Bahora
Christina Bickford
Anita Bidault
Lily-Anne Boucher
Lydia Chan
Kaitlyn Cheng
Jonas Christiaen
Dansiri Sirikorm
Ena Hashimoto
Riri Ishii
Svasti Jagannadhan
Anika Jagota
Natabhorn Kashemsri
Na Ayudhaya
Ari Kim
Jiyoo Kim
Yizhen Kong
Suthita Kunplome
Palida Leenabanchong
Amanda Ljungberg
Mahi Lodha You Wei Lu
Sophie Meller Anoushka Mohanty
Natanisha Nalinthrangkurn
Ansh Narula Korn Niruttinanon Sara Okada
Lucas Perren Vachiravich Phantratanamongkol
Alex Shuepbach Elizabeth Skevington
Yodsawin Tangkaravakoon Si Chao Xiong
Student Achievement 2021/22 | 15
Amanda Yongvanich
SCHOLASTIC COMPETITIONS
Throughout the academic year, students have many opportunities to showcase their knowledge. Congratulations to these students who took the challenge to compete!
ASIA LEARNING CHALLENGE 2022 – PRIMARY WORLD LANGUAGES
For the first time, six Year 6 students competed in the language category of this competition against over 1,400 students from 20 schools throughout Asia. Rachel Hobbs and Yunru (Maggie) Pu earned a Credit Award and Silver Award for answering an amazing 800 – 1,200 language questions. Bangkok Patana School won 1st place overall in Thailand, 2nd place overall in the category of 1 – 50 students competing and 4th in the Spanish Language category.
FOBISIA MATHS COMPETITION 2022 – PRIMARY SCHOOL
Over the course of two days, 38 teams from over 20 schools competed virtually. Bangkok Patana had two teams of Year 6 students competing. The team members were Narida (Nia) Ekaraphanich, Garam (Momo) Lee, Chanya (Bayla) Somboonvechakarn, Zhidi (Max) Luan, Raman Paramasivam, Qinghan (Hanson) Liu, Lucas Suradejvibul and Soranop (Tonsol) Boonsong. Their final positions were 17th and 24th.
FOBISIA OHBOT ROBOTICS COMPETITION
Three Year 7 students entered this competition and placed second by a difference of only one point! Edward Tantapakul, Bryrn Boonvisut and Pana Joel Farnworth had one hour to plan, write, test and debug a program to solve the competition challenge using robot simulations. The programme utilised speech recognition, dictation and related commands, which instructed the Ohbot to vocally reply to various prompts.
FOBISIA PRIMARY MATHEMATICS COMPETITION 2021
In the individual challenge, 59 students took part; 12 were awarded Bronze certificates and seven were awarded Silver certificates. Congratulations to Chanya (Bayla) Somboonvechakarn for earning a Gold certificate!
In the group challenge, students worked in teams of four to be the fastest to exit from the virtual escape room. Congratulations to Lucas Suradejvibul, Soranop (Tonsol) Boonsong, Nichamon (Khongkwan) Kim and Khoon Wanglee who successfully collaborated on the challenges and escaped in the fastest time. They were joint winners of the competition and earned a first place certificate.
MODEL UNITED NATIONS
In 2021/22, MUN Secretaries General Patrick Ledoit and Sara Okada, were ably supported by Parliamentarians Arnav Baliga, Shrish Mahesh, Akekanat Chunhagsikarn and Utkarsh Bagaria. Unfortunately, due to the COVID pandemic, it was impossible for students to attend live conferences. Students did, however, attend virtual conferences, including the prestigious IASAS MUN Conference, in which Shrish Mahesh served as Chair of the ECOSOC committee. Additionally, eight students attended the virtual THAI MUN Conference, which was overseen by Bangkok Patana, with Patrick Ledoit serving as the Secretary General. The THAI MUN Conference welcomed 300 delegates from 39 schools in ten countries.
PRIMARY READERS THEATRE
The Readers' Theatre is an event which challenges students to bring a book to life using just their voices and actions. No props, backdrops or costumes are allowed - even the original book is only used for reference, not shown to the audience. The winners for 2022 were:
YEAR 3: Caleb Ebrahim, Chiel Chonlatanon, Oreum (Felix) Cha and Taemin Kim reading "Aliens Love Underpants" by Chris Freedman.
YEAR 4: Sophia Scott and Yufei (Elena) Pan, reading "The Fabulous Friend Machine" by Nick Bland. In the audition stage, helping the group reach the final, Elizabeta Calancea also performed, but was unfortunately not able to attend the final.
16 |
UKMT MATHEMATICAL CHALLENGE
This Challenge is hosted by the United Kingdom Mathematics Trust, schools outside of the UK participate online. In 2021/22, 204 students took part in the Junior Challenge (JMC), 139 in the Intermediate (IMC) and 130 in the Senior competition (SMC).
Challenge Bronze Silver Gold Olympiad Invites Senior (Year 13 and below) 41 42 28 3 Intermediate (Year 11 or below) 34 26 43 7 Junior (Year 6, 7 and 8) 59 63 43 1
Particular mentions go to the following students who achieved the Best in School and Best in Year awards for the individual competitions. In the SMC, congratulations to Jiwon Yoo (Year 13), Temin Lunagtana-anan (Year 12), Si Chao Xiong (Year 11) for Best in Year and Best in School. In the IMC, congratulations to Utkarsh Bagaria (Year 10), Vachiravich Phantratanamongkol and Nicha Tongdee (Year 9) and Yuanxia Xu (Year 8) all for Best in Year and to Si Chao Xiong (Year 11) for Best in School, scoring the maximum marks available. In the JMC, congratulations to Aarush Jhanwar (Year 7), Lucas Suradejvibul (Year 6) for Best in Year and to Yuanxia Xu (Year 8) for Best in School.
OTHER NOTABLE SUCCESSES INCLUDED:
British Mathematical Olympiad Distinction Si Chao Xiong Merit Jiwon Yoo
Intermediate Mathematical Olympiad Cayley Yuanxia Xu – Distinction
Vachiravich Phantratanamongkol – Merit Nicha Tongdee - Qualification Veer Golechha - Qualification
Hamilton Utkarsh Bagaria – Merit Maclaurin Si Chao Xiong – Distinction Jonas Christiaen - Merit
Junior Mathematical Olympiad Distinction Yuanxia Xu
WORLD SCHOLAR'S CUP
Bangkok Patana School was proud to host the Regional Round of the World Scholar's Cup in 2022, with over 240 students from 19 schools competing. The World Scholar's Cup is a global academic competition featuring four events: Team Debate, Scholar's Bowl, Scholar's Challenge and Collaborative Writing. Bangkok Patana entered 39 students into the competition in both the Junior and Senior Divisions. Although it may have been the first time many of these students have debated or participated in such a rigorous academic event, they took home over 100 gold and silver medals, as well as several trophies between them! The Bangkok Regional Round is just the beginning – from here, each team was invited to the Global Round, held in Bangkok in September 2022, to compete with teams from around the world.
YEAR 6 POETRY COMPETITION
In 2022, the theme for the annual Year 6 Poetry Competiiton was 'Diversity'. Congratulations Roisin Doherty, whose poem 'Why Diversity?' stunned the judges with its carefully crafted message, strong imagery and powerful performance.
Student Achievement 2021/22 | 17
VISUAL AND PERFORMING ARTS
Christopher Ferne | Head of Faculty, Arts
The Arts at Bangkok Patana are powerful in giving our students avenues for expression. We craft opportunities so that students can be creative, both individually and in collaboration with others. Here are the highlights of the 2021/22 academic year in the Arts:
ART EXHIBITS
Pre IB, November 2021
IB, March 2022
Year 11 GCSE, May 2022
Year 12, June 2022
Key Stage 3, August 2022
MUSIC PERFORMANCES
Christmas Concert, December 2021
Patana Unplugged, March 2022
Music Extravaganza Recording, March 2022
Solo Festival, May 2022
Primary Performance Week, May 2022
Patana United Recording, June 2022
Patana Primary Concerts, June 2022
THEATRE PERFORMANCES
IB Solo Performances for Year 13, February 2022
Wendy & Peter, Key Stage 3, May 2022
GUEST ARTISTS
Thai Khon Artist in Residence for IB, January 2022
Musician of the Month Khun Ball, May 2022
18 |
ARTS AWARDS
Bangkok Patana Arts students continually astound us with their ability to deliver moving and memorable pieces and performances. This year awards were presented to both Primary and Secondary students who have demonstrated exemplary skill and exhibited outstanding commitment to their learning in the Arts. SECONDARY SCHOOL ARTISTS OF THE YEAR Hsuan-Ling (Charlene) Chen Gemma Verde RICHARD HOPKINS MUSICIAN OF THE YEAR Tee Janvatanavit Rada (Sammy) Anuras DRAMA AWARD Angela Braun Gemma Verde ORCHESTRA AWARD Svasti Jagannadhan CHOIR AWARD Gemma Verde BAND AWARD Aadit Krishna Kumar PRIMARY SCHOOL INTERNATIONAL WOMEN'S DAY ART COMPETITION WINNERS: YEAR 3 Veerin (Zana) Varavarn Na Ayudhaya Dashwinnie Vasudevan Kayla Aklin YEAR 4 Sia Lee Yashvi Makhni Piranun (Nada) Kosumsurang YEAR 5 Aki Usami Yining Huang Mia Dansanghani YEAR 6 Anika Partridge Chanyu Park Clive Sutanont Student Achievement 2021/22 | 19
Christopher Ferne | Head of Faculty, Arts Cora Batley-Moss | Primary Art Teacher
The return to sport in 2021/22 was remarkable; moving swiftly from school closures to competitive fixtures and tournaments, allowed our Tigers to get back to what they are passionate about. During Term 1, online activities were led by our Academy staff who truly embodied Tiger Spirit as they appeared in a range of costume (including Super Mario amongst others) and activities to support our student's needs.
Block 2 came with the good news that ECAs and Sport could resume and trials took place with a record number of students in attendance. As November came around, our fields, hard courts, climbing walls and pools filled up with students eager to reconnect and be part of the BMAC (Bangkok Metropolitan Athletic Conference) of which we are now a part. BMAC is a joint initiative with NIST and ISB, this league has now grown to five member schools and hosted invitationals with four other schools in attendance. BMAC's mascot is the Hanuman, an ancient Thai Monkey God whose character traits of strength and energy were a good fit for our vision for the league.
Regardless of the challenges faced in back in August 2021, our teams completed three full seasons and there was an array of outstanding performances by both teams and individuals:
Hosting two very successful VIRTUAL FOBISIA EVENTS for Dance and Gymnastics, each attracting entries from over 200 students and with Bangkok Patana students earning podium places in both events.
Our new E-Sports Team placing 3rd in the INAUGURAL SEASAC E-SPORTS CHAMPIONSHIPS, our first foray into the world of competitive gaming and a popular new offering at Bangkok Patana School.
Our Senior Swim Team dominating the local SEASAC HUB SWIMMING EVENT and going on to win the Boys' Championship and overall point-score in the regional Virtual event (which included 11 schools and several swimming power houses including UWC Dover, UWC East and Tanglin). The Juniors followed up by winning the Girls' Championship and overall point-score too, sealing an unbeaten year.
Our Varsity Tennis Girls' team winning the SEASAC BATTLE OF BANGKOK, along with the Varsity Rugby Boys' team in Season 2.
SEASAC BATTLE OF BANGKOK medals for two of our B Teams, Girls' Touch and Boys' Rugby, showing excellent depth in our programmes.
Hosting a successful FOBISIA TENNIS EVENT with over 150 entries from around Thailand.
Our Softball teams securing BMAC wins in every age group from Under 12 to Varsity, continuing our legacy in this popular game as well as winning both SEASAC BATTLE OF BANGKOK tournaments.
Top 3 finishes for 95% of all Bangkok Patana teams in the BMAC across all sports.
The development of SELECTIVE FOOTBALL TEAMS from Under 9 – Under 14 in single Year groups, involving over 100 student-athletes.
Our BIGGEST EVER TRACK AND FIELD TEAM with a dedicated group attending the morning running club throughout the year.
Hosting the first ever BANGKOK PATANA SCHOOL GOLF INVITATIONAL, which saw several of our team members on the podium. This event is now part of the International School Golf Tour (ISGT).
A big thank you to all the staff from our Academic and Academy teams who have helped run such a broad spectrum of sporting opportunities for our students. We look forward to a full four seasons in 2022/23 and the prospect of returning to overseas competition.
SPORTS
Alice Curwood | Cross Campus Assistant Principal, Extra-Curricular Activities and Sports Richard Molloy | Cross Campus Head of Sport
20 |
ACADEMY HIGHLIGHTS
DANCE
Hosted the FOBISIA Virtual Dance Competition, which had 213 entries from 28 schools and different countries and the annual Dance Festival.
The Dance Extravaganza 2022 proudly presented 25 unique dance performances, showcasing the students' work throughout the year.
10 Bangkok Patana dancers participated in a prestigious dance competition, the ATOD 2022.
FOOTBALL
Our Under 12/Under 14 played in numerous competitions including their respective BMAC, all teams performed to a high-level bringing home lots of silverware. The other pleasing aspect of this was seeing players transfer away from 7v7 to 9v9 and 11v11 formats of the game; this is vital in their footballing development.
Introduced our Saturday Tiger Cubs programme for the youngest players in the school footballing community, children from Foundation Stage 1 and 2. We cannot wait to welcome even more Tiger Cubs in the future.
In 2021/22 we hosted more events than ever; these were age and stage appropriate for all players. Highlights were running numerous Under 9 goals festivals, Tiger Cups for all age groups and the inaugural BPS Summer 7's.
GYMNASTICS
Hosted FOBISIA Gymnastics invitational as a virtual event for the first time with nearly 300 gymnasts from 25 international schools across eight countries in Asia. We were proud to have both MAG and WAG gymnasts making the podium in nearly all divisions.
The highlight of the competitive season was attending the in-person BMAC 2022 Gymnastics Championships. All competitive teams reached the podium placing either 1st or 2nd overall. A fantastic achievement after a short season!
Welcomed the National Danish Performance Team for a day of teambuilding activities, gymnastics workshops, and finished the day by watching their incredible world tour performance.
SWIMMING
For a second successive year the TigerSharks played host both locally and virtually in the SEASAC Conference. Many who missed their opportunity to travel and enjoy the opportunities of an overseas event at least had the chance to have their final year of SEASAC with over 300 students across the member schools competing across both the Senior and Junior weekend.
In its inaugural year, TigerSharks could enjoy celebrating the return of all age group competition at both BMAC short course and long course championships. Winning the top team category at both meets, this demonstrated the depth in strength the team has across all age groups.
Despite interruptions to activity for two years, the TigerSharks enjoyed seeing more sign ups to the academy than ever, reaching over 300 student sign ups across both competitive and recreational ECAs.
TENNIS
Hosted the FOBISIA invitational tennis event. With no overseas travel possible, a new format was devised over three days with a qualifying event taking place on day 1 followed by a main draw. Students competed at Under 12, Under 14 and Under 16 levels with Patana students performing well across the board.
Although SEASAC didn't go ahead in 21/22 in its usual format, we hosted the replacement event billed as the Battle of Bangkok. The Varsity Girls took the title and the Boys finished as runners up.
Hosted the first Under 11 Bangkok Games tennis event. Both Boys' and Girls' events were won by Patana students.
Alice Curwood | Cross Campus Assistant Principal, Extra-Curricular Activities and Sports Richard Molloy | Cross Campus Head of Sport
Student Achievement 2021/22 | 21
EXTRA-CURRICULAR ACTIVITIES (ECAS)
Curwood | Cross Campus Assistant Principal, Extra-Curricular Activities and Sports
Our thriving provision of extra-curricular activities is something we are very proud of at Bangkok Patana School. This allows our students to explore their passions outside of the classroom and develop as individuals through a holistic programme that is personalised to meet the needs of our learners; creating independent, empathetic, creative and critical thinkers. Students with interests across the arts, sports, community service and outward-bound activities are provided a platform to develop their skill set for the future.
Our world class facilities allow for a diverse and inclusive range of offerings. Participation in the programme is proven to enhance academic performance, boost self-confidence, learn new skills, broaden social skills, develop thinking skills and improve time management. It is delivered by our teachers, highly qualified professional coaches and a team of specialist outside providers; all sharing the same drive to go above and beyond for our students.
Drawing, sculpture, pottery, painting, photography, clay modelling and fashion design ECAs to spark and nurture that creative flare.
Academies in the five areas of Gymnastics, Dance, Swimming, Tennis and Football. All providing specialist coaching and competitive/performance opportunities throughout the year.
Community Action Teams that encourage students to get involved, think globally and act locally. Our students support a wide variety of charities and participate in fundraising efforts to support causes as broad ranging as marine conservation, Habitat for Humanity, Ethical coffee production, Smile Club, PAWS and Interact.
The International Award programme is offered for students in Year 10-13 to gain their Gold, Silver and Bronze Duke of Edinburgh's certifications. Students complete a range of tasks including improving skills, engaging in sports, community service and adventurous journeys
Musical and performing arts including individual instrumental lessons, choirs, ensembles, bands, musicals and productions.
Cutting edge STEM sessions to equip students with skills required for jobs in the 21st century, including coding, programming, robotics, online gaming, podcasting and electronics. All designed to give students a greater understanding of how their topic of study relates to the real world beyond the classroom walls.
An extensive range of noncompetitive recreational sports to promote overall well-being and lifelong participation in physical activity including roller blading, table tennis, yoga, martial arts, spinning and fitness suite access.
Opportunities to compete and play in sports teams against schools in Bangkok, South East Asia and greater Asia via our membership of SEASAC, FOBISIA and the newly formed BMAC (Bangkok Metropolitan Athletic Conference).
Alice
SOME KEY HIGHLIGHTS OF OUR EXTRA-CURRICULAR PROGRAMME INCLUDE:
22 |
ECAS BY CATEGORY
Percentage of total offerings shown in brackets
PERCENTAGE OF STUDENTS IN EACH KEY STAGE WHO DO ONE OR MORE ECA PER WEEK
Student Achievement 2021/22 | 23
THE DUKE OF EDINBURGH'S INTERNATIONAL AWARD
The Duke of Edinburgh's (DofE) International Award celebrates young people's achievements outside of the classroom. Bangkok Patana students are phenomenal at engaging in a variety of interests outside of school and the DofE Award is a fantastic way to have these achievements recognised by an internationally celebrated institution like the DofE, which is celebrating its 66th year. The DofE facilitates young people to maximise their potential in 108 countries and territories with over 1.8 million participants.
As students have not been able to travel together and explore the beautiful nature and landscapes that Southeast Asia has to offer due to the pandemic, it is more important than ever for Bangkok Patana students to explore and improve upon their resilience, communication, problemsolving and adaptability skills whilst proactively working towards their own mental and physical health. The Award enables young people to take charge of their personal development through learning a new skill, taking on a physical challenge and enjoying the self-esteem-boosting effects of helping others through the voluntary service section. Through these three sections of the Award, participants are developing characteristics which will not only help them now but also in the years to come.
This year's Bronze cohort did an exceptional job at navigating the green space in 'The Green Lung' and Rama 9 park especially as their navigation lessons were online. The Silver DofE participants demonstrated resilience in kayaking long distances through the canals of Samut Prakan. The Silvers that opted for hiking produced a brilliant ecological survey of the public parks in Bangkok.
A huge well done to all of you that have finished your Award. It is an incredible achievement especially due to the additional COVID challenges!
Kieran Clarke | The Duke of Edinburgh's International Award Coordinator
24 |
THE DUKE OF EDINBURGH'S INTERNATIONAL AWARD
Jiwon Yoo
Roisin Sehmar
Sara Okada
Alison (Ally) Chang
Benjamin (Ben) Towell
Chananon (Tingnoi) Thebpatipat
Carly Alexia (Carly) Schlaeppi
Chien-Shiang Wang
Edward (Ed) Smith
Elyse Hawson
Erin Richards
Jack Zimmerman
Advaita (Advi) Sinha
Aira Ganesh Kawamura
Aksh Patel
Akshit Gupta
Aleksandra (Ola) Walendzik
Alexander Janssen
Amaya Fahr
Amy Brettell
Angelina Feng
Anouk Zappa
Aroosha Asim
Arth Patel
Aryan Malhotra
Bhaavni Batwara
Burapa Boonvisut
Chakraboon (Thiti) Bhanarai
Dara Rodel
Ellie Imsuwansri
Elliot Wallin
Ema Hashimoto
Emily Ireland
Jonas Christiaen
Linzhi (Lily) Xiao
Maetus Low
Marwin Banluelap
Natalie Hoglund
Niamh Sehmar
Nicolas Zimmerman
Phisira (Paengrum) Chatchupong
Pia Kapur
Emma Christiaen
Ethan Goh
Gracie Minchin
Heer Patel
He-Ya (Athena) Lin
Holly Myers
Ishaan Somani
James Somanader
Jasmine Power
Kaavya (Kavu) Italiya
Karnpichcha (Ada)
Chanyarakskul
Kayne Tatiyamaneekul
Kiri Hart
Leo Alfaro
Loris Calmels d'Artensac
Manintorn (Pin)
Manavutiveth
Margot Webert
Max Thompson
Meera Krishnan
Mithil Gupta
Muniza Parvaiz
Mya Tatam
Niamh Smith
Sarah Gannicott
Sirikorn (Jin) Dansiri
Tanat (Johnny) Tungsubutra
Tianyi (Thomas) Gao
Yiting (Freya) Yao
Yo-Lun (Alan) Chen
You Wei (Terry) Lu
Nynn (Gor-Bua) Puttisombat
Oden Stalberg
Patharasiri (Seiya)
Tiraratanakul
Patrycja (Pati) Walendzik
Paripatra (Ohm)
Uchupalanan
Pinyada (Pearie) Boonsombat
Pitcha (Pin) Tangtrongchitr
Raiya Williams
Ranya Omair
Razam Sherwani
Reyce Gabriel De La Cruz
Ricky Jain
Risa Ezuka
Rosaleen (Rose) Knox
Sadie Simpson
Saira Sachdev
Sara Srisakulchawla
Sarah Yue Tong Wong
Sasha Prachaseri
Scarlet Hornby
Shihyun Lee
Shiksha Srivastava
Shruti Zariye
Suh Yeon (Ashley) Uh Suhana Kaur
Sunu Chang
Tanawadi (Dena)
Siriratusdorn
Tara-Lynn Heuer
Tiger Tam
Utkarsh Bagaria
Xiaomei (May) Zhang
Yeonsu Lee
Younha (Isabell) Ko
Yun-Chun (Kiwi) Wang
Yu-Yi (Cindy) Lee
Kieran Clarke | The Duke of Edinburgh's International Award Coordinator
25
79 BRONZE
SILVER AWARD STUDENTS
AWARD STUDENTS
Ena Hashimoto
Patrick Ledoit
5 GOLD
Student Achievement 2021/22 | 25
AWARD STUDENTS
HOUSE SYSTEM
House Event Chang Lanta Phuket Samui Year 7 Swimming Gala 2nd 4th 3rd 1st Year 8 Swimming Gala 4th 3rd 2nd 1st Year 9 Swimming Gala 3rd 4th 2nd 1st Year 10 Balloon Debate 1st 2nd 4th 3rd Year 11 Alternative Olympics 3rd 1st 2nd 4th Year 12 Softball 4th 2nd 1st 3rd Year 13 Alternative Olympics 2nd 3rd 1st 4th House Points - Key Stage 3 4th 2nd 1st 3rd House Points - Key Stage 4 2nd 4th 1st 3rd House Points - Senior Studies 4th 3rd 2nd 1st House Quiz 2nd 3rd 4th 1st Chang House Captains Giles Kinsella Evelyn Cannon
Phuket
House
Hubert
Meja
Each
students
Cup.
individual points
Students
It was a very close contest but when the scores were totalled in June, Phuket
came out on top – for the second year in a row! 3rd 1st 4th 2nd Many congratulations to all who participated in the events and a special well done to our 2021/22 champions, PHUKET HOUSE. 26 |
Lorna Conroy | Secondary Assistant Principal, Student Welfare
Samui House Captains Shannen Campbell Tatiana Skory
House Captains Prin Chantarangkul Hugo Cheng Lanta
Captains
Wang
Stalberg
year, Secondary
compete for the House
Every student plays a role, whether through involvement in a large-scale event or by achieving
for their House through their hard work, motivation and commitment to learning. The House Cup is much sought after and the results are always eagerly anticipated.
take on key leadership roles to organise events and ensure House spirit is alive and well. Each year two student House Captains are selected to lead their House. They work alongside the student Vice-Captains and Year Leaders to help organise teams and foster House spirit. Congratulations to the following House Captains for holding these positions and for being such strong supporters of their House. Many hard-fought competitions took place throughout the year, with all Houses fielding strong teams. A number of major events had to take place online but school closure certainly didn't dampen House spirit. THE TABLE BELOW PROVIDES A SAMPLE OF THE RESULTS:
House
STUDENT LEADERSHIP
Lorna Conroy | Secondary Assistant Principal, Student Welfare
The Student Delegates are selected by their peers to represent the whole student population and are role models for the community. They are students in their final year who embody good skills and characteristics including collaboration, diplomacy, critical thinking and have a strong work ethic. They are kind, empathic, approachable, authentic and compassionate, and of course have excellent leadership skills.
The team in 2021/22 proved to be no exception. They worked collaboratively to support the whole school community. They led the Year 13 fundraiser, which presented THB 72,000 to the International Red Cross for their work in Ukraine. When the campus reopened after lockdown, they could be found wearing hi-vis jackets, taking care of the new Year 7s who COVID had prevented from visiting the Secondary campus previously. They mentored and coached fellow students throughout the year. In their final week at school they coordinated a range of leavers' events to ensure that the occasion was celebrated by the whole community.
MANY CONGRATULATIONS TO THE FOLLOWING FIVE STUDENTS FOR THEIR SUCCESS IN THEIR ROLE AS SENIOR DELEGATES:
THESE FIVE STUDENTS WERE ABLY ASSISTED BY A FURTHER 11 YEAR 13 DELEGATES:
Amery Chen Hsuan-Ling (Charlene) Chen
Ena Hashimoto Yizhen (Tina) Kong
Norapat (Earth) Kornsri Palida (Pammy) Leenabanchong Kai-Chung (Apollo) Lu
Akshita Malhotra Khushi Mathur
Gemma Verde Amanda Yongvanich Jiwon Yoo
JUNIOR DELEGATES are selected from Year 9 based on their ability to live and embody the school values. They are ambassadors for the whole of Key Stage 3 (Years 7, 8 and 9). They are advocates to drive positive change to school life. Despite school closure, they all fulfilled their roles with enthusiasm and dedication. Particularly notable was their involvement in leading staff professional learning, where they worked closely with the Delegates to present to Secondary teachers on the language of discrimination. Many congratulations to all our Junior Delegates:
Ashvika Bansal
Carla Burnett
Sita (Asia) Charatkulangkun
Bhavya Jha
Aayush Jalan
Lian Kaplan
Dhangfun (Kaede) Karnasuta
Arevik Khanyan
Claire Kietduriyakul Dashiell (Dash) Larmer-Beech
Lucas Lim
Sofia Lin
Yi Xuan Low
Sofiya Malik
Kulchad (Sheen) Thianthai Chongrong Wang
STUDENT REPRESENTATIVE COUNCIL (SRC): The SRC is the voice of the student body. Student representatives from Years 7, 8 and 9 form the Junior Council, while reps from Years 10,11,12 and 13 form the Senior Council. Each council is ably led by a student President, Vice-President and Secretary who oversee the weekly meeting. The Councils are completely student led and provide a forum for students to share positive feedback as well as to raise concerns, suggest areas for development and discuss ways forward. Some of the areas which the councils were involved in during the 2021/22 academic year were:
Providing student feedback on the tutorial programme
Sharing students concerns regarding school life
Suggesting new items for sale in the snack bar and canteen Suggesting ways to improve the learning environment
Contributing their ideas for improvements to the schools' technology
Congratulations and thanks to the Senior and Junior SRC students from each tutor group for being an active contributor to student voice.
Janelle de la Cruz
Tom Evans Anna Meller
Carolyn Suradejvbul Pim Wongswan
Student Achievement 2021/22 | 27
COMMUNITY ACTION IN PRIMARY AND SECONDARY
The 2021/22 academic year was wonderful for the Primary CAT (Community Action Team). Starting the academic year online, we came together as a community via our online platforms and reminded ourselves that even though we were apart, our school spirit connected us. Once back in school in November, we had our first whole Primary School Community Action event, Friendship Friday. On this day, Year groups spent time learning about their chosen charities in our local communities and the unique challenges they face. In December, we were so pleased to be able to have our annual Christmas collections. Year groups collected books, shoe boxes and gifts to donate directly to children in a less fortunate position than themselves.
Term 2 was filled with some amazing Year group sponsorship events and we were happy to raise THB 89,610 on Smile Day. This money went directly to Operation Smile to help children born with cleft palates. Term 3 saw more lovely Year group fundraising activities and the return of the ever-popular Busking Day! Children in Key Stage 2 wowed their peers and the younger Year groups with their many varied talents from magic to puppet shows to dance and musical performances. The Primary School was alive once again with the buzz of a vibrant, busy, caring community. We were thrilled to raise THB 98,720 for the Primary Central Fund, which is used to fund the charities supported by Primary School.
In Secondary School, Community Action Team (CAT) clubs and Creativity, Activity and Service (CAS) projects had to curtail activities due to COVID restrictions. Here is a sample of what some of the clubs were still able to achieve in making a real difference to those less fortunate.
AMNESTY PATANA
We organised our annual "Write for Rights" campaign in December, encouraging students to learn about three current activists' stories and write messages of support to them on our postcards. We then organised a virtual human rights education class based on the Right to Protest, together with Amnesty Thailand. In Term 2, we decided to work on Refugee Rights and Women's Rights, collaborating with the studentled organisation HER Period Dignity. By selling self-designed hand sanitizers in a united campaign across several international schools in Bangkok, we were able to raise THB 10,000 to donate reusable sanitary pads for women to a local refugee foundation. As a result of our efforts, we were lucky to receive recognition with the "Most Supportive Group" award from Amnesty Thailand.
PAWS
In 2021/22, as we were not able to arrange many trips, we took the opportunity to utilise our group efforts and donate THB 20,000 for food and medication for a rescued tiger, Susu. She had been used as a photo prop at the Phuket Zoo where she was chained to a platform for tourist purposes. Susu, along with several other tigers were rescued and are now at the Wildlife Friend Foundation with extensive habitats.
OPERATION SMILE
In 2022, we raised THB 39,759 towards surgeries for children with cleft lip palates worldwide. While school was online, we collaborated with Operation Smile Thailand to do the "Can you drink?" challenge on Tiktok and Instagram, which showed the hardships people face when drinking/ eating with a cleft lip/ palate. We also raised funds for the Smile Box project, which focused on providing pre and post-surgical care equipment.
INTERACT
Interact is a student run organisation that is part of Rotary International. We help a different charity each year. In 2021/22, we donated over 200kg of dog food and pet friendly goods to the local dog shelter.
Robine Johnson | Lead Primary CAT Teacher Caroline Ferguson | Secondary CAS Coordinator Jane Lovegrove | Secondary Youth and Community Coordinator
SECONDARY CAT CLUBS:
28 |
PRIMARY: SECONDARY:
SECONDARY CAS PROJECTS:
THE RUTH CENTRE
This passionate and enthusiastic Grad'23 service group raised THB 10,800 from a plant sale, which contributed to the purchase of over 2,500 banana trees. These trees will provide income for the residents of a new supported living centre for the elderly, which is currently being constructed in Uthai Thani. In March, 15 students visited the farm and planted over 350 of these trees.
DRAGONFLY TEEN INITIATIVE
The Dragonfly Teen Initiative uses artistic media to socially advocate issues of gender inequality. This year, we hosted a photo exhibition related to the stigma behind teenage pregnancies and its impact on the educational rights of women, especially in rural areas. Students also joined a panel discussion with UN Women about unconscious biases, which was later presented to the teachers at Bangkok Patana School.
ANOTHER OPPORTUNITY PROJECT AND AT YOUR SERVICE
Both these CAS projects aimed to improve the quality of life for the residents of Bangkok's largest slum, Khlong Toei, through the donation and collection of second-hand clothes items. They collected approximately 40 boxes of donations.
GO BABY GO
This CAS project's main objective was to re-modify ride-on toy cars for children who have mobility issues so that they can feel a sense of movement, while still adhering to the principles of design sustainability. The group donated five cars to the Central Special Education Center.
PATANA DEVELOPMENT BANK
Patana Development Bank is a project that provides microfinance loans to primarily sustainable, local, agricultural projects. This year, the team hosted the Techathon, an online programming competition. The competition had three categories and over 90 participants from several schools in Thailand. This event raised around THB 70,000, all of which will be used to finance micro loans in the next academic year.
EQUITY PARTNERSHIP SCHOOL'S NETWORK PROGRAMME
This competition challenges school teams to develop a sustainable business model of financial empowerment for underprivileged schools in rural Thailand. After nine months of collaboration with a Thai school; Ban Mai Pang Ka, Phayao, the Bangkok Patana team developed a product, a tote bag which utilises the intricate patterns and colourful weavings of traditional Mien culture. This product was sold on an e-commerce platform, with all profits channelled back into the rural community. The team achieved fourth place overall.
THE YOUTH FUND
We initiated the "Ghost Gear Upcycling" campaign, which aims to reduce the impact of abandoned fishing nets on coral reef ecosystems in Rayong and Chumphon provinces. We are experimenting with a business model in which fishing nets are "upcycled" to create saleable products. Our "Ghost Gear Chandelier", was auctioned for THB 120,000 as a fundraiser to finance this project.
THE UNION INTERNATIONAL
The Union International is Thailand's first interscholastic, student-run newspaper. The group's mission is to empower students at schools in S.E Asia to express their voices. We hosted a panel event where alumni attending various universities in the USA shared their tips; launched a podcast, "The Unity", to spotlight passionate students who drive change in their community, and hosted a multimedia competition titled "Raise Your Voice: Exploring Youth Identities", which received submissions from 134 participants from across the region.
MERCY CENTRE - THE ENGLISH HOUSE PROGRAMME
This direct action service project was first started in 2020, and has gone from strength to strength ever since. Our team of 27 Year 10 to 13 students continue to tutor, mentor and support the children at the Mercy Centre in Khlong Toei. All the students must be commended for the continued commitment they have shown to the aims of the project, and the close ties they have built with their tutees.
Student Achievement 2021/22 | 29
ALUMNI GRADUATES
Congratulations to our alumni below who have been in touch to let us know about their recent graduations. Please contact alumni@patana.ac.th to tell us all about your journey after Bangkok Patana!
Doctorate Degree
Luca Illing 2011 2019 University of Warwick PhD, Plant Genetics (Convocation 2022)
Master's Degree
Mark Comer 2018 2022 Imperial College London MRes, Cancer Biology
Florence Lacrosse 2017 2022 Université Côte d'Azur Science Conservation and Valorisation of Marine Resources
Sarah Lim 2018 2022 Imperial College London Science Communication
Kris Thongphakdi 2018 2022 London School of Economics Management
Man (Mable) Ye 2018 2022 University College London Spatial Planning, Urban Design Specialism
Bachelor's Degree
Erin Arnold 2018 2022 University of Cambridge Psychology, Neuroscience and Behavior
James Ashford 2018 2022 University of Leeds Human Physiology and Biomedical Sciences
Benedikt Ayrle 2018 2022 Bucerius Law School LLB, Corporate and Capital Markets Law
Chavisa Boonpiti 2018 2022 New York University Media Culture and Communications Maylinee (May) Chan 2018 2022 University of Surrey Nutrition and Dietetics
Poomkhun Chayavoraprapa 2018 2022 University of Bristol Engineering Design
Kentaro Constant 2018 2022 Vrije Universiteit Amsterdam International Business Administration
Samuel Gandhi 2018 2022 Lehigh University Business and Information Systems and Finance
Andrea Gatchallian 2018 2022 Mountview Academy of Theatre Arts Acting
Mythili Gupta 2018 2022 University of Melbourne Law and Criminal Justice
Jack Hickey 2018 2022 Oxford Brookes University International Hospitality Management
Sri Ellen Hollema 2018 2022 Loughborough University Product Design and Technology
Jaya Kothari 2018 2022 Babson College
Daywe MacArthur 2018 2022 American University International Studies, International Relations and Affairs
Arnav Mahajan 2017 2022 University of Cork College MB BCh BAO, Medicine
Mohammad Nafis Mahboob 2018 2022 Brunel University London LLB, Criminal Justice
Oscar Matijasevich 2018 2022 Monash University Immunology
Michael Nunbhakdi 2018 2022 New York University Sociology
Saurav Sawansukha 2018 2022 University of Washington Informatics
Isak Sidelind 2018 2022 University of Brighton Nutrition Sciences, Nutrition with Sports and Exercise
Louise Matias IV Velayo 2019 2022 KU Leuven Engineering Technology
Mai Viseschindavat 2018 2022 University of California, San Diego Business and Psychology, Minor in Art History
Peerat Vichivanives 2018 2022 Carnegie Mellon University Computer Science
Ploenta (Ploen) Voraprukpisut 2018 2022 Northwestern University Industrial Engineering and Management Sciences
Kevin Wuethrich 2018 2022 Monash University Business, Marketing, International Business and Finance
Donald Zhou 2018 2022 University of California, Berkeley Data Science; BA, Business Administration
30 |
Bangkok Patana Graduation Year University Graduation Year University Programme
CONTACT
CONTACT
Bangkok Patana School is dedicated to providing students with a wellrounded education. Student Achievement 2021/22 celebrates the tremendous achievements of our students in the many diverse areas of school life, including academics, the arts, community service, leadership activities and sports.
HEAD OF SCHOOL
Matthew G Mills headof school@patana.ac.th
CROSS CAMPUS PRINCIPAL
Head of School
Helen Thew heth@patana.ac.th
Matthew G Mills headof school@patana.ac.th
Cross Campus Assistant Principal Professional Learning Cindy Adair ciad@patana.ac.th
Cross Campus Assistant Principal Extra-curricular Activities and Sports
Cross Campus Assistant Principal Curriculum Technology Inegrator
Helen Thew heth@patana.ac.th
PRIMARY PRINCIPAL
Sarah McCormack samc@patana.ac.th
Cross Campus Principal Cross Campus Assistant Principal Professional Learning Katherine Hume kahu@patana.ac.th
Primary Assistant Principal Learning and Welfare
Carol Battram caba@patana.ac.th
Primary Principal Sarah McCormack samc@patana.ac.th
SECONDARY PRINCIPAL
Matt Seddon mase@patana.ac.th
Secondary Principal Matt Seddon mase@patana.ac.th
Secondary Assistant Principal Student Welfare
Lorna Conroy loco@patana.ac.th
Admissions and Registration
Rachel Jones rajo@patana.ac.th
ADMISSIONS AND REGISTRATION
Rachel Jones rajo@patana.ac.th
Cross Campus Assistant Principal Extra-curricular Activities and Sports
Alice Curwood alcu@patana.ac.th
Cindy Adair ciad@patana.ac.th
Cross Campus Assistant Principal Technology Integrator
Brian Taylor brta@patana.ac.th
Primary Assistant Principal Learning and Curriculum
Mark Verde mavd@patana.ac.th
Primary Assistant Principal, Learning and Welfare
Carol Battram caba@patana.ac.th
Secondary Assistant Principal Curriculum and Assessment
Secondary Assistant Principal, Student Welfare Lorna Conroy loco@patana.ac.th
Luke Jones lujo@patana.ac.th
Brian Taylor brta@patana.ac.th
Date of Production: December 2021. No part of this publication may be reproduced without the expressed written consent of Bangkok Patana School.
Date of Production: December 2022. No part of this publication may be reproduced without the expressed written consent of Bangkok Patana School.
Primary Assistant Principal, Learning and Curriculum
Mark Verde mavd@patana.ac.th
Secondary Assistant Principal, Curriculum and Assessment
Luke Jones lujo@patana.ac.th
Student Achievement 2021/22 | 31