INSIDER ARIZONA GOLF INSIDER Driving the Game Forward Focusing on Women's Golf in Arizona 1923–2023 FEBRUARY/MARCH 2023
ARIZONAGOLF
MIRANA MIRANA
A PURE GOLF CLUB EXPERIENCE
THOMPSONGOLFGROUP.COM
100 BIRTHDAY CANDLES FOR WOMEN'S GOLF |
By Joe Passov
Forging a separate but prominent path on our state's fairways, Arizona's female golfers shine with a remarkable legacy that spans almost an entire century.
GRASSROOTS GOLF: FINDING NEW WAYS TO PLAY |
By Tom Mackin
The evolution of social media and expanded programming offered by the Arizona Golf Association are two of the ways women are getting out on the golf course for the first time.
FACES OF THE GAME IN ARIZONA
Twenty-one of the notable women to build the foundation for playing the game in the Grand Canyon State are selected by AGA Staff for this collection of vignettes.
THE GOLDEN TEES: A GIRLS GOLF CELEBRATION | By
Cori Matheson
The LPGA*USGA Girls Golf of Phoenix celebrates its season with an awards party fit for fame ‒including a red carpet, paparazzi, celebrity interviews, dinner and awards presentation.
18
Departments
58. RULES
By Logan Rasmussen
When attempting to become proficient in the Rules of Golf, perhaps the first Rule that should be learned is 20.1c(3) ‒ Find out why!
62. OUT OF BOUNDS
By Lorraine Thies
Does anyone else think the majority of golf course design takes little to no account for the forward tees?
Welcome to Archi-Torture.
AZ Golf News
8
8. SIGNATURE HOLE
10. MEMBERS ONLY
48. JUNIOR GOLF
64. 19TH HOLE ARIZONAGOLF INSIDER
ON THE COVER
This isn't your average group! From left to right: Arizona icons Sandy LaBauve, Cheyenne Woods, Jane Spicer, Sister Lynn Winsor and Ashley Shaw are among those spotlighted in our Women in Golf issue.
4 | ARIZONA GOLF INSIDER | FEBRUARY/MARCH 2023
contents
the Game Forward Focusing on Women's Golf Arizona 1923–2023
Driving
12. 18. 24. 52.
From the Executive Director
BY JOE FOLEY
It's not often we catch ourselves in a moment fully appreciative of our surroundings – the people, the place, and the meaning of the gathering. But there I was on a chilly morning last month at a local course, wowed by the group in front of me:
• Sister Lynn Winsor – A legendary high school coach who has led Xavier College Preparatory to 37 state championships and consistently funneled talent to the collegiate level
• Sandy LaBauve – e founder of LPGA*USGA Girls Golf and a nationally renowned 30-year teaching professional
• Jane Spicer – e co-founder and CEO of an internationally-recognized brand who has provided headcovers to golfers for over three decades
• Cheyenne Woods – A Phoenix native and LPGA Tour Pro with more than 30 amateur titles on her résumé, using her platform to grow the game for women in golf
• Ashley Shaw – A 13-year-old rising star fresh o winning the inaugural Curry Cup Championship and the
2022 AGA Women's Match Play
With Women's History Month around the corner – in a year where our organization celebrates its 100th year - we found it tting to start the year with an edition that pays homage to the storied history of women's golf in Arizona. e old saying goes that a picture is worth a thousand words, and the cover of this magazine is no exception. It
features ve of the most impactful women in Arizona golf who represent the past, present and future of the state.
As you ip through the magazine, you'll nd that the fearsome vesome on the cover sets the tone. Inside, read spotlights on 21 in uential women – a group that includes NCAA champion coaches, LPGA pros and world class teachers. Joe Passov dives deep into the history of women's golf in Arizona, accompanied by Tom Mackin's look into the grassroots e ort to grow the game in the Grand Canyon State for women going forward.
You can also read about two recent events in the Valley –the Joanne Winter Arizona Silver Belle and e Golden Tees – both featuring some of the best young women's golfers in Arizona. Lorraine ies then caps this edition with some classic candor about how golf course architecture is not traditionally suited toward women. I would love to hear some feedback, whether you agree or see things di erently.
We're excited for you to join our journey through women's golf in the pages ahead – the events, the stories and - most importantly - the people who make the women's game so strong in our state today.
We're tremendously grateful for their passion and achievements and can't wait to see what they have in store for us next.
ARIZONAGOLF INSIDER
7600 E. Redfield Rd., Suite 130, Scottsdale, AZ 85260 (602) 944-3035 | www.azgolf.org
EXECUTIVE COMMITTEE OFFICERS
PRESIDENT ........................................... Bob McNichols
VICE PRESIDENT .......................................... Tim Brown
VICE PRESIDENT ...................................... Michelle Cross
SECRETARY ............................................... John Souza
TREASURER Tim Hulscher
GENERAL COUNSEL ......................................... Greg Mast
EXECUTIVE COMMITTEE MEMBERS
Jackie Bertsch, Vera Ciancola, Barbara Fitzgerald, Joe Foley, Bryan Hoops, Jerry Huff, Mark Jeffery, Leslie Kramer, Ann Martin, Scott McNevin, Victoria Totlis
AGA STAFF
Joe Foley, David Bataller, Anj Brown, Le Ann Finger, Amy Fruhwirth, Brandon Genson, Sharon Goldstone, Vivian Kelley, Kathy Laux, Mike Mason, Meagan McEnery, Derek McKenzie, Chris Montgomery, Robyn Noll, Everett Priddy, Logan Rasmussen, Daniel Shoup, Peg Tanner, Alex Tsakiris, Susan Woods
Partnership Contact ................................ Chris Montgomery cmontgomery@azgolf.org - (602) 872-7011
National Advertising Contact ........................... Brian Foster bfoster@azgolf.org - (602) 909-7799
AZ GOLF INSIDER STAFF
EDITOR IN CHIEF David Bataller
AGA EDITORS ..................... Brandon Genson, Meagan McEnery
CONTRIBUTORS Joe Foley, David Bataller, Anj Brown, Brandon Genson, Ed Gowan, Le Ann Finger, Jeff Locke, Tom Mackin, Cori Matheson, Robyn Noll, Joe Passov, Logan Rasmussen, Lorraine Thies
PRESIDENT AND CEO .................................. Robyn Lambert
SENIOR ACCOUNT EXECUTIVES Lisa Grannis, Michelle Schneider
ACCOUNT EXECUTIVE ...............................Morgan McClellan
OFFICE & EVENTS MANAGER ............................. Gina Pinaire
PRODUCTION MANAGER ................................... Julie Vance
CREATIVE DIRECTION Haines Wilkerson, Hither & Wander Inc.
ART DIRECTION ......................................... Michael Min
FOR PRINT ADVERTISING SALES CONTACT: SALES@ONMEDIAAZ.COM
Arizona Golf Insider (ISSN 2765-9054) is published four times per year by the Arizona Golf Association. It is supported by members' dues, utilizing $5 per member per year. We welcome all editorial submissions, including letters, but assume no responsibility for the loss or damage of unsolicited material. They will not be returned unless accompanied by a self-addressed, stamped envelope. Views expressed within these pages do not necessarily reflect the opinions of the editors or official policies of the Arizona Golf Association. No part of this magazine is intended as an endorsement of any equipment, publication, videotape, golf course, or other entity. No part of this magazine may be reproduced for use as an advertising, publicity or endorsement item without written approval of the AGA. Arizona Golf Insider is offered on a subscription basis for $12.95 annually. Individual copies may be obtained by forwarding $5 to the address above. POSTMASTER: Send address changes to Arizona Golf Association, 7600 E. Redfield Road, Suite 130, Scottsdale, AZ 85260-1101
6 | ARIZONA GOLF INSIDER | FEBRUARY/MARCH 2023
Preeminent Italian design and quality brought to you by Copenhagen. Come experience our carefully curated collection.
Enhance your dining experience with the sculptural elegance of the Butterfly dining table by Cattelan of Italy. A ribbon of solid steel is artistically finished in brushed grey and supports a top of extra clear glass for a truly sophisticated look. This table is available from stock for quick delivery in either 94.5" or 118" lengths, both in a generous 48" width. Shown with the beautiful all-leather Zuleika dining chair. Call the location nearest you for pricing.
accessories for your modern lifestyle
phoenix tucson gilbert scottsdale san antonio austin el paso www.copenhagenliving.com PHOENIX 1701 E. Camelback 602-266-8060 SCOTTSDALE 15804 N. Scottsdale Rd. 480-367-6401 GILBERT 2000 S. Santan Village Pkwy. 480-838-3080 TUCSON 3660 E. Fort Lowell 520-795-0316 furniture and
since
The Stadium Course at TPC Scottsdale
As the PGA TOUR stop with the largest crowds of any golf event in the world, The WM Phoenix Open brings immeasurable attention and respect to the Stadium Course, designed by the team of Tom Weiskopf and Jay Morrish.  The course, which was renovated in 2014, is most famous for its par-3, 16th hole that transforms into "The Coliseum" during the tournaments and provides fans with one of the most exciting settings in professional sports. And while the famed 16th hole gets most of the attention during tournament week at "The People's Open," the finishing stretch of holes (15, 16, 17 and 18) aptly named "Stadium Stretch" is among the most challenging finishing set of holes anywhere on TOUR.
During the 51 weeks of the year when fans are not watching the sport's top names make history, they can test their own skills on the same pristine fairways – maintained to PGA TOUR-quality standards year-round – as their favorite professionals.
SIGNATURE HOLE
HOLE #16 PAR 3 163 YDS
The par-3 16th is the shortest hole on the golf course and – aside from the threestory grandstands completely surrounding the player leading up to tournament week at the WM Phoenix Open – presents a relatively straightforward tee shot. Trouble can occur when attempting to get up and down out of any one of the four bunkers guarding the green, but any wedges or short irons that find the middle of the green will have a good look at birdie.
8 | ARIZONA GOLF INSIDER | FEBRUARY/MARCH 2023
SIGNATURE HOLE
JUST FOR YOU
Special Offers for Members
3 SHEILAS WINE & SPIRITS
PUTTING WORLD
Putting World is the first of its kind, indoor state-of-the-art game improvement and entertainment venue focused solely on putting – and FUN! Play 18 holes on an indoor Championship putting course, enjoy delicious and unique offerings from the Pick It Up Grille or the full-service craft-cocktail bar/restaurant Bar 19, shop for special items in the golf shop, host a special event in our private event spaces or get fit for a putter and get a lesson so you can be the best putter in Arizona! Memberships are available so you can make Putting World your new world for fun and competition. Special limited time offer: AGA Members receive a complimentary craft cocktail* or appetizer* with a full paid round Sunday – Thursdays in FEBRUARY/MARCH 2023. Must present ID and AGA Card. (*Exceptions apply)
16259 N. SCOTTSDALE ROAD SCOTTSDALE, AZ 85254
(480) 398-8201 PUTTINGWORLD.COM
A Phoenix-based distributor, 3 Sheilas Wine & Spirits offers small-batch craft cocktails like the iconic Black's 66 Old Fashioned. A blend of doublebarrel premium rye whiskey, cold smoked agave and bitters is aged in white oak chardonnay barrels to lend this iconic cocktail a complex flavor. This instant classic is available in all Arizona Total Wine & More and at select country clubs and resorts in the Grand Canyon State.
3SHEILASAZ.COM
PEAK 10 SKIN 'KEEP MOVIN' CBD MUSCLE GEL
Payson, Ariz.-based PEAK 10 SKIN's keep MOVIN' is a fast-acting, non-greasy CBD muscle + joint gel – a high potency formula enriched with 2000mg of CBD. Pumped out of a 3.4 oz container, it contains essential oils to help ease over-worked, strained or tired muscles. Carry it in your golf bag or use after a long day on the course to keep movin' and enjoying the things you love to do.
PEAK10SKIN.COM

MEMBERS ONLY
10 | ARIZONA GOLF INSIDER | FEBRUARY/MARCH 2023
LUCKY IN LOVE
Feeling lucky this Lucky in Love is a leader in the golf apparel industry with five generations of experience in the sports apparel market. Based in Miami, Fla., Lucky in Love offers fashion-forward designs and fresh releases every month, all to help players look and feel their best both on and off the course.
Spring?
SHOPLUCKYINLOVE.COM
G/FORE MG4X2 CROSS TRAINER
Put your best foot forward on & off the course with G/FORE's fan favorite multi-functional MG4X2 Golf Cross Trainer. Equipped with a water & stain resistant upper, an auxetic lattice midsole, a sawtooth traction pattern for grip and finished with plus a triple-density foam cushion footbed for all day play.
GFORE.COM










AZGOLF.ORG | ARIZONA GOLF INSIDER | 11
MEMBERS ONLY
BY JOE PASSOV

on our state's fairways, Arizona's female golfers shine with a remarkable legacy
Birthday Candles
Women's
100 100 12 | ARIZONA GOLF INSIDER | FEBRUARY/MARCH 2023
ADDITIONAL REPORTING BY ROBYN NOLL
for
Golf
Barbara Williams (Phoenix Country Club)
Judy Loftfield Whitehouse
Participants in 1929 Match Play Championship. (Nancy Gates/ Louis Howard Collection)
Shirley Ann Doering White(Phoenix Country Club)
(Phoenix Country Club)
WOMEN'S GOLF
Deep in the desert in April 1923, when not a single Arizona golf course featured grass putting greens, women stood—or sat—side by side with the men, at the state's very rst meeting of club representatives. In an alcove at Phoenix Country Club, the men created the Arizona Golf Association. Simultaneously, the women formed the Arizona Women's Golf Association. Together, the two organizations trekked mostly parallel paths for 96 years. Although the men grabbed more of the newspaper headlines, the women of the AWGA produced an abundance of capable administrators, legendary champions and heroic moments of their own.
THE PIONEERS
In early March 1924, Phoenix Country Club played host to the inaugural Arizona Women's State Match Play Championship. e tournament drew entrants statewide, including players from the Ray Golf Club, Warren District Country Club in Bisbee, Cobre Valley Golf Club in Globe/Miami and Hassayampa Golf Club in Prescott. e nal featured a formidable matchup between two of the host club's members who were also two of the West's best female golfers, Lorraine McArthur and Josephine "Jo" Goldwater. Mrs. Goldwater was no average Jo on the golf course, earning qualifying medalist honors at the 1924 event. Still, McArthur got the better of her in the nal, winning 5 & 4.
McArthur would defeat Goldwater again in the 1926 nal and snagged two other crowns, in 1928 and 1929 before moving to California.
OTHER EARLY STANDOUTS
Hulda Skov of Benson earned medalist honors in 1927 at Douglas Country Club with an 89, that featured a course record of 43 for nine holes. Not bad considering that course conditions and equipment were far inferior to what we're accustomed to today. Skov captured the inaugural Southwestern Women's Amateur in 1928 and four times placed runner-up in the State Match Play, in 1928, 1930, 1931 and 1935. She
acquired further renown for wearing knee-length knickers called "plus-fours" during a period when ladies routinely were expected to wear skirts.
Barbara Williams rebounded by winning a record-tying four consecutive State Women's Amateurs, from 1931-1935. (No tournament was held in 1933). Her rst win, at El Rio, rekindled her rivalry with Skov, but 1930 champion Elva Studley made news as well, winning the long drive contest with a smash of 235 yards.
e 1950s were notable for the presence of Ruth Prather. Pronounced "Pray-ther," for ve years running, from 1951 through 1955, her opponents didn't have a prayer. So dominant was Prather that not only did she win ve straight, she was qualifying medalist in four of the ve as well. She won all over the state, too—Prescott, Yuma, Douglas, Mesa and Tucson.
CHANGING OF THE GUARD
e Swinging 60s were tumultuous times in America. In Arizona women's golf, the times were a-changing as well. Junior programs began to blossom, leading to a bevy of talented young golfers populating the elite ladies ranks. e leading ag-waver in the promotion of junior golf was Dorothy Pease. A member of the Arizona Golf Hall of Fame Class of 2000, Dorothy founded the Junior Girls Championship in 1958, an o shoot of the main Match Play event. She also helped create the Arizona State University Women's golf program. Pease, an outstanding player in her own right, served so admirably as a volunteer, that when the AWGA's highest honor for service was created in 2011 it was named the Dorothy Pease Award.
Judy Loft eld claimed the title in 1961 at age 18, surging from level after 27 holes to grab a 4 & 3 win. She won again in 1963 and under her married name, Judy Whitehouse, took three more championships, in 1965, 1973 and 1974. She joined Ruth Prather as the only ve-time winners of the State Match Play and capped her career by earing the Dorothy Pease Award in 2014. In between Judy's rst two wins,
14 | ARIZONA GOLF INSIDER | FEBRUARY/MARCH 2023
Promotional flyer for 1962 Women's State Championship at Moon Valley Country Club.
the sensational Joanne Winter captured the 1962 event at Moon Valley.
Going back 50, 60, 70 years, tournaments were contested with a spirit that was as much social as competitive. Donna Cunning, a four-time State Seniors champion between 1985 and 1991—an event created in 1963—remembered how things used to be.
"In the early years, the AWGA (or WGAA as it was called in Donna's era), was run by a volunteer board with representatives from each club," she said. "It was expected that each club host the championship, and they took pride in doing so. e club named a chairman for the event and many planned their event around a major theme…much the same as the club invitational today. e championship dinner would include skits put on by golfers of various clubs. e board would oversee the plans and make sure everything ran smoothly."
In 1962, the theme at Moon Valley was "Rocket to the Moon," and the event poster depicted a woman in a space helmet with her golf clubs, about to board a rocket called the Moon Valley Special. Actual rockets blasted o and descended by parachute to launch the beginning of the tournament. Perhaps that simple animation was appropriate, because winner Joanne Winter was an athletic reball. A former pitcher in the All-American Girls Professional Baseball League in the 1940s, she later consulted on the movie "A League of eir Own," which chronicled the exploits of those pioneering women. Turning to golf, she reached the 1962 Match Play nal one month shy of her 38th birthday, where she defeated fellow Encanto Women's Golf Association member Joan Clark 2-up. Winter turned pro in 1963, and soon became an award-winning teacher, a successful golf coach at Arizona State University and the founder of the prestigious Arizona Silver Belle tournament.
Not every subsequent event in the 1960s featured rocket launches, but credit Evelyn "Evie" Hill as a trail-blazing comet in her own right. Evie won the State Amateur Match Play in 1964, 1966 and 1968, was Paradise Valley Country
AZGOLF.ORG | ARIZONA GOLF INSIDER | 15 COVER STORY
Jean Thomas (left) with Evelyn "Evie" Hill in 1968.
WOMEN'S GOLF
Club's champion nine times and twice served as President of the WGAA, in 1963-65 and again in 1977-79. She won the State Stroke Play when it debuted in 1974, and her outstanding play and contributions to golf landed her a spot in the Arizona Hall of Fame in 2003.
Soon to emerge as the Queen of Arizona golf was Heather Farr. In 1978, at age 13, Heather became the youngest player ever to win the State Amateur Match play when she cruised to a 7 & 6 win over Lila Blandford in the pines of White Mountain Country Club. She backed that up in 1979 with a 9 & 8 rout over future ASU star and 1993 U.S. Women's Open champ Lauri Merten at Mesa Country Club. She managed a four-peat in the State Stroke Play from 1981-1984, won the Match Play again in '82 and '83, captured three Arizona High School State Championships, snagged the 1982 U.S. Girls' Junior and won the 1984 U.S. Amateur Public Links. She also helped the U.S. to victory in the 1984 Curtis Cup at Muir eld in Scotland.
Elote Café
Her contemporary and fellow champion Kay Cornelius explained what made 5'1" Heather Farr such a dynamo. "Heather's short game was phenomenal," said Cornelius. "And talk about a ery competitor! Her focus and will to win were remarkable."
A three-time All-American at ASU, Farr's pro career—and life—were tragically cut short by cancer.
Cornelius herself was also an astounding junior prodigy. e daughter of 1956 U.S. Women's Open champion Kathy Cornelius, Kay won the 1981 U.S. Girls' Junior at age 14, the youngest winner ever. Kay Cornelius reached the 1979 State Match Play quarter nals at age 12, losing to Lauri Merten, then reached the nal at age 14 in 1981 before losing to Geri Cavanagh of Paradise Valley Country Club, the 1976 champion.
Cavanagh also snagged the Stroke Play title in 1986, played collegiately at ASU in her mid-30s and won 12 club championships at Paradise Valley Country Club. Yet, she's best known for her philanthropic e orts, donating $1.5 million to junior golf, area tournaments and the AWGA. She was
16 | ARIZONA GOLF INSIDER | FEBRUARY/MARCH 2023
Heather Farr (left) with sister Missy on the practice range. (Missy Farr-Kaye)
the inaugural recipient of the AWGA's highest honor, the Dorothy Pease Award, in 2011 and gained admission to the Arizona Golf Hall of Fame in 2022.
Kay Cornelius was also a victim in the 1984 nal, in one of the event's most dramatic championship duels. Former University of Arizona student Kathy Budai, 21, was headed to a certain defeat against the 17-year-old Cornelius, who had graduated from Saguaro High School that week. Budai rammed home a 45-foot eagle putt on the 18th to force extra holes, then clinched the title with a birdie on the 39th hole after a marathon seven-and-a-halfhour match.
Younger sister Missy Farr followed Heather to ASU and helped the Sun Devils win the 1990 NCAA Championship. As Missy Farr-Kaye, she triumphed in the State Match Play in 1997 and 2001, then turned to coaching. She was part of an NCAA Championship-winning team as an assistant coach in 2009, and as head coach, led her team to the title in 2017. A three-time cancer survivor, Farr-Kaye joined the Arizona Golf Hall of Fame in 2022.
Cornelius' memories turn more positive when she recalls some of the administrators of the AWGA, especially Ann Votik, president of the organization from 1981-1985.
"Ann was hilarious, and larger than life," remembered Cornelius. "She was a tall lady and had big hair. She treated us kids as her own. When we all got a bit too competitive—the Farr sisters, the Ammaccapanes (Danielle and Dina), the Draegers (Colleen and Laura)—she would have us to her house. She would make lasagna and sit us down and explain how we needed to get along. She was a uni er, a big believer in everything that golf stood for. She was a great lady."
Great ladies, talented girls, outstanding women—all had come to de ne those who competed in AWGA events and those who administered them. e past three decades have seen more of the same. No one player dominated the 1990s, but in the two decades since, a stful of names stand out,
starting with uhashini "Tui" Selvaratnam. e Sri Lanka native helped ASU to win NCAA titles in 1995, 1997 and 1998 and she didn't stop there. In all, she won 11 Arizona State Championships, including the Match Play in 2005, 2008 and 2011, plus four straight Stroke Play titles from 2000-2003. Most remarkably, Tui was named AWGA Player of the Year 11 consecutive times from 2001 to 2011 and added three more POYs in 2016, 2017 and 2018.
Another prominent name etched on Arizona tournament trophies is Kim Eaton. She twice captured the State Stroke Play, in 2013 and 2016, was half the winning duo in
the State Four-Ball on six occasions and won the State Senior Stroke Play eight times, including ve in a row from 2013-2018. Most impressively, Eaton earned her ninth Senior Women's Player of the Year award in 2021.
So many other signi cant names have helped propel Arizona women's golf to greater heights, from former ASU coach Linda Vollstedt, to Xavier College Prep coach Sister Lynn Winsor, both members of the Arizona Golf Hall of Fame. Mary Pomroy, longtime Executive Director of the AWGA from 1999 to 2018 deserves many accolades for leading the women into the 21st century. Pomroy founded the Women's Golf Alliance, helped usher in a program dedicated to girls' golf in high schools, and helped put together an elite team that won the 2007 USGA Women's State Team Championship.
Finally, it would be impossible to speak to the history of in uential women in Arizona golf without mentioning Lorraine ies and Dot Straw. ies started as the rst executive director of the AWGA in the early 1990s. She soon moved around the corner to do dazzling work for the AGA. From running collegiate tournaments to rules o ciating to coordinating handicapping to managing budgets, ies did it all and did it well. Straw was the engine that drove junior golf in Tucson—ably assisted by her husband, Bill—for three decades. As recognition for their exemplary volunteer service, Dot and Bill earned the AGA's most prestigious honor, the Updegra Award, in 1993. e Arizona Golf Hall of Fame inducted Dot in 2001.
In 2019, the AWGA integrated with the AGA, with 22,000 women golfers joining 55,000 men under the Arizona Golf Association name. e AWGA lives on, certainly philanthropically. In 2022, the AWGA gifted the Junior Golf Association of Arizona (JGAA) its entire Legacy Investment Fund. With stellar young players such as Ashley Menne and Ashley Shaw, and a full slate of tournaments for all levels, women's amateur golf in Arizona is poised for a very bright future.
AZGOLF.ORG | ARIZONA GOLF INSIDER | 17
Joanne Winter (right) with 1977 Arizona Silver Belle champion Andrea Gaston.
GRASSROOTS GOLF
Women in Arizona are Finding New Ways to Play
WORDS BY TOM MACKIN
GOLF GALS
Brandon Genson
Tori Totlis/Compete Confidence
Tori Totlis/Compete Confidence
Cheyanne Stewart/Golf Gals
GOLF GALS
While leading junior golf clinics two years ago at Dobson Ranch Golf Course in Mesa, instructor Cheyanne Stewart noticed a lot of moms standing by and watching their kids closely. To get them off the sidelines and onto the tee, she started a group called "Golf Gals," which quickly created a thriving community among the participants.
That's just one of the recent grassroots efforts now underway in the state that are focused on attracting more women to the game.
Stewart's primary method for achieving that goal has been to create a fun environment for the Golf Gals."They don't come to practice every day or to lower their score," she said. "That's not their initial thing. What makes it fun is developing a group that will support you and encourage you to go out and practice. I've created multiple clinics that focus on the social aspect, like having a driving range meet-up and always including a free drink, to show we're not here to be too serious."
Participation in Golf Gals has been steadily increasing. "On our group WeChat, I have 125 ladies now," said Stewart. "It's awesome to see how they are dropping invites to the group to play at other courses or even just meet up for dinner together. That's really sweet to see. And when I tell the Golf Gals about the junior program at Dobson, then they start signing up their kids for that too. It's really cool to see moms and daughters playing, which really helps grow the game."
A thriving social aspect has been the key to the group's success. "We all come from different backgrounds, but to see us sit in the same room talking about memories from past rounds or trips has been great," said Stewart. "Or when they tell me I wouldn't have met my best friends if it wasn't for Golf Gals. I was always being hard on myself when it came to the instruction part, but they always remind me that I have made an impact in their life beyond golf. I will always treasure that."
Tori Totlis, who started playing in her mid-20s after having her first child, found that golf tapped into a competitive spirit she honed while growing up playing tennis and softball. "I developed a passion for the game," she said. "I want to show women the steps of how to get started in golf, what to do next, and empowering them in a way they feel they are worth going to get fit for clubs. I think a lot of women start playing golf and they might be using their husband's old set of clubs, and maybe just play with him. For me, opening the door to all the other ways golf can change your life, and your friendships in the community, is really my mission."
20 | ARIZONA GOLF INSIDER | FEBRUARY/MARCH 2023
It's just celebrating women's golf, but it also gives them an opportunity to meet 220 other women, " "
GOLF GALS
Totlis is now using her business background to build a community through golf-centered retreats, tournaments, social media, and a podcast (for more info, go to competeconfidencegolf.com). "I loved attending conferences and networking, and I thought, 'Why can't we do that with golf?'"
So she created events such as the sold-out Desert Classic at Papago Golf Club in Phoenix this March 5-8. The three-and-a-half day event features a golf tournament, clinics, entertainment, and a shopping night. "It's just celebrating women's golf, but it also gives them an opportunity to meet 220 other women," said Totlis, who also has upcoming events in Mexico, Pebble Beach, Dallas, and Ireland. "It's a partner tournament but individuals can sign up. That's where a lot of the magic happens. The singles are all by themselves and they leave with all these friends."
Alex Andersen was introduced to golf by a boyfriend six years ago in San Diego. When that relationship ended, she wanted to continue playing. "I found
AZGOLF.ORG | ARIZONA GOLF INSIDER | 21
Tori Totlis/Compete Confidence
Brandon Genson
out it was really fun and I wanted to get my friends into it," she said. "If I could make it look fun, they would want to do it, too. It's intimidating, so I just started with range meetups for beginners. I got so much interest in those that I did a glow golf tournament at night." Those events worked so well that she launched a program called Babes Golf (babesgolf.org).
Last year she added a chapter in Arizona through a connection with Dobson Ranch Golf Professional Natalie Farahani. The group hosts range meetups, golf outings, and clinics (featuring local golf instructors), and members have access to an app for information sharing.
"Women's initial thought is that they have to be good right away, and that's very intimidating," said Andersen. "Showing them that not everyone is good helps. This is a hard sport, and you can play for years and still be bad. But it's all about just having fun. I really preach that."
Babes Golf has attracted women from different backgrounds and careers. "Our average age is around 32, but we do get older women in their 50s and 60s, and they have just as much fun as the 25-year-olds," said Andersen. In addition to scheduling monthly golf outings and clinics in 2023, the group will also conduct a monthly social meet up at a True Spec location in Arizona.
"It's really about the energy we have," said Anderson. "We're not doing this to be competitive. I know a lot of people end up being competitive, so we can connect them with groups like the Arizona Golf Association (AGA) for their tournaments. There's room for everyone because everyone has a different vibe. It's wherever you feel most comfortable."
The AGA itself offers a number of ways to get into the game, including a Nine and Wine Mentoring Series, non-competitive Scramble and Just For Fun
22 | ARIZONA GOLF INSIDER | FEBRUARY/MARCH 2023
GOLF GALS
Tori Totlis/Compete Confidence
days, and the AZ Under 30 Club for young adults between ages 19 and 29. On the competitive side, a Women's Short Course tournament, which debuted last year, will be held March 11-12 at Augusta Ranch Golf Club in Mesa, as well as a 2023 schedule filled with individual and partner events.
"Because there are few individual events for women, namely just our championships, I said, 'Well let's do an individual Short Course event,'" said Le Ann Finger, Director of Golf Operations for the AGA. "We've got it scheduled now as a two-day, weekend event. I'm hopeful that will attract some women who have not played in our tournaments. We set the course up at just over 3,000 yards for 18 holes, and hope to get a field of 40-60 women."
And if you think more men play in AGA events than women, you're right. But dig a bit deeper into the numbers and that ratio is actually flipped. "We had 1,473 men play in our events last year and 833 women," said Finger. "But if you
look only at unique golfers from those lists, there were 638 unique women and about 626 unique men. So we're sort of comparing apples and oranges when comparing more men playing in events than women. But if you look at unique golfers, it's pretty comparable."
Still, with approximately 25,000 female members – placing the AGA among the top five golf associations in the country for that category – increasing that number of women playing in tournaments is a priority. "It's up to us to continue to offer events for women, whether that's a tournament or a social event for those not ready to compete," said Finger. "Other groups now out there can be a perfect on ramp to learn the game and be with people who are likely of the same ability, so you can relate and find people to play golf with."
Visit azgolf.org for more information and to register for events with the Arizona Golf Association.
AZGOLF.ORG | ARIZONA GOLF INSIDER | 23 GOLF GALS
Cheyanne Stewart/Golf Gals
Brandon Genson
FACES OF THE GAME
A Toast to 21 of Arizona's Notable Women in Golf
""Celebrating Arizona's Women in Golf means paying homage to those who came before us. I would not be where I am today without the example of local women in golf I've looked up to, and the programs I've been able to grow up playing in, here in Phoenix, Arizona.
24 | ARIZONA GOLF INSIDER | FEBRUARY/MARCH 2023 COVER STORY
CHEYENNE WOODS
One of Arizona's most popular LPGA Tour Players, Cheyenne Woods was born and raised in Phoenix, picking up the game as a six-year-old and participating in as many local junior golf programs as she could – including events put on by the Desert Mashie Golf Club, JGAA and the local LPGA*USGA Girls Golf program. She would attend Xavier College Preparatory and play golf under Sister Lynn Winsor, winning state team titles in each of her four years as well as an individual title her junior year.
Woods went on to play at Wake Forest, tallying well over 30 wins during her amateur career. She achieved her goal of playing professional golf following her graduation from Wake Forest in 2012, qualifying for the 2012 U.S. Women's Open and playing in the 2012 LPGA Championship. Her first win was the 2012 SunCoast Ladies Series, adding another at the 2014 Volvik RACV Ladies Masters in Australia.
While normally asked about her famous uncle, Tiger, Cheyenne Woods is quick to credit the golf icon as her inspiration to become a professional golfer. By seeing his success, setting goals and working hard, she realized she could accomplish her goals in golf as well. Woods has recently transitioned into golf broadcasting – featuring as the on-course reporter at The Match held at Oro Valley, Ariz.'s Stone Canyon Club in November 2020, as well as the NCAA Women's Championship at Scottsdale's Grayhawk Golf Club in 2021. Recently married to MLB star Aaron Hicks, the couple welcomed their first child, Cameron, in 2022. (Le Ann Finger)
SISTER LYNN WINSOR
The winningest coach in Arizona high school athletics history, Sister Lynn Winsor has led the Xavier College Preparatory Gators golf team to 37 team state titles since arriving on campus in 1974. In fact, since 1996, Winsor's teams at XCP haven't lost a regular season match: 285 wins, a few ties and not a single loss.
Yet as successful as her golf teams have been, Winsor is most well-known for her devotion to Xavier students and athletes alike. She has consistently maintained that she takes immense pride in the development of the thousands of young adults who have passed through the gates of XCP, many of whom credit her for helping to build their own foundation for success in life.
Still the Athletic Director and Girls Golf Head Coach, Winsor has earned accolades of which most coaches and administrators can only dream. She was inducted into the National High School Athletic Coaches Association Hall of Fame in 2013; being named the National High School Athletic Director of the Year; National Federation Coaches Association Golf Coach of the Year two times and earning the Arizona Interscholastic Association Lifetime Achievement Award in 2018. Perhaps most special to Winsor: in 2021 the National Federation of State High School Associations honored her with the NFHS Title IX Trailblazer of the Year for Arizona. Title IX is celebrating its 50th anniversary throughout the current academic calendar. (David
Bataller)
Being a part of the growth of Arizona Girls High School golf has been a privilege. Helping to teach skills, rules, develop confidence, teamwork and an appreciation for the game of golf to hundreds of women for 49 years at Xavier College Prep has been exciting and rewarding. Let us celebrate the growth of Arizona Women in Golf by continuing to build the game in the high school setting. "
"
JOANNE WINTER
Known as one of Arizona's greatest female athletes, Joanne Winter excelled in multiple sports. Leaving high school at age 15, she started out as an exceptional softball pitcher. At age 18 she turned pro, joining the Racine Belles in the debut of the All-American Girls Professional Baseball League. She quickly became one of the most popular Belles, and in eight years notched the third highest number of wins in league history, while helping her team capture three league championships. Upon returning to Arizona, Winter played softball for the Phoenix Queens, leading her team to a national championship in that sport, as well.
After retiring from the diamond, she turned to golf and found herself just as adept with a club in her hand as a bat. She captured the State Amateur Match Play Championship in 1962, joined the LPGA Tour a year later, and competed in 25 tournaments before an injury ended her touring days. A storied teaching career spanning three decades followed, with Winter becoming one of just 14 charter Master Professionals in the LPGA Teaching and Club Professional Division. But perhaps her greatest legacy was founding the Arizona Silver Belle Championship Golf Tournament in 1971. The name Silver "Belle" is thought to be a nod to her former baseball team, and the tournament is nationally recognized as one of the premier events for young women amateurs.
Among her many well-earned honors, Winter was named LPGA Teacher of the Year in 1969, received the LPGA's Ellen Griffin Rolex Award for a lifetime of teaching in 1995, and has been inducted into the National Women's Baseball Hall of Fame, Arizona Softball Hall of Fame and Arizona Golf Hall of Fame. (Robyn Noll)
AZGOLF.ORG | ARIZONA GOLF INSIDER | 27 COVER STORY
[Joanne Winter was] exceedingly kind and good-hearted, with not a mean bone in her body, and possessed great humility, grace and kindness. She was a champion and supporter of many things, including girls' golf – providing young girls the opportunity to play, as well as providing a means for them to socially mature and develop lasting friendships, gifts that golf provides.
"
~ 1971 Arizona Silver Belle Runner-Up, Wendy Hodgson
"
LINDA VOLLSTEDT
Tucked away at Papago Golf Club, Arizona State University's practice facility – affectionately known as "The Bird" – is adorned with trophies that signify decades of winning tradition by its women's golf program. Among them are seven NCAA National Championship trophies- more than any other program in the country, and Linda Vollstedt led the program to six of them: 1990, 1993, 1994, 1995, 1997 and 1998. As ASU's head coach from 1980-2001, her final decade at the helm included 10 straight trips to the NCAA Championships, the third longest streak in the nation.
During the program's stretch of six national titles in nine years, Vollstedt mentored 22 players who would go on to make their mark professionally. Vollstedt retired from her head coaching position in 2001, but remains with the Sun Devils in a Development Director role. In that position, she works closely with current head coach and her former player, Missy Farr-Kaye, who has maintained a winning tradition in Tempe.
Prior to becoming the head coach at ASU, Vollstedt led Phoenix's Alhambra High School to four undefeated regular seasons, two state titles and two runner-up finishes. In the 59 years since she first stepped on campus, her decorated tenure includes eight Coach of the Year awards, membership in five different Halls of Fame (including the LPGA Hall of Fame in 2021), the fourth spot on Golf World Magazine 's Top 10 College Coaches of the 20th Century and the title of Pac-12 Conference Golf Coach of the Century. (Brandon Genson)
28 | ARIZONA GOLF INSIDER | FEBRUARY/MARCH 2023 COVER STORY
" "
There is a lot to celebrate with Women's Golf in Arizona, thanks to those men and women who have had the vision and passion to encourage young girls to participate in the sport. We have a lot to be proud of – let's continue to build the game for girls and women!
HEATHER FARR
One of the finest talents in Arizona Golf history, Heather Farr starred in junior golf at city courses like Papago with her younger sister Missy – now the Women's Golf Head Coach at Arizona State University – and went on to play at ASU for the Sun Devils. She won the 1982 U.S. Girls' Junior Championship and the 1984 U.S. Women's Amateur Public Links Championship. After three years at ASU, Farr turned professional in June 1985, earning her tour card after qualifying in Houston.
Her best finish on tour was third place at the Mazda Classic in Boca Raton, Fla., in 1988 – the same season where she earned six top-ten finishes. In 1989, Farr received the William and Mousie Powell Award, an honor voted on by her fellow LPGA Tour members to recognize a player "whose behavior and deeds best exemplified the spirit, ideals and values of the LPGA." She is a member of the Arizona Golf Hall of Fame, the National High School Sports Hall of Fame, the Arizona Sports Hall of Fame and the Arizona State University Hall of Fame.
Sadly, following a battle with cancer in 1989 and again in 1993, Farr passed that Fall. Locally in the early 1990s, Farr created the Heather Farr Trophy Matches to allow female amateurs and female professionals the opportunity to come together and compete in a miniature Solheim Cup-style format. The tradition continued following Heather's death to celebrate the legacy she created for Women's Golf in Arizona, and her memory is carried on by the American Junior Golf Association (AJGA), which features the annual PING Heather Farr Classic on its schedule. (Le Ann Finger)
I wish I had met Heather, because I'm sure I would have loved her. In her pictures, it's either in the middle of competition where the focus and intensity are unreal, or the other side of things, it's like she lights up the room. You can tell that she had such a deep e ect and impact on those around her, you can't help but be drawn to her.
" "
~ 2017 LPGA Heather Farr Perseverance Award recipient Tiffany Joh
MARVOL BARNARD
The National President of LPGA Professionals, Marvol Barnard is a dual member of the Ladies Professional Golf Association and the PGA of America. She teaches in Southern Arizona at Green Valley's Haven Golf Course, where she has a thriving clientele of golfers of all ages and abilities. Specializing in golf coaching, she especially loves bringing new women into the game of golf, hosting golf events, schools, and learning experiences for female golfers.
Active in the Arizona Women's Golf Association's "Build A Team" program, Barnard made time for Southern Arizona's youth after meeting the girls who would benefit and seeing their passion for learning this new game, calling it a "life-changing decision."  Eventually, Barnard was part of a team that formed a non-profit organization to serve local girls through golf. She helped recruit an amazing Board of Directors and began connecting with area girls and their parents. Between the high school teams in the area and local and regional outreach, today they have nearly 60 girls in their program.
For Barnard, introducing girls to the game at a young age creates a healthy pipeline of players for the high school teams, which in turn can help create scholarship opportunities for local girls as they continue their education and athletic careers into college. She knows that growing the game starts early and can inspire a love for the game that changes lives forever – and invites the Arizona Golf community to stay tuned, as she has "big plans" for the future. (Anj Brown)
Women and girls make up the fastest growing demographic in the game, and yet, in so many ways, they are overlooked as consumers, lesson clients, and passionate players of the game. Celebrating women in golf not only benefits the women being highlighted, but it creates an important focus on the tremendous growth opportunities women – and by extension, their families, friends, and social circles – bring to the table. I say: It's about time!
" "
STACEY PAUWELS
Stacey Pauwels has been playing golf or working in the industry since she was 5 years old. Pauwels grew up playing junior golf in Arizona and lovingly recalls being driven all around the state by her mother to play in tournaments. The granddaughter of PING equipment founders Karsten and Louise Solheim, it wasn't long before she joined the staff at PING, where she has worked since she was 18. Pauwels started in customer service and was quickly promoted to supervisor while also attending Arizona State University as a full-time student. By the age of 24, she had transitioned to work with her grandmother Louise, counting her daily 2:00pm "Tea Time" idea sharing session with husband Karsten as her favorite memory of that time.
Today, as a Vice President at Karsten Manufacturing Corp, Pauwels oversees women's-specific products as well as corporate administration and employee benefits. She helped launch the women's brand with the PING logo in lower case letters, and has become more involved with the engineering team consumed with designing the everevolving women's equipment. She helps select colors used on the shafts and clubs and even tests new equipment designed specifically for women.
Of special importance to Pauwels is the family history and involvement in creating and sustaining the Solheim Cup. She has attended every bi-annual event since 1994, working behind the scenes promoting brand and company, and supporting her grandparents' and family's dedication to Women's Golf. (Le Ann Finger)
"
Growing up in the Arizona golf scene and golf industry has been a large part of my life and who I am. I have seen so many women working in front of and behind the scenes, devoting their time, talents, money and efforts towards sharing their love of golf and making golf experiences better. What a privilege it is to be in their company.
"
NANCY DICKENS
Nancy Dickens journey to club manager at Kierland Golf Club in Scottsdale is one of the best stories in golf. Growing up, her sport of choice was tennis, which earned her a scholarship to the University of Missouri. After transferring to Baylor her junior year, she graduated with a Bachelor's Degree in Business Administration-Finance. While working at Hallmark Cards in Kansas City, she was introduced to the assistant superintendent at Kansas City Country Club, and she was hooked. She quickly traded in her corporate job for the opportunity to work on a golf course, combining her love for being outdoors with her ability to lead a team and make an impact on running a business.
Dickens worked at Pinehurst No. 2 while pursuing her turfgrass degree at North Carolina State, commuting back and forth from Raleigh because she loved Pinehurst so much. After three years at Pinehurst and multiple stops in California, she was named Director of Agronomy at Westin Kierland Resort and Spa, a position she held for eight years before being named to her current position as Club Manager in 2013, which oversees all golf operations.
When asked about serving in a role predominantly occupied by men, Dickens says she leads by example: know what you're doing and treat people with respect, and your leadership will be appreciated – regardless of gender. She's living proof: An in-depth knowledge of all facets of the industry have earned her nationwide accolades as the Golf Inc Magazine Operator of the Year – Resort Division in 2015; the Troon Golf Superintendent of the Year in 2006 and the Association of Golf Merchandisers Top 100 Golf Shops in America from 2013 through 2022. (Le Ann Finger)
32 | ARIZONA GOLF INSIDER | FEBRUARY/MARCH 2023 COVER STORY
" "
Golf is a great game, not only for the inherent fitness and social aspects, but also for the wonderful career opportunities it provides in the beautiful state of Arizona. Recognizing and celebrating Arizona Women in Golf helps highlight the opportunities and importance of the game – whether you play competitive golf, use golf for social and professional networking, or aspire to have career in golf.
EVE WORDEN
At 10 years old, Eve Worden won her first Junior Golf Association of Arizona title, shooting 137 over three rounds at the Antigua Milt Coggins Arizona Jr. Stroke Play. That was the first of many wins and top finishes for Worden as she made her mark on the state's junior circuit.
An Xavier College Preparatory alumna, Worden was key part of one of the most dominant high school sports teams in the nation, having won over 30 straight state championships in Girls Golf. By her senior season, she was named captain of a Gator squad that featured future top collegians Ashley Menne, Breyana Matthews and Emily Cons. Together, they kept the program's unprecedented championship streak alive and Worden finished her career with four state titles in as many years.
Her collegiate career took her to the United States Naval Academy, where she led the Midshipmen to their first Patriot League Championship. Between her sophomore and junior seasons, she shaved over seven strokes off her average, setting her up for a 2021-22 campaign with four top-15 finishes. Now a senior, she started her fourth season off by serving as the team captain during a fall win at the Lehigh Invitational. And proudly representing the Navy, Worden is a two-time participant in the Patriot AllAmerica Invitational. She played in 2021's inaugural women's tournament and in 2022, returned to Wigwam Golf Club to represent U.S. Marine Corps Major and fellow Naval Academy graduate, Megan McClung. (Brandon Genson)
"
"
It's empowering to know that these women in Arizona's golf history worked so hard for so long. Their careers were going long before I was even born. So now for me to see how far it's all come, it's pretty special.
JANE SPICER
From golden retrievers to gophers, tigers and dragons, you can walk onto virtually any golf course and find one of these creatures playing guardian to a player's beloved driver. Or head into the pro shop and odds are you can purchase one of your own. Attached – a round, white tag with red font that reads "Daphne's Headcovers." The woman behind the headcovers is Jane Spicer. Like most teenagers, she wanted a car; her mom challenged her to earn the money for a set of wheels herself. With her mom's help, Spicer sold her first headcover designs to the Arizona Biltmore golf shop.
Fast forward to today and Phoenix-based Daphne's Headcovers, named after Spicer's mother, is an international brand that has grown to 75 countries. From miraculous shots to Masters wins, Tiger Woods has toted one of Daphne's tiger headcovers throughout the entirety of his illustrious career. He's one of over 200 tour professionals who have carried one of Daphne's headcovers, including Dustin Johnson, John Daly, Jessica Korda, Nellie Korda, Lydia Ko and Brittany Lincicome.
A true American success story, Spicer was named one of the Top 25 Women in Business by the Phoenix Business Journal and the Top Female exporter in Arizona by the Mayor's office and Arizona Commerce Authority; the ING award for product ingenuity and the best headcover for juniors by GOLF Magazine. She also received the Precious Paws award for service and philanthropy to Gabriel's Angels. Active in supporting charitable causes, Spicer notes Golf Fore Africa, Veteran Golfers Association and First Tee of Phoenix as a few of her favorites. (Brandon Genson)
"
I've been fortunate in my professional career and it's because of kind, strong women who lifted me up. Now, it brings me great pleasure to support and celebrate other Women in Golf as we grow the game and each other.
"
JUDY MCDERMOTT
To find someone who made more of an impact on Southern Arizona golf than Judy McDermott would be a challenge. In her three decades based in Tucson, she has run away with the distinction of being the top female sports executive in the city's history.
McDermott arrived in the Old Pueblo in 1992, joining the Tucson Conquistadores as Marketing Director for the PGA TOUR Northern Telecom Open. From there, she quickly rose the ranks, being named Tournament Director for PGA TOUR events – a role she held until 2006 – and becoming Executive Director. She oversaw the Conquistadores' hosting of the World Golf ChampionshipsAccenture Match Play for seven years, and in 2015 took the lead in planning tournaments and operations for Tucson's PGA Tour Champions event, the Cologuard Classic.
In 2006, she and the Conquistadores partnered with the City of Tucson and PGA Tour to establish The First Tee of Tucson. Juggling leadership of multiple organizations proved to be no problem for McDermott, and her leadership over the years has brought in $26 million to youth sports in Southern Arizona, directly impacting thousands of lives across the region. She stepped away from professional golf and the Conquistadores in 2019, and now focuses her efforts full time as the Executive Director of The First Tee of Tucson.
In 2015, McDermott was inducted into the Pima County Sports Hall of Fame, earned the Women of Influence Nonprofit Champion Award in 2017 and was named the AGA's Champion of Golf in 2022. She has spent time as a member of the City of Tucson Greens Committee, was President of Women at the Top and currently serves on the Beacon Group Board of Directors. (Brandon Genson)
AZGOLF.ORG | ARIZONA GOLF INSIDER | 35 COVER STORY
"
My passion for golf, particularly junior and girls golf, has driven me to help grow the game. It has been a truly enjoyable journey. Along the way, I have met some amazing women who have not only helped pave the way, but helped shape the future of the sport in Arizona. I celebrate Arizona's women of all ages who have elevated the game to heights we never dreamed possible.
"
DOROTHY PEASE
An alumna of Phoenix High School and an accomplished writer, teacher and volunteer, Dorothy Pease (Top left in photo above) was known throughout the world for her major contributions to women's, junior and collegiate golf. She first excelled as a player, winning numerous tournaments and club championships around the state, including on her home course at Arizona Country Club.
After WWII, as National Director of the United Voluntary Services and a member of the Salt River Valley Swing Club, Pease enlisted the help of Williams Air Force Base and the Veteran's Hospital to build practice greens where club volunteers used chipping and putting to help rehabilitate veterans. In 1958 she was invited to join the USGA Junior
Mrs. Pease wanted to see more children play the game. 'Golf gives them a chance to experience personal accomplishment. You never develop self-confidence until you know you can do something well, whether it's playing golf or baking a cherry pie.'
Girls and Women's committees, and she used what she learned about the Rules of Golf, formats and pairings over the next 22 years to enhance the many women's tournaments for which she volunteered, including those of the Arizona Women's Golf Association and the four women's golf associations she helped form.
Pease was a keen advocate for girls' golf, and in 1958 founded the Arizona Junior Girl's Championship. At about that same time she helped Betty Graham create the ASU women's golf program and mentored the team's first standout star, Joanne Carner. She would later captain the second Arizona State Girls Junior Americas Cup team; serve as President of the Women's Southwestern Golf Association; and was three-time President of the Women's Trans-Mississippi Golf Association, completing over 46 years of service to that organization and overseeing its nationwide growth. Pease was inducted into the Arizona Golf Hall of Fame in 2000, and the AWGA's annual Dorothy Pease Achievement Award was named in her honor. (Robyn Noll)
36 | ARIZONA GOLF INSIDER | FEBRUARY/MARCH 2023 COVER STORY
" "
~ Dorothy Pease quoted in the April 2, 1971 edition of the Arizona Republic
LYNN MARRIOTT & PIA NILSSON
The list of students who have learned the game from Lynn Marriott and Pia Nilsson is nothing short of impressive. It includes four #1 ranked players in the world, ten different major winners and over 100 hundred tour victories on the LPGA Tour, PGA TOUR, European Tour, Ladies European Tour, and Japan Tour.
When Marriott and Nilsson met, Marriott was consulting for the Arizona State University women's golf team and the Director of Instruction at ASU Karsten Golf Course. Nilsson had spent a decade as head coach of Sweden's national teams – and they were both looking for something new. The powerhouse pair co-founded VISION54, an internationally renowned program and golf school based at Talking Stick Golf Club in Scottsdale. Their illustrious list of students starts with Annika Sorenstam and goes on (and on), to name a few: Ariya Jutanugarn, Suzann Pettersen, Brittany Lincicome, Brittany Lang, Russell Knox, Kevin Streelman, Na Yeon Choi, Ai Miyazato and I.K. Kim.
Marriott and Nilsson are the two highest-ranked female instructors on – and both regularly featured among – Golf Digest's Top 50 Greatest Teachers. Their long list of individual accolades complements those earned by VISION54's Golf Schools, 54GOLF, which has been named "Best Golf School in America" multiple times. Simultaneously, VISION54's golf coaching programs, 54COACH, repeatedly receive the highest marks by peers of training for teachers/ coaches. (Brandon Genson)
We love how
" "
Women in Golf are supported in Arizona, and we are proud to be part of it. We feel grateful to have Arizona as a base in the past in college and as professionals, and now as coaches and golf business owners.
AMY BOCKERSTETTE
When we think of women who help to shape the world of sports, we think of champions.  We often overlook the underdog. That is until the underdog makes a sound heard round the world – or in this case – makes a putt that moves the world. "I got this," indeed.
Amy Bockerstette started playing golf when she was in eighth grade, playing all four years at Sandra Day O'Connor High School in Phoenix and earning varsity letters in her final three years. That was just the beginning. In May of 2018, she signed a letter of intent to play golf and continue her studies at Paradise Valley Community College, eventually joining her fellow Pumas at the NJCAA Women's Golf Championship and becoming the first person with Down syndrome to not only receive an athletic college scholarship, but also to compete in a national collegiate championship.
Over the last three years, Bockerstette has continued to serve as an advocate for individuals with disabilities on and off the golf course. Since 2019, following her viral debut during a Waste Management Phoenix Open practice round with Gary Woodland and Matt Kuchar, she has served as a convention Keynote Speaker, parade Grand Marshal, President's Councilmember on Sports, Fitness, and Nutrition and Adaptive Golf Championship participant more times than her devoted following can count. In 2019, she and her family started the I GOT THIS Foundation to provide professional instruction and playing opportunities for individuals with intellectual disabilities. Through the Foundation's flagship program, the I Got This Golf Academy, athletes ages 16 and older with intellectual disabilities enjoy a four-week introduction to golf, led by professional golf instructors through a specially designed curriculum. (Anj Brown)
Celebrating Arizona's Women in Golf means celebrating the girls and women in my village. This includes my teammates and friends from high school and college, Girls Golf of Phoenix, Special Olympics and now from the Adaptive Golf community! I love making new friends!
" "
She shocked local residents when she appeared on a Phoenix golf course in pants in the 1920s. Within a few years, she silenced her critics by becoming Arizona's first female golf champion. She later went on to amass numerous city, state, and regional titles.
The diligence and determination Josephine Goldwater displayed toward her profession and athletic pursuits were magnified in her role as a mother.
~ Arizona Women's Hall of Fame (Inducted in 1988)
JOSEPHINE "JO" GOLDWATER
The adventurous and fiercely independent Hattie Josephine Williams was at times a cussing, smoking, and trouser-wearing early Arizona pioneer. Born in Illinois in 1875, she trained as a nurse in Chicago and came to Phoenix in 1903, hitching rides from Ash Fork on a caboose and in a hay wagon to make it all the way to town – her skills as one of Arizona's first registered nurses were in high demand. A chance encounter with Baron Goldwater in Goldwater's department store led to their eventual marriage, and the couple became a popular and influential part of the newly formed Phoenix Golf Club in the early 1900s.
Discovering she had a knack for golf, Goldwater took lessons from club pro Lewis Scott and would go on to accumulate numerous city, state and regional women's titles – including at her home club in Phoenix. Affectionately known as 'Jo,' she is said to have been an Arizona State Champion even before the Arizona Women's Golf Association started their state championships in 1924, where she was medalist and runner up in the years to follow.
Besides being an elite golfer in her own right, Goldwater's deep love of the game led her to teach it to her children: Barry, Robert and Carolyn. Her introduction of son Robert to the game when he was just 10 years old changed the course of Arizona golf history. "Bob" would go on to be deemed the Father of the Phoenix Open, making Jo the rightful grandmother of "The Greatest Show on Grass."
(Robyn Noll)
AZGOLF.ORG | ARIZONA GOLF INSIDER | 39 COVER STORY
" "
MARY POMROY
When thinking of women's golf leaders in Arizona's history, Mary Pomroy comes to the forefront. The Executive Director of the Arizona Women's Golf Association (AWGA) for 20 years, she started with one staff member and a Board comprised essentially of the women volunteers who helped her run tournaments. After years of wearing many hats –administrator, marketing, tournament operations and club member relations to name a few – Pomroy saw the need to add staff and expand programs due to the AWGA's ever growing membership.
One of the more popular annual women's tournaments, the Women's State Medallion, started as part of the AWGA 75th anniversary celebration in 1999, where Paradise Valley Country Club member Evie Hill invited two people from each club to participate in the tournament. The AWGA followed this by hosting Annual Meetings with education and communication programs for the club representatives –all designed to take advantage of the spike in the popularity of golf in the early 2000s.
Pomroy is most proud of the "Build A Team Program" the AWGA created – an opportunity for girls to learn the game from PGA/LPGA Professionals and to engage new golfers and high school golf teams. Nationally, Pomroy started an annual meeting of six women's golf associations to share best practices and common concerns with other women in the industry. The Women's Golf Alliance grew to 16 women's golf associations that participated in the Women's Annual Roundtable Meeting every spring. Further leaving her legacy on the national golf stage, Pomroy served on the International Association of Golf Administrators (IAGA) Board for seven years, culminating as President in 2018-2019. (Le Ann Finger)
40 | ARIZONA GOLF INSIDER | FEBRUARY/MARCH 2023 COVER STORY
Celebrating Arizona's Women in Golf means celebrating all the fine players who came out of our state, as not all of them went on to earn great fame, playing titles or being on Tour. There are many great women who shaped Arizona golf into what it is today.
"
To see a group of women golfers at Arizona's 325 clubs come together under the AGA as part of a larger community of Arizona women golfers is very special.
"
KRISTIE FOWLER
Kristie Fowler has been around golf for as long as she can remember. Her dad was a PGA professional and built a golf course in Grand Junction, Colo. During Christmas, Fowler and her family came to Scottsdale to visit her grandmother, so she played in the annual Silver Belle Golf Tournament hosted just before the New Year. The Grand Canyon State may have made an impression. Following high school graduation, she walked on the women's golf team at the University of Arizona. After her first semester of play, she made the traveling squad and went on to become a four-year letterwinner.
Fowler briefly competed on the Futures Tour (now Epson Tour) but didn't like the Tour grind of traveling every week. The desire to do what her dad did at his Club –running tournaments, giving lessons, running a business and helping others enjoy golf – pulled her into a career as a Head Professional. She worked with him at Casa Grande as well as returning to her alma mater as an assistant women's golf coach when Annika Sorenstam played at Arizona.
Future Head Professional positions at The Gallery in Marana for 15 years, and Tubac Golf Resort for the last five, earned Fowler regional and national acclaim as the Central Section LPGA Golf Professional of the Year in 2011 and 2015, the LPGA Marilynn Smith Service Award in 2016 and perhaps most impressive, the 2017 LPGA T&CP Professional of the Year Award. (Le Ann Finger)
AZGOLF.ORG | ARIZONA GOLF INSIDER | 41 COVER STORY
Arizona has given me the opportunity to play the game and have a career in golf.
I have developed lifetime friendships along the way, while playing and working in the industry I love.
"
"
SANDY LABAUVE
When Sandy LaBauve took her first group of girls and started leading golf clinics for them, no one could have imagined what it would evolve into over the coming years. It started with twice-a-week sessions with 10 girls from her daughter's softball team, but when the clinics ended, the girls wanted to keep going. Over the next few years, 10 girls grew to 10 programs, and fast forward to 2023, her passion has led over a half a million girls to be introduced to the game thanks to the renowned Girls Golf program –which now spans over 500 communities, reaches over 80,000 girls each year and has garnered the support of the LPGA and USGA.
Coming from a golf family, the game is in her blood. Her approach for teaching juniors is modeled after that of her mother, Sherry: The bottom line is to keep the girls learning, improving and having fun. In addition to the 500,000 girls who have been impacted by Girls Golf directly, LaBauve has been recognized nationally for her teaching abilities, being named a GOLF Magazine Top 100 Teacher for over 15 years, a Golf Digest Top 50 Female Golf Instructor for the last five years and a Top 50 LPGA Instructor in 2020.
LaBauve's infectious smile, passion and dedication to the game embodies the spirit of girls golf so much that LPGA*USGA Girls Golf's most prestigious honor is named after her: the Sandy LaBauve Spirit Award honors an individual who has gone above and beyond to inspire the lives of juniors through their passion and dedication to empowering girls through golf. (Brandon Genson)
42 | ARIZONA GOLF INSIDER | FEBRUARY/MARCH 2023 COVER STORY
Golf is finally inviting for women and girls. As instructors, we are making the game easier to learn – there are more equipment choices, clothing is fashionable and can take you from the course to anywhere you want to go and women are recruiting their friends to play. It's a movement and It's exciting! We are all on board to grow the game.
" "
THUHASHINI "TUI" SELVARATNAM
Thuhashini Selvaratnam, or "Tui" as she's affectionately known, is a native Sri Lankan who dominated Arizona women's golf in the first decade of the new millennium. Taught to play by her mother, Tui started her winning ways early, winning the 1989 Sri Lankan Ladies Amateur Open Golf Championship when she was just 12 years old and earning a spot in the Guinness Book of World Records as the youngest player to ever win a national title.
She moved to the United States in 1995 to attend Arizona State University, playing on the Sun Devil teams that earned NCAA titles in 1995, 1997 and 1998. After graduating in 1999, Tui toured Sri Lanka, Singapore, Hong Kong, Thailand and more, racking up an astonishing 11 national amateur championships in seven months before returning to Arizona. She began competing in Arizona Women's Golf Association championships in the fall of 2000, winning her inaugural event, the Arizona Women's Stroke Play, after leading the three-day event from start to finish. Tui would go on to win a smashing 11 AWGA State Championships, and was named the AWGA Player of the Year 11 consecutive times from 2001 to 2011 – 14 times overall!
A veteran of over 30 USGA championships, Tui finished second in the 2006 US Women's Mid-Amateur and led the Arizona team that won the 2007 USGA Women's State Team Championship. Tui has spent the last 17 years working alongside the legendary Sister Lynn Winsor as Co-Head Golf Coach and Associate Athletic Director at Xavier College Preparatory in Phoenix, highly regarded as an inspirational mentor and role model for the next generation of young Arizona golfers. (Robyn
Noll)
AZGOLF.ORG | ARIZONA GOLF INSIDER | 43 COVER STORY
"
Playing amateur golf in Arizona for over 25 years has been a wonderful experience! It is amazing to see the changes and growth in Arizona women's golf through the years. Now as a high school golf coach, it is exciting to see the next generation of women golfers rise through the ranks and keep the traditions alive.
"
MISSY FARR-KAYE
Every day, Missy Farr-Kaye comes full-circle when arrives to her office at The Thunderbirds Golf Complex at Papago Golf Club. Farr-Kaye grew up playing golf at Papago with her older sister, Heather, and recalls spending hours on the practice putting green. She was a standout junior golfer who played at Xavier College Preparatory for Sister Lynn Winsor before joining legendary Head Coach Linda Vollstedt as a Sun Devil at Arizona State University.
Farr-Kaye capped a solid collegiate career when ASU won its first NCAA Championship in 1990. She was fortunate to become an assistant coach working with Coach Vollstedt, winning another national title in 2009. Following 13 seasons in a supporting role, Farr-Kaye was named the 10th head coach of the Sun Devils in 2015. She has consistently led one of the strongest women's golf programs in the nation, reaching the pinnacle of the sport for the third time – and first as head coach – in ASU's 2017 National Championship campaign, the program's NCAArecord eighth title. Following the season, she was named WGCA National Coach of the Year, Golfweek National Coach of the Year, West Region Coach of the Year and Pac12 Coach of the Year.
Most admirably, Farr-Kaye is a three-time cancer survivor who refused to step away from her role during each bout, inspiring everyone with her grit, perseverance and strength. She was awarded the Kim Moore Spirit Award by the Women's Golf Coaches Association in 2009, the first and only coach to receive the honor typically reserved for student-athletes. In March 2018, Farr-Kaye earned the ASU Alumni Achievement award and most recently, in November 2022 was inducted into the Arizona Golf Hall of Fame. (Le Ann Finger)
44 | ARIZONA GOLF INSIDER | FEBRUARY/MARCH 2023 COVER STORY
There is so much to celebrate in Women's Golf in Arizona! Our sport is growing at every level, and it is wonderful to see all the di erent generations of women at every golf course I go to in Arizona who are both playing golf and working in the golf industry. The future of the women's game in our state will continue to grow and impact the golf industry. It is an exciting time!
"
"
ASHLEY SHAW
Motivated by a desire to be the best golfer she can be, Litchfield Park's Ashley Shaw, 13, entered her first JGAA tournament in 2018 at nine years old and has racked up 45 more since then. Her results read like a string of computercode binary numbers – 1s and 2s – streaming along to 2022, when she moved to the Girls Championship division to pick up top-10s in two of six tournaments entered.
Keenly aware of the grit required to continue to achieve the successes she has already earned in her young career, Ashley sees her current journey in the game of golf as a reflection of the hopes and prayers of the women who paved the way for her. "I hope my work ethic and attention to detail make you proud," she responded when asked what she would say to all those trailblazers.
Being the best golfer she can be, bringing others to the game, and chasing the challenges of greatness are all part of Ashley's plan. So far, so good, as the second half of 2022 saw Shaw earn noteworthy victories at the inaugural Curry Cup at TPC Harding Park in San Francisco, hosted by NBA superstar Steph Curry; and capturing the Arizona Golf Association Women's Match Play Championship. Mature, calm and composed well beyond her 13 years, Shaw already has her eye on the future: playing college and professional golf. And whenever she's "finished playing golf for a living," Ashley aims for a career as a lawyer with a computer science background. (Jeff Locke)
AZGOLF.ORG | ARIZONA GOLF INSIDER | 45 COVER STORY
"
Celebrating Arizona's Women in Golf excites me because my parents taught me that whatever is celebrated is also encouraged. It encourages more ladies of all ages to play this great sport which is for everyone!
"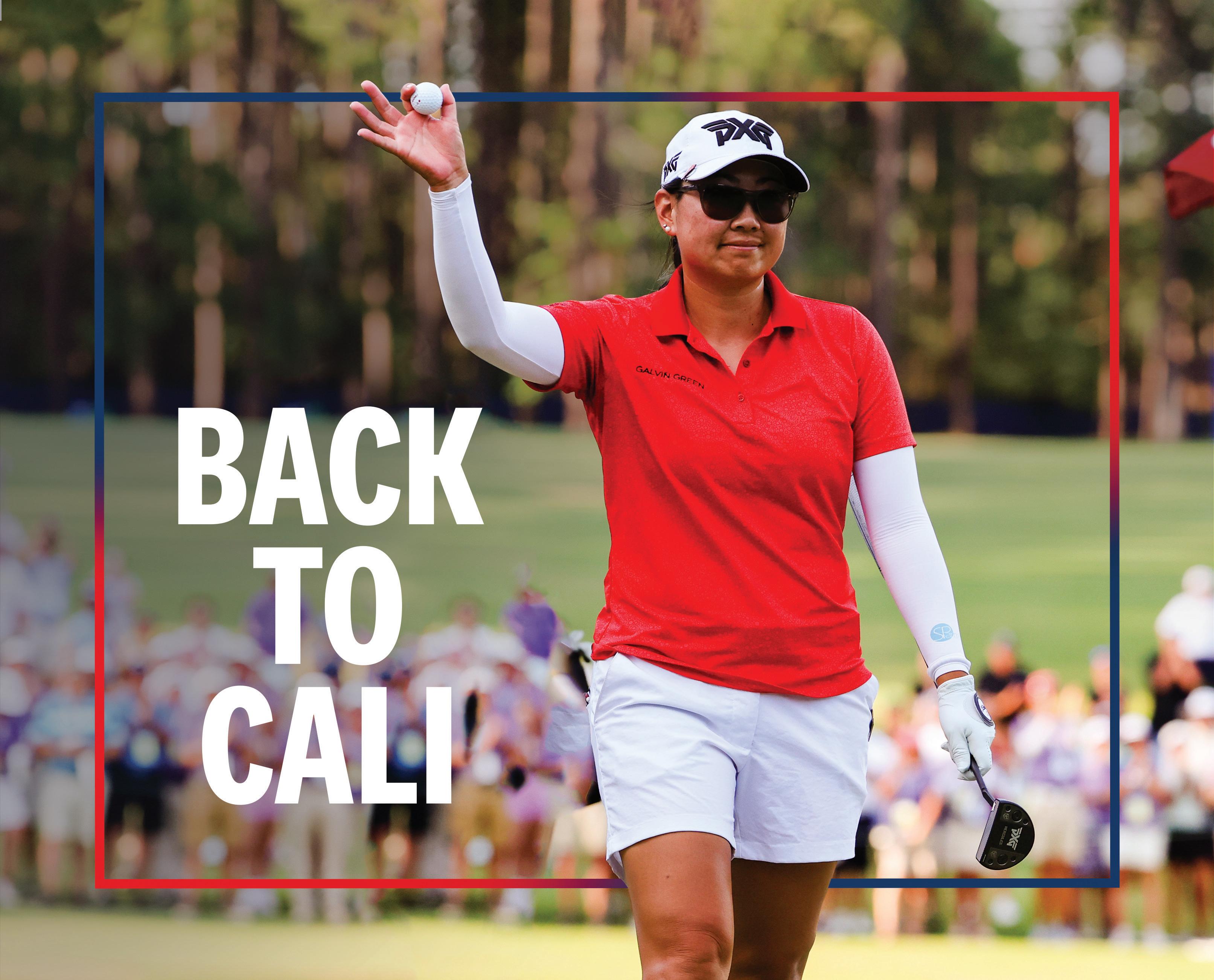 "It's my favorite place on earth," —Mina Harigae
When the 78th U.S. Women's Open Championship Presented by ProMedica tees off at iconic Pebble Beach (Calif.) Golf Links in July, all eyes will deservedly be focused on the game's superstars. Names such as defending champion Minjee Lee, Lydia Ko, Nelly Korda, Lexi Thompson, Danielle Kang, Jin Young Ko, Brooke Henderson and rising Thai sensation Atthaya Thitikul should receive the bulk of the pre-championship hype.
With good reason.
But another name is going to draw plenty of attention, a local hero and former junior phenom who became the Cinderella story of the 2022 championship at Pine Needles. Northern Californian Mina Harigae's runner-up finish not only guaranteed her a start at one of her favorite venues, but the $1.08 million second-place check was the largest of the Monterey, Calif., native's 13-year professional career. In fact, it represented 37 percent of her career earnings ($2.9 million).
That special week in the North Carolina Sandhills capped what has been an incredible transformation for a player once considered a "can't-miss" prospect when the now-33year-old was tearing up junior and amateur golf. Harigae, whose parents operate a sushi restaurant in Pacific Grove, burst onto the scene in 2001 as a precocious 12-year-old by capturing the first of four consecutive California Women's Amateur titles. In 2008, she won the U.S. Women's Amateur Public Links. She also was a two-time U.S. Girls' Junior semifinalist (2003 and 2006) and member of the U.S. Junior
Ryder Cup (2004) and Solheim Cup (2007) teams before being selected to represent the USA in the 2008 Curtis Cup Match at St. Andrews in Scotland, a competition the Americans won handily, 13-7.
One semester at Duke University was enough to convince Harigae to turn professional, and that decision looked awfully good when she registered three Futures Tour (now Epson Tour) titles as a rookie in 2009 to top the developmental circuit's money list. With an LPGA Tour card now in hand, the Stevenson School graduate seemed well on her way to stardom. Except the transition to the game's biggest stage didn't quite follow the script. Harigae struggled, producing just 10 top-10 finishes with no titles from 2010-2020.
Then COVID-19 hit in March of 2020, shutting down virtually every major sport, including the LPGA Tour. Harigae turned to the one place still operating events. The Cactus Tour, a minorleague tour conducting events around the Grand Canyon State, and particularly Greater Phoenix, became a popular destination for temporarily sidelined professionals. Now living in Mesa, Harigae jumped at the chance to compete and immediately found the success she once enjoyed as an amateur.
Harigae won four Cactus Tour events and regained some much-needed confidence. She also had met her fiancé Travis Kreiter, an assistant golf professional who worked at Superstition Mountain, where Harigae enjoyed golf privileges. Kreiter has since become her caddie and No. 1 supporter. In 2021, Harigae posted five top-10s and won $791,757 on the LPGA Tour, her best season as a professional.
That success spilled into 2022. Coming off a missed cut at the Chevron Championship in March, Harigae opened the 2022 U.S. Women's Open with a 64 and battled Minjee Lee for four days, eventually coming up four strokes short of the title. There was, however, a silver lining. Second place guaranteed Harigae a start at Pebble Beach, a course she has revered and played an estimated 30 times.
"It's my favorite place on earth," she said after the championship. "I'm really looking forward to it next year."
Pebble Beach Golf Links
PEBBLE BEACH JULY 5-9, 2023 Tickets on sale now at uswomensopen.com/tickets
Joanne Winter Arizona Silver Belle Championship
Still Going Strong After More Than 50 Years
WORDS BY JEFF LOCKE
Founded by Joanne Winter, LPGA, in 1971, the tournament was launched to encourage competition for amateur women under age 24.
"There was no Junior Golf Association of Arizona, no American Junior Golf Association, and no Title IX – usually the other major championships were either for junior girls under 18 or national amateur events which consisted mainly of college girls. The two did not cross paths," said Silver Belle Chair Peggy Briggs.
Today, the Joanne Winter Arizona Silver Belle Championship is nationally recognized and included in amateur rankings conducted by World Amateur Golf, Golfweek, Golf Stat, Junior Golf Scoreboard and AJGA. In the early years the Silver Belle was played in summer months to take advantage of free or reduced green fees.
"The tournament grew into a large destination for high school, college, and even foreign players," said former Silver Belle President Tina Huiskamp. "We moved the date to the winter holidays to accommodate these players with prep or NCAA restrictions. Families came, then stayed for holiday or football games. The Silver Belle has become a great tournament for young women. A win – even a good finish – is a high mark for any girl."
In fact, college recruiters, who scout potential players while enjoying an Arizona holiday vacation, have become one of the largest groups of spectators at the tourna-
48 | ARIZONA GOLF INSIDER | FEBRUARY/MARCH 2023 JUNIOR GOLF
2022 winner
Alice Zhao with Silver Belle
Chair Peggy Briggs (left) and the JGAA's Frank Calvin. (JGAA)
ment. No doubt they had their eyes on this year's talented eld.
In its 52nd year, the 2022 Joanne Winter Arizona Silver Belle Championship teed o at Sun City's Briarwood Country Club, December 28-30, with a 90-player eld of top amateur women competing in a 54-hole, stroke play tournament.

Incredibly, Alice (Ziyi) Zhao – who entered the tournament in the 14 and Under Age Division – went on to also win the Overall Championship at -8. With rounds of 70-69-69, the Irvine, Calif.-resident topped Scottsdale's Gracie McGovern (73-71-66), who ended up two strokes o the Overall Championship pace at -6. Her runner-up performance was fueled by a nal-round charge where she went 6-under par for ve holes (Nos. 6-10), including eagle-3 at No. 8. Two players tied for third place at -2: Olivia Duan of Cupertino, Calif. (72-73-69) and Amber Li of Bellevue, Wash. (70-7074). Phoenix's Samantha Olsen notched a T10 nish in the Overall Championship at 1-over par after steady rounds 73-73-71, with nearly symmetrical bell-curve-type stats: 11 birdies, 32 pars, 10 bogeys and one double.
In addition to the Overall Championship, four age divisions were at the same time up for grabs. In the 17-18 Age Division McGovern's -6 earned rst place while Olsen's +1 put her in third. Ashley Shaw of Litch eld Park earned third place in the 14 and Under Age Division, T23 Overall,
shooting 72-72-77 to nish at +5.
Winter possessed the drive and determination to turn her dream tournament into a reality. An outstanding multi-sport athlete inducted into both the Arizona Golf Hall of Fame and National Women's Baseball Hall of Fame, she enthusiastically and opportunistically pulled resources together from wherever she could, and in 1971 the Arizona Silver Belle Championship was born.
" e Silver Belle o ered Arizona and Southwestern young players a chance to compete and watch the best of women's collegiate golf during the Title IX rst wave," said Winter's friend, Judy Loft eld Whitehouse, also an LPGA teaching professional. "It spurred our state's high school players to learn more about college golf opportunities, and on top of all that, all the volunteers and Joanne herself made the tournament fun, exciting and memorable for the competitors from little girls to seasoned players. Like so many of Joanne's brilliant and creative ideas, it was a huge success because of her drive to contribute to junior's and women's golf, her vision of what it would accomplish, and her knack for inspiring others to help bring it about.
"I'm so proud that Arizona was where Joanne made it happen and so admiring of her for getting it rolling and of all the volunteers who keep it a reality in her memory. It is a huge deal in our Arizona history!"
Visit AZSilverBelle.com to learn more.

Golf Maintenance
2023 ARIZONA GOLF ASSOCIATION Tournament Schedule
DATE COMPETITION SITE HOST SITE TOURNAMENT
JANUARY
Jan. 13 - 15 Women's State Medallion Oakwood Country Club Women's Tournament
Jan. 12 - 15 Latin America Amateur Grand Reserve Golf Club - Puerto Rico USGA Championship
Jan. 22 - 23 Arizona Short Course Augusta Ranch Golf Club Men's Tournament
FEBRUARY/MARCH
Feb. 18 Women's Season Opener Robson Ranch Golf Club Women's Tournament
Feb. 25 - 26 San Tan Amateur Oakwood Country Club Men's Tournament
MARCH
Mar. 11 - 12 Women's Short Course Augusta Ranch Golf Club Women's Tournament
Mar. 16 - 19 AGA Championship Aguila Golf Course Men's Tournament
APRIL
April 20 - 23 Arizona Stroke Play Championship Wigwam Golf Club - Gold Course Men's Tournament
April 25 - 26 Marilynn Smith Arizona Senior Women's Open Longbow Golf Club Women's Tournament
MAY
May 1 U.S. Open Qualifier #1 Tucson Country Club USGA Qualifier
May 2 U.S. Open Qualifier #2 Ak-Chin Southern Dunes Golf Club USGA Qualifier
May 10 U.S. Open Qualifier #3 Talking Stick Golf Club USGA Qualifier
May 11 Arizona Amateur Qualifier #1 Talking Stick Golf Club Men's Tournament
May 13 - 17 U.S. Women's Amateur Four-Ball The Home Course - DuPont, Wash. USGA Championship
May 15 U.S. Open Qualifier #4 Phoenix Country Club USGA Qualifier
May 19 - 20 West Valley Amateur Falcon Dunes Golf Course Men's Tournament
May 20 - 24 U.S. Amateur Four-Ball Kiawah Island Club - Kiawah Island, SC USGA Championship
May 30 U.S. Women's Open Qualifier Gainey Ranch Golf Club USGA Qualifier
May 31 Arizona Amateur Qualifier #2 Ak-Chin Southern Dunes Golf Club Men's Tournament
JUNE
June 3 - 4 Father & Son Antelope Hills Golf Courses AGA Member Day
June 5 U.S. Senior Open Qualifier Arizona Country Club USGA Qualifier
June 8 - 11 Arizona Mid-Amateur Championship TPC Scottsdale - Champions Course Men's Tournament
June 12 - 14 Arizona Women's Mid-Amateur Championship TPC Scottsdale - Champions Course Women's Tournament
June 12 U.S. Junior Amateur Qualifier Desert Highlands Golf Club USGA Qualifier
June 14 Arizona Amateur Qualifier #3 Lone Tree Golf Club Men's Tournament
June 15 U.S. Girls' Junior Qualifier Pinnacle Peak Country Club USGA Qualifier
June 15 - 18 U.S. Open Los Angeles Country Club - Los Angeles, CA USGA Championship
June 24 U.S. Women's Amateur Qualifier Briarwood Country Club USGA Qualifier
June 24 - 27 Arizona Match Play Championship Ak-Chin Southern Dunes Golf Club Men's Tournament
June 29 Arizona Amateur Qualifier #4 Poston Butte Golf Club Men's Tournament
June 29 - July 2 U.S. Senior Open SentryWorld - Stevens Point, WI USGA Championship
Women's Championships and Tournaments USGA Qualifier
Men's Championships and Tournaments AGA Team Events
Collegiate Events USGA Championship
JULY
July 6 - 9 U.S. Women's Open Pebble Beach Golf Links - Pebble Beach, CA USGA Championship
July 15 Arizona Amateur Qualifier #5 Papago Golf Club Men's Tournament
July 17 - 18 U.S. Amateur Qualifier #1 TBD USGA Qualifier
July 17 - 22 U.S. Girls' Junior Eisenhower GC @ Air Force Academy - C. Springs, CO USGA Championship
July 22 - 23 Southern Amateur Tucson National Golf Club Men's Tournament
July 24 - 29 U.S. Junior Amateur Daniel Island Club - Charleston, SC USGA Championship
July 27 U.S. Senior Women's Open Qualifier Papago Golf Club USGA Qualifier
July 27 - 28 U.S. Amateur Qualifier #2 TBD USGA Qualifier
July 29 - 30 Mixed Stix Tournament Oakcreek Country Club Women's Tournament
July 31 U.S. Senior Amateur Qualifier TBD USGA Qualifier
AUGUST
Aug. 7 - 12 99th Arizona Amateur Championship Desert Highlands Golf Club Men's Tournament
Aug. 7 - 13 U.S. Women's Amateur Bel-Air Country Club - Los Angeles, CA USGA Championship
Aug. 14 - 16 Women's Amateur Championship Desert Highlands Golf Club Women's Championship

Aug. 14 - 20 U.S. Amateur Cherry Hills CC - Cherry Hills Village, CO USGA Championship
Aug. 17 U.S. Women's Mid-Amateur Qualifier TBD USGA Qualifier
Aug. 22 - 24 Arizona Senior Amateur Championship TPC Scottsdale - Champions Course Men's Tournament
Aug. 24 U.S. Senior Women's Amateur Qualifier Pinnacle Peak Country Club USGA Qualifier
Aug. 24 - 27 U.S. Senior Women's Open Waverley CC - Portland, OR USGA Championship
Aug. 26 - 31 U.S. Senior Amateur Martis Camp Club - Truckee, CA USGA Championship
Aug. 29 U.S. Mid-Amateur Qualifier TBD USGA Qualifier
SEPTEMBER
Sept. 9 - 14 U.S. Mid-Amateur Sleepy Hollow CC - Scarborough, NY USGA Championship
Sept. 9 - 14 U.S. Women's Mid-Amateur Stonewall (North Course) - Elverson, PA USGA Championship
Sept. 18 - 20 Women's Senior Amateur Championship Briarwood Country Club Women's Tournament
Sept. 21 U.S. Amateur Four-Ball Qualifier TBD USGA Qualifier
Sept. 24 - 25 Goldwater Cup Matches Phoenix Country Club AGA Team
Sept. 28 U.S. Women's Amateur Four-Ball Qualifier Moon Valley Country Club USGA Qualifier
Sept. 30 - Oct. 5 U.S. Senior Women's Amateur Troon Country Club - Scottsdale, AZ USGA Championship
OCTOBER
Oct. 1 - 3 Arizona vs. Utah Shootout Flagsta Ranch Golf Club AGA Team
Oct. 7 - 8 Northern Amateur Oakcreek Country Club Men's Tournament
Oct. 9 - 10 Women's Scotch Play Tournament White Mountain CC - Pinetop, AZ Women's Tournament
NOVEMBER
Nov. 5 - 6 Women's Partners Tournament Tubac Golf Club Women's Tournament
DECEMBER
DEC. 29 - 31 Patriot All-America Wigwam Golf Club - Gold Course Collegiate
50 | ARIZONA GOLF INSIDER | FEBRUARY/MARCH 2023
SCHEDULE SUBJECT TO CHANGE
HOST
TOURNAMENT
DATE COMPETITION SITE
SITE




LPGA*USGA Girls Golf of Phoenix Celebrates The Golden Tees
8th Annual Awards Ceremony Held in Tempe
WORDS BY CORI MATHESON
The LPGA*USGA Girls Golf of Phoenix celebrated the 2022 season with an awards party fit for fame. This 8th annual event, The Golden Tees, was hosted at Majestic Theater in Tempe in December, and welcomed members, sponsors, partners, and the entire Girls Golf family.
The Golden Tees was first established in 2015 and has grown to be one of the Girls Golf members' favorite events. The event included a red carpet, paparazzi, celebrity interviews, special guests, dinner, awards presentation, recap of the year's successes, plans/announcements for the next year and a special "movie," shown on a big screen, that highlighted photos from the entire year.
The celebrities of the event are the girls (the members), who were honored for
a successful year. Aged 3-18, they wore red-carpet attire, got dressed up with their families, and were greeted on the red carpet by special guests. This year, the girls were interviewed by Cheyenne Woods, a program alumna and LPGA Tour player, alongside Bailey Chamblee, a golf fashion icon and journalist. While the girls were excited to meet Cheyenne and Bailey, the format is what truly made the girls feel special and celebrated.
After the red carpet, annual recap, and announcement of future plans, awards were given to outstanding members and program supporters deserving of extra recognition. Each year, winners are given custom "Golden Flamingo" awards that are presented in categories that reflect the program mission.
Anawin Pikulthong
52 | ARIZONA GOLF INSIDER | FEBRUARY/MARCH 2023 JUNIOR GOLF
LPGA*USGA Girls Golf of Phoenix
2022 Award Winners
Gratitude Award Winner: Jamie Gryskiewicz
Due to her volunteer commitments, Jamie was the first Junior to be nominated for this award. She is an active Girls Golf member, an e-Leader, and the 2021 Empower Award winner. Jamie plays in almost every event and always comes early to help, she volunteers at Game Changers, and even helps at the office. Congratulations, Jamie!
ENRICH Award Winner: Hayden Nguyen
The Enrich award is for recognition of understanding the core of the Girls Golf program. Hayden aspires to play competitive golf, sets goals, works hard, and enriches her own golf life but beyond that, Hayden enriches the entire Girls Golf program. Her passion for golf translates to an understanding of the game on and off the golf course. Congratulations, Hayden!
ENGAGE Award Winner: Mikayla Kepner
This award is given to girls who really make an impact! Mikayla engages within the Girls Golf family and is not afraid to step up and be a brand ambassador for Girls Golf. She pays attention to themes, she is proud of Girls Golf and participates as much as she can. Mikayla engages with other members to create lifelong friendships and relationships. Congratulations, Mikayla!
ENERGIZE Award Winner: Cailin Lewis
At Girls Golf, "energize" means to have fun, to enjoy playing golf, to enjoy seeing friends at events and to lift each other up. Cailin energizes other members and always keeps a fun and positive attitude.
She brings a smile to all our events and supports all the girls on and off the golf course. Cailin brightens up the room and energizes our program with positivity. Congratulations, Cailin!
2022 ROOKIE OF THE YEAR: Eloise DeClue
Six rookies were nominated – each of whom started their Girls Golf tournament participation in 2022 and have already made an impact. Eloise played in six tournaments in 2022 and it was special to watch her improve while enjoying the game. Eloise is a special member to watch out for in our golf family. Congratulations, Eloise.
EMPOWER Award Winner: Adriana Sanders
The Empower award is the highest honor within Girls Golf of Phoenix. The Empower Award has been won by special members that are now playing high school or collegiate golf. Adriana is an important member that the girls can call on for mentorship and leadership. She is busy but still makes time for Girls Golf. She supports her peers, is a program ambassador, participates in the e-Leader program, volunteers. She is the definition of a valued member of Girls Golf of Phoenix. Congratulations, Adriana.
Joseph Lloyd
ank you to all the of the sponsors, supporters, members and families that help make this Girls Golf event a success. Congratulations to all the nominees and 2022 award winners – we all are looking forward to a successful 2023!
SCHEDULE A CONSULTATION AT golfstretch.com SCAN TO LEARN MORE SCOTTSDALE'S TOP 9171 E BELL RD SUITE 100 SCOTTSDALE, AZ 85260 480.269.1119 GOLF FITNESSASSISTED STRETCHING3D SWING ANALYSIS MOTOR PATTERN TRAININGCORRECTIVE EXERCISEGOLF SIMULATOR
DOWNTOWN SCOTTSDALE
8787 N. Scottsdale Rd. #230, Scottsdale, Az 85253 480.947.3800 Hours: Monday – Saturday 10am to 6pm | Sunday 12 pm to 5pm Established in 1972 Arizona's Finest Men's Store Arizona'sBiggest ClothingandBestMen's StoreEst.1972
Comfort • Stability • Support • Style 480.443.1689 STAY & PLAY
WhenIt's OK to Play Two Balls
WORDS BY LOGAN RASMUSSEN
At first glance, the Rules of Golf can be quite daunting – especially when looking at the "Official Guide to the Rules of Golf," which weighs in at a whopping 525 pages long! Broken down into 25 Rules and a handful of definitions, it can still be quite the undertaking if players are trying to understand them all.
Whether players are new to the game or have been playing for years, the Rules can be very frightening. But it really doesn't need to be so scary! The Rules of Golf are in place to ensure everyone is playing the game on a fair and equitable playing field. In fact, some Rules can be used to help the player.
The Rules are a lot to understand, and often times players find themselves unsure of how to proceed. What players may not know is that if – or when – this happens, there is actually a rule for this exact scenario! Rule 20.1c(3) allows a player to play two different balls to make sure they follow the rules when they are unsure. The rule states, "A player who is uncertain about the right procedure while playing a hole may complete the hole with two balls without penalty…"
Let's examine this closer, as there are requirements to use this Rule. First, the player must decide that they need to play two balls before making the next stroke. The player also needs to choose which ball will count for their score if they followed the rules correctly with both balls. They are going to want to announce this to another player in their group, in the interest of
58 | ARIZONA GOLF INSIDER | FEBRUARY/MARCH 2023 RULES OF GOLF
USGA
transparency. If the player doesn't choose or forgets to announce which ball they want to count, then the ball that they first make a stroke at is the default for the one they will count. Lastly, if this occurs in a competitive environment, the player MUST report the situation to the Committee even if the score for both balls was the same otherwise you could face a disqualification penalty. Here is a common scenario when a play -
er may need to play two balls that occurred at the 2022 AGA Women's Stroke Play at Anthem Country Club. A player was unsure whether she was entitled to free relief from an area she believed to be Ground Under Repair on the golf course. She proceeded to put a ball into play under the Rule 16.1 (dropping a ball within one club-length of the nearest point of complete relief) as though the area is marked as Ground Under
Repair, she announced the ball with which she wished to score (the original ball in the area of potential GUR or the one you are dropping into play) if it is indeed Ground Under Repair, she played both balls into the hole and let the committee know of the situation so that they may go look on the course. If it was determined that it should be marked as Ground Under Repair then the player would be able to score with that ball
since it was the one she announced before playing either ball.
Another scenario applies when the player is unsure if they get one or two club-lengths of relief, like free relief from a cart path, but can't quite remember if they measure their relief area with one clublength or two. The player would first determine the nearest point of complete relief where there is no longer any interference from the cart path. Next the player puts two balls into play, ball A within one clublength from the nearest point of complete relief and ball B within two club-lengths of the nearest point of complete relief. The player then properly announces they want ball B to count for their score, and then plays both balls out.
Let's say in this situation the player scores a 5 with ball A and a 6 with ball B. When they report to the committee what transpired, the committee lets the player know that they are only entitled to a one club-length relief area from the nearest point of complete relief. This means that the score with ball B is not able to count since it was not dropped within the relief area. Even though they wanted to score with the second ball, it is their lucky day because they get a 5 for the hole since that is what they scored with ball A.
We should never be punished for failing to memorizing all 525 pages of the Rules of Golf. But if there is one rule to remember, make it Rule 20.1c(3)!
RULES OF GOLF AZGOLF.ORG | ARIZONA GOLF INSIDER | 59
USGA
AGA MEMBER GOLF EXPERIENCES PRESENTS
MAYAN PALACE SPRING MEMBER WEEKEND
PUERTO PE Ñ ASCO, MEXICO
MARCH 25-26, 2023
Join the AGA in Puerto Peñasco, Mexico for the Mayan Palace Spring Member Weekend!
Registration is $250 per person and includes two rounds of golf, two buffet lunches, beer on the course, team awards and prizes.
Visit azgolf.org/travel for more information and to register.
My Pet Peeve in Golf: 'ARCHI-TORTURE'
WORDS BY LORRAINE THIES
We all have our pet peeves, those little annoyances that can drive us crazy, like two kids sitting side-by-side texting instead of talking, or a friend that is a "tapper" – continually tapping a pen or a foot, or a husband who keeps forgetting to put down the toilet seat.
Pet peeves are a part of life. Do you want to know what mine is? Golf course designers who, whether consciously or unconsciously,
appear to pay no attention to the female golfer. During the design discussions, they key in on the male golfer and then say "Oops, I need a forward tee… hmmm, let's just put 'there'," choosing a place that is out of the way and that completely changes the character of the hole.
In the mid-90s, when I was fairly new to golf administration, I remember playing a well-known golf course in the Caribbean,
one that everyone said was both beautiful and challenging. The first time I played (I was about a 12 handicap at the time), I was completely underwhelmed. Yes, there was some challenge, but to me, there was a lot of sameness to the holes and not much risk reward. Being the only female in the group, I was poupou'd as not knowing a great course if it came up and hit me in the face. We played again the next day. Instead of sitting in the golf cart while the men teed off, I walked up on their tee to 'see' what they saw. WOW! What a difference, balls hitting over water, ravines and fabulous doglegs. It was a completely different experience. I even had a few of them get out of their carts on my tee so they could see the difference. The forward tees (known as women's tees at the time) were placed to the edges of ravines where you only had to hit the ball about 40 yards to maneuver, or you were hitting over a very small section of a water carry or the angle of a sweeping tree-lined dogleg was changed so much that you had a straight, unobstructed shot to a wide landing area.
From that point on, I began noticing course layout and how it presented itself to the female golfer.
In the 90's I applauded Alice Dye, wife of famous architect Pete Dye. She became very vocal about the fact that golf course design should include more than one set of tees for women. This ended up translating to adding shorter sets of tees– i.e. 4,800 – 5,100 yards, to make golf courses more playable for the higher handicap players.
As architects jumped on the bandwagon,
62 | ARIZONA GOLF INSIDER | FEBRUARY/MARCH 2023
OUT OF BOUNDS
they started adding shorter tees, thinking this would resolve the problem. But again, these new tees appeared to be an afterthought and were often exacerbated by requiring the golfer to hit over a bunker or a tree just to get to their landing area.
Also, we started seeing golf courses whose tee progression would go something like this: 4,800 to 6,000 to 6,500 to 7,000 yards. So now you had a golf course for the higher handicap female (4,800 yards) and for the scratch player (6,000). But the ones that got left behind were the 8 to 15 handicapper who felt that 4,800 yards was too short, but 6,000 yards was too long. is group of women is usually the one who loves the game, is trying to improve, play a lot of golf - whether for pleasure or business, travel to play, and spend a lot of money on lessons, clothing and equipment. It was NOT the group that you wanted to frustrate and alienate.
I get the challenge for architects. As the golf ball goes farther and farther for men, new courses are getting longer and longer. For most women, however, the new clubs & balls don't provide any appreciable increase in distance. Now they are designing tees from about 5,000 yards to 7,500 yards: that's a 2,500-yard di erence. Keeping the character of the hole intact from all tees is a challenge but I don't think it's impossible. It would be wonderful if architects hired a female (or consulting rm) to take the design for the men and then create a design for women within those parameters – perhaps starting from the green and progressing
backward to determine a length for the hole that would give her a challenge but maintain a similar strategy.
Fast forward to today. We have a few women actively involved in golf course design. Two well-known architects, Vicki Martz and Alice Dye, both passed away in 2017 and 2019. Alice's niece, Cynthia Dye McGarey, continues to carry the torch. Jan Bel Jan started out with Tom Fazio and created her own design company in 2009. A few LPGA players have entered the ring, including Amy Alcott, Jan Stephenson, Nancy Lopez and Annika Sorenstam. ere are also groups that provide consulting services to golf courses on how to make adjustments to be more playable for women.
So what can we do to make sure our experience meets our expectations? Certainly, we can't change the design, but we can take some proactive ways to minimize the frustration. When I look at a golf course scorecard, I'm always encouraged when I see a progression of tees that are about 500600 yards apart. In those cases, I'm pretty con dent that I will nd a set of tees that's enjoyable for me.
If that is not the case, the USGA Handicap System provides a way for you to create your own golf course. By choosing a combination of tees, a golf course in the appropriate yardage can be created with a course rating and slope that makes sense.
Pet peeve or not, I nd golf is one of the greatest games that, no matter how good you are, you can enjoy for a lifetime… and I plan to do just that.
C M Y CM MY CY CMY K SUPPORT THE COMMUNITY TARGET YOUR AUDIENCE ADVANCE YOUR BUSINESS SALES@ONMEDIAAZ.COM
19TH HOLE
The Scotch Library
Scottsdale
6902
64 | ARIZONA GOLF INSIDER | FEBRUARY/MARCH 2023 Join The Westin Kierland Scotch Ambassadors to celebrate the contributions of Arizona's early Scottish immigrants in the Scotch Library with one of the rarest and most comprehensive Scotch collections in North America. The collection includes Scotch Whisky from all regions of Scotland ranging from the most widely recognized 10-year old blends to 40-year old and older single-malt whiskies including the rare Balvenie 50-Year. Whether you choose to enjoy an Evening of Scotches and be guided through a curated tasting of unique scotches, drop by for a dram after your golf round or attend our special monthly Scotch Tasting events, you will be sure to have a one-of-a-kind experience.
phxwsinfo.com
E Greenway Pkwy, Scottsdale, AZ 85254 //
Punch Your Card to Paradise
GolfING at Mountainview & The Preserve
50 Punch Card for 18-Holes $2,950 25 Punch Card for 18-Holes $1,600 50 Punch Card for 9-Holes $1,600 25 Punch Card for 9-Holes $850 Located at a higher elevation than most golf clubs in Tucson, both courses are a terrific choice for a great day on the links, all year round. Punch Cards may be shared within the household and used for guests. Punch cards are valid through December 31, 2023. SCAN FOR MORE Purchase a punch card & save up to $350 on your golf this season! Purchase your punch card before March 1, 2023 & receive a 10 Bucket Driving Range Card (valued at $50) special offer!