Tested in accordance with BS EN 61439-3, including Annex ZB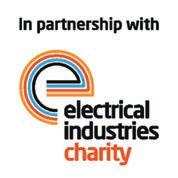 Up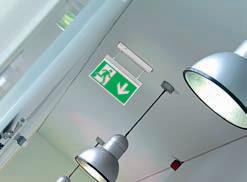 SPECIAL FEATURE: CIRCUIT PROTECTION & SWITCHGEAR SPECIAL FEATURE: EMERGENCY LIGHTING SPECIAL FEATURE: EV CHARGING VOLUME 43 NO. 01 • JANUARY 2023 ELECTRICALCONTRACTINGNEWS.COM 27 42 36 uickwire The faster way to connect downlights. www.quickwire.co.uk www.niglon.co.uk t 0121 711 1990 | e sales@niglon.co.uk For ALL Your Electrical Essentials 4000+ Stocked Items One Central Distribution Hub 2500+ Electrical Wholesale Outlets Fourth Generation Family Run Business 50+ Years Serving the Electrical Industry
to 100A (InA) rated Sur face and flush mounted boards
Up to 24 modules single row
Award Winning Consumer Units No B25-21-AV-01E_SDDSv1-CERT LondonWD188GA.UnitedKingdom Alfanar Electrical Systems IndustrialCity RatedFrequency: 50Hz Fulfillsthetype-testrequirements BS EN 61439-3:2012 Edition 1.0 www.contactum.co.uk sales@contactum.co.uk 020 8208 7400 Tested by an independent reputable laboratory 2.0 SURFACE CONSUMER UNITS FLUSH CONSUMER UNITS NEW GENERATION CONSUMER UNITS BY Consumer Units & Distribution Boards Designed & Independently Type Tested To BSEN 61439-3 & BS7671 18th Edition Amendment 2
Up to 44 modules dual row Type A RCD, eRCBO and arc fault detection as standard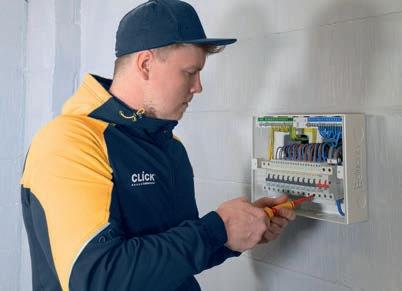 4 Editorial Happy New Year! 6 Industr y News UK Power Networks speeds up forecourt EV chargers; Rising cost of materials to be electricians' biggest challenge in 2023; ECA Industry Awards now open for entries 12 Cover Story Circuit protection FBA design service 14 Contract News Nittan fire detection system installed in Ireland's tallest commercial building; British fresh fruit producer goes green; SPIE completes for Sacred Heart Primary School; and more 18 Training Craig Fairweather announced as SkillELECTRIC UK champion 20 Key Issue Don't wait to illuminate properly 22 Project Focus Low-energy LED luminaires meet residential building requirements 24 Interview Carly wills speaks to Simon Hudson-Smith about his life and career, and the exciting developments at the Hudson Group 26 Competition Win a £200 Virgin Experience Voucher with Ovia 49 Company Showcase Sponsored content from across the sector VOLUME 43 NO. 01 • JANUARY 2023 CONTENTS CONTENTS… Regulars Circuit Protection & Switchgear 27 Consumer units – does yours meet the required standards? 30 Cleaning up mobility with green electric technology 34 Amendment 2 – taking a view from the industry EV Charging 36 A 101 on what the new building regulation reforms mean for EV charge point installers 38 Why aftercare should be considered an integral part of EV charger installations 40 2023 – the road to electrification continues Emergency Lighting 42 Emergency lighting legislation and standards 44 Emergency lighting – what you need for commercial and industrial buildings 46 Emergency lighting installation considerations … THERE'S MORE TO
Hello and welcome to the first ECN of 2023 – a very Happy New Year to all of our readers!
This year promises to be a great one for ECN and our sister publications and events. Our plan for this year is to make ECN bigger and better, with new features planned to bring you all of the information you need. For those involved in the data centre sector, we are very excited to announce that Data Centre & Network News (DCNN) will be relaunched as a quarterly digital magazine, building on the hugely successful news website. More information on the launch will be available shortly, but if you would like to submit an
article for publication then please contact me at carly@allthingsmedialtd.com.
And All Things Media is thrilled to be launching EI Live! in Europe. EI Live! Europe is a brand-new residential-focused AV, automation, and home cinema event which takes place in Amsterdam on 14-15 June 2023. To get involved, please contact David Kitchener at david@allthingsmedialtd.com.
This issue brings you the latest from the Circuit Protection & Switchgear; EV Charging; and Emergency Lighting sectors, along with all of the regulars. There is also the chance to win a £200 Virgin Experience voucher, courtesy of Ovia, so don't forget to enter!
Wishing you all the best for the year ahead –see you next month!
EDITORIAL
Carly Wills, Editor
do they accept responsibility for any errors in the transmission of the subject matter in this publication. In all matters the editor's decision is final. Editorial contributions to ECN are welcomed, and the editor reserves the right to alter or abridge text prior to the publication. Overseas Subscription Rates: Europe £60.00; Rest of
Copyright
All rights reserved. Printed by Micropress, Reydon Business Park Fountain
E: carly@allthingsmedialtd.com EDITORIAL ASSISTANT: BEATRICE LEE T: 01634 673163 E: beatrice@allthingsmedialtd.com GROUP ADVERTISEMENT MANAGER: KELLY BYNE T: 01634 673163 E: kelly@allthingsmedialtd.com STUDIO: MARK WELLER T: 01634 673163 E: mark@allthingsmedialtd.com MANAGING DIRECTOR: DAVID KITCHENER T: 01634 673163 E: david@allthingsmedialtd.com ACCOUNTS T: 01634 673163 E: susan@allthingsmedialtd.com ECN charity of choice Published monthly by All Things Media Ltd., Suite 14, 6-8 Revenge Road, Lordswood, Kent ME5 8UD. Tel: 01634 673163 Fax: 01634 673173 NEXT TIME… February Issue Editorial deadline: 19 January Advertising deadline: 26 January Fire, Safety & Security electricalcontractingnews.com @ElecConNews /electricalcontractingnews @ecn_magazine UPS, Power & Energy HAPPY NEW YEAR! Wiring Accessories Special Supplement: Smart Buildings
The editors and publishers do not necessarily agree with the views expressed by contributors nor
World £70.00.
© 2023,
Way, Reydon, Southwold, IP18 6SZ. EDITOR: CARLY WILLS T: 01634 673163
Pluggable T-Connector for flexible cable
Designed to dramatically speed up lighting installation time

uickwire
The Quickwire plug-in T-Connector consists of a plug and socket: The plug accepts flexible cable and the socket consists of two Quickwire solid core twin and earth, loop in loop out connections. It offers the same dramatic time-savings and ease of use as all of our Quickwire junction boxes. info@quickwire.co.uk www.quickwire.co.uk A Company 01183 840025 Dramatic time saving on site. Plugs can be supplied prewired with cable in bespoke lengths. Compact - fits through a 30mm diameter hole. The fastest and simplest connector of its type. One piece plug moulding simply snaps shut with cord grip. Visit www.quickwire.co.uk or your wholesaler for info Easy disconnection for maintenance and testing. Rapid Quickwire™ connections flex connectors