from The Ambassador. Fall/Winter, 2019
by The American School in Japan
2019 Tokyo, Japan Alumni Reception
On the eve of Spirit Day on Friday, September 27, ASIJ hosted a community reception in Tokyo— something we haven't done here in Japan in several years. The event took place on a lovely late summer evening where guests gathered in a second floor room overlooking beautiful Japanese gardens at the historic Meiji Kinenkan in downtown Tokyo.
Upon arrival, guests were greeted by an unexpected attendee, our very own mustang mascot! As we were in the hometown of the ASIJ Mustang, our mascot came out in full support of the alumni event and joined in the fun by posing for photos and sharing our latest creation in the alumni office, the ASIJ Gate photo frame, made from one of the 3-D printers in the Creative Arts and Design Center.
Mary Margaret Mallat, Interim Director of Advancement, officially welcomed everyone to the event, and shared how her role as a parent of two ASIJ graduates paired with her long tenure at the school in both volunteer roles as well as a professional capacity, has had such a meaningful impact. Mary Margaret is extremely enthusiastic about the year ahead and is looking forward to meeting more members of the alumni community
Tomi Takahashi '84, Stan Aoyama '78 and Ernie Higa '70
Anna Sasaki-Saito '88, Sherry Yu-Hoshi '88, Miyori Takano '10 and Rina Hara '03
Mary Margaret delivers a speech to the attendees
Afifah Yamasaki (AP '88–'03) and her sister Farida Rahman '68
Tamara Crawford '78 and her husband Edward Crawford
in her new role. Jim Hardin, Head of School, and his wife Marti were in attendance, as were Scott Wilcox, Deputy Head of School, and his wife Sheila, Matt Wilce, Director of Communications, and Claire Lonergan, Assistant Director of Development and Alumni Relations.
About 100 Alumni, alumni parents, former/ current faculty and friends attended the evening event including John Salisbury (FF '98–'18) and Yinsei Chitani (FS '92–'16). Guests enjoyed freshly prepared sushi, as well as well as an assortment of canapes and desserts. As with many ASIJ community events, there was no shortage of stories being shared, but what made this evening so special was the true variety of class years and groups that attended.
Alumni from across generations—from the classes of the 60s to recent graduates from the Class of '18—came together because of their shared connection to ASIJ. Many of the recent graduates have newly started work in Tokyo following graduation from university, and many of our guests had the opportunity to connect with people in a variety of industries—a rare occasion for those that aren't able to attend many ASIJ events. In addition to diverse class years in attendance, many alums that happened to be visiting Japan for work such as Nicky Nichols '69, or on holiday like Lon Reeder '74, were able to attend the reception—one guest even extended his stay in Japan to attend our event!
This unique get together was one that we will not soon forget and as ASIJ looks to grow alumni engagement both here in Japan and around the world. We hope to make the Tokyo reception an annual fall event, in addition to our annual stateside reception. Be on the lookout for more information next fall.
Lon Reeder '74 speaks with Miguell Malacad '12
Mike Chan '00 in conversation
Kacie Leviton '98 and Buddy Marini '85
John Salisbury (AP '08–'15, FF '98–'16) and Yinsei Chitani '68
Keiichiro Kinoshita '15, Senichi Shibayama '15 and friend, Kai Laughlin '15, Yuka Sadayuki '15, Emma Takahashi '15 and Ken Baburek '15
Kei Kuwahara '09 chats with Buddy Marini '85
Landon Budge '01 and Paul Hastings '00 talk with Kristy Endo '01 and Jules Theil
'99
ASIJ Chofu Campus October 4–6, 2019
Naomi Hayase '99 and Tamina Plum '99 organized their 20th reunion in Tokyo this past October, and they extended the invitation to the classes from '96–'02. The weekend kicked off early for some with a special trip to Tokyo Disneyland on Thursday, October 3. On Friday morning, the group began the day as many of them did back in their school days, with an ASIJ bus pick-up in Kichijoji and nostalgic bus ride out to Chofu.
The group was welcomed back to the ASIJ campus mid-morning by Mary Margaret Mallat, Interim Director of Advancement, Matt Wilce, Director of Communications, and Claire Lonergan, Assistant Director of Development and Alumni Relations. Ron Dirkse (FF '74–'08) and Wally Ingebritson (FF '86–'09) made a special appearance at ASIJ for the reunion, as did the ASIJ mustang mascot.
Once everyone arrived on campus, the class was led on a school tour by Claire Lonergan. The class was eager to see what had changed and what had remained the same, and the tour also included a special trip upstairs, above the bus parking garage, to the tennis courts. Once on the courts, Naomi took the opportunity to share some special words of remembrance for one of their former classmates, Michiel Brandt '99 who passed away in 2012, and who the class dedicated an umpire chair in her memory in 2013.
After the school tour, the group gathered in the theater for a private lunch which (thanks to the wonderful kitchen staff at ASIJ) was alum favorite, vintage chicken katsu with ginger chicken sauce! During lunch, Debbie Wissel '99 was surprised to find herself singing in the background as the musical from 1999 was streaming on the projector. Long serving current faculty who stopped in to say hello included Javier Fernandez, Bapi Ghosh and Susan Islascox.
Friday evening, the group got a real treat for dinner at Fatz's The San Franciscan in Kichijoji, owned by Jonathan Levin '99. Saturday was just as memorable with live music in Kichijoji by Jon, George Quaiver '99 and Daniel Clark '99 who got their band One/More/Mile back together again for the night. In addition the group got to hear music by Alex Holmes '00 and Lucas Hubbell '00 and Kathy Knowles '99 who DJ'd the event.
Alison Arnote '99 catches up with Erina Kainuma '99
The Mustang greets reunion attendees
Kyoko Wakutsu (current staff) talks with reunion organizer, Tamina Plum '99
Attendees viewed footage from their school days in the theater
'62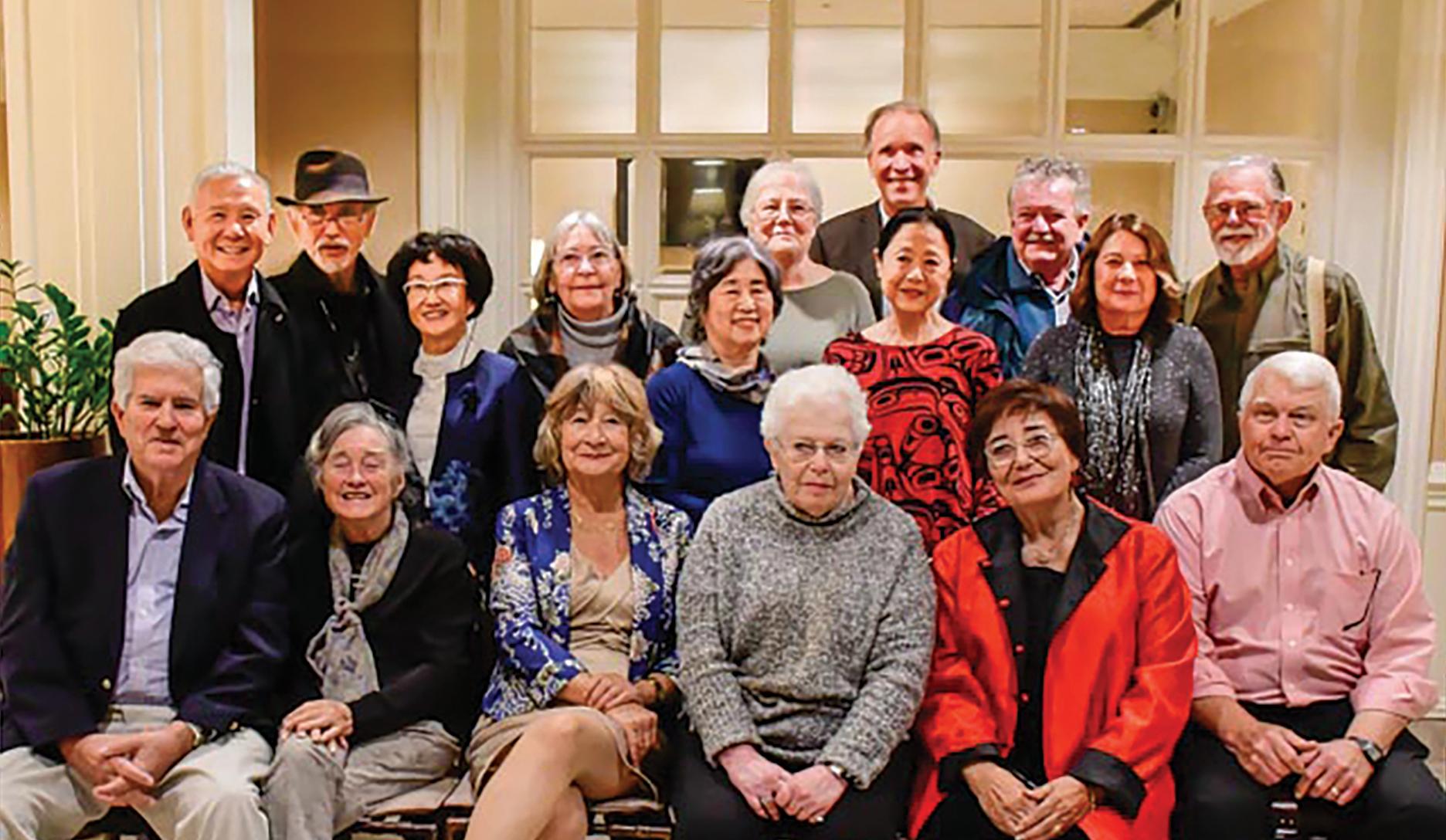 Reunion Vancouver, Canada October 5–8, 2019
Diana Grilli '62 reports on her class's recent reunion, which saw 26 members of the Class of '62 meet in Vancouver, Canada, October 5–8, 2019. The following classmates and alumni attended, coming from throughout the United States, Japan and Europe: Bill '62 and Joyce Cox, Jeff '62 and Mary Durgee, Cinnamon El-Mulla '62, Judy (Harris) Garbutt '62 and Ian Garbutt, Carol Gosho '62, Diana Grilli '62, Tom Hargreaves '62, Bonnie '61 (Bongard) Harris and Gene Harris, Maria (Ting) Huang '62 and Dean Huang, Frank '62 and Mary Margaret May, Wendy (Kalenda) Prestrud '62 and Howard Stikes, Richard Starrett '62, James '62 and Elaine Yang, all from various areas of the United States. Tomoko Takafuji '62 joined us from Kyushu, Japan, Yurika Pringsheim '62 came from Germany, and Masaki Watanabe '62 and Nancy Wu '63 joined from Vancouver.
Nancy Wu welcomed the class, facilitated our traveling around the city, and arranged for amazing feasts at restaurants near our hotel. Ian Garbutt, Frank May, Howard Stikes, Tom Hargreaves, Gene Harris, and others who had cars, also drove us around the city every day.
In addition to eating delicious dinners and having meetings at the hotel, the group visited Nitobe Memorial Garden and The Museum of Anthropology—both beautiful, extremely interesting places on the grounds of the University of British Columbia—the Capilano Suspension Bridges, Granville Market and the Maritime Museum. Diana, an attorney, even visited the Vancouver Provincial Court, observed several trials, and met a judge.
Diana volunteered to organize the reunion, which took place at the Sutton Place Hotel, a wonderful, luxurious hotel. For readers who haven't had a chance to visit Vancouver, it's a beautiful, cosmopolitan city. We ate well, and ate a lot. Nancy offered to organize dinners at the Sala Thai and Kirin Mandarin Restaurants which, with her great input, were superb. Masaki arranged another great dinner at a Chinese family restaurant. Wendy and Bonnie organized the farewell dinner at the Salam Bombay restaurant.
While the class had previously joined forces at reunions in Alexandria, Virginia, Chicago, Toronto and Ann Arbor, this was the first class reunion which Jeff Durgee and Richard Starrett were able to join. Their presence, along with Nancy Wu joining us as an honorary member of the Class of '62, added immeasurably to the fun and camaraderie. The class is already planning its next reunion, which may be a river cruise on the Mississippi or St Lawrence Seaway!
70s
Reunion Orlando, Florida July 2–5, 2019
ASIJ Classes from the 70s came together with their friends and families from July 2–5 for four days of fun at the Lake Buena Vista Resort Village & Spa in Orlando, Florida. The trip began with a warm meet and greet filled with lots of hugs, good cheer and ASIJ goodie bags for everyone to enjoy. Some memorable daytime activities were led by Laura Wise '77 and Asa Sandblom '79 and her partner Petter taught the group tai chi and aikido, and an intro to martial arts. The Orlando get-together was filled with multiple pool party events—where I heard the Philly cheese steak was a big hit—dinners at Susuru Izakaya and Dragonfly Robata Grill & Sushi.
Cheryl Wise '79 would like to thank all those who were able to attend and for coming from all over the country and world, and wished to send a special thank you to Seiko Niimi '79, Debbie Wise '82, Asa Sandblom '79, Laura Wise '77 and Hannah Gibbons '77.
'76
Mini Reunion Tokyo, Japan May 2018
Classmates from '76 (and one from '78) had a mini reunion last year in Tokyo! The group enjoyed re-connecting and hope to make a trip back to Tokyo soon. Pictured above left to right: front row Chisa Hara Fujita '76, Hideko Douchin-Takasaki '76, Noriko Furuya '76, Cristina Sindicic-Cherubini '76, Ken Kurosu '76, Mami Hayashi-Inoue '78 and Elaine Scolinos Kusaba '76.
'84
Tokyo, Japan July 12, 2019
The Class of '84 and their families traveled to Tokyo this past July to celebrate their 35th reunion. The group came together from all over the world for a weekend of fun here in Japan. The celebratory weekend kicked off on Friday, July 12 with an evening boat cruise around Tokyo Bay. On Saturday, the class took a trip down memory lane with a visit to the ASIJ campus, including a nostalgic bus ride out to Chofu.
Upon arrival to ASIJ, the class was greeted in the main lobby by Mary Margaret Mallat, Interim Director of Advancement, Claire Lonergan, Assistant Director of Development and Alumni Relations, and Matt Wilce, Director of Communications, who welcomed them back with a few snacks and plenty of water to
'89
30 th Reunion
San Francisco, CA October 4–6, 2019
keep hydrated in the Tokyo Summer heat! The group flipped through yearbooks from their class year before departing on a full tour of campus led by Mary Margaret.
As the group reminisced on their school days and relieved the walk around ASIJ's hallways, they were surprised to see so many changes, but also impressed that so many things have remained the same. The gymnasium and the main field were especially memorable, and the group made sure to pose for a group photo!
The Class of '89 celebrated their 30th reunion in San Francisco October 4–6, 2019. Celebrations started with a Friday night meet and greet at the Alchemist Bar, followed by group yoga on the beach on Saturday morning and a very moving meditation of ASIJers remembering classmates they've lost. Smaller groups dispersed for hiking, biking and napping until the main event on Saturday night. The main event was a cocktail hour and seated dinner in a private dining room at Boulevard Restaurant. Over 40 alumni were in attendance, including a number of people from other classes. Everyone had a wonderful time and agreed that the next reunion should take place in a year or two rather than five!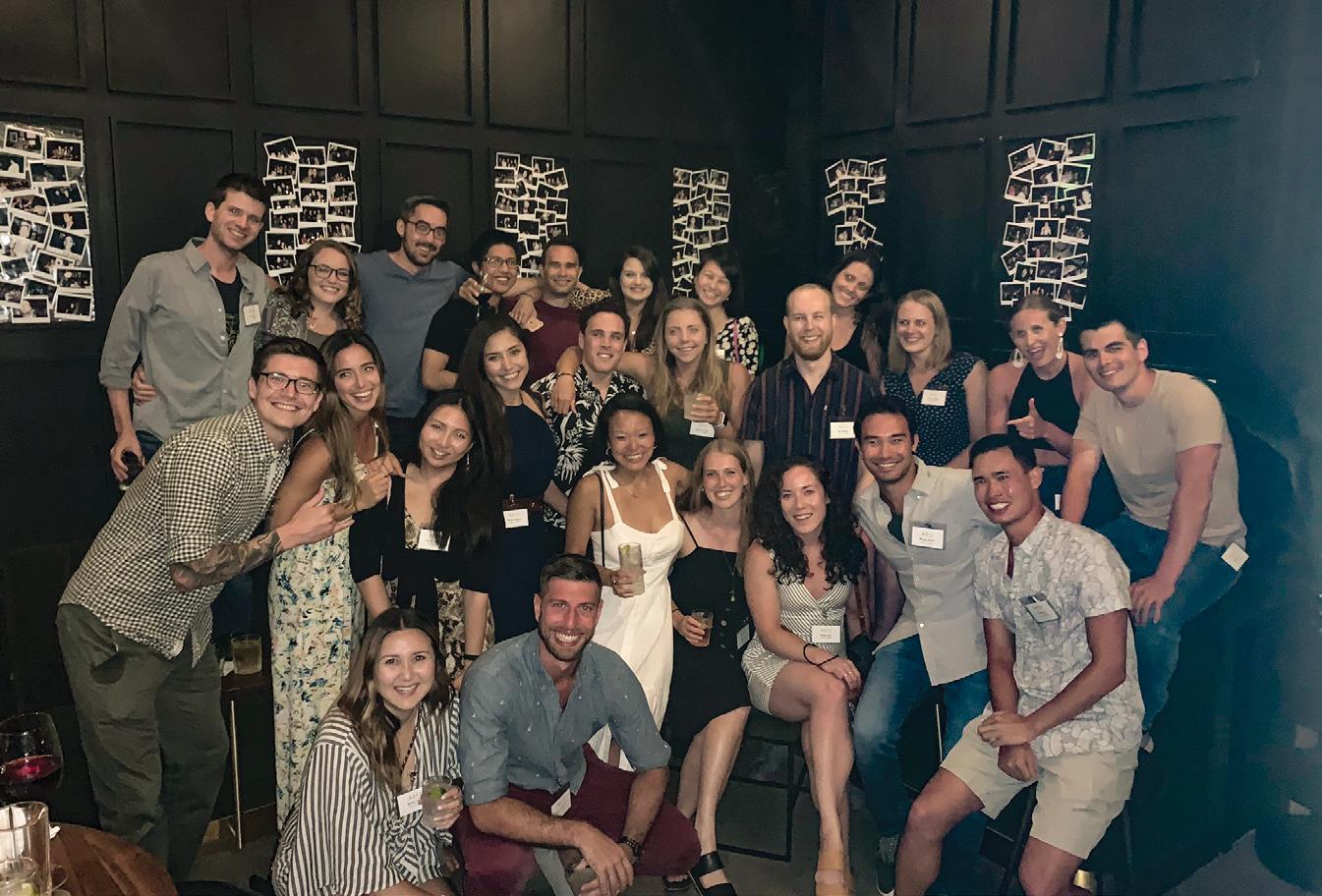 '09
Los Angeles, CA August 2019
Glyn Noguchi '09 reports on the Class of '09, who recently came together to celebrate their 10 year reunion. Alumni from all over the United States (and from as far away as London!) descended on the streets of Los Angeles for a weekend of reconnecting, reminiscing, sunbathing and naturally, karaoke. With attendees from both the graduating class as well as those who were classmates for a few grades along the way, the weekend was a touching reminder of the unique, lifelong bonds that ASIJ builds. Cheers to those who could not make it—we hope to see you in another ten years!
'14
5th Reunion
New York, NY & Tokyo, Japan July 27 & August 3, 2019
Groups from the Class of '14 got together in both New York City and Tokyo this summer to celebrate their 5-year reunion. In New York, a group from the class met up at a really fun gas station-turned-bar in Brooklyn for drinks and light snacks. They had over 40 attendees, including classmates who flew from Australia and France! In Tokyo, classmates from 2014 got together where they had a great nomikai with classmates at an awesome izakaya in Kabuki-cho. In true Japan fashion, the night ended with some fun karaoke and dancing. Both celebrations were truly great!