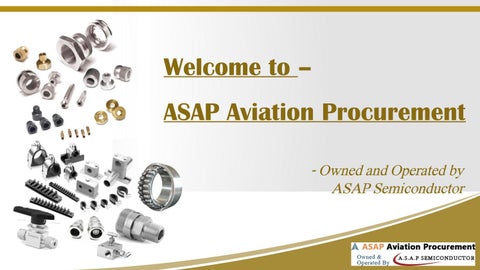 Welcome to – ASAP Aviation Procurement - Owned and Operated by ASAP Semiconductor
---
About ASAP Aviation Procurement• A simpler and more efficient purchasing solutions for the aerospace and aviation industry. • We can effectively help customers to simplify procurement by reducing the number of required supplier partners. • Reliability is fundamentals of our quality system, so we ensure it by complying with the strictest quality standards. • We provide millions of consumable products for the aerospace industry.
---
Our Services At ASAP Aviation Procurement we provide full range of aviation part components based of below classification  NSN Parts Manufacturers.  Federal Supply Groups/Codes.  National Item Identification Numbers (NIIN).  National Stock Numbers (NSN).  Aviation Part Types.  Cage Code Catalog.
---
Our Qualities -
Guaranteed on-time delivery
Over 5100 manufacturers
Competitive prices
User-friendly database
Best purchasing solutions
---
---
Top Selling Aviation PartsASAP Aviation Procurement is an active supplier of best aviation parts.
Injector Assembly Fuel
Solenoid Valve
Seal Canopy Inflatable
Power Supply Uninterruptible
Ecmo Color Display
Bi-directional Marker Pole
Spring Clutch Actua
Case Power Supply
Dust Ejector
Cover Battery Box
---
Top Featured NSN Components ASAP Aviation Procurement provides database of NSN part numbers for Aviation and Defense industry. 6140014759355
8340015407495
8340015140515
5130003575135
2590015502593
2990014612843
5325998125210
2620012772690
3439004607198
6240001436558
5210012388103
5310012927016
6135014355558
5935010979974
5331008080794
---
Contact Us -
ASAP Aviation Procurement 2770 S Maryland Parkway, Suite 414, Las Vegas, NV 89109 Call Us:- +1-702-919-1616 Write Us:- sales@asap-aviationprocurement.com purchase@asap-aviationprocurement.com
Follow us on:
Published on Jul 12, 2017  
Asap aviation procurement – nsn components & aviation parts distributor  
Asap aviation procurement – nsn components & aviation parts distributor  
Published on Jul 12, 2017  
ASAP Aviation Procurement provides NSN Components, Cage Code, FSC NIIN and various aircraft components from many well-known aircraft parts m...