the kitchen issue sink
November 2022 Inkwell
ANNIE WRIGHT UPPER SCHOOLS
rom the editors
In brainstorming themes for our issues this year, we struggled immensely to decide on any one category or topic. Our article ideas were all over the place and none of our staff could come to an unanimous agreeement. We were at a crossroads, unsure what to do.
If there's one thing the pandemic has taught us, it's that flexibility is key. We've had staff members come and go, scrapped issues, articles and entire projects. It is incredible just how much change this publication has undergone during our short time on the Inkwell staff. Coming into our freshman year in 2019, Inkwell's domain was limited to print issues and the occasional online article. Over the course of that year, we ex panded into the territory of podcasts, something that was revolutionary for Inkwell at the time. In our sophomore year, Inkwell further increased its publications with the launch of Inkblots, a school-specific newspa per through which we first started to collaborate with guest writers and outside staff. Our junior year we entered with only two returning staff members and a surprise merger with The Shield, Annie Wright Schools' yearbook (s)Elective. We took our first trip, adjusted to the new normal and worked around the clock to put out work we were proud of. Now, we're finally seniors. With three different faculty advisors, two new pub lication types and one pandemic under our belts, we are prepared to face the year. We have been humbled and changed by the pandemonium that has been Annie Wright Inkwell. We have learned that tradition is nice, but not always the best way to move forward. We have learned to roll with the punches and be ready for anything.
So, instead of attempting to consolidate and inevitably limit ourselves, we ultimately decided to make this chaos into its own theme. Out of this came the issue you are reading today. In the name of fun, silliness and everything random, Inkwell is proud to present the Kitchen Sink Issue.
From eccentricity to Gen Z culture, cults to TV shows, this issue is filled with articles that are certain to entertain. Want to learn more about the U.S.'s chances at the 2022 World Cup? What about a local shop that is anything but ordinary? Ever heard of Slime Rancher? This issue is sure to be a wild ride, but we can guarantee you'll enjoy it.
Sincerely,
Sebastian Bush Sofia Guerra Co-Editors-In-Chief
Inkwell
November 2022
827 North Tacoma Avenue Tacoma, WA 98403 Issue 1 | Volume 64
CO-EDITORS-IN-CHIEF
Sebastian Bush
Sofia Guerra
DESIGN EDITOR
Erin Picken
STAFF WRITERS
Amelia Herrmann-Scholbe
Jack Cushman
Riley Benjamin-Meyer Zoe Carlisle
GUEST
WRITERS
Katherine Maas Ren Henry-Mitchell
Inkwell aims to provide the Annie Wright community with dependable and engaging coverage of school, community and global topics. Inkwell publishes articles of all genres at anniewrightinkwell.org as well as four themed magazines throughout the course of the school year. Submissions of articles and photographs, correction requests and letters to the editors are most welcome. All published submissions will receive credits and bylines.
Follow us on Instagram @anniewrightinkwell
Letter F
ANNIE WRIGHT UPPER SCHOOLS
BaptationN: a look inside Tacoma's local heavy metal scene
"Midnight": Doctor Who with an accusatory twist
Your guide to the U.S. at the Qatar world cup
What My Little Pony characters our faculty would kin
UFOs, human cloning and the postmodern condi tion
Tricky's Pop Culture Emporium
Movie review: All Quiet on the Western Front
Everything you need to know about aquascaping
What's so wrong with a rainbow?
What does your favorite video game say about your slime type?
The aesthetics of being aesthetic
Dream's face reveal: a case study of parasocial re- lationships
Fit for the issue: kitchen sink cookies
Contents
4 8 9 11 12 14 17 18
20 22 24 26 28
BaptationN: A Look Inside Tacoma's
Local Heavy Metal Scene
On September 4th, 2021, Eden Lash and Giovanni McQueen played a house show in Lash's backyard, called the Poser Pleasure Party. At first, the two were not meant to be anything more than an impromp tu duo. However, Lash liked the dynamic and sound they had together so much that they decided to form it into something more. Lash's old band, Accidental Brain Damage, had just broken up. They made music in the genre of dreamy bedroom pop, and their dis bandment left Lash longing to create something heavi er. This longing led to the birth of BaptationN. (Even after pressing Lash for the origin of the name "Bapta tionN," she did not concede. My speculation is that the name was chosen because it rhymes with lactation, but I suppose we can never know for sure.) A couple months after the first Poser Pleasure Party, the two be gan to experiment with the sound they were envision ing for the band. Lash categorizes the music the band made when they were first starting out as riot girl with some punk influences, but they quickly realized that this wasn't the direction they wanted the band to go in. "We all had always wanted the music to be heavier than that, it never really felt right just to stay [there], and I think over time we've evolved into the kind of sound we really always wanted to achieve." With Lash on lead vocals and guitar and Gio on bass, they aim to create music that keeps the listener on the edge of their seat via discordant and gut-wrenching riffs that leave you feeling uncomfortable and frustrated, yet still with a lingering desire to see what's to come. This technique is proverbial, as tritone scales, or scales that are not found in either major or minor scales, have been used for centuries to make listeners feel uncomfortable and on edge. BaptationN draws their inspiration from the hardcore punk band, Portrayal of Guilt. In late Sep tember Lash and McQueen attended two of Portrayal of Guilt's shows in the SeaTac area. At the show in Ta coma they convinced the people working sound to play
by Zoe Carlisle
their album in between sets. If that wasn't affirming enough, after the show they got the chance to meet the lead singer of Portrayal of Guilt, Matt King. After hear ing their album, he offered the two a spot as an open ing act for the band's next show in Tacoma. If being reconized by your biggest musical inspiration is not a defining moment for band, I really don't know what is.
BaptationN's Spanish Ballroom show poster.
According to Lash, the best part about being in Bap tationN is their live shows. The first BaptationN show I went to was in early June at the Spanish Ballroom in Tacoma. I had met Lash a couple months earlier and quickly learned that she was in a band; I had listened to a few of their band's demos on Bandcamp, so I had a general idea of the kind of music they made. Despite
4 INKWELL | NOVEMBER 2022
this, I had no idea what to expect. I was beyond excited, partly because it was my first local show since quaran tine (although up to that point I had never gone to a lo cal show that made music of this calliber and intensity), but more so because I was infinitely curious to experi ence what BaptationN was truly like, aside from their online demos and the occasional low-quality video of past shows on their Instagram page (@baptationn.)
As soon as they started playing, I became enthralled. Watching Lash up onstage performing was a window to a side of her that was incredibly alluring to me. On stage, she seems to become completely taken over by the music and fully immersed in her lyrics. "When I'm onstage, it feels like a whole different world. I feel like I become a whole different person," Lash remarked. And from an audience standpoint, I completely agree. Everything from her uncanny stage presence to the nonplus nature of her singing over the heavy, panic-in ducing guitar, bass and drums instantly captivates the audience. On September 3rd of this year I attended the one year anniversary show of the Poser Pleasure Party. It was meticulously planned, considerably more so than the first. Lash's whole backyard had been over taken by sound equipment, instruments, lights, deco rations, a plethora of ramshackle rugs as a makeshift stage and signs posted about, giving directions and laying out the rules of the show (because the show was in a residential neighborhood it was advertised to be a drug and alcohol free enviroment, as a courtesy to Lash's family as well as the neighbors who so kindly put up with the rowdy teenagers and tumultuous mu sic. Unfortunately, people did not follow said rule.) The crowd was restless and wild. There is something so turbulent about the energy at a BaptationN show. The anticipation, watching the soundcheck foretasting the show, everything heightened all leading up to the very moment the band begins playing. The hold that Lash and McQueen have over the audience is quite impressive. Everyone in the crowd screams along to the parts of the songs that are remotely desirable. Heads are violently banging, and bodies are colliding into each other as the chaos of the music ensues. Be ing in a mosh pit is exhilarating, but at the same time utterly and completely terrifying. Picture this: you are
surrounded by a sea of sweaty strangers, you've been standing for so long that you've begun to lose feeling in your feet, yet you look down to find them still danc ing along to the music. Getting tossed around, back and forth with bodies swirling around you like human bumper cars. All while the lethal noise of BaptationN fills your ears and shakes you to your core. I am mys tified by the sense of togetherness that moshing cre ates. As intense as it might sound, there is a underlying notion of community umoung the chaos. Moshing can make people feel free and connected. Now I am not saying that after reading this, you should go out and just slam into your friends for fun. This activity can at times get out of hand if the participants are not familiar with it, or if their primary goal is to harm others. But I want to recognize that when practiced safely and with caution, moshing can be an almost therapeutic experi ence. From my point of view, it creates a sense of be longing. When you are in the midst of a mosh pit, you have the freedom to release all your built up emotions, and to dance like nobody is watching. This may sound contradictory because you are in fact surrounded by people, but the thing is the people around you are also doing the same. There is no judgement afoot. You can move and dance without care about who is watching and how silly you might look. It's quite freeing, releas ing yourself from the confines of self doubt and insecu rity, not worrying about how you might be perceived to others. These ideas correspond with some of the ide ologies of punk culture, that being individual freedom and accepting doctrine. Coming from someone who is an outsider observing the punk and metal scene I find the overall culture so fascinating. The fashion, history, ideologies and the other forms of expression like art, literature and films. Unfortunately, the punk and metal scene can also often be extremely problematic. Every thing from the the praise of an indiffrent and apathetic outlook on life, to the utter lack of representation for POC, women and queer folk. In popluar bands, but more so with the people behind the scenes running the shows, they are almost always older white men. Break ing those steryotypes, BaptationN aims to prove that they can make the same music to the same extent, if not even better in a field primarily dominated by cisgender
Continued on page 6. INKWELL | NOVEMBER 2022 5
white men. They want people to take the band serious ly, regardless of Lash and McQueen's age and identity.
"Holes in my alibi, hills on my lover's body." For Lash, writing songs is an emotional outlet. "It's the only way where I can get out some of the lingering dreams or feelings out of my system." Spoken like a true Pisces moon. She explained to me that her creative process looks something like this: throughout the week, she jots down certian phrases that pop into her head, or certain dreams that resonate with her, builds on that, adds in guitar, and then brings it to McQueen and he adds bass. The band practices regularly, with time set aside in the day using equipment provided by the music department in their school, and time outside of school with personal equipment, all to further perfect their sound, compose songs and plan out setlists for shows. Being in a band is extremely time consuming, and requires a lot of hardwork, effort and dedication. All qualities of which Lash certainly possesses.
I asked Lash about her favorite show that BaptationN has played so far, and her answer was very surprising. It was back in May, at Lucky Liquor, which is a small dive bar just outside of Seattle. Since it was a 21+ show, the only people that showed up to see them were two of their teachers from Tacoma's School of the Arts (SOTA) as well as a few older men who had already been in the bar, who were confused as to how these two seemingly inexperienced seventeen-year-olds man aged to get the gig in the first place. As soon as they started playing though, their whole demeanor shifted. "The energy in that show was probably the rawest that I have ever experienced, and I haven't been able to rep licate it since then." Lash compares the experience of being up on stage as her own bizarre form of medita tion. "It's a feeling I can't get anywhere else" she went on to say, "[performing] is a time to reflect on my lyrics, feel them, and have other people feel them, too." Eden writes such intense and intimately poetic lyrics like "I watch your body fold; I imagine I'm in the middle" or
Less than a year after their first show as BaptationN, the band's debut album titled Bare, Open, Field was re leased on Spotify and Apple Music. Bare, Open, Field is a compilation of songs that were originally written for shows, but were studio recorded to reach a further audience online. Lash and McQueen worked tremen dously hard saving up the money to pay for a studio date. And when the day finally came to record all seven songs, they were both understandably extremely ner vous. The one pitfall of recording their songs in studio is that "[It] will never be the same as live performances, and I think that's something that's sad about the peo ple who only listen to us online." The songs on the album, and most of the music that Lash writes in gener al mainly tackle different aspects of the perplexities of organized religion: how religion can change a person for better or for worse, and the inherent uncertian na ture of faith as a whole. Having grown up in a heavily
"The energy in that show was probably the rawest that I have ever ex perienced, and I haven't been able to replicate it since then"
BaptationN,continuedfrompage5. 6 INKWELL | NOVEMBER 2022
Bare, Open, Field Album cover. Band Logo designed by Eden Lash.
religious household, Lash found herself with a lot of questions surrounding her faith. "I think that a lot of the time with religion, either bad influence or good in fluence on your life there can be lot of emptiness if you don't experience either side of it, for example if you grew up with it and loose it there will still always be a part of you that thinks back to those experiences and teachings."
On the other hand, if you grow up and find a religion that fits you, it completely alters your life. That is some thing that I'm so baffled by. Without religion, your life can be so empty, devoid of questions and devoid of answers". The title "Bare, Open, Field" comes from a dream that Lash had where she was (you guessed it!) standing in a bare open field. This title coincides with Lash's aforementioned views on religion as something that can at times be so barren and empty. One of the most popluar songs on the album is titled Cutter. This song seems to depict the frustration and confusion that stems from a lack of understanding with why people of who subscribe to certain extreme forms of religion pin all their faith into a "vessel of hope," as described by Lash, without question, and then proceed to demean those who raise said questions. The song portrays Lash, or whoever is represented in the first person, violently and vengefully crucifying the one guaranteeing salva tion. Conveyed by lines like "You say you're messiah, I say you're a liar" and "You say you're my savior, I dig the nail in deeper." As the song progresses, you can
feel Lash's anger and frustration building. She delin eates this with a switch to scream-singing, an extended vocal technique usually employed in extreme styles of music, particularly in death metal and other subgenres of heavy metal. This is even more true when listening to the song played live. Thinking back to hearing this song live at the band's anniversary show in early Sep tember, it was performed with so much more emotion than in just the studio version. Everyone in the crowd, (myself included) singing along with Lash's lyrics like "My life is never dull, I crave something stable." truly shows the effect BaptationN's music has on it's listen ers. We feel her pain with her, and we can relate to this universal feeling in our generation, of a longing for an swers in a world that is so unreliable, weather that be in the confines of religion or just in general. You get to see how emotionally, passionately, and indignantly she plays her music. This is what I love about Bapta tionN. The purely expressive and raw manner in which the songs are performed in, and the effects their music has on the listener are nothing short of breathtaking.
BaptationN currently has a second album in the works, the themes and release date are yet to be revealed how ever Lash did say that the songs are going to be written specifically for an album in a cohesive narrative, unlike their debut which was a compilation of pre-written songs. As for the future of BaptationN, "I want this to be an ongoing thing, I feel good about BaptationN and what we are doing, and as far as we can take it, I want to take it there." BaptationN's evolution is quite im pressive, to say the least. Going from small a backyard house show to releasing an album, and playing estab lished venues all in the same year truly attests to their talents. Although this particular kind of music is not everyone's cup of tea, I hope that you will still find the space to value the art as I do. BaptationN's Bare, Open, Field is streaming on all platforms. For more, you can look to YouTube to listen to a few demos from their upcoming album or follow their Instagram to stay up dated on upcoming shows and releases.
"I want this to be an ongoing thing."
INKWELL | NOVEMBER 2022 7
Lash and McQueen performing in Bremerton. Photo by Nick Roth.
"Midnight": Doctor Who with an Accusatory Twist
[Spoilers for Doctor Who series four ahead.]
"What could possibly go wrong?"
The Doctor quips with a signature smirk at the beginning of one of my all-time favorite episodes of Doctor Who. Of course, everything will go wrong (such is the nature of the entire show), but this episode is delightfully unusual in how.
Doctor Who tends to be on the nose. It's certainly not aiming for subtle ty in its many adventures across time and space, with morals easily legible across episodes, seasons and even the show as a whole. The Doctor, a time-traveling alien with a penchant for heroism, can comfortably be ex pected to have some cheesy line about the value of every life on Earth – or whichever alien planet he happens to be visiting. Equally likely, this dramat ic proclamation will be followed with the Doctor pointing his sonic screw driver at something, leading to sparks, explosions and the ultimate demise of his enemy.
Episodes that buck this trend, while rare, are infinitely refreshing, and "Midnight" is a prime example. In the episode, the Doctor joins a small group of tourists on a shuttle trip across a planet known for its diamond surface and lethal radiation. Halfway to their destination, the shuttle mys teriously breaks down, and soon after, an eerie knocking begins from the supposedly deadly surface outside the craft. The Doctor struggles to soothe
his fellow passengers' panic as discord breaks out – only a taste of the chaos to come. As the mysterious threat ap pears to possess a woman within the shuttle, the Doctor tries desperately to dissuade them from increasingly drastic measures.
The episode hinges on a moment of dramatic tension in which the passen gers nearly throw the Doctor, para lyzed but fully conscious, out of the shuttle to his death. David Tennant gives a characteristically spectacu lar performance as the Doctor, with close shots highlighting his eyes wide with fear. At the last second, the host ess of the shuttle sacrifices herself to save him, realizing the true danger mere moments before the point of no return. At the end of the episode, though, there's a haunted look in his eyes: he looks deeply shaken. Is he surprised by the speed at which mob thinking reaches lethal proportions? Does the malleability of human mor als in the absence of his typical rous ing speeches on the good inside us all shock him?
At one point, the Doctor asks the group a question, with typical sincere urgency, that captures the essence of many Doctor Who episodes:
"What do you amount to? Murder? Because this is where you decide. You decide who you are."
Except, where most episodes use this as the turning point, the passengers in "Midnight" don't back down. At
by Ren Henry-Mitchell
the end of the episode, the passengers are spread across the shuttle's seats, separated physically from the other passengers as they grapple with the horrifying realization of how far they will go in moments of crisis.
"The hostess – what was her name?" The Doctor asks as the group awaits help.
After a beat of silence, melancholy mu sic swells as it becomes clear that no one knows. Rescue arrives, the Doc tor is reunited with his traveling com panion and the episode ends. There's no redemption for the passengers. It's possible that I'm just a cynic, but I enjoy this departure from the usual saccharine messaging. The theme is not only grave, but thrillingly unex pected in its direct attack on the audi ence. Of course, many episodes deal with darker themes, and some even have remarkably similar concepts to "Midnight" ("The Beast Below" with Matt Smith and Karen Gillan comes to mind,) but the suspenseful tension and the absence of his usual travel partner creates an unusual focus on the actions of the other passengers, who, of course, are a thinly veiled stand-in for the audience. "Midnight" is unsettling in how it challenges the Doctor's usually implacable faith in humanity. The episode is an alarming cautionary tale, reaching through the screen to issue the viewer an uncom fortable challenge - what would you do?
8 INKWELL | NOVEMBER 2022
by Sebastian Bush
Your guide to the US at the Qatar world cup
Every four years, the International Federation of Association Football (FIFA) holds a global tournament of the best men's soccer national teams in the world. This tournament, named the Men's World Cup, is due to take place this month in Qatar. The first games will be played November 20th, with the United States entering action on the following day, November 21st. This marks the first time the U.S. have featured in the tournament since 2014 Brazil, having failed to qualify for the 2018 Russia World Cup.
For those unaware, the format of the World Cup can be explained as fol lows: a tournament with two main sections, the group stage and the knockout stage. A total of 32 teams are divided into 8 groups of 4 teams, where a round-robin occurs (each team plays every other team once). Teams are awarded 3 points for a win and 1 for a tie, with no points given for a loss. After all 6 games have been played, the two teams with the highest point totals advance, while both oth er teams are eliminated. Tie break ers are decided by goal differential (goals scored - goals conceded). In the knockout stage, the first seed in group A plays the second seed in group B and so forth. If games cannot be decided in regular time, they go to extra time and then penalties, if needed.
Coming into this World Cup, the U.S. Men's National Team (USMNT) is fol lowed by storyline after storyline. First and foremost, the USMNT's World Cup group contains some friendly,
and not so friendly, faces. Placed into Group B by the FIFA sorting commit tee, the USMNT will face England, Iran and Wales. Beyond political fac tors, the group offers plenty of com petition for the Yanks. England, one of the best teams in the world, look to reach the World Cup Final after failing out last tournament in the Semi-Finals. Iran, on the other hand, look to make it out of the group, after finishing third behind Spain and Por tugal in 2018. For Wales, an aging squad demands success after missing the 2018 World Cup.
As for the USMNT, opinions range from extremely critical to cautiously hopeful. Coached by Gregg Bearh alter, yet another controversial man ager, the USMNT squad is one of the youngest in recent memory. In a 0-0 tie against Saudi Arabia in September, Bearhalter fielded a team with an av erage age of 24. While critics argue that the squad lacks experience, the players themselves certainly show tal ent. The largest problem, however, is the coach. Having been put in place after the USMNT's embarrassment four years ago, Bearhalter has yet to give fans true confidence in the team. Known for picking favorites, Bearhal ter focuses on imposing his coaching style on specific players rather than picking the best people for the job, a stance that has come under fire in recent months. Ultimately, although many see him as lacking the quality necessary for the job, his true test will come this month.
Despite the fact that no official squad list has been announced for the tour nament, a general consensus can be reached on the state of the USMNT: the team has raw talent but lacks clear leadership in key positions, and with a predictably inconsistent coach, this World Cup could either be a success or a massive failure. Keeping this in mind, I will be offering my unpro fessional opinion on the USMNT's chances at the upcoming FIFA World Cup.
Predictions and pontifications: The furthest the USMNT has ever gone in a World Cup was to the Semi-Finals in 1930, the very first World Cup. In 2002, they reached the Quarter-Fi nals but lost to Germany, and since have failed to reach such levels. I don't see this year being much different.
U.S. vs Wales: Having most recently drawn in a Friendly match two years ago, there isn't much relevant data on this match up. However, coming off a poor string of performances in the UEFA Nations League, with star player Gareth Bale in quasi-retirement at LAFC, I don't think Wales will come into the World Cup firing. Coming off a mediocre string of performances, with multiple key midfielders currently injured, I have to assume the U.S. will look simi larly "meh." My statistical model gives the U.S. a 60% chance of winning, so I could see this going either of two ways: a lackluster draw or a 1-0 U.S. win.
My prediction: U.S. 1-1 Wales
Continued on page 10. INKWELL | NOVEMBER 2022 9
Qatar, continued from page 9.
U.S. vs England:
Picture this: it's the day after Thanksgiving, patriotism is at an all-time high, and a mild-man nered U.S. team go up against an inconsistent England star-studded squad. Similar to Wales, England underperformed greatly at the Na tions League, going as far as to be relegated to the second division. Despite this, they come into the World Cup with an in-form Harry Kane and a strong group of young sters. While this feels like another toss up, the model gives the U.S. a generous 50% chance of victory. Helpful, I know. The only way I see the U.S. winning is a last gasp win ner that sends the country, leftover turkey leg in hand, into a frenzy.
My prediction: U.S. 2-1 England
U.S. vs Iran
Weirdly enough, Iran seem like one of the most dangerous teams com ing into this group. With a striker in his prime and a good veteran core, Iran could be the dark horse of Group B. Although they tied Sene gal in Friendlies, they triumphed over Uruguay, certainly sending a message to U.S. and co.: "Don't count us out." The model predicts another 60% chance of victory for the U.S. For some reason, I'm not trusting it this time.
My prediction: U.S. 0-2 Iran
This leaves the USMNT with 4 points after everything's settled. Is this enough to make it out of
the group? Maybe…? My guess is probably not. Using the results above, the U.S. would have a neg ative goal differential and likely be competing with England and Iran for the two advancing spots. Us ing our trusty statistical model, the chance of the U.S. advancing from the group stage is a slightly sub-par 18%. Do I see it happening? Sure, but realistically, it would take real improvement from the USMNT to surpass just two teams in the group. But, for fun, we can continue pre dicting with the assumption that the USMNT comes out second in the group.
cylinders in the Dutch league (20 Goals and Assists in just 12 games), and national team mainstays like Frenkie De Jong and Virgil Van Dijk maintaining good form, Neth erlands come into the World Cup looking like early contenders. My model gives the U.S. a horrid 0% chance of victory (30% chance of tie), and I have to agree. I don't see any way in which our star-spangled soldiers come out on top.
My prediction: U.S. 0-3 Netherlands
U.S. vs Netherlands: This is not an easy Ro16 matchup. Netherlands have been undefeated since last year and topped their Na tions League group above Belgium, Poland and Wales. With young taents like Cody Gakpo firing on all
Closing thoughts: Even if some miracle were to hap pen for the U.S. to make it to the Quarter-Finals, they would most likely face an impossible opponent in France or Argentina. Ultimately, I don't think this year is the year for USMNT fans. Too much is just not quite there yet, and I can't imagine Bearhalter will hold his position af ter Christmas.
10 INKWELL | NOVEMBER 2022
Tournament distribution graph.
by Katherine Maas
What my little pony characters our Faculty would kin
Truly, this article needs no introduction! Though, as a dis claimer, only 7 faculty members are included.
Ms. Corrigan - Princess Cadance: Ms. Corrigan is a ray of sunshine in the upper schools. While she's a newer addition (just like how Princess Cadance was added later in the series,) it's hard to picture anyone else as the head of the USG. She's always friendly and wonderful with both kids and teenagers alike (a rare talent.) The title of Princess suits her.
Mr. Guadnola - Princess Celestia: With Mr. Guadnola being the head of the schools, it only makes sense that he would be Princess Celestia, the pony who controls Equestria. Princess Celestia's magical rain bow hair is on par with Mr. Guadnola's stellar fashion sense. Also, if someone was trying to take over the school, Mr. Guadnola would definitely put them on suspension rather than firing them, like Princess Celestia banishing Nightmare Moon to the moon.
Mr. Stubbs - Pinkie Pie: Name a day where Mr. Stubbs has seemed down -- spoil ers: you can't. He's the human equivalent of Pinkie Pie -always smiling. Despite how serious calling someone by their last name can be, when Mr. Stubbs does it, it's always in a friendly way that makes you smile. Pinkie Pie's element of laughter can be seen through Mr. Stubbs' unique tie col lection.
Mr. Sidman - Zecora: Let's be honest: physics and chemistry are terrifying class es. But, like Zecora's introduction, that fear is completely worn off by Mr. Sidman's wonderful personality. With his hand-sewn vests, strict rules against technology and wellloved chalkboard, it's not hard to picture Mr. Sidman in an earlier time period. Zecora, compared to the rest of the
My Little Pony world, is just the same: she uses tradition al medicines and remedies rather than the more modern looking solutions found in the city. She's also very knowl edgeable about, well, a lot -- just like Mr. Sidman.
Abby Drivdahl - Discord:
I will not stay silent anymore: Abby is an agent of chaos. Every time I walk into her class, it's with fear. Will she bully me today? Offer candy? Have us blindly debate a contro versial topic? Sure, at her heart, she's a good person, just like Discord, but that doesn't mean that she always shows that side. In her class, there's laughter -- but also, half the time, everyone feels whiplashed.
Ms. Rubin - Fluttershy: Ms. Rubin is the epitome of kindness, just like Fluttershy. If you ever have a problem, or a worry, or even just want to complain about something, her doors are always open. While she is definitely not as shy as Fluttershy, she remains gentle and just the right amount of soft-spoken when need ed.
Mr. Graham - Applejack: This pairing is kind of obvious. Mr. Graham tells it how it is, Applejack's the element of honesty. Mr. Graham has a miniature farm, Applejack is an apple farmer. Mr. Graham is a Taylor Swift fan, Applejack is the persona of Taylor Swift in "You Belong With Me."
My Little Pony is applicable to any place and time: how to approach your faculty (like revoking your friendship to make them remorseful, as Fluttershy did to Discord), how to treat others even if they're different from you (Zecora and the ponies in the nearby town), or how to handle a coup (simply banish them to the moon for a few decades). If you've never watched the show, I 100% recommend it, if only so you can better understand this article.
INKWELL | NOVEMBER 2022 11
UFOs, human cloning and the postmodern condition
by Sofia Guerra
Raëlianism: founded in 1974, this religion is the largest UFO-based religion in the world. It boasts a fol lowing of over 100,000 members as of 2018. From passing out thou sands of condoms to Roman Catho lic high school students to attempts to reclaim the swastika, Raëlian ism is often shocking, strange and cultish in its movements. It is a re ligion that touts it founder as the half-brother of Jesus and promotes the idea of a geniocratic govern ment system in which only those 50% more intelligent than the av erage population can hold office. Its teachings tell of technological advancement beyond human imagi nation yet strongly refute the theory of evolution.
It is easy to simply make a specta cle of religions like these: to scoff in disbelief at their values and actions, and then move on to the next thing. However, religions like Raëlianism provide valuable social and socie tal commentary when one begins to look beyond the surface. Where does Raëlianism come from? What is its appeal? These are important questions to ask if we want to gain a better understanding of our society as a whole.
"The main reason scholars of re ligion would be interested in this [UFO-based religions] is because
it tells us what we think religion is generally," said Dr. Jennifer Cal laghan, who earned her PhD in American Religion, "Why would they found a UFO religion?"
One explanation for the rise of UFO-based religions has to do with the modern replacement of the theological by the scientific. This can be described as "the death of God." The metaphysical, the su pernatural: this means of analyzing the known and unknown has been phased out in favor of the scientific, the physical and the observable. No longer does God hail from the heav ens, but from some other star or planet more scientifically or tech nologically advanced than Earth. To a portion of humanity, the most far-reaching of science is still more plausible than the theological. This is the idea that Raëlianism, and oth er UFO-based religions, capitalize off of.
In his first book, titled "The Book
That Tells the Truth," Raël, for merly known as Claude Vorilhon, describes his encounter with a member of the Elohim race—a race of peoples that inhabit a distant, technologically advanced plan et that created the human race as a science experiment, with Earth as their Petri dish. Raël describes how the alien creature tells him the correct version of the Bible. God is Yahweh, the leader of the scientists running the experiment, and Satan is the leader of the Elohim faction that protests the experiments and research Yahweh runs. Heaven is but immortality achieved via serial cloning on the planet of Elohim.
The Elohim race is astounding in its advancement: they have mastered the art of human cloning as well as designed biological robots that per form all the arduous labor on their planet. Raëlianism takes this idea of vast, but plausible, technological advancement and uses it to replace the idea of God. At the time of the founding of theological religions, such as Christianity or Judaism, it was widely believed that the expla nation for all the things humanity could not understand was some god—some metaphysical, omnipo tent being. Contemporarily, there are now a considerable amount of people that reject this idea. They fa vor instead the idea that everything
"Religion is where we put the things that we can't verify, or that re quire some sort of faith or some sort of sense of mystery."
12 INKWELL | NOVEMBER 2022
can be explained by science — even the science that humanity is yet to discover or understand. Thus the idea of Elohim and its inhabitants a futuristic and technologically ad vanced planet with intelligent life that pulls Earth's strings becomes to them more palatable, more be lievable, than the idea of God. "Re ligion is where we put the things that we can't verify, or that require some sort of faith or some sort of sense of mystery," Callaghan ex plained. In humanity's postmodern condition, that faith is in anything labeled as science.
"But, there are all kinds of people who do UFO science, right? What makes founding UFO religion more appealing than UFO science, a UFO business or just a UFO book group?" asked Callaghan. The an swer, she believes, lies in religion's search for meaning. "Religion is used to justify particular types of political agendas, or to create a sys tem of reason that provides a blue print for what us humans were put on this Earth to do," she explained.
Raëlianism strives to unify society: to establish one universal language, one universal vision. A society that is integrated in terms of race, gen der and sexual orientation. It be lieves in the full automation of labor where humans could live a lavish life with all of the production being passed onto biological robots. They believe no animal should be made to suffer unnecessarily. They work tirelessly to spread the word of
their claimed mastering of human cloning: cloning that could help in fertile individuals have children of their own, cloning that could revive deceased love ones and children who died untimely deaths. They look forward to a fated Golden Age: Yahweh will one day grant human ity a terrestrial paradise, providing any and all technology needed for eternal bliss.
capitalism, but Raëlianism consid ers labor and exploitation in-depth and regards modern work culture as a prison and boldly rebukes work culture. The founders of an cient religions did not understand the modern concept of racism (let alone anti-racism,) but Raëlianism explains that all human races were selected winners of a competition among biotechnologists to create the perfect prototype: all flawless, all exquisite, each in their own way.
Eugenics, geniocratic philosophies and interraciality fetishes: these are among the glaring problems that come with the Raëlian ideolo gies. However, no religion comes without fault. Beyond these issues, delving into the core of Raëlian be lief, we can see that perhaps their values are not so fundamentally different from those of other reli gions or social movements. Unity, peace and a promised paradise: are these not things that humans are narturally inclined to long for? Like the nature of its founding, Raëlian ism's variations on these wishes have to do with its dependence on modernity and postmodernity. The founders of ancient religions did not yet understand the concept of
It is this modernization of tradi tional religious concepts displayed throughout Raëlianism's founding and development from which we can draw understandings of contempo rary societal and human conditions. The fundamentals of human desire and fear have not changed drasti cally over the centuries—it is the surrounding social constructs that have morphed into structures un recognizable by BCE philosophers. Raëlianism is a fascinating case study of how religion and its tenets have likewise evolved in order to keep up with popular social rhet oric of the time. The postmodern condition is one that is both capti vating and elusive: UFO-based re ligions provide a small window into the soul of our society.
INKWELL | NOVEMBER 2022 13
Graphic by Sofia Guerra.
Tricky's pop culture emporium
Writing by Jack Cushman Photos by Erin Picken
Tacoma is home to many strange at tractions and places, as any Tacoman can attest to. On every main street, on every avenue, there is a place with a story, and people with something to say.
Tricky's Pop Culture Emporium lays behind a small store front, just a door and a small window. Big yellow letters on the window and the sign propped out on the sidewalk invite you to peer into the hobby turned store of Tricky. The dated architecture of the Stadium District adds a nice atmosphere to the area outside the store, and the inside truly feels like a careful passion proj ect.
Tricky, a Tacoma resident, has run her emporium for over sixteen years. Through her ownership, she trans formed her store from a closet-sized area rented out for a meager price, having "only about a twentieth of what we have now," to a grand memorial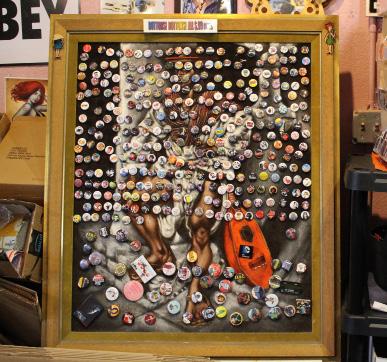 dedicated to her love of pop culture.
Within Tricky's there lies an incalcu lable number of toys, comic books, dvds, clothes and even limited edition items. When asked about how she goes about gathering and collecting so many items, she proudly stated that "I very rarely say no. When someone has some toys to sell, people come in
munity to her advantage by scouring "church rummage sales, yard sales, thrift stores and basically anywhere you can get anything."
While some may look at toys and me dia as just a hobby, Tricky has dedicat ed her life to her passion. "If I'm not here, I'm out shopping. If I'm home, I'm online shopping trying to find bar gains and cool things for the store," she said. "It's quite the seven day a week all day endeavor, but I happen to love it, which helps."
and sell me their toys, or I go out and get them. When someone calls of fering toys or trinkets, I'll take them all." Tricky also has several toy con nections, such as being able to buy them "from distributors, like a regu lar store." Tricky also uses the com
Over her years of toy and memorabilia collection, Tricky has gathered some quite interesting items. When asked about the rarest things she's ever been offered, she recounted "the strangest thing anyone's ever sold me was some props from the T.V. show Lost. I said 'where did you get these?' and he says he lived in Hawaii, where they filmed
14 INKWELL | NOVEMBER 2022
it, and he found them on a beach!"
After a laugh, she recalled "Anoth er interesting collection was from a family who inherited an absolutely astounding Garfield collection that was incredible, I mean, so much stuff. Your mind would wobble." Touch ing back on her lack of pickiness, she claimed that "the family didn't want me just to pick out only the best stuff, but no, that's my policy! I just have to take stuff! So I took it all, and I still have a garage full of Garfield, y'know? I mean, Christ, when am I ever gonna sell all this Garfield! But who knows, maybe one day the world's greatest
time, we'll be packed. We'll have 15, 20 people here all day. It's like that on weekends too; very busy on week ends." Some days can be slow, but Tricky thinks these days are vital, say ing "I have to get work done, I gotta restock the shelves and sort the new merchandise that's come in, clean and
Garfield collector might stop by."
When approached with the idea of a small business oriented solely to wards toys and memorabilia, one may think that the store would never take off. Tricky dispels these rumors, say ing that she gets "a whole lot of cus tomers, especially around Christmas
polish it if needed, shop online as well. That takes up a lot of time." It can be unpredictable though, since "some times we'll [have] a super busy Thurs day or Tuesday, and then slow for a few days." Tricky takes great pride in her work and passion for the store, stating that "I'm pretty proud of the store, and I'm pretty proud of our selection. We have quite, quite the selection."
Across the United States, COVID-19 impacted almost all small businesses greatly, and Tricky's was no excep tion. "We were closed. We were cer tainly closed just like everyone else," she said. "During the lockdown, I used that time to get a lot of the little nagging jobs done that needed to get
done that take a lot of time, like sort ing legos. Good lord, that takes a lot of time, and since those had been pil ing up, I was able to sort all of them." When it comes to the store, Tricky "gave [the facade] a fresh coat of paint. We mopped the floors, we did all those things that I just never had the time for. And then once we re opened after lockdown, I was amazed and thrilled that we were so busy! We were so busy, and basically have been ever since. COVID was almost a jumping off point. Post COVID, we've been doing pretty good."
Tricky has a very unique sense of style and said "I am a transwoman. I wasn't always; when I started, y'know." After a chuckle, she continued. "That's an other thing COVID did, y'know? Gave us a lot of time to think. So I thought COVID is here. Maybe I get it? Maybe I die, y'know? And maybe I don't have time for the things I thought I had time for." After a pause, Tricky said, "So I decided to transition during COVID, and after COVID was over my tran sition began to now the magnificent creature you see before you." When asked about the community's reaction to her transition, she felt "there was some confusion. Some confusion. I also got a lot of nice support from a lot of nice customers. No one was really 'hostile' or anything like that. Again, some were confused; puzzled, anoth
Continued on page 16. INKWELL | NOVEMBER 2022 15
er word. But there hasn't really been any hostility because it's an amazing store, y'know, and I'm here to bring joy to any shopper who comes in." Tricky knew she was "treading into strange waters, but thankfully I would say the vast major ity of my customers were very supportive and continue to be."
One might think that sixteen years of running a small business seven days a week would wear anyone out, and many would quit from burnout. But Tricky feels, in a lighthearted way, that "I've got nowhere else to go! When your back's against the wall you can find a way to make it work. I have no desire to return to my previous job in the world of social work and I really don't have any oth er skills, apart from the ability to reach things on a high shelf, y'know? That's basically my skill set. I just had to find a way to make it work."
Tricky was asked to reflect on her favor ite parts or experiences of her job from across the last sixteen years, and after a bit of thinking, she popped up and ex plained, "My favorite experiences are when people come in with treasures; and say they're in a tub or in a box, and they come in and I have no idea what's in that tub or that box, could be anything. And this is exciting every single time. I love looking in the tub and seeing what's in there; I love going to people's hous es and sorting through the wonderful things." Tricky, radiating with humor,
laughs and says, "I definitely have some hoarding tendencies which I have weap onized for good! I absolutely love buy ing things, collections, people's toys. Selling 'em? Eh! It's okay. It's not the real thrill; the thrill is the buying! Selling just fuels my need to stock my shelves."
As for closing remarks, Tricky smiled and laid an accusation against Colonel Mustard and his murder that took place in the dining room. But after a quick gig gle, she composed herself and told me that "it has been my pleasure to bring some smiles to kids of all ages for the past sixteen years, and I hope we can contin ue for the next sixteen!" She contin ued,"You want to know what my favorite part is? I'll tell you what my favorite part is. Growing up, I had four brothers, so time with my dad was rare; just me and my dad. But every now and then, my dad would take just me to the toy store and we'd look around, and I'd find a toy, and my dad would buy it for me. Those are my favorite memories. Now, whenever I'm here and I see a dad or a mom come in with their child and have a special moment where the child goes 'Hey dad, come look at this!' Y'know? It's just such a treat for me, and that is my favor ite part of this whole thing, is when I can recreate what made me so happy as a kid, with kids today. There ya go."
Tricky's,continuedfrompage15. 16 INKWELL | NOVEMBER 2022
movie review: All quiet on the western Front (2022)
by Erin Picken
The 2022 film All Quiet on the West ern Front follows seventeen-year-old Paul Baumer as he, along with three of his friends, enlist in the Imperi al German Army to fight in the first world war. The film begins in spring of 1917, three years into the war, and follows Baumer until armistice day, November 11th, 1918.
I discovered the film when I was in need of a piece of work to analyze for a college supplemental. I asked one of my Inkwell collegues for a recom mendation, and he provided. I was skeptical, as war movies don't tend to be my cup of tea -- especially not ones that are Netflix originals. Despite this though, I pressed play.
My skepticism began to dissolve as I watched the first three shots -- the first of a stormy landscape at dawn, the second in the middle of a misty for est and the third of a large fox and its three cubs sleeping in their den. A few more establishing shots are shown, and eventually the camera pans over a battlefield laiden with injured soldiers and lightely dusted with snow, before sounds of gunfire are heard and trench warfare is shown.
Spoilers below!
Throuout the first longlasting scene, we follow a soldier called Heinrich as he gets sent into battle, killed and buried in a mass grave. His uniform is taken from his body, cleaned in a blood-tainted bath and repaired in a
workshop. All of the shots mentioned are accompanied by a haunting melody and the uncomfortable diagetic noise of rattling sewing machines, sloshing of water, squelching and more.
Nine minutes into the film, we are in troduced to our protagonist, Paul Bau mer. As I mentioned previously, he and his friends are enlisting to aid in the war effort. Upon their enrollment, they are given uniforms and Baumer remarks to an officer that his uniform belongs to somebody else, as the tag has been embroidered with a name -Heinrich.
By misleading the audience to believe our main character is already a soldier within the first ten minutes, only for him to be killed soon thereafter, it es tablishes its style. The rest of the film continues to be characterized by un predictability and juxtaposition -- not just between beauty and pain, but be tween wealth and war.
While the film spans roughly eigh teen months of war, its focus remains consistently narrow -- friendship and death.
Baumer has a preexisting bond with the friends he enlists with, and by the end of the first day, one of them dies. He bonds with Stanislaus "Kat" Katczinsky, an older soldier, by help ing him steal a goose from a nearby farm. The pair grow closer upon Kat's devulgement of his illiteracy, after which Baumer becomes a dedicated
letter-reader.
Aforementioned juxtaposition is per formed via quick jumps between ac tive warfare and peace negotiation by commanders over extravagant dinners in palaces. All of these scenes have an underlying tone of pain, though, and yet, are shot beautifully.
This is a war movie, though, and I did mention that friendship and death are essentially one and the same here. Af ter Baumer and Kat learn of the cease fire set to take place at 11:00 AM on the morning of November 11th, they decide to steal from the farm one last time. In the process, Kat is shot and killed.
Kat's general, in the hopes of a Ger man declaration of victory, orders an attack at 10:45 AM, which occurs in the same tranches from the beginning of the film. In said trenches, Baumer is stabbed from behind by a bayonet through the heart, just seconds before the official ceasefire takes place. In the final scene, a young soldier takes his scarf (which was originally his friends') and dog tag from his body.
Throughout, we are led to believe that Baumer will emerge from the Great War in a triumphant display of re siliance as the only surviving member of the original enlisting group, but in the end we are struck with the reality of war -- that he was doomed to repeat the fate of the soldier who had first worn his uniform.
INKWELL | NOVEMBER 2022 17
need to know about
everything you aquascaping
"Welcome to the beautiful world of aquascaping," says a slavic mid dle aged man. "[Welcome] to the Green Aqua gallery, I brought you some flowers," he continues, hold ing out a pair of gardening gloves. "Lovely, isn't it? But I don't want to talk about flowers today, I want to talk about this nano aquarium."
Balazs Farkas, co-founder of Green Aqua and avid aquascaper, is no stranger to the difficult. In his vid eo titled, "The psychology of aquascaping," Farkas talks about his struggles with alcoholism, the reasons that he gravitated towards aquascaping, and why he contin ues in the hobby today. "We don't do aquascaping for pleasure… your reward is not what you get at the end… [it's] the pursuit of making a better planted tank." And so, for the last decade, Farkas has devoted himself to Green Aqua, growing its YouTube channel to over 51 mil lion total views, making its online superstore one of the largest in Eu rope and helping hundreds of thou sands of people explore that beauti
by Sebastian Bush
ful world of aquascaping.
What is Aquascaping?
In a video posted by The Aquascap ing Type, Alex, a motion designer based in Toronto, explains why she loves aquascaping. "Aquascaping is everything I love about art, it is an interpretation of the most beautiful elements of nature. It evolves and changes over time, it's a story, it's a living painting, it's birth, it's death, it's rebirth. I find solace [in aquas caping]." Ryan, Alex's counterpart on the channel, describes his own experience with aquascaping, "The hobby reaches down, deep inside of me. It's an opportunity for artistic expression, for personal expres sion."
Their video continues, where 10 other major aquascaping content creators share their understandings of aquascaping. But all of these an swers ring the same message, one perhaps so profound it can only be described in lyrical imagery of serenity and creativity, perhaps as cheesy as any other passionista de
cheesy as any other passionista de scribing their hobby. Ultimately, however, aquascaping can be de scribed simply and succinctly:
Aquascaping is the artistic layout of substrate (such as sand or gravel), hardscape (stones and wood) and plants, where an ecosystem is creat ed to fill the frame of the aquarium.
However, as evident in the complex ity of the answers given by Alex and Ryan, there is more to the hobby than fancy fish tanks. Most aquas capers would agree that there are three fundamental truths that de fine aquascaping in a deeper sense;
1. The aquarium is not solely for the viewer. It is meant to be a slice of nature. It is not a product of mod ern consumption, but the antithesis of it, an example of human control where responsibility, not power, is prioritized. Where life is above all else, and where a home is built for the living organisms and ecosystem contained inside.
2. The aquarium can also serve as a form of artistic expression. Once nature has been preserved, the mind is free to roam. From murky forests and rolling pastures to jut ting spirals and graceful designs, the appearance is reflective of the creator.
3. Aquascaping is not a transaction but rather a growing and forever changing work. Maintenance is not only key but what brings many joy. The 'scape' will never be cemented in place – it is always in flux.
18 INKWELL | NOVEMBER 2022
If that definition feels overwhelm ing, I understand. Over a year ago, I found the world of aquascaping and it blew my mind. In my search for methods to combat fatigue in my betta fish, I stumbled upon the idea of live plants in the aquarium. For the two months that followed, I consumed every piece of content I could about planted tanks and keeping fish and plants together. In September of last year, I ordered my first plants and tried my very best to make them look pretty in my small, scratched up plexiglass fish tank. The "pursuit of making a better planted tank" didn't end there however, as I soon found what I had truly been looking for, aquascaping. Five more months of constant research, content con sumption and reading only brought me to spend hundreds of dollars to set up my own, admittedly amateur, tank.
to encapsulating the wonders of your very own underwater realm.
is weighed down so it does not float.
Without Farkas and Green Aqua, The Aquascaping Type and count less other YouTubers and Insta gram influencers, I would still not know how to truly define aquas caping. It is elusive by nature. I can throw ideas, words and phrases out there, but nothing will come close
My attempt at a concrete expla nation (step-by-step procedure):
An itemized list of things you need for an aquascape: A tank
A filter A heater A thermometer A light Substrate Rocks and/or wood Plants (multiple varieties is best) Inhabitants (fish, shrimp, etc.)
Food Water conditioner
Fertilizer Test kit
Maintenance equipment (bucket, razor scraper, tweezers, etc.)
How to build your aquascape: Fill the base of the tank with your chosen substrate system. Sculpt to best suit your desired look. Add hardscape, ensuring any rocks are securely anchored and all wood
Plant foreground and midground plants, including any epiphytes (a plant which grows by latching itself onto rocks or wood instead of soil). Fill the tank with dechlorinated wa ter and plant stem and background plants. Add equipment including filter, heater, thermometer and light. Fully cycle your tank for about 2 weeks or shorter depending on the cycling method used, testing the tank water thoroughly along the way. Add inhabitants and feed them. Add fertilizer. Conduct water changes every 1-2 weeks or as needed. Enjoy.
Considerations:
Unfortunately, aquascaping, just like any hobby, has multiple ob stacles when it comes to entering the community. Firstly and most prominently is the obstacle of cost. To create a base level "low-tech" (meaning no injected CO2) aquas cape, a reasonable price estimate would be between $400-$600. A smaller budget aquascape could be built for between $200-$300, and a more complete "high-tech" tank would most likely cost you more than $750. Although other hob bies may have higher initial costs, aquascaping is a very expensive hobby. Not only is the cost high for your first tank, but most 'scapers' are not satisfied with just one, and eventually move on to other sizes
10 gallon aquarium built by the author inspired by the Brazilian style aquascape. Photo by Sebastian Bush.
INKWELL | NOVEMBER 2022 19
3.5gallonaquariumbuiltbytheauthor. Pictured: Calypso, betta fish. Photo by Sebastian Bush.
and types of aquascapes, spending thousands of dollars in the process.
Another consideration when en tering any hobby is how much time you want to spend on that partic ular hobby. For aquascaping, this amount of time needed is not insig nificant. From the original hours spent learning, scaping, planning and working to create a beautiful tank, to the hours spent on mainte nance and care for the aquarium's inhabitants, the hobby requires further investment of time. Most of the time, this is not a problem as people will be willing to spend time on whatever grabs their interest. Despite this, those who do not have
lots of free time may not suit aquas caping.
However, this hobby is not simply a bottomless pit to throw away your money and time, it can also be an in credibly useful outlet for stress and serve as a form of meditation. Alex of The Aquascaping Type has spo ken extensively of her relationship with mental health and aquascap ing on social media. "Over the past few years, aquascaping has become a significant tool for healing in my life." She says after the death of her father and a bipolar disorder diag nosis, she felt she had nowhere to go. "Aquascaping fell into my lap at a time where I truly felt I had nothing
to live for." She says despite trying traditional meditation techniques, nothing seemed to really help. "I discovered aquascaping…and I was immediately transfixed. The grief subsided, and it was aquascaping that became all consuming. It's like a switch flipped. I found it. I found hope." She concludes, "Aquascap ing has enriched my life in so many ways. The meditative outlet it pro vides, the sense of community I feel, the sense of purpose it gives my ar tistic brain. It's so many things, and it has given me the ability to move forwards."
What's so wrong with a rainbow?
by Amelia Herrmann-Scholbe
On September 14th, 2022, the Annie Wright volley ball team wore rainbow pride shirts to the game against Life Christian Academy (LCA), with the slogan 'Love Wins' written across the front as a protest against pol icies stated in the LCA's Handbook. Beforehand, the team had learned that the LCA handbook contained a passage stating that "All students must agree to and abide by this statement on marriage, gender and sexu ality. Students who violate the policy will be subject to discipline, up to and including expulsion."
The team found LCA's policies disturbing enough to decide to peacefully protest the handbook. After the game, a local Tacoma restaurant, Crisp Greens,
Annie Wright varsity volleyball team wearing "Love Wins" at Life Christian. Photo by Lara Herrmann.
20 INKWELL | NOVEMBER 2022
learned of their protest and voiced its solidarity with the AWS volleyball team on Instagram. This is when the Instagram post and the volleyball team started re ceiving lots of positivity and attention within the Taco ma community -- both online and off. People from all across the area who had attended LCA started sending their stories to the AWS athletes.
When asked how the idea to wear the shirts origi nally occurred to the team, senior co-captain Kiran Hutchinson (USG '23) said, "Our teammate Amelia and her mom came up with the idea, and proposed it to the team, and we were all on board." What Hutchinson didn't anticipate was the impact the shirts were going to have. Hutchinson also expressed how she felt sup ported by the athletic department in particular, but not so much by the administration. "I think that is because they need to be more careful about the positions they take on issues," she says in regards to the Annie Wright Administration's stance on the topic. According to the team "we were highly supported by the outside com munity and only received hate from LCA itself and a small group of people." The team felt supported with the amount of love and solidarity they were receiving from Annie Wright students and beyond.
Below is a statement from the Annie Wright Adminis tration on the volleyball team's protest: "Here at AWS, we support students using their voices to share their individual beliefs and to speak up for human rights, and it's clear that the volleyball team worked to do just that. We believe our job as educators is to prepare gradu ates to head into the world ready to take courageous independent action. This group of students is certain to live up to this charge."
A former student of LCA, Hannah Blauser, was the first person to call out LCA for their handbook. While Blauser was a student at LCA, she felt like she was brainwashed and remembers "leaving bible class feel ing sick to my stomach." When asked to describe LCA she said "[Life Christian Academy] continue[s] to
spread this message that looks like we just love every body, but underneath everything there's limitations to that and that should never be the deal."
After graduating from LCA, Blauser posted a YouTube video titled 'The Truth about LCA,' prompted by the removal of her and her wife's wedding photos from the LCA alumni Instagram page. Before the wedding pho tos were taken down after being online for less than 24 hours, Blauser said "[LCA is] going to take down our post by the morning, they don't respect me or my marriage." Blauser was exactly right. She felt hurt, but most of all, betrayed. "they proved me wrong, then they proved me right… I thought they actually changed."
Because of the domino effect of the team's "Love Wins' shirts had, the AWS protest was able to get back to Blauser. "A parent of a child at Life Christian sent me the Facebook post of AWS' love wins shirts after seeing my video calling [LCA] out," said Blauser. See ing the protest gave her hope, and made her want to keep fighting after her video didn't get the attention she wanted. "It's so validating knowing people care and social media is being used in a positive way with sharing things and bringing things to light."
A few pieces of advice Blauser would give to anyone, but specifically kids facing homophobia from fellow peers, schools and family would be "do what's safe right now, and once you are in a safe environment, fight for the kids who are like you. Make them feel supported… pre tend to be strong, and once you're safe, go to therapy."
Even though the initial plan was to simply protest Life Christian's handbook, the team continues to wear the pride shirts during their warm ups. Their goal is to make people aware of the persistence of homophobia that exists even in areas like Western Washington that are widely considered to be progressive.
INKWELL | NOVEMBER 2022 21
What does your Favorite video game say about your slime type?
by Katherine Maas
With Slime Rancher 2 just releasing, it's prime time for a reminder of just how much Slime Rancher (and now Slime Rancher 2) has to offer. The basis of the game is simple: as a slime rancher in outer space, you farm… well… slimes. Slimes, after feeding, produce "plorts," little gems that you can exchange for money, store in silos, use in the research facility or use to make hybrid slimes. By feeding a "pure" slime a plort from a different type of slime, the two slimes combine traits and features to become what the game calls a "largo." Be careful though -- if largos consume a plort that isn't one of their own, they become tarrs, creatures that kill slimes (and also make your game very laggy in mass amounts). For those who have never played Slime Rancher before, here's a short guide of what largo you're most likely to farm based on your favorite video game.
Stardew Valley: Phosphor x Honey:
With both Stardew Valley and Slime Rancher being very similar games, plot and mechanism wise, it's like ly that you take your time while gaming. You explore every nook and cranny, but still have a slow method for farming and plot progression. As such, Phosphor/ Honey largos would be perfect for you. Both are avail able in the game fairly early on and have arguably the highest price points for plorts in the early game. Not to mention, the combination of the two is even cuter than the original.
Minecraft: Rad x Dervish:
Coming from Minecraft, your mindset is efficiency with logic. Considering both Rad slimes and Dervish slimes are a threat to both you and other slimes, it only makes sense to combine them together and then put them somewhere isolated. That way when they become
agitated and send out larger ranges of radiation and cyclones, you can easily avoid them until necessary. Dervish slimes also produce one of the most valuable plorts in the entire game, so adding them to a likely already established Rad pen only makes sense.
GTA: Boom x Hunter: Compared to GTA, Slime Rancher is a walk in the park. To change that, you farm slimes that explode pretty much all the time. On top of that, any largo made with a Hunter is feral upon creation and is agitated more easily, meaning… more explosions! Just remember that Hunter slimes can turn invisible, so be careful!
FIFA: Quicksilver: FIFA is also a very repetitive game, but of a differ ent sort: a more action packed one. To get that crave fulfilled, you don't farm a traditional slime: you farm Quicksilvers. When Mochi Miles introduces you to Quicksilver farming, you are hooked and you take every chance you can to chase after them. Some days, rather than waiting for the cool-down to wear off by doing other chores on the farm, you just sleep until morning and jump right back in.
Tetris: Rock x Tangle: Tetris is a classic game with a thousand different ver sions that add a twist to the original. This Largo com bination is the same exact idea. Rock slimes are one of the very first slimes you encounter, after the classic Pink slime. Frequently, they are the first slime to be maximized in profits due to their favorite food being easy to source. Tangle slimes are unique in that they can extend vines to grab food. This ability even works underground, meaning that your crops aren't safe if placed too close to a Tangle pen. Formatting your
22 INKWELL | NOVEMBER 2022
farm to avoid running into this can be a puzzle in and of itself.
Zelda: Breath of the Wild: Mosaic x Quantum Breath of the Wild is a gorgeous game full of puzzles and action. With the Mosaic x Quantum combina tion, you get both. Quantum slimes are able to travel outside of their bodies as ghosts - at times, they tele port their physical bodies to these ghostly counter parts. Their favorite food (phase lemons) are a puzzle to figure out how to collect – I won't spoil it. Mosaic slimes show a range of glossy colors and can attract other slimes due to the light reflecting off of it. Mo saic slimes can also produce sparkles in the space around them, though beware, because they combust into flame upon touching the ground. This Largo has all 3: aesthetics, riddles and excitement.
Assassin's Creed: Pink x Saber
Considering Assassin's Creed explores history through a simulation, it only makes sense that you would be interested in the only remnant of an extinct slime: the Saber slime. To keep the authenticity of the Saber slime as perfect as possible, the Pink slime is the clear answer: they have no true defining charac teristics to overrule the Saber slimes. The only con sequence to this combination is that this Largo is the only Largo in the game to not have a favorite food, which means no doubling plort production and as such, profit. But the silver lining to this? They're the only Largo without a favorite food, and that makes them special! You're just a collector.
While over a dozen slimes were featured in this ar ticle, the world of Slime Rancher contains several more. What I've mentioned above is also just the tip of the iceberg: speaking about slimes does nothing to talk about the creative world biomes, characters, or other elements of game play. If you're a fan of more laid-back, slow-moving games, I encourage you to try out Slime Rancher when you get the chance -- it's a personal favorite.
INKWELL | NOVEMBER 2022 23
The Aesthetics oF Being Aesthetic
by Riley Benjamin-Meyer
Aesthetic culture emerged with Generation Z (Gen Z), born roughly between 1997 and 2012. It has es pecially risen to popularity in the last three years, with the age of influencers and cultivated social media pres ence, aesthetic culture has bloomed into a world wide phenomena. Aesthetic culture can range from posting all of one's photographs with a white border to full embodiment of a persona or character. This culture of aesthetics implies the importance of one's concern for beauty and appearance and hence intensifies the ap preciation of beauty.
On October 27th, Inkwell surveyed the Annie Wright Upper school on whether or not they were following aesthetic culture and cultivating their own aesthetics. In the survey, 56% of students agreed that they have their own aesthetic, whereas 44% of students dis agreed. When asked about their personal aesthetics or taste in aesthetics, students responded with a variety of answers: cottage core, downtown girl, palewave, kidcore, dark academia, granola girl, vintage retro and more.
Along with this survey, Inkwell interviewed Olivia Hickly, a social media influencer, whose social media presence has a basis in his aesthetic culture. Olivia has provided us with her unique opinion on this Gen Z trend.
Inkwell: Why do you think Gen Z is obsessed with aesthetic culture?
Hickly: Gen Z is obsessed with aesthetic culture because we are a generation that struggles a lot with identity and belonging to certain "aesthetics" gives a sense of be longing. People are easily influenced by social media, feeling the need to have the "best," latest trends to fit in. I think Gen Z has gotten rather lost in aesthetic cul
ture and individuality is fading away for a large group of individuals. While having a specific style you truly adore can be wonderful, a lot of people throw around these aesthetic labels hazardously.
Inkwell: What is your "aesthetic?"
Hickly:
I don't necessarily follow a certain "aesthetic." I pre fer to follow whatever my heart tells me to do. I enjoy a multitude of different fashion genres. I used to follow aesthetic culture trends until I realized how harmful it was for my identity and my development. Clothes are meant to be worn and enjoyed over an extended amount of time and I intend to utilize my clothing piec es with a variety of different "aesthetics."
Inkwell: Why do you "influence?" What role does your aesthet ic play in this?
Hickly: My intention was never to be an "influencer." People seemed to enjoy my posts and I continued to post new content. I became more aware of what my audience wanted to see, catering to that perception. I suppose I influence for selfish reasons, I like the validation of people saying they like the way I look or how I dress. I'm aware of this complex within myself and in other influencers, it's all inherently selfish. The more one ponders it, the more you realize that sharing your out fits and makeup and hair on the internet everyday is not normal. I believe social media popularity often breeds cases of narcissism. While I am not entirely sure of what my "aesthetic" is, or if there even is a term to coin it, I do believe that it plays a vital role in my popularity.
Inkwell: What is the product of your influence/aesthetic?
24 INKWELL | NOVEMBER 2022
Hickly:
I think that the sort of "result" my aesthetic influence has had isn't inherently significant, but I still find it fascinating. To watch people copy or take inspiration from my content is really interesting, thinking about how my presence on social media is more widespread than one would initially think. I never thought I would have such a large audience of viewers or have my photos reposted to pinterest or even have people claim to be my "fans." My social media platform has enhanced my understanding of the importance beauty and appear ance plays within everyday society and how humans idolize figures who "meet" our unattainable standards.
Inkwell:
What's your opinion on the relationship between aes thetic culture and pretty privilege?
Hickly:
I think the relationship between aesthetic culture and pretty privilege is much more significant than one thinks, it's really not surface level. Many times, things become trendy because a celebrity is seen wearing it, and it makes us think, 'would this particular fashion trend be popular if it wasn't initially worn by a con ventionally attractive person?' It's frustrating to see people who are not considered conventionally attrac tive (eurocentric features) try to wear and experiment
with aesthetic categories only to be shunned by peo ple online. Everyone deserves a chance to explore their styles. The correlation between aesthetic culture and pretty privilege is something that needs to be acknowl edged and reversed.
Inkwell: What do you think are some of the harms/downsides of aesthetic culture?
Hickly: Aesthetic culture can be very harmful, it contributes to fast fashion, consumerism trends, self-identity devel opment and polarizes fashion cliques. What's import ant to remember when trying out a new "aesthetic" is to be kind to those who don't share the same style as you and not over-consume the latest trends. Be true to yourself while also not being afraid to explore new styles! Everyone is unique, special and beautiful.
This investigation shows just how prevalent the idea of aesthetics is in young adult social spheres. While aesthetics began as more or less simply an outlet for expression, through the evolution of social media, it became the full-fledged culture that it is today. And whether or not its pros outweigh its cons, its benefits outweigh its drawbacks, aesthetic culture is here to stay.
INKWELL | NOVEMBER 2022 25
Photos by Olivia Hickly and Zoe Carlisle.
Dream's Face reveal: a case study o F parasocial relationships
by Sofia Guerra
Introduction:
On October 2nd, 2022, internet celebrity Dream revealed his face after 8 years of anonymity. The Minecraft YouTuber and Twitch streamer rose to popularity after his 2019-2020 series, Minecraft Man hunt, went viral, amassing tens of millions of viewers and subscribers. Since then, Dream's fanbase has continued to grow, currently mak ing him one of the most influential Minecraft YouTubers. As a result, when he finally revealed his face af ter nearly a decade of secrecy, the internet exploded.
"From Harry Potter to KPop to microinflu encers: parasocial relationships are every where."
The Mask: Before his face reveal, Dream was known by the mask that he wore: a white circle with two eyes and a line smile drawn almost haphazardly, paired with a green hoodie. This public image undoubtedly contrib uted to his virality. It was simple and recognizable: a recipe for an icon.
Dream himself has stated that at first, he did not intend to remain anonymous. However, when the art
of his mask and avatar began to gain popularity and traction, he decided to completely incorporate it into his persona. In one interview, Dream stated that part of his reasoning for wearing the mask was in order to allow all of his viewers to project some part of themselves onto him. He said, "This channel is living proof that anyone can do anything. Anyone can be under the mask, and I don't want my face reveal to take away from that."
a celebrity or figure blurs the boundaries between them selves and fans, it cre ates an environment in which feelings of ex treme attachment can
This is perhaps the epitome of para social relationships in the internet age. Parasocial relationships are de fined as relationships that one imag ines they have with another person, typically a celebrity or fictional character, that does not actually ex ist. These fantasy relationships in volve feelings of intimacy and/or deep connection despite not truly knowing the other person. Dream's tactic of maintaining anonymity in
order to foster these kinds of fan tasies is the perfect example of how parasocial relationships come to be and persist. When a celebrity or fig ure blurs the boundaries between themselves and fans, it creates an environment in which feelings of extreme attachment can arise.
Dream's fanbase is somewhat infa mous for the extent of their obses sion. It is not uncommon to stumble across TikToks or Instagram posts in which individuals declare that Dream "saved their lives" or "mean everything" to them. It is Dream's tactic of allowing for projection of fantasies, combined with the fact that the majority of his fans are gen erally children or young teens, that is to blame for this nature of his fan dom.
The Reveal: With his face reveal, a video ti tled simply, hi, I'm Dream, Dream found himself trending on both YouTube and Twitter, and the vid eo currently sits at nearly 45 mil lion views. However, the reaction to his face reveal was overwhelm ingly negative.
Rampant body shaming, waves of memes. Dream's true face was not satisfactory to his online audi ence. #PutTheMaskBackOn began trending on Twitter. The internet
"When
arise."
26 INKWELL | NOVEMBER 2022
attacked? What about his face re veal sparked such outrage, struck such a nerve? The answer lies in the previously-discussed concept of parasocial relationships.
Dream, in fostering these fanta sy relationships, created absurdly high expectations and idealizations for his true self. He made himself into an icon, the platonic ideal of a Minecraft YouTuber, and in doing so inherently set himself up for fail ure. No matter what he had done, it would have been impossible to live up to these standards: he could nev er embody every piece of fanart, ev ery fantasy, every different version of himself each and every fan clings to. And so, when his face reveal in evitably fell short of these expecta tions, the backlash and outrage was as biting as it was swift.
The Response:
The critiques of Dream that emerged in response to his face re veal can be roughly sorted into two categories: critiques of his appear ance and critiques of his behavior. The former was the predominant of the two: random Twitter users comparing his looks to that of Rum plestiltskin, Lord Farquaad and more. People shamed everything from his haircut to the shape of his jawline. It goes without saying that this response is extremely unpro ductive and cruel to more than just Dream himself. At the very least, Dream is making tens of thousands of dollars off having his physical ap
pearance torn to shreds by internet audiences, but imagine innocent bystanders, regular people, who share features with Dream. In one post, a user states that they "kind of look like Dream," and, seeing in ternet response to his appearance, is now "really insecure." Collateral damage: the insults do not hurt the feelings of only their target, but of dozens of other individuals as well.
The latter category of critiques is more difficult to discuss. Some internet users have chosen to use Dream's trending status as a means to remind others of the wrongdo ings the celebrity has committed in the past. From saying slurs to cheating scandals to grooming alle gations, Dream's record is far from clean. Certainly, these critiques of his past actions are valid. However, the manner of their delivery is where things begin to complicate. Often times, internet users deliver their critiques of his character in tandem with insults of his appearance or use his past mistakes to justify their body shaming. This is where the gray area occurs: the mixing of val id and constructive criticism with immature insults dilutes their sig nificance. In some ways, this type of critique is even more damaging than the first, as it takes attention away from the very real issues that criticisms of Dream's actions bring to light.
Ultimately, neither of these types of responses is the "right" one. Twit ter, and the internet as a whole, is
a warzone. Navigating cancel cul ture, beauty standards and body shaming on top of the already com plex issue of parasocial relation ships: Dream's face reveal was the perfect storm.
Closing remarks: It is not only in Dream that we see the model of parasocial relation ships. From Harry Potter to KPop to microinfluencers: parasocial re lationships are everywhere. They're a business model, a promotional strategy. Ubiquitous.
In Dream's face reveal, we observe not only the background tension and conflict that comes with these unhealthy obsessions but also the incredible fallout that occurs when the bubble is at long last burst. The effects of the vitriol and hatred spawned by Dream's face reveal were uncontainable: from random internet users with the same face shape to the victims of his past wrongdoings, countless people found themselves attacked by the hordes of anti-Dream posts and us ers.
If nothing else, let Dream's face re veal be a cautionary tale of the true nature of the internet and the rela tionships and networks it fosters.
INKWELL | NOVEMBER 2022 27
Fit For the issue:
Growing up, the classic cookie recipe on the back of bags of Nestlé Tollhouse chocolate chips were the pinnacle of fine dining, and a staple in my household. While I don't claim to be the best baker or chef, I do hold firm that the best food is fun food, and that there is always a way to make things more fun – even tried and true recipes like Nestlé's. In my unend ing quest to make everything that I can more extravagant than necessary, I created this recipe for kitchen sink cookies, fit for the appetite of a queen.
Ingredients:
2 ¼ cups all purpose flour
1 tsp baking soda
2 sticks butter
1-2 tsps salt
1 ½ cups dark brown sugar
1 tbsp vanilla extract
2 eggs
Flaky sea salt
Additions (all optional):
Chocolate chips of any type (white, milk, dark, butterscotch)
Soft caramel blocks
Chopped pretzels
Shaved coconut
Chopped walnuts
Raisins
Crushed potato chips
Quaker oats
(In whatever quantities you desire!)
Kitchen Sink Cookies
Instructions:
by Erin Picken
Preheat oven to 350°F or 175°C. Leave butter out ahead of time to soften, or microwave it if you forget. Whisk together flour and baking soda. In a separate bowl, use a mixer to fluff up softened butter.
Add 1 tsp of salt if you're using salted butter, or 2 if you're using unsalted butter. Mix in dark brown sugar (if you only have white or light brown sugar, add molasses). Combine with vanilla and eggs. Once the wet mixture is smooth, slowly add in the flour mixture.
Add in chocolate chips, caramel, pretzels, coconut, walnuts, raisins, potato chips and/or oats to your liking.
Roll into balls and place on cookie sheet. Before baking, sprinkle flaky sea salt on the cookie dough. Bake for 15 minutes. Place on cookie rack to cool. Enjoy!
thank you
For reading!