Just Announced! On sale now! RAY L A MONTAGNE Tickets on sale August 31. THE SIMON & GARFUNKEL STORY VOICES OF MISSISSIPPI MANDY PATINKIN THE MANHATTAN TRANSFER AND MORE! NEWSSTRATHMORE VOLUME 36 | ISSUE 1 2220FALL SWEET HONEY IN THE ROCK Artist in Residence alumnae join the legendary vocal ensemble. WORLD WONDERSOF Strathmore features works that honor nature from around the world.
STRATHMORENEWS | Fall 20222 COVER: Rochelle Rice by Erik Sharar INSIDE COVER PHOTOS L–R: Angélique Kidjo by Fabrice Mabillot, Allison Miller River Project, Ira Glass by Sandy Honig IN THIS ISSUE This Just In! 3 Exhibitions 5 Our Commitment to Community 6 Exploring Nature 10 AIR alumnae with Sweet Honey in the Rock 12 Fall Calendar 15 Afternoon Tea 19 15 10 BOARD OF DIRECTORS Mary K. Sturtevant Chair  Christoph A. Syllaba Vice Chair Jean Accius II Secretary  Theodore R. Goldstock Treasurer J. Tyler Anthony  Jerome W. BenjaminDeborahJohnBayoAnnDanica Marinac-Dabic MarcelCatherineKarenWilliamFariba Kassiri JoeStevenLindaJayAndrew FriedsonLewisGregory Dyson Breslow H.Ferguson Grauberger A.HermanP.HollmanJudge E.Kirwan R.Lefkowitz S.Leggett LettreL.McDaniel OyewoleSackett M.Smith  Wu  EXECUTIVE STAFF Monica Jeffries Hazangeles President and CEO Bess Amerman Chief Financial Officer Joi Brown Artistic Director/ Vice President of Programming Lauren Campbell Vice President of Education and Community Engagement Mac Campbell Vice President of Operations Heidi Onkst Vice President of Advancement Alaina Sadick Goss Vice President Communicationsof and Marketing Lesley Morris Director of Mansion and Galleries Carlyle Smith Director of Information Technology Eliot Pfanstiehl Founder and CEO Emeritus 4 YOUR WELL-BEING IS OUR TOP PRIORITY We're making steady, thoughtful changes that prioritize the comfort and well-being of all guests, artists, staff, and volunteers. Our goal is to create an environment where you can confidently return to enjoy the arts. AIR QUALITY Our HVAC systems turn over indoor air with fresh outside air every 15 minutes thanks to highefficiency MERV 13 air filters that remove airborne germs. OUR VENUES ARE GBAC STAR™ ACCREDITED This gold standard of safe facilities accreditation certifies that Strathmore has implemented proven, comprehensive cleaning and disinfecting protocols, so you can feel confident that our venues are healthy environments. STRATHMOREORG PURCHASEWITHCONFIDENCE DO YOUR PART See our website for current regardingprotocolsmasks and other safety measures. PURCHASE CONFIDENCEWITH Our ticket exchange policy preserves your flexibility. Free exchanges are available up to 48 hours before performance.the
Tue, live theatrical performance features a full band paying tribute to the story and hits of the iconic folkrock duo.
Sat, Jan 28
On Sale Now! Grammy-winning singersongwriter LaMontagne performs songs from his album MONOVISION, along with hits from his vast catalog.
THE SIMON & GARFUNKEL
THE MANHATTAN TRANSFER 50TH ANNIVERSARY & FINAL WORLD TOUR WITH SPECIAL GUEST THE DIVA JAZZ ORCHESTRA Fri, March 24 Vocal titans The Manhattan Transfer celebrate their 50-year career with a dazzling night of pitch-perfect harmonies. strathmore.org | STRATHMORENEWS IN THE MUSIC CENTER SchaferScottF. THIS JUST IN! MarcusJoan STAY CONNECTED @Strathmore @StrathmoreArts
The legendary actor, singer, and storyteller performs his favorites from Broadway and beyond. VOICES MISSISSIPPIOF
Sat, Feb 4 Through storytelling, song, archival footage, and images, this multimedia concert features performances by Bobby Rush, Luther and Cody Dickenson, and Sharde Thomas.
STORY
Tue, Oct 25
3 Tickets for the following Music Center shows go on sale Wednesday, August 31. Strathmore Stars can buy tickets now. Join today for exclusive presale access!
MANDY PATINKIN IN ONWITHBEINGCONCERTALIVEADAMBEN-DAVIDPIANO
RAY MONOVISIONLAMONTAGNETOUR
March 7 This
• Discover: the gems of our season with 50% off select tickets
Thu, June 15
• Experience: inspiring artist talks, member nights, and surprise perks Access: first to know about new shows plus members-only presales
Generously sponsored, in part, by Kathleen Knepper Genre-bending, award-winning performer Angélique Kidjo innovates and influences with fresh takes on music from around the world.
STRATHMORE STARS
Be part of a vibrant community of arts enthusiasts.
4 STRATHMORENEWS | Fall 2022 AROOJ AFTAB, VIJAY IYER, SHAHZAD ISMAILY LOVE IN EXILE Fri, April 14 Weaving together lush, haunting soundscapes of meditation, Grammy winner Aftab, MacArthur winner Iyer, and multi-instrumentalist Ismaily create pathways to explore freedom through love and music. ARAINTRIBUTE TO THE BEATLES Sat, April 29 A Tribute to the Beatles brings the greatest hits of this epic band to life, including all your early Beatles favorites.  ANGÉLIQUE KIDJO
THIS JUST IN! MabillotFabrice
•
STRATHMORE.ORG/STARS
Bring the magic to all! Your membership gift expands access to the arts through free programs like Live from the Lawn, the Student Concert series, Strathmore galleries, and more.
TorresRobertbyBellJoshua ThomasBlythe YildizEbru PhotographyChristineMatt
STUDIOPURPOSE-REPURPOSE!ARTQUILTASSOCIATES
Sat, Nov 19–Sat, Jan 7 89TH FINEANNUALARTIN MINIATURE
for special events. FREE ADMISSION
More than 700 mini masterpieces travel from across the globe for this juried exhibition.
UPCYCLE! In collaboration with BlackRock Center for the Arts, the Studio Art Quilt Associates present Upcycle!
METALWORKS 2022 WASHINGTON GUILD OF GOLDSMITHS
Generously sponsored, in part, by Kathleen Knepper
African Elephant Veteran by Holly Lei Cole, E. B. by Mac Barnes, Floral Chest by Anne Jordan, Ralston Cyrus
BLACKROCK CENTER FOR THE ARTS ART AHEAD
Perspective
5strathmore.org | STRATHMORENEWS Artists deliver compelling compositions in an array of media and form. EXHIBITIONSCURRENTEXHIBITIONS
RALSTON CYRUS
MANSION HOURS 6
The Studio Art Quilt artists are as passionate about the environment as they are about contemporary quilting. This exhibit honors the fine art of textile by recycling used fabrics to create new imagery, patterns, and designs.
The Washington Guild of Goldsmiths bring metalsmithing, jewelry, and enamel work to the forefront in this 20th juried exhibition. Invitational Gallery
Strathmore's Perspective series allows artists to curate their own exhibitions. This year we feature two artists belonging to the creative age.
Tue–Sat: ClosedSun–Mon:12–4pmClosedAugust1through September
Opening Reception: Wed, Sept 14
A series of introspective portraits and figures reflecting the artist's longing for the freedom of resolution, virtue, and clarity. Sat, Sept 17–Sat, Oct 29
JACK BOUL & JEAN HIRONS
Wed, Sept 7–Sat, Oct 29
STRATHMORENEWS
6
Monica Jeffries Hazangeles
As we enter our 40th year of service to our community, our team has been reflecting on this mission and the hallmarks that make Strathmore effective and essential. We are most impactful when our work offers intense engagement, nourishes art and artists, and provides exceptional access and connection. These pillars are grounded in our belief that the arts are vital, they belong to everyone, and they are ours to explore, to nourish, and to share. Strathmore is the bridge to a more conscious, connected, arts-infused world. Join us as we set our sights on the decades ahead, to span new horizons with extraordinary experiences and adventures for the culturally curious. This season, we invite you to venture beyond the part of Strathmore you may know well and discover an exciting new dimension—or two—or twenty!
Strathmore President and CEO from Monica Jeffries Hazangeles
Christylez Bacon after performance at Good Hope Neighborhood Recreation Center. Black Violin engaging with student musicians in the community.
LindsayJati SaahJim
Since the opening of the Mansion and galleries in 1983, Strathmore has boldly transformed into a multidimensional creative anchor of the community, stretching well beyond a single stage, show, or campus. Today, we feature a prismatic array of possibilities for everyone to connect with the arts, and we provide a platform and resources for artists to realize their full potential and inspire us all. We are here to enrich all lives and shape better communities through the arts, spreading their impact as far as we can possibly reach.
Aida Cuevas
| Fall 2022
SchulmanMargot
A Letter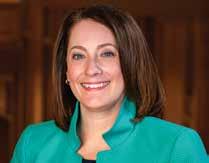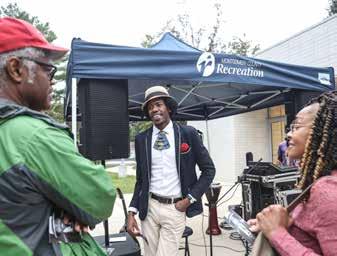 DEEP, MULTIFACETED PROGRAMMING
NOURISHING ARTS & ARTISTS
7strathmore.org | STRATHMORENEWS
Step Afrika! performs for students in the community. Parable of the Sower preshow conversation.
Cultivating exceptional artists and partners has been a cornerstone of Strathmore's work since its opening. Through the renowned Artist in Residence (AIR) program, Strathmore makes foundational investments in artists, engaging each year with six musicians to enhance their career development with performance opportunities, mentorship, and education. With more than 100 alumni, Strathmore's commitment to these artists lasts well beyond the initial program and persists throughout their careers.
SaahJim
By supporting individual artists and by investing in the development of new work, Strathmore also forges equitable pathways and creates resources for artists to inspire and strengthen the community. Last spring, thousands of patrons poured into the Music Center to experience Octavia E. Butler's Parable of the Sower, by DC-born artists Toshi Reagon and Bernice Johnson Reagon. The opera reimagines Octavia E. Butler's sci-fi, Afrofuturist series of novels that illuminate deep insights on gender, race, and the future of human civilization. Strathmore invested not only in the presentation of the work but also in its potential for community dialogue and changemaking, launching programs like the Arts and Social Justice Fellowship as well as several community conversations and lectures with artists and experts.  by Mary Murdock
Strathmore invites the community to explore distinctive and richly layered programming. From performances to exhibits to dialogues and beyond, there are boundless opportunities to experience the arts. Lauren Campbell, Strathmore's Vice President of Education and Community Engagement, explains: "We give patrons the chance to get closer and become immersed through discussions, education programs, and hands-on experiences."  One place you'll see this depth is the Windows series, which focuses on expanding the audience experience to include active participation. Featuring programming that engages deeply with specific cultural experiences and stories, the Windows series gives audience members the opportunity to join in dialogues that build bridges across perspectives. "The spirit of connection embodied by Windows is at the heart of "what we want to do," Campbell shares. "We provide context, a compelling performance, and a chance to connect with your neighbors." Windows performances encourage intercultural and interpersonal dialogue, sparking new connections and insights.
DESIGNED DISCOVERYFOR LynchLiz
THE STRATHMORE EXPERIENCE:
SaahJim
Final bows of Parable of the Sower
Founded in the fierce belief that the arts belong to all of us, Strathmore works continuously to expand access to them and to spread their impact far and wide.
STRATHMORENEWS ON ACCESS & CONNECTION
At
DESIGNED FOR DISCOVERY
Strathmore's partnership with Step Afrika!, the first professional and premier company dedicated to the tradition of stepping, is a vibrant example of where unparalleled performance intersects with access and community engagement. In addition to Step Afrika!'s performances in the Concert Hall, the 15-year relationship with Strathmore includes 3 educational residency sites in Montgomery County.
"The arts make us better, more understanding, and more connected, and in turn make our communities stronger," remarks President & CEO Monica Jeffries Hazangeles. "This is why we make sure that every one of our neighbors can join in and personalize their experience with the arts. It is why we champion the power of shared artistic experiences."     This commitment to meet community members where they are has led Strathmore to create programs across Montgomery County with dozens of partners to build upon the radiating impact of the arts. Through free concerts at Good Hope Neighborhood Recreation Center in East County, our participation in community festivals, and signature programs in the public schools, Strathmore provides expanded opportunities for everyone to engage with the arts.
8
| Fall 2022 FOCUSING
Students of Step Afrika!'s Step-Up program perform for family and friends.
Paint Branch High School, Greencastle Elementary School, and Good Hope Neighborhood Recreation Center, the Step-Up program teaches students step and African history, as well as teamwork, commitment, and discipline. Students gain important life skills and opportunities to express themselves through the arts when Strathmore and Step-Up bring programming right to them.  In partnership with YMCA Youth and Family Services, Linkages to Learning, and Montgomery County Recreation, Strathmore delivers quality arts education to summer camp programs embedded in community spaces. Some of these communities have been among the hardest hit by the COVID-19 pandemic. With a focus on the whole child, Strathmore facilitates targeted artistic expression, supports resilience, and supplements academics. By paying special attention to the needs and interests of these communities, Strathmore is expanding access to the arts in tangible and innovative ways.   Strathmore is grateful for the many individuals, foundations, corporations, and government agencies whose contributions help make our programs possible and accessible.
9strathmore.org | STRATHMORENEWS A NIGHT OF CLASSIC ROCK with AYO Sat, Sept 10 JAZZ TRIO with LANGSTON HUGHES II Sat, Oct 8 AN EVENING OF MUSICAL THEATER with INES NASSARA Sat, Nov 12 TAP GERSONDANCERLANZA Sat, Dec 3 A HOLIDAY EVENING with INTEGRITI REEVES Sat, Dec 17 GOOD HOPE NEIGHBORHOOD RECREATION CENTER 14715 Good Hope Road, Silver Spring, MD 20905 | 240.777.8055 RSVP at BLOOMSTRATHMORE.ORG/BLOOMATGOODHOPECONCERT SERIES All concerts are Saturdays at 5pm
Patrons can then head over to the Mansion and Galleries to learn how artists play a role in protecting these landscapes in an upcycled textile exhibition by members of Studio Art Quilt Associates (SAQA). Most textile and fabric waste ends up in landfills.
10 STRATHMORENEWS | Fall 2022 NATURE INFUSED
Each interaction between artist and audience is a living, breathing affirmation that shared artistic experience is catalyzing. Strathmore believes that artists create the most compelling contemplations of our world, and amplifying these creative voices is at the heart of Strathmore's mission. This season, Strathmore begins an exploration of artistic work about the natural world by artists who honor and advocate for the earth. "So many artists have a reverence and love for nature. This exploration delves into works for the stage that are both exemplary in their artistry and highlight the human relationship to the natural world," says Strathmore's Artistic Director, Joi Brown. "Experiencing the artist's perspective presents an opportunity for attendees to contemplate their own role within the world and environment." Some of these artists and works generate an awareness of and share a passion for nature, while others examine the nuances of the climate crisis and advocate for change. In the fall, Maestra Marin Alsop returns to the Concert Hall to conduct the São Paulo State Symphony Orchestra (OSESP). Under Alsop's direction, OSESP will perform key symphonic, vocal, and chamber works by six Brazilian composers. The Brazilian orchestra is uniquely positioned to sweep the audience out of their seats and into the rolling hills and vibrant rainforest of the musicians' homeland. Against the backdrop of the devastation of the Amazon rainforest, OSESP authentically honors their land and identity in this immersive, multimedia ode to the Brazilian landscape.
Purpose-Repurpose, a tri-regional exhibition with BlackRock Center for the Arts, shows how SAQA fiber artists continue the rich tradition of incorporating upcycled material in a tribute to the ever-changing fine art of textiles.
In February, Strathmore presents local composer and jazz drummer Allison Miller's In Our Veins: Rivers and Social Change. In a multimedia production inspired by the sights, sounds, and rhythms of five North American rivers, Miller combines jazz music with tap dance and video projections to create an exciting multisensory experience that supports her environmental activism. by Maya Lee, Strathmore 2022 Summer Intern The Music Center at Strathmore
11strathmore.org | STRATHMORENEWS ARTS
Artists honor nature from around the world through music, art, and multimedia.
Another friend of Strathmore, internationally acclaimed Beninese singer-songwriter and activist Angélique Kidjo rounds out this provocative and engaging tour. Kidjo has long embraced the power of her artistic platform to heighten awareness of social and environmental issues. She performs her Grammywinning global music album Mother Nature, a popand Afrobeat-inspired album celebrating the earth's endangered gifts and calling for policy change to protect Lookingthem.tothese inspiring examples, Strathmore considers the organization's own relationship to the environment. These programs are just the start of a multi-year examination of the environment through artistic expression. Strathmore is also eager to explore this theme within educational programs and as part of the upcoming Music in the Mansion series. In the months ahead, look for more work by artists who draw themes and inspiration from the earth. Brown says, "There is nothing quite like the immersive quality of art that sweeps you up and reveals a different perspective of the world we share."
STUDIOPURPOSE-REPURPOSE!ARTQUILTASSOCIATES Wed, Sept 7–Sat, Oct 29 Opening Reception: Wed, Sept 14 SÃO PAULO SYMPHONY ORCHESTRA MARIN ALSOP, CONDUCTOR Wed, Oct 12 ALLISON MILLER IN OUR VEINS: RIVERS & SOCIAL CHANGE Fri, Feb 10 ANGÉLIQUE KIDJO Thu, June 15 Nature themed programming made possible, in part, by a generous gift from Kathleen Knepper. Visit STRATHMORE.ORG/NATURE Sáo Paulo Sympony Orchestra Marilyn Alsop, conductor Allison Miller and Boom Tic Boom with video projections by Todd Winkler KidjoAngelique Purpose-Repurpose by Paula Koviak
Originally from Washington, DC, Miller often collaborates with Toshi Reagon, co-creator of Octavia E. Butler's Parable of the Sower opera, which Strathmore was fortunate enough to present this past spring. Strathmore is relentlessly committed to exploring new ways to connect and build upon the radiating impact of the arts. The themes of resilience and environmentalism in Reagon's work continue to pulse through Strathmore's team and community.
STRATHMORENEWS
Christie Dashiell Rochelle Rice
A CELEBRATIONSWEET
We interviewed Dashiell and Rice about their experience performing as part of this legendary ensemble.
12
| Fall 2022 Artist in Residence alumnae Christie Dashiell and Rochelle Rice perform with Sweet Honey in the Rock. by Maya Lee
Sweet Honey in the Rock is an a cappella ensemble with music rooted in African American history and culture. Their work fuses world music, folk, gospel, hip-hop, jazz, and R&B with a loving, socially conscious message. The vocal group was founded in 1973 and has featured many members, including founder Bernice Johnson Reagon. When they perform this September in the Music Center, audiences will experience a fantastic lineup of seven singers, a bassist, and a sign language interpreter. Two of Sweet Honey's current members are particularly familiar to Strathmore audiences—Christie Dashiell (2014) and Rochelle Rice (2015) are alumnae of Strathmore's Artist in Residence (AIR) program, which exists to support artists as they transition to professional careers.
Dashiell: To be able to present music with this amazing ensemble that is a fixture in the history of our music at Strathmore is huge. It's so huge. It's a dream come true.
13strathmore.org | STRATHMORENEWS
How did being a part of Strathmore's AIR program impact who you are today as a musician and Dashiell:artist?
I think being given the opportunity to lead my band, to rehearse my band, to present music after having rehearsed with them, to present educational workshops, prepared me for so much of the work that I'm doing now.
Rice: My time with Strathmore helped me to view my artistic work as more than just the songs that I sing and perform, to view it as an all-encompassing brand. Any other exciting opportunities you have coming Dashiell:up?
"Strathmore is one of those alwaysyou'rewherecommunitiesonceyou'rein,familyandyou'retakencareof."ChristieDashiell
Christie Dashiell SaahJim
Dashiell: I'm telling stories about my life, people around me and their lives, and then just the truth. The truth about where we are today, the truth about things that are unfair and unjust today, and what I can do to change that. And Sweet Honey I think encouraged me to do that.
Rice: Black American music is kind of my home center. I consider singing with Sweet Honey in the Rock an additional, deeper level of education in the style and in the institution of Black American music. How do you use your artistic platform and experience with Sweet Honey in the Rock as part of your social activism?
In May, [the Christie Dashiell Quartet] went to the studio and recorded songs. I'm super excited
Rice: What I have come to realize and embody in myself is that it is in the music and in our collective singing that we are nourished and we nourish other people. Being able to sing, being able to uplift people, being able to hold people, being able to give voice to the things people are experiencing, that provides a level of joy and sustenance that is tangibly transferable and that uplifts the people who are on the front lines.
Rice: The Concert Hall is such a beautiful space. It just feels so grand and yet it is designed in such a way that also feels very intimate. So I am really looking forward to being on that stage with this group for this special moment. How does performing with Sweet Honey in the Rock feel similar or different from your own artistic work?
What does it mean to you to be performing at the Music Center at Strathmore with Sweet Honey in the Rock for their 50th anniversary?
Sweet Honey in The Rock ShararErik
SWEET HONEY IN THE ROCK
14
Dashiell maintain close connections with Strathmore through performances and supporting their fellow AIR. "Strathmore is one of those communities where once you're in, you're family and you're always taken care of," remarks Dashiell. Rice is even currently working with Strathmore to help imagine the future of the AIR program. "As the current AIR program continues to age, it is inevitable that we will have artists who will have a greater need for artistic and business guidance," Rice says. "I'm thrilled to be working and helping to shape that. I consider it a small way to give back to my artist community."
| Fall
Fri, Sept 16, 8pm MUSIC CENTER
You can see Dashiell and Rice perform with Sweet Honey in the Rock at Strathmore Music Center on Friday, September 16 at 8pm. For extended interviews expanding on their personal work and how Strathmore's AIR has positively impacted their careers, visit strathmore.org/sweet.
RobinsonChristopher about releasing this music in these coming months, and I'm super excited for people to hear it. I feel really good about the music and the message.
STRATHMORENEWS 2022 A SWEET CELEBRATION
Rice: My brand offerings now include a podcast that comes out later this year called Tell Her This. It's a podcast, live music experience, and a visual art exhibition. Even something like that, that is kind of in direct lineage from the kind of work that I was doing at BothStrathmore.Riceand
Rochelle Rice
CITYDANCE AT STRATHMORE CityDance is the official dance partner of Strathmore. CityDance, a leading nonprofit dance institution serving the national capital region, is developing the next generation of artists and innovators. Through its three divisions—CityDance Conservatory, CityDance Studios, and CityDance Presents—there's something for everyone! CityDance trains young dancers for professional careers, nurtures talent and achievement through dance, and works to advance the field of professional dance. Anchored in a belief that diversity advances excellence, CityDance works to create opportunities that promote equitable access to dance education and performance.
strathmore.org
The BSO performs Leonard Bernstein's Kaddish symphony with updated words by Holocaust survivor Samuel Pisar. Learn more about the music at a post-concert Q&A session.
Wed, Sept 14, 7pm Mix and mingle with artists and art lovers to celebrate the opening of new exhibitions. MANSION Strathmore Presents THE PINKAUSTRALIANFLOYDSHOW
| STRATHMORENEWS 15 FALL CALENDAR 2022OCTOBER–SEPTEMBER
Fri, Oct 7, 8pm
Conductor Peter Oundjian leads the BSO as it performs Dvorˇák's evocative Symphony No. 9. Israeli pianist Tom Borrow performs Mozart's Piano Concerto No. 24 in C minor.
Wed, Sept 14, 8pm Hailed as "the gold standard" of Pink Floyd shows by The Times (London), this spectacular act includes fan favorites from The Dark Side of the Moon, Wish You Were Here, The Wall, and other iconic albums
MUSIC CENTER Strathmore Presents SERGIO MENDES
ONLINE Strathmore Presents SWEET HONEY IN THE ROCK
Fri, Sept 16, 8pm Grammy-nominated music collective Sweet Honey in the Rock empowers, educates, and entertains, showcasing the possibilities that the human voice has to offer.
OFF THE BERNSTEIN'SCUFF:KADDISH
MUSIC CENTER Baltimore Symphony Orchestra
MUSIC CENTER Strathmore Education VIRTUAL WORKSHOPS WITH COMMUNITY BUILDING ARTWORKS
Prolific audio storytellers Glass and Abumrad, hosts of iconic public radio shows This American Life and Radiolab, take you on a journey of insight, investigation, and humanity.
MUSIC CENTER ————————————————— Baltimore Symphony Orchestra
CONLON BERNSTEIN'SPRESENTSKADDISH Sun, Oct 9, 3pm The BSO performs Leonard Bernstein's Kaddish symphony with updated words by Holocaust survivor Samuel Pisar. James Conlon guides the Orchestra as it performs Schreker and Brahms.
MUSIC CENTER Strathmore Presents IRA GLASS & JAD ABUMRAD Sat, Oct 8, 8pm
MUSIC CENTER Baltimore Symphony Orchestra
FROM THE NEW WORLD Sat, Oct 1, 8pm
Thu, Sept 15, Oct 20 & Nov 17 In this series of workshops, accomplished contemporary authors offer perspectives on their craft and guide participants through a series of writing prompts.
Thu, Sept 29, 8pm Mendes' signature mix of bossa nova, samba, and pop have come to define Brazilian music. His classic song "Mas Que Nada" is the first Portuguese language song to ever hit Billboard's US pop chart, making Mendes one of the most successful Brazilian artists of all time.
CREATIVE WRITING
THOMAS HAMPSON SINGS MAHLER Sat, Sept 24, 8pm The BSO performs Strauss' tone poem An Alpine Symphony alongside Mahler's Songs of a Wayfarer. Coleridge-Taylor's Ballade for Orchestra presents a stirring impression of the American landscape.
MUSIC CENTER Baltimore Symphony Orchestra
MUSIC CENTER
Strathmore Exhibitions EXHIBITION OPENING RECEPTION
GibsonMark
INQUIRY@CITYDANCE.NET | 301.581.5204 | CITYDANCE.NET Music Center Mansion AMP Community Education
AboveMusicAll Pike & Rose | N. Bethesda, MD Red Line–White Flint Metro STRATHMORE.ORG/AMP UpcomingShows THE VI-KINGS THE '60S & '70S SOUNDTRACK OF YOUR LIFE Sat,
Fri, Oct 28, 8pm The BSO performs the score from Jordan Peele's horror masterpiece Get Out while the Academy Award-winning film plays on the big screen. ©2017 UNIVERSAL STUDIOS
MUSIC CENTER ————————————————— Baltimore Symphony Orchestra WORLD OF DANCE
RAY MONOVISIONLAMONTAGNETOUR
The Chilean singer-songwriter, known throughout the Spanishspeaking world for her romantic ballads, graces Strathmore's stage. MUSIC CENTER
Tue, Oct 25, 8pm Grammy-winning singersongwriter LaMontagne performs songs from his album MONOVISION, along with hits from his vast catalog.
Baltimore Symphony Orchestra PICTURES AT AN EXHIBITION Thu, Oct 20, 8pm Ravel brings classic fairy tale characters to life in his Mother Goose Suite and thrills audiences with his arrangement of Mussorgsky's Pictures at an Exhibition MUSIC CENTER
Strathmore Presents COLIN MOCHRIE & BRAD SHERWOOD THE SCARED SCRIPTLESS TOUR Sun, Oct 16, 8pm
National Philharmonic VIVE LA FRANCE Sat, Oct 22, 8pm NatPhil's 2022–2023 season gets off to a spectacular start with a showcase of celebrated French composers conducted by Maestro Piotr Gajewski. Featuring violinist Gil Shaham. MUSIC CENTER ————————————————— Strathmore Presents
Baltimore Symphony Orchestra GET OUT IN CONCERT
MUSIC CENTER Strathmore Presents FARRUQUITO
MUSIC CENTER ————————————————— Strathmore Presents DORRANCE DANCE SOUNDSPACE
Thu, Nov 3, 8pm An ensemble of musicians and dancers that embody the possibilities of tap dance, Dorrance Dance embraces the complexities of this Black American art form.
Thu, Oct 13, 8pm
MUSIC CENTER Sept 24, Sept 30, 8pm Nov 17,
8pm SEVEN VOICES A TRIBUTE TO PATSY CLINE Fri,
Wed, Oct 12, 8pm
SOUTHERN CULTURE ON THE SKIDS Thu,
MUSIC CENTER
8pm More shows announced in September! BergerStephanie Music Center Mansion AMP Community Education
MUSIC CENTER
16 STRATHMORENEWS | Fall 2022 Strathmore Presents SÃO PAULO MARINORCHESTRASYMPHONYALSOP,CONDUCTOR
The comedy improv stars from Whose Line Is It Anyway? take their show on the road to bring us hilarious scenes and songs based on audience suggestions.
Sat, Oct 29, 8pm Hailed as the greatest flamenco dancer of the century by The New York Times, this powerhouse performer and heir to the most renowned flamenco dynasty captivates with his mastery of the art form and infectious charisma.
Principal Pops Conductor Jack Everly and Troupe Vertigo present crowd favorites from Broadway, ballet, and the concert halls of the country. MUSIC CENTER Outside Presenter MYRIAM HERNANDEZ Sat, Oct 15, 8pm
Generously sponsored, in part, by Kathleen Knepper Under the direction of the great Alsop, the São Paulo Symphony Orchestra brings to life key works by Brazilian composers centered on nature as a conduit for identity.
The artist Wordsmith retells Stravinsky's gritty tale of love and temptation from the perspective of a Black American soldier during the Vietnam War in A Soldier's Tale; followed by music from Prokofiev's Romeo and Juliet
National Philharmonic BROADWAY'S BRIGHTEST LIGHTS
NatPhil Chorale Artistic Director Stan Engebretson brings Berlioz's bombastic Requiem to life with the power of the NatPhil Chorale and tenor Norman Shankle.
Sat, Nov 19, 3pm & 7pm Gather friends and family to experience the artistry of this holiday tradition, featuring breath-taking acrobatics and dazzling costumes.
STRATHMORE.ORG/WEDDINGS
A SOLDIER'S TALE & ROMEO & JULIET
Sun, Nov 20, 3pm Witness the wonder of an orchestra pushed to the limits of sonic imagination as the BSO performs Berlioz's maniacal Symphonie fantastique
17strathmore.org | STRATHMORENEWS
Fri, Nov 4, 8pm Broadway's Brightest Lights brings together Tony Award winner Stephanie J. Block, Michael Maliakel, and Luke Hawkins under the direction of NatPhil Principal Pops Conductor Luke Frazier.
Sat, Nov 12, 8pm
Fri, Nov 18, 8pm Witness the wonder of an orchestra pushed to its sonic limits through Berlioz's Symphonie fantastique. Learn more about the music at a postconcert Q&A session.
MUSIC CENTER Strathmore Presents MUSEUM SHOP HOLIDAY MARKET Thu–Sat, Nov 10–12, 10am Find fabulous gifts from the area's best cultural and museum shops at Strathmore's Museum Shop Holiday Market. Every purchase is part of a larger purpose at this annual event that supports local nonprofit museums and arts organizations. MANSION
Join National Philharmonic for an exciting 2022–2023 season! Violinist Gil Shaham returns on October 22 for a showcase of celebrated French composers conducted by Maestro Piotr Gajewski, featuring Bologne's Symphony No. 1, Farrenc's Symphony No. 3, and Saint-Saëns' Violin Concerto No. 3. Broadway's Brightest Lights come to NatPhil on November 4 as Principal Pops Conductor Luke Frazier brings together Stephanie J. Block, Michael Maliakel, and Luke Hawkins for a celebration of Broadway favorites. On November 12, Chorale Artistic Director Stan Engebretson celebrates his tenure with the ensemble by bringing Berlioz's Requiem to life with the power of the NatPhil Chorale and tenor Norman Shankle.
OFF THE SYMPHONIECUFF:FANTASTIQUE
MUSIC CENTER Outside Presenter
Sat, Nov 5, 8pm
MUSIC CENTER Baltimore Symphony Orchestra
MUSIC CENTER
2022NOVEMBER
NATIONAL PHILHARMONIC 2022–2023 SEASON
BALLETMAGICNUTCRACKER!OFCHRISTMAS
NATIONALPHILHARMONIC.ORG
National Philharmonic BERLIOZ REQUIEM
Wed, Nov 16, 8pm Join the AIR class of 2023 as they take the stage at AMP in an unforgettable evening of crossgenre collaboration.
THE SYMPHONYFANTASTIC
MUSIC CENTER Strathmore Artist In Residence Program FRESH AIR ARTIST IN RESIDENCE CLASS OF 2023 PREVIEW CONCERT
AMP Baltimore Symphony Orchestra
Marrythein Mansion Intimate, charming, art-inspired, and absolutely unforgettable.
MUSIC CENTER ————————————————— Baltimore Symphony Orchestra
18 STRATHMORENEWS | Fall 2022 Strathmore's highly regarded Artist in Residence (AIR) program proudly supports the careers of local musicians. Join us for an elevated concert experience and be the first to meet the new AIR class as they take the stage at AMP in an unforgettable evening of cross-genre collaboration. Stay for dessert and a toast, with a chance to meet the artists. Limited seating. One night only. Presale starts Tuesday, September 6. Artist in Residence Preview Concert Event Wed, Nov 16, 8pm FRESHSTRATHMORE.ORG/AIRAIR SOIRÉE
19strathmore.org | STRATHMORENEWS TEAS TO PLEASE Indulge your senses with soothing sounds and scrumptious savories, perfectly paired with Strathmore's special blend. AFTERNOON TEA IN THE MANSION Tea begins at 1pm Call 301.581.5108 for whenavailable;VegetarianreservationsPrepaid,reservations.nonrefundablerequired.optionsareinquirereserving. MEMBERS SAVE 10% JOIN TODAY STRATHMORE.ORG/STARSAT ANNIVERSARY TEA Tue & Wed, Sept 13 & 14 WELLNESS-MEDITATION TEA & TALK Tue, Sept 20 Relax and learn about the profound effects of restorative music on wellness. SCOTTISH TEA & TALK Wed, Sept 21 Indulge in fare from Scotland accompanied by Highland history and music. BRAZILIAN TEA Sat, Sept 24 GOLDEN OLDIES TEA Tue & Wed, Sept 27 & 28 EDGAR ALLEN POE TEA & TALK Tue & Wed, Oct 4 & 5 The Bard of Baltimore's tales of mystery and macabre are served up at this tea. GERMAN TEA & TALK Tue, Oct 11 Prost! Experience a Strathmore Oktoberfest that will transport you to Bavaria. QUILTERS TEA & TALK Wed, Oct 12 Explore the artistry and innovations of quilts with a tour of the Purpose-Repurpose! exhibition. ITALIAN TEA Sat, Oct 15 ROSES & ROMANCE TEA Tue, Oct 18 DIWALI TEA Wed, Oct 19 HAUNTED TEA & TALK Tue & Wed, Oct 25 & 26 It's always a scream when real life ghost stories are told at our annual haunted tea parties. RAT PACK TEA Tue, Nov 1 ASIAN TEA Wed, Nov 2 HARVEST TEA Tue, Nov 15 FRENCH TEA Wed, Nov 16 BROADWAY HOLIDAY TEA Mon, Tue, Wed, Nov 28, 29 & 30 LukasovaVeronika Visit STRATHMORE.ORG/TEA for current availability.
NON-PROFIT ORG. U.S. POSTAGE PAID PERMIT NO. 1763 SUBURBAN, MD Customer Number Source Code NEWSSTRATHMORE Strathmore Hall Foundation, Inc. 5301 Tuckerman Lane North Bethesda, MD 20852-3385 Strathmore is partially funded by operating grants Thu–Sat,from:Nov 10–12 This holiday season, give amazing gifts that give back! The Museum Shop Holiday Market brings together the area's best museum and cultural shops for a festive three days at the Mansion at Strathmore. Every present is part of a larger purpose, supporting nonprofit museums and arts organizations in our community. STRATHMORE.ORG/SHOP Your one-stop shop for fabulous finds that make marvelous gifts! HOLIDAY MARKET Museum Shop