SUMMER 2022ALABAMApresentscoasting MAGAZINE New AHERO Lodge Breaks Cover! HowInside:The Dream Came True - pg 12 AHERO's Stuttgart Duck Hunt - pg 22
Flat Island Boatworks brings a world of expertise to the Emerald Coast. We host a full scope of marine services with complete mechanical, paint, wood working, and quick turn-around. Less time in the shop means more time on the water for you. With Master Technicians on site, Flat Island Boatworks is the best choice for boat service, maintenance and upgrades in the Pensacola, Fl area. Centrally located at the Pensacola Shipyard in Bayou Chico 700 Myrick Street Pensacola, Fl 32505 (850) 434-8295 contact@flatislandboatworks.com Flat Island Boatworks Services • Inboard Diesel and Gasoline Engine Installation, Maintenance, and Repair • Outboard Maintence and Repair • Full Fiberglass Shop, Hull and Bottom Painting • ABYC Certified AC and Refrigeration Technicians • Electrical and Electronics Installation & Repair • Dedicated Woodcraft and Interior Refit Team • Boat Waxing and Detailing Services • Travel Lift Access for 220,000 lb. width to 26' A Salute to Our Heros From the Team at Flat Island
Frenchy Connection 32
Justice 46 House in the Woods Fifth Anniversary ........................................................ 50 Gen Daniel "Chappie" James Bridge 52 ALL
The
A Stuckey Thing ................................................................................... 39 A Life Worth Living ..................................................................................... 40 Tristessa's Corner ...................................................................................... 42
4AHERO
3rd
TABLE OF CONTENTS
Corner ............................................................................................. 27
Annual Orange Beach Warrior Hook-Up 54 Austin Owen's Poster ................................................................................. 68 Unsung Heroes 70 A Confession .............................................................................................. 71 Two Great Tournaments 72 JR Smith Works Some "Connectivity" ........................................................ 74 Adaptive Drone Flying 76 Fifth Annual Golfing4AHERO ...................................................................... 78 Bicycles For Veterans.................................................................................. 80 Future Leaders 82 Healing Tools for Warriors .......................................................................... 86 Hydrate With AHERO 88
Founder's
It's
Cultivating IN
& Tall Timbers 20 My World of Opportunities Expands ........................................................... 21
The
Champ is Someone Who Gets Up, Even When They Can't ...................... 10 How the Dream Came True 12 Mission Brief .............................................................................................. 14 Thank You, Wind Creek Wetumpka 15 Journey Through Fire ................................................................................. 16
Stuttgart Duck Hunt 22
4 AHERO MAGAZINE SUMMER 2022
AHERO ON THE MOVE
Message ...................................................................................... 7
OUR
A
AHERO
AHERO's
Lynn's
The
Joseph A. Glover Story ........................................................................ 36
Price We Continue to Pay 29
IN SERVICE TO NATION
AHERO MAGAZINE SUMMER 2022 5 Managing Partner/CEO Danny President/PublisherCalamettiDavidCalamettiEditorinChiefDaveGlassmanSeniorEditorConnieConwaypresents MAGAZINE ©2022 Discover Gulf Coast Alabama, LLC. All rights reserved. No part of this publication may be reproduced without written permission from the publisher. david@alabamacoasting.com • danny@alabamacoasting.com • 5758 Huffman Drive North • Mobile, AL 36693 • 251-694-0457 Assistant Editor Lynn NormAssistantsEditorialFeehanandWritersJeremyClarke,"Frenchy"LaFontaine, TristessaOsborneArtDirectorRandyJennings Published by Discover Gulf Coast Alabama, StaceyPhotographersLLCPaden,JefBond,IraVerboisJoeRoberts SUPPORTING AHERO Levin, Papantonio, Rafferty 2 Flat Island Boat Works .................................................................................. 3 Forest Work Force 5 Bamboo Willie's .......................................................................................... 11 Prestige Lawn and Fencing 91 Aylstock Witkin Kreis Oveholtz ................................................................... 92
To connect with us, please go to AHEROusa.org/contact AHERO ON THE MOVE
But before you do, I would also ask you to read on, because I am about to speak of some
AHEROUSA.org/donate
And all of this is thanks to you, our wonderful AHERO community.
Once again, we have many great stories here for you to read, plus some excellent photography we're sure you'll enjoy. But first, as founder and CEO of AHERO, I have the tremendous honor of making an announcement that, for years, I could only dream about making to y'all.
To Matt McDonald and his wonderful wife Amy, and daughters Abby and Avery: For years, you have continued to be one of our biggest supporters with not only your personal financial contributions and continuous fundraising efforts, but also by donating the use of your beautiful, very top-notch 72' Viking Sport Fishing vessel, the exquisite Breathe Easy, to our Pensacola Beach Warrior Hookup each and every year. We can never thank you, your family, and your Breathe Easy team enough, so we salute you, sir, for your constant love and loyal support!
As you know, "Community Supporting AHERO" has continued to be the theme behind our drive to provide our wounded and injured Veterans with the anticipated AHERO MajGen James E. Livingston Lodge. Now I can proudly reveal that the amazing, far-reaching AHERO community has made that goal a reality!Gifted recently with a contribution which, when added to all the funds sent in specifically toward the purchase of that eventual Lodge by our hundreds of generous donors, we have been able to close on that "dream" property. It consists of not six acres (as originally planned) but 40 beautiful acres, complete with an existing building, and it is located only a short walk from AHERO Farms in Shorter, Alabama.
AHERO GIANTSCONTRIBUTORS:OFGENEROSITY
of the quite incredible "helpers" whose truly astonishing generosity has made this huge AHERO moment and so much of AHERO's service to our heroes possible.
Founder's Message Welcome to Our Summer 2022 Issue of AHERO Magazine!
AHERO Needs You! -
This long fought-for victory will enable us to help hundreds more Veterans by bringing them together here in the near future to find support and healing in enjoyment, nature, and friendship. And to spread the word about our mission, letting other Veterans know that their community of peers is out there wanting to help, and that they are not alone. And it will provide the space into which this growing organization can also welcome First Responders whose service to our communities and our nation is more vital than ever.
Learn how it finally all came together in a story here with the crazy title of "A Champ Is Someone Who Gets Up Even When They Can't," by writer and AHERO volunteer, Jeremy Clarke.
AHERO MAGAZINE SUMMER 2022 7
As of June 17, 2022, our AHERO nonprofit organization has taken possession of its new headquarters and Lodge!
I won't have room to mention all of our "greatest hits" here but want to mention a few of those whose constant and caring support keeps us steady-on as we go, always helping to make all that AHERO does possible.
To Art Farve and his wonderful team at The Wharf at Orange Beach: Our thanks to you all for another fantastic AHERO Warrior Hookup! And congratulations to Sam Jackson who just retired from the City of Orange Beach Fire Department after faithful service and sacrifice.
8 AHERO MAGAZINE SUMMER 2022
Thank you to Keith Sabel of Sabel Steel, to Wind Creek Casino and the Poarch Creek Band of Indians. Thank you to Ken Odom and to Coleman Bryars from Alabama Land Title. Thank you to the American Legion Riders and American Legion Post 340, who now have helped to get us to that "nut" we had to crack in order to secure our Lodge for the Veterans.
It seems there are more and more people and organizations out there who want to learn about and spread the word on Veteran suicide so they can help us in our mission to prevent it. Be sure to read the piece in this section titled "The Price We Continue To Pay," which offers a deep dive into what's behind these numbers that continue to haunt us all. It is from an extensive research work by Thomas Suitt, Ph.D., published by The Watson Institute's Costs of War Project.
A severely wounded Veteran, the late SSGT Josh Burnett (on right), is pictured here in Lee Stuckey's kitchen with friend and fellow Veteran, USMC CWO Rick Hayes.
There are many, many more … but in particular I want to say thank you to all our supporters who have made donations over the years. Every one of your donations, no matter how great or small, has lifted our hearts for the spirit and love we know is behind it and for the positive impact we know it will have on this organization.Youhavehad the consideration and taken the time to make a contribution to AHERO. You have amazed us with the fierceness of your concern for those who stood up for us all but now cannot muster the strength to save themselves. We can only hope to make you as proud as you make us.
OUR NEVER-ENDING AHERO ADVENTURE GOES ON
Assembly of God posed for an initial "group shot" as the cabin received its framing.
This year is set to be the biggest year that AHERO has seen since we started over a decade ago. All our programs are continuing to grow with the outstanding support of each program Ambassador (see them in action here in a story about the terrific Stuttgart Duck Hunt early this year), and we continue to connect our Veterans, and now our First Responders, with job opportunities in the natural resources and conservation field. Regaining a sense of purpose by working in these fields is life-affirming, and our participating warriors are getting to experience this every day.
AHERO ON THE MOVE
The full crew from the Lomax
Determined to create a beautifully made cabin in Josh Burnette's honor – a cabin that will house many a visiting Veteran participating in events at AHERO's new Warrior Lodge – the members of the Lomax Assembly of God are shown as they worked tirelessly. AHERO thanks each and every one of them for the great gift of their labors!
AHERO MAGAZINE SUMMER 2022 9 AHERO Needs You! - AHEROUSA.org/donate
Sgt Dan Geiser (USMC), a member of the the Lomax Assembly of God volunteer construction crew, displays a smiling, can-do attitude as he labors on completing the Josh Burnette cabin.
Lee Lee FounderStuckeyand CEO AHERO Magazine
Finally, we are so blessed to have the Lomax Assembly of God from Clanton, Alabama, in our AHERO family. It has been more than five years since SSGT Josh Burnette, US Army Veteran, tragically lost his battle to post traumatic stress. Sadly, within a week after his death his favorite cabin at AHERO Farms was flooded and destroyed. We have been working to rebuild this cabin since this then … but now the Lomax Serve Team has stepped up to rebuild and bring some triumph out of that tragedy. Thanks to Pastor Vint Norris, Pastor Erron Price, Pastor Chris Newton, Pastor Jeremy Pierce, Pastor Van Headley, and their awesome team, we are poised to move on to phase II of the SSGT Josh Burnette cabin rebuild.Ihave no doubt that this year will continue to be one of the most impactful for our AHERO community thanks to all of you who continue to support our mission. Please continue to help us raise awareness within your social media communities, families, and friends. Your efforts in doing so can make a huge difference in growing the number of deserving Veterans and First Responders AHERO can serve this year and in years to come.God bless you all … and Semper Fidelis!
Negotiation started. The $700,000 asking price was reasonable, given the market, but AHERO couldn't meet it despite years of astute financial management, saving, and almost zero administrative costs. The account held about $460,000.Stucky persisted. Luckily the seller was a lovely, patriotic lady, Mrs. Sandy Ganas. She shared her preference that the place be used to help Veterans, Then she lowered the price to $500,000!Still,there would be the cost of refurbishment. Better not to take out a loan and have donor dollars go to pay bank interest. In addition, Stuckey knew they needed to purchase a second existing structure on the property in order to house more Vets, but at an extra $100,000. So another $150,000 was needed. Or enough, at least, to show AHERO's financial supporters and the bank that community horsepower was available to pull this off.
Fundraising for the project went on and on and on. The bank account was added to, day by day, week after week, year to year. Covid hit, things got complicated, materials and labor costs skyrocketed but on they went, Stuckey
By Jeremy Clarke
and Glassman with other AHERO volunteers showing up for the Vets and showing their outstretched palms to the donors.
American Legion Rider from Post 240, Andrew "Tiny" Mercer connected Dave Glassman and me to Theo Kramer of American Legion Post 340 Riders and we found ourselves again in the presence of folks who don't just get back up when they've fallen in the race, they pick up the baton and sprint with it all the way to the finish line. On that day, AHERO's finish line seemed a long haul away, so here we were with a group we felt could be counted on to help us make the big dash.Enough with the metaphors. Here's the backstory.Ifyou've read the last several issues of this magazine you know that among AHERO's goals is one that's been particularly daunting: Securing a permanent home and headquarters forNotAHERO.justany building. A built-to-order lodge. So architects, builders and businesses were enlisted to create the plans and supply supplies. Donors began digging in their pockets as they do for AHERO. Because it needed to be a place where our wounded and injured Veterans could heal together in camaraderie and friendship with those who understood their stress and sorrow because they've lived through it themselves.
It was AHERO Founder Lee Stuckey who spotted our "solution" one day. Located very close to his home in Shorter, Alabama, the 40acre property featured a well-stocked lake and a big house that could easily be repurposed into AHERO's lodge!
Here in the greater Pensacola Bay area, we feel blessed to be in a generous and patriotic community. A center of gravity seems to us to be American Legion Post 340. Inspired by the AL 340 Riders and Auxiliary, the Post's leadership, immense heart, soul, and efficiency – and surely the productivity of its membership – just blew us away.
need.PostarewhostartthroughtolistengetTheahavewaswithintwentyfollowedathetowholeother,wereprizes,www.facebook.com/DirtySouthDarts][https://Fliers,socialmediacampaign,sponsors,food,contests–allelementsforsuccessset.GlassmanandIjustgrinnedateachthinking,"Whoneedsus?Theygotthis!"Afterward,aswepackedupthetruck,theAL340Kramer/Connteamcameoutus.Kimwasintears.Hugsabounded.Thenannouncementofeventoutcomebeingdoublingoftheirinitialfundraisinggoal,acheckbeingpassedalong.AmericanLegion340hadraisednorthofthousanddollars.Weknewthatahugedenthadbeenmadeourshortfall.Wecouldnowmoveforwardthepurchaseoftheproperty.Themessagecleartothebank:AHEROdoesn'tjustasupporterinALPost340.AHEROhaspartner.Itwasanincrediblyemotionalexperience.kindthatstokesthefireinthebellytoupagain,todomore,innovatemore,moretowhatourVeteransneed.Anddiscovernew,betterwaystohelpthemgettheirlayersofpainanddistressandthehealingprocess.AtAHERO,wearehugelygratefultothosehavebroughtusthisfar.AndtodaywegratefulbeyondwordstoAmericanLegion340forbeingthereinourowntimeof
And a place like that could cost … well, a mint.Remember
A Champ is Someone Who Gets Up, Even When They Can't
So said World Heavyweight Champion Jack Dempsey. It's the kind of quote you hear when you're a kid ready to give up. And, if you're lucky, one that comes back when you need it.
Sisyphus? The guy forever rolling that boulder uphill? Read on!
10 AHERO MAGAZINE SUMMER 2022 AHERO ON THE MOVE
TO THE RESCUE: A SPIRITED, JACK DEMPSEY KIND OF GROUP
Glassman usually starts and runs AHERO meetings. But that day back in April we heard "We have control of the airplane!" when Tina and Bill Conn with Theo and Kim Kramer laid out their planned fundraising Cornhole Tournament for AHERO, their first event. Another, the June 11th Darts Tournament with everything from high-tech dart boards to multitudes of auction items to a very proficient auctioneer, Chris Terrell from the Dirty South Darts organization, would follow.
A shoes-off kind of celebration! (l-r) Jeremy Clarke, Dave Glassman, Sandy Ganas, Tamar Doull, Lee Stuckey, Bobby Parker, and Norm "Frenchy" LaFountaine smile happily on the porch of what is now officially AHERO's MajGen James E. Livingston Warrior Lodge. USMC SgtMaj Bobby Parker (Ret) is a 5-time Purple Heart Recipient for action in Vietnam.
LIVE MUSIC BEST DAIQUIRIS ON THE BEACH HOME OF THE FAMOUS CRAWFISH FEST BAMBOOWILLIES.COM 400 QUIETWATER BEACH RD. MENTION THIS AD AND GET 10BONELESSFREEWINGS WITH THE PURCHASE OF 10 OR 20 WINGS HOOTERS.COM 400 QUIETWATER BEACH RD. PROUD SUPPORTER Come by Boat!
AHERO MAGAZINE SUMMER 2022 11 AHERO Needs You! - AHEROUSA.org/donate
How the Dream Came True With the Help of a Thousand Angels and Pure Faith
By Dave Glassman
options. During the summer of 2021 our Founder, Lee Stuckey, came in contact with a Mrs. Sandy Ganas, a recent widow who was thinking of selling her Alabama home on 40 beautiful acres.
As you all know, one of our primary goals over the past few years has been to construct a new "Warrior Lodge" that would provide adequate and appropriate space for our nation's wounded/injured service members, Veterans and First Responders while they enjoy the benefits of AHERO hunts and other programming.Thisfundraising goal has been on a notto-interfere basis with the annual calendar of events and the budgeted expenses associated with those events. As such, AHERO has
THERE TRULY BE ANGELS …
Papers all signed, closing complete, Lee Stuckey and seller Sandy Ganas point out that the AHERO MajGen Lames E. Livingston Warrior Lodge, AHERO's new 40-acre home and headquarters, is officially ON THE MAP!
This great lady had expressed a hope to one day have her home be of use to America's Veterans, to whom she felt a great debt of gratitude. When Lee visited her to find out more, he immediately saw that her beautiful
As the pandemic gripped the world and supply chain slowdowns caused building materials to skyrocket, the AHERO Board of Directors began to consider alternative
12 AHERO MAGAZINE SUMMER 2022 AHERO ON THE MOVE
continued to provide its world-class hunting, fishing, golfing and other events in support of our warriors, while continuing to grow the long-term savings account for the Lodge. Additionally, AHERO gained the official approval from Congressional Medal of Honor recipient MGen James E. Livingston, USMC (Ret) to name the Lodge in his honor.
amount of labor and interior design ideas provided by Tamar Doull in preparing our new Lodge in time for the upcoming hunting season in Macon County, Ala.
We know the 40 beautiful acres (complete with a stocked lake right off the back porch and ripe for freshwater fishing!) and the Lodge itself will appeal to all as the new home and headquarters of AHERO. Basically a mere stone's throw from AHERO Farms, and several times the property size of the six or so acres anticipated for the original building, this is a win all the way around. So … on a personal level, I'm of the delighted opinion that, with your help, "we done well" for AHERO!
Closing Day walk-through at the New AHERO Warrior Lodge!
place was in an ideal location for a large hunting lodge and events venue.
AHERO MAGAZINE SUMMER 2022 13 AHERO Needs You! - AHEROUSA.org/donate
Potential "outbidders" were hoping to purchase it. Even so, Sandy worked to make the price as viable as she could for AHERO. Contributions from you, our loyal AHERO supporters, and of course Sandy, helped us "lock on" – giving enough breathing room to the dream to make it a reality.
renovations and furnishings necessary to accommodate numerous Veterans is figured in, and we expect to have our doors formally open as soon as possible to the first great event at the MGen James E. Livingston AHERO Lodge.
WE KNOW THE REALITIES
A deal was struck, the bank cooperated, papers were signed. With a balance that will challenge but not thwart us from having the deed fully in AHERO's possession in reasonable time, we have redoubled our fundraising efforts. Budgeting as well for
Cost comparisons easily proved this purchase as the better value than building the Lodge originally envisioned, which would have cost more than double. Additionally, "Sandy's place" will accommodate the same number of visitors or more, due to the cabins and trailers both on the property and close to it. Some of this will take time, but we are already on it.
AHERO wants to recognize the incredible
14 AHERO MAGAZINE SUMMER 2022 AHERO ON THE MOVE
• Encouraging constructive communication and engagement.
On September 11, 2001, our courageous First Responders rose to be the first line of defense against a focused terrorist attack on our nation. Since then, the country has seen numerous occasions of bravery and self-sacrifice by the dedicated men and women who fight our fires, protect our lives, and provide us with emergency medical treatment and transport. AHERO therefore counts America's First Responders among those uniformed service members (many of whom are military Veterans in their own right) and Veterans we serve.
AMERICA'S HEROES ENJOYING RECREATION AHEROOUTDOORSMissionBrief
• Developing an informal support network of Veterans across the country.
• Boosting Veteran morale with shared outdoor activities and meaningful gatherings.
AHERO usa is a 100 percent volunteer-run, 501(c)(3) charitable organization. More than 95 percent of all donations received go directly toward benefitting the Veterans and First Responders we serve.*
AHERO will accomplish this by welcoming Veterans into communities willing to donate the time, recreational equipment and the natural and financial resources necessary to support events that facilitate fellowship, communication, and mentoring. Through these activities, AHERO will establish and support a network of Veterans with personal experience in learning to deal with the emotional and physical wounds caused by the stress of service and combat. The network will be self-sustaining and support Veterans across the United States of America.
*For purposes of the AHERO mission, the word "Veteran" refers to all who are currently serving our great country in a military capacity or have previously served in any branch of our United States Armed Forces.
• Drawing on our interconnected organizations that provide additional important holistic pathways to healing and wellness.
The mission of AHERO is to reverse the upward trajectory of this statistic – and to do that by recognizing and uplifting those who are most at-risk of adding themselves to it. They are the men and women whose military-service injuries to body, spirit, and soul has made them more likely to take their own lives. AHERO works toward this goal by introducing them to programs and resources that can increase their overall quality of life. These include:
Military and Veteran suicide* statistics are hard to pin down, but overall, the figure ranges from 20 to 22 such suicides occurring each day.
Wind Creek Wetumpka continues to be an amazing and generous supporter of AHERO. This year's contribution from this highly people-oriented organization bordered on $27,000, presented in a check (shown here) to Al Stuckey – Lee's dad, affectionately known to all at AHERO as "Pinecone."
Al "Pinecone" Stuckey holds up the VERY BIG check Mrs. Kay Simmons of Wind Creek Wetumpka presented to him earlier for AHERO. Helping with the heavy lift is Veteran Russell Chambliss and his new baby girl. A Wind Creek guest passing by stops to watch.
AHERO MAGAZINE SUMMER 2022 15 AHERO Needs You! - AHEROUSA.org/donate
The extraordinary outlay required in order to continue bringing wounded and injured Veterans (and now First Responders) to AHERO's activities and help them benefit from its programs and resources is a constant reminder to all of why we so appreciate our contributors. When folks like the owners and management of Wind Creek Wetumpka (where patrons often "chip in" from their winnings) show, by making repeat donations, that they understand the huge "nut" AHERO has to crack to get the job done – that is incredibly heartening.
Thank You, Wind Creek Wetumpka!
~ Dave Glassman Vice President, AHERO Board of Directors
The "why" of that is pretty obvious: Because it shows that they believe in this all-volunteer-run charitable organization we call AHERO. That they believe in its mission. Which, in turn, is why we continue to thank Wind Creek Wetumpka over and over again for its unfailing support of our Veterans through the years.
You can see from the look on Pinecone's face that he is deeply touched by the generosity of spirit that emanates always from his good friends at Wind Creek.
Back in the fire service, I went all-in. The opportunity to help my community and serve my neighbors and the families I'd grown up with gave me the sense of purpose I needed. I took any training opportunity that was available, put myself through paramedic school, and poured everything into being a first responder. I was on an urban technical rescue team, participating in extra training and signed up for extra shift work.
Auburn, Alabama, where I grew up, offers students the opportunity to join the city fire department and receive financial assistance for college – a program similar to that of the U.S. military. Although a career as a first responder felt foreign to me, I went through the fire department's version of boot camp, learning how to push past the limits of what I thought I could do. In shock that I'd made it through those first 12 weeks, I graduated and was put on
"I was often deployed to Washington D.C.," says Greg. "This time I took pictures!".
Fire program requires students to be enrolled at a two- or four-year college while working as a firefighter. I started taking classes at the local community college, not knowing what I wanted to major in or if I could be successful in school. It took years, but I eventually finished all my core classes and had gained enough confidence to transfer to Auburn University where I completed a degree in
My Personal Full-Circle Journey Through Fire
By Greg Brewer
16 AHERO MAGAZINE SUMMER 2022 AHERO ON THE MOVE
When I graduated high school in 1999, I knew my options were limited due to my lackluster academic performance. I knew I could work hard, having worked in construction since I was 14, but I wasn't sure what I wanted to do after high school.
Afterforestry.graduating, I left the fire department and went to work as a forester. It was 2006, and I worked for about six months in that industry, which unfortunately was becoming rocked by the economic downturn. Married with a baby on the way, I realized I needed a more stable job. I decided to return to the Auburn Fire Department as a full-time firefighter.
Theshift.Auburn
My life had become 20 years' worth of calls in a small town. There wasn't – and isn't – a street there where I don't have a memory. Yet in the last years of my career as a fire medic I felt I was living in two different worlds, not belonging to either one. I'd once felt like a hero,
MEMORY IS AN AVID, UNCEASING COLLECTOR
Deployed again! "But this time," Brewer says, "I was with my great friend, Tim. We were sent to assist at a medical shelter."
AHERO MAGAZINE SUMMER 2022 17 AHERO Needs You! - AHEROUSA.org/donate
Granted,them. I was able to help a lot of folks, but those aren't the calls I remember. I don't remember the ones I saved as much as the ones I
Those are the images that haunt me.
As a disaster medical-assistance team (DMAT) medic, Brewer (photo center) was often deployed to other places – in this case, to Silsbee, Tex., during Hurricane Harvey flooding. "Here we are transferring patient care to a helicopter crew," he explains.
My identity as an individual, a citizen, and a man was wholly wrapped up in being a fireman and paramedic. I was comfortable with that. I didn't care for the political pieces of the job and occasional frustrations, but things on the whole were going well. I loved who I got to be and what I got to do.
A tradition of high spirited competition can invite disaster. "This is one of countless times the (Auburn University) Toomer's oaks were set on fire after game day and we had to put it out," Greg explains.
What I didn't realize was that I wasn't dealing with all the trauma I was seeing. Being a firefighter and paramedic in the town where you grew up has its own challenges. You regularly find yourself performing CPR on someone you know from church. I might be scooping up the body of a fellow high school student or pull up on a scene to help save someone I'd gone to grade school with or had invited over for Sunday dinner. And despite my best efforts, some of those people died or were dead before I had even a chance to help save
Worstlost.of
all was responding to a call only to be able to hold children who died in my arms. It is unspeakably horrible to have a small child stare, trembling, into your soul with fear in their eyes. I would be doing everything I knew to do and more and yet would end up seeing the fear and light fade as they passed away. I'd hear the heart monitor move from a steady beep to a solid long beep as I fought to stay clear-headed while frantically working with every drug, tool, and technique available, all while knowing that the sound signified their heart had stopped. That I had been the last person they would ever see.
Oddly, I don't remember what I had for breakfast today, but I could remember the social security numbers of those children. Years of car wrecks, train accidents, shootings, tornadoes – all the suffering, death, and trauma was piling up around me. Beyond a debrief on shift or writing up my reports, I wasn't processing any of it. I was focused on the next call or the next shift.
I didn't realize was that as soon as I slowed down and stopped running daily 911 calls, all the memories and demons would come out to overwhelm me.
THE HELP OF A FRIEND
It was a world I was growing weary of. But I couldn't fit in the other world either – the small, safe town where most people lived buffered from daily trauma.
Many in the first responder and Veteran community can identify with my story. They live a life and give themselves to a career of service. Then they hit a place where they have to Sometimeschange.
For years, my job every day had been to save lives or train someone else to save lives. In this new forestry job, the stakes were not even close to that high, which should have been the space away from trauma that I was looking for. But I struggled with purpose and relevancy. I couldn't sleep and was experiencing internal reactions that were often out of proportion to situations.
but the blood-and-guts world didn't feel like victory anymore. It felt like loss.
Fortunately, I had a friend who knew the spot I was in. He told me about a job opening at the Alabama Forestry Association. With my degree, he said, I had a shot and should apply. I did, and for some reason they hired me! Relieved, I felt this would make everything okay.What
it's by choice and other times it's forced upon them. Coming to the end of one career and needing another path can be daunting. I remember the feeling of getting to the end of mine and not knowing where to go or what to do. "Daunting" isn't nearly strong enough to describe it.
18 AHERO MAGAZINE SUMMER 2022
AHERO ON THE MOVE
Realizing I needed to reclaim my mental health, I started working out and listening to podcasts about others in similar struggles. I opened up to my wife and to a couple of close friends, talking about what I had seen and what was bothering me.
Now I see that this career move saved my life. I had witnessed firsthand what could happen to a person who reached "the end of their rope," and I had reached the end of mine. After more than two years, I felt I was adjusting. Now the memories of my previous career are still there, but they don't take up as much head space as they once did.
Brewer with his three eldest daughters in the bucket of Ladder 1d, Auburn, Ala., Fire Station.
Then, in 2019, an F5 tornado rolled through Alabama and missing my house but 23 people died just a little way down the road from me. Many more were hurt. I was one of the first on scene and the incident commander put me in charge of triage. I triaged every patient that night.Ihad trained for a mass casualty incident many times locally and had been on deployments helping with other natural disasters. But that night I heard men saying they couldn't find their toddlers as neighbors handed me their own crushed children. I had to determine who was placed in an ambulance first because we didn't have enough of them on scene.There's no preparing yourself emotionally for something like this happening in your backyard. I remember feeling like my tank was full; I didn't want to live in that world anymore.
I began frantically trying to think about what other job I could do. For 20 years I had loved serving as a first responder, but I knew if I kept going, I might lose my way and never find it again.
As his last days as a firefighter wound down, Brewer took a last ride on Auburn Fire Department's Ladder 1 with his girls.
AHERO MAGAZINE SUMMER 2022 19 AHERO Needs You! - AHEROUSA.org/donate
This is where organizations like AHERO play an extremely important role. With its partners, they offer help to military Veterans and professional first responders who struggle with transition and purpose and the impact these can have on one's identity. Often, they are looking for a new beginning. AHERO has the resources to connect and assist service people who need help finding a path to a new career or to make a financial plan or are struggling with substance abuse.
WHAT I SEE NOW
Forestry Works, the company where I work, is a partner with AHERO. Its goal is to connect people to jobs and careers in the forest industry. In matching potential employees with companies and careers in this industry, we seek to fill the nation's need for management of natural-resources and providing forest products.Organizations like AHERO are on a mission to serve those who have valiantly served our nation. They partner with others to help these heroes who often feel isolated or discouraged. To hear that there's a path forward when you feel at the end of yours is to be offered real hope. Connecting our heroes with a job that has an important mission can give them their life back or open a new chapter that they may not have believed was possible. It's an incredibly wonderful gift to give.
Greg in his "early years" as a firefighter in Auburn. After 20 years, he's headed into a new career in forestry. Of the town he says, "There isn't a street there where I don't have a memory."
in a certificate of expertise in these valuable conservation skills. In his own words to those interested in taking the February session, "You will leave this course as a wildland firefighter as well as an Alabama prescribed burn manager, and you'll connect with other like-minded individuals throughout the process."
By Connie Conway
Along with Tall Timbers Inc, a non-profit that has set the standard for controlled burn conservation techniques, AHERO's own Lee Stuckey helped create and carry out the first Veteran and First Responder prescribed-burn training course in February of this year. Lee's motive for doing so aligns completely with what he largely considers his life's work.
"At AHERO, we're always looking for realistic, life-affirming solutions to help our heroes get past the sense of having lost connection and meaningful purpose after years of service," he says. "This is a great one of those solutions."
AHERO & Tall Timbers Partner on PrescribedBurn Training Courses
For many whose long hours of sometimes waiting, sometimes adrenaline-fused, all-out action once defined their career, retirement may be seen as a restful reward. But, upon leaving military service or retiring their firstresponder roles, they may miss the sense of purpose they came to realize was theirs through the work they performed and the team they were proud to be part of. Often, they miss working in the "great outdoors" as well. In conducting private and wildland prescribed burning courses with Tall Timbers, Lee's goal is to provide training that results
20 AHERO MAGAZINE SUMMER 2022 AHERO ON THE MOVE
The course was given at Camp ASSCA in Jacksons Gap, Alabama. In Lee's own words, "It was fantastic!" 1stSgt Jacob Hogan (USMC) attended, and his personal story, written and sent to us before taking the course, follows here.
Often, even a controlled-burn blaze can be an awesome sight. But when those are not performed, and drying tree limbs, detritus, and scrub plants are ignited, the terrific conflagration can result in disaster-level wildland fires!
By USMC 1stSgt Jacob Hogan
My World of Opportunities Expands
The certificates, as I learned, can provide trainees with an opportunity to take something that I enjoyed and turn it into a potential career. They would also allow me to continue to serve my community and give me the kind of purpose that has always been important to me. I feel that God has given us this tremendous world, and this is just a small way that I can help maintain it. That really matters to Theme. impact that Lee has created through AHERO goes beyond great memories and experiences. He is dedicated to providing opportunities for Veterans to rekindle that camaraderie that many have been missing since they left service. Bringing comfort or peace of mind to one individual, or preventing the suicide of even one person, I know, makes it worth all the effort of figuring out logistics and meeting all the challenges to make AHERO work.
AHERO MAGAZINE SUMMER 2022 21 AHERO Needs You! - AHEROUSA.org/donate
It wasn't until I spoke with Lee that he told me about this tremendous opportunity. It would not only connect me with some others who, like me, had served in the military and with First Responders, but it would also allow me to earn these two certificates.
At a December 2019 Christmas gathering of his family in Rensselaer, N.Y., (l-r) USMC 1stSgt Jacob Hogan stands with his older brother, Joshua, and with Joel Preston and Norm Preston.
I am originally from Rensselaer, New York, which is just across the river from the state's capital, Albany. As soon as I graduated from high school at 17, I left to serve in the United States Marine Corps. I have spent the last 20 years in the Corps, and I currently serve as a senior enlisted advisor at Camp Johnson, North Carolina. The Marine Corps has taken my family and me across the country and beyond.When looking at the prescribed burn program, I didn't really think of this as something that I could do. It wasn't even on my radar, mainly because I did even know it existed. I have always enjoyed working outdoors, but I never thought that someone could make a living out in nature, doing prescribed burns.
Pictured just after his last re-enlistment ceremony in 2020 at MCAS New River in Jacksonville, N.C., are the members of Jacob's family - (l-r) daughter Jillian, son Jamie, Jacob's wife Juliana, Jacob himself, daugther Juliana, and daughter Jaylin.
Best airport is Little Rock. Hopefully everyone will be coming in close together so to make it easier for me or Joe Roberts to pick you up. We will authorize a rental car if we need to. I will probably come in the night before and stay in a hotel near Little Rock, so I will be in position to pick you up.
22 AHERO MAGAZINE SUMMER 2022
S/fJim
We will hunt morning and afternoon 8-9 January and will hunt only morning on Monday 10 Jan. Airline reservations for return should be made for late afternoon/evening.
Technically, all you will need is some warm clothes and a hunting jacket, hat, and gloves. Everything else will be provided to include gun, shells, and waders. You can bring your own gun if you desire. The waders are insulated, and I have found that wearing a good insulating layer and or sweatpants underneath keeps me warm.
Please go ahead and look for flights that will get you into Little Rock early afternoon on 7 Jan and depart late afternoon/evening of 10 Jan. Once you know the flight you want, please email Lee Stuckey (Copied Above) along with all of your personal info required for him to book your flight. Please copy me on all traffic to Lee Stuckey.  Look forward to seeing you all.
you all well. I also hope you are getting some Whitetail woods time!
Our hunt is an annual donation to American Heroes Enjoying Recreation Outdoors (AHERO) by the Bayer Corporation. We will be staying in their lodge just outside of Stuttgart, Arkansas and the hunting area is a 10-minute ATV ride and then 10-minute wade to the blinds through flooded timber. It is a first-class operation, and the guides are very good and knowledgeable. A couple of them are known as world class duck callers. In fact, Stuttgart is also known as the duck hunting capital of the world. I really enjoy this hunt, and this will be my 4th year attending as a coordinator/AHERO Ambassador.
Gentlemen,Ihopethisfinds
The Bayer Lodge and our AHERO Hunt Master, Joe Roberts, requests that we arrive early afternoon of Friday 7 January. This is important so that we have time to get everyone checked in to their room and then go to Mack's Prairie Wings sporting goods to get everyone their licenses. You will also want to spend some time in Mack's looking around…trust me! One of the best outdoor stores I've been in.
From: AHERO Hunt Ambassador LtGen James Laster
All expenses are also covered to include airline, transportation, and hunting license. Of course, the lodge will provide 3 great meals a day.
Date: Nov 17, 2021
To: Participants, Jan 2022 AHERO Stuttgart Duck Hunt
AHERO ON THE MOVE
Founded in the mid-1970s and covering 3000 acres, Bayer Farms offers more than 800 acres of flooded timber and 2000-plus acres of surrounding rice fields that create ideal wing-shooting conditions. The environment is pristine and the weather for the hunt was ideal. With little windchill, the temperatures in the mid- to high-20s were comfortable.
An Arkansas sunrise casts its misty light over flooded timber, revealing an extravagant duck spread as the eager AHERO hunters arrive.
By USMC Maj Joseph Burke (Ret)
AHERO MAGAZINE SUMMER 2022 23 AHERO Needs You! - AHEROUSA.org/donate
When waterfowl enthusiasts think about the best location in North America to pursue decoying mallards in flooded timber, none other than Stuttgart, Arkansas, will be first to come to mind. Stuttgart is the duck-hunting capital of the world. Lying in what is called the "Mississippi Flyway," it is the primary wintering grounds for the largest flights of mallards in North America.
Flyway4AHERO: Our Senior Leadership Ambassadors Go Out for Duck
Thanks to Bayer Farms and Brian Reeves of Kings Bayou Outfitters, four long-retired Marines this season got to experience this firsthand. LtGen James Laster, Sgt Maj Bryan Zickefoose, 1stSgt Craig Corsi and I were accompanied by hunt master Joe Roberts, a retired police officer and seven-year participant in this annual pilgrimage to enjoy some of the best duck hunting and exclusive waterfowl clubs in the United States.
AHERO ON THE MOVE
24 AHERO MAGAZINE SUMMER 2022
"I've been hunting pretty much ever since I could walk. Currently, I'm a guide for mostly bear and moose hunts in Maine, and I'm an AHERO ambassador in the senior leadership program providing exposure about AHERO's hunting events. There is great peace-of-mind to be found out hunting, which is key to why so many wounded vets benefit from the program. We want to build awareness of it and bring more of our young warriors to these hunts. Sharing stories with a buddy on the hunt who may not be familiar with hunting is the 'best medicine' possible!"
~ Bryan Zickefoos
AHERO's January 2022 Stuttgart, Ark., Duck-hunt participants,( l-r) back row (all USMC) - LtGen James Laster (Ret), Sgt Maj Bryan Zickefoose (Ret), 1stSgt Craig Corsi (Ret), Maj Joe Burke (Ret). Front row, Huntmaster Joe Roberts (Police Officer, Ret).
LEFT: Leisure time after a long but satisfying day duck hunting in a Stuttgart, Ark., area of the Mississippi Flyway.
Truth is, what I was "hooked" on was nature and the outdoors. And since those early years, I've continued to enjoy being in a duck blind with waders on, accompanied by man's best friend and hearing those early flights of birds moving into a local feeding area.
And the accommodations were second to none – thanks, of course, to the considerate onsite Bayer staff. As we watched the sun rise over decoys at dawn and heard our guides begin to send out the alluring feeding calls of early-rising mallards, the level of anticipation you couldn't help feeling was almost erotic.
AHERO MAGAZINE SUMMER 2022 25 AHERO Needs You! - AHEROUSA.org/donate
My involvement with AHERO had begun earlier in 2021. I was asked to tag along on a scheduled waterfowl hunting adventure with three other retired Marines: LtGen Laster, SgtMaj Zickefoose, and 1stSgt Corsi. These are not only great Americans, but they are also respected men, husbands, and fathers who appreciate the outdoors as much as I do.
As a young kid growing-up in Southeast Texas, I was lucky enough to have a dad who didn't delay in dragging me along with him and his hunting buddies into the rice fields of the Central Flyway, which lay southwest of Houston. I was instantly hooked in this early exposure, which began with hunting ducks and geese, and then moved to bigger game-hunting and also fishing.
ABOVE: SgtMaj Zicklefoose after killing his limit in flooded timber.
The Bayer Corporation continues to deliver on its commitment to supporting Veterans by affording them this opportunity. Those of us who participated in this Flyway4AHERO hunt highly encourage any Veteran or First Responder experiencing PTSD or other conditions resulting from their service to consider taking part in an outdoor hunting or fishing event this year.
The sense of purpose and camaraderie that amounts to a kind of therapy is an oftenexperienced result of participating in an unforgettable expert-led hunting or fishing experience.Onbehalf of the AHERO Ambassadors - we look forward to seeing you afield in 2022!
For me, it just doesn't get any better! Why Senior-Leadership hunts?
morning hunt as the group prepares to depart for the day.
~ Joe Burke
All duck hunt photography by Joe Roberts.
Sitting in a goose blind waiting to ambush passingEvidencespeckle-bellies.ofasuccessful
"Hunting is therapeutic. This programcan connect participants back to America.Can introduce veterans to duck hunting ifthey've not done it before but would like toor encourage those who have enjoyed it inthe past to return to it."
The title of Flyway4AHERO is applied, in this case, to the organization's sponsored waterfowl hunting experience, which provides Veterans and First Responders with an amazing opportunity to experience waterfowl hunting. But there are other AHERO Senior Leadership hunts, as well. They are a means for bringing our participants together with others who have endured similar challenges and might take joy and energy from hunting in the beautiful settings our country still has to offer.
26 AHERO MAGAZINE SUMMER 2022
AHERO ON THE MOVE
angel that was with him that day saved his active-duty Army wife from becoming a widow and his two young boys from growing up without a father. A car accident can be inconvenient or life altering.
Lynn's Corner
What is the Worst
AHERO MAGAZINE SUMMER 2022 27 AHERO Needs You! - AHEROUSA.org/donate
T hat C ould H appen?
Being unprepared, the company's 20 barges that were moored to the essential Pensacola Bay Bridge became loose and destroyed many of the newly replaced road spans. What should have been a normal couple of months' reconstruction turned into a catastrophe that lasted close to a year and that devastated many lives and Weatherbusinesses.canbeunpredictable and range from being perfect for a day at the beach to utter destruction in very a short period of time. While we can be educated and prepared for tumultuous weather sometimes, there might only be mere inconveniences, other instances can cause tremendous hardships.
By Lynn Feehan
A few months ago, an alcohol impaired driver racing near Pensacola NAS smashed into the back of an SUV owned by our 31-year-old nephew, Army Veteran, SPC Justin Meggers. The car flipped over seven times prior to coming to a rest in a nearby ditch. Over six feet tall, and 250 pounds, he walked away from the wreck, leaving the smashed space that seemed far too little for him to have survived in. Thankfully, he only suffered minor injuries.Theguardian
In September 2020, Hurricane Sally changed its course and smashed into Pensacola. Our area has withstood many storms, with this one being a significant one, but we are resilient and always rebuild quickly. Except this time, and for the choices made by a bridge contractor.
~ lisabeth Kubler-Ross Psychiatrist, author of "On Death and Dying" and the theory of the five stages of grief.
Lynn's Corner
AHERO ON THE MOVE
But does anyone really imagine when they join the armed forces, that they won't make it home? Or will make it home, but no longer be the same person that left?
FOR SOME THINGS, WE CANNOT TRULY PREPARE
Caring people and organizations help. So can a cherished four-footed companion. Whether the death of a loved one was while on active duty or due to service, there are many groups that can help survivors navigate this new reality. Following is a list of a few of
of course not.
I found the words "HOPE" handwritten in sand, and a picture of it now hangs on the wall in the place my son took his last breath. Hope is a place that helps soothe the soul.
• Volunteer to help Veterans in ways that take advantage of this person/animal connection. This can help you as much as it will the Veterans. The Warhorse Project's equine-assisted therapy program for Veterans and kids at Garcon Point in Santa Rosa County, Florida, would love your help while you make personal connections with the horses. And Healing Paws for Warriors out of Fort Walton Beach, which provides recue-to-trained, ADA-certified service dogs to military combat Veterans who need them, is another great non-profit, animal-oriented organization to check out.
No one ever really expects the worst to happen, but what do we do when it does? It's an often-repeated cliché, but taking one day at a time, sometimes one step at a time, until you learn to function again in a different world can truly help. There is no one-size-fits-all recovery, but life pulls you along, like it or not. We decide which direction to take.
• Our AHERO organization and this, its semi-annual magazine, inspire volunteering at Veterans events that help heal our wounded Veterans and can provide comfort for the families left behind.
No one thought when they said goodbye to their spouse one morning and headed off to Pensacola NAS that there would be an attack from foreign terrorists by the afternoon, and that some wouldn't be returning home. Or when they headed off for training, that it might be for the last time.
At the end of the day, after the worst has actually happened, there is a measure of comfort to be found in the often-heard stories of survival based on giving to, or comforting, others. The gift of volunteering, mentoring, or just listening is helpful for everyone. (And, in my opinion, even more so with an animal at yourOneside.)day
Three years after my son's death, and at my request, the VA sent me a letter confirming his death was due to military service. Did knowing his death was service related relieve any of the pain?No,
•them.T.A.P.S (Tragedy Assistance Program for Survivors), formed in 1994, is a national peer support group that provides resources and encouragement from other survivors. They advocate attending functions and engaging with others. Healing through helping others.
WHAT IF THE WORST HAPPENS?
Memorial Monument was dedicated to the many families in our area that lost someone while on active duty or due to their service. We hope they can also find some measure of solace among the granite pillars that say, the sacrifices of our families will not be forgotten.
• Contact the Gold Star and Surviving Families Connect organization on Facebook if you have questions or are looking for support from those who understand.
• Consider the unconditional love and comfort an animal can offer survivors. Rescue animals are a great place to start looking. We inherited Shane's beloved five-year-old dalmatian, and at twelve years old now, "Noles" is my sometimes service dog, is at times crazy, hilarious, and loving, and is mama-bear to the two rescued dogs in the house.
Still, the knowledge led me down a road to new friends who are now more like family, and they inspired me. Together we worked to unite a community like no other. On Veterans Day November 11, 2020, the Gold Star Families
28 AHERO MAGAZINE SUMMER 2022
"The reality is that you will grieve forever. You will not 'get over' the loss of a loved one; you will learn to live with it. You will heal and you will rebuild yourself around that loss you have suffered. You will be whole again, but you will never be the same. Nor should you be the same nor would you want to."
In 2014 my son, SSgt Christopher Shane Riordan, separated from the Air Force following ten years of service in Security Forces, with boots on the ground for eighteen months during Operation Iraqi Freedom.
Our military personnel swear to support and defend the Constitution against all enemies, foreign and domestic. They recognize that they can face death at any time and with great bravery accept the risks that they will take.
Fourteen months after separation, he succumbed to PTSD. The worst had happened.
Even when our loved ones leave for a foreign land, and we understand they are putting their lives on the line, no one really imagines they won't be coming home. Or they do make it home, but in the end, they don't survive the experience.
Army Sergeant Dominic McDaniel was a forward observer in the Infantry Division for seven years.3 As a "sister" or "FiSTer," his job was to "remain as calm as possible and drop accurate bombs on enemy target locations," using his expertise in land navigation and logistics to ensure the safety of his fellow infantrymen. While technically in a support role, he often found himself deep in the combat zone on foot with light infantry, looking for enemy combatants. In 2005, he advanced to squad leader in Sadr City, Iraq, with a group of young soldiers now in his care.
When members of his squad – including the youngest member of his battalion – were wounded in combat, he felt immeasurable guilt. McDaniel recalled, "A couple guys got hurt, and essentially I prayed, and I asked God for help. And at the end of that, I felt that no one was coming, and it was up to us. And that was a very alone, isolating feeling for sure, and I don't know if that went away after that."
An IED explosion left McDaniel with physical and mental wounds that eventually forced him to resign after a pre-deployment
assessment "flagged" him as unfit for combat with a combined traumatic brain injury (TBI) and PTSD diagnosis. The Army told him to put in his disability claim, and just like that, his military career ended. McDaniel's transition back to civilian life was a terrible time. "I isolated. I felt guilty because my guys got hurt, and I was in charge," he said. "It was my fault. They started committing suicide when we got home pretty quick."
These are excerpts from The Watson Institute Costs of War "20 Years of War" Research Series, Brown University, published in 2021. AHERO Magazine is proud and grateful to have received permission from the author, Dr. Thomas H. Suitt III, and The Watson Institute to carry, on its pages, portions of this important, extensive study of veteran and military suicide. Additional excerpts will be published in subsequent issues of this magazine. Please note, numbered footnote information will appear at the conclusion of this presentation. ~ the editors
AHERO MAGAZINE SUMMER 2022 29 AHERO Needs You! - AHEROUSA.org/donate
INTRODUCTION2
High Suicide Rates Among United States Service Members and Veterans of the Post-9/11 Wars
The Price We Continue to Pay
By Thomas Howard Suitt, III, PhD.1
In "an extremely bloody time," McDaniel felt it was his job to keep them safe.
Medically discharged, the loss of his brothers in arms and his overwhelming guilt led to alcohol abuse, divorce, and a feeling of "cascading betrayal." At his lowest,
In the post-9/11 era, the rise of improvised explosive devices (IED), the attendant rise in traumatic brain injuries (TBI), the war's protracted length, advances in medical treatment that keep service members in the military longer, and the American public's disinterest in the post-9/11 wars, have greatly contributed to increased suicide rates. High suicide rates mark the failure of the U.S. government and U.S. society to manage the mental health costs of our current conflicts.
The actual number of post-9/11 veterans who have died by suicide is likely higher than the V.A. records indicate. The difficulty in coming to the actual number stems from the V.A. not differentiating veteran suicides by their time of service, and they have inconsistently measured suicides since 2001 and have yet to report the actual number of post-9/11 veterans who have committed suicide. However, an exact number may itself be somewhat beside the point as it is the suicide rate per 100,000 that shows changes in the ongoing problem of veteran suicide.
AHERO ON THE MOVE
Rates and figures by the DoD and other sources may be prone to data error. 29 The reported rates may severely underreport the number of actual active duty suicides. A recent examination of reported suicide rates of active duty Army personnel also found "the Department of Defense Suicide Event Report details only approximately half of those who die by Determiningsuicide."30what is and is not suicide is itself difficult. For example, the DoD may not count overdoses, single-vehicle wrecks, weapon misfires, and the like as completed
Figure 1. Suicide vs. Hostile Death Rates among U.S. Service Members & Veterans.28
Army Sergeant McDaniel now works for a nonprofit helping other veterans who have experienced severe trauma in peer-to-peer settings. He spends his time counseling veterans who, as he once did, struggle with personal crises and feelings of hopelessness.
Sgt. McDaniel, fortunately, found useful resources for depression and suicidal ideation. Unfortunately, many of those in his battalion could not continue to cope with their traumas. He revealed that while his unit lost nine people in Iraq, 15 have taken their own lives since leaving the service. "Now more people from my unit have committed suicide than died in combat," he said. "I feel that because of that, it made me reflect on what we went through, where we were at, how our role in the war has caused some of this extreme chaos in the minds of fellow soldiers. ... It really kind of strips your humanity and soul away, war does."
The rate of active duty personnel suicides has also been called an "epidemic of soldier suicides."22 The DoD tracks quarterly suicide rates for those currently active within the Air Force, Army, Marine Corps, and Navy. Much like the rates for veterans who have already returned to civilian life, active component service members have also experienced a significant increase in suicides per 100,000, although the trends between veteran and active duty suicides are not uniform.
These high suicide rates are caused by multiple factors, some inherent to fighting in a war and others unique to America's "war on terror" framework. Partially, they are due to risks common to fighting any war: high exposure to trauma, stress, military culture and training, continued access to guns, and the difficulty of reintegrating into civilian life.
SUMMARY
decreased after the 2012 peak, but they have trended on an upward slope since the post2012 valley. Those rates have now surpassed the 2012 rate and outpace the suicide rate of theEvenpublic.25anobservation that suicide rates of active duty service members are at or slightly above those of the general population is cause for alarm. The suicide mortality rate of active duty service members has historically been lower than that of the general population. Further, active duty suicide rates have decreased during wartime in every U.S. war besides Vietnam and the Global War on Terror.26 Instead, rates of active duty suicide have been slowly increasing since at least 2004.27 More importantly, as hostile combat deaths have gone down considerably since 2007, suicide rates continue to climb unabated (See adjusted active duty rates versus hostile death rates in Figure 1).
Suicide rates among the United States public have been increasing for the past twenty years, but among active military personnel and veterans of the post-9/11 wars, the suicide rate is even higher, outpacing average Americans. The "post-9/11 wars" refers to ongoing U.S.-led military operations around the world that grew out of President George W. Bush's "Global War on Terror" and the U.S. invasion of Afghanistan in 2001. This paper estimates 30,177 active duty personnel and veterans of the post 9/11 wars have died by suicide, significantly more than the 7,057 service members killed in post9/11 war operations.
The DoD and others have maintained [that], apart from 2012, the suicide rates adjusted for age, sex, and population are almost the same between active duty service members and those of the general population.23 They can no longer argue this since the number of suicides and the rate have become worse in recent years as 2018, 2019, and 2020 have consecutively marked the worst years of active service member suicide since the previous peak year in 2012.24 Rates of active component suicides
30 AHERO MAGAZINE SUMMER 2022
24 Ibid. and Orvis, K. A. (2020). Department of Defense (DoD) Quarterly Suicide Report (QSR) 4th Quarter, CY 2020. Department of Defense: Defense Suicide Prevention Office. https://www.dspo.mil/Portals/113/Documents/2020QSRs/TAB%20A_20210309_OFR_Rpt_Q4%20CY%202 020%20QSR.
29 As they note in Under Secretary of Defense for Personnel and Readiness (2019, September 13), p. 8 [nn4,5], "suicidal intent is rarely known," and "the establishment of 'intent' in manner of death determinations can be difficult and often varies."
AHERO MAGAZINE SUMMER 2022 31 AHERO Needs You! - AHEROUSA.org/donate
31 See Under Secretary of Defense for Personnel and Readiness (2019, September 13) as well as other previous Defense Suicide Prevention Office annual reports since 2008.
23must-defeat/SeeUnder
25pdf?ver=UKN194rEw5MhM_vaGy0j0w%3d%3dSee,again,UnderSecretaryofDefenseforPersonnel and Readiness (2019, September 13).
(Excerpt 2)
3 Quoted veterans in this article participated in an IRB-approved series of confidential interviews with the author. Each has been assigned a pseudonym for the purpose of confidentiality. None of the participants reported current or ongoing suicidal ideation or behaviors.
28 This chart displays hostile death rates, as opposed to total combat deaths including hostile and non-hostile incidents, because this is the clearest comparison with suicides. The "total deaths" are measured inconsistently over time and between different conflicts. Sometimes they include "self-inflicted," sometimes they do not. Self-inflicted deaths may be accidents, or they could fall in an "unknown" cause category that could be suicide. Rates were determined using data provided by the Defense Casualty Analysis System, the Defense Manpower Data Center, the Centers for Disease Control and Prevention, the VA, and the DoD. See Defense Casualty Analysis System. (2012). Active Duty Military Deaths by Year and Manner 1980 - 2010 (As of November 2011). U.S. Department of Defense. https://dcas. dmdc.osd.mil/dcas/pages/report_by_year_manner.xhtml; Defense Casualty Analysis System. (2020). Conflict Casualties. U.S. Department of Defense. https:// dcas.dmdc.osd.mil/dcas/pages/casualties.xhtml; Defense Manpower Data Center. (2020). DoD Personnel, Workforce Reports & Publications. U.S. Department of Defense. https://www.dmdc.osd.mil/appj/dwp/dwp_reports.jsp; Centers for Disease Control and Prevention. (2020). WISQARS Fatal Injury Data Visualization Tool. https://wisqars-viz.cdc.gov:8006/explore-data/home; U.S. Department of Veterans Affairs. (2018). 2005-2018 National Suicide Data Appendix. Retrieved from https://www.mentalhealth.va.gov/docs/data-sheets/2018/2005-2018-National-Data-Appendix_508.xlsx; Defense Suicide Prevention Office. (2020). DoDSER Annual Reports. U.S. Department of Defense. https://www.dspo.mil/DoDSER/; and data provided by the Defense Health Agency per a Department of Defense Suicide Event Report data request. See also, Defense Casualty Analysis System. (2012).
30 Smith et al. (2019), p. 6.
Secretary of Defense for Personnel and Readiness (2019, September 13). Annual Suicide Report - CY 2018 (Rep. No. D-30C1C14). Department of Defense. https://www.dspo.mil/Portals/113/2018%20DoD%20Annual%20Suicide%20Report_FINAL_25%20SEP%2 019_508c.pdf, p. 34. See also, Pruitt D., Smolenski, D. J., Bush, N. E., Tucker, J., Issa, F., Hoyt, T. V., & Reger, M. A. (2019). Suicide in the Military: Understanding Rates and Risk Factors Across the United States' Armed Forces. Military Medicine, 184(Suppl 1), 432-437.
26 Smith, J. A., Doidge, M., Hanoa, R., & Frueh, B. C. (2019). A Historical Examination of Military Records of US Army suicide, 1819 to 2017. JAMA Network Open 2(12), 1-11.
27 See Pruitt et al. (2019) and Lineberry, T. W., & O'Connor, S. S. (2012). Suicide in the US Army. Mayo Clinic Proceedings, 87(9), 871-878.
22 McDermott, J. (2012, August 1). Soldier Suicides, An Epidemic We Must Defeat. TIME. https://nation.time.com/2012/08/01/soldier-suicides-an-epidemic-we-
(Excerpt 1)
suicides; reconstructing a narrative of suicide is prone to error. However, the cited rates for both veterans and active duty components fail to include Reservists and National Guardsmen. While the suicide rate among Reservists is currently proportionate to that of the general population and active component service members, the National Guard's rate has remained significantly higher than the general population. The most recent data from 2018 showed they had a rate of 30.6 per 100,000.31 It is not clear why rates for the National Guard
A pdf of Dr. Suitt's complete paper is available at: 21%202021.pdfSuitt_Suicides_Costs%20of%20War_June%20costsofwar/files/cow/imce/papers/2021/https://watson.brown.edu/
1 Thomas Howard "Ben" Suitt, PhD., is a recent graduate of the Graduate Program in Religion at Boston University. Email: bensuitt@bu.edu. The author would like to thank Neta Crawford, Stephanie Savell, and Heidi Peltier for their time, support, and detailed feedback on earlier drafts. He is also indebted to the courageously honest veterans who contributed their firsthand experiences in service to this project.
to the conservative estimate of 22,261 post9/11 veteran suicides, the numbers become even more devastating. Totaling a minimum of 30,177, the growing number of suicides among War on Terror service members and veterans illustrates a dire reality of the mental health costs of post-9/11 wars.
2 At the outset, I wish to note this article focuses at length on the ways service members and veterans face hardship and mental illness that may lead to suicide. The veterans emphasized here represent an alarming and significant portion but non-majority of service members and veterans. I do not wish to reinforce stereotypes of veterans that mark them as prima facie broken or dangerous people.
would be higher, which is a point worth more investigation.Evencounting all deaths (including hostile and non-hostile incidents) in the Global War on Terror, which total 7,057, there are more than triple the number of post-9/11 veteran suicide deaths. Adding the estimated 5,116 active-duty personnel who died by suicide since the beginning of the War on Terror, the 1,193 National Guard service members, and 1,607 Reserve component service members who died by suicide between 2011 and 2020
Footnotes
The Frenchy Connection
America's Veterans, and he was a welcome sight when he came by this last time. What a loss to us all, then, when he suddenly passed away shortly afterward, in May! The story of how Joe "made" FloraBama happen, and his worthy life in general, may yet appear on our pages.Tafter wrapping the repainted Tower to dry before its unveiling to stand watch that support all things Veterans and came together for this event. Among them at the far right is LtCol Rich Bianchino (USMC Ret), who flew in all the way from California to attend the event along with his long-time friend and fellow Golden Eagle, Lt Gen Fred "Assassin" McCorkle, USMC Ret.
Me, doing one of my favorite things - promoting membership in the USMC COMBAT HELICOPTER & TILTROTOR ASSOCIATION!
32 AHERO MAGAZINE SUMMER 2022 IN SERVICE TO OUR NATION
The refurbishing of the Marine Aviation Memorial Bell Tower this year was financed by The USMC Combat Helicopter & Tiltrotor Association – AKA, "Pop-A-Smoke" and other supporters who always seem to come through for us. Glenn Wickham, owner of PMI, did a fabulous job on the impressive Tower aided by his son, Glenn II and Bryan Moore. The Wickham's, father and son, are pictured here with Bryan after wrapping the repainted Tower to dry before its unveiling to stand watch over Pensacola's beautiful Veterans Memorial Park.
Bringing it all Together
Going forward, we're hoping to get that full story from him for the next issue of AHERO Magazine.Andspeaking of the great supporters of our projects that commemorate our many military heroes, we were totally taken aback by the VERY generous contribution to the Tower project made by one Mr. Joe Gilchrist. You probably recognize him as the owner of the FloraBama lounge in Orange Beach, Ala., whose legacy includes bringing some of country-music's best singer-songwriters (including my Veteran buddy, Mutt, featured here) to public attention at his venue.
Though not a military man himself, Joe always found a way to support and honor
Glenn's other son, Army 82nd Airborne, is a story unto himself, having somehow managed to survive when his parachute failed!
AHERO MAGAZINE SUMMER 2022 33 AHERO Needs You! - AHEROUSA.org/donate
ABOVE LEFT: Commandant of the Cpl J.R. Spears Detachment #066 Marine Corps League, Col Karl Schwelm, USMC (Ret), stresses the need for unity in our Marine active duty, retired, and Veteran community. We NEVER stop serving country, Corps and community! The event was hosted by Marine family-owned restaurant, The Hangar American Grill, in Milton, Florida. Thank you, Jessica and Robert!
ABOVE RIGHT: The Marine Aviation Memorial Bell Tower was refurbished by PMI. Glenn Wickham, owner of PMI, stands with son Glenn II and PMI rep Bryan Moore.
LEFT: Capt Courtland Gray, USMC (Ret) converses with Pop-A-Smoke President Col E. "Slick" Katz, USMC (Ret).
I spoke of how everyone thought Vietnam's weather was always hot. It was, but in the mountains at night in the rain, it was
By Norm "Frenchy" LaFountaine
Well, connections and anniversaries abound for those in the know. Or maybe I should say for those as obsessed as I am about remembering valiant friends and fellow Veterans!Awhile back, I made a few new friends through my days traveling with the patriotic vocal group, HOMELAND, from Birmingham, Alabama, "Mutt" Cooper being one of them. My friend Carl Jones Jr. sent me one of Mutt's videos and asked me how I felt about it.
bitter cold. Especially when you were in the open cabin of a helicopter!
Bring on January 2022. It's a month or so after 3 December '21, when I got my left knee replacement, a gift from a grateful nation (VA funded). COL Slick Katz, USMC (Ret), president of the USMC Combat Helicopter & Tiltrotor Association (AKA, "Pop-a-Smoke" or "Popasmoke"), called to see how I was faring. He greeted me much in the fashion he would when he was a lance corporal in our helicopter gunship squadron in Vietnam: "Hey, a-hole, how you doin'?"
34 AHERO MAGAZINE SUMMER 2022 IN SERVICE TO OUR NATION
Bone-Chillin' Rain
Crank up the Twilight Zone theme music. One evening of the three days of events was 14
Mutt is a Veteran, a singer/songwriter, and an occupational therapist these past 20 years. He works at Martin Army Hospital helping TBI patients. He also spends his time working with Operation Song and recently with Freedom Sings, joining Nashville songwriters to interview and tell the stories of military serviceMutt'smembers.video"got"
April 22, the 53rd anniversary of the shootdown of Purple Fox CH-46D helicopter HMM364 Recon (Swift Medevac YK-5) on Charlie Ridge, Vietnam. Four crew members lost. The surviving pilot of that helicopter was Capt. Rich Bianchino, USMC (Ret).
I dropped off a thumb drive to Michelle at AWKO with a 10-minute video of "Gooie" Gomez relating the story of the 14 April '69 shoot down for the Marine Museum Archives in Quantico. Gooie had been asked to do this as the crew chief on that mission with Capt. Bianchino.Thatmission was one of several that were critical to the survival of so many, including yours truly. So it was an anniversary for me as
One day, Gooie and his wife Carleen stopped here in Milton, Florida, on their way to Quantico, Virginia. Gooie was to be interviewed in Quantico for the Marine Museum Archives, along with all the stillliving Congressional Medal of Honor and Navy Cross recipients who had come to see Captain William "Bill" Dabney, USMC (Ret), who had been at Khe Sanh in 1968, receive his belated NavyGooieCross.and
What I thought was, Wow!
I had contacted Michelle Press at the firm, telling her the story of how Capt. Bianchino and his crew chief, none other than Gooie Gomez, were shot down on 14 April 1969. And how more than half their crew were lost and how the three survivors were seriously wounded. I let her know what a great gift it would be to us all to have Rich here for the event to be with some of his oldest and closest friends, including retired LtGen Fred "Assassin" McCorkle.
me twice. Once was just because of the content, but then with a line in the song that brought back memories on the eve of another of my own important anniversaries. The song is called "Tom."    One of the lyrics in the song mentions "the jungle rain that chills you to the bone." Hearing it brought me back to a conversation I once had with a friend who I still mourn, Cpl Ernesto "Gooie" Gomez, Marine Vietnam Veteran, a CH-46D crew chief and Navy Cross Recipient (Khe Sanh, 881S, 1968).
Anyway, Slick and I got on to the business of the next Popasmoke reunion. It was agreed that I should round up the local suspects for a get-together at The Hangar American Grille while he was in from Tallahassee visiting his son and family. The first person to be called on for help was Dave Glassman (USMC, Ret), wearer of many hats and & master of Make Things Happen. Next thing I know, we've got a date for the event!
A GREAT SUPPORTER STEPS UP, HONORING FRIENDSHIPS FORGED IN THE FIRESTORM OF WAR
The event was a membership drive for Popasmoke, and the upcoming Reunion in Sparks, Nevada, and also to raise everyone's awareness of an upcoming fundraiser for repairs to the Marine Aviation Memorial Bell Tower and an opportunity to bring in some special guests with many connections to Pensacola. One of those guests had his travel expenses generously sponsored by the law firm, Aylstock Witkin Kreis Overholz (AWKO) out of AWKOPensacola.isabig supporter of AHERO. The folks there never pass up an opportunity to show appreciation for the sacrifices made by our Veterans.
The Frenchy Connection
Over the years, Popasmoke has been a hugely generous supporter of great projects that honor our heroes. Among these have been The Veterans Memorial Park of Pensacola itself, as well as The Gulf Coast Gold Star Families Monument and the Marine Aviation Memorial Tower located there.
Shortly after Gooie's passing in 2007, I got to go for a flight in one of the last of those CH-46's, in the port gunners open window. There was a cold rain falling in Pensacola that day in 2008, and the memories came rushing back. All of a sudden, I felt a warm hand on my shoulder, and I turned around quickly, thinking it was a crew member trying to get myOfattention.course, it wasn't. In fact, there was no one there. But I have my suspicions … GATHERING IN REMEMBRANCE, BUT LOOKING TOWARD THE FUTURE
Which is what fraternal and non-profit organizations are supposed to make happen, according to a particularly great proponent of this philosophy – AHERO!
well, as I was a crew chief on one of the two gunship escorts, under the command of Maj Ross Plasterer, who refused to leave the crash site until he knew the rescue helicopter had it in sight, as he knew that once the destroyed CH-46D helicopter had sunk through the 75-foot-thick triple canopy to the jungle floor, any survivors would be forever lost. Maj Plasterer later retired as a major general.
made. An airline ticket was booked and in my hands, thanks to Raechel at AWKO, who had taken the "baton" from Michelle.
Michelle then wrote a summary of my phone conversation with her about the importance of such anniversaries to Veterans, and she reached out to the partners at AWKO Law. Within a few hours, the decision was
Well, Rich made it to the Meet & Greet with Slick Katz and all of us. Many representatives from the community's Veterans organizations participated – stepping up as they always do to make good things happen. A good time was had by all, with new friendships started for the future.
This event was a major factor in securing a new community connection to the Hangar American Grille on Avalon Blvd, in Milton. The owners, Mrs. Jessica Kern and her son, Robert Preston (a former USMC MV-22 Osprey pilot) have joined the AHERO family, and I'm sure they will be adding much to the good times we'll all be sharing in the future!
SUCCESS IS OLD FRIENDS GATHERING & WELCOMING NEW FRIENDS IN
AHERO MAGAZINE SUMMER 2022 35 AHERO Needs You! - AHEROUSA.org/donate
SMSgt Joseph Glover,
In Service to Country and Community: The Joseph A. Glover Story
A BOON TO THE COMMUNITY … AND TO AHERO
In 2011 Glover had become the first African American promoted to the rank of deputy fire chief of Pensacola Fire Department. He served as Escambia County Fire Rescue's fire prevention officer charged with developing and supporting community outreach and public fire safety programs that promote awareness and educate citizens. He later transitioned from that position to teaching at the fire academy.
USAF
36 AHERO MAGAZINE SUMMER 2022 IN SERVICE TO OUR NATION
A.
SMSgt Joseph A. Glover, a U.S. Air Force Veteran and native of Pensacola, currently serves as instructor at the Pine Forest High School Fire Academy, the first career high school fire academy in Northwest Florida. Glover's extraordinary military and civilian public service career experience underscores the excellent education the Academy is providing to area youth interested in firefighting and related careers.
By Connie Conway
Glover served in the Air Force from 1983 to 1987, then in the Reserves until 2016, a 33-year military career. While in the Reserves, he joined the Pensacola Fire Department. His 27-year career there included positions in fire suppression, inspections, administration, and as minority recruiter.
A final Air Force appointment, which was as chief enlisted manager for the 403rd Logistics Readiness Squadron at Keesler Air Force Base, Mississippi, put Glover in support of the 53rd Weather Reconnaissance Squadron, also known as the Hurricane Hunters. His distinguished service to our nation is reflected in his numerous awards, including a Meritorious Service Medal in 2016.
Glover's first-hand experience in, and knowledge of, fire science and administration are clearly extensive. He has a number of
Having always understood the importance in investing in our youth, I've been a Take Stock in Children mentor for more than 25 years and currently am vice president of Movement for Change. I've also volunteered for Habitat for Humanity; served as loaned executive for the United Way; still regularly volunteer on the Annual Day of Caring; and have spearheaded and collaborated with organizations such as Catholic Charities of Northwest Florida on numerous charitable events. Other organizations include the American Red Cross, Good Works Partnerships, and the Trauma Intervention Program. I was also proud to serve on the board of the Pensacola Veterans Memorial Park
DT: Of course, and you are welcome.
JG: Yes. I had a cousin who died in the Vietnam War. His name, William Allen Jr, is engraved on the National Vietnam Memorial Wall and on the Wall South at Pensacola's Veterans Memorial Park
CC: AHERO recently decided to add qualifying First Responders to the at-risk military Veterans it serves in its suicideprevention mission. In your view, how do the forces that motivate them align – or do they align at all?
JG: I believe the work experience offered by the Tall Timbers organization is a perfect fit for many military Veterans. One
bachelor's degrees in these disciplines, as well as an associate degree in education and training from Air University, and other related credits.Having a background of such multifaceted career experience and education is extremely unusual. With today's considerable uptick in instances of wildfire and the public's concern in general about fire – and its interest in the role of our much put-upon First Responders –having such a background means you get asked a lot of questions. So I recently asked SMSgt Glover about a few things.
CC: AHERO has also been collaborating with Tall Timbers Inc on a program introducing interested Veterans to careers in conservation. These involve controlled burns and firefighting. Can you comment on how you see this type of outdoororiented work appealing to individuals who have left military service where they once enjoyed operating affectively as a team in outdoor settings?
His answers were thoughtful, insightful, and concise.
CC:Foundation.Again,thanks so much for this interview. And thank you for your great service to this community and to our country.
JG: Thank you.
CC: As a young person, was there a family member who served in the military, who inspired you to serve as well?
AHERO MAGAZINE SUMMER 2022 37 AHERO Needs You! - AHEROUSA.org/donate
William Allen Jr, Veteran Joseph Glover's cousin, fought and died in the Vietnam War.
JG: First Responders are the first line of defense in every community, yet those who take on that commitment generally are ordinary people. They become depended upon to do extraordinary things every day. And – ordinary or not – as First Responders, they will selflessly risk all to save the lives of others.
CC: I know you and your wife, Charlotte, have been married for nearly 20 years, so you are a family man, which in itself involves time. Even so, you continue to have yet another "career" in public service, i.e., volunteering on boards of non-profits. This is so valuable to a complex military/civilian community such as we have here, especially given the executive training you have had. I want to thank you for providing your story to AHERO Magazine! However, before we conclude, can I ask you to list some of those charitable entities at which you've so generously volunteered your time?
Students respond with rapt attention as Chief Glover conducts class at the Fire Academy.
CC: Thank you for sharing that. I am sorry for your family's loss.
of the things Veterans miss most after separation from service is the teamwork and camaraderie they once enjoyed. This program provides a unique opportunity to reconnect with other Veterans in a meaningful way.
Ready to ride to the rescue, young Landon Carwford poses with his impressive First Responder uncle, Chief Glover!
Clearly a major-league homerun star in the making! Here, "Coach" Glover instructs at a youth baseball camp sponsored by Quint Studer through his Good Works Program where Glover, a board member, also volunteered.
IN SERVICE TO OUR NATION
38 AHERO MAGAZINE SUMMER 2022
Veteran (AF MSgt) Joseph Glover, a native Pensacolan, stands at the Wall South in Pensacola Veterans Memorial Park. As it does on the Vietnam Memorial Wall in Washington D.C., the name of William Allen, Glovers cousin, is inscribed here.
AND YET, WITH HELP …
AHERO MAGAZINE SUMMER 2022 39 AHERO Needs You! - AHEROUSA.org/donate
On a quest to assist affected Veterans and First Responders that he knew get out of the snarl of addiction, AHERO's Lee Stuckey heard and responded to reports of a rehabilitation center that was having extraordinary results with their treatment program. This was Warrior's Heart, whose focus, he learned, was on helping affected military Veterans and First Responders
It's a Stuckey Thing
Marine-trainedspecifically.toresist confusing rumor with actual fact, Stuckey did that "trust, but verify" thing: He got all the information he could on the place. He verified. Then he did that other Stuckey thing: He helped a fellow Veteran, a retired police officer, benefit from the Warrior's Heart program. Then he helped another Veteran: Trey Whitaker
A note from the editor
Trey's story follows on the next page.
During his visit to Warrior's Heart this spring, Lee met with (among others) Justin Jordan, director of Admissions, and fellow Adnssions team member, Ingrid Lacy.
Warrior's Heart in San Antonio, Texas, is a full-service rehabilitation center providing inpatient treatment for chemical dependency, alcohol abuse, PTSD, and mild traumatic brain injury (MTBI). Helping anyone with these conditions is a heavy lift for even mentalhealth professionals to take on. Nonetheless, the highly skilled, caring staff at Warrior's Heart do exactly that with great commitment andForsuccess.mostfolks who endure it, the idea that conquering addiction as a "duty assignment" that must be executed alone is just a bridge too far. Which is why so many simply don't manage to cross it.
IN SERVICE TO OUR NATION
By Andy and Tina Whitaker
A Life Worth Living
40 AHERO MAGAZINE SUMMER 2022
Trey with his mom, Tina, and dad, Andy.
Trey has always been a kind and giving person, so I guess it was natural and a "God thing" that brought him to meet Lee Stuckey and the volunteers of AHERO. Trey had heard how AHERO helps Veterans, and he had talked to Lee even before his divorce. Lee had invited him to come to AHERO Farm in Shorter, Alabama, to meet some of the others and help out. But then Trey would manage to not show
We thank God every day for Lee Stuckey, AHERO, Warrior's Heart, and the VA – each for their part in giving Trey a second chance at life. Tina and I love our son more than we love anything, and Warrior's Heart is giving him the tools to live a better life. It will be up to him to use those tools and to reach out for help when he needs it.
Trey on Deployment.
Andy Whitaker with Trey.
Although he married soon after coming out of the Navy, those demons continued to follow Trey. In just three short years after he was married, his constant drinking and the manifestations of his PTSD led to a divorce.
That was it. Trey finally agreed to get help, hopefully at Warrior's Heart. Thanks to Lee's great help with the red tape of VA benefits
Another saying that's often true is, "It's not what you know but who you know." This is true of God and his divine oversight for a Grand Plan. Always believe, always trust, always reach out to people who care.
There are always people who are ready to help us help ourselves. The all-volunteer AHERO organization is an example of that. Warrior's Heart is another. Both carry the constant and wonderful message that we all truly have a life worth living.
TREY: THE LIGHT OF OUR LIFE
Do you know the old saying, "You're only as well as your sickest child"? That's the way my wife, Tina, and I felt over the last few years as our son, Trey, struggled with his dual demons of alcohol and PTSD. But now we have become much more hopeful for him, thanks to AHERO and Warriors Heart.
After serving in the Navy with three deployments in four years, our wonderful son was home. But now we noticed that Trey seemed to have changed – not from the likeable person he still was, but in his drinking. It had gotten worse. Quiet drinking alone, binge drinking to avoid facing life's challenges, these had become his choice of a way to escape whatever was haunting him.
Proud dad with his U.S. Navy Sailor!
up.Except once. On that day, Trey upheld his commitment and found himself enjoying cutting brush and helping with other work on the farm. But the demons didn't stay home. They were still always with him.
AHERO Needs You! - AHEROUSA.org/donate
One thing we are so grateful for is that going through the program at Warrior's Heart was entirely Trey's idea. We knew he was free to make his own choices. We did not hold him hostage to make life changes but understood that the addict must be the one to choose to change. No matter how much you are loved, it must be your personal decision alone.
Lee, along with some friends and Tina and I, had been talking with Trey for weeks before the divorce about getting help through the Warriors Heart program, but he didn't think he needed help and was determined to work on his problems himself. Things went on, his heavy drinking leading to a couple of close calls on being given a DUI. Then came the night he passed out altogether in his car after hours of drinking in a bar.
At the time of this writing, we've had several texts and a Zoom call with Trey at Warriors Heart. He looks better and says he loves the place. We have even spoken to his councilor. "He's been the perfect patient," she told us.
AHERO MAGAZINE SUMMER 2022 41
access, we were able to get Trey on a plane to Warriors Heart right away.
42 AHERO MAGAZINE SUMMER 2022 IN SERVICE TO OUR NATION
Tristessa's Corner
In the audience with me that day was one who needed this message perhaps more than most. Each journey of healing is unique to the individual. We all have our approach to pain. Some cope with obsessive impulses, others cope with isolation, still others by numbing the pain and silently suffering while destroying everything they once knew as whole.
Michael, leaning into his life with gratitude, hope, and tenacity, shared his thoughts on May 26.I understand that what you are about to read may seem strange. When I first heard it today, I was skeptical myself. But stay with me here.
26 May 2005 at 0700. It was time. Off we went to Crestview, Florida, to the Rock Garden Memorial Remembrance Ceremony with the 1st Battalion, 7th Special Forces Group (Airborne). This would be my first time meeting many of Michael's "brothers." First time seeing the compound, first of many new experiences with him during this time of renewal.Mother Nature made it known that she remembered the fallen with us. Her torrential downpour of went on for hours. I remember thinking, Each drop today represents a tear shed by Gold Star Families, their friends, and the comrades of their fallen. Every. Single.
COL Patrick T. Colloton speaks.
Remember the fallen, acknowledge their sacrifices, honor their memory with gratitude. We have today, we have tomorrow, we have our lives, families, and friends. Be grateful.
Be grateful for my life each day. Be grateful for all of those who lost their lives on that day. Be grateful for my freedom.
(Ret) Michael DeVito's journey has been one of epic levels of pain and self-harm, not a ride of rainbows and unicorns by anyone's measure. After years of allowing darkness to overtake joy, Michael found the inner will to finally regain the life of the living, to experience that joy again and believe in his ability to
move ahead. No longer on that path of selfdestruction, his new path holds hope. The dark path is fading. Every sunset now is a triumph; every sunrise is a moment to be grateful.
Today, I attended a Memorial Day ceremony at a place I called home for nearly a decade, a place I loved with all my heart, but that I hadn't visited in many years. I had almost forgotten just how much I loved It and the brothers I
AHERO MAGAZINE SUMMER 2022 43 AHERO Needs You! - AHEROUSA.org/donate
The Journey of Healing Continues
My mind was whirling, wondering what scenes these men standing there had witnessed, which countries they had entered and luckily returned from. For some reason, I couldn't look at anyone directly, and found myself staring at the ground, instead, but listening to every word as the host and guest speakers began to speak. And then to the reading of Followingnames.thereading, a retired 7th Special Forces group commander, COL Patrick T. Colloton, took the podium to share his reflections of 24 years of service and leadership. He spoke about his journey of healing. How it had ultimately led to this, his message:Begrateful.
To me, the power of the two words spoken by the respected, battle-tested colonel that Memorial Day was a flame lighting a place of deep reflection. Having just visited the World Trade Center Memorial the week prior, I understood the unspoken value of those words.
Be Grateful.
Drop.That day, the accumulated rainfall in Crestview was 2.4 inches in just seven or so hours. We all wore the tears of the families that day. Inside, as we stood in the battalion motor pool, staring into the eyes in the service photos of those 26 fallen Special Forces Group members, a solemn silence seemed to fill the room. We stood in the back, behind a row of service members in uniform.
Certainly, some may label one way of healing as "healthier" than others. But as great as finding that one perfect method to be happy and whole again would be, it's just not how life works.SSG
Tristessa wrote this with retired USMC SSG Michael DeVito
HONORING OUR FALLEN HEROES ... May 26, 2022 Rock Garden Memorial Remembrance Ceremony.
their brothers, for our freedom and our way of life. Who did it for what they believed in so deeply that they were prepared to make that ultimate sacrifice whenever it came. Men who, remembered, now charge each and every one of us to not feel sorrow, or guilt, but instead to be Ithankful.wishIcould recite verbatim what he said and how he said it, but I can't. Still, I will attempt to pay homage by paraphrasing what I heard him say.
And the self-inflicted guilt of surviving.Howthen, any logical person should ask, could I be feeling grateful? The answer is, I listened to a man much wiser than myself speaking to a crowd of his peers and their families as he stood before an overwhelming row of pictures of men who gave their lives for
Tristessa's Corner
44 AHERO MAGAZINE SUMMER 2022 IN SERVICE TO OUR NATION
had there. Almost. Until the moment I put the car in park and put just one foot down on the pavement.Inaninstant, it all came rushing back – the memories, the good times, the bad times, the laughs, the tears, the blood. The hard work,
To my fallen brothers, I will always love you and miss you deeply, but I am thankful for the time we did share. We
So, for that, sir, I am grateful … You have given me a new perspective. I am
The Crestview, Florida, Legacy Rock Garden is dedicated the brave members of 1st Battalion 7th Special Forces Group (Airborne) who paid the ultimate sacrifice on January 2, 2005, in Afghanistan.
my transition was not overcoming the tragedies but overcoming fear – the fear of living a real life again.
bad times, those laughs, the blood sweat and tears shed, and all the heartache and hard work shared together rather than to carry the guilt.
AHERO MAGAZINE SUMMER 2022 45 AHERO Needs You! - AHEROUSA.org/donate
Michael: For many of us, Memorial Day comes only once a year, but for some it is here every day. The absence cannot be shielded by time or soothed by change or kind words. It remains. The speaker went on to challenge us to replace those innate
Cultivating Justice: Aylstock, Witkin, Kreis and Overholtz Helps Veterans
Aylstock, Witkin, Kreis and Overholtz (AWKO), a law firm founded in 2001, has represented over 250,000 clients across the country. The main focus of the firm has been seeking consumer justice and protecting the rights of consumers injured by defective products including medical devices, as well as accidents and negligence. In recent years, AWKO has picked up a new focus. The firm is now working in tandem with developers of programs such as Florida First Judicial Circuit Veterans Treatment Court in order to assist Veterans with reintegration into society.
Donna Law is a Veteran who served in the US Army, attaining the rank of sergeant.
I always say, 'You spell love T I M E,' which AWKO does," the Judge went on. "AWKO, upon learning a Vet Court participant had no transportation and was walking miles every day to work and support meetings, stepped up to provide a top-of-the line bicycle to this veteran. AWKO has previously hired two Vet Court participants to work at the firm, giving these veterans a chance to greatly improve the stability of their lives with full-time employment and benefits. They have recently hired a third Vet Court participant who starts working there soon, showing their continued support to help provide the Second Chance for Those Who Served that is so needed."
Many Veterans return from service with issues such as substance abuse, mental health problems, and other issues unique to the traumatic experience of war. This can lead to difficulty integrating back into the community. The Veterans Treatment Court Program involves the cooperation and collaboration of the judicial system, law enforcement, veteran centers and service organizations, and volunteer veteran mentors. As of April 19, 2022, there have been 121 participants in the program, with 67 successfully completing the program.
Now, the firm also would be able to reach a helping hand out to struggling Veterans in need. An initial example is its hiring of three Veterans participating in the program.
Describing the relationship and its successes, Judge Bergosh said, "Aylstock Witkin Kreis Overholtz are great partners with Escambia County Vet Court. Vet Court serves justice-involved veterans with militaryrelated substance use and/or mental health disorders. An essential part of Vet Court is the addition of volunteer Veteran Mentors to assist their fellow veterans. AWKO supported the relaunching of the Veteran Mentor program by encouraging involvement by their staff.
One of these team members is Daniel Pomeroy, who was born and raised until the age of 18 in Pensacola, Florida. When he was 11, his mother passed away from pancreatic cancer, a tragic loss and devastating blow to Danny at such a critically young age.
In 2020, Florida First Circuit Judge, the Honorable Gary Bergosh, a retired USMCR lieutenant colonel, reached out to AWKO to see if the firm would be interested in learning about the Escambia County Veterans Treatment Court Program. This is a voluntary 12 to 18 month program that diverts Veterans with comparatively minor criminal charges out of the traditional criminal justice pipeline and into a rehabilitative system that emphasizes sobriety, recovery, restoration, and stability.
AWKO jumped on the chance to be involved in such an important program. The firm has always had a strong ethos of getting justice for those who have injuries related to medical trauma and of responding to the financial needs of their local community through the AWKO Justice Foundation.
Later, in high school, Danny fell into the wrong crowd. He began experimenting with different drugs, starting with marijuana. After high school, wanting to get out of Pensacola, he enlisted in the Army, was trained as a medic
46 AHERO MAGAZINE SUMMER 2022 IN SERVICE TO OUR NATION
By Clara Hottinger & Donna Law
AHERO MAGAZINE SUMMER 2022 47 AHERO Needs You! - AHEROUSA.org/donate
He had married, and in 2013, upon arriving home after his deployment, his marriage was crumbling. Again, Denny fell in with the wrong crowd. He began experimenting with opioids such as dilaudid and oxycodone before trying heroin and, in 2015, began having incredibly highHefevers.knew something was wrong, but he didn't seek treatment. Finally, his concerned sister took him to the emergency room when his fever reached 105.1. There, he received the devastating news that he was septic and had a staph infection on his heart's aortic valve. He was immediately placed on antibiotics, and his sister brought him to a rehab in Mississippi. The fevers returned with a vengeance, though, and Danny had to return to the emergency room.Heunderwent open-heart surgery at the age of 27 and was in the hospital for four months recovering. He returned to rehab and completed his program.
and soon was stationed in Northern Iraq. During his deployment, he treated causalities and lost friends. It was too much loss to bear.
Once back at home, Danny quickly relapsed and began using again. It didn't take long for the high fevers to return. Once again in the
Daniel with his son, Braxton, at the Vietnam Memorial Wall South at Pensacola's ParkPensacola.
Iraqi kids pose with Daniel and another soldier in Kirkuk.
48 AHERO MAGAZINE SUMMER 2022 IN SERVICE TO OUR NATION
Specialist/E-4 Daniel Pomeroy in Kirkuk, Iraq.
Vet Court Graduation at Veterans Memorial Park, Pensacola. Posing together to mark the moment are (l-r) the Honorable Gary L. Bergosh, LtCol USMC (Ret), presiding judge of Vet Court, Daniel, and his parents, Jeff and Sheryl Pomeroy.
Daniel attends a Christmas Party with his fiance, Shalah Cortez.
Then, having been arrested for possession of a controlled substance, Danny ended up in Veterans Court and was sent to a VArun rehab that specialized in helping those suffering from PTSD. It had a completely different approach to treatment, one that focused on how to have fun without needing to numb yourself with drugs and alcohol. Participants performed community service work in a program that incorporated enjoyable ways to cope without those substances.
hospital, he was found to have now damaged the mechanical valve in his heart.
As Danny regretfully recalls it, "The doctors really thought about not doing the second surgery and just letting me die." But his doctors did go forward with the surgery and in 2018, Danny underwent his second open-heart surgery, and recovered.
After completion of the program, Danny returned home. This time he was able to maintain his sobriety better, although he was still struggling. During one of his weekly
Deployed to Iraq from October 2009 to October 2010, Daniel is shown here seated center in front with fellow soldiers.
Danny answered truthfully. He was working odd jobs at restaurants in the kitchen, he said. He was consistently surrounded there by people on drugs and was barely making any money to care for himself and his family.
Danny'sfamily.story
check-ins with Judge Bergosh, he was asked, "How are you?"
AHERO MAGAZINE SUMMER 2022 49 AHERO Needs You! - AHEROUSA.org/donate
He felt hopeless. What he needed, he knew, wasAshelp.hewas
AWKO saw a need in the community and wanted to offer a hand up to those who have served our country but were now struggling. The firm sees great benefits in hiring Veterans: they "shine" in strengthening team cohesiveness, providing leadership, showing attention to detail, and having a "get it done" mentality. AWKO expects to continue this relationship with the Veterans' Court, whether it be through future hiring or donations.
Starting at the firm as a legal assistant on the War on Terror Combat litigation, he then moved to be part of the 3M Defective Earplugs litigation team, but quickly rose through the ranks to be co-case manager of the litigation. He's also a member of the firm's kickball team. In short, Danny is an essential part of the AWKO
leaving, Danny was approached by Andrew DelGaudio. Ph.D., a retired USMC lieutenant colonel, who encouraged Danny to send him his resume. DelGaudio passed the resume along to AWKO's HR manager, Donna Marston, and she invited Danny in for an interview."AWKO is the best thing that's ever happened to me," Danny said, delighted to talk about his work at the firm. "I don't have the desire to use drugs anymore and I'm surrounded by good people that want the best for me. I have a newfound confidence in myself. I never thought I would work in the legal field, but I always knew I wanted to do more than work in a kitchen!"
is a story of success. He has begun volunteering with Veterans Court and wants to help others who are in the same position he was. "I had an opportunity that a lot of people don't have, and I'm incredibly grateful," he said.
Giving the thumbs-up in 2015 after receiving aortic valve replacement. A staph infection had caused severe damage to the original valve. Additional surgery followed for Danny in 2018.
Paul shook both men's hands as they left. "God doesn't make mistakes," he said. Though broken hearted, he knew there must be a reason for this terrible loss.
remember the fallen heroes and Veterans from every era and service branch, as well those who still serve and the volunteers and sponsors who help carry out the mission of Giving Back. Such an endeavor surely would not be possible without a huge outpouring of support from the community and country.
Paul House shared this: "The mission was laid on my heart by God. Since then, we've hosted over 1800 attendees on outdoor retreats, and countless more at community events."Thisweekend represented the fifth anniversary of the lodge built to honor and
The land, passed down through the family, is host to a lodge only God could have imagined, not a modest woodsman and his wife. God not only made it possible, he wraps his arms around it and blesses it. You often hear, "I can feel God's love here." We also believe that the love our volunteers and attendees bring with them into the lodge is a source of the positive energy that grows by the day.
50 AHERO MAGAZINE SUMMER 2022 IN SERVICE TO OUR NATION
Paul would later describe how, as unexplainable heat and numbness filled his entire body, he said, "Oh no! We've lost Joel." Though he had spoken out loud, he was in shock.The
The Lodge at House in the Woods Celebrates its Fifth Anniversary
A chilly early evening sky hovers over Maine's House in the Woods. But inside, the warmth of love and wonderfull music fill the air!
Our lives can change in a blink of an eye. Often, we can't control the circumstances, but we do decide how to react. Paul and Dee, both of strong faith, knew instantly that their son Joel was with the Lord. Though grief stricken, that was the one thing they were sure of.
couple's son, Army Sgt. Joel A. House, was killed on June 23, 2007, by a roadside bomb while serving in 2nd Battalion, 8th Cavalry Regiment, 1st Brigade Combat Team, 1st Cavalry of the Army, in Taji Iraq.
Lee, Maine, home to 922 people, hosted 1,000 visitors for this celebration. Many individuals, organizations and businesses joined in to help celebrate this momentous occasion.KevinAdair and Lee Stuckey of AHERO came all the way from Alabama to show their love and support of the House family and mission. AHERO connects Veterans through outdoor activities to help them recover from their physical wounds and psychological trauma and be able to reintegrate into civilian life. House in the Woods walks together with AHERO, both organizations supporting our military heroes in need.
by Angie Gade, Development & Social Media Coordinator at House in the Woods
Fifteen years ago, Paul and Dee House of Lee, Maine, were planning to visit their family camp and watch the sunset in celebration of Dee's birthday. Then a van pulled into their driveway. Paul watched through their computer-room window as two men in military uniform stepped out from the van.
Shortly after his funeral, Paul and Dee embarked on a mission that would honor their son. They would do it by taking care of as many of the men and women serving this great nation as they could, and they included the families of those who, like Paul, had made the ultimate sacrifice.
House in the Woods isn't simply a place for Veterans to go hiking, hunting, and fishing, it's a place of connection, peace, and hope for anyone who loves this great country and wants to honor those who have fought for our freedom.Its28beds, full commercial kitchen, ADA accessibility, basement archery range, UTVs, and pontoon boat are just a few reasons House in the Woods is such an incredible, comfortable place to be. Here everyone can relax, be themselves and find peace, forgetting about their struggles for a time as they connect with other heroes like themselves.
great time at House in the Woods! (l-r) Here, singer/songwriter Kevin Adair and AHERO Founder Lee Stuckey show the gratitude we all feel toward Paul and Dee House for their constant, loving support of our Veterans.
The Champeny's were just one of the families that stayed the weekend at the lodge. The outpouring of love that all of them have shown the House family and Veterans is a testament to God's way of connecting people to help others.
Veterans.Another
AHERO MAGAZINE SUMMER 2022 51 AHERO Needs You! - AHEROUSA.org/donate
Kevin gave the visitors a magnificent performance and, through his music, shared his appreciation for those who serve and sacrifice. He is a true humanitarian, always giving the best of himself for the benefit of others. House in the Woods presented him with a recognition award for his patriotism and a donation supporting his recording project.
The Summit Project arranged a hike for Sunday morning honoring Maine Fallen Heroes. Rocks engraved with the initials of individual heroes are carried by volunteers, each having learned about the person they are honoring and telling their story at a ceremony mid-hike. In this way, these loved ones are never forgotten. In addition, a groundbreaking ceremony was held for the Woody Williams Memorial, which will stand overlooking the lodge upon its completion in 2023.
Whether at the lodge or off-site, healing happens naturally among the attendees. Without saying much at all they understand the symptoms and struggles they've endured. Many share that "this changed my life." Some even say, "House in the Woods saved my life!"
Thanks be to God for the life of Sgt. Joel A. House, a simple young man with a passion for his family, faith, humanity, and his country.
Once produced, Kevin's record will highlight Veteran-supporting organizations such as AHERO and House in the Woods. He has seen plenty of his own struggles but doesn't let that get in the way of his work supporting military heroes.Radio and news outlets were on hand highlighting the incredible number of people who came out to support our military families and show gratitude of the HITW mission. Artist Kevin Champeny of New York attended with his family and was so moved by the mission and support of our heroes that he donated a unique piece of his art valued at over $22,000. This masterpiece will be hung at the lodge for all to see for years to come.
Fellow singer/songwriters (l-r) Rich Cutliffe and Tommy Raines, pose with fellow music-man Kevin Adair. All three performed at House in the Woods' recent event for
52 AHERO MAGAZINE SUMMER 2022
At this time, the Memorial Foundation is coordinating efforts and completing the necessary engineering drawings for submission to the City of Pensacola for permitting. The engineering team and construction group, in conjunction with the city's parks and
Restoration of the Phantom, the second element of the anticipated memorial plaza at Wayside Park, commenced immediately. Within a matter of six weeks, it was thoroughly cleaned, restored, and beautifully painted in the camouflage scheme utilized by the United States Air Force during the Vietnam War. Tom Meacham of Blast Off, Inc, led the restoration contracting team.
IN SERVICE TO OUR NATION
recreation department, are assisting in the overall planning and preparation of the 13-acre Wayside Park memorial plaza.
Leased to the city of Pensacola from the Air Force Museum at Wright Patterson Air Force Base, the F4C Phantom II that we will be treated to viewing when crossing the nowalmost-complete "Chappie" James Bridge has arrived!Thesleek
Gen Daniel "Chappie" James Bridge, Near Completion, Gets its F4C Phantom II
Phantom was met with much fanfare and excitement on April 22nd as it came to its temporary home at the Naval Aviation Museum, Naval Air Station Pensacola.Since1996, the Phantom had been on static display at Music City Executive Airport, 25 miles northeast of Nashville, Tennessee. Representatives of the City of Pensacola, the General Daniel "Chappie" James Jr. Memorial Foundation, and the Chappie James Flight Academy welcomed it to its new city, Pensacola, birthplace of its famous and muchloved pilot.
The third element of the plaza will be an 80foot flagpole with a beautiful, large American flag displayed upon it. Arrival of the 10-foot statue of General James will be January 15, 2023, and dedication of the memorial plaza will follow on what would have been General James' 103rd birthday, February 11, 2023.
Phantom arrives ... still on straps!
The bridge completion date is tentatively scheduled for the beginning of October this year. Skanska, the bridge builder, has offered to transport the Phantom by barge prior to the company's departure. It will sail from Naval Air Station Pensacola to be set in its static-display perch located at the bridge landing and plaza.
by Maj Cris Dosev, USMC (Ret)
AHERO MAGAZINE SUMMER 2022 53 AHERO Needs You! - AHEROUSA.org/donate
PENSACOLA NEWS JOURNAL/PNJ. Gregg Pachkowski, photographer. PLEASE VISIT OUR WEBSITE GeneralChappieJamesMemorial.org FOR FURTHER UPDATES AND INFORMATION
From left, Tanner Kirk of Blast Off, Board Member Joe Denmon, Mark Anderson, Board Chairman Cris Dosev, and Bill Achterberg stand in front of the newly repainted F-4 Phantom II aircraft, similar to the one flown by Gen. Daniel "Chappie" James Jr., that is being reassembled and prepared at the National Naval Aviation Museum in Pensacola on Thursday, June 2, 2022. The jet will be placed at the new memorial plaza in honor of James at the foot of the Pensacola Bay Bridge. PHOTO COURTESY
By Ira Verbois
54 AHERO MAGAZINE SUMMER 2022 ALL IN 4AHERO A Tradition Comes of Age: Orange Beach Hold its 3rd WarriorAnnualHook-Up!
These guys were so good to us! They stayed up late talking to us and treating whoever needed it well after the day's official (exhausting?) activities had ended.
THURSDAY - WELCOME ABOARD!
It felt like a long drive for me into Orange Beach, where I would be the photographer for the organization's third annual AHERO Warrior Hook-Up there. But then the excitement took hold as I pulled up to the hotel. As soon as I walked in, the staff greeted me warmly, pointing me and others to the small conference room where Lee Stuckey, Jeff Tuggle, Jeff Parker, and Kevin Adair were processing AHERO's guest Veterans for their Alabama fishing licenses.
And now non-stop action and non-stop relaxation can happen … at the same time!
That was Thursday, and that evening we ate at a beautiful venue, The Heron House. AHERO's use of this glamorous, mansion-style restaurant and grounds had been arranged and paid for by Art Farve. A highly successful businessman from Louisiana by way of Mississippi, Art is the owner of The Wharf at Orange Beach where much of this Warrior Hook-Up event comes together. He is also owner of the stunning fishing yacht that we sailed on into great fishing waters. A yacht named, appropriately, A Work of Art.
It was nice to be greeted by new faces of Veterans I hadn't ever met before. Immediately, I felt gladdened by the realization of how our AHERO tribe still keeps growing!
Heron House was again the scene of great food & entertainent for our heroes!
AHERO MAGAZINE SUMMER 2022 55 AHERO Needs You! - AHEROUSA.org/donate
Along the way we were introduced to David Graham and Alex Aucoin, respectively a nurse-practitioner and a strength coach from Faulkner University in Montgomery, Ala. Both of these health professionals were here to help us with our aches and pains because plenty of us have plenty of those at times.
Giving Yoga his all, Kenneth Dollar tests his wingspan.
The next day we woke to stormy weather. But that was okay, because Yoga was first on the schedule, and most of us knew that this Gulf region has weather that can change in a couple of hours. We weren't too worried about getting to fish tomorrow.
FRIDAY MORNING
ALL IN 4AHERO
We headed over to the Glow Yoga Studio in Gulf Shores, where we experienced a moreor-less relaxing session that occasionally erupted in laughter because of the obvious lack of flexibility or balance so many of us have learned to just live with. We then broke up to check out the area's attractions on this rainy afternoon, meeting up later back at The Heron House.
56 AHERO MAGAZINE SUMMER 2022
Robyn Czuri has found an interesting perch on which to "do" her energetic Yoga moves. You go, girl!!
AHERO MAGAZINE SUMMER 2022 57 AHERO Needs You! - AHEROUSA.org/donate
USMC Col Mike Corrado, USMC (Ret) on guitar and songwriter Jeff Silvey on keyboards ... Two whose music captures the spirit of our Veterans in song!
There, Col Mike Corrado, USMC (Ret) and Jeff Silvey joined Kevin Adair to bring us a totally enjoyable night of music, laughter, and food. They jam together like nobody's business, and we get the benefit of that amazing musical gift and heart they all have.
ALL IN 4AHERO
Music runs in the American blood – especially that of our Veterans. Here, Jeff Silvey performs while our AHERO Veterans kick back and enjoy.
AHERO Needs You! - AHEROUSA.org/donate
Playing from the heart. Col Mike Corrado, USMC (Ret) entertains the Veterans at AHERO's 3rd annual Orange Beach Warrior Hook-Up.
This, of course, is the key to every AHERO Veterans event. Walls come down. Veterans who have never met before open up to one another. The experience was sailing on with a lot of truly meaningful talking and a lot of interested listening. We made it back to the
Devon Thacker waits, suited up for the heavy action, big-fish-catchin' rod.
Again, the magic of AHERO happened. Everyone had begun to relax. Conversations were flowing easy and naturally, just the way real connection is meant to be made.
FISHIN' DAY!
We pulled fish after fish from the Gulf. Triggerfish, grouper and redfish were all biting as we moved from deep-water spot to deepwater spot. And we kept on doing that from the first line dropped until the last line had been hauled out with a fish and it was time to head back to shore.
dock with our catch and had the opportunity to thank Art and his fantastic and very helpful crew. I looked around, happy to see how conversations, smiles and laughter were continuing to be so spontaneous – not to mention infectious!
By Saturday morning the weather had cleared out over the Gulf, and things looked good. We gathered to board and head offshore to fish. After running about 40 miles out on A Work of Art, we dropped lines for the first time.And
With its crew set to cast off and AHERO's Veterans aboard, the gorgeous yacht, "The Work of Art," is heading out for the day ... Good time for Art Farve and Lee Stuckey to shake on a common goal of great fishing!
let me tell you: It was on!
60 AHERO MAGAZINE SUMMER 2022 ALL IN 4AHERO
About to board are (l-r) Lee Shelton, Kevin Adair, Dr. Bill Van Hooser, Alex Aucoin, John & Aiden Fairchild, Josh Patterson and Terri Craney.
Warrior Hook-Up Fishing Folks (l-rI) Jason Stephens, William Reilly, Andy Torres, Kay Young, Anis Abuzeid, Ken Stoddard & Lee Isenhour.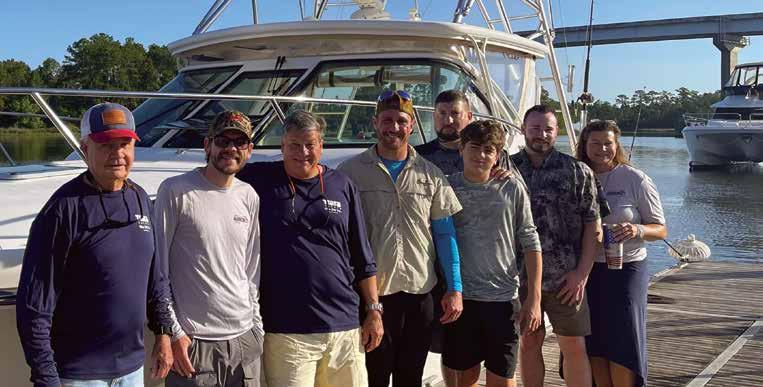 Dave Riley is the man with a plan when it comes to the right equipment for catchin'!
AHERO MAGAZINE SUMMER 2022 61 AHERO Needs You! - AHEROUSA.org/donate
62 AHERO MAGAZINE SUMMER 2022 ALL IN 4AHERO
Fighting that kind of tragedy is the thread that ties our AHERO organization and its many events together. It's the mission that motivates us and moves so many individuals, businesses and organizations to pitch in, contribute, and help us carry it out.
Looking back, it seems like time just flew from Thursday on. In a flash, it was time to gather together in friendship over the last excellent dinner of the event – the Saturday night breaking of bread as a now close-knit group. Lee and others like Dave Glassman are great and inspiring speakers, and we listened and learned about the life of Josh Burnett, the Army Green Beret who lost both his legs and then sadly succumbed to suicide.
A STRAIGHT-UP PERFECT AHERO SATURDAY NIGHT
More developments were announced that evening. How the doors are being opened within the music industry for our Music 4AHERO program. How Lee's Operation Phoenix program can train Veterans in a high-reward/high-risk skill outdoors: wildland firefighting. For many of us, it's a way to serve again that many of us can relate to.
We also heard about progress being made on acquiring a property that would be suitable to become the AHERO Warrior Lodge. Weeks after this event, that "prospect" would become a reality. And now, along with the Lodge, the AHERO Josh Burkette Cabin has been built on the property by a willing crew of members from the very caring congregation of the Lomax Assembly of God.
AHERO MAGAZINE SUMMER 2022 63 AHERO Needs You! - AHEROUSA.org/donate
At night The Wharf at Orange Beach comes alive with color and light!
Listening to the music of Silvey, Coronado, and Adair, we reflected on our lives and what we each needed to do to keep healing. And we listened to how we could participate in helping others through AHERO.
Later next day, David Graham () and Kay Young (r) get a good chat going with Alex Aucoin (on the couch) joining in.
Downtime at the Warrior Hook-Up is when great conversations happen and new friends are made. Here (l-r) John Ryals and Greg Brewer talk about their service experiences.
64 AHERO MAGAZINE SUMMER 2022 ALL IN 4AHERO
AHERO MAGAZINE SUMMER 2022 65 AHERO Needs You! - AHEROUSA.org/donate
After a great Orange Beach day, time for relaxing with music, meaningful conversation and memories.
SUNDAY-A PARTING, BUT NOT A GOODBYE
Here, true growth is occurring, and I encourage you to come on the journey with us. It doesn't matter if you're the one who needs help or the one who wants to give it. Please take the step, contribute if you can but reach out and get in where you fit in. Join the tribe!
You won't regret it.
66 AHERO MAGAZINE SUMMER 2022
ALL IN 4AHERO
That morning, we met for worship and to say so long for now. The beautiful skies of this setting welcomed us all to count the many blessings we have received individually and together as the AHERO family. Which is what we really are: a family. One that serves others and serves from the heart. Seeing those who have been helped come back to do just that has been one of the greatest blessings of being part of this organization.
AHERO MAGAZINE SUMMER 2022 67 AHERO Needs You! - AHEROUSA.org/donate
In my opinion, all of the men and women who attend the AHERO events are warriors. Our Veterans were warriors when they were active duty, and they are still fighting on as warriors now, as they try to navigate our current society, all the while carrying with them everything they endured while serving. And just as they served to keep us and our way of life safe, so, too, do America's First Responders.
68 AHERO MAGAZINE SUMMER 2022 ALL IN 4AHERO
Why I Created This Poster for AHERO
There is no way I can fully understand the difficulties these men and women have endured, but I am hopeful that when they join AHERO's circle of warriors, they begin to connect with others who share in their struggle and find a way to continue or even start healing. I will always be grateful for the opportunity I have been given to contribute something to the great strides AHERO is making to ensure a better quality of life for our brave Veterans and First Responders.
The AHERO Warrior Hook-Up poster design is always a collaborative effort, and for the 2022 poster Dave Glassman and I decided to explore something deeper in an attempt to illustrate the healing and connection that takes place at these events.
It is because of this that I decided to depict a group gathered around a campfire, sharing stories of their past and current battles. As the smoke rises up, the vision of a warrior fighting through a crowd of demons appears signifying not only the actual fighting and trauma our Veterans and First Responders have experienced, but also the personal struggle that continues on for them once the job is done.
SUMMER 2022 69 AHERO Needs You! - AHEROUSA.org/donate
THEN THERE'S CARMEN
They were astounded he was alive. They'd called a priest, who arrived to administer Last Rites. But Kevin, lucid enough to speak calmly, informed his doctors that God still had work for him, and that he wasn't going anywhere. Sure enough, within hours, his levels were back down to approaching normal.
I met this kind couple in August 2020 at an AHERO Warrior HookUp. I'd been warned that Kevin was frail. And while we all hoped to hear him play, I wasn't expecting him to play his heart out – and no one was expecting him to play for very long. A couple of my AHERO volunteer colleagues were concerned about the wisdom of him playing at all!
The doctors not only couldn't take credit, they couldn't quite believe what had just happened. But then, Kevin Adair is no stranger to miracles.
Unsung Heroes
But if his mind and heart are strong, Kevin's body has trouble keeping up.
70 AHERO MAGAZINE SUMMER 2022 ALL IN 4AHERO
TAKE KEVIN, FOR INSTANCE
No AHERO hunting events happen without Carmen; no AHERO guest Vet gets assigned to a plane or hotel accommodations or heads off to fish during Warrior Weekends without Carmen.Shecan be likened to a swan. Seemingly gliding effortlessly across the complicated waters of helping the AHERO magic happen. Feet working like crazy below, unseen.
Or worse – a Red Sox fan! (No worries if you don't get that. It's a bit of an insider joke.)
By Jeremy Clarke
Remember Red Adair? The famous maverick, death-defying Texan oil-well firefighter?There'ssomething about that name "Adair." It's Irish, but in German it literally means "wealthy spear," and is taken to mean "fortunate, powerful, blessed and happy." Which is kind of appropriate.
Modern life is too harsh, too cutthroat, too cynical, for this man who wears his heart on his sleeve to survive, let alone prosper. A man whose whole function is to serve, to spread joy. Which is something Kevin does with his whole heart and does so authentically and so without reserve, that to the jaded among us it can seem almost naive.
Insulin, which regulates blood sugar, is measured in micro units per milliliter (mu/ml). A normal range of insulin is from 10 to 20 to keep blood-sugar levels down. If your bloodsugar levels go over 150, you're in trouble – 300, you could be toast. In December 2021, Kevin, who is insulin resistant, was rushed to the ER for an emergency procedure. His doctors announced that they'd managed to get his levels down to 800. From up over 1,000.
An accomplished and prolific artist herself, Carmen is also possessed, like her musician husband, with irrepressible humor and a sense of mischief. She's his greatest fan, but makes time to be a most warm, welcoming, and helpful friend to others. Also, she's an essential part of the AHERO Veteran survival machine.
WHAT I SAW THAT FIRST NIGHT
AHERO Volunteers Carmen and Kevin Adair .. Power couple whose care and support of our wounded Veterans knows no bounds!
Meet Kevin and Carmen Adair. Folks that are … other worldly. And yet they are very down-to-earth and open, sharing their talents wherever they are needed, whenever they can.
name, in Latin, means song). This elegant lady juxtaposes certain human qualities that might not seem to go together: She is always impeccably dressed – artfully and stylishly so –and yet she's utterly, selflessly dedicated to her man, his health and happiness.
He greeted me like a long-lost friend. Open arms, open heart; big, Southern, authentic welcome. It kinda took me aback. Twenty years in New York had taught me that wasn't the done thing. A grunt, a nod, a brisk handshake would do. No hugs. Likely no immediate friendliness. After all, the other person could be from New Jersey.
A huge part of the miracle of Mr. Adair still being with us is Mrs. Adair (whose
And, honestly, we need your help.
They're all just Trojan horses. Meaning they're part of a sneaky ploy to get Veterans out together at the AHERO Lodge or onto the Gulf of Mexico's azure waters and white-sand beaches.Take,for instance, the 92-ft Viking sportfishing yacht owned by brilliant businessman and philanthropist, Art Farvre. That beauty and other such vessels whose generous owners offer AHERO free-of-charge use, are just clever lures to bring folks in on just what AHERO is and who it's for.
So maybe we don't have the solution. But we do have a solution. It isn't a magic pill, but it can truly help and, honestly, the whole reason I started this article with the Trojan Horse metaphor is to show the lengths we go to bring this kind of effective help to those who have suffered so much in serving our country.
We run a number of events during the year, bringing 30 to 40 Veterans (sometimes more!) in from out of town at a time - to hunt or fish, or play music and/or golf … and to commune.
Like the 4000 acres of private hunting lands around the new AHERO home and headquarters (which comprises 40 acres, itself!) at Shorter, Alabama. Because of generous folks who own them, those lands are open to our Vets during our hunting events – all teeming with Bambi's and their many-antlered dads. We just make up these "perks" to distract you and throw you off the scent!
After each outdoor event, we sit down, say a prayer, break bread, and talk. But the talking requires time and space. So sometimes a weekend just isn't enough.
Actually, it really is our generous donors, volunteers, and supporters who make these wonders happen. They're the ones who contribute toward the cost of flying Vets who suffer from wounds both seen and unseen down here from all over, putting them up in decent hotels, feeding them good Southern fare, and getting them to interact outdoors, with their fellow Veterans.
By Jeremy Clarke
I'll let you in on a secret: AHERO is not really about hunting. Or about deep-sea fishing. Or golf, MMA, flyfishing, or singer/ songwriter events. It isn't really about any of the many cool activities we plan for our wounded Veterans and now (also) First Responders each year.
JUST KIDDING
A Confession
midst of forty acres of private land, replete with a large, mature pond, it is bordered by thousands of acres of hunting land owned by friends and partners of AHERO. THE REAL REASON WE NEEDED A PERMANENT HOME IS TIME
Breaking down barriers, developing trust, getting to the core of an issue – all these can take a while. And can't be rushed. This is important stuff. More than ten times as many Veterans take their own lives than are killed in the line of duty. Ten times. We work to push those numbers way, way down (preferably to zero). It's a massive lift, we know.
AHERO MAGAZINE SUMMER 2022 71 AHERO Needs You! - AHEROUSA.org/donate
Each event can cost between $30,000 and $50,000 to put on. Which works out to roughly a thousand dollars per worthy Veteran or First Responder that we can afford to invite.
As noted on our pages here, AHERO has successfully purchased a permanent home in the form of the AHERO Warrior Lodge in the woodlands of central Alabama. Located in the
WHAT'S IN THIS KIND OF HELP?
Well, we've discovered it's found in bringing folks together to spend time fishing or hunting then sitting around a campfire talking, connecting, beginning to trust and open up to peers who understand all about the demons thatIt'shaunt.something great that results from providing connection with our brother and sister organizations (from equine therapy to yoga to drone piloting … and from the possibilities of careers in prescribed burning, wildland firefighting and land management, to the extraordinary value of having a service dog), each of which can make a huge difference in a person's life. In these and other ways, AHERO works to encourage camaraderie, enjoyment, and the rediscovery of hope and innerAHERO'speace. programming is designed specifically to restore what was feared lost by a wounded or injured Veteran or First Responder. Or, as we refer to them all, heroes. So this is an invitation. Come join us! Be All In 4AHERO, too, please. Call us at 910-5488864 or visit online at AHEROUSA.org. Do it whether you need help or wish to be of help. And … thanks!
Providing use of his glorious 92-ft Viking fishing yacht, The Work of Art, each year to the AHERO Warrior Hook-up at Orange Beach is one way that successful businessman, Art Favre, has supported this organization's efforts to help wounded Veterans (and now First Responders). Each year since AHERO began holding its spring Warrior Hook-Up there, Favre has made that possible by providing a wonderful "venue" for the event: his fabulous resort, The Wharf at Orange Beach.
By Theo Kramer, US Army Veteran
Two Great Tournaments Came Together 4AHERO
After threatening fellow American Legion Veteran Tiny Mercer with bodily harm (just kidding), meaning asking and not taking no for an answer, we finally got him and American Legion Post 240 to allow us to bring the Warrior Hook-Up to Post 340 for the next two years. We've been planning ever since.
My wife and I have been part of something very special since 2018, when we first heard about the AHERO Organization. At that time, we were members of American Legion Post 378 in Gulf Breeze, Florida. We thought we had just signed up for another charity motorcycle ride. That day we were humbled when we saw what an impact AHERO had and still has on our active service warriors and Veterans. I told Kim, "This helping our wounded and hurting Veterans is what it's all about. We need to be part of it."
With all of that said, there is no way that just Kimmi and I could have our ideas come to fruition with just the two of us. So, we enlisted the help of our awesome volunteers who answered the call and have spent late nights and countless meetings coming up with great ideas.Because of Tina Conn and her husband Bill, with the support of the dart-loving community in the surrounding communities of Northwest Florida, players would be coming from all over the South to play and support AHERO. Many helped with donations and raffles during the Cornhole Tournament the group had arranged
72 AHERO MAGAZINE SUMMER 2022 ALL IN 4AHERO
Huge efforts by (l-r) Kimmi and Theo Kramer & Bill and Tina Conn and other AL340 members made these events come together in a big way for AHERO.
AHERO MAGAZINE SUMMER 2022 73 AHERO Needs You! - AHEROUSA.org/donate
And then, of course, there's my beautiful wife who had to put up with me talking about AHERO before, during, and after our wedding on January 22nd this year. She was so kind, helping me when I was yelling at the computer as I tried to make a transparent logo for AHERO's Dave Glassman to use designing the tournament poster. This was NOT my expertise at all! I struggled until midnight two days before the Cornhole Tournament to get it done.You've
probably already read the account by Jeremy Clark on what drove AL Post 340 and all of us to respond (ultimately with a $20,000 check … and then even more!) to AHERO's chief volunteers, Lee Stuckey and Dave Glassman. Their quest for funds to make what they had enough to close on AHERO's new Warrior Lodge became our quest, too. With luck and love, our Cornhole and Darts tournaments became a means to that end, along with raffles at the Legion and all of AL340's generous members. We are so grateful to them all!
So, to Major Stuckey from me: Thank you and your amazing group of volunteers for letting my wife and me be part of the healing of Veterans through this great, caring organization we all call AHERO!
earlier. And the couple donated $500.00 to both the Cornhole and Dart tournaments.
Ginger and Tony Linton, who brought the Cornhole crowd together, put on an amazing Tournament at Post 340. They donated half of all the entry fees in support of AHERO and have asked about setting up a tournament again next year – only bigger and even better!
Karen Porter and Shannon Smith – or, as I like to call them, "The Donation Duo" – outdid themselves, ultimately bringing numerous donation items and baskets made for the two tournaments. Basically, they knocked on a whole lot of doors and pounded plenty of pavement to do it in support of AHERO!
Dave Riley and Dave Trombly discuss the AHERO mission and outcomes affected by the successful fundraising of the ALR-340.
Tina & Bill Conn hosted an amazing Darts competition with all proceeds going to AHERO and its efforts and activities that help our wounded and injured Veterans and First Responders.
74 AHERO MAGAZINE SUMMER 2022 ALL IN 4AHERO
"But Ricky's injuries didn't come while serving," JR explained during our interview. "Those happened here. He was out riding his motorcycle when he was knocked off the bike by a hit-and-run driver. Then, when he struggled to get up because he was still able to move, he was hit by another one."
A TERRIBLE TWIST OF FATE. THEN … HELP
(AKA Mister GUNS TO HAMMERS) Works Some "Connectivity"
fails to stay on top of what's happening at AHERO. Also to donate generously to the cause. Case in point: Lee Stuckey recently received a $2000 donation from JR and GTH.
Another hit-and-run driver, that is.
"There's a true angel who saved Ricky, though," said JR. "I mean by staying at his side and struggling so hard to get him all the medical attention, follow-up care, and
By Connie Conway
JR Smith
Two utterly irresponsible cowards who were never caught had functionally destroyed the life of a proud American who had served his country well, enduring harsh combat. A Veteran who deserved to have a good, productive future.
Guns to Hammers (GTH), a Cypress, Texas, home-renovation/construction company and 501 c 3 charitable foundation, has been a long-time supporter of AHERO. Owned and operated by USMC Veteran JR Smith, GTH has always been an active example of what AHERO calls the "connectivity" that shapes relationships to make great charitable work possible.JRnever
Reaching out to thank his friend, Lee learned that JR's latest GTH philanthropic project had been to make renovations to the home of severely disabled SSGT Ricky Garcia. A USMC Veteran of 12 years of service that included three tours between Iraq and Afghanistan, Garcia's devastating injuries include severe TBI and PTSD, and have rendered him a paraplegic unable to speak, move independently, or care for himself.
Visiting to tell Ricky he'll soon be headed out to enjoy the antics of his feathered friends from the comfort of his beautiful, new GTH-built portch!
As his mom looks on, Ricky has his own way of communicating his thanks to JR and the GTH crew for the gift of their work on his behalf.
equipment he has needed since then. That's Maria, Ricky's mom. She's petite and pretty delicate, but Maria has managed to be the fulltime caregiver and emotional support system of this six-foot-one, 220-lb Marine. She says he's her life, and when you see how she cares for him, you know it's true."
The repairs and adjustment JR and his mostly Veteran GTH crew made to the Garcia home in Richmond, Texas, are hugely appreciated, of course. But the greatest gift, it seems, is the porch they built for Ricky so he could sit there watching the birds, which he loves to
Askeddo.why he showers these brave, injured Veterans with such generosity, JR (who would never think of himself as one those "angels" who continually helps those who have bravely served but now suffer devastating wounds) paused thoughtfully. Then he said, "Well, I'm a Veteran, too, you know? But I'm a lucky one."
Ricky's mom, Maria, thrilled to have the new porch for her son to enjoy, has a huge hug for JR.
Sometimes having your nameplate right there feels pretty good!
THE UPSHOT
A handshake between two Marine brothers.
AHERO MAGAZINE SUMMER 2022 75 AHERO Needs You! - AHEROUSA.org/donate
You can tell JR loves what he does. But he's modest. "The bigger story here is about that connectivity between foundations and organizations like ours, dedicated to help our wounded warriors," he said. "The best ones. I know that for every penny you guys at AHERO spend, some deserving Vet is being helped. Same here at GTH for AHERO. The contributions we get from folks like our supporting breweries go right into funding our projects for Vets or making our own charitable contributions."Itseemsthat after knowing Ricky's story, JR introduced Lee to him … and Lee invited him on a hunting trip with Maria in South Texas. This was arranged right away, and a truly good time was had by all. So, of course, Lee was soon asking if Ricky, along JR and caregiver Mom, would like to attend AHERO's 11th Annual Pensacola Beach Warrior Hook-Up thisTheAugust?answer, we're glad to say, was "Definitely!"Ifallgoes according to plan, we'll be telling you in our next issue more about Ricky Garcia and GTH. And about how Ricky enjoyed the experience of being at a great AHERO HookUp with a whole bunch of his fellow deserving Veterans ... including his kind and generous good friend, JR Smith – aka, Mister Guns to Hammers, himself.
WEUAS also provides a "Drone Adaptive Recreational Therapy" or "DART" program, in which instructors first teach their students how to launch the aircraft into flight. As the student-pilots develop their skills, WE introduces them to a whole new experience:
Classroom training takes place at the retired historic Pensacola Amtrak Train Station. WEUAS provides FAA Part 107 dronestudy labs at this location. Flight training is conducted at the Escambia Model RC Park.
Flying high (on screen!)
flying via an optical sensor or camera lens on the drone. This is called "first-person view," or FPV.The system includes an onscreen display (OSD) giving a detailed data display of battery level, altitude, heading, distance from home, and positioning so that the pilot can fly the drone back. Even more sophisticated systems include head tracking gimbals, where the camera follows the movement of the pilot's head to provide the ability to look in all directions. For our students in wheelchairs, this capability converts that wheelchair into a pilot seat! This provides total immersion into the flight. Some might say it's flying through augmented reality; others claim that "It's like an out of body experience," and that "This isn't some video game, this is real world!"
By Joseph Dorondo
In 2014, Wounded Eagle UAS (uncrewed aerial systems), or WEUAS, was formed with the mission of providing our wounded/ disabled Veterans with piloting instruction with aircraft commonly called "drones." The program, (at no cost to these Veterans) has experienced tremendous success, engaging many students in learning to fly drones and ultimately pass the FAA Part 107 exam required to operate commercially in our national airspace.
76 AHERO MAGAZINE SUMMER 2022 ALL IN 4AHERO
THERAPEUTIC BENEFITS TOO REAL TO BE OVERLOOKED
For Wounded Veterans, Adaptive Drone Flying is Proving Therapeutic
THE "DART" PROGRAM
Over the many years that WEUAS has been training disabled Veterans to become commercial and recreational drone operators, they've discovered that this training provides an amazing therapeutic treatment. Operating drones can strengthen eye-hand coordination, spatial thinking, dexterity, muscle training and muscle memory, all while enhancing the ability to focus and concentrate, and thus increase attention span. Many of their students have mentioned how flying drones has become
Injuriesit.
such as traumatic brain injuries (TBI), post-traumatic stress disorder (PTSD) and other neurological disorders and cognitive disabilities are complex issues. But how many professionals in the medical and psychological community have considered the satisfaction and therapeutic benefits of flying a drone along with FPV? Or the value of the joy felt while doing so? What could these experiences bring to their patients in treatment or evaluation?
Talk to pilots and they'll tell you there is no other experience like flying a plane. They'll all say some version of the same thing – that it's "like soaring the wind-swept heights with easy grace up to where not even eagles fly." Flying a drone equipped with FPV and a head-tracking camera transforms even a wheelchair into that same pilot seat! You're in control, in command of your world … all the while reaping the benefits of an excellent course of therapy!
As of now, the medical, vocational, and recreational therapy community seems unaware of the great potential value this has to our wounded and injured Veterans. It is a message WEUAS hopes to carry – that this training has the potential to increase the Veterans' level of self-confidence, enhance their social skills, and even improve their employability!
something they not only enjoy becoming proficient at, it has also become a form of therapy for them.
AHERO MAGAZINE SUMMER 2022 77 AHERO Needs You! - AHEROUSA.org/donate
While in the program, these Veterans mention how they look forward to coming out to the field and enjoy gaining more time with their flight-training exercises. In terms of powerful validation of what WEUAS is doing for them, this is
Wounded Eagle UAS Inc. is a 501 (c) 3 charitable organization with headquarters at 980 Heinberg St., Pensacola Florida 32502.
ABOVE: Major Lewis training on FPV procedures. At the controls.
78 AHERO MAGAZINE SUMMER 2022 ALL IN 4AHERO
Fifth MarkGolfing4AHEROAnnualisOpen!YourCalendar!
We're reminded that this year's Tournament represents a big milestone for AHERO and its supporters alike. So the brothers
RegistrationGolfers! for the
"The brothers of West Florida Kappa Sigma are excited to announce that registration is now open for the 5th Annual Golfing4AHERO Tournament," said Hunter Labbie, long-time volunteer and traditional co-orchestrater of the much-loved tournament. "On November 12th, check-in will begin at 8 a.m. at the Perdido Bay Golf
AsClub."usual, the shotgun start will begin at 10 a.m. Labbie is encouraging everyone who is interested in entering a foursome to register as soon as possible, as the event's roster of players always fills up quickly.
Last year's KS-Perdido Golfing 4AHERO event was great. This year it promises to be even better!!
Over the years, AHERO has been greatly appreciative of the massive effort and love the brothers of West Florida Kappa Sigma have put into making this event a success – both in terms of enjoyment and the greater and greater contributions it has enabled them to provide AHERO with, in order to help wounded and injured Veterans. Yet the brothers maintain that they owe all of the event's success to its participants, sponsors, and supporters.
intend for this November's event to be highlighted by fresh ideas and plans being rolled out now by their appointed committee. According to Labbie, these will separate this commemorative moment from the past four great Golfing4AHERO tournaments they have hosted."The tournament is on track to have another record-breaking year," Labbie said. "Doing some comparison, it's gratifying for us to remember that the First Annual Kappa Sigma Golfing4AHERO Tournament consisted of 8 teams and 32 golfers, while the last two tournaments have had 30 teams and 120 golfers!"
AHERO MAGAZINE SUMMER 2022 79 AHERO Needs You! - AHEROUSA.org/donate
Then he excitedly added, "We will see you all on the links in November!"
"They make this a wonderful fundraising tournament but an even better experience for everyone involved," said Labbie. "So we want to sincerely thank the greater Pensacola community for their continued support."
80 AHERO MAGAZINE SUMMER 2022 ALL IN 4AHERO
had been the detachment's paymaster for seven years, a role Chandler volunteered for and was approved to take over when Sandoval felt it was time for a change. "Over the years, Tim also has filled in as our chaplain when needed," Sandoval said. "He is considered a very integral member of the detachment."
Enter a friend, Veteran MSgt Ben Sandoval, USMC, a fellow member of CPL J. R. Spears Detachment 066 of the Marine Corps League.
Tim Chandler's Bicycles for Veterans Charity Offers a Way to "Be The Miracle"
USMC Veteran Tim Chandler embodies the principle of serving others in need. An adult volunteer at East Milton Elementary School (EME) now for more than five years, he first got involved when his daughter came home one day worrying about a boy in her class whose shoes were worn through, showing his toes. Ultimately it was his response to this situation (he made sure that child had a good pair of shoes at his, Chandler's, expense) that inspired him to establish his 501 (c) 3 organization, "Be the Miracle."
LEFT: For the kids at East Milton Elementary School, retired USMC SSGT Tim Chandler IS "the Miracle"!
The bikes donated often require repairing, though. He would buy the parts, but he needed a good bike mechanic to get the job done.
Prior to his retirement, Sandoval had owned a motorcycle repair shop in Milton, and he agreed to take on the job of repairing whatever bikes Chandler brought him so they could be used.Sandoval
Then, when he heard about some homeless Veterans who were without transportation to get to wherever they could find work, Chandler again stepped up. "I started to buy used bikes when I could and give them to Veterans. 'Bicycles for Vets,' I called the effort, and people began to donate old or used bikes I could give them. It has become part of my mission."
Sandoval knew Chandler had been giving bicycles to Veterans who needed transportation, that it was typical of his friend to concern himself with those who had served then found themselves down on their luck.
"This was another thing Tim wanted to do for them," he recalled. "So when I heard he had some bikes that needed repairs, I told him I'd do it." Sandoval recalled.
ABOVE: School volunteering often means doing some "coaching" during library time.
Sandoval himself served two tours in Vietnam, one in 1965 and another in 1969. He retired from the Marine Corps in November 1985. "When I left the Corps, it was hard for Vietnam Veterans to find employment," he explained. "So many employers back then did not want to hire you once they found out where you had served. Many of us just hid our time in service and Vietnam from our employment applications."
He recalled how, at that time, Veterans were getting little or no help from the Veterans Administration or other organizations. "Plenty of those Veterans ended up on the street," Sandoval recalled. "So many of them became alcoholics or drug addicts, even if they weren't homeless. And many committed suicide."
By Connie Conway
It's clear that this Veteran continues to feel great compassion for those who, like him, fought in Vietnam. "A lot of us suffered from PTSD and had a hard time holding a job down because of anger, hate, and the memories that haunted us of battles past," he said.
AHERO Needs You! - AHEROUSA.org/donate
It's a through line that binds Vietnam Veterans together with those who have served in America's more recent wars. Which might be why Sandoval added, "Helping Veterans in this way is no brainer for Tim and me. We have lived through our own demons, and we find solace in doing this for our Veterans now."
Chandler runs his charity through the Living Word of Faith Church on Bush Street. All donations can be written to Bush Street Church Be the Miracle. "We really need people to step up and help," said this very giving Veteran, "either through contributions or by spreading the word about what we are doing."
USMC Veterans (l-r) Tom Whalen and Ben Sandoval. "Tom has a shed where I've repaired motorcycles," says Ben. "And he's happy to let me use it to fix bicyles that Tim donates to Vets."
"Having this as my ministry," he explained, "means using my time to help kids in school (he donates up to 20 hours a week at EME), and it's why I keep working to raise donations used to provide important everyday items like bikes to individuals whose difficult circumstances have put them in need. To have a way to get to a job can means that a Veteran can improve his or her life enough to go on to greater things."
It's the charitable donations Chandler receives along with what he can give out of his own pocket that allows him to go on providing these "miracles" in the form of things needed. The bicycles for the Veterans, as well as the Christmas presents and Easter baskets he is able to provide to kids whose families are stretched too thin financially to be able to afford them, mean as much to him as they do to those who receive them. In a way, they may mean more, for they mirror the strength of his faith.
He paused, then added hopefully, "Preferably both?
By Veteran USMC CWO5 Roberto Fernandez
This was just one of the many events in which our cadets have been involved, such as the MCL/TEL Semper Fi 5k Charity Run for Children. They feel honored to be invited to perform important traditional ceremonies and were proud to be asked to present colors at the Gold Star Families Memorial Monument dedication with its amazing speaker, Congressional Medal of Honor recipient Woody Williams.
LCDR Dyer and I believe that the future of this country is in good hands because of the caliber of cadets we have. They know how to lead; they understand that the future of this nation is in their hands; and they proudly serve their community.
Leaving no branch's bird out of the cleanup! (U.S. Military "Branch," that is!)
Recognizing a job that was important to do, I pitched the idea of taking it on to the cadet leadership. They were enthusiastic and soon solicited other cadets to volunteer. At first, I had been focusing on the Marine Corps pelican, but I quickly realized that we had cadets who are interested in the various branches. Of course, they wanted to "flock" to their chosen service's pelican! Then, with a clear plan in place, they accounted for necessary gear, and executed.
Preparing Our Teenagers to be Our Nation's Future Leaders
Bird Bath came about when the CPL J.R. Spears Detachment of the Marine Corps League Pensacola assumed ownership of Marine Pelican-1. The Pensacola Navy
Our program mission states its intention to develop personal responsibility and a sense of accomplishment in the young people who join the program as cadets. LCDR Dyer and I train our cadets in mission planning and execution. We provide them with an idea, give them some guidance, and expect them to develop a plan. They then brief the cadet corps, develop a mission statement, and execute that mission. LCDR Dyer and I remain available to provide a "rudder steer" whenever they are stuck on a problem. Operation
League had assumed ownership of the Blue Angel Pelican. Part of assuming ownership was developing a preventive maintenance plan. Pelicans in Paradise is a public art project organized by the Pensacola News Journal in which all proceeds from sponsorship and merchandise go to benefit the News Journal's Newspapers in Education literacy program.
82 AHERO MAGAZINE SUMMER 2022 ALL IN 4AHERO
The Milton High School Naval Junior Reserve Officer Training Corps (NJROTC) program was established on January 10, 1970, and it is one of the oldest of its kind in the nation. I became involved with the program as an instructor in 2015, under the leadership of LCDR Jeff Dyer, U.S. Navy (Ret).
This event was a great opportunity to have cadets connect with members from the Marine Corps and Navy leagues. In addition, we had several civilians stop during the cleanup and
ask about who we were. Our cadets were more than happy to tell them and also to inform them about the NJROTC program. Now our intent is to continue to perform this service for the community at large and to connect our youth with those who understand service and sacrifice.
AHERO MAGAZINE SUMMER 2022 83 AHERO Needs You! - AHEROUSA.org/donate Make sure you get the right high-and-tight on those tail feathers, Cadet!
ALL IN 4AHERO
AHERO MAGAZINE SUMMER 2022 85 AHERO Needs You! - AHEROUSA.org/donate
Cadets of the Milton High School Naval Junior Reserve Officer Training Corps (NJROTC) program pose with their instructor (at top), CWO5 Robert ("Rob") Fernandez, USMC (Ret), a member of the program's supportive Marine Corps League Cpl J.R. Spears Det #66; and (second row, l-r) MCL Commandant, COL Karl Schwelm with USMC (Ret), Capt. Dan Linderman (owner of A.J. Mugs), and MCL Junior Vice Commandant, Maj Thomas Richey, USMC (Ret).
OPPOSITE PAGE - Ahhh ... So NICE to be ship-shape again!!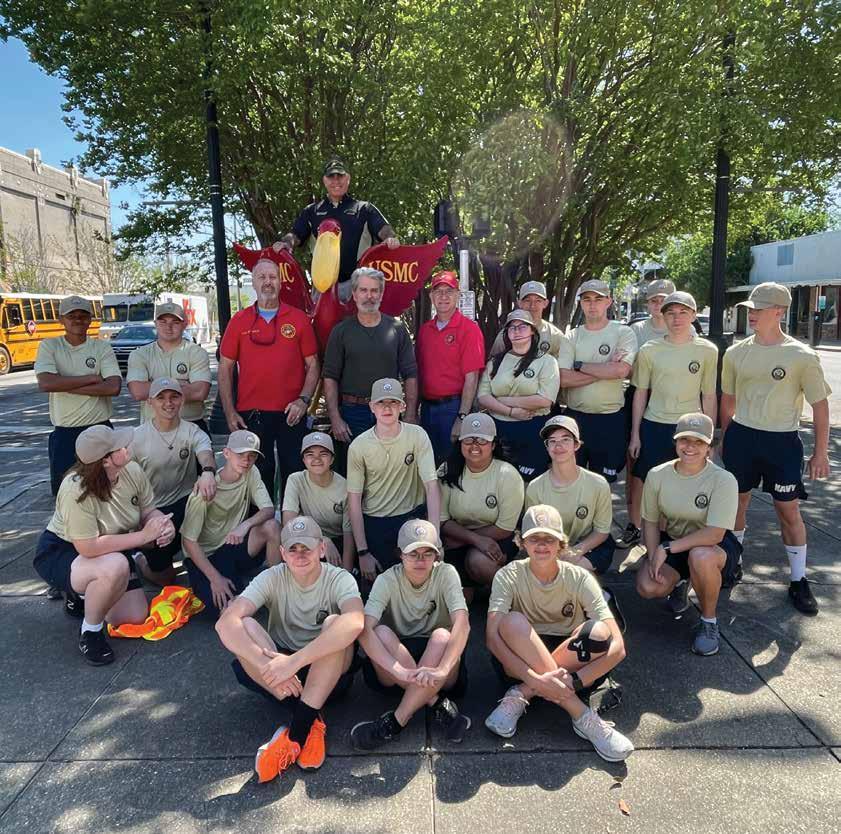 Army Veteran Noah Jimenez, from Nashville, Tennessee, will be the guest speaker. A medic who was wounded, he will talk about the healing therapy of writing and playing music. And the Saturday night barbecue dinner will bring together the past weeks' attendees with the incoming group.
Our mission at HTFW is to provide a safe and supportive gathering place that connects Veterans with community organizations and local businesses. In association with God's Way Ministries, we bring resources and help that can aid in the healing process and enhance their ability to perform daily activities. This includes providing them with information
represented. This year, speakers will provide information on jobs and opportunities and encourage positive motivation. A voluntary daily devotional will offer focus to start off the day, with nightly campfires providing shared downtime at end of day.
Part of our vision is to provide free retreats that foster relationship-building between wounded warriors and the community. This year's retreat is scheduled for October at Camp Timpoochee, in Niceville, Florida. The camp's personnel were most accommodating hosts during our event there in 2017.
Every Day is PTSD Awareness Day on My Calendar
Healing Tools for Warrior (HTFW) was born in 2009 out of a desire to help not only our wounded Veterans, but also their caregivers (aka Battle Buddies). After watching my three sons struggle daily with PTSD and TBI, I wanted to find a way to help ease their burden and the burdens of others who suffered as they do.
on local programs, jobs, and volunteer opportunities. The goal is to restore their sense of purpose and enable them to work past medical limitations.
ALL IN 4AHERO
By Penny Pinkham
HTFW also raises PTSD and TBI awareness and funds through an annual auction in March called the "Redneck
86 AHERO MAGAZINE SUMMER 2022
Founder Penny Pinkham.
At the retreat, participating Veterans will be introduced to organizations that foster the healing process. Typically, charitable groups such as Float Brothers, Healing Paws for Warriors, and Heroes on the Water are
to not only have a voice, but also to have an opportunity to lobby for changes that really work for all wounded warriors.
HTFW schedules other gatherings that help foster friendships that have developed throughout the year. This includes birthday parties and a sponsored deer hunt. To help conquer the feelings of isolation and depression is to help speed recovery for those who have suffered.
AHERO MAGAZINE SUMMER 2022 87 AHERO Needs You! - AHEROUSA.org/donate
Penny with a fellow Veteran supporter.
As a Mom/Battle Buddy, I see the scars and invisible wounds that, through support, resources, patience, and love, we can help heal. Thank you so much to all who care and help by getting involved!
For more information on the Healing Tools for Warriors organization, to donate, or get to involved, please contact Penny Pinkham at 850-420-0520.
A yearly legislative round table meeting is scheduled where Veterans will have an opportunity to have open discussions with our local political leaders. This allows them
Rendezvous." All auction items are crafted by wounded warriors or donated. We follow this with a wing-eating contest at 4C BBQ in DeFuniak Springs, Florida. Bringing Veterans together with locals to enjoy a day of fun and flexing their mandible muscles, this event, too, raises awareness and funds for our wounded warriors.
It is sometimes told that, when asked, "What does it mean to a warrior to know the community supports them?" the warrior, after a pensive pause, replies, "Everything."
A gathering of committed HTFW supporters.
buying an "overpriced" bottle of water at the AHERO booth where they're selling it).
Six F-18 jets fly in formation with the US Navy Flight Demonstration Team, a.k.a. The Blue Angels.
88 AHERO MAGAZINE SUMMER 2022 ALL IN 4AHERO
Who SWEATS and GETS Bucks to Help VETS? AHERO Does!
So as the year goes on and once again AHERO's volunteers sweat it out at this or another event to try and raise funds to help bring more wounded, brave Veterans and First Responders to events that lift their spirits, please consider contributing (or, in this case,
On a hot day here in July, while the Blue Angels wowed the crowd, AHERO volunteers collected donations in exchange for bottled water.They're always doing stuff like that throughout the year.
in the good fight" and survive the wounds, seen and unseen, of combat and military/ civilian protection service in general.
Because that "overpriced" portion of the sale – or that contribution – will be going straight into AHERO's piggy bank to help bring another Veteran or First Responder (who can really use it) back to believing in life.
Every donation helps AHERO bring more Veterans and First Responders to events and programs that engage and inspire them to "stay
Thanks.AHERO Magazine
Pictured here are (l-r) Tao Tran, Jeremy Clarke, Sean Hollonbeck, Dave Glassman, Maxx Glassman, and Meg Peltier. You may recognize Sean as the retired U.S. Army colonel and physician who heads the 501( c)3 Warhorse Project in Milton, Florida.
AHERO MAGAZINE SUMMER 2022 89 AHERO Needs You! - AHEROUSA.org/donate
The U.S. Navy Flight Demonstration Team's C-130J Super Hercules tanker aircraft, affectionately known as Fat Albert, captures attention over the Marine Corps recruiting tent at the show.
A "skydance" of incredible timing ... four F-18s rise in formation while two solo jets, off camera, are maneuvering into position for their exciting return to the group.
AHERO Water for Donations Flyer
90 AHERO MAGAZINE SUMMER 2022 ALL IN 4AHERO
Look! Up in the sky!! It's a bird! It's a plane! It's .... FAT ALBERT!
AHERO MAGAZINE SUMMER 2022 91 www.prestigelawnandfencing.com prestigelawnandfencing.llc@gmail.com CURBYOURAPPEALEXPERTSFencingRetainingWallsCustomOrnamentalGatesFullyBondedReliable&Trustworthy
www.AWKOLAW.com844.794.7402 17 East Main Street, Suite 200 • Pensacola, FL 32502 We Salute Our Military Staff The attorneys and staff at Aylstock, Witkin, Kreis & Overholtz are proud to recognize the military servicemembers, veterans, and spouses working at our firm. We thank them for their service to our country and are honored to work alongside them as they continue their fight for justice. CONTACT US TODAY TO FIND YOUR OPTIONS