Informing Ireland's decision-makers...
Transformation through talent Skillnet
Ireland's Paul Healy
ESRI's Muireann Lynch explores Ireland's energy security challenge
€4.95 Jan 23 issue 55
Louise McKeever, CIO at the Department of Agriculture, Food and the Marine reflects on Harnessing Digital Health
Minister of State for Mental Health Mary Butler TD discusses the delivery of Sharing the Vision
• Education and skills • Technology and innovation • Future of energy
S cial Media Dublin
Croke Park, Dublin
Now in its ninth year, Social Media Dublin is the major event for the social media and communications industry. Bringing together over 300 attendees, the conference attracts a wide range of expert speakers from across different sectors. Keeping up to date with future social media trends is a key focus of the event, as well as showcasing successful social media campaigns in Ireland and beyond.
2023 speakers include
Lea Sandell
Global Social Media Team
The LEGO Group
Laura Truelove Senior Digital Media Manager Welsh Government
Ross Middleham Content Lead Met Office UK
Elisabetta Bello
SVP Head of Connected Storytelling EMEA, Edelman
Ketna Mistry Head of Social Media Savills UK
Claire O'Sullivan Communications Officer Cork City Council
Cathy Cullen Digital Director Drury
Johanna Torwesten
Social Media Manager In the Company of Huskies
Aimee Buckley
Digital Marketing Officer Belfast Exposed
Sheena Doyle Head of External Communications University of Limerick
Seán Earley Managing Director of Creative Campaigning, Teneo
Melissa Dunne Senior Digital Marketing Executive, Repak
Jenny Gilleece
Digital Engagement Manager Irish Cancer Society
Darragh Doyle Head of Communications Marketing and Audience Development Dublin City Council Culture Company
Call us: +353 (0)1 661 3755 • Email: info@eolasmagazine.ie
www.socialmediadublin.ie 26.01.23
Sign up for conference updates!
Contents 97
innovation 98 Minister
104
108
121 Future of energy 130 ESRI's Muireann Lynch on balancing policy in the context of the energy trilemma 140 ORESS 1 timetable published 144 H2 essential for a climate neutral Europe 150 Public affairs 150 Mol an Óige: Mairéad Farrell TD 154 Agallamh: An Coimisinéir Teanga Rónán Ó Domhnaill 158 Oireachtas Committee Secretariat: Supporting the committee system 164 Back page: Oileán Carter Stritch, Irish youth delegate to COP27 12 Digital Events Print 18 150 28 Round table discussion hosted by Technology and innovation sponsored by Health sponsored by 76 164 Future of energy sponsored by 04 Matters arising 08 Issues 12 Cover story: Skillnet Ireland's Paul Healy: Transformation through talent 18 Round table discussion: Building Ireland's hydrogen economy 26 IPCC Working Group II Chair Hans Pörtner outlines the key findings of Climate Change 2022 28 DECC Assistant Secretary, Philip Nugent, outlines the approach to circular economy 2.0. 31 Health 32 Minister of State Mary Butler TD discusses Sharing the Vision progress 42 HSE Head of Digital Transformation and Open Innovation, Martin Curley on digital health breakthrough 62 Ireland's leading medical officials in profile 75 Education and skills 76 Minister of State Niall Collins TD on the importance of apprenticeship 82 Budget 2023 and education 92 Digital Strategy for Schools
Technology and
of State Ossian Smyth TD: Ireland as a digital government leader
Myra Hunt, joint Chief Executive of the Centre for Digital Public Services Wales, on digitalising Welsh public services
Louise McKeever, CIO at the Department of Agriculture, Food and the Marine: Harnessing Digital
Conference
Expert speaker panel includes:
Darragh O'Brien TD Minister for Housing, Local Government and Heritage Bob Jordan CEO
The Housing Agency Sorcha Edwards, Secretary General Housing Europe
Deering Chief Executive Officer Home Building Finance Ireland

Áine Stapleton
Assistant Secretary, Social Housing Delivery Department of Housing, Local Government and Heritage
Caroline Timmons Acting Assistant Secretary, Housing Affordability, Inclusion and Homelessness Department of Housing, Local Government and Heritage
More information available soon Online www.housing.eolasmagazine.ie By email registration@eolasmagazine.ie By telephone 01 661 3755
will
3 Housing
 Affordable housing: Emerging
 Unlocking opportunities
new
 Increasing social
affordable housing
 Collaborating
 Financing
 AHBs
 Developing cost
 Local
Key issues to be examined: eolas Magazine is organising its eighth annual Housing Ireland Conference, which will examine the key challenges facing Ireland's housing policymakers and senior practitioners across the sector. The conference
take place on 10th March 2023 in the Radisson Blu Royal Hotel, Dublin.
for All implementation and progress
trends in Europe
for
housing supply
and
delivery
to eradicate homelessness and enhance social inclusion
new housing supply
: Establishing sustainable and vibrant communities
rental housing tenure
authorities: Planning and provision of affordable homes on public lands
Dara
Dónal McManus, CEO, Irish Council for Social Housing
Caren Gallagher Head of Communications and Research Residential Tenancies Board
SPONSORED
IN ASSOCIATION WITH
Thursday 10th March 2023 Radisson Blu, Dublin
2023 ORGANISED BY
BY
Digital Events Print
Scéal geamhoíche…
Tá an geimhreadh linn. At the time of print, Ireland is gripped by the Cailleach Béara's icy fingers. Congregations of commuters face the fog and the frost on train platforms and at bus stops. Office workers, tradespeople, students, and retailers are united in traffic gridlock. Cyclists and scooterists breeze by, faces shrouded against the Arctic blast. Shoppers and schoolchildren skate self-consciously across unsalted pavements.
Cost of living pressures aside, most will finish the day by retreating into the warm embrace of home. Not so, however, for almost 11,400 people, including 3,480 children, who are homeless in the State today. For those in emergency accommodation, in hostels not funded by the State, in Direct Provision, in domestic violence refuges, or sleeping rough, winter's onset marks the nadir of the year. Given the relative economic success of the State, this is politically and morally reprehensible.
Eviction is the single greatest cause of homelessness. This was evidenced during the pandemic when homeless numbers dramatically decreased amid a ban on evictions. Now, given the renewed surge in homelessness, government has implemented an emergency deferment of no-fault tenancy terminations until April 2023. Learning from the post-Covid experience, now is the opportunity to ensure that people on the precipice of homelessness are shielded by good housing policy.
Meanwhile, acknowledging that Ireland's greatest asset is its people, Skillnet Ireland chief Paul Healy believes that his organisation must redouble its efforts to engage with businesses and encourage investment in talent. In our cover story interview, Healy emphasises the significance of enterprise-led talent development in transforming the competitiveness, innovation, and productivity of the business sector in Ireland.
Elsewhere, this issue of eolas Magazine contains dedicated reports on health; education and skills; technology and innovation; and the future of energy. Highlights includes interviews with and contributions from: Minister of State with Responsibility for Mental Health and Older People, Mary Butler TD; the HSE's Head of Digital Transformation and Open Innovation, Martin Curley; Chief Information Officer at the Department of Agriculture, Food and the Marine, Louise McKeever; Minister of State with responsibility for Skills and Further Education, Niall Collins TD; ESRI Senior Research Officer Muireann Lynch; Sinn Féin's Spokesperson for Public Expenditure and Reform Mairéad Farrell TD; An Coimisinéir Teanga, Rónán Ó Domhnaill; the Oireachtas Committee Secretariat; and others.
We wish all our readers a happy new year –Athbhliain faoi shéan is faoi mhaise daoibh.
Ciarán Galway
Editorial
Ciarán Galway, Editor ciaran.galway@eolasmagazine.ie Odrán Waldron, Deputy Editor odran.waldron@eolasmagazine.ie David Whelan david.whelan@eolasmagazine.ie Fiona McCarthy fiona.mccarthy@eolasmagazine.ie Joshua Murray joshua.murray@eolasmagazine.ie
Advertising Sam Tobin sam.tobin@eolasmagazine.ie
Design
Gareth Duffy, Head of Design gareth.duffy@eolasmagazine.ie Jamie Hogan jamie.hogan@eolasmagazine.ie
Events
Lynda Millar lynda.millar@eolasmagazine.ie
Become a subscriber! Annual subscriptions: €15.00 + €5.00 P&P Contact: Sharon Morrison Email: subscriptions@eolasmagazine.ie Online: www.eolasmagazine.ie
eolas Magazine
Owen McQuade, Publisher owen.mcquade@eolasmagazine.ie bmf Business Services Clifton House Lower Fitzwilliam Street Dublin, D02 XT91
Tel: 01 661 3755 Web: www.eolasmagazine.ie Twitter: @eolasmagazine
• This product is made of FSC®-certified and other controlled material.
• This product is made of material from well-managed, FSC®-certified forests and other controlled sources.
• This product is made of material from well-managed FSC®-certified forests, recycled materials, and other controlled sources.
• This product is made of material from well-managed FSC®-certified forests and from recycled materials.
• This product is made of recycled materials and other controlled sources.
eolas Issue 55 Jan 2023 www.eolasmagazine.ie
LEEF calls for ministerial power in resolving labour disputes
The Labour Employer Economic Forum (LEEF) has called for the Minister for Enterprise, Trade and Employment to have the power to resolve labour disputes where employers refuse to engage in the process.
Currently, where employers abstain from participating in a Joint Labour Committee (JLC), the statutory process established by the Oireachtas is rendered inoperative. The report states that this could be addressed by "allowing the first stage in said process to be bypassed in circumstances where employer representatives fail to make nominations to the JLC".
It states that, under these circumstances, a new process should be established whereby the Labour Court drafts an ERO to be considered on an individual basis by the Minister for Enterprise, Trade and Employment, if the Minister
believes that drafting an order is "in the best interests of the sector".
Currently, when employers engage in a JLC, and the JLC fails to adopt or formulate proposals, and no further progress can be made, the matter can be referred to the Labour Court for a recommendation.
The LEEF report calls for a role of ministerial decisionmaking in this event, whereby if the JLC still fails to adopt the proposals following the Labour Court's recommendation, the Labour Court, where it deems it in the best interests of the sector, can finalise the process by drafting an ERO for consideration by the Minister.
The recommendations are being considered by Leo Varadkar TD in his remit as Minister for Enterprise, Trade and Employment.
New homes to be equipped with electric vehicle charging
Minister for Housing, Local Government and Heritage Darragh O'Brien TD has announced a new regulation stipulating that newly built homes must be equipped with electric vehicle charging infrastructure.
The initiative is part of the Department of Transport's Electric Vehicle Charging Infrastructure Strategy 2022-2025
In a statement released on 12 November 2022, Minister O'Brien announced that the infrastructure will be built on: new homes with a parking space located within its boundary; new multi-unit residential buildings; and multi-unit residential buildings undergoing major renovation where the car park is located inside or adjacent to the building.
The Department of Housing, Local Government and Heritage stated that there are currently in the region of 45,000 electric
vehicles being operated in the State. The Climate Action Plan commits the Government to ensuring that this number increases to at least 945,000 by 2030.
Transport currently accounts for 20 per cent of greenhouse gas emissions in the State, with road traffic accounting for 96 per cent of emissions within that sector.
Announcing the new regulations, Minister O'Brien stated: "The regulations will help accelerate the uptake of electric vehicles, creating and enabling infrastructure to achieve the government commitment of nearly one million electric vehicles by 2030. We are sending a strong signal of Ireland's commitment to the clean energy transition, as the building sector has a vast potential to contribute to a carbon-neutral and competitive economy."
ISSUES TRANSPORT matters arising 4 eolas matters
RTÉ
Credit:
Credit: Fianna Fáil
JUSTICE
Humphries becomes temporary Justice Minister
Ahead of the cabinet reshuffle in December 2022, Heather Humphries TD has returned to the role of Minister for Justice on a temporary basis as her Fine Gael colleague Helen McEntee TD is on maternity leave.
The Cabinet is expected to be changed significantly as their party leader Leo Varadkar TD prepares for his second spell as Taoiseach as part of the coalition arrangement between Fine Gael and Fianna Fáil.
Varadkar has stated that Humphries's appointment will not affect the cabinet reshuffle on 17 December.
McEntee, in 2020, became the first ever cabinet minister in Ireland to go on maternity leave, and has reportedly agreed a
vote pairing arrangement with the Social Democrats' Holly Cairns TD for the duration of her leave.
In 2020, there was no formal process in place stating who would cover for a minister who was on maternity/paternity leave, meaning that the Government had to formally appoint a new minister and remove McEntee from her job.
She will remain an official member of the Cabinet for the duration of her absence, under a title of Minister without portfolio. It has been stated that she will remain as a Cabinet member after the upcoming reshuffle, although it is far from certain whether she will return to her role as Justice Minister.
ECONOMY
Largest social welfare budget in history of State
As the cost-of-living crisis continues to affect families throughout the State, the Department of Social Protection announced a range of measures as part of the Social Welfare Bill 2022, announced in November 2022, which will come at a total cost of €1.2 billion.
The Bill is a follow-up from Budget 2023, with the Bill's main provisions to apply across the board in weekly payments to pensioners, people with disabilities, carers, and lone parents. It also also includes measures to expand the Working Family Payment to more households and changes to the means test for the Farm Assist Payment.
Among the main measures outlined in the Bill are: a €12 increase in the maximum rate of all core weekly payments; a €40 increase in Working Family Payment thresholds; a €20.50 monthly increase in Domiciliary Care Allowance; a €2 increase in payments in respect of children of social welfare recipients, bringing the payment to €42 per week for children
under 12 and €50 per week for children aged 12 and over and; Farm Assist, Jobseeker's Allowance, and State NonContributory Pension – a doubling in the amount of income that can be derived from agri-environmental and counted in assessing means.
In addition to the measures outlined in the Bill, the Department of Social Protection will oversee the rollout of a number of initiatives announced in Budget 2023, including the autumn cost of living payment, a double payment of child benefit, an additional €400 for fuel allowance recipients, an additional €200 for recipients of the living alone allowance, an additional €500 for working family payment recipients, a €500 lump sum disability payment, and a €500 carer's support grant to be issued to over 114,000 carers.
matters arising 5 eolas matters
Failure to implement 40 per cent of climate objectives
The latest progress report on the implementation of the Climate Action Plan states that 74 of the 124 objectives for Q3 2022 were completed as planned, with 50 measures remaining outstanding.
To date, 542 of the 708 measures outlined in the Climate Action Plan have been implemented since its introduction in 2021, giving the Government a 77 per cent success rate on meeting its own targets.
However, the report states that, even with the successful implementation of all the measures outlined in the Climate Action Plan, further action will need to be taken if emissions targets are to be met.
"Even with full implementation of all CAP 2021 measures, the EPA (2022) estimate that emissions would only fall by 28 per cent by 2030, not the required 51 per cent. The agency stresses the need for urgent implementation of all climate
plans and policies, plus further new measures, to meet 2030 targets and put Ireland on track for climate neutrality by 2050."
The report outlines reasons for delay which have been stated by the Department for the Environment, Climate and Communications which include lengthy stakeholder consultation processes; capacity and capability constraints across the public sector; and desires for alignment with other measures to enhance impact. Legislative delays remained prominent in Q3, along with issues arising from the layers of administrative clearance often required for measures to complete.
Said issues have previously been outlined as justification for failure to meet targets. Ahead of Q3, there were 171 targets carried over which had previously failed to meet deadlines, with the department outlining a target to fulfil half of them.
Nearly one-in-five living in enforced deprivation
A report by the Economic and Social Research Institute (ESRI) has found that the number of people living in enforced deprivation has increased to 17.1 per cent in 2022, up from 13.8 per cent in 2021.
The ESRI specifies that people living in enforced deprivation fulfil two categories such as being unable to afford two pairs of strong shoes; unable to afford a roast once a week; unable to afford a meal with meat chicken or fish every second day; unable to afford new (not second-hand) clothes; unable to afford a warm waterproof coat; unable to afford to keep the home adequately warm; unable to afford to replace any worn out furniture; unable to afford to have family or friends for a drink or a meal once a month and; unable to afford to buy presents for family or friends at least once a year.
The report further finds that 45 per cent of unemployed people are living in enforced deprivation, with 42 per cent of those who are unable to work for health reasons further falling into the category.
It further finds that households with a single parent are significantly the most likely to fall into this category of standard of living.
34 per cent of those living in rented accommodation are living in enforced deprivation, with even 10 per cent of homeowners falling into the category, likely being driven by the increase in energy and electricity prices, as well as variable interest rates on mortgages.
matters arising
ENVIRONMENT ISSUES 6 eolas matters
Citizens' Assembly calls for referendum on biodiversity loss
Aoibhinn Ní Shúilleabháin, who chairs the Citizens' Assembly on Biodiversity Loss, has confirmed that 83 per cent of the Assembly had voted in favour of calling for a referendum requiring constitutional protection for Ireland's biodiversity.
The Citizens' Assembly is made up of 99 randomly selected citizens, in addition to the chair, who is appointed as an expert with oversight over the process.
In addition to calling for a referendum, the assembly voted in favour of establishing a set of constitutional biodiversity rights which would include substantive and procedural rights for both human and nature alike within the wider context of protecting Ireland's biodiversity.
The people rights which would be granted in the event of passage of the recommendations would include the right for people to live in a safe and clean environment, a clean and stable climate, and enumerating these rights, in addition to more which may arise, to future generations.
It further calls for a loosening of access to information on the environment, as well as a stronger role for the public in decision-making on environmental matters.
The rights for nature would establish, in law, nature at the legal owner of some things in society, as opposed to people or businesses. It is stated that nature would be given a right to thrive and not be interrupted or disturbed and would additionally confer a set of procedural rights meaning that the nature impact is that the heart of day-to-day decision-making.
Outgoing Minister for Finance Paschal Donohoe TD will serve another term as President of the Eurogroup, having been endorsed by the group unanimously.
Donohoe will continue the role in an aberrant manner, with the group normally constituting finance ministers from members states of the European Union which use the euro as their currency. It is expected that Fianna Fáil's Michael McGrath TD is to become Minister for Finance as Micheál Martin TD prepares to step down as Taoiseach, with Tánaiste Leo Varadkar TD to return in his place.
The only previous occasion on which a Eurogroup representative was not a member state's finance minister was in 1995, when Jean-Claude Juncker, then the Prime Minister of Luxembourg, retained his position as the
Donohoe re-elected as President of Eurogroup
representative ahead of his finance minister. Juncker later served as the group's president when it constituted on a formal basis in 2005.
Donohoe first assumed the role in June 2020 and has been able to use the role to insert Ireland into some unlikely settings, including being present as the EU representative when the G7's finance ministers met in June 2021.
Although he will likely no longer be Minister for Finance following the upcoming reshuffle, the retention of this role means that Donohoe will continue to be the most prominent financial government figure at European level, although Michael McGrath TD will also be a representative on the group, giving Ireland two voices in the Eurogroup.
EUROPE 7 eolas matters matters arising
ENVIRONMENT
COP27: Progress but a missed opportunity
The COP27 climate conference, which took place in Sharm El-Sheikh, Egypt, agreed on a flagship measure of a "loss and damage" fund, whereby wealthier nations will subsidise poorer nations which have been adversely affected by climate change.
Speaking at the conference, thenTaoiseach Micheál Martin TD, in a speech on 8 November 2022, stated that Ireland needed to accelerate its offshore wind infrastructure, amid a backdrop whereby a CCAC report found that Ireland is not on track to meet its emissions targets.
The former Taoiseach committed that Ireland will spend at least €10 million in the loss and damage fund to support countries which are "suffering loss and damage as a result of climate change".
He further stated, outlining measures which are being taken as part of Climate Action Plan 2021: "Climate change is a key plank of the Programme for Government. The legislation and the climate laws we have passed will both challenge government and various sectors of our economy to change significantly."
Minister for the Environment, Climate and Communications, Eamon Ryan TD, spearheaded the EU delegation, which agreed "at the eleventh hour" to support the loss and damage fund.
Minister Ryan upon his return, stated that the upcoming Climate Action Plan 2022 will take account of the new measures agreed to at the summit.
A missed opportunity
Whilst there were some incremental changes agreed to by participating states, the COP27 summit gave the overall impression of nations collectively reaffirming measures which had already been agreed to at the COP26 summit in Glasgow, such as a recommitment to trying to limit global temperature rises to 1.5oC by 2100.
Projections estimate, with the current actions being taken by governments
throughout the world, that global temperatures will rise by 2.5oC by the end of this century. Therefore, further action will be required.
Furthermore, whilst there had been hopes and ambitions to agree to a global phasing out of fossil fuels, no such measures came to fruition at COP27.
Ireland was one of the four new states to sign onto the agriculture agenda, one of the five strands of the breakthrough agenda which had been agreed by 41 states at COP27. These states collectively represent 70 per cent of global GDP.
Minister Ryan, upon his return from the summit, promotes the incremental progress as an "historic deal" made in the deal, and highlighted the leading role played by Ireland's diplomats in getting the European Union to support the measures.
8 eolas issues issues eolas
"The Irish team here did a huge amount of the work in delivering this deal, working on behalf of the European Union," Ryan emphasises.
However, he recognises frustrations with the measures: "This is not perfect. The EU would have liked it to have gone further and faster. However, what makes this a good deal is that it is an agreed deal.
"It is a signal of trust between the 198 parties to the UNFCCC that we are serious about climate change and that we are serious about protecting the most vulnerable countries and communities."
The minister adds that "keeping 1.5oC alive" was a significant achievement, given the ongoing energy crisis and desire for pragmatic energy solutions.
Loss and damage fund
The flagship measure, the loss and damage fund, was agreed after weeks of stiff opposition from the United States delegation and the European Union.
Successive US governments for the last three decades, have been opposed to the loss and damage fund. Ultimately, the proposal was reluctantly agreed.
The fund will see a specific climate fund allocated by wealthier nations in order to protect poorer nations which have borne the most severe consequences of climate change. Ireland will allocate €10 million to this fund.
Whilst Minister Ryan acknowledged that the agreement on the fund was a compromise, he said that this new agreement will now mean that "millions of people, whose land, water sources, and livelihoods are being eroded every day because of climate change can begin to look forward to targeted and strengthened support and protection from the global community".
Global commitment
Despite the challenges presented by geopolitical divisions between east and west, the Chinese delegation agreed prior to the summit that the People's Republic of China will be carbon neutral by 2060, arguably the most important development given China's status as the highest polluter on the planet.
So far, China has cut its coal consumption to 56 per cent, with renewables now accounting for 16.6 per cent of its primary electricity. Additionally, a report by the Chinese Government states that it is on track to meet its targets for afforestation of six million km2 by 2030, a pledge which was agreed to at COP26.
A report by the World Meteorological Organisation shows that China emitted more than 10 million metric tonnes of CO2 in 2020, more than double the next highest polluter, the United States. Russia and Germany were the only two European states which were among the top 10 polluters.
The same report further states that carbon emissions from the European Union and the United States have been broadly consistent since 1970, whilst there has been a notable decline in Russian emissions since 1990, a notable increase in emissions from India (although their emissions have remained below the United States and the EU), whilst carbon emissions from China have more than doubled since 2000, and emissions from the 'rest of the world' (mostly encompassing South and Central America, Africa, Asia, and Oceania) have almost quadrupled since 1970.
9 eolas issues issues eolas
Credit: Green Party
Minister Ryan led the EU delegation at COP27.
Housing 2022 reflections
Overall housing target on track but crisis abounds
One year since the launch of Housing for All, government insists that it will exceed its target of 24,000 new homes delivered in 2022 on the way to delivering an average of 33,000 homes per annum up to and including 2030. However, several recent statistics illustrate that the housing crisis abounds.
Acknowledging the changed context in which Housing for All is being delivered –including the Russian invasion of Ukraine, the energy crisis, rising interest rates, and construction cost inflation – the Government's analysis of its housing policy concedes: "These cost pressures make homes costlier and slower to build. Those who finance and build face greater risks than they did one year ago."
Indeed, while new home completions were 33 per cent higher in the 12 months to Q3 2022 compared to 12 months prior and 11 per cent more homes were granted planning permission, housing commencements decreased by over 10 per cent. A total of 27,417 new homes were commenced between October 2021 and September 2022 compared with 30,519 units commenced between October 2020 and September 2021.
The 10.7 per cent reduction on the previous 12-month period suggests that commencements are slowing down amid economic uncertainty.
Similarly, CSO figures have recorded a third successive quarterly contraction in the residential building sector as per the seasonally adjusted volume of production index for the period between Q2 2022 and Q3 2022, down to 100.1 from 119.5 (a 16.2 per cent decrease). This translates into a 20.4 per cent contraction when compared with Q3 2021, down to 100.1 from 125.8.
Irrespective, the Government "remains determined to fully implement Housing for All".
Priorities
Looking ahead to 2023, Housing for All: Action Plan Update and Q3 Progress Report identifies eight priority areas which comprise new and updated actions to address the headwinds facing the housing sector, and "to maintain the current momentum to deliver more homes". These priority areas are:
1.Major reform of the planning system
2.Meeting the challenges of viability, affordability, and sustainability to close the delivery gap
3.Delivering social and affordable homes on state lands
4.Boosting construction productivity
5.Increasing construction sector capacity
6.Bringing vibrancy to our towns and villages
7.Improving the rental market
8.Planning the required number of homes
Remarking on the key areas of focus in 2023, Minister for Housing, Local Government and Heritage Darragh O'Brien TD asserted: "Housing for All has delivered on a number of measures to make homes more affordable, protect renters, tackle vacancy, and bridge the delivery gap between the cost of construction and market price. But we recognise we must do more to address external challenges and maintain the
current momentum to deliver more homes. The updated Action Plan contains new and updated actions to ensure we deliver on the ambition and targets in Housing for All."
Delivery
Ultimately, the Government aims to deliver an average of 33,000 homes per annum (comprising an average of 10,000 social housing units, 4,000 affordable purchase homes, 2,000 cost rental homes, and 17,000 private rental and purchase homes) up to and including 2030.
Overall, by the end of 2030, Housing for All is intended to deliver 300,000 homes, which includes 90,000 social homes, 36,000 affordable purchase homes, 18,000 cost rental homes, and 156,000 homes for private rental and purchase.
Projected new build housing output for 2022 is 24,600, including 9,000 social homes, 4,100 affordable and cost rental homes, and 11,500 private rental and private ownership homes. Figures in the Housing for All: Action Plan Update and Q3 Progress Report – the first annual update of the government's housing plan for Ireland to 2030 – indicate that:
•a total of 20,807 new homes were completed during Q1 (5,645), Q2 (7,618), and Q3 (7,544) of 2022 (more than any year since 2011);
•7,544 homes were completed in Q3 2022 (an increase of 62.5 per cent when compared with Q3 2021);
•between January and September 2022, construction had commenced on almost 21,000 new homes;
•8,247 social homes were under construction at the time the report was published (with an additional 12,327 social homes at design and tender stage); and
Government
•planning permission was granted for 19,837 homes in Q1 and Q2 2022 (an increase of 9.5 per cent for the comparative period in 2021).
issues eolas 10 eolas issues
"Housing for All has delivered on a number of measures to make homes more affordable, protect renters, tackle vacancy, and bridge the delivery gap between the cost of construction and market price." Minister for Housing, Local
and Heritage, Darragh O'Brien TD
Credit: Fianna Fáil
Some of the most significant initiatives launched since Housing for All was published include:
•affordable purchase schemes such as the First Home Scheme and the Local Authority Home Loan, alongside an extension of the Help to Buy Scheme until the end of 2024;
•renter protections which include a cap on rent increases at 2 per cent or the Harmonised Consumer Index of Prices (whichever is lower) and a temporary ban on no-fault evictions during winter 2022/23;
•the implementation of cost rental tenures;
•the LDA's Project Tosaigh aimed at accelerating housing delivery on sites with full planning permission;
•the Croí Cónaithe (Cities) Fund to mitigate the gap between construction cost and market price for apartments;
•a new Vacant Property Refurbishment Grant and Town Centre First policy to tackle vacancy; and
•a ready to build schemed funded by the Croí Cónaithe (Towns) Fund and enacted legislation for a Zoned Land Tax (commencing 2024).
Housing for All: Action Plan Update and Q3 Progress Report concludes that the housing crisis can only be resolved through the delivery of homes at scale and at speed. It does not seek to "amend the fundamental policy approach or targets in Housing for All" rather it has prioritised measures to catalyse the delivery of housing supply. Outstanding Housing for All actions which are directly or indirectly align with the supply of housing have been updated, while remaining outstanding actions will continue to be implemented.
CSO quarterly figures for New Dwelling Completions record that 7,544 new dwellings were completed in Q3 2022, an increase of 62.5 per cent when compared with Q3 2021. This brings the total new dwelling completions to 7,544 over the first three quarters of 2022. Apartment completions (2,445) increased by 153.4 per cent when compared with Q3 2022, while scheme dwellings (3,569) increased by 44.3 per cent and single dwellings (1,530) by 27.1 per cent. However, while 8,247 social homes were under construction at the time the report, as per available data (using the Social
"On Fine Gael and Fianna Fáil's watch, the crisis has worsened year after year. They are incapable of solving it." Sinn Féin spokesperson on housing, Eoin Ó Broin TD
Housing Construction status reports for Q1 and Q2), just 616 new social homes were completed in Q1 2022, and 1,016 were completed in Q2 2022. An additional 23 local authority Part V units were also completed in Q1 2022, and 110 local authority Part V units and 28 Social Housing Current Expenditure Programme (SHCEP) Part V units were also completed in Q2 2022.
Intractability
Indeed, the Government's narrative of timely housing delivery is being met with some scepticism. For instance, earlier in 2022, Irish Congress of Trade Unions' Macdara Doyle, Coordinator of the Raise the Roof campaign determined: "Outside of government circles, there are few people who truly believe that the housing policy is working and that a resolution to the crisis is in sight." Evidencing his claim, Doyle referenced the ESRI Future Trends in Housing Tenure and the Adequacy of Retirement Income report published in July 2022 which highlights a collapse in the rates of home ownership among people aged between 25 and 35 from 60 per cent to 27 per cent.
Likewise, in December 2022, Sinn Féin spokesperson on housing, Eoin Ó Broin TD indicated that the party would support a Solidarity/People Before Profit motion of no confidence in the Minister for Housing, Local Government and Heritage, and asserted: "On Fine Gael and Fianna Fáil's watch, the crisis has worsened year after year. They are incapable of solving it."
At the same time, as remarked upon by Banking and Payment Federation of
Ireland (BPFI) in its Housing Market Monitor for Q3 2022 (published in December 2022), Eurostat data on rents and house prices released in October 2022 highlight that Ireland's average rents have experienced the third highest increase in the EU (behind Estonia and Lithuania). While average rents in the EU increased by 18 per cent between 2010 and Q2 2022, average rents in the State have increased by 82.1 per cent.
The standardised average rent in new tenancies increased by 26 per cent to €1,412 in the period from Q2 2021 to Q1 2022 when compared with the period from Q2 2017 to Q1 2018. Simultaneously, house prices and apartment prices increased by 25 per cent and 22 per cent respectively by Q2 2022 when compared with Q2 2018.
Furthermore, in its monthly homelessness report for October 2022, the Department of Housing Local Government and Heritage revealed that a record-breaking 11,397 people, including 3,480 children, were in department funded emergency accommodation. While reflecting an increase of 422 people in just one month. This figure does not include those sleeping rough, those in hostels not funded by the State, those in Direct Provision, those in domestic violence refuges, and the hidden homeless.
Both sets of statistics, relating to spiralling rents and increased homelessness, are symptomatic of the intractability of the ongoing of the housing crisis. All eyes will be on the performance of government housing policy in 2023.
"Outside of government circles, there are few people who truly believe that the housing policy is working and that a resolution to the crisis is in sight."
Raise the Roof campaign coordinator, Macdara Doyle
issues eolas
eolas issues 11
Credit: Sinn Féin
Transformation through talent
A highly skilled workforce is central to Ireland's national competitiveness. As the government business support agency responsible for workforce development, Skillnet Ireland supports around 22,500 businesses annually through the provision of enterprise-led training and workforce learning. This is characterised by the 90,000 workers supported through Skillnet Ireland programmes in 2022.
"While important to every country, a highly skilled workforce assumes an added significance for Ireland because the economic model requires that we compete, to a large extent, on the basis of our human capital, our talent, our people," Healy explains.
Skillnet Ireland's primary job is to ensure that Irish companies have the talent that they need to maintain their competitive edge and to thrive. Simultaneously, through its training and upskilling programmes, the career mobility and skills of the workforce is also enhanced.
Funding model
In the context of renewed government policy emphasis on skills, Skillnet Ireland has experienced a large increase in exchequer investment from the National Training Fund through the Department of Further and Higher Education, Research, Innovation and Science in the past four years.
"We are receiving great levels of support from our Minister and Department for the work that we undertake because government recognises the value of an agile agency that is working directly with companies on the ground and that has deep roots into industry," Healy highlights.
Alongside exchequer funding, Skillnet Ireland competes for EU investment and also attracts private sector co-investment. In 2022, the business support agency anticipates that it will raise over €22 million in private sector co-investment on its programmes.
"In an average year, companies are willing to contribute a minimum of €22 million towards the cost of training through
12 cover story
Skillnet Ireland Chief Executive, Paul Healy, discusses efforts to transform the competitiveness, innovation, and productivity of the business sector in Ireland through enterprise-led talent development.
12 cover story
Skillnet Ireland. That is demonstrating a high level of buy-in from industry. However, we frequently experience high levels of demand emanating from companies for our programmes that we cannot meet. This means that we must continue to make the case to deploy the National Training Fund surplus to meet areas of growing demand within the skills system," Healy observes.
Enterprise-led
Skillnet Ireland is defined by its enterprise-led and demand-driven ethos. For 23 years, Skillnet Ireland has operated as a partnership organisation, endeavouring to meet market demand through its enterprise-led approach.
Through its 72 Skillnet Business Networks, which represent industry sectors and regions throughout the economy, Skillnet Ireland directly engages with companies and industry groups on their skills requirements and subsequently facilitates the design, development, and delivery of training on a cost sharing basis with companies. In practice this means that all workforce development programmes delivered through Skillnet Ireland are aligned with the specific needs of companies and are driven by market need.
"Industry is adept at anticipating the next shift or new emerging trend – such as in digitalisation, the sustainability agenda, new competitiveness issues or regulatory reform – while individual companies inform the process, Skillnet Ireland collaborates with industry to implement the workforce development programmes that ensure a sufficient supply of skills for the jobs of the future, enabling companies to compete, to win new investment and to be future ready," the Skillnet Ireland Chief Excutive explains.
"The strength of the Skillnet Ireland enterprise-led model is the agility it engenders – any system that is enterprise-led is responsive, agile, and has a finger on the pulse of industry."
Emerging trends
In the aftermath of the Covid-19 pandemic, industry witnessed an unprecedented level of workplace disruption caused by the accelerated deployment of emerging technologies such as artificial intelligence (AI) and automation.
"This has two dimensions," Healy reflects, continuing: "Firstly, it has the potential to unlock a significant amount of new innovation and growth. Secondly, it has the impact of changing jobs and transforming roles."
13 eolas issues 13 agenda issues
cover story 4 cover story
"Government recognises the value of an agile agency that is working directly with companies on the ground and that has deep roots into industry."
Paul Healy, Chief Executive, Skillnet Ireland
Skillnet Ireland works closely with the higher education sector and industry to help ensure that the type of programmes and qualifications that align with emerging technologies are available for companies. One example is Skillnet Ireland's work in the field of artificial intelligence, where it worked with industry and the university sector to create Ireland's first postgraduate offering in this pivotal emerging technology.
"Forty tech companies and three universities sat around the table to coalesce around the skills challenge of artificial intelligence, creating a postgraduate offering where there previously was a gap in provision. Now, approximately 300 people pass through the MSc courses in AI across three universities. Skillnet Ireland provided the
seed funding and brought together the actors to develop the qualifications and we now co-fund their delivery together with industry. The offering is making a significant difference to the tech sector allowing firms here to compete for new AI investment and projects," Healy emphasises.
Manufacturing
Technology is having a disruptive impact elsewhere, particularly in the manufacturing sector where trends are moving towards robotics, cobotics, and automated work practices. Referencing Skillnet Ireland's involvement with Thermo King – a manufacturer of temperature control systems for transport – in Galway, "which has had a long presence in Ireland and is at the cutting edge of automated
manufacturing processes", Healy highlights that enhanced efficiencies in the production process are being driven by robots and cobots.
"In collaboration with Atlantic Technological University, Skillnet Ireland is engaging with operative staff in Thermo King and upskilling them to become robotic engineers. Through this process of upskilling, the staff enhance the competitiveness of the site while also hugely improving their own career opportunities," he remarks.
Green finance
While Skillnet Ireland's primary objective is to increase participation in enterprise training by businesses, it must also ensure delivery against government policy priorities, particularly crossgovernment strategies relating to climate action, digitalisation, enhanced productivity in the SME sector, and the critical work of growing foreign direct investment.
For instance, the Government of Ireland has set out an ambition that Ireland will become a global leader in climate finance, a journey that is largely contingent on talent. "Climate finance is the apex of the ongoing transformation that is underway across the global financial system to enable the green transition," Healy observes.
In February 2023, Ireland will open the world's first International Sustainable Finance Centre of Excellence, developed by Sustainable Finance Ireland in
14 cover story
cover story
"Now is time to double down on talent, engaging more companies in the upskilling of their teams, and increasing the investment in Ireland's greatest asset, its people."
partnership with Skillnet Ireland, and in collaboration with the United Nations Development Programme.
"This will establish Ireland as a global skills hub for climate finance, attracting increased investment, and creating new employment," Healy states.
FDI
Similarly, through its strategic partnership with IDA Ireland, Skillnet Ireland engages with 1,200 multinational corporations (MNCs) on an annual basis. MNCs typically inhabit knowledge-intensive sectors, such as life sciences, biopharmachem, digital and advanced manufacturing that require prodigious levels of fresh talent, ideas and skilled people.
"Government's ambition to encourage more MNCs to choose Ireland as a location is very much rooted in our thriving innovation and talent ecosystem, and the mutual benefits arising from the participation of MNCs in that ecosystem. Skillnet Ireland, the higher education institutes, and the research community are all vital components of Ireland's 'talent island' proposition, helping to secure further international investment by putting workforce development centre stage.
"Multinational corporations enjoy working with Skillnet Ireland because they have a high degree of control and influence over the process. The multinationals determine where the skill gaps exist, they tell us what they need and Skillnet Ireland responds through its Skillnet Business networks."
Higher education
Likewise, more higher education (HE) institutions are seeking to collaborate with Skillnet Ireland because of its links to industry: "Bringing industry and higher education together, Skillnet Ireland plays an important role in co-creating new programmes with the HE sector in areas of the economy where we want to boost provision, such as in digital, sustainability, construction, fintech, advanced manufacturing, biopharma and life sciences," Healy notes.
"We give universities a very clear route to interact directly with companies, whereby they can articulate the challenges and emerging needs. In turn, universities can design education programmes that are highly responsive and speaking to the future of work."
In 2023, Skillnet Ireland expects to codevelop many programmes with the higher education sector. Most of those programmes are designed, or heavily customised to meet specific demands that industry has expressed. On average, around 4,500 people will pass through Skillnet Ireland's co-created programmes with higher education each year.
"Above all, Skillnet Ireland is a collaborative organisation. Our job is to establish a cohesive link between industry and the education and training system. To do so, Skillnet Ireland cultivates deep relationships across state agencies, government departments, industry bodies, and –most importantly – directly with private sector companies," Healy advises.
SMEs
SMEs are the backbone of the Irish economy and Skillnet Ireland wants to ensure that the SME sector is as productive and innovative as it can be. To achieve this, employers must optimise the time they allocate to workforce development.
Approaching this challenge from a SME management perspective, Skillnet Ireland is reaching out to small business owners, talking to them plainly about their challenges and embedding them in their support system.
"We are pairing experienced mentors with small business owners who can then engage on their own terms," Healy says, adding: "This type of business mentoring has proved to be hugely effective."
In 2023, Skillnet Ireland expects to support over 3,000 companies through the MentorsWork scheme, which is
designed to support small and micro firms through mentorship.
"There are many supports out there for SMEs and Skillnet Ireland acknowledges that it can be complex for small firms to navigate the state support ecosystem".
"But we have seen that once a small business owner is engaged on the basis of their own lifelong learning journey, they tend to place a much greater focus on upskilling their teams, tapping into the wider State funded supports, and cultivating more productive and innovative workplaces," the Skillnet Ireland Chief Excutive emphasises.
Vision
Alluding to Ireland's "pro-business framework" Healy identifies the talent ecosystem and educational attainment levels as vital components, but also notes the less tangible strengths: "The uniquely open culture of collaboration that pervades here in Ireland, the communication and leadership skills, the creativity and adaptability of the workforce all add to Ireland's competitive edge," Healy says.
Given that workforce development is a top priority of the State, government has recently strengthened Skillnet Ireland's mandate, giving it responsibility for spearheading workforce development on behalf of the enterprise sector.
Healy concludes: "Now is time to double down on talent, engaging more companies in the upskilling of their teams, and increasing the investment in Ireland's greatest asset, its people."
Paul Healy, Chief Executive, Skillnet Ireland
A native of Salthill, Galway, Paul has lived and worked in Dublin for the past 25 years. Having spent over 15 years working in commercial and HR leadership roles in the private sector, he joined the public service through Skillnet Ireland in 2016. As a member of Ireland's National Skills Council, the National Training Fund Advisory Group, and the EU Commission Skills for Industry Policy Group, he has a great sense of purpose in the work undertaken by Skillnet Ireland. Paul is a graduate of DCU and, outside of work, is married with four children and keenly involved in local sports, particularly with Kilmacud Crokes GAA Club and Mount Merrion FC.
15 eolas issues
15 cover story cover story
Efficient green procurement
with GPP, and by 2023, all 12 will be updated;
•in health, 68 of the 108 framework agreements are in line with GPP criteria. Again, by 2023, it is expected all will be updated;
•when it comes to defence, purchasing arrangements are largely bespoke. In 2021, four Ammunition Framework Arrangements included environmental considerations as part of their award criteria; and
•of the Education Procurement Service's (EPS) 23 framework agreements, eight are in line with GPP criteria. In 2020, EPS won the Best Green Procurement Award of the Year at the National Procurement Awards for its project 'Reduction of single use plastics on UL Campus'.
In 2021, the OGP continued to update its framework agreements in line with GPP, and 42 framework agreements already contain some green measures. The OGP also awarded contracts for the provision of 100 per cent green electricity to more than 1,200 primary and secondary schools across the State.
The report, which covers the spending on procurement by the public sector in 2021, states that, in the context of Ireland's transition to a green economy, green procurement and its enhancement will be a priority going forward.
It further highlights the support for National Development Plan as one of the top achievements, stating that it played a seminal role in ensuring efficiency in 2021 with the increase in inflation, which took place throughout the year, presenting a major challenge in ensuring economic efficiency in public procurement.
The Office of Government Procurement (OGP) has also prioritised updating its framework agreements in line with commitments in the Programme for Government. In 2021, 42 of OGP's 92 framework agreements were in line with green procurement practice (GPP) criteria
The report further states that the OGP's sector sourcing partners in health, defence, education, and local government made strides in updating their framework agreements in line with GPP criteria in 2021:
•four of the local government's 12 framework agreements are in line
In line with commitments under the Programme for Government and the Climate Action Plan 2021, those working in public procurement promoted green and social considerations throughout 2021. For example, the OGP presented on green, sustainable, social, and innovative procurement at a wide range of events aimed at procurement officers, decision makers, and suppliers.
The report defines green public procurement as a practice whereby public authorities seek to source goods, services, or works with a reduced environmental impact throughout their life cycle, compared to other goods, services, or works with the same function.
In addition, supply chains were affected in the State from the fallout of Brexit which resulted in considerations for all developments, including monitoring legal, policy and operational changes, and engaging with clients and suppliers.
issues eolas 16 eolas issues
Demand stemming from the necessity for efficiency from the Covid-19 pandemic has enhanced the role of sound procurement practices, according to the annual procurement report for the Department of Public Expenditure and Reform.
roundtable discussion
Building Ireland's hydrogen economy
ESB hosted a round table discussion with key stakeholders from the public and private spheres on building the hydrogen economy. The energy utility plans to produce green hydrogen from offshore wind energy centred around a renewable energy hub at its existing facilities in Moneypoint, County Clare.
To set the context for the discussion, we start by asking Pádraig about ESB's plans for the development of green hydrogen production and storage in Ireland.
Pádraig Ó hIceadha
ESB aims to be a major player in the future zero carbon energy system in Ireland, delivering in all the key areas. We have large-scale renewable energy ambitions in wind and solar energy, particularly in offshore wind energy. We envisage we will have three energy storage clusters on the island: one centred around Dublin, with offshore wind energy and energy demand from the city; one centred around Cork Harbour; and our Green Atlantic project centred around Moneypoint, County Clare. This project aims to harvest the significant renewable resources off the west coast and will utilise the Shannon Estuary to become the largest green energy hub on the island. The fingers from these clusters will be renewable energy production, storage capability –either compressed hydrogen or methane
– and other energy intensive sectors such as back-up power generation or fertiliser production. The Green Atlantic project is the first project to develop that area as a hub.
To what extent will green hydrogen contribute to Ireland's net zero future?
Aoife MacEvilly
Hydrogen is an important area. The electricity system is evolving into a wind and natural gas system and if we want to go to the next stage of decarbonisation, hydrogen will be crucial. It will also play a role on the other hand to decarbonise areas in transport and heating. Hydrogen is also an indigenous source of energy which will help our economy and security of energy supply. It is not just a national opportunity; green hydrogen is an incredible national asset for Ireland and could drive our national wealth, by exporting renewable energy to Europe and beyond.
18
Round table discussion hosted by
John Finnegan
It is hard to imagine a zero-carbon future without hydrogen. How else are we going to decarbonise heavy transport, freight transport, long distance passenger transport, and industrial heat? From our consultation on the hydrogen strategy, the sector sees hydrogen as having a key role as an energy storage medium. The current energy system is incredibly seasonal, particularly if you look beyond electricity. We use a multiple amount of energy in winter compared to summer. If we have a zero-carbon energy system, we will need some medium that allows us to store huge amounts of energy generated from renewable sources, such as hydrogen or molecules produced from hydrogen. It can seem like a magical substance; it acts like a fossil fuel but does not produce carbon dioxide. It offers huge potential, and we need to prioritise its development in Ireland.
John O'Sullivan
When I grew up in Cork in the 1970s, we lived in a hydrogen economy using town gas, which was 50 per cent hydrogen. People worry about the safety of hydrogen and maybe that is something to do with the Led Zeppelin album cover. Safety is an important consideration in dealing with any combustible gas. When people think about renewable energy, they think about wind and solar energy, not green hydrogen. From a developer's perspective, educating the public is important. Renewable electricity will only take us so far. Without green hydrogen, or a similar molecule, we will not get to net zero carbon. There is a growing awareness, but not a total awareness, about the offshore wind opportunity. The recent SSE advert with people on the beach with the wind blowing was very good. There needs to be a public awareness to underpin the development of the hydrogen economy. We plan to have a 10 to 20 per cent hydrogen blend whereas we used to have 50 per cent in Victorian clay pipes.
Sinéad Murphy
The aviation sector is one of the most difficult to decarbonise and it is projected to grow in coming years. Aviation currently contributes around 2.5 per cent of global carbon emissions. As other sectors decarbonise and the aviation sector grows, it is likely to be a much bigger percentage of emissions by 2050. It is imperative we decarbonise, even though it will be difficult, because we need a very high energy density fuel and the only one that is commercially 4
Roundtable participants
John Finnegan
John Finnegan is a Principal Officer in the Department of the Environment, Climate and Communications. He works in the Energy Division of the Department and is responsible for energy networks and systems, including the development of an integrated hydrogen strategy. Finnegan's function is also responsible for policy oversight of the electricity grid and related issues such as storage policy and planning future reinforcement of the network. He has a background in finance and economics and was an economic consultant on infrastructure issues before joining the civil service.
Aoife MacEvilly
Aoife MacEvilly has been a member of the Commission for Regulation of Utilities (CRU) since October 2014 and was appointed Chairperson in February 2020. Her lead responsibilities include empowering and protecting customers, supporting active customers and communities and the future role of gas in a secure, decarbonised energy system. MacEvilly previously worked in the Department of the Environment, Climate and Communications and in the private sector. She holds a BA in European Business and German from Ulster University, a Professional Diploma in regulatory governance from UCD, and an MSc in Leadership from UCD Smurfit.
Sinéad Murphy
Sinéad Murphy joined the Shannon Airport Group in 2021 as Head of Sustainability. The group's core businesses include Shannon Airport and an extensive commercial property portfolio across its Shannon Campus. Murphy is responsible for developing and delivering the group's sustainability strategy. Murphy joined the Group from WRAP, a UK-based Climate Action NGO, having spent over 15 years prior to that in London and Sydney working in property and infrastructure development, advising on sustainable design and implementation. She is a Chartered Environmentalist, holds a BSc in Environmental Science, an MSc in Environmental Engineering, and a Diploma in Applied Project Management.
Pádraig Ó hIceadha
Pádraig Ó hIceadha is Head of Strategy and Digital with ESB Generation and Trading. He has over 30 years' experience in the energy sector. Over that time he has played senior roles in ESB's Regulation, Strategy, Networks Infrastructure Delivery, and Retail teams. In his current role, Ó hIceadha is responsible for the pathway for net-zero production of electricity and the investment strategy to deliver the pathway.
John O'Sullivan
John O'Sullivan is Chief Operating Officer and a co-founder of dCarbonX. He holds three geoscience degrees as well as an MSc in Technology Management and is professionally chartered by the Geological Society of London. O'Sullivan has more than 30 years' experience in the energy arena spanning fossil fuels, renewables, and energy storage. He was subsurface lead for Ireland's only offshore gas storage project at Kinsale Head and was the Irish Government's consenting lead for its first offshore wind farm on the Arklow Bank in the Irish Sea.
19 roundtable discussion
available at scale today is kerosene. A lot of work is being done to look at pathways to decarbonise the sector and hydrogen will play a significant role; either with liquid hydrogen as a fuel for propulsion or as a component of a synthetic Sustainable Aviation Fuel (SAF) eFuel. The EU Destination 2050 report prepared by the largest aviation sector bodies in Europe sets out a pathway to decarbonise the sector and shows that potentially 60 per cent of energy used in flights will be based on hydrogen, either hydrogen propulsion or eFuels.
Pádraig Ó hIceadha
It is not possible to envisage a net zero carbon energy system in Ireland that does not have hydrogen as one of its essential components. Drawing a parallel with water, which we get from the environment, and wind energy, which we also get from the environment, we readily have water, but we have to store it.
Hydrogen does for electricity what water storage does for water. Hydrogen gives large amounts of storage for zero carbon energy.
discussion 20 2020
"Suppliers need regulation and a certification system with a legal declaration of what green hydrogen is that can be fed into the distribution network, and the customer needs to be able to take that out of the network. We are starting with a blank sheet of paper, so there is a lot of governmental work that needs to be done." John Finnegan
roundtable
"It is not possible to envisage a net zero carbon energy system in Ireland that does not have hydrogen as one of its essential components."
Pádraig Ó hIceadha
For areas that cannot be electrified, such as aviation, shipping, and high temperature industrial heat, we need to utilise the energy density and high temperature applications that come with hydrogen. It is only an element of the whole system and is not really a fuel as such but more fuel storage. It enables energy to be converted into a useable form or to be stored.
What steps must be taken to realise Ireland's green hydrogen ambitions?
John Finnegan
There is a need for a policy, which we are formulating, and a full range of government interventions. It is a whole new industry and sector, so there is very little there in terms of legislation and regulation. Suppliers need regulation and a certification system with a legal declaration of what green hydrogen is that can be fed into the distribution network, and the customer needs to be able to take that out of the network. We are starting with a blank sheet of paper, so there is a lot of governmental work that needs to be done, and we need to get ahead of safety, so it never becomes a public issue.
Aoife MacEvilly
It is great to have the Department consulting on the strategy. Those hesitant to invest in gas-fired generation now see a decarbonised future through hydrogen and are getting back into that
space. For the Government of Ireland to have a vision for how we are going to produce, use, and transport hydrogen is an incredible enabler. We are not going to get from here to there in one leap and we need to think about the phases we must go through to realise the ambition. We need trials where people can see the local benefits of wind farms, such as the use of green hydrogen to fuel local buses. We need people to understand the potential and get comfortable with the technology. We also need to build in safety in the design phase to give these projects immediate credibility.
Pádraig Ó hIceadha
We need an overarching plan, and in our view that should be for the entire energy sector rather than treating electricity or hydrogen in isolation. All of these things are connected. In 2019, we had impressive renewable penetration in electricity, but if you look at our entire energy sector, which is 170 TWh not including aviation, we are 9 per cent of the way to our goals 30 years into these projects and need to do the balance of that 90 per cent in the next 20 years. We need a step change in the pace of renewables, and renewables in the context of the entire energy system. We need a policy framework that makes investment more reliable and investment in hydrogen storage.
John O'Sullivan
The feedstock for green hydrogen is offshore wind, so getting going there is
critical to getting electrolysers and storage going. Wind developers come to us saying that their projects are not predicated on connecting to a 5GW grid because it is too small, so they need storage. The importance of storage for people investing is huge. With 50GW of offshore wind on the system on a given day and a 5GW grid, we will need storage to unlock the wind opportunity. There is a great opportunity for Ireland to extract maximum value here.
Sinéad Murphy
We need to establish clusters and develop ecosystems because no sector is going to solve this on their own. We know this from developing a memorandum of understanding with ESB to look at a hydrogen facility in Shannon. It is not going to hang on aviation, transport, or energy alone; everyone has to work together. For example, there is a Hydrogen Valley being developed in Copenhagen based around aviation, shipping, logistics, and energy. Establishing those clusters would be an important step on the journey.
John Finnegan
4
How can Ireland cultivate a hydrogen supply chain?
roundtable discussion 21 2121
There are supply chain issues in offshore
know this from developing a memorandum of understanding with ESB to look at a hydrogen facility in Shannon. It is not going to hang on aviation, transport, or energy alone; everyone has to work together." Sinéad Murphy
in Belfast; and people, skilling them."
wind, onshore wind, housing, and there are equally going to be in hydrogen because we have huge ambitions, but Scotland and the Netherlands do too. There is a limited number of people who make this kit and to book slots with those people, you need to be ahead of consumers. The first step is government policy and the second is setting ambition, making hydrogen a national priority with a high target. Our first step has to be a strategy that says that Ireland will be one of the biggest and one of the earliest customers for the supply chain.
John O'Sullivan
In the 1920s, we did Ardnacrusha; in the '70s, we did Kinsale Head; and now 50 years on, it is going to be hydrogen. The three challenges we have around hydrogen, because it is related to offshore wind deployment, are the three Ps: policy; port infrastructure, as we only have one on the island currently capable and it is outside of our jurisdiction, in Belfast; and people, skilling them. The clusters are critical; I come from an oil and gas background and the only area
we ever developed a cluster was in Cork, around Kinsale Head. We see three logical clusters in Shannon, Cork, and Dublin, and around those clusters you will see supply chains developing. We have the highest resource density in offshore wind in the European Union, we should be bringing people into these clusters to initialise the industry. If we are late, we will get marginal prices for the product as opposed to being a premium supplier. We must move carefully but quickly.
Sinéad Murphy
The scale of hydrogen required for aviation is massive. Globally, we use 1.1 billion litres of kerosene a day and to replace that will mean a huge demand for hydrogen. We need to look to sectors where we know there will be such longterm demand, that will be a key step.
Pádraig Ó hIceadha
If we have an overall roadmap for our overarching decarbonisation journey that says that the necessary supports will be brought forward, that allows people to cohere and play their individual roles on the production, storage, and demand sides. That plan needs to figure out how we build both supply and demand in parallel for the three key sectors of heavy-duty transport, aviation, and industrial heat and power generation. We
know what an endgame would look like, so the question now is how we plot a course and five-year milestones along the way. We have three large infrastructure cycles to transform the energy system between now and 2050; we need to get on with it.
Aoife
MacEvilly
There is a requirement for massive investment in infrastructure of all kinds to enable this vision. We would be looking at to what extent we could use existing infrastructure, for instance the first steps around hydrogen transport might be through blending within the natural gas network as a way to deliver it to hard-todecarbonise sectors. There is potential there to use the infrastructure people have already paid for, at least to a certain percentage. The question the EU is grappling with is whether or not you build separate hydrogen chains alongside the gas network or do you start converting it. We have to think about that as potential for minimising the level of investing in completely new infrastructure. Ireland on its own cannot finance the infrastructure needed for green hydrogen and renewable electricity export, so we might want to interest the European Commission in our potential and have them thinking about things like trans-European network grants.
Sinéad Murphy
There is great potential. There are benefits as a result of the renewable industry itself, roundtable discussion 22 2222
What socioeconomic benefits will the deployment of green hydrogen unlock for the Shannon region?
"The three challenges we have around hydrogen, because it is related to offshore wind deployment, are the three Ps: policy; port infrastructure, as we only have one on the island currently capable and it is outside of our jurisdiction,
John O'Sullivan
but the bigger prize will come from a stream of green hydrogen enabling industry along the Shannon Estuary. Providing a green and secure supply of energy will be a significant attraction for industry. Attracting industry will mean more jobs and more opportunities. We have great universities in the region who could provide the skills needed for good quality jobs in a region that many young people today are seeking. There is potential for real benefit for rural and coastal communities, which would help to balance the economy.
Pádraig Ó hIceadha
The technologies already exist and that is not a major risk or challenge. We have a huge amount of offshore floor space to generate offshore wind energy. However, ourselves and a lot of other countries are looking to accelerate this opportunity at the same time. Therefore, the supply chain for equipment is going to be a key strategic issue. First movers will have a huge advantage, building scale and expertise. The scale of the challenge and our ambition level is the real challenge.
Sinéad Murphy
It is really a chicken and egg problem. If you do not build the infrastructure, you cannot enable the industry. Our MOU [memorandum of understanding] with ESB is all about taking steps to put
infrastructure in place that will enable some sectors to decarbonise. If we do not build the infrastructure, we will potentially miss out on opportunities. The challenge is in taking those early steps.
John O'Sullivan
The biggest challenge is lack of ambition. We have the resource. Wind turbines and electrolysers are not new technologies. We have a huge opportunity but without the ambition we will be tinkering around the edges. It needs to be led from the top of government and it should be led by the Taoiseach. It is a huge national opportunity, but we need ambition and a vision. We have the highest sustained offshore wind speeds in the European Union, and we should be exploiting that natural resource for Europe and for our citizens.
John Finnegan
Public acceptance is a big challenge. The public is constantly being bombarded about new technology and new trends. People need to see it is real and that it is solving a problem. They need to see actual community-based projects that make the link from wind turbines to hydrogen buses. It is certainly a crossgovernment effort. We are increasing our
offshore wind target by another 2GW to 7GW and with the grid constraint the additional 2GW will be for green hydrogen. Every problem is an opportunity.
Aoife MacEvilly
The biggest challenge is the ability to get major projects through planning. It is a major constraint for all infrastructure projects in Ireland. To deliver the infrastructure for green hydrogen we will need to see the reform of the planning system, which is under consideration. It is widely recognised that we need additional resources put into the planning system. Part of this will also be public acceptance, as much of the delay in planning is people appealing decisions or applying for judicial reviews. We need to make people comfortable with the infrastructure and that they see the need for it.
roundtable discussion 23 2323
What is the single greatest challenge to the delivery of green hydrogen at scale?
and are getting back into that space. For the Government of Ireland to have a vision for how we are going to produce, use, and transport hydrogen is an incredible enabler." Aoife MacEvilly
Competitiveness: All-island productivity gap dramatic
A productivity gap of some 40 per cent per worker has emerged between the Republic and the North in the past 20 years, highlighting the significance of within-sector productivity failings.
A new research report by the ESRI, examining sectoral productivity differences in Ireland, has found that despite broadly equivalent productivity levels between the two jurisdictions in 2000, over the past two decades a noticeable gap has appeared as levels in the Republic trended upwards while levels in the North have trended down.
Deemed as the first comprehensive study to compare productivity in Ireland, the ESRI study purposely excludes economic sectors with high concentrations of multinational companies which are recognised as having a distortionary impact.
That productivity in the North is comparatively poor compared to neighbouring economies has been well evidenced in recent years. However, almost all efforts to measure its productivity have focused on comparisons with other UK regions. Latest figures show the North's productivity to be around 17 per cent below the UK average, the lowest of any UK region. This is significant in the context of
the productivity growth stagnation experienced by UK economy itself over the last decade.
Productivity is crucial to an economy's longrun performance, with higher productivity associated with higher wages, and ultimately better living standards.
Modelling productivity levels in Ireland and Northern Ireland, authored by Adele Bergin and Seamus McGuinness, exploits annual sectoral-level data on labour productivity measured by gross value added (GVA) per worker and models the determinants of productivity in each respective region.
Comparing 17 sectors, the report finds that 14 sectors in the Republic noticeably outperform their northern counterparts in productivity levels.
Particularly large gaps are highlighted in areas such as administrative and support services activities; financial and insurance activities; legal and accounting activities; and scientific research and development.
issues eolas 24 eolas issues
AGGREGATE PRODUCTIVITY GROWTH IN IRELAND AND NORTHERN IRELAND 2019
*Excludes sectors are CC (Wood, paper and printing), CD-CE (Manufacture of coke and refined petroleum products, Manufacture of chemicals and chemical products), CF (Manufacture of basic pharmaceutical products and pharmaceutical preparations), CI (Manufacture of computer, electronic and optical products), CJ (Manufacture of electrical equipment), CK (Manufacture of machinery and equipment n.e.c.), CM (Manufacture of furniture; jewellery, musical instruments, toys; repair and installation of machinery and equipment) and J (Information and communications).
The North exhibits an advantage in just two sectors: Electricity and gas supply, and construction.
Most significant is the scale of the gap which has emerged since the year 2000, when productivity levels in the two regions were broadly equivalent. The research estimates that by 2020, productivity per worker was approximately 40 per cent higher in the Republic compared to the North.
Outlining the major factors in the Republic's performance, the research highlights a trend between increased sectoral productivity with levels of investment and, the employment share of educated workers.
Additionally, productivity tends to be higher in sectors where there is a greater proportion of part-time workers employed, while export intensity is an important factor in driving Irish productivity.
Most notably, the report found "no evidence of a causal relationship between the range of factors captured", despite using comparable data sources and applying the same estimation methods used for the Ireland model in areas such as education, investment and exports.
The report states: "Such an outcome raises questions regarding the underlying competitiveness of the Northern Ireland economy and its responsiveness to changes in what are generally considered key policy leavers."
Highlighting that the models for the North do not show significant results for the usual drivers of productivity levels, the report suggests that a range of other factors including limited results from regional policy and historical reliance on public sector employment have all combined to "subdue the impact of market forces among Northern Ireland firms leading to a productivity trend that appears largely exogenous with respect to key policy variables".
Utilising a separate modelling approach in an attempt to understand why the two economies are not functioning the same way, despite similar sectoral employment, the research finds that differences in investment and labour market-related endowments can explain almost all of why the Republic's productivity levels were 30 per cent higher by around 2011.
Breaking that productivity gap down further, the authors suggest that the largest cause of the productivity gap relates to lower levels of investment
(22.7 per cent less); and lower proportions of workers educated to post-secondary level in Northern Ireland account for a 15 per cent gap.
Simulating how productivity in the Irish economy would fare if operating with the same levels of investment and human capital currently employed by northern firms, the research outlines that the level of productivity would be around half its current productivity level.
Responding to the report, David Jordan, research fellow with the Northern Ireland Productivity Forum at Queen's University Belfast says that the failure to translate a reduction in Northern Ireland's 'brain drain' of graduates into improved productivity suggests other aspects of human capital may now be increasingly important, including workforce skills.
Additionally, he highlights the author's conclusion that the North's economy has failed to respond positively to increases in education, investment and export intensity, suggesting that other barriers to productivity exist.
"The report supports the view that there is no single cause of Northern Ireland's low productivity. A greater understanding of the barriers to productivity growth is therefore needed if Northern Ireland is to emulate [the Republic's] success," he concludes.
145.8 55.1 88.2 53.6 0 20 40 60 80 100 120 140 160 Ireland NorthernIreland
thousands,outputperworker Ireland
Ireland* NorthernIreland*
NorthernIreland Ireland* NorthernIreland*
issues eolas 25 eolas issues
Source: CSO National Accounts, ONS Regional Gross Value Added Dataset, Labour Force Survey.
Climate change: Impacts, adaptation, and vulnerability
Pörtner outlines the key findings of the Climate Change 2022 report, the working group's contribution to the IPCC Sixth Assessment Report, which not only assesses the impacts of climate change by looking at ecosystems, biodiversity, and human communities at global and regional level, but also reviews the vulnerabilities, capacities, and limits of the natural world and human societies to adapt to climate change.
Setting the context for the report, Pörtner says that it is clear human pressure on biodiversity is increasing constantly, with conservation efforts failing to stem the loss of biodiversity on a global scale. In parallel, man-made climate change is increasingly threatening nature and its contributions to people, leading to losses to overfished stocks, excessive droughts and wildfires, and heatwaves.
"The scientific evidence is clear, climate change is a threat to human wellbeing and the health of the planet," he states. "We need to consider how resilient we are with respect to the changes that are ongoing. Between 3.3 to 3.6 billion people live in hotspots of high vulnerability across the continents, including large parts of Africa, South Africa, Central and South America, small islands, and the Arctic."
Pörtner explains that a larger concern is that not only are these places of high vulnerability, but also where the largest changes are occurring with respect to destruction of natural resources and the life-sustaining functionality of ecosystems. This, in turn, impacts the areas where the human species can exist. Exposure to high temperatures and high humidity will have consequences for migration movements, with wider impacts such as economic disruption.
"Our civilisation, our current system that we look at as being the backbone of our wellbeing and of our wealth, is clearly in danger under climate change," he adds.
Pörtner highlights that risk is not just isolated to humans. A rise in global warming to 3°C, as is predicted without severe mitigation, would see a 10-fold increase in extinction in biodiversity hotspots, a backbone for the life-saving functions of ecosystems and their productivity.
"Nature's crucial services are at risk in a warming world," he states. "Climate change combined with unsustainable use of natural resources, habitat destruction, growing urbanisation, and inequity. Very clearly, on all continents, this is reducing people's and nature's capacity to adapt."
"The science is clear, any further delay in concerted global action will miss a brief and rapidly closing window to secure a liveable future," explains Hans Pörtner, cochair of the Intergovernmental Panel on Climate Change (IPCC) Working Group II.
issues eolas 26 eolas issues
Highlighting that warming alone is not the sole driver and that simultaneous extreme events and impacts compound risks, the co-chair offers the example of the knock on effects of increasing heat, meaning a reduction in crop yields made worse by heat stress among farm workers. Reduced crop yields also means increased food prices and reduced household incomes. A local effect, therefore, quickly becomes a global challenge.
Another example offered by Pörtner is the impact of rising temperatures on water scarcity. At 2°C warming, regions relying on snow melt would have a 20 per cent decline in water availability for agriculture after 2050.
The IPCC uses a complex evaluation of global and regional risk, relating that risk to global warming with the aim of providing guidance on climate action through mitigation and adaptation, while also considering the limits to adaptation.
The evidence reiterates the science that risk can be kept at a moderate level more
often by keeping global warming below 1.5°C. This, however, does not mean that damage will be reversed. Data on warm water corrals, for example, a largescale ecosystem service, shows that they have already passed the tipping point of exposure. At 1.5°C, 70 to 90 per cent of them will be lost but if the globe's temperature rises to 2°C, 99 per cent will be gone.
"To avoid mounting losses, it is urgent to adapt to climate change and close the adaptation gap," he states. "Keeping the maximum number of adaptation options open by deep cuts in greenhouse gas emissions."
Adaptation
Adaptation options listed in the report include the likes of: water management; improving food security; transforming cities; the co-benefits of mitigation; and avoiding maladaptation.
However, as the co-chair explains, even effective adaptation cannot prevent all loses and damages. Pörtner explains that
with warming above 1.5°C, some natural solutions may no longer work and a lack of freshwater could mean that people living on small islands and those dependent on glaciers and snowmelt can no longer adapt. A rise to 2°C will be challenging to multiple farm staple crops in many current growing areas.
Setting out that ambitious emissions reductions protect biodiversity and its contributions to climate mitigation and the bioeconomy, Pörtner highlights the global challenges that need mastering, including the avoidance of deforestation and degradation of intact ecosystems; a reduction of land use competition, which can affect food prices and impact food security and livelihoods with possible knock-on effects related to civil unrest; a reduction of excessive land use for animal feed production; the development of novel food and feed sources; and the implementation of broad education initiatives.
Spatial planning
Pörtner stresses that spatial planning is key to integrating conservation, climate and societal actions.
"Treating climate, biodiversity, and human society as coupled systems is key to successful outcomes. To be successful, conservation and climate actions would go hand-in-hand across landscapes, in cities and rural areas, taking people's needs into consideration, for maximised benefits for climate, biodiversity and humans."
The solutions framework included within the report, aimed at delivering "climate resilient development", has ecosystem stewardship at its core and seeks to deliver effective and equitable conservation and restoration of approximately 30 to 50 per cent of land, freshwater and ocean ecosystems can help ensure a healthy planet.
Pörtner concludes: "Starting today, every action, every choice and every decision matters. Worldwide action is more urgent than previously assessed. Any further delay in concerted global action will miss a brief and rapidly closing window to secure a liveable future."
issues eolas 27 eolas issues
Circular economy strategy 2.0
Nugent highlights that while Ireland is still very much in the "active implementation stage" of its inaugural circular economy strategy, published at the end of 2021, development on the next iteration has already begun.
Describing the primary circular economy strategy's purpose as addressing the economic, regulatory, and social barriers in Ireland's transition to a more circular economy, the Assistant Secretary outlines an ambition under a circular economy strategy 2.0 to move from a statutory basis to an action plan-approach, with metrics and targets.
Ireland is embarking on the development of a circular economy from a low base. Nugent points out that Ireland's circular material use rate (material recovered and fed back into the economy) is the second worst in Europe. Ireland's 1.8 per cent rate is significantly lower
than the 12.8 per cent EU average and a high of 30.9 per cent recorded in the Netherlands.
Challenges to growing the circular economy in Ireland include the current structure of the domestic economy and Ireland's location as an island on Europe's geographic periphery. Additionally, public understanding of the circular economy remains poor. Research carried out by Ibec and the EPA in 2019 found that only 51 per cent of Ibec's member companies' leaders understood what is meant by the circular economy.
Nugent notes that those countries whose circular economies have been most advanced to date have benefited from overarching circular economy policies such as cohesive frameworks for government, private and civil society activity, clear national ambitions, and priorities in relation to the circular economy.
Assistant Secretary in the Department of Environment, Climate and Communications, Philip Nugent, outlines the intention to move to an action plan-approach in the development of a circular economy strategy 2.0.
issues eolas 28 eolas issues
Published in Q4 of 2021, the Whole-of-Government Circular Economy Strategy 2022-23: Living more, using less provides a national policy framework for Ireland's transition to a circular economy and promotes public sector leadership in adopting circular policies and practices.
Underpinning the transition is an ambition to reduce Ireland's circularity gap and raise the circularity rate above the EU average; raise awareness among households, businesses, and individuals about the role of the circular economy in improving lives; and support and promote investment in the circular economy with an aim of delivering sustainable, regionally balanced economic growth.
Importantly, the strategy set out an ambition for the development of a new circular economy advisory group to not only support and implement the strategy but to also help develop a circular economy strategy 2.0.
Nugent highlights some of the policy developments to date under the strategy, not least the recognition under the National Marine Planning Framework of the need to embed circular economy principles across all marine planning functions.
Similarly, progress is evident in the launch of the Deposit Return Scheme in November 2022, with a golive date for consumers of February 2024. Other progress noted by Nugent includes:
• the launch of the EPA's Circular Economy Programme;
• new end-of-waste and by-products processes, with the EPA developing national criteria for specific materials;
• the Department's launch of draft policies including the Geothermal Energy for a Circular Economy; Raw materials for Ireland's Circular Economy Transition; and planned publication of the National Food Waste Prevention Roadmap at the end of 2022; and
• The Circular Economy in Ireland report by the OECD in April 2022.
Circular Economy and Miscellaneous Provisions Act 2022
Nugent emphasises the importance of the legislative and regulatory footing for Ireland's circular economy ambitions. The Circular Economy and Miscellaneous Provisions Act 2022 of July 2022 placed the circular economy strategy and the National Food Loss Prevention Roadmap on a statutory footing and established a legal requirement for government to develop and periodically update the policies.
Additionally, the Act empowers the minister to set national and sectoral targets via the strategy; streamlines the national processes for end-of-waste and by-products decisions; redesignates the existing Environment Fund as a Circular Economy Fund; and introduces an incentivised charging regime for commercial waste.
Outlining the next steps in developing Ireland's circular economy, Nugent says that a baseline study will inform an action plan-focused circular economy strategy 2.0. Alongside the implementation of the Circular Economy Act, the Assistant Secretary points to the development of national circular economy indicators to support the strategy and highlights the launch of the first circular economy communications campaign by the Department, aimed at consumers and households, at the end of 2022.
Finally, Nugent says that following a funding call by the Department in October 2022 for the circular economy innovation grant scheme, a review of circular economy funding will take place in 2023 to "maximise the impact of public supports and identify opportunities for greater access to private financing".
Nugent concludes by highlighting that the Department is looking at options for further direct support of largescale circular economy projects in 2023 and beyond.
issues eolas 29 eolas issues
conference report
Digital Government Conference 2022
The annual Digital Government Conference took place in November 2022. The event brought together key stakeholders and delegates gained an insight into the government's objectives for digital transformation and heard directly from those responsible for driving this forward. Expert speakers included Ossian Smyth TD, Minister of State, Department of Public Expenditure and Reform; Myra Hunt, Centre for Digital Public Services, Wales; Neil O'Hare, UCD and Children's Health Ireland; and Louise McKeever, Department of Agriculture, Food and the Marine.
A massive thank you to our conference sponsors Capventis in partnership with Qlik, AWS, Annertech, Hewlett Packard and ProCloud, our conference exhibitors and to all speakers and delegates who joined us at Croke Park and made the 2022 Digital Government Conference a huge success.
Speakers: Andrew O'Sullivan, An Garda Síochána; Richard Smith and John Ryan, National Shared Services Office; Carmel O'Hare, Monaghan County Council and Mark Finlay, AWS.
Brian Supple from ProCloud at their exhibition stand.
Stella Power, Gary Cosgrave and Mark Conroy, Annertech, chatting with a delegate at their exhibition stand.
John Glennane, Capventis speaks in the opening session.
Rob Houraghan, The Project Foundry; Paddy Naughton, EduCampus and Marguerite Clarke, Version 1.
Delegates visiting the Fastrack into IT stand.
30
Lisa Quinn and Geraldine Dunne from the LGMA with Niall Healy, Cork County Council.
Delivering change and adding value through transformation programmes in healthcare
Health report
Sponsored by
health report
Delivering Sharing the Vision: A Mental Health Policy for Everyone
Minister of State with Responsibility for Mental Health and Older People, Mary Butler TD, outlines progress made on the delivery of Sharing the Vision, Ireland's national mental health strategy.
Sharing the Vision: A Mental Health Policy for Everyone is Ireland's ambitious national mental health policy to enhance the provision of mental health services and supports across a broad continuum from mental health promotion to specialist mental health delivery during the period from 2020 to 2030.
An unprecedented level of funding, totalling, €1.149 billion was allocated to the overall mental health budget in 2022. This trend was continued in Budget 2023, with €1.2 billion allocated to mental health services. This record budget will allow us to continue to improve mental health services to the benefit of all, through the implementation of Sharing the Vision and Connecting for Life, Ireland's national suicide prevention strategy.
The vision embodied in Sharing the Vision is to create a mental health system that addresses the needs of the population through a focus on the requirements of the individual. This mental health system should deliver a range of integrated activities to promote positive mental health in the community; it should intervene early when problems develop; and it should enhance the inclusion and recovery of people who have complex mental health difficulties. Service providers should work in partnership with service users and their families to facilitate recovery and reintegration through the provision of accessible, comprehensive, and community-based mental health services.
32
Delivering change and adding value through transformation programmes in healthcare
Credit Merrion Street
As Minister of State for Mental Health, the full realisation of Sharing the Vision from policy to practice, to ensure real improvements in mental health service delivery, is a fundamental priority.
I was pleased to establish the National Implementation and Monitoring Committee (NIMC) in 2020 to drive Sharing the Vision forward and ensure robust policy implementation oversight and governance. NIMC is independently chaired by John Saunders, and is supported by a Reference Group of Service Users and Family Members and Specialist Groups. As the HSE has responsibility for the majority of the policy recommendations there is also a HSE Implementation Group (HIG) that reports to NIMC.
So far, the following specialist groups have been set up to address the implementation of complex recommendations: Youth Mental Health Transitions Specialist Group; Primary Care Specialist Group; Acute Bed Capacity Specialist Group; Digital Specialist Group; and Women's Mental Health Specialist Group.
health report
Developed in collaboration with key stakeholders, Sharing the Vision Implementation Plan 2022-2024 – the first of three implementation plans –provides detailed three-year plans for each of the policy's 100 recommendations, including setting milestones to be met each year, and detailing the inputs and outputs necessary for implementation. The plan ensures the continued momentum needed for a successful policy implementation.
Since Q3, 2021 a Policy Implementation Status Report has been published each quarter, alongside NIMC's Quarterly Report Analysis. The Status Report provides an overview of progress as well as a brief status update for each of the 100 recommendations. The Reference Group also provides feedback to the status reports, bringing the service user and family member perspective.
Two years into the 10-year policy, the vast majority of the 100 recommendations are in implementation stage, with any implementation challenges being closely monitored by NIMC.
Some of the significant developments to date include:
• Continued phased implementation and evaluation of national clinical programmes in mental health. This includes dual diagnosis, early intervention in psychosis, eating disorders, ADHD in adults, and selfharm. The clinical programmes are at the heart of service improvement.
• The opening of a new purpose-built forensic campus in Portrane, County Dublin that enables the provision of a modern forensic mental health service and provides a network of forensic facilities to allow proper and timely intervention.
33
Delivering change and adding value through transformation programmes in healthcare
"As Minister of State for Mental Health, the full realisation of Sharing the Vision from policy to practice, to ensure real improvements in mental health service delivery, is a fundamental priority."
4
Minister of State with Responsibility for Mental Health and Older People, Mary Butler TD
health report
• Following extensive consultation with stakeholders and a public consultation, the review of the Mental Health Act 2001 was completed and a General Scheme setting out extensive planned amendments to the Act was published in July 2021. A Mental Health Bill is now being drafted by the Office of Parliamentary Counsel in line with this General Scheme. Work on the Bill is ongoing, and I plan to introduce it into the Oireachtas as early as possible in 2023.
• The expedition of developments in online mental health supports and service provision. These initiatives exemplify the whole-of-population approach to mental health service developments that Sharing the Vision promotes. Specific examples include 24-hour text support and guided online therapy.
• Review and service improvement in children and adolescent mental health services (CAMHS) to align with the recommendations arising from the Maskey Report (2022).
• Continued development of the recovery approach and the further embedding of the lived experience expertise into service provision through the ongoing development and roll out of initiatives, including peer support working, recovery education, and the individual placement service.
• The Sláintecare Implementation Strategy and Action Plan (2021-2023) and the Women's Health Action Plan (2022-2023), both of which were published by the Department of Health, and the work of the Taskforce for Mental Health and Addiction Challenges for Persons Coming to the Attention of the Criminal Justice System. All of which align to the recommendations of Sharing the Vision
Mental health is not a matter for the health sector alone.
The reform promised by Sharing the Vision cannot be achieved without measures being taken by other government departments and state agencies, as well as by the Department of Health, for example, the Comprehensive Employment Strategy for People with Disabilities, and the National Housing Strategy for Disabled People 2022-2027, as aligned strategies to Sharing the Vision
We will continue to build on innovation and progress achieved already and maintain the momentum necessary to put policy into practice and provide better mental health services for us all.
34
Delivering change and adding value through transformation programmes in healthcare
Can personalised medicine transform healthcare in Ireland?
With these wheels now in motion, the time is right for Ireland to capitalise on this momentum.
Co-creating the future of healthcare
To truly deliver on the promise of personalised medicine, however, we must go beyond research alone. The real potential lies not only in new medical treatments, but in transforming how we deliver healthcare more broadly: from diagnosis, to treatment, to disease prevention. Unlocking the benefits for society will require systemic change.
The right treatment for the right person at the right time: this is the promise of personalised medicine, a paradigm shift in healthcare with transformative potential for patients, practitioners, and the public, writes Mairéad O'Driscoll, Chief Executive of the Health Research Board (HRB).
In order to explore what this might mean for Ireland, the HRB National Conference recently brought together stakeholders from across the health ecosystem to discuss the future of personalised medicine, with a number of key takeaways emerging.
The promise of research
Firstly, personalised medicine is far from blue-sky thinking: from treating cancer to managing neurological conditions like epilepsy, research in genomics is already informing tailored treatment paths that are improving patients' lives. The shift is from a 'one-size-fits-all' approach to diagnosis and treatment to one that combines molecular profiling, medical imaging, and lifestyle data, for example, to enable earlier and more precise diagnosis, select personalised therapies, or predict predisposition to disease and target prevention strategies.
An evolving policy framework
Already a prominent fixture on the European research landscape, personalised medicine is climbing the policy agenda here in Ireland too. Important developments in recent months include:
• Ireland joined the European 'One Million Genomes' initiative, aiming to securely link genomics databases to advance personalised medicine;
• a citizens' jury has met on the future use of genomics, highlighting key issues around genomics in medicine;
• the first National Strategy for Genetics and Genomics, which sets out a vision and roadmap for genomics in Ireland; and
• co-funded by the HRB, a new Digital Europe project is set to advance a European genomic data infrastructure.
This can only happen if every stakeholder in the health ecosystem has a seat at the table: from government departments and agencies, health system professionals, industrial and academic research, and – crucially –patients and the public. We reached out to over 50 community groups ahead of our recent conference, asking people from all walks of life to share their views on personalised medicine. While attitudes were generally positive, concerns were raised around topics like data protection, access, and equity. One contributor used the term 'co-creation' of healthcare to describe the benefits of moving to a personalised approach. As we consider how to get there as a society, it will be essential not just to listen to citizens' views but to bring the public on board as co-creators of this new future of healthcare.
For more information please contact Gillian Markey, HRB Communications Manager: E: gmarkey@hrb.ie W: www.hrb.ie
35 health report Advertorial
Mairéad O'Driscoll, HRB Chief Executive, opens conference on the future of personalised medicine.
Supporting the delivery of better patient outcomes
At Grant Thornton, we understand that our clients within the healthcare sector operate in increasingly complex and demanding environments with constant pressures to improve access, enhance quality, and ensure patient safety, writes Elaine Daly, Partner –Head of Business Consulting at Grant Thornton.
Appropriately responding to these pressures is vital in order to achieve better patient outcomes, and effectively control operating costs. As the healthcare needs of the Irish population are continually evolving, in line with changing lifestyles and demographics, this will influence future healthcare requirements.
Healthcare is a core component of Grant Thornton's day-to-day business operations. Our team of healthcare consultants offer numerous services to healthcare organisations so they can meet today's challenges and also
position themselves to adapt to emerging trends. We have worked with organisations operating in all areas of healthcare, including community services, acute services, national care programmes, healthcare technology, and many more public and private organisations.
Grant Thornton's firm-wide health sector service offering is spearheaded by Elaine Daly, Partner – Head of Business Consulting for Grant Thornton Ireland. Daly is also the lead for business consulting globally which facilitates collaboration and the sharing of best
36
Advertorial
Delivering change and adding value through transformation programmes in healthcare
health report
practice across the Grant Thornton global network.
Daly joined Grant Thornton in 2006 having previously worked in business consulting for two other leading Irish advisory firms. She holds over 20 years' experience and has worked with numerous clients within the health and life sciences sectors, supporting organisations to transform and develop innovative ways of working.
Grant Thornton has experience in working across major healthcare transformation programmes and projects in order to deliver change and add value in line with strategic policies and in tandem with organisational requirements. We seek to support clients to seize opportunities for economic improvement, operational efficiency, and effectively implement value-based healthcare.
Our healthcare consultants possess a unique blend of skills and experience. We bring together teams with clinical and non-clinical backgrounds, who have experience in delivering pan-European healthcare engagements.
As a team, we coordinate regularly with our client delivery teams and, where necessary, our wider firm-wide subject matter specialists to ensure agility of response and consistently high levels of service. As project managers, our team is proactive and independently calls out issues to keep everyone on track.
The result of working with our healthcare consultants is a framework for a range of services, strategies, and solutions that can help healthcare providers optimise operations, improve the patient experience, expand capabilities, and prepare for a strong future.
Elaine Daly Partner – Head of Business Consulting
Grant Thornton
T: 01 3805 895
E: elaine.daly@ie.gt.com
Our team is passionate about implementing effective improvements within the healthcare industry, and seeks to support clients with the following capabilities:
Programme and project management: Grant Thornton can provide programme and project management services to help organisations strategically plan and react to changes within the healthcare industry.
Grant Thornton has experience in developing business cases, maintaining project plans and managing wide-ranging initiatives from initiation to deployment.
We help our clients bring innovation from concept to reality in a safe and measured way. We do this using proven best practice approaches in programme and project management. Our healthcare project managers have experience in leading and overseeing large healthcare projects.
Operational excellence: Grant Thornton help clients develop and implement process improvements using methodologies including lean six sigma. Our teams possesses extensive experience in supporting healthcare organisations to adapt, transform and achieve their goals.
We support organisations on their operational excellence journey by providing expert advice and solutions. Our healthcare consultants have significant clinical experience in designing operating systems and clinical pathways.
Change management: Grant Thornton has proven expertise in developing and redesigning target operating models (TOM) by reviewing organisations' current "as-is" and "to-be" states. We have experience in conducting change management programmes and projects in key areas across clinical and non-clinical settings.
We work as a transformational change partner assisting with stakeholder management and engagement to help healthcare organisations develop the required working practices and sustain new behaviours. We use proven methodologies that enable healthcare organisations to transform seamlessly.
Financial improvement: Grant Thornton has experience in engaging with multi-disciplinary teams across differing healthcare functions to successfully implement financial improvement plans.
At Grant Thornton, we understand that delivering financial improvement in healthcare requires responsive, patient centric solutions, which encapsulate people, processes and technology.
37 health report Advertorial
Delivering change and adding value through transformation programmes in healthcare
health report
Irish health snapshot 2022
Budget 2023 delivered a record investment of over €23 billion pledged to Ireland's health and social care services. The investment comes as free GP care is extended to all children aged six and seven, the phased rollout of Sláintecare continues, and the State struggles to address its lack of hospital beds.
Budget 2023
Budget 2023 allocated €23 billion to the Department of Health, comprising €22.240 billion in current expenditure, including a 5.6 per cent increase in core spending, and €1.177 billion in capital expenditure, including a 10.7 per cent increase in core health capital expenditure.
This level of funding will deliver record levels of health funding in absolute terms for the third year in a row, although it must be noted that inflation reached as high as 9.2 per cent in Ireland during 2022 according to Central Statistics Office data. This allocation renders the Department of Health the second-best funded department in current expenditure, with only the Department of Social Protection receiving more funding for gross current expenditure (€23.387 billion), and the third-best funded department by capital
expenditure, with the Department of Housing, Local Government and Heritage (€3.516 billion) and the Department of Transport (€2.622 billion) receiving more in gross capital expenditure. The Department of Health thus accounts for 29.4 per cent of current expenditure and 9.7 per cent of capital expenditure.
Notable health measures to be taken through the increased funding delivered by the Budget include the expansion of free GP care to all children aged six and seven by the end of 2022, with eligibility also to be further extended from 1 April 2023 to people in households earning the median household income of €46,000 per annum or less. The Government has stated that this will mean that "almost half of the population will have access to free GP care" and that "these measures will be supported by a significant package of additional capacity supports to GP practices".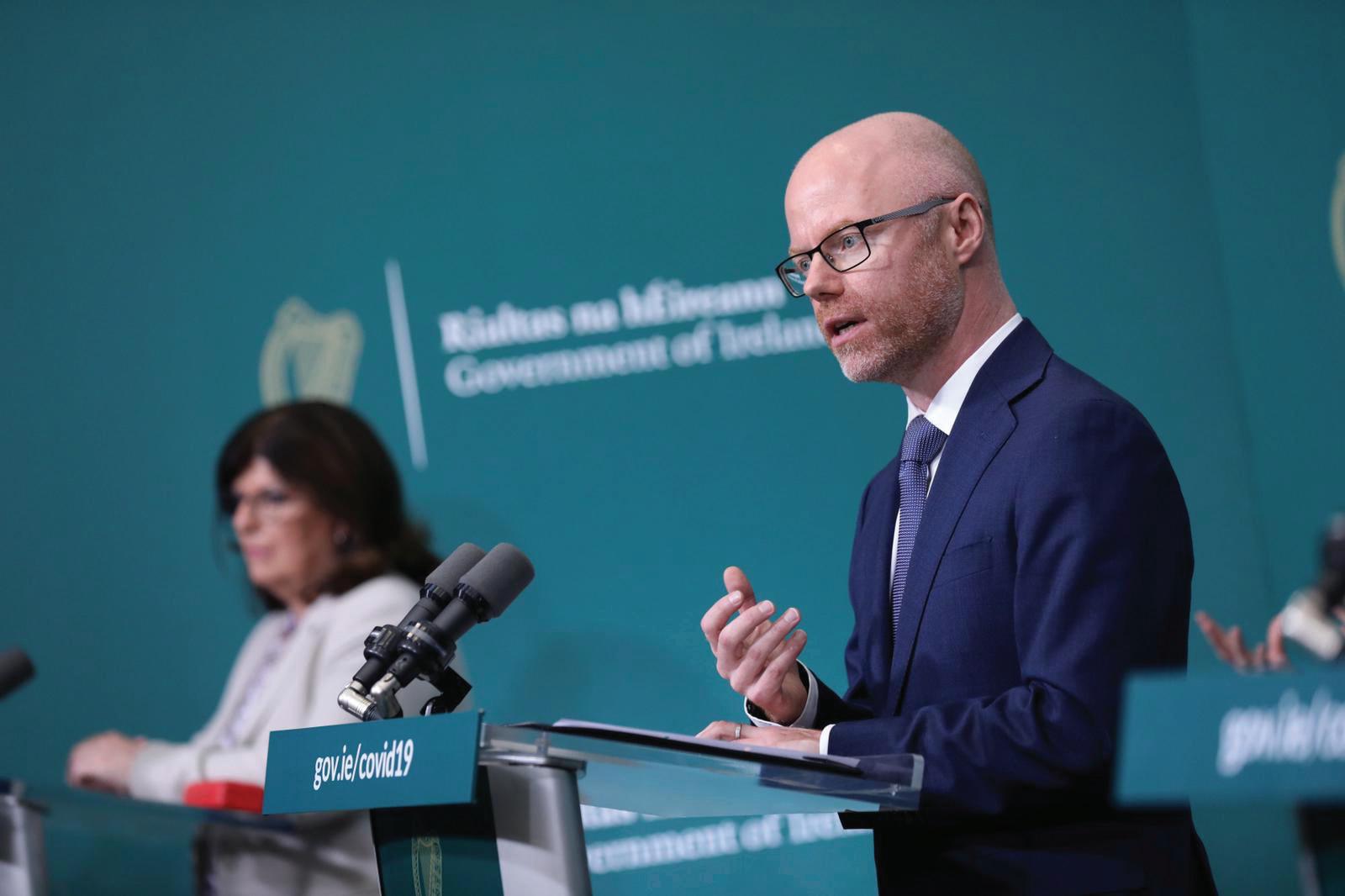 38
Other measures include the removal of VAT on defibrillators, the announcement of public funding of IVF treatment from September 2023 onwards, a €47 million plan to invest in increased GP access to diagnostic services in fields such as echocardiography, spirometry, and natriuretic blood tests, and a once-off €100 million fund to address energy costs within the health sector during the winter of 2022/23.
The budgetary measures have received a demur reaction from medical practitioners, with John Farrell, chairman of the Irish College of General Practitioners (ICGP), saying that the provision of expanded free GP will "inevitably mean longer waiting times for patients' appointments with GPs, at a time of huge workforce and workload pressures". A recent survey by the ICGP found that just one-fifth of GP practices stated that they have the capacity to take on new patients. This sentiment was echoed by the Irish Medical Organisation, which stated: "Giving someone a doctor visit card will not automatically translate into an accessible service when that service is already struggling to cope with current demand."
Sláintecare
December 2022 saw the Government reach "landmark" agreement on a proposal from Minister for Health Stephen Donnelly TD on a public-only hospital consultant contract. The contract will include: basic pay of between
€209,915 and €252,150 on a six-point scale; a 37-hour week with an 8am to 10pm Monday to Friday and 8am to 6pm Saturday schedule; consultants will continue to receive additional remuneration of up to €38,000 per annum for on-call duties and overtime as applicable; a "highly flexible contract that enables consultants opt for a variety of different work patterns including less than whole time"; work sharing; compressed hours; flexible start and finish times; supporting consultants to participate in medical education training and research and enabling a greater focus on research and education in line with other jurisdictions; and consultants will be permitted to engage in off-site private practice in a similar fashion to Britain's NHS.
Speaking after the approval of the contract, Donnelly stated that its introduction "will be a landmark in delivering universal healthcare" and "will maintain the momentum of reform and improvement in our health services". The Irish Hospital Consultants Association, a negotiating body within the agreement, has stated that the agreement will not help to reduce waiting lists unless other issues are addressed, namely the filling of over 900 current permanent consultant vacancies.
Waiting lists and capacity
In his statement welcoming the agreement of the Sláintecare contract, Donnelly, who took office in May 2020,
also noted that 900 additional acute beds have been delivered since January 2020 and that 16,200 staff have been recruited over the "last two years", including 4,600 nurses and midwives, 2,650 health and social care professionals, and 1,750 doctors and dentists.
While noting that this was the "highest level of recruitment in the history of our health service" and that 1,300 consultants had been recruited over the last 10 years, Donnelly also stated that "our ratio of consultants to population in Ireland has historically been far too low"; the OECD's Health at a Glance: Europe 2022 report shows that the State has 3.5 practicing doctors per 1,000 of population as of 2020, beneath the EU27 average of 4.0.
As the reshuffling in the Cabinet takes effect, Donnelly's tenure as Minister of Health has seen an increase in National Treatment Purchase Fund (NTPF) waiting lists; from over 776,000 patients in figures released in February 2020, the last figures released before the onset of the Covid pandemic and the agreement of the tri-party coalition, to 841,748 patients in October 2022. The October figure, however, marked a reduction from 853,014 in September 2022. With this figure having begun to decrease as the Taoiseach's office rotates from Fianna Fáil to Fine Gael, the former will hope to have initiated a long-term trend of reductions in the waiting lists during its tenure.
health report
39
"Giving someone a doctor visit card will not automatically translate into an accessible service when that service is already struggling to cope with current demand."
Irish Medical Organisation
health report
Delivering change and adding value through transformation programmes in healthcare
Health in Ireland: Key trends
Contextualising Department of Health policy direction, Health in Ireland: Key Trends 2022 is a guide to the significant trends in health and healthcare over the past decade. Highlighting progress as well as persistent challenges in delivering accessible, timely, and efficient healthcare, the report explores demographics, population health, hospital and primary care, and health service employment and expenditure.
Population and life expectancy
Census 2022 indicates that the population of the State is 5,123,536, representing a 7.6% increase on Census 2016
The population has grown by 10.5% since 2013
The largest change (35%) was observed in the 65+ age cohort
Total Fertility Rate has fallen to 1.7, representing the 6th highest fertility rate in the EU
Life expectancy at birth for women in 2020 was 3.6 years longer than for men
Health of the population
In 2021, 81.7% of males and 81.3% of females perceived their health as being good or very good
In the EU, an average of 71.1% of males and 67% of females perceived their health as being good or very good
In 2021, 48% of males and 48.1% of females aged 65+ reported suffering from a chronic illness or a health problem
Between 2012 and 2021, age-standardised death rates for all causes decreased by 15.8%
The age-standardised death rate for cancer has declined by 15.3%
Death rates from suicide decreased by 15.1% between 2020 and 2021
Health service expenditure
Total public expenditure on health increased by 69.5% between 2012 and 2021
HSE non-capital total allocation has increased by 8.1% between 2020 and 2021
Acute hospitals accounted for 33.3% of HSE gross non-capital expenditure in 2021
Public capital expenditure on health increased by 11.7% between 2020 and 2021
Total public and private health expenditure in the State was €26.5 billion in 2020
40
Delivering change and adding value through transformation programmes in healthcare
Hospital care
Inpatient discharges from publicly funded acute hospitals decreased by 3.5% between 2012 and 2021
Average length of stay increased by 12.3% to 6.1 days between 2012 and 2021
The number of beds for day cases has increased by 19.1% to 2,440 between 2012 and 2021
The number of day cases has increased by 11% to 1,016,146 between 2012 and 2021
The number of adults waiting for 12 months or longer for an elective procedure (from August 2021 to August 2022) has increased by 3,000
The total number of people on outpatient waiting lists has increased to over 629,446 (in August 2022)
206 transplants were carried out in the State in 2021
80% of ECHO ambulance calls were responding to in under 19 minutes
55% of DELTA ambulance calls were responded to in under 19 minutes
Admissions to psychiatric hospitals and units decreased by 13.5% between 2012 and 2021
Primary
care and community services
The proportion of the population in possession of a medical card increased by 31.2% to 30.8% between 2012 and 2021
The number of GP only visit cards increased to 530,378 between 2012 and 2021
The number of people registered for the Drugs Payments Scheme decreased by 2.3% between 2012 and 2021
Average annual attendances to a GP were 3.3 visits per annum
The proportion of the population covered by private health insurance increased from 42.8% to 45.1% between 2017 and 2021
The proportion of blood donors in the population declined to 1.5% in 2021
Health service employment
Whole time equivalents employed in the public health services increased by 4.9% to 132,323 between December 2020 and September 2021
Nurses represent 31% of total staff employed
Hospital consultants employed by the public health service increased by 43.5% between 2012 and 2021
Non-consultant hospital doctors increased by 51.7% between 2012 and 2021
In 2021, there were 4.05 practicing doctors per 1,000 of the population in the State; above the OECD30 average of 3.7
41
health report
Adoption, resistance, and breakthrough in digital health
Expanding on a popular theory by MIT's Michael Schrage that innovation is not something that innovators do but what customers adopt, Curley says that momentum built up over the pandemic must be maintained if Ireland is to fulfil its potential as a leader in digital health.
The HSE's Head of Digital Transformation and Open Innovation regards the Covid-19 pandemic as a catalyst for digital innovation but stresses that many of the solutions implemented had previously existed.
"What happened with Covid as a catalyst was that the adoption curve dramatically accelerated and shifted left. We experience around a decade's worth of adoption happening in a matter of weeks," he explains.
Curley identifies two reasons for big bang adoption. The first, he says, is that necessity is the mother of invention. "We had no choice," he states. "Within 48 hours of Covid being in Ireland we had developed a remote monitoring solution for Covid-19 which kept patients at home or allowed them to discharge early. That was phenomenally successful and empowered patients.
"Similarly, the demand for electronic prescriptions existed for more than a decade. Within two-and-a-half weeks, and with some secondary legislation progressing through the Dáil, electronic prescribing was here and is routinely used today."
The second factor flagged by Curley was decreased resistance to innovation.
42
Ireland can move from a laggard to a digital health leader in Europe by 2025 if available digital solutions are embraced, says Martin Curley, the HSE's Head of Digital Transformation and Open Innovation.
health report
Delivering change and adding value through transformation programmes in healthcare
Despite being a top 12 economy, with the top 10 MedTech companies, top 10 pharma companies, and top 10 tech companies, Ireland is ranked 80th in the CEOWORLD Magazine Health Care Index, which rates healthcare systems relative to factors that contribute to overall health.
Outlining his thesis for circumventing resistance to innovation, Curley points to Ireland's Digital Health Strategy and Action Plan: Stay Left, Shift Left, 10X, which he says is increasingly getting global attention.
"Stay left is the idea that we can keep people well using digital technology to manage healthcare from home. Shift left is about moving patients as quickly as possible from acute care to community care to care at home, using digital technology."
Curley observes that the application of digital technology within healthcare, an information-intensive industry, allied with exponential innovation methodology – or Open Innovation 2.0 – enables 10X returns. "10X better, 10X cheaper, 10X faster, and 10X higher volume," he states.
"One of the key design patterns is design for adoption. Designing solutions so that they are easy to adopt. That means solutions need to have a lot of utility, there needs to be evident value from it, the user experience has to be good, and they have to be ubiquitous."
Martin Curley, the HSE's Head of Digital Transformation and Open Innovation
Unlike in the past, when risk-adverse clinicians or patients resisted clinical innovations and effectively acted as obstacles to change, Curley believes that the administrative side of the health system is the epicentre of resistance to digital innovation.
However, Curley has adopted German philosopher's Arthur Schopenhauer's three stages of truth theory to digital health innovation, which is that "all truth passes through three stages. First, it is ridiculed. Second, it is violently opposed. Third, it is accepted as being self-evident."
In practice, he articulates, Open Innovation 2.0 hinges on a "shared vision" whereby a community works together to create shared value.
In association with various clinicians, Curley is involved in a number of 'living labs' – pilots for disruptive digital technology innovation in a clinical setting – around Ireland. Based on their success to date, several of these living labs have already scaled up.
Regardless, the HSE's Head of Digital Transformation and Open Innovation believes that Ireland now faces a challenge to maintain momentum.
"The innovation momentum built up over Covid-19, where teams were autonomous, empowered, and highly motivated could be a new normal for our health service. We know how to do it and we have clinically proven solutions but there are blockages in the system.
"We as a society and an economy actually have to make an explicit decision as to whether we aggressively embrace these new digital health solutions.
"By embracing digital health innovation we can move from being the laggard in Europe to being a digital health leader by 2025 and can improve our digital health exports by a factor of 10," he concludes.
"The demand for electronic prescriptions existed for more than a decade. Within two-and-a-half weeks, and with some secondary legislation progressing through the Dáil, electronic prescribing was here and is routinely used today."
43 health report
Delivering change and adding value through transformation programmes in healthcare
Embracing equality, diversity, and inclusion in healthcare
per cent were male. This next generation of women doctors will achieve career development along slightly different pathways to the paths that we took.
Today, there are many women in medicine who balance busy working lives with caring roles at home. Sometimes compromises can involve delaying having a family until training is finished, or it might be changing specialty to facilitate one partner in the relationship spending more time with family.
45 per cent of our specialist register are female, compared to just 38 per cent 10 years ago. While the numbers of women entering medicine rises each year, this increase is slow to be seen in appointments at a senior level and across different specialties there is still inequality in terms of training opportunities and career progression. The unequal impact of caring responsibilities on women represents an obstacle to career development and explains why we do not have as many women consultants and professors as we should at this stage.
Tackling these issues will be a legacy that is meaningful for the next generation of patients and doctors of all genders, and the workplace as a whole.
One of the main tenets of the public sector and human rights legislation is promoting equality and we believe, as the Medical Council, that represents both doctors and patients, that this is key to ensuring that medical regulation protects the public and supports registered medical practitioners.
Women in medicine in Ireland: Where do we go next?
Working in a childrens' hospital as a doctor, I am the product of my mother's
sacrifices. The result of the sacrifices and compromises made by a generation of women who stayed at home under the conditions of the marriage bar introduced in the 1930s, which was not officially lifted until 1973.
At the end of last year, of the 25,959 doctors on the medical register, 45 per cent were female. In 1994 the figure was only 30 per cent.
When we look at younger doctors, in 2021, there were 9,326 doctors aged between 20 and 35 on the register. Of those, 53 per cent were female and 47
Healthcare support for the LGBTQ+ community
As with many elements of our society, the healthcare sector has much historical hurt and distrust to undo when it comes to those who are in the LGBTQ+ community.
I attended a conference during Pride on this topic and was saddened to hear participants speak about fear and a lack of respect that was the hallmark of healthcare for people who did not follow what was regarded as the 'traditional norms of our society'.
From the memories came a sense of
44
Advertorial
Promotion of greater equality, diversity and inclusion across healthcare will lead to a stronger health system and improved patient outcomes, writes Suzanne Crowe, President of the Medical Council.
health report
hope at how things have changed for the LGBTQ+ community in healthcare access. Healthcare staff from several hospitals described the education and training they have done to facilitate compassionate care to LGBTQ+ people. LGBTQ+ patients need openness, respect, and specific measures to include all aspects of them as patients and partners in their own decisions and care.
Continuing to improve how doctors and healthcare professionals engage with the LGBTQ+ community will help to build understanding. Initiatives like the LGBT Champions programme, established by LGBT Ireland in partnership with the HSE, will be essential to this. The programme empowers participants with the understanding and skills needed to increase the visibility, respect, awareness, and knowledge of the issues facing older LGBTQ+ people.
Diversity in medicine
The number of new doctors who registered with the Medical Council in 2021 was 2,605, which represents a 14 per cent increase on the previous year. Of those, 1,717 were international graduates and 888 were Irish graduates.
In 2021, 8,759 (40.4 per cent) doctors who retained their registration held a non-Irish passport.
According to the CSO, an estimated 622,700 non-Irish nationals are living in Ireland, making up 12.7 per cent of the total population.
The promotion of equality, diversity and inclusion at board level can reduce the possibility of 'groupthink' as a greater range of perspectives is brought to the table. Ideally, a board should reflect the stakeholders its decisions impact. This is an area the Medical Council, like many bodies involved in healthcare, is failing on, but it is one we are committed to addressing.
Currently there are no Council members that
could be classified as non-Irish, meaning that for nearly 13 per cent of the potential patient population and 40 per cent of doctors on the register, they are not reflected on a board that makes decisions that have, in some cases, a huge impact on their lives.
We continue to engage with the Department of Health and the bodies that nominate members of the Medical Council, outlining the importance of equality, diversity, and inclusion and the Medical Council's responsibilities in this area.
All bodies and agencies involved in healthcare delivery, policy, and advocacy need to be more cognisant of the importance of equality, diversity, and inclusion in their work, and with us all playing our part individually and by working together we will in return have a stronger health system and improved patient outcomes.
The Medical Council is the regulatory body for doctors. It has a statutory role in protecting the public by promoting the highest professional standards amongst doctors practising in Ireland.
T: 01 4983100
E: communications@mcirl.ie
W: www.medicalcouncil.ie
Suzanne Crowe is President of the Medical Council and works as a consultant in paediatric intensive care in Children's Health Ireland Crumlin.
45 health report Advertorial
Delivering change and adding value through transformation programmes in healthcare
health report
HSE warns of winter 'twin-demic'
The HSE has released its winter plan amid expectations of a surge in cases of Covid-19, in addition to the expected pressure the health service will face due to seasonal illnesses.
The HSE is expecting a rise in levels of Covid-19 and has prepared a contingency plan aimed to mitigate the worst excesses of the virus. As such, there will be a projected rise in unscheduled care, which the Department has rationalised will take place for the following reasons:
• a lack of bed capacity to meet demand;
• reduced staffing levels and recruitment challenges;
• scheduled care waiting lists and the impact of delayed and postponed care;
• developments in primary and community care services;
• challenges in integrating patient care across acute and community services;
• increases in population, particularly the ageing population, and increasing numbers of patients requiring health services including refugees and those seeking international protection; and
• the ongoing need for separate Covid-19 and non-Covid-19 pathways and the resulting infection prevention and control requirements in both acute and community services.
46
The HSE has further made plans for the combatting a potential 'twin-demic' of both influenza and Covid-19, although it does state that Covid-19 in Ireland appears to be transitioning to an endemic proportions. The plan will be funded to the tune of around €169 million.
It is to be measured by a set of key performance indicators, including a 97 per cent patient experience time (PET), a 99 per cent PET for over 75s, a delayed transfer of care (DTOC) of 350, a length of stay of 4.8 days, an 8am trolly count of less than 236, and a National Ambulance Service (NAS) turnaround time of 80 per cent. None of these targets have been met to date in 2022.
Winter plan priorities
As outlined by the Department of Health, the Winter Plan identifies key priorities which aim to address the objectives of the of the plan and align with corresponding initiatives at national and local level.
• Delivering additional capacity in acute and community services: To deliver additional acute and community bed capacity and increase staff capacity through the implementation of the Safe Staffing and Skill-Mix Framework and prioritisation of recruitment for existing funded posts to support Winter Plan 2022/23. The HSE also plans to extend the opening hours of several local injury units to operate between 8am and 8pm.
• Improving pathways of care for patients: To implement alternative patient pathways during the winter period to support admission avoidance, patient flow and discharge, including Enhanced Community Care (ECC) supports.
• Rolling out vaccination programmes for flu and Covid-19: To deliver an influenza vaccination programme alongside a Covid-19 vaccination programme, and increase awareness and uptake for these respective programmes.
• Implementing Pandemic Preparedness Plan: To implement the Public Health Plan which
includes the development of a surge and emergency response plan, in the event of a significant surge in Covid-19 infections.
Local immediate action plans and national initiatives
Due to the potentially localised nature of virus control, the HSE has devised local area action plans which are akin to the response to the Covid-19 lockdowns, providing a local approach to different areas based on their need.
The Department has, however, stated that the overall aim is for an integrated response where local and national measures work in tandem.
On the national level, the HSE will:
• implement bespoke integrated local action plans focused on improving USC performance and alleviating seasonal winter pressures;
• deliver new nationally led, locally delivered initiatives, based on best practice, to enhance admission avoidance, patient flow and discharge during the winter period; and
• continue the implementation of the ongoing initiatives funded through the Winter Plan and National Service Plan 2020/21 and 2021/22, including the provision of additional acute and community capacity.
On the local level, as part of the local immediate action plans, the HSE will:
• make available an integrated response fund so that local governance structures can develop initiatives to respond rapidly to newly emerging challenges during winter;
• set KPI targets for each site as part of the plan;
• engage with sites to develop initiatives requiring longer-term investment and implementation to drive improvements in USC activity as part of three-year USC Improvement Programme; and
• establish local integrated governance structures and implementation teams to monitor and report initiative implementation, KPI performance, and proactive responses during the winter period.
47 health report
Delivering change and adding value through transformation programmes in healthcare
Preventing vaccine preventable diseases in Ireland
"normal" work alongside supporting the Covid-19 vaccination programme and additional programmes we did not anticipate in 2021.
Reflecting on 2022
In April and May, our work in the development and implementation of mobile solutions ScanVax and TrackVax to support the safe and effective rollout of Covid-19 vaccines in Ireland was recognised with the receipt of IT Project of the Year at the CIO and IT Leader Awards and the award of Best Use of Information Technology at the Irish Healthcare Centre Awards (IHCA).
Our winning continued in June, with receipt of the best short presentation for "Views on Covid-19 vaccination of young children in Ireland: Results from a cross-sectional survey of parents" and receipt of best poster for "Preparation for catch up vaccination for Ukrainian people displaced by war – a descriptive piece" at the RCPI Summer Scientific Meeting.
In November, our team was awarded the Best Case Study, Healthcare Provider Recognition Award at the GS1 Healthcare Conference for 'TrackVax' and in December our Communications Manager will travel to India to present about the HPV vaccination programme in Ireland at the South Asia Regional meeting being organised by the Coalition to Strengthen the HPV Immunisation Community and HPV Prevention and Control Board.
The National Immunisation Office is a multi-disciplinary team of 20 within the HSE. We manage vaccine procurement and distribution and development of training and communication materials for the public and health professionals to allow for safe, equitable, and highquality vaccination programmes to be delivered in line with Department of Health Immunisation Policy. During the Covid-19 pandemic, we have also
supported the implementation of the Covid-19 vaccination programme and its many updates by supporting healthcare professionals who are offering Covid-19 vaccines and advocating for their patients to get vaccinated.
In 2021, our work mainly concentrated in supporting the rollout of Covid-19 vaccine, and supporting our routine programmes when capacity allowed. However, 2022 has seen a return to
This year we also published some important Irish research titled Addressing Vaccine Hesitancy in General Practice: A National Survey of General Practice Nurses and Views on Covid-19 vaccination of young children in Ireland, results from a cross-sectional survey of parents
Thinking about our routine programmes
The Covid-19 vaccination programme continued to evolve and with that so did our materials and messages to
As we come to the end of 2022, I have been reflecting on the work my team have accomplished this year to prevent outbreaks of vaccine preventable diseases in Ireland, writes Lucy Jessop, Consultant in Public Health Medicine – National Immunisations Lead for the HSE National Immunisation Office.
48 health report Advertorial
Lucy Jessop, Consultant in Public Health Medicine – National Immunisations Lead
healthcare professionals. The recent introduction of adapted Covid-19 vaccines has not only provided additional protection to people who get vaccinated but meant that all materials required updating to ensure we continue to support vaccinators in providing up to date and accurate information. We implemented a Keep Up to Date digital campaign during the summer to highlight the importance of babies getting vaccinated at two, four, six, 12, and 13 months of age through GP practices as we saw from published data that uptake of vaccines had decreased during Covid-19. With a return to travel we wanted to prevent outbreaks of diseases like meningococcal disease and polio which can make children very sick and leave them with lifelong changes that affect their health.
In October, the seasonal influenza vaccination programme was launched and to date over 800,000 eligible people have come forward to get their flu vaccine this season.
We are also encouraging people over 65 to get their pneumococcal vaccination through a digital campaign and working with health professionals and stakeholder organisations to develop short video messages to ensure people have access to accurate information and come forward to get protected.
We have just finalised plans for implementing the Laura Brennan HPV catch up vaccination programme, which will offer an additional opportunity throughout 2023 to get vaccinated for eligible people who did not previously accept the invitation to get vaccinated. I hope people will avail of this opportunity as the more young people vaccinated and women screened the better the spread of HPV infection can be controlled. Since the programme was introduced in Ireland in 2010 over 500,000 people have received their HPV vaccine course, which will move us closer to the global elimination of cervical cancer.
Additional programmes
When planning our work for 2022 we did not anticipate we would also be supporting people who came to Ireland from Ukraine and supporting our colleagues in the HSE in the rollout of a monkeypox vaccination programme.
The declaration of war in Ukraine has resulted in over 50,000 people coming to Ireland from Ukraine. We wanted to support these people with accurate
information about vaccination programmes in Ireland to try to prevent outbreaks of vaccine preventable diseases. We quickly built relationships with health professionals now living in Ireland from Ukraine and developed bespoke materials which are community focused and address the most common queries using terminology and in a language they understand.
In July 2022, the WHO declared monkeypox a public health emergency of international concern. My team quickly developed materials to support the HSE vaccination programme with input from the community who are being offered the vaccine and ensuring materials were translated into Irish, French, Spanish, and Portuguese to support as many people as possible.
My team and I continue to "rise to the challenge" and look forward to continuing to deliver a high-quality service on behalf of the HSE in 2023.
University and worked in paediatrics before training in public health medicine in London.
She worked as a consultant in public health in Buckinghamshire for five years, leading on maternal and child health including immunisations. In 2014, she moved to work as a Consultant in Health Protection in Northern Ireland and was the lead for childhood immunisation programmes which included being the Northern Ireland member of the Joint Committee for Vaccinations and Immunisations (JCVI) in the UK.
In 2019, she took up the position of Director of the National Immunisation Office in Ireland, where she leads the implementation and improvement of all the national immunisation programme in line with Department of Health Immunisation Policy. She is a member of the National Immunisation Advisory Committee (NIAC) in Ireland and is a passionate advocate for immunisations across the life course.
W: www.immunisation.ie
Social: @hseimm on Twitter and Instagram and National Immunisation Office on YouTube.
Lucy Jessop graduated from Cambridge
"Since the programme was introduced in Ireland in 2010 over 500,000 people have received their HPV vaccine course, which will move us closer to the global elimination of cervical cancer."
49 health report Advertorial
St John's Hospital: Our strategic plan
and an increase in in-patient access by 150 per cent.
Background to our Capital Development Plan
Our infrastructure development plan over the next five years forms a key element of our strategy. It will build on the strong foundations that presently exist within our clinical service models and will help to signpost our direction for the future.
Underpinned by the national strategy for healthcare reform, we are evolving our plans to enable us to meet current and future challenges associated with the reform agenda.
The impact of the Covid pandemic on clinical services has resulted in the need to speed up service transformation to achieve fully integrated care through redesign, financial resourcing, and resources to support implementation of the Sláintecare Reforms for Healthcare, working with HSE partners in the acute and community sectors to transform service provision in the mid-west.
A key pillar of the strategy is building a 150-bed state-of-the-art new unit. The bottom line is that if St John's can expand its excellence to do more and treat more people, there will be an instant return on this investment.
The strategy was developed by the board following deep consultation with all staff, its partners at the University of Limerick (UL) Hospitals Group, UL, GPs, the St John's Hospital Patient Partnership Forum, and the wider public. It is built around the hospital's vision of being a leading provider of healthcare services where innovation and excellence are at the heart of the patient experience.
The proposal addresses the necessary capacity requirement to tackle public waiting lists by accommodating a very
significant proportion of the scheduled care work in the region. It provides solutions to the critical needs associated with the public waiting lists. St John's already has the sixth busiest endoscopy list and 12th busiest elective surgery list in the country, as well as the busiest LIU in the mid-west region and second busiest in the country.
The strategy is both patient and people/staff centric but very much contingent on the delivery of the new, state-of-the-art 150-in-patient bed facility that will take the hospital from an 89 to 200 bed hospital. The new facility will deliver an additional 31,390 bed days per annum in the Limerick region and meet HIQA and SARI standards for infection, prevention, and control. It will also deliver a safer patient environment,
Our focus lies on proactively responding to healthcare needs by ensuring we have the capacity to safely deliver services in the post Covid pandemic era, to reduce public waiting lists and speed up where we can on the further development of integrated care pathways between our hospital and the community. Our plans emphasise the connections between the high-quality services we provide while working with our HSE partners to achieve better outcomes, more effectively.
We propose to undertake a programme of building and clinical service developments that will greatly assist in speeding up and enhancing the delivery of care. With an emphasis on transformational change at local level, each element of our plan facilitates the upscaling of services to enhance overall service provision in Limerick and
the
50
Advertorial
Our strategy, which has been developed with input from our staff, patients, and healthcare partners, lays out a clear five-year plan with a focus on developing and improving our services to patients.
health report
mid-west. Our plan has a particular focus on scheduled care, clinical support and recovery services and management of patients with chronic illness who require a step-up from community level care.
There are important levers required to support the progress of each aspect of these developments, the biggest challenge being capital investment. The condition survey of our hospital commissioned by the HSE in 2018 shows a clear and cogent case for serious capital investment in St John's Hospital. This five-facet survey report on the existing buildings outlines clearly their physical and functional deficiencies which strengthens the case for a new bed block.
Speaking at the strategy launch in July 2022, CEO of St John's Emer Martin said: "St John's has made an incredible contribution to healthcare in Limerick for almost two-and-a-half centuries and to this day delivers outstanding results. However, it has also been long since acknowledged that the facilities here are simply not fit for the purpose or the people; our exceptional people who come to work here every day and the patients that they give that exceptional care to. That, essentially, is what this strategy is all about, finding a way to deliver this outstanding care in a modern, high-tech hospital to more people across Limerick and the midwest.
"So, by any measurement, except of course for the facility itself, St John's is a model hospital, and it makes absolute sense to not only address the shortcomings in the existing hospital but, in doing so, give more people access to this standard of care in the mid-west. We have the capacity on the site to do this and in a region that clearly needs key solutions like this to help address pressures on the system. It's a win-win for healthcare in the mid-west, for the UL Hospitals Group and the people of the mid-west."
Martin added: "We recognise that what lies ahead may be challenging but we have the determination, resolve and resilience to fulfil our plan. The bottom line is that if St John's can expand its excellence to do more, and treat more people, there will be an instant return on this investment."
Key features of our planned integrated service model
• An elective hospital of choice for acute medicine including specialist areas of respiratory, renal and endocrinology services
• To increase our medical assessment unit service to a seven-day service
• Continue to operate the busiest injury unit service in the mid-west
• Develop rapid access clinics in our key speciality areas
• Continue our role as a regional service provider for our clinical recovery and support unit
• Continue our role as a regional service provider for interventional pain treatments
• Enhance our role as a regional service provider for endoscopy and bowel screening
• To further develop our elective surgery including extended stay surgery and as a key provider of diagnostic work, e.g., radiology
• Enhance our role as an exemplary teaching hospital for multidisciplinary staff in conjunction with the University of Limerick and UL Hospitals
St John's Hospital
St John's Square, Limerick, V94H272
T: (061) 462 222
W: www.stjohnshospital.ie
• Enhance our role as a leading provider of innovative solutions to healthcare problems in conjunction with the University of Limerick and UL Hospitals Group
51 health report Advertorial
health report
Health in Ireland: Statistical overview
General health
Life expectancy 82.8 years – 1.5 years higher than EU average
Self-perceived 'bad' health status: 3.9% of population – fourth lowest in OECD
Infant mortality rate: 3.1 per 1,000 births – 0.1 below EU average
Source: OECD 2022
Cancer survival rates
Cancer deaths: 234 per 100,000 population – eighth highest in OECD
Lung cancer: 18% five-year survival rate – 3% higher than EU average
Prostate cancer: 91% five-year survival rate – 4% higher than EU average
Childhood leukaemia: 88% five-year survival rate – 3% higher than EU average
Sources: OECD 2022 and CSO 2022
Healthcare coverage
32% of population with access to medical card 10% of population with GP visit card 46% of population covered with health insurance 20% with neither health insurance nor medical card
Source: OECD 2022
Capacity of the health service
Suicide
Suicide rate: 9.4 per 100,000 population
Suicide deaths 2021: 399 – 59 higher than 2020
Male suicide deaths 2021: 302
Female deaths by suicide 2021: 97
Sources: OECD 2022 and CSO 2022
3.3 doctors per 1,000 population – sixth lowest in the EU 25 new medical graduates per 1,000 population – highest in the EU 12.9 nurses per 1,000 population – 4.5 higher than EU average
2.9 hospital beds per 1,000 population – third lowest in EU
Pre-Covid, hospitals ran at 95% occupancy rate, above 'safe' classification
Source: OECD 2022
Health expenditure
Ireland health spending as a per cent of GDP 2020: 7.1%
OECD average health spending as a per cent of GDP 2020: 9.7%
Health expenditure 2020: €26.5billion – equivalent to €5,284 per person
Source: OECD 2022
52
Delivering change and adding value through transformation programmes in healthcare
Self-harm
12,553 presentations of self-harm in 2020, affecting 9,550 people 1 in 500 people self-harmed in 2020 1 in 4 people who presented as self-harming had a repeat incident in 2019 68% received an assessment in the presenting hospital 80% received a follow-up recommendation upon being discharged from hospital 11% left hospital before a recommendation of treatment had been made Presentations went down by 12% in March, 22% in April, and 11% in December, coinciding with the introduction of Covid restrictions
Source: National Self Harm Registry 2021
health report
53
Delivering change and adding value through transformation programmes in healthcare
Towards a more sustainable regulatory model
CORU was established in 2005, under the Health and Social Care Professionals Act by Mary Harney who was then Minister for Health to regulate a range health and social care professions, many for the first time. The journey for Hanrahan started in May 2008 when, having been Head of Clinical Services in Dublin's Beaumont Hospital for over seven years, she took on the role of CORU CEO/Registrar.
"The concept of a multi-profession regulator seemed completely alien to many people. But all I could see was a huge opportunity to improve the experience of patients and services users nationwide by setting statutory standards for the professions to be regulated. I am glad to say my optimism paid off and the results have been quite clear."
Every day across Ireland, tens of thousands of people benefit from the care and compassion of health and social care professionals. From occupational therapists to optometrists and from social workers to speech and language therapists, there is not an Irish family whose life is not touched by some of these professionals. Other professions regulated by CORU include physiotherapists/physical therapists, dietitians, dispensing opticians, radiographers, radiation therapists, medical scientists, and podiatrists.
For the past 15 years, Ginny Hanrahan has been tasked with ensuring the quality and consistency of that care. As the inaugural CEO and registrar of
CORU, Ireland's multi-profession health and social care regulator, Hanrahan has overseen the introduction of statutory regulations for a dozen professions, while plans are well underway for adding a further five to that list.
Public protection
Public protection is a phrase Hanrahan repeats often. "This is the raison d'être," she explains. "We currently regulate the work of over 24,500 health and social care professionals. Each one of our regulated professionals could have dozens of patients or service users a week. Protecting those people is our mission and this guides everything we do."
The first major milestone for the fledgling regulator was the opening of the social worker register in 2011. "The vast majority of Ireland's social workers enhance the lives of those who need their services, but by opening this register we established a legal set of standards, including the first statutory code of professional conduct and ethics for social workers, as a guide to the professionals. In December 2014, we opened the Fitness to Practise function of our regulation, to provide a place for people to turn to if things go wrong."
Now having repeated the opening of registers 11 times you could forgive Hanrahan for taking the moment for granted, not so she says. "It is the culmination of years of work from the CORU team, countless volunteers and the professions themselves. It sends a powerful message to its service users/patients about the quality of care they can expect to receive. The opening of a register is a huge milestone for us and one we always celebrate."
Fitness to practice, the process of investigating and adjudicating on complaints, is often seen as the central
As CORU CEO and Registrar, Ginny Hanrahan approaches the end of her tenure, she has been reflecting on the achievements on the team she leads.
54
report Advertorial
health
pillar of regulation, but Hanrahan says this is not the case. "Clearly it is vital, when things go wrong that we act very swiftly. There have been some difficult and high-profile cases, including striking people off when that has been in the public interest. But I do not like to dwell on these exceptions. The overriding legacy of CORU is the high standards of education, conduct, and ethics that are demonstrated by the vast majority of registrants."
CORU also has the powers to act against any individual found using one of CORU's protected titles without registering with CORU. "We expected this be a rare occurrence, but it has happened and has led to criminal convictions. CORU registration is now the ultimate Q-mark for the professions we regulate. To maintain trust in that, we must maintain its utmost integrity."
Hanrahan, who is due to retire in mid2023, reflects on the achievements of her team over the past decade and a half but is equally focussed on laying the foundations for the future. "We now have 12 regulated professions and more on the way. It is a huge achievement from the entire CORU team which includes an executive staff of 75 and the sterling work of the voluntary Health and Social Care Professionals Council under the leadership of Mo Flynn, as our Chairperson, committees of council and the 12 profession specific registration board members. All of our bodies, have a majority of lay/non-professional members, who bring the voice of the public and service users to any decisions we make."
Hanrahan is positive about the future and confident that CORU will continue to transform public protection for the people of Ireland. "We are entering a new phase of our work. The professions we are now working with to prepare for their registrations, such as social care workers, psychologists, counsellors, and psychotherapists bring new levels of complexity. It would be easy to class this as challenging, but I can only see the opportunity once again to protect the public by working hard to ensure we get this right. Each profession has one opportunity to get their standards of regulation correct – we achieve these.
Under our legislation, we will also be working with the final two professions –orthoptists and clinical biochemists.
Standards of regulation have to be balanced to ensure we do not squash creativity and innovation which is required for the development of work for all professions. We also need to acknowledge the incredible work these
professions have undertaken during Covid and the demands that have been placed on them to ensure that they continue to be engaged with their profession, but also to mind themselves. The high level of burnout that is being noted in research on many of the people who worked so tirelessly through this period – the need for resilience and kindness in regulation has never been more important, to ensure that safe services are delivered to patients and service users.
The need for regulation too is increasing according to Hanrahan who says that this must be viewed in the wider societal context. "We have an ageing population, increasing numbers of people with disabilities living in the community and their changing care demands. Over 30 other professions are keen to be considered for regulation, including clinical engineers, chiropractors, osteopaths, medical physicists, play therapists, to name just a few. Decisions on the regulation of any professions rests with the government. A risk based approach needs to be taken in relation to any decisions, based on the harm that can be potentially caused by any professional group and whether a higher standard of consumer protection could
be more appropriate for a number of professions."
Against the backdrop of these societal pressures and with CORU expected to grow to over 40,000 registrants by the middle of the decade. Hanrahan says the model of regulation will need to be reformed. "We have reached the point where 'what got us here will not get us there'. Our new statement of strategy for 2022-2026 commits us to develop a more sustainable regulatory model that is focused on right touch regulation, always ensuring that regulation is proportionate, consistent, targeted, accountable, and agile."
While changes lie ahead for how CORU operates, Hanrahan is confident that one thing will not change and that is the why. "CORU will continue to be guided through every change it makes by ensuring it is first and foremost guided by that mission to protect the public."
T: 01 293 3160
E: info@coru.ie
W: www.coru.ie
"The vast majority of Ireland's social workers enhance the lives of those who need their services, but by opening this register we established a legal set of standards and provided a place for people to turn to if things go wrong."
55 health report Advertorial
Ginny Hanrahan with members of The Alliance Group, an international network of health and social care regulators in July 2022.
health report
Sláintecare success stymied
Sláintecare was first proposed in 2017 following an Oireachtas report which outlined the need to establish a universal, single-tier healthcare system which can be accessed by all Irish citizens. The principles of the programme were supported by all the main political parties in the Dáil.
The programme has been curtailed by the Covid-19 pandemic, as well as a lack of pace in delivery which culminated in three high-profile resignations from the programme in 2021, including former Executive Director Laura Magahy, who cited frustration at the slow pace of the implementation of the programme.
Anthony O'Connor also resigned from the council in late 2021, stating in a
letter to Health Minister Stephen Donnelly TD that the original culture of Sláintecare had been "bulldozed" and that the Government's replacements were "incongruous" with the principles of the reforms.
Regional health areas
Whilst originally under the remit of the Department of the Taoiseach, in 2022, the Department of Health approved measures to devolve the implementation of Sláintecare into regional health areas.
On 26 October 2022, the Oireachtas Health Committee heard from Leo Kearns, the chair of the Regional Health Areas Advisory Group who suggested that the regional health area delivery
process is at risk of being curtailed by the daily workload of senior figures in the HSE and the Department of Health.
"It is difficult to see much real progress being made on implementation unless senior leaders in HSE and Department of Health are freed up from some of their 'business as usual' responsibilities to devote significant thought and time to this," Kearns told the committee.
Meeting in June 2022, the Sláintecare Programme Board set out a target of ensuring the delivery of six regional health areas by the end of the year.
The regional health areas are designed to ensure that there can be a localised response per each of the six areas. However, differing local responses are
As the Sláintecare programme nears its fifth year, its implementation has been curtailed by factors such as the Covid-19 pandemic and high-profile resignations, ultimately stymying the project.
56
Delivering change and adding value through transformation programmes in healthcare
not a guaranteed success, and there is the potential for there to be a lack of a consistent strategy to underpin developments in the healthcare system throughout the State.
Budget 2023
The Sláintecare Implementation Strategy 2021-2023 outlines a vision for healthcare and immediate actions which are consistent with the original Sláintecare report. The implementation strategy's foreword, written by the former Executive Director Laura Magahy, reiterates a commitment to the vision of a universal single tier healthcare system.
Budget 2023 allocated a record amount (€23.4 billion) in funding to the heath service. However, this is mostly targeted at reducing waiting times within the existing HSE framework, rather than a fundamental reform of the healthcare system.
In his statement on the budget, Health Minister Stephen Donnelly TD made no mention of Sláintecare, and it is unclear specifically how much of the funding in the health budget will be for supporting the reforms as part of the project.
The budget did allocate funds with the aim of eliminating inpatient charges, with the aim of saving patients up to €800 per year. However, the inequality in health outcomes for people who rely on the HSE, compared with those who have access to private healthcare remain significant. The median treatment response time in private healthcare is five days, compared to a 17-day median wait with the HSE.
Health outcomes
This is underpinned by an increasing trend in the number of Irish citizens who access private healthcare, with most reporting a higher satisfaction level than those who use the HSE. This suggests that those who can afford to seek private healthcare are doing so amid a perception that the HSE cannot adequately meet their needs.
Figures on health outcomes in Ireland are generally strong, with Ireland recording the highest self-perceived health outcomes in the EU, with 83 per cent stating that they were in good health. However, figures from the Department of Health relating to health outcomes in the State in 2021 reveal
that Ireland has a lower doctor-topatient ratio than both the EU average and the OECD average.
The Department of Health's Statement of Strategy 2021-2023 does state that one of its five strategic priorities is making access to healthcare fairer and faster, citing the principles of Sláintecare as the means to achieve this.
The percentage of the population who hold a medical card, as of 2020, remains below the figure for 2009, despite 2020 being three years after the launch of the strategy, the stated aim of which is to work towards a universal healthcare model.
Whilst measures have successfully been taken under the aegis of Sláintecare, such as the Sláintecare Integration Fund, which piloted 105 of the 123 intended projects throughout the HSE in 2021, the bigger picture of delivering a universal healthcare system has fallen down the list of priorities for the Government.
57
health report
Sláintecare was launched in 2017 when Simon Harris TD was the Health Minister.
Delivering change and adding value through transformation programmes in healthcare
Health inequality increased between 2000 and 2019
A report by the Economic and Social Research Institute (ESRI) has found that there was a decline in perinatal mortality over the 2000s and 2010s, but that this decline was experienced at a much lower rate for unemployed mothers.
The report found that the perinatal mortality rate, which measures the number of stillbirths and infant deaths within one week of birth, declined from 8.3 in 2000 to 5.4 in 2019. However, for unemployed mothers, although there was a decline, the rate was between 1.6 and 2.2 times the rate of mothers in the higher professional group, and this rate remained elevated throughout the last two decades.
Looking at the standardised mortality rates, there was a clear correlation across the board of economic background and health outcomes. There was furthermore a trend whereby health outcomes got worse between 2000 and 2009, before subsequently improving again over the 2010s.
Given that 2009 was measured at the height of the recession and subsequent rise in poverty, one can infer that more poverty results in worse outcomes, and that the uptick in better health outcomes came for those who subsequently had a higher standard of living as Ireland came out of the recession.
The report also found that agricultural workers and farmers are on average over 2.4 and 2.3 times more likely to die of circulatory disease than employers and managers.
It is roughly between 1.7 and 2 times more on average for unskilled-manual, skilled manual and non-manual. There is very little difference between employers and managers and the unknown and higher and lower professional groups.
Whilst the mortality rate fell across the board between 2000 and 2019, the rate at which it fell varies vastly depending on economic background, with mortality for low-earners falling a rate which was considerably smaller than those from an economically prosperous background, resulting in a wider equality gap than existed in 2000.
The report also included analysis of Covid-19 mortality. It showed that, between March 2020 and May 2021, those in disadvantaged socio-economic groups accounted for higher proportions of deaths relative to their shares in the population aged 65 and older.
While the numbers of deaths in non-white groups were very small overall, those with black or Asian Irish ethnicity accounted for slightly higher proportions of Covid-19 deaths than their respective shares who were aged 65 and above.
58
health report
Delivering change and adding value through transformation programmes in healthcare
IACP supports in-school counselling pilot for primary schools
The bottom line is that having timely access to professional qualified counsellors and psychotherapists through schools has been proven to be highly effective.
Growing support for this was clearly captured in our last nationally representative general public survey. This survey conducted by Behaviour and Attitudes from April to May 2022 has produced some timely topline results.
These results include a finding that 93 per cent of Irish adults think that counselling and psychotherapy should be made available for children and young people through schools. This is a 5 per cent increase from the already high level of pre-pandemic support of 88 per cent in 2019.
Growing international evidence for the benefits of school-based counselling highlights accessibility, de-stigmatisation and support for children, teachers, and parents and caregivers.
The IACP believes early intervention is critical and access to counselling and psychotherapeutic services through schools, as research indicates, is highly successful with positive outcomes not only for children but also for the wider community.
Lisa Molloy, Chief Executive Officer, had the pleasure to participate in a round table discussion alongside representatives from: the HSE National Mental Health Services, Jigsaw, Spunout, the Psychological Society of Ireland, the Irish Society for the Prevention of Cruelty to Children, and the Irish Council for Psychotherapy.
The IACP has been calling for the introduction of access to school counselling and psychotherapeutic supports for many years, and was delighted with the news of the allocation of €5 million for an in-school counselling pilot for primary schools.
School-based counselling programmes are established in over 60 countries worldwide and are mandatory in 40. They have been operating at secondlevel education very effectively in the United Kingdom for many years.
Following on from the success of school-based counselling at second level, there is now a pilot project in Northern Ireland, called Happy Healthy Minds. The evaluation report of this programme will provide invaluable learning to the Irish Government in determining the model for the primary school pilot here.
The IACP represents more than 5,000 members, based in communities nationwide and is the largest counselling and psychotherapy association in Ireland.
T: 01 230 3536
E: ceo@iacp.ie
W: www.iacp.ie
The Irish Association for Counselling and Psychotherapy (IACP) was honoured in November 2022 to be invited to appear before the Joint Committee on Education, Further and Higher Education, Research, Innovation and Science, as part of its examination of Mental Health Supports in Schools and Tertiary Education.
59 health report Advertorial
Nicole Mac Dermott, Iwona Blasi, Lisa Molloy, IACP Board of Directors Vice Chair Jade Lawless and Chair Séamus Sheedy at Leinster House gates.
Seven challenges facing healthcare providers in 2023
over time. However, there are concerns regarding the impact of delayed access to care and reduced physical and social activity during the pandemic.
Healthcare systems must respond appropriately and adapt their working practices to meet these changes and include specific mechanisms for health promotion, prevention, treatment and rehabilitation suitable for the needs of older people.
The empowered consumer
47.5 per cent of the Irish population now has private health insurance according to the Health Insurance Authority (HIA). In the context of private health insurance, patient consumerism is more important than ever as medical costs and insurance premiums rise. Consequently, patients actively pursue the best value for their investment whilst also expecting high-quality care. In tandem with this, tolerance for time-consuming processes and delays has declined, with patients now seeking organisational efficiency and a positive experience.
Customers currently have ease of access to digital tools and technologies to make informed decisions surrounding their health and wellbeing. The empowered customer demands a mix of both physical and digital interaction.
Within the last few years, the demand for this has grown with patients seeking personalised care outside the hospital setting. A positive patient experience is a key factor for patients when choosing between healthcare providers.
Ageing population
Demographic change is one of the greatest challenges of our time. As the population ages, healthcare systems will face challenges to meet the needs of an older population. The number of people aged 65 and over in the Republic of
Ireland was estimated at 696,300 in 2019 by the Central Statistics Office and is projected to more than double to 1.56 million by 2051.
The long-term impact of Covid-19 on increased service demand and health outcomes for the older person will evolve
Cost of care
Providing high-quality, sophisticated care has become increasingly challenging and expensive. This can be attributed to several factors, such as the cost of developing new medicines, purchasing of specialised equipment, development of
We are moving into a period of unprecedented change and there are many new and existing challenges facing healthcare systems. Our healthcare consulting team has identified seven challenges that will continue to impact healthcare providers into 2023, writes Elaine Daly, Partner –Head of Business Consulting at Grant Thornton.
60 health report Advertorial
Delivering change and adding value through transformation programmes in healthcare
new facilities, and costs associated with recruiting additional staff.
The onus lies on healthcare providers to understand and respond to issues posed by costs, whilst still delivering highquality care to their patients.
Workforce shortages and burnout
The availability of suitably qualified staff is an increasingly significant problem in Ireland and internationally. Globally, healthcare providers are competing to recruit and retain staff. Burnout is a significant risk, as the challenge of delivering multiple care pathways while reducing waiting lists places a burden on employees. As the labour force ages and service demand increases, the gap between workforce supply and demand is expected to widen.
Consequently, these recruitment difficulties may limit the ability to respond to increased consumer demands and hamper the delivery of core and new service developments.
Healthcare innovations and data security
Breakthroughs in digital innovations are happening at an exponential rate and the challenge is for healthcare leaders to keep pace with these innovations. Healthcare providers must respond to the latest findings and innovations, and ultimately perform cost-benefit analyses of the emerging options to determine how these innovations can best help their clinicians deliver care.
The growth in digital innovations presents an increased risk of serious data breaches. As healthcare functions continue to move online as a result of the pandemic and changing consumer behaviour, it is important to ensure these processes are protected from outside threats. Empowered customers will demand transparency to ensure their data is stored securely and used appropriately.
Impact on environment
According to the World Health Organisation (WHO), health infrastructure is one of the largest consumers of energy. Hospitals use twice as much energy per square meter as conventional buildings because they
must accommodate patient needs and adhere to regulatory requirements regarding performance guarantees.
According to a WHO report, the Covid-19 pandemic response has resulted in tens of thousands of tonnes of additional medical waste, placing enormous strain on healthcare waste management systems globally and endangering both human and environmental health. These findings have highlighted the urgent need to improve waste management procedures and energy consumption.
Climate change
The effects of humans on the environment are growing and the resulting dangers are causing illness and injuries, lowering productivity, and taxing health systems while also degrading quality of life. Improvement in human health and life expectancy over the past 150 years has been largely attributed to the reduction of environmental pollution and developments in hygiene. However, even now, tainted food, water, and air
continue to be significant global causes of pain and demise.
As global warming and extreme weather events increase the hazards to human health, healthcare systems will need to undergo change. Effective action depends on an understanding of the relationship between preventing climate change and human health.
Carbon dioxide and other environmental pollutants produced by healthcare systems are significant. Thus, in order to mitigate further environmental and climate change, efforts must be made to lessen the global impact of healthcare providers and the healthcare sector.
Elaine Daly
Partner – Head of Business Consulting
Grant Thornton
E: elaine.daly@ie.gt.com
T: 01 3805 895
61 health report Advertorial
Delivering change and adding value through transformation programmes in healthcare
In profile: Ireland's leading medical officials
health report
Breda Smyth, who became the first female Chief Medical Officer in the State in 2022, and Stephen Mulvany, who has been acting CEO of the HSE since October 2022, are the two most prominent figures in Irish healthcare.
Breda Smyth
Breda Smyth became the first woman to serve as CMO in the history of the State when she was appointed to the role, originally on an interim basis in July 2022, before being appointed permanently in October 2022.
Smyth has extensive experience leading national programmes across public health, serving as senior responsible owner on the HSE Public Health Reform programme in 2019. She was the national lead on the Health and Positive Ageing Project, and developed and published the Healthy and Positive Ageing for All: Research Strategy 2015–2019 in collaboration with the Department of Health in 2019. She was also the national stroke prevention lead in the Stroke Clinical Programme from 2010 to 2014, leading the pilot opportunistic screening for atrial fibrillation.
Throughout the Covid-19 pandemic, Smyth, who hails from Straide, County Mayo, played a role as a member of the National Public Health Emergency Team (NPHET), the Rapid Testing Expert Advisory Group and as a founding member of the Covid-19 Irish Epidemiological Modelling Advisory Group
Smyth completed her primary degree in medicine (MB, BCh, BAO) in University College Galway (now the University of Galway). She then continued her training in the Royal College of Physicians of Ireland (RCPI), undertook a master's in Public Health in University College Dublin, a Medical Doctorate in NUI Galway (now the University of Galway) and a post-doctoral fellowship in the University of California, Los Angeles. Smyth was conferred as a member of the Faculty of Public Health Medicine of Ireland in 2005, and, in 2013, was made a fellow of the Faculty of Public Health Medicine in Ireland.
She previously was professor for public health medicine in NUI Galway and a consultant in public health in HSE West.
Following the retirement of her predecessor, Tony Holohan, Smyth was appointed as Chief Medical Officer of Ireland – on an interim basis from 15 June 2022 – by Minister for Health Stephen Donnelly TD.
Outside of work, Smyth is also an accomplished musician and has toured and performed worldwide as a violinist with Michael Flatley's Lord of the Dance and Feet of Flames which included
62
Delivering change and adding value through transformation programmes in healthcare
performances at the Ryder Cup and the Red Cross for the Royal Family in Monaco.
She released her debut album Basil and Thyme in 2002 and was subsequently nominated as female traditional musician of the year by the Irish Music Magazine in 2003. She hosted the Irish Music Magazine Awards in the National Concert Hall, Dublin in October 2003.
Smyth has also undertaken extensive research including a medical doctorate, on Mortality Inequalities in Ireland from 2000 to 2006 between 2007 and 2009 for which she received the Zachary Johnson Bronze Medal. She was also awarded a post-doctoral fellowship in the University of California, Los Angeles from 1998 to 2001.
Stephen Mulvany
Stephen Mulvany assumed the role of Acting Chief Executive Officer of the HSE in October 2022. Prior to this, Mulvany had been Chief Financial Officer since 2014. In that role he was responsible for financial planning, operational planning, and service delivery of the organisation.
His strongest achievements are seen as having ensured that a "strong and integrated financial performance system" was in place, assisting former CEO, Paul Reid, in all strategic and operational matters relating to
budgetary management, forecasting needs, and the securing of funding for health and social care services.
He has worked for over 30 years in the public sector. Alongside his role as Chief Finance Officer, he had served as National Director for Mental Health, regional director for operations in the Dublin North-East region, and working as a hospital networking manager in Ardee, County Louth.
Key focuses of Mulvany's career in the public sector include stewardship, accountability, financial planning, management, as well as corporate and professional leadership.
Mulvany has held various roles throughout the HSE including Chief Financial Officer, National Director for Mental Health, National Director of Finance and Regional Director of Operations in Dublin North East as well as Hospital Network Manager. Before this he worked for several years in local government.
Mulvany is a certified accountant, having graduated from Griffith College Dublin with a postgraduate diploma in management and application of information technology in accounting, an MSc in management practice, as well as a certificate from the Institute of Directors.
health report
63
Delivering change and adding value through transformation programmes in healthcare
A significant year of developments in Children's Health Ireland
and the inpatient and day care paediatric services at Tallaght.
New model of care
Ambitious transformation of healthcare requires long-term planning and implementation. The health policy and plan for paediatrics is based on the 2016 National Model of Care for Paediatric Healthcare Services. This model of care stipulates having an integrated network of paediatric services based on two core principles. The first is that children and young people should be treated as close to their home as is clinically appropriate. The second is that national and highly specialist acute services are consolidated in one children's hospital co-located with a large academic adult hospital. The development of paediatric services in regional hospitals is an integral part of this model of care.
New facilities for outpatient and urgent/emergency care in Blanchardstown and Tallaght opened in 2019 and 2021 providing local and convenient paediatric services northwest and southwest of Dublin. Services in both new facilities will continue when the new children's hospital opens.
Our new children's hospital building is now over 70 per cent complete. Taoiseach Micheál Martin TD and Minister for Health Stephen Donnelly TD, visited the new children's hospital in November 2022. Together with children who attended Children's Health Ireland
services, they planted the first of 400 trees destined for the four acres of gardens and open spaces planned within the 12-acre grounds of the new children's hospital.
They visited the most progressed areas in the building – including one of the hospital's 22 operating theatres, the 60bed critical care unit, and an ensuite inpatient room. The new hospital will provide all services for the sickest children in the State, and some allisland services, as well as supporting local paediatric services currently provided at Crumlin and Temple Street
When looking at services in our hospitals in Children's Health Ireland, we have many excellent services, while others require continued development especially when it comes to providing timely access to patients. It is important to acknowledge achievements in times of change when things are moving quickly. We want to share some recent milestones in Children's Health Ireland that have enabled us to continue our vision, mission and values and strive to achieve our strategic objectives.
Children's Health First
The new Paediatric outpatient and emergency care unit (ECU) at Children's Health Ireland (CHI) at Tallaght opened in November 2021. This service recorded 34,994 Emergency Care Unit attendances and 15,000 plus outpatient appointments in 12 months. These figures are a tribute to the efforts of many staff to provide care in these new facilities, providing paediatric care and treatment for local children, young people, and their families.
Children's Health Ireland currently provides paediatric services in Crumlin, Temple Street, Tallaght, and Blanchardstown at Connolly Hospital. The highest number of children and young people is in the eastern region of Ireland where the rollout of the National Model of Care for Paediatrics is well advanced.
64
Advertorial
Eilish Hardiman Chief Executive, mom, and patient in CHI at Crumlin.
health report
Significant progress has been made this year to increase the number of spinal surgeries undertaken, up by 152 (54 per cent) on the same period last year. Long waiting times have also been reduced with 32 per cent fewer children waiting greater than 12 months and 24 per cent less waiting greater than four months for inpatient care. An increase in OPD referrals and new additions to the waiting list of 30 per cent means that the impact of this increased activity is not visible when looking at total patients waiting. Capacity projects (theatres, beds, MRIs) coming on stream in early 2023 will continue to improve access to our orthopaedic service. CHI also continued to work with our partners in the National Orthopaedic Hospital Cappagh to extend services provided to our patients with non-complex needs on orthopaedic and radiology waiting lists.
We continue to implement our model of care as we work towards the new hospital. Our neonatal service (premature and sick new-born babies) in Children's Health Ireland at Crumlin marked a major step in November 2022 on the way to delivering the neonatal intensive care unit (NICU) in the new children's hospital and providing worldclass neonatal care. The unit in CHI at Crumlin has six neonatal high dependency beds for babies with additional care needs. Together with six well-established neonatal high dependency beds in CHI at Temple Street, this will provide long-planned specialised services for a particularly vulnerable group of patients.
Children's Health Ireland is the ninth cancer centre in the Irish healthcare system, currently providing cancer services for children and adolescents up to 16 years of age as the hub of a network of cancer services. CHI warmly welcomed the launch by the National Cancer Control Programme (NCCP) of a framework for the care and support of adolescent and young adults (AYA) with cancer in Ireland. This framework (20222026) focuses on the specific needs and risks of AYA cancer patients. Children's Health Ireland has planned for an increase in capacity in the new children's hospital to meet the implementation of this framework, specifically the change in highest age for admission from 16 years old to 20 years old based on best international evidence on clinical outcomes for young people with cancer.
Children's Health Ireland and our four academic partners of UCD, TCD, RCSI, and DCU collectively agreed to set up a paediatric academic health sciences centre to drive our vision for integrating health services with research, education,
and innovation to drive better outcomes for patients and attract and retain the best staff.
Minister for Health Stephen Donnelly TD, launched our Healthy Ireland Implementation Plan 2022-2025. Children's Health Ireland encourages and supports staff, patients, and families to lead healthy lives. By creating a supportive, wellbeing focused working environment, staff are empowered to take personal responsibility for their own health and wellbeing. This in turn will support patients and families with the quality of care they are provided.
We procured our electronic healthcare record (Epic) for our new hospital. It will support safer care, better patient experience and provide a paper light environment as a new Digital Hospital.
We launched our first conference on Global Child Health: Communities Healing the World in Crisis in October.
CHI also worked with European Children's Hospital organisation in providing outreach and supports to the Ukraine crisis. We worked closely with children's hospitals in Poland to support oncology services for young children from Ukraine.
CHI is proud of the way our staff continue to respond to Covid-19 in 2022 and impacts of high viral rates in communities. The implementation of infection control guidelines across all CHI meant that we maintained our patients' and staff's safety through the pandemic, with low infection rates throughout the year. We have seen internationally the high rates of viruses such as RSV in children; our staff are dealing with this challenge through the 2022 winter months.
We are very proud of the staff in Children's Health Ireland, who despite challenges are making progress in paediatric services. We are supported by our charity partner, Children's Health Foundation but none of this is possible without our biggest asset, our staff. They provide the essential factor to make our future possible. We are in awe of the care and treatment given to children, young people, and families by staff.
W: www.childrenshealthireland.ie
"We are supported by our charity partner, Children's Health Foundation but none of this is possible without our biggest asset, our staff. They provide the essential factor to make our future possible."
65 health report Advertorial
Taoiseach Micheál Martin TD and Minister for Health Stephen Donnelly TD, visited the new children's hospital in November 2022.
health report
Healthcare infrastructure in Ireland: An overview
With a planned investment portfolio of €5.7 billion under the National Development Plan to 2025, the Irish Government has commissioned analysis of healthcare infrastructure in the State, which has found notable regional disparity in infrastructure capacity and built infrastructure in good but ageing condition.
Two separate reports were published in September 2022 as part of the Government's Healthcare Capital Investment in Ireland series, the first of which analyses the healthcare infrastructure capacity of the State, the second of which analyses the built infrastructure of healthcare within the State.
Infrastructure capacity
Analysis of the healthcare infrastructure capacity in the State found there to be great variation in the distribution of said capacity dependent upon the regional health area. In terms of critical care unit (CCU) beds, regional health areas A
(North Dublin, Meath, Louth, Cavan, and Monaghan), B (Longford, Westmeath, Offaly, Laois, Kildare, and parts of Dublin and Wicklow), and E (Limerick, Tipperary, and Clare) were found to have "significantly more" beds relative to population than areas C (Tipperary South, Waterford, Kilkenny, Carlow, Wexford, Wicklow, part of South Dublin), D (Kerry and Cork), and F (Donegal, Sligo, Leitrim, Roscommon, Mayo, and Galway). In total, the State has 7.7 CCU beds per 100,000 of population, a rate well below the 2020 OECD average of 12, that falls as low as seven per 100,000 in area D and rises as high as 12 per 100,000 in area A.
This disparity is in part explained as being "partially reflective of the presence of national centres of excellence in some regional health areas and the associated higher acuity care provided in these hospitals". The analysis also notes that the HSE's multi-year plan Phase 2 looks to deliver 446 CCU beds. The report further states that the number of general hospital beds available per area is "uneven", with F having 247 beds per 100,000 and C having 207. "The relationship between occupancy and bed capacity in each region is weak, highlighting the need for further analysis of acute care performance," it states.
66
Delivering change and adding value through transformation programmes in healthcare
Delivering change and adding value through transformation programmes in healthcare
In keeping with having the highest rate of CCU beds per population, area A also has the lowest proportion of patients on trolleys per bed, six. All other regional health areas record patients on trolleys per bed in the double figures, ranging from 11 to 13, and areas F, C, and B all report using over 60 trolleys per day.
The number of patients on waiting lists per ambulatory beds available was found to be "highly skewed", with area F having 36 patients waiting per bed and area E having 12 patients waiting per bed, and other areas ranging from 18-25 patients waiting per bed. Such disparity, the report says, points to the need to facilitate greater inter-regional referrals, and the need to explore the utilisation of day beds on a seven-day basis rather than the current five-day basis.
Levels of access to radiological equipment also varies across areas, with F having 8.4 X-rays per 100,000 population compared to 5.5 in RHA E. "This may influence the levels of unmet need and delayed discharge in each region," the report says. 47 per cent of X-ray machines were also found to be over 10 years old, "implying the need for investment and replacement strategy for these assets".
Built infrastructure
The second report, an analysis of the healthcare sector's built infrastructure, found the capital stock of both community and acute facilities to vary significantly, with a "large proportion" of both – 70 per cent of the community estate and 50 per cent of the acute care estate – built over 40 years ago, which "likely has negative associated impacts on maintenance costs, patient safety and efficiency". The quality of the stock was, however, found to be good in the community care portfolio, where over 90 per cent of all sites received a score of B or above across all four categories measured.
The report notes that €1 billion of the €5.7 billion to be invested is to be spent on the replacement and refurbishment of the HSE residential estate in order to meet Health Information and Quality Authority standards. The majority of this spending will be accounted for by the acute care portfolio, which fares much worse in terms of quality of stock, with
Area A (North Dublin, Meath, Louth, Cavan, and Monaghan)
Area B (Longford, Westmeath, Offaly, Laois, Kildare, and parts of Dublin and Wicklow)
Area C (Tipperary south, Waterford, Kilkenny, Carlow, Wexford, Wicklow, part of south Dublin)
806,607 1,894 12 6 18
737,495 2,067 11 11 22
683,747 1,221 8 13 25
Area D (Kerry and Cork) 522,033 1,451 7 11 20
Area E (Limerick, Tipperary, and Clare) 288,732 1,498 10 12 12
532,749 1,295 8 13 36 health report
just 43 per cent of sites having the recommended B rating, and 44 per cent of the portfolio being below the recommended rating for functionality. €887 million is recommended for spending on acute care settings, with the remaining €121 million to be spent on community care.
The report also notes the portfolio of vacant buildings within the HSE estate, with portfolios of vacant buildings over 20,000m2 in five counties, ranging from 50,000m2 in Galway to 25,000m2 in Dublin. The report states that the HSE is currently engaging with the Land Development Agency on the potential disposal of these portfolios and that "the utilisation of these sites for other purposes where suitable may alleviate
issues around housing and other societal issues".
In terms of energy efficiency, just 28 per cent of the top 120 energy users within the HSE portfolio exceed a Display Energy Certificate rating of B3, with the report stating that it is "likely that significant investment will be required to achieve carbon abatement targets in the health sector in line with government objectives".
The report concludes by stating that, along with the aforementioned investment, further research will be needed to determine where to next for health infrastructure, and that the Healthcare Capital Investment in Ireland series will now provide a baseline for such research.
In total, the State has 7.7 CCU beds per 100,000 of population, a rate well below the 2020 OECD average of 12, that falls as low as seven per 100,000 in area D and rises as high as 12 per 100,000 in area A.
Population Population per GP Total Phase 1 CCU beds per 100,000 population
Patients on trolleys per bed
Patients on waiting list per DC bed
Area F (Donegal, Sligo, Leitrim, Roscommon, Mayo, and Galway) 67
Putting health at the heart of our climate response
Officer, Nick Watts, said being innovative and open to new ideas is key to making the transition away from carbon, giving an example of using drones to deliver chemotherapy drugs.
In a thought-provoking presentation, John Barry from Queen's University Belfast outlined his belief that economic drivers, such as consumerism and capitalism, are unsustainable and contribute to socio-economic inequalities and negative health impacts.
The conference was chaired by Jenny Mack, a public health consultant with the Institute of Public Health, who said the successful event helped to focus minds and build new connections across disciplines and policy sectors.
Human health needs to be at the heart of our response to the unfolding climate crisis if we are to succeed in limiting the significant risks to population health. That was the main message to emerge at a major all-island conference on climate change and health in November 2022.
The Joint Public Health Conference on 30 November 2022 attracted close to 1,000 health professionals, researchers, policymakers, and NGOs from across the island and beyond to consider the implications and risks of climate change to our health.
In the wake of COP27, the one-day conference provided a timely opportunity to cast a health lens on the global climate crisis, which has the potential to exacerbate existing health inequalities on the island of Ireland and amplify the pressures on our health and social care systems.
The event was jointly organised by the Institute of Public Health, Public Health Agency, Queen's University Belfast, Ulster University, University College Cork, and HSE Health and Wellbeing.
In his opening address, Patrick Vallance, Chief Scientific Adviser to the UK Government, said climate change affects us all, is a matter for public health, and is an issue that governments need to act on as a matter of urgency.
Maria Neira, Director of Public Health and Environment, World Health Organization (WHO) also made a strong health argument for addressing air pollution as part of our climate change response. The health community at large, Neira believes, must join forces, harness the health argument for positive change, and highlight the great opportunities and health benefits of taking climate action.
Providing some insights into how health services are striving to become more sustainable, NHS Chief Sustainability
"Climate change is contributing to death, disease, and inequalities across the world and we, on this island, are not immune. Across the globe, we are witnessing more floods, droughts, and heatwaves and we are also seeing the effects closer to home, with recordbreaking temperatures and more extreme weather events than ever before," Mack says.
"While this all-island conference highlighted the inherent health risks from climate change, it also identified the opportunity to work together and to harness positive health gains through climate action," Mack adds.
Takeaways from the Healthy Planet Healthy People conference
1. The climate crisis is creating a health crisis.
2. Urgent systemic action is needed to reduce emissions and engage in adaptation to ensure we are preparing for the changing climate.
3. We must seize the opportunity to create a healthy, sustainable, and equitable environment for the natural world, and our health, to thrive.
68
Advertorial
health report
How climate change impacts our health
Strong leadership, transboundary working, and a "climate in all policies" as well as a "health in all policies" approach are also vital, Mack adds.
"Inaction is not an option. It is time that we come together - north, south, east, and west - to face this public health emergency as the window of opportunity is closing. We must reduce our contribution to greenhouse gas emissions and make sure that our infrastructure, our health services, and our communities are adapting to our changing climate. There is no time for complacency, we must act now to protect the future of our island and to safeguard the generations to come," Mack concludes.
Key facts about climate change and health:
Climate change is the single greatest challenge of the 21st century, according to the World Health Organization (WHO). It is not limited to impacts on the environment but has direct and indirect effects on our health and everyday lives.
The direct effects are many. Across the globe, extreme heat, rising sea levels, floods, droughts, and storms have already led to tens of thousands of deaths every year.
The roots of the climate crisis are also exacerbating another public health issue, air pollution. It accounts for approximately seven million premature deaths worldwide every year and is a major risk factor for diseases, including heart disease, lung disease, and stroke.
Indirectly, climate change is also impacting our food and water security, increasing the transmission of infectious diseases, disrupting healthcare systems, and displacing communities.
Despite the scale of the challenge, there are opportunities for positive change and health gains, according to Jenny Mack, a public health medicine consultant at the Institute of Public Health and a member of the Faculty of Public Health.
"The World Health Organization has estimated that the value of health gains from climate action should be around double the cost of mitigation policies at a global level. Moving away from fossil fuel combustion, improving active travel infrastructure, adopting a more sustainable food system – these are just some of the ways that we can improve health outcomes and reduce emissions through climate action," says Mack.
The consensus in the scientific world is that urgent action is required to reach net zero emissions as quickly as possible, to limit global warming to 1.5°C.
• Almost 25 per cent of all estimated global deaths are linked to environmental factors.
• Air pollution is a major health threat on the island of Ireland, contributing to an estimated 1,800 premature deaths each year.
• Northern Ireland has experienced a 2,050 per cent increase in the occurrence of extreme weather events between 2000 and 2019 (from four to 86).
• Around 33,000 people in Northern Ireland live in areas at significant risk of flooding.
• At least 300 communities have been identified as being at significant risk of flooding in Ireland.
• Belfast had the highest carbon emissions per capita of UK capital cities in 2019.
E: jenny.mack@publichealth.ie W: www.publichealth.ie
69 health report Advertorial
Jenny Mack speaking at an air pollution event in Stormont in 2022.
health report
NMBI's State of the Register 2022: Informing future workforce planning models
Sheila McClelland, CEO of the Nursing and Midwifery Board of Ireland (NMBI) talks about its new data report, the State of the Register2022, which provides information for policymakers and the public to inform workforce planning models, and the overall direction of the organisation in the coming years.
As the regulator for more than 80,000 nurses and midwives in Ireland, NMBI's mission is to protect the public and the integrity of the professions through the promotion of high standards of education, training, and professional conduct.
Our role is to help nurses and midwives make the right decisions for people using health and social care services through our statutory obligations. These are maintaining a Register of Nurses and Midwives; setting standards for education bodies for nursing and midwifery courses; setting professional standards for nurses and midwives; and considering complaints against nurses and midwives who practise in Ireland.
State of the Register 2022
The Irish healthcare landscape is changing with the rollout of Sláintecare and demographic trends showing an ageing population. These developments mean that we will need more nurses and midwives than ever before working in the Irish health sector. In NMBI, we need to be prepared for the changes and we need to be agile in our response to them. It is important that we plan for the future healthcare workforce through evidence-based data. It is also vitally important that data is available to workforce planners, policymakers and stakeholders across the sector as they respond to changing needs.
70
Advertorial
When we set out on our digitisation journey as part of a wider government initiative a number of years ago, we did so with the dual aims of making the annual renewal process easier for our registrants and collecting a data set which would assist in future planning for our health services.
Thanks to the digitisation of our annual renewal process and the engagement of our registrants, we can now provide valuable insights into the nurses and midwives registered in Ireland for the first time.
Last October, we published the State of the Register2022, providing a breakdown of the number of nurses and midwives registered in Ireland, what division they are in, their age and gender, and where they are located across the country.
What the data shows
We can see that the number of practising nurses and midwives in the country is increasing. This is driven by the increase in undergraduate numbers and ongoing overseas recruitment of nurses and midwives to work in Ireland.
As of 1 June 2022, there are 81,431 nurses and midwives on the NMBI Register, with 75,871 self-declared as currently practising; and of these, 66,471 state they are patient-facing in their role.
The report also reveals that more than 90 per cent (68,310) of all nurses and midwives registered in Ireland are women, while the majority of new registrants in the past year came from overseas, outside the EU.
The 12 months from 1 June 2021 to 31 May 2022 saw a total of 4,937 applicants joining the register, with 1,555 of these qualified in Ireland, 3,021 from outside of the EU and 361 from EU countries.
The top overseas countries for new registrants were India (2,364), Philippines (391), United Kingdom (250) and Zimbabwe (132).
The report also provides a breakdown of registrants across practice areas:
• General nursing continues to be the most common area of practice, with 54,797 active nurses working in this area.
• The second highest number of nurses practising are psychiatric nurses (7,377).
• There are 3,999 practising intellectual disability nurses and 3,371 practising children's nurses.
• In the midwives division, there are 9,661 on the Register with 4,561 of these practising and 3,850 in patient-facing roles. However, it is important to note that many of those registered as midwives are also registered and working in nursing divisions of the register. Furthermore, the number of practising midwives increased in the past year.
The full report on our registration figures and statistics is available on www.nmbi.ie.
Our Statement of Strategy 2023-2025
Following an extensive public consultation last year, we gained valuable insights, suggestions, and practical steps that we can take to improve our focus, efficiency and effectiveness. Thanks to the input from registrants, the public, staff organisations, employers, managers, people using services, advocate groups and other key stakeholders, we have developed our Statement of Strategy 2023-2025
Our aim is to enhance NMBI's function as a regulator for nurses and midwives
in Ireland and our new strategy sets a clear direction for our organisation over the next three years. We will continue to focus on increased engagement with our registrants, the public and our key stakeholders. Together with the data we now have from the State of the Register, we can develop our education and regulation initiatives. We also look forward to reporting on any changes in the demographics of registrants yearon-year. Our 2023-2025 strategy will be published on www.nmbi.ie in due course.
T: 0818 200 116
E: communications@NMBI.ie
W: www.nmbi.ie
71 health report Advertorial
Ireland lags in doctors and beds but leads in nurses per capita
Published on a biannual basis, 2022's edition of the OECD's Health at a Glance: Europe allows for an opportunity survey the Irish health system's performance in the European context.
Unmet healthcare needs
The OECD defines unmet healthcare needs as there being a time in the previous 12 months whereby people surveyed "felt they needed medical care… but did not receive it", with a follow-up question then relating to the cause of that unmet need. The report focuses on three reasons: prohibitive costs, excessive travel distance, and overly long waiting lists. The resulting data is then broken down into three categories: those of the lowest quintile of income, the total population, and those of the highest quintile of income.
It is only among those of the highest quintile of income that Ireland performs better than the EU27 average, with 0.5 per cent of Irish high-income earners stating that they had experienced unmet healthcare needs in the previous 12 months, as opposed to a European average of 0.7 per cent of high-income earners. 2 per cent of the State's total population stated that they had had healthcare needs not met in the previous year, as compared to a European average of 1.8 per cent, and 3.9 per cent of low-income earners in Ireland stated the same, compared to a European average of 3.8 per cent. While Ireland performs worse than the European average in two of the three categories, countries such as France, Slovakia, Romania, Latvia, Finland, Greece, and Estonia all recorded rates worse than the European average in all three categories.
72
A comparative analysis of European healthcare carried out by the OECD has found Ireland to be performing worse than the European average in unmet healthcare needs, doctors per capita, and hospital beds per capita, but above the average in nurses per capita and ratio of nurses to doctors.
health report
Delivering change and adding value through transformation programmes in healthcare
Doctors and nurses per capita
Ireland also performs under the European average with regard to the number of doctors per 1,000 of population. Having had 2.7 doctors per 1,000 in 2010, when the EU27 average was 3.4, the State had 3.5 doctors per 1,000 as of 2020, when the EU27 average was 4.0. Leading countries in this category include Greece (5.8 in 2010 and 6.2 in 2020), Portugal (3.9 in 2010 and 5.5 in 2020), and Austria (4.8 in 2010 and 5.4 in 2020). The share of different categories of doctors in Ireland also differs greatly from the European average, with 25 per cent of Ireland's doctors being GPs, compared to a European average of 20 per cent, and just 46 per cent of Irish doctors being specialists, compared to an average of 69 per cent.
While Ireland's number of nurses per capita is ahead of the EU27 average (7.4 and 8.3 nurses per 1,000 population in 2010 and 2020 respectively), the figures for Ireland show that the ratio of nurses to 1,000 population have slightly dropped from 12.9 in 2010 to 12.8 in 2020. Despite this, the State still retains the second-highest level of nurses per capita among the countries surveyed, with only Finland recording a better ratio.
Despite having 12 nurses per 1,000 in population in 2010, Finland has since surpassed Ireland's ratio, having 13.6 nurses per 1,000 population as of 2020. One possible explanation for the slight fall in nurse ratio in Ireland may be that the remuneration of hospital nurses ratio to the national average wage was 1.2, exactly in line with the European average, but behind countries such as Greece, Hungary, Poland, Czech Republic, Spain, Luxembourg, and Belgium. Such data suggests that, while nursing delivers an above average wage in Ireland and is a common career choice, it does not deliver the remuneration needed to retain and indeed grow the nurses to
population ratio as the Irish population continues to grow.
Given its lower-than-average rate of doctors to population and higher-than-average rate of nurses to population, it is perhaps inevitable that Ireland would have an above average ratio of nurses to doctors, recording a rate of 3.2 as compared to the EU27 average of 2.2. This ratio places Ireland amongst the best performing European states in this regard, on par with Slovenia, and behind only France, Belgium, Finland, and Luxembourg.
Hospital beds
Ireland is among the worst performing states in the EU on the metric of hospital beds per 1,000 population as of the 2020 data featured in the OECD's report, recording a rate of 2.9 beds per 1,000 that places it above only Finland, Denmark, and Sweden.
While data for Ireland's 2010 rate is not provided, it is notable that all states surveyed – the EU27, Serbia, Switzerland, North Macedonia, Montenegro, Norway, Türkiye, Iceland, and the UK – showed a decrease in beds per 1,000 from 2010 to 2020, except for Bulgaria, Romania, Serbia, and Türkiye. The most pronounced of these falls is that of Finland, which fell from a rate of 5.9 hospital beds per 1,000 in 2010 to 2.8 in 2020.
While the onset of the Covid-19 pandemic since the collation of the 2020 data included will no doubt have led to many of the states increasing the bed to population ratios and arresting the slide that took place throughout the 2010s, the report shows that there remains much work to be done in both Ireland and further afield in Europe.
73 health report
change and adding value through transformation programmes in healthcare Practising doctors per 1,000 population, 2010 and 2020 (or nearest year) (Source: OECD) 0 1 2 3 4 5 6 7 GreecePortugalAustriaSpainLithuaniaGermanySwedenBulgariaCyprusDenmarkMaltaCzechRepublicItalyEU27NetherlandsSlovakRepublicCroatiaEstoniaFinlandIrelandLatviaRomaniaSloveniaPolandBelgiumFranceHungaryLuxembourgNorwaySwitzerlandIcelandMoldovaUnitedKingdomNorthMacedoniaUkraineSerbiaMontenegroTürkiye 2010 2020
Delivering
Since the launch of Our Public Service 2020 in December 2017 there has been huge progress in the key areas of promoting innovation, digitalising services and improving the development of people and workforce planning. There are currently 370,000 public servants working across different sectors in Ireland, all working to deliver better, more effective services. In 2020 the Covid19 pandemic sharply brought into focus the need for public service organisations to be responsive, resilient and agile. Irelan d's public services responded well and quickly to change the way they work to deliver services and meet the needs of citizens. A number of reforms already in place under the on-going public service reform agenda greatly facilitated the rapid response to th e challenges emerging from the pandemic — Build to Share ICT infrastructure, the progressive digitalisation of services, a streamlined and centralised Government procurement system, a move to shared services — as well as centralisation of strategic HR capability. Looking to the future, the Making Innovation Real Strategy, the Civil Service Renewal Strategy and Connecting Government 2030 all provide practical roadmaps to build on our culture of innovation. This conference will feature a range of expert speakers who will talk about their innovation journey and look ahead to what's next as we look to a new future.
Sponsorship and exhibition opportunities
There are a number of opportunities for interested organisations to become involved with this conference as sponsors or exhibitors. This is an excellent way for organisations to raise their profile with a key audience of senior decision-makers from across Ireland's public services. For further information on how your organisation can benefit, contact Lynda Millar on 01 661 3755 or email lynda.millar@eolasmagazine.ie
Online www.publicsectorreform.eolasmagazine.ie By phone +353 (0)1 661 3755 Email registration@eolasmagazine.ie More information available soon
Services 2023 Thursday 23rd March ● The Gibson Hotel, Dublin Key topics covered: 3 The next phase of innovation: What does the future look like? 3 Designing public services for the digital age – Digital by Default; 3 New ways of working; 3 Embedding efficient design techniques in policy; 3 Engaging with the service user – becoming citizen-centric; 3 The delivery of healthcare in Ireland; 3 Integrating innovation into operational and strategic planning; 3 Building resilience into our public service organisations; 3 Innovation as a driver for sustainability; 3 Embracing innovation and technology to transform the delivery of services; 3 All change: planning for the future mobile workforce; 3 Educating our children and young people both now and in the future; 3 Looking at the realities of automation and technology enabled solutions; 3 Sectoral update: health; justice; education; local government; 3 Best practice case studies Date
your
Public
for
diary
Education and skills report

education and skills report
Minister of State Niall Collins TD:
Action Plan for Apprenticeship update
Further Education.
We are living in uncertain if not turbulent times. Largely as a consequence of the Covid pandemic and the war in Ukraine, cost-of-living pressures are impacting across society in Ireland. The response to Covid-19 has accelerated digital transformation in the workplace, changing the nature and capabilities required for occupations resulting in an increase in those needing to reskill.
The Action Plan for Apprenticeship 2021-2025 aims to deliver an apprenticeship system that is flexible and responsive, providing a strong value proposition for employers and potential apprentices.
I believe apprenticeship should be attractive and easy to engage with, and deliver high standards and sought-after qualifications, therefore embedding apprenticeship as a preferred route to skills development. A main ambition of the plan is to deliver 10,000 new apprentice registrations per annum by 2025; an increase of 62 per cent on 2019 figures.
The Action Plan for Apprenticeship has been live for over one year now and already I can report that as a result of a €34 million investment under Budget 2022 targeting the expansion of apprenticeship, including the development of new programmes, and addressing the Covid-related backlogs, tangible progress has already been made. An additional capital investment of €17.2 million was allocated for SOLAS and the Higher Education Authority (HEA) to enable the development of further training capacity within the further education and training (FET) and higher education (HE) systems.
In 2022 alone, four apprenticeship programmes have been launched – bar manager, wind turbine maintenance technician, transport operations and commercial driving, and cybersecurity practitioner. There are currently 66 apprenticeship programmes on offer comprising 25 craft programmes and 41 new programmes introduced since 2016. A further 21 are in development in areas including agriculture, finance, and hospitality.
Amendments to the Industrial Training Act, 1967, included in the recently passed Higher Education Authority Bill, 2022, will widen the scope for new apprenticeship programmes in an expanded range of sectors such as agriculture.
New governance structures to oversee our apprenticeship system are now in place with the recently established National Apprenticeship Office (NAO) and National
The importance of apprenticeship in society, both now and into the future, has never been more apparent than it is today writes Niall Collins TD, Minister of State at the Department of Further and Higher Education, Research, Innovation, and Science with responsibility for Skills and
"Without employers there would be no apprenticeships, which is why we are driving supports for employers."
76
Minister
of State Niall Collins TD
Credit: IFA teched
Apprenticeship Alliance (NAA). Together, they will drive real change in our apprenticeship system through the continued implementation of our Action Plan ensuring that the apprenticeship system will continue to be responsive to changes in society and in the economy.
The actions set out in the plan will deliver clarity for school-leavers, jobseekers, and career changers on the wide range of available apprenticeships. Through the Generation Apprenticeship media and billboard campaigns and their ground-breaking apprentice and employer of the year competitions, the NAO will continue to get the message out there that apprenticeship is open for business
All national apprenticeship programmes are promoted under the banner of Generation Apprenticeship and a dedicated website, apprenticeship.ie. Details including the range of programmes and entry requirements are available on this website. Apprenticeship has been included as an option on the CAO since November 2021.
Apprenticeship crosses boundaries. One of the main ambitions of the Action Plan is empowering people from under-represented and marginalised sections of society to take their rightful place in the system is vital to the success of apprenticeship.
Apprenticeship can provide individuals with a clear route to not only a job, but to a valued qualification and a clear career path, instilling hope and direction that may not otherwise have been readily apparent. The imminent establishment of the Equity of Access subcommittee of the NAA will help ensure that apprenticeship is more reflective of the national population.
Already, as part of Budget 2023, I announced a once-off reduction of up to 33 per cent in the contribution fee for apprentices and additional funding for social inclusion measures in apprenticeship, such as a bursary for apprentices from underrepresented groups and the expansion of the Access to Apprenticeship (ATA) initiative.
Funding will also be made available through the recently announced pilot Traveller Apprenticeship Incentivisation Programme in 2023 for a Traveller-specific package of financial supports, to increase participation and retention in apprenticeship.
Without employers there would be no apprenticeships, which is why we are driving supports for employers. This year saw the introduction of apprenticeship employer grant of €2,000 per eligible apprentice and the extension of the gender bursary of
77 education
and skills report
4
Credit: IFA teched
education and skills report
€2,666 per eligible apprentice to the employers of apprentices on all programmes with more than 80 per cent of a single gender registered. This work will continue into 2023 by building on existing supports for consortia and employers, particularly through the work of the NAO and use of the Regional Skills Fora.
Already we can see the impact of these measures on our apprenticeship system. Due to these measures and other supports aimed at simplifying the process for employers, there are currently almost 9,000 employers and over 26,000 apprentices. Government will also ensure that the public sector plays its part by delivering high-quality public sector employment and training opportunities, underpinning the ongoing reform of our public service.
I am confident that these numbers will increase as apprenticeships can help companies to compete in the modern marketplace and make their organisations more competitive. In addition to building a company's skills base, providing quality training helps with staff loyalty and retention, thus adding to the benefits of apprenticeships.
We will continue to invest in building the apprenticeship system in 2023 given the Government's clearly articulated ambition set out in the Action Plan. I am satisfied that the suite of initiatives included in the Apprenticeship Action Plan will provide strong momentum to making our apprenticeship system a strong value proposition for employers and potential apprentices and to boosting the presence of currently under-represented groups in our apprenticeship population.
78
Credit: IFA teched
Erasmus+: Focusing on mobility opportunities for education providers across Europe
considered an organisation that directly delivers further education programmes –with a vocational or apprenticeship element – at NFQ Levels 4, 5, or 6.
Find out more
The deadline for application in 2023 is 23rd February. We deliver information and application workshops in advance of deadlines, for more contact Elva Duggan at eduggan@leargas.ie or Mila Popovic at mpopovic@leargas.ie
Supporting National Skills Strategy 2025
Erasmus+ is the European Union's education, training, youth, and sports programme, running from 2021 to 2027. With a budget of €26.2 billion, the European Commission plans to support 10 million mobility projects.
In Ireland, organisations apply to Léargas for funding to carry out projects consistent with Erasmus+ Programme objectives and that encourage European exchange, cooperation, and learning.
"These exchanges connect people across different communities, counties and countries and bring a European dimension to Irish organisations," according to Lorraine Gilligan, Executive Director of Léargas.
What is an Erasmus+ VET mobility project?
A mobility project is where an organisation sends its students or apprentices to another country to participate in short- or long-term work placements or skills competitions.
Teachers, trainers, and VET staff from the organisation can also travel to another country for job shadowing, teaching, or courses and training.
A recent report detailing the impact of
Erasmus+ found that 75 per cent of participants surveyed felt their communication and teamwork skills improved. In addition, two-thirds thought the new skills gained through the Erasmus+ helped them find a job.
One recent participant explained: "I gained so many skills and experiences that will reinforce my career. I also gained huge confidence that I will take with me wherever I go. I know that I can work anywhere in Europe now."
The organisation applies for funding to prepare and manage the project and for travel and participation costs. A VET mobility project can increase the quality of initial and continuing vocational education and training (IVET and CVET) in Europe and strengthen the European dimension of teaching and learning.
VET schools, institutes, centres, community colleges, apprenticeship providers, national authorities, VET representative bodies, and other providers can apply. In the Irish context, a VET school, institute, or centre is
All of these activities contribute to achieving a number of objectives National Skills Strategy 2025
• Education and training providers will focus more on providing skills development opportunities that meet the needs of learners, society and the economy.
• The quality of teaching and learning at all stages of education will be continually enhanced and evaluated.
For an outline of other Erasmus+ opportunities and to receive our newsletters www.leargas.ie/newsletters
Léargas is the Irish agency that manages national and international programmes in youth work, education, and training, including Erasmus+, European Solidarity Corps and eTwinning.
E: info@leargas.ie W: www.leargas.ie Twitter: @leargas
education and skills report
79
Advertorial
education and skills report
The voices of children and students in the work of the NCCA
The National Council for Curriculum and Assessment (NCCA) advises the Minister for Education on curriculum and assessment for early childhood education, primary and post-primary schools. The Council's Strategic Plan 2022-2025 sets out the way in which that advice is developed, with a specific underpinning principle on child and student voice.
Our work respects and actively promotes the right of children and students to have their voices heard and included in shaping the curriculum and assessment advice we develop. Our engagement with young people is age- and stage-appropriate and takes account of how they communicate.
Young people from birth to 18 have much to tell us about what they enjoy and deem important in their learning experiences, and what they consider the purpose of these experiences to be. These reflections and aspirations play a key role in shaping curriculum and assessment in Ireland. A key marker of NCCA's commitment in implementing this principle is the inclusion of the Irish Secondary Students' Union (ISSU) as a member of Council. The next sections outline some additional examples of how the voices of children and students are included in our work across the early childhood, primary and post-primary sectors.
Early childhood and primary
NCCA is updating Aistear: the Early Childhood Curriculum Framework (NCCA, 2009) and is consulting with babies, toddlers, and young children to get their views. Babies and toddlers can be seen as 'hard-to-reach' groups, but they have the same rights to be heard under Article 12 of the United Nations Convention on the Rights of the Child (UNCRC) as older children. The challenge is for adults to find ways in which babies and toddlers can be given space, voice, audience, and influence (Lundy, 2007). This challenge is being met through an innovative study being carried out on NCCA's behalf, with the first report to be published early in 2023.
At primary level, consultations with children have been carried out on NCCA's behalf on both the Draft Primary Curriculum Framework (NCCA, 2020) and the Draft Primary Mathematics Curriculum (NCCA, 2022). Through both studies, children have very clearly expressed their views on how they want to learn. A key message from the children is the importance of being with their friends and learning collaboratively with those friends. The children want to learn through activity with concrete materials, for the most part, including learning through play in the senior classes as well as the junior classes. They enjoy a challenge when learning maths but want the time and space to work through the challenge, which gives them a great sense of satisfaction. Echoing these findings, children participating in the BEACONS event, From Purpose to Practice (NCCA, 2022), indicated that, in their view, "learning should be interesting, engaging and fun, and that the best learning happens when done with others" (p. 18).
80
Advertorial
A significant piece of research informing NCCA's work is the Children's School Lives longitudinal study (2019-2024), which explores children's lived experiences in primary school and their transitions from preschool into primary and on to post-primary school. Children are key stakeholders in the education system, and this study is providing information at scale to complement the consultations described in the earlier examples. There is significant activity underway on the redevelopment of the Primary School Curriculum, and the consultations described here are ensuring that children are influencing the shape and direction of curriculum provision in primary schools.
Post-primary
Student voice is also a key aspect of developments at post-primary level, with consultations with students a constant feature of how curriculum is shaped. A school-based review component was integral to the development of the Senior Cycle Review: Advisory Report (NCCA,2022) which informed the Minister for Education's announcement in March 2022 on the redevelopment of senior cycle. 41 schools participated in the school-based review, with approximately 2,500 students taking part in consultative workshops and discussions. The ESRI
analysis of student perspectives report yielded valuable insights and viewpoints, affirming the involvement of students in the process. Recent curriculum developments, such as the introduction of new senior cycle subjects, drama, film and theatre studies, and climate action and sustainable development, derive from these consultations with young people. Their voice will continue to inform how these new subjects are developed prior to their introduction to the curriculum, as well as other developments to come.
In addition to the consultative model of engaging with students, NCCA is currently involved in collaborative projects with two networks of schools: one with the Association of Community and Comprehensive Schools (ACCS) and the other with the Instructional Leadership Programme (under the auspices of Education and Training Boards Ireland). These projects have emerged from a successful Erasmus Plus project, Bridge to Learning: Student Voice at the Centre of learning and School Life. At the core of these projects is an acknowledgement of the right of young people to have a say in matters that affect them as enshrined in the UNCRC. These matters relate to the representative domain (e.g., student councils and other representative forums) and to their experience of learning, teaching, and assessment.
Conclusion
Children and students have a habit of asking the tough questions. This is certainly true of the young people involved in NCCA's work. Informed by the Lundy Model of Child Participation and based on the National Framework for Children and Young people's Participation in Decision Making (Department of Children, Equality, Disability, Integration and Youth, 2021), what becomes important is ensuring that the voice given to these perspectives reaches the necessary audiences to influence decision-making on a national level. A prospect made altogether more likely with the inclusion of a representative from the Irish Second-Level Students Union on the council, and continued engagement with the voices of children and students through ongoing collaborations and research.
T: 01 661 7177 E: info@ncca.ie W: www.ncaa.ie
81 education and skills report Advertorial
"Children participating in the BEACONS event, From Purpose to Practice, indicated that, in their view, 'learning should be interesting, engaging and fun, and that the best learning happens when done with others'."
education and skills report
Budget 2023: Education
Budget 2023 delivered a record total budget of €9.623 billion for the Department of Education, with highlights including the State funding schoolbooks for all primary students for the first time, a reduction in third-level student fees and €860
million for capital spending that will cover 450 construction projects.
In total, Budget 2023 showed an increase of €351 million from the 2022 allocation for the Department of Education, a 3.78 per cent increase from the €9.274 billion provided in 2022. Core spending rose from €8,344 billion to €8.720 billion, a 4.55 per cent increase, Capital spending rose from €792 million to €860 million, an increase of 8.59 per cent. The only area of the education budget to experience a decrease, not unexpectedly, was Covid-19 specific spending, which fell from €138 million to €45 million, a decrease of 67.39 per cent.
Primary education
The increased funding will be felt especially in primary schools, where the landmark move to provide free schoolbooks for all of the circa 540,000 primary students in the State will see Ireland catch up with many other education systems, including that of the North. The move is projected to cost the State €110 per child and €47 million annually.
Primary schools will also see a reduction in class sizes due to the
provision of an extra 370 primary teachers as a result of increased funding; from September 2023, pupil to teacher ratios will be reduced from 24:1 to 23:1. This measure, it is noted, is not the same as outright class size, but it is said that it will reduce class sizes. However, the State will still remain above the EU average class size of 20 despite this decrease in ratio; to achieve the average, it is projected that a ratio of 21:1 would need to be reached.
Special education
Budget 2023 has delivered a €13 million, or 85 per cent, funding increase for the national Council for Special Education, with the aim to "completely transform" the organisation. An additional 1,194 special needs assistants will be delivered via the budget, bringing the total to 20,368. 686 special education teachers will also be delivered through funding increases.
Third-level education
Third-level students will benefit from a one-time cost-of-living measure that
reduces the €3,000 student contribution to third-level fees by €1,000; long-term plans relating to fees will see families with incomes between €62,000 and €100,000 have their fees decreased by €500 permanently, households earning between €55,240 and €62,000 will have their fees capped at €1,500, and households earning more than €100,000 will see their fees revert to €3,000. These cuts will be the first cuts in the student contribution in 27 years.
Grant recipients received a one-off double monthly payment, ranging from €56.11 to €679.44 depending on the category, and all PhD students on SFI and IRC awards will get a one-off €500 cost-of-living payment before Christmas. Long-term grant reforms will see student grants increase by between 10 and 14 per cent from depending on family income from January 2023. The most common grant of €3,025 would thus rise to €3,225 in 2022/23 and €3,677 in 2023/24.
School building
The €860 million capital spending
82
9,000,000,000
8,000,000,000
7,000,000,000
6,000,000,000
5,000,000,000
4,000,000,000
3,000,000,000
2,000,000,000
1,000,000,000
0
2023 Current - coreCurrent - Covid-19Total current Capital Total budget
budget will go towards supporting 450 construction projects, 300 of which are currently in the construction stage, and another 150 that are said to be at either the advanced design or tender stage. The construction programme is set to have an especial focus on the deliverance of additional capacity for special classes, particularly in special schools and at post-primary level.
Teachers' unions' response
Speaking after the unveiling of the budget, Irish National Teachers' Organisation general secretary John Boyle, representing primary teachers, said that it "tackles the immediate over the important – while schools and families require immediate financial support, we must ensure Government keeps their promise to support primary school children in the aftermath of the pandemic. In that regard reducing primary class sizes to the EU average of 20 pupils remains key." Boyle also welcomed the increase in school funding provision but stated that the budget "does not appear to address the chronic underfunding of primary education through permanent changes to the capitation grant".
The Association of Secondary Teachers in Ireland (ASTI) said that the budget failed second-level education and would "do little to address the chronic underfunding of second-level schools and large class sizes". "Ireland is
2022
Allocation2022 Budget2023
9.6 billion total budget for the Department of Education 540,000 primary pupils to receive free school books 986 additional teachers in 2023
€
ranked in last place out of 36 OECD countries for investment in second-level education as a percentage of GDP," ASTI President Miriam Duggan said.
"Despite this underfunding, Budget 2023 fails to address core funding for schools and does nothing to reduce our large class sizes. The funding gap experienced by second-level schools is not new and arose long before current inflationary increases. It is due to prolonged underfunding, and it is the reason why so many second-level
schools are forced to fundraise to try to meet day to day operational costs.
83
education and skills report
370
20,368
450
€100million
"Schools continue to welcome more students every year, including students from Ukraine and other challenging situations. Teachers are addressing increasingly complex societal issues which are impacting on young people on a daily basis. Classes with 26 to 30 adolescents are the norm at Junior Cycle. Schools are buckling under the strain of increased demands and expectations." €
additional primary teachers
special needs assistants in 2023, an increase of 1,194
school building projects
in one-off funding for increased running costs
1,000 reduction in the student contribution to third-level fees
Education budgetary
overview,
versus
The need to change cybersecurity for the next generation
reinforced at an early age, in the same way a parent, and a wider circle of people, teach a child to cross the road.
education and skills report
Hidden dangers, such as those on the internet, are often difficult to appreciate without some form of visualisation.
Take, for example, road safety: if there was no visualisation – cars whizzing past you when you want to cross the road, then it could be challenging to teach someone road safety as a pedestrian or a driver.
The effects of suffering a cyber-incident can be devastating, especially on a personal level, and there is likely to be one consistent issue: a degradation in the mental health of the victim. Whether the issue is trolling, cyberbullying, fraud, identity theft, grooming, credential theft, or one of the many other variants of cyberthreats, there are likely to be consequences, mental health consequences that are hidden from visual identification.
For instance, many victims of romance scams are extremely embarrassed to admit they have been duped. Even just talking to friends and family could be valuable on the path to dealing with the issue and recovering. A similar feeling
may apply when someone clicks a phishing link and gives away their login credentials or personal information; there is likely to be a feeling of 'how stupid was I?!'.
Safety as a default mindset, such as road safety, comes by instilling the consequences and understanding the dangers from a very early age, using guidance that is repetitive and comes from multiple sources.
Imagine the scenario where, by default, no one clicks a link in an email without hovering over it and visually inspecting the address, or the scenario where just a password is unacceptable and stronger authentication is always sought out and turned on. To achieve this level of instinctive protection, the habit would need to be taught and continually
We have seen the introduction of technology that has truly changed the way we communicate, behave, work, etc. Importantly, we have seen technology mature with safety and security mechanisms being added, and an evolution of cybersecurity, and unfortunately, also an evolution of cyberthreats. However, this does not mean we can't educate the next generation to have the core default instincts and skills.
To look at just one example, 90 per cent of cyber-incidents start with a phishing attack. It is also the number one issue for companies regarding cybersecurity. If any of you have been mandated to take cybersecurity awareness training, then you will know a large section of this revolves around the identification of a phishing email and how to spot fraudulent links and avoid clicking on them.
If we want to solve the number one cybersecurity issue for businesses, then we need to have a generation on its path to the workplace that have a default mechanism instilled in them that stops them from just clicking on a link or handing over their credentials. A reaction where they immediately understand the danger, have a visualisation of it, and take a safe approach.
To achieve this dream where phishing no longer exists, with no one ever being duped, would require a sea change in the use of technology at an early age, and in how we guide kids and what they are taught as a core fundamental skill.
T: 053 914 66 00
E: info@eset.ie W: www.eset.ie
Healthy habits that are instilled and nurtured at an early age bring lifelong benefits; the same applies to good cybersecurity habits.
84
Advertorial
education and skills report
ETBI: Careers of the future need green skills today
Green skills for life, construction, and careers
"The first challenge is to raise awareness of the issues and the part we can all play to tackle them," says Timlin. "Green Skills for Life focuses on educating and enlightening FET learners of all ages and backgrounds."
A key goal for the construction industry in Ireland is to eliminate the carbon footprint of building homes and, through retrofitting, to deliver NZEB (nearly zero energy buildings) with A or A+ energy ratings as standard.
Fiona Maloney, ETBI Director of Further Education and Training Support Services says that ETBs are ideally positioned to meet the skills demands of the green economy: "We are delivering over 50 green skills programmes across our sector and have established NZEB Training Centres of Excellence in Laois and Offaly, Waterford and Wexford and Limerick and Clare ETBs, with centres in Dublin and in Mayo, Sligo, and Leitrim to follow.
The prevailing mood that emerged from COP27 in late 2022 was a sense of urgency. Ireland's ambitious Climate Action Plan commits us to a legally binding target of net-zero emissions by 2050, with a 50 per cent reduction by 2030. In line with national and EU directives to provide the skills necessary to meet the challenges of the green economy and to tackle climate change, Education and Training Boards are already rolling out dedicated courses, modules and micro qualifications for
learners and trainers. ETBs are also developing new programmes on an ongoing basis in partnership with employers across Ireland.
The SOLAS Green Skills Unit is responsible for progressing the green transition in further education and training (FET) and Assistant Manager Gráinne Timlin says that "through FET training we are already taking action to upskill learners in green skills and to make 'careers of the future' a reality now."
"We are working closely with our colleagues in SOLAS to implement the Green Skills for FET 2021-2030 Roadmap to ensure learners and trainees across Ireland have the skills they need to power Ireland's green economy and to access new career opportunities."
Beyond the construction sector, courses in areas such as biodiversity, renewable energies and clean transportation are also being rolled out at ETBs across the country.
Timlin says the challenges of the green transition are also creating exciting career opportunities: "From agriculture, technology, fashion, ecology, and right
86
Education and Training Boards Ireland (ETBI) are at the forefront of a learning revolution which is already playing a pivotal role to achieve these climate goals as well as future proofing our education strategy.
Advertorial
ETBI are delivering over 50 green skills programmes to equip learners for careers of the future, today.
through the programme of existing FET courses, there are flexible opportunities for employees, employers and the unemployed to upskill in this essential area."
A just transition for everyone
Access and inclusion are central to the provision of Further Education and Training in Ireland, with 16 ETBs across the country making FET available to all regardless of age, gender, socioeconomic background, or educational attainment.
Maloney says that in this sense, FET is perfectly aligned with the just transition to a green economy: "ETBs are at the heart of every community in Ireland and with such strong links with employers and networks in every region, they are ready to support those in vulnerable sectors to take advantage of the new opportunities this transition will present.
There is a pathway for everyone and with expert careers guidance accessible to all, we will ensure that everyone finds the right path for them and a future in Ireland's green economy."
Careers of the future include:
• agricultural meteorologist;
• carbon-trading analysts;
• renewable energy technicians;
• marine operatives;
• heat pump installer;
• domestic solar PV installer; and
• retrofit engineer.
Find out more about Green Skills courses at www.solas.ie/programmes/green-skills/ or through your local ETB.
OMG! What a Complete Education!
Launched in October 2022, the complete first series of the new Further Education and Training (FET) podcast, OMG! What a Complete Education! is now available on all podcast platforms. The series was developed by Education and Training Boards Ireland (ETBI) with co-hosts and authors of the Oh My God, What a Complete Aisling books, Emer McLysaght and Sarah Breen.
Throughout the series, McLysaght and Breen – who first met as students at Ballyfermot College of Further Education – met with FET learners and
What a
education and skills report
staff from Education and Training Boards, as well as a guest appearance from Minister for Further Education, Simon Harris TD. Drawing on the personal experiences of learners from across Ireland, each episode shines a spotlight on the range of pathways available, from apprenticeships to PostLeaving Certificate courses, outdoor education to adult and community learning.
Co-host Sarah Breen says: "It may sound cliché, but the voices on this podcast are inspirational because they are regular people who found a way to change their lives and get where they wanted to be through education and training opportunities provided by their local ETB.
"We all know someone who didn't have a great experience in school, did not get
the points they needed for a particular course, or never got any qualifications at all. Speaking to someone like Liam Cleere who studied through Tipperary ETB, on the podcast, you realise that there is always a way back to education. Now an aspiring author, Liam could not really read or write when he left school but listening to him read into the microphone, something which he had written himself – it is powerful."
OMG! What a Complete Education! was created by ETBI in partnership with SOLAS. The series is available on Spotify, Apple, and all podcast platforms.
E: info@etbi.ie W: www.etbi.ie
87
"It may sound cliché, but the voices on this podcast are inspirational because they are regular people who found a way to change their lives and get where they wanted to be through education and training opportunities provided by their local ETB.
Advertorial
OMG!
Complete Education!, hosted by Emer McLysaght and Sarah Breen, is now available on all podcast platforms.
education and skills report
Internationalisation of skills required for Irish labour market
In 2016, the Department of Education published the National Skills Strategy, with the aim of upskilling the workforce in the State. Ireland's economy was in recovery mode from its descent into recession. Indeed, the strategy was published just three years after the Troika relinquished its influence over the economy.
Currently, the strategy falls under the aegis of the Department of Further and Higher Education, Research, Innovation and Science.
No progress report has been published, meaning that its success rate will not be on the public record until at least 2025. The report's predecessor was successful in reaching targets for people with Level 4-5 qualifications, education progression rates, and the number of learners completing senior cycle at second level, with the number of people aged 20-24 achieving a Level 4-5 qualification at 94 per cent in 2014.
Across all sectors, there is a common demand for people with language skills, pointing to a need for a higher emphasis on foreign languages in the
education system. This process began with a pilot in primary education in 2021 as part of the Foreign Languages Strategy 2017-26, which Education Minister Norma Foley TD stated was a "success". The Department of Education has stated that this will be a requirement in future curricula.
Additionally, an OECD report estimates that the 65 and over population in the State will rise to over 43 per cent of the population by 2030, meaning that almost half of the adult population will require some form of state support and will not be able to contribute to the labour market.
The manufacturing sector, according to the strategy document, requires experienced scientists and engineers.
The medical sector, meanwhile, emphasises the need for upskilling among mechanical, automation, and validation engineers; polymer technicians; software engineers; quality engineers; and regulatory compliance experts.
The ICT sector will require more skilled workers in core technological skills such
as software development, cloud, security, networking, and infrastructure, with further requirements of a combination of technical skills with business, analytical, and foreign language skills as the job requirements become more complex.
The freight, transport, and logistics sector has growth potential in Ireland. With export revenues having increased by roughly €60 billion since the publication of the strategy, there will be further need for graduates in management, planning, and ICT, as well as skilled warehouse staff and HGV drivers.
As the economy continues its dynamic transformation towards more digitisation with further requirements to ensure that climate change is being tackled, the National Skills Strategy provides a broad-based foundation from which Irish workers can adapt to their everchanging surroundings. However, given the changes that have occurred due to the Covid-19 pandemic, more in-depth measures will need to be taken given the effect of the pandemic on industry throughout the State.
88
As the National Skills Strategy nears its final two years of implementation, the economic context in which it was published is vastly different to the current circumstances, with further changes in the labour market having been catalysed by the Covid-19 pandemic.
Data driving smart procurement in education
Gurnett is an advocate of customer focused procurement solutions, embracing green, sustainable best practice, and digitalisation to drive change and develop the national procurement model to meet the needs of the education sector. The EPS operates as the sector sourcing hub on behalf of the Department of Education under the centralised procurement model.
EPS provides sourcing services to all public sector bodies (PSBs) for the following categories of expenditure: • laboratory/research diagnostics, services and equipment; • agriculture, veterinary and library goods and services; and • education strategic.
Procurement is a key element of the Government's Public Service Reform Programme. Education spends approximately €1 billion on goods and services annually and it is essential that this money is spent in a way that achieves maximum value for money, adheres to government policy, national guidelines, and EU directives for procurement, while providing a sustainable delivery of services for the taxpayer.
Government's procurement reform programme has entered a new phase, with green public procurement in the spotlight. Embracing sustainable business practice is now a must for organisations and core to what we do here at EPS. We are committed to supporting our clients deliver on their green mandate, taking a strategic, data-driven approach.
The multi-annual procurement planning model (MAPP) approach of "consolidate, aggregate, analyse" enables organisations to leverage data-driven procurement practices to their full extent.
MAPP facilitates the gathering of insights from sustainability data to power positive change while increasing value for money. Data is collected annually producing a three-year rolling multi-annual procurement plan. The education sector aggregated MAPP data provides the Office of Government
Procurement (OGP) with a detailed list of education's defined future requirements over a three-year period.
Managing the entire procurement and sourcing process from end-to-end entails oversight of multiple factors and subprocesses. It is a vital forecasting and planning tool for education institutions as it allows them to collate and aggregate their predicted spend data for the forthcoming three years including details on current contract status, contract expiry dates, and number of procurement transactions per year.
In a data-driven world, procurement planning is now more important than ever. Organisations are increasingly turning to data-driven procurement planning in order to improve their purchasing processes.
Harnessing the power of analytics and analysing past purchase data, we can identify trends and patterns that help make more informed decisions to ensure that our procurement needs are met in as timely and cost-effective a manner as possible.
This approach can lead to cost savings and a better overall procurement process ensuring compliance with the procurement aspect of the Code of Governance and achieving best value for money for the taxpayer.
T: 061 233 715 E: info@educationprocurementservice.ie W: www.educationprocurementservice.ie
Gurnett, Director and Head of
for the Education Procurement Service (EPS) speaks to eolas
data driven procurement planning.
Philip
Sourcing Education
about
89 education and skills report Advertorial
Protecting the reputation of Irish education and qualifications
education and skills report
Post-Covid, the education and training system is finding its feet, returning to an in-person, face-to-face learning environment while trying to retain the new technological good practice adopted as a result of the enforced shift to online teaching and learning.
One of the most dramatic and visible impacts of the pandemic in education and training has been the move to online technology to support teaching, learning and assessment. While the use of this technology has brought many benefits in terms of accessibility, it has also facilitated an increase, globally, in the phenomenon of online or contract cheating.
In addition, the international education sector in Ireland was adversely affected by pandemic restrictions on
international travel, an impact that was particularly stark for English-language education providers.
Protecting international learners
QQI will play its part in the recovery of this sector through the awarding of a new international education quality mark (IEM) for English-language schools and higher education institutions. This will provide greater confidence to international students coming to study in Ireland; confidence that they will receive a high-quality learning experience; confidence that they will be protected should their course be unexpectedly withdrawn, or their provider cease trading.
Achieving the IEM will require private education providers to be compliant with due diligence criteria established by QQI. They will have to demonstrate that they have robust quality assurance procedures and can provide high quality education and training programmes. This will ensure that only reputable providers who are genuinely committed to meeting the needs of their learners will receive state recognition of their services.
It will require higher education institutions to be transparent and ethical in how they promote their courses and how they support these learners by safeguarding their wellbeing and integrating them within their campuses.
These efforts will all help to strengthen
Against a landscape of accelerating digital change, Quality and Qualifications Ireland (QQI) is committed to maintaining and improving the learner experience while also supporting the integrity and reputation of the Irish education and qualifications system.
90
Padraig Walsh, CEO, QQI; Helen Gniel, Director, Higher Education Integrity Unit, TEQSA; and Simon Harris TD, Minister for Further and Higher Education, Research, Innovation and Science, at the launch of the Global Academic Integrity Network.
Advertorial
Ireland's reputation as a preferred destination for international learners wishing to learn English or undertake higher education courses. Application for the international education mark is due to open in early 2023.
The rising threat of contract cheating
Technological developments have driven a change in both the nature and sophistication of academic cheating and in the level of detection rates, both nationally and internationally. Contract cheating often consists of online companies, regularly referred to as 'essay mills', selling learners bespoke assignments, essays, and even theses which learners then submit for assessment as their own work.
A recent UK research study found that as many as one in seven recent graduates may have paid someone to undertake an assignment for them. QQI aims to protect learners by promoting and maintaining awareness of academic integrity and monitoring those who seek to undermine it.
A battle on many fronts
Combatting this threat to the reputation of Irish learners and their qualifications calls for a multi-pronged approach which engages all stakeholders in understanding what is required of them: students in understanding the damaging effects of cheating to the integrity of their qualification; institutions in creating a culture which deters cheating and developing robust systems and student supports to counteract cheating; and publishers and advertisers in navigating their new legal obligations in relation to advertising content for these illegal services.
Regulation
Enabling learner cheating is a threat to the integrity, standards and reputation of Irish education and training, and can also do great damage to the individual learners who use these services, particularly certain categories of vulnerable students. QQI has been working with social media platforms to educate them on detecting advertising of these illegal services and working together to disrupt their business models by curtailing online advertising.
The Global Academic Integrity Network (GAIN) recently launched by QQI and Australia's Tertiary Education Quality and Standards Agency (TEQSA), is working with similar agencies around the world to stamp out commercial cheating operations which have flourished during recent years as online learning has become more prevalent.
A national conversation
QQI has been instrumental in establishing the National Academic Integrity Network (NAIN) which brings together public and private higher education institutions and learner representative bodies. The network helps members engage effectively with the challenges presented by academic misconduct and contract cheating, embed a culture of academic integrity within their institutions, and access national resources and tools.
A global problem
The Global Academic Integrity Network (GAIN), recently launched by QQI and Australia's Tertiary Education Quality and Standards Agency (TEQSA), is working with similar agencies around the world to stamp out commercial cheating operations which have flourished during recent years as online learning has become more prevalent.
Backed by the United Nations Educational, Scientific and Cultural Organisation (UNESCO), higher and further education regulatory agencies and other organisations with an interest in maintaining academic integrity are collaborating to protect the reputation
of national skills, qualifications, and education systems.
GAIN will share experiences and resources to help other jurisdictions develop legislation, regulatory approaches and frameworks that penalise facilitating and advertising of cheating services.
2023 and beyond
Key strategic priorities for Quality and Qualifications Ireland in 2023 will be the implementation of all the measures available to ensure that the learning experience of our students, whether national or international, will not be overshadowed by the threat of online cheating services and that they can be assured of the quality of our education and training system, whether further, higher or English-language education.
In short, we aim to give all people –learners, educators, and employers –confidence in the Irish education and training system and the qualifications they award.
T: 01 905 8100
W: www.qqi.ie
91 education and skills report Advertorial
education and skills report
Three pillars of digitalisation for schools
The strategy, which has been put in place in the context of the EU Digital Action Plan, seeks to build on the previous digital strategy for schools, which dictated policy between 2015 and 2020.
In the strategy document, the visions and aims of are stated as:
• ensuring all learners will be supported to reach their full potential;
• supporting pupils to have appropriate and equal access to digital technologies, in particular individuals at risk of educational disadvantage and those with additional learning needs;
• digital technology becomes as much a core part of the education journey as basic literacy and numeracy skills are, with a deliberate and increased use of digital technology in teaching, learning, and assessment; and
• teachers are supported to further embed the use of digital technologies in their classrooms to support all learners in a safe, responsible, and ethical way.
In the previous strategy, €210 million was spent on overhauling the ICT infrastructure in place in schools in the State, in addition to an allocation of €13 million in broadband connectivity enhancement.
As a result, all post-primary education settings in the State, according to the strategy document, are equipped with high-speed broadband with a connectivity speed of at least 200 Mbps. This has not been achieved in primary schools, where there is an aim of getting connectivity of at least 100 Mbps for all primary school settings by 2023.
Upon introduction of the new strategy, Minister for Education Norma Foley TD stated: "The digital landscape is a dynamic and changing environment. The strategy indicates the need to build awareness of new and emerging technologies and how we must be prepared to take advantage of the benefits and opportunities they bring."
92
Published in April 2022, the Digital Strategy for Schools aims to enhance the role of technological devices and ensure that the next generation of students is equipped with the necessary skillset for Ireland to prosper in a digitalised world.
Pillar 1
The strategy's first pillar is that of supporting embedding digital technologies in teaching, learning, and assessment.
"Supporting our teachers to strengthen their confidence and competence in using digital technologies in teaching, learning and assessment in schools, to ensure all learners develop the digital skills necessary to navigate a complex digital world," the document states.
It further outlines a role in tandem, aimed at supporting school leaders to guide and build capacity and increase teacher confidence through appropriate teacher professional learning (TPL). It is hoped that this will ensure appropriate developmental learning experiences for all learners to enable them to develop adequate digital competence.
It is additionally explained that these innovations will be informed by learning from the experience of Covid-19 to better realise the effective use of digital technologies in teaching, learning, and assessment across the entire curriculum.
Pillar 2
The second pillar is that of ensuring that the required digital infrastructure is in place to ensure the adequate digital upskilling required for the next generation of school pupils.
The strategy aims to commit to "build on the progress made to date" to ensure that all schools are served with high-speed broadband connectivity and appropriate infrastructure to support teachers and learners to realise the benefits from the use of digital technologies in classroom activities including technical support and procurement frameworks.
The importance of strong digital infrastructure was highlighted during the Covid-19 pandemic when students had to learn remotely. Whilst there has been calls for further funding of €200 million to support digital infrastructure, in addition to the €210 million allocated in the previous strategy, the nature of how students will be able to avail of the kind of technology used during the pandemic lockdowns is not precisely outlined.
Pillar 3
The third and final pillar of the strategy is a long-term one, ensuring that the policy, research, and digital leadership required is in place in order to ensure that the strategy is adaptable to the emergence of new technologies.
The first objective is to establish sustainable policies to guide further progress for the use of digital technologies in schools, leveraging work underway in other relevant strategies to ensure that all learners develop their digital competence.
Supporting schools and school leaders in terms of the ethical and safe use of the internet will be key to this, and will require engagement with schools on how to disseminate ongoing research to identify opportunities and challenges of emerging technologies for the education sector.
This will include adoption of relevant international and EU initiatives including the EU DEAP in order to ensure that "research and supports can be considered and adopted for the Irish context" and disseminated to the system.
The document further outlines aims to enhance the use of technology in ensuring that parents can feel closer to the process and that communication can be facilitated in an efficient manner without adding undue workload to the student.
"The digital landscape is a dynamic and changing environment. The strategy indicates the need to build awareness of new and emerging technologies and how we must be prepared to take advantage of the benefits and opportunities they bring."
93 education
Norma Foley TD, Minister for Education
and skills report
education and skills report
Opening opportunities
Working together with business
By pursuing a partnership approach, The Open University in Ireland is able to really home in on local needs. With over 200 associate lecturers and an office in central Dublin, D'Arcy and his team are well positioned to talk to businesses across Ireland, discussing their skills needs and operational challenges.
They work closely with important institutions such as the Institute of Directors, various chambers of commerce, and AONTAS, Ireland's national adult learning organisation, as well as liaising with the Government. These partnerships enable the university to develop learning that targets specific local needs, creating better outcomes for employers, for students and for the economy in general.
Ever since its foundation in 1969, The Open University in Ireland has had a very strong presence across the island. In 1997, its headquarters were opened in Dublin and The Open University in Ireland now uniquely services students in every county, north and south.
Ask D'Arcy for three reasons why The Open University in Ireland is good for local employers, and he finds it hard to limit himself to just three. He talks about The OU's expert knowledge and understanding of business needs, skills needs, and economic pressures, both from a local and a national perspective.
"We understand the economic landscape, the types of jobs people are doing and the types of jobs that are coming around the corner. We are really close to employers and collaborate with them to meet local employment needs, making sure that we have a skilled workforce coming through. We also do a lot of market research as a university, looking at curriculum needs and other ways we can support people and the business they work in."
The Open University in Ireland also works in close collaboration with its colleagues in Northern Ireland and across the rest of the UK. D'Arcy explains the over-arching challenges and needs in Ireland are very similar to those in the UK. One challenge in particular stands out as a pressing need for employers in every sector and in every location: skills shortages.
"There is a dearth of available talent, which is why upskilling programmes are very popular. We engage with businesses about what their training needs are on a day-to-day basis. With the speed of tech change, there is an understanding in most businesses that they need to continually invest in the learning that their staff do."
John D'Arcy, National Director of The Open University (OU) in Ireland, speaks to eolas Magazine about the local landscape and how the university is meeting the needs of both employers and employees simultaneously.
94
John D'Arcy, National Director of The Open University in Ireland
Advertorial
Providing education employers need
Due to its close ties to employers and to industry, The Open University in Ireland is able to adapt its curriculum very quickly and bring new courses to market in a timely manner. The OU has always been a pioneer in the provision of short, modular courses, and this is now extending to new short courses such as its micro credentials. These accredited courses are typically 10-12 weeks long and the credits can be banked against further study. They have proved very popular with employers and employees, enabling rapid upskilling and reskilling. They can also be very easily updated to meet changing demand. "I am a big fan of these shorter courses," says D'Arcy. "They are cost effective, fresh courses that are industry relevant. They are produced at speed, refreshed at speed, but still quality assured."
A substantial number of employers and employees have taken advantage of these courses, particularly during the pandemic, with courses in management and leadership and digital skills proving particularly popular. Employers can use the courses to help employees move their careers in a new direction, to progress into their first management role or to plug certain skills gaps. For some of the courses, particularly those in the digital space, The OU has partnered up with industry leaders such as Cisco, Amazon Web Services, and the Agile Foundation to create courses on topics such as cyber security and machine learning.
Longer, more formal OU courses are also highly regarded, such as its MBA post graduate degree, one of only four to be triple accredited in Ireland. D'Arcy says the feedback from students on the MBA programme is very positive. Students like the flexibility of studying with The OU, while also enjoying support from a personal tutor and the ability to network with people from around the world on a daily basis.
The value of flexibility
The OU's mission has always been to widen access to learning and make it easier for people to learn, whatever their location and whatever their circumstances, and that still stands. It pioneered remote learning back at its inception over 50 years ago and when Covid-19 struck in 2020, there was an even greater appreciation of the value of remote, online learning.
The flexible nature of OU study is a big draw in Ireland, partly because it enables employers and employees in rural areas to access learning that might otherwise be denied to them. "Ireland is still a very rural island, but we bring the best of global education to people's fingertips," D'Arcy states, adding: "People living in rural quarters can access high quality learning. Perhaps more than anything else, our flexibility has been our real calling card and advantage."
Lots of students leave Ireland each year to study, with only a fraction returning. D'Arcy hopes The OU can reduce that 'brain drain' by enticing them to stay in Ireland and study remotely through The OU. The Open University in Ireland currently has 157,000 OpenLearn students in the Republic and a further 101,000 in Northern Ireland. D'Arcy would like to see those numbers continue to grow.
Maureen Fox, Business Relationship Manager
E: maureen.fox@open.ac.uk
W: www.open.ac.uk/republic-of-ireland
95 education and skills report Advertorial
education and skills report
QS World University Rankings 2023
Seven of Ireland's top 10 universities declined in the QS World University Rankings for 2023. For instance, the University of Galway declined by 38 places and is now ranked as the 276th best university in the world. One bright spot was Trinity College Dublin, which retained its position as Ireland's best ranked university, is now ranked in the top 100 universities in the world.
Trinity College Dublin
Rank: 98 ↑ 3
Status: Public Research output: Very high Academic faculty staff: 1,383 Total students: 16,019
University College Dublin
Rank: 181 ↓ 4
Status: Public Research output: Very high Academic faculty staff: 1,852 Total students: 22,484
Queen's University Belfast
Rank: 233 ↓ 24
Status: Public Research output: Very high Academic faculty staff: 2,001 Total Students: 21,856
University of Galway
Rank: 276 ↓ 38
Status: Public Research output: High Academic faculty staff: 1,991
Total students: 15,184
The rankings are determined by key indicators which include academic reputation, staff-to-student ratios, citations per faculty, and the international dimensions of the workforce and student populations.
University College Cork
Rank: 303 ↓ 27
Status: Public Research output: Very high Academic faculty staff: 1,592 Total students: 16,235
Dublin City University
Rank: 471 ↓ 22
Status: Public Research output: High Academic faculty staff: 1,311 Total students: 14,164
University of Limerick
Rank: 531-540 ↓
Status: Public Research output: High Academic faculty staff: 989 Total students: 14,589
Ulster University
Rank: 601-650 =
Status: Public Research output: High Academic faculty staff: 1,186 Total students: 22,848
Maynooth University
Rank: 801-1000 ↓
Status: Public Research output: Very high Academic faculty staff: 704 Total students: 11,766
Technological University
Dublin
Rank: 801-1,000 =
Status: Public Research output: High Academic faculty staff: 1,417 Total students: 21,363
96
University of Galway. Trinity College Dublin.
Technology and innovation report
Building Borderless Business
Sponsored by
technology and innovation report
Aiming for Ireland to be among world's top 10 digital states
Minister of State at the Department of Public Expenditure and Reform with responsibility for Public Procurement and eGovernment Ossian Smyth TD discusses about Ireland's plans to place itself among Europe's leading states in the field of digital government.
"By the end of this decade, my ambition is that Ireland will be consistently ranked among the top three EU digital nations and ranked amongst the top 10 nations in the world," Smyth says. "Over the last few years, the pandemic enforced such fundamental changes to how we live and work that we have come to the point that much of what we did during that period is now a routine part of our lives. Technology has been a key enabler to those changes."
The Government has seen a "seismic shift" in the availability and uptake of digital government services since the pandemic, with two particular lessons for the Government in the reaction to decisions taken at the time. The first, Smyth says, was that the people of Ireland showed a willingness and ability to quickly adapt to the digital world when the importance and benefits of doing so are made clear to them. "It was great how quickly we adapted to using the Covid app, for example," he says. "People were booking their vaccination appointments online and downloading their certificates to their phone wallets and that allowed us to travel and to avail of hospitality in pubs and restaurants."
The second lesson for Smyth was that the Irish people showed trust in their government in "making the decisions in the best interests of the State". "In fact, Ireland has been ranked first for public trust in the use of data by governments in the OECD trust survey," he says. "This is of significant importance to this debate around digital government."
Harnessing Digital and Connecting Government 2030
Of course, developments in digital government in Ireland take place against a backdrop of the European Union's Digital Decade. February 2022 saw the Irish Government lay out its response to the European plans, Harnessing Digital: The Digital Ireland Framework. The framework "aims to drive and to enable the digital transition across the Irish economy and society" and has four pillars: digital transformation of business; digital infrastructure; skills; and digitisation of public services. Following in March 2022 was Connecting Government 2030, the digital and ICT strategy for Ireland's public services.
98
Building Borderless Business
"We have really developed well against our expectations for digital government over the last number of years and we have put in place the foundations of a strong digital government ecosystem," Smyth says. "In the coming years, we want to see ease of access to government services and to have greater integration across those services. Connecting Government 2030 is going to help us to achieve this ambition. A key focus is going to be on delivering public services taking a digital by default approach through collaboration with stakeholders and the public. We are building towards 90 per cent online uptake of key public services in line with the targets set out by the EU.
"Digital transformation means redesigning and rebuilding of government processes and services, across organisations if necessary, and then using digital information and data to create an integrated experience for our people, businesses, and policymakers. This will require digitalisation, underpinned by ICT, to be part of policymaking and public service design processes from the outset in order to achieve more user-focused outcomes. We have to ensure that, in digitalising our public services, that we take user first and business first approaches. The benefits of a digital transformation of public services to both individuals and businesses are by now well established; these include efficiency, transparency, trust, and accessibility. There is also a correlation between strong digital government performance and strong digital economies."
Connecting Government 2030 identifies six priority action areas: a human-driven digital experience through understanding users and their needs; harnessing data effectively; government as a platform, driving service simplification to "an ecosystem of standards, resources, and tools including the amplification of the once-only principle; evolving through innovation; strengthening digital skills and developing new capabilities and skills; and
focusing on governance and leadership will drive digital transformation across government.
"In taking forward Connecting Government 2030, it is important that we listen to the voices of our stakeholders and understand their preferences and wants," Smyth says. "That is why, in the last few months, I have been seeking out people's views through a public consultation on their experiences and priorities for digital government services. I expect that we are going to get some interesting insights and feedback, which will allow us to formulate our plan for the coming year. In gathering those opinions, we did not just advertise for people to come to us, we went to them to ensure that we would not be limited in our sample. We asked people what areas were working well, and which areas needed improvement."
'Nobody left behind'
Smyth also says that the digital by default approach "does not mean digital only" and, to that end, his department is working in conjunction with other departments to develop a digital inclusion roadmap that will, along with the extended access to the internet provided under the National Broadband Plan, ensure that "nobody is left behind". Those who cannot or do not use the internet will be "better served through focused supports, including skills, infrastructure, and assisted digital supports, with consideration of the most appropriate service delivery channels and the development of clear consenting protocols".
Concluding, the Minister of State looks to the future with a sense of optimism and ambition for Ireland's digital government transformation: "The coming years will all be about building on our strong foundations and creating a world-leading digital government service. We will be implementing Connecting Government 2030 and it will take all of government to deliver its ambitious outcomes."
technology and innovation report
99
Building Borderless Business
"A key focus is going to be on delivering public services taking a digital by default approach through collaboration with stakeholders and the public. We are building towards 90 per cent online uptake of key public services in line with the targets set out by the EU."
Minister of State Ossian Smyth TD
The intersection of technology and customer experience in the public sector
technology and innovation report
Martin Ryan, Managing Director of Fexco Managed and Advisory Services, and David O'Brien, Fexco's Chief Technology Officer, speak to eolas Magazine about how innovation and technology can underpin improved customer experience in the public sector.
The public sector in Ireland has made excellent progress in digitally transforming its services in recent years.
In early 2022, the analyst consultancy firm, Gartner, claimed that Ireland was the fastest growing country in the world in terms of uptake and usage of digital ID accounts. According to the Department of Social Protection as of early 2022,
over three million people had registered for an account on the MyGovID platform. This progress is further bolstered by Ireland retaining its fifth place in the EU Digital Economy and Society Index (DESI) for 2022, this index rated Irish citizens' good grasp of digital skills, and, more importantly, reports that in digital
100
Martin Ryan, Managing Director of Fexco Managed and Advisory Service.
Advertorial Building Borderless Business
public services, Ireland is a top performer, with a services provision score of 95 per cent.
Building on the successes of the past
Building on that success, the public sector must now focus on the future trends that will drive, grow, and protect customer user experience, and build this into their business, ICT, and digital strategies.
This ambition is clearly laid out in the Connecting Government 2030 strategy, which sets out a more co-ordinated approach to deliver digital government to benefit both society and the broader economy. This strategy framework builds on the success to date but departs from previous government strategies by recognising that we must ensure that in digitising our public services we take a 'user first' and 'business first' approach.
In short, the public service in Ireland must now harness digitalisation to fully transform how people, businesses, and policymakers interact, ensuring interoperability across all levels of government and across public services. Fortunately, the public sector can look to examples in the fintech sector of successful transformation of services that addressed both the needs of the user and the business.
Fexco is one of Ireland's most successful and respected multinational financial and business services providers. As well as a deep heritage in fintech and financial services, Fexco has over 30 years' experience in delivering a full suite of managed services from front-office customer management services, backoffice administration services and transformation, product creation and digital services with niche experience in areas such as grant administration, energy support services, field management services, and regulated services for both the public and private sectors.
"It is from this in-depth practical experience of operating full end-to-end managed services that we know what works. It is easy for organisations to be drawn to the latest technology fads without fully understanding what business challenges they are trying to address," says Ryan.
"This is entirely understandable so as not to miss the perceived benefits of this new solution to a fundamental problem. Our advisory and operations approach is one of rapid discovery into business challenges, mostly from a customer perspective, before embarking on any technology play," he adds.
"This is particularly important nowadays, where demands and expectations from consumers of public services are at an all-time high, to support them through challenging times for the country, and the world, and where speed and agility is required."
sentiment and the ease of using a service, are the most important aspects of any service. "In the public sector, that could be anything from citizens or businesses applying for grants; paying taxes; managing their state savings products; accessing advice and accurate information; or availing of supports available. Once those challenges are understood, the selection of best-in-class technology comes into scope," Ryan adds.
As a business that processes upwards of €34 billion in transactions per annum and manages over five million customer interactions per annum, Fexco is underpinned by that best-in-class technology.
Fexco believes that focusing on the customer, and in particular their
"We have a strong capability in building, operating and supporting the delivery of complex mission critical technology
Simplifying complexity to focus on the end user
101 technology and innovation report Advertorial Building Borderless Business 4
David O'Brien, Fexco's Chief Technology Officer.
technology and innovation report
platforms for both Fexco products and those of Fexco partners, including the administration platform of one of the largest government-backed state savings products in prize bonds which is managed via a joint venture between An Post and Fexco on behalf of the National Treasury Management Agency (NTMA)," explains O'Brien.
"Having secure, compliant, and robust technology is now an expectation, not a desired feature, and therefore the differentiator must be user experience. Both citizens and businesses want speed, ease of use, multiple channels to interact, clarity and certainty in everything they do when dealing with the public sector and this is where the technology selection is key."
Fexco has long been an evangelist of growing successful partnerships to ensure the best skills and knowledge are brought together to achieve desired outcomes. To further build on this, Fexco managed and advisory services announced a strategic partnership with experts in digital transformation, TEKenable to help transform customers' digital experiences.
The partnership will see both organisations co-invest in Microsoft Dynamics 365 Products and Salesforce Cloud Solutions and services aimed at improving their collective customers endto-end experience across both Irish and UK markets.
This partnership combines TEKenable's experience in providing Microsoft Dynamics 365 consultancy, development, and support services to their customers, with Fexco's experience of premium operational delivery, customer management and process optimisation experts and will see Fexco broaden its offerings to its client base, including the public sector.
Both Ryan and O'Brien point to how consistency across public services is critical, and how MyGovID performs as the single login for multiple government services in Ireland. There have also been major strides being made in a common user experience across the public sector. These improvements are not just simply about putting front-end services online, but a significant focus in recent years on the core digitisation of public services, to the stronger adoption of cloud technologies, and the required front-end and back-office transformation needed to deliver new services for citizens, businesses, and government.
102
Advertorial Building Borderless Business
"No matter how good the user experience will be, the demands of the public sector will never see a downward trend and the focus will be about speed of service and ease of access, which means that that services, process and technology landscape will be a continuous moving target," Ryan adds.
"New channels of communication and engagement to improve citizen satisfaction will be required, some of which have not been invented yet. New automated, trusted interactions that provide certainty to customers will be required; better use of data and trends to predict the future will be required.
"Public services with the ability to support a diverse and multicultural society will be required; and the adoption of new technologies and process optimisation increase efficiency within the public service will be required. This is not just a tech solution, but a strategy to stay at the centre of the ever evolving digital, technology, people and process landscape, something that has stood to Fexco throughout our successful 40 years in the fintech and business services industries," he continues.
Key technology trends in 2023 for the public sector
Finally, given Fexco's heritage as a both a fintech and multinational financial services provider, both Ryan and O'Brien believe that there are key fintech trends identified in a recent Fexco paper by Laura Normile, Fexco's European Market Lead for issuer currency optimisation, which will be relevant to the public sector.
Cybersecurity
An increasing number of countries are falling victim to ransomware attacks on their infrastructure, crippling their public sector and health services. As more services are digitalised in the public sector, they may become even more likely to be attacked by cyber hackers. Globally, these attacks are continuing to be even more sophisticated in their approaches to disrupt or steal personal data.
It is encouraging to see that Ireland's National Cyber Security Centre (NCSC) is working with the government and state agencies to prepare for any potentially
large-scale cyber-attacks on critical infrastructure. However, both the fintech sector and public sector will now need to address the most significant cyber threats and how they will prevent hackers from gaining access to their customer and client's personal information. Failure to do so could result in very severe reputational regulatory and financial consequences.
RegTech
With digital technologies advancing, so too are the efforts of the people trying to exploit them. In tandem with cyber, regtech, or regulatory compliance is the technology that helps financial institutions and other fintech companies to comply with the resulting regulations and this sector is predicted to flourish in the coming years. Over the next few years, we are likely to see continued development in advanced authentication, hybrid cloud computing, cryptography, and biometrics which will all have applicability to highly confidential public services such as taxation, social protection, and crime prevention.
Embedded finance
Embedded finance, which integrates financial services into products and services traditionally offered by nonbanks, is predicted to see huge growth in the coming years. As confidence in the technology grows, companies from all industries are likely to begin partnering with banks and fintechs to embed financial products into the customer experience so that they can help monetise their brand and cultivate a more loyal customer base which can present an opportunity for the public sector to collaborate more with the private sector in these future products.
Intelligent automation
Uncertainty experienced over the past three years has caused companies to reevaluate their expenditures. Automation allows businesses to optimise costs and put more focus on value creation and innovation, making it an important trend across all industries. 'Intelligent automation' is a term used to describe a combination of next-gen technologies including artificial intelligence (AI), robotic process automation (RPA) and machine learning (ML).
From healthcare and insurance to government and banking, businesses worldwide have started to look at these technologies to accelerate digital transformation, improve customer experience and increase operational efficiency. The technology is used today for everything from data analytics, risk monitoring, fraud detection, and AML screening to investment predictions and lending approvals in the banking industry, but the use case scenarios are endless and the technology itself constantly evolving.
Whilst the pandemic has, in many ways, changed the way we live and do business, it has also helped us to appreciate the value and potential of technology in driving forward both the public and private sectors to find new and modern solutions to unprecedented challenges.
As the world begins to look optimistically, albeit cautiously towards the future, this adaptability and innovative thinking demonstrated over the past three years will continue to play a critical role.
E: martinryan@fexco.com W: www.fexco.com Twitter: @Fexcogroup LinkedIn: www.linkedin.com/company/fexco
103 technology and innovation report Advertorial Building Borderless Business
"Having secure, compliant, and robust technology is now an expectation, not a desired feature, and therefore the differentiator must be user experience."
How digitalisation can deliver better public services
technology and innovation report
Myra Hunt, Joint Chief Executive of the Centre for Digital Public Services Wales, outlines her organisation's role in digitalising Welsh public services, how digitalisation can enhance effective procurement, and delivering bilingual services.
Digital Public Services Wales serves an advisory role to government bodies, operating under the framework of a digital strategy.
Hunt outlines the role of the UK's Future Generations Act, which, she states means that "anything that a department does in terms of our public services, or anything that a sponsor body does, needs to be done taking into consideration the impact that will have on future generations".
Like Ireland, the devolved Welsh Government has a minister who oversees the implementation of digital services in a cross-departmental manner. Dissimilar, however, is that this minister in Wales does not fall under the remit of a particular department.
Challenges in Wales and lessons for Ireland
As two neighbouring countries of a relatively similar size, with cultural similarities, Wales and Ireland share similar challenges from a societal perspective when it comes to effectively implementing digital transformation.
As with Ireland, Wales has a strong indigenous language which needs to be accounted for in the delivery of public services. Hunt states that this can be done by ensuring that utilisation of the language is done by professionals who do not seek to be too academic, and deliver the language demands in a manner which recognises its everyday usage.
"There are a lot of people who want to use Welsh and will choose to use it. As a result, we are changing the way we use our Welsh content. When you work bilingually, there is a tendency to work in English and then translate.
104
Building Borderless Business
What we are trying to do is move translation upstream into our production process."
She adds that this will involve a recognition that there is "a difference between a spoken language and an academic language".
Outlining that "users are at the heart of everything we do", Hunt explains that ensuring that having a "user centred design" in place is critical.
Hunt points to success in a digital plant prescribing programme which has been undertaken with the collaboration of the Centre for Digital Public Services Wales which, she states, emphasises the importance of ensuring "that we embrace our new and agile digital teams who are working at the coal face", she states.
She adds that the programme was "fascinating for me", and was necessary due to a wide usage of paper-based services which are still utilised by Welsh public services.
"This was in a community hospital ward in Wales. What this showed was that the efforts that front line staff are going to in Wales to try and explain the service that they are offering to users and the shared experience that we have of trying to make sense of these disaggregated, complex services that we all live within the public sector."
On shared procurement, Hunt tells of her experience working in the UK Civil Service and across UK local government, and that one of the overriding legacies of the non-digital era is an inefficient and misaligned set of procurement policies across local authorities.
"With the current funding pressures of which we are under, there is going to be increased momentum behind moving to a better aligned and digitised procurement policy. It is critical that we come together around our commercial management to make us much more effective purchasers."
Adapting to a digital world
Hunt offers a critique on the current implementation strategies of digital government and the enhancement of digital services, in that the term transformation has been used verbatim for decades, and that if digitisation is to help deliver effective services, that new language needs to be utilised within the sector.
"I started my career with everyone talking about digital transformation, and today this is still the big thing people are talking about. I have debated with other industry leaders whether now, partially because of the impact of the Covid pandemic, we are just talking about improving our public services. Most of our public services, possibly with the exception of our health service, are delivered through digital channels. We need to mature and perfect them, and then turn them into end-to-end services."
Hunt's role is ensuring that digital elements enhance the user experience of public services, which she states help "modernise and support other government departments which are delivering those services, and which are driving transformation in government".
In conclusion, Hunt states that there is a danger of the new 'business as usual' being centred around permanent crisis mode, such as the ongoing crises in Ukraine and with Covid. Hunt states her belief that that the current level of digitisation and future developments "need to account for the level of crisis management which takes place in this day and age".
technology and innovation report
105
Building Borderless Business
"When you work bilingually, there is a tendency to work in English and then translate. What we are trying to do is move translation upstream into our production."
technology and innovation report
With almost 180,000 registered buyers, suppliers, and other stakeholders, eTenders supports approximately €20 billion annually in public service tenders alone enabling the delivery of critical services and infrastructure to society.
Following extensive stakeholder consultation and a comprehensive tendering process, European Dynamics will provide the new eProcurement platform from mid2023. The contract was signed in July 2022, and the implementation phase is now underway.
Both buyers and suppliers should be aware that there will be no changes to the current platform during this
phase, and procurement competitions can continue to be conducted as normal. The OGP will communicate any updates as part of the switch on its website at gov.ie/ogp
Chief Procurement Officer for the State, and OGP CEO Paul Quinn is pleased with how the project is progressing and paid tribute to the teams involved: "Well done to everyone involved in the procurement process for securing this service which will greatly benefit the public, business, and the State over the next decade. This new contract offers increased functionality and value for money for the State."
Office of Government Procurement (OGP) has selected a new supplier to provide the national tendering platform, eTenders. This system
key enabler for the transparent, efficient,
effective public buying of goods, services and works.
The
is a
and
106
Advertorial
The future of eTenders as new supplier for national tendering platform is selected
From plans to progress
From the outset, planning for the procurement of the new platform was intensive and detailed. A design authority was established to support the procurement of the new system, made up of public servants, including input from commercial semi-states. A comprehensive specification was developed, taking into account the different requirements from all sectors, to support goods, services, utilities, and works procurements. Suppliers also took part in a survey to help inform the process.
A cross-sector steering committee was formed to oversee the project, and this group meet regularly to provide insights, guidance, and support. Three major work streams have been established to ensure the success of the switch over: data migration, communication, and training. Industry will be kept up to date on the eTenders rollout via the SME Advisory Group, chaired by the Minister of State for Public Procurement Ossian Smyth TD.
The go-live date for the new platform is early April 2023 and a robust project plan is in place in an effort to reach this target. Mags O'Callaghan, eTenders programme lead at OGP, says: "For a number of reasons – including risk mitigation, protecting the integrity of live competitions and business continuity –there will be a period of time when there will be two platforms active, an overlap."
The current platform will continue until May 2023 to facilitate completion of competitions that are already in progress when the new platform goes live. All competitions must be completed on the current platform by the deadline of 19 May 2023. All new competitions will start on the new platform once it is live. Framework Arrangements and Dynamic Purchasing Systems (DPS) will be facilitated to continue on the new platform from go-live also.
Data migration
Data migration is critical to the success of this project. The layout and structure of the new platform, although similar, will be different to the existing service. This
changeover presents a good opportunity to review and clean up data where necessary, for example to ensure that registration details, contact names, numbers, emails addresses and Eircodes are up to date. The OGP will shortly begin to issue 'countdown checklists' to ensure all data is in order to support the successful data migration from one system to the other.
Mags O'Callaghan says: "From a practical perspective, a webpage has been set up on gov.ie/ogp where updates will be posted. The message functionality within the existing platform will also be used for issuing some updates. Communications will be centred on project milestones and support procurement planning for contracting authorities. Messaging will focus on key areas such as training, golive and post go-live."
O'Callaghan continues: "From a supplier point of view, in addition to the webpage, updates will be provided to the SME Advisory group at quarterly meetings with industry bodies. In addition, the communications subcommittee to the SME advisory group has been reformed and eTenders roll out will be one of the key topics for that group."
To support the flow of information about this changeover, representatives from across the public sector, nominated by the Steering Committee, have come together to form a group of Sector Implementation Leads. This group will distribute information using their own internal communications channels. They will also determine and co-ordinate training requirements for their sectors as well as supports for user acceptance testing.
A training programme consisting of different knowledge levels will be put in place to include, online and classroombased training sessions for public bodies and user manuals, videos, and webinars for both bidders and buyers.
OGP CEO Paul Quinn concludes: "This is the first time in a decade that the national eTendering platform will change, which presents a golden opportunity, not only to improve take up of the different functionality of the new platform, but also to promote all that is positive about public procurement reform."
W: www.gov.ie/ogp
107 technology and
report Advertorial
innovation
Digital by default: New ways of working in DAFM
technology and innovation report
Outlining the importance of the Harnessing Digital strategy, Louise McKeever, Chief Information Officer at the Department of Agriculture, Food and the Marine (DAFM), explains how the enhanced use of technology was a much-welcomed development during the Covid-19 pandemic.
The DAFM is currently undergoing a digital transformation and enablement journey to digitally enable the DAFM through use of technology. This transformation journey will enable efficiencies in the agri-food sector, which employs around 7 per cent of workers in the State.
"We want to leverage our data. To drive this agenda we have built a corporate wide data warehouse and BI platform and we continue to leverage data from both internal and external sources," explains McKeever, illustrating the digital journey which is being undertaken by her department.
"The pandemic has changed many aspects of our lives and many people are now working remotely, engaging online, and have higher expectations for digital public services. As we emerge from the pandemic, the public service wants to capture and build upon the best elements from this experience."
Emphasising the importance of optimising the role of technology in the scope of the DAFM, McKeever contextualises the significance of agriculture as a major backbone for the Irish economy. "In 2021, the sector employed over 170,000 people. This represents over 7 per cent of the entire workforce across over 135,000 farms, 2,000 fishing vessels and agriculture sites, and some 2,000 food production and beverage enterprises," she states.
"The sector is responsible for over 4.5 million hectares of agricultural land and 770,000 hectares of forestry and it produces close to 10 per cent of Ireland's exports each year. In 2021, Ireland's food and drink was exported to over 180 countries worldwide, with exports valued at a record over €15.4 billion, and that is a 50 per cent increase from 2012 when it was €10.2 billion."
108
Building
Business
Borderless
At the same time, the agriculture sector will need to undergo major reform given the sectoral emissions ceilings established by government.
Progress made and more to come
Digital transformation has helped DAFM move away from an analogue, paper-based system, towards one which ensures that there are online options for processes citizens utilise.
"We have several mobile apps such as the Calf Reg, Avian Check, and badger apps. The avian app was pivotal in relation to tracking the spread of disease. Throughout the ongoing concerns over the spread of avian flu, citizens have been able to upload photos of wildlife that they encountered that were affected by the outbreak.
"We have marine GIS technology in place and we recently launched a number of modern applications such as the exotic disease management system (EDMS) and the national veterinary prescribe system (NVPS). Our animal health control system is also now available online for external users."
In order to make further progress, McKeever stresses the need for agility. "Agility is and must be at the heart of everything we do," she says.
"This ensures that we deliver. DevOps is our delivery approach that supports our agile development methodology, and it improves collaboration between our development and operations teams with security at the heart of everything we do."
Additionally, the DAFM CIO stresses the need to "continue to leverage data from both internal and external sources".
Digital by default
Reiterating that "digital by default" is a top priority in order to maximise efficiency and ensure that the department continues to support enhanced prosperity for the agri-food sector, McKeever outlines the progress which has been made by the introduction of various platforms to the operational business of the department.
"Our existing architecture has served the department well over the last two decades and continues to be the primary source for processing schemes and payments in DAFM. The Red Hat OpenShift container platform architecture has been under review, and we are assessing its capability to ensure it can be our strategic platform of choice."
To support digital enablement, DAFM utilised the OpenShift platform, which, McKeever explains, was a contributing factor to receiving an innovation award in 2021.
"We are currently upgrading our strategic platform and that is the enablement component of the modernisation programme, a programme to upgrade our system and services. That upgrade programme which was undertaken from the second half of 2022 and that is a critical component for our digital enablement journey," she concludes.
"We are currently upgrading our strategic platform and that is the enablement component of the modernisation programme, a programme to upgrade our system and services. That upgrade programme which was undertaken from the second half of 2022 and that is a critical component for our digital enablement journey."
109
Building Borderless Business
Louise McKeever, Chief Information Officer at the Department of Agriculture, Food and the Marine (DAFM)
technology and innovation report
technology and innovation report
A nation of digital towns
The EU and government focus on the Digital Decade promises to deliver transformational change for Irish people, businesses, and communities. A range of digital strategies, policies and plans have been put in place to drive the digital agenda, including Harnessing Digital – the Digital Ireland Framework, the Digital Transition Fund, the Connected Hubs network and the Rural Regeneration and Development Fund to name a few.
These policies are to be welcomed and .IE is pleased to play its part in driving digitalisation through our strategic priority of supporting and serving the needs of the local internet community. In
2021, we launched a new initiative, the .IE Digital Town Programme with a €1 million investment over four years to enable a nation of digital towns. The .IE Digital Town programme was developed to foster digital enhancement and adoption in Ireland, helping businesses, citizens, and communities to harness the benefits of the internet and to thrive online.
The programme comprises three elements: big data for small towns, the .IE Digital Town Awards, and the .IE Digital Town Blueprint. Two specific pillars of activity are currently underway: the .IE Digital Town Awards, and the Blueprint.
The Awards shine a light on the benefits and possibilities of digital, and celebrate the digital achievements of local towns, big and small. We seek to honour and reward volunteers and community leaders who work tirelessly to improve their towns and communities. Launched in 2021, the Awards are entering their third year and applications will open in February 2023. The categories will include digital education, digital tourism, community digital, digital business, agritech, and sustainability as well as the
.IE Digital Town Awards – shining a light on local digital champions
Fostering digital adoption in communities across Ireland is a key focus for us, writes Oonagh McCutcheon, National Director of the .IE Digital Town Programme at .IE, the company that manages .ie domains, the online identity of choice in Ireland.
110
Pictured (L-R) The Piltown Team; Minister of State for Business, Employment and Retail at the Department of Enterprise, Trade and Employment, Damien English TD; Oonagh McCutcheon, National Director .IE Digital Town Programme; and David Curtin, CEO, .IE
Advertorial
Volunteers working to lay cables.
Spotlight on .IE Digital Town Awards overall winner 2022
Piltown - Taking charge of our digital future
In February 2022, Broadband 4 Our Community (B4OC) switched on what they believe is Ireland's first community owned and managed FTTP 'fibre to the premises' network. The introduction of 'fibre to the premises' network has allowed Piltown to take charge of its digital future by ensuring the network is run in the interest of the community.
Their vision and aim is to deliver true, future-proofed high-speed broadband for the community of Piltown and Fiddown. Given that laying fibre-optic cable is expensive using the traditional model employed by the telecommunications industry, the aim was to reduce costs under a different ownership model – a leaner development model – and by operating on a not-for-profit communityowned basis.
The community has embraced this initiative with landowners granting access to land, volunteers working to lay cables, sharing equipment and providing expertise pro bono. Four members of the community have been trained as fibre optic technicians and a digital hub and community centre now serves 60 homes and groups in the area.
Chair of the judging panel, Joan Mulvihill, said: "The community of Piltown showed extraordinary resolve and determination in putting their town on the digital map. The support from businesses and landowners in granting access to land, those who prepared the ground and laid the cables, every aspect of this entry is commendable. In recognising Piltown with this award we are confident that this is just the start for them with great things to come. This is truly a lighthouse digital town." The Piltown team believes this project could be replicated in other towns and villages. So impressive was this project that it was the only Irish project selected as a winner in the European Network for Rural Development's (ENRD) 2022 Rural Inspiration Awards.
Winning team Chairperson, Brian Doyle said: "Winning first place in the .IE Digital Town awards is a huge endorsement of our work and has created a great sense of pride in the Broadband 4 Our Community team.
"We were able to invest the cash prize to accelerate broadband rollout in our locality."
special categories of rising star, changemaker, newcomer, and local hero. Digital projects at various stages of advancement will be considered by the independent judging panel. Towns can enter digital projects demonstrating how digital approaches and/or technologies have contributed to the betterment of the town and the wider town community.
Digitalisation offers the opportunity to use creative solutions to problems facing a town community. Examples of previous winners include using the Internet of Things (IoT) to help with assisted living for the elderly on Arranmore Island; building online town marketplaces in Fermoy and Castleisland; building a digital cultural infrastructure for the community in Gleann Cholm Cille; creating interactive tourism experiences in Ballyvaugh and Ballincollig.
These digital initiatives breathe new life into local communities and towns, making them more attractive places to live and work, as well as contributing to a more sustainable future.
.IE Digital Town Blueprint – digital readiness framework
To help town leaders and policymakers embed their own digital town programmes and action plans in empirical data, .IE partnered with The Irish Institute of Digital Business at DCU to fully explore the concept and value of the "digital town" through a comprehensive research project. The resultant digital readiness framework is the first of its kind in Europe.
In 2021, we commenced discussions with the Department of Rural and Community Affairs (DRCD), and in early 2022, DRCD made provision for funding a .IE Digital Town Blueprint assessment for the 26 towns selected to prepare master plans as part of the Town Centre First initiative. This work is now underway. The Blueprint reports will provide data and actionable insights for decision-makers in these towns, and others like them, as they consider digitalisation initiatives that positively impact the local economy, public services, communications, social cohesion, and overall quality of life.
E: marketing@weare.ie W: www.weare.ie
111 technology and innovation report Advertorial
technology and innovation report
DESI 2022: Irish rankings
Published by the European Commission, the 2022 Digital Economy and Society Index (DESI) monitors and publishes member states' digitalisation progress. DESI has been adjusted to align with the European Commission's proposed Path to the Digital Decade policy programme for 2030 adopted by the European Council in December 2022.
In Ireland, the Government published its new national digital strategy, Harnessing Digital: The Digital Ireland Framework in February 2022.
Aligning with EU's Path to the Digital Decade, this strategy incorporates four dimensions:
1. digital transformation of business;
2. digital infrastructure;
3. digital skills; and
4. digitalisation of public services.
Until now, digitalisation has varied across member states, though there is some indication of increasing convergence. Ireland remains a frontrunner in the EU with regard to the integration of digital technologies and is anticipated to make a major contribution to the collective effort to deliver the Digital Decade targets.
However, if Ireland is to compete with the most digitally advanced nations, it must continue to improve on its digital skills capacity, digital connectivity, integration of digital technology, and availability of digital public services.
Ireland's overall DESI ranking
Ireland ranks 5th out of 27 EU member states in the 2022 Digital Economy and Society Index
Ireland's score in the DESI 2022 ranking: 62.7
Average EU score in the DESI 2022 ranking: 52.3
Average yearly relative score growth between 2017 and 2022: 8.5%
Digital Economy and Society Index, 2022
112
Building Borderless Business
Source: DESI 2022, European Commission
Building Borderless Business
Integration of digital technology
Human capital
Ireland ranks 3rd out of 27 EU member states in overall human capital score
Ireland's overall human capital score is 62.6
Average EU human capital score is 45.7
Proportion of Irish people with at least basic digital skills: 70%
EU average: 54%
Proportion of Irish people with above basic digital skills: 40%
EU average: 26%
Proportion of Irish people with at least basic digital content creation skills: 77%
EU average: 66%
Proportion of female ICT specialists: 20%
EU average: 19%
Proportion of ICT graduates: 8.6%
Connectivity
Ireland ranks 6th out of 27 EU member states in overall connectivity score
Ireland's overall connectivity score is 61.5
Average EU human connectivity score is 59.9
Overall fixed broadband uptake: 80%
EU average: 78%
At least 100 Mbps fixed broadband uptake: 37%
EU average: 41%
At least Gbps fixed broadband uptake: 4.27%
EU average: 7.58%
5G spectrum: 29%
EU average: 56%
5G coverage: 72%
Ireland ranks 7th out of 27 EU member states in overall integration of digital technology score
Ireland's overall integration of digital technology score is 43.3
Average EU integration of digital technology score is 36.1
SMEs with at least a basic level of digital intensity: 64%
EU average: 55%
Electronic information sharing: 24%
EU average: 38%
Social media: 32%
EU average: 29%
Big data: 23%
EU average: 14%
Cloud: 47%
EU average: 34%
AI: 8%
EU average: 8%
SMEs selling online: 33%
EU average: 18%
Digital public services
Ireland ranks 6th out of 27 EU member states in overall digital public services score
Ireland's overall integration of digital technology score is 83.5
Average EU integration of digital technology score is 67.3
eGovernment users: 92%
EU average: 65%
Pre-filled forms: 59/100
EU average: 64/100
Digital public services for citizens: 80/100
EU average: 75/100
Digital public services for businesses: 100/100
EU average: 82/100
Open data: 95%
technology and innovation report
113
Councils are getting great results with websites built on LocalGov Drupal
sharing infrastructure and application code for both internal and public-facing digital platforms.
If public entities pooled their resources and shared the code for their websites, other departments or organisations could benefit by using this already written code and instead use their digital budget to develop other features, which could then be used by those who have already contributed.
This circle of sharing ultimately means that a website can be completed in a matter of weeks, saving councils money and time. This is also the philosophy behind LocalGov Drupal, a project started in the UK but brought to Ireland by Annertech.
LogalGov Drupal is a collaboration of councils and developers, who use the excellent, open-source CMS Drupal to build websites, hence the tagline "websites built by councils, for councils". It's based on research, tried and tested methods, shared knowledge, and international best practice.
Constantly evolving
LocalGov Drupal started out by offering basic features such as service pages, guides and step-by-step "how to" guides. Then additional features such as news, events, and alert banners were added.
Tipperary County Council joined the project, adding Irish language translations and the Irish Service Catalogue to the pot. These are two valuable features for councils based in Ireland.
They are also accessible, meaning that all residents can access all parts of the website, even if they have a cognitive or physical disability, or their internet connection is weak, and regardless of the device they use.
But a great website with many features can cost many thousands of euros to develop. The websites could take years
to build, and many councils simply do not have the budget. That is where the concept of "build to share" was born.
Build to share
Build to share is an approach adopted by the Irish government a few years ago as part of its ICT Strategy. The initiative aims to decrease the ICT cost base by
It means that it is possible to quickly and easily add all of a council's services to a site built using LocalGov Drupal. This allows users to browse the full list of services that are offered by their council, or a user could search for services. It makes it easy for a user to access a service or contact the council for more details about the service.
Council websites have come a long way in the past few years. The best ones are easy to use, quick to search, have all the information residents need, and offer online services such as applications and payments, writes Mark Conroy, director of development at Annertech. 114 technology and innovation report Advertorial
It is also possible to have these services and the website's content uploaded in Irish or another language. This makes it much easier for visitors to the site to be able to find what they are looking for, in the language of their choice.
And this year the pièce de résistance is the addition of microsites, self-contained websites that live outside of the council homepage. Think festivals, events, or special projects. These websites can be put together quickly and cheaply, offering flexibility and individuality to projects or events that happen periodically. The microsites feature is not limited to councils or those in the LocalGov Drupal pool. They can be used by any organisation that has many sites, such as universities, and because it is a separate platform, the main site does not have to be hosted on LocalGov Drupal in order for the microsite offering to be utilised.
Already, 33 councils are using the platform to improve service delivery, reduce risk and save money.
T: 01 524 0312
E: hello@annertech.com
W: www.annertech.com/localgovdrupal
Why Annertech?
• Annertech is Ireland's largest, dedicated open-source digital agency, specialising in enterprise-level digital experiences with the Drupal CMS.
• It is the only Gold Certified Drupal partner in Ireland.
• Annertech has years of experience working on council websites. Clients include Dublin City Council, Limerick City and County Council, Fingal County Council, Cork County Council and, the latest addition to the LocalGov Drupal family, Tipperary County Council.
• Annertech has been involved with LocalGov Drupal since the beta phase of the project.
• Annertech's director of development Mark Conroy is leader of the front-end working group of LocalGov Drupal. He knows the code intimately. As well as being the project's frontend lead, Mark is also a member of the LocalGov Drupal Steering Committee.
115 technology and innovation report Advertorial
technology and innovation report
Digital transformation: An international perspective
Digital government approaches are the foundation for transforming a country, the OECD says. eolas analyses the organisation's guidelines for such transformation, as well as international exemplars who have illuminated the path of transformation.
The OECD states that it works with member governments to "rethink their role, scope of activity and ways of working in light of digital technologies" and to make the move from e-government to digital government, differentiating the two by stating that egovernment approaches prioritise technology as a solution, whereas digital government approaches prioritise "meeting the need of a user by reengineering and re-designing services and processes" with technology as secondary.
The OECD's Recommendation of the Council on Digital Government Strategies contains three pillars and 12 principles to "ensure the successful design, development, and implementation of digital government strategies to enable transformation", as
well as six dimensions of activity: a data-driven public sector; digital governance that is open by default; the use of government as a platform, "building an ecosystem to support and equip public servants to make policy and deliver services that encourages government to collaborate with citizens, businesses, civil society and others"; governance that is digital by design; user-driven design; and the design of proactive digital governance that "allows problems to be addressed from end to end rather than the otherwise piecemeal digitisation of component parts".
The effectiveness of such approaches is often measured via the metric of individuals using the internet for interacting with public authorities. Eurostat statistics show the average of the EU28 to have risen
116
Building Borderless Business
Percentage of individuals using the internet for interacting with public authorities, 2012-2020
from 44 per cent in 2012 to 55 per cent in 2019, the last year to record statistics before the UK's departure from the EU. Although not a member of the EU, Norway's statistics are also included by Eurostat, and they show a notable rate, rising from 78 per cent in 2012 to 92 per cent in 2020; in comparison, Ireland has risen from 49 per cent in 2012 to 62 per cent in 2020.
Research by Elena Parmiggiani and Patrick Mikalef published in June 2022 states: "If we were to take a picture of everyday life in Norway, we would observe that almost every citizen in Norway adopts online banking; pays their bill online; interacts with public agencies through digital channels such as platforms, chatbots, and video-based meetings; performs their tax return electronically; and exchanges money seamlessly via mobile payment apps." However, the research does also state that Norway has "struggle[d] to improve its performance in terms of digital public service delivery" but that its "healthcare sector has been an early attractor of significant investments toward a shared digital infrastructure (including data exchange standards and platforms) to share electronic patient records". This has meant that Norwegian digitalisation has "so far been uneven but, overall, quite successful".
Data-driven decision making is used in Norway for taxation and census purposes, and indeed Parmiggiani and Mikalef state their belief that Norway's digital transformation began in 1967 with the creation of Folketrygdloven (the national insurance scheme), which provides a compulsory insurance scheme for all people in the country and considers factors such as age, health status, employment status, and maternity/paternity leave. Another example proffered is that of Altinn, a platform that began as a government portal for the mandatory reporting of companies' financial statements, and is now used to support digital communication with the public administration for citizens and companies.
The Norwegian Government can now generate a citizen's or organisation's tax statement by integrating data across the national population registry and the national registry of business, banks, and insurance companies using Altinn. 2006 saw the adoption of the so-called ID-porten, a public authentication gateway that provides a standardised login and a flexible solution for different commercial electronic IDs to be used that facilitates the integration of services and user communication across public and private actors "to a degree that is almost unprecedented". This is achieved because the "cross-silo integration it offers is possible because the Norwegian State is allowed to access citizen's financial information with high granularity", which "can only happen under the auspices of a trust-based (tillitsbasert, in Norwegian) system among State, citizens, and organisations". Altinn, Parmiggiani and Mikalef write, "clearly illustrates that the public sector is a driver of digital transformation in Norway, as opposed to a simple adopter".
Further afield, the example of New Zealand is often mooted as a country that has laid the groundwork over a long period and is now reaping the rewards of digital foresight. Having first used technology for government functions in 1996 and opening online government services in 2000, over one million citizens now interact with the government weekly through the Common Web Platform, a platform-as-aservice used to host government and public sector websites. The UN's e-Government Development Index for 2022 ranks New Zealand fourth, the same as its 2020 rank, and its e-Participation Index ranks the country sixth. Ireland, in comparison, ranks 30th for development and 47th for participation, showing the progress that is both possible and left to be made up by a State with a similar population to New Zealand.
117 technology
0 10 20 30 40 50 60 70 80 90 100 201220132014201520162017201820192020 EU28average Norway Ireland Denmark Spain Slovenia
and innovation report
(Source: Eurostat)
Building Borderless Business
technology and innovation report
Innovation is in Ireland's DNA:
Let us show the world the way
When animals in the wild graze their way across the landscape, you cannot help but notice they do not stay in one spot for an extended period. This is their way of eating enough vegetation to satisfy themselves, but not take every leaf off a tree or bush until it is dead, writes David McCourt, Founder and CEO of Granahan McCourt Capital and Chairman of National Broadband Ireland.
They take what they need and move on, leaving behind nutrient exchanges that trigger biological activity. In other words, most wild animals eat what they need, leaving the plant or bush stronger for the trim. That is the way politicians and businesses used to operate as well.
In most urban areas, the sense of community is gone, leaving the big pillars of stability, consistency, and a sense of what is considered civilised behaviour to the policymakers and enterprise, in other words: politicians and businesspeople.
Now the obvious problem here is that both politicians and businesses have become more short-sighted than ever over the last 50 years, each taking not only the tree or bush for themselves, but the entire forest, and they want it now. What is needed is a total rethink around business and policymakers and Ireland is in a position to lead this type of thinking.
Step back and look at why Ireland can lead this long overdue revolution and take a leadership position in key areas such as technology and innovation. Ireland is a small country that has played a big leadership role for over 100 years. I read the 1916
118
Advertorial
Proclamation recently, written during World War One when Ireland was fighting for independence. It mentions three times in the document that women will be equal partners in the future of Ireland. This was a full four years before America allowed women the right to vote.
Ireland was bold in its electrification of the country, and recently with its road network. Ireland was the first country in the world to institute a nationwide comprehensive smoke-free workplace law. Ireland was the first country to legalise same-sex marriage by popular vote. The free education scheme of the '60s led to what we have today, which is a country that, at last measure, had the highest share of population in Europe with university graduates. Despite European Union protests, Ireland developed a very business-friendly tax scheme to attract the largest companies in the world to set up shop, hire, train, and employ thousands of Irish people.
Recently, Ireland was among a tiny elite group that made it a human right to have high-speed broadband available to every man, woman, and child in the country through its National Broadband Plan. It is these brave long-term policies that come at significant, short-term cost, that have allowed Ireland to claim a leadership role as a small country.
This mentality is also what has taken Ireland from being a small farming country to a global player, today ranking number six in commercial service exports globally. This is no small feat.
Ireland has had one of the fastest growing GDPs in the European Union every year for the past two decades. All this success came the hard way, by policymakers making difficult decisions and sticking with them, supported by the business community.
As we look at how Ireland came through the pandemic stronger than many of its peers, we can lead in creating positive disruption on a global scale. To achieve this, Ireland's commitment to the decentralisation of opportunity with ubiquitous access to connectivity and technology can take us to another level.
Decentralisation of opportunity
For way too long, rural areas around the globe have been left behind, and rural Ireland is no different. The best schools, the best hospitals, the best jobs, the best public transport, and the best
infrastructure, all gravitate toward the urban areas.
Across almost all developed countries, what we see today is a digital divide whereby urban areas have an incredible advantage with access to connectivity and digital services, but many rural areas have been left underserved, creating all sorts of knock-on issues and problems.
This problem is not unique to Ireland or any one country. Urban areas around the world have been growing by three million people a week. That means every three weeks, we as a globe are creating another London, Hong Kong, or New York. That is unsustainable for our environment, our housing costs, congestion, carbon footprint, and quality of life.
This trend can only be turned around with the planned and well executed decentralisation of opportunity. We need to create jobs where people live and empower themselves through connectivity and technology to create new companies, grow existing companies, and attract employment remotely from global companies.
Globally, we need to be in a position where people in rural environments can see a bright future to start or grow a business, or global companies can feel confident to recruit, hire, and train a remote workforce that has the tools and technology to do the job.
That does not mean access to Netflix. It means access to remote healthcare, access to remote education, training,
information, career progression, and all the future benefits that technology offers. In a new world in which sustainability is crucial, this has to be part of the answer.
Ireland can and should lead by example in the inevitable decentralisation of opportunity. At National Broadband Ireland, with the support of the Department of Environment, Climate and Communications, we are making strong progress in this regard by delivering the country's transformational National Broadband Plan.
For more information on our progress, and to check if your home, farm, school, or business is included in the rollout, visit nbi.ie.
T: 0818 624 624
E: contactus@nbi.ie
W: www.nbi.ie
119 technology and innovation report Advertorial
Digital government for all
up a business. The Department stresses that the improvement of digital services will also improve the offline experience for those unable to access services digitally.
technology and innovation report
The Department of Public Expenditure and Reform published Connecting Government 2030: A Digital and ICT Strategy for Ireland's Public Service in June 2022 and a public consultation on the strategy closed in November 2022.
Connecting Government 2030 replaces the previous Public Service ICT strategy and eGovernment 2017 – 2020 strategy and will act as an umbrella strategy for actions across a number of other related government policies and strategies.
The consultation seeks to identify which government services the public would like to prioritise for putting online and identify the features, supports, and assistance could be used to make digital public services easier and more efficient to use. In pursuing the consultation, Minister of State Ossian Smyth TD told eolas that the Department "did not just advertise for people to come to us, we went to them to ensure that we would not be limited in our sample".
Connecting Government 2030 addresses the digitalisation of public services dimension of the national digital strategy, Harnessing Digital –The Digital Ireland Framework. It also
aligns with the targets set out in Civil Service Renewal 2030
The Department says the strategy will carry forward the GovTech 2019 Priority Action Plan and incorporates specific actions from the Programme for Government, as well as addressing digital targets set by the EU.
Public services range from applying for a driving licence or paying taxes through to accessing local libraries and setting
The core design principles include:
• digital by default and cloud-first: Building towards the targets for 2030 that 90 per cent of applicable services are consumed online and being more proactive and progressive in embracing cloud;
•all-of-government approach: Ensuring an integrated and richer experience for individuals and businesses and that digital considerations are embedded in policy processes;
•new ways of working: Enabling working environments that empower our people to give their best, promoting the sharing of ideas, designs and innovations; and
•privacy-driven and secure by design: Design and build systems that are aligned with best practice in security and cyber defence.
The Minister for Public Expenditure and Reform, Michael McGrath TD, and the Minister of State for eGovernment, Ossian Smyth TD launched the public consultation, with Smyth stating: "This is a great opportunity for anyone to inform and set the Government's digital priorities over the next seven years."
Connecting Government 2030 identifies six priority action areas of:
• a human-driven digital experience: Understanding users and their needs;
• harnessing data effectively: Improving public services by implementing structures to deliver more and better re-use of data, respecting privacy and data protection;
• government as a platform: Driving service simplification through an ecosystem of standards, resources and tools including the application of the 'once-only' principle;
• evolving through innovation: Challenging public services to look afresh at solving difficult problems to build innovative solutions putting users at the centre;
• strengthening digital skills: Strengthening and developing new capabilities and skills; and
• focusing on governance and leadership: Putting in place governance structures to drive digital transformation across government.
120
Building Borderless Business
The public has been asked for its views on an ambitious strategy aiming to make Ireland a leading provider of digital public services across Europe.
Future of Energy
Sponsored by The future is electric
The future is electric
future of energy report
Hitachi Energy: The future is electric
The energy transition is crucial to achieving a sustainable future, from a social, environmental, and economic perspective. Society must now move towards a carbon-neutral energy future to cope with the challenges of climate change. Climate targets have been set across all continents. In Ireland alone the Government Climate Action Plan 2021 target is to increase the proportion of renewable electricity to up to 80 per cent by 2030 and achieve net zero emissions by 2050.
The electrification of energy, transport, and infrastructure will be crucial to achieving these ambitions. Electricity has improved standards of living since its invention more than two hundred years ago. However, the transformative
changes that increased levels of electrification will bring over the next 30 years will go beyond anything we have seen before. Analysis comparing recent studies of the evolution of the total world energy system shows that global electricity consumption will more than double from 20 per cent (today) to over 40 per cent of total energy demand by 2050.
Three building blocks required to deliver a carbon-neutral electric future are:
• connecting larger volumes of renewables such as wind, solar and hydro;
• electrifying the world's transportation, building and industrial sectors; and
• where direct electrification is either not efficient or impossible, introducing complementary and sustainable energy carriers, such as green hydrogen.
Hitachi Energy is a global technology leader championing the urgency of this clean energy transition. We are advancing the world's energy system to become more sustainable, flexible, and secure whilst balancing social, environmental, and economic value.
Here in Ireland, Hitachi Energy serves customers in the utility, industry, transport and infrastructure sectors with innovative solutions and services across the electrification value chain.
To deliver maximum value, we have
Hitachi Energy is championing the urgency of this clean energy transition and serving customers in Ireland with innovative solutions and services across the electrification value chain.
122
Advertorial
The
organised our operations around four business units:
Grid automation: Our grid automation hardware, software and services portfolio unites deep domain knowledge and innovative technologies that enable customers across the globe to optimise the critical systems that power, move, and connect us. Our digitalisation solutions are cost effective, agile, and innovative, delivering control, visibility, and stability for increasingly complex systems.
Grid integration: Our grid integration portfolio spans a wide range of transmission and substation applications, which facilitate reliable and efficient system integration of the future digital electric network with minimum environmental impact. We incorporate the integrated systems, solutions and services of our business's DC and AC fields, including HVDC, substations, FACTS, offshore wind connections, semiconductors, and power consulting, for utility and industrial grid applications, and electrification of transportation solutions.
• High voltage products: We are a leader in high-voltage technology, offering a wide range of products up to 1,200 kV. We help to enhance the safety, reliability and efficiency of power networks while minimizing environmental impact. Our technology leadership continues to facilitate innovations in areas such as ultra-high-voltage power transmission, enabling smart grids and enhancing ecoefficiency.
• Transformers: We offer liquidfilled and dry-type transformers, as well as services for complete life-cycle support, including replacement parts and components.
• Service and consulting: We offer an array of services, from traditional to advanced, for our products and systems that are offered a-la-carte or within an agreement.
Solutions supporting energy transition
Hitachi Energy believes it has a responsibility to support customers and other key stakeholders to accelerate the energy transition and deliver solutions which help to reduce their overall carbon footprint. Our solutions enable the safe, reliable, and efficient integration, transmission and distribution of bulk and distributed energy generated from conventional and renewable sources.
Two examples of pioneering technologies introduced by Hitachi Energy, include.
• HVDC Light®: Hitachi Energy pioneered commercial HVDC technology more than 65 years ago. HVDC has been a breakthrough in connecting remote regions with grids, efficiently transmitting large amounts of electricity, with a significantly smaller environmental and carbon footprint through the integration of renewable energy into the grid and its transmission with extremely low losses. HVDC has been recognised as a key technology for enabling the clean energy transition, contributing to the SDG 7: increasing access to affordable, reliable, sustainable, and modern energy for all. HVDC Light® is a highly efficient alternative to alternating current (AC) for transmitting large amounts of electricity with higher efficiency, over longer distances, and with lower electrical losses. HVDC Light contributes to the secure and stable transmission of power across networks that operate on different voltages and frequencies. This makes the technology suitable for many key power applications, enabling the integration of renewable energy such as offshore
wind farms and interconnecting and strengthening AC networks.
• EconiQ is Hitachi Energy's ecoefficient portfolio of products, solutions and services which are scientifically proven to deliver an exceptional environment performance. With EconiQ, customers can further reduce carbon emissions across the lifecycle.
Sustainability 2030
Hitachi Energy has its own Sustainability 2030 strategic plan which summarises the company's main commitments to act and drive business in a sustainable way. Based around four pillars: planet; people; peace and partnerships, the strategy draws from the UN's Sustainable Development Goals (SDGs), where each pillar has corresponding targets that drive our business to contribute social value, environmental value and economic value.
Our first-step target, the use of 100 per cent fossil-free electricity in our own operations, has been achieved. Through this achievement, Hitachi Energy has reduced its CO2 equivalent emissions by over 50 per cent compared to 2019. This will amount to approximately 175 kilo tonnes of CO2e per year, equivalent to removing over 35,000 passenger cars from the road.
T: 01 574 7981
E: contact-us@hitachienergy.com W: www.hitachienergy.com
"The transformative changes that increased levels of electrification will bring over the next 30 years will go beyond anything we have seen before."
123 future of
report Advertorial
future is electric
energy
The future is electric
future of energy report
Energy security dependent on diverse indigenous energy supply and storage
A Center for European Policy Analysis (CEPA) report on the security of Ireland's energy supply has determined that, in the event of low wind speed, the State will be vulnerable in terms of renewable energy supply. As such, the development of indigenous renewable energy sources and storage facilities is crucial.
Currently, Ireland has a strong scope for expansion in wind energy, with installed onshore wind capacity currently supplying 32.5 per cent of Ireland electricity, alongside plans to ensure that offshore wind accounts for 7GW of Ireland's energy supply by 2030.
However, with the current lack of storage capacity for Ireland's wind energy supply, challenges can be presented in the event of a lack of wind. This is further exacerbated by a reliance on the UK for an adequate supply of natural gas, the primary source for Ireland's electricity system.
Ireland has had two indigenous sources of natural gas, Kinsale and Corrib. However, Kinsale ceased production in 2020 having depleted its resources, and Corrib is predicted to deplete its
resources at some point in the middle of this decade. However, Tom O'Brien, Managing Director of Nephin Energy –which holds a 43.5 per cent interest in the Corrib Gas Field – has stated that Corrib could be repurposed as a hydrogen supplier in the event of a transition to green gas in the system.
Developing indigenous renewable energy sources is the key to reducing reliance on the UK and the European mainland and will provide Ireland with a pathway to energy security.
Potential supply shocks
The main potential supply shocks to the energy sector in Ireland are, crucially, factors which would likely also affect neighbouring countries, meaning that if Ireland is facing a shortage in its energy supply, the countries upon which it will
be reliant, namely France and the UK, will have similar problems in ensuring their own respective energy security.
These factors are both weather-related: namely unexpectedly low ambient temperatures and low wind speeds.
Low temperatures naturally cause a spike in energy demand, meaning that there is even more pressure to ensure adequate supply. However, in the event of low ambient temperatures, the report states that the efficiency of heat pumps will be significantly reduced, thus requiring a surge in electricity usage to produce the same amount of heat which would have been supplied through gas.
"Unexpected low temperature may also mean higher gas demand in the UK and most of north west Europe (NWE)
124
The future is electric
because temperature is highly correlated within NWE, UK, and Ireland. A prolonged cold snap will likely affect most of NWE and Ireland. This means higher energy demand (either gas and/or electricity) for space heating across NWE and hence risk of lower gas and electricity import availability for Ireland," the report states.
The significance of a diverse set of energy sources is underpinned by the risk associated with low wind speed, which naturally drives up demand on the gas sector. Since this sector is set to become ever more reliant on France and the UK, the development of storage facilities for energy produced by Ireland's wind resources will be necessary to ensure that the State's energy security is not harmed by externalities.
The report states that the consequences of low wind speed will be "reduced electricity imports, because if there are low wind speeds wind in Ireland, there will likely be low wind in the UK with a lag of between four and five hours". It adds that the Celtic Interconnector, if completed, will not be an adequate back-up source due to the similar problem which would be posed to France's energy supply in this event.
In the event of both weather factors taking place, the report explains that "low wind and low temperature will drive higher gas demand in both the residential and power sector and, as electrification of heat progresses, it will also drive higher demand for electricity".
These impacts on Ireland are amplified by the regional correlation of weather events which could result in higher energy demand in neighbouring countries.
Median Demand
Geopolitics
Meanwhile, the report states that the UK's relative insulation from Russian natural gas exports has the knock-on effect of securing Ireland's gas supply, regardless of the EU's REPowerEU strategy to curtail the usage of Russian gas.
However, interconnection to the European mainland means that Ireland could become more exposed to geopolitical shocks as it becomes more aligned with the European energy market.
While the report does not determine the best way of ensuring Ireland's energy security, instead presenting several challenges and outlining Ireland preparedness in each scenario, the main vulnerability for Ireland's energy supply is ensuring that the future rollout of renewables is managed with a storage system which does not leave Ireland vulnerable to factors such as bad weather.
The potential for renewable energy is that Ireland, as an island in the windy North Atlantic, has the potential to develop enough wind energy to supply the State's demand seven times. Combined with net zero commitments, the natural conclusion to be drawn from the report is that a diverse portfolio of energy supplies will ensure that the State has a secure energy supply whilst mitigating against potentially challenging natural circumstances.
125
45 40 35 30 25 20 15 10 5 0 201920202021202220232024202520262027202820292030
Source: EirGrid, All-Island Generation Capacity Statement 2021-2030
Annual demand (TWh) future
Electricity demand composition in EirGrid's
scenario (TWh, 2019-2030) 27% of all demand from data centres and other large energy users by 2030 EVs and Heat pumps Data centres and large energy users Industrial (not data centres) Commercial Residntial
of energy report
future of energy report
Offshore wind: The next frontier in energy security
Over the last decade, Bord na Móna has evolved. Pivoting away from its former identity as a fossil fuel company, it has redoubled its commitment to Ireland's energy security and emerged as a leading generator of renewable electricity in the Irish market.
Natural progression
Established to help secure the State's energy future, Bord na Móna is approaching 90 years since its foundation in 1934. "For much of that time, we pursued the energy security objective in a way that was very beneficial to the country," Reilly, the Head of Renewable Energy outlines. "However, this was primarily achieved through the use of a fossil fuel."
Consolidating on efforts to repurpose its peatlands and deliver onshore wind development, Bord na Móna recently made a logical leap forward in its renewable energy journey, breaking new ground in offshore wind energy development.
"Tapping into the vast offshore wind resource is the next frontier of energy security in Ireland, making this development a natural progression for Bord na Móna," Reilly reflects.
Bord na Móna's Head of Renewable Energy, John Reilly, and Ocean Winds' Country manager for Ireland, Dan Finch, sit down with eolas Magazine to discuss their new, long-term offshore wind partnership.
126 Advertorial
John Reilly, Head of Renewable Energy, Bord na Móna
"Ireland's offshore wind is a natural resource that is the envy of many other countries. We must leverage its potential to both advance our energy independence and to deliver a socioeconomic dividend. Consider, for instance, the benefit that onshore wind has delivered for Ireland. Offshore wind will deliver this several times over."
Joint venture
Noting that Bord na Móna had no intention of entering the offshore wind sector alone, Reilly explains that the semi-state instead sought out an international partner.
"The delivery of our offshore wind energy ambition is contingent on the assistance of experienced international players. Ocean Winds, as an international energy player of repute, brings real experience in terms of offshore wind project delivery that we do not have," he reasons.
At the same time, Ocean Winds – a strategic alliance between French and Portuguese energy leaders ENGIE and EDP Renewables – was considering a move into the Irish market. "The timing was perfect," Reilly remarks, adding: "We began an engagement with Ocean Winds which has ultimately led to this exciting long-term partnership."
Given the growth in Ireland's offshore wind energy sector, and the pursuit of floating offshore opportunities, Ocean Winds' international experience and long-term ambition was "key to why we selected it as our joint venture partner here".
Formally launched with then-Tánaiste Leo Varadkar TD in late November 2022, the new offshore wind partnership will see Bord na Móna and Ocean Winds assume co-ownership of newly identified and developed offshore wind
energy opportunities around the Irish coast.
Initial projects
Initial focus of the joint venture will centre on two potential projects – Réalt na Mara and Celtic Horizon. Each is a fixed-bottom project with the former located in the Irish Sea, off the coast of Dublin and Wicklow, and the latter in the Celtic Sea, off the coast of Wexford and Waterford. Each project has been publicly launched, and engagement initiated with local communities, stakeholders, and the fishing industry.
"Through the initial engagement process, we have begun to explain what is involved in an offshore wind energy project. People have some concept of the turbines. However, we must explain how each project is built, how it is operated, how long it is operated for, how it is maintained and operated over a 25-year or 30-year period, and how it is decommissioned after its lifespan is complete. At each stage, it is important to listen to stakeholders and what they have to say," explains Dan Finch, Country manager for Ireland, Ocean Winds, who has almost 20 years' experience of the offshore wind stakeholder engagement process.
Preliminary figures indicate that Réalt na Mara and Celtic Horizon have the potential to generate up to 1.6GW and 700MW respectively, producing a combined capacity of 2.3GW and providing renewable electricity for up to 2.1 million homes. However, reiterating the necessity to complete stakeholder discussions, Finch advises that this figure is provisional.
"These projects will be refined as we go through design, development, and layout, considering the natural environment, fishing, and navigation.
127 Advertorial future of energy report
"Tapping into the vast offshore wind resource is the next frontier of energy security in Ireland
4
future of energy report
This will determine whether they are reduced, what size of machines we use, and what technology is available," he states.
Ocean Winds' experience
Ocean Winds has an impressive record of offshore wind energy development, with an existing portfolio of 14 offshore wind farms in seven countries, totalling 14.6GW of gross capacity, of which 1.5GW is already in operation.
Describing the close alignment between Bord na Móna and Ocean Winds, Finch emphasises the synergy of ambition within the new partnership. In its capacity as a leading international offshore wind energy expert, Ocean Winds' is defined by its technical, consenting, development, and procurement experience. Simultaneously, this experience is complemented by Bord na Móna's stakeholder engagement legacy and innate understanding of the geography, culture, and governmental structures of Ireland.
"An organisation like Bord na Móna is a perfect fit for Ocean Winds," Finch determines, adding: "The experience that Bord na Móna has acquired –developing major infrastructure projects in Ireland – over almost 90 years, is vital to us. Likewise, the relationships that Bord na Móna has established with government, communities, and other stakeholders is crucial."
Emulating Scotland
While Ocean Winds' international
operations are fundamental to the joint venture, both Reilly and Finch emphasise the significance of Ocean Winds' experience in the Scottish offshore wind market as most comparable to Ireland. This is characterised by similarities in geography, climate, culture, grid networks, load centres, and the fact that projects are very dispersed across rural areas.
While acknowledging that "it is not simply a case of directly transposing everything that has been achieved in Scotland", Reilly contends that "it is apparent that Ireland will not have to reinvent the wheel".
In Scotland, he illustrates, the most striking success of the offshore wind energy sector has been the revitalisation of coastal communities. "Over the last decade, Scotland has accomplished an incredible amount from a renewable energy perspective. That is what Ireland should be aspiring to achieve," he observes.
Socioeconomic benefits
Given Ireland's target of 7GW of installed offshore wind capacity by 2030, Bord na Móna is keen to seize the opportunity to deliver on its own commitment to enhanced renewable energy development.
As an advocate for the energy transition, in partnership with Ocean Winds, there is a shared acknowledgement that the public engagement must be central to its offshore wind projects.
"As exhibited by Ocean Winds' success in Scotland and beyond, a crucial
128
Advertorial
element of stakeholder engagement is articulating the benefits that offshore wind energy will bring to the State, its economy, and its citizens," the Head of Renewable Energy insists.
"Réalt na Mara and Celtic Horizon represent two very significant infrastructure builds and will provide significant employment in the first instance. The economic dividend, particularly in rural Ireland, cannot be underestimated. Everything from the need to accommodate workers to the demand for various services they require will act as an economic catalyst. That will be replicated multiple times over in coastal communities.
"Once the industry is established and begins to evolve at pace, ports right around the coast will benefit from a significant upgrade as they support the deployment of offshore wind at significant scale. During our visit to the Moray East Offshore Windfarm in Scotland, for instance, it was incredible to see the number of people involved in the marine economy all their lives –such as fishermen – and have now reskilled to align their careers with the burgeoning offshore wind sector."
Delivery by 2030
While both Réalt na Mara and Celtic Horizon are live projects, with much groundwork already in place, Bord na Móna's teams are now working on preparatory work for Marine Area Consent (MAC) applications.
"There are lots of influential players developing projects in Irish waters. That is going to be a competitive process," Reilly acknowledges, adding: "But Bord na Móna is looking forward to playing its part, alongside Ocean Winds. Both projects are very strong and, ultimately,
we do believe that one of them will be delivered and operational by 2030. That is the immediate aim of our teams."
Overarching vision
Ireland's offshore wind resource has vast potential and Bord na Móna is seeking to ensure that offshore wind energy development becomes a central component of its evolving renewable energy asset portfolio as soon as possible.
However, as one of Ireland's oldest semi-states, it does not underestimate the challenge. "Delivering energy infrastructure of any type is challenging," Reilly concedes. "Both Bord na Móna and Ocean Winds are cognisant of the challenges that we face, but what we have observed over the last 12 months is renewed political recognition – alongside enhanced public awareness – of the importance of energy security to the State.
"Every year there are publications about Ireland's energy security and that is appropriate. However, the last 12 months – especially given the terrible events in Ukraine – have really brought security of supply to the forefront of the public consciousness. This joint venture is designed to bring indigenous energy into Ireland's energy mix at a significant scale, reducing exposure to imported energy and global energy price fluctuations.
"It is not just about electricity. The offshore wind sector at scale can drive renewable energy across other sectors, such as heat and transport. Offshore wind energy is critical to Ireland's ambition of becoming net zero by 2050, and we are really looking forward to playing our part," Reilly concludes.
129 Advertorial
"Offshore wind energy is critical to Ireland's ambition of becoming net zero by 2050, and we are really looking forward to playing our part."
future of energy report
The future is electric
future of energy report
Energy security: Prioritising security of supply
Policy is about trying to balance "trade-offs in the best possible manner" with regard to the energy trilemma of security of supply, sustainability, and affordability, Economic and Social Research Institute (ESRI) Senior Research Officer Muireann Lynch tells eolas.
"Ideally, the policies and objectives should align to ensure that policies are not doing multiple things and conflicting with each other," Lynch begins. "However, we live in the real world and both of those things happen; often policies have four, five, or six objectives required to get over the line politically. At the same time, there are competing policies pursuing the same objective. This complicates what is already a very complex picture of the energy trilemma, which is why ESRI has advocated for more of a hierarchy."
Lynch explains that a way of simplifying the trilemma might be trying to prioritise each strand rather than juggling them as equals. While arguments can be had over the individual importance of the three prongs of the trilemma, this is the starting point of the discourse.
Another way of approaching the issue, Lynch suggests, is to approach the issues as subsets of each other. For example, if the policy focus is on sustainability, then within that there is focus on those policies that are
secure, and then within those there is a focus on policies that are affordable.
"Certainly, before the Russian invasion of Ukraine in February 2022, and the subsequent resurgence of security and affordability as serious challenges, that was the direction of conversation. There are people who, if they do not have access to secure electricity, could die next week because they rely on digital medical equipment. Therefore, to say that we must prioritise electricity that is sustainable is not rational."
Energy efficiency
Research published by the ESRI in June 2022 found that, based on one measure, recent energy inflation has increased the estimated share of households in energy poverty to 29 per cent. This means that the share of households in energy poverty – "defined as spending more than a tenth of their net income on energy (including
130
The future is electric
electricity but excluding motor fuel)" –has exceeded the previous apex of 23 per cent, set in winter 1994/95. Some metrics place the share over 40 per cent, a rate that will "likely" be exceeded during winter 2022/23.
Allied to this pressure on households, Lynch also notes that uptake of smart tariffs among consumers has been low. "This refers to people who have a smart meter installed by the ESB yet have not opted-in for a smart tariff," she says, adding: "This is not a surprise. All international literature shows that smart tariff uptake is low. When carrying out surveys, people will often respond positively to the idea of a smart tariff, but uptake typically ends up being about five times lower than that rate of positive responses.
"What that tells us is that there is no evidence for the idea that people at home are energy literate, beginning to engage, or that they support the concept of the smart transition. In general, engagement with energy issues is very low. Information campaigns have limited impact. While the data show that campaigns may cultivate some increased knowledge, people do not act. We still need to crack the nut of behavioural science to get people to opt in."
This, Lynch says, means that affordability remains the predominant political fixation. As such, it has taken the recent affordability crisis to provoke action on the long-running security of supply crisis. The Senior Research Officer emphasises that the population will not accept less heat and less light, meaning that energy efficiency must be improved.
However, such efficiency potentially worsens the impact of supply issues. Using a simple explanation, she states that improving efficiency to the extent that oil barrels which previously delivered 10 miles of energy begin to deliver 100 miles, would mean that the loss of one barrel would be much more impactful.
Carbon emissions
In terms of environmental impact, Lynch states that carbon emissions are a function of energy demand, and that
their source is not relevant. "It does not matter if the gas comes from LNG, Qatar, Saudi Arabia, or Corrib. A tonne of carbon is a tonne of carbon.
Assuming no price impacts on indigenous fossil fuel production, limiting Ireland's indigenous fossil fuel supply does contribute to national climate objectives while simultaneously increasing our vulnerability," she says.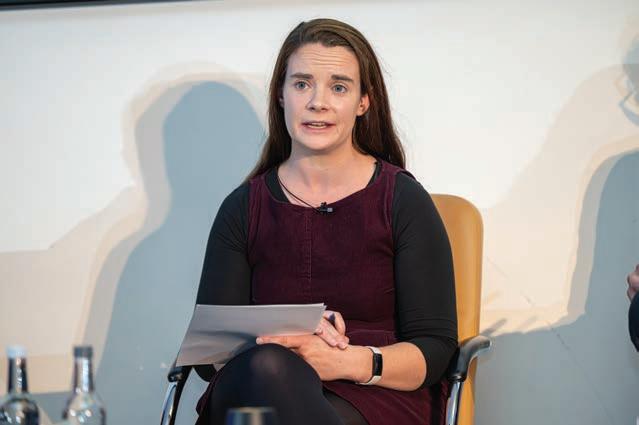 "The idea that we can tackle the climate crisis by limiting the indigenous production of fossil fuels is nonsense. To really tackle the climate crisis, we must limit our demand for fossil fuels, not our supply. Energy security must focus on supply."
One obstacle to achieving this is a gas supply that is not diverse, depending on the perspective taken. As Lynch explains: "Consider Ireland's gas supply. It is inherently not diverse. We have one dwindling field of indigenous supply from Corrib, and everything else is brought in via pipeline from Britain.
"However, if we think of Ireland and Britain as one gas market, it is diverse. We have got supplies from Corrib, Northfield, LNG from various sources, and Norway. From an economic point of view, Ireland is not an independent gas market. Rather, it is a node in the British market. Questions around gas security are political. However, left to economists, Ireland is part of a secure and diverse gas market."
Concluding, Lynch puts the ball in the court of the politicians to decide what kind of security of supply Ireland is striving for and what political considerations need to be included: "If we want an LNG terminal, storage in the North or the South, these are political questions and, as such, are exposed to political trends, including Brexit, who is in government in Westminster, and the political situation in the North."
131
"The idea that we can tackle the climate crisis by limiting the indigenous production of fossil fuels is nonsense. To really tackle the climate crisis, we must limit our demand for fossil fuels, not our supply. Energy security must focus on supply."
future
of energy report
CRU aims to incentivise demand reduction in challenging times
The proposals included a number of ambitious new measures aimed at minimising cost impacts on consumers and specifically targeting a demand reduction response across the electricity system in light of the current energy crisis that Ireland faces.
The CRU's response and decision was published in September and took account of the evolving situation with respect to the energy crisis, recent European Commission actions and the specific responses to the consultation.
The CRU proposals sought to address the two-pronged crisis of energy security and pricing that Ireland currently faces
caused by the immense challenge of escalating gas prices as a result of the war in Ukraine and is further exacerbated by a short-term lack of supply which has increased the risk that the grid will be unable to meet aggregate forecast demand in the period 2022 to 2024.
Under the Security of Supply Programme of Actions published in August 2021, the CRU directed EirGrid to procure emergency generation capacity, and on the demand side the CRU has put in place new criteria for the evaluation of data centre connections in order to mitigate security of supply risk.
In August 2022, the Commission for Regulation of Utilities set out a proposed suite of new network tariffs. 132 Advertorial
future of energy report
An important remaining tool available to the CRU is the use of regulated network tariffs to incentivise changes in end customer behaviour to manage demand, and specifically to move consumption away from peak hours when the network is under most demand stress.
While it is unusual to implement changes to the structure of network tariffs in such a short timeframe, the CRU's view was that urgent and proportionate action was necessary to tackle the electricity security of supply issues facing both Ireland and Europe, that all options need to be explored.
The situation regarding the energy crisis across Europe also evolved during the consultation period, with the European Commission noting that the short-term outlook on European energy security had worsened and that it would present proposals to incentivise electricity demand-reduction across the EU to reduce total monthly gross electricity consumption during pre-defined peak hours and how customers who reduce demand were compensated.
In this context, the CRU needed to reflect on the requirements of the proposed regulation which lean more towards compensation for flexible demand rather than additional costs or penalties for inflexible demand.
The CRU considered this evolving situation both domestically and across Europe and revised elements of the set of measures to be implemented this tariff year 2022/23. While the tariff decision covered a broad range of measures, the key impacts were in the areas of customer protection and demand reduction.
Customer protection
The unprecedented increases in energy prices are impacting all consumers and businesses. The CRU has approved the distribution and transmission revenues for 2022/23 with a view to minimising the impact on all customers. Some of the key points in the decision were:
• The unwinding of the rebalancing of the €50 million large energy users' costs established by Government in 2009 that will see, domestic customer bills reduced by an estimated average of €40 for the year (-12 per cent).
• A minimised revenue requirement to be recovered by the network companies, reducing the overall distribution revenue requirement by circa €54 million and the overall transmission revenue requirement by circa €14 million for 2023.
In parallel to this work, the CRU has set the PSO levy at -€491.25 million, delivering a negative levy. From a customer impact perspective, this will result in a reduction of annual bills by €89.10 for domestic customers and €311.51 for small commercial customers.
Demand reduction schemes
There was a very positive response to the proposed voluntary demand reduction schemes by ESB Networks under its Beat the Peak programme that was launched in November for both domestic and commercial customers. This model of customer engagement through incentive-based schemes is consistent with the proposed European Council approach to compensate those who reduce demand.
The CRU decided to accelerate the schemes proposed that will require ESB Networks to expand its proposed suite of measures to encourage and enable demand side response amongst domestic and commercial electricity users. At the transmission level, the CRU will engage with EirGrid and other stakeholders to develop appropriate demand reduction schemes that complement, and support actions being taken by the European Commission.
Peak ('ToU') network tariffs
The CRU maintains the need to continue with tariff structural reforms that target demand flexibility. One of the key concerns was that some business customers would not be able to reduce or shift peak load or, that others could not make alternative commercial or technical/operational arrangements in time for this winter.
In response, the CRU has modified some of its initial peak tariff proposals
for the introduction of a peak and nonpeak tariff between 17:00 and 19:00, for customers which will enable them to benefit from reducing load at peak times.
These modifications will reduce rates at off peak times, therefore ensuring that customers that have a flat load profile, and cannot shift load, will not be penalised.
The impact of network charges will depend on how electricity suppliers reflect these tariff signals in their retail charges so that customers are provided with an appropriate price signal to adjust their behaviours and therefore benefit.
The customer groups that were targeted included domestic customers and small non-domestic customers with a smart meter and who have opted for smart services. These will be charged a peak rate that reflects a 10 per cent differential with the day rate, encouraging them to shift their usage from peak times to benefit from off peak rates. Medium-sized customers who are quarterly hour metered will be charged a peak rate that reflects a 10 per cent differential with the day rate.
In addition, all large energy user (LEU) and XLEU customers will see the introduction of a peak and non-peak tariff (between 17:00 and 19:00) that reflects a 10 per cent differential between the rates.
As per the distribution charges, these modifications will reduce rates at off peak times, therefore ensuring that customers that have a flat load profile, and cannot shift load, will not be penalised.
T: 01 4000 800 E: info@cru.ie W: www.cru.ie
133 Advertorial future of energy report
While it is unusual to implement changes to the structure of network tariffs in such a short timeframe, the CRU's view was that urgent and proportionate action was necessary to tackle the electricity security of supply issues facing both Ireland and Europe, that all options need to be explored.
Short-term outlook for the European gas market
Europe needs to anticipate another difficult winter in 2023/24 and measures need to be taken now, writes The Oxford Institute of Energy Studies' Anouk Honoré.
Above normal temperatures in October 2022 and in the first half of November have effectively delayed the start of the heating season in Europe, giving the region a brief relief after record-high gas prices at the end of August. However, the gas market remains tight, and the continent needs to prepare for a difficult winter.
Supply: Sharp decline of Russian gas flows to Europe in 2022
In the period from January to November 2022, total supply to Europe (EU27 + UK) was 16 per cent lower than at the same time in 2021. Most of the decline has occurred since May as Russian supplies via Belarus, the Baltics, and Finland, and Nord Stream gradually stopped, with only flows via Ukraine and TurkStream remaining from September. Pipeline imports from other sources (Norway, north Africa, and Azerbaijan) have been relatively stable, as was indigenous production. A significant increase in LNG imports (+67 per cent) has helped to balance the regional market, becoming the single largest source of supply to Europe in 2022 (Figure 1).
Demand: Strong reduction driven by warm weather and high gas prices
Gas demand remained relatively resilient in 2021 but started to collapse in 2022 (Figure 2). Warm weather at the beginning of the year and similarly, at the beginning of the winter season 2022/23, limited the need for gas use in space heating this year. Continued high gas prices have also triggered demand response both from small consumers and larger industrial users. By contrast, gas used for electricity generation has increased year-on-year due to continued low availability of nuclear and hydropower.
Europe starts winter 2022/23 with full storage stocks, but the market
remains tight
On a positive note, gas storages were 95 per cent full at the beginning of winter, which together with strong LNG imports and low gas demand provided downward pressure on gas prices in October and November. However, with the arrival of cold temperatures, gas prices are rising again.
134
future of energy report The future is electric
The future is electric
Figure 1: Source of natural gas supply in Europe (EU27 + UK) in January-November 2022, bcm
Over the next 12-18 months, indigenous production and pipeline imports are unlikely to increase. Pipeline flows could even be lower with Russian pipeline supply at a downside risk relating to transit via Ukraine. There is some upside potential for LNG supply due to new import capacity (in particular, the FSRU-based import capacity in the Netherlands and in Germany will contribute to ease congestion in northwest Europe). However, demand for LNG outside Europe and competition for cargoes during the winter and into the summer 2023 will be an important uncertainty, especially if Chinese gas demand picks up again with the end of lockdowns.
Therefore, additional gas demand reduction will be needed in Europe to limit the risks of shortages in the coming weeks. The EU and national governments face a hard balancing act: incentivising customers to save energy while, at the same time, protecting them from the worst impacts of record-high gas and energy prices. Key factors to keep an eye on will be the willingness and ability of consumers to change their behavior to use less energy, the pace of return of French nuclear reactors in December 2022, and the evolution of temperatures: a cold winter being likely to derail most demand-response measures.
Note: Negative number for storage indicate more injection than withdrawal Source: ENTSOG Transparency Platform; Eurostat; Gas Infrastructure Europe (AGSI); Kpler LNG Platform –Data compiled by Dr J. Sharples (OIES)
Figure 2: Monthly natural gas demand in Europe (EU27 + UK), bcm
The level of gas in storage at the end of this winter is probably the most
Source: IEA, Eurostat, Entsog, GRTgaz, Terega, NCG, Gaspool, SNAM, Enagas, NationalGrid – Data compiled by and completed with Dr A. Honoré's assumptions (OIES)
important element to understand the short-term European gas outlook. In summer 2022, the EU refilled its storages thanks to 30 bcm of Russian pipeline gas and lower LNG imports by China. Two factors that are unlikely to be repeated next year. With limited options for additional supply, storage replenishment in summer 2023 will be more challenging.
Gas consumption will influence storage withdrawals, and more importantly, the level of gas left in storage at the end of winter (1 April 2023). The 15 per cent voluntary reduction of winter demand already agreed by EU member states would put the region on the right track to
be able to replenish the stocks to 95 per cent by the beginning of winter 2023/24, with limited additional supply needed for storage injections. This would also provide downward pressure on gas prices next year. In the context of tight global LNG market to 2025/26, measures to lower gas demand in Europe will benefit consumers and European economies this winter, but also, very possibly, for the next three to four winters.
Anouk Honoré is a Senior Research Fellow and Deputy Director of the Gas Research Programme in the Oxford Institute of Energy Studies.
Europe needs to anticipate another difficult winter in 2023/24 and measures need to be taken now
135
future of energy report
future of energy report
Transforming the gas network with renewable gases
The separation of Gas Networks Ireland out of the Ervia Group, and the appointment of a new executive team last year, was the "ideal time to stand back and review our strategy", says CEO Cathal Marley. The new strategy builds on the central role that gas plays in Ireland's energy mix, supplying 30 per cent of energy needs, 40 per cent of all heating requirements, and over 50 per cent of electricity generated from gas.
The gas network has over 720,000 customers ranging in size from residential, commercial to high energy intensive industry. "We are at the heart of Ireland's energy landscape and the challenge is to maintain that position in the future; to do that we have to change," Marley says.
"We are a very proud company. We have been around since the 1970s and there is huge expertise in Gas Networks Ireland in storing and transporting gas. There is a strong appetite to maintain that position."
Marley goes on to articulate Gas Networks Ireland's vision for the future: "Our vision is to take our network of pipelines, which are modern and world class, and transport renewable gases, such as biomethane and green hydrogen. We can repurpose this modern network for Ireland's low carbon future. There are plans in the EU to repurpose over 60 per cent of the existing gas network to hydrogen. We are very well positioned in Ireland to do this."
Cathal Marley, Chief Executive Officer of Gas Networks Ireland, talks to eolas about the company's new strategy and how it is decarbonising the gas network to provide a secure energy future for Irish industry and homes.
136 Advertorial
The company has already been though a major transformation in terms of the product that it stores and transports. Before natural gas was discovered off the County Cork coast in the 1970s, town gas produced from coal was transported in the gas network. The gas industry has a long history in Ireland. The first streetlights in Ireland were the gas lights in Dublin's Phoenix Park which are still in place.
Natural gas from the Kinsale field revolutionised the Irish economy, according to Marley. "It was cleaner, abundant and affordable. We have gone from town gas to natural gas and the next evolution is the move to renewable gases. The journey has always been towards a more secure, cleaner future."
Marley says the first strategic objective is to have a resilient network. A strong and secure gas network facilitates the introduction of more renewable electricity from solar and wind. These sources of energy are intermittent, and gas is the key partner energy source for electricity generation when renewables are not delivering the energy required, as it can supply power stations instantly.
providing back-up for intermittent renewables and most critically being there to meet peak demand whenever it is needed. As electricity demand increases, so too does the extent of peak demand deficits which need to be met by natural gas now and renewable gases in the future. Gas Networks Ireland will be there to ensure the security of Ireland's energy supply.
"Underpinning these core objectives will be our people, our operational excellence, and our financial strength. Because we have kept investing in modernising our network we are in a strong financial position, and it makes sense to leverage that in the current economic climate to deliver on Ireland's climate change targets," explains Marley.
Energy security and gas storage
In some of the media coverage on energy security, the issues of gas supply are conflated with electricity generation adequacy. Mainland Europe has an immediate challenge with gas supply, but Ireland gets most of its gas from the UK and Norway and "as our latest winter outlook shows, we do not envisage any disruption to the winter
"The backbone of the energy system for some time will be our network," Marley says. Abundant offshore wind producing green hydrogen will need the network to transport the hydrogen to end users and also subsequently for any hydrogen exports via the existing interconnector.
The next strategic objective focuses on the needs of its customers. "Customers are looking for a sustainable future, and this is a particular challenge for our industrial and commercial customers. We have to go on a journey with them and transition together to that sustainable energy future." This trend is particularly prevalent with large energy users, including US and European inward investors who want to move to renewable gas to meet their energy needs.
Another key element of the GNI strategy is how the integrated energy system of the future links renewable electricity and renewable gases. In developing renewable gases, Gas Networks Ireland will be partnering with a wide variety of organisations for a very different energy system. A critical future role of the gas system will be
months," according to Marley. "In the medium term, security of gas supply does need to be addressed."
Gas Networks Ireland had the foresight to consider security of supply issues in the context of the Moffat gas interconnector with Britain. "Some years ago, we looked well ahead to twin our interconnector from Britain. It is now effectively two independent pipelines; in case one goes down."
The twinning of the interconnector also gives the option in the future of exporting hydrogen at the same time as importing gas, "which will help in Ireland's energy transition to net zero carbon". The Corrib field currently supplies 25 per cent of Ireland's gas needs and this will soon reduce to 10 per cent.
An important aspect of energy security is diversification of supply. "It is important that we do not just focus on renewable electricity. Biomethane is an immediate opportunity for an indigenous renewable energy source that can be delivered relatively quickly. Producing green hydrogen using offshore wind energy will take some time
"We have a legacy of expertise on storing and transporting gas which has been built up over many years and we take this role very seriously.
137 Advertorial future of
It is this expertise which will make us the trusted company to manage renewable gases now and in the future."
energy report
4
Cathal Marley, Chief Executive Officer, Gas Networks Ireland
to reach the scale needed, however the technology for biomethane is already available."
Gas Networks Ireland already transports biomethane through its network with an injection point at Cush, County Kildare and another large renewable gas injection point planned for Mitchelstown, County Cork. The industry in Ireland is at the cusp of rapid growth.
Marley cites the example of Denmark, which in the space of 10 years is supplying approximately 40 per cent of its gas needs from biomethane production.
Whilst resilience of the Gas Networks Ireland network and developing biomethane are both important elements of Ireland's energy security, a third, "and critically important" element is gas storage. Ireland is almost unique in Europe in having no strategic gas storage facilities. "We have oil reserves but no gas reserves, despite gas supplying 30 per cent of our primary energy needs. That needs to be addressed as a matter of urgency," Marley says. "The Government are currently in consultation on its Security of Supply Review and is considering a number of options to address the significant risk of an interruption to our gas supplies either through economic or physical disruption factors. These have never been more real given the current war in Ukraine. The key criteria in assessing security of supply options are financing, meeting climate change policy, and the proposal actually delivering the security of supply required. Gas Networks Ireland has submitted a proposal for an onshore strategic storage facility which we believe meet all these criteria, delivering immediate security of supply at appropriate cost and being future proofed to transition to renewable gas storage in the future. We await the Government's full review of the options and will work with them on ensuring a successful implementation of the selected option."
Biomethane
Biomethane molecules are identical to natural gas molecules. "It's just produced via a different route, from waste food, slurry, or grass. It sits well with Ireland's agricultural economy and offers a solution to deal with the sector's waste. It is circular, taking slurry off the land and returning clean digestate from the anaerobic digestion process, producing a zero net carbon gas," explains Marley.
Ireland has the biggest potential in Europe for producing biomethane, but the sector here is the least developed. There is now a consensus in the energy sector for supporting biomethane and Ireland has a target of 5.7 TWh biomethane per year.
This target has been driven by European policymakers and will most likely be increased with the loss of Russian gas to Europe. "There is usually a push from government on climate action, whereas with biomethane the push is coming from the industry players themselves."
Gas Networks Ireland has had over 130 connection enquiries from biomethane producers, and the volumes being forecast would easily meet the national target.
However, the industry is waiting to see what policies and incentives will be announced by government. "We are working closely with producers to see what we need to do to have biomethane injected into our network at scale. There is a groundswell of interest, and a wall of financing available but the sector needs support similar to that given to the fledgling wind energy sector. If people are going to invest, they need to see a secure revenue stream." There will be a renewable heat obligation (RHO) consultation starting in 2023, with the obligation most likely
138 Advertorial
"Underpinning these core objectives will be our people, our operational excellence, and our financial strength. Because we have kept investing in modernising our network we are in a strong financial position, and it makes sense to leverage that in the current economic climate to deliver on Ireland's climate change targets."
future of
energy report
coming into operation in 2024. While this will create an obligation to take renewable gas, it does not give price certainty or capital supports for investors. Nevertheless, it will provide very positive signals to the market and is to be welcomed.
Hydrogen
In Ireland, the focus has been on the green hydrogen route, generating hydrogen using renewable electricity. Gas Networks Ireland's role is to transport gas, whether that is natural gas, biomethane or hydrogen or a blend of those gases.
"First and foremost, we are addressing the technical safety aspects, making sure our network can carry hydrogen safely, including hydrogen blended with methane." Gas Networks Ireland is currently developing safety standards and protocols and engaging with the Commission for the Regulation of Utilities (CRU) to ensure that these gases can enter its pipelines and be used safely by end users. "We have a legacy of expertise on storing and transporting gas which has been built up over many years and we take this role very seriously. It is this expertise which will make us the trusted company to manage renewable gases now and in the future."
The first hydrogen into the Irish network will most likely come from Britain through the Moffat interconnector rather than from hydrogen produced from offshore wind energy. "Hydrogen will come at us sooner rather than later and we need to give our customers confidence that this can be done safely. Over the last year, we have been working with University College Dublin's Energy Institute (UCDEI) and Ali Ekhtiari on a
research project at our Network Innovation Centre to investigate the potential use of hydrogen in Ireland. The results of that research have just been published and we now know we can blend 20 per cent hydrogen into our distribution system safely with no impact on customers. That is a minimum level and we are confident we can cope with much higher percentages of hydrogen.
"Our pipelines are very modern, made from polyethylene, and we believe we can repurpose all our pipelines to carry hydrogen. We just need to work out how we transition from methane to hydrogen."
Future
Looking to the future, Marley is optimistic but strikes a note of realism.
"The challenge for us is to mobilise our staff and stakeholders to realise that we are at another point of change in what we do. Since the 1970s, natural gas has driven Ireland's energy system.
"If we do not supply gas safely and securely during the energy transition, then renewables will fail on the back of a lack of energy security. We can roll out renewables with confidence if we also have a secure alternative energy supply. We have to perform for today and transform to a future with renewable gases. While we are extremely proud of our past and the critical role natural gas has played in a growing economy, we are keenly aware that this is a time of change and that renewable gases are the future. We intend to keep Ireland's energy moving and remain at the heart of Ireland's energy future," concludes Marley.
139 Advertorial future of
report
energy
The future is electric
future of energy report
ORESS 1 terms and conditions and timetable published
The finalised terms and conditions contain within them some notable changes from the draft terms and conditions published for consultation in 2021, among them the extension of the period of support from 15 years to 20 years. The representative minimum and maximum quantities for ORESS 1 projects has also been determined by Minister for the Environment, Climate and Communications Eamon Ryan TD, with the minimum set at 1,000 GWh annually and the maximum at 18,000 GWh annually. ORESS 1 is expected to secure up to 2.5GW of offshore wind capacity, what would have been half of the Government's 2030 target had it not been increased from 5GW to 7GW. It is expected that this 2.5GW can be
delivered and operational by 2026 or 2027.
In the immediate aftermath of the Government's publication of the terms and conditions, EirGrid published the timetable for the ORESS 1 auction, with qualification applications opening on 11 January 2023 and closing at month's end, with final qualification decisions to be announced on 6 April 2023.

Following the qualification decisions will be the auction process itself, which begins on 17 April with the publication of the information pack, and will see the auction submission process open on 27 April, close on 3 May, and be completed on 4 May. Provisional results will be announced on 11 May, with final
results announced on 14 June and notice of award given on 21 June.
Following on from the Maritime Area Planning Acts and its award of maritime area consent to seven projects in September 2022, the Government has said that any project with a maritime area consent will be eligible to participate in the ORESS 1 auction.
The successful projects will be obligated to fulfil the community participation aspect of the terms and conditions via participation in the community benefit fund; failure to do so, the Government warns, may result in the letter of offer being withdrawn.
Generators of each project are required to establish a community benefit fund no later than one year after the
Renewable
(ORESS
The Government took a landmark step towards achieving its aim of achieving 7GW of offshore wind by 2030 in November 2022 when it published its finalised terms and conditions for the first
offshore
Electricity Support Scheme
1).
140
The future is electric
commencement date of their ORESS 1 project and will be required to "make a contribution calculated as the lossadjusted RESS metered quantity for that ORESS 1 project multiplied by €2/MWh" to the fund. Contributions to the community benefit fund are to continue for the duration of the project's support period.
Generators will also be required to ensure that their projects join the public service obligation (PSO) scheme "as soon as practicable prior to the commercial operation date" in order to ensure that the projects on the receiving end of public support as soon as possible and are not operating within the wholesale market.
Generators will likely welcome the inclusion of partial indexation in the terms and conditions, which will see the strike price adjusted throughout the span of the project using formulae that take into account the original strike price, the price of steel according to the Steel Index compiled by Platts, and the Harmonised Index of Consumer Prices as published by Eurostat. The relevant minister will publish the calculation in respect of the indexation of the strike price, without disclosing prices specific to individual projects, before each indexation date. The partial indexation approach has been seen in France, while full indexation has been used in the United Kingdom and in Poland; this approach is seen by generators as a major bulwark against inflation-related losses and it had been warned that investors would have been forced into taking a conservative view on projects when current inflation is factored in without the guarantee of indexation.
Also likely to be welcomed by generators is the inclusion of planning risk mitigations such as floating milestones in the auction design, a reduction in the minimum installed capacity from the 90 per cent in the draft terms to 80 per cent, and the ability for generators to issue "an irrevocable notice to the Minister of the proposed withdrawal of its ORESS 1 project from ORESS 1 as a result of a condition (or conditions) contained in the planning consent for that ORESS 1 project".
ORESS 1 auction timetable
Process Event Date
Qualification
Qualification
Qualification application opening date 11/01/2023
Qualification applicaation closing date 01/02/2023
Qualification Bid bond posting date 15/02/2023
Qualification Provisional qualification decision date 02/03/2023
Qualification
Application for review closing date 06/03/2023
Qualification Final withdrawal date 21/03/2023
Qualification Application for review decision date 21/03/2023
Qualification
Qualification decisions submission date 23/03/2023
Qualification Notice of dissatisfaction by participants date 23/03/2023
Qualification Final qualification decisions date 06/04/2023
Auction Auction information pack publication date 17/04/2023
Auction Financial questionnaire submission opening date 25/04/2023
Auction Financial questionnaire submission closing date 26/04/2023
Auction Auction submission opening date 27/04/2023
Auction Auction submission closing date 03/05/2023
Auction Auction completion date 04/05/2023
Auction Provisional auction results date 11/05/2023
Auction Notice of dissatisfaction by participants date 15/05/2023
Post-auction
Post-auction
Final auction results date 14/06/2023
Notice of award date 21/06/2023
All applicants must provide a bid bond to EirGrid, the transmission system operator. The bid bond for ORESS 1 has been set at €6 per MWh of deemed energy quantity for one year, a decrease from the €7 per MWh that was outlined in the draft terms and conditions. The example proffered by the Government is that of a 500MW project, whereby the equation would be: €6/MWh x 500MW x 8,760 hours x 0.45 renewable capacity factor = €11,826,000. The price of the performance security has also been dropped from the draft terms, falling from €24 per MWh to €20. The
performance security for a 500MW project would thus work out as such: €20/MWh x 500 MW x 8,760 hours x 0.45 renewable capacity factor = €39,420,000.
Speaking upon the release of the terms and conditions, Minister Ryan said that their publication marked a "massive step forward" in securing Ireland's energy future: "Publication of the ORESS 1 terms and conditions is another massive step forward – for offshore wind, for Irish climate leadership and towards Ireland's future as an international green energy hub."
future of energy report
141
future of energy report
Local offshore gas: An obvious but overlooked energy security option for Ireland
In 2021, our industry presented two distinct but interlinked outline technical proposals to support the objectives in the Climate Action Plan: the Cork Net Zero Emissions Hub and the Corrib Critical Infrastructure Hub. We as an industry believe that Ireland has the capacity to maintain a level of energy
sovereignty by using its own resources. Ireland can reduce our imports and our emissions while increasing investment and jobs. This will only be achieved if politicians are willing to be honest about Ireland's energy security limitations and are prepared to realise the full potential of Ireland's offshore resources. Our
industry has been engaged recently in discussions with the European Union who are acutely aware of Ireland's vulnerability when it comes to energy security.
However, the review of the security of Ireland's energy supply of electricity and natural gas systems, commissioned by the Government, which was published last year gives absolutely no reference to the use of indigenous resources beyond renewable energy. The Irish Offshore Operators' Association (IOOA) and others have voiced serious concerns about the review, highlighting many omissions and the simplistic arguments used in order to exclude certain mitigation options.
Therefore, our industry recommended a full cost benefit analysis be carried out on all mitigation options, together with the inclusion of a detailed assessment of the potential for interruption of energy supplies from risks including cyberattacks and infrastructure failure
through
Two strategic proposals build upon, and utilise, critical national infrastructure in order to play a major role in lowering emissions and decarbonising our society while ensuring Ireland's energy security and national prosperity, writes Ryan Carty, Chairman of the Irish Offshore Operators' Association.
142
Ryan Carty, Chairman, Irish Offshore Operators' Association and Managing Director, Vermilion E&P Ireland.
Advertorial
accident, war, or sabotage. Overall, IOOA considered that the review is seriously flawed and urges the Government to hold a comprehensive public re-examination of Ireland's energy security options, based on practical realism rather than on aspiration, unrealistic expectations, and wishful thinking.
We are in the midst of a series of international crises. With an energy and a climate crisis, every country must play its role in the responsible use of energy and in safeguarding the environment, using all means at our disposal. This means cutting emissions and ramping up renewables as quickly as possible. However, renewables require reliable backup sources for times when the wind does not blow, and the sun does not shine. The only realistic low-carbon backup option available in Ireland is gas. This is recognised by the Government with the planned building of several new gas-fired plants to act as backup, and acknowledgement that natural gas will form the vast majority, and more enduring part, of conventional generation and will be needed beyond 2030.
Where will this gas come from? Ireland is one of the most energy importdependent countries in the EU. In contrast to most European countries, we have no gas storage or LNG facilities. Our industry safely produced significant quantities of indigenous low-carbon natural gas from the Irish offshore for more than 40 years, but as the Corrib gas field reserves rapidly depletes, we now have a prohibition on the granting of new authorisations for gas exploration or extraction beyond those already in place. We are increasingly reliant on gas imports through a single interconnector system from the UK, itself importing approximately 50 per cent of its gas, with an increasing amount coming from LNG. While Ireland is opposed to the use of 'fracked' LNG, we appear happy to import gas from all sources – including 'fracked' gas –through the interconnector system, with no consideration for either the ethical or environmental footprints of the sources.
The exploration and development of additional indigenous Irish offshore gas was rejected in the recent energy review, on what appear to be superficial and ideologically driven grounds. However, there is a compelling
argument for its inclusion as a major energy security mitigation option. There is considerable potential for further gas discoveries, especially in the lightly explored general vicinity of the Corrib gas field. In that regard, there is a need to examine the creation of "a gas exploration zone" around the existing infrastructure at Corrib where new licences can be issued. Any new gas finds could be rapidly tied back sub-sea to the existing infrastructure without the need for new onshore developments and with negligible environmental impact.
Corrib gas currently has an extremely low emission intensity. It is currently approximately one fifth of the emission intensity for produced natural gas in the UK North Sea and one thirteenth of that from LNG imported from Qatar to Europe. It is highly probable that any further gas discoveries tied back to Corrib would have similarly low emission intensities.
The Barryroe oil and gas field, off the south coast, also presents a unique opportunity to develop an indigenous source of oil and gas. It can contribute to Ireland's energy security, create significant employment opportunities, and provide strategic and fiscal value to the Irish economy, at no cost to the Irish taxpayer.
Irish natural gas is not fracked, has low emissions, is reliable, secure and benefits the local and national economy. Importantly, exploration and development are carried out at no cost to the Irish state. Future indigenous gas could therefore replace imported gas,
increase energy independence, and decrease emissions.
It is incumbent on Ireland, as a developed nation, to minimise our impact on the global carbon footprint in order to combat the climate crisis, and to maximise our indigenous natural gas to tackle the energy security crisis. However, we need to act urgently and sensible by examining fully the potential that lies off our own shores.
Irish Offshore Operators' Association (IOOA) Suite No. 2119
Fitzwilliam Business Centre 26 Upper Pembroke Street Dublin 2
E: assistant@iooa.ie W: www.iooa.ie
143 Advertorial future of energy report
"We are increasingly reliant on gas imports through a single interconnector system from the UK, itself importing approximately 50 per cent of its gas, with an increasing amount coming from LNG. While Ireland is opposed to the use of 'fracked' LNG, we appear happy to import gas from all sources – including 'fracked' gas –through the interconnector system."
The future is electric
future of energy report
Hydrogen 'essential' to climate-neutral European economy
Hydrogen is "an essential component of the new, climate-neutral economy" writes European Commission Vice-President Frans Timmermans in a special report for COP27, during which hydrogen was heavily touted and a supply agreement with host Egypt was signed by the EU.
"In the current circumstances, investments in renewable hydrogen can also strengthen energy security and ensure industrial competitiveness," Timmermans writes in his foreword to the report, Hydrogen: Enabling a zero-emission society, published by Hydrogen Europe. In the context of the Russian invasion of Ukraine and REPowerEU – the EU's plan to end its dependence on Russian fossil fuels – the EU is aiming to produce 45 per cent of its energy from renewable sources by 2030, which would include 20 million tonnes of renewable hydrogen from an equal split of 10 million tonnes from both European production and extracontinental imports.
Hydrogen currently accounts for less than 2 per cent of Europe's energy consumption and what hydrogen is produced is typically used to produce chemical products such as plastics and fertilisers. However, 99.3 per cent of this hydrogen production is completed through "conventional, polluting methods". As part of the REPowerEU reforms, the EU announced a 'full switch' from the production of grey hydrogen to green. Indeed, the European electrolyser industry has committed to increasing its capacity tenfold to 17.5GW per year by 2025.
As the report was issued specifically for COP27, it was appropriate that the topic of hydrogen played such a heavy role in the discourse surrounding the event. This was, in part, due to the conference being hosted in Sharm El Sheikh, Egypt, which is one of the Middle East/North Africa (MENA) states eager to gain a foothold in the hydrogen market. Egypt is accompanied by the United Arab Emirates (UAE) and Saudi Arabia, whose Neom citybuilding project is said in the report to be "on track to sell carbon-free green hydrogen by 2026 for green ammonia producing, using 120 electrolysers to split hydrogen from water".
The EU used the opportunity of the COP27 conference to announce the signing of a bilateral memorandum of understanding on hydrogen and renewable energy with its Egyptian host, which is on course to ensure that 100 per cent of national projects meet its green criteria by 2030, as it works towards achieving a 10 million tonnes importation target for 2030.
The memorandum will serve as a framework to support the long-term conditions of the hydrogen industry and trade between the EU and Egypt. Ultimately, the EU will contribute up to €35 million in support of Egypt's Energy Wealth Initiative. This marks the latest in a series of hydrogen exchanges between Europe and the MENA region, with Germany having received its first shipment of low-carbon ammonia from the UAE in October 2022.
Hydrogen Europe estimates that 2022 levels of hydrogen demand currently stand between 8.4 and 8.7 million tonnes, with demand having more than tripled since 1975 according to the International Energy Agency and forecast to more than double from current levels by 2030.
144
The future is electric
Total planned and confirmed clean hydrogen consumption in industry by 2030
More than half of hydrogen consumption in the EU, EFTA, and the UK combined occurs in just four countries: Germany, the Netherlands, Poland, and Spain. Meeting REPowerEU goals will require investments between €86 billion and €126 billion, the European Commission estimates. Meanwhile, the Energy Transitions Commission projects that the decarbonisation process with hydrogen will require $15 trillion.
The European Hydrogen Backbone proposes the construction of 39,700km of hydrogen pipelines by 2040. It is anticipated that such widespread construction would play a role in reducing the price of the gas. The EU aims for green hydrogen to be available at a price of €2/kg by 2030. As things stand, the most affordable renewable hydrogen produced in the EU is produced in Portugal at a price of €3.50/kg.
Another key to such decreases in prices could be the extension of hydrogen production by thermolysis of sustainable biomass, which has no dependence on fossil fuels, with it stated by one producer in the report that the use of biomass allows for the production of hydrogen at costs of between €1.50/kg and €3/kg.
The decarbonisation of transport and other hardto-abate industries will, of course, be central to both the European and global approaches to hydrogen implementation. Within the report, in a case study of French manufacturer Alstom, who
designed, developed, and manufactured the first 100 per cent hydrogen train, it is estimated that 700 tonnes of CO2 – the yearly equivalent of 400 cars – would be saved annually for every train that is fuelled by green hydrogen.
For aviation, the report references the method of producing SAF fuel, which "employs a power to liquid (PTL) process, which relies on the supply of a sustainable carbon feedstock and the production of green hydrogen through electrolysis using renewable energy". The carbon and hydrogen are then "converted to synthesis gas, a mixture of carbon monoxide and hydrogen, which in turn is converted to longer chain hydrocarbons for the production of jet fuel or SAF via the Fischer-Tropsch Process".
European clean hydrogen capacity stood at just 162MW in August 2022, itself a notable increase from the 2019 level of 85MW, meaning that these plans are shelved for the time being.
In its European Hydrogen Strategy, the EU identified three development phases: kick-start, ramp up, and market growth. The kick-start phase has begun, and is expected to last until 2025, by which point "clean hydrogen will start to be competitive even without incentives in some production locations and industries".
Achieving the 10 million tonnes of European production envisioned under REPowerEU will require up to 140GW of electrolysis capacity; announced projects already amount to 138GW according to the Clean Hydrogen Monitor.
For European hydrogen, the evidence will be apparent in the latter half of the 2020s. When the kick-start phase comes to an end and the ramp-up phase begins, it will become clear whether or not these plans have delivered real, built capacity.
0 97 537 523 1 7 1 368 711 114 571 2112 287 10 242 0 10 2 192 0 47 0 0 10 5 128 0 0 2 0 2112 Kt H2/year
145
Source: Clean Hydrogen Monitor 2022, Hydrogen Europe.
future of energy report

Thursday 9 February • Croke Park Dublin Irish Renewable Energy Summit 2023 The major annual conference for the Irish renewable energy sector For more information: T: +353 (0)1 661 3755 • W: www.energyireland.ie • E: info@energyireland.ie In partnership with Sponsored by Eamon Ryan, TD Minister for Environment, Climate and Communications Tom Howes Green Transition and Energy System Integration DG Energy European Commission Jerry Murphy Director of MaREI Centre University College Cork Muireann Lynch Senior Research Officer, Economic and Social Research Institute Margie McCarthy Director of Research and Policy Insights Sustainable Energy Authority of Ireland John Reilly Head of Renewable Energy, Bord na Móna Maria Ryan Director of Development SSE Renewables Donagh Cagney Policy Director Ocean Energy Europe Tanya Harrington Chairperson Renewable Energy Ireland Lisa McDermott Executive Director, Project Finance ABN AMRO Bank N.V. Featured speakers: Sponsorship opportunities are available for the 2023 Irish Renewable Energy Summit contact info@energyireland.ie for further information. The 2023 Irish Renewable Energy Summit will once again bring together all the key stakeholders from across the renewable energy sector and wider energy sector to discuss how the contribution from renewable energy can be maximised and implemented most effectively.
Irish Retrofitting Conference 2022
The
conference report
Delegates
Ian Hutchcroft, EnergieSprong UK; Pauric Kavanagh, Kore Retrofit; Fiona Fylan, Leeds Sustainability Institute and Ciaran Byrne, Sustainable Energy Authority of Ireland.
Minister Eamon Ryan TD addresses delegates.
James Hooton, Green Finance Institute; Marie Coggins, University of Galway; Michael O'Brien, Waterford and Wexford Education and Training Board; Joe Durkan, Sustainable Energy Authority of Ireland and Ciaran Byrne, Sustainable Energy Authority of Ireland.
Irish Retrofitting Conference, held in partnership with the Sustainable Energy Authority of Ireland, recently took place on Thursday 27th October in Dunboyne Castle Hotel, County Meath. This conference brought together all the key stakeholders involved in delivering the National Retrofitting Programme and looked at the various aspects of the programme including the financing of retrofitting and the development of the supply chain.
in attendance heard from both local and visiting speakers from organisations including the Department of the Environment, Climate and Communications; Leeds Sustainability Institute; Irish Green Building Council; EnergieSprong UK; Waterford and Wexford Education and Training Board; Kore Retrofit and Studio Negri. To keep up to date with next year's event please email info@energyireland.ie.
Margaret Costello, Technology University Dublin and John Kirby, TLI Group.
Robert Deegan, Department of the Environment, Climate and Communications asks the panel a question.
147
John Cussen, Bord Gáis Energy and Joe Durkan, Sustainable Energy Authority of Ireland.
Delegates visit the WWETB stand.
Ireland's EU contributions rise in 2020
Since Ireland's economy exited the EU-IMF bailout scheme in 2013, the State has been a net contributor to the EU budget, with the 2020 figures showing that Ireland made a net contribution in the region of €700 million, reflecting receipts of €1.9 billion and payments to the EU of €2.6 billion.
Around 80 per cent of Ireland's receipts from the EU budget go to the agricultural sector and, more broadly, towards rural development projects. However, this figure does not include some payments made directly to beneficiaries from the EU.
This figure means that, in 2020, Ireland has the 12th highest contribution of the then-28 member states to the
EU budget. This is a trend expected to continue, as IMF figures show that Ireland had the highest levels of economic growth in the European Union in 2021, with a GDP real terms increase of 13.6 per cent.
Receipts from EU budget
Agriculture was the biggest sector in Ireland in receipt of funds from the European Union. "Receipts can be broken down into five main areas, the biggest of which relates to agriculture – specifically, agricultural guarantee and rural development funds." Ireland received the second highest amount of funding from the European Agricultural Guarantee Fund (funding from the Common Agricultural Policy), second only to Lithuania.
148 eolas issues 148 eolas public affairs
Ireland's European Union budget contributions have increased by 50 per cent between the years 2013 and 2020, due to GDP growth, according to a report by the Department of Finance.
eolas europe eolas europe
"As well as the amount of funding, close to 90 per cent is administered by government departments, with the remainder going directly to public and EU bodies and the private sector," the report states.
The report further outlines that funds from the EU are allocated under three broad models. These are:
Shared management: Funds managed by member states in partnership with the Commission. Around 80 per cent of the EU budget comes under this channel. Monies are paid out to relevant departments on the instruction of the European Commission. The managing authority of each fund is also required to produce an annual implementation report (AIR) for the EU.
Direct management: Funds managed directly by the Commission, along with other EU bodies and agencies.
Indirect management: Funds managed indirectly by other international organisations, decentralised agencies, special EU bodies or joint undertakings.
The second highest sector in receipt of funding in the State was that of 'Smart and Inclusive Growth'. This sector was allocated a total in the region of €438 million. The report states: "The main areas covered here include 'competitiveness for growth and jobs'; Horizon 2020 and Erasmus+, and 'economic, social and territorial cohesion' which includes investment for growth and jobs and a Youth Employment Initiative."
Ireland's funding, whilst having a notable impact on the economy, was relatively low on a per capita basis compared with other EU member states, ranking 21st out of the 27 member states.
Budget contributions
Ireland has been a net contributor to the EU budget since 2013. In 2020, the State's net contributions amounted to a total in the region of €500 million. The Department of Finance states that "this data (cash as opposed to accrual based) differs from the European Commission's figures due to accounting and time period differences,
EAGF receipts in 2020, € per capita
Source: Department of Finance
Smart and Inclusive Growth in 2020, € per capita
Source: Department of Finance
although the trend between the series is similar".
Measured per capita, Ireland's net contribution amounted to €101 per person, an increase by €1 since 2019 and €80 since 2015. In 1997, when Ireland was a net recipient of EU funding, the State's receipts amounted to an average of €700 per person, and has subsequently declined throughout the 2000s and 2010s, including through the 'Celtic Tiger' period and the period of the recession.
Although Ireland's recipient burden has
been in decline since the 1990s, the Department of Finance states that the increase in Ireland's contributions to the EU budget can be attributed to the economic growth experienced throughout the 2010s, in addition to Ireland's corporation tax model which has benefitted it in the age of globalisation.
It further states that "this purely monetary approach does not capture broader benefits arising from EU membership, an analysis of which is beyond the scope of this report".
149 eolas public affairs
eolas europe eolas europe
0 50 100 150 200 250 300 LTIEELLVDKHUESBGFREEROFIPLSKCZHRATPTSESIITLUCYDEBEUKNLMT
0 200 400 600 800 1,000 1,200 LULTEEHULVELCZPTSIPLSKHRMTBEROBGCYFIESITIENLATDKFRSEDE UK
Mol an óige
Mairéad Farrell TD
Scattered with republican and internationalist iconography – as well as a photograph of a Conamara landscape taken by University of Galway geography professor Chaosheng Zhang –Mairéad Farrell's office in Leinster House must feel very distant from her time working in a leading European bank.
Despite an initial career trajectory in finance, having completed an MSc in risk and investment management in Belfast, Farrell has been immersed in politics since her teenage years and, in 2020, was the first Sinn Féin TD elected in Galway West since 1922.
Political origins
While acknowledging that "both my parents would be quite
political", she charts her political consciousness back to her grá do stair na hÉireann. "I got interested in politics through history. I always loved Irish history and what I think sparked it off for me was when we were in second year or third year. We were reading Pádraig Pearse's oration at [Jeremiah] O'Donovan Rossa's grave," she recounts.
Around the same time, the Farrell family canvassed for Independent TD Catherine Connolly – now a constituency colleague in Galway West – and her sister, Colette Connolly, a former Mayor of Galway City Council. "In that sense, while some people may say, 'oh, as a woman, do you think there are barriers?' But I only canvassed for women, so I never knew any different," she reflects.
mol an óige eolas 150 eolas mol an óige
Sitting down with Ciarán Galway, Sinn Féin's Spokesperson for Public Expenditure and Reform Mairéad Farrell TD talks formative ideology, being a first-time TD, her Galway West constituency, and pursuing legislative priorities.
Credit: Sinn Féin
''
Obviously, family was foundational to Farrell's politicisation. Yet, in spite of the republican movement's deep affinity with her late aunt and namesake – who contested the 1981 general election in Cork North Central – the Galway West TD does not feel any weight of historic legacy. "It never crosses my mind until someone says it to me, to be perfectly honest," she remarks.
Simultaneously, while joining Sinn Féin was a long-held aspiration for Farrell, none of her family were involved with the party. "I always wanted to join Sinn Féin for a long time, even from when I was 14 or 15," she says, adding: "But my mother said: 'Wait until you go to college.' She was right – rather than joining in Leaving Cert year. So that is what I did. I joined the summer before college."
Ideology
Explaining her rationale for choosing to join Sinn Féin, Farrell recalls the context of the international financial crash and the intensification of its impact on Ireland from 2008 onwards. "We were going in to finish our Leaving Cert and there was no certainty as to what they were going to do next in terms of
college and unemployment," she says, adding: "The economics of Sinn Féin interested me." In addition to this, her self-identification as "a united Irelander" also aligns with the Sinn Féin ideology which she determines to be "left republican".
However, in policy positions anathema to left politics, Sinn Féin opposes both the Local Property Tax and supported the retention of a 12.5 per cent rate of corporation tax. Addressing what could therefore be interpreted as an ideological drift to the centre, Farrell betrays a hint of irritation. "On the Local Property Tax – and I am sick of saying this – there are people who find it very difficult to pay [it]. I meet them when I am canvassing, or they come to me to tell me. The majority of leftwing parties in this state are against this tax. In relation to corporation tax, that is totally out of our hands now. There is an OECD agreement, so we will see how that goes."
Informed by experiences from her weekly constituency clinic and by the harsh socioeconomic challenges faced by some of her constituents she asserts: "There is something fundamentally wrong with the way this society is working, and we need to have change that will help people… That is why I
mol an óige eolas 151 eolas mol an óige 4
"There is something fundamentally wrong with the way this society is working, and we need to have change that will help people…" Mairéad Farrell TD
Credit: Sinn Féin
Mol an óige Mairéad Farrell TD
am here, doing what I am doing, because I fundamentally believe that Sinn Féin will deliver that change."
Ógra
Moving to consider the virtues of political youth wings, Farrell explains that while she had already party membership, it was through a college friendship with Caoimhe Sloan – now a member of the Sinn Féin ard chomhairle – that she was introduced to Ógra Shinn Féin. "It was the best time ever because it was such craic, you were meeting loads of people your own age who were interested in politics as well," she says.
"You learn a lot. You learn how to organise meetings and campaigns. [Ógra Shinn Féin] tries to give people opportunities; with public speaking and all that sort of thing... You get that level of training in a sense, although it is not formally training, it just happens organically."
Asserting that the Dáil must be "young, old, male, female, and as representative of society as possible", Farrell rejects platitudes about young women in politics as banal.
"One thing that I find is that people often say: 'Oh, it is great to have young women.' That annoys me because no, it is great to have women of all ages. It is nearly like, let's have young women because they are not as argumentative or whatever," she muses.
Dáil experience
In 2014, Farrell received her first taste of electoral politics when, at the age of 24, she was elected as the youngest member of Galway City Council. Indicating that she had not expected to be elected along with party colleagues Anna Marley and Cathal Ó Conchuir, Farrell was subsequently selected as the party's group leader. However, in a performance that epitomised Sinn Féin's electoral fortunes across the State in 2019, all three Sinn Féin councillors failed to retain their seats in the Galway City Council election. Indeed, in Galway City East, Farrell attained 522 first preference votes on a quota of 1,059 and did not get across the line on transfers.
However, in a dramatic turnaround a mere 10
months later, Sinn Féin would shrug off this reversal with an unprecedented showing in the February 2020 general election. In Galway West, Farrell achieved 8,464 first preference votes (14 per cent), just 58 votes behind constituency poll-topper Éamon Ó Cuív TD and 2,709 more than compared with former party colleague Trevor Ó Clochartaigh's tally in 2016.
"It was absolutely terrifying," Farrell laughs, adding: "I did not expect to get elected." This is typified by the fact that she had taken unpaid leave from her finance job to contest the election rather than utilising annual leave "because I assumed I would be straight back into the job".
Reflecting on her initial experience, the Sinn Féin TD explains that she has "been really enjoying it", while adopting an almost stoic attitude about the often-fleeting nature of
political careers. "Having lost the council seat, I feel like this is all a moment in time. So, while it is stressful and while you work long hours, you may as well enjoy it because at some point it is going to be over and you are going to look back and be like, 'that was a cool experience'. At some point, it will end," she believes.
With no direct experience of the mechanics of Houses of the Oireachtas, Farrell experienced a steep learning curve and pays tribute to party colleagues Eoin Ó Broin TD and Pearse Doherty TD who "helped me learn".
"There are always things that are a bit terrifying to do, but you just have to hide it and keep going," she concedes. At the same time, the first-time TD was buoyed by her time spent within the Sinn Féin apparatus and the personal relationships developed over some 14 years.
Priorities
Again, praising Sinn Féin Spokesperson for Finance, Pearse Doherty TD, and his office for assisting Farrell upon her appointment to the Sinn Féin front bench, the Galway native indicates that her party's alternative budget and pursuit of "transparency" have dominated her priorities as Spokesperson for Public Expenditure and Reform. "We had, for example, the issues with lobbying and we produced the Regulation of Lobbying (Amendment) Bill 2020. In terms of freedom of information, we produced the Freedom of Information (Amendment) Bill 2021," she summarises.
"For whistle-blowers, for transposing the EU Whistleblowing Directive, we produced the Protected Disclosures (Amendment) Bill 2022 as well. On that particular one, we worked extremely well with the committee and with the Minister. Some of the things we had suggested were included in the Protected Disclosures (Amendment) Act 2022. I enjoyed that, that we could actually see something tangible and bring that in as well. We would have gone further on certain things, but we can all work together to try to get something through."
mol an óige eolas 152 eolas mol an óige
'' "It is important for us to be the voice of the people that feel that they are voiceless."
Responding to the hypothetical scenario of becoming DPER minister tomorrow, the Sinn Féin TD asserts that her first initiative would be to work to enact the Regulation of Lobbying (Amendment) Bill 2020. "People have completely lost faith in the political system and public life because they see the revolving door between politics and vested interests. That has really eroded people's confidence. There should never be a situation whereby people have better access to certain decision-makers or power than other people," she emphasises.
Budget 2023
Critiquing the triparty Government's Budget 2023, Farrell determines that "there was nothing for young people". "Unless you earn €40,000 –and most people my age in Galway do not – there was nothing there. We know that so many people in their 20s that are looking to emigrate, and I just do not know if there was anything [in Budget 2023] for them to stay. I think that was deeply disappointing," she qualifies.
Assessing that "a lot of people are feeling very let down" by the Budget, particularly given that increases to the social welfare rates will not take effect until January 2023, Farrell takes exception: "If you think there is an emergency and these people need help, why in the name of god would not just do it now? That is something that we would have proposed.
"We also proposed changes in terms of the USC so that the tax package would benefit those low- and middle-income households, rather than just the 30 per cent of workers. [The Government] had such a massive tax package but its biggest proposals were for the higher earners."
Galway West
Simultaneously, Farrell's passion for her constituency is apparent. "I have the best constituency. There is no question," she insists, adding, "I have Galway city, Conamara, and four islands; who can compete with that?"
As a Gaeilgeoir, Farrell enjoys a warm working relationship with fellow Irish speakers and Galway West deputies Catherine Connolly TD and Éamon Ó Cuív TD, particularly in relation to representing Conamara.
Similar to other first-time Teachtaí Dála elected in 2020, Farrell's constituency work was hindered by the onset of the Covid-19 pandemic. "There was not the same opportunity go and meet groups. It was not like [civil society] groups were having openings and events and they would invite you out," she explains.
Instead, Sinn Féin split the Galway West constituency into 24 different units, researching local organisations with which to engage. Each Friday then, Farrell travels to a different location within one of these units and holds a clinic. "When you get elected, you do not want to be listening to Galway Bay FM news and thinking, 'Oh, I did not know there was an issue in that place', you want the people to have told you and that you have that relationship, so that you are actually representing the people. Now I feel like I can represent the area better because I know what is going on," she affirms.
Ambitions
With the party attracting consistently high percentages in successive opinion polls since February 2020, Farrell believes that the challenge for Sinn Féin "is about continuing to work away and hold government to account –that is what we are there for – and at the same time, to be constructive". Again, she reiterates her party's contribution to the Protected Disclosures (Amendment) Act 2022. Simultaneously, however, she maintains that "it is important for us to be the voice of the people that feel that they are voiceless".
From an individual perspective, the Galway West TD insists that she holds no personal ambition. "It has never been about that for me. As I said, I see this as a moment in time so I will be here for as long as I can be. If people think someone else would be better, then that is what it is. It is a brilliant opportunity and I try my best to bring people's experiences into the Dáil," she concludes.
mol an óige eolas 153 eolas mol an óige
Credit: Sinn Féin
Gaeilge san earnáil phoiblí
Labhraíonn An Coimisinéir Teanga Rónán Ó Domhnaill le Odrán de Bhaldraithe faoi a Thuarascáil Bhliantúil2021, a d'fhoilsigh sé i rith an tsamhraidh díreach imithe, agus faoi Acht na dTeangacha Oifigiúla 2021 agus an méadú ar chainteoirí Gaeilge san earnáil phoiblí atá mar aidhm san Acht.
Nuair a d'fhoilsigh an Comisinéir a thuairisc don bhlian 2021, léirigh sé go raibh 727 gearán curtha chun a oifige i 2021, méadú do 20 faoin gcéad ar an méad a chuirteadh chuige i 2020. D'fhéadfadh leis an 20 faoin gcéad sin daoine a chur ar seachrán, a deir an Coimisinéir, toisc gur thit líon na ngearán i 2020 de dheasca Covid-19. Bhí 704 gearán curtha chun oifig an Choimisinéara i 2019, uimhir a thit go 604 i 2020; ach fós, leiríonn uimhreacha 2021 méadú ar an ngnáthleibhéal do ghearáin.
De réir an Choimisinéara, bhí dhá phríomhfháth gur tháinig méadú ar líon na ngearán: easpa dualgais reachtúla ar chomhlachtaí stáit seirbhíse a chur ar fáil trí Ghaeilge, agus an pandéimeach agus an easpa eolais as Gaeilge a bhí ag baint leis, a bheith ar fáil. Tá súil ag Ó Domhnaill go bhfuil fadhb an dualgais ar a laghad réitithe ag Acht na dTeangacha Oifigiúla 2021.
"Cuid do na seirbhísí idirghníomhacha [tástáil ISP nó coinne
vacsaíne a chur in áirithe ar líne, mar shampla] a bhí á gcur ar fáil i rith Covid, ní raibheadar ach á gcur ar fáil i mBéarla ar dtús," a deir sé óna oifig amuigh sa Spidéal, i nGaeltacht Chonamara agus Árainn. "Bhí daoine buartha faoi sin ach go minic ní raibh an dualgas reachtúla sin ar dhaoine agus tá súil agam go gcuirfear é sin ina cheart nuair a chuirfear an tAcht nua i bhfeidhm. Tháinig an tAcht nua i bhfeidhm i mí na Nollag 2021, agus tá trí bliana ag an rialtas, an tAire agus an Roinn feidhm a thabhairt do na gnéithe sin san Acht chun cur leis na seirbhísí atá ar fáil as Gaeilge do dhaoine."
Ceann do na príomhfheidhmeanna atá ag an gCoimisinéir ná monaiteoireacht a dhéanamh ar stádas na Gaeilge insan earnáil phoiblí, ag deimhniú go bhfuil comlachtaí stáit ag cloí lena gcuid dualgais agus meas á thabhairt acu ar chéad teanga na tíre, de réir Bunreacht na hÉireann, agus seirbhís trí Ghaeilge a chur ar fáil d'éinne atá á lorg.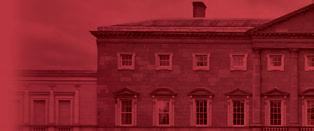 public affairs eolas 154 eolas public affairs
Bhí 123 do na gearáin, 16.9 faoin gcéad, a fuair a oifig bainte leis an éigeandáil sláinte. Léirigh líon na ngearán nach raibh an Stát agus a chuid comhlachtaí réidh leagan Gaeilge do threoracha agus eolas a chur ar fáil in éigeandáil ar aon chaighdeán leis an mBéarla.
"Má tá éigeandáil ann, má tá práinn i gceist le rud, is lú seans go bhfaighfeá an teolas nó an tseirbhís atá uait i nGaeilge agus ní fhéadfadh liom glacadh le sin mar Choimisinéir Teanga," a deir Ó Domhnaill. "De réir an Bunreachta, is í an Ghaeilge an chéad teanga oifigiúil. An rud a léirigh sé, agus téann seo ar ais go bunaidhm an Achta nua chun cur le líon na ndaoine le Gaeilge sa seirbhís poiblí agus sa stáitchóras, go gcaithfear cur leis an méid daoine le Gaeilge atá ag obair sa seirbhís poiblí agus sa stát-chóras.
"Mura bhfuil a ndóthain daoine sa chóras le Gaeilge, ní féidir a bheith ag súil go dtiocfaidh feabhas mór le seirbhísí, bíodh sé sin le linn éigeandála nó ná bíodh, mura bhfuil a ndóthain daoine sa chóras ar an gcéad dul síos. Sin an chúis go bhfuil sé comh tábhacthach go méadófar i gceart líon na ndaoine le Gaeilge atá ag teacht isteach sa chóras."
Acht na dTeangacha Oifigiúla
Tháinig Acht na dTeangacha Oifigiúla i bhfeidhm i Mí na Nollag 2021, le móraidhmeanna cosúil le: 20 faoin gcéad do na daoine a earcaítear isteach san earnáil phoiblí a bheith in ann Gaeilge a labhairt faoin mbliain 2030, rialacha nua ó thaobh suaitheantais agus ainmneacha comhlachtaí poiblí ag baint leis an nGaeilge, agus rialacha nua eile a dheireann go bhfuil ar na comhlachtaí seo 5 faoin gcéad dá mbuiséad bliaintiúil a chaitheamh ar mheán na Gaeilge.
"Is é an dushlán is mó ná go gcaithfear cur le líon na ndaoine le Gaeilge insan státchóras agus an tseirbhís phoiblí más mian linn cur leis na seirbhísí sin," a deir Ó Domhnaill. "Má táimid dáiríre mar stáit ag caint faoin Acht nua, feidhm a thabhairt don Acht nua réimse leathan Gaeilge a bheadh ar chomh-caighdeán le seirbhisí as Béarla, caithfear é sin a dhéanamh trí bhreis daoine le Gaeilge a earcú isteach sa chóras. Gan sin a dhéanamh, ní féidir a bheith ag súil go gcuirfear an tAcht nua i bhfeidhm mar ba chóir agus ina iomláine. An t-aon slí chun é sin a dhéanamh ná trí bhreis daoine a earcú isteach insan gcóras.
"Sin an dushlán atá roimh an choiste comhairlíochta atá bunaithe ag an Acht. Níl mise bainte leo, beidh mise ag déanamh monairteoireachta orthu. Sin an dushlán atá rompu, bealach a aimsiú, na daoine seo a earcú isteach agus a chinntiú go bhfuil siad in áit gur féidir leo úsáid a bhaint as a gcuid Gaeilge chun cur leis na seirbhisí Gaeilge agus seirbhisí níos fearr a chur ar fáil ná mar atá faoi láthair ó thaobh na Gaeilge de."
public affairs eolas 155 eolas public affairs
4
"Má táimid dáiríre mar stáit ag caint faoin Acht nua, feidhm a thabhairt don Acht nua réimse leathan Gaeilge a bheadh ar chomh-caighdeán le seirbhisí as Béarla, caithfear é sin a dhéanamh trí bhreis daoine le Gaeilge a earcú isteach sa chóras."
"Má tá éigeandáil ann, má tá práinn i gceist le rud, is lú seans go bhfaighfeá an t-eolas nó an tseirbhís atá uait i nGaeilge agus ní fhéadfadh liom glacadh le sin mar Choimisinéir Teanga."
Tá dushlán mór roimh an Choiste Comhairlaíochta, mar a phléann Ó Domhnaill: "Tá sé mar bhunaidhm san Acht go mbeidh 20 faoin gcéad de na daoine earcaithe isteach sa stát-chóras agus sa seirbhís poiblí in ann Gaeilge a labhairt faoi mbliain 2030. Mar sin, beidh duine as cúigear do na daoine a earcófar le inniúlacht sa Ghaeilge. An jab atá ag an Choiste Comharlaíochta ná plean a leagan amach ar cén chaoi na daoine seo a earcú, cén inniúlacht Gaeilge atá ag teastáill agus cá mbeidh siad lonnaithe. An rud a dheirimse mar Choimisinéir Teanga ná go bhfuil sé tábhachtach go bhfuil teangmháil leis an phobal ag na comhlachtaí poiblí is mó, gur ansin a bheadh daoine le Gaeilge á gcur. Tá sé tábhachtach go dtuigeann daoine nuair a théann siad i dteangmháil leis an seirbhís poiblí, go bhfuil seirbhís Ghaeilge á chur ar fáil dóibh. Sílim gur sin bealach amháin, le bheith ag breathnú amach ó thaobh na ndaoine a bheidh á n-arcú isteach, go bhfuil siad á n-earcú isteach chuig comhlachtaí poiblí atá i dteangmháil leis an phobal."
Muintir na Gaeltachta
Tháinig 27 faoin gcéad do na gearáin chuig an Choimisinéir i 2021 ó na ceantair Ghaeltachta, ardú ar an líon sin, agus ciallaíonn sé seo nach bhfuil muintir na gceantar sásta glacadh leis na seirbhísí Béarla a chuireann an Stát ar fáil. Tá sé mar phríomhaidhm san Acht gach seirbhís stáit a chur ar fáil as Gaeilge sna Gaeltachtaí. Deir Ó Dohmnaill, chomh maith leis an earnáil phoiblí, go bhfuil ar oifigigh pleanála teanga na háite, "nasc a chruthú leis an Stát agus go bhfeicfí go bhfuil na seirbhisí stáit atá á gcur ar fáil sa Ghaeltacht ar fáil as Gaeilge freisin".
Le gearchéim sa Ghaeltacht agus easpa seirbhísí ar fáil trí Ghaeilge, bíonn sé deacair ar dhaoine a bheith dearfach faoi thodhchaí na teanga agus na hoidhreachta. Agus an cómhra á chríochnú aige, deir Ó Domhnaill go bhfuil soláthar na seirbhísí mar chuid den réiteach, ach nach bhfuil sé mar fhreagra iomlán.
"Ní réiteach é seirbhísí stáit as Gaeilge leis na fadhbanna sin a bheith ar fáil ach an rud a dhéanfadh sé ná go dtabharfadh sé ceannaireacht agus go dtabharfadh sé teachtaireacht láidir do mhunitir na Gaeltachta go bhfuil an Stát ag aithint go bhfuil pobal sainiúil teanga sa Ghaeltacht. Caithfear cosaint a thabhairt don cheantar sin agus caitheadh an Stát a bheith sásta a rá go mbeidh aon sheirbhís Stáit a bheadh ar fáil sa Ghaeltacht ar fáil as Gaeilge," a deir sé. "Ba chóir an cheannaireacht a bheith ansin don phobal agus tá súil agam, leis an Acht nua, gur b'shin a tharlós. Caithfear a chinntiú go dtabharfar feidhm don Acht chomh luath is gur féidir agus go mbeidh a ndóthain daoine á n-earcú isteach ar leibhéal náisiúnta sa chóras tríd an phlean earcaíochta chun seirbhisí trí Ghaeilge a chur ar fáil sna háiteanna ba mhó atá siad ag teastáil."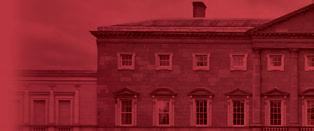 public affairs eolas 156 eolas public affairs
Séasúr na hardfheiseanna
Sinn Féin ard fheis 2022
05 November 2022 • RDS, Dublin
•"To our young people who once again depart our shores, you have been badly let down, particularly by a failed housing system. I want you to know that we are working hard to change things for you. We will make Ireland the home you deserve. So, enjoy your experience, work hard but come home and be part of the new Ireland that we must build. We need you."
•"The current energy crisis makes one thing very clear. Our island must achieve energy security and energy independence. We can achieve this by harnessing our abundant renewable resources, building our capacity in wind, solar and green hydrogen. The State must make Ireland's energy revolution a priority."
•"A chairde, we live in the end days of partition. On the cusp of an historic opportunity – the reunification of our country
a future for everyone. Moving forward in the belief that there is no 'them'. There is only 'us'. Us who call
immediately establish a Citizens' Assembly on unity. If this government refuses to hear tomorrow
Sinn Féin in government will."
Sinn Féin President, Mary Lou McDonald TD
Fine Gael ard fheis 2022
19 November 2022 • Technological University of the Shannon, Athlone, County Westmeath
•"The message from our opponents is that Ireland is some kind of failed State. It is not. It is a State which has succeeded time and time again despite major challenges – domestic and global – over the past century. A State which is not perfect, but which is driven by the same spirit of idealism and hope as was there 100 years ago."
•"Coming into this campus today, someone asked me would I ever consider going into coalition with Sinn Féin? I gave them a clear and unambiguous answer from all of us. No. No way. Not a chance… For this reason, the next general election will be the most important in a generation. We need to make sure the centre holds… and grows… and that they are stopped."
our
•"Delegates, at times in our history, Fine Gael stepped in to save the economy and protect our future. At other times, Fine Gael led the way on how we could build a more modern and compassionate society. Fine Gael is at its best when we do both."
Fine Gael party leader, Leo Varadkar TD
Green Party annual convention 2022
26 November 2022
• Radisson Hotel, Athlone, County Westmeath
•"The challenges we face in government are complex not because ministers don't care or lack compassion but because they require a wide range of actions that require time, money and careful attention – often in the face of fierce opposition from vested interests."
•"You know, it's astonishing how other parties in the Dáil say they are all for climate action and the environment, but they run for the hills the minute a tough decision comes their way. Or worse still, they cite all the reasons why it shouldn't be done without ever suggesting an alternative… We know now is time for real climate action. That is what we are going to deliver over the remaining two-and-a-bit years of this Government."
•"We will focus on that responsibility and then head into the next local and European elections with a
set a goal tonight that one in 10 Irish people will vote for this green future in those next elections."
Green Party leader, Eamon Ryan TD
to
even more. I am
public affairs eolas 157 eolas public affairs
and
people. Shaping
Ireland home… The Irish Government must
coming, if it does not establish a Citizens' Assembly,
November 2022 marked the high point of Ireland's political party conference season with Sinn Féin, Fine Gael, and the Green Party all staging their first post-Covid and in person ardfheiseanna.
determination
deliver
setting
Sinn Féin leader Mary Lou McDonald TD delivers the leader's speech at the party's 2022 ard fheis in the RDS, Dublin.
Credit: Sinn Féin
Tanaiste Leo Varadkar TD receives a standing ovation at the 81st Fine Gael ard fheis in TUS, Athlone.
Credit: Fine Gael
Credit: Green Party
Green Party leader Eamon Ryan TD addresses his party's annual convention in November 2022.
Committee Secretariat: Supporting the Oireachtas committee system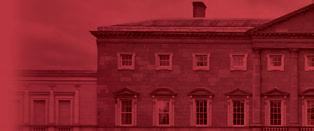 What is the role and remit of the Oireachtas Committee Secretariat?
Barry Comerford
The primary role of the Committee Secretariat is to provide procedural, administrative, and liaison support for Oireachtas committees. Each committee has a committee clerk supported by a team of two or three others. A key function of the clerk is to provide independent advice based on the committee's orders of reference, standing orders of the Houses, and rules of Dáil Eireann and Seanad Eireann relating to chairing and precedent. The Committee Secretariat also helps individual committees design and execute their work programme, makes all the necessary arrangements for meetings, and takes whatever steps are necessary to implement decisions made by committees.
An important part of the Committee Secretariat's role is to have regular contact
with government departments and stakeholders that relate to the remit of the committee. For example, the clerk and his team on the Justice Committee will have regular contact with the Department of Justice to arrange attendance of the Minister of Justice, and/or her officials to request briefings and other information on whatever the matter to be examined may be. The team would also have regular contact with the support services within the Houses of the Oireachtas which make the committee meetings happen and support committee activity, including the Communications and Broadcasting Units, the Office of the Parliamentary Legal Adviser, and the Library and Research service.
Tom Malone
Our role as principal officers is to support the committee clerks and their teams, who advise and provide the service to committees and committee cathaoirligh or chairs. We try to promote and maintain a consistent and high level of service across committees.
Barry Comerford
A clerk is a clerk to the committee, but on a practical basis, he or she collaborates very closely with the Committee Cathaoirleach. Relationship management both with the Cathaoirleach and individual members is an important and interesting part of the job.
Kieran Lenihan
Committees are committees of the Houses of the Oireachtas. Both the Dáil and the Seanad have delegated functions to the committees. The job of each committee is to fulfil these functions. Our job, in the Committee Secretariat, is to ensure that those committees have adequate resources and support to do so.
How is the Committee Secretariat structured?
Barry Comerford
The Committee Secretariat is responsible for 24 committees, each of which are supported by between three and four staff
Ciarán Galway sits down with three principal officers Kieran Lenihan, Barry Comerford, and Tom Malone to explore the role and remit, priorities, and evolution of the Houses of the Oireachtas Service's Committee Secretariat.
public
158 eolas public affairs
affairs eolas
members including a clerk, who is an Assistant Principal Officer; a policy adviser, normally at Administrative or Higher Executive Officer level; an Executive Officer; and a Clerical Officer.
As Principal Officers, we each oversee approximately eight committees each. We group the committees to ensure that our oversight is broadly thematic. For example, I have remit over the International-themed, as well as the Environmental-themed committees, Tom [Malone] assumes remit of most financial committees, and Kieran [Lenihan] has remit over the Social and Cultural themed committees.
The Committee Secretariat also has a Coordination Unit which Kieran manages. The Coordination team has two Assistant Principal Officers and other staff who help to coordinate operations across all the different committees.
Normally, committees meet between Tuesday and Thursday and each committee has an allocated meeting time. At times, they may request an additional or alternative slot depending on their work programme and witness availability.
Tom Malone
When the Dáil is sitting and committees are meeting, it can be very intense but interesting. There can be long, busy days and our staff demonstrate a great ability to respond to unexpected events.
What are the Committee Secretariat's current priorities?
Barry Comerford
The main priority is to ensure that the committees are facilitated in their meetings and are provided with the procedural and administrative support they require. As such, the Committee Secretariat has a priority to support and develop the procedural knowledge of its staff so that they can provide the best advice always.
Kieran Lenihan
In order to respond to the needs of the current parliament, there has been considerable procedural innovation and changes in standing orders, which are the parliament's rules and norms. Keeping staff and members informed of those developments is important.
As a result of several recent retirements
and promotions, the Committee Secretariat has also prioritised the induction of new staff and knowledge transfer. We have worked hard to establish systems to manage knowledge, ensuring that there is not an overreliance on one or two individuals to know everything.
With more Oireachtas Committees than ever, there is a challenge there to ensure that there is a consistent approach to supporting the work of the committees. As such, much of our work is about trying our best to ensure that we have a consistency in approach and develop our staff to meet the standards and deliver the quality service required.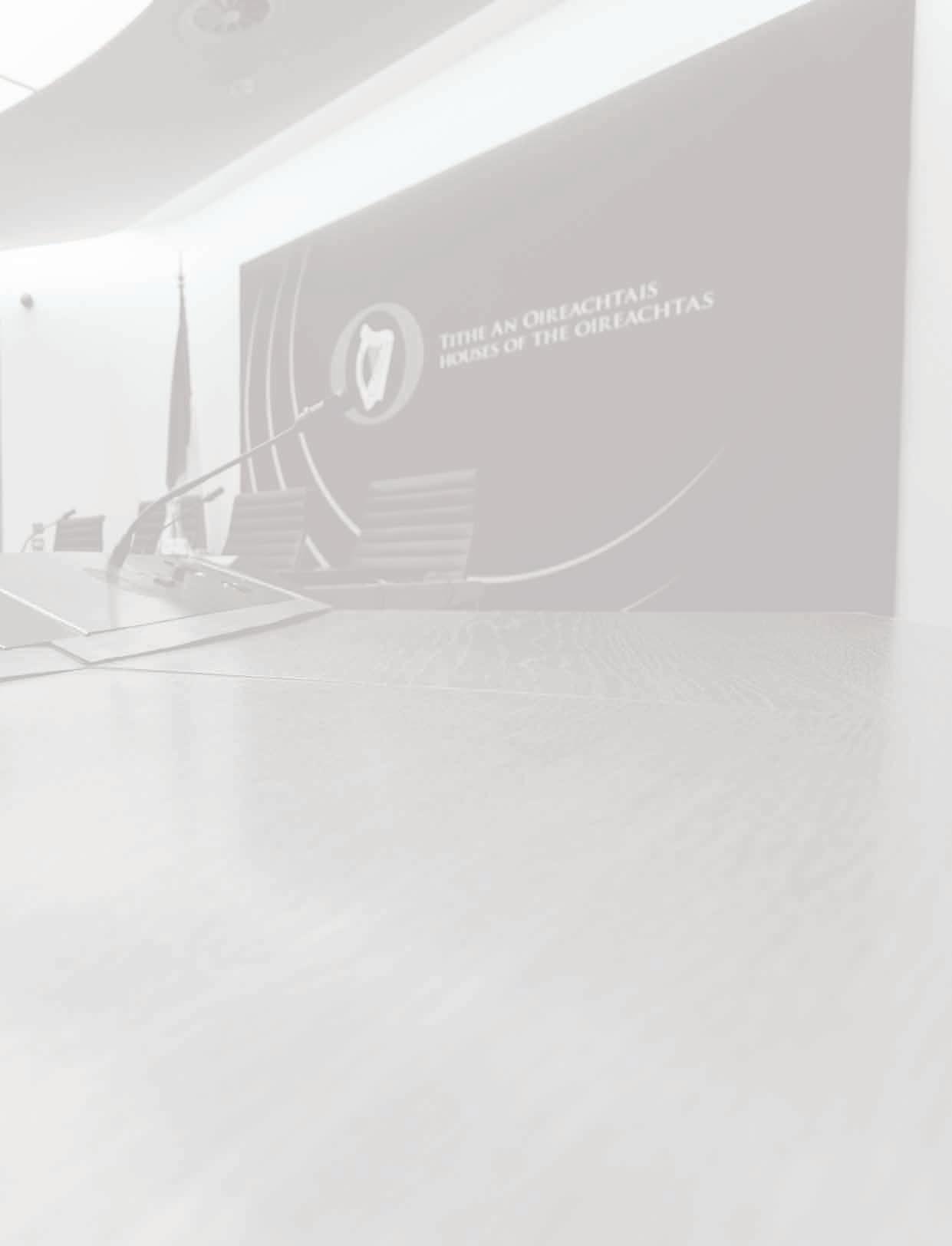 What are the biggest challenges faced by the Committee Secretariat in undertaking its function?
Kieran Lenihan
There are several prominent challenges. Firstly, improving procedural knowledge throughout the Secretariat. Secondly, ensuring a consistent approach in how we deliver our services. Thirdly, incorporating new staff so that they quickly understand and can deliver in their role. Finally, having enough staff – which is a challenge right across the public service. The number of staff has increased with the number of committees and their workloads. In 2019 there were approximately 60 staff in the secretariat and that is now approaching 100. In the last Dáil there were fewer committees who met less frequently on average than the current committees
Barry Comerford
The size of each committee's team has not noticeably grown. Meanwhile, there has been an increase in committee activity over the past three years. Now, for instance, a committee might hold two public meetings and a private meeting a week compared to just a single meeting weekly or fortnightly. Simultaneously, the statistics indicate that the number of staff in meetings and the hours spent in meetings has increased. That has partially been due to digital transformation and the facilitation of hybrid meetings.
Tom Malone
The increase in staffing numbers has not correlated with the increase in individual
committee activity. The number of staff has increased mainly due to the increase in the number of committees.
Kieran Lenihan
The Committee Secretariat is lucky to have a flexible staff which takes immense pride in how the service runs. A committee meeting will never not take place for staffing reasons. Our staff are very aware of the importance of the service they provide and the national interest in what happens in committees. Seeing the relevance of your work being played out in public debate and across the media makes it very interesting work. You feel part of current affairs.
Tom Malone
Prior to Covid, there was a well-established ethos within the Committee Secretariat. Covid presented us with some challenges in articulating the values of that ethos in a way new recruits would understand. However, we have done very well with the staff we have obtained over the last number of years.
How effective is the average Oireachtas committee?
Kieran Lenihan
It is easy to see the positive output produced by committees it is not always easy to define or measure effectiveness. If you asked all three of us individually, we would probably all come up with slightly different answers.
Barry Comerford
One element of the Committee Secretariat's work programme for 2023 is to examine committee effectiveness and to spend some time considering the first principles, from an academic view, of what makes an effective committee. A key question is, how do we match up to that aspiration, and what conclusions do we draw from that?
By 2025, when the next election must be called, and the next Committee system set up, we will make proposals for changes based on the results of that examination. It is important to be aware that we can make proposals, but that political buy-in is required to effect change. If members are happy to keep things as they are, we will be happy to support that as well.
affairs eolas 159 eolas public affairs
public
4
Tom Malone
We must continue to highlight and fund improved processes, laying out how committees might achieve a better result.
Kieran Lenihan
We would observe that it is a very effective use of committee time to plan any examination carefully at the outset, agree clear objectives and then identify the information required and relevant stakeholders that can help achieve those objectives.
To what extent has the role of the Committee Secretariat evolved over the years?
Tom Malone
The trend towards a committee system has its origins in the mid-1980s. When I joined the service in 1983, we had two nonprocedural committees each with a staff of three alongside one voting consultant. They were the Joint Committee on Secondary Legislation of the European Community, and the Joint Committee on State-Sponsored Bodies. That was it. Every other committee was an internal 'housekeeping' or procedural committee staffed by one of the existing procedural sections.
Today, the work of the Oireachtas, its support structures, and the complexity of its work have changed utterly. That has been reflected in the way the organisation has expanded. Growth is frequently a response to pressure rather than in anticipation of pressures. As a result, the growth of the organisation has been largely organic.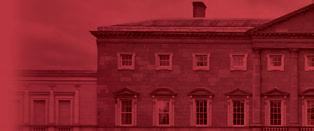 Kieran Lenihan
Committees have now become a useful vehicle for the Oireachtas, often on request of the Government, in which to channel controversial or complex issues. For instance, there have been several special committees on topics including international surrogacy and gender equality, while a new committee on assisted dying will be established in early 2023. Such special committees can seek to establish a political consensus around a particular subject.
The Committee Secretariat must assist in creating space for opinions to be heard and support committee members in producing their report. In most instances, this report has a tangible influence on policy and legislation. For example, with international surrogacy we witnessed the publication of a report with several committee recommendations which led to specific amendments in the legislation going through the Oireachtas.
Tom Malone
Within the Oireachtas Service, the Committee Secretariat tends to be at the leading edge of digital developments. We have virtually eliminated paper over the last couple of years. We no longer produce hard copies of meeting preparations; everything is done through our digital platforms. Being paperless creates a much cleaner environment for our staff to work in, so we have got a good set of new policies which are enhancing the role of digital in how we store our items. This also helps to facilitate our staff who mostly now have blended work.
What is your shared vision for the Committee Secretariat?
Barry Comerford
We would like to work towards an agreed understanding of what an effective committee system is and facilitate committees to achieve their best possible outcomes, particularly in terms of influencing policy and legislation.
Tom Malone
An effective committee system must be mutually agreed by members and the Committee Secretariat; there is little point in us having a view on what constitutes an effective committee system and working to achieve that end without buy-in from members. There must be buy-in and there must be a shared vision. Otherwise, it will not work. It will be necessary to adopt a vision that is relevant and appeals to members and is capable of being delivered on by the Committee Secretariat.
Barry Comerford
Any shared vision must consider the confines within which our politicians are elected. Members function in a particular environment, and we must acknowledge that and attempt to understand their perspective to the best of our ability.
There is also a need for us to create a place where civil servants can come to work and continue to feel valued, have job satisfaction, and are contributing to a process which truly makes a difference.
Kieran Lenihan
There is no end point to our development. If we reflect on the last 10 or 15 years, we can see that the committee system is wellestablished and well-integrated at this stage. As we go forward, I would like to see a Committee Secretariat which is standards-driven but continues to be flexible and adaptable and capable of supporting the political process and its emerging priorities.
public affairs eolas 160 eolas public affairs
TRADE UNION DESK
Shaping an affordable housing market
While there was a change of government in 2020, there was no corresponding change in housing policy, writes ICTU Campaigns Officer, Macdara Doyle.
Of itself, this is remarkable, given the heavy criticism directed at Rebuilding Ireland – the flagship housing policy of the Fine Gael minority government – by the main opposition party at the time, Fianna Fáil.
That criticism was entirely correct, as Rebuilding Ireland proved to be an abysmal failure on almost every metric. For example, the plan prioritised tackling homelessness. When Rebuilding Ireland was launched in July 2016, the homeless figure stood at 6,525. Four years later it had hit a new record high of 10,148 and the plan was quietly laid to one side.
In 2018, then Fianna Fáil housing spokesperson Darragh O'Brien TD said of the then government that it "did not get" the severity of the housing crisis and were "waiting on the market to fix the problem".
Again, the analysis was correct, which makes it all the more surprising that the Housing for All plan –launched with enormous fanfare in September 2021 –reprised the same essential policy flaw as that which sunk its predecessor, and which has bedevilled housing policy here since the 1980s.
In short, successive governments have displayed an almost slavish dependence of 'the market' to solve housing problems and seem utterly convinced that the private, for-profit development model represents the most effective means to deliver what is an essential public good and a fundamental human right.
Thus, the vast majority of homes to be delivered under Housing for All will come courtesy of private developers. Or at least that is the official hope.
But in reality, the Government has absolutely no control over the timescale of said delivery, much less on whether these homes will even be affordable to the great majority of buyers.
Consequently, although the Housing for All plan may be barely a year old, all available evidence is that it will fail to hit its key targets and, already, a spiralling homeless crisis has forced government to reverse policy and introduce an eviction ban.
Evictions are the single greatest cause of homelessness and they have doubled since Covid restrictions were lifted. As a result, the homeless rate has now hit (another) record high and the situation looks like it will worsen significantly over the coming months.
The fixation on the marketplace as a cure for all our ills belongs to an ideological world that came crashing down in 2008, but somehow still clings to life in some key policy areas. Essentially, this reduces and limits the role of the State to 'market-fixing' –stepping in only to correct market failures, as they arise.
However, analysis of the housing sector across Europe carried out by University College London's Institute for Innovation and Public Purpose (UCL IIPP), has shown this to be "a massive failure". As the study points out, "not only has it failed low-income families, it has also failed the middle class".
The primary problem is that 'market-fixing' rests on the mistaken assumption that the housing market is "perfectly competitive" and will respond in an appropriate manner to the need for secure, affordable housing. This is clearly not the case, as an entire generation of young adults and families locked out of the housing market will testify.
Thus, there have been calls for a fundamental shift in housing policy, from the clearly unworkable 'marketfixing' to what is termed 'market-shaping', with cities such as Barcelona now actively pursuing the latter approach.
In short, this latter approach entails both state and local authorities taking an active role in housing provision and working to "shape and direct the market to meet a public goal: the creation of an affordable housing market". That would be a housing plan worthy of the name.
public affairs eolas 161 eolas public affairs
100 years of Seanad Éireann
December 2022 marked the centenary of the foundation of Seanad Éireann, the upper house of the Oireachtas which has survived the curbing of its powers and proposed abolition over its century of legislative scrutiny.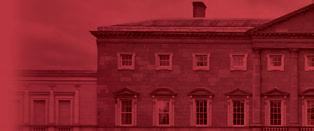 Then-Taoiseach Micheál Martin TD marked the commemoration with a rare speech before the upper house on 11 December 2022, outlining his belief that, upon its foundation, the Seanad "was not representative, nor indeed was it intended to be".
"It was first and foremost a membership defined by finding a place in the new State for those who had not supported its creation and by making a statement about the place of minorities."
The first Seanad was comprised of a membership with a small majority of Catholics (36), with 20 Protestants, three Quakers, and one Jewish member. It additionally included seven members of a British aristocratic background.
Martin went on to illustrate how the Seanad has helped integrate women, Protestants, and minorities into the top
level of Irish politics, referring to the appointments of Douglas Hyde and Mary Robinson, both of whom went on to assume the role of President of Ireland.
An ambiguous role
Initially based on the British House of Lords' model of a chamber for the intelligentsia with the necessary expertise to scrutinise legislation, the Seanad's scope and remit has been changed fundamentally on two occasions, with 1928 reducing its accountability whilst enhancing its powers, and 1937 greatly curtailing its powers.
The democratic deficit argument which is often attributed to the modern Seanad manifested itself to a lesser degree in the first Seanad, with the Free State Constitution outlining that the upper house would be comprised of 60
public affairs eolas 162 eolas public affairs
members, each elected on 12-year terms, with one-third of the house to be up for election every three years. This proposal was abolished in the 1928 reforms, with 1925 being the only year in which direct elections were held for the Seanad.
In 1937, facing a Seanad which was proving to be problematic for the passage of his government's legislation, former Taoiseach Éamon de Valera ensured that the newly ratified Bunreacht na hÉireann provided clarity that the Dáil was the house with the legitimacy to pass legislation.
Bunreacht na hÉireann presented a major curb on the powers of the Seanad, ensuring the level of checks and balanced afforded on the Seanad were minimal, whilst providing for a number of technical measures from which the Seanad can avail, although these have rarely been enacted.
Indeed, only on two occasions has the Seanad voted against a Bill which was passed by the Dáil.
In 1958, de Valera proposed a first-past-the-post electoral system which could have increased Fianna Fáil's majority in the Dáil. Whilst this Bill was passed in the Dáil in 1959 by a majority of 19, the Seanad rejected the Bill by a majority of one.
Despite this opposition, the Dáil availed of its power to pass legislation which had been rejected by the Seanad after 90 days, with the proposal eventually being defeated in a referendum in 1959.
In its modern form, the Seanad has the powers to delay a bill by up to 90 days, whereas the original Seanad which operated in the Free State had the power to delay legislation by an initial period of up to nine months, which was extended in 1928 to a period of delay of up to 20 months. The aim of this this was to provide an enhanced level of checks and balances.
The modern Seanad has 11 members who are appointed directly by the Taoiseach, with no checks and balances on the process and no consideration of the Government's majority in the Dáil.
Whilst Senators, in theory, are not supposed to be political representatives, the Taoiseach's
appointments are usually used to appoint members of whichever party the Taoiseach is a member of, as manifested by Micheál Martin's decision not to re-nominate Ian Marshall when making his 2020 appointments, instead ensuring that the Government parties' seats were maximised.
Threat of abolition
2013 presented the greatest threat to the Seanad as an institution, with a campaign supported by Enda Kenny's government to abolish the house, pointing to the potential to save up to €20 million and reduce the number of politicians in the State, a proposal which was then seen to be popular in an Ireland which was crippled by economic crisis and mass discontent towards its politicians.
Whilst Fine Gael, Labour, and Sinn Féin supported the Seanad's abolition in the 2013 referendum, the proposal was opposed by Fianna Fáil, which supported a campaign for reform. Additionally, many northerners supported its retention, pointing to appointments such as Seamus Mallon and Austin Currie in helping to integrate northerners into Irish political life. The 2018 election of former Ulster Farmers' Union president Ian Marshall additionally ensured that there was a northern unionist voice being heard in the Republic's political system.
The outgoing Taoiseach led Fianna Fáil's campaign to oppose abolition, the latest development for a party which has had a complicated viewpoint on the role and remit of the upper house. In his December 2022 speech, Martin articulated his vision for a "strong second and reforming chamber". However, as he leaves office, reform of the Seanad has not been a priority item for his government.
After 100 years, the Seanad survives as an upper house which has an increasingly ambiguous role. It successfully scrutinises legislation, but with virtually no consequence should the Government wish to force said legislation through. The few checks and balances it does possess over the Dáil have, thus far, remained theoretical, and can be usurped by other institutions regardless.
public affairs eolas 163 eolas public affairs
Oileán Carter Stritch: Reflections on COP27
Having travelled to Sharm El-Sheikh, Egypt as a youth representative in Ireland's official delegation, in November 2022, Oileán Carter Stritch reflects on COP27.
As I sit in my lovely bedroom, on my lovely bed, with all my lovely things around me, I reflect on COP27 which happened in November 2022. I benefit from the injustices which occur around the world – I have the heating on in my house, I am wearing clothes made in inhumane conditions, and I type on my laptop made with mined lithium. The people suffering as a result of these things I have listed are very far away and sometimes it can be hard to fully comprehend that injustices actually occur. COP27 made that distance vanish and it became very real.
When I saw the cities burning
I knew that I was learning
Reflecting upon COP27 is not something you do to boost serotonin levels. This was the 27th time world governments have met to discuss the future of the world with regard to climate change. The mood from civil society was low, another watered down and weak set of agreements which let our counterparts on the other side of the world down.
Politicians from wealthy nations used the conference as a PR stunt, rebranding monetary pledges to boost their global image, giving wordy speeches, and patting each other on the back as if their inaction does not have real consequences.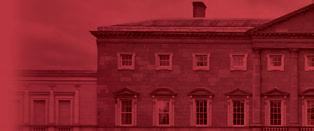 I heard many men lying, I saw many more dying
There is nothing I can say that is new or insightful – it has all been said before. It has been said for years. It is not a shock to anyone for me to say that the capitalist system fails most of us. It is not revolutionary for me to say that developed nations take advantage of systems that they have historically controlled for greed and gain. It is not a surprise that faith in politics and democracy are faltering. We know what the problem is, we know we should fix it, we know people are dying and being displaced as a result of our greed.
Yes, I even killed my brothers
And so many others
Individual actions are important – and I will continue to do my bit, but I am one in the battalion. My recycling or veganism is fairly insignificant when a petrostate blocks consensus of a COP27 agreement because it wishes to keep drilling for oil.
At COP27, Secretary-General of the United Nations Antonio Guterres said: "It is either a climate solidarity pact – or a collective suicide pact." It really feels like we have chosen the latter.
Oh, I must have killed a million men
And now they want me back again
At the age of 22, I should be looking forward to a long future for myself and future generations, but I do not have confidence in that. We have less than seven years to keep within the 1.5oC target and we are on track for 2.8oC . I watched young people in tears at the COP, fearing for their future as a result of inaction.
It's always the old to lead us to the wars
It's always the young to fall
Now look at all we've won with the saber and the gun
Tell me, is it worth it all?
We need a system change. One which promotes that the degradation of the planet and human life for monetary gain is not fit for purpose.
Call it peace or call it treason
Call it love or call it reason
But I ain't marching anymore
Oileán was supported by the National Youth Coucil of Ireland, in partnership with the Department of Environment, Climate, and Communications, NYCI to attend COP27 in Egypt as part of Ireland's official delegation.
public
164 eolas
affairs eolas
public affairs
*Extracts from songwriter Phil Ochs' "I Ain't Marching Anymore".
Email: sam.tobin@eolasmagazine.ie Tel: 01 661 37551 Web: www.eolasmagazine.ie 3 Corporate advertising and advertorial profiles 3 Front cover feature profiles Contact our advertising team to discuss profile opportunities including: 3 Roundtable discussions 3 Sponsorship of special reports Special reports in the next issue of eolas Infrastructure and construction • Offshore wind • Road safety • Retrofitting • Energy • Environment and sustainability • Climate action • Housing • Business • The economy • Local government • Transport • Criminal justice • eLearning and training • Governance • Regional focus • Public affairs • Health • Education and skills • Infrastructure and construction • Digital government Each issue of eolas will cover a wide range of issues, sectors and regular features including: