FINE FOODS PURVEYOR AND DISTRIBUTOR extraordinary products. unparalleled service.
who we are.
Founded in 1982, Ace Endico is the largest fine foods purveyor and distributor in Westchester and Putnam Counties, delivering throughout the Northeastern United States. We are highly committed to understanding and anticipating our customers' needs and developing service solutions that garner success.
Home to over 600 dedicated employees, Ace Endico is headquartered in Brewster, NY with a second hub located in Woonsocket, RI, both with marketplaces that bring high quality ingredients to the public. Since the company's inception, the state-of-the art facility has expanded to 260,000 sq. ft. with the potential of growing to 400,000 sq. ft. and is currently home to a comprehensive inventory of approximately 15,000 products. Ace Endico's impressive history of growth stands as a living testament to the values and integrity first nurtured by William A. Endico and Murray Hertzberg over 35 years ago.
aceendico.com
RESTAURANTS CATERERS MARKETS & DELIS HOTELS COUNTRY CLUBS CRUISE LINES ATHLETIC VENUES
To this day we are still inspired by the question, "how can we be better?"
After more than three decades in the food distribution business we firmly believe that above all else, the most valuable services are communication and dedication to the customer. At Ace Endico, when we say we go to work for you, we truly do.
our promise:
Our mission is to provide our customers with a level of quality and service that will surpass expectations. We commit ourselves to building and maintaining long term relationships with our customers and suppliers through eminent integrity.
Headquarters:
New England Division:
CASINOS HEALTHCARE FACILITIES EDUCATIONAL FACILITIES CORPORATE FOOD SERVICE WHOLESALE
(914)347.3131
(401)739.8180
what makes us better.
Family Values
Commitment, hard work, and consistent growth.
A Culture of Service
Dedicated professionals focused on your success.
Cutting Edge Technology
Trucks equipped with the latest temperature management technology.
Hands-On Sourcing
Exploring Europe to directly seek out quality products.
aceendico.com
our facilities.
Brewster, NY: Ace Endico headquarters with over five acres of climatecontrolled warehouse space with 14 unique temperature zones.
New
Division:
Woonsocket, RI: Additional distribution center that has expanded our delivery capabilities across New England.
Headquarters: (914)347.3131
England
(401)739.8180
a culture of service.
Ace Endico's experienced management and staff are dedicated to understanding customers' needs. Always working with customer satisfaction in mind, Ace Endico's Customer Service and Account Management teams help both small and large organizations meet day-to-day requirements and long-term challenges. Our team is equipped with the latest in technology and support systems, so we are ready to help your business prosper and grow.
The Ace Endico team is ready to provide you with the highest quality in food products and services, and we look forward to helping you meet the challenges ahead.
aceendico.com
As a full-service supplier, Ace Endico supplies restaurants, hotels, country clubs, casinos, cruise lines, athletic venues, retail food markets, healthcare, and educational facilities. We strive to surpass our customers' expectations of excellence by providing quality products, personalized service, continuous support, and eminent integrity. We are deeply committed to building, maintaining, and understanding the respective needs of our customers and suppliers. Headquarters: (914)347.3131 New England Division: (401)739.8180
Ace Endico's renowned network of service and support ensures that the needs and expectations of all customers are met promptly and efficiently. Our expanding team of skilled and dedicated professionals is the key to our success and the Ace Endico service advantage. Encouraging individual creativity, skill-building, problem-solving, and a refined sense of professionalism are all critical and integrated components in our growing organization.
Ace Endico helps its diverse roster of customers do more, while saving both time and money. Customers benefit from quick and efficient access to a wide range of high-quality products and services.
of the services we offer include:
Ware Wash Dish Machine Services & Cleaning Supplies
Kitchen Equipment & Supplies Program
Educated Customer Support Team Available Sunday-Friday
Operational Services (Cost Management & Employee Training)
Menu Development & Consultation Services with Corporate Chefs & Product Specialists
customer first.
Product Showcase & Testing
Coffee, Tea & Beverage Program aceendico.com
Some
•
•
•
•
•
the
•
•
showcases.
Ace Endico hosts two annual food shows each year to feature our wide range of products. Because Ace Endico has a strong footprint in the New York area, we host our annual fall food show at Yankee Stadium each year. In the spring, we invite customers and clients to visit our facility for a unique food show held within the Ace Endico warehouse.
In addition to our fall and spring shows, we often participate in other small shows in the area to highlight new and exciting items.
Headquarters: (914)347.3131 New England Division: (401)739.8180
culinary class.
At Ace Endico we appreciate the culinary arts on all levels. To be sure our customers have quality products at competitive costs, our company chefs test everything that comes through our doors. While testing new products, our chefs educate the Ace Endico team on new food trends and preparation techniques. We believe that culinary education is extremely important to our customers, so we dedicate ourselves to staying on the forefront of the food industry. meet the specialists.
Beck Bolender Director of Specialists Jim Cannillo Director of Imports & Speciality Retail
Christopher Devine
Specialities: High-End American Cuisine, Menu Planning & Consultation
Chef Christopher Devine attended the Culinary Institute of America in New York. He has over 40 years of experience in culinary management with private clubs and corporate environments. Prior to his life at Ace Endico, Chef Chris spent 15 years in the position of Executive Chef and General Manager at Trump Tower and managed all events and catering services along with the transition into The White House. Christopher also opened and operated six restaurant divisions for the Trump Organization. With a repertoire including menu planning and business development, Chef Chris provides culinary knowledge and consultation services for our customers. Christopher Devine was recently elected as President of the American Culinary Federation of Westchester and Lower Connecticut.
Favorite Food: Fresh Dover Sole and Chocolate Souffle for Dessert
aceendico.com
Mariano Caputo
Specialities: Italian Specialty Products, Pizzerias, Import & Export
Born in Bari, Italy, Mariano Caputo moved to the US in 2000, where he grew up working in his family's Italian restaurants. He eventually opened a few pizzerias of his own, starting in Florida and then moving to New Jersey where he became a customer of Ace Endico. When Mariano was ready to sell his final restaurant, he joined the Ace family, bringing his experience with him. Mariano uses his knowledge of the Italian palate to assist with the import of Italian specialty products, educate the sales team, research potential new items, and maintain a relationship with overseas vendors.
Favorite Food: Pizza, Spaghetti Carbonara
Matthew Fortuna
Specialities: Plated Desserts, Viennoiseries, Pastry Ingredients
Chef Matthew Fortuna attended Johnson & Wales University in Rhode Island, where he gained an in-depth knowledge of all disciplines of the pastry arts. He went on to obtain experience with a variety of corporate catering clients such as LinkedIn and General Electric, as well as working his way up in the field and honing his knowledge of ingredients and techniques at Maison Kayser. In March 2022 Matthew joined the Ace Endico Team as Pastry Specialist; as such he is the go-to resource for all pastry related products and inquiries.
Favorite Food: Crispy Duck Breast with Risotto and Churros with Cracked Black Pepper Ice Cream
Headquarters: (914)347.3131 New England Division: (401)739.8180
Jerry Daniele
Specialities: Finished and Semi-Finished Desserts, Baking Ingredients, Hors D'oeuvres
Before joining the staff at Ace Endico, Jerry Daniele worked as personal chef in California. During his 8 years here, Jerry has greatly expanded Ace Endico's private label line of desserts: Simply Delicious. He works with local bakeries to develop recipes and assure a high quality of products that meets Ace's standards. As a Senior Specialist, Jerry is always scouting for new products and customizing desserts based on customer demands. He is dedicated to giving these products the exposure they deserve by bringing samples on visits to customers.
Favorite Food: A Big Juicy Burger and Chocolate Chip Cookies for Dessert
Robert Mazza
Specialities: Imported and Domestic Specialty Waters, Coffee & Espresso, Imported Soft Drinks
Prior to joining the Ace Endico team, Robert Mazza worked for 20 years in the soft drink sector for Pepsi and Nestle, and an additional 20 years in the specialty water sector for Evian, Saratoga Water, and SPA Water of Belgium. Robert joined Ace Endico in 2019 as the brand manager for San Benedetto waters, an imported Italian mineral water line. Using his education in Accounting and Marketing as well as experience with large sales campaigns and brand development, Robert now manages sales and distribution of beverages at Ace Endico.
Favorite Food: Mrs. Mazza's Sunday Gravy with Homemade Rigatoni
aceendico.com
Christian Nahas
Specialities: Frozen and Fresh Cut Seafood
Prior to joining Ace Endico, Christian Nahas spent 10 years with Scandia Seafood. There he worked to sell seafood, and helped to launch their prepared seafood division, Nautical Foods. In March 2016, Christian joined the Ace team as the Director of Seafood Operations. Since his arrival, Ace Endico has become a full-service seafood house, offering a daily selection of fresh cut seafood. Over the last several years, Christian has developed an exceptional production team that is the heartbeat of our Seafood program.
Favorite Food: Linguini with White Clam Sauce
Gerry Healy
Specialities: Commercial Ware Washing Equipment, Sanitation, Coffee Machines
Before joining Ace Endico Gerry Healy spent 15 years working at Prism, a company under SC Johnson. He began as a Route Sales and Service Representative handling dishwashers and sanitation needs for professional kitchens, eventually becoming the Branch Manager for the New York and the New England area. Since joining the Ace Endico team in 2005 as the Ware Wash Service Director, Gerry has developed a skilled team of professionals who are trained to troubleshoot problems and make repairs to dish washers and other dispensing systems, helping professional kitchens meet the sanitation needs for their facilities, as well as keep the public safe. As Director, Gerry surveys accounts to determine the best options for each customer.
Favorite Food: Pot Roast
Headquarters: (914)347.3131 New England Division: (401)739.8180
a history of growth.
1932
William Endico, Sr. opens his first retail produce business in the Bronx.
1966
The Endico family acquires over 26 miles of potato farms in Madawaska, Maine.
1972
Michael J. Endico, Sr. launches Sally Sherman Foods, a pioneer in prepared deli salads.
2012
Ace Endico expands the warehouse by 25,000 sq ft and elevates the high-end specialty line to include 5,000 more products.
2013
Ace Endico acquires La Fede, a major Italian import company focused on specialty items of the finest quality.
2015
Proof of Delivery (POD) services added to newly redesigned fleet of over 100 trucks, to increase efficiency of delivery services.
aceendico.com
Ace Endico is a story of family dedication, hard work, and consistent growth in the food service distribution industry.
Today, the company stands as a living testament to the values and integrity first nurtured by William Endico Sr. so many years ago.
1982
William A. Endico and Murray Hertzberg launch Ace Endico Food Service in a garage in Mt. Vernon, New York.
1993
Ace Endico moves into a larger distribution center in Elmsford, New York.
2005
Ace Endico builds a state-of-the art food service distribution center in Brewster, New York.
2017
Facility expansion adds 70,000 sq ft, with 10,000 sq ft of office space, a new test kitchen, and more than double the freezer capacity.
2020
Ace Endico acquires Sassone Wholesale Groceries in the Bronx and Supreme Dairy Farms in Woonsocket, RI - establishing our New England hub.
2022
A new expansion project is underway to add 168,000 sq ft to the headquarters in Brewster, NY. Headquarters: (914)347.3131 New England Division: (401)739.8180
test kitchen.
In 2017 Ace Endico built a new professional kitchen above the warehouse. Company chefs use this space to test new products and experiment with recipes on a regular basis.
By creating this space, Ace Endico has the capability to provide training for a large sales team and demonstrations for customers, host vendors who want to showcase new products, and supplement employee education.
This venue is also used as a location for larger corporate and private events, including Holiday lunches, business meetings, and special product showcases.
aceendico.com
cash & carry.
Ace Endico is headquartered in Brewster, NY with marketplaces in both Brewster and Mount Vernon, NY, as well as our newest location in Woonsocket, RI. It is important to us that we are not only easily accessible to top chefs in the industry, but also that our community members have a local destination for high quality specialty foods at unbeatable prices.
The Marketplace caters to local chefs and the local community, offering wholesale packaging and pricing, as well as unique import items not found at the typical grocery store.
Headquarters: (914)347.3131 New
Division: (401)739.8180
England
supreme dairy farms.
For over 85 years Supreme Dairy Farms has been bringing quality food to the Rhode Island community. From a product line that became a part of family meals and traditions, to a full line of wholesale food products catering to the needs of restaurants, bakeries, and delis, Supreme has been providing only the freshest ingredients to local families.
Supreme Dairy Farms was founded in 1932 by Thomas Bruzzese in Warwick, Rhode Island. An immigrant from Calabria, Italy, Bruzzese and his family established a cheese making tradition in Rhode Island by meticulously following old world recipes and techniques.
In 2011 Supreme Dairy Farms relocated to Woonsocket, Rhode Island in the hopes of positioning itself to better serve Boston, Providence, and Newport.
aceendico.com
new england expansion.
As of December 1st, 2019, Supreme Dairy Farms joined Ace Endico in providing the very best in food and foodservice products.
In addition to quality products, this acquisition serves as a gateway into New England, allowing us to better serve customers in the Boston Metro area with the Rhode Island warehouse as a launch point. Ace Endico's goal is to preserve and grow Supreme Dairy Farms' unique brand identity.
It is a perfect addition to Ace Endico for serving restaurants, delis, pizzerias, and other high-volume prepared food merchandisers.
Headquarters: (914)347.3131 New England Division: (401)739.8180
scale matters.
Greater space equals more variety and more selection.
With 40-foot-high ceilings, our facility has approximately 8 million cubic feet of storage capacity, Boasting over 5 acres of floor space (with a planned expansion of an additional 5 acres).
This extensive storage space allows us to dramatically increase our product lines and gives us the space to properly separate chemicals from food products, providing the reassurance of a safe, untarnished product.
Our impressive capacity ultimately means better service for you.
aceendico.com
coolness counts.
With 14 temperature zones in our facility, our job is made easier. Our facility is equipped with the latest state-of-the-art, energy efficient, central industrial refrigeration system which is used to create varying temperature zones within the warehouse.
Products are stored within the temperature zone that best suits manufacturer specifications to ensure freshness and proper shelf life. Our facility also allows for 6 temperature zones dedicated solely to produce. All temperature zones are monitored with alarms, and controlled in order to assure optimal temperatures. These efforts increase shelf life, reduce cost, and provide better product yields.
Headquarters: (914)347.3131 New England Division: (401)739.8180
fresh seafood program.
Ace Endico proudly offers a high quality, competitive seafood program in an authentic seafood processing facility. Our seafood division is committed to only shipping out the highest quality fresh seafood daily.
All customer orders are fulfilled in our HAACP certified seafood processing room, which includes cutting tables, scaling and gutting stations, electric pin boning station, inventory stocking system, and two lobster tanks.
Our staff has a combined 75+ years' experience in the seafood industry. Seafood processed in our facility is cut from whole fish the same day that a customer orders it and is shipped next day.
When it comes to our customers it is critical to understand their seafood needs. The cutting team ensures the customer's processing specifications are met in order to provide a product that will exceed the customer's expectations.
Ace Endico has a very strong relationship with many seafood suppliers, such as Hidden Fjord Faroe Island Salmon, a sustainable salmon farm supplying fish to the US. We also offer a variety of fresh product including tuna, swordfish, Chilean sea bass, branzino, shellfish, shrimp, live lobster and much more.
aceendico.com
ware-wash service department.
Front of house operations require plates, flatware, glasses, and cups to be clean. Back of house needs include clean dishes to keep the kitchen running and comply with health department standards.
Ace Endico offers a wide variety of commercial dishwashers including upright high-temp machines perfect for high volume establishments, and low-temp under-the-counter machines often used as bar glass washers, and three-bay pot and pan sinks.
Ace Endico has a fleet of service vehicles ready to visit customers on a regular basis for scheduled maintenance calls or for emergency situations. The service team carries replacement parts for dishwashers, and chemicals for dispensing machines. The Ware Wash Department always performs surveys to determine the program that best fits a customer's needs. Headquarters: (914)347.3131 New England Division: (401)739.8180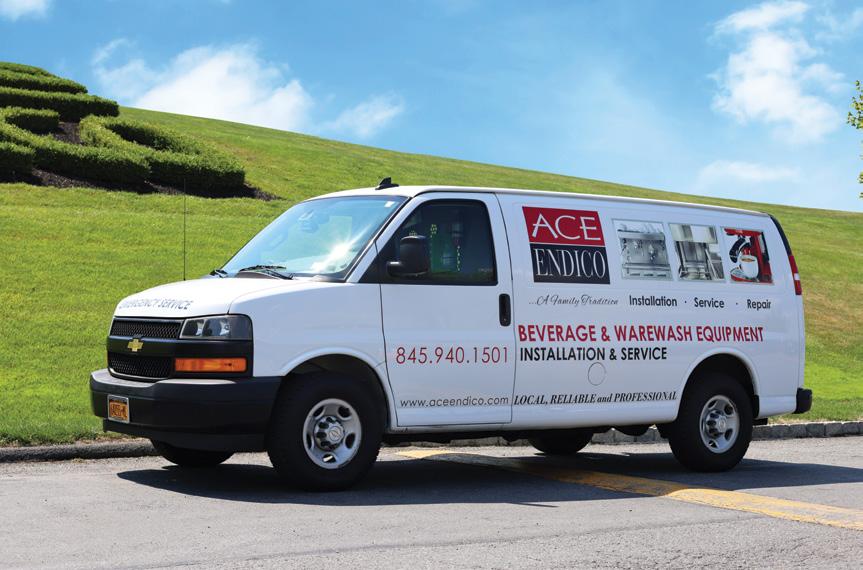 seasoned brands.
From Italian imports to home-style baked goods, our private label brands include an impressive variety of products to surpass our vast clientele's needs.
We personally curate and test products to guarantee that we are providing our customers with the highest quality at an extraordinary value. With seasoned experience behind each label, we are proud to have our name behind these brands.
Our premium private label brand of Italian style products and imports. Founded in 1936 by the Cannillo brothers, La Fede brings you the finest Italian oil and vinegar, olives, pasta, tomatoes and tomato products. La Fede is an Italian phrase meaning "the faith", and we have faith that you will love these products.
From the Italian translation of the family name "Endico", Indigo is our original line of products from Italy. With food ranging from meatballs, pasta, and cheese, to oil, vinegar, olives and more, Indigo brings you the highest quality Italian imports.
For over 85 years Supreme Dairy Farms has been bringing quality food to the New England region. Supreme Dairy offers a full line of wholesale products catering to the needs of family traditions, restaurants, bakeries, and delis.
Created in 1972, Farmer's Pride began as a small wholesale produce company making deliveries out of a single van. Servicing high-end wholesale customers such as white-tablecloth restaurants and country clubs, it grew to include three store locations. In 2013 Farmer's Pride joined Ace Endico to continue providing the highest quality produce.
Our vast seafood selection is ever expanding with daily product sourced along the East Coast, from Florida to Maine. Through our full-service custom cutting program, we fillet and portion to any specification in our state-of-the-art, HACCP approved seafood cutting room. To ensure that customers have the freshest product, Ace Endico picks up fresh seafood five days a week at locally established seafood markets.
A collection of local bakeries in and around the New York Metropolitan area craft premium handmade desserts, exclusively for Ace Endico. This partnership allows for a high level of quality control, resulting in a premier dessert line made with locally sourced ingredients, including eggs and milk from New York farms.
Founded in 1946 by Raphael Sassone, this specialty line began as an importer of Italian oil. After expanding into flour, cheese, and tomato products, it became a major food supplier to pizzerias throughout the New York Metropolitan area.
Sassone joined the Ace Endico family in 2021, where it continues to provide quality Italian products.
Ace Endico's premium private label grocery line. Customers know that items under the Fresh Choice label ensure the highest quality standard. With products such as oils, bases, seeds, nuts, spices, and much more, Fresh Choice provides chefs with the items they need to keep a kitchen running.
Providing chefs with a full line of cleaning products to support the needs of a busy restaurant. From dish detergents and oven cleaners, to bathroom, floor, and glass cleaners, Ace Supreme Clean is a one-stop shop for back of the house supplies.
Italian Imports
Tortillas & Wraps Domestic and Imported Brie and Goat Cheese
aceendico.com
Imported Italian Tomatoes
Headquarters: (914)347.3131 New England Division: (401)739.8180
cutting edge.
As we continuously strive to be the best in the food industry, we ensure that our sales team is trained and equipped with cutting edge technology, custom designed for Ace Endico. Most recently, we have added digital marketing to our repertoire to bring the newest product information to customers with the simple click of a button.
• Online Ordering allows clients to process orders and view accounts receivable at their convenience on any electronic device, including smartphones and tablets
• Digital Catalogs enable our sales team members and customers to stay up-to-date on new product lines and special offerings
• Social Media Marketing provides customers with up-to-date information on company news, specials, demos, new products, and upcoming events
• Newly constructed company website with information and resources, including recipe inspirations from corporate chefs, market trend updates and more
aceendico.com
ahead of the curve.
In addition to Ace Endico's dedicated customer service team, we employ state-of-the-art technology that improves efficiency, and delivers substantial value to our customers. These technology-driven features include:
• Smart Dock - An in-bound freight scheduling system
• Drive Cam On-Board Computer Systems - Standard on our entire fleet of trucks, it monitors the safety of vehicles, engine diagnostics, and fuel conservation (less idle time)
• Voice-Directed Picking - A bilingual system (English/Spanish) ensuring accurate fill rates on all orders
• Proof of Delivery (P.O.D) - Improving efficiency and reliability of our delivery service by ensuring that drivers are supplying products on-schedule, through a digital customer signature which is transmitted wirelessly to corporate headquarters
• Roadnet and Mobilecast - GPS (Global Positioning Systems) systems manage delivery schedules and truck routing
• Drones - Drone operated inventory control
• CoolTrax - Transportation temperature management technology
Headquarters: (914)347.3131 New England Division: (401)739.8180
commitment to safety.
Ace Endico takes extra measures for cleanliness and food safety. HACCP (Hazard Analysis and Critical Control Point) is a process-control system designed to identify and prevent microbial and other hazards in food production. We are proud to say our shipping and receiving areas are HACCP approved, and optimized with continuous pit and vertical dock plates, ensuring cleanliness and safe handling. This system includes steps designed to prevent problems before they occur, and to correct deviations as soon as they are detected. Our HACCP team monitors temperatures throughout the receiving, storage, and shipping processes which safeguards product integrity and ultimate food safety.
Ace Endico strengthens its foods safety systems by embracing new technologies, which allow us to comply with food safety laws and ultimately provide superior customer service. Our Food Safety Team monitors temperatures in the receiving and storage areas using digital, continuous temperature monitoring technology.
Our delivery fleet is equipped with cutting edge temperature monitoring equipment consisting of temperature sensors and product wedges. We place wedges between items on a pallet, enabling real-time product level temperatures. This technology allows our management to remotely control refrigeration units. We can control the unit to turn it on/off, start pre-cool, change set points, initiate defrost, clear alarms, and change the operational mode at any time.
It is our commitment to always serve our customers with the highest quality and care. Therefore the Ace Endico Team is driven to work together to continue to earn top food safety scores each and every year.
aceendico.com
thinking green.
From our state-of-the-art facility and business practices to cost-cutting measures and environmental protection, we actively employ major conservation strategies that add value to both our operation and our customer/vendor investment.
Ace Endico's facility is designed to be completely self-sufficient.
We operate with our own public water supply through a multiple-well system, and conserve by using greywater for refrigeration. Extensive backup systems, including a one-megawatt generator, help protect against power failure during natural disasters. Savings in electricity are achieved through L.E.D. bulb installation and motion-sensor technology.
Ace Endico strives to minimize paper usage and converts all forms of documentation to digital form. Through an internal Green Initiative, all employees are provided with reusable water bottles and coffee mugs, which allows for a drastic reduction in paper and plastic cups. A companywide recycling program is also in place.
We look forward to the addition of even more conservation efforts, to produce significant and positive sustainability, and environmental impact resulting in productivity gains and costs savings.
(914)347.3131 New England Division: (401)739.8180
Headquarters:
quality assured.
The expanse and measure of our product lines are driven by the diversity of Ace Endico's clientele. From fine dining restaurants, hotels, and country clubs, to schools, camps, stadiums, and healthcare facilities, our primary objective is to provide quality products and services to each individual customer.
We source the finest and the freshest products from the United States and around the world.
Ace Endico's "center-of-plate" meat selection, including beef, pork, chicken, and top-quality lamb and veal products, backs our reputation for offering the finest red meats available. We also provide customers with a range of hormone-free and allnatural varieties.
Ace Endico also proudly carries a wide variety of fresh deli salads from Sally Sherman, an industry leader in the highest quality fresh prepared salad offerings, produced in an SQF certified facility.
Our vast seafood selection is ever expanding with product arriving daily, directly from seafood sources in Boston, and spanning the East Coast from Florida to Maine. In season, we carry a variety of sustainable and wild caught fish. Nightly pickups are scheduled at the new Fulton Fish Market in the Bronx which is fully refrigerated, HACCP approved and has the most diverse selection of seafood in the Tri-state area. Our state-of-the-art in-house, HACCP approved seafood cutting room is equipped to fillet and portion fish to any size specification. We supply an abundance of frozen seafood, with a selection among the best in the market for both quality and assortment.
the Ace advantage.
UniPro is the largest foodservice distribution cooperative in the United States, consisting of over 400 members including Ace Endico. Being a member affords us nationwide access to exclusive purchasing opportunities with the country's premier suppliers. UniPro allows Ace Endico superior buying leverage and assures the highest standards of quality in every case purchased so we can effectively compete and win in the marketplace.
Ace Endico is a member of IFDA (International Foodservice Distributors Association), a premier trade association for the food distribution industry with combined annual sales of over $300 billion. IFDA member companies play a critical role in the foodservice industry supply chain, delivering food and other products to more than one million professional kitchens every day.
aceendico.com
Headquarters: (914)347.3131 New England Division: (401)739.8180
testimonials.
"At Ace Endico, there is always someone there to work with you to get you a delivery when necessary. We get consistent and precise deliveries, whatever we need. No one can compete with that."
Anthony Parnigan Food Services Manager, Yankee Stadium
"Ace Endico truly stands out from the rest! They treat our relationship as a partnership, with mutual respect, trust and transparency. We know our brand and our clients are in good hands with the Ace Endico team!"
Kimberly Sayid Country Manager (USA), Galloni
"Ace Endico is a very large player in the tri-state market and if you don't do business with them you are missing out on many opportunities. We at Hormel have had a relationship with Ace that goes back over 30 years and our partnership and solid working relationship has resulted in our consistent mutual growth over every one of those years. They also always make an effort to express their gratitude to their suppliers and are always very fair and respectful to us."
James Burkly Senior Account Executive, Hormel
aceendico.com
"Ace Endico is all about family, and we at Mosner Family Brands are proud to be a part of that family. I can walk through the offices or the warehouse at Ace Endico and we greet each other by name. That familiarity makes me want to do my best for Ace Endico and they want to do their best for me, together, to do our best for you, the customer."
Phillip Mosner Owner, Mosner Family Brands
"We have been proudly distributing Grande cheeses through Ace Endico for over 12 years. Their commitment to customer service and delivering high quality ingredients to independent operators is as strong now as it was years ago. We look forward to continuing our shared passion of helping operators be successful for many years to come."
Joseph Profaci Director of Sales, Grande
"Ace Endico has business principles that promote trust, integrity, dedication, and passion to their business. Ace Endico delivers solid support to our brands and business plan for continued growth. What HP Hood values most when doing business with Ace Endico is the people and culture of the organization."
Bob Fraska, JR. Regional Sales Manager, HP Hood
Headquarters: (914)347.3131 New England Division: (401)739.8180
testimonials.
"Ace Endico is an exciting and innovative family-owned Food Distributor. Major Products has enjoyed continuous growth with Ace Endico, and working together to achieve our collective goals is what makes our partnership with Ace Endico so invaluable."
Christopher J. Enright Corporate Executive Chef & Regional Sales Manager, Major Products
"Working with Ace Endico is like being around family at all times. Their dedication and loyalty to their customers is the reason why they are so successful, and leaders in the industry today."
Annette, Mickey, Michael Colombo MAC Specialty Foods
"Colavita USA has had a long-standing partnership with Ace Endico for over 25 years. Colavita values the sense of partnership and "family" we have developed with the Ace Endico team members. This includes the sales representatives, support team, procurement team, drivers, and the warehouse team. We consider them all an extension of our Colavita family and highly value their contribution to our business and daily life."
Jerry Helm Regional Sales Manager, Colavita
aceendico.com
"The Town Dock does business with Ace Endico because their team brings qualified buyers to the table, and as a result our sales with them grow year after year. Their events always generate traffic and sales. They are just a great team to partner with."
John Litton Regional Sales Manager, The Town Dock
"City Harvest is so grateful for our incredible relationship with Ace Endico. Over the course of our decade-long partnership, Ace Endico has donated more than 360,000 pounds of food—including nearly 80,000 pounds from the annual Ace Endico Food Show—to help feed New Yorkers in need. As we work together to reduce food insecurity across New York City, this important ongoing partnership will help us continue to feed our neighbors—one day, one meal, and one New Yorker at a time."
Jenna Harris Associate Director, City Harvest
"At the beginning of the pandemic when our students and their families were afraid to go outside, many had lost their jobs, and food insecurity skyrocketed across the city, Ace Endico stepped up more than we ever could have imagined to support them. Without blinking an eye, they not only set up an entirely new platform for families to choose the food that worked best for their families but also matched our donation amount, doubling the amount of food families could choose. Even more importantly, throughout the process, the entire Ace Endico team treated our students, their families, our team, and our volunteers with kindness, patience, respect, and professionalism. Every time I see an Ace Endico truck today I smile thinking about how incredible they were and what a huge impact they had."
Eliza Loehr Executive Director, Food Education Fund
Headquarters: (914)347.3131 New England Division: (401)739.8180
Scan to Follow us On Social Media
80 International Blvd Brewster, NY 10509 tel (914)347.3131 or (212)517.3035 fax (845)940.1516 www.aceendico.com
171 St Augustin St Woonsocket, RI 02895 tel (401)739.8180