Vol.
58, Issue no.
THE FLAME
THE OFFICIAL STUDENT PUBLICATION OF THE UST FACULTY OF ARTS AND LETTERS 1 RECLAIMING LOSS AND RETURNING TO A NEW WORLD
The
Nothing
THE FLAME
the
Visit our official website: abtheflame.net
© 2022 by the Flame. ALL RIGHTS RESERVED.
EDITORIAL STAFF 2022 - 2023
Dawn Danielle D. Solano Editor-in-chief
Patrick V. Miguel Associate Editor
Matthew Dave A. Jucom Managing Editor Dawn Danielle D. Solano Acting News Editor
Bless Aubrey D. Ogerio Issues Editor
Lila Victoria F. Mortel Features Editor Samantha Z. Argonza Culture Editor Fatima B. Baduria Literary Editor Rainiel Angelyn B. Figueroa Chief Photographer Tcheky Nicole D. Cabrera Art & Multimedia Director
Karen Renee S. Nogoy, Vanessa Noriko S. Yap, Katherine K. Chan, Aubrey Shane R. Lim, Prince Ronson D. Sabado News Writers Jasmine Mae T. Alarde, Axel Neo G. Aldana Issues Writers Katrizha Caye I. De Leon Feature Writer Thea Rebecca DC. Flores Culture Writer
Abigail M. Adriatico, Czerizha Kaizel S. Adzuara, Trixcy Anne B. Loseriaga Literary Writers
Arwin Nathaniel A. Romano, Aris Jhon C. Galang, Andrei Joseph Duran, Angeline M. Tanqueco, Catherine Dabu, Francine Gaebriele C. Gutierrez Photographers
Francis Rafael D. Obenza, Jeanne Pauline G. Tecson, Anjellyca S. Villamayor, Julia Dominique T. Yancha Artists
Thea Rebecca DC. Flores Administrative Officer Mr. Alexis B. Romero, M.A. Publications Adviser
Flame,
official student publication of the University of Santo Tomas Faculty of Arts and Letters, aims to promote a scholarly attitude among Artlets and Thomasians in the analysis of the implications of current relevant issues to their lives and society at large, to serve as a forum not only between Artlets and the administration but most importantly, among Artlets themselves, and to provide a vehicle for the publication of in-depth articles on the concerns and interests of the Faculty.
appearing in the Flame may be reprinted either in whole or in part without written permission addressed to the Editor in Chief of the Flame, G/F St. Raymund's Bldg., University of Santo Tomas, Manila or to editorialboard@abtheflame.net.
FOUNDED OCTOBER 16, 1964
Cover photo by spread photo by ETHAN CARDAÑO RAINIEL ANGELYN FIGUEROA
Editor's Note
To resurge is to come back again. Humans, events, and rules have their way of responding to defeat with the promise of return. It is a show of who truly is in control.
In times of conflicts and unexpected setbacks, having some sense of control helps one to secure a comeback. Although, overcoming external forces is determined by the intensity of one's control over them. Through this issue, The Flame explored the nuances of resurgence and how these have given back the power to those who sought it.
For one, the University of Santo Tomas has finally opened its campus to Artlets. With their return, they experience the burden of having to sustain living in dorms amid the current inflation in the country (pg. 20). Meanwhile, some find control in the way they present their sense of individuality through the return of 2000s fashion (pg. 34).
For some, however, control is a difficult thing to take hold of when chaos topples down security as seen in the stories of Overseas Filipino Workers who witnessed the fall of Ukraine to Russia (pg. 30).
Let the pages of this issue remind us that breakthroughs are always stronger than setbacks. The game of waiting has exceeded its stay, and the time calls for us to finally regain control. May we wield the strength of the Artlet spirit as we reclaim what we lost and return to the new world.
'22 - '23
Dawn Danielle D. Solano Editor-in-chief
WHAT'S INSIDE?
PERSPECTIVES
Photo by RAYMOND MANALOTO
A
child spent her day outside with her mother crafting woven baskets in Brgy. Telabastagan, San Fernando, Pampanga.
EDITORIAL How many more excuses?
Art by FRANCIS RAFAEL D. OBENZA
During the onset of the pandemic two years ago, students rallied on social media using the hashtags #NoToOnlineClasses and #NoStudentsLeftBehind. However, the spread of COVID-19 left schools with no choice but to shift to distance learning and to hold online classes. No thanks to the country's unreliable internet services and the economic impact of the virus, some students were left behind.
After two years, the Philippines' education sector finally embraced what the government called "the new normal." Last November, the Commission on Higher Education (CHED)
issued a memorandum prohibiting full distance learning without its permission.
Higher education institutions are expected to implement either full onsite or hybrid learning modality in the upcoming semester. They are required to conduct face-to-face classes at least half of the class hours, in line with President Ferdinand Marcos Jr.'s stance that COVID-19 should no longer be treated as an emergency.
@abtheflame | abtheflame.net FLAME | 6
Although this development has drawn hurrahs, it also sparked fears and hesitations since the pandemic is not yet over. UST administrations have been cautious about resuming in-person classes, opting to do it gradually in accordance with their transition plans. While they have good intentions, some students cannot help but compare UST's response with that of other institutions that are now allowing limited face-to-face classes in all degree programs and year levels.
And they really cannot be blamed if they think that they are being left behind. Most of them are forced to hold classes in front of computers or mobile phone screens while many of their counterparts in other schools are transitioning back to normal.
They have to fix technical glitches, look for areas with good signal and pray that no power outages will happen in their area instead of focusing on the very thing they are supposed to do: To absorb the lectures that are supposed to prepare them for the future.
But some UST administrators are still wary of such a transition. Some of them, for instance, claimed that a return to onsite learning may be difficult due to the threats of evolving COVID-19 variants. Some cited the plight of students coming from other countries or from the provinces who will need to stay in dormitories just to attend face-to-face classes. They argued that a return to onsite learning could be burdensome for some students considering the economic shocks and the worsening inflation the country is experiencing.
It is prudent to give these administrators the benefit of the doubt. We believe that they are genuinely concerned about their students. We are sure that their concerns are born out of their desire to keep Thomasians safe, not from a refusal to adjust some routines acquired during the pandemic or to wake up early to go to the campus. We have faith in our administrators and we sincerely believe they won't allow Thomasians to miss out on the advantages of in-person learning because of challenges that have been there way before we learned about the existence of a "mysterious" virus from Wuhan.
After all, heavy traffic, rising costs of living, street crimes, the hassle of daily commuting and health risks will always be there, pandemic or no pandemic. Citing these campus life staples to oppose or to delay the resumption of onsite learning is at best amusing. We also hope the transition mechanisms announced earlier by administrators won't get in the way of face-to-face learning. Quality should take precedence over any form of bureaucracy. Methods that work should be prioritized over any paperwork.
UST's enhanced virtual mode (EVM) may have been enough for the time being but our administrators who have hesitation
about complying with the CHED memorandum should consider the harmful effects of prolonged distance learning.
Experts have noted the negative psychological and social effects of online classes on students who are worrying more but learning less. Any attempt to avoid or circumvent the CHED memorandum requiring at least half of class hours to be conducted onsite will result in an epidemic that changes the meaning of EVM to "excessive virtual mode."
Such an epidemic – characterized by longer exposure to gadgets, stunted social skills and depleted mechanisms against academic dishonesty – is ironically fueled by an overly cautious mindset and a distorted sense of priorities.
The present set-up—wherein half of the classes attend synchronous and asynchronous classes simultaneously—is burdensome for both the students and professors. For one, lectures good for three hours are condensed into an hour and a half, sacrificing the quality of instruction. Likewise, professors deliver the same lesson twice every session, effectively forcing them to conduct cramped lectures without additional pay.
The University should have a better grasp of the COVID situation given that it has already held various mass gatherings like onsite graduation rites, baccalaureate mass, welcome ceremonies, and the recently concluded Agape. It has also announced that this year's Paskuhan would be done in person although the event would only be limited to members of the Thomasian community to avoid overcrowding.
Indeed, there are risks in resuming face-to-face classes given that we are not yet free from COVID-19. But there is no other way to handle this crisis but to adapt. Citing risks and challenges that have always been there or sticking to plans that may no longer be responsive to students' needs is definitely not the way to do it.
Other educational institutions—including elementary and secondary schools—have resumed onsite learning for most of their students. After the two-year disruption, UST administrators should have thought of better ways to ensure the safe return of students to campus—unless they intentionally do not want to.
But then again, we don't think our administrators will deprive their students of a chance to reap the benefits of onsite learning. We don't think our administrators will be overprotective to the point that Thomasians will be exposed to the EVM epidemic. We don't think our administrators will prioritize their transition documents over the plight of students.
We hope we are right. F
@abtheflame | abtheflame.net FLAME | 7
Braving Equilibria
Paper Mirrors
Education in isolation We are woman beings
ACROSS THE tides of survival in the northernmost stretch of the Philippines is an island province that only had its first LTE connection in 2018. Adjusting throughout the pandemic has become a challenge in a process of reassessment.
In-person classes are resuming gradually, yet it took me two years in the pandemic to process the risks, which also continuously reminded me of my home's constant struggle with access to resources.
Spending about ten days in Batanes last August 2022, I still encounter the internet disconnections of our plugged home wifi more than twice daily. My friend, who is also in the Faculty of Arts and Letters (AB) and is currently in Batanes, has revealed that in every five minutes of attending online meetings, unstable internet connection often kicks in.
After typhoon "Henry" hit the isles, instead of using her laptop, she attended class through her mobile phone. This also brought difficulties in watching online video lectures.
Moreover, for almost two weeks, there was a power curtailment advisory all over the province. It reduced the power operations by one-third, bringing a daily 16-hour brownout last September 4-14 in the six municipalities. During the power outage, she explained that in complying with her tasks for internship, she had to borrow two more laptops.
Unstable internet including rotational brownouts are not news in this province especially in the aftermath of typhoons. Also, there is the delayed transport of goods, even the diesel fuel tanker for electricity postponed due to large tidal waves preventing sea vessels from docking.
Beyond being tagged as a reference point in Philippine Atmospheric Geophysical, and Astronomical Services Administration, the geographical location of Batanes is historically tied with typhoons. The reboot of cell towers, electricity power lines, and internet or data connection is already structured in post-disaster management plans.
Going back to the first few months of 2020, flights from Manila to Basco (capital of Batanes) and vice versa were limited to twice per month with just one airline operating for this island province. This is also due to mobility restrictions, allowing only returning residents and authorized persons outside residence to book their flights to Batanes. Once a flight is canceled, the passengers will have to wait for at least a month to move or rebook flights. It was already more than a year of not returning home along with uncertainties in the access to flights. I was unsure back then if the quality of my learning was enough, because I felt imprisoned by mental distress. Lack of concentration and discipline are among my concerns with distant learning.
The lockdowns in Manila had prompted me with "quiet quitting," a term conversed upon in social media these days as a work principle or philosophy. This pertains to working within one's limits and without going beyond work hours. Also, according to my friend from AB, she was not able to leave Batanes since October 2020 as she has to prioritize her mental health along with her thesis course requirement.
Balancing productivity with health is a major investment in resources. This significantly went on until 2021. Going back home after the first term is among the opportunities to unpack the emotions held back from the quarantine. This chance was not just to unwind at all, it is still about meeting halfway with the setbacks. I had to submit my requirements a day before the deadline at around four in the morning. Learning materials must also be downloaded before six a.m. since the internet connection slows down after that hour. At times, the camera during Zoom meetings must be turned off to stay in the session. My friend also shared that there is a professor who failed to acknowledge the attendance of students who did not open their cameras. There were instances that some students intentionally do not open their cameras, so those in the actual situation of unstable internet connection are not given consideration. To address this concern, there must have been an established system of verifying the conditions of the students, especially those who are living in technologically-challenged areas.
Moving forward to the first quarter of 2022, four flights are expected each month in the province. It then turned to regular flights that placed hesitancy in buying tickets because of the increase in base fare caused by soaring fuel prices. The transportation around the metro is not an exemption.
For years, the concept of isolation has evolved. It has tied feelings to a place. To create the distance between home and inaccessibility, between quality education and online distractions, and between relationships and communication barriers, it is a constant readjustment.
More possibilities for face-to-face engagements are just around the borders. Students are then again sailing for another season of adjustments. F
GOING BACK to normal after a stretched time indoors should be exciting, but "normal" has always been different for us women.
It does not always mean "okay." Merriam-Webster would characterize normal as "usual, typical, or routine." It is expected, something adhering to a pattern. And the pattern is this: when women go out on their own, fear creeps in. A lot of times, the feeling becomes a premonition.
There had been a pause to the transgressions that the streets constantly witnessed, mostly because they became empty. As most were restricted to their homes, it became safer, at least on the streets.
However, as we gradually come closer to the kind of life we knew before the pandemic, the issue resurfaces.
This story goes on repetitively in a seemingly endless plot, still without a denouement.
We feel the eyes first. We have been told many times to never make eye contact with strangers. Even so, our peripheral vision catches what our center of gaze cannot.
We feel next the red blooming on our cheeks, the unease and vexation bubbling together into a complex flush. Flattery would be a nice feeling— almost like a privilege that dread has made impossible because of what usually happens after.
We hear. It is an unwelcome greeting at times. Other times it is names that we are deplorably given, "babe" or "ganda." Some men are more creative at being discreet by whistling. Regardless of manner, they are all the same. It is street harassment.
The perpetrators are fully capable of defending themselves. They minimize their crime as simple flirting or giving of compliments. Totally harmless.
However, it is unsolicited; no one can take such things as compliments. The unwelcome is always a disturbance. It trespasses, barging into a sacred, personal bubble supposedly consisting of some degree of peace.
It is uncomfortable and terrifying. No feelings are negative, and indeed, these two are normal experiences for everyone. Yet for women, these have grown from feelings to a shared reality that we have to live with daily, and we should not have to.
It is a derogation, even dehumanizing. What it does is take our bodies for objects of pleasure. Our faces, limbs, and skin are taken apart by their gazes to be examined until, to them, we are no longer humans—not their equals. Their minds mistake us for breathing, life-sized dolls and we are treated as such.
So it is fallacious to think that catcalling merely inconveniences women, that it terrifies us only for a bearable span of time before we come out unscathed.
The "normalcy" of street harassment has long been dictating how women must live, that we must have a man on our side or save enough of our allowance for the luxury of a taxi ride. We are supposed to tweak our lives, the victims. It speaks, too, of a message that we have long been told: the world is not for a woman. It is not a place for us to be comfortable nor to simply live in. Yet we refuse to accept this message.
It should not take a pandemic to ensure safety on the streets, to tame the barbarity. What it should take is realization, understanding of the depths that the issue pervades and awareness enough for perpetrators to stop.
There is a long way to go before we even come close to the possibility of harassment-free streets. Still, we women dream with and for the little ones who are already exposed to the same atrocities.
We dream of an afternoon walk in solitude, enjoying the orange sunset glow after a long, tiring day at school or work. A man or two would pass by, but they mind their own business. We reach home, bearing no wounds from the short walk.
We dream of a proper denouement for street harassment. F
@abtheflame | abtheflame.net FLAME | 8
Samantha Z. Argonza
Fatima B. Baduria
We, the others
Patrick V. Miguel
Ganda Problems
How far will #hashtags go? The Imedificiation of Filipina women
WE LIKE the idea that we are contributing to the betterment of society. And when you are stuck at home during a pandemic, the best place to do this is in the expansive digital architecture of social media. A landscape that has become a dump of cancel culture, trolls, performativity, micro-trends, and endless brain-rot 'hot takes' that gave me lobotomy.
I say this with pure sincerity: "Welcome to the 2020s."
#NoToOnlineClasses, #BlackLivesMatter, #JunkAntiTerrorLaw, #MassTestingNOW, #SaveTheTurtles, #JusticeFor[Someone]—these hashtags, among others, have resurfaced and resurged within apps we have scrolled on. And in a social media culture where you are alienated for being 'silent' and hastily labeled as 'apolitical,' you feel obligated to post and show that you have spoken through hashtags.
I am not an exception to this narrative as I am guilty of believing the hashtags I posted before were powerful enough to stop specific sociocultural catastrophes.
Trick Mirror author Jia Tolentino wrote, "It's because of the hashtag, the retweet, and the profile that solidarity on the internet gets inextricably tangled up with visibility, identity, and self-promotion. It's telling that the most mainstream gestures of solidarity are pure representation […] and meanwhile the actual mechanisms through which political solidarity is enacted, like strikes and boycotts, still exist on the fringe. The extremes of performative solidarity are all transparently embarrassing…."
This is where the problem of hashtag 'activism' lies. Other than the fact that it is allusive to performativity, people think that posting a social issue alongside the appropriate hashtag will be the end of a struggle and that doing so entails a form of solidarity. What do our nation leaders care about hashtags anyway? The truth is that these social issues are evasive to hashtags, and it would never be the finality of a certain struggle as it should only be the beginning of something.
So, how far will hashtags go?
Hashtags could raise awareness on so many adversities. In addition, it has the potential to mount a collective movement that could spark change. Take for example the hashtags that boosted donation drives during Typhoon Ulysses in November 2020.
In a way, hashtags could mobilize and present solidarity. There are instances where hashtags worked but it comes rarely since nobody is genuine anymore on the internet.
But ultimately, hashtags oftentimes remain as hashtags in the digital sphere. Unfortunately, what we may be "advocating" online is less likely to materialize in the "real world." We have posted so many hashtags and yet so little has been done. It may have only brought out awareness in this epoch of "content" but it seemed to have stopped there. We keep scrolling on our phones until we realize that we scrolled on a whole circle, and what we have "spoken out" will keep resurging in the future with different structures of hashtags.
In the end, the blaming finger should be pointed to certain institutions for never listening to our call for justice.
Here is a testament to the parallels of social media and social issues, where "social" finds a commonality in all adversities but it eludes itself away from mobility and change. The question is raised—how far will our hashtags go? It will remain here and here only in the theatricals of social media. F
BEFORE OLIVIA Rodrigo and Heart Evangelista, we had Imelda Marcos. As a dictator's wife and a beauty in her own right, she shocked the international community with her shoes, personality, and most, unfortunately, indiscretions.
With news features of her ostentatious lifestyle came criticism from all forms, some in the form of ridicule such as modern iterations like Netflix's The Crown to lesser-known skits from SNL and On the Television's "Our Maid Imelda" episode.
The portrayal of Imelda Marcos in this medium was flat-out racist. It was not right she was portrayed as a maid to be ridiculed, a hysterical woman, or a socialite with a 'funny' accent.
There are Filipina women who are not Imelda that may be subjected to this ridicule, and at the end of the day, Imelda remains a socialite while everyday Filipinas carry that stereotype with them.
On a personal note, I experienced this stereotyping in New Zealand; it was as subtle as being called "exotic" for my accent to my white ex-partner being 'warned' against me as a foreigner with no permanent residency, by fellow Filipinos no less. Although I don't blame media representation it definitely didn't help.
With the ever-rising liberalization of the world comes the observation of our culture and, in extension, our women. When we portray Filipinas like the international media portrayed Imelda, we are causing harm not to Imelda but to everyday Filipinas.
Even today, Filipinas are not being given the consideration they should have in the media, ultimately causing harm and welcoming misogyny.
"90-Day Fiancee," a TLC TV Show, has profited from Filipinas experiencing racist microaggressions and the stereotype of submissive Asian wives, even if they don't mean so.
Jenny, a filipina living in the province of Urdaneta was filmed upset with how her white partner responded to lechon being served for his welcome, Her partner embarrassed her family by being afraid of getting sick through our food. Because of her accent, she pronounced "rude" as road. The first who laughed was us.
There is nothing wrong with these women nor even the show inherently, but there is something disgusting about how media companies turn their lived experiences into entertainment without considering the power dynamics of gender and race. But to be fair, this also raises the question: who is wrong, the media that presented Jenny or us the audience who reacted as we did?
A number of Fil-Am movies also punch down on Filipinas. The fabulous Filipino Brothers portrayed Filipinas horrendously; they were either sexualized, dead, or narrators; no nuance, joy, or celebration. Although to be fair, Easter Sunday more recently did better.
These are filmmakers raised by Filipina communities but rely on their ridicule to make money. Locally, telenovelas aren't any better.
This 'Imeldafication', or the lousy faith representation of Filipina women to criticize culture, is rooted in racism and misogyny, hurting individuals that are most vulnerable.
More than half or 59.6% of overseas workers are women, and more than half of them work as laborers and unskilled workers. These portrayals and lack of nuances do not help.
This is a call to be more critical of not just how we see Filipinas, but how we watch them. How we criticize matters. We must ask ourselves; do we laugh because it's Imelda or do we laugh because it's Filipina? Is she even a laughing matter?
Lots of media content answer this question, such as Lauren Greenfield's "The Kingmaker" and PBS' episode of Imelda. The politics and the urgency of criticizing her properly are palpable.
In a time when critique is essential, we must remember to act in good faith and inclusion. This applies to people we don't agree with.
To say the least, I don't like Imelda Marcos, but I also don't like seeing misogyny through her. F
@abtheflame | abtheflame.net FLAME | 9
Lila Victoria F. Mortel
Stretches Speed Therapy
Bless Aubrey Ogerio
I WAS 19 when I fulfilled my long-time dream of legally driving a car and obtaining my license.
It was the typical midnight drives and fun road trips, getting the most out of my freedom. But as I drive along the journey of growing up, hitting 405 becomes less fun and more of a responsibility, especially when I am about to experience another unpleasant surprise at the local gas station.
Getting from one place to another would be a hassle if it were not for my motorcycle and fourwheeled APV car. Be it an important school event or a spontaneous hang-out, the privilege of this comfort has kept me away from Metro Manila's traffic congestion.
Until the slow traffic started to roll, followed by the constant checking of the gas tank, and finally getting frustrated when the tank reached from close to being empty—which happens frequently.
It was a headache for me when the average retail price of one-liter gas had already amounted to about P80 compared to last year, when it was just approximately P50. Despite the recent rollbacks, it is still not much of a help to my tight budget as a struggling college girl who chose to live independently but needs to still practice being practical.
I need to change my driving habits, which I once found therapeutic but is now causing me stress.
During the peak of the Russia-Ukraine war, which affected the gas prices in the country this year, I relied on public transportation: jeep, train, and bus. I once again encountered a crowded space.
This kind of transportation system gave me yet another terrible experience, but who am I to whine when other commuters are more exhausted and have longer travel time than me?
When it's really hard to find a ride, I would sometimes think of riding a taxi, but it would take me a minute to decide since it does not really fit my budget and mode of transportation. I only ride taxis occasionally, often carpooling with strangers to save money.
I also began to prefer staying at home instead of going out, especially if it is not urgent or just a
leisure activity in the midst of my busy schedule, which somehow helps me avoid wasting my savings.
From the point of view of a journalism student, news stories about fluctuating fuel prices have been added to the list of topics that interest me. Unfortunately, this new interest has become my series of relief and dismay as a consumer as well.
Even those who do not have an idea how to pump the clutch or change gears are also affected by this issue. It is surprising to pay extra for transportation due to the rate increase. When we purchase things and goods online, it is frustrating when the delivery charges are expensive.
With all of these produced, used, and delivered using fuel, the hassle of everyday life will show us why we should care even without having any desire to drive. Really, the world's demand for oil is rising, and not just simply because of some people's odd fantasy for fast cars.
Gas prices have fluctuated for years, and the Philippine economy and many ordinary Filipinos suffer whenever they hit a new high. Instead of constantly subsidizing the transportation industry, the government might instead authorize a fair fee increase and stop depending on gas station discounts.
Every component of the fuel value chain that affects fuel pricing must be extensively examined, and alternatives must be explored if any component is found to be costly. There must be a reason for every peso paid.
As the gas prices are out of my control and seem to be telling me that it is impractical to rely on driving as a comfort, hitting the speed is not always therapeutic, especially in this economy where the "control" depends upon the reluctance of higherups to listen to drivers' and commuters' pleas. F
@abtheflame | abtheflame.net FLAME | 10
NEWS
Photo by ETHAN CARDAÑO
An Artlet walks on the mirrored sidewalk of the UST St. Raymund's building.
A bittersweet farewell:
Thomasians return to UST to say goodbye
Words by PATRICK V. MIGUEL & DAWN DANIELLE SOLANO
Photo by RAINIEL ANGELYN FIGUEROA
For the first time in what felt like forever, the University felt the atmosphere everyone was familiar with during its back-to-back Baccalaureate Mass for the graduates of batch 2020, 2021, and 2022.
From June 3 to 4, the University was brought back to life, revived by the presence of the Thomasian community— students, professors, and staff. The hallways that have been silent since the University adopted the virtual learning mode reverberated with laughter and greetings. Classrooms were once again filled with students. Students were seen embracing again, propagating the culture of hugs that was discouraged two years ago. Drumbeats and chants filled the air, reminding Thomasians that no pandemic can extinguish their school pride and spirit.
The University resumed its graduation traditions such as the exit through the iconic Arch of the Centuries, a celebration of the Holy Mass on the open field, and the ceremony of lights. The administration, however,
decided not to hold the fireworks display as an expression of solidarity with those who were affected by the COVID-19 pandemic.
Graduating students were more than happy to be back, reuniting finally not only with their classmates but also with the University.
This was the case for journalism batch 2021 Loreta Arroyo, who admitted feeling "deprived" when the previous graduation ceremony was done online.
"It feels nice […] Like it's a one time that brings us back in time. We are reclaiming all the times that were taken away from us and for one evening, it's just us as one block, [and] as one AB," Arroyo told The Flame during the second day of the baccalaureate mass.
Behavioral science batch 2020 graduate John Raymund Alayon said the in-person event was the "most memorable."
@abtheflame | abtheflame.net FLAME | 12
"We waited for almost two years and of course, we get the chance to experience a solemn celebration," he said. The return to the University was not only celebrated by the students but by the AB maintenance staff as well.
Maintenance staff James Malagueño and Albert Chavez expressed their excitement, saying "Parang kami na rin 'yung g-graduate (It feels like we are the ones graduating)."
They added that the return of students to the campus allowed them to go back to a regular work schedule. The maintenance staff worked under a "no work, no pay" policy throughout the COVID-19 pandemic, according to staff Maricar Yabut.
READ: Our Ate and Kuya in AB: Where are they now? 'You are all survivors' University Rector Rev. Fr. Richard Ang, O.P commended Thomasians for finishing their studies despite the torments of the pandemic as he led the firstever in-person Baccalaureate Mass since the pandemic.
"You are all survivors. If you survived the pandemic, you can survive anything at all," Ang told graduating students of Batch 2022 during the first day of the Baccalaureate Mass.
Ang even encouraged the students to celebrate their milestone, and not to think of it as a "sin."
"Today is not a sin for you to be proud of yourself as long as you remain humble and magnanimous regardless of what you already know. As wisdom comes as you age," the University rector said.
UST Vice-Chancellor Rev. Fr. Filemon Dela Cruz Jr., O.P also conveyed a similar message to batches of 2020 and 2021, encouraging them to mark their milestone through "pictures."
"Magpa-picture kayo nang husto (Take a lot of photos), Because this is a part of your memory making, that you have survived this pandemic and you graduated," dela Cruz said.
However, Dela Cruz reminded the graduates that there would be more battles and challenges to face in life.
"It is a long way for you, for us, for our country, [and] other countries toward recovery," Dela Cruz said.
The vice chancellor said hardships during the pandemic can be a great source of strength and inspiration in the future.
"When life gets tough, you can say 'Kaya ko 'to,
nakagraduate nga ako, pandemya pa 'non (I can do it. I was able to graduate and there was a pandemic then)," the vice chancellor said.
A bittersweet moment
WATCH: AB seniors complete their Artlet journey as they exit through the Arch
Exiting the Arch of the Centuries is a long-time university tradition that has been cultivated throughout the years but suddenly took a pause because of the online set-up these past two years.
For Bea Diwa, a communication graduate in 2020, passing through the arch was "fulfilling," after two years of waiting. She added, "I can finally say that my journey in UST has finally come to an end. It's a bit bittersweet."
The bittersweet feeling of exiting is echoed by recent behavioral science graduate Eldrick Conwi, who said he performed the tradition with all the experience and friendships he made in college.
Political science batch 2021 graduate Dax Dacanay said exiting the arch made him revisit all the good and bad memories in the University. He felt as if every memory rushed into him while walking on the so-called lover's lane and through the Arch.
It was a "euphoric" moment,,according to polticial science batch 2021 graduate Johannah Ferrer: "It dawned on me that I'm really leaving UST."
Thomasians avoid premature passing-through the Arch as doing so is believed to lead to their debarment. The University Rector was quick to debunk the urban legend. "When I was a student of the Faculty of Arts and Letters, my classmates and I would pass through that frequently," said Ang, who graduated from the Faculty of Arts and Letters in 1990 with a philosophy degree.
The rector was ordained to priesthood in 1998, after he finished sacred theology at the Faculty of Sacred Theology in 1997.
"Later on, once you pass the Arch of the Centuries, walk on and carry your faith with you. The faith, which is the University's greatest legacy," Ang said.
The two-day Baccalaureate Masses for the three batches were held at the UST Grandstand and Athletic Field.
Face-to-face graduation rites for all academic units of the batch 2022 have been scheduled from June 6 to 30. F — with a report from Aubrey Shane Lim
@abtheflame | abtheflame.net FLAME | 13
Dos and Don'ts for
Photo by GAEBRIELE GUTTIEREZ
Paskuhan 2022
After two years of virtual celebrations, the University of Santo Tomas will finally hold its Paskuhan festivities, from liturgies to concerts, in person.
As part of the preparations, University officials held a virtual session last Nov. 11 to discuss the protocols for the much-anticipated event.
The Flame listed the things Thomasians need to know to enjoy the festivities.
Dos: Mark your calendars
Thomasians can look forward to experiencing the Agape and Paskuhan concert festivities to be held on Dec. 2 and 19, respectively.
Tunog Tomasino, the university-wide battle of the bands, is set to take place on Dec. 5.
The Paskuhan Mass will be held on Dec. 16 at 5 p.m. at the UST Santissimo Rosario Parish. All donations from mass attendees will go to Dominican missions in different areas of the Philippines.
The Paskuhan festivities will be held on Dec. 19, beginning with a raffle at 10 a.m., followed by the Paskuhan Concert at 4 p.m.
Wear your face masks
UST Health Service Director Dr. Sheryl M. Dionisio emphasized the need for all attendees to wear face masks, as many people are expected to join the festivities.
"We will be requiring everyone to wear a face mask as part of the minimum public health standard to ensure public health and safety," she said.
Attending alumni must use the StaySafe.ph application in place of the Thomasian Online Medical Services and Support or ThOMedSS health declaration checklist.
@abtheflame | abtheflame.net FLAME | 14
"They have to accomplish the health declaration checklist on the day of the event so that they will be presenting the QR code that will be provided by the StaySafe.ph app upon entry," Dionisio said.
Dress appropriately
Thomasians are advised to dress modestly for the festivities, which is not just about merry-making but is also about the birth of Christ and the heroism of pandemic frontliners.
"Of course our students are encouraged to come to the university in their modest and decent attire because they're not attending a private party but a university event," Batulan said.
Don'ts:
Don't invite non-Thomasians
This year's Paskuhan festivities will only be open to Thomasian students, employees and alumni in compliance with COVID-19 health protocols. However, university administrators are hopeful that non-Thomasians will be allowed to join the event in the future.
But Thomasians need not despair because they can always hold after parties with their friends from other schools provided they observe safety measures.
Don't forget your IDs and QR codes
The University will implement a strict 'no ID, no QR code, no entry' policy for all Paskuhan 2022 events.
Thomasians are required to accomplish their ThOMedSS health declaration checklist to enter the campus.
Alumni and students without ID must secure a digital or printed copy of their QR codes from the MyUSTe student or alumni portal before entering the campus.
"They (alumni) get to generate a code similar to the ones being generated for the students. […] It has to be presented for scanning and that's already approved as an alternate identification," said Emmanuel Batulan, executive assistant to the Office of the Secretary-General.
Besides checkpoint access, the ID and QR code will also serve as a food stub during Agape.
Don't be late
The University's security office will implement measures to cut the long lines outside the campus.
Joseph Badinas, detachment commander of the UST Safety and Security Office, said the campus would be opening early for attendees to have a leeway to get in.
Badinas also encouraged the use of transparent bags to reduce the time for bag inspections.
"We discourage using big bags during inspection to avoid delays and long entrance lines. Instead, we encourage everyone to use transparent bags to ease the inspection process," Badinas said.
Thomasians are also prohibited from bringing sharp and pointed objects.
Don't bring your car
To ensure traffic regulation, Facilities Management Office engineer Jared Gunting said the University would implement "carless days" on Dec. 2 and 19.
"We encourage everyone to not bring their car because we'll be expecting traffic and there will be a lot of people during that day," he said.
However, the car park will remain open on a 'first come, first served' basis.
Gates 1, 2, 6, 7, 10, 11, and 14 will be available for pedestrians on Dec. 2, while gates 1, 2, 7, 10, 11, 14, and the public link bridge will be open on Dec. 19.
Attendees with motor vehicles may enter through gate 14 on both dates.
The Office of the Secretary-General is expected to release a memorandum detailing all the University's recommendations and policies relevant to the festivities.
F — Katherine Chan and Aubrey Shane Lim
@abtheflame | abtheflame.net FLAME | 15
Artlets walk on the side of St. Raymund's building.
Photo by RAYMOND MANALOTO
Photo by ETHAN CARDAÑO
Despite
ISSUES
heavy rainfall from Typhoon Florita, Artlets attended their Homecoming Walk activities.
Schools urged to be vigilant despite KWF's lifting of ban on 'subversive' books
by TCHEKY NICOLE D. CABRERA
While Komisyon sa Wikang Filipino (KWF) recently reversed its controversial order to ban five books that were regarded as "antigovernment," Thomasian educators called on schools to ensure the free flow of ideas and to uphold free expression.
The books covered by the ban imposed last August were Teatro Politikal Dos by Malou Jacob; Kalatas:Mga Kuwentong Bayan at Kuwentong Buhay by Rommel Rodriguez; Tawid-diwa sa Pananagisas ni Bienvenido Lumbera:AngBayan,angManunulat,atangMagasing Sagisag sa Imahinatibong Yugto ng Batas Militar 19751975 by Dexter Cayanes; May Hadlang ang Umaga by Don Pagusara; and Labas: Mga Palabas sa Labas ng Sentro by Reuel Aguila.
KWF commissioners Alain Russ Dimzon, Angela Lorenzana and Hope Yu withdrew their signatures from the order last September, noting that it's not within the body's mandate to function as a censorship body
Despite the revocation of the order, some educators and students are worried about how the attempt to ban books could negatively influence literature and academic freedom,
UST Department of Political Science Asst. Prof. Anthony Divinagracia said that while freedom is "not obsolete" and the education system may "not be perfect," banning books because of their supposed "anti-government content" would not contribute to fostering inclusive learning.
"Censorship is not bad per se; you just have to put it in place. Apparently, these commissioners are doing the bad side of censorship," Divinagracia said.
UST Department of Literature Assoc. Prof. Jeanette Grajo said KWF's order might set a "wrong precedence" for future writers.
"This controversial issue of censorship and allegedly red-tagging of authors by the KWF leadership is
@abtheflame | abtheflame.net FLAME | 18
Art
sending a negative signal and might also set the wrong precedence for future generations of writers," Grajo said.
Some tertiary students believe the revoked KWF memorandum contradicted the objectives of reading scholarly works and promoting and developing analytical and critical thinking skills.
Communication senior Hannah Baquiran.said a book ban would deprive future generations of the "capacity to learn and to discern."
Political science student Jan Soriano said the purpose of the five books is not to foster an antigovernment stance, but "to help formulate the reader's own individual stance."
Journalism junior Yllonah Bago said she was worried about the possibility of authorities "pushing the truth away from the Filipinos."
"[A]s seen from these bold moves to protect themselves (KWF commissioners), the people seated in power know the lack of awareness from the masses, and they are benefiting from that," she said.
Questioning the rationale
Mark Anthony Angeles, a lecturer at the UST Filipino department, said that the ban should not have happened in the first place since KWF is "not even mandated to enforce anti-leftist propaganda."
"As far as I know, banning the books was not a decision made by everyone in the board (KWF), but an attempt to stir the pot against the KWF chair," Angeles told The Flame.
Divinagracia expressed doubts about the order's logic and asked why some works that mentioned activism, including those of the lateFilipino historian Teodoro Agoncillo, were not included in the list.
"When you read those, it included references and citations of Joma Sison of the CPP (Communist Party of the Philippines). So are you going to say that those books are also subversive? What are we going to do, should we tear them?" Divinagracia said.
For him, citing "communism" as a basis to ban books is an act of "historical denialism" and would create a "gap" in history.
"Whether we like it or not, that (CPP-New People's Army) is part of our history. What will we do? Do we
want a redacted history?" Divinagracia said.
Grajo said the ban was "incomprehensible" and "absurd" given that all books underwent extensive screening and review before being granted with funds for publication.
"Demanding for the 'non-distribution' of a book that has gone through the screening process and has been previously approved and funded for printing is incomprehensible and absurd, and therefore needs an explanation," Grajo said.
She added that declaring the truth on social issues through literary texts does not imply a "direct invitation to rebellion."
Minding the context
Grajo noted that readers nowadays are not just "passive receivers" of information but also "active participants in the reading process" who can interpret a text in numerous ways.
"In reading a literary text, we need to explore its figurative interpretation more than its literal meaning. The readers' response to a certain literary text may bear different interpretations, depending on his 'sitz im leben,' or from what perspective he or she stands.".
But she also acknowledged that since interpretations are subjective, readers are in danger of taking a certain text out of context.
"Misreading the writer's intention is frustrating on the part of the authors," Grajo said. "This is the reason why the students need to learn how to analyze and critique a book through the guidance of their professors and their elders," Grajo added.
Meanwhile, Divinagracia asserted that not everyone who reads about communism would want to be associated with any insurgency group promoting this idealism.
He urged the academe and other institutions to always guard against "arbitrary orders that seek to curtail free expression and academic freedom."
"If we are to guard against ignorance, timidity, and docility, educators must ensure to contextualize and or [contemporize] the content of these progressive books instead of using them to misguide or misrepresent an idea, or weaponize it against a particular group or individual that advocates a view contrary to that of the establishment," Divinagracia said. F – Jasmine Mae Alarde with reports from Mariane Ysabella Pante
@abtheflame | abtheflame.net FLAME | 19
Compromise and Sacrifice:
Thomasian dorm renters burdened by soaring inflation
Words by AXEL ALDANA
Photo by RAINIEL ANGELYN FIGUEROA
When the University announced the gradual return of in-person classes, architecture freshman Diane Sombilon said she felt relieved to finally go back to normal.
However, the latest inflation figure made Sombilon, who lives in Las Pi ñ as, hesitate to rent a dorm and eventually return to campus.
The Philippine Statistics Authority (PSA) has been reporting about rising inflation in the past few months. The country's inflation – the rate of the increase in the prices of goods and services over a given period – climbed to a 14-year high of 7.7% in October. It was higher than the previous year 6.9% posted in September and the 4% recorded in October last year.
"Although I was first relieved that things would eventually return to normal, the inflation made me
feel terrible and apprehensive that my parents would find it tough to meet our expenses," Sombilon told the Flame.
Sombilon, who lives in a dormitory near the University, is just one of the many Thomasian dorm-renters experiencing the struggle of living alone during a worsening inflation. It forced her to reduce her budget for basic necessities as most of her savings goes to her budget meals and rental expenses.
"I choose places to eat like karinderya where there are budgeted meals… I also used my personal savings to pay for the supplies I might need for my course in architecture and in case one of the dorm's supplies runs out." she explained.
According to the National Economic and Development Authority, gas, transportation, food,
@abtheflame | abtheflame.net FLAME | 20
household maintenance, renting and housing, and communication were among the main contributors of inflation.
Budgeting
Like Sombilon, political science sophomore Ysabelle Andante felt the unfavorable effects of inflation. Andante, who rents a dorm in Padre Noval, realized the difficulties of making both ends meet.
"Despite my raise in allowance and additional privileges from my family, I struggle [a lot] to budget. I'm already back in my dormitory, and every day is a realization of how difficult it is to earn money and allocate it to the most essential," Andante said.
Andante, who came from Bulacan, was forced to choose cheaper alternatives for her daily needs.
"I prefer to cook meals instead of buying out. It helps me save a lot because I can measure how much food I need for the day," she said.
"I would prefer to walk, or ride jeepneys or buses, instead of [using] Angkas or Grab," she added.
In terms of her utility bills, Andante said she tries her best to minimize the use of appliances whenever she can. However, there are things that are "non-negotiable" like the internet.
"The Internet bill is non-negotiable. It is a fixed P2000 per month. I tried prepaid wi-fi and it costs around P300 per week, but the signal can be problematic," she said.
Medical biology senior RJ Ca ñedo, who rents a dormitory near the University, said "choosing the needs over wants must be prioritized."
@abtheflame | abtheflame.net FLAME | 21
"I should be aware of how I spend my money by liquidating my receipts and expenses. I should consume less in order to spend less," Ca ñedo told The Flame.
Sombilon, for her part, carefully chooses places with "student-friendly" prices and stays in her dorm to study to avoid unnecessary expenses. According to her, the strategy helped her pay for her school supplies and personal needs.
Not yet over
Economics instructor Loisa Cruz said commodity prices may increase further in the future, a development that will surely pose burdens to the working class.
She said the rising unemployment rate serves as another sign of worsening economic conditions.
The Philippines' unemployment rate hit 5% in September, the lowest since October 2019, when it stood at 4.5%. The September figure translated to 2.5 million jobless Filipinos, according to the PSA.
Most sectors opted to reduce the number of their employees due to the increased business expenses, Cruz said.
The economics professor added that unless the government and private sector find a way to pull the inflation down in three months, Thomasian dormitory renters should "start praying, be resilient, and make their belts more tightened."
Compromise
Ca ñedo admitted that budgeting also entails compromising even the most important things. There were times that he had to choose between his necessities and school requirements.
"In budgeting my meals and basic necessities like personal hygiene, alongside school requirements, one will always be compromised. After moving in, I must be frugal with money and be stringy with how I use my stuff," he said.
Andante needed to restrain herself from "overindulging" with the things that would leave her "empty-handed" the next day.
"I realize how unpredictable the situation is if I spoil myself too much; if I'm going to be having decent food tomorrow or have the money to travel back to Bulacan," she said.
Her limited budget has also forced Sombilon to set aside the quality of the products she is buying.
"I would have to choose among brands that sell their products for less price rather than selecting highquality items from well-known companies," she added.
Cruz advised Thomasian renters to consider miscellaneous expenses when choosing a dorm because most landlords might use inflation as a way to increase their rent fees.
"Most landlords are going to be extra keen on electricity and internet charges. At first, they're not going to increase the price to their tenants because they're just happy they got occupants, but over time, they will surely increase the prices," she said.
Why is it worth renting dorms?
Despite the budgeting difficulties, students interviewed by The Flame said they still prefer living in dormitories because it is the environment that "works best" for them.
A study from the Journal of Student Affairs Research and Practice found that living in dorms is a great opportunity to boost the student's engagement in collaborative learning, discussions with diverse others, and student-faculty interaction.
Setting aside her hesitations, Sombilon said she would still deal with the difficulties of budgeting just to attend face-to-face classes, believing that inperson setup would help her effectively acquire firsthand knowledge.
"When it comes to education, I think we shouldn't restrict ourselves to having the best facilities and resources since it would affect our performance," she said.
Andante believes living independently is "incomparable" and a good preparation for her in life.
"We only have four or five years of college before we begin working and living outside of our comfort zone will make you realize your boundaries, potential, and things you need to figure out," she said. F
@abtheflame | abtheflame.net FLAME | 22
Pandemic-affected businesses hopeful as Thomasians return to campus
Photos by EDUARDO FAJERMO
FLAME | 23 @abtheflame | abtheflame.net
Francis Perez has been selling street food near UST since 2017.
Just like other businesses, his food stall suspended operations during the height of the COVID-19 pandemic, which transformed the bustling area into a ghost town.
Due to the improving pandemic situation and the easing of mobility restrictions, the University decided to offer limited in-person classes in health-allied courses last year. Perez saw it as an opportunity to reopen his business. However, he had difficulty earning profit then due to the low number of students buying from him.
"When there were only a few students, I [opened my business] at 10 in the morning and finished at 10 in the evening," Perez, who resumed selling street food in February 2021, told The Flame.
Now that more students are returning to campus, Perez said he can go home earlier because his stocks quickly sell-out.
"I am all set by six in the evening. This is the best result of the return of face-to-face classes," he said.
Perez is one of the business owners around the University who are hoping to recover from the impact of the pandemic. As campus life slowly returns to normal and the demand for goods and services increases, some establishments have reopened while new ones have replaced those that shuttered permanently.
Another street food vendor, Venancio Gerilla, noticed the improvement in his earnings now that some Thomasians are attending classes onsite. He started selling street food in 2021, taking the risk of starting a business during a pandemic since he struggled to find a job.
Gerilla said he could earn P2,500 to P3,000 a day compared to his P2,000 sales last year. It was enough to sustain his family for a few days.
"Last year, our income [was] just fair enough, but now since the students are back, I can say that it is improving," he added.
Beverly Ponum also braved this pandemicridden economy by opening a sari-sari store near the University in 2021 to make ends meet.
@abtheflame | abtheflame.net FLAME | 24
"[Because of the pandemic] we do not have any more source of income since my husband has only limited tricycle customers," she said.
"Unlike before, there are still items left unsold, but now everything is easily sold out."
Still wary
Despite their improving situation, Ponum and Gerilla are aware that they should not leave a room for complacency and that they should be ready for possible sudden changes.
Ponum plans on improving and adding variations to her sari-sari store to take advantage of the higher demand.
Gerilla is considering expanding his food menu. However, he still has reservations about this idea due to uncertainties.
"During the rainy season, there are only a few customers. That's why in circumstances like this [I am not considering expanding]," Gerilla added.
Experts noted that the challenges brought by the pandemic are still present.
UST economics department chairperson Carlos Manapat said paying cheaper and fixed costs and vying for strategic locations are important to earn profit in the new normal, especially in the informal sector.
"The cheaper it gets, the better. That's the strategy—survival," he told The Flame.
According to Manapat, knowing the potential demand of the area and the competition between the closest rival stores are also vital to secure the business' profitability.
"The technique here is you need to observe. You need to see your closest rival [and] how much of the whole pie or the percentage does [a specific] business," he said.
Online platforms and business
While some businesses in the University were established to meet some financial needs, others reopened due to consumer demand.
Leo Sioco reopened his popular Dimsum Treats branches around UST upon the request of his Thomasian clients.
"We got some messages online asking when we are going to open. That was quite a big factor," he said
He also resumed the operations of his Karaage Koto branch in Dapitan.
"It's about 60% of pre-pandemic sales which is surprising given that UST is still [not yet conducting] full face-to-face classes," Sioco said.
UST Department of Economics Assoc. Prof. Nancy Bartolome said online platforms and online mode of delivery could help small businesses cope with the losses caused by the pandemic.
"We already have a lot of social media (that can be used for business) as long as you can maintain the quality of the products you will provide because that's very important," she told The Flame.
Bartolome noted that customer satisfaction is not just about product quality.
"It's not all about the quality of the product; it's about the supplementary elements," she said, referring to the importance of a hospitable attitude towards customers and offering different payment options for their convenience.
Still in the pandemic
Manapat and Bartolome reminded businesses to observe health protocols to ensure their customers' safety, given that the pandemic still exists.
"I think we know better as consumers… but [people] can still gamble. I think we need to be careful, and these people (business owners) should reinvent on how they will give us (customers) safe food on repacking or how it's is cooked," Manapat said.
Bartolome said consumers appreciate a business that is transparent with its standards and health protocols.
"Make sure that what you give them is really very clean, healthy with benefits. Because if you don't have it, it's like a one-time buyer. They won't come back," she said. F — E. G. Fajermo Jr. and P. N. Bautista
FLAME | 25 @abtheflame | abtheflame.net
Photo by ETHAN CARDAÑO
A street food vendor selling in her cart during Christmas in 2020 at Gapan Plaza Market
FEATURES
Photo by GREHMALYNE CARANDANG
AB Communication Juniors attended their first in-person class in Buenaven tura Garcia Paredes, O.P. building.
Once upon a Pandemic: How diseases come and go
TANQUECO
Breathe in, breathe out. These were the things that Marilen Balolong, a University of the Philippines Manila microbiology professor, did freely one calm morning while jogging around their neighborhood in Alabang.
With no one around in sight, Balolong freely inhaled the morning breeze without the inconvenient mask the COVID-19 pandemic forced people to wear.
While people like Balolong have to ensure that an area is not that crowded before removing their face masks, it wasn't that bad compared to the situation two years ago. Back then, people had to wear both face masks and face shields to protect themselves. The face shield requirement was then lifted, making it easier for people to move around.
On Oct. 28, 2022, President Ferdinand Marcos Jr. signed Executive Order No.7, which made the wearing of face masks indoors and outdoors voluntary, with a few exceptions like health facilities and public transport. But health experts are encouraging the public to continue wearing face masks, noting that the pandemic is not yet over.
Pandemic, lockdown, personal protective equipment. The year 2020 certainly introduced some new vocabulary. Although maladies came and went, phrases and terms such as these dominated the everyday lives of people globally.
While they are not exactly new words, these terms today quietly live with us, waiting for the right time to be used.
The life of a pandemic
A pandemic is a term used to describe a disease that has been occurring on a global-scale. Balolong says epidemiologists use terms like pandemic to understand each other.
"Pandemic is one of the many names. You hear about outbreaks, you hear about incidences when you say pandemic, it covers quite a huge area of impact already[…] which is the case for COVID-19 now," Balolong said.
Elfritzson Peralta of the UST biological sciences department said there are phases identified by the World Health Organization (WHO) to consider a disease a pandemic.
"It has to start from an infection[…] then a larger scale of outbreaks, the rate of transmission, [the] scale of infection, all
consistent with the phases from WHO, then we can consider one to be a pandemic," Peralta said.
When a pandemic starts, at some point it also ends, just not quite how it is expected to be. In the transition out of a pandemic, a zero case is not the end of a pandemic, but rather how the number of deaths to cases impacts a society by overwhelming a health system, according to Balolong.
The end of a pandemic, Peralta noted, is based on the severity of infection, its transmission rates, and the immunization rates.
Re-emergence
Some diseases, such as viruses, do not stay dead. They hide in the surroundings lying low.
"There is a possibility that diseases 're-emerge', if it is still in the environment, they can mutate, choose a host, and be transmitted. It's one of the concerns now in medical microbiology, the reemerging ones," Balolong said.
The health department has refused to declare the COVID-19 pandemic as reaching the endemic stage, citing the low booster coverage and the emergence of sub-variants.
"Endemicity will come soon but as of now it is quite uncertain because of the low booster coverage and the effect of sub-variants in the population," Vergeire said in a recent briefing.
Vergeire said COVID-19 must be under control and its fatalities should be kept to a minimum before one can say that it is already endemic or as common as measles or dengue fever.
There are also some viruses that Balolong would like to call "datingmabait(formerly good ones)," which are viruses that, over time, develop the tendency to be harmful.
"Some virus gets back with a vengeance. When they get back, they're not naive anymore, they know what to do. They're better or they're worse—and we're not ready," Balolong added.
To understand why such a phenomenon happens, Peralta emphasized the anthropocene or how human activities influence disease occurrence and recurrence, saying it increases when people interact with animals—may it be through hunting, collecting, or consuming.
@abtheflame | abtheflame.net FLAME | 28
Photo by ANGELINE
"We always highlight the one health; our connectedness and interaction among the three health systems: human, environment, and animal health, that increases the tendency to acquire diseases," Peralta said.
Viruses are like particles that are everywhere. Most of them are not harmful unless disturbed.
"The challenge with viruses is once they are inside the hosts, they borrow its machinery and they learn to do many things, one of which is to cause infection," Balolong said.
However, Balolong said that it is not the virus' fault, for this is in their nature. Infection is a consequence and is part of a cycle, but this wouldn't be a problem if we just let them be.
Beyond negativities
It is no secret, however, that the environment was able to breathe when people had to be locked inside their homes during the onset of the pandemic.
"Definitely the world during 2020 had to pause, and when we did that pause, a number of observations have been made in terms of decreasing emissions on carbon dioxide and other greenhouse gasses that are usually high in various regions," Peralta said.
Peralta said that those countries that experienced lockdown have observed the "positive effect" of the pandemic, in terms of global warming.
"However, these things cannot just reflect the current situation… when it comes to climate change, it is part and parcel of the consequences, and the contributions of the pandemic," Peralta said.
But Peralta also clarified that everyone should also expect the climate to change over time.
"In the decades that we have observed climate, it is not novel for it to change, what is notable, is the rate of change. Hence, we prefer to call it the climate crisis," Peralta said.
According to Peralta, the climate crisis is the rate of how climate change exceeds the expected rate of how it should change, wherein living components of the earth cannot keep up to the change it brings.
The initial phase of the COVID-19 pandemic had made things quiet for a while. But as time passed with the increase in production of personal protective equipment (PPEs), the pandemic also became one of the causes for increased greenhouse gas emissions.
Climate change link
Although pandemics are expected to occur with or without climate change, Peralta said climate change accelerates the chances of its occurrence.
"As long as there is human to animal interaction, and there's
unsustainable development among the environment and animal health systems, climate change can accelerate resurgence of certain diseases," Peralta said.
Balolong said the connection between climate change and pandemics does not happen overnight.
"It is probably something that happens through time. It's like when something's cooking, and the climate change triggers it, mostly through zoonotic means. It can be five to ten years in the making, we never know," Balolong said.
Balolong furthered that many things can happen in a medium span of time, and one culprit is climate change.
"You might want to imagine, if we are gonna close the COVID-19 pandemic by 2024, as expected by the experts… What new pandemic should we expect by 2024? And how did climate change contribute to that?" Balolong said.
Masks on? Masks off?
Despite the relaxation of COVID-19 restrictions lately, Balolong urged everyone to remain mindful of the minimum health protocols.
"Minimum health protocols are free, just wash your hands regularly. It is the easiest, cheapest, and most hygienic preventive measure to avoid infections," Balolong said.
Along with this, Balolong advises that additional protocols such as wearing face masks and vaccination should be implemented correctly.
"We must know why we use face masks, it is not just about being tasked to do so. The advocacy should pair up with the policy, if face masks should not be mandatory anymore, there should be a precautionary statement," Balolong said.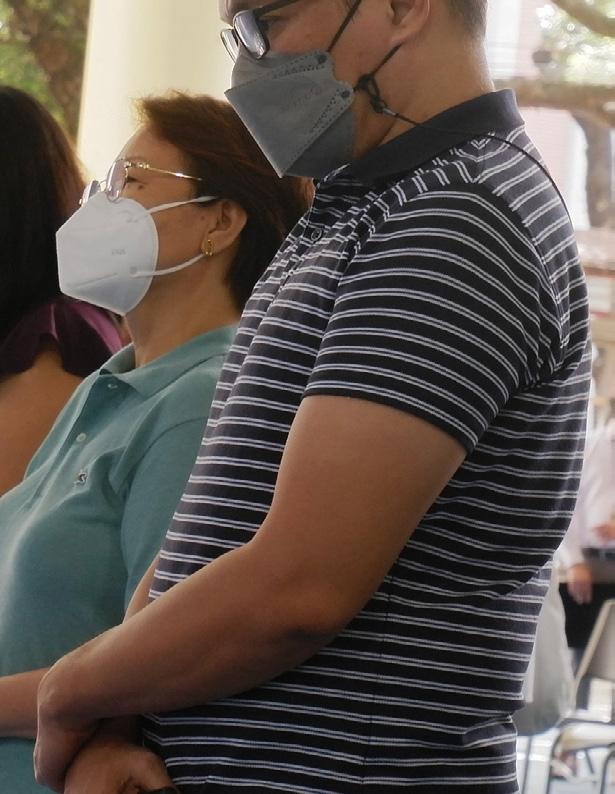 To avoid the worldwide use of face masks and other PPEs that contribute to the climate crisis, Peralta said another pandemic must be prevented from happening
"We must delay it, otherwise, we are again forced to use and produce a number of disposable PPEs that increases our waste disposal to the environment," Peralta said.
He noted that in other countries, especially the prepandemic developed nations, using face masks becomes part of their daily lives "to avoid transmissions even with regular flu."
"One or two in the society who would use face masks to avoid transmission would not hurt the environment, not to mention we might prevent another pandemic from happening while we are still under one," the biology educator said. F — K.C. de Leon
FLAME | 29 @abtheflame | abtheflame.net
We have some trauma:
Filipino workers in Ukraine recall anxiety over Russian invasion
Art by TCHEKY NICOLE D. CABRERA
On the other end of the line was a Filipino reporter, telling her that a war had begun in Ukraine.
The words woke her. She immediately got up from her bed and walked towards the window. She opened the curtains and saw what was happening outside: panic; traffic; an exodus.
She must immediately leave Ukraine, the country she left home for a living, to save her life.
A run for safety
Like Tolentino, other Filipino migrant workers in Ukraine also went to other places as the Russian invasion began. Some left by car and others by train; while some of them agreed on a particular meeting place to flee in groups and ensure safety.
Among them was Shirley Santosildes Tividad, who worked as a public school teacher. She arrived at a bus stop where she and other migrants had agreed to meet.
But unlike Santosildes, Tolentino chose not to join the other fleeing migrant workers. Tolentino opted to be with her employer going to Lviv, a city in the west of Ukraine, in the belief that it is safer there in case of emergencies.
T he day before the Ukraine invasion was a normal day for Filipino migrant worker Joy Tolentino.
After work, she went to her phone—peacefully scrolling her social media— without anticipating the storm that was to come. She went to sleep feeling at ease. It was five in the morning of the following day when her phone suddenly rang—an unusual event for her.
Despite taking a different path, Tividad and Tolentino noted similar scenes of locals struggling to evacuate.
Tividad herself felt the struggle of escaping the chaos. She remembered ducking underground into subways every time a siren rang.
@abtheflame | abtheflame.net FLAME | 30 '
'
The mode of transportation also became limited, making it harder for her to go to their meeting place. But luckily, she found people—the parents of her students—who were willing to help and assist her and her companions.
Tolentino, meanwhile, recalled seeing tanks and trucks containing firearms on the road.
Staying alive
Keeping themselves alive was as hard as finding a safe place to hide. Tolentino admitted that her stay with her employer's care had caused her anxiety.
Every hour was a scene of hearing a loud siren and running to the bunker. To keep them safe from air strikes, no lights were allowed from 6 p.m. until 7 a.m.
Because of this, Tolentino left her employer's residence and traveled to Austria despite knowing the possibility of her becoming TNT (in Filipino: takbo nang takbo, a term referring to illegal immigrants). She noted that immigrants are only allowed to stay for a month in that country even during a regional crisis.
Meanwhile, Tividad's travel for safety was accompanied by daily calls from her worried family in the Philippines. Her family kept on asking her to consider coming back home.
The Philippine Embassy in Ukraine has provided assistance to safely send Filipino migrant workers back to the country. It also gave them cash assistance worth $200 dollars.
But Tividad refused the aid, believing that returning to the Philippines would make things more difficult for her and for her family due to limited opportunities back home.
"It would be expensive to return to Europe. I knew I wouldn't have a job in the Philippines as a teacher. I didn't want my family and me to struggle together," Tividad said.
Jean Encinas-Franco, a political science associate professor at the University of the Philippines and a former director of the Senate Economic Planning Office, noted that overseas employment is prone to crises.
"Because the protection of Filipino migrants abroad is one of the pillars of our national interest, the government has to protect them in crisis situations. In the case of Ukraine, safe repatriation is its primary responsibility," Encinas-Franco told The Flame.
"Though it contributes to better opportunities for migrant Filipinos, it makes our economy and the welfare of their families closely tied to developments in other parts of the world," Encinas-Franco said. "Decent jobs in the Philippines are still the best way to protect our citizens."
Crossing borders
Soon after, Tividad and her companions left Lviv to go to Hungary, where an employer from one of her acquaintances was waiting for them. After enduring heavy traffic, immense hunger, and fatigue, they finally reached the border of Hungary.
She shared that there was some doubt when a free ride going to Budapest was offered, but the promise of safe transportation remained.
From Budapest, they continued their way to Austria, with no assurance that they would find the same goodwill they found in Hungary.
With the help of the internet and fellow Filipino migrant workers, Budapest greeted them with warmth. Tividad and all her eight companions were safe.
Meanwhile, Tolentino moved from country to country after leaving Austria. Currently, she is in France where she now resides. However, the horror of the situation continues to haunt them.
"We have some trauma," Tolentino lamented. "Sometimes we think the sound of normal planes would be followed by a bomb."
But despite finding safety in Hungary, Tividad eventually returned to Ukraine—much to the surprise of her companions—to continue teaching. On her return to Ukraine, she was the only foreigner.
Tividad was still worried and afraid as occasional sirens and warfare existed, but the practice of going to bunkers or walls from time to time became something she was accustomed to.
As of the first half of this year, the Department of Foreign Affairs has assisted 450 affected Filipino migrant workers in Ukraine with about 400 of them having safely returned to the Philippines.
As of Oct. 20, at least 25 Filipinos remained in Ukraine, and they are being closely monitored, given the worsening situation in the country. F — Lila Victoria F. Mortel
@abtheflame | abtheflame.net FLAME | 31
Photo by GREHMALYNE CARANDANG A senior citizen laughing while buying "palamig."
Photo by ARIS JHON GALANG
A
CULTURE
mural of Rajah Soliman/Sulayman, the last chieftain of Manila before it was colonized by the Spaniards, painted on one of the walls inside Intramuros.
return of y2k fashion USING NosTALGIA FOR SELF - EXPRESSION
Art by ANJELLYCA S. VILLAMAYOR
Fashion tends to be cyclical. For one, the popularity of belt bags in the 1980s reappeared in today's fashion scene. So, 2000s fashion trends coming back in style is not a surprise.
Mom jeans, cargo pants, turtle necks, sweater vests, and bucket hats are some of the 2000s crazes that made a comeback in the mainstream.
Fashion trends usually have a 20-year rule. What was "in" 20 years ago would be "in" again today.
Looking back: Y2K at first glance
The term "Y2K" came from the late 90s problem in most computer systems when interpreting the last two digits of years beyond 1999.
However, people in the online world, especially in Tiktok, have recently used the term to name and reminisce about the 2000s pop culture and fashion spearheaded by Paris Hilton and other personalities.
The 2000s fashion is a broad stroke and is sometimes associated with classic teen, and contemporary shows such as High School Musical, Mean Girls, Clueless, and Legally Blonde.
@abtheflame | abtheflame.net FLAME | 34
Legal management senior Gilene Platero, who loves to dress up in chic and girly fits, said that people differently interpret 2000s fashion as it has a distinct edge that makes it more identifiable.
"2000s fashion covers a lot of styles [...] that makes the [era] unique," she said.
Contrary to what the people think, Platero said Y2K fashion is something that can be worn daily. Similar to her fashion taste, the fashion trend during this era was a mixture of a kikay style on the one hand and a street style on the other.
Fashion enthusiast and communication senior Jeia Jazul associated Y2K fashion with micro miniskirts and "bejeweled" clothing and accessories.
She also mentioned that Y2K fashion was known for the logomania trend—a fashion style that strews brand logos as clothing design, which "achieved greater heights in contemporary fashion."
Media influencing nostalgia
Mimi Lazaro, a fashion designer and entrepreneur who runs her own brand of clothing at Bumblebee and Co, said the past would always come back in one way or another—may it be decor, art, or fashion trends— because nostalgia is a "lovely" feeling.
"I believe it [resurfaces] because it's normal for us to reminisce. For instance, when I was just starting as a fashion designer at 25, my design elements [tended] to be inspired by the clothing I remember my mom was wearing when I was like five or six," she said.
Behavioral science student Jio Jaramel, who loves to blend e-boy and artsy fashion designs, said the media helped in promoting fashion trends over time.
"Looking back [at] your parents' photo albums or simply re-watching classic series and films, for example, can inspire you to recreate fashion trends during their time," Jaramel said.
He said that the simplistic and iconic look gives a fresh perspective to fashion.
The mainstream media has enabled presenting and comparing fashion trends in different eras. It has also allowed Gen Zs to know these fashion trends.
"With the rise of mainstream media, most likely Tiktok, and the amount of audience participating in that network, the early 2000's fashion trends have been brought up and have been compared to the fashion of this modern digital world," said Gabriel Dela Cuesta, a junior from Asian Studies.
Like Jaramel, Platero said the never-ending popularity of 2000s films and sitcoms are the few reasons why fashion trends are coming back. But she also viewed that most people only copy its aesthetics to hop on the
trend.
"I think more than nostalgia, it is the fear of missing out [that] the people of our generation have [that drives] Y2K fashion [into] coming back," Platero said.
What fashion truly is
Despite whatever era the society is in, fashion is seen as expressing oneself, remembering the past, and learning something new
Lazaro said that dressing up nicely should create happy and positive thoughts and become a source of comfort.
"In any decade, dressing up means becoming a better version of yourself for an occasion. Thus it will always be a source of positive memory," she said.
Fourth-year literary student Mika Nitro said her outfits were inspired by one of the characters from her old favorite flicks, and by doing so, it gives her "main character vibes."
For Nitro, dressing up should mean looking presentable and comfortable in front of whoever she is going to meet, and should make her more confident
"I wear what I want to wear and whatever makes me confident. I believe that when I feel confident from the outside it radiates to the inside. And even though I don't do well that day…at least I look cute, and my outfit is bomb."
Jaramel said choosing an outfit should depend on the occasion. But oftentimes, layering is his way to go.
He thinks layering also makes the outfit more flexible as mixing and matching it with other statement pieces shifts depending on the environment.
"Baggy and oversized clothes somehow make me feel enclosed in such a way that it's very chill and comforting, and matching it with a fit inner shirt showcases a nice silhouette," he said.
Artlets can also learn from Platero's rules when it comes to matching fits: "If I wear something short for my top, I have to wear something big or long for my bottom and vice versa."
She also has the sandwich dressing rule—wearing a matching shade of the tops and bottoms, then sandwiching it with a different color—when planning her OOTDs (outfits of the day).
Trends are short-lived, yet, they always find their way back. At the end of the day, figuring out which trends to ride on and which style to follow reflects how one accentuates individuality. F — Thea Rebecca DC. Flores
@abtheflame | abtheflame.net FLAME | 35
Fandoms in war: Are they going too far?
by KARL IBAY
Note:Thisarticlementionssuicide,deaththreatsandtoxicbehaviors.
After defending a K-pop artist by replying to comments to a Twitter hate post, Polytechnic University of the Philippines biology senior Seth Niño Paparon was mobbed by several fan accounts.
Online attacks on K-pop groups, Paparon said, usually happen during their most notable events like awards nights and talent show awardings, and reading such hate comments is indeed hard to ignore.
"I'm just opposing everything that the fans of other groups claimed or those statements that are thrown at us," Paparon said.
Since he uses his personal account, most of the comments targeted his physical appearance.
"It (personal comment) does not bother me, but the hate comments targeted at my idols such as Taeyeon's voice having a terrible sound.
I'm always infuriated by that […] It's like they are directly insulting my whole life," Paparon said, referring to the artist he has been supporting for about a decade.
It bothered him more than the personal comments he received.
It took him a while before realizing the importance of not responding to such vitriol. But he is convinced that there are circumstances where engaging in "fan wars" is important, especially when the rival fan groups are propagating "fake news."
These fan wars occur to show who are really the leading groups in the industry that contest and contradict the "entitled fan groups," Paparon said.
Despite criticisms that they have become toxic, fandoms earned their relevance in Philippine society because they are "not simply passive
@abtheflame | abtheflame.net FLAME | 36
photo
people," said Asst. Prof. Samuel Cabbuag of the University of the Philippines sociology department.
"Fandoms are considered groups of people with similar goals and points for affection (or what scholars call 'fan objects')," Cabbuag told The Flame.
Toxicity and fanaticism
Fans in the online world go to a certain extent of aggressive arguing and debating just to defend their idols. It includes participating in online engagements such as "wars" with other fans.
"You can consider it a fan war if it [becomes] trending towards the community, which takes a lot of time to spread and make stories, accusations, [teasing], etc.," Paparon said.
Paparon, who has been a fan of several girl groups like Girls Generation since 2012, has already witnessed and engaged in many "fan wars." He noted that it was also in this year when the peak of "fan wars" occurred.
"It's like if there's people who can afford concerts and support them in the front, we support them at their backs," Paparon explained.
Another biology student, Denise (not her real name) has also experienced many "fan wars" since she joined stan Twitter, a socalled community in Twitter where fans interact with each other using accounts dedicated to their idols.
"I was taking everything seriously […] I finally realized that most haters do not want to be convinced that they are wrong, they just want to hate everyone," Denise said.
However, Denise realized that the zeal of these fans and their aggressive behaviors often bring their idols harm: "The worst part is they will involve the artists too. They will do anything to ruin someone's reputation."
UST literature student Yvonne Vigillia believes that toxicity only happens when it "takes over your life" and has endangered one's overall well-being.
"It becomes toxic once it takes over your life to the point of endangering your health, your finances, and the way you treat other people whether or not they're fans of the same thing as you," Vigillia said.
She also warned about blind fanaticism as a source of toxicity. According to her, it happens when fans justify and condone problematic behavior of their idols despite shreds of evidence.
Cabbuag observed that some fans may believe that they have a certain power, the reason why most clashes happen.
"They insist on certain norms, ideas, etcetera to other fans, non-fans, and sadly, to their idols because they are not doing what the fans want them to do," Cabbuag explained how these extremes connect to their identity as fans.
How wars start in fandoms
Cabbuag said fanwars often started with the one who is deemed "superior" in the fandom.
"Actually, most of fan wars occur intentionally, but in my opinion, we only follow what other fandoms started," Paparon said, as spur-ofthe-moment conflicts are only short-lived and do not lead to fan wars.
"Of course, most of the fan wars start on who is the most [superior in] different groups,"Denise said.
Denise and Paparon admitted that they joined fanwars to defend their preferred performers from the attacks of fans showing disrespectful behaviors.
'[If] I find some comments not decent enough or outright disrespectful, I still call those people out (e.g. sexualization of minors, involving the artist's dead relatives, racism)," Denise said.
"It was like Goo Hara fandom versus other groups' fandoms (who wanted to see her downfall) until she committed suicide. It was really painful," Paparon said, adding that the incident is one of the extreme effects of fan wars.
But sometimes, fans could also cross the line by taking such war personally to the extent that they would send death threats either to other fans or the artists, Denise said.
"In some fanwars, some fans will try to dox people, some are even sending death threats to the artists and the fans. Though I did not experience them myself, it's still wrong in any sort. I can't believe some people are doing [this] over kpop," she said.
Block and ignore
While K-pop fans interviewed by The Flame admitted that such wars would never end as it is already part of the culture, they advised fellow fans to just block and ignore those who exhibit toxic behavior.
"When someone [who is] mad replies to me, I ignore them and then block their accounts. These are people I don't know and I get absolutely nothing interacting with them," Vigillia said.
"Actually, there's no specific reason that these fan wars stop as I remember. We just wait until the issues dwindle on their own," Paparon said.
Denise, for her part, said getting involved in fanwars could actually "ruin" fan experience, hence "choosing not to engage will stop the draining feeling,:
At the end of the day, joining fan wars does not bring any benefit and would only "promote cancel culture and bullying," she added.
Paparon said that while implementing strict rules would make fan wars die down, it would also lose the essence of fandoms and fanwars. She suggested that fans "just refrain from digging deep into personal information" of artists and their supporters
Cabbuag said promoting good practices can start by listing etiquettes that fans can observe.
"I don't think that calling them out is beneficial, so it is best to show what the good practices are so people can learn about it and follow through," Cabbuag said. F — S. Z. Argonza and T.R. Flores
@abtheflame | abtheflame.net FLAME | 37
A girl wearing a floral dress, a classic pearl necklace, and holding a hand-painted hand fan to represent Filipina old fashion.
Photo by GREHMALYNE CARANDANG
by DANICA RAMILO
LITERARY
Photo
I. The Tyrant
I hear Agamemnon's envoys, their heavy footfalls weigh his commands.
A mere outrage, the Tyrant had and here his envoys storm Achilles' quarters to rob anyone who tells the truth in his face, or in songs; And soon those bards of truth will lose their tongues, or have their sons' eyes scraped out from their sockets.
A mere outrage, Agamemnon had and here his envoys clench their fist tight against my flesh on our way to his quarters. A remedy was I, to his threatened pride and power.
His word is Law.
II. The Council and their Plunder
I attend Agamemnon's council, to pour their cups around their war table.
Towns and cities appeared in wood upon a table, soon to be plundered of their gold and rations. My people reduced to wooden war miniatures, and trade commodities to pyre and ashes.
A flick of Greek fingers and Trojan allies are beggared and burned. A flick of Greek fingers and Hades' realm welcomes new souls.
AGAMEMNON HIS CRONIES and
Words by CZEZ ADUZARA Art
FLAME | 40 @abtheflame | abtheflame.net
AGAMEMNON CRONIES and
Art by FRANCIS RAFAEL D. OBENZA
And here I am quenching the thirst of the minds of my neighbor's impending doom.
Odysseus speaks, he whose counsel is wiser than other's.
Indomeneus arms, the most aged war chief is he, primed to raise the spear at the king's first command.
Agamemnon's strength ends in his allies. In his pawns, in his exposition of grandeur.
He can not burn Ilium without them.
III. The Burn of Troy
A rich city, Ilium was but Trojan bellies starve to feed a war.
Now her last morning dawns, the greeks hushed their tongues, soon to devour the city's splendor.
The thirst of Agamemnon and his greek army for gold, for exploits, for grandeur unquenched by the city ashes by the wail of raped mothers whose babes plucked from their breasts by the trickle of Trojan blood by ignited pyres of corpses who once fought for a beloved city now under siege by greedy forces.
As Ilium Wall set ablaze, and the last Trojan pillar falls Agamemnon and his cronies feasts on the spoils of war.
His ransacked gold, blood-stained. F
FLAME | 41 @abtheflame | abtheflame.net
A Father's Dillema
By: ABIGAIL ADRIATICO
Artwork by: JEANNE PAULINE G. TECSON
FLAME | 42 @abtheflame | abtheflame.net
The sound of church bells greeted Mang Ar mando as he walked toward that Plaza. He was all too familiar with the loud clanging before a mass and the crowd that it would form not long after. On a different day, he would be among those who gently pushed past others to secure a seat on one of the pews for his young daughter Maribel.
But he was not here to attend the anticipated mass.
With the church packed to the brim, dozens of people had to stand under the heat of the midday sun. Some children stood by the church doors, holding up the sampaguita flowers they were selling. As the lector's voice blared through the speakers, devotees focused on the ongoing mass.
Lowering his cap just enough for it to shield his eyes, Mang Armando made his way through the crowd and stood at the back near the stalls that sold various kinds of fruits. He did not need to look at the prices scrambled on cardboard signs stuck on the boxes to know how expensive they were.
Before he left the hospital earlier, Maribel asked him to bring some fresh mangoes. Mang Arman do was not even sure that he had enough for her medicine. Their finances were stretched thin as it is ever since he was laid off from his janitorial work. However, after seeing the weak smile on his daughter's face, he could not find it in him to say no.
After all, he would do anything for his daughter. Mang Armando focused his gaze on the crowd. A vast majority of them were fixated on the priest's homily but were still clutching their bags pro tectively. He knew better than to go after them. He had to look out for those who would let their guard down for only a few seconds. That was all he needed.
After some time, someone caught his attention. It was a young woman who was walking away from the crowd as she answered a call. Mang Armando eyed her white sling bag that was left open. It only took a quick bump on the shoulder, a sheepish apology, and a quick flick of the wrist for him to grab something from her bag before disappearing into the crowd.
Slipping into an alley he knew too well, Mang Armando opened the pink wallet he held in his hands. Inside was a bunch of photos, IDs, a few coins, and five crisp one thousand peso bills. This was more than enough to cover Maribel's medi cine as well as the mangoes she wanted.
He felt his lips form a smile as adrenaline con tinued to course through his veins. It has been a long time since he felt this ecstatic rush surge into his chest. It always did make him feel alive. Yet, while his body reeled from the excitement of it all, realization soon dawned on him–what would Maribel say?
Ignoring the growing chill slowly crawling onto his spine, Mang Armando made his way back to buy the things he needed. He went through the crowd, feigning innocence as the busy street hid the church from his view. He did not need to look at the cross at its peak to begin feeling the crushing weight of the wallet in his pocket and the sins on his back.
Eventually, he reached the hospital. It did not change much from when he left that morning. It was still filled to the brim with long lines of patients and medical personnel coming to and fro. He let himself in the hospital room Maribel shared with a dozen other patients, their beds separated only by dark green curtains.
He heard her coughing loudly before he reached her bed and saw her playing with a worn out rag doll. The little girl's eyes lit up instantly when she saw him. "Papa!"
Mang Armando forced a smile as he went to her side before showing her the plastic bag filled with mangoes. Maribel dropped the doll she was holding and looked at the bag in disbelief. "Para sa akin po lahat yan?"
Mang Armando gently patted his daughter's head. "Sabi mo kasi gusto mo ng mangga."
Maribel's smile grew wider before she threw her arms around her father. "The best ka talaga, Papa!"
As he hugged her back, Mang Armando caught a glimpse of the cross above Maribel's bed. It was just like the old ones above the other patients' beds but for some reason, it seemed like this one was staring into his soul. He felt a cold chill run down his spine as he remembered the empty wal let in his pocket.
Maribel began coughing again.
Mang Armando found himself hugging his daughter tighter. F
FLAME | 43 @abtheflame | abtheflame.net
SANGUI CORVUS
By TRIXCY LOSERIAGA Artwork by ANJELLYCA S. VILLMAYOR
Malalim na ang gabi ngunit maaliwalas pa rin ang kwarto ni Patrick.
Nag-aayos siya ng kanyang bag para sa unang araw ng klase. Inaantok man, nakaukit sa kanyang mukha ang pagkasabik na makatungtong muli sa paaralan. Sinarado na niya ang bintana at ilaw at naghilamos bago dumeretso sa kama.
Naalimpungatan siya nang narinig niya ang malakas na katok sa bintana. Nilibot ng kanyang mga mata ang silid ngunit wala naman siyang nakita. Napatingin siya sa orasan.
Alas-tres na, sambit ng isip niya.
Nakaidlip siya nang biglang may kumatok muli sa bintana. Napabalikwas siya ng mapansin ang isang anino. Nanginginig man, kumuha siya ng unan at dahan-dahang nilapitan ang anino. Tinutok ng buwan ang liwanag nito sa anino. Isang
munting ibon na nakakubli sa kailaliman ng gabi. Mala-rosas ang mata nito kaya sinapian siya ng pagkama-usisa at dahan-dahang lumapit.
Lalo siyang natakot nang napagtanto niyang nakatingin ito sa kanya.
Natigilan siya at tinakpan ang bibig.
Dumadanak ang dugo mula sa naaagnas na kaliwang mata ng ibon. Muntik na siyang maduwal ng may lumabas na mga uod mula sa mata. Nabitawan niya ang unan ng nahulog ang kapirasong balat ng ibon na nilabasan ng ilang dosenang gagamba.
Biglang siyang inatake ng ibon kaya kumaripas siya ng takbo pabalik sa kanyang kama; nagtalukbong siya sa kumot.
FLAME | 44 @abtheflame | abtheflame.net
Bigyan mo kami ngayon ng aming kakanin sa araw-araw, isip niya.
Nararamdaman niya ang mga gumagapang na gagamba.
At huwag mo kaming ipahintulot sa tukso, isip niya.
Gumagapang na ang mga uod sa kanyang katawan. Naiiyak na siya sa sobrang takot.
"At iadya mo kami sa lahat ng masama! Amen," bulalas niya.
Napuno na ng katahimikan ang kwarto. Wala na ang mga gumagapang sa kanya kaya dahan-dahan siyang nagnakaw ng silip sa labas.
Wala na ang ibon at ang mga gumagapang na nilalang.
Inaasahan niya na nagluluto na ang kanyang ina subalit tahimik ang paligid.
"Baka tulog pa nga siya," isip nito. May tinapay at prutas sa lamesa. Kumuha siya ng isang baso ng tubig sa pridyider. Naligo na ito at tinignan muli kung may kulang pa ba sa mga gamit niya.
Ang mga naggagandahang paruparo ang sumalubong sa kanya paglabas niya ng bahay. Tuwang-tuwa siya nang may dumapo sa kanyang ilong. Sinundan siya ng mga ito hanggang sa makasakay siya ng dyip. Ilang beses siyang napakurap ng napansin niya ang disenyo ng facemaskng katapat niyang pasahero.
"'Yung ibon," bulong nito.
Nasindak siya nang makarating sa tapat ng paaralan. Napapalibutan ng mga naglalakihang puno at iba't ibang uri ng bulaklak ang gusali. Puno ng palamuti sa katawan ang mga estudyante. Samu't sari naman ang kulay ng buhok ng iba.
Napatili naman siya ng may tumapik sa likod nito. Nagpakilala ito bilang si Cardo. Nilibot nila ang gusali hanggang sa tumunog na ang kampana. Hudyat na magsisimula na ang klase. May napansin na bakas ng dugo si Patrick sa dingding. Parang nabuhusan ng malamig na tubig si Patrick. Naalala niya ang ibon. Tinuro niya iyon kay Cardo subalit wala na ang bakas.
Isinawalang bahala na lamang ito ni Patrick at sinundan si Cardo papasok ng silid. Hindi nila napansin ang ibon na nagmamasid sa kanila.
Nakatulala na lang si Patrick dahil na rin sa kawalan ng tulog. Nagmamasid siya sa bintana ng nasulyapan niya ang ibon sa kabilang gusali. Halos hindi siya nakahinga kaya itinuon na lang niya ang atensyon sa klase.
Malapit ng bumigay ang kanyang mga mata.
Hindi niya namalayan na nakaidlip pala siya. Tinawag siya ng guro ngunit hindi siya nakasagot. Uupo na sana siya ng tinitigan siya ng mga kaklase.
Napasigaw siya sa takot.
"Dugo! Huwag kayong lumapit sakin," bulalas niya.
Nataranta sa si Patrick kaya tumakbo siya palabas ng silid.
Patuloy lang siya sa pagtakbo hanggang sa lumitaw muli ang ibon, dahilan upang mahulog siya sa hagdan.
Napabalikwas siya mula sa kama. Tumutulo ang pawis mula sa kanyang noo.
Mabilis niyang hinablot ang orasan.
"Hala, alas-singko na!" isip niya.
"Hoy, Patrick, tanghali na! Bumangon ka na," bulalas ng kanyang ina.
Bumangon na ito at nag-ayos ng sarili.
Nag-paalam na siya sa ina. Naging normal naman ang biyahe ni Patrick sapagkat wala ni anino ng mga paruparo. Siksikan ang mga pasahero dahil na rin sa rush hour na sinabayan pa ng maingay na tambutso ng dyip.
Naliligo na siya sa pawis pagdating sa paaralan na napagkamalan pa niyang sementeryo sa dami ng mga tuod at nalalantang bulaklak. Napatigil siya sa itsura ng mga estudyanteng nakasalubong niya.
Mga estudyante ba talaga sila o hustler,isip niya. Hindi napansin ni Patrick ang bato sa hagdan kaya siya natisod, at sa harapan pa mismo ng silid! Umalingawngaw ang tawanan ng kanyang mga kaklase.
"Tahimik! Unang araw pa lang ng klase, ang ingay niyo na," sambit ng guro.
Tumahimik na ang klase at bumalik sa kani-kanilang upuan. Tinulungan naman siya ng isa niyang kaklase at nagpakilala ito bilang si Cardo. Nanlaki ang mga mata nito.
"Uy! Bakit nakakita ka yata ng multo," sambit ni Cardo. Napabuntong-hininga na lang si Patrick at pumasok sa silid. Sumikip ang kanyang dibdib ng makita ang mga kaklase na nalulunod sa sariling dugo. May mga uod na lumabas kanilang kaliwang mata kaya naduwal si Patrick.
"Ayos ka lang Patrick? Gamitin mo muna ang panyo ko," tanong ni Cardo.
"Salam-at-t-t," sambit ni Patrick.
Nabitawan ni Patrick ang panyo. Nakaramdam na siya ng pagkahilo kaya napasubsob siya sa lamesa. "Patrick."
Napukaw ng mga boses ang atensyon ni Patrick. Napalitan ng ibon ang ulo ng kanyang mga kaklase! Sumuka siya ng dugo hanggang sa hindi na siya nakahinga.
Tumatawa naman si Cardo sa kanyang kinatatayuan habang kinakain ng ibon ang kanyang kaliwang mata. F
FLAME | 45 @abtheflame | abtheflame.net