HOOVER'S COMMUNITY NEWS SOURCE
REAL ESTATE SPOTLIGHT
Home sales slide in 2022 but demand still strong
By JON ANDERSON
The residential real estate market in Hoover slowed down in 2022 as interest rates climbed, but it's still a very healthy market, and the prospects look good for the rest of 2023, Realtors and home builders say.
Total home closings in Hoover declined 18%, from 2,243 in 2021 to 1,844 in 2022, according to data from the Greater Alabama Multiple Listing Service.
That includes a 19% drop in sales of existing homes (from 1,858 in 2021 to 1,512 in 2022) and a 14% decline in new home sales (from 385 in 2021 to 332 in 2022), MLS data shows.
The biggest reason for the decline is the rise in interest rates, Realtors and builders say.
The average interest rate for a 30-year fixed mortgage had fallen below 3% after the COVID19 pandemic hit, dropping as low as 2.65% in January 2021. That was the lowest rate in history and encouraged many people to move or build because they could borrow money at a cheaper price and afford a bigger house.
See REAL ESTATE | pages A28-30
Surveillance video captures a robbery suspect entering the Walgreens pharmacy at 1801 Montgomery Highway on March 23, 2022. Photo courtesy of Hoover Police Department.
Robberies hit more than 20-year low in Hoover
By JON ANDERSON
The city of Hoover had only 15 robberies reported in 2022 — the lowest amount in more than two decades, records show.
The number of robberies reported fell 38% from 24 in 2021 to 15 in 2022. Six of those were robberies of individuals, six were robberies of businesses, and three were shoplifting cases that turned into third-degree robberies when force was used, Hoover
police Lt. Daniel Lowe said. One of the robberies of an individual was determined to be unfounded, and another was downgraded to a theft when it was prosecuted, Lowe said.
Over the previous 21 years, the average number of robberies in Hoover per year was 56, and the number climbed as high as 105 in 2004, records show.
Police are extremely pleased to see the drop, Chief Nick Derzis said. That's
Summer Camp
especially true given that Hoover's most recent population estimate was about 93,000 residents in July 2021.
"That's something I think all of us at the Police Department are very proud of. We start each year hoping we can keep our community safe. We work very hard to do it, and it's kind of extraordinary when you see some of the things we were able to accomplish this
Spring Sports
Explore some of the fun-filled summer camps in the Hoover area. The Jags and Bucs launch into softball and baseball seasons. Sponsors A4 City A6 Business A7 Events A13 Schoolhouse A13 Sports A16 INSIDE facebook.com/hooversunnews See page A14
page A18
See
Guide
Sun March 2023 | Volume 11 | Issue 6
BROUGHT TO YOU BY SERVING HOOVER, THE 280 CORRIDOR, HOMEWOOD, MOUNTAIN BROOK, TRUSSVILLE AND VESTAVIA HILLS Schedule a Free Consultation at BhamSmile.com Smile on with braces for as little as $125 per month.
HOOVERSUN.COM | STARNESMEDIA.COM
See CRIME STATS | page A26
Homes under construction on Livvy Lane in the final phase of Landing Estates at Blackridge in Hoover on Jan. 23.
Photo by Erin Nelson.
Physician-driven, patient-centered kidney care
Nephrology Associates, P.C. 205.226.5900 | NephrologyPC.com
Offices in: Alabaster • Anniston • Bessemer • Birmingham
Clanton • Gadsden • Gardendale • Greystone • Homewood Jasper • Oneonta • Pell City • Trussville • Winfield
There have been amazing scientific medical advances in medicine in recent years – a non-smoking acquaintance in his 40's was diagnosed with metastatic lung cancer several years ago, and instead of a life expectancy of 6 months or so, he is living very comfortably taking a pill specifically designed for his cancer, for which he had a genetic predisposition. These incredible and transformative breakthroughs have been seen in many fields of medicine, but unfortunately, advancements in treatment for patients with kidney disease have lagged behind.
Due to the cost and complexity of care of patients with kidney disease, however, one area of innovation for which kidney disease care is becoming a proving ground is care delivery. Patients with chronic kidney disease are generally very medically complex, with higher rates of heart disease, cancer, and even gastrointestinal bleeding than the general population. They have significant care coordination needs focused on preventing worsening of kidney disease, preparation for kidney transplant, and unfortunately preparation for dialysis when appropriate. All of these facets of care require extensive and iterative education; there are many appointments required with various specialists at many different facilities (for which patients require something as simple as transportation); patients with kidney disease often require very extensive and complex medication regimens. Well-intentioned and hard-working nephrologists cannot provide all of this support alone, and deficiencies in support and care lead to worse outcomes for patients, increased hospitalizations, and significantly greater cost to the healthcare system as a whole.
CMS and private insurance companies are acutely aware of these problems. As a result of a combination of the Affordable Care Act of 2010 and the Executive Order Advancing American Kidney Health of 2019, in addition to a change in eligibility for Medicare Advantage plans for patients with End-Stage Kidney Disease (ESKD), we now have an opportunity to partner with both CMS and private insurers to make radical changes to our care delivery models in an effort to increase support, education, and care for patients with kidney disease – and doing so will almost assuredly lower costs.
The phrase being used for these changes in care delivery is "Value-Based Care." There are a number of healthcare companies attempting to provide some of these services via care management systems run primarily by nurses and other support staff, often remotely, and rarely in partnership with a patient's physician. In our case, I prefer a phrase that is less catchy but more accurate: "Physician-driven, patient-centered care." It is physician driven because nephrologists will be taking responsibility and financial risk for every facet of their patients' care. It is patient-centered because every medical decision we make in partnership with our patients will be guided only by what is best for those individual patients. Now, I would like to think that all of us as physicians have always made decisions for patients based only on what is best for them – but in a
fee-for-service system, we must all recognize that distorted incentives exist that affect how patients are cared for.
Along with 16 other practices nationwide, our practice has partnered with Evergreen Nephrology to provide physician-driven patient-centered care to our patients in need. Over the next several years, we expect to provide these expanded services to a majority of our ESKD and advanced CKD patients. We will be doing home visits, providing mental health support services where needed, addressing transportation limitations, education and patient engagement, food insecurity, early support and education for transplant services, medication review and education, just to name a few facets of care we will provide. Using data analytics and other advancements in information technology, we will be accessing all of a patient's available electronic health information and leveraging that access and predictive modeling to identify and intervene on the highest-risk patients to make their lives better. We will be heavily focused on disease prevention and stabilization to reduce the number of patients who are forced to start dialysis or undergo transplantation; for those who worsen despite our best efforts, we will be helping to coordinate kidney transplantation when possible – hopefully before a patient ever needs dialysis if possible. For those who are forced to start dialysis, we will be highly focused on Home Dialysis modalities which have equivalent outcomes to standard in-center dialysis, but much better quality of life scores at a lower overall cost.
It is a very exciting time in nephrology as a result of these care delivery innovations. Our programs begin for a relatively small number of patients on 1/1/23, and we hope to increase those numbers dramatically over the next several years. I feel certain that our efforts will yield better, happier, and healthier lives for our patients, and I can't wait to see to see the results.
Thomas Watson, M.D. is Board-Certified in Nephrology and Internal Medicine by the American Board of Internal Medicine. Born in Lexington, KY, he graduated magna cum laude with a degree in Chemistry from Vanderbilt University. Dr. Watson received his medical education in Atlanta at Emory University where he was president of his graduating class. He continued his training in Internal Medicine and Nephrology at New York-Presbyterian Hospital of Cornell University in New York, NY, where he was also honored to serve as assistant chief medical resident.
His interests include chronic kidney disease treatment and prevention, hypertension, electrolyte abnormalities, acute renal failure, and interventional nephrology—for which he is certified by the American Society of Diagnostic and Interventional Nephrology. He performs procedures at the Nephrology Vascular Lab. He is a member of the American Society of Nephrology, the Renal Physicians Association, and the American Society of Diagnostic and Interventional Nephrology.
A2 • March 2023 Hoover Sun
Thomas H. Watson, M.D.
HooverSun.com March 2023 • A3 $ 1,000 FREE PLAY * BASED ON YOUR FIRST DAY'S PLAY. (866) 946-3360 | WindCreek.com Play for FREE in the Casinoverse app! ©2023 Wind Creek Hospitality. Management reserves all rights. See PLAYER SERVICES for details. ALL EXCITEMENT. NO WORRIES. *Minimum $75 loss required for FREE Play rebate. FREE Play will be added to account within 7-10 days of initial visit. Must be 21 or older. Valid for new Rewards Members only. Limit one FREE Play redemption and one Food Credit redemption per new Rewards account. May not be combined with other coupons. Photocopies and digital copies will not be accepted. TO GET YOU STARTED, WE'LL GIVE YOU Present this ad to PLAYER SERVICES to redeem. CODE: ?MWHVR50FP | EXPIRES: 5/31/23 $50 FREE PLAY! $10 FOOD CREDIT! CODE: ?MWHVR10FC | EXPIRES: 5/31/23
About Us
Editor's Note By Jon Anderson
Real estate is a key sector in the economy, especially in a place like Hoover where there is a lot of home building and mobility.
Hoover has long been one of the primary spots in the metro area for home building, and that affects so many other aspects of people's lives, from where schools are needed to where roads are built and businesses want to locate, not to mention the hundreds of people employed in the home building and real estate industries in the city.
As more people move into Hoover, more businesses are needed to provide goods and services, stimulating the economy.
Plus, the city has a high percentage of its population that is mobile — people moving in and out of the city and from one part of Hoover to another.
With all that in mind, it's important
to stay informed about what's happening with both home building and real estate in general. That's why we're taking time this month to feature our real estate guide.
It includes statistics about sales of both new and existing homes, home
prices and the amount of inventory on the market.
Signature Homes continues to dominate the new home market in Hoover, closing 72% of new homes sales in 2022. And the company likely will continue to do so, with its new 2,344home Everlee community just getting under way.
We hope you'll find the information in this real estate guide interesting and useful, and if you have ideas for things you'd like to see in a future one, shoot me an email at janderson@starnes media.com.
PHOTO OF THE MONTH
Please Support Our Community Partners
Advanced Turf CareGardner (A6)
American Village (A10)
Bedzzz Express (A32)
Birmingham
Orthodontics (A1)
Bromberg's (A20)
Budget Blinds (A5)
Cardinal Roofing (A1)
Cottontails Village (A18)
Discovery United Methodist Church (A7)
Encore Stone (A25)
ENT Associates of Alabama (A23)
French Drains Pro (A11)
Galleria Woods
Retirement Community (A19)
Gardner
Landscaping (A5)
Hoover Met ComplexThe Finley Center (A27)
Image Hive (A6)
IOP Services LLC (A13)
Issis & Sons (A16)
Jefferson County Commission (A31)
Julie Ivy White (A30)
Las Garzas (A12)
Legend
Windows (A9, A24) Medical West Hospital (A17)
Nephrology Associates, P.C. (A2)
One Man & A Toolbox (A11)
Oxmoor Valley
Orthodontics (A12)
Pappas' Grill (A18)
Red Mountain Theatre Company (A15)
Signature Homes (A29)
Sikes Children's Shoes (A22)
Southern Blood Services (A24)
Southern Home
Structural Repair Specialists (A22)
Sovereign CPA (A20)
The Crossings at Riverchase (A27)
The Neighborhood Plumber (A9)
TherapySouth Corporate (A19)
Truewood by Merrill Gardens (A7)
Vapor Ministries/Thrift Store (A21)
Virginia Samford Theatre (A14)
Vulcan Termite & Pest Control (A23)
W.E. Lusain Funeral Home (A21)
Watts Realty (A10)
Publisher:
Community Editors:
Sports Editor: Design Editor: Photo Editor: Page Designer: Production Assistant:
Contributing Writers: Graphic Designer: Client Success Specialist: Business Development Exec: Business Development Rep: Operations Specialist:
Dan Starnes
Jon Anderson
Neal Embry
Leah Ingram Eagle
Kyle Parmley
Melanie Viering
Erin Nelson
Ted Perry
Simeon Delante
Loyd McIntosh
Emily VanderMey
Warren Caldwell
Don Harris
Madison Gaines
Sarah Villar
Sun
For advertising contact: dan@starnesmedia.com
Contact Information: Hoover Sun P.O. Box 530341 Birmingham, AL 35253 (205) 313-1780 dan@starnesmedia.com
Please submit all articles, information and photos to: janderson@starnesmedia.com P.O. Box 530341 Birmingham, AL 35253
Published by: Hoover Sun LLC
Legals: Hoover Sun is published monthly. Reproduction or use of editorial or graphic content without prior permission is prohibited. Hoover Sun is designed to inform the Hoover community of area school, family and community events. Information in Hoover Sun is gathered from sources considered reliable but the accuracy cannot be guaranteed. All articles/ photos submitted become the property of Hoover Sun. We reserve the right to edit articles/photos as deemed necessary and are under no obligation to publish or return photos submitted. Inaccuracies or errors should be brought to the attention of the publisher at (205) 313-1780 or by email.
Please recycle this paper.
Medicare Advisors of Alabama (A25)
Mr. Handyman of Birmingham (A18)
Find Us
Wind Creek Hospitality (A3)
Window World of Central Alabama (A31)
Pick up the latest issue of Hoover Sun at the following locations:
► Ahepa 3 Senior Apartments
► Aldridge Gardens
► Aspire Physical Recovery Center at Hoover
► Bluff Park Diner
► Faulkner University
► Galleria Woods
► Greenvale Pediatrics
► Hoover Area Chamber of Commerce
► Hoover City Hall
► Hoover High School
► Hoover Public Library
► Hoover Recreation Center
► Hoover Senior Center
► Hyatt Regency Birmingham
- The Wynfrey Hotel
► Kasey Davis Dentistry
► Lakeview Estates
► MedCenter Hoover
► Morningside of Riverchase
► RealtySouth Alford Avenue
► Rittenhouse Village
► Holiday Retirement - Rocky Ridge
► Spain Park High School
► The Preserve
► Wild Roast Cafe
Want to join this list or get Hoover Sun mailed to your home? Contact Dan Starnes at dan@starnesmedia.com.
A4 • March 2023 Hoover Sun
Spain Park's Keith Warner reacts as he crosses the finish line in the boys 1,600-meter run during the Class 7A state indoor track and field meet at the Birmingham CrossPlex on Feb. 4. Photo by Erin Nelson.
HooverSun.com March 2023 • A5 Best Price for Large and Small Trees, Shrubs and Privacy Screens Providing High Quality Service and Customer Satisfaction At Gardner Landscaping our goal is to exceed your expectations in creating and maintaining beautiful landscapes, hardscapes and lawns. We also work to minimize drainage and erosion issues. Your Large and Small Tree, Shrub and Drainage Experts 205-401-3347 | GardnerLandscaping@gmail.com | GardnerLandscapingLLC.com 30% OFF SELECTED SIGNATURE SERIES WINDOW TREATMENTS Excluding Plantation Shutters. 205-824-3300 | BudgetBlinds.com 2130 Columbiana Road, Vestavia AL 35216 Schedule your FREE in-home consultation today! BUDGET BLINDS OFFERS A WIDE VARIETY OF ENERGY-SAVING WINDOW TREATMENTS
Mayor's Minute
By Frank V. Brocato
There are so many great reasons to live in Hoover. We have beautiful, safe neighborhoods, excellent schools and fantastic restaurants. We also have wonderful outdoor amenities in the form of parks, trails and the Cahaba River. Having those things is great, but we must maintain, market and grow those spaces as well.
Frank V. Brocato
Late last year, the city kicked off a Parks and Public Spaces Plan, which will help cast a vision for greenways and blueways, parks and recreational programming for the next 15 to 20 years in Hoover. This public/private partnership will examine the great recreational amenities we have in Hoover today, as well as plan for smart growth in the years to come. We have received a sizable donation from local real estate developers, Signature Homes, to help with this project. We've also hired a company out of North Carolina, LandDesign, to walk us through this process. The city wants to be very
intentional about engaging citizens for input into this plan. A statistically valid survey will be mailed to approximately 7,000 residents for feedback around early March.
A few weeks later, the survey will then be opened to the public at large. Additionally, we will hold in-person and virtual town hall meetings in March, where citizens are invited to hear more about the project and provide input into the plan.
Please keep an eye on your mailboxes as well as on the city's social media platforms for more information. And when the opportunity comes, please share your honest thoughts about what we are doing well and how we can improve. It takes all of us to make sure our city stays fresh and vibrant!
A6 • March 2023 Hoover Sun City $19 99* FIRST TREATMENT Long Lasting Green Lawn GREET SPRING WITH A www.AdvancedTurfCareLLC.com | 205-305-7949 *Terms And Conditions Apply - Please Call For Details Keeping Your Turf & Ornamentals Healthy Since 2010 (205) 942-9460 | myimagehive.com Buzz@myimagehive.com Bring us your old home movie films, video tapes or audio cassettes or reels, slides, negatives or photographs. We can digitize and enhance it all and bring them into the 21st century so that you and your family can enjoy your memories for generations to come. We preserve and protect your memories. We are Birmingham-based media conversion experts, using the latest technology on-site for reliable and timely work. 212 41st St S., Birmingham, AL 35222 Additional Drop Off Location at Lee Branch Shopping Center, Hwy 280
Taking care of (dog)
By JON ANDERSON
Thirty years ago, Greg Milam worked at the Big B Drugs in Bluff Park as a teenager.
After graduating from Berry High School in 1993, he went to Auburn University and then spent more than two decades working all over the country in the car auction business, but now he's back in Hoover and working in the same building that once housed Big B.
Only this time, he's not helping in a pharmacy. He's running his own business.
Milam opened the Birmingham area's first Camp Bow Wow, a dog day care, boarding and grooming business, in November. He's taking up about two-thirds of the former Big B Drugs building between Bluff Park Village and Shades Mountain Plaza.
The building most recently was owned by Hoover Fitness, but the owner, Jason Cerniglia, sold it to an investment group and leased onethird of the space, leaving the rest for another tenant.
Milam spent 21 years in the Cox Enterprises car auction business, most recently as the general manager of a location in Seattle, but he decided he wanted to do something different and get closer to family, so he moved back to Hoover.
"I always thought it was a great place to live and wanted to get back here," he said.
He and his wife came from Seattle in 2019, and Milam signed a franchise agreement with Camp Bow Wow in September 2020. Navigating through COVID-19 and other details of construction buildout and opening a business took two years.
Milam, who lives in Ridge Crossings Estates off Ross Bridge Parkway, said he chose to put his business in Bluff Park because there are a lot of new families with children moving into the community, and young families often have dogs.
He chose to operate a dog day care, boarding and grooming business because he loves dogs and knows that people these days are looking for quality care for their dogs when they need to leave them, he said.
"People are passionate about their pets. They treat their pets like their children," he said.
The Camp Bow Wow business model is very "pro-dog" in the sense that the dogs aren't just left alone and fed, Milam said. Dogs that stay there generally spend most of their time
playing with other dogs and workers, unless the owner specifies that their pet doesn't get along well with other dogs, he said.
The Camp Bow Wow in Bluff Park has 6,100 square feet of indoor space and 1,300 square feet of outdoor space, he said.
There are 47 "cabins" that are either 4x4 or 4x6 feet, one family cabin that is 8x6 for owners bringing more than one dog and two larger suites that include a TV for the dog, Milam said. Unless the owner specifies a channel,
he usually leaves "Seinfeld" reruns on for the dogs to watch, he said.
"I love to watch 'Seinfeld,'" he said. "Hopefully the dogs do, too."
But unless the dogs are eating, taking a brief rest or going in for the night to sleep, they spend most of the time playing with other dogs, he said.
There are three indoor play areas and three outdoor play areas, each with cameras that allow owners to check in on their dogs whenever they want, Milam said.
"You can always see what your dog is doing. We're not hiding anything. We think that's important," he said. "We're in the business of providing peace of mind. That means transparency."
Camp Bow Wow accepts all breeds, but all dogs go through a three-hour "interview" during which staff determine if the dog has the right temperament to be there and handles the "cabin" environment well, he said.
So far, business is going well, with about 300 dogs interviewed in the first two months and Camp Bow Wow typically seeing about 35 dogs a day, Milam said. Thus far, about 75% of the dogs have come just for day care, with 25% staying overnight, but he expects that to shift a little more toward overnight stays as time goes on, he said.
The good thing is that they're seeing a lot of repeat customers, he said. "That means we're doing our job."
HooverSun.com March 2023 • A7 Business
business
Aged to Perfection Aging happens, but you have choices... Discovery United Methodist is hosting a series on Aging and Elder Care • Legal items: Power of Attorney, Will, Advanced Directive, Estate Planning, etc. • Medicare and VA Benefits • Independent Living, Assisted Living, Memory Care • Medicare, Social Security & Long Term Care Insurance • Understanding Dementia & Care for the Caregiver • Can I Stay in My Home? • Staying Healthy as You Age • Coping with Loss • End of Life Planning Tuesday Evenings, March 14 through May 2 Sessions are from 6:30-8pm 5487 Stadium Trace Parkway, Hoover, AL 35244 Admission is FREE For detailed information on topics and speakers go to www.discoveryumc.org Reservations are recommended call 205-987-4000 or email pharrison@discoveryumc.org 205.421.9397 • truewoodriverchase.com 1851 Data Drive, Hoover, AL 35244 Independent Living • Assisted Living • Memory Care Lic #ALFD3771, SCALF P3725 *Limited time offer. Call for details. TRUEWOOD BY MERRILL RIVERCHASE At Truewood by Merrill, Riverchase you'll find a senior lifestyle that is real and pricing that is honest. And, of course, vice versa. Call or visit truewoodriverchase.com for more information. FINALLY, A COMMUNITY FOR THOSE WHO ARE DOWN TO EARTH AND WANT A PRICE TO MATCH Ask About Our Special Savings!*
Riley Lynch, left, walks Butters as Greg Milam walks Cash during an interview period for Butters on her first time at Camp Bow Wow in Bluff Park. Photo by Erin Nelson.
SWEET ELEGANCE
Award-winning bakery expands to Ross Bridge
By JON ANDERSON
Ross Bridge residents didn't have to go long without having a bakery in their commercial district.
Just four months after Dreamcakes closed both of its locations in Homewood and Ross Bridge, Kristal Bryant stepped in and opened a second location of K & J's Elegant Pastries & Creamery in the former Dreamcakes spot in the Ross Bridge Town Center.
K & J's, which has gained national attention for its designer cakes and "Kollosal" milkshakes and last year received a bronze award for Alabama Retailer of the Year for businesses with sales under $1 million, had just relocated from Alabaster to the Uptown District in Birmingham in April.
Bryant, the founder of the bakery, had no plans to open a second location, especially so soon, but her commercial real estate agent, Abra Barnes, spotted the former Dreamcakes location and said she knew it would be perfect. Bryant agreed.
Two to three years before the COVID-19 pandemic hit, K & J's started bringing its food truck to Ross Bridge and was making appearances every Wednesday night, Bryant said.
"We had a ton of customers we were already familiar with, and we always sold out," she said.
Plus, a lot of her former customers from Alabaster and Shelby County were missing not having her close by, and a Hoover location is much closer than Birmingham, Barnes said.
The fact that the Dreamcakes spot already was designed as a bakery was just icing on the cake, so to speak.
Bryant redecorated the bakery with pink walls, put her own special touches in place and had the doors back open by late December. And business has been bustling ever since.
"I'm so surprised how busy Ross Bridge is," Bryant said. "The support we've received from the community is just overwhelming, and everybody is just so nice and so welcoming. It's been amazing."
Bryant split her staff of 14 people (16 including herself and her husband, who helps when he's not at his primary railroad job) between Uptown and Ross Bridge. She and one of the bakers rotate back and forth between the two sites as needed.
The Uptown location has a dining area and has walk-in traffic, but it's more of a "production kitchen" that handles a lot of large and corporate orders, Bryant said. The Uptown site also handles a lot of DoorDash orders because of the volume of people working in downtown Birmingham, she said.
The Ross Bridge location has more seating and, at least at the outset, has seen a lot more walk-in business. It has seating for at least 50 people inside and another 25 outside, Bryant said. Also, part of the dining area can easily be sectioned off for birthday parties, team parties or other group events, she said.
"I'm super-excited about the birthday parties," she said. She already has partnered with Front Porch, a Ross Bridge restaurant, to provide pizza
for birthday parties as well, she said. It's designed to make it easy for parents to plan a party, she said.
"The parents just have to show up with the kids, and that's it," Bryant said.
Ross Bridge resident Alex Tate said she and her family were so excited to see K & J's open. She and her 5-year-old daughter, Allison, formerly visited Dreamcakes every Friday afternoon as a reward if her daughter was good at school that week and love that they can restart that tradition with K & J's, she said.
The Tates had visited K & J's in Uptown three times already and fallen in love with the strawberry cupcakes with strawberry brownies on top, she said. "It's too good to be true."
One of Allison's friends also had a birthday cake from K & J's, and Tate said she plans to order Allison's sixth birthday cake from K & J's. She also knows her husband will want to get one of the bakery's "Kollosal" milkshakes, she said.
FAME AND FORTUNE
Bryant, who has been in the food business for about 20 years, has achieved a good bit of notoriety for her designer cakes and milkshakes. After being featured in an article on AL.com in 2017, the story of her business and creative talent got picked up by Southern Living magazine. She went on to be featured on the Travel Channel and Food Channel and has been on ABC's "Good
Morning America" show twice. Her business skyrocketed after the first round of publicity, forcing her to hire more help, she said.
"I literally went from three employees to 16 employees within a three-week space," she said.
Her business now has 64,000 followers on Facebook and 31,000 followers on Instagram. She has people from all over the country dropping into her bakery as they travel, she said.
"People were driving from Ohio, Florida, Tennessee, Texas — everywhere," she said.
She also has started taking quite a number of orders from the Atlanta area, including some celebrities. One of the stars of "The Real Housewives of Atlanta" ordered a wedding cake from her, and another ordered a birthday cake, she said.
Bryant's "bread and butter," as she likes to put it, is her cakes. She does traditional cakes, but she is best known for her creative designs. She can design a cake to look like pretty much anything, from Baby Yoda to a tennis shoe or cheeseburger.
K & J's bakes some cakes that people can drop in and pick up, even if they haven't placed an order in advance, priced at $75, but Bryant's specialty is the custom cakes. They start at $150, with the price varying depending on the size, difficulty and time required, she said. She recently baked a cake to feed 500 people at an Italian wedding at The Club, and it cost $7,000, she said.
Brittany Sharp, an event planner based in both Atlanta and Birmingham, said she has been using K & J's for cakes since 2012 and has ordered more than 400 cakes from Bryant.
"Kristal is without a doubt my go-to person [for cakes], even for events in Atlanta," Sharp said.
Bryant has an ability to listen to the vision of the person ordering the cake and bring it to fruition, but with her creativity, she comes up with ideas to make a cake design even better, Sharp said.
"Not only is her attention to detail just impeccable," she said. "Her cakes are just amazing to eat."
Also, "in this business, it is really hard to find people that aren't just here for money," Sharp said. She can trust Bryant to go above and beyond no matter the price point, she said. "She really puts her all into each design so that it's something people can be proud of."
OTHER GOODIES
While K & J's typically makes 30 to 40 cakes per week, the bakery also specializes in cupcakes and has more than 100 flavors, including red velvet chicken and waffles, pancakes and bacon, and Fruit Loops, Bryant said. There's even a cupcake called "Karlyn's Soul Food Cupcake" that includes a honey cornbread muffin with candied yam icing, and fried chicken drizzled with honey and parsley flakes.
Her bakers usually make 12 to 15 flavors of cupcakes a day, with the
menu changing daily. She frequently shows off the flavors of the day on social media. Cupcakes cost from $3.75 to $5.75 apiece.
K & J's also has 14 flavors of milkshakes. They make traditional milkshakes — like strawberry, vanilla and chocolate — for $7.25, but the bakery and creamery gained much attention for its giant "Kollosal" milkshakes, overflowing with extras such as Oreos, s'mores, cupcakes, caramel corn, vanilla wafers, candy and pretzels. Those are priced from $10.99 to $14.99 and are made for sharing. Other sweets at K & J's include ice cream by the scoop or cone and ice cream sundaes.
EARLY LOVE FOR COOKING, ART
Bryant developed a love for cooking at a young age. Her mother is a great cook, and Bryant always helped her in the kitchen, she said. She has known she wanted to be a chef since she was a 14-year-old freshman at Jackson-Olin High School in Birmingham, she said.
Her art teacher brought in a guest speaker from The Art Institute of Atlanta, who talked about the different kinds of art and introduced her to the term "culinary art."
It was perfect for her because she liked to cook, draw and paint, so she decided to mix those passions, she said.
She wanted to attend The Art Institute of Atlanta but couldn't due to financial reasons, so she went to the
A8 • March 2023 Hoover Sun
Kristal Bryant, owner of K & J's Elegant Pastries & Creamery, decorates a baby shower cake at the bakery in Ross Bridge. Photos by Erin Nelson.
University of West Alabama instead, she said. She hated it and decided to enroll in Culinard, the culinary institute of Virginia College in Birmingham, where she received training in the savory side of the business.
Bryant went to work at The Cheesecake Factory at The Summit and stayed there from 2004 to 2011, working every station in the kitchen, she said. She loved the experience, but it was too repetitive and didn't allow her to express her creativity enough, she said.
So, on the side, she started experimenting with cakes and taught herself how to bake, carve and ice cakes, she said. At first, she just did it for friends and family, but she created the name K & J's in 2007 and started taking orders in 2009. In 2011, she left The Cheesecake Factory, set up a website and went into baking full-time.
BUMPS IN THE ROAD
In the beginning, she was working from home, but in 2012, a disgruntled customer called the health department on her and she had to shut down because her home bakery didn't meet all the requirements, such as a kitchen and entrance separate from her home, she said.
She found a space to rent off Kent Dairy Road in Alabaster at the end of 2012 and set up her first storefront, with a $15,000 boost from her
mother and financial support from her husband, she said. In 2017, she relocated to U.S. 31 in Alabaster and started serving ice cream and milkshakes, too.
That's when K & J's got so much attention and business exploded.
Bryant decided to move the business to her hometown of Birmingham and signed a lease in the Uptown district in 2019, but the COVID-19 pandemic delayed the move.
Her business was hit hard by the shutdown but was kept alive by her food truck, which was able to serve people in outdoor areas. The BJCC saved her a space in Uptown, and she was finally able to move in there in April.
Business has been very good, she said. She has been running anywhere from $600,000 to $800,000 in sales a year and expects that to only grow with the new location in Ross Bridge, she said.
She may one day expand to Atlanta or other states, but for now, "we'll just see how it goes," she said. Her next goal is to figure out how to effectively ship some of her goodies, she said. Now, everything is made fresh daily, but she gets a lot of requests to ship items all over the country, she said.
See more of K & J's Elegant Pastries' products at kjselegantpastries. com.
HooverSun.com March 2023 • A9
205-663-0612 The Neighborhood Plumber "Don't Call a Stranger, Call Your Neighbor!" After-Hours Service Available Like THE NP on Facebook for Info, Promotions & Giveaways! theneighborhoodplumberinc@gmail.com theneighborhoodplumber.com Mention this ad for 10% OFF! $20 max discount given. Not to be combined with any other discount or coupons. Plumbing • Gas • Backflow • Remodels • New Construction " "
The support we've received from the community is just overwhelming, and everybody is just so nice and so welcoming. It's been amazing.
Cakes sit in the cooler at K & J's Elegant Pastries & Creamery in Ross Bridge. $299 INSTALLED* *WHITE DOUBLE HUNG STANDARD INSTALLATION legendwindows.com Windows • Doors • Siding • Gutters/Guards Lifetime warranty on materials AND labor! FREE IN-HOME ESTIMATES GUARANTEED LOWEST PRICE Askaboutour FuelSavingsPledge! FINANCING AVAILABLE FREE GUTTER CLEANING WITH GUTTER GUARD PURCHASE 844-WE-WINDOW
KRISTAL BRYANT
Dr. Rekha Chadalawada of Summit Pediatrics has opened a second location off Valleydale Road across from Jefferson State Community College's Shelby-Hoover campus at 1200 Providence Park, Suite 100. The original location of Summit Pediatrics opened in Chelsea in 2013. Dr. Chadalawada also has been a part of Sylacauga Pediatrics since 1999. Sylacauga Pediatrics and Summit Pediatrics have a combined four pediatricians and four nurse practitioners. Office hours are 9 a.m. to 4 p.m. Monday-Friday. The practice sees patients from birth to age 21.
205-637-0044, sylacaugapediatrics.com
of months.
205-438-6264, kilwins.com
The Power Brands Hospitality Group opened a franchise location of Biscuit Belly, a Kentucky-based breakfast and brunch restaurant, in The Village at Brock's Gap at 1031 Brock's Gap Parkway, Suite 157, on Feb. 7. Biscuit Belly focuses on Southern-style breakfast food and includes most of the staples such as eggs, bacon, sausage links, hash browns, French toast, pancakes, fresh fruit and, of course, biscuits. The eatery offers at least a dozen kinds of biscuit sandwiches, four different kinds of gravy, milk, tea, coffee, lattes, cappuccinos, mochas and an array of breakfast cocktails. Andrew and Rachel Adams are the operators. 205-559-1892, biscuitbelly.com
All Original Pizzeria in late January opened a third location in The Centre at Riverchase shopping center at 1694 Montgomery Highway, Suite 116. The first location opened at 4760 Eastern Valley Road in McCalla in 2003.
Suvas Berawala bought the restaurant in 2016 and in 2017 opened a second location at 215 Helena Marketplace in Helena. The pizzeria is open for pickup and delivery only. Hours are 11 a.m. to 9 p.m. Monday-Thursday, 11 a.m. to 10 p.m. Friday-Saturday and noon-9 p.m. Sundays.
205-639-1801, alloriginalpizzeria.com
Kilwins Chocolates on Feb. 6 opened in the former location of FAB Fruit at 5220 Peridot Place in the Stadium Trace Village development. The Petoskey, Michigan-based company specializes in confectioneries such as chocolates, ice cream, fudge, caramel apples and other candy. This is the second Kilwins franchise in Alabama, the first being in Orange Beach. The owners of this franchise are Matthew and Christy Moore, and it will be managed by their son, Harrison Jones. The Moores now have six other Kilwins locations, including two in Atlanta and one each in Destin, Knoxville, Columbus, Georgia, and The Villages in Florida. They plan to open a second Destin location within a couple
Total Body Co is now open at 3037 Lorna Road, Suite 102, and provides an array of services including lymphatic massage (for lymphedema and after general or cosmetic surgery), bariatric massage (for after bariatric surgery) and body contouring services.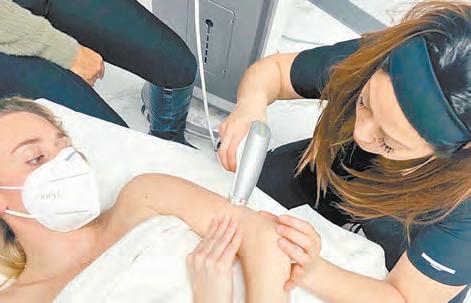 205-953-2416, alabamaspa.space
McKenzie Strategies is now open at 200 Chase Park S., Suite 226, near the intersection of Riverchase Park and U.S. 31. The new mental health group practice offers non-emergency counseling services to individual adults/ adolescents/children, couples and families experiencing issues including, but not limited to: depression, anxiety, trauma, stress management, grief, life transitions, self-esteem and identity issues, relationship issues, and school issues. Founded by LPC and Clinical Supervisor Matt McKenzie, the practice includes three full-time licensed counselors — Savannah Becotte, MA, ALC; Ryan Jackson, MA, ALC; and Kristin Williams, MA, ALC — who are accepting new clients for in-person and telehealth appointments using private pay (sliding scale options available), Blue Cross and Blue Shield of Alabama and Medicaid. The practice also includes FLY (Freedom Lies in You), a program for area military veterans and police/fire first responders seeking peer support and coping skills. 205-517-3102, mckenziestrategies.com
A10 • March 2023 Hoover Sun Festival runs Mon-Sat 10-4, Sun 12-4* *Depending on weather conditions - please check the website, Facebook or Instagram pages for field conditions before your trip. The American Village 3727 Hwy. 119, Montevallo, Alabama (30 minutes south of Birmingham at I-65 Exit 234) www.americanvillage.org • (205) 665-3535 Pick your own tulips from a field of 100,000 flowers! Flowers/bulbs are $2 each. 7th Annual $5 admission to the Festival of Tulips NOW OPEN Business Happenings NOW OPEN
® www.wattsrealty.com COMMERCIAL BROKERAGE RESIDENTIAL MANAGEMENT REAL ESTATE CONSULTATIONS INSURANCE 1527 3RD AVE SOUTH BIRMINGHAM 205-251-1267 2x Certified Property Manager of the Year in the State of Alabama Century+ as Family Owned & Operated Business
Business news to share? If you have news to share with the community about a brick-and-mortar business in Hoover, let us know at hooversun.com/about-us
RELOCATIONS AND RENOVATIONS
Alabama Reweaving & Alterations has relocated from Homewood to The Plaza at Riverchase shopping center in Hoover at 1845 Montgomery Highway, Suite 225. The new store is located between Nail Line and Angel Spa. The shop specializes in wedding gowns, bridesmaids' dresses and prom dresses and also does other men's and ladies' formal wear, leather, furs, monograms and jeans. Hours are 9 a.m. to 5:30 p.m. Monday through Friday and 10 a.m. to 2 p.m. Saturdays.
205-870-5961, alabamareweaving.com
Ambit Solutions, a communications company that offers voiceover IP, paging, intercom and other services, is opening a new executive and sales office in a 2,500-square-foot space on the ninth floor of The Offices at 3000 Riverchase office tower next to the Riverchase Galleria. The company signed a fiveyear lease for that space and should be able to occupy the space by March
1, said Alan Paquette, vice president of property management for Jim Wilson & Associates, which owns the tower. Ambit Solutions also will maintain ifs office and warehouse space at 3520 Lorna Ridge Drive, Paquette said. 205-829-1800, ambit-llc.com
Optometrist Paige Chambers has relocated her optometry practice from the Pearle Vision Center at 1717 Montgomery Highway, Suite 117 in the Riverchase Promenade shopping center to the Pelham Walmart at 2181 Pelham Parkway. Chambers had worked with Pearle Vision Center for 25 of the 27 years she has been in practice, with 20 of those years at the Hoover location. Pearle Vision had been in the Riverchase Galleria until this past summer, when it relocated to Riverchase Promenade, Chambers said. 205-987-0696, walmart.com/ store/5262-pelham-al
Hoover Family Medicine has relocated from 3081 Lorna Road, Suite 101, to 774 Shades Mountain Plaza, expanding from six patient rooms to eight. The office is under the direction of Dr. Shelly Weisenfeld, with care also being given by nurse practitioners Dr. Ramona Roach-Davis, Candace Harris and Natasha Melton. 205-979-3381, hooverfamilymedicine. com
Strategies for Healthcare Solutions a medical practice through which nurse practitioner Dr. Ramona Roach-Davis provides health care to veterans, has relocated from 3081 Lorna Road, Suite 101, to 774 Shades Mountain Plaza. 205-979-3381
NEWS AND ACCOMPLISHMENTS
Alicia Huey, a Greystone resident, home builder and developer with more than 30 years of experience in the home building industry, recently was elected as the 2023 chairman of the National Association of Home Builders during the association's International Builders' Show in Las Vegas. Huey is president of AGH Homes, a custom home building company she founded in 2000. In addition to building high-end custom homes for buyers on individual lots, AGH Homes has also built in several golf course communities in Hoover and Vestavia Hills.
The ARC Realty office at 5220 Peridot Place, Suite 124, in the Stadium Trace Village development closed out its third
full calendar year at that location with a record $249,500,000 in sales volume. 205-969-8912, arcrealtyco.com
PERSONNEL MOVES
Kimberly Brimer has joined Cadillac of Birmingham at 1677 Montgomery Highway as a sales consultant. 205-834-1687, cadillacofbirmingham. com
ARC Realty has added Marcia Montgomery, Kileigh Woller and Maudrecus Humphrey as new real estate agents at its Hoover office in the Stadium Trace Village development at 5220 Peridot Place, Suite 124. 205-969-8912, arcrealtyco.com
Burn Boot Camp's Hoover location in The Village at Brock's Gap at 1021 Brock's Gap Parkway, Suite 121, has welcomed Brandi Davis into a new role as its client experience manager. Davis will continue to serve as the community relations and events coordinator for all three of Burn Boot Camp's locations in the Birmingham-Hoover area (Hoover, Meadow Brook and Homewood). She has been a member of Burn Boot Camp since 2019 and has served as the hospitality chairperson at Gwin Elementary School and Hoover High School. 205-325-1884, burnbootcamp.com
Lisa Guarino is the new broker at the ERA King Real Estate office in The Galleries at Riverchase shopping center at 3075 John Hawkins Parkway. 205-979-2335, eraking.com
Regions Bank has promoted consumer banking manager Teresa Vick to serve as market executive for the bank in Shelby County, where Regions operates numerous bank branches and three corporate facilities. Vick has more than 40 years of consumer banking experience, serving individuals and businesses. She joined Regions' predecessor bank, AmSouth, in
2000 and leads teams delivering a wide range of banking services through more than a dozen Regions branches in the state. As market executive, Vick will now also work with business groups across the bank to guide their teams and work to advance community engagement in the area. Vick is a graduate of the Alabama Banking School at the University of South Alabama. She serves on the Jefferson State Community College advisory board, the Boys and Girls Club Greater Birmingham advisory board and the Shelby County Chamber board of directors. 800-734-4667, regions.com
ANNIVERSARIES
Brock's Gap Brewing Co. celebrates its first anniversary In March. The brewery is located at 500 Mineral Trace, Suite 100, right next to Hoover Metropolitan Stadium. 205-848-7837, brocksgapbrewing.com
CLOSINGS
Brad and Kaye Tompkins have closed their FAB Fruit business at 5220 Peridot Place in the Stadium Trace Village development The Tompkins originally opened a City Bowls franchise there in June 2021 but ended their relationship with City Bowls and reopened as FAB Fruit in October 2021. Brad Tompkins said the City Bowls that later opened in The Village at Brock's Gap diluted their customer base and helped lead to the decision to close.
Alabama MedScreen, a business that provided alcohol and drug testing, DNA testing, gender reveals and medical records retrieval, has permanently closed. The business was in The Village on Lorna at 3321 Lorna Road, Suite 6.
The Yankee Candle store at the Riverchase Galleria has closed. Its last day of business was Jan. 28. That was the only Yankee Candle store in Alabama. 205-987-2333, yankeecandle.com
HooverSun.com March 2023 • A11 Drains Installed | Erosion Control 205-244-1114 for your project estimate
isn't for everyone. Because Doing it Yourself Residential Commercial Special Projects 205-823-2111 • OneMan-Toolbox.com One Man & a Toolbox Handyman Services
Discovery UMC offers free senior care seminars
By JON ANDERSON
Discovery United Methodist Church is offering the community a free eight-week seminar series on aging and senior care.
The series, to be offered on Tuesday nights from March 14 through May 2, is designed to help people who are entering or in their golden years or caring for people who are already there.
Topics will include Medicare, long-term care insurance, finding a home away from home, staying in your home, estate planning, hospice, dementia, end-of-life planning, coping with loss and healthy living as you age.
Robin Swartz, a Discovery United Methodist church member who organized the seminar series, came up with the idea after her mother was diagnosed with dementia and she became responsible for her mother's care.
She wasn't sure how to handle it all and began searching for help to navigate through the issues faced by the elderly and their caregivers, she said. She turned to friends who had been through similar experiences and also looked online for resources, but then she realized it would be great to pull all these resources together in one place for other people.
Discovery first offered the "Aged to Perfection" series in 2019 and got good response and feedback from it, but the church did not offer it again due to the COVID-19 pandemic, Swartz said. Church members now feel comfortable enough to offer it again, she said.
They believe it's particularly good for their immediate surroundings because there are two new communities in Trace Crossings (Abingdon and Abingdon by the River) designed for people ages 55 and older, she said.
Here is the schedule of topics and speakers:
► March 14 — "Coping with loss," Dr. Steve Sweatt, Community Grief Support
► March 21 — "Finding home away from home (independent living, assisted living, memory care)," Karen Glover, Glover Management & Consulting; and "Medicare & Veterans Administration benefits," Lynn Campisi, Campisi Law
► March 28 — "End-of-life planning," Senior Pastor Belinda Rives, Discovery UMC;
"Hospice," the Rev. Jennifer Riddle, St. Martin in the Pines
► April 4 — "Legal issues (estate planning, power of attorney, advance directives, wills, etc.)," Brooks Burdette, The Burdette Law Firm
► April 11 — "Medicare, Social Security and long-term care," Pam Franklin, Magnolia Capital Advisors
► April 18 — "Understanding dementia and care for the caregiver," Miller Piggott, Alzheimer's of Central Alabama
► April 25 — "Can I stay in my home?," Tim Barron, architect, and Stephanie Palmer, Amedisys Home Health
► May 2 — "Staying healthy as you age," Dr. Andrew Duxbury, UAB Division of Gerontology
Each seminar will be held at the church at 5487 Stadium Trace Parkway from 6:30 to 8 p.m. Reservations are requested but not required. People can attend one or all. To reserve a spot, call 205-987-4000 or email pharrison@ discoveryumc.org.
A12 • March 2023 Hoover Sun Community Have a community announcement? Email Jon Anderson at janderson@starnesmedia.com to be considered for inclusion in an upcoming issue. our specialty can Today For Your Complimentary Consultation DEPOT LOCATION 415 West Oxmoor Road Bir mingham, AL 35209 MCCALLA LOCATION 5751 Pocahontas Road Bessemer, AL 35022 Web: OVOrtho.com • Tel: 205-942-2270
Deborah Sema, D DMD, MS · Andrew Havron, D DMD, MS
Residents play a game of pool at Galleria Woods Senior Living Community.
NOW OPEN IN HOOVER FOR LUNCH & DINNER 3724 Lorna Rd, Hoover, AL (205) 989-5559 las-garzas-mexican-restaurant Featuring One of the Best Bartenders of All Time! Taco Tuesday Weekly Specials Karaoke Thursday
Photo by Erin Nelson.
Hoover Service Club plans 2023 Hearts in Harmony gala
By JON ANDERSON
The Hoover Service Club is gearing up for its 2023 Hearts in Harmony spring fundraiser on March 18.
Club members are inviting the public to the Hoover Country Club for a "surf and turf" dinner and auction. The night begins at 6 p.m. with a reception, cash bar and silent auction, followed by dinner and a live auction in the adjacent dining room.
The silent auction typically includes things such as a basket with gift cards to multiple restaurants in Hoover, wine packages, artwork and jewelry.
The live auction often includes a variety of trips and sporting event packages and this year will definitely include an Orange Beach getaway in a three-bedroom, three-bathroom condo at the Caribe Resort in Orange Beach, event chairwoman Susette Clark-Walker said.
People will be able to view the live auction items in advance online at the Hoover Service Club's website, beginning March 4, Clark-Walker said. Some items will have a "buy now" price that allows people to purchase them without having to wait for the live auction, she said.
Hoover Council President John Lyda is
Hearts In Harmony
• WHAT: Hoover Service Club fundraiser
• WHEN: March 18 at 6 p.m.
• WHERE: Hoover Country Club
• TICKETS: $135
• WEB: hooverserviceclub.com
slated to be the auctioneer once again, and Will Lochamy of "The Morning Blend with Reg and Will" on Birmingham Mountain Radio will be the emcee.
The Hearts in Harmony gala is the Hoover Service Club's biggest fundraiser each year and last year netted $26,000, Clark-Walker said. Proceeds go toward college scholarships and charities supported by the club. Last year, the group raised a total of $60,000 in cash and in-kind donations from all its events and meetings, Clark-Walker said.
Tickets for Hearts in Harmony cost $135 each, with $50 being tax-deductible. Tickets can be purchased at hooverserviceclub.com through March 10.
Feel like an emotional
Chalmers assumes new role as president at John Carroll
By NEAL EMBRY
The Rev. Jon Chalmers recently took on the new role of president of John Carroll Catholic High School, adding to his responsibilities as the pastor of Prince of Peace Catholic Church and leader of the church's school, both located in Hoover. Chalmers works alongside Anthony Montalto, the principal of the high school. Montalto, who Chalmers called a "tremendously accomplished instructional leader," handles the day-to-day work of the school while Chalmers focuses on the long-term success of the school.
The move, which took place in late 2022, saw Chalmers ascend to his new role as the Rev. Robert Sullivan moved from the role of president to director of the John Carroll Catholic Educational Foundation, fundraising and engaging stakeholders in the school. Chalmers said the move was about optimizing the school's resources to build on the momentum the school gained coming out of the COVID-19 pandemic.
Chalmers comes from an education
leadership background and has worked at the school since August, helping Sullivan during the time of transition. He has been pastor of Prince of Peace since July.
Chalmers described his role as "focusing on the important in the midst of the urgent," working to coordinate functions and create and implement the school's strategic plan. Chalmers's graduate work in education was focused on teaching and learning, specifically on making sure all parts of education are connected. He is driven to work toward that interconnectedness at John Carroll, he said.
"I am really interested in ensuring that it's all connected, that … we don't understand academics in a silo that's distinct from our campus ministry, that's distinct from our athletics, that's distinct from our arts or other extracurricular opportunities. We understand these as knit together in the same way the development of the whole person as an individual is knit together," Chalmers said.
He also works to make sure the school has the resources it needs and plans in place to grow.
HooverSun.com March 2023 • A13 Events
When standard treatment of weekly counseling, and proper use of medications is not sufficient and effective, intensive counseling is available for support, rescue, and strengthening hope. IOP Services provides 9 hours per week of therapy in a group setting. It is a powerful supplement to standard treatment. Many types of emotional pain ebb and flow. The most difficult times can seem unbearable. Covered by most insurance plans.* Immediate Evaluation is Available! IOPServices 600 Century Park South, Suite 200 Birmingham, AL 35226 lopservicesllc.com Call or Text: (205) 999-5247 Email: Info@iopservicesllc.com *We Accept All Major Insurance In most cases treatment is covered
wreck?
Joyce Byrd, left, and Lois Taylor look at silent auction items at the Hoover Service Club's Hearts in Harmony fundraiser at the Hoover Country Club in March 2022. Photo by Jon Anderson.
Rev. Jon Chalmers, left, and Rev. Robert Sullivan stand in a science classroom at John Carroll Catholic High School.
Schoolhouse Have a schoolhouse announcement? Email Jon Anderson at janderson@ starnesmedia.com to be considered for inclusion in an upcoming issue.
Photo by Erin Nelson.
Take the spotlight in a supportive, fun atmosphere
Virgina Samford Theatre
Virginia Samford Theatre
in Birmingham offers children and teens ages 7-18 a fun, no-pressure introduction to the joys of creating musical theater with its STARS Camp VST in June.
STARS Camp VST focuses on singing and dancing and also offers classes in stage combat, costume and set design, playwriting and Shakespeare. There are two levels of instruction, beginner and intermediate.
"We'll also have a small showcase at the end of the week to highlight some of the fun music, dancing, scenes and games we've learned," says Jenna Bellamy, director of the STARS Program at VST.
The VST is also launching its new STARS Summer Studio — open to rising 6th graders and up with prior theater or performance experience — where campers can receive advanced instruction in dance and vocal performance.
All of the instructors are theater professionals or have a musical theater background.
The atmosphere at the camps is "fun, supportive and kind," Bellamy says.
And this year, the camps will be held at the recently renovated Mountain Brook High School.
"It's exciting to have campers working and learning in their beautiful arts campus," Bellamy says.
WHERE: Mountain Brook High School
WHEN: June 5-9 and June 12-16,
AGES: 7-18
EMAIL: stars@virginiasamford theatre.org
WEB: virginiasamfordtheatre.org/ vststars/camp-vst
There will be two one-week sessions of Camp VST, Monday-Friday, June 5-9 and June 12-16, from 9 a.m to 3:30 p.m. There will also be two one-week sessions of STARS Summer Studio on the same dates from 12:30-4 p.m.
The cost is $350 for registrations before April 1 and $400 after April 1.
Parents can register their kids at virginia samfordtheatre.org/vststars/camp-vst.
A14 • March 2023 Hoover Sun 2023 SUMMER CAMP GUIDE SPECIAL ADVERTISING SECTION
Take center stage and express your creativity
Red Mountain Theatre Summer Camps give kids an outlet to use their creativity in dramatic ways at all ages and skill levels. It's not just about singing and dancing, it's about teaching teamwork, focus, discipline, confidence and so much more. Red Mountain Theatre's camps allow students to dip their toe into the theater world by learning basic performance skills, or become fully immersed with intensive camps for students who are already enthusiastic about musical theater. Most sessions end with a short "sharing" for students to show off what they've learned to parents and friends. For our youngest students, ages 4-6,
Red Mountain Theatre
half-day Play Making camps use a familiar book like "Where the Wild Things Are" as a basis to explore storytelling and creative play. Theme Camps, for ages 7-12, allow creative students to immerse themselves in a favorite book world like Hogwarts, Narnia or Arendelle and cultivate their own original characters. For theatrical 7-8 year-olds, Red Mountain Theatre offers Summer Sprouts, where students will learn 3-5 Broadway-style production numbers to perform for family and friends. The fast-paced Blast Camps ask 9-14 year-olds to learn an entire 30-minute original script, plus music and choreography in just one
WHERE: 1600 3rd Ave. S., Birmingham
WHEN: May 30-Aug. 4
AGES: 4-17
CALL: 205-324-2424
EMAIL: education@redmountain theatre.org
WEB: redmountaintheatre.org
week to share with a supportive audience. For young people aged 9-18 who are serious about musical theater, Red Mountain Theatre
offers intensive musical theater camps like Broadway Bootcamp, featuring theater professionals from across the U.S.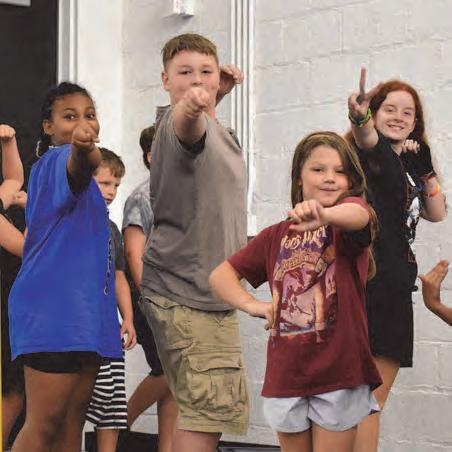 Red Mountain Theatre's educators are Teaching Artists — highly skilled instructors who have both practical theater experience and teaching experience. All our professionals meet exacting safety and learning standards to provide students with a safe environment in which to learn, grow and express themselves. Pricing starts at $180 for half-day camps and $300 for full day camps. Payment plans and financial aid are available. Before- and after-care as well as lunch programs can be added on for students.
MAY
HooverSun.com March 2023 • A15
S t o r y te l ling and ive play for b udding arti an original script, music choreo gr a p h y . BLAST CAMPS
9-14 Intensiv aining fo r serious t s REGISTER NOW AT redmountaintheatre.org
Ages
30-AUGUST 4
Create a cterin a favor it e book world PLAY MAKING Ages 4-6 SUMMER SPROUTS Ages 7-8 THEME CAMPS Ages 7-12 BROADWAY BOOTCAMP Ages 9-17 yrT uo t B r o a d wa ystyl e production numbers. SCAN FOR ALL CAMPS
ALL SKILL LEVELS FINANCIAL AID AVAILABLE
2023 SUMMER CAMP GUIDE SPECIAL ADVERTISING SECTION
Jags finish runner-up at state bowling tournament
By KYLE PARMLEY
The Spain Park High School boys bowling team came within four pins of defending its state championship.
The Jaguars had to settle for second at the Class 6A-7A state tournament Jan. 27 at The Alley in Gadsden, as Sparkman edged them in a tight final that went the distance.
Down 3-2 in a best-of-seven series of Baker games in the state final, Spain Park's boys rose up and bowled a 245 to force the seventh game. The seventh game was tight, but Sparkman pulled it out 181-177.
"It's a shame we came up four pins short, but Sparkman bowled really well when they needed to," Spain Park coach Stephen Hobbs said. "I'm just really proud of the way the guys competed every time, they never folded."
Spain Park won the South Regional tournament the week prior to advance to the state tournament, knocking off Vestavia Hills in the final to cap off a tremendous tournament.
The Jags nearly duplicated that performance in the state tournament. The first day of play was a set of three traditional games to establish seeding for the bracket. Spain Park earned the top seed and featured three of the top five individual performers.
Ethan Lee was the top bowler, bowling a three-game total of 615. Michael Kimble was right behind him, totaling 606 pins over three games. Liam Hilson was fifth with 586 and Luke Eaton was eighth with 578, as both were also named all-tournament.
Luke Mitchell, Evan Kelty, Zion Mims and Ray Olatubi also contributed to the Jags' run.
Spain Park had little trouble dispatching its first two opponents in bracket play. The Baker
games featured five bowlers each taking two frames to compile a single game.
In the opening round, Spain Park took down American Christian 4-1, dropping only the third game. Spain Park then took on Hartselle in the semifinals, winning 4-1 as well.
Hobbs credited his team for its competitive spirit, given that the Jags were undoubtedly
in the toughest region in the state. Spain Park and Vestavia Hills advanced out of an area that also featured perennial state contenders Hoover and Thompson.
"We came up just a tad short of our goal," Hobbs said. "To be state champions last year with these guys and [second] this year, I could not be more proud."
Hobbs also gave plenty of credit to volunteer coach Lillian Singleton, who has worked with the program for many years.
Singleton is an experienced bowler and works with the bowlers in regards to technique. She had one thing to add after the trophies were handed out at the state tournament: "We will be back next year."
A16 • March 2023 Hoover Sun Sports
Spain Park's Ethan Lee competes in the boys AHSAA Class 6-7A state bowling tournament at The Alley in Gadsden on Jan. 26.
Photo by Erin Nelson.
HooverSun.com March 2023 • A17 At Medical West, we understand the importance of convenient, quality care. Our team of medical professionals in the Hoover area are here to serve you and your entire family's healthcare needs. For more information about the Medical West Health Centers near you, scan the QR code above or visit us online at medicalwesthospital.org. near you. Primary and Specialty Care PRIMARY CARE Jody Gilstrap, MD Medical West Brock's Gap Health Center Family Medicine 205.421.1032 Allyson Gilstrap, MD Medical West Brock's Gap Health Center Family Medicine 205.421.1032 Kelly Petrovics, CRNP Medical West Brock's Gap Health Center Family Medicine 205.421.1032 Bonnie Moore, CRNP Medical West Brock's Gap Health Center Family Medicine 205.421.1032 Harveen Sodhi, MD Medical West Hoover Health Center Family Medicine 205.820.8440 SPECIALTY CARE Cynthia Brown, MD Medical West Hoover Health Center Medical West OB/GYN 205.481.7750 Michael Latshaw, MD Medical West Hoover Health Center Medical West Otolaryngology 205.481.8620 Scott Seibert, MD Medical West Hoover Health Center Medical West Orthopedics 205.481.8570 Medical West Brock's Gap Health Center 1001 Brock's Gap Parkway, Suite 101 • Hoover, AL 35244 P: 205.421.1032 • F: 205.421.1040 Medical West Hoover Health Center 5310 Medford Drive • Hoover, AL 35244 P: 205.820.8440 • F: 205.820.8449
Bucs looking forward to season
By KYLE PARMLEY
It isn't possible to act as if things are perfectly normal surrounding the Hoover High School baseball program this spring.
Head coach Adam Moseley was suspended by the Alabama High School Athletic Association for the 2023 season after a rules violation in the fall, for coaching one of his players out of season. Moseley coached Hoover second baseman RJ Hamilton on Team USA as part of the World Baseball Softball Confederation (WBSC) U-18 Baseball World Cup.
With Moseley away from the program this season, Chris Wilson is the varsity team's acting coach. He is being assisted by Chris Coons and David Crabtree.
Wilson is attempting to keep things as close to normal as possible, citing his familiarity and friendship with Moseley dating back nearly 20 years. He also said the players have been "resilient" and shown an eagerness to get the season started and put the winter behind them.
"There's some comfort with that," Wilson said. "The program has been in such good hands and run so well, the kids know what the expectations are. Nothing's really changed as far as all that goes."
Hoover's team this season features a big senior class, many of them back from a team that posted a 28-16 record last spring and fell to eventual state champion Hewitt-Trussville in the first round of the state playoffs.
"There's something about being a senior where a switch flips, where you see more intensity and confidence," Wilson said. "That's one of the strengths of this team, the senior leadership and the talent coming in is a really good combination."
Cade Carr has been a multi-year starter for the Bucs and enters his senior season as one of the key players on the team. Carr will split time between playing shortstop and catcher, two critical positions on the diamond.
Hoover's
fields the ball as he makes the throw to first base to record an out during a game against Mountain Brook in April 2022.
The hopeful emergence of Jaxson Wood, a University of Tennessee commit, will allow the Bucs to utilize Carr more as a catcher. That will give Hoover a middle infield at times of a Tennessee commit and a Vanderbilt signee in Hamilton.
Senior Will Lawrence will also factor into the mix as a catcher and designated hitter, as Wilson has been pleased with his improvement over the offseason.
Devin Lee and Brayden Urban are first basemen, while Brewer Smith, KJ Law, Clayton Wallace are seniors fighting for time in
the outfield.
Tyler Wilson, Samuel Schmidt, Jackson Graber, Colin Rengering and Wes Carter are seniors who will be key parts of the pitching staff this spring. Mark Livingston and Zac McGarity are also seniors.
Andrew Pitts is a junior outfielder who played a good bit last year and Mason Blasche will be a factor at third base and on the mound. They are part of a small but productive junior class.
Chris Wilson believes one of the strengths of this year's team will be its pitching staff.
Tyler Wilson and Schmidt have established themselves as the team's top two starters, with several others giving the coaching staff confidence in filling the other starting and relief roles.
Hoover competes in Class 7A, Area 5, with Vestavia Hills (a semifinalist last year), Thompson and Tuscaloosa County.
The season can't come soon enough for a team that is ready to be known once again for its on-field exploits.
"They're ready to play somebody else," Chris Wilson said.
A18 • March 2023 Hoover Sun Mr. Handyman is taking care of Hoover's "To-Do" List ® like us on follow us on 205-606-0800 Give us a call! $50 OFF One coupon per househ old. Participating locations on ly. Minimum $300 of service. Not valid with any othe r o er or discount. Lim ited time only. Independently owned and operated franchise.© 2022 Mr. Handyman SPV LLC. All rights Reserved MrHandyman.com Visit mrhandyman.com to learn more about our services Over 500 Booths! Birmingham/Jefferson Convention Complex 205-836-7173 Fri/Sat: 10am-6pm Sun: Noon-5pm Advance Ticket holders get in an hour early! All credit cards accepted $10 ADULTS march 3-5 WWW.COTTONTAILSFESTIVAL.COM Adults-Advance: $10, At Door: $11 Children 6-12 Advance: FREE, At Door: $5 Children under 6: FREE! ALL CREDIT CARDS ACCEPTED Party dresses for your princess | creative gifts | personalized Easter baskets | home decor | garden accessories | arts | crafts | gifts | food The first opportunity to purchase tickets to Christmas Village in November is in the show office at Cottontails! TICKETS:
Cade Carr (5)
Photo by Erin Nelson.
SPRING Into action!
We are SO ready to welcome warmer weather and get outside to enjoy running, hiking, biking, gardening and all the outdoor things! Are you ready?
If not, TherapySouth has movement experts who will work with you to develop an individualized exercise program to help you feel stronger, move better and avoid injury. Scan
too! www.therapysouth.com
appointment so you can be ready for Spring
Peace
HooverSun.com March 2023 • A19
this code to schedule an
Hoover 3421 South Shades Crest, Suite 107 205.987.6501 Riverchase/ Valleydale 2279 Valleydale Road, Suite 200 205.874.9523 Hoover – Hwy 31/I-65 1550 Montgomery Hwy, Suite L Hoover, AL 35216 205.855.5800 3850 Galleria Woods Dr • Birmingham, AL 35244 • Life@galleriawoodsseniorliving.com • 205-994-8677 EXPERIENCE SENIOR LIVING
activities,
of Mind
Life Plan Community offers a unique opportunity for residents and their families to
peace of
through access to a full continuum of high-quality care for life. It's the promise that even if your needs change, you'll always be
to live in the community you call home. A New Way of Living Join a community of people who love to celebrate the everyday joys of living while also having the assurance that Life Care provides. Learn more about the best retirement lifestyle Birmingham has to offer! Contact us today. Call 205-994-8677 or email Life@galleriawoodsseniorliving.com
A
experience
mind
able
Playoff return in sights for Jags this spring
By KYLE PARMLEY
The fine line between missing the state playoffs and making a run to the state championship series is one the Spain Park High School baseball team is all too familiar with.
Such is life in Class 7A baseball in the greater Birmingham area. Last year, the Jags posted a strong season, putting together a record of 25-11. However, the Jags missed the playoffs by losing an area tiebreaker game to Vestavia Hills, which went on to make a run to the semifinals.
"It gives the kids a very good perspective of how close they were and how good those teams were," Spain Park head coach Will Smith said. "Attention to detail and those small, minute things can be the difference between being in the playoffs or starting your summer."
Spain Park has reason to believe that another successful season, albeit with a slightly better finish, could be on the horizon. The Jags have a roster with about seven starters back and 12 seniors, three of which will be in their third seasons starting on the varsity team. Cole Edwards, Evan Smallwood and Ryan Cole are experienced and Smith hopes to count on them for big things once again.
Clay Spencer is back as the team's catcher, while James Battersby, JR Thompson and Jacob Tobias are back as everyday players.
Smith is also excited to see the emergence of Lucas Thornton as the pitching staff's potential ace. As the team's No. 2 starter last year, Thornton produced a 6-0 record in nearly 50 innings of work. Thompson threw plenty last year as a reliever and is on the way back from a knee injury. The Jags will also be searching for a few more pitchers to provide quality innings as well.
Some other players that Smith mentioned as possible key contributors are infielders Aiden Berke, Richard Moon, Chapman Blevins and Jackson Bradley. Matthew Widra and Wes Blackmon have potential to bolster the lineup
as well.
"The thing I've enjoyed being around these guys is the energy that's been there, not only in the fall but in the preseason," Smith said. "There is depth in our junior class, and it's added some competition that we haven't had in years past. The competition allows for both the kids competing for a spot to get better."
Each season has its own ebbs and flows and Smith knows this one will be no different,
particularly given his assertion this season's schedule is among the toughest he has put together in his time at Spain Park. The Jags will play the likes of Hoover, Vestavia Hills, Thompson, Tuscaloosa County, Oxford, Huntsville and Florence.
"We had to make the schedule out like that, because you've got to find out if those kids can play against really good teams early on," Smith said. "That's the juggle of making it tough,
playing good people. The quicker you can figure out the roles and the right ingredients, that allows you to get prepared for April when area play starts."
Spain Park will be in 7A, Area 6 this season with Chelsea, Hewitt-Trussville and Oak Mountain, all three of which have strong track records in recent years.
"Baseball in Birmingham is going to be very good this year," Smith said.
Diana S. KnightCPA, CVA
Jeff W. Maze, CPA, MA
Jason Lybrand, CPA, MBA
A20 • March 2023 Hoover Sun
Count on us
• Income tax planning and compliance • Estate tax planning and compliance • Audit, compilation and review services • Business valuations • Employee benefit plan audits • Trustee and elder care services • Tax compliance–non-profit organizations Two Chase Corporate Drive, Suite 40 Birmingham, Alabama 35244 ph: 205.271.8506 | fx: 1.866.229.1120 www.sovereigncpa.com Count on us
Spain Park's Cole Edwards (4) gets set to catch a throw at first as Mountain Brook's Charlie Berryman (8) tags the base during the Buc Classic spring break tournament in March 2022. Photo by Erin Nelson.
HooverSun.com March 2023 • A21 Every item you donate equals lives and communities transformed in Africa and Haiti. DONATE. DONATE SHOP LIVES CHANGED PROCEEDS Gently Used Clothing & Household Items Impact the Poorest Places on Earth Shop where it makes a difference Greystone | Vestavia Hills | Westover Online: VaporThrift.com
High hopes for Bucs in 2023
By KYLE PARMLEY
There's no need to reinvent the wheel in Trey Matlock's eyes.
Matlock is the new head coach of the Hoover High School softball team, taking over a program that has had back-to-back impressive runs at the Class 7A state tournament. He has been an assistant for the last eight years at Hoover.
Lexi Shrout was the leader of those teams but has taken a step back with the recent birth of her third child. She is still around the program, but Matlock is the new man in charge.
"It's a great opportunity, given what we have coming back and everything," he said. "I'll take the job and do what Lexi has done the last couple years."
In 2021, the Bucs made a run to the Class 7A state tournament and finished fourth. Last spring, they took it one step further, reaching third place and a game short of the state championship.
"The last two years, we've had that taste," Matlock said. "I thought we had some unfinished business, so we strived last year and got a step closer. Hopefully this year, we can get another step closer to the stadium and the finals."
There are many players returning from last year's team who give Matlock hope the Bucs could be poised to make another deep run if they play up to their capabilities.
Emily Sims, Olivia Christian and Kaitlyn Raines each pitched plenty last season. Sims came up big in the postseason, most notably throwing a gem to help Hoover upset Fairhope. She is also one of four seniors on the squad. Sophomore Ainsley Boyd will also log some innings for the Bucs.
"Their progress has been great, especially being inside the circle," Matlock said of the pitchers. "They want to be in that moment. They work hard, put extra time in throwing
and everything."
There are six other athletes back who played plenty last spring. Seniors Carolyne Hecklinski, Gracie Hillman and Kate Dinkel are back. Hecklinski is a steady hand at second base, with Hillman and Dinkel taking care of things in the outfield.
Hecklinski has signed to play at Shelton State Community College, while Dinkel has signed with Huntingdon College and Hillman is heading to Georgia Tech.
Of the juniors, Hannah Christian is back in the outfield, Bella Foran returns at shortstop and Mac Stribling can play the corner infield positions.
After being the primary catcher for the Bucs for five years, Campbell Hecklinski has graduated, leaving a void behind the plate. Lindsey Westhoven and Claire Kurz are sophomores competing for time back there. Ki Davis, MC Detwiler and Mikaylah Chimara also provide depth at various positions.
Hoover's Emily Sims (8) pitches in an elimination game against Fairhope during the Class 7A state softball tournament at Choccolocco Park in Oxford on May 19, 2022. The Bucs defeated Fairhope 2-0.
The Bucs' schedule doesn't have many layups on it this season. Hoover plays in tournaments hosted by Vestavia Hills, Central-Phenix City, Spain Park and Gulf Shores before hosting their own toward the end of the year.
Hoover also takes on the likes of Oak Mountain, Brooks, Hewitt-Trussville, Helena, Hartselle, Athens, Springville, Mortimer Jordan and Curry aside from Class 7A, Area 5 play with reigning state champion Thompson, Vestavia Hills and Tuscaloosa County.
A22 • March 2023 Hoover Sun REQUEST A FREE QUOTE TODAY 205-520-9777 foundationsunlimited.com FOUNDATION REPAIR BASEMENT WALL REPAIR FLOOR LEVELING CRAWLSPACE ENCAPSULATION FOUNDATION PROBLEMS? WE HAVE THE SOLUTION. Family-Owned and Operated Since 1996 205-879-7681 or 205-879-3433 sikesshoesandjacknjillshop | sikesshoes.com 2719 19th Place S | Downtown Homewood VISIT OUR NEW LOCATION
Photo by Erin Nelson.
Jags ready for competitive schedule
By KYLE PARMLEY
The Spain Park High School softball team is looking for another highly successful season in 2023.
The Jaguars have long been one of the top teams in Alabama in Class 7A, and it appears likely to remain that way this spring.
"It's going really well," head coach Allyson Ritenour said. "I really enjoy just being around this team and I know they enjoy being around each other. It's been a fun preseason. We've worked really hard and we're ready to go."
This Jags team has won at a high level for years, with several of the team's juniors and seniors contributing to Berry Middle School winning the middle school Metro championship in 2019.
This year's squad has three seniors in infielder Katie Flannery, pitcher Ella Reed and outfielder Blakley Watts. Ritenour is excited to see that trio lead the team on and off the field this season.
"We've had those conversations since August, about stepping up as leaders," Ritenour said. "This is your team, so how are you going to hold your teammates accountable? There have been multiple opportunities already where they've stepped up."
The program's balance and strength across several grade levels will be a strength of the team. The crop of freshmen and sophomores flashes great potential alongside the juniors and seniors leading the way.
"They mesh really well together," Ritenour said. "It's been fun."
Flannery has signed with the University of Oregon and is considered one of the top players in her class throughout the country. She hit 10 home runs and knocked in 50 runs a season ago. Reed won 20 games, struck out over 200 hitters and posted a sub-2.00 earned run average last year. Flannery and Reed were each named AllSouth Metro first team last spring.
Catcher Maggie Daniel, a UCLA commit, was also first team All-South Metro and returns for her junior season. In 2022, Daniel hit 14 homers and knocked in 53 runs in a stellar season.
Aside from the three seniors and Daniel, also returning from last year's lineup is Charlee Bennett, a sophomore who played much of the year at second base.
Ritenour likes the depth the Jags have in the circle. Reed will team with the likes of Ella Ussery — who transferred from Vestavia Hills — Reagan Stewart, Kenley Holmes, EK
McCarty and Jaley Young throughout the year.
There are also still several spots up for grabs as the Jags enter the season.
"Everyone's going to have an opportunity to fight for a varsity spot," Ritenour said. "Everyone's going to have a chance."
Spain Park will play in the full allotment of seven tournaments this year. Along with hosting the Jag Classic at the Hoover Met Complex, the Jags will play in tournaments hosted by Thompson, Gulf Shores, Hoover, Hillcrest-Tuscaloosa, Central-Phenix City and Wetumpka.
Spain Park's Blakley Watts (10) makes contact for a base hit in a game against Thompson during the Class 7A state softball tournament at Choccolocco Park in Oxford on May 18, 2022.
by Erin Nelson.
The Jags will also have stiff competition in their quest to return to and excel at the state tournament. Class 7A, Area 6 consists of Oak Mountain, Chelsea and Hewitt-Trussville this year. The top two from the area will face the top two from Area 5 (Hoover, Thompson, Vestavia Hills and Tuscaloosa County) at the regional tournament, with only two of those advancing to state.
Ryan Thompson, Kayla Latuso, Kendall Jonseof, Ted Flannery and Rusty White will be coaches in the program this spring as well.
HooverSun.com March 2023 • A23 If your pest problem gets too much to handle... 205-663-4200 vulcantermite.com BACK... they're Try this for your Ladybug Infestation Vacuum up a large group of ladybugs and immediately relocate outside. Then wash the area with soap and water to eliminate their chemical trail. This will prevent other ladybugs from finding their hideout. Call The Best to Fight The Pest
Photo
Bucs sweep state indoor titles for 2nd straight year
By KYLE PARMLEY
The Hoover High School indoor track and field team completed the clean sweep for the second year in a row, winning the Class 7A boys and girls state championships Feb. 4 at the Birmingham CrossPlex.
Hoover dominated both meets. The boys team scored 134 points, more than double runner-up Vestavia Hills' 61 points. Huntsville finished third and Hewitt-Trussville was fourth.
The girls team scored 111.5 points to beat Chelsea by over 30 points. Hewitt-Trussville was third and Foley placed fourth.
The Bucs medaled in nearly every event, winning several of them along the way. On the boys side, Jay Avery won the 60-meter dash in 6.96 seconds and also won the triple jump by reaching 47 feet, 0.75 inches. Dallas Beck took home the top prize in the 400-meter run, posting a time of 49.09 seconds. The boys also won the 4x400-meter relay, as the team of Beck, Zachary King, Collin Pate and Charles Crowder ran the race in 3 minutes, 23 seconds.
Gabrielle Washington finished off an incredible indoor season, winning the girls 400 in 55.87 seconds. Nyel Settles won the high jump, clearing 5-4. D'Asya Harold won the triple jump, reaching 37-0.25. The girls dominated the relay events as well. The 4x200 team of Taylor Canada, Daisy Luna, Jebreiya Chapman and Washington set a state record with a 1:39.05. The 4x400 team of McKenzie Blackledge, Luna, Canada and Washington won in 3:53 as well.
Also medaling for the boys were Khaalid Ruffin (second in 60), Denver Cash (second in 60-meter hurdles), RJ Torbor (third in 60-meter hurdles), DeMarion Gardner (second in 400), Avery (second in long jump), Collin Pate (second in pole vault), Connor White (third in pole vault) and Bradley Shaw (third in shot put).
The 4x200 team of Jordan Woolen, Beck, King and Gardner was second.
Plenty of girls reached the podium as well.
Washington was second in the 60, Amyah Ellington was third in the 60 hurdles, Luna was second in the 400, Blackledge was second in the 800, Laurin Mack was second in long jump, and the 4x800 relay of Blackledge, Catherine Wallace, Langley Jung and Sarah Hertz finished third.
Cannon Peters (fourth in 800), Woolen (fourth in high jump), Owen Jung (fourth in high jump), Toshi Yamamoto (fifth in shot put), Torbor (fourth in triple jump), and the 4x800 team of Zachary Cooper, Zander Dakis, Elijah Joseph and Matthew Harden (fourth) all gained
points for the boys team.
Gaining additional points for the girls team were Chapman (fourth in 60), Paige Momern (sixth in 60 hurdles), Wallace (eighth in 800), Isabella Maple (fifth in pole vault), Becca Guerard (seventh in pole vault) and Nicolette Lewis (sixth in shot put).
Lila Hunter, Ava Sparks, Sarah Hertz and Kendyl Mitchell also competed for the Bucs.
Spain Park was also represented at the state meet. Keith Warner was one of several runners to surpass a state record in the 1,600, as he finished fourth in 4:16.83.
The girls 4x400 (Delaney Vickers, Remy Richards, Sydney Baker and Chloe Finocchiaro) and 4x800 (Vickers, Finocchiaro, Richards and Mackenzie Colbaugh) teams each finished fifth. Baker (eighth in 400) and Vickers (fifth in 800 and eighth in 1,600) earned points for the girls individually as well.
The boys 4x800 team of Warner, Kenneth Bishop, Garrett Bishop and Zane McPeters placed sixth as well. Christian Johnson, LaCoria Nelson, Stopher Walls, Zavier Long, Isaac Battles, Alex Smith and Wesley Vice also competed for the Jags.
A24 • March 2023 Hoover Sun 844-WE-WINDOW CALL US FOR HIGH QUALITY GUTTER SERVICE FREE IN-HOME ESTIMATES with purchase of Gutter Guards FREE GUTTER CLEANING Gutters FINANCING AVAILABLE $18 Linear Foot $11 Linear Foot (205) 967-8189 southernbloodservices.com 3800 Colonnade Parkway, Suite 200, Birmingham Have you had two or more pregnancies? OR a blood transfusion? OR told you have an antibody? To find out more information CALL US TODAY. Do you have a negative blood type? Mothers Needed You may qualify to produce life-saving medicine and be compensated $700+ per month
Left: Hoover's Nyel Settles competes in the girls high jump event during the Class 7A state indoor track and field meet at the Birmingham CrossPlex on Feb. 4. Right: Hoover's Jay Avery competes in the boys triple jump. Photos by Erin Nelson.
HooverSun.com March 2023 • A25 MEDICARE PREPARE FOR RIGHT HERE IN YOUR TOWN VIEW MORE @ MEDICAREADVICE.ORG/SERVICES/PRODUCTS 2116 Columbiana Road Birmingham, AL 35216 Fun and free "Prepare for Medicare" classes One-on-one Medicare consultations Help people in need apply for nancial assistance MedicareAdvice.org  EDUCATE Learn how to make an educated Medicare decision.  ADVISE Unbiased FREE advice based on years of experience.  ENROLL Meet with a local licensed agent who can help you enroll.  SUPPORT Ongoing support regardless of enrollment. MAA is an insurance agency and not part of the federal government. We do not represent every plan available in Alabama and information provided is limited to the plans we do offer. Contact Medicare.gov or 1-800-Medicare to get information on all options. UPGRADE YOUR COUNTERTOPS Contact us today! 205-943-0060 When it comes to upgrading or changing the countertops in your home, there are many things to consider –from different materials, styles and designs, to pricing and installation. With so many options available, it can be difficult to know where to start. That's why Encore Stone Studio is the perfect consumer resource for researching and comparing different countertop materials and pricing, as well as getting helpful tips and advice on the installation process. 288 Oxmoor Ct. Ste. A • EncoreStoneStudio.com
CRIME STATS
CONTINUED from page A1
past year," Derzis said. "If we were a corporation, we would be handing out large bonuses to everybody."
Hoover police also were able to make arrests in 60% of their robbery cases in 2022, compared to a national violent crime clearance rate of 32.5% (for 2021), Lowe said.
Weapons law violations in Hoover were down 24% from 95 in 2021 to 72 in 2022, while burglaries dropped 9% from 129 to 117, thefts of vehicles fell 7% from 130 to 121 and assaults were down 2% from 848 to 827.
Of those assaults, 678 were simple assaults, 86 were cases of intimidation, 28 were felony domestic violence cases, 25 were other felony assaults, 5 were discharges of firearms into an occupied dwelling, 3 were child abuse cases and 2 were throwing or shooting a deadly missile into an occupied vehicle.
Overall, the number of crimes reported in Hoover in categories reported to the FBI increased 4%, from 4,016 crimes in 2021 to 4,184 in 2022. Arrests were up 7% from 2,753 to 2,935.
COUNTERFEITING, FORGERY AND FRAUD
One of the biggest increases was in counterfeiting and forgery cases, which rose 61% from 75 to 121.
Some of that increase comes from in-person counterfeiting and forgery, but a lot more criminals are victimizing and scamming people using technology, Lowe said. Many times, it's over the phone or through email, and unfortunately, a lot of times the victims are elderly people, he said.
Fraud offenses — which include impersonation, swindling, stealing through false pretenses and credit card fraud — remained relatively stable in 2022, but there were still 430 fraud offenses reported in Hoover for the year.
Derzis said a lot of phone scams originate outside the United States, sometimes with 150 to 200 people in the same room making phone calls to rip people off. "All it takes is a very, very small percentage of those phone calls to make somebody's life miserable here," sometimes stealing $10,000 to $50,000 from people by gaining their personal and/or financial information, he said.
There is little the police can do against those international scam operations, he said.
Common scams include outdated warranties and people claiming that there is an arrest warrant out for the victim and demanding some sort of payment to avoid prosecution, he said.
People need to remember that reputable companies, organizations and the Internal Revenue Service generally won't make calls to you and ask for your personal information over the phone, Lowe said.
Derzis said it's hard to believe some people agree to buy gift cards to resolve an alleged problem or stay out of trouble, but unfortunately they do. People should contact the police if they have any doubt instead of paying money or sending gift cards, he said.
DRUG OFFENSES
The number of drug offenses rose 20% from 543 in 2021 to 650 in 2022, with the largest increase coming in marijuana cases. The number of marijuana possession cases rose 33% from 208 to 276.
Lowe said a lot of the increase in drug cases could be attributed to officers being more proactive and observant in traffic stops and encounters with the public.
Police Capt. Keith Czeskleba said there's probably the same amount
of marijuana out there now as there always has been, but police found it more often in 2022 because they were making more traffic stops. In early 2021, police still were limiting the number of officer-initiated encounters with the public due to the COVID-19 pandemic, Czeskleba said.
In 2022, there also were 187 drug equipment violations, 173 cases of controlled substance possession, 7 controlled substance distribution cases, 3 cases of drug trafficking and 2 cases of promoting prison contraband.
Derzis noted that there were 10 drug overdose deaths in 2022: seven from fentanyl, two from an unknown substance and one from a sedative or opioid. That was fewer deaths than
in the past several years, and most of the people were generally 30 to 40 years old, Derzis said.
Meanwhile, the number of drug overdose victims saved increased (by about 10) to 49, the chief said. Of those, 26 were heroin overdoses, 12 were fentanyl overdoses, and the rest were an overdose of some sort of opioid combination, he said.
The majority of those rescues were the result of someone administering Narcan to the victim, whether it was someone with the victim, police or paramedics, Derzis said.
A lot of politicians and health care professionals have been advocating to make drug-testing strips more available to people so they can determine if their drugs are laced with fentanyl, Derzis said. That's
Hoover every day," he said.
HOMICIDES AND SEX OFFENSES
Hoover had four homicides in 2022, up from two the previous year. Police made arrests in each of the cases, with the defendants still awaiting trial.
The first occurred Jan. 29, when 25-year-old Madison Shea Pilkington was found dead in her apartment at The Halston apartment complex off Old Rocky Ridge Road. Evidence indicated she died as the result of an assault, and police charged her boyfriend, 32-year-old Cortez Lenard Warren of Hoover, with murder.
The second homicide happened Aug. 3 at the Marathon gasoline station at 5423 U.S. 280, when 19-yearold Sophia Nicole Zeigler was shot to death during an argument. Police charged an acquaintance of hers, 24-year-old Skylar Jacquel Dorsey of Trussville, with capital murder.
The final two homicides of 2022 happened Oct. 1 at The Park at Hoover apartment complex when two women, 39-year-old Lauren Anne White and 24-year-old Blakeley Meachelle Nelson, were shot to death. Police charged an acquaintance, 21-year-old Daxton Elliot Keith of Alabaster, and 20-year-old An'Ton Je'Ho Ram Lewis of Birmingham with capital murder.
There were 20 sex offenses reported in 2022, including 14 rapes and 2 cases each of sodomy, fondling and sexual assault with an object. Domestic violence offenses declined 11% from 522 to 463, but the number of other types of domestic incidents increased 12% from 409 to 460.
AUTO BURGLARIES
Derzis said he was pleased to see the number of auto burglaries decline slightly from 371 to 361, but particularly happy to see the number of guns being stolen from vehicles decline. Hoover police in March of last year launched a "Lock it or lose it" campaign after having 113 guns stolen from vehicles in Hoover in 2021 and 480 guns stolen from vehicles over the previous five years. As of December 2022, the number of guns stolen from vehicles was down by more than 50%, the chief said.
"That to me is very significant," Derzis said. "I think the citizenry has been listening. … That's not to say we still don't have UBEVs [unlawful breaking and entering of vehicles] or don't have unlocked cars, but maybe people are at least taking their guns inside."
Derzis said a lot of the credit for decreased crime belongs to the public because people are calling police when they see suspicious things and responding to requests for help in solving crimes.
a great idea to save people, but "I have yet to hear one say 'Maybe it's not a good idea to do illegal drugs,' or 'What are we doing to try to get people off of them?'" Derzis said.
Police have to deal with the effects of the drug epidemic, he said. "People who are addicted to drugs commit crimes, but nobody wants to talk about that."
Also, almost all the drugs coming into the United States today are coming from Mexico, Derzis said. "There is no border security right now," he said.
Hoover police are doing the best they can to combat illegal drug activity, but border security is primarily a federal issue, he said. That said, "what takes place at that level is affecting people in the city of
The department's social media team does a fantastic job sharing what's happening and soliciting feedback, he said. Since 2014, the department's number of followers has increased from 5,000 to 42,000 on Facebook, 3,000 to 15,000 on Twitter, zero to 3,900 on Instagram and zero to more than 32,000 on Nextdoor, Derzis said.
Recruiting officers to work in the department is more challenging than it once was — as it is for police departments across the country, Derzis said. However, the city recently increased starting pay rates to $57,304 for people not yet certified as officers who have to go to an academy and a range of $60,174 to $66,352 for those already certified. Officers can be paid up to $88,920.
The higher pay has helped increase interest, Derzis said. "We're certainly doing everything in our power to attract the kind of caliber of people we want to hire," he said. "We're looking for the best possible candidates."
A26 • March 2023 Hoover Sun
Hoover's
BE
March 2023 A27 HooverSun.com APPLY TODAY SEC Baseball Tournament
United Adaptive Sports Nationals
Met Complex Summer Sports Camp
Coast Pro Baseball Showcase
Game Baseball National Tournaments
Armour Future Circuit Basketball Tournament
EVENTS SUCH AS...
HOOVER MET WORK AT WE WANT YOU TO JOIN OUR TEAM! Visit hoovermetcomplex.com, navigate to the career page, click on current openings & apply! 2171 Parkway Lake Drive | Hoover, Alabama 35244 Independent Living | Assisted Living | Memory Care ALF #D5986 | SCALF #P5928
Move
Hoover
East
Perfect
Under
WORK
THE
newest senior living community is welcoming new residents! You'll be greeted with fresh, exciting
every corner,
to
all-day dining
your
of chef-prepared, seasonal menu items
a full calendar of activities, live entertainment and guest speakers.
a vibrant community created for you and your lifestyle — and a future full of ways to live inspired at The Crossings at Riverchase. Come see our beautiful community for yourself. Call 205-203-8467 or visit TheCrossingsAtRiverchase.com to schedule an appointment.
experiences around
not
mention
with
choice
and
Discover
SURE TO ASK ABOUT OUR MOVE-IN SPECIALS! Created for YOU. A community designed for comfort, convenience and making connections.
But the Federal Reserve throughout 2022 steadily raised short-term interest rates in an effort to control inflation. The result was that the average 30-year mortgage rate edged up from 2.75% in December 2021 to 4% in March, 5.25% in May and 7% in October, according to Freddie Mac.
The higher rates pushed some potential homebuyers out of the market, slowing down sales for both new and existing homes.
Inflation and higher prices for building materials also likely slowed the market down, said Jonathan Belcher, president of Signature Homes, which had nearly three-quarters of the closings for new homes in Hoover in 2022.
The cost of lumber in 2020 and 2021 was 37% above historical averages, according to the National Association of Home Builders. Other building materials such as concrete, gypsum and steel also saw rapid price increases during that time.
The price per square foot for new home construction in Hoover rose by one-third, from $159 per square foot in 2018 to $211 per square foot in 2022, MLS data shows.
The cost for existing homes also has escalated. The average price for an existing home in Hoover rose from $317,037 in 2018 to $453,696 in 2022, MLS data shows. That was a steep price increase on a square-footage basis as well, rising from $118 per square foot to $169 per square foot over four years.
STRONG DEMAND
While the number of sales was down for 2022, it's not because of a lack of demand, according to Thad Lowery, the broker for the ARC Realty office in Hoover.
"Signature Homes — they can't build houses fast enough," Lowery said. "We still have a backlog of buyers."
There's a particular need for housing for first-time homebuyers, such as townhomes and smaller single-family houses, he said. Signature Homes is trying to meet that demand with plans for 120 townhomes just off U.S. 280 near Meadow Brook and entry-level housing options in the new Everlee community between Lake Cyrus and Ross Bridge, he said.
"They're going to sell every one of them before they break ground," Lowery said.
One of the key factors in the Hoover housing market is the low inventory, both Belcher and Lowery said. As of January of this year, there was only about a onemonth supply of new homes on the market for sale in Hoover and less than a month's supply of existing homes, MLS data shows.
"That is so healthy in terms of the strength of the housing market," Belcher said. "There's still a large demand."
The biggest reason more homes have not been built in Hoover in the last two years is supply chain issues, Belcher said. At one point, there was a 20-week wait to get windows, he said. Now, that's down to about eight or nine weeks, he said.
The average new home inventory for the Birmingham area is four months, and the goal is to have a five-month or six-month inventory, Belcher said.
Fewer than 10% of the homes
Signature Homes has been building in recent years have been speculative homes (built before a buyer decides to purchase them), he said. Generally, that's more like 25%, he said.
The demand for existing homes also is strong. At the beginning of this year, there was less than a month's supply of existing homes for sale on the market, MLS data
shows. The low inventory is a big reason that prices escalated like they did.
Some of the price increases in recent years were crazy, said Gwen Vinzant, a realtor with RealtySouth who has been in the business about 35 years. Some home prices went up $100,000 in one year, she said.
But as interest rates have risen, scaring off some potential buyers, some sellers have started reducing prices, Vinzant said. "We're kind of getting back to a normal rate of buying," she said.
Lowery agreed that the market has started to settle down. There still are a lot of competing bids for houses, but they are no longer seeing the "insanity" of people paying $20,000 to $30,000 over list price and buying a house without an inspection to win a bidding war, he said.
Buyers have a little more power than they did a year ago, but prices as a whole still are increasing, which is good for sellers, he said.
He described it as a "closer to
normal market," but "we could still use more inventory to make it more normal."
One of the big things driving demand right now is the coming of age of the millennial generation, particularly people in their early 30s, Lowery said. "It's a huge group, and they want to buy houses."
They're now out of school, working, making money, starting families and want to find houses, he said.
Hoover is a big draw to many of these people because of its school system, restaurants, shopping and other amenities, he said. Plus, its proximity to Birmingham is a positive, he said. "You can live in Hoover and not have to drive so far."
The Mountain Brook, Vestavia Hills and Homewood housing markets are always strong, but "I think Hoover's just as strong in its own way," Lowery said.
Vinzant works out of RealtySouth's Inverness office but
helps clients buy and sell homes throughout the metro area and said Hoover tends to get a lot of people who are relocating from outside the Birmingham area because of all its amenities.
Belcher said his company has benefited from sales of age-restricted homes, noting that 300 of the homes that Signature has sold in the past 36 months were restricted to people ages 55 and older. Those homes sold very quickly, and more of that type housing is planned for Everlee.
NEW HOME STATS
Of the 332 new home closings in Hoover in 2022, Signature Homes built 240 of those (72%), according to MLS data shared by Signature. Embridge Homes had 57 homes close in Hoover, and RealtySouth had 12 new homes close in Hoover, the data shows.
The community in Hoover with the most home closings in 2022 was Lake Wilborn (138), while there were 66 each in Blackridge
REAL
CONTINUED from page A1 19 37 7 18 6 28
ESTATE
A28 • March 2023 Hoover Sun
CHARTS: MELANIE VIERING / SOURCE: GREATER ALABAMA MLS / CREATED WITH DATAWRAPPER
and Knox Square, 24 in Lake Cyrus, 20 in The Preserve, 12 in Spencer Preserve, five in McGill Crossings and one in Greystone Farms, MLS data shows.
The average price of a new home in Hoover in 2022 was $630,016. The most expensive homes on average were in Blackridge ($918,000), Greystone Farms ($725,000), McGill Crossings ($695,415), Spencer Preserve ($642,086), The Preserve ($625,403), Lake Cyrus ($559,333), Lake Wilborn ($544,387) and Knox Square ($539,448).
FUTURE OUTLOOK
Marty Gilbert, Hoover's building official, said it's still hard to tell how 2023 will turn out for homebuilding in Hoover. A lot of that will depend on interest rates, he said. The last half of 2022 was slower in terms of applications for
Equities and let Terra Equities do the finishing work for tenants, Belcher said.
As for Everlee, Signature expects to deliver 50 to 60 homes there in 2023, including both townhomes and detached single-family homes, he said. The company is starting with homes priced in the high $200,000s to mid-$400,000s in the Everlee Village Center and this spring will begin single-family detached homes priced from the $400,000s to $600,000s, he said.
Signature also this spring plans to break ground on a 27,000-square-foot amenity building in Everlee that will include a pool, pickleball courts, coffee shop, brewpub, fitness center, golf simulators and party rooms, Belcher said. "It's going to be unreal."
Signature Homes should still be building in Blackridge about four more years and Everlee 10 to 12
Hoover's newest walkable community. LiveEverlee.com starting SCAN HERE $300's EXPERIENCE March 2023 A29 HooverSun.com
Mortgage rates have risen. Now what?
there are solid reasons to purchase a home now, especially if you're renting.
"All of the great reasons for buying a house still exist," Smith said. "We haven't seen as good of a time to buy for renters, with rent rates going up 20 to 30% in the last two years."
By LOYD MCINTOSH
When the Federal Reserve raised interest rates in early February to combat inflation, one area of concern for many potential homebuyers was how the Fed's actions would affect mortgage rates and their ability to afford a new home.
However, Clint Thompson, a mortgage officer with Fairway Independent Mortgage Corp. in Inverness, says the perception that mortgage rates automatically increase following a rise in interest rates is incorrect. "There is always misinformation out there when people hear what the Federal Reserve is doing. They think, 'Oh gosh, mortgage rates jumped a quarter of a percent,'" Thompson said.
While it is true that interest rates and other signals from the Federal Reserve influence the economy, Thompson said mortgage rates are more closely related to inflation rates than direct action from the Federal Reserve. Thompson explained that the interest rate hike should eventually have the opposite effect on mortgage rates if inflation slows.
"Mortgage rates can come down when the Fed makes a hike, because overall it's more about inflation than interest rates," Thompson said. "You may see that 30-year mortgage rates actually improve because the markets interpret that as a positive move."
Largely due to government spending during the COVID-19 crisis, the U.S. inflation rate grew at a rate of 6.5% in 2022, according to data published by the U.S. Department of Labor in mid-December, after growing to 7.1% in 2021. Among the areas the government spent additional funds, according to Thompson, were mortgage-backed securities and treasuries, which kept mortgage rates from organically adjusting to
market forces, a concept known as "quantitative easing."
"The Fed basically ignored the whole inflation factor and continued to buy treasuries and mortgage-backed securities," Thompson said. "That artificially kept interest rates down close to 3%."
As the government slowed quantitative easing measures over the past 12 months and raised interest rates in February, mortgage rates rose from an average of 3% for a typical 30-year mortgage to just over 6% in under a year, While the rapid rise may create sticker shock among homebuyers, Thompson said the market is responding organically to the Federal Reserve's policies and, although mortgage rates spiked to more than 7% recently, potential homebuyers should start seeing rates lower in the second and third quarter of 2023.
"We'll just have to see how it all plays out, but the consensus is we should see 30-year mortgage rates close to 5%, maybe even just a fraction below 5%, sometime this summer," Thompson said.
Fred Smith, owner and operator of The Fred Smith Group RealtySouth agency in Crestline, said the Federal Reserve's interest rate hike may finally return the local real estate market to a much-needed state of normalcy. Smith said the economic conditions of 2020 through 2022 created unnatural conditions in the market that should stabilize now that mortgage rates have risen.
"People are getting used to the rates. It's not like they've gone up to something that's unreasonable. They've normalized," Smith said.
"2019 was the last normal market. Then we had 2020, and we worked our way through that market, then we entered a seller's market in 2021 and 2022 with bidding wars and all that kind of stuff," Smith said. "Now, I feel it's going to be a normal 2023."
With 30-year fixed mortgage rates hovering at 6.9% and housing prices on the rise, what do the current conditions mean for the average homebuyer? Smith and Thompson both recognize that affordability is a factor in many cases but said
For homebuyers for whom a one-point or twopoint rise in rates could cause monthly-payment sticker shock, Smith suggested a couple of strategies. First, he said an interest rate buydown is a viable option or an adjustable rate mortgage, especially for new homebuyers likely to move within five years of their purchase.
"In Crestline, the average homebuyer lives there less than seven years," Smith said. "If they get a seven-year ARM and they're moving about every five years, why have a 30-year fixed rate when you can take advantage of a lower interest rate?"
Thompson, who said he believes mortgage rates should settle back down to 3 or 4% over the next few years, suggests a two-for-one buydown mortgage. This option allows the homebuyer to pay 2% lower than the actual rate for the first year of the mortgage, then 1% lower for the second year, then the rate increases to the regular rate in the third year.
At current rates, a homebuyer would pay 4.9% in year one, 5.9% in year two, then 6.9% for the remainder of the loan or, Thompson said, refinance prior to year three.
"If the experts are right," he said, "that person's never going to make a payment in the sixes because interest rates will have come down close to 5% and we would have refinanced down before then. So, a two-for-one buydown option can help with affordability."
Smith also offered one more piece of advice, reminding potential homebuyers they are allowed to write their home's interest off their taxes. "I'm not going to say it doesn't matter, but the benefit of being able to write off that additional interest is a wash," Smith said. "It almost doesn't matter, because that interest deduction can overcome the difference in that increased interest rate."
Local experts offer advice to potential homebuyers A30 • March 2023 Hoover Sun julieivywhite@gmail.com juliewhiterealtor.com Julie Ivy White REALTOR Experience what matters. ABR | CRS | SRES Proud member of the Hoover Chamber of Commerce THANKS JULIE! If your space doesn't feel just right, call me! 205-796-7843 Feeling cramped in the city? Time for your country place! You can inspire our future female leaders with Women in Business. PARTNERING WITH Email dan@starnesmedia.com for your Women in Business Strategy Session

Je
Día










March 2023 A31 HooverSun.com the Site 1 Site 2 Site 3 First Baptist Church Gardendale-South Location-940 Main Street, Gardendale 35071 Classic Car Motoring-3900 Grants Mill Road, Irondale, 35210 City of Bessemer Public Works Laydown Yard-1205 15th Avenue North, Bessemer, 35020 Items Collected Will Include:
Ammunition
Appliances
Batteries
Electronics
Household cooking grease
Paint
Paper Shredding







Pesticides, Herbicides and Fertilizers
Prescription drugs
Tires
29, 2023


April
erson County Residents Only Verification of Residency Required (valid driver license
photo ID with address) No Businesses Allowed to Participate el
or
Municiones
Aparatos domésticos
Pilas
Electrónicos
Grasa de cocina
Pintura
Papel para ser triturado
Pesticidas, herbicidas y fertilizantes
Recetas médicas
Liantas/neumáticos
April 29, 2023
de recaudación de productos tóxicos
para residentes del condado de
erson -Necesita verificación de residencia(license de conducir o foto ID con dirección) No se permite la participación de negocios Site 1 Site 2 Site 3 First Baptist Church Gardendale-South Location-940 Main Street, Gardendale 35071 Classic Car Motoring-3900 Grants Mill Road, Irondale, 35210 City of Bessemer Public Works Laydown Yard-1205 15th Avenue North, Bessemer, 35020
Solo
Je
*Offers cannot be combined, some promotions may be limited to select sets. Not responsible for errors in ad copy. Quantities and selections may vary by location. Mattress images are for illustration purposes only Gifts with purchase (including gift cards and rebates) are not valid with any other promotions except special financing for 6 or 12 months.** Monthly payment is based on purchase price alone excluding tax and delivery charges. Credit purchases subject to credit approval. Other transactions may affect the monthly payment. *** 0% APR for 60 months financing available with purchases of $1999 or over and does not include sales tax. ** The special terms APR of 8.99% will apply to the qualifying purchase, and 48 monthly payments equal to 2.5090% of the original special terms balance are required.*** The Nationwide Marketing Group credit card is issued by Wells Fargo Bank, N.A. Special terms apply to qualifying purchases charged with approved credit. The special terms APR will continue to apply until all qualifying purchases are paid in full. The monthly payment for this purchase will be the amount that will pay for the purchase in full in equal payments during the promotional (special terms) period. The APR for Purchases will apply to certain fees such as a late payment fee or if you use the card for other transactions. For new accounts, the APR for Purchases is 28.99%. If you are charged interest in any billing cycle, the minimum interest charge will be $1.00. This information is accurate as of 2/1/2023 and is subject to change. For current information, call us at 1-800-431-5921.
bedzzzexpress.com OPEN MON - FRI 10AM - 7PM SAT 9AM - 6PM • SUN 1PM - 6PM Alabaster 621-7010 Gardendale 631-2322 Greystone 408-0280 Homewood 802-8888 Hoover 979-7274 Hoover 982-8006 Hueytown 744-4948 Inverness 739-2339 Leeds 699-7000 McCalla 426-1833 Mountain Brook 956-8033 Pelham 663-2337 Trussville 661-6200 Trussville 655-6906 Vestavia 978-3068 Bedzzz Express Outlet Greystone 408-1250 Bedzzz Express Outlet Pelham 664-0096 Scan with your phone's camera to go to our specials page.
Offer expires 2/28/2023. **** Free base offer applies to Queen set
of $799 and above or King set purchase $999 and above. King base applies to either one horizontal King Base or one of two TXL bases.***** Free Delivery on mattress sets $699 and up, Local area. CLASSIC PLUSH Eurotop King, Queen, Full or Twin One Size Event Any size. Same price. Save Up To $500 $599 ZION Plush or Pillow Top King for Queen $1299 King or Queen Mattress SAVE UP TO $800 FREE ADJUSTABLE BASE OR UPGRADE & SAVE UP TO 50% ON A WELLNESS ADJUSTABLE BASE with purchase of Sealy, Beautyrest, Nectar, Purple, Serta, or other mattress sets. SEE STORE FOR DETAILS • UP TO A $599 VALUE $699 Queen Mattress Cahaba Bedding Best Selling Mattress SAVE UP TO $300 TWILIGHT LILY Medium Feel PALM SPRINGS SELECT HYBRID Triple Choice: Firm, Medium & Plush PLUS FREE 7 PC BEDDING BUNDLE Save Up To $500 $1199 Queen Mattress BIRMINGHAM OWNED AND LOCALLY OPERATED FOR OVER 29 YEARS SAVE $800 UP TO
purchase